---
Cathay Pacific 807
Chicago (ORD) – Hong Kong (HKG)
Thursday, June 6th
Depart: 3:30PM
Arrive: 8:20PM
Duration: 15hr50min
Aircraft: Boeing 777-300ER
Seat: 2A (First Class)
I'm not actually sure why I'm writing another review of Cathay Pacific first class. Along with Lufthansa I find that they offer the single most consistent first class product in the world. That's not to say the best (though they are very good), but rather that I've almost never flown Cathay Pacific or Lufthansa first class and been disappointed, since I always know exactly what I'll get.
While they're not enclosed suites, the seats in Cathay Pacific first class are incredibly comfortable. The bedding is top notch and I find that I sleep better in Cathay Pacific first class than almost any other product. The food is incredibly consistent though not amazing, in my opinion.
And the service is consistently top notch if you understand how it works. It's not Singapore Airlines where the cabin crew are supposed to walk through the cabin every five minutes throughout a 15 hour flight to see if you might want something, but rather between the meal services they leave you alone to maximize your privacy, and if you need something you push the call button. And when you do push the call button, they're at your seat within a matter of seconds.
Anyway, on to the actual flight…
We boarded through door 1L and were welcomed aboard by Grace and Rainy, the two cabin crew taking care of us in first class. Cathay Pacific's first class layout on the 777 is especially spacious, as it's just six seats in a 1-1-1 configuration (while most airlines have four across seating in first class on the 777, and even that is spacious).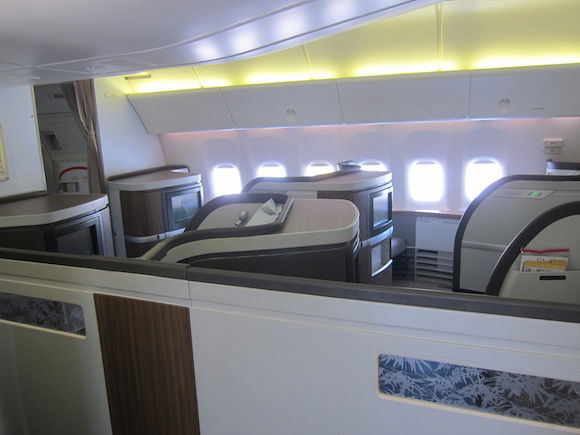 First class cabin
My mom and I selected seats 1A and 2A, which are my favorite. That's because the center seats face the right aisle, so if you have seats 1A and 2A you have the aisle all to yourself. I gave my mom 1A, while I took 2A. After all, I wanted to be able to observe her and be sure she was maximizing her experience. 😉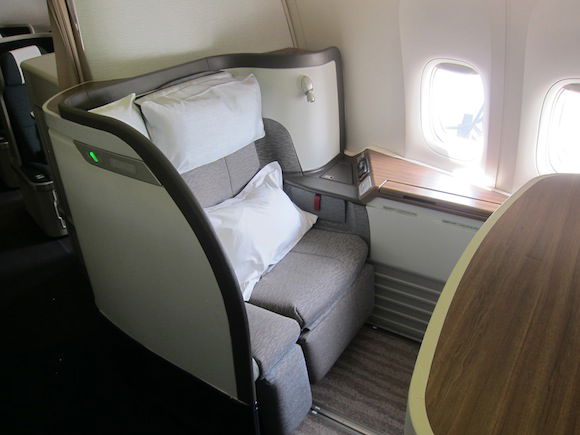 My seat, 2A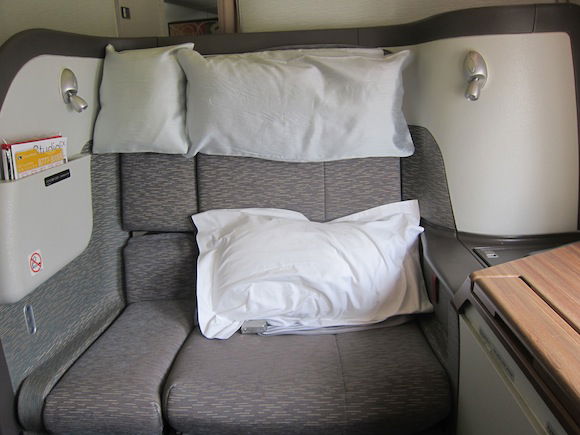 My seat, 2A
Grace, who was the more outgoing of the crew, welcomed us both aboard and offered us pre-departure beverages. I ordered a glass of Krug. I find Cathay Pacific does a consistently excellent job with how they serve pre-departure beverages. I know this sounds silly, but they always bring out a tray with both the glass and the bottle, place the glass at your seat, and then pour.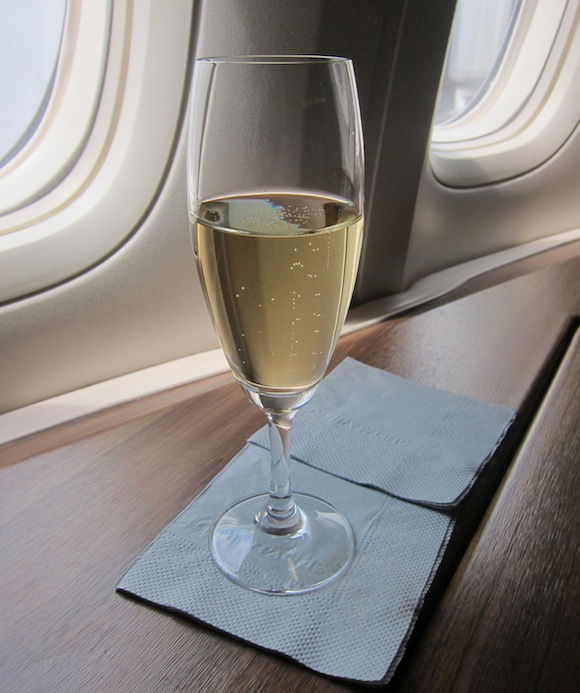 Pre-departure Krug
I could immediately tell based on Grace's attitude that it would be a great flight. She asked me where we were headed and I explained it was a birthday trip for my mom, and also explained that it was my mom's first time flying Cathay Pacific, so she better make it special. She seemed genuinely overjoyed at the prospect of making someone's flight "special," so that seemed to be her mission from that point forward.
After that I was offered Shanghai Tang pajamas and an amenity kit.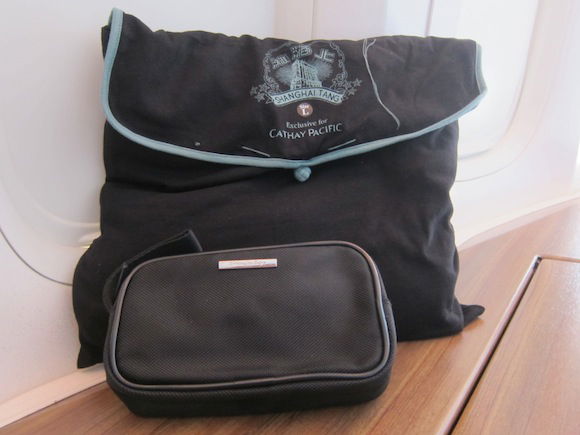 Shanhai Tang pajamas and amenity kit
I do love Shanghai Tang pajamas, and am sad that Cathay Pacific is phasing them out.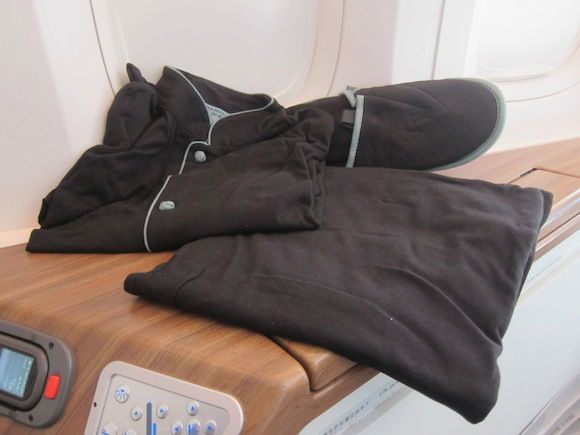 Pajamas and slippers
Shortly before pushback the captain came on the PA to inform us of our flight time of 15hr30min. Nothing makes me smile quite like hearing that long of a flight time in Cathay Pacific first class. Based on the announcements during the flight it seemed like the captain was Australian and one of the first officers was American, so as usual it was a pretty diverse cockpit crew.
We pushed back with only one other passenger in first class, at which point the safety video began to play.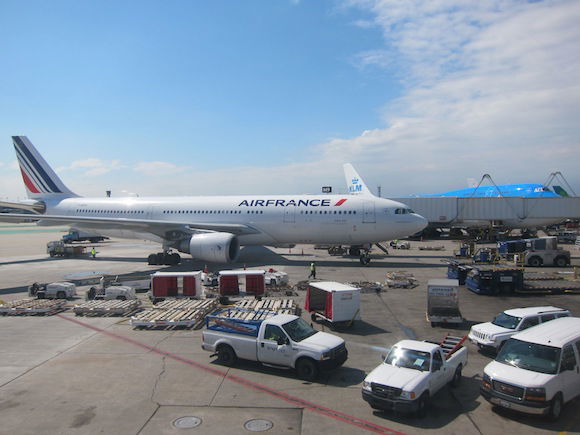 Air France and KLM
While I think it's hard to compete with the excitement of flying out of JFK in the afternoon, terminal five at O'Hare isn't half bad either. As we taxied out we saw Swiss, Etihad, and all kinds of other international carriers.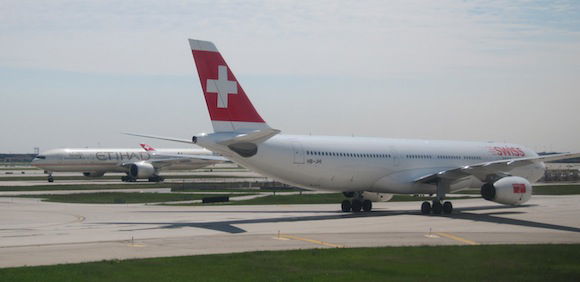 Swiss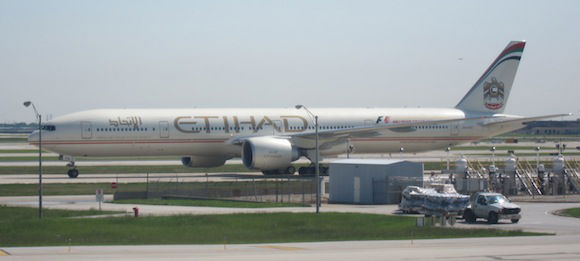 Etihad
We taxied out to runway 10L. While we were number one for takeoff, there were several planes coming in to land, so we had to wait for about 15 minutes before we were cleared for takeoff.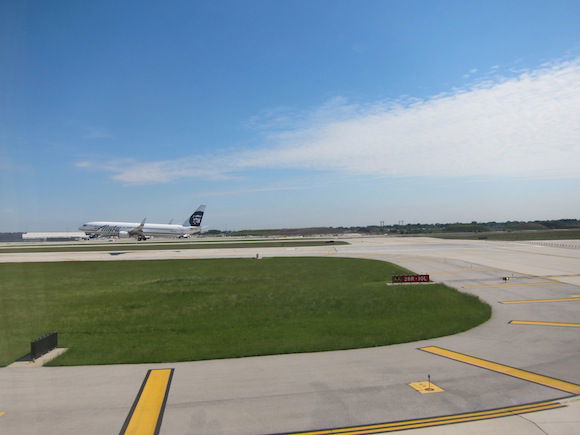 Planes landing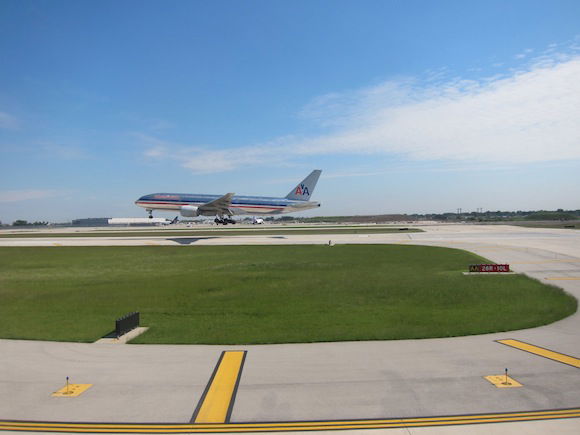 Planes landing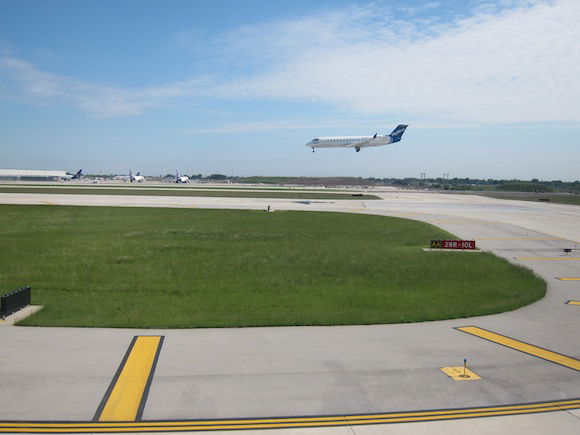 Planes landing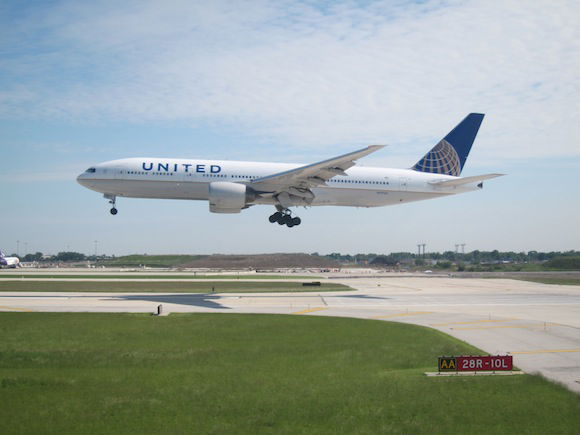 Planes landing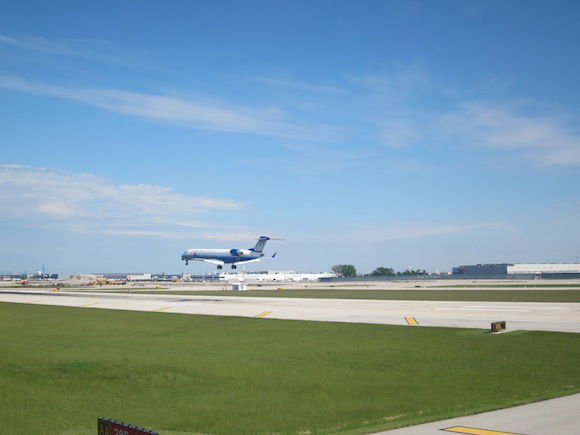 Planes landing
Eventually we were cleared for takeoff, and in typical 777-300ER fashion, rocketed off.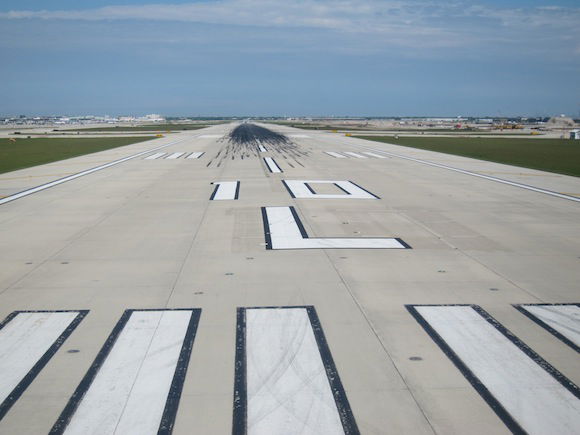 Ready for takeoff!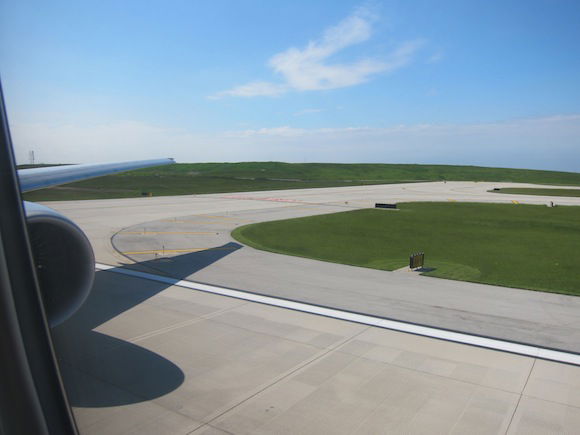 Runway views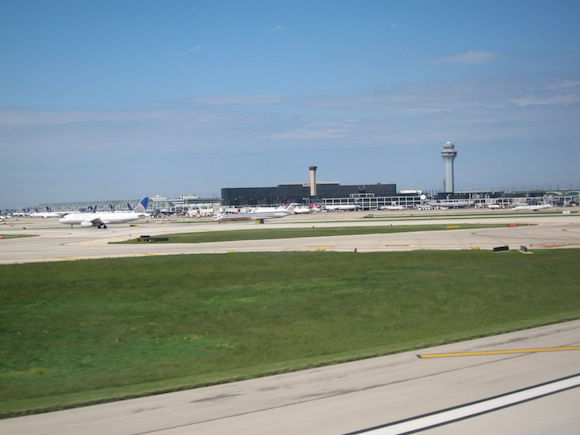 Airport view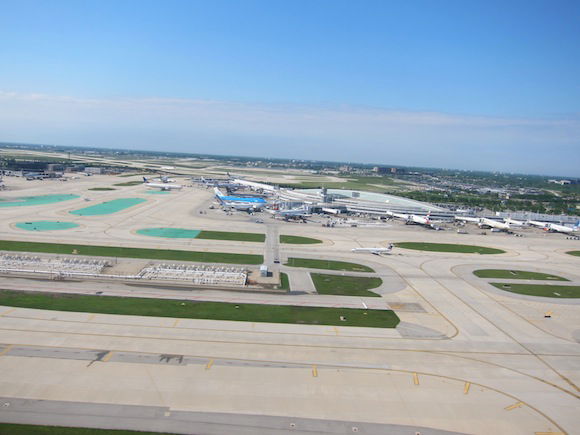 View on climb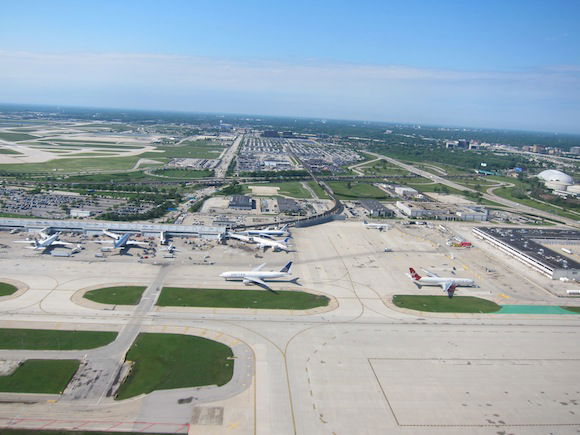 View on climb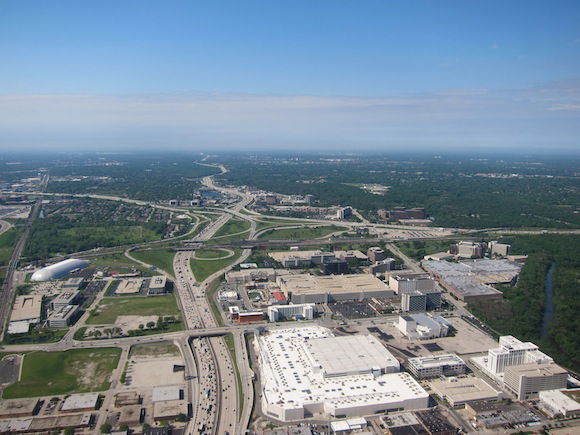 View on climb
It was a beautiful day in Chicago, so I was happy just gazing out the window for the first 20 minutes of the flight.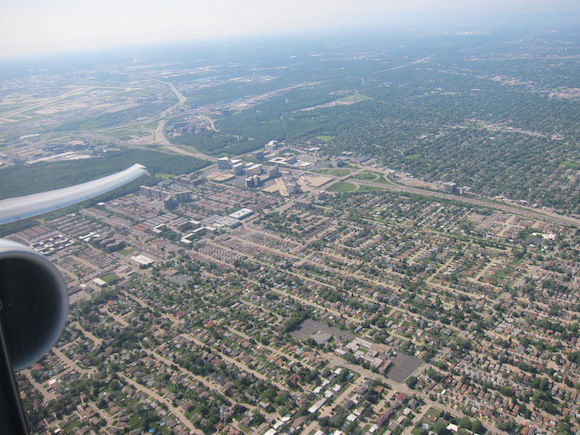 View on climb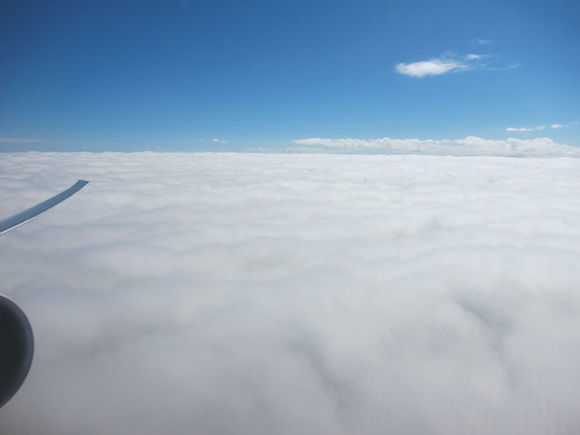 Above the clouds
Once we leveled off the inflight service manager came by to introduce herself and give us the menu and wine list.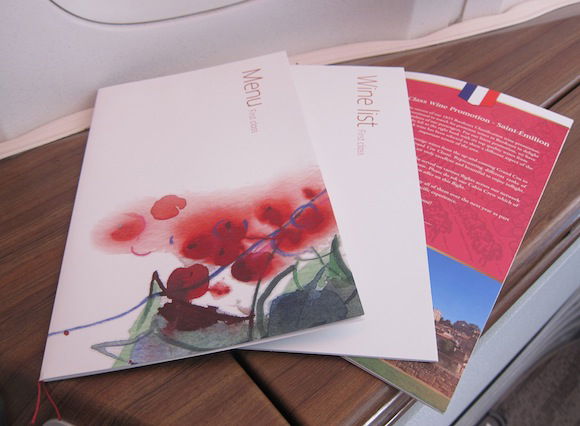 Menus
Shortly thereafter Grace took drink orders. I ordered a Diet Coke, which was served with almonds.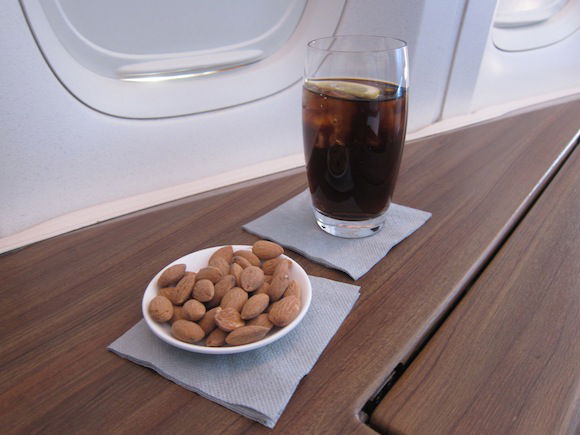 Diet Coke and almonds
I love my mom, but the one thing she struggles with is asking for things. So before the flight I explained to her if she wants anything during the flight she should push the call button. And I also explained to her that unlike on US airlines, you won't get arrested and the plane won't divert if you actually push the call button.
Fortunately Grace did most of the work for me in terms of conditioning my mom. My mom had a hard time deciding which red wine she wanted, so Grace encouraged her to do a wine tasting — "Mrs. S, may I suggest a wine tasting so you can decide which one you like more, and then we can serve you that one for the rest of the flight?" My mom responded with "well is anyone else drinking one of them, because I don't want to waste the whole bottle?" Grace laughed and assured her the wine was there for her consumption.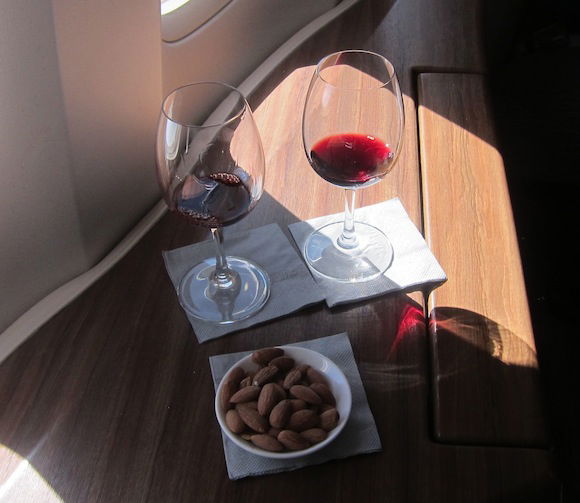 Wine tasting for mom
Anyway, at that point the meal service began. The menu read as follows: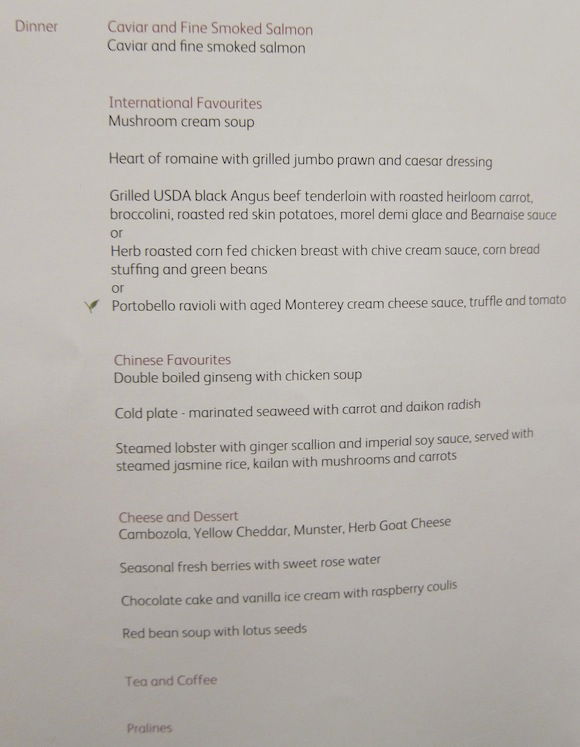 And the wine and beverage list read as follows: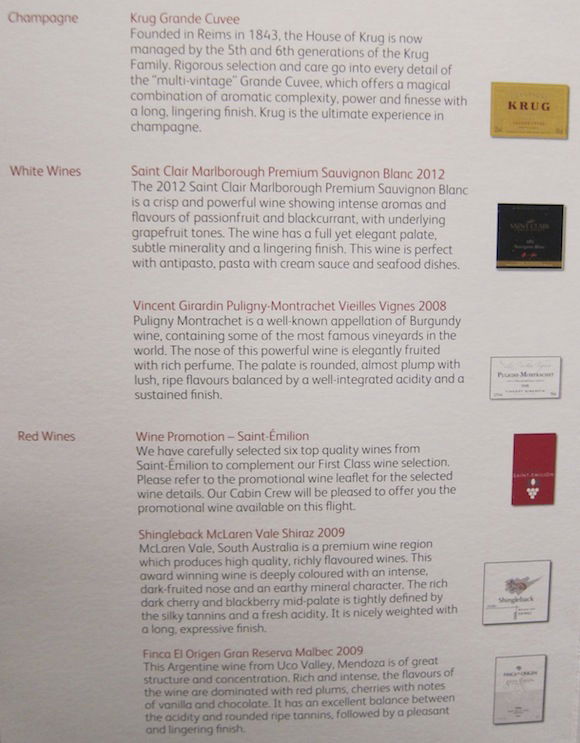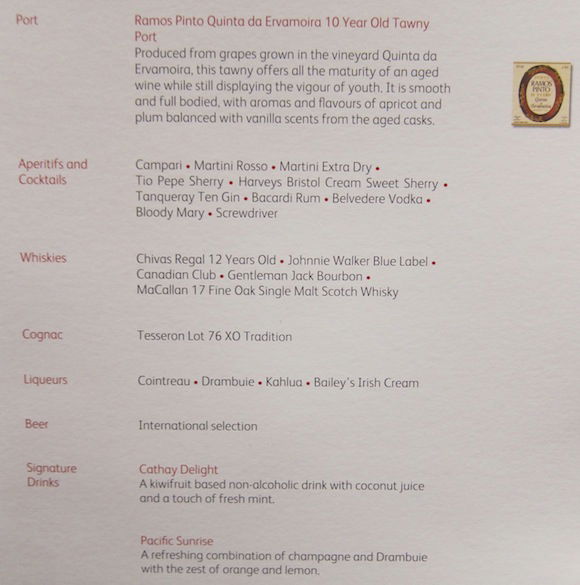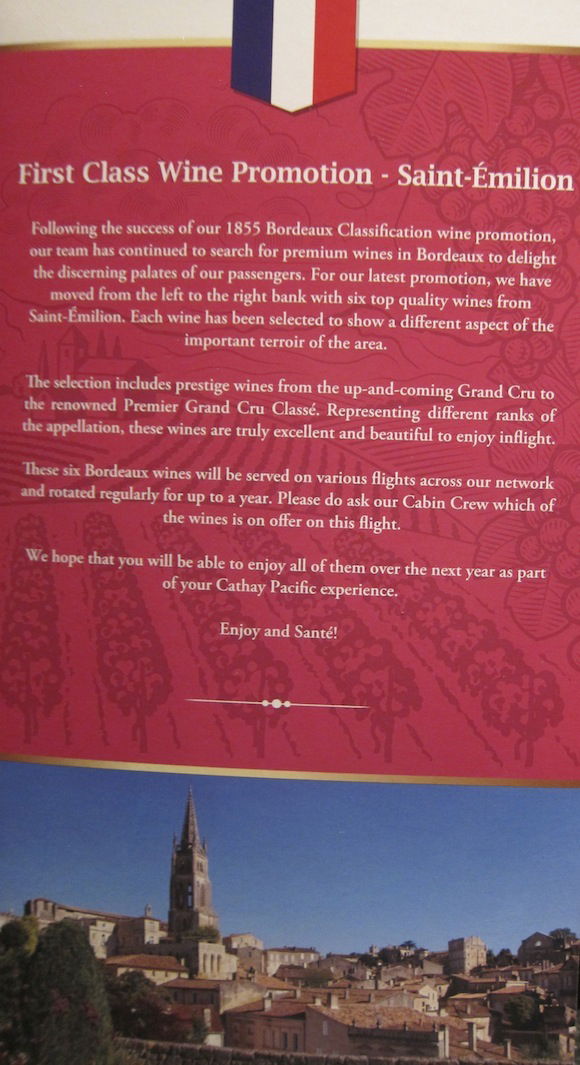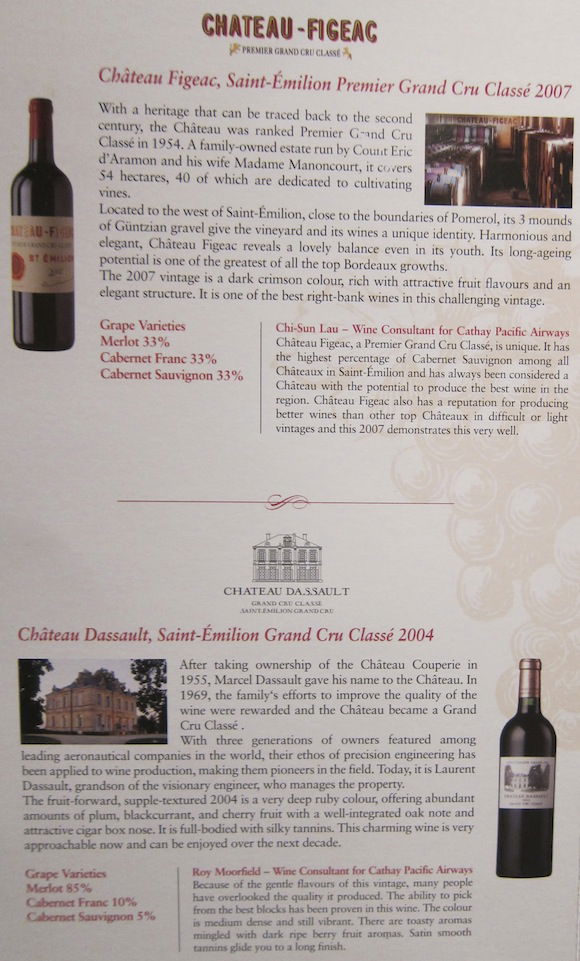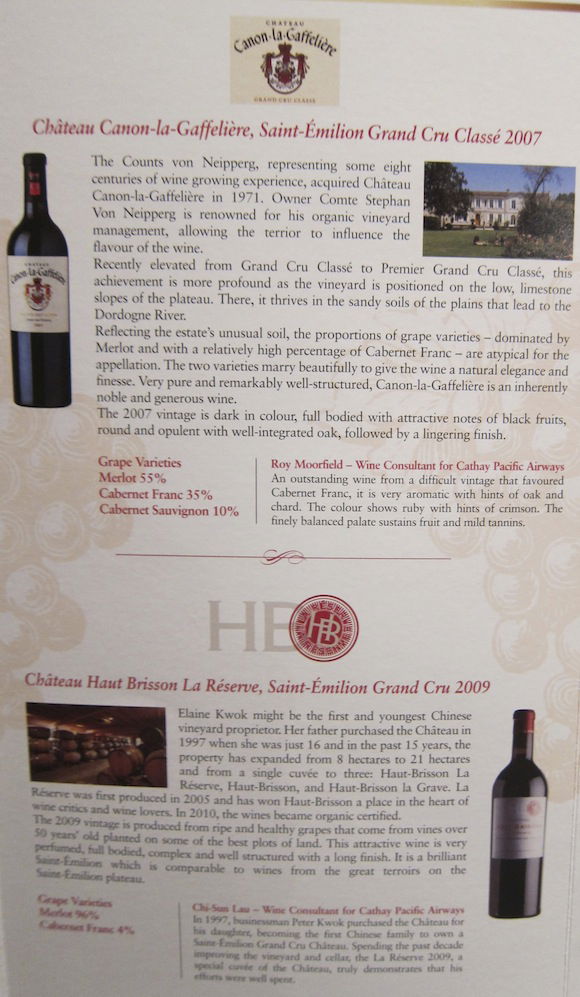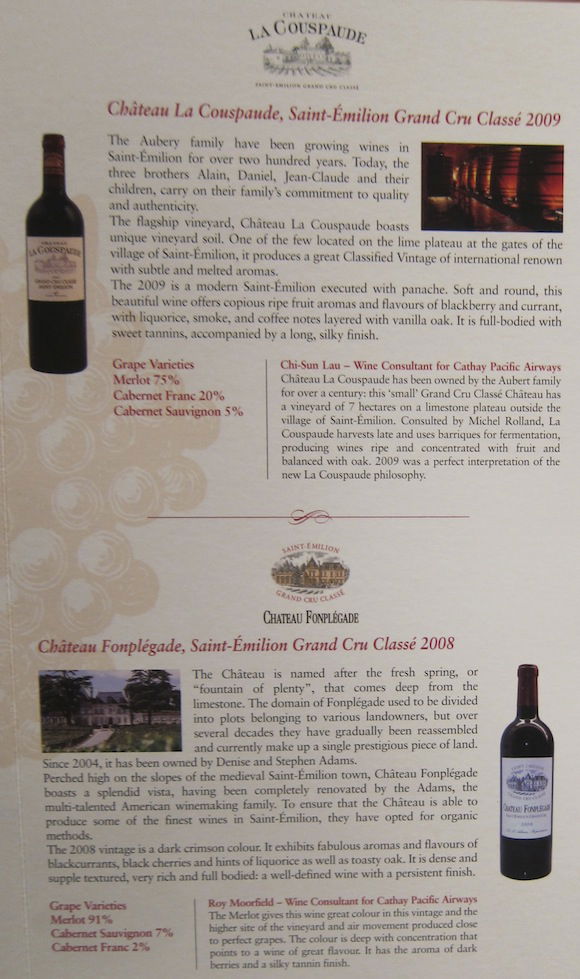 One of the great things about Cathay Pacific first class is that you can dine together, so we had lunch at my seat.
The table was promptly set, including the standard "welcome note" from the crew.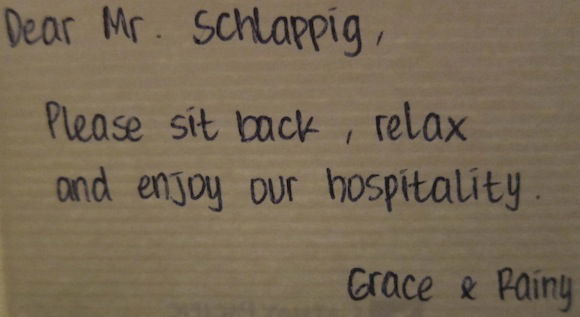 Welcome note
My mom really liked the handwritten note they presented her, and she commented to Grace about what a nice touch it was. She responded with "it's our pleasure, most of our frequent travelers seem to not even notice it," while jokingly pointing at me.
For the first course we had caviar and salmon, which is my favorite part about the Cathay Pacific meal service.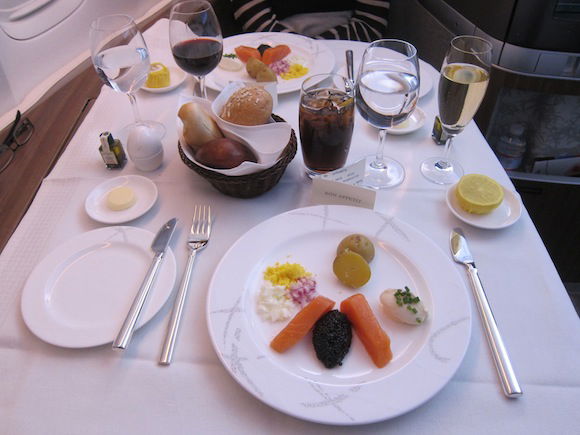 Caviar and salmon starter
Next my mom had the ginseng chicken soup, while I had the caesar salad with prawns, which I must say was excellent.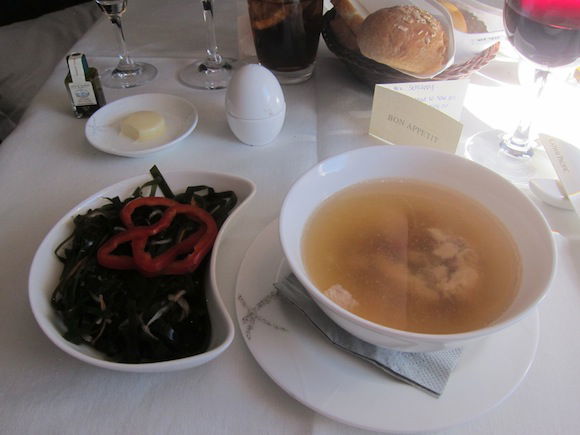 Ginseng chicken soup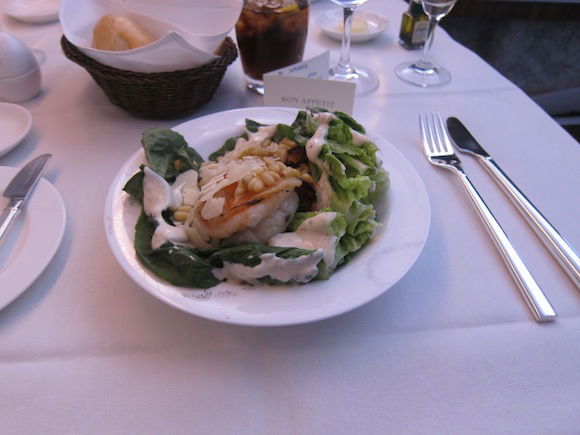 Caesar salad with prawn
My mom had the steamed lobster as the main course, which she thought was okay. The lobster was really, really chewy, though.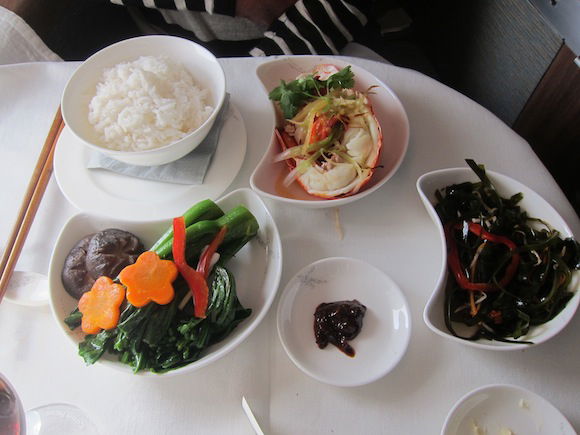 Steamed lobster
I always lose interest with the main courses on Cathay Pacific. The western options are always either pasta or a huge (but not especially high quality) sirloin. I'd take a Chinese option instead, though I always find the meat to be really fatty, which I'm not a fan of (though I realize it's more flavorful, so very popular among many).
Instead I ordered the ravioli, which was "bleh." I just had one piece since I wasn't especially hungry at this point.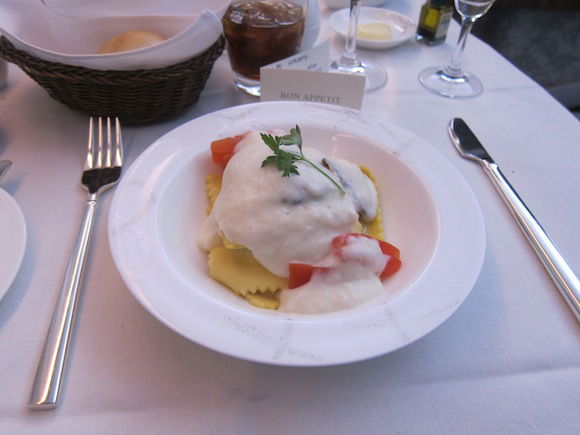 Portobello ravioli
Then for dessert I had the chocolate cake with vanilla ice cream.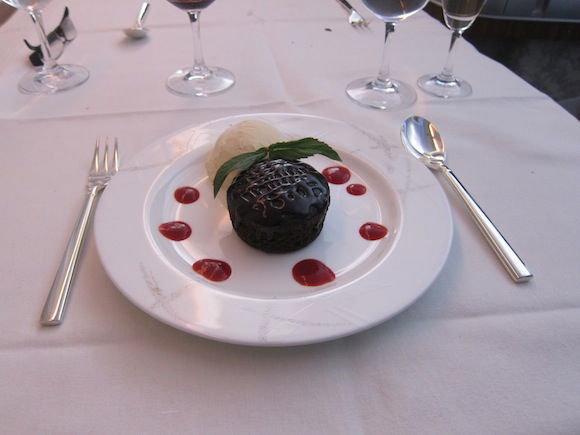 Chocolate cake
I then had some Hong Kong style milk tea, which I love.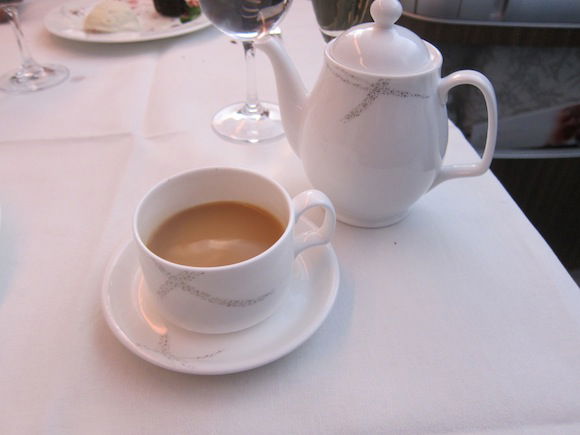 Milk tea
To finish off the meal I was offered a hot towel and some pralines.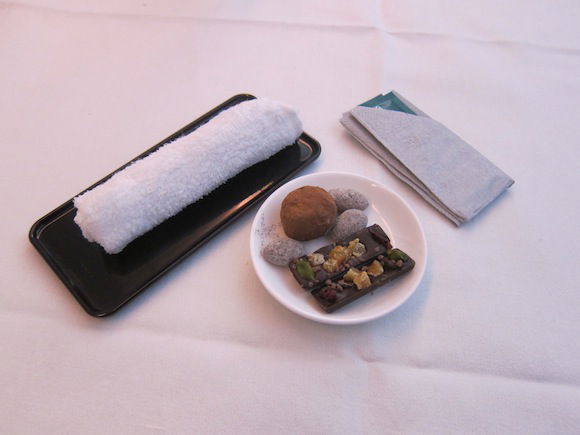 Pralines and towel
The service throughout the meal was spectacular. It was perfectly paced and Grace was a delight.
After lunch I requested turndown service, which was promptly taken care of. Cathay Pacific is one product where I can always sleep regardless of whether I'm tired or not, because the bed is just so damn comfortable.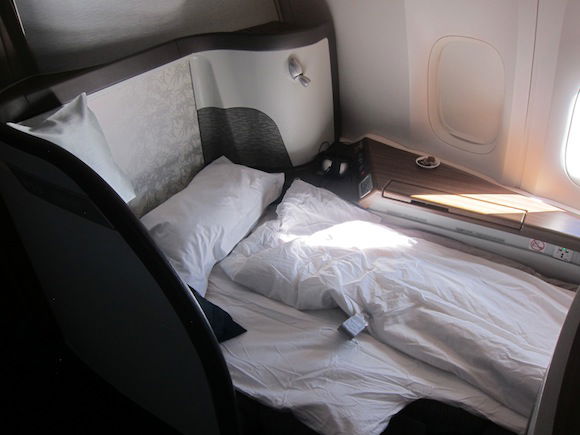 Turndown service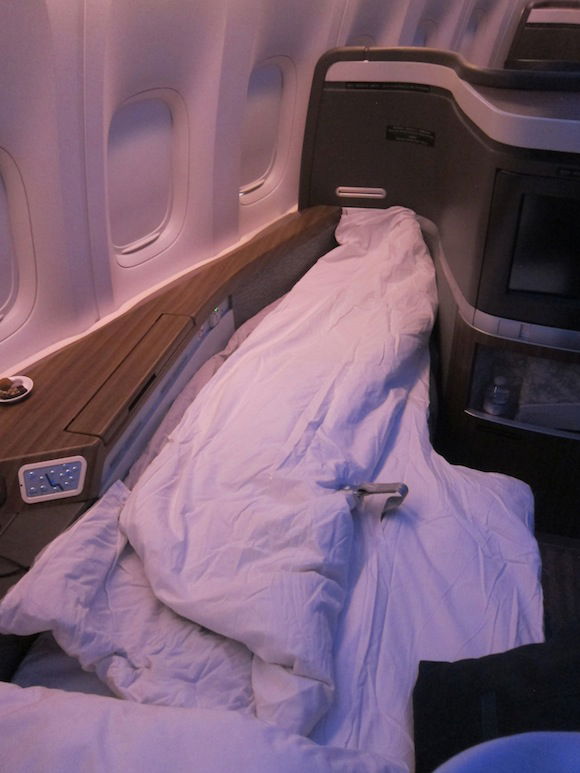 Turndown service
In addition to the turndown service I was offered a bottle of water.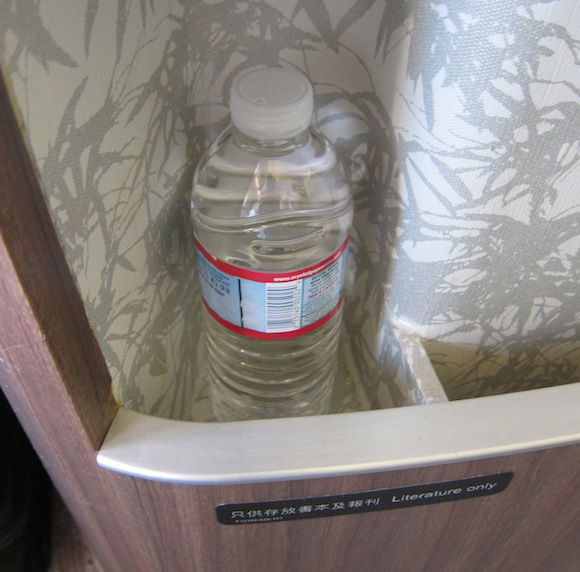 Bottled water
I fell asleep with about 13.5 hours to go to Hong Kong, and woke up about five hours out of Hong Kong as we were hitting some turbulence over Japan, so I got more than a full night of sleep!
Upon waking up I decided to watch a movie. StudioCX has one of the most extensive on demand programming of any airline, and I decided to watch Identity Thief, which I thought was simultaneously horrible and hilarious.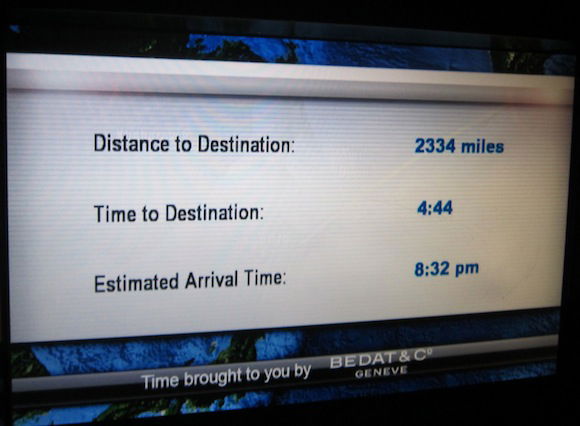 Airshow upon awakening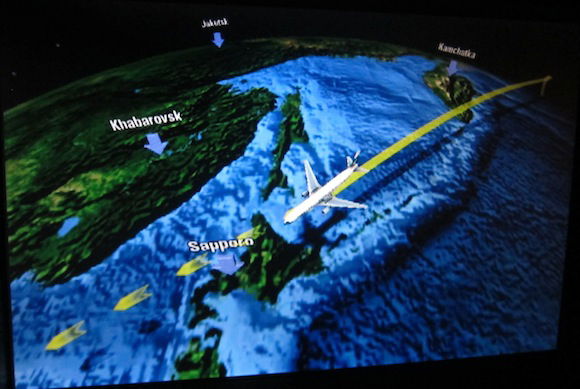 Airshow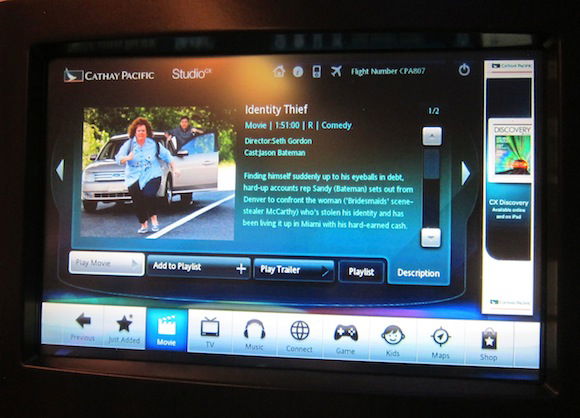 Identity Thief
I perused the snack menu and decided to order some crab cakes. As soon as I pushed the call button, Grace appeared within five seconds.
For what it's worth the snack menu read as follows: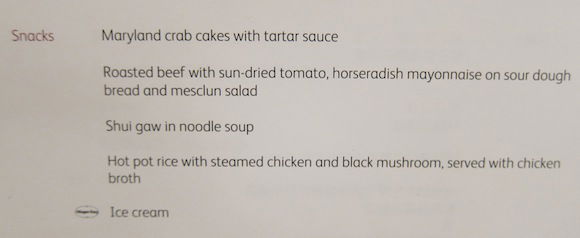 Grace explained it would take about 15 minutes to prepare the crab cakes, and sure enough 15 minutes later she served them.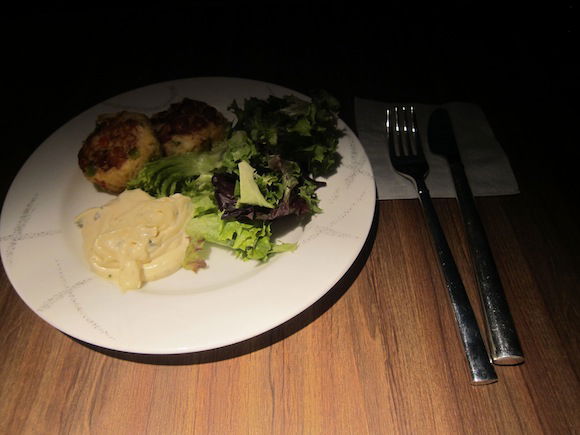 Crab cakes
After the crab cakes she asked if I might like some ice cream or other dessert. Sure, why not?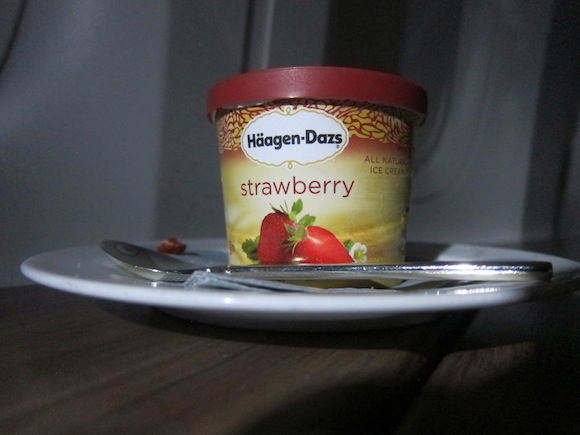 Ice cream
After watching Identity Thief I napped for a bit more, and woke up about 90 minutes out of Hong Kong as the pre-arrival meal service began. The menu read as follows: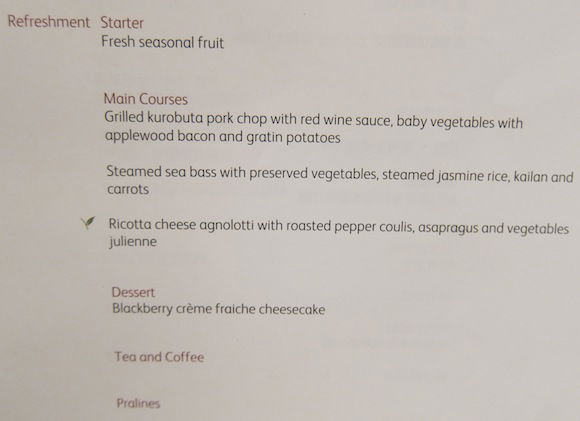 I wasn't really hungry (though my sweet tooth always is), so just had some orange juice, fruit, and the blackberry cheesecake.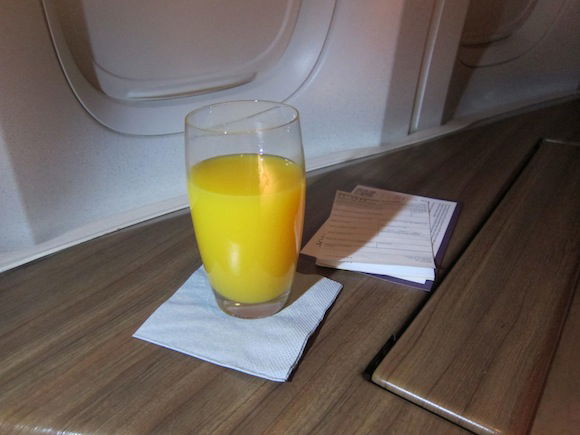 Orange juice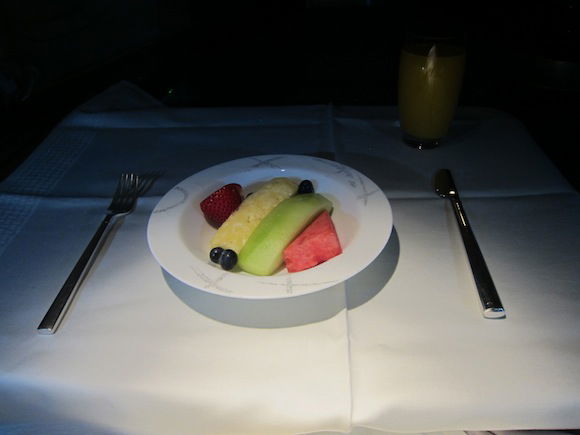 Fruit plate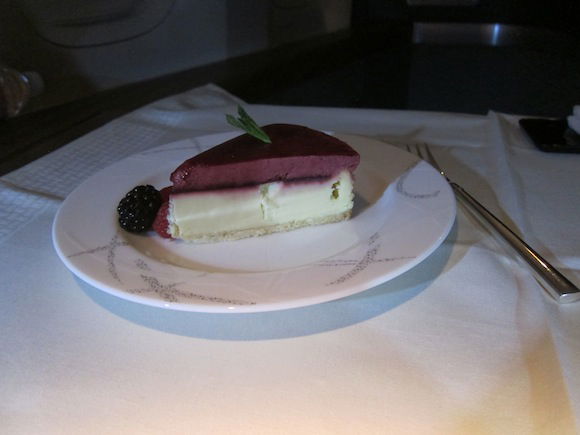 Blackberry cheesecake
About 30 minutes out of Hong Kong the captain came on the PA to give us some updated arrival information.
Despite some thick clouds and turbulence on the descent, the views were spectacular, as we flew right by Victoria Harbour.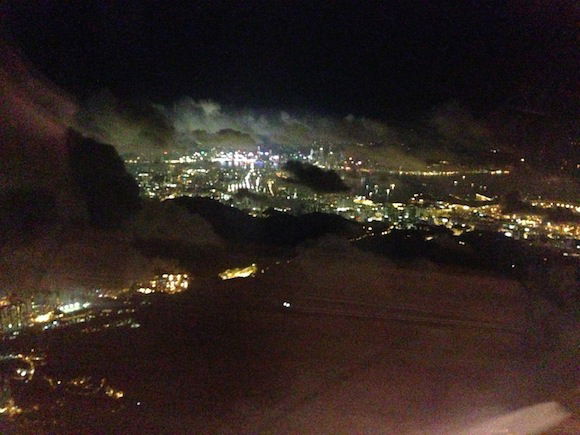 Views on approach

We had a smooth touch down in Hong Kong just a few minutes behind schedule, and quickly taxied to our arrival gate.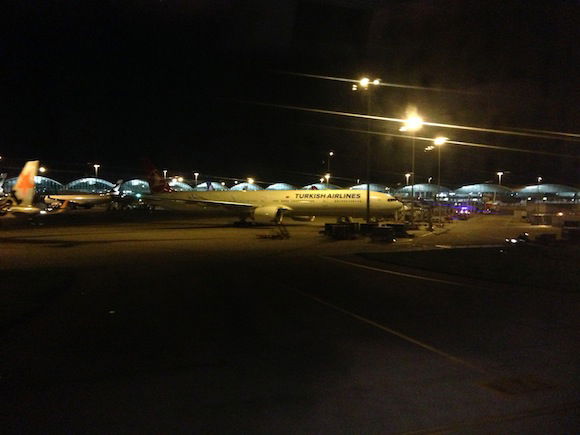 Taxiing in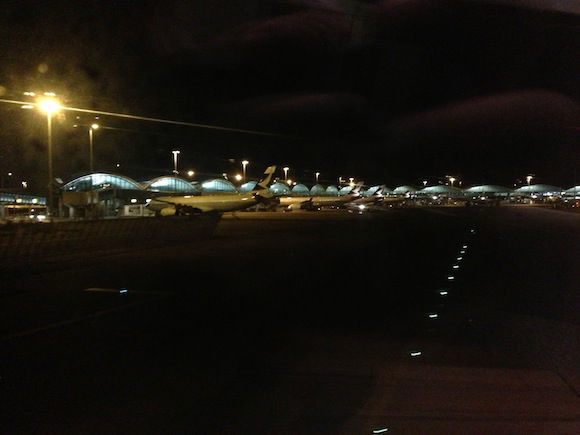 Taxiing in
Upon deplaning we thanked Grace and Rainy for the great service and headed towards immigration, which was about a five minute walk. There was a bit of a queue at immigration so we had to wait for about 15 minutes.
However, by the time we got there our checked bag had already arrived, and we hopped in a taxi to the Conrad.
This was another awesome flight in Cathay Pacific first class. They might not be perfect… but they're damn close.