The "New" American to Europe
---
A couple of months ago American started taking delivery of their new 777-300ER aircraft. This was exciting not only because it finally represented some "fresh blood" in their longhaul fleet, but also because these were the first aircraft to feature their new first and business class products, as well as Wi-Fi on longhaul flights.
Given that their new 777-300ERs are a huge leap for them in terms of the premium cabin longhaul flying experience, they invited me to fly the new business class product on a flight to London. In the interest of full disclosure (and as I'll disclose at the top of subsequent installments) they covered my flights between Seattle and London in business class, though as you'll see all opinions expressed are my own.
The funny thing is that this trip was pretty last minute and I took exactly the same flights between Seattle and London just a few weeks prior while en route to Kuala Lumpur.
While on one hand, it might seem boring to try exactly the same flights again, I actually thought it provided a good opportunity to do a side-by-side comparison of the experience between the two products.
My flights left me with two nights in London, a city I've visited several times before. Rather than spend my time there I decided to book my own flights to Amsterdam, which I've been wanting to visit for a long time now. I redeemed 9,000 British Airways Avios per direction in Club Europe (business class), which seemed well worth it to experience a new city. In the end, my itinerary looked as follows:
03/18 AA268 Seattle to New York departing 7:10 AM arriving 3:29 PM
03/18 AA100 New York to London departing 7:10 PM arriving 6:20 AM (+1 day)
03/19 BA434 London to Amsterdam departing 11:45 AM arriving 2:05 PM
03/21 BA423 Amsterdam to London departing at 7:45 AM and arriving at 8:05 AM
03/21 AA139 London to New York departing 12:35 PM arriving 4:40 PM
03/21 AA269 New York to Seattle departing 6:30 PM arriving 10:05 PM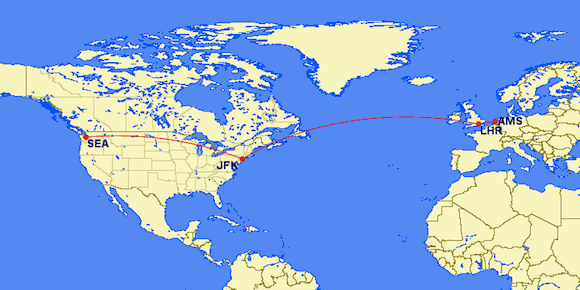 While the connection times in London weren't ideal — especially given the little time I had in Europe to begin with — I figured it was still worth seeing Amsterdam for a full day rather than visiting London again.
In Amsterdam I decided to book the Andaz, which opened just a few months ago. As I shared in this post, I had the choice between redeeming 18,000 Gold Passport points or spending ~242 Euros per night. I value Gold Passport points at 1.6 cents each, so that means I value 18,000 points at ~$288USD. As a Diamond member I earn 6.5 points per dollar spent at Hyatt, so I'd be giving up ~2,000 Gold Passport points per night by booking an award stay, which I further value at $32. So in other words an award stay would really "cost" me 20,000 points per night, or $320 factoring in the points I'd be giving up. This is about as close to breakeven as I've ever seen on the redemption front.
Given that the hotel had a promotion for 2,000 bonus points per stay I decided to book a revenue stay, especially since it would allow me to apply a Diamond confirmed suite upgrade to the reservation.
Anyway, I have lots of travel to report on (including a trip to Asia that I took last week), so to keep this report brief I'm going to stick to the highlights, and focus solely on my flights between New York and London and my stay at the Andaz Amsterdam. I'll skip my flights between New York and Seattle, the American Flagship Lounge New York, the British Airways Galleries First Lounge Heathrow, British Airways Club Europe service, the American Flagship Lounge Heathrow, and the British Airways Galleries First Lounge Heathrow T3.
Lastly, you can read my initial impressions of all cabins on the American 777-300ER in this post.
Thanks for reading, sit back, relax, and enjoy. I'll have the trip report wrapped up before the end of the week.