---
American has a few seasonal routes out of Chicago, including to Dublin, Helsinki, and Rome. Now, even though I'm a huge fan of American, I'll be the first to admit that I don't actually get their route network. While they're a great airline in most other ways, their route network leaves a lot to be desired, and I'm not totally sure I understand how seasonal service necessarily works towards long term aspirations of having a thorough route network. For example, American's only flight to Frankfurt is out of Dallas, which alienates just about everyone on the east coast from flying to Frankfurt on American. Similarly, they don't fly to Hong Kong, the hub of one of their largest partner airlines. On the plus side, with the US Airways merger, American should become considerably stronger in Europe, picking up destinations like Amsterdam, Munich, Venice, etc., and several new routes with more convenient east coast connections.
Anyway, American is operating a seasonal service to Helsinki between June 13 and August 26, 2013. It's actually a really logical route given that Helsinki is where their OneWorld partner (and soon transatlantic joint venture partner) Finnair is based. What kind of surprised me is actually that the route is seasonal, not because there's much demand for traveling to Helsinki outside of the summer months, but rather because Helsinki is such a logical connecting point for many places in Northern and Eastern Europe. And, well, let's be honest, it's not Heathrow, which I try to avoid like the plague. Helsinki is quite the opposite of Heathrow, actually, with a minimum connection time of 35 minutes, which is among the shortest in the world.
To promote the service, American invited me to experience the route in business class, though I asked if I could instead pay for my ticket and invite along a reader. They agreed without hesitation, so I launched a giveaway where all I asked you guys to do was tell me why you should win. I narrowed it down to 20 finalists, had friends narrow it down 10 finalists, and then had you guys vote on who should win. The winner was Andrew, who had some hilarious memes, and as a result he was stuck hanging out with me for a few days.
I booked us at the Hotel Kämp, which is a Starwood Luxury Collection property. It was approximately 160€ per night per room, and I even booked one night through American Express Fine Hotels & Resorts. The benefits of booking through Fine Hotels & Resorts are a room upgrade, 4PM late check-out, free breakfast daily, and one free dinner. The benefits were mostly redundant since I'm a Starwood Platinum, though the free dinner was a unique benefit.
My coach ticket was more than I'd care to admit (I forgot just how expensive coach tickets are to Europe in summer), though fortunately my systemwide upgrades confirmed immediately, as upgrade space was plentiful in both directions. That made the cost of the ticket sting just a little bit less.
In the end my itinerary looked as follows (and I met up with Andrew in Chicago):
07/15 American 2240 Seattle to Chicago departing 6:00AM arriving at 11:55AM
07/15 American 130 Chicago to Helsinki departing 3:40PM arriving 8:30AM (+1 day)
07/18 American 131 Helsinki to Chicago departing 2:30PM arriving 3:55PM
07/18 American 1377 Chicago to Seattle departing 8:40PM arriving 11:10PM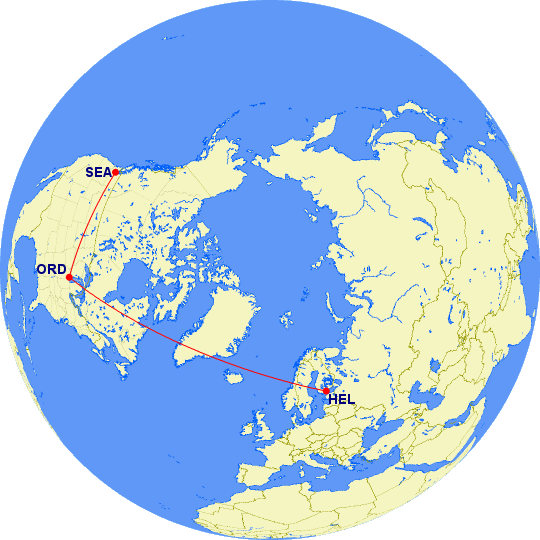 Anyway, I'll be covering not only the flights and hotel in Helsinki, but also a pretty cool behind the scenes tour we got of the airports in Helsinki and Chicago, and Andrew was even kind enough to write up his impressions of the trip, so I'll be publishing those first.
Thanks to everyone for reading, and as always, questions/comments are welcome!