---
As I mentioned in the last installment, earlier this year Hyatt announced that four hotels in France would be rebranded as Hyatts, which I was really excited about. I love when independent hotels rebrand as chain hotels, since you get the consistency and benefits you get through a global loyalty program, while getting something other than the typical "cookie cutter" experience.
Of the four French hotels being rebranded as Hyatts, two were in Paris, one was in Nice, and one was in Cannes.
We decided to first do two nights at the one in Nice and from there decided to do two nights at the rebranded property in Cannes. Cannes is just a 30 minute train ride from Nice, so visiting the two on the same trip is easy. The Grand Hyatt is a category six Gold Passport property, making it 22,000 points per night. For the nights we were staying, the rate was 450EUR+ per night, so using points was a no brainer.
There are a couple of things worth noting about booking stays at this hotel, though. First of all, as I uncovered after my stay, this hotel accepts "Premier" level Hyatt Stay Certificates, which can be purchased for $188.89 per night. As I note in that post, though, there are capacity controls to stay certificates, but if you can find availability it's an absolute bargain.
Also, if you're booking a revenue stay here, it's worth noting that this hotel belongs to both American Express Fine Hotels & Resorts and Virtuoso. So if you book through either program you'll get added benefits for your stay while paying just the Hyatt Daily Rate.
For American Express Fine Hotels & Resorts the added perks are as follows: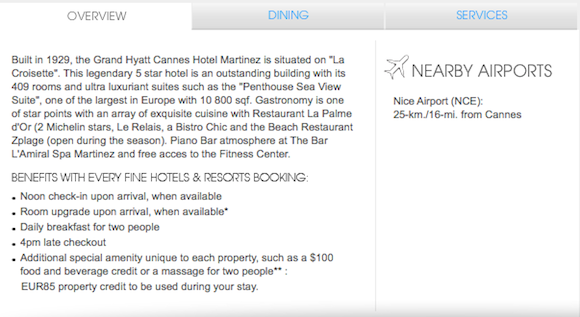 And for Virtuoso the added perks are as follows:

On our third day in Nice we spent the afternoon in Monte Carlo and took the train from there to Cannes, arriving at around 6PM. It's about a 15 minute walk down the Boulevard de la Croisette from the train station, so is very walkable.
Physically Cannes has to be one of the most pristine and beautiful places I've been, at least on the waterfront, and all the hotels are no exception. The Hotel Martinez was stunning on the outside, and not surprisingly it didn't seem to have much Hyatt branding (which I can understand, since I'm guessing for the most part they're going after a different market).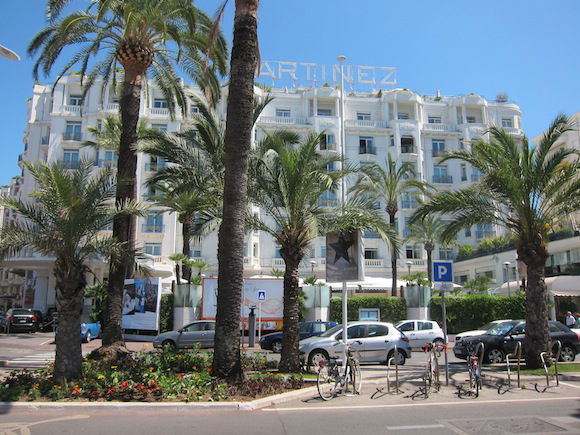 Hotel exterior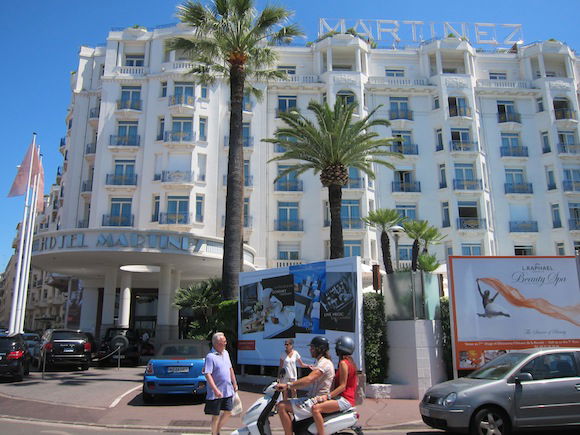 Hotel exterior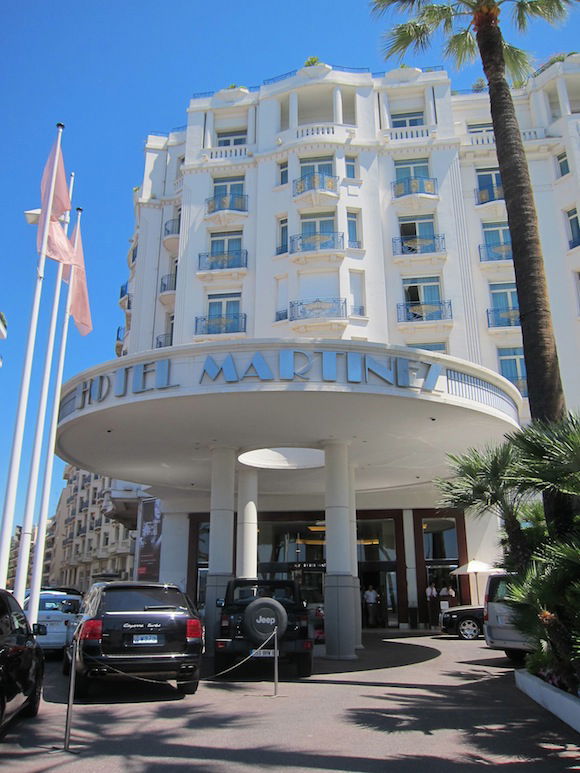 Hotel exterior
At the door we were welcomed by the bellmen and offered help with our bags, which we declined. We were still escorted to reception, which was located at the far end of the lobby.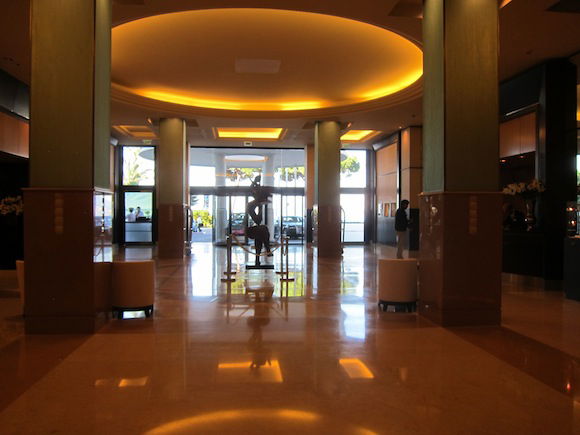 Lobby
Instead of a traditional check-in desk, the hotel had individual desks with chairs for a more private check-in experience. The associate checking us in was extremely friendly and seemed mildly fascinated that we were "Hyatt" guests. She called over the Guest Relations Manager to welcome us, I assume because I'm a Diamond member.
We were informed of all the benefits we'd receive, including complimentary breakfast and a room upgrade to a sea view room.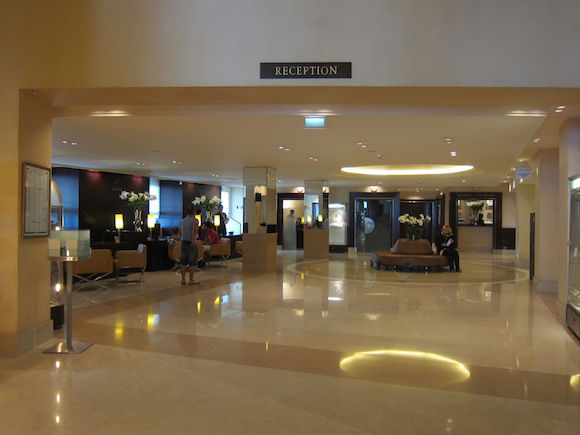 Reception
Our room was on the 5th floor, room 521. I thought every aspect of the hotel was beautifully designed, and thought the decor was a beautiful blend between modern and classic while not feeling shabby, which can be a tough combination.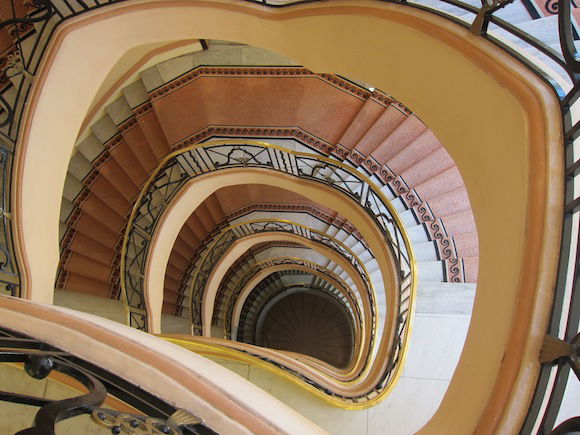 Hotel staircase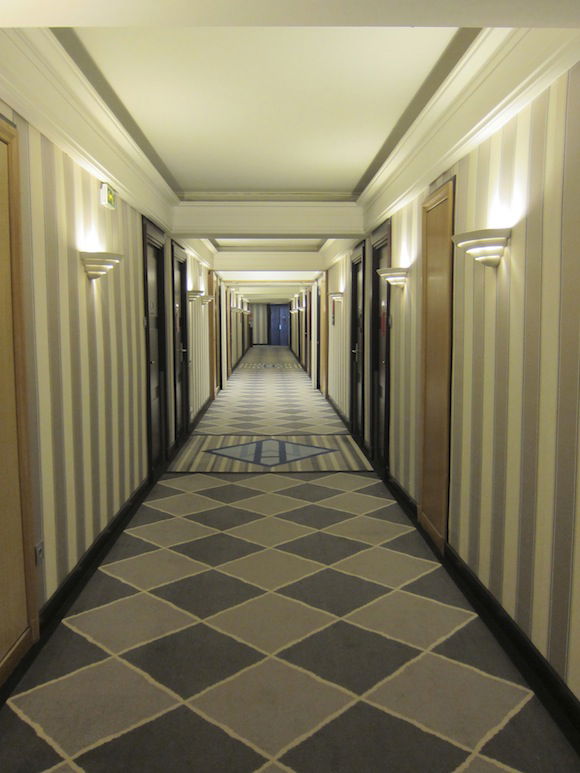 Hallway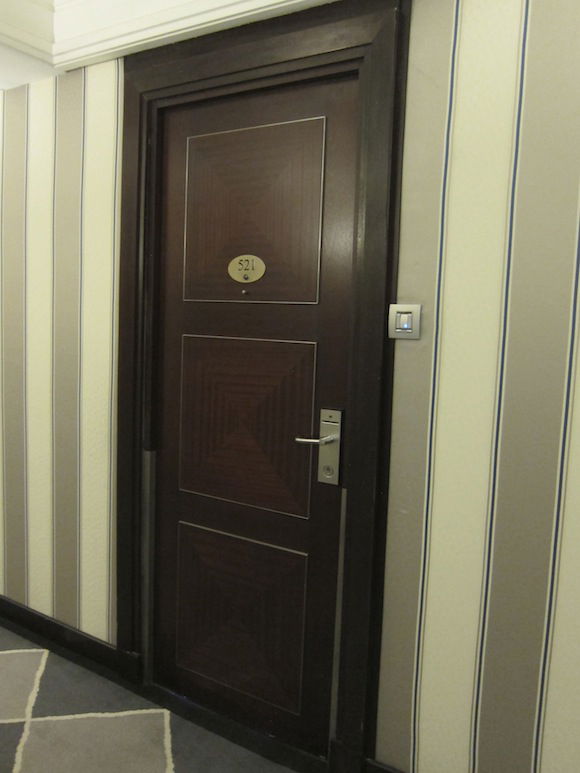 Our room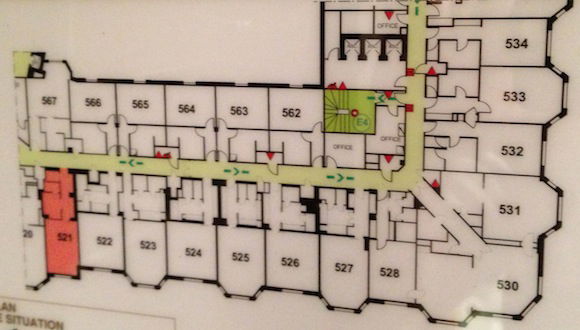 Floor plan
At the entrance was a long, narrow hallway which led to the bathroom on the right side.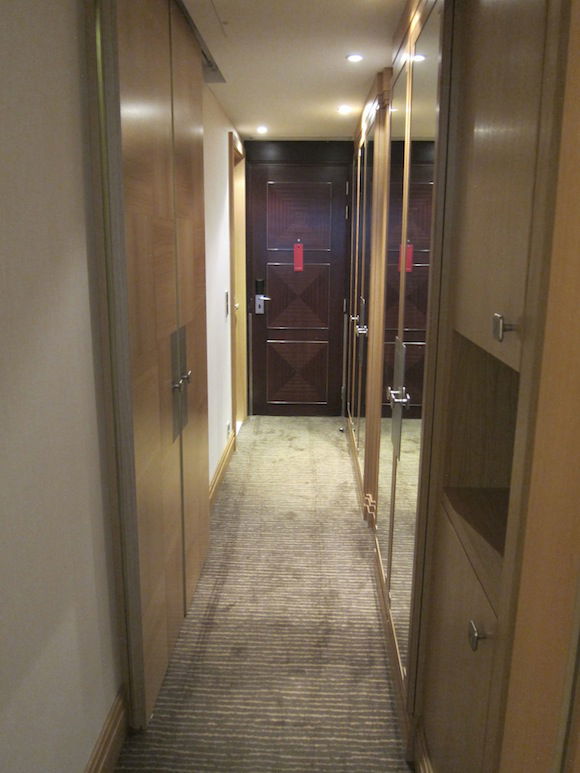 Hallway at entrance
The room had very "light" colors, and featured a king bed, a desk right by the TV, and two chairs with a side table by the window.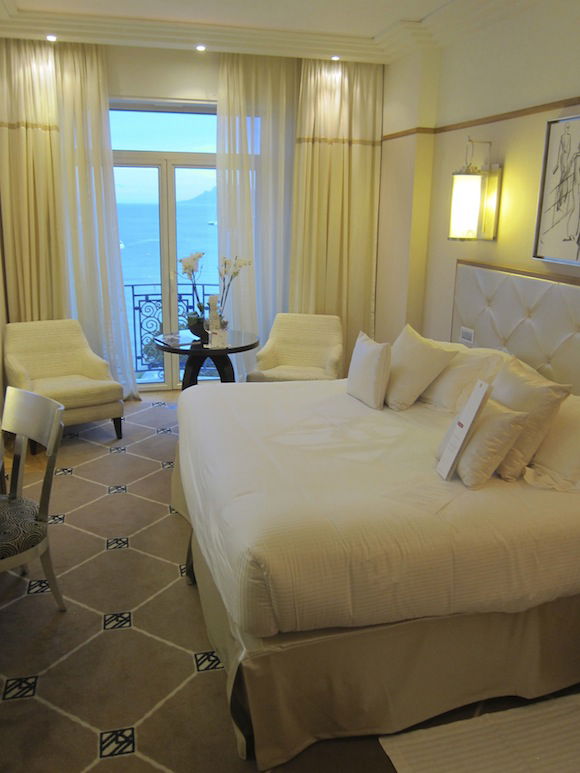 King bed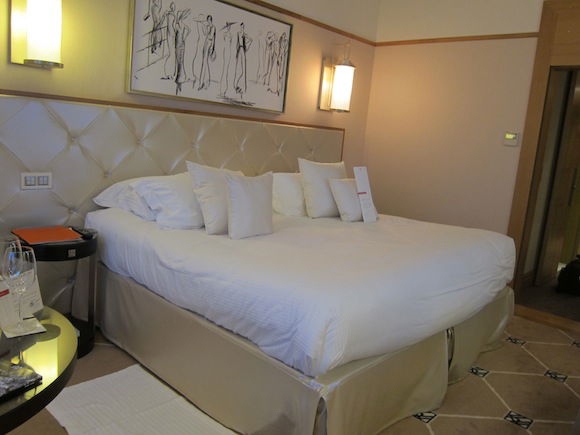 King bed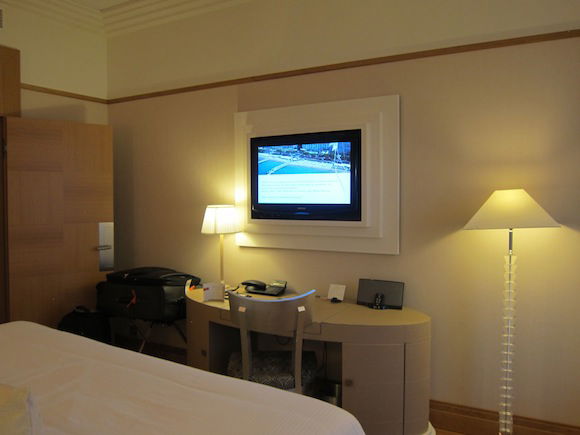 TV and desk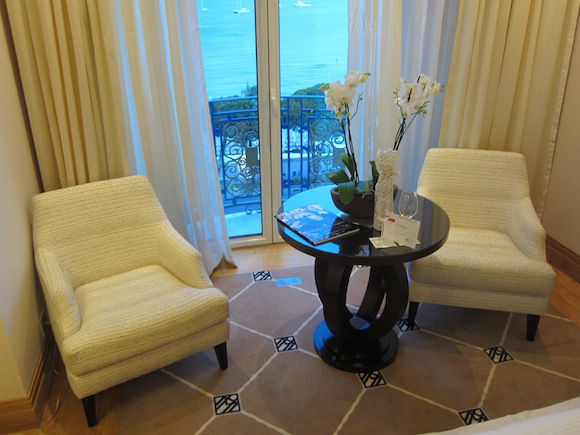 Chairs with side table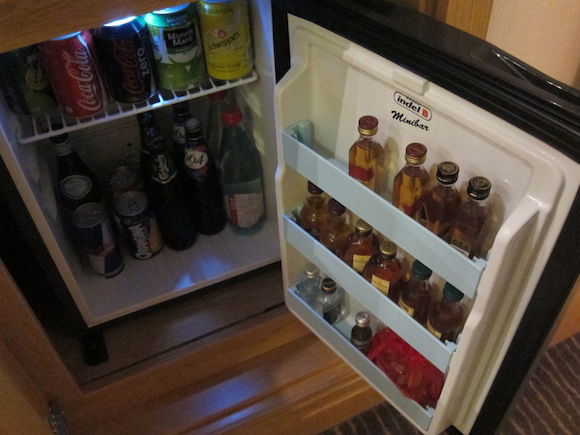 Minibar
We had selected the Diamond welcome amenity in lieu of the 1,000 points. I'm happy we did, because it was one of the nicest Diamond amenities I've ever received. It consisted of a bottle of wine, some fruit, a bottle of still and sparkling water, and some macarons. Awesome!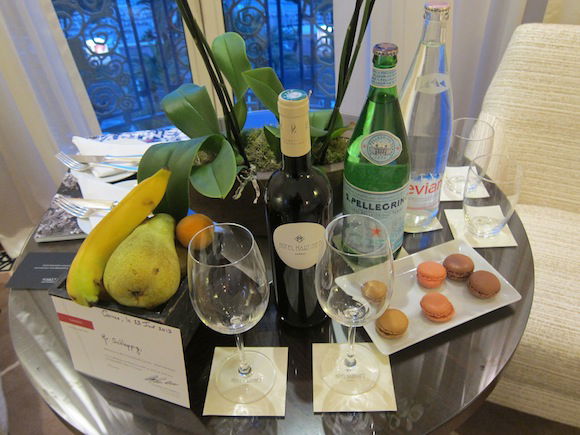 Welcome amenity
There was a small balcony which boasted spectacular views of the Boulevard de la Croisette, and of the bay.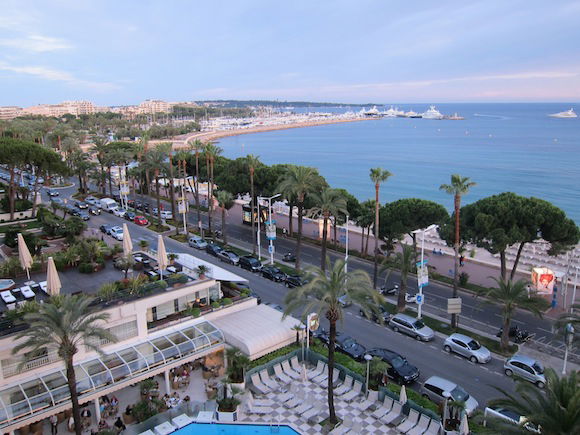 View from the room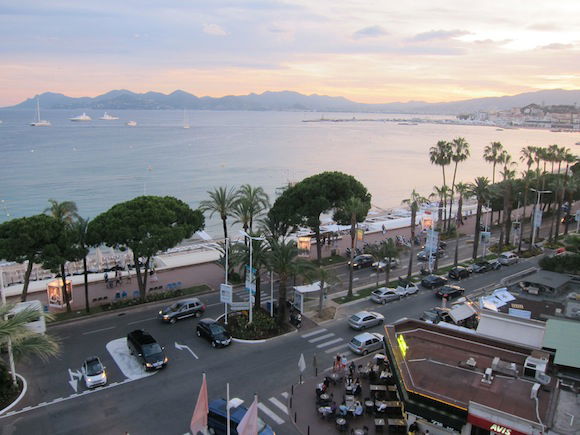 View from the room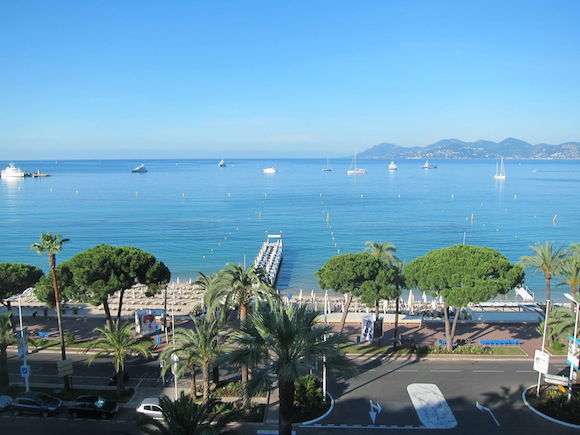 View from the room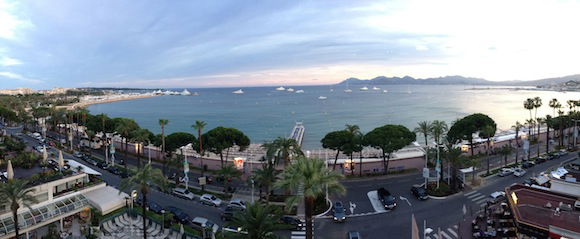 Panoramic view from the room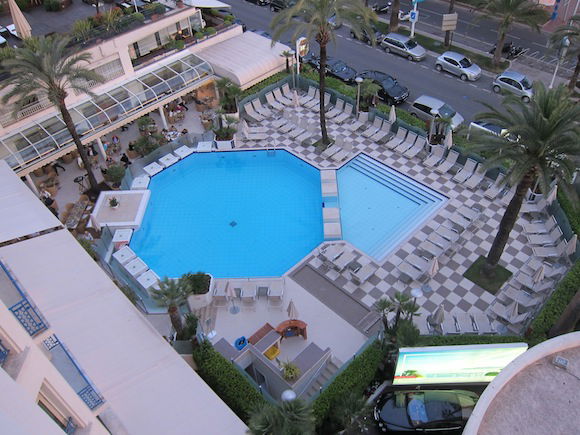 Pool view from the room
The bathroom was pretty blinged out, and featured double sinks and a walk-in shower.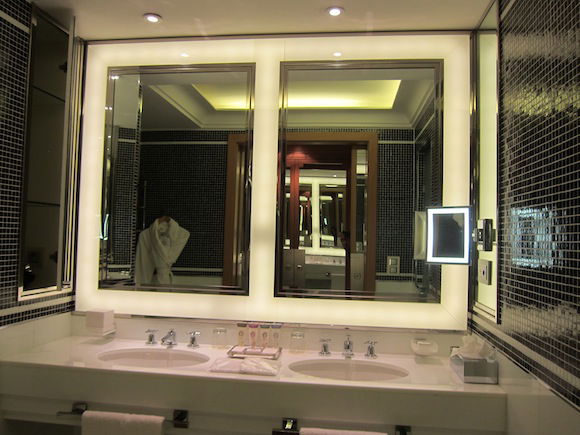 Bathroom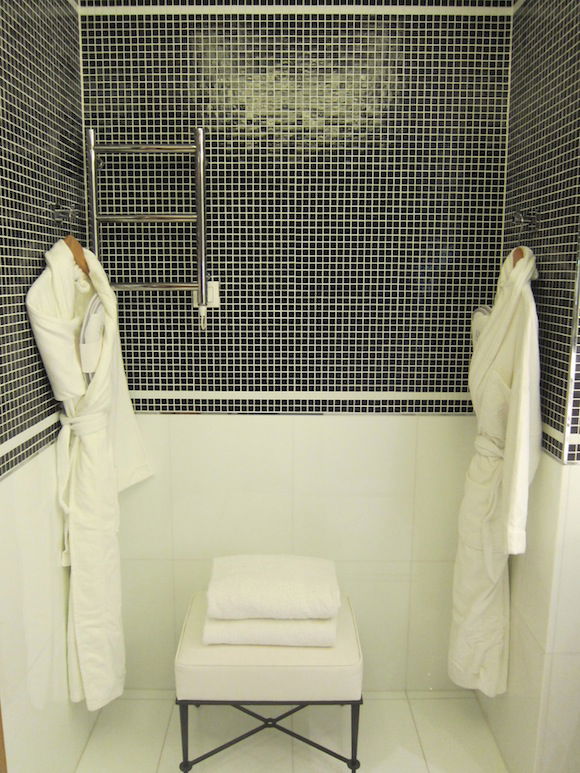 Bathroom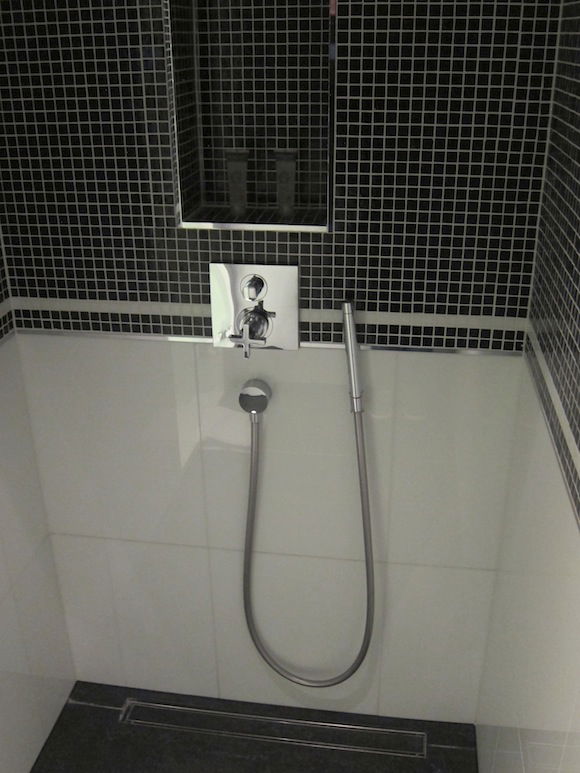 Shower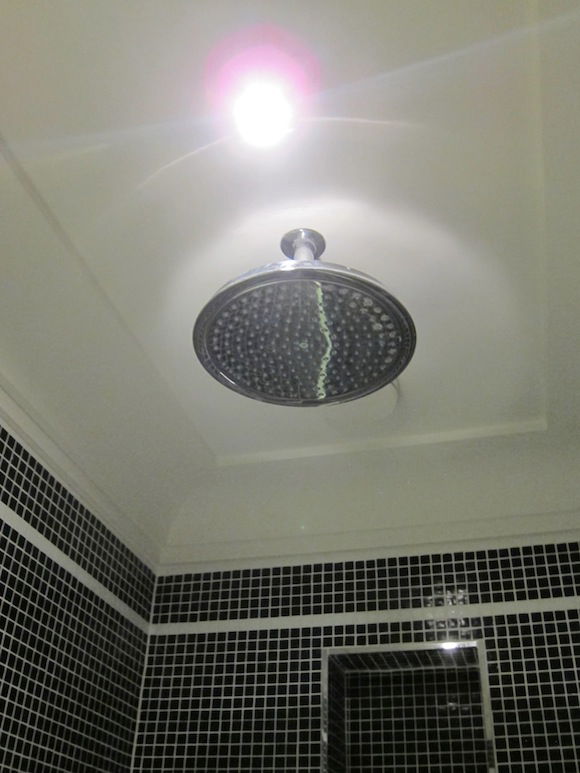 Shower
The amenities were identical to those at the Hyatt Regency Nice, interestingly.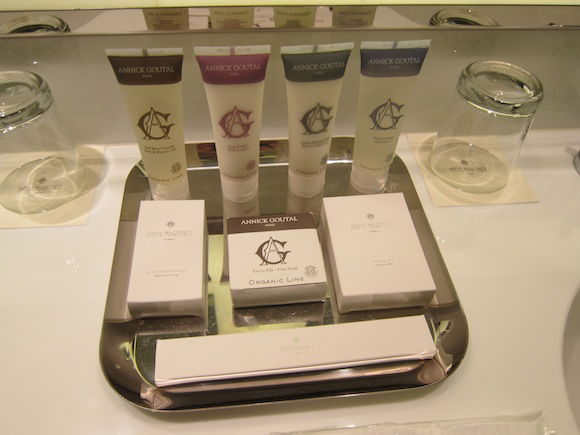 Amenities
The toilet was located in a separate, but equally blinged out room.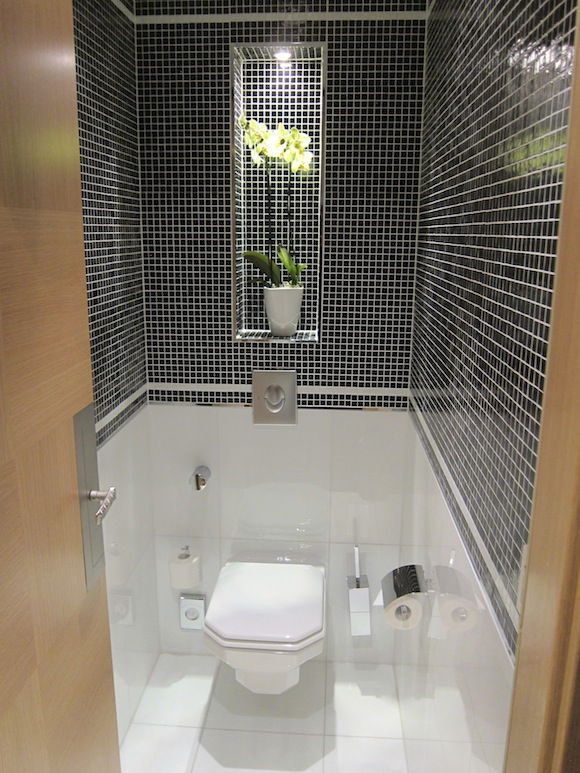 Toilet
The hotel had free Wi-Fi, though much like at the Hyatt Regency, it was virtually unusable.
We had breakfast both mornings in the hotel's restaurant, where you can eat either inside or outside.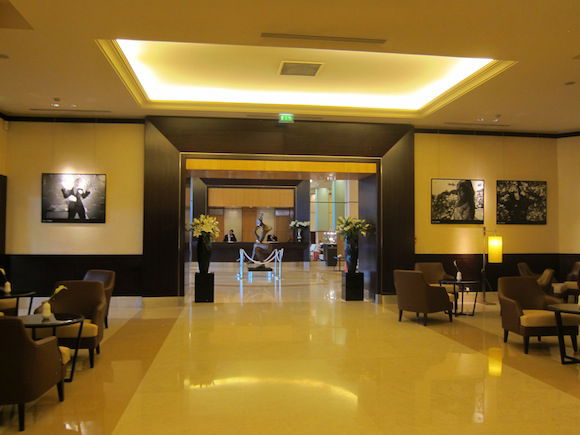 Restaurant entrance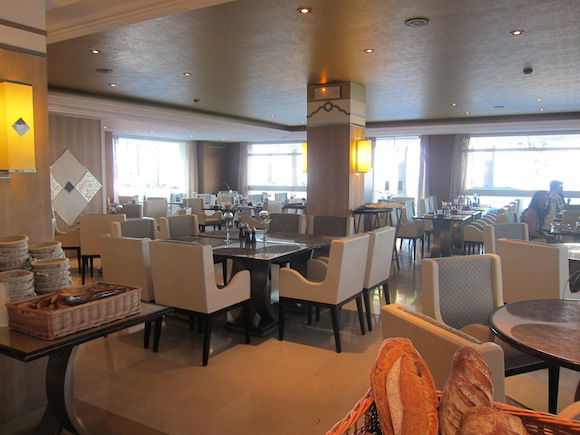 Restaurant indoor seating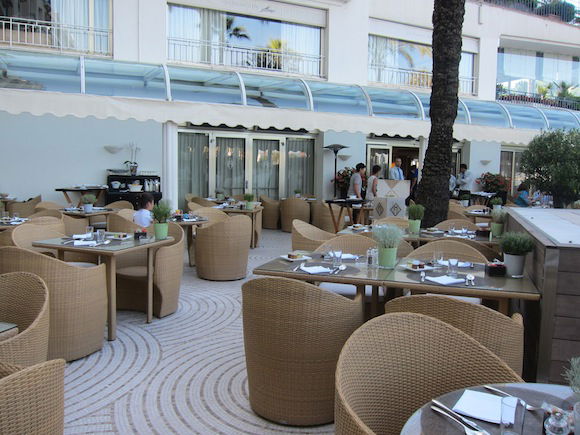 Restaurant outdoor seating

Restaurant outdoor seating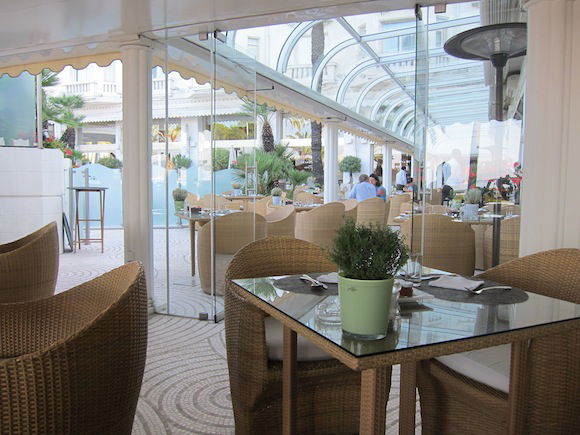 Restaurant outdoor seating
We chose to eat outside both mornings, given that one of the highlights of the trip had to be just how damn nice the weather was. Since the restaurant is at street level the views aren't quite as spectacular as from the Hyatt Regency Nice, though it was great for car and people watching, given the number of people jogging on the boulevard.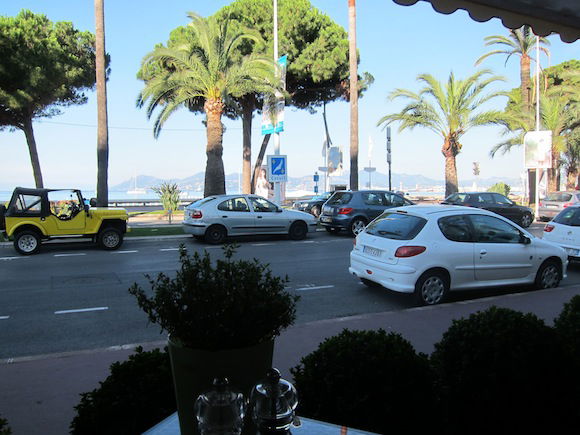 View from the restaurant
The buffet spread here was very similar to the spread at the Hyatt Regency Nice.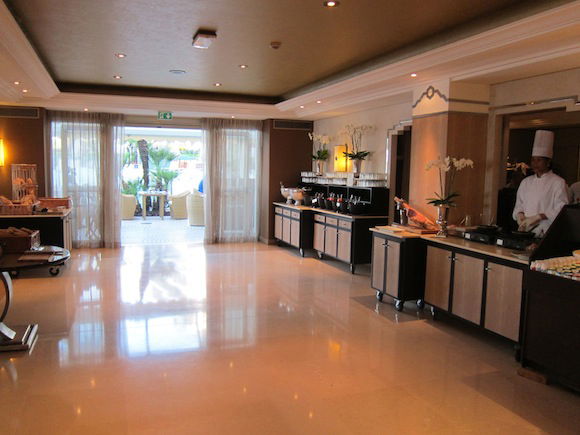 Breakfast buffet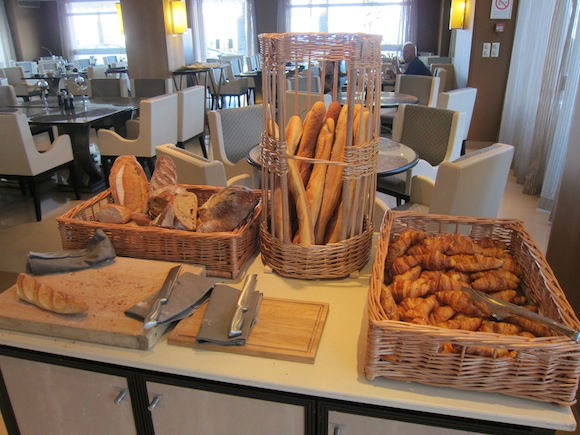 Buffet
I found it interesting that they specifically had bread baskets for baguette, croissants, etc. The part that was most surprising is that every female that looked like a supermodel (and there were lots of them) must have put nearly a dozen pieces of bread in there, and consumed most of them. Puzzling!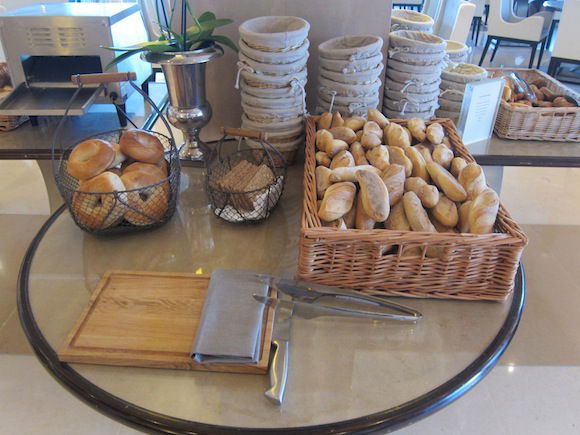 Buffet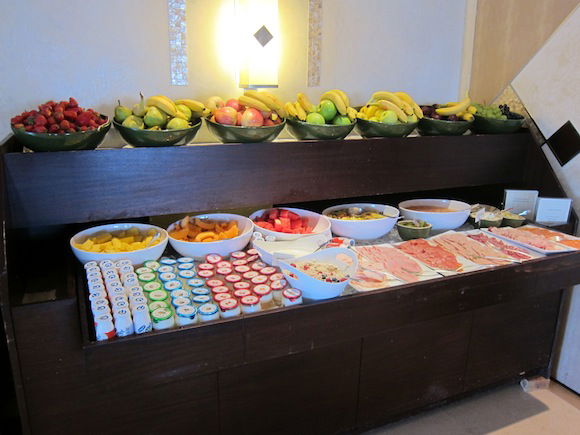 Buffet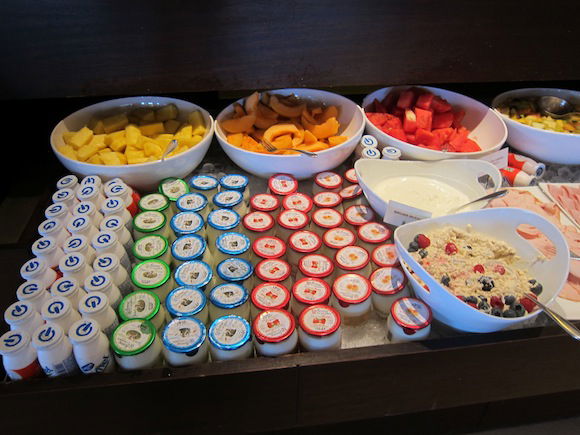 Buffet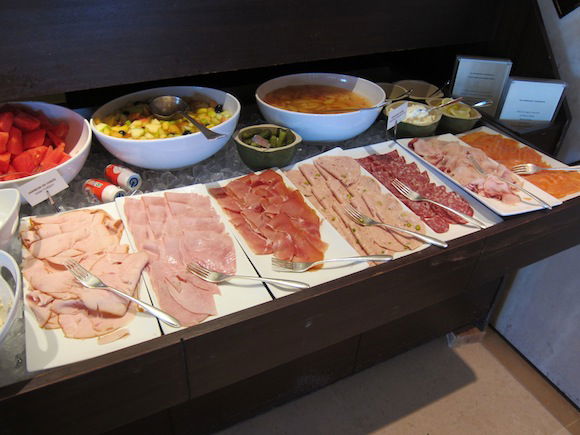 Buffet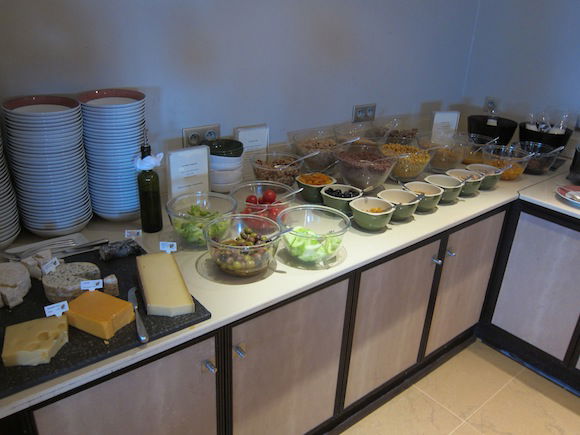 Buffet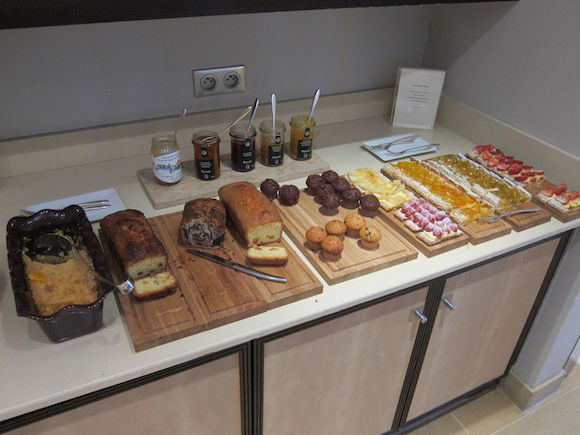 Buffet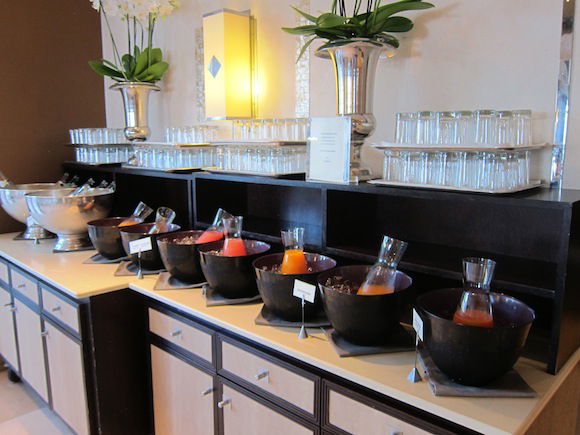 Buffet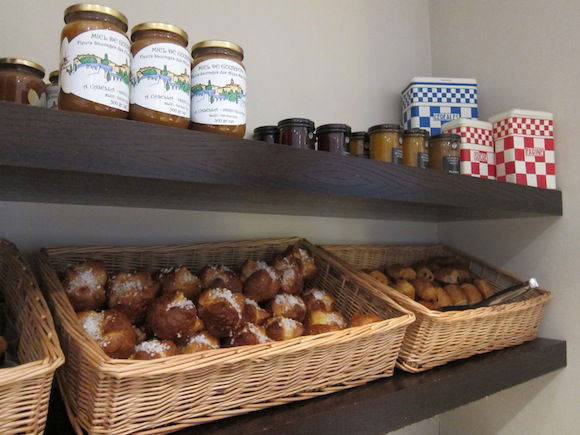 Buffet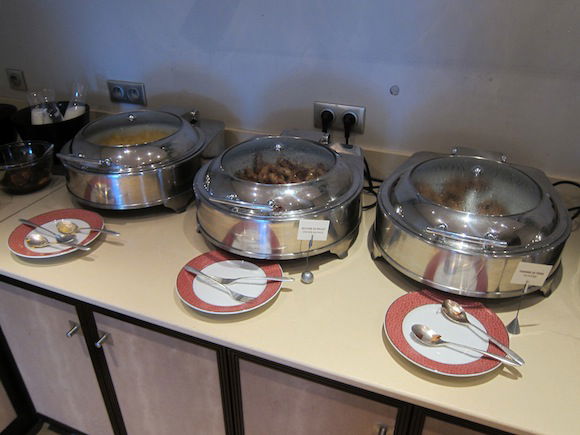 Buffet
While the spread itself was good, I did prefer the one at the Hyatt Regency Nice. Here the chef only made omelets, while at the Hyatt Regency the chef made omelets, pancakes, waffles, crepes, etc. Also, the service was extremely slow, and you had to more or less hunt down a waiter if you wanted a drink refill. That's kind of surprising given how high maintenance the Cannes crowd usually is.
In terms of the hotel's other facilities, it had a beautiful gym and spa on the top floor.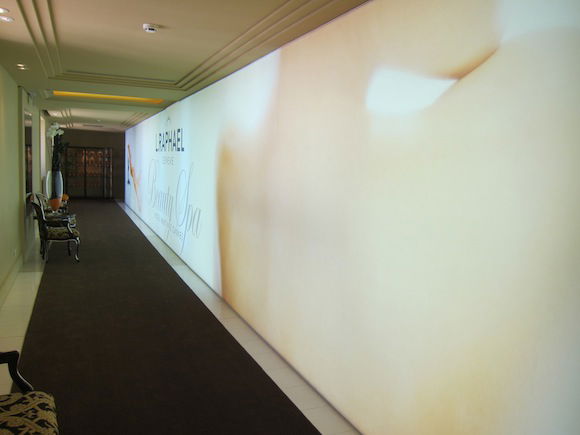 Spa entrance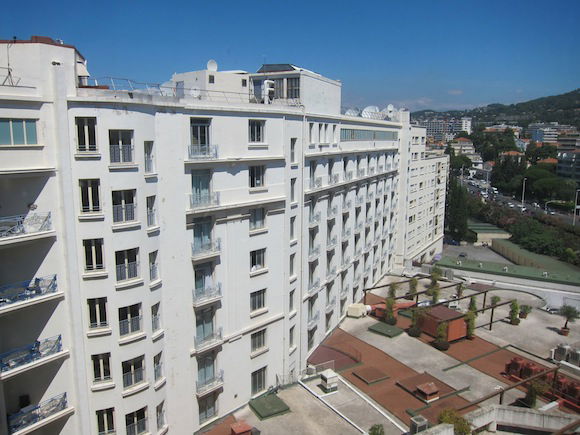 View of hotel from spa
The gym was about ten times as big as at the Hyatt Regency, and it even featured a beautiful terrace with some lounge chairs.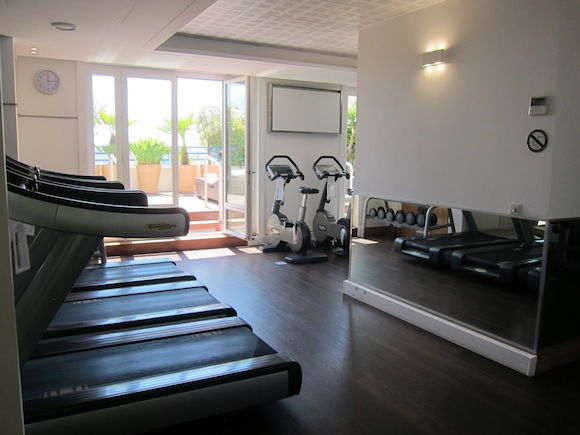 Gym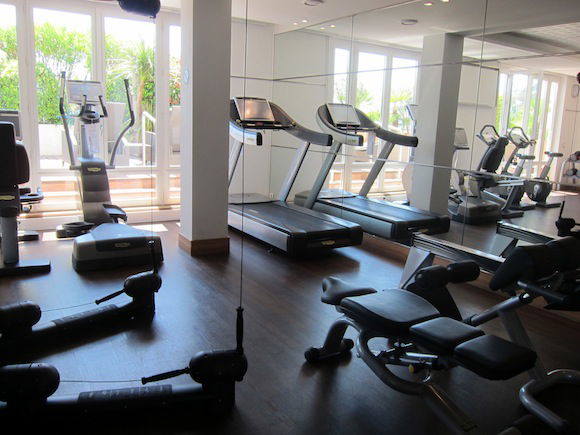 Gym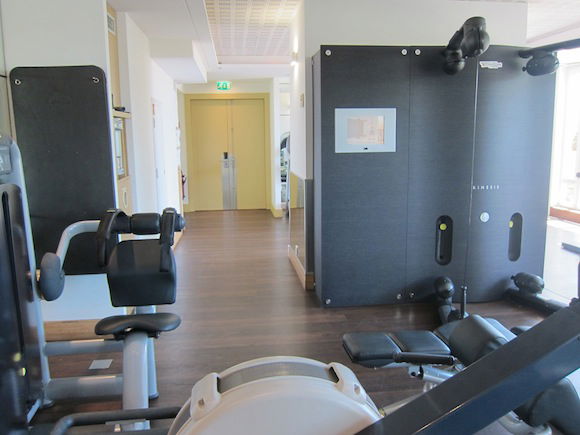 Gym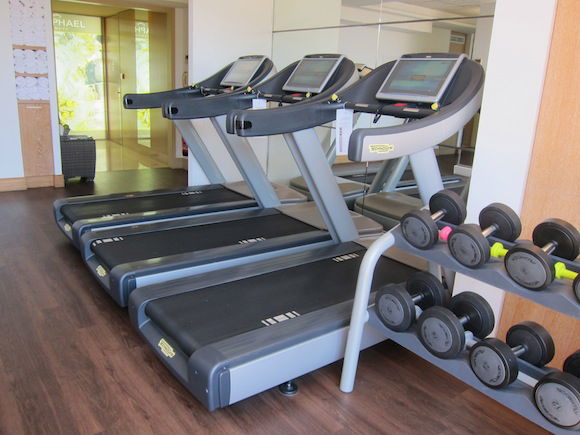 Gym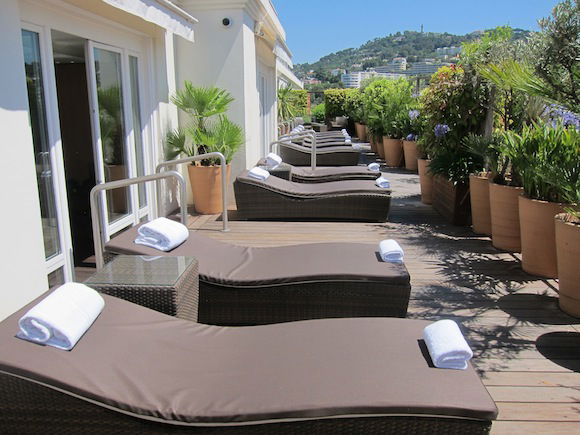 Gym
The hotel also had a private beach right across the street, which was beautiful. The beach in Cannes seemed to be much nicer than in Nice, given that it had real sand as opposed to some gravel equivalent.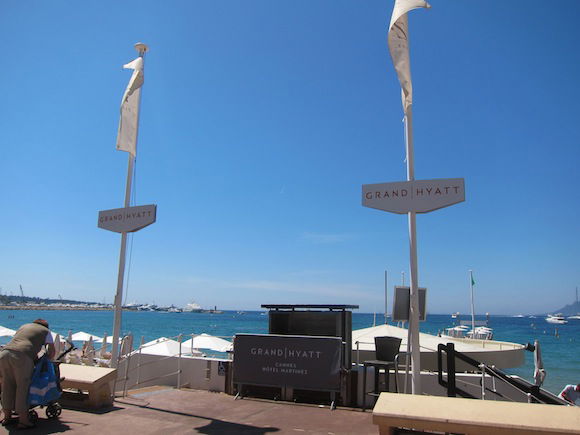 Beach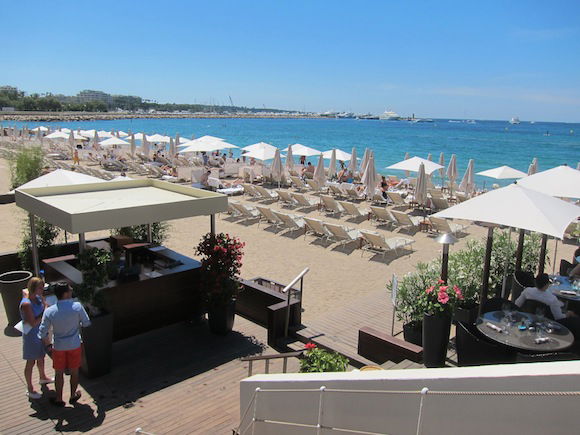 Beach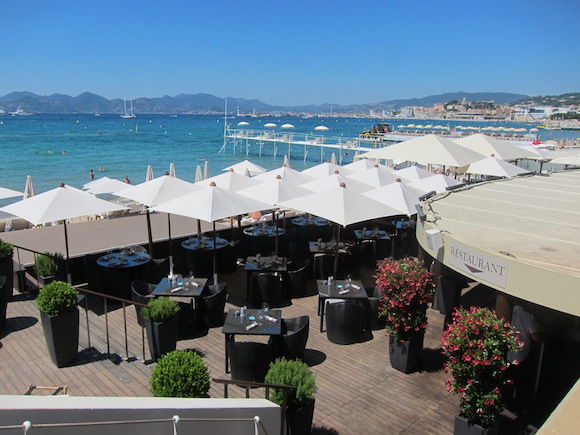 Beach


Beach
The one thing I'm still kicking myself over is that I didn't know that apparently there's a happy hour for Diamond members. In my post about how expensive things are in the South of France, reader Denise commented the following:
We had the same, outstanding Diamond Amenity. We bought some cheese at the grocery store and combined with the fruit and wine–that was dinner. To be fair, we also ate all the little nibbles provided at the Diamond Happy Hour in the bar so we were not super hungry!
She followed that up with:
@Lucky–they didn't tell you about it? Anything you would want to drink at the (main hotel) bar between 5pm and 7pm. Don't know if they had Fanta. The prices there were in line with the Club Sandwich. We were there three evenings and didn't miss a happy hour–usually had 2 drinks each. One night I had 3 and hubby had 2–our bill would have been 119Euros and that was for basic things like Gin and Tonics!
I'm extremely bummed I wasn't told about this.
On the whole this is an amazing addition to the Hyatt portfolio. This is the least Hyatt "feeling" Hyatt I've ever stayed at, which I consider to be a good thing.
I'm happy I visited Cannes, though I don't really have to return. Cannes seems to me like a bit of a Disneyworld for 65+ year old men with a net worth of over 100 million dollars that want to show off their fast cars and granddaughter aged girlfriends. Cannes itself is boring. There are amazing restaurants and a nice beach, but there's not much else to do in the immediate area. Nice was not only much more reasonably priced, but also offered a lot more to do.
The way I look at it, just about every place in the world is worth visiting, and the thing that differentiates destinations is whether you would want to return to them or not. I don't need to return to Cannes, but I wouldn't mind doing another trip to the South of France at some point and spending a bit more time in Nice and Monte Carlo, and maybe throwing in another day or two in Cannes. It's certainly relaxing there.