The "New" American to Europe
---
In the interest of full disclosure, I was a guest of American Airlines on these flights, though all opinions expressed are my own.
American 100
New York (JFK) – London (LHR)
Monday, March 18
Depart: 7:10PM
Arrive: 6:20AM (+1 day)
Duration: 7hr10min
Aircraft: Boeing 777-300ER
Seat: 3A (Business Class)
About 20 minutes before boarding was scheduled to begin a few of us (including Gary and someone from Airline Weekly) got the chance to tour all cabins on the new plane, and I shared my impressions of all cabins in this post, so check that out for my detailed thoughts (and pictures) of first class, business class, Main Cabin Extra, and coach. So I'll focus less on the cabin and more on the flight experience with this post, since it was an interesting flight to say the least.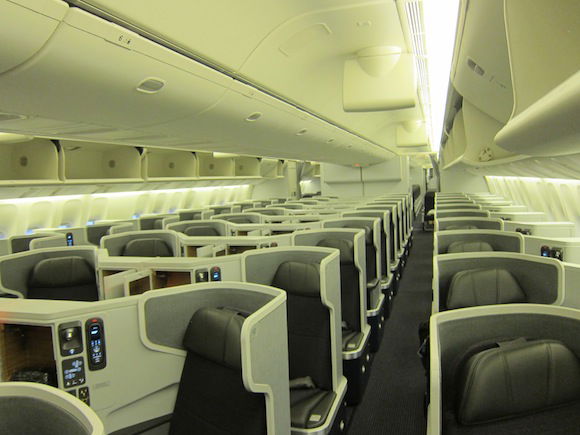 Main business class cabin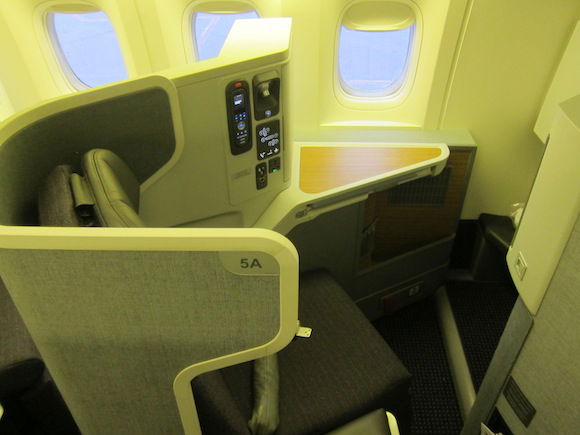 Bulkhead business class seat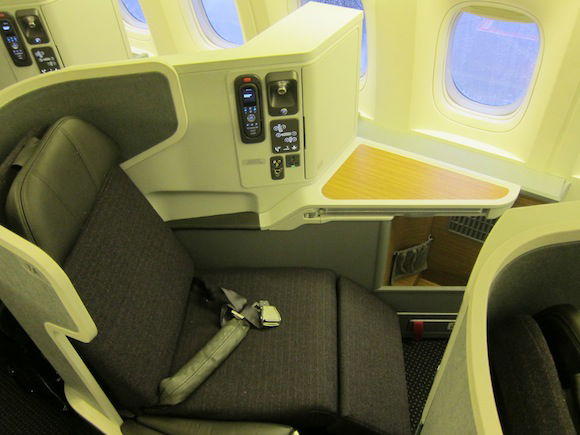 Business class seat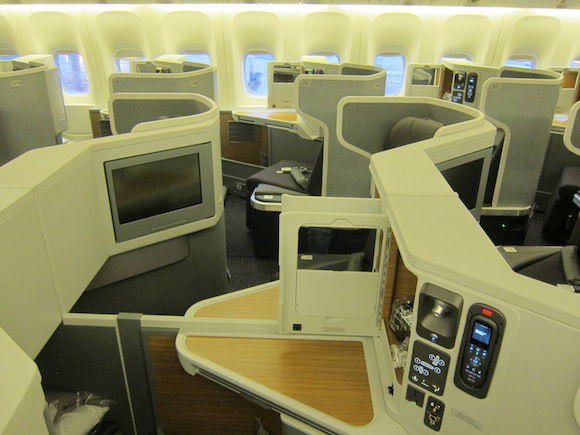 Business class seats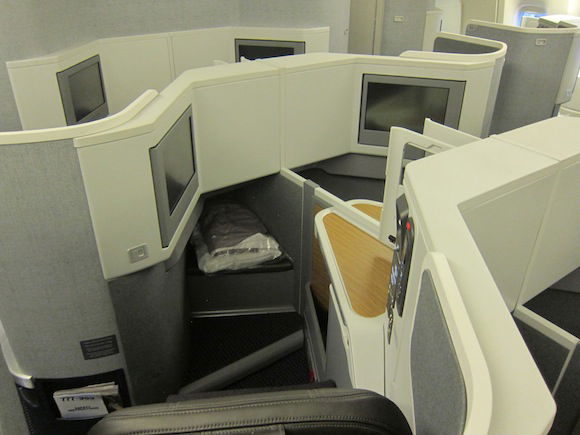 Business class seats
Several of the crew members on the outbound were downright rude (unlike on the return, which interestingly matched Gary's experiences, even though he was on a different flight), even while we were getting a tour of the aircraft before boarding started. Time was tight and we were getting a tour just a few minutes before boarding was set to begin, and as I was walking up to my seat one of the crew members asked "which seat are you in, because you need to take your seat?" I acknowledged her and said I was in 3A, and continued to stand to the side waiting for some crew members to pass so I wasn't in their way. Just a few seconds later she said "when I say you need to take your seats I mean now." Meow!
Fortunately I was seated in the business class mini cabin, which consists of just two rows immediately behind first class and in front of the second door. It's so private that it almost feels like first class.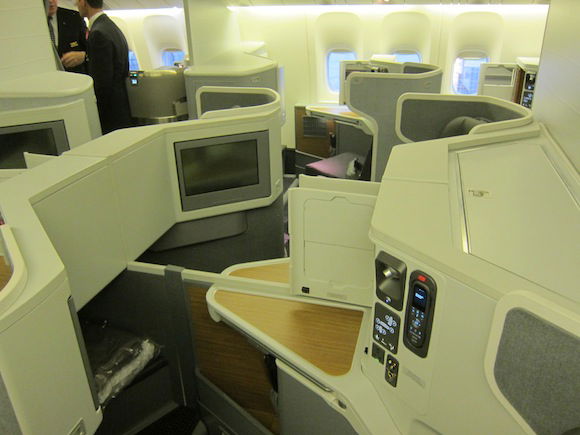 Business class mini cabin
I was in the bulkhead, 3A, which had ample legroom and a sizable cutout in the bulkhead. It's worth noting, however, that the seat only has one window, in case that's a consideration for anyone.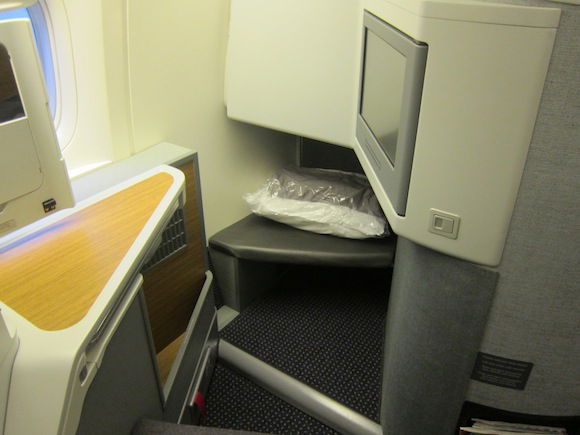 My seat, 3A
I settled into my seat quickly, and immediately noticed the abundance of storage. There was a storage compartment at the side of the seat where the amenity kit was located, along with a mirror and a headphone hook.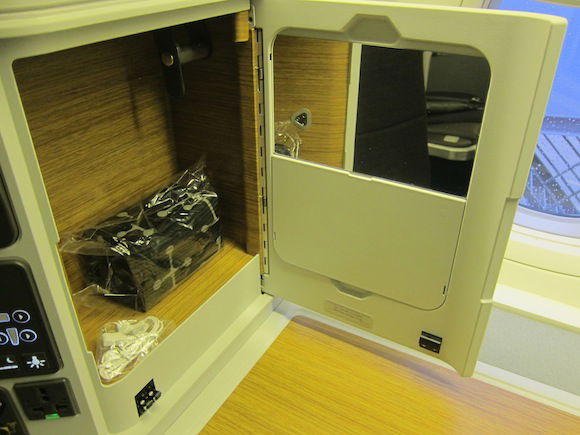 Storage
Also below that was a huge storage compartment which could hold anything from shoes to a laptop.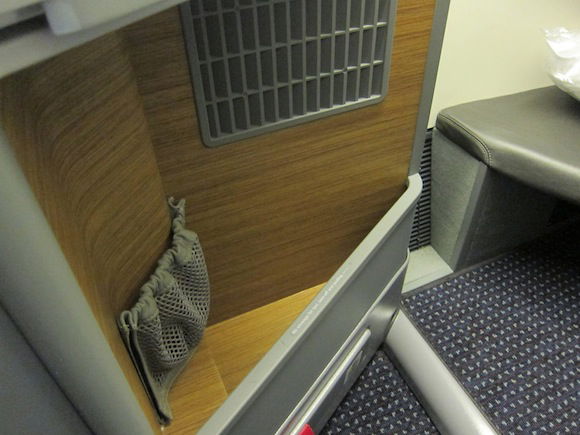 More storage
Also at my seat were the standard business class pillow and blanket, which are plenty comfortable.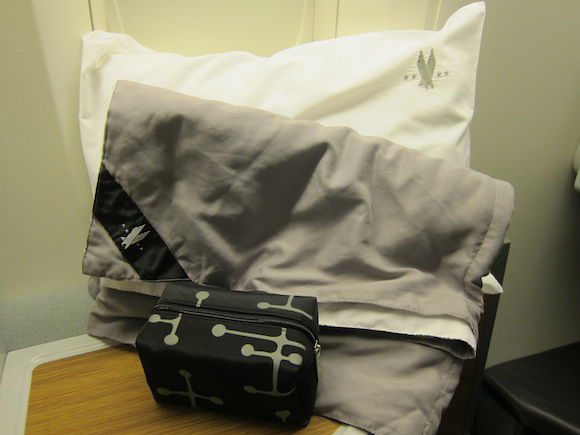 Pillow and blanket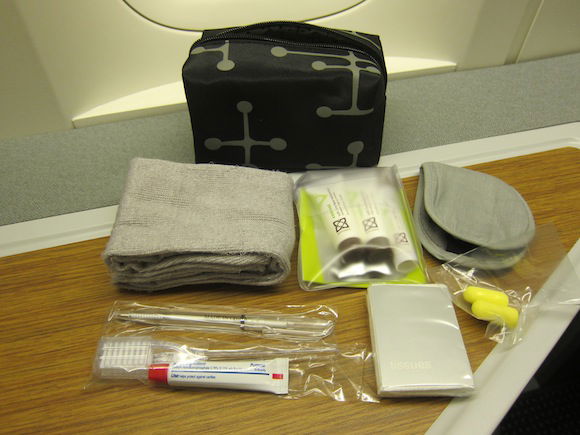 Amenity kit contents
During boarding pre-departure beverages were served, and I selected an orange juice.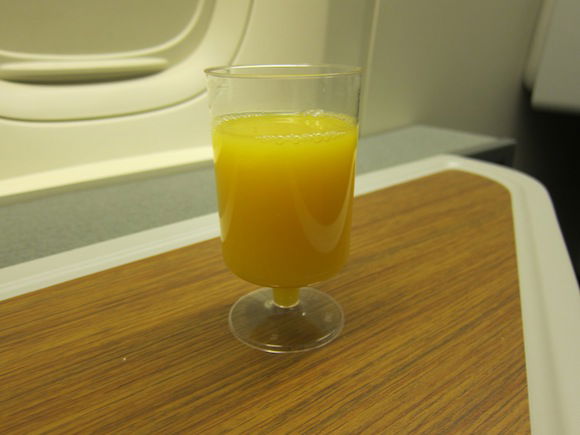 Pre-departure beverage
Menus, Fast Track cards for Heathrow, and Bose headphones were distributed.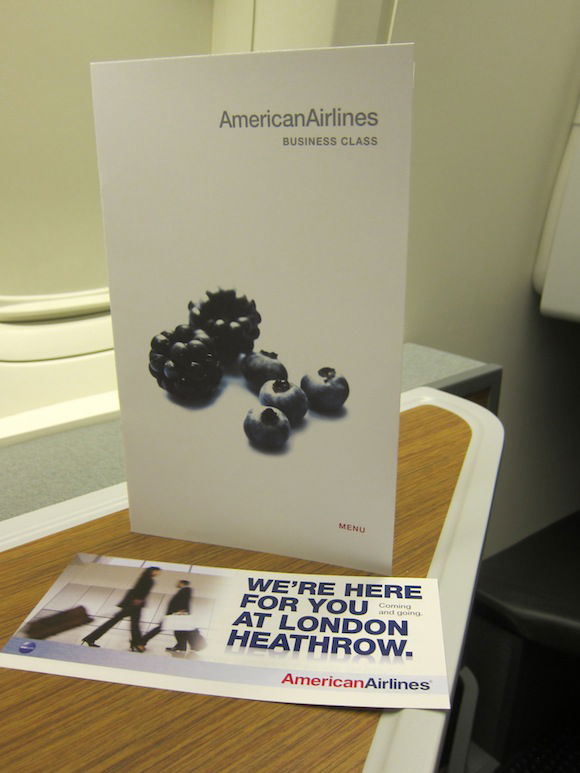 Menu
As departure time rolled around the captain came on the PA to advise us of our flight time of 6hr36min. He explained that while we were ready to go we needed to be de-iced, and the Air Berlin plane parked next to us was being de-iced first, so we'd push back within about 20 minutes. 20 minutes quickly turned into an hour, at which point we finally pushed back and were de-iced.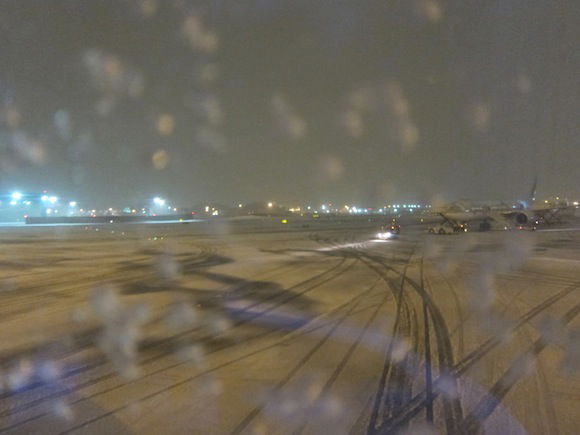 View on de-icing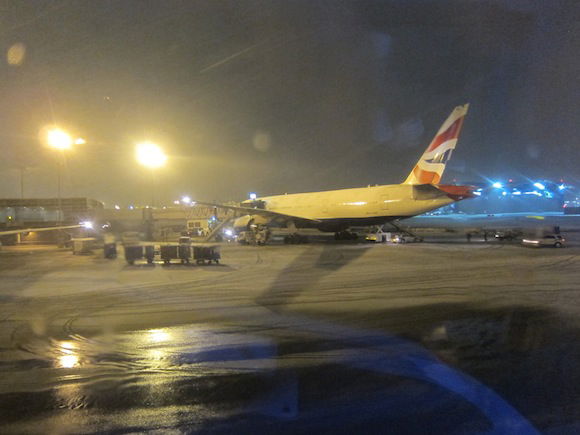 View on de-icing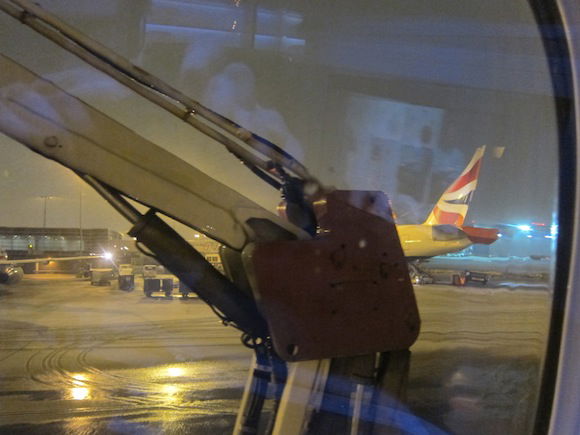 View on de-icing
We taxied to the runway where there must have been a couple dozen planes ahead of us in the queue for takeoff at this point. After waiting in the queue for probably 45 minutes I noticed we were taxiing out of the sequence. A few minutes later the captain announced that the weather had deteriorated and that we had to takeoff within 25 minutes of de-icing, a window we had missed.
So we taxied back to the gate to wait out the storm, and it became apparent at this point that it would be several more hours. They opened the main cabin door and said people were free to leave, though also explained that if anyone decided not to take the flight it would be several days before they'd be rebooked and that their bags would still go to London. Over the next hour or so a few people deplaned voluntarily, and one lady deplaned involuntarily, as she was escorted off by four police officers. Since I was seated right by the main door I overheard her mouthing off at the flight attendants about how they should have effing anticipated the delay, and it was all their fault. They weren't having any of it, so immediately called a supervisor and then the police. She refused to leave and put up a fight.
At this point they started passing out water bottles and granola bars, realizing how long the delay would be.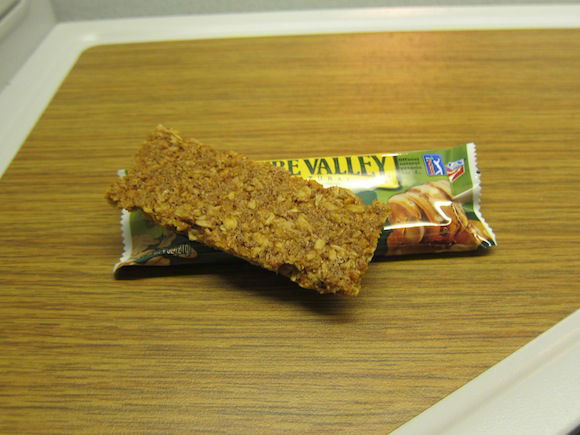 Granola bar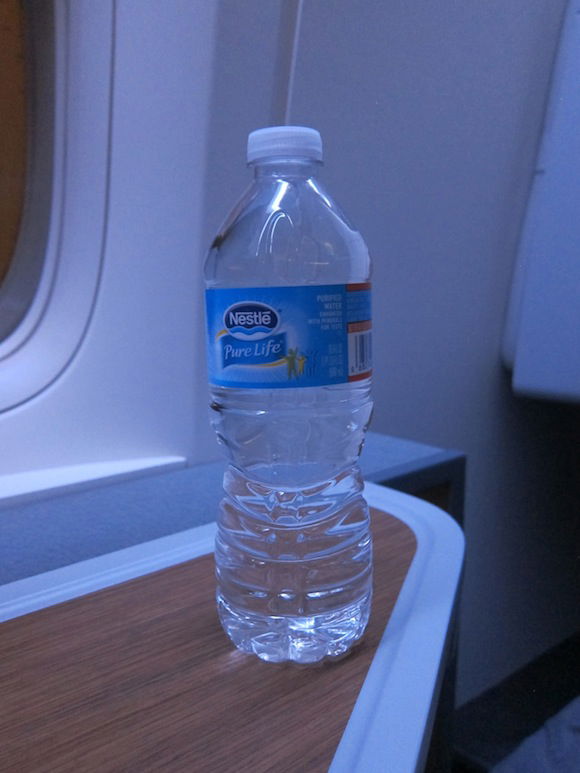 Water
The delay turned out to be quite fun. The three of us were actually all changed into our American PJs from previous flights (I swear it wasn't planned), and spent much of the delay talking, so we certainly didn't mind it. Besides, the later we'd leave the better sleep we'd get, since the flight would actually overlap hours that I'd otherwise be asleep.
The entertainment system was available on the ground, so I browsed the selection, which was much better than their old selection, with tons of movies and TV shows.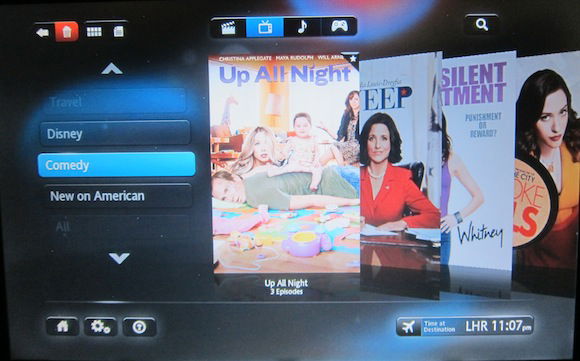 Entertainment selection
As the delay continued to drag on and we approached the four hour mark the crew served drinks and more granola bars.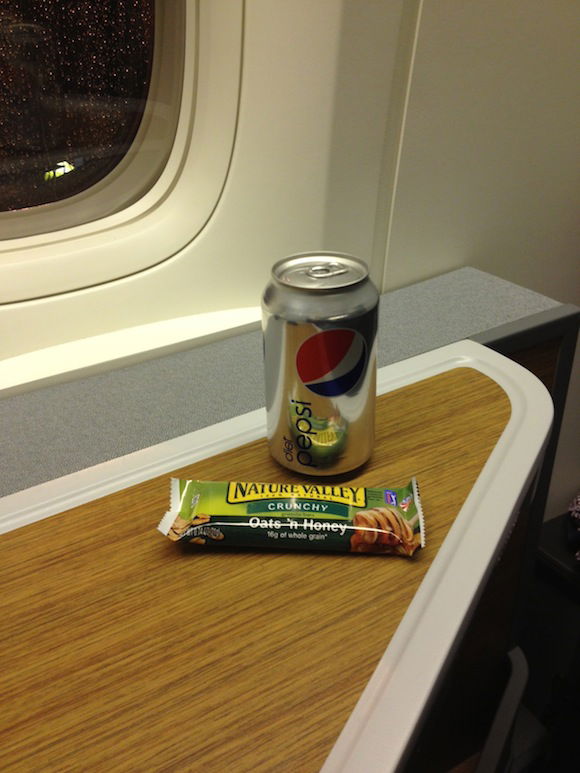 Granola bar and drink
At around midnight they finally closed the aircraft door again, I think because the crew was getting close to timing out. Once the door closed the flight attendants by the door started packing up their stuff and saying "if the door opens again we're done for the night." Fortunately it didn't.
Finally at around 12:30AM the captain announced that we had been cleared to de-ice, and we began our taxi to runway 4L for departure. At 1AM local time we were finally airborne.
Once we were airborne and passed through 10,000 feet I immediately connected to the onboard Wi-Fi. I can't even begin to say how quickly international inflight Wi-Fi has grown on me, and it couldn't help but put a smile on my face. Best of all it was free as an introductory offer, as you can see below. The speed was pretty decent as well, faster than what I got on both Emirates and Turkish recently.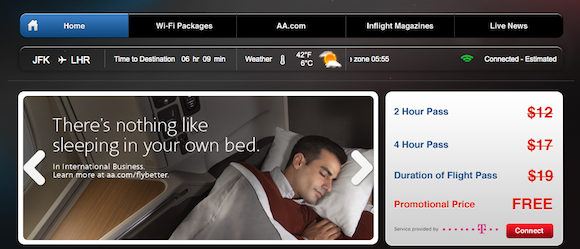 Free Wi-Fi!
Once we leveled off the service began, starting with drinks and hot nuts.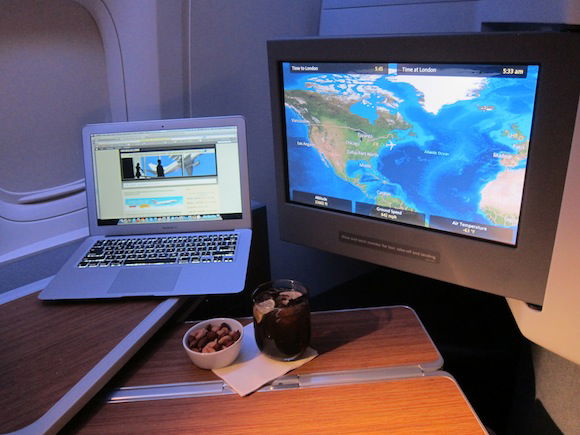 Diet Coke with lime and hot nuts
The dinner menu read as follows: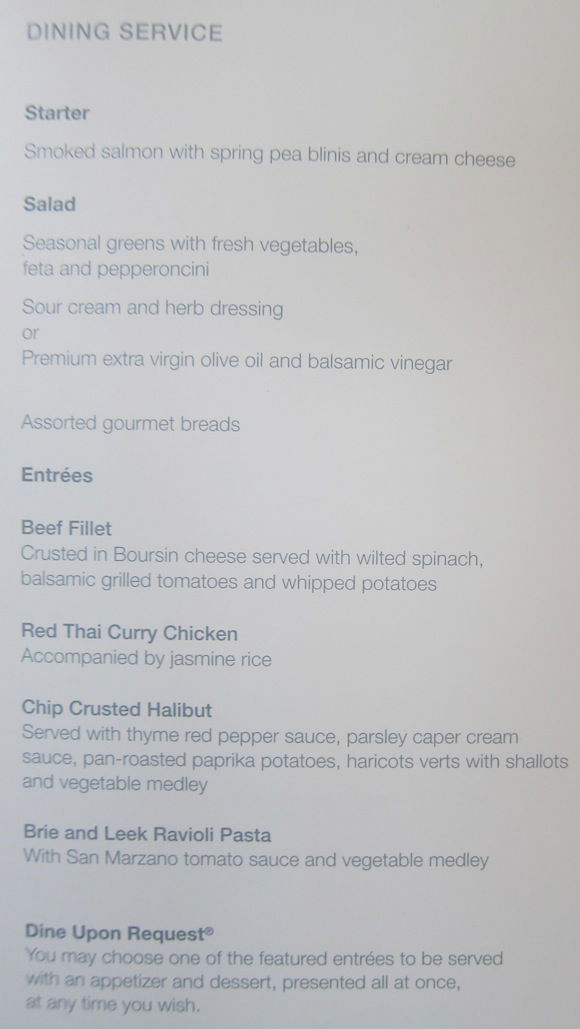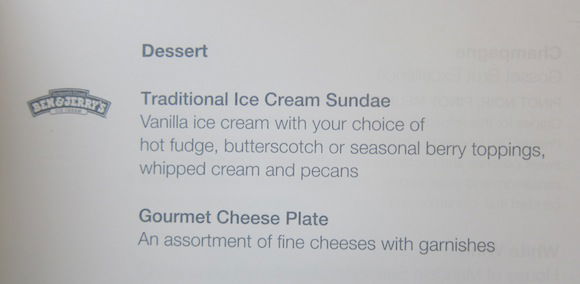 And the drinks list read as follows: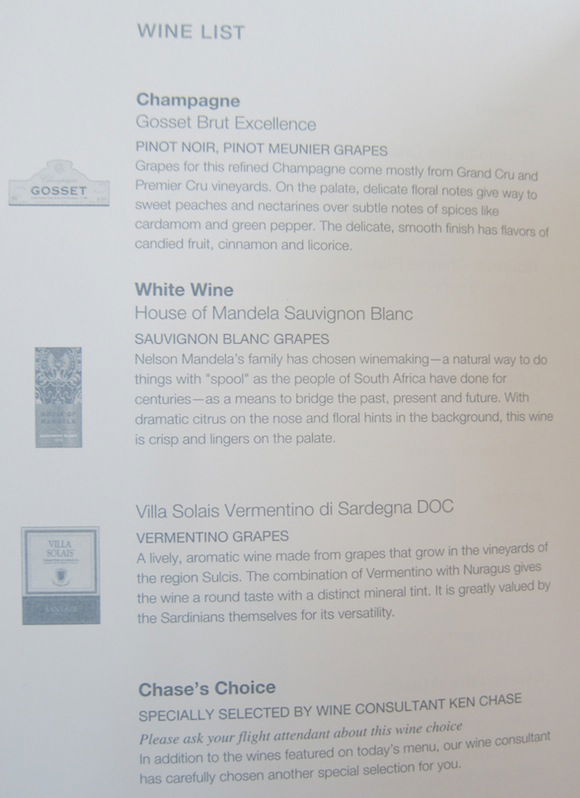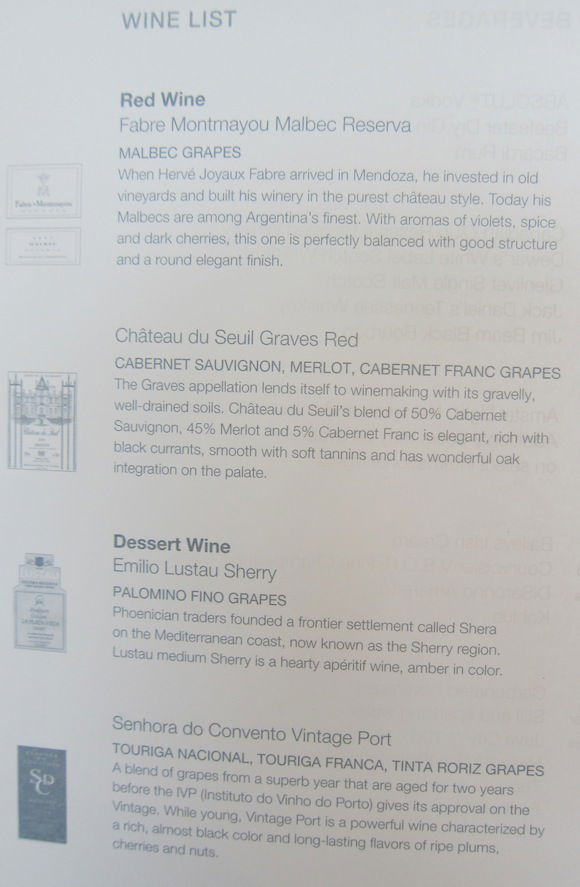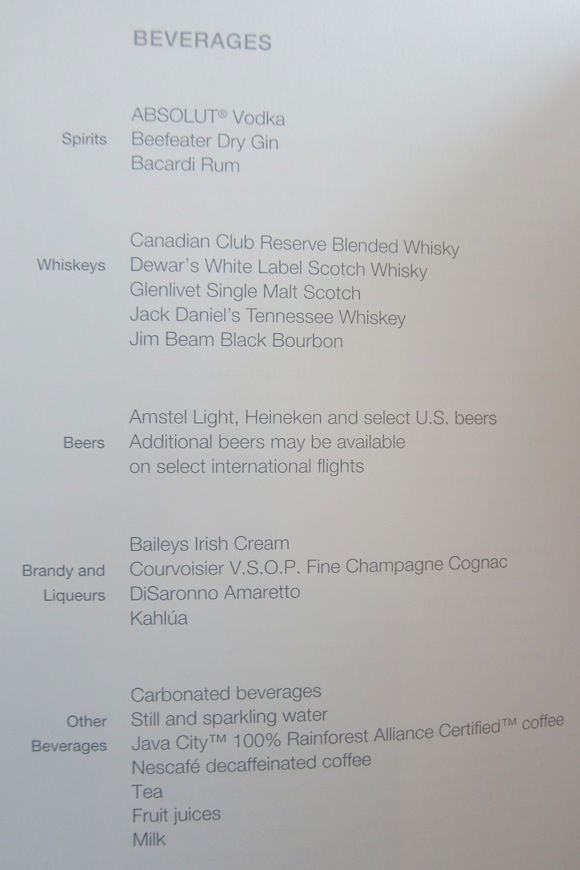 The first tray had the appetizer and salad. The appetizer consisted of smoked salmon on blinins, which I thought was an interesting twist on their usual appetizer. The salad was also one of the best I've had on American, given that it was more than just lettuce. They also had pretzel bread in the bread basket, which is my favorite.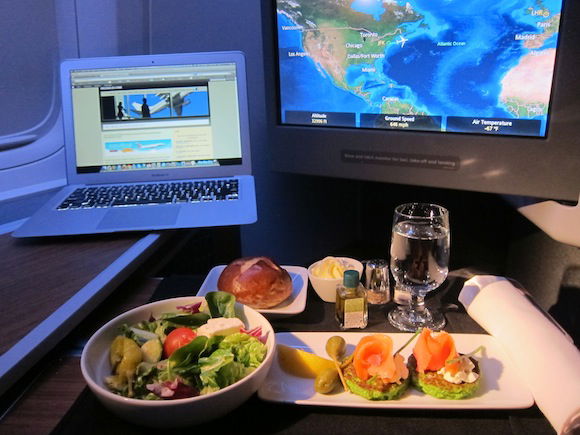 Smoked salmon with spring pea blinins and cream cheese
For the main course I had the chip crusted halibut. Not only was it nicely plated, but it was one of the most flavorful fish dishes I've had on American, and that's despite the fact that it didn't come with a sauce ramekin, unlike most of their entrees.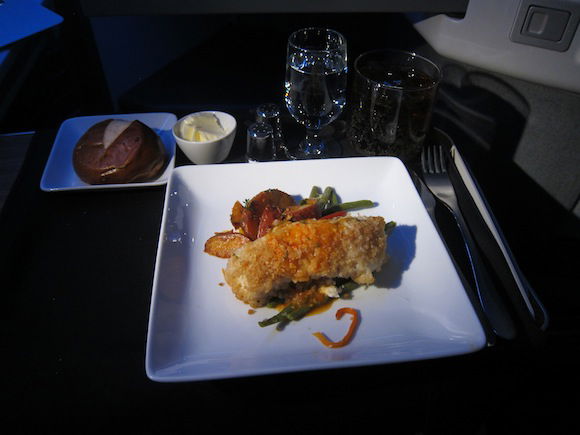 Chip crusted halibut
For dessert I had the ice cream sundae, which you really can't go wrong with. I'll take that any day over Lufthansa's first class desserts, like the cold elderflower soup. 😉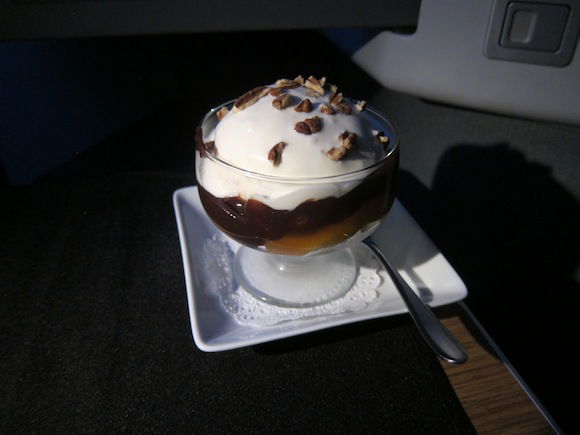 Ice cream sundae
While the flight attendant working my aisle wasn't especially charming, service was quick, which may in part be thanks to my seat in the mini cabin.
After dinner I was tired and decided to maximize my sleep for the rest of the flight given that I had five hours to go to London.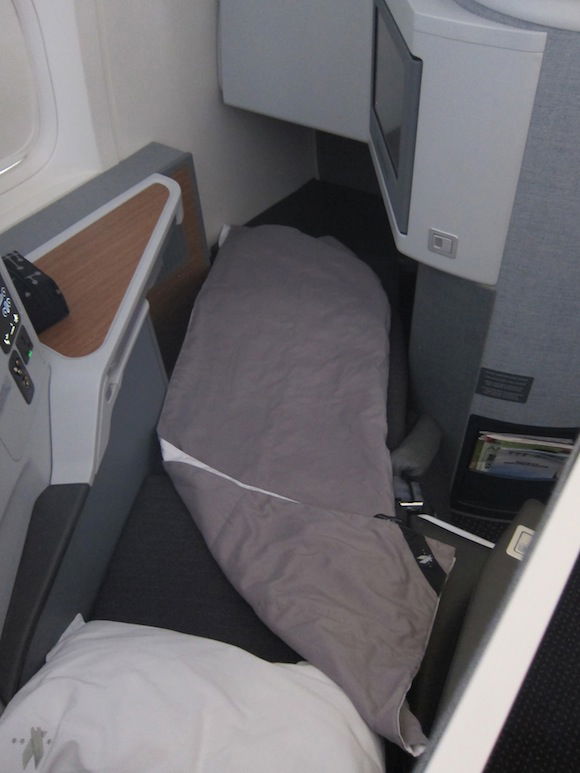 My seat in bed position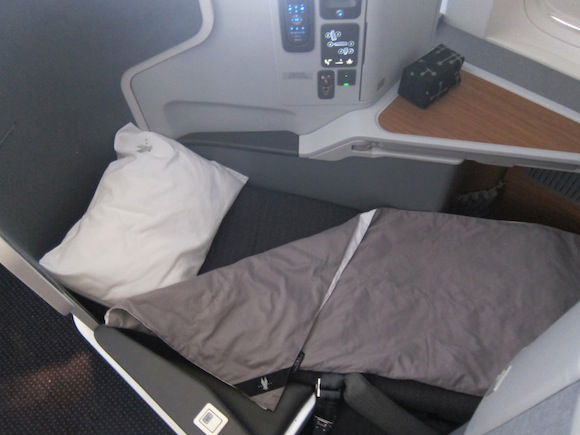 My seat in bed position
The biggest compliment I can give the seat is that I fell asleep within minutes and woke up less than 20 minutes out of London. It was the most sleep I've ever gotten on a flight from the east coast to Europe.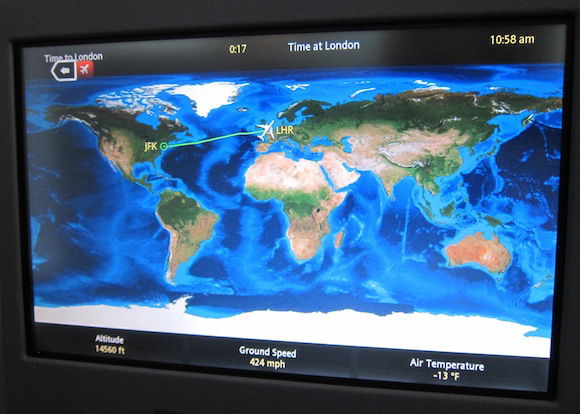 Position upon waking up
And while I didn't partake in it, here's what the breakfast menu looked like: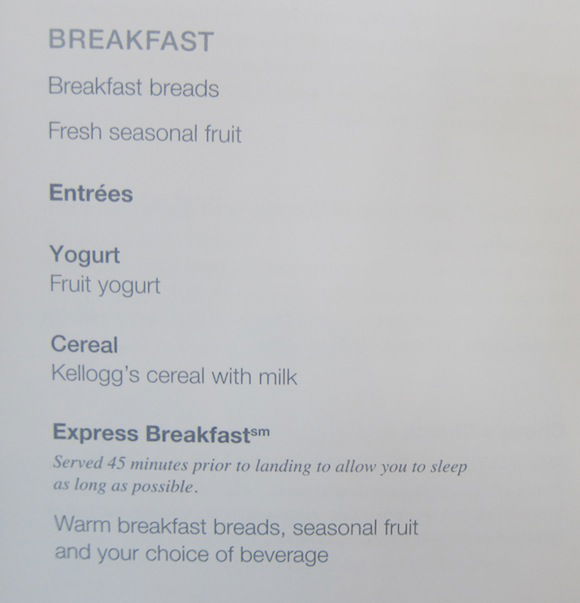 Our descent into London was smooth and it was a fairly nice day (at least by UK standards).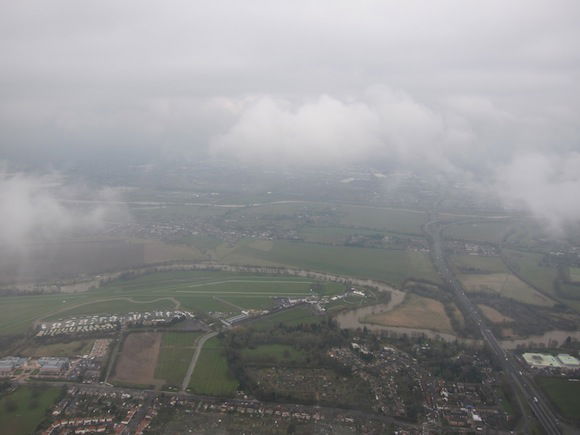 View on approach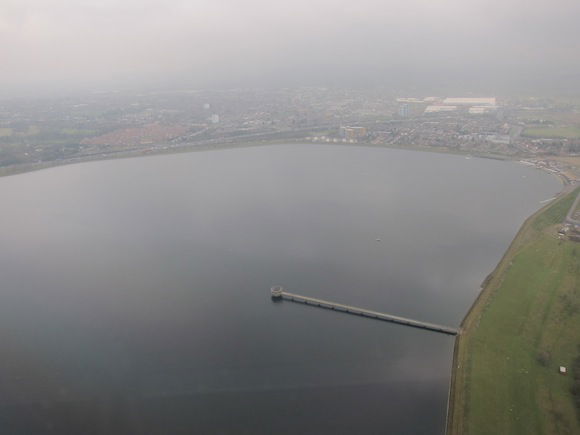 View on approach
We had an extremely smooth touchdown at 11:20AM local time, exactly five hours behind schedule.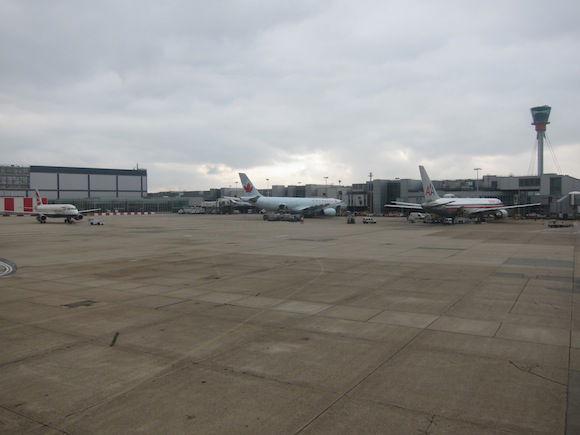 Terminal three traffic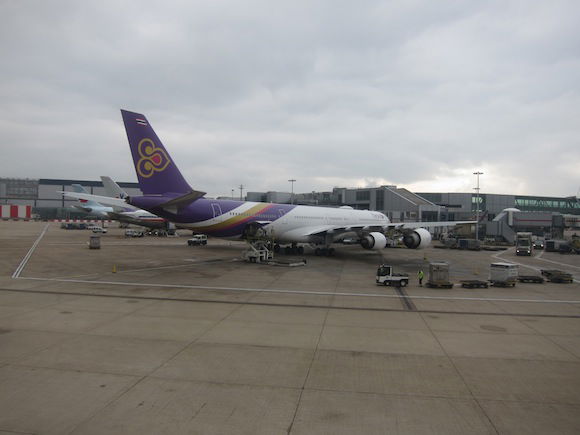 Terminal three traffic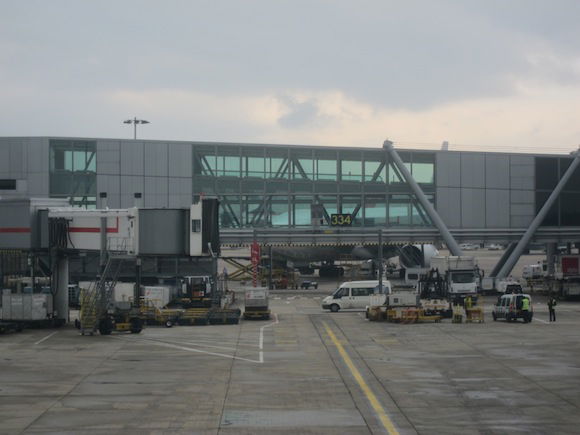 Our arrival gate
Conclusion
Obviously this flight faced quite a few challenges. The weather is outside of American's control, so I just viewed the extra six hours as a fun adventure. The service on this flight was frankly disappointing, and a couple of the flight attendants were downright rude. But every airline has their good and bad apples, and conversely my crew on the return was excellent.
The food on this flight was quite good. To be honest I think airlines like Austrian and Turkish lead the pack for business class catering, and after a handful of airlines there's a big gap. But I do find American's business class catering to be generally good, and I felt the dinner on this flight was one of the better ones I've had.
But let's talk about the seat for a second. This isn't even specific to American. Cathay Pacific has exactly the same seat in business class on all their longhaul aircraft. Both Delta and US Airways also have very similar seats on their 747s and A330s, respectively.
When I flew this product for the first time on Cathay Pacific last year I said the following:
Cathay Pacific's new business class product is a huge winner, and makes even me rethink the value of first class. US Airways has a similar product on their Airbus 330 aircraft, and American will soon be rolling out a similar product on their 777-300ER aircraft. This is no doubt the business class product of the future.
And I still believe that to be the case. These reverse herringbone seats are in my opinion by far the most comfortable business class seats out there, and I've done just about all the types of products out there, from herringbone on Air Canada and Virgin Atlantic, to staggered on Austrian and Brussels, to fully flat on Turkish, etc.
In fact I'd argue that the seat is just about on par with British Airways first class, which offers a very similar design. While the British Airways seat has slightly more privacy it lacks storage, so I'm not sure there's a clear winner there.
I can't wait to see the 777-300ERs rolled out on more routes and the 777-200s to be reconfigured with the new product as well.