---
I booked the Sheraton Salzburg for a prepaid rate of 170EUR. The Sheraton Salzburg is a category five Starwood property, ordinarily making it 12,000 Starpoints per night, or 6,000 Starpoints plus $110 per night through cash & points.
The hotel is located just a few kilometers from Salzburg Airport, so we took a taxi, which cost less than 20 Euros.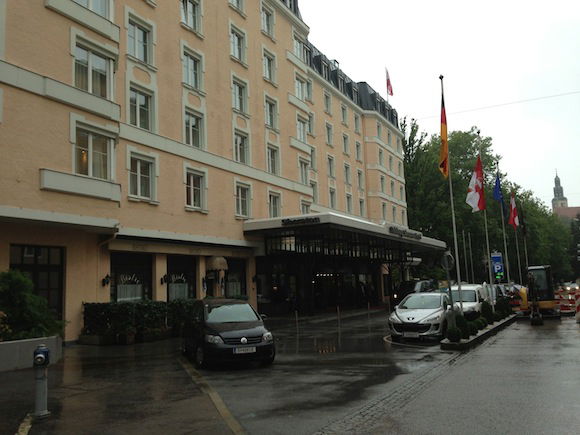 Entrance to Sheraton Salzburg
The lobby of the Sheraton is pretty "classic," and we quickly found the reception desk on the right side.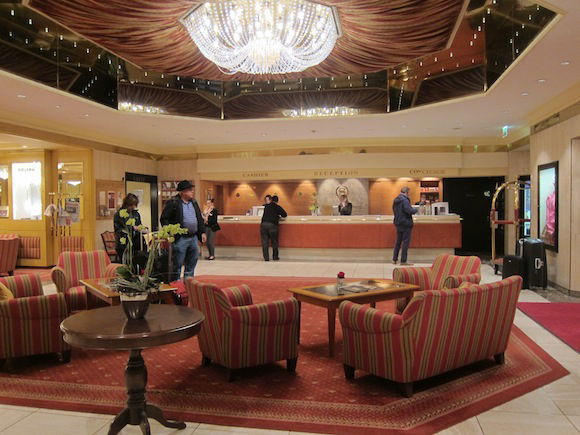 Sheraton Salzburg lobby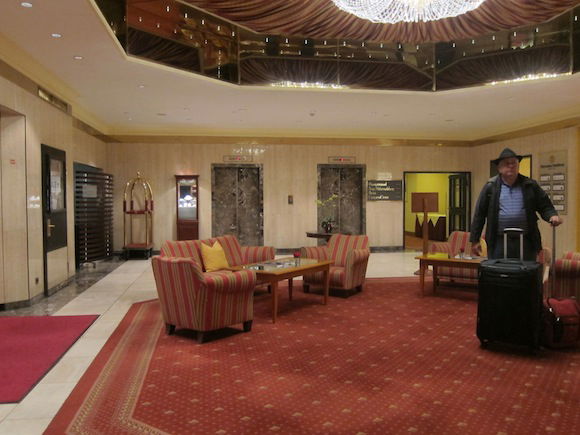 Sheraton Salzburg lobby
Upon handing the associate my credit card and passport I was recognized as a Starwood Platinum member and informed we had been upgraded to a deluxe room. She also confirmed that as a Starwood Platinum member I'd receive complimentary internet access, access to the club lounge, and 4PM check-out.
We took the elevator up to our room (#120) on the 1st floor.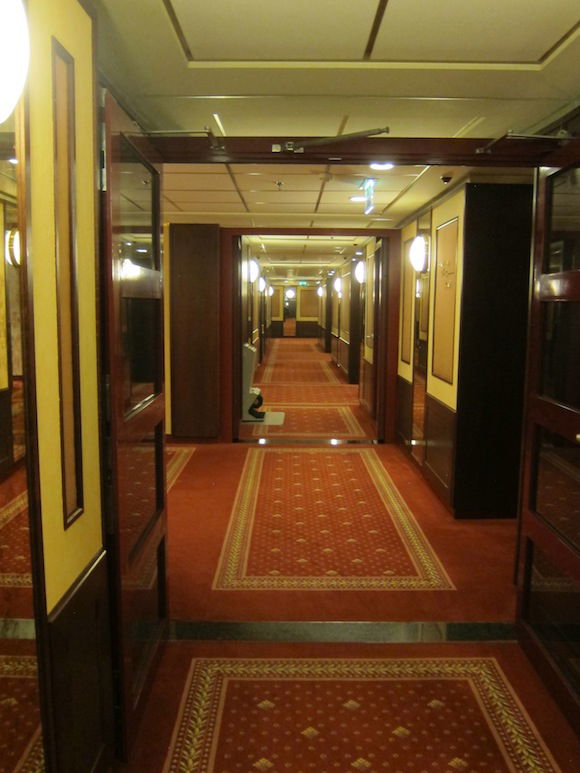 Hallway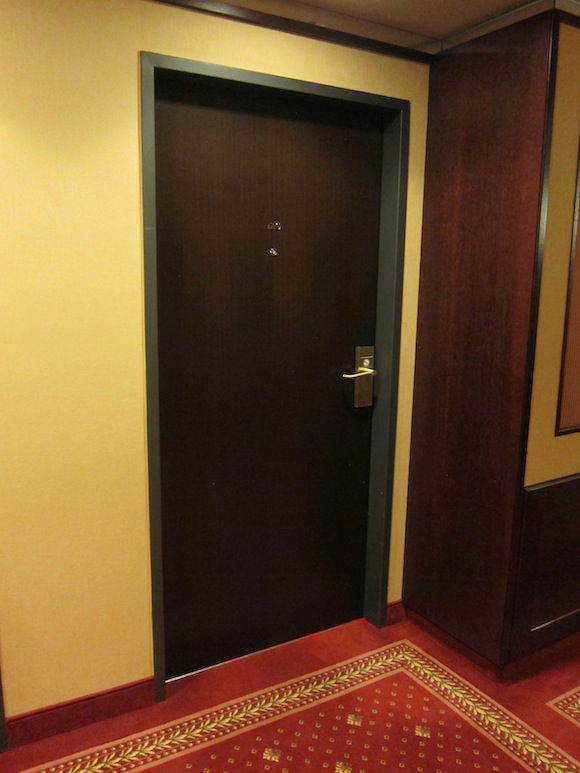 Entrance to room
Even though the lobby was more "classic," the room was modern and clearly recently renovated. There was an entryway which led into the rest of the room.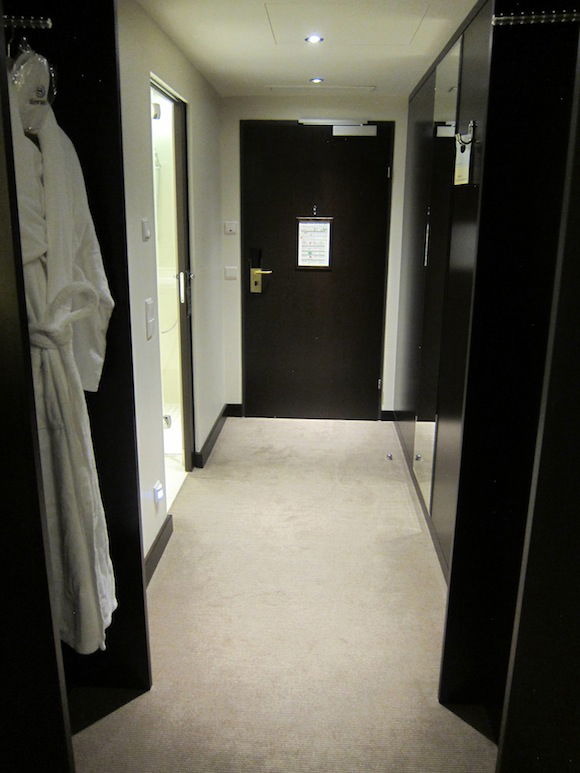 Entryway
The room featured two twin beds joined as a king, and a table with two chairs.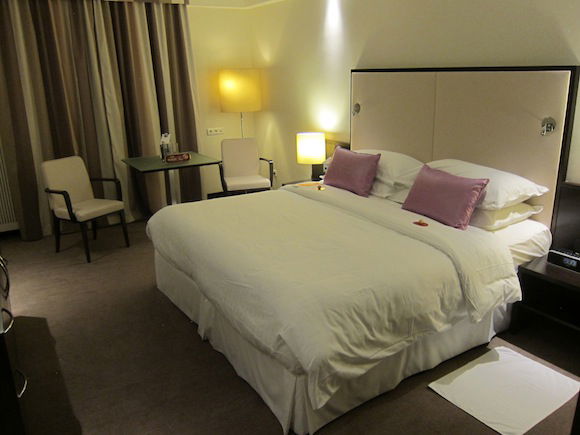 Sheraton Salzburg deluxe room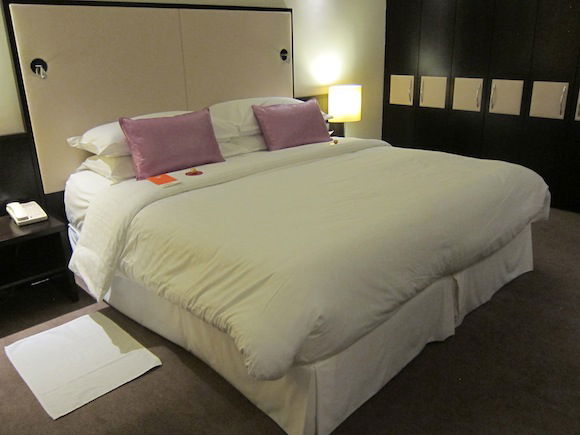 King bed
Across from the bed was a dresser with a flat screen TV.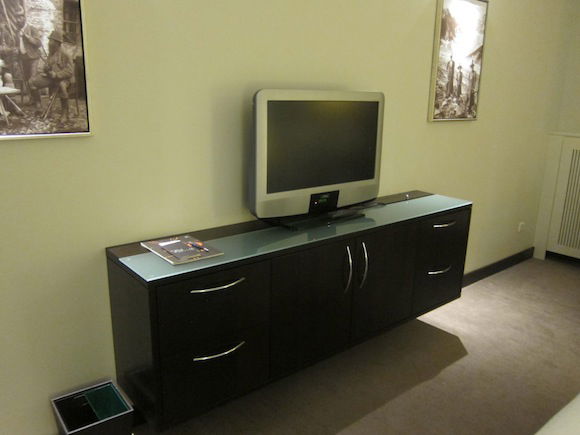 TV and dresser
On the table at the back of the room was a bottle of water and some Mozart chocolate as a welcome amenity.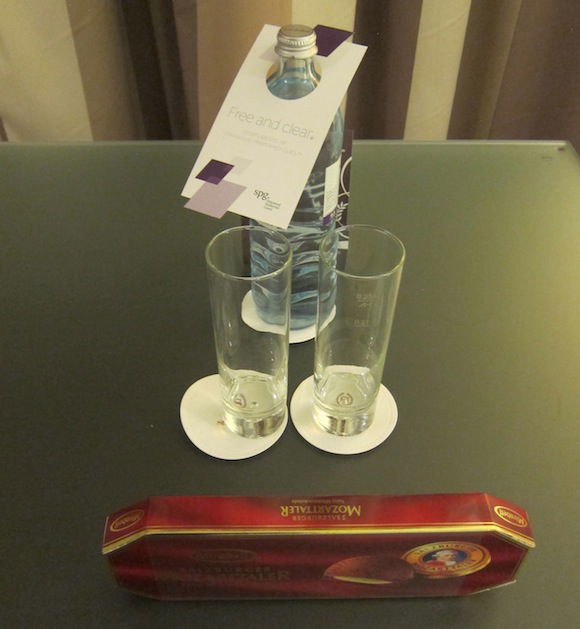 Welcome amenity
While the weather was horrible for our entire stay in Salzburg, there was also a nice balcony with a table and a couple of chairs overlooking the garden.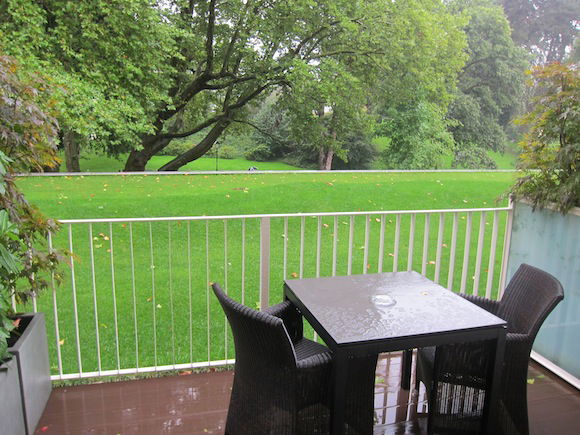 Patio
Back near the entrance was a modern bathroom with double sinks, a walk-in shower, and toilet.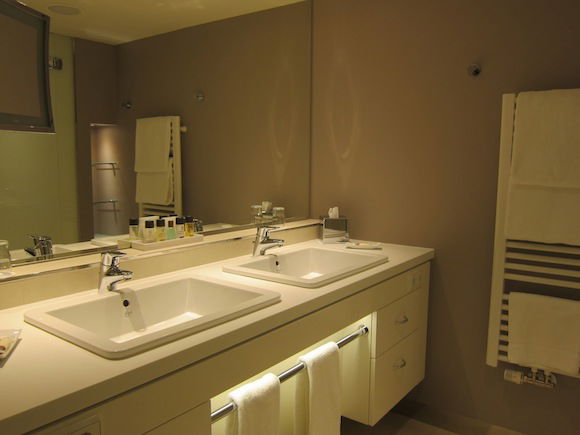 Sheraton Salzburg deluxe room bathroom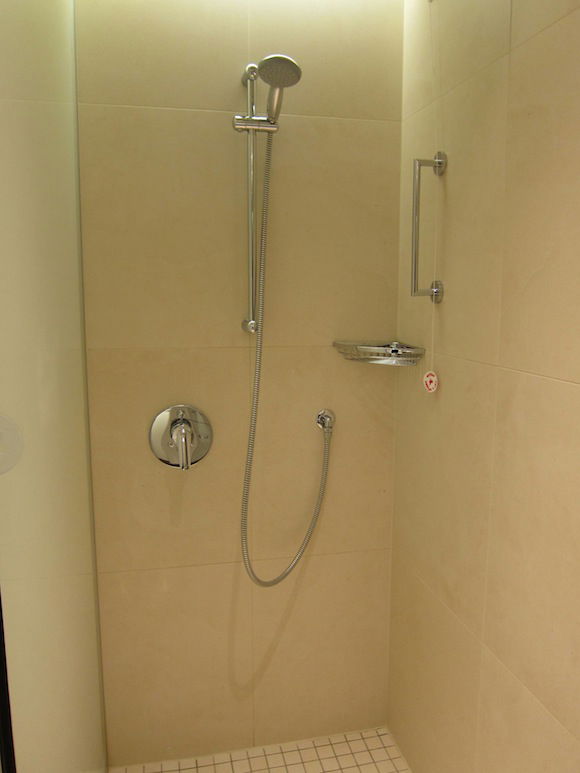 Shower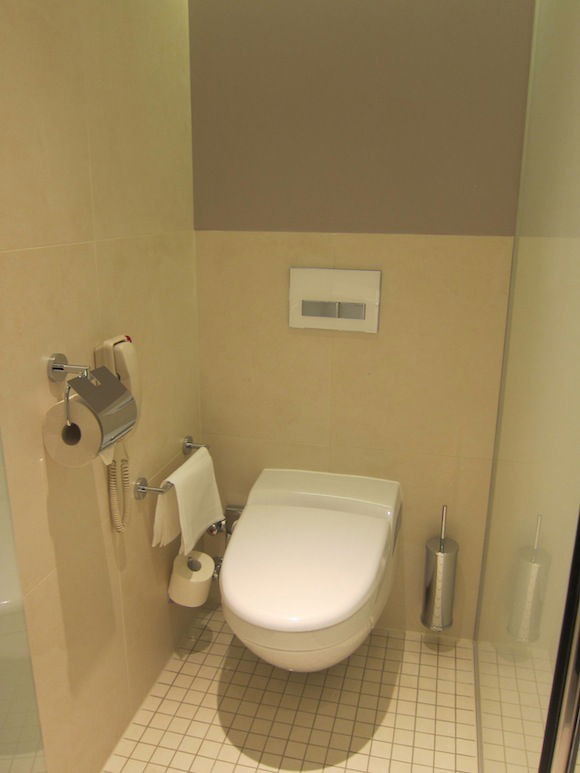 Toilet
The toiletries were Frette branded, which I haven't before seen at a Sheraton.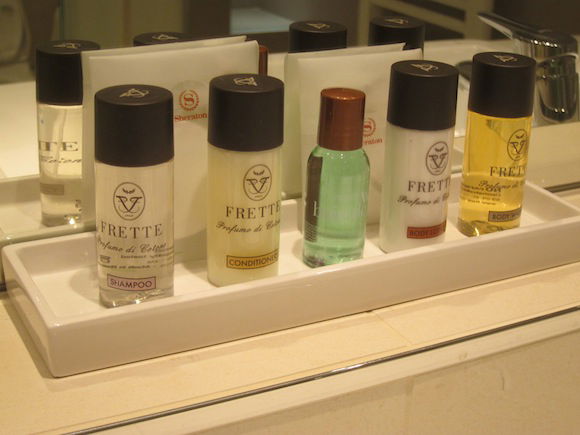 Bath amenities
The highlight of the stay as a Starwood Platinum member had to be the club lounge, located on the seventh floor. It's probably the nicest club lounge I've experienced at any Sheraton.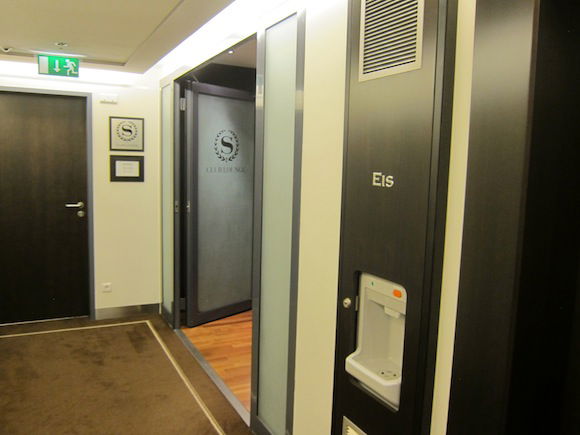 Entrance to club lounge
Physically the lounge was a nice space, and while it wasn't huge, it was never crowded. There was also a beautiful terrace that extended along the whole lounge, though due to the weather it wasn't really usable.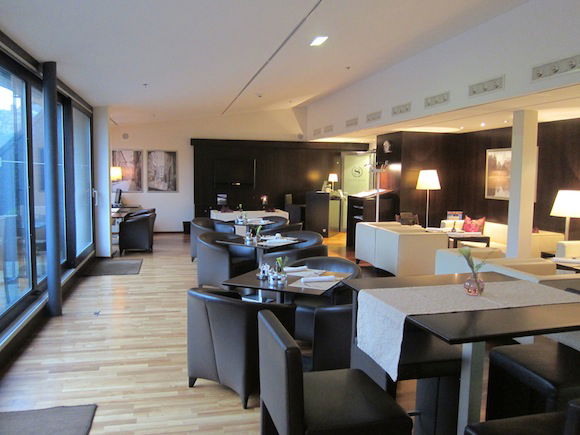 Sheraton Salzburg club lounge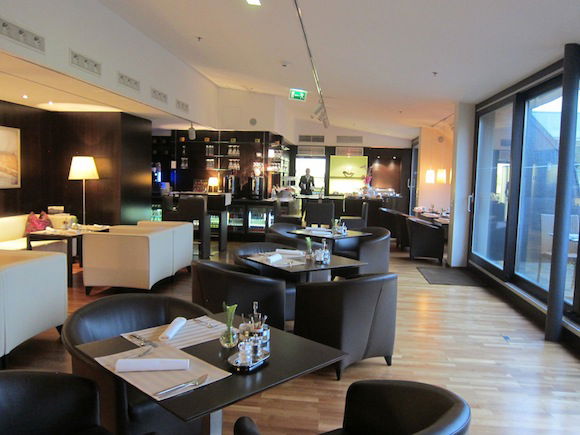 Sheraton Salzburg club lounge
In terms of the lounge spread, in the evenings there was an impressive buffet with both hot and cold options, as well as an extensive self serve bar.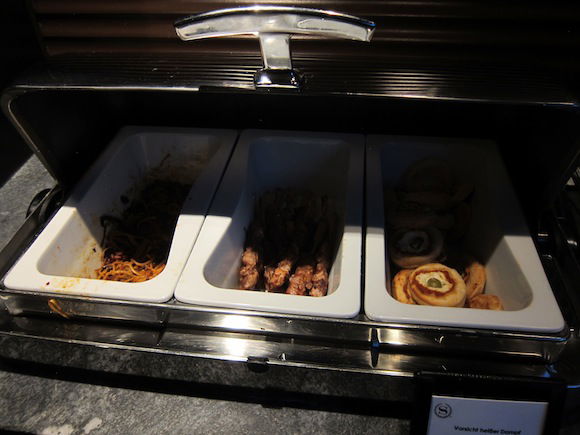 Hot buffet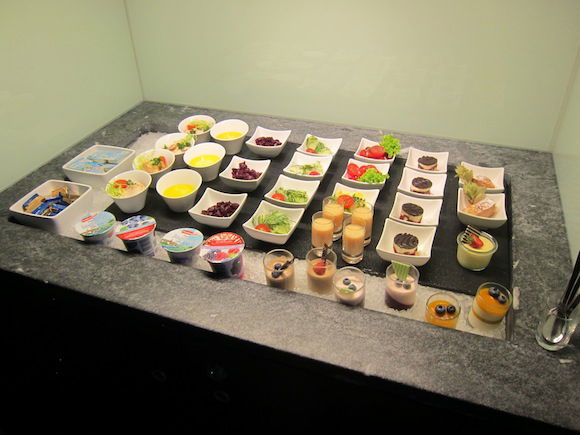 Cold buffet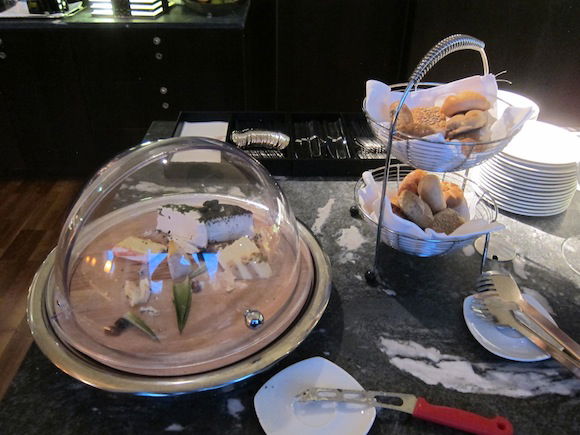 Bread and cheese display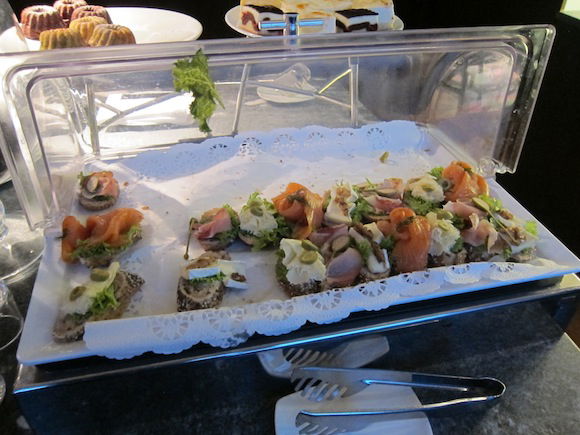 Finger sandwiches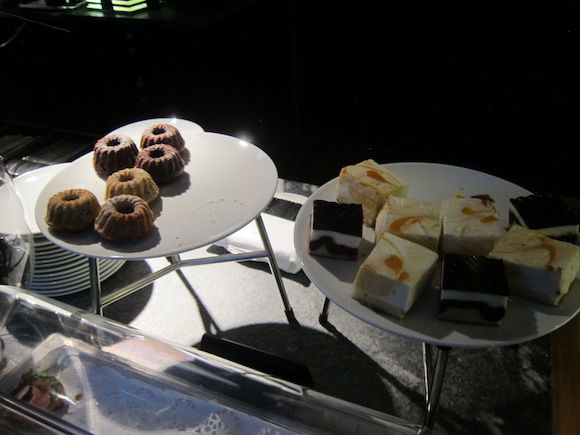 Dessert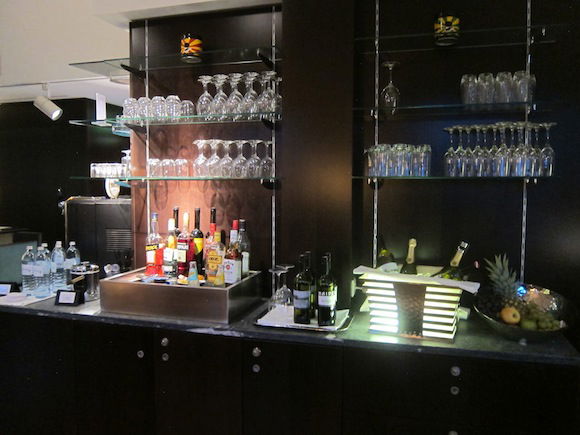 Beverages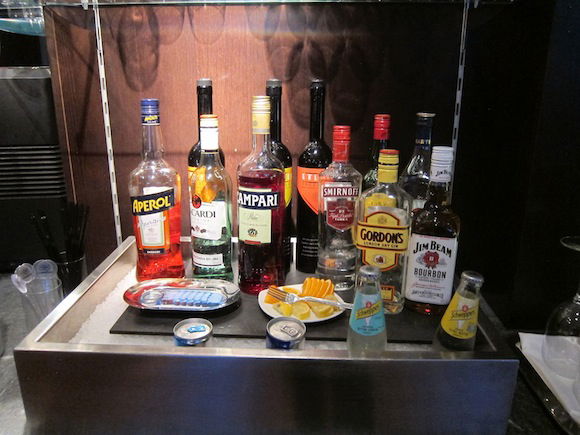 Liquor selection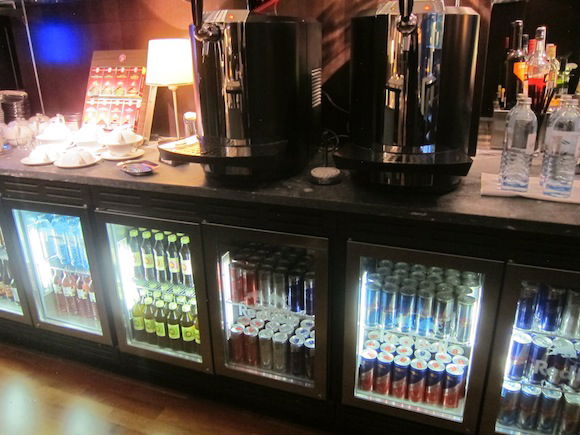 Coffee, sodas, and juices
The breakfast spread consisted of both hot and cold options, and cooked to order eggs were available on demand as well.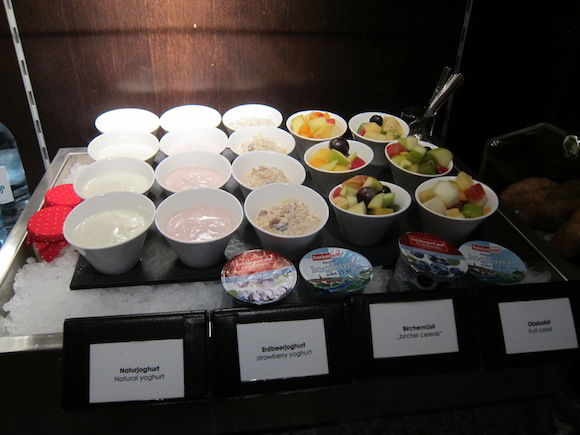 Breakfast at club lounge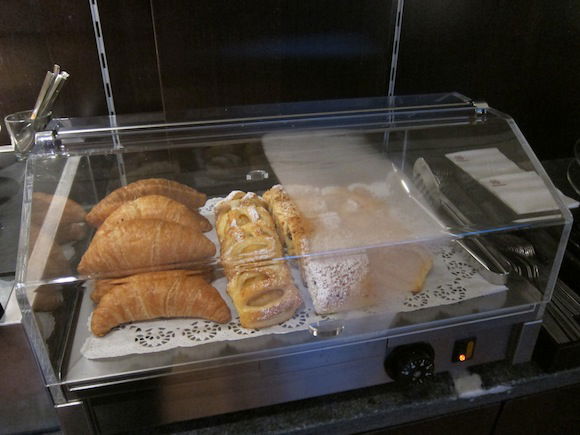 Breakfast at club lounge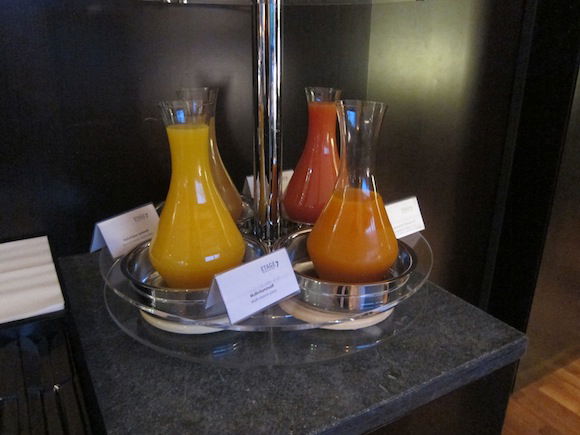 Breakfast at club lounge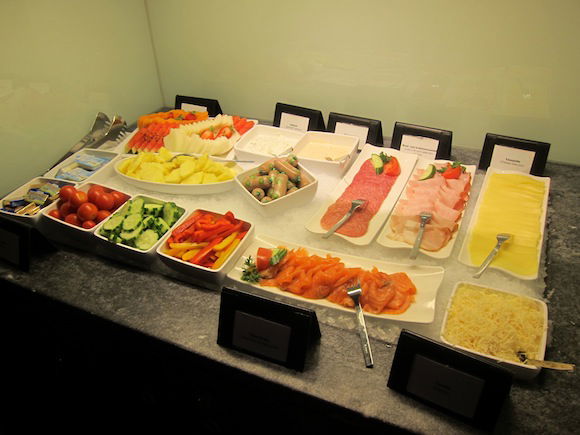 Breakfast at club lounge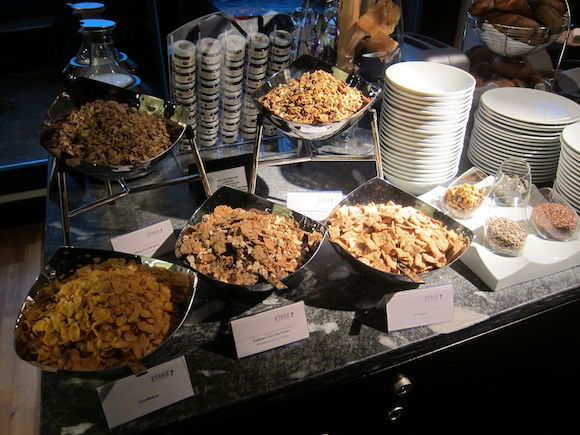 Cereals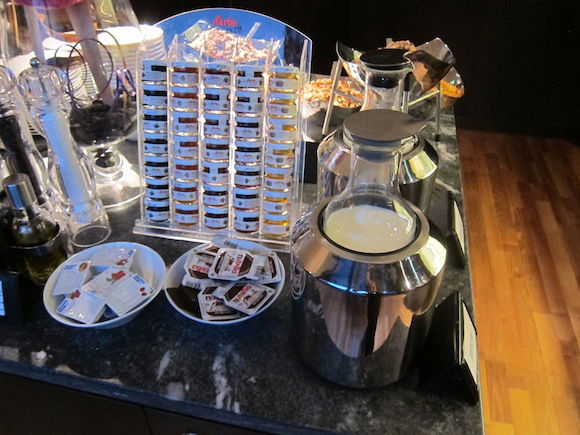 Jams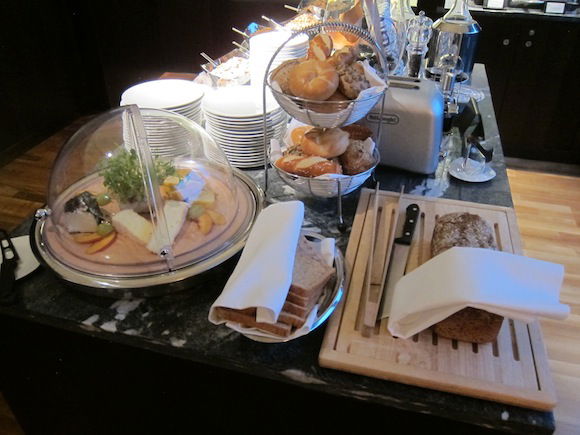 Bread and cheese
There was even champagne with breakfast, which was a first for me at a Sheraton.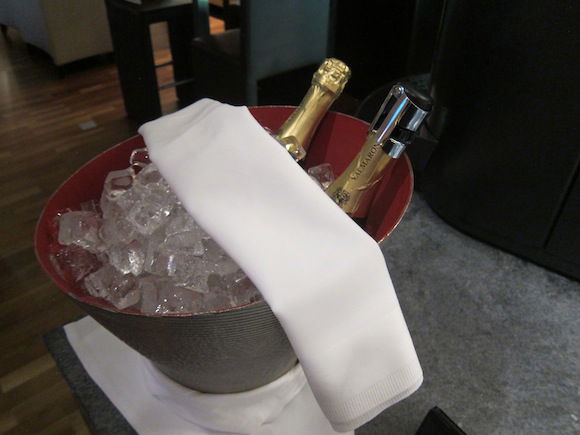 Champagne with breakfast!
Most impressive about the lounge had to be that they had hot food available throughout the day. Starting around lunchtime they had an extensive buffet, which I thought was really impressive since I've otherwise never seen a Sheraton that has anything other than nuts or chips available during the day.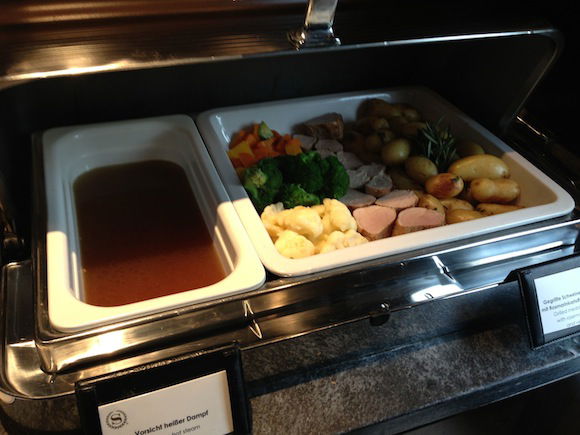 Daytime buffet
The hotel also had a basic gym along with a relaxation room, which I didn't have a chance to use.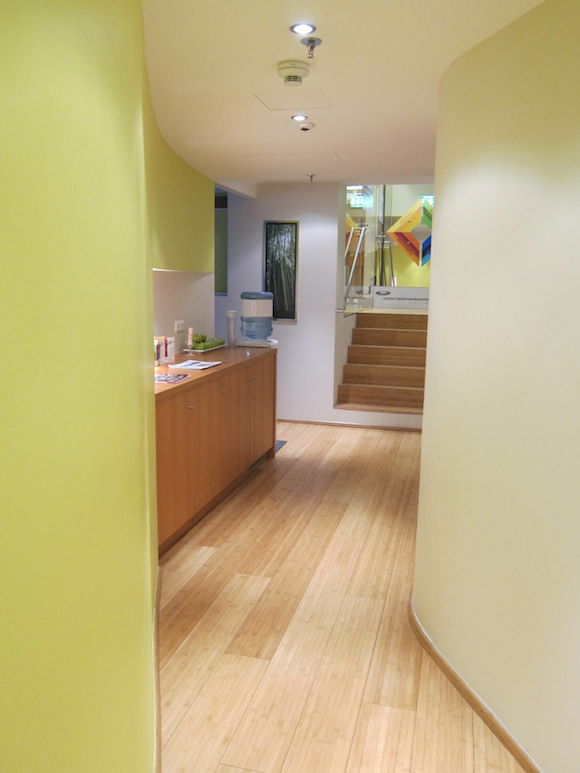 Gym entrance at Sheraton Salzburg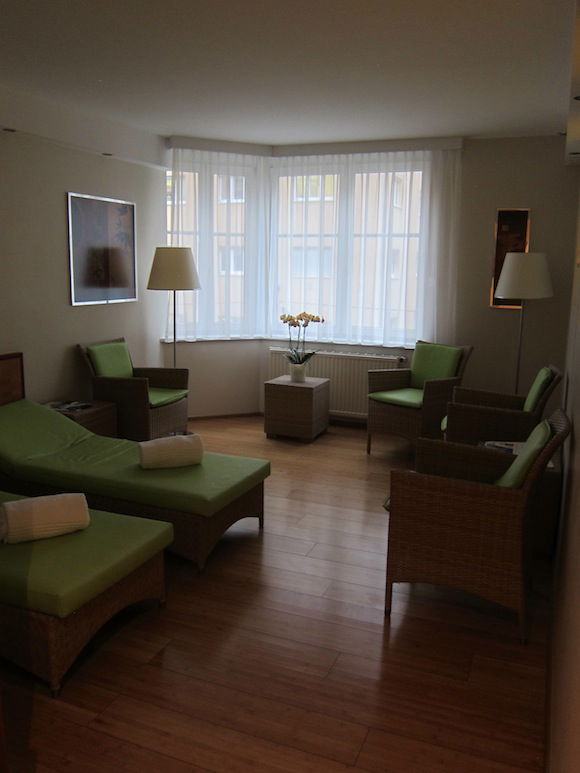 Sheraton Salzburg relaxation room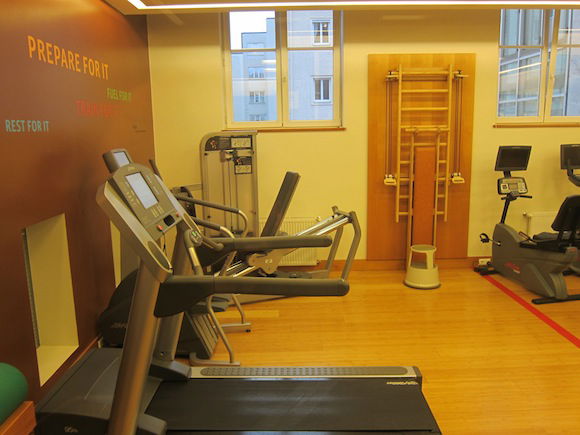 Sheraton Salzburg gym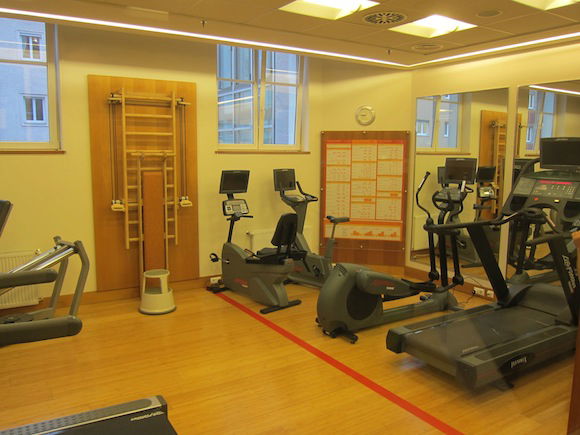 Sheraton Salzburg gym
In terms of the hotel's location, the Sheraton is located just next to the Mirabell Palace and Gardens, on the opposite side of the Salzach River as the Altstadt.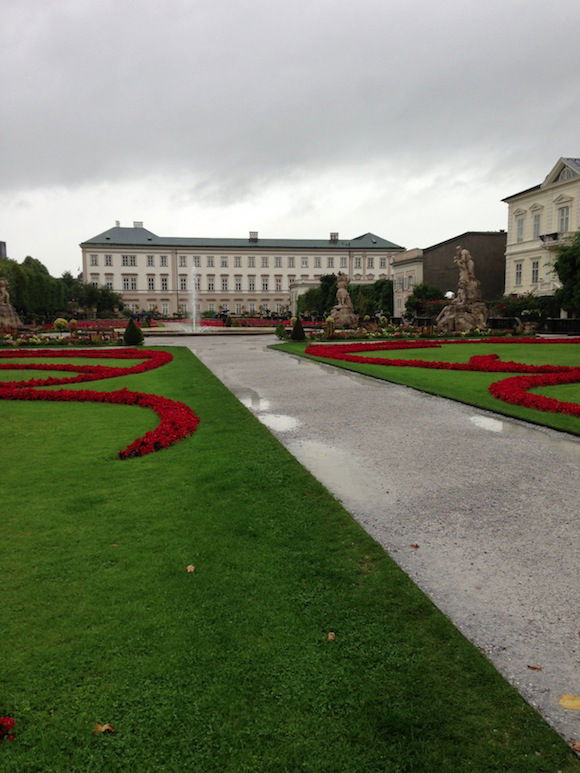 Mirabell Palace
Everything was within walking distance, with the Altstadt being at most a 15 minute walk away.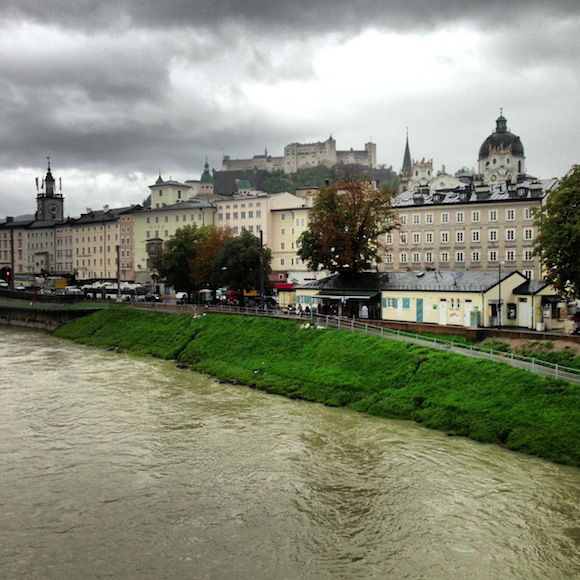 Salzburg Altstadt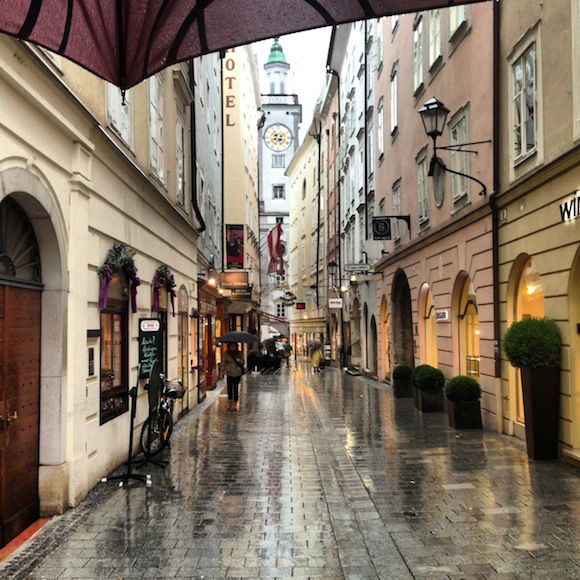 Salzburg Altstadt
Salzburg is an extremely charming city that I'd return to in a heartbeat, and the Sheraton is a great base for exploring. Given the club lounge and friendly staff I'd return in a heartbeat.