In the interest of full disclosure, OMAAT earns a referral bonus for anyone that's approved through some of the below links. These are the best publicly available offers that we have found for each card. Opinions expressed here are the author's alone, not those of the bank, credit card issuer, airlines or hotel chain, and have not been reviewed, approved or otherwise endorsed by any of these entities. Please check out my advertiser policy for further details about our partners, and thanks for your support!
Introduction
Brussels Airlines Check-in New York JFK
Brussels Airlines Business Class New York to Brussels
Brussels Airlines and SAS Business Class Lounges Brussels
Austrian Business Class Brussels to Vienna
Hotel Imperial Vienna
Austrian Senator Lounge Vienna
Austrian Business Class Vienna to Tokyo Narita
ANA Business Class Lounge Tokyo Narita
Turkish Business Class Tokyo Narita to Istanbul
Park Hyatt Istanbul
Turkish Business Class Lounge Istanbul
LOT Business Class Istanbul to Warsaw
Hotel Bristol Warsaw
LOT Business Class Lounge Warsaw
LOT Business Class Warsaw to Chicago
---
Austrian 51
Vienna (VIE) – Tokyo (NRT)
Thursday, January 31
Depart: 1:10PM
Arrive: 8:25AM (+1 day)
Duration: 11hr15min
Aircraft: Boeing 777-200
Seat: 5A (Business Class)
I was the first aboard the 777 and seemed to catch the crew by surprise, as I don't think they were expecting passengers quite yet. Since the cabin was still empty I was able to snap a few pictures of the cabin before anyone else got in the way.
So you guys have an idea of the cabin layout, here's the business class seatmap (rows one through seven are in the forward business class cabin, and rows eight through ten are in the rear business class cabin).
I took the opportunity to snap pictures of as many different "configurations" of seats as possible, so that you guys can get an idea of the difference between the "paired" seats and the "throne" seats.
I quickly found my seat, 5A, which was a single "throne" window seat.
At my seat was a pillow and really soft blanket, probably one of the most comfortable I've ever had on a plane. Interestingly the wrapping around it indicated that it was for sale in the duty free shop for 50 Euros. Not sure it's worth that much, though it is a very nice blanket.
I quickly realized that the seat was literally identical to the one on Brussels minus the colors. On the left and right side were were pouches, and on each side of the TV screen were bottle holders
On the left side of the seat were the seat controls.
And on the right side were the entertainment controls, power ports, and a storage compartment.

Storage compartment and power ports
Within a few minutes of settling in I was offered a pre-departure beverage by one of the crew members. He was extremely friendly, and jokingly asked if I had snapped enough pictures yet. Fortunately he shared my excitement, as it was his first time flying the new business class as well. Actually with the exception of one flight attendant, it was the first time anyone in the crew had flown the new business class. So they were actually taking as many pictures as I was throughout the flight.
For my pre-departure beverage I had a glass of water.
Within a few minutes the Japanese flight attendant (I'm not sure if she spoke German because she seemed to speak Japanese and English to everyone) offered me headphones, an amenity kit, and slippers.

Headphones, amenity kit, and slippers
The amenity kit consisted of a toothbrush, socks, mints, earplugs, a shoehorn, and some lotion. I was surprised to see that the slippers were actually a decent size.
Shortly thereafter the chef came by to distribute the menu and wine list.
The flight was fairly empty so boarding was complete within about 15 minutes, at which point the captain came on the PA to advise us of our flight time of 10hr30min. As the door closed the business class cabin was about half full, which I was really excited about. I had selected a "throne" seat, though as some of you may recall, I found it quite uncomfortable for sleeping on the New York to Brussels flight. So I was excited to lounge in the throne seat and then sleep in one of the double seats, which have more legroom.
As we pushed back the safety video began to play.
We were taking off from runway 29 today, and the taxi was so short that as soon as the video finished we were on our takeoff roll.
We had an extremely long takeoff roll and gradual climb out of Vienna.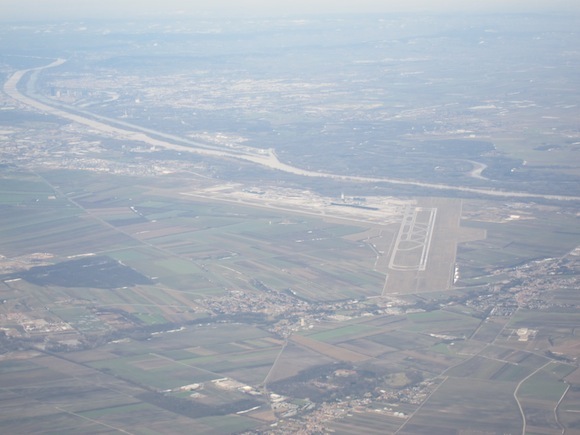 Can anyone identify the airport?
We had a bit of chop on the climb out, and it was about 20 minutes before the seatbelt sign was turned off. Interestingly even though Austrian and Brussels have identical entertainment systems, the one on Brussels is made available on the ground, while the one on Austrian is only made available about 20 minutes into the flight.
Once we leveled off I changed into British Airways pajamas, reclined my seat, and got comfortable. I find the "throne" seat perfectly comfortable for lounging given the amount of shoulder room.
I began to browse the entertainment selection, and found it to have a better selection and be organized more intuitively than the one on Brussels.
As we leveled off the chef came around to take entree orders. The lunch menu read as follows:
And the drink menu read as follows: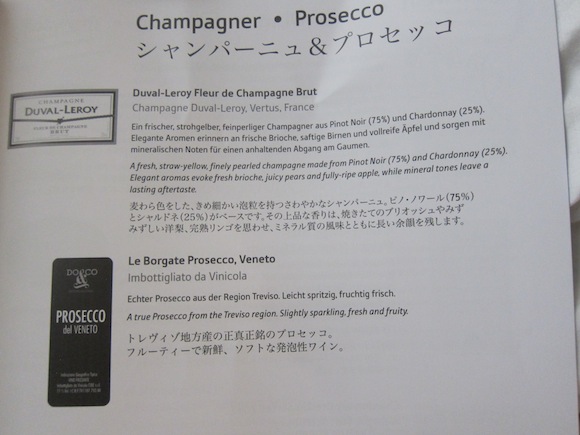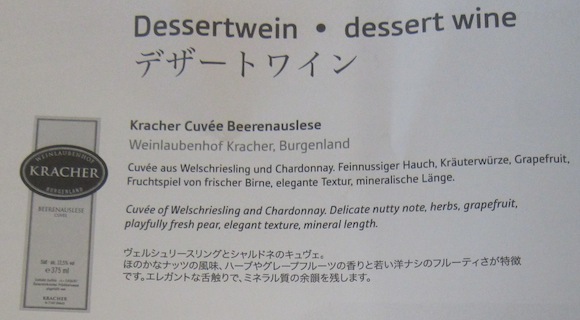 At this point it's probably worth noting that there were about four flight attendants working business class, in addition to the chef. There was the purser, a lady in her mid-40s, and three guys in their 30s-40s. They were all extremely professional and friendly, but damn, Austrian really needs to change their bright red uniforms. They're painful to look at, unless they're aspiring to be elves in Santa's workshop at a mall.
Austrian's catering is done by DO & CO, the same catering as the Lufthansa First Class Terminal and Turkish business class.
All service was done by cart, starting with the table being set. I ordered a Diet Coke with ice and lemon, and was also offered prosciutto, olives, and cheese to snack on.
Next the chef came around with the starters. I loved the fact that they plated them at your seat based on your preferences, much like many airlines do in first class. I asked for the kataifi prawns, smoked salmon tartare, and avocado tomato salad. All three were phenomenal.

Kataifi prawns, smoked salmon tartare, and avocado tomato salad
Next the chef came around with a cart consisting of procini mushroom consomme and butter dumplings.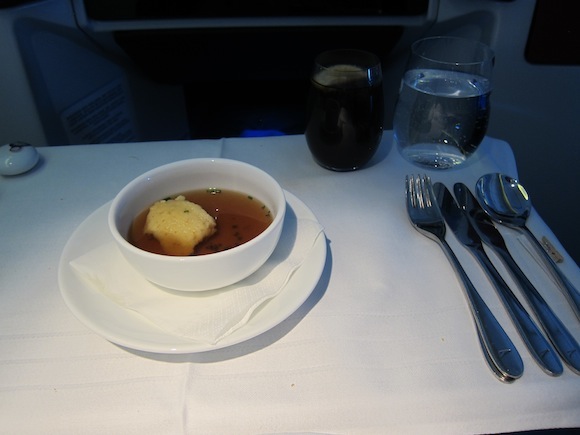 Procini mushroom consomme with butter dumpling
Then the main course was served, consisting of herbed chicken breast with spinach ricotta stuffing and saffron risotto. Again, it was excellent.
Next the dessert cart was rolled around, and the dessert was also plated at your seat, so you could have as little or as much as you wanted. I had the pear chocolate souffle with a scoop of vanilla ice cream and chocolate sauce. I'm sure you can guess how it tasted.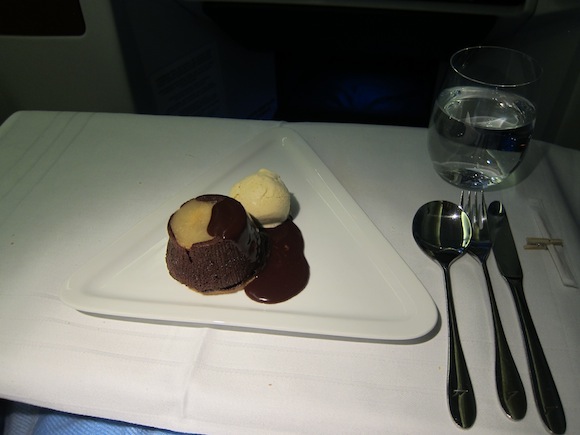 Pear chocolate souffle with vanilla ice cream
At this point trays were cleared. Remember how on Brussels I said the tray tables were unnecessarily difficult to operate? Well, I couldn't figure out how to stow my tray on this flight either, and it took me getting out of my seat and four flight attendants before we could figure out how to stow it. Here are the "instructions" on the table: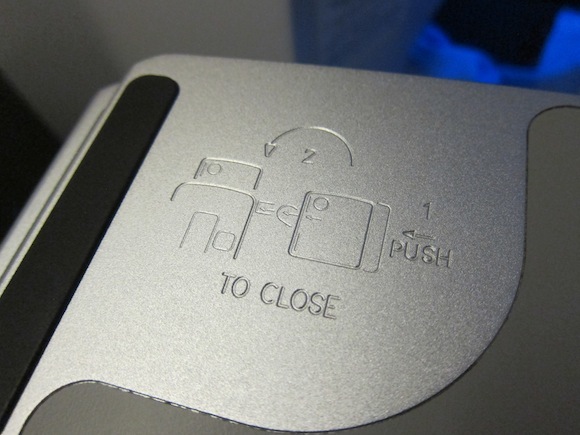 Stowing tray table instructions
And little did I know the best part of the meal was yet to come. I've always wanted to fly Austrian for one simple reason — I'm a coffee fanatic, and they're the only airline with a separate coffee menu. After dessert the chef came around the cabin to distribute coffee menus. Yes, coffee menus. I was in heaven.
The coffee menu read as follows: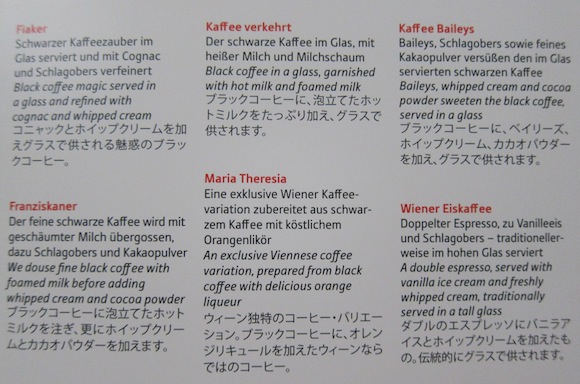 Now, read this part carefully and learn from my mistakes if you're also a coffee fanatic. I was literally going to sample my way through each type of coffee throughout the flight, though later on I learned two lessons:
Only the chef can prepare the "fancy" coffees, so don't expect to have one while he's resting
The ice cream melts after the main meal service, so if you want an Eiskaffee order it first
But what I did instead was order a Kaffee Baileys, thinking I'd have an Eiskaffee later in the flight. The coffees take about 20 minutes to prepare, so at that point I was served my coffee. It was, not surprisingly, delicious, and I loved how it was presented as well.
As the meal finished bottled water was also distributed.
On the whole it was simply a phenomenal meal. Hands down the best I've ever had in business class, and on par with many first class meals I've had. The quality was top notch, everything was plated at your seat just as it would be in first class, and the crew was genuinely friendly and attentive.
The meal was done about two hours into the flight, at which point the sun was beginning to set.
After lunch I moved forward to seat 4A to try and get some shuteye. As I mentioned in the Brussels report, the sets of two seats have quite a bit more "foot" room than the throne seats, so for sleeping they're much better. Since the row in front of me was empty I decided to build a pillow and blanket fortress to make it as comfortable of a seat as possible. I put a blanket on the seat itself, another on top of me, and used a couple of pillows to make an all around very comfortable bed. There was noticeably more room for my feet in this seat, and I was able to sleep much better than I would've been able to in the throne seat.
I wasn't especially tired so only managed to nap for a couple of hours, and woke up with over six hours to go to Tokyo.
I decided to browse the entertainment selection, and settled on a show called "Pilot Globe Guides." It was quite possibly the most poorly produced and offensive TV show reviewing hotels that I've ever seen. Seriously, what the hell? I guess that would explain why it never entered production beyond a pilot…
This is the point at which I learned the above lesson regarding coffee the hard way. I tried to order an Eiskaffee, though was informed by the flight attendant that it would only be available when the chef is awake. About 30 minutes later I asked the purser, and while she didn't mention anything about the chef, she said that she thought the ice cream was already melted. So she made me an Eiskaffee, except the ice cream was already melted. It tasted just as good as far as I'm concerned, but I still wish I had ordered one after the meal service.
After another coffee I decided to try and get a bit more sleep, and managed to sleep for another few hours, waking up about 90 minutes out of Narita Airport.
I opened the window shade and was able to watch a beautiful sunrise. Forgetting about all the champagne, food, and good service, isn't watching a sunrise from a few miles up what makes flying awesome?
The breakfast menu read as follows:
Breakfast service began with orange juice and a fruit smoothie.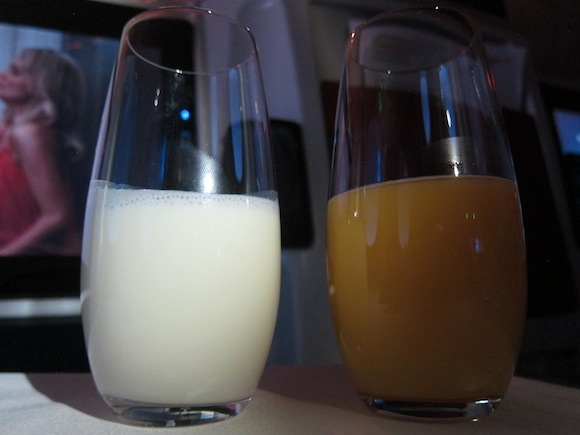 Orange juice and fruit smoothie
The breakfast service is efficient given that it's all on one tray, though still beautifully presented.
It consisted of fruit, ham and cheese, fresh bread, and I selected a mushroom omelette as my entree.
There was also muesli served in a cup, though my tray was so full that I waited till I was done with the rest of my meal before ordering it.
We began our descent early, about 45 minutes out. We hit some pretty abrupt turbulence on the descent, though the ride got smoother as we leveled out at around 10,000 feet, where we must have cruised for a good 20 minutes or so as we were put in a holding pattern over the ocean.
Once we were released from our holding pattern we approached the coastline, and had about another 10 minutes of flying.
We had a smooth touchdown at Narita and about a 10 minute taxi to gate 36, taxiing past the cargo and then Star Alliance terminals.
I felt surprisingly well rested for a longhaul in business class, ready to tackle the 12 hour flight back to Istanbul in a few hours.
On the whole this flight blew me away. Austrian must have one of the best business class products out there, probably the best of any European airline. While I do still prefer the seats offered by Cathay Pacific, the catering was on par with what I've been served in first class on most airlines, and the service was extremely friendly as well. Oh, and they have a coffee menu, which quite possibly makes this the best product in the world. 😉
Once Austrian's entire fleet is reconfigured with the new business class (which should happen by sometime this summer), I think this is the way to fly to Europe in business class.
How you can use miles/points for Austrian Business Class

The two best ways to redeem for Austrian business class are through United and US Airways. It's worth noting that Austrian also flies to North America, with service to New York, Washington, Toronto, and as of May, Chicago. They also offer service on their longhaul aircraft to Bangkok, Beijing, Delhi, Dubai, the Maldives, and Tokyo.
The best program through which to book in most cases is United. You can book Austrian business class roundtrip between the US and Europe for 100,000 miles, or Austrian business class roundtrip between the US and Bangkok, Beijing, Delhi, Dubai, the Maldives, or Tokyo, all via Vienna, for 120,000 miles roundtrip. In each case you're allowed a stopover and an open jaw, so you could stop in Vienna while enroute to any of those destinations if you wanted to. The best way to rack up United miles is through Ultimate Rewards, which is their 1:1 transfer partner.
Regarding Comments: The comments on this page have not been provided, reviewed, approved or otherwise endorsed by any advertiser, and it is not an advertiser's responsibility to ensure posts and/or questions are answered.