As I mentioned in the introduction post, I find Singapore to be one of the most frustrating hotel markets for redeeming points, I was determined to try and stay at some new properties on this trip, since I've reviewed several properties in Singapore, including the Crowne Plaza Changi, Grand Hyatt, Marina Bay Sands, InterContinental, Conrad, Shangri-La, and St. Regis. So I decided to stay at the W Sentosa, which is less than a year old. It's a category six property, making it 20,000 Starpoints per night, or 10,000 Starpoints plus $180 through "cash & points." The paid rate was about $300, so I decided that was the best option for our first night in Singapore.
My flight from Bangkok arrived right on time, and after meeting my friend in the terminal we quickly cleared immigration and made our way to a taxi.
The W is on Sentosa Island, which is a newer resort area about fifteen miles from the airport. Traffic was light, and in less than half an hour we arrived at the W.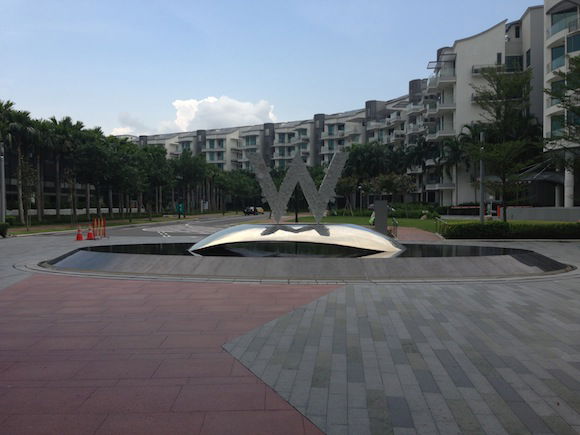 Entryway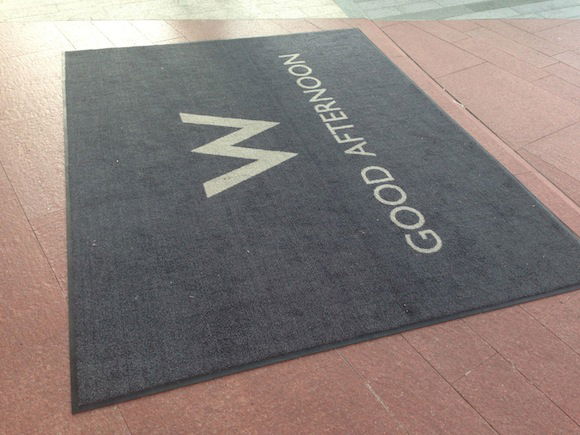 Welcome mat

As is the case with most W hotels, the architecture and decor was really interesting. The front doors opened to a foyer with an illuminated wall and fountain, the entrance to one of the hotel restaurants, as well as a staircase and two elevators leading to the main lobby area.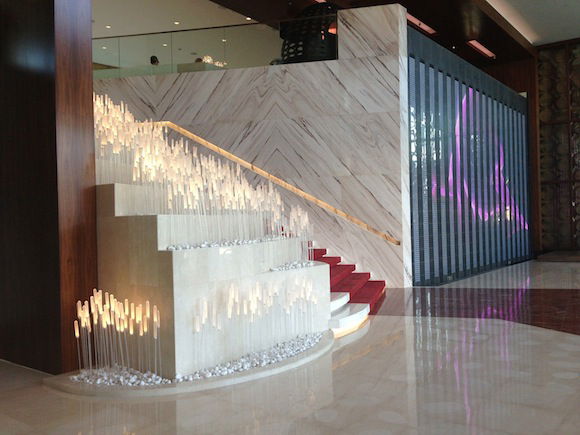 Hotel Entrance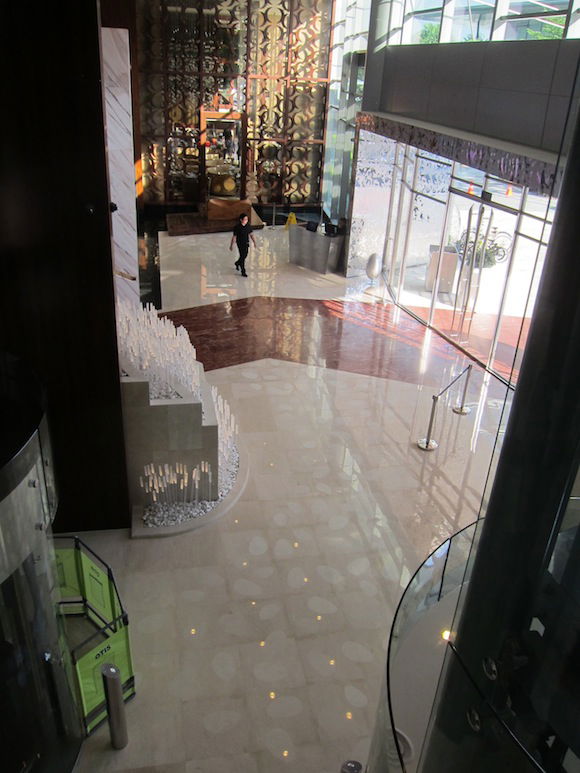 Hotel entrance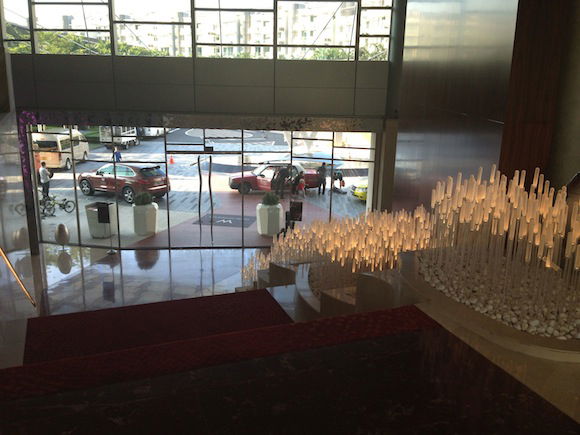 Staircase
The elevators had a 360-degree view, along with a cushioned bench with a cow "printed" on it, which to be honest seemed like overkill, given that despite these being some of the slowest elevators I've even encountered, the one-floor journey took less than twenty seconds.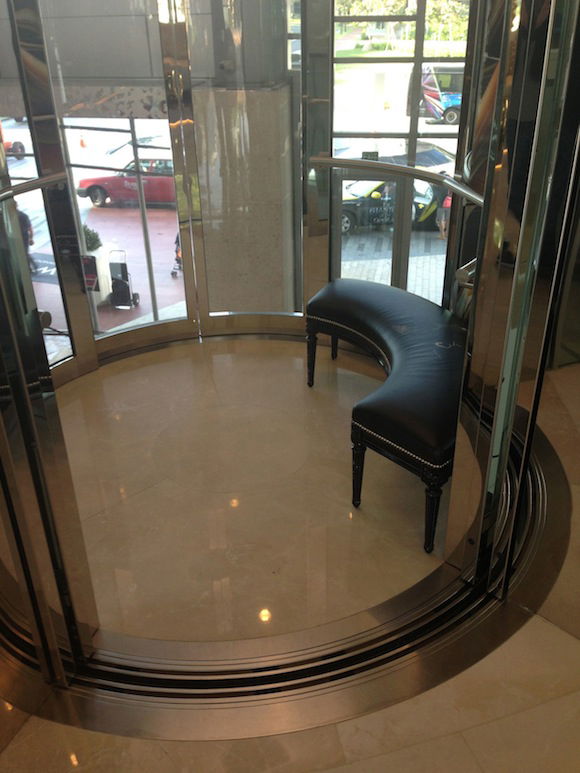 Elevator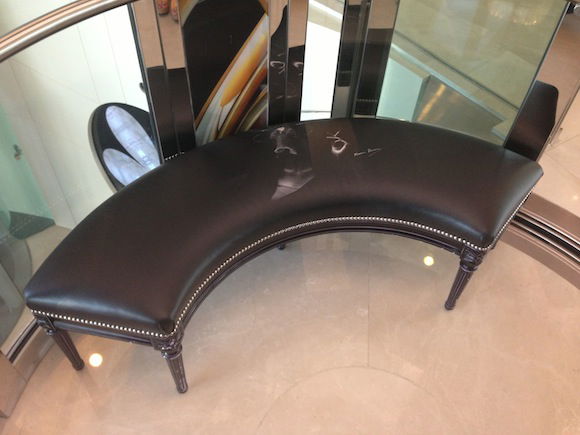 Elevator bench
The main lobby was fairly large, with windows looking out over the resort and several seating areas, including an outdoor terrace.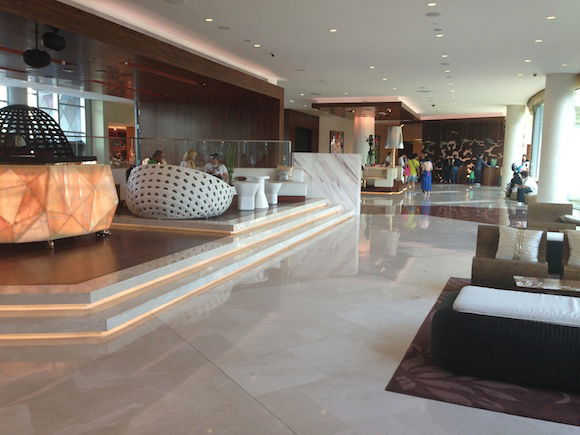 Lobby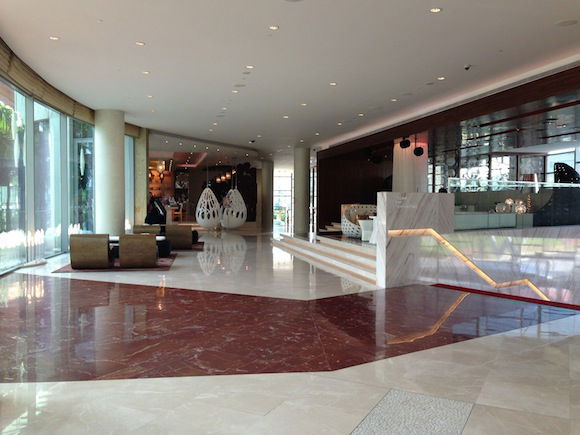 Lobby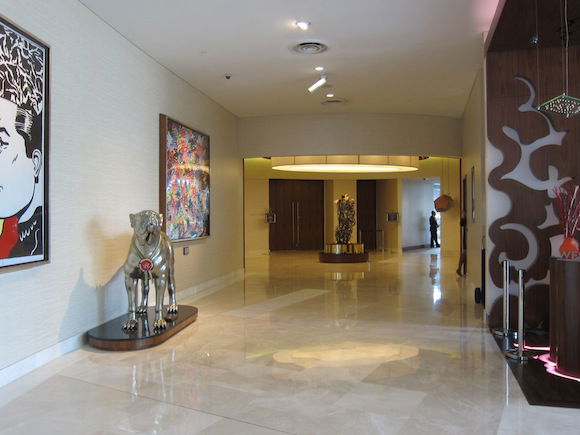 Lobby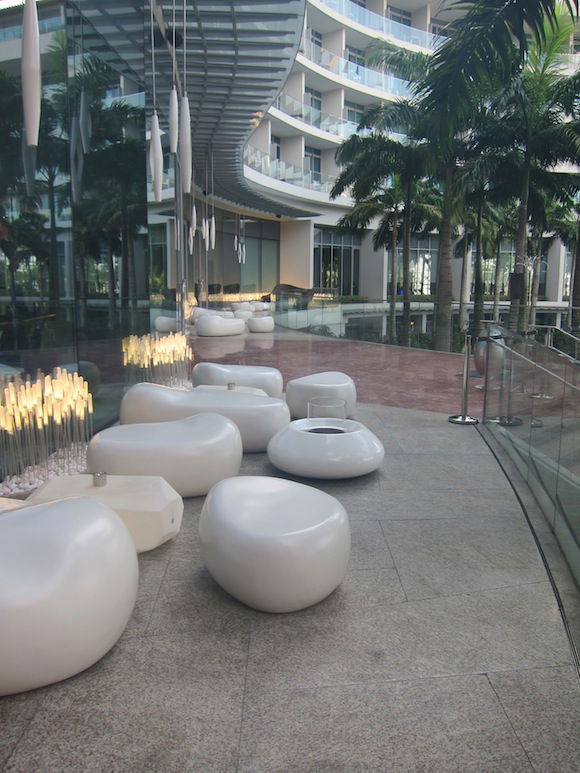 Lobby terrace
Sentosa Island is a popular leisure destination, so reception was quite busy. Several families seemed to be checking either in or out, so there was quite a bit of commotion near the check-in desk. Given that, it's hardly surprising that check-in wasn't entirely smooth.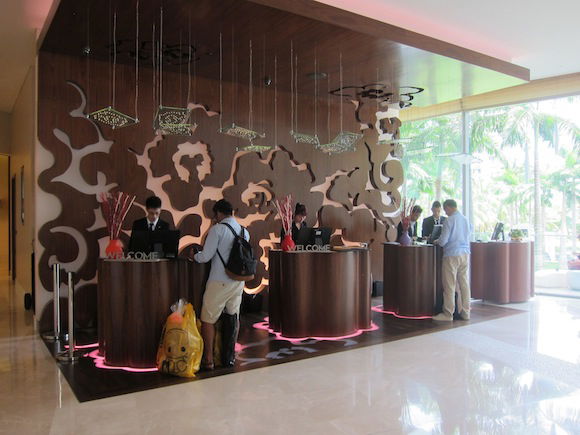 Check-in area
We waited about ten minutes for an agent, who promptly recognized my Platinum status, and informed me I'd been upgraded to a Marvelous Suite. This may be the first time I've received a suite upgrade at a W hotel without using an upgrade certificate or having to specifically inquire as to availability, so the proactive upgrade was impressive. I was then asked to choose my Platinum amenity, which caused a bit of confusion. I'd booked a rate that included breakfast for two and two drinks in the bar, along with 500 bonus Starpoints, so obviously wanted the points as my amenity. After a bit of scrambling in the back for drink vouchers we were set, and directed towards the guest elevators.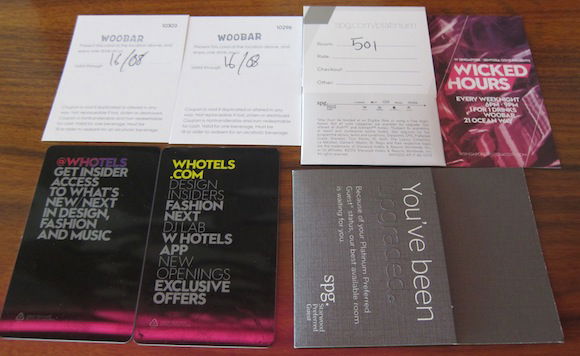 Key cards and inserts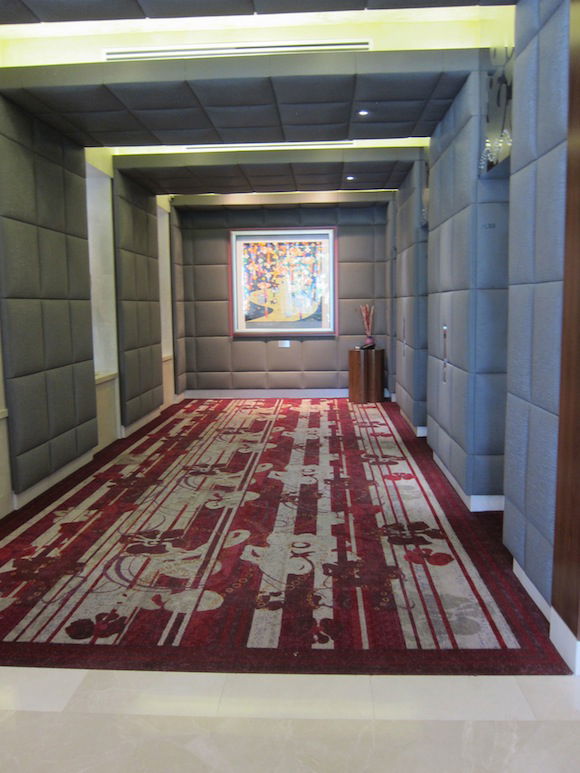 Elevators
My suite was on the 5th floor, and the hallway was nicely decorated, and quite stylish, as is generally the case with W properties.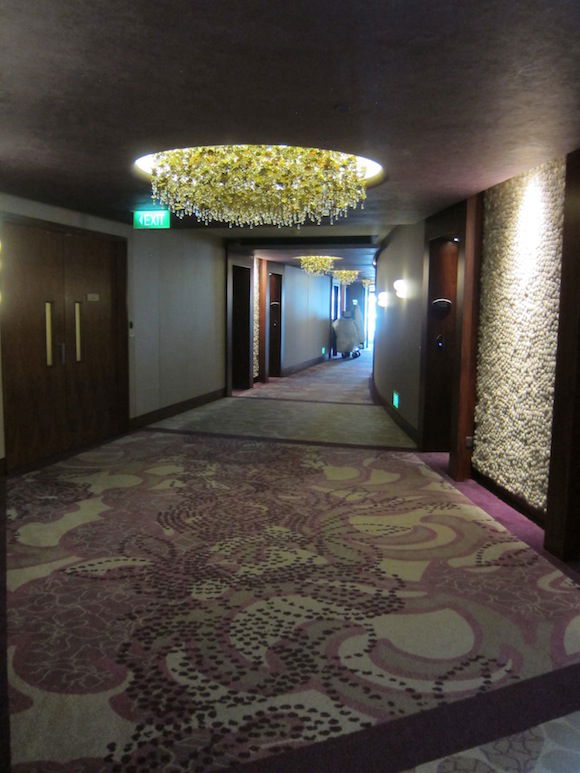 Hallway
The suite was at the end of the building, and the entrance was recessed from the main hallway.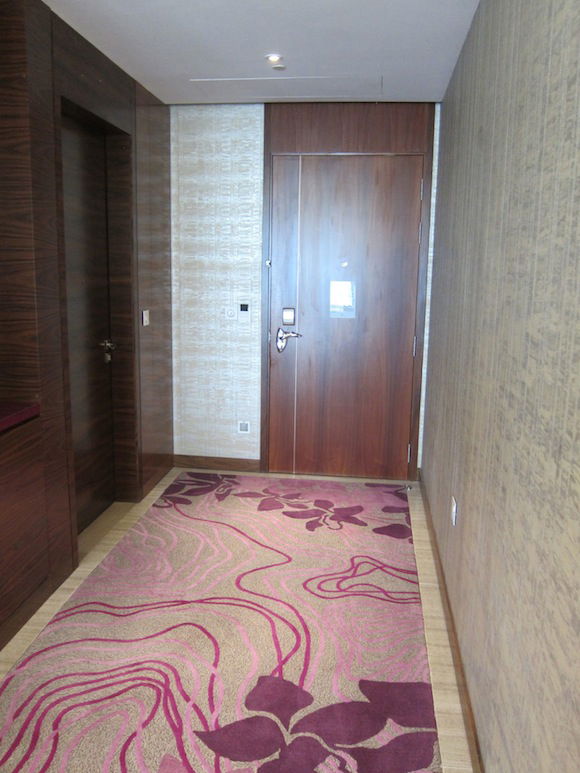 Entrance to Room 501
The Marvelous Suite was decently-sized, and featured a half-bath off the main entry. I appreciated that a spare key card had already been placed in the environmental controls, so the air conditioning was running, which is always nice in Singapore.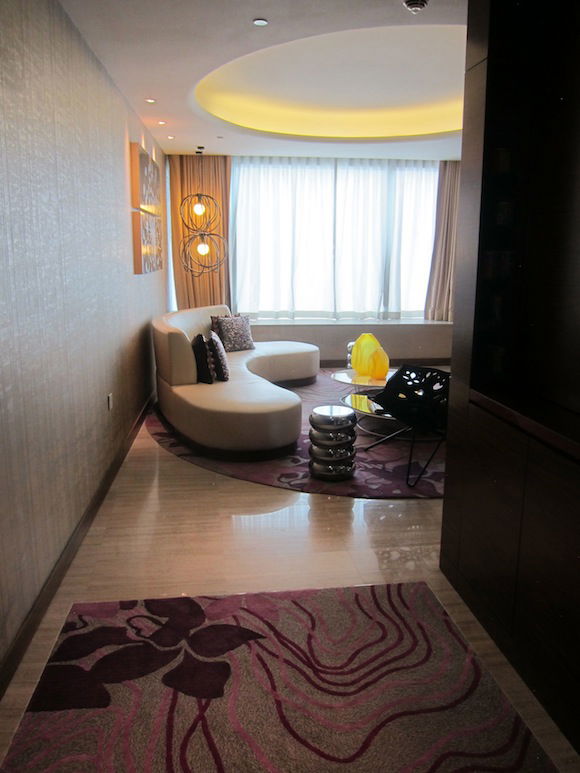 Entryway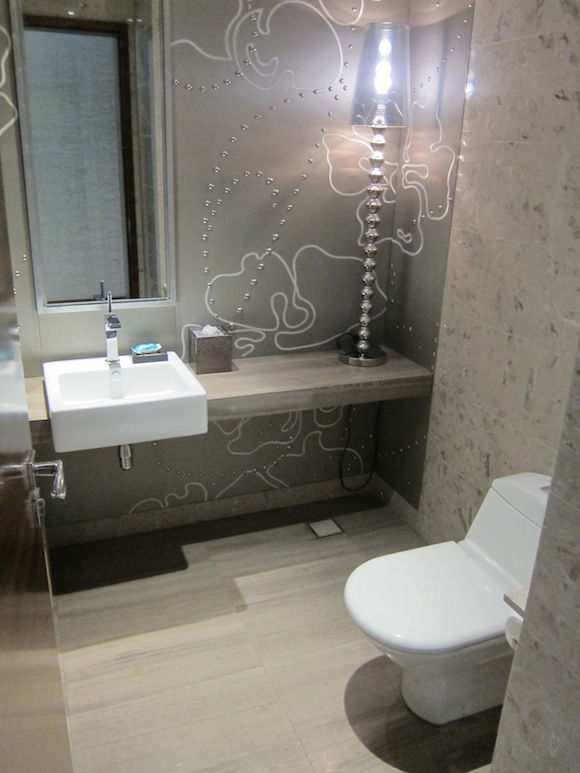 Half-bath
The living room was nicely furnished, and decorated in typical W style (whatever that is), but was surprisingly well laid out. I generally find the design of most W's to be awkward, and more focused on how things look than how they function, but in this case the spaces were well-utilized.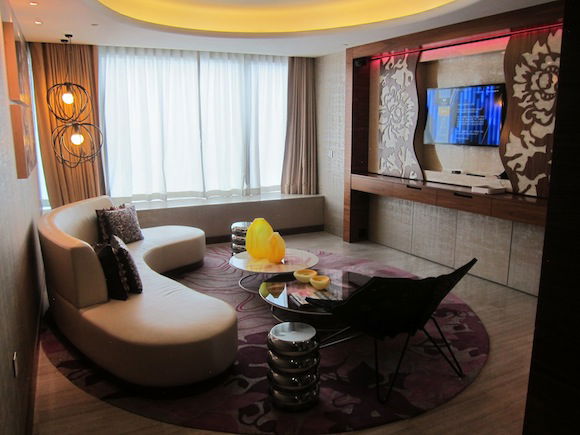 Living Room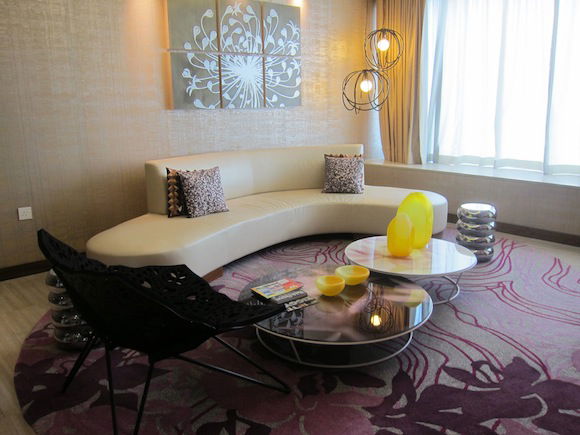 Living Room seating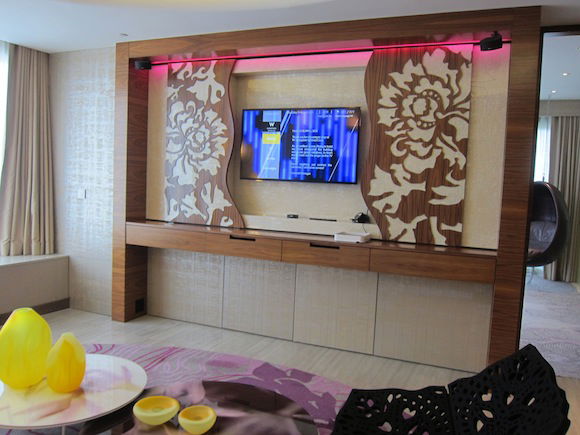 TV
The minibar was built into the room paneling, and had the usual selection minus the "pleasure pack," or whatever it is that they usually have.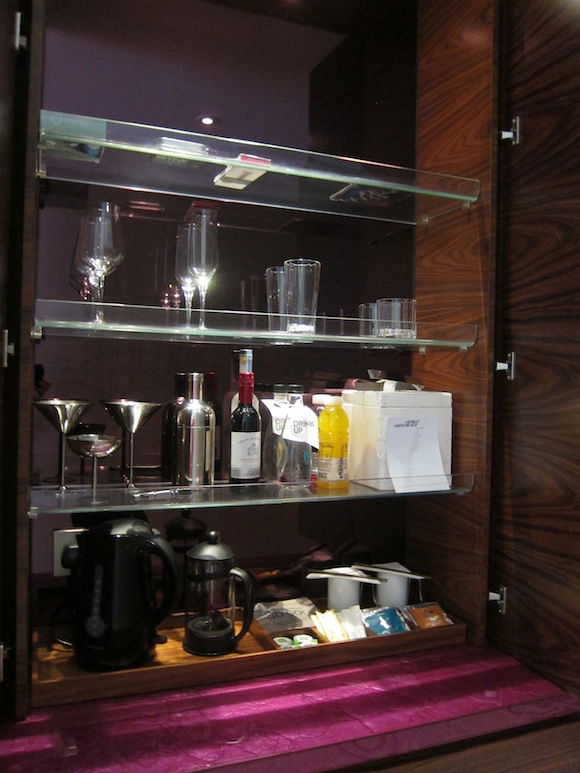 Minibar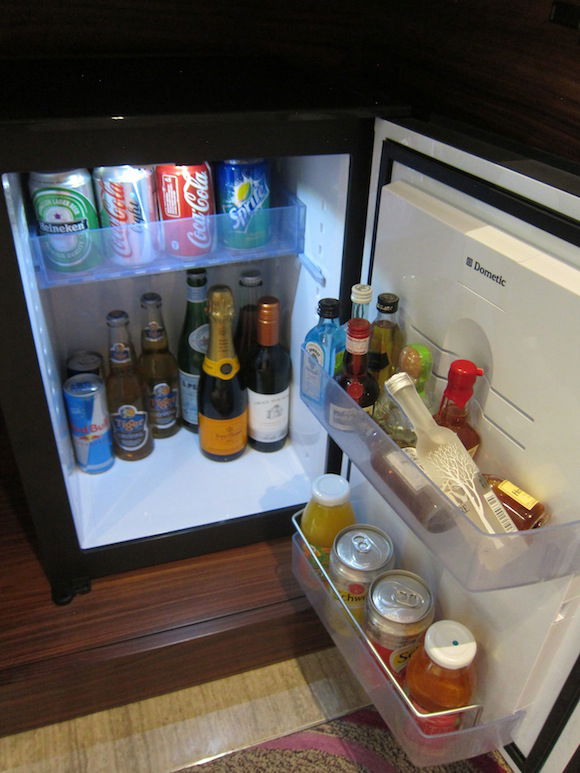 Beverage selection
An alcove off the living room featured a work area with a desk and surprisingly comfortable chair, along with a plethora of office supplies. I'm not sure I've ever needed tape or a stapler at a hotel, much less a W, but it was nice to see those stocked, along with paperclips, post-its, and the usual assortment of stationery and pens. Shockingly, there was also a trash can, which I've never seen before in a W hotel room. 😉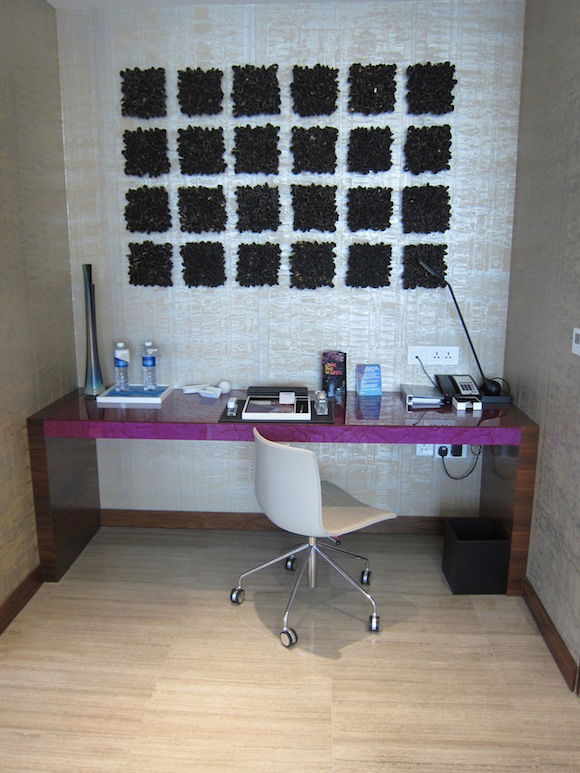 Desk
A welcome note and bar of chocolate was also stashed on the desk, which was a nice touch.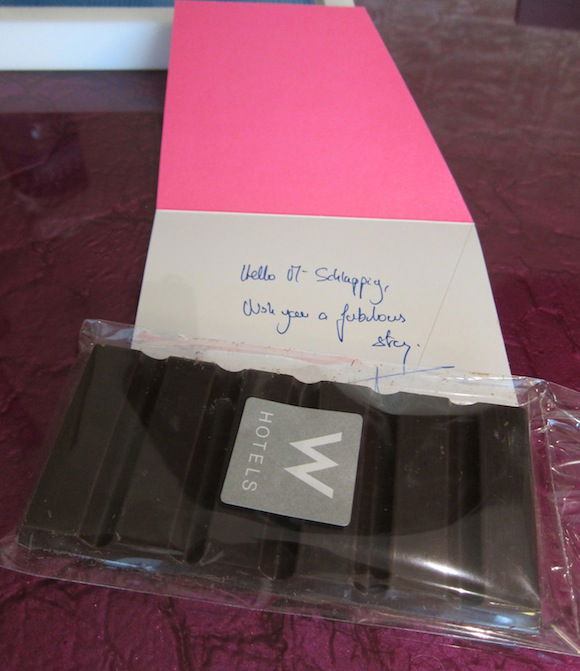 Welcome amenity
The bedroom featured an extremely comfortable king bed, and was decorated entirely in neutral tones, with colorful accent lights. There were also multiple seating areas, including a window seat and a "chair" that didn't look entirely safe.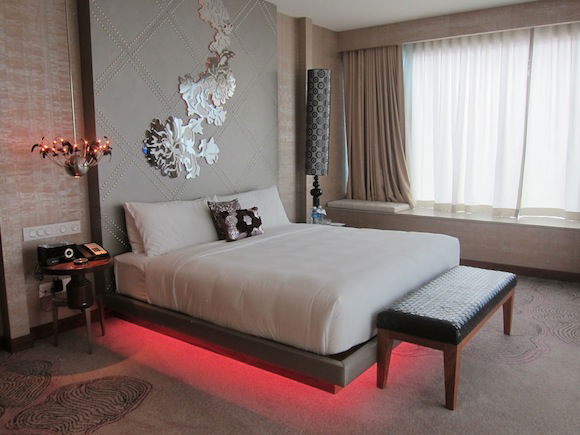 King bed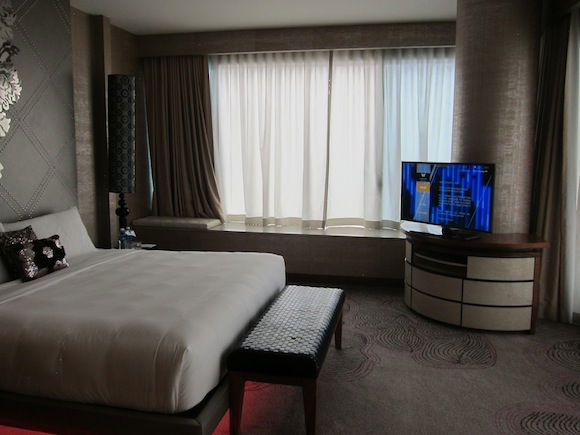 Bedroom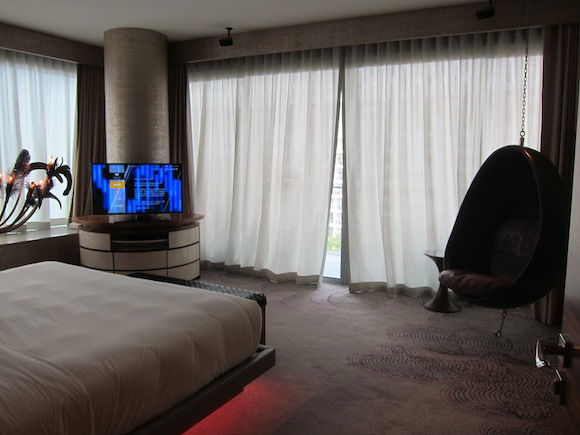 Bedroom
A panel by the nightstand controlled all the lights in the room, along with the window treatments. There were manual switches, as well as several pre-programmed settings, which were entirely too complicated for me. I understand "Day" and "Night", but what exactly is the point of "Runway" or "Flirt"?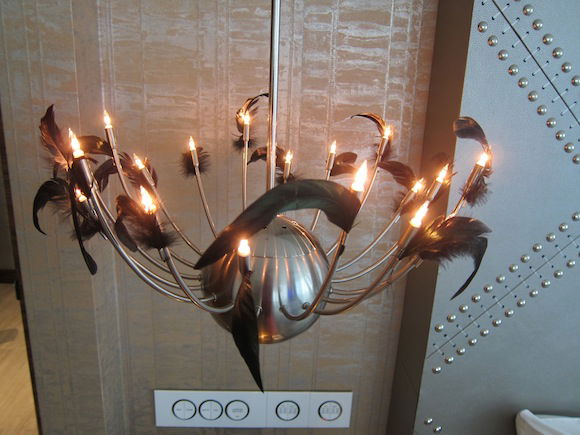 Bedside lamp & controls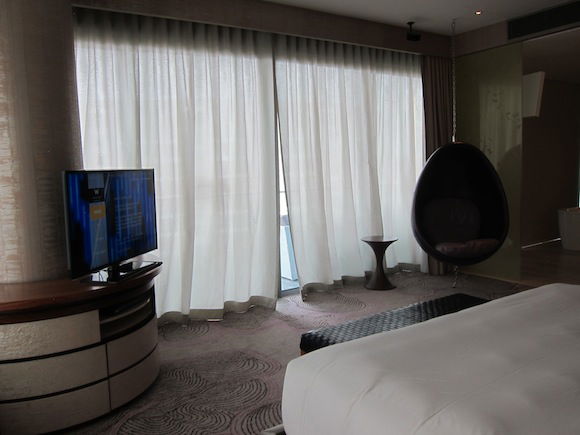 Doors to terrace
Off the bedroom was a nicely-sized terrace, with great views of the waterway.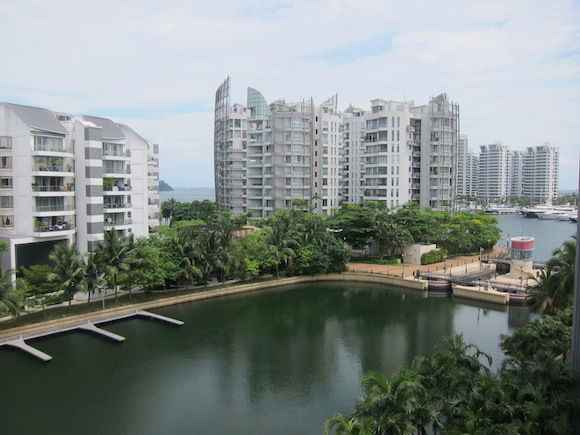 View from terrace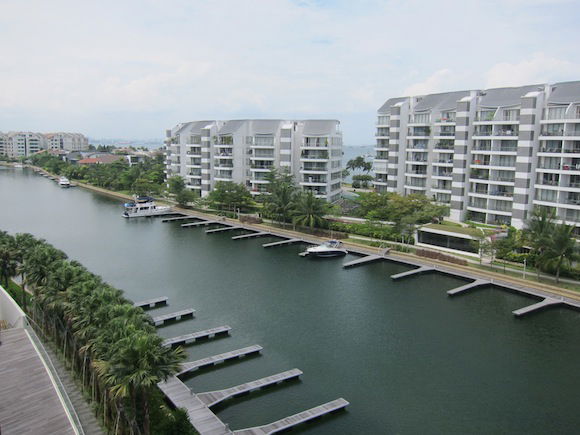 View from terrace

The terrace was well-furnished, and had both a table and a lounge chair.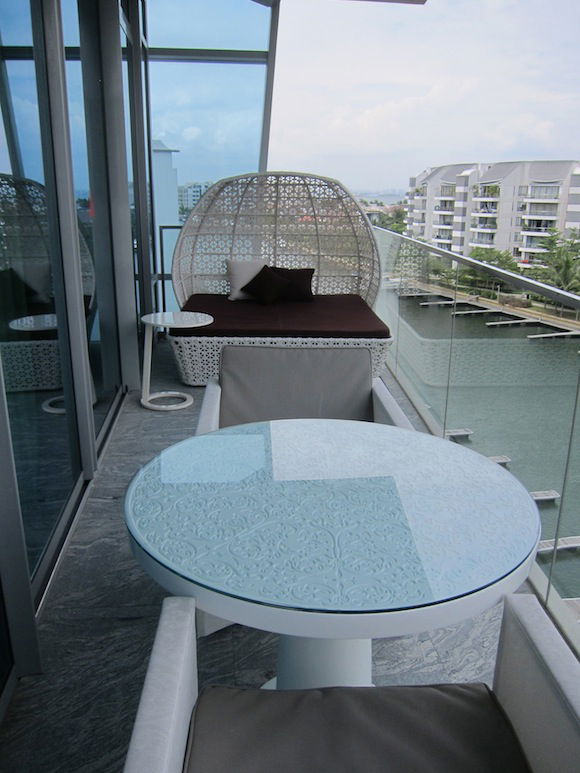 Terrace furniture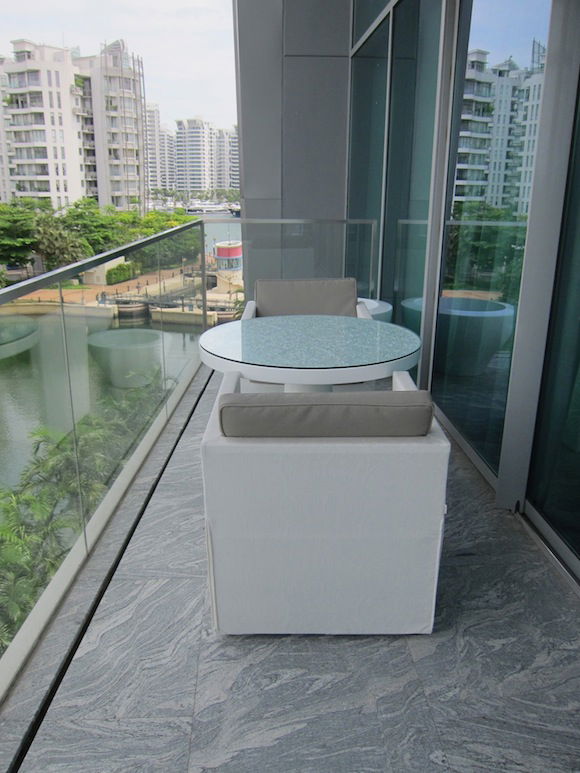 Terrace furniture
I was delighted to discover that, unlike the W Santiago, not only was the bathtub not in the middle of the bedroom, but there were partitions between the bedroom and bathroom, and the shower actually had a door that closed. There was also a TV in the bathroom, which was positioned such that it was reflected in the mirror above the sinks, and viewable from the bathtub.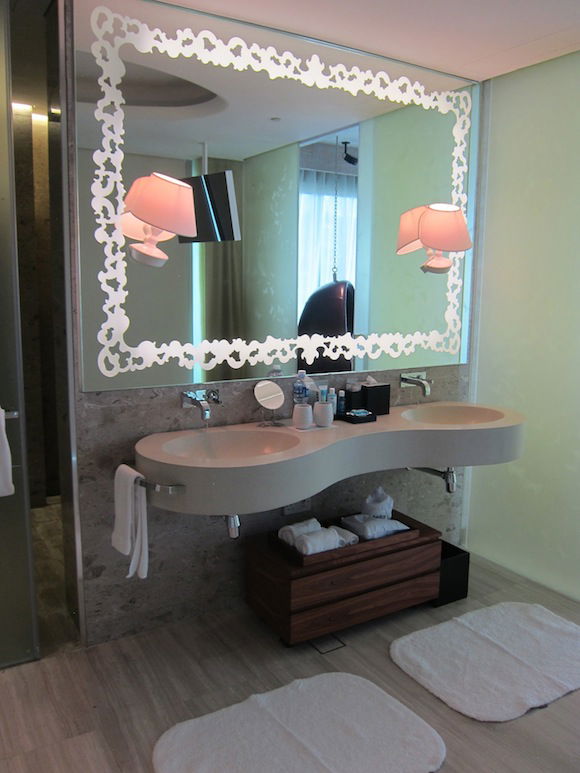 Mirror and sinks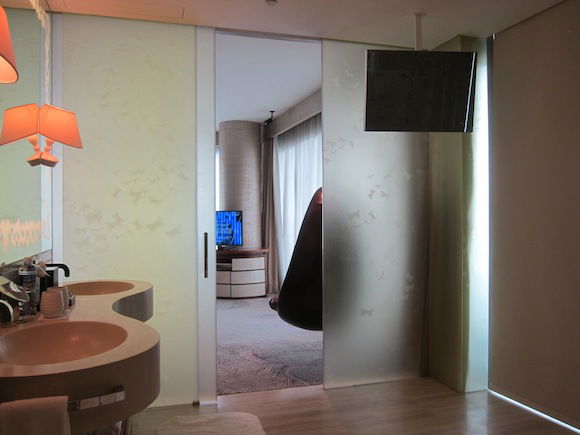 Bathroom TV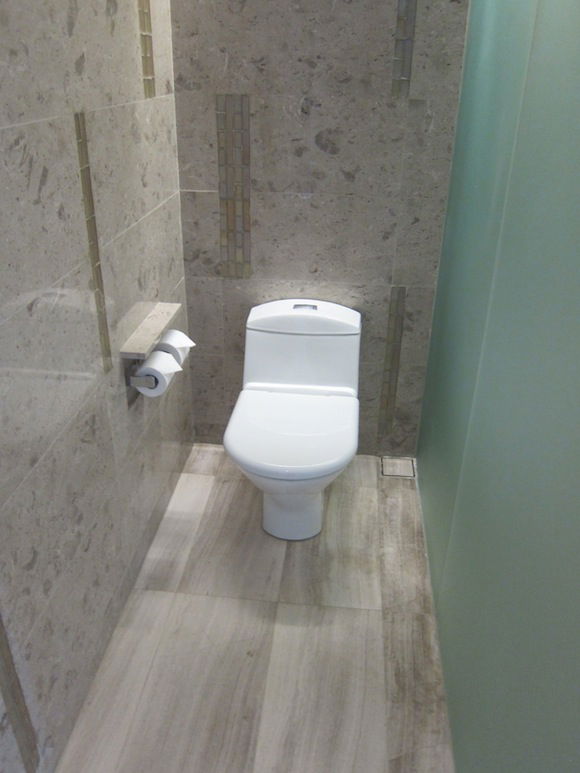 Toilet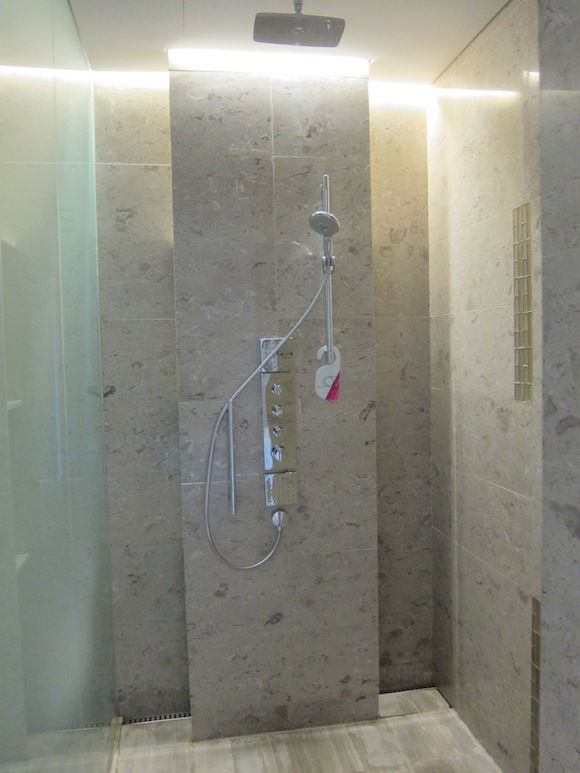 Shower
The bath amenities were Bliss, as is typical of W hotels, and there was a nice assortment throughout the bathroom. They were even the "full size" bottles, which I appreciate.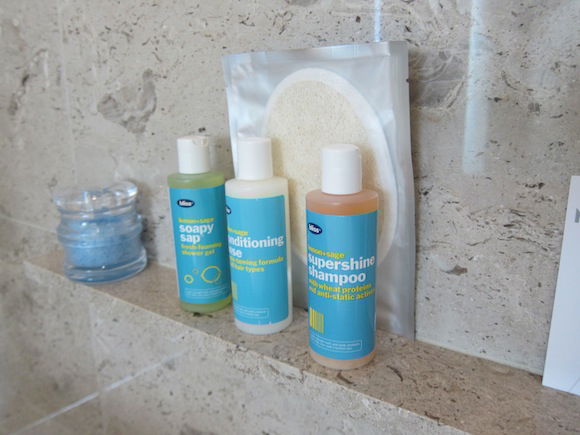 Bath amenities
On that note, if anyone visits the W Sentosa I highly recommend availing yourself of the bath salts rather than the bath gel should you choose to use the tub. Apparently jacuzzi tubs and bubble bath are a poor combination – who knew! I spent about 10 minutes "shoveling" bubbles out of the bathtub and into the shower. Oy.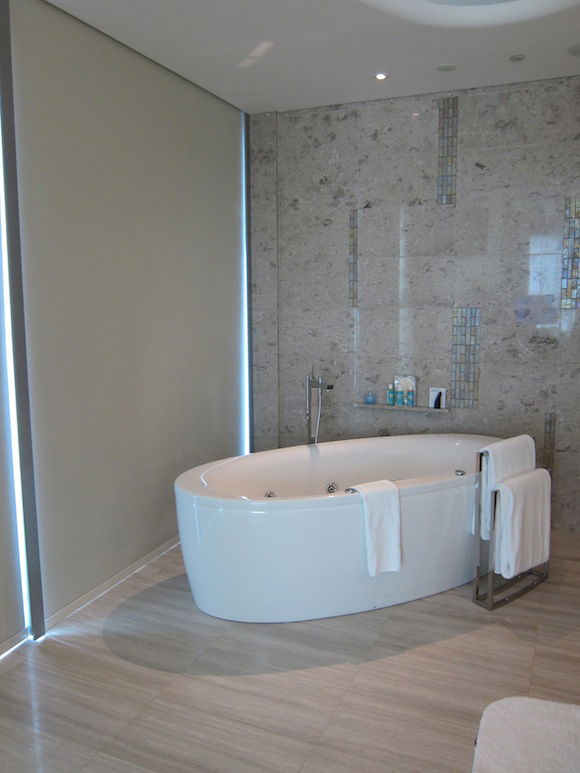 Bathtub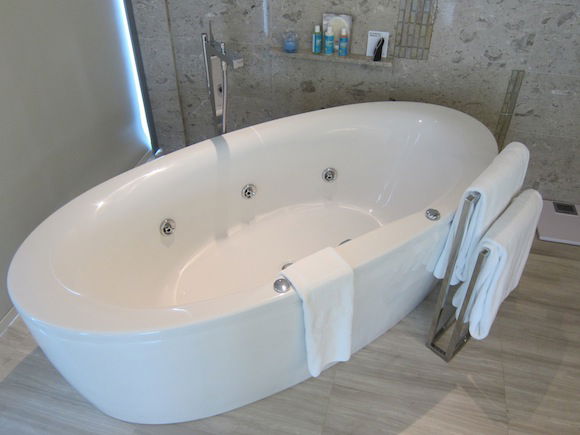 Jacuzzi tub
In the evening we went to WOOBAR to redeem our drink vouchers. The bar was about as happening as an Applebees in Boca Raton on a Monday, though admittedly we were there quite early.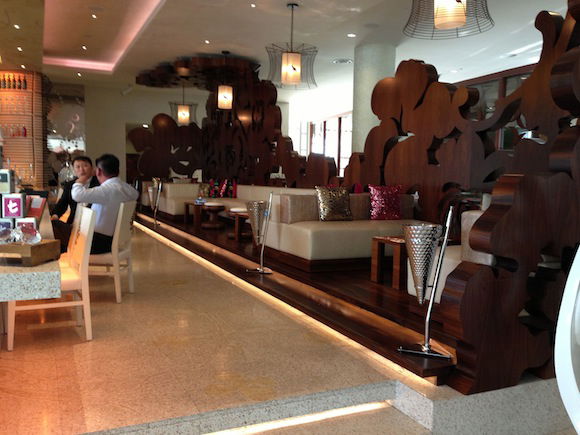 Lobby Bar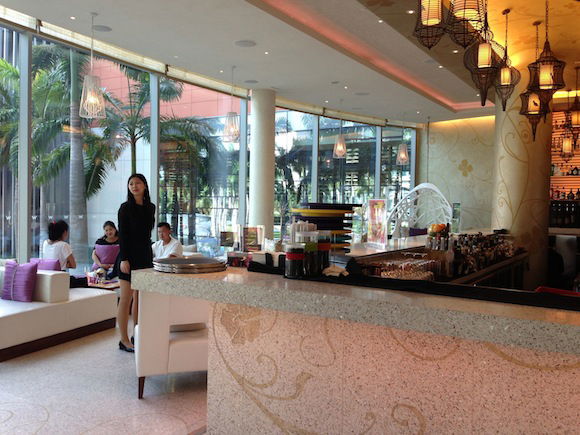 Lobby Bar
Once the server saw our drink vouchers she brought us a different menu, as the drink selection using vouchers is apparently limited.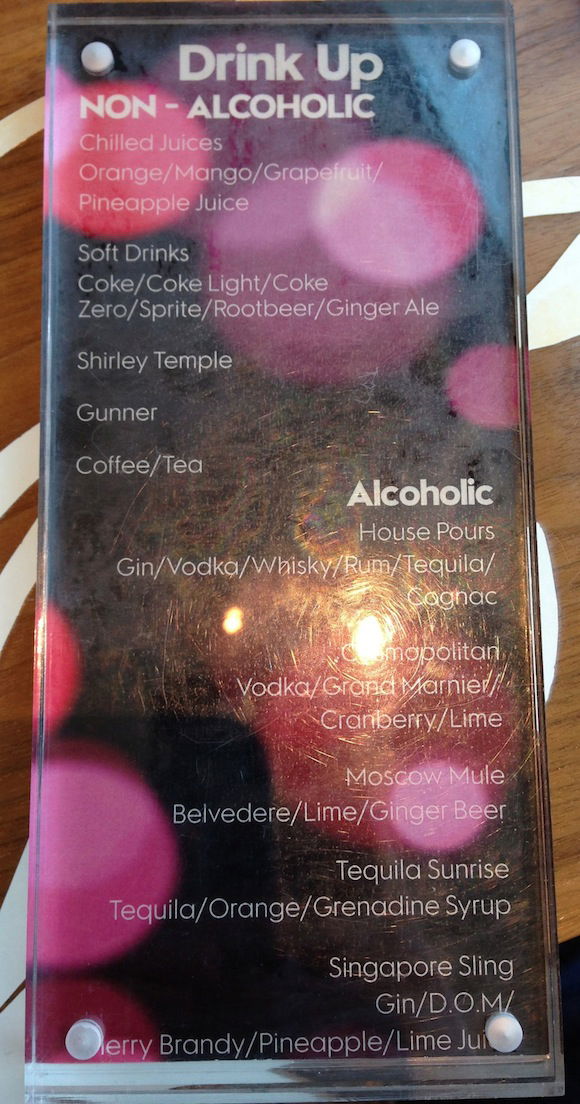 Voucher menu
I ordered a tequila sunrise.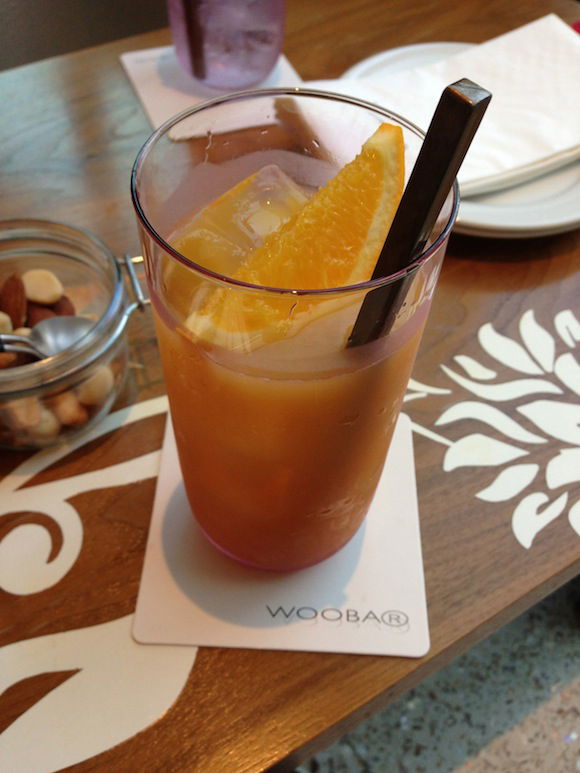 Tequila sunrise
In the morning we had breakfast at The Kitchen Table, which was rather busy.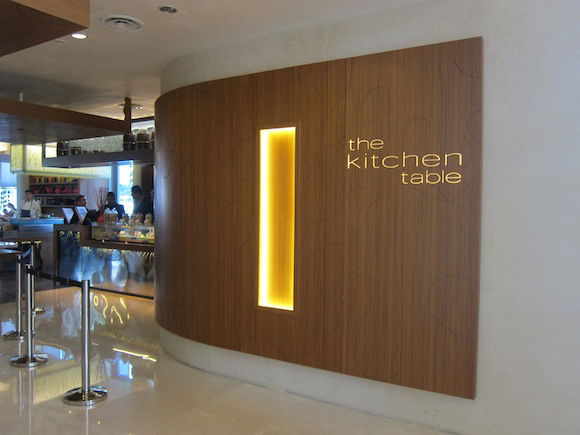 Restaurant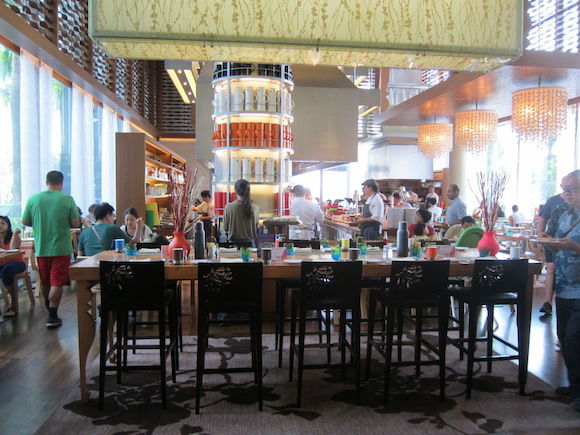 Restaurant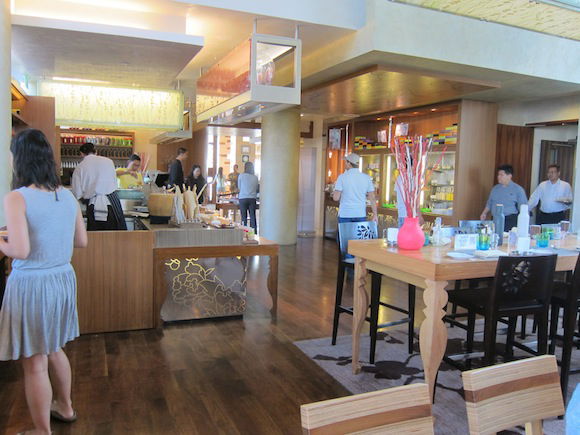 Restaurant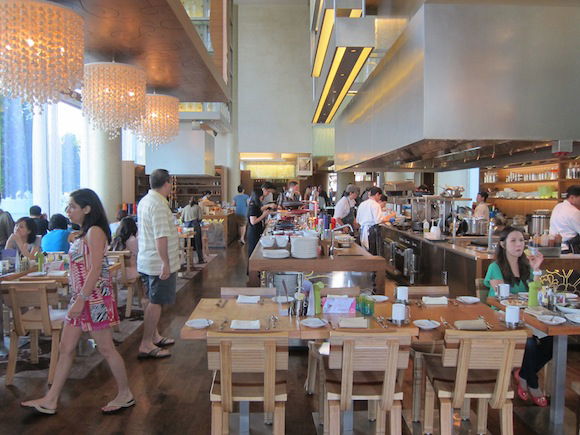 Restaurant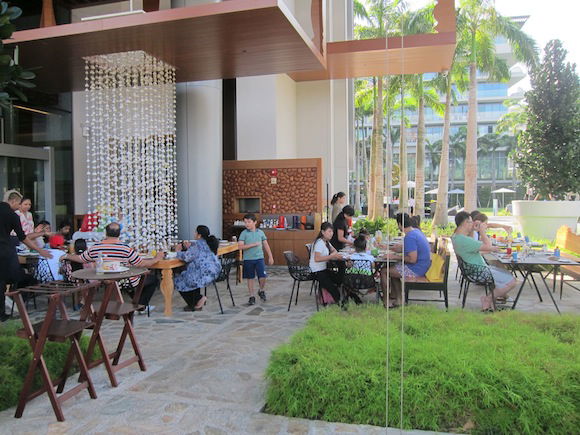 Outdoor seating
The restaurant is nicely decorated and features a really phenomenal spread. They had tons of western and Asian options, with everything from all kinds of fresh pastries to dim sum to curry. It was simply a spectacular spread, so I'll let the pictures do the talking.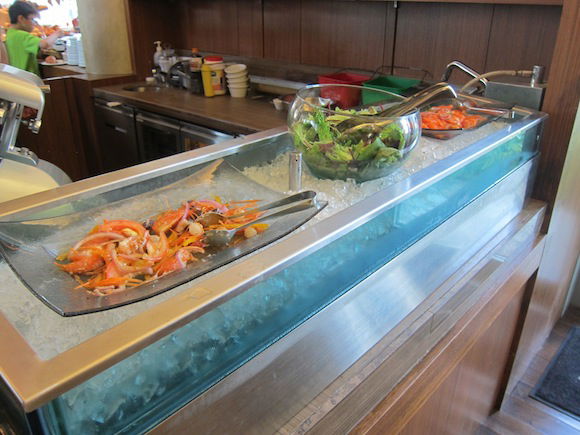 Buffet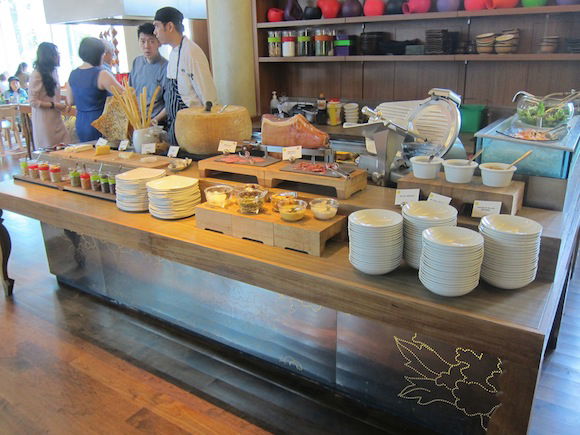 Deli meats and cheeses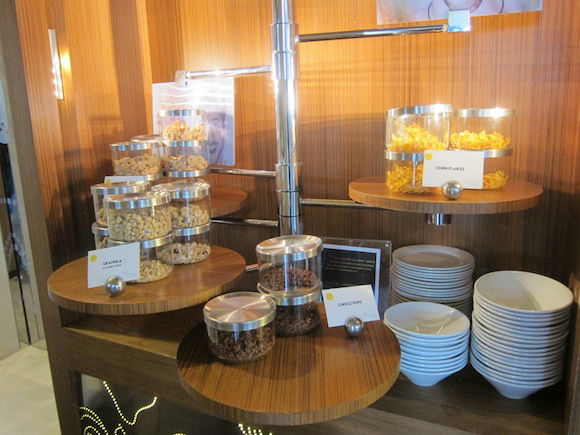 Cereal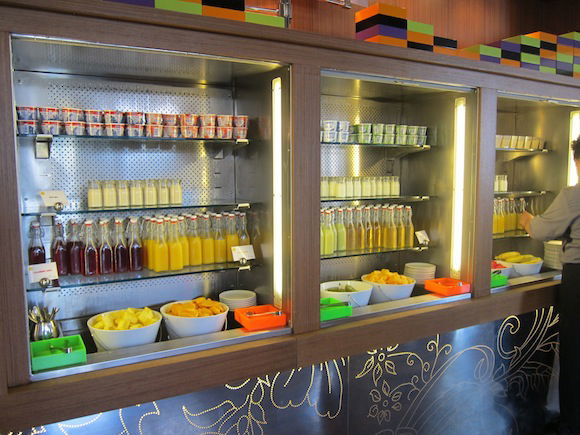 Yogurt, fruit, and juice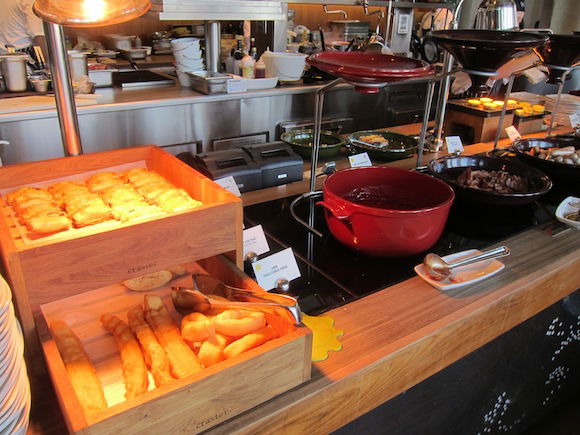 Buffet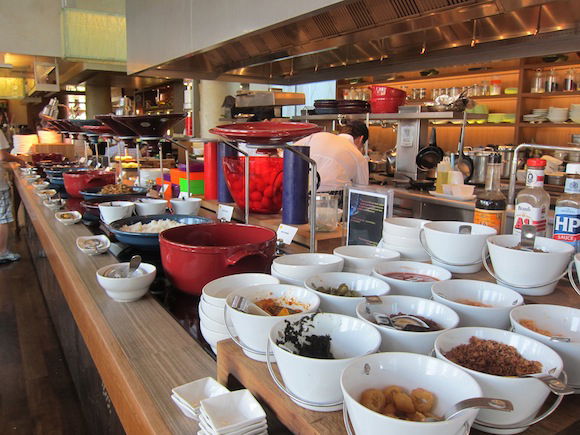 Buffet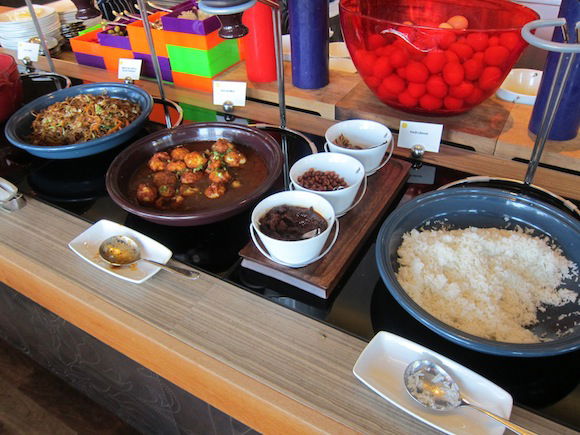 Buffet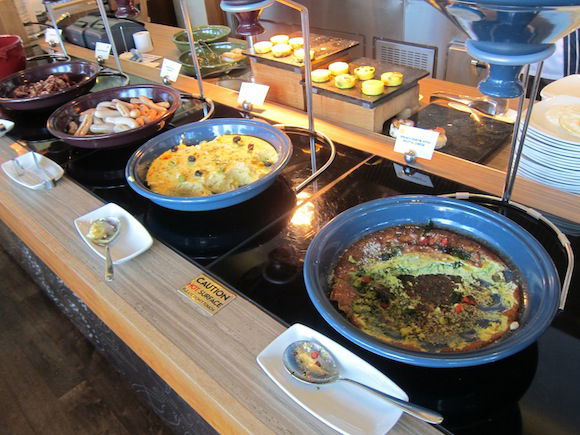 Egg dishes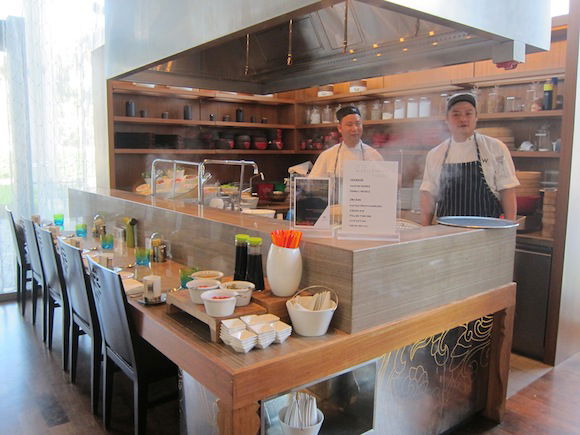 Dim sum and noodle bar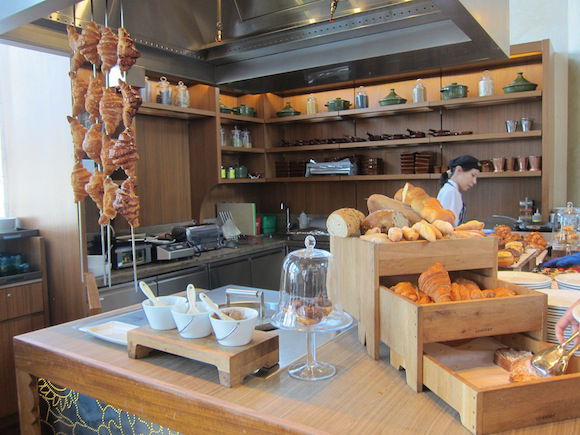 Bread display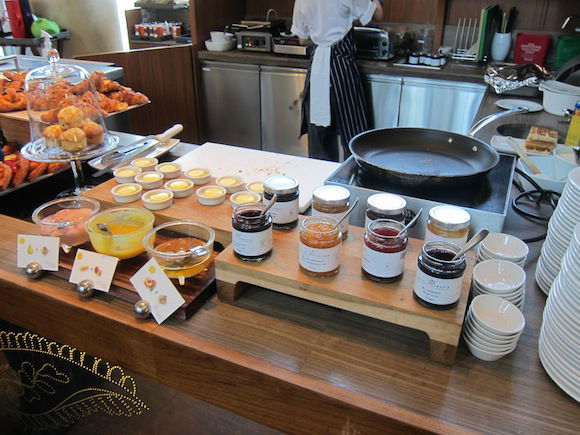 Jams, honey, and butter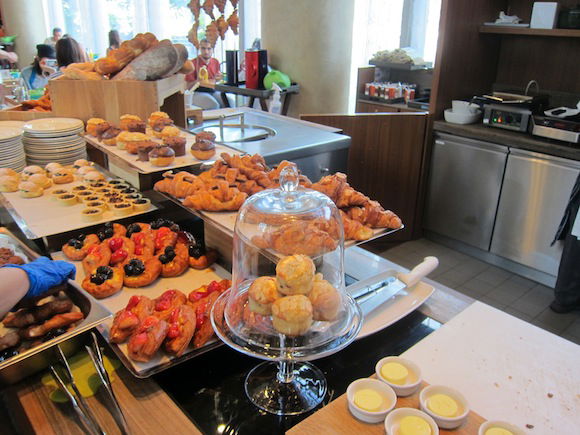 Pastries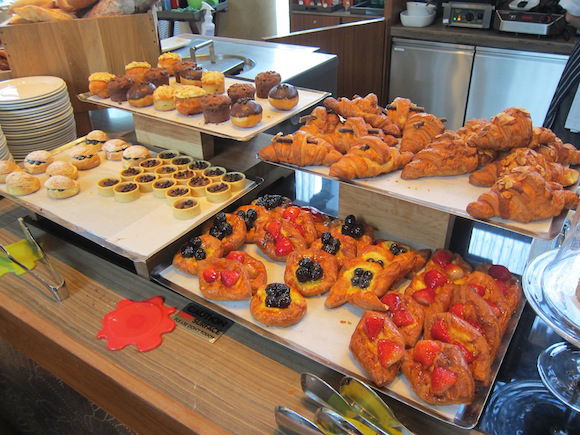 Pastries
In terms of the hotel's other facilities, on the ground floor was a business center as well as the gym.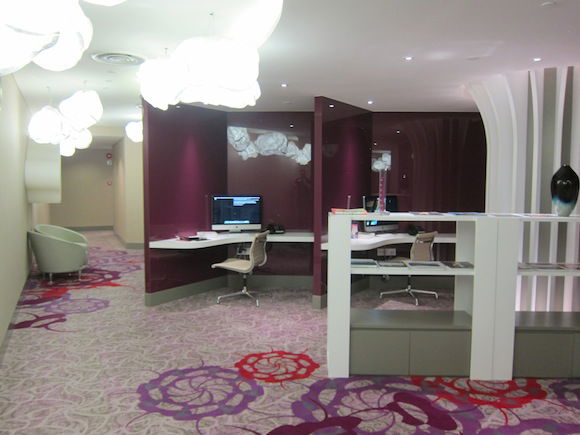 Business center
Oh, W Sentosa — Tron called, he wants his gym back. While the equipment was modern, the rest of it was just painful, in my opinion.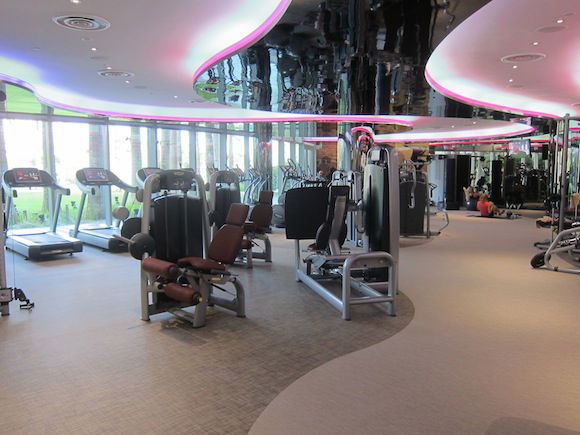 Gym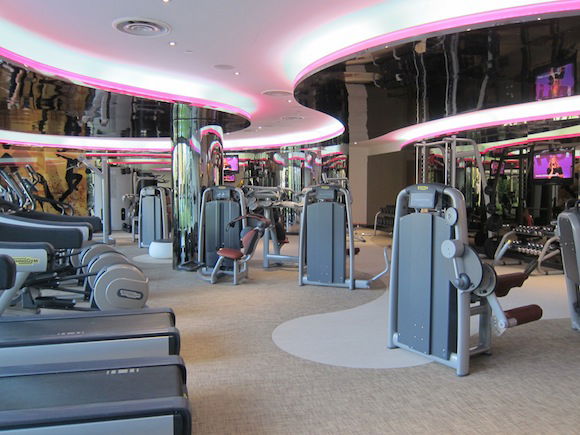 Gym
The hotel also has a beautiful spa. While I didn't get a treatment, I did use the jacuzzi, which is complimentary for hotel guests.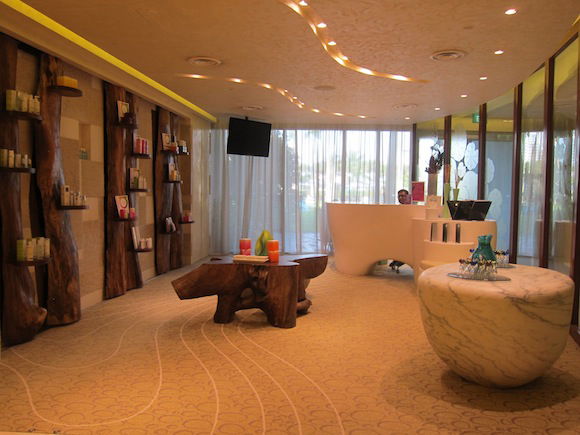 Spa lobby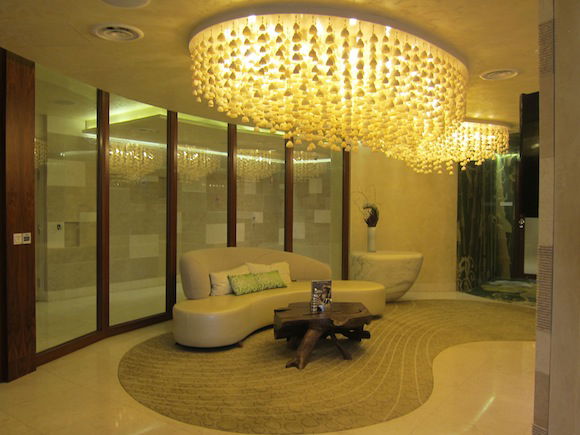 Spa seating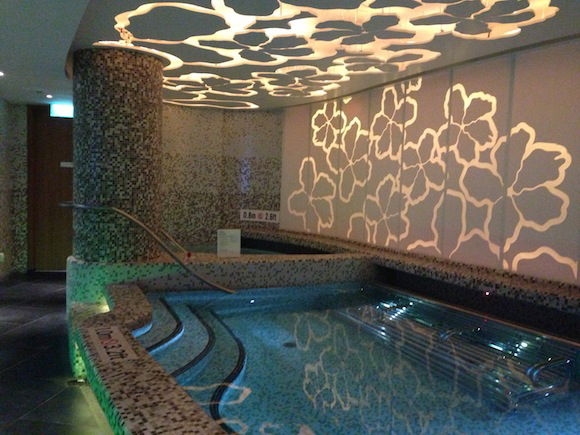 Hydrotherapy pool
The hotel also has a huge outdoor pool and lounging area. Around the pool they have everything from hammocks, to beanbags, to lounge chairs, to inflatable lawn furniture.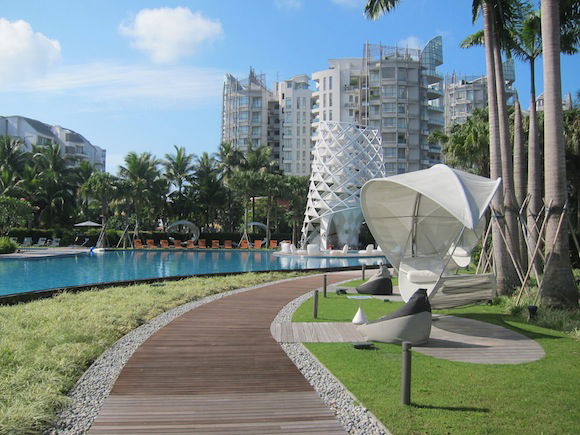 Walkway to pool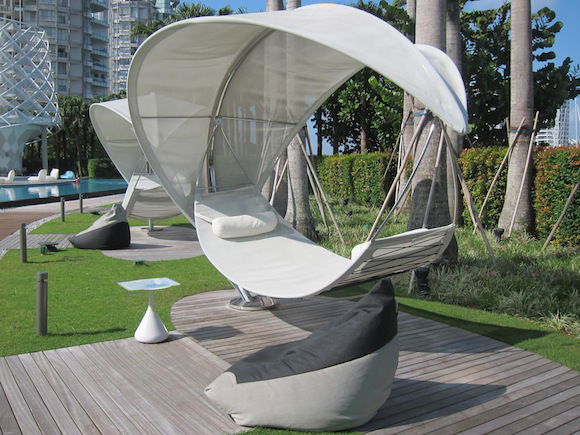 Hammocks and beanbags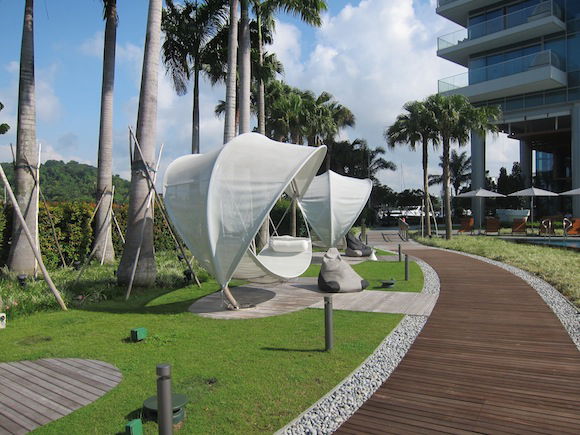 Outdoor seating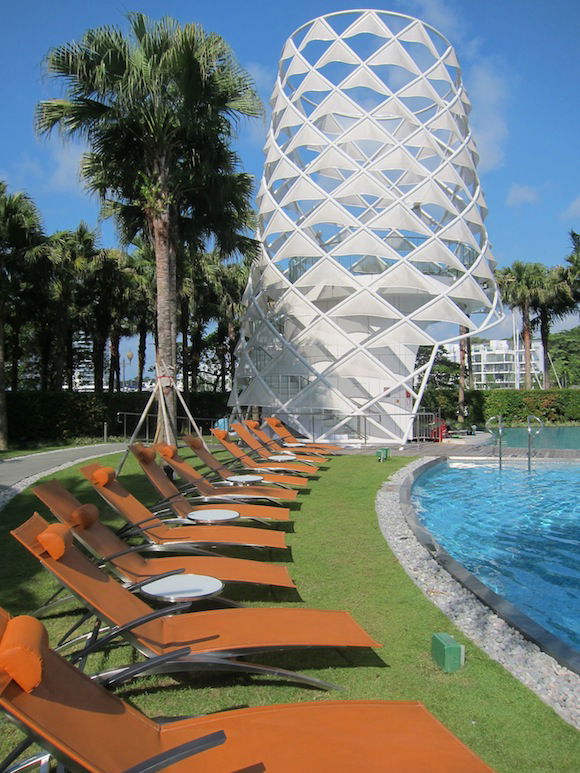 Lounge chairs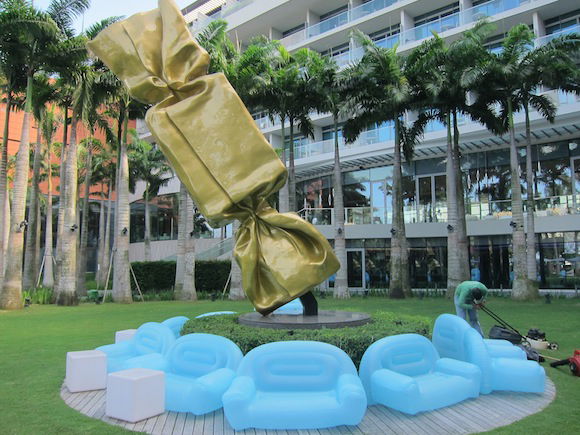 Inflatable seating?
The pool is huge but simple, which is to say that it didn't have waterslides, waterfalls, etc. But they did have plenty of inflatable pool "toys."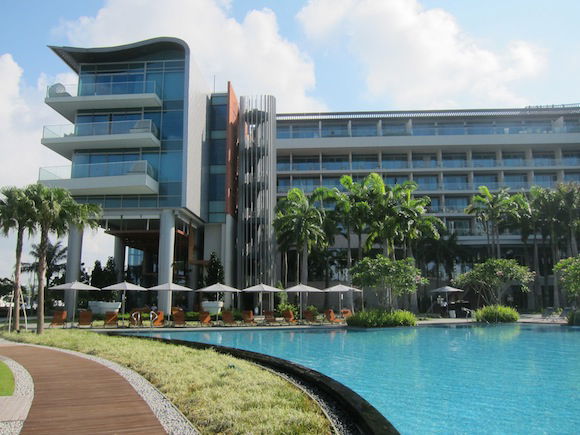 Pool and hotel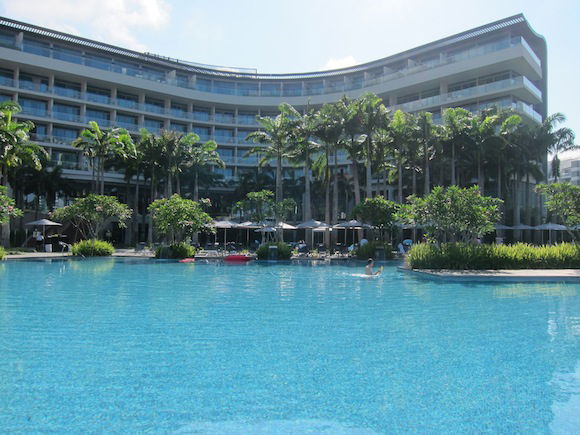 Hotel
At first I assumed the hotel had a waterslide, but as it turns out it was just the "top" of the bar. Sure gives the Chiquita Banana lady a run for her money in terms of fancy "hats."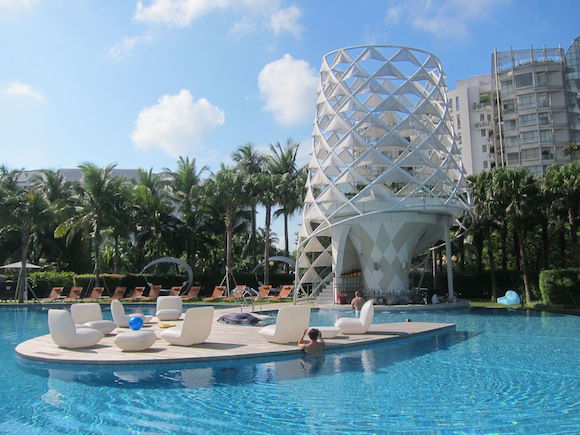 Pool bar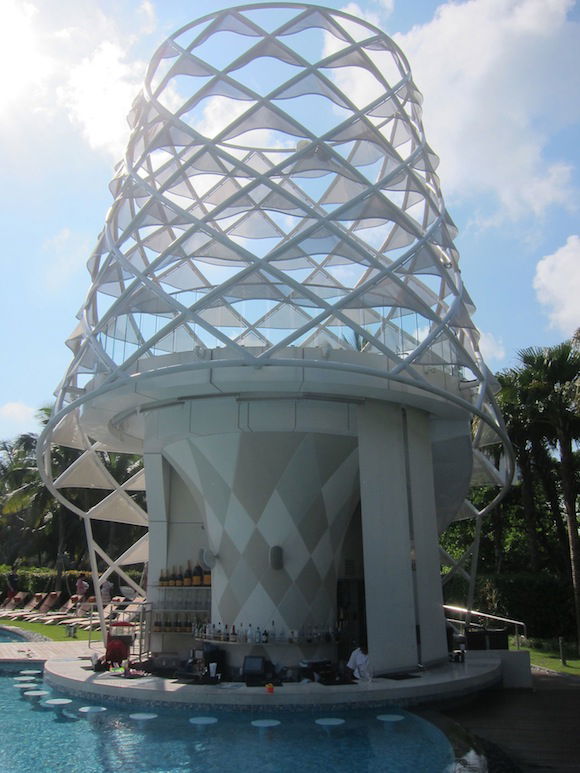 Bar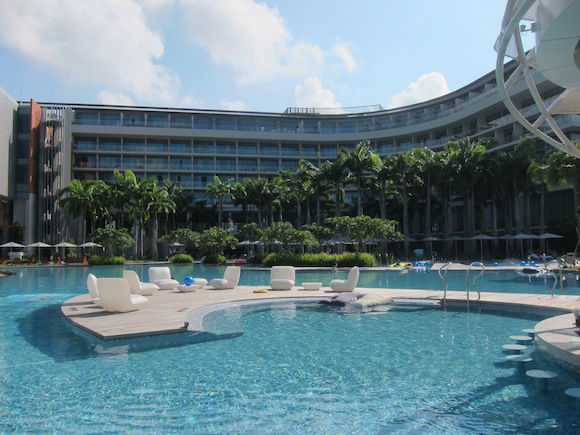 Pool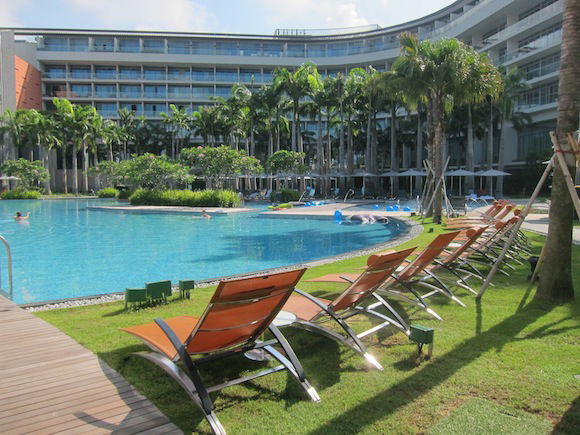 Pool seating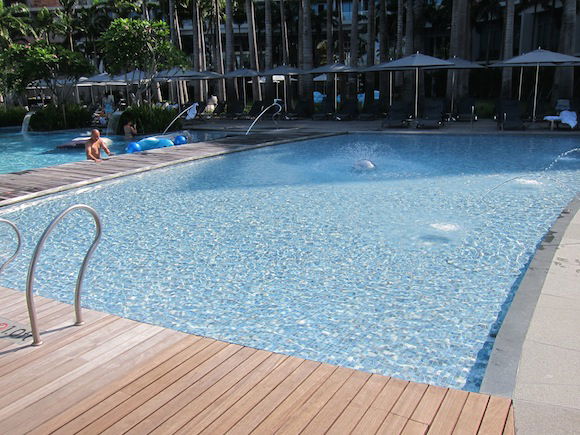 Splash pool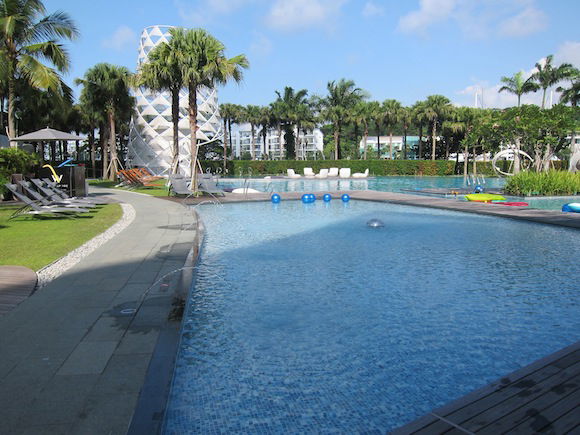 Splash pool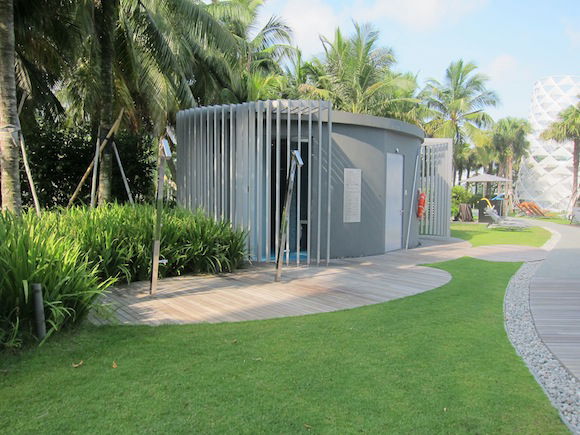 Bathrooms and showers
What I find interesting, though, was how empty the hotel felt despite the fact that it was almost at capacity. It's not just the sheer number of people, but this was such a different crowd than I'm used to at W hotels. Almost all the guests were families with small children. And while I'm not a huge fan of being in a pool with just kids, I'm not convinced that's necessarily worse than being in a pool with the usual W crowd.
So in terms of the people it's the least "W feeling" W I've ever stayed at. Beyond that, the employees I interacted with were generally friendly. Not over the top or memorably friendly, but there wasn't any attitude.
I guess the big "catch" with the property is the location. Sentosa Cove is really, really isolated. Now Singapore is small and cabs are fairly cheap so that doesn't really present an issue, but you're not going to be able to stroll out of the hotel and onto Orchard Road, for example. On top of that the hotel offers a shuttle service to Vivo City and Marina Bay, which is useful.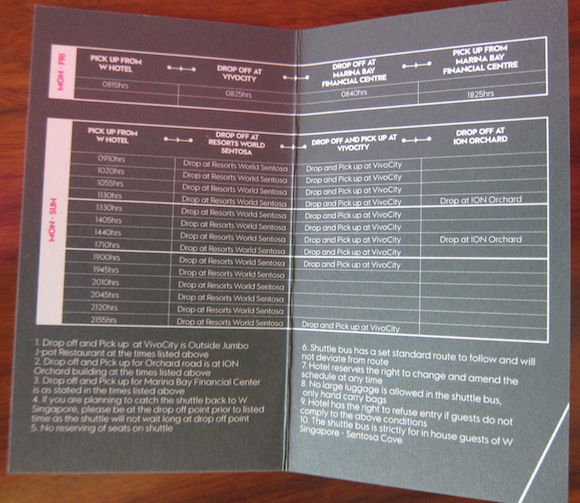 Shuttle schedule
Anyway I liked the property, loved the suite upgrade, and would probably return if the value was right. This is probably my second favorite W I've stayed at, after the W Taipei.