---
As I sit here and try to write this installment, I just can't get any words out. It's not that I don't know what to say, it's that I have so much to say and I don't know where to begin. Truthfully this has been the most difficult trip report I've ever written, simply because with every installment I've had flashbacks of this flight in my head, and I feel like a total idiot about it. So let me give it a shot, at least…
Royal Jordanian 182
Bangkok (BKK) – Hong Kong (HKG)
Saturday, March 30
Depart: 3:25PM
Arrive: 7:00PM
Duration: 2hr35min
Aircraft: Airbus A330
Seat: 3H (Business Class)
I was kind of excited to try Royal Jordanian on this route. Bangkok to Hong Kong is one of those unique routes that's operated by a bunch of carriers on a "fifth freedom" basis. Heck, Emirates, Ethiopian, Kenya Airways, and Royal Jordanian all operate this flight as a "tag." So rather than flying Cathay Pacific on the route in their regional business class we decided to fly Royal Jordanian. It seemed like the perfect opportunity to sample them without flying them longhaul. It's my goal to review as many airlines as possible, so I couldn't not do it. Besides, I'd flown the three Middle Eastern giants — Emirates, Etihad, and Qatar — and was curious to see how Royal Jordanian compared.
Upon boarding through door 1L we were acknowledged by three flight attendants. They were all Jordanian men and wearing pinstriped button downs, which actually looked pretty sharp.
We quickly found our seats in row three. Royal Jordanian has angled flat seats in business class on their A330s and while they're probably not the most comfortable in the world for longhaul flights, for a flight between Bangkok and Hong Kong they're tough to beat. The design and colors of the seats were sufficiently neutral so that I neither loved nor hated them. The cabin consisted of 24 seats across four rows, each of which was in a 2-2-2 configuration.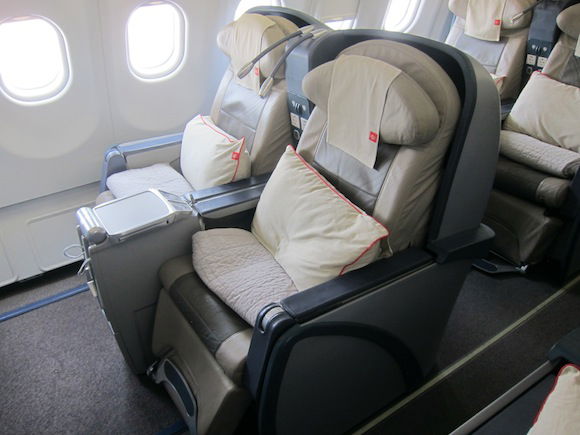 Our seats in row three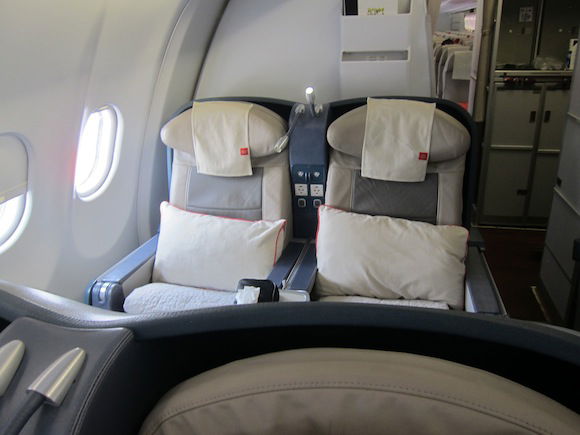 Seats in row four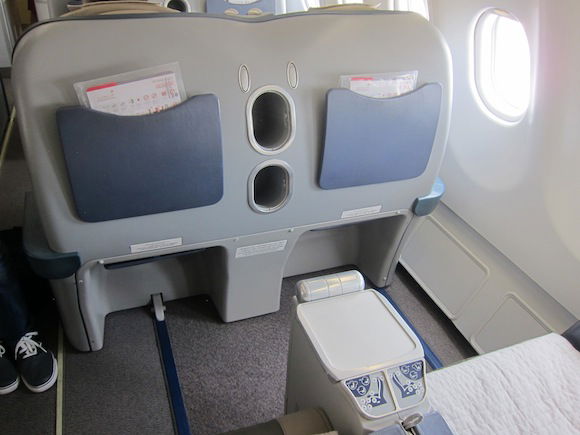 Legroom
At each seat was an unwrapped pillow and blanket.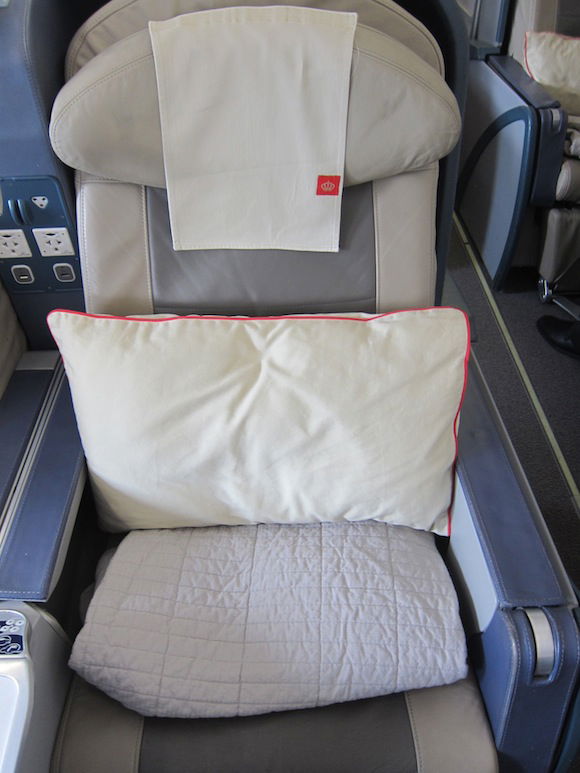 Pillow and blanket
Between seats were headphone jacks and 110V/USB ports.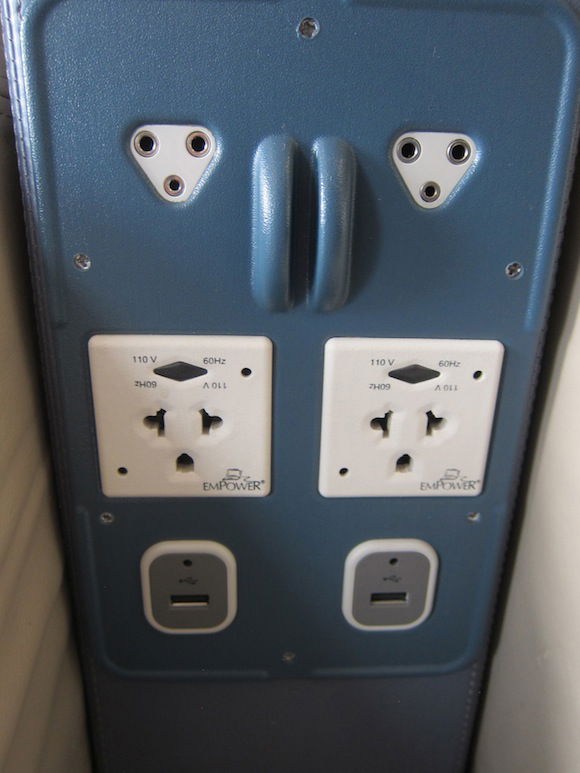 Power ports
Also on the center console were the seat controls and entertainment remote, both of which were intuitive.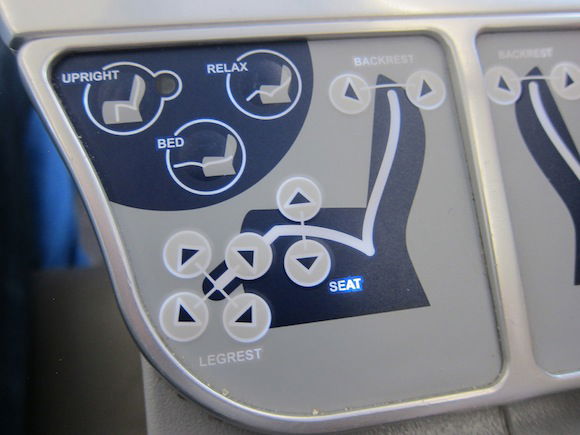 Seat controls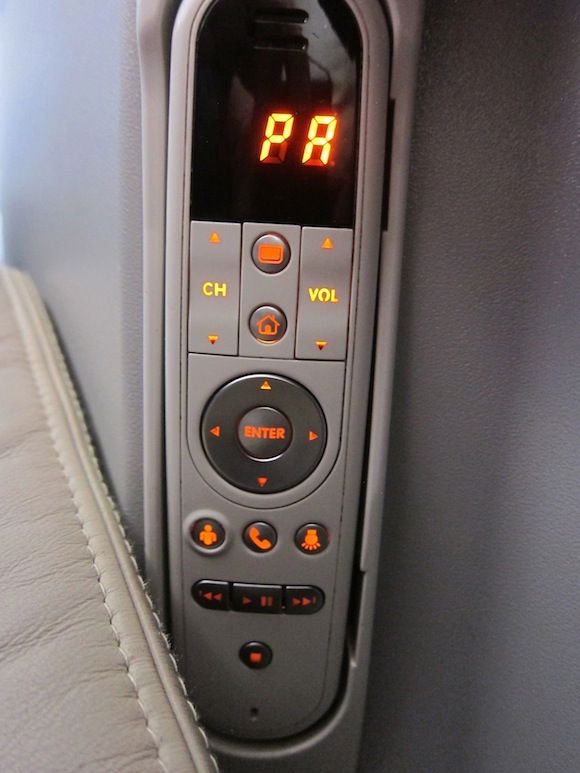 Entertainment remote
On the seats in front of us were cutouts, I assume either for bottled water or maybe shoes.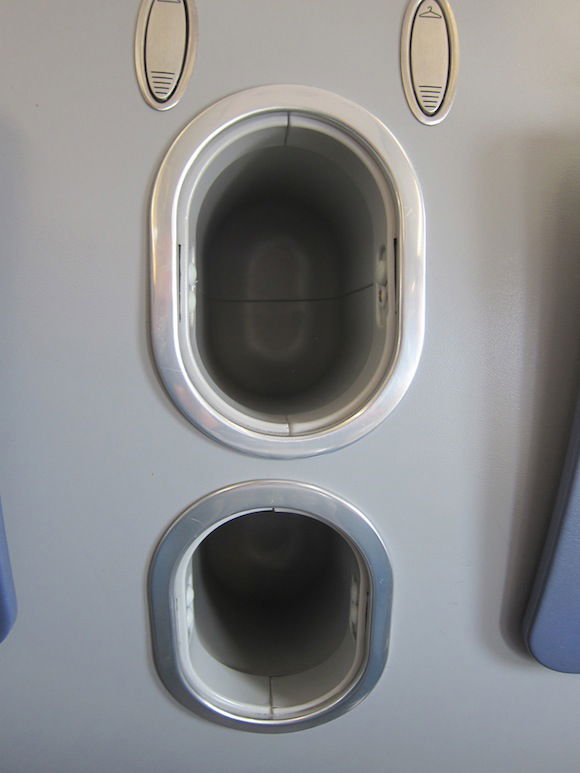 Cutout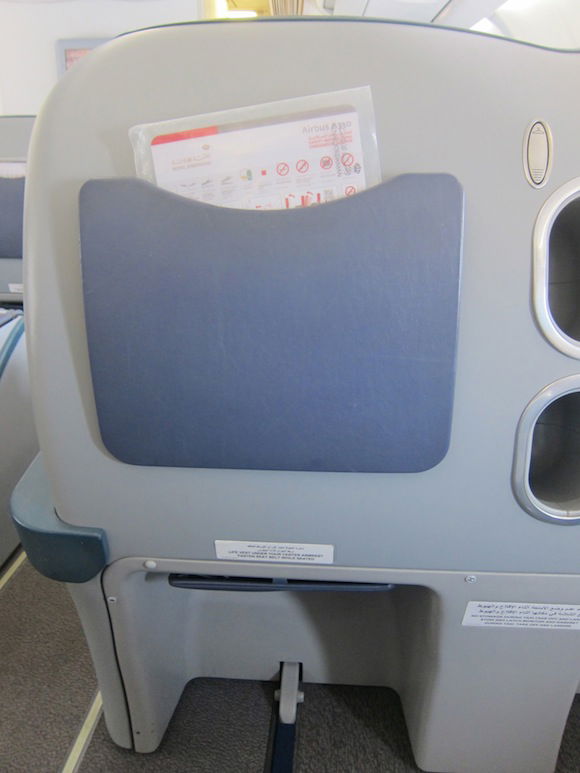 Plentiful legroom
The flight wasn't very full, and from the looks of it we were actually the only business class passengers originating in Bangkok. The six other business class passengers were connecting from Amman, so hadn't even deplaned in Bangkok.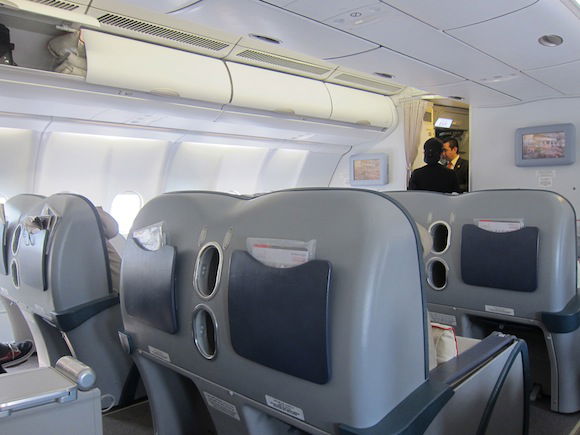 Cabin view
There seemed to be a grand total of five flight attendants working business class — three Jordanian men in the galley, one Jordanian female working the aisle and galley, and one Thai female working the aisle. More accurately there seemed to be one and a half flight attendants working business class, as the three male flight attendants didn't once leave the galley. For that matter I never actually saw them in the galley, but rather only chatting in their jumpseats the whole time.
The Thai flight attendant offered us some pre-departure beverages. She was friendly though seemed a bit intimidated and/or reserved. I had a glass of apple juice, while my friend had water. If nothing else they deserve bonus points for their glassware.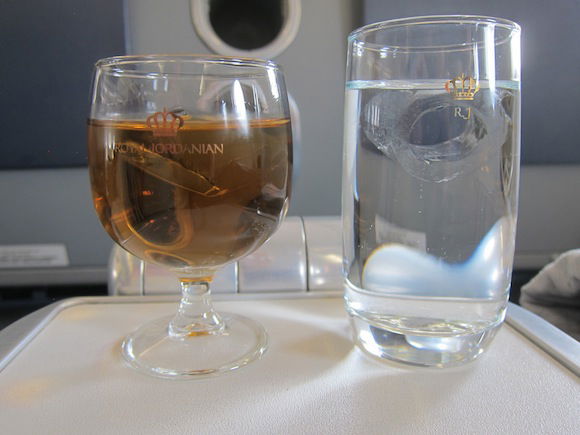 Pre-departure beverages
The female Jordanian flight attendant made her first contact with us by asking for our boarding passes, which I had already placed in my passport holder in the overhead bin. We presented them to her, at which point she walked away. She returned a few minutes later with an Aigner amenity kit for each of us.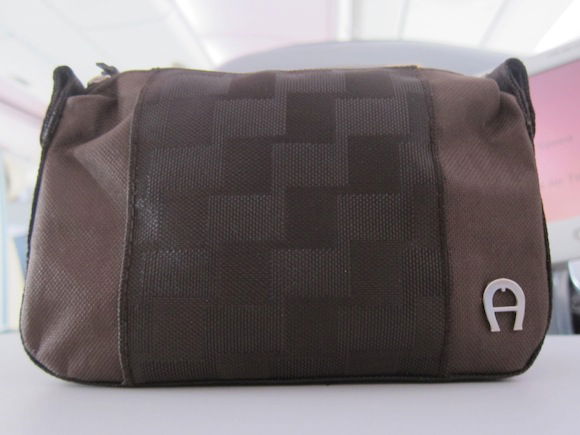 Amenity kit
As far as business class kits go it was well stocked, with lotion, socks, eye shades, a comb, toothpaste, and a toothbrush.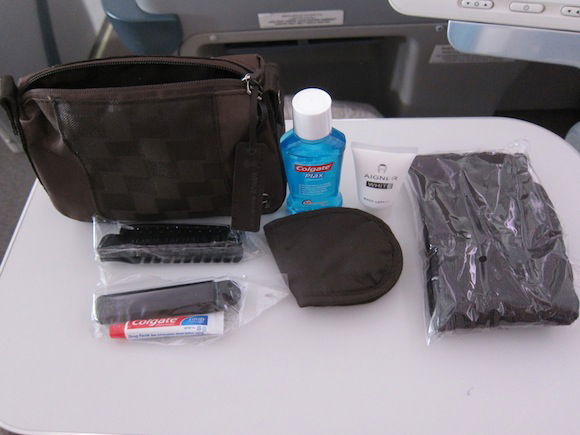 Amenity kit contents
Shortly thereafter we were presented with menus for the flight.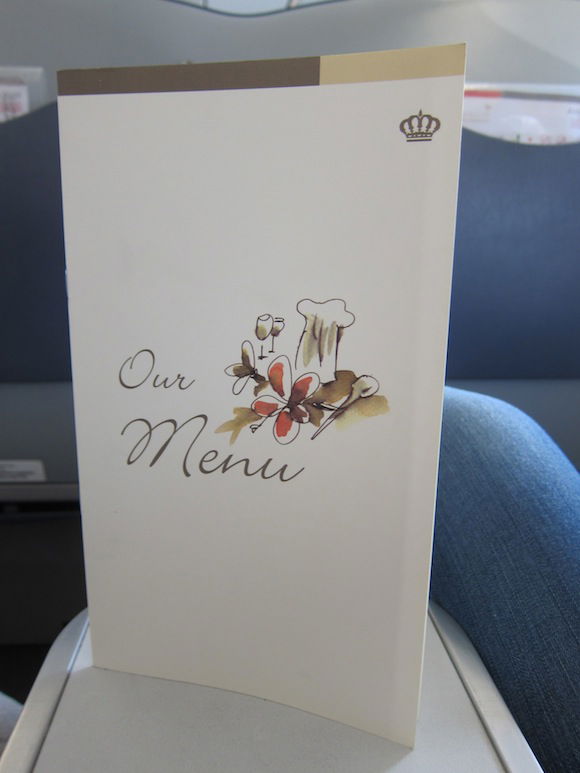 Menu
There was never an announcement from the cockpit, though the flight attendant made an announcement informing us of our flight time of 2hr15min. As we pushed back the safety video began to play. It was entertainingly animated, and while I can't find it online, here's the similar A340 safety video:
We taxied out to runway 19R for our departure and passed some pretty cool traffic, including Orient Thai and Transaero 747s.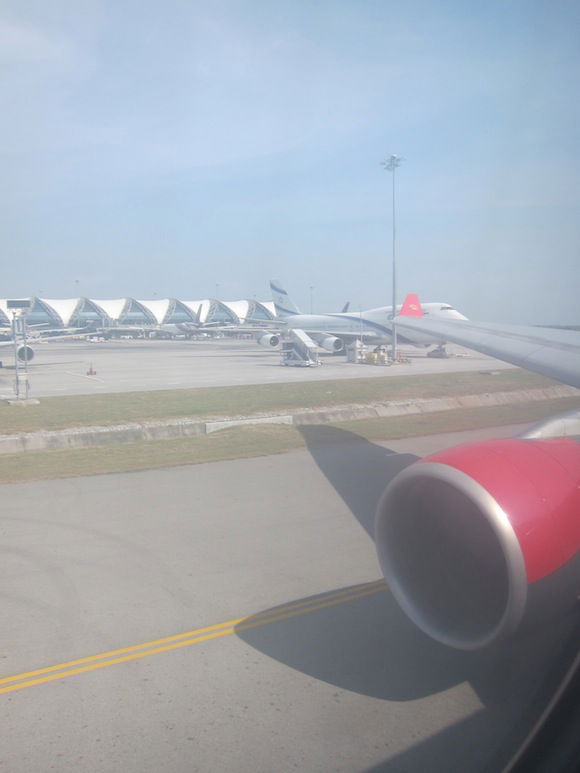 Taxiing to the runway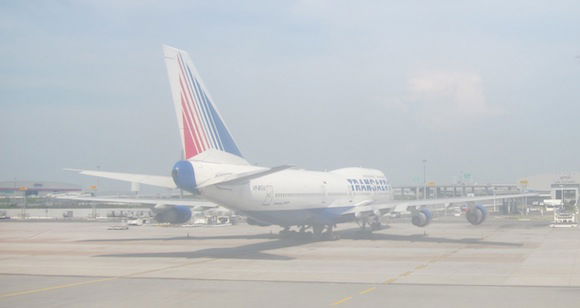 Transaero 747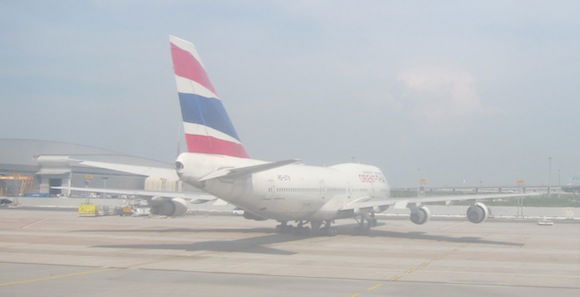 Orient Thai 747
Once at the runway we were immediately cleared for takeoff and had a smooth climb out of Bangkok. It was a clear day, which made for some nice views.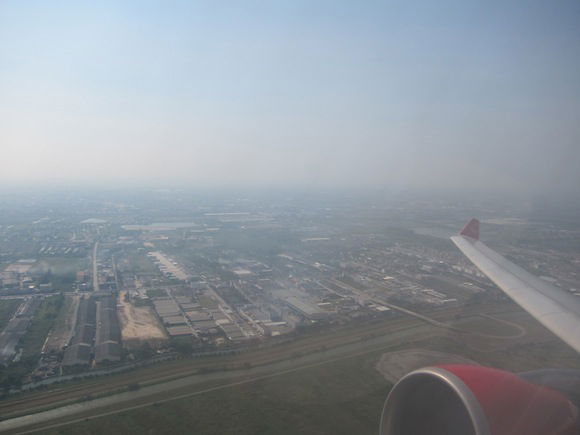 View on the climb out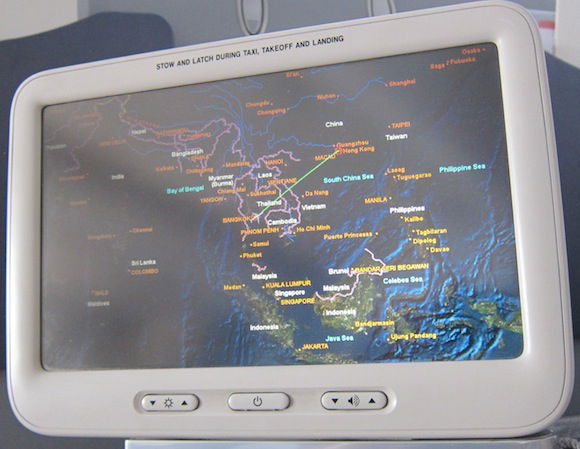 Airshow
As we climbed through maybe 10,000 feet the seatbelt sign was turned off and I started playing around with the entertainment system. I asked for some headphones, which I was promptly given. They were the cheap kind, which hurt your ears if you have them on for more than 30 minutes or so.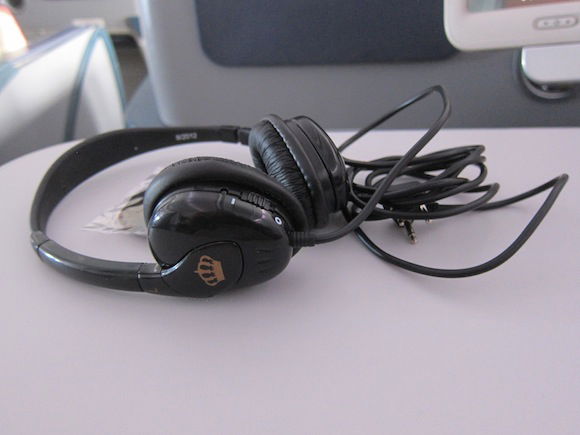 Headphones
The entertainment selection was surprisingly decent, and consisted of dozens of movies and TV shows.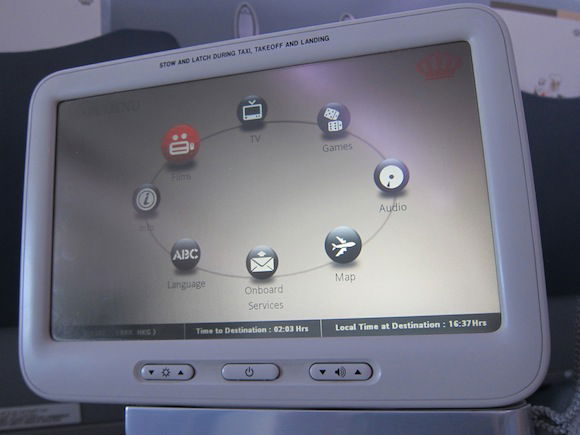 Entertainment selection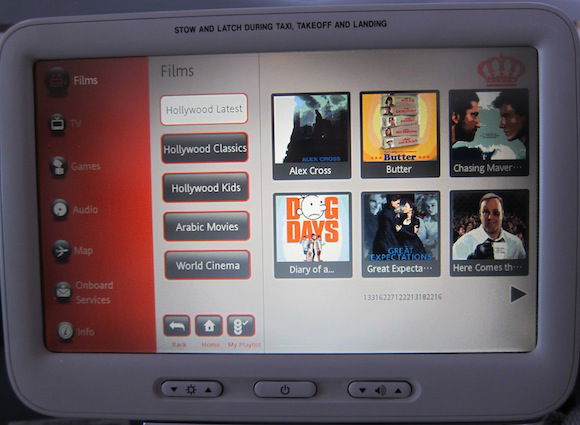 Movie selection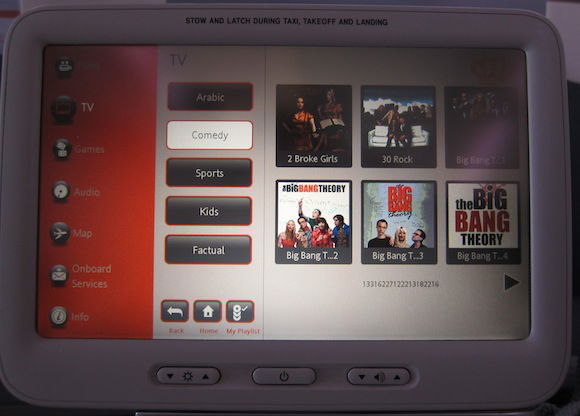 TV selection
Rather than listening to the 29 hour audio book of The Holy Quran, I settled on The Middle instead.

Wonder if anyone's ever finished that on a flight? 😉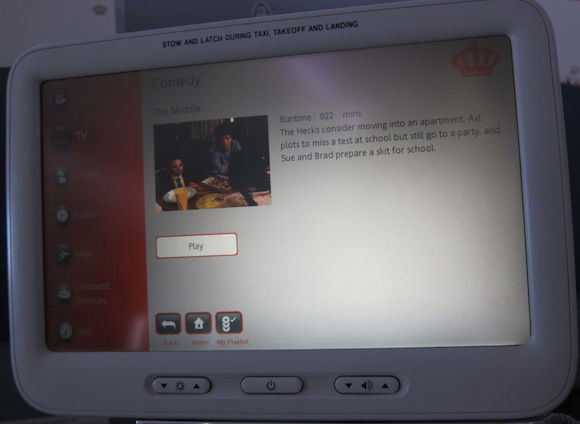 The Middle
As we leveled off at our cruising altitude the polite Thai flight attendant offered us hot towels.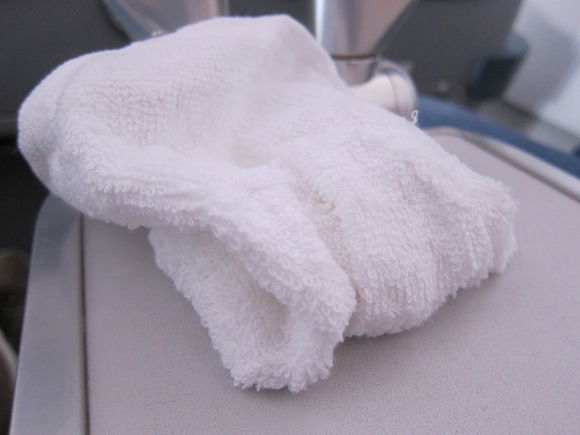 Hot towels
At that point the meal service began. The menu read as follows: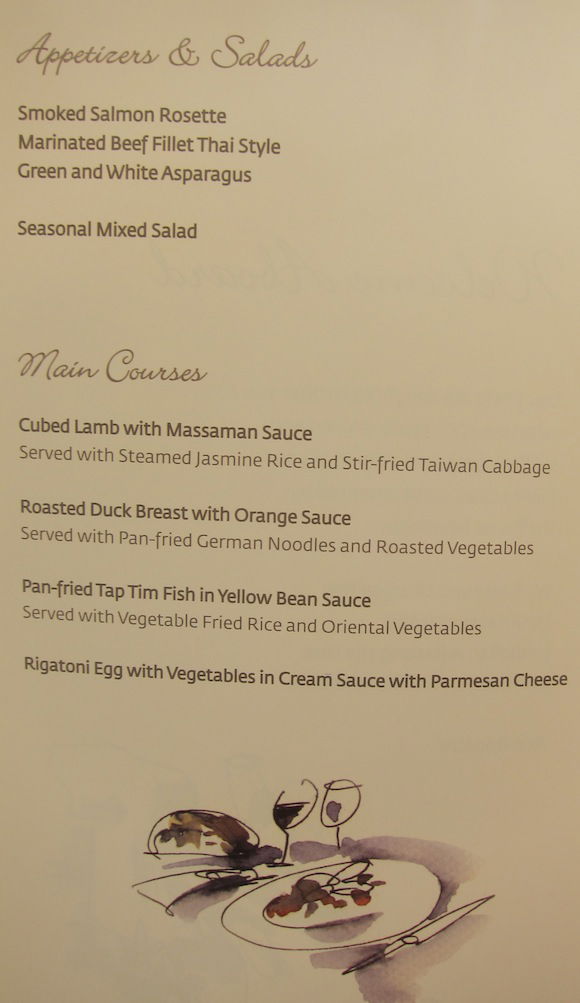 And the drinks list read as follows (interestingly they're not a dry airline outside the Middle East as far as I know, though they don't publish a wine list):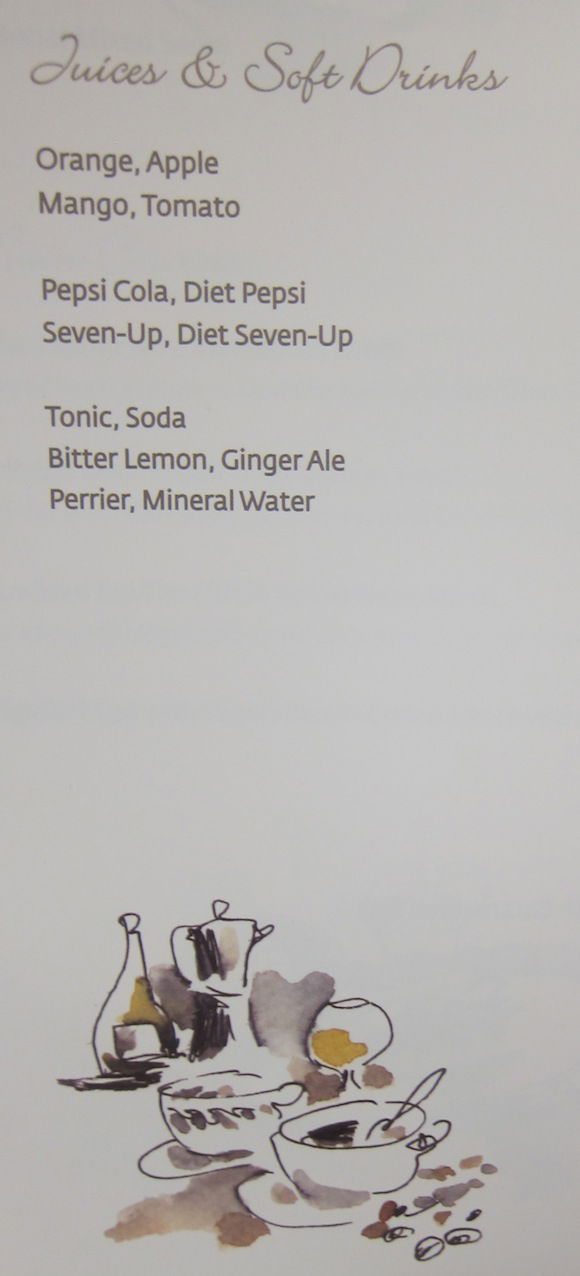 Service on the flight was efficient, and within 30 minutes of takeoff my table was set and I was served the salad and appetizer. The appetizer consisted of beef, salmon, and asparagus, and was quite good. While the salad was small, I was happy it consisted of more than just lettuce. We were also offered wheat rolls from the bread basket.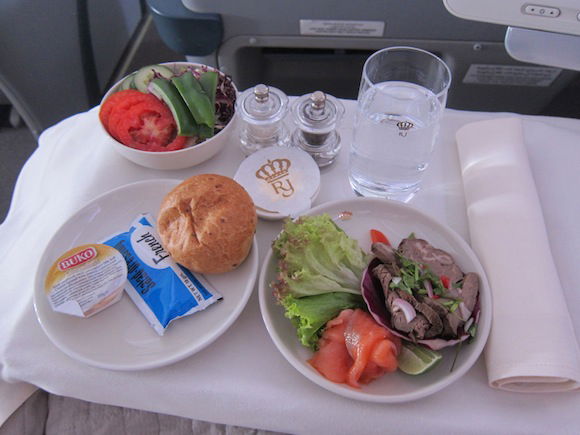 Appetizer and salad
For the main course I ordered the rigatoni, which was fine. My friend ordered the roasted duck, which he enjoyed.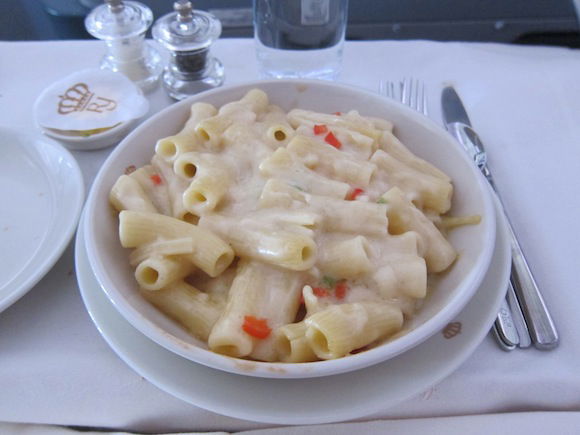 Rigatoni with vegetables in cream sauce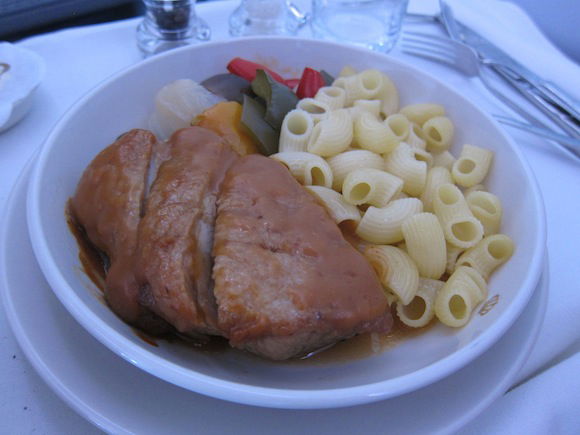 Roasted duck breast with orange sauce
At that point the flight attendant cleared my tray. I figured dessert was still coming, though after not being served any for 10 minutes I decided to follow up, and she said "oh, you didn't say you wanted it." Figured it was something they'd proactively offer, but…
Anyway, for dessert I had the date cake, which was really good. I had a cup of tea to go along with it.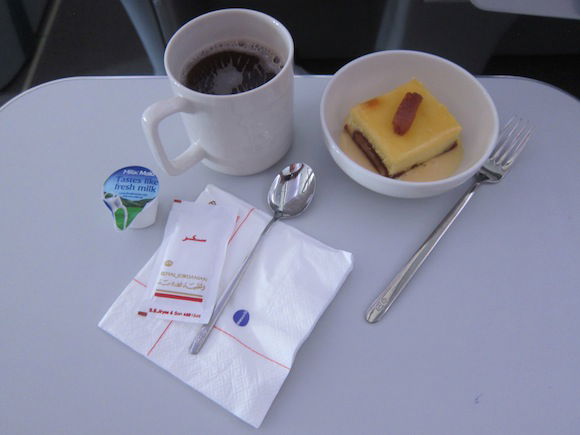 Arabic cake date with caramelized figs and tea
After the meal we had under an hour to go to Hong Kong, so I figured I'd work on writing my trip report on my laptop. I was actually writing about how disgusting I found the whole service experience on Royal Jordanian. The poor Thai flight attendant was working her rear off, while the three male flight attendants sat in the galley laughing and talking the whole time. It really made me sick to watch. And it also kind of explained why she seemed to lack confidence — I can't even imagine what she has to deal with on a daily basis.
Up until this point the most puzzling part of the flight had to be that the call button went off literally every 10 seconds for the entire flight. I don't know if someone's was stuck and kept ringing or what, but it went off a couple of hundred times during the flight, and was nonstop.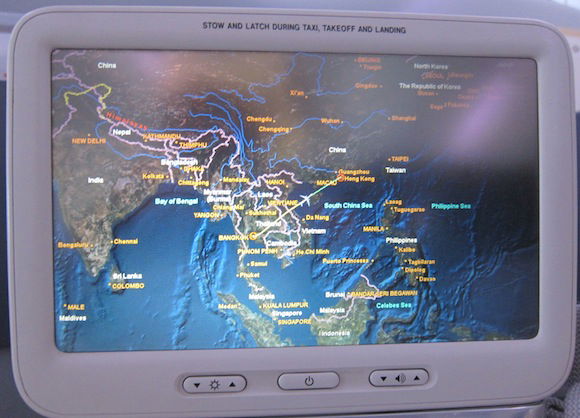 Slowly approaching Hong Kong
About 30 minutes before our scheduled arrival time one of the flight attendants came on the PA to inform us nonchalantly that we would be delayed 30 minutes and circling due to heavy traffic in Hong Kong. That caught me off guard a bit. I hadn't checked the weather forecast for Hong Kong, and stupidly assumed it would be nice. The weather outside in every direction looked beautiful as well. So I figured there was just some congestion at the airport, which isn't too unusual in the afternoons.
It seemed to catch the lady on the other side of the aircraft even more off guard, because she started screaming "why 30 minutes, that's too much? How about five minutes instead?"
I figured I could keep working on my laptop since we were still at 30,000 feet, though the crew made an announcement saying to turn off all electronic devices, so I powered down my laptop.
As we began our descent we hit some pretty serious chop. If you're not scared of flying, you know how sometimes when you first hit some serious chop you weren't expecting you chuckle a bit? Well yeah, it was that kind of chop. Or maybe it's just me…
Well the chop got progressively worse and turned into turbulence, and we quickly found ourselves in what was no doubt some of the worst weather I've ever experienced. It wasn't scary in and of itself, though it was the type of turbulence that causes you to tighten your seatbelt a bit and make sure all belongings are secure so they don't fly around the cabin. We were in some thick clouds, to the point that we couldn't even see the wing.
The weird thing is that it didn't seem like we were circling, but rather we were descending rapidly. We proceeded to descend through some of the worst turbulence I've ever experienced for about 15 minutes. And it wasn't just turbulence, but lightning too. It was clear we were right in the middle of the storm based on how frequently we heard the thunder and how loud it was.
Then we leveled off, which was kind of the turning point of the flight for me. Up until this point I wasn't scared, though that quickly changed. The pilot side of my brain switched on. Hmmm, we had steeply descended for about 15 minutes, so must have descended at least 20,000 feet or so. At this point I figured we were at around 10,000 feet, maybe a bit higher, though more than likely a bit lower.
The next 15 minutes were probably the worst of my adult life. The turbulence and lightning got progressively worse, and we were struck by lightning. Not the first time it's happened in my 2.5 million miles of flying, so I wasn't too worried. What worried me was how the pilots were flying the plane, or at least how I perceived it. We had leveled off though had an abnormally high pitch attitude (meaning our nose was up). The weather was the worst I've ever experience on the plane. But the baffling part was how the pilots were flying the plane. The engines would idle all the way and you could literally hear a pin drop on the plane. Actually all we could hear was the rain with bursts of hail hitting the side of the fuselage and the lightning getting progressively louder. In the cabin was nothing but silence mixed with crying. Then we got struck by lightning… again. There was a loud thump.
And then as the nose pitch got higher and higher the engines would spool up to close to 100% again, only to be brought back to idle. For the life of me I couldn't figure out what was going on or why they were doing that. What was going through my head? For one, the possibility of a stall. We were at a sufficiently low altitude that we probably wouldn't have been able to get out of it if one occurred. But more than anything else I was wondering just how distracted the pilots were.
As a passenger with a bit of pilot experience and a lot of passenger experience, this is the point at which you start to go crazy. We're at a low altitude, we're in the worst weather I've ever experienced, we've gotten struck by lightning twice, we have a ridiculous high nose up pitch attitude, and the use of the engine throttle isn't just adjusting for wind gusts (as is the norm), but is literally going from near idle to near full power, and back, every couple of minutes. Beyond that, the captain hadn't made an announcement the entire flight. Sure he could have anticipated the weather was going to get bad and could have made an announcement before we got into the storm, but he hadn't.
The amount of stuff running through my head at this point in the flight was just ridiculous. At this point I had more or less written off my life. I put my passport in my pocket (for obvious reasons), and tried to turn on my phone to text my mom. What I felt worst about was that my parents didn't know I was on this flight, as we weren't originally booked on this itinerary. For that matter my oldest brother passed away 20 years ago, and I wondered why the hell I even got on a plane, and that I couldn't let my mom lose another son. At that point I literally figured I was done, and at least hoped it would all end easy.
I also briefly chuckled (oddly) at the fact that before the flight I tweeted "About to fly Royal Jordanian… wish me luck!" I figured at least that earned me my place in the "Air Crash Investigation" episode about the flight.
The other side of my brain (I'm not sure if that's the rational or irrational side) had a different plan. I was at the point where I wanted to ring my call button and have the crew call the cockpit to climb out of the bad weather and fly us somewhere else. I'm sorry, but as a commercial pilot you don't hold in a "red cell" for 30+ minutes. You just don't. I decided against it in the end and of course the plan was ridiculous, but I was so close to devising some plan to get the plane to divert elsewhere or just get out of the general mess, even if it meant I'd end up in jail somewhere.
Anyway, we continued our descent through the horrible weather, and after nearly 40 minutes of not even being able to see the wing tip we finally broke out of the, well, I don't even know how to describe what it was, and saw land and lights. I didn't know what land it was and figured we were diverting somewhere. About a minute later we saw some runway lights off in the distance. It didn't look like Hong Kong Airport to me, but again, I didn't care where we were landing, I just knew I was going to get off the plane, kiss the ground, and take a boat back to the US.
At that point the landing gear came out. I don't remember the last time I cried prior to this, but I literally had tears running down my face as the landing gear came out. I wasn't totally at ease yet since there was always the chance of a go around and I began to wonder just how much of a fuel reserve we had left.
But sure enough we touched down with what felt like the smoothest landing ever, and I quickly realized it was Hong Kong Airport. The feeling I experienced when we touched the ground really can't be put into words. I was so weak that you could've probably cut through me with a spoon. I felt extremely grateful and happy to be alive. I also felt angry at the whole situation. And confused.
We taxied to the gate and the male Jordanian flight attendant made an announcement as if nothing had happened and welcomed us to Hong Kong.
As we got to the gate and seatbelt sign turned off I tried to get up, but initially couldn't. I was so drenched in sweat and weak that I could hardly move.
As we walked up to the door by door 1L, the three macho male flight attendants that showed no emotion the whole flight admitted that was the worst flight they had ever had. And they didn't even have to say it, because the sweat on their button downs around their armpits was revealing enough.
The Thai flight attendant had tears running down her face. And the female Jordanian flight attendant emerged from the cockpit with her make up all messed up, clearly from crying. She explained that the "pilots needed [her] help during the descent," so she was in the cockpit. She said "they both said they're retiring after this flight." Doubt she was actually being serious, though I think the sentiment more or less is.
Anyway, y'all are certainly free to take what I say with a grain of salt and think I'm crazy. I'm also not going to beat a dead horse any further. I'm incredibly grateful to be alive, though also have a bunch of questions, which I shared in this post.
I wish the flight didn't have such an impact on me, because flying is my passion. It's what I've loved since a really young age, and my enthusiasm for it hasn't worn off in the 15+ years I've been obsessed. Sadly I'm still extremely uncomfortable when flying, even a few trips later. I'm hoping it's a "phase."
To be clear, it's not that I'm actually scared of flying — I understand how it works and how safe it is. It's that I'm scared of being in such a hopeless situation again, one I can't get out of, and the flash backs I have. I've even seen some doctors since the flight due to issues I've developed (and I'm not the type to usually go to doctors, I don't think I've ever seen a doctor outside of getting a check up prior to this).
Anyway, this will be my last post on the flight. Thanks for letting me express myself, and hopefully some closure comes with it…