---
Singapore 16
Seoul (ICN) – San Francisco (SFO)
Sunday, August 18
Depart: 5:50PM
Arrive: 12:45PM
Duration: 10hr55min
Aircraft: Boeing 777-300ER
Seat: 2A (First Class)
The main reason I booked this flight is so that I could fly with Janesis again. For those of you new to the blog, Janesis is someone I met on a Singapore to Tokyo Narita flight last April that's possibly the most exceptional person ever. There are plenty of airlines on which I've received good service, though I don't think anyone does it quite from the heart like Janesis does. Subsequently I've flown with her from Moscow to Singapore and also from Hong Kong to Singapore (though she wasn't working my cabin on that flight), and in all cases the flights were excellent.
So I was excited to fly with her again. Upon boarding we were greeted at the door by Wilton, the leading steward working first class on this flight, as Janesis was busy in the galley.
We were once again seated in 1A and 2A, and quickly took our seats and settled in.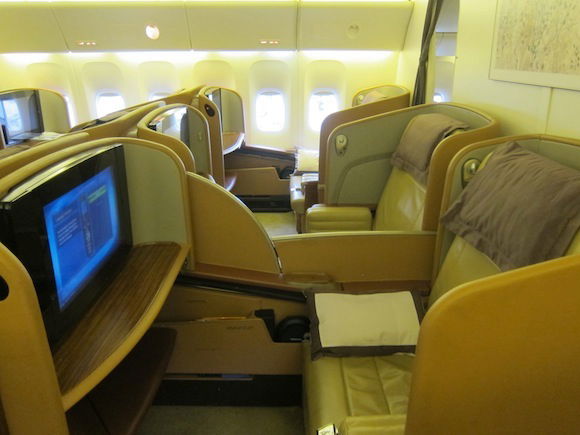 First class cabin
Once settled in Janesis offered us pre-departure beverages. I ordered a glass of champagne, and she didn't even have to ask whether it was Krug or Dom I preferred. 😉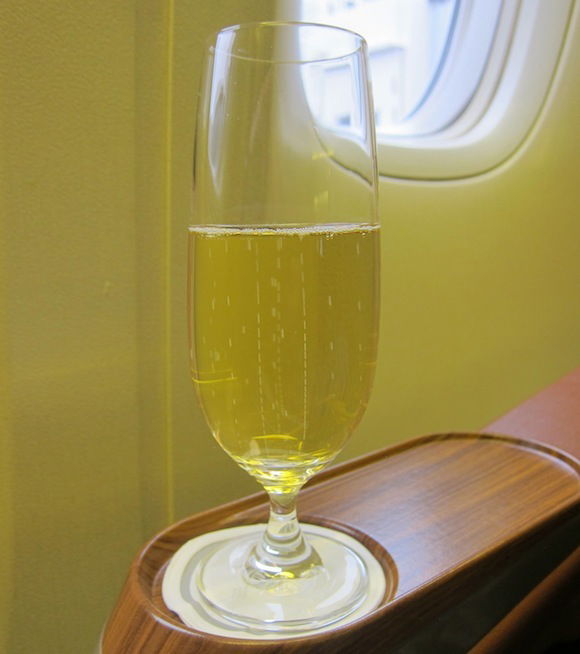 Pre-departure Krug
After that we were offered pajamas and an amenity kit. The pajamas were Givenchy branded and while they're quite stylish, I find them to be a bit too thick and warm.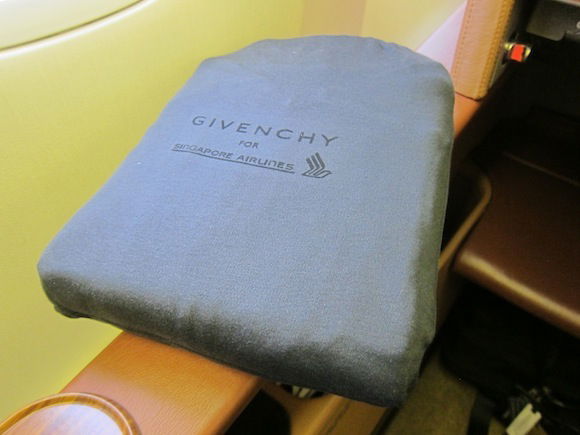 Pajamas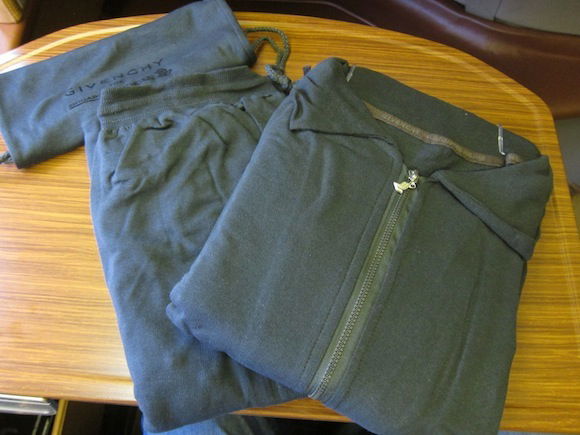 Pajamas
Meanwhile the amenity kits were recently changed. They used to be Kiehl's branded, while they're newly Sothys branded. I still miss the old days where they had Salvatore Ferragamo amenity kits with full size bottles of cologne in them.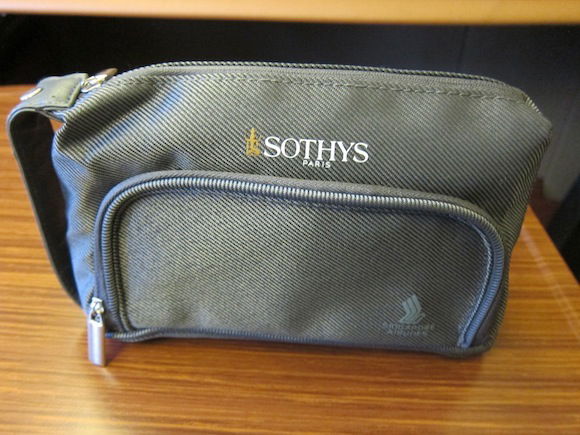 Amenity kit
What's interesting is that the amenity kit used to have all kinds of stuff in it, though now it only has a few bottles of lotion. I think this actually makes sense since all the other amenities are available in the bathroom.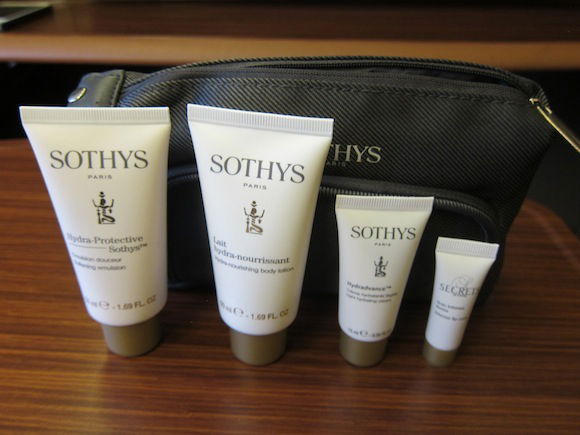 Amenity kit contents
We were also offered slippers, socks, and eye shades.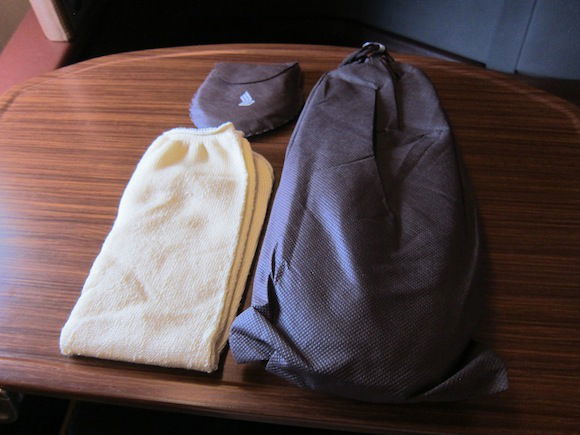 Eyeshades, socks, and slippers
At around 6:45PM the door was closed with two empty seats in first class. The captain came on the PA to inform us of our flight time of 10hr10min. This would be a bit shorter than usual, so would allow us to make up a bit of the time from our late departure.
We pushed back and made the short taxi to runway 33L. It seems they were just switching runway directions as we were departing, because as we were taxiing to 33L planes were still taking off on 15R (in other words in the other direction on the same runway).
The views on the taxi out were great, of everything from Korean Air A380s to airlines I had never heard of.


Korean Air A380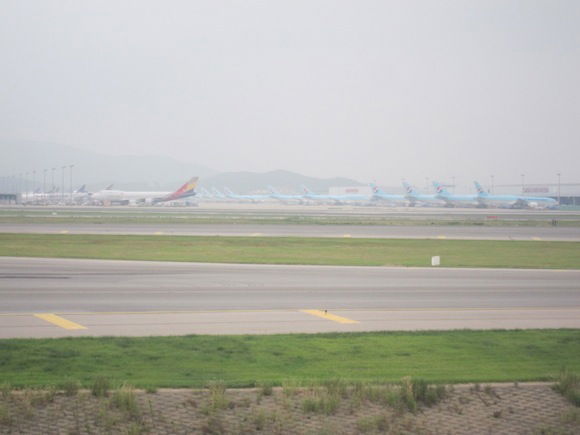 Tarmac views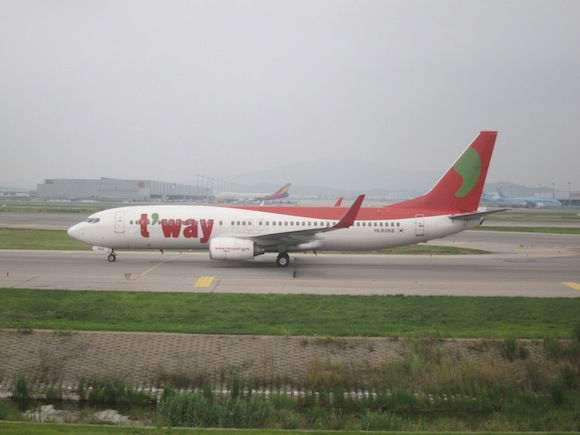 Say what?!
By the time we made it to runway 33L we were number one for takeoff.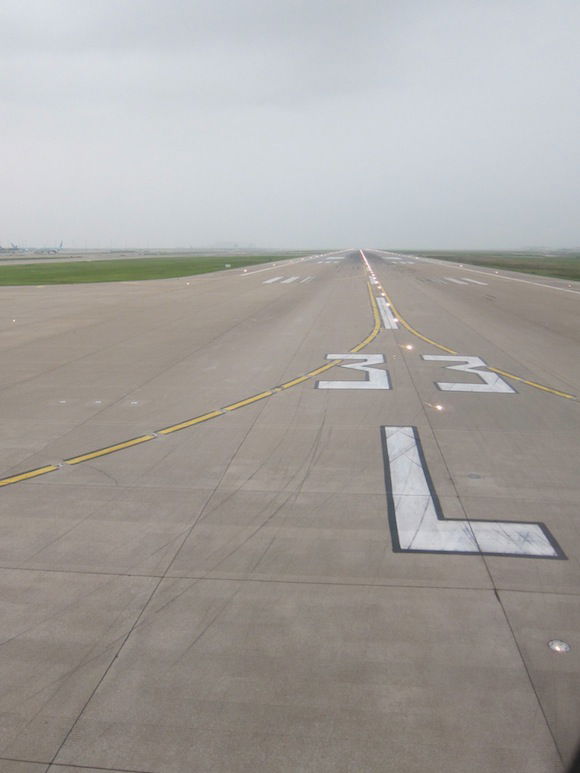 Ready for takeoff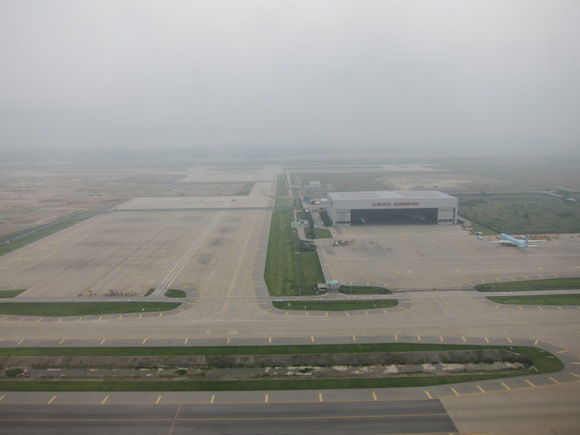 View during climb out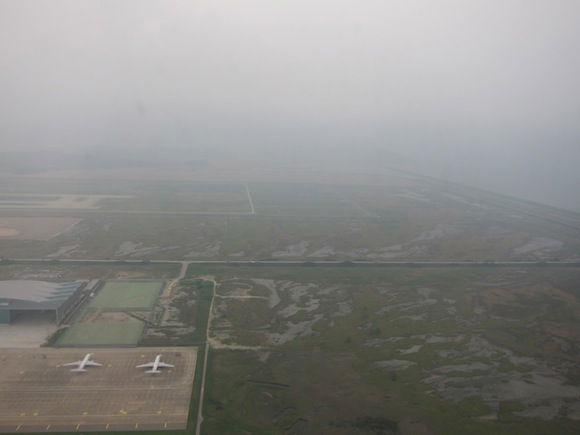 View during climb out
Our climb out was smooth, and as we passed through about 20,000 feet the seatbelt sign was turned off. At this point we were presented with the menus, and then the inflight auditor came around to greet each first class passenger to welcome them aboard. I've never (knowingly) had an inflight auditor on Singapore before, but this crew member was dressed in black and had a nametag that read "Inflight Auditor." she was a delight and couldn't have been more friendly and proactive, since she not only observed but also helped a bit with the service. I joked that I'd take care of the auditing in first class and that we were in good hands with Janesis, so she could go focus on another cabin. 😉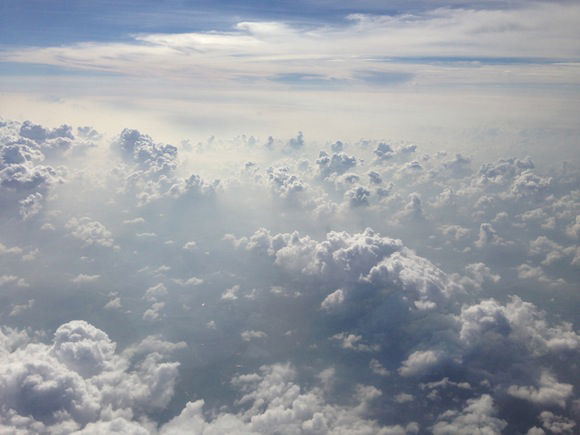 My favorite view!
The dinner menu read as follows: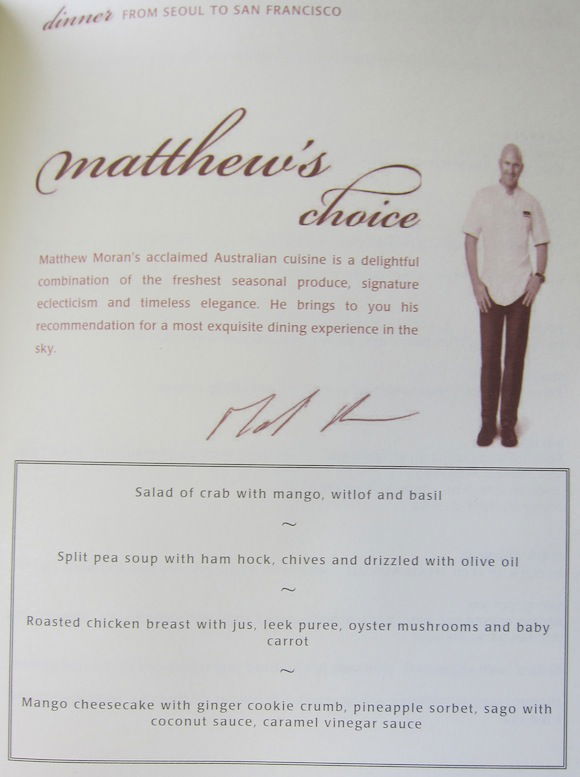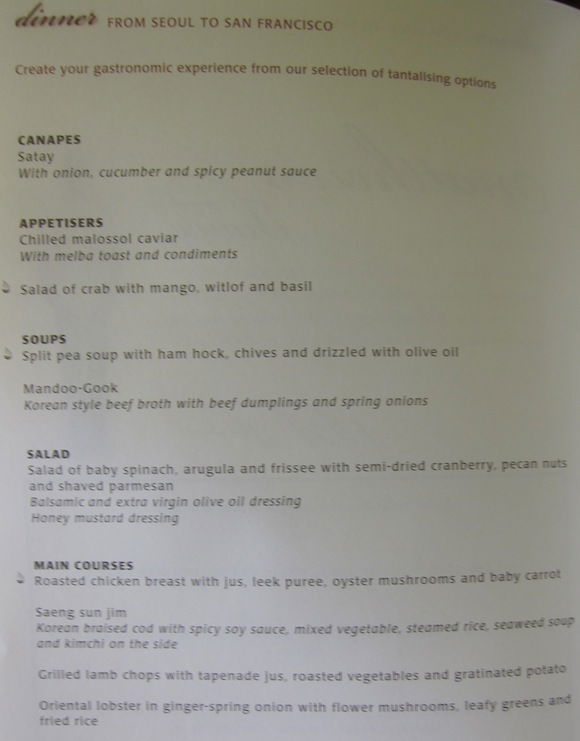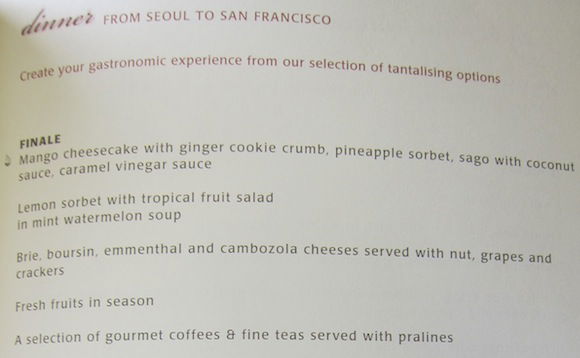 Then the wine list read as follows: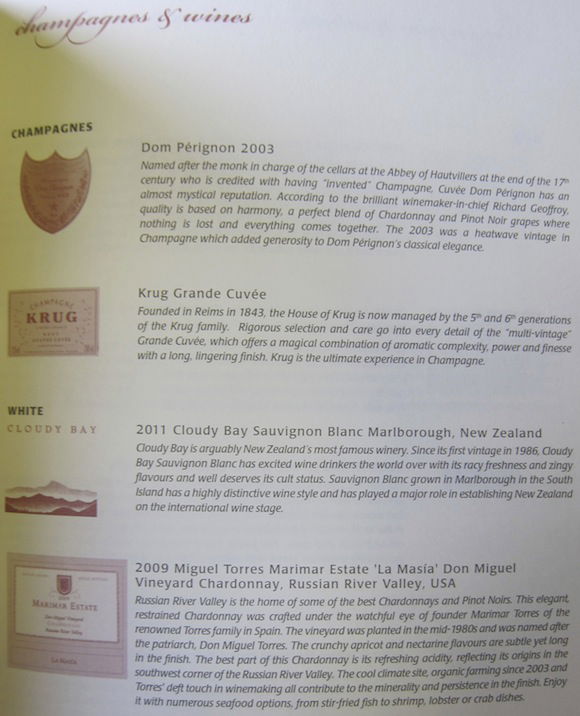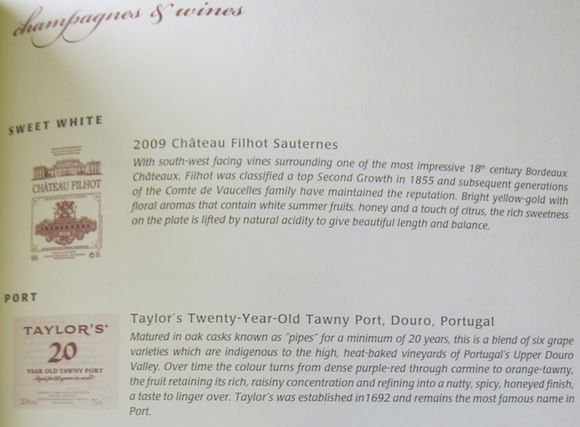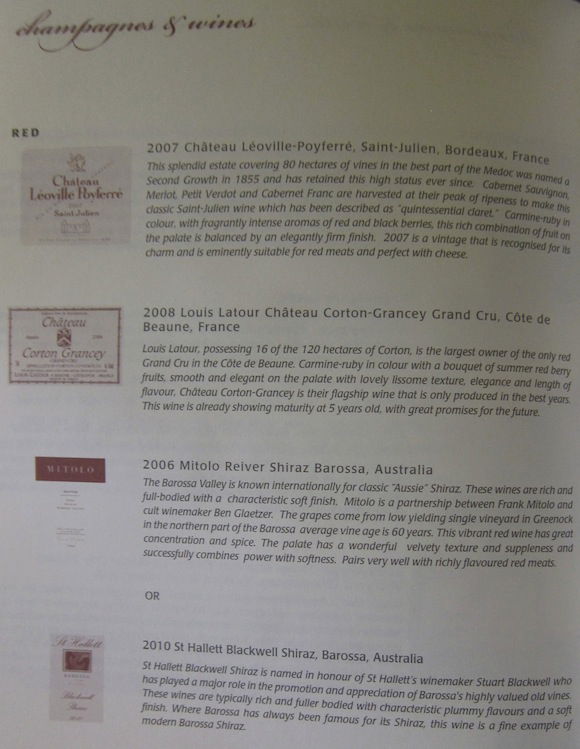 Then the drink, coffee, and tea menu read as follows: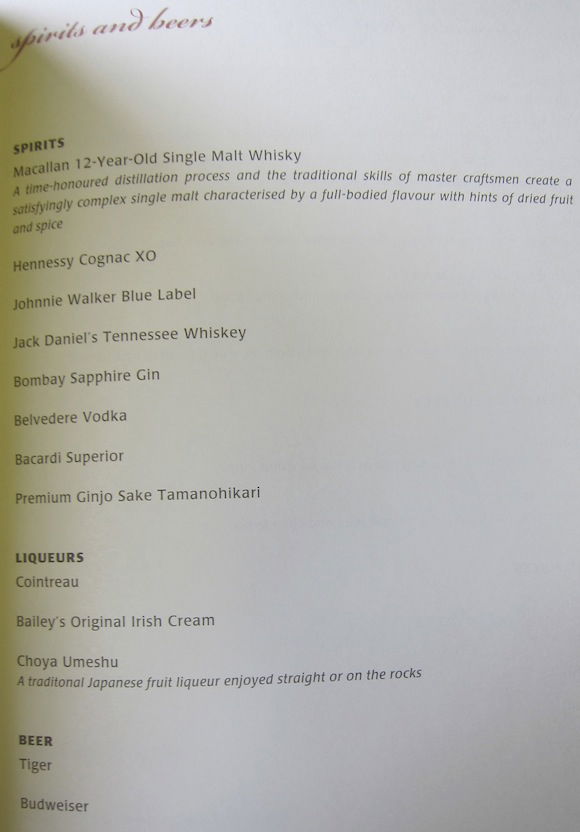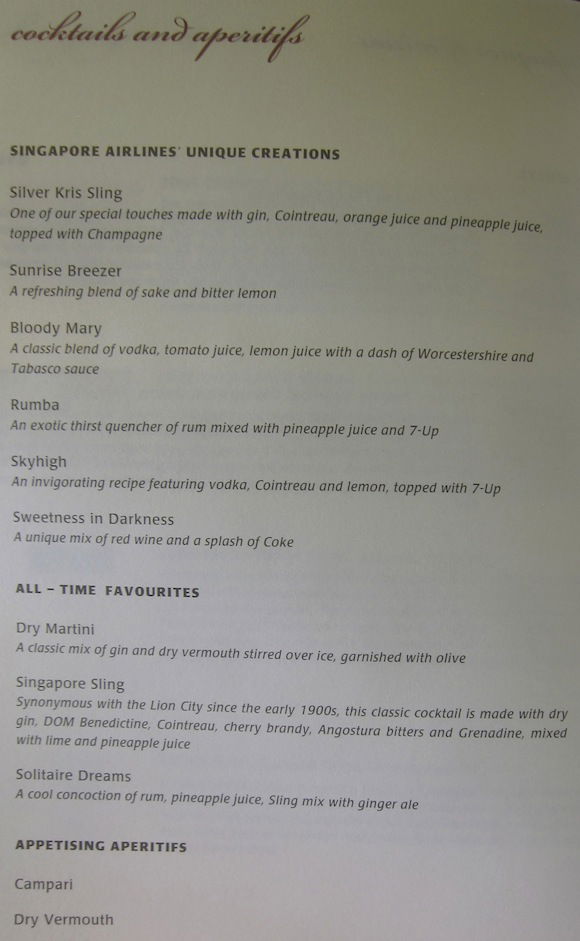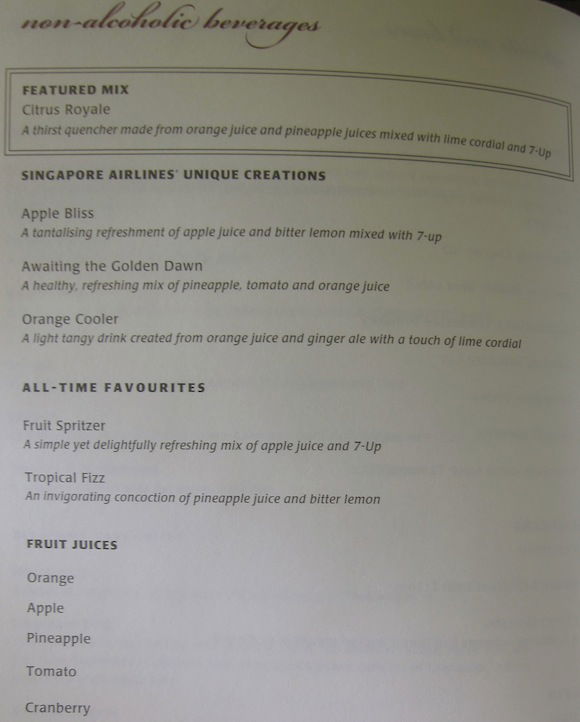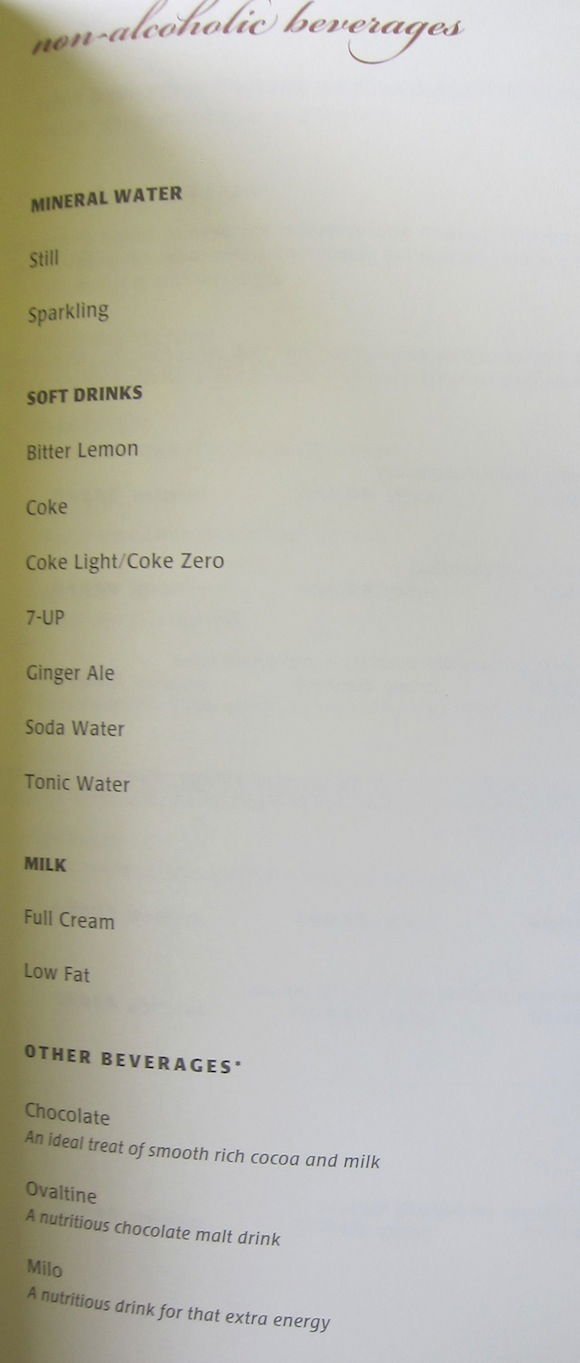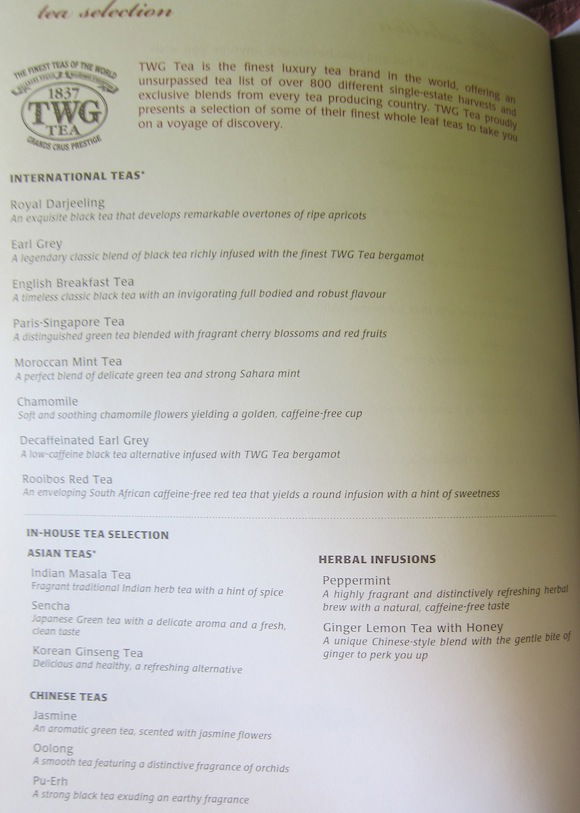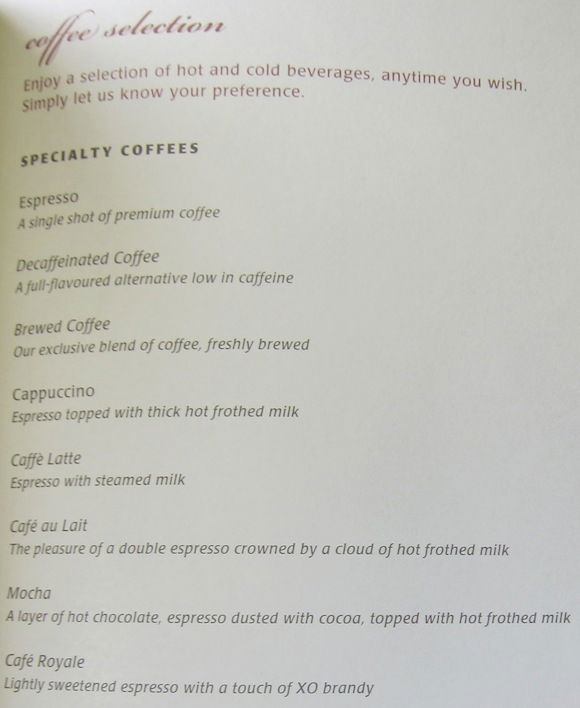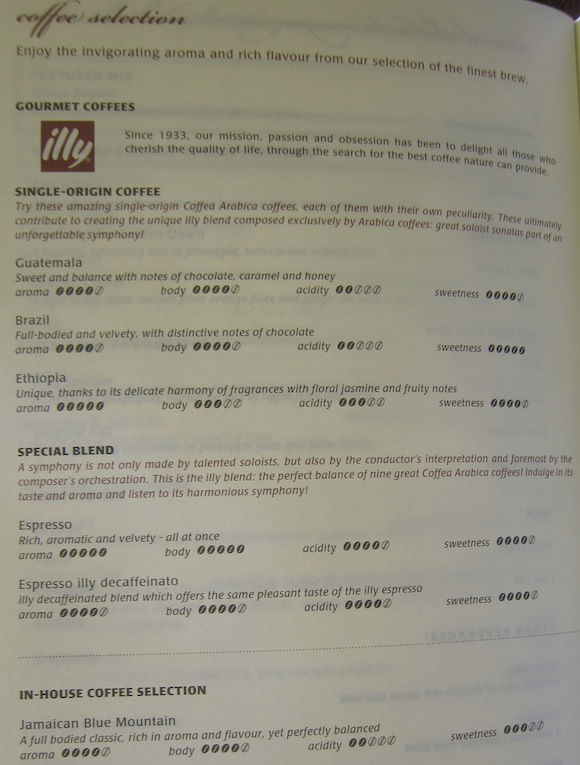 The service began with chicken and lamb satay, which was just as good as on the first sector.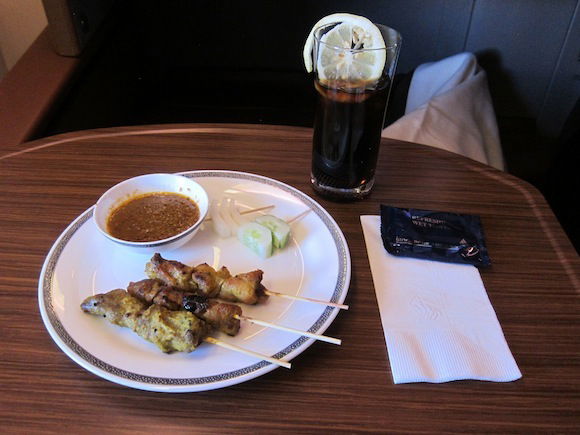 Satay again!
Then I had caviar, along with a glass of Krug to accompany it.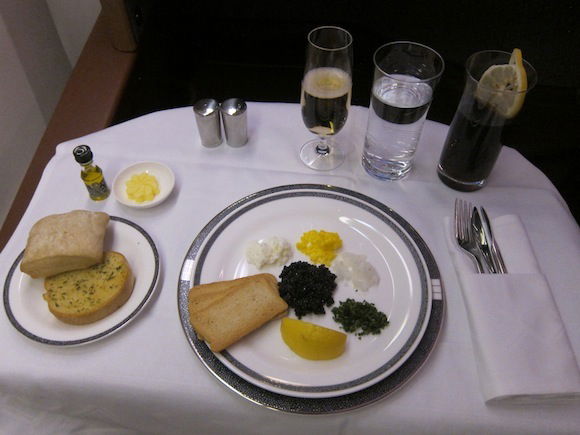 Caviar presentation
Next I had the salad, which was also fairly good.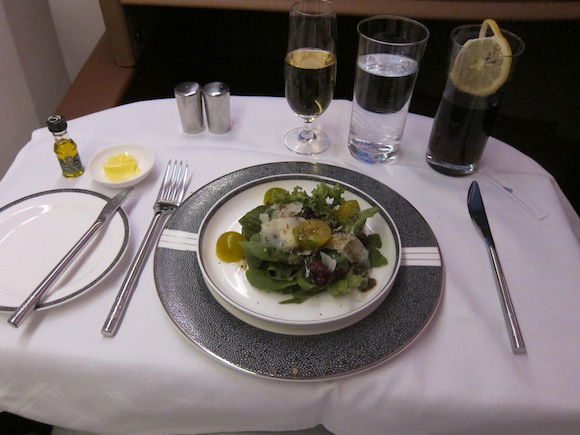 Salad course
Shame on me, but I had eaten so much after the flight from Singapore to Incheon that I decided to skip the main course and go straight for dessert. I ordered the mango cheesecake with ice cream, which was spectacular.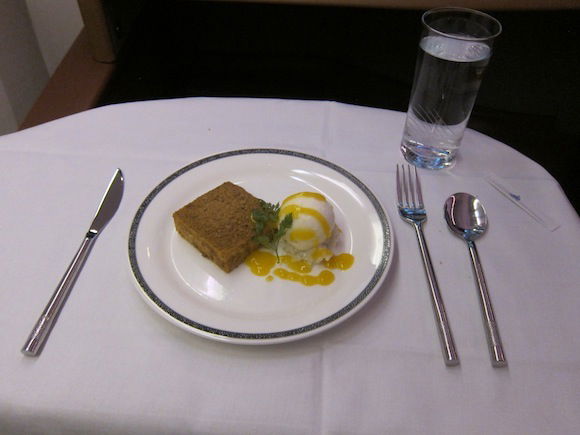 Mango cheesecake with ice cream

The meal service was done within 90 minutes of takeoff.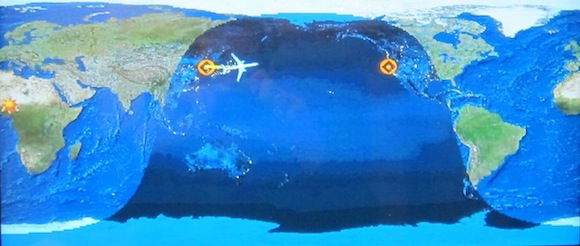 Airshow after dinner
It goes without saying that the service was phenomenal. Janesis was on top of her game as usual, and her colleague Wilton was excellent as well. They were both incredibly attentive and friendly as could be.
After that I was kind of tired so requested turndown service, which was promptly taken care of.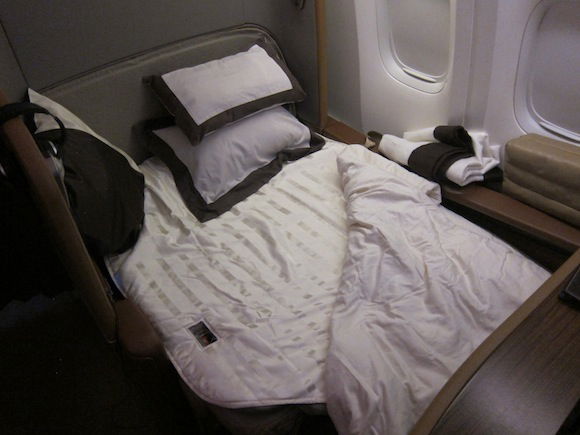 Turndown service
While I don't find the seat all that comfortable for sitting, it does make a fairly good bed, and I managed to get about seven hours of sleep.
I woke up about 90 minutes out of San Francisco to this amazing display by Janesis: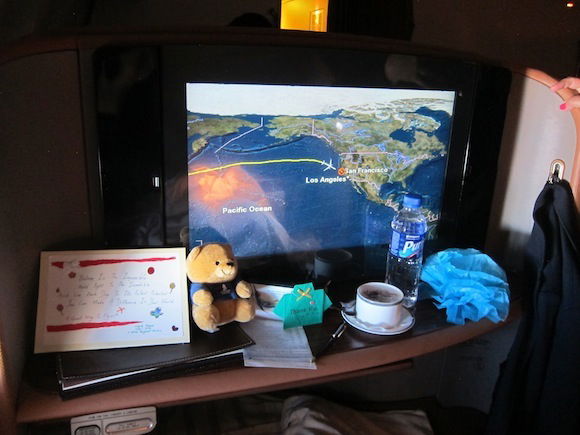 Airshow and presents!
She made one of her amazing cards, and left a teddy bear, a deck of playing cards, an origami shirt, and a paper flower. She's simply one of a kind.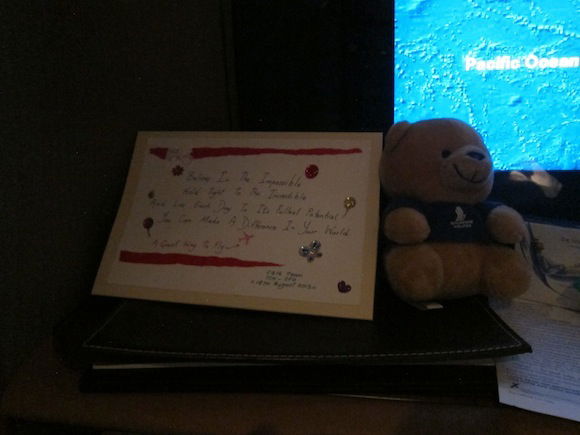 Card from Janesis and the crew
Meanwhile since it was my friend's birthday recently, Janesis created an incredible handmade card for her which was signed by all the crew members — amazing, amazing, amazing!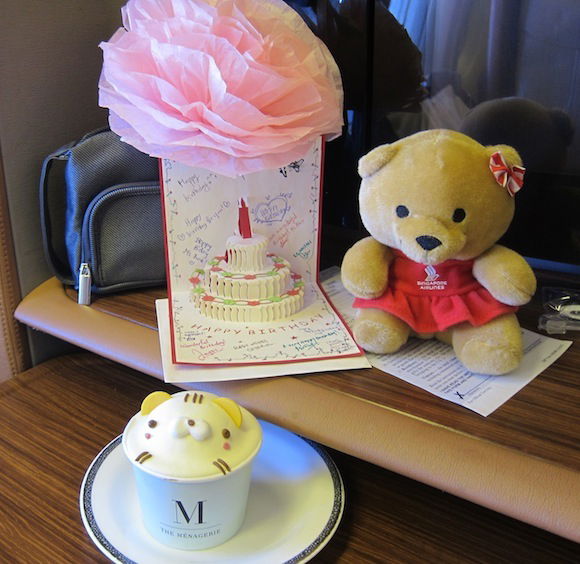 Birthday presents!
Since I slept the whole flight I didn't have anything to eat from the snack menu, though it read as follows: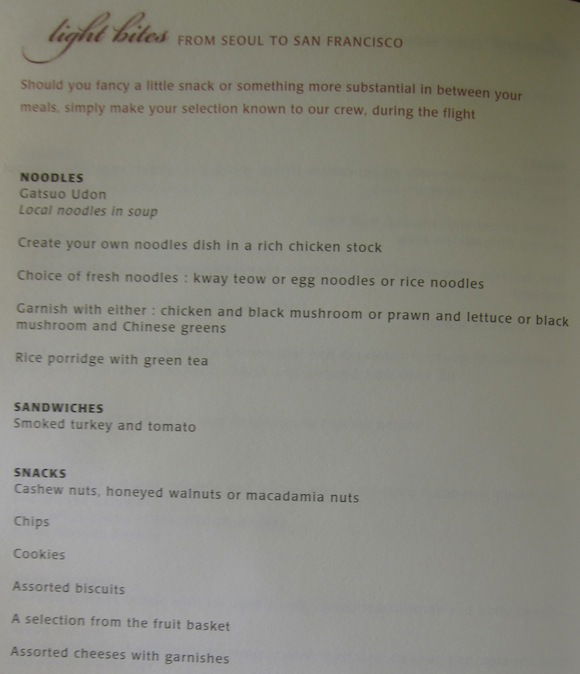 Within a few minutes of waking up I ordered a cappuccino, and shortly thereafter breakfast service began. The menu read as follows: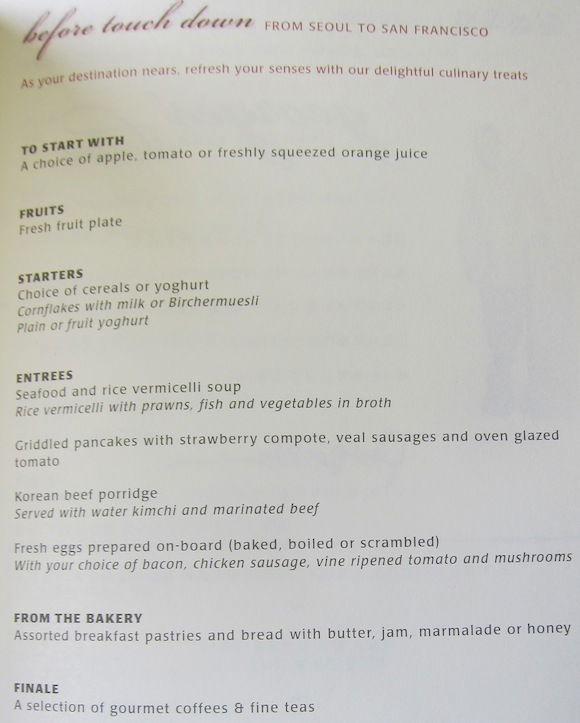 I ordered the fruit plate to start.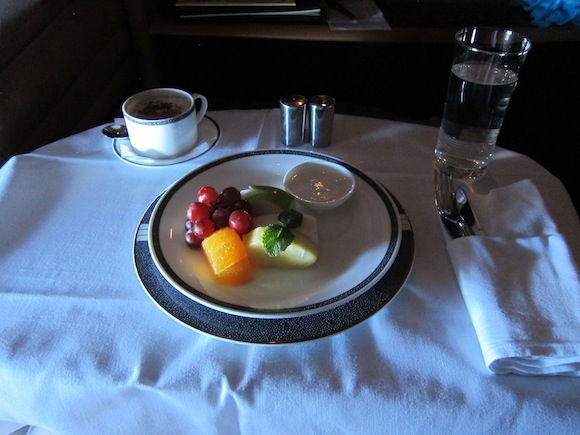 Fruit plate
Then I ordered some muesli.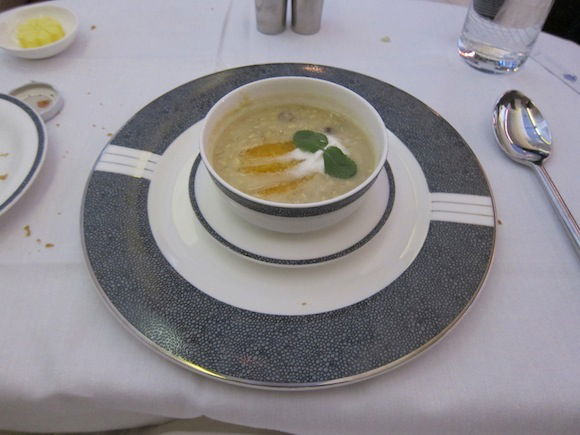 Muesli
And then for the main course I had pancakes with strawberry compote, which might as well have been scones based on their thickness.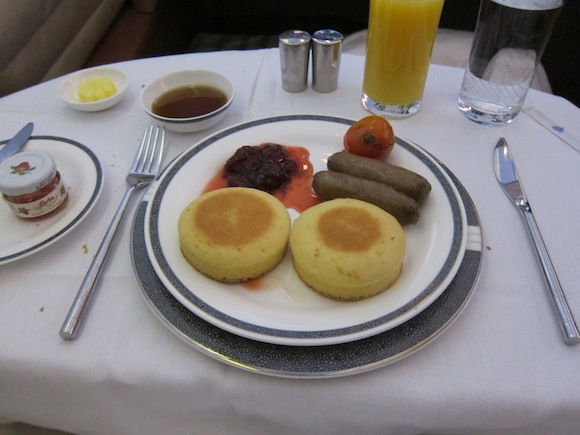 Pancakes
While I'm not a huge fan of the ATC delays that are often associated with San Francisco, I don't think there's a more gorgeous airport to fly into in the mid-afternoon. As we approached we more or less got a city tour, including an awesome view of the Golden Gate Bridge.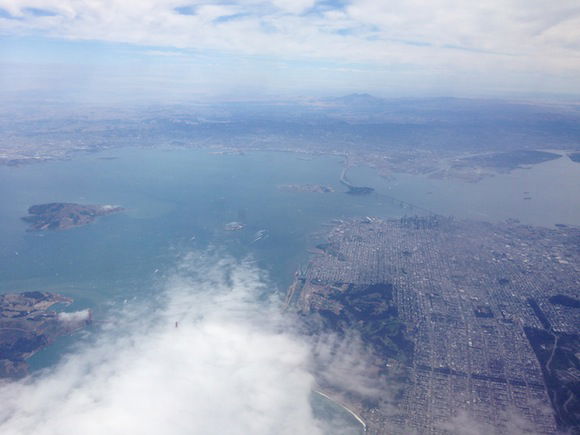 Approaching San Francisco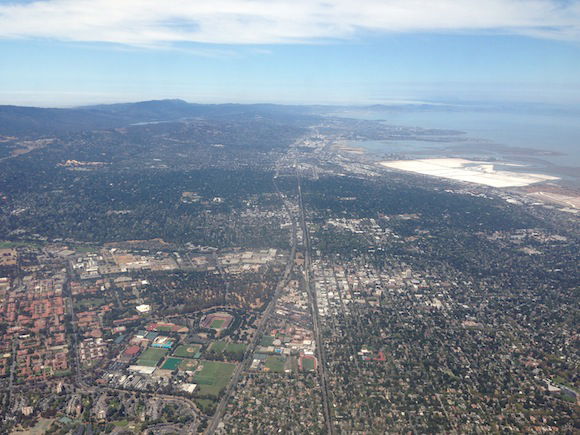 View on approach
Eventually we swung back around and landed on runway 28R.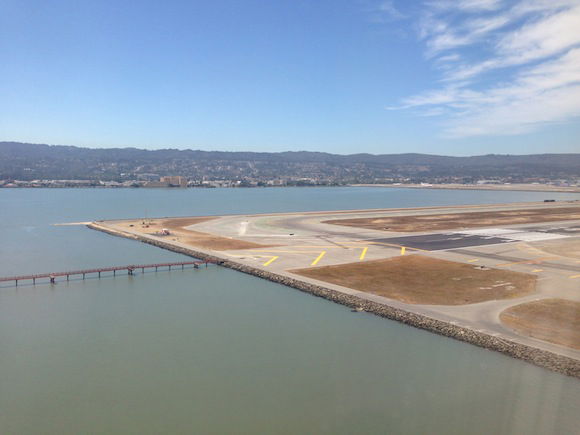 Approach
Our taxi to the international terminal took about 10 minutes, and as usual the views were awesome of all the Star Alliance heavies lined up waiting to depart.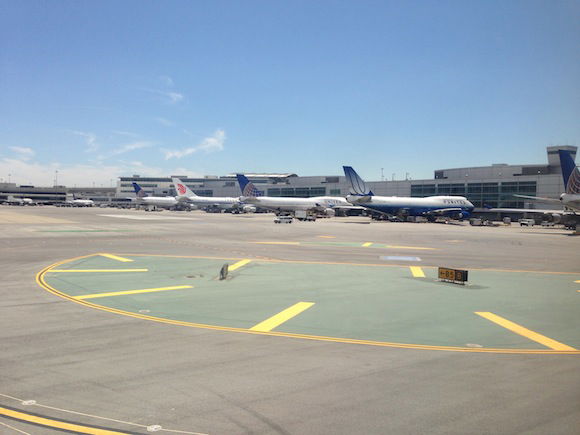 View on taxi


Star Alliance line up
Even though I just got off an ultra longhaul I was itching to get right on the Lufthansa A380 parked two gates from us.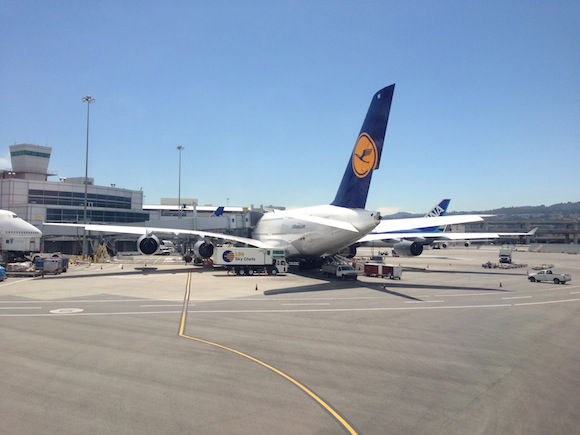 Lufthansa A380
Eventually we parked next to an ANA 777, and after bidding farewell to the awesome crew we headed to the arrivals hall.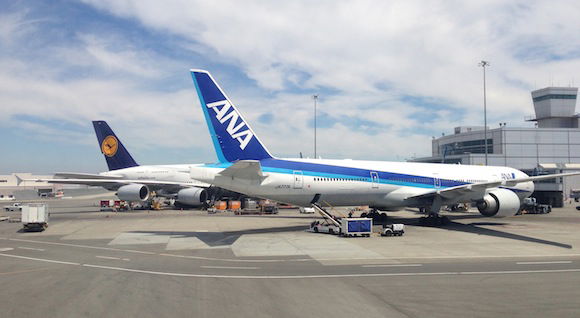 ANA 777
The queue in the arrivals hall for foreigners was the second longest I've seen in my life (the longest was at LAX where the arrivals hall was so full that they wouldn't let us deplane). Real shame that this is how we treat foreigners, when the line for US citizens was short.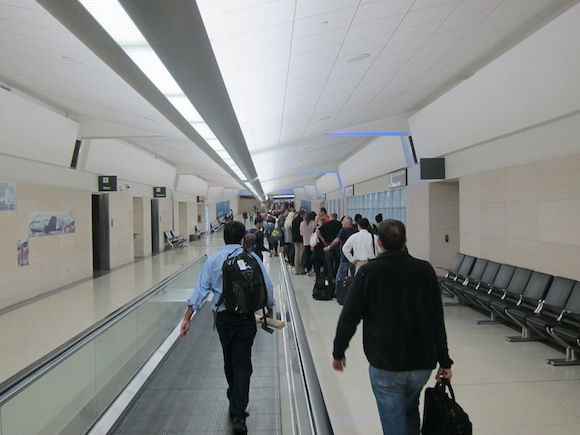 Immigration queue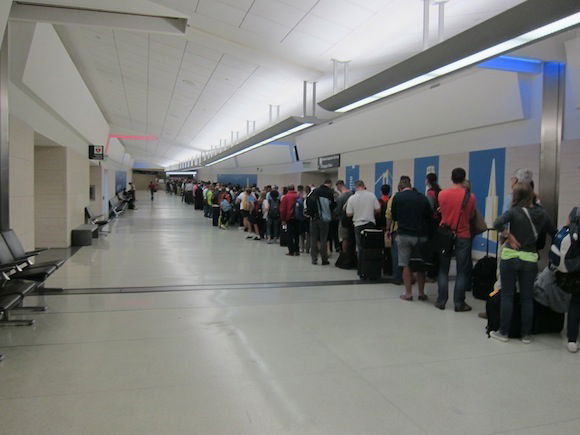 More immigration queue
Anyway, this was a spectacular flight. For one, I don't think I've ever arrived as well rested as I did off this flight. I don't think I yawned once for the entire day. But beyond that, the service was incredible, as it always is when Janesis is aboard.
On a good day no airline can compete with Singapore, in my opinion.