---
Really I don't think I even have to write a review, since I think this review I found on YouTube sums it up perfectly:
The drive from Amandari to Amankila took about 75 minutes, and we had a great driver, perhaps my favorite person we interacted with at either of the Amans (and that's saying a lot). He was so passionate about his life, both his family at home and "Aman family," which was just so refreshing.
While Amandari is in central Bali, Amankila is on the east coast of Bali, which is an area I had never been to before. Most people vacationing in Bali stay either in the south or in Ubud, so even though I had been to Bali many times before, this was my first time on the east coast.
There's very little tourism in the area, and it's incredibly "authentic" and unspoiled. It's also very hilly, so the scenery can be amazing. As we drove up to Amankila I was at a loss of words.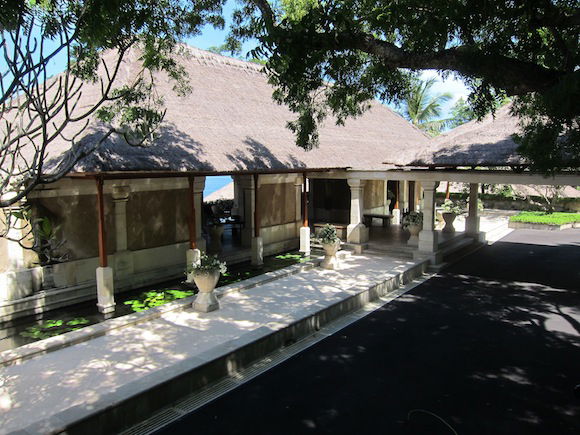 Resort entrance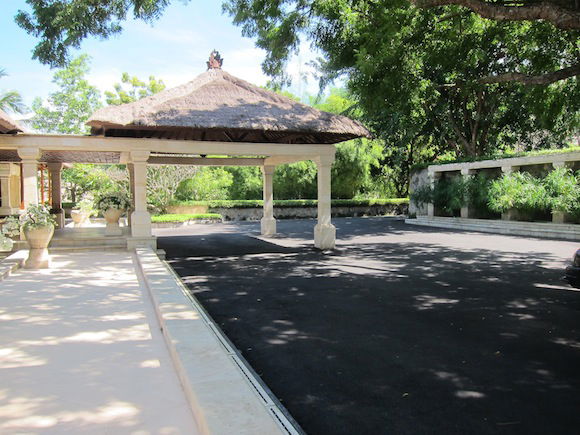 Resort entrance
As we pulled up there were several people waiting for us, and we were briefly walked into the open air lobby, where we were greeted by two young Balinese dancers.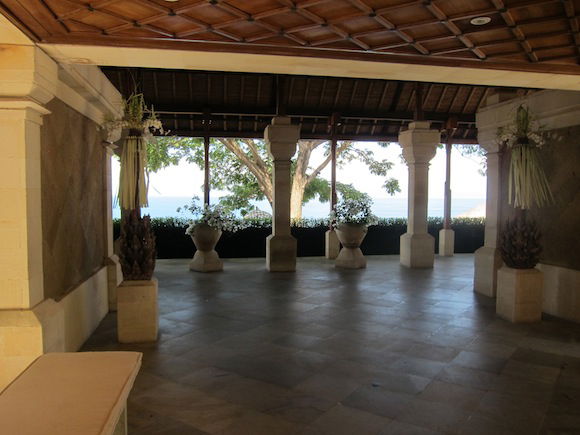 Lobby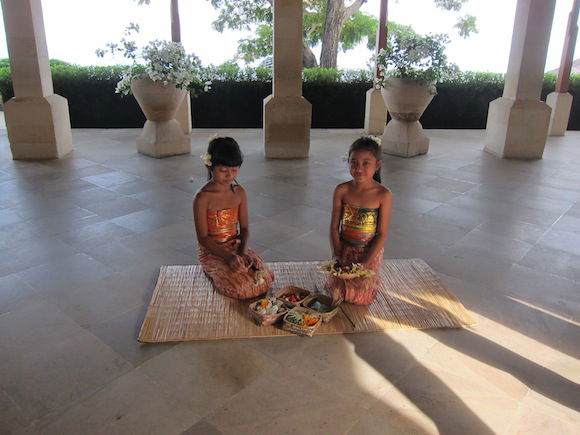 Young Balinese dancers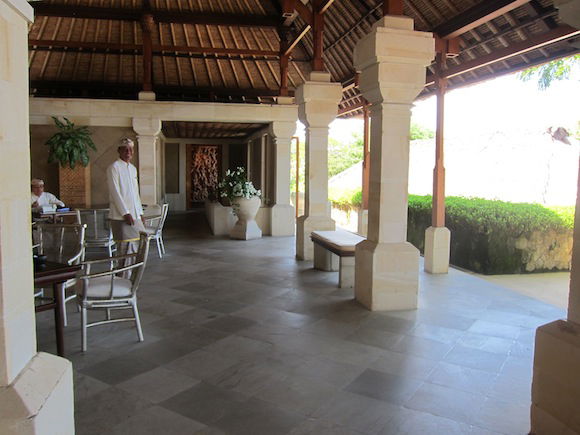 Lobby
What really left me speechless was the view from the lobby. I mean, look at that view!!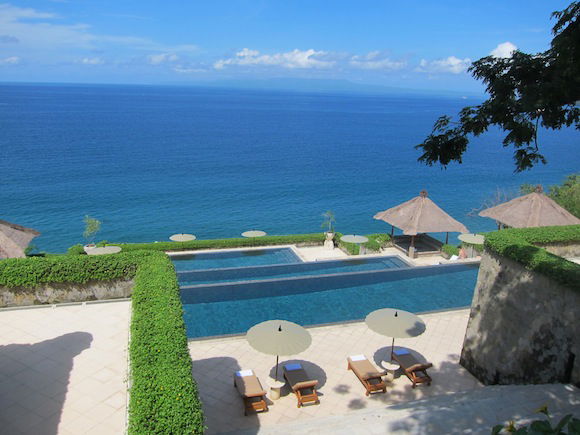 Pool area
Within moments we were escorted up to our room, which was located at the far end and "top" of the resort. It's worth noting that the resort has a ton of stairs — the resort is set on a hill (Amankila means "peaceful hill"), and connected exclusively through stairs, so you're almost always walking up and down them. I'm of course fine with that, though my mom's foot was already hurting at this point due to the white water rafting we did the previous day, and the (literally) 1,000 steps she had to walk in order to get down to the river.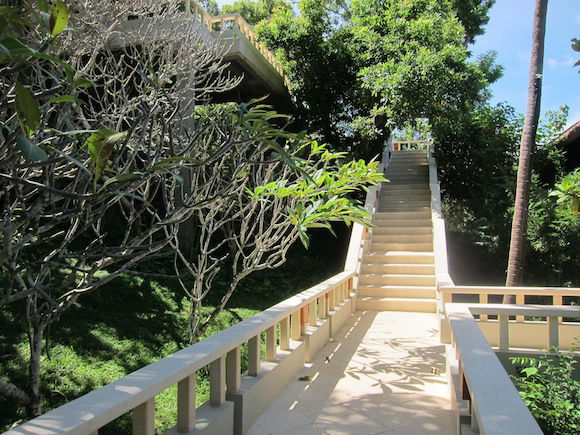 Walkway to our room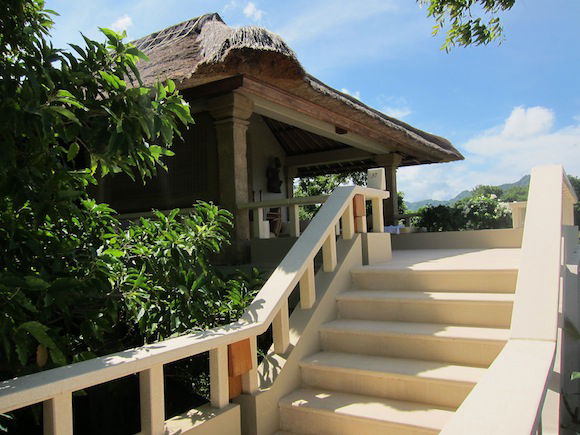 Walkway to our room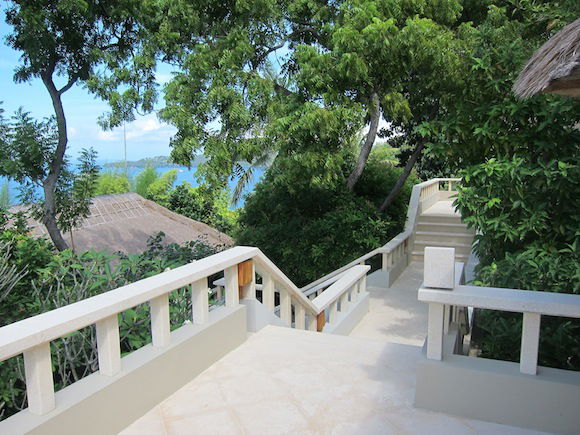 View from patio
At the entrance to our room was a huge patio with a table and daybed. I just couldn't get over the views. And it's not just the views of the ocean as such, but how unspoiled the surrounding area is. Since we had a room at the corner of the resort you could look left for miles and miles and see nothing but trees and unspoiled coastline.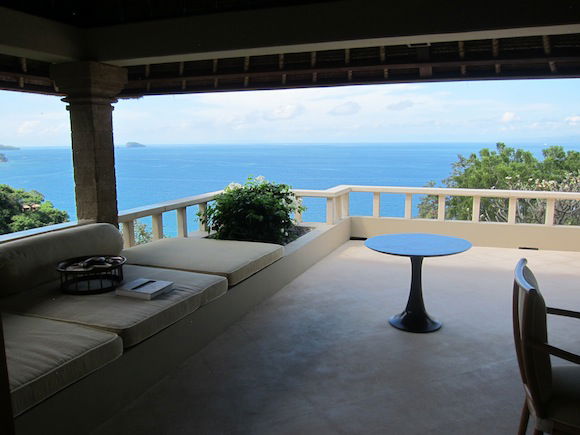 View from patio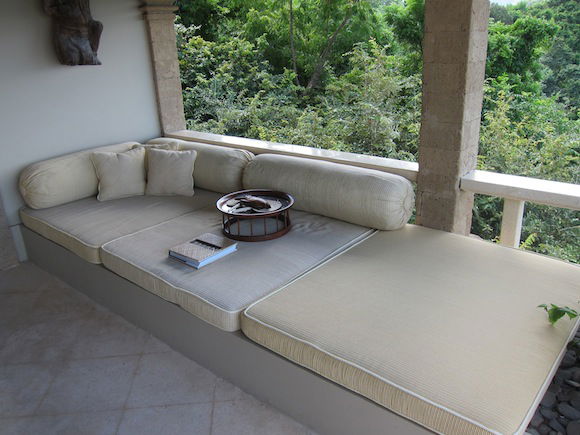 Outdoor lounge area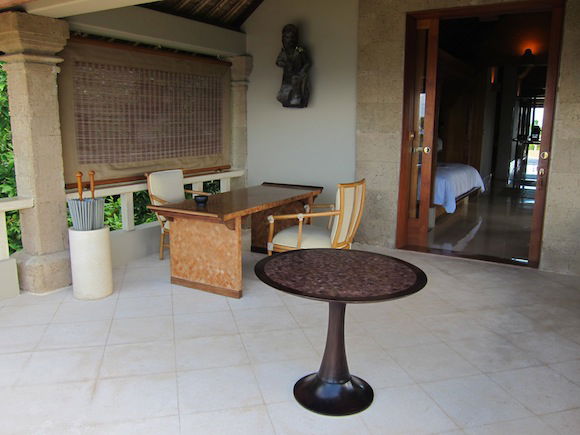 Outdoor table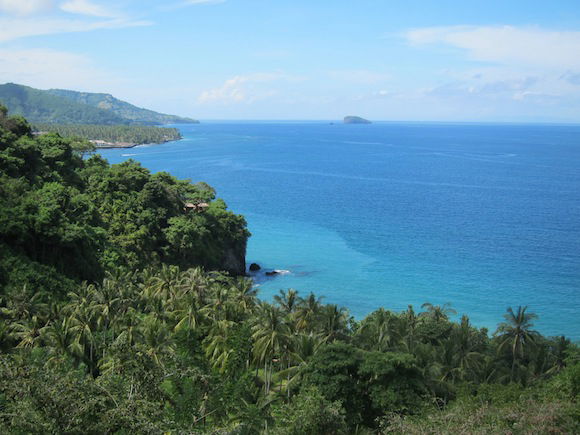 View from patio
The room could be accessed via a sliding door, and felt even more "high end" than our room at Amandari.
At the entrance was a king size bed and desk.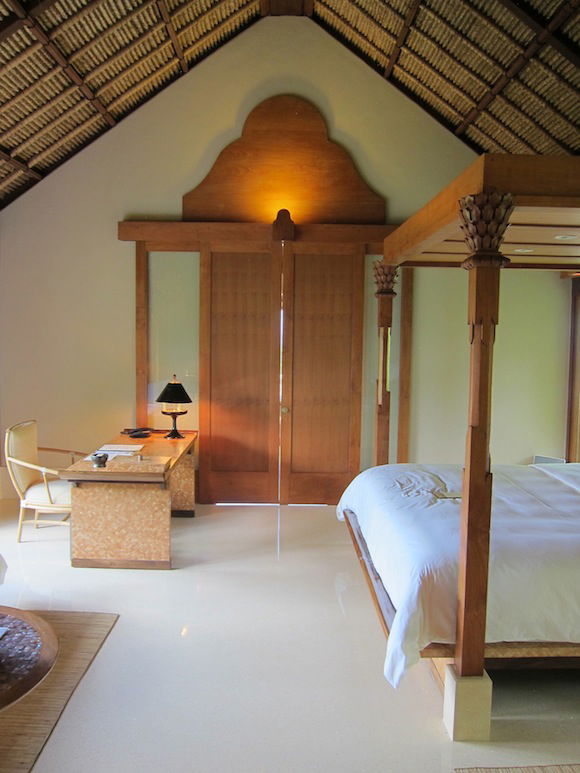 Room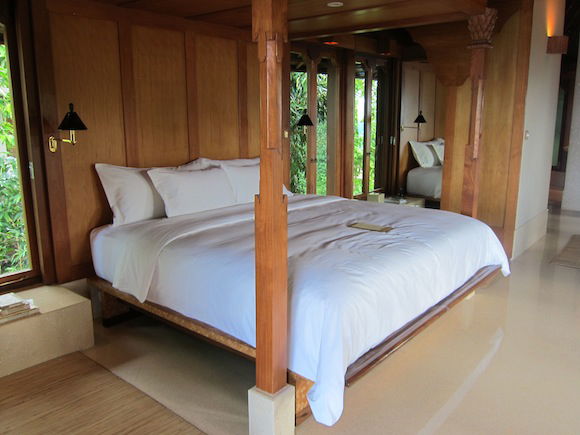 King bed
Then across from the king bed was a second bed.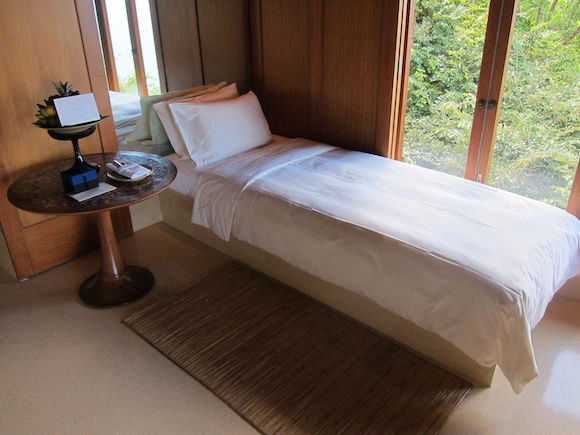 Extra bed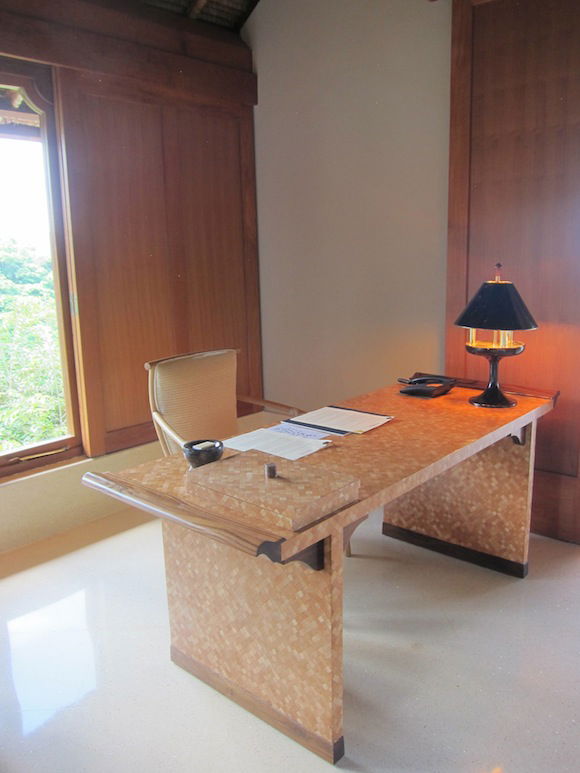 Desk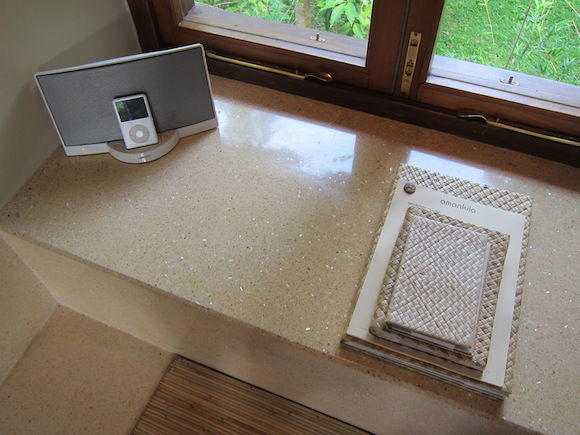 Notepads and stereo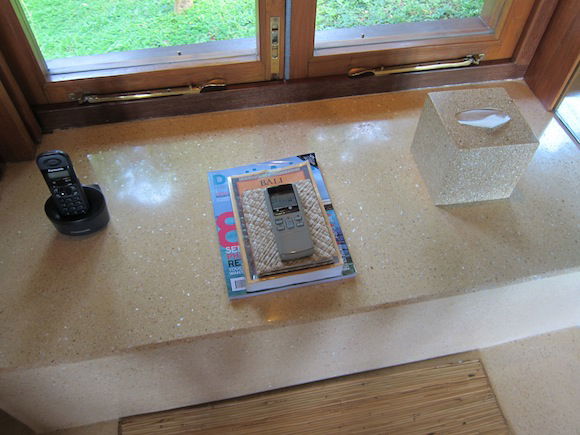 Phone and remotes
Then towards the bathroom was a table with a welcome amenity, consisting of fruit, a card from the GM, and some sort of a handmade container.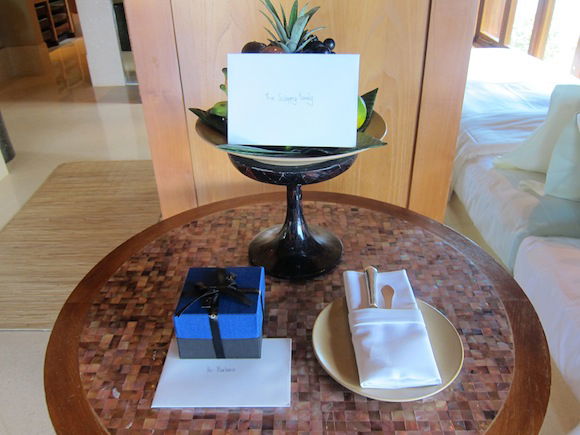 Welcome amenity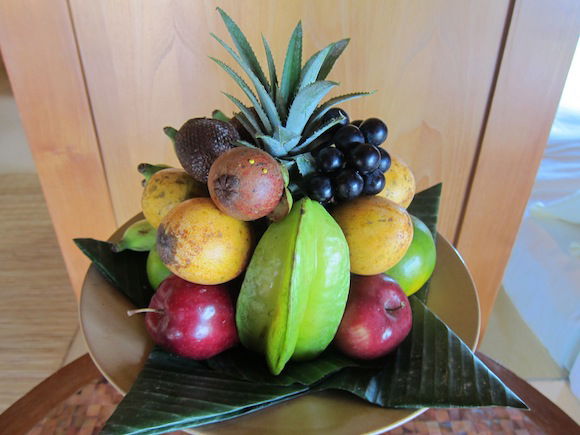 Fresh fruit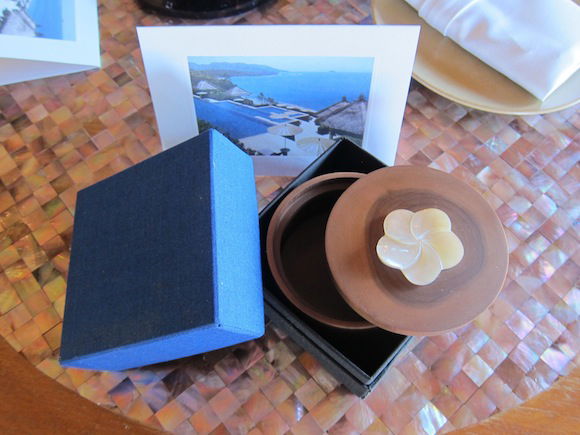 Card and gift
Just past that was the minibar and coffee maker.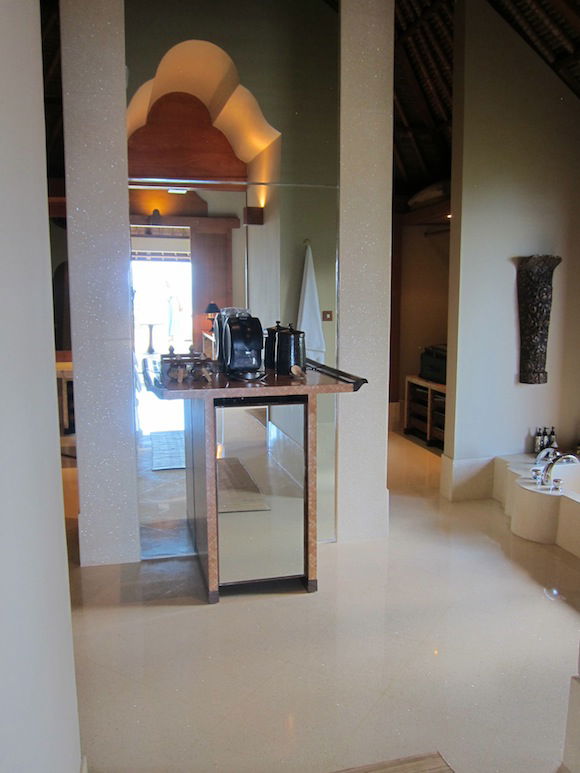 Minibar area
Once again there were complimentary crisps and cookies which were refreshed daily.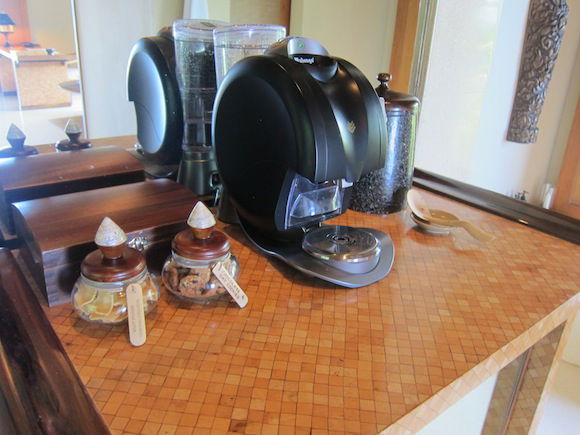 Coffee machine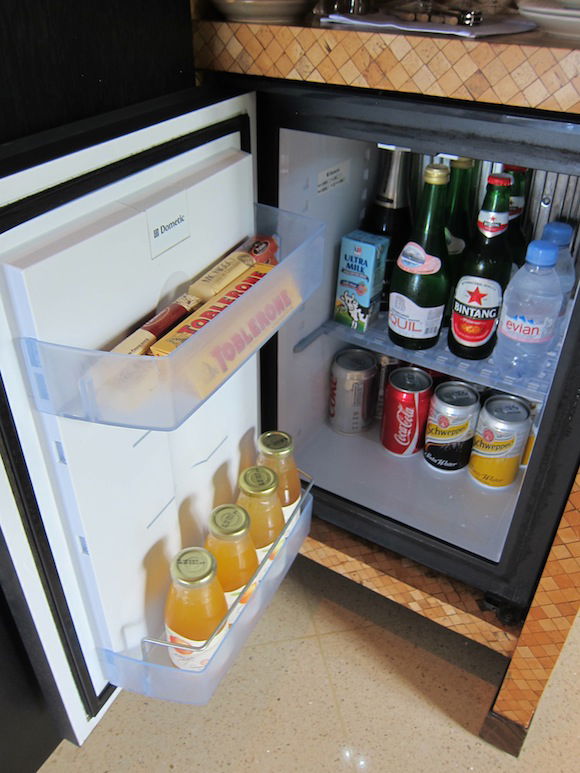 Minibar
Past that was the bathroom area. To the right was a bathtub.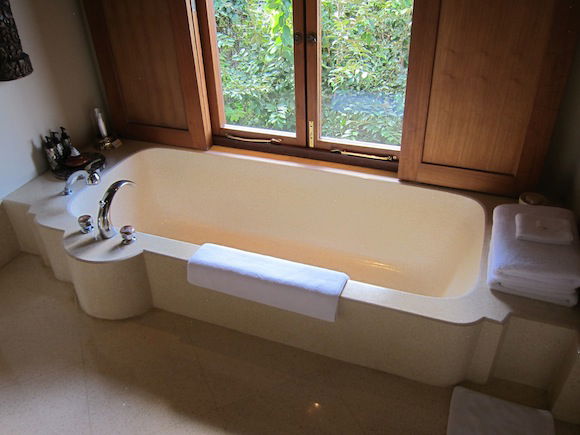 Bathtub
Just in front of that was the shower room. Once again, toiletries were high quality and in reusable containers.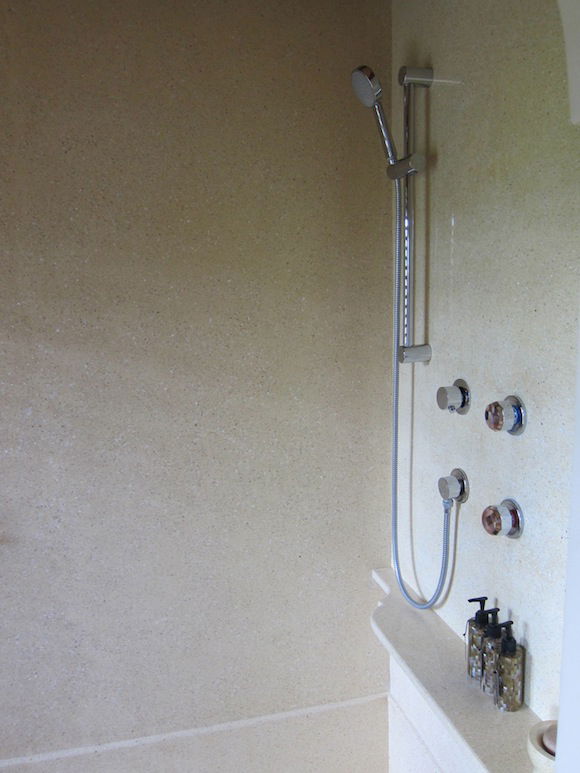 Shower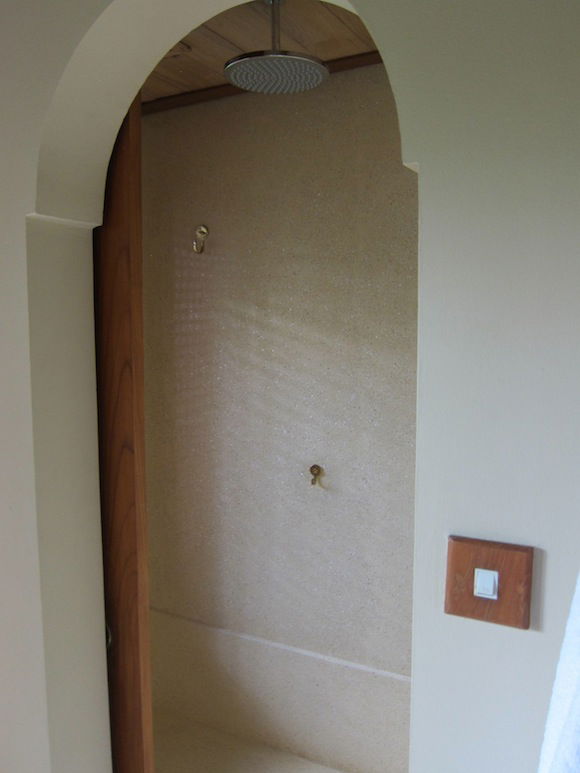 Shower
On the opposite side of the bathroom was a daybed of sorts.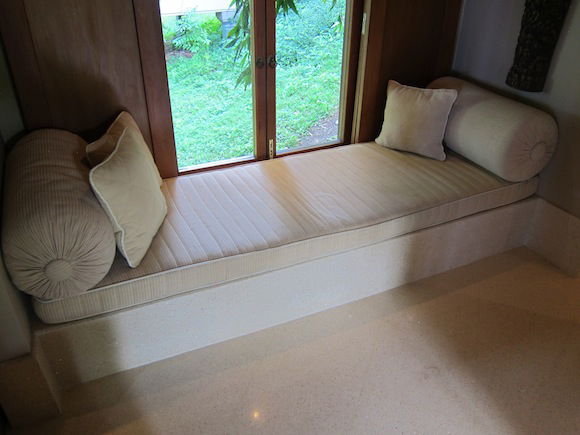 Seating area
And in front of that, in the same area as the shower on the other side of the room, was the toilet.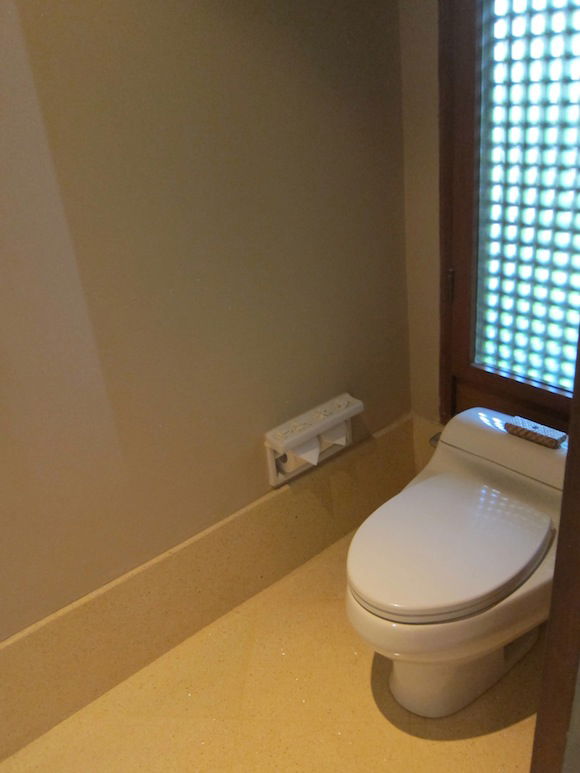 Toilet
Then if you go a bit further into the room are the sinks. There are two sets across from one another.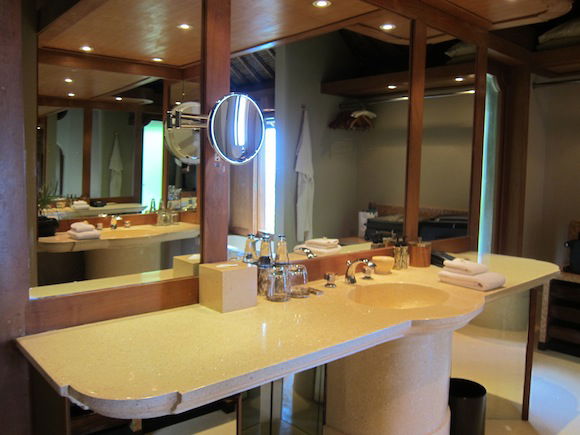 Bathroom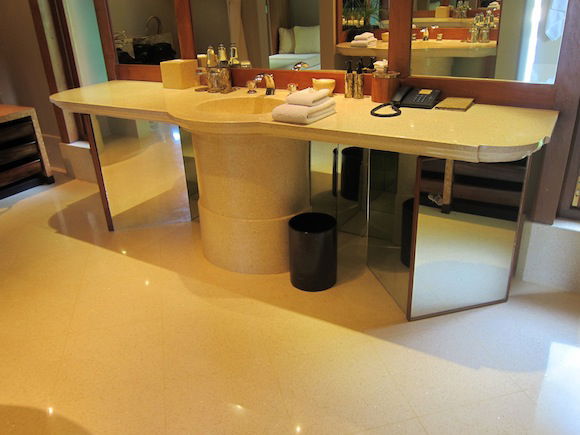 Sink and vanity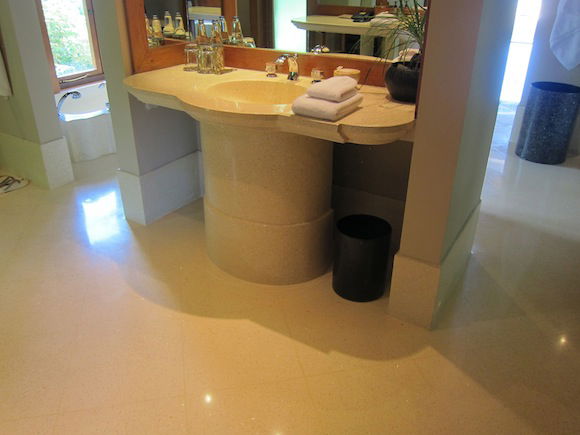 Second sink
And then on each side of the room was a closet area.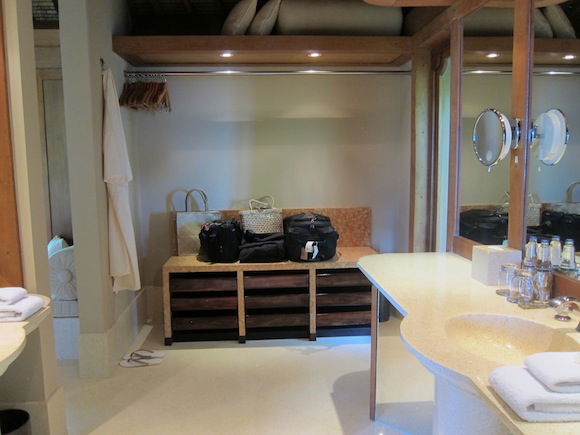 Bathroom and closet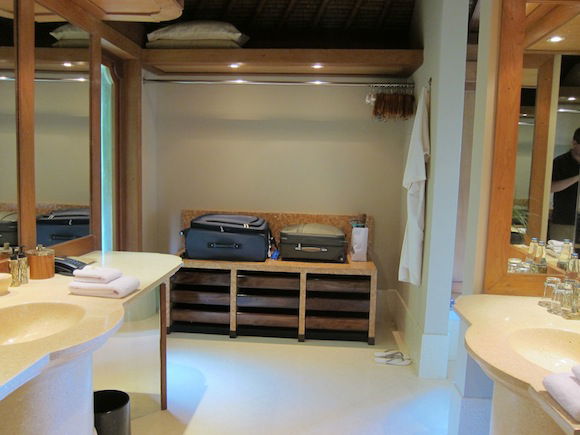 Second closet
Within a few minutes of settling in we were brought some passion fruit sorbet and lemonade.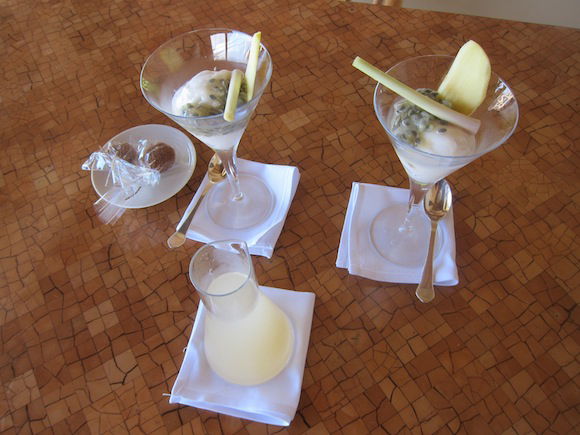 Passion fruit sorbet and lemonade

Once settled in we took the opportunity to explore the resort a bit more. We headed down to the three tiered infinity pool, with stunning views of the ocean. The pool is just so ridiculously serene that words can't do it justice. It was almost always empty (after all, there are only 34 rooms and the resort was half full at most), so you literally had a three tier infinity pool with incredible views of the ocean and amazing Aman service all to yourself.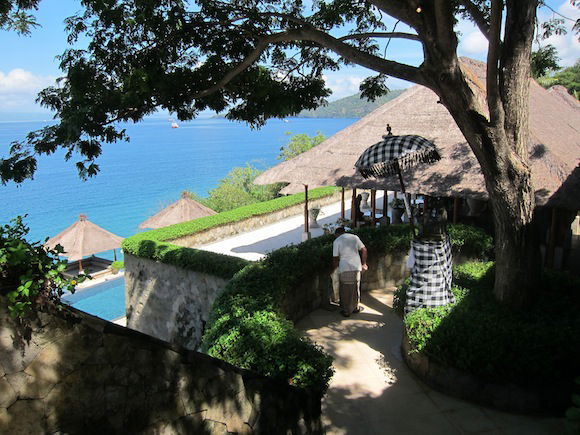 Pathway to pool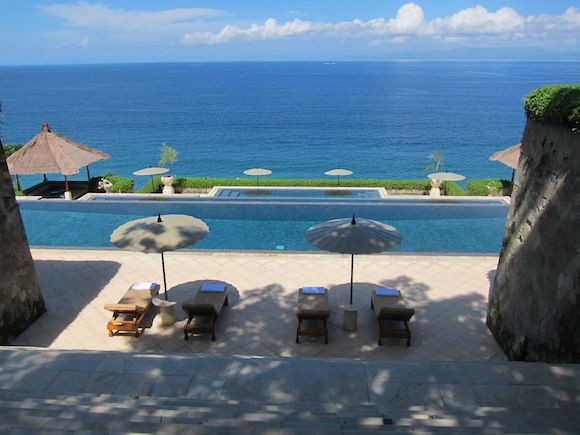 Pool view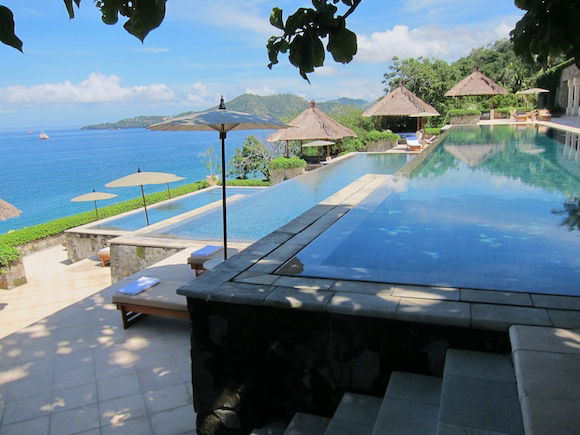 Pool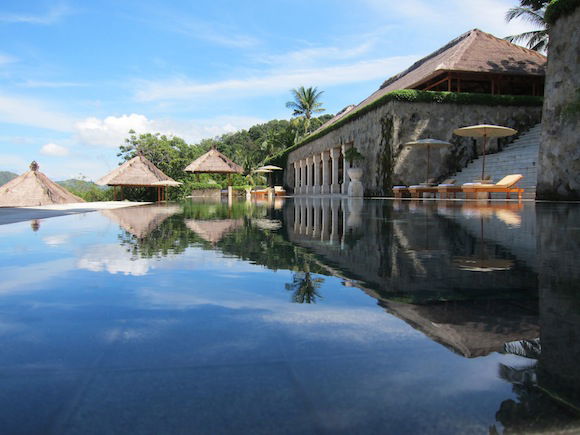 Pool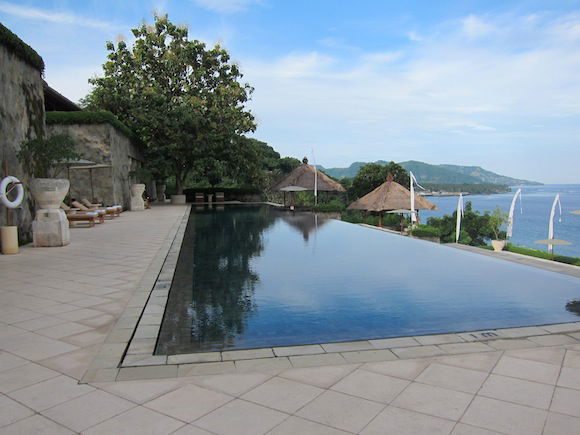 Pool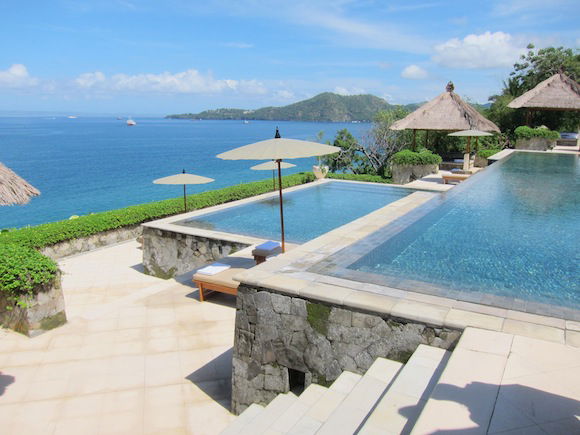 Pool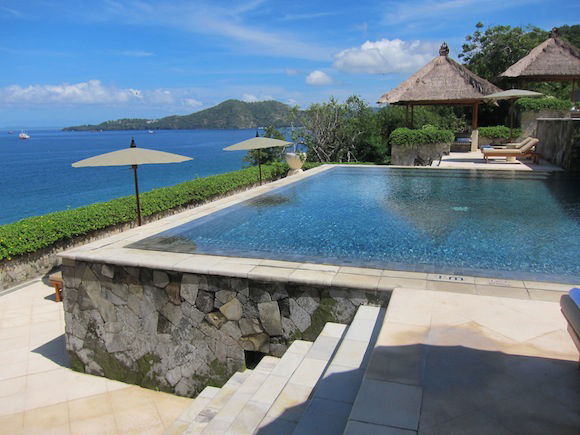 Pool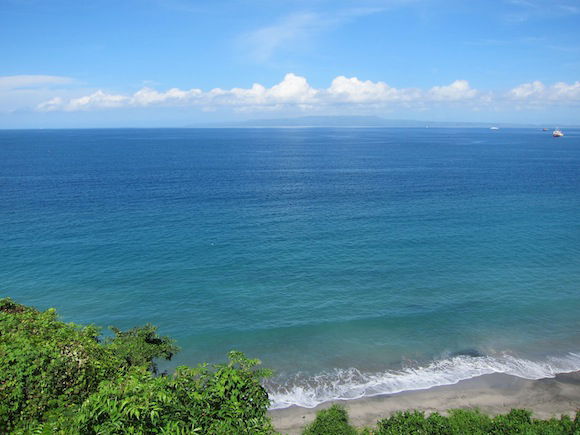 Ocean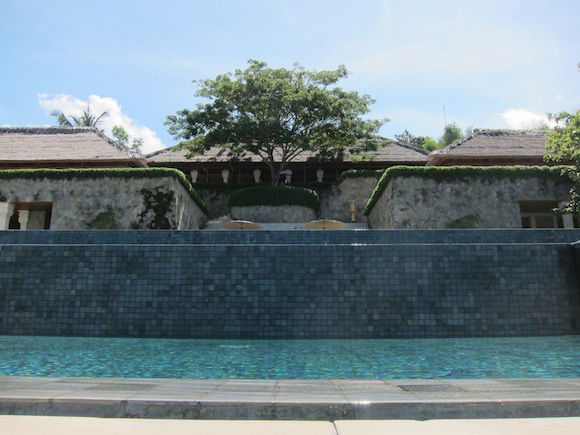 Pool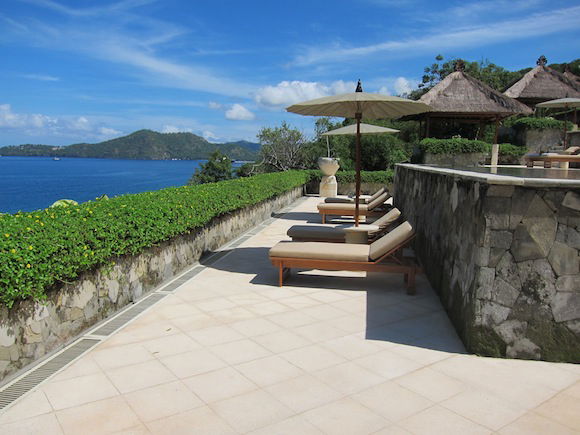 Pool seating
In addition to the "main" pool, the hotel also has a "beach club." It's located to the side of the resort, though due to the location of the hotel on the side of a hill, it's not that easy to access directly.
Either you can take a pretty steep set of stairs to the beach club, or you can be driven.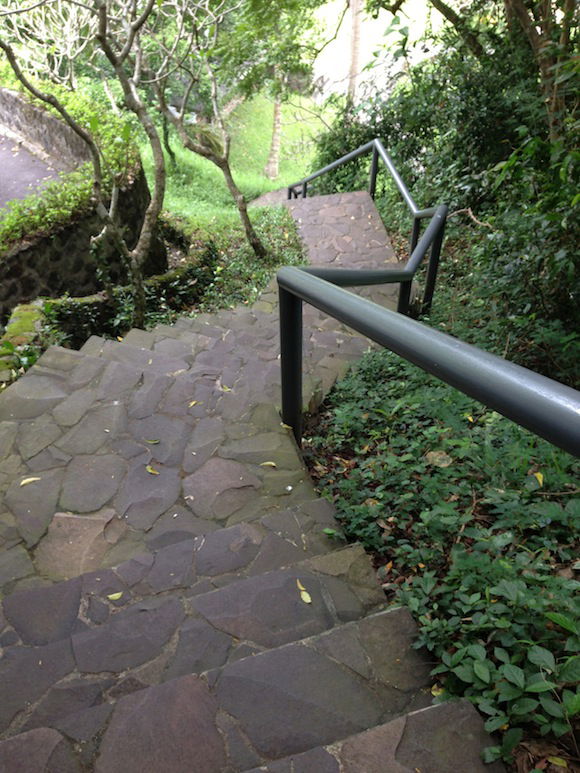 Stairs
The drive is actually quite fun as it's down a really steep, curved road.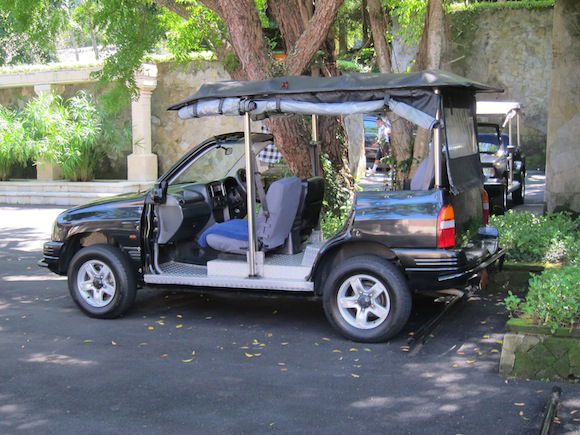 Car to beach club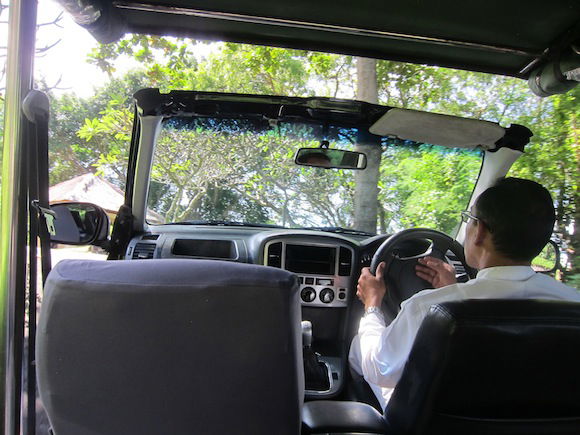 Car to beach club
At the beach club is a lap pool with plenty of space for lounging.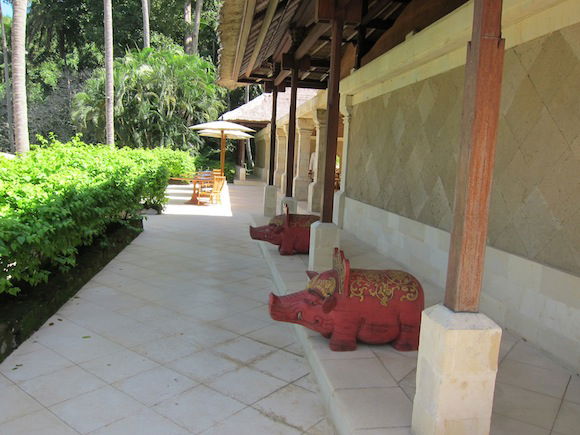 Beach club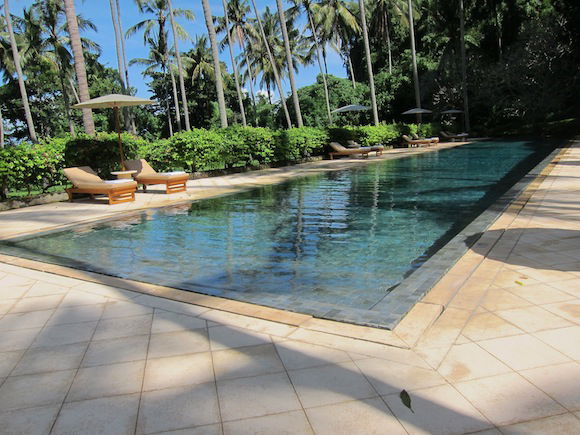 Beach club pool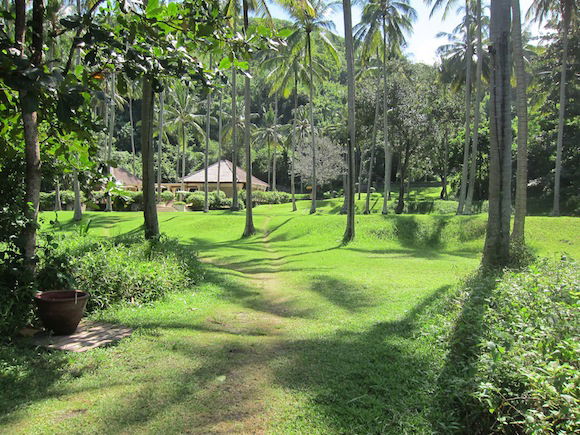 Beach club garden
There's also a beautiful private beach.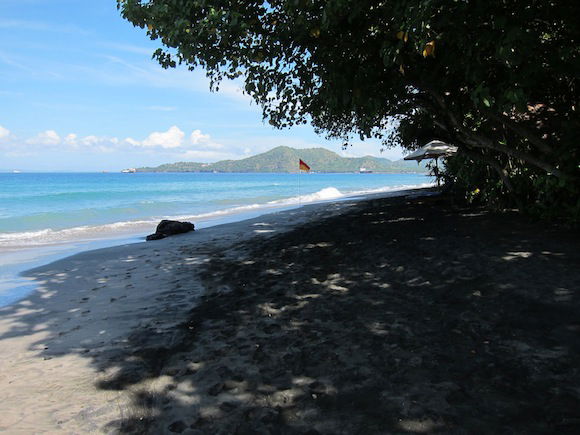 Beach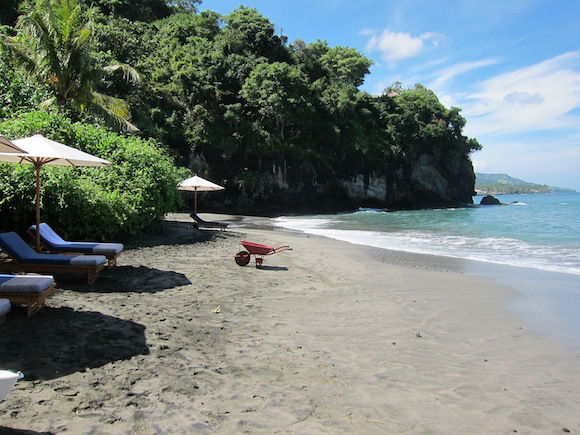 Beach
In terms of the resort's other facilities, there's a fitness pavilion, which is actually an entire villa. To maximize privacy only one person can use it at a time, so you can reserve it in advance. I always got the time I wanted, so it worked well for me.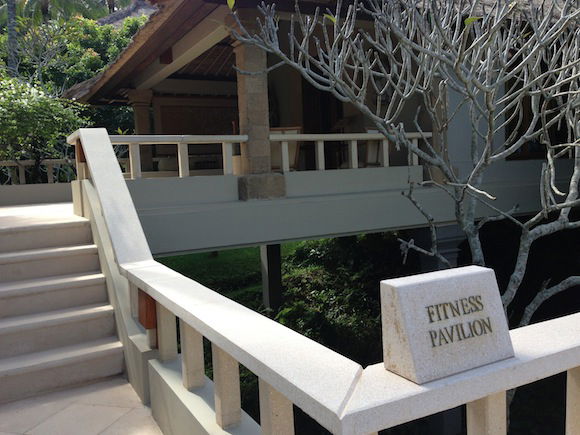 Walkway to fitness pavilion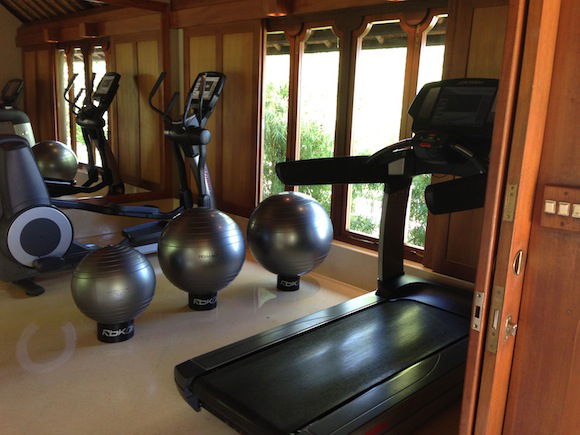 Gym equipment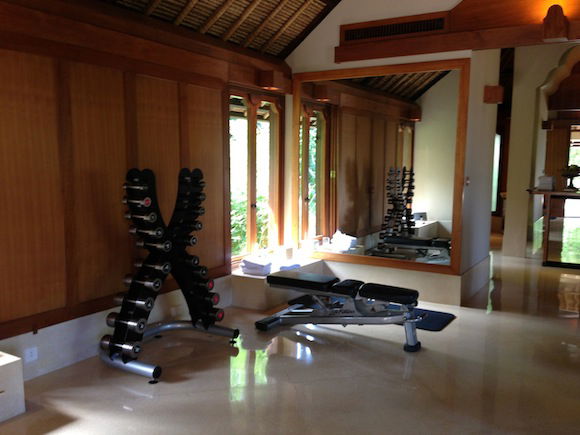 Gym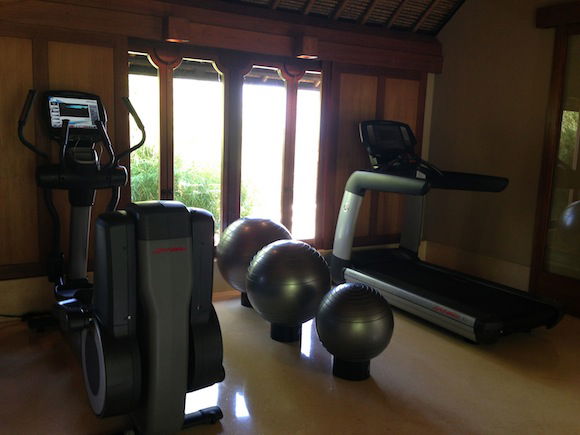 Gym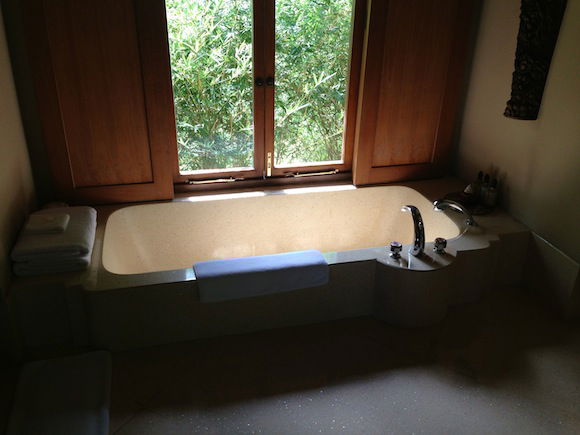 Gym bathtub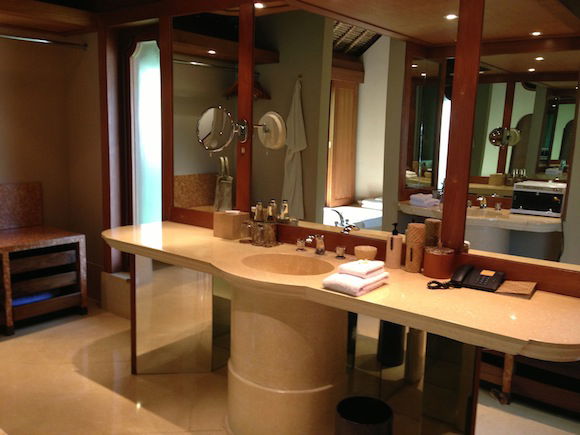 Gym bathroom
In terms of dining at the hotel, the food was generally very good. We were at Amankila for three days, and had breakfast on our patio for two of those days. As a reminder, breakfast was included in our rate. The breakfast menu read as follows: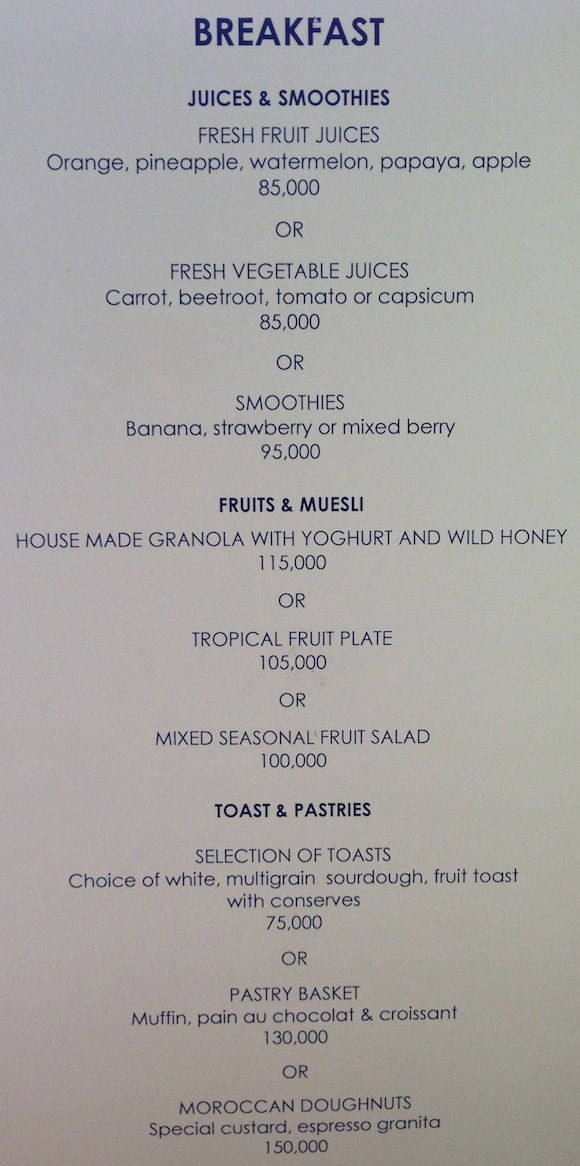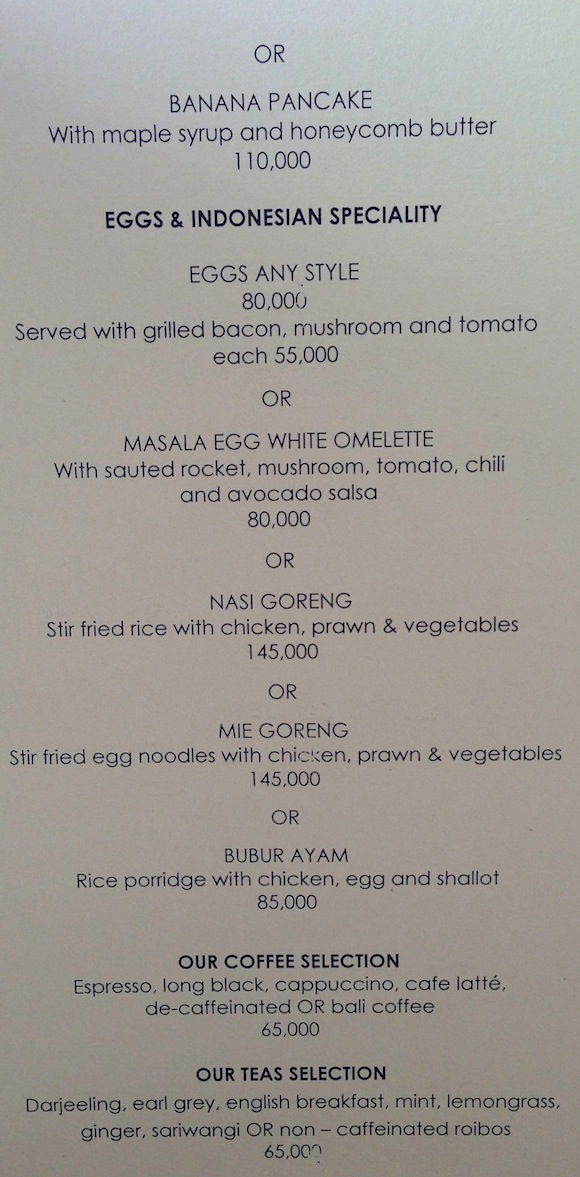 Service was always prompt and accurate, and usually breakfast arrived within 20 minutes of ordering it.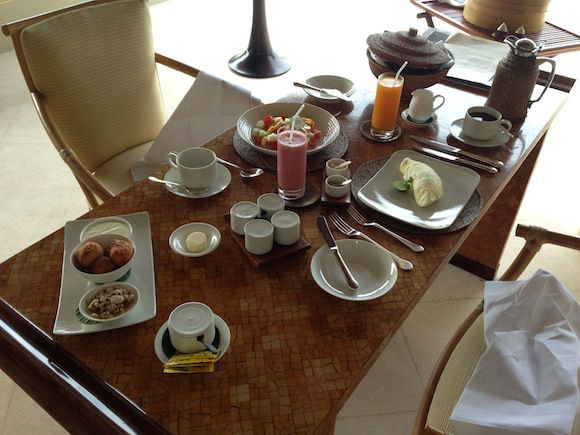 Breakfast day one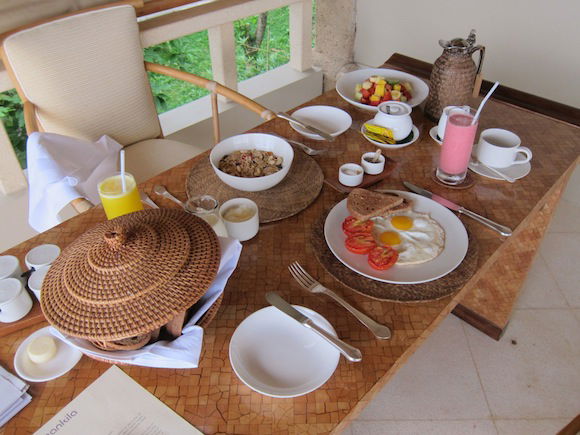 Breakfast day two

The final morning we had breakfast at the restaurant, which has an equally stunning setting.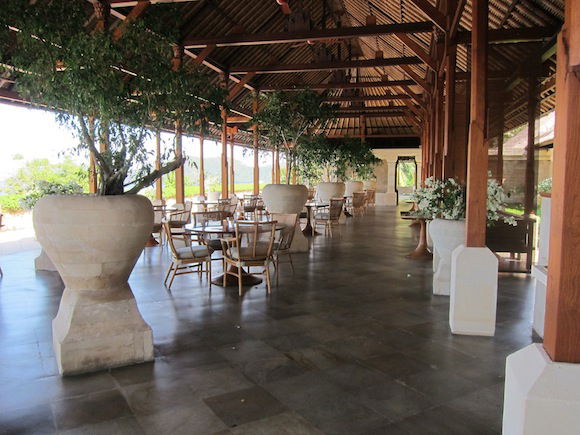 Restaurant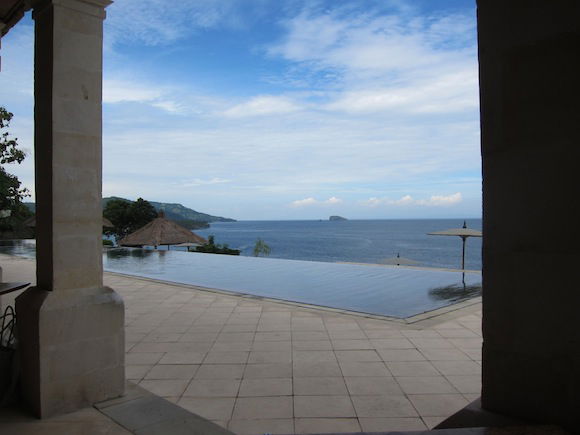 View from restaurant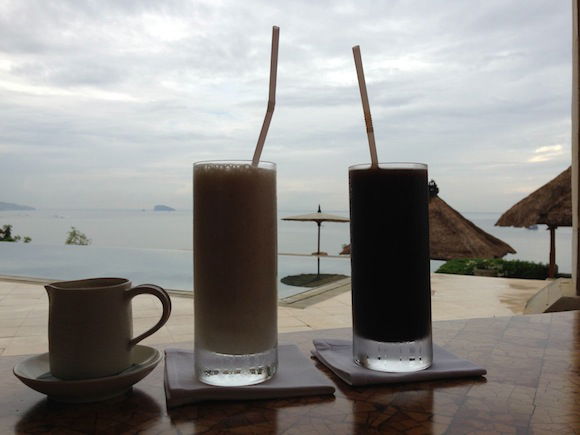 Breakfast with a view!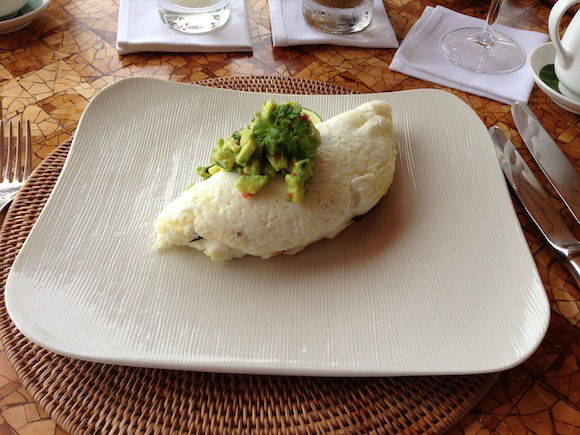 Masala egg-white omelette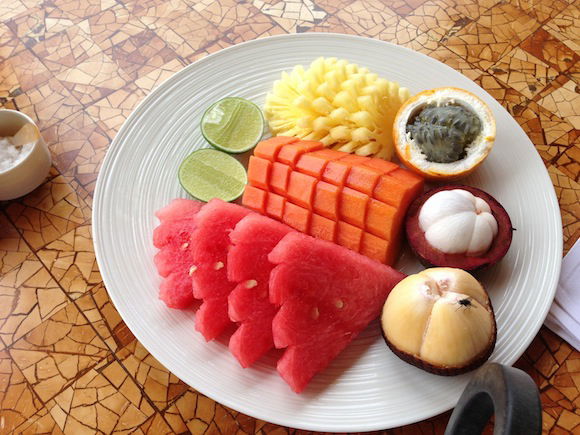 Fresh fruit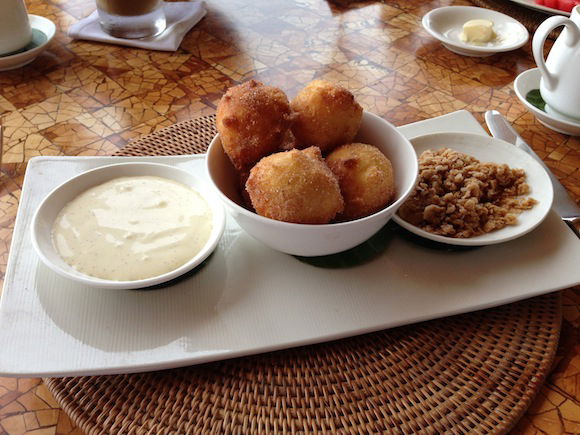 Moroccan doughnuts
As far as the other meals go, one day we had lunch at the beach club.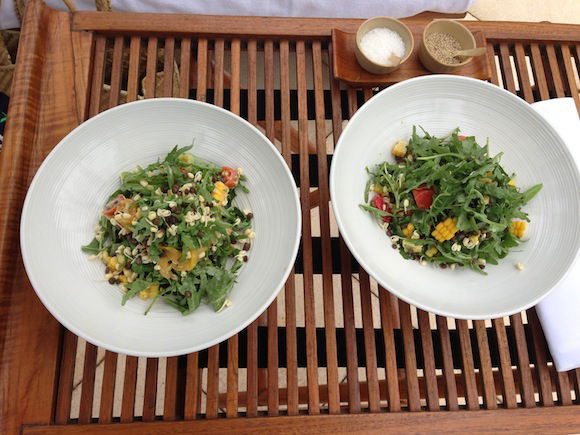 Salads
Then another day we had a spectacular lunch at the restaurant.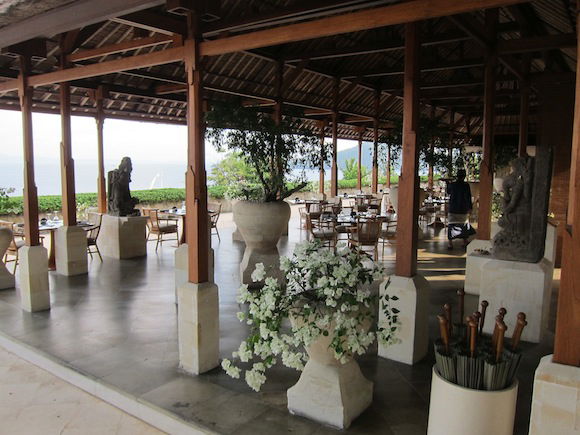 Restaurant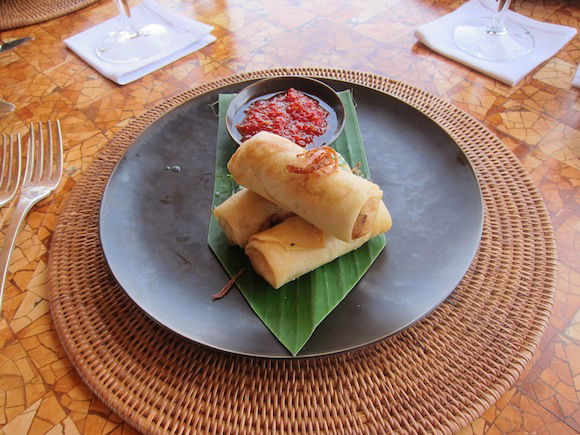 Lunch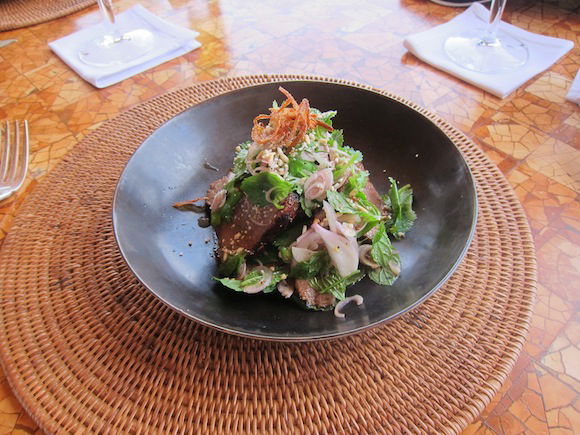 Lunch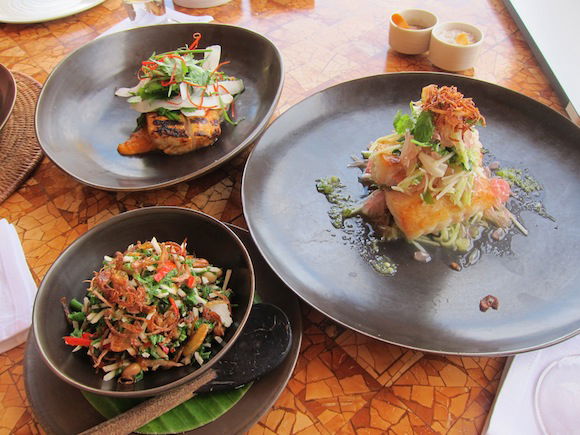 Lunch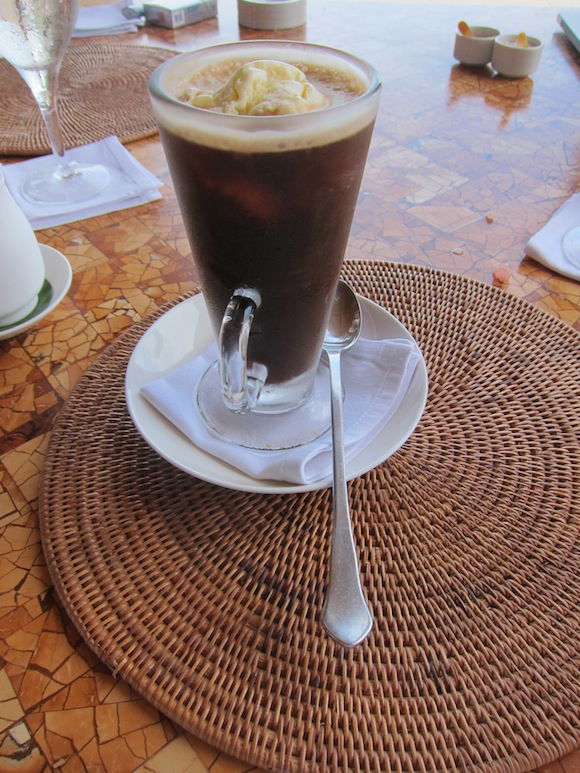 Iced coffee for dessert
Every day there was complimentary afternoon tea served poolside.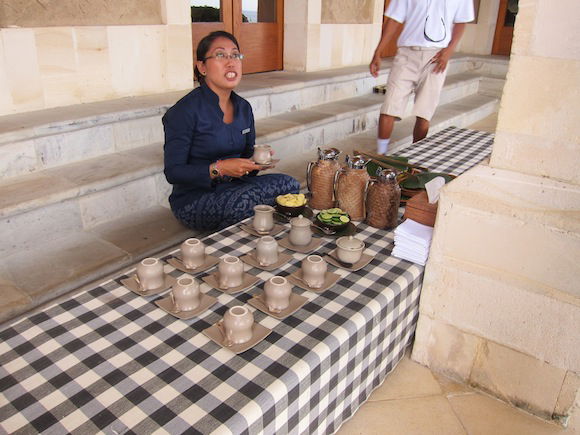 Tea service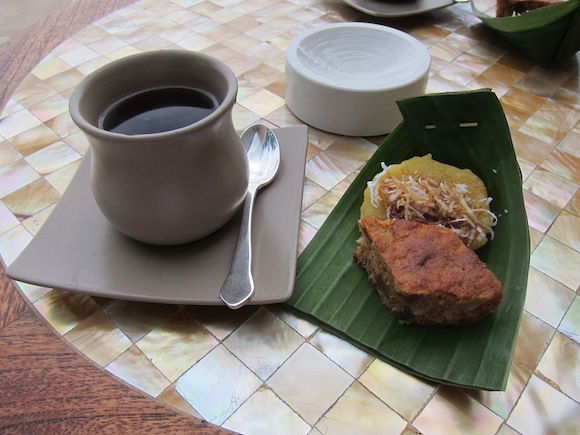 Tea and snacks
Then one day we had dinner on our patio.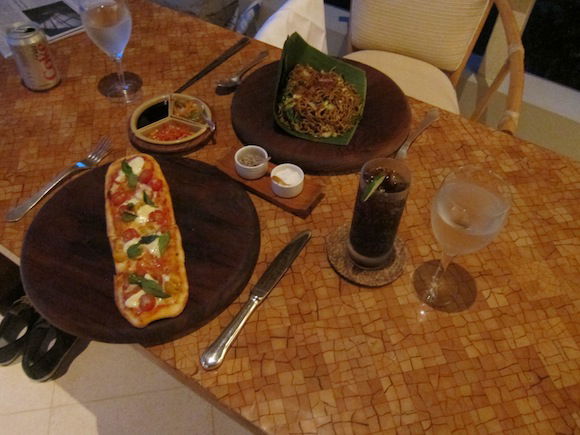 Dinner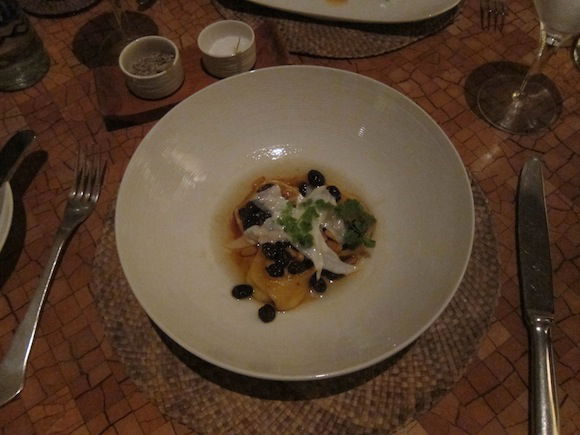 Dinner
And then another day we just had appetizers and drinks at the bar.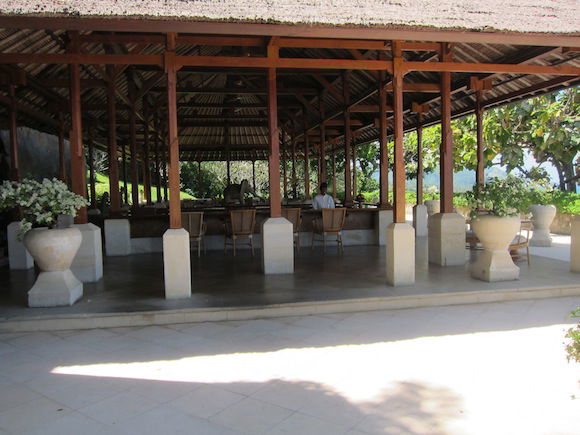 Bar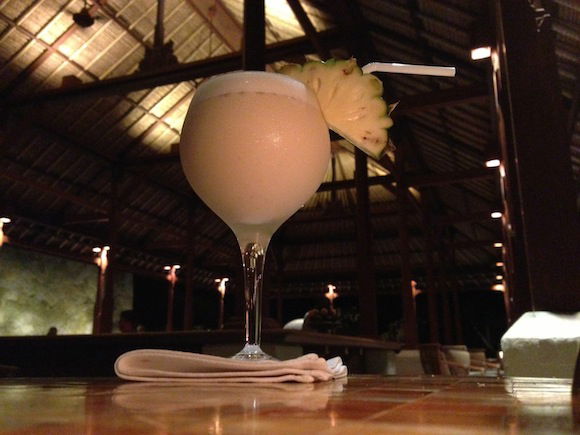 Cocktail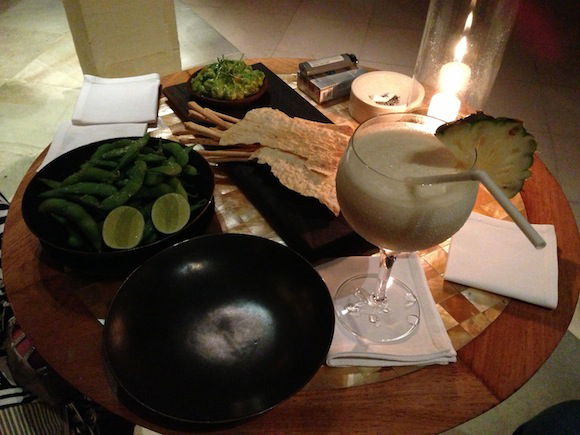 Drinks and appetizers
As stunning as the resort is during the day, it's almost more stunning at night, as the infinity pools lights up and there's live traditional Balinese music and dancing.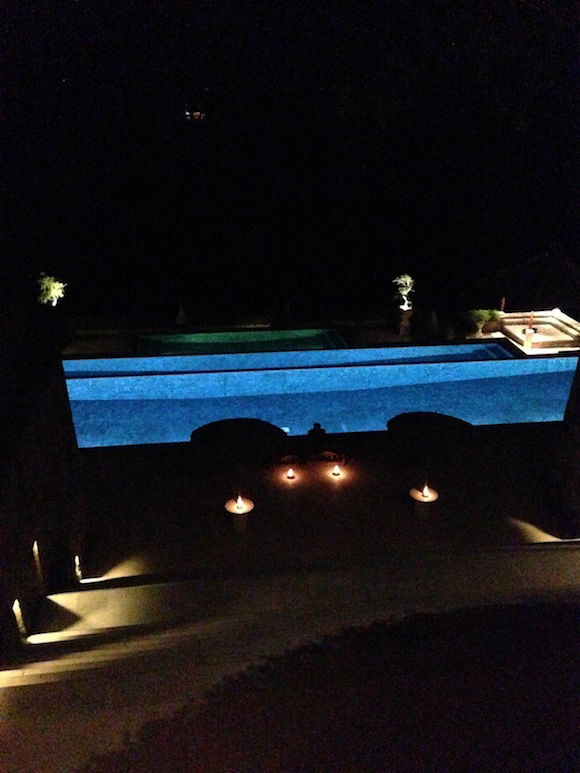 Pool at night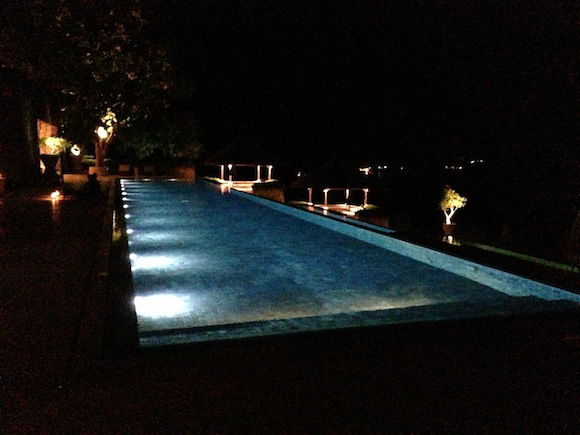 Pool at night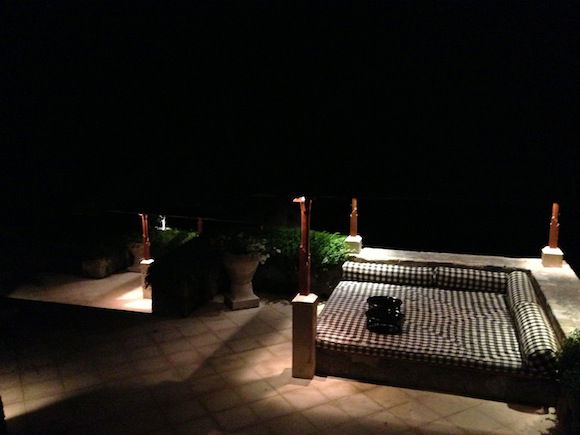 Resort at night
Anyway, the resort itself is stunning, though as usual it's the service that sets Amans apart. After exploring the resort I returned to the room literally two hours after we arrived and found a package on our patio with my shoes in it. I had left them at Amandari apparently. Think about it — it's a 75 minute drive and without even informing me, my shoes are on my patio within two hours. Anywhere else this would be considered "going the extra mile," while at an Aman that's just the standard operating procedure.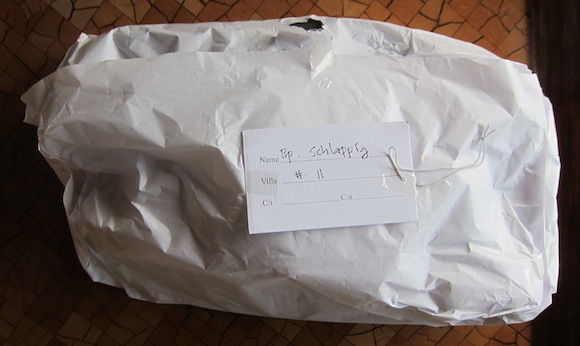 Forgot my shoes
On our second day at the resort my mom saw some tuberoses and commented to one of the associates how good they smelled. An hour later there was a huge basket of them on our patio.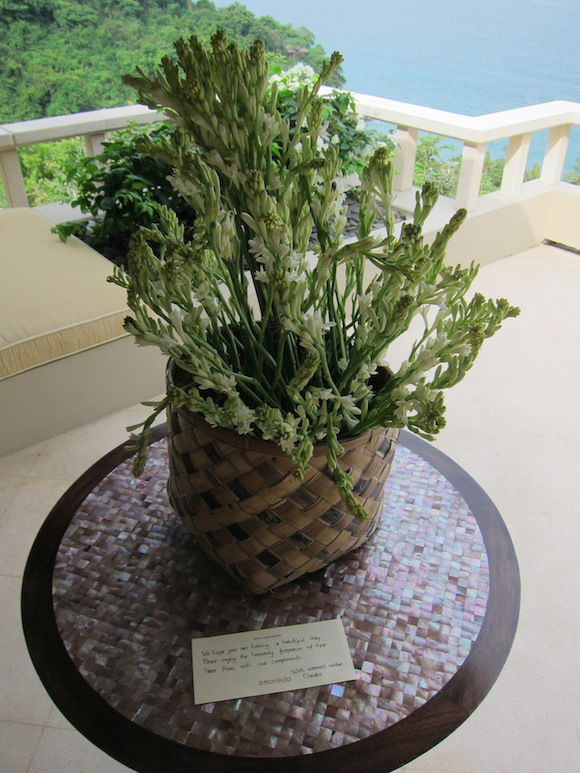 Tuberoses for mom
And much like at Amandari, everyone knows who you are. For example, when we arrived we eventually made our way down to the beach club, which is otherwise totally disconnected from the resort. Even there everyone already knew who we were, as we weren't asked for our room number or anything when ordering drinks.
Upon checking out Amankila luggage tags were placed on our bags and there was a small farewell ceremony as we were given bracelets.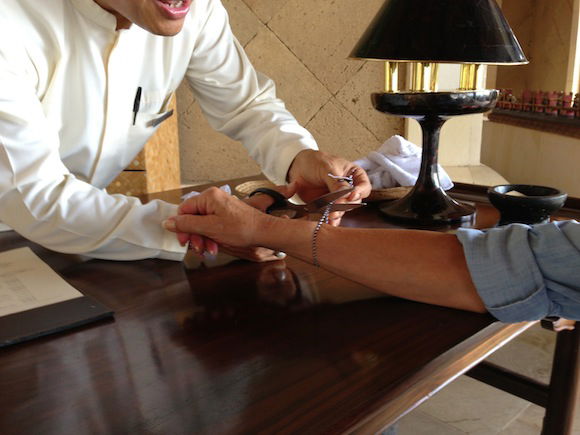 Goodbye ceremony
Amankila was simply spectacular in every way. The east coast of Bali is so relaxing and removed from the rest of Bali that you can't help but feel like you're the only person on earth while on the premises. There were a couple of cute towns near the resort, though the area definitely isn't as active as Kuta or Ubud, for example.
Anyway, I have nothing but positive things to say about Amans. The Bali experience was spectacular, and I couldn't be happier to have had this opportunity to spend quality time with my mom and make her smile.
Now I just need to save up for the Aman trip for her next round birthday. 😉