---
For a brief period a few years back Turkish leased some 777-300ER aircraft from Jet Airways, which featured fully enclosed suites in first class.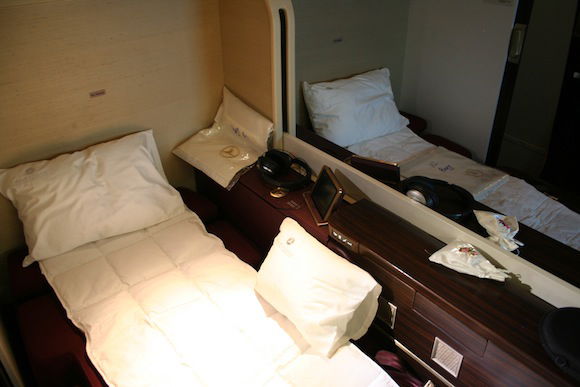 Turkish first class in the good old days
They released an unreal amount of award space and even so their first class cabins were almost always empty. I flew them with my brother from London to Istanbul and Istanbul to Hong Kong, and on both flights we were the only passengers in first class. Suffice to say it was a phenomenal experience. The food served aboard both flights was among the best I've had on any airline, not to mention the sheer quantity of food was ridiculous.
The highlight had to be the ground services in Istanbul, as they not only escorted you from the door of the plane past immigration, but also provided a complimentary chauffeur service into Istanbul for their first class passengers. And their lounge in Istanbul at the time was possibly the most exclusive airline lounge I've ever been to.
Unfortunately they terminated their lease of Jet Airways' 777s as they took delivery of their own 777s, except instead of first, business, and economy class, they featured business, premium economy, and economy class. So I couldn't wait to see how their business class product was years later, having only flown their first class.
As you start reading this report, be sure to turn on the "Turkish Airlines Globally Yours" music (whether you prefer the Ethiopia, Ramadan, Kobe Bryant, Manchester, or classic version — yes, what random themes) and join the support group.
Turkish 51
Tokyo (NRT) – Istanbul (IST)
Friday, February 1
Depart: 12:55PM
Arrive: 6:10PM
Duration: 12hr15min
Aircraft: Boeing 777-300ER
Seat: 4B (Business Class)
There were several flight attendants at the door as I boarded, though none made eye contact or said anything to me. I headed to my aisle seat in row four. The business class cabin is quite small at only 28 seats, with four rows in a 2-3-2 configuration.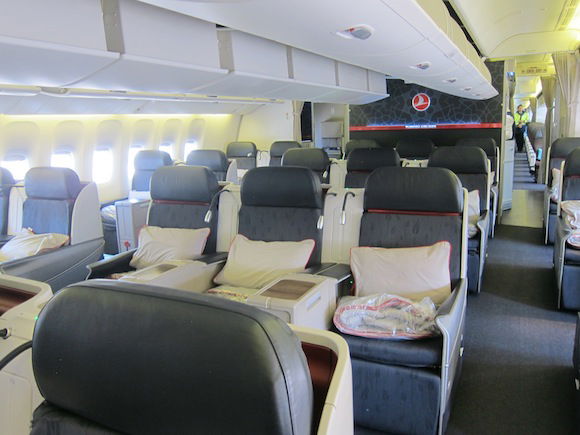 Business class cabin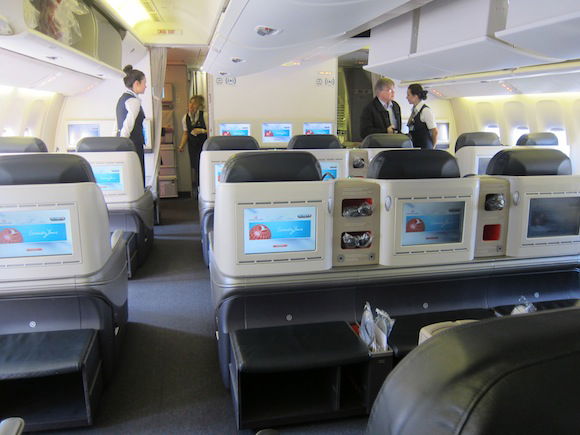 Business class cabin
Waiting at my seat were a large pillow and blanket.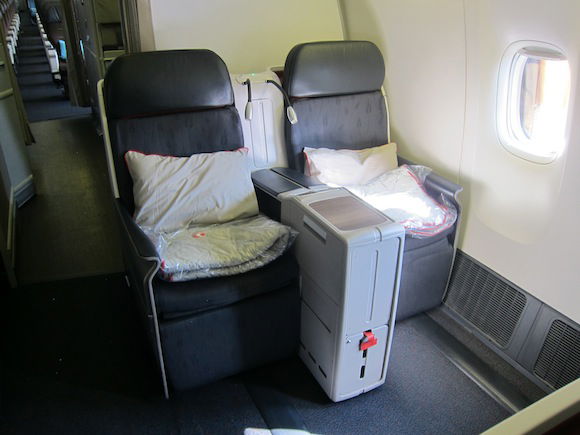 Seats 4A & 4B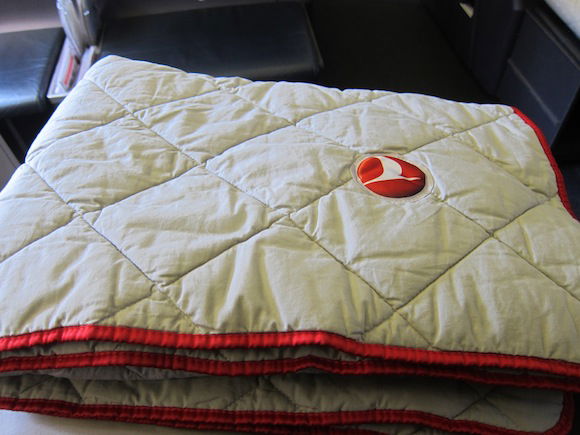 Blanket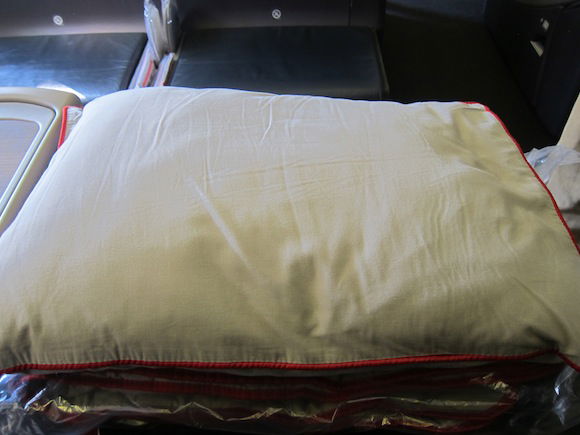 Pillow
The seats in business class are fully flat, and they each have an ottoman that acts as leg support when you fully recline your seat. The legroom was plentiful, and even when stretching out my legs I couldn't reach the seats in front of me.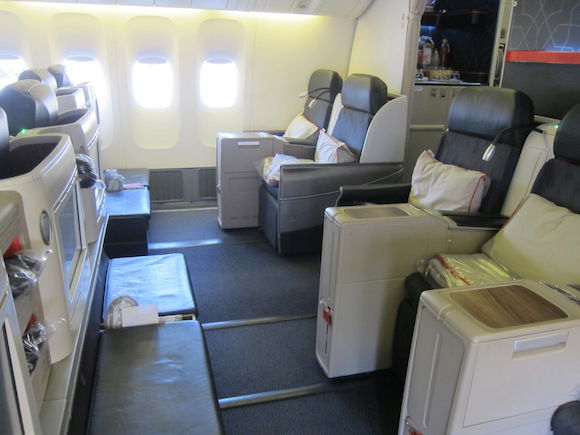 Tons of legroom!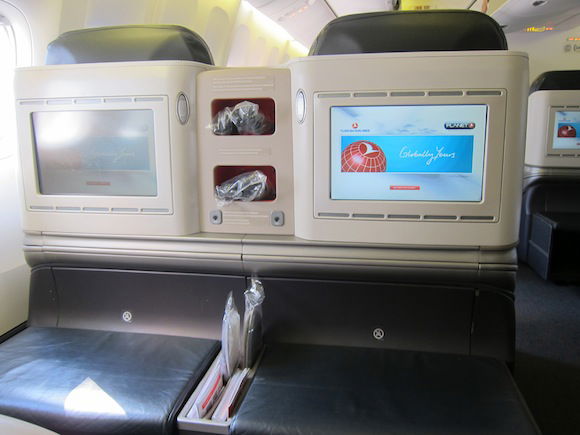 Ottomans and entertainment screens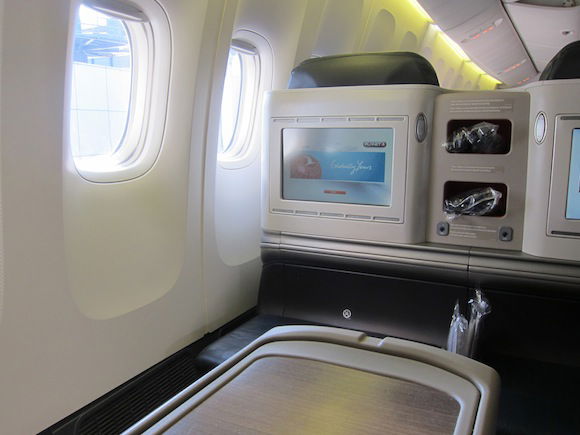 Center console and entertainment screens
On the center console were the seating controls, which were easy to use.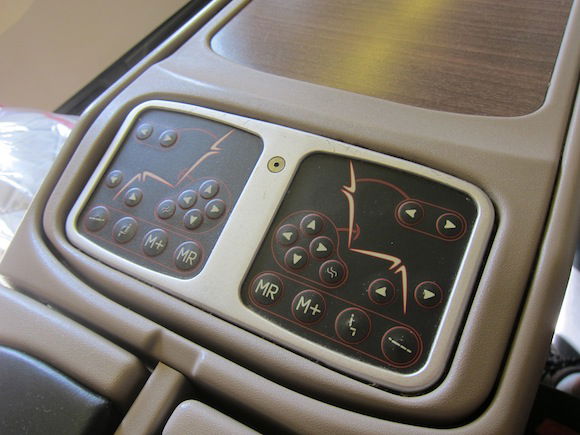 Seating controls
Once settled in I noticed that row four had a missing window, though I had an aisle seat so that didn't really bother me much.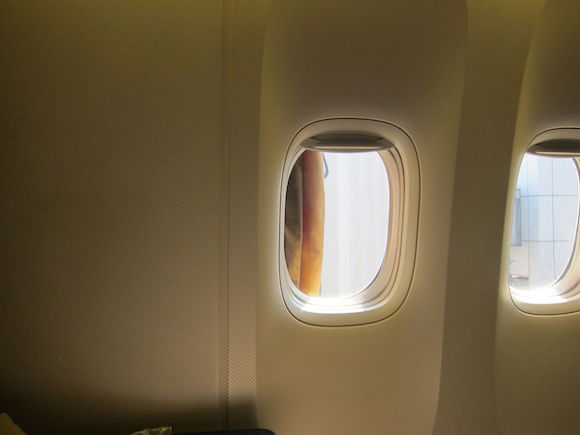 Missing window
Waiting for me in the storage compartment at the front of the seat were slippers and an amenity kit.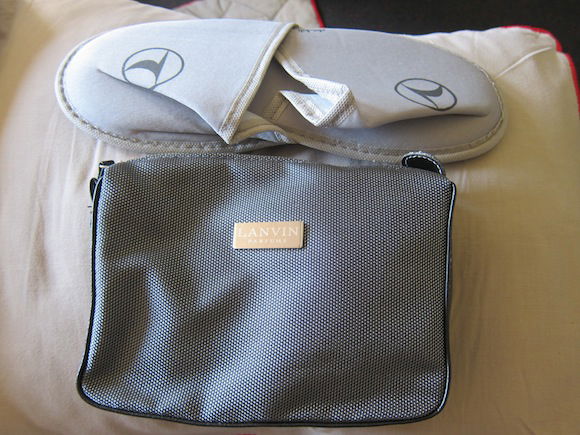 Slippers and amenity kit
The amenity kit and toiletries were Lanvin branded, and consisted of a pen, comb, moisturizer, lip balm, socks, eye shades, shoehorn, toothbrush, and toothpaste.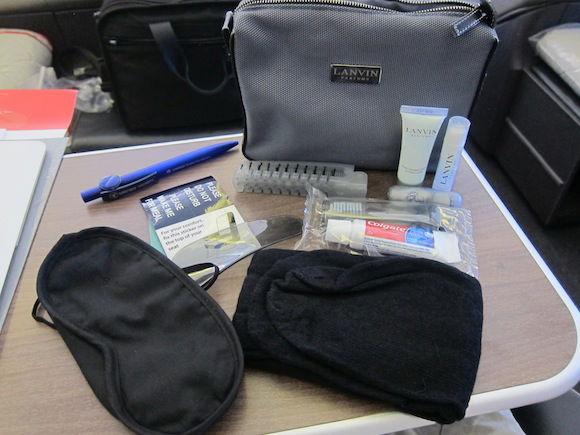 Amenity kit contents
The business class cabin quickly filled up, and eventually all but one center seat was taken. My seatmate was a Japanese guy in his 40s, while most of the business class passengers were Turkish.
To avoid being (too) repetitive, I'll say upfront that the crew was efficient yet disorganized and completely lacking any personality. While Turkish might be "globally yours," they sure don't "fly for your smile" like Austrian (which is admittedly an extremely cheesy slogan). The crew had the personality of a box of rocks, and that's being generous.
Anyway, about 15 minutes after settling in I was offered a pre-departure beverage, and selected orange juice.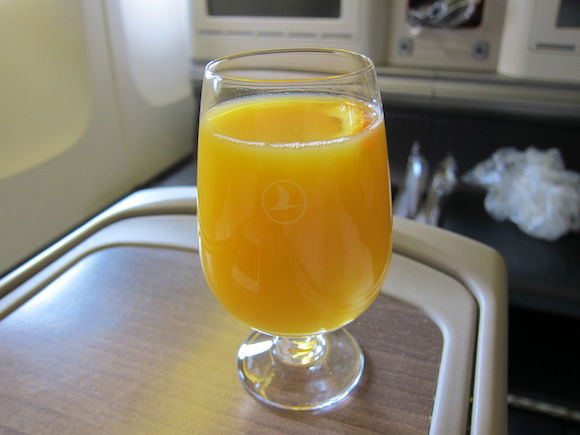 Pre-departure beverage
A few minutes later one of the two onboard chefs came by to distribute menus. These must be the largest and most elaborate business class menus of any airline. There was a wine list inside the three panel menu. Reminds me a bit of the days in middle school where I had to do science projects on the three panel cardboard. *Shudder*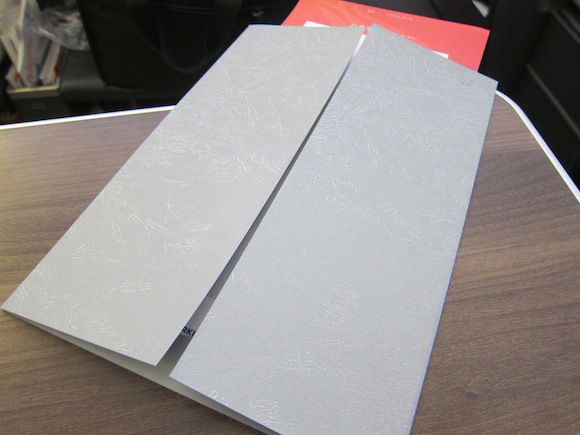 Menu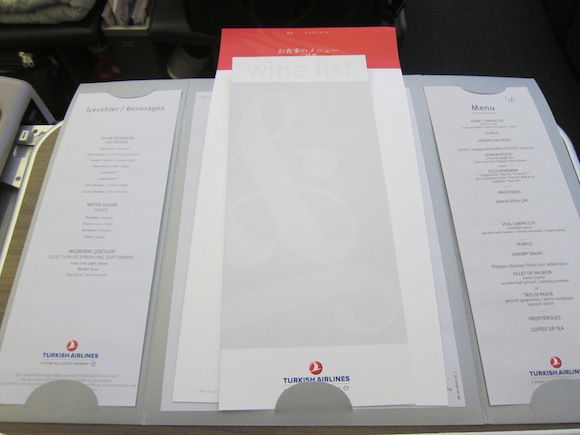 Menu
Shortly thereafter the other chef (who I believe was in fact working premium economy) came by to offer each passenger a Godiva chocolate — now that's a nice touch!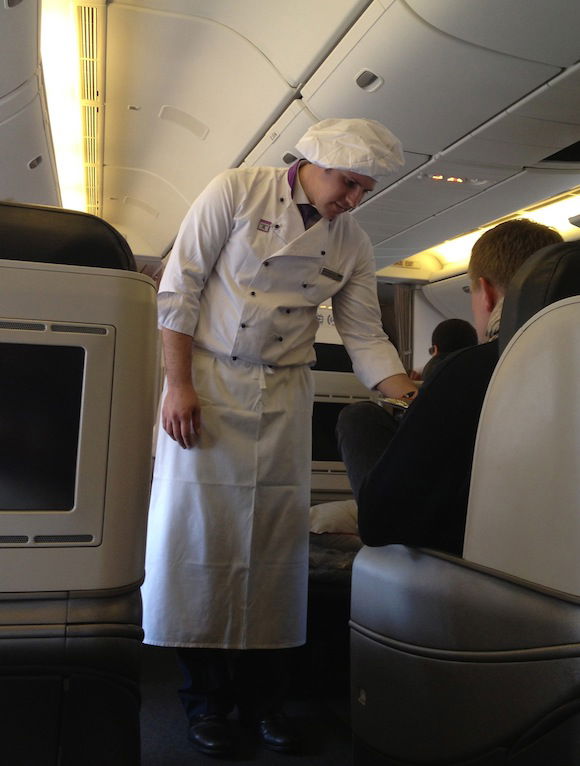 Onboard chef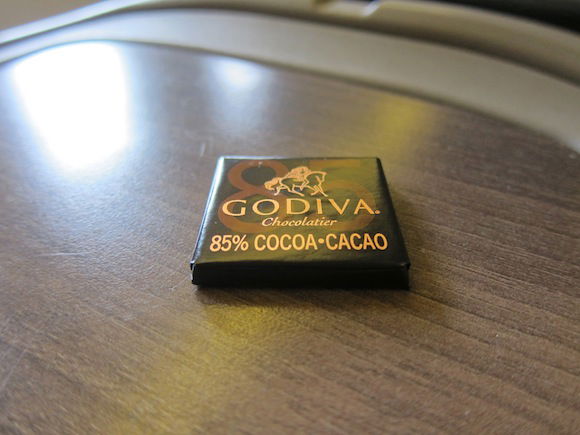 Chocolate!
As departure time approached the captain came on the PA to advise us of our flight time of 12hr2min, which, even with a quick taxi, would put us into Istanbul a bit late. We commenced our pushback, and the safety video played to the cult-like "globally yours" soundtrack.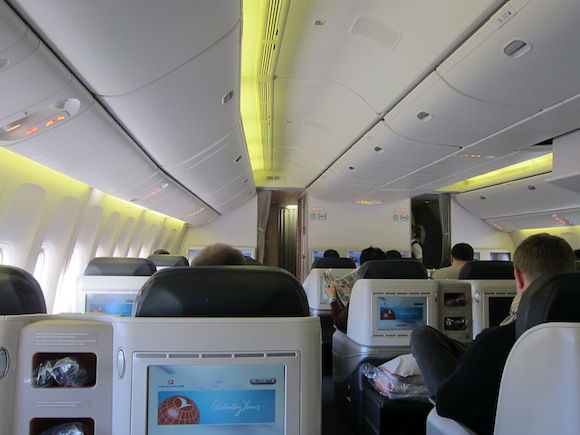 Cabin at pusback
As the safety video played the chef popped a zit and proceeded to walk around the cabin at least a handful of times while holding a tissue to his lower lip and wiping off the blood. Really, you can't do that in the galley behind closed curtains? Eventually he put a comically large band aid on top of it, that covered a majority of his chin and area under his lower lip.
We taxied to runway 16R, which took about 10 minutes. During that time the same chef came around the cabin to take drink and entree orders. There weren't many planes ahead of us for takeoff so we were airborne shortly after 1PM.
Turkish makes their entertainment system available on the ground, so for the climb out I was able to browse their selection, which was impressive. The flight also featured Wi-Fi, which Turkish offers for free on all their equipped planes (at least for the time being). I tried to connect to the Wi-Fi after takeoff, though it didn't seem to work, so I figured I'd try again after lunch.
About 30 minutes into the flight the meal service began, starting with hot towels. I thought it was a nice touch that they presented the hot towels on plates instead of just handing them to you.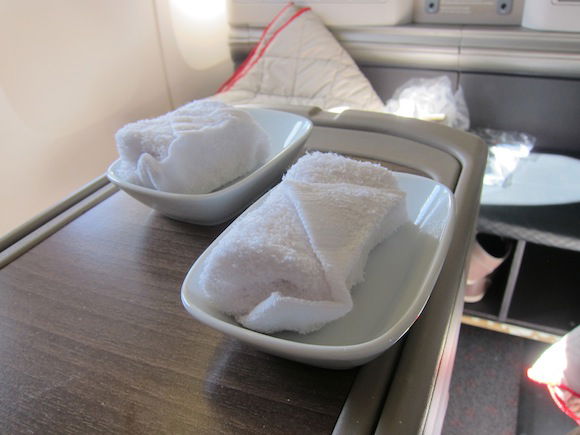 Hot towels
The lunch menu read as follows: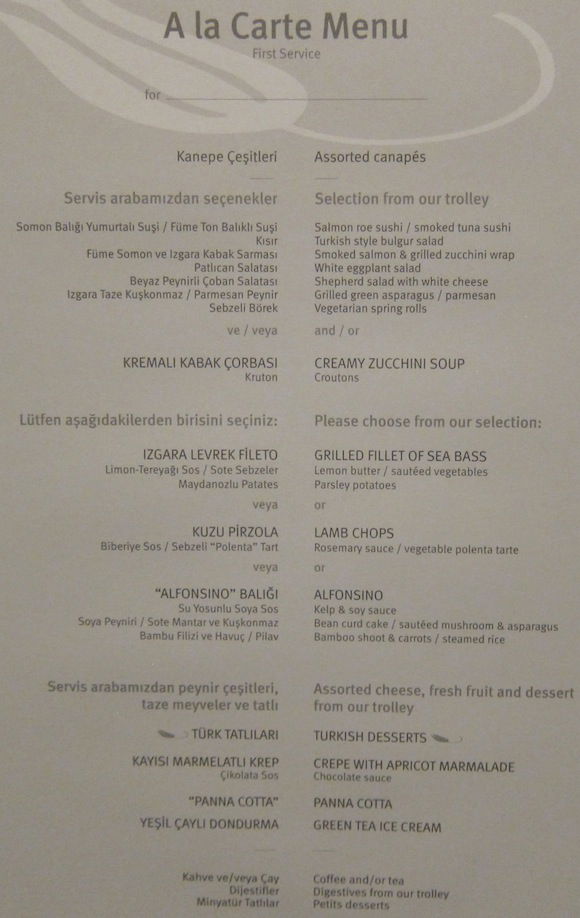 And the beverage list read as follows: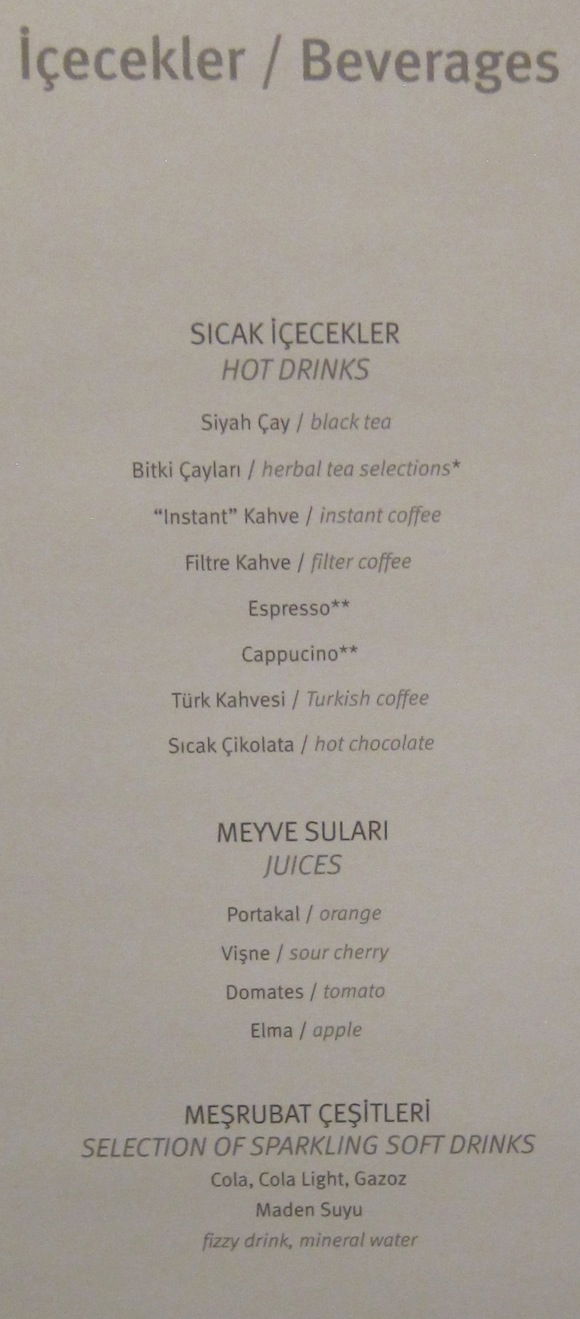 And the wine list read as follows: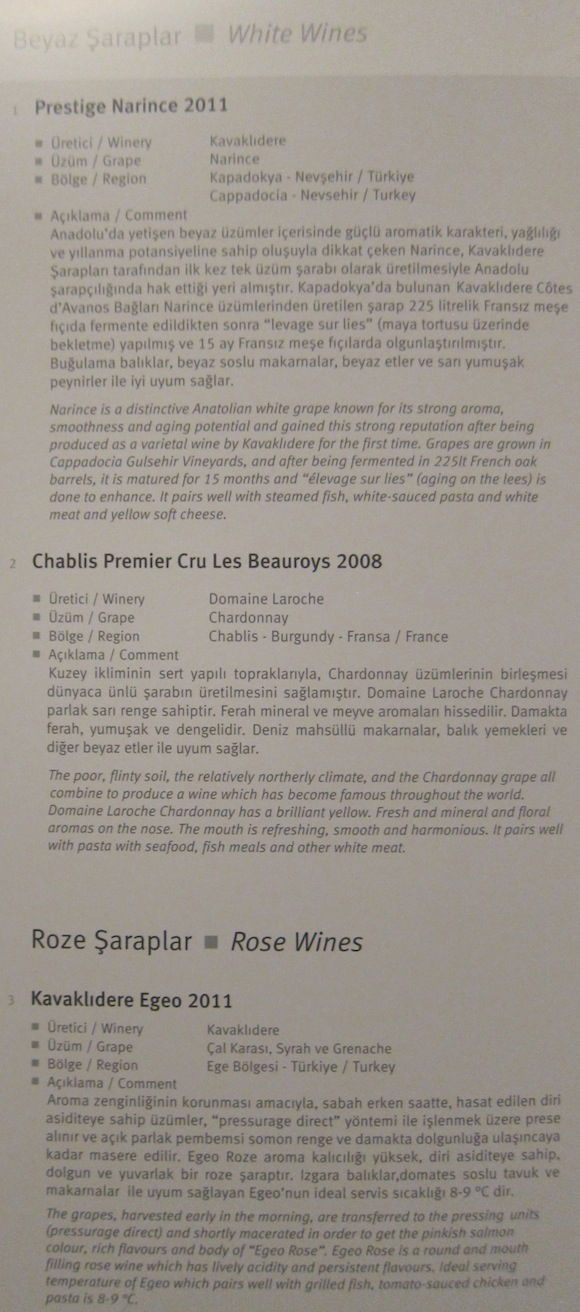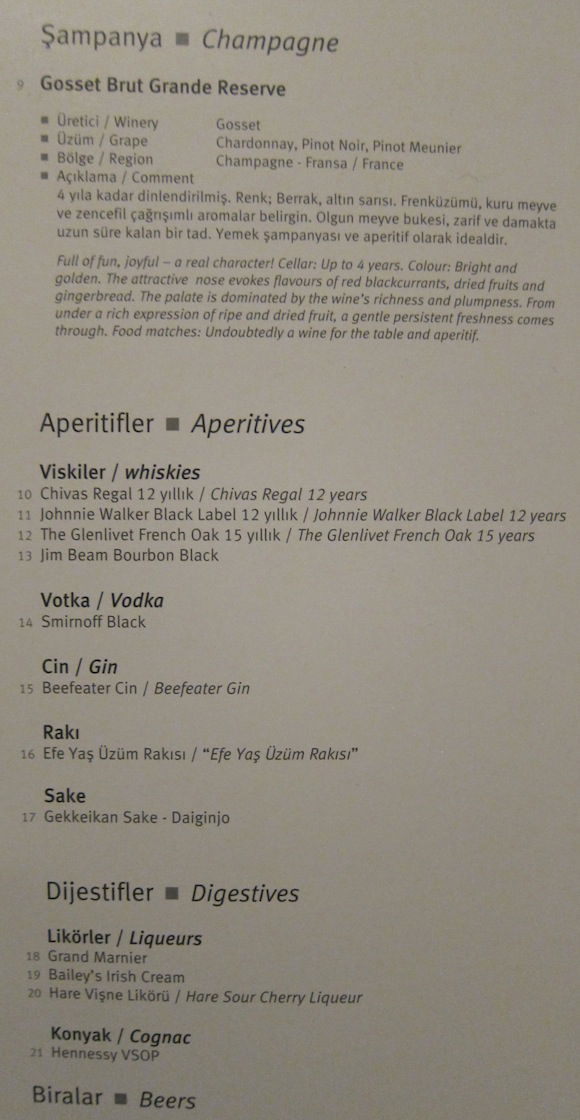 It's worth noting that Turkish's catering is done by DO & CO, which I find to be consistently top notch. Add to that the fact that I love Turkish food, and I was quite looking forward to the meal service on this flight.
The service began with assorted canapes, consisting of a prawn, cheese, and chicken. Unfortunately these were all brought out at once and served 15 minutes before any drinks, which I found odd.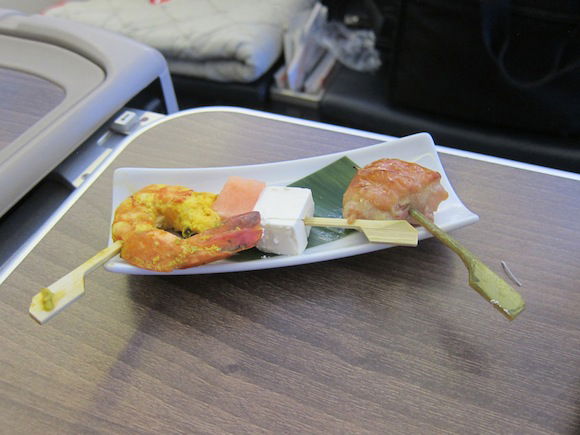 Assorted canapes
After that beverages were served, along with a massive ramekin of nuts.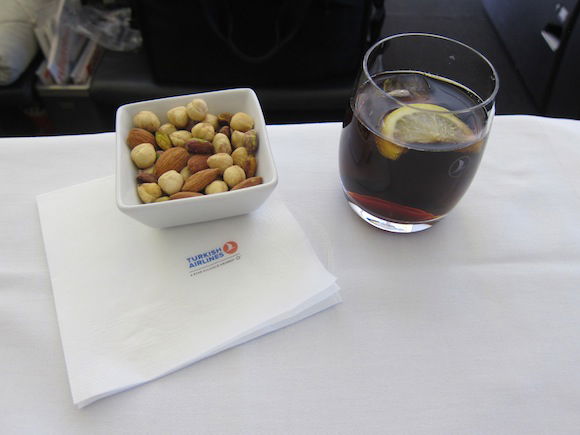 Diet Coke with lemon and warm nuts
After that the appetizer cart was rolled around. Again, there was no charm to the service, but the flight attendant was reasonably efficient.
I love the fact that they let you choose your appetizers at the seat while looking at them.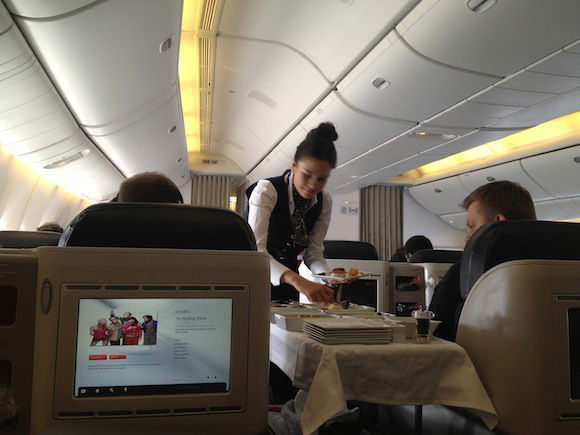 Appetizer cart
I ordered a selection of all the appetizer choices, and it was simply effin' spectacular. There's some food that's good when you put into perspective that it's being served on a plane, but this was restaurant quality, simple, and tasteful.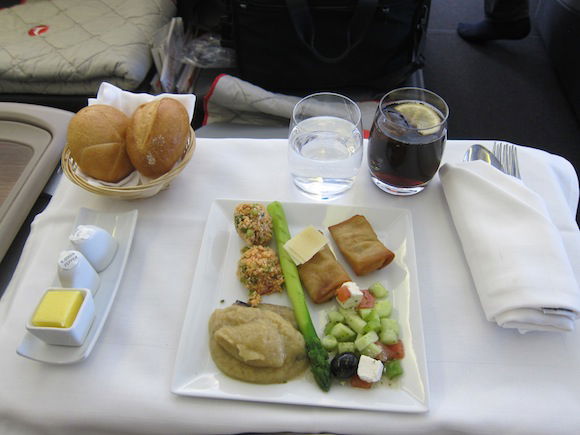 Assorted appetizers
For the main course I ordered the sea bass, which, again was really good.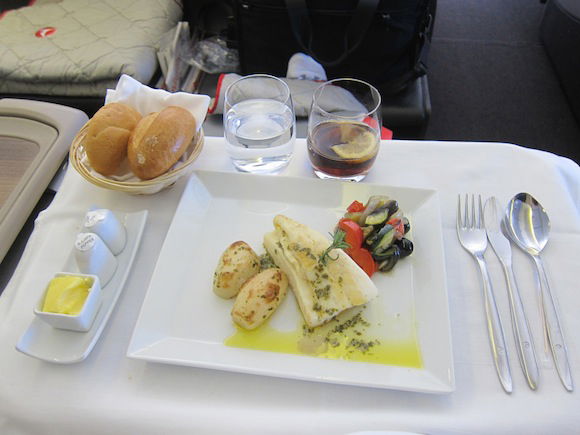 Grilled fillet of sea bass
To finish off the meal the dessert cart was rolled around, and I went to town and had them give me a little bit of everything. Again, it was amazing, especially the crepe.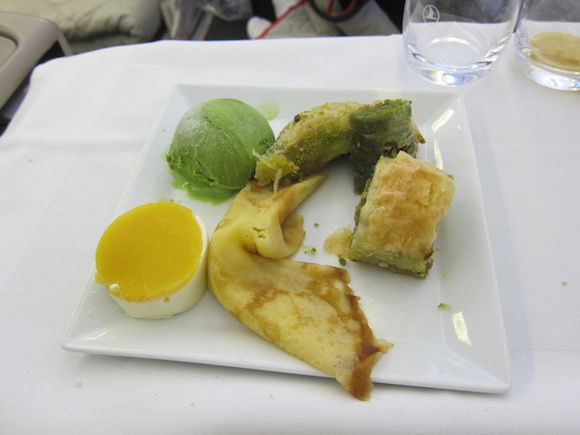 Crepe with apricot marmalade, panna cotta, green tea ice cream, and some Turkish dessert
Seriously, this was one of the simplest (in the sense that it's three courses), tastiest airline meals I've ever had. DO & CO does a rocking job.
After lunch water bottles were distributed.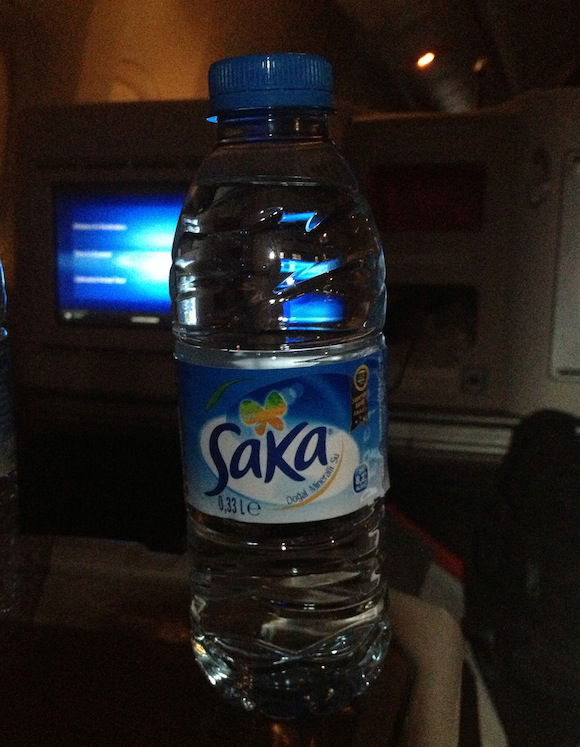 Water
I was pretty tired given that I had flown in from Vienna the same morning, so conked out with about 10 hours to go to Istanbul. I have to say that the seat was extremely comfortable, including in the reclined position. With seven seats per row the seating is a bit tight and you don't feel like you have much privacy, though it's nice to have a fully flat surface, and I found the pillow and blanket to me comfortable. The one downside to non-staggered seating is that there's very little seat storage, so unless you get up and place something in the forward console there's really nowhere you can store things.
I got about four hours of sleep, and woke up about halfway through the flight, with six hours to go to Istanbul.
I took a quick peak into the large premium economy cabin (which Turkish will soon be doing away with), and in stark contrast to the business class cabin it looked empty.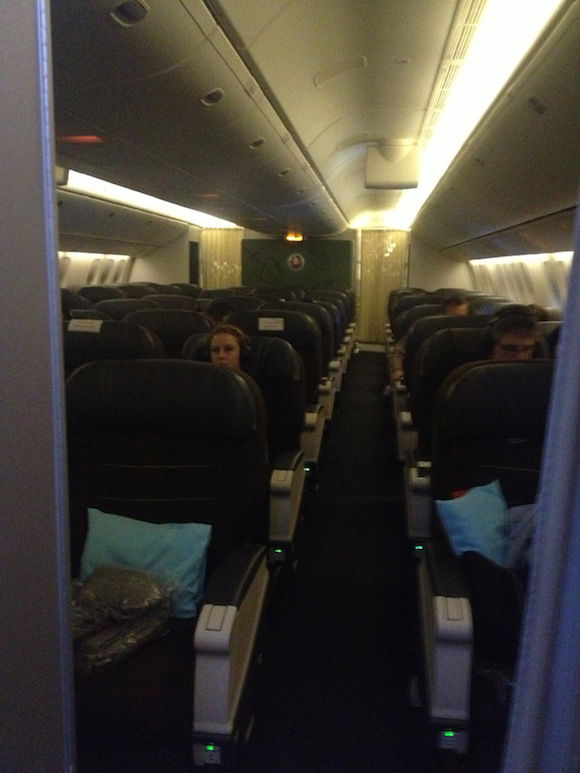 Comfort Class
For what it's worth the business class lav was quite nice though, with one of the fancy sinks found in many airlines' first class cabins.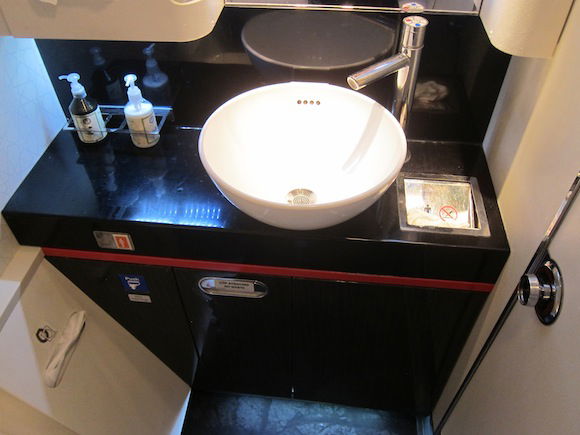 Lavatory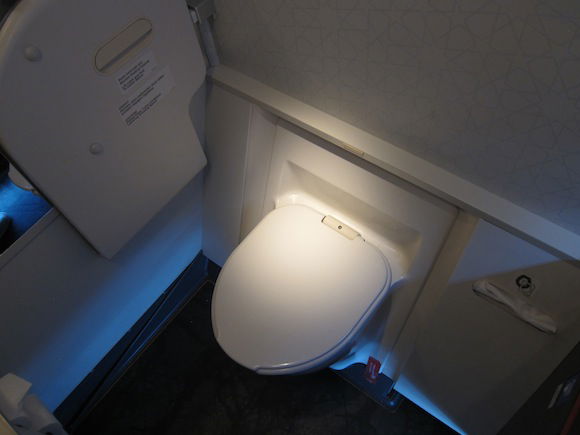 Lavatory
After waking up I asked one of the flight attendants for an iced coffee, and she said "we don't have." I'm not sure how you can not have iced coffee, so I instead asked the chef, who gladly made me one.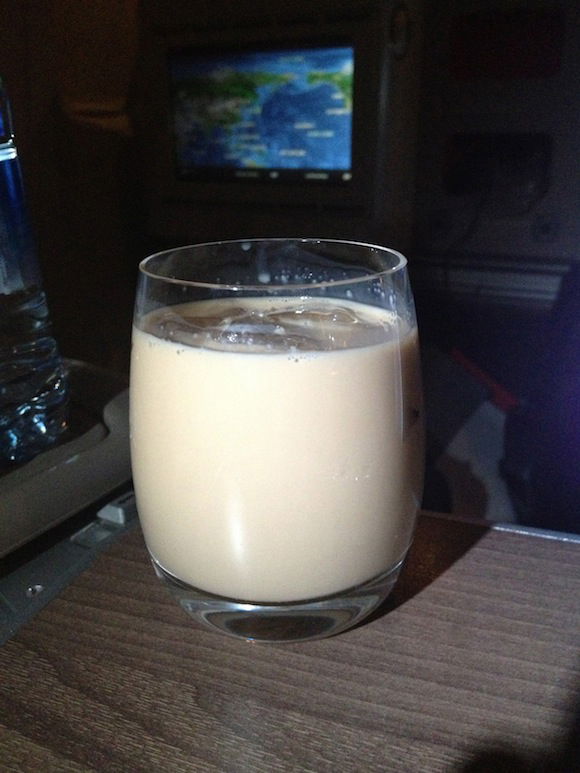 Iced coffee
I spent the next several hours online given that the Wi-Fi was finally working. I'm not sure whether they offer free Wi-Fi as an incentive for people to fly Turkish, or because they haven't rolled it out fleetwide yet and don't want to sell something that isn't consistently available. While I was happy to have free Wi-Fi, it was excrrrrrrrrrrrrrrrrrruciatingly slow. Let me put things into perspective. Gogo in-flight in the US is slow. Wifi on Emirates is much slower than that. And the Wi-Fi on Turkish was about 90% slower than that. It took literally a couple of minutes to load an email. But hey, free is free, and when you're stuck on a plane it doesn't sting quite as much to watch the status bar on your browser.
So in a period of about four hours I managed to write a single blog post. About two hours out the pre-arrival meal service began, starting with a flight attendant coming around with a tray of juice.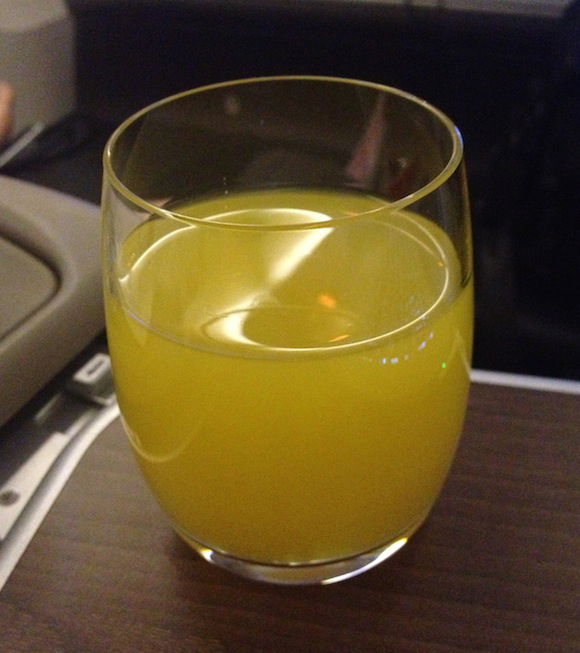 Orange juice
The pre-arrival menu read as follows:

The pre-arrival meal starter consisted of veal carpaccio, humus, shrimp salad, and the profiteroles dessert was also already on the tray. Another flight attendant came around with the bread basket, and unlike the first service they had pretzel bread (score!).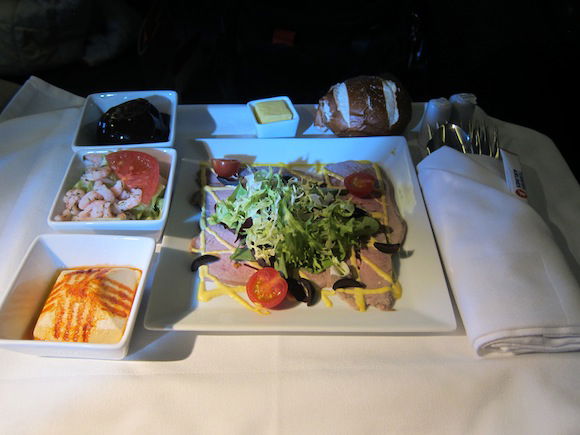 Pre-arrival meal
Once I finished the veal carpaccio I was offered the choice between a fillet of salmon and pasta. Since I had sea bass as the entree with the first service I decided on pasta. It consisted of gnocchi, penne, and ravioli, and was possibly the best pasta I've ever had on a plane.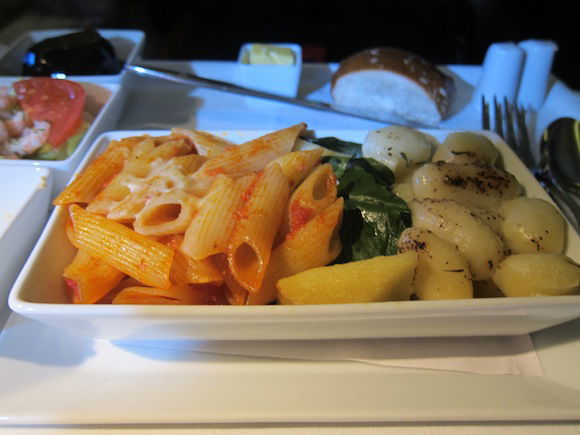 Tris di pasta
The dessert was delicious as well.
About 45 minutes out of Istanbul the captain came on the PA to advise us we'd begin our descent within a few minutes.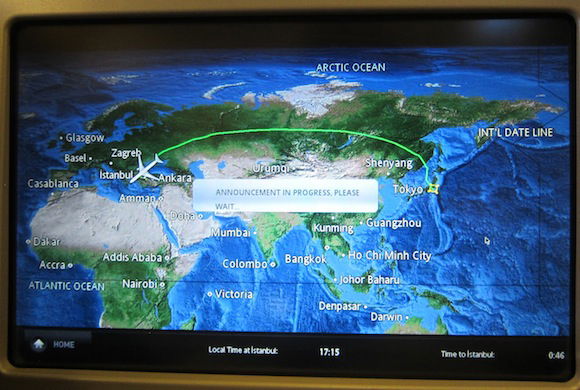 Airshow on approach
Sure enough we did, though we got put in a bit of a holding pattern, though had some of the most stunning views I've ever had from a plane as we circled over Istanbul right as the sun was setting. Unfortunately I wasn't in the window seat so couldn't really take pictures.
Our touchdown in Istanbul was as smooth as "did my best friend have a baby with my husband?" week on The Maury Show, though at the end of the day any landing where you can taxi to the gate is a good one in my book.
It was rush hour in Istanbul as we landed, and walking through the terminal at the beginning was a bit like a game of Frogger. Since I was in business class I could use the priority immigration line, and since I have an EU passport I could breeze through without a visa. Woot!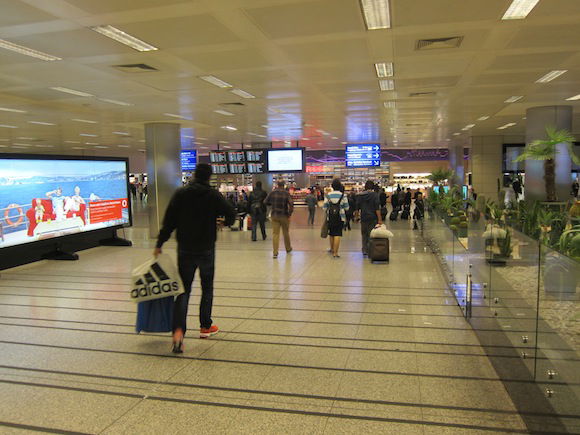 Istanbul terminal
I grabbed a cab to the Park Hyatt where I'd be spending the night.
The food on Turkish was among the best I've had in the sky. Actually the Austrian flight right before it was great as well, so I think I can conclude that DO & CO is the way to go with airline catering. Everything about the flight was pleasant, with the exception of the crew. Still, I found Turkish to be an all around great product (I'm still trying to decide whether I prefer amazing food or an amazing crew), and Istanbul is one of my favorite cities in the world, so flying Turkish is great for a stopover there (and wait till you see their lounge in Istanbul coming up later in the report).
How to book Turkish Airlines business class
Turkish Airlines's loyalty program is called Miles&Smiles, which is both a Capital One and Citi transfer partner. The airline is also a Star Alliance member, and can be booked through programs like Air Canada Aeroplan, Avianca LifeMiles, and United MileagePlus with no surcharges.
Here are some of the best cards for earning points to book Turkish Airlines award flights: