---
Cathay Pacific 873
San Francisco (SFO) – Hong Kong (HKG)
Saturday, March 23
Depart: 12:05AM
Arrive: 6:00AM (+1 day)
Duration: 14hr55min
Aircraft: Boeing 777-300ER
Seat: 1K (First Class)
At the door we were greeted by the inflight service manager, Laurena, who pointed us towards our seats. While Cathay Pacific has had their current first class product for years now, it's still one of the sleekest products out there, in my opinion. I settled into 1K, while my friend settled into 1D.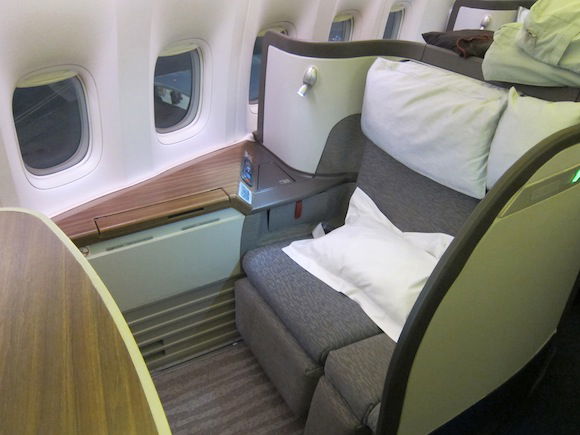 My seat, 1K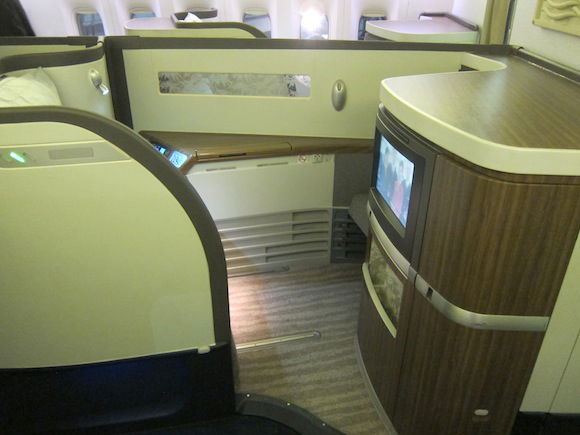 Seat 1D
The seat is extremely wide, and well padded both for sitting and sleeping.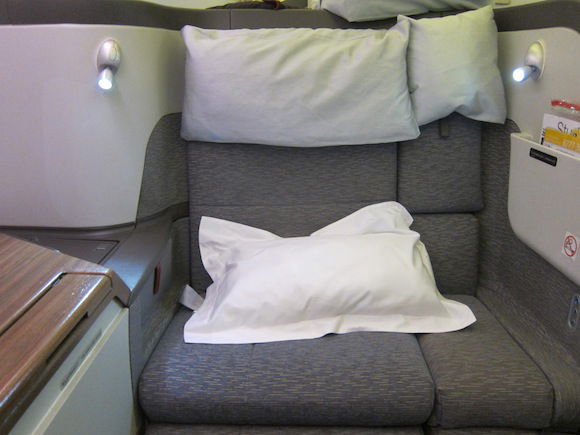 Seat 1K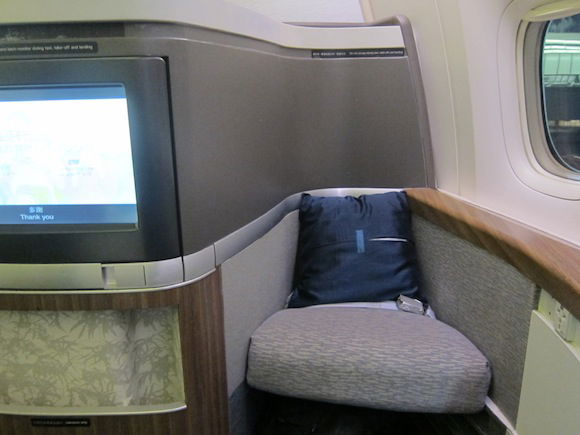 Seat 1K
To the right of the seat is a storage compartment as well as the entertainment and seat controls.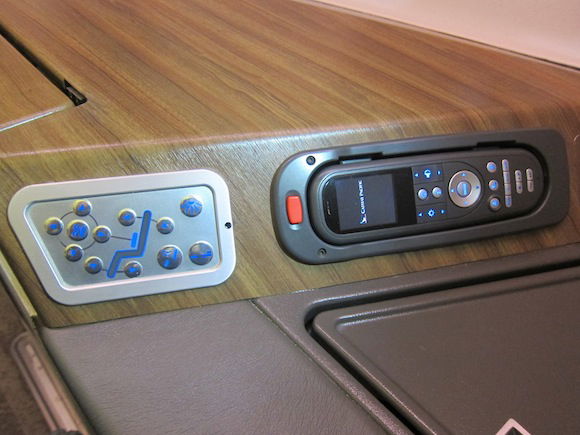 Entertainment and seat controls
Once settled in the two first class flight attendants, Alou and Kitty, introduced themselves. Alou was Hong Kong based and Filipino, and she was extremely friendly, energetic, and polished. Kitty was San Francisco based, and friendly though a bit more reserved.
One of the things that makes Cathay Pacific unique is that they have crew bases at almost all their destinations. Cathay Pacific has two flights a day between San Francisco and Hong Kong, and last I heard the San Francisco based crews were working the daytime flights in both directions while the Hong Kong based crews were working the redeyes. So I found it quite interesting that there was a "mixed" crew working this flight, consisting of both San Francisco and Hong Kong based flight attendants.
Kitty offered me a pre-departure beverage, and I ordered a glass of Krug.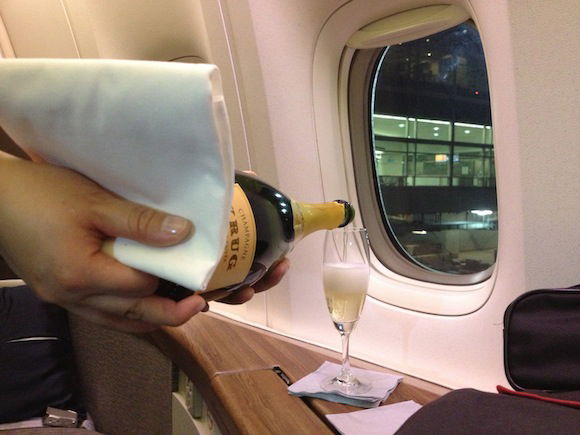 Pre-departure champagne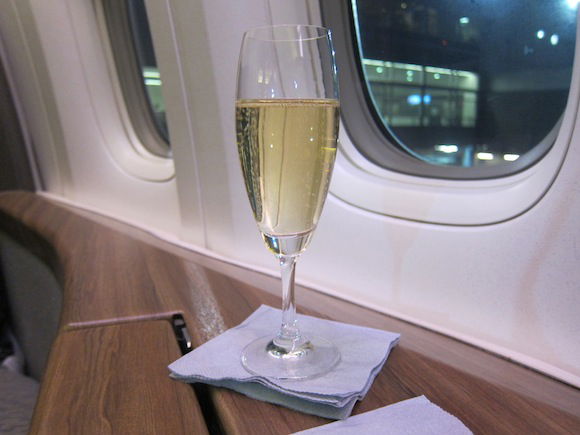 Pre-departure champagne
I was also offered Cathay's "signature" Shanghai Tang pajamas as well as an amenity kit.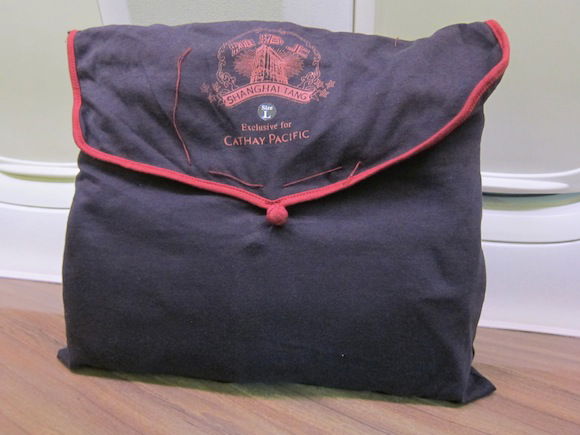 Shanghai Tang pajamas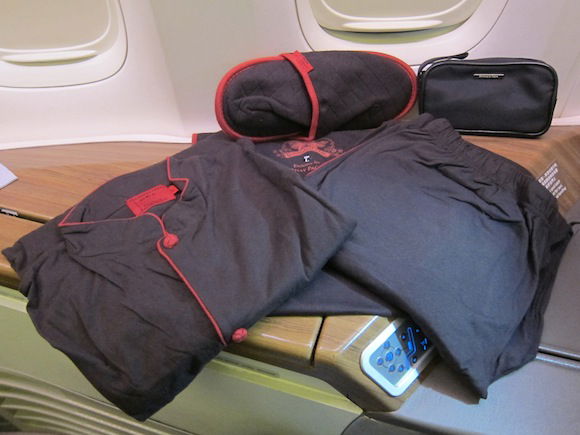 Shanghai Tang pajamas and amenity kit
The amenity kit had Acca Kappa branded toiletries, and while it wasn't a huge kit, at least the contents were high quality.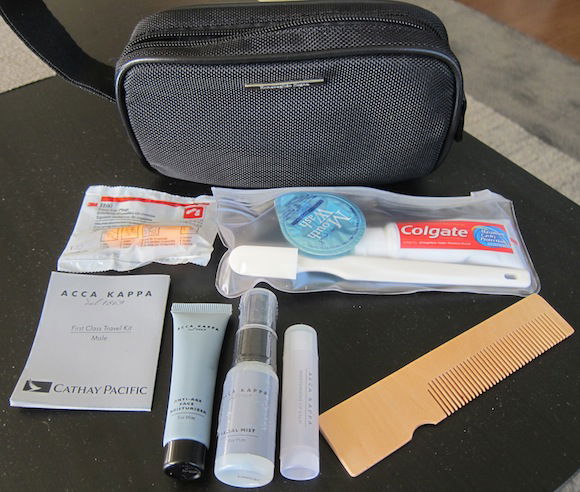 Amenity kit contents
Lastly I was offered a hot towel.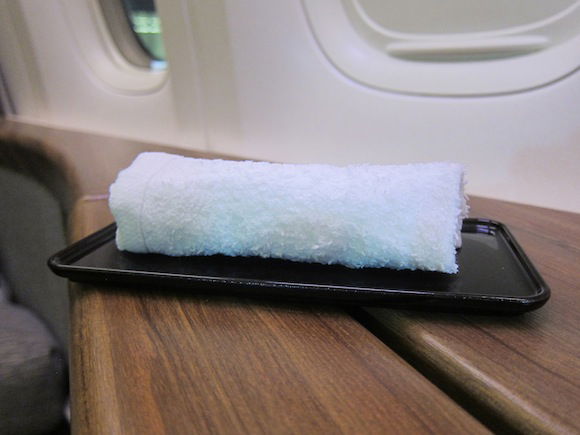 Hot towel
As the departure time rolled around, the San Francisco based captain informed us of our longer than usual flight time of 15hr15min, which would put us into Hong Kong about 40 minutes late. The flight is blocked at 14hr55min, so having a flight time 20 minutes over the block time does translate to a sizable delay. In comparison, the Singapore A380 I flew from San Francisco to Hong Kong a couple of months earlier had a flight time of 14hr30min. While the A380 is a bit faster, that's still a sizable difference.
Anyway, we began our push back right on time and the safety video began to play. For an airline as refined as Cathay Pacific, they sure do have a low budget safety video, in my opinion.
Our taxi to runway 28R took about 15 minutes, and once there we were immediately cleared for takeoff and began one heck of a gradual climb.

View on climb out
As we climbed out I began playing around with the entertainment system, StudioCX. It's one of the better entertainment systems out there, and I decided to watch "Silver Linings Playbook."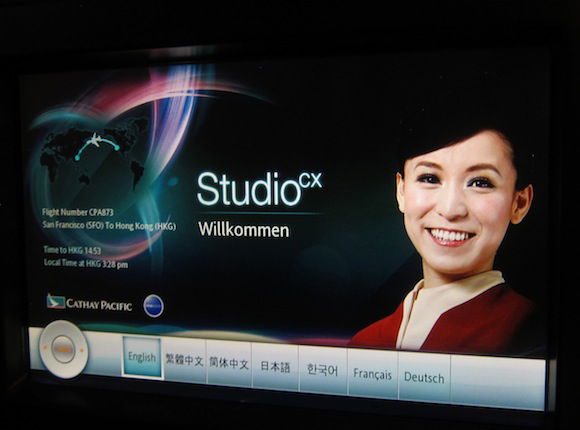 Entertainment system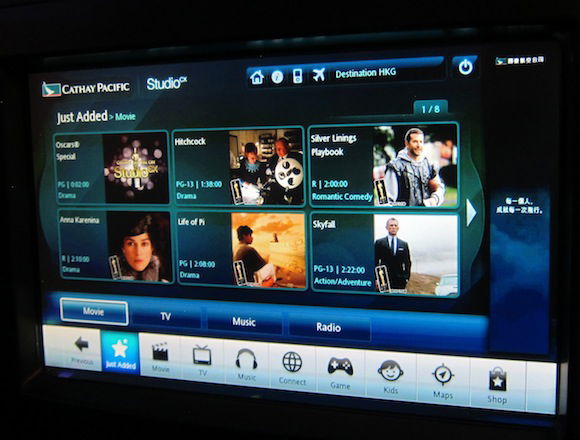 Entertainment system
The seatbelt sign was turned off about 15 minutes after takeoff, at which point Laurena made a round through the cabin to welcome each passenger aboard and distribute the menu and wine list.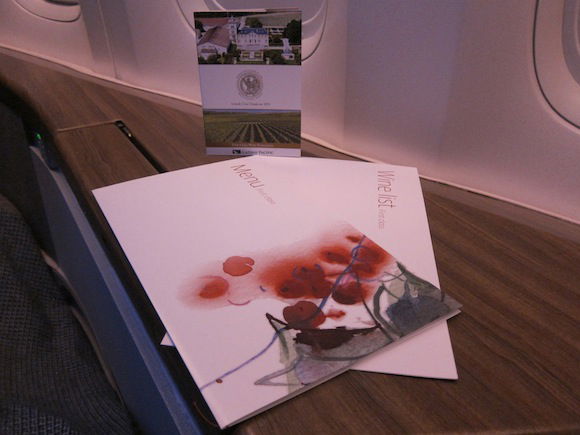 Menu and wine list
To drink I ordered a glass of Krug as well as a Diet Coke with lemon, which was served with warm almonds.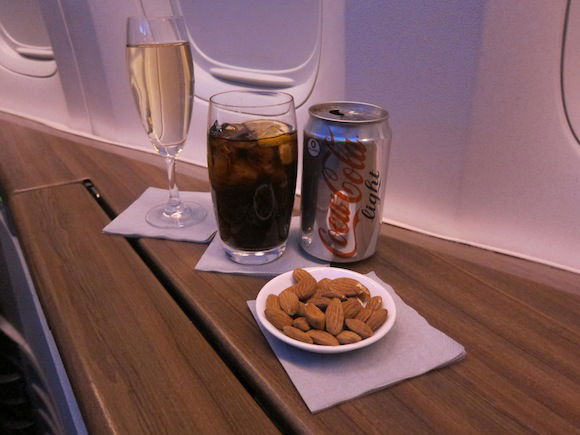 Krug, Diet Coke, and almonds
At this point the dinner service began. The menu read as follows: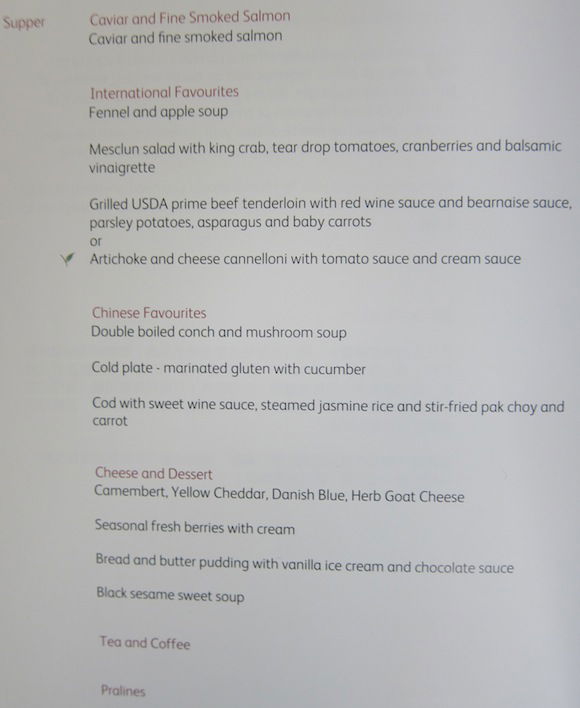 And the wine list read as follows: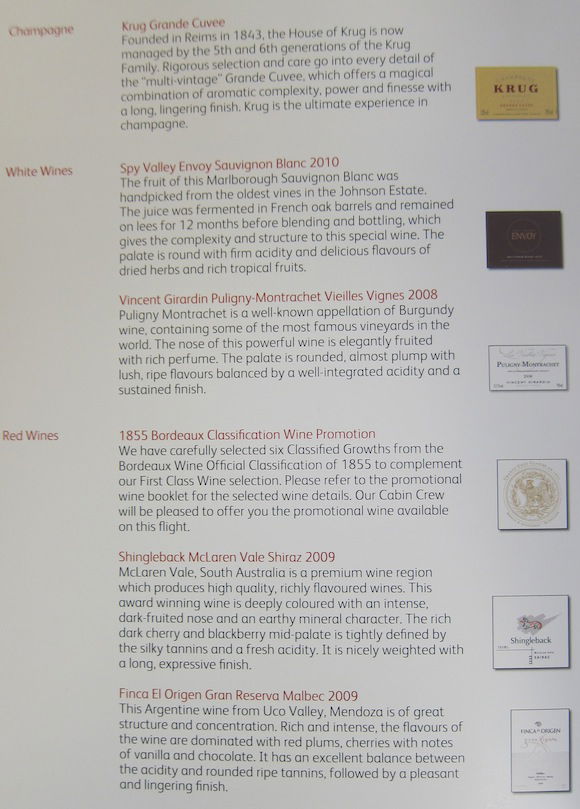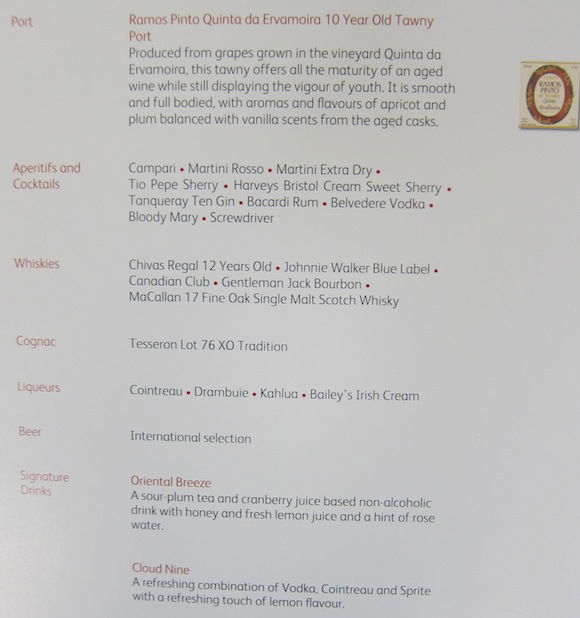 One of the cool features of Cathay Pacific first class is that they have a table extender so you can comfortably dine with a companion. We asked them to set that up so we could dine at my seat, which they gladly did.
At that point the table was set, including bread baskets and the standard handwritten "welcome aboard" cards that they give first class passengers.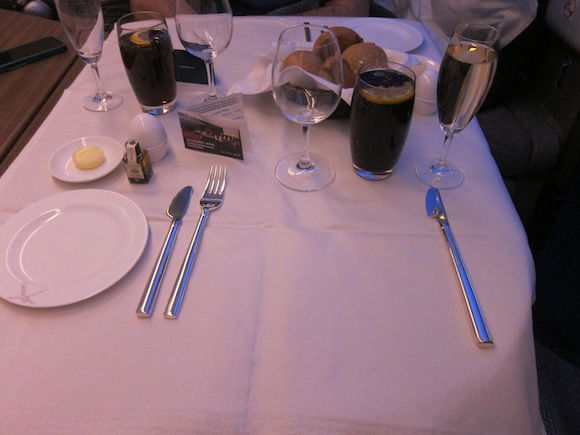 Table setup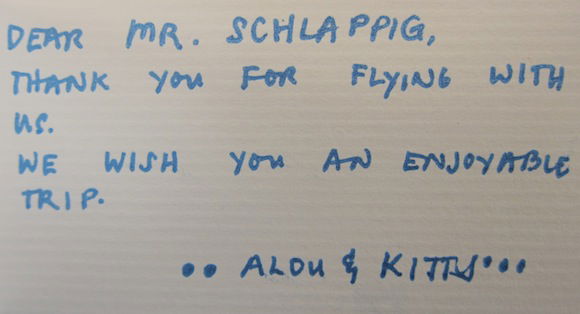 Handwritten card
To start I had the caviar and smoked salmon, both of which were excellent. I wish more airlines would serve both caviar and salmon, so Cathay gets lots of bonus points for that in my book.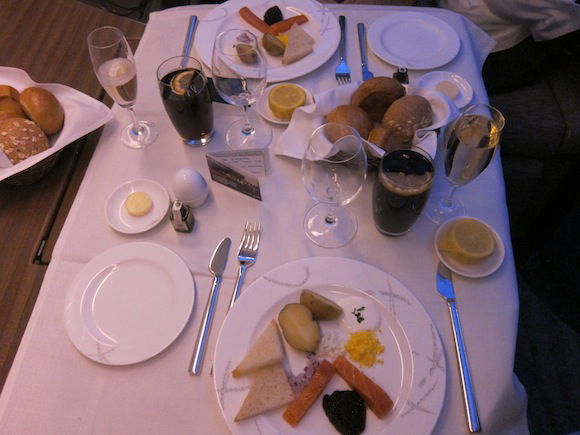 Caviar and fine smoked salmon
Then I ordered the salad, which was spectacular. Easily one of the best salads I've had on a plane.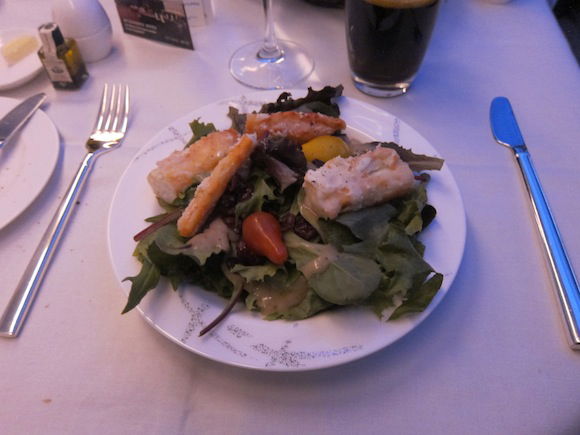 Mesclun salad with king crab, tear drop tomatoes, cranberries, and balsamic vinaigrette
Cathay's western main course options are typically pretty underwhelming, and usually consist of either a pasta dish or a mediocre beef tenderloin. I would've gone with something off the Chinese menu, but none of the options sounded especially appealing to me.
So I went with the cannelloni, which was actually one of the better pasta dishes I've had on a plane.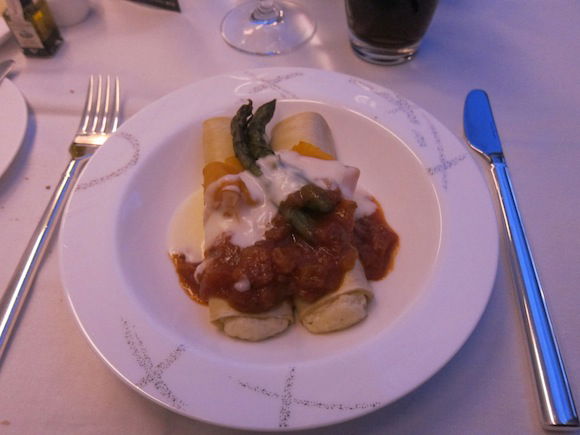 Artichoke and cheese cannelloni with tomato sauce and cream sauce
My friend had the beef tenderloin, which he said was average at best.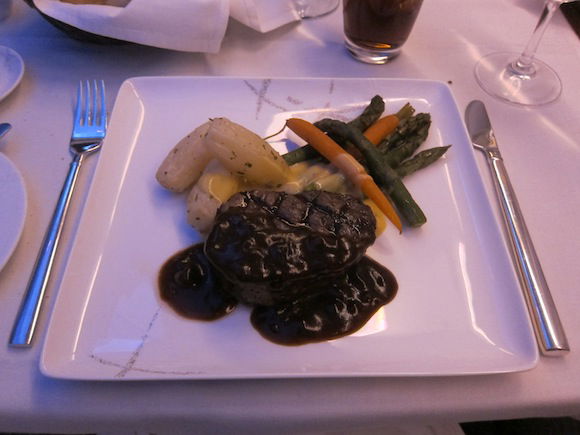 Prime beef tenderloin with red wine sauce and bearnaise sauce, parsley potatoes, asparagus and baby carrots
For dessert he had the fresh berries, which are always good (I've had it many times in the past).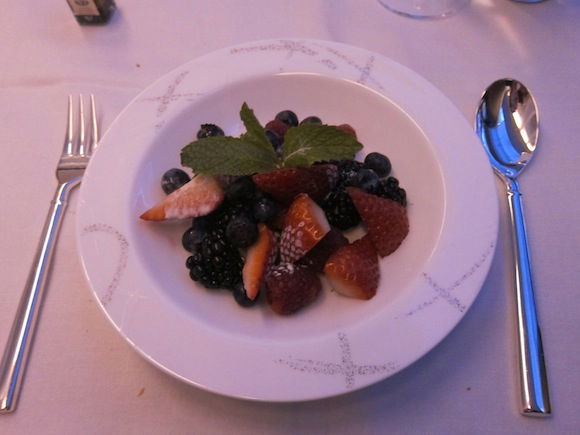 Seasonal fresh berries with cream
Meanwhile I had the bread pudding with vanilla ice cream, which was really good.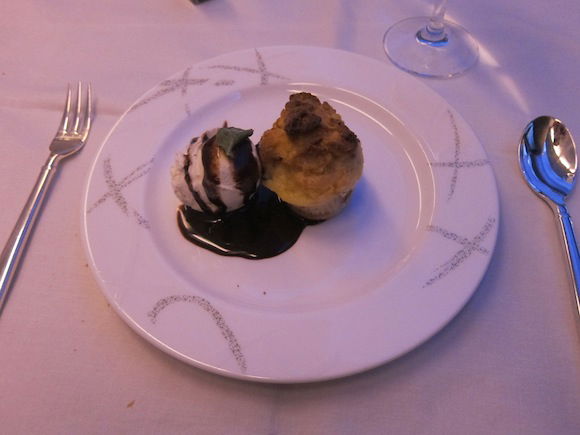 Bread and butter pudding with vanilla ice cream and chocolate sauce
To finish off the meal I had Hong Kong style milk tea, my favorite hot beverage on any airline, perhaps along with the pulled tea on Malaysia Airlines.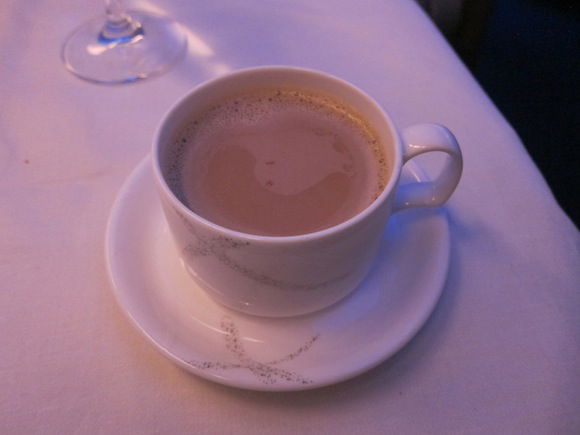 Hong Kong style milk tea
I was also offered a hot towel and toothpick at that point.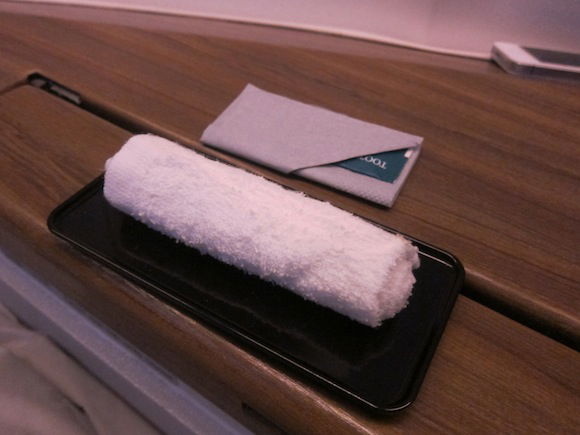 Hot towel
Kitty did most of the serving while Alou was "in the kitchen," and while she wasn't rude, she was also extremely reserved and didn't smile a whole lot. The pace of service was a bit off as well. We were served courses about five minutes apart even though we were dining together, which I found odd.
That being said, the actual meal service was much better than what Singapore offers on their San Francisco to Hong Kong flight which leaves around the same time.
Anyway, after dinner the cabin lights were dimmed and I requested turndown service.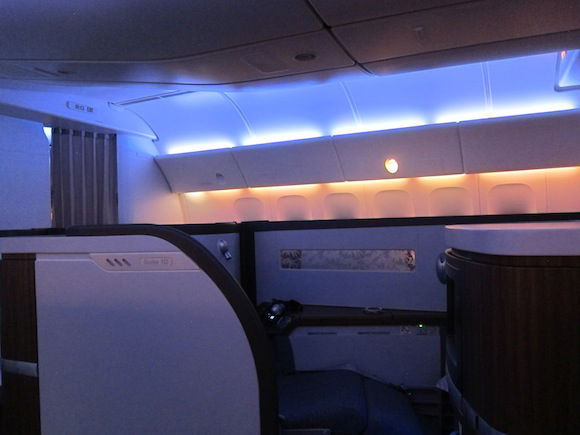 Dimmed cabin lights
Cathay Pacific may not have the most modern, fully enclosed first class suites, but damnit are they comfortable. Not only is the seat itself very spacious, but the bedding is just phenomenal. The only airline I can think of that has more comfortable bedding in first class is Qantas. So I fell asleep with about 13 hours to go to Hong Kong, and got a solid seven hours of sleep, waking up with about six hours to go to Hong Kong. Usually my strategy on the San Francisco to Hong Kong "redeye" is the opposite — I try to stay up for the first half of the flight and sleep until close to landing given the early morning arrival in Hong Kong, but in this case I was beat, after returning from Europe just a day earlier, and couldn't keep my eyes open.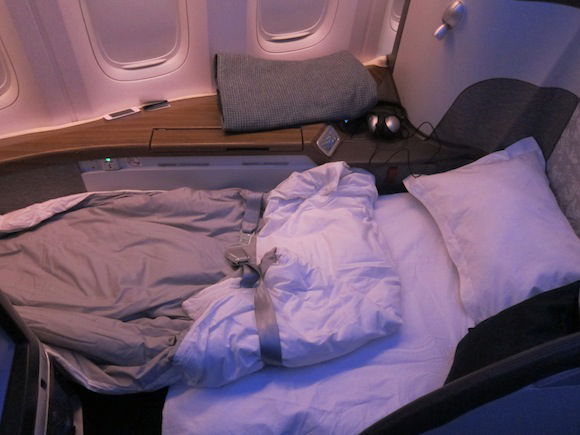 Turndown service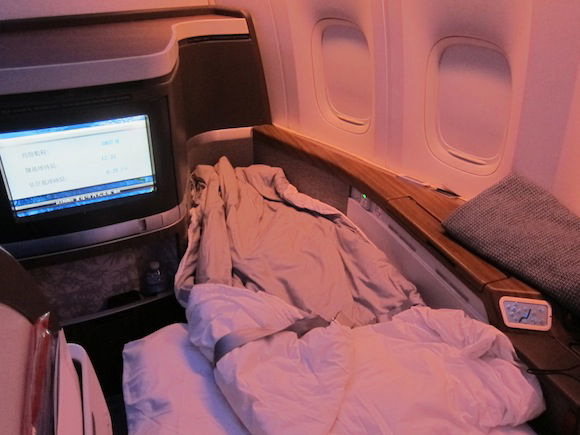 Turndown service
So after waking up I kind of "rolled around" in bed for an hour before committing myself to actually fully waking up. By that point we were approaching the coast of Japan.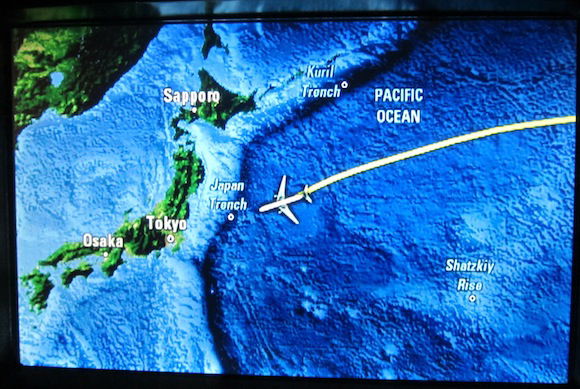 Airshow approaching Japan
There's an important point I try to make about Cathay Pacific first class with every trip report, because I think a lot of people don't understand their first class service mentality. Cathay Pacific is not Singapore Airlines. Their flight attendants aren't trained to walk through the cabin every five minutes throughout a 15 hour flight to see if you want anything. They won't try to convince you to have a mid-flight snack as if they're being paid a commission on every pound of food you eat. They're reactive and not proactive. But that's not necessarily a bad thing.
They want you to push the call button. And when you do push it, they show up within five seconds (literally). Americans are often conditioned not to push the call button, because in the US many flight attendants go so far as to refer to it as an "emergency" call button. At Cathay Pacific I literally picture the flight attendants standing behind the galley curtain praying for someone to push the damn call button so they can do something already. Okay, maybe that's a bit of a stretch, but the principle is true — if you want something you're supposed to push the call button, and when you do they'll show up cheerily within five seconds to get you what you want. This isn't an airline where the flight attendants roll their eyes when passengers use the call button.
With that point out of the way, I had a look at the snack menu, which read as follows:

I decided to order the wonton noodle soup. Alou appeared within seconds when I pushed the call button and took my order, and returned about 15 minutes later with my snack. I ordered a Diet Coke, though she apologized profusely that they had run out. I don't really get how that happens halfway through a transpacific flight, but I'm not one of those people that's just horrified at the prospect of Coke Zero, so it was fine by me.
The wonton noodle soup was excellent, and I almost wished I had ordered that as my main course for dinner.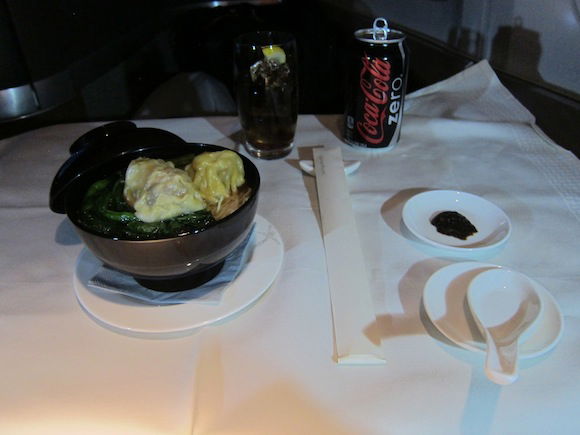 Wontons in noodle soup
After that I ordered a Hong Kong style milk tea, though unfortunately they had run out of that as well. Seriously, isn't that just powder? How do you run out of it so quickly in first class? So instead I had some ice cream.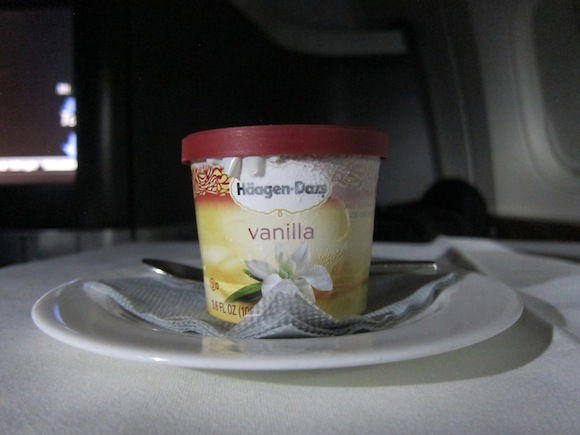 Vanilla ice cream
At this point I watched a few sitcoms in StudioCX. I really do love StudioCX and think they have a great selection, though it's rather frustrating how many ads they have. Hell, even the airshow has a sponsor.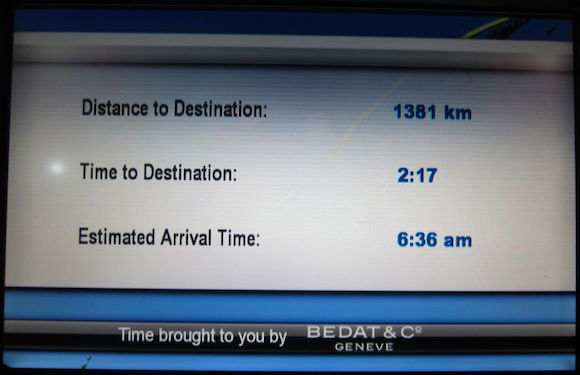 "Time brought to you by"… really?
I watched a couple of episodes of "Day in the Life," which I quite enjoyed, including one about "will.i.am." While the rest of the flight was smooth, we hit quite a bit of chop about three hours before landing, just past Japan.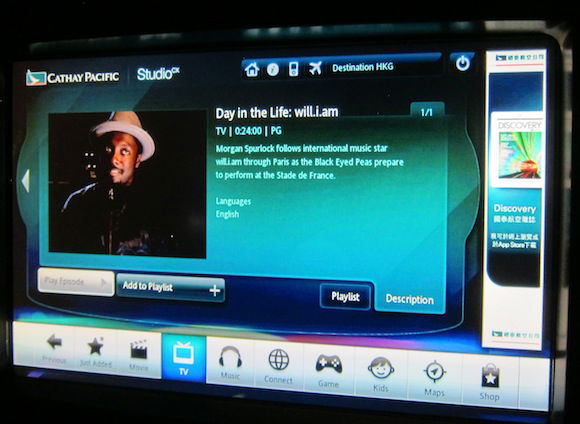 Day in the Life
About 90 minutes before arrival the cabin lights were turned on and breakfast service began. The menu read as follows: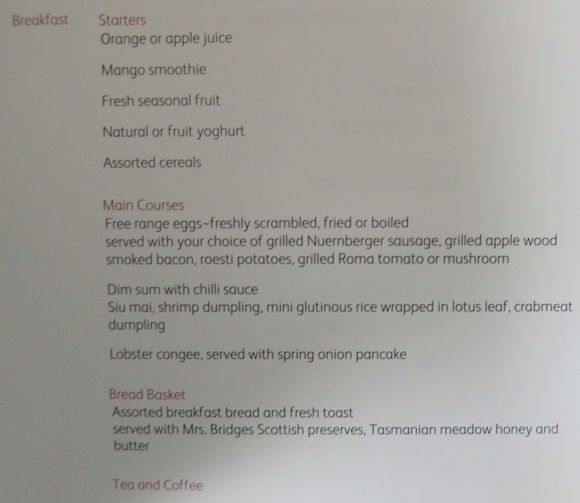 To start I ordered some fruit, along with a glass of orange juice and some English breakfast tea.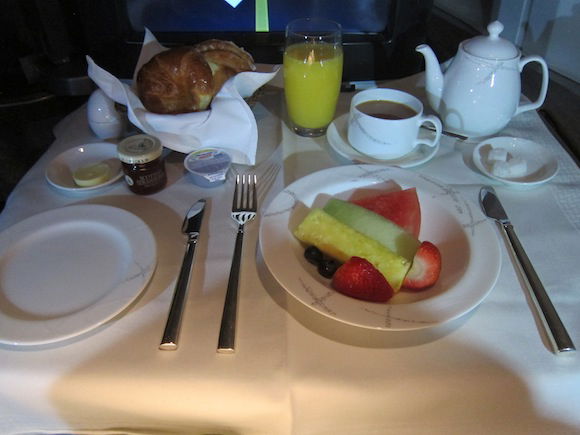 Fresh seasonal fruit, orange juice, and tea
I was also given a bread basket, which consisted of a croissant, some toast, and a cheese danish.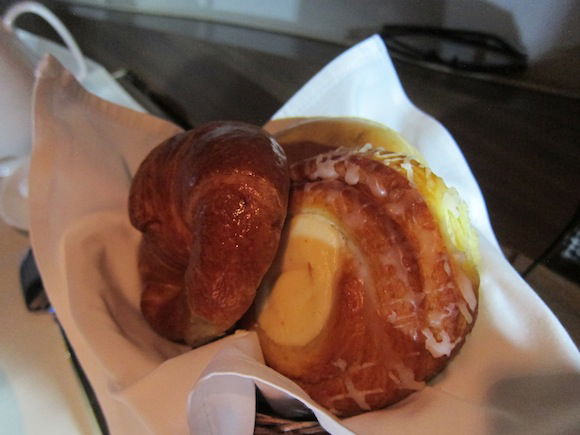 Bread basket
I then had some muesli and strawberry yogurt. I do find the yogurt presentation to be a bit funny.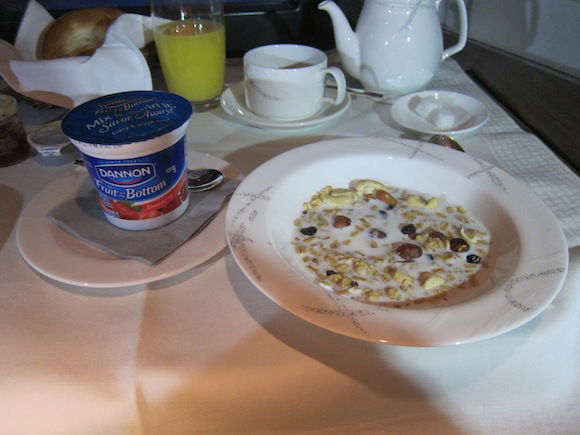 Muesli and yogurt
For the main course I went with dim sum, which wasn't very good. The Chinese breakfast on Singapore out of San Francisco was much better, and for that matter I should have probably instead had the dim sum breakfast on my flight out of Hong Kong, since it's usually catered a bit better "locally."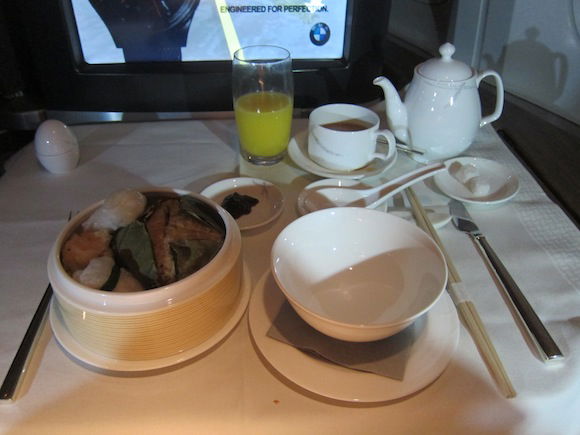 Dim sum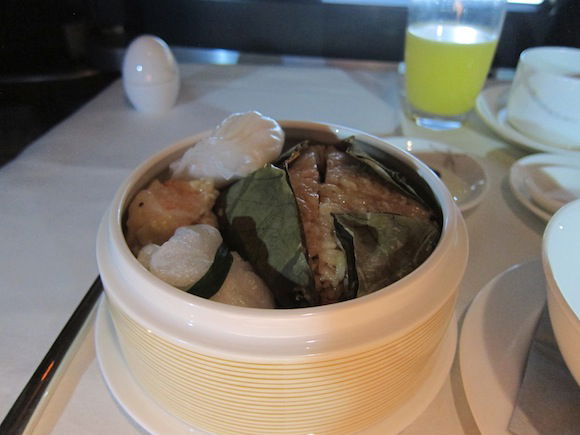 Dim sum
During breakfast the sun slowly began to rise, which made for some stunning views.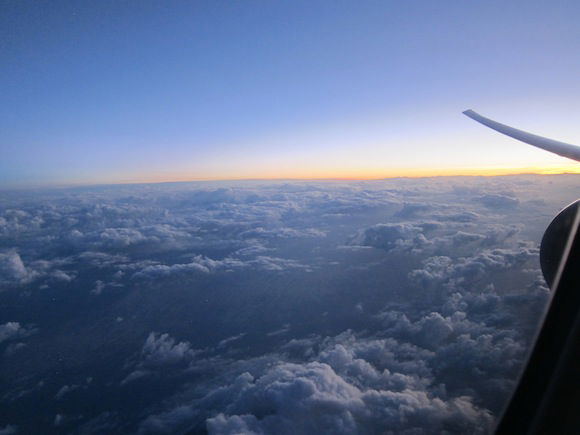 Views of sunrise
About 30 minutes out we began our descent for Hong Kong, which was smooth and gradual. The captain informed us we'd be arriving about 40 minutes late, which would give us a bit over an hour to make our connection. As we were beginning our final descent the inflight service manager once again came around to each first class passenger to thank them for flying Cathay Pacific.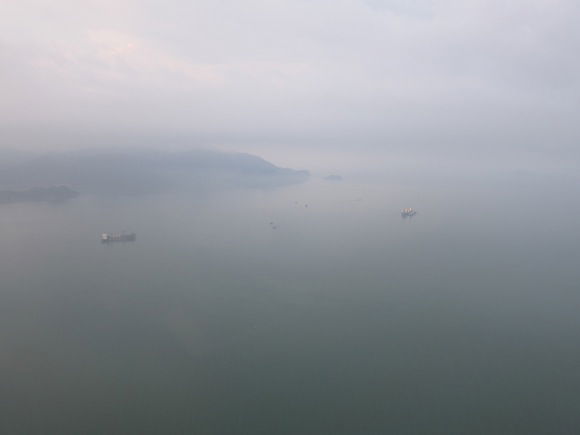 View on approach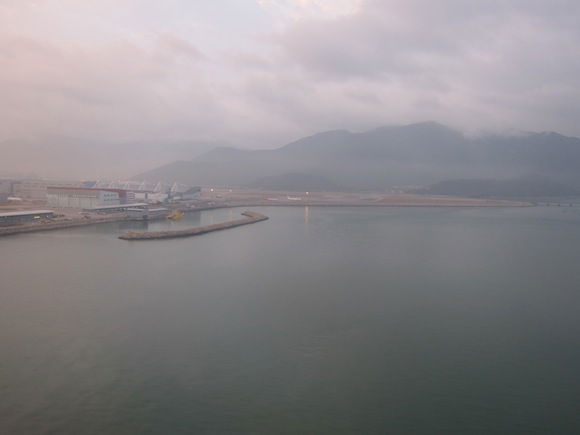 View on final approach
We touched down on runway 7L, from which it was just a quick taxi to our arrival gate, N36.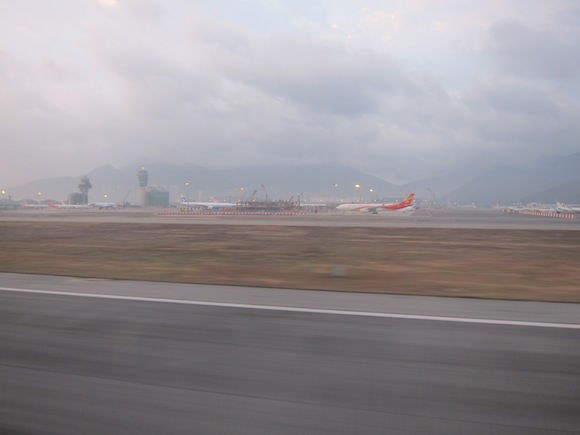 Touchdown!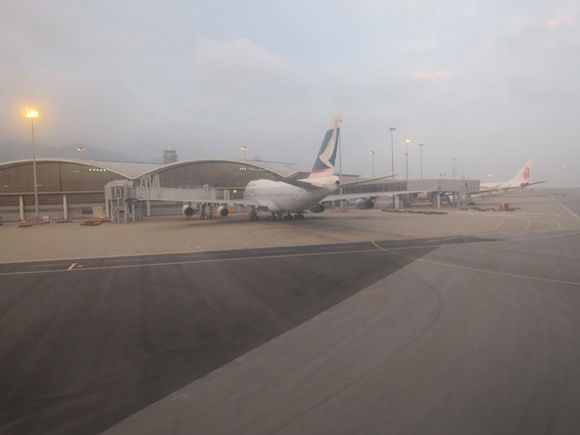 Taxiing to the gate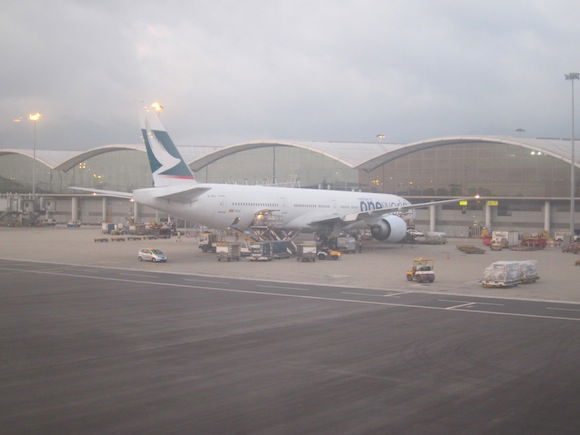 Taxiing to the gate
Once at the gate we bid farewell to the crew and headed straight for transit security.
Cathay Pacific provides one of the most consistent products out there, in my opinion, and they grow on me even more with every flight. The food is good — certainly not amazing like Asiana or Swiss, but still better than most carriers. The seat is extremely comfortable for both sitting and sleeping. And when you understand how Cathay Pacific service works, you kind of appreciate that you're not always being "watched" by the crew. I've certainly had better crews on Cathay Pacific, but this crew was certainly not bad. But it only got better from here!