---
Lufthansa 477
Vancouver (YVR) – Munich (MUC)
Tuesday, May 21
Depart: 6:45PM
Arrive: 2:00PM (+1 day)
Duration: 10hr15min
Aircraft: Airbus A330
Seat: 2G (First Class)
Okay, in all honesty sometimes I wonder why I write Lufthansa first class trip reports. I'm beyond a fan boy and love their product so much that they could slap a coach meal in front of me and verbally assault me in German (okay, maybe that's just a fantasy) and I'd still love them. They're simply so fantastic and consistent that I have a hard time faulting them.
However, there were a few things unique about this flight. First of all, it was my first time flying the new first class product on the Airbus A330. I've flown the new first class products on the Airbus A380, Boeing 747-400, and Boeing 747-8, so was looking forward to seeing how the new product on the A330 compared. Furthermore, Lufthansa changed their first class catering in May, so this was my first time experiencing the new service. Anyway, on to the flight…
I was traveling with a friend that was arriving later, so we only met up at the gate. Upon boarding we were greeted by two lovely first class flight attendants — one woman probably in her mid-40s, and a guy probably in his mid-30s — who pointed us to our seats.
My first thoughts on the new cabin was that it was stunning — an incredible improvement over the old product, and it looked almost identical to the cabin of the A380, down to the suede walls.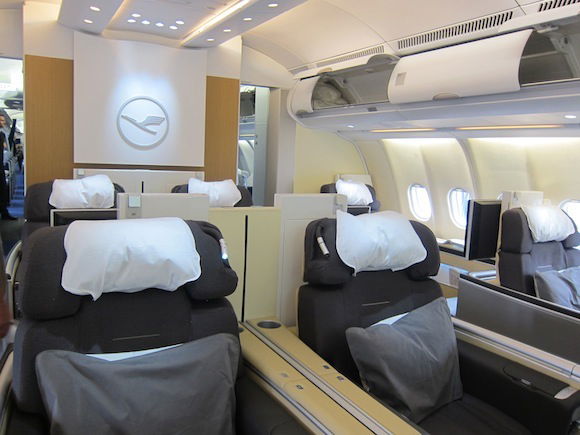 New first class cabin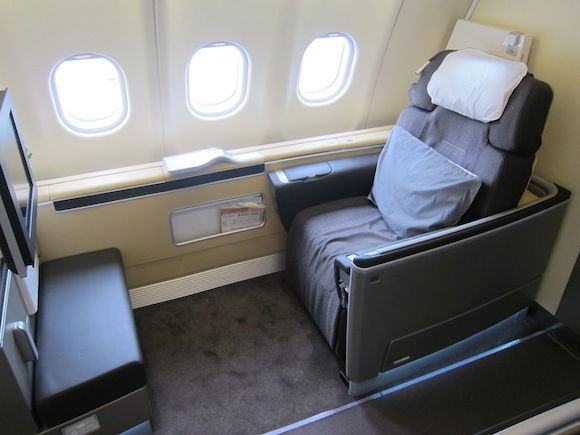 Seat 2K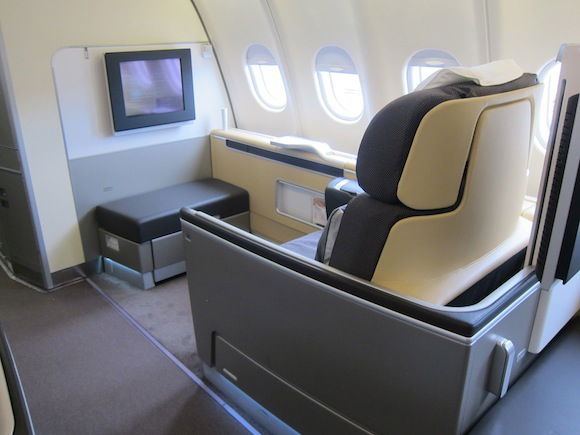 Seat 1K
I quickly settled into my seat, 2G.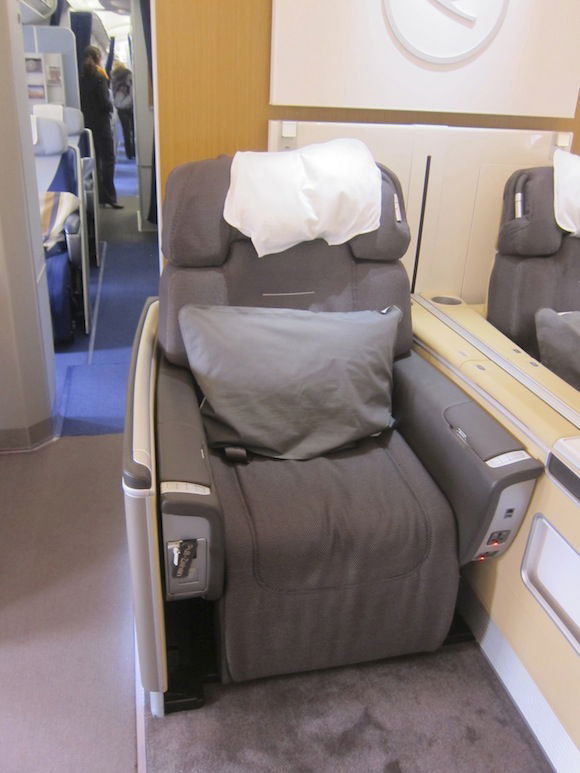 My seat, 2G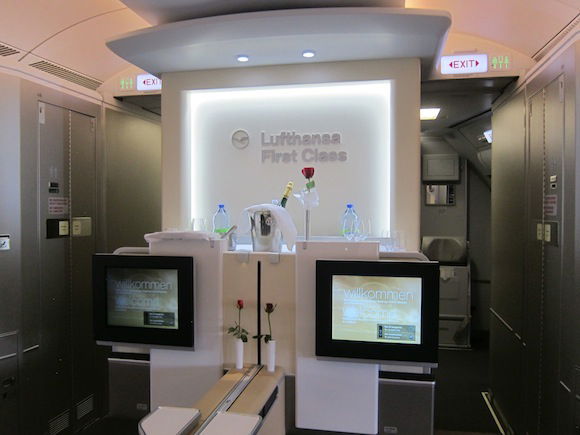 View from 2G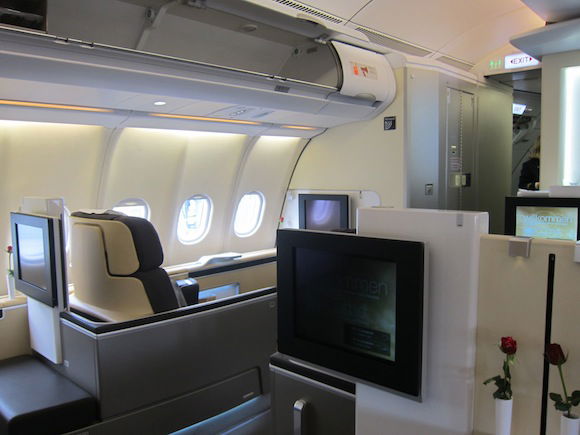 View from 2G
To the left of my seat were the entertainment controls, while to the right of my seat were the seat controls.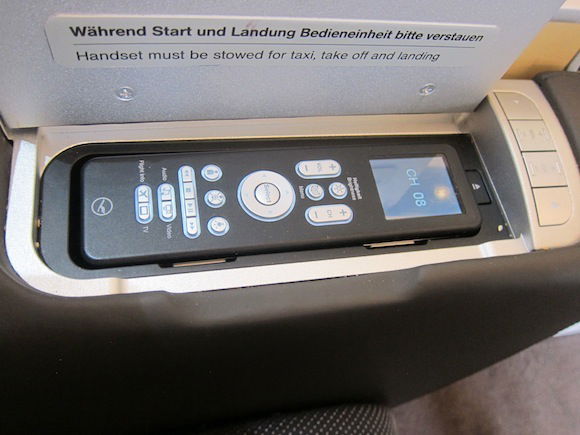 Entertainment controls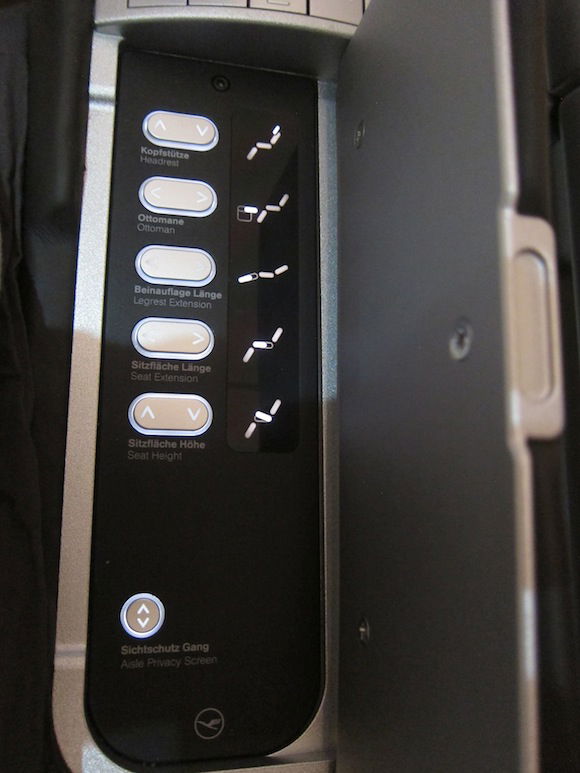 Seat controls
Behind the seat to the left were Bose QC15 headphones, which are a huge improvement over the old headphones Lufthansa has.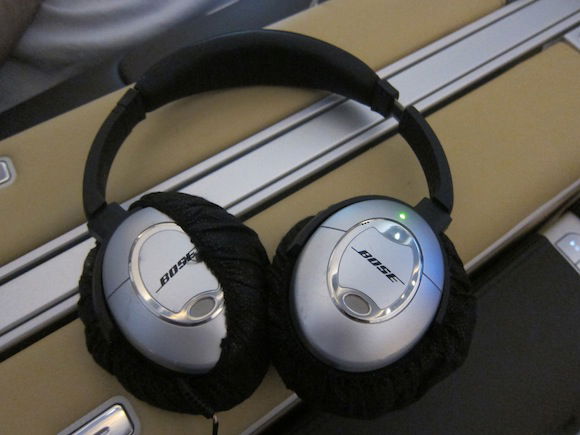 Bose QC15s
Once settled in we were offered pre-departure beverages. I ordered champagne and still water, which were served with macadamia nuts.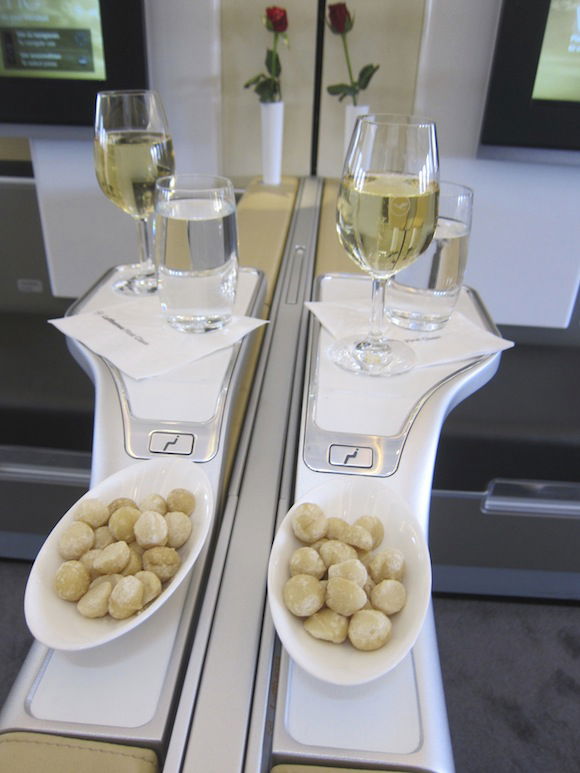 Champagne, water, and macadamia nuts
Shortly thereafter I was offered an amenity kit, slippers, and pajamas.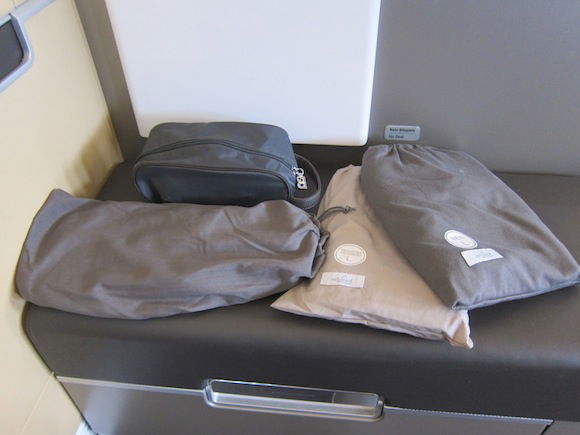 Amenity kit, slippers, and pajamas
I liked the pants as they were really lightweight, though wasn't a fan of the shirt, which was a button down, and far too warm given the temperature at which Lufthansa keeps their cabins.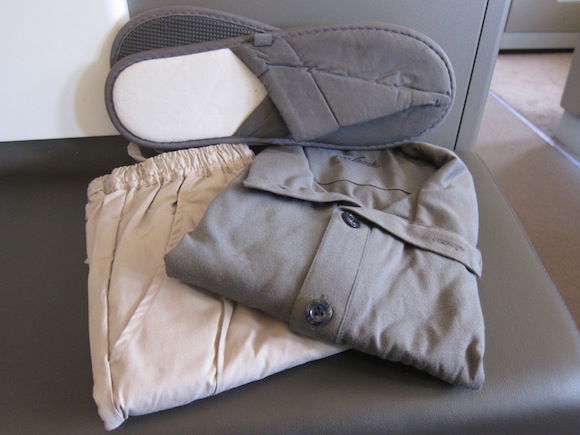 Slippers and pajamas
I immediately changed into pajamas, and was happy to see that Lufthansa updated the lavatories on this aircraft as well. While not larger, they were much more stylish and had a bench on top of the toilet for changing.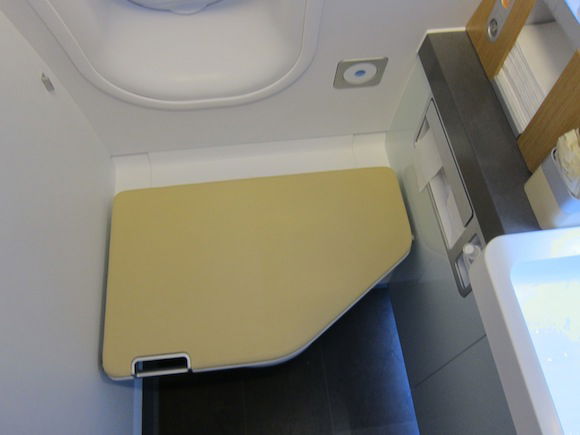 First class lavatory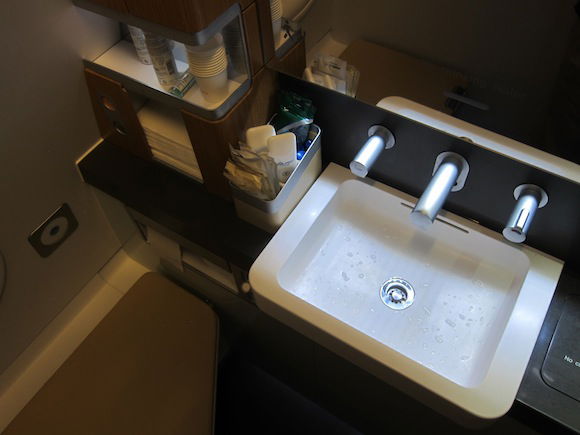 First class lavatory
Boarding was completed fairly quickly, and by the time the door closed there were only two other passengers in the first class cabin, seated in row one. I was impressed that the captain came through the first class cabin and individually welcomed each passenger. In the past I've had Lufthansa captains come through the cabin and kind of awkwardly nod at each passenger and say hello, but this guy started an in depth conversation about where we were headed, the flight, etc.
Vancouver to Munich is a brand new route for Lufthansa and he mentioned it was his first flight to Vancouver. I joked (in German) "impressive, and you were still able to find the airport?" I don't think he quite understood I was joking, because he proceeded to explain to me all of the tools they have in the cockpit for navigating, and reassured me we'd have no problem finding Munich either. Nice gesture nonetheless. 😉
For takeoff I moved over to seat 2K, given that it was empty. Right before we pushed back the captain came on the PA to inform us of our flight time of 9hr45min, which would put us into Munich roughly on-time.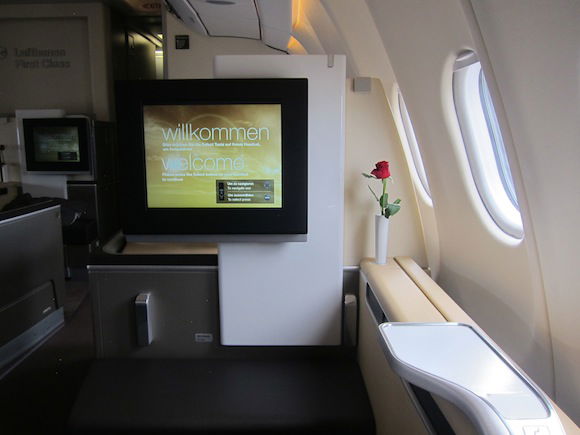 Seat 2K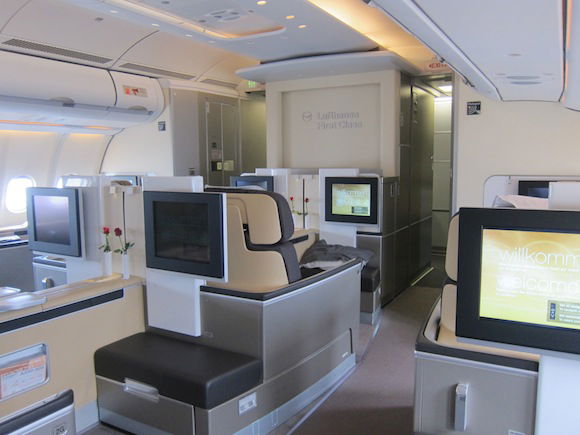 View from seat 2K
We pushed back right on time and taxied to runway 26L for takeoff.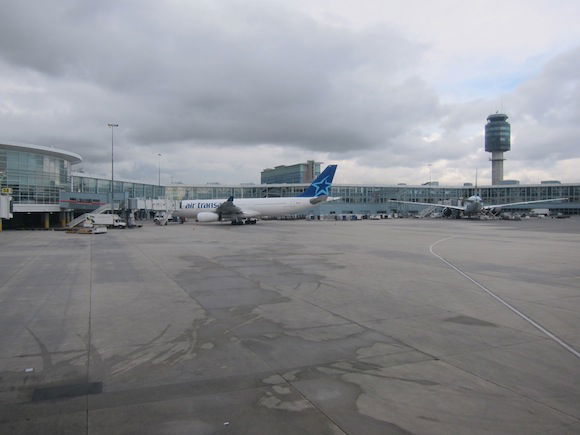 Views on pushback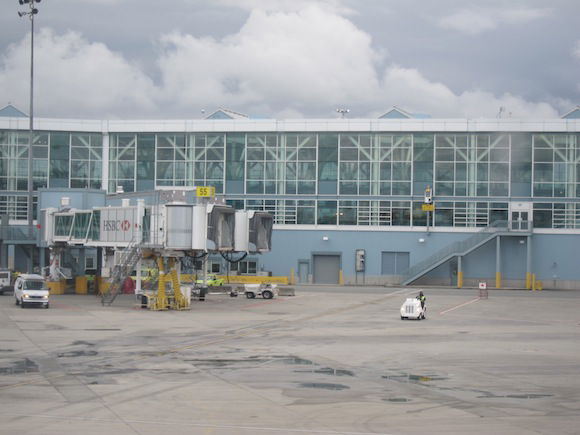 Views on pushback
The airport was fairly quiet except for a few heavy jets, including an Air Canada 777 and a British Airways 747 that was just taxiing in.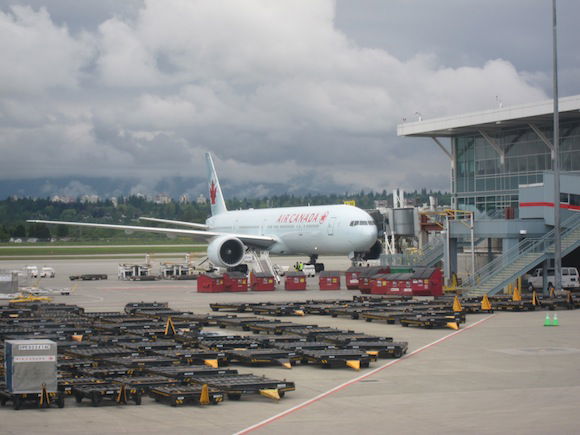 Air Canada 777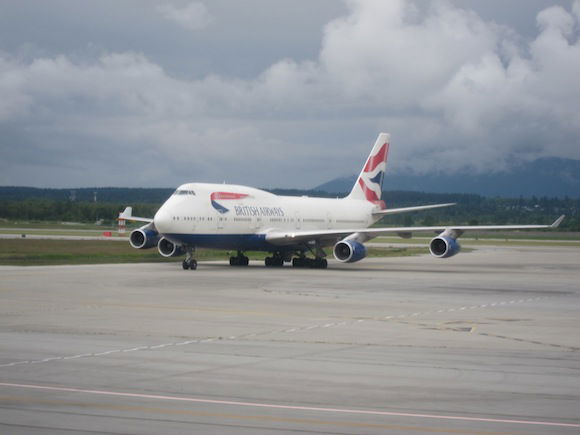 British Airways 747
When we got to the runway there was only one aircraft ahead of us, a Hawkair Dash-8.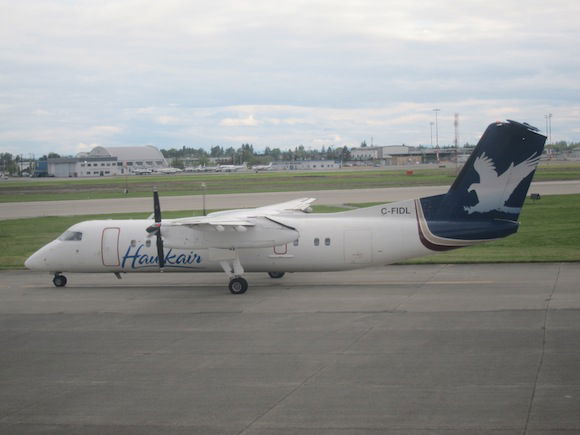 Hawkair Dash-8
As soon as the Dash-8 took off we taxied into position, held, and a minute later rocketed off.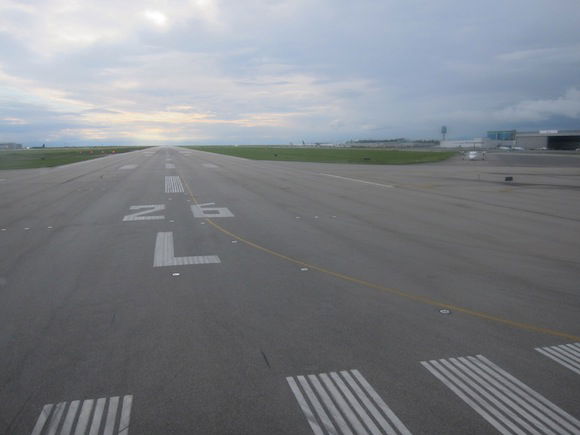 Taxiing into position on runway 26L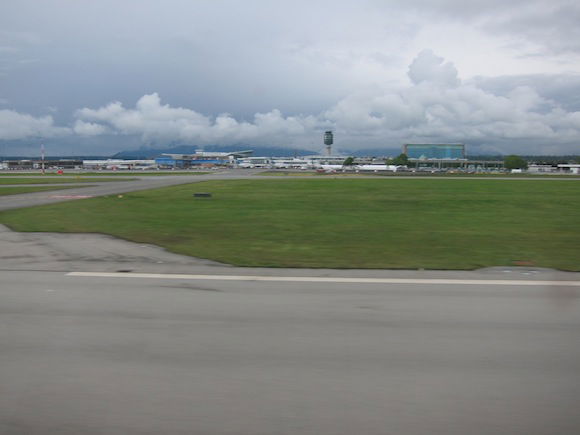 Taking off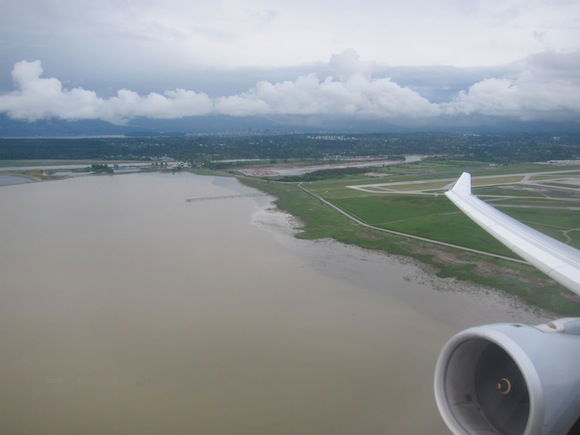 Climbing out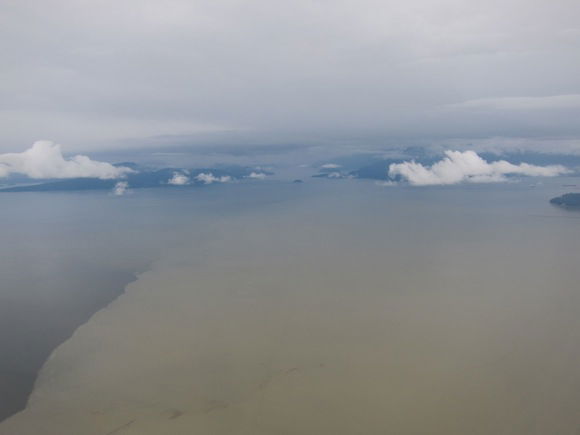 Climbing out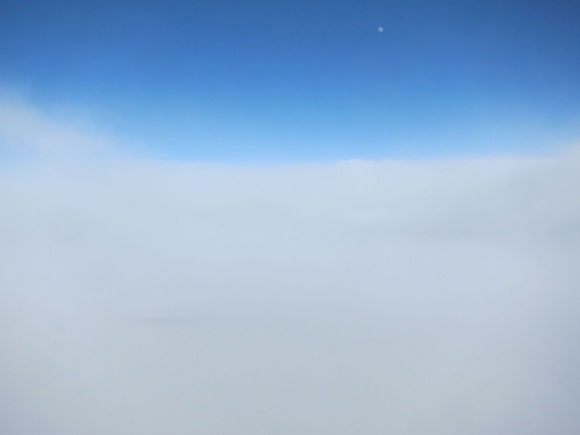 Climbing out
As we climbed out there was some turbulence initially, though as we passed through about 15,000 feet the ride smoothed out and seatbelt sign was turned off.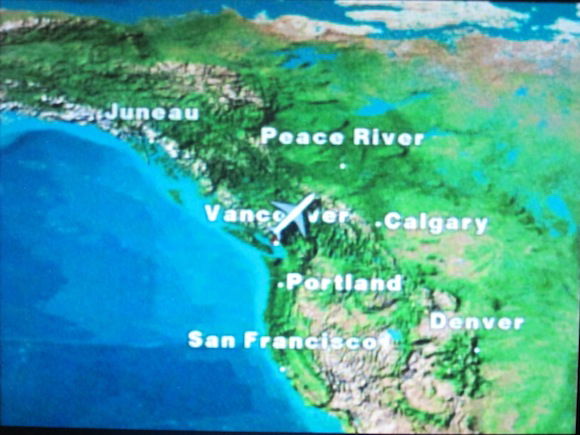 Airshow after takeoff
The aircraft was equipped with Wi-Fi, though unfortunately it wasn't working on this particular flight. That was a real bummer as I was expecting it given that a vast majority of A330s have Wi-Fi, and as a result didn't load any entertainment onto my iPad.
I don't know who's responsible for Lufthansa's entertainment selection, but they deserve to be fired. Not only is the selection horribly limited, but the few options they do have leave you scratching your head. The only decent option was "A Good Year," which happens to be one of my favorite movies. I've probably seen it a dozen times since it was released, but it was still better than any of the other options.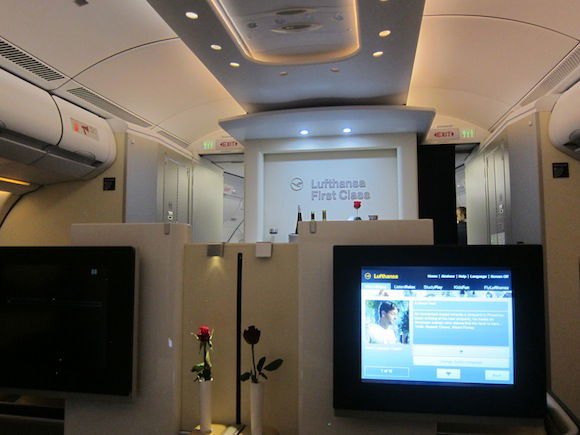 A Good Year
As we climbed out the two first class flight attendants set up the bar in front of the cabin, while the friendly purser distributed menus for the flight.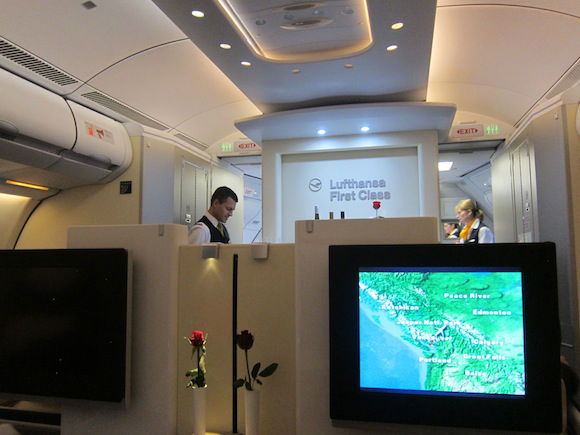 Bar being set up
It's interesting to note that Lufthansa changed the way they do menus with their May catering changes. Previously there was a separate menu for each meal, so if a flight had dinner and breakfast you'd be given the dinner menu after takeoff and breakfast menu a few minutes before the breakfast service began. Now the menu for all meals is on a single menu, which is logical enough.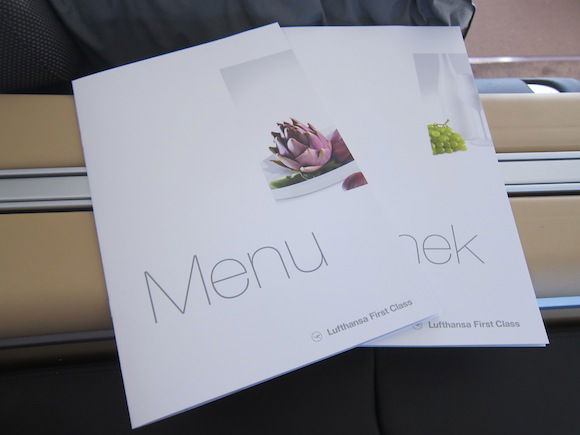 Menu and wine list
The dinner menu for the flight read as follows: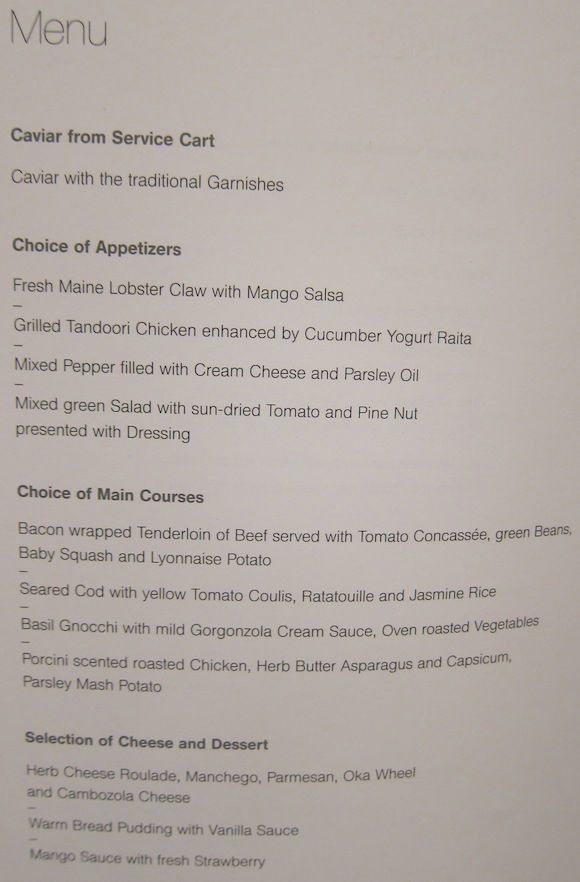 And the wine list read as follows: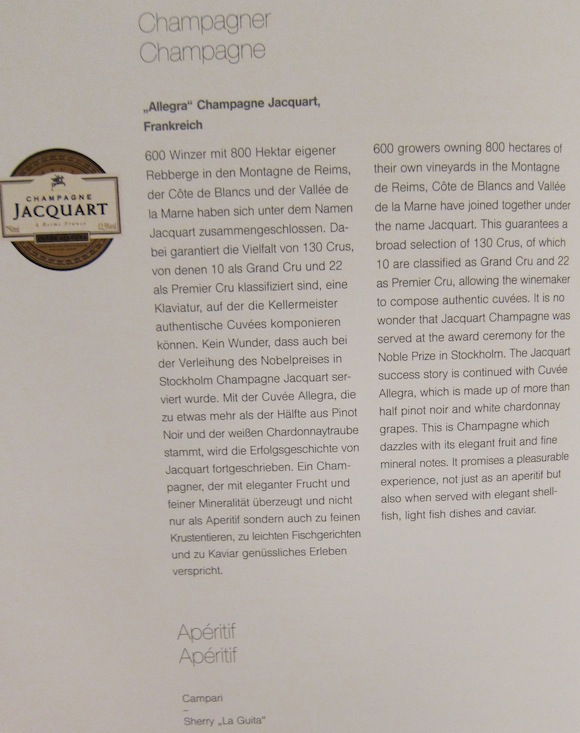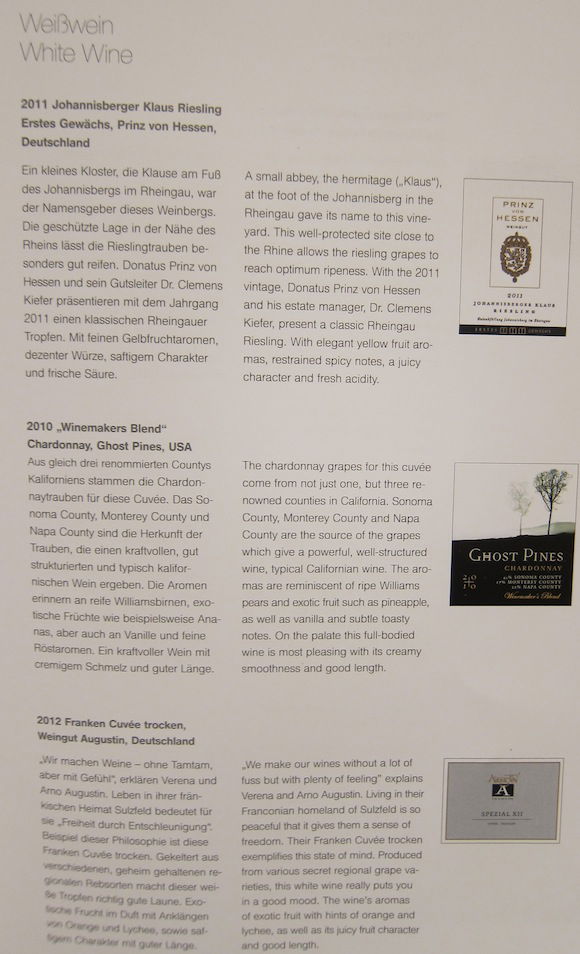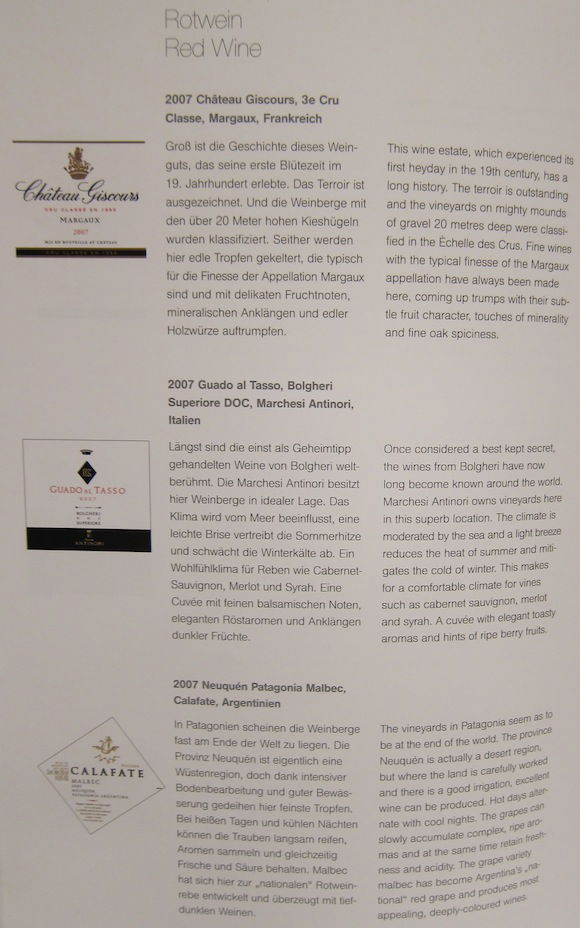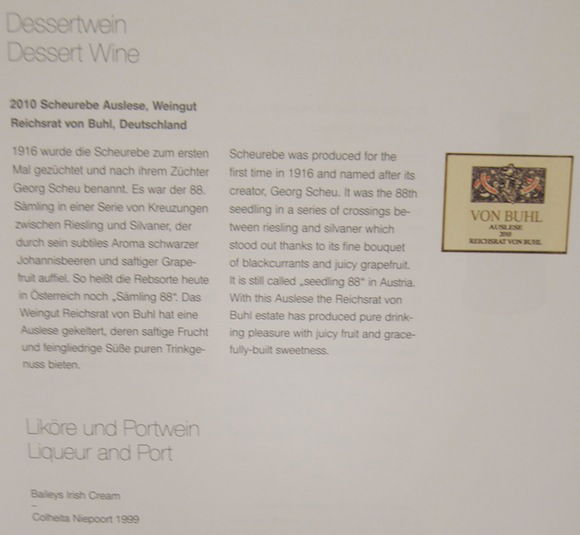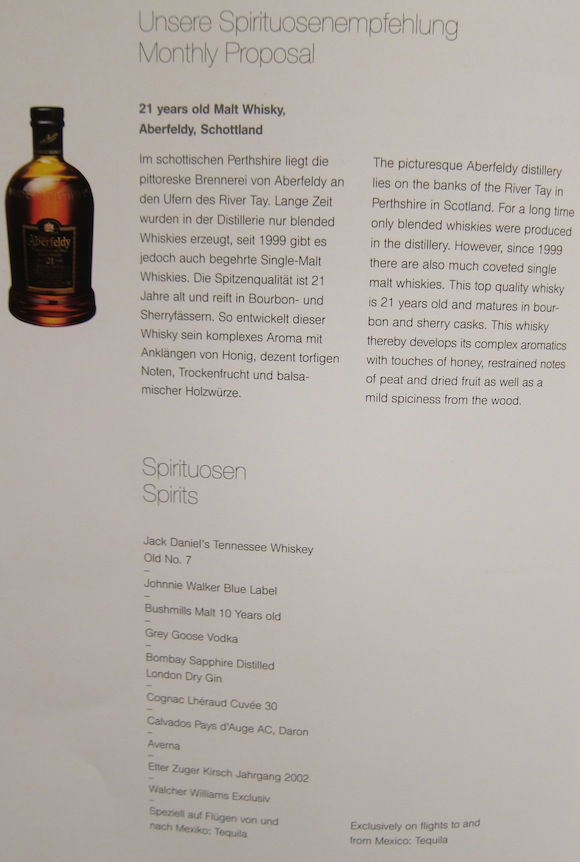 And lastly, the drink list read as follows: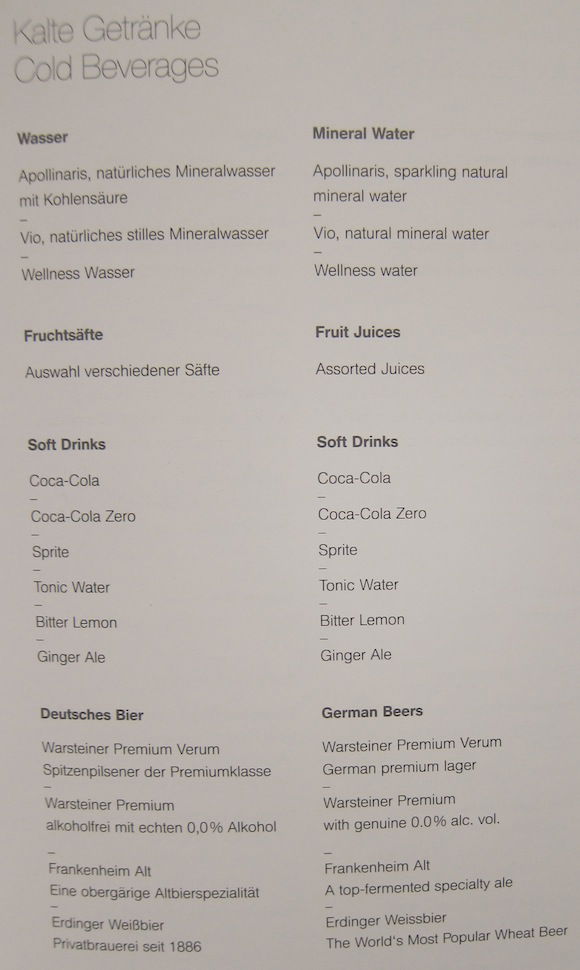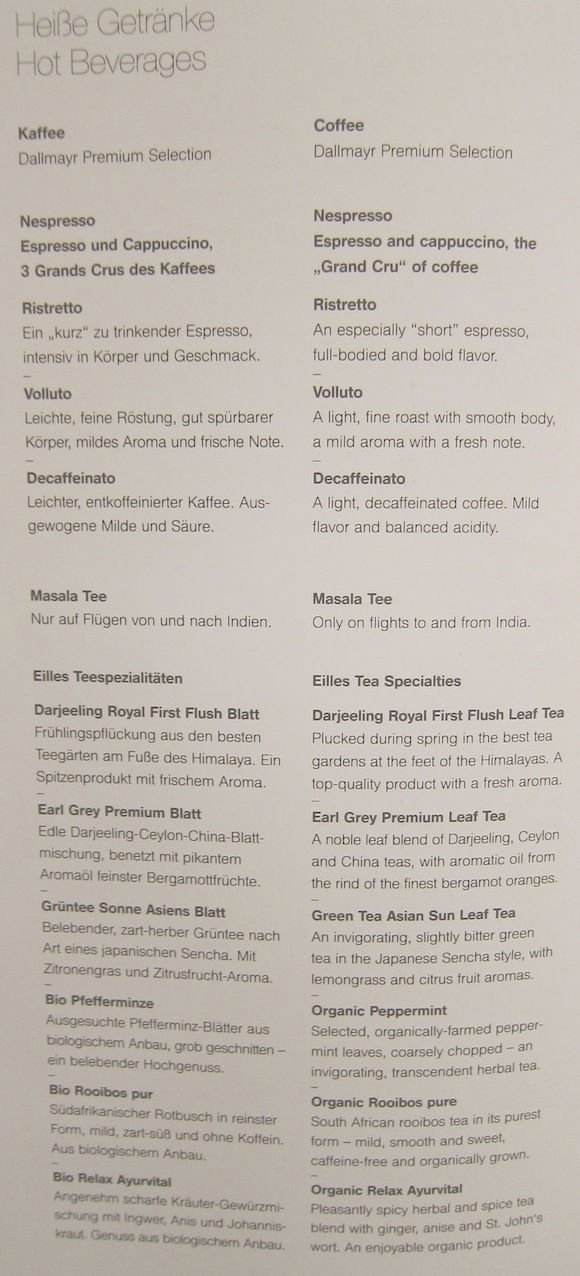 Service began, as usual, with a hot towel. As I always say, Lufthansa's hot towels hands down have the best scent out there.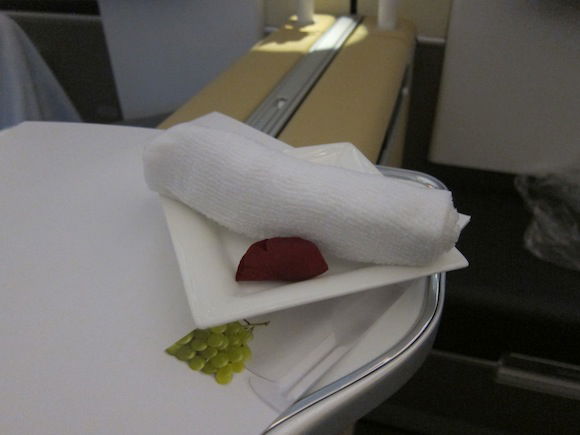 Hot towelgasm
Following that the amuse bouche was served, which consisted of a salmon and asparagus roll. I had a Diet Coke and glass of champagne to accompany it.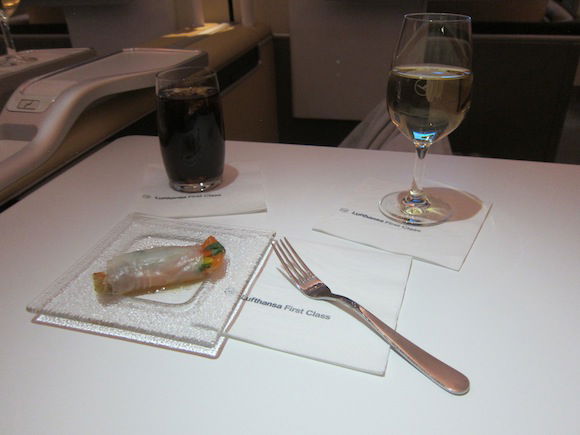 Amuse bouche
After that the table was set. There were some minor differences with the new catering setup — there were salt and pepper mills (vs. the previous shakers), as well as a plate for olive oil, as opposed to just butter.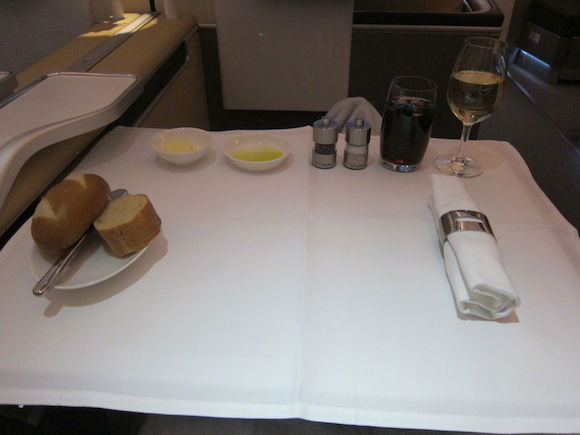 Table setup
The flight attendant working the aisle rolled around the cart with both the appetizers and caviar. I asked to first be served the caviar and then have the appetizers, which she was totally fine with. She served me a generous portion of caviar along with all the accompaniments.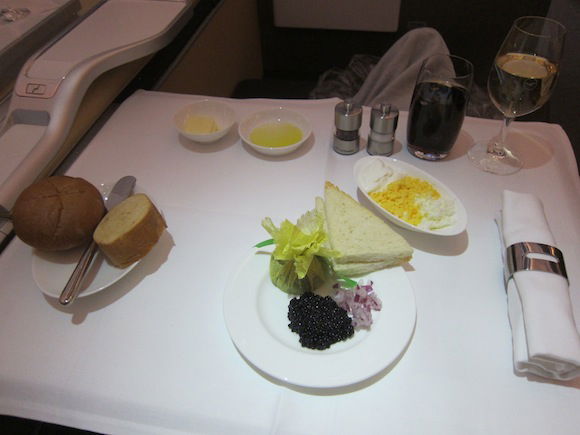 Caviar
One challenge with the new cabin worth noting is that because the new seats take up more room than the old seats there's no longer an "aisle" in the front of the cabin connecting the left and right side of the cabin. Instead the first row goes all the way up to the bar. This is a challenge for the flight attendants, since it means they have to roll the cart all the way through the galley every time they go between aisles.
Anyway, Lufthansa also changed the way they serve appetizers. Previously they served them on a three-tier plate, while now they're served on a single, flat plate. While the old setup perhaps looked more extravagant, the current setup is much more practical.
For the starter I ordered the lobster claw, tandoori chicken, and mixed pepper filled with cream cheese, all of which were great.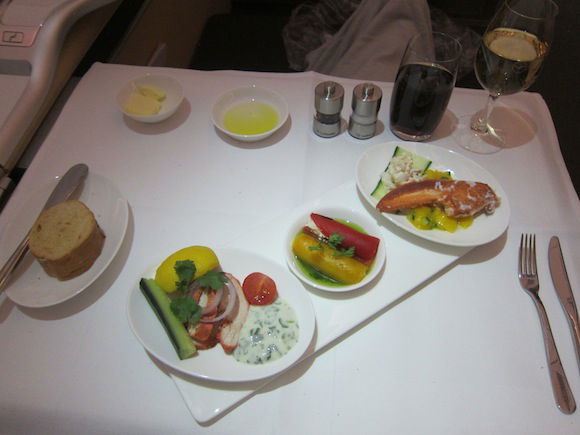 Appetizers
For the main course I ordered the seared cod. It was a bit dry, but still edible.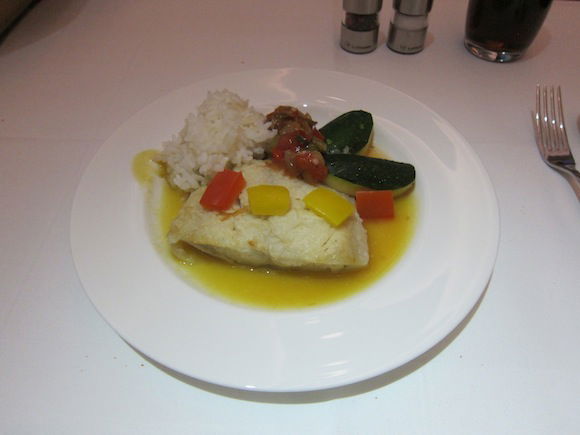 Seared cod
My friend ordered the gnocchi, which he said was chewy and borderline inedible.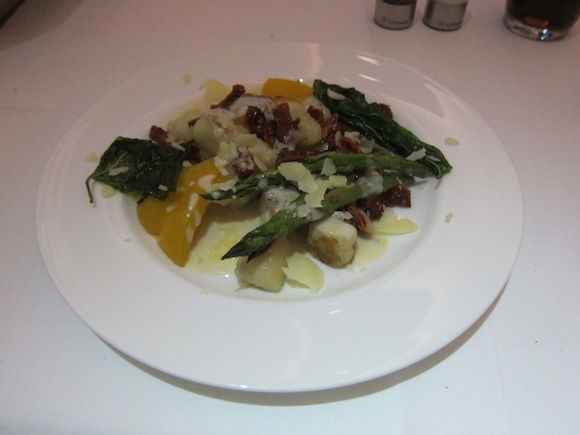 Gnocchi
For dessert I had the bread pudding with vanilla sauce — thank you, Lufthansa, for a simple and delicious dessert. For once they weren't serving eldelflower soup with chickpea puree and parrot feathers.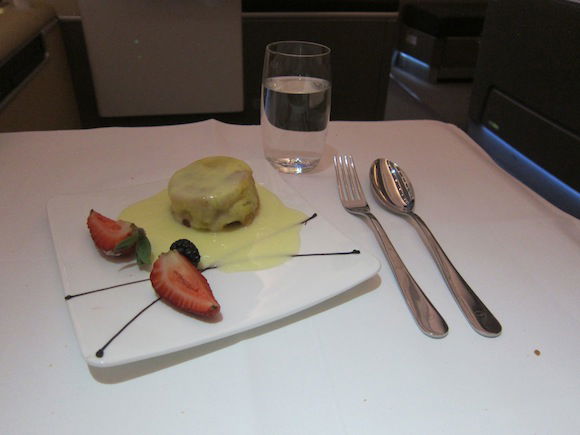 Warm bread pudding with vanilla sauce
Meanwhile my friend had the vanilla ice cream with mango sauce and strawberries for dessert.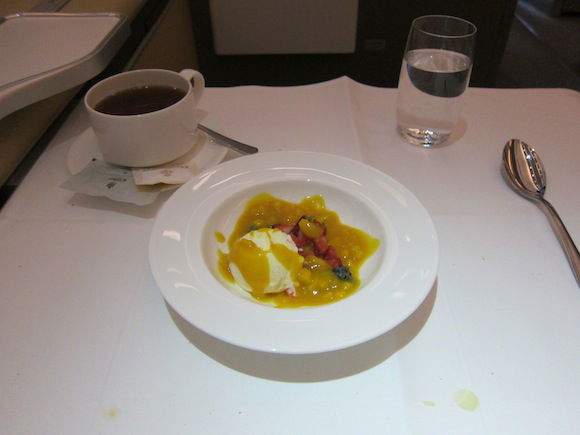 Vanilla ice cream with mango sauce and fresh strawberries
Lastly the cheese cart was rolled through the cabin. I was full at this point, though my friend had some.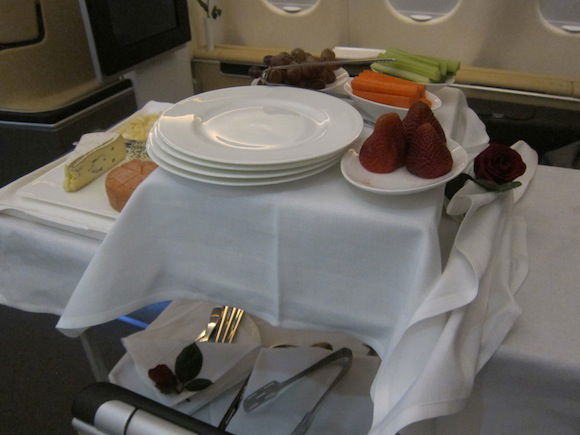 Cheese cart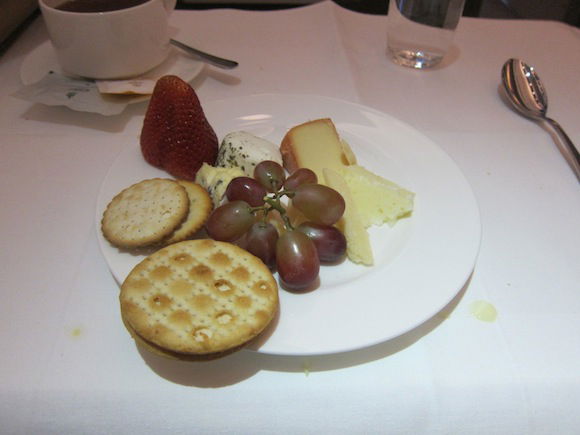 Cheese plate
Lastly the flight attendant came around with a box of pralines. I chose a couple from the box, while my (at this point) wasted friend decided to have a few more…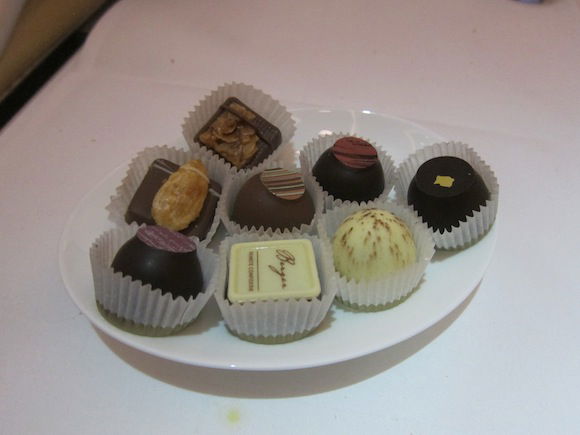 Pralines
I finished off the meal with a glass of Baileys.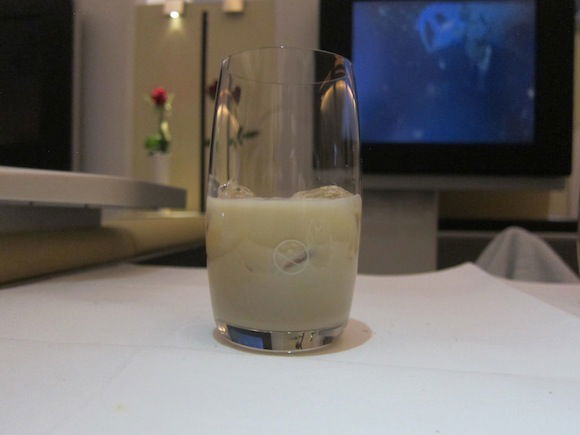 Baileys
The service throughout the meal was excellent. I was constantly addressed by name, refills were frequent, and the pace was perfectly customized to each passenger.
At this point the windows were closed and cabin lights were dimmed, and we had a bit over seven hours to go to Munich.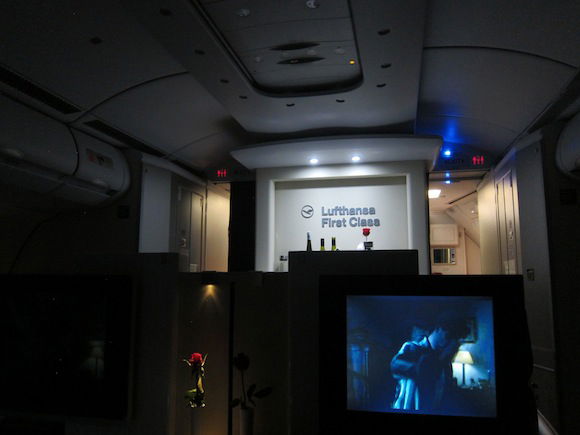 Dimmed cabin
I requested turndown service at this point, which was promptly taken care of. Probably my favorite aspect of Lufthansa's new first class product is just how comfortable the bedding is — it's among the best in the sky in my opinion.
While the flight attendant did turndown service I took a quick look out the window, where it was still light outside. Actually, I don't think it got dark at all during the flight given how far north we were flying.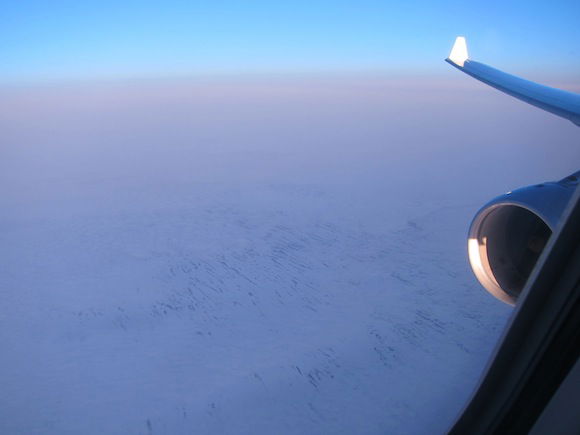 View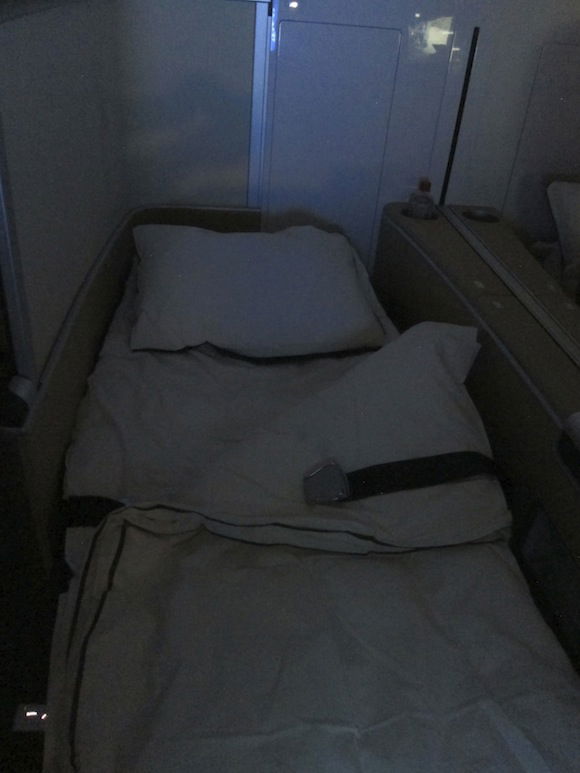 Turndown service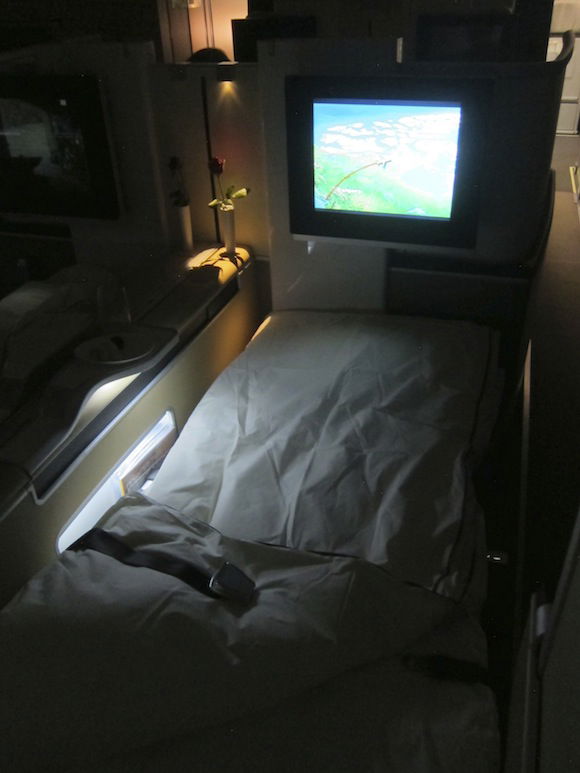 Turndown service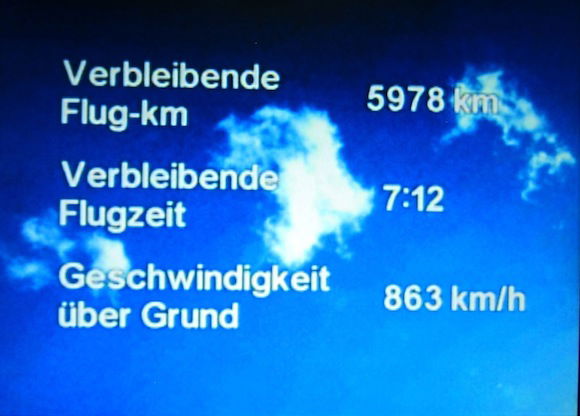 Airshow upon going to sleep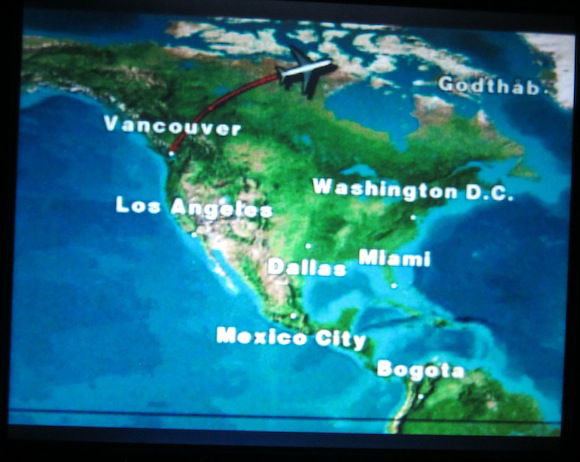 Airshow upon going to sleep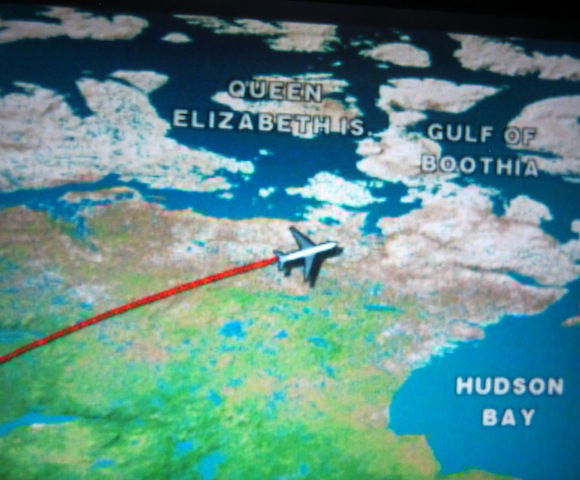 Airshow upon going to sleep
I managed to sleep for a while, though was awoken over Iceland due to some consistent chop. At that point we had about three hours to go to Munich, so I decided I'd give up on sleeping.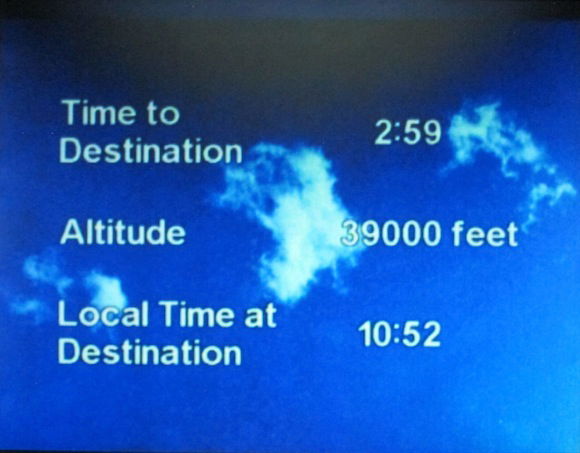 Airshow upon waking up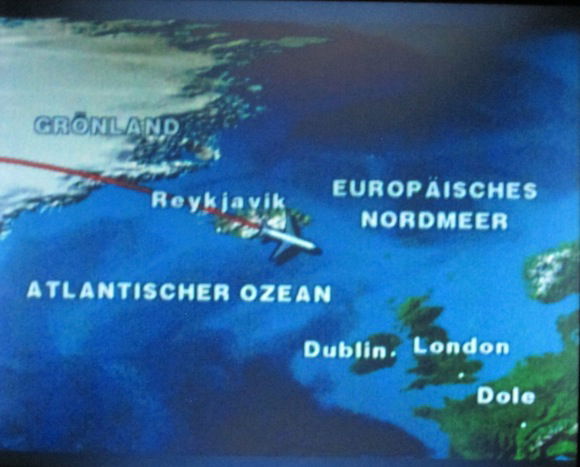 Airshow upon waking up
Okay, now here's the most important part of the trip report, at least for me, so I'll bold the entire paragraph. While Lufthansa's inflight entertainment sucks, the one thing I love about it is the music that's playing if you're not on any specific channel.
It's very similar to the music starting 90 seconds into this video:
Does anyone know what the soundtrack is that Lufthansa plays? I'd honestly be eternally grateful, as I don't think I'd ever stop playing it.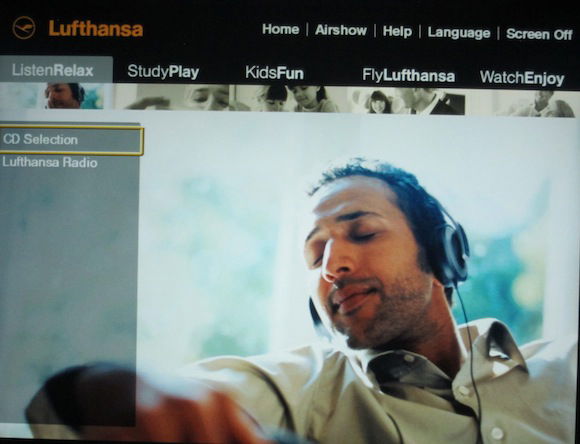 Music
About 90 minutes out of Munich the breakfast service began. The breakfast menu read as follows: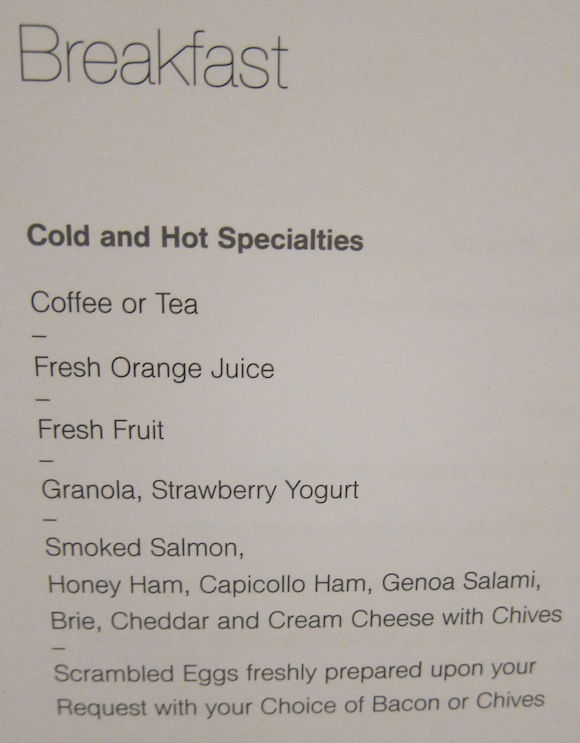 Service began with orange juice (which is always good on Lufthansa with the breakfast service) and a hot, scented towel.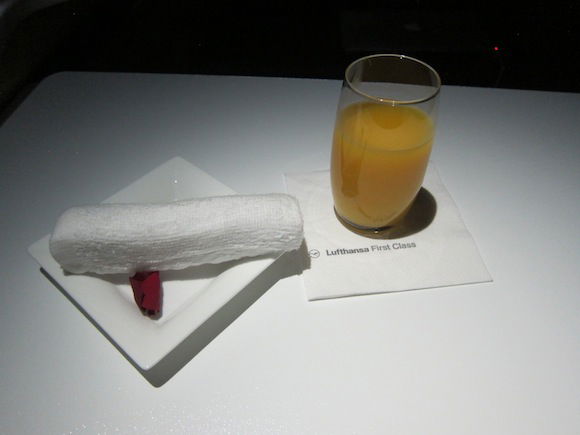 Orange juice and hot towel
I had some salmon and cheese to start.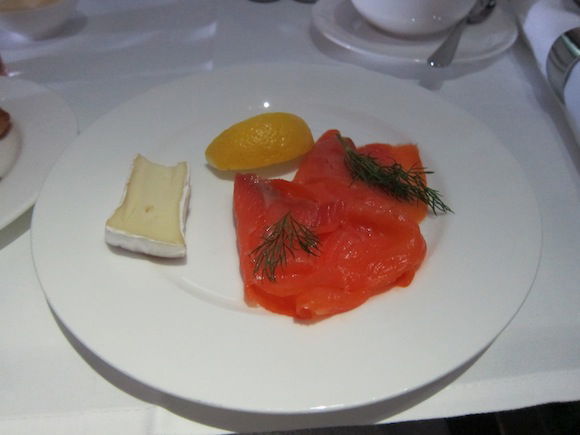 Salmon and cheese
And then some scrambled eggs, which are prepared freshly aboard — probably my favorite food in Lufthansa first class. I also had some muesli and yogurt with breakfast.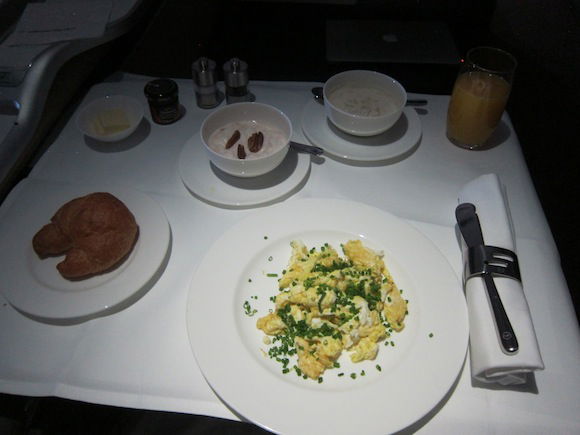 Scrambled eggs
After breakfast I changed out of my pajamas and freshened up, and about 30 minutes out we began our descent into Munich.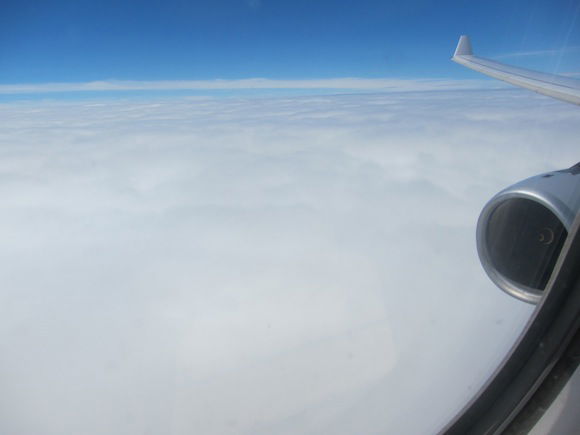 Beginning our descent
As we descended the two first class flight attendants and purser came around the cabin to thank each passenger for choosing Lufthansa, and wished us a safe onward journey.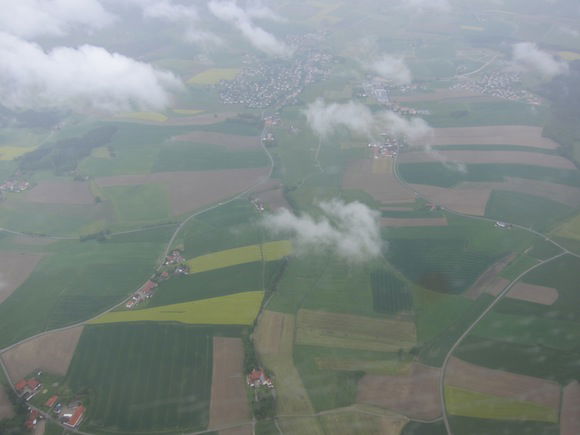 View on descent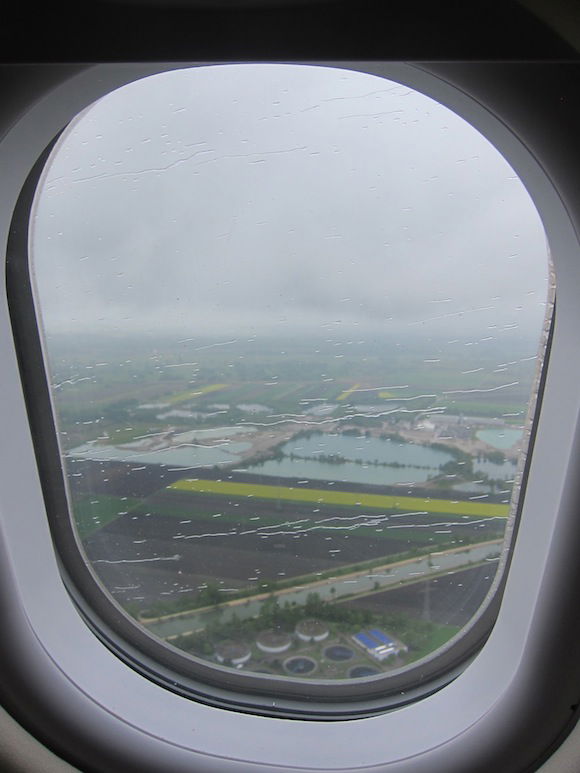 View on descent
I've gotta say that A330s more so than any other planes feel incredibly slow when landing. Maybe it's just me, but they almost feel like helicopters on final approach.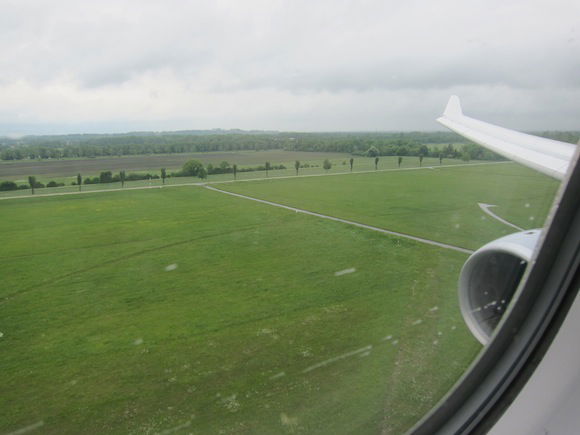 View on final approach
After a smooth touchdown we began our roughly 10 minute taxi to the gate.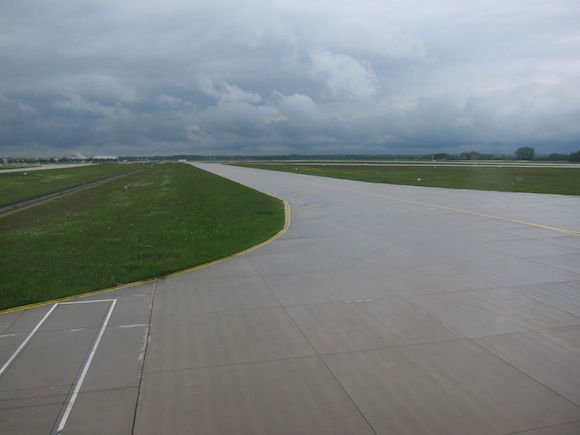 Taxiing to the gate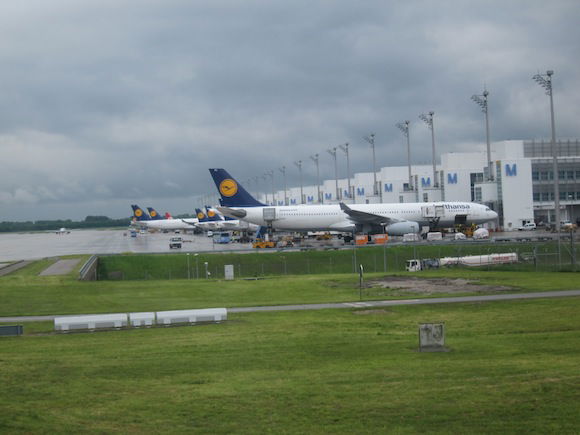 Taxiing to the gate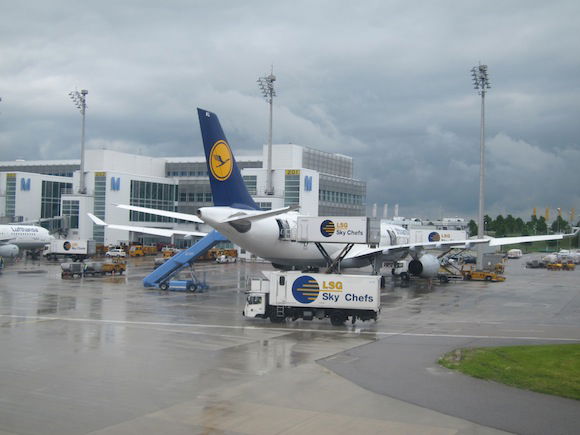 Taxiing to the gate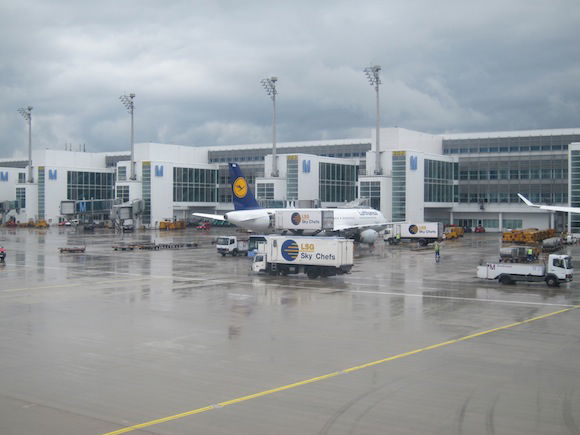 Taxiing to the gate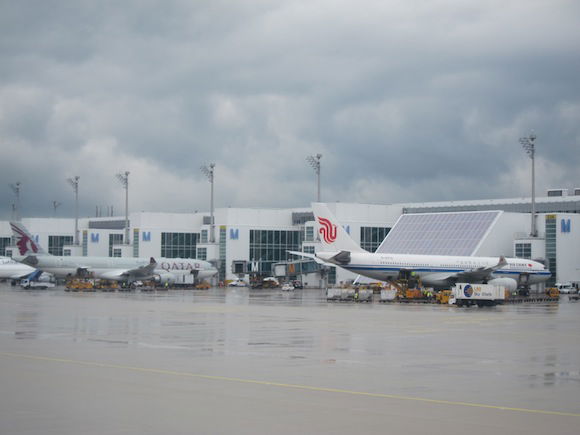 Taxiing to the gate
The thing that probably sucks most about flying within Europe is the number of remote stands. Whenever taxiing in Europe I'm always muttering under my breath "please be a gate… please be a gate… please be a gate… please be a gate… please be a gate." And then when we turned left towards the remote stands instead of right towards the gates I muttered under my breath "well $hit."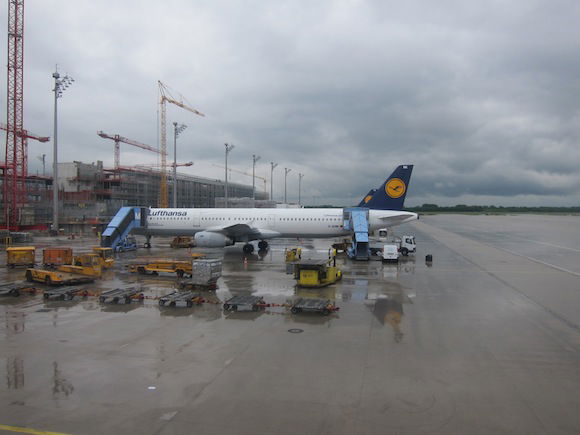 Pulling into the remote stand
But I totally forgot we were in first class, and my emotions quickly changed from disappointment to excitement, as I saw four S-class Mercedes waiting for us.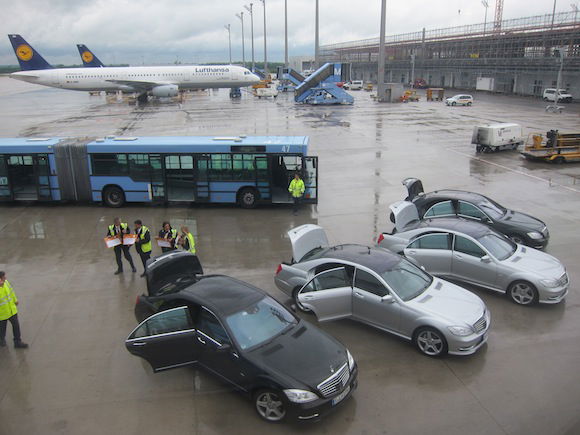 Woohoo!
So not only was the flight awesome, but the ground experience that was about to follow was even awesomer.
Lufthansa, I love you… for the most part!
And if anyone knows the soundtrack that Lufthansa plays, please, please, please let me know.