Thai 677
Tokyo Narita (NRT) – Bangkok (BKK)
Wednesday, August 14
Depart: 5:25PM
Arrive: 9:55PM
Duration: 6hr30min
Aircraft: Airbus A380
Seat: 1A (First Class)
I was excited to grab pictures of the A380 first class cabin, so was the first passenger queued up for first class boarding. Once boarding began I followed the signs towards the upper deck jet bridge, where I was welcomed by a friendly crew at the upper deck door.
I immediately asked if it was okay if I snap a few pictures of the cabin (which is basically a polite way of asking them not to escort me to my seat and instead stay the hell out of my way), and they happily obliged. 😉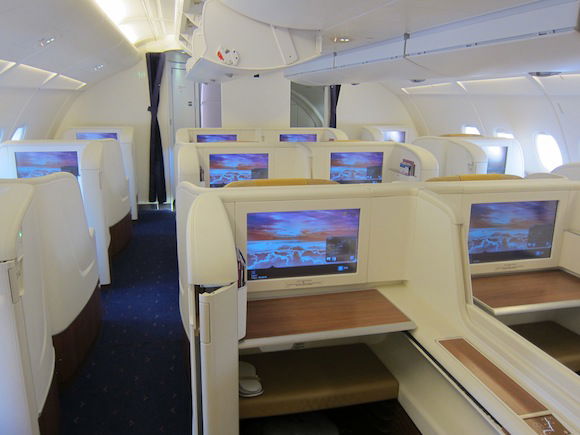 Thai A380 first class
The Thai Airways A380 first class cabin consists of a total of 12 seats spread across three rows in a 1-2-1 configuration. That makes it one of the bigger first class cabins on the A380.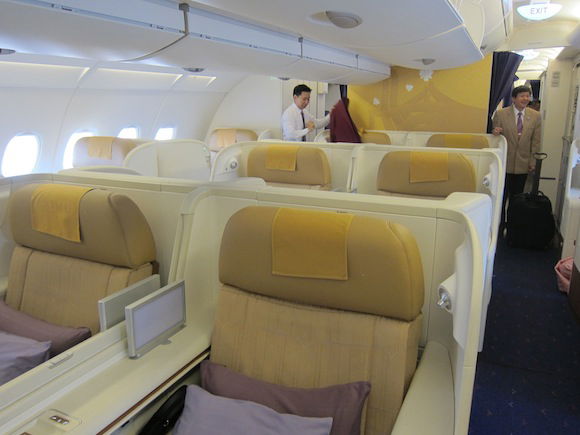 Thai first class cabin
I really liked the colors of the cabin, which I found soothing, if not a bit hospital like.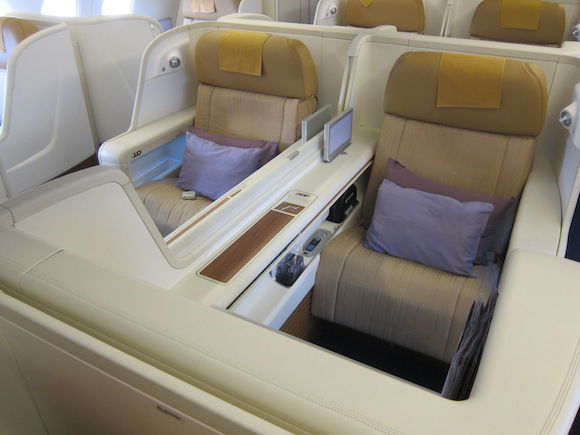 Center seats
I was in seat 1A. Each seat has an ottoman and then the table on top of it, which pulls forward when you want to use it.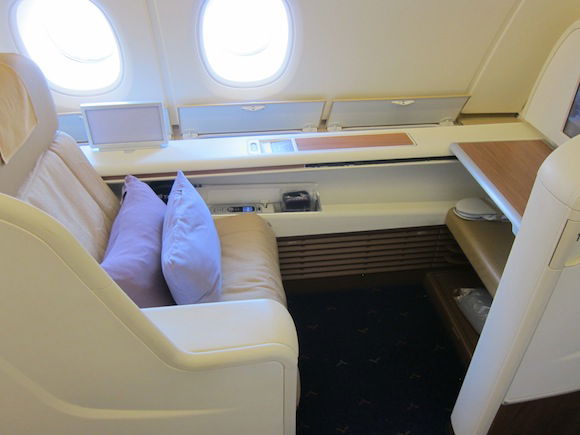 My seat, 1A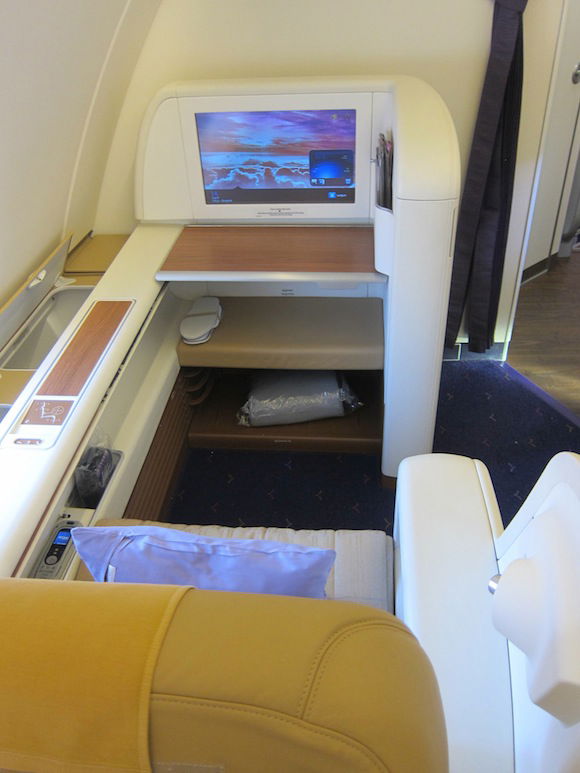 Seat 1A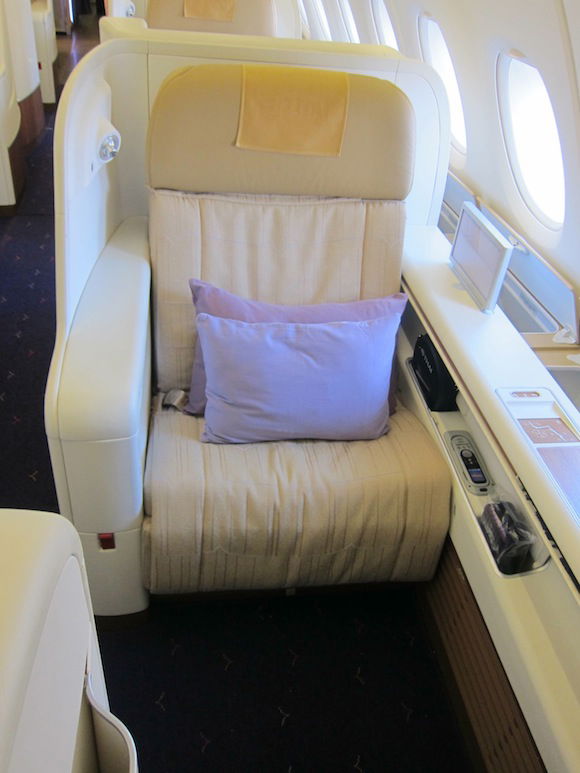 Seat and pillows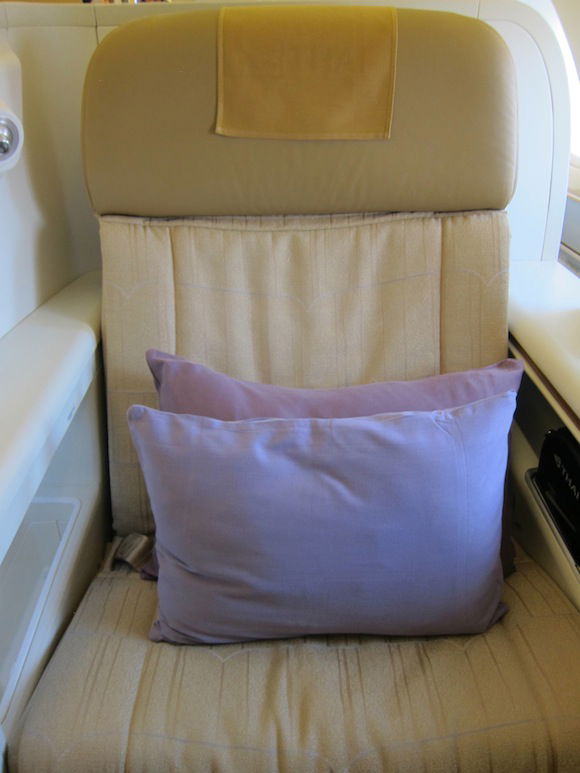 Seat 1A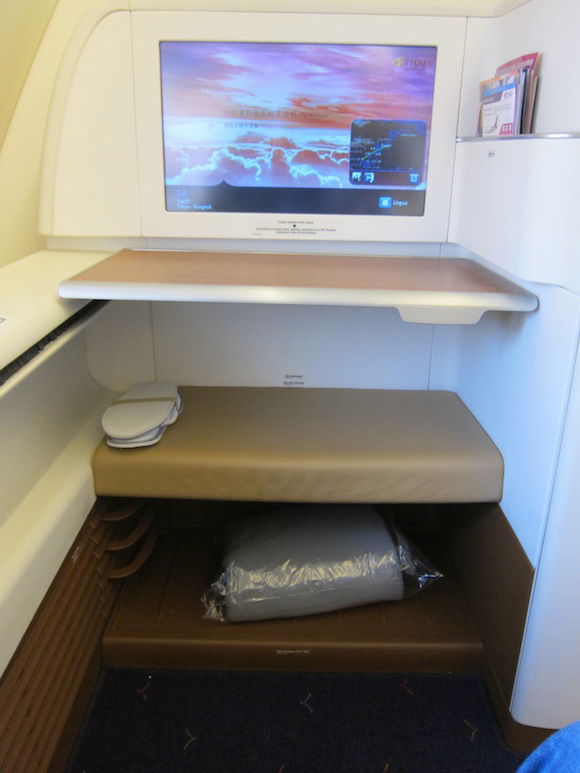 Ottoman and table
To the left of the seat were lockers, similar to what you often see on the upper deck of the 747. They're not big enough to fit full size carry ons, though big enough for laptop bags, purses, etc. Interestingly the upper deck A380 cabin has overhead bins, but only in the center section. Every other airline I've flown in first class on the upper deck doesn't have any bins at all in first class.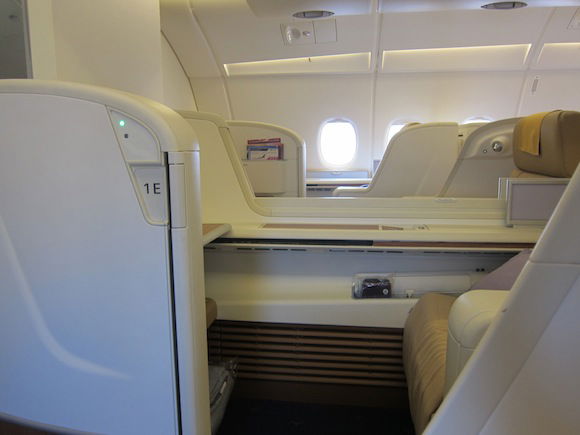 View across cabin and (lack of) overhead bins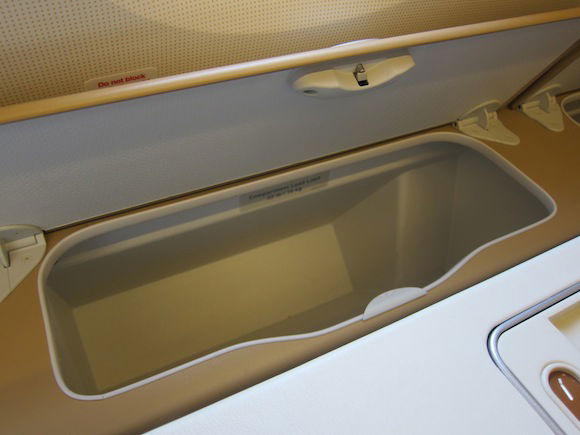 Storage lockers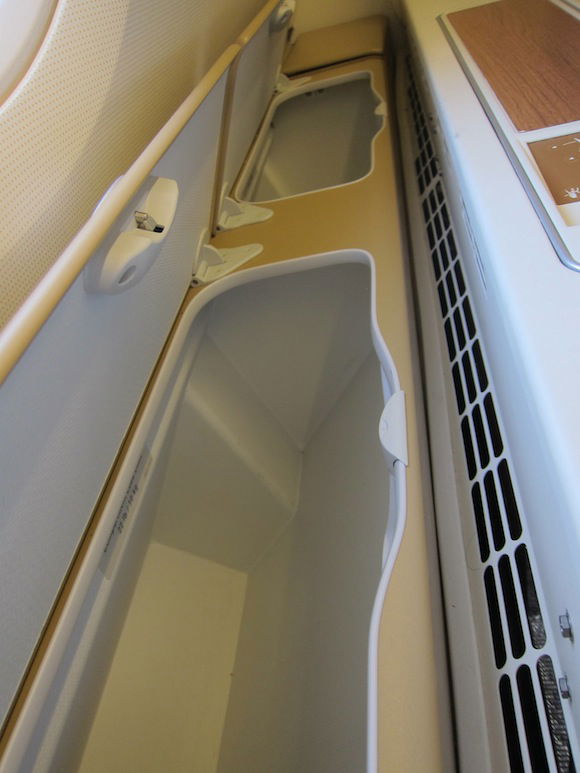 Seat 1A storage
On top of the wood finished surface are the seat controls, which are intuitive.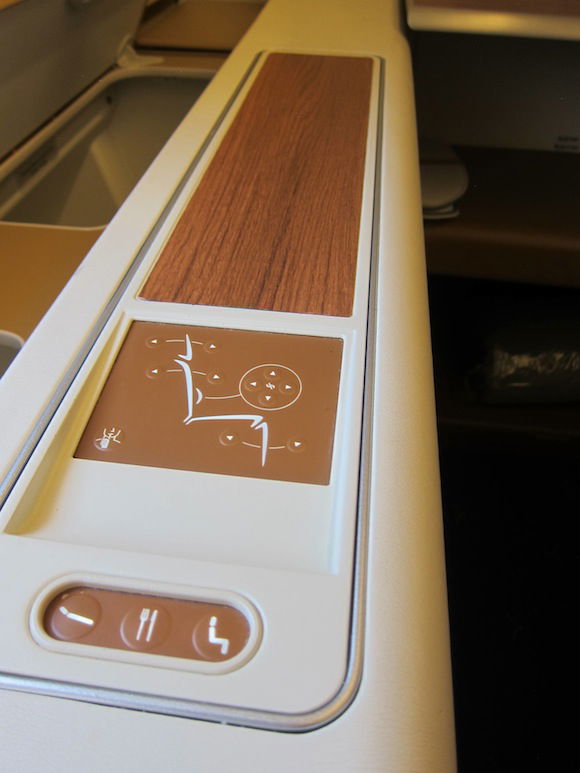 Seat controls
At the end of the panel is some sort of black light, or something. I'm not sure what purpose it serves, though perhaps Airbus accidentally installed it on Thai instead of in the Emirates A380 shower rooms?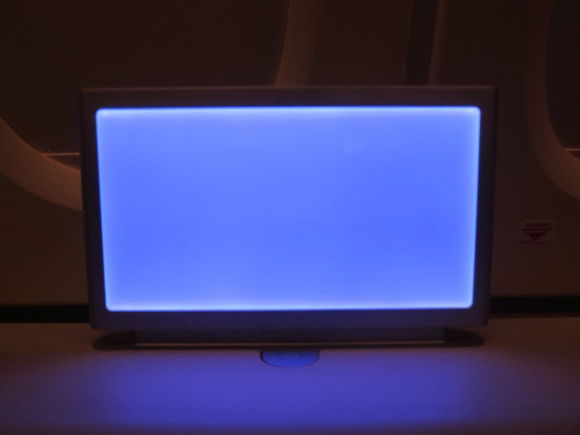 Weird lighting
Immediately below that is the entertainment system remote as well as some storage compartments, where the headphones and Rimowa amenity kit were stored. Also near the forward storage compartment were the power adapter and two USB ports.
The headphones were of decent quality. By no means as good as Bose Quiet Comfort headphones, but better than those used by some other airlines.
Naturally I was delighted that the amenity kit was made by Rimowa, as I'm a collector.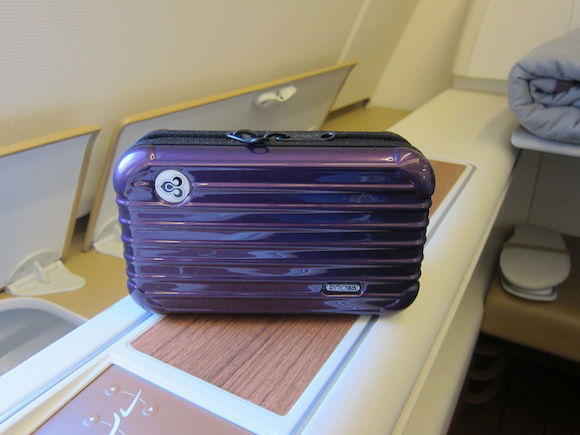 Rimowa amenity kit
The contents of the kit were fairly basic, and consisted of socks, earplugs, eyeshades, a comb, a toothbrush and toothpaste, and some lotion, lip balm, mouth wash, and cologne.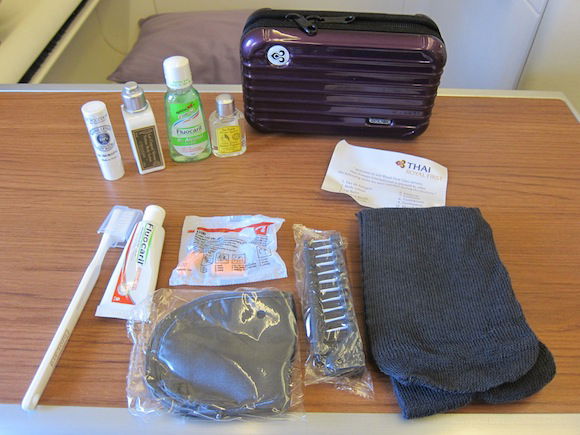 Contents of amenity kit
In front of my seat was a pair of slippers.
To the right of my seat was another storage compartment as well as some pre-set seating modes.
Before the cabin got too busy I snuck into the forward part of the cabin. To the right is the lounge, which features three seats. It's a nice space, though I didn't find the seats to be especially well padded. I think Qantas did a better job with their upstairs lounge.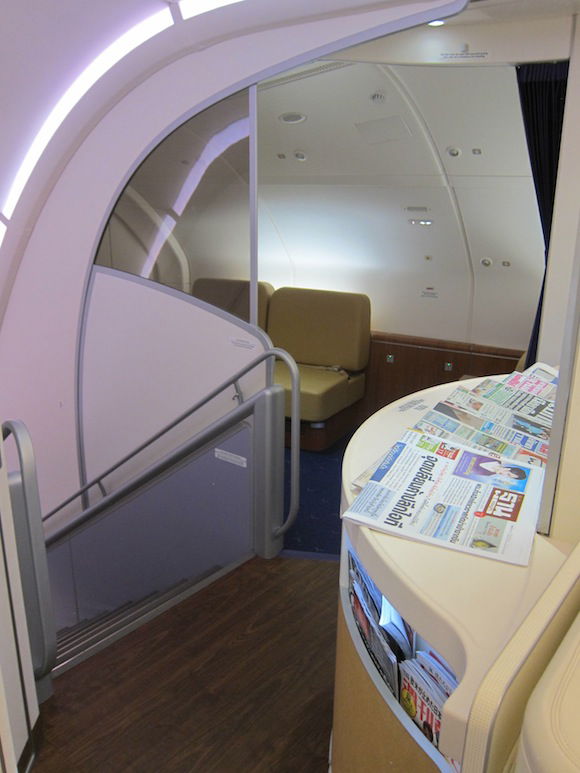 Lounge area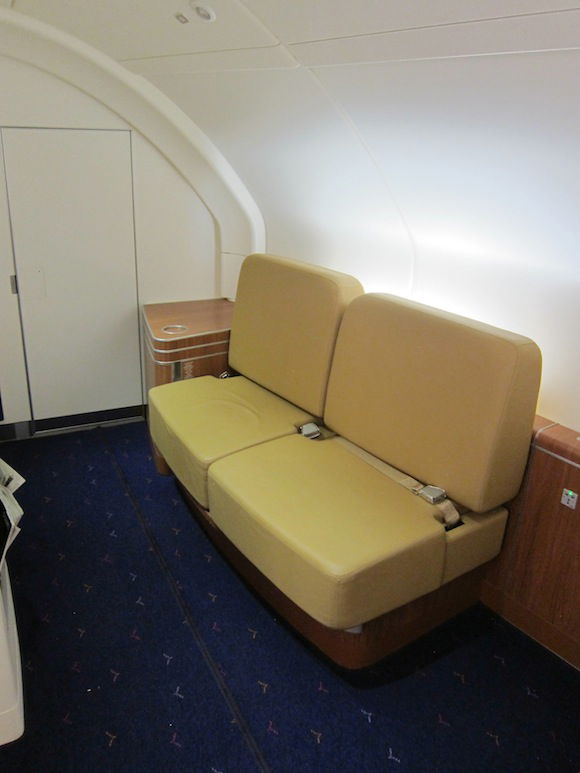 Lounge seating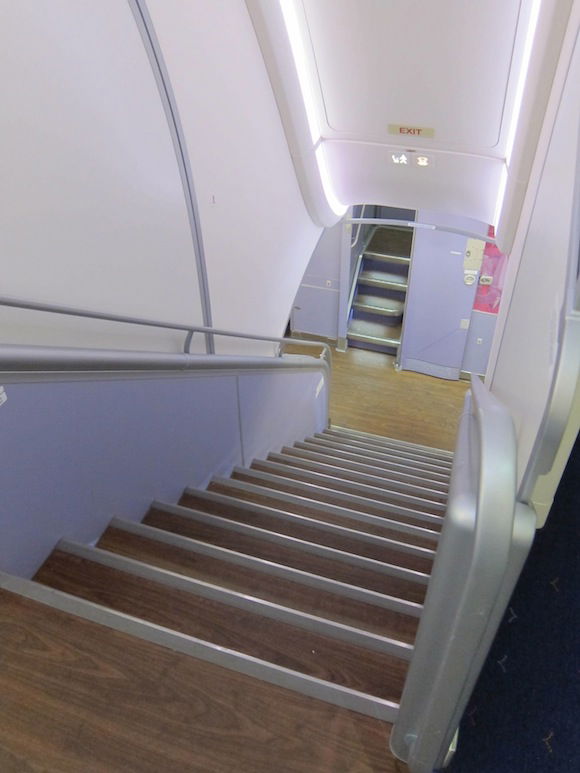 Stairs to lower deck
The highlight of the forward part of the cabin was the lavatory to the left. It featured a loveseat of sorts with a vanity mirror right by the entrance.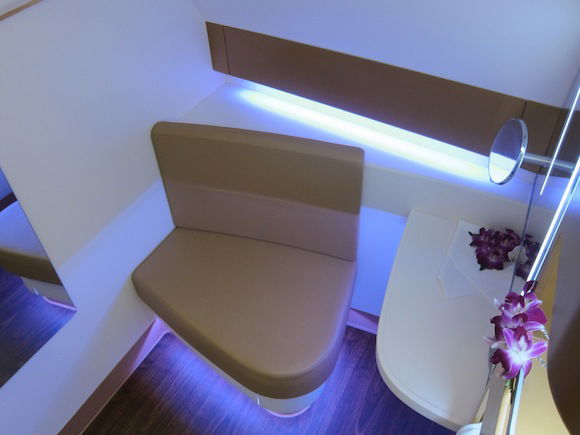 Lavatory loveseat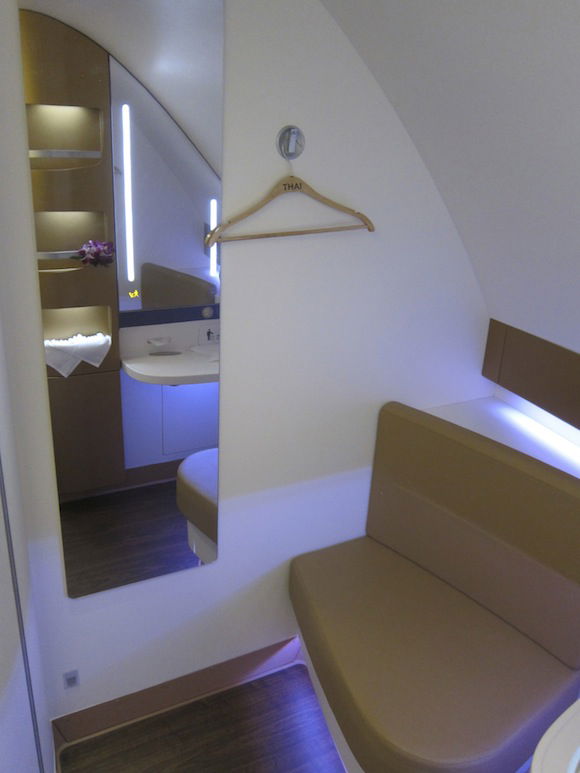 Lavatory
Then the rest of the lavatory was extremely spacious as well.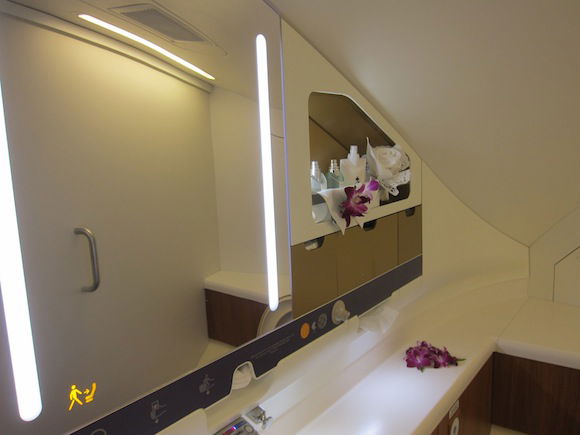 Lavatory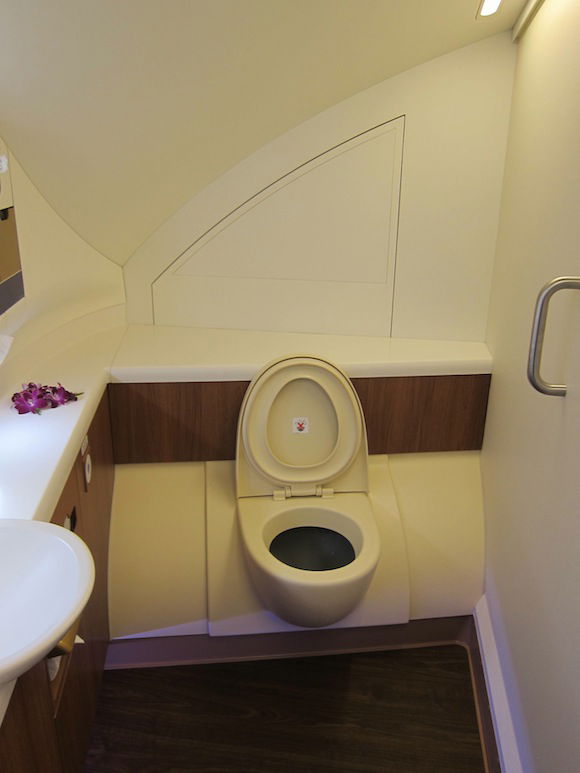 Toilet
The only downside is that they only have one of those lavatories, while airlines like Emirates and Lufthansa put two impressive lavatories up front on the upper deck.
Fortunately there was another fairly nice lavatory behind the cabin, which was spacious though nowhere as nice or large as the one up front.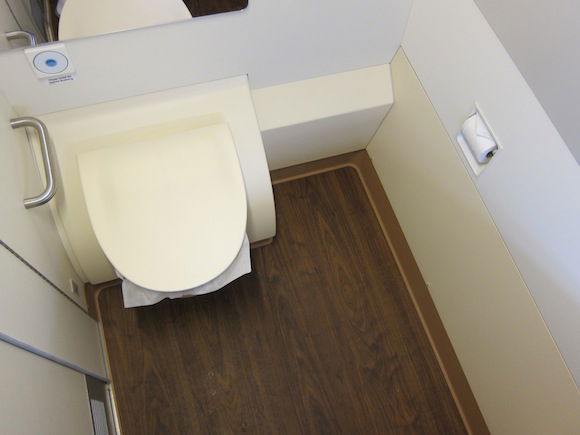 Lavatory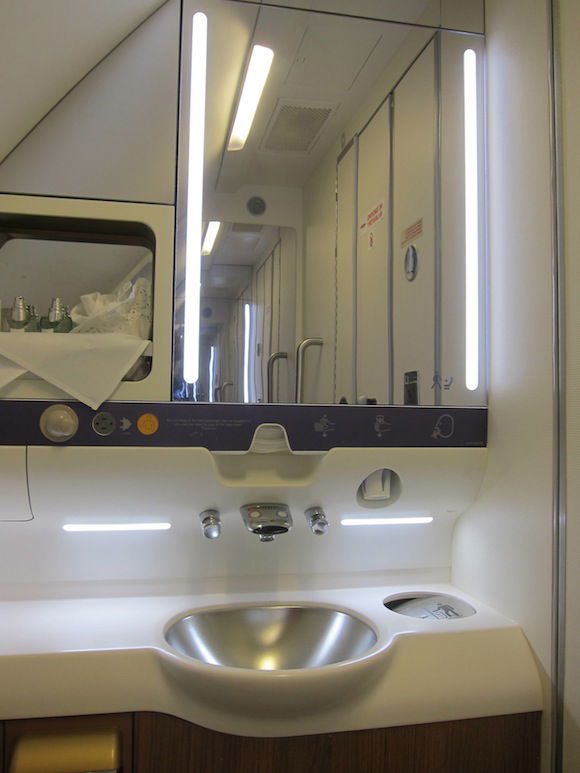 Sink and vanity
Anyway, the first class cabin filled up quickly, mostly with Japanese and Thai passengers. I quickly came to the realization that I was the only passenger in the cabin without Louis Vuitton luggage.
Once the cabin filled up a bit the pre-departure beverage service started. As I've said before service in first class on Thai is generally friendly, though not especially refined. For example, instead of asking what you'd like pre-departure they come around with a bottle of Dom and eight glasses and ask if you'd like one.
Compare that to other airlines where they ask you what you'd like, bring out the bottle of Dom for you to look at, and then pour it into a single glass at your seat. I'm also not a huge fan of Thai's glassware, which feels a lot more like business class glassware than first class glassware. Yes, that's probably a #firstworldobservation.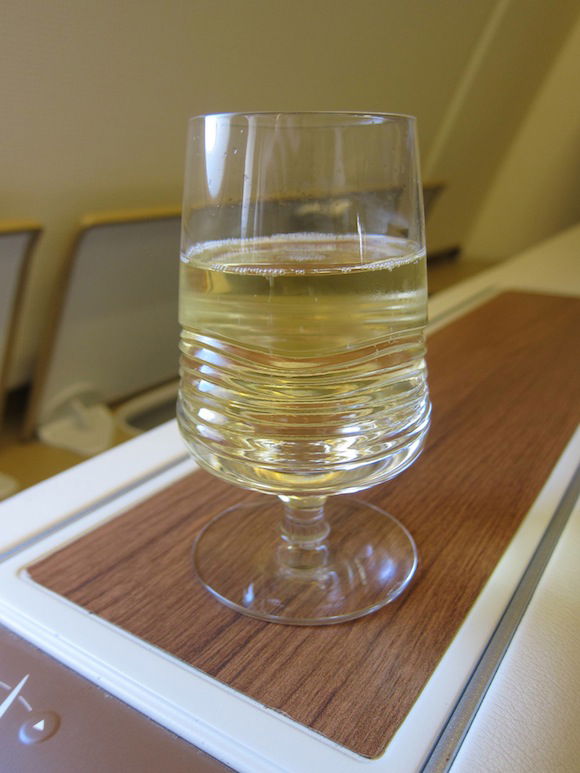 Pre-departure champagne
It's worth noting that throughout the flight I was addressed as "Mr. Benjamin." Not something I have an issue with, though also something that wouldn't ever happen on ANA, Cathay Pacific, Singapore, etc.
By around 6PM the captain came on the PA to welcome us aboard and inform us of our flight time of six hours. He apologized for the late departure and further informed us that due to typhoons around Hong Kong we would be rerouting a bit, which further added to our flight time.
As we pushed back (with a totally full first class cabin) the safety video began to play. I hadn't seen it yet since it was my first time on the Thai A380, though I'm happy to report it features the same epic voiceovers as their other videos.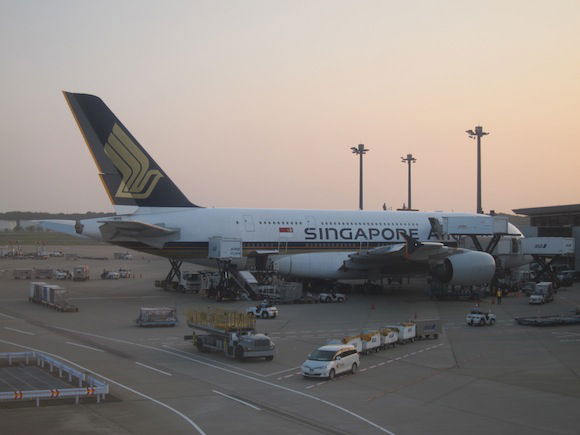 View on pushback
As soon as our pushback was complete the ground crew lined up next to the plane and waved, as is standard in Japan. I wonder at what point a bean counter will realize how much five minutes of every ground employee's time is costing them and end it. Always makes me smile, though.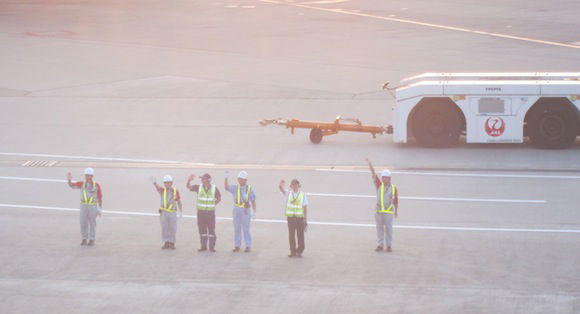 Farewell from Narita ground crew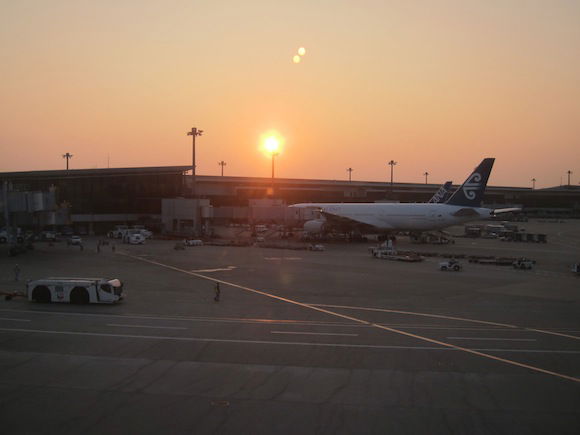 View on pushback
Our taxi was quick, though once at the runway there was a bit of a queue for takeoff, so it was about 15 minutes before we were airborne. Eventually we were number three behind an ANA 737 and JAL 767, at which point it was our turn for takeoff on runway 16R.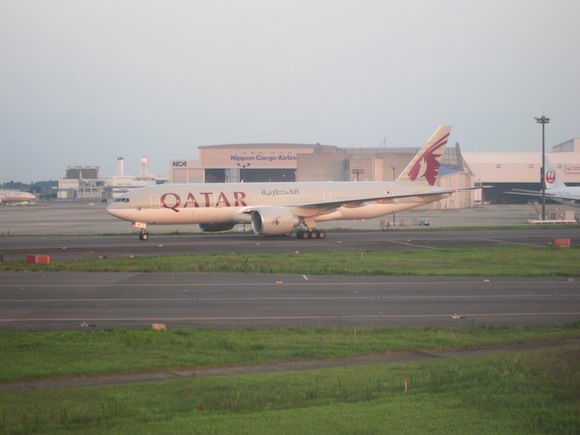 View on taxi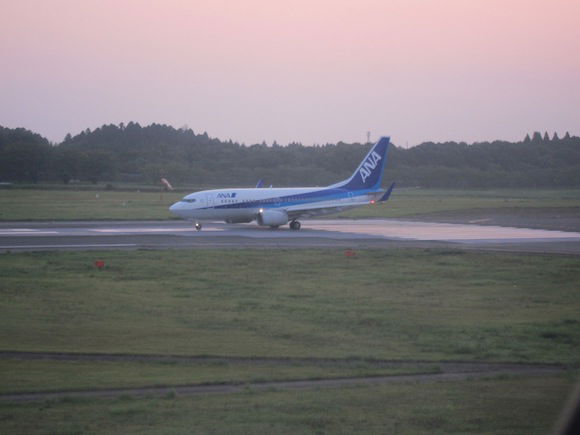 Takeoff queue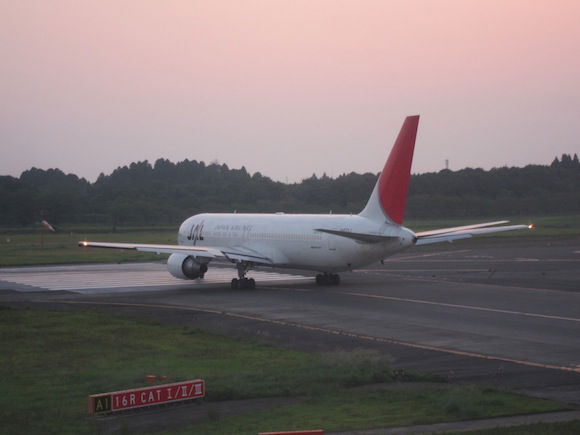 Takeoff queue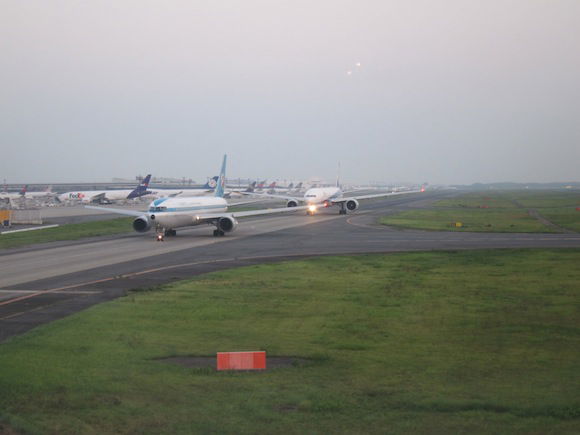 Queue behind us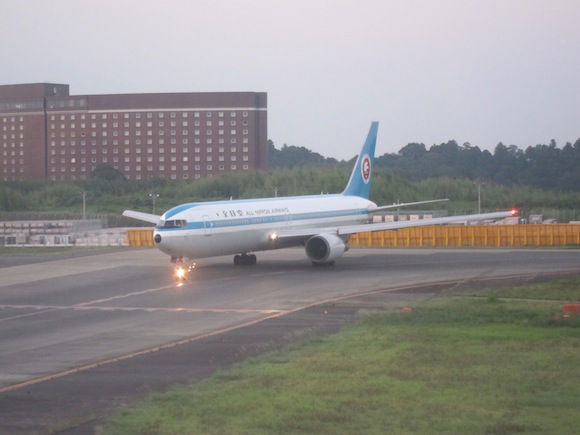 Retro jet!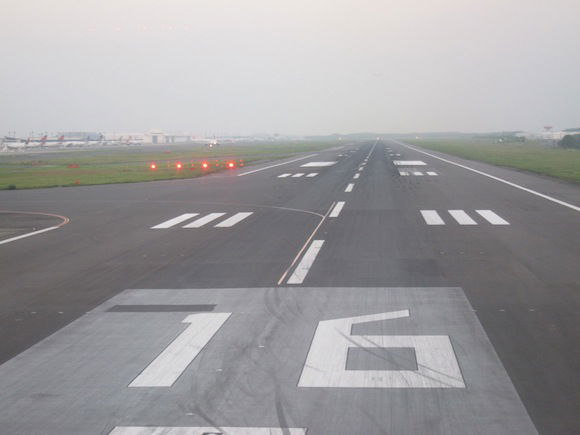 Runway 16R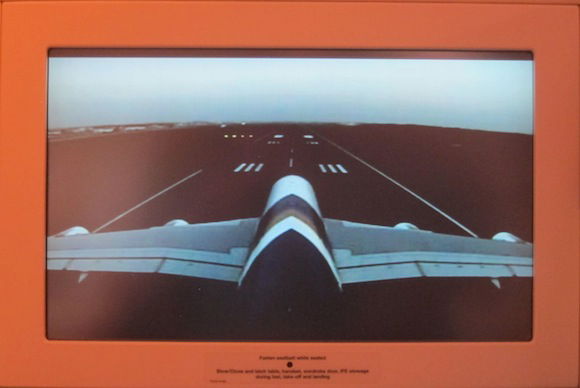 Takeoff camera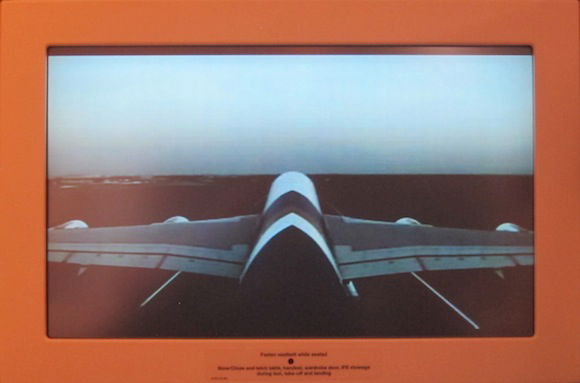 Takeoff camera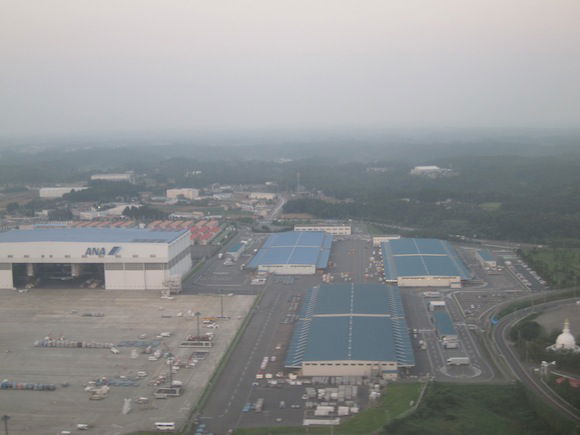 Views on climb out
Our takeoff roll wasn't all that long, and the views of Narita were quite nice on the climb out given that the sun was setting. About 25 minutes after takeoff we had some spectacular views of Mt. Fuji, which the captain was nice enough to point out.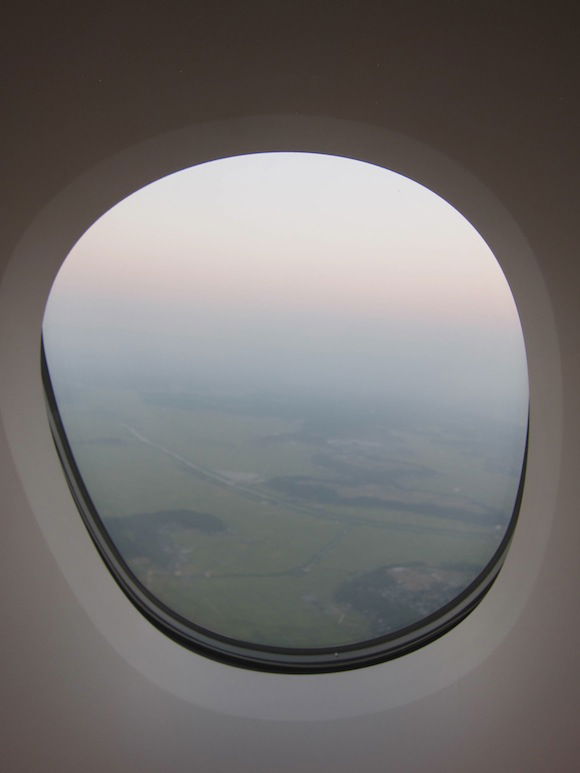 Views on climb out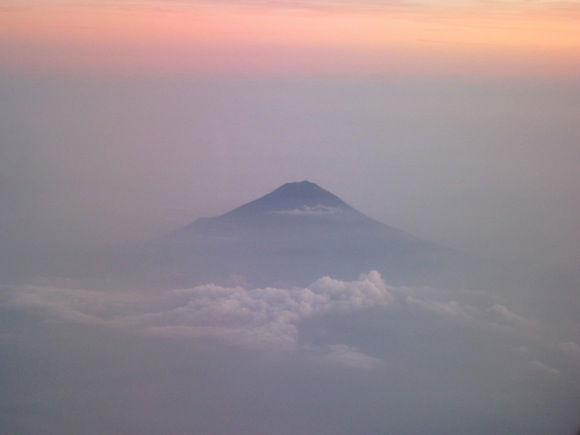 Mt. Fuji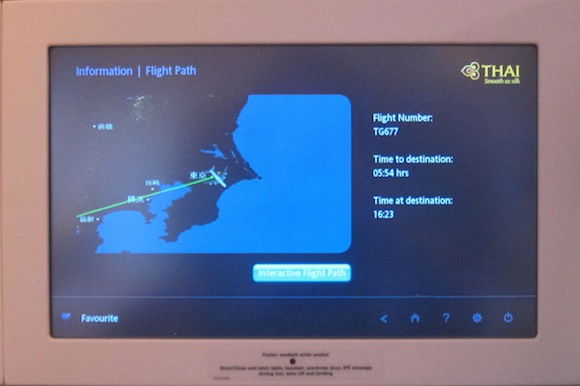 Airshow after departure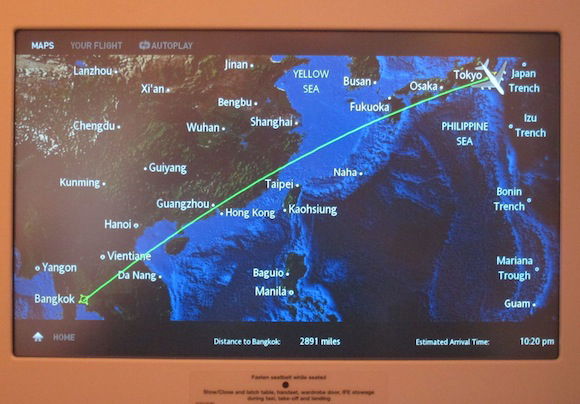 Airshow after departure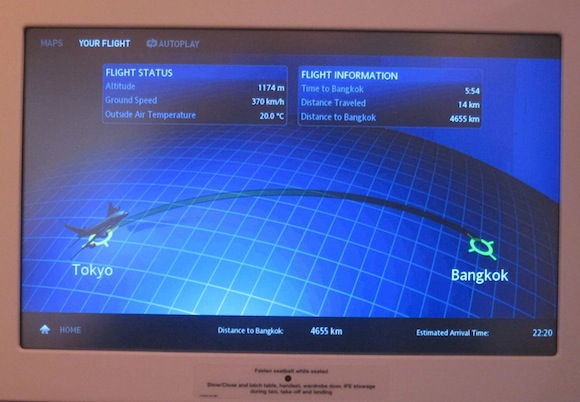 Airshow after departure

As we continued our flight I browsed the entertainment selection, which was expansive. I eventually decided to watch a couple of episodes of "2 Broke Girls," which I find to be one of the more entertaining new shows to watch on an airplane.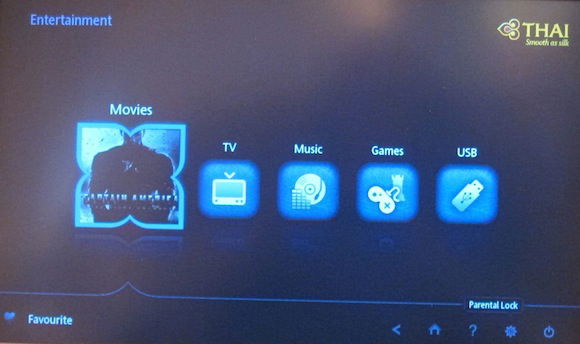 Entertainment selection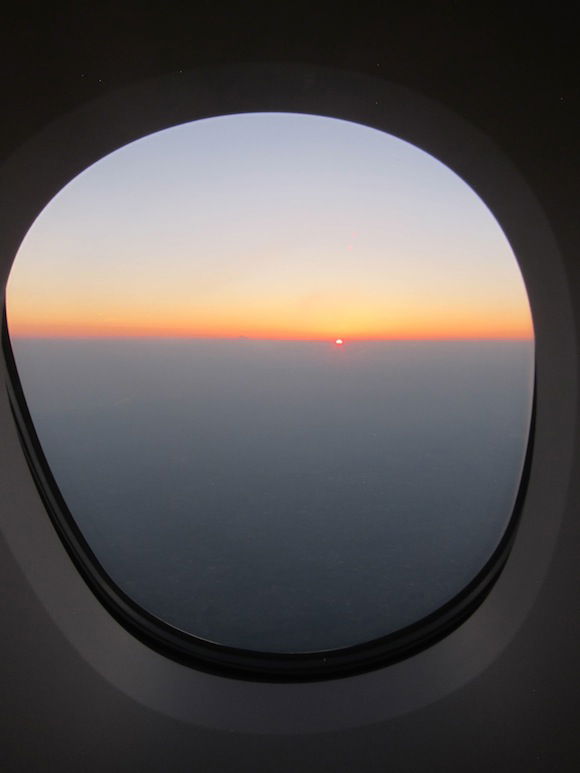 View

About 30 minutes after takeoff the flight attendant came around with canapés, with which I had a Diet Coke.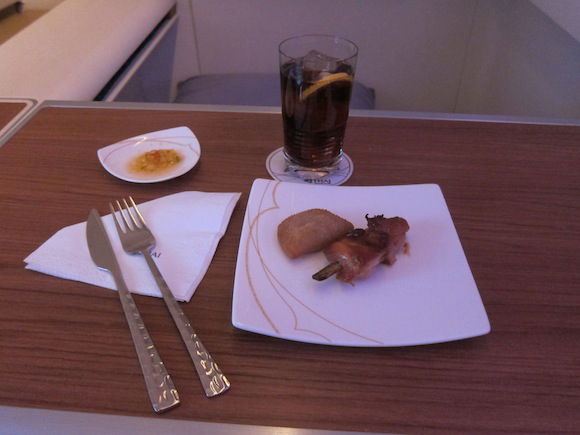 Canapés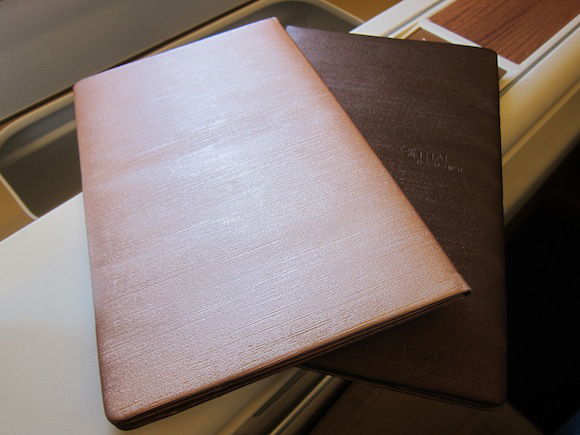 Menu
At that point the meal service began. The menu read as follows:

And the wine list read as follows: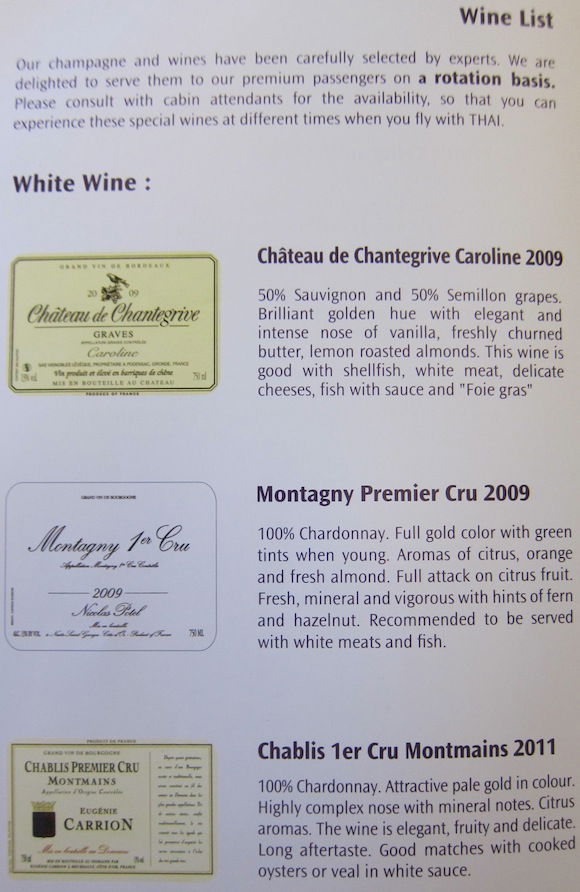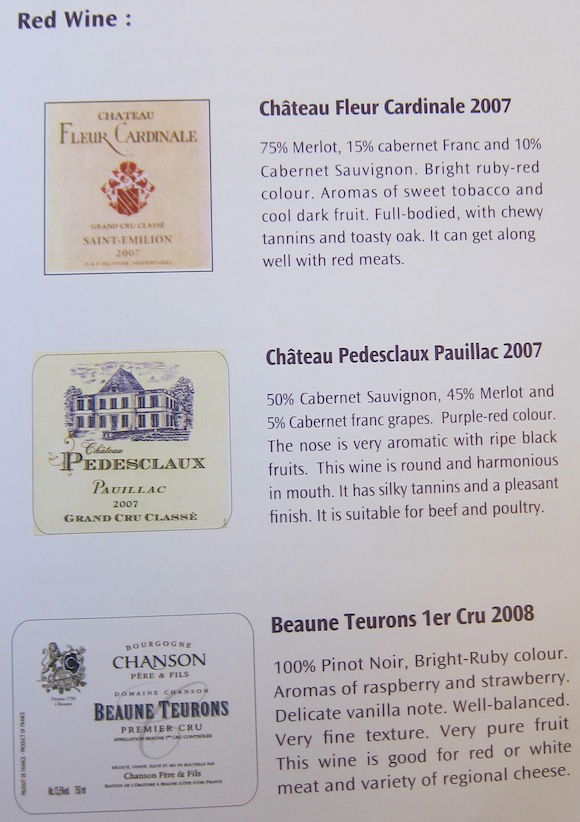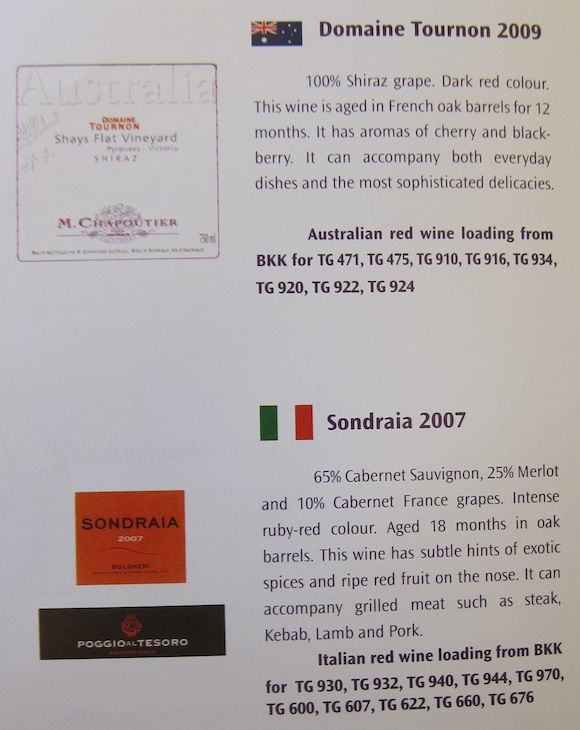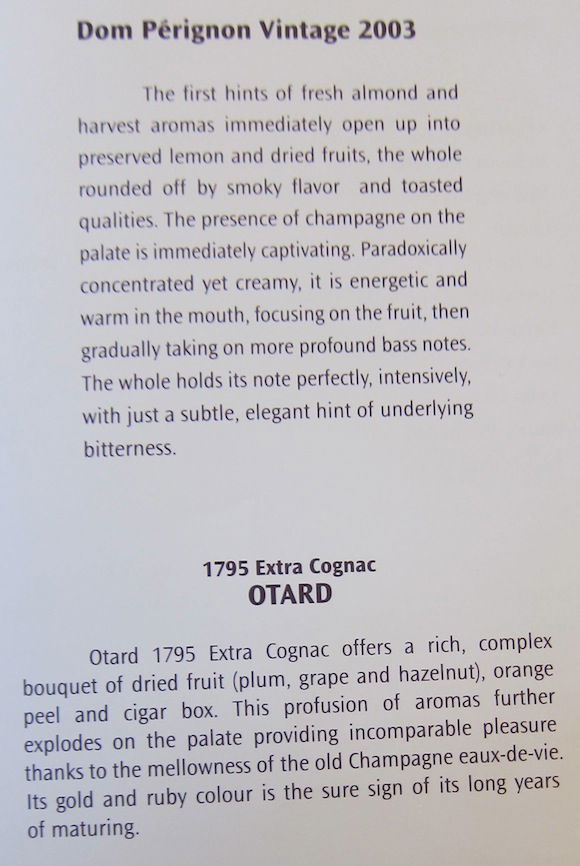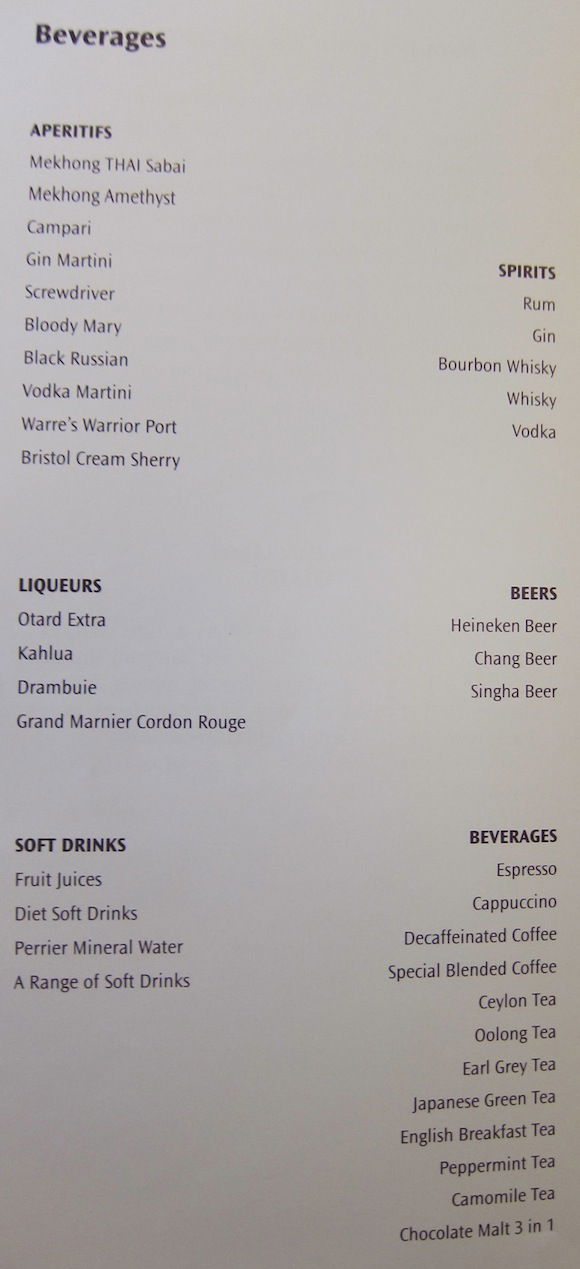 The service began with the tray being set up. Maybe it's just me, but I really feel like they could revamp their silverware and glassware. If my grandmother were in charge of picking silverware for an airline, she'd probably choose the same that Thai has.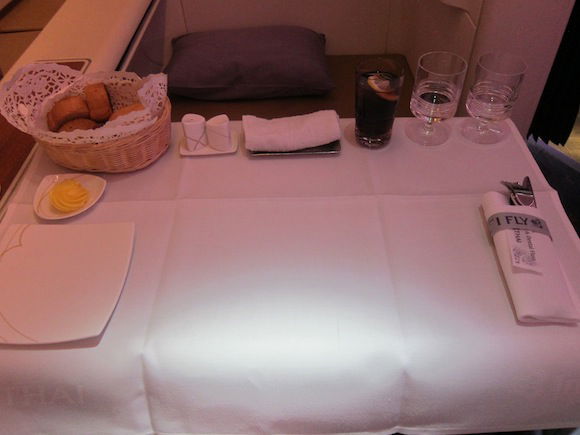 Table setting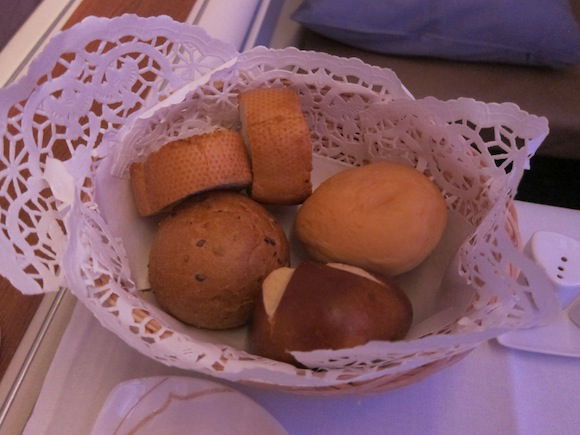 Bread basket
The starter consisted of king crab salad, shrimp, and a scallop, and was… fine.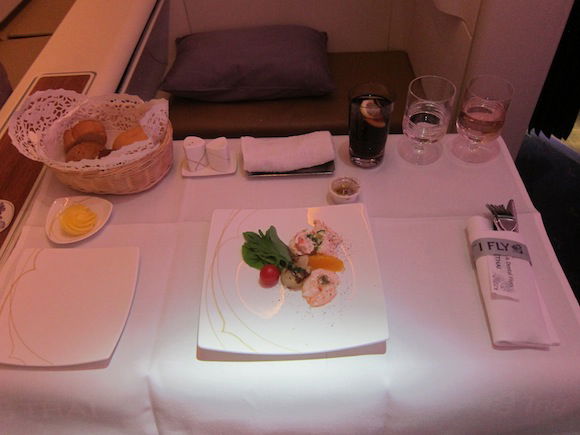 Appetizer
Like I said Thai service is consistently friendly though not all that polished, but beyond that I really don't think they do a great job of personalizing service. The meals aren't really served at your pace, but rather the cabin's pace. Basically they clear plates with each course once everyone is finished, and then serve the next course when everyone is ready.
So after not getting much sleep on my ANA flight and being pretty tired I decided just to order dessert and then go to sleep. The dessert consisted of a rum cake with orange sauce. It was, again… fine.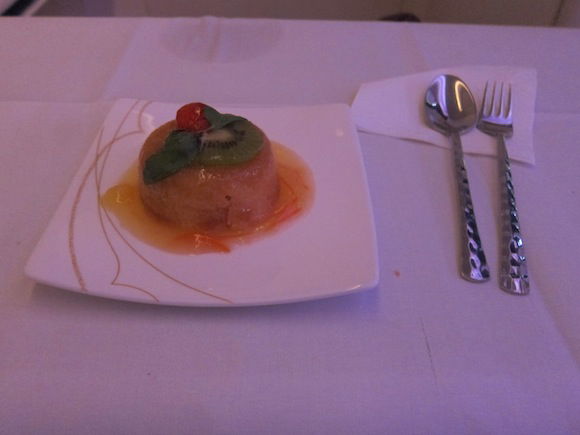 Dessert
I slept for most of the rest of the way to Bangkok. While I didn't get turndown service, I managed to sleep well thanks to the two large, firm pillows, as well as the fairly comfortable blanket.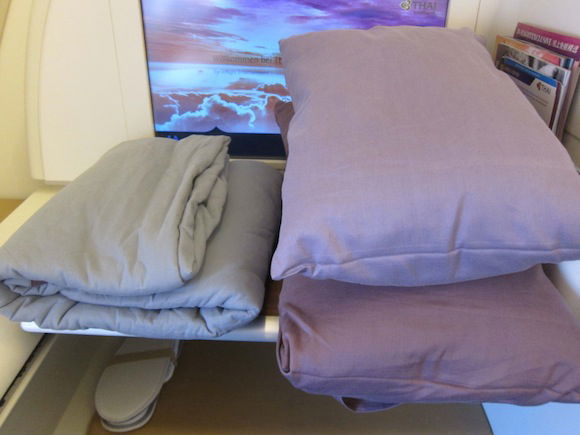 Pillows and blanket
I woke up about 30 minutes out of Bangkok and turned on the airshow, where I saw what must have been one of the most zig-zag flight paths I've ever taken. Thanks Hong Kong typhoon!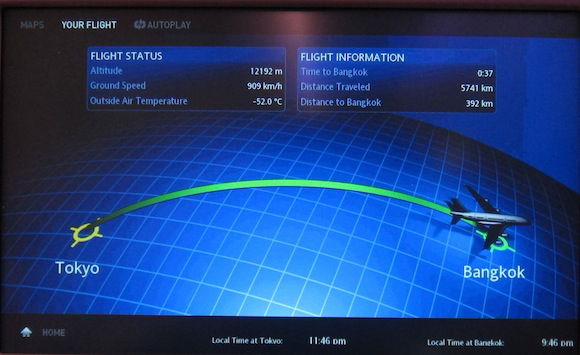 Airshow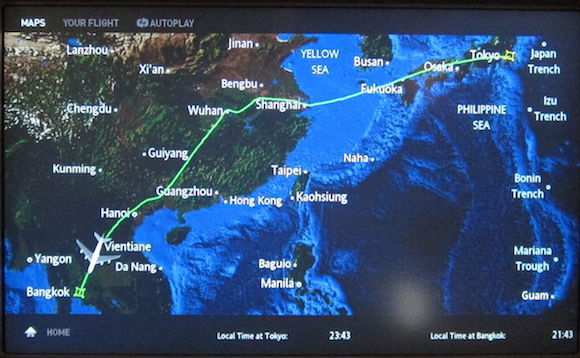 Flightpath
Within a few minutes of waking up the friendly flight attendant asked if I'd like some strawberry ice cream and water. Sure, why not?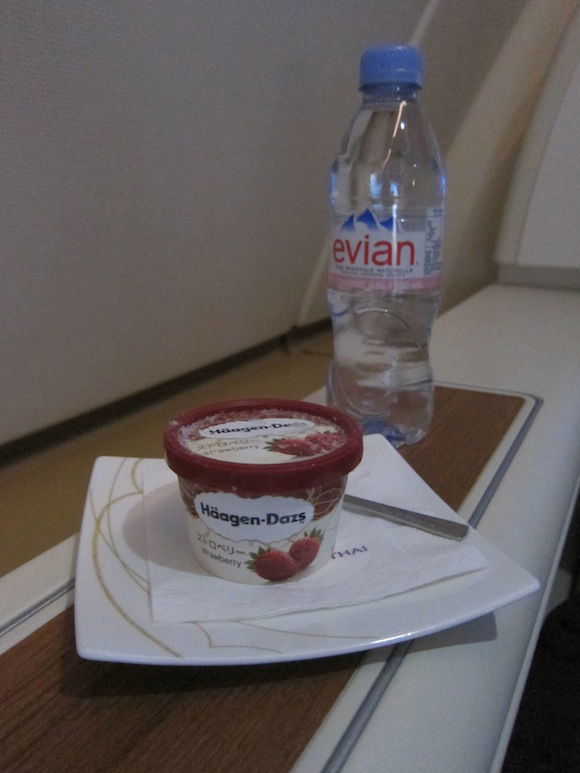 Pre-arrival snack
Our descent into Bangkok was smooth, and about 10 minutes prior to landing the crew came around the cabin to thank each passenger for flying Thai and offered us each an orchid.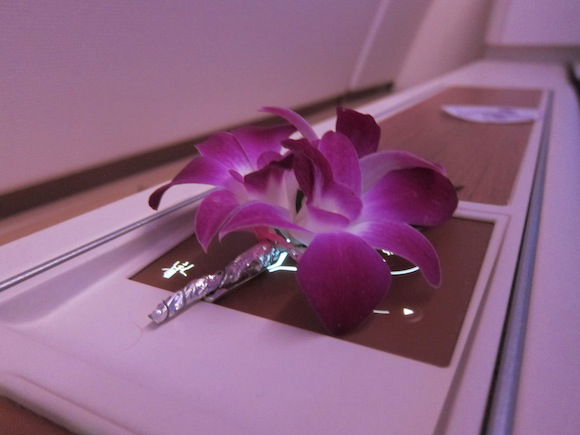 Orchid
After a smooth touchdown and roughly 15 minute taxi we made it to gate C7.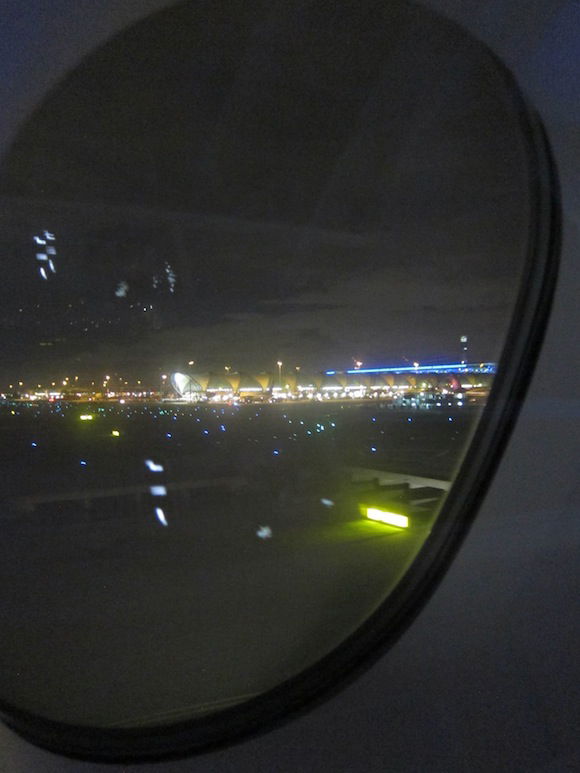 View on arrival
Upon arrival there were several agents waiting to greet the first class passengers, with different signage based on whether passengers were terminating in Bangkok or connecting. Since I was terminating I took a golf cart with the other three passengers terminating their travel in Bangkok, and we began what must have been a 15 minute golf cart ride to immigration.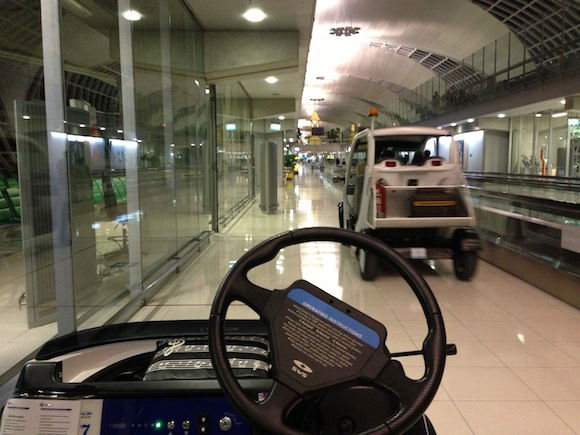 Golf cart
At immigration the agent escorted us to the diplomat queue, which I cleared in a matter of minutes. From there it was off to the Novotel for a quick overnight.
On the whole this was a pleasant flight with typical Thai Airways service. On one hand it was friendly and sincere, which is to say the crew genuinely seemed to want to smile and wasn't putting on an act. At the same time the actual service process wasn't very polished and felt mechanical. Still, Thai Airways' ground services in Bangkok are so awesome that I would love to fly the A380 again, though next time departing out of Bangkok.