---
Andrew, the contest winner for the Helsinki trip, graciously offered to share his thoughts about the trip, which you'll find below.
I was thrilled to have won Lucky's contest for a trip to Helsinki on American's seasonal route from ORD-HEL. Lucky asked me to write a guest post about the experience, so here it goes.
At O'Hare, we boarded our 767-300 for Helsinki (painted in the new livery) and departed on time. The crew was all smiles, and we were in for a good flight.
I think the reason business class seats are wider than those in coach is to account for the weight gain you experience as a result of all the food they put in front of you. It was all quite good…here are some examples: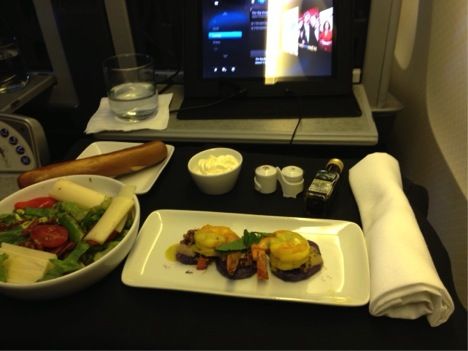 Shrimp appetizer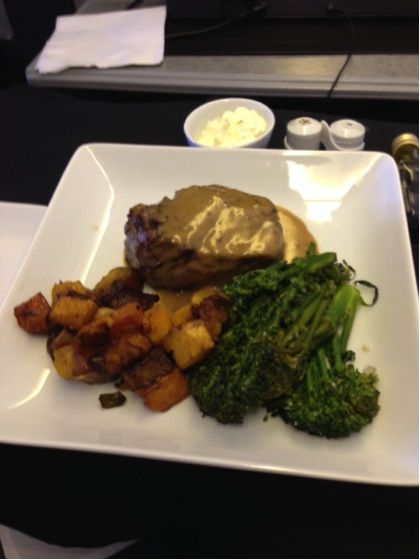 Beef filet main course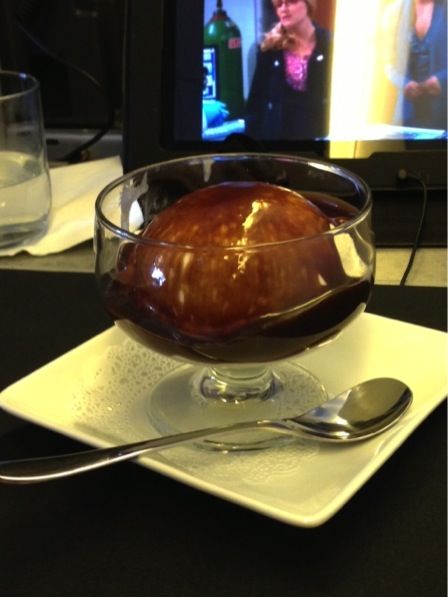 Sundae
As a welcome amenity, Lucky generously gave me a pair of Shanghai Tang pajamas. When it was time to sleep, I put them on. Although I think I looked a little like the premier of North Korea, I proudly wore them and felt only moderately self-conscious among a cabin of people wearing normal sleepwear.
Unlike Lucky, who has trouble sleeping on planes unless it's on a fully-flat king-size bed in a private suite after a hot onboard shower, I would have no problem sleeping soundly atop a pile of angry scorpions with Nickelback playing in the background. Thankfully, AA's business class product was noticeably more comfortable than that – it was like falling asleep in a lounge chair. I had no problem getting a few hours' sleep. (I also watched Identity Thief, which Lucky and I agree is an instant classic.)
Helsinki was a bit quiet this time of year, but full of charming architecture and scenic streets. On our cab ride from the airport to our hotel around 9 am (a particularly hellacious time for gridlock back home in DC), there wasn't much traffic at all, and few people were walking around outside (despite the fact that the temperature was perfect and there was hardly a cloud in the sky).
When we checked in at the Hotel Kämp, we were a little apprehensive, as the people at the check-in desk next to us had just been told that their room wasn't ready. Thankfully, ours were (pro tip: always travel with an SPG Platinum member). Despite sleeping on the plane, I needed some more rest before I could be confident that I would not be mistaken for one of the bad guys from World War Z.
The Hotel Kämp was really beautiful, and the staff were all friendly. I think there were a few instances when service could have been a bit better; for example, I needed a new room key at one point and Lucky left one for me at the front desk, but the front desk person I spoke to was unaware of this and could not verify my identity (I wasn't listed on the reservation even though I provided ID upon check-in). She would not give me a new room key until she accompanied me up to my room. Not a big deal, but the whole thing was a little odd (although she followed me to my room, I didn't have to prove that the room actually belonged to me). In general, though, the location of the hotel is unbeatable, and it was a really comfortable place to stay.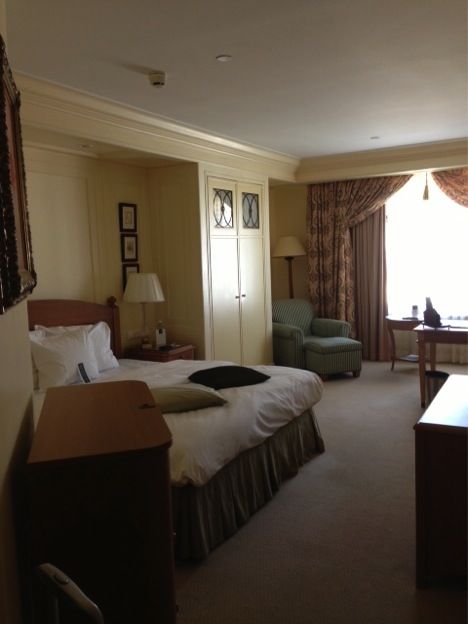 My room at Hotel Kämp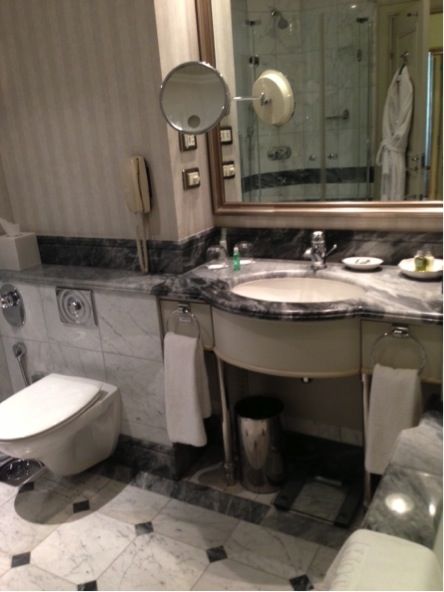 Bathroom
Lucky and I also had the chance to eat dinner with a Finnair executive and hear her perspective on the industry and Finnair's strategy, which was very cool. On our last day, we got a behind-the-scenes tour of Helsinki Airport (which is great, by the way – if you have the chance to connect through there, I definitely recommend it, especially if you aren't a fan of the pandemonium that occasionally occurs at Heathrow). We hung out in the Finnair lounge prior to boarding our flight, which was really well-designed and felt tranquil and inviting.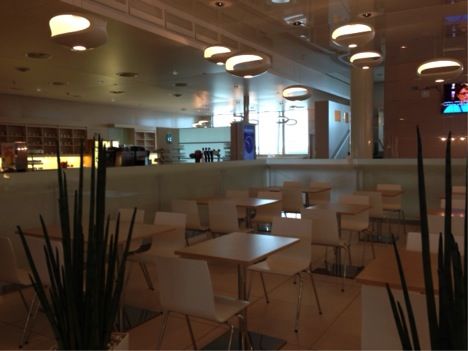 Finnair Lounge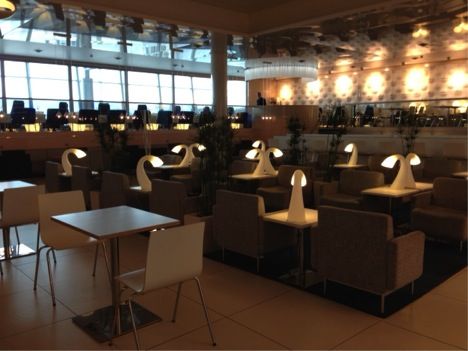 Finnair Lounge
Our flight back had a crew that was just as friendly as the people on the outbound, and some more yummy food. The flight was over even more quickly than Kim Kardashian's marriage.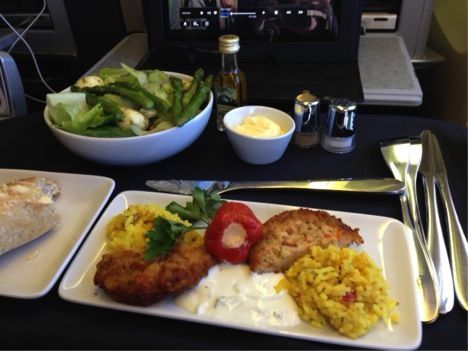 Crab cake appetizer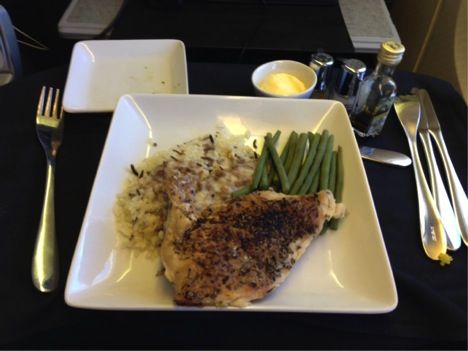 Chicken entrée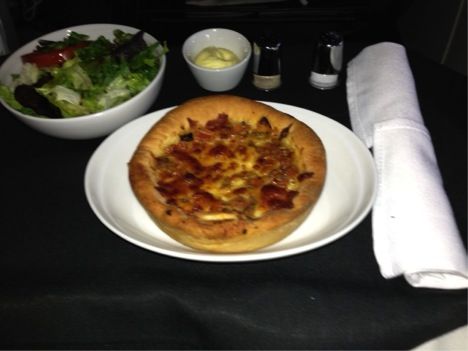 Pesto pizza pre-arrival snack
Upon arrival at O'Hare, I got to use their new 1-Stop immigration line, which meant it took all of 5 minutes to get my passport stamped. That was amazing (I got through more quickly than Lucky, who used Global Entry). We toured the new American Flagship Check-in area, which was pretty cool, and got to see the OneWorld Global Support Center, which coordinates seamless connections for OneWorld passengers at ORD.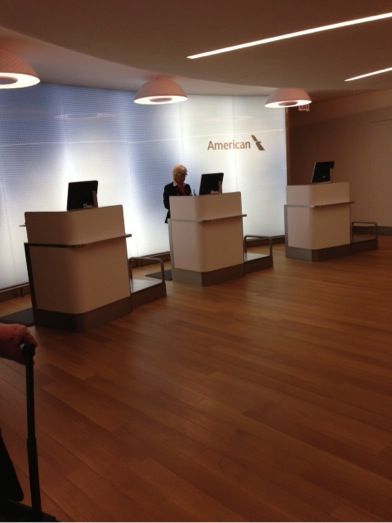 Flagship Check-in
Overall, this trip was pretty much the best thing ever, and I feel grateful to Lucky, American, Hotel Kämp, Finland, and Karl Fazer chocolates for an unforgettable trip.