---
British Airways 49
London (LHR) – Seattle (SEA)
Monday, January 21
Depart: 2:30PM
Arrive: 4:05PM
Duration: 9hr35min
Aircraft: Boeing 747-400
Seat: 2A (First Class)
At the door I was greeted by the CSD (customer service director), Alistair, who addressed me by name and escorted me to my seat. As I walked into the first class cabin I was fully expecting to see paddles, beach balls, and life rafts, though there was none of that. No sign of a flood at all, oddly enough. I asked him what the problem was, and he indicated that one of the lavs had a slight mishap, though that was it. Seems like the gate agent blew the situation out of proportion.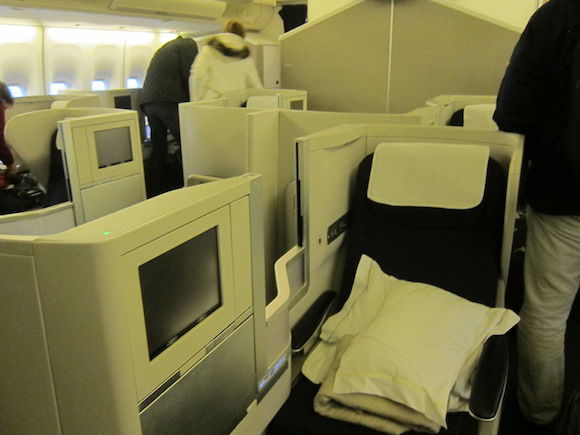 Forward Club World cabin
As I said last time I flew British Airways' new first class, aesthetically I really like the cabin. The colors give the cabin a really modern feel, and the blue mood lighting makes the ambiance even better.
Unfortunately they cram 14 seats in the nose of the 747, making for a very tight fit, compared to most other airlines which only put 8-10 first class seats in the nose.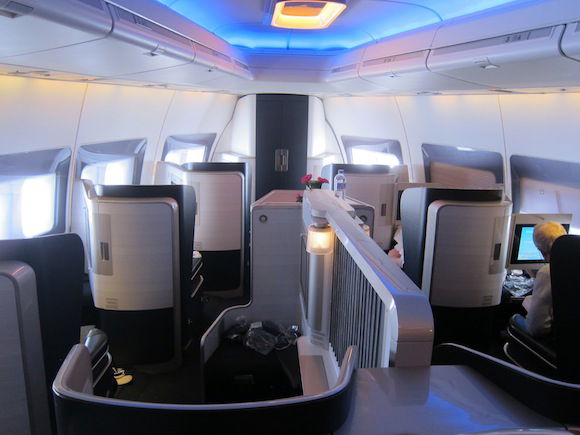 I selected seat 2A for this flight. Row two is probably the most private on the plane given that there are no center seats in the row and the two window seats are fairly far apart.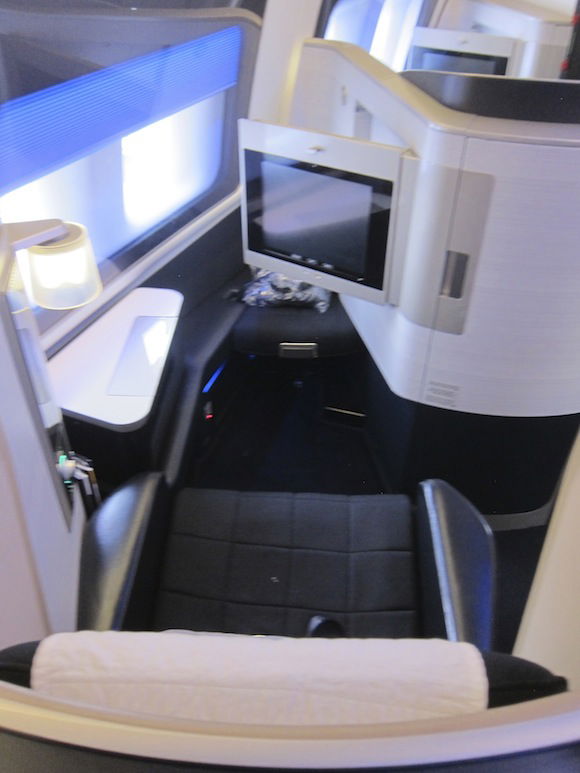 Seat 2A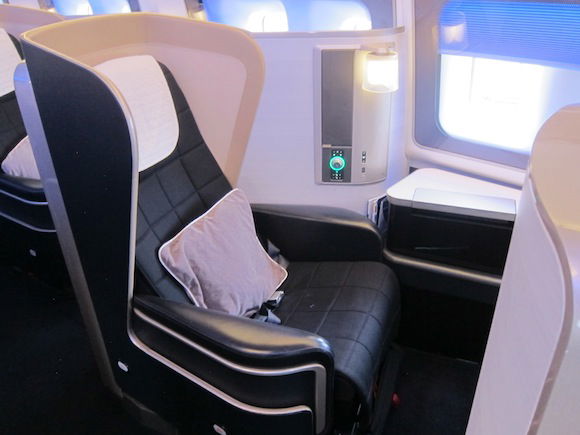 Seat 2A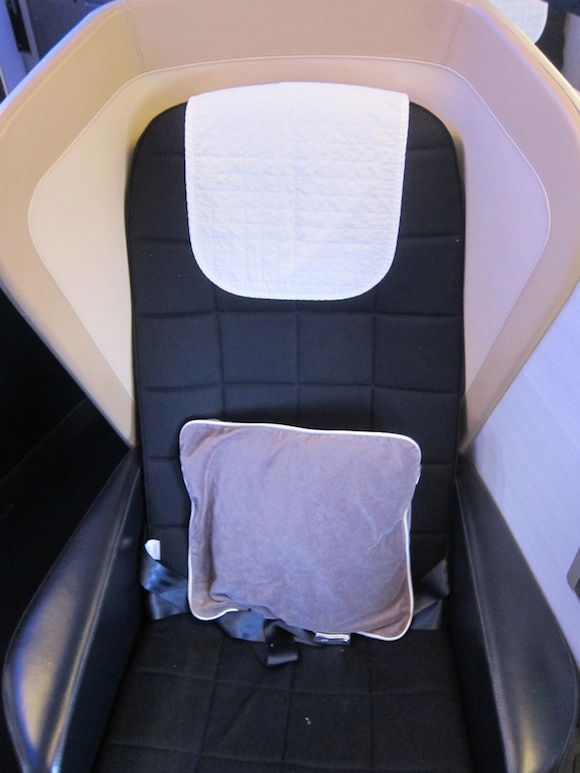 Seat 2A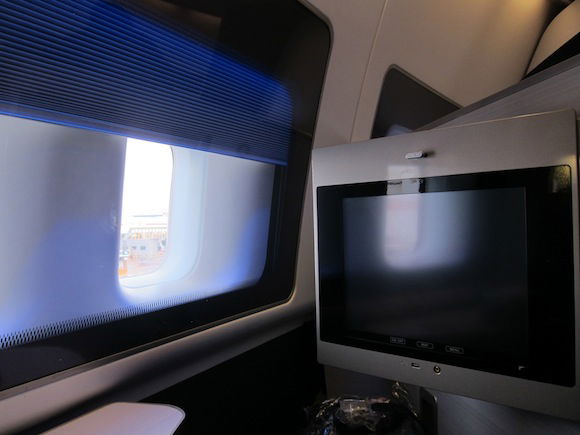 Seat 2A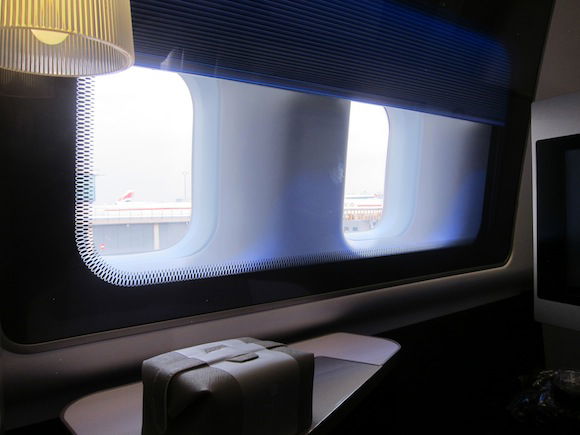 Seat 2A windows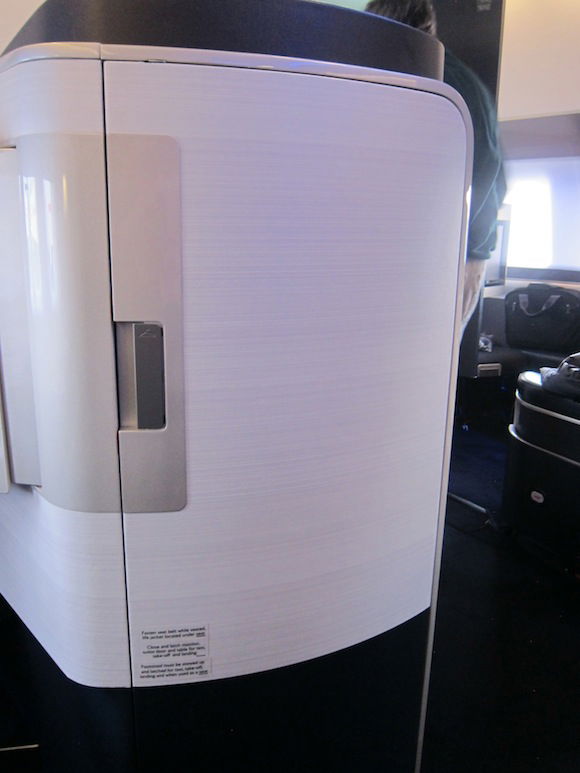 Seat 2A storage compartment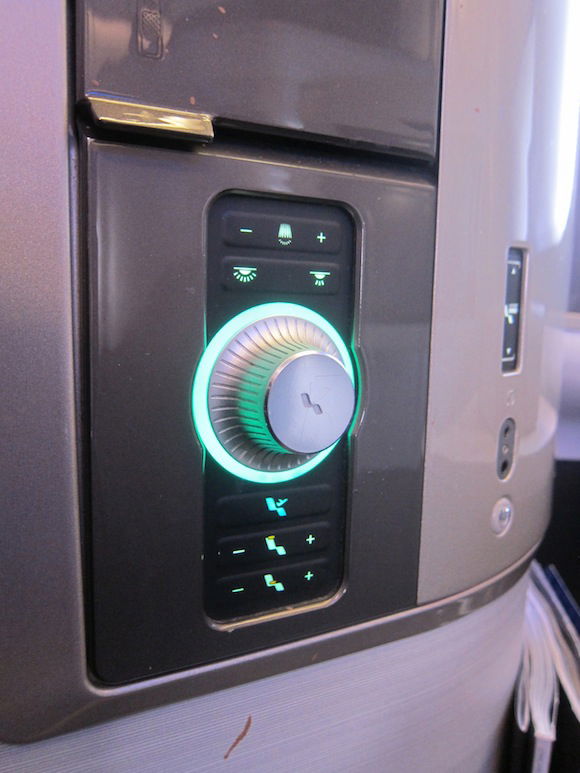 Seat 2A lighting and seat controls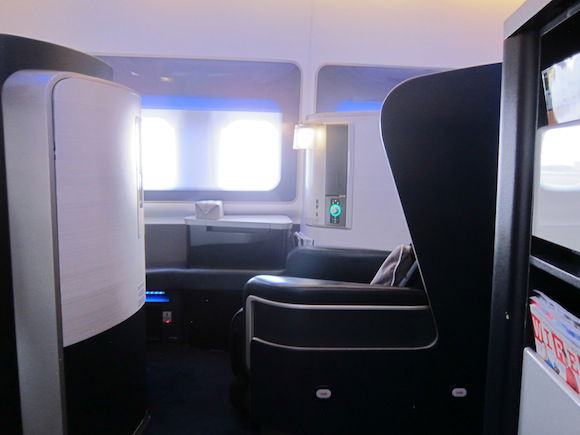 View from seat 2A
Once settled in the three flight attendants working first class introduced themselves. There was Jamie, the purser (at British Airways the purser isn't actually the "purser" in the traditional sense of the word, but rather only in charge of the first class cabin), and flight attendants Sunil and Denise.
I was immediately offered a set of pajamas, an amenity kit, slippers, and hot towel. While I was brought medium pajamas I had them swapped for large, given that BA's pajamas are on the small side to begin with, in my experience. I also wanted to be sure to take good care of this pair, as British Airways hands down has my favorite airline pajamas.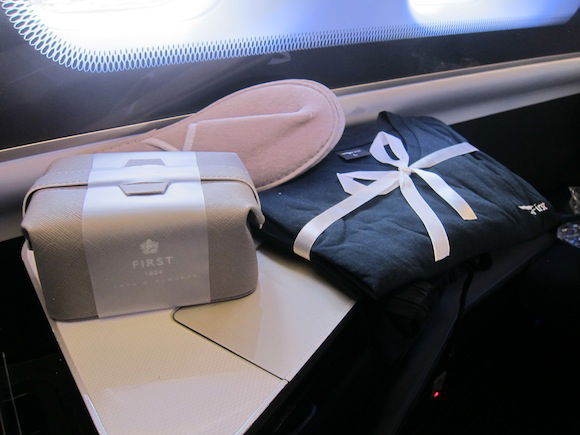 Amenity kit, slippers, and pajamas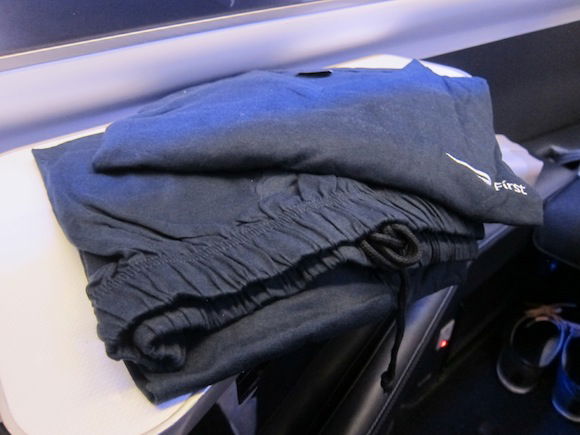 Pajamas
To drink I ordered a glass of water, which seemed to disappoint the flight attendant.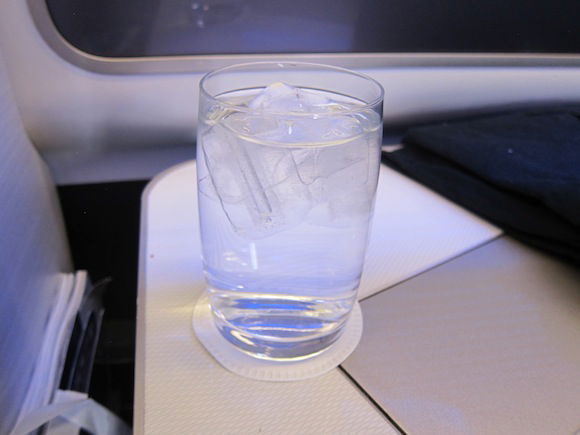 Pre-departure water
As the departure time approached the first class cabin was half full, with rows one through three taken, and one passenger in row four.
The captain came on the PA to advise us of our flight time of nine hours, anticipating some turbulence after takeoff but an otherwise smooth flight. We were about 30 minutes late departing, though the captain still expected we'd arrive on-time due to a shorter than normal flight time.
The safety video played as we pushed back, and we taxied to runway 27L, with lots of cool traffic to look at.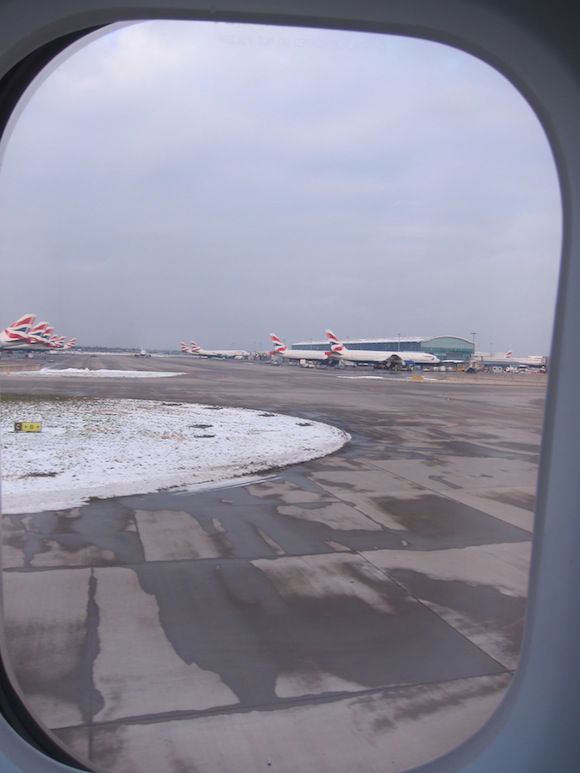 Departing terminal five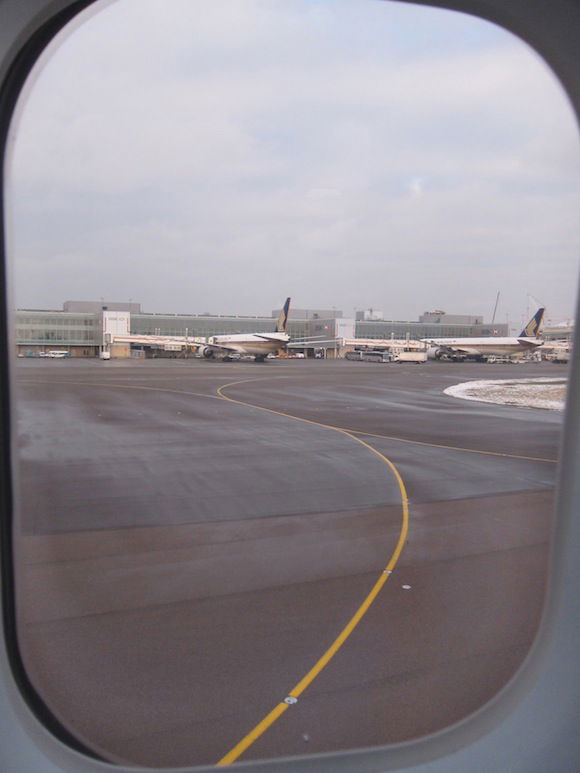 Two Singapore 777s
Once at the runway we were number two for takeoff, behind an American 777.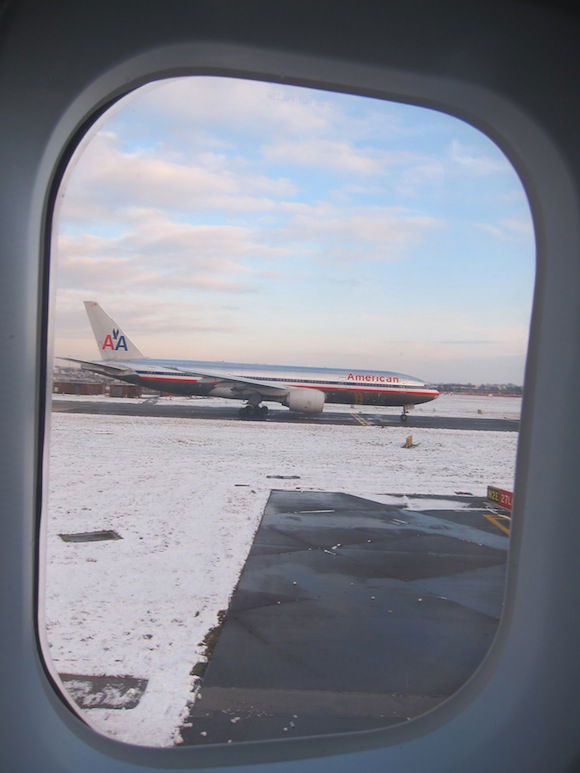 American 777 ahead of us for takeoff
Our takeoff roll was fairly long, and we were airborne at around 3:30PM local time. The views on the climb out were stunning as the sun slowly began to set, enhanced by all the snow on the ground in London (which I was happy to be leaving behind!).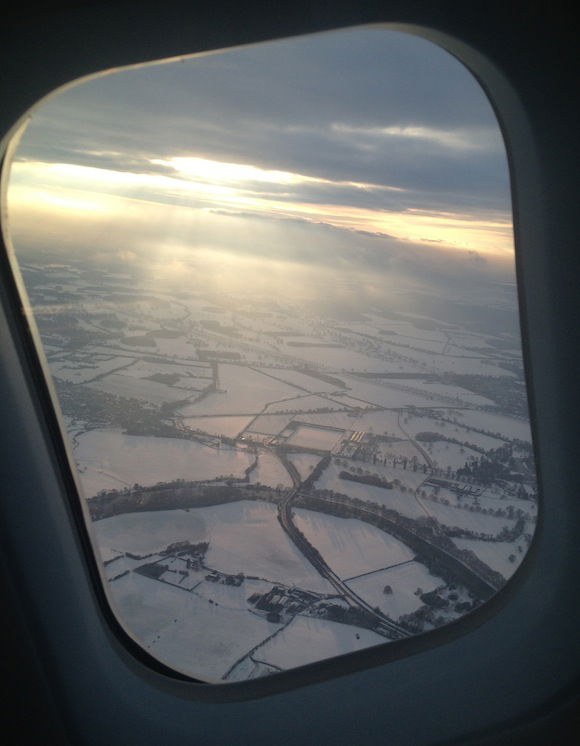 View on climb out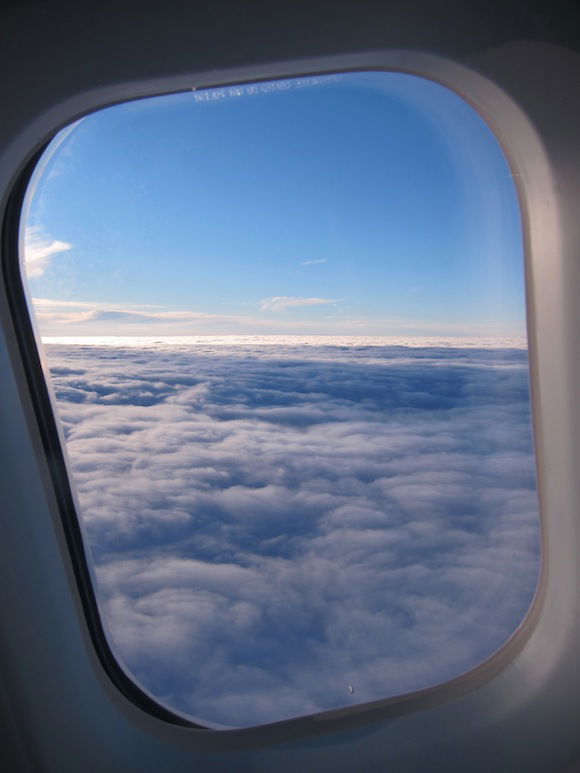 View on climb out
After takeoff I browsed the entertainment selection for a few minutes, which is pretty lackluster compared to the selection offered by Cathay Pacific, Emirates, Singapore, etc.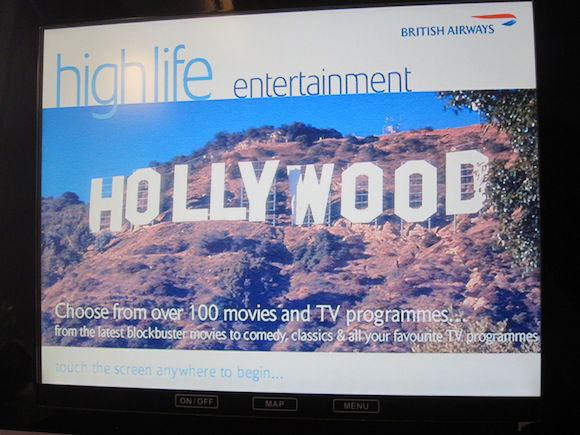 Entertainment selection
About 20 minutes after takeoff the seatbelt sign was turned off and service began.
At this point the CSD walked through the cabin to welcome aboard each passenger and present them with a menu. As he handed me my menu he said something along the lines of "thank you so much for your constant business to British Airways, your retention is very good."
I'm not sure what that actually means. I am a British Airways Gold member, though I didn't have that frequent flyer number on my ticket, as I was crediting to American. I'm not sure if that was in regards to my OneWorld Emerald status or the fact that I was (technically) on a paid first class ticket. Or maybe it was a "thank you" in advance given the potential toilet issues the airplane apparently had on the inbound flight. Who knows… 😉
Sunil offered me drinks shortly thereafter, and I had a Diet Coke which was served with mixed, warm nuts. British Airways has one of the best nut mixes out there, in my opinion, as I love their honey roasted cashews.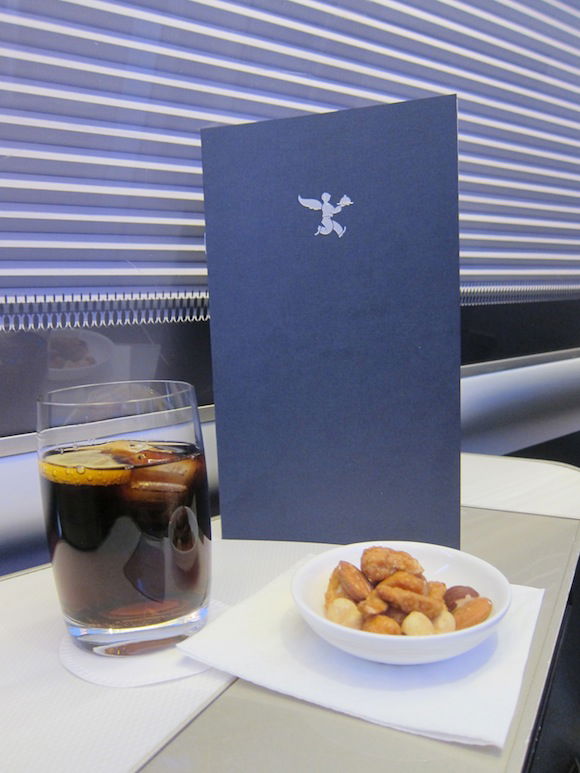 That was quickly followed by the amuse bouche, which consisted of pear with stilton cheese.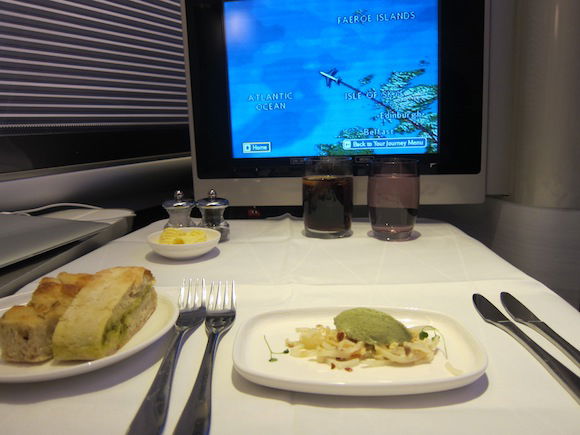 Amuse bouche
At that point meal orders were taken.
The menu read as follows: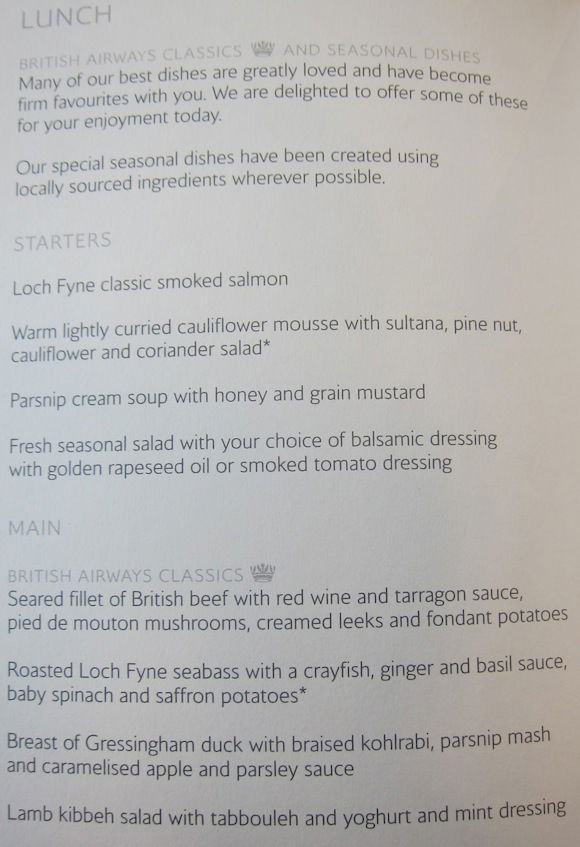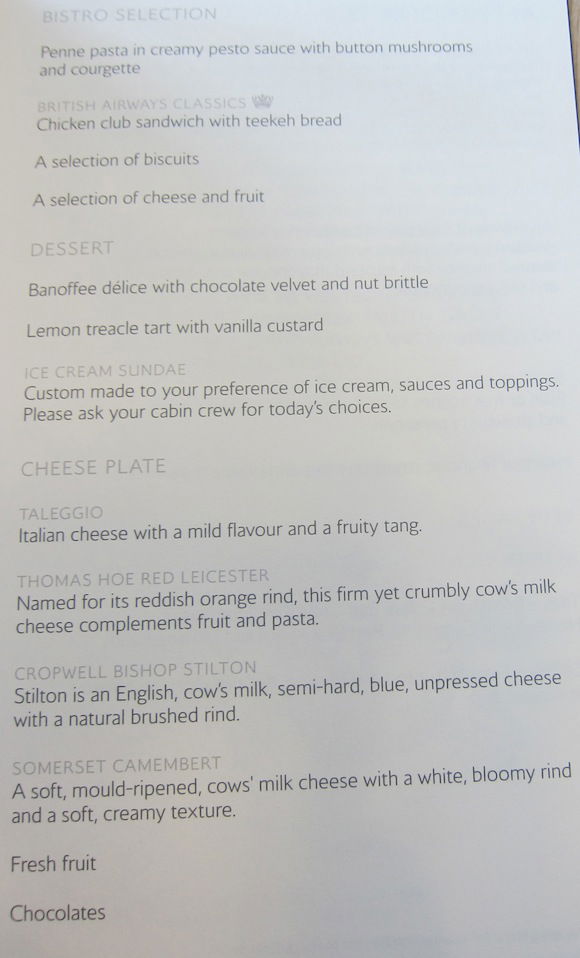 And the wine list read as follows: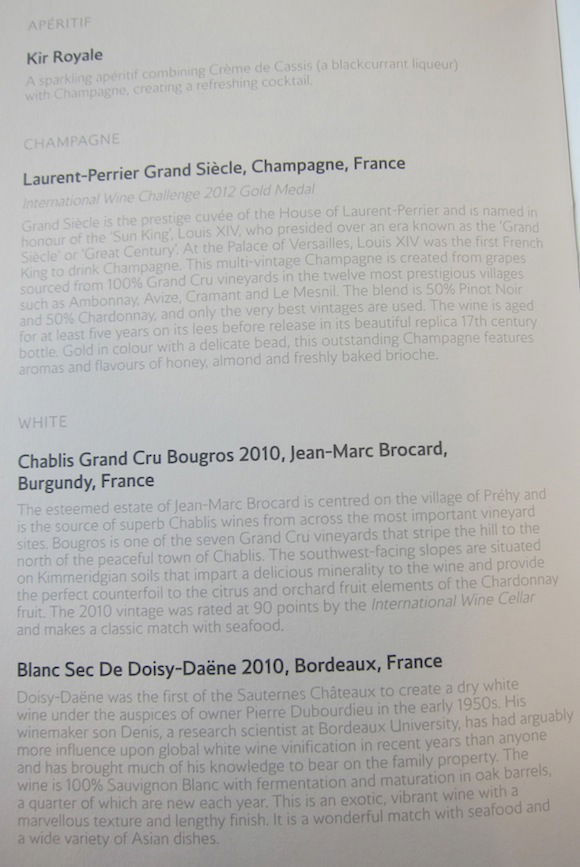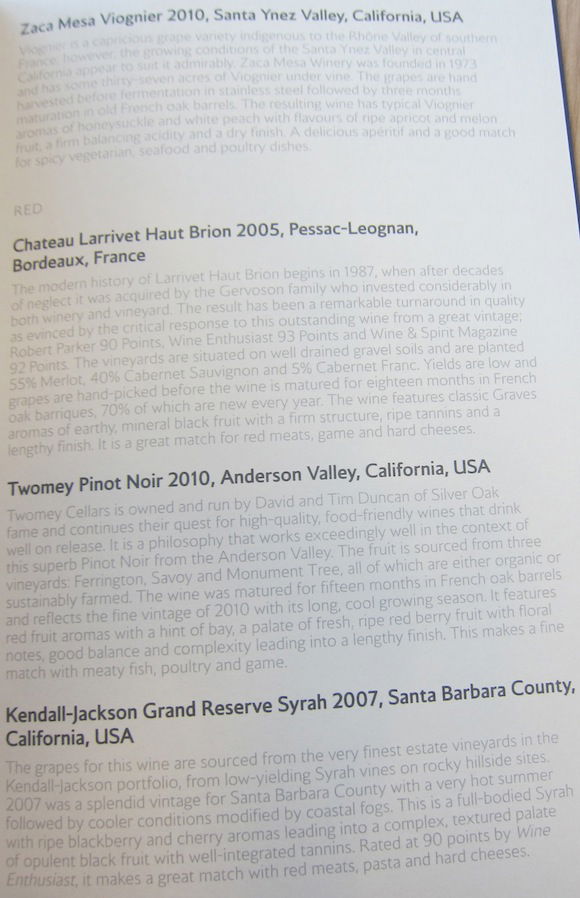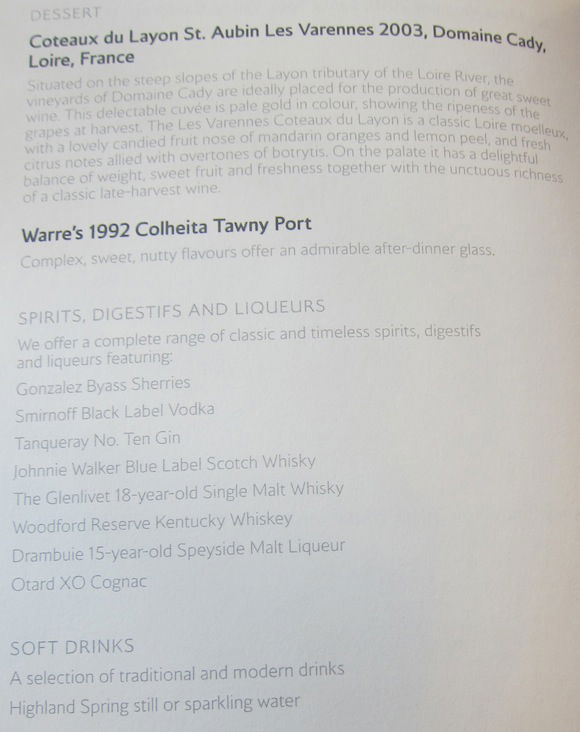 For the starter I had the salmon, which was excellent.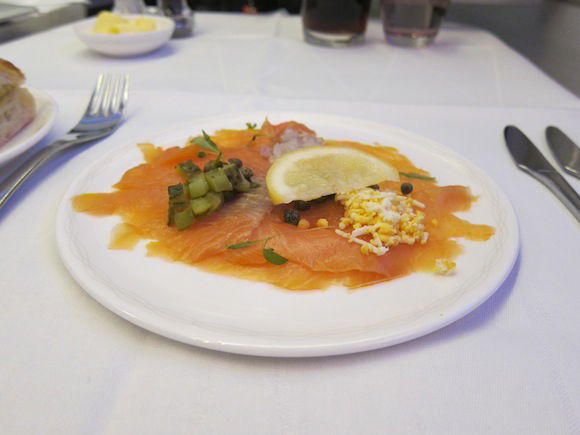 Loch Fyne classic smoked salmon
Then for the main course I had the seared fillet of beef. This was about as good as the beef I've had on domestic flights, so quite a disappointment for an international first class entree. The beef was tough and chewy.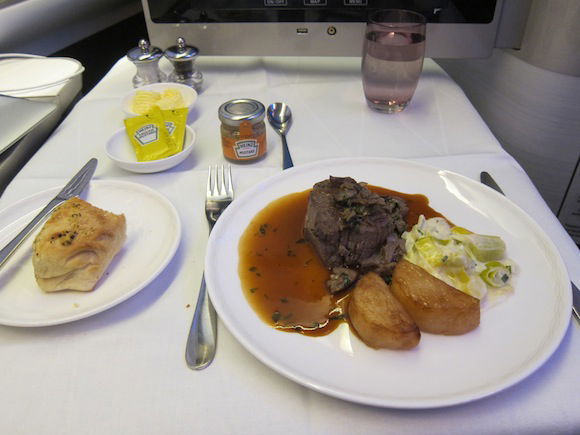 Seared fillet of British beef with red wine and tarragon sauce, pied de mouton mushrooms, creamed leeks and fondant potatoes
For dessert I had the ice cream sundae. Sunil asked how I wanted it, and I told him to surprise me, which he did. I had some breakfast tea along with my sundae.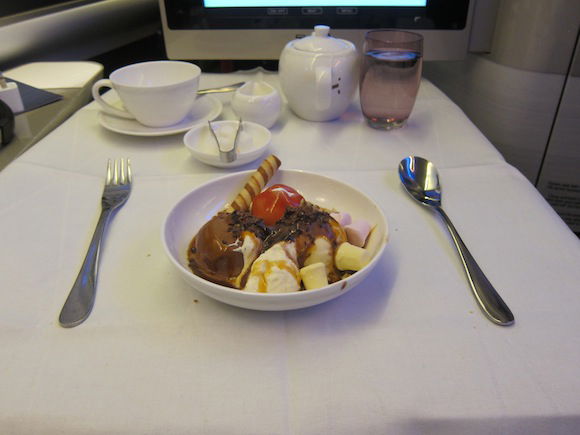 Ice cream sundae
As the meal service finished up I was offered a bottle of water. As we were well over Iceland I figured it was time to get some sleep.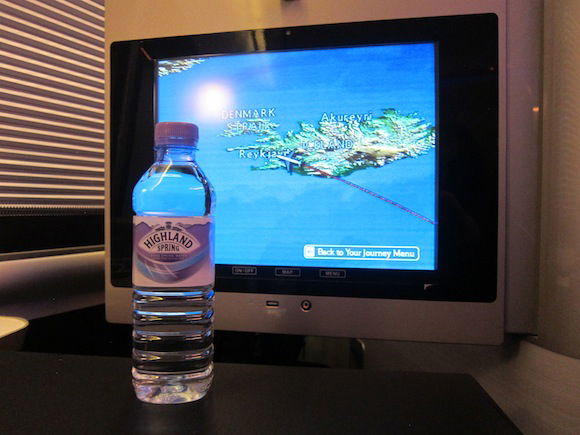 Airshow
I requested turndown service, which was promptly taken care of.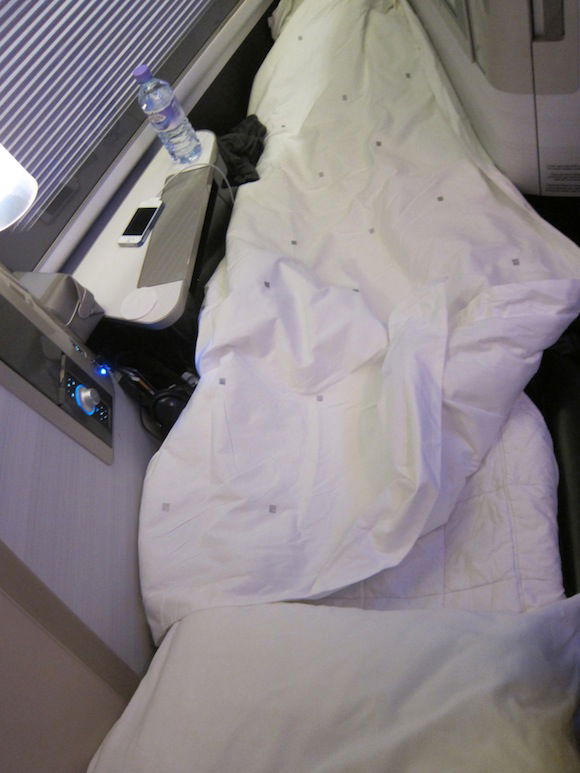 Seat in bed mode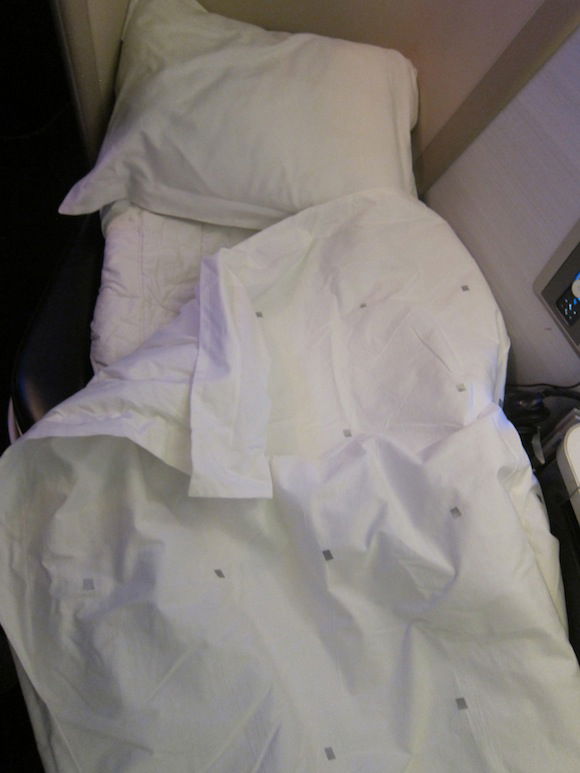 Seat in bed mode
I got over five hours of sleep and woke up with about an hour to go to Seattle, just as we passed Calgary.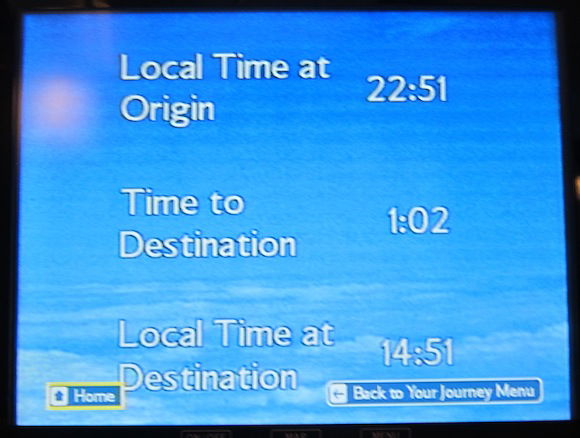 Airshow after waking up
I was immediately offered afternoon tea, and decided to go all out. The menu read as follows: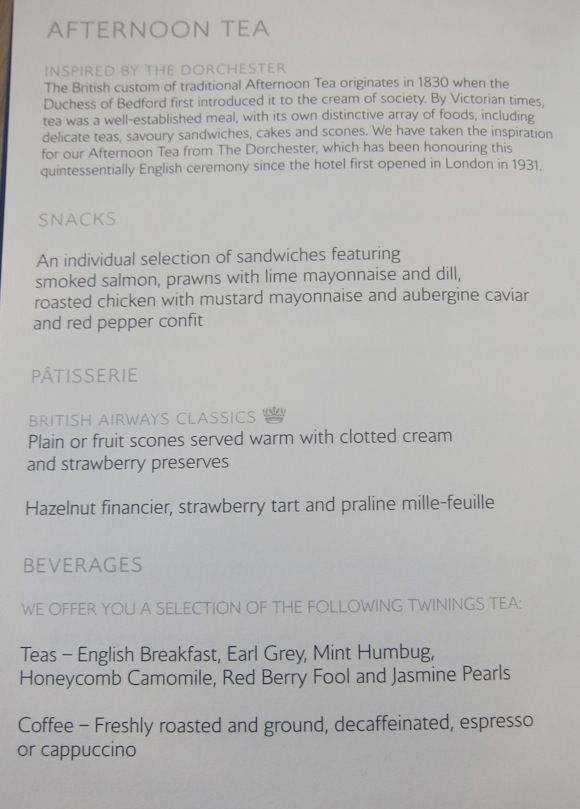 The service was as delicious as it looks.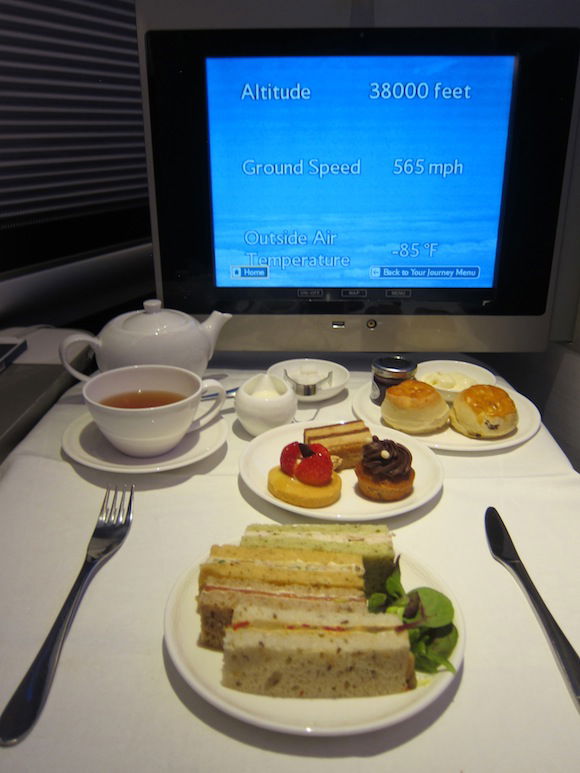 Afternoon tea
The views out the window while I enjoyed afternoon tea were nothing short of breathtaking. Clearly I need to travel a few hundred miles Northeast of Seattle.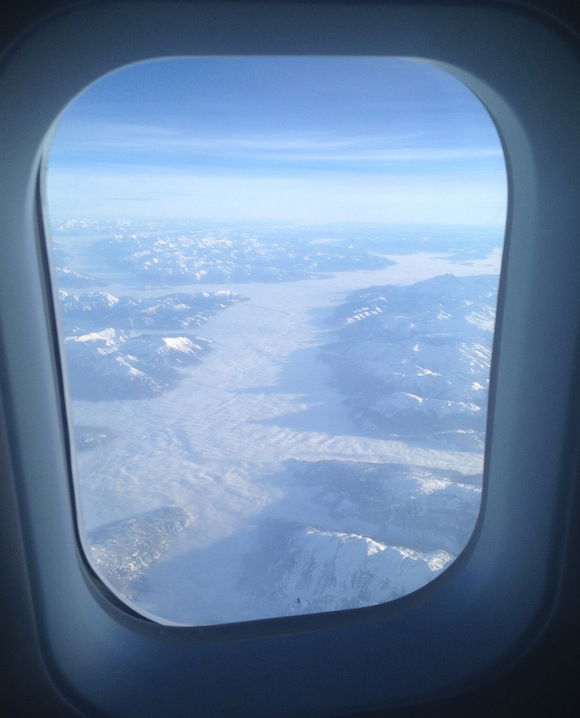 Mountain views
30 minutes out the captain advised us of our anticipated arrival time and the crappy weather conditions in Seattle, and shortly after that the CSD made his announcements, which finished with "cabin crew, thanks so much for all your hard work." That announcement has been present on both of my British Airways longhaul flights, and I'm not quite sure I get the purpose of the self-congratulating over the PA.
As we began our final descent I was wondering what bad weather the captain was talking about, since it looked beautiful outside.
Based on the fact that the lowest cloud layover was still below us I thought we were maybe 10,000 feet up when the gear dropped. Fine, I figured we may have been a bit lower, and that the captain was dropping the gear down to slow the plane down a bit.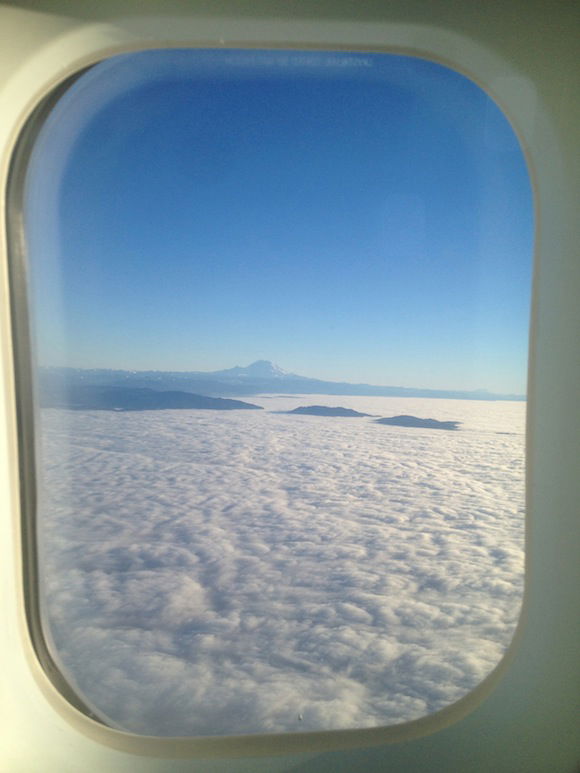 View on approach
But sure enough three minutes later the engines power up and we're doing a go around, and were probably just three thousand or so feet up when the above picture was taken. Crazy!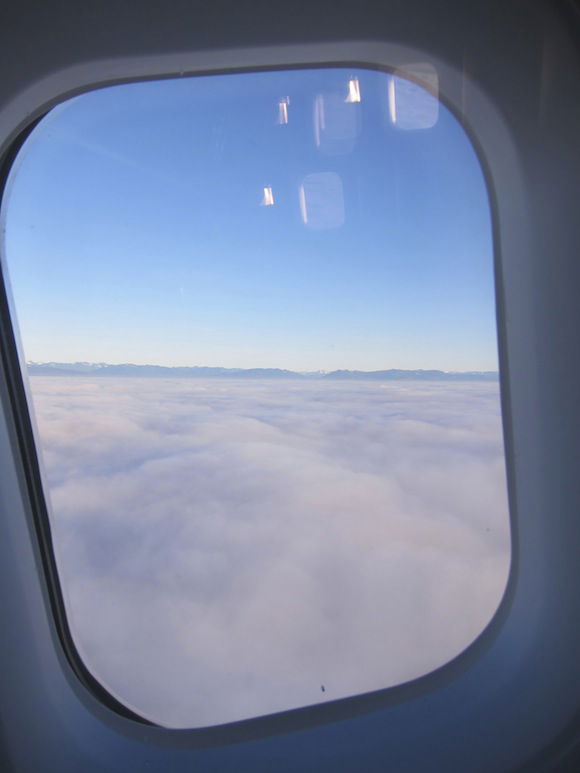 Going around!
Visibility was really limited, so I figured this could be fun. My first and only go around ever was on Sri Lankan Airways at 4AM in the morning over Colombo with virtually no visibility, and I have to admit that one left me a bit uneasy (if for no other reason than that we were maybe 150 feet up when doing that go around, and at no point did I see the airport, which makes me wonder how far off they were).
This time it was pure fun, since I was confident the guys up front knew what they were doing. A 747 powering up is quite a sensation, and the steep climb out was quite fun too.
We began a rather long pattern around the airport which lasted maybe 20 minutes, and about halfway through it the first officer announced that due to low visibility we went around as a safety precaution, since we never "broke" out of the clouds.
The visibility seemed to be a bit better on the second approach, and we had a smooth touchdown that time around.
Our taxi to our arrival gate was quick, and we bid farewell to the lovely crew before deplaning through door 2L.
Immigration queues were non-existent, though it's a moot point since we both have Global Entry.
I will say it sure is nice being at home in your bed 30 minutes after landing off an international flight, something I never got to experience living in Tampa.
On the whole I had a great flight. I still think in terms of hard product British Airways' first class is more like a good business class product than a first class product based on the seat width and lack of storage. And the food isn't amazing by any stretch of the imagination either.
But I still think it's better than most US airlines, if for no other reason than the stylish feel of the cabin and the fact that it's something different.
Thanks for following along on this trip!