---
Singapore Airlines 1
San Francisco (SFO) – Hong Kong (HKG)
Tuesday, January 15
Depart: 10:50PM
Arrive: 5:50AM (+2 days)
Duration: 15hr
Aircraft: Airbus 380
Seat: 3A (Suites Class)
I don't think I can properly sum up my excitement as I boarded Suites Class for the first time. It wasn't that I was expecting anything out-of-this-world amazing, but for so long it was completely unattainable for me. Short of dropping $10,000 or a million KrisFlyer miles, there has simply been no way into Suites Class ever since it was introduced several years ago.
So there was a certain sensation to it all that's somewhat indescribable, of finally having been able to get "into" the product you've been denied entry to for so long on account of "exclusivity." It almost felt like starf*&#ing Singapore Airlines…
Anyway, after several Singapore Airlines first class flights I think I've finally figured out how to tell right away whether you have a good crew or a great crew. In this case I knew even before stepping foot on the plane. As I walked down the long first class jet bridge the in-flight service manager stepped off the plane and greeted me while I was still probably 10 feet away with "Mr. Lucky, it's so nice to see you, welcome aboard Singapore Airlines. Allow me to show you to your seat, 3A." Simply unbelievable. I assume because I was the only Caucasian male aboard they could figure out my name, and the fact that they did so without even looking at my boarding pass amazes me.
My first reaction once aboard was definitely that I finally realized why this product is a big deal. Don't get me wrong, it's not worth 10x the cost (in miles) of Singapore first class, but it is much, much better. The sense of privacy is unlike anything I've experienced on another plane. While other airlines have "suites" with doors, it's worth noting that these seemed much higher than most others I've seen. With other airlines I find the doors to be at at most 4.5-5 feet tall, while these were around 5.5 feet tall.
Didn't personally make a difference to me, though I can imagine that's a useful data point for someone traveling with their significant other… or not.
I had reserved seat 3A, which was a very good choice. Row three is the only one with three sets of windows, while I found the others to be somewhat awkwardly positioned. Furthermore it's worth noting that row one and two are up by the staircase, so I far preferred the open feel of row three.
Anyway, the "suite" was massive, and I really liked the tones/colors.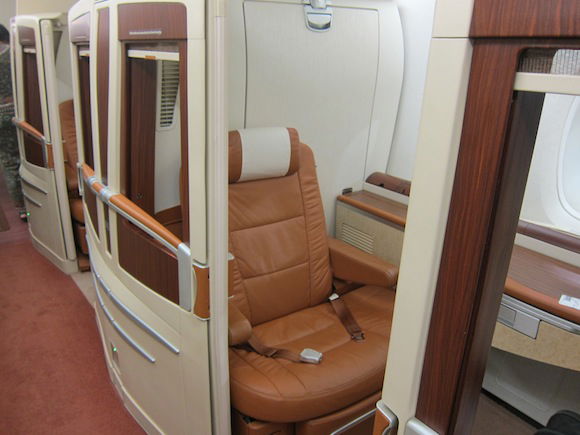 Seat 3A
The seat felt a bit like a dentist's chair and I didn't actually find it great for lounging. The issue is that it only reclines very little, and if you want to put it in the bed position you have to flip the back over.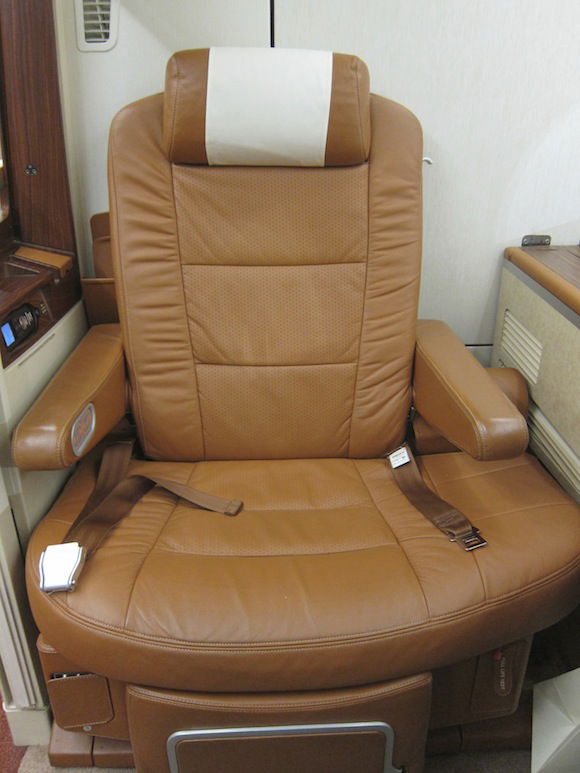 Seat 3A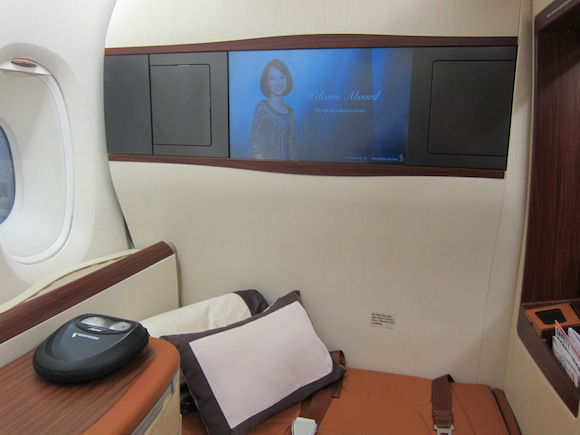 Seat 3A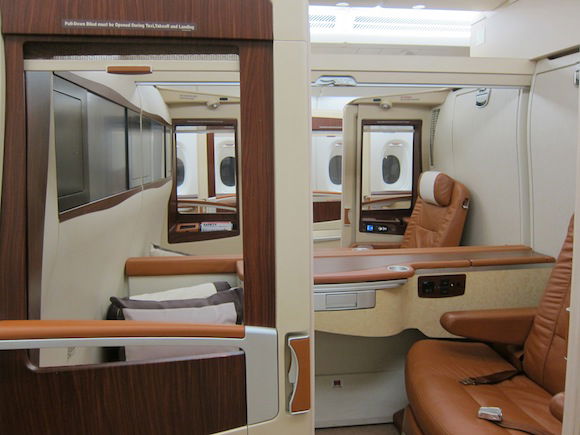 View of cabin from seat 3A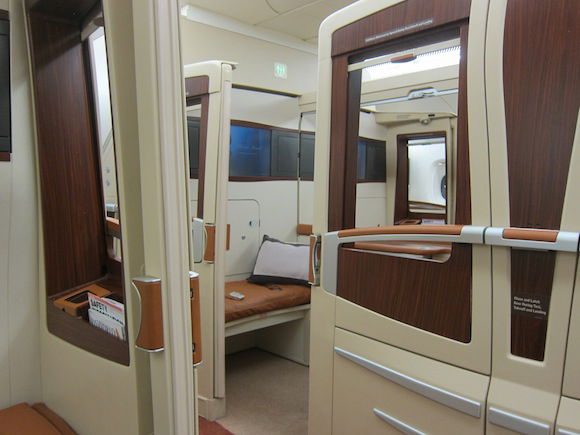 View of cabin from seat 3A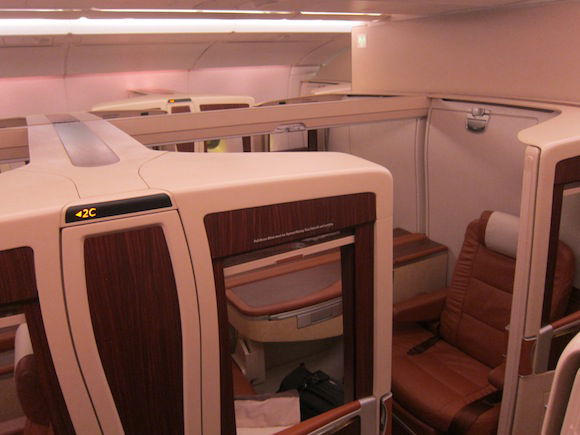 View of cabin from seat 3A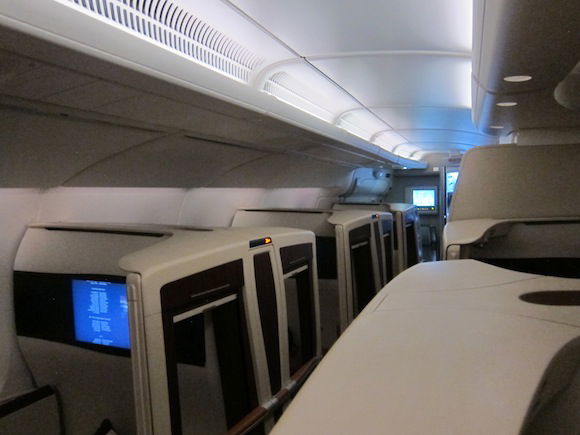 View of cabin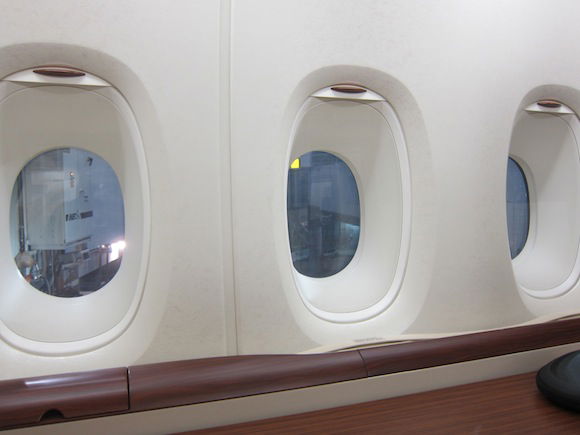 Three perfectly positioned windows
Once settled in I took a moment to explore the suite. To the right of my seat were the entertainment, lighting, and seat controls.

Entertainment and lighting controls
And to the left of my seat was a small storage compartment, power and USB adapter, and headphone jack.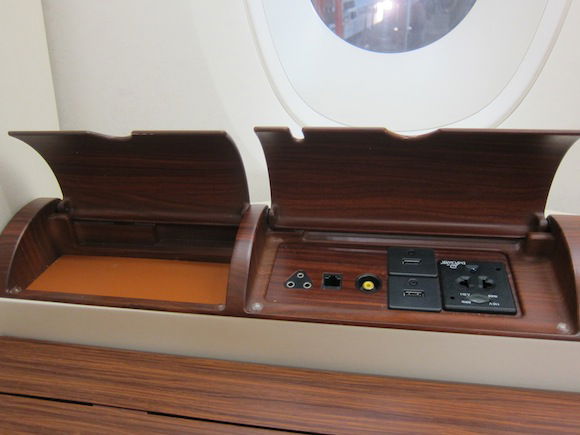 Storage and adapter
Anyway, back to the service. In addition to the greeting and welcome aboard from the in-flight service manager the moment I stepped aboard, both the leading stewardess and leading steward came by to introduce themselves by name within moments of settling in. The leading stewardess was probably the star of the team, and reminded me very much of my favorite person in the world, Janesis.
As I settled in she started with all the touches that separated a great crew from a good crew. She started by adding a welcome aboard "from the captain," and that the flight time would be 14hr30min, giving us an on-time arrival in Hong Kong. We engaged in some small talk, which was cut short by her insisting that I needed to drink something.
I ordered Krug, though they only had Dom open on the ground (they have to pay taxes on alcohol served on the ground, so only a portion of the selection is available then). As is usually the case on Singapore, the news was delivered in the same way I imagine a doctor would deliver a horrible diagnosis. "Mr. Lucky, I'm so so sorry, unfortunately we only have Dom Perignon open right now. Would it be okay if I poured you a glass of that, and I promise as soon as we're airborne I will pour you a glass of Krug first thing? I'm so sorry."
Well I guess Dom will just have to do… 😉
Along with it I was offered a selection of warm nuts.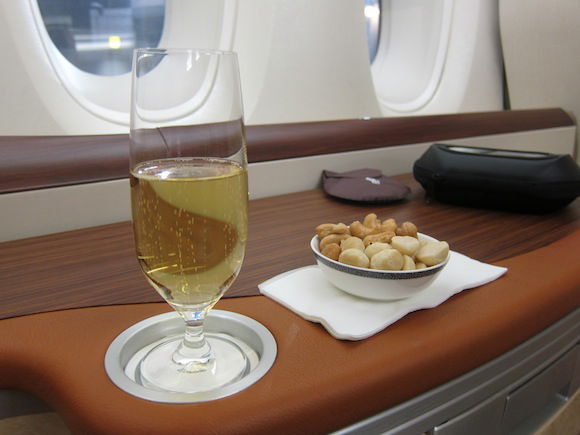 Dom and mixed nuts
I was then offered a set of Givenchy pajamas and an amenity kit, and requested them to be large. If you're an airline pajamas collector, it's worth noting that these are tiny and shrink horribly after the first wash.
Speaking of attention to detail, it's worth noting that the leading stewardess removed the pajamas from both the plastic wrapping and pouch, and handed them to me as if she were modelling them for "The Price is Right."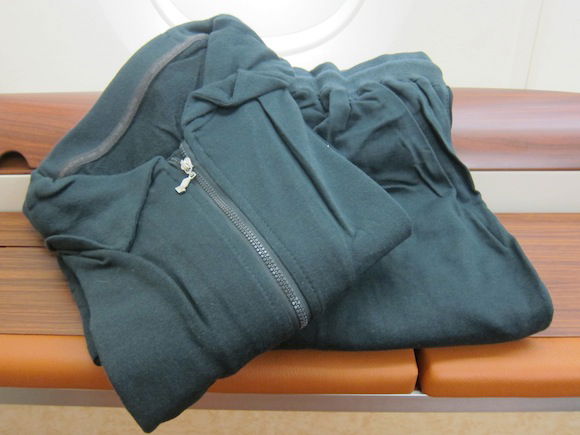 Givenchy pajamas
I was then also offered an amenity kit and slippers. Once again the slippers weren't just handed to me in plastic packaging, but were instead unwrapped and placed by my feet so I could easily slip into them.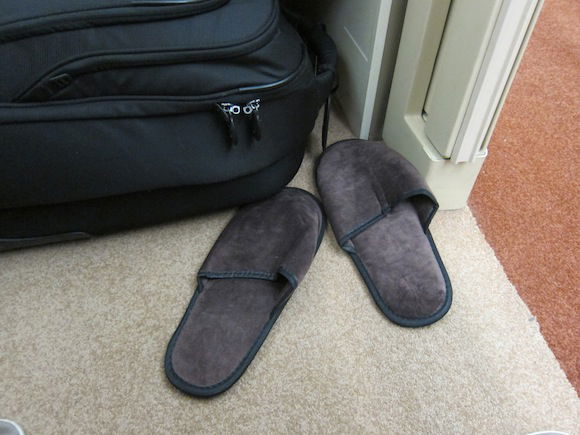 Slippers
I was also offered the menu, which was presented in a leather binder.
As departure time rolled around the captain came on the PA to add his welcome aboard, and advised us of our strong headwinds and long flight time. At this point four of the 12 suites were taken.
As we pushed back the safety video began to play and we began our long taxi to runway 28R. We crossed over 28L, held position on 28R for a moment, and then began an extremely long takeoff roll.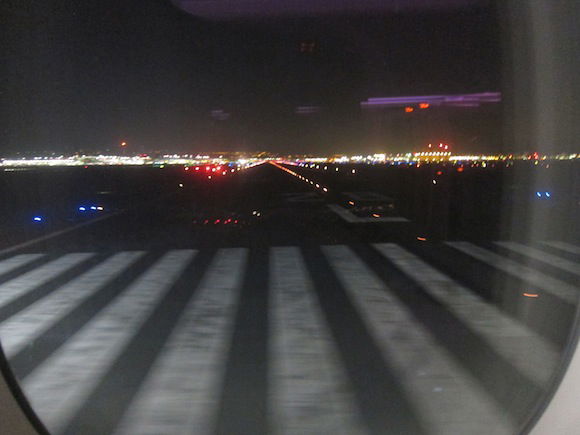 Runway 28L
As soon as we were airborne I started playing around with the KrisWorld entertainment system, and decided to watch "Pitch Perfect," which was an awesome movie. Perhaps even better than Abduction, though I don't mean to push my luck here.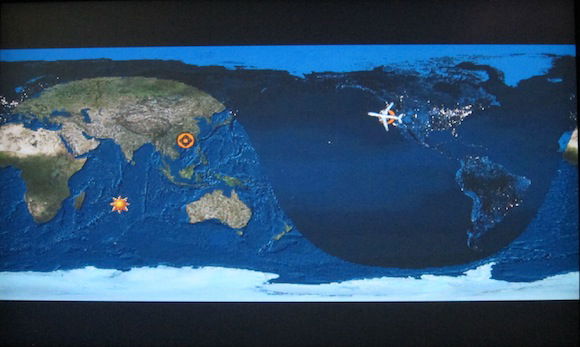 Airshow after takeoff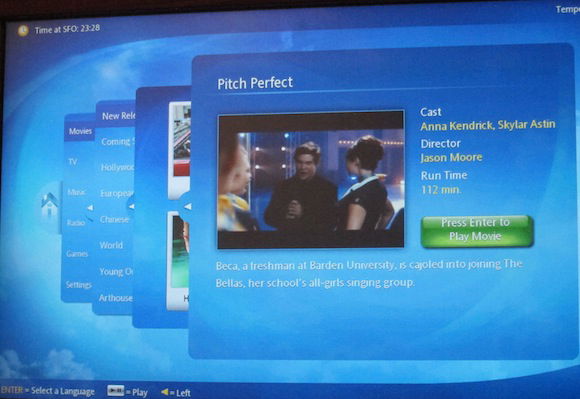 Pitch Perfect
About 15 minutes after takeoff service commenced, and I was offered the glass of Krug I had ordered before takeoff, along with a Diet Coke with lemon and some more unprompted nuts — you can never have enough warm nuts!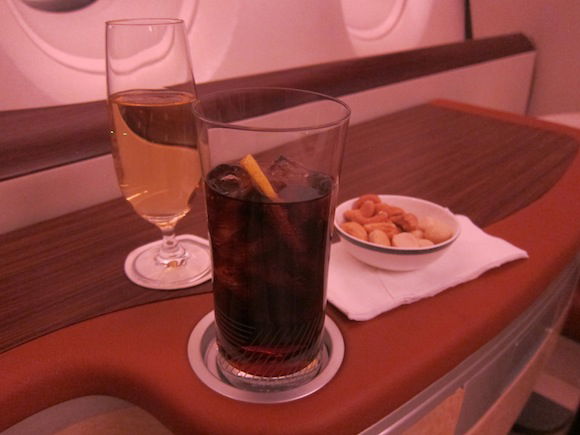 Post takeoff drinks
At this point dinner orders were taken. The dinner menu read as follows: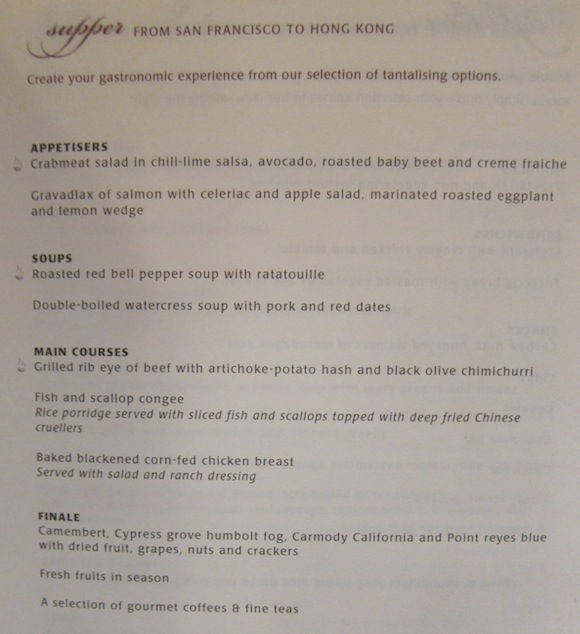 And the wine list read as follows: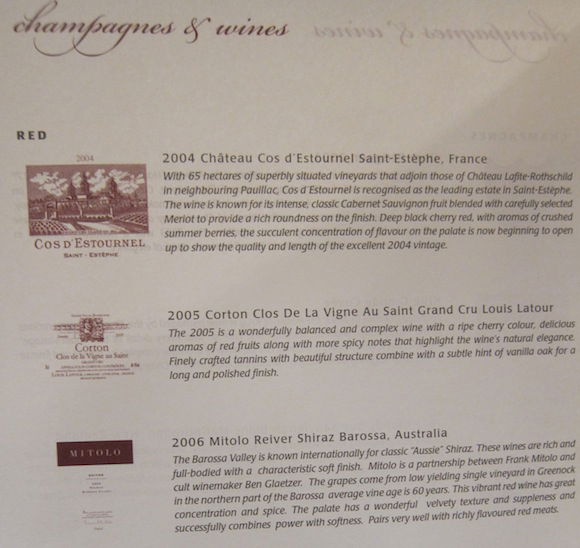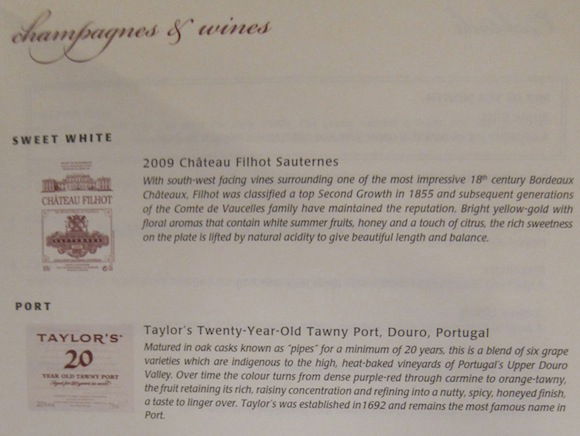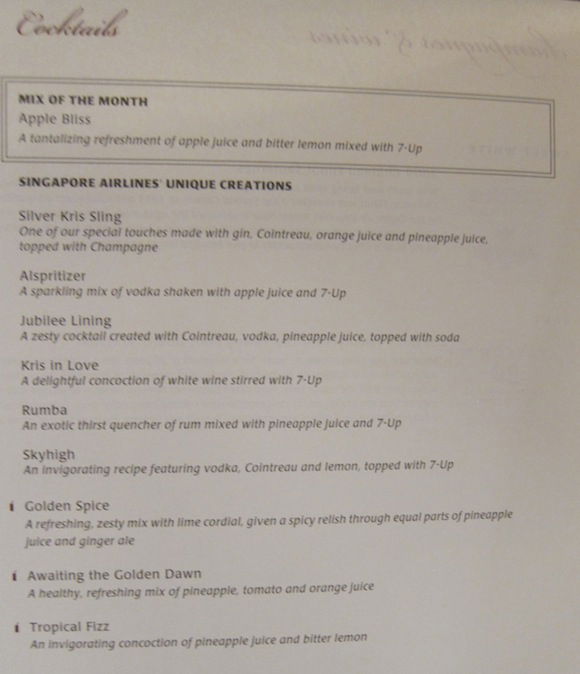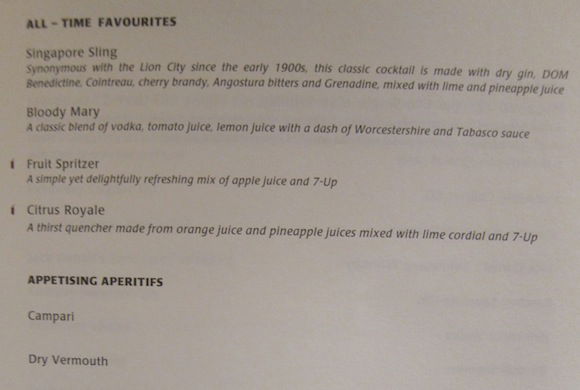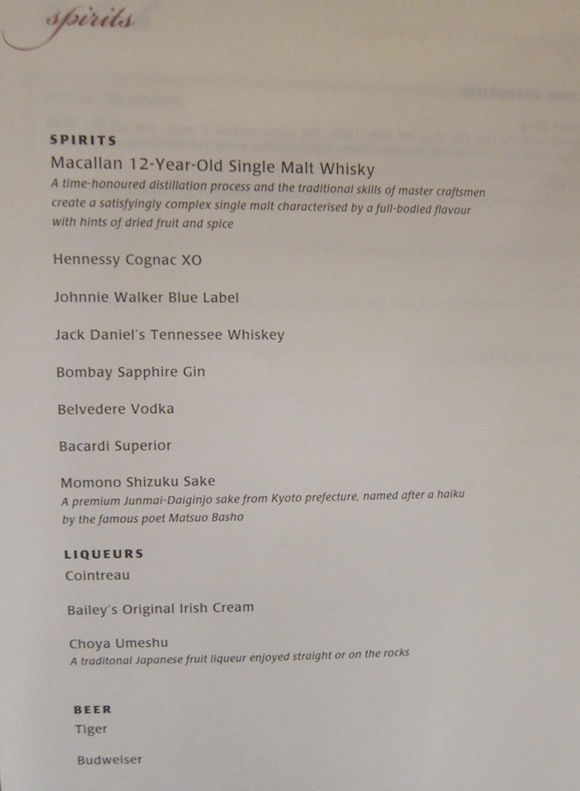 First of all I thought the menu was extremely underwhelming. This is a "supper" flight which means they don't have caviar/satay or dessert, and the starter and entree options are more limited as well. I can understand that this flight is a fairly late departure, though you'd think on a 15 hour flight they could serve a "proper" international first class dinner. And for those of you that think I'm crazy, take a look at what Cathay Pacific serves on the route on an even later night departure.
Dinner orders were taken, and when I placed my order I was sure to tell the leading stewardess that if they didn't have enough of any options I'd be happy to switch.
Within about 30 minutes of takeoff the meal service began, starting with my table being set and a variety of bread being offered from the bread basket.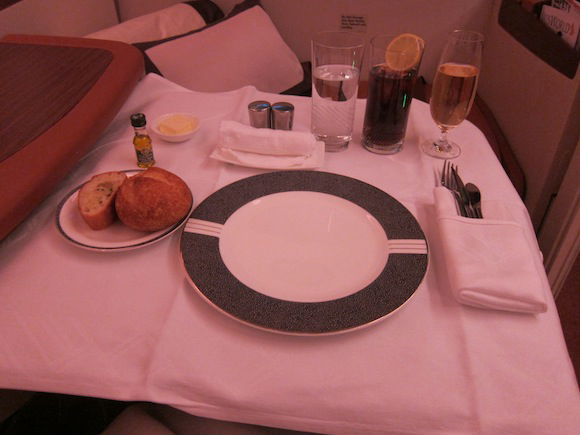 Table setting
For the appetizer I had ordered the crabmeat salad though since I offered to switch the leading stewardess checked with me to be sure I'd be fine with the salmon instead. I was, though she was extremely apologetic.
The salmon was tasty, so I certainly didn't mind the change.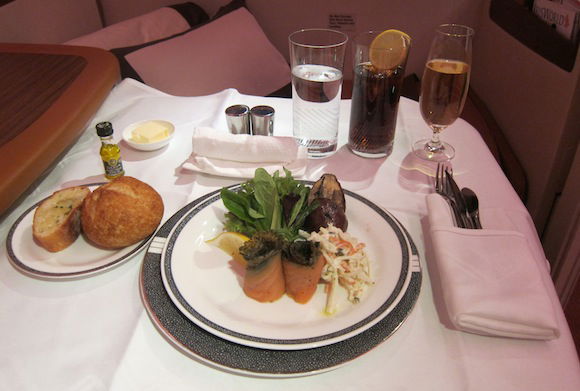 Gravadlax of salmon with celeriac and apple salad, marinated roasted eggplant and lemon wedge
Then I had the roasted red pepper soup, which somehow just tasted off. I don't think it was spiced properly.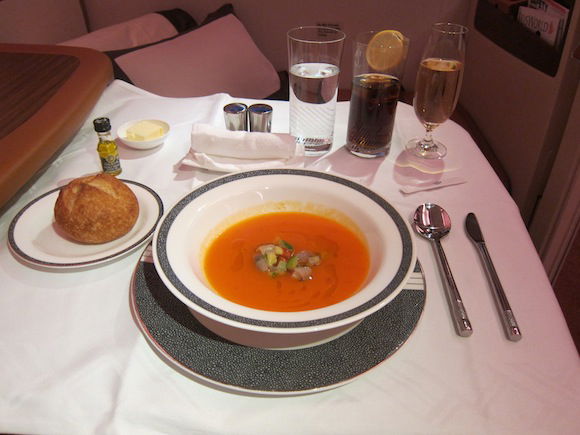 Roasted red bell pepper soup with ratatouille
For the main course I had the rib eye. I realize I should have "booked the cook" so I could choose from more entrees, but I had forgotten. The rib eye was horrible. It was literally the toughest and fattiest piece of meat I've ever been served, so I hardly touched it. I felt bad because my lack of eating alarmed the leading stewardess and made her feel like she was failing at her job, which wasn't my goal either!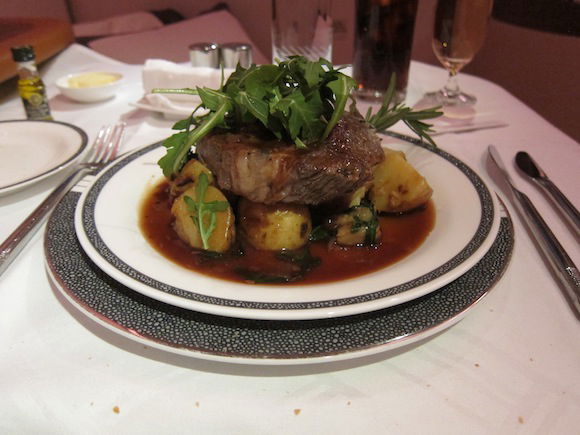 Grilled rib eye of beef with artichoke potato hash and black olive chimichurri
Then I had some cheese with port, which was probably the highlight of the meal.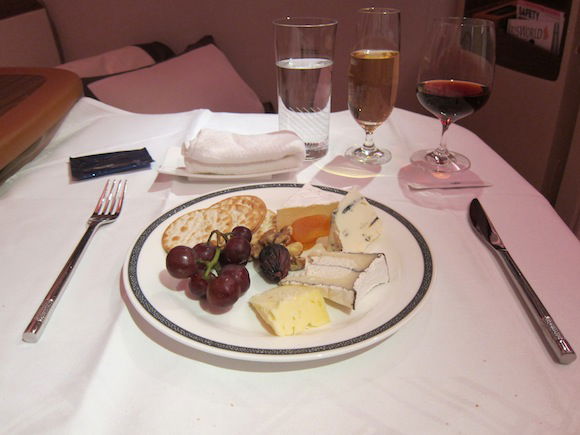 Selection of cheese
To finish I had some English breakfast tea.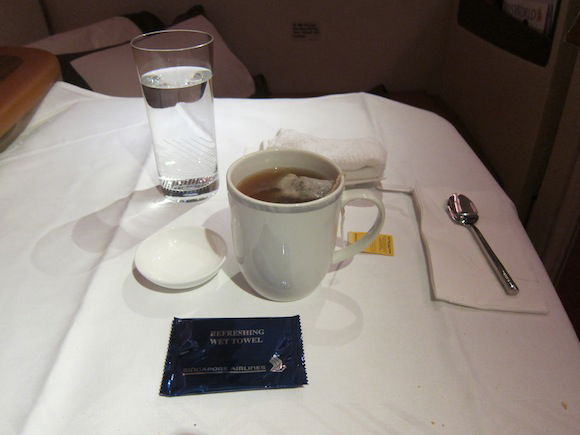 Breakfast tea
After dinner I had asked the leading stewardess if I could have my bed made, and she said "sure, where would you like it made? In your seat, or perhaps in the seat behind you, or maybe you'd care for a double bed?"
Maybe I'd like a double bed? Maybe? I don't think you get it. Everything in my life has led up to this point. There's nothing "maybe" about it. It's fate. But of course I wasn't about to act as if I won the showcase showdown on "The Price is Right," so I masked my excitement and simply said "a double bed sounds good if it's not too much work." She got to work and said it would take about 15 minutes, so I took the opportunity to prepare for bed. I headed to the lav, and it's worth noting that they really are nothing special for the Airbus 380, especially compared to those offered by Emirates and Lufthansa.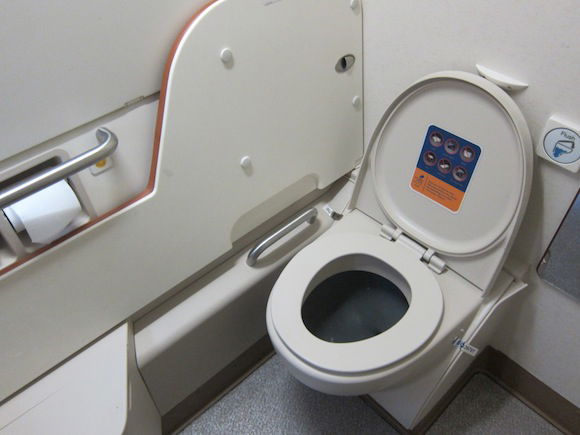 Suites Class lav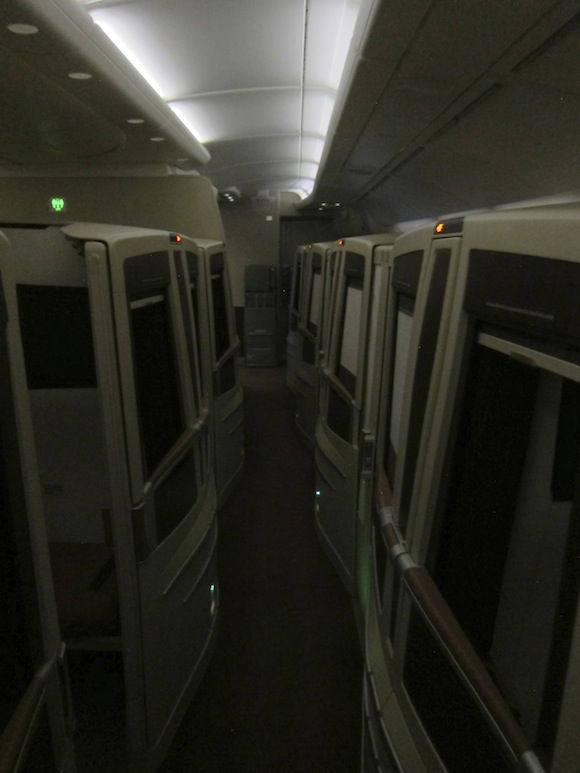 Suites Class

I then went up the staircase to the upper deck, where the cabin lights weren't dimmed yet. Singapore's business class product on the A380 is great, the same that I flew on their 777-300ER a couple of years ago.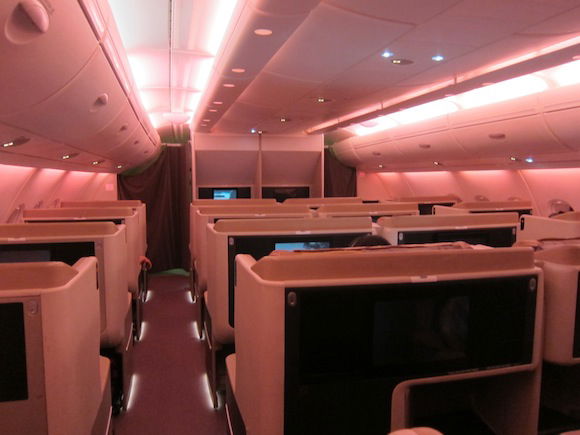 Business class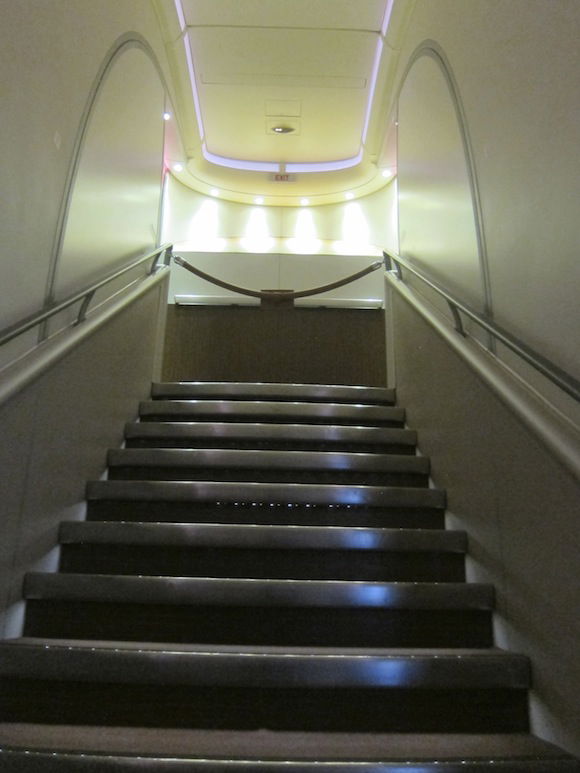 Staircase

Staircase
After a quick tour I descended back down the staircase to find my double bed ready for me. All the doors were closed and there was even a bottle of water and towel next to my suite, which sure comes in handy with 5.5 foot walls… I kid.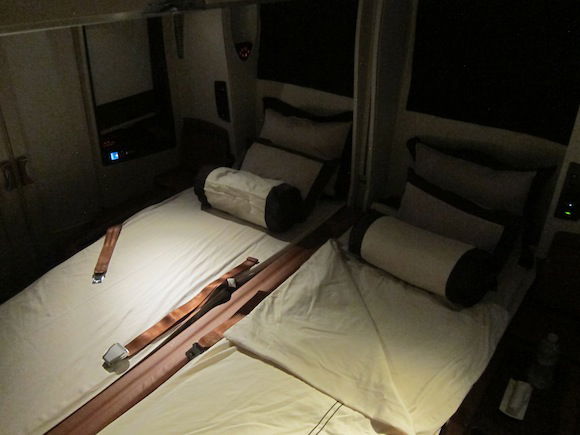 Double bed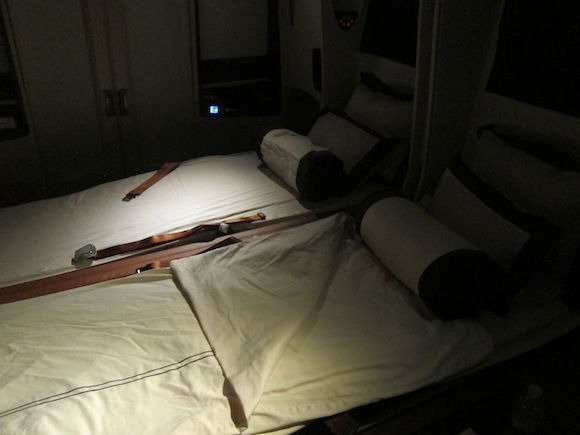 Double bed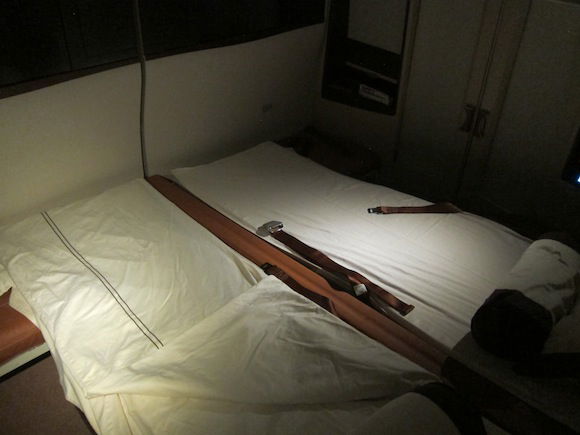 Double bed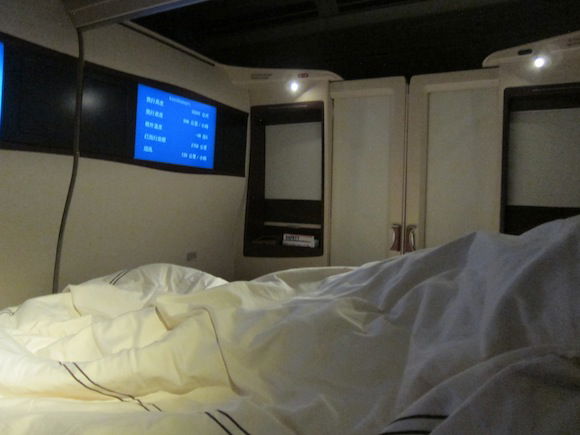 Double bed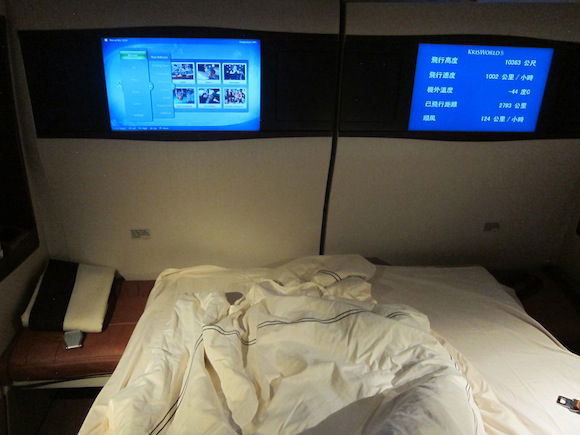 Double bed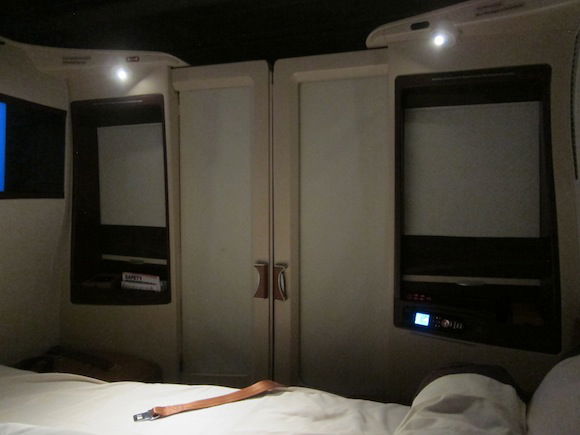 Double bed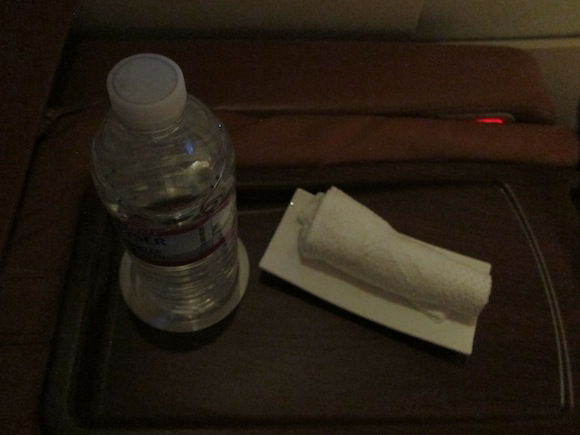 Water and towel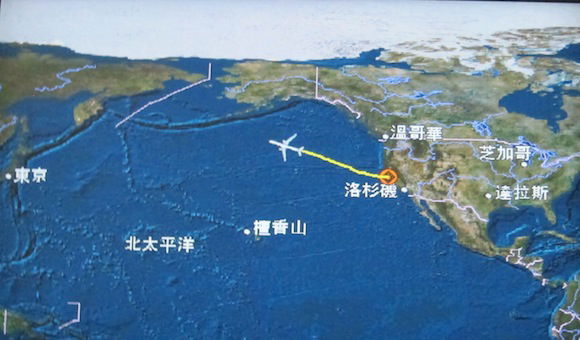 Airshow position upon going to sleep
With about 12 hours to go to Hong Hong I decided to go to sleep, and slept amazingly well for almost eight hours, waking up just over Japan. The bed was extremely comfortable. There is a bit of a ridge between the two beds, though more than anything else the amount of private space was what made the suite so nice.
At that point I was awake and decided to watch a movie. I settled on "Bernie" which was tagged as a comedy, which seemed odd since it's a true story about a murder. The movie was interesting/entertaining, and I wasn't sure whether to laugh or be sad by the end of it…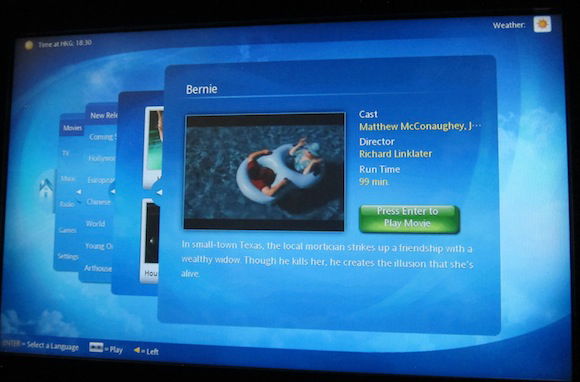 Bernie
During the movie the leading stewardess came by my suite to ask if I slept well and offer me something to eat. The snack menu read as follows: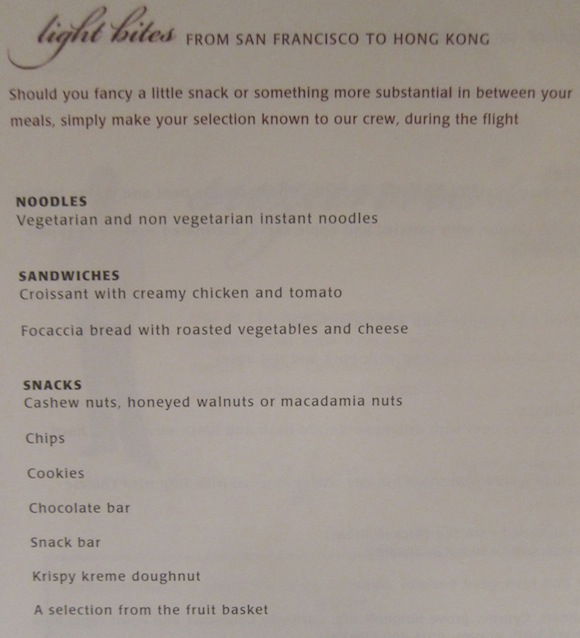 Since there was no dessert on the menu with dinner I ordered a Krispy Kreme donut. While I ordered just one, I was served two along with a Twix bar (which I didn't have, but you've gotta love Singapore for always one-upping).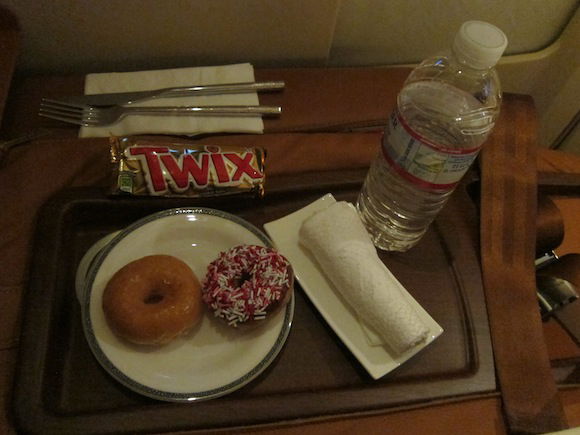 Donut(s)
After the movie there was a little over an hour left to go to Hong Kong, and I headed back over to 3A for breakfast.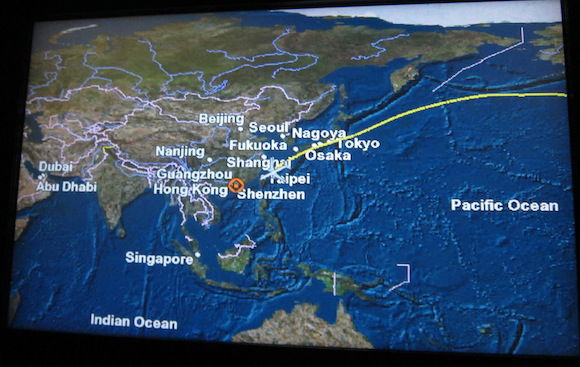 Position after movie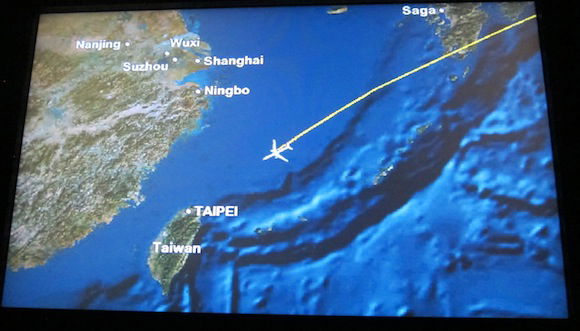 Position after movie
I decided to watch "Scam City" with breakfast, which was an awesome documentary about Buenos Aires scams.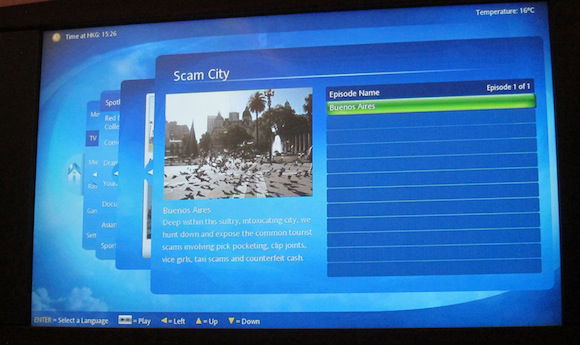 Scam City
The breakfast menu read as follows: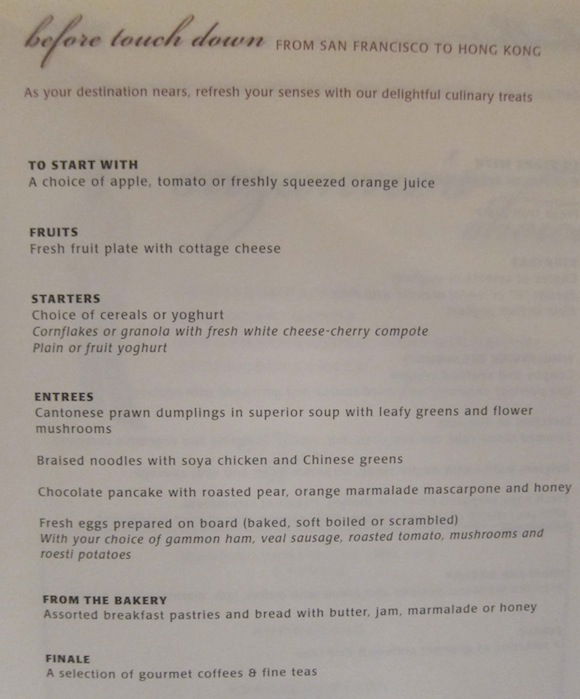 I had a fruit plate with freshly squeezed orange juice to start.

Fresh fruit plate with cottage cheese
I was also offered a selection of breads from the breadbasket, though passed. I then had some strawberry yogurt.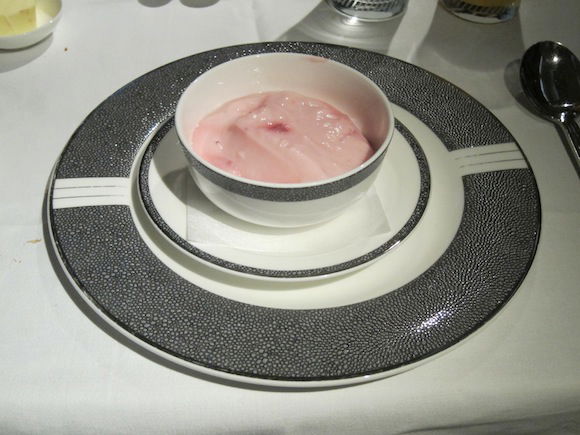 Strawberry yogurt
For the main course I had the Cantonese prawn dumplings, which were phenomenal.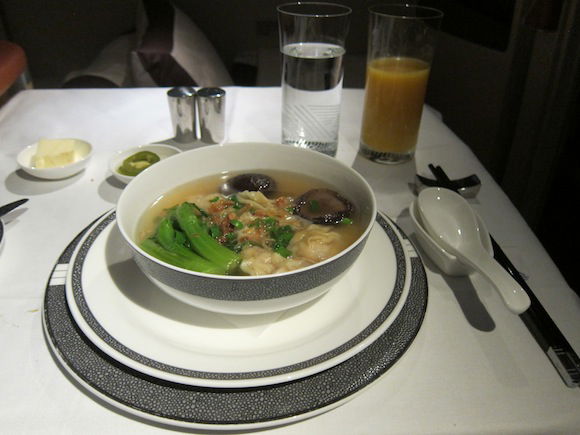 Prawn dumplings in superior soup
About 30 minutes out we began our descent into Hong Kong and I changed out of my pajamas. We initiated our descent and landed on runway 7L with a quick taxi to our arrival gate, gate 15.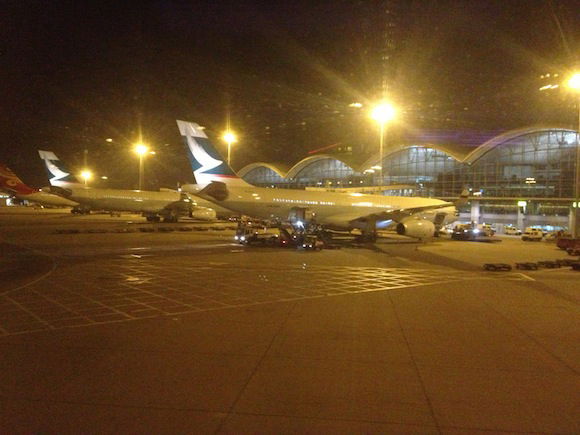 Taxiing to our gate
Overall this was one of my best flights ever. The food was underwhelming, though both the "hard" product and service were among the best I've ever had. I do think Singapore could have added some amenities to their Airbus 380s, be it a bar and shower like Emirates, or just really flash lavs like Lufthansa. But it's still the best product I've flown, hands down.