---
Lufthansa 441
Houston (IAH) – Frankfurt (FRA)
Monday, September 16
Depart: 4:10PM
Arrive: 9:00AM (+1 day)
Duration: 9hr50min
Aircraft: Airbus A380
Seat: 2D (First Class)
Upon boarding through the upper deck jet bridge we were greeted by the purser and one of the first class flight attendants, who escorted us to our seats in row two.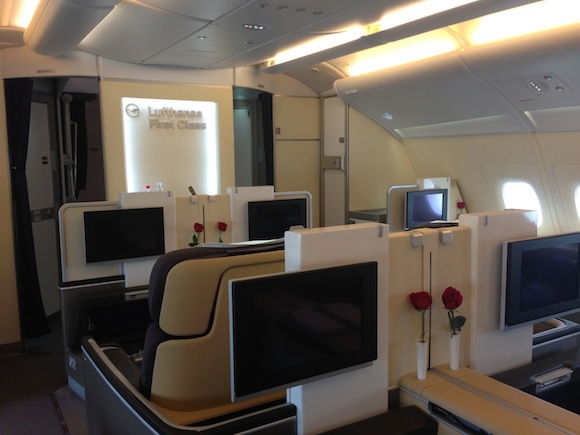 First class cabin
I quickly settled into my seat, 2D.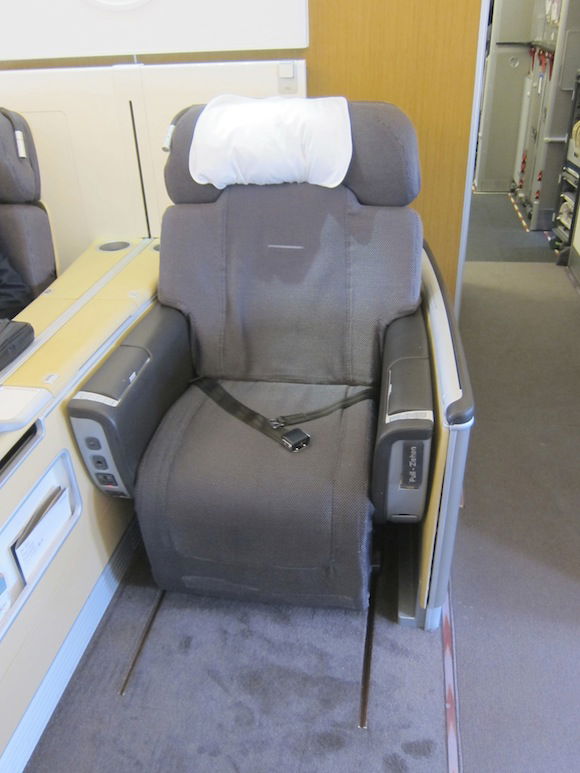 My seat, 2D
As soon as we were settled in the two first class flight attendants, Florian and Julius, welcomed us aboard and offered us some drinks. They were both in their early 20s, so by far the youngest crew I've ever had in Lufthansa first class.
My dad and I both ordered champagne, which were served with some heavily salted almonds.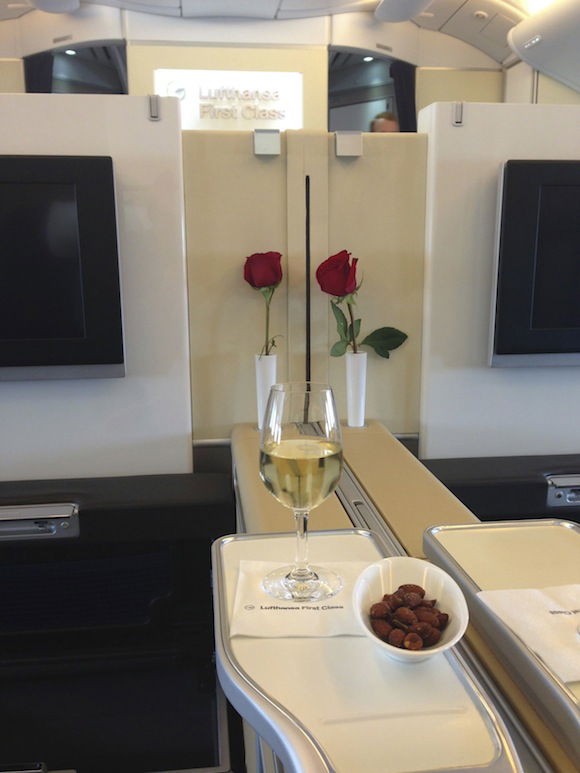 Champagne and almonds
Shortly thereafter we were offered amenity kits, slippers, and pajamas.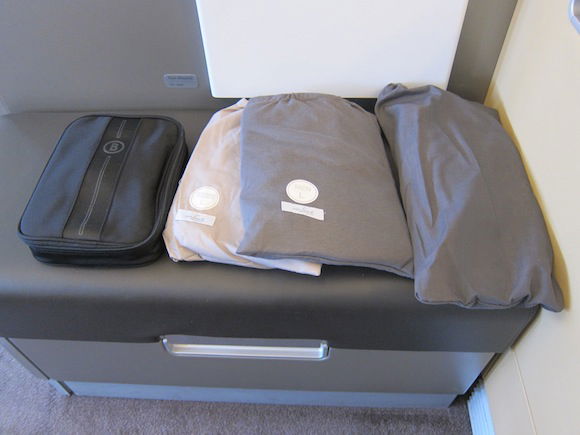 Amenity kit, slippers, and pajamas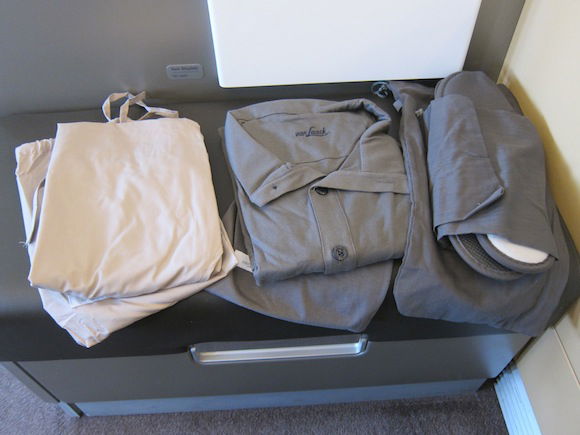 Pajamas and slippers
As soon as we were settled in I showed my dad the two lavatories located at the front of the cabin, the only ones in the sky with urinals — definitely among the top five airplane bathrooms in the world. 😉
He was impressed, having not flown Lufthansa first class in decades and also not having flown the A380 yet.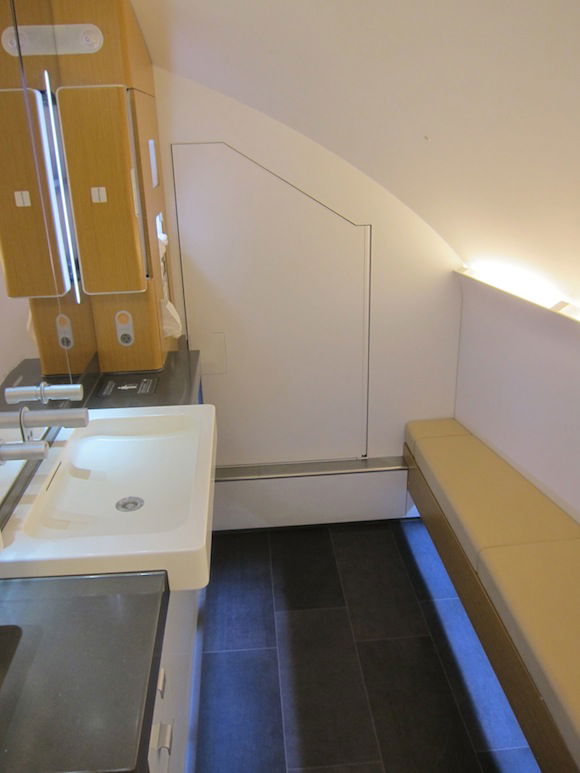 First class lavatory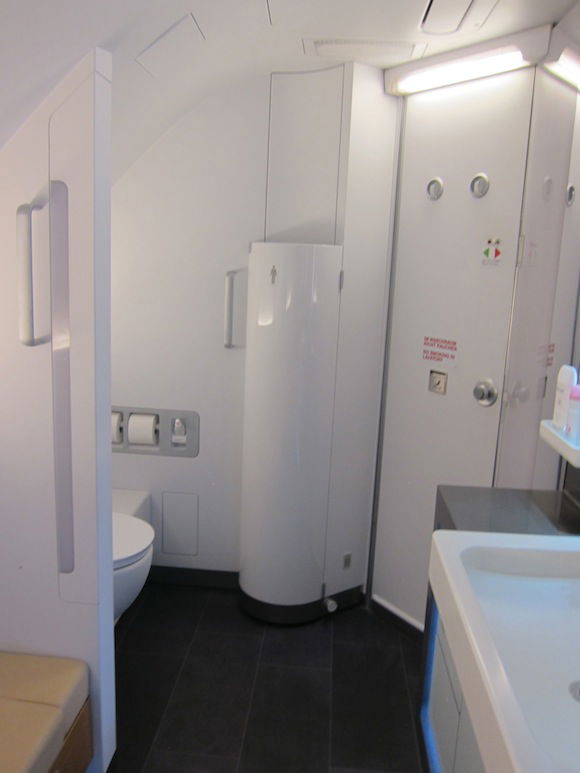 First class lavatory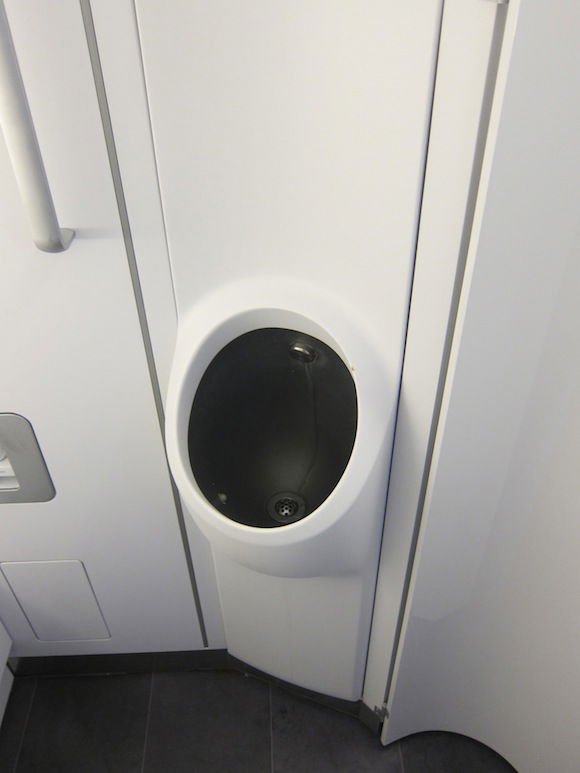 First class lavatory
We settled back into our seats, and within a few minutes the captain came by to welcome us aboard. It's always a nice touch, though am I the only one that finds the interactions with the captain to be consistently awkward?
As our departure time approached two other first class passengers boarded, seated in 1A and 2A. One of the flight attendants asked 2A if he wanted to move to 1K so that the privacy could be maximized for everyone, which he gladly took him up on.
Shortly before pushback the captain came on the PA to make his welcome aboard announcement and inform us of our flight time of 8hr55min. We ended up pushing back about 15 minutes late, and then had a fairly long taxi to our departure runway, 15L. The good thing about long taxis on the A380 is how fun it is to watch the tail camera.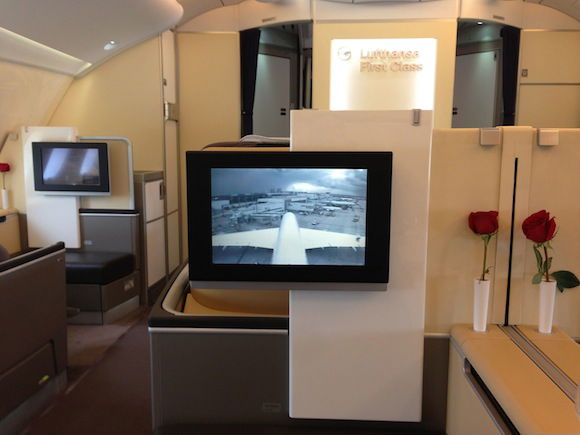 Cabin view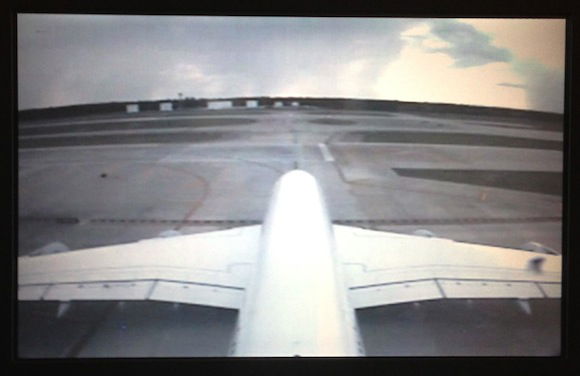 Tail camera short of the runway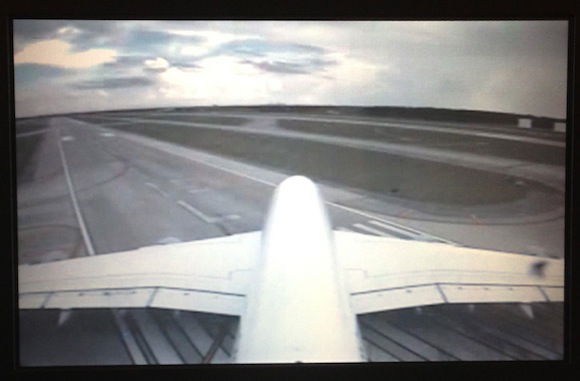 Tail camera taxiing into position on the runway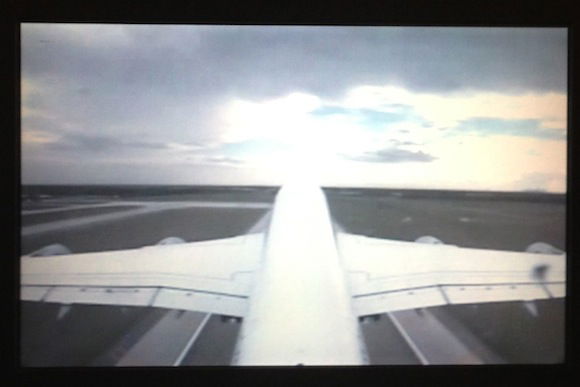 Tail camera shortly after takeoff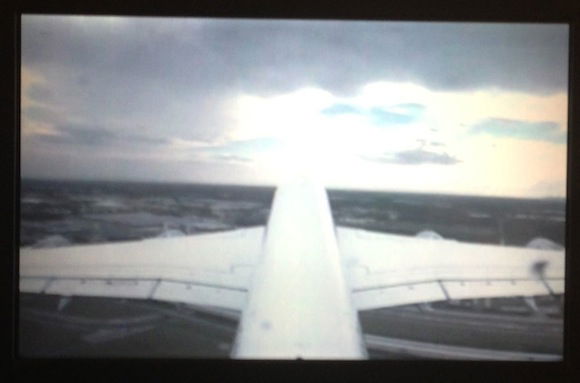 Tail camera after takeoff
My dad was amazed by how quiet the A380 is during takeoff.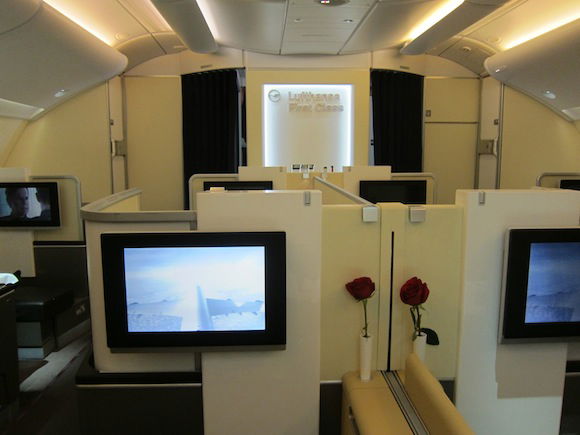 Cabin after takeoff
About 15 minutes after takeoff the purser made the rounds in the first class cabin to welcome everyone aboard and distribute menus.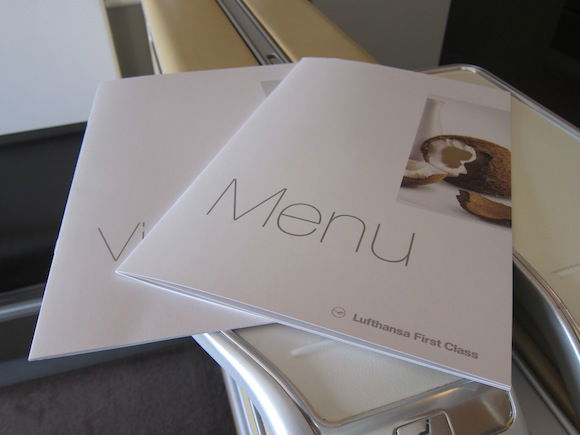 Menus
In the meantime Julius started serving beverages and hot towels, followed by the amuse bouche, which consisted of crab, avocado, and cucumber.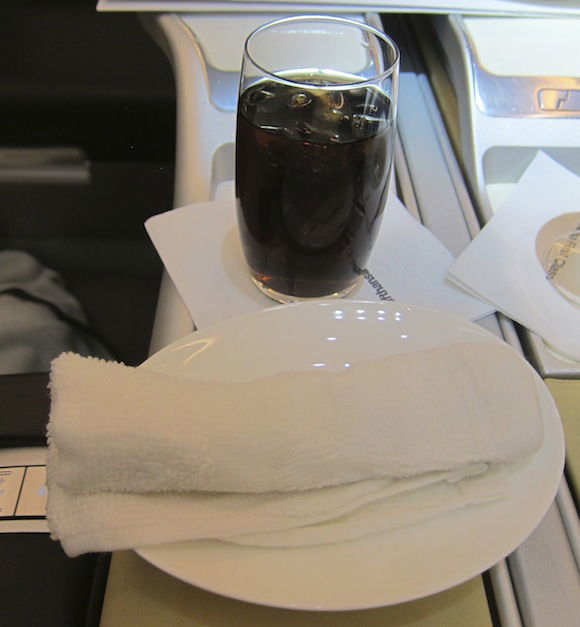 Diet Coke and hot towel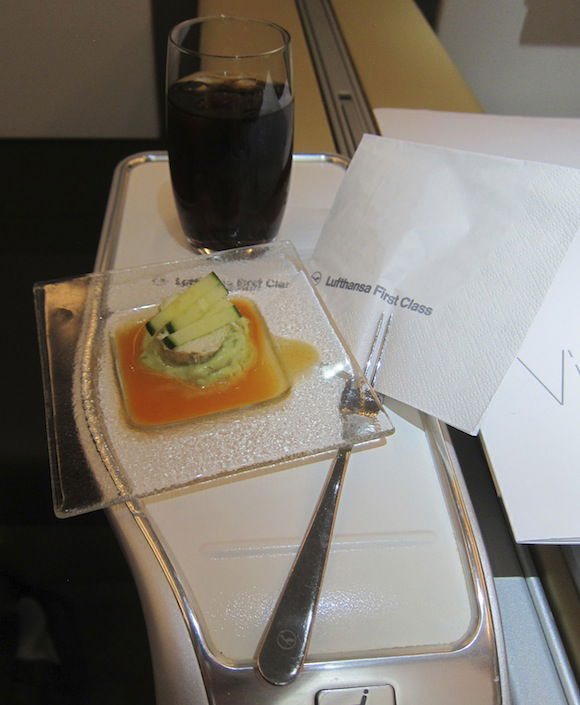 Amuse bouche
After that the dinner service began. The menu read as follows: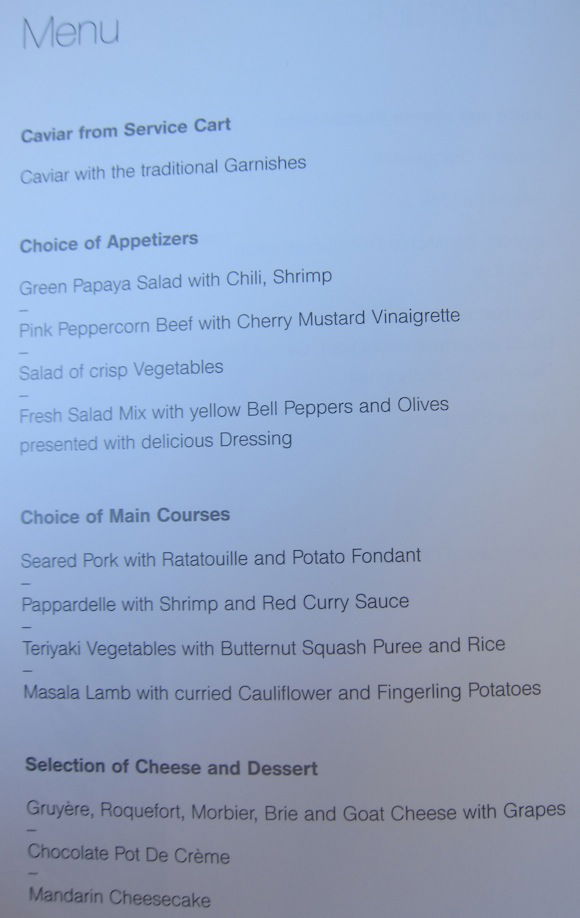 And the wine list read as follows: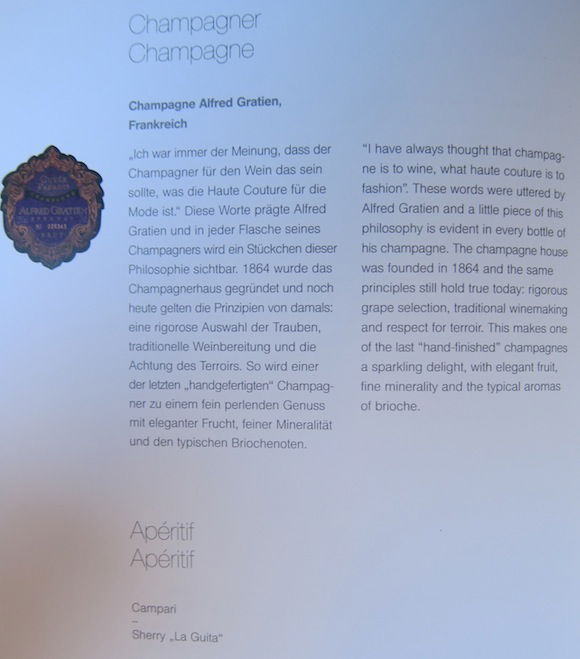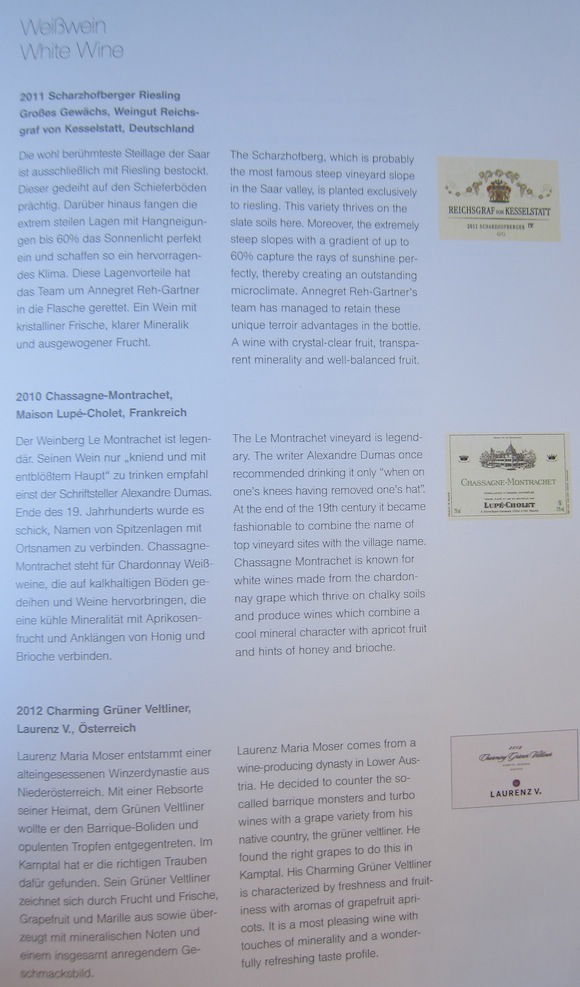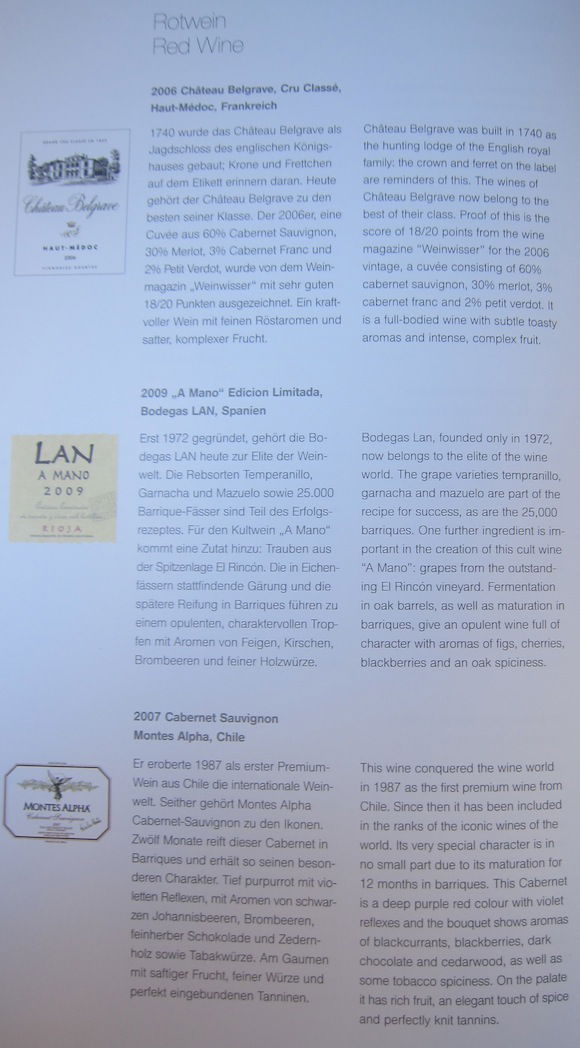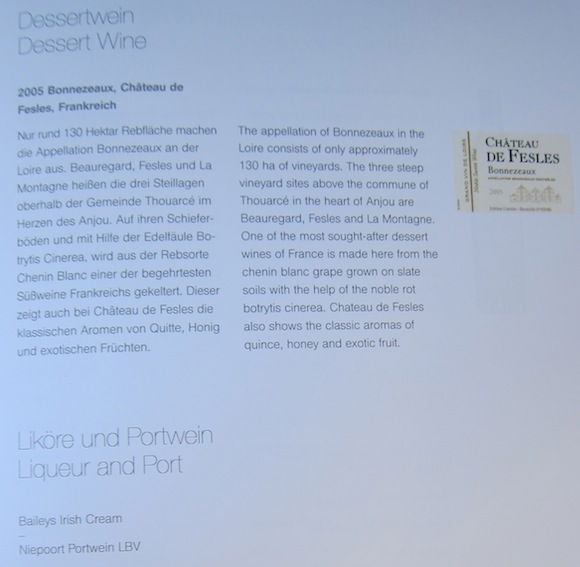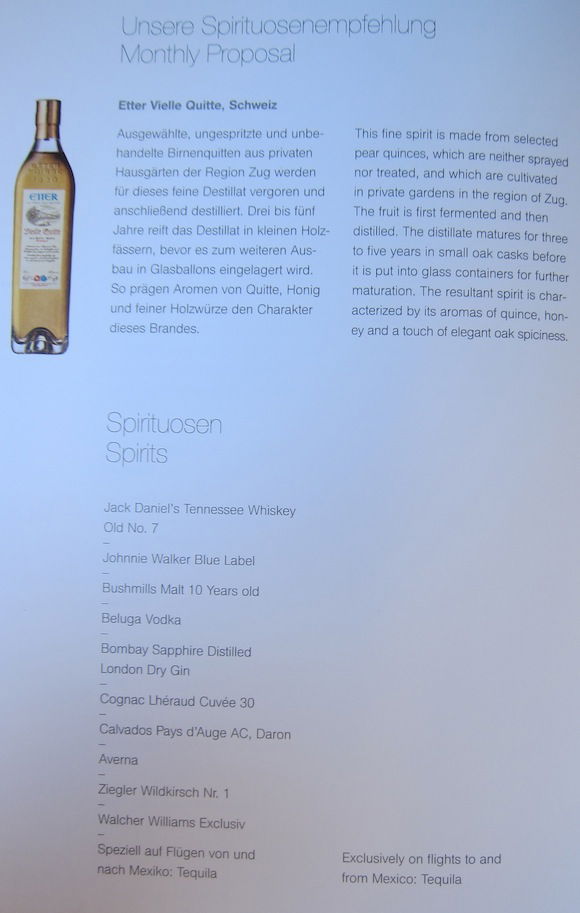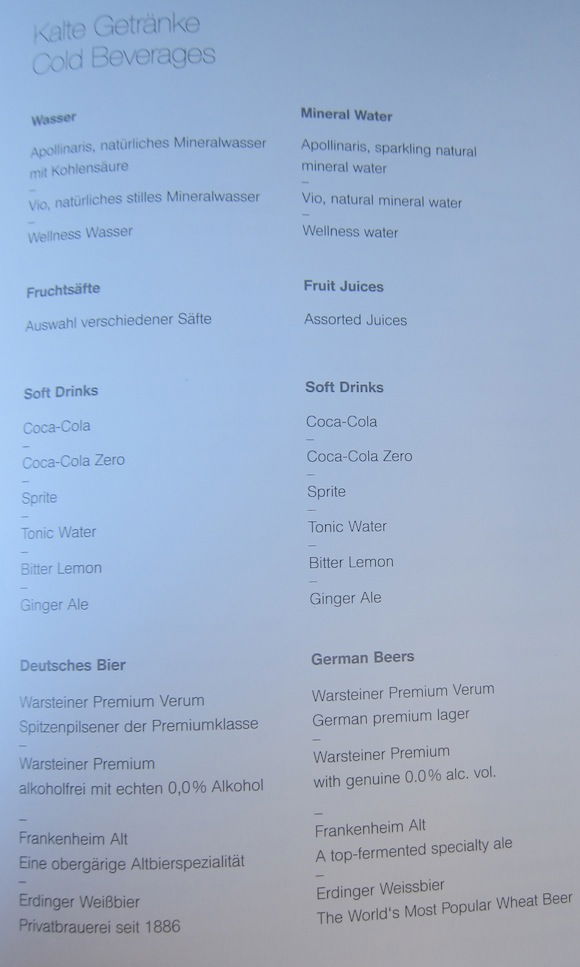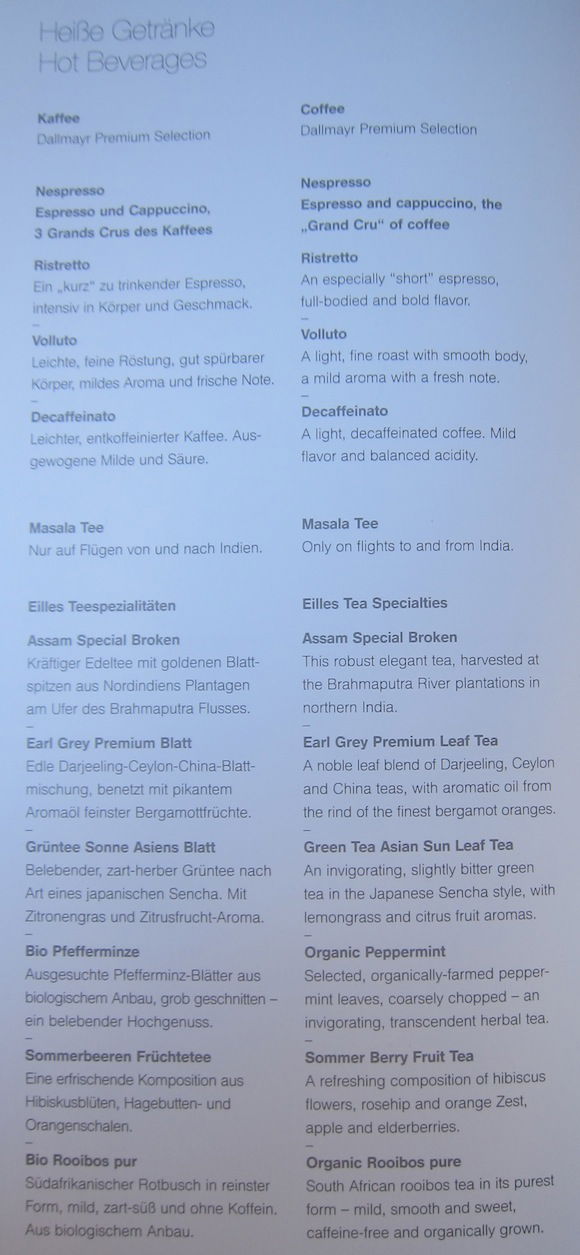 I had ordered an Asian vegetarian meal for the flight, though the crew explained the cabin was catered for eight passengers plus my meal, so insisted they bring out the other options for me as well so I can choose what I like most with each course. And while I'll cover it more later, suffice to say the service from both flight attendants was phenomenal. My dad said it was the best service he has ever received on any airline, as they were incredibly attentive without being overbearing, and actually seemed to love what they were doing.
The meal service began with the caviar cart being rolled around. Rather than putting both the caviar and appetizers on one cart they did it as two separate services.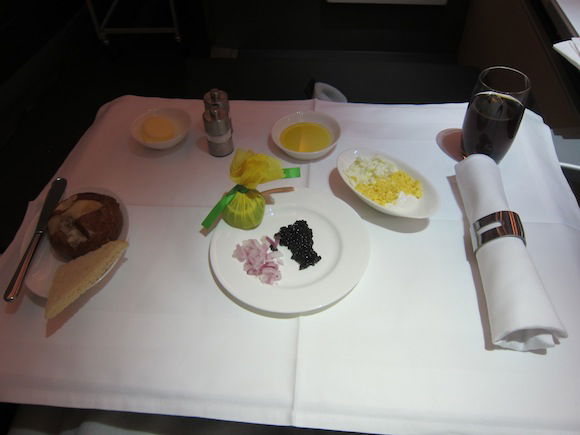 Caviar
Next the appetizer cart was rolled around, and while the Asian vegetarian appetizer looked fine, the other three appetizers looked even better, so I selected them instead. They consisted of green papaya salad with shrimp, pink peppercorn beef, and vegetables. I also had a salad. Everything was great.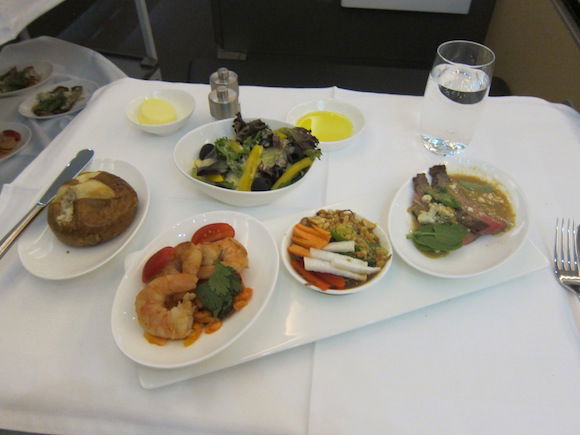 Appetizers and salad
At the beginning of the meal the crew asked me which main course looked best to me from the regular menu, as they insisted on heating it up as well. So they brought me out two main courses — my Indian dish and the pappardelle with shrimp and red curry sauce. Both were delicious, though I ended up eating the Indian dish and just eating the prawns from the other dish.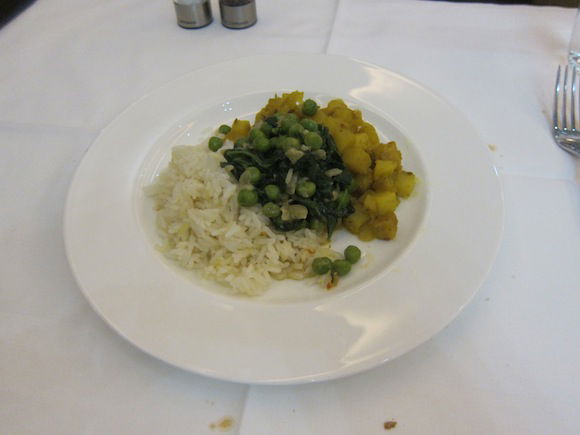 Indian vegetarian main course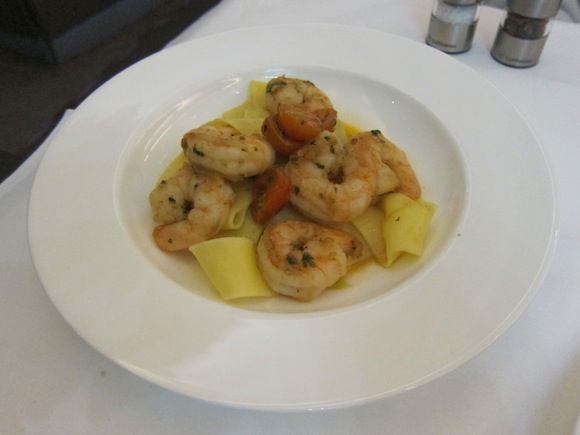 Pappardelle with shrimp and red curry sauce
Meanwhile my dad had the seared pork, which he loved.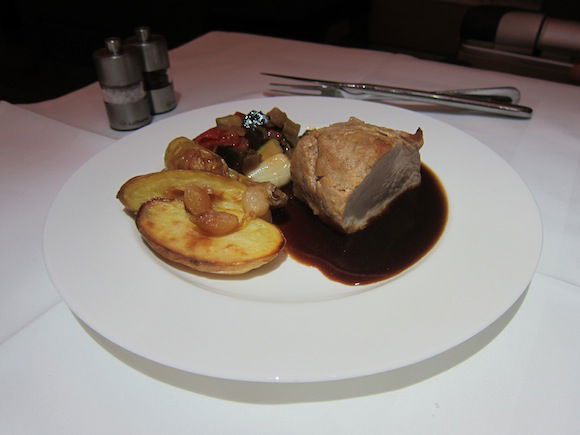 Seared pork
For dessert I had a chocolate tart with vanilla ice cream.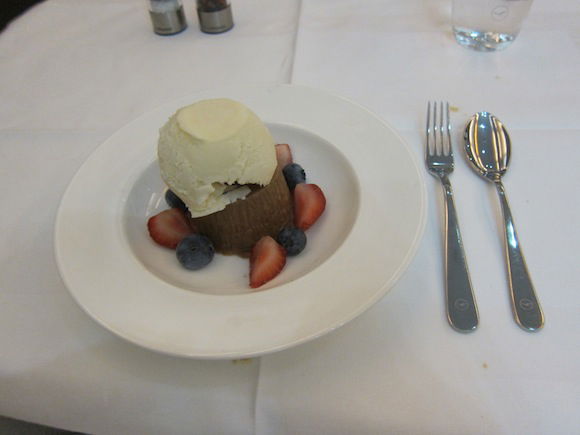 Chocolate tart with vanilla ice cream
My dad skipped dessert and ordered a cheese plate instead.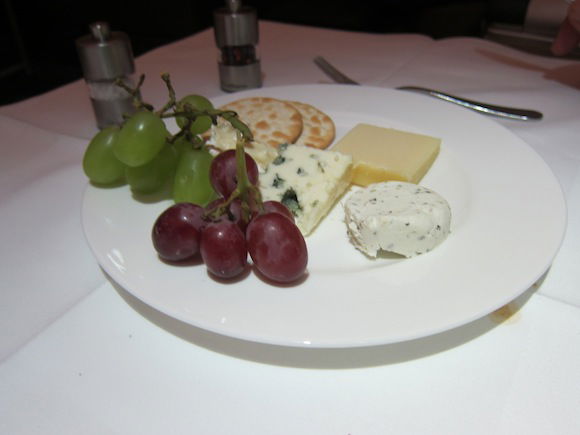 Cheese plate
To finish off the meal I ordered a cappuccino, and was offered a selection of pralines to go along with it.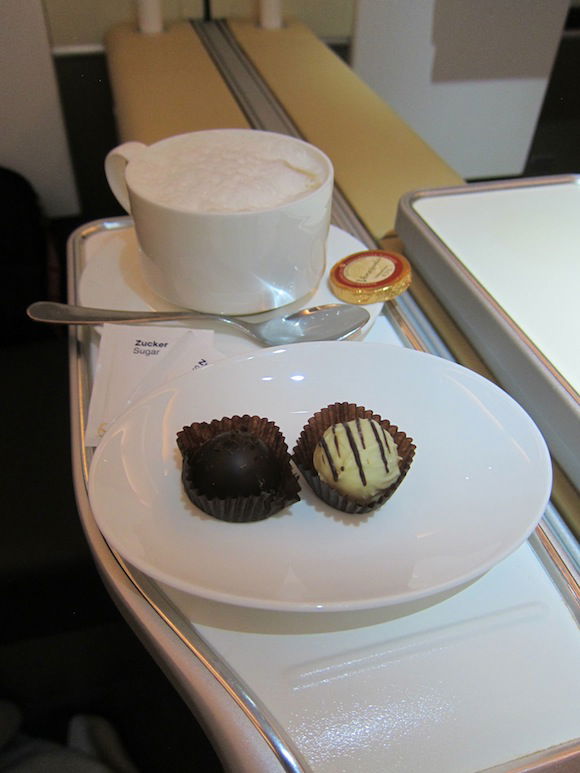 Cappuccino and pralines

I can't stress enough how fantastic the crew was, and how much my dad loved the flight. The meal service was at a leisurely pace, and we more or less had the crew to ourselves. 1K went to sleep almost immediately after takeoff, while 1A was a mighty odd yet badass fellow. He had both Global Services and Concierge Key tags on his bag. During the meal service he requested nonfat milk so he could make a "shake," which is fair enough. The bizarre part was that he did some of the most extravagant "Shake Weight" style shaking of the bottle I've ever seen for at least 10 minutes, and then downed the drink in less than 30 seconds.
As the meal service was finishing up a couple of interesting things happened. First of all, someone from coach came up the stairs to the upper deck and climbed under the barrier to try and use the lavatory. As it turns out he was trying to smoke, and the way the crew handled it was nothing of SWAT Team-esque. They opened the lavatory within seconds and sent him packing.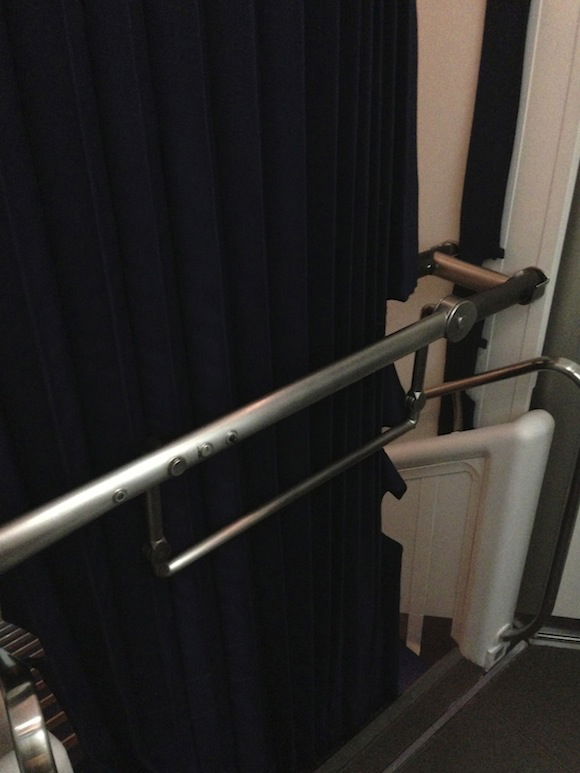 Upper deck barrier
Next, the purser came up to us to inform us that another passenger was being upgraded midflight and would take seat 2K. She explained that his entertainment system wasn't working and there weren't any spare business class seats. That's the first time I've ever witnessed a mid-flight upgrade.
Anyway, after dinner I was about ready to go to sleep, and suggested to my dad that he have his bed made. However, he wasn't having any of it, and said he was having too much fun to sleep. I tried to explain to him that sleeping in a flat bed with amazing bedding is part of the fun, but he far preferred just sitting there and enjoying (what he called) the "ambiance" of the cabin.
I had my bed made immediately, while one of the first class flight attendants offered to give my dad a tour of the plane, which he enthusiastically accepted.
As usual, I slept very well given the excellent bedding, though woke up about three hours before arrival. I guess I just wasn't that tired, given the early departure out of Houston.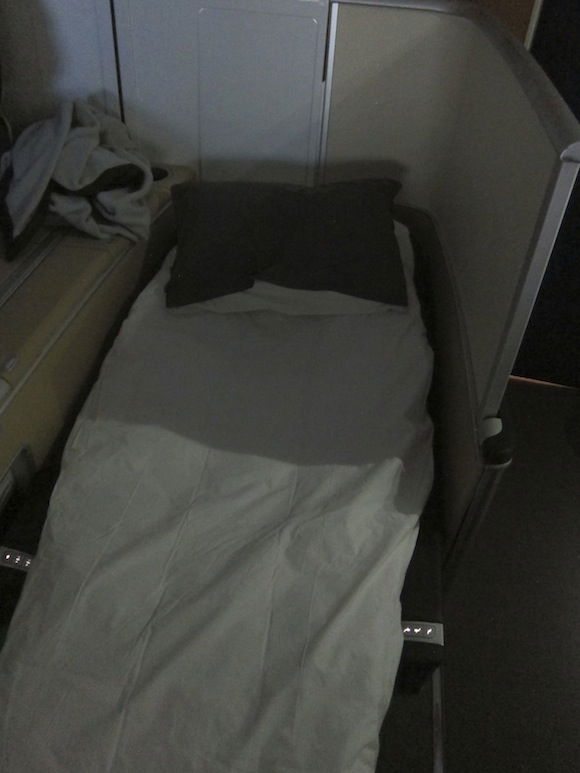 Turndown service
When I woke up I watched some TV shows on my iPad, and about 90 minutes out of Frankfurt breakfast service began. The menu read as follows: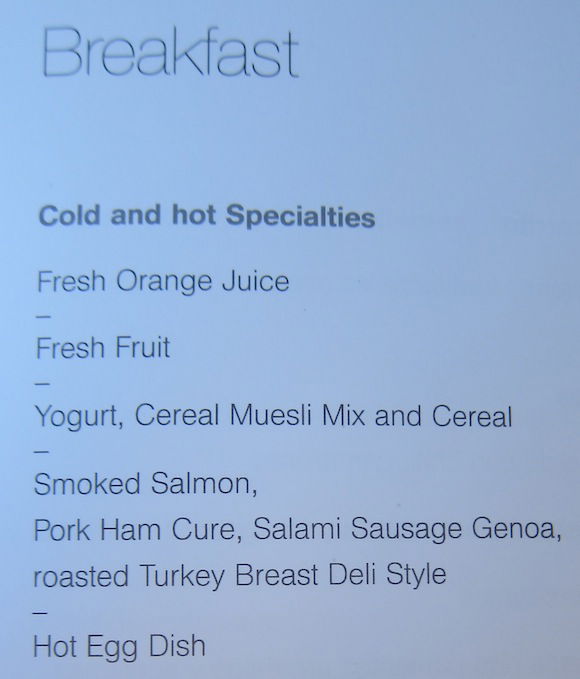 Service began with orange juice and a hot towel. I ordered a cappuccino as well.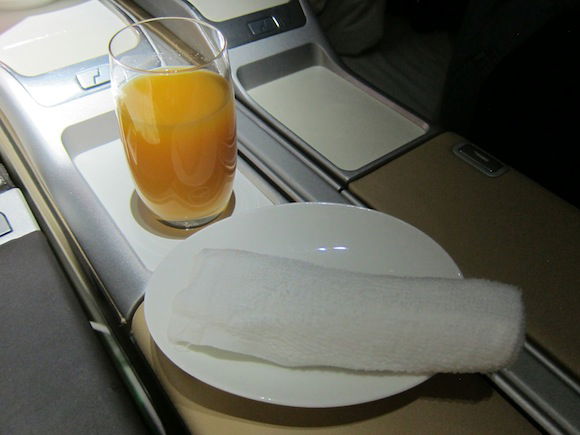 Orange juice and hot towel
My dad was still asleep when the breakfast service initially began (so much for not wanting to sleep!). Florian rolled around with a cart consisting of all the cold options. I had some salmon, a roll, and muesli.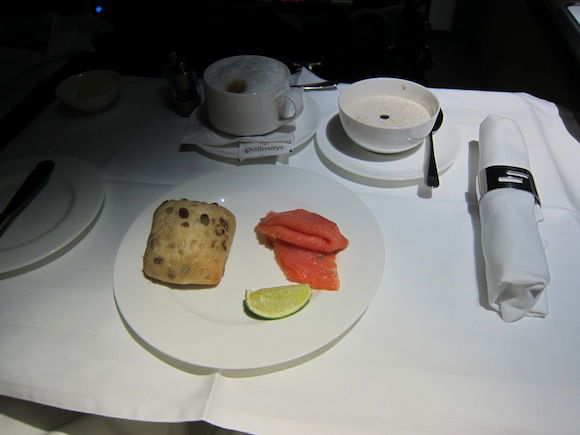 Salmon and muesli
Then for the main course I had scrambled eggs, which Lufthansa does a fantastic job preparing aboard.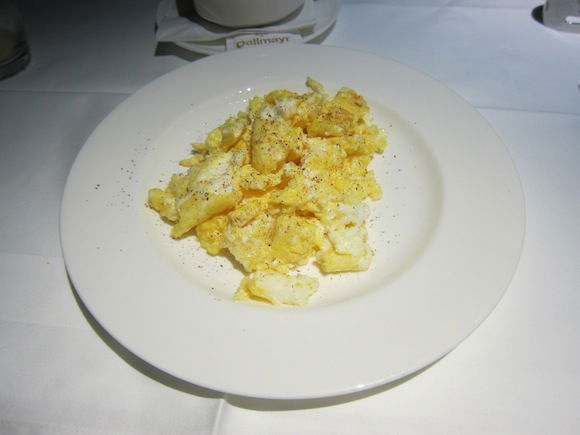 Scrambled eggs
When my dad woke up I asked him if he wanted breakfast — "Benny, zhere is no vay I can have anozer bite to eat. I'm still zo vull!"
They still tried to tempt him by bringing around the cart, and sure enough he (mildly) went to town.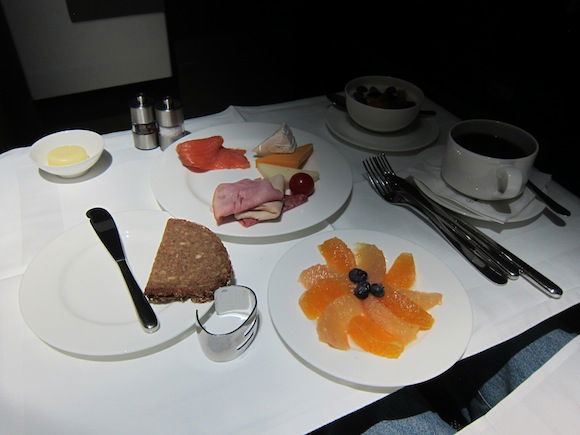 Dad's breakfast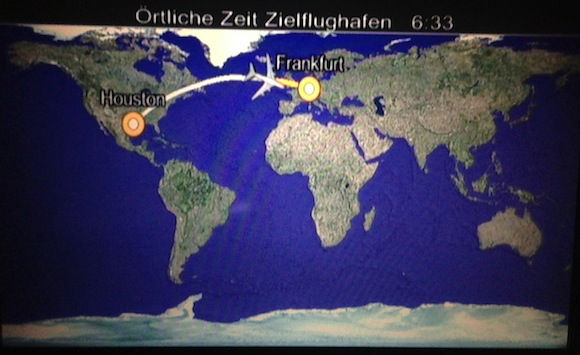 Airshow during breakfast
About 30 minutes out we began our descent, and I switched to seat 2A to watch the views on approach.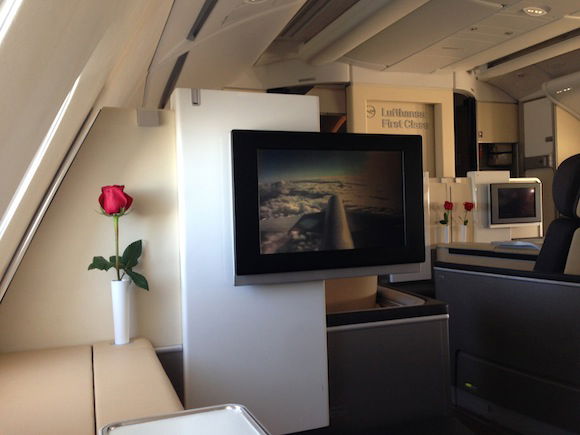 View from 2A
Rather than landing into the east we had to fly past the airport and turn around to land into the west, which added to our flight time a bit.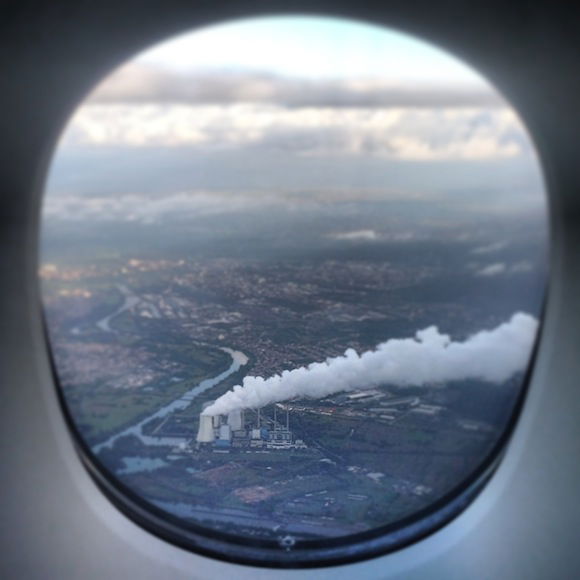 Okay, maybe I used an Instagram filter…
We touched down on runway 25L about 30 minutes ahead of our scheduled arrival time.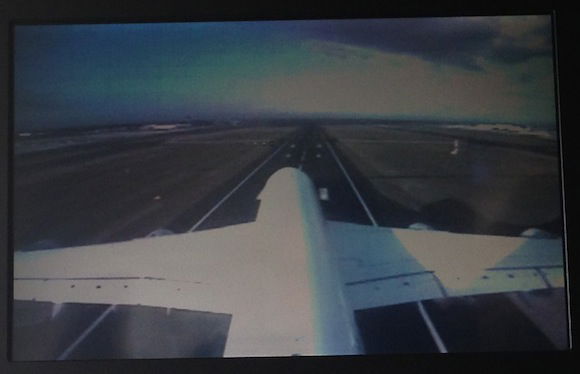 View on short final
Unfortunately the taxi to the gate took (seemingly) forever. First we had to hold short of runway 25R for over five minutes as we waited for a few planes to take off.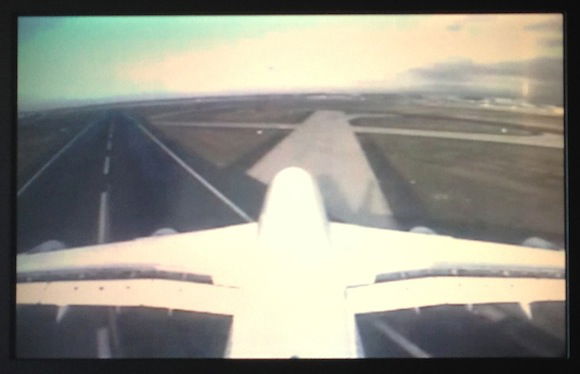 Taxiing off the runway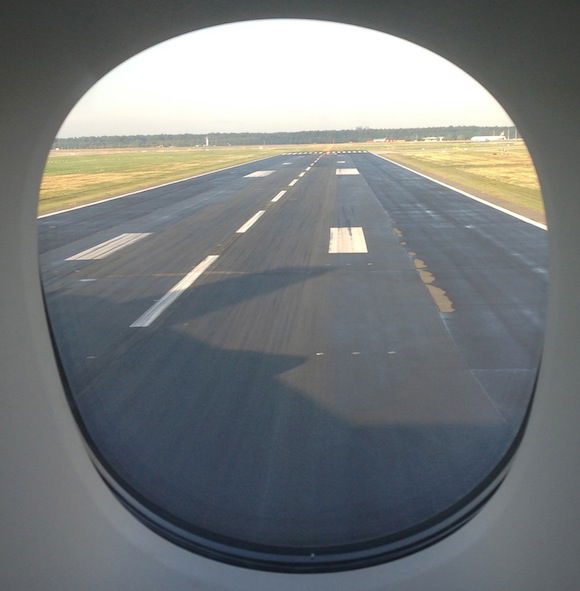 Crossing 25R
And then it was another 15 minutes or so before we reached our gate, A66. I never mind a long taxi in Frankfurt, though, since I find the variety of airlines and airplanes there to be utterly fascinating.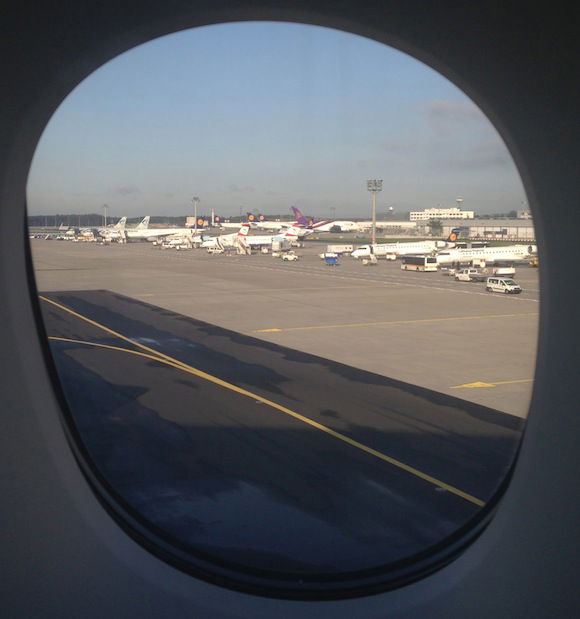 Taxiing to the gate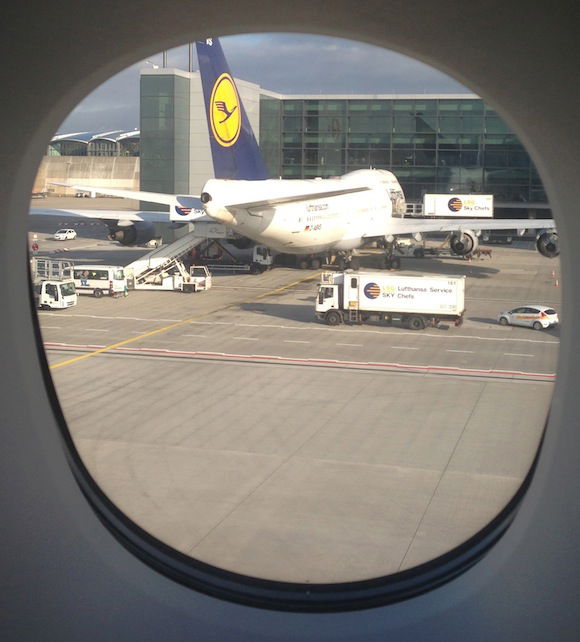 Lufthansa 747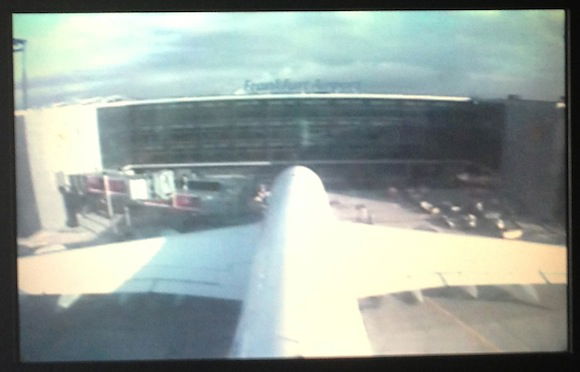 At our gate
This flight was simply phenomenal. The crew was probably the best I've ever had on Lufthansa, the food was top notch (I'm almost suspicious that Austrian put their business class catering on our flight based on the quality), and my dad was a pretty damn fun travel companion.