---
Earlier this year Hyatt announced that four hotels in France would be rebranded as Hyatts, which I was really excited about. I love when independent hotels rebrand as chain hotels, since you get the consistency and benefits you get through a global loyalty program, while getting something other than the typical "cookie cutter" experience.
Of the four French hotels being rebranded as Hyatts, two were in Paris, one was in Nice, and one was in Cannes.
We decided to first do two nights at the one in Nice, which is a category five Gold Passport property, making it 18,000 points per night. For the nights we were staying, the nightly rate was 349EUR+ per night, so using points was a no brainer.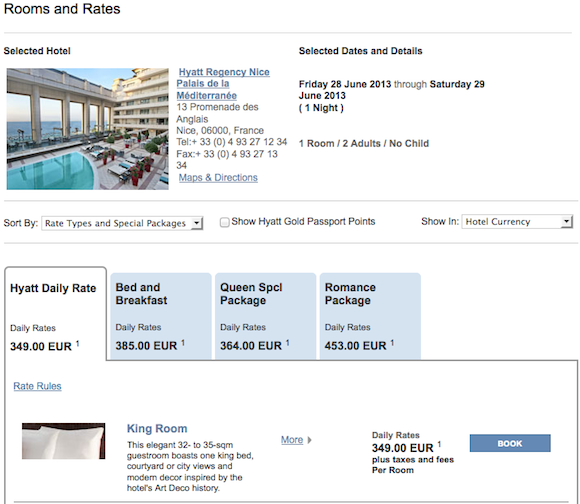 There are a couple of things worth noting about booking stays at this hotel, though. First of all, as I uncovered after my stay, this hotel accepts "Choice" level Hyatt Stay Certificates, which can be purchased for $152.22 per night. As I note in that post, though, there are capacity controls to stay certificates, but if you can find availability it's an absolute bargain.
Also, if you're booking a revenue stay here, it's worth noting that this hotel belongs to both American Express Fine Hotels & Resorts and Virtuoso. So if you book through either program you'll get added benefits for your stay while paying just the Hyatt Daily Rate. In the off season rates here are very reasonable, often under 200EUR per night, so combined with the below benefits it can turn into quite a bargain.
For American Express Fine Hotels & Resorts the added perks are as follows: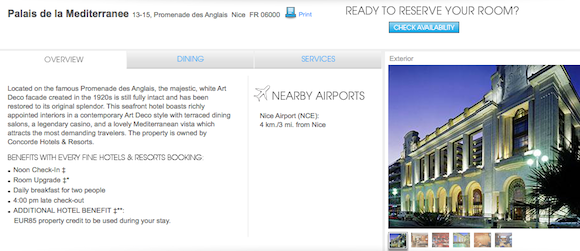 And for Virtuoso the added perks are as follows:

Anyway, upon arrival from Frankfurt we took a taxi to the Hyatt Regency, which is only 3.5 miles from the airport. I was expecting the taxi to be expensive, but was surprised it was 50EUR (I was expecting to pay 30-35EUR based on what I had read, which is still crazy for such a short drive, but I guess those are local prices). That didn't sound right to me, so I had my friend go inside and get the concierge while I waited outside with the driver. He turned pretty aggressive so rather than getting into too much of a confrontation I paid him and he drove off, which I probably shouldn't have done in retrospect.
I was impressed by how seriously the concierge took the situation, though. I said "don't worry about it, it was a learning experience," and he said "it's fine if you don't worry about it, but it bothers me and I want to follow up."
The exterior of the hotel is pretty darn impressive, and almost feels a bit Greek with the columns.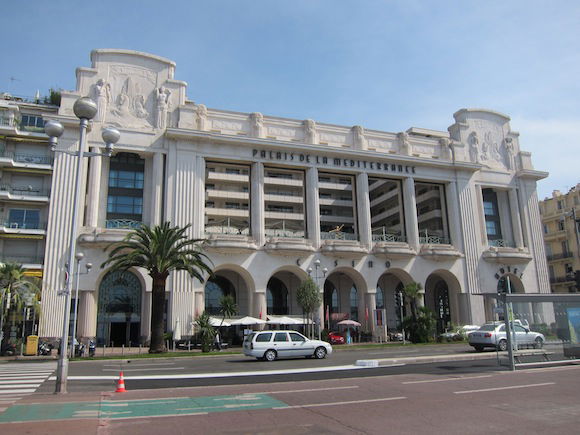 Hotel exterior
The lobby is modest by comparison, though still nicely decorated, with lots of wood finishes.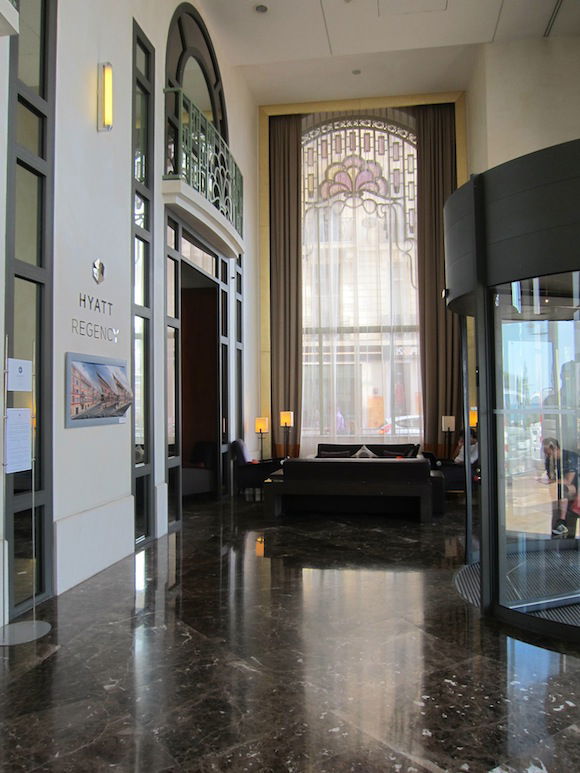 Lobby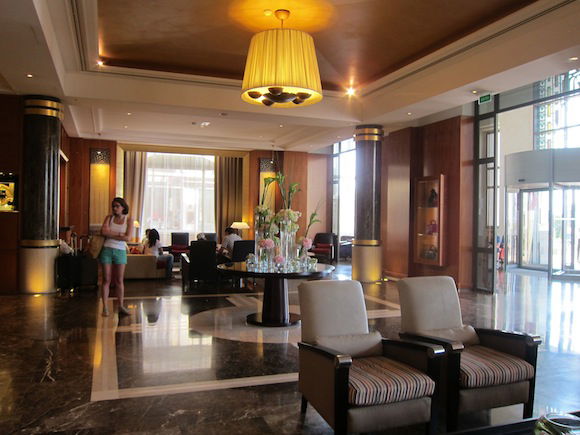 Lobby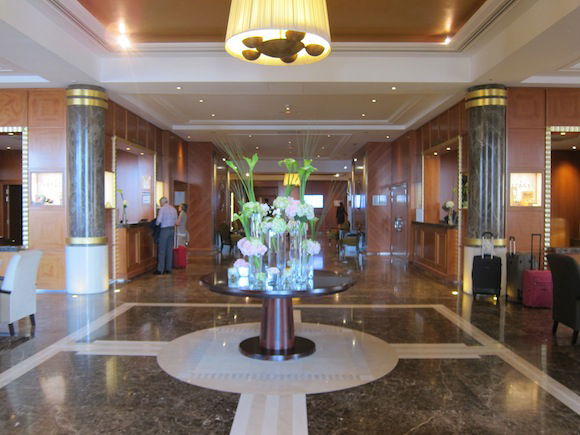 Lobby
Check-in was prompt, and I was impressed that despite this being a recently rebranded Hyatt they were on top of elite benefits, and informed us of our breakfast benefit, late check-out, and also offered us the choice between the 1,000 points and the welcome amenity.
We were assigned a partial sea view room on the 5th floor, room 517. Our room was about half way down the (cruise-shipy looking) hall on the left.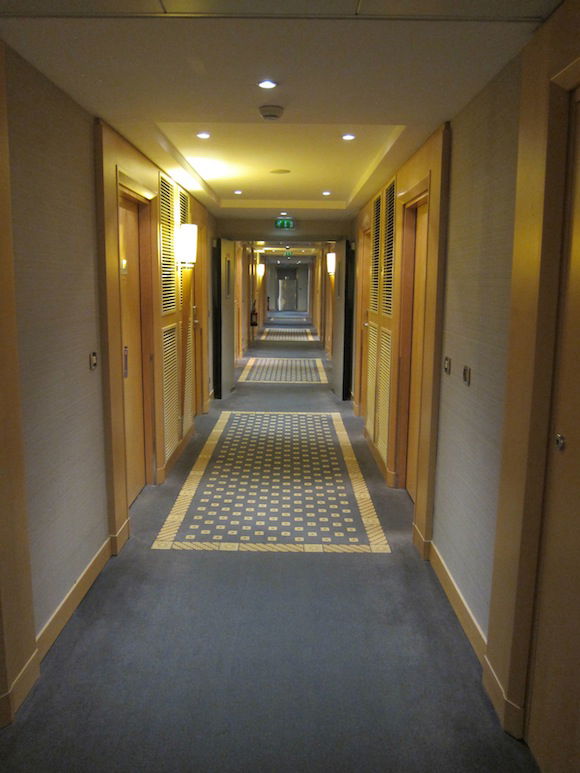 Hotel hallway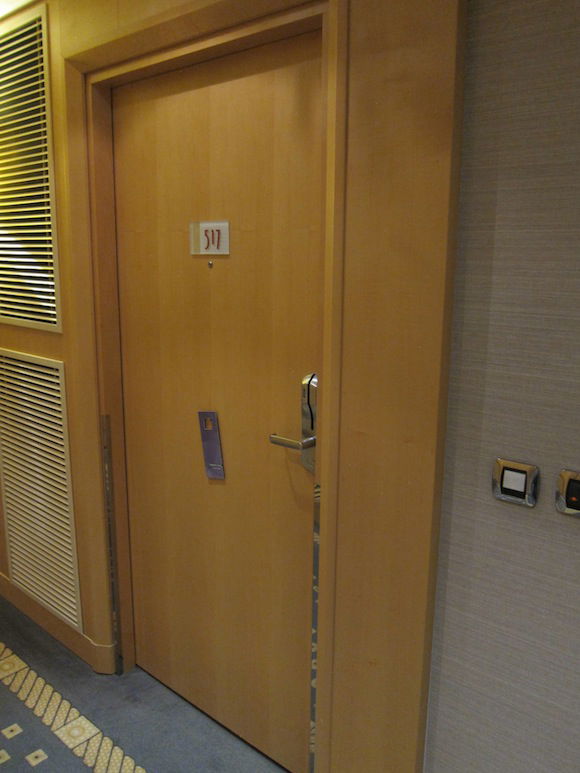 Our room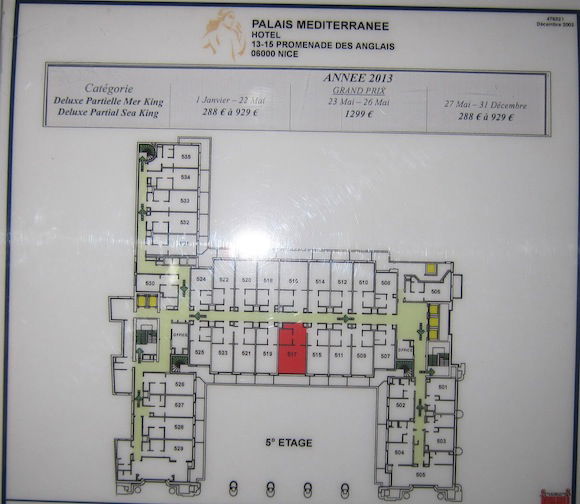 Floorplan
The room featured a spacious entryway. On the right side was the bathroom and toilet (which were located in separate rooms), and on the left was the minibar and closet.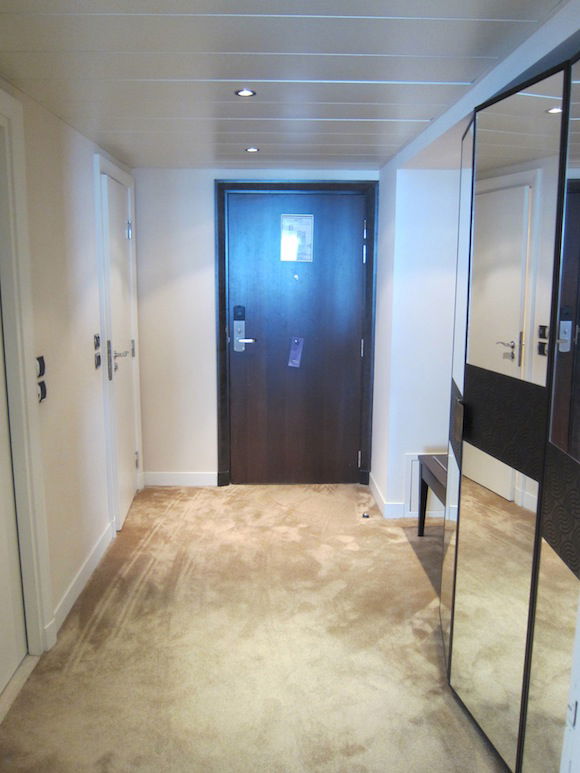 Entryway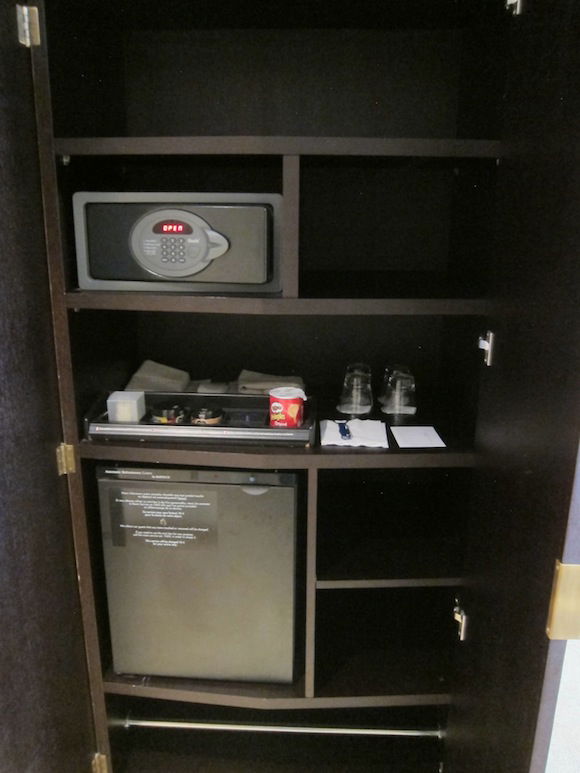 Minibar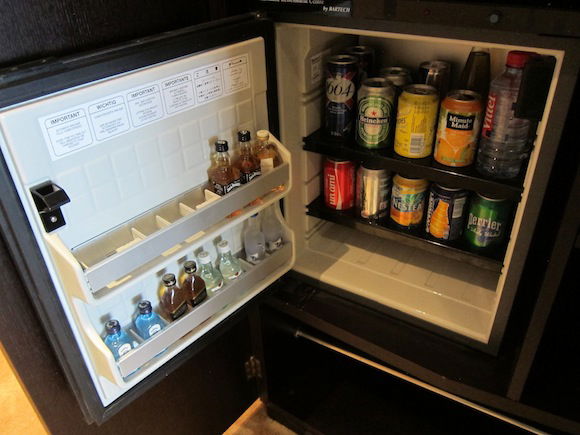 Minibar
The room was nicely decorated and fairy large by European standards, with a king bed, a desk under the flat screen TV, and two chairs with a side table by the window.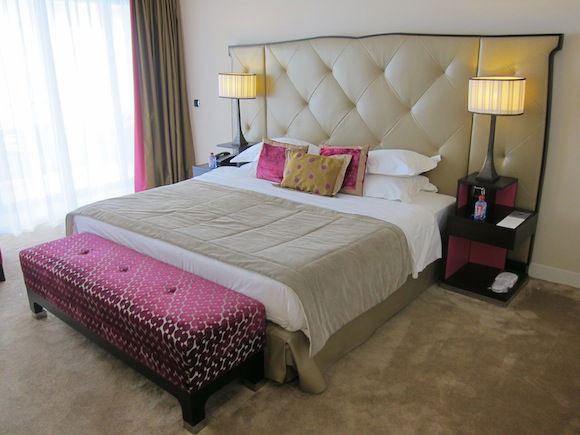 King bed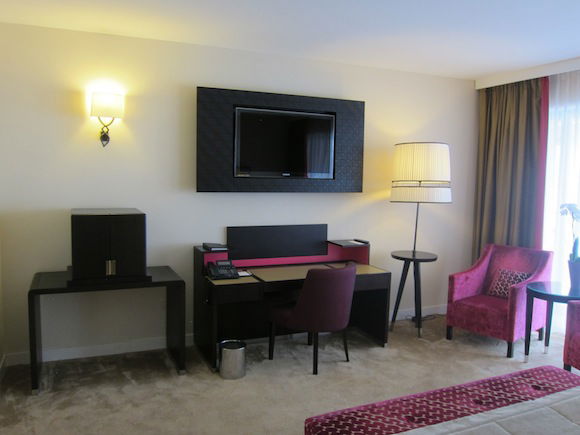 TV and desk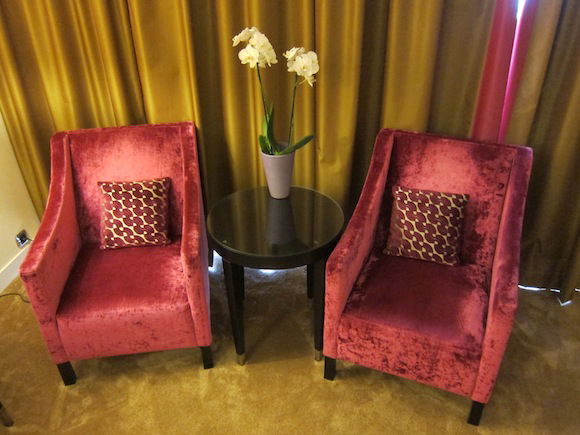 Chairs with side table
Then there was a balcony which overlooked the pool (and in the distance the sea). It featured a lounge chair as well as two chairs with a table. The plastic partitions between rooms seemed a bit cheap, though, since you could look straight through them.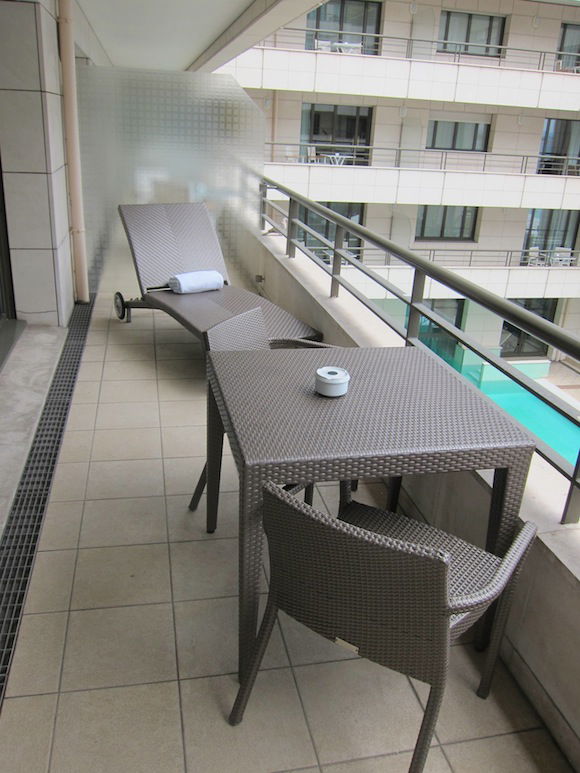 Balcony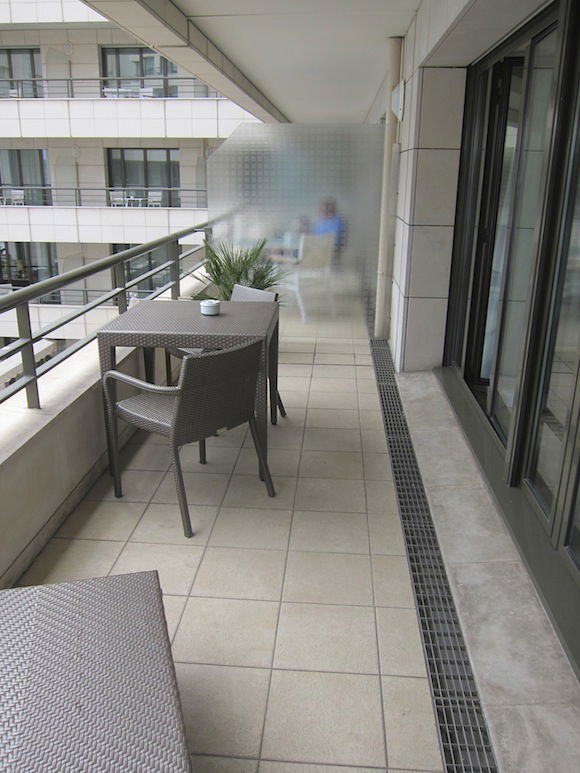 Balcony


View from the balcony
As far as the bathroom goes, it featured a sink, tub, and walk-in shower.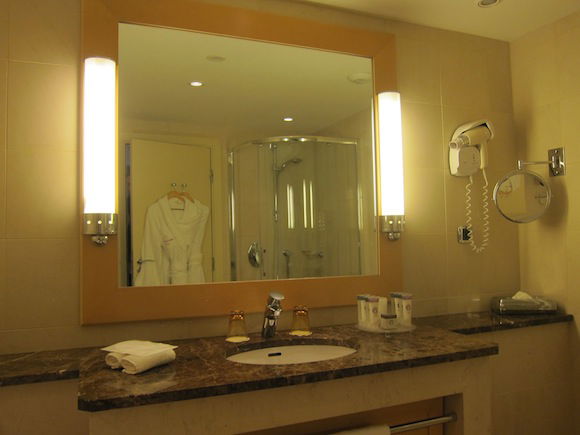 Sink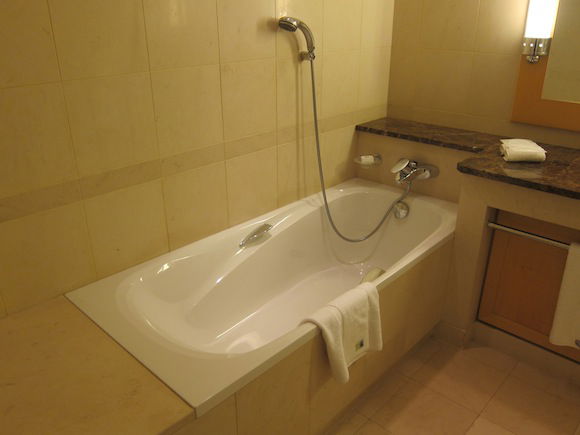 Tub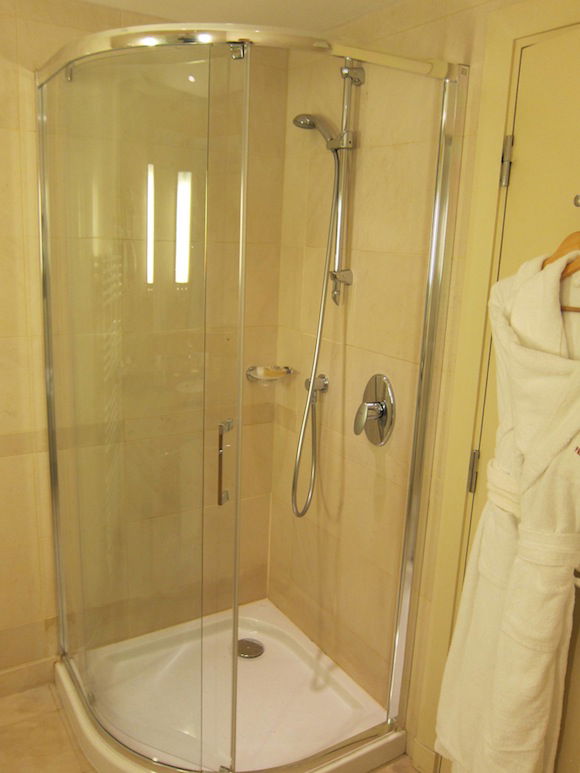 Walk-in shower
All the toiletries were Annick Goutal branded.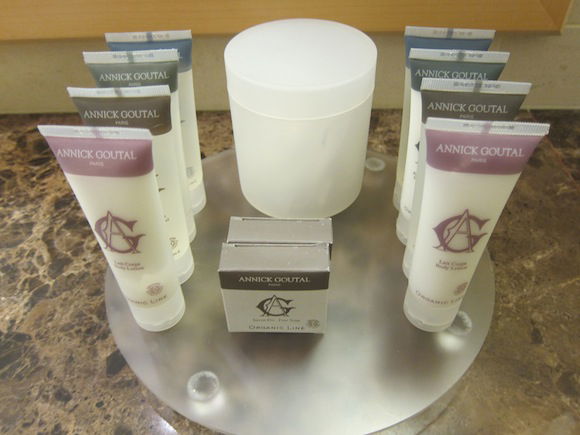 Toiletries
Then the toilet was located in a separate room closer to the door.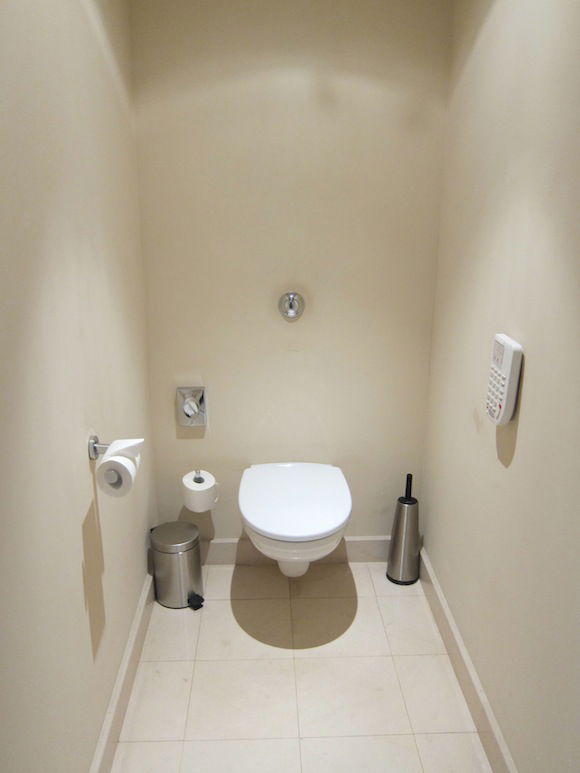 Toilet
On the whole the room was lovely, and again, I just love staying at non-cookie cutter chain hotels. Wifi at the hotel was free for all guests, though unfortunately was S-L-O-W. Like, unacceptably slow. I find that incredibly frustrating, though my hope is that they'll upgrade the internet now that they're a part of Hyatt (I assume there have to be some standards, no?).
Breakfast was served daily in the restaurant, which was probably one of my favorite aspects of the hotel. You could either eat inside or outside on the terrace overlooking the Mediterranean Sea and Promenade des Anglais. The weather was perfect the entire time we were in Nice, so it was amazing to sit outside every morning, enjoy the fresh air, and have breakfast.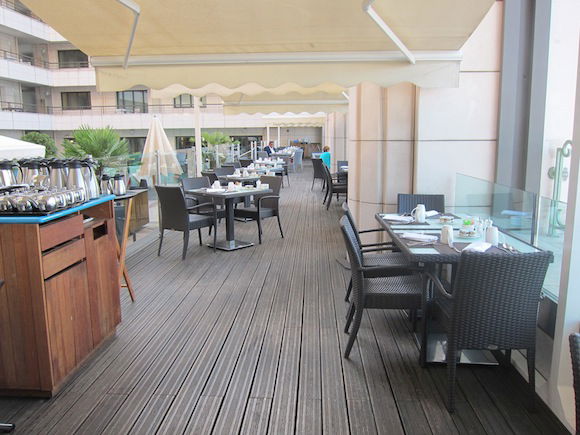 Terrace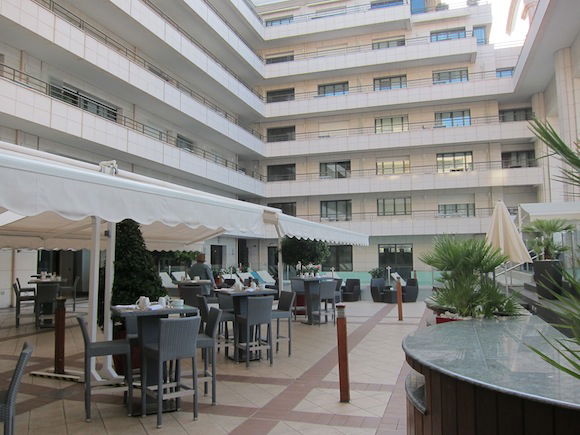 Terrace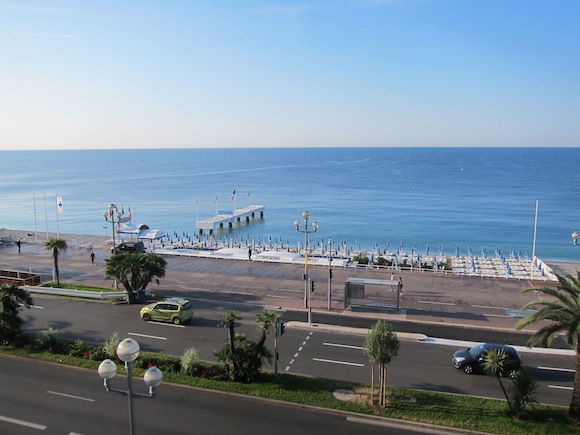 View from terrace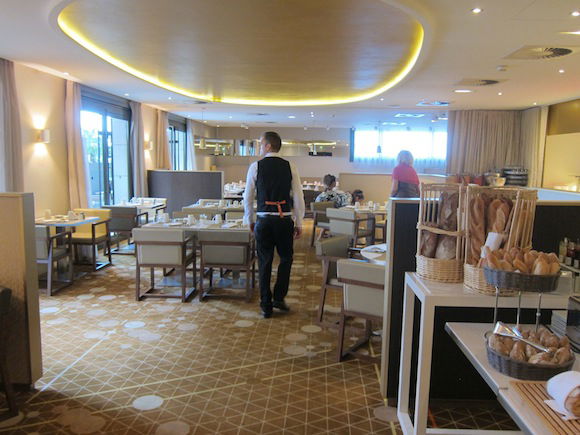 Restaurant
The service in the restaurant was spectacular, perhaps comically so. The first morning we were given a "tour" of the buffet. As we walked towards the buffet I asked the server "so it's just a buffet and not a la carte, yes?" He responded with "no, no, no, no, no, it is not a buffet… it is the buffet. Come, let me show you how fresh everything is."
While it's a nice buffet this isn't the Le Meridien Bangkok or St. Regis Abu Dhabi in terms of the spread, so I really don't think a Disney-style tour was necessary. But it was hilarious, because the server placed so much emphasis on everything. The buffet didn't have bread… it had "the most amazing fresh bread you will ever have." He mentioned no fewer than a handful of times that "the buffet has a lot, but if you want anything else — anything at all — let me know." I was almost tempted to test the limits on that one…
Anyway, the buffet was quite good. Nothing over the top in terms of quantity, though the quality was excellent.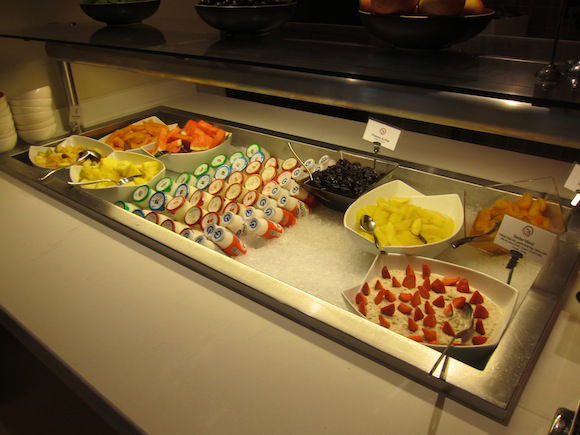 Buffet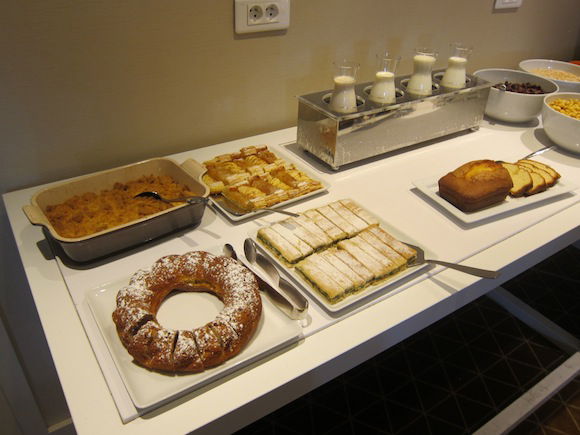 Buffet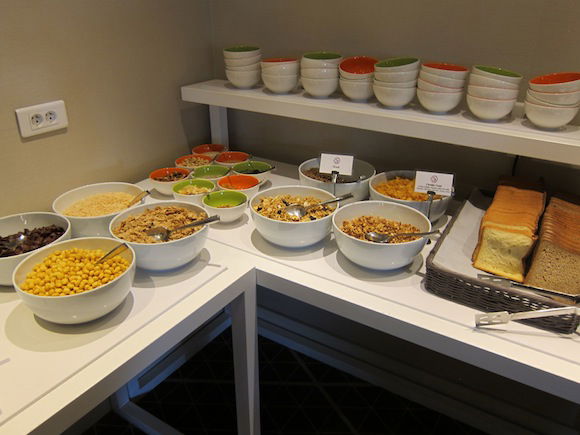 Buffet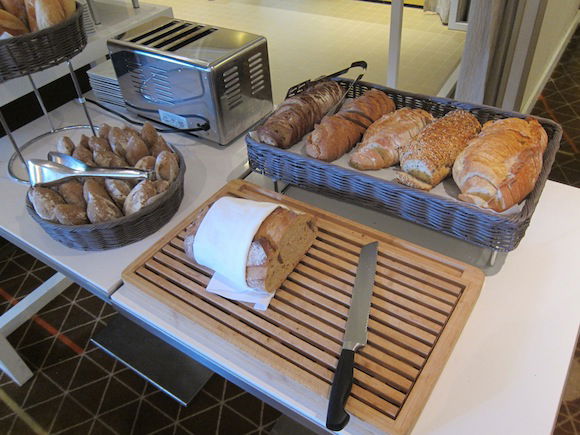 Buffet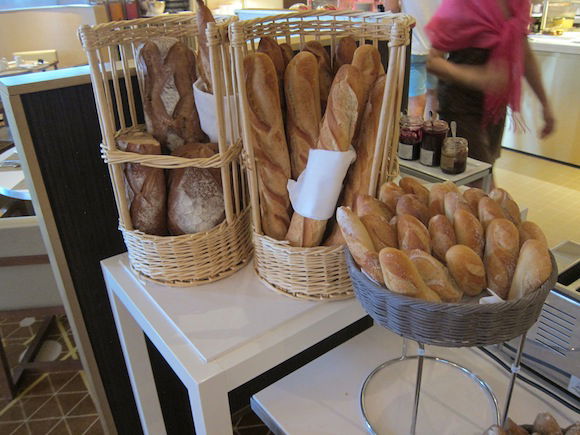 Buffet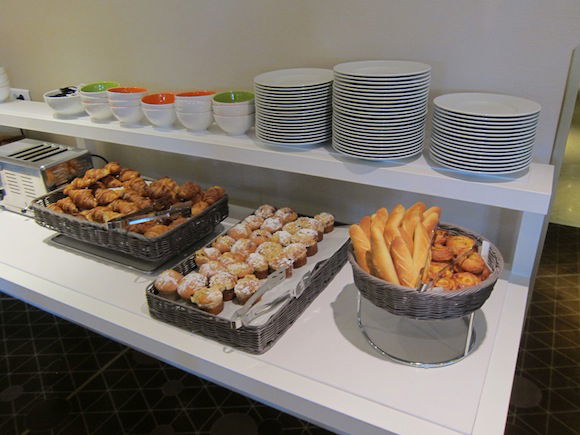 Buffet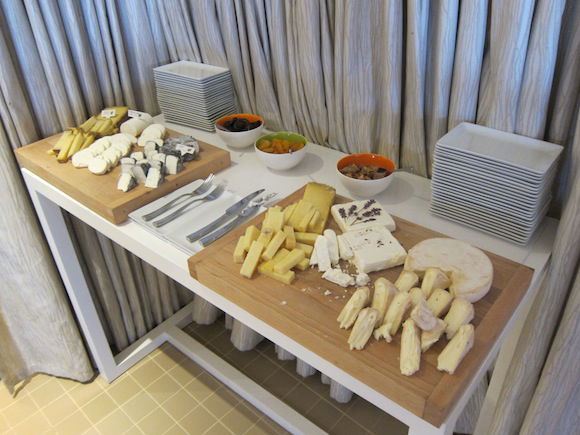 Buffet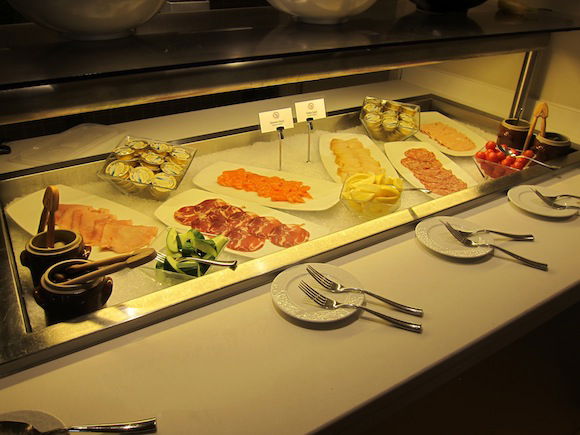 Buffet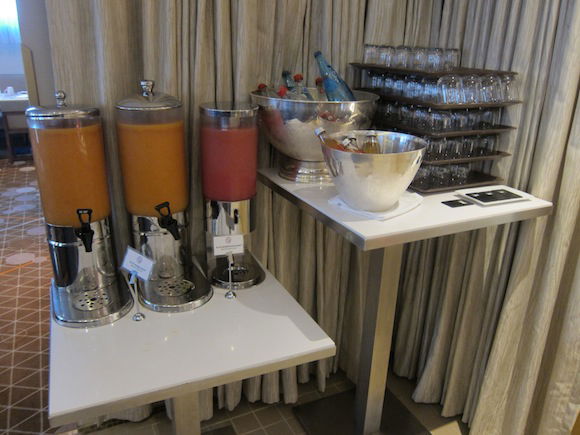 Buffet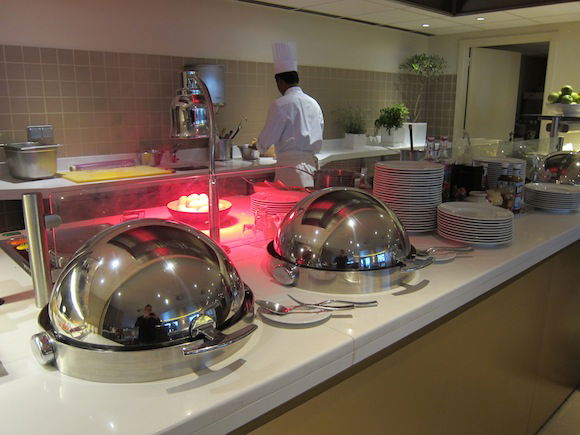 Buffet
In addition to the buffet they had made to order crepes, pancakes waffles, etc. Mmmm…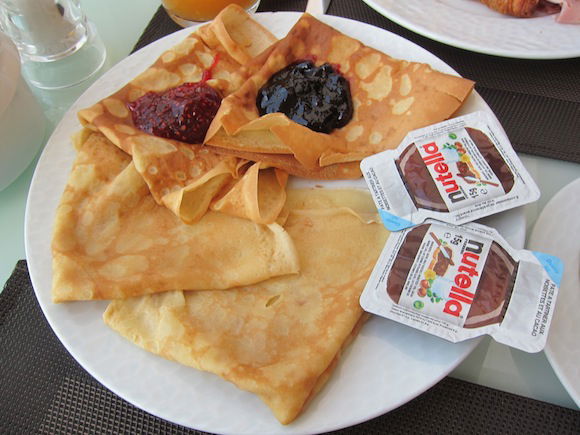 Crepes
In terms of the hotel's other amenities, there was a combined indoor/outdoor pool, which was quite nice.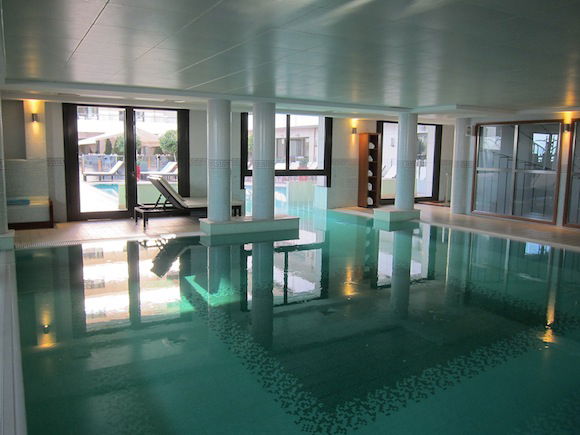 Pool
The hotel also had a small gym with modern equipment. It was filled mostly by Russian men having conversations on their cell phones and checking themselves out in the mirror.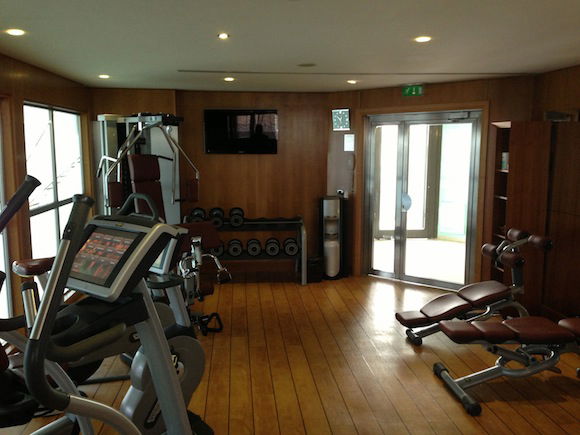 Gym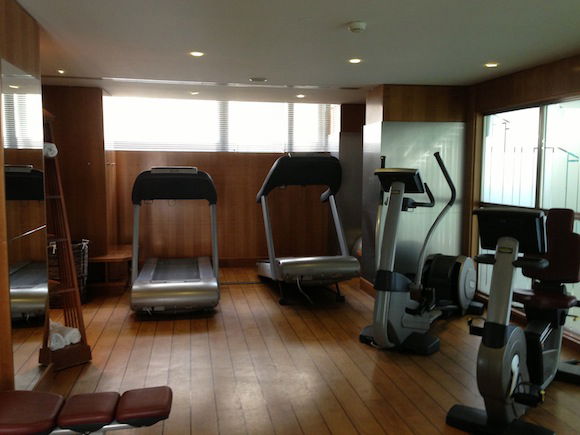 Gym
Then the hotel has a beach right across the street.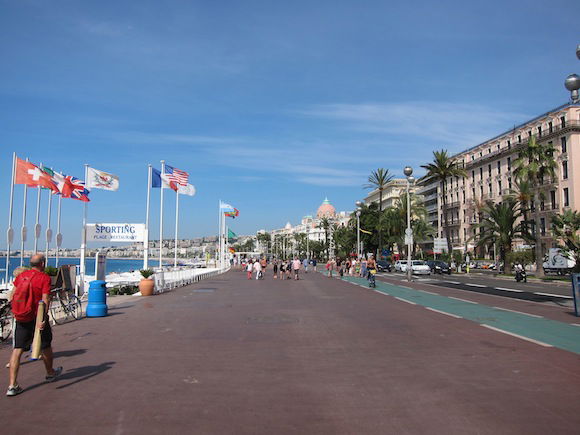 Promenade des Anglais (right outside the hotel)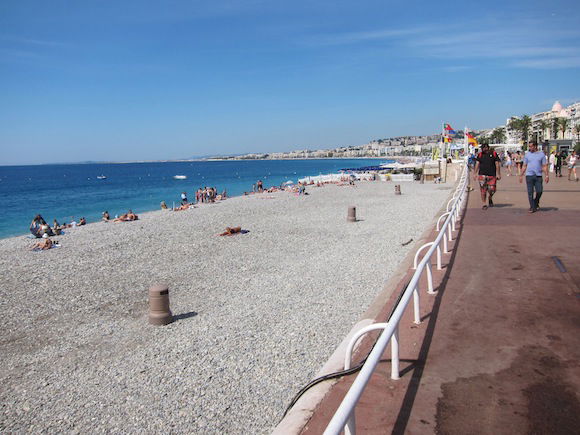 Promenade des Anglais (right outside the hotel)
I don't think it's actually the hotel's beach, but they have an arrangement with the company that runs it, and for 25EUR you can get a sunbed and umbrella set up for the day in the Hyatt "section."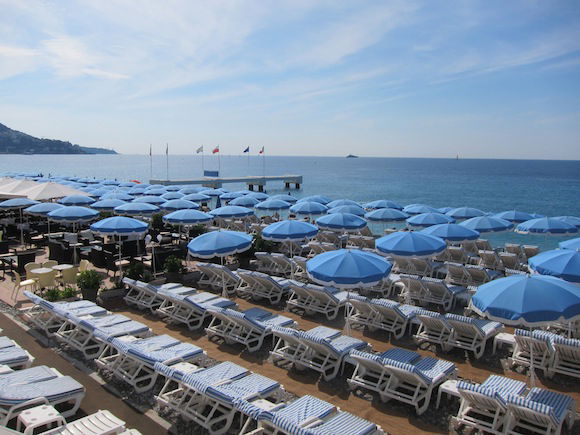 Beach
After our two night stay in Nice we took the train to Cannes for two days, but before flying to Zurich we decided to spend one more night at the Hyatt Regency Nice on points, given that we loved Nice so much. This time around we got upgraded to a Regency Suite on the 4th floor, room 409. Basically the bedroom was more or less identical to the previous room we had.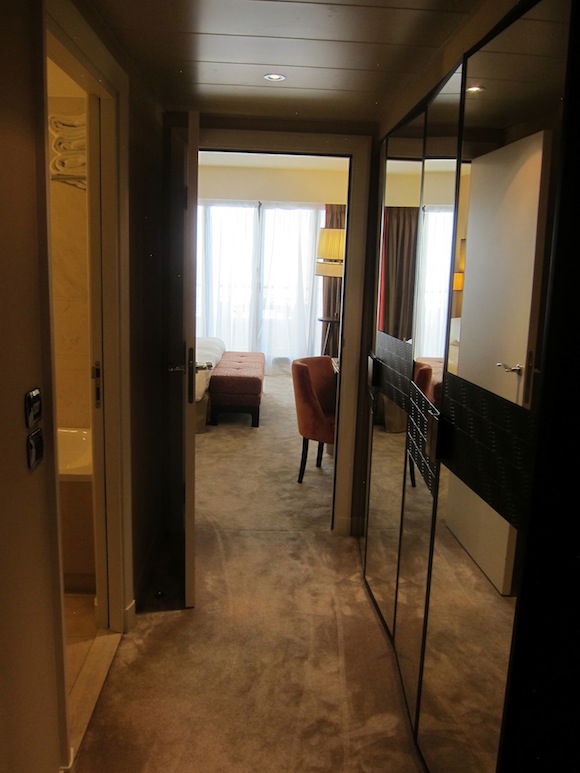 Entryway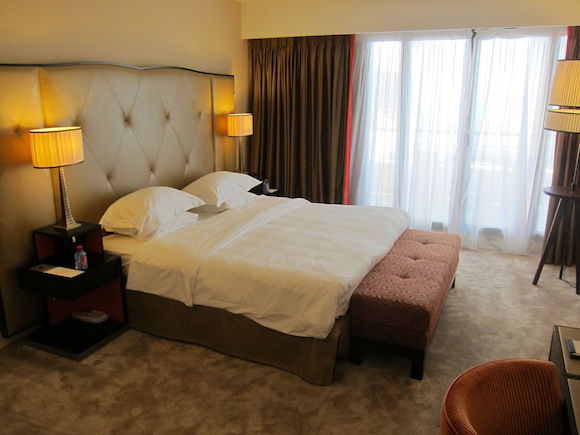 Bed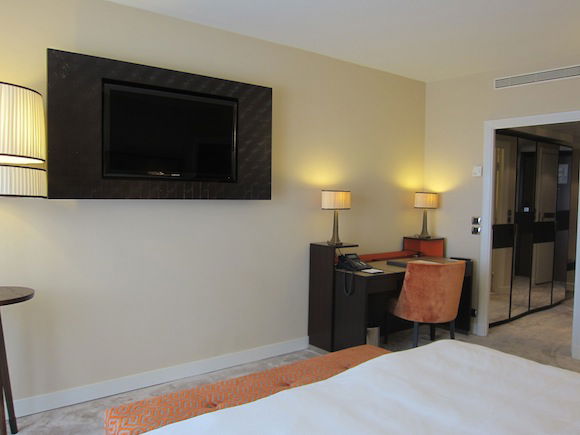 TV and desk
The difference was that there was a separate living room. It actually appeared to just be a second connecting guest room converted into a suite.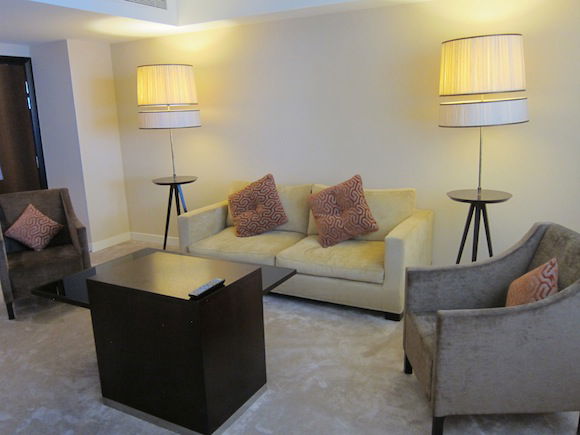 Living room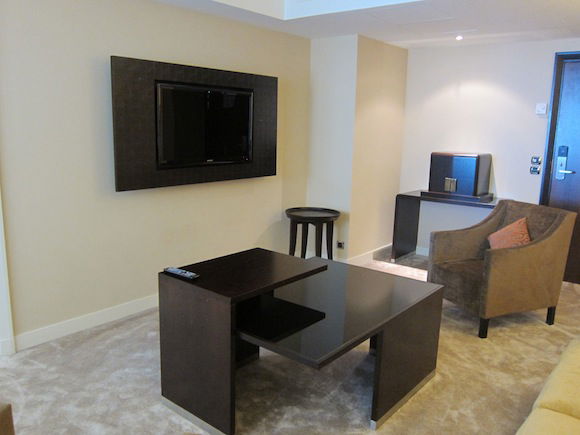 Living room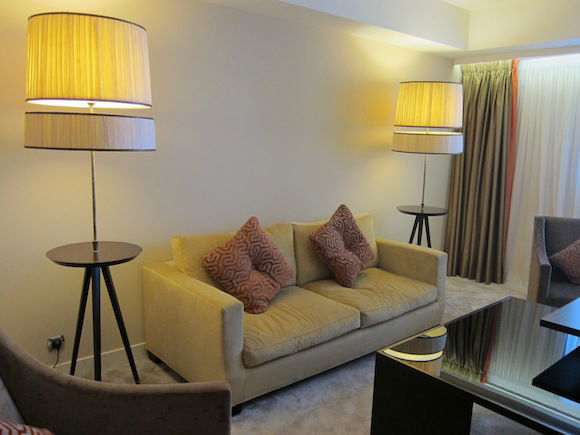 Living room
The bathroom in this room was identical to the bathroom in the first one. For our second stay we did select the Diamond amenity in place of the 1,000 points, and it consisted of a bottle of red wine and some crackers with spread.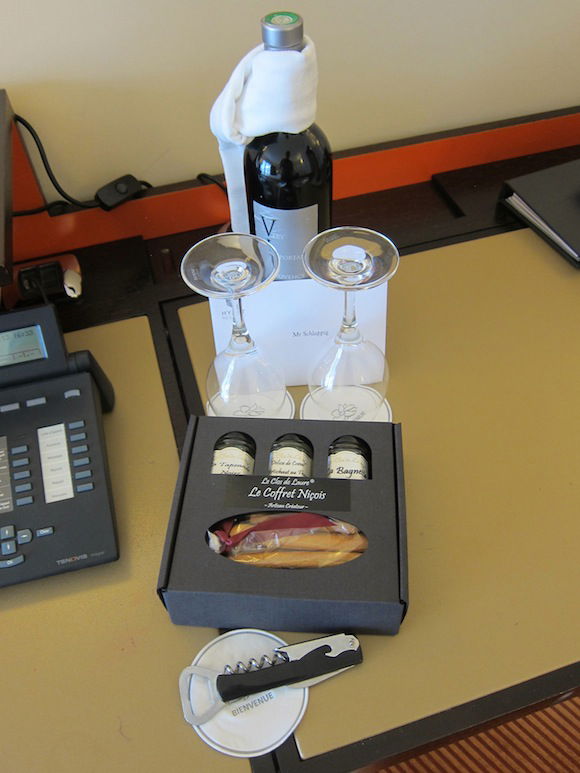 Diamond welcome amenity
In a separate installment I'll be writing about my time in Nice, Cannes, Monte Carlo, and Zurich, for anyone that's interested in reading about that.
Anyway, I really loved this hotel. While it wasn't "grand" or over the top (like the Grand Hyatt Cannes), I found the employees to be consistently friendly, and I really liked the facilities. More than anything else I loved the city of Nice, though, and found it much more interesting than Cannes. When I was originally planning this trip I was just going to go straight to Cannes and just fly into Nice, though I'm so happy I decided to spend a couple of days there.
Congrats, Hyatt, this is an awesome addition to your portfolio!