---
I have some friends spending the summer in Sicily, and they invited me to visit. Aside from visiting family in Germany I've never actually "visited" anyone in Europe, so figured I'd take advantage of the opportunity. Given that I was going over Memorial Day weekend and booking fairly last minute my best option was Lufthansa first class, so for 125,000 US Airways miles I booked the following:
5/21 LH477 Vancouver to Munich departing 6:45PM arriving 2:00PM (+1 day)
5/22 LH1682 Munich to Budapest departing 5:10PM arriving 6:20PM
5/28 LH452 Munich to Los Angeles departing 3:55PM arriving 7:15PM
5/29 AC553 Los Angeles to Vancouver departing 12:15PM arriving 2:56PM
While US Airways does technically block Lufthansa first class redemptions I haven't had too much trouble finding agents willing to book it. As you can see the trip was into Budapest and out of Catania. That's because I had never been to Budapest before, so figured I might as well visit both cities while I was at it.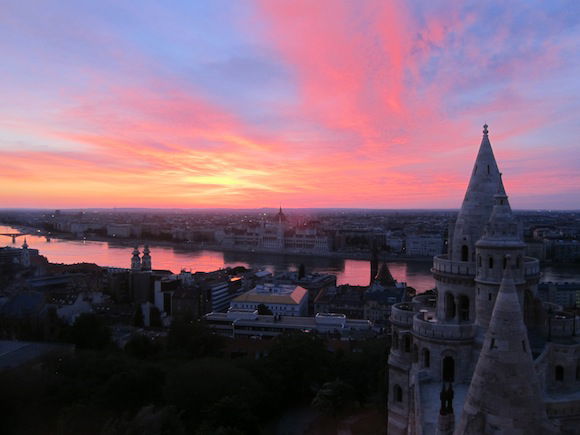 View from Hilton Budapest
Then I redeemed AviancaTaca Lifemiles for a business class ticket between Budapest and Catania:
5/24 LH1685 Budapest to Munich departing 6:50AM arriving 8:10AM
5/24 LH1964 Munich to Catania departing 9:25AM arriving 11:35AM
And then I redeemed some British Airways Avios for travel on Air Berlin between Catania and Munich:
05/27 AB8887 Catania to Munich departing 9:10PM arriving 11:20PM
That's because there's very limited Star Alliance service between Catania and Munich, so I would've had to fly out early in the day on the 27th to fly Air Dolomiti between Catania and Munich.
So anyway, in the end my itinerary looked as follows: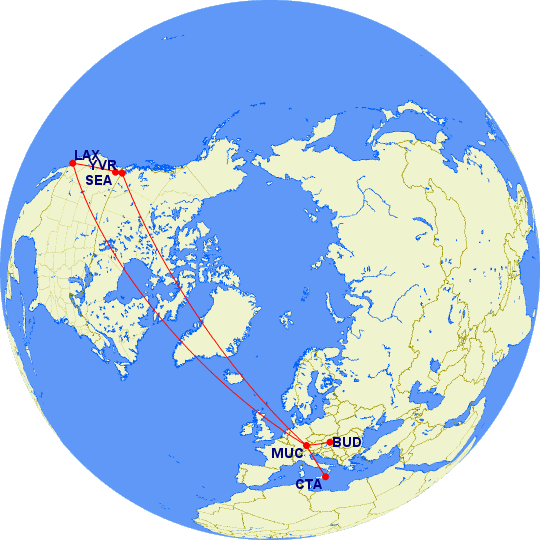 Since I was originating and terminating in Vancouver I booked tickets on Alaska between Seattle and Vancouver using British Airways Avios.
In Budapest I decided to book the Hilton, which was 30,000 Honors points per night, which was also my first stay as an Honors Diamond member.
While the trip wasn't the best use of miles, the purpose of the trip wasn't to maximize miles but to visit friends, and this trip accomplished that. I had to book literally a day before departure to find availability, but that's the beauty of miles — you can travel on a whim. And in the end I got Lufthansa's new first class in both directions so I'd consider it a success, as I've now flown the new first class on every type of Lufthansa aircraft.

Lufthansa's new first class
Anyway, I'm way behind on trip reports so I'll focus on what I consider to be the highlights of the trip in terms of lounges, flights, and hotels, so I can hopefully get caught up fairly soon. I'm aiming for one installment per day, for what it's worth.
Thanks for reading!