After an amazing few weeks in Europe, it was time to return to the United States. I decided to return from Greece to the United States in Emirates business class. While I had flown Emirates' A380 business class before, I had never flown Emirates' 777 business class on a long haul flight.
Long time readers know I'm a massive fan of Emirates' first class. It's one of my favorite products in the world. Business class is a very different story, unfortunately, at least on the 777.
I knew what to expect going in, and I guess the experience was exactly what I was expecting. At the same time, I can't help but be shocked that this is the product offered on the plane that's the backbone of the Dubai-based carrier's fleet. It's hard to imagine that Qatar Airways' Qsuites business class is even marketed as the same class of service as Emirates' business class, because both the hard and soft product are so vastly different. Anyway, let's get into the review…
How I redeemed miles for Emirates business class
I love Emirates' fifth freedom flights between Europe and the United States (from Athens to Newark and Milan to New York), and award availability tends to be really good on these flights. For the date I needed, Emirates had business class award seats available from Athens to Newark on the following flight:
07/26 EK209 Athens to Newark departing 5:35PM arriving 9:20PM
The ticket cost just 62,500 Skywards miles, plus around $100 in taxes (it was just me traveling, as Ford was staying in Greece a bit longer, and I managed to get him a first class award seat #HappyHusbandHappyLife).
Emirates Skywards miles are easy to come by, thanks to the program partnering with all major transferable points programs. This includes Amex Membership Rewards, Capital One, Chase Ultimate Rewards, and Citi ThankYou.
Unfortunately my flight had no first class award availability, and since first class was full, I wasn't able to use the trick for upgrading to Emirates first class on the day of departure. On the plus side, this would allow me to review Emirates' long haul business class product.
Emirates check-in, lounge, & boarding
Earlier in the summer I flew Emirates' 777 first class from Athens to Newark, so I won't review the ground experience too much. The experience at Athens Airport was easy enough, as the queues at check-in and security weren't long.
Emirates uses the Goldair Lounge at Athens Airport, which is okay, though not up to the typical standard of Emirates lounges.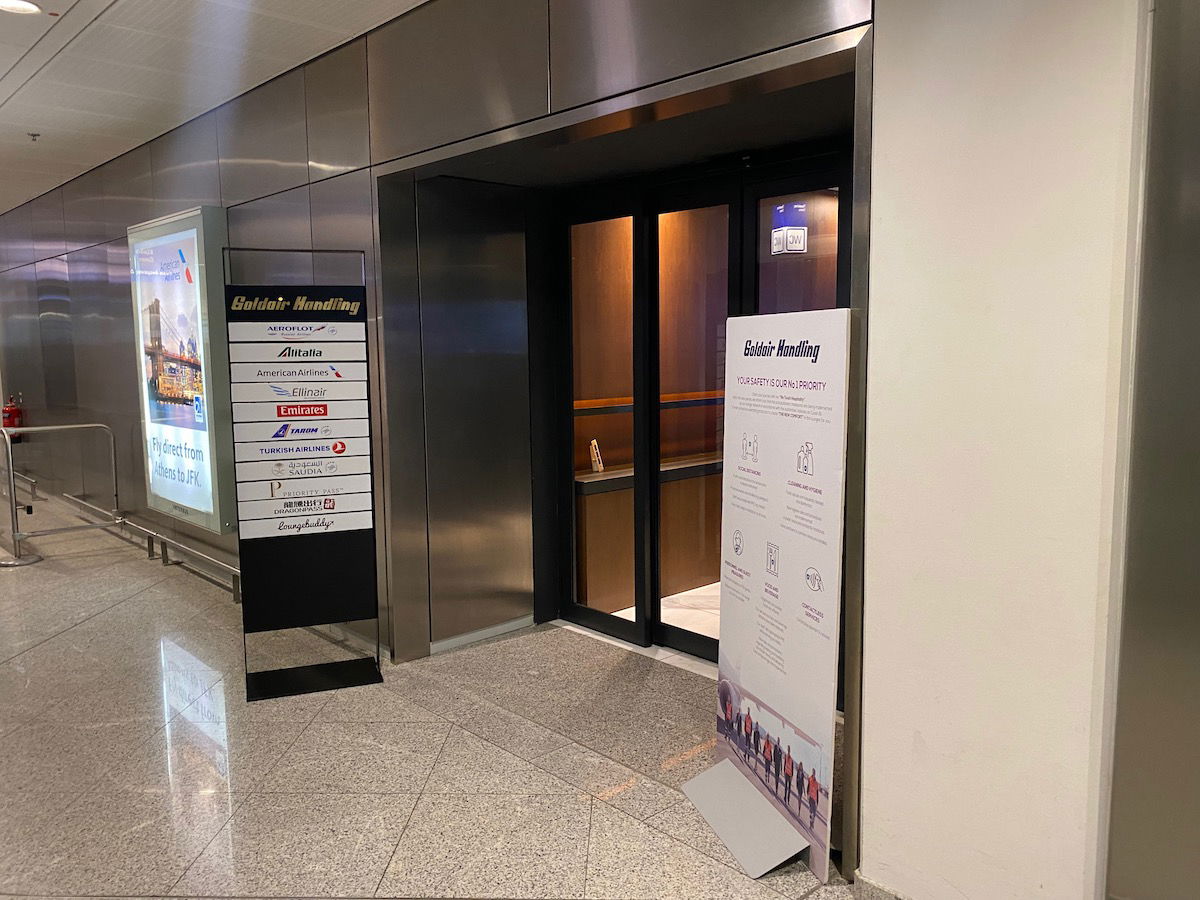 The flight boarded from gate A12, just a short walk from the lounge. Boarding started at 4:50PM (45 minutes before departure), with first and business class passengers being invited to board first.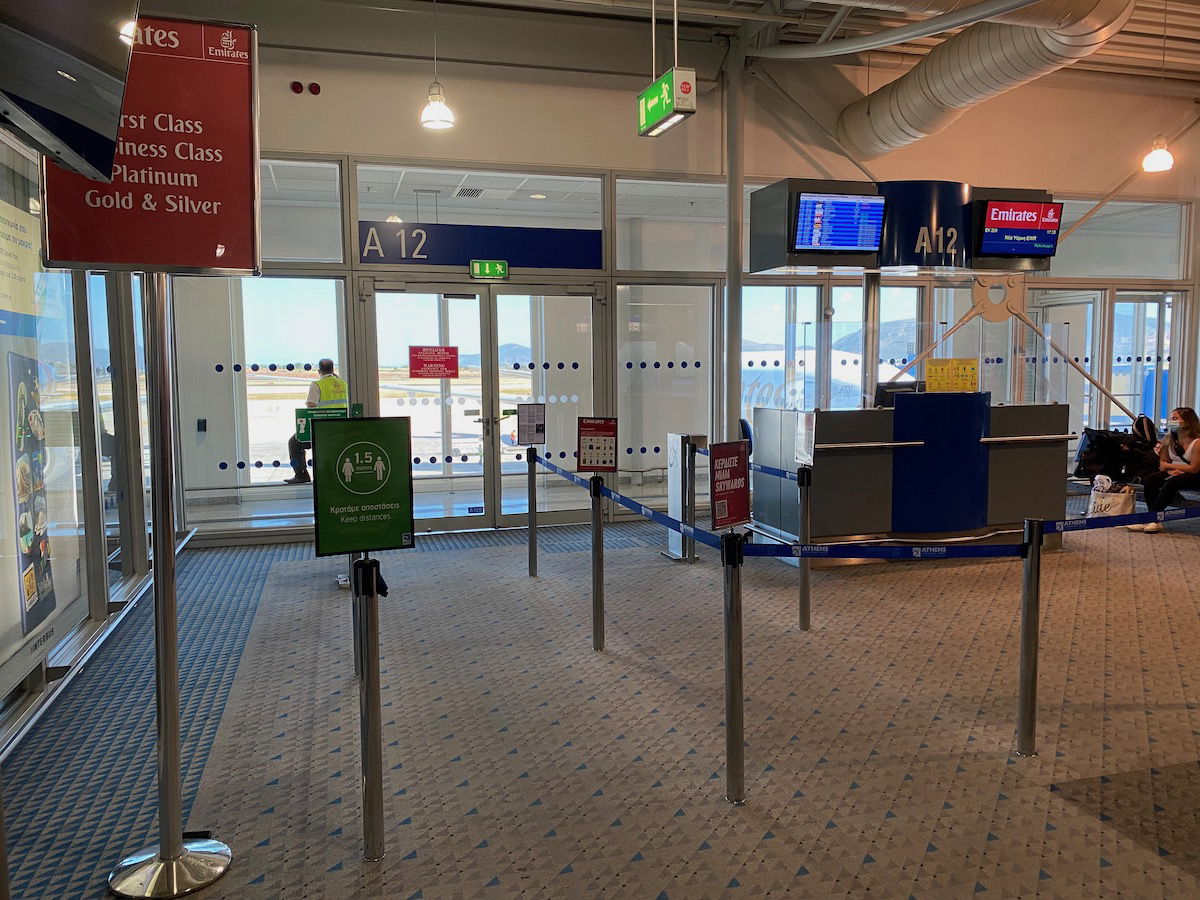 Emirates Boeing 777-300ER business class cabin & seats
I boarded through the second set of doors, where I was greeted by the purser and one of the business class flight attendants, and pointed right towards the main business class cabin. Emirates' 777-300ER business class cabin consists of a total of 42 seats, spread across six rows in a 2-3-2 configuration.
There's a mini-cabin ahead of the second set of doors with two rows, and then the main business class cabin is behind that, and features four rows. The plane I was flying on was roughly 15 years old, and it sure showed its age too.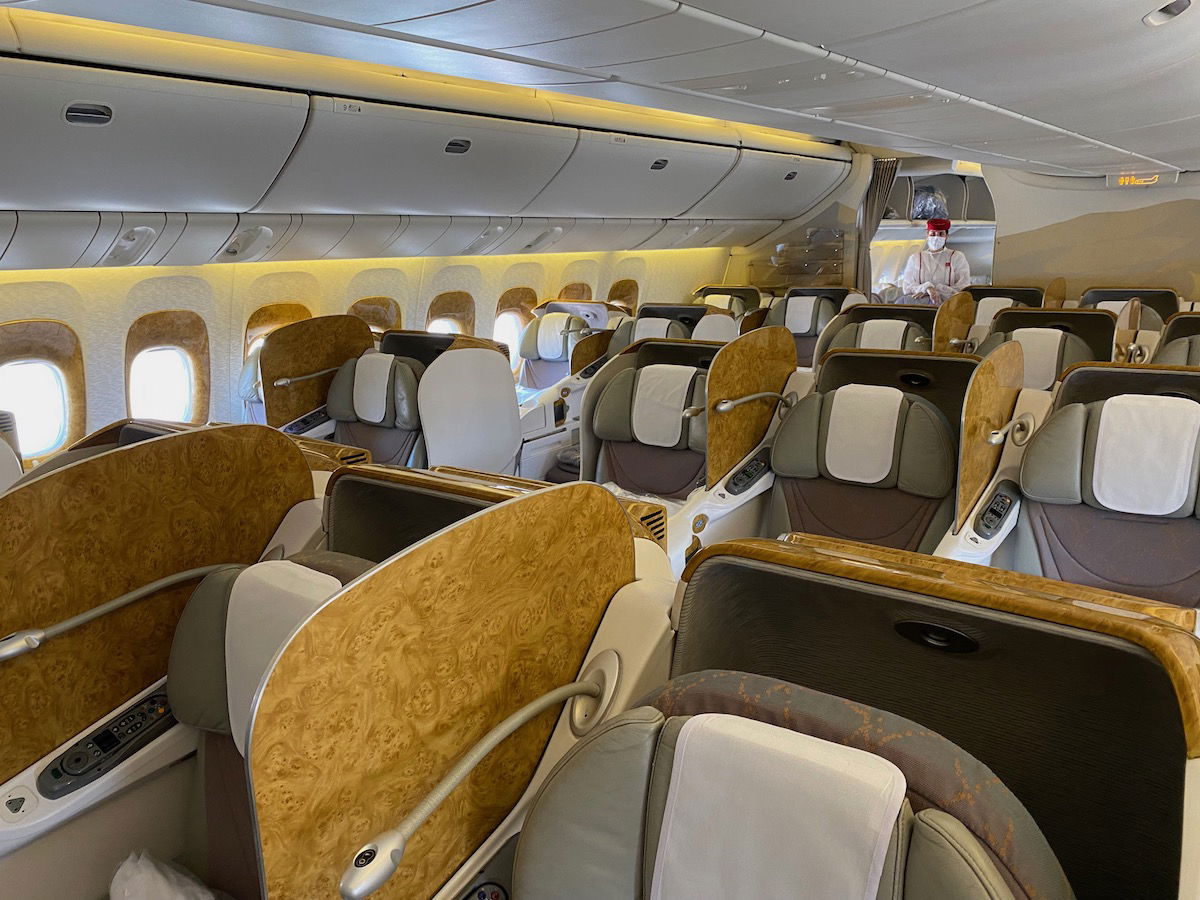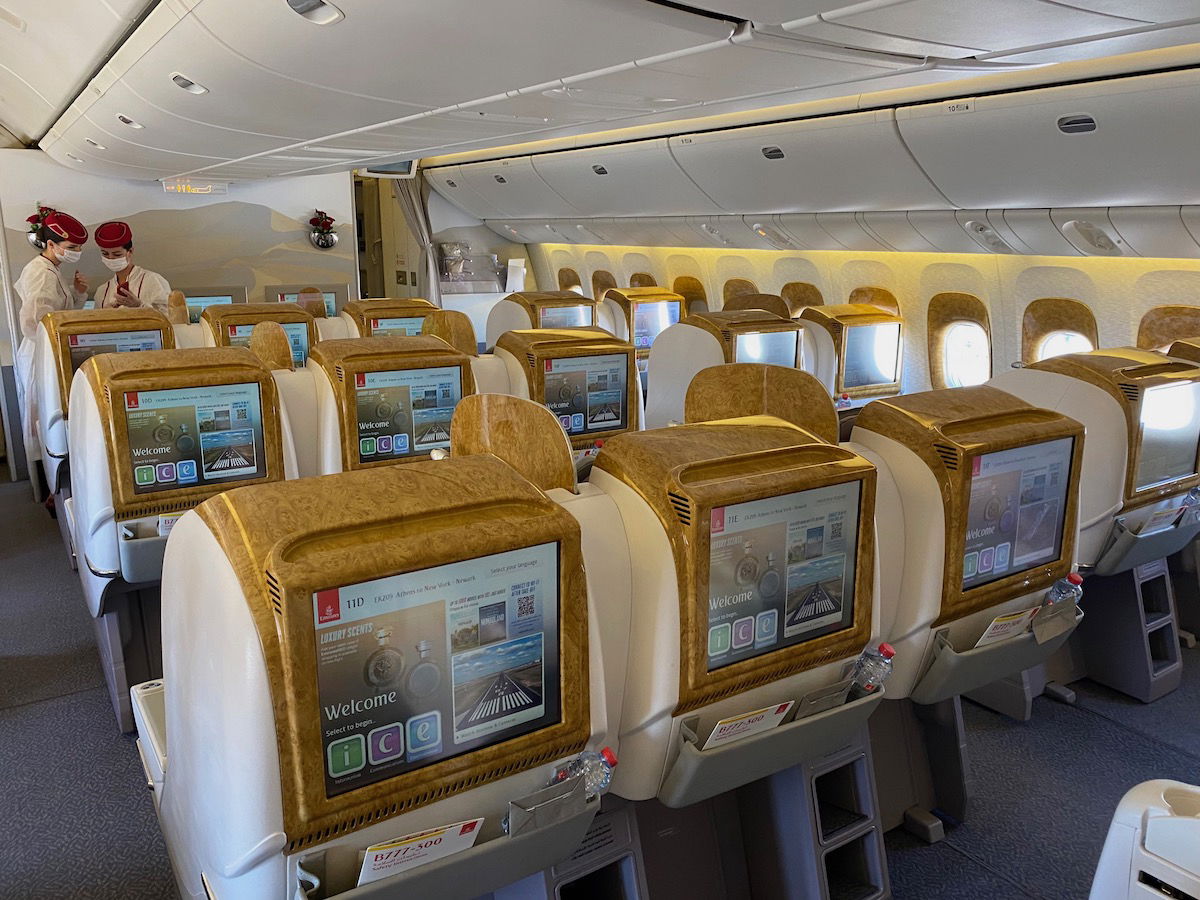 It's hard to imagine any half decent airline still has middle seats in business class nowadays as part of its standard product on its most common long haul aircraft.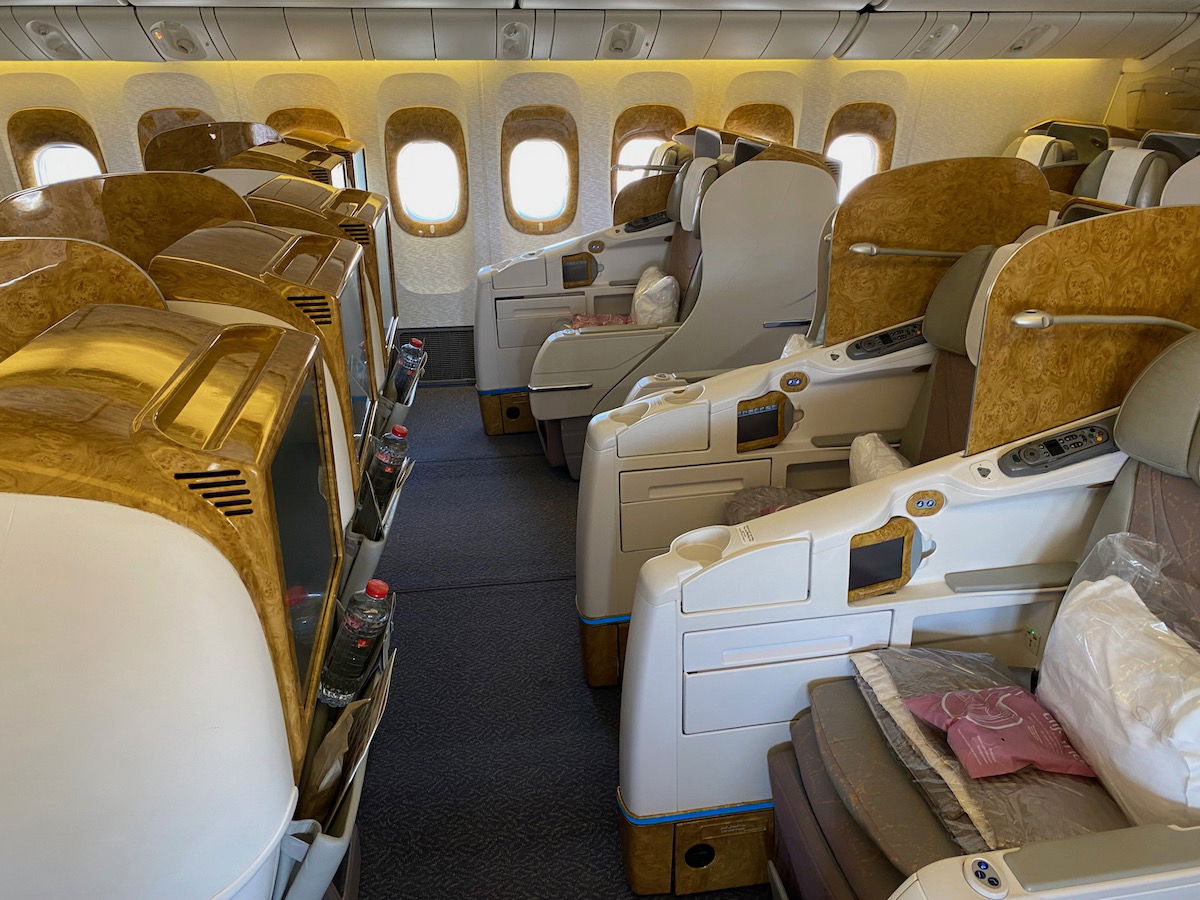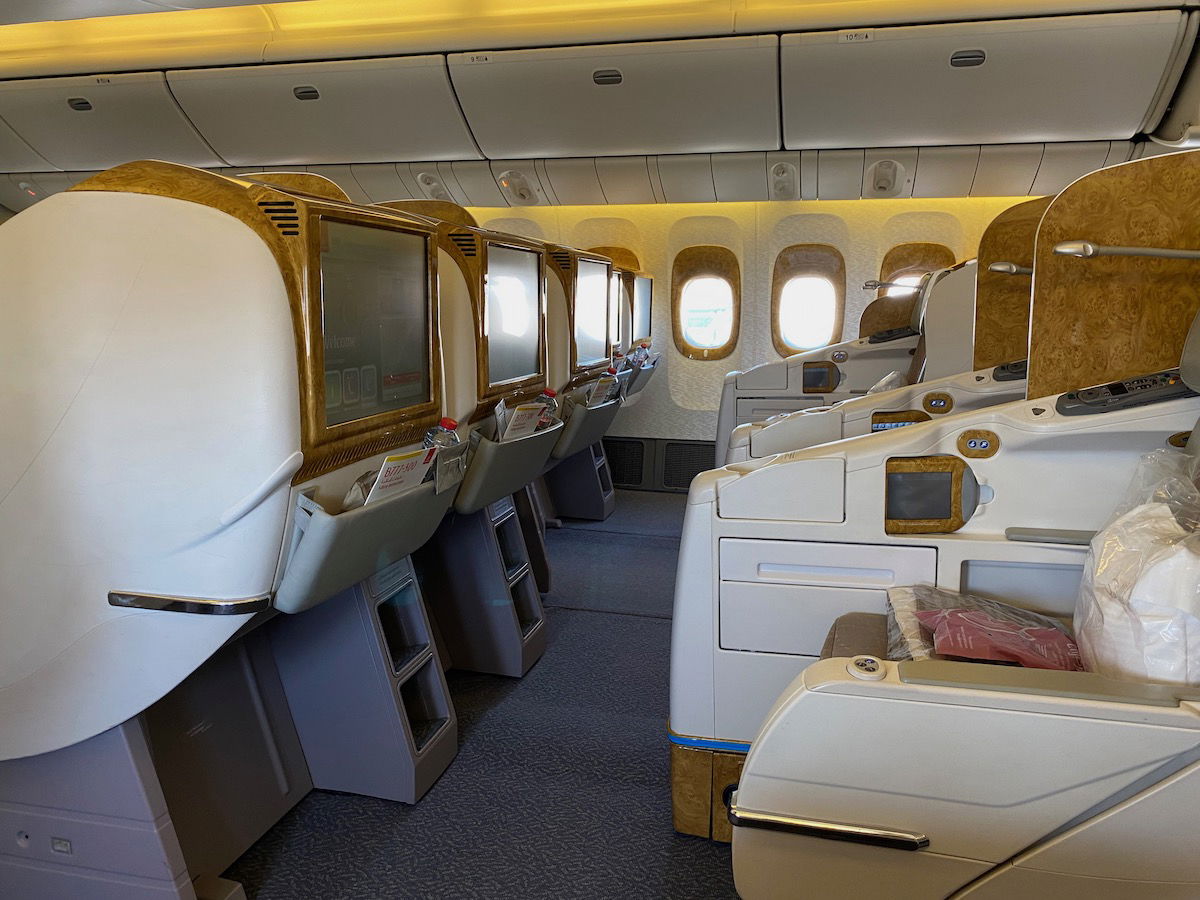 I assigned myself seat 10A, the window seat on the left side in the second to last row of business class (I was trying to be strategic and get an empty seat next to me, and it paid off — the cabin ended up having 33 of 42 seats occupied, and the seat next to me remained empty).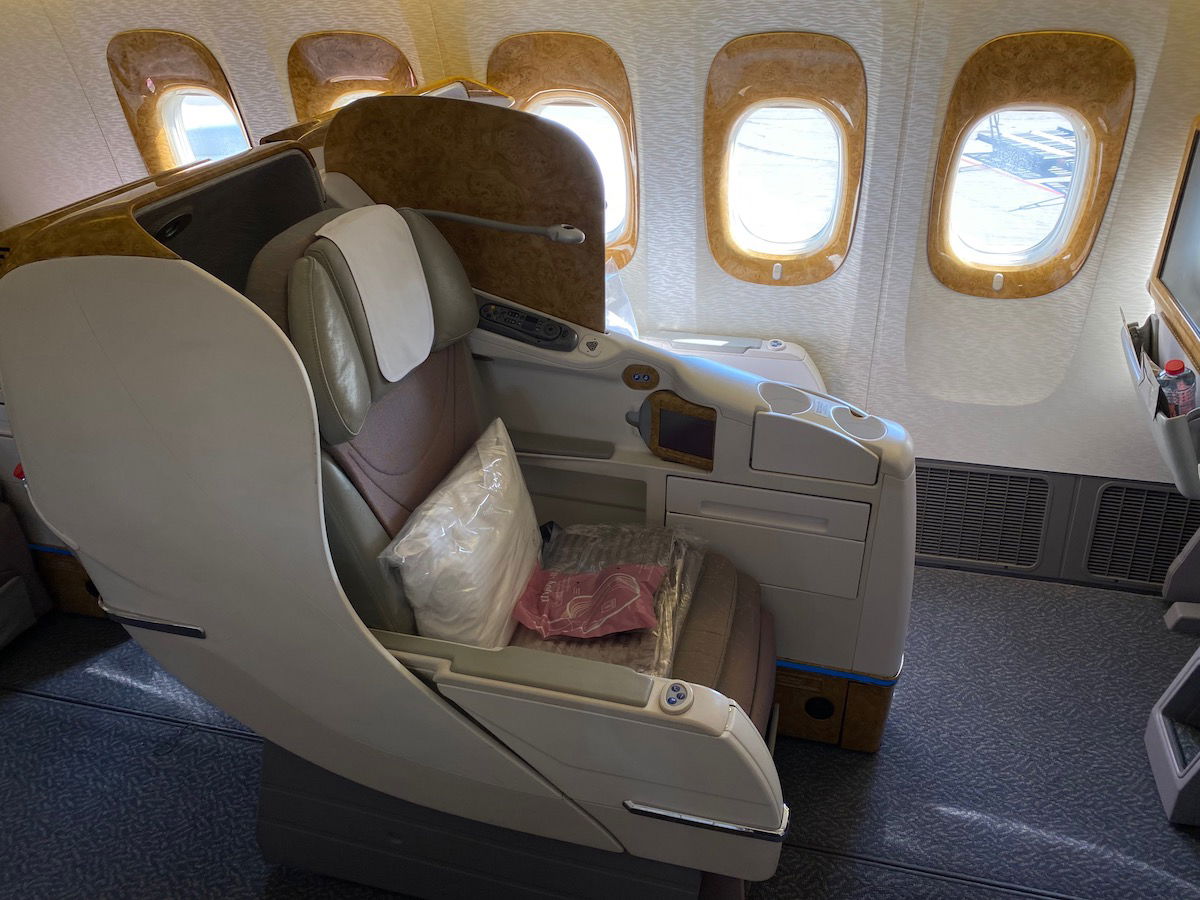 It's funny, because in first class I find Emirates' cabin finishes to be oddly charming, or at least part of the experience, because the product is otherwise so impressive. However, with the outdated business class seats and purple upholstery, I find the faux-wood to be much less appealing.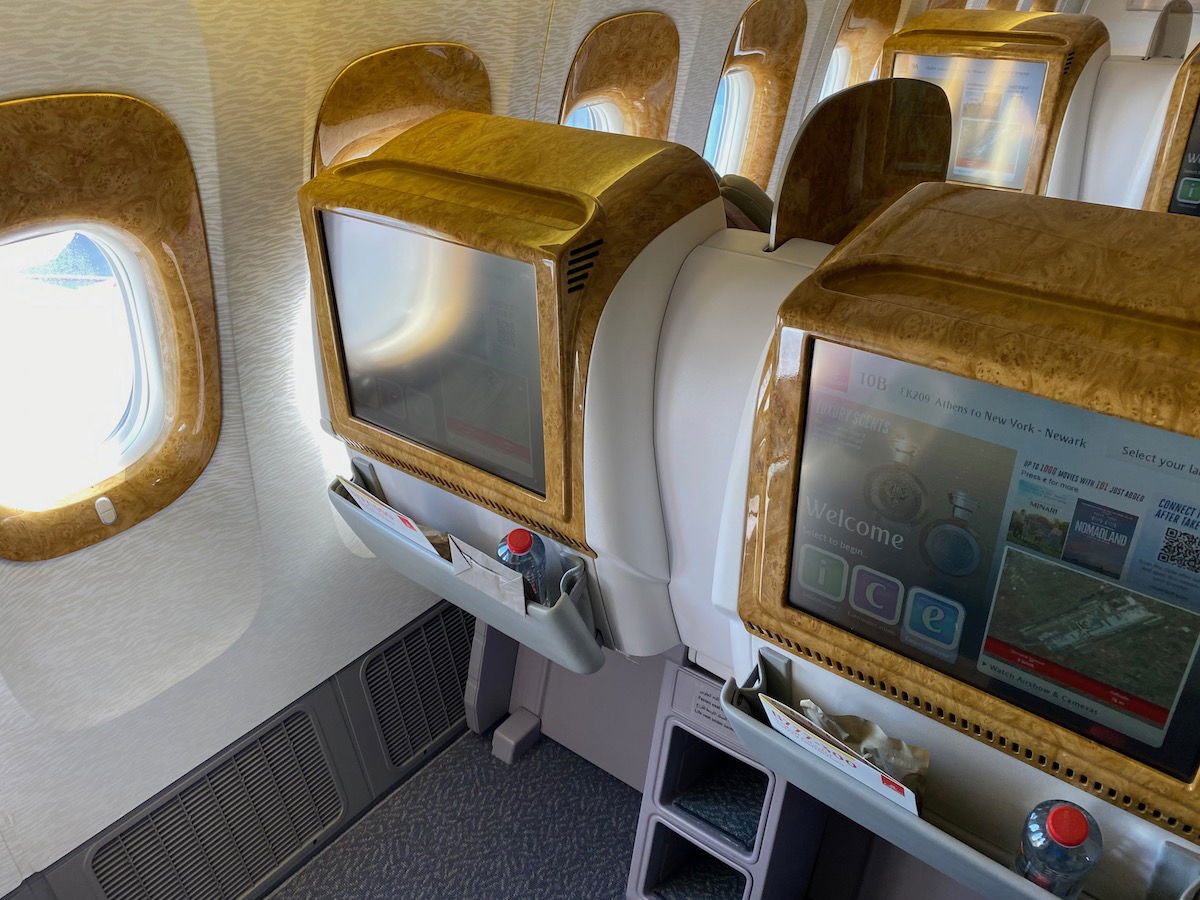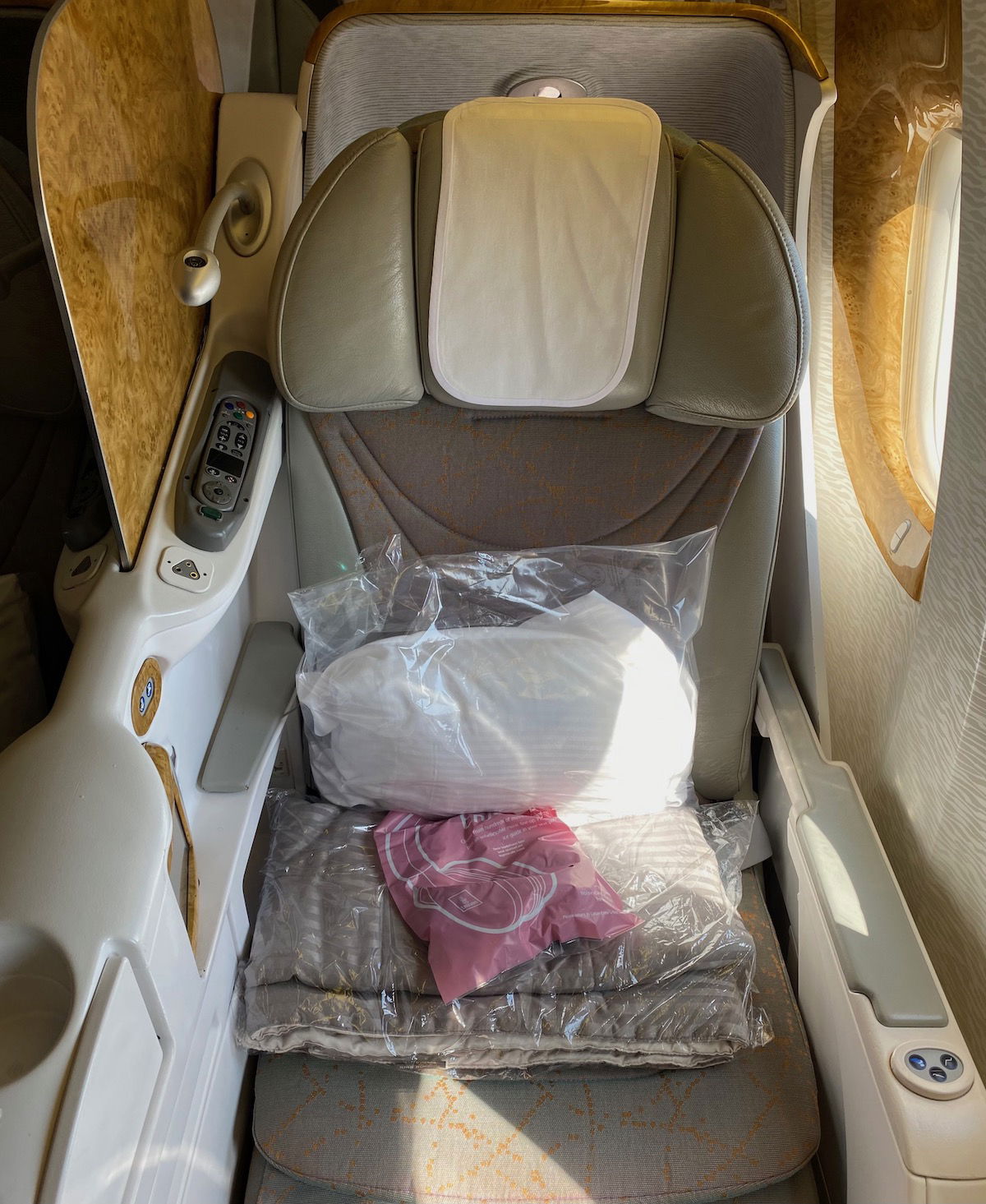 In the center console between seats were cupholders, as well as trays where drinks could be placed.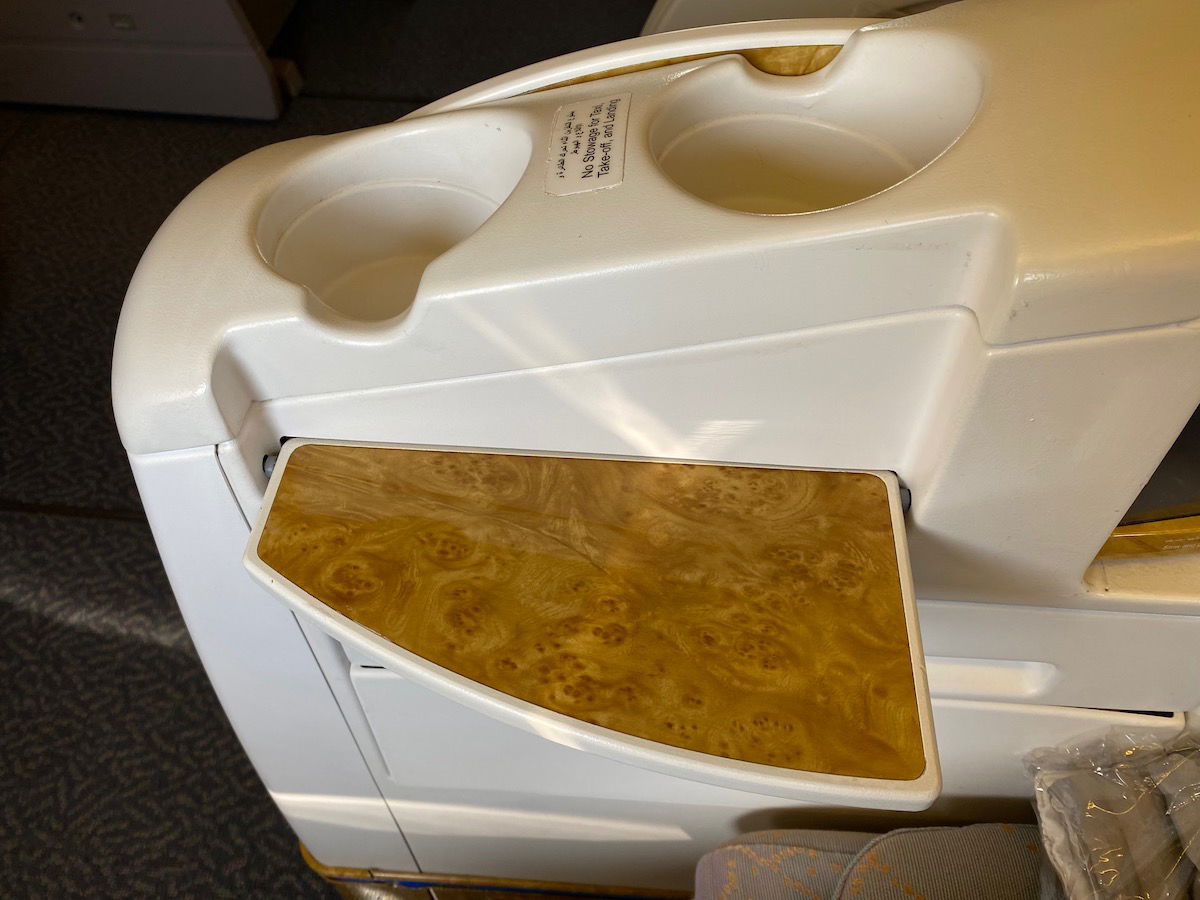 Privacy in Emirates business class seats is very good. There's a huge partition between seats, so you really do feel like you have some privacy from your seat mate. I imagine that's especially nice for those stuck in a center seat, with a stranger on each side.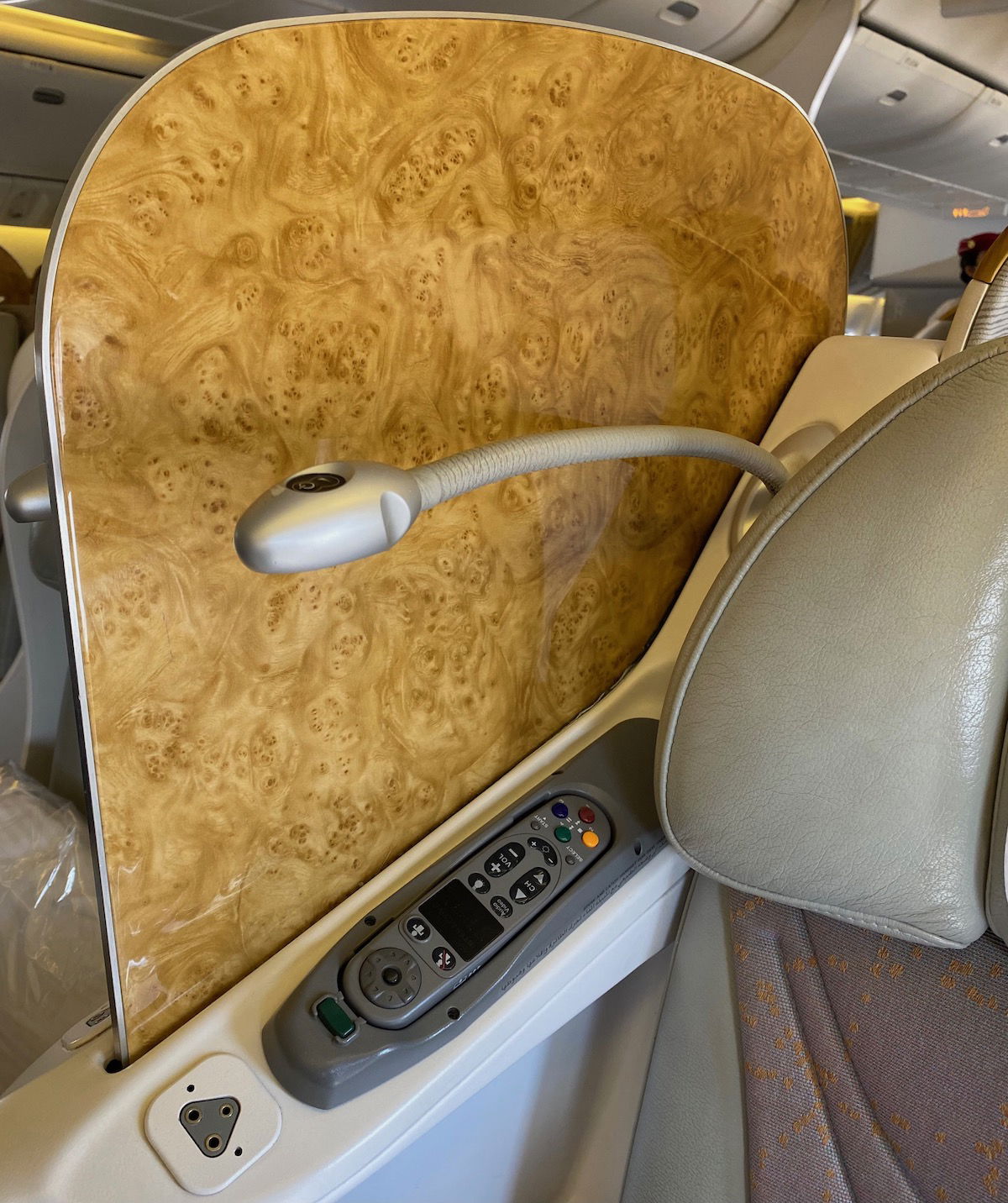 Also in the center console were the entertainment controls, seat controls, and a touchscreen that could control various seat functions. They all felt outdated.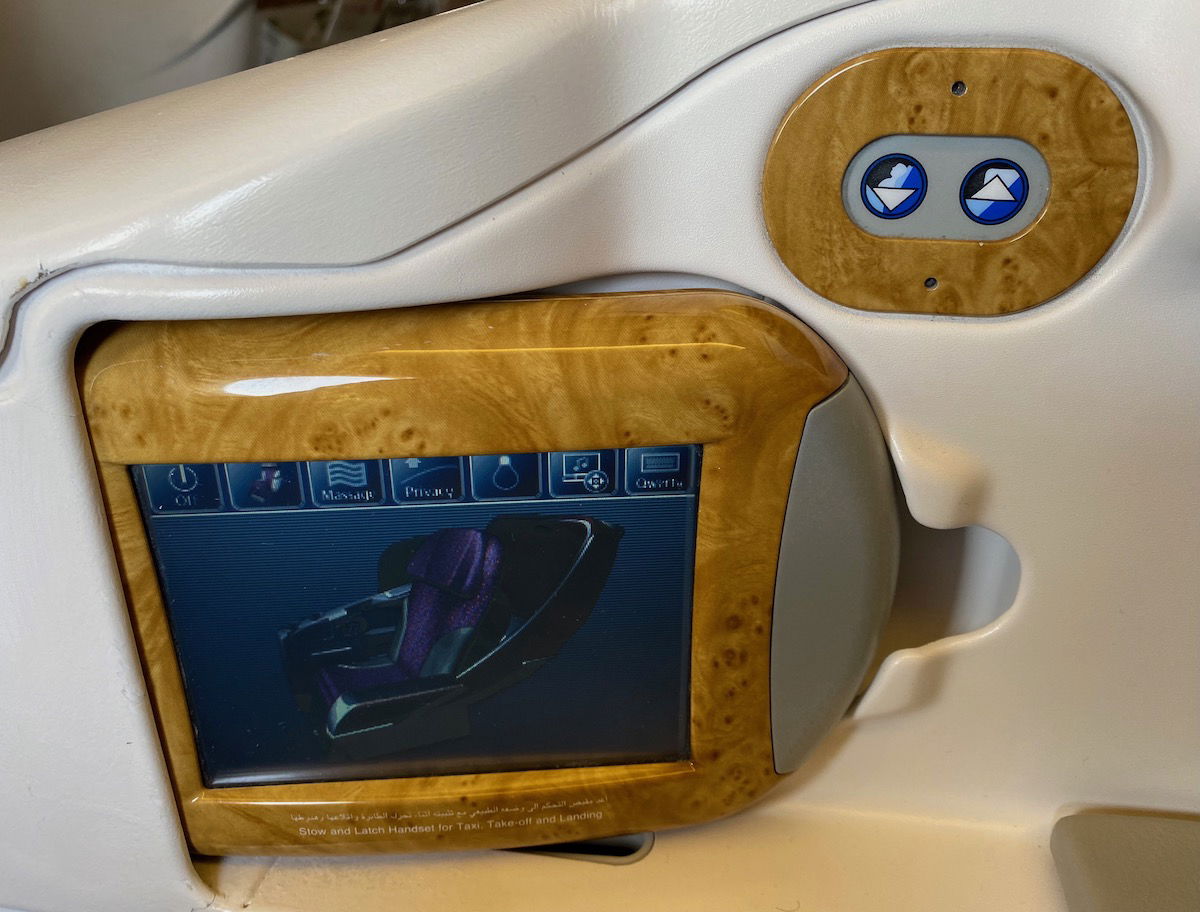 There was also a 110v outlet. However, Emirates' older 777s don't have USB outlets, which shocked the person seated a few seats over. The airline does have a few converters onboard, though, for those who need a USB outlet. Make sure you ask for one early, as there aren't many onboard.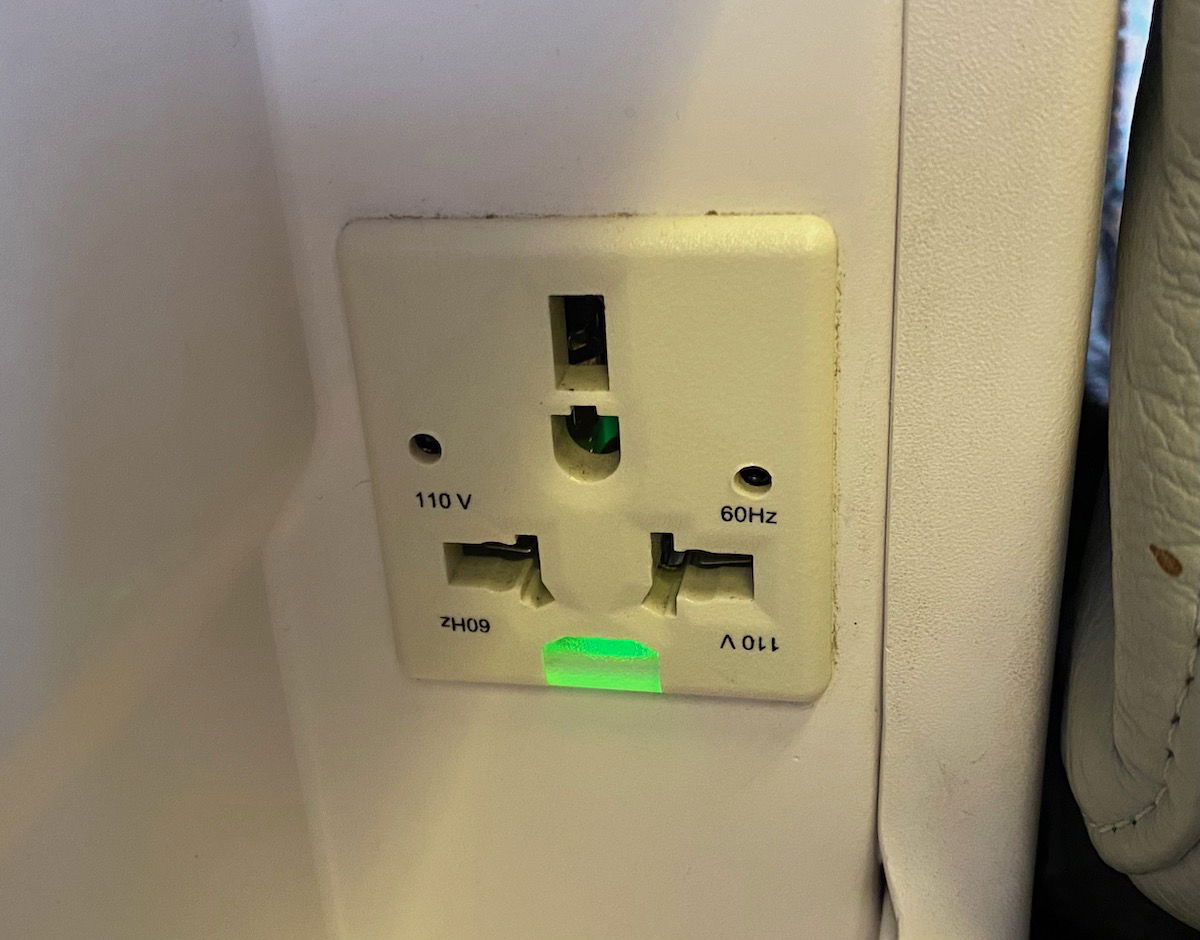 The tray table folded out from the center armrest, and could be folded over in half.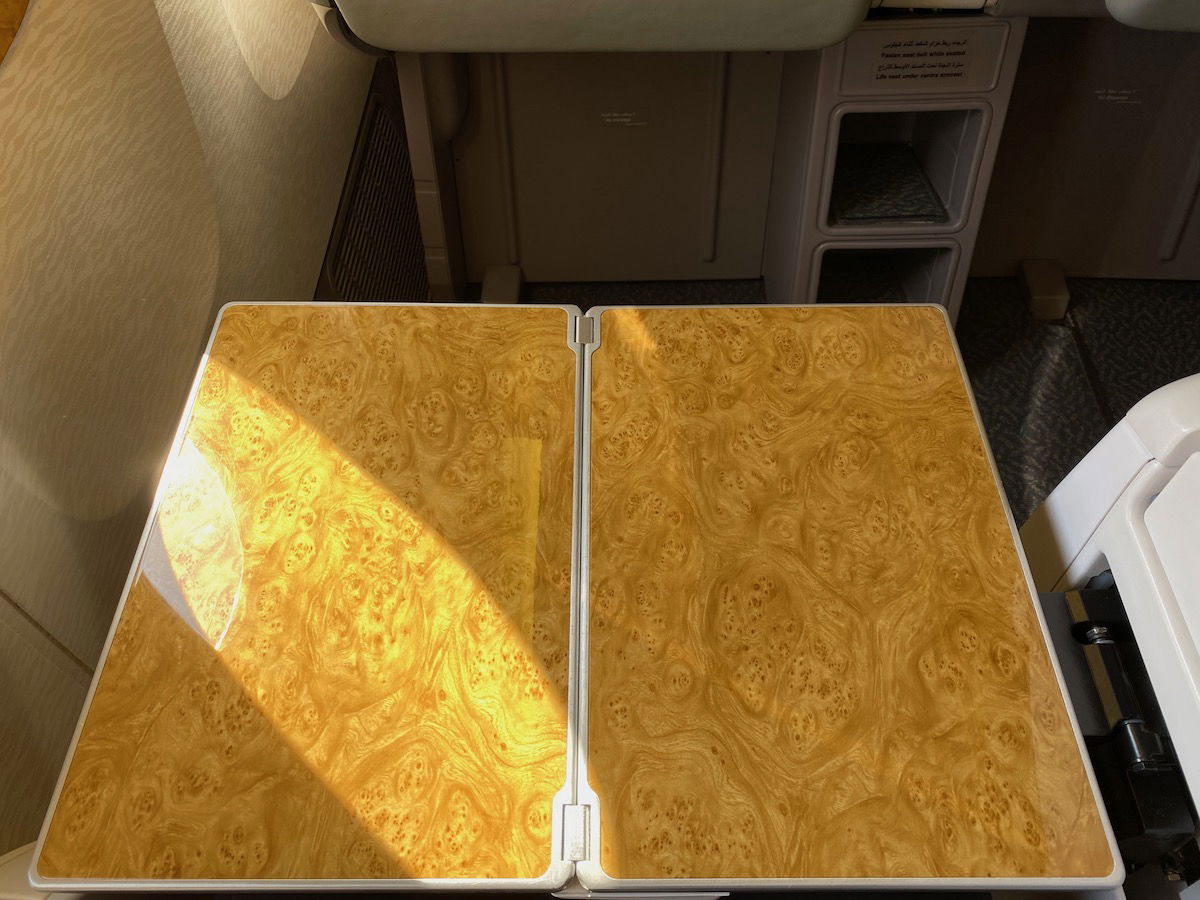 There were some basic seat controls on the left armrest, with three pre-set options.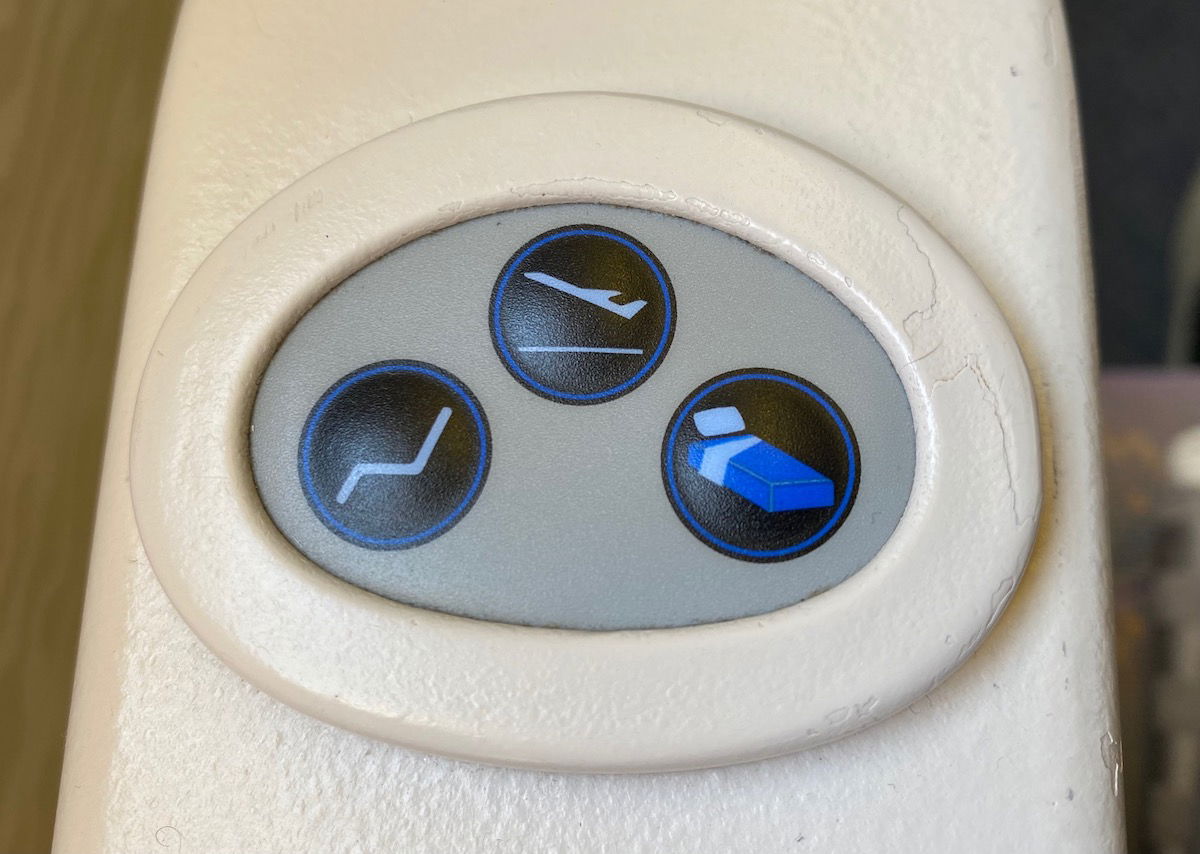 While the rest of the seat is quite outdated, the entertainment monitors in business class are huge. There was also a seatback pocket, as well as a compartment where you could store shoes.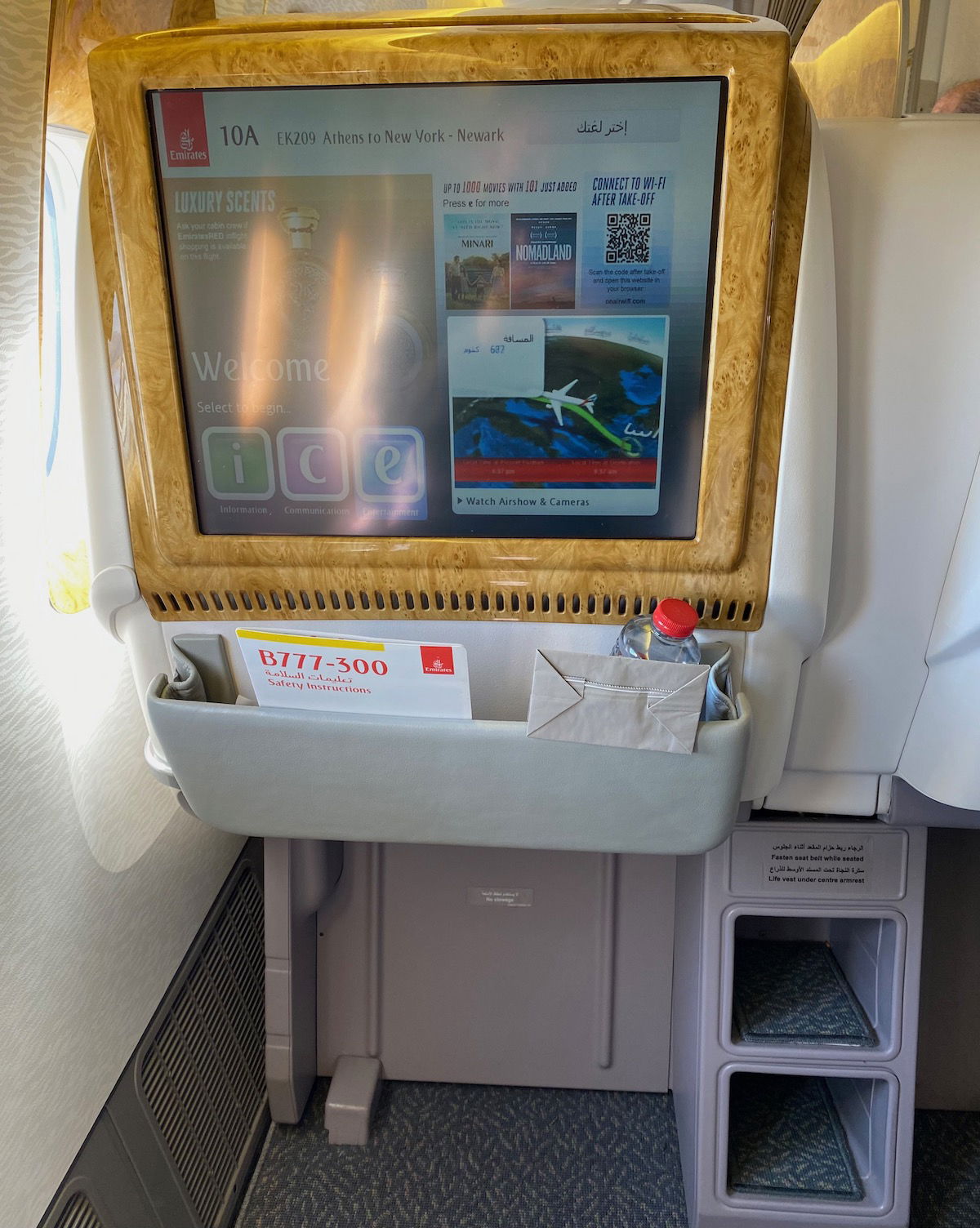 Emirates has individual air nozzles at each seat on the 777, which is a useful feature for those of us who tend to get hot on planes.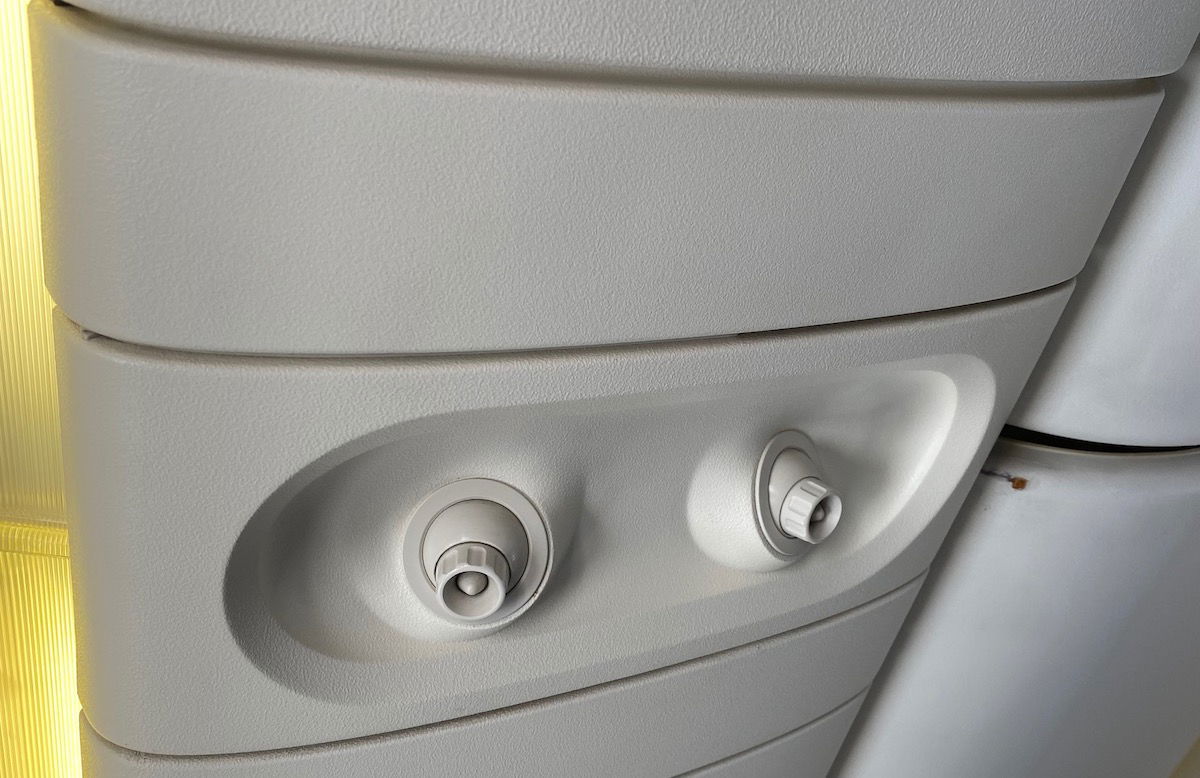 One other nice feature of Emirates' 777s are that the business class seats have window shades that can be controlled at the push of a button. These aren't like the 787s with dimmers, but rather you can open the window shade completely, lower blinds so that you have natural light but can't see anything, or make them completely dark.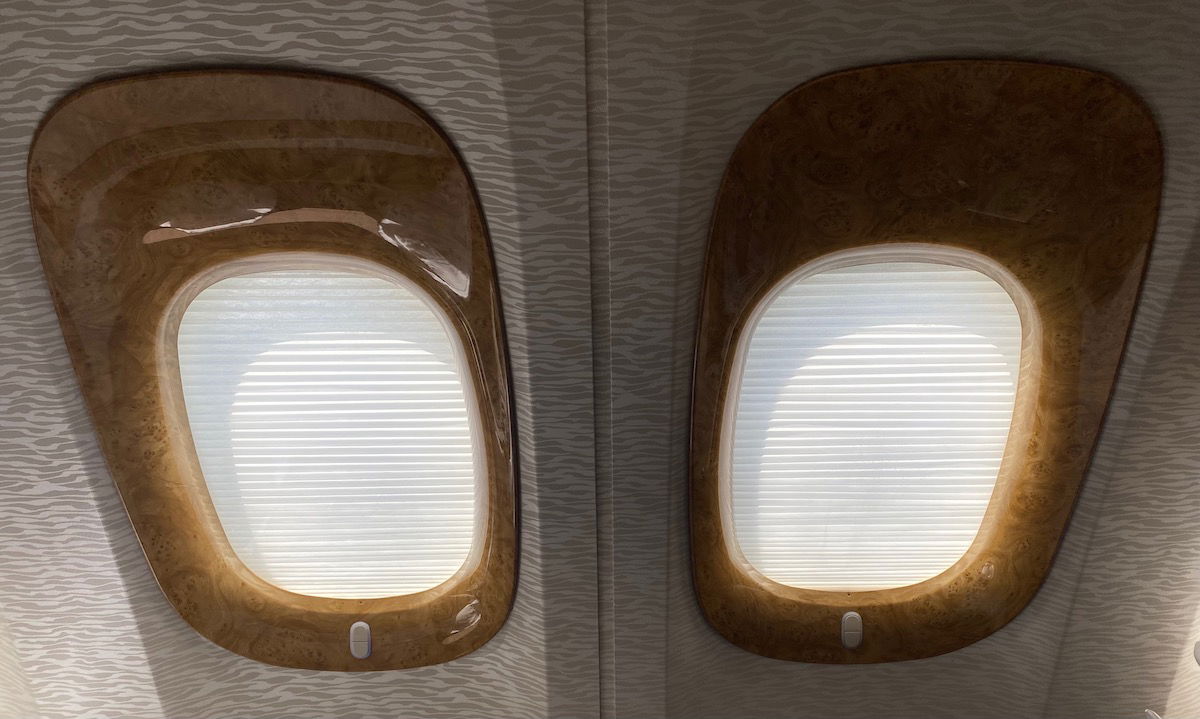 Just for context on the location of my seat, I had great views of the engine from 10A. You've gotta love 777 engines!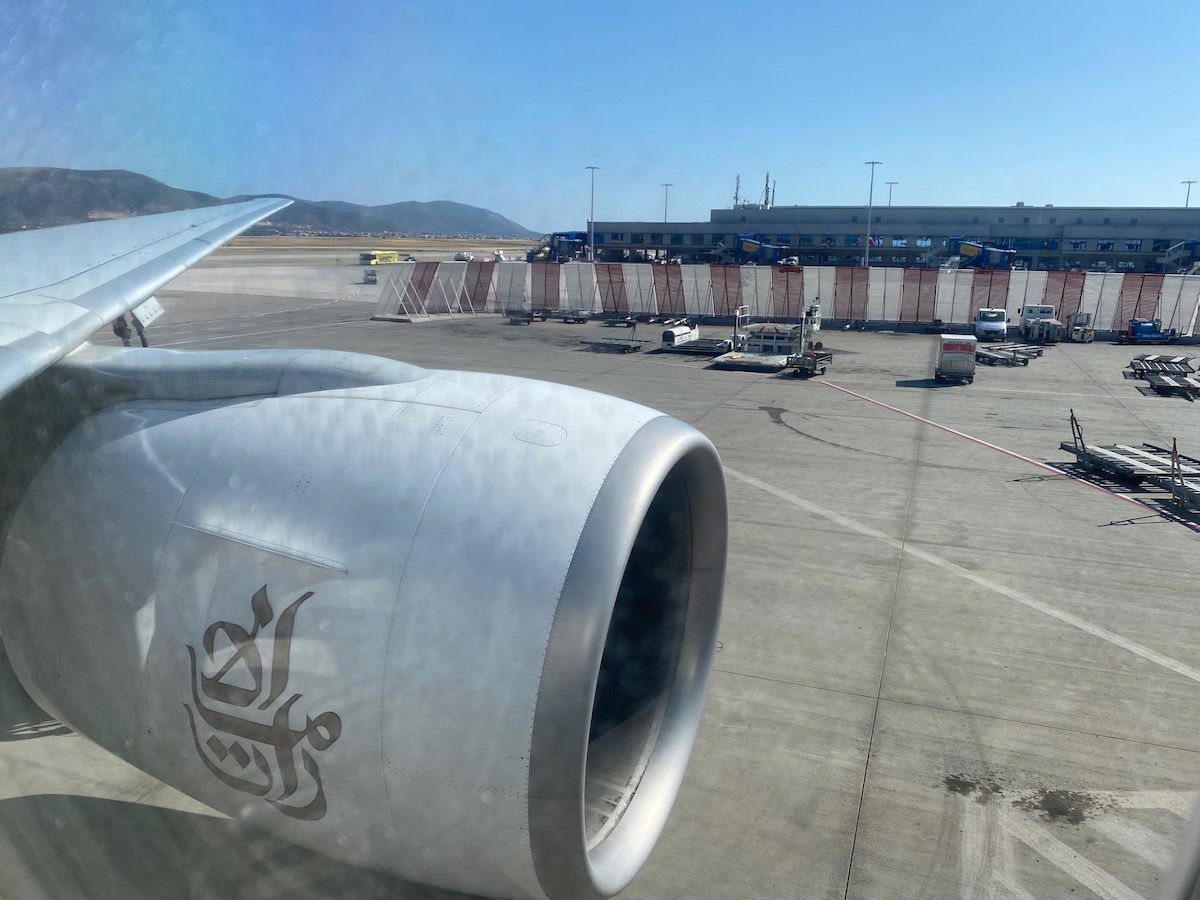 I also had a nice view of the cabin, as I enjoy watching the service flow.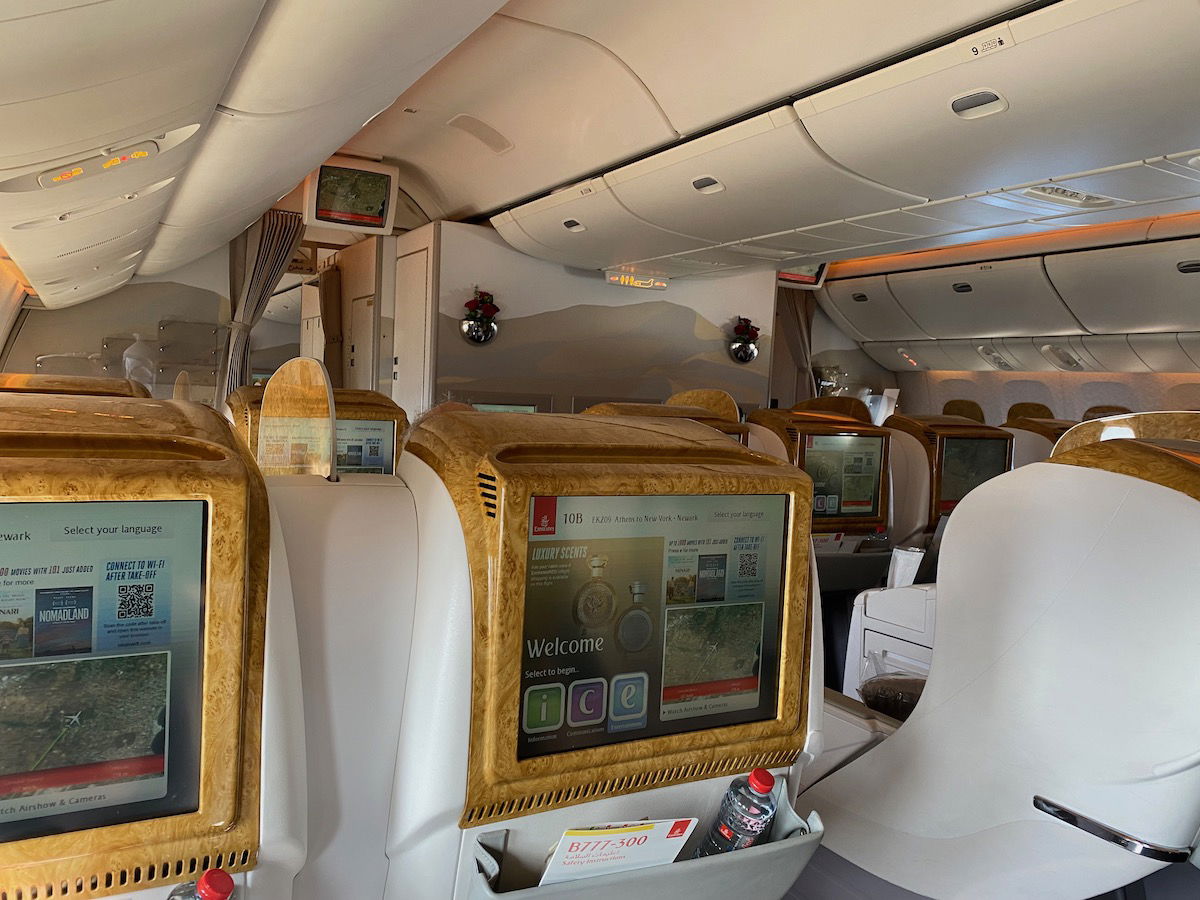 As I've often said, I think Emirates gets a huge halo effect from its Airbus A380 fleet and incredible first class product. But the reality is that the 777 is the primary aircraft Emirates flies, and a vast majority of 777s have this product (the exceptions are 777-200LRs, which have a slightly different product, and nine new 777-300ERs, which have the same product but with better finishes).
I'm sorry, but this is just plain embarrassing, especially when you consider what other airlines are offering nowadays. It's woefully uncompetitive. Fortunately Emirates is considering introducing a new business class product on at least some 777s.
You know how you know Emirates' business class isn't great? Often when people walk past business class to go to economy, you'll hear them say something like "wow" or "I wish I were sitting here." I heard none of that, and instead just heard one person say "this doesn't look very nice for business class."
Emirates business class amenities
When it comes to amenities, there was a pillow and blanket waiting at each business class seat. The pillow had decent padding, while the blanket was simple. This definitely isn't industry-leading bedding. There were also mattress pads distributed after takeoff, which I'll talk more about later on.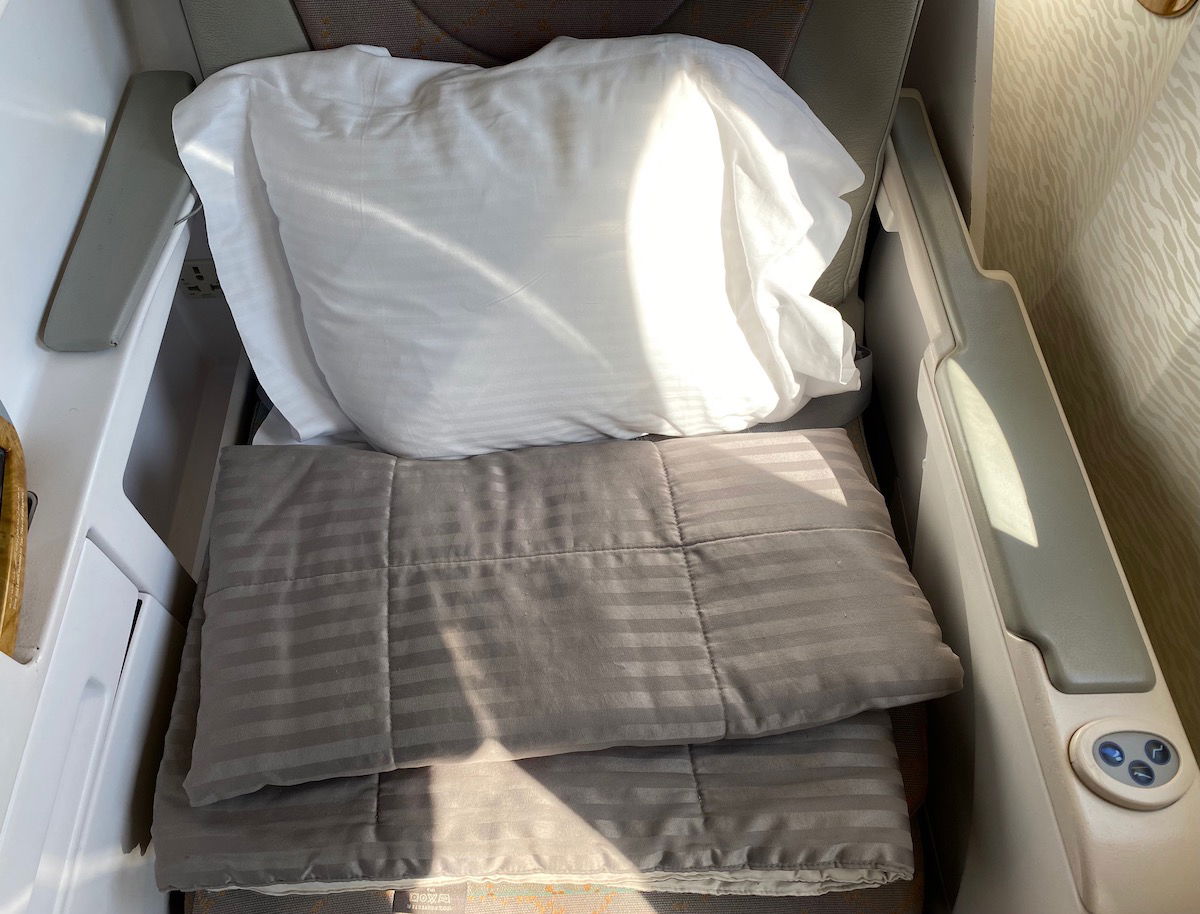 There were a pair of headphones at my seat, which were okay.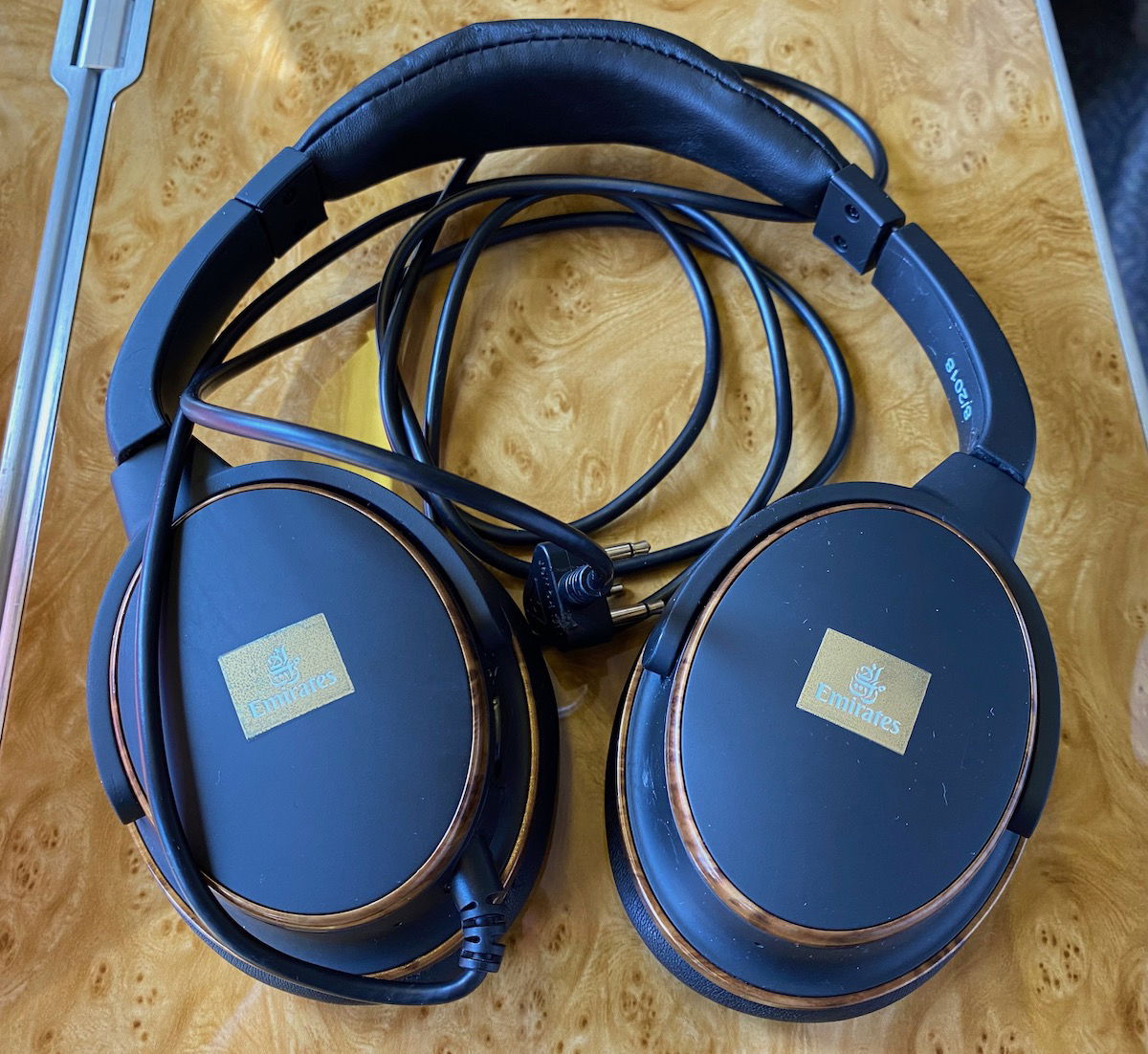 Amenity kits were distributed during boarding, and were probably the best of the amenities. They featured products from a variety of brands, including BVLGARI, Gentlemen's Tonic, and more. The number of items in the kit was impressive.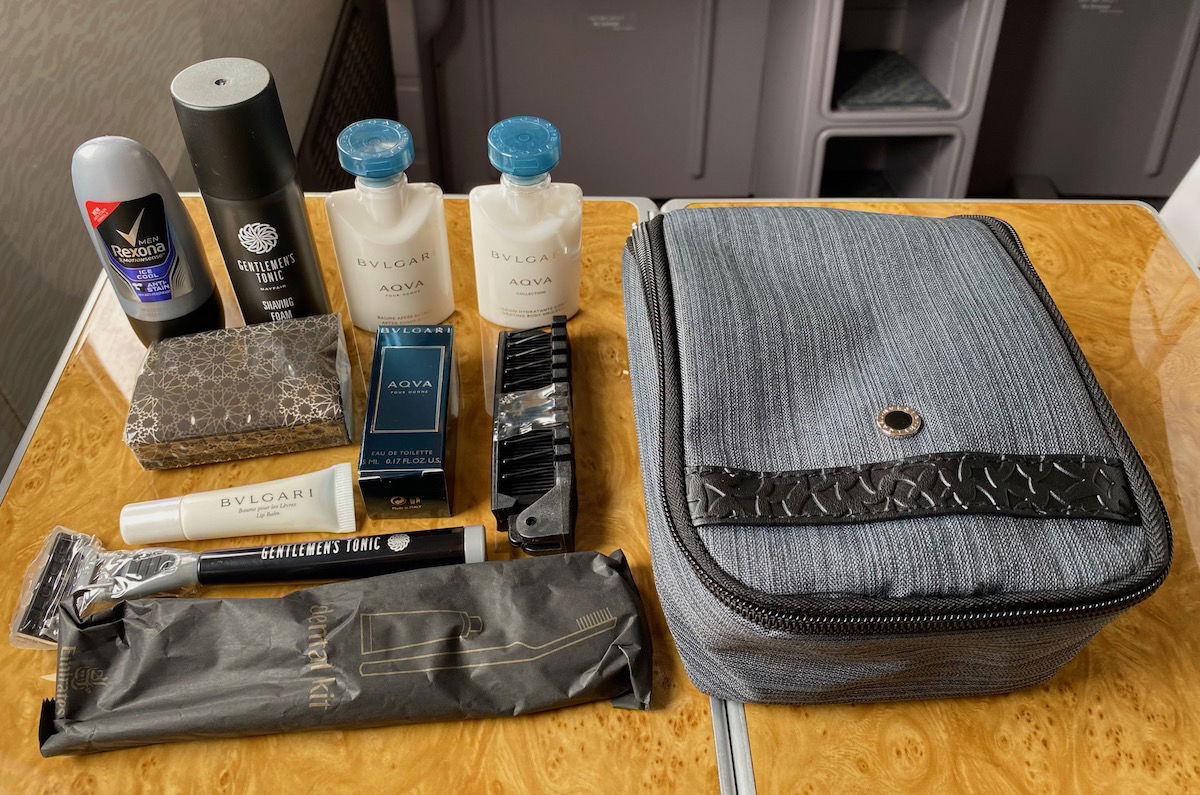 On top of that, there was a separate pouch with socks and eyeshades, as well as a kit with a face mask and hand sanitizer.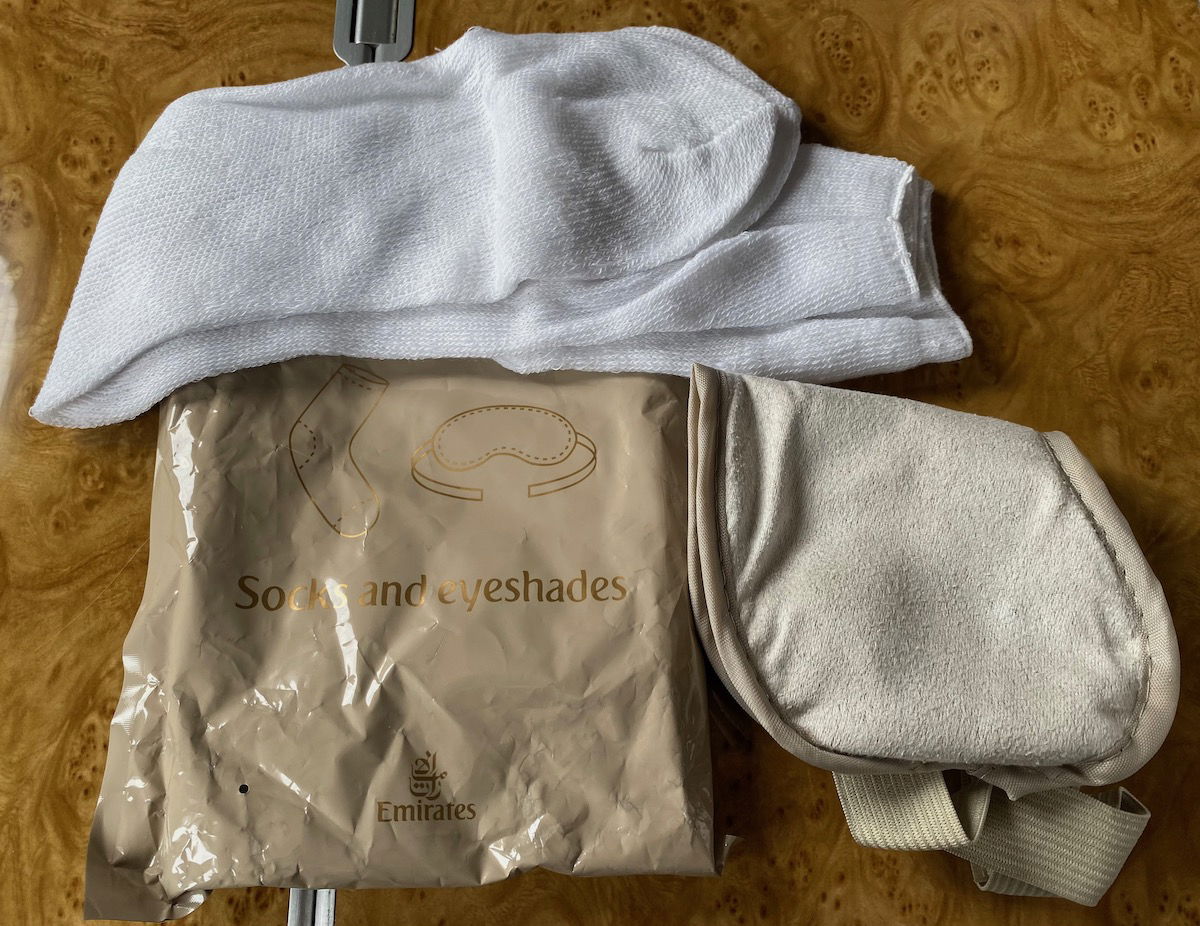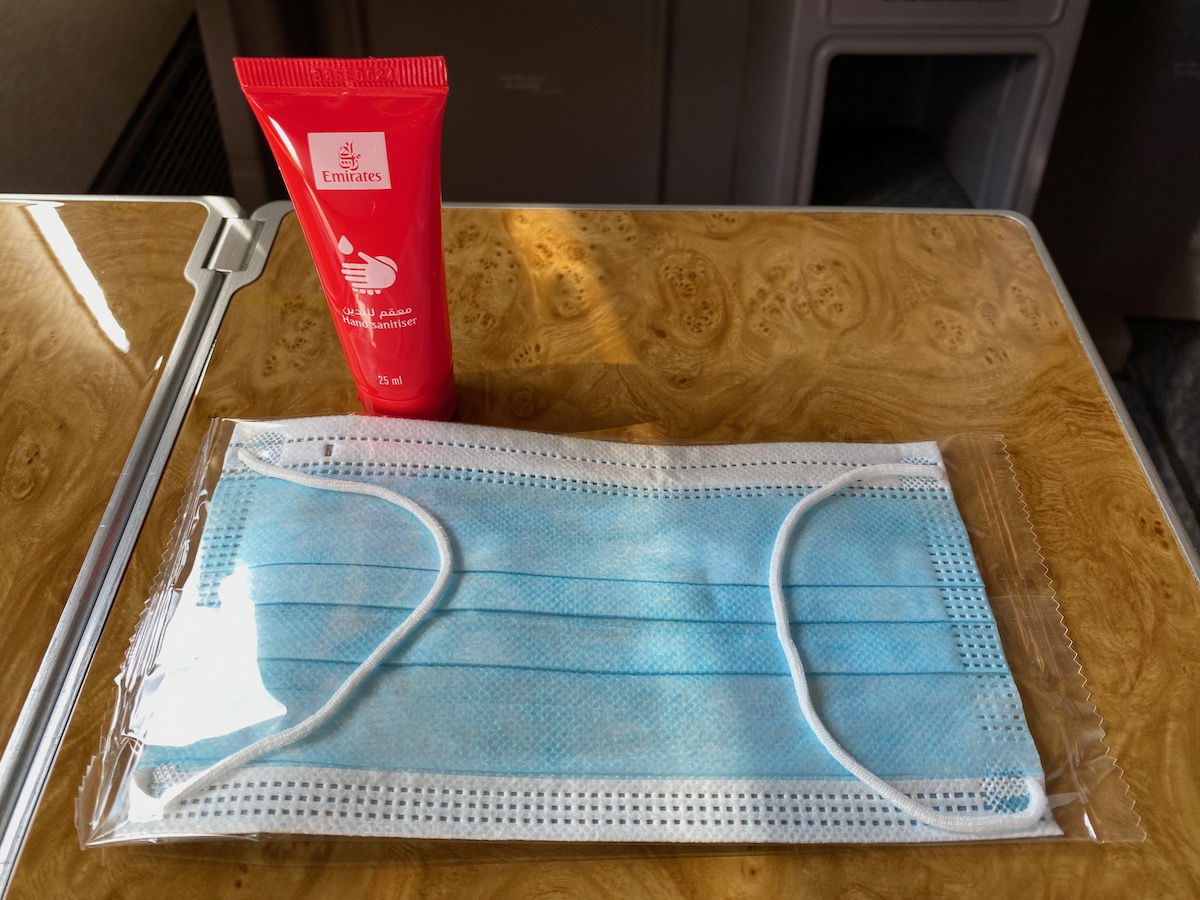 The menu and wine list were also distributed during the boarding process.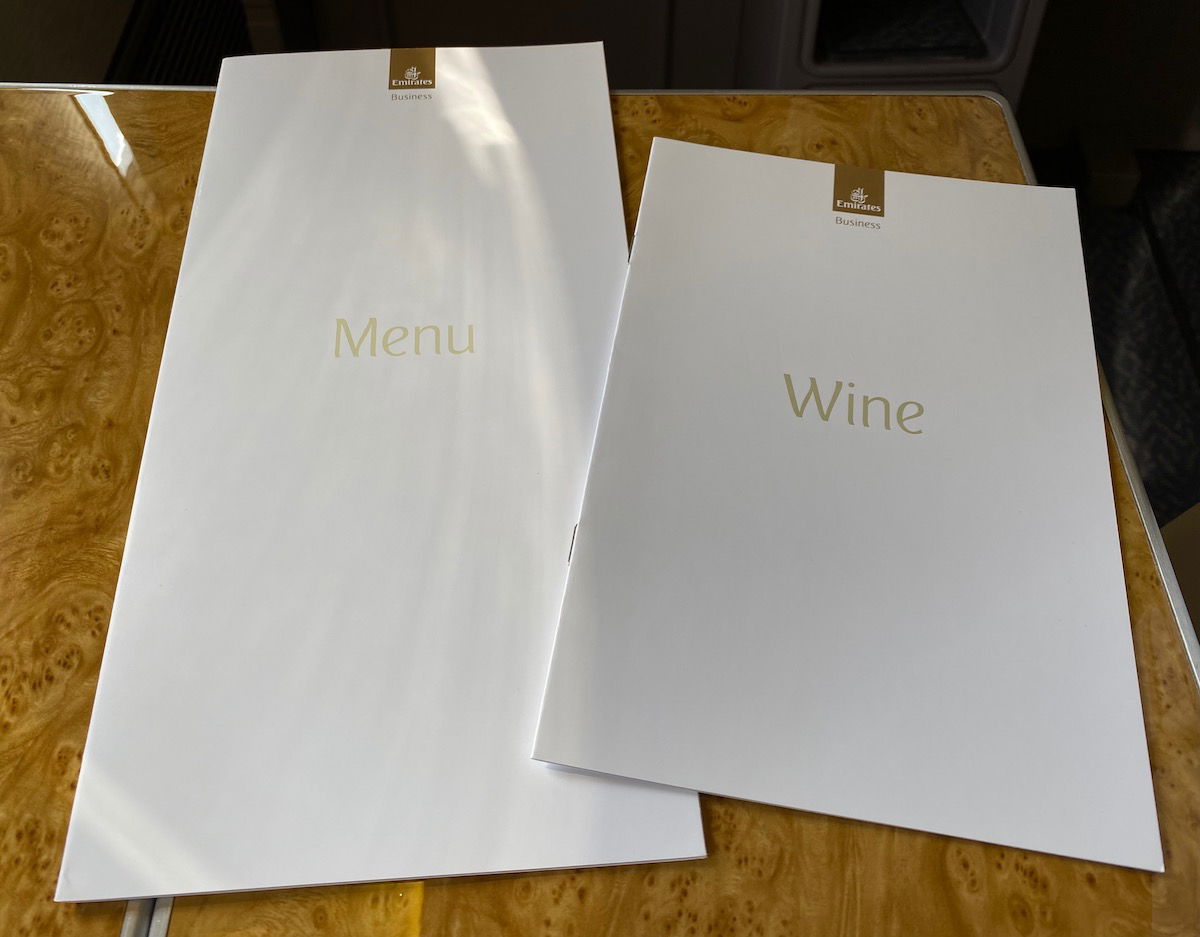 Pre-departure drinks were offered in proper glassware, with the choice between champagne, orange juice, and apple juice.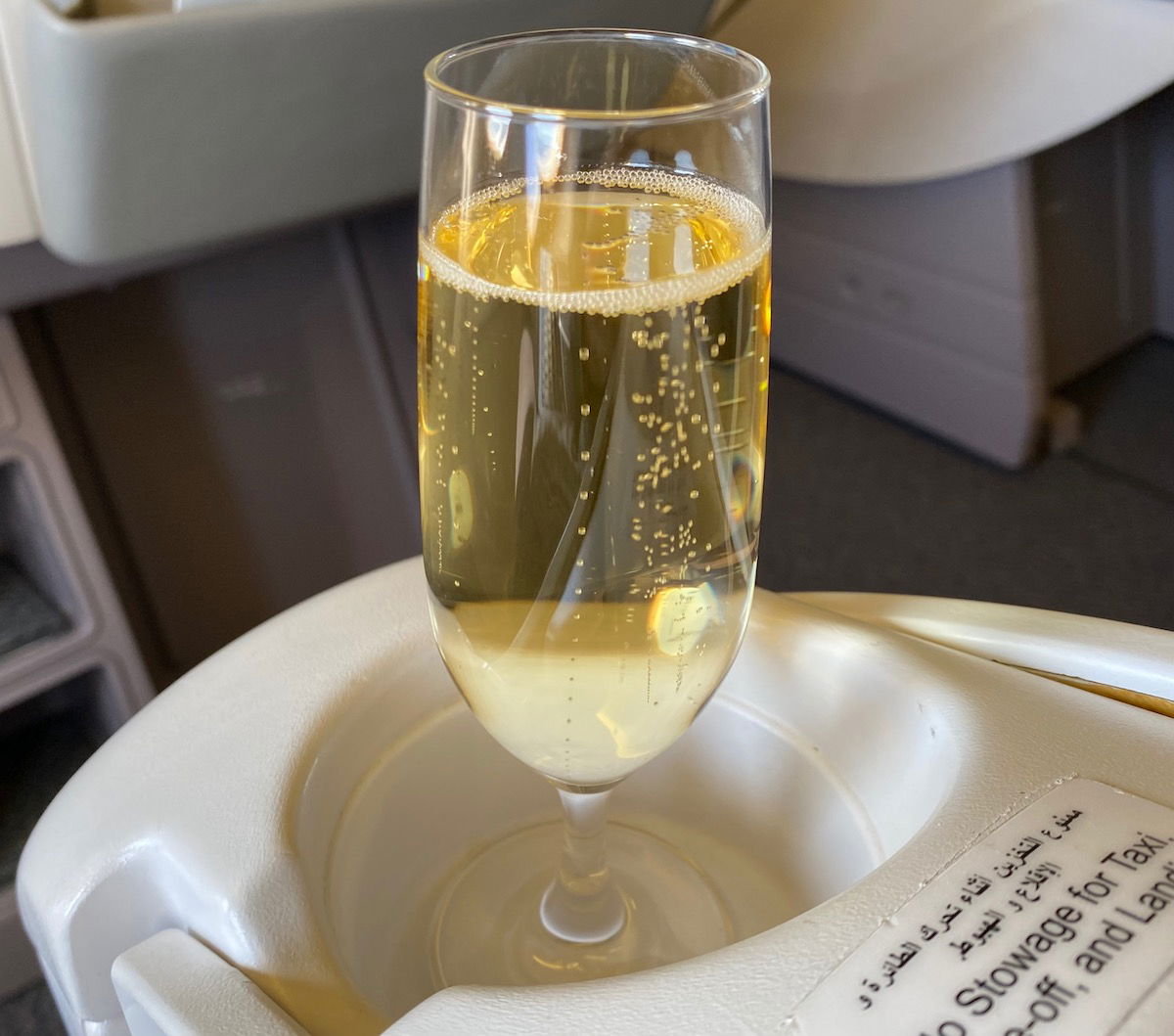 Emirates business class lunch service
Let's talk about the meal service on this 10hr15min flight. Lunch was served after takeoff and dinner was served before landing (there's no dine on demand in business class on Emirates). The food menu read as follows: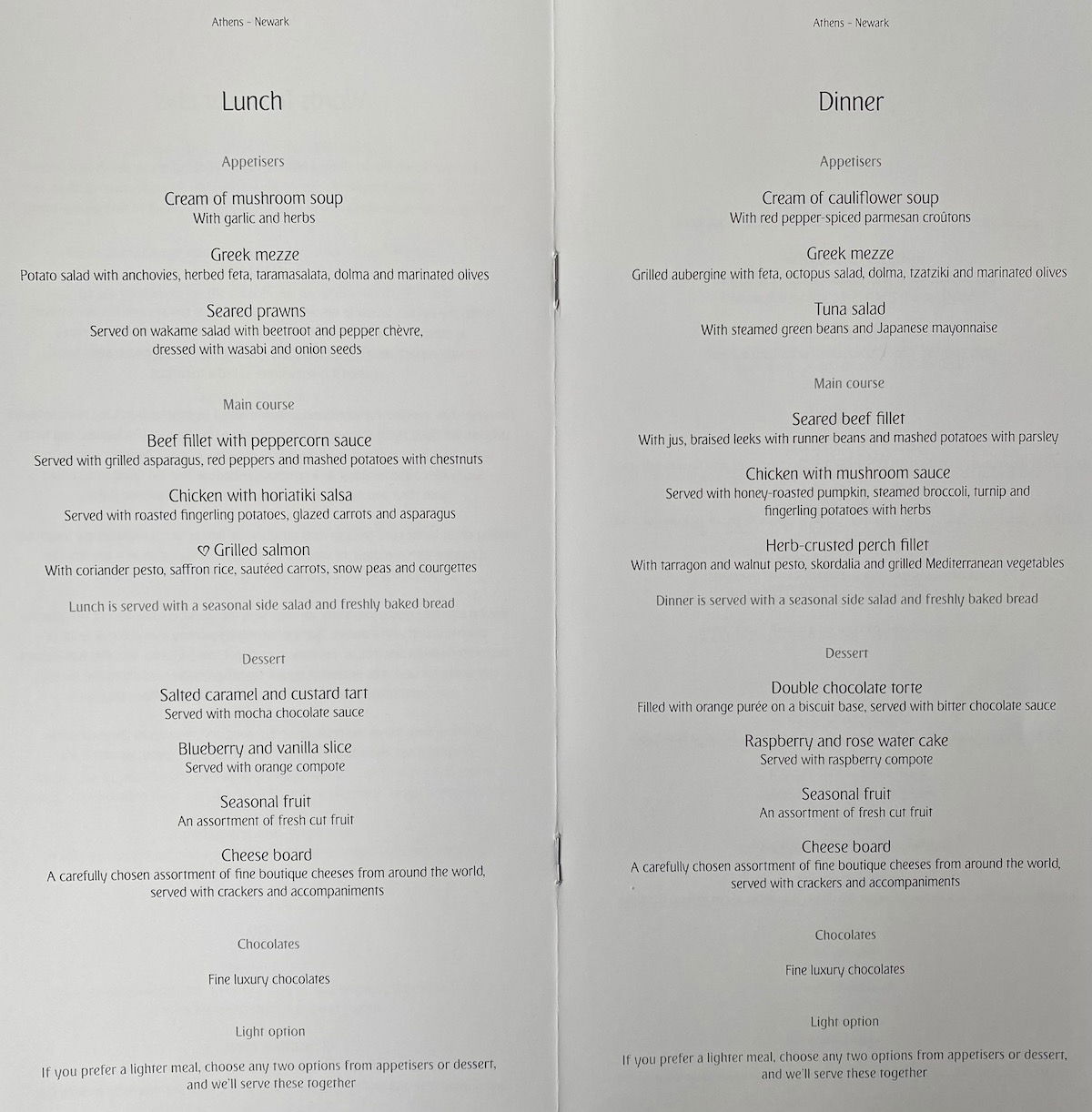 The drink list read as follows (the wine list in particular is quite good, if you ask me):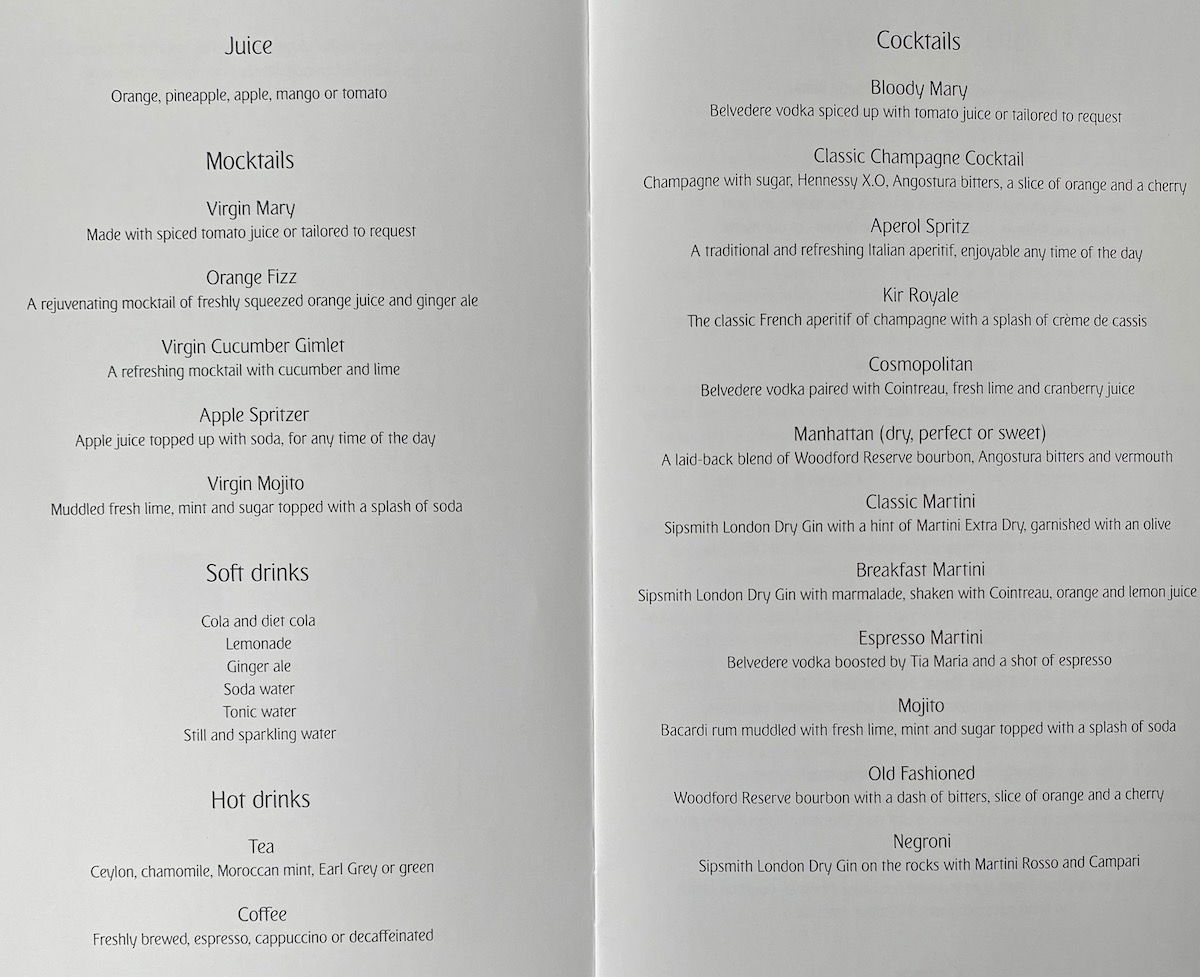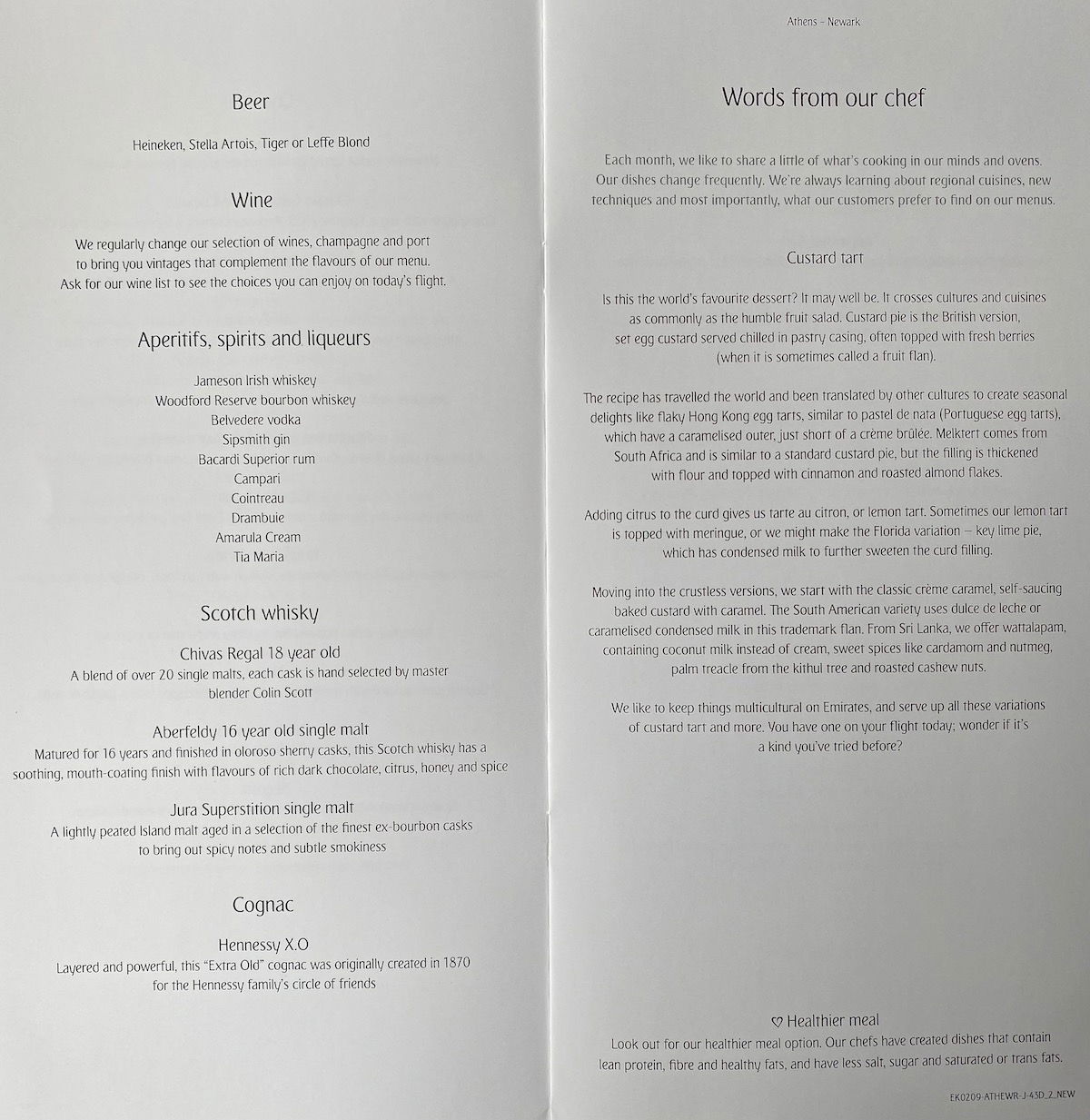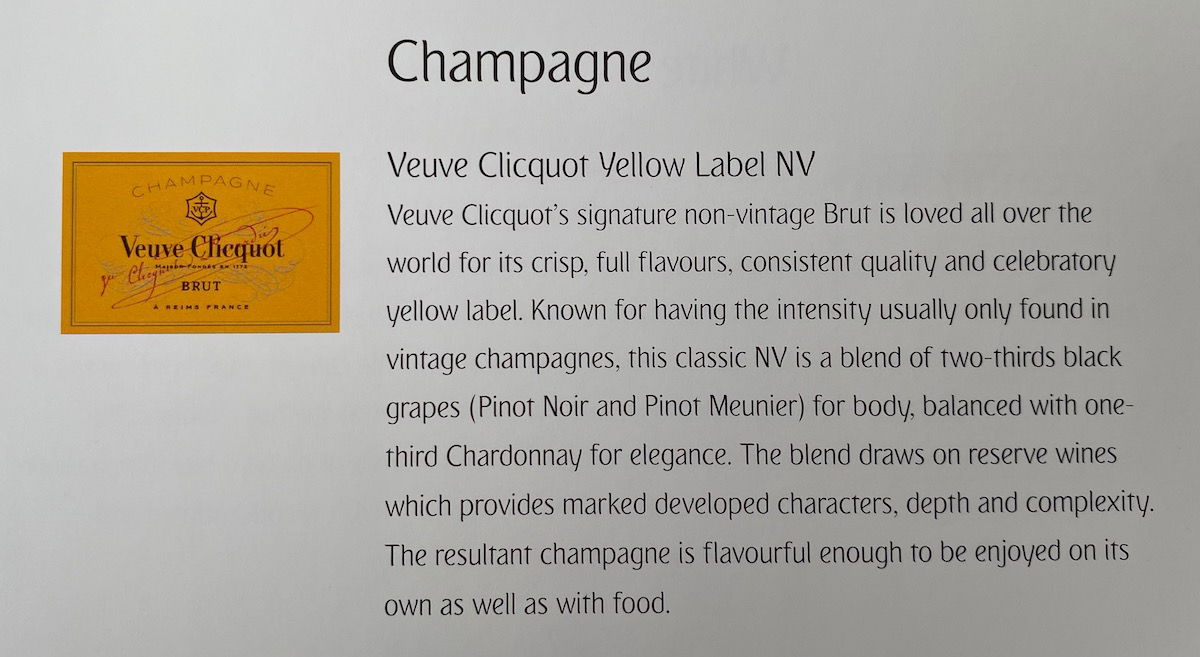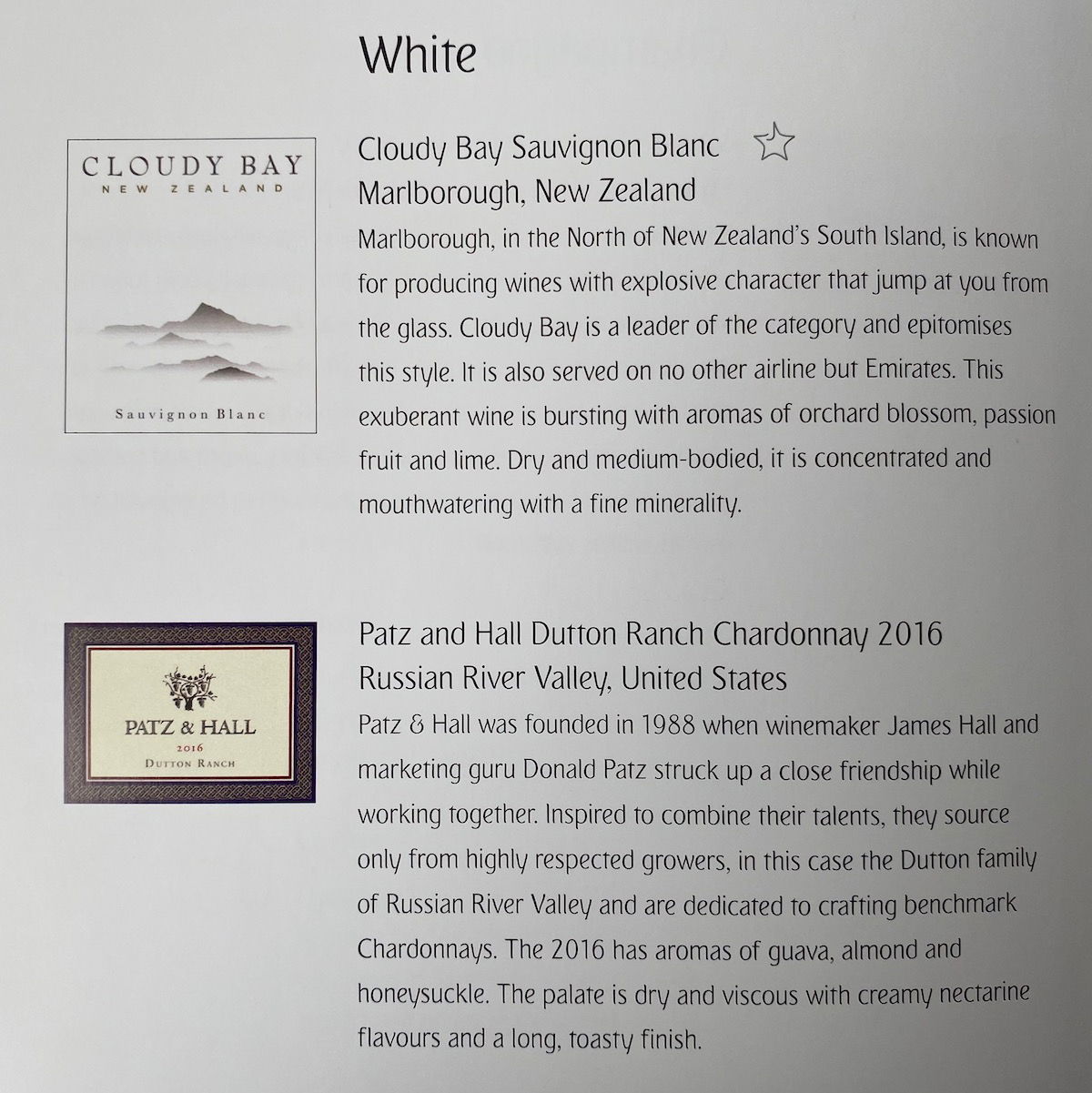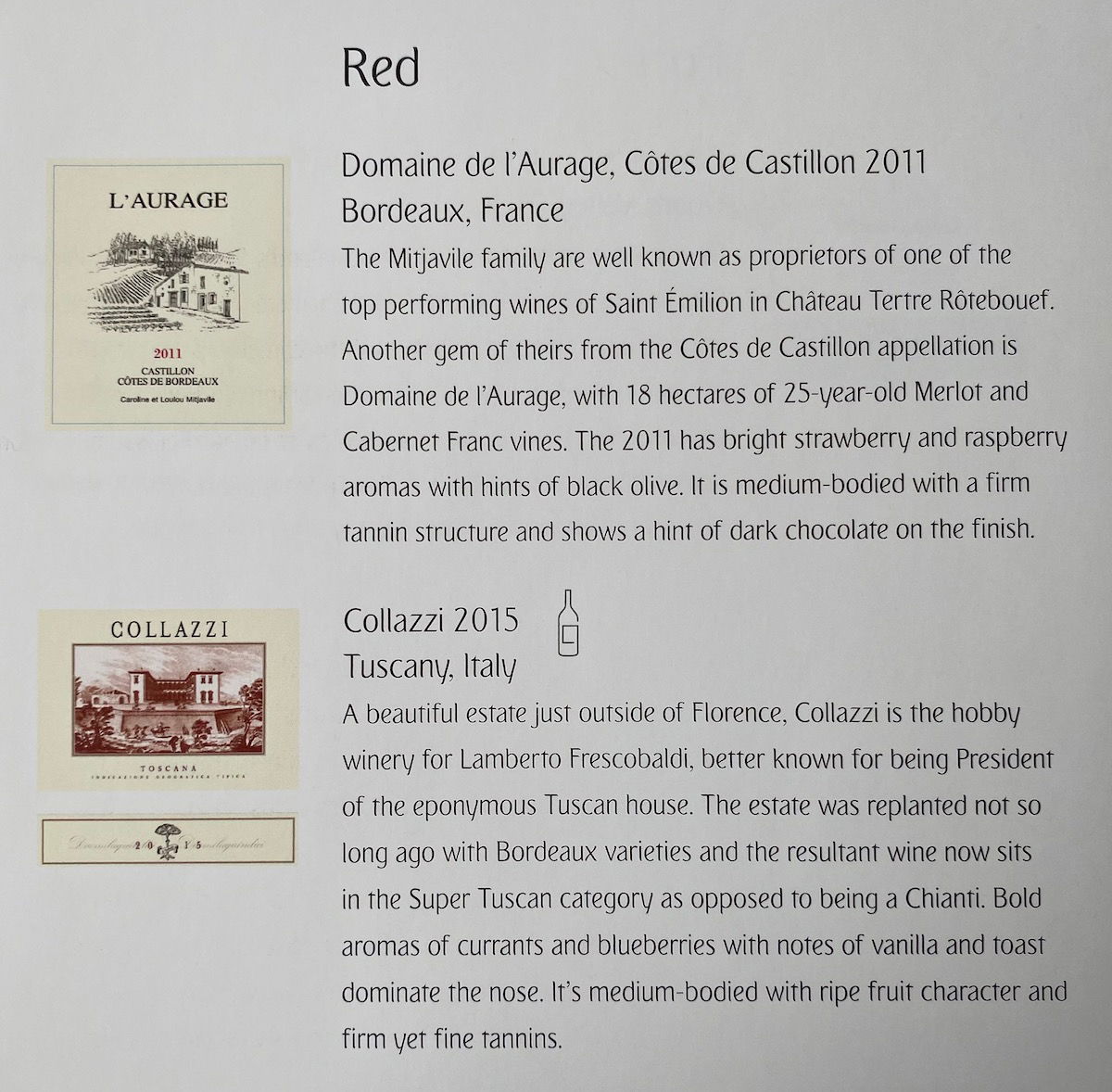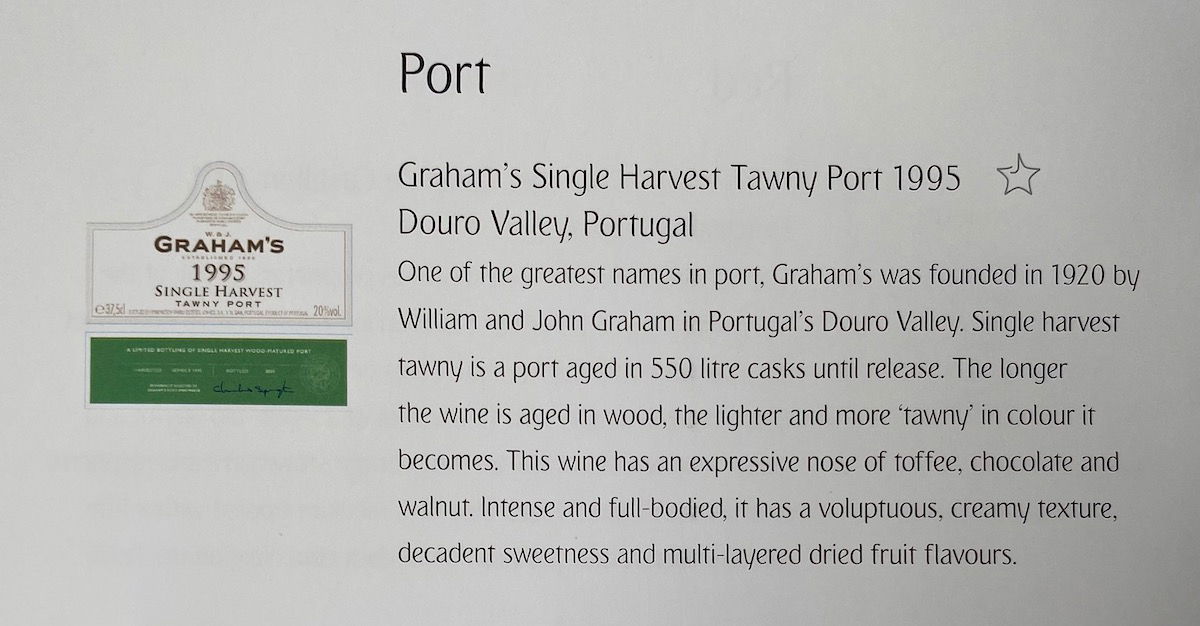 About 30 minutes after takeoff the service began. The crew came through the cabin to take meal and drink orders using smartphones. Drinks were served around 20 minutes later, just under an hour after takeoff. I ordered a dirty martini, and was offered some warm mixed nuts to go along with it. I love how Emirates has proper cocktails, which not many airlines offer.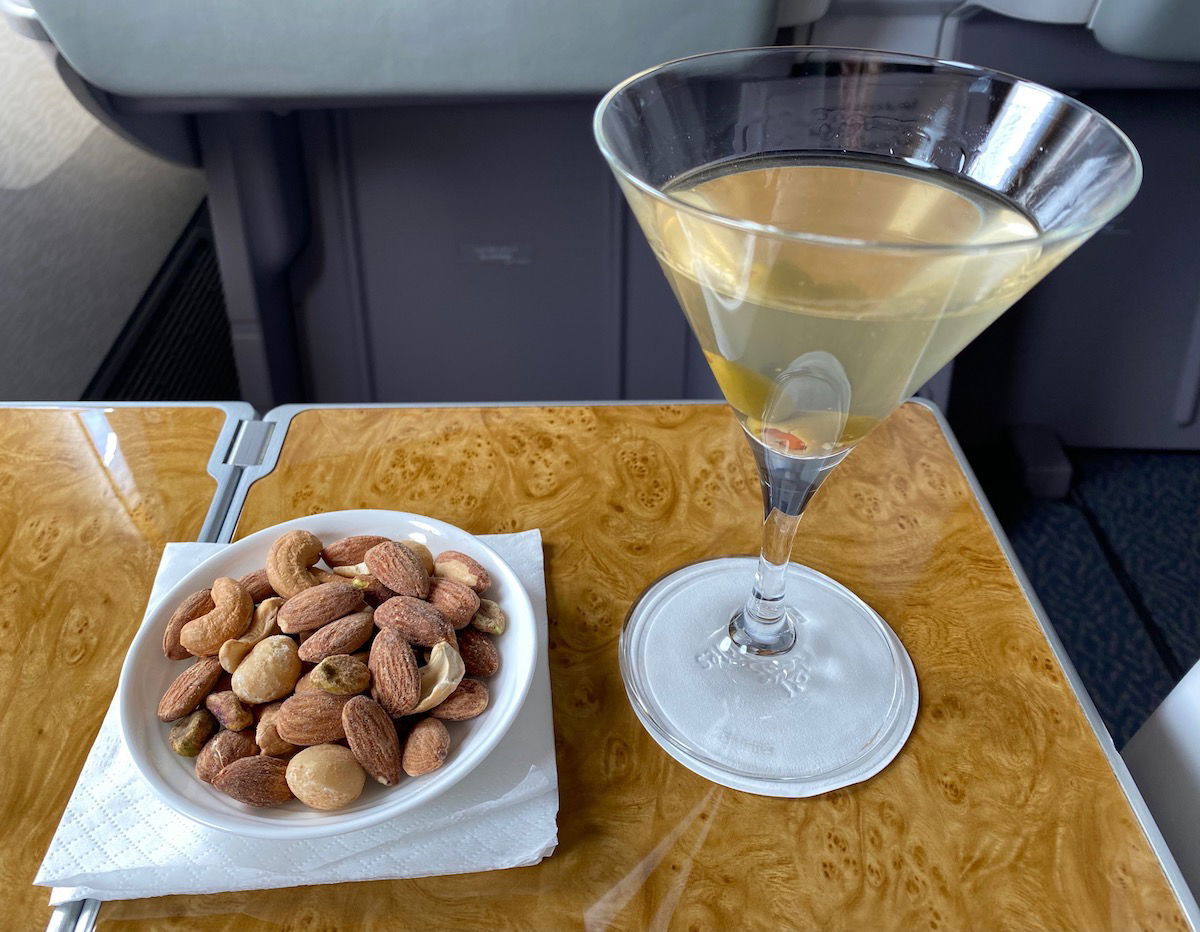 About 20 minutes after that the meal service began. A tablecloth was brought out, and then the meal was served on a tray, along with the glass of Cloudy Bay sauvignon blanc that I ordered. As you can see, the side salad and bread were covered and wrapped.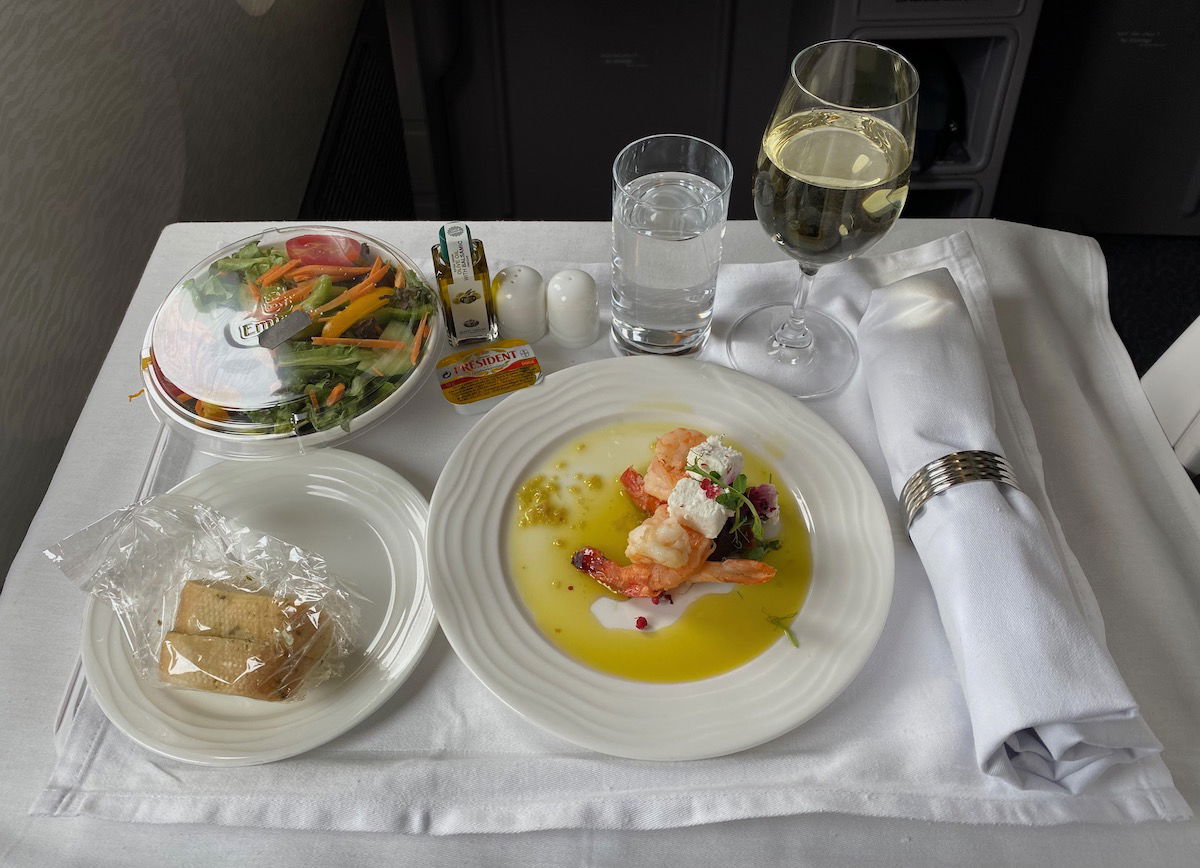 For the starter I selected the seared prawns served on wakame salad with beetroot and pepper chevre, dressed with wasabi and onion seeds. There was also a side salad, along with some garlic bread. The food quality as such was great.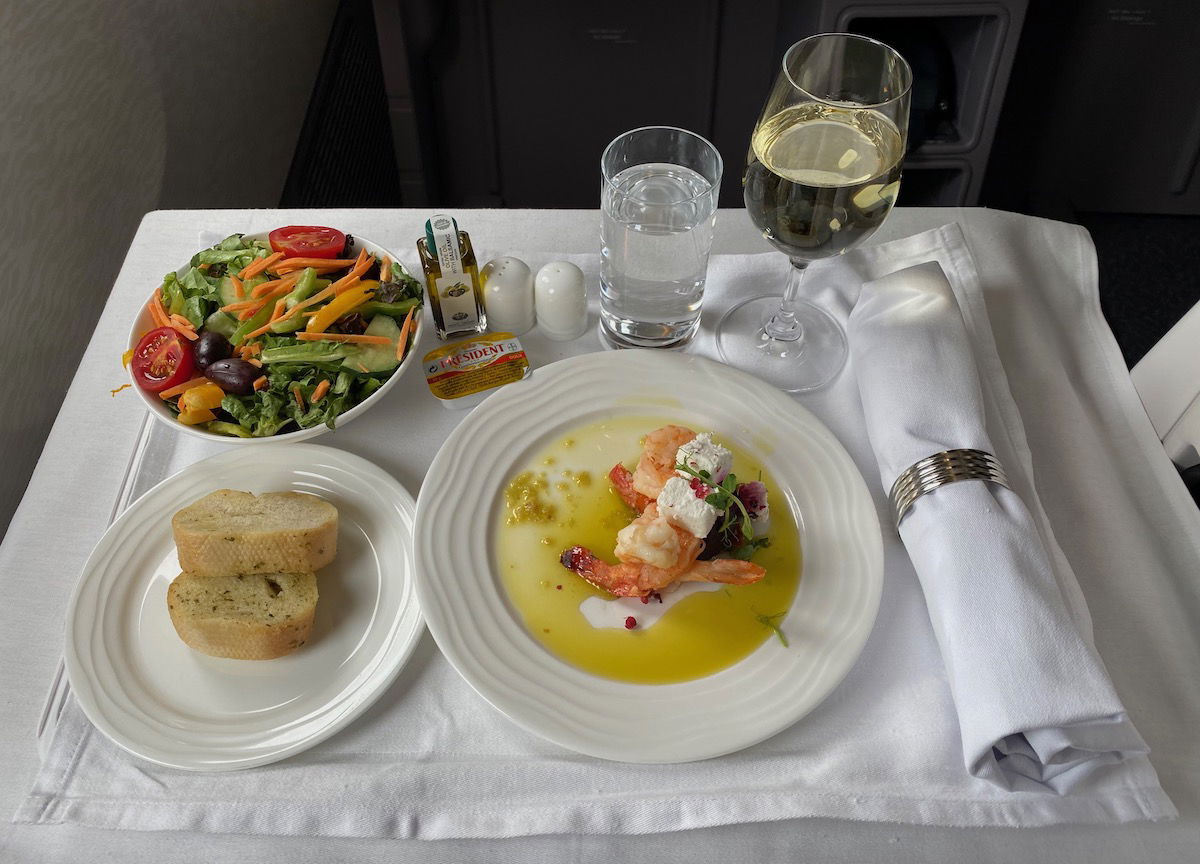 The problem with Emirates business class service is that it very much feels like an assembly line and isn't personalized at all. For example, after I finished my starter and salad, my starter was removed, while the rest of my completed dishes, along with the covers and wrappers, were just left there. You'd think they'd remove them, but instead they just remove what they have to in order to make room for the main course.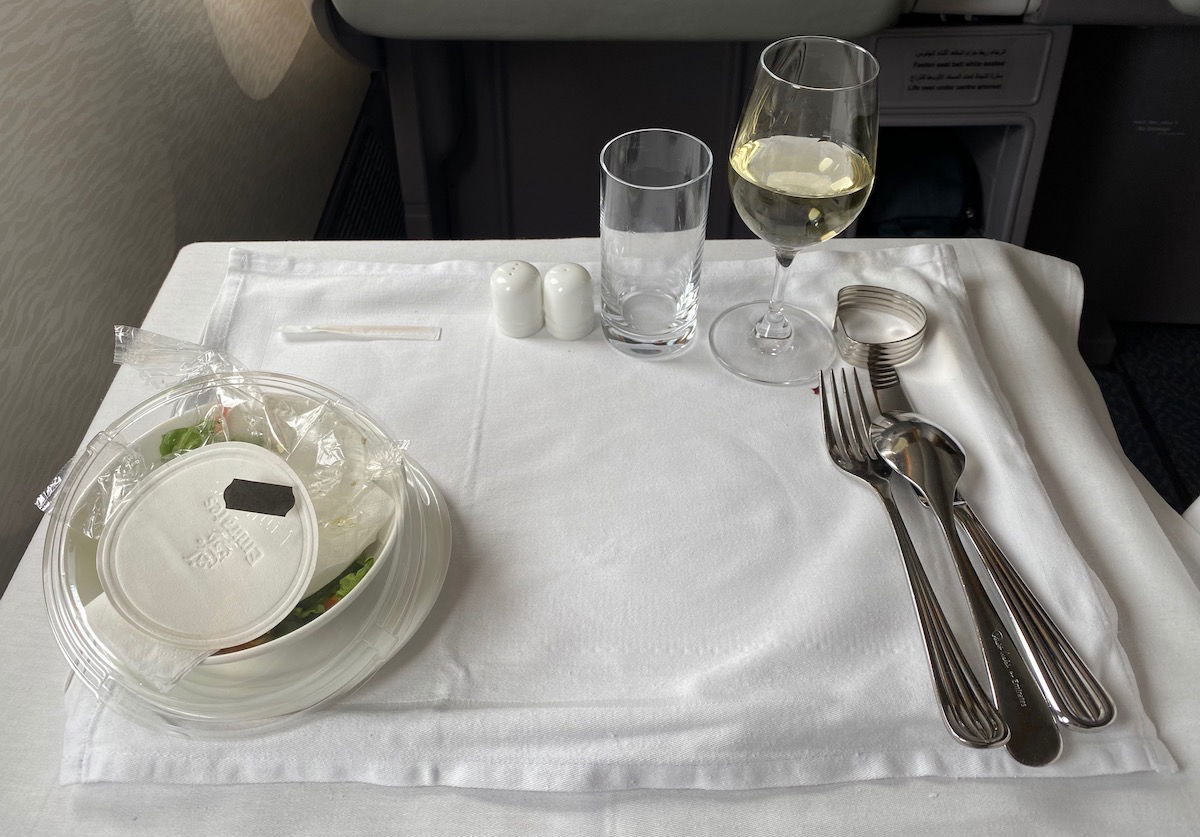 Similarly, even though my martini glass was done, it was just left standing there, even when the crew brought and removed stuff multiple times.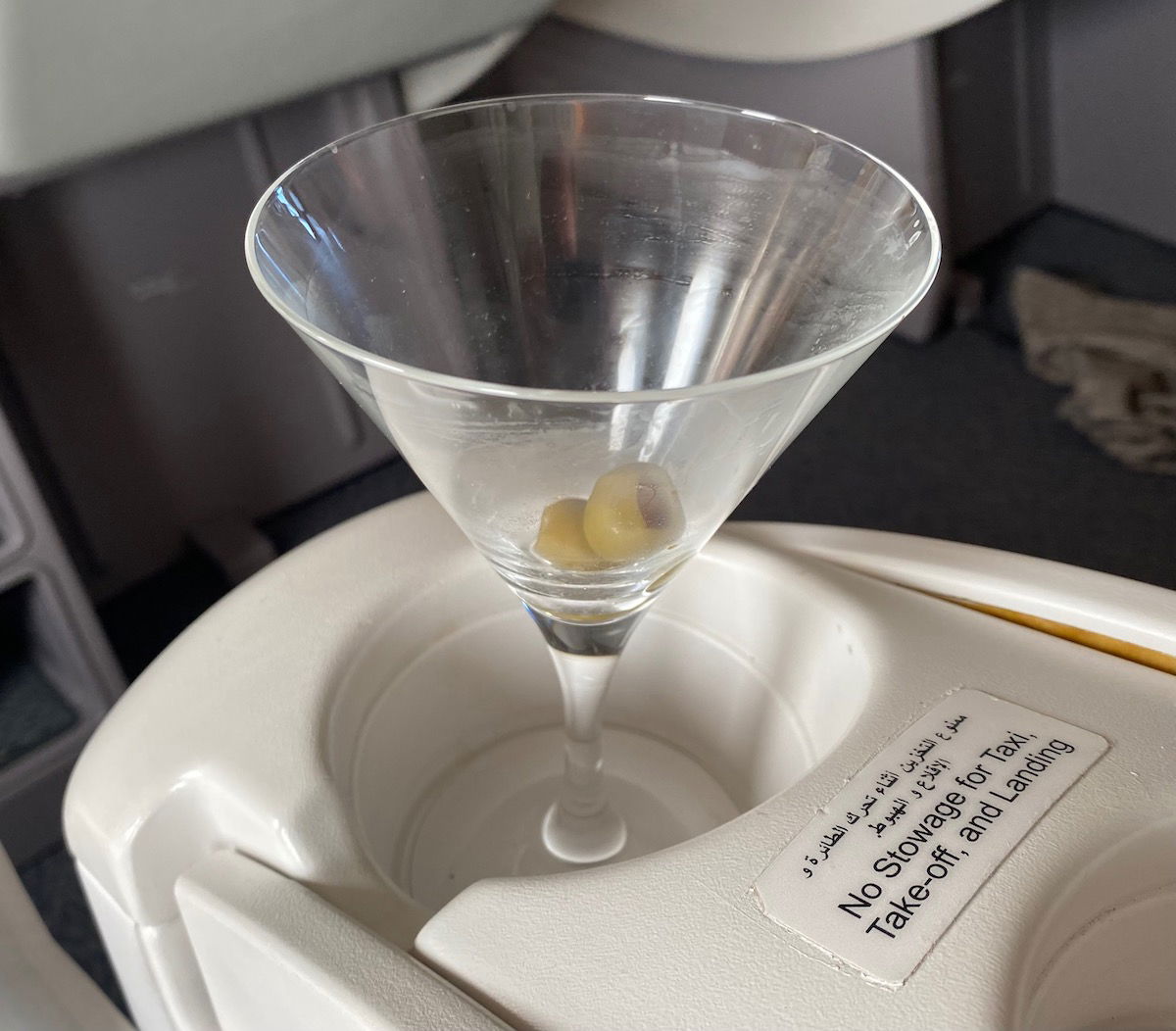 The main course was served once starters were cleared, and there were three choices. I selected the grilled salmon with coriander pesto, saffron rice, sautéed carrots, snow peas, and courgettes. The dish tasted pretty good, though the presentation left a bit to be desired with the casserole-style dish.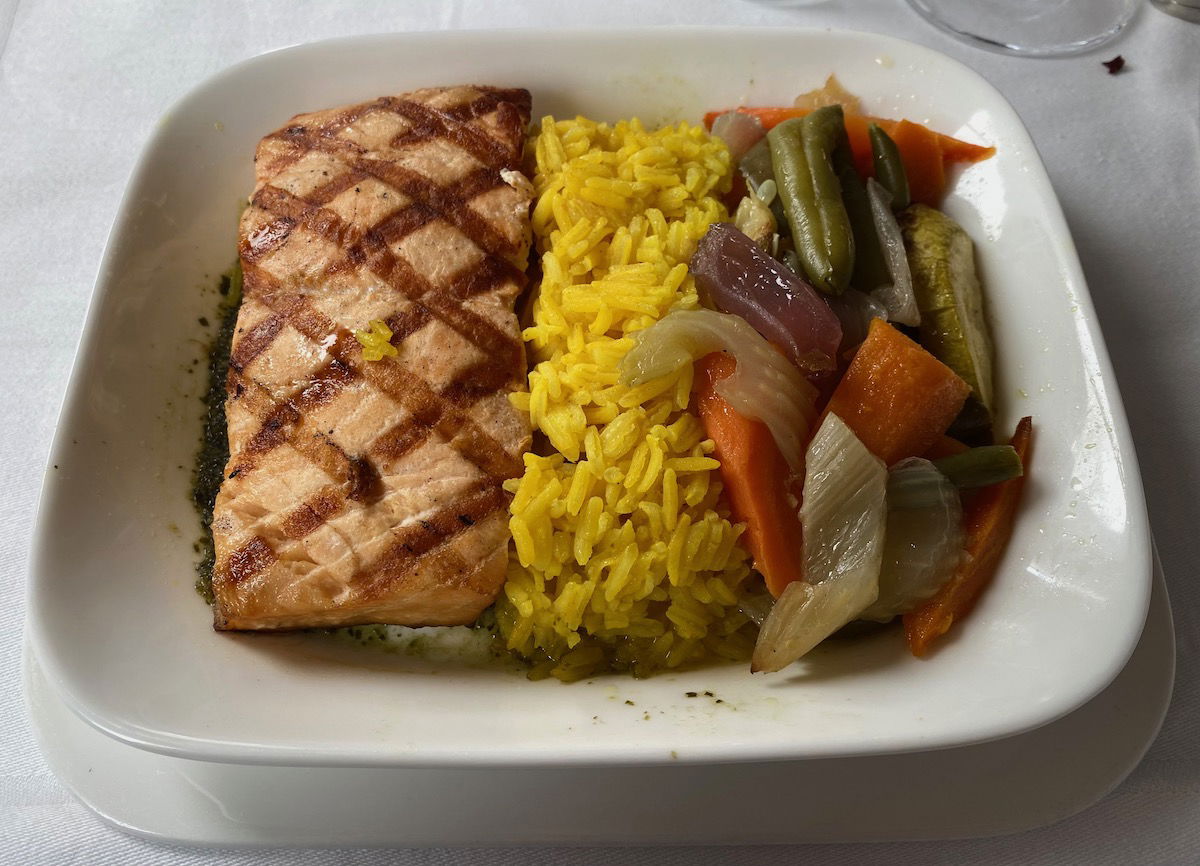 Once main courses were cleared, it was time for dessert. There were several choices, and I selected a delicious salted caramel and custard tart with mocha chocolate sauce. I was also offered a cappuccino, along with some chocolates.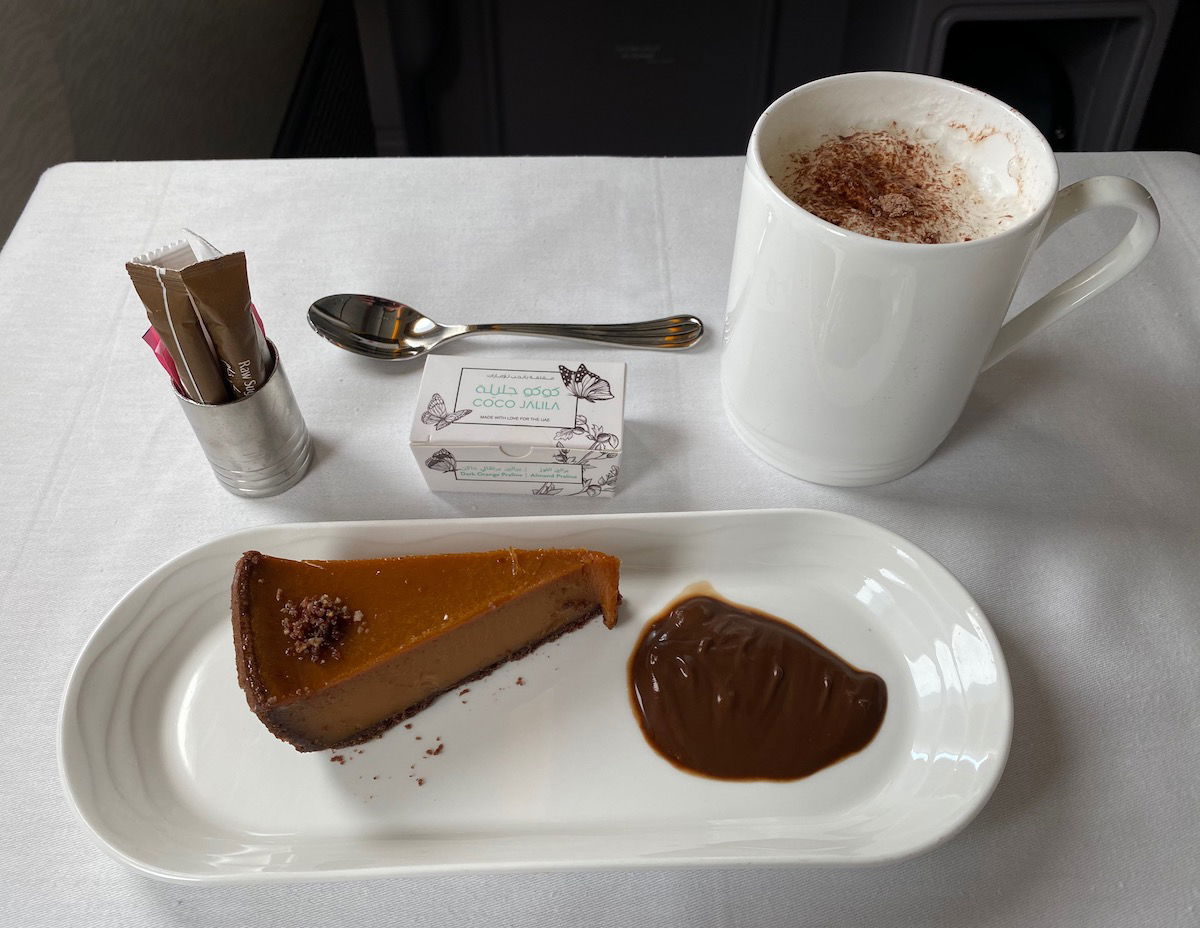 I'd say overall the meal tasted good, but the service flow, presentation, and lack of customization was rather disappointing.
Emirates business class entertainment & Wi-Fi
Emirates' ICE system is one of the best in the world for inflight entertainment, and there are literally endless TV shows, movies, and more. The selection is endless. I also love listening to the Emirates World Interviews, hosted by Steve Harvey. They're equal parts interesting and hilarious, given the obvious spin. For example, one of the interviews I listened to talked about how prisons in the UAE are so humane, and are about helping people, rather than punishing them.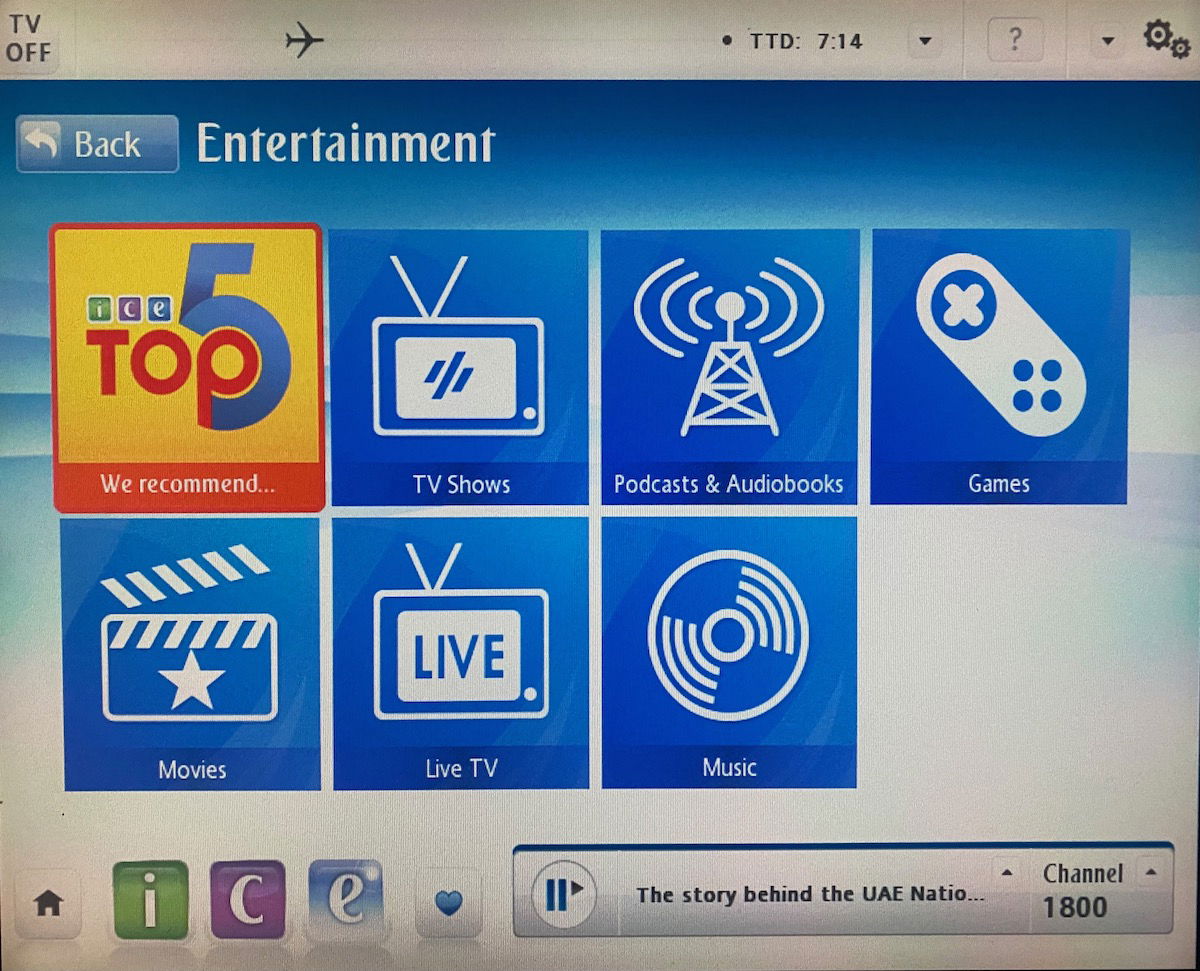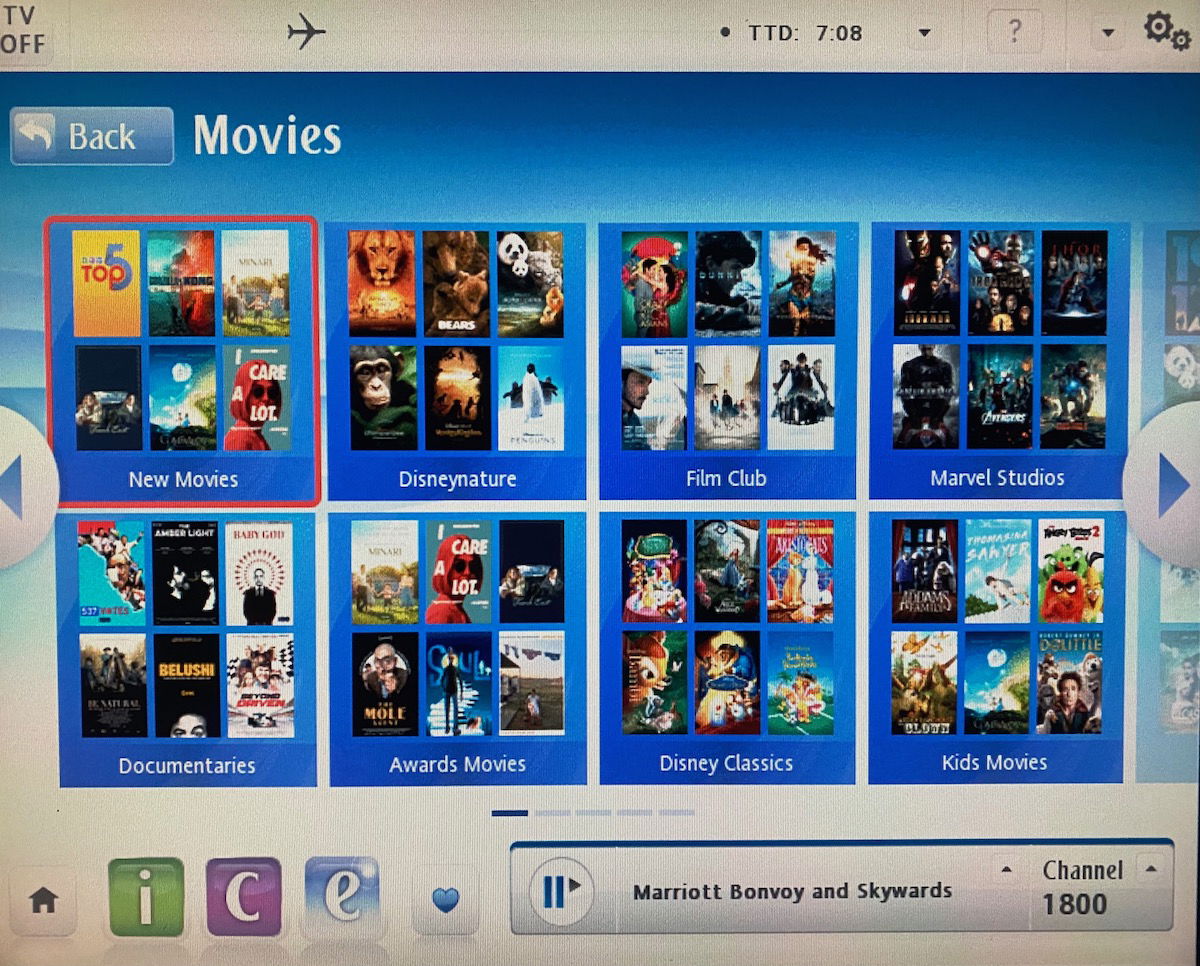 There's also an airshow function, though it was fairly low quality in terms of resolution.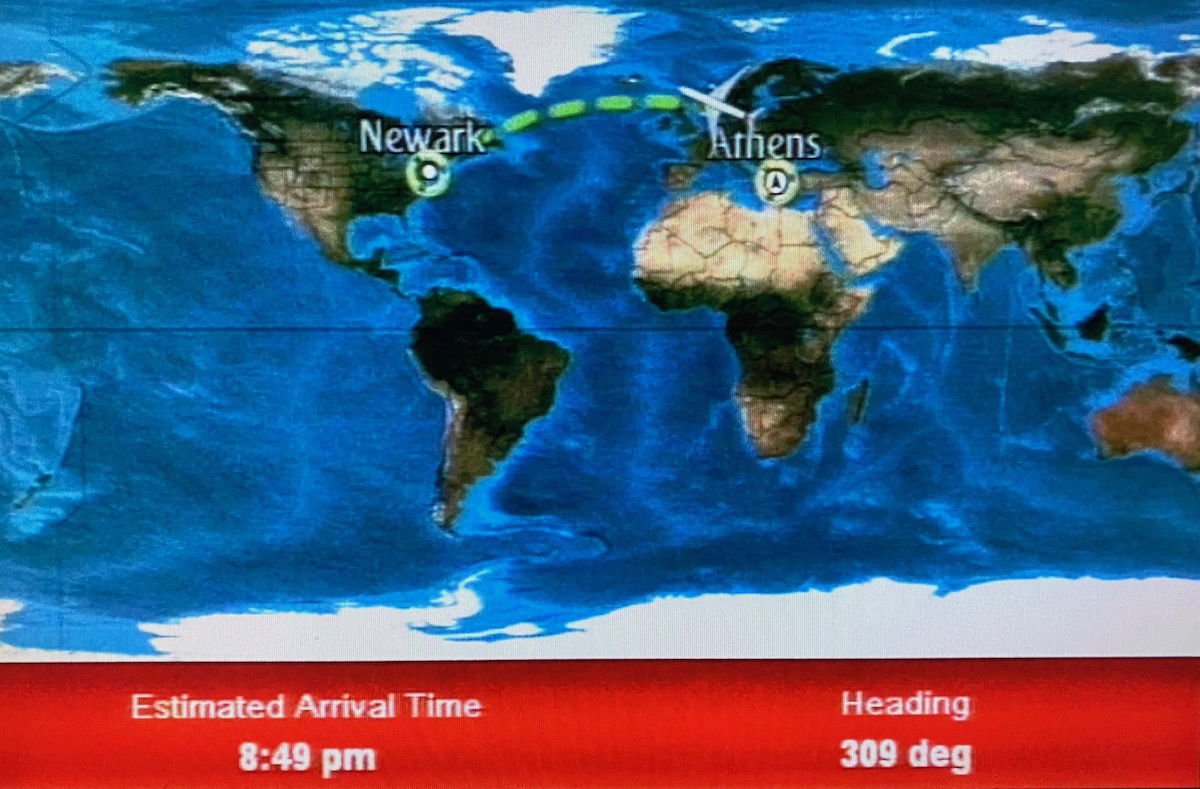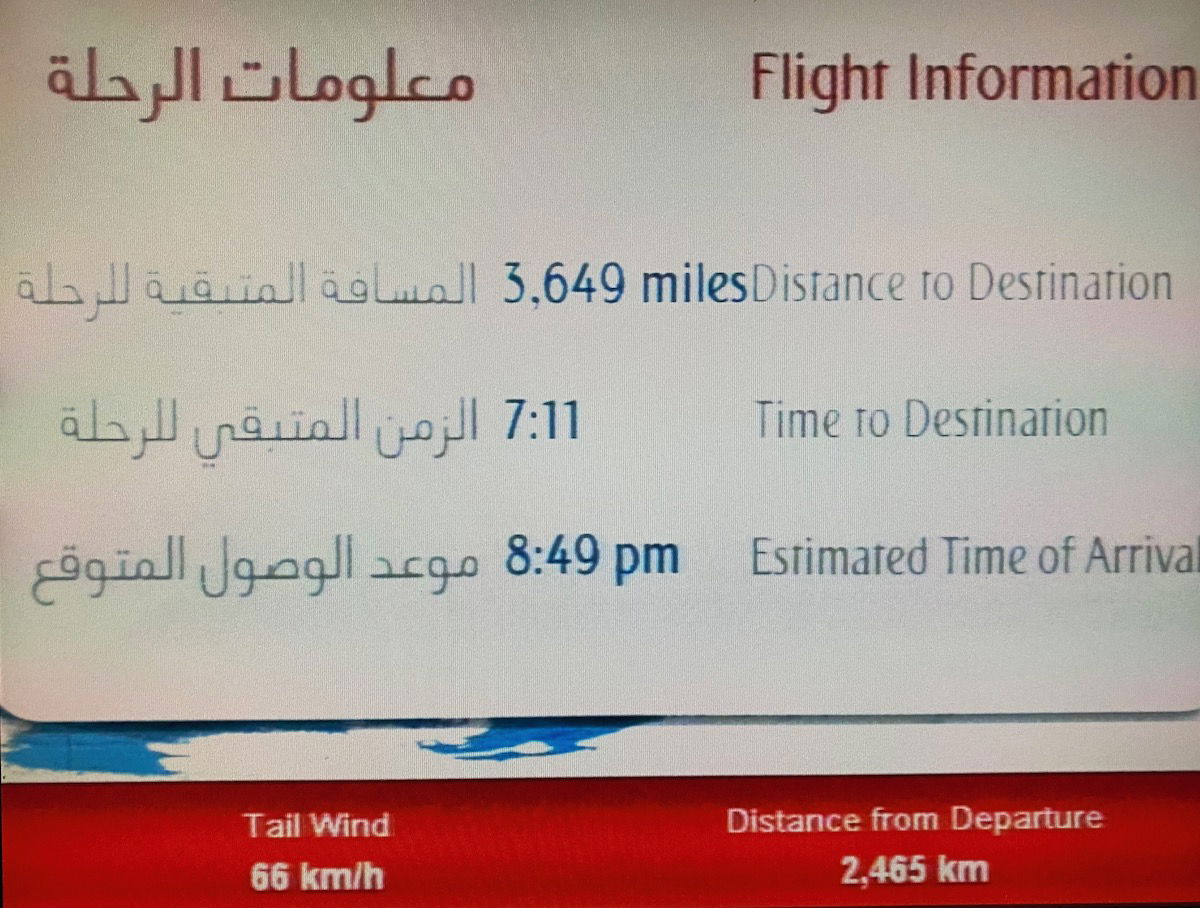 Unfortunately the 777 I was on was really old:
It was so old that it didn't have a touchscreen option, so you had to use the remote controller
The remote controller was ancient, and was extremely unresponsive; it probably took about five seconds after pushing a button before the system responded
Emirates' Boeing 777s also have Wi-Fi. For $19.99 you could buy Wi-Fi for the entire flight with no data limits, which is what I did. Emirates offers OnAir Wi-Fi, which is known to be among the slowest out there. On the plus side, the speeds were pretty decent on this flight, and I was able to work for most of the flight. I've generally found Wi-Fi on Emirates 777s to be better than on A380s.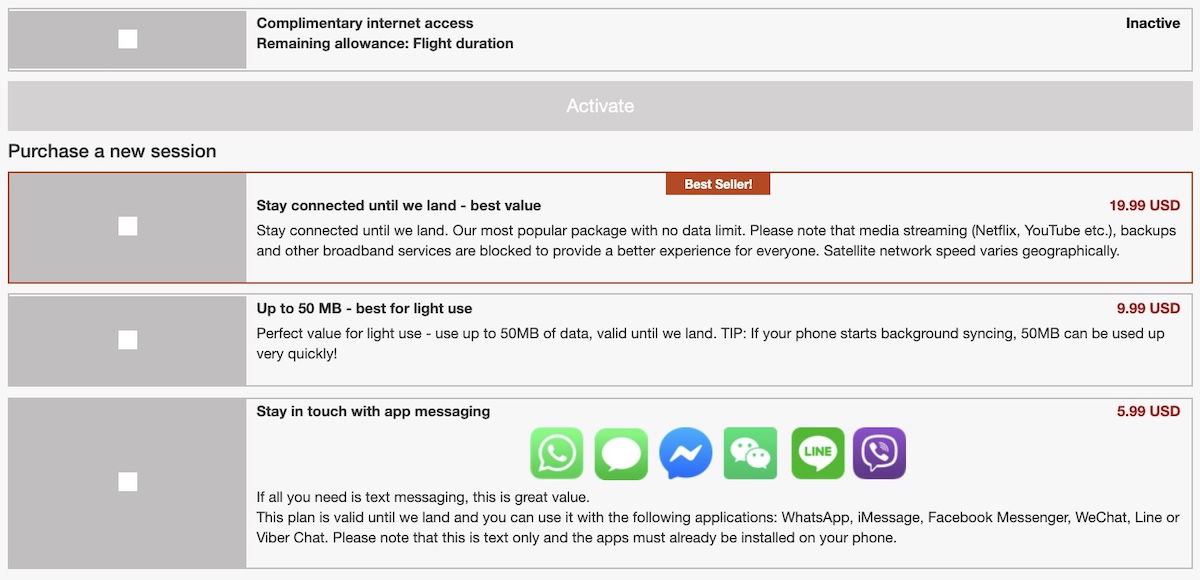 Emirates business class bed
Emirates has angled seats in business class on the 777. In fairness to Emirates, the angle is really mild. It's not like one of those seats where you'll horribly slide down the entire time, but rather you just feel like your head is elevated a bit. So the angle doesn't bother me.
For that matter, one positive of these types of seats is that there's no small footwell you have to put your feet into, so you can stretch out pretty nicely. That's especially true if you have an empty seat next to you, like I did.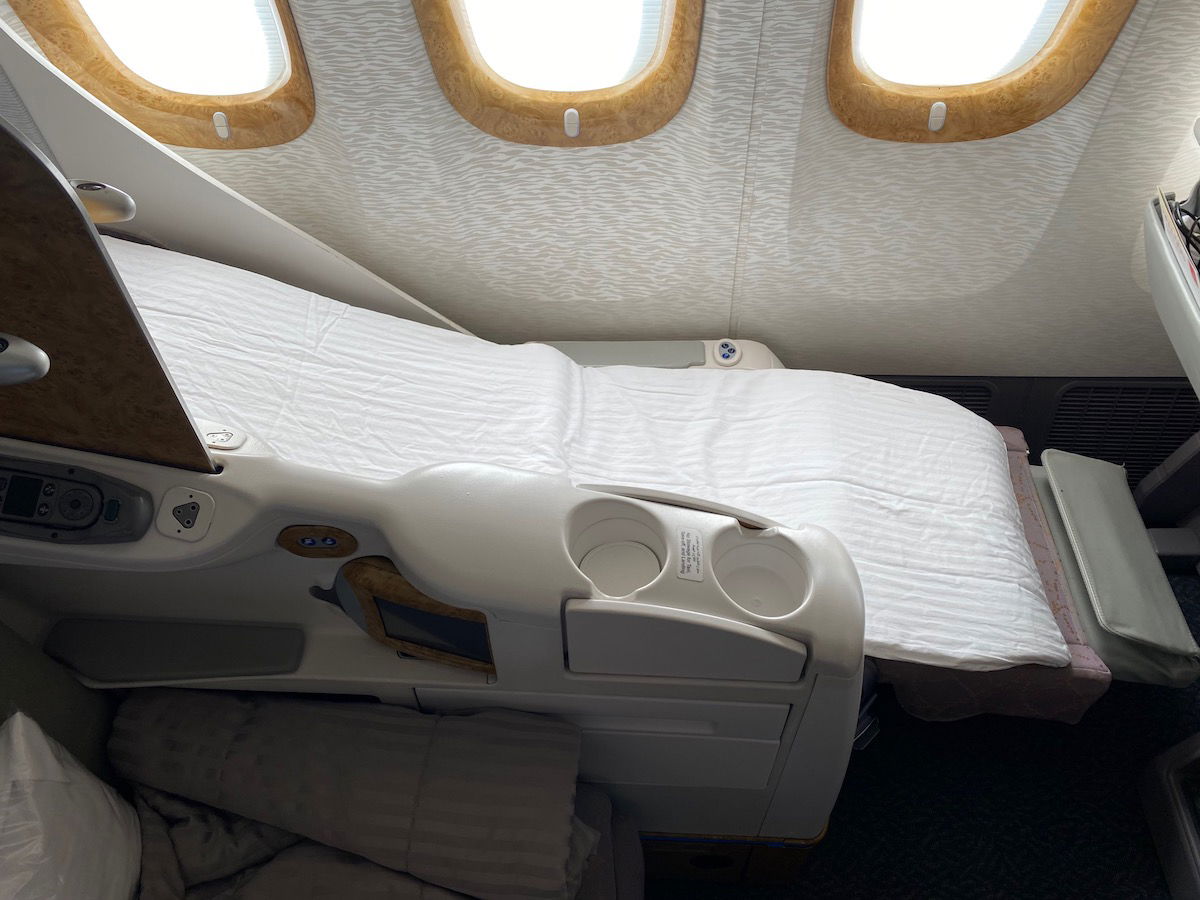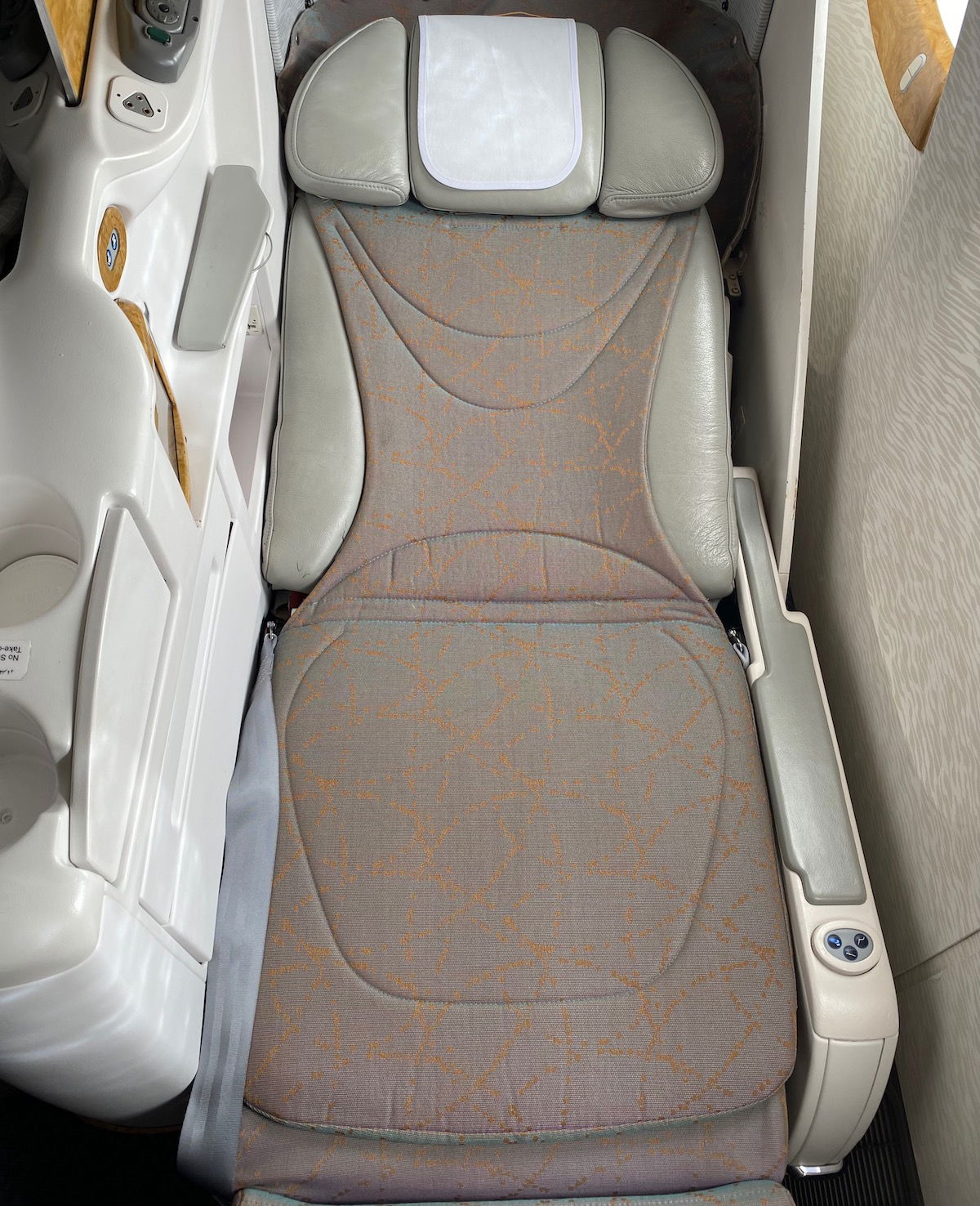 Immediately after takeoff the crew distributed mattress pads. These were placed on seats even when it wasn't time to sleep, and added a bit of padding.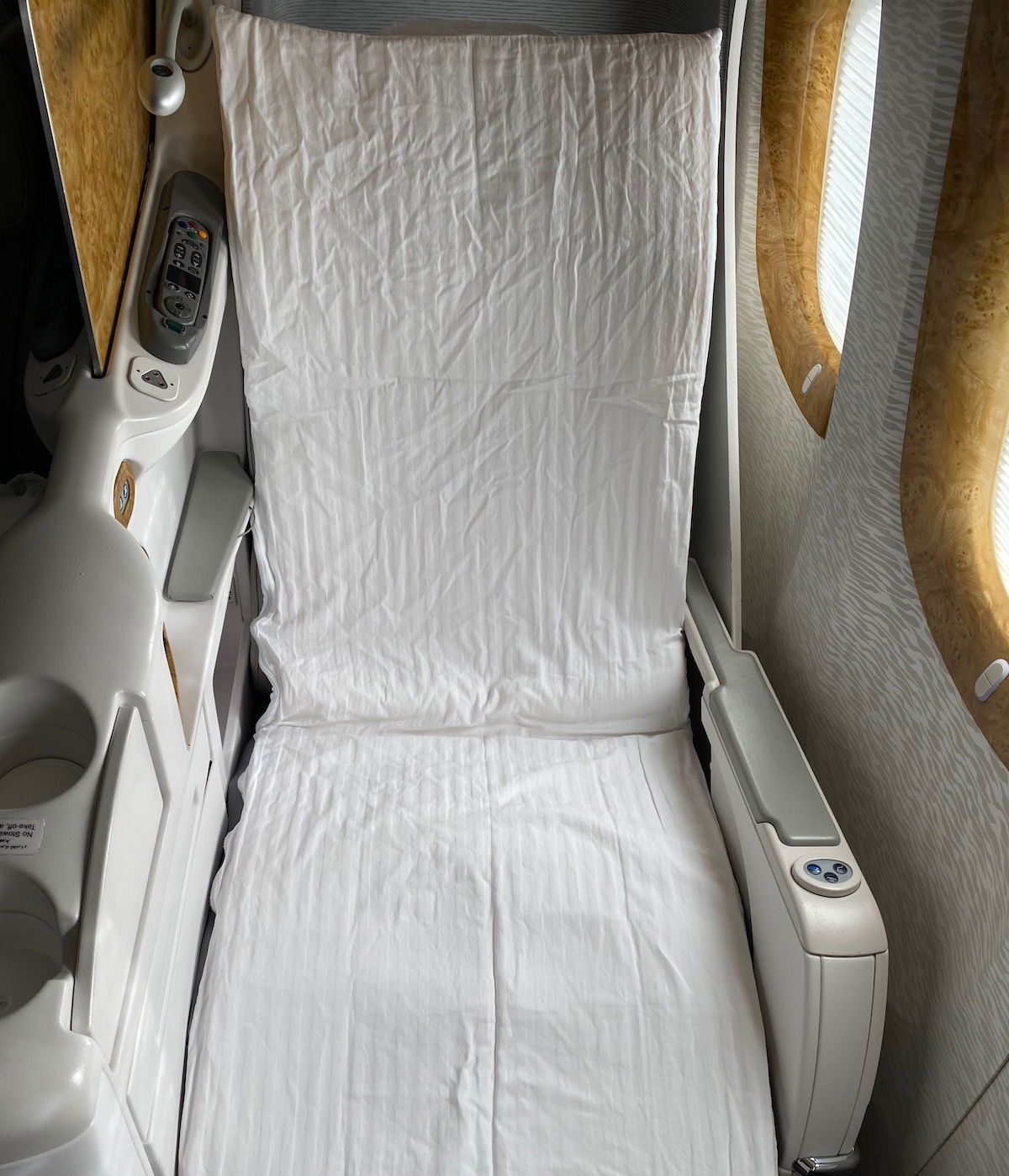 I've always liked how Emirates has lights on the ceiling that are meant to look like stars.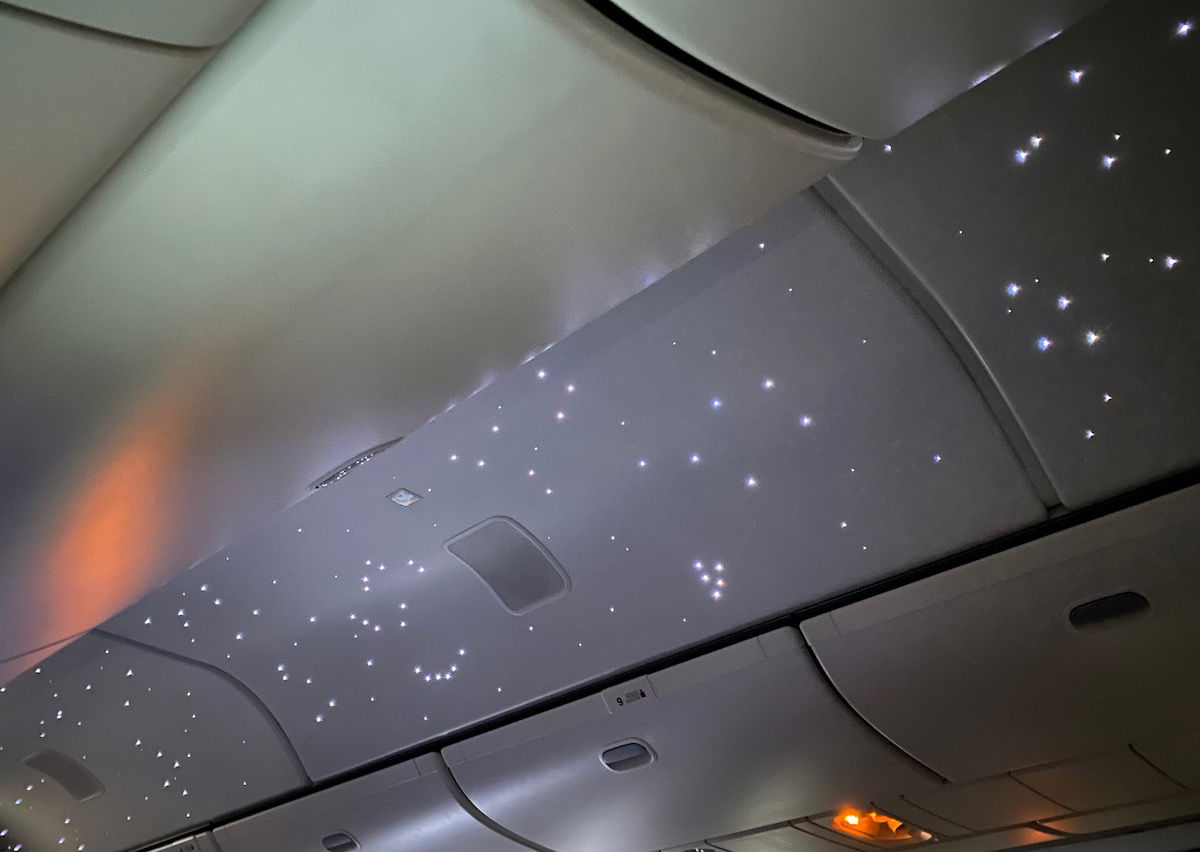 Emirates business class lavatories
Emirates has two lavatories in business class on the 777-300ER, located by the second set of doors, between the business class cabins. The lavatories were a good size, though otherwise were pretty no frills. While I wouldn't say the bathrooms were filthy, they definitely weren't as clean as I've had on past Emirates flights, especially later in the flight.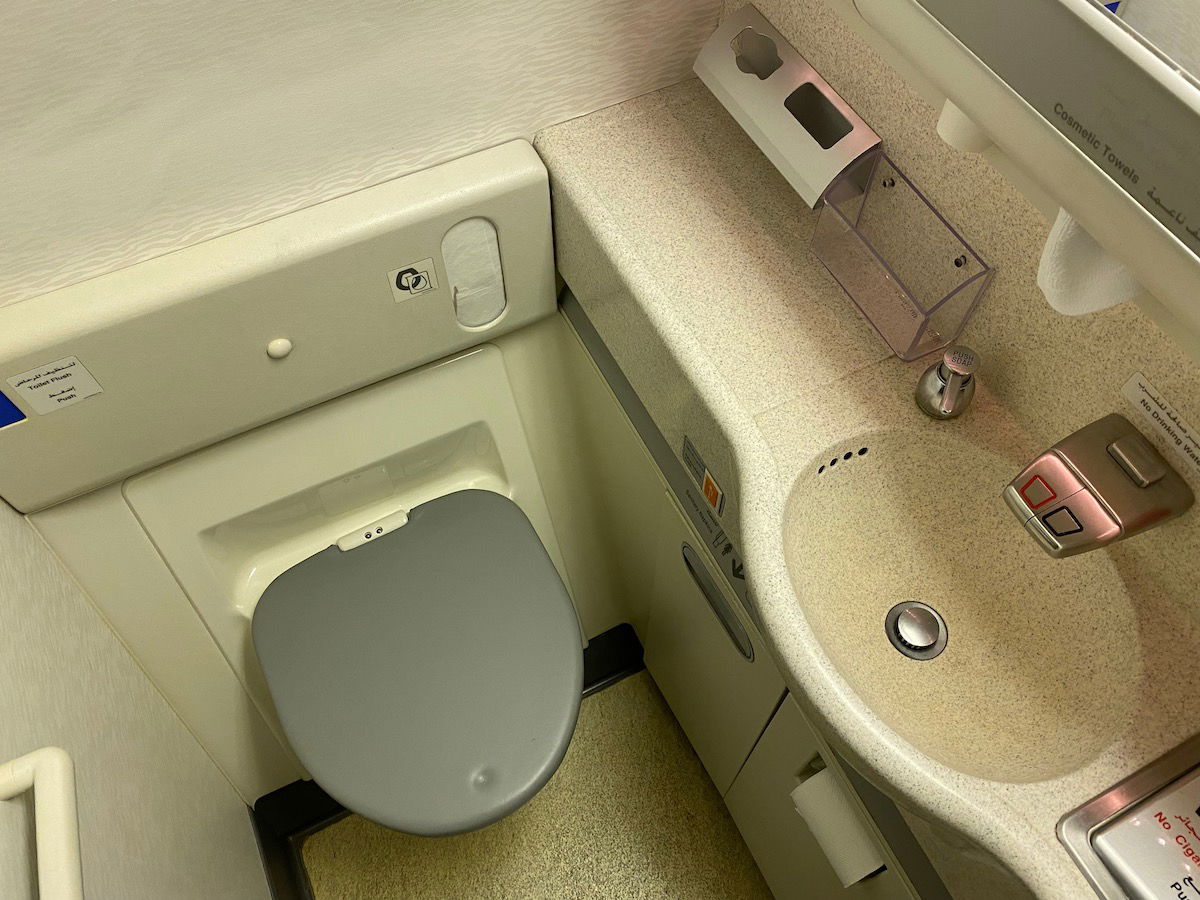 Emirates business class service & snacks
Between meals there was a small setup in the galley with some packaged snacks, which passengers could help themselves to.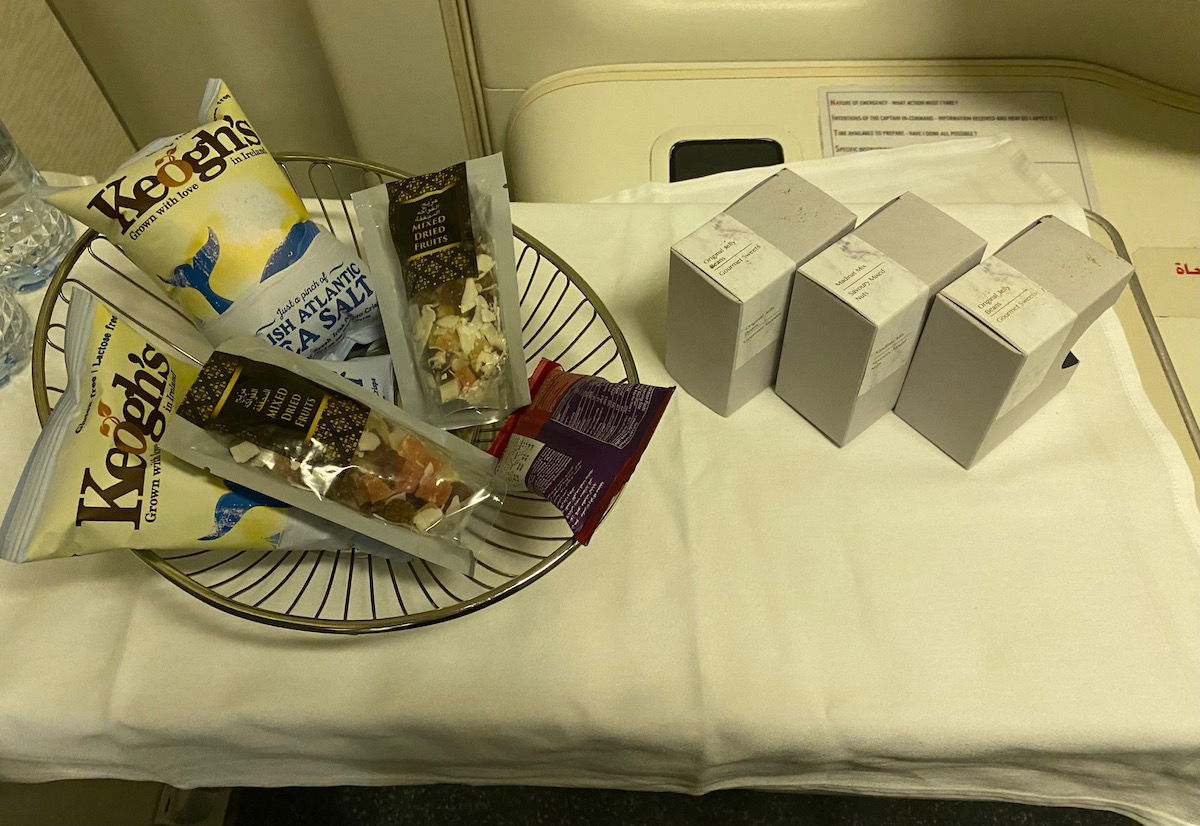 Drinks were of course always available on demand, so I ordered a couple of cups of coffee during the flight while working. I was proactively offered some cookies to go along with that.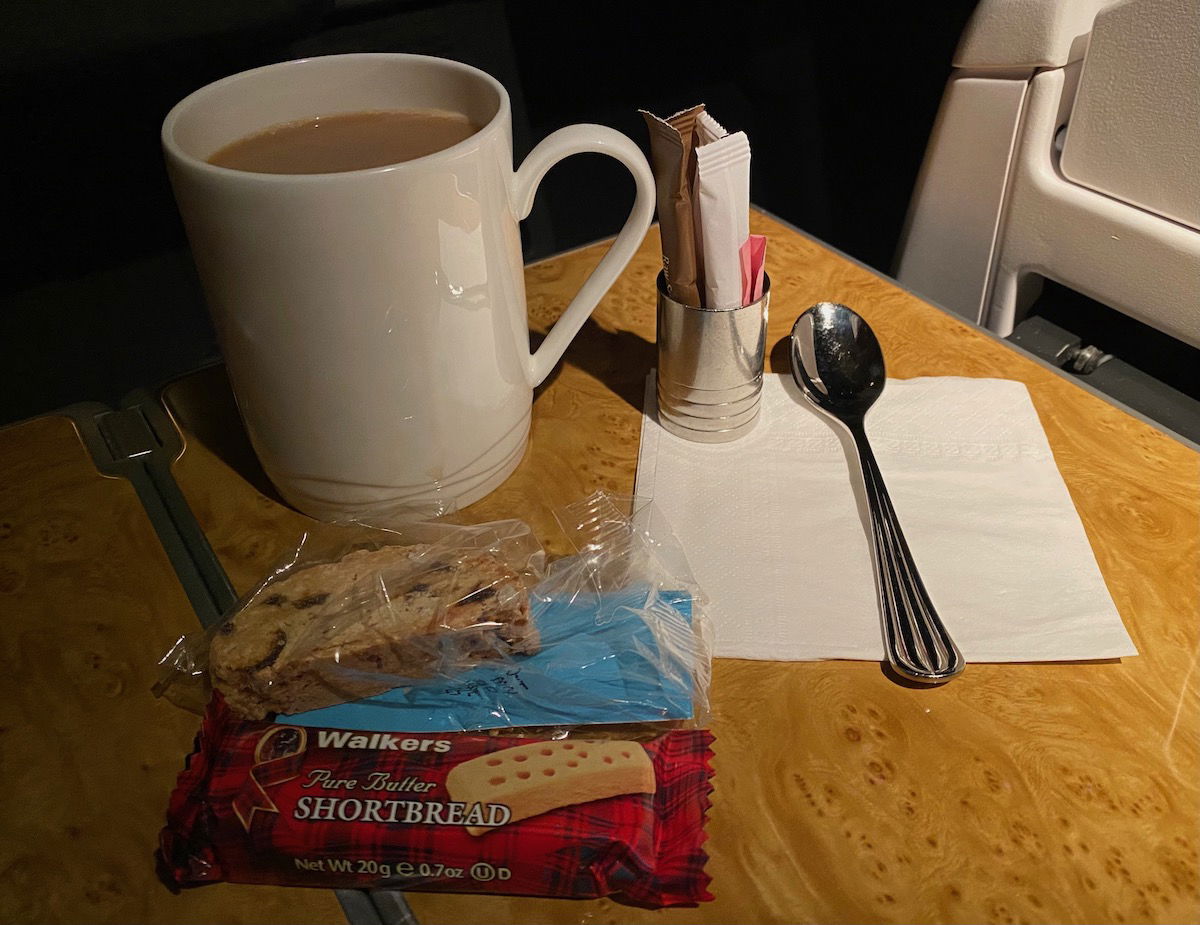 The flight attendants working business class were friendly and showed personality, so I have nothing bad to say about them. They were good.
My general issue with service in Emirates business class is how impersonal it feels. There's no dine on demand, and you really just feel like you're part of an assembly line that the crew is trying to get through. There's very little about the service that feels proactive rather than reactive. It's just in such contrast to service on other top carriers, where personalization and interaction between passengers and crew is encouraged.
Emirates business class dinner service
About 2hr30min before landing at Newark, pre-arrival meal orders were taken. The meal was then served around two hours before arrival. Once again, dishes came covered.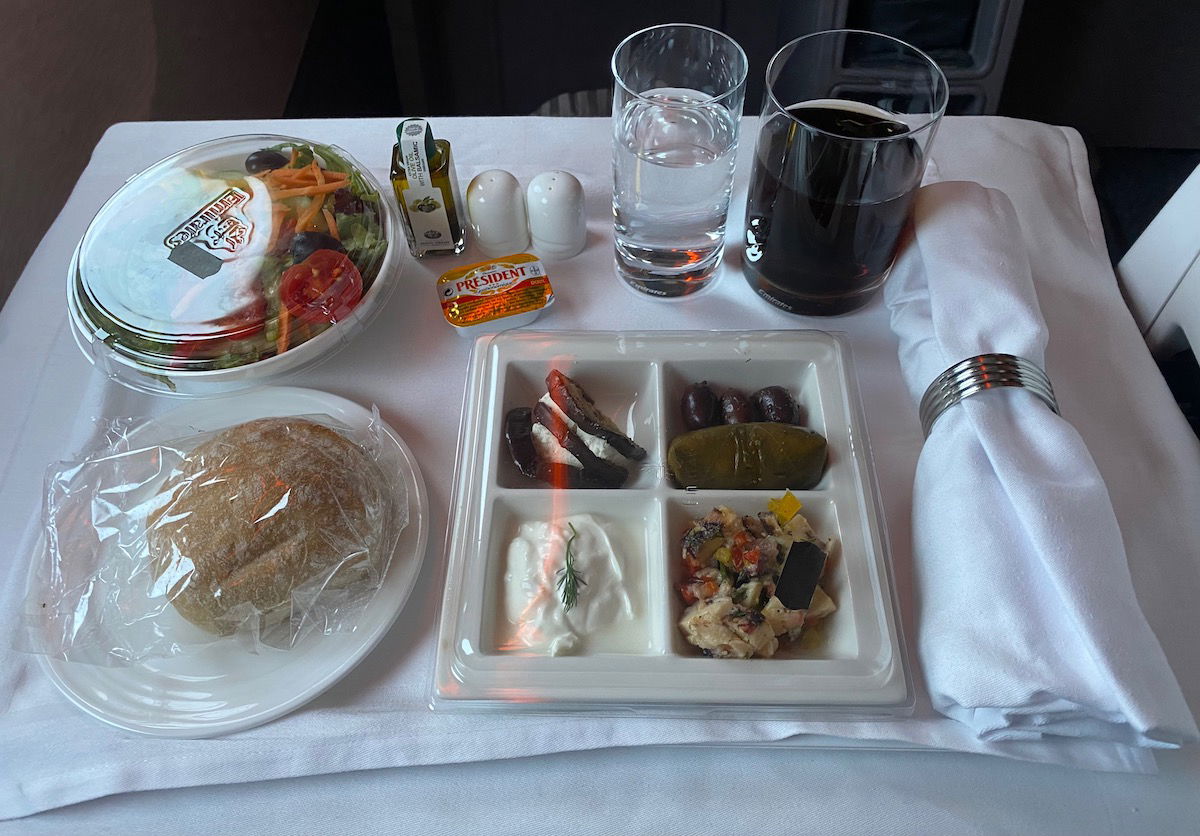 To start I ordered the Greek mezze with grilled aubergine with feta, octopus salad, dolma, tzatziki, and marinated olives. This was served with a side salad and a roll.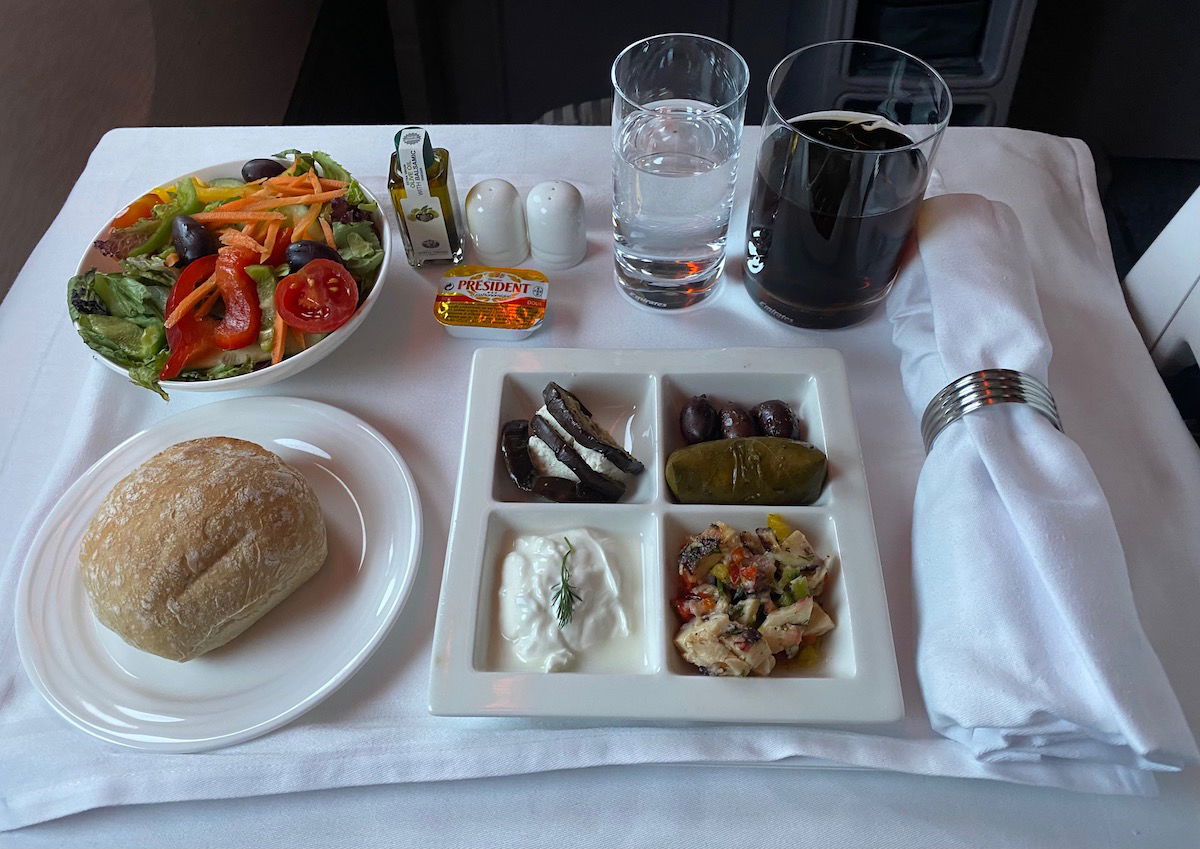 For the main course I ordered the chicken with mushroom sauce served with honey-roasted pumpkin, steamed broccoli, turnip, and fingerling potatoes with herbs.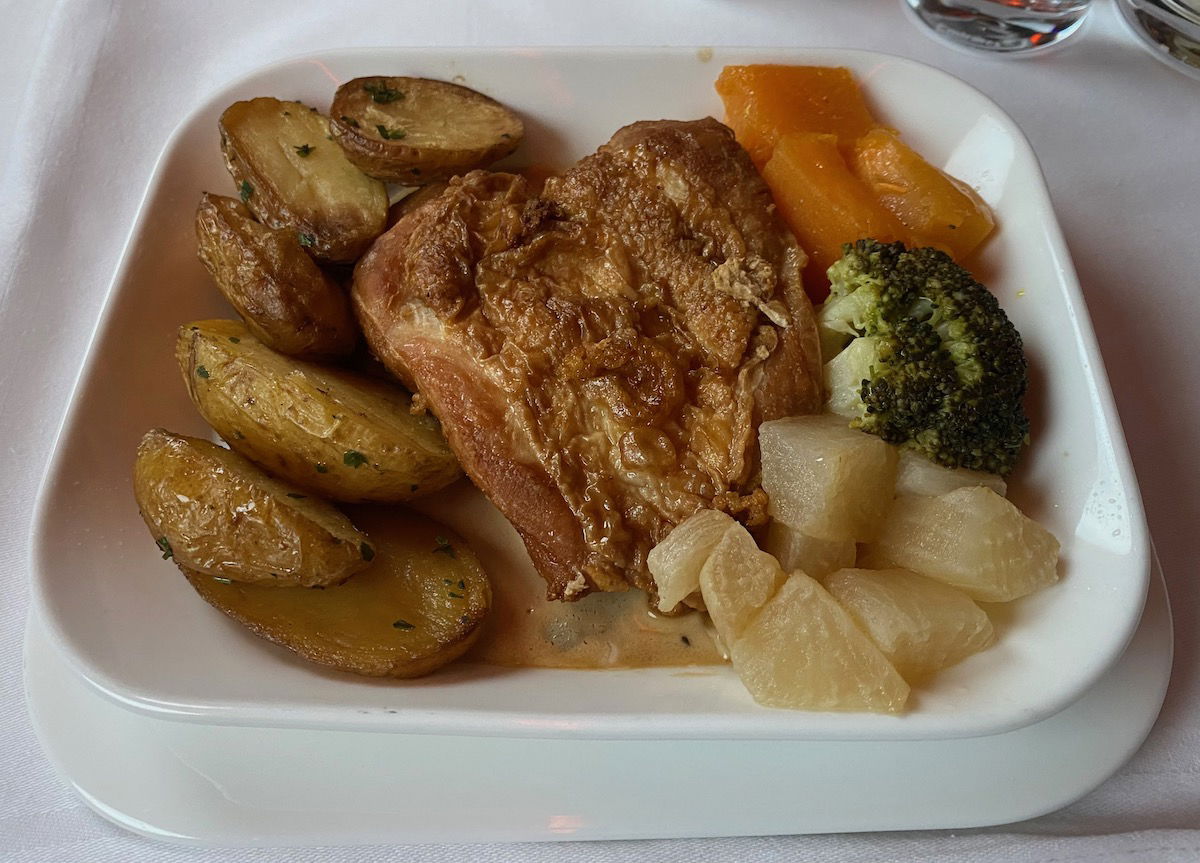 Then for dessert I had the cheese board, which was nicely presented. I was also offered a box of chocolates.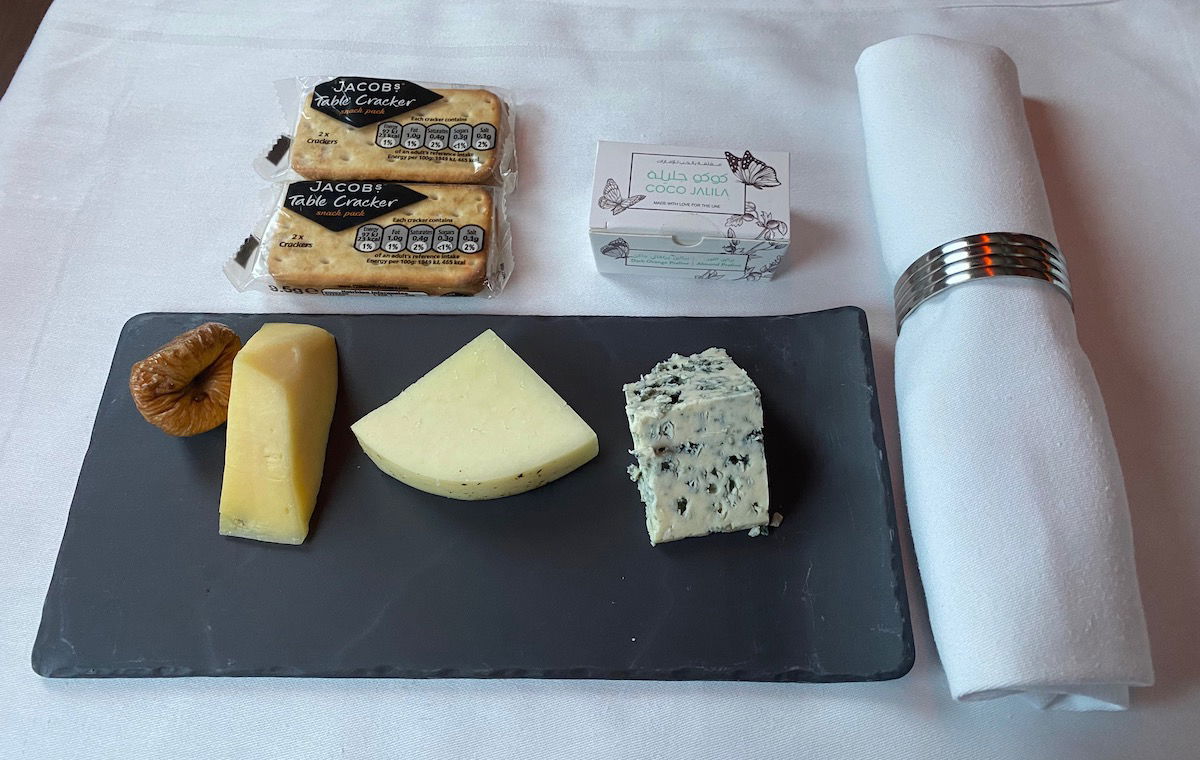 A warm towel was offered after the meal, which was the first time during the flight that a towel was offered.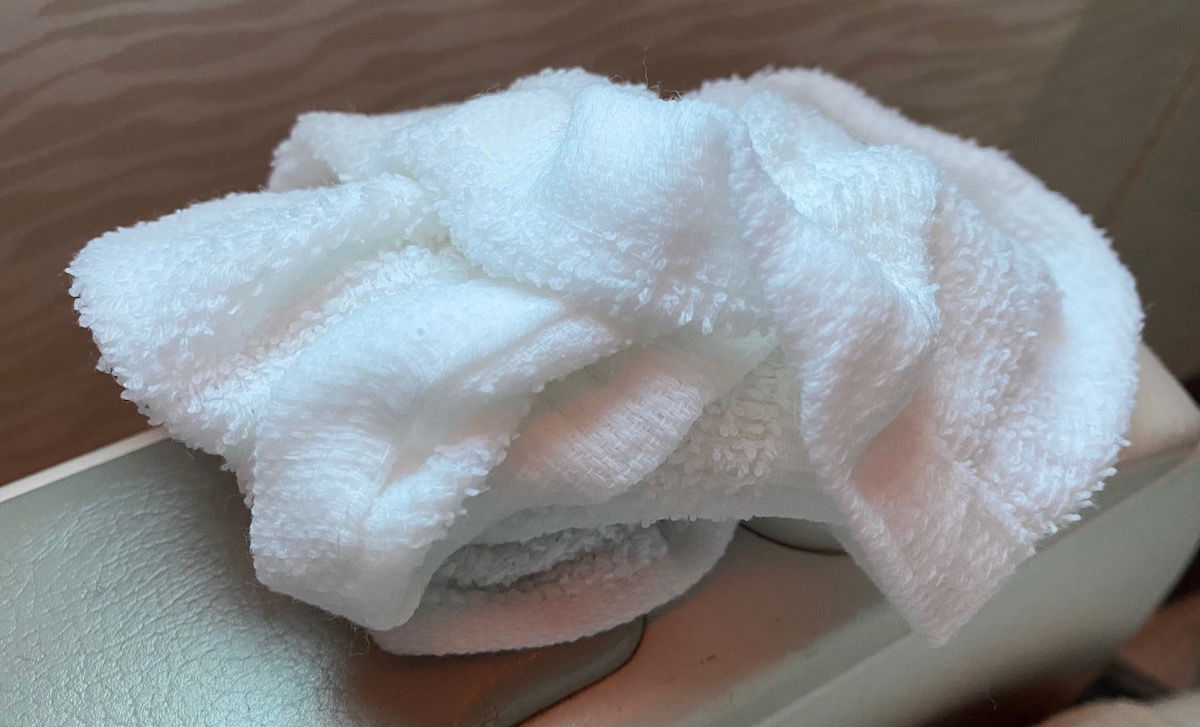 After the meal I enjoyed the beautiful sunset views, since at this time of year the flight arrived around sunset time.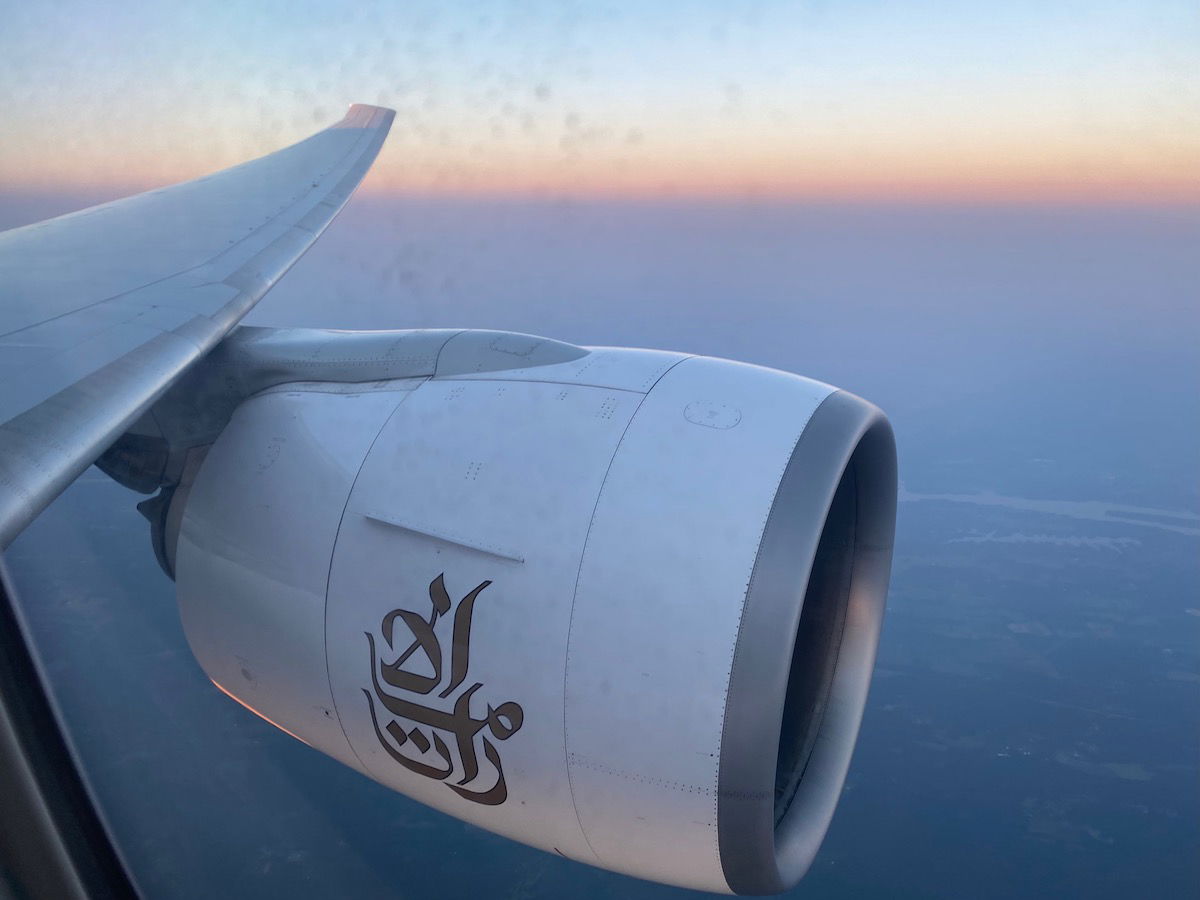 We touched down at Newark Airport at 8:45PM, and had a very hard landing. From there it was a short taxi to our arrival gate.
Bottom line
Emirates, I love you. Your first class is my favorite in the world, and the A380s are incredible, and a nice ride in business class. But the experience drops off very quickly when flying 777 business class on a long haul flight.
Angled flat seats, a middle seat in each row, no USB outlets, no touchscreen TVs, woefully outdated cabins and finishes, mediocre bedding, assembly line-style service, and no dine on demand? This is simply uncompetitive at this point. not just compared to Qatar Airways Qsuites (which is a totally different league), but even compared to your average, run-of-the-mill business class.
I really hope Emirates follows through with its plans to introduce a new 777 business class product, and that the rollout doesn't happen at a glacial pace. Even then, there's improvement needed with the soft product.
If you've flown Emirates' 777 business class, what was your experience like?