For our four nights in Stockholm, we decided to stay at the 115-room Bank Hotel (for those wondering about the name, it's because the hotel is a former bank). This is generally regarded as one of the city's best hotels, and it's even affiliated with Small Luxury Hotels of the World and World of Hyatt, which is the icing on the cake for us points enthusiasts.
How & why we booked Bank Hotel Stockholm
Stockholm isn't generally known for its amazing hotels. Grand Hotel is usually considered to be Stockholm's top hotel, but it doesn't belong to any major hotel groups, and also looked kind of outdated to me. Of course as someone who loves points, I checked out the properties of the major hotel groups — for the most part, Hilton, Hyatt, and Marriott have very few luxury options in Stockholm.
That's where World of Hyatt's partnership with Small Luxury Hotels of the World (SLH) comes into play. Bank Hotel Stockholm is an SLH property that partners with Hyatt, meaning you can earn and redeem World of Hyatt points for stays here.
For our dates in the peak of summer, the cash rate was $450 per night. This is also a Category 5 World of Hyatt property, so we could redeem 20,000 World of Hyatt points per night to stay here, and that's what we did. I sure do love Hyatt's partnership with SLH…
Bank Hotel Stockholm location
Bank Hotel has a great location within Stockholm. It's just a couple of blocks from the waterfront, near all kinds of amazing shopping, restaurants, etc.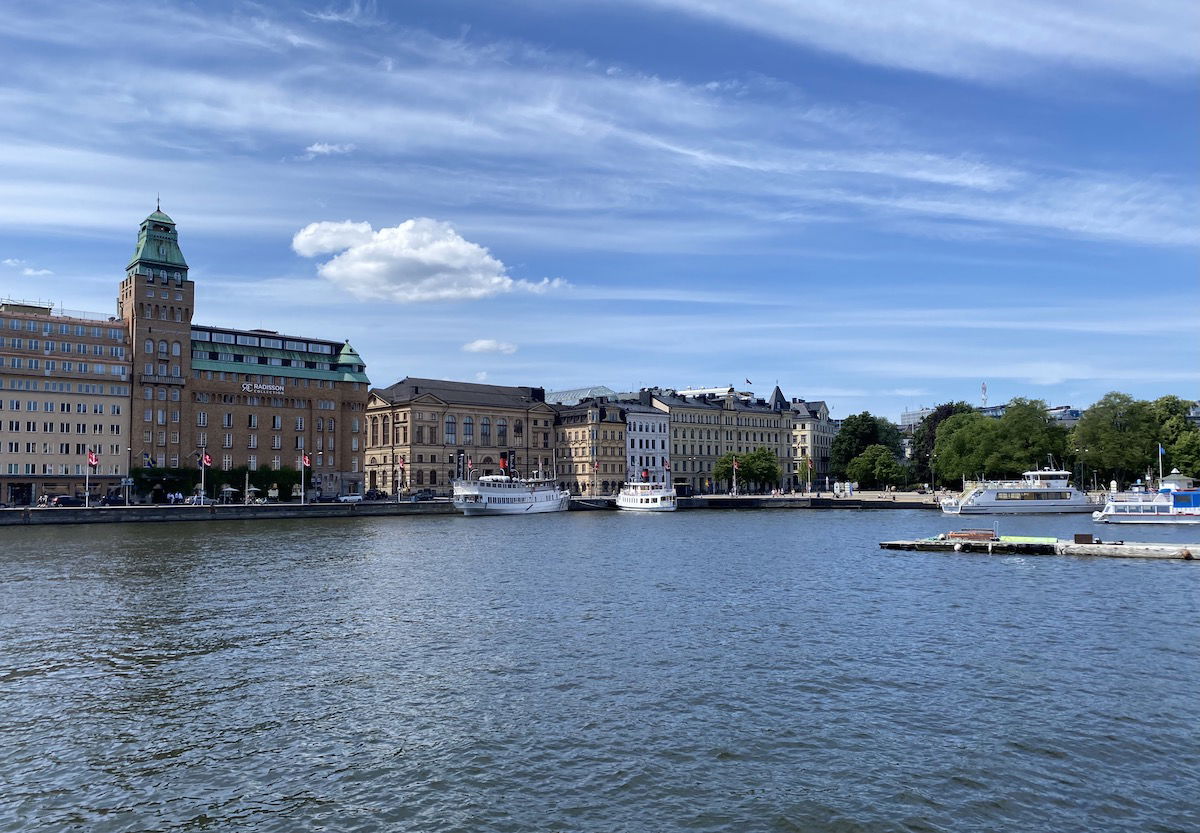 The hotel is set back on a side street, so there's little street noise, which is great. However, it also means that the hotel doesn't have much in the way of views.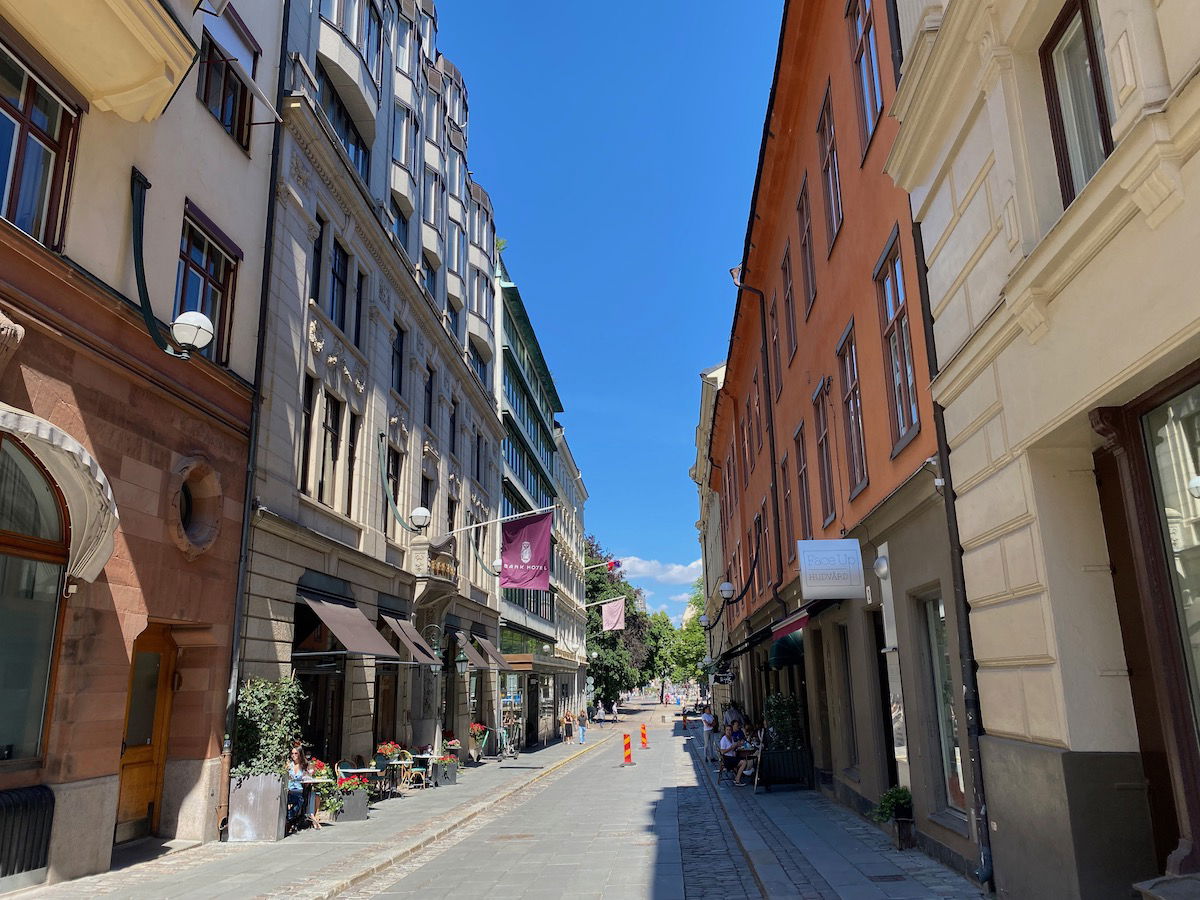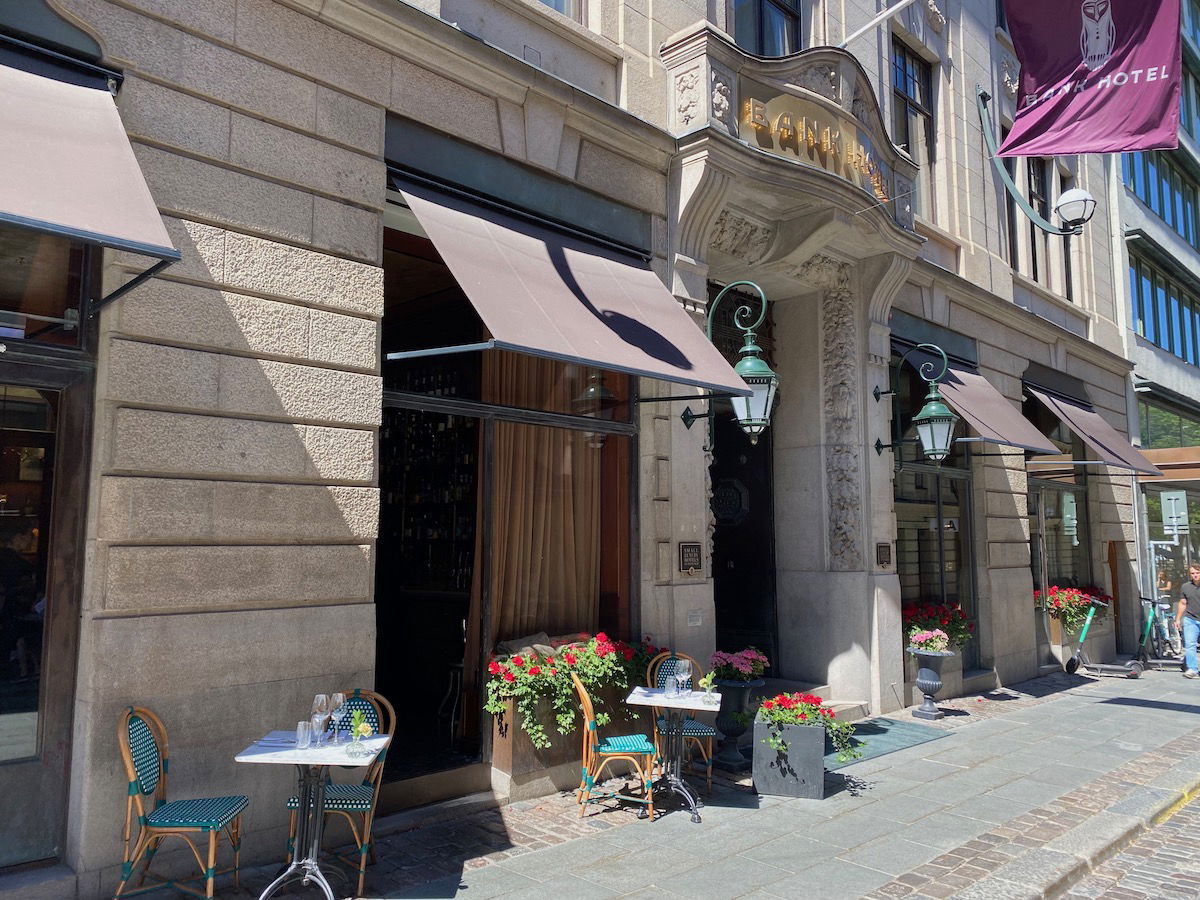 Bank Hotel Stockholm lobby & check-in
Bank Hotel has quite a grand entrance, with a red carpet going up a set of stairs. Reception was located inside the lobby and to the right.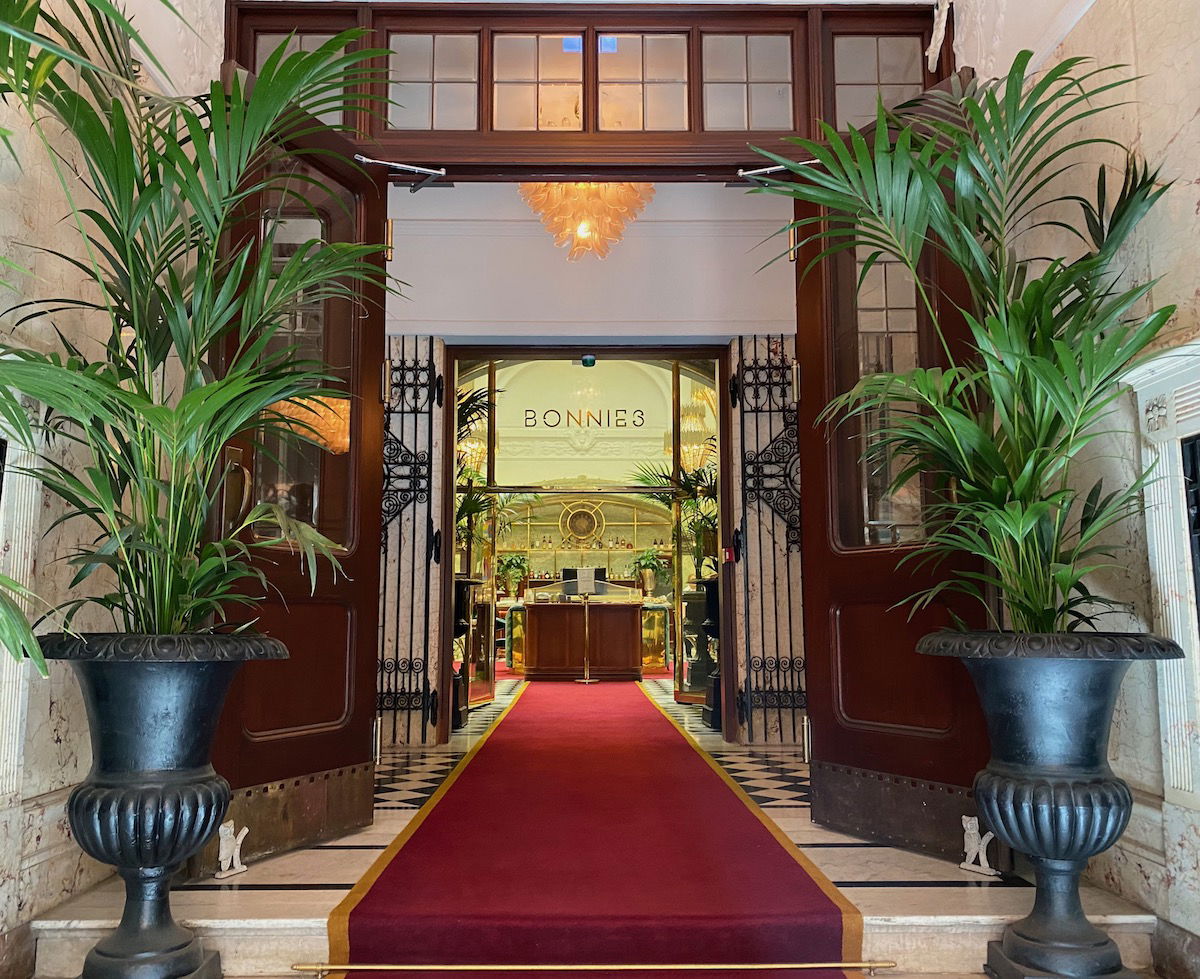 There we were immediately assisted by a friendly associate, who had us checked in within minutes. We were assigned room 501, an "Elegant Exceptional Room" (yes, this hotel has weird room names, hah). Booking through the Hyatt & SLH partnership offers a space available upgrade, so that explains the upgrade.
Breakfast was included, and the employee also explained some of the hotel's features, including the dining and gym options.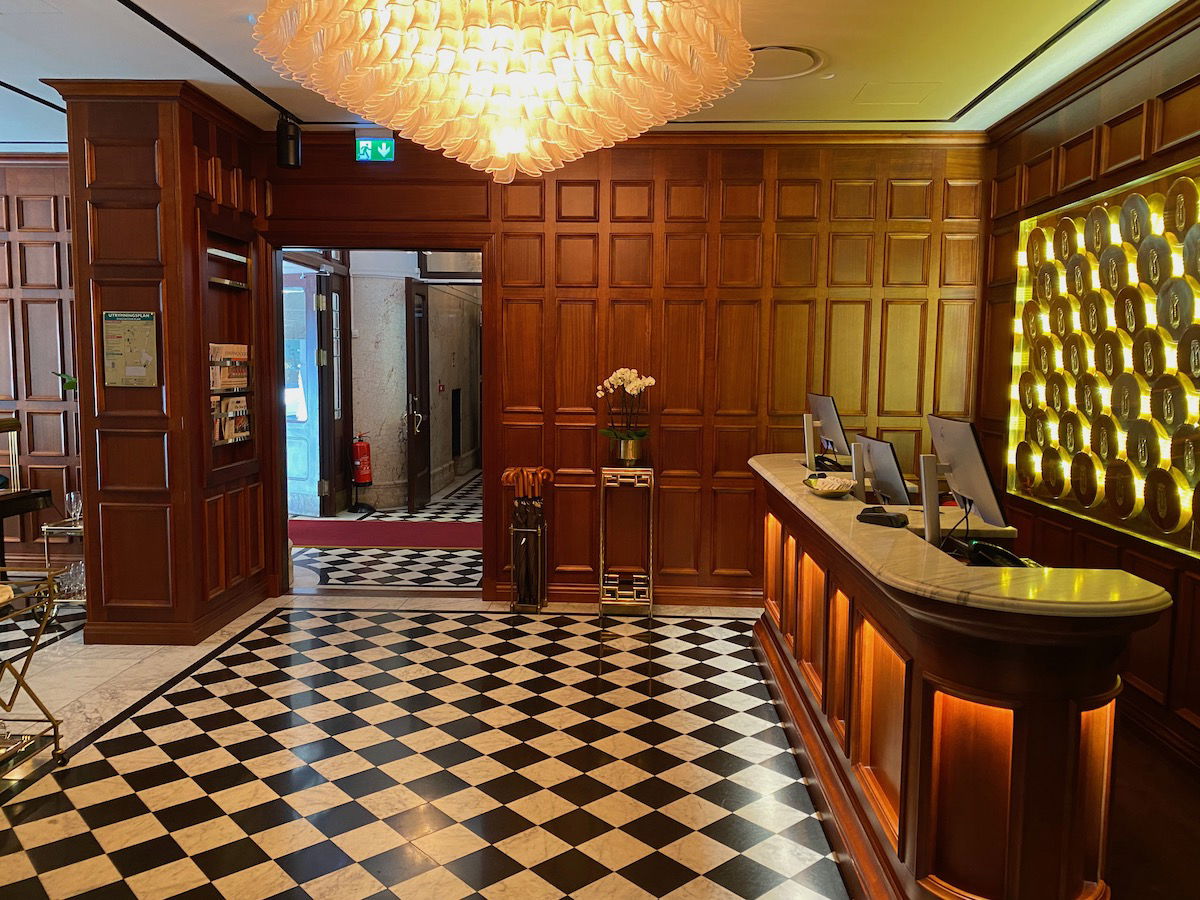 The lobby just had a small sitting area. Most of the public spaces of the hotel are taken up by restaurants and bars, which is understandable.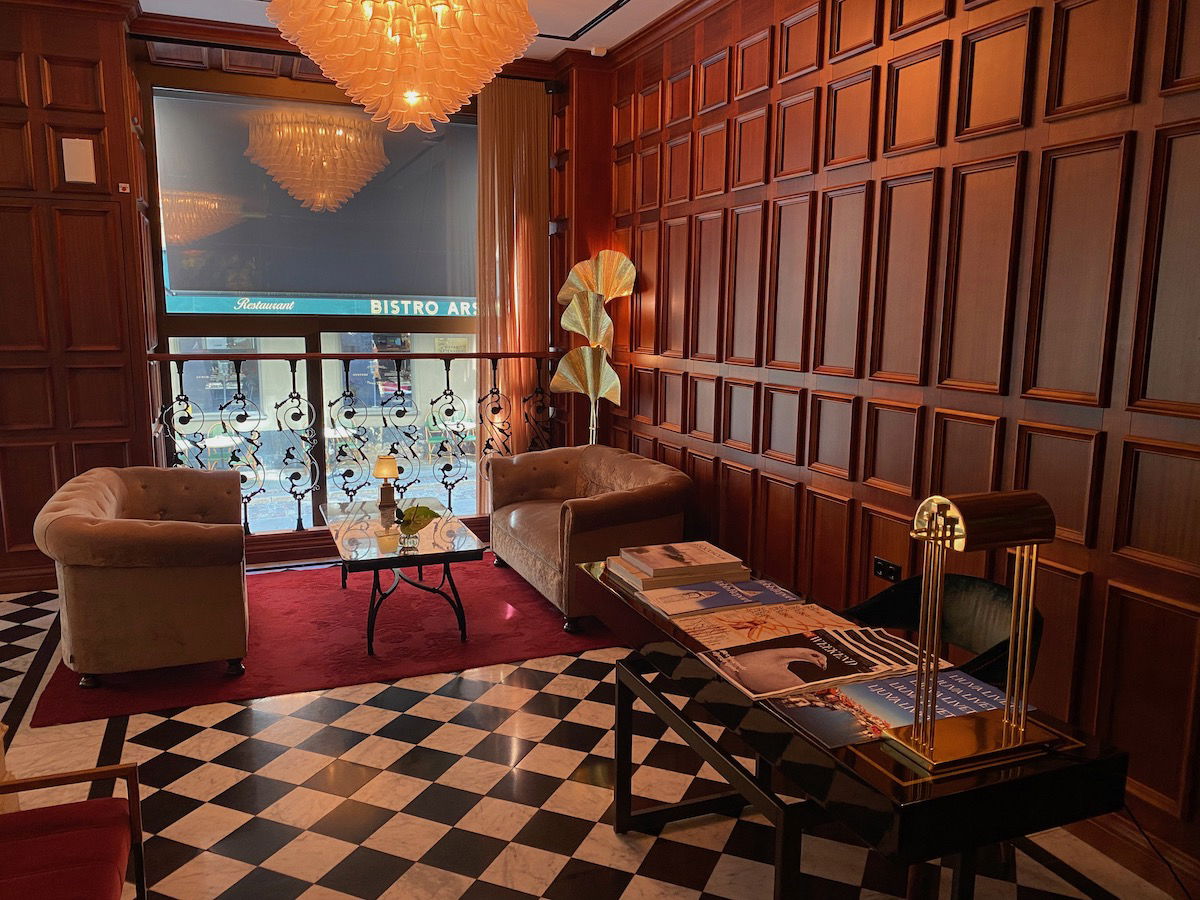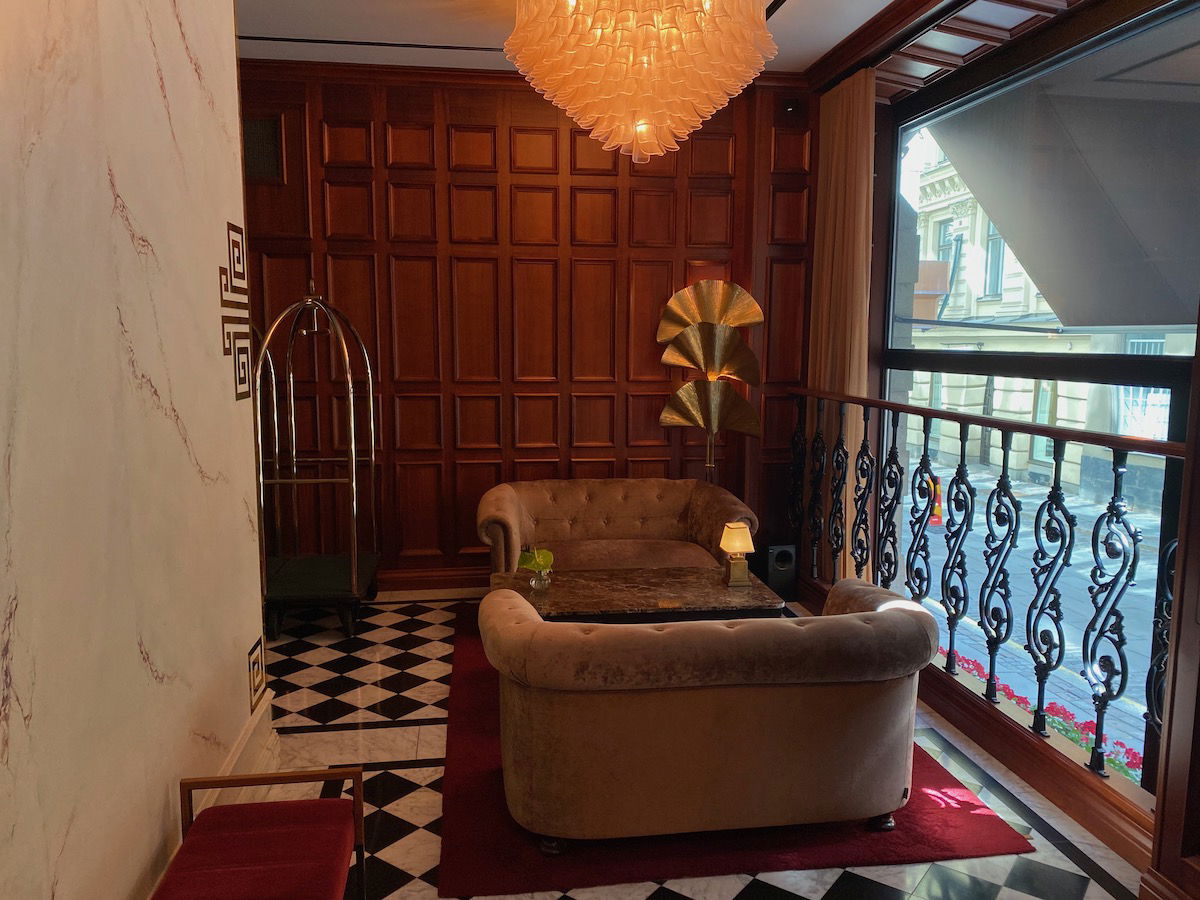 Bank Hotel Stockholm Elegant Exceptional Room
With keys in hand, we took the elevator up to the fifth floor (the hotel has eight floors), and found our room at the end of the hall.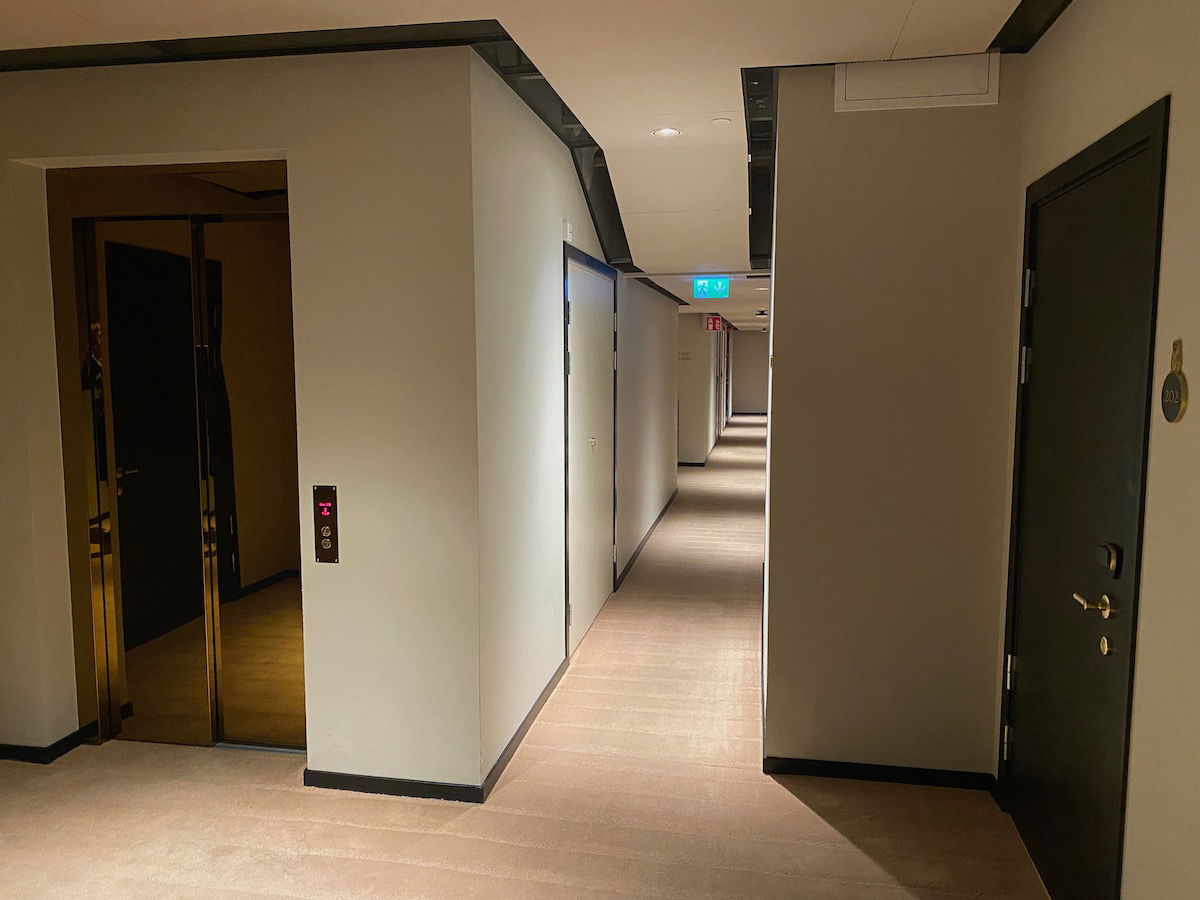 Hotel rooms in most of Europe tend to be quite small, though this room was a reasonably good size, and well designed. This room category was described as being 280-320 square feet. The room featured an entryway with the bathroom to the left and a closet to the right, with the rest of the room straight ahead.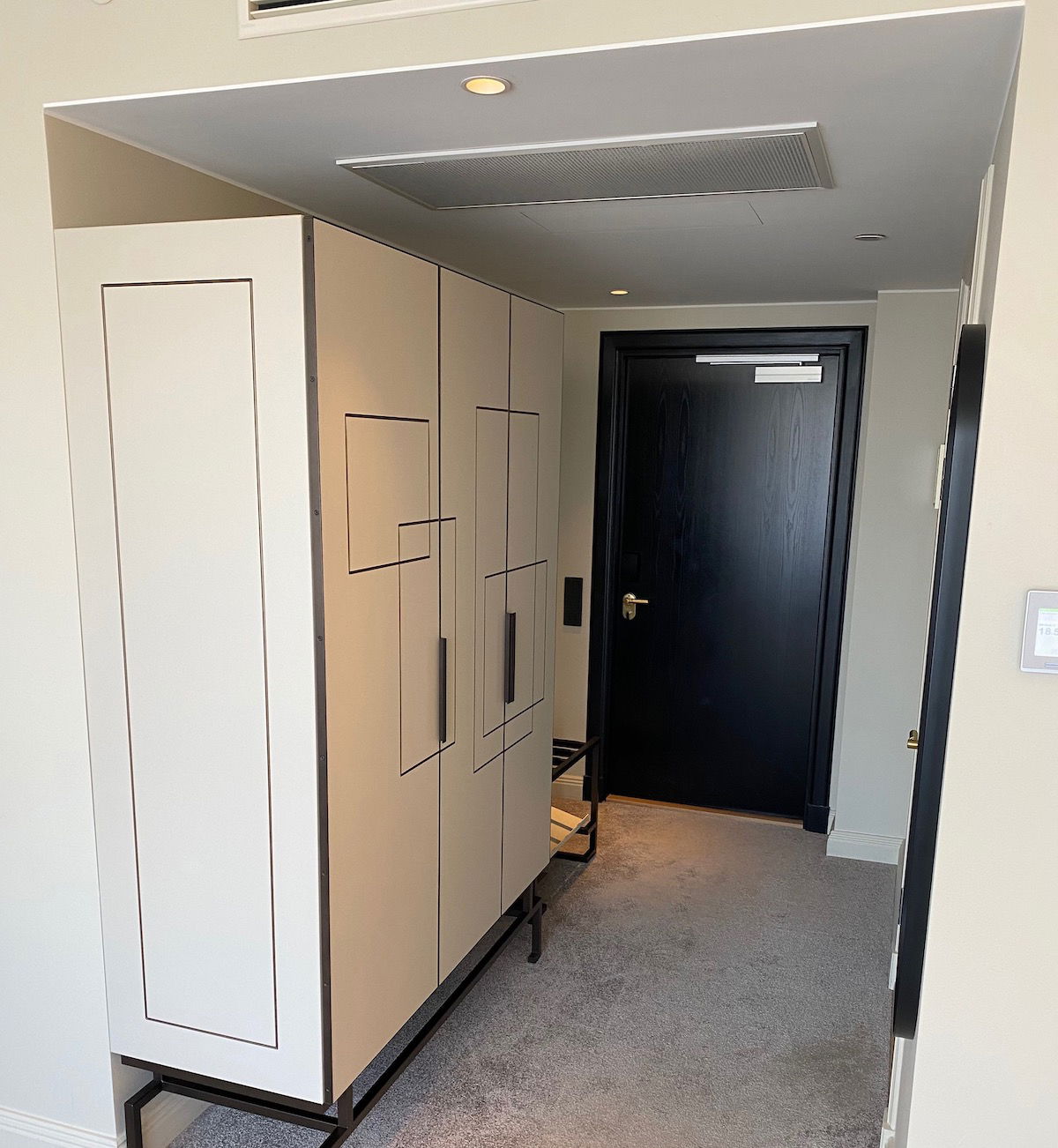 Once inside the main part of the room, the bed was to the left. Both the mattress and pillows were extremely thin, but I guess that's pretty standard in Northern Europe.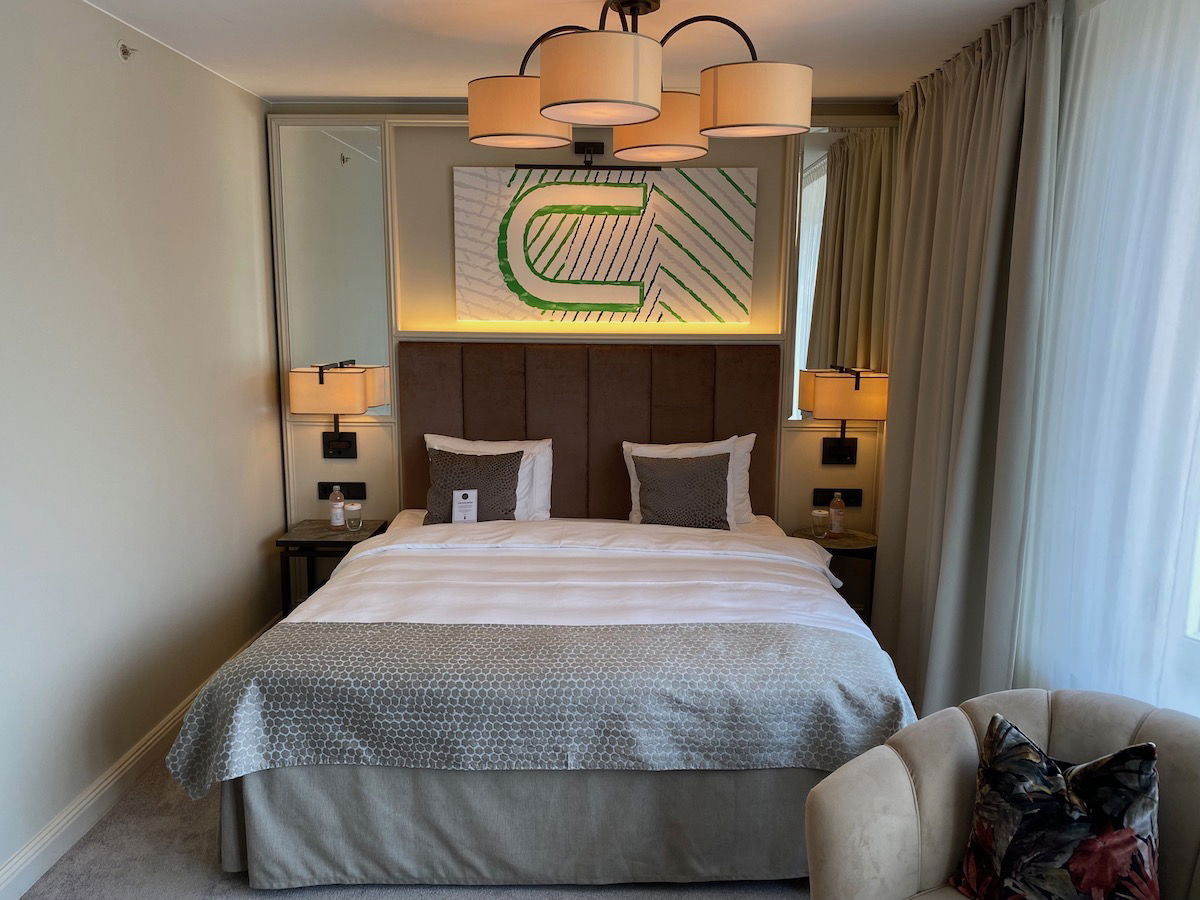 Across from the bed was a sitting area with two chairs and a side table.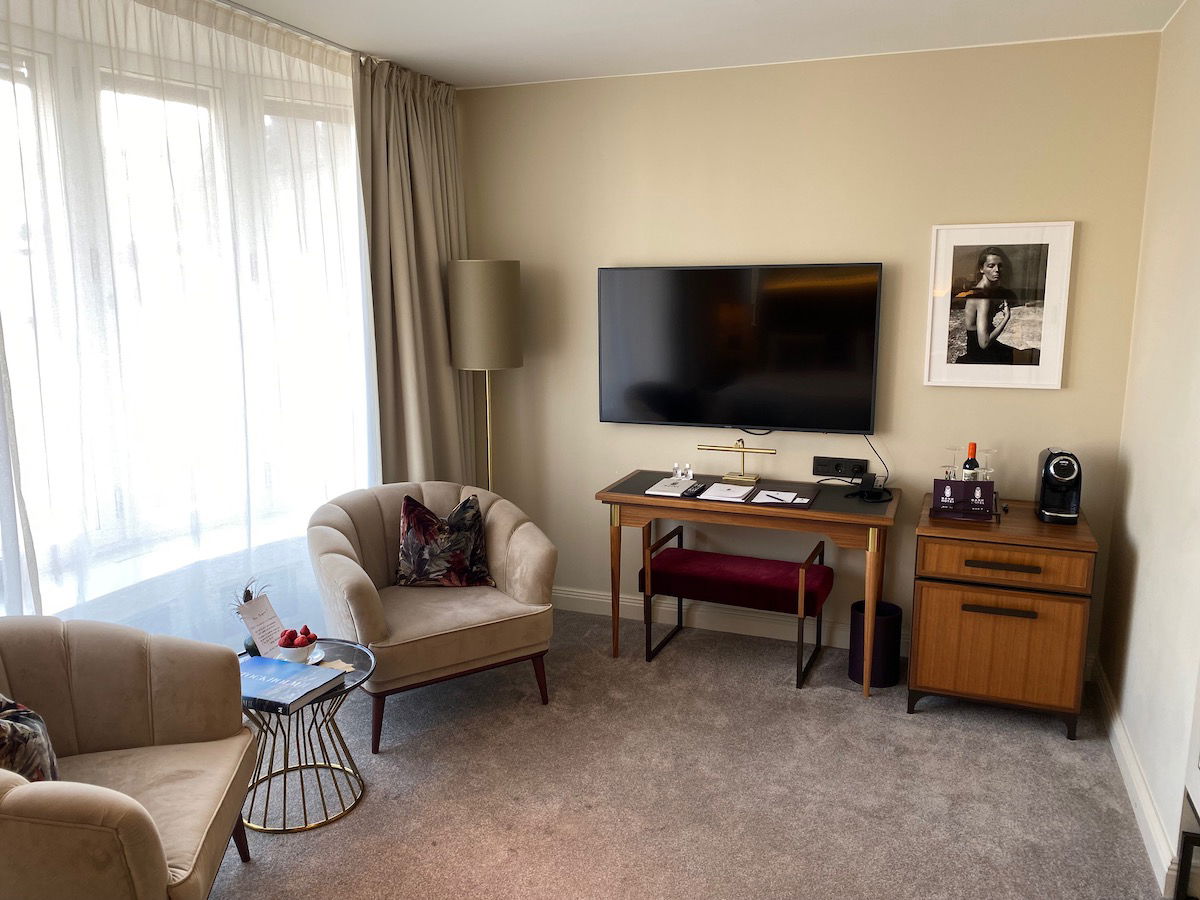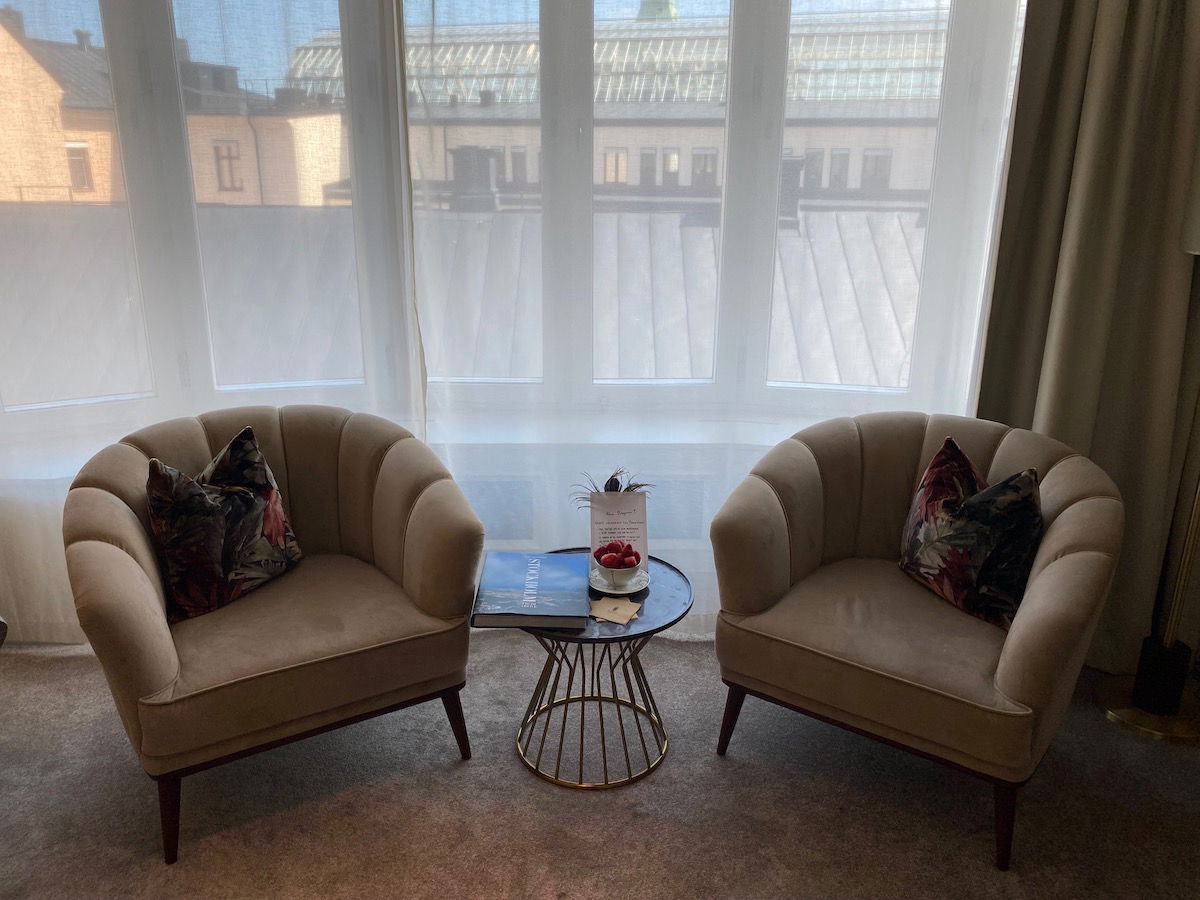 Then at the other end of the room was a table with a bench, the minibar, and a wall-mounted TV. The bench wasn't particularly comfortable for working in terms of back support, but it was fine.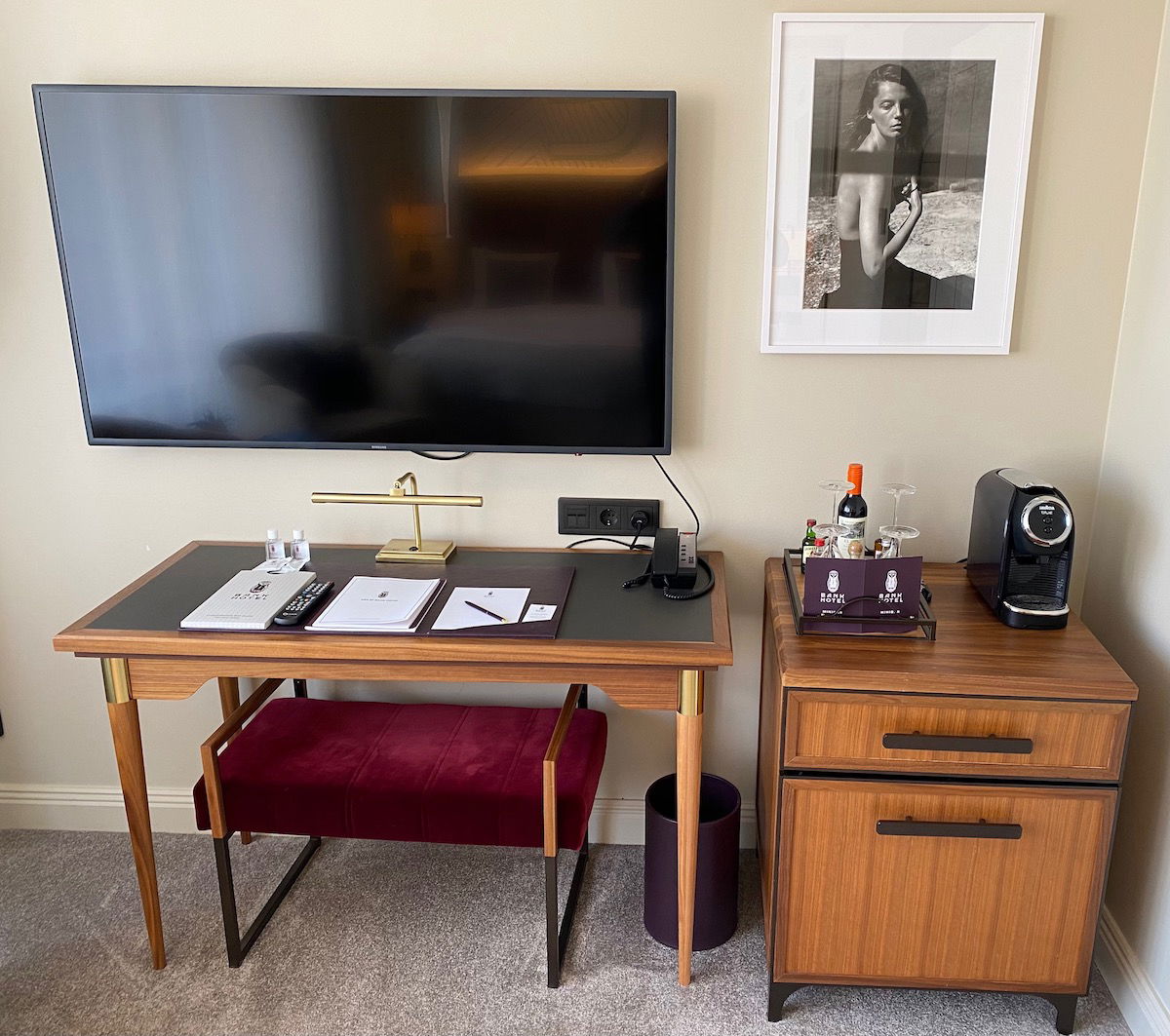 The minibar had a complimentary Lavazza coffee machine, as well as a variety of drinks and snacks for purchase.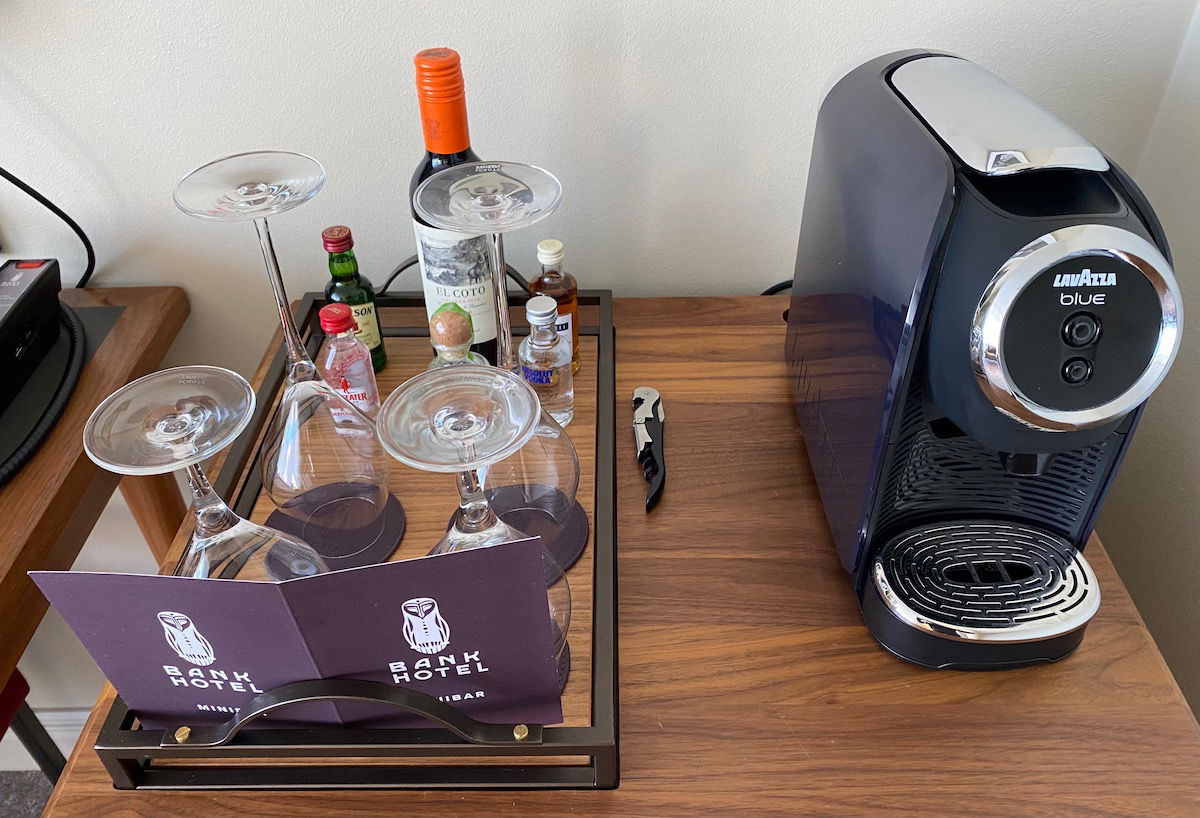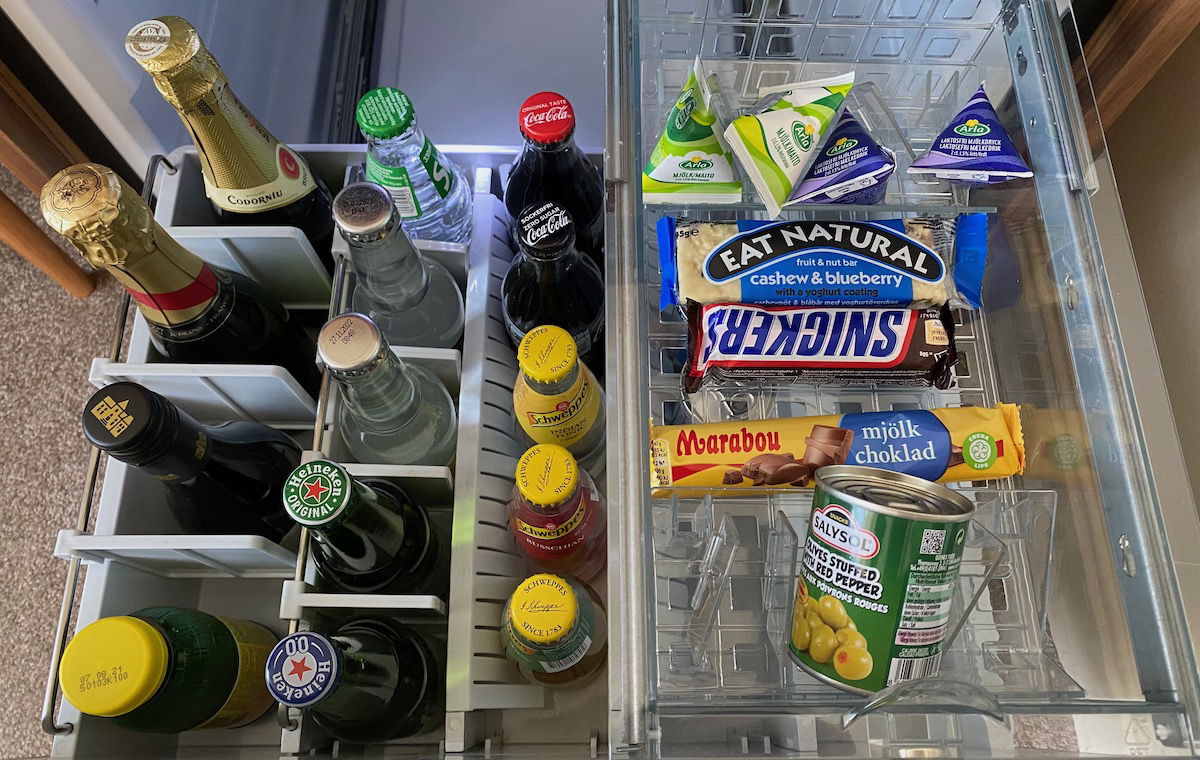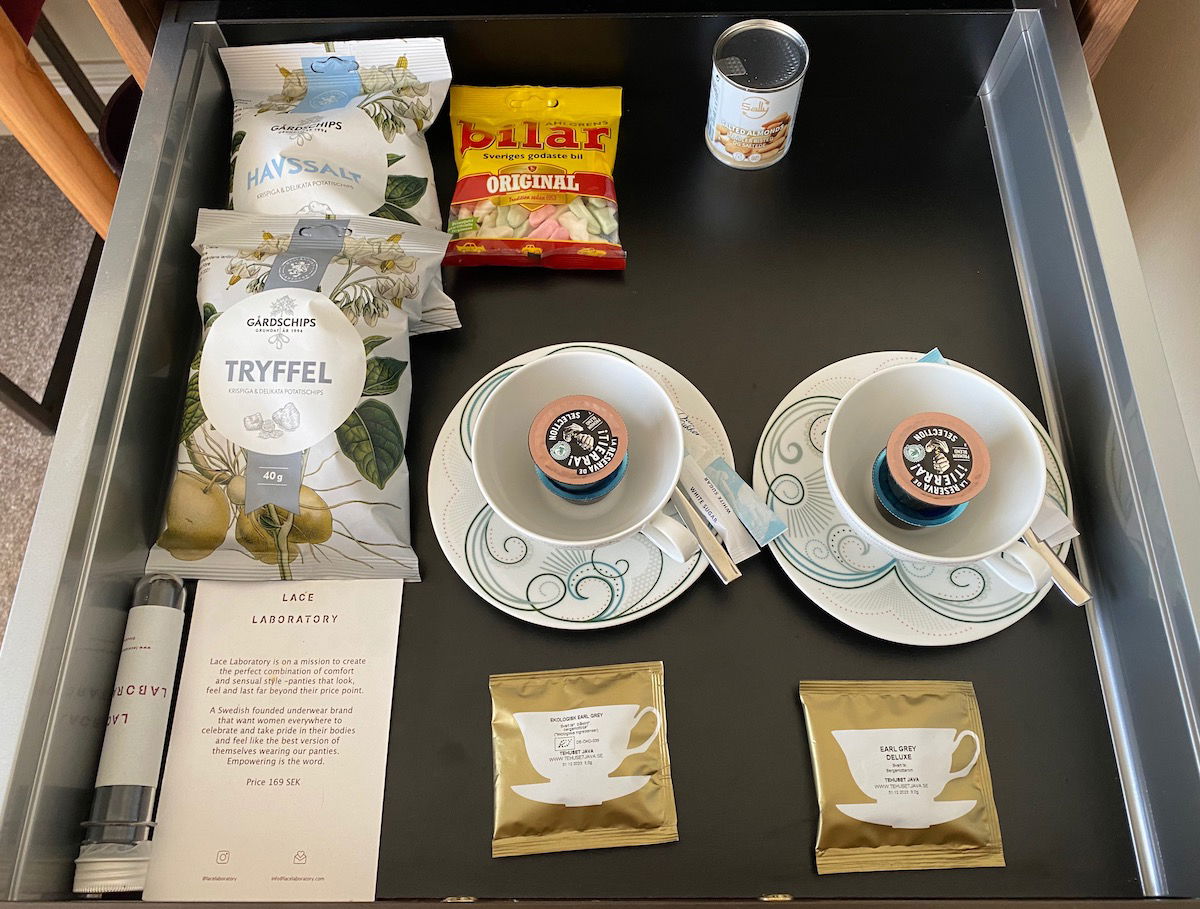 There was also a welcome amenity consisting of fresh strawberries, as well as some sort of a vitamin antioxidant drink. I thought it was interesting that the welcome note was written in Swedish, especially since my World of Hyatt account was linked (so they knew my address, and I'm guessing most World of Hyatt members aren't coming from Sweden).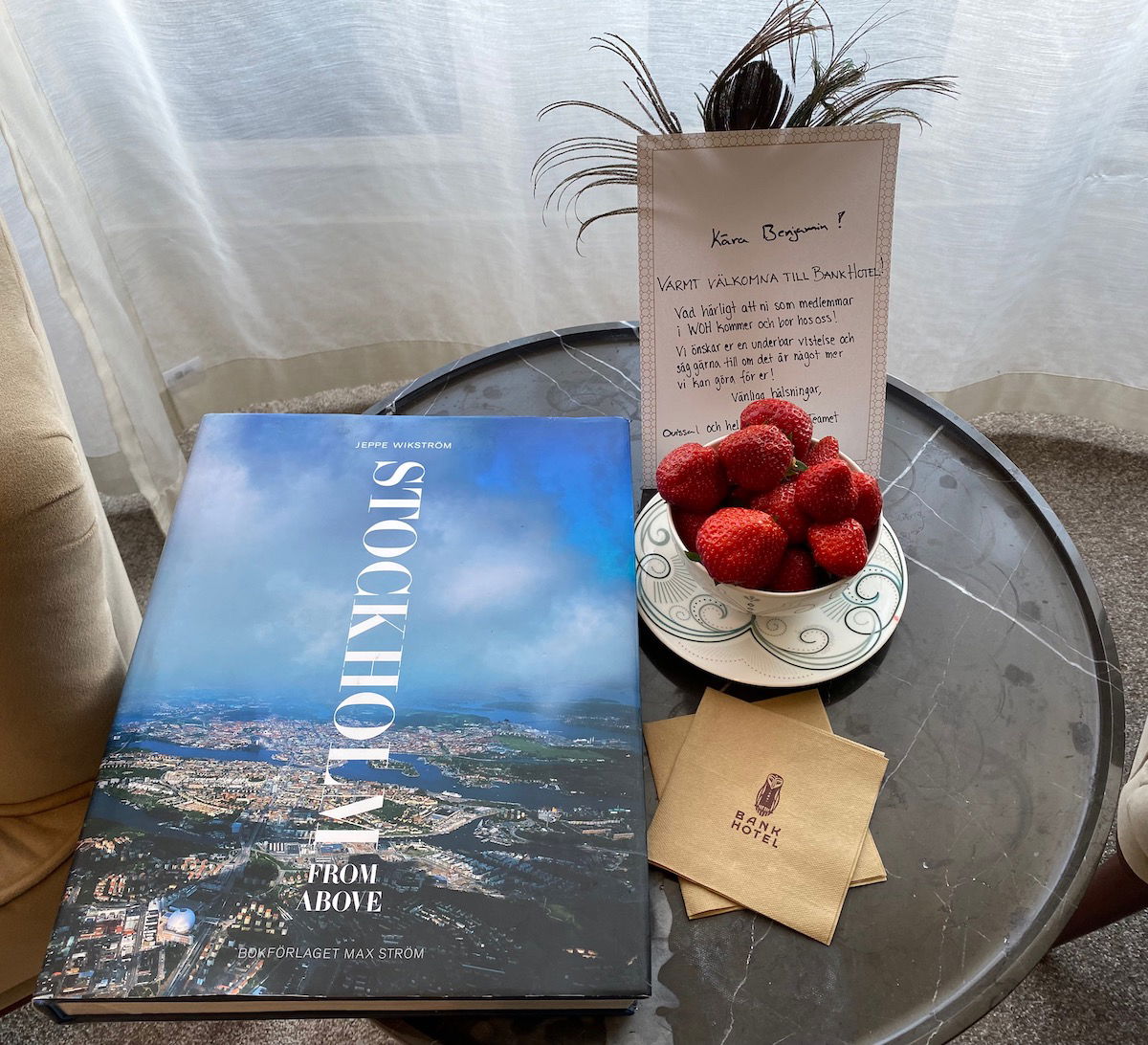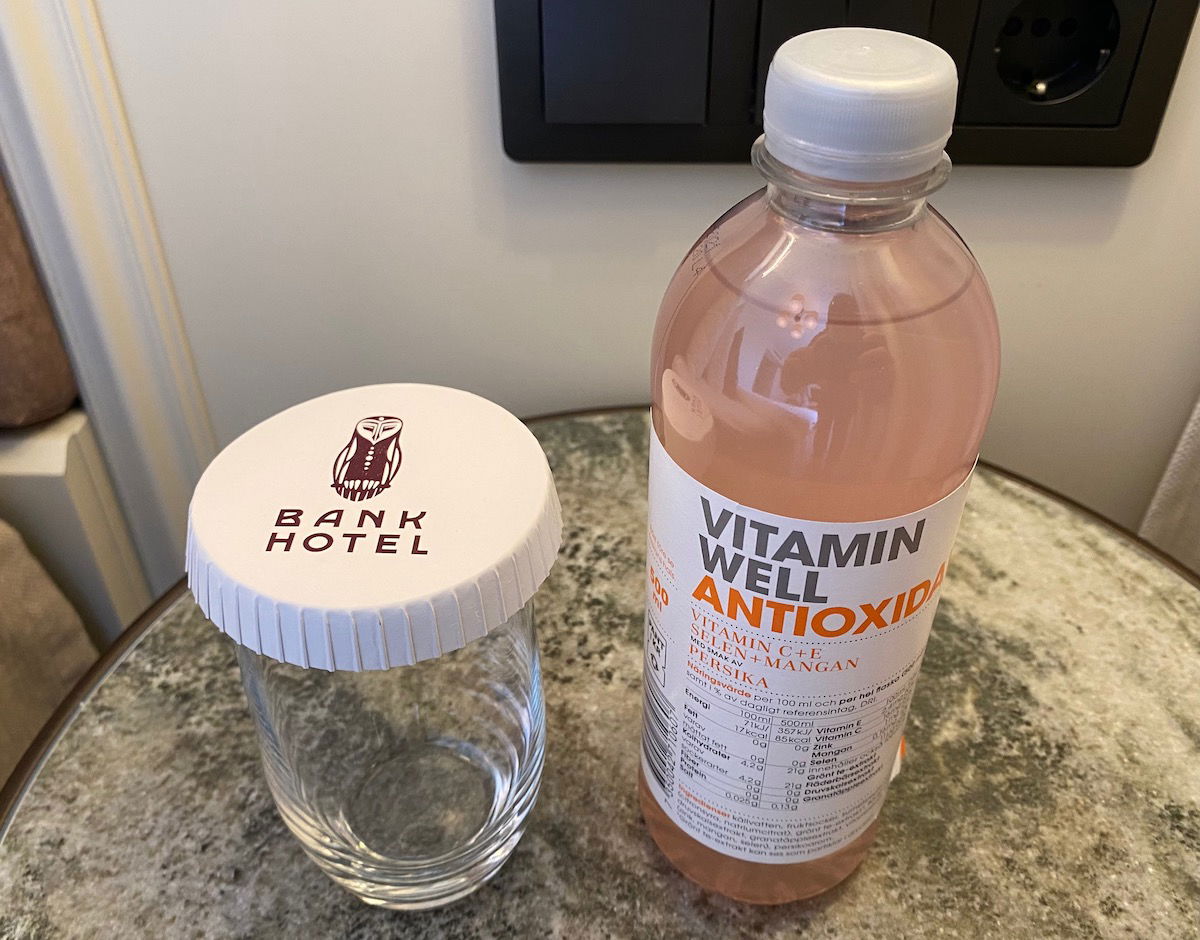 The room had views of the rooftops of surrounding buildings, so the room was quiet, but there wasn't all that much to see. The windows didn't open much either.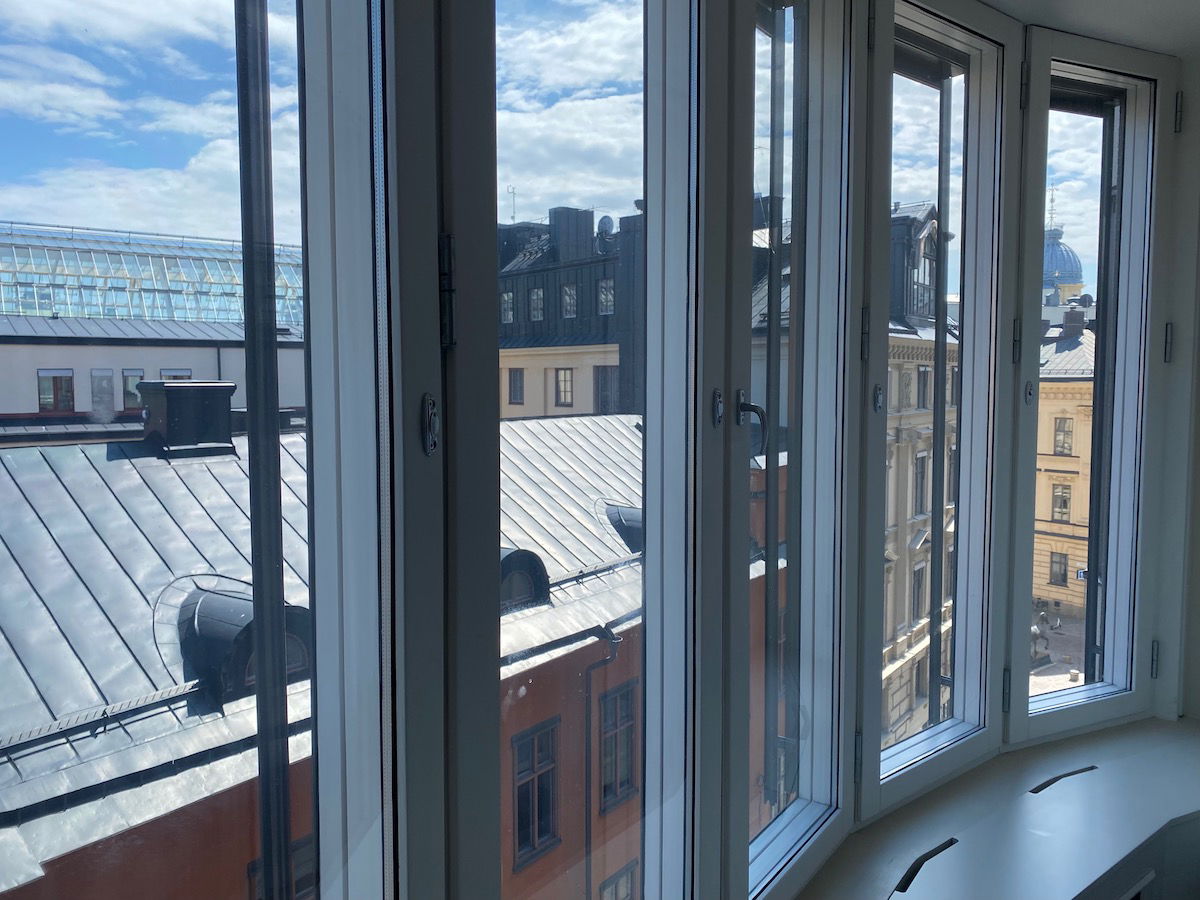 The bathroom was back near the entrance, and had a sink, a toilet, and a walk-in shower.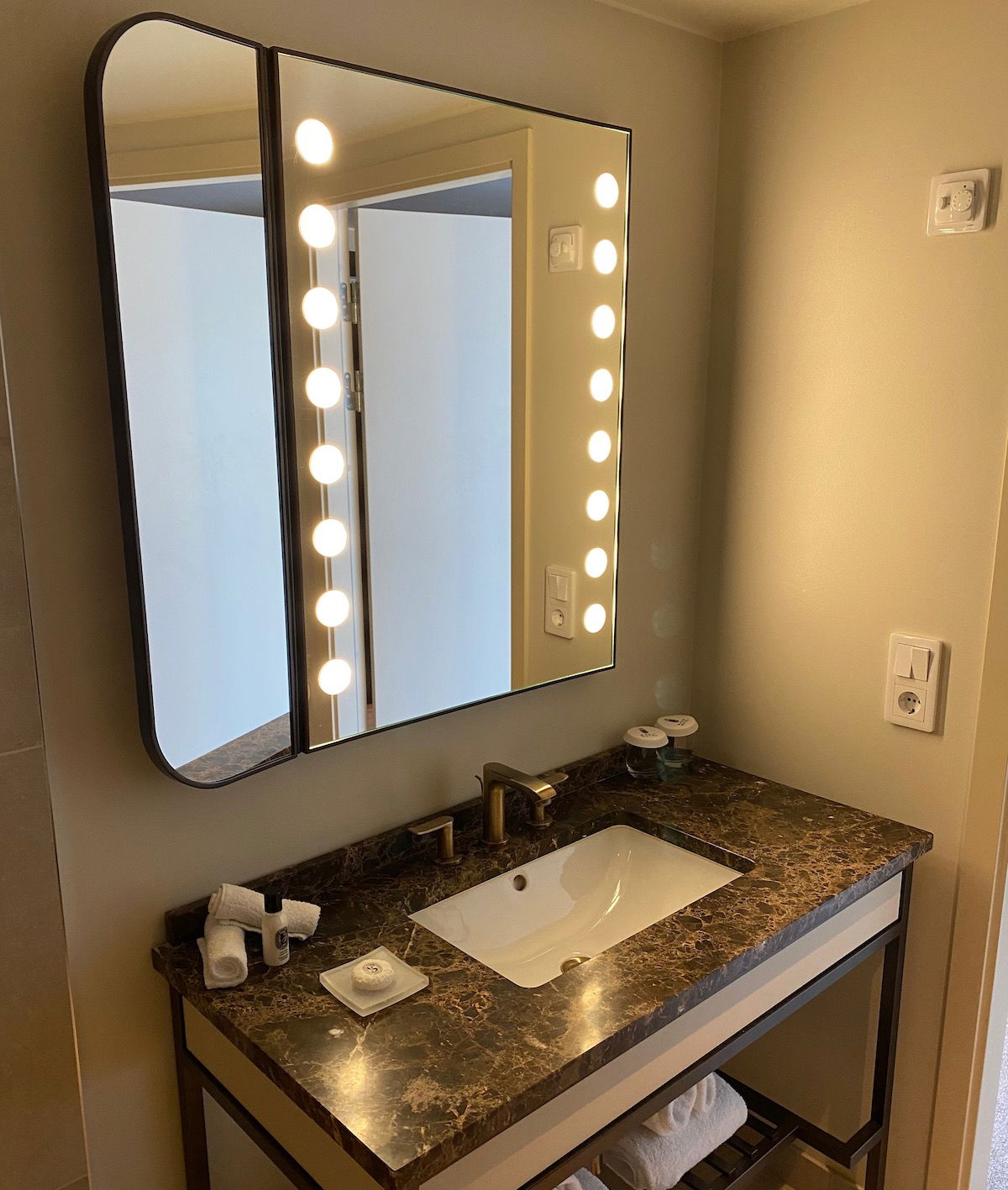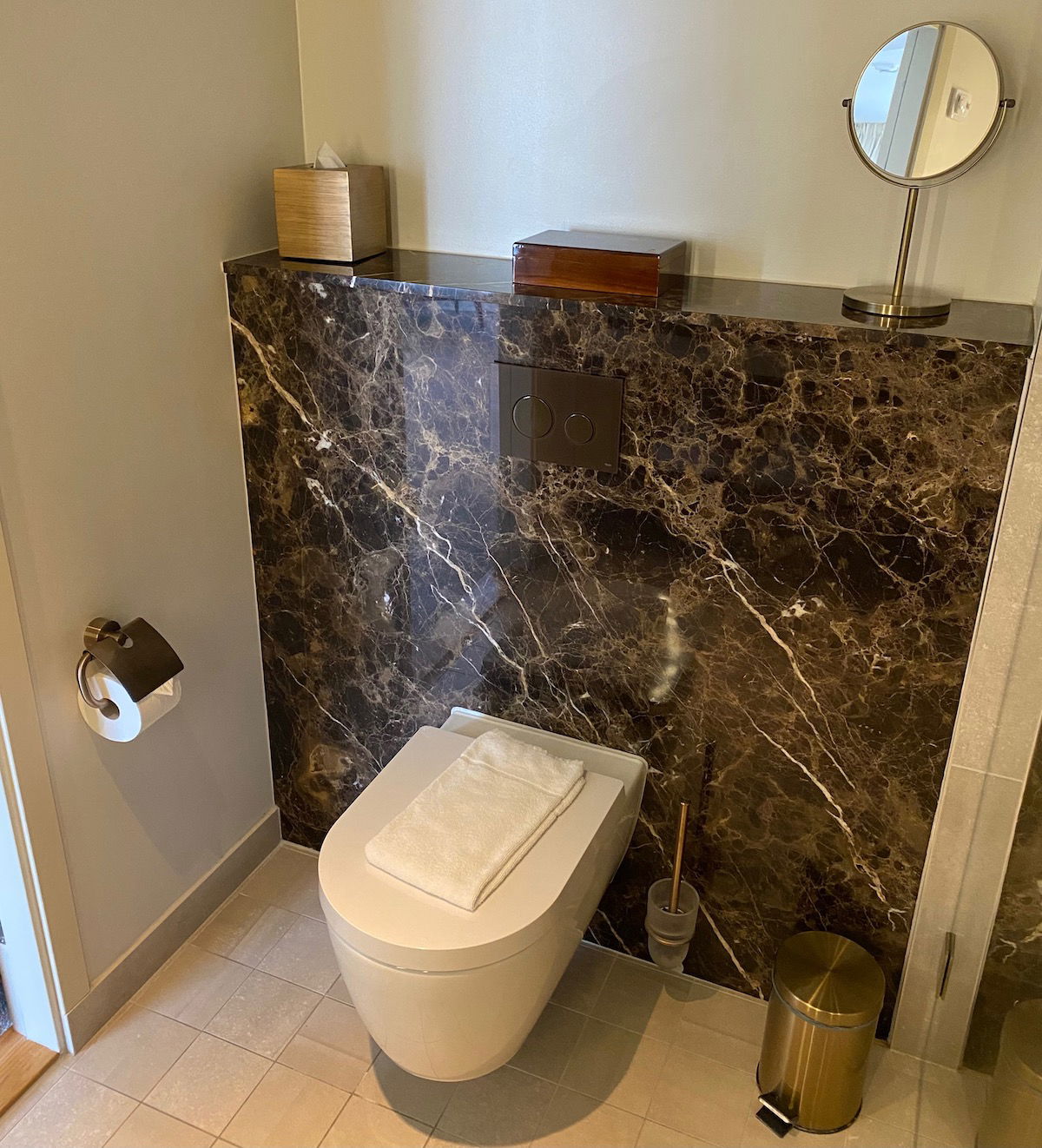 The shower had perfect water pressure, and had both a rainforest shower head and a handheld one.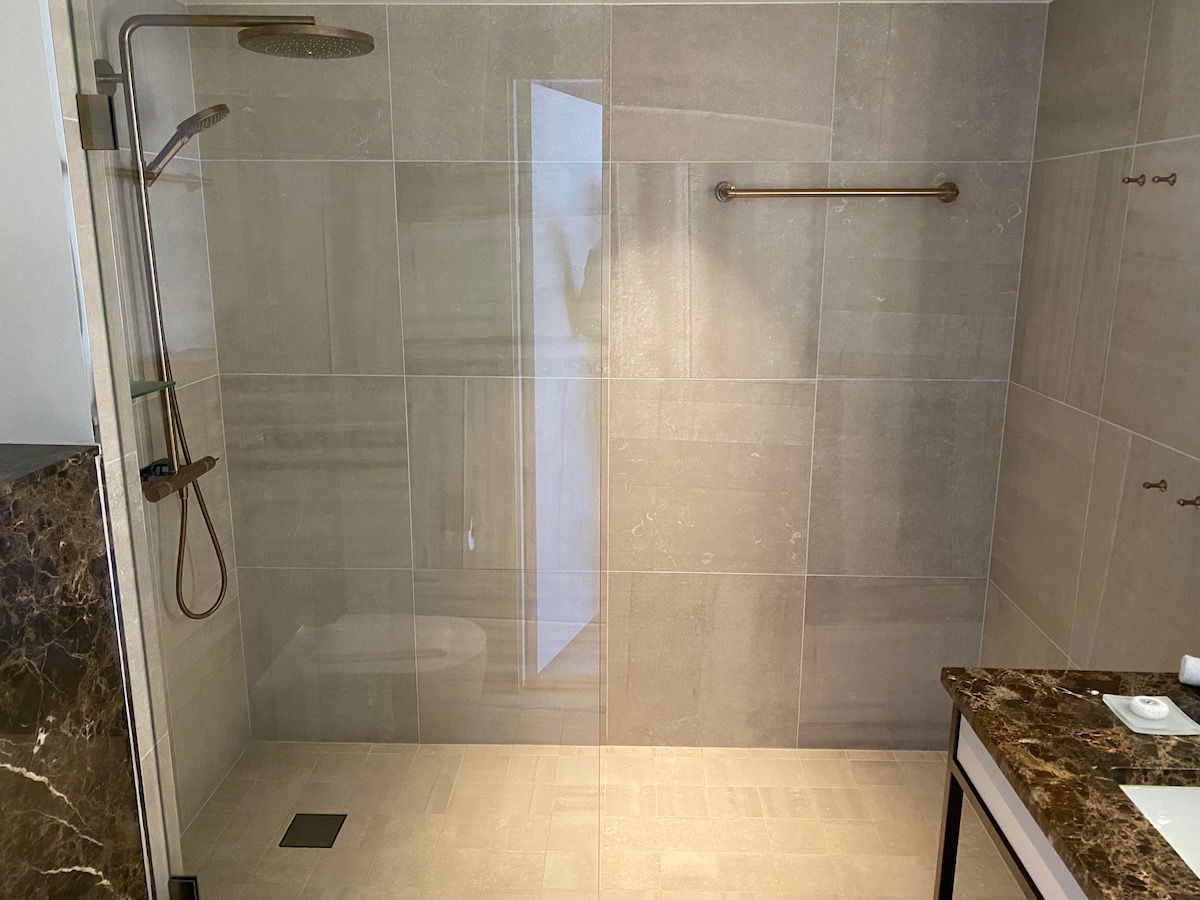 Toiletries were from Diptyque, and the scent was lovely. The only issue was that the bottles were really sturdy, and it was almost impossible to squeeze the liquids out of the bottles.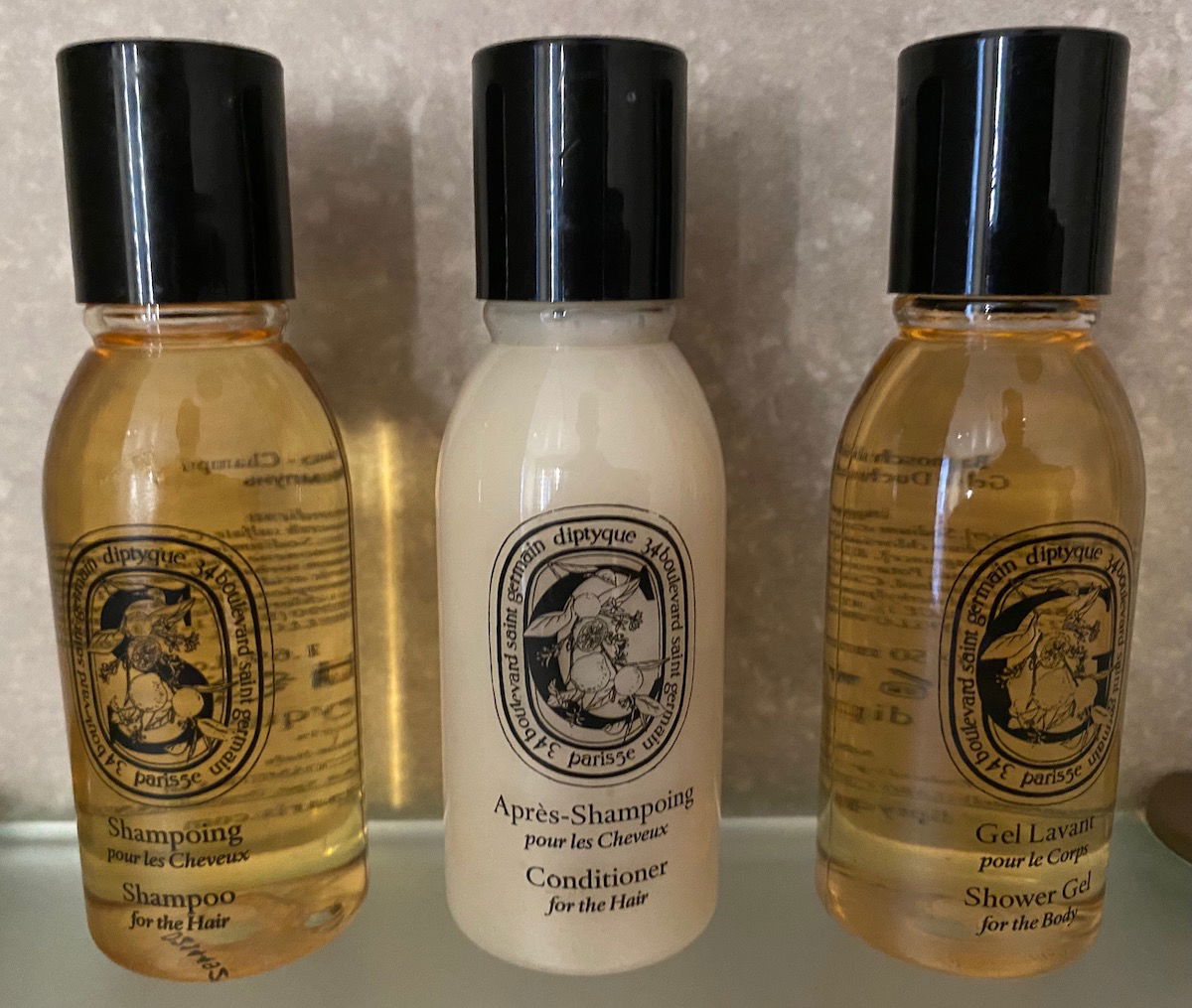 A couple more things to note about the room:
Wi-Fi was fast and free; the only issue was that you had to reconnect with each use, which got kind of annoying
While I imagine this isn't an issue for most of the year, the room did get a bit warm during the day, and air conditioning wasn't amazing (though also wasn't terrible); fortunately there was also a fan in the room
All-in-all, I thought the room was nicely furnished and designed, though there were a few areas for improvement, including bed comfort (though I recognize that's highly subjective, and in Northern Europe I'm probably in the minority when it comes to my preferences).
Bank Hotel Stockholm Bonnie's Restaurant (breakfast)
Breakfast is included for all guests at Bank Hotel — it's served from 7AM until 11AM on weekdays, and from 7AM until 12PM on weekends. It's served at Bonnie's Restaurant, the hotel's signature all-day dining restaurant located in the lobby. The restaurant is a gorgeous space.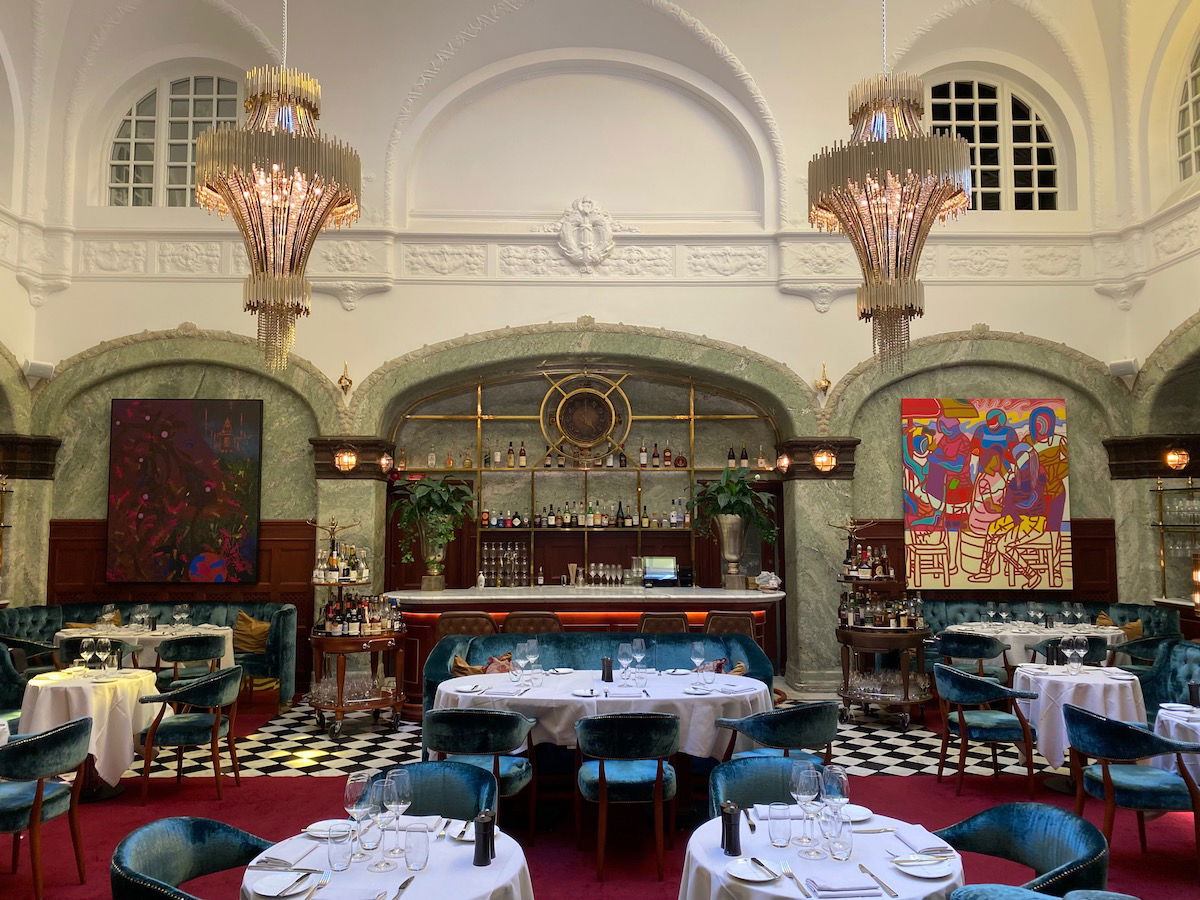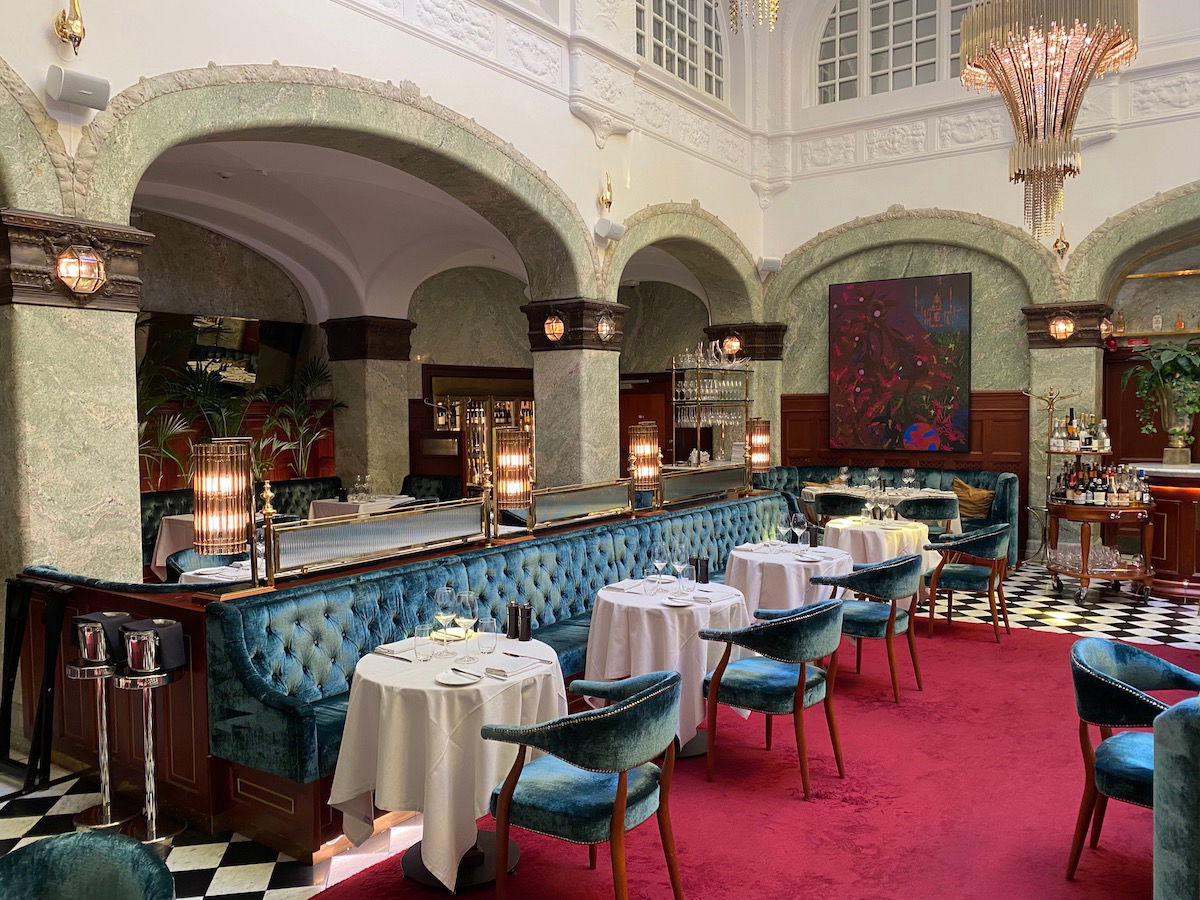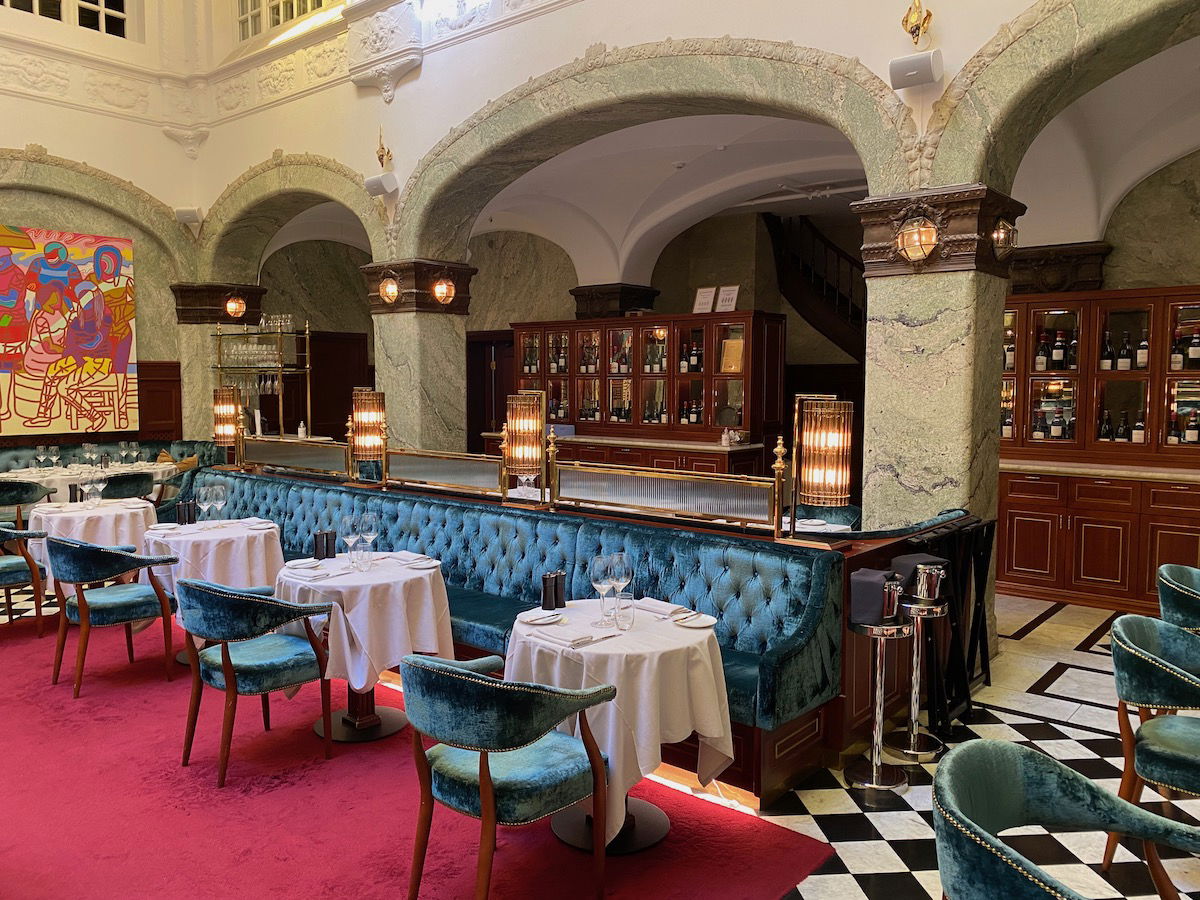 Breakfast included a buffet, and then there was also a menu you could use to supplement it (you could order as much as you wanted). The breakfast menu read as follows: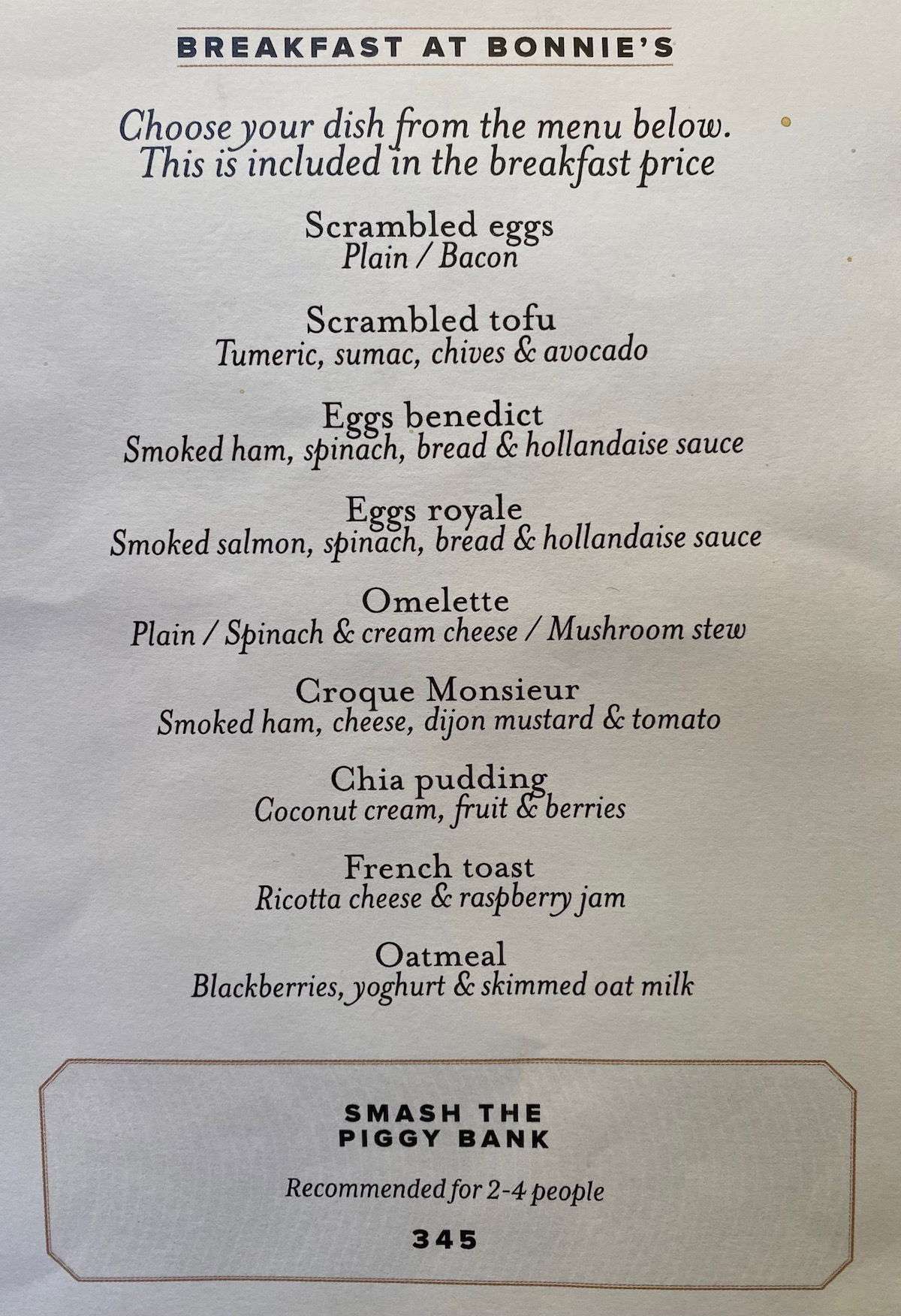 As far as the buffet goes, there was a station in the center of the restaurant with all kinds of fresh fruit, as well as fresh fruit juice and smoothies.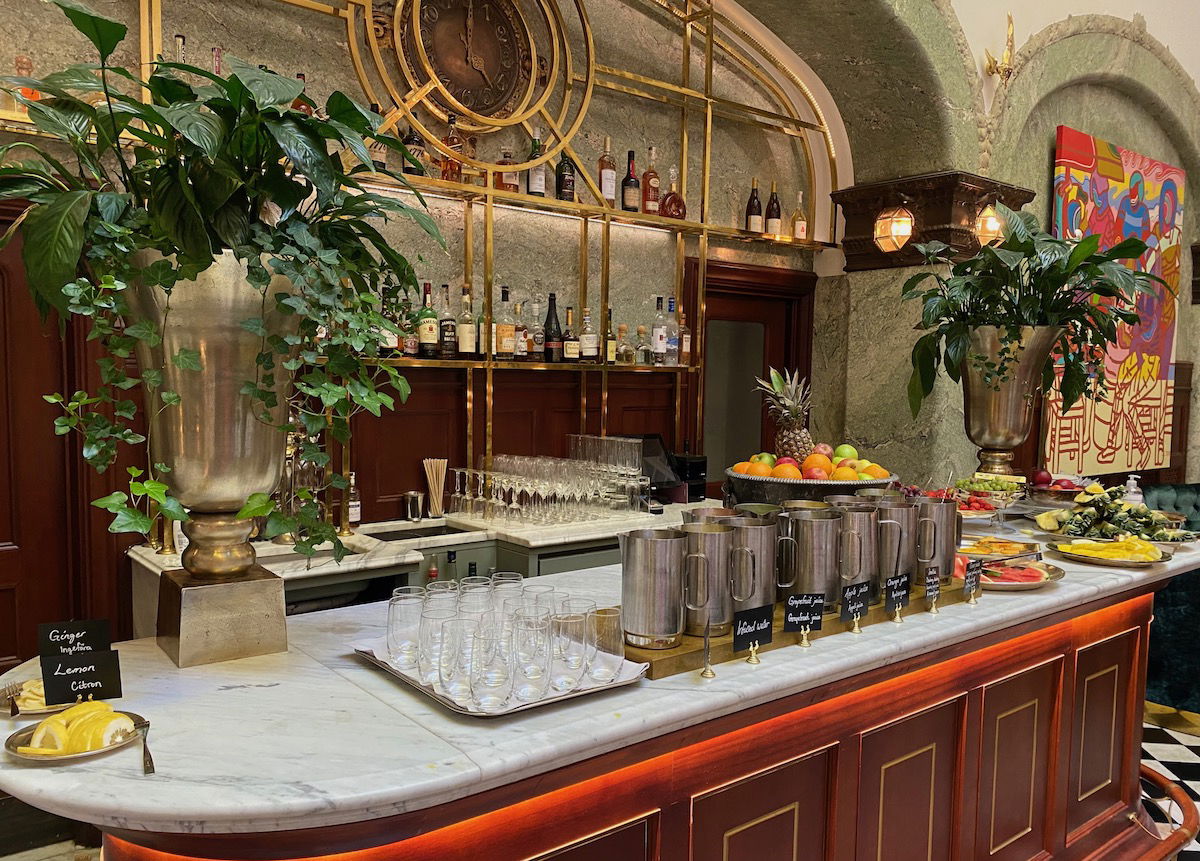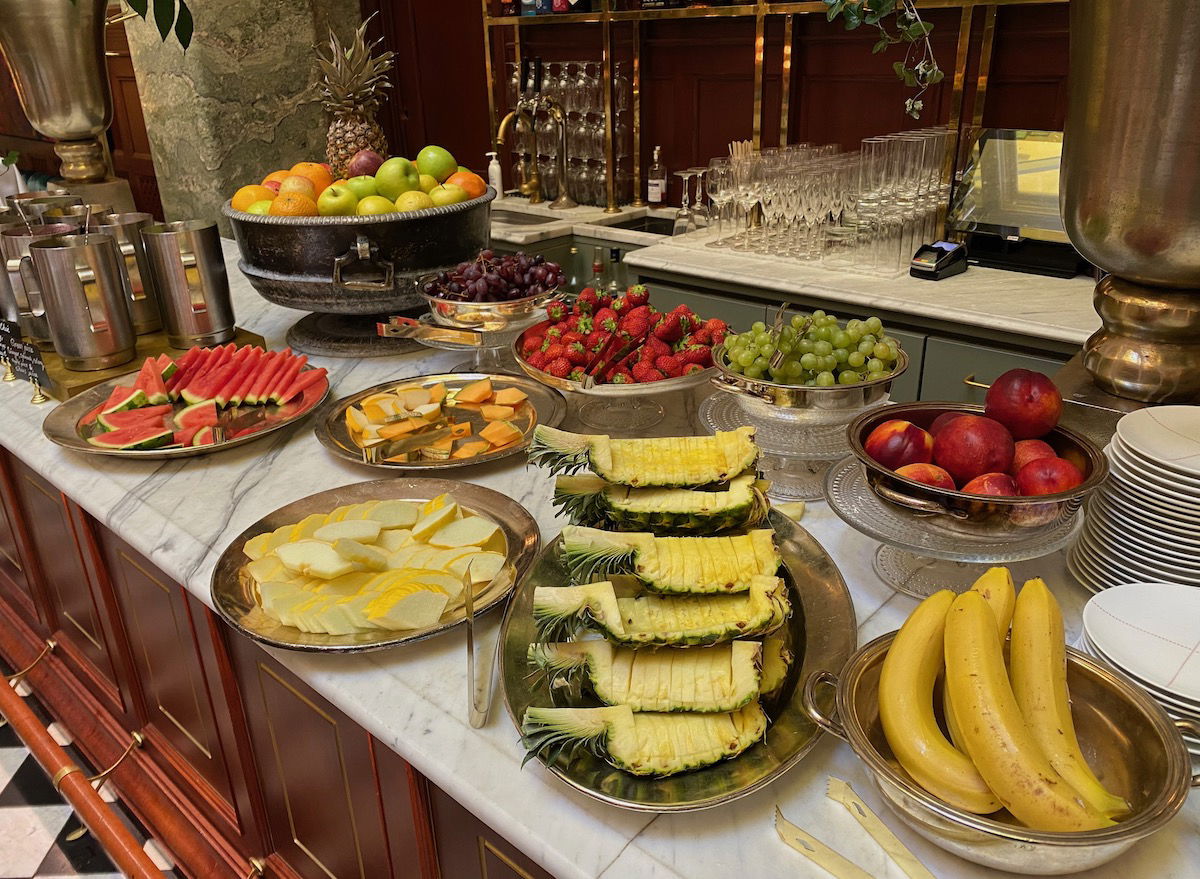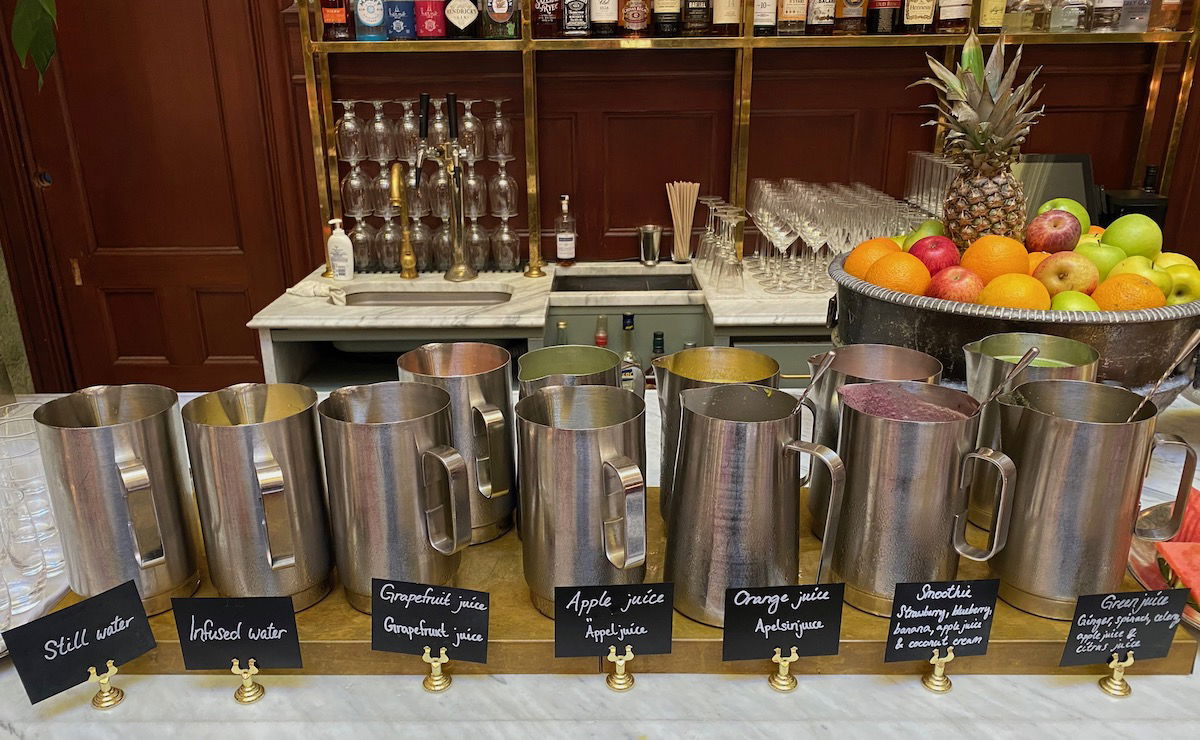 The rest of the buffet was in the corner of the restaurant, and included cold cuts, cheese, veggies, croissants, pastries, cereal, and bread.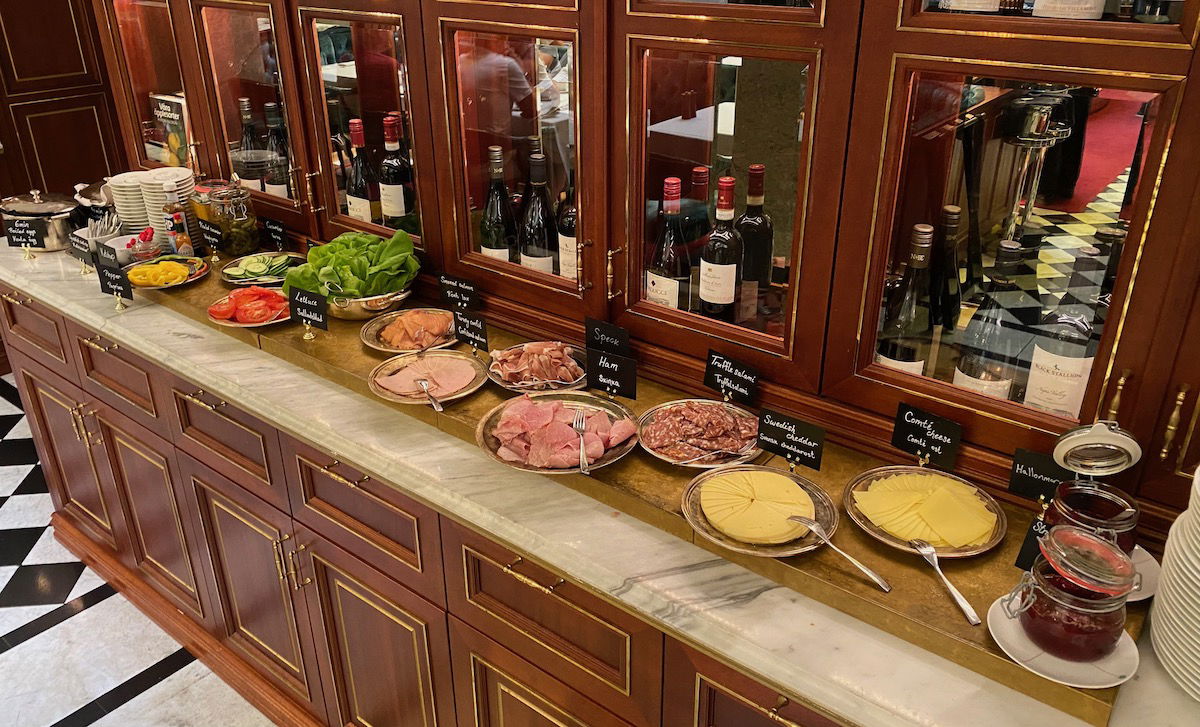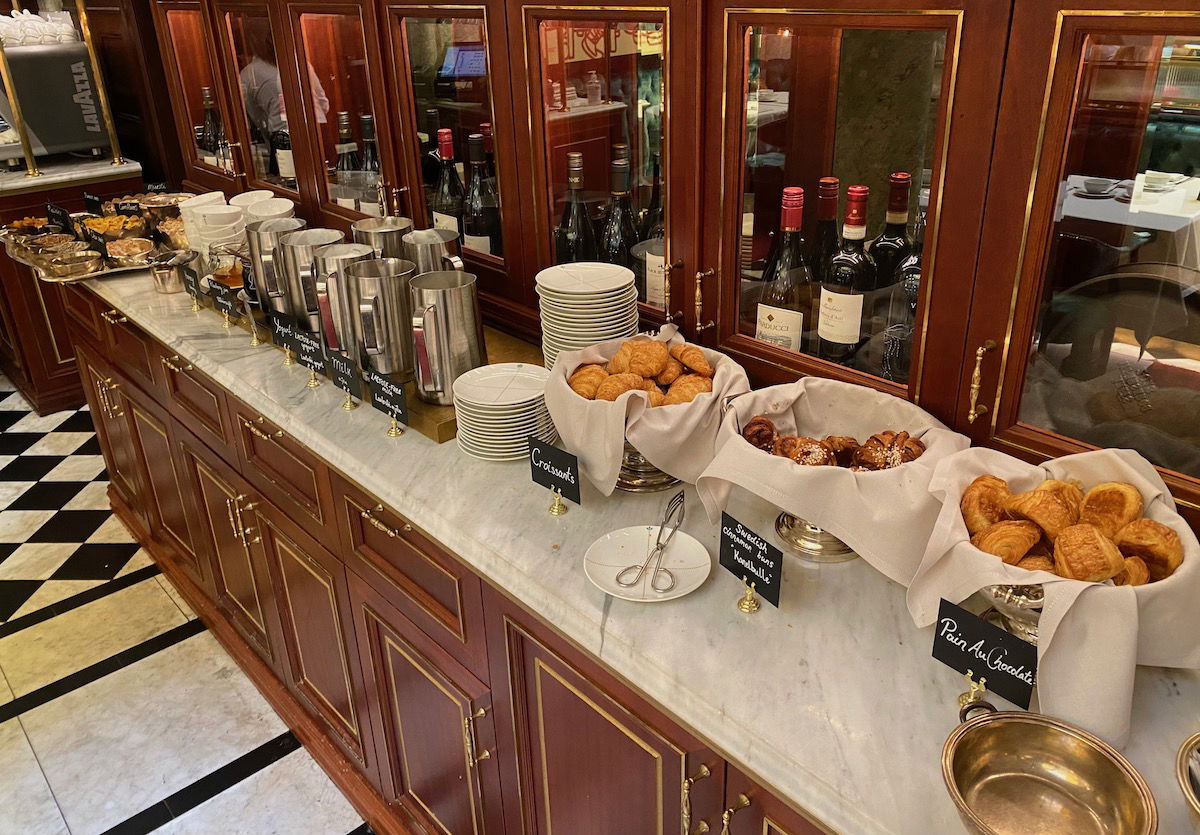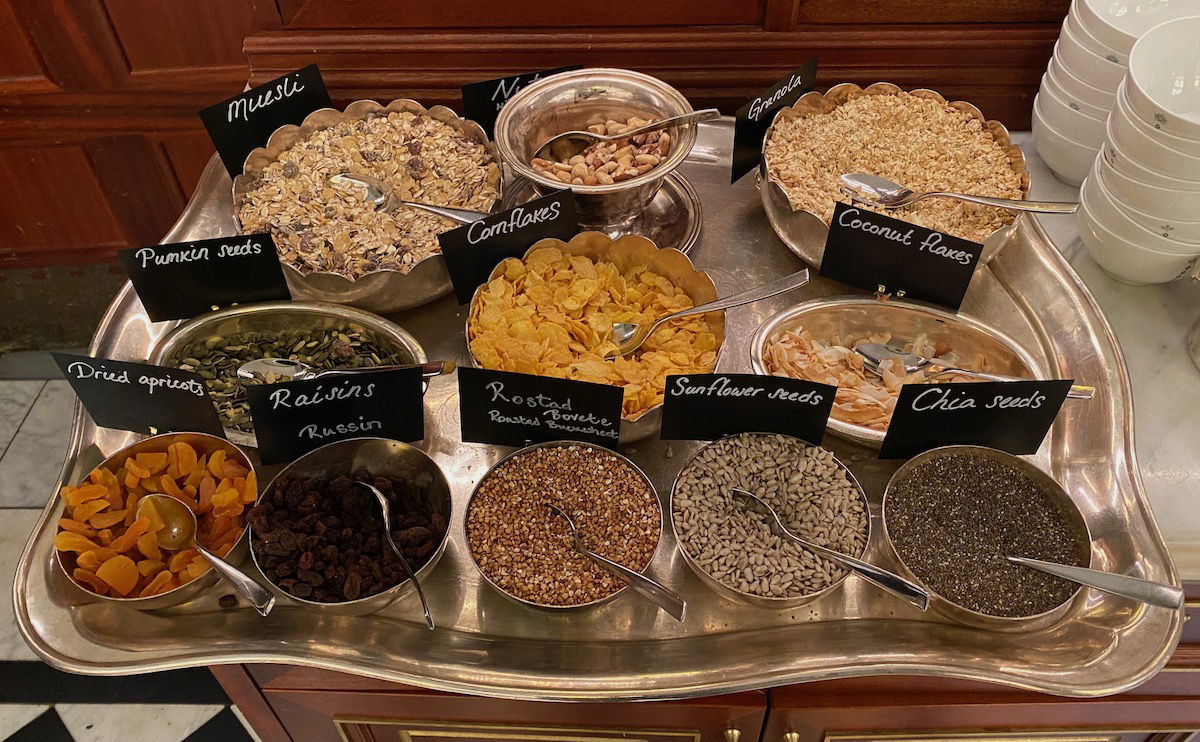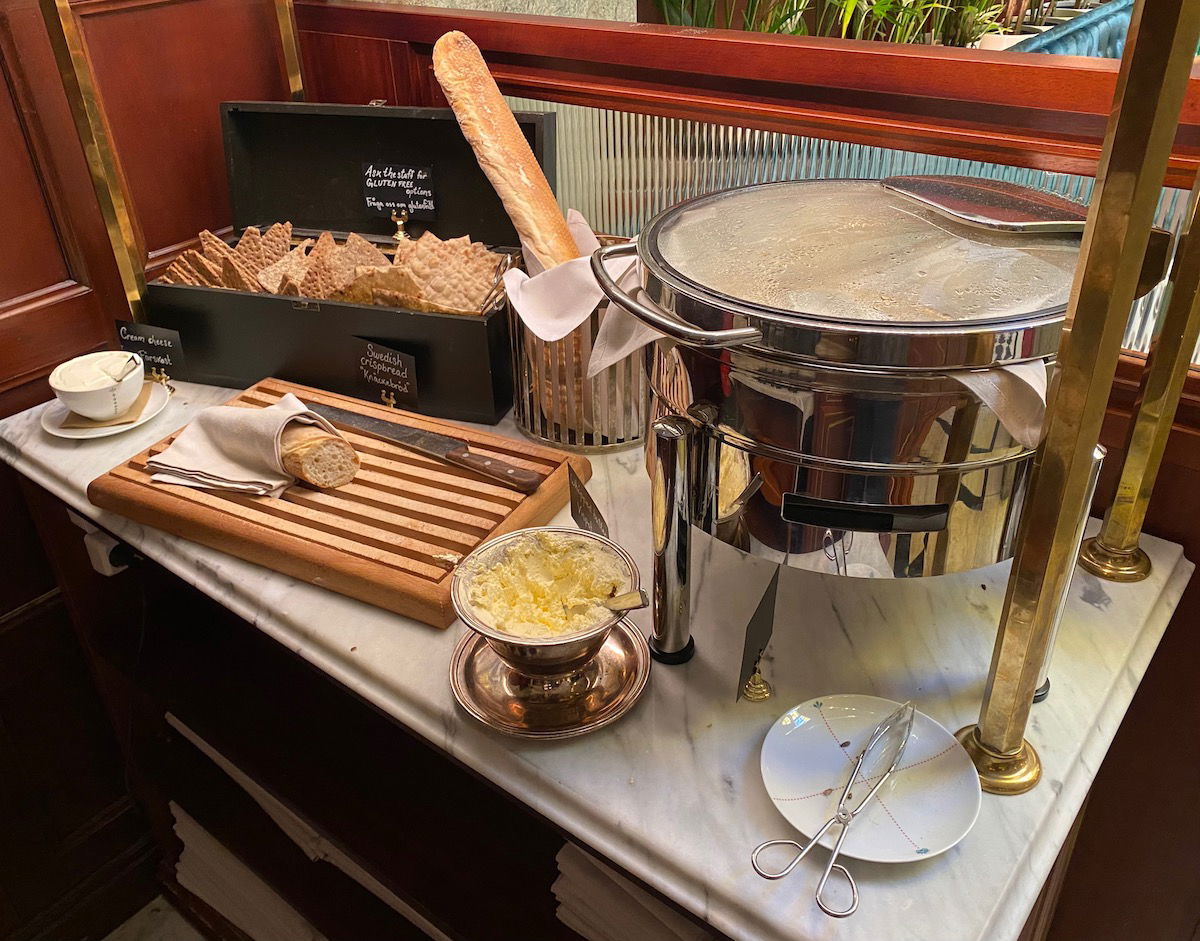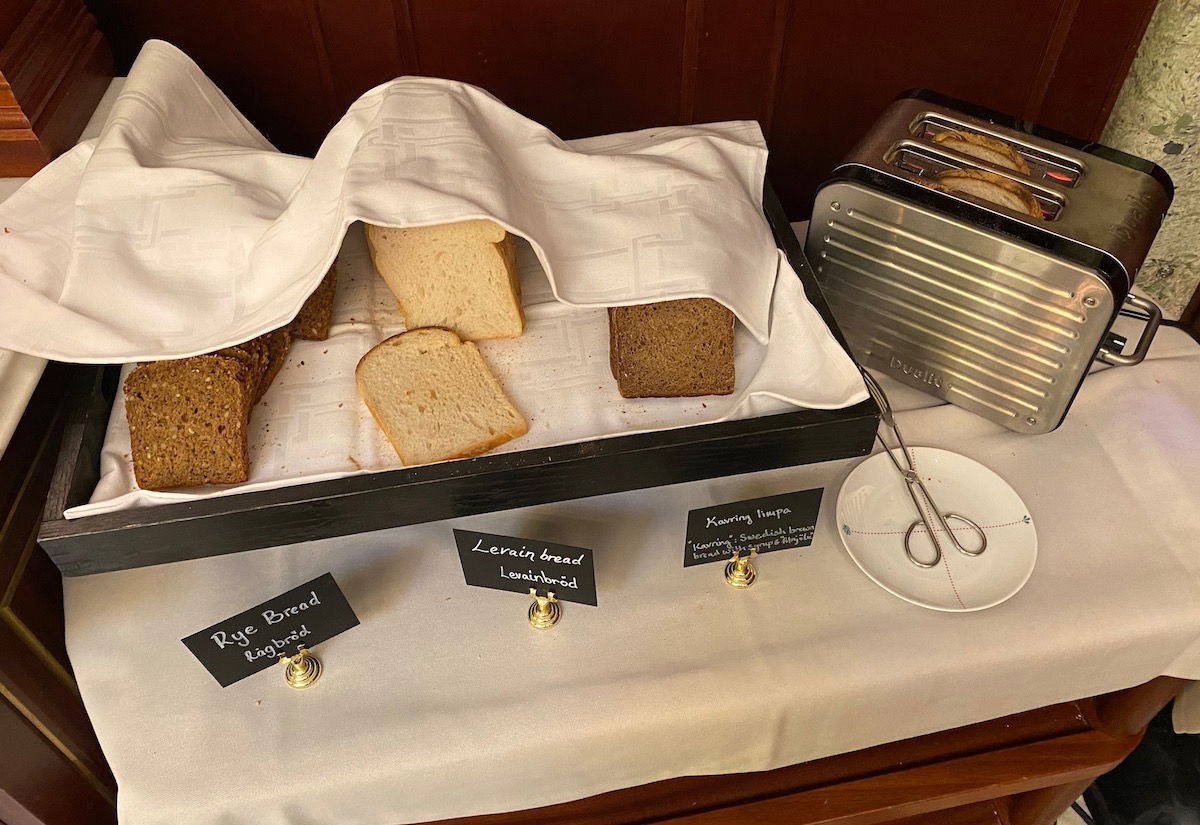 Coffee was offered by the servers, and tasted good.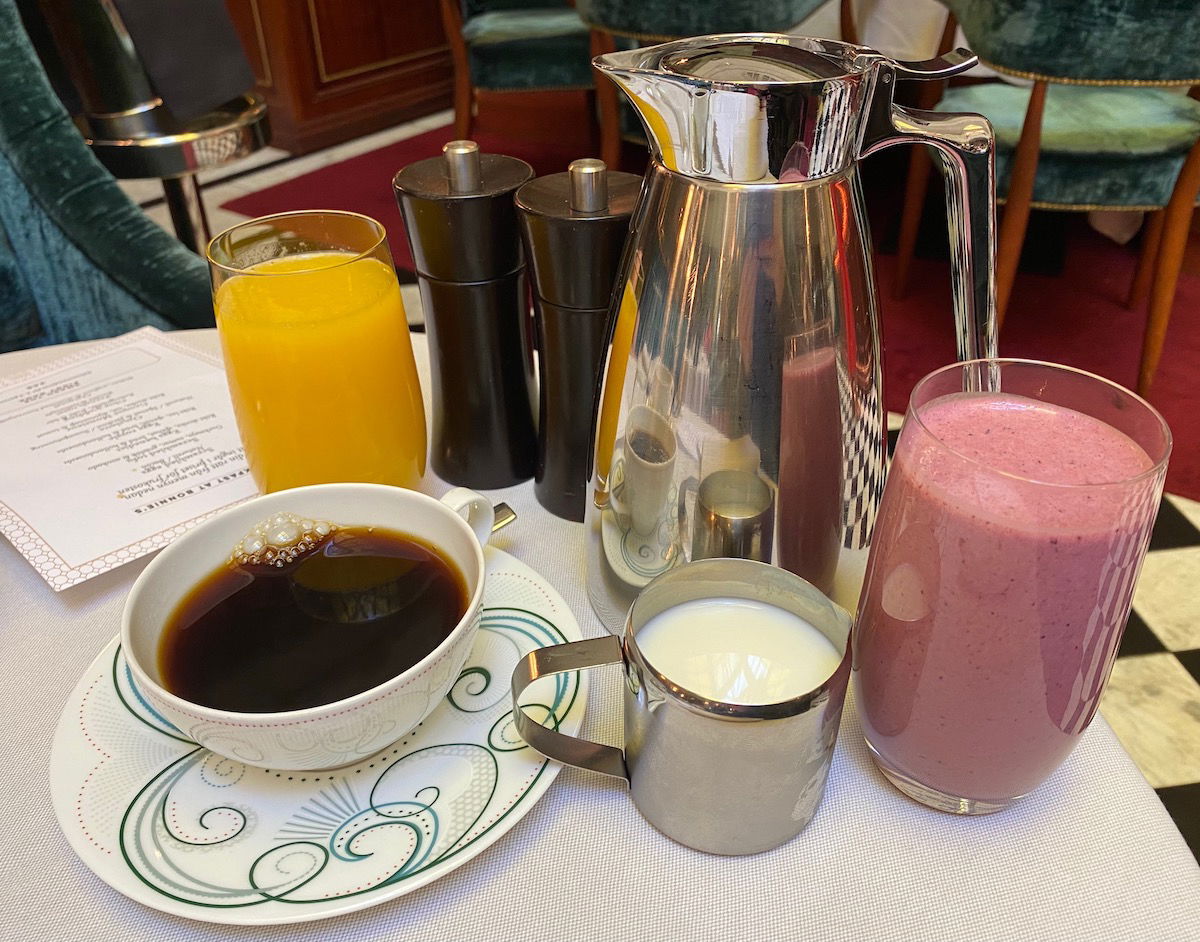 Over the course of our stay we also tried several of the a la carte dishes, including the chia pudding, oatmeal, scrambled tofu, croque monsieur, and omelet.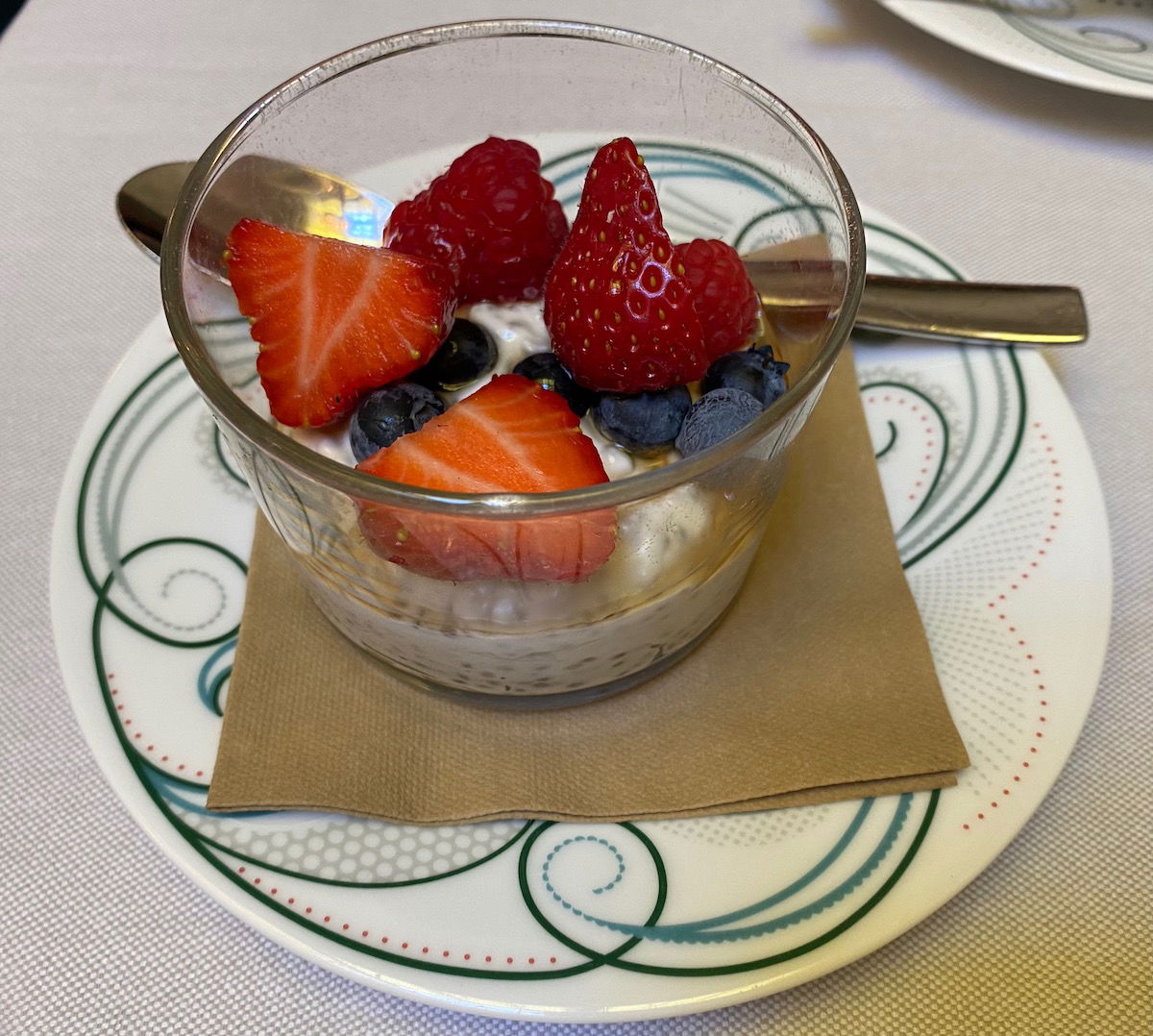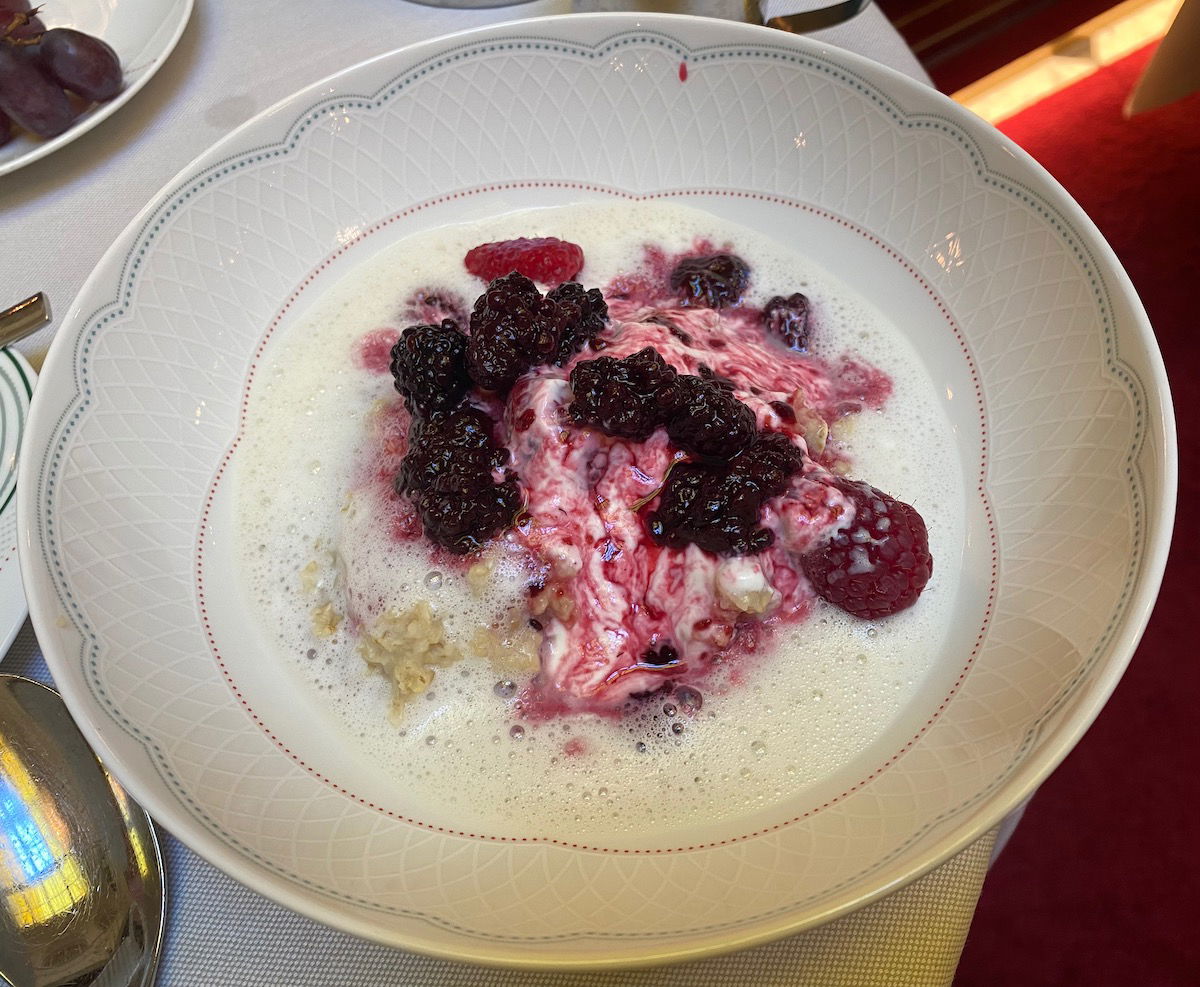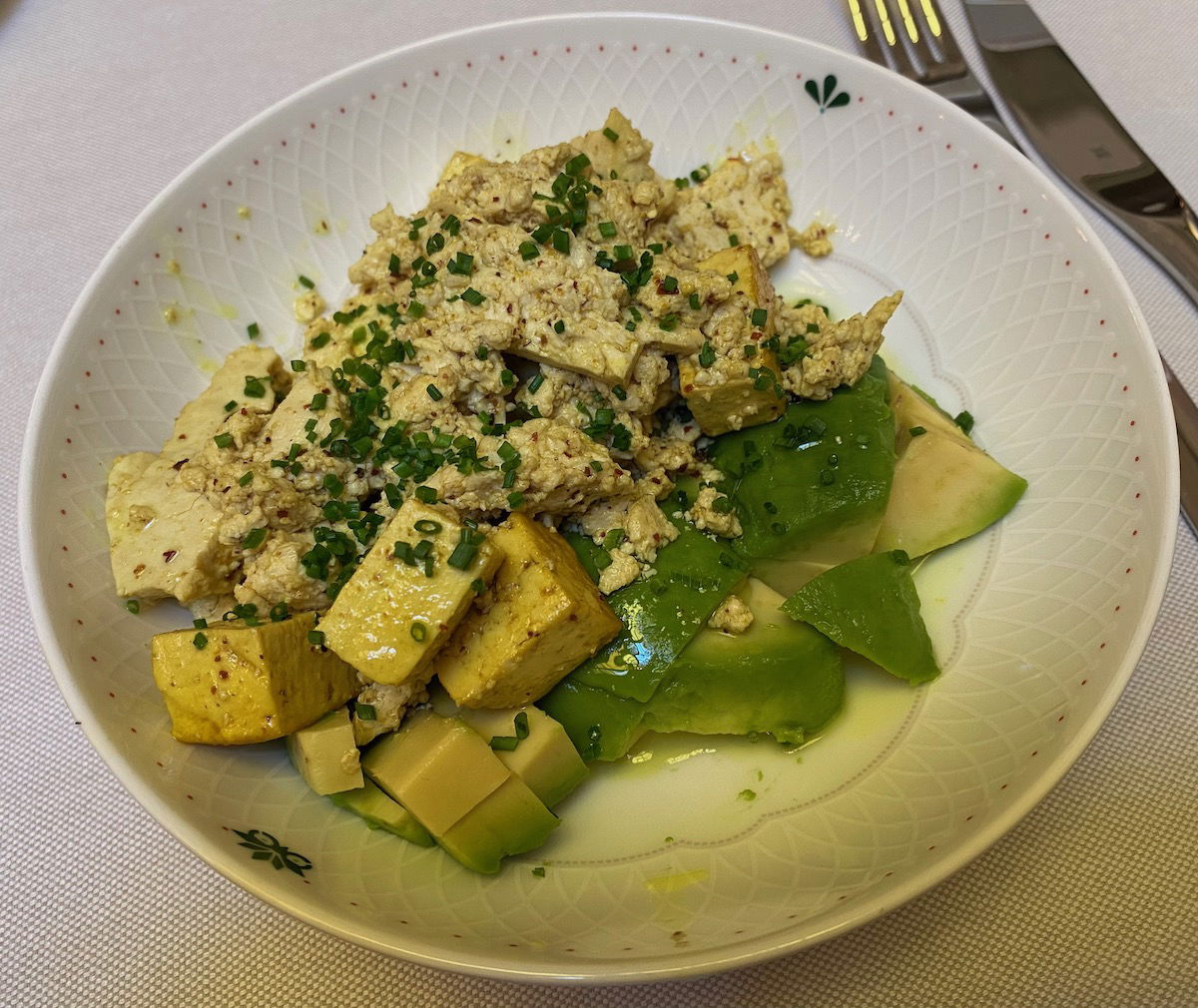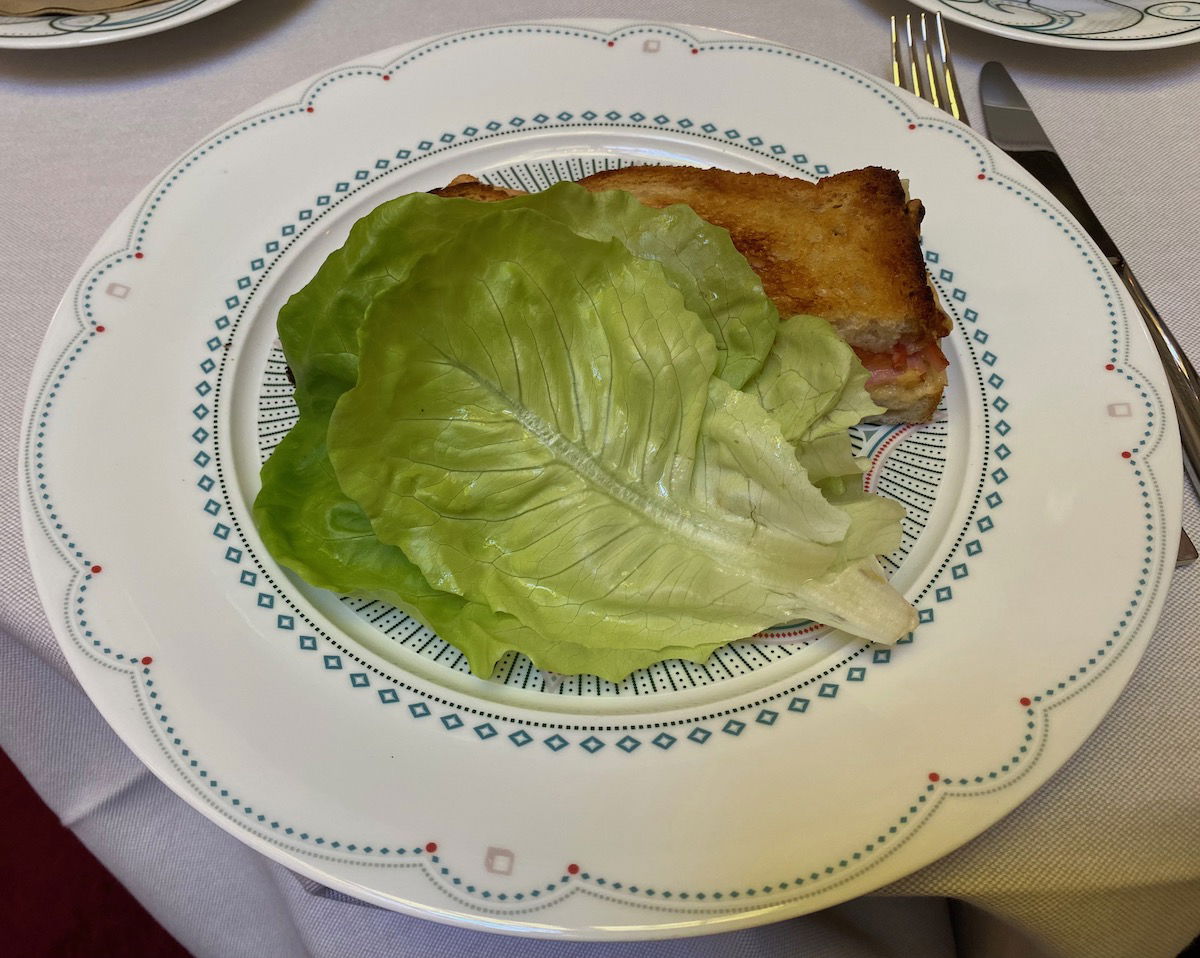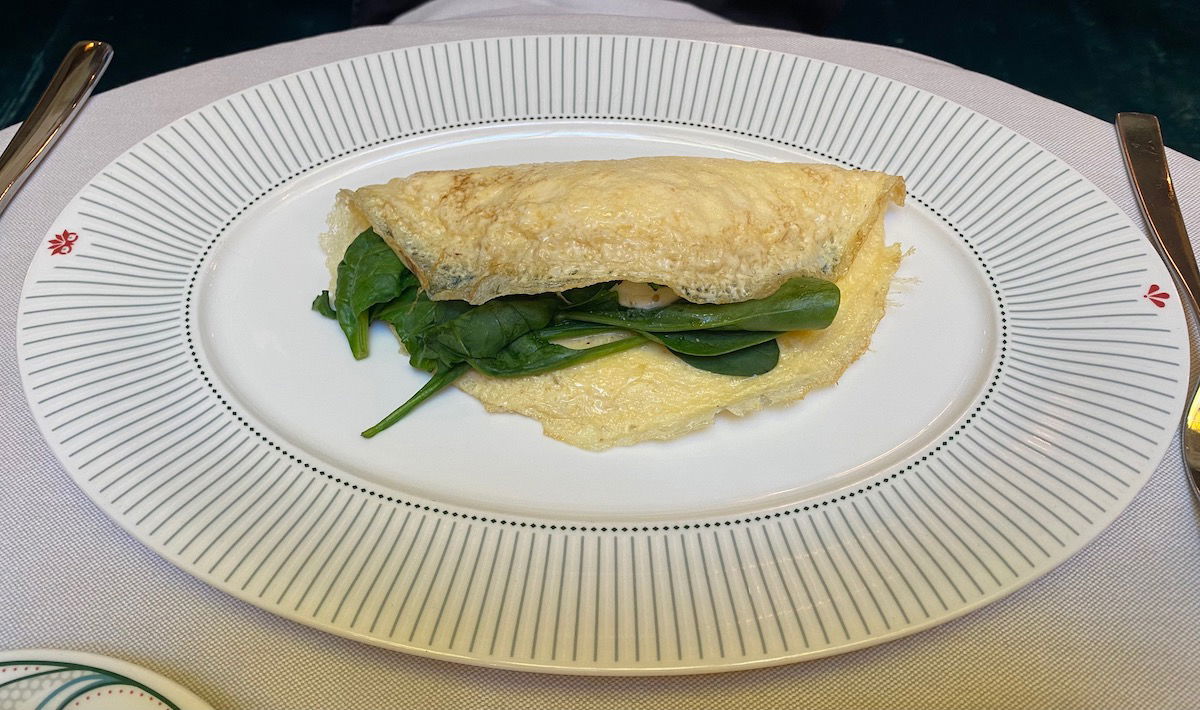 I've had some not-great breakfast experiences in Northern Europe, so I was pleasantly surprised by this. The setting was great, the service was excellent, and I loved the flexibility of being able to order off the menu and select items from the buffet.
Bank Hotel Stockholm Le Hibou Bar
Le Hibou is Bank Hotel's rooftop bar, open in the afternoons and evenings. Oddly the bar can't be accessed from the hotel directly, but rather you have to exit the hotel and walk next door, where there's an elevator leading upstairs.
Le Hibou is super cute, with both indoor and outdoor seating.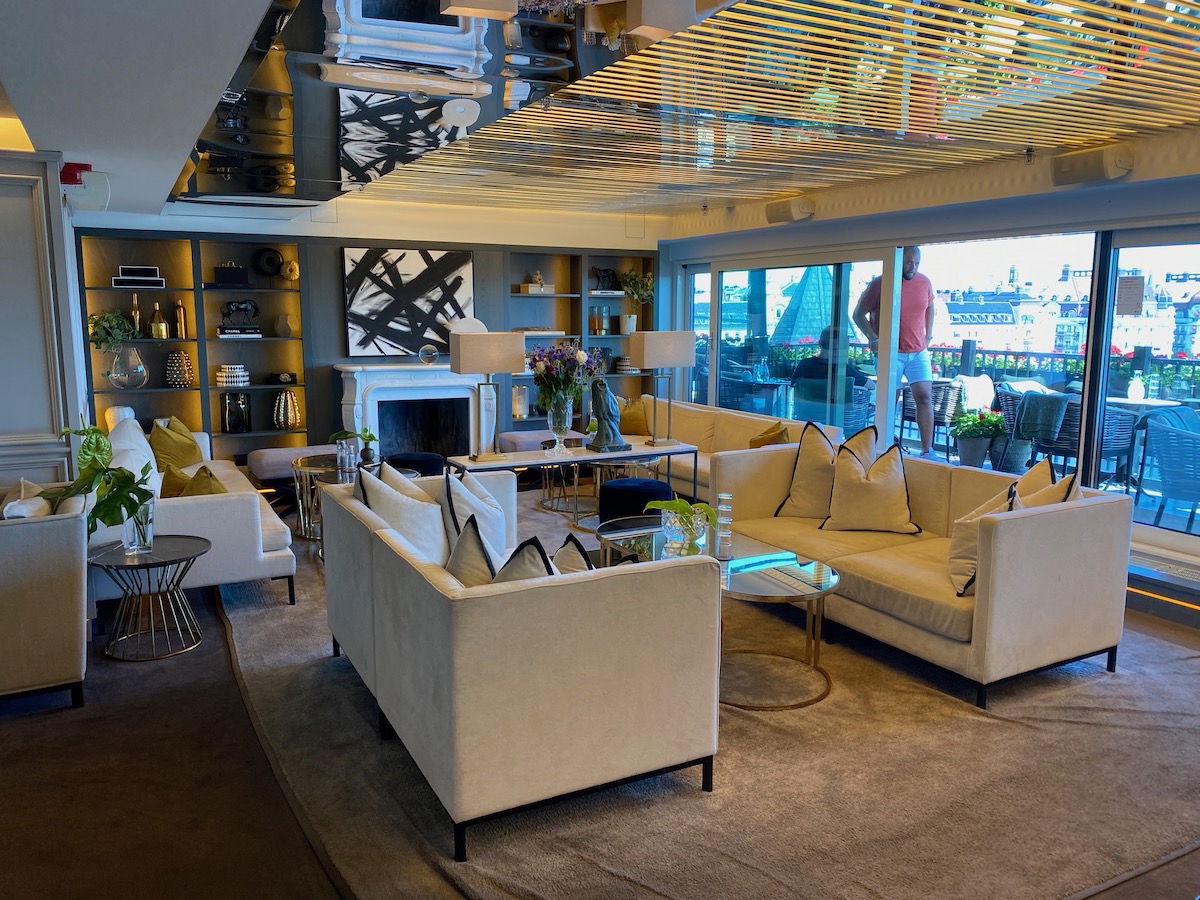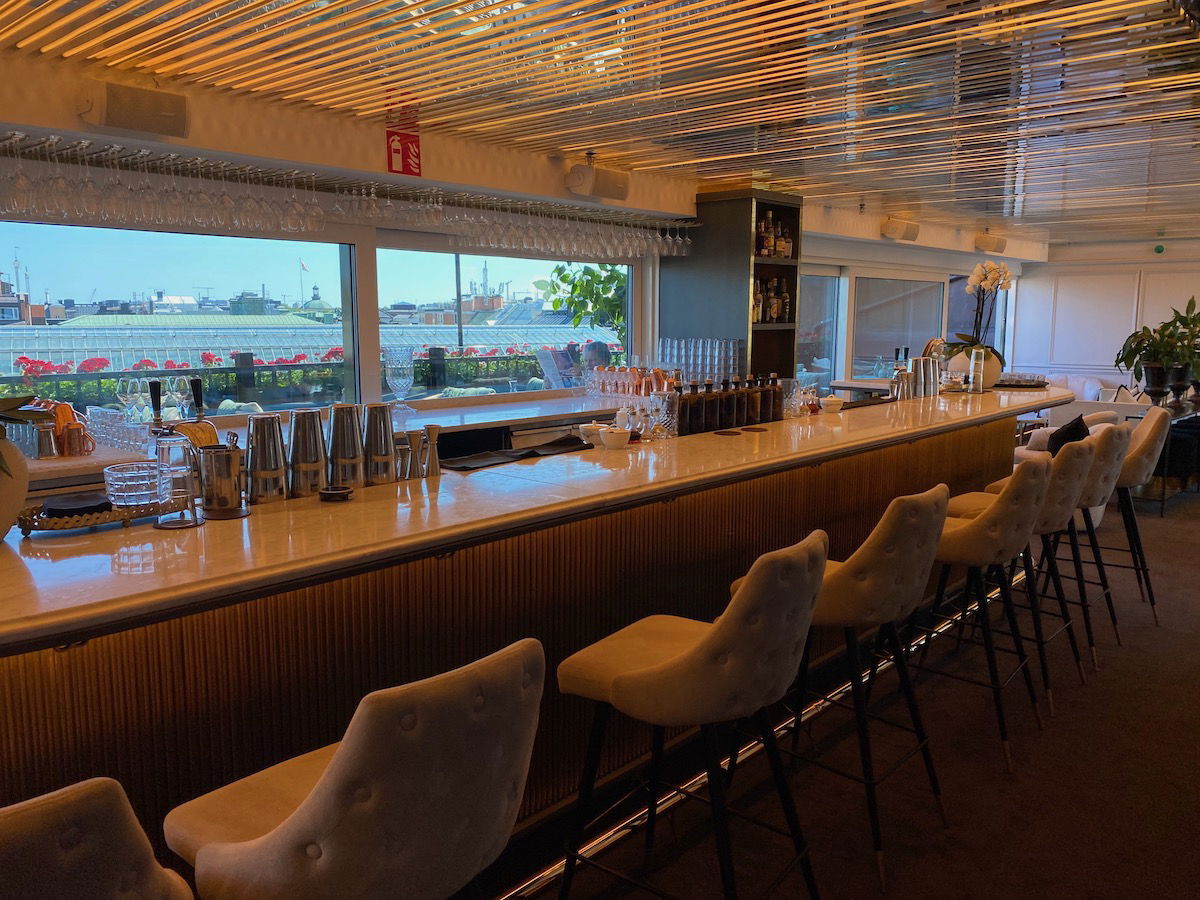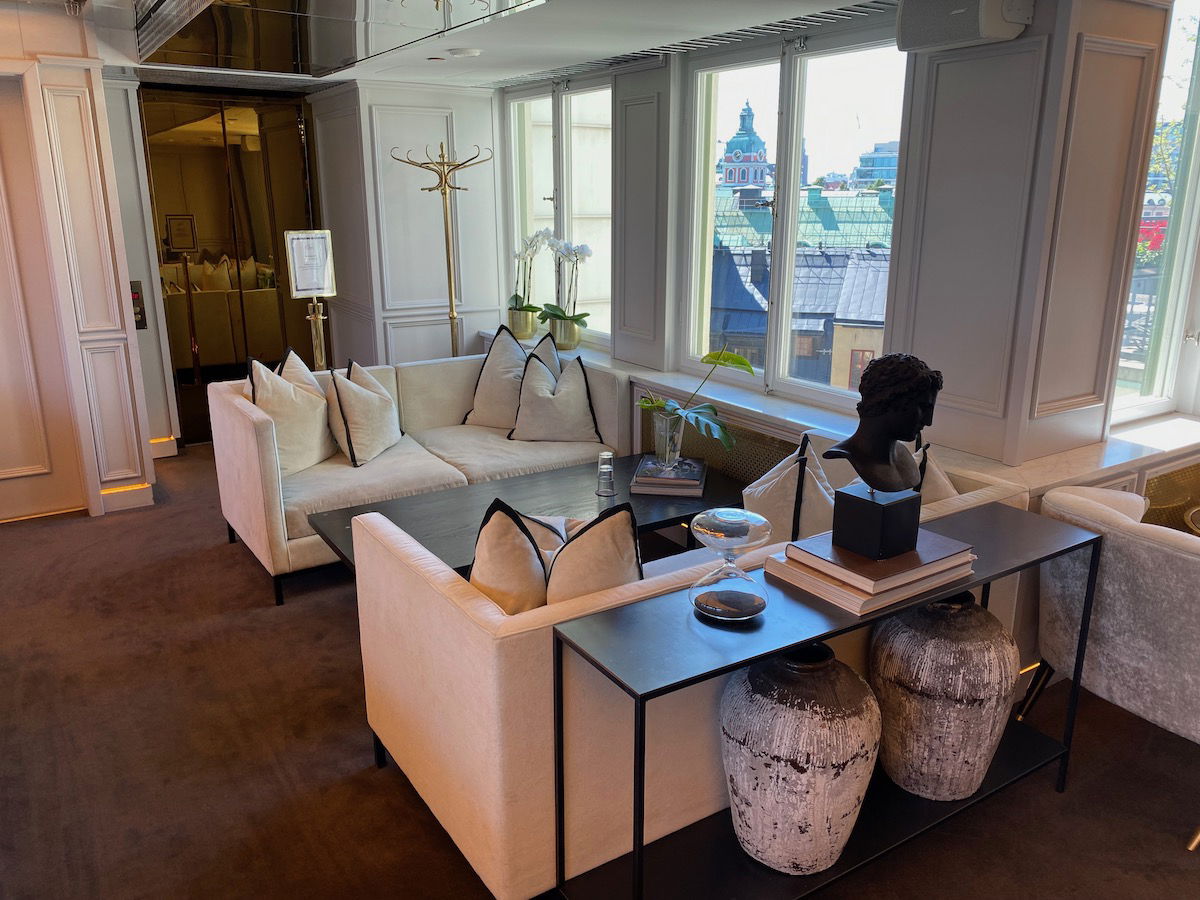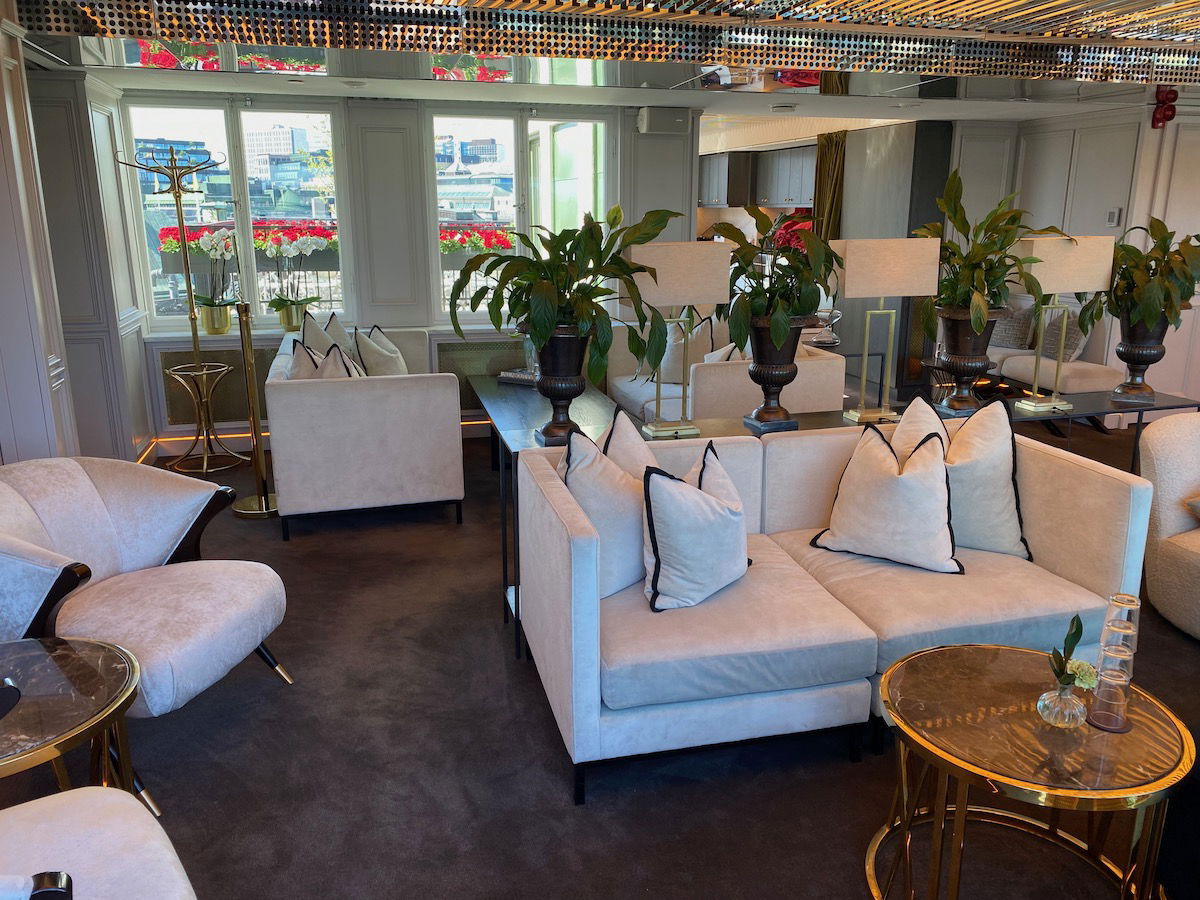 There's nothing more beautiful than a summer afternoon in Stockholm, so we sat outside.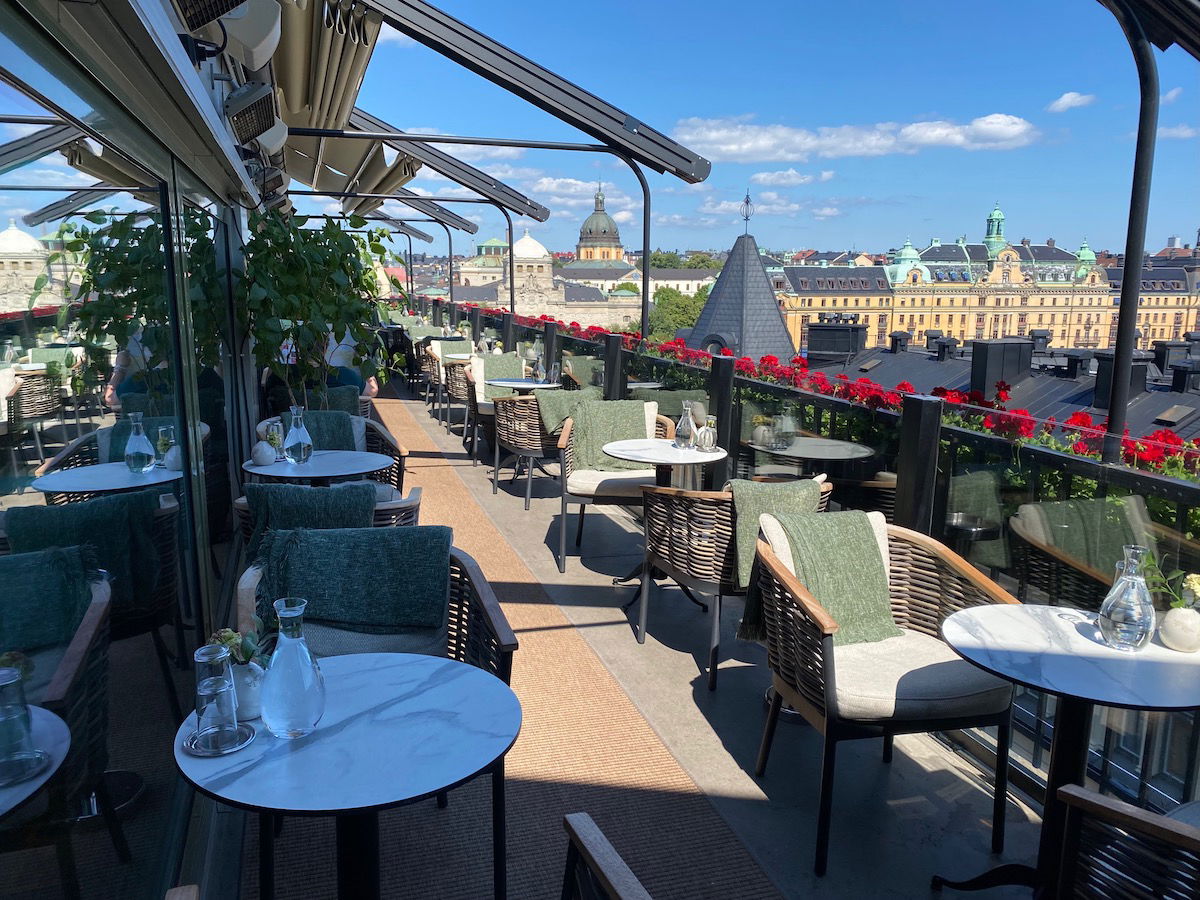 There was a selection of light snacks as well as an extensive cocktail list.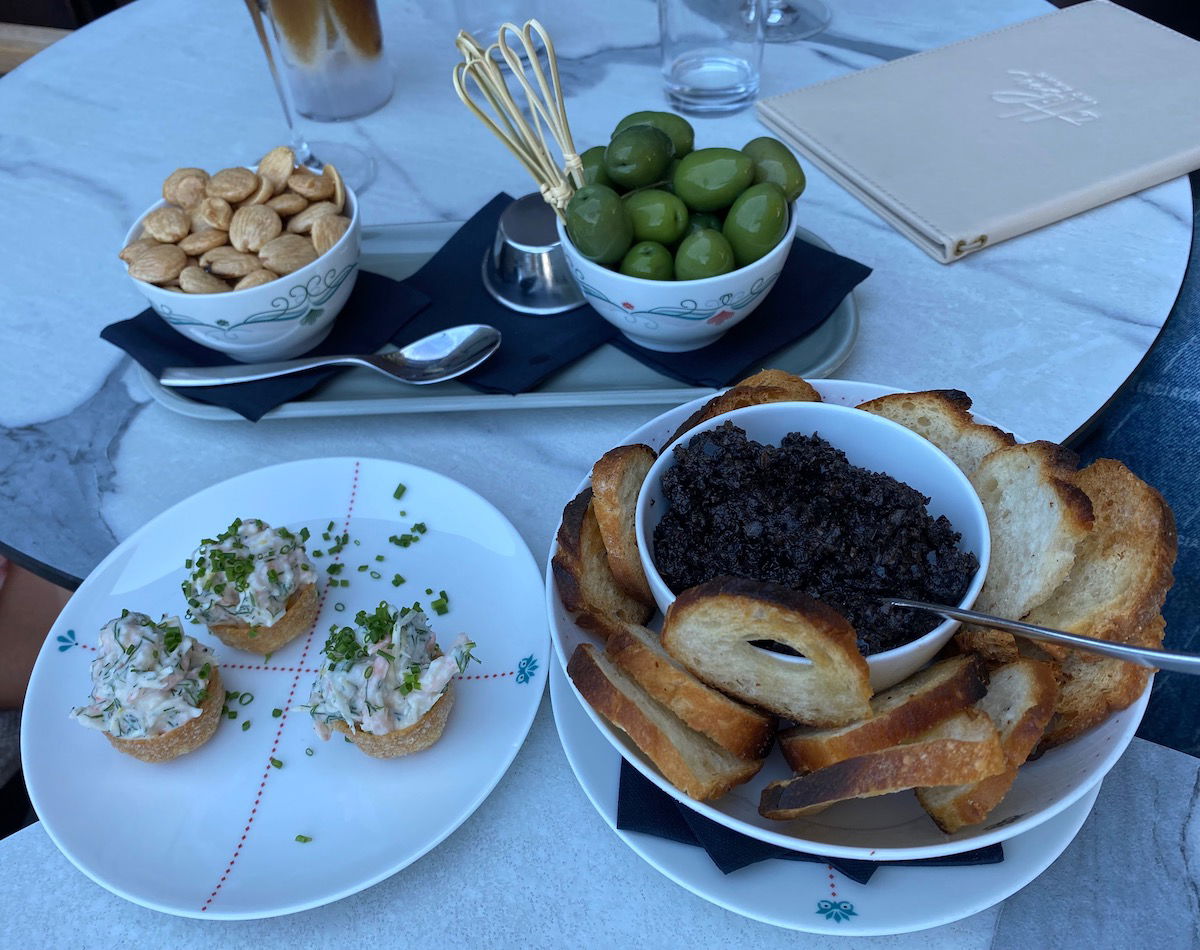 I, of course, was being my typical idiot self, and ordered a dirty martini. Dirty martinis are my favorite cocktail when they're done correctly, but of course outside the US they're awful 90% of the time (based on my preferences), even when I explain in detail what I'm hoping for. Yet I keep making the same mistake. The other drinks were good, though.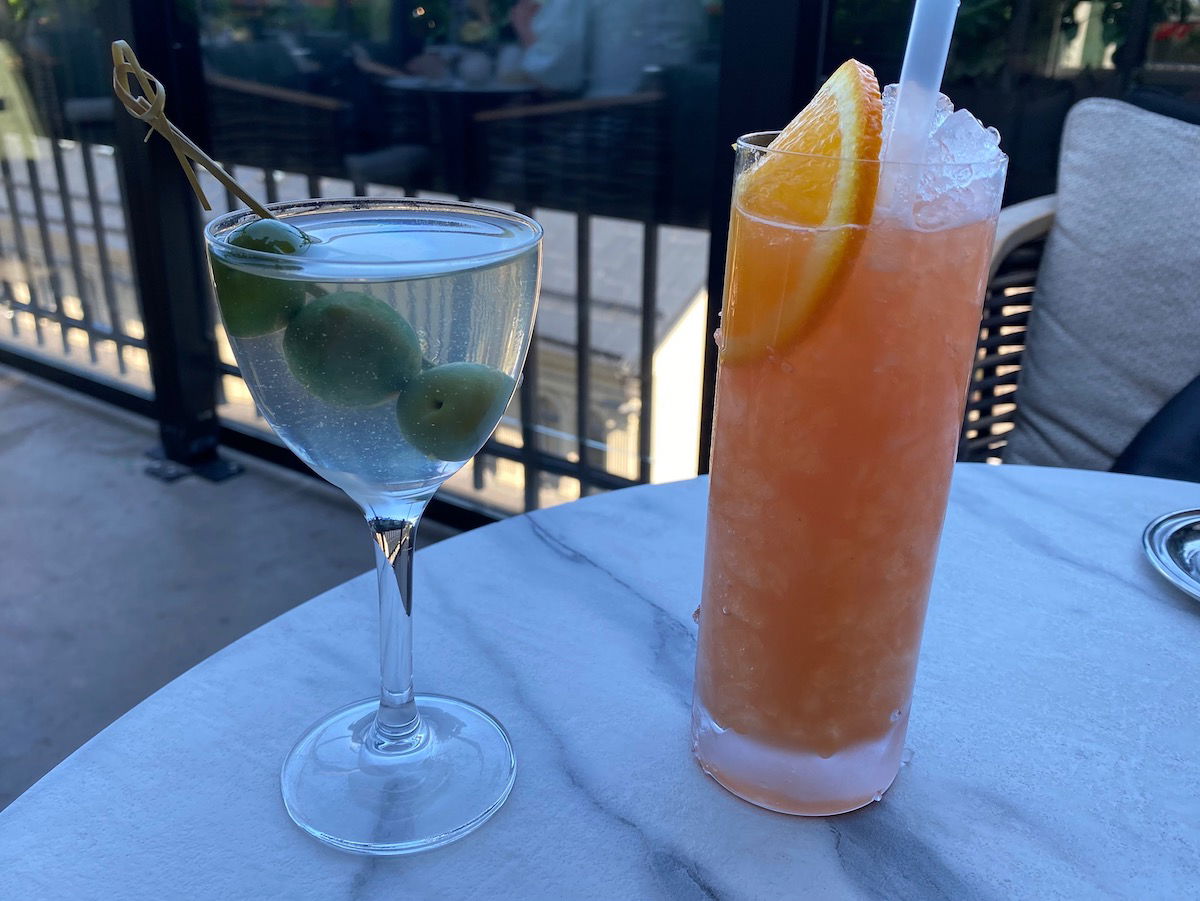 Bank Hotel Stockholm gym
Bank Hotel has some impressive gym options for guests. For one, the hotel has a small gym for guests that's roughly what you'd expect for a boutique hotel. It has a selection of cardio equipment and weights.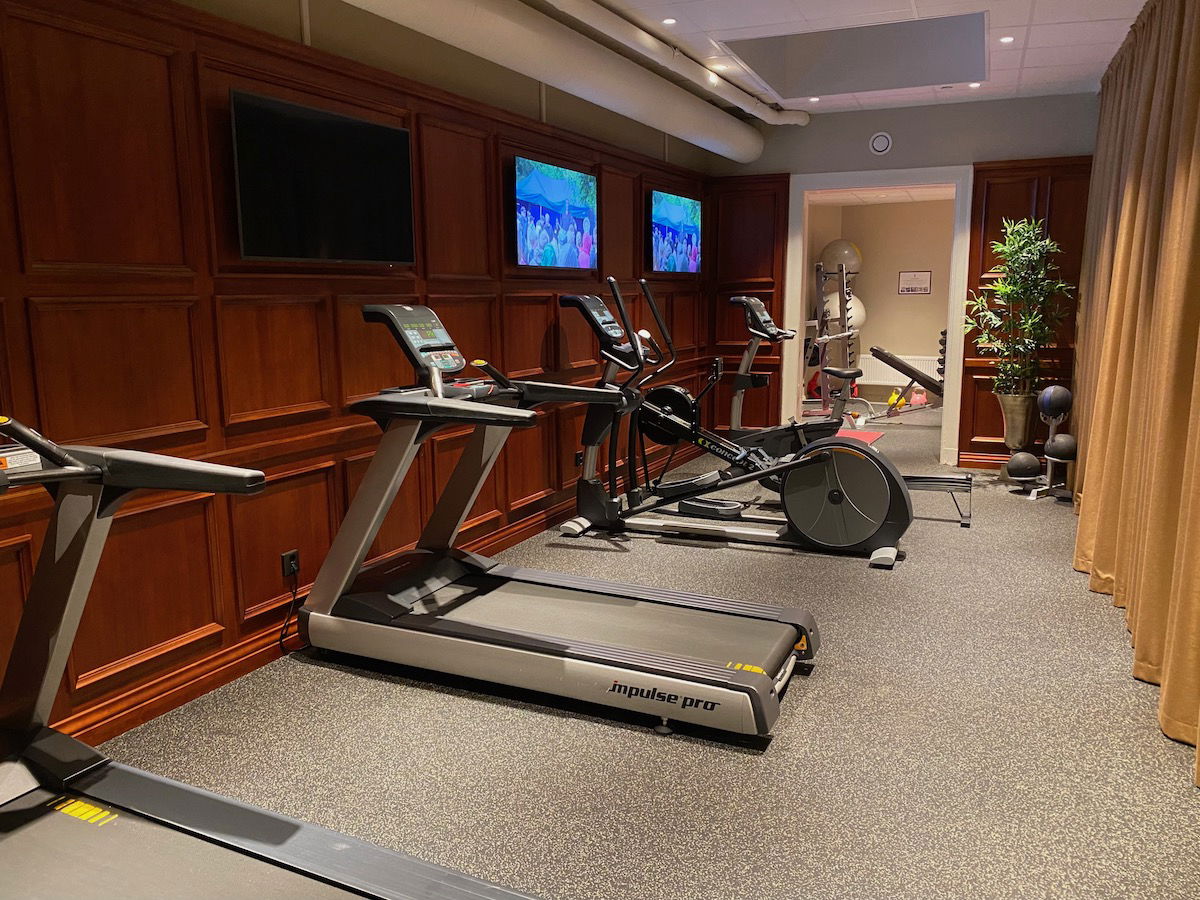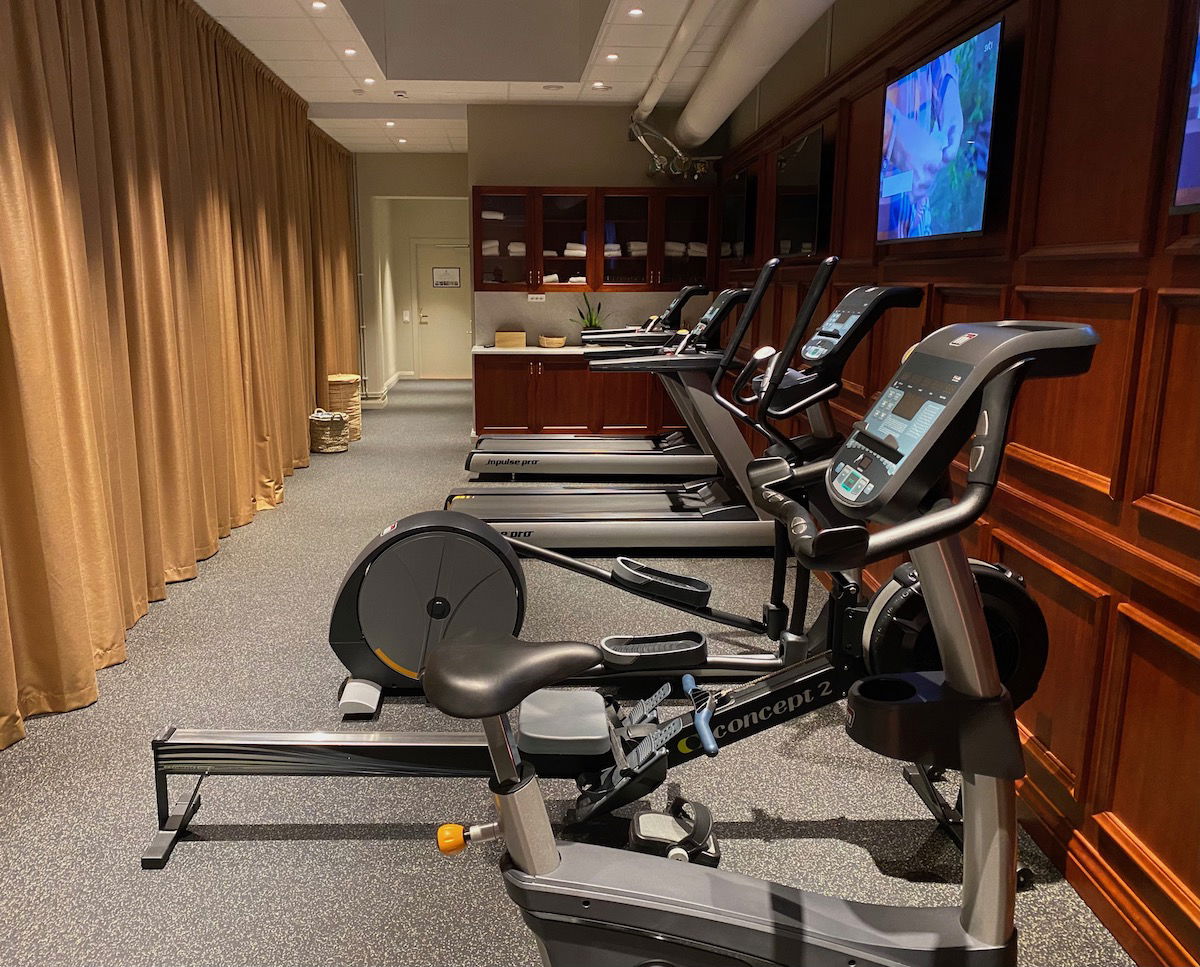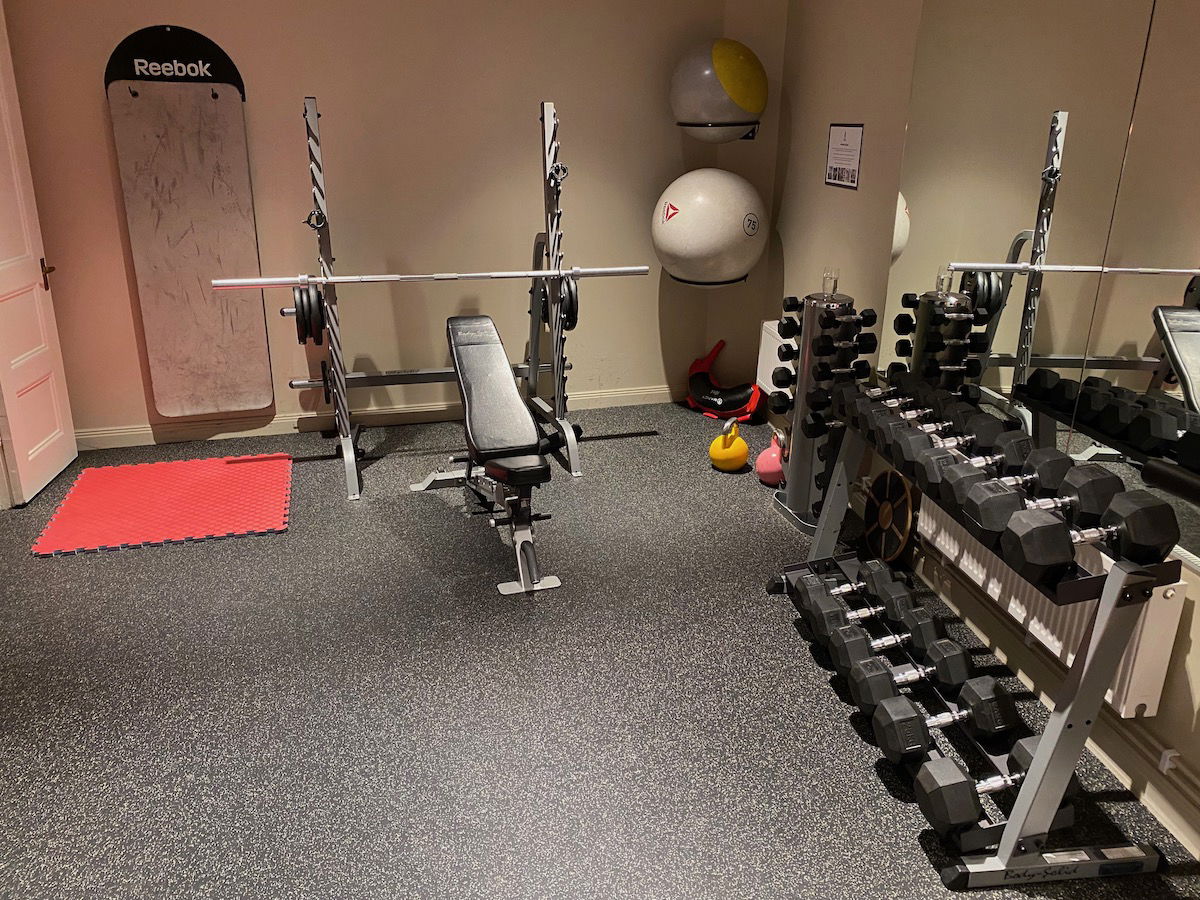 But it gets better than that — Bank Hotel guests have access to the incredible NK Padel & Social Club that's right next to the hotel, which is 3,000 square meters (32,000+ square feet). I didn't feel comfortable taking pictures there (it was busy), but it's a very impressive facility.
Bank Hotel Stockholm service
Probably what impressed me most about Bank Hotel was the service. Across the board, the staff were phenomenal:
The front desk agents would warmly greet us every time we returned to the hotel, and ask how our day was; they always offered us either a popsicle or bottle of water
We had to check out at 3AM on the day we left, and the front desk agent proactively insisted on making us some coffee to take with us
Not only that, but when we checked out the front desk agent didn't just ask us how our stay was, but also asked what the hotel can do to improve; that's a really great question most hotel employees aren't brave enough to ask
Service in the breakfast restaurant was excellent, with the servers not only being friendly and attentive, but also remembering our coffee preferences and room number
There's only so much interaction you'll have with staff at a city hotel, but my impression of service at this hotel is very favorable.
Bottom line
I was happy with our decision to stay at Bank Hotel Stockholm. The hotel has nicely appointed rooms, great food & beverage outlets, hospitable employees, and a central location. Best of all, the property belongs to Small Luxury Hotels of the World, and is even part of the World of Hyatt partnership.
To mix it up I'd probably stay somewhere else the next time I visit Stockholm, but I'd absolutely recommend this hotel if you're looking for a boutique luxury property.
If you've stayed at Bank Hotel, what was your experience like? What hotel should I check out the next time I'm in Stockholm?