To kick off our trip to Europe, we flew KLM business class from Chicago to Amsterdam. While I've flown KLM's business class several times before (including on the A330 and the 787-9), I was excited about this flight because it was operated by a Boeing 787-10. Not only does this plane have a different business class seat than KLM's other 787s, but it would also only be the second time I flew on the 787-10 (with the other flight being on United).
How I redeemed miles for KLM business class
Our first destination in Europe was Stockholm, and I found great award availability via the Air France-KLM Flying Blue program. Specifically, I booked the following for a per person cost of 60,500 Flying Blue miles plus $240 in taxes and carrier imposed surcharges:
06/30 KL612 Chicago to Amsterdam departing 4:15PM arriving 6:55AM (+1 day)
07/01 KL1109 Amsterdam to Stockholm departing 10:40AM arriving 12:40PM
I continue to get tons of value out of the Flying Blue program. Members have access to more Air France & KLM award space than through other programs, award rates are reasonable, and Flying Blue miles are easy to come by.
Flying Blue is partners with all major transferable points currencies, including American Express Membership Rewards, Capital One, Chase Ultimate Rewards, Citi ThankYou, etc.
Air France-KLM Lounge Chicago (ORD)
We had connected the same day from Tampa to Chicago on United, so we had planned a very long layover, especially as we were getting coronavirus tests at the airport. At around 1PM we headed over to Terminal 5, where KLM departs from.
The check-in process was efficient, and security only took a few minutes. Once airside, we headed towards the Air France-KLM Lounge. We ended up spending about five minutes in there, before deciding we were better off just sitting in the gate area.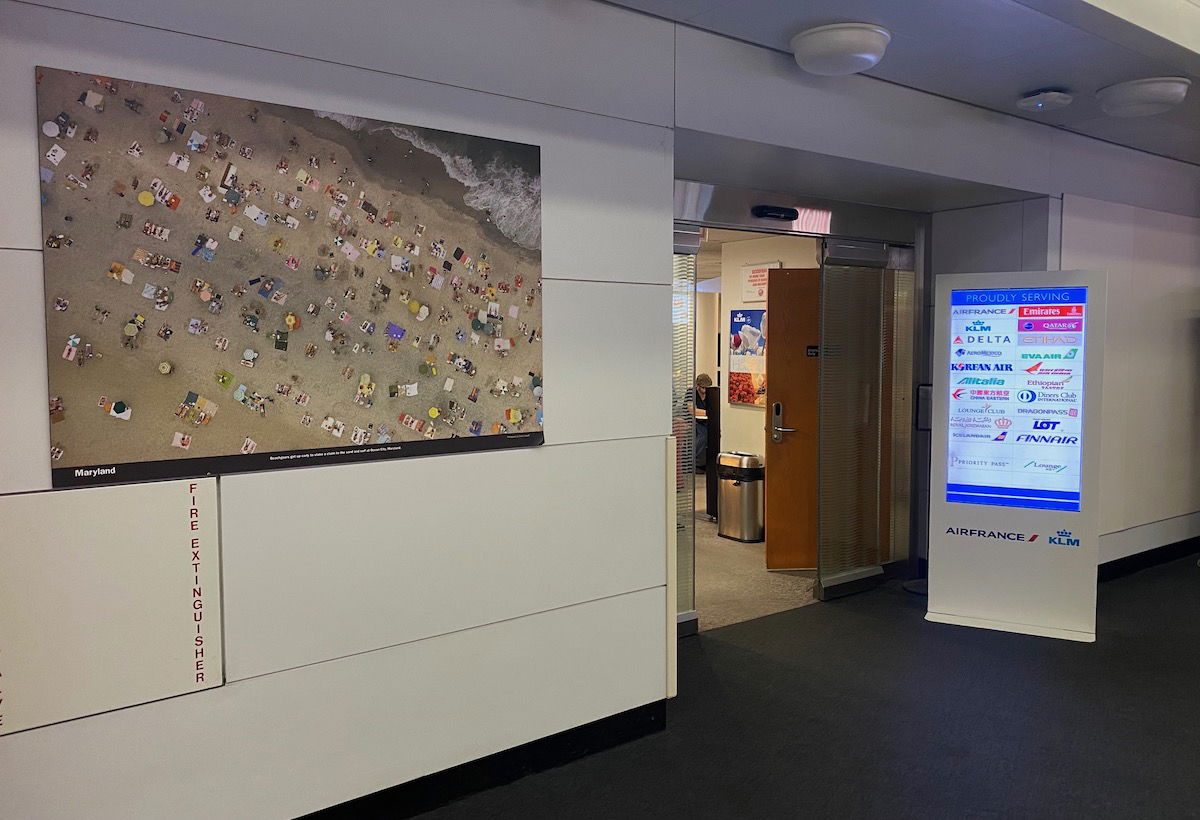 This lounge has zero natural light — even though it has windows that span the entire length of the lounge, they seem to face a wall or something, as it was totally dark outside the windows, even though it was light outside.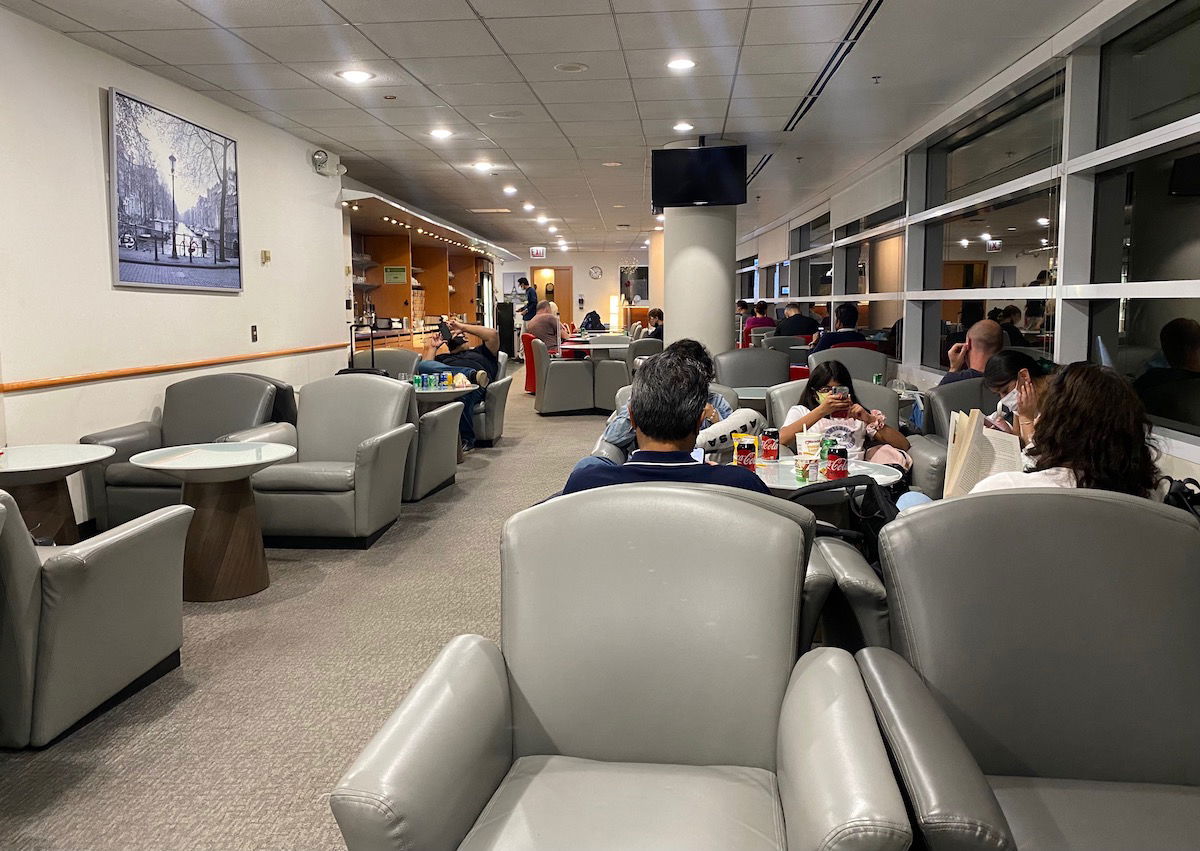 The lounge was crowded, and the food & drink selection was minimal. The lounge didn't even have bathrooms.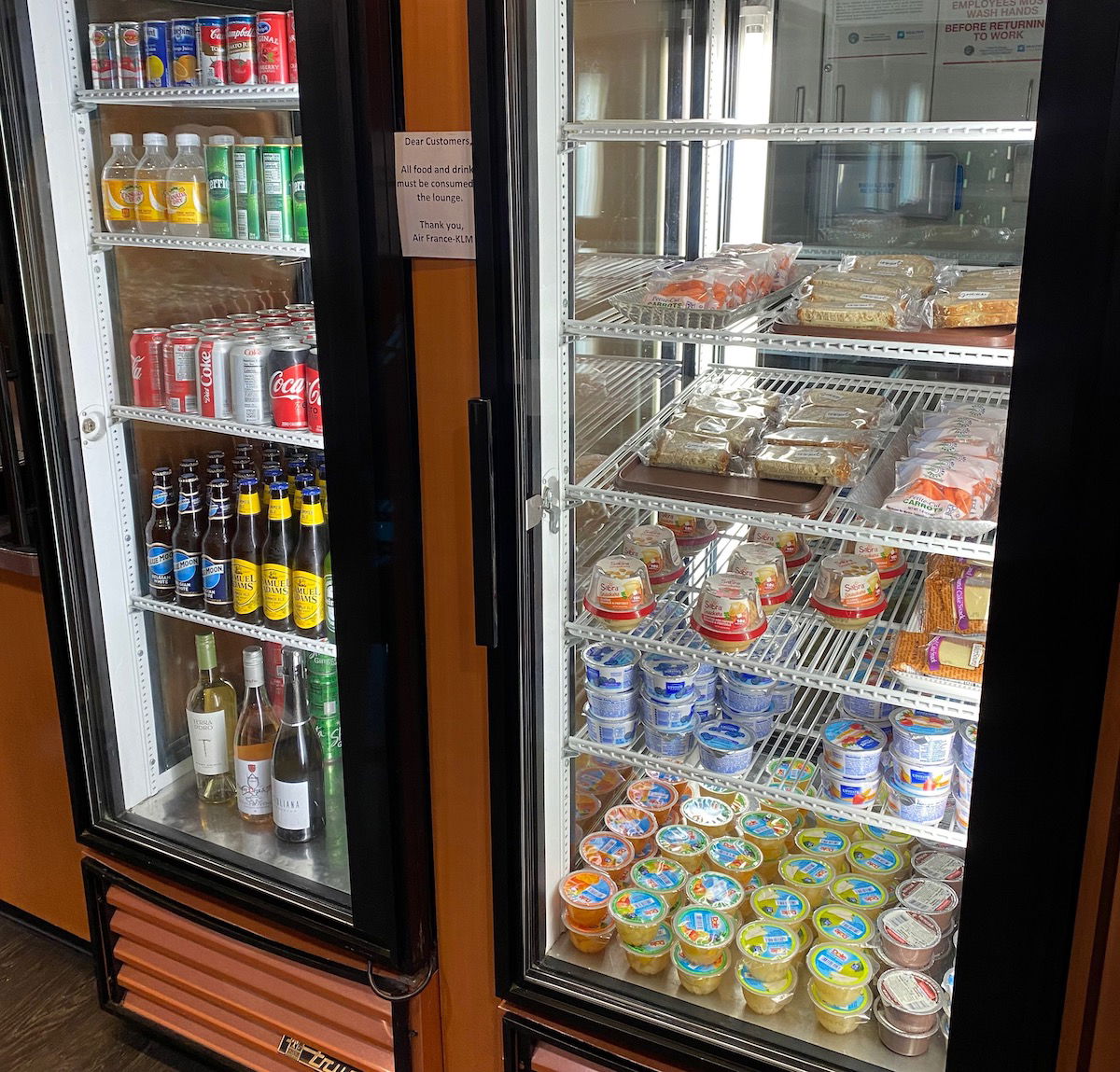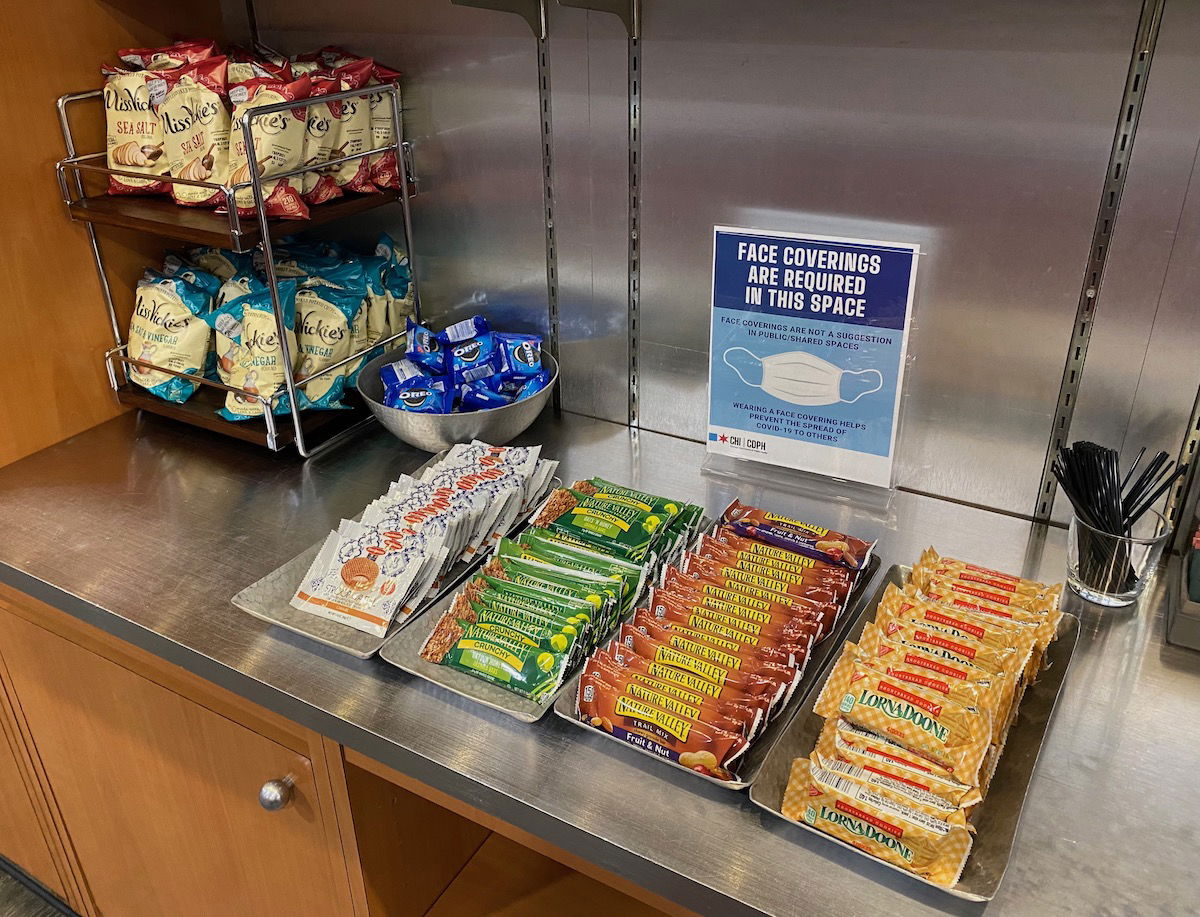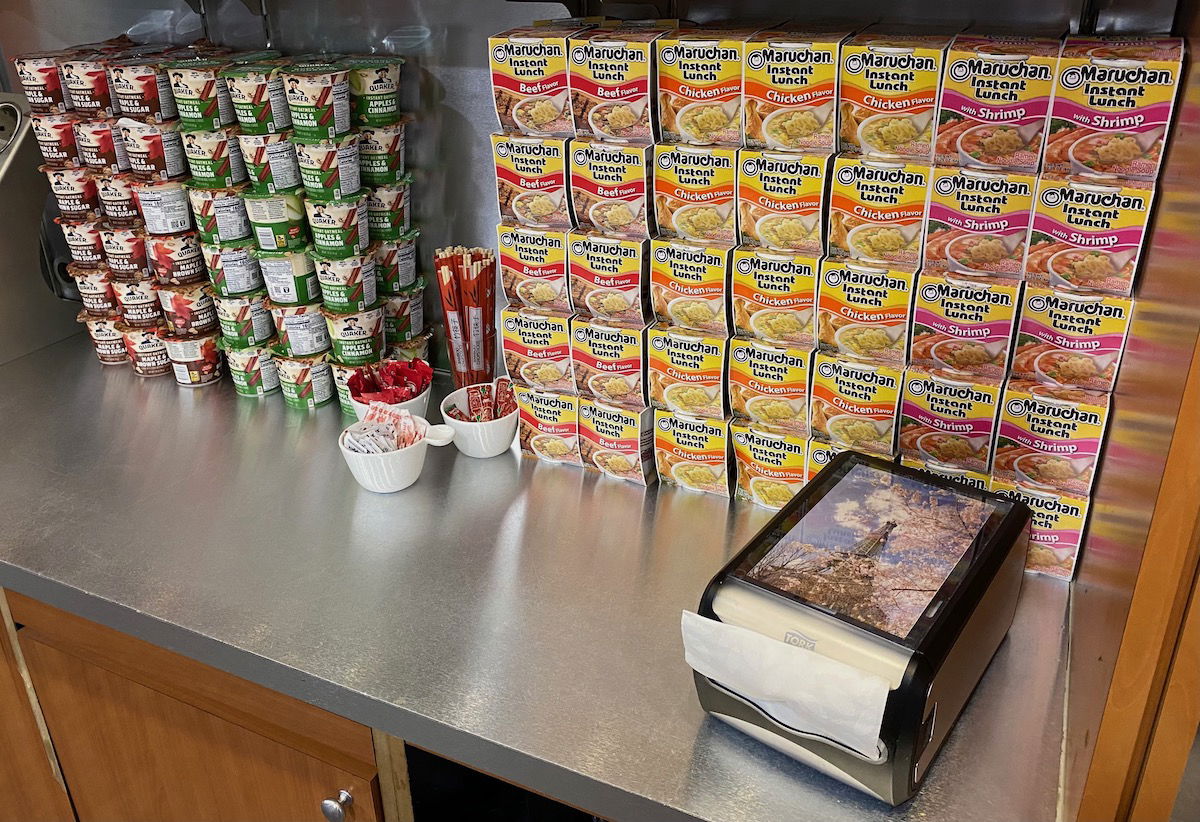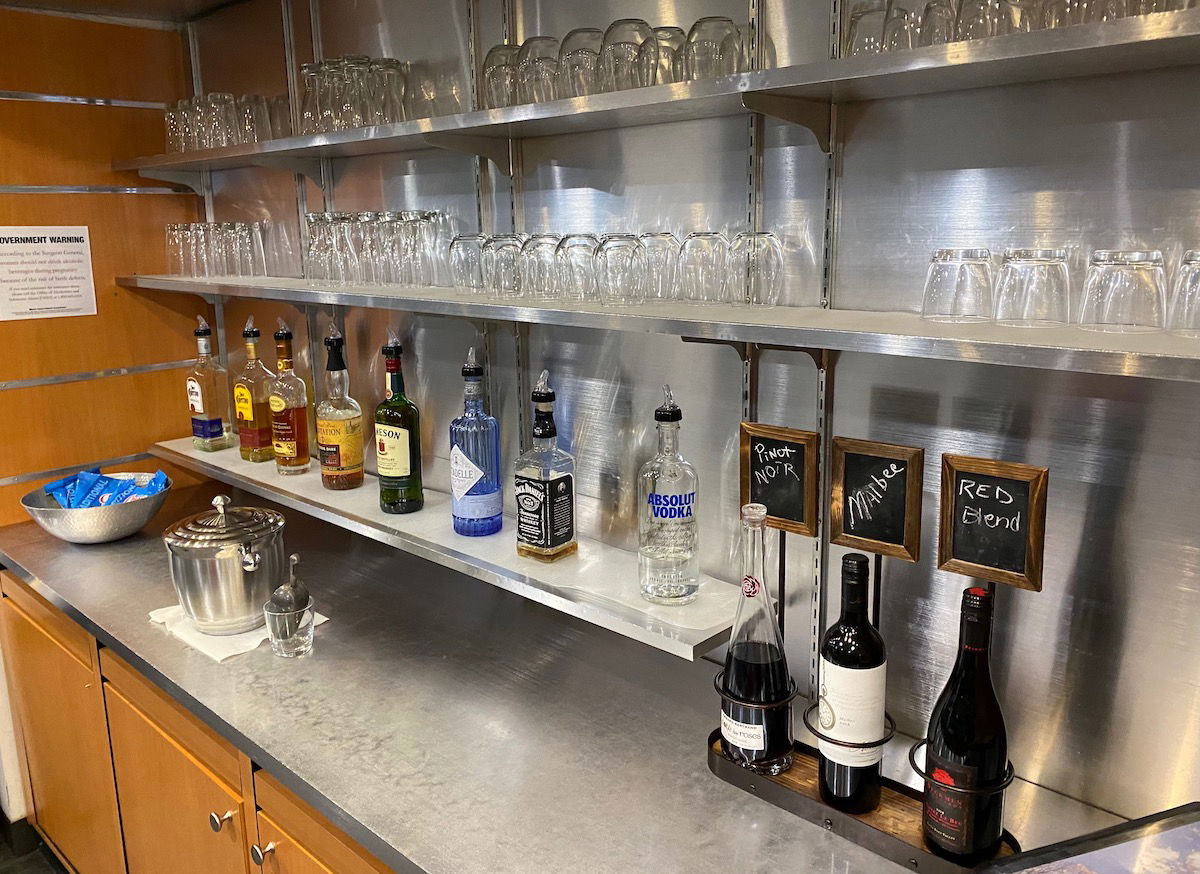 We decided we were better off just sitting in the gate area. In the meantime I believe the lounge has now closed (maybe even permanently?). Good riddance, as far as I'm concerned. Air France-KLM does a phenomenal job when it puts effort into lounges, but some of the lounges in North America that are also open to Priority Pass members are just plain depressing.
Boarding for our 4:15PM flight was scheduled to start at 3:30PM at gate M13, and that's also exactly when it started. First those who needed extra time (including families) were invited to board, which seemed to be about half of the plane. After that business class was invited to board.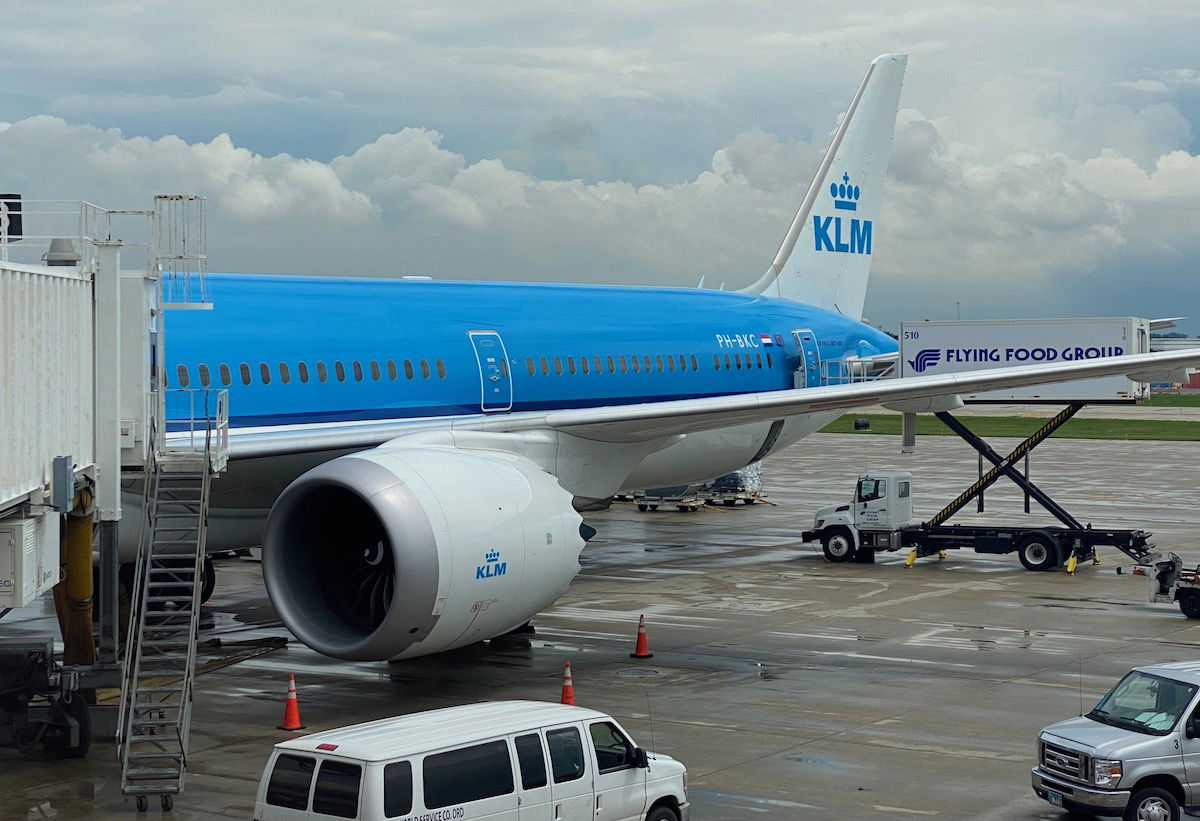 KLM Boeing 787-10 business class cabin & seats
We boarded through the second set of doors, where we were greeted by the purser and pointed left into the business class cabin. The Boeing 787-10 has a massive business class cabin that takes up the entire space between the first and second set of doors (which is large on the stretched variant of the 787).
KLM's Boeing 787-10s feature a total of 38 business class seats, spread across 10 rows in a 1-2-1 configuration (there's one more row of seats along the windows vs. in the center section).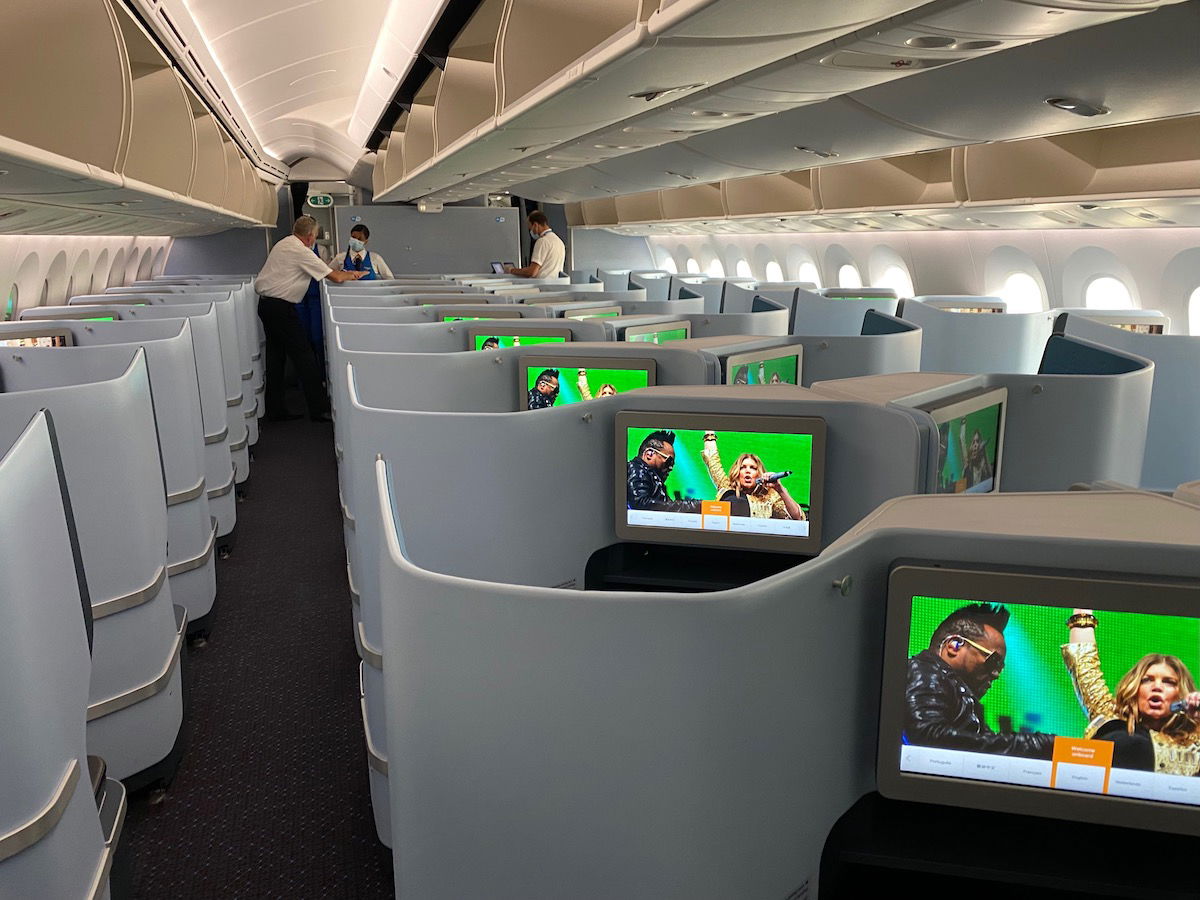 Interestingly KLM chose an all new business class seat on these planes. While KLM's Boeing 787-9s have Safran Cirrus seats (similar to what you'll find on Air France, Cathay Pacific, EVA Air, Finnair, etc.), KLM's Boeing 787-10s have JAMCO Venture seats, which not many airlines have. I thought the differences were very subtle, and I can't say for sure which seat type I prefer.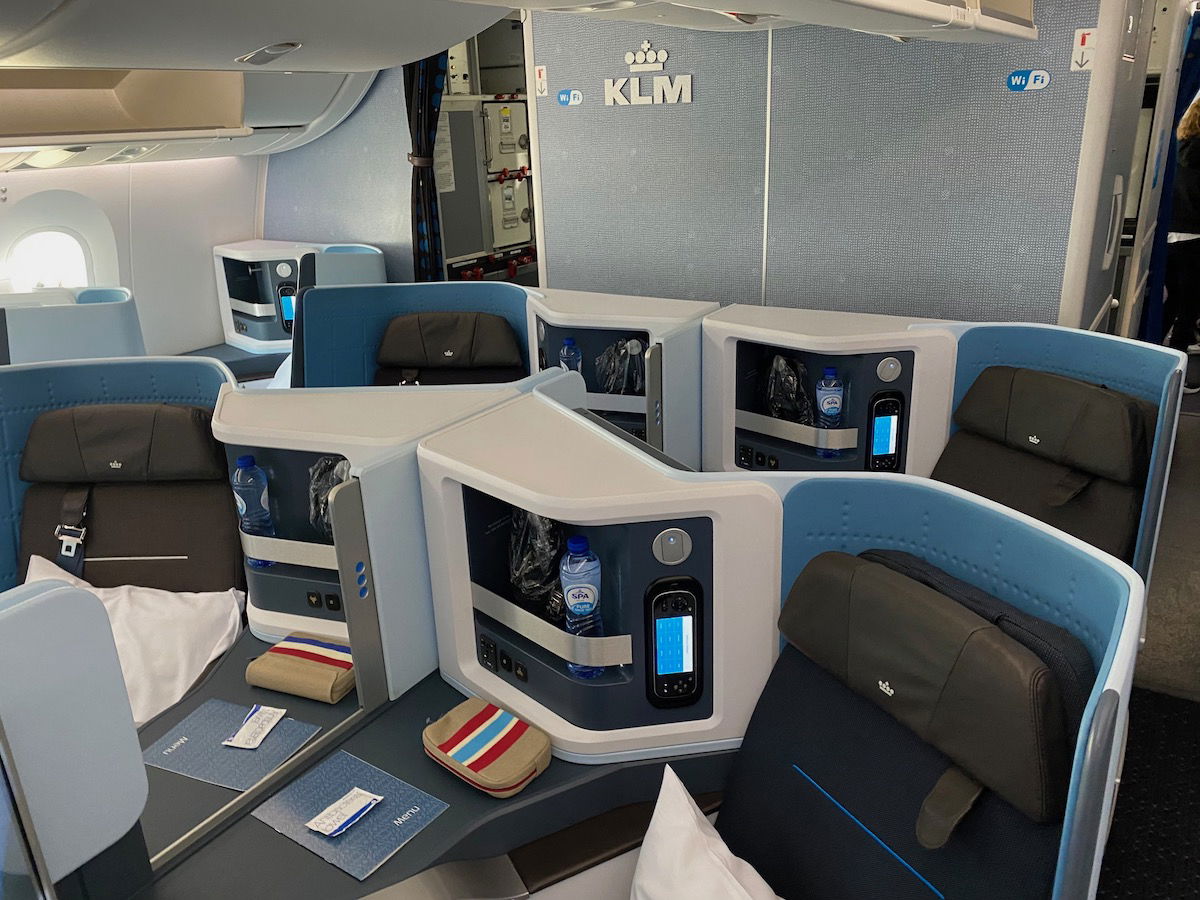 I appreciated how the seats had partitions, giving passengers a bit of privacy from the aisle. For those seated next to strangers in the center section, there was also a privacy partition that could be pulled forward.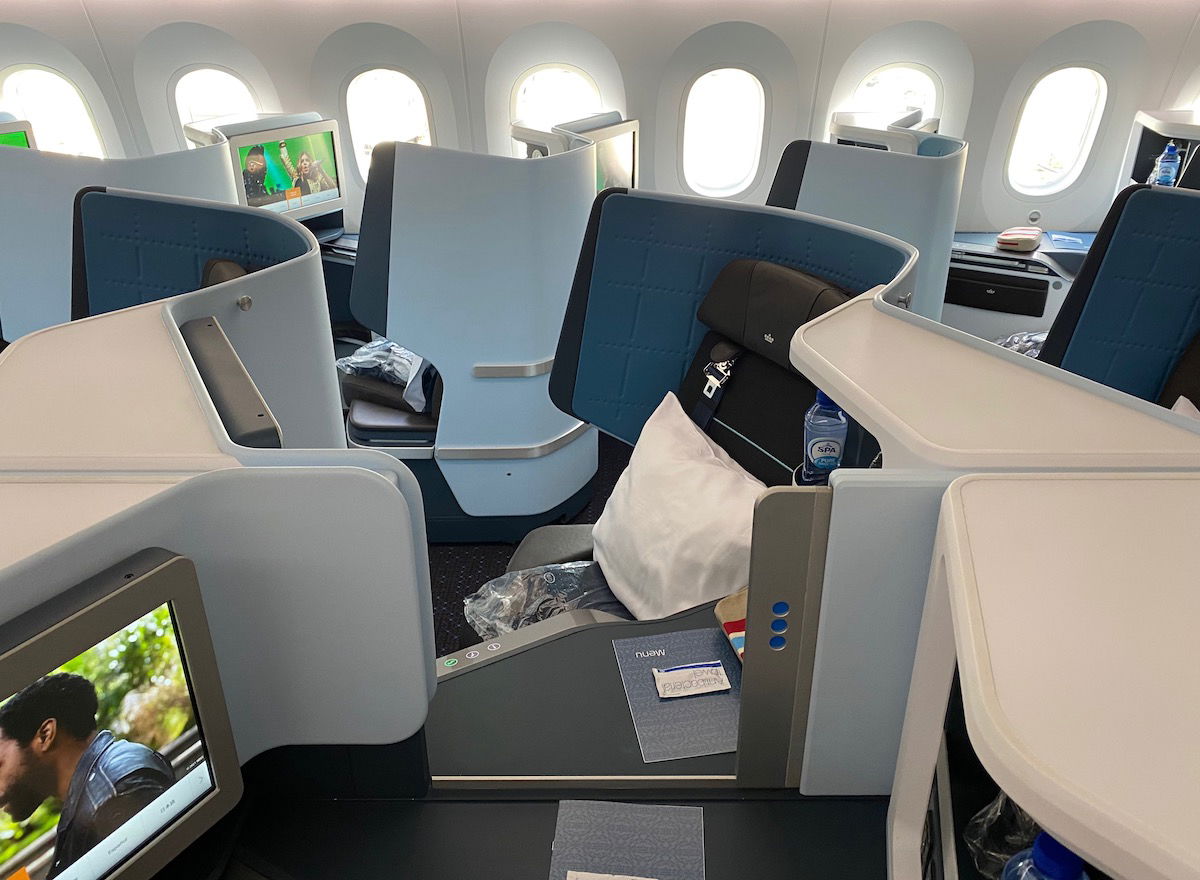 I had assigned myself seat 10A (the seat on the left side in the last row), and I assigned Ford the seat right in front of me, 9A.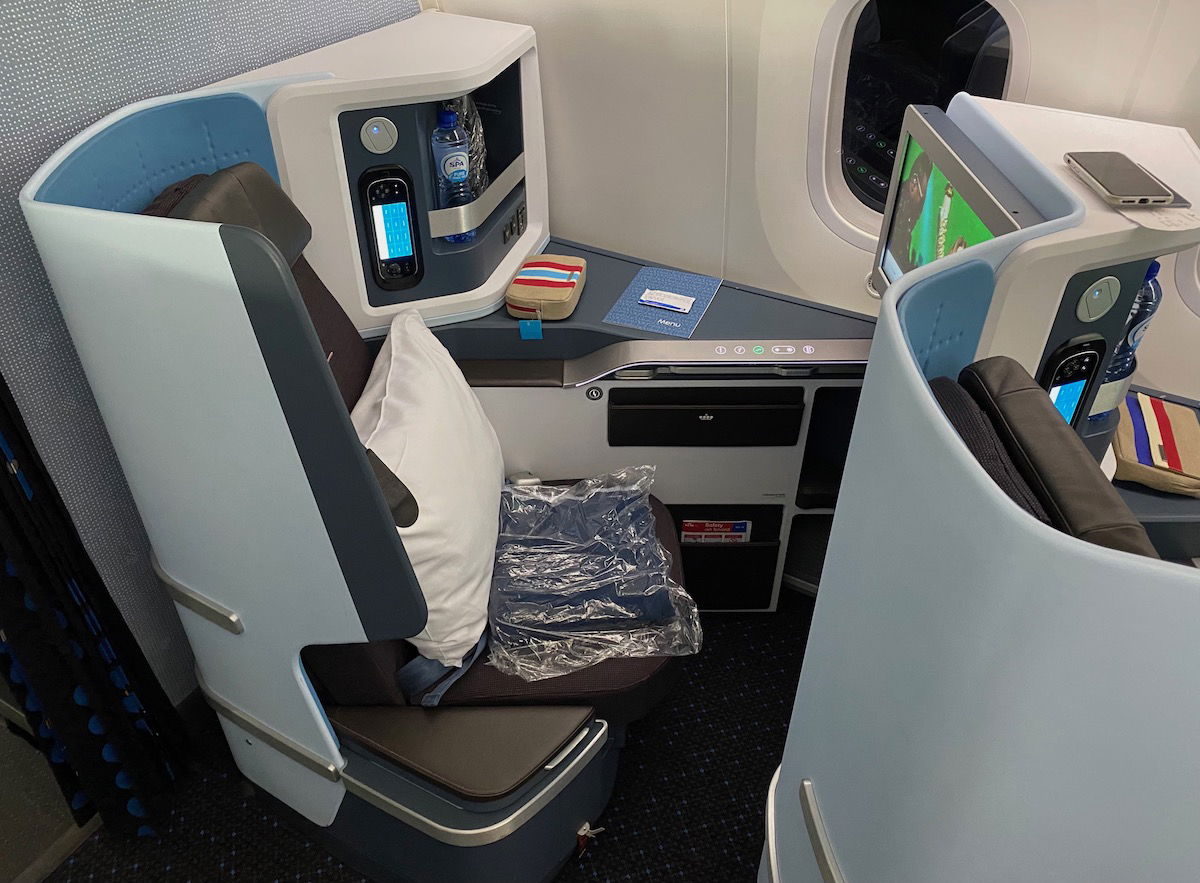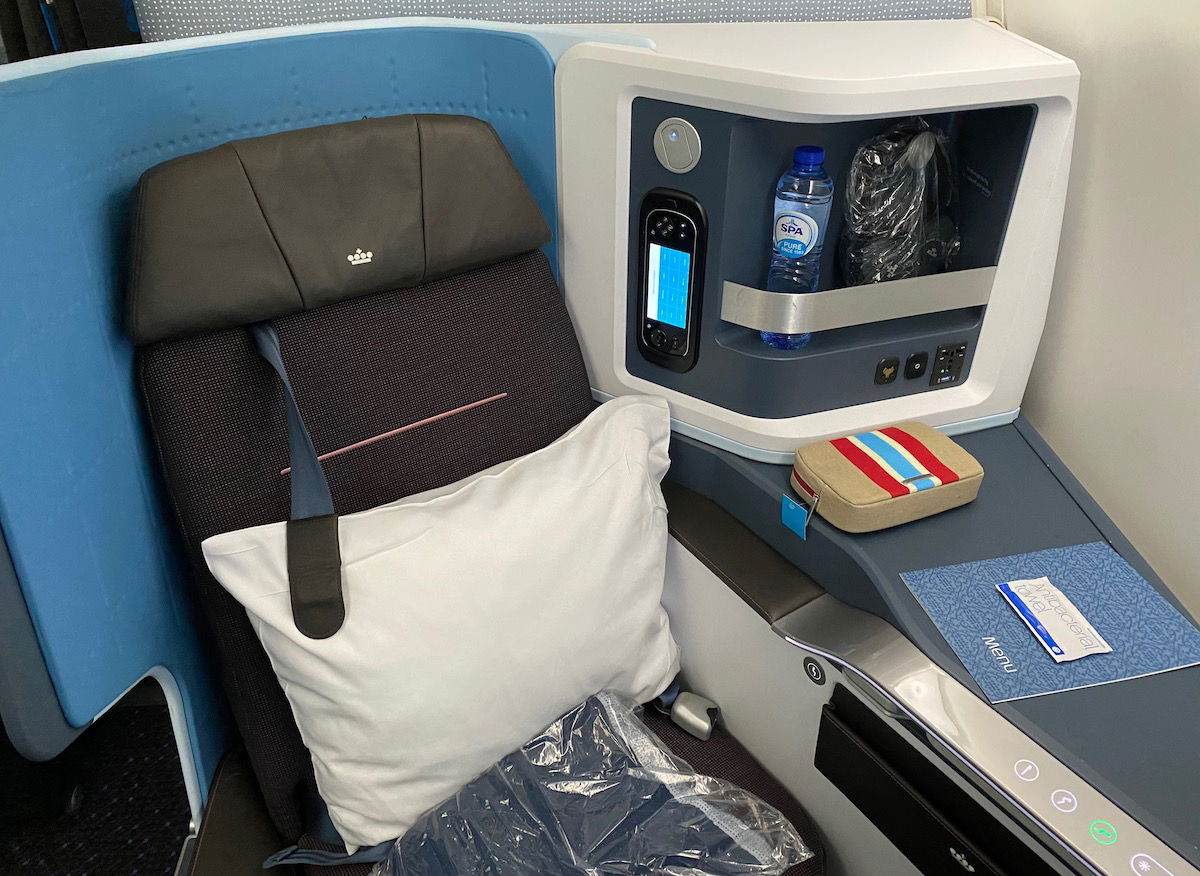 On the left side of the seat was an exposed storage area, which also contained the entertainment controller, a reading light, and a power outlet (including a universal and USB outlet).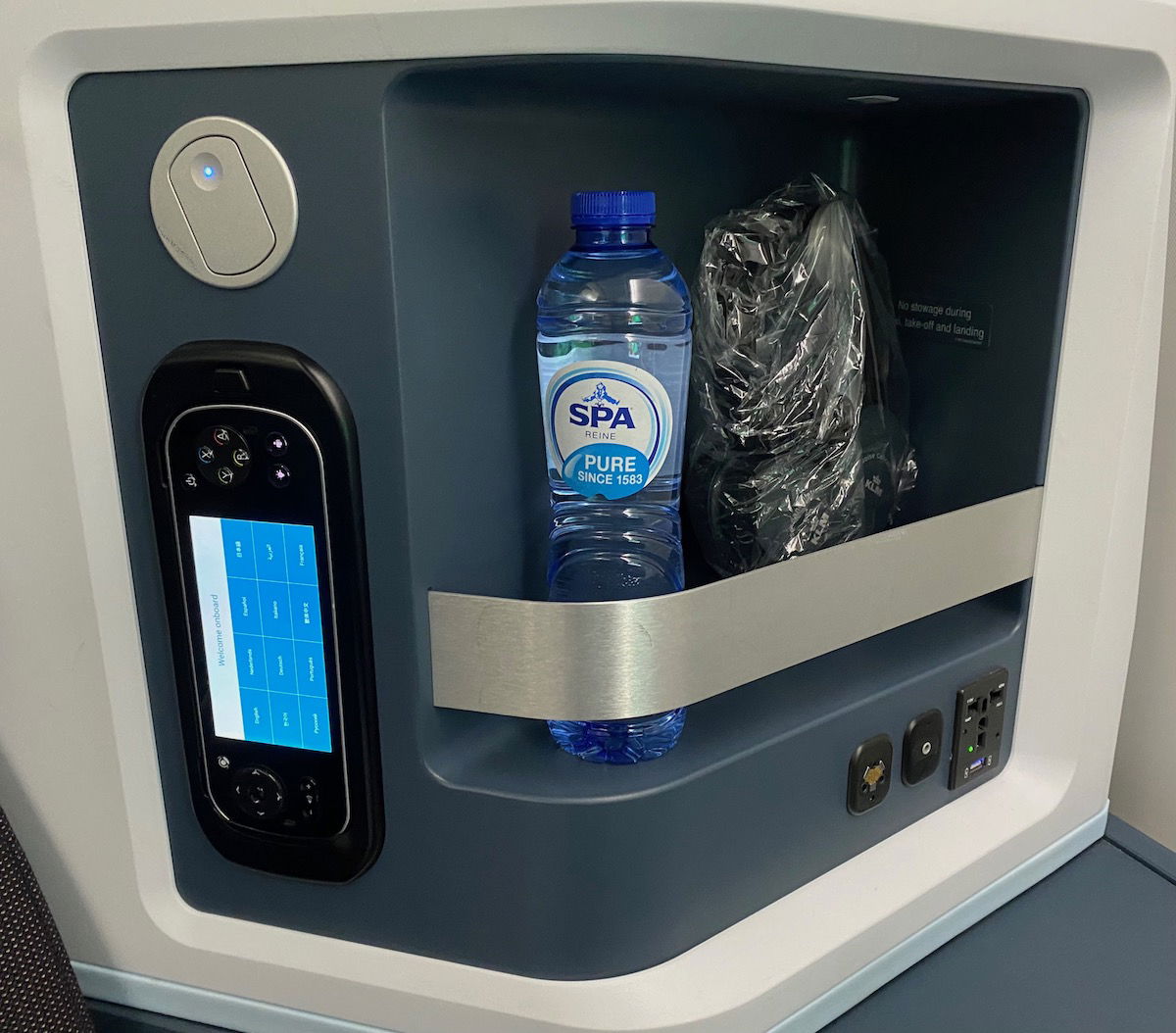 The tray table could be extended out from the side of the seat. When stored it flipped over in half, and then you could make it bigger when extended. The tray table was still wet when I opened it, so we'll hope that it was just sanitized thoroughly. 😉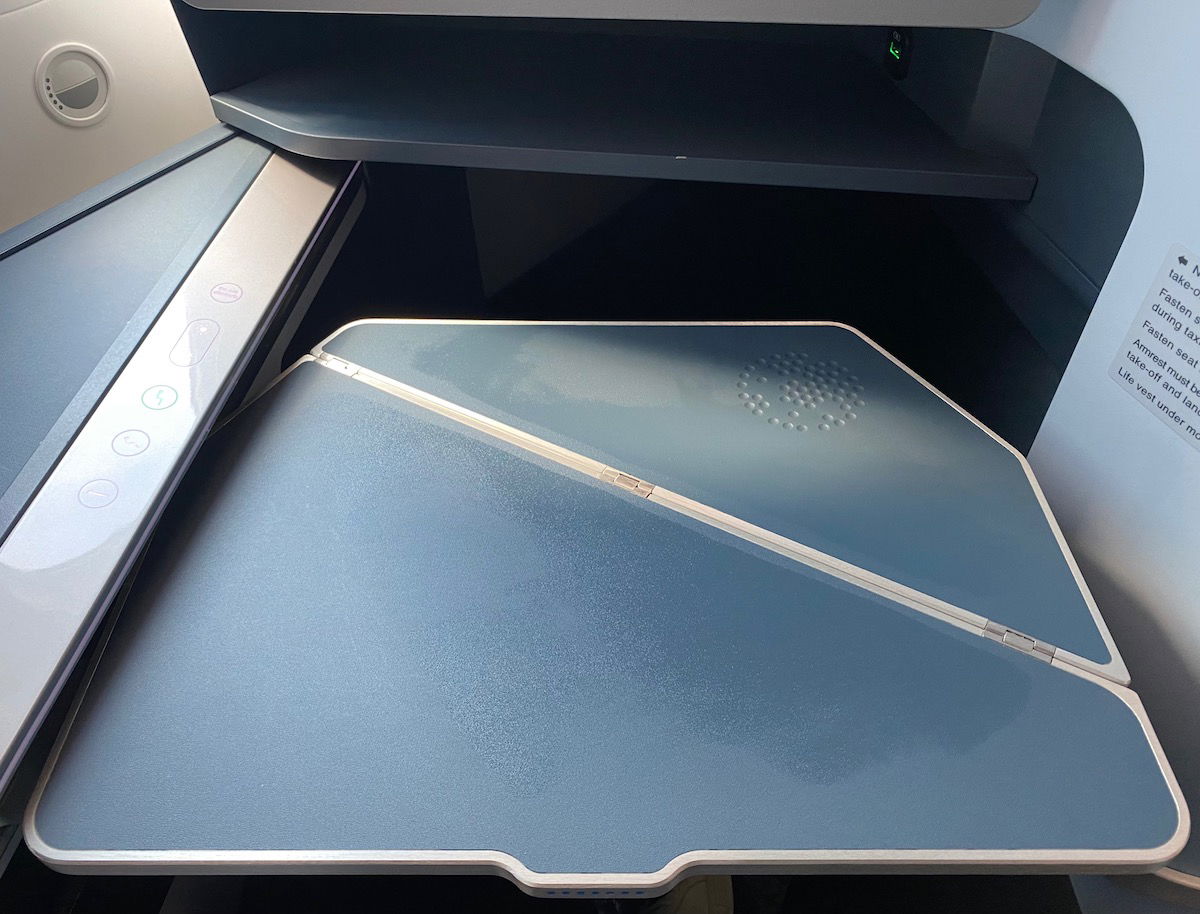 There was a cute little leather pocket underneath the area where the tray table extended, where you could store a cell phone, reading glasses, etc.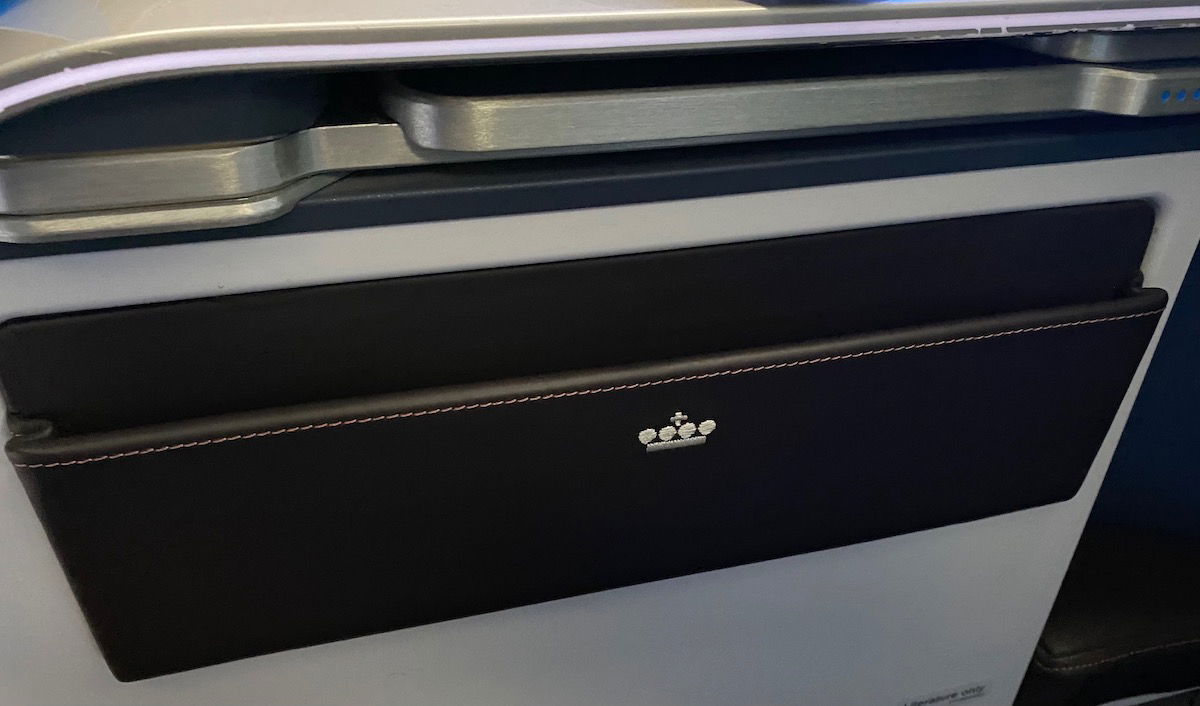 For this configuration, the 18.5″ personal television is in a fixed position on the seat in front. The TV was high definition, and could be controlled either with the entertainment controller, or via the touchscreen. There was a small shelf underneath the TV, and another USB outlet there.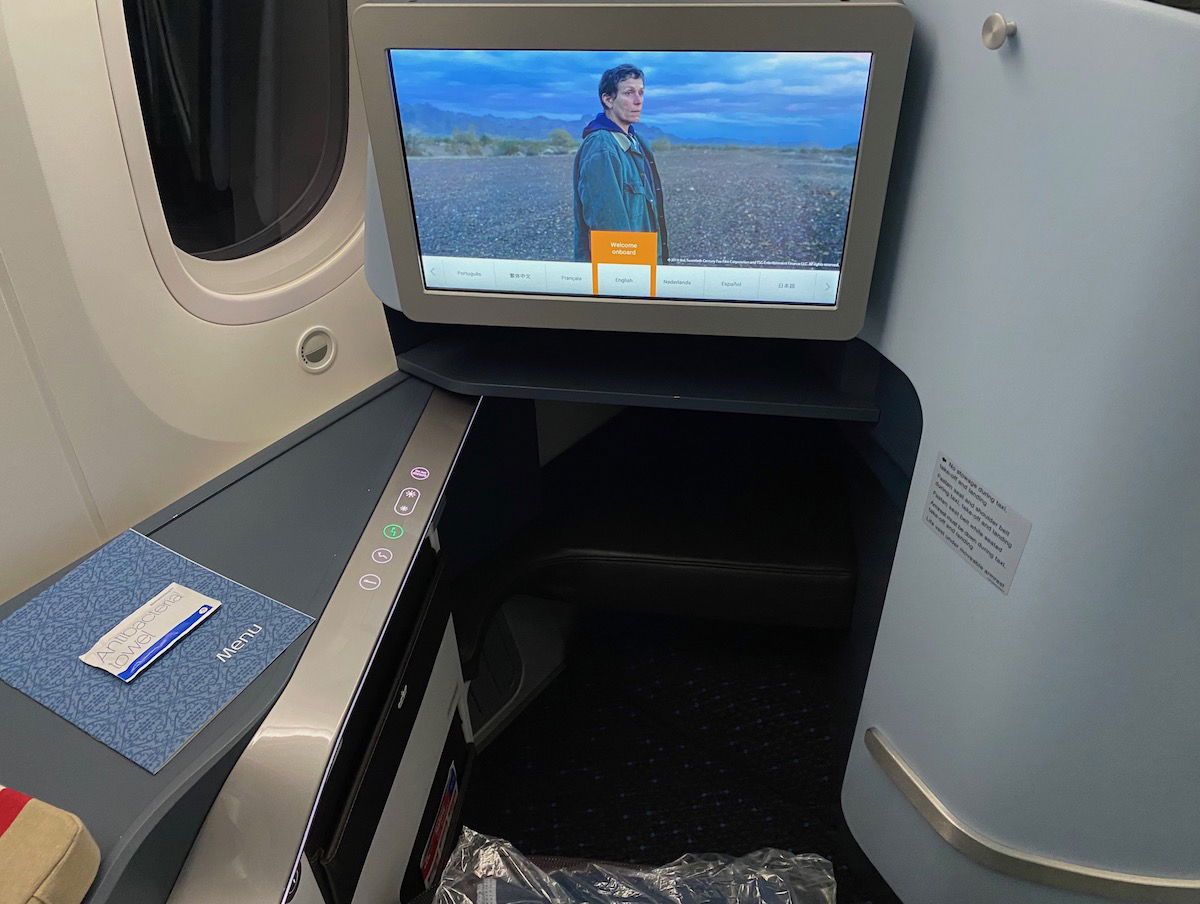 Along the side of the seat were the easy to use seat controls.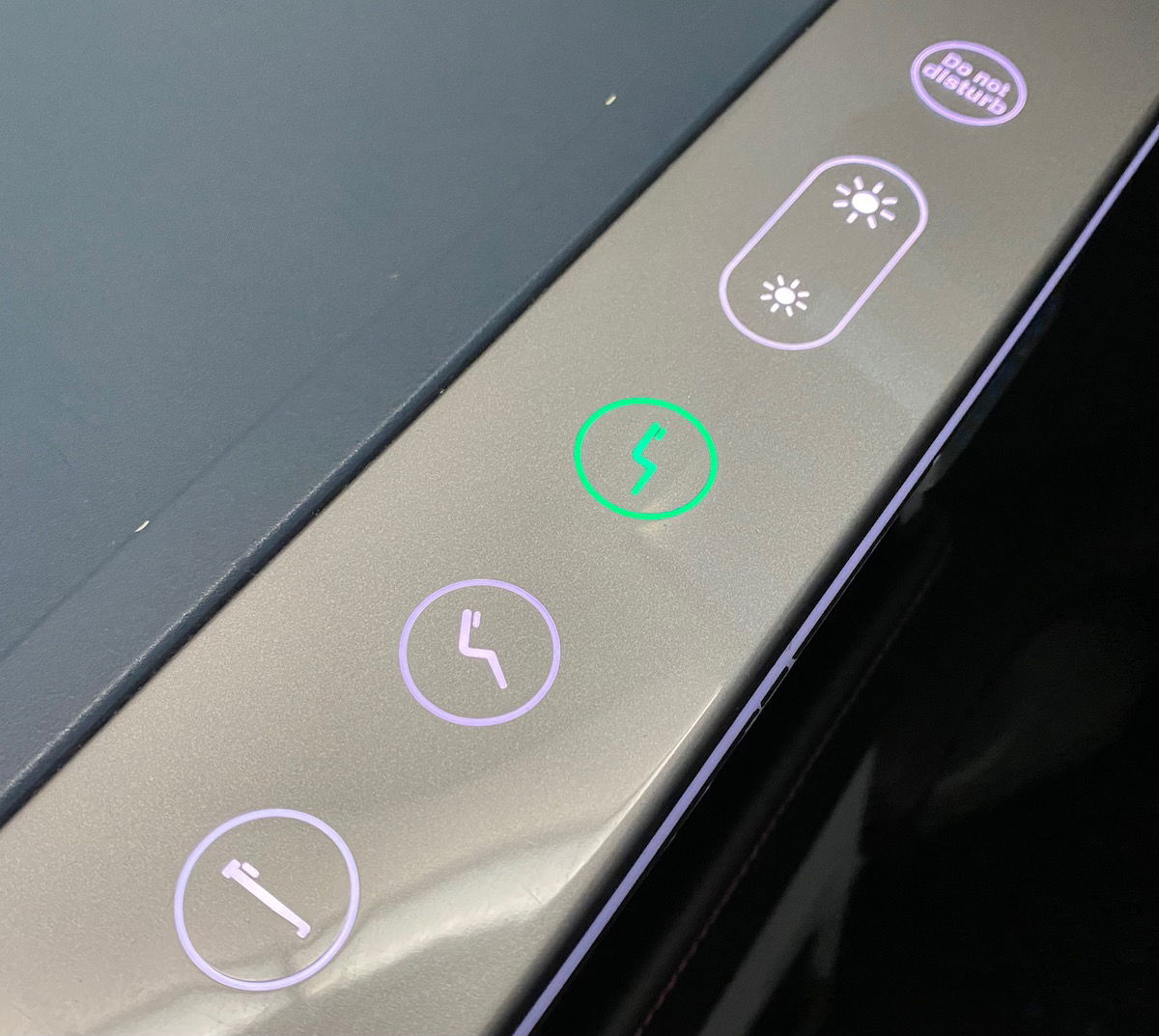 One challenge with reverse herringbone seats can be that the footwell can feel tight when sleeping. This configuration had a good size footwell, and most people should have no issues getting comfortable, regardless of whether they prefer sleeping on their back or side.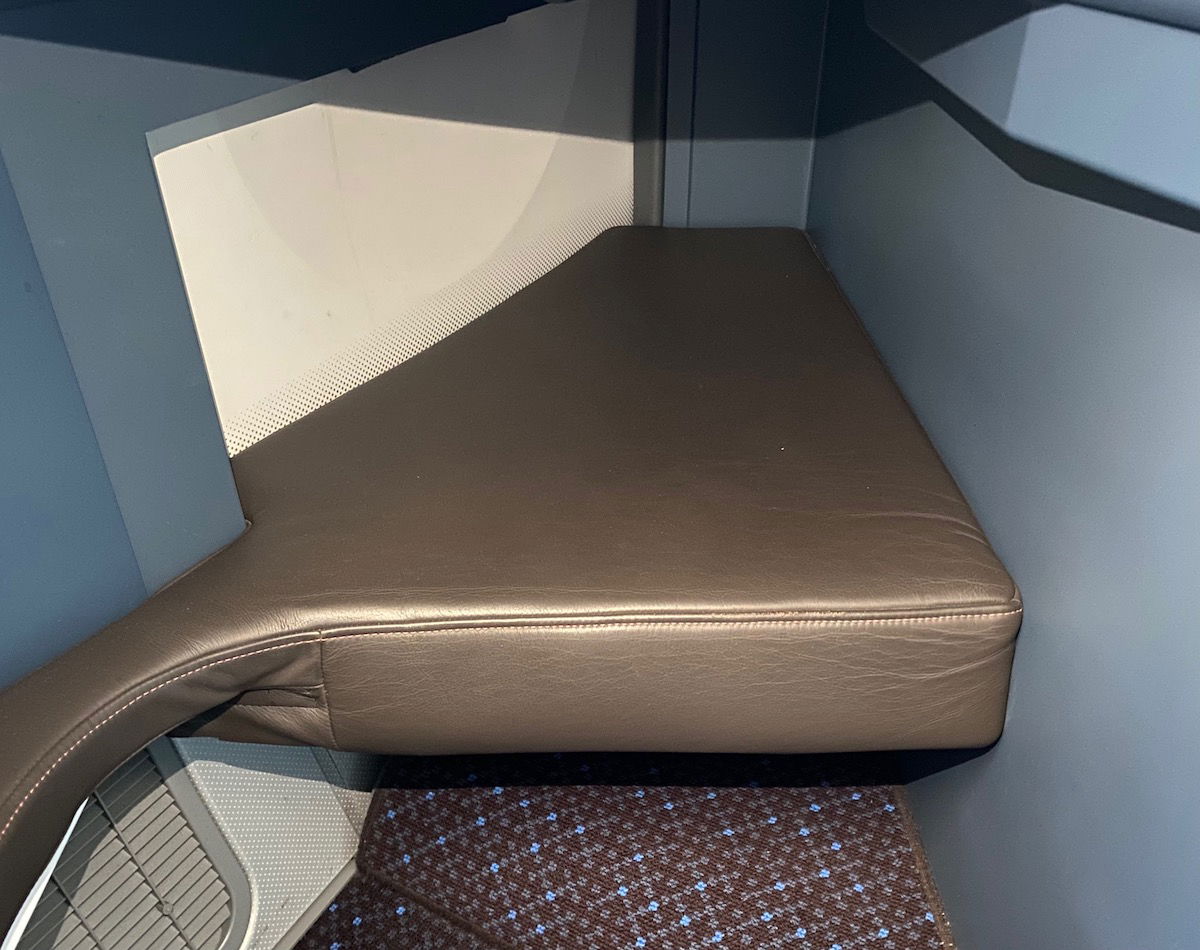 Along the aisle-side of the seat was an armrest, which could be raised (for support) or lowered (for a wider sleeping surface).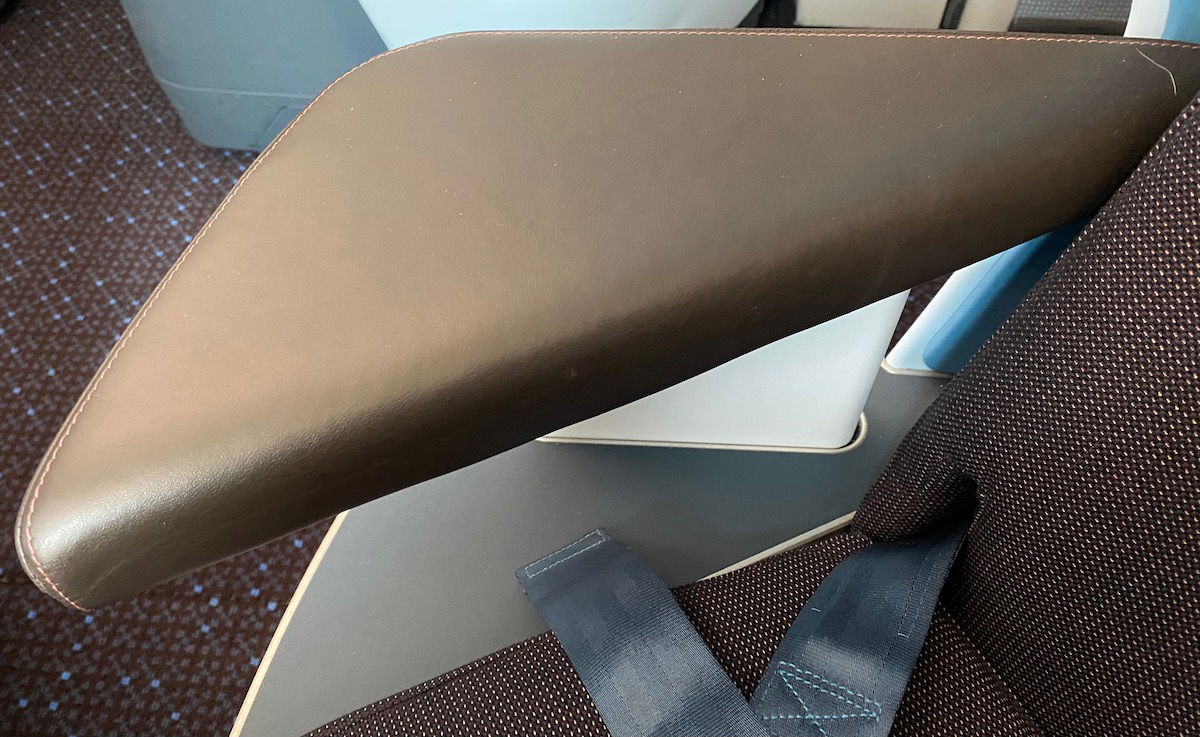 As is standard on the Boeing 787, the window shades were dimmable at the push of a button.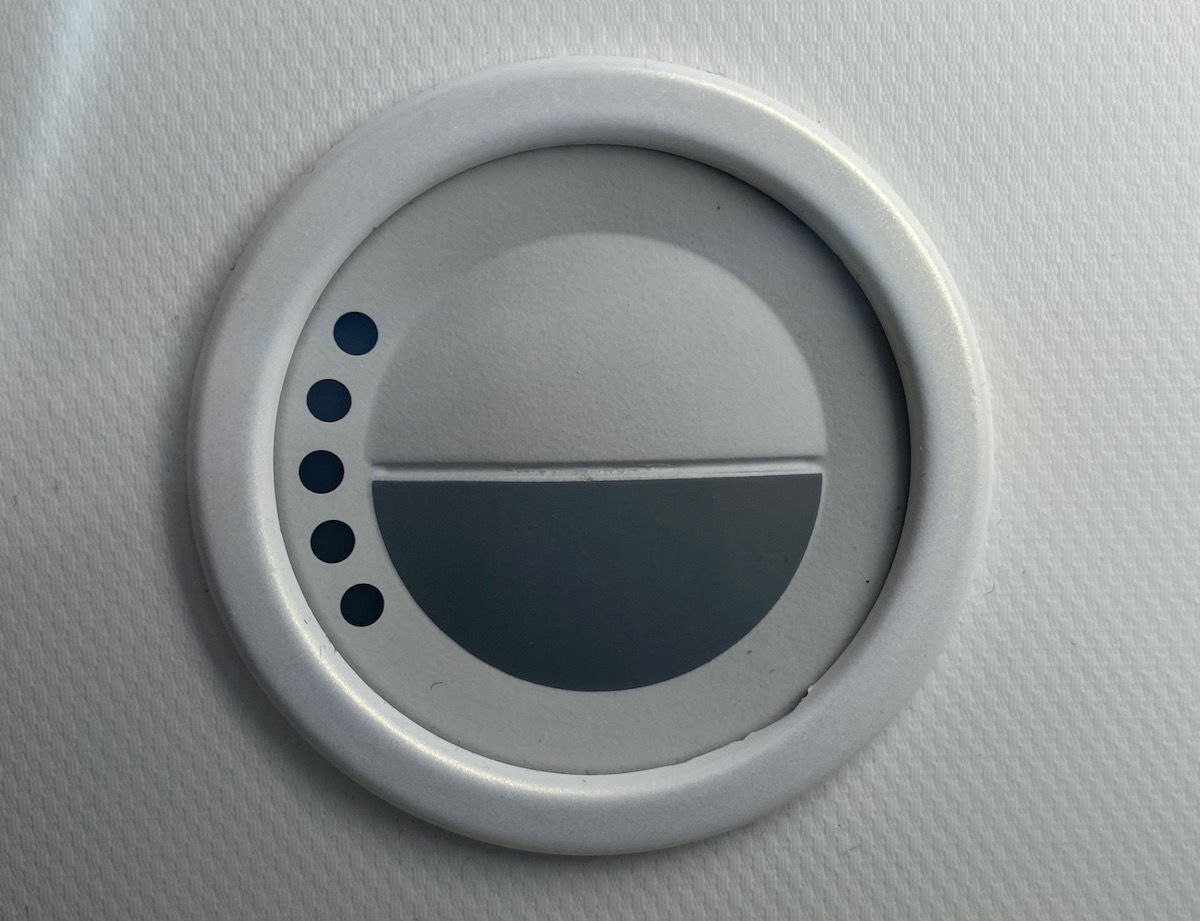 While I do like sitting in the last row, row 10 isn't ideal if you're wanting to look out of the window, as there's only a single window, which is also partially obstructed.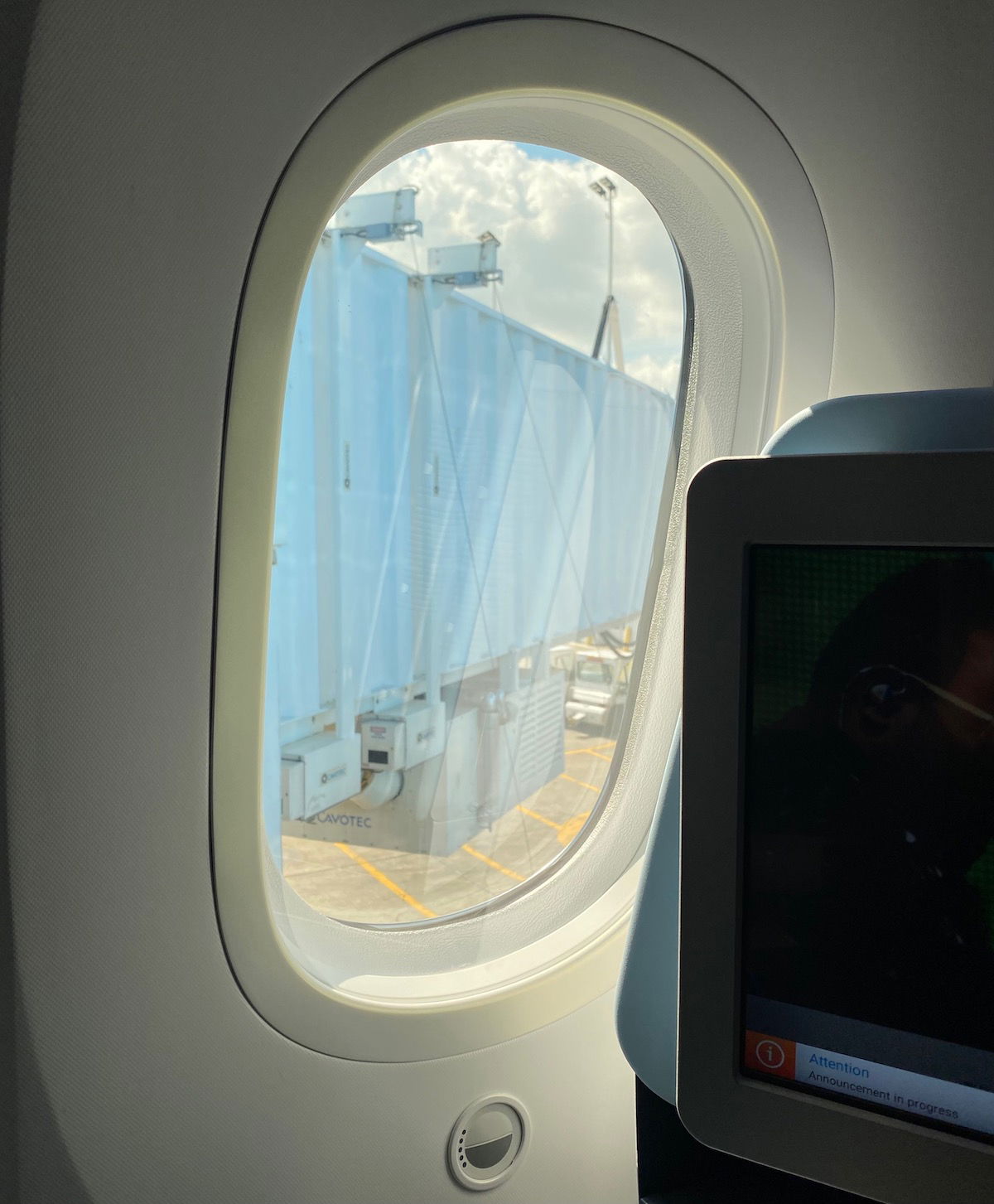 My one frustration with the seats was the lack of individual air nozzles, but that's unfortunately standard on European airlines.
This flight was also noteworthy for being the first mostly full transatlantic flight I had taken since the start of the pandemic. The back of the plane was mostly full, and in business class 33 of the 38 seats were taken.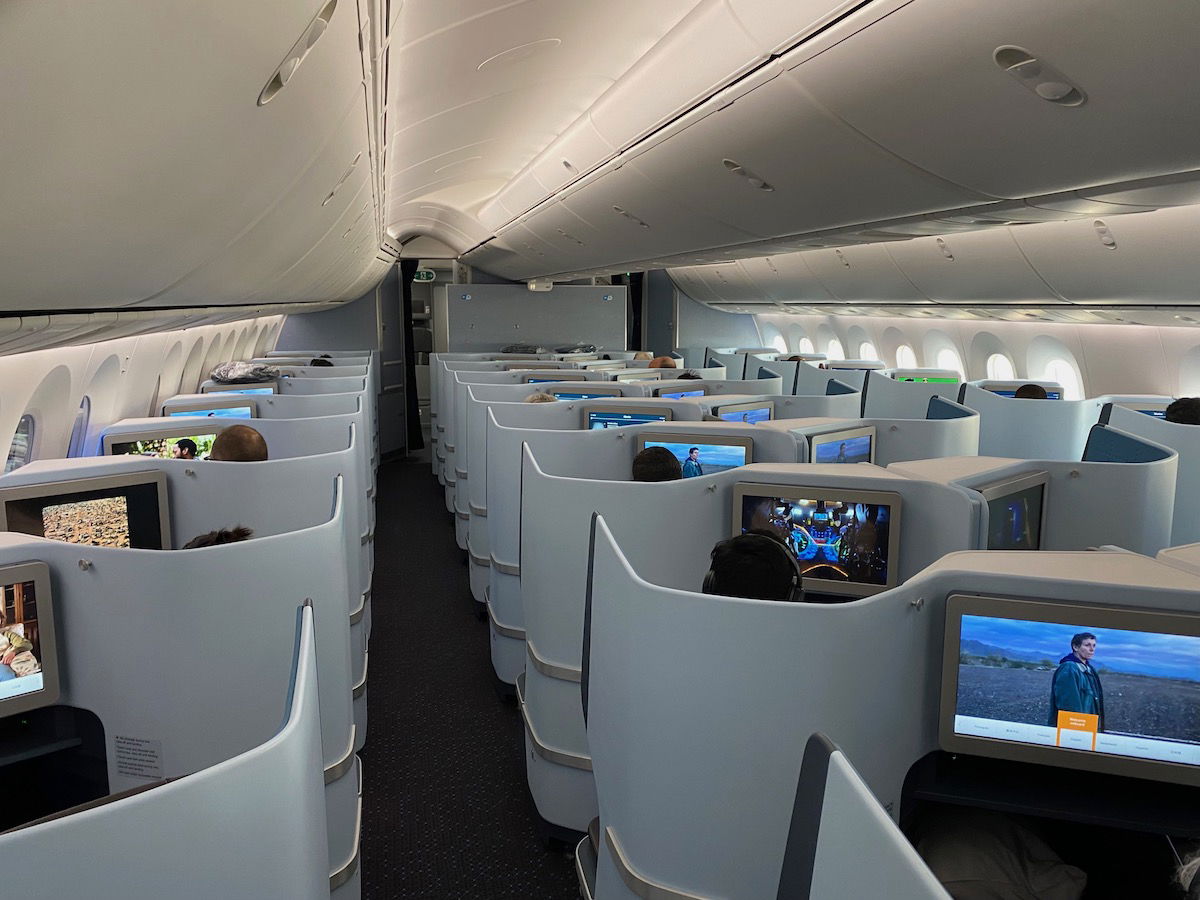 KLM business class amenities
Waiting at every seat on boarding were a pillow and blanket. KLM's bedding is decent, but not amazing. There's a full size pillow that has good padding, though it's also a bit rough. The blanket is also okay, though there's much better business class bedding out there.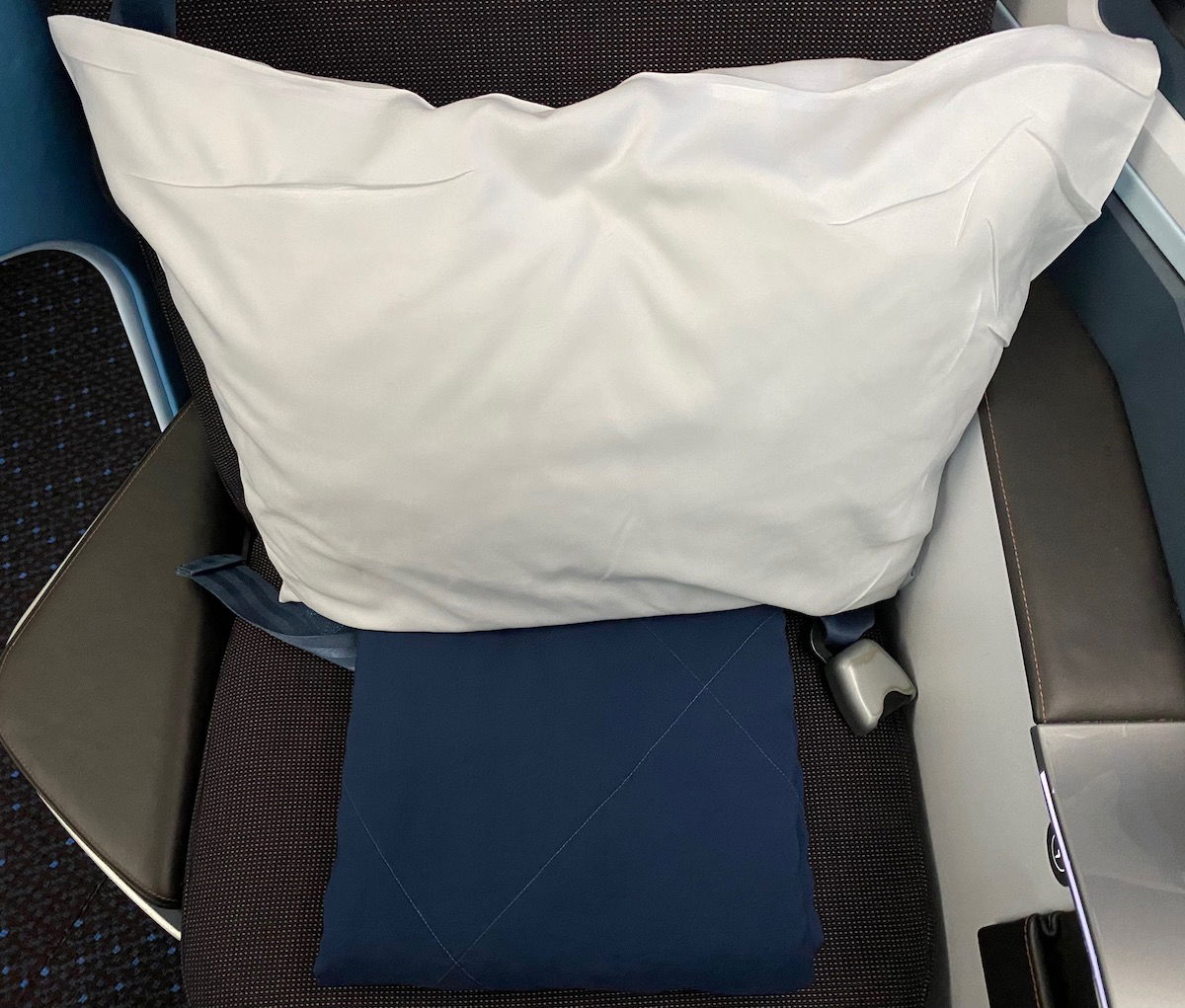 Also waiting at every seat were a pair of headphones, which were fairly good quality.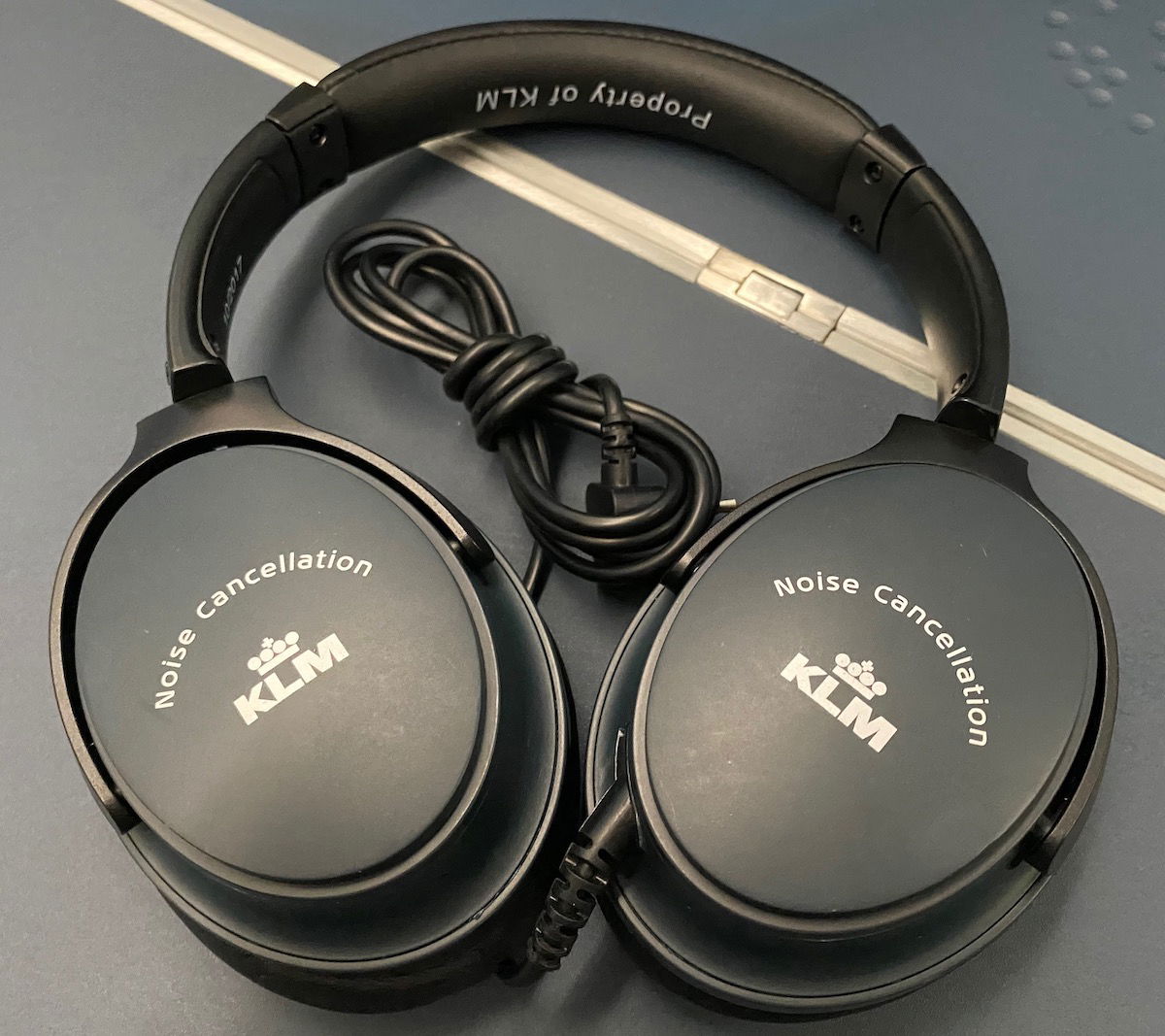 There were also amenity kits at each seat, which featured a dental kit, eyeshades, socks, earplugs, a pen, lip balm, hand sanitizer, and a face moisturizer. I liked the colorful bag the amenities came in.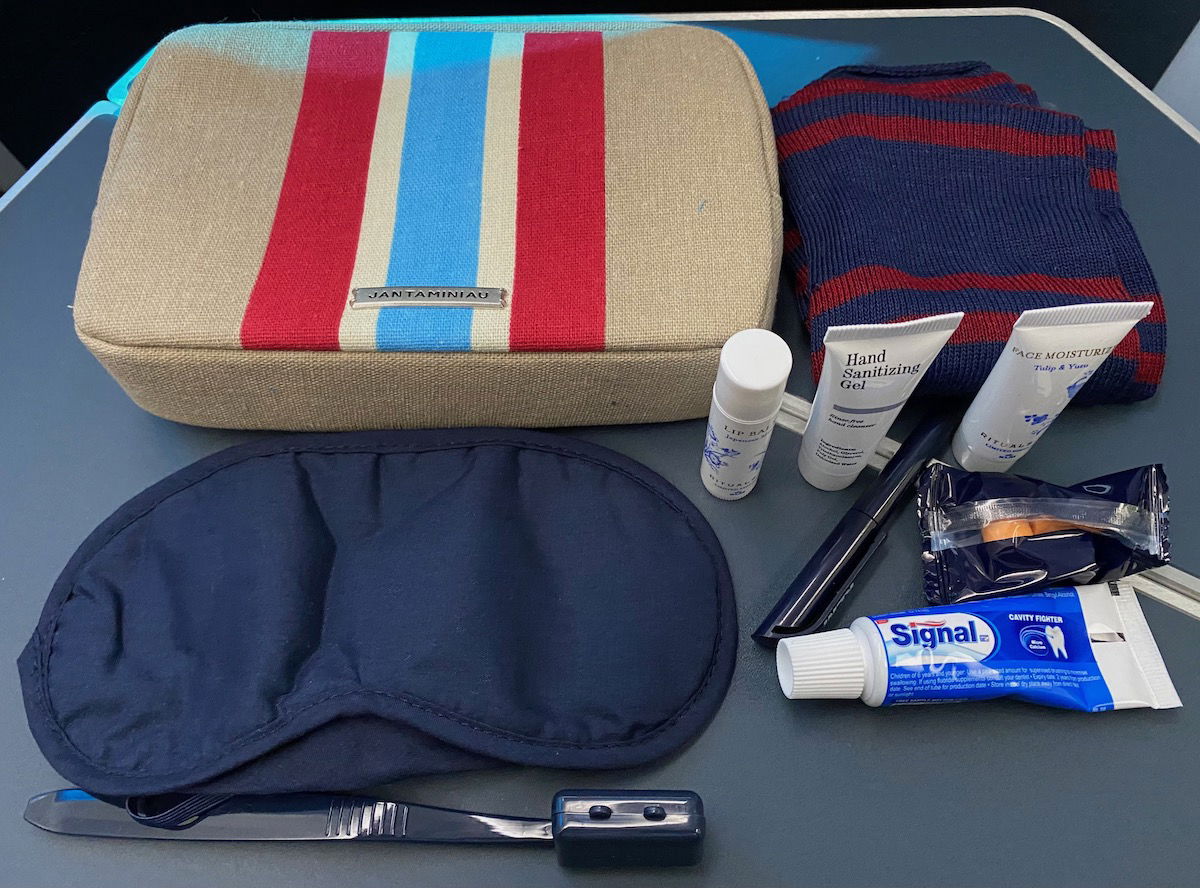 Menus were also at each seat, along with an antibacterial towel.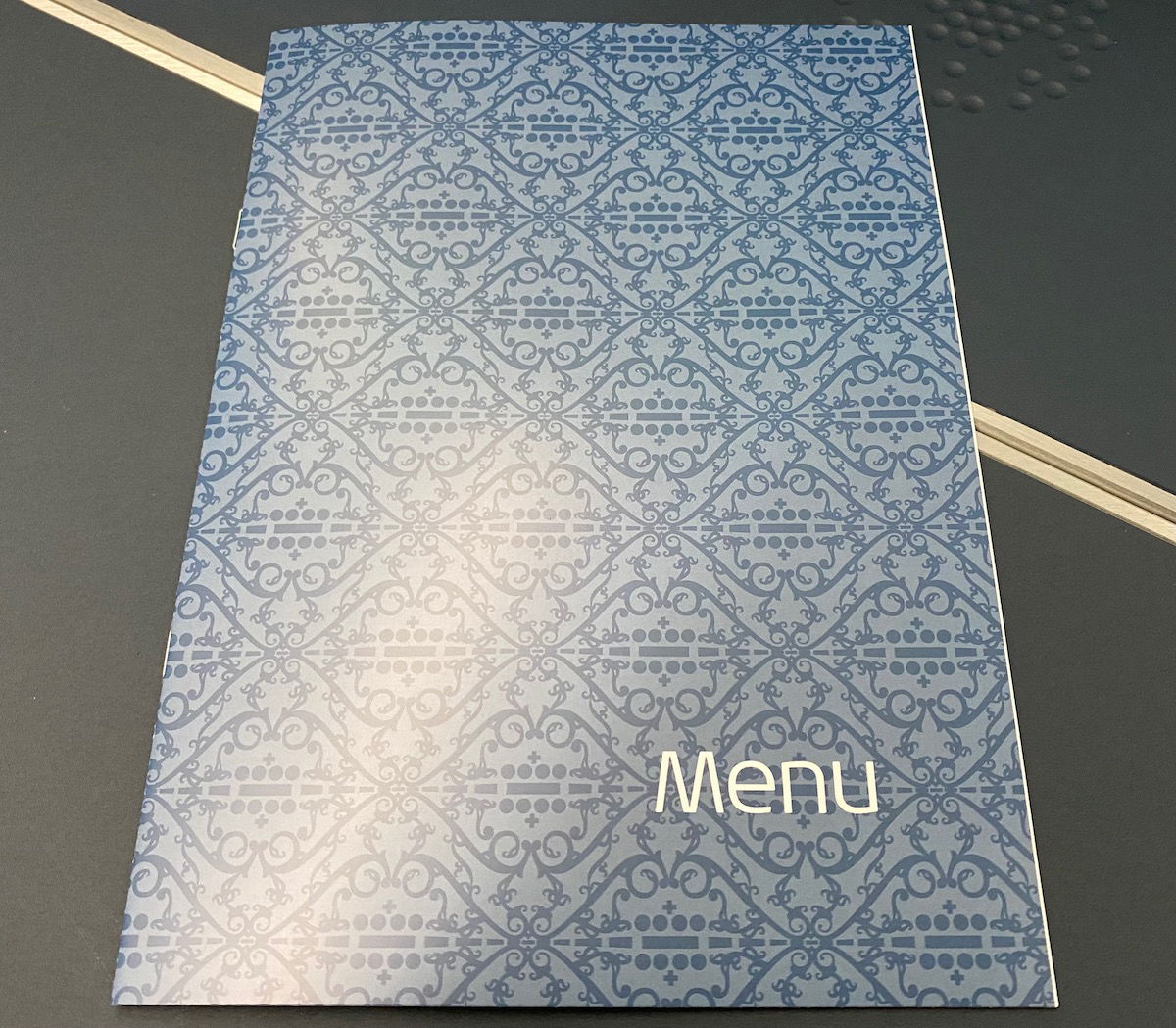 Then there were pre-departure drinks — I selected a glass of champagne, though I'm always amused by KLM's selection, including full cans of beer.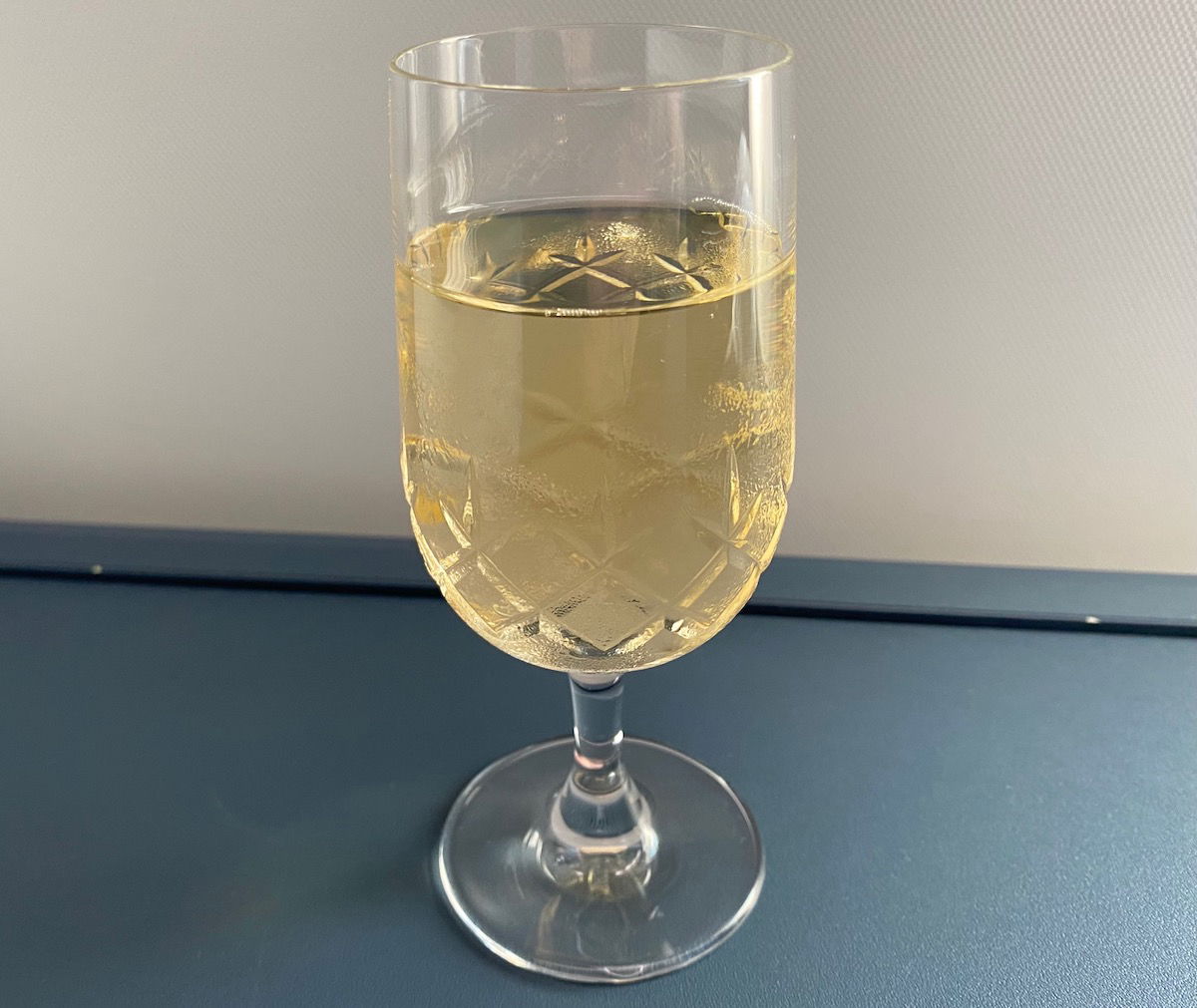 A pretty departure from Chicago
Shortly before departure the captain announced our flight time of 7hr15min to Amsterdam. The main cabin door closed at 4:25PM, and at 4:30PM we began our pushback. We had a roughly 15 minute taxi to our departure runway, where we took off at 4:45PM.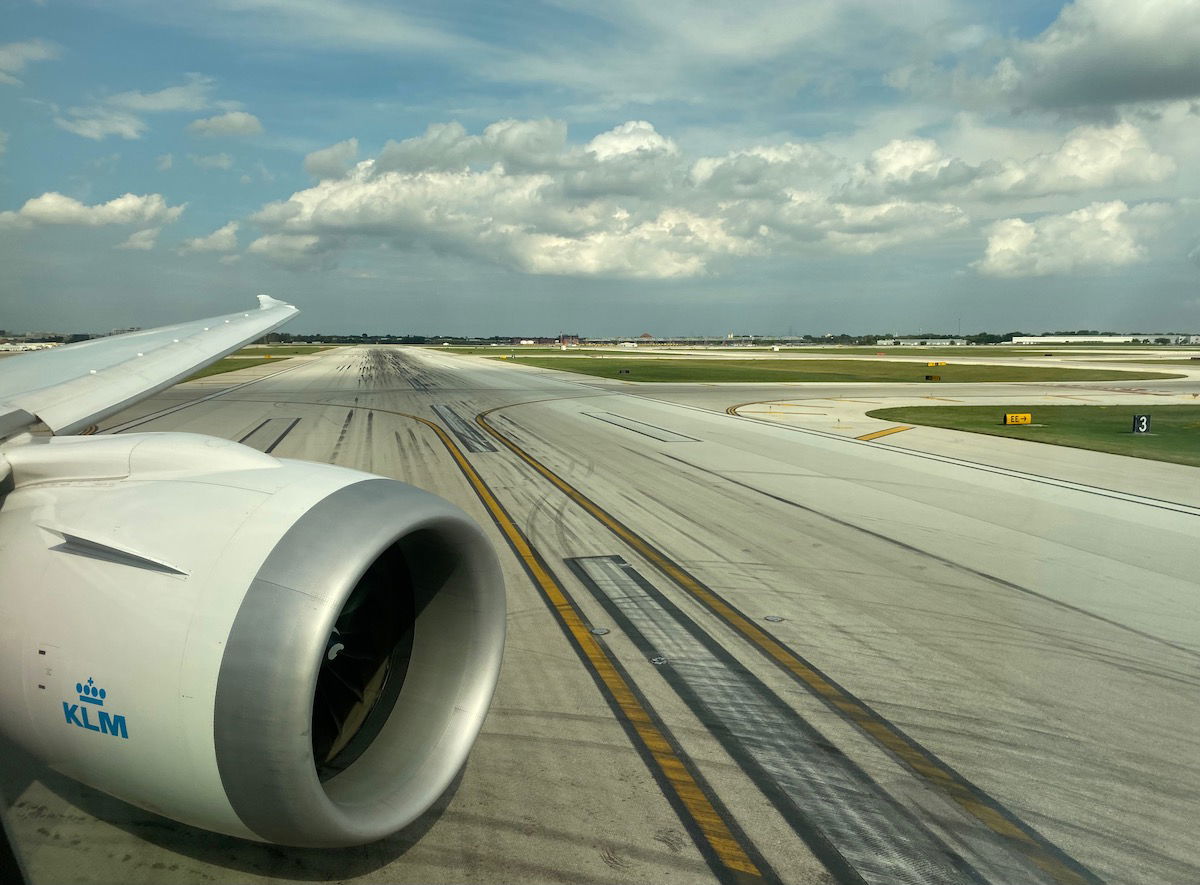 We had a fairly steep climb out of Chicago, and the views were great. That's especially true when sitting in row 10, given the amazing engine and wing views.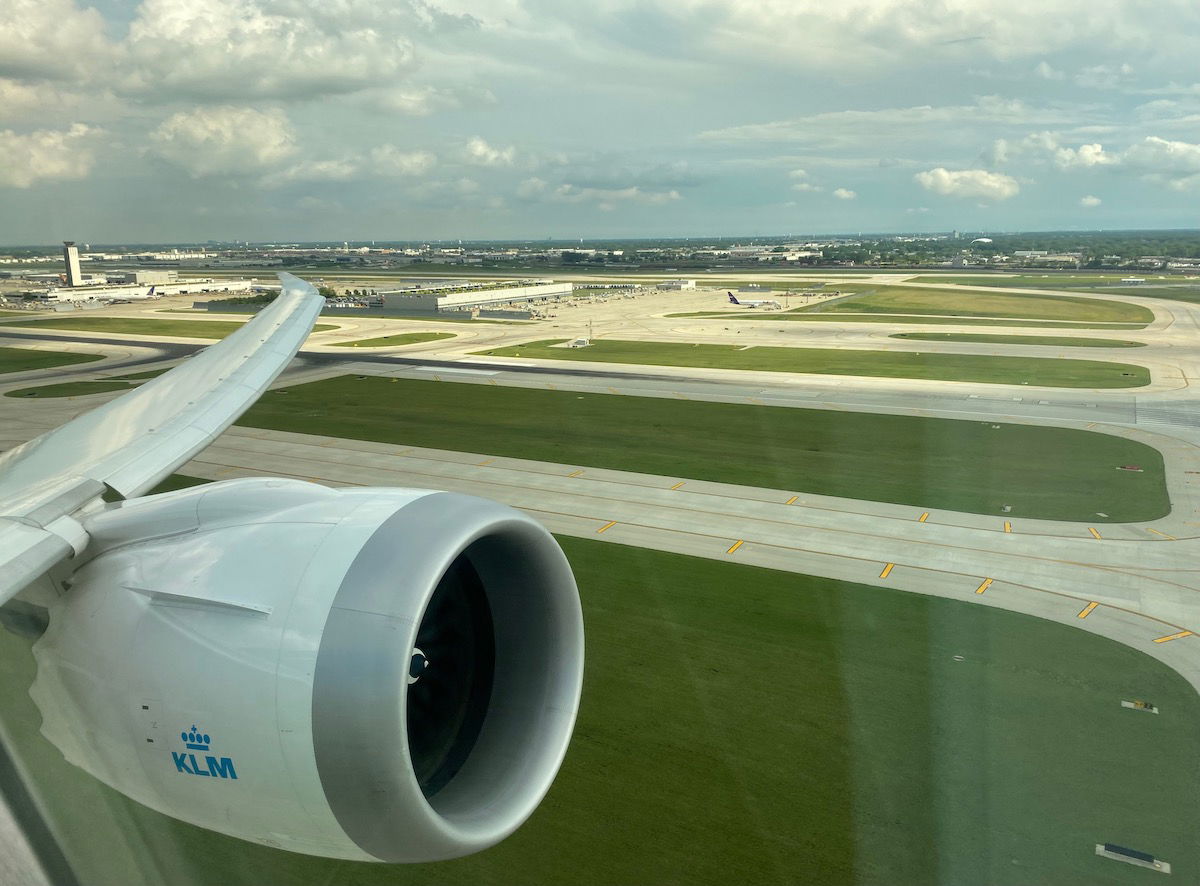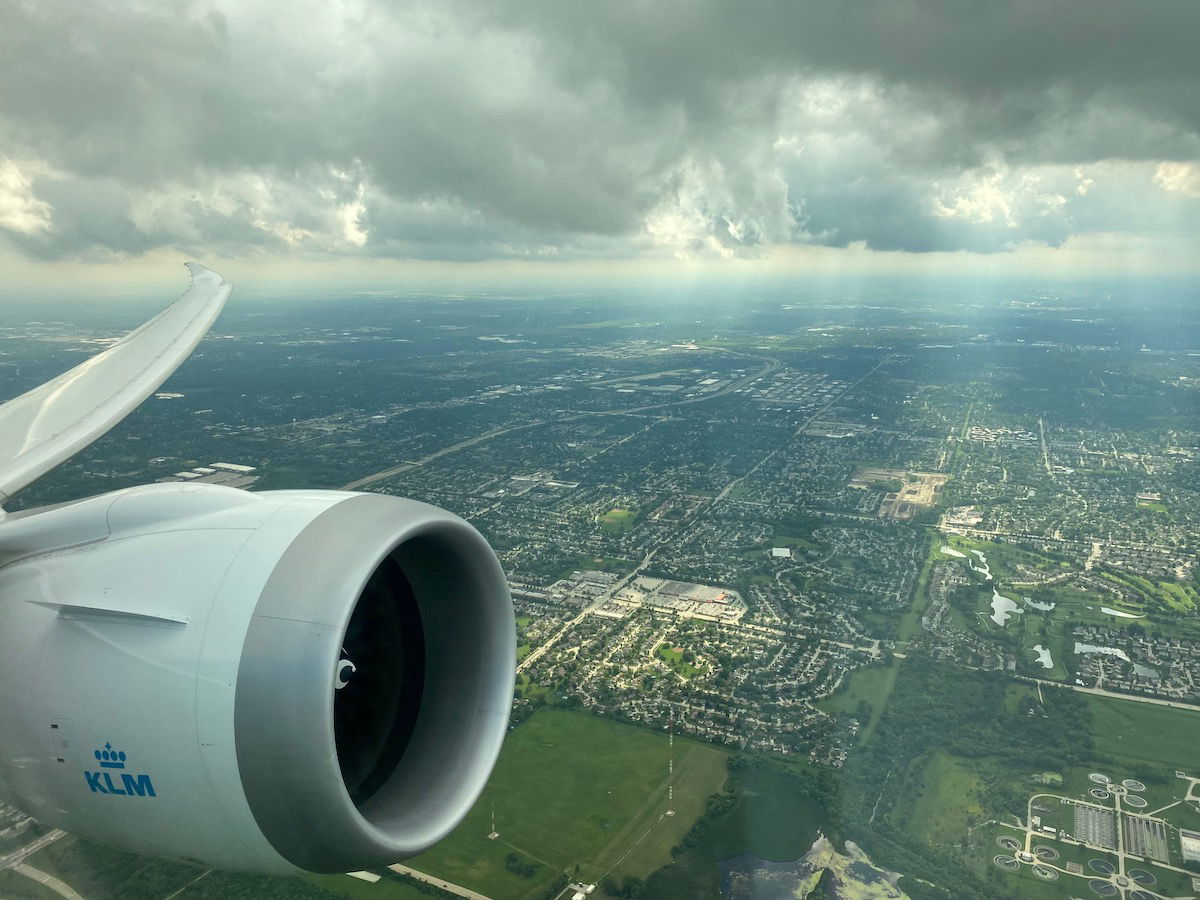 KLM business class dinner service
The seatbelt sign stayed on for about 30 minutes after takeoff, so it took a while for the dinner to get started. At that point orders were taken for main courses, and shortly thereafter the food & drink service began.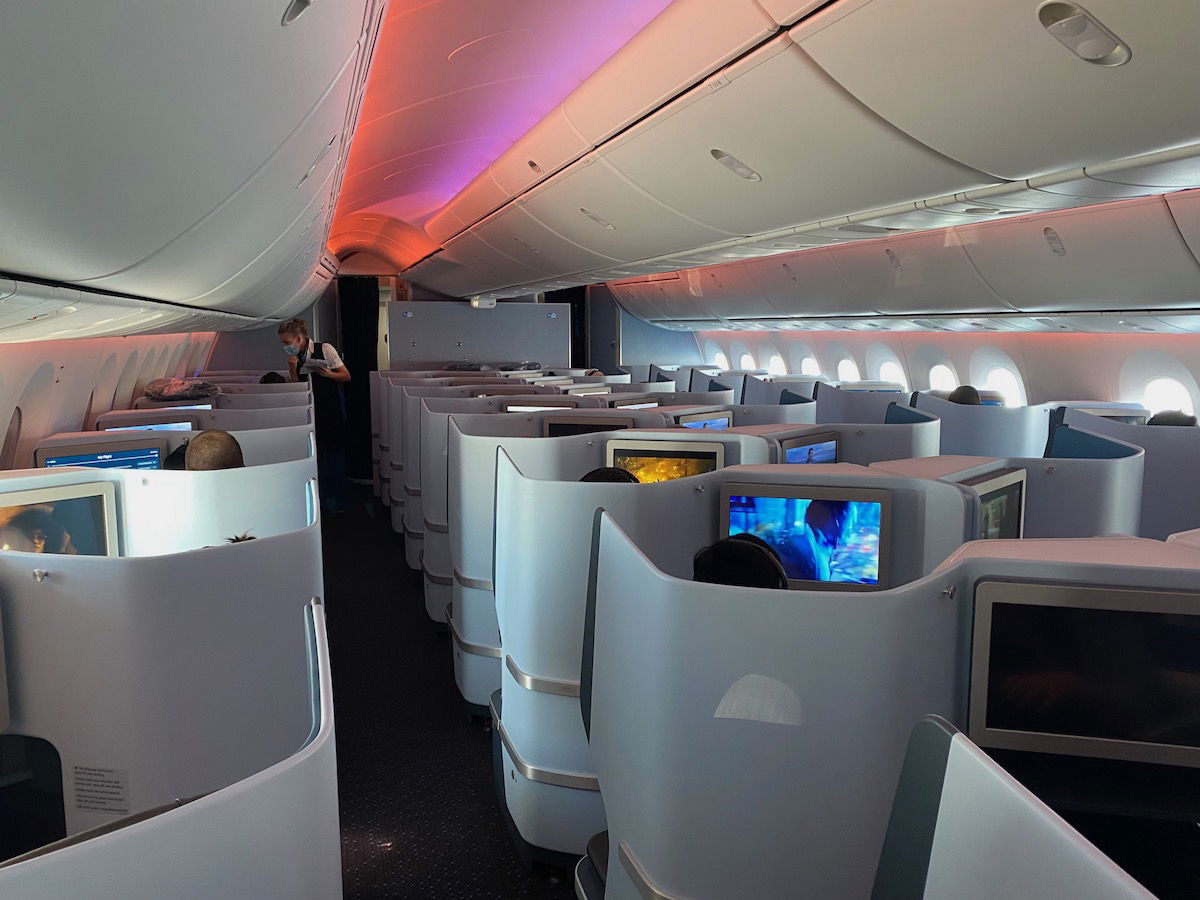 The dinner menu read as follows: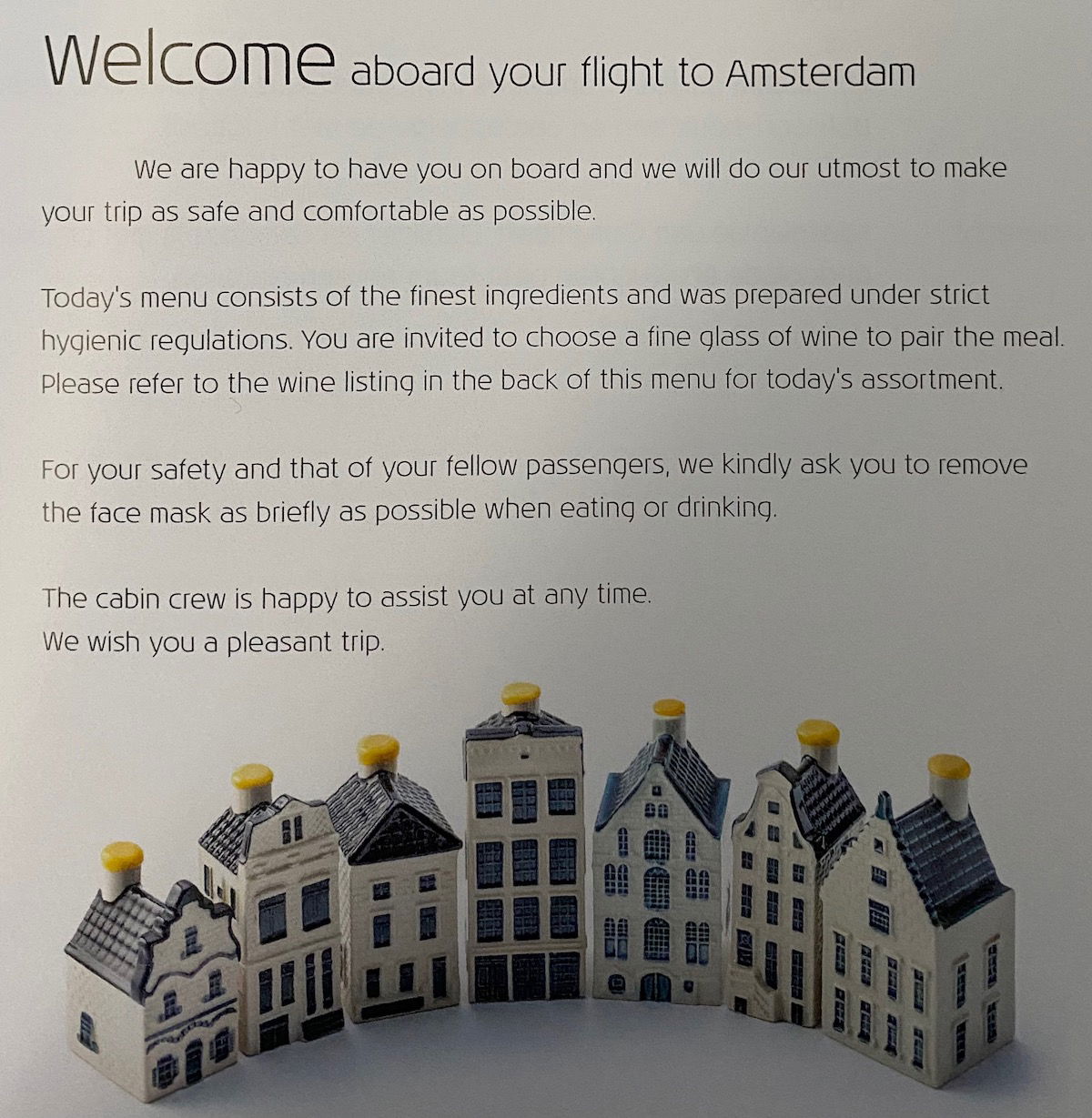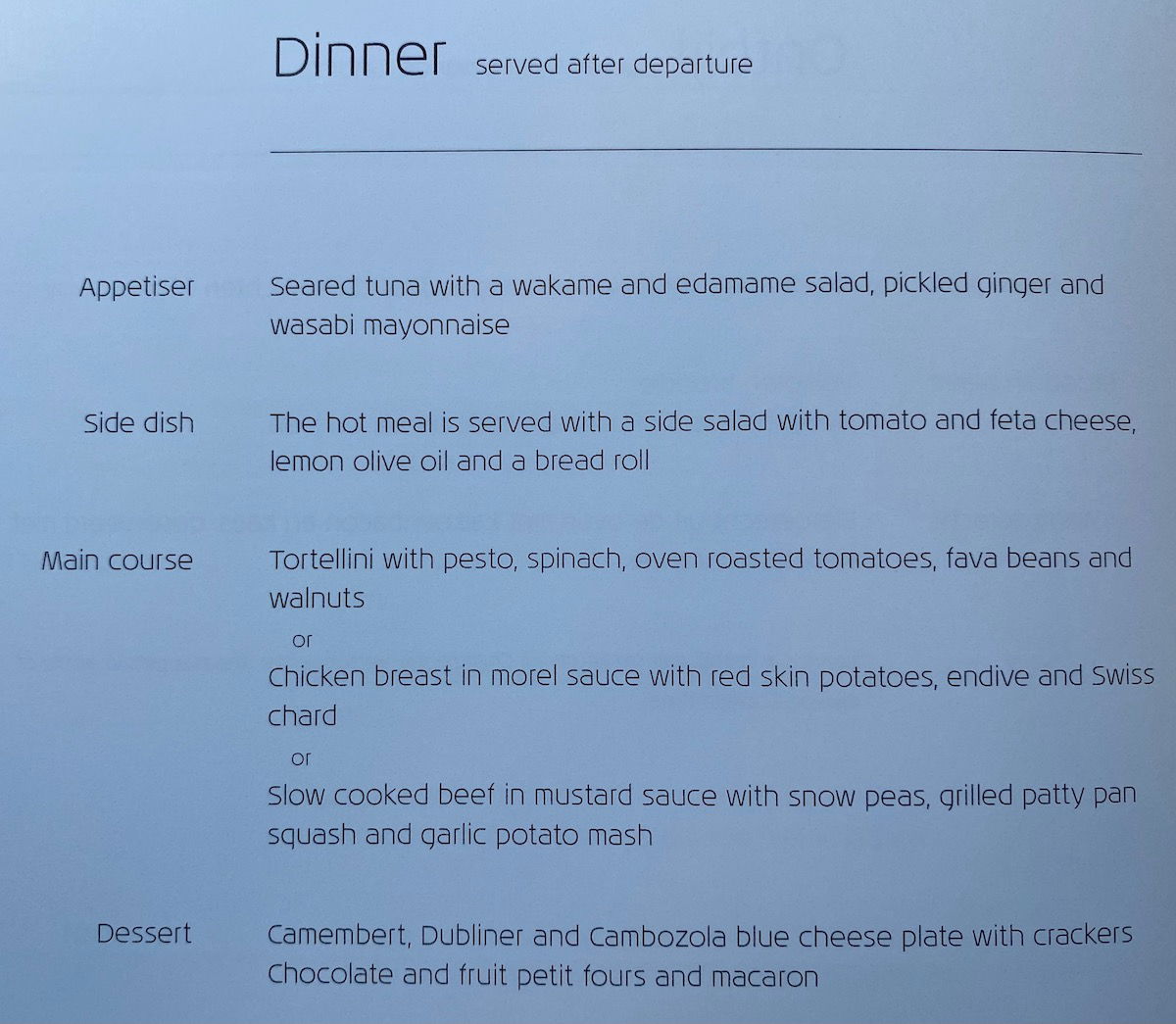 The drinks list read as follows: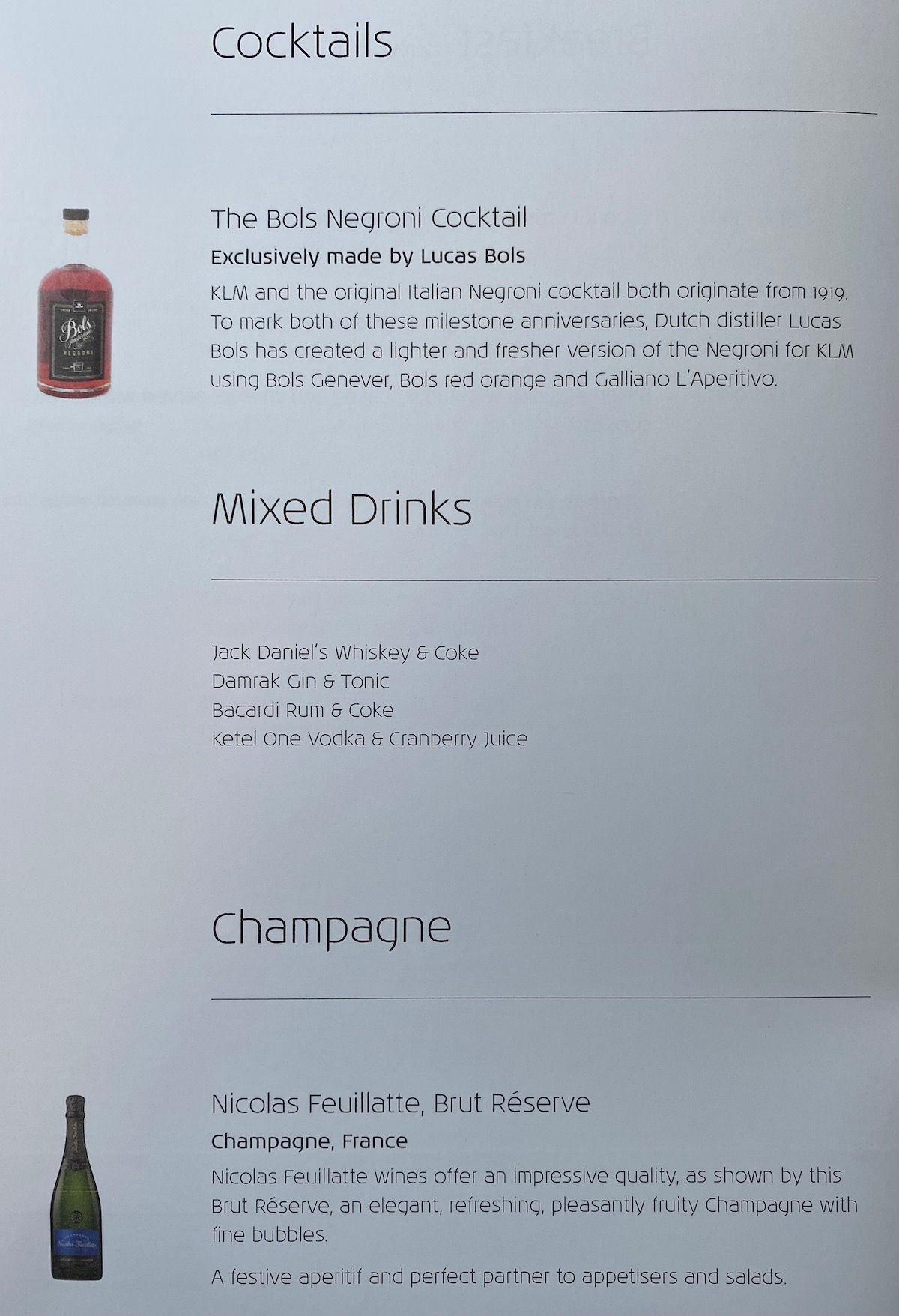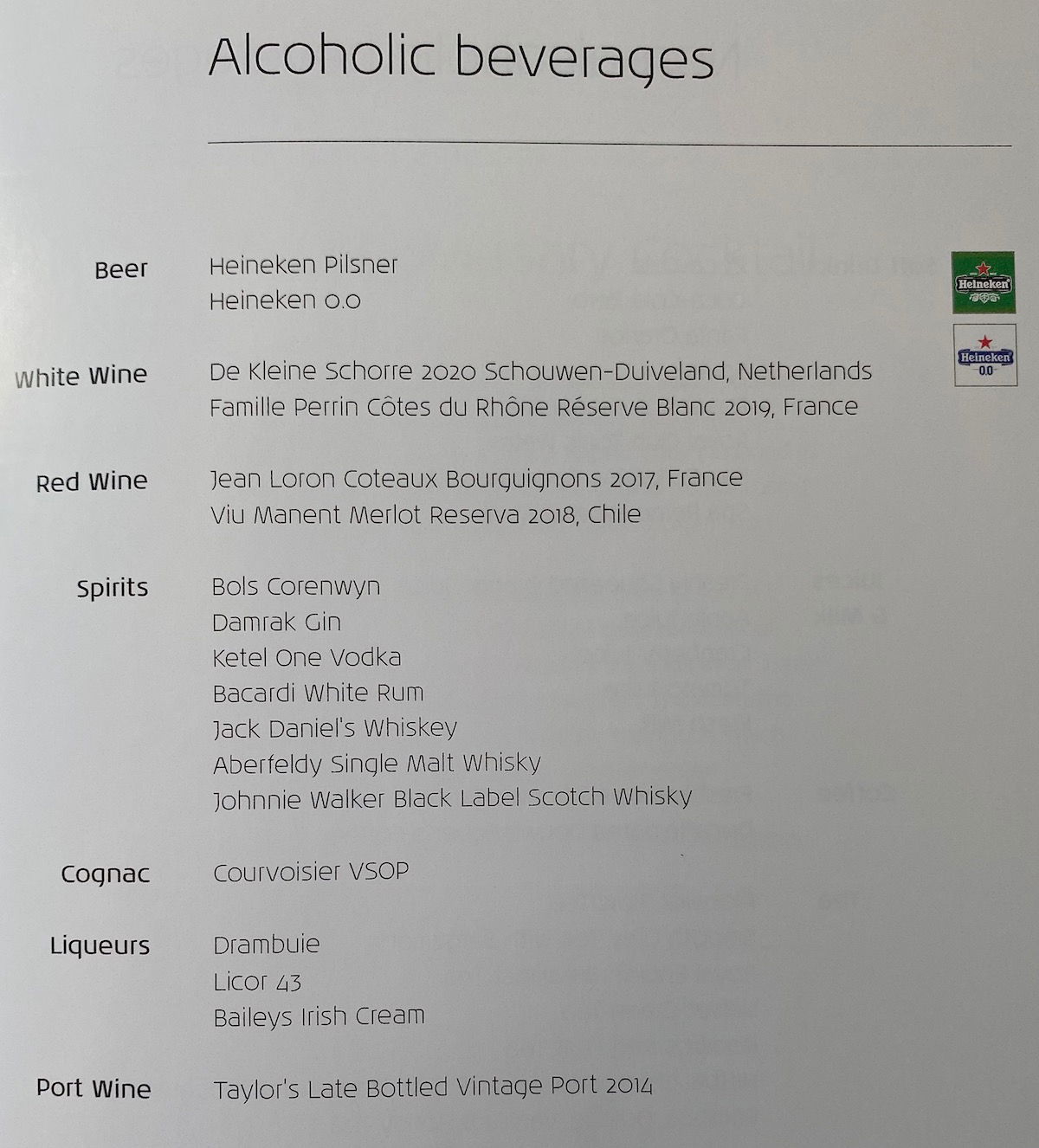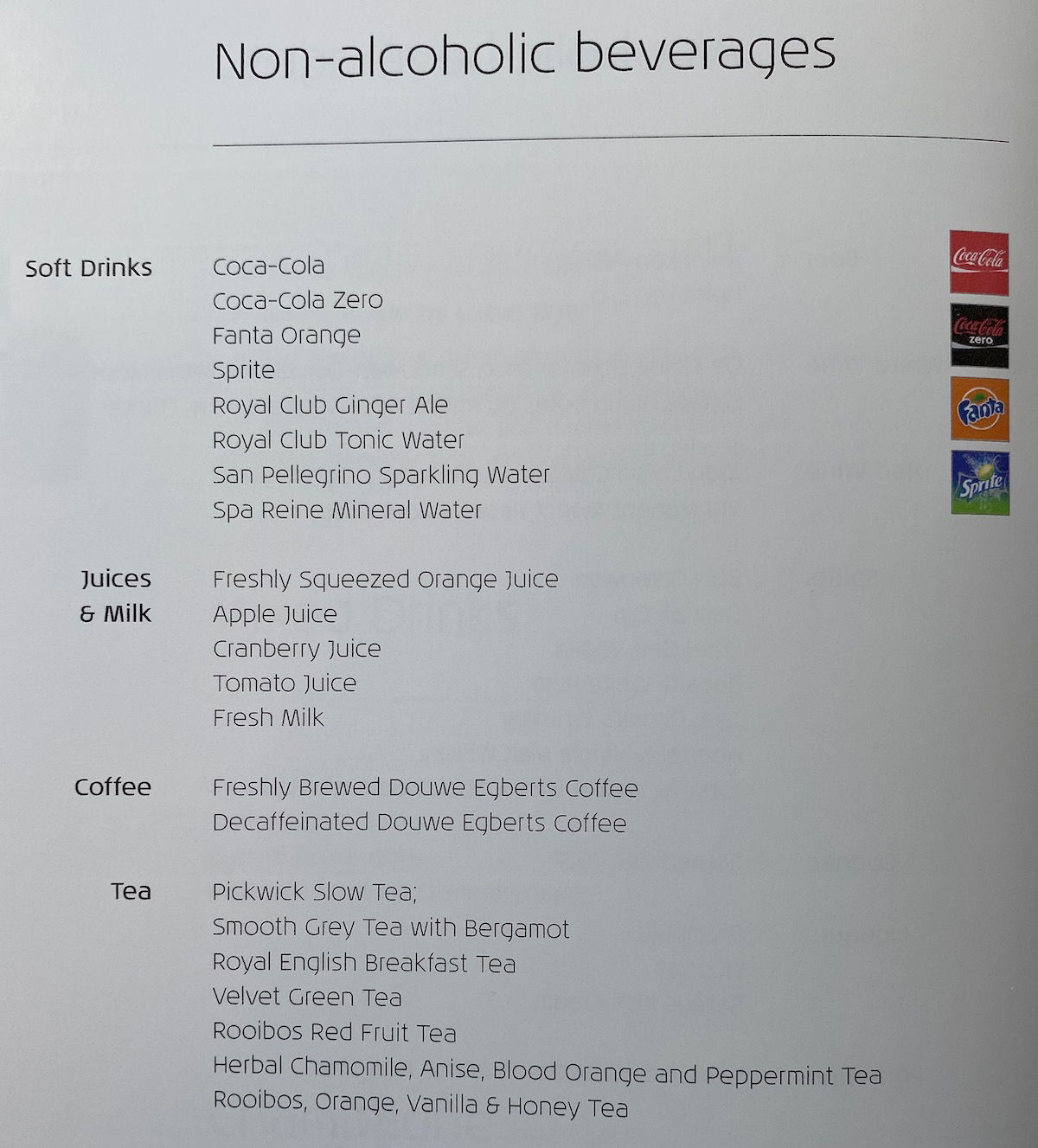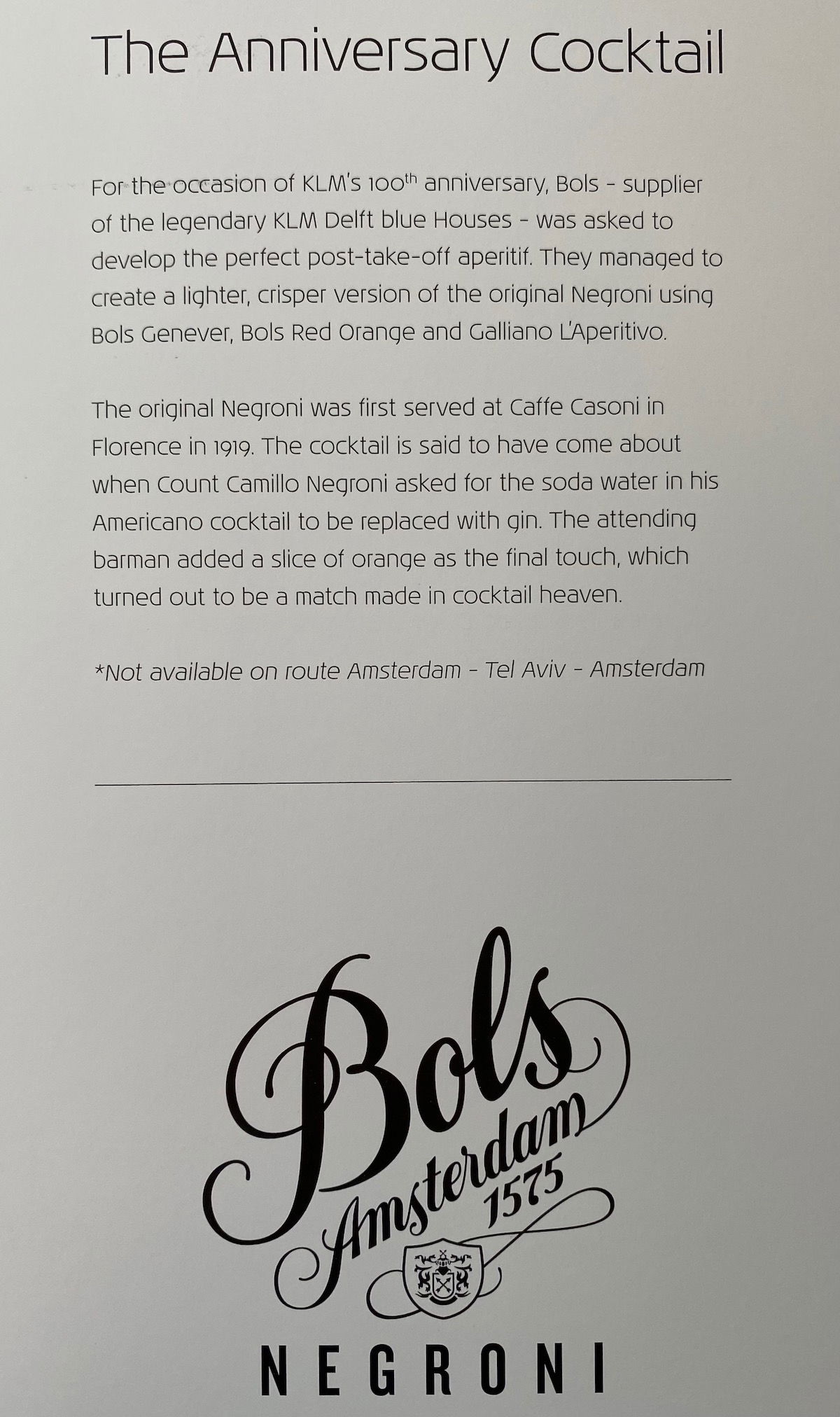 First a cart was rolled down the aisle with drinks. I ordered another glass of champagne (Nicolas Feuillatte Brut Reserve was on offer, which is perfectly nice) and a sparkling water. That was served with some packaged mixed nuts. In the past the pre-dinner snacks were served in ramekins, but that has been suspended due to coronavirus.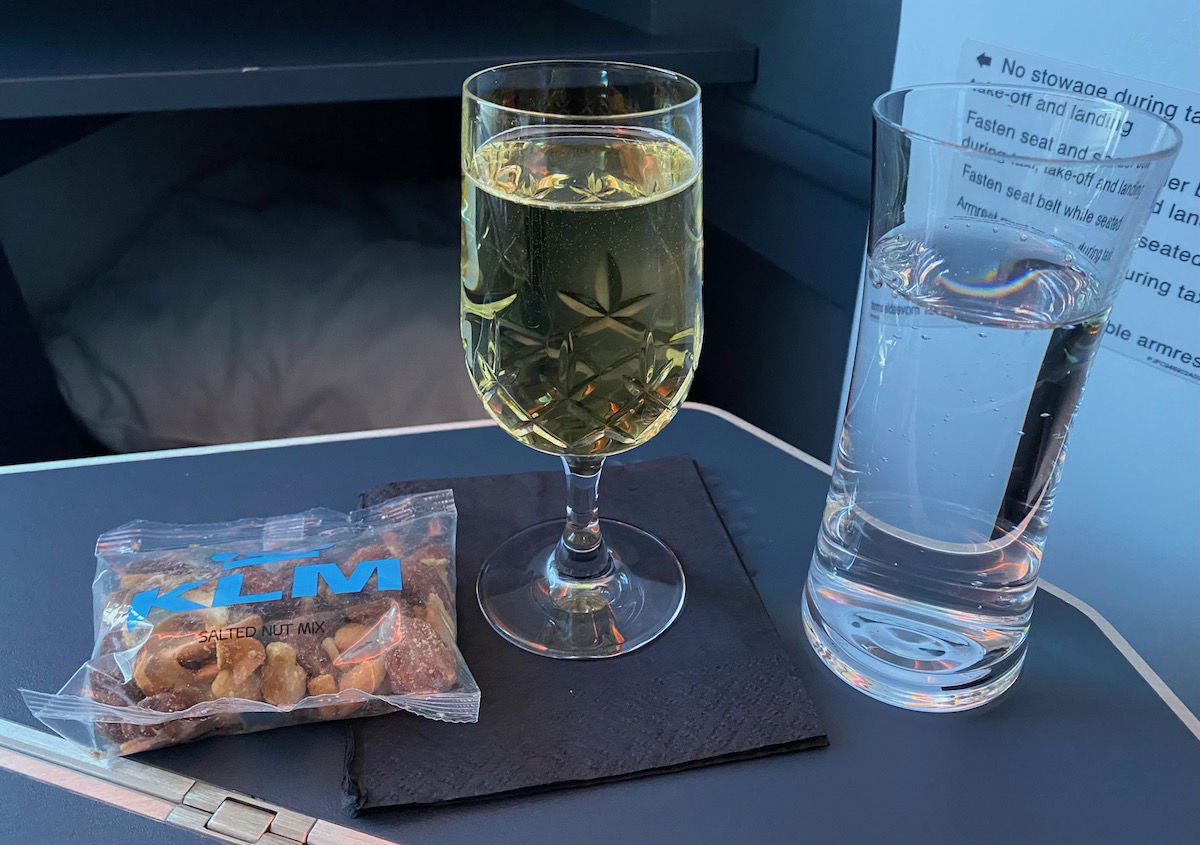 Ford ordered a negroni, which was described as the anniversary cocktail.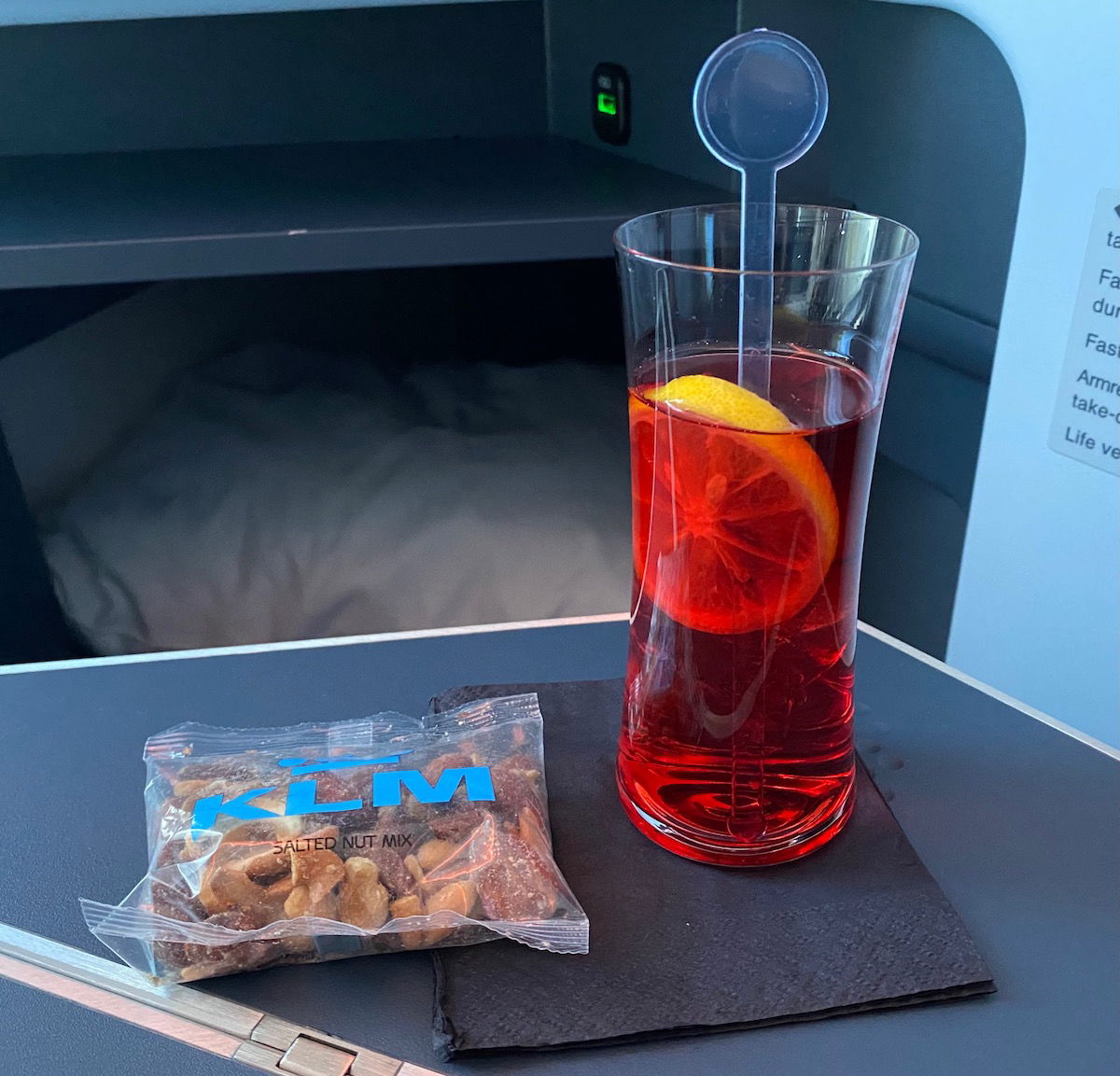 Starters were served off a cart around 20 minutes after the initial drink service. This included an appetizer of seared tuna with a wakame and edamame salad, pickled ginger, and wasabi mayonnaise. Then there was also a side salad with tomato and feta cheese, served with a lemon dressing. There was a bread roll that was served in a package — it hadn't been heated, and was hard as a rock.
In general I love KLM's cute little service touches — for example, the clog-themed salt & pepper shaker, the fun tray liner, and the unique china.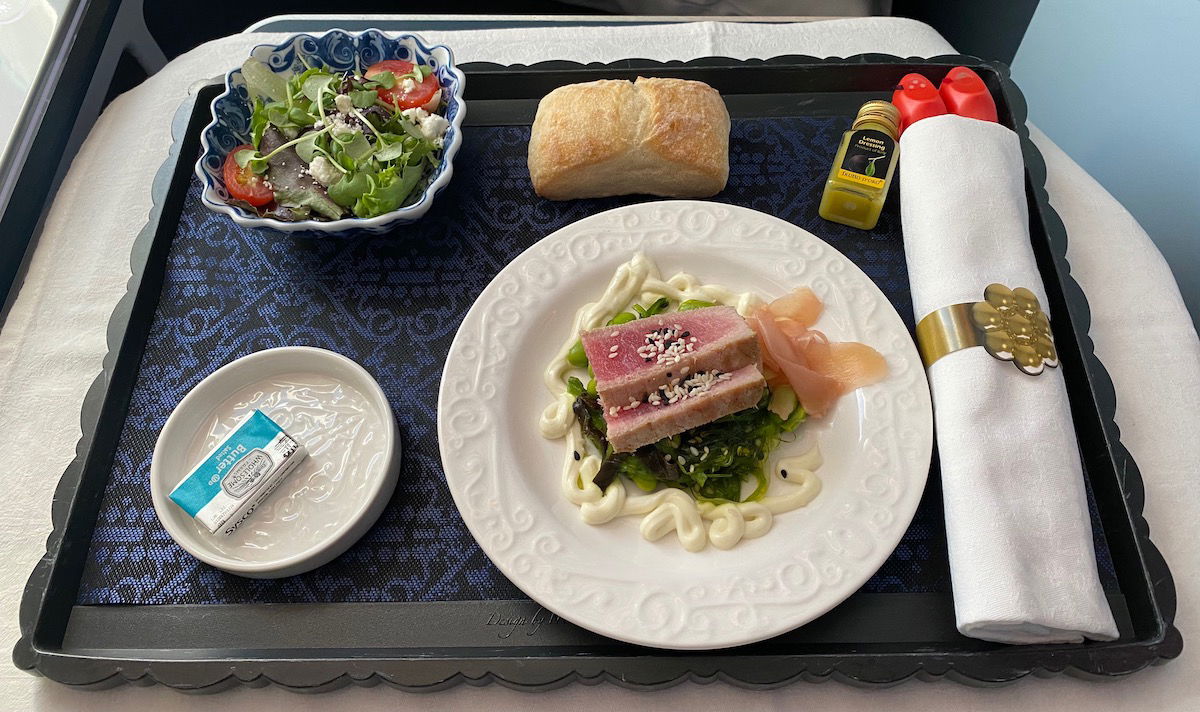 About 20 minutes later main courses were served. These were served with aluminum foil on top, as we've seen many airlines do nowadays.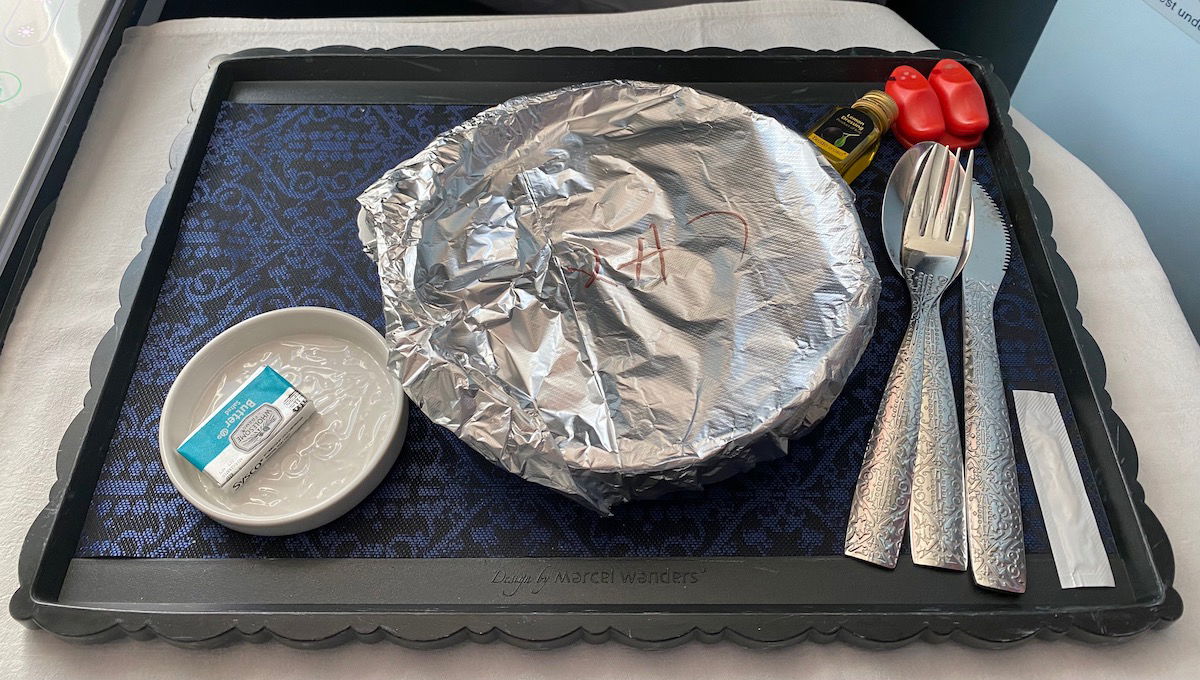 For the main course I ordered the chicken breast in morel sauce with red skin potatoes, endive, and Swiss chard. The dish tasted fairly good. Presentation wasn't great, but I guess that's to be expected when they keep a cover over the meal until it's served.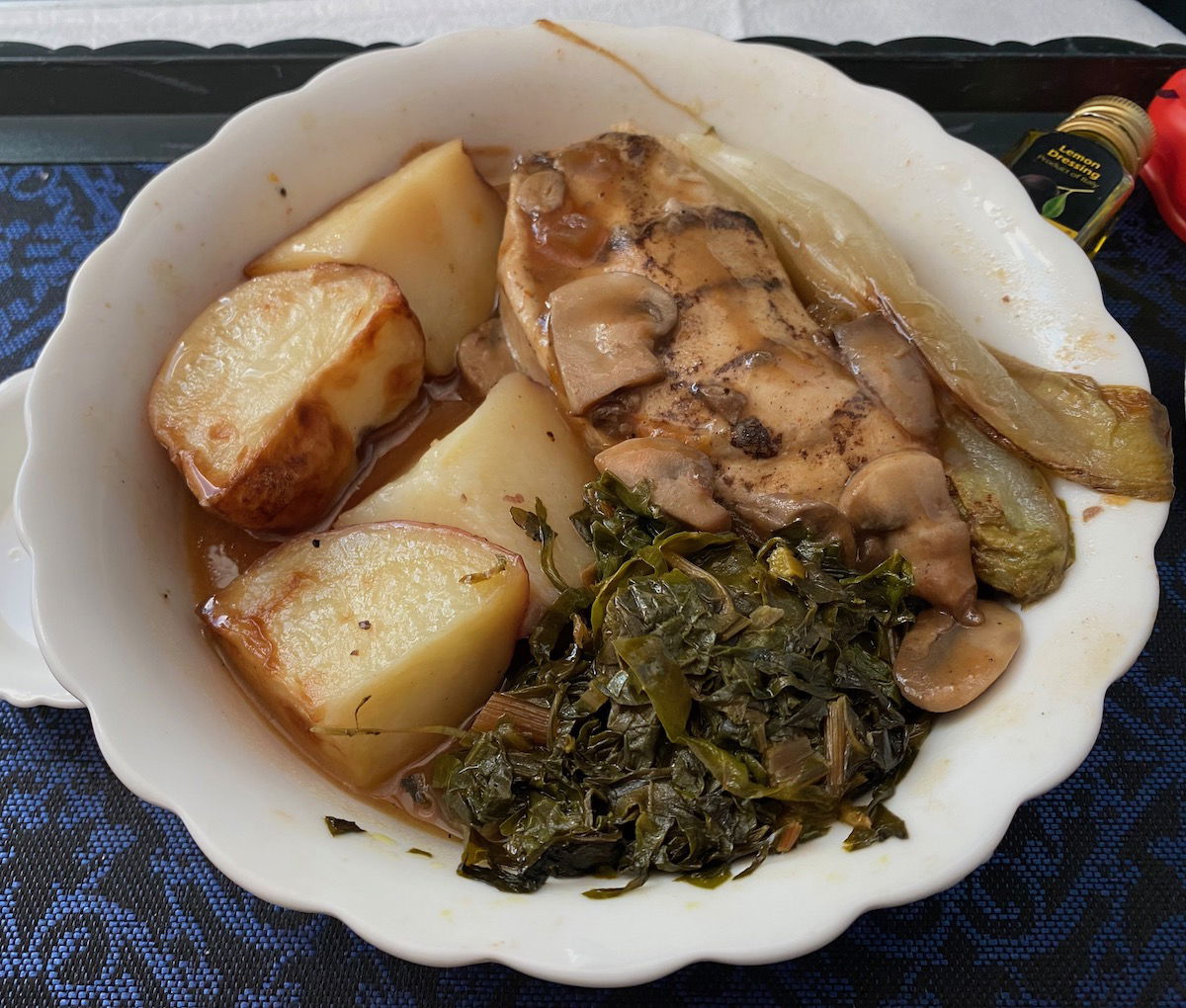 Ford had the slow cooked beef in mustard sauce with snow peas, grilled patty pan squash, and garlic potato mash, which he enjoyed.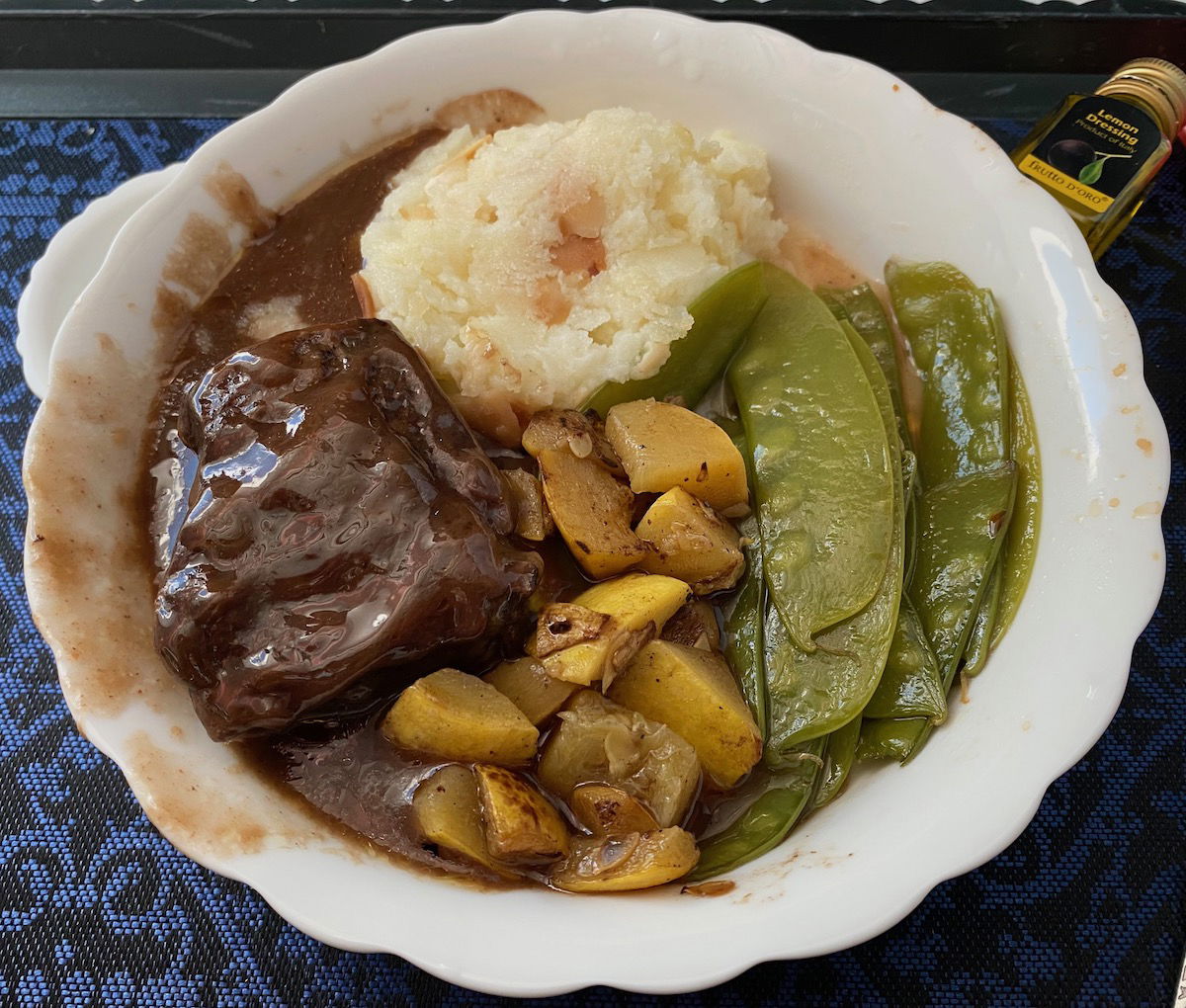 Once main courses were cleared, a dessert trolley was rolled down the aisle. There was the choice of dessert or cheese, and I selected the former, which consisted of chocolate and fruit petit fours and a macaron. I had a glass of dessert wine to go along with it.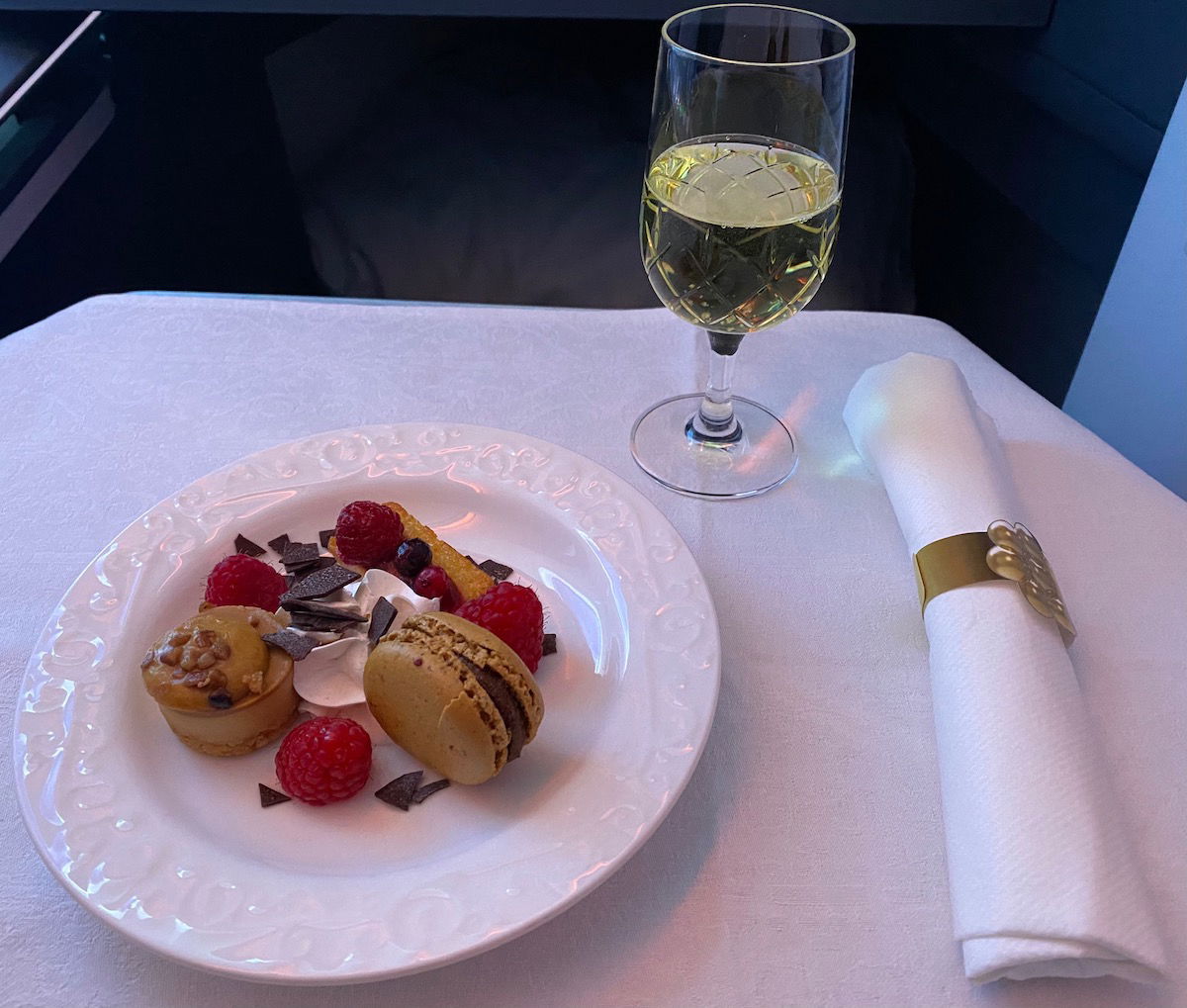 At the conclusion of the meal some packaged chocolates were handed out, which were supposed to look like KLM's famous Dutch Houses.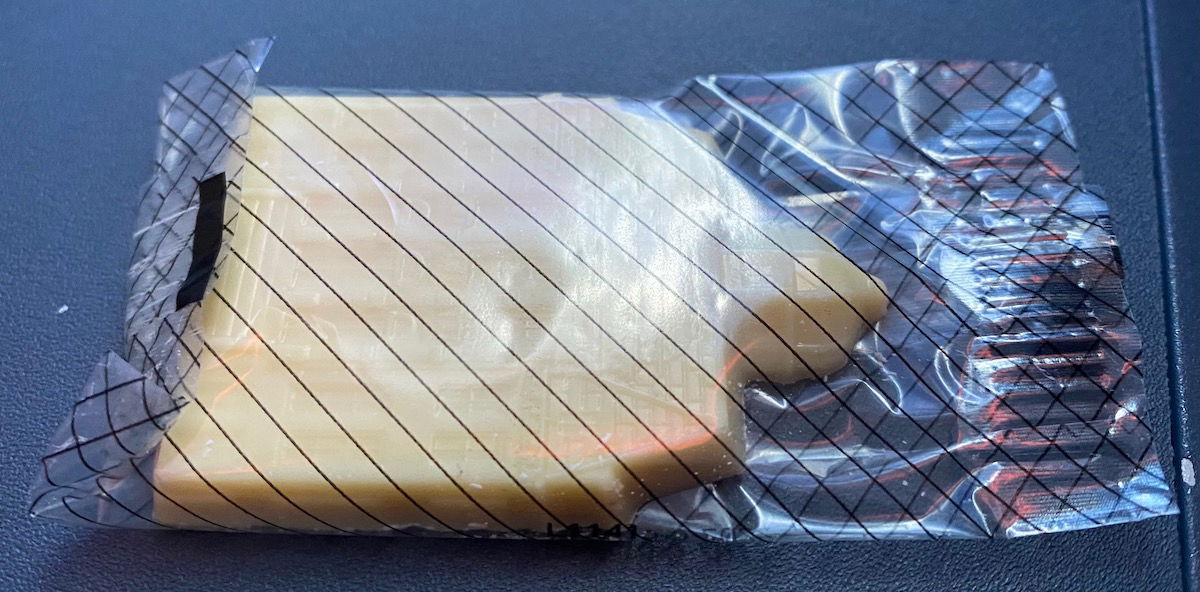 The meal service wrapped up around 2hr15min after takeoff, with about five hours remaining to Amsterdam. I'd say the meal was fairly decent, especially when you consider how other airlines have cut back service due to coronavirus. However, I've had better meals in business class as well.
After the meal, a small snack basket was set up in the galley, for anyone who was hungry.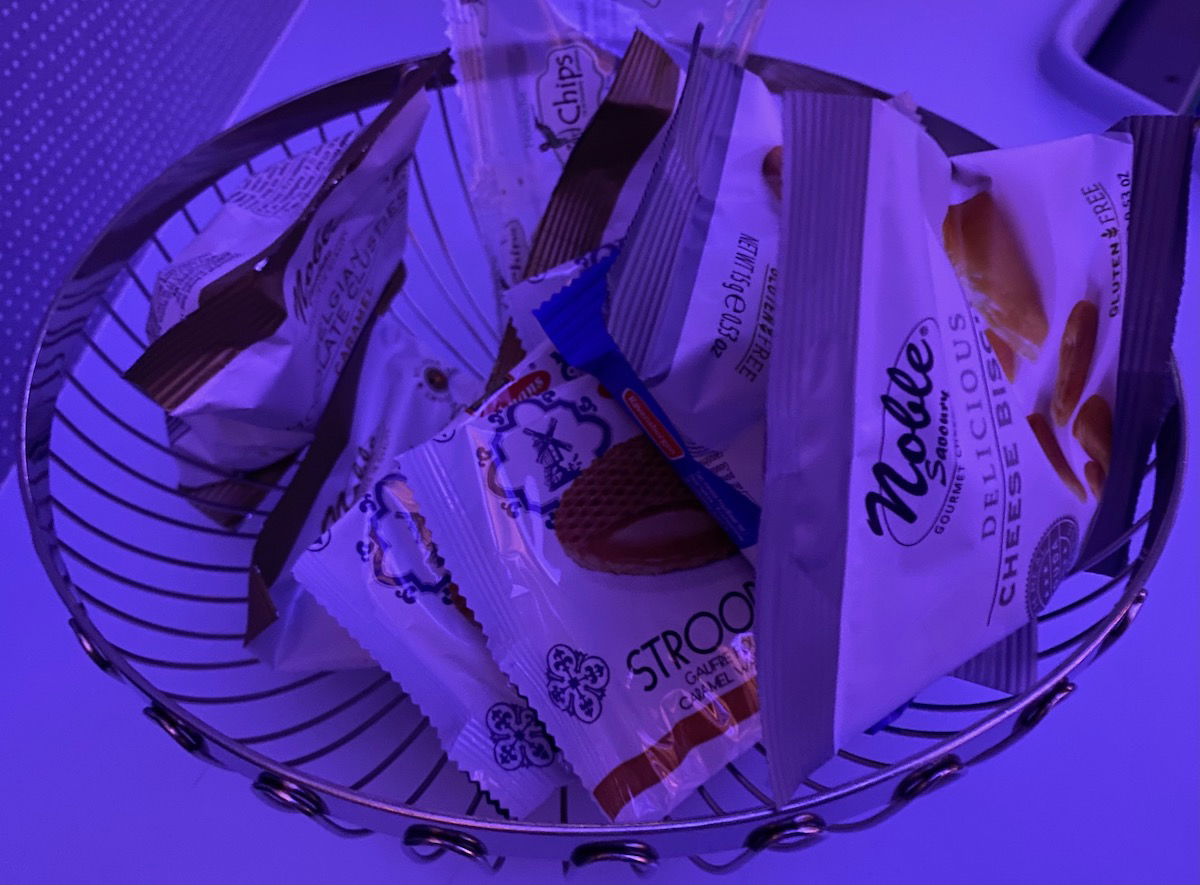 KLM business class entertainment & Wi-Fi
KLM's Boeing 787-10s have excellent entertainment systems. Not only is the 18.5″ screen high definition and responsive, but the selection of movies and TV shows is very good as well.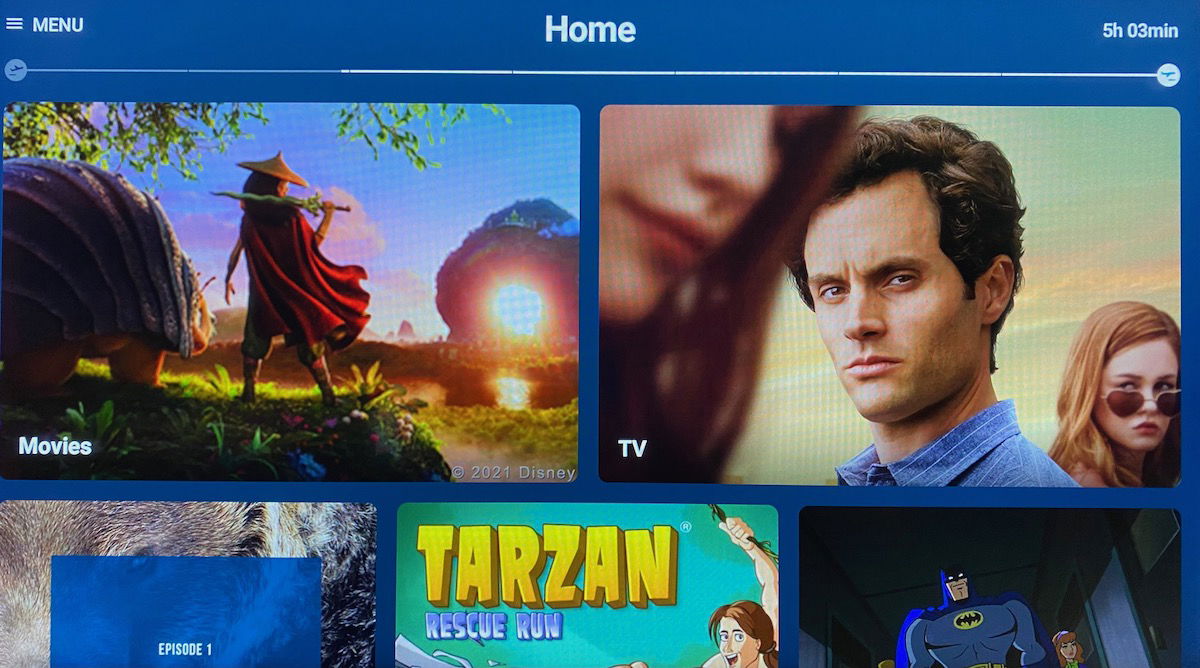 I didn't end up watching much, though, but rather just enjoyed keeping an eye on the moving map for most of the time that I was awake.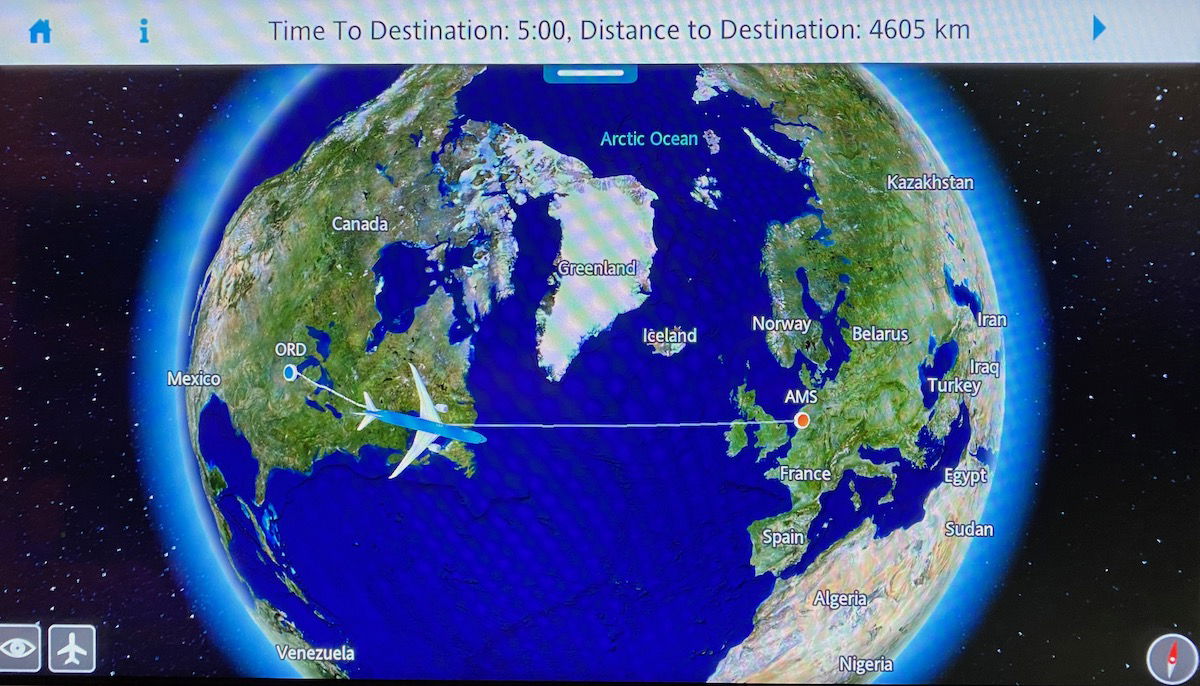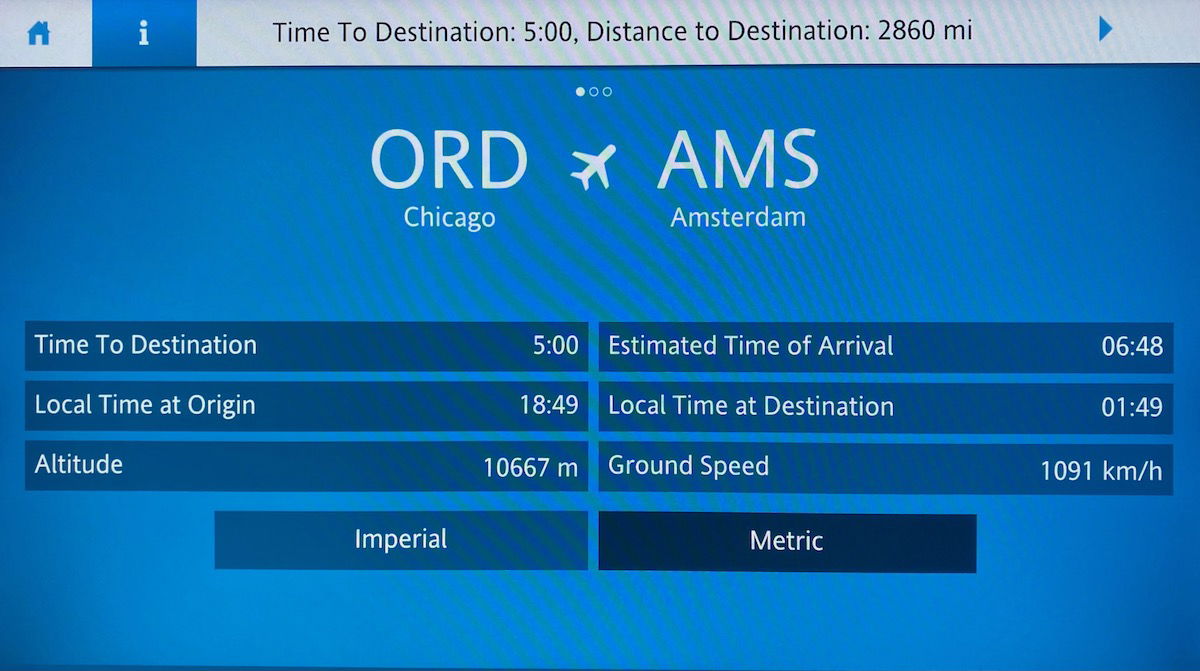 I did use KLM's Wi-Fi, which was hugely improved compared to the last time I flew KLM. There were three Wi-Fi passes available, including:
A one hour messaging option (free)
A one hour web surfing option (8 EUR)
A full flight surfing option (18 EUR)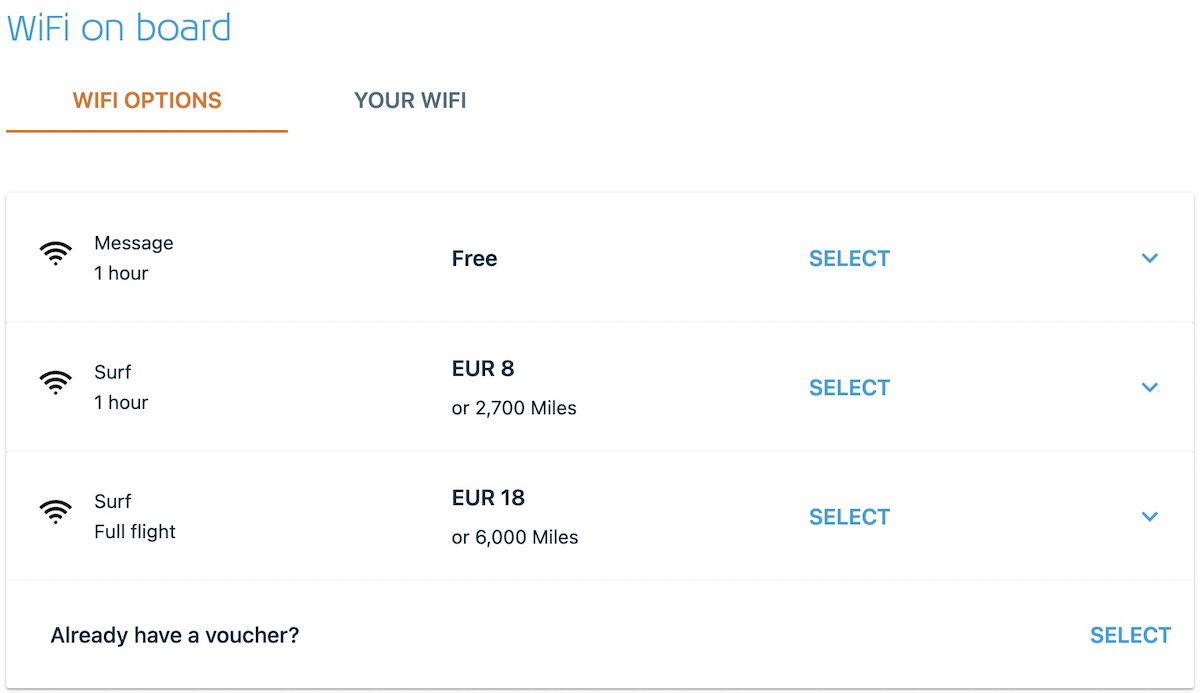 What's so great is that there are no data limits. Back in the day KLM would have limits on Wi-Fi data, but that's no longer the case. Admittedly this wasn't as important on an overnight flight as on a daytime flight, but on a daytime transatlantic flight I'd consider decently priced Wi-Fi with no data caps to be one of the best features there is.

Wi-Fi speeds were fast, so I was impressed by that as well.
KLM business class lavatories
KLM's Boeing 787-10s have three lavatories in business class — there's one at the front of the plane, and then two behind the cabin. While the lavatories weren't particularly large, I love how they have wallpaper with Dutch Houses on them — how cute!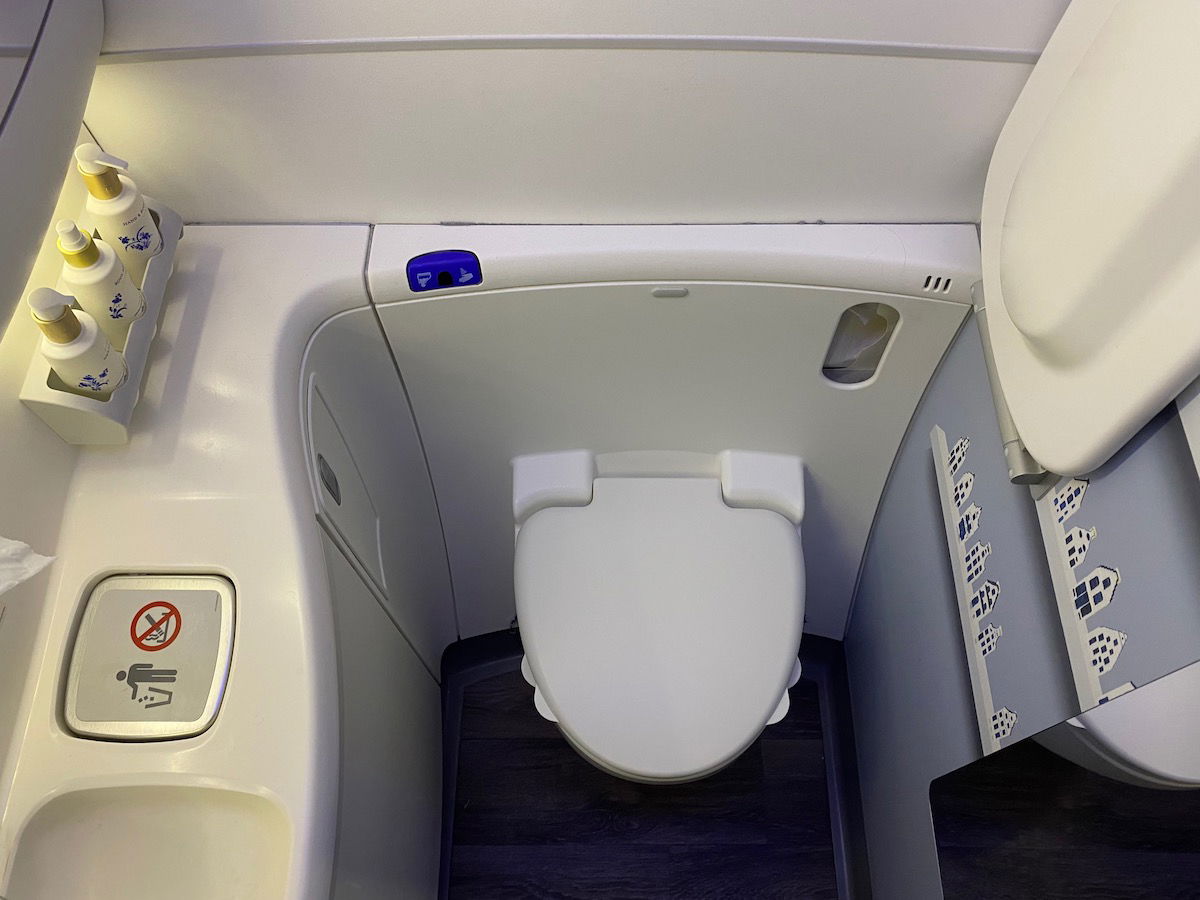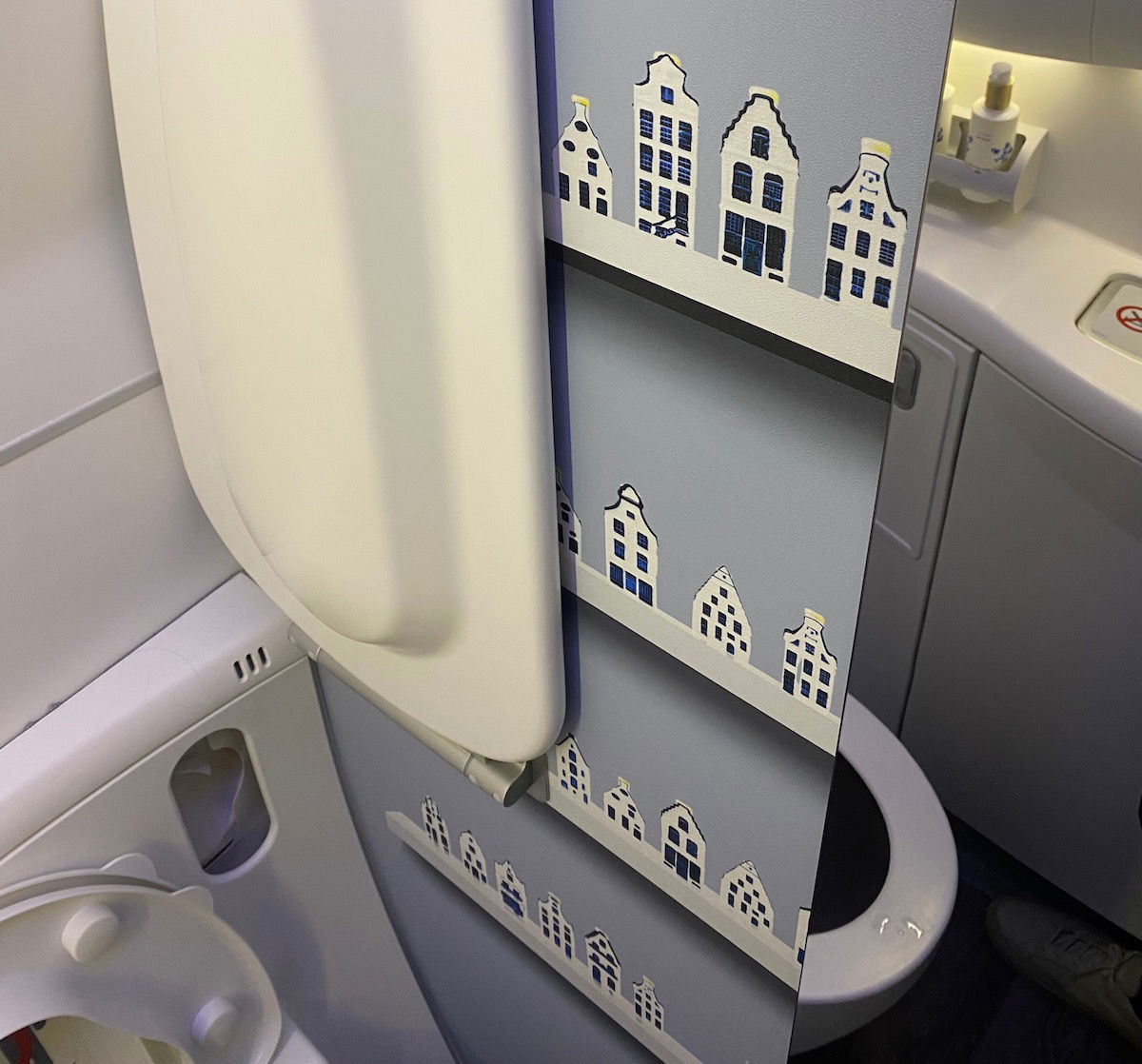 KLM business class bed & sleep quality
I fell asleep shortly after dinner, just under five hours from Amsterdam. I slept extremely well, and in particular appreciated that I didn't at all feel constrained by the footwell. I'm a side sleeper, and had no problem bending my knees a bit and getting comfortable.
I got roughly three hours of solid sleep, and woke up just under 1hr45min from our arrival in Amsterdam.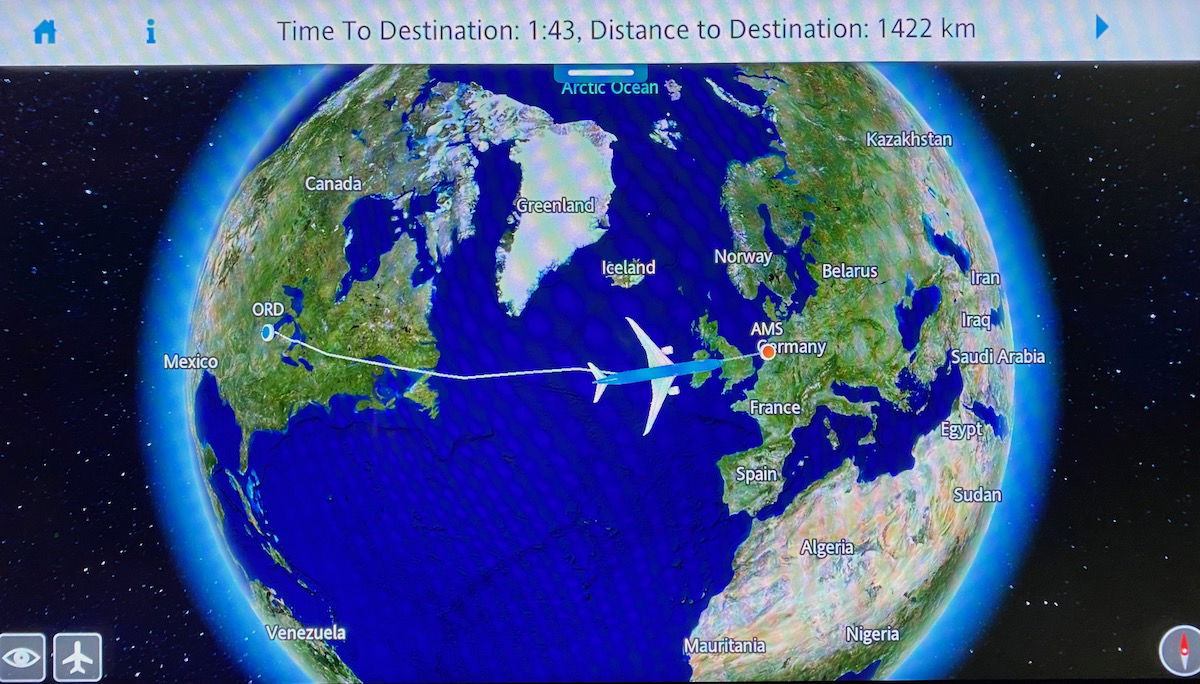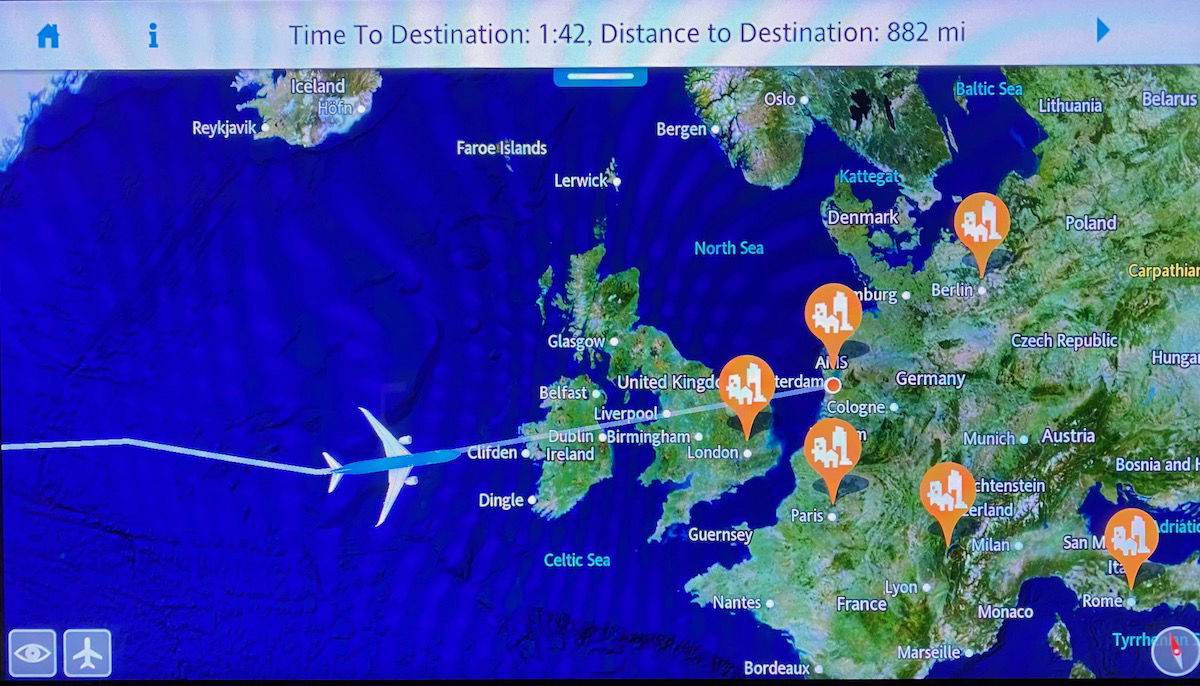 KLM business class breakfast service
About 90 minutes before arrival the mood lighting was turned on, so that people could start to wake up for the breakfast service.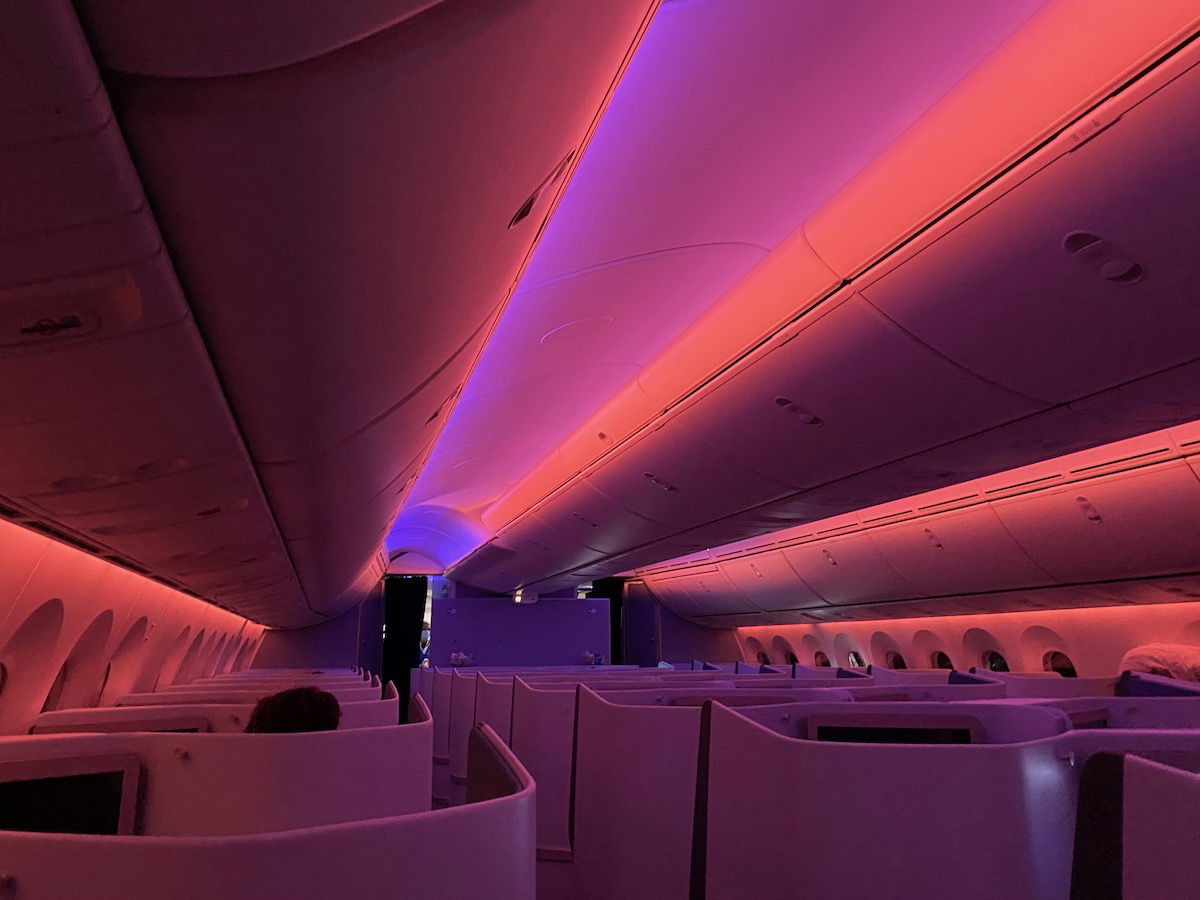 The breakfast menu read as follows: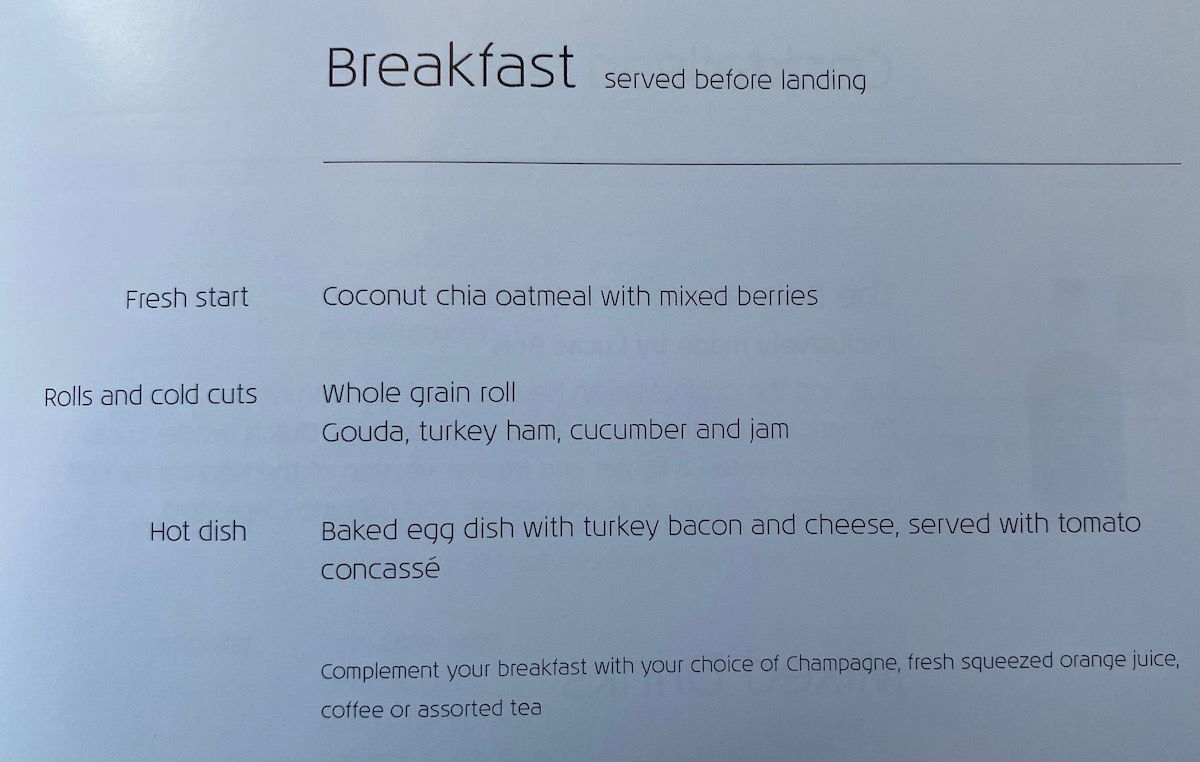 While I wasn't hungry (dinner wrapped up just over three hours earlier), I figured I had to take one for the team and sample breakfast. 😉 The breakfast was excellent for a short transatlantic flight.
It included coconut chia oatmeal with mixed berries, a roll with gouda, turkey ham, cucumber, and jam, and a hot baked egg dish with turkey bacon and cheese, served with tomato concasse. I ordered a cup of coffee to go along with it.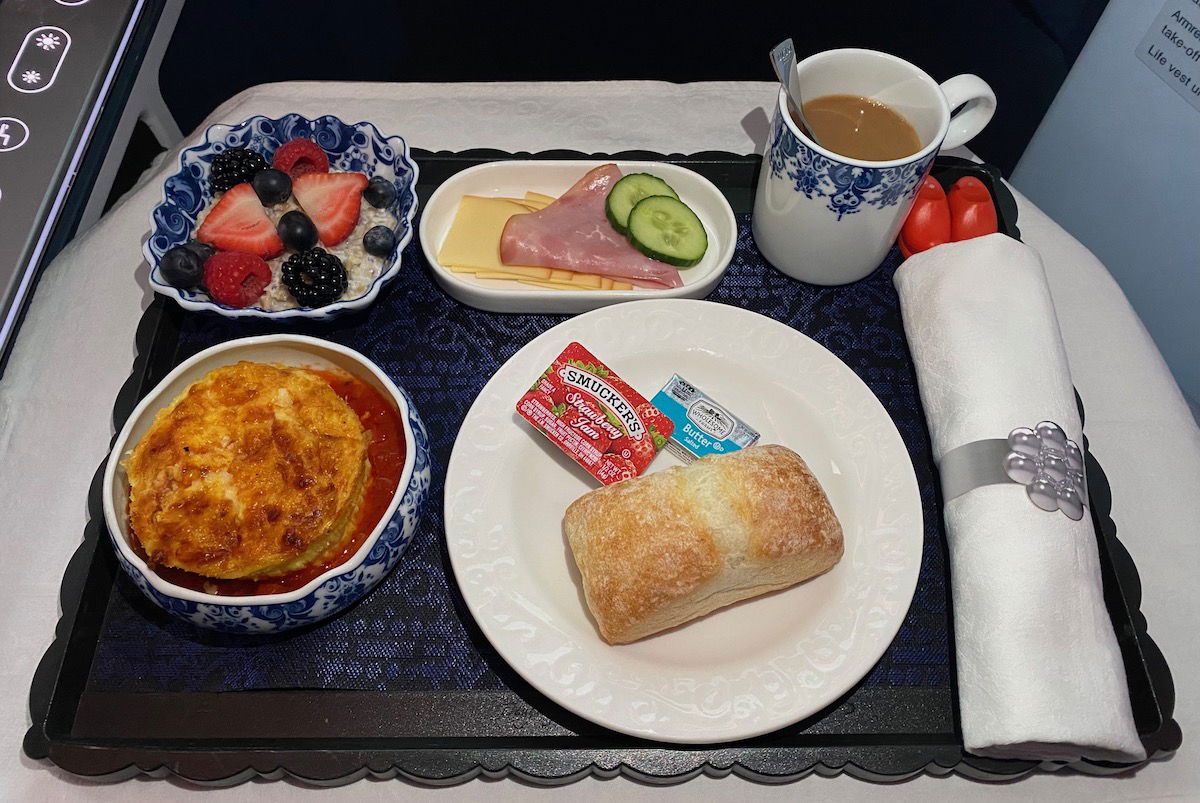 The coffee, oatmeal, and egg dish, were excellent. The room temperature, hard bread roll (the same one served with dinner) with Smucker's jam, wasn't.
KLM's Dutch Houses & landing
Shortly before we started our descent, the crew passed through the cabin with KLM's famous Dutch Houses. Each business class passenger can pick one, and there's a fascinating backstory to these.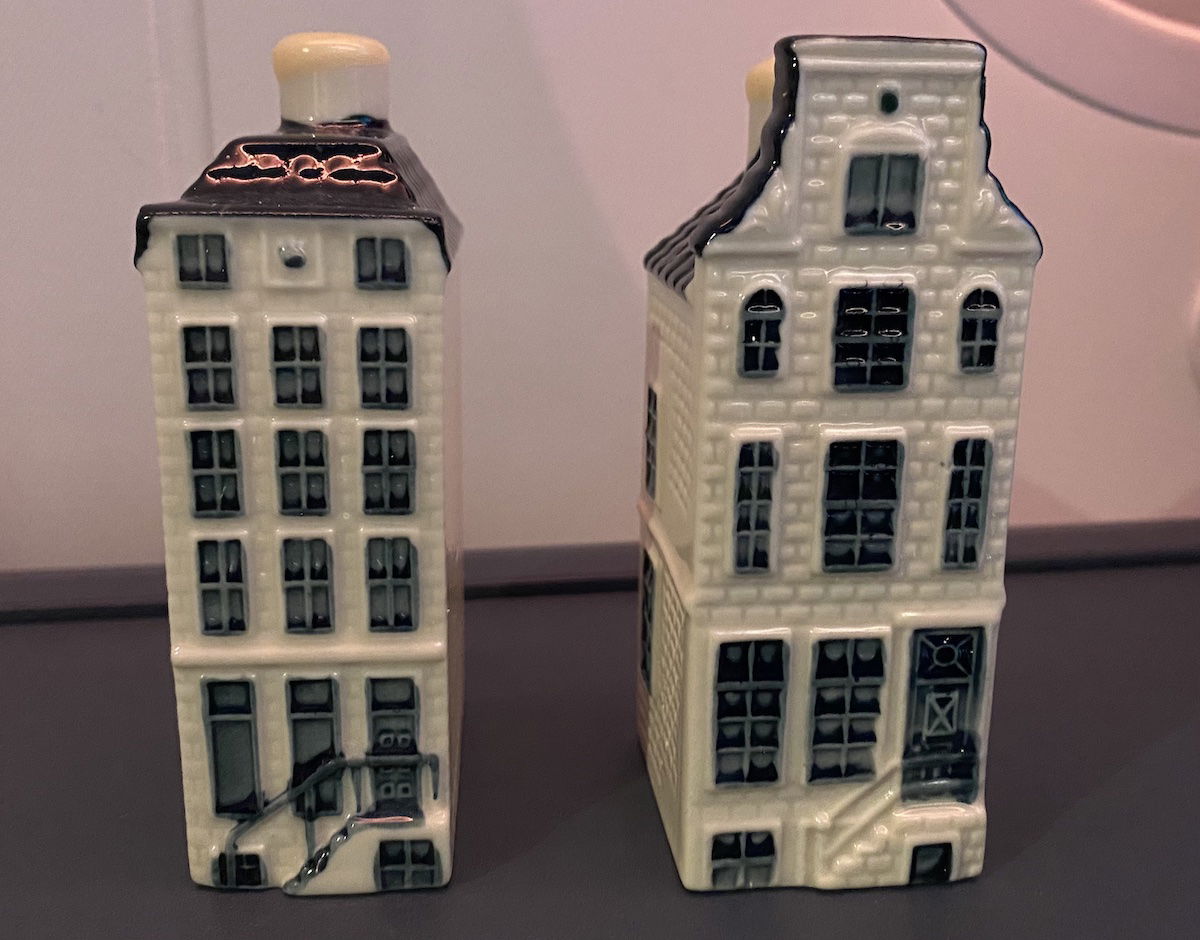 At around 6:20AM we began our descent towards Amsterdam, and 10 minutes after that the seatbelt sign turned on. We landed in (dreary) Amsterdam at 6:55AM.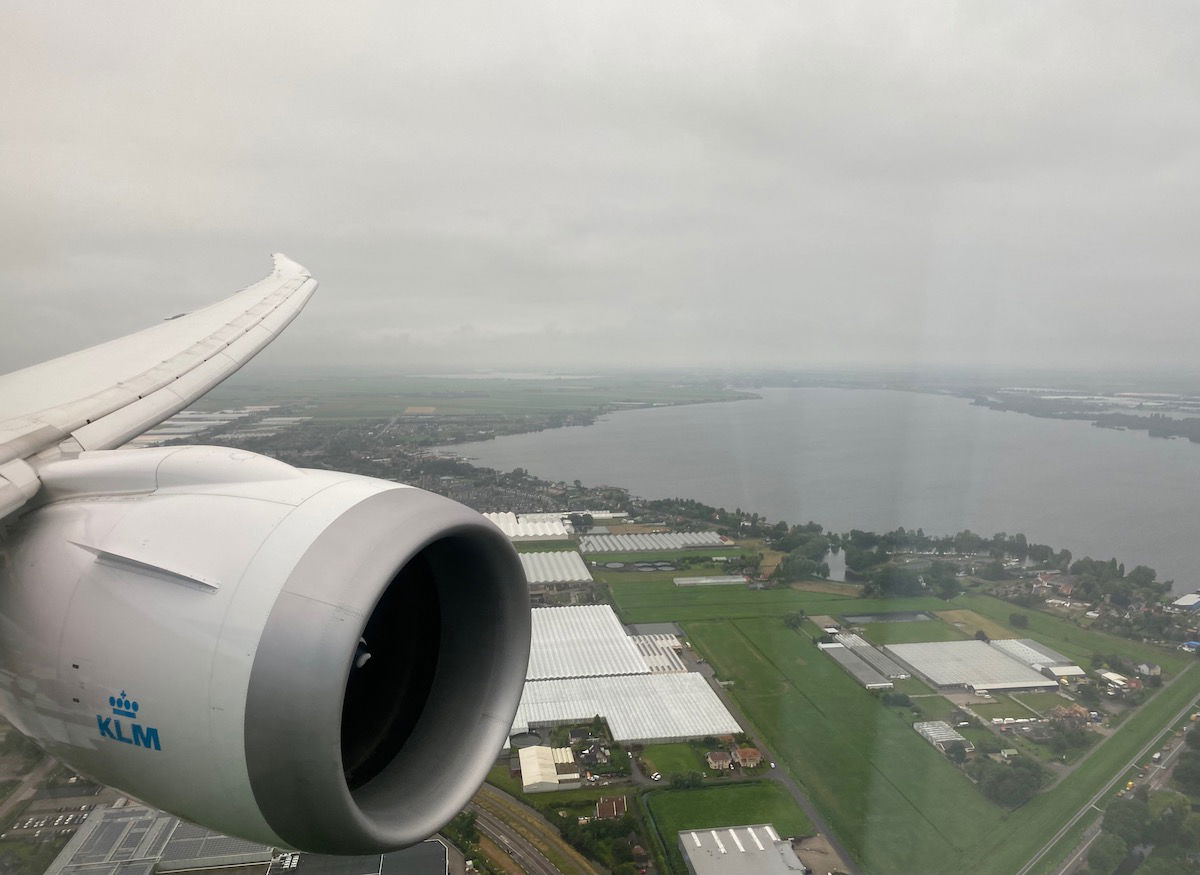 From there we had a short five minute taxi to our gate, where we arrived slightly behind schedule.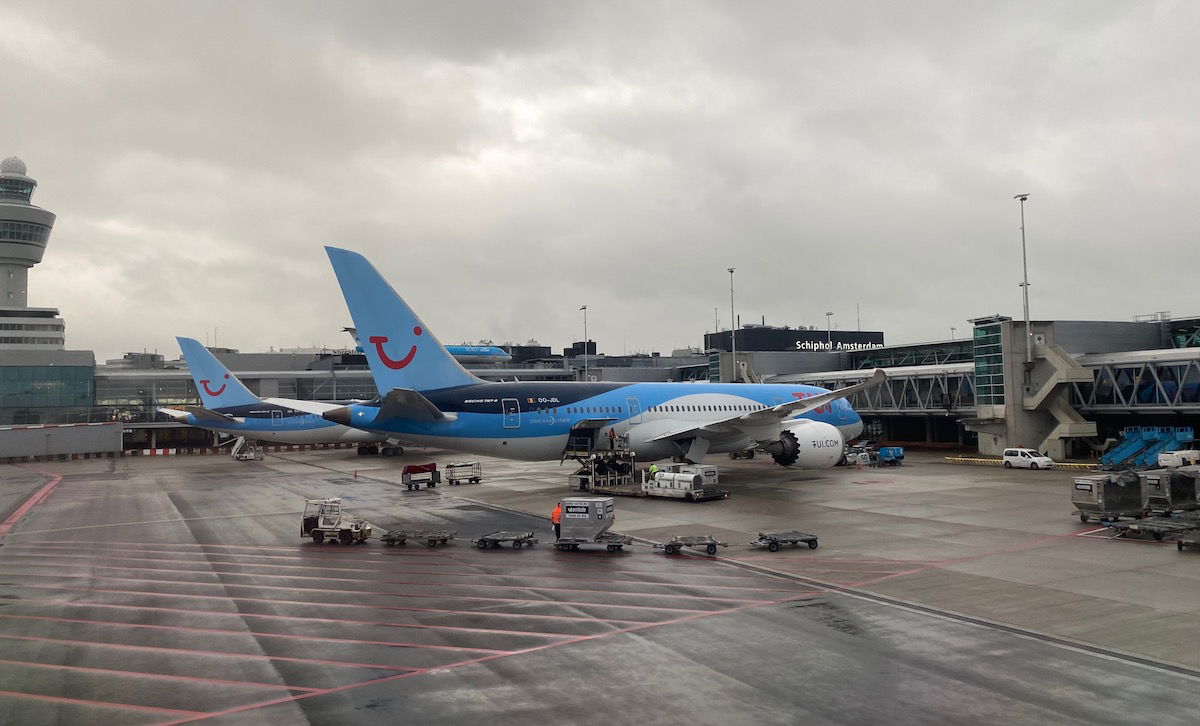 KLM business class service
I've found KLM to have rather mixed service, with some flight attendants being fantastic and hospitable, and some being indifferent and a bit arrogant. This crew was reasonably good, though not among the best I've had on KLM.
The flight attendant working my section was quite friendly and enthusiastic. The purser, on the other hand, had a bit of an attitude with some other passengers (though I didn't interact with her directly).
Bottom line
We had a pretty good KLM business class flight from Chicago to Amsterdam. As an avgeek and airline product geek, I was excited to fly the 787-10 for a second time, and also to experience a type of reverse herringbone seat I had never flown before.
Was this the most amazing business class flight ever? No, it wasn't. The crew wasn't that exceptional, the bedding could be a bit better, and the food wasn't amazing.
That being said, I think perspective is important. For a pandemic-era transatlantic business class product on a European airline, I'd say this was pretty great. There were excellent reverse herringbone seats, reasonably priced Wi-Fi with no data caps, and more or less the full pre-coronavirus service levels.
On Lufthansa you won't find a single plane with direct aisle access from every business class seat. On American, Delta, and United, inflight service is still hugely scaled back. On British Airways you'll find a lot of inconsistency when it comes to seats, and I also avoid Heathrow as a transit point whenever possible.
So when you consider all those factors, I'd say this was a very good transatlantic business class experience.
If you've flown KLM business class (especially on the 787-10), what was your experience like?