In addition to staying at Hotel Fiester Hannes (near my aunt's house), we also spent a couple of nights at the 268-room Hyatt Regency Mainz. I last reviewed this hotel over a decade ago, and based on my experience, I don't need to return for another decade. Interesting side note — this is the layover hotel where the three Cathay Pacific cargo pilots who tested positive for coronavirus stayed (they ended up getting fired).
Booking the Hyatt Regency Mainz
We decided to book a cash rate for our two night stay at the Hyatt Regency Mainz. Ford booked our stay through Hyatt Privé, and the rate was 159 EUR per night. In addition to receiving my standard World of Hyatt Globalist benefits, booking through Hyatt Privé offered the following perks (admittedly some of these overlap with Globalist benefits):
Daily full breakfast for two in the hotel's restaurant
A $100 property credit per room per stay
A one category room upgrade confirmed within 24 hours of booking (room-to-room or suite-to-suite) — based on availability at the time of booking
Early check-in (as early as 9AM) and late check-out (as late as 4PM), subject to availability
A welcome gift and letter
For context, the Hyatt Regency Mainz is a Category 3 World of Hyatt property, meaning that a free night here costs 12,000 World of Hyatt points. I value World of Hyatt points at 1.5 cents each, so redeeming points here would be the equivalent of paying ~$180 per night. In this case it seemed like paying cash was the better option, both given the $100 credit that would get us, and also since it would get me closer to lifetime status with World of Hyatt.
Hyatt Regency Mainz arrival, check-in, and lobby
We arrived at the Hyatt Regency Mainz in the evening with a rental car, and the experience wasn't exactly seamless. I tried to pull into the parking garage, but the gate wouldn't open and give me a ticket. So we then pulled up to the front of the hotel, but I guess due to coronavirus the hotel doesn't have any staff outside. Not only that, but the driveway had a barrier, so Ford had to jump out of the car to go inside to the front desk and ask where we could park.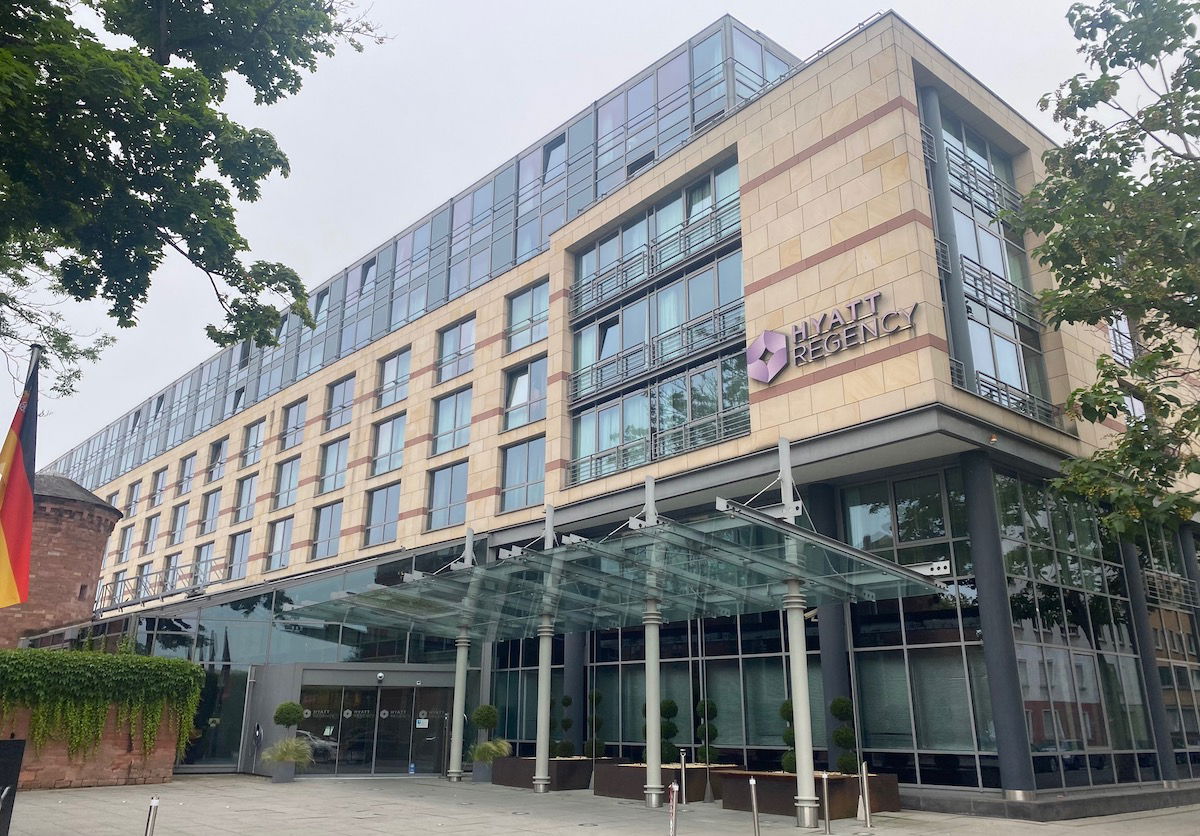 They informed us that the garage was full, but that we could park in another nearby garage. That's not exactly ideal. Getting from that garage to the hotel with luggage was an adventure. Once we were actually parked and in the lobby, the check-in experience was professional. The front desk staff here are friendly, at least when they're at the desk (which I'll get into below).
The Hyatt Regency Mainz doesn't have any standard suites, so as a Globalist member you shouldn't expect a suite upgrade, not on a complimentary basis, and not with a suite upgrade award. The best you'll do here is a club deluxe room with a view of the Rhine River. However, at the moment the Regency Club is closed, so you can just have breakfast in the restaurant, and then there's a complimentary happy hour at the bar.
The lobby itself has lots of natural light, which is cool in theory, except the Frankfurt area often gets such little sunlight that it's almost depressing to see how much natural light you're not getting. 😉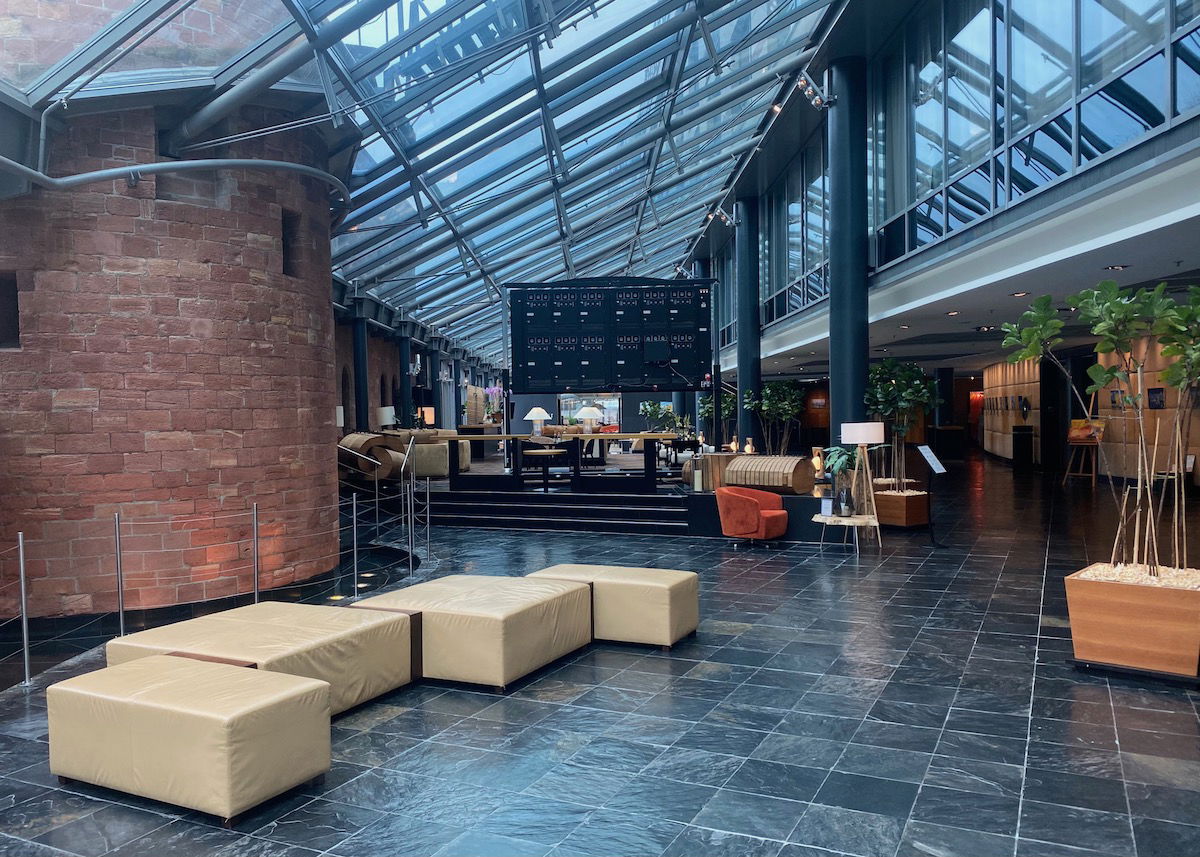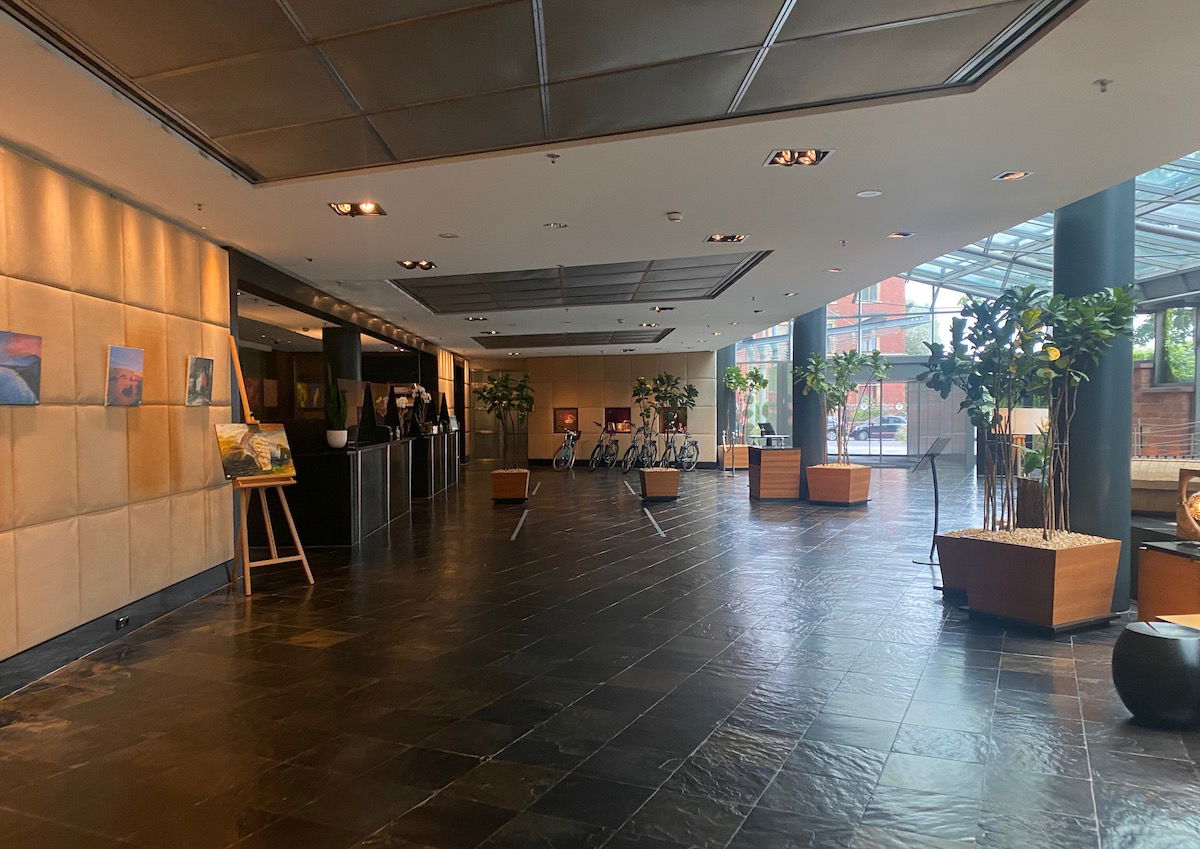 The elevators are at the far end of the lobby, opposite the entrance and check-in desks.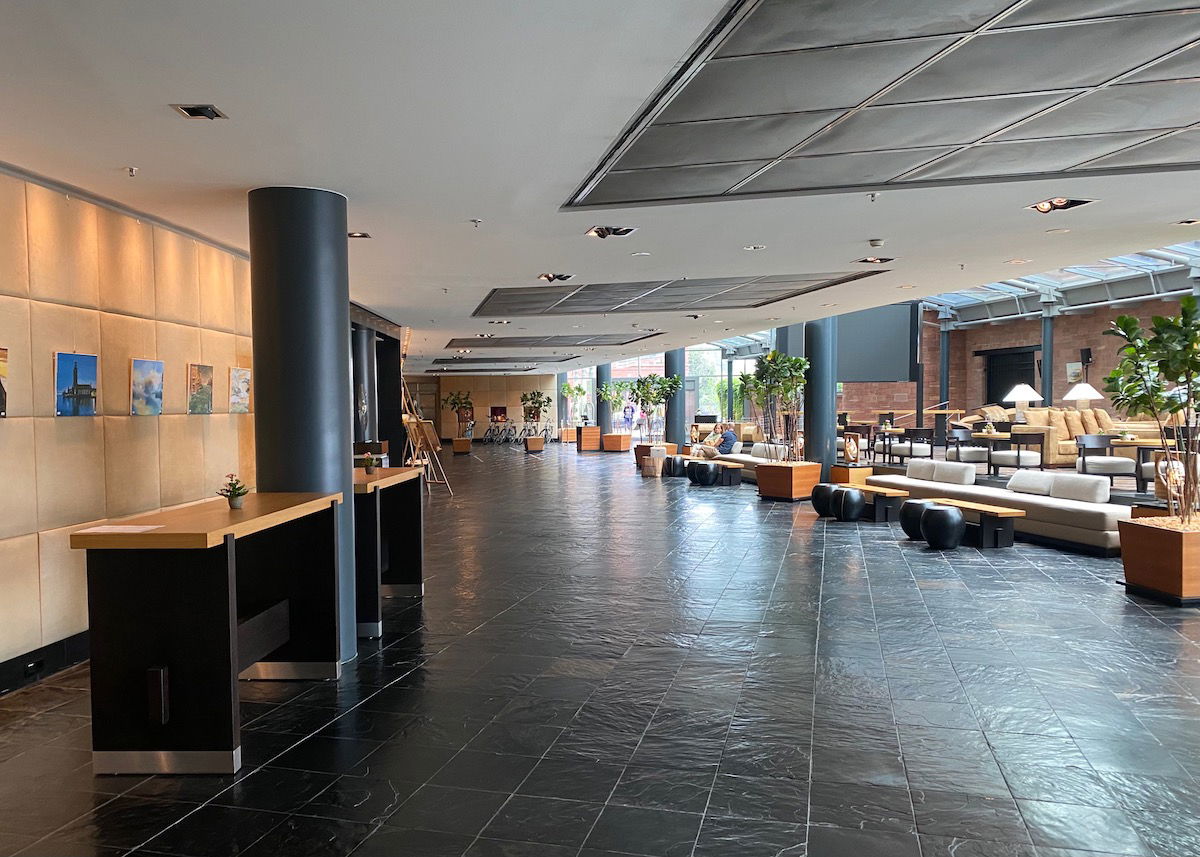 Hyatt Regency Mainz deluxe king river view room
We were assigned room 617, located on the hotel's top floor. Upon exiting the elevator we turned right, and then our room was down the hall and on the left. The hallways at the hotel are quite nice and modern-feeling, much more so than the rooms.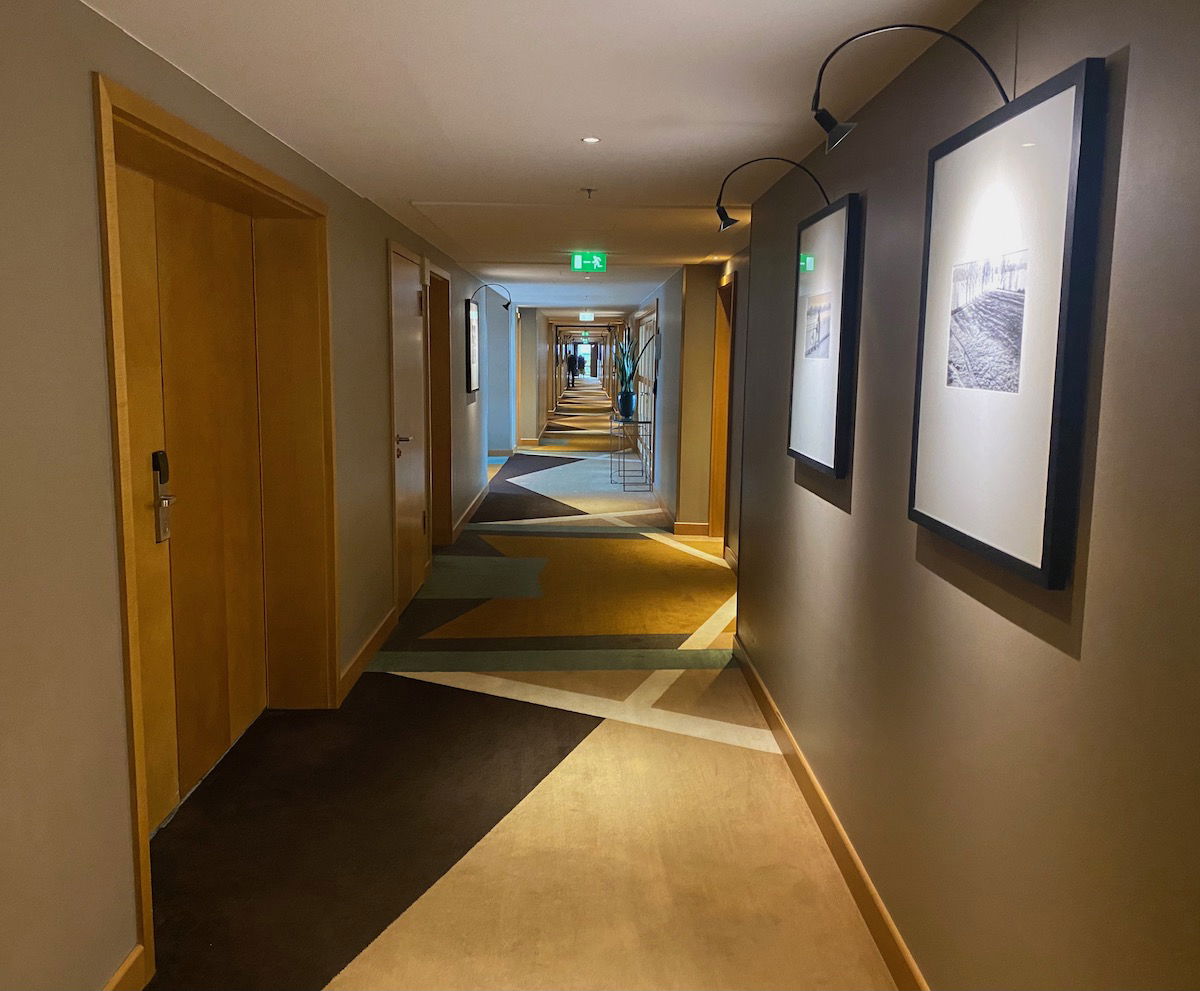 Our deluxe room was a good size. There was an entryway with a mirror to the left, the bathroom to the right, and the rest of the room straight ahead. I remember the hotel feeling fairly luxurious when I stayed 11 years ago, though this time around it felt a bit past its prime.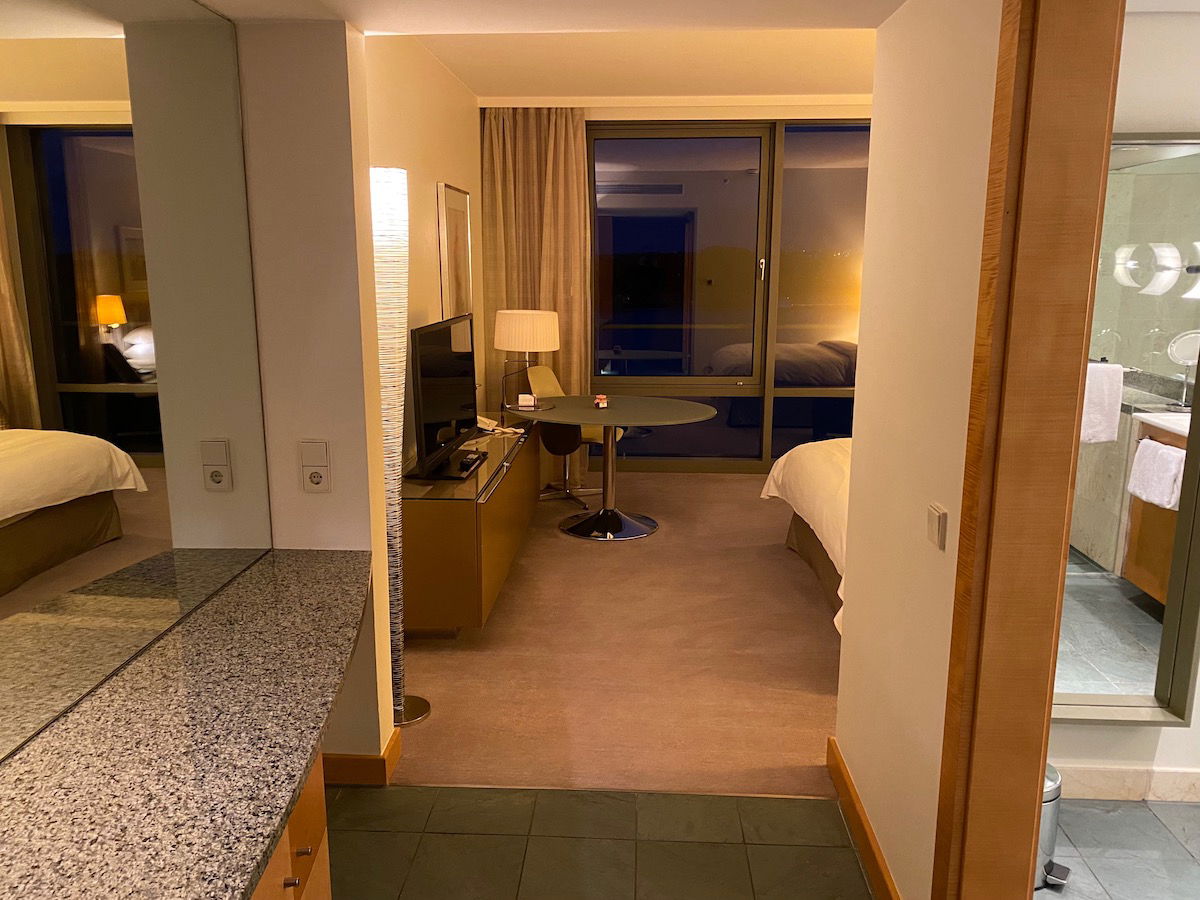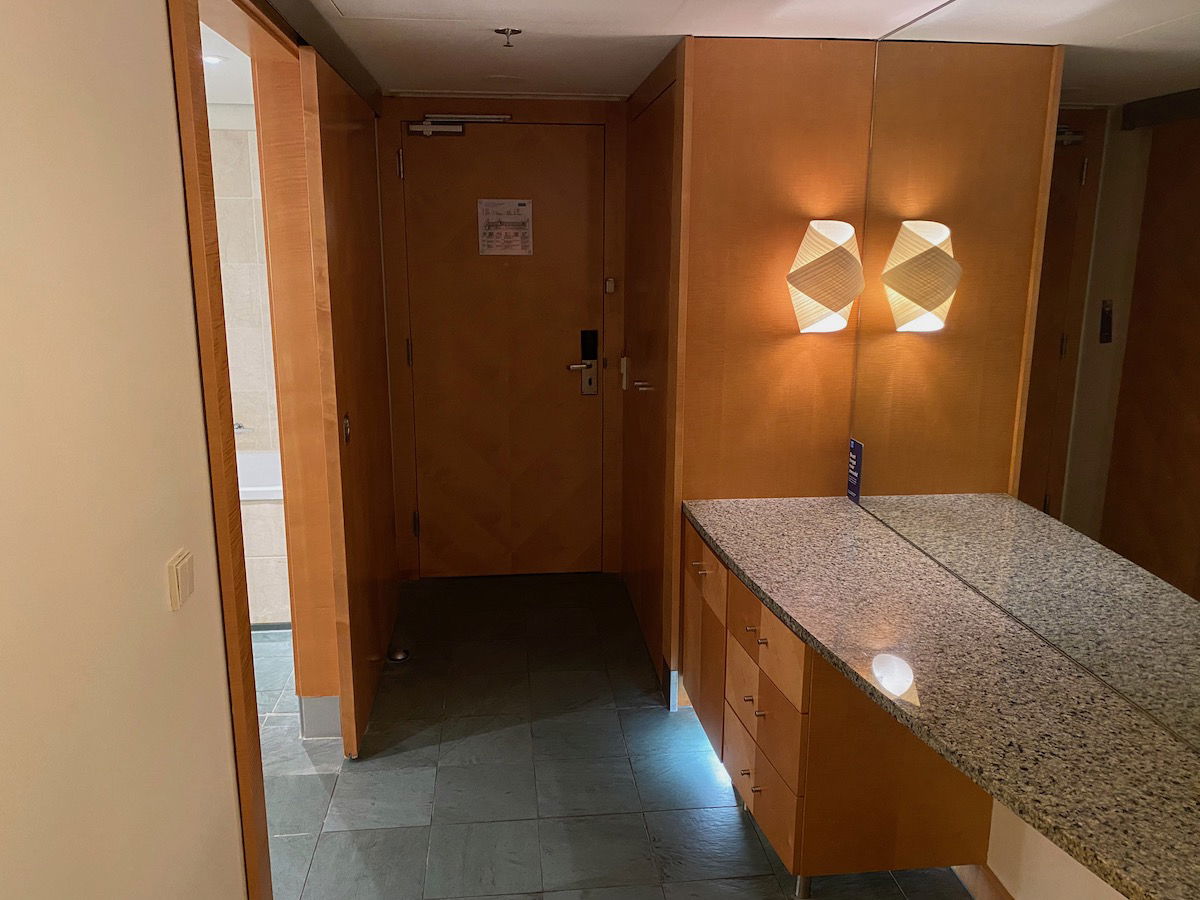 The room had a reasonably comfortable king size bed, a chair with an ottoman by the window, a desk with a chair, and a console with a TV on it. Personally I find the color choices in the rooms to be rather strange, in particular the matching teal tile and desk.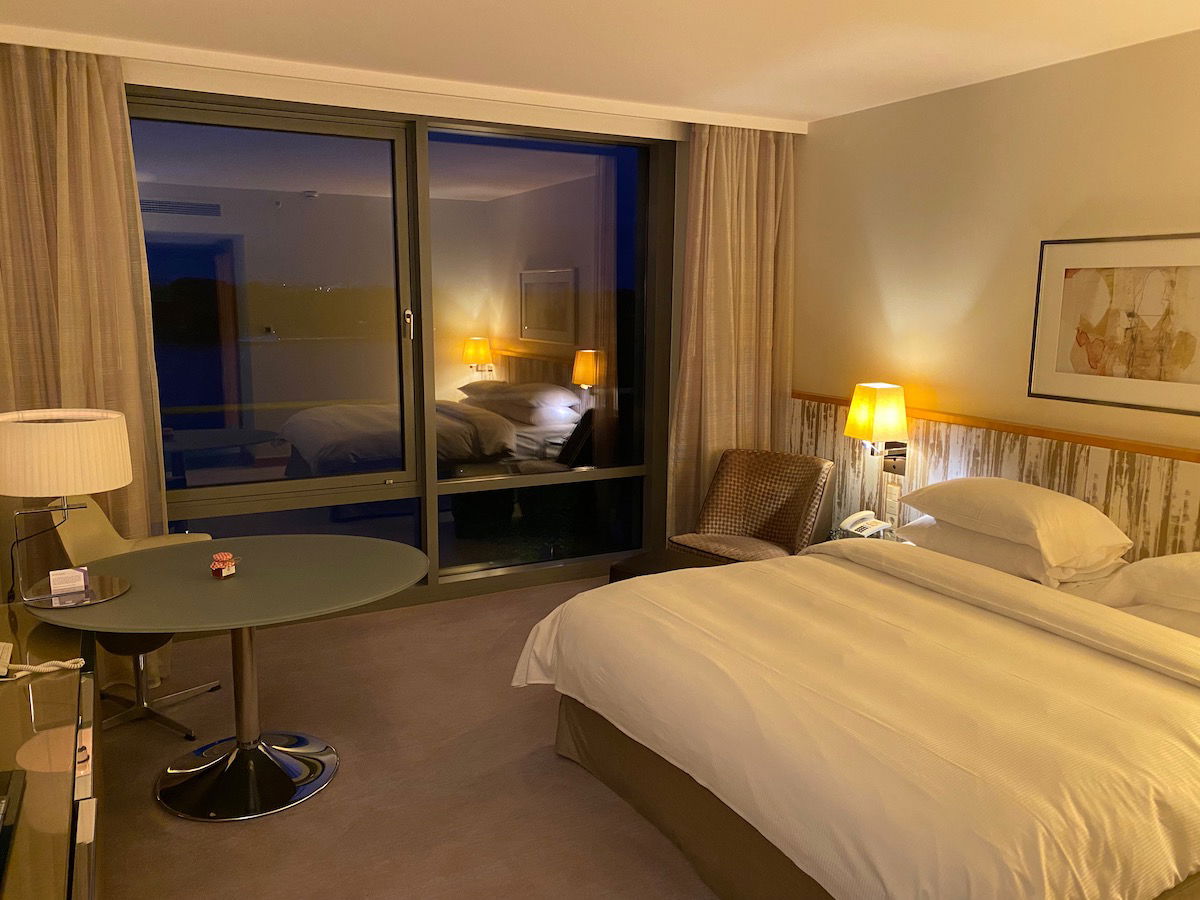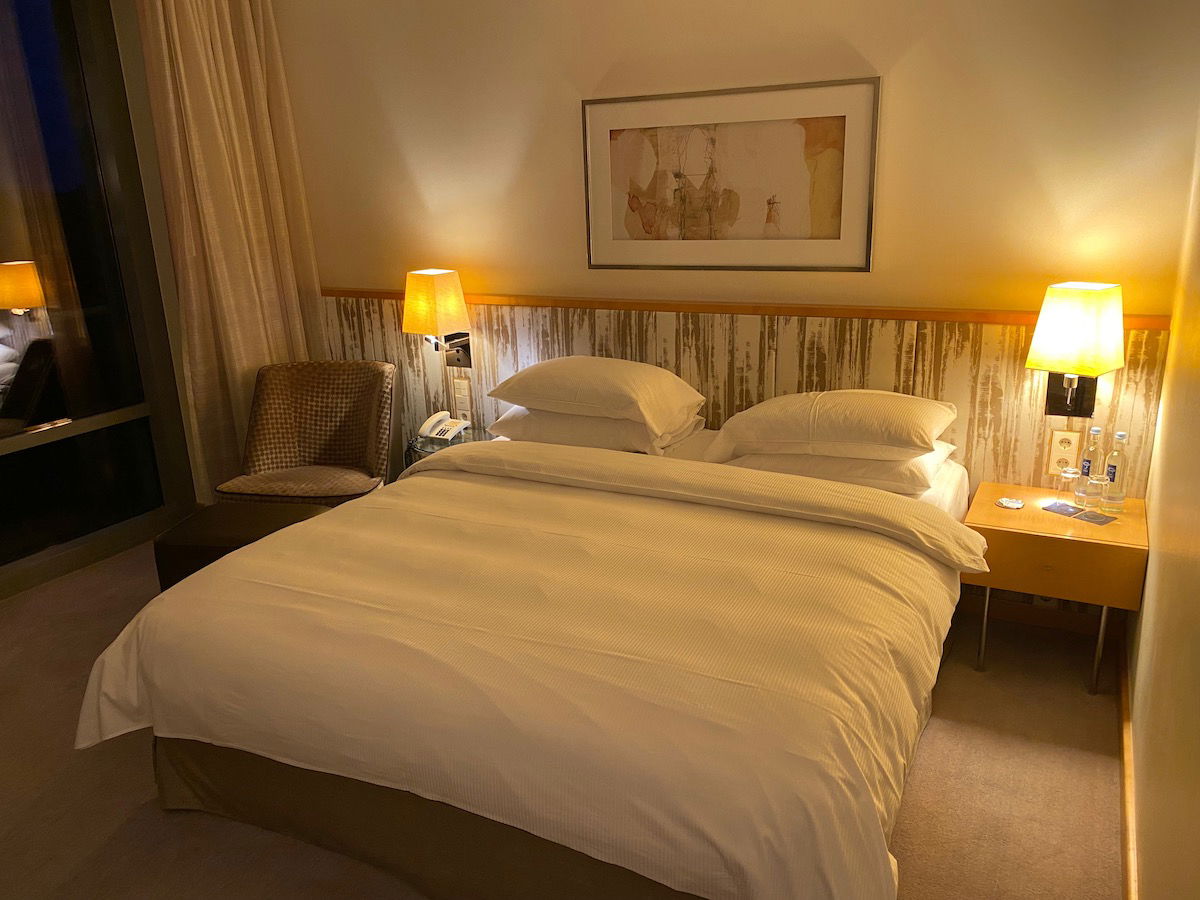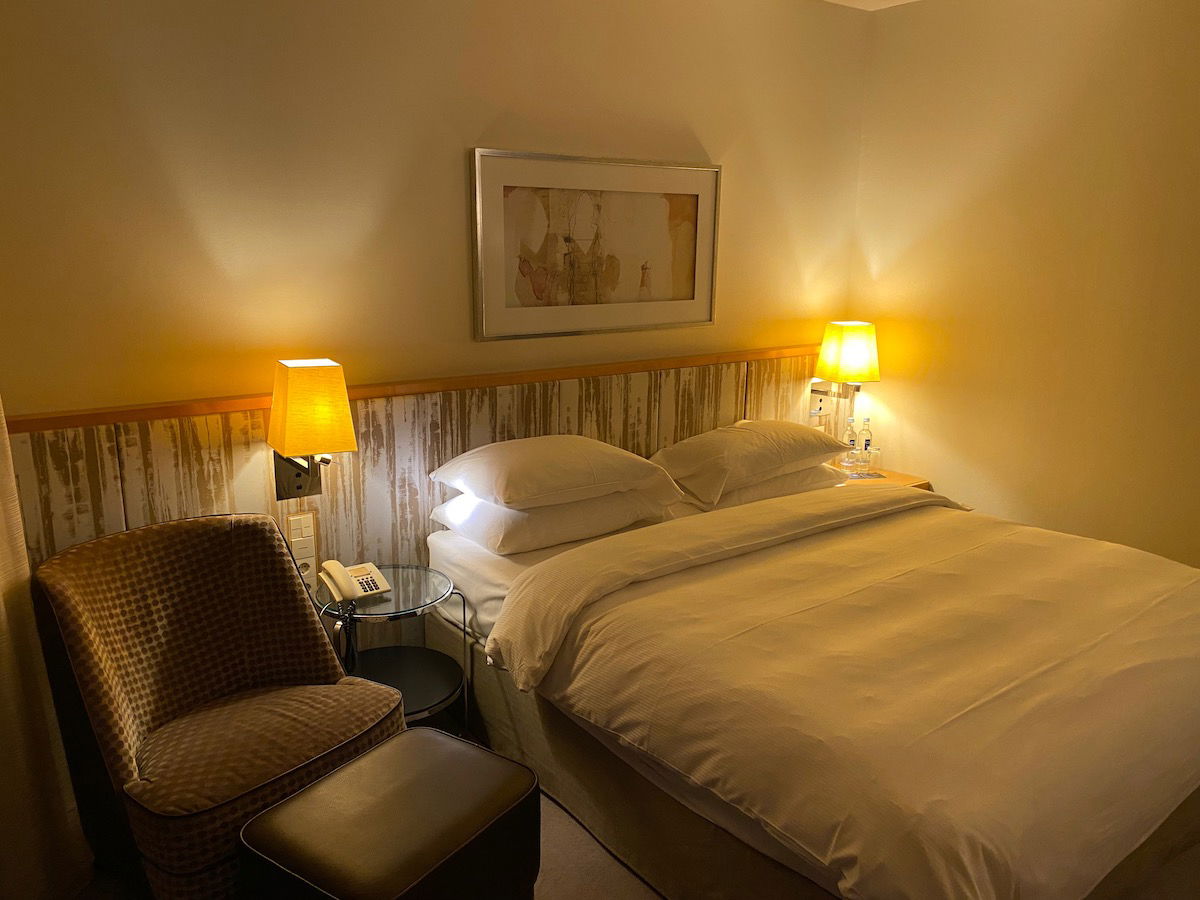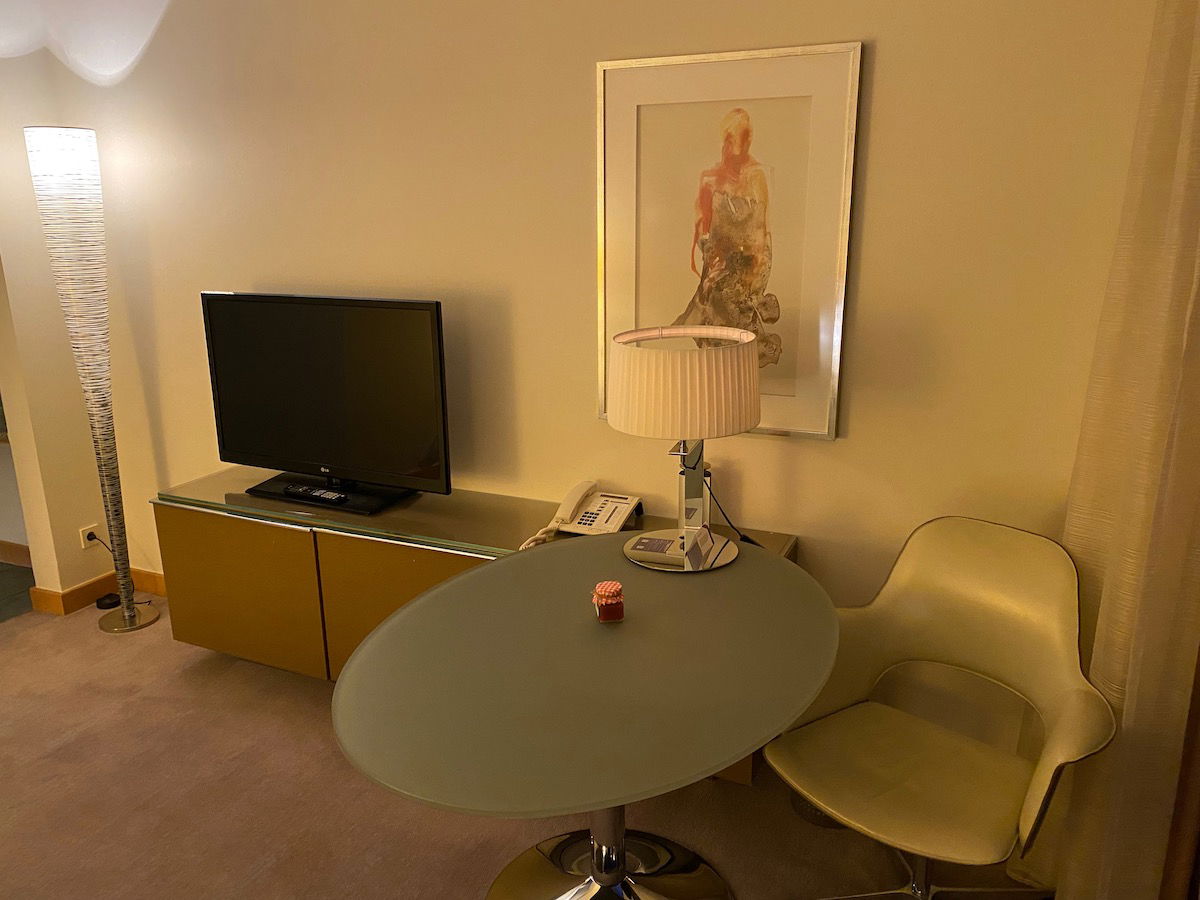 Our welcome amenity consisted of a tiny jar of jam. I get times are tough for hotels, but seriously? There wasn't even any information about what kind of jam it was, or what made it special. It almost felt like they place the leftovers from the breakfast buffet in rooms and call it a welcome amenity.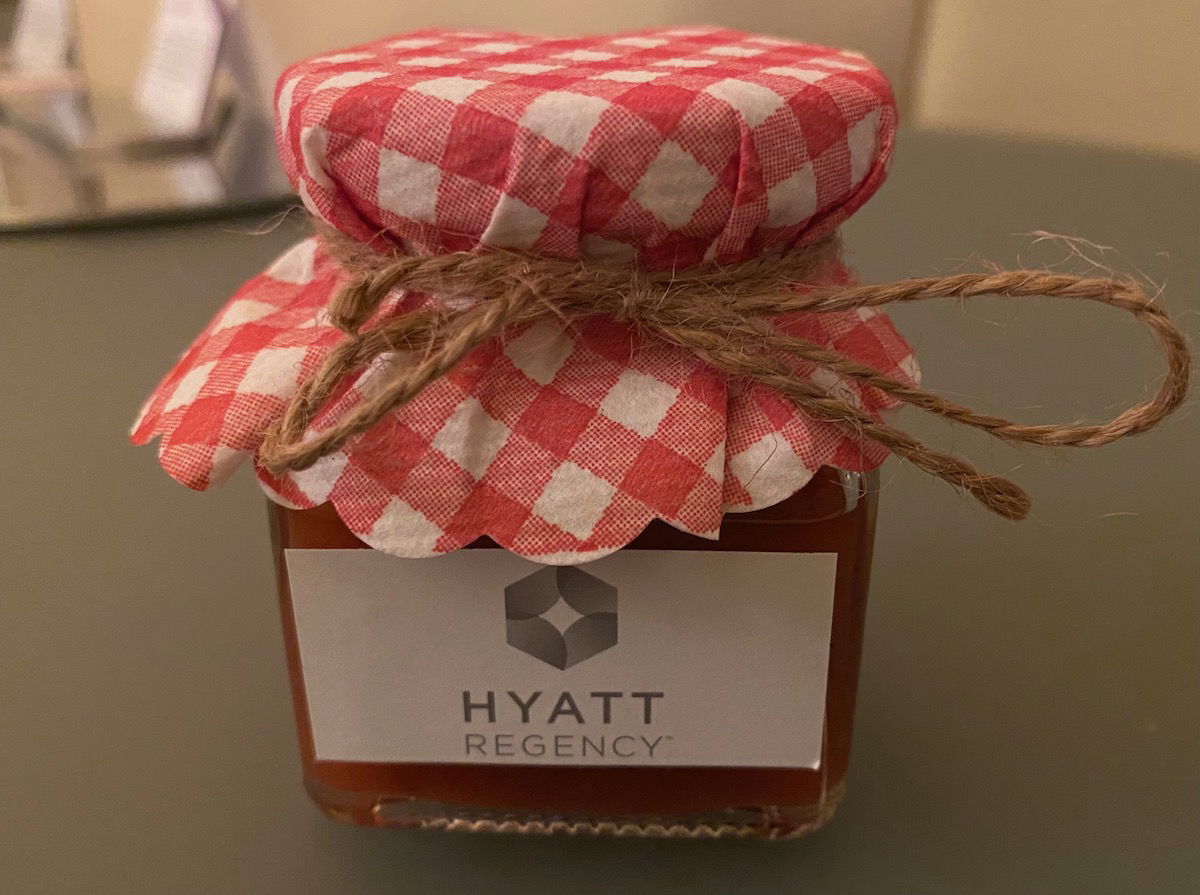 There were also two bottles of water.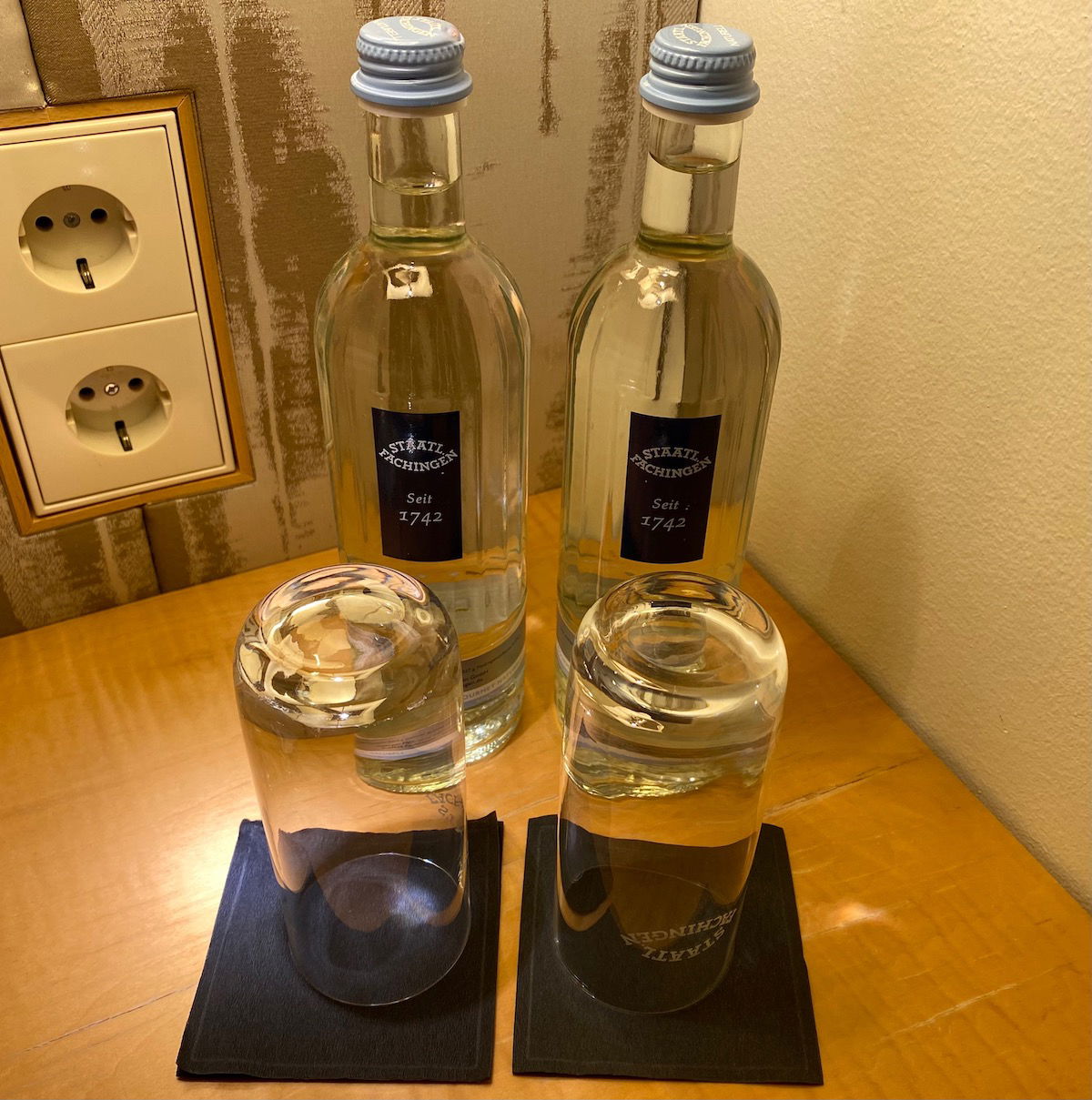 The bathroom was back towards the entrance, and featured a sink, toilet, and a shower & tub compound.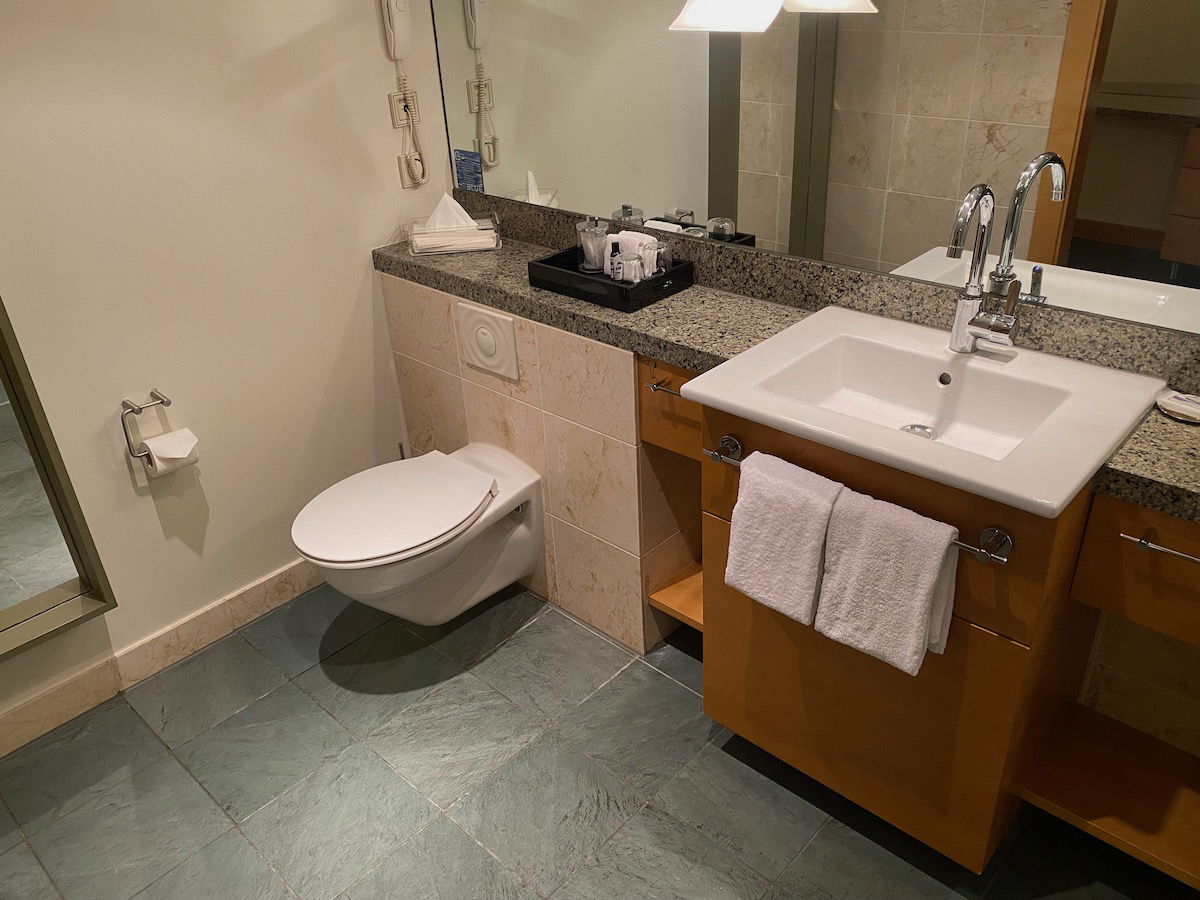 Personally I'm not a fan of shower setups where a glass shield only covers half of the space, since it makes it hard to keep the shower area hot, and it also makes it hard to keep all the water in the shower area.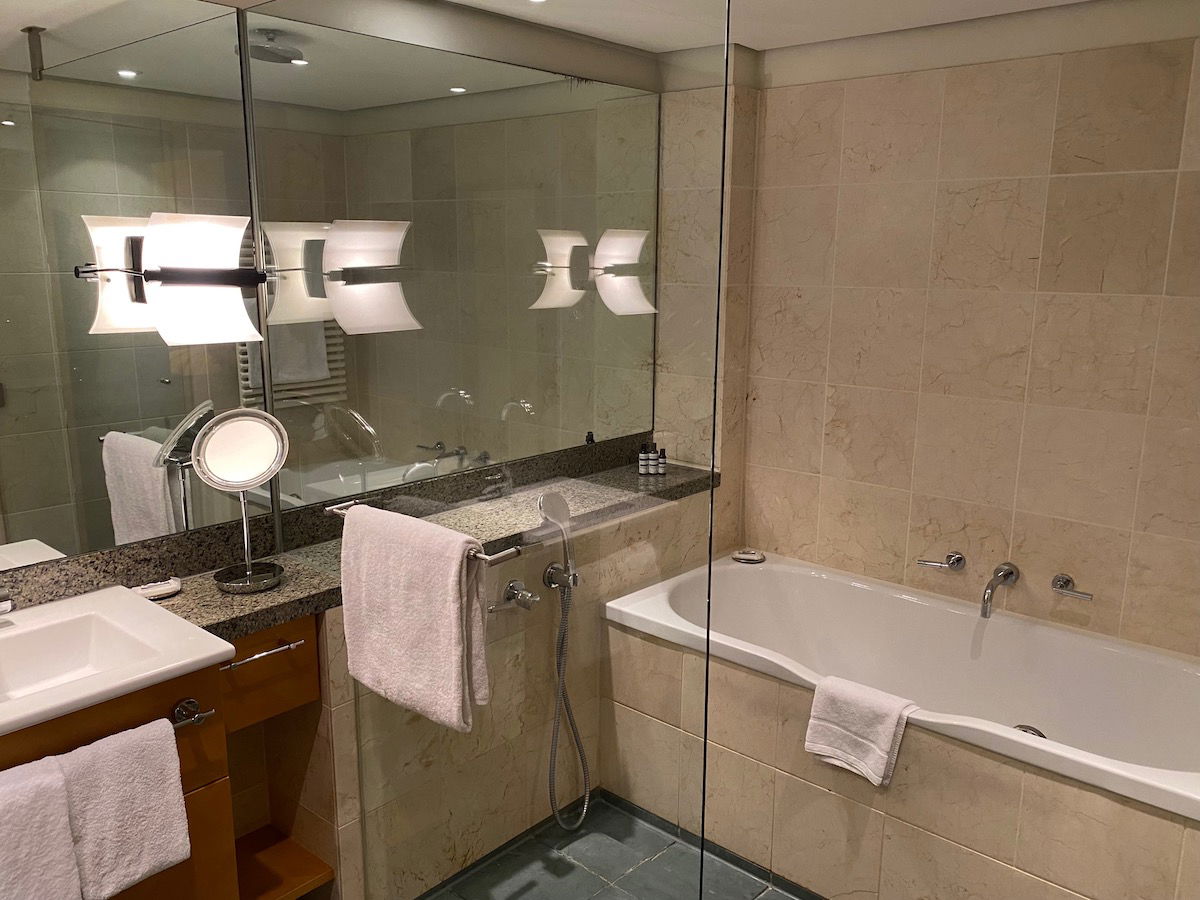 My much bigger frustration with the shower setup was the lack of ability to control the temperature of the water. After adjusting the temperature knob, it took probably around 30 seconds before the temperature actually changed. Not only that, but there was a tiny range where the water wasn't either freezing cold or scolding hot. We brought this to the attention of the hotel staff, and they said that's just how the system works.
Toiletries were from Pharmacopia, and were fairly nice.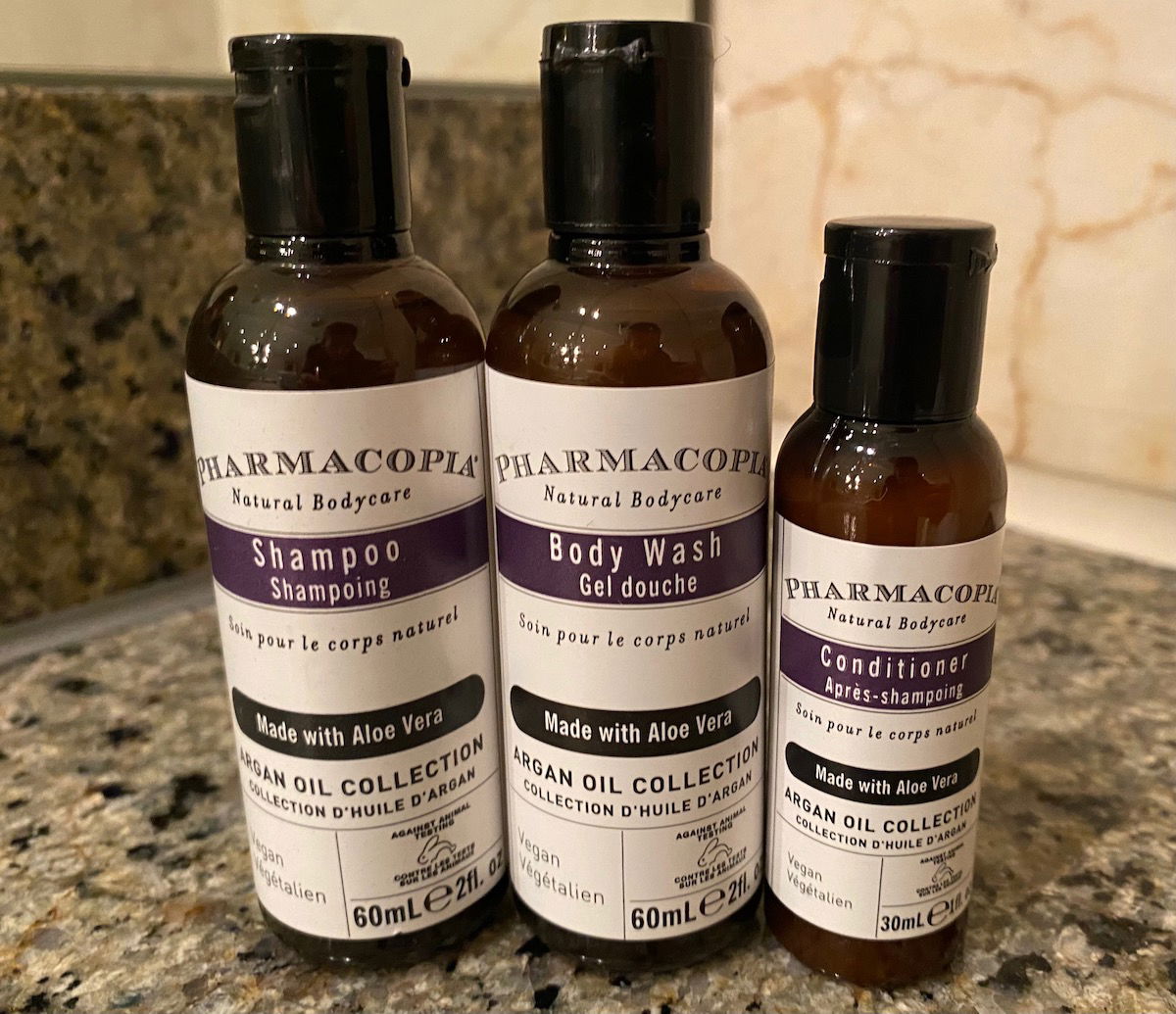 Another annoyance about the room — there's a very bright light along the floor near the bathroom, which I think is intended to be a night light. But as far as I know there's no way to turn it off (again, this was confirmed by the hotel staff, though maybe they were confused about what I was talking about).
Speaking of lighting, while the room had a bright night light, lighting was otherwise way too limited, and it was hard to get the room light when it was dark outside.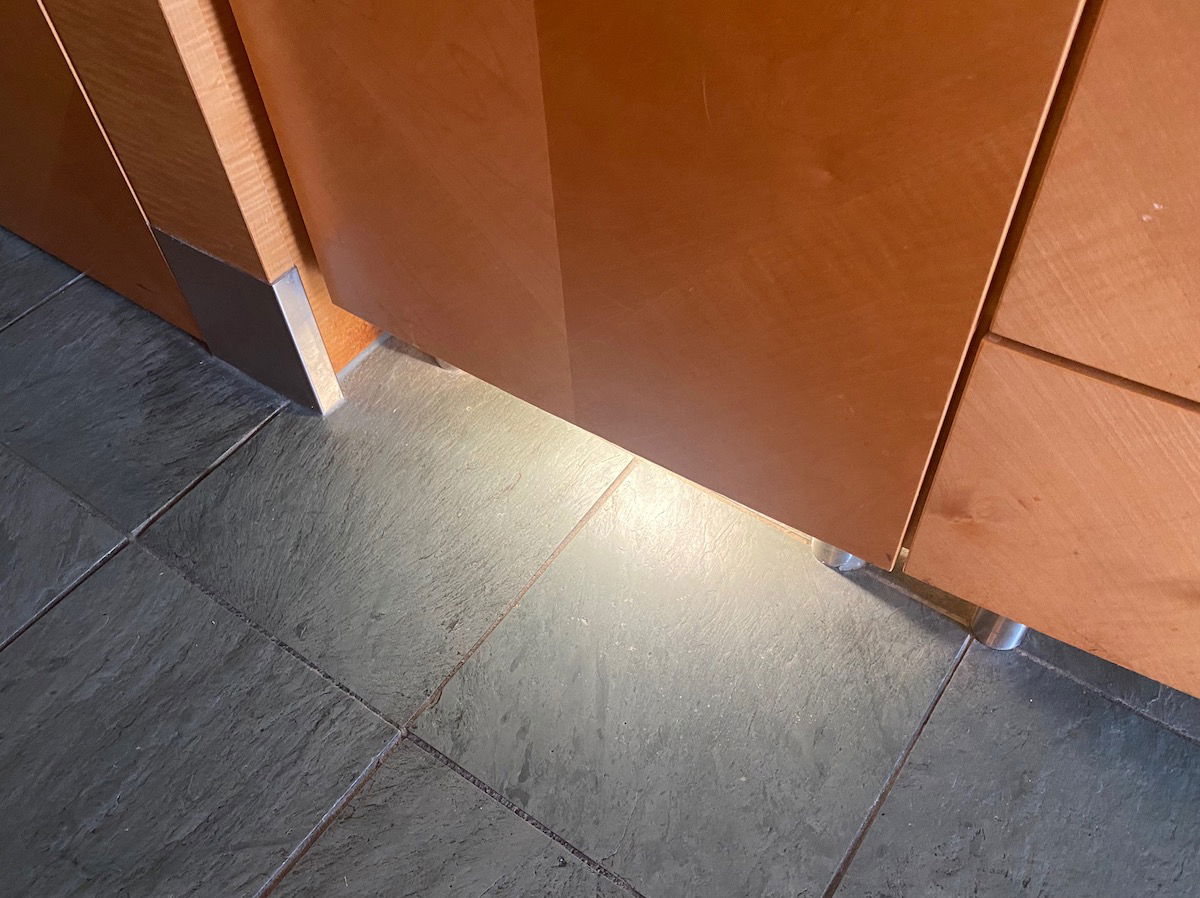 On the plus side, the room did have a lovely view of the Rhine River.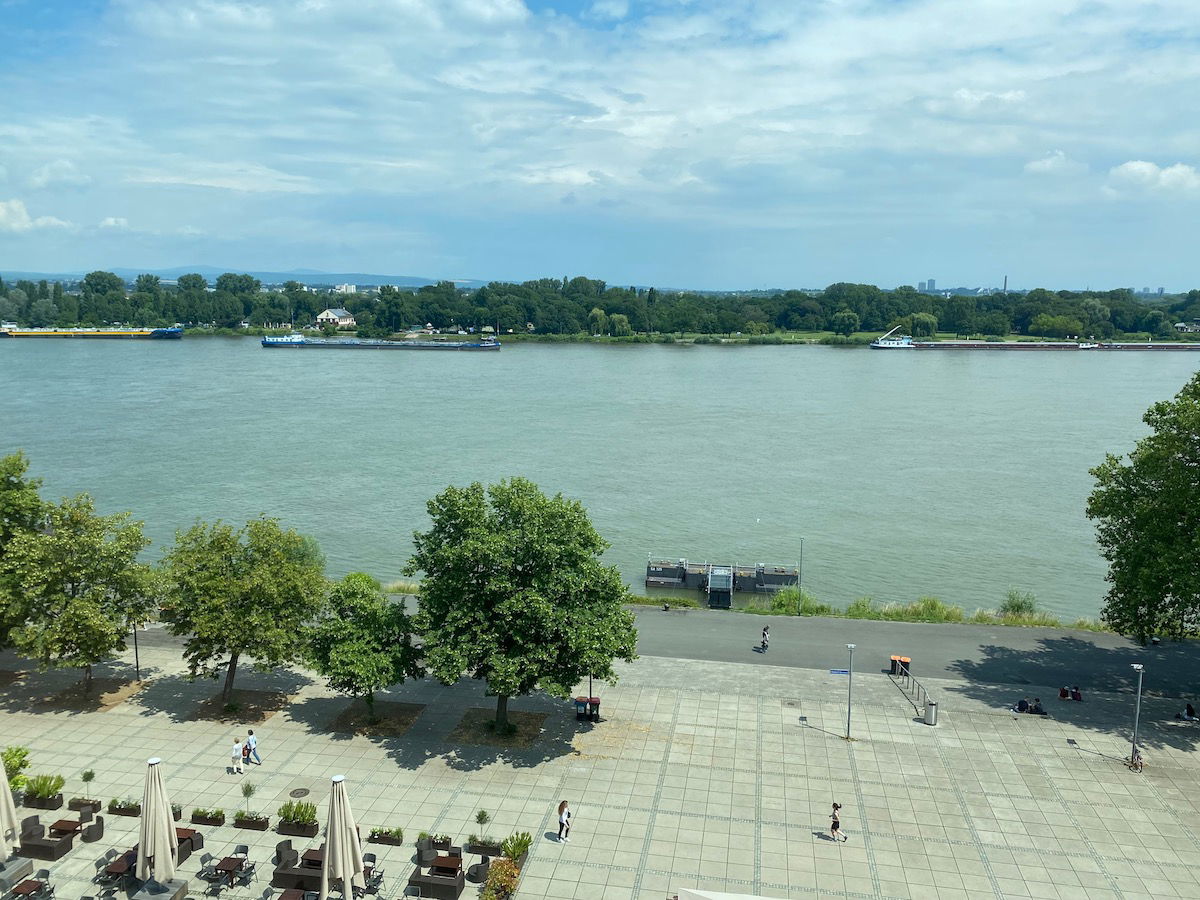 Hyatt Regency Mainz breakfast (stop serving me pork!)
Bellpepper is the Hyatt Regency's main restaurant, and it's where breakfast is served daily from 7AM until 10AM (11AM on weekends).
Breakfast consisted of a buffet. For single serve items the buffet was self service, while for other items there were staff to serve you. On top of that, you could order egg dishes with the waitstaff.
I didn't even bother photographing the buffet because it was such a madhouse, and ridiculously crowded. Guests were told to just seat themselves. When we sat down the first day, it took nearly 20 minutes before someone came to our table to offer us coffee. There was no "hello," but rather just a question of "coffee or eggs?" The second day wasn't any better. Oddly no one ever asked us for our room number or to sign anything, they were that overwhelmed.
I ordered a veggie omelet (and to be clear, nothing was lost in translation here, as I ordered in German ("Ich hätte gerne ein Gemüseomelett"). When it finally arrived quite a while later and I cut into it, I saw that it had ham. While I'm not a vegetarian anymore, I don't eat pork, because I like pigs and think they're intelligent and emotional animals.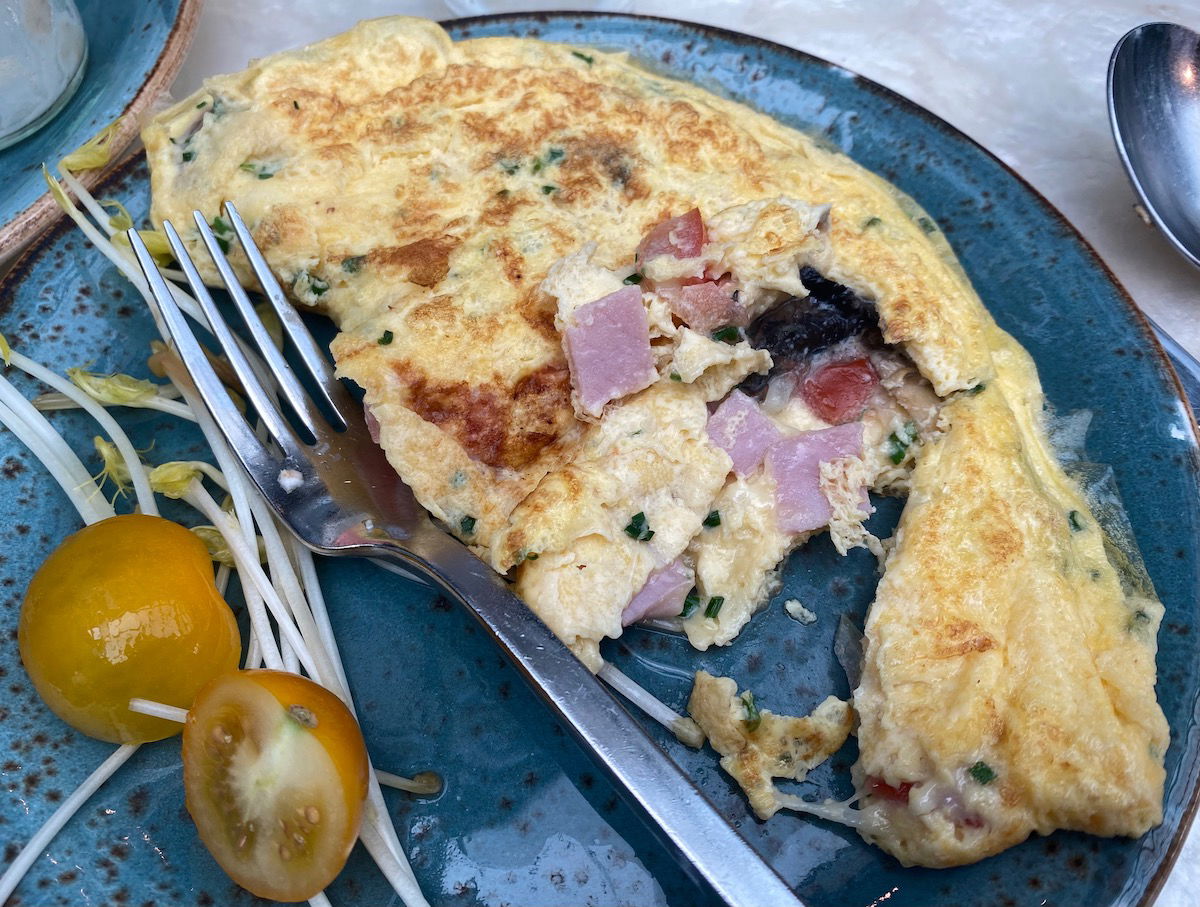 The next morning I once again ordered a veggie omelet, but figured I'd be more specific. I ordered a vegetable omelet, and specifically said I didn't want any ham or bacon. This time around I was brought an omelet with bacon.
When I noticed this, I explained to the server how I had ordered vegetable omelets two days in a row, and both days they came with meat. He "just said "I'm sorry" (in German) and walked away.
Hyatt Regency Mainz Bellpepper Restaurant lunch
Since we had a hotel credit to spend, we had lunch one day at Bellpepper Restaurant. Unlike at breakfast, the restaurant was nice and quiet at lunch, the service was professional, and the food was good.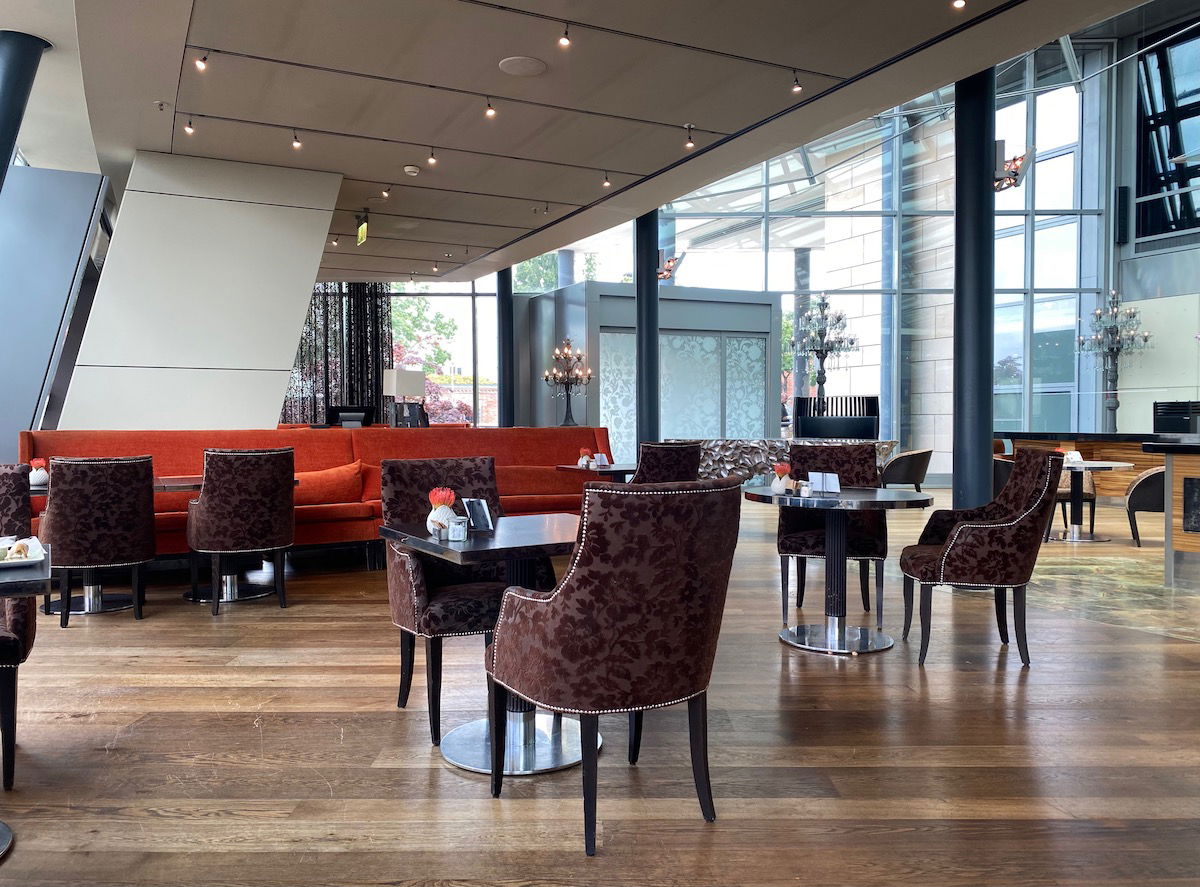 I had the potato gnocchi, while Ford had a burger with sweet potato fries. For dessert we couldn't help but have a traditional Eiskaffee.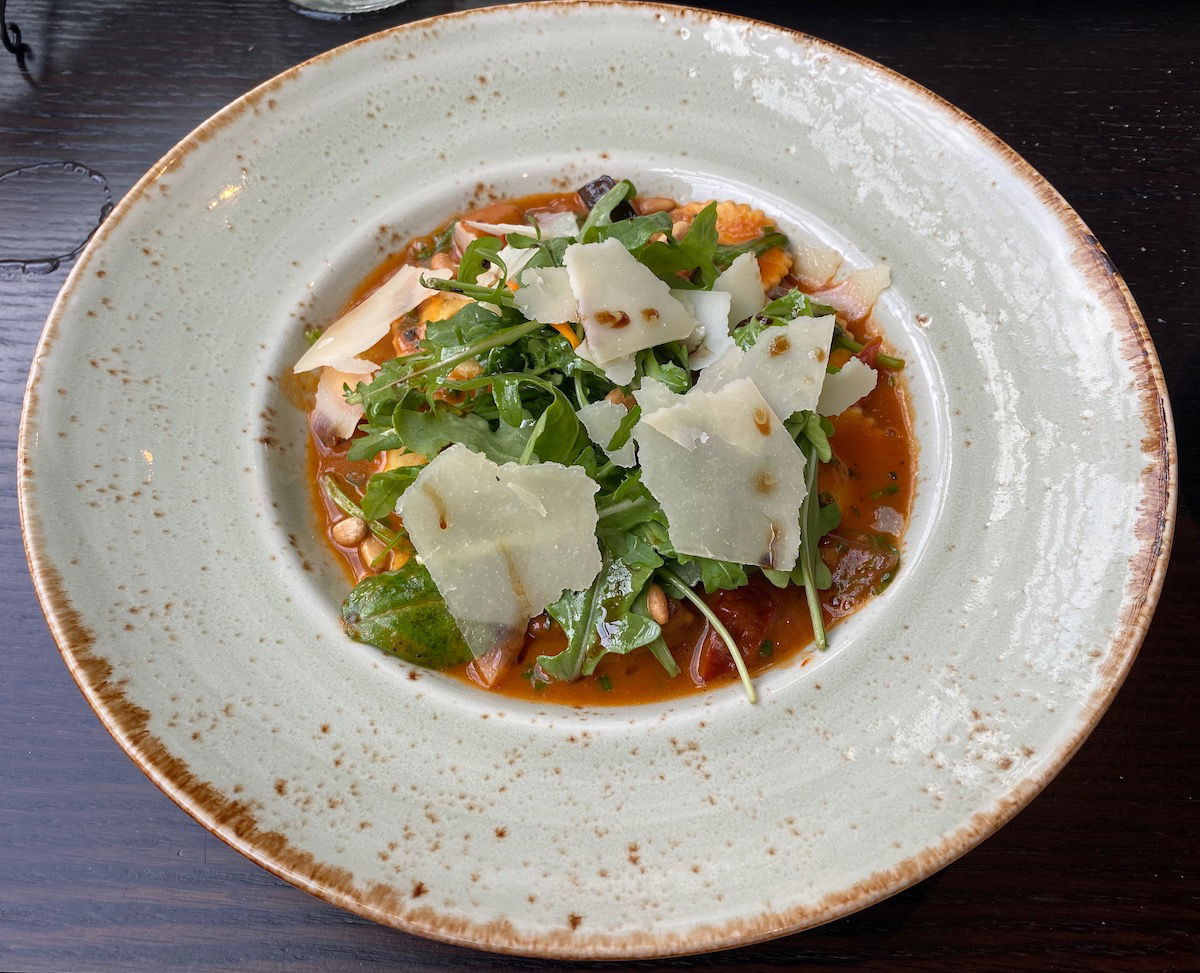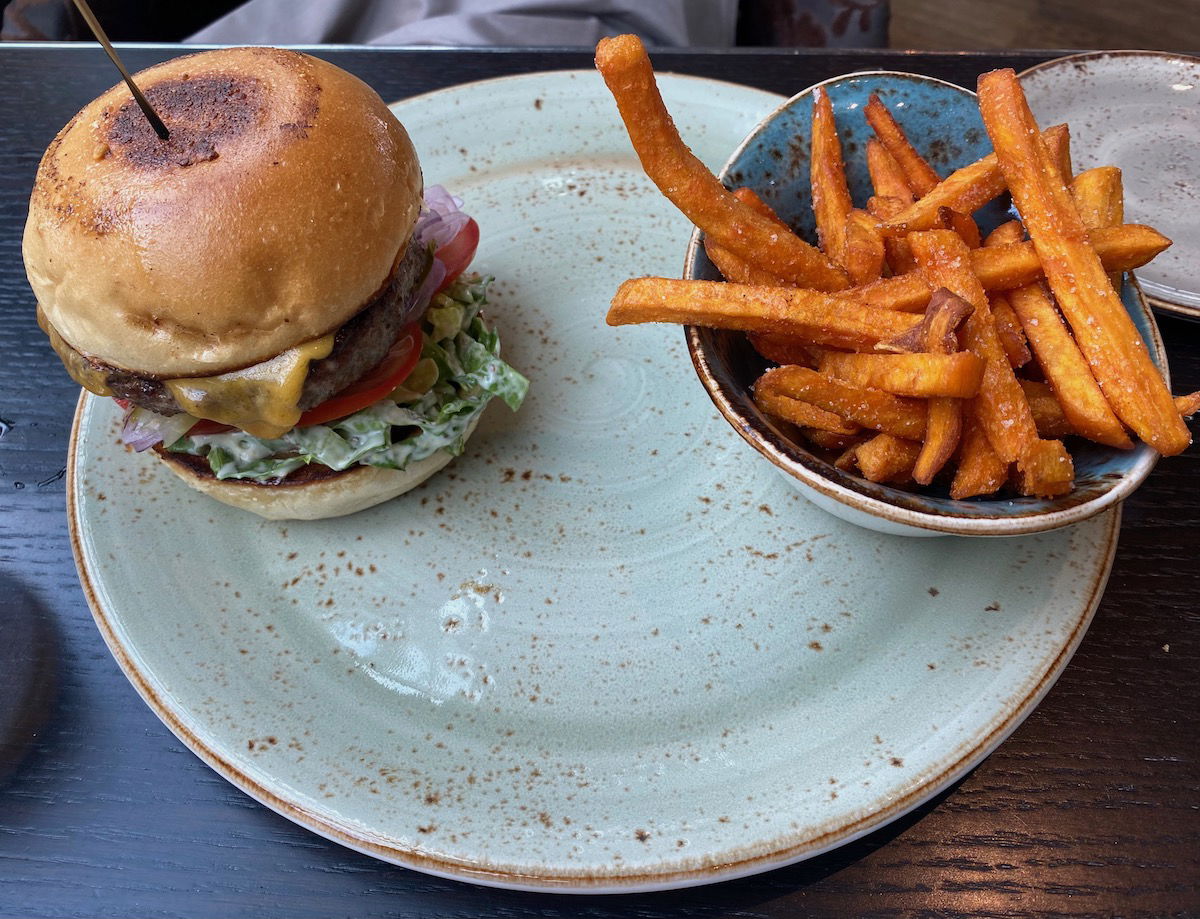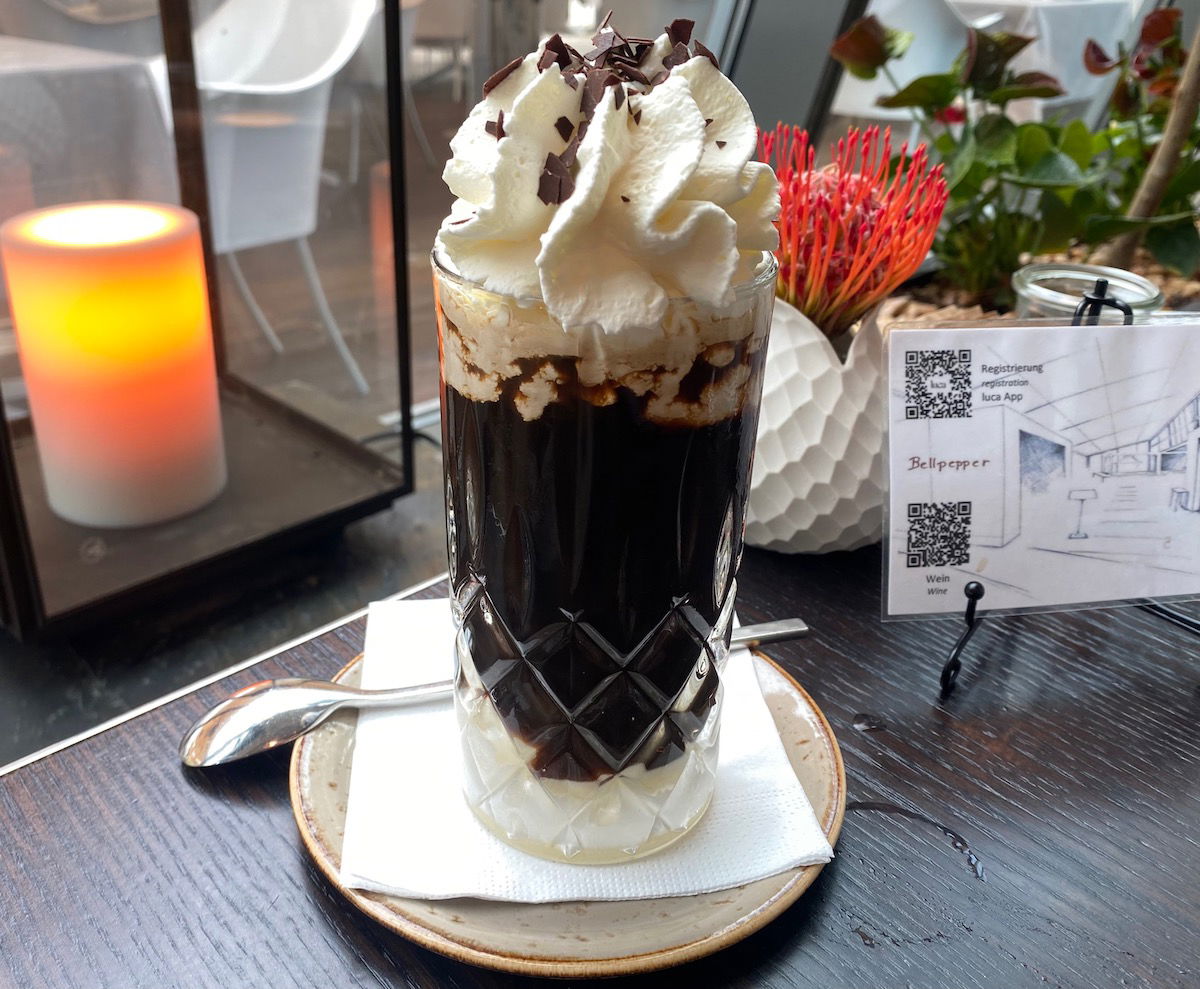 Hyatt Regency Mainz M Longe & Bar happy hour
Because the Regency Club was closed, we were instead invited to enjoy a happy hour at the M Lounge & Bar between 6PM and 8:30PM. While the bar is open to all guests, you just had to let the staff know you were a club guest, and then you'd receive free food & drinks.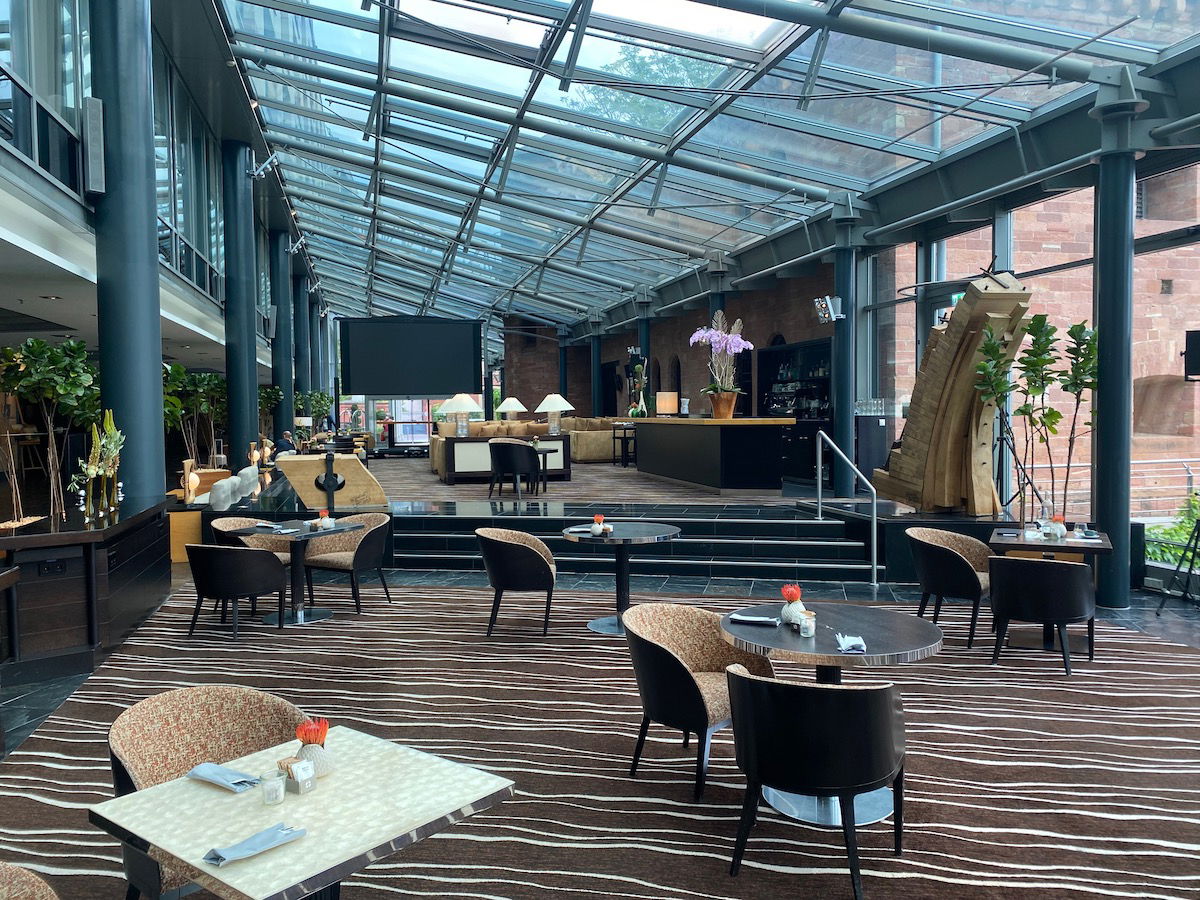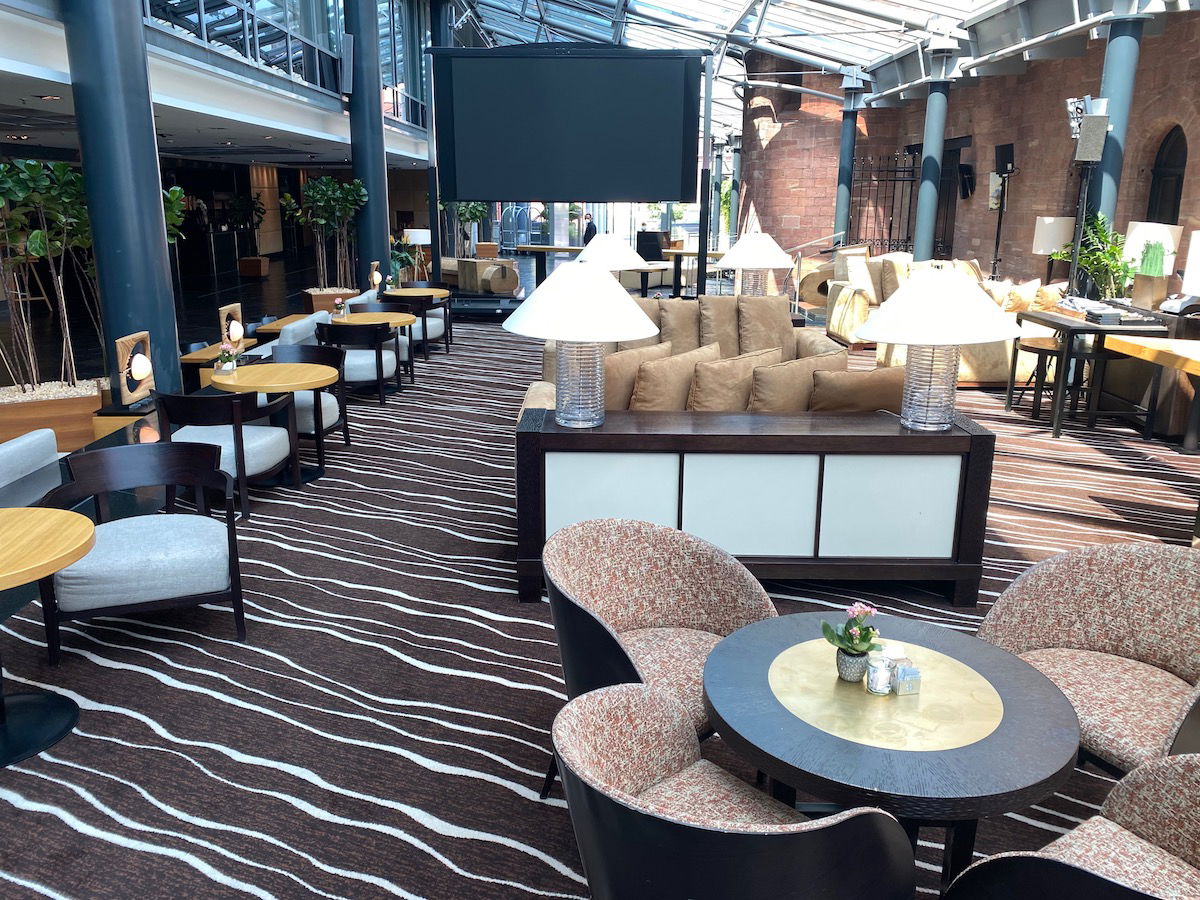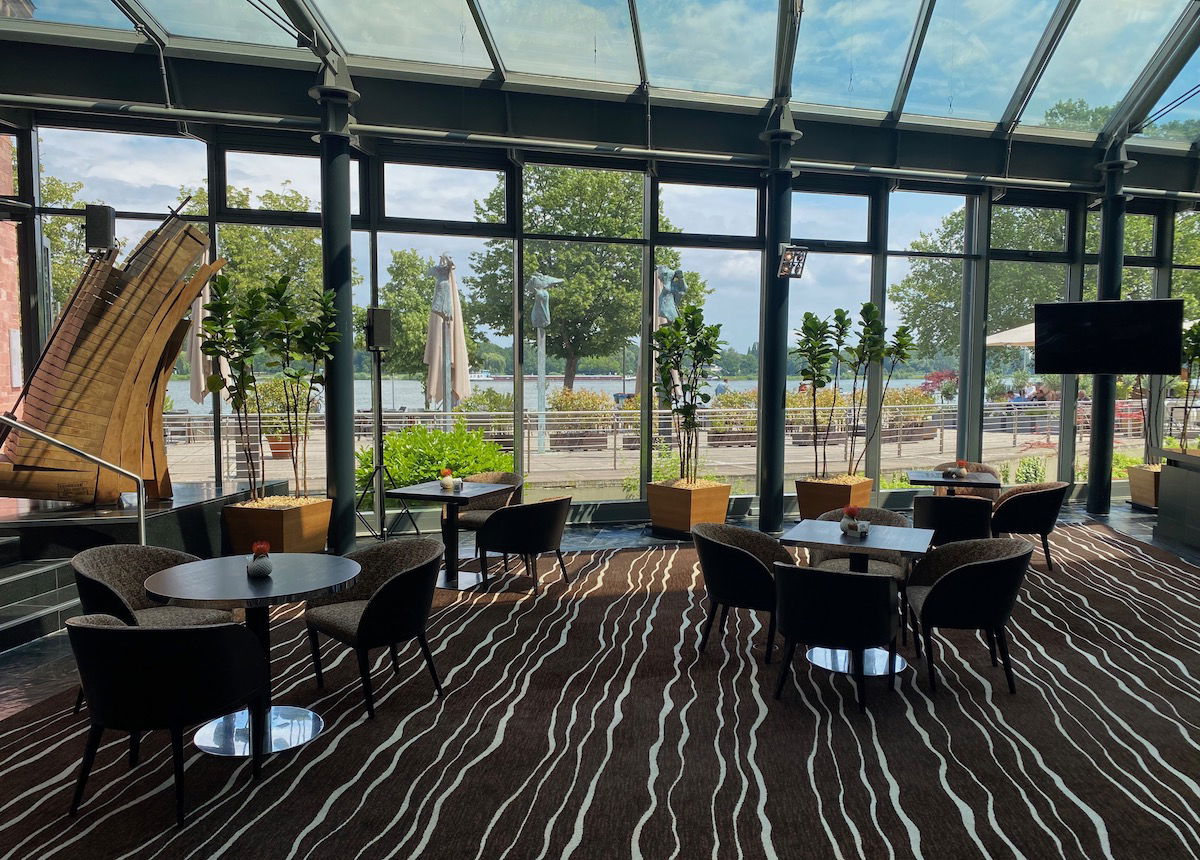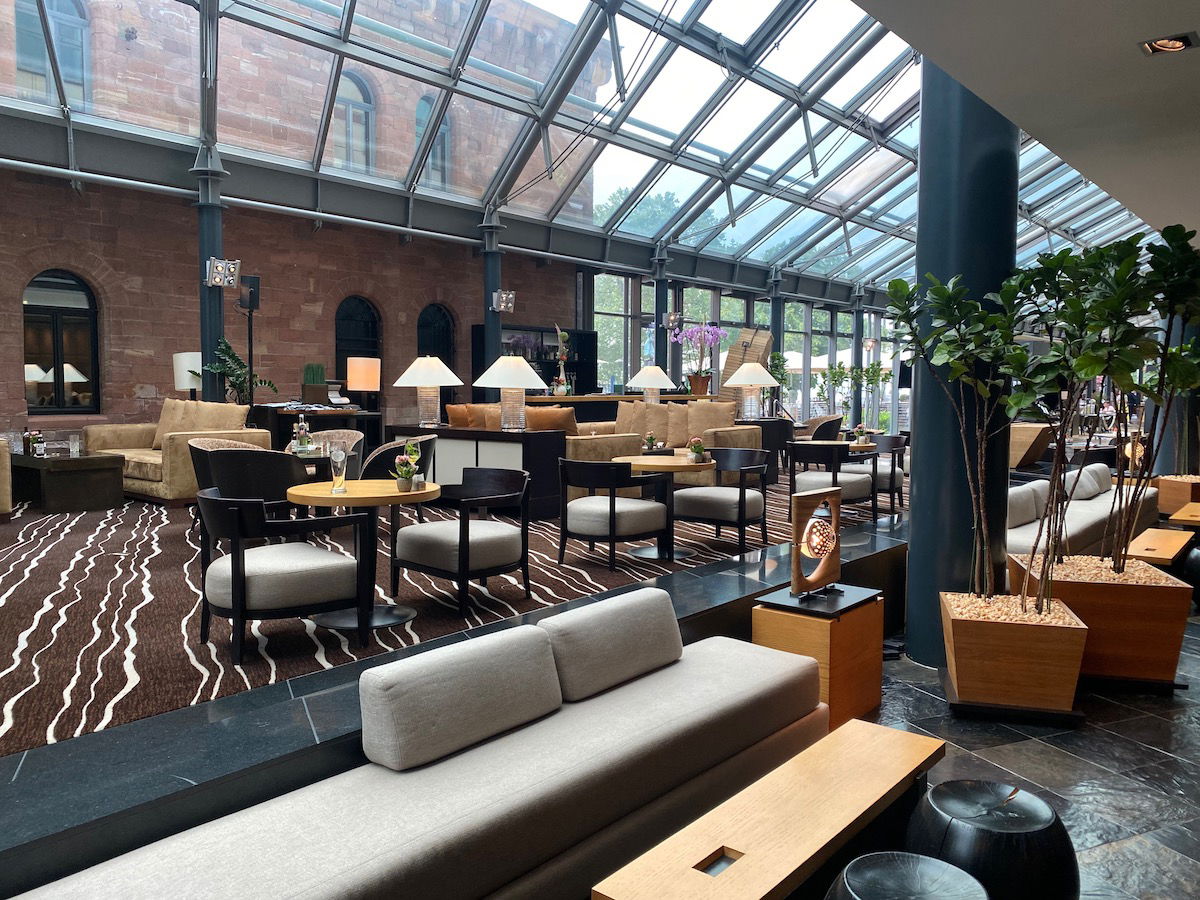 Rather than the typical club lounge buffet, there was a chalkboard with a limited selection of drinks, as well as a description of the food options.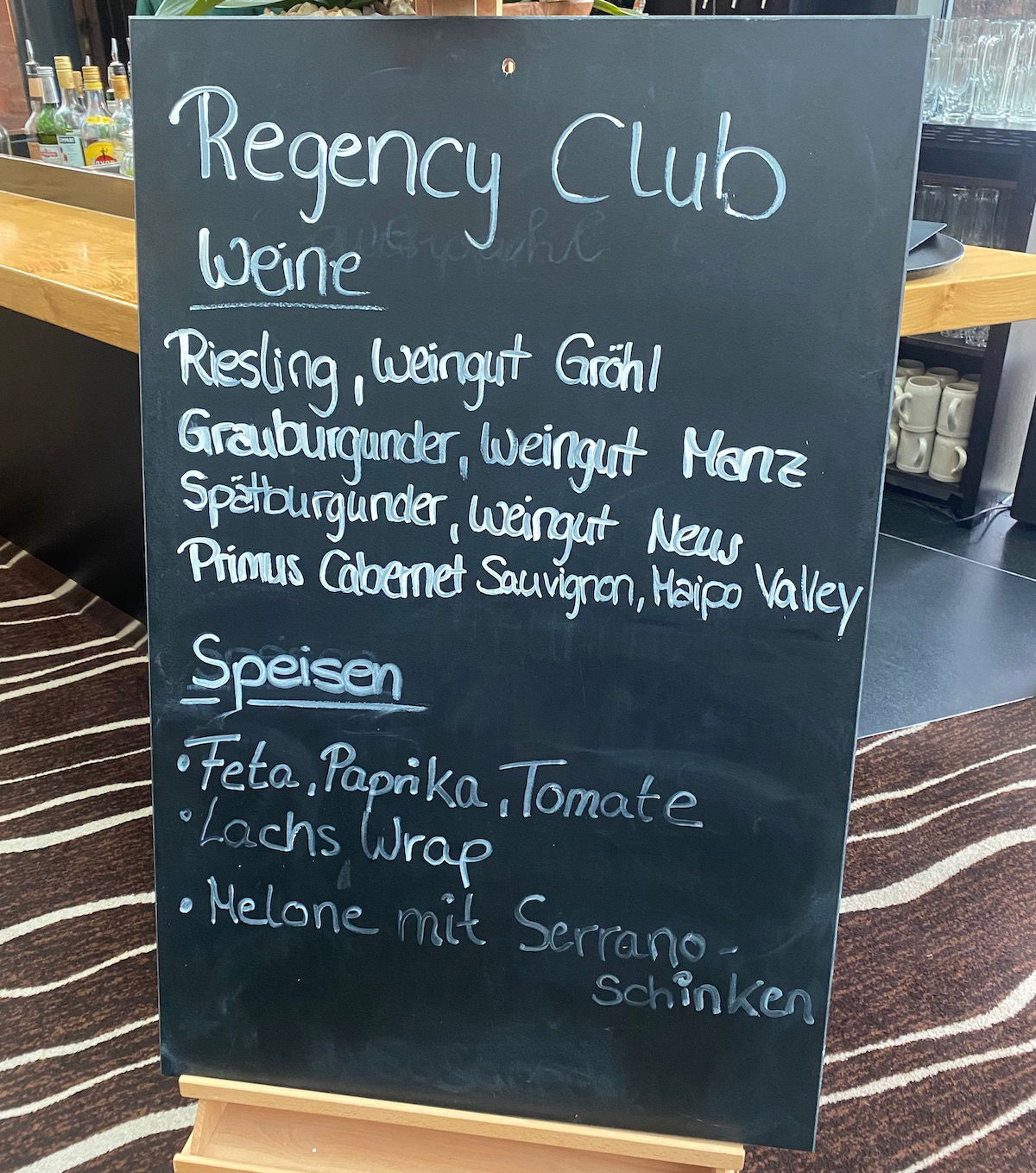 We just had a couple of glasses of white wine (Grauburgunder), and then snacks were served on a tiered tray.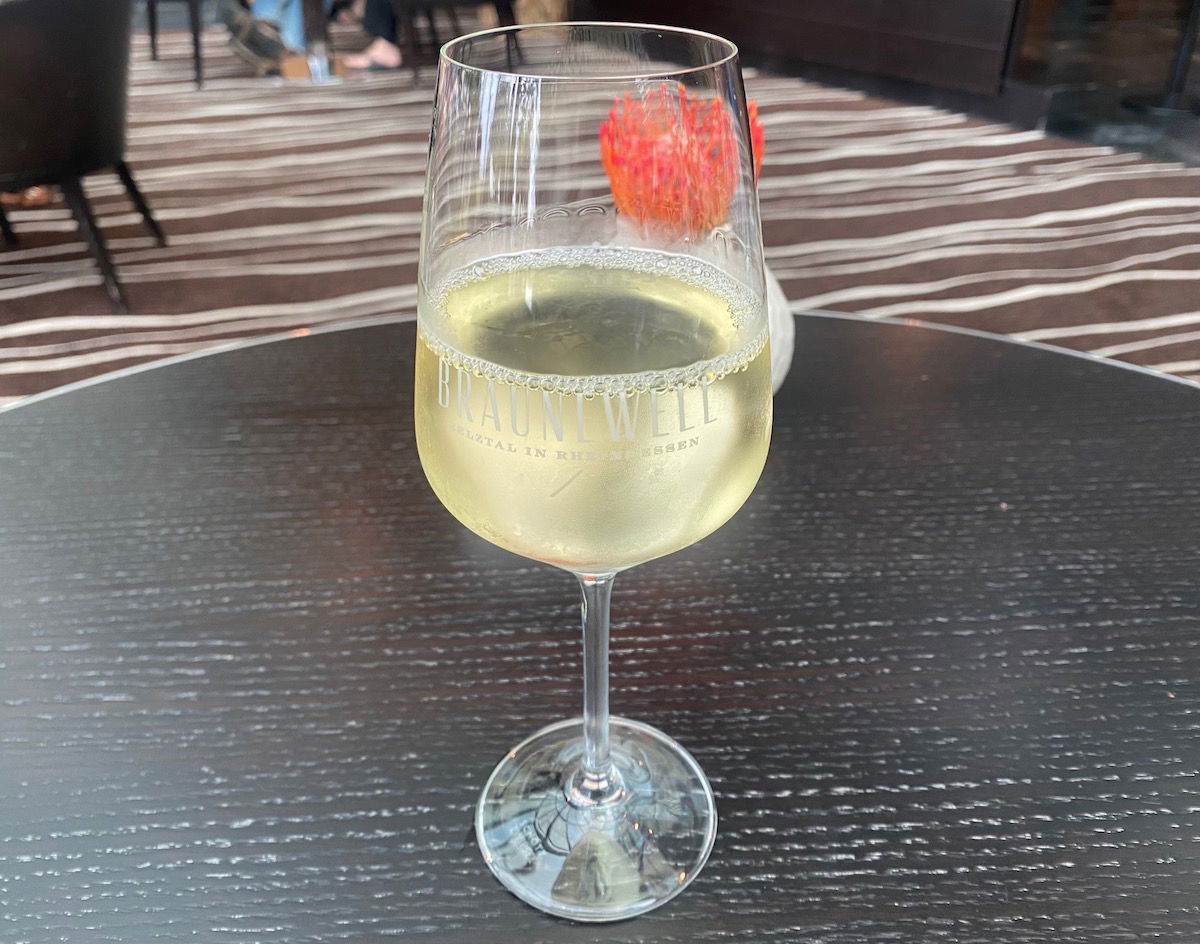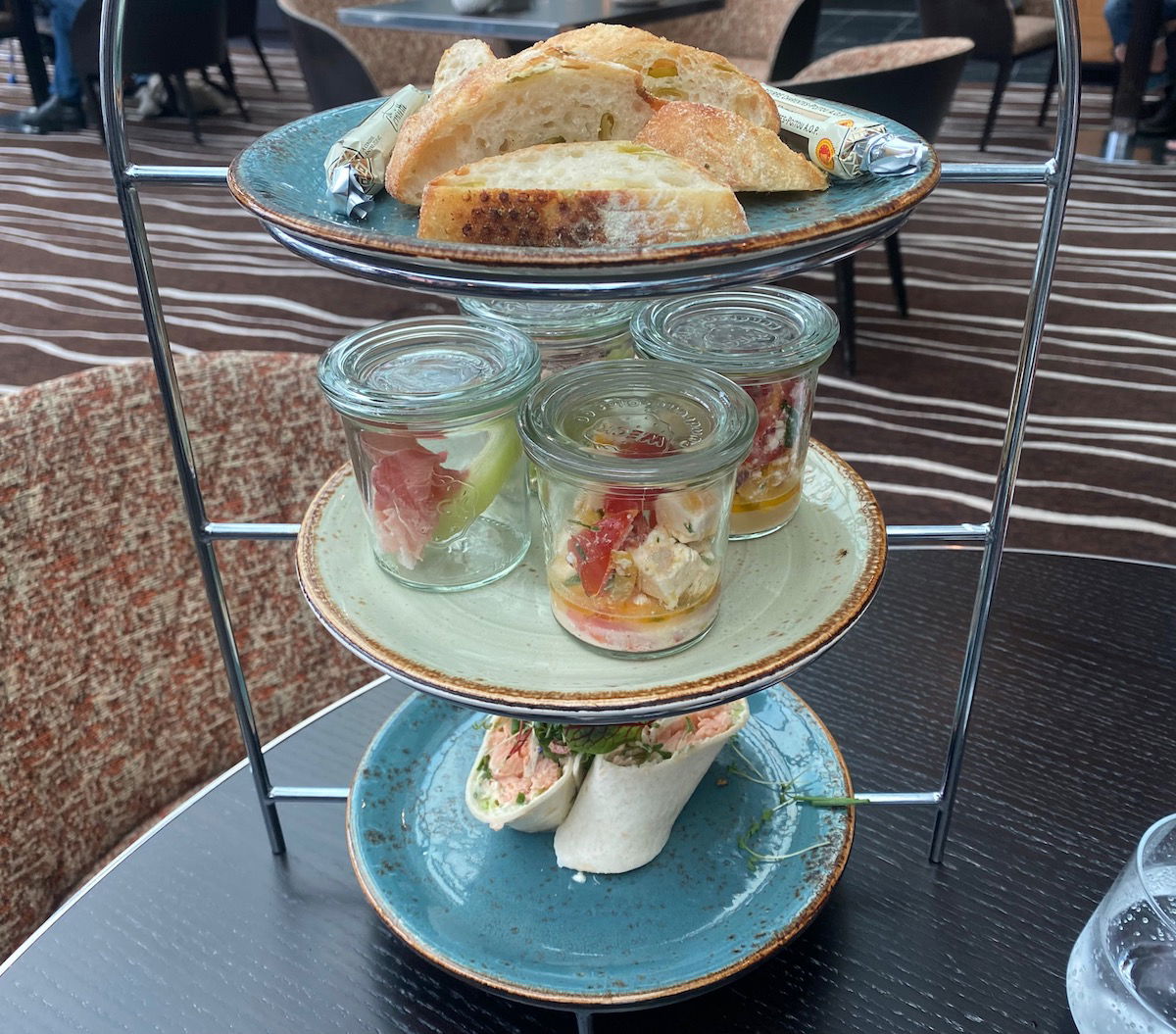 The most memorable part of this experience was the crowd sitting within earshot of us. A major Chicago-based airline puts up their pilots here, and I couldn't believe what three pilots seated a table over from us were talking about. One of the pilots compared coronavirus restrictions to the Holocaust, said that he feels like he's living in George Orwell's 1984, and said that if he got coronavirus he'd just use Ivermectin. The two other guys just went along with what he said, and seemed to mostly agree.
I wonder if the guy got vaccinated in the meantime, or if he's about to go on unpaid leave…
Hyatt Regency Mainz Club Olympus gym
During our stay we used the gym, located on the basement level in the Club Olympus Spa. You had to make appointments for this in advance, since only one "party" could use each section of the gym at a time.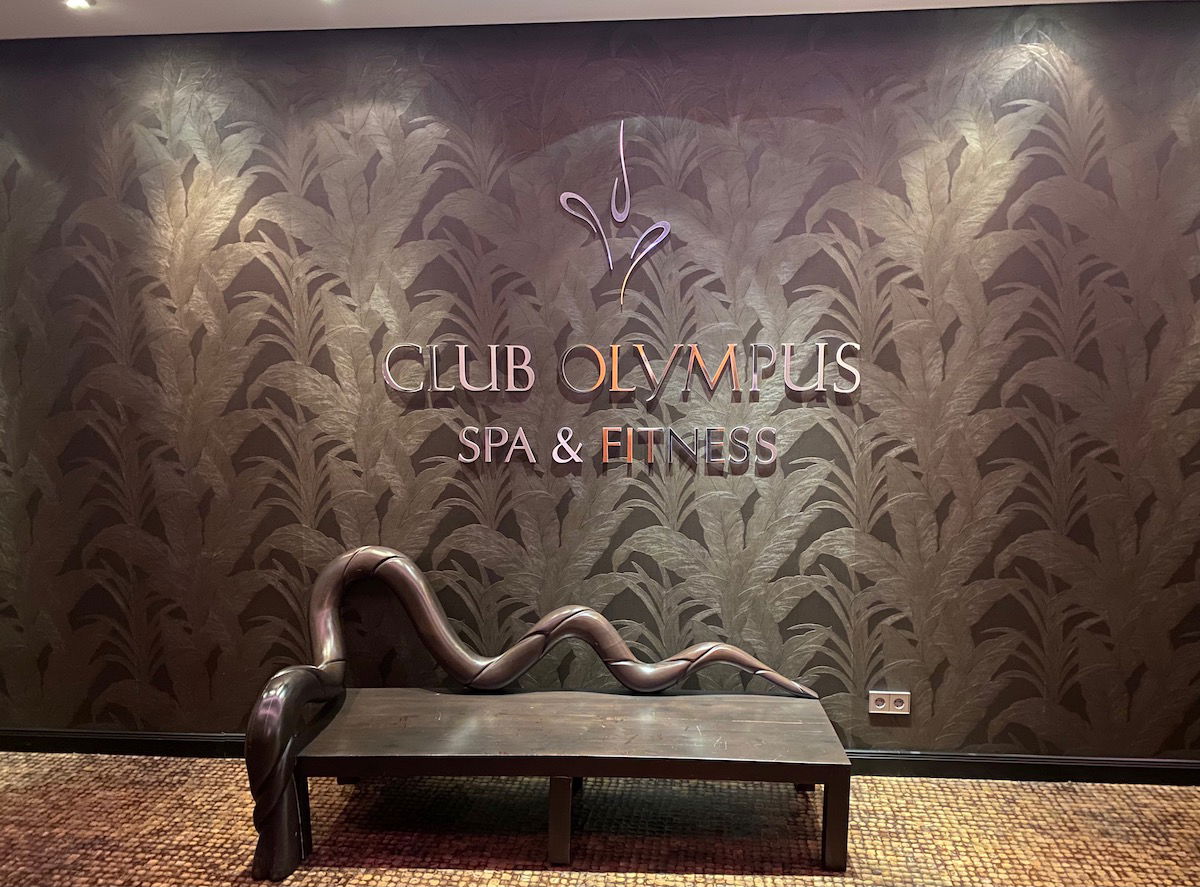 The gym itself was quite good, with a solid mix of cardio and weights.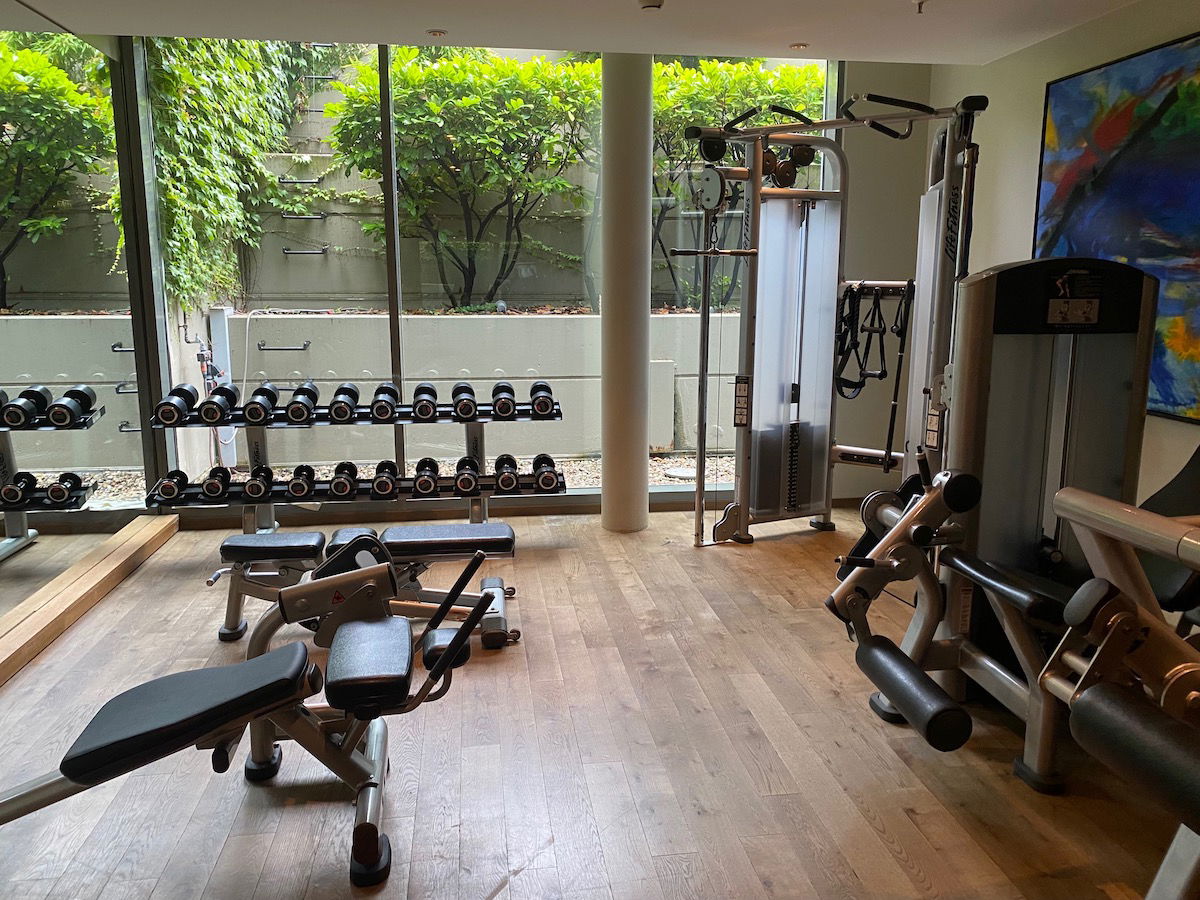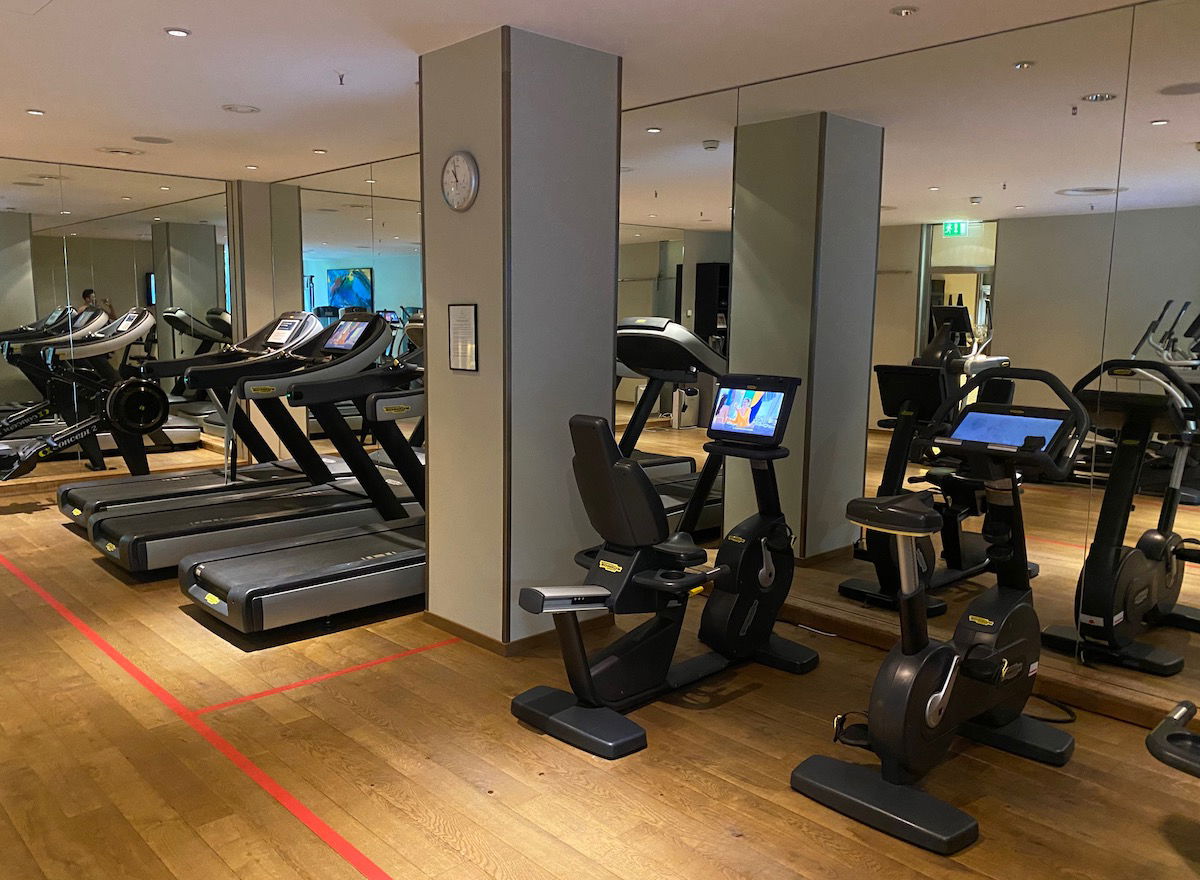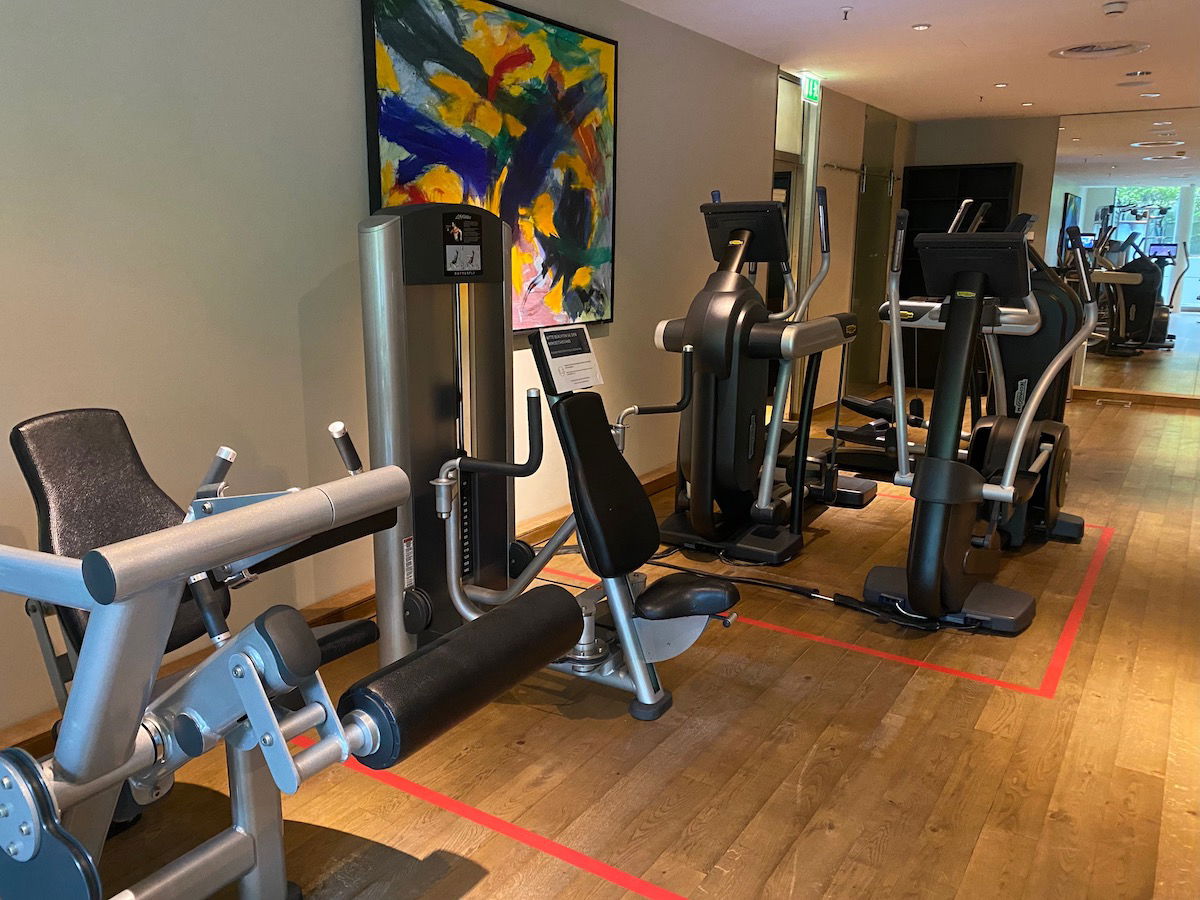 Hyatt Regency Mainz service
The front desk staff and Club Olympus staff were friendly, but other than that we didn't have great service experiences.
Service at breakfast was a disaster, as I explained above. Beyond that, a couple of hours after we checked in, we needed toothpaste (we realized we didn't have any anymore). That shouldn't be a big ask at a decent hotel.
No one answered the phone when I called the operator, so I went to the front desk to ask for it. Someone was clearly filling in for the front desk person, and said there was no one around who could get me toothpaste. When I asked if I should come back later or if there was another solution, the answer was simply "no" (or more accurately, "nein").
And then there were general challenges with things being functional at the hotel. The hotel has three elevators (if I recall correctly), but for part of a day only one elevator was working. There were signs that only two people could use an elevator, so the elevator was more or less unusable for some period of time.
Hyatt Regency Mainz location
I think some context on the location of Mainz is important. Mainz and Frankfurt take roughly the same amount of time to get to from Frankfurt Airport, regardless of whether you're traveling by car or train. So aside from those who have a specific reason to visit Mainz, it's also often a place people will stay as an alternative to Frankfurt, whether they have a long layover or are just exploring the region.
Mainz is a cute enough town right on the Rhine River, so the views can be nice. However, personally I have a strong preference for Frankfurt over Mainz, in terms of the variety of things to do, the dining options, and more. So my general preference for Frankfurt over Mainz is also one of the main reasons I probably wouldn't return to this hotel.
Bottom line
I was looking forward to returning to the Hyatt Regency Mainz after more than a decade, but have no desire to return. I get that coronavirus has been tough on hotels, and many services have been reduced. However, there were enough little things that didn't go right that would prevent me from returning. It's one thing if I had a specific reason I needed to be in Mainz, but personally I'll stick to Frankfurt on future trips.
In general Hyatt properties in Germany are excellent (for example, I love the Hyatt Regency Dusseldorf), but I'd consider this property to be an outlier.
If you've stayed at the Hyatt Regency or visited Mainz, what was your experience like?