In this post I wanted to talk about something I'm passionate about — good coffee. I travel a lot, I'm often jetlagged, and I'm an early riser, so I'm going to keep this focused on the core of the blog, and talk specifically about good airline and hotel coffee (which on the surface seems like an oxymoron, since you'll usually get the best coffee at local cafes).
The thing is, there's such massive variance in terms of quality when it comes to airline and hotel coffee, so I think it's a fun topic to address. Let me note upfront that I don't claim to be an expert on coffee, and I suspect a lot of people will strongly disagree with my preferences, and they're every bit as right as I am (or maybe even more right).
Still, I'll share what makes me happy with airline and hotel coffee, and then I'm curious to hear what OMAAT readers think, or if you even care about coffee when traveling.
For me coffee is ritualistic
For me the importance of coffee goes way beyond caffeine — for me drinking coffee is ritualistic.
When I'm at home, my most productive hour is the very first one, where I'm sitting at my desk with a cup of coffee next to me. There's just something about the experience that I look forward to every day. Often it's the little things in life that make us happy, and my morning coffee ritual is one of those things.
Is it logical? Probably not. But it's one of those little joys in life, and something I care about way more than I should.
Coffee is even more important when traveling
My morning coffee makes me so happy at home, but in my opinion it's even more important when traveling.
First of all, to me there's all the more need for coffee when on the road and jetlagged. I'm a very early riser no matter where in the world I am, so the value of that first cup of coffee is all the greater when it's 5AM in a new environment.
Second of all, it can often be tough to be productive when on the road, and like I said above, coffee is ritualistic to me. Having a cup of coffee next to me somehow puts me in the mindset to be productive.
Whether I'm waking up in a hotel or am waking up on a plane, I look forward to that first cup of coffee. Yeah, it really is that important to me… maybe this blog should actually be called One Cup at a Time?
A little bit of coffee effort goes a long way
That gets me to the main point of this post. I've long argued that hospitality happens at the margins. Often it's the little things that stand out to me most about a hotel stay or flight, or that I remember long after I've returned home.
For me coffee is one of those things. If an airline or hotel has a really great coffee experience, that's very likely going to be one of the first things that comes to mind when I think about the airline or hotel.
More concretely, what impresses me?
What I look for in hotel coffee
For me hotel coffee is about ease of having access to it, and quality. The first thing I love is when hotels make it easy to get coffee early in the morning.
I'm not opposed to using in-room coffee machines, but the problem is that:
Often the machines aren't cleaned very well, and/or don't work properly
Sometimes the pods aren't refilled correctly during a stay, so you run out (and you might not notice until you want your first cup)
The quality of the coffee varies significantly; Nespresso is pretty good, while some other hotels use much lower end machines and pods
Sometimes the only option for milk or cream is a powdered creamer, and at that point I don't bother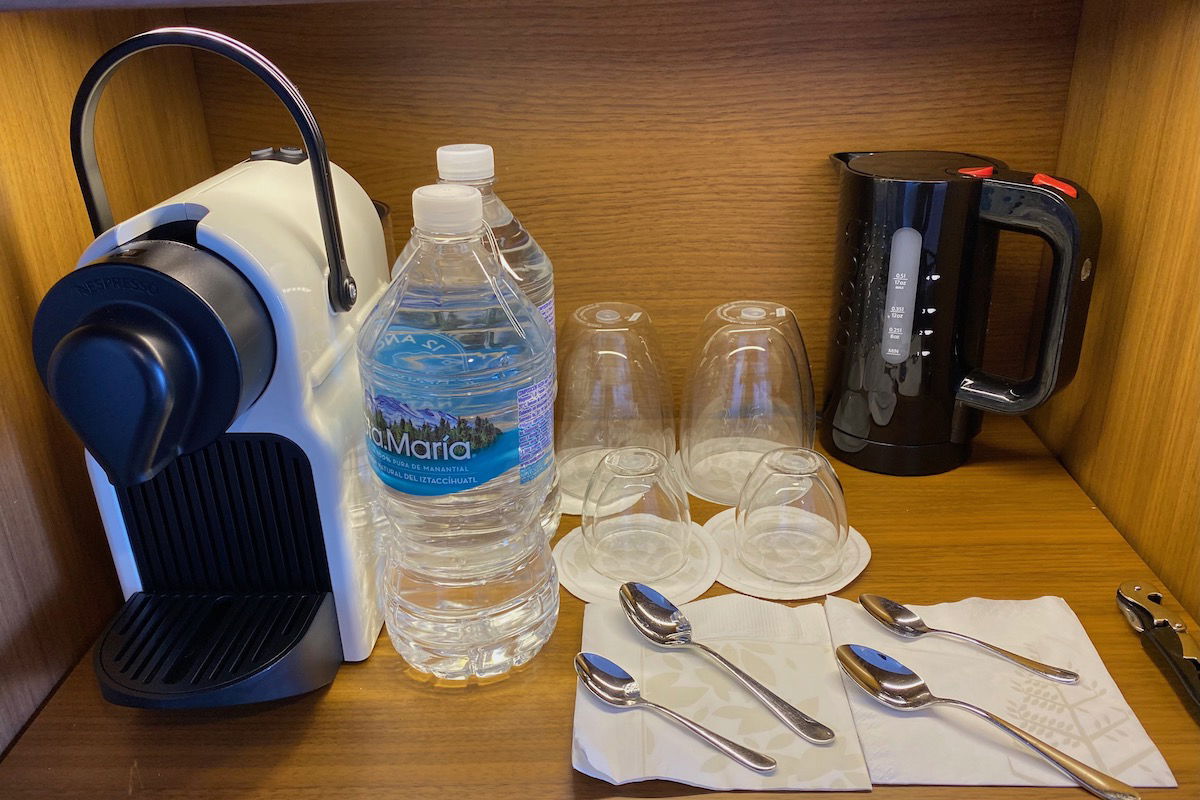 For me the ideal setup is complimentary coffee in the lobby for early risers (and ideally actually for early risers — we're not talking coffee starting at 7AM).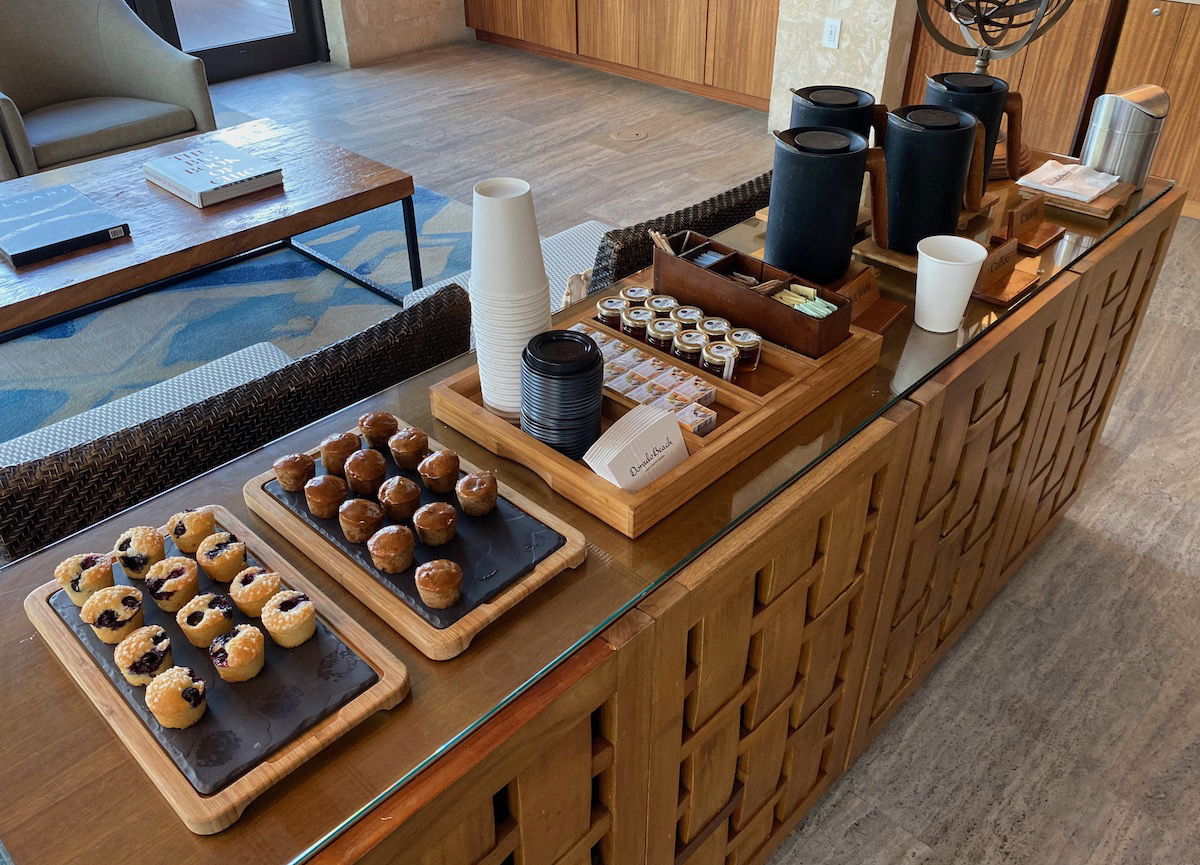 As an alternative, I'll seek out an airport hotel that has some sort of proper coffee shop in the lobby, especially if it has extended hours. Several Heathrow hotels have this, for example, and I sure do appreciate it.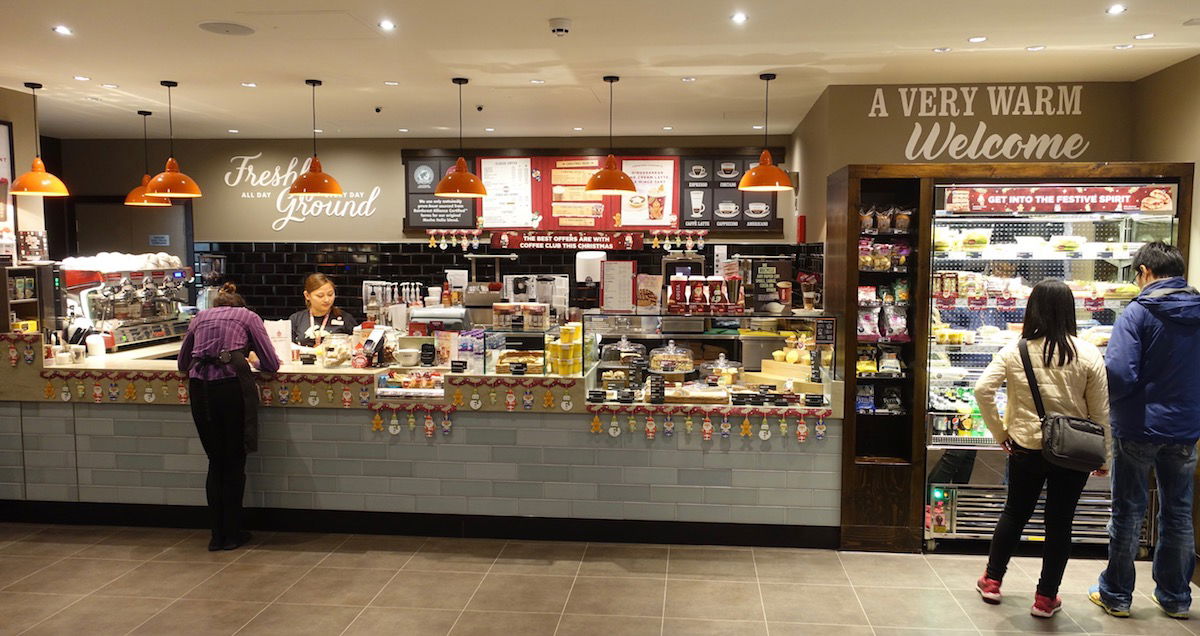 Then of course there's coffee quality. I'm always disappointed when I stay at a nice luxury hotel, only to find out that their coffee and espresso-based drinks aren't great. C'mon now!
I'm very happy at breakfast when espresso-based drinks are made by a barista rather than a machine. At a "true" luxury hotel I sort of expect that it will be made by a barista, while at a non-luxury hotel I don't expect it, but am delighted when it happens.
A nicely presented smooth cappuccino makes my day.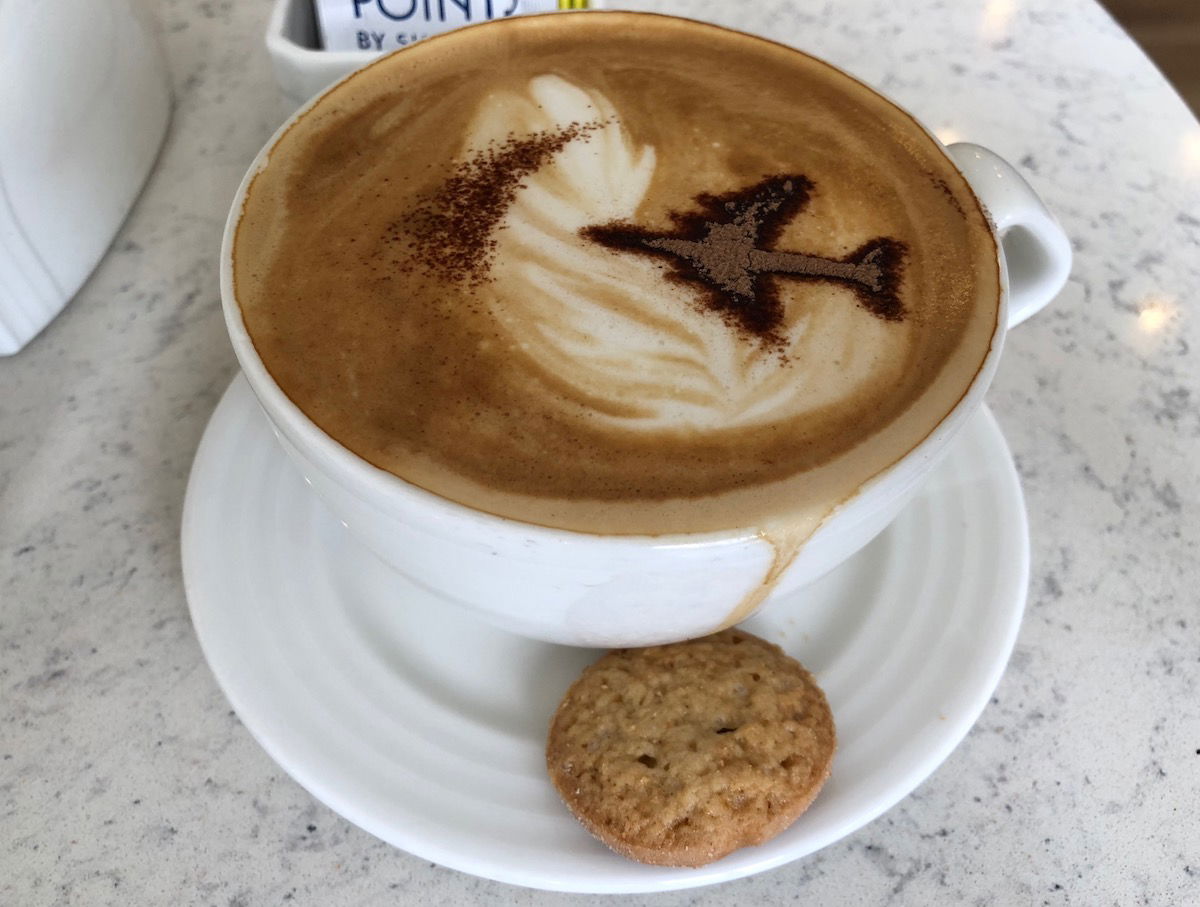 Conversely, a bitter and watery one makes me… bitter.
Also, while it's not ideal, I do appreciate club lounges when it comes to easy coffee access. While they usually "only" have machines with bleh coffee, at least you have easy and free access to it all hours of the day, which is better than nothing.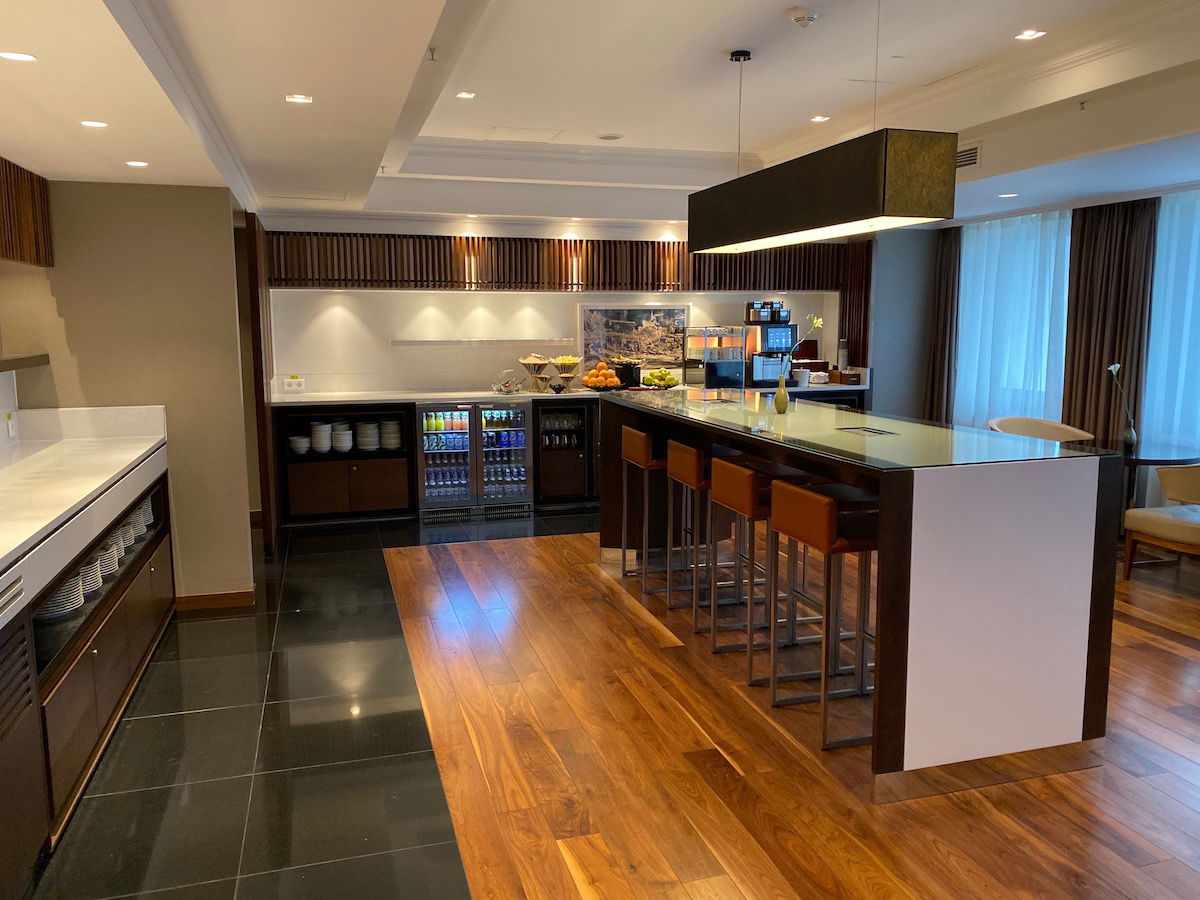 Fogo Island Inn is one of my favorite hotels in the world, and one of the first things that comes to mind when I think of the property is the daybreak basket (okay, the truth is that the amazing people are the first thing that comes to mind, but this is a close second).
Every morning the hotel places a basket in front of your door with a pot of coffee, freshly squeezed juice, and warm scones. How much can this really cost the hotel to do? Maybe a couple of bucks. But it literally rocks my world, and leaves a lasting impression. When I'm having dinner at Fogo Island Inn I'm already thinking about the daybreak basket. Heck, I'm thinking back longingly on this right now, and I haven't visited in years.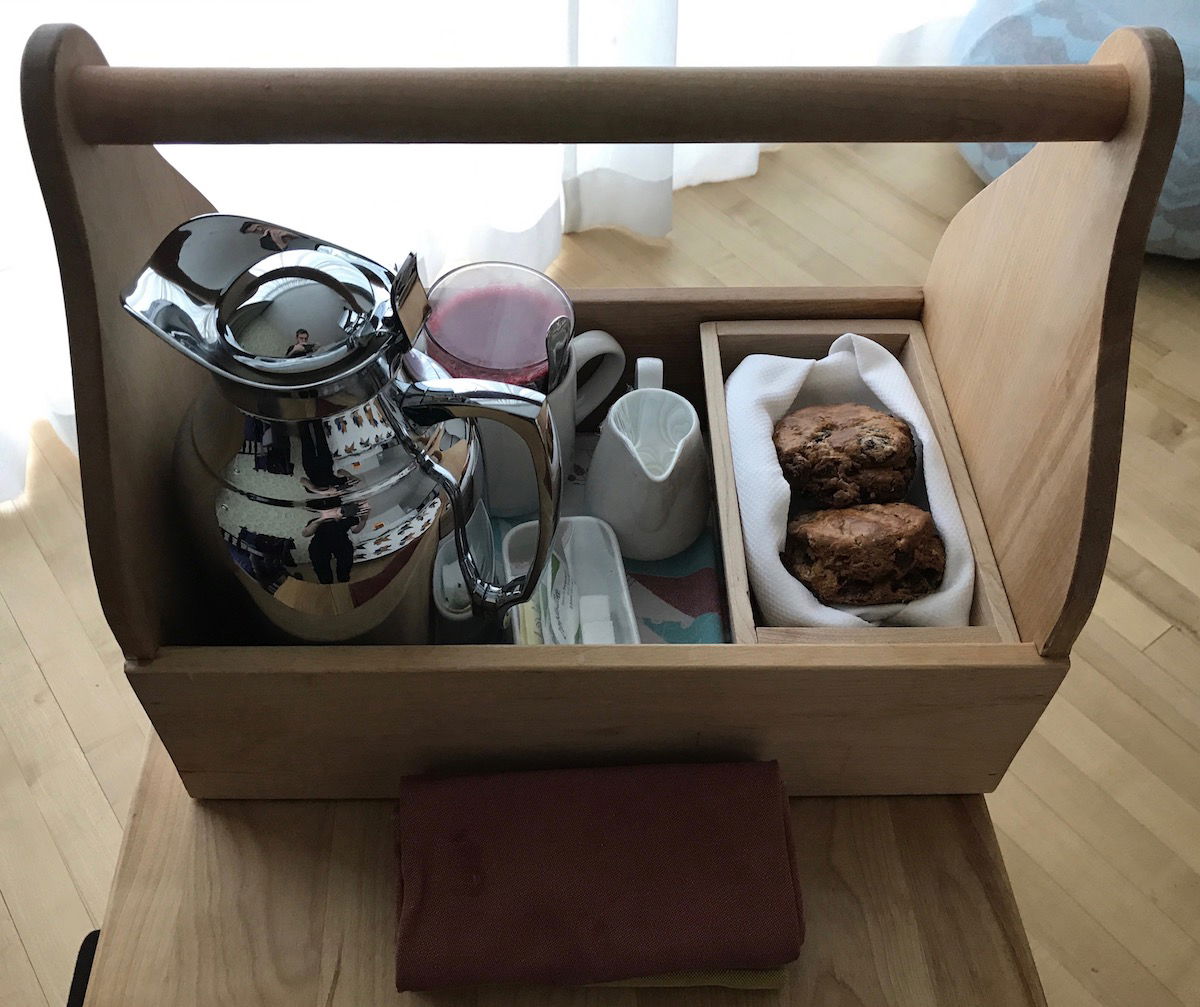 I also appreciate luxury hotels that offer complimentary coffee or tea delivered to your room. For example, this is a standard for St. Regis, though policies vary — some properties only offer it to suite guests, some only offer it once a day in the mornings, etc.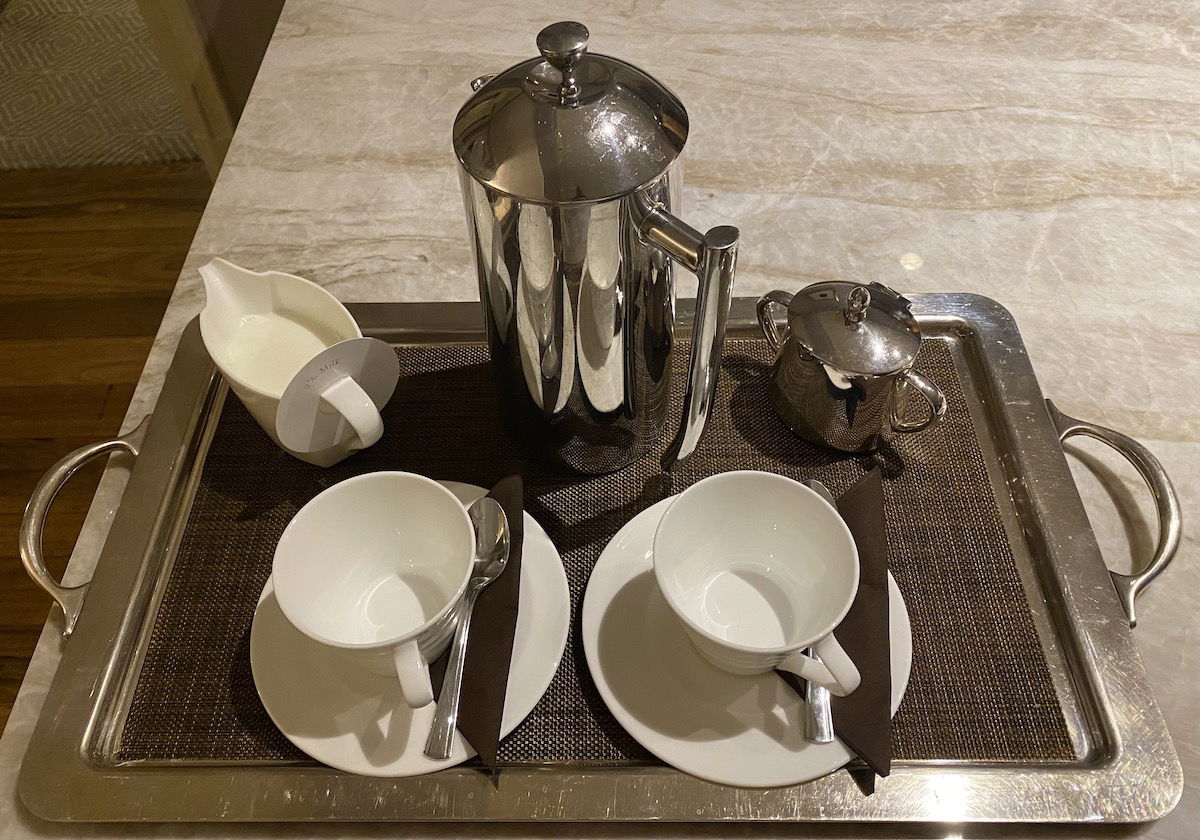 What I look for in airline coffee
For me, airline coffee is about quality, variety, and presentation. Let's be honest, in general the drip coffee on airlines isn't going to be good, given that they're using water from the plane's tanks, and they're often not using great beans.
I am happy when airlines have espresso based drinks. Of course they're not all created equal. ANA's first class cappuccinos? They are watery as could be.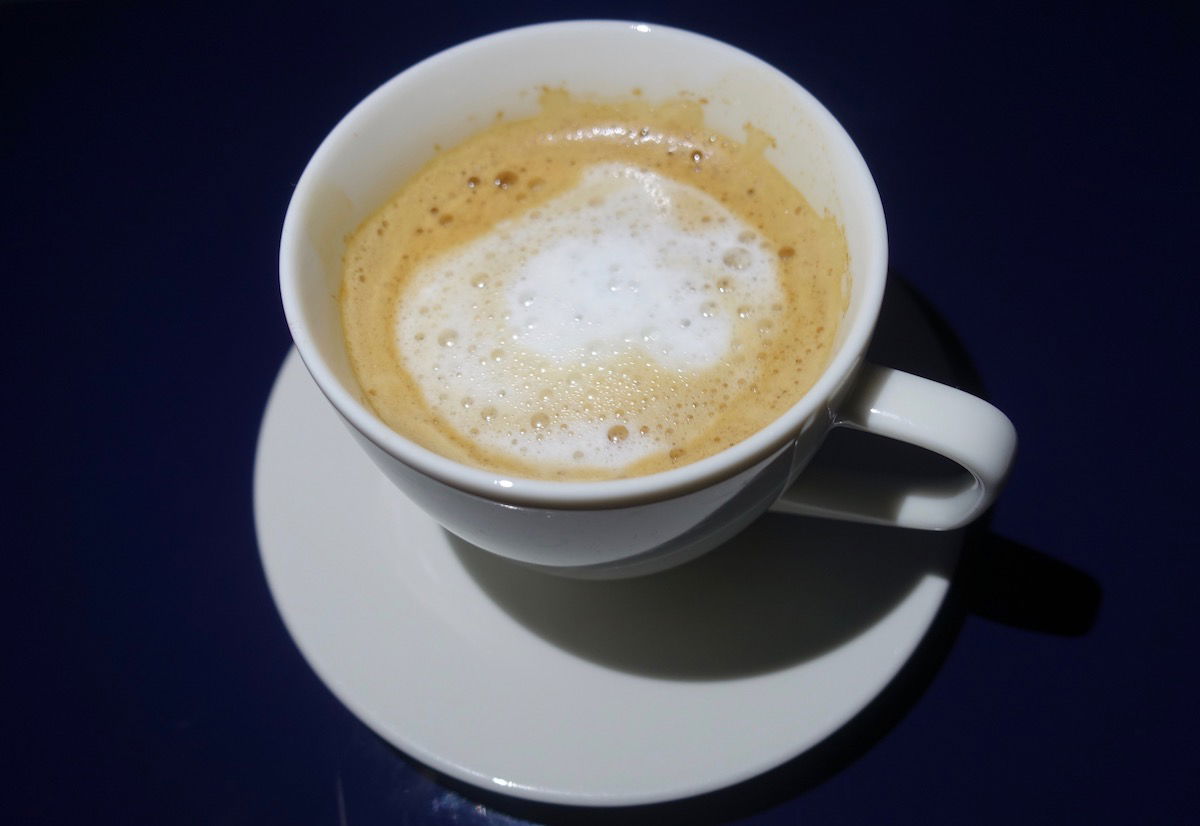 Qatar Airways cappuccinos, on the other hand, are quite good.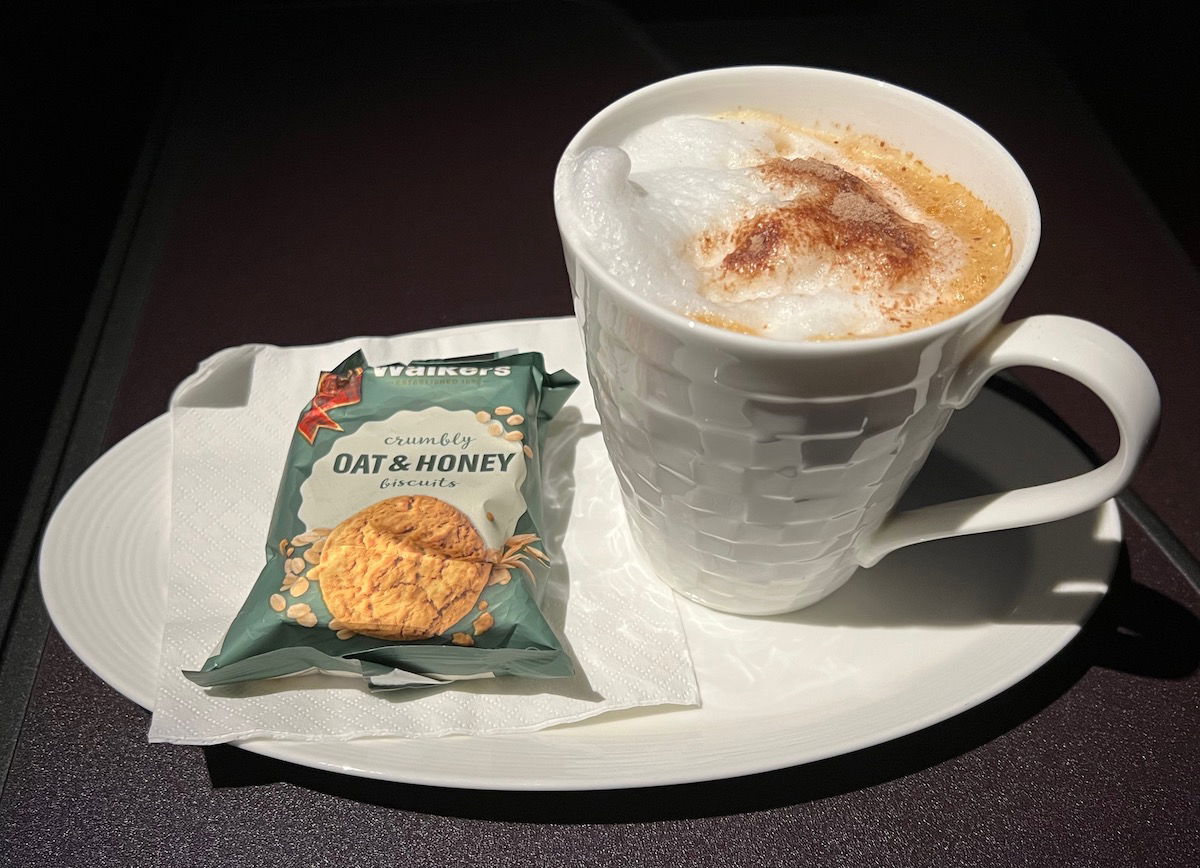 I also appreciate when effort is put into presentation. I love the silver tray on which Etihad serves coffee in first class. Do I need the baklava or cookie or chocolate every time I order a coffee? I most definitely don't. But that doesn't mean that I don't enjoy it. 😉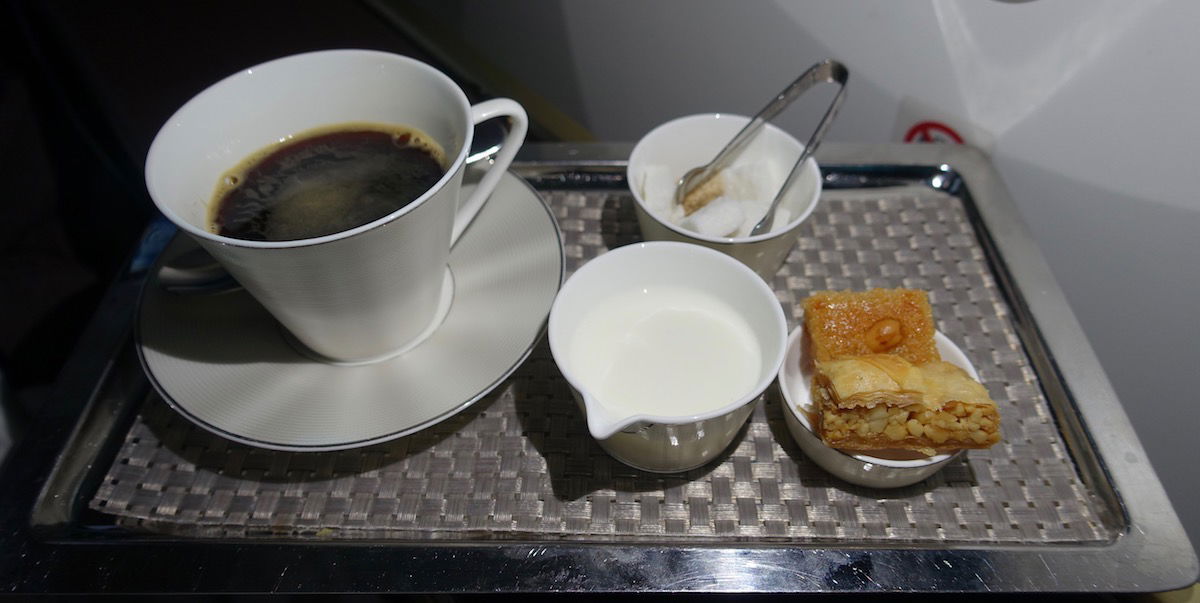 I even appreciate when airlines have unique mugs. I love Japan Airlines' coffee mugs, and I may even have one or two of them at home…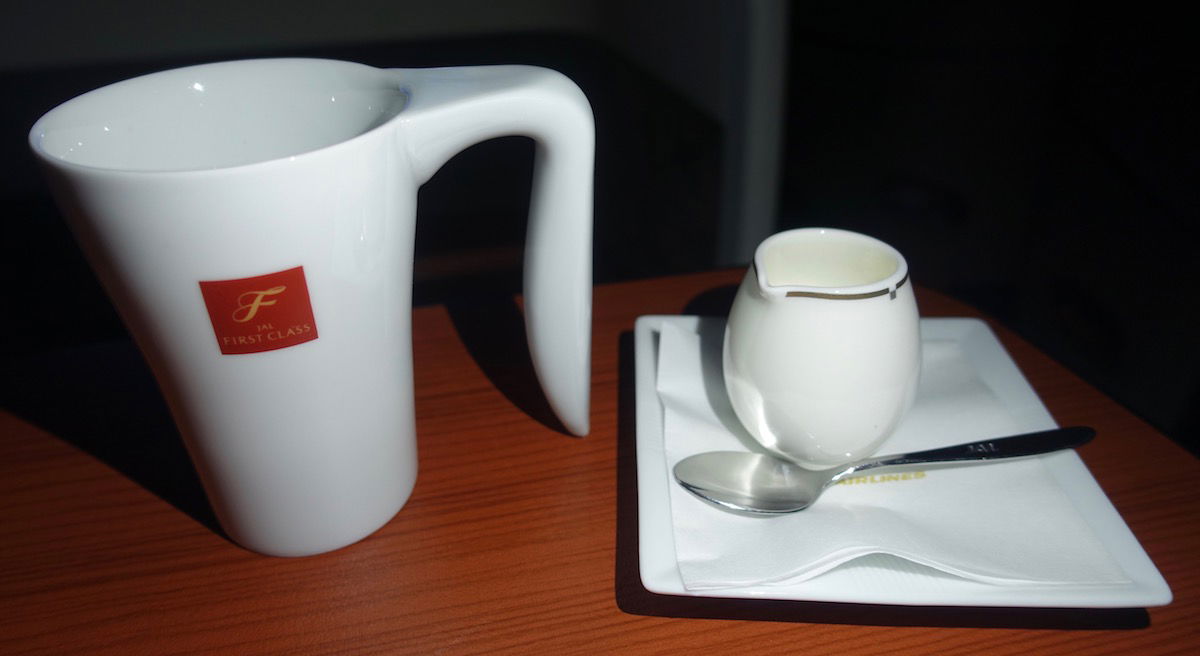 But beyond espresso and cappuccino, I appreciate when airlines have other options as well. Emirates used to have french press coffee on many routes, though that's no longer offered due to lack of demand (I think people largely just didn't know it was being offered).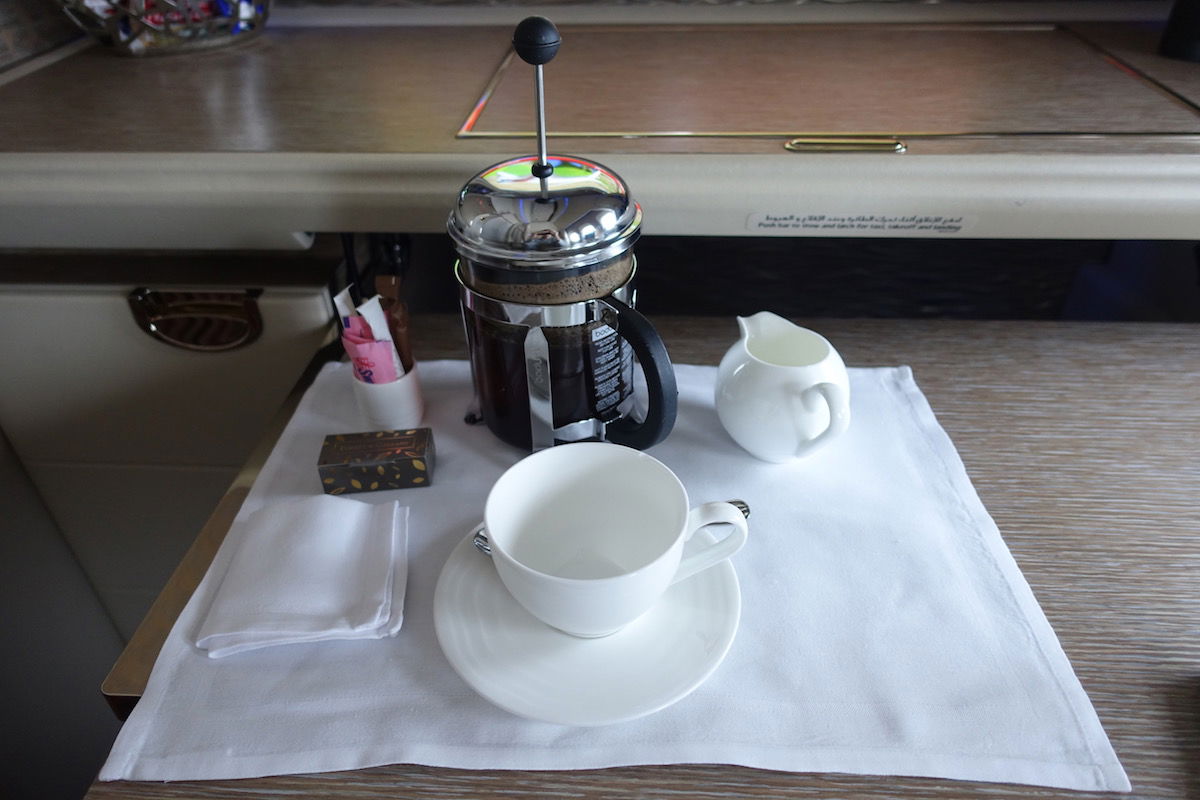 I love that Austrian Airlines has an amazing coffee menu that's a focal point of the business class service (then again, this is more of a dessert than an actual coffee).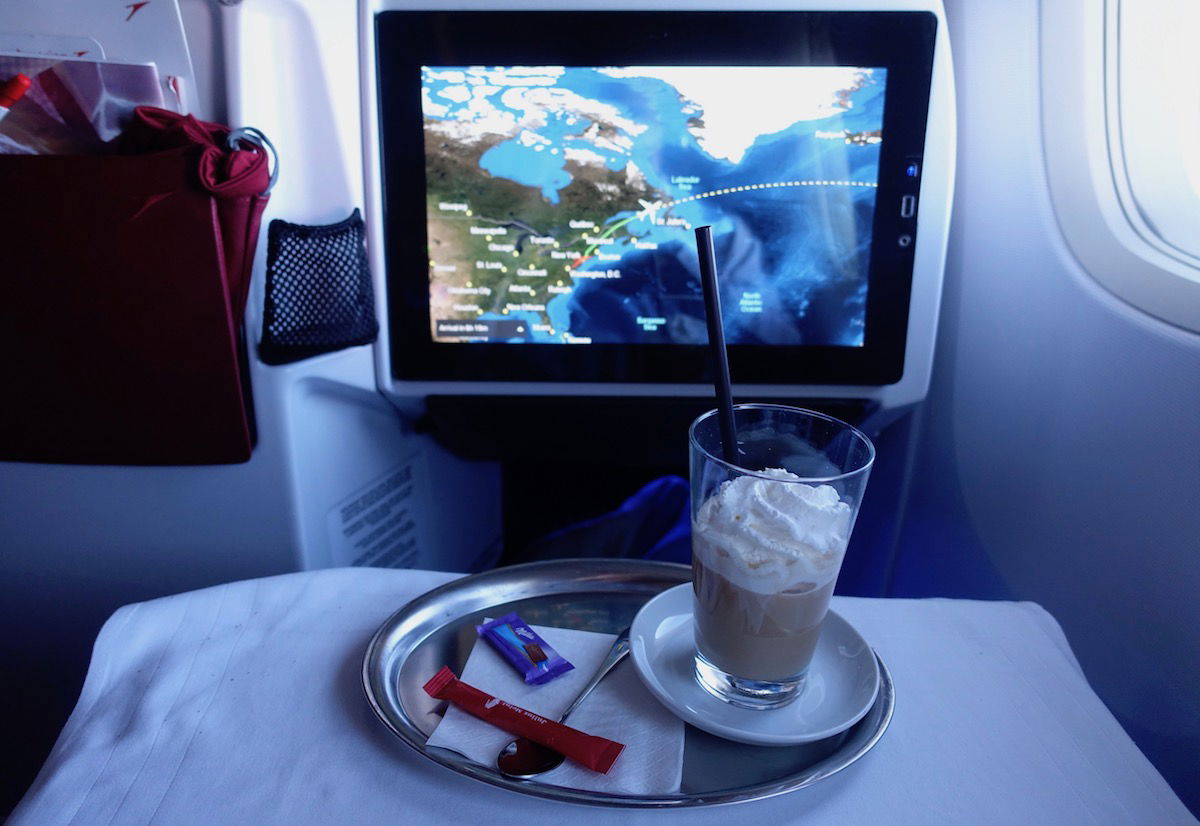 I love that that EVA Air has iced coffee in business class.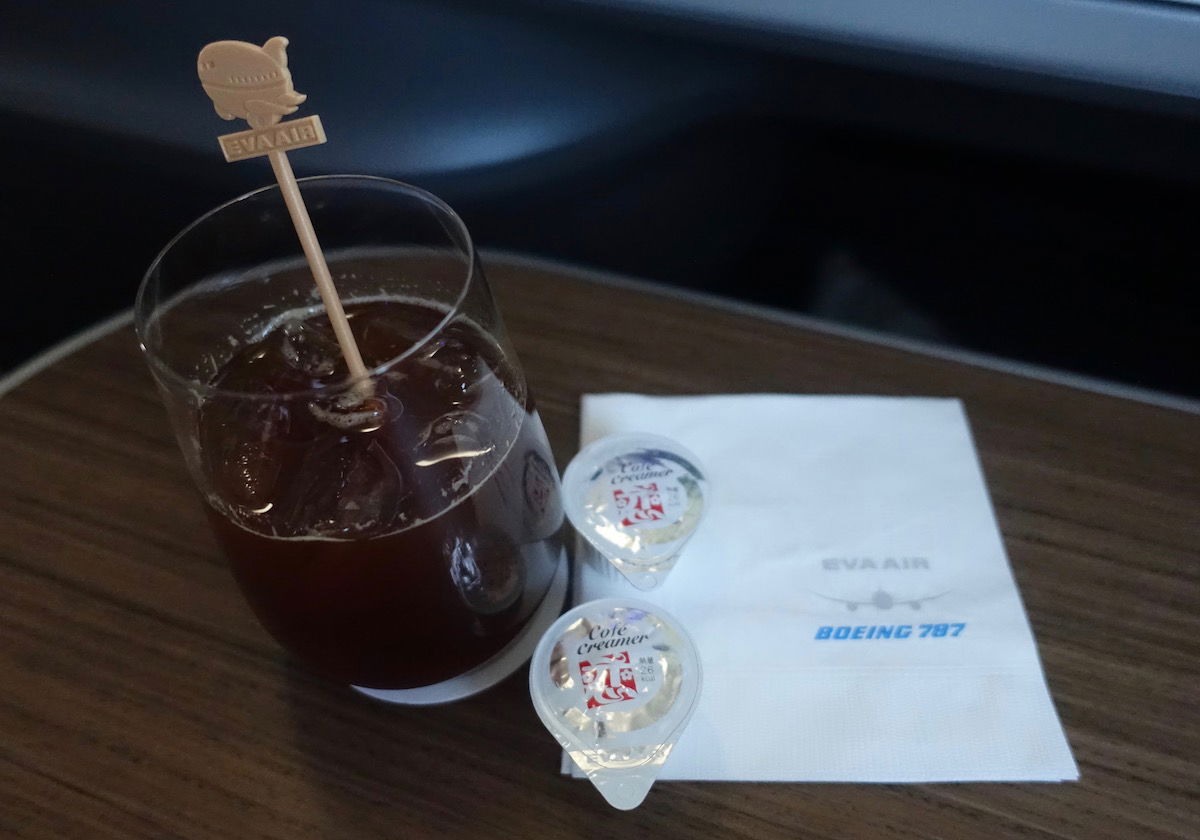 Heck, I love that in JetBlue's Mint business class, you can even have an iced cappuccino with oat milk.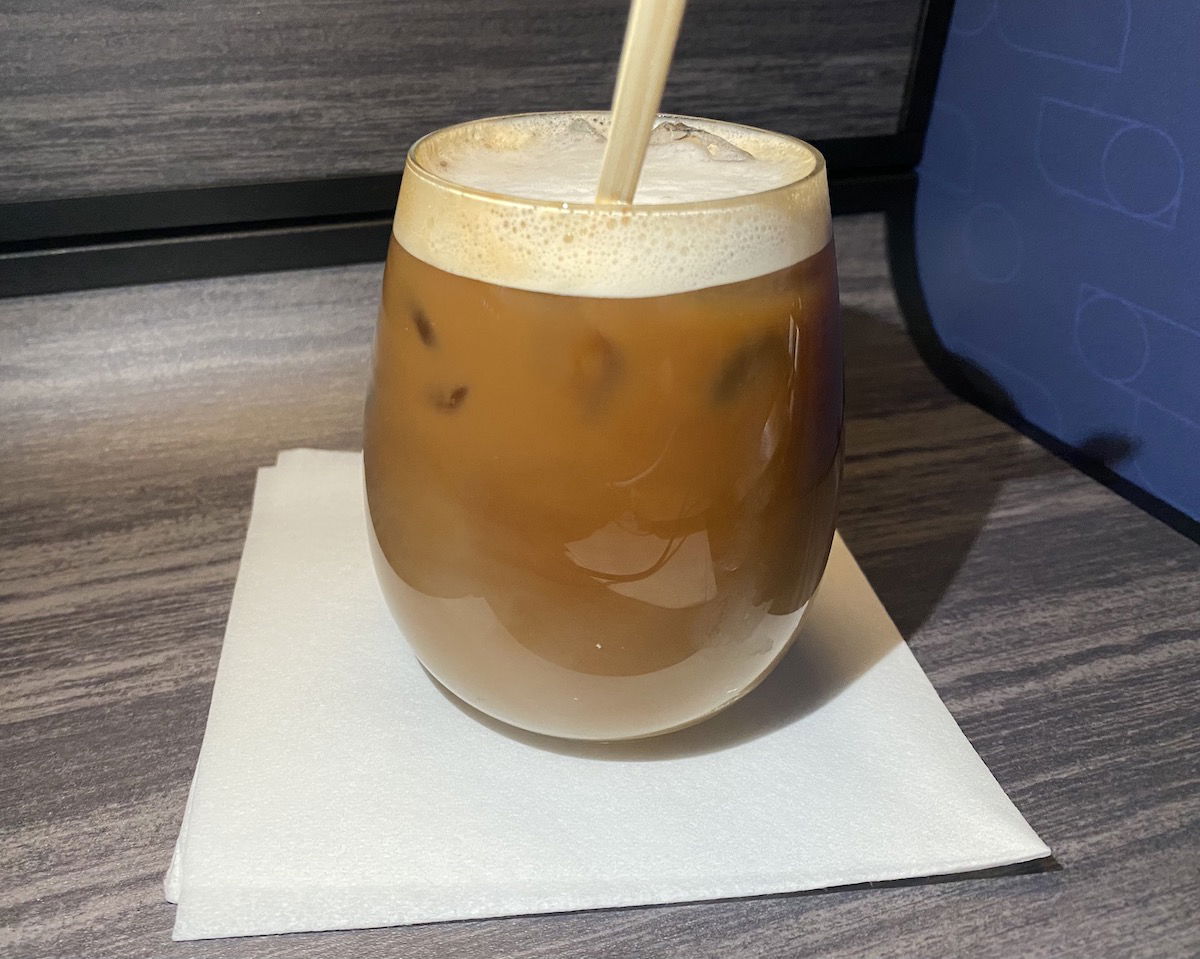 While I get that iced coffee and cold brew is more of an American thing, personally I wish we'd see more airlines offer this. Delta recently started serving cold brew on select flights, and I think that's a really exciting development that I hope we see other airlines follow. It's especially great because you can avoid drinking the water from the plane's tanks altogether.
And I guess an espresso martini on Emirates at the bar is one way to get your caffeine as well. 😉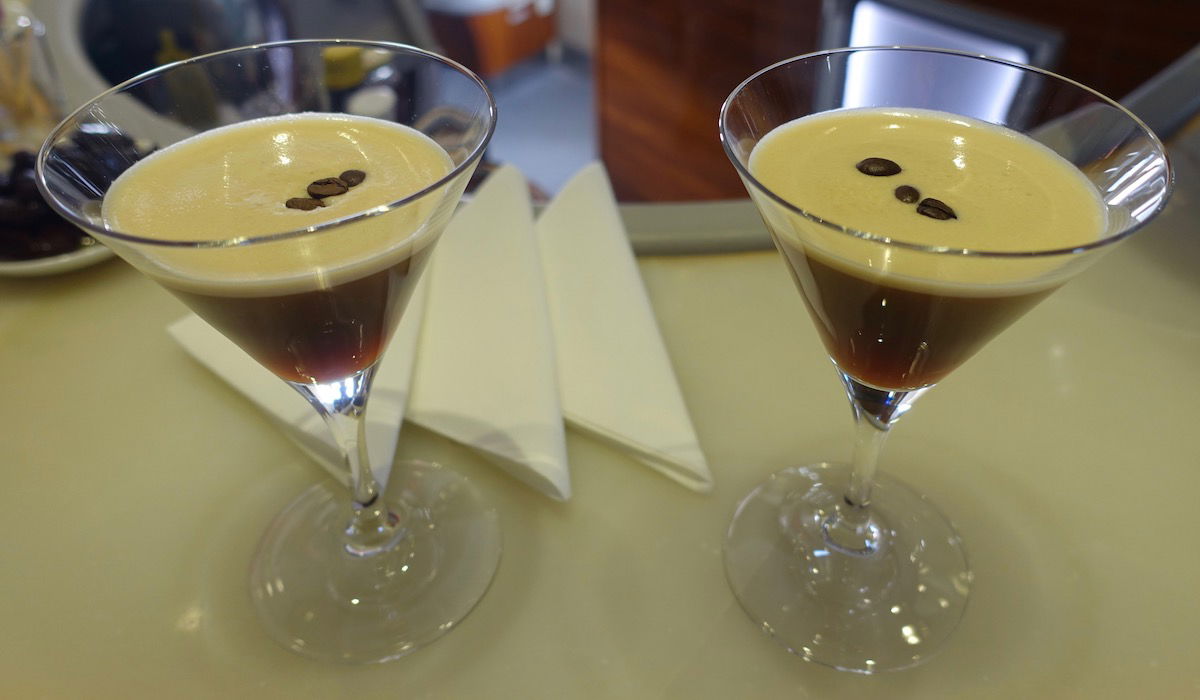 Also, I love when an airport lounge has barista made drinks, whether we're talking about a Qantas Lounge or a United Polaris Lounge.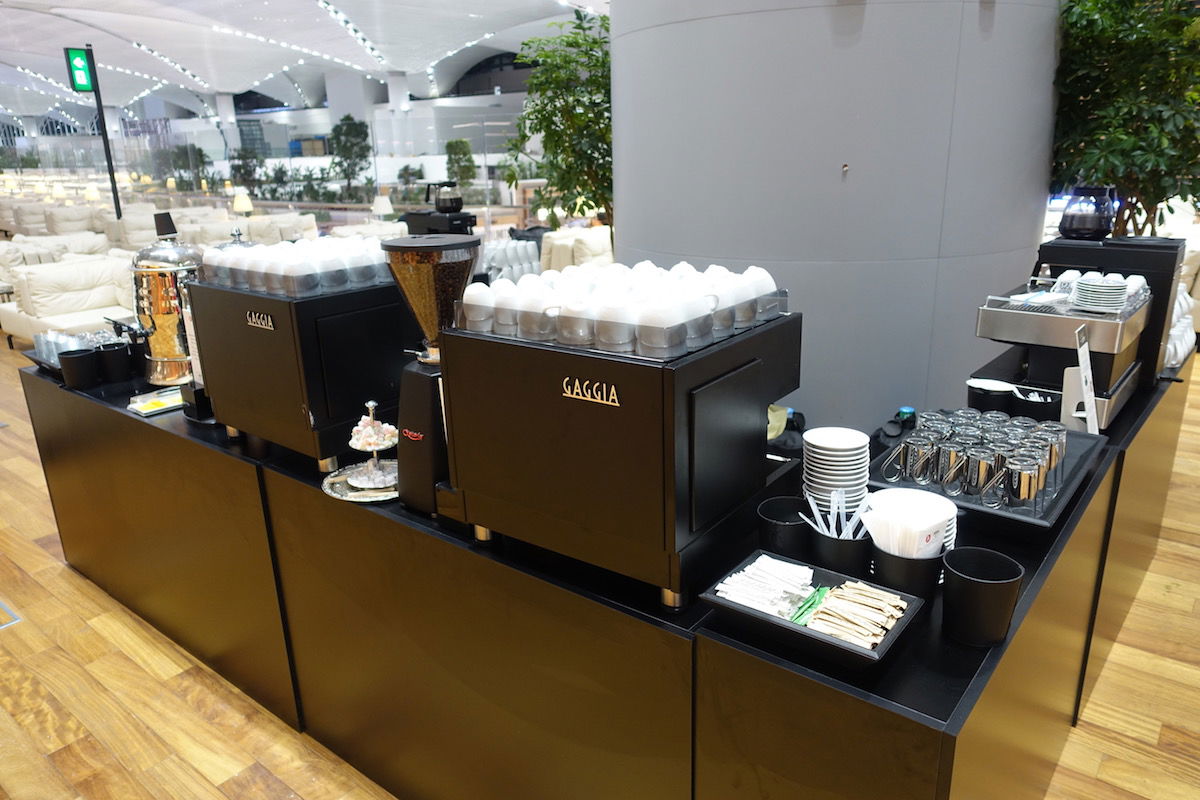 I generally expect barista made drinks in first class lounges, while I'm delighted when I get one in a business class lounge. But some things also just puzzle me.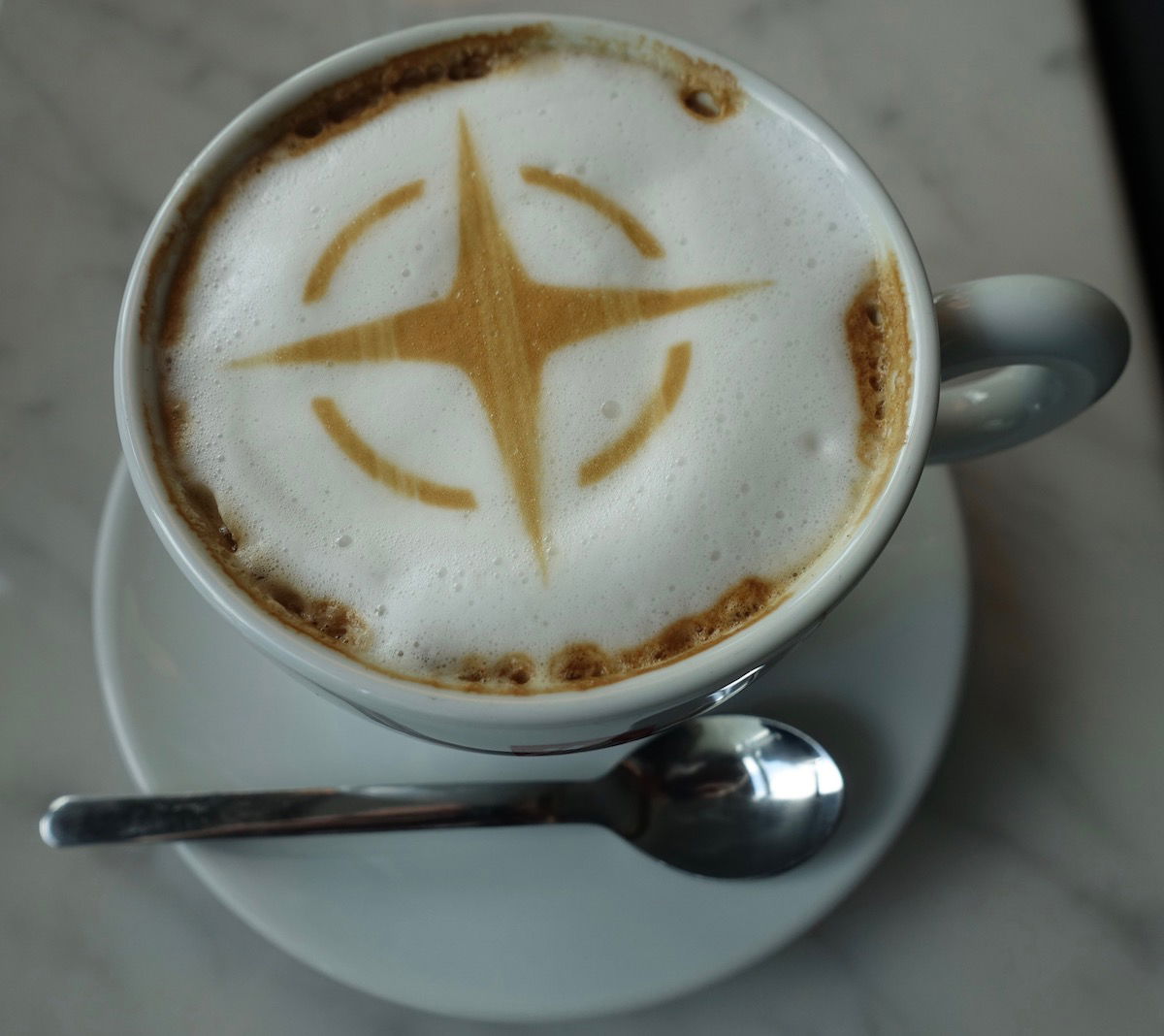 For example, they'll serve me $100+ per bottle champagne in American Flagship First Dining, but they'll pour you a cappuccino from the same machine they have in the Admirals Club. No thanks.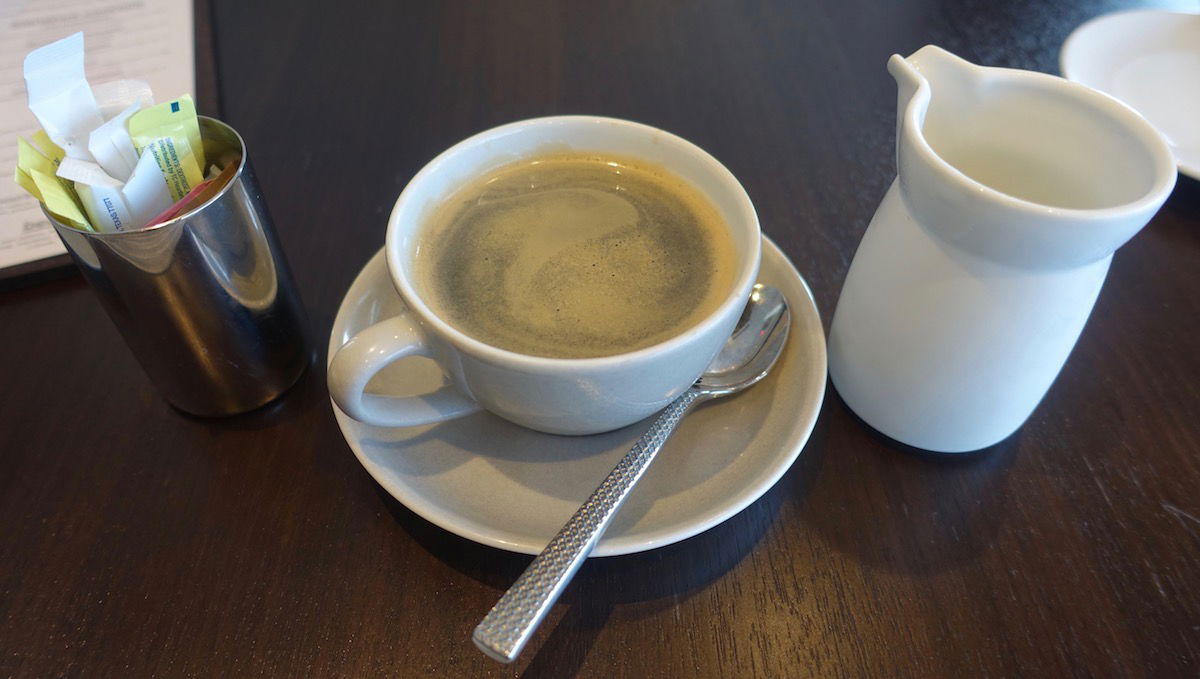 Bottom line
Thanks for indulging me and letting me share my coffee preferences here at One Cup at a Time. I realize I care about this more than most, but I can't state enough how memorable a good coffee experience is to me, whether on a plane or in a hotel.
Thanks to the airlines and hotels that go the extra mile to keep us caffeinated. And to those that don't, it's never too late to up your game. 😉
To fellow coffee lovers — what do you like and what do you dislike when it comes to airline and hotel coffee?