After four lovely nights in Stockholm, it was time to fly to our next destination, Nice. We flew there on Scandinavian Airlines (SAS), which is one of the more unusual airlines in Europe in terms of its premium product.
How I booked our Scandinavian Airlines flights
For the day we were traveling, the only airline flying nonstop from Stockholm to Nice was SAS. Unfortunately there was no award availability, so we just booked a paid ticket on the following flight:
07/05 SK1827 Stockholm to Nice departing 6:00AM arriving 9:05AM
An SAS Go ticket cost $250 per person, while an SAS Plus ticket cost $300 per person, so we spent the extra $50 for SAS Plus. While the fare as such wasn't cheap, I thought the premium was reasonable for SAS Plus, and this also seemed like the most efficient option. Any mileage redemption option would have involved $100+ in fees, and if I can avoid connections within Europe I do.
What is SAS Plus?
Business class within Europe isn't much to get excited about, as it typically just consists of economy with a blocked middle seat, and free food and drinks. Scandinavian Airlines doesn't even have business class on flights within Europe, though, but rather just has SAS Plus, which is more of a premium economy product.
What is SAS Plus?
It offers seating in a dedicated section at the front of the plane, but there are no blocked middle seats
It includes complimentary coffee and tea, plus a free snack; on top of that, you can order off the buy on board menu for free, though this is generally not encouraged by the crew, and also isn't even listed on SAS' website as a benefit
It includes priority ground services, including priority check-in, fast track security, lounge access, and priority boarding
It offers free Wi-Fi onboard
The reality is that if you have Star Alliance Gold status, the perks of SAS Plus are minimal, since that status offers all airport priority services. The main reason we decided to pay for SAS Plus is because the back of the plane looked packed, while SAS Plus looked mostly empty. So while a blocked middle seat isn't an official benefit of SAS Plus, I was hoping we'd luck out with one.
Scandinavian Airlines check-in Stockholm Airport
With our flight departing at 6AM, we decided to arrive at the airport at 3:45AM. Why so early? A friend had flown out of the airport a day prior for an early morning flight. He arrived two hours before his flight, and said he almost missed it, so we figured we should play it safe. It's at least a little easier to get up before 3AM in Northern Europe in summer, when it's already starting to get light at that hour.
This also gets at one of my airline pet peeves when it comes to managing expectations — Scandinavian Airlines has a bank of 6AM flights, and recommends getting to the airport two hours before departure. Go figure check-in doesn't open until exactly two hours before departure. That meant when we arrived at the airport we had to get in a single queue with hundreds of people.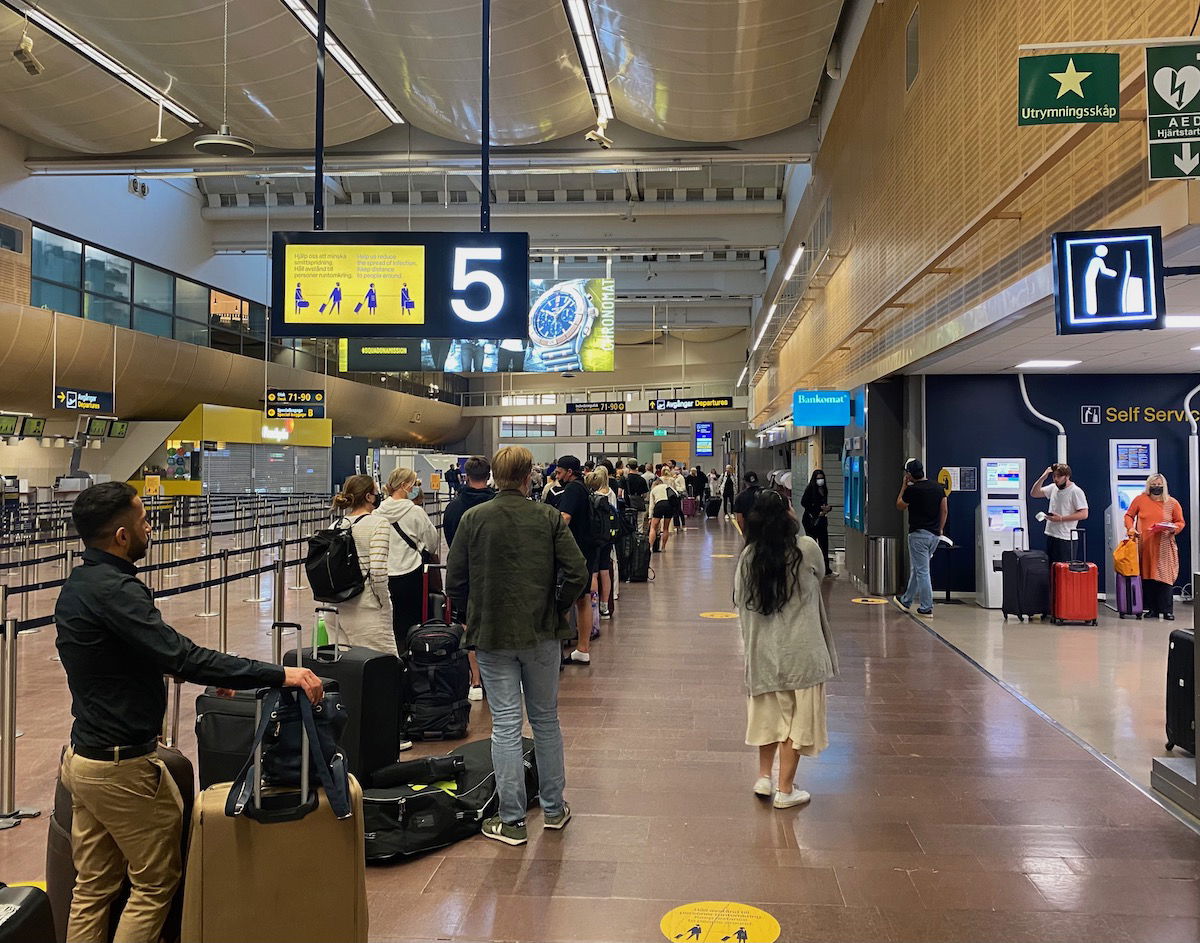 Once check-in opened, the line at least moved pretty quickly, given that we had access to the priority check-in desk (it wasn't possible to check-in online, I guess because our vaccination cards had to be inspected). I thought the sign on the check-in desk about treating staff with respect was interesting.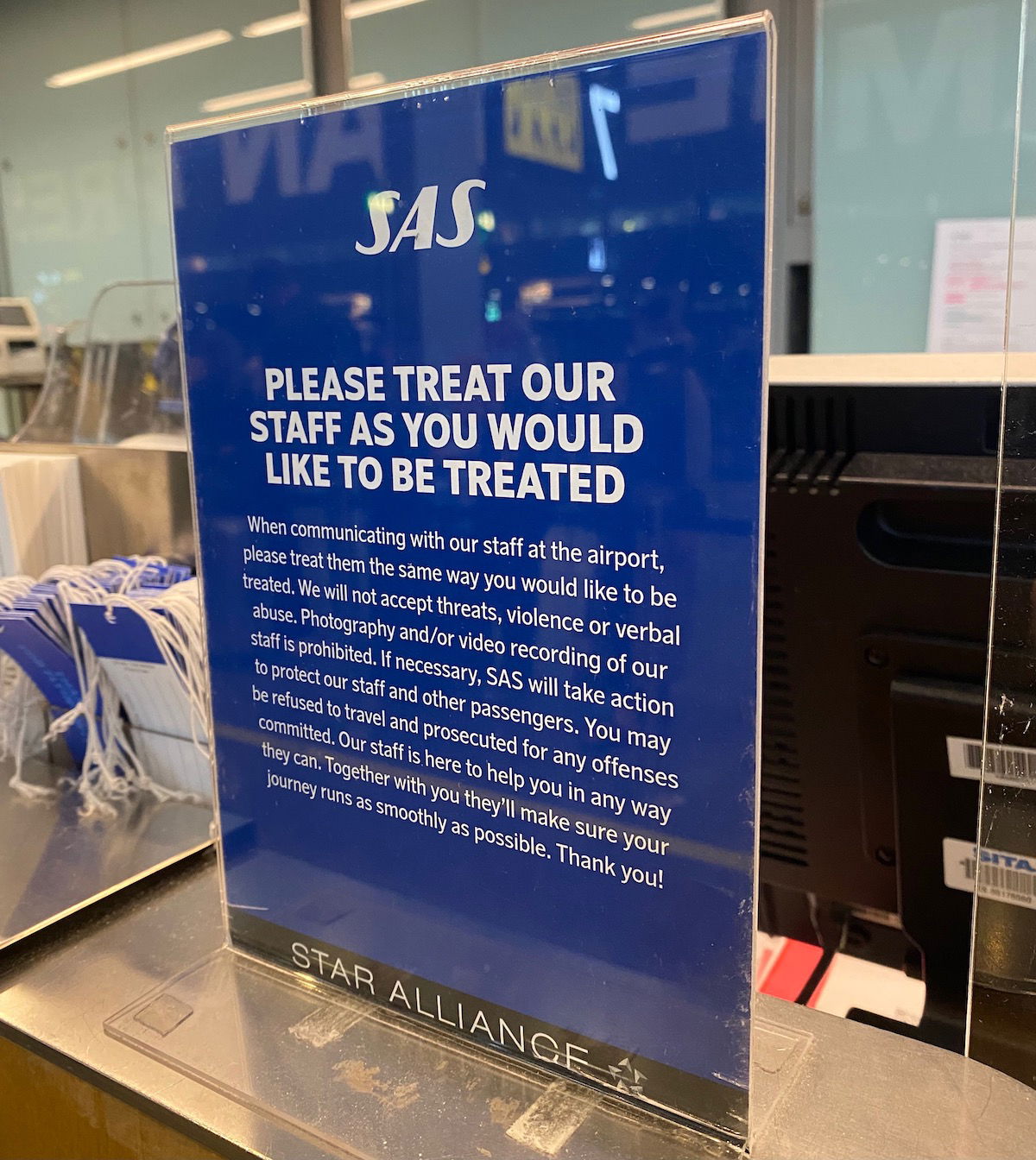 We were quickly issued our boarding passes, and headed through security, which didn't take much time. All the shops in the terminal were still closed.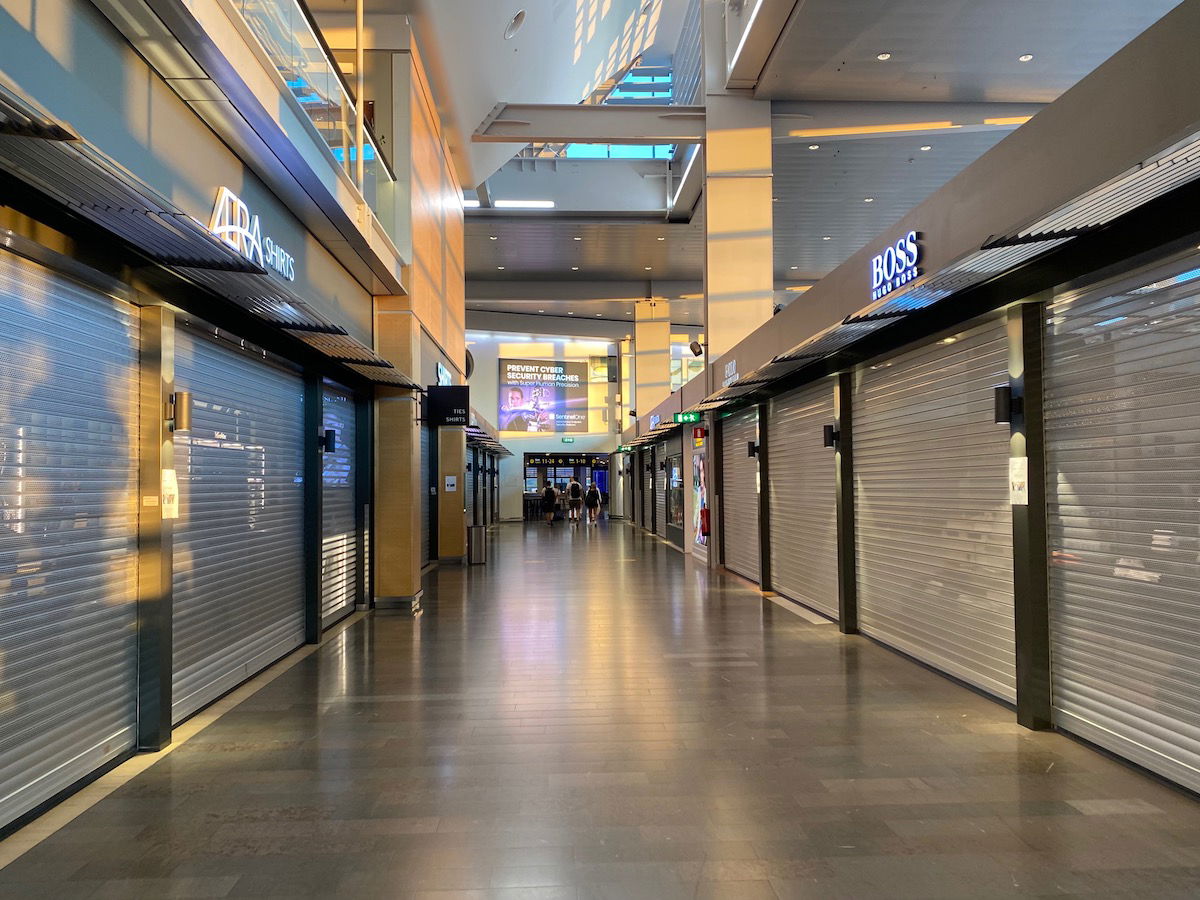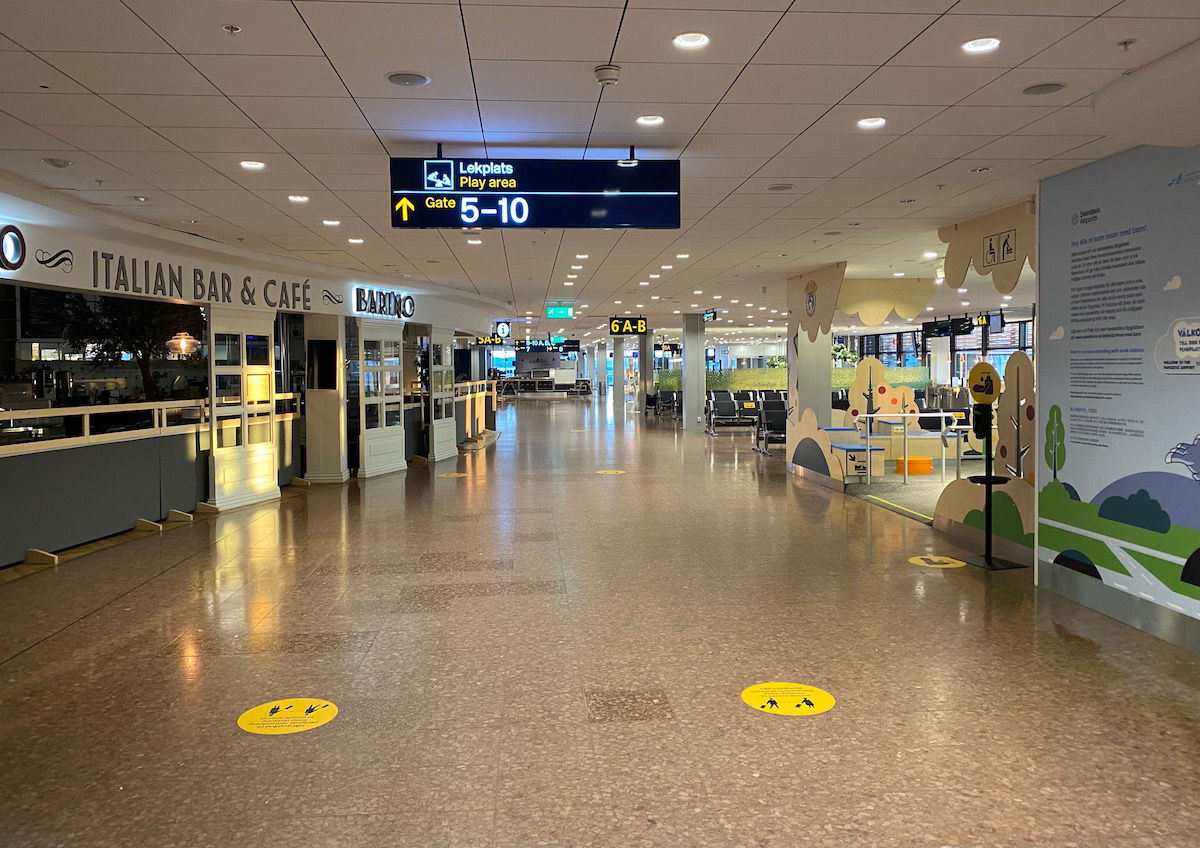 While we had lounge access, the lounge didn't open until 5AM. So we just walked around a bit and did some plane spotting, and then had a seat in the gate area to get some work done.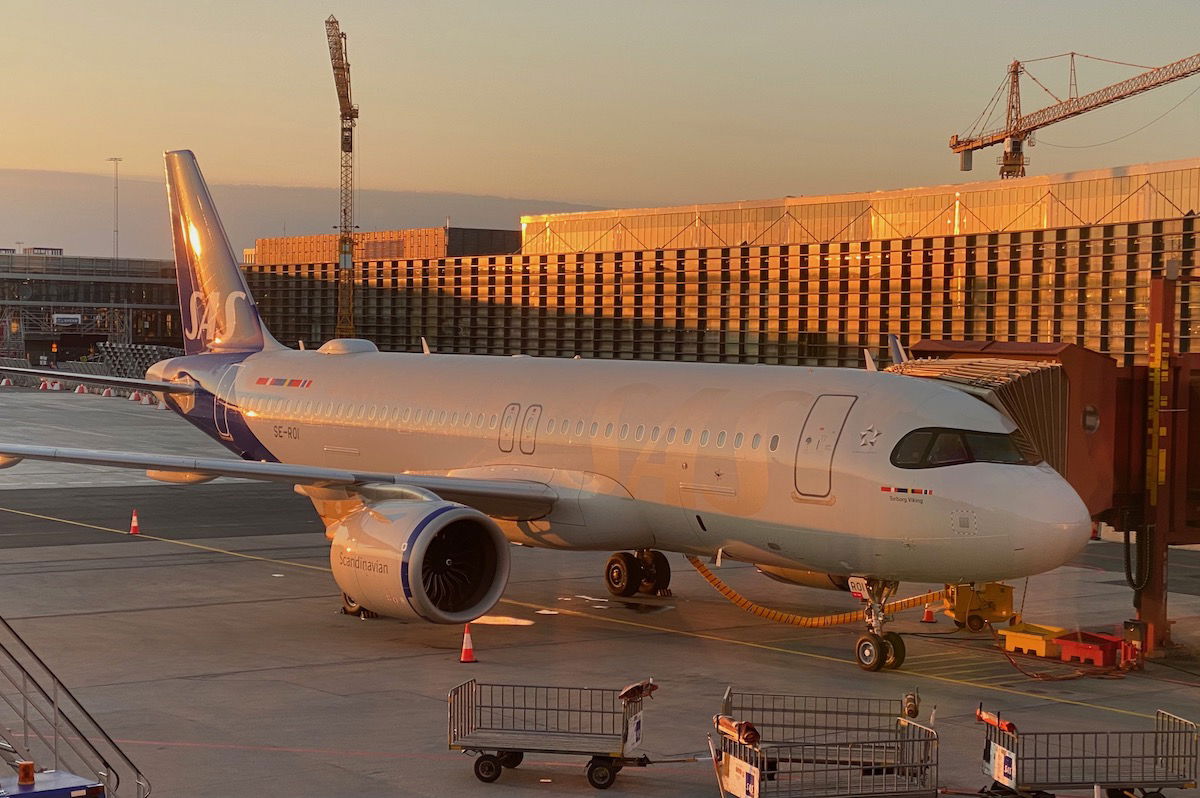 Scandinavian Airlines lounge Stockholm Airport
The whole ground experience at Arlanda Airport seemed like an exercise in lining up. We were told to check-in two hours before departure, only for check-in to only open exactly two hours before departure. Then the lounge only opens one hour before the first departure. There were many dozen people ahead of us in line to access the lounge, so we had to queue for about 15 minutes to even get into the lounge when it opened.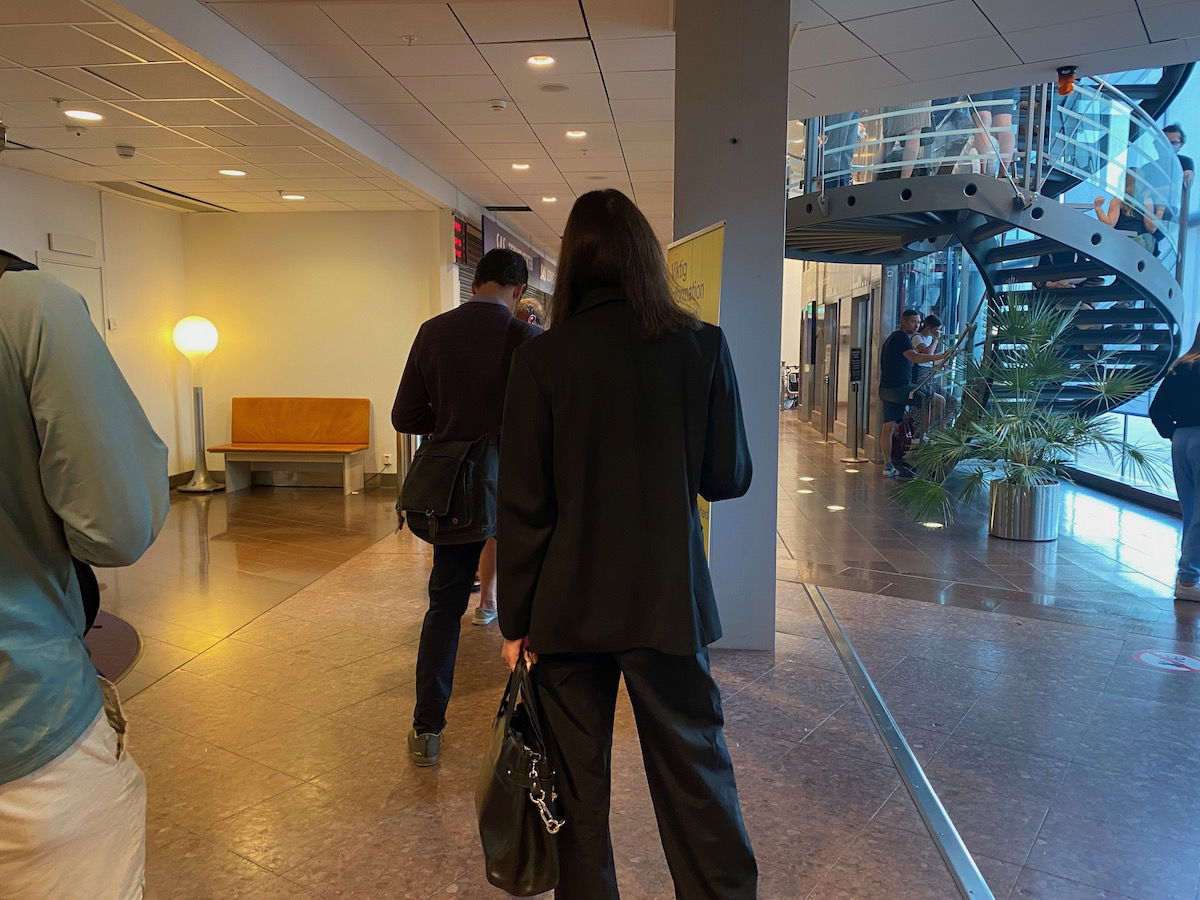 Then once inside the lounge we had to queue for the breakfast buffet, since everyone who first queued to get into the lounge was now queueing for the buffet.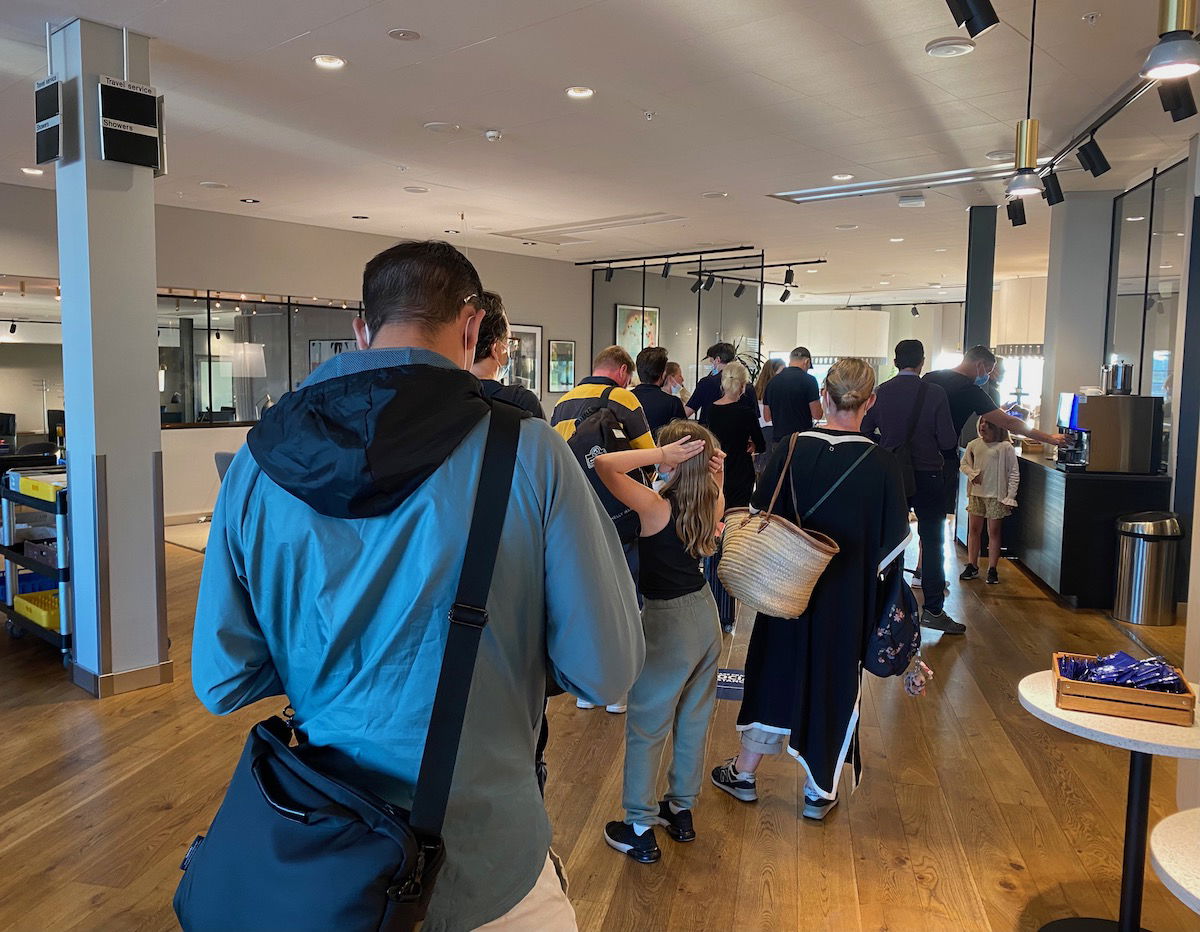 The breakfast spread seemed to be the same as pre-coronavirus, which was fine, but nothing to get excited about.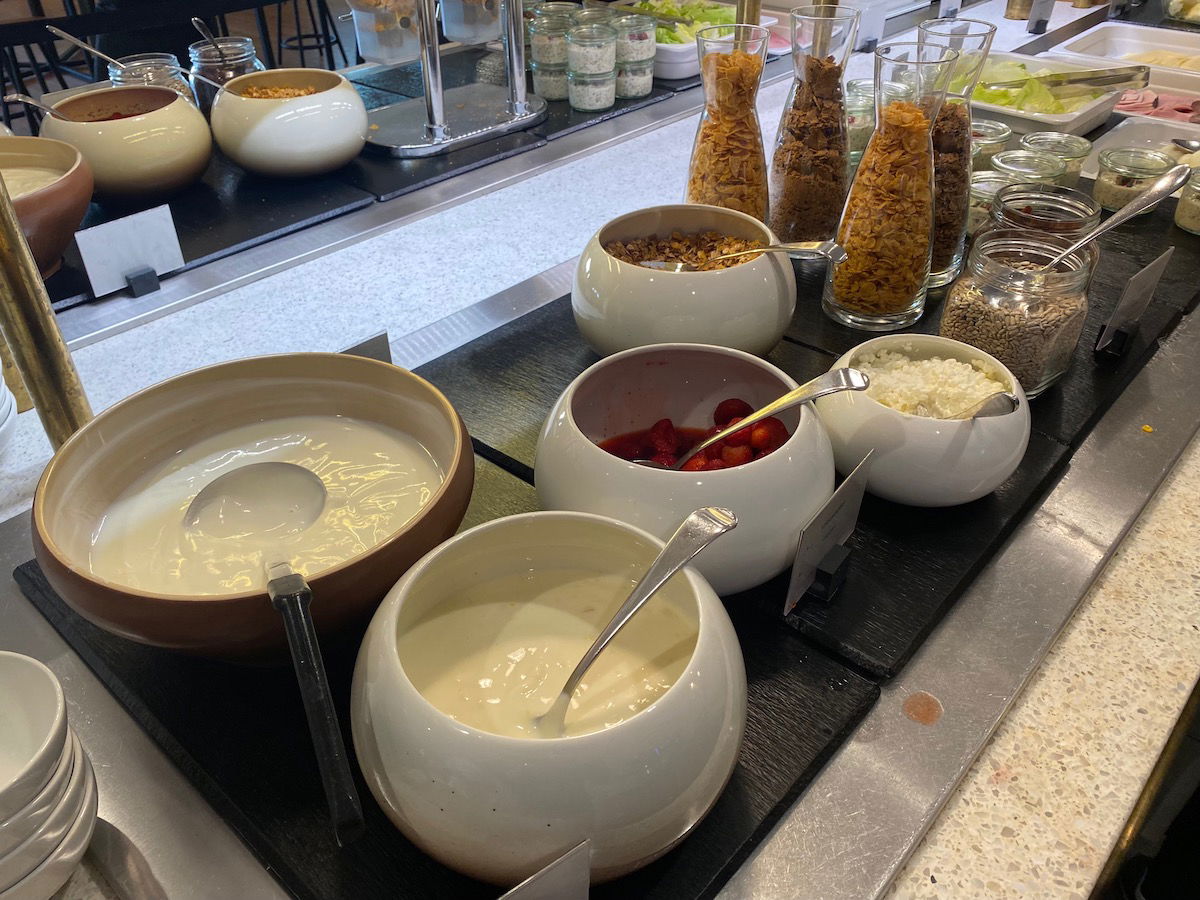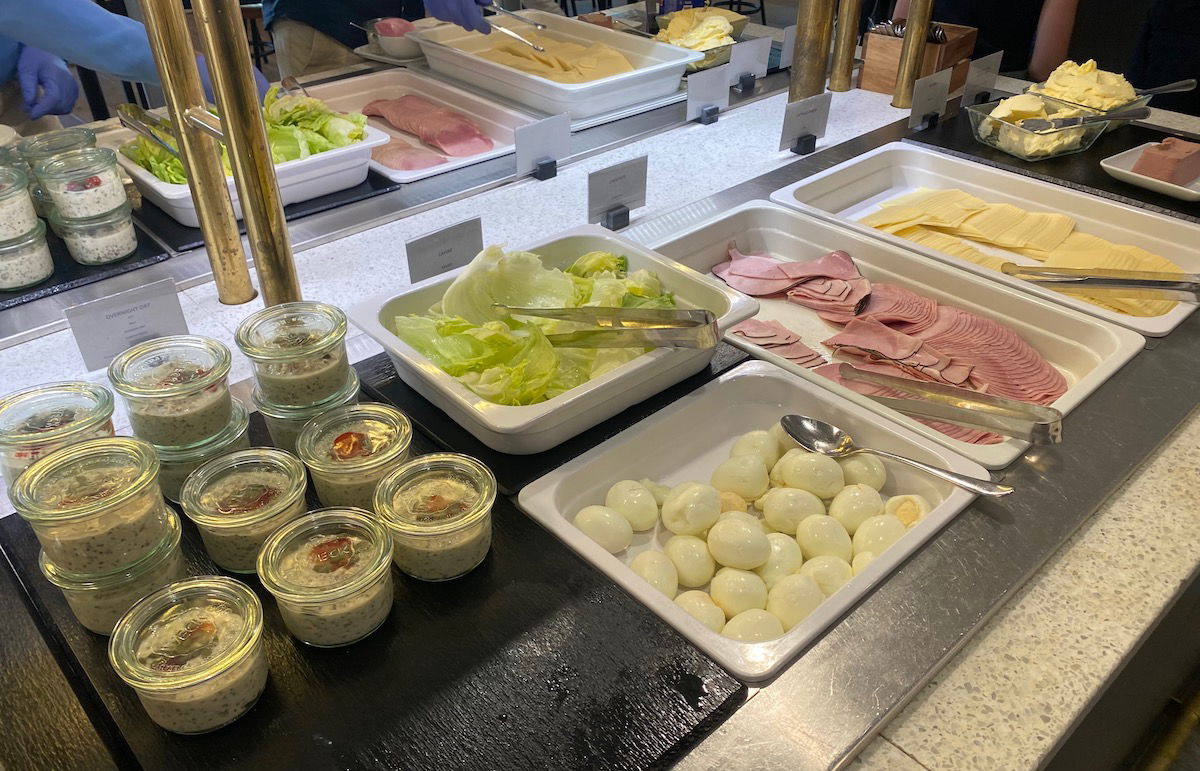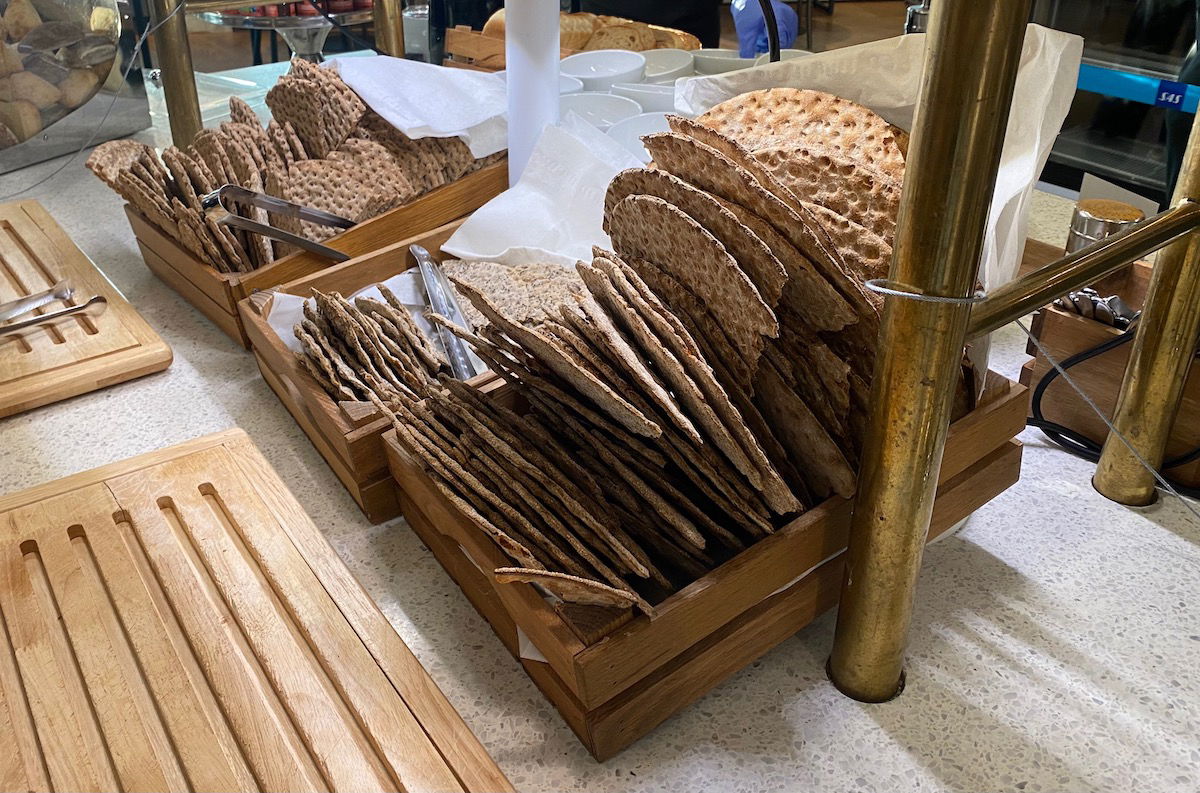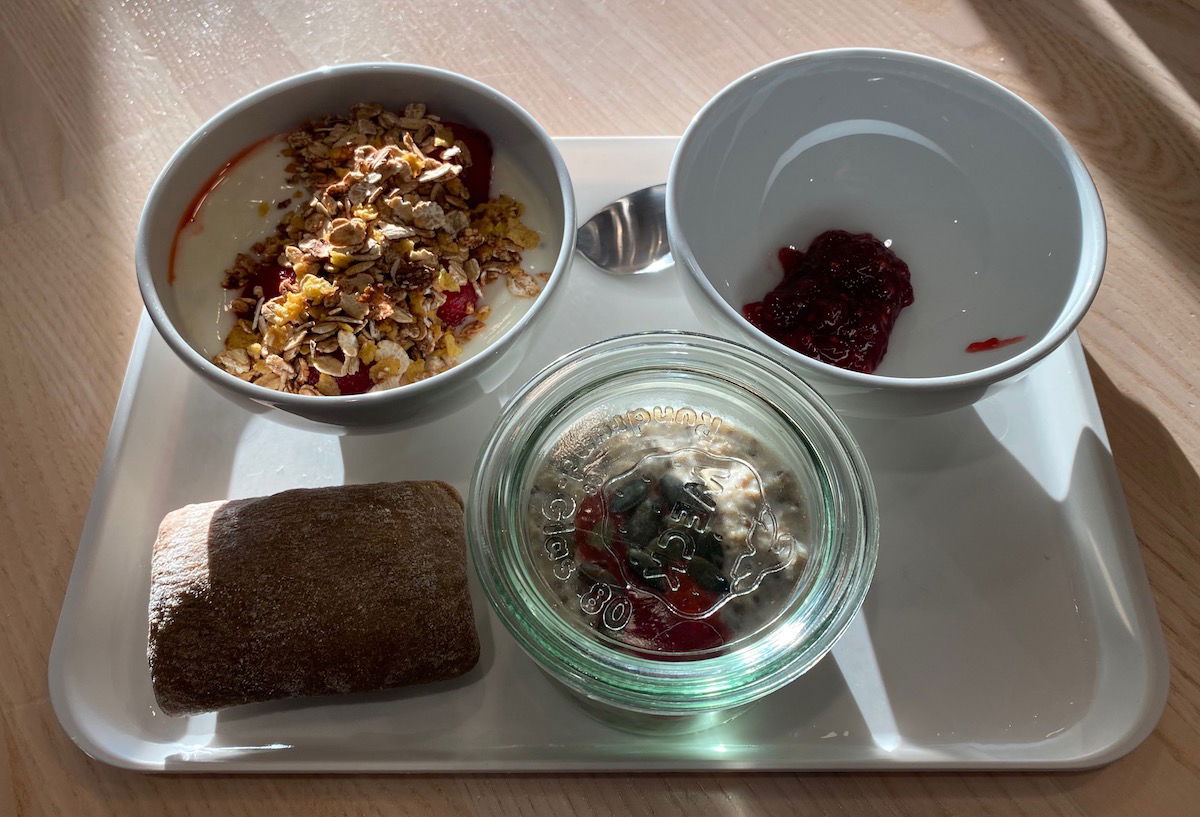 The lounge itself was perfectly fine, but between first lining up to get into the lounge, and then lining up for the breakfast buffet, we had just a few minutes in the lounge before it was time to head to our departure gate.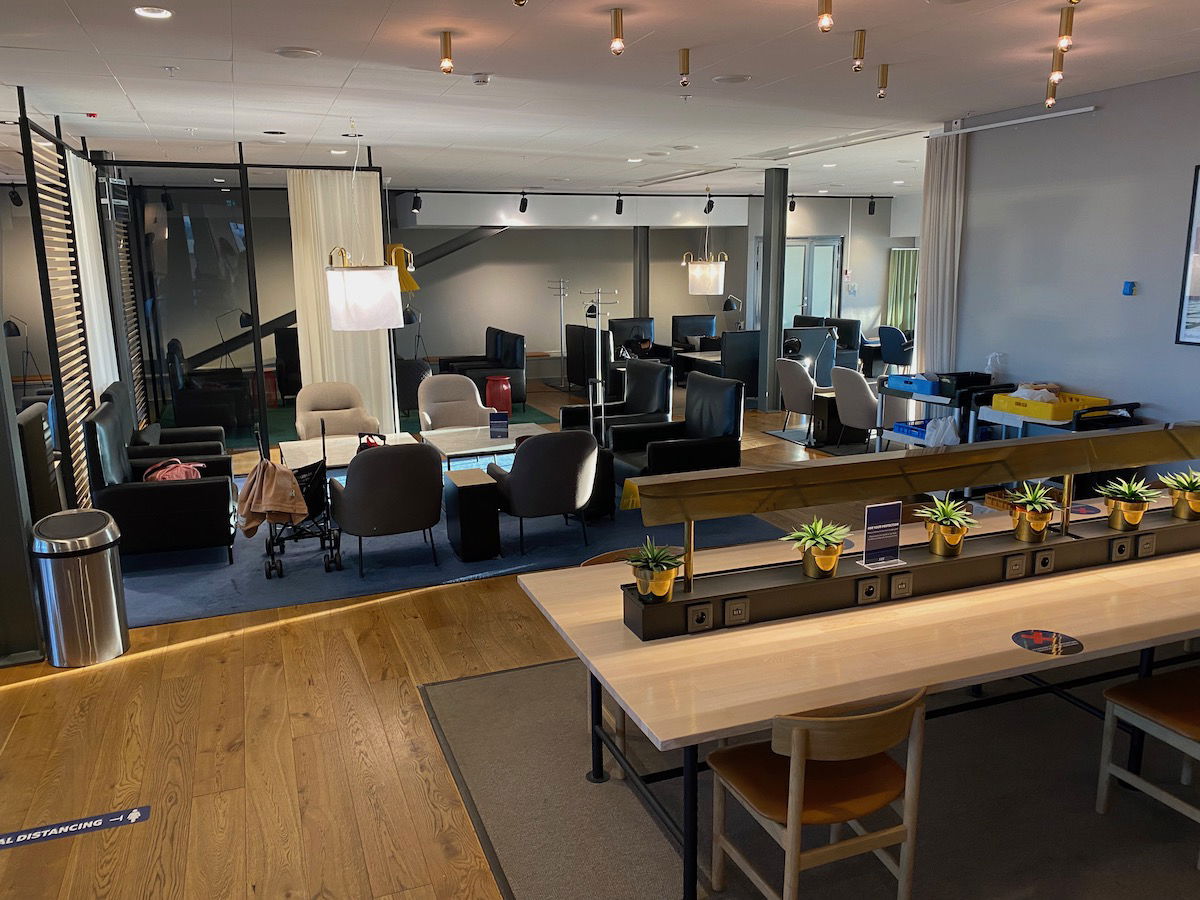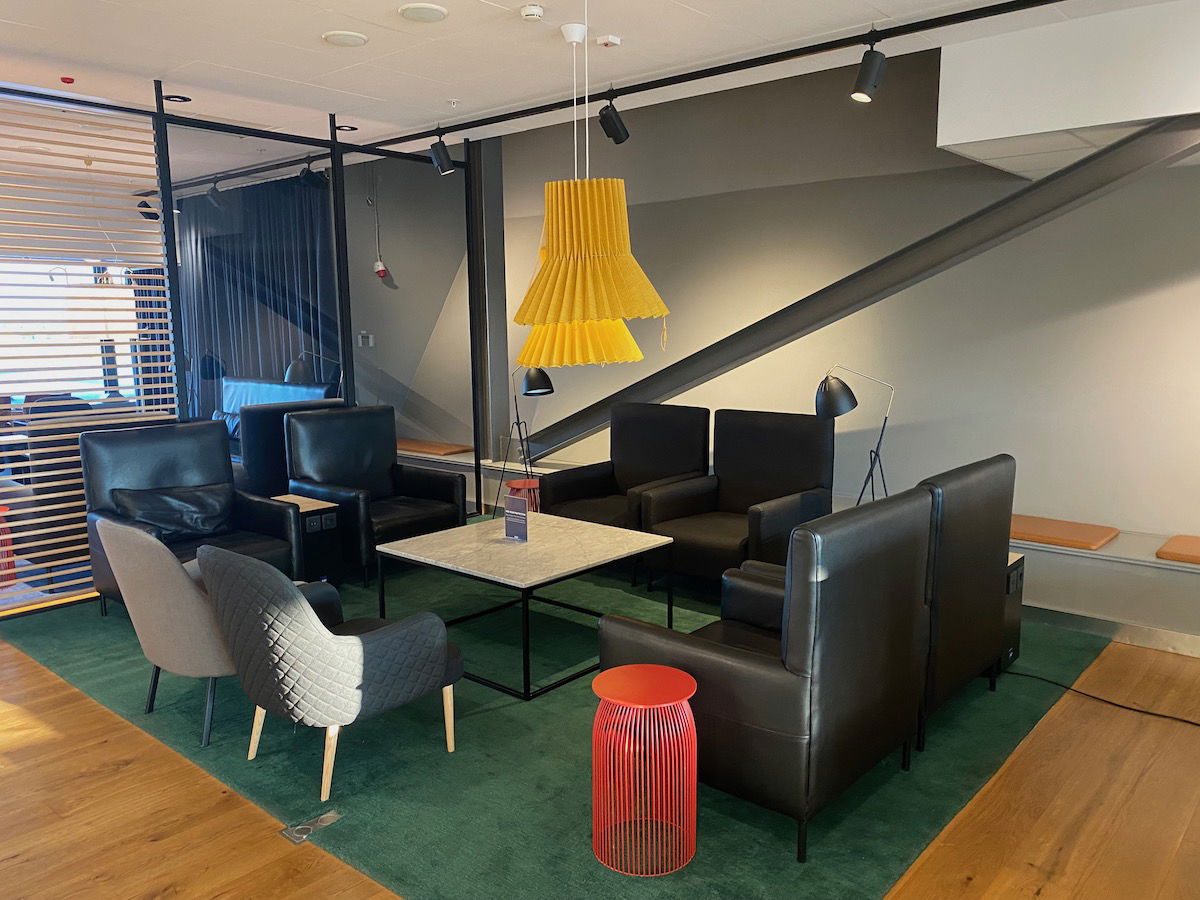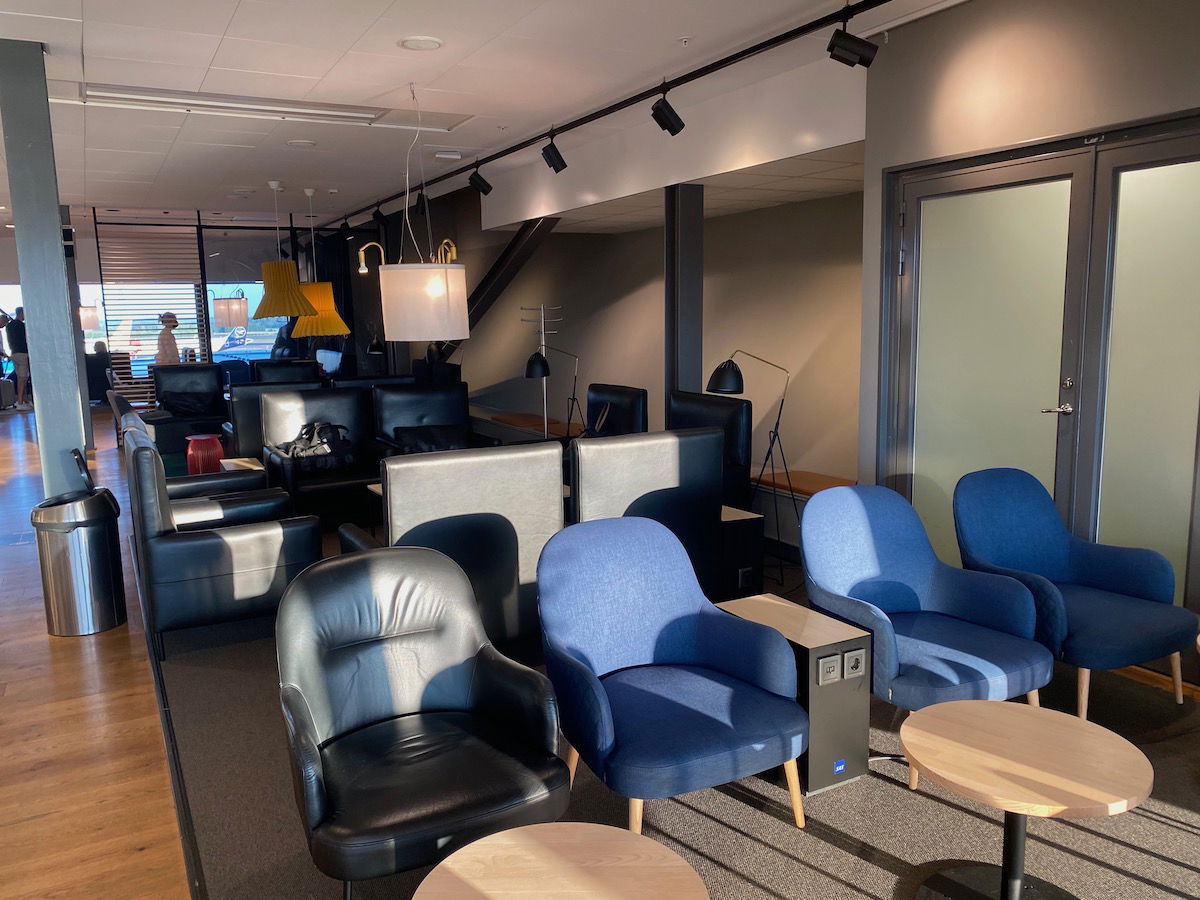 SAS A320neo business class cabin & seats
Our SAS flight was departing from gate 12, a short walk from the lounge. Boarding was scheduled to start at 5:30AM. While priority boarding is marketed as a benefit of SAS Plus, the airline was at the time using a back-to-front boarding process, so SAS Plus passengers were asked to board last.
Our flight was operated by an Airbus A320neo, which is the backbone of Scandinavian Airlines' short haul fleet. SAS' A320s feature a total of 174 seats. I had assigned us seats 9D & 9F, the window and aisle seat on the right side in the last row of the SAS Plus section.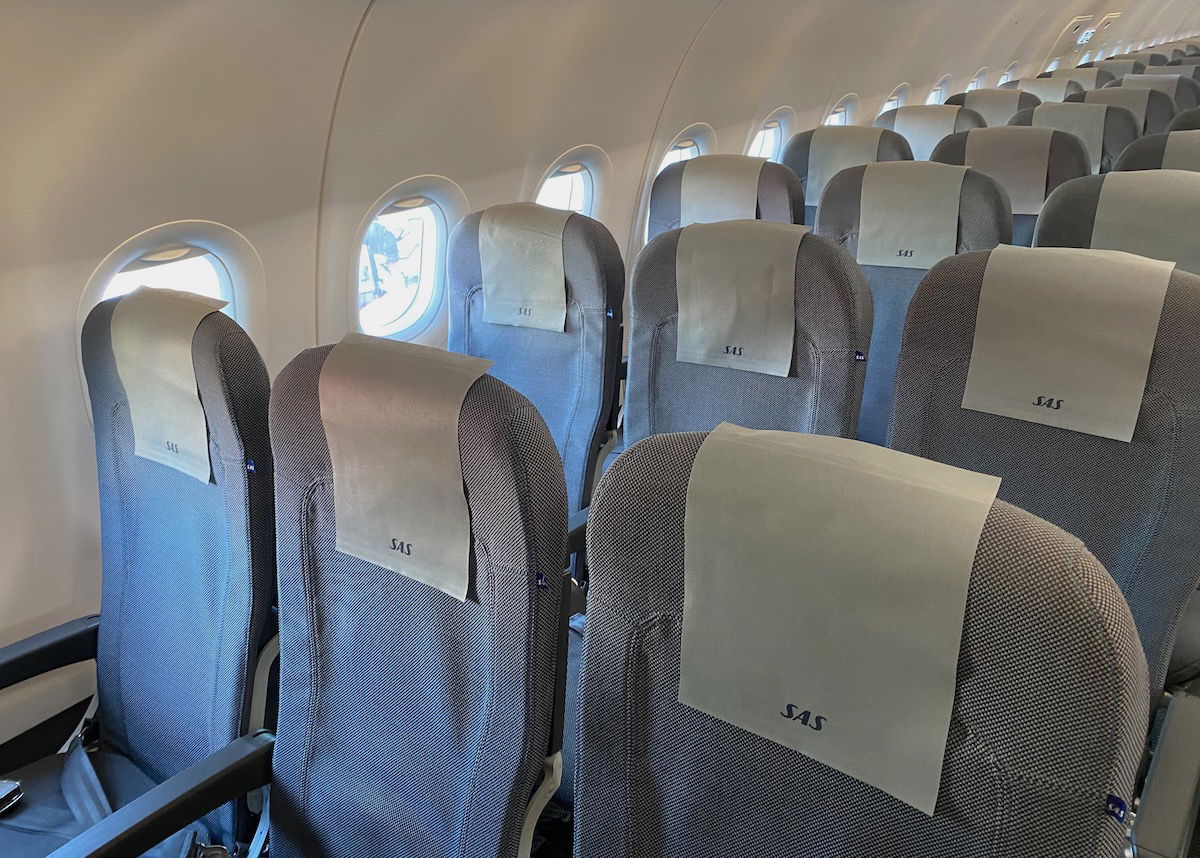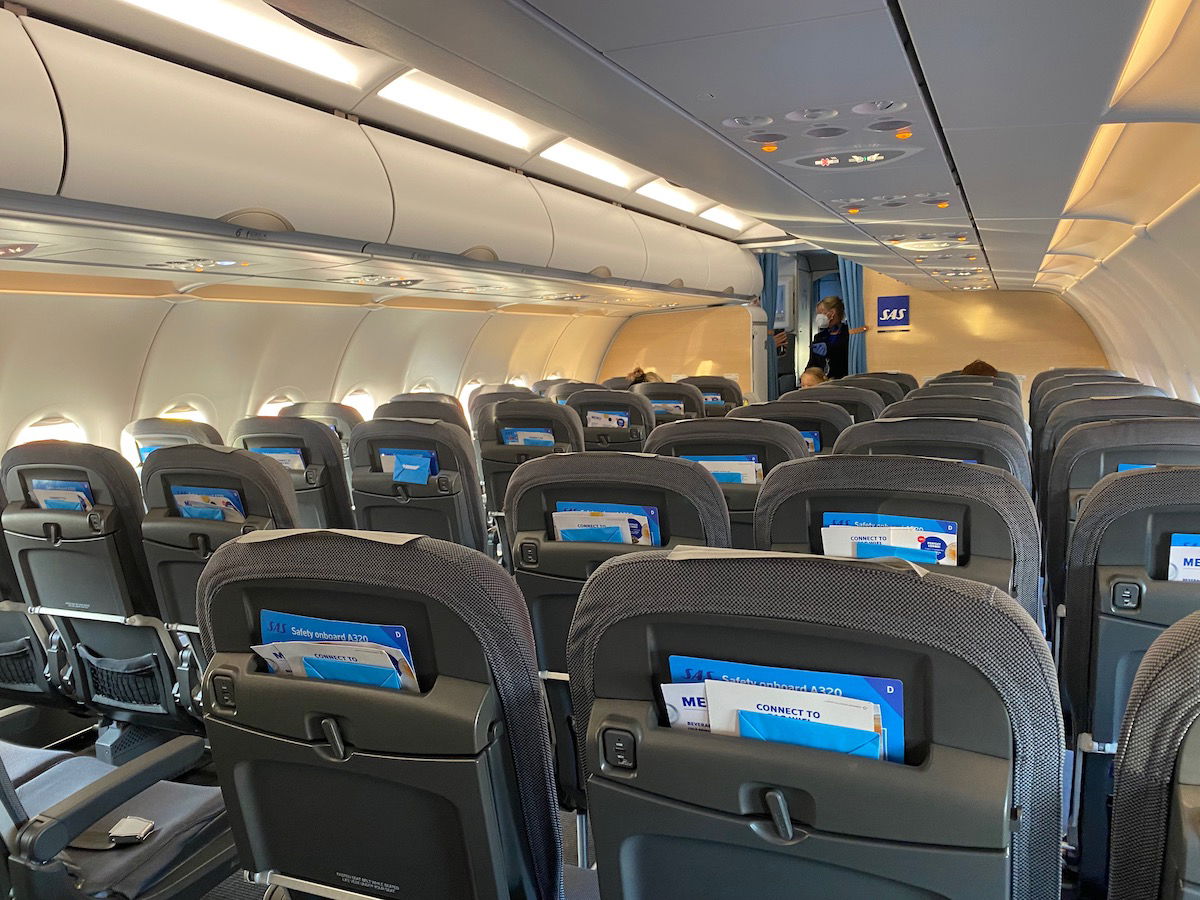 SAS has slimline seats, with 30-31″ of pitch. The legroom wasn't great (definitely not as good as on our previous flight on a KLM 737), but it wasn't terrible either.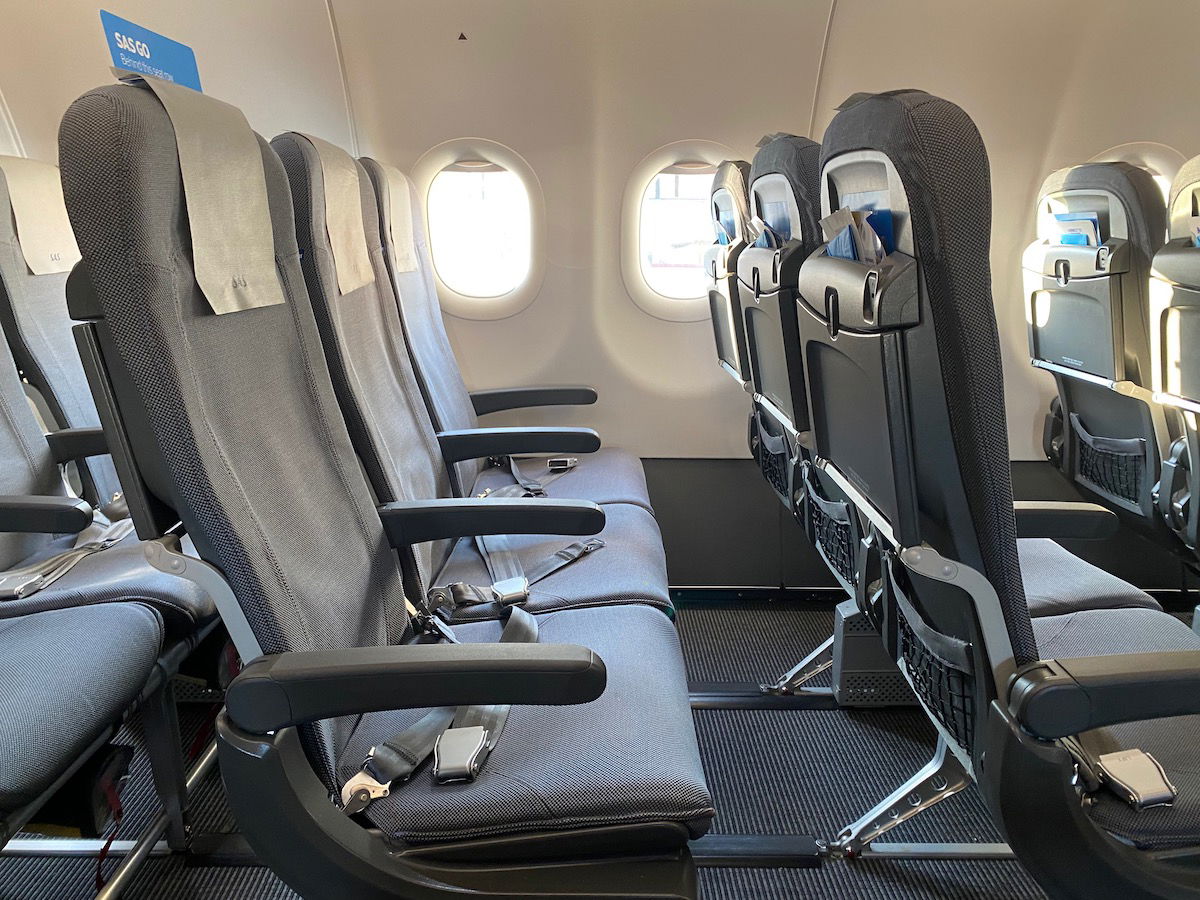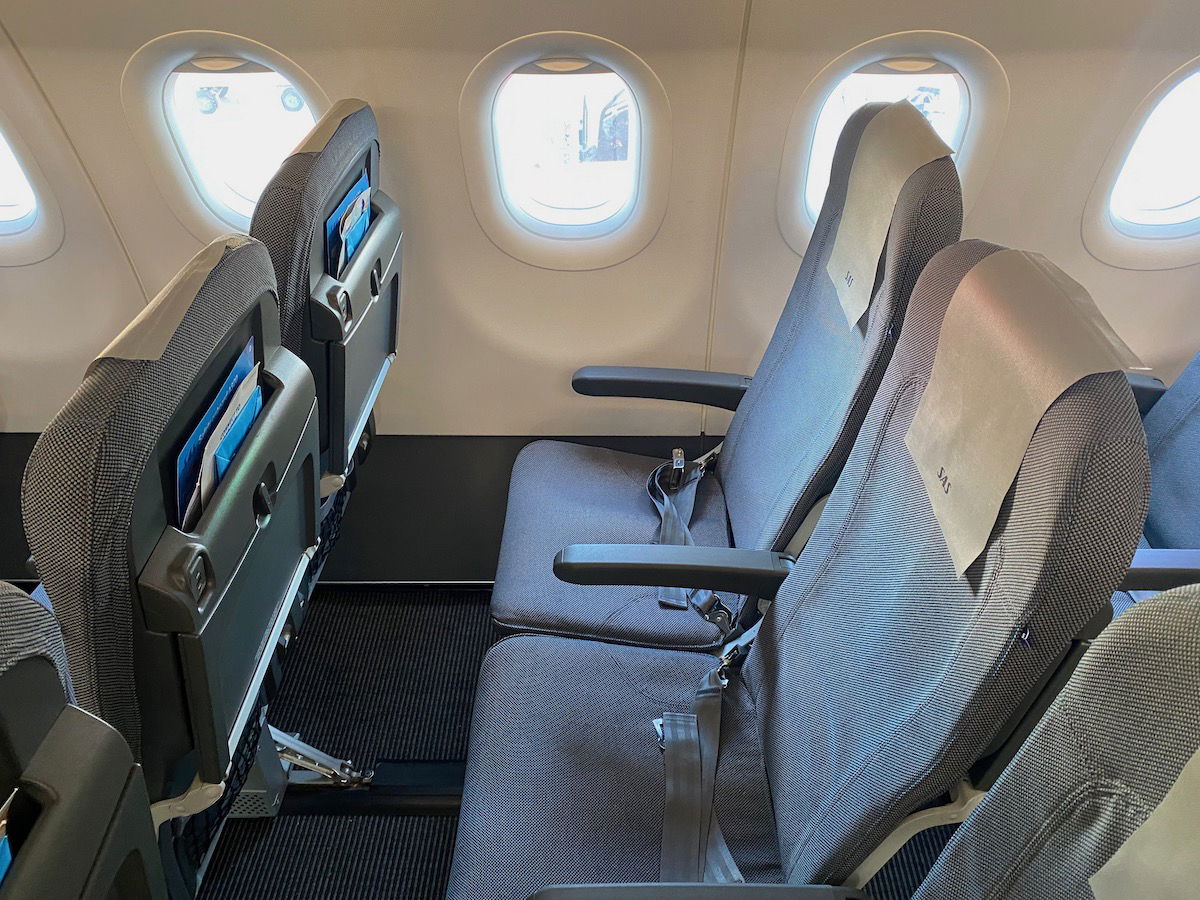 SAS has USB outlets at every seat, though there are no 110v outlets. Some power is better than none, but I just don't get why airlines can't offer more power options on newly delivered planes. Do they think personal electronic devices are going away, or are they just cheap and don't care?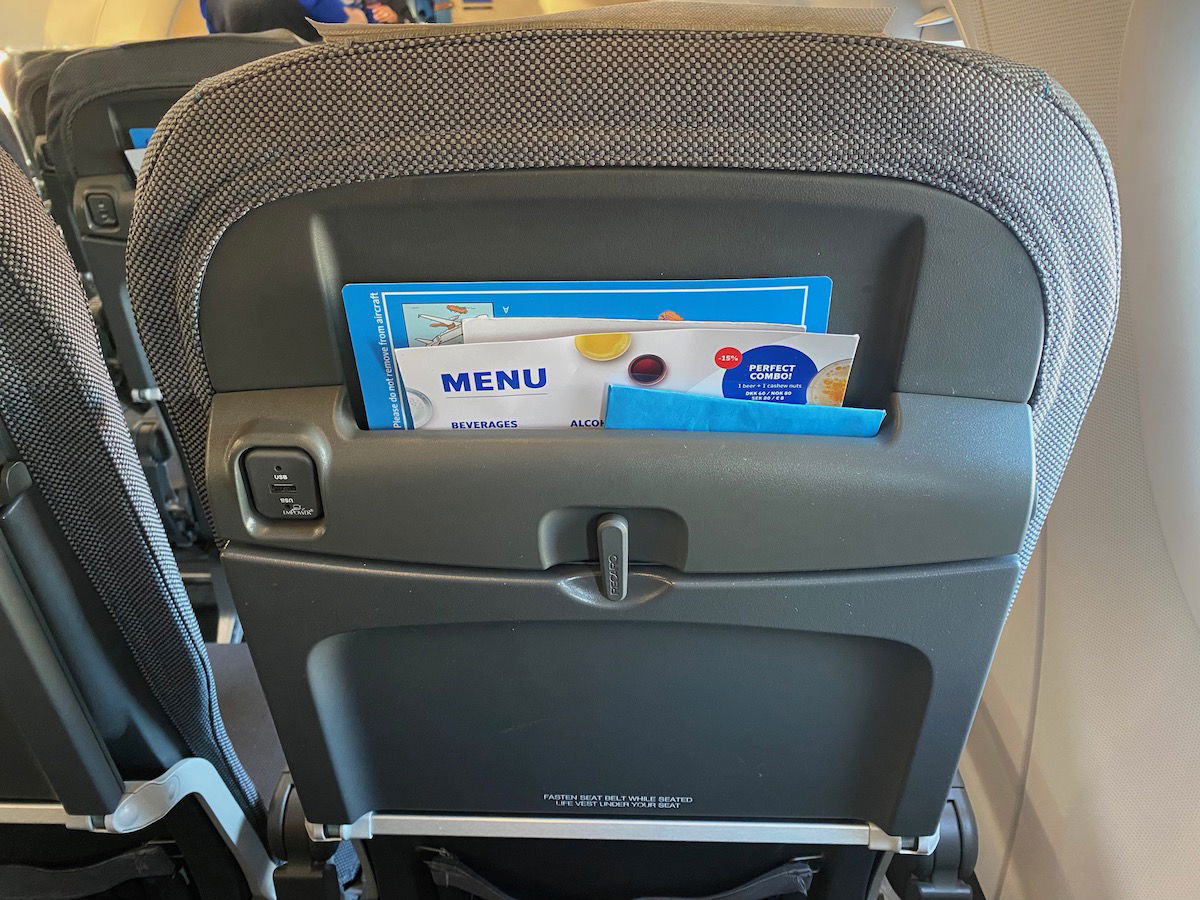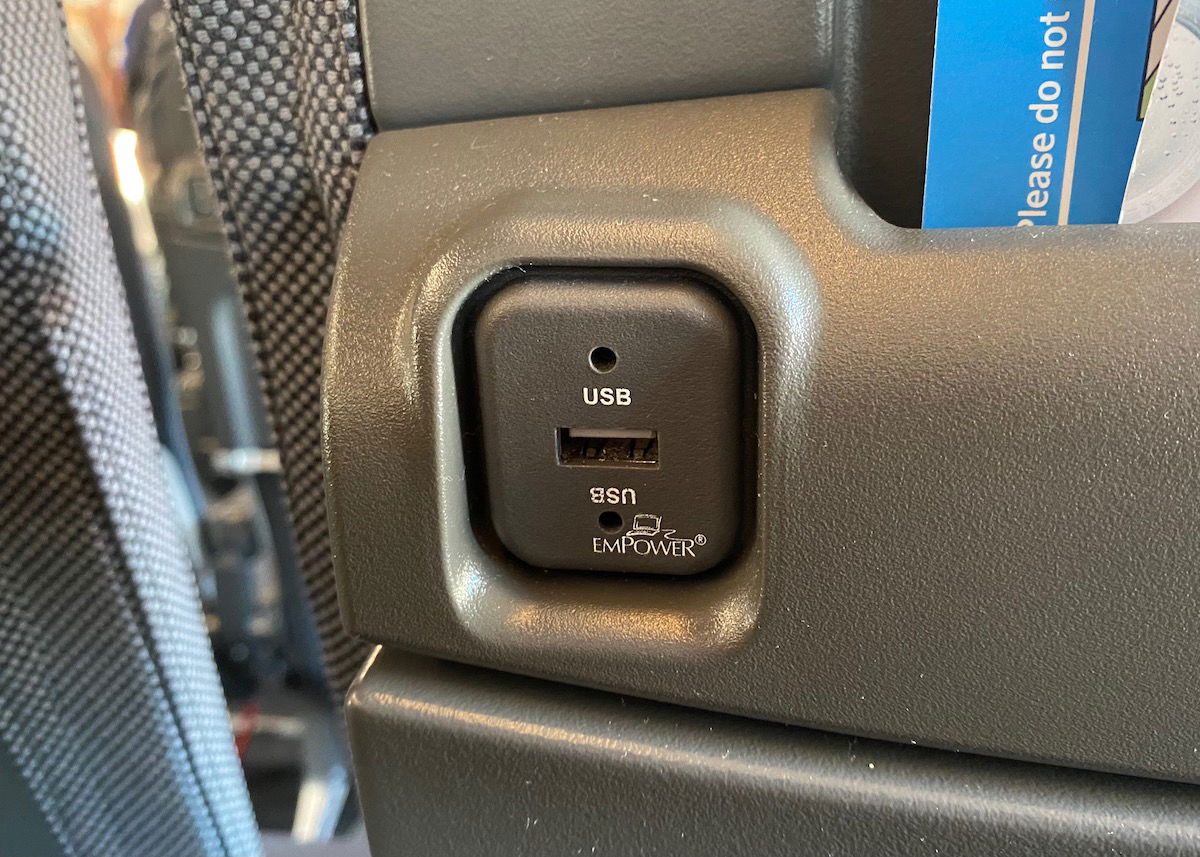 There was a standard tray table that folded out from the seat in front. The literature pocket was on top of the tray table, so that the reading materials were exposed when the tray table was lowered.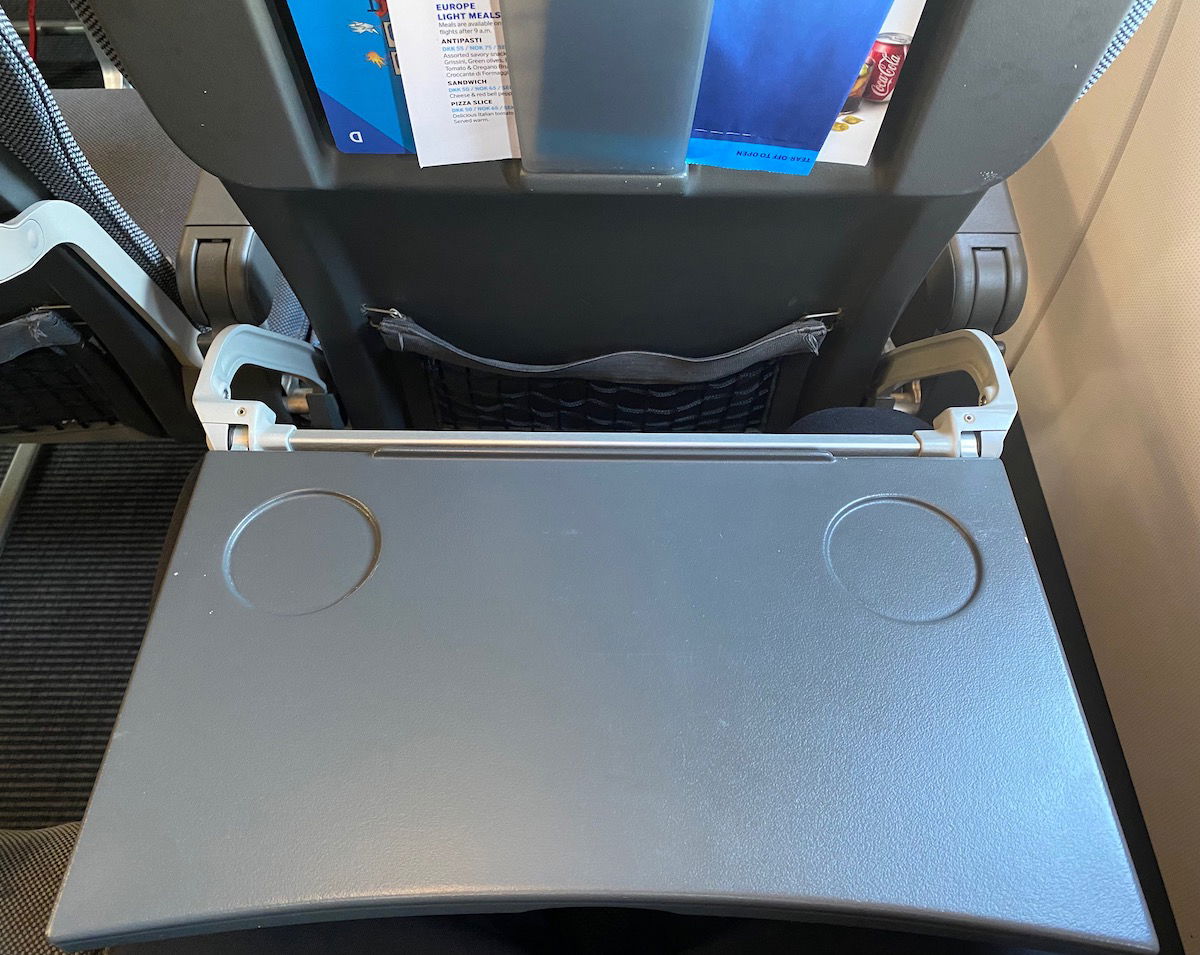 On the plus side, there were individual air nozzles at every seat — on European airlines this is more common on narrow body aircraft than wide body aircraft.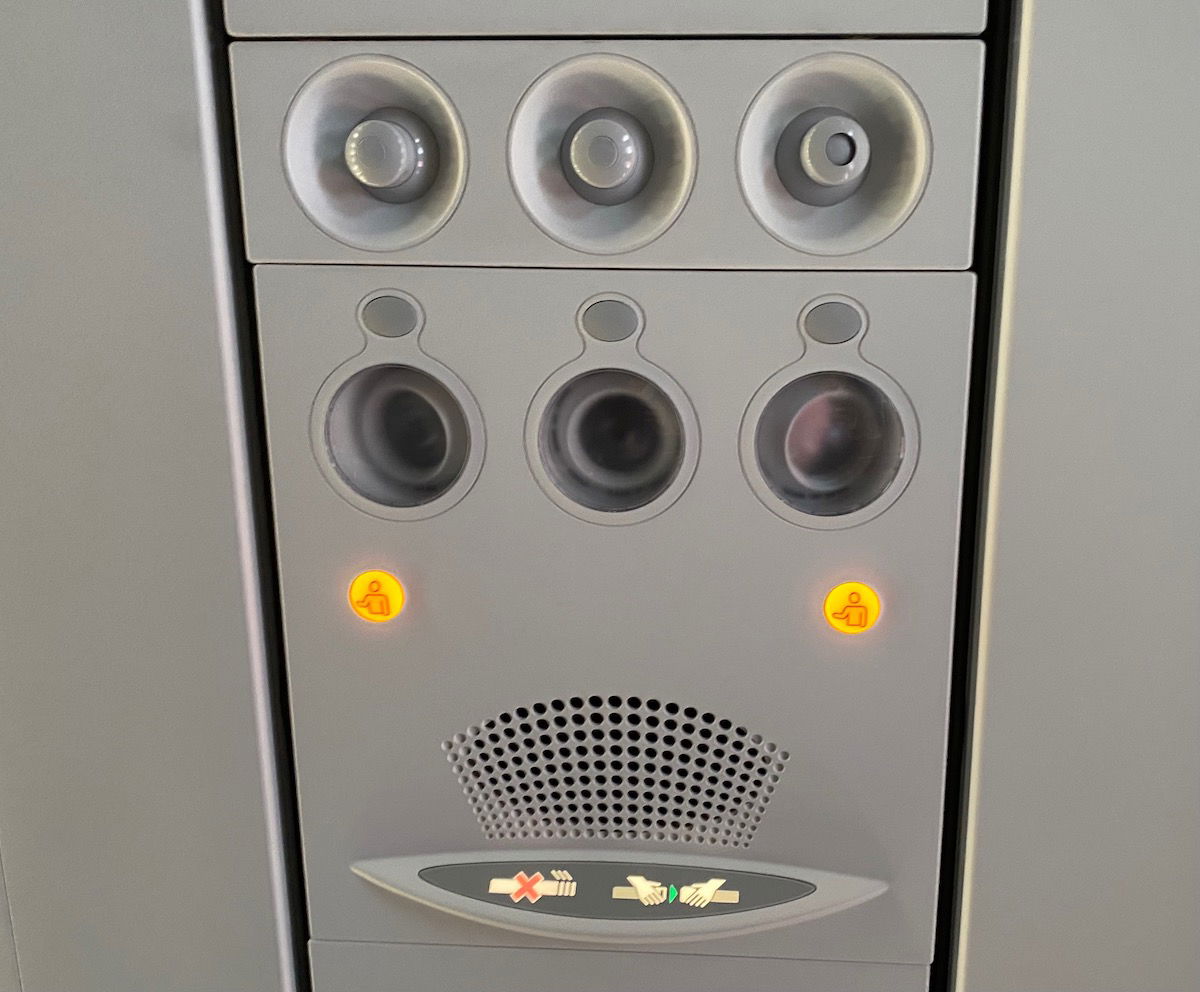 There was no curtain between SAS Plus and SAS Go, but rather there was just a small sign on the back of our seat indicating that the SAS Go section started behind our row.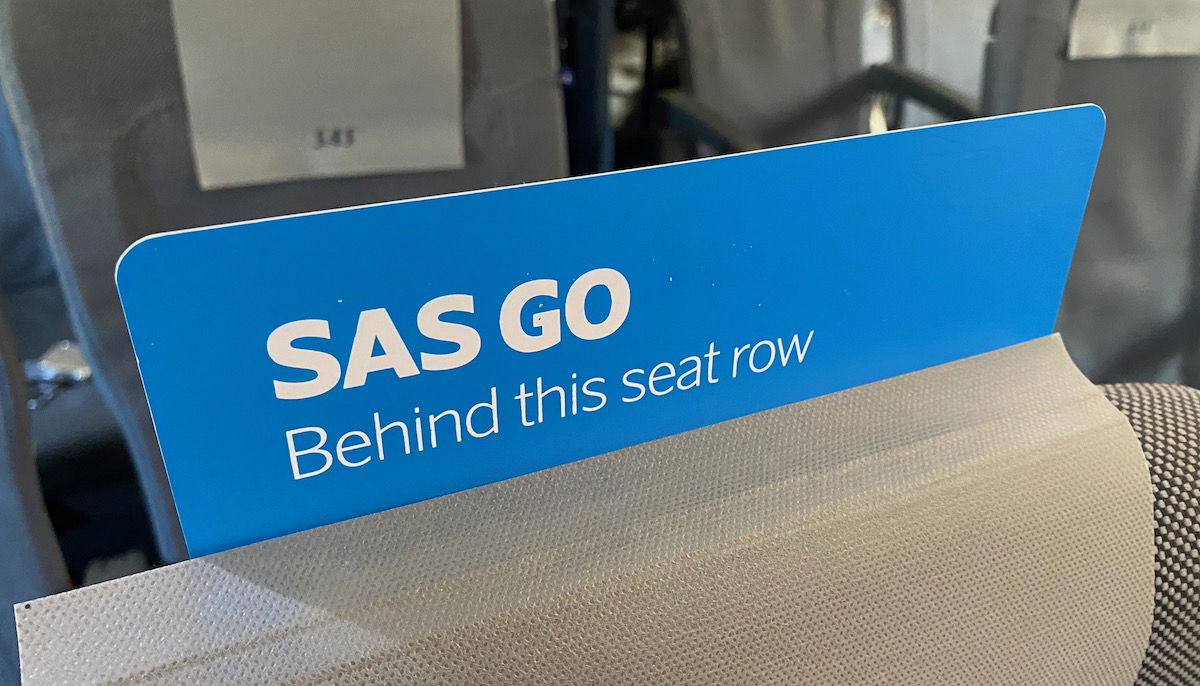 Our gamble of booking SAS Plus paid off — while every single seat in SAS Go was occupied, there were over a dozen empty seats in SAS Plus, including the seat between us.
Departing Stockholm
The main cabin door closed at 6AM, and at 6:05AM we began our pushback. At that point the manual safety demonstration was performed. Based on sunlight outside, you would've thought it was the middle of the day.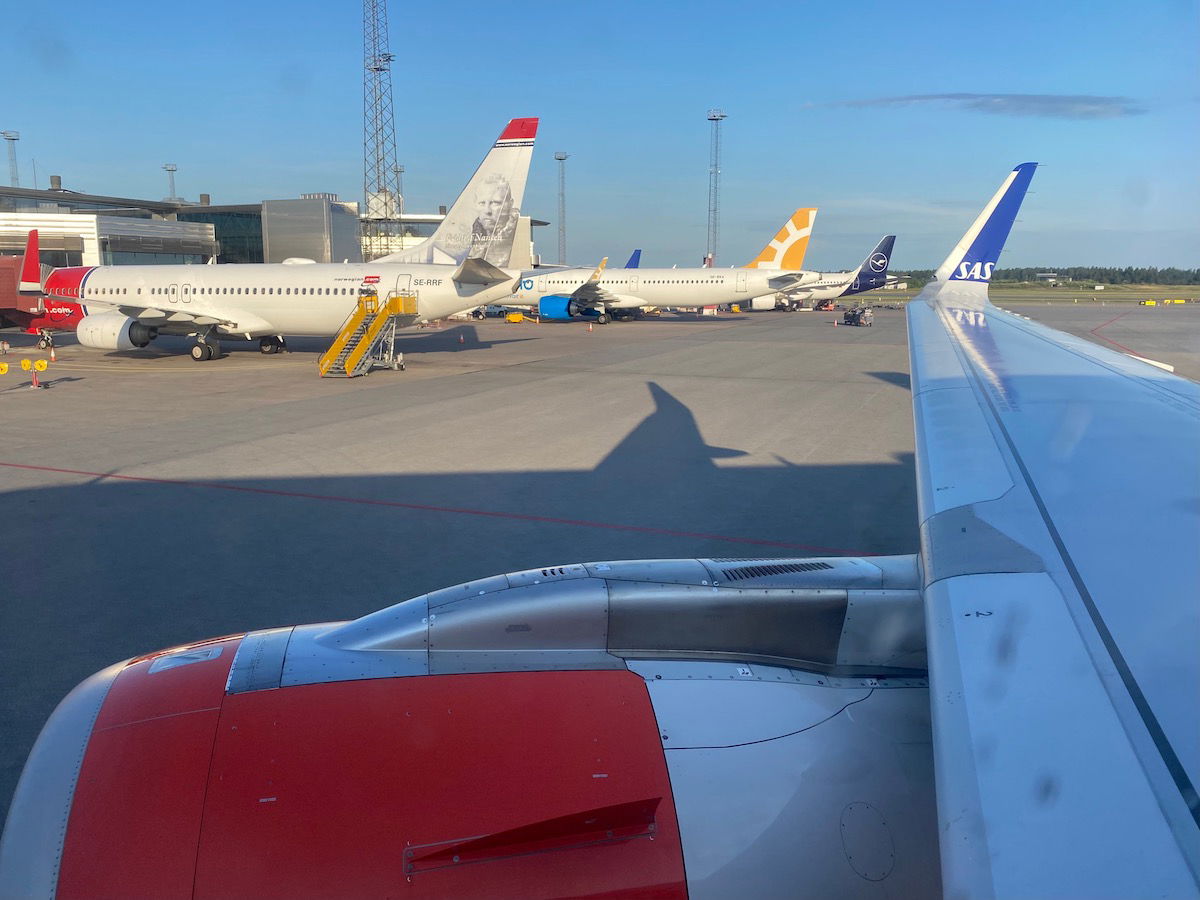 We had a quick taxi to our departure runway, and by 6:10AM we were airborne for our 2hr50min flight to Nice.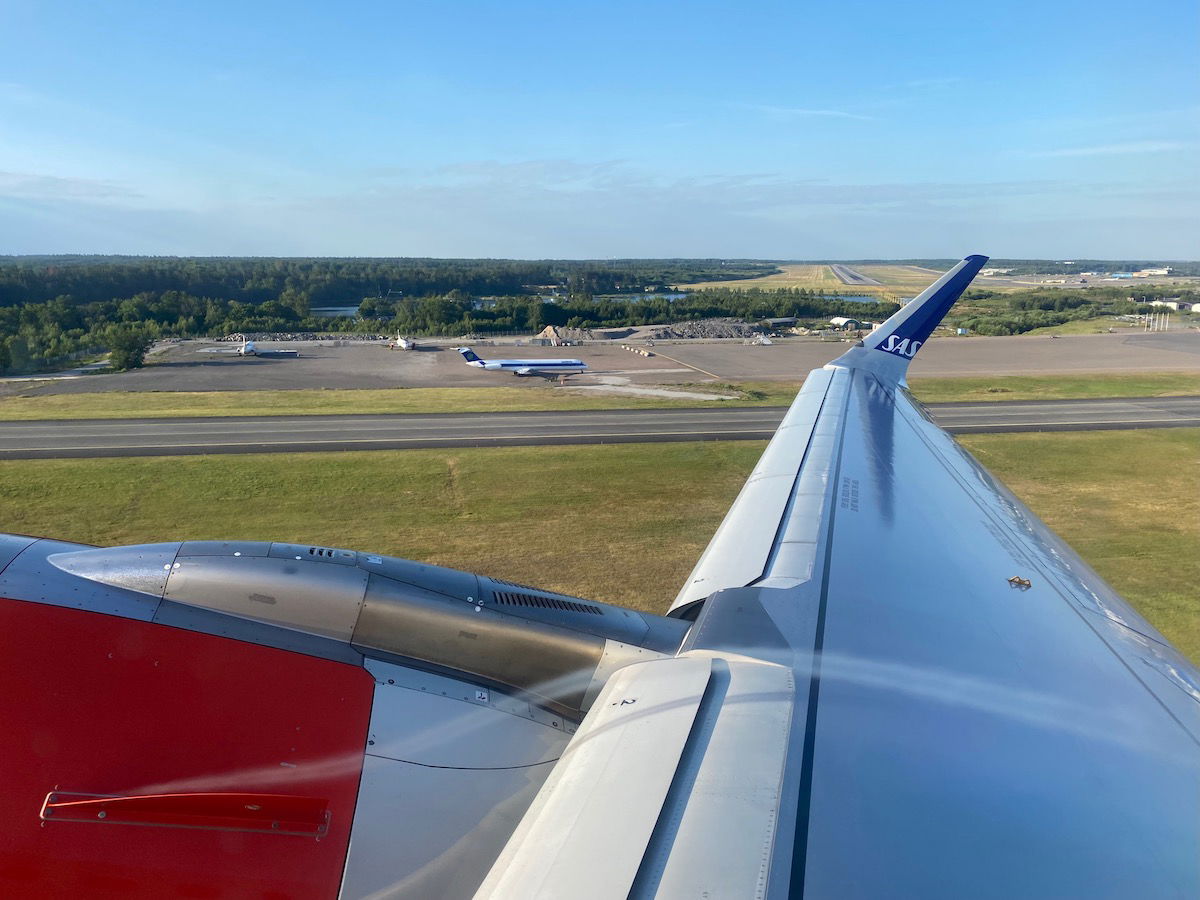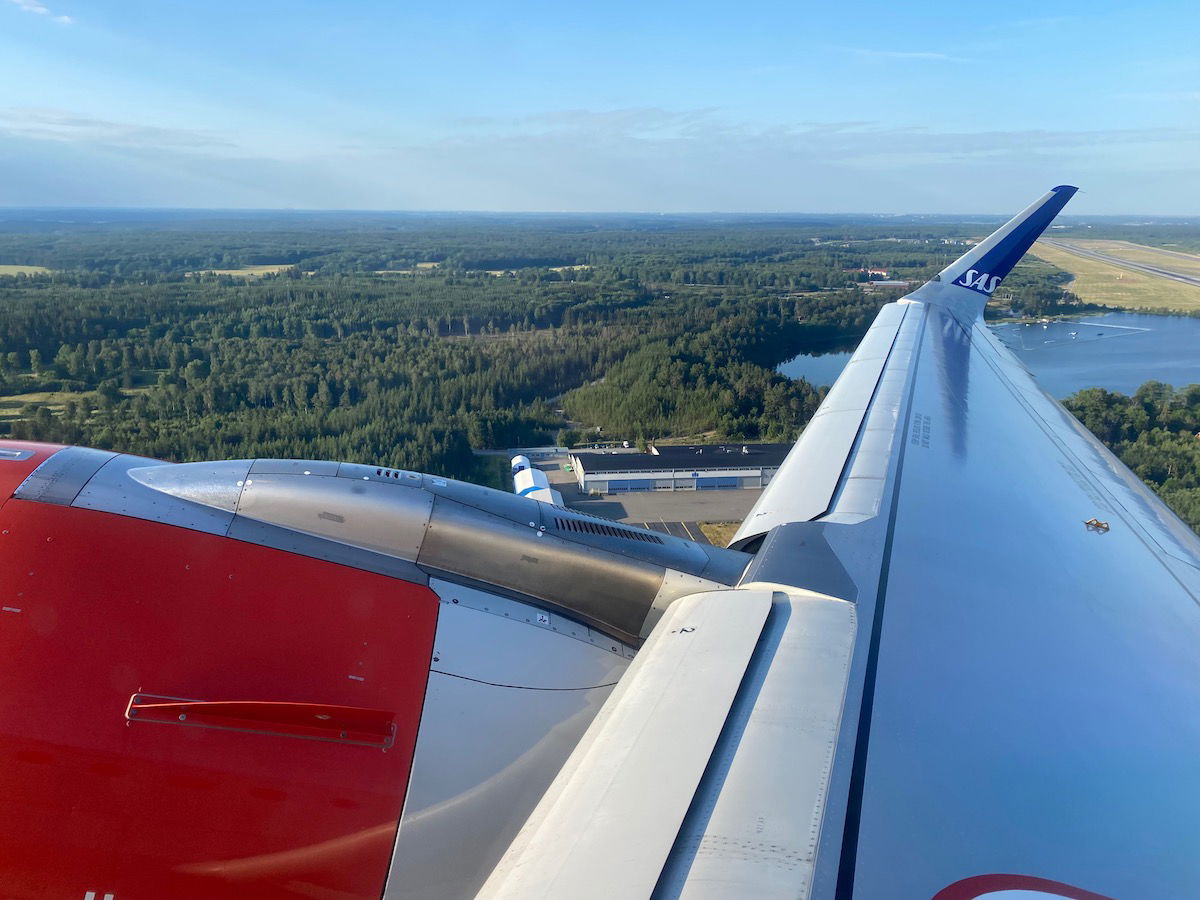 Okay, why have I never taken wide angle wing pictures before with the iPhone, this is kind of fun?!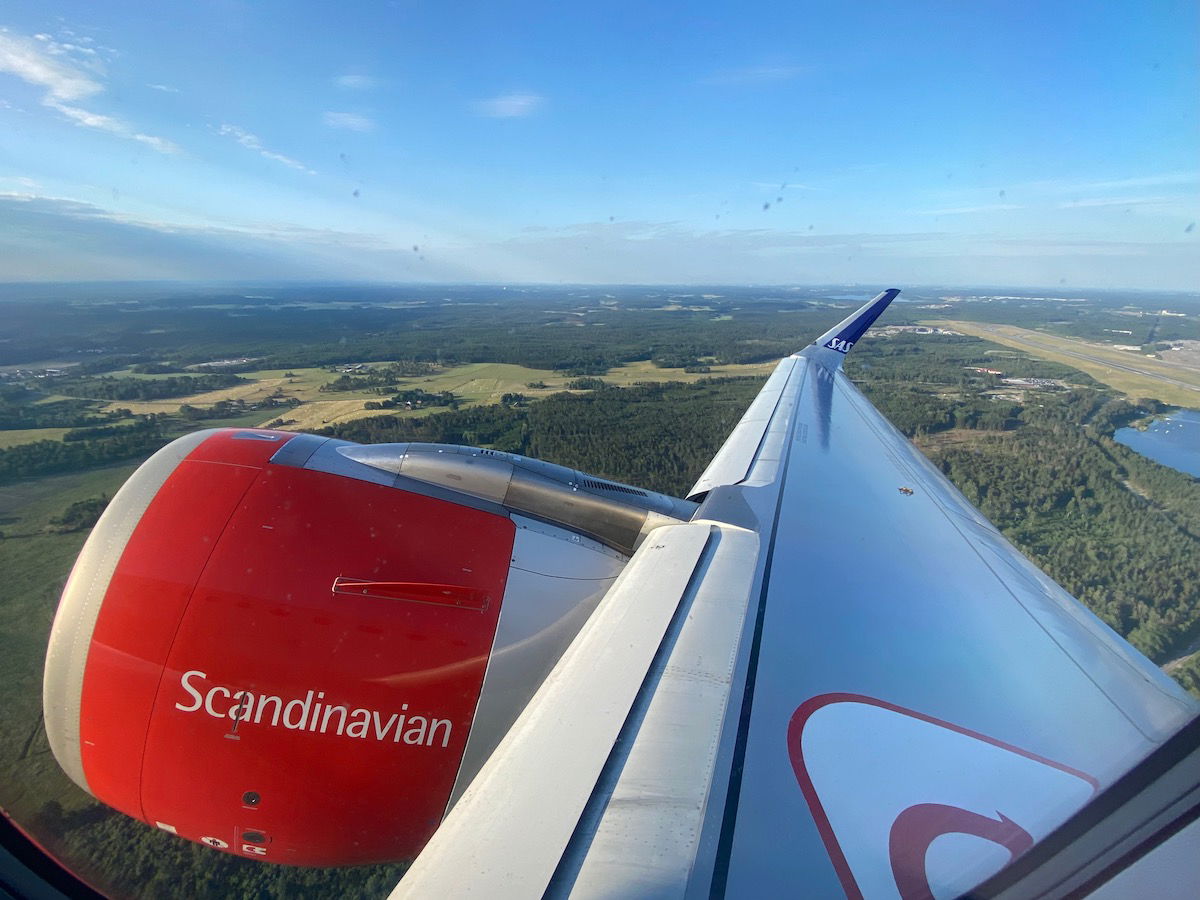 SAS Plus food & drinks
The seatbelt sign was turned off about five minutes after takeoff. Shortly thereafter the crew began service. SAS Plus isn't a proper intra-Europe business class product, but rather just offers more service than in the standard economy cabin. After takeoff, disinfecting wipes were distributed.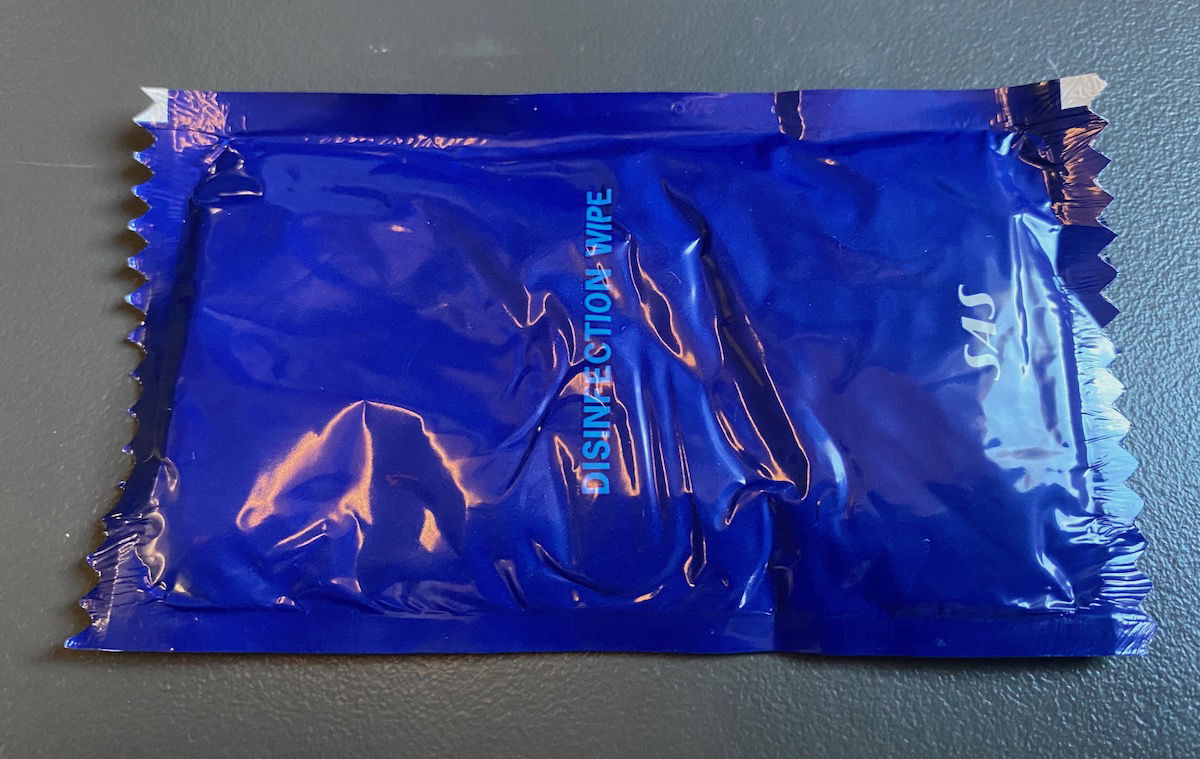 Then about 10 minutes later a complimentary breakfast box was served.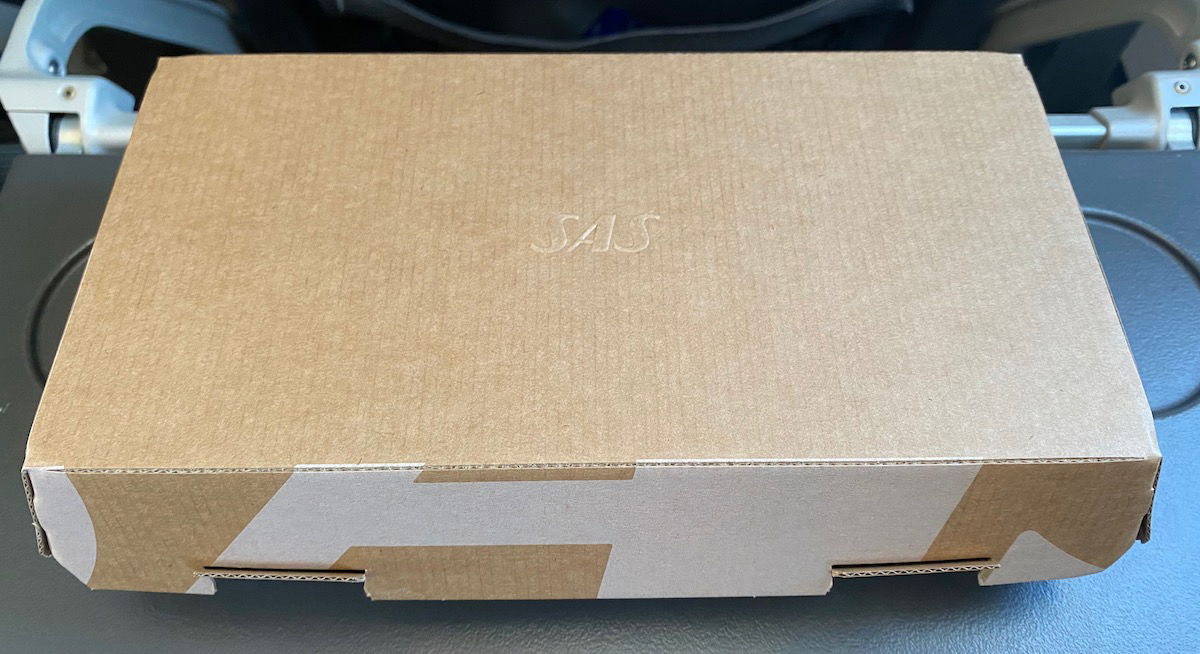 It was better than nothing, but wasn't a terribly exciting selection — there was some yogurt and granola, a small amount of cheese and some packaged bread, and a can of juice.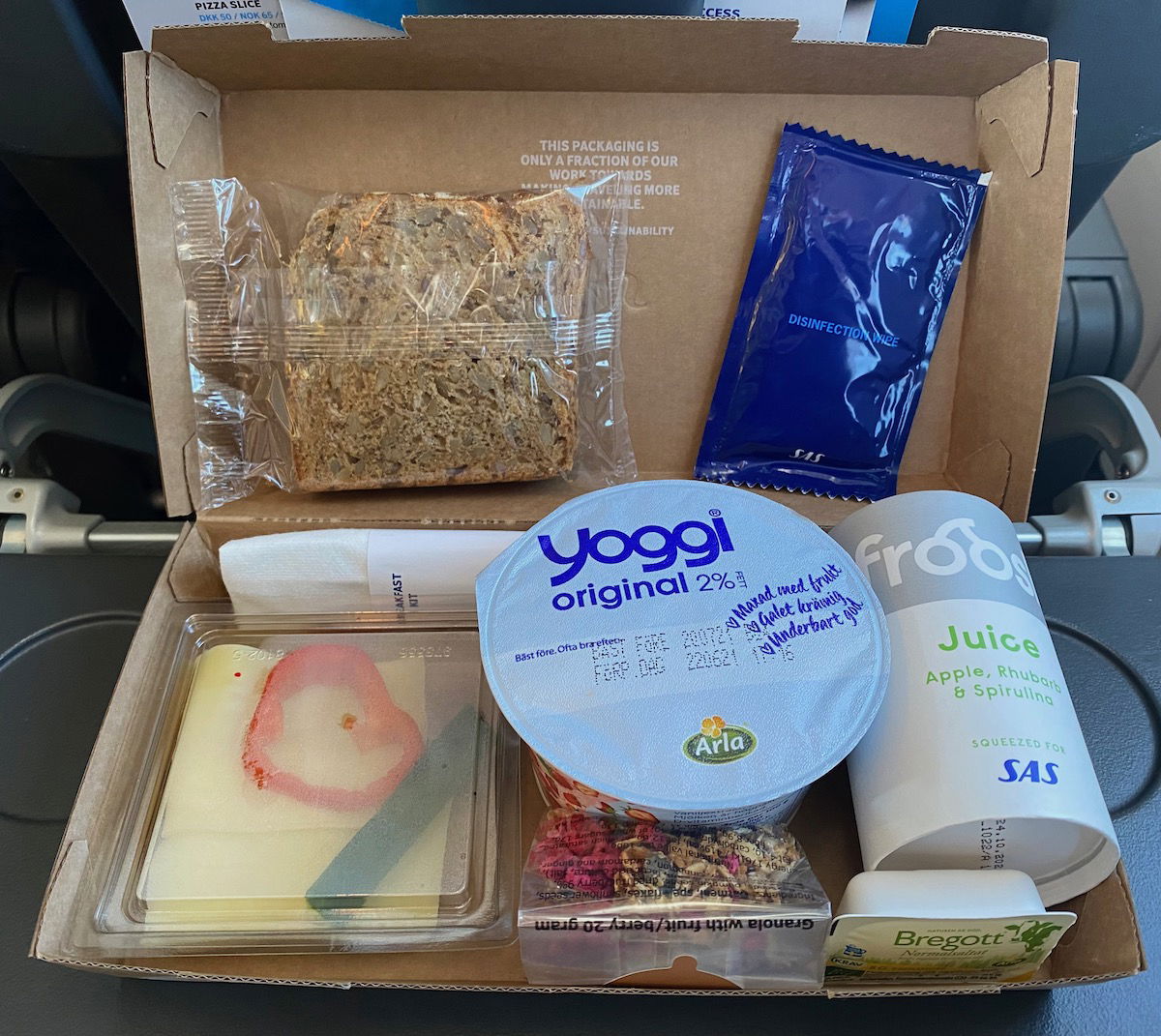 Passengers were also offered complimentary coffee & tea, served in cups.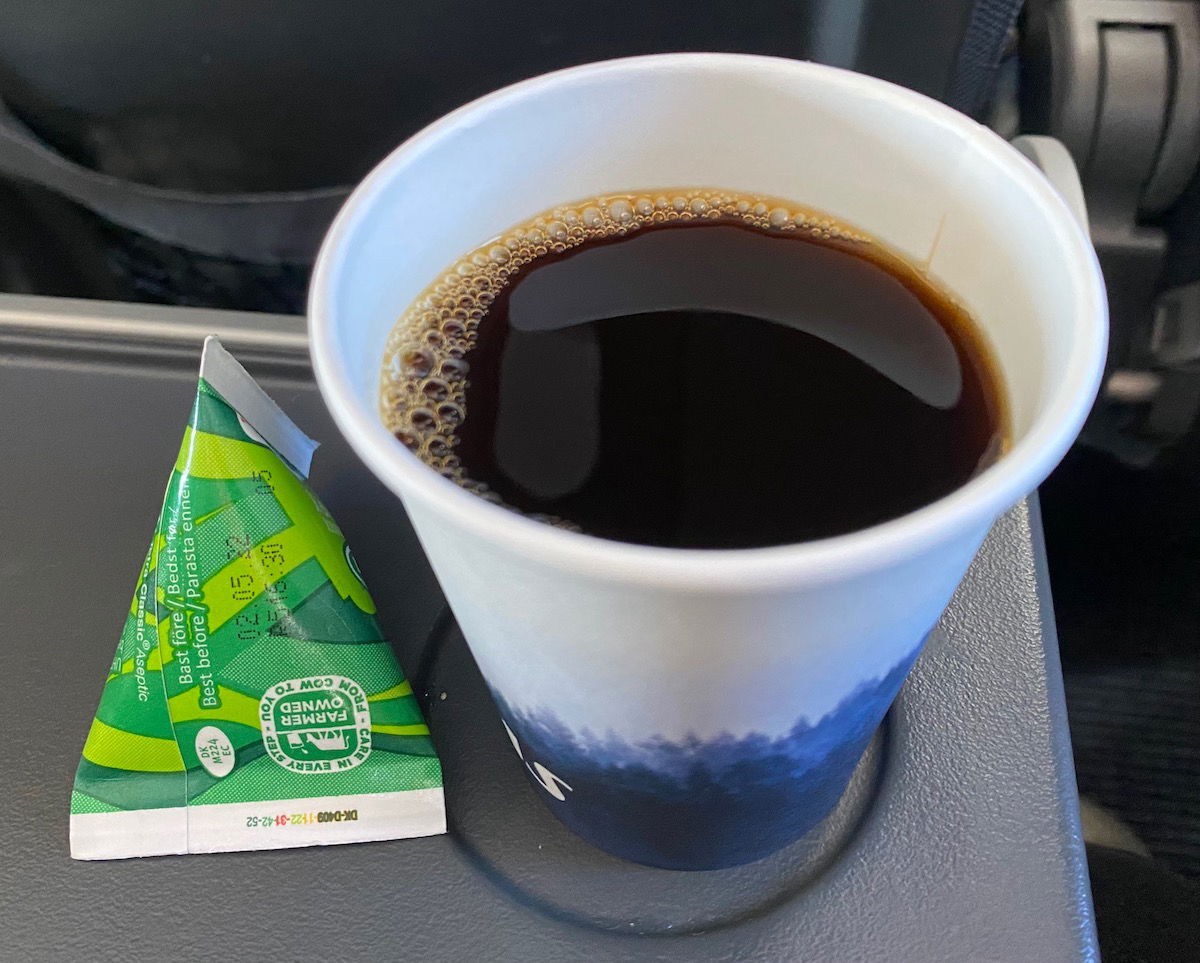 Interestingly SAS Plus passengers can allegedly also order for free off the buy on board menu. However, this isn't listed on the SAS website as a benefit of SAS Plus, and for that matter the crew didn't offer or encourage it. So at the time I didn't even know this was possible, not that I would have ordered a whole lot else on such an early morning flight. Below is the buy on board menu.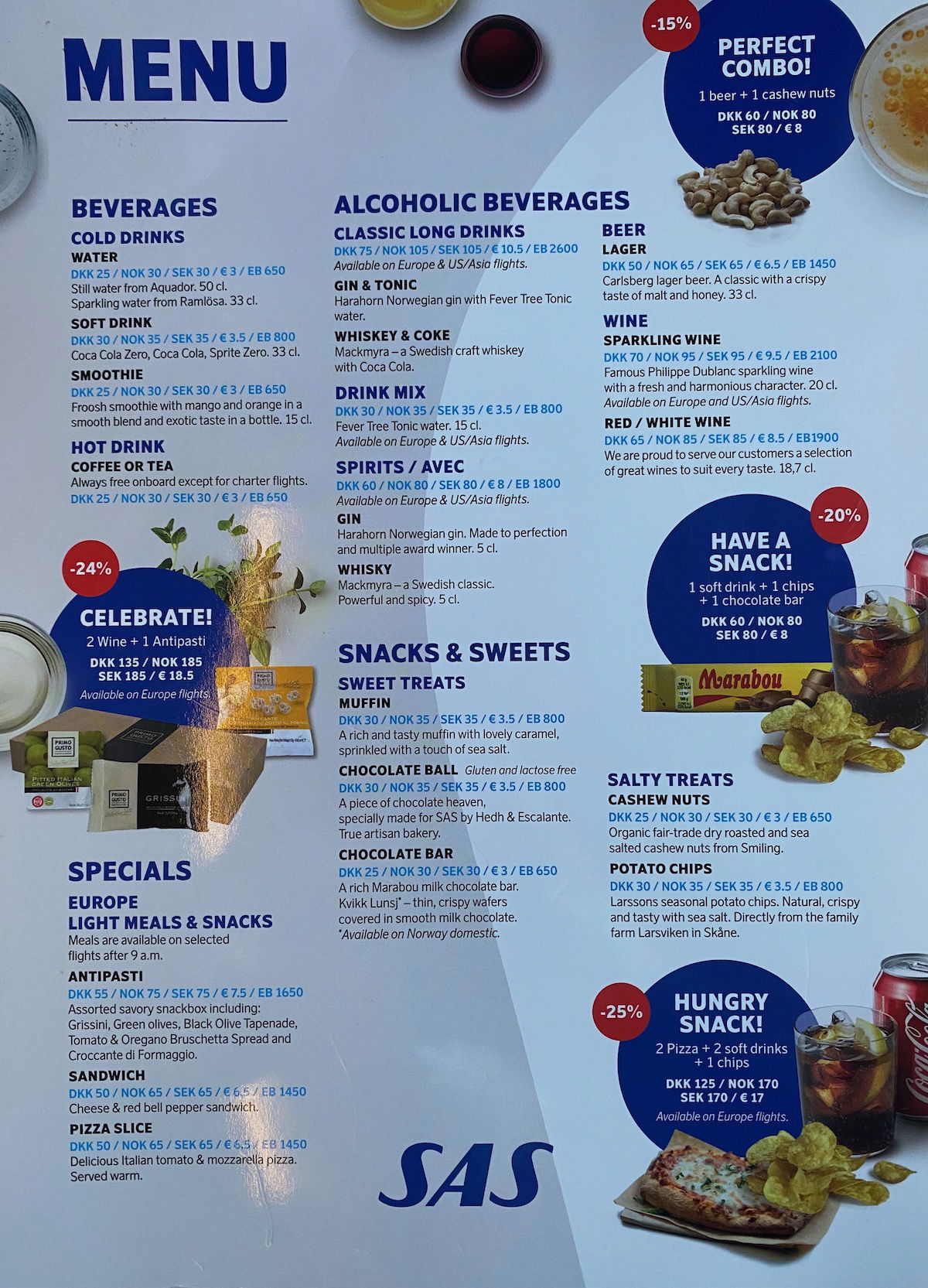 That was the extent of the service — there was no offer of refills or further service.
SAS Plus Wi-Fi
One of the other advantages of SAS Plus is complimentary Wi-Fi. Connecting was easy, and the airline has Wi-Fi provided by Viasat, which has exceptionally good speeds. While there's not much else to get excited about on SAS, having high speed and free Wi-Fi is awesome, and it allowed me to stay productive during the flight.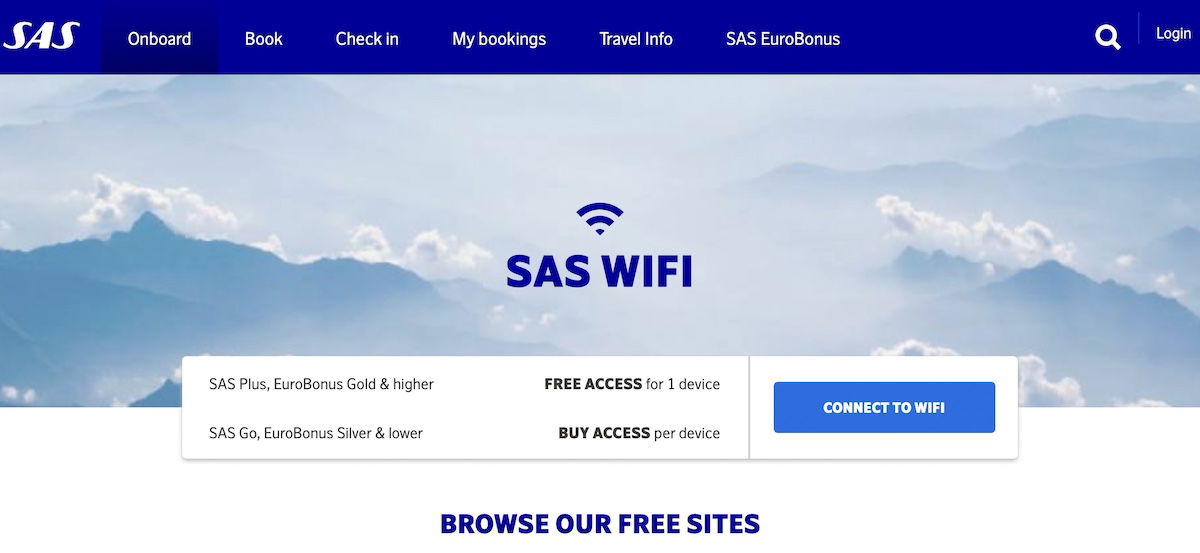 SAS Plus service
There's not a whole lot to say about the service on SAS. Like I said, the crew made a single pass through the cabin. The crew wasn't rude in any way, though also wasn't polite in any way.
The extent of my interaction with the crew was them asking "coffee or tea?" and me saying "coffee with milk, please."
SAS Plus lavatory
There was a lavatory at the front of the cabin. This was open to all passengers, since there's no divider between SAS Plus and SAS Go. The lavatory was fairly clean, but otherwise no frills.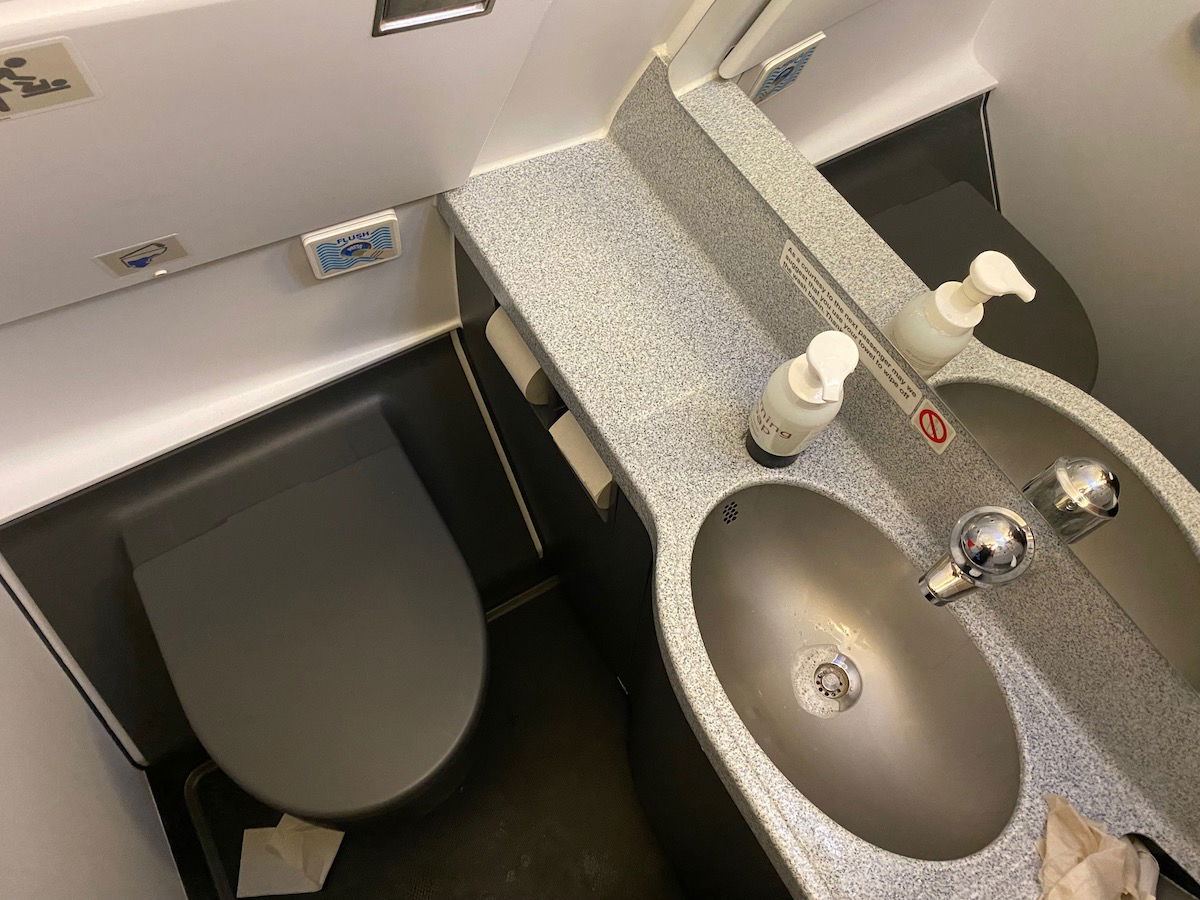 Approaching Nice
At around 8:30AM we began our descent into Nice. The views of the French coastline are always gorgeous. The seatbelt sign was turned on about 15 minutes later.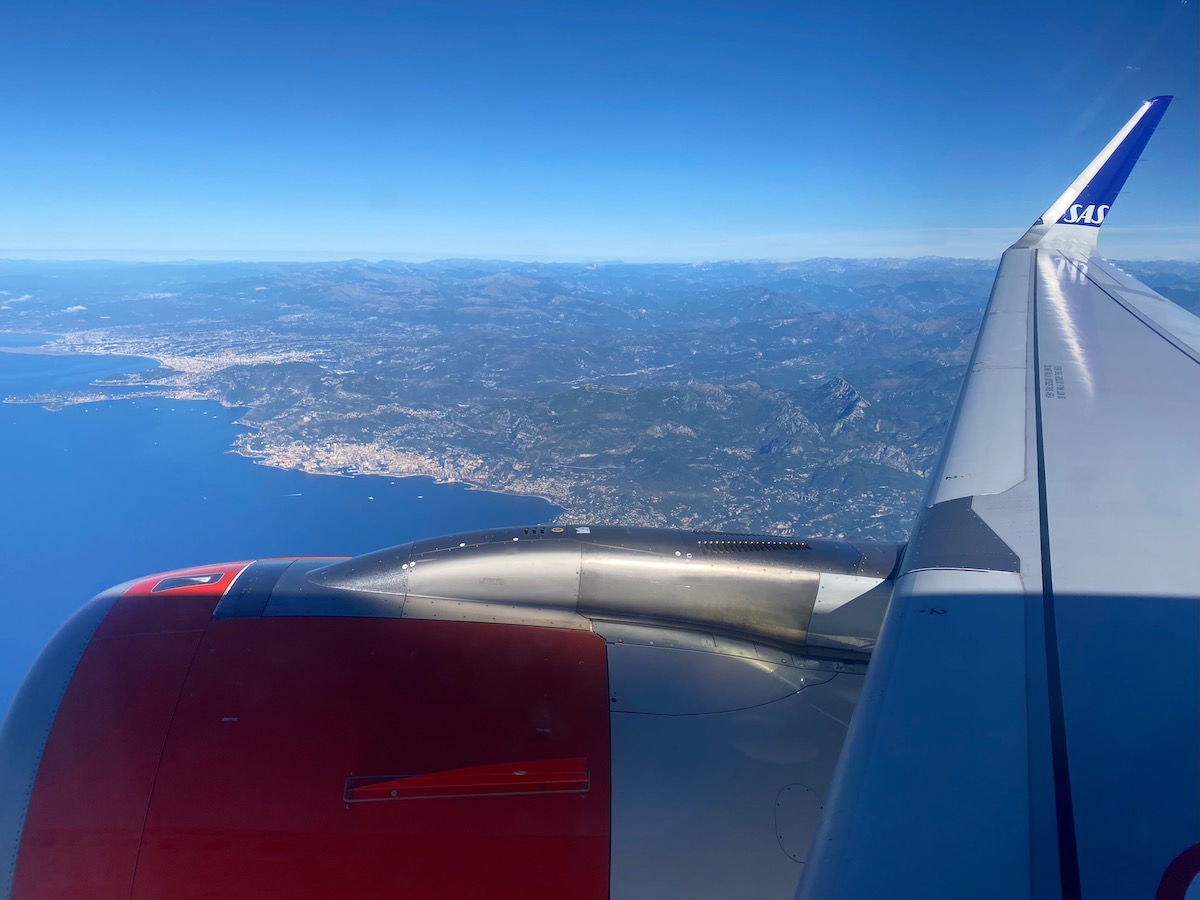 We touched down in Nice at 9AM, and from there we had a five minute taxi to our arrival gate.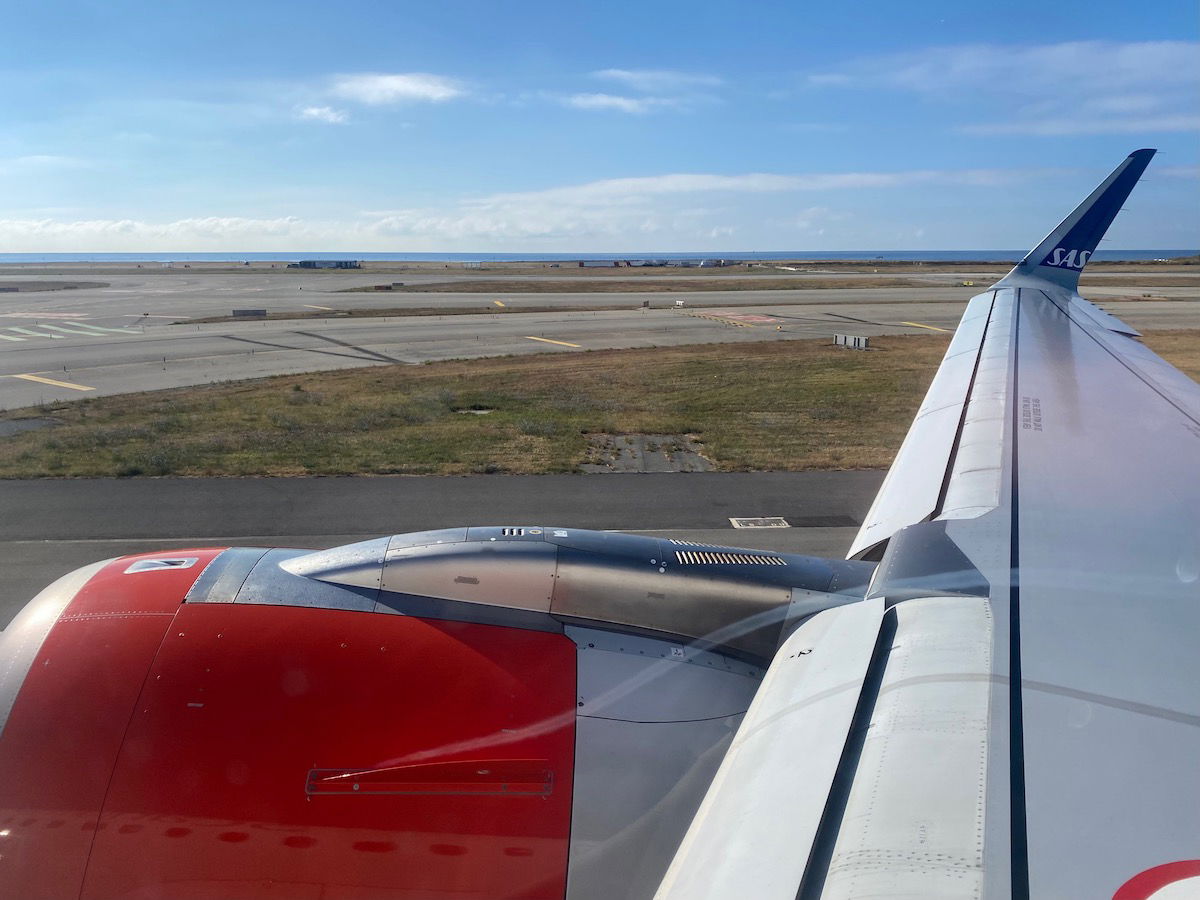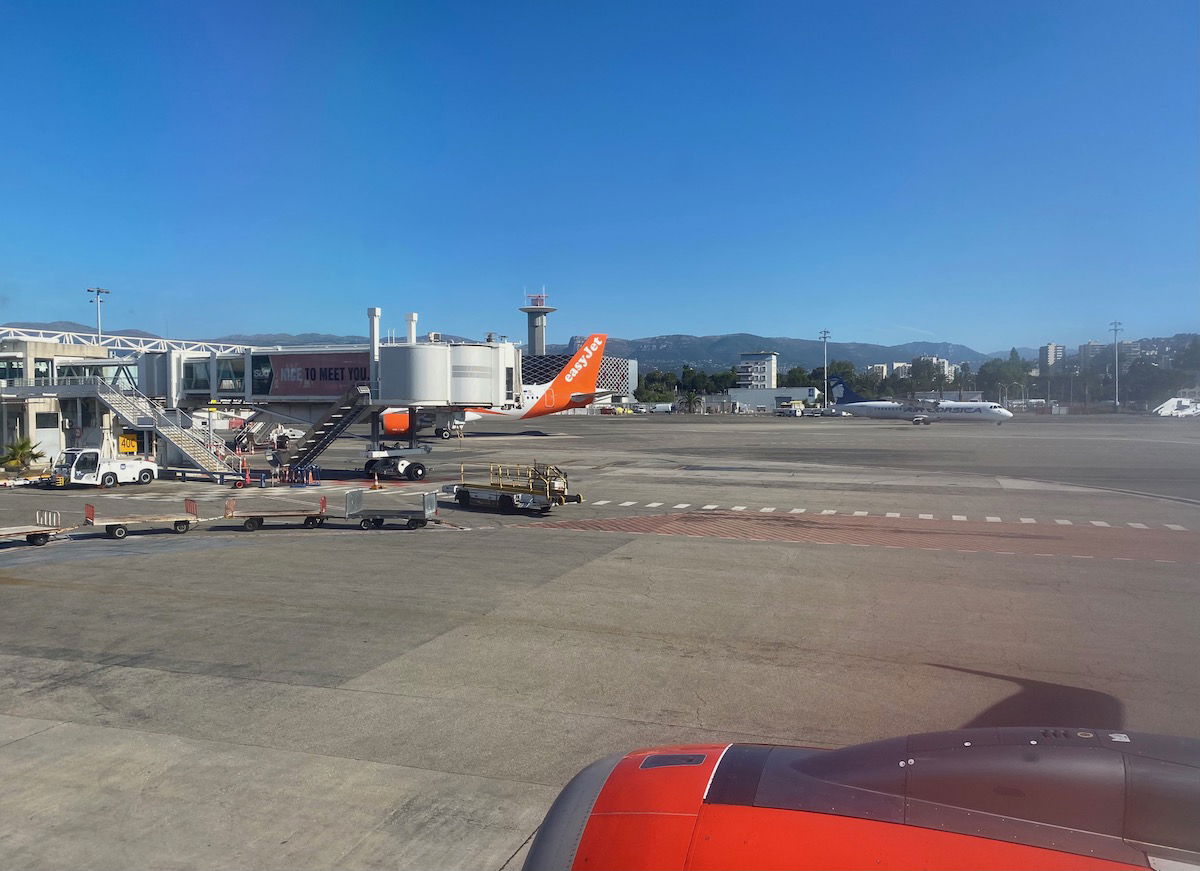 There were no arrival formalities of any sort, so we headed straight for our hotel, with most of the day still ahead of us.
Bottom line
Flying within Europe isn't much to get excited about, and that's especially true on Scandinavian Airlines. The airline doesn't offer business class, but rather offers a premium economy product of sorts.
SAS Plus offers priority airport services, a dedicated seating area at the front of the plane, an onboard snack along with coffee & tea, and free Wi-Fi. Apparently you can also order items off the buy on board menu for free, but what a ridiculous system — the crew doesn't tell you about it, and it's not even listed on the website as a benefit, so I guess it's kept a secret so the airline can save money.
In our case taking this flight made sense — it was a direct routing, the A320neo cabin was in pretty good shape, and there was high speed Wi-Fi and USB power outlets.
Furthermore, on our flight I think it was worth booking SAS Plus over SAS Go, given the modest price premium. This ended up getting us an empty middle seat, since SAS Go was 100% full, while SAS Plus wasn't. While I think SAS Plus can be a good deal, in general I'd prefer to fly an airline that has an intra-Europe business class, since having a guaranteed blocked middle is nice.
If you've flown SAS Plus, what was your experience like?