The last stop on our five country European adventure was Greece. We were there for a couple of nights for a wedding. I won't be reviewing that hotel, because trying to review a hotel when there's a wedding block is both awkward and probably unfair.
Instead I'll just review the Grand Hyatt Athens, where we spent our last night in Greece. I was curious to check this hotel out myself. The 315-room hotel opened in 2018, and based on some reviews out there, you'd assume this hotel is a less luxurious version of Guantanamo Bay.
I had a slightly different take based on my stay. Are the things people say about the hotel true? Yes, largely. At the same time, the hotel is reasonably priced, and I tend to think it offers good value for money.
Booking the Grand Hyatt Athens
We paid cash for our one night stay at the Grand Hyatt Athens. We were staying in late July, and the hotel cost 125 EUR including all taxes and fees. That's suspiciously cheap, when you consider that this is peak season in Greece, and this hotel throws in a huge amount of stuff for World of Hyatt Globalist members. As a point of comparison, the Marriott Luxury Collection properties in the city (which, in fairness, are actually luxurious and well regarded) were retailing for over 600 EUR per night.
If you're looking to redeem points, the Grand Hyatt Athens is a Category 3 World of Hyatt property, meaning a free night redemption here costs 12,000 World of Hyatt points. I value World of Hyatt points at 1.5 cents each, so to me paying cash was the better value.
Grand Hyatt Athens location
The Grand Hyatt Athens is located on Andrea Syngrou Avenue, which is a major six land road in Athens. There are all kinds of hotels, offices, and other businesses on this street, though this really isn't an area that's particularly fun to walk around.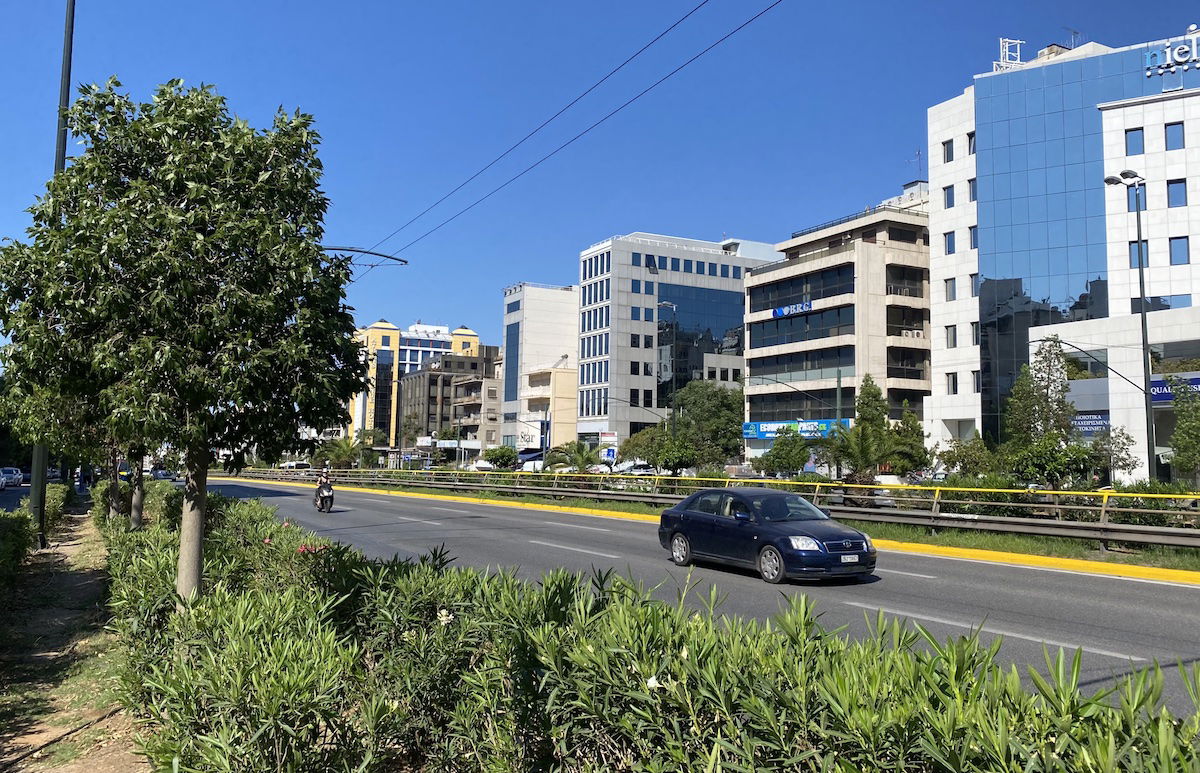 On the plus side, the Grand Hyatt is a 10-15 minute drive from most points in the city you'd want to visit, and a roughly 30 minute drive to the airport. Don't stay here expecting that you'll be able to walk to the parts of the city you'll likely want to visit. If you're looking to take the subway, the nearest stop is about 1.2 kilometers away.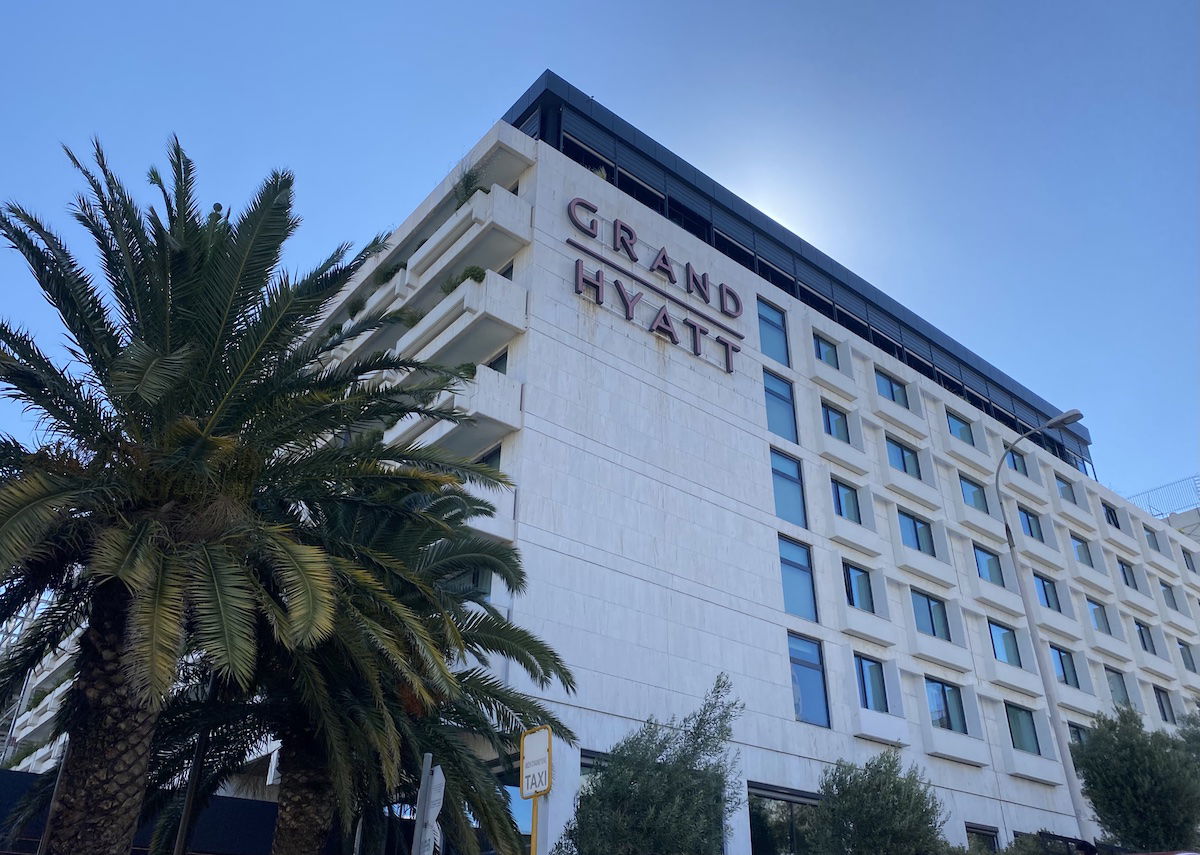 Grand Hyatt Athens check-in & lobby
We arrived at the Grand Hyatt Athens in the afternoon, and the hotel was packed. This hotel seems to run very high occupancy in the peak of summer, as you'd expect, especially given the rates here. As is standard for Grand Hyatts, the lobby felt pretty "grand," and had high ceilings and lots of seating.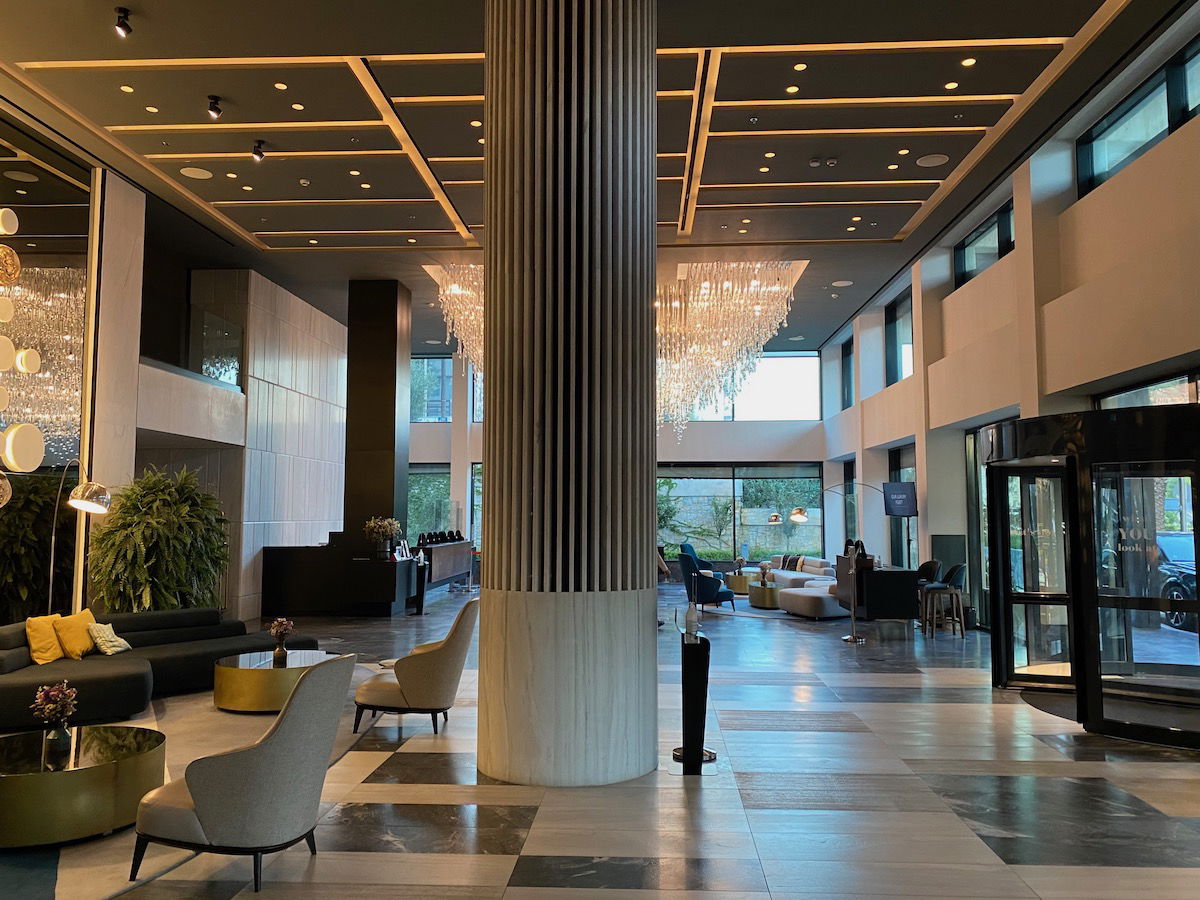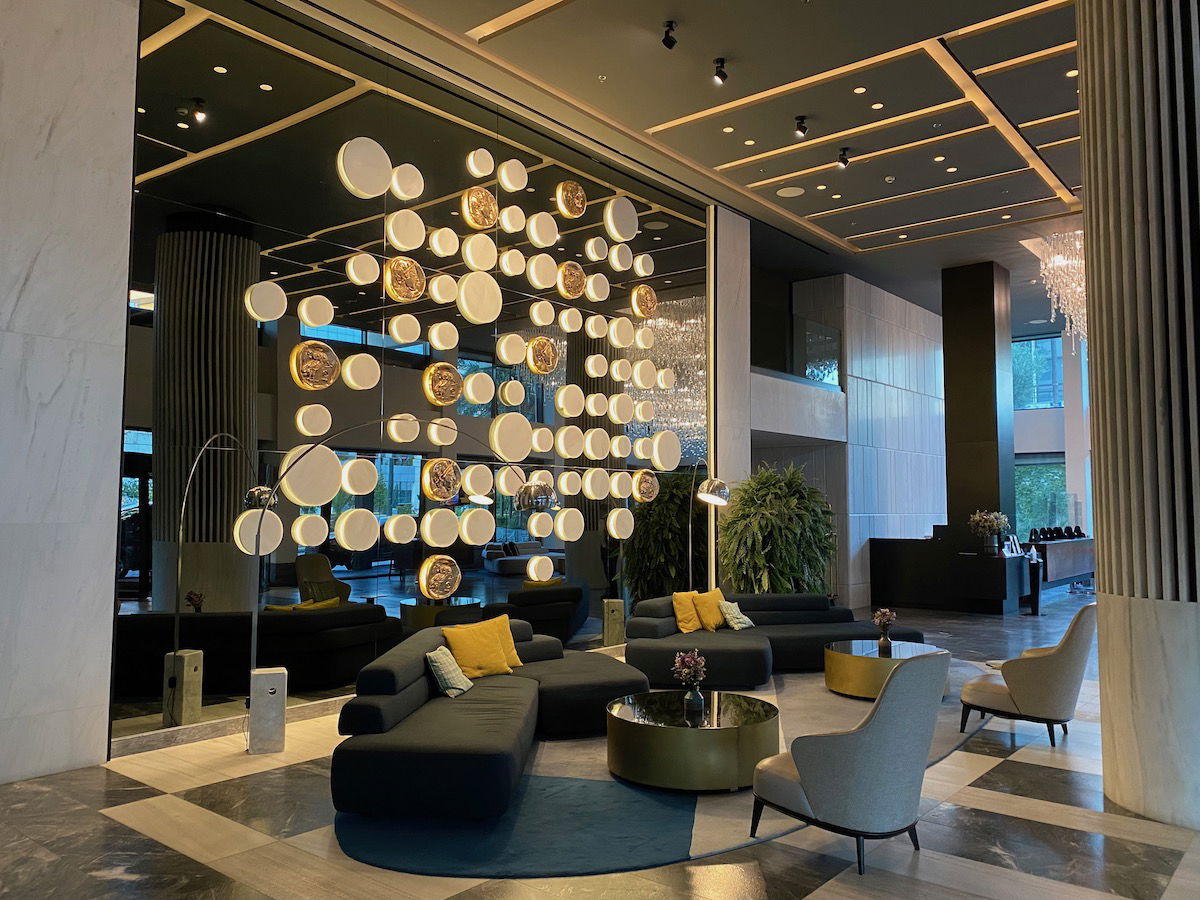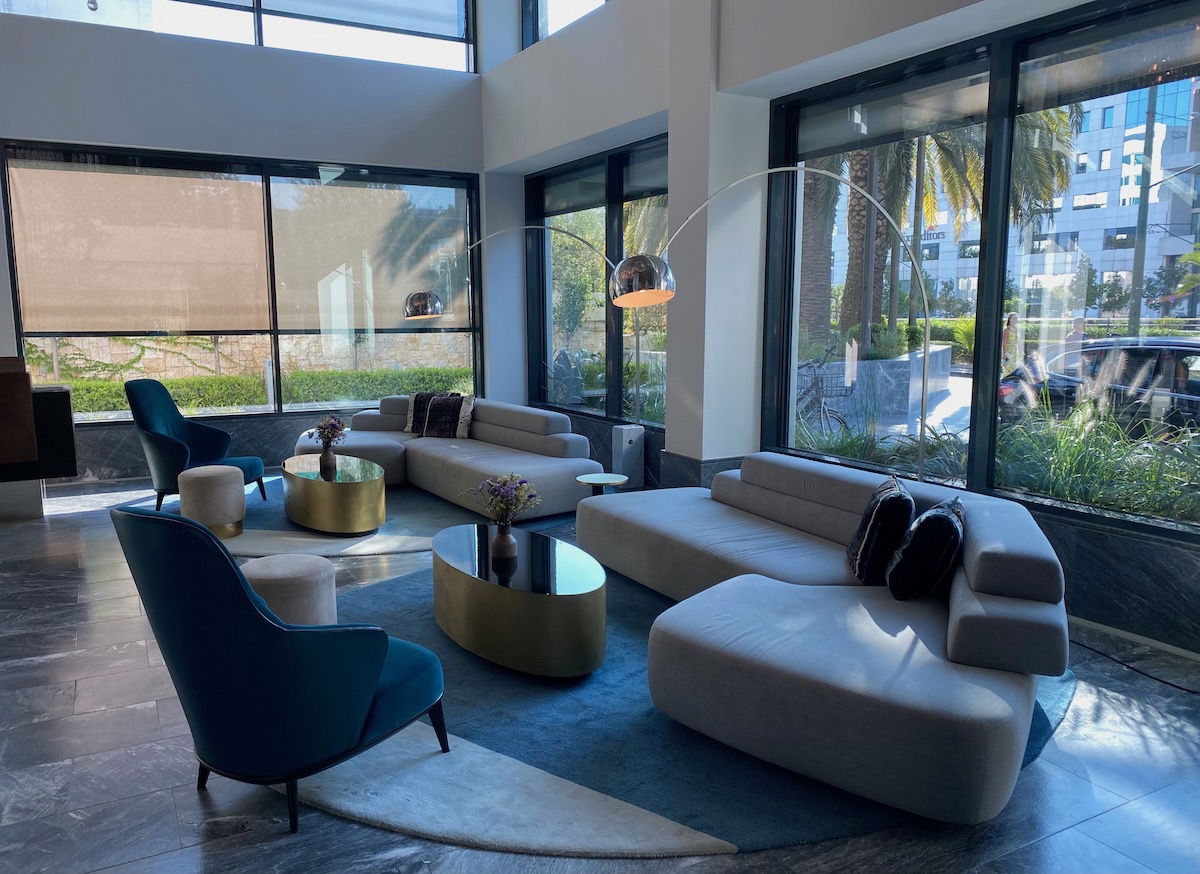 We only had to wait a few minutes to be checked in. The employee checking us in was friendly, and quickly familiarized us with the features of the hotel. This hotel is also great about elite recognition, and on account of my World of Hyatt Globalist status we received:
A proactive upgrade to a junior suite with a terrace
Complimentary breakfast at the hotel's rooftop restaurant
A 20 EUR per person credit (so 40 EUR per day) to use towards food & drinks, since the hotel's Grand Club is closed
This really is generous, as the hotel doesn't have to offer a replacement when the Grand Club is closed, especially when breakfast is being offered.
The front desk agents at the Grand Hyatt are extremely overworked. There were two front desk agents during peak check-in and check-out times serving a 300+ room hotel, and on top of that they were also answering the phones when calls came in from guest rooms. They did an amazing job maintaining their calm in this very stressful environment.
Off the lobby was a lobby bar, though we never visited it, and for that matter I'm not sure it was even open. I believe the Grand Club is on the ground floor behind this area, but again, it wasn't open during our stay.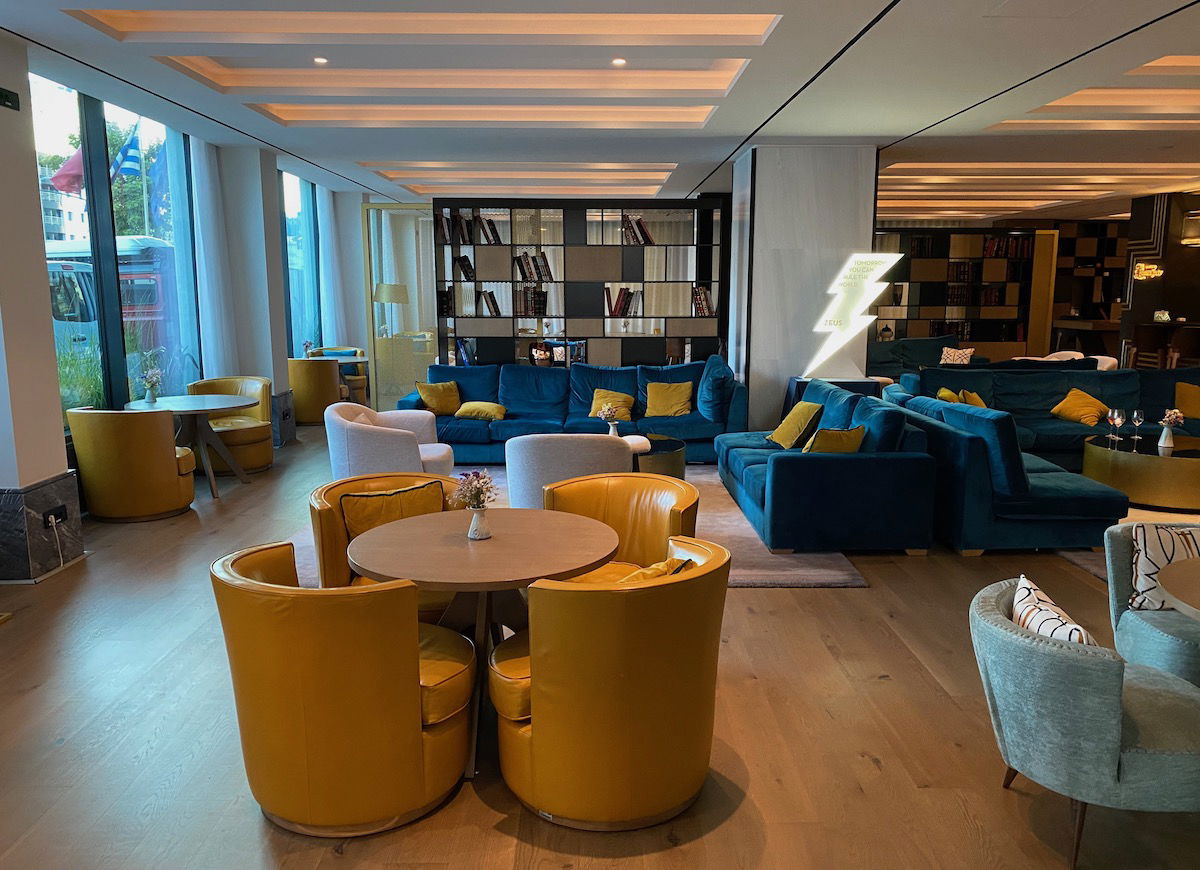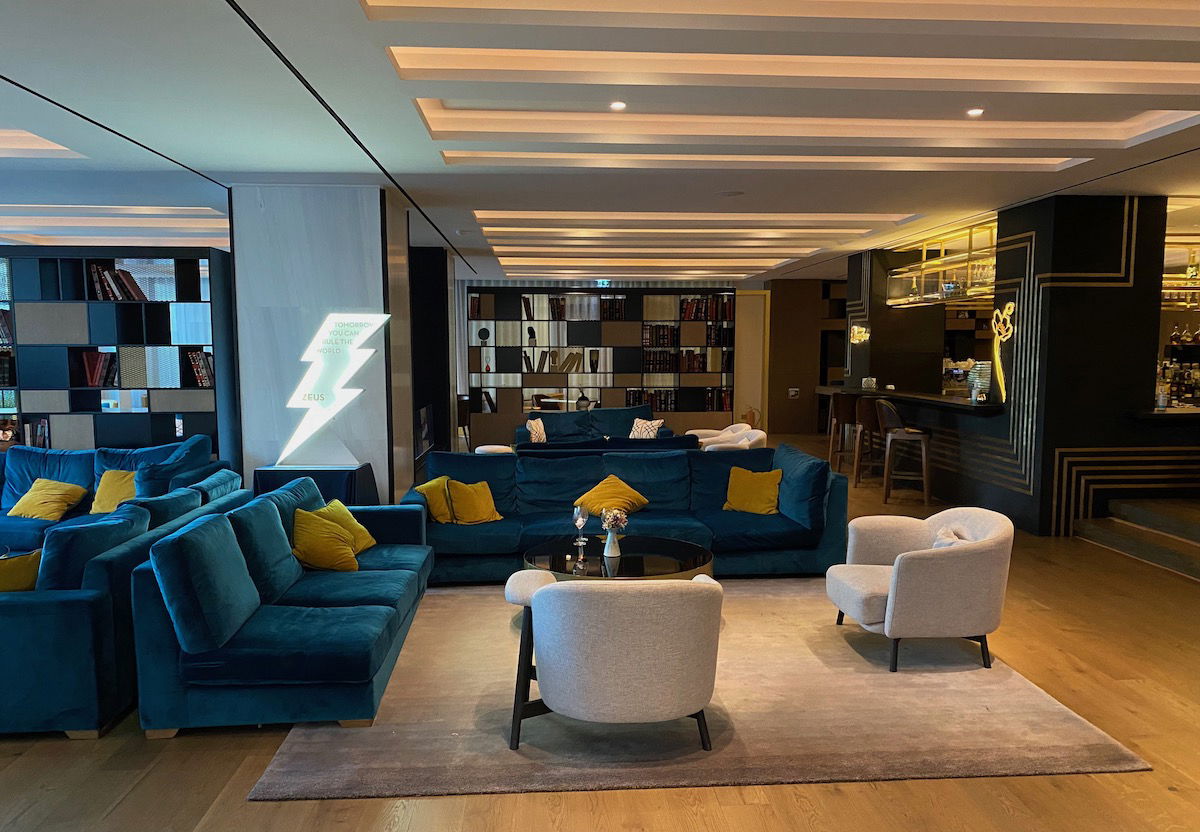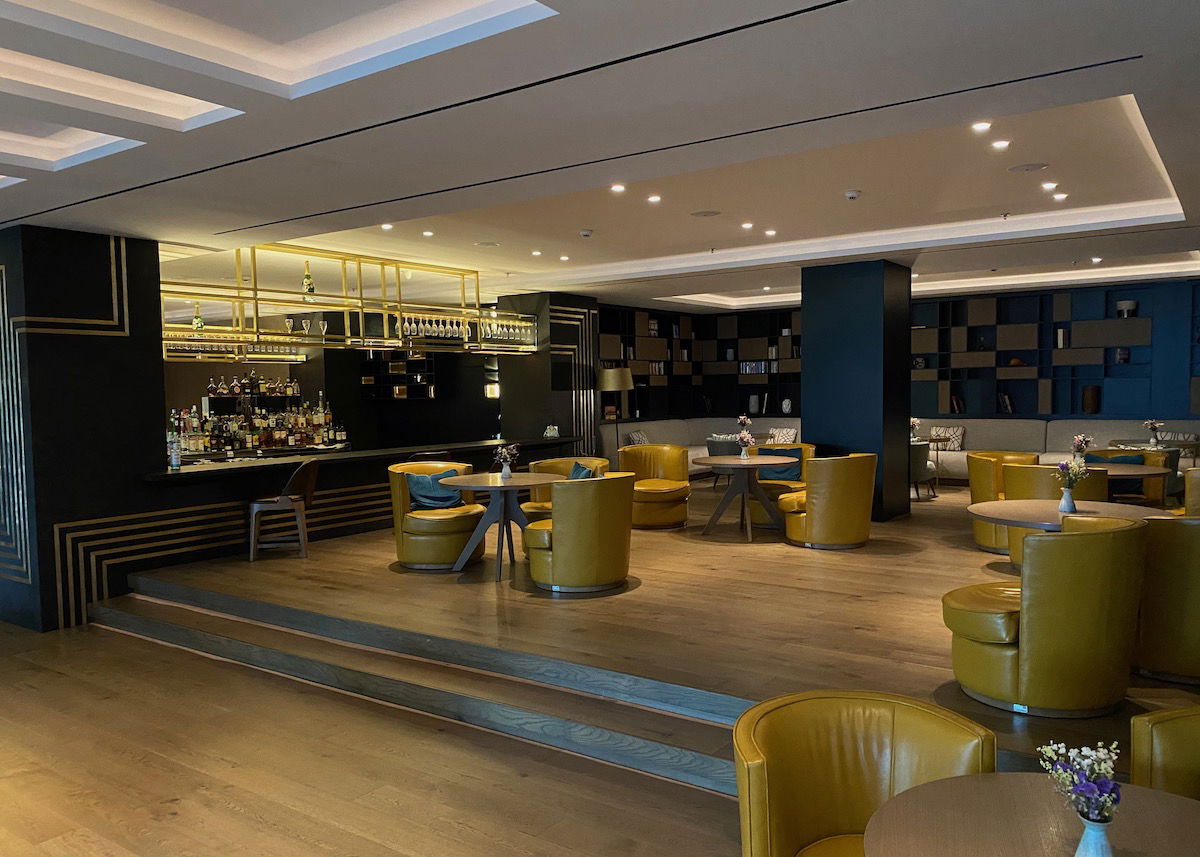 Grand Hyatt Athens junior suite with terrace
With keys for room number 856 in hand, we headed up to the eighth floor, which is the hotel's top floor.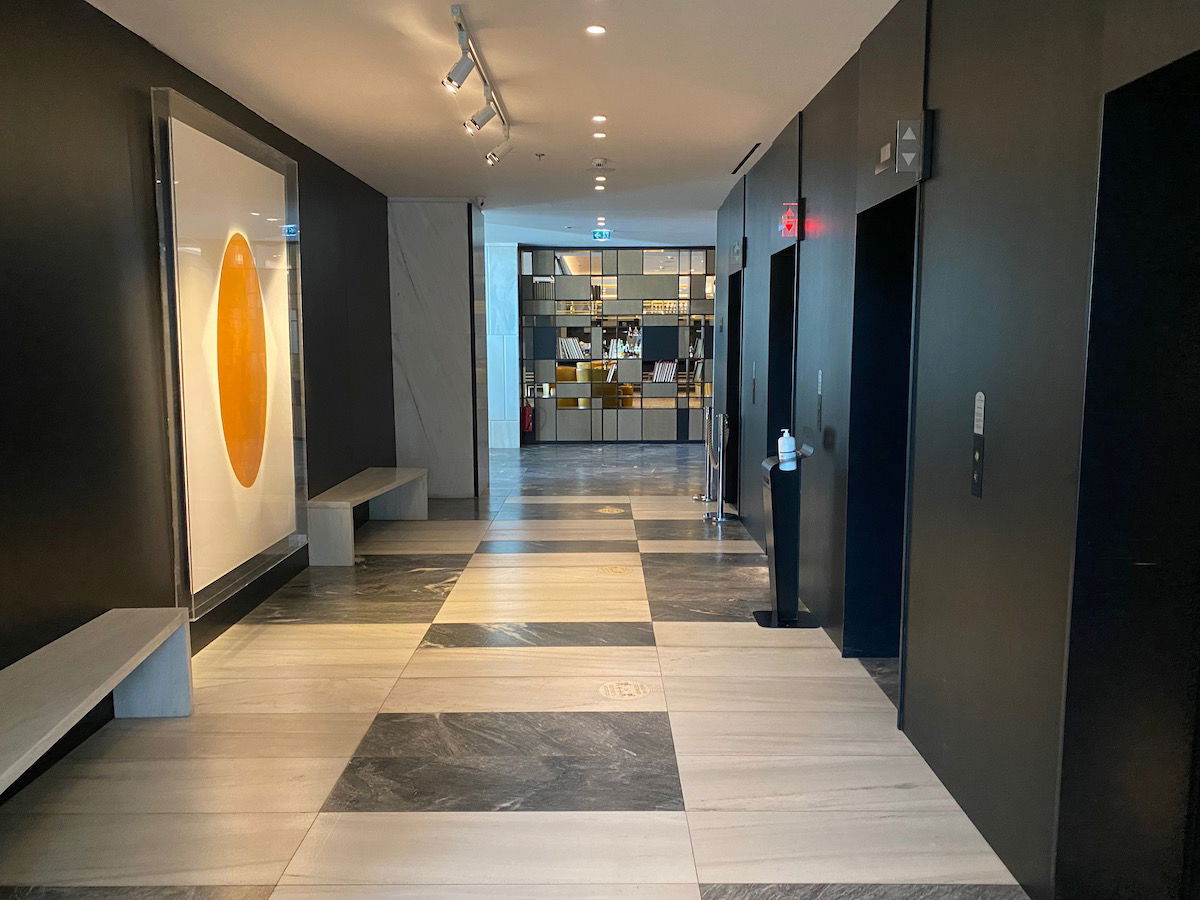 The layout here is quite awkward. When you exit the elevator you're at the rooftop restaurant and have a direct view of the pool, so you almost think you're in the wrong place. We followed the signage towards guest rooms, which took us down a narrow hall.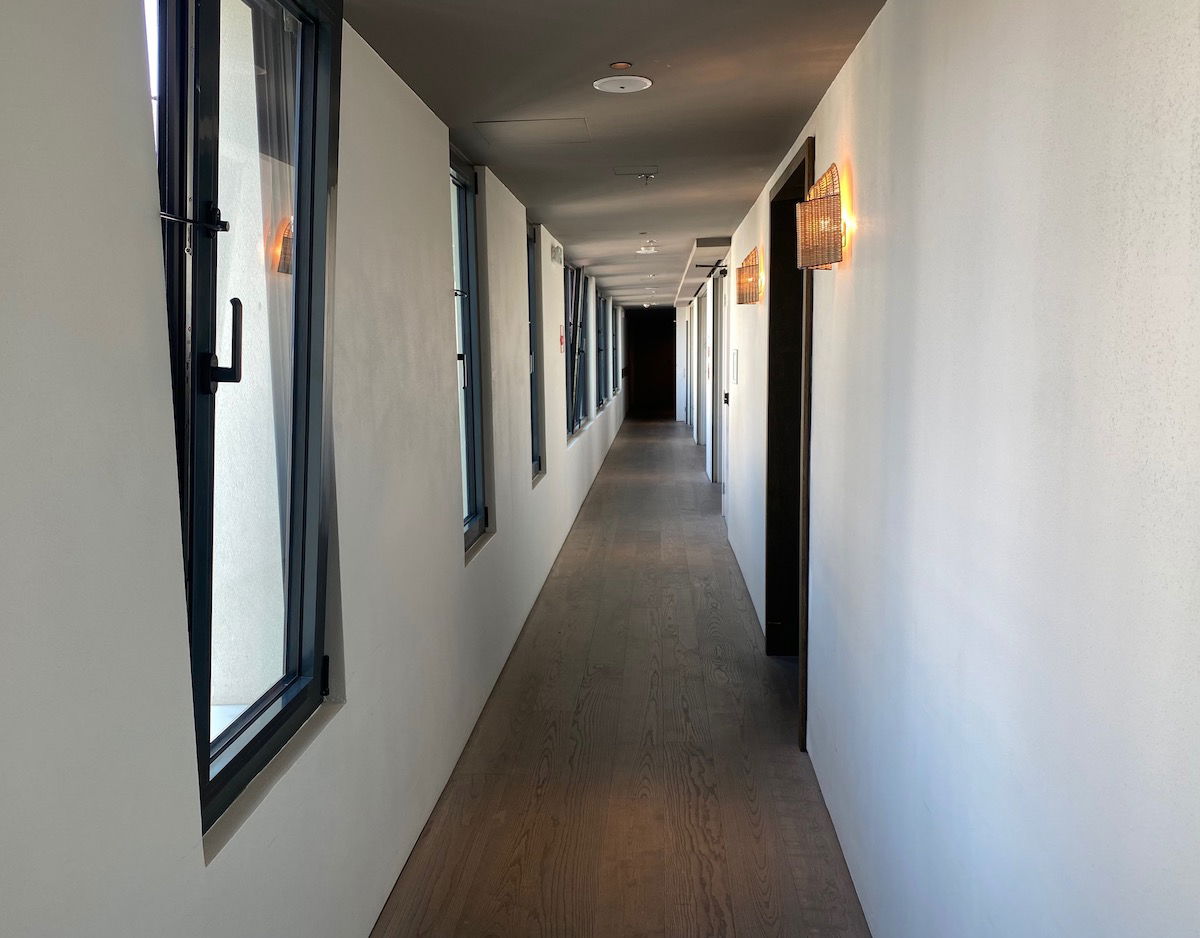 As we walked down the hall we had a pretty direct view of the nearby construction. There's a massive project right next to the hotel, so I'm not sure if that's part of a hotel expansion, or it's a totally separate development.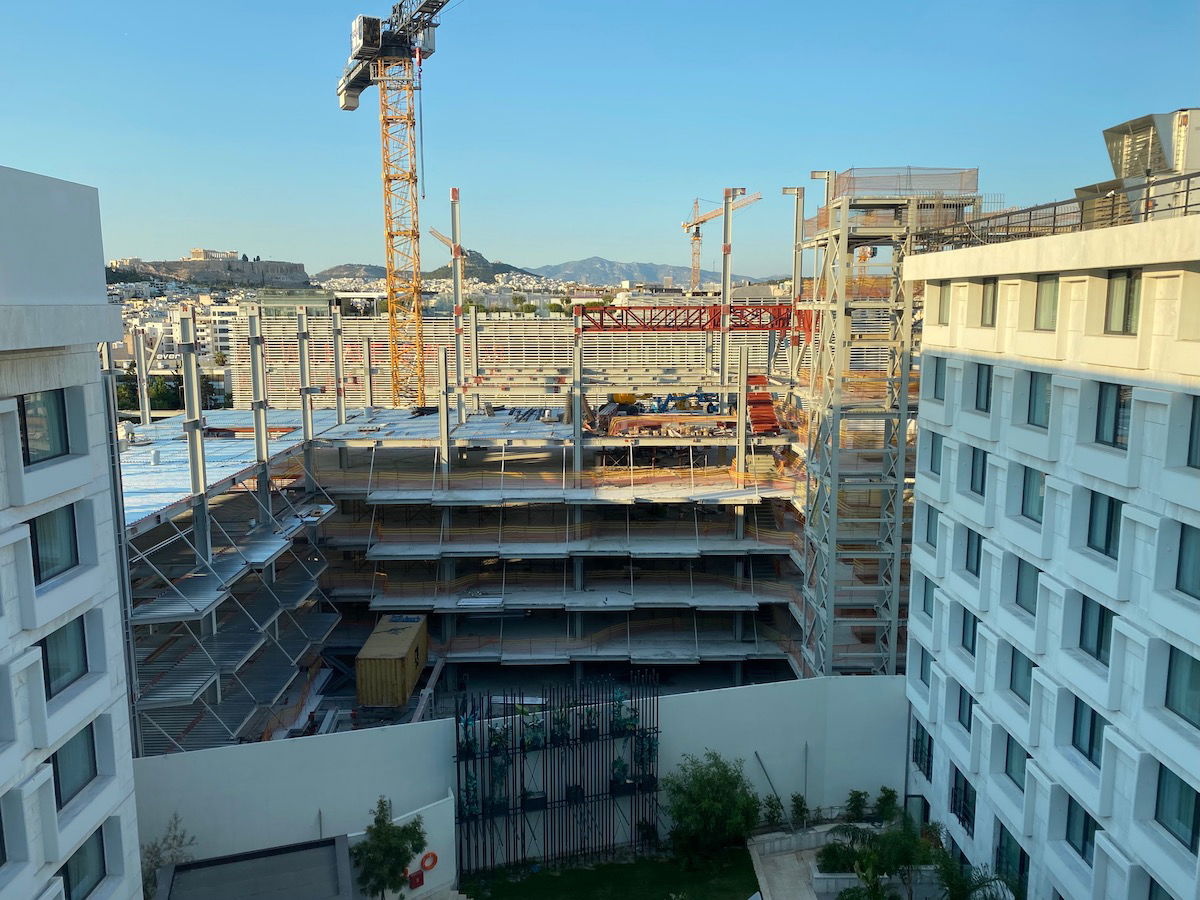 I was confused, because when we got to the end of the hall, there was what looked like a fire exit. We assumed we had gone the wrong way, so we turned around and asked one of the bartenders where rooms were. He sent us back down that hall, and told us the rooms were behind those two doors. That's strange.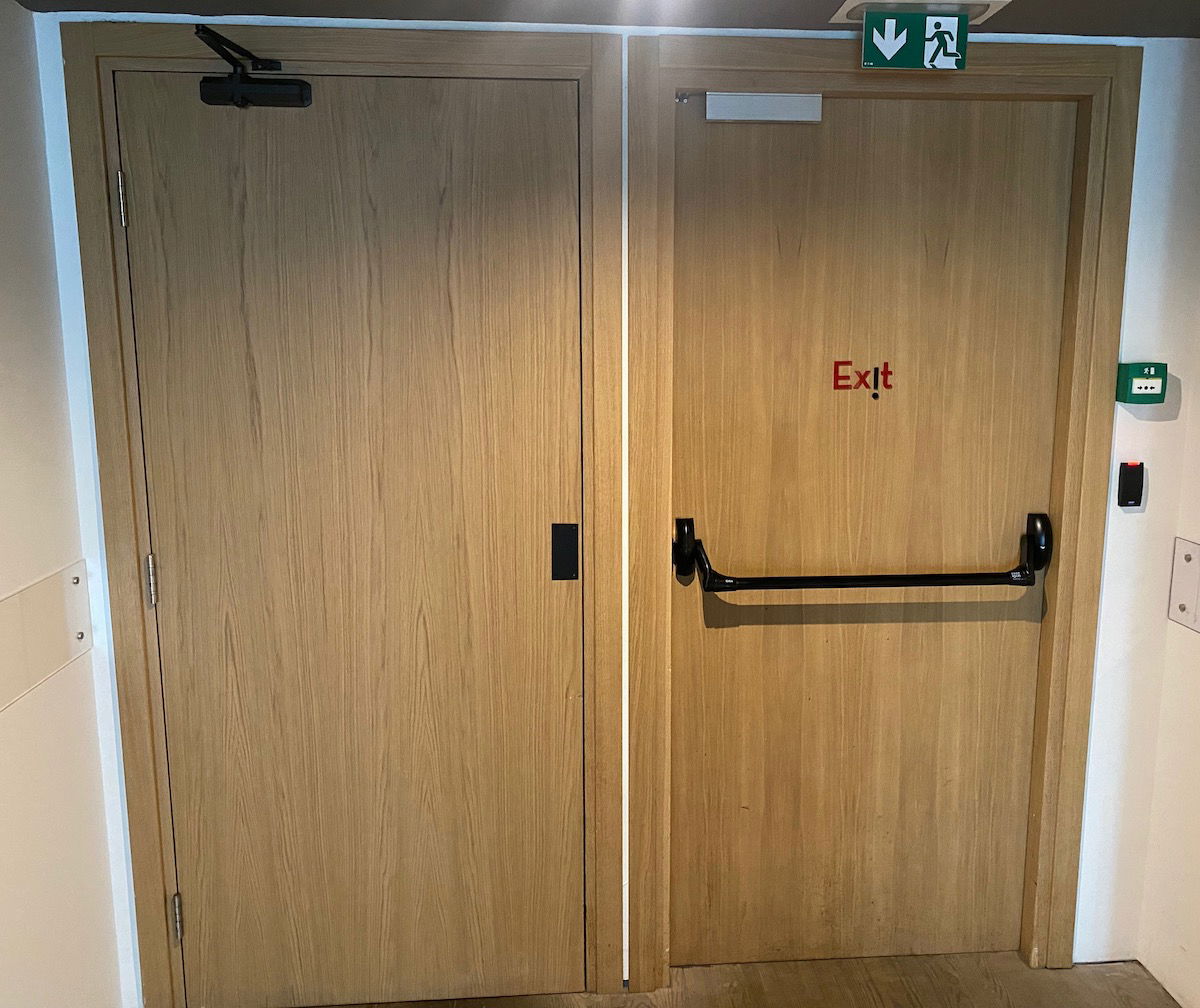 Sure enough, behind those doors was the hallway with guest rooms. The hallway was beautiful, modern, and felt quite luxurious.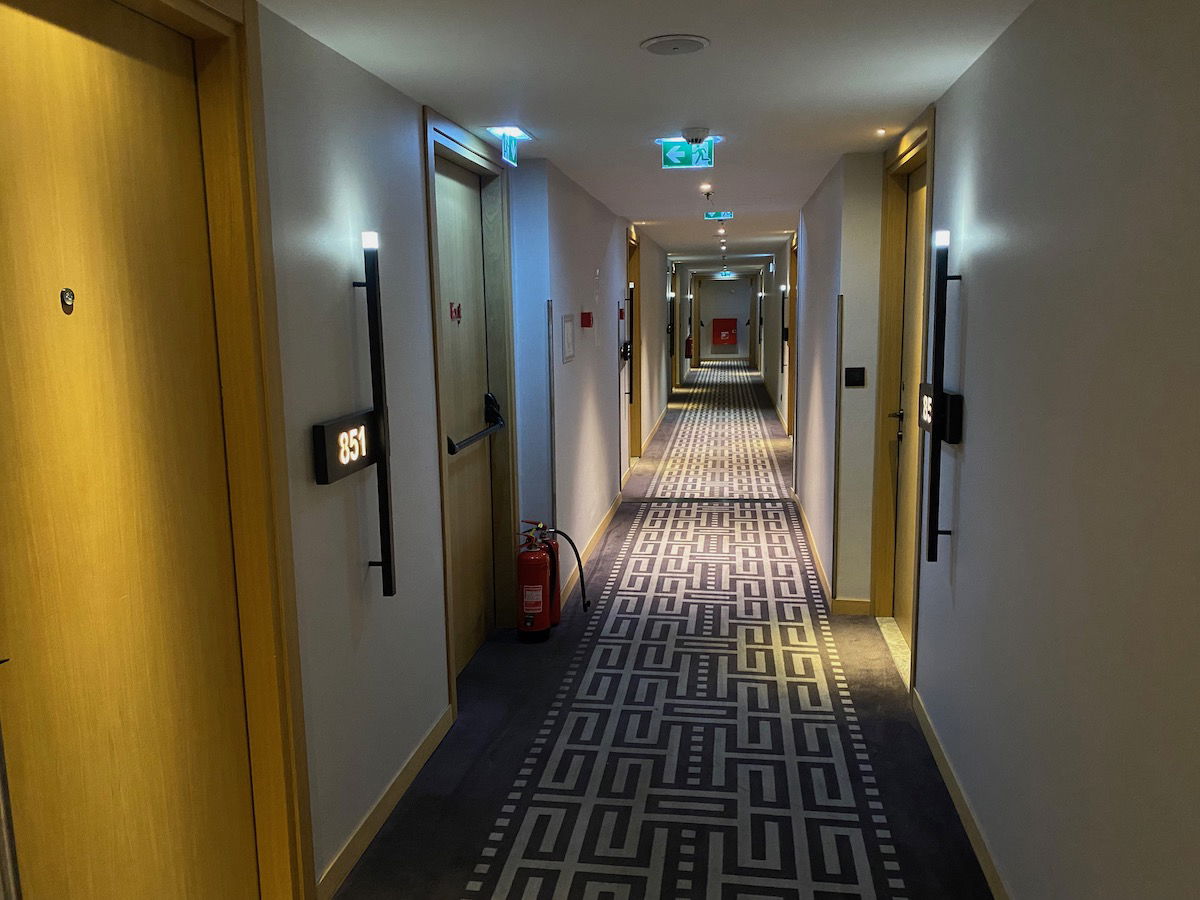 We quickly found our room.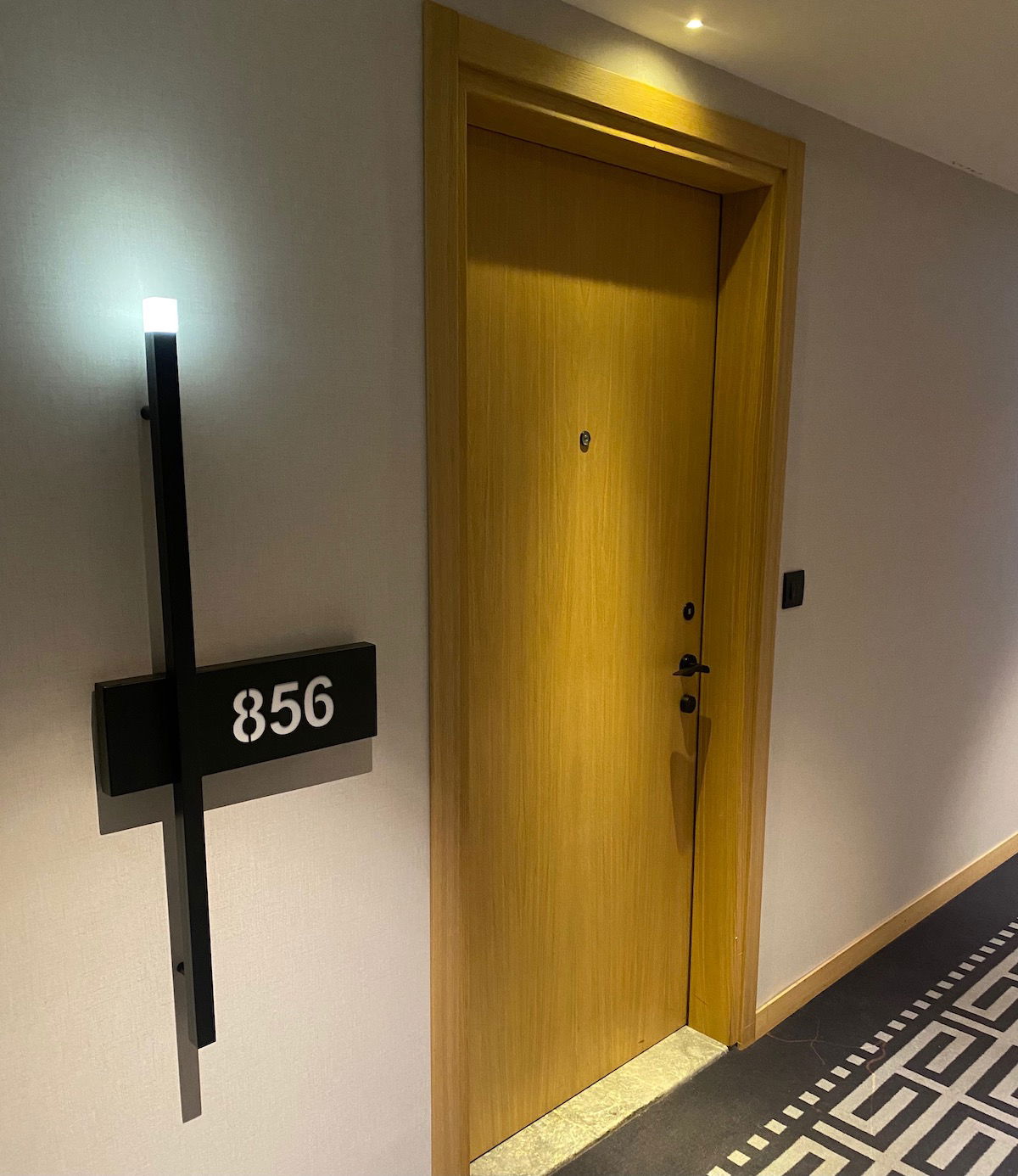 The guest rooms here are surprisingly nice — not only are they new and modern, but the feel quite high-end. Our junior suite featured an entryway with a closet to the left and the bathroom to the right, with the rest of the room straight ahead.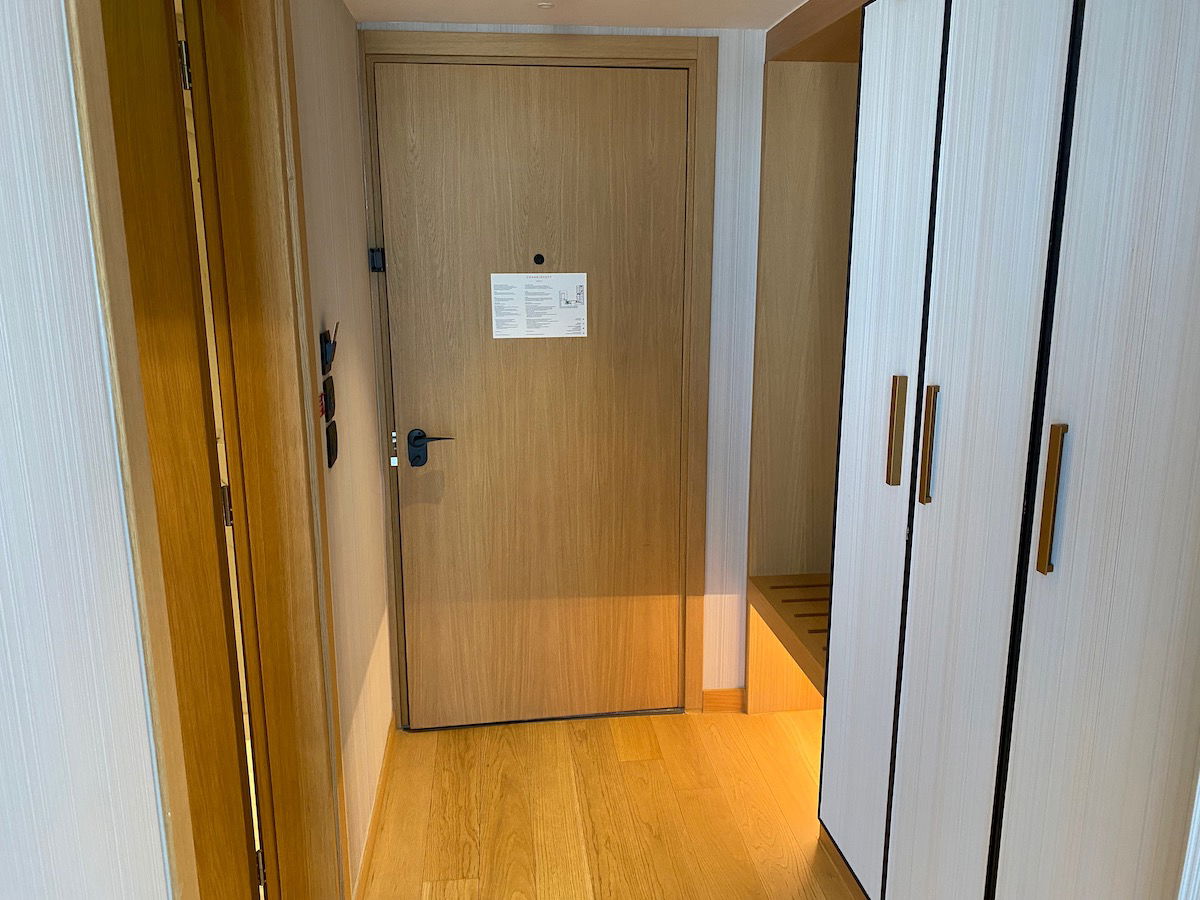 Inside the room and to the left was a king size bed, which was reasonably comfortable, though the pillows were a bit flat for my liking. But seriously, doesn't this room look nicer than you'd think? Look at the wall treatments, lighting fixtures, headboard, side tables, etc.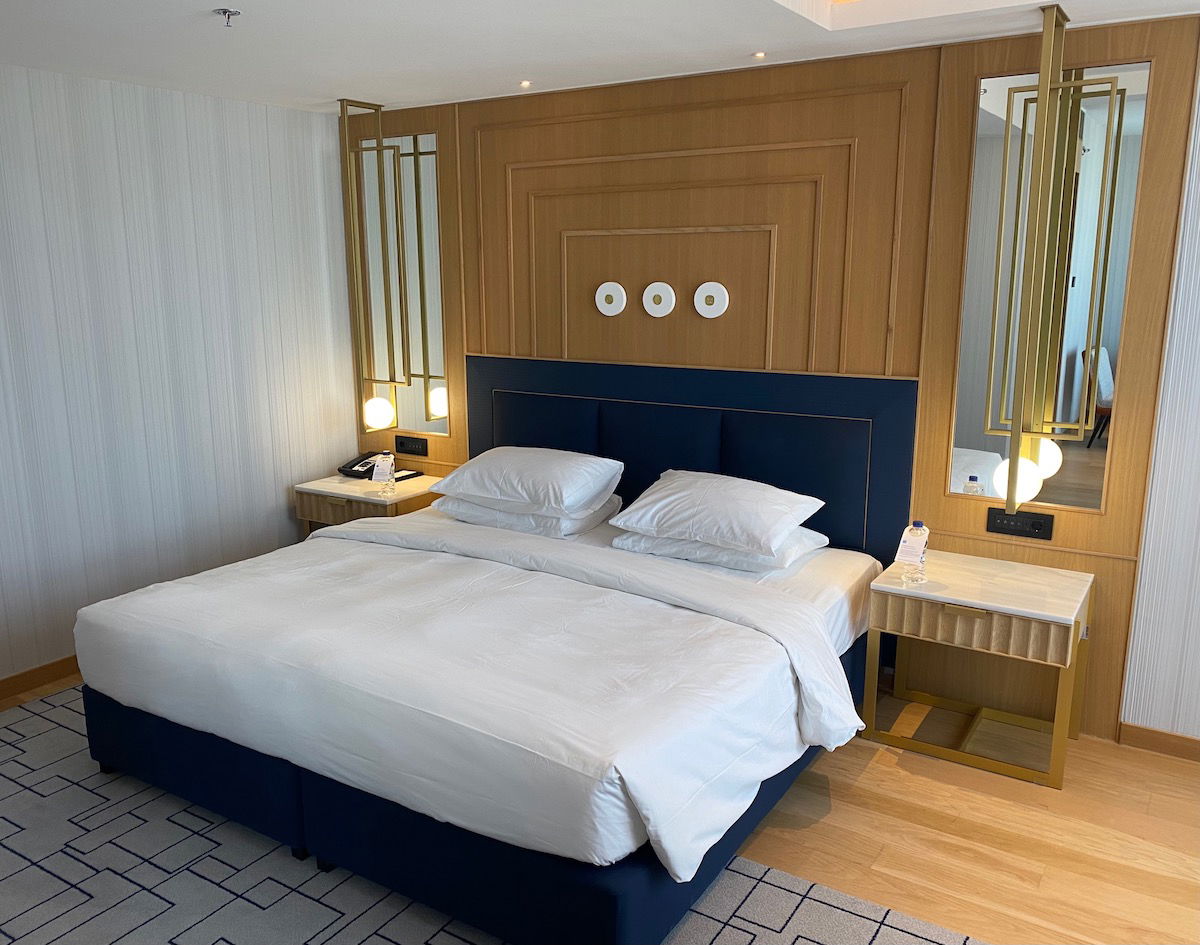 Across from the bed was a desk and a wall-mounted TV.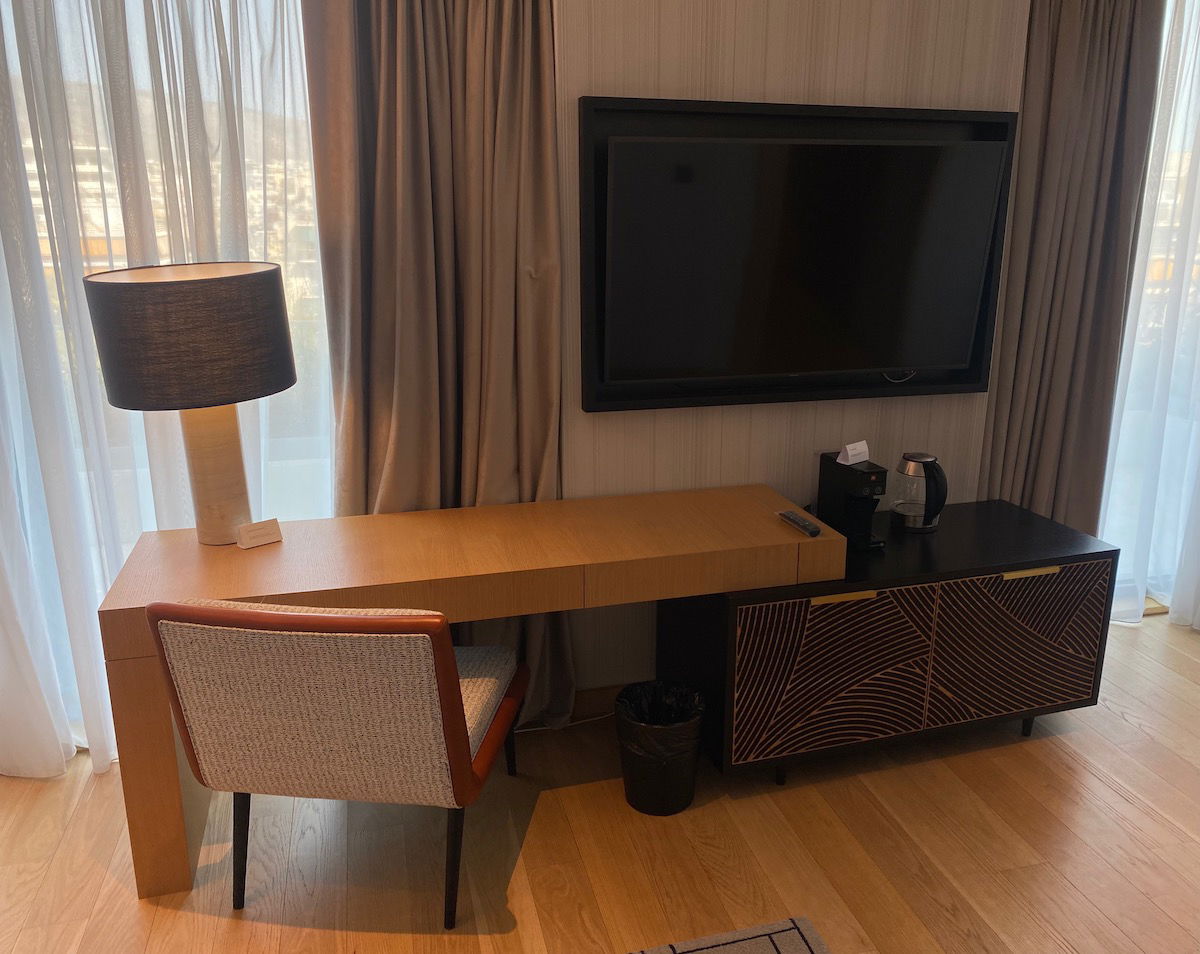 The desk housed the minibar. It's rather stingy that the hotel charges for espresso capsules, and rather it's just instant coffee and tea that's complimentary.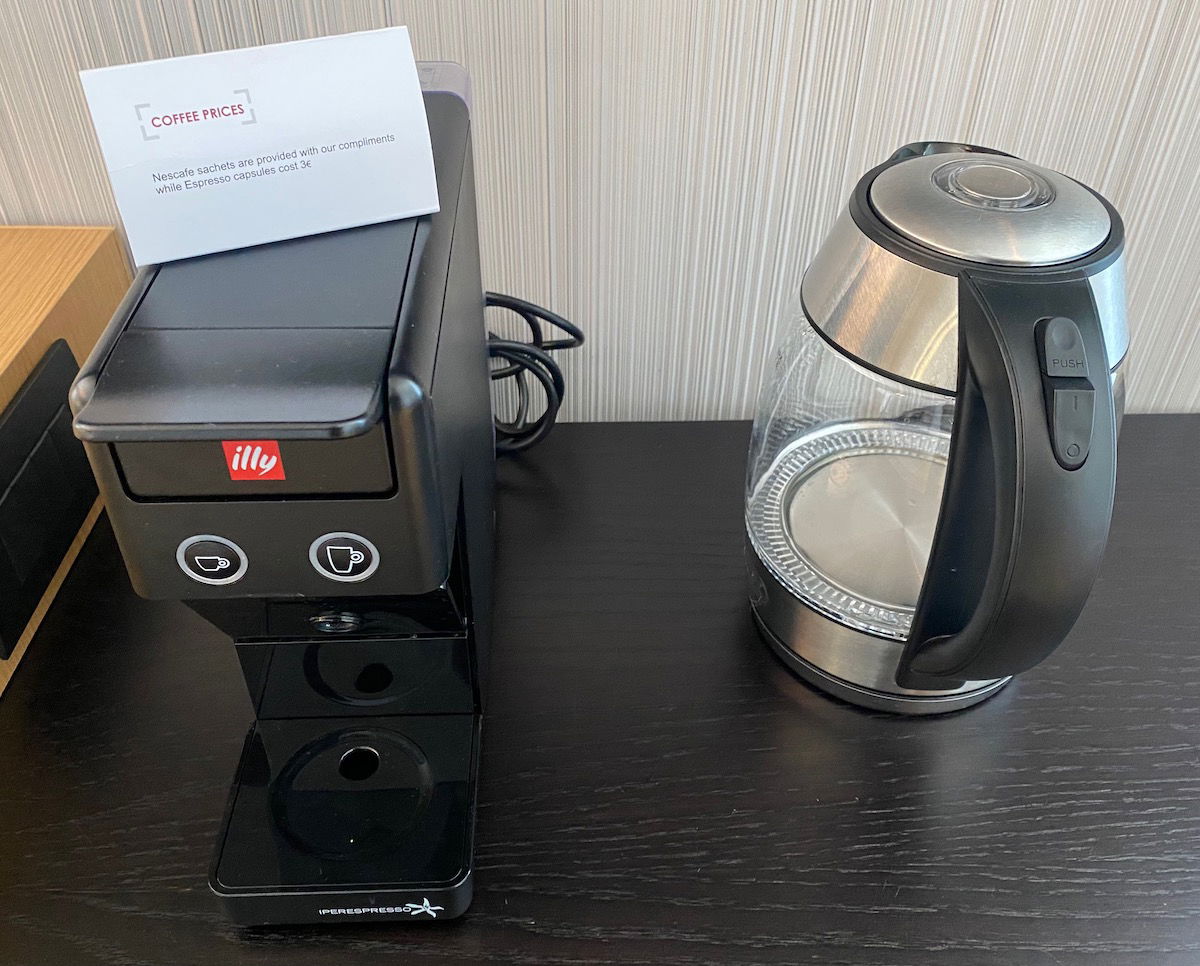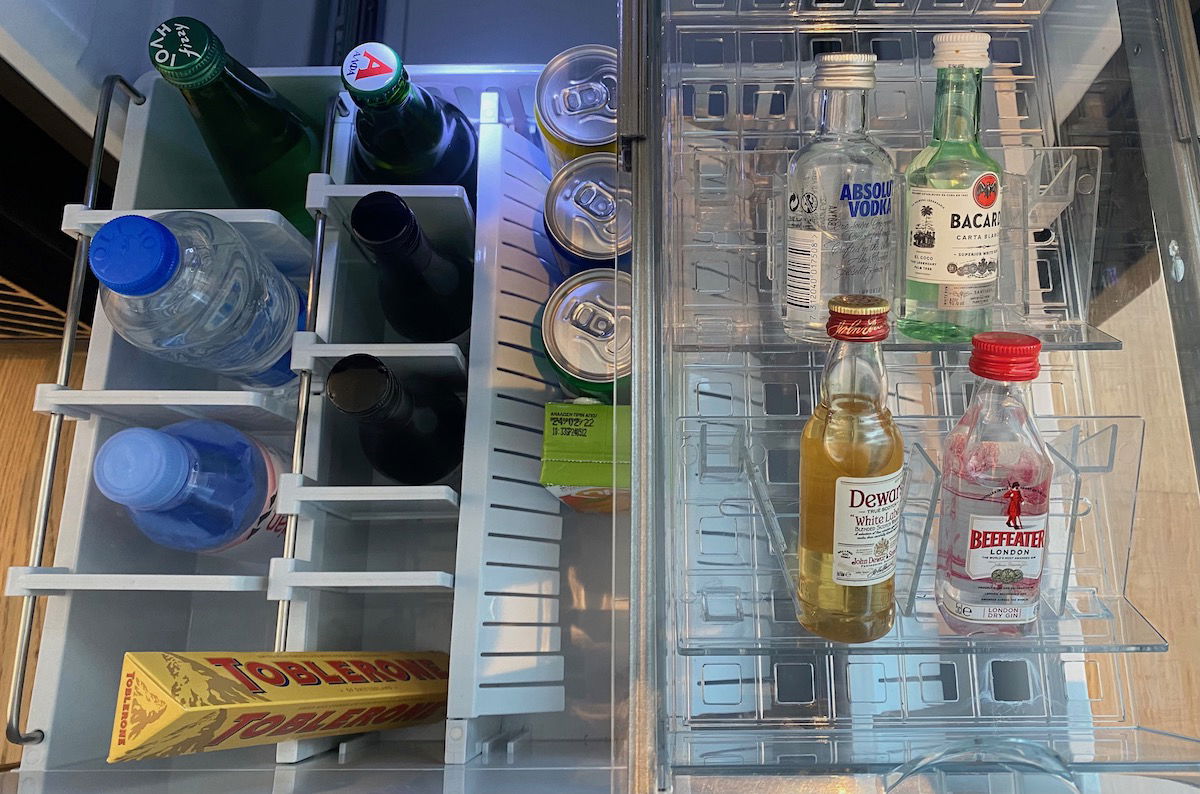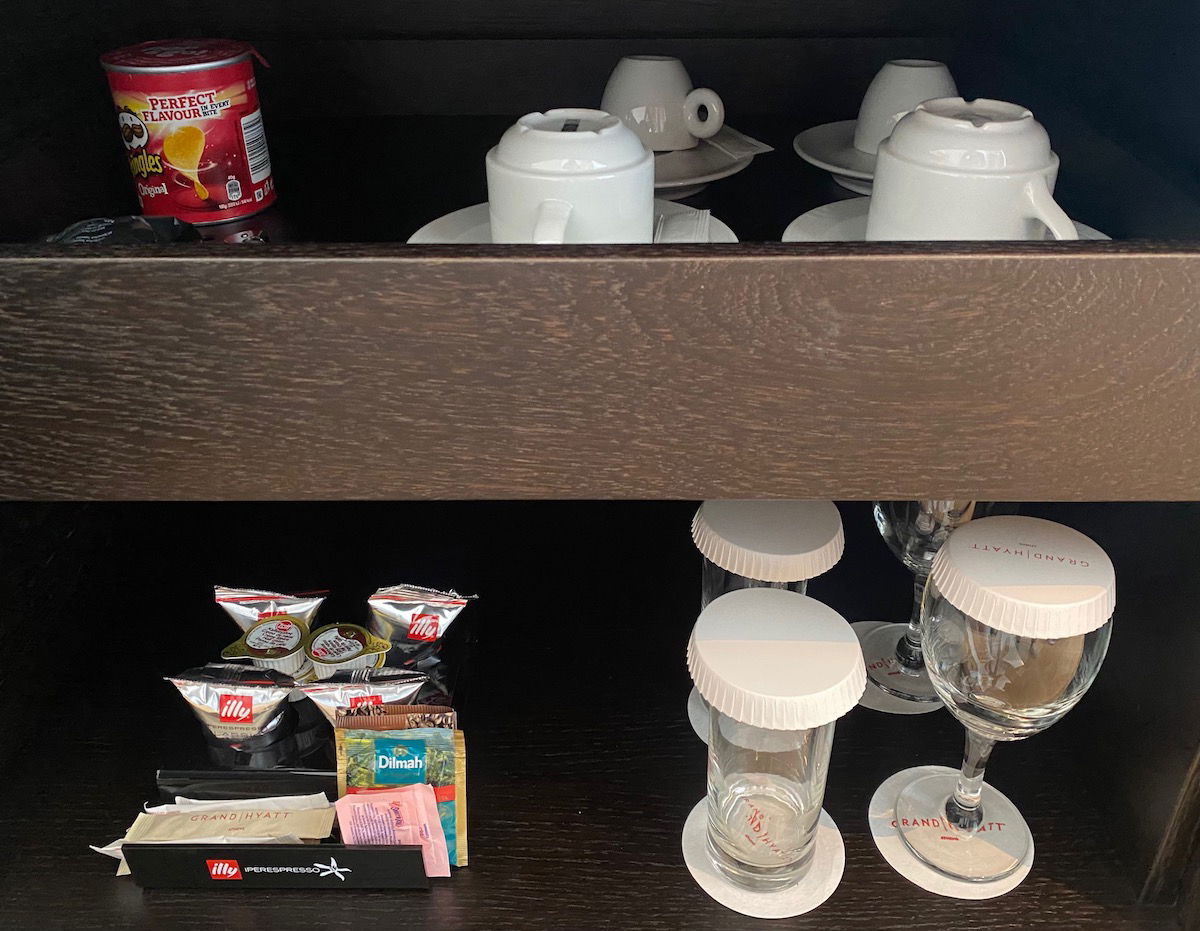 Then in the far corner of the room was a loveseat and a chair with a table.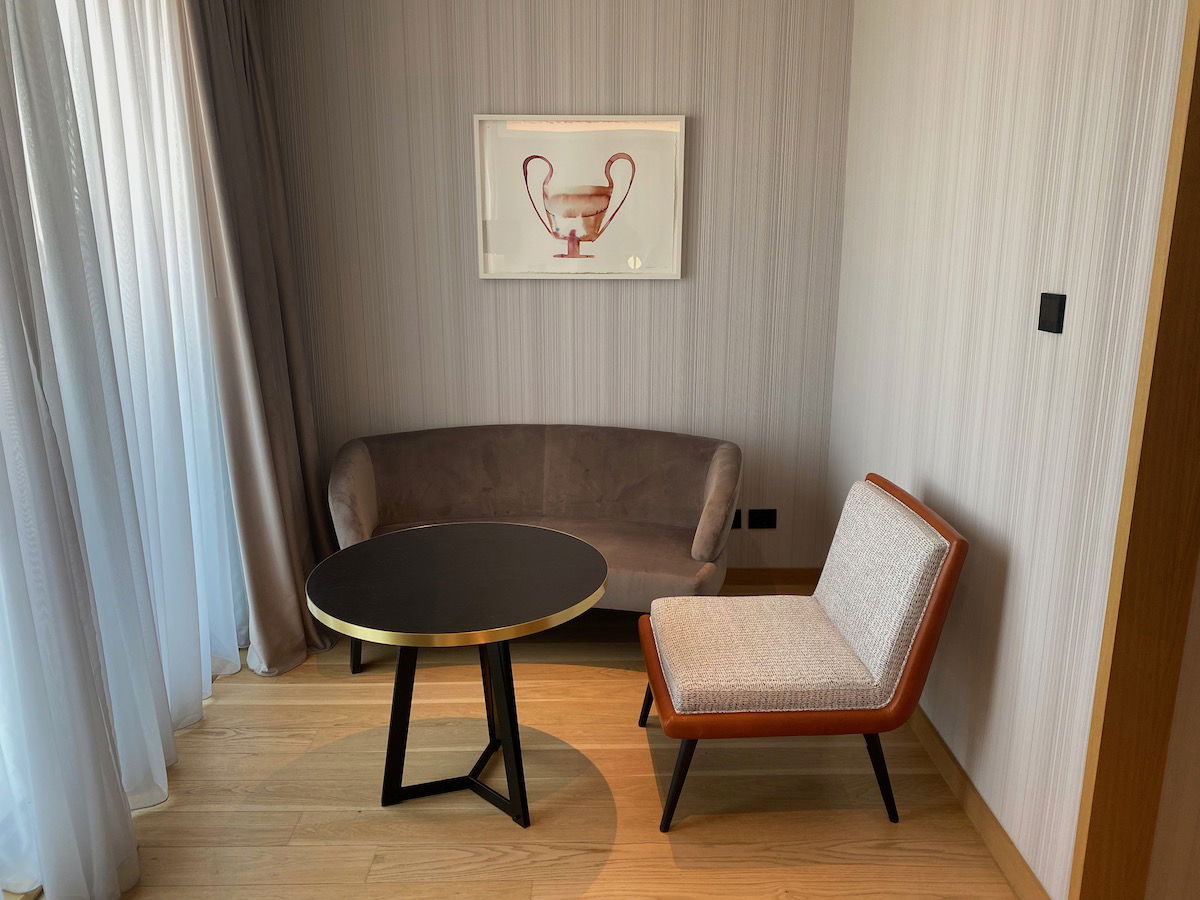 Near the sitting area was the door to the terrace. The terrace was large, and had a table with two chairs.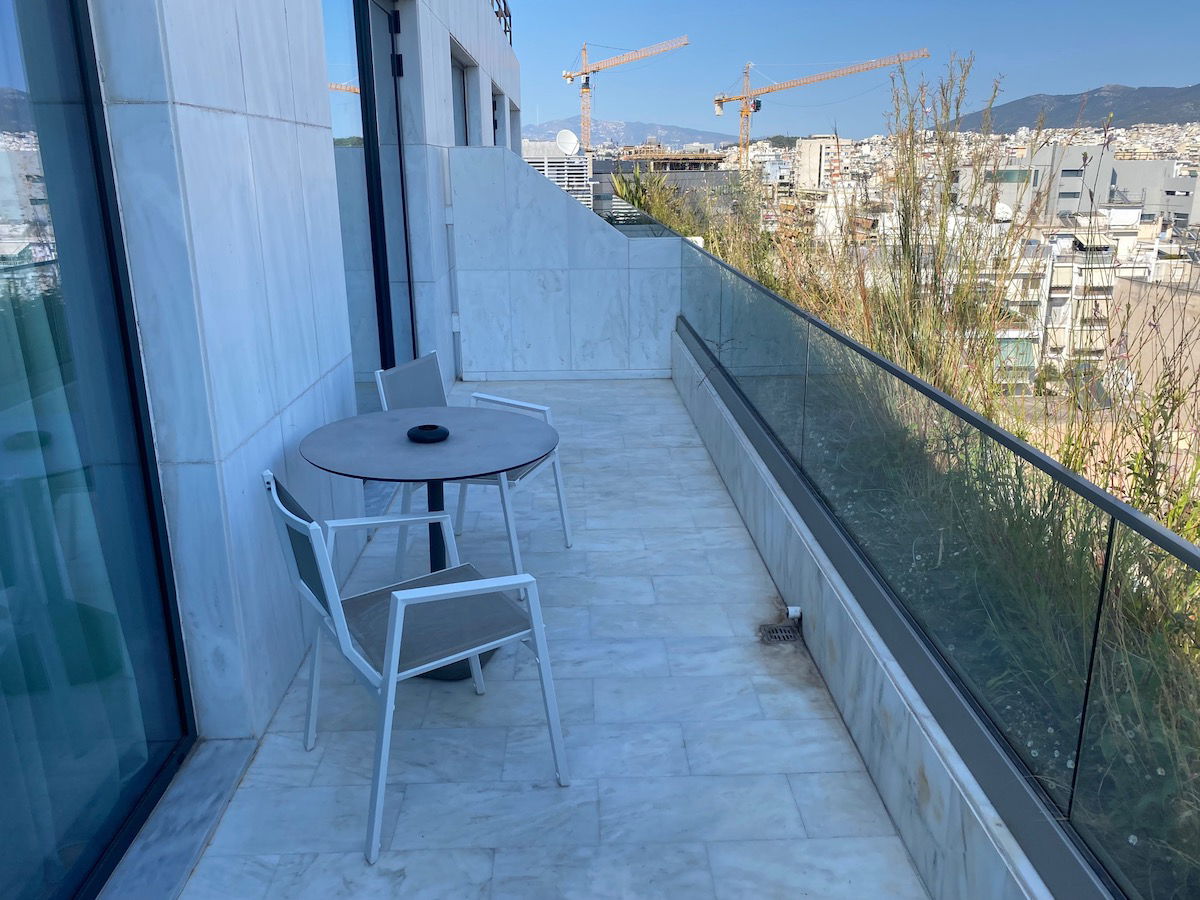 The views of the immediate area weren't particularly inspiring, but the views in the distance were nice.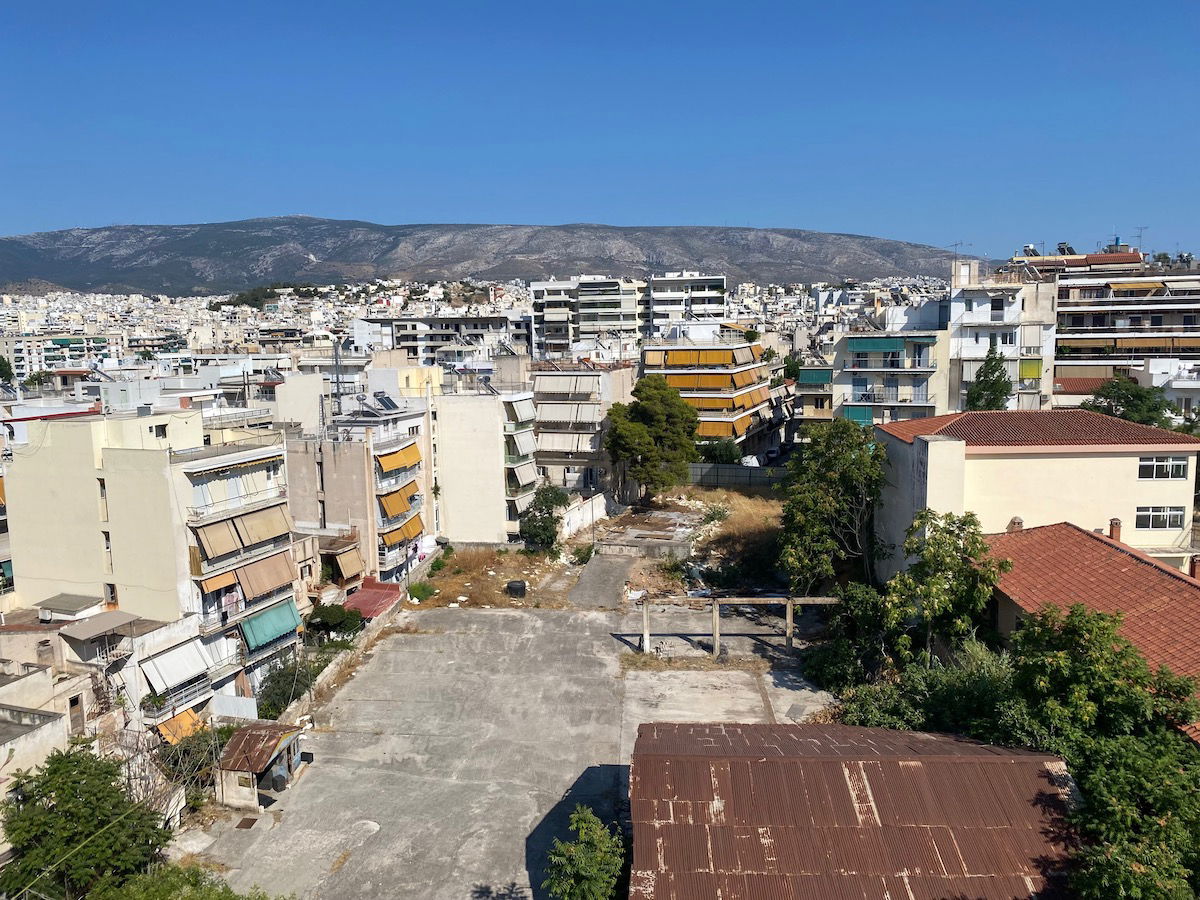 While the bathroom was on the small side, it was also thoughtfully appointed, and had a sink, toilet, and walk-in shower.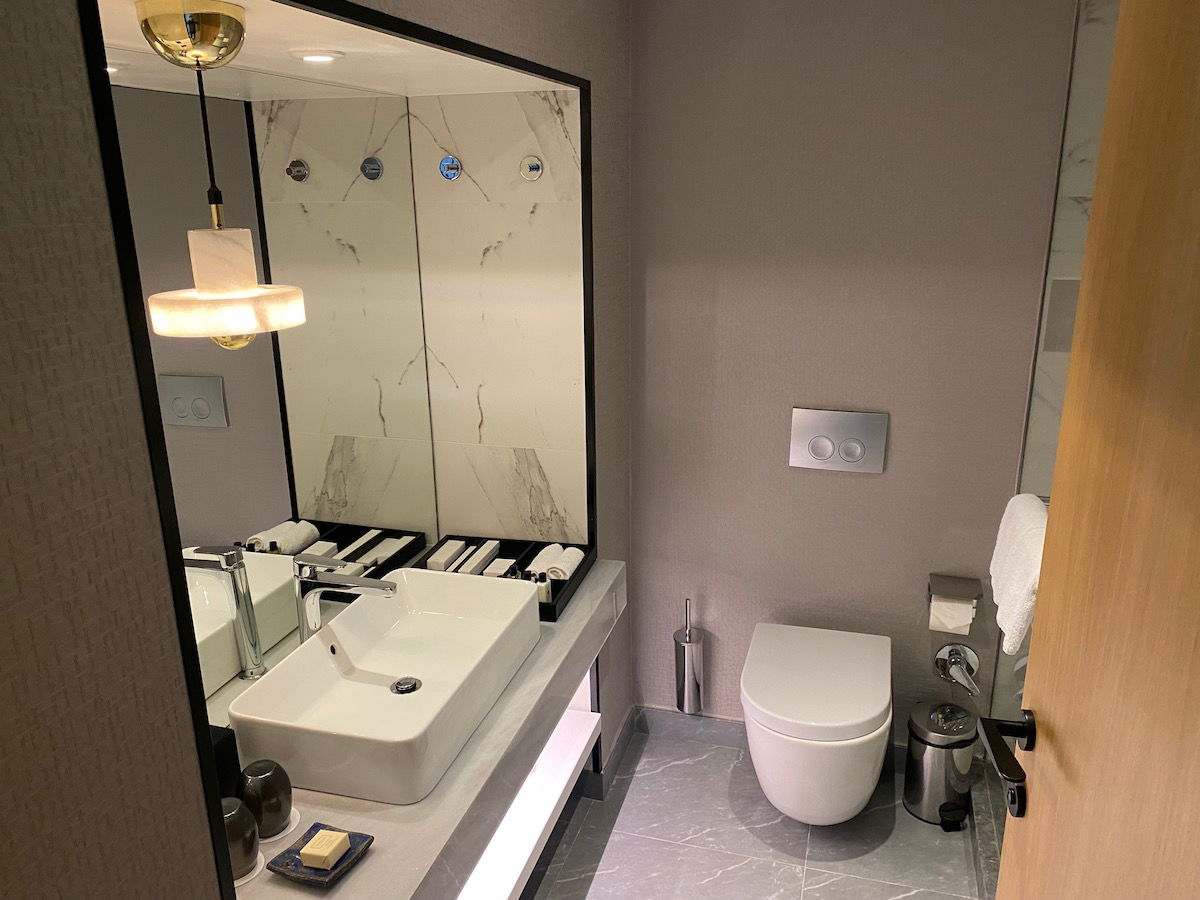 The shower had both a rainforest shower head and a handheld one.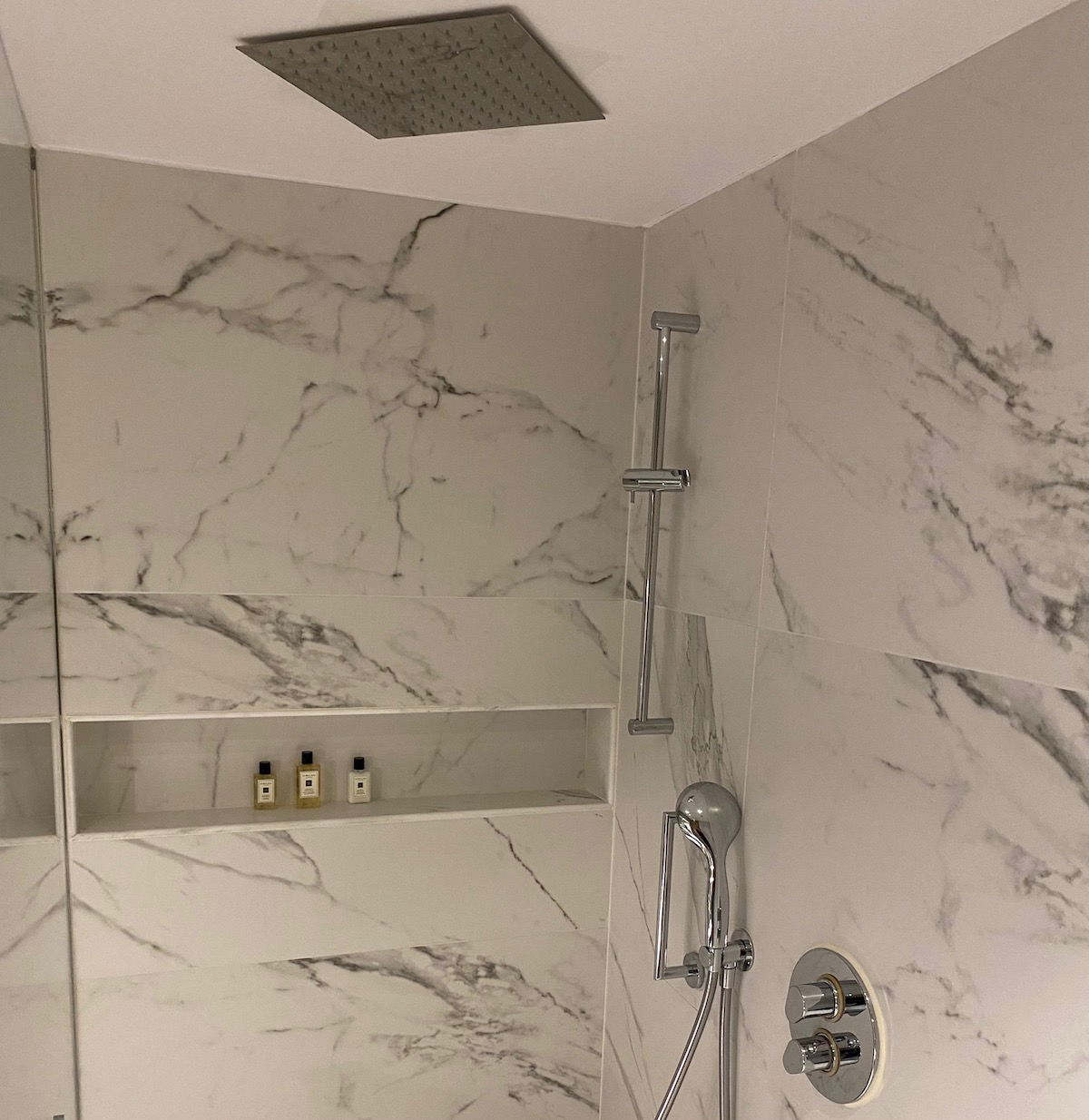 Toiletries were from Jo Malone, and had a pleasant scent. I tend to think this is one of the better toiletry brands for mid-range hotels.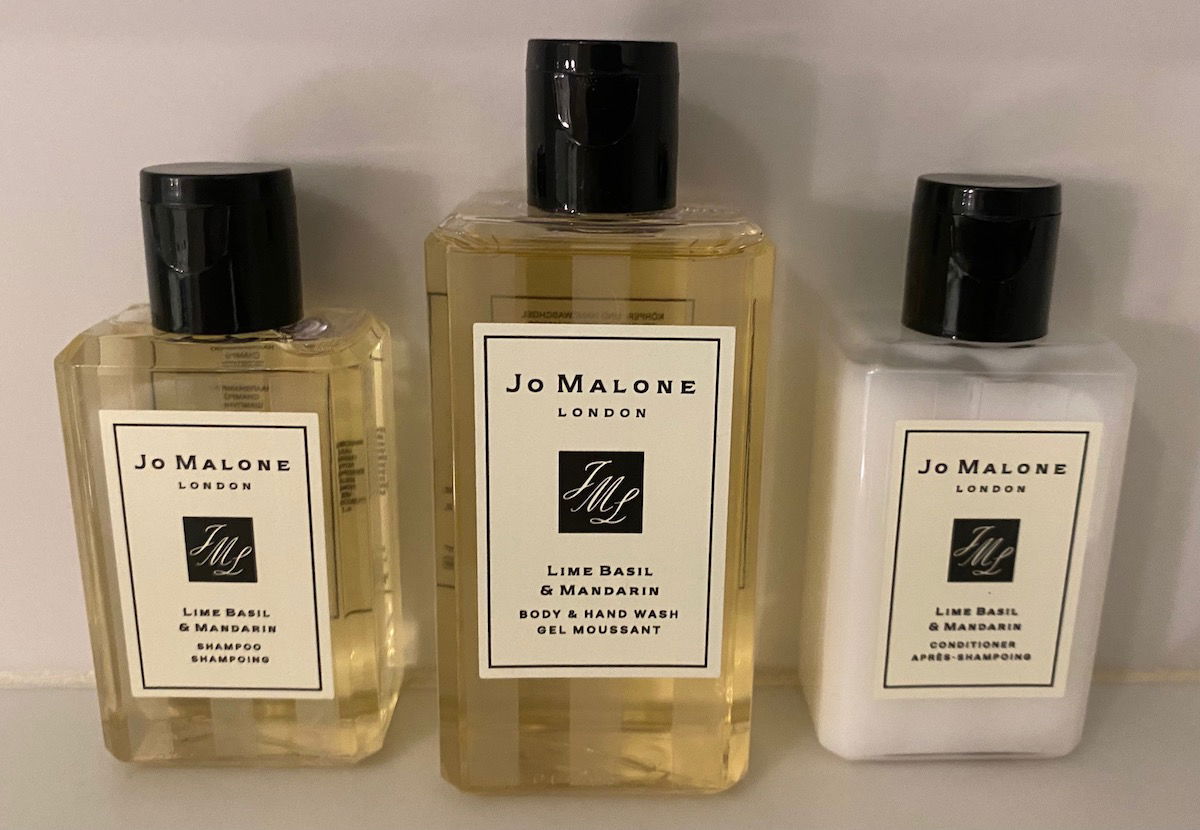 Wi-Fi in the room was fast and free. Overall I'd say the room greatly exceeded my expectations in terms of design. There was only one major issue — the air conditioning didn't work very well. We brought this to the attention of the hotel and they sent up maintenance. They played around a bit with the system and claimed it would be better. It got ever-so-slightly better, but still didn't work very well.
We didn't want to switch rooms, mainly because I assumed we'd have the same issue in another room as well. I'm not sure anything was broken, rather than the air conditioning here just not being very good in the peak of summer. I'm curious if others have had a similar experience.
Grand Hyatt Athens Grand by Interni (lunch)
The Grand Hyatt Athens' all-day dining restaurant is Grand by Interni. It's located on the rooftop (the same floor as our room), and it's right across from the pool. The main part of the restaurant is kind of cool.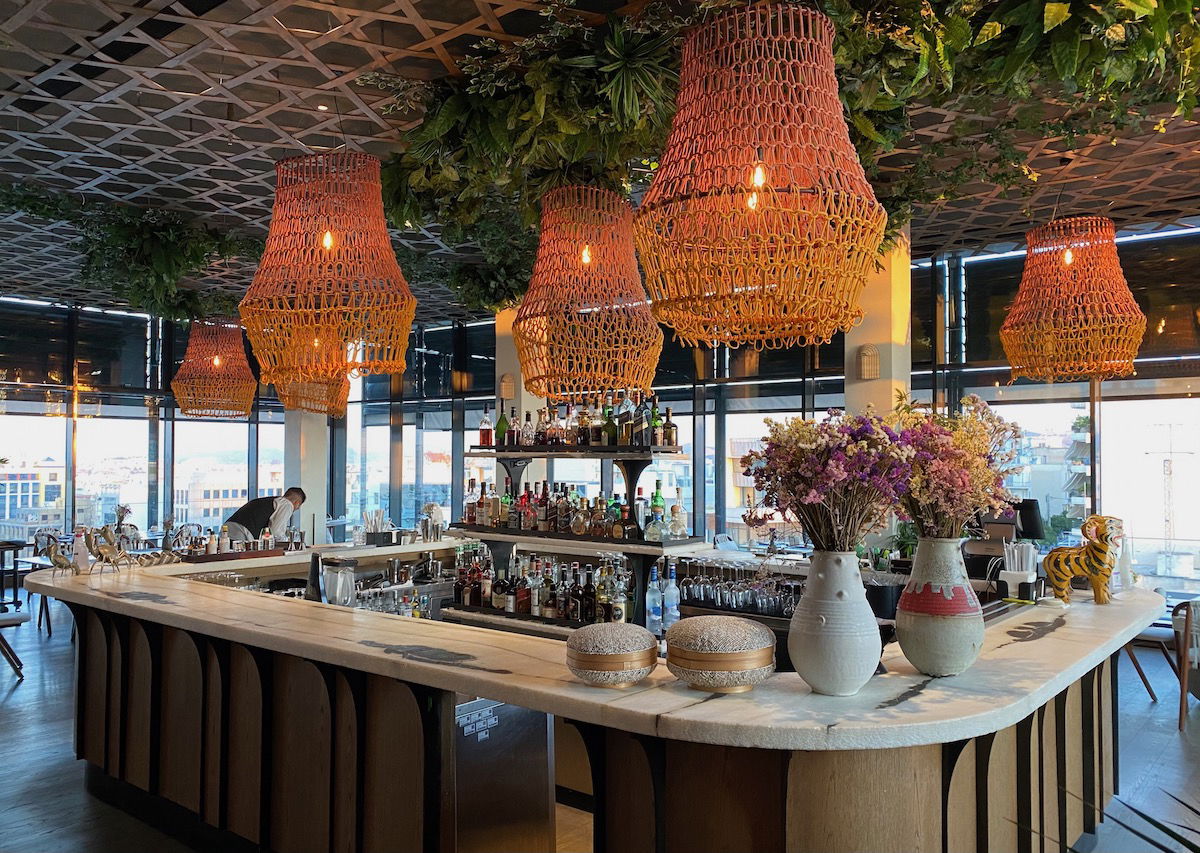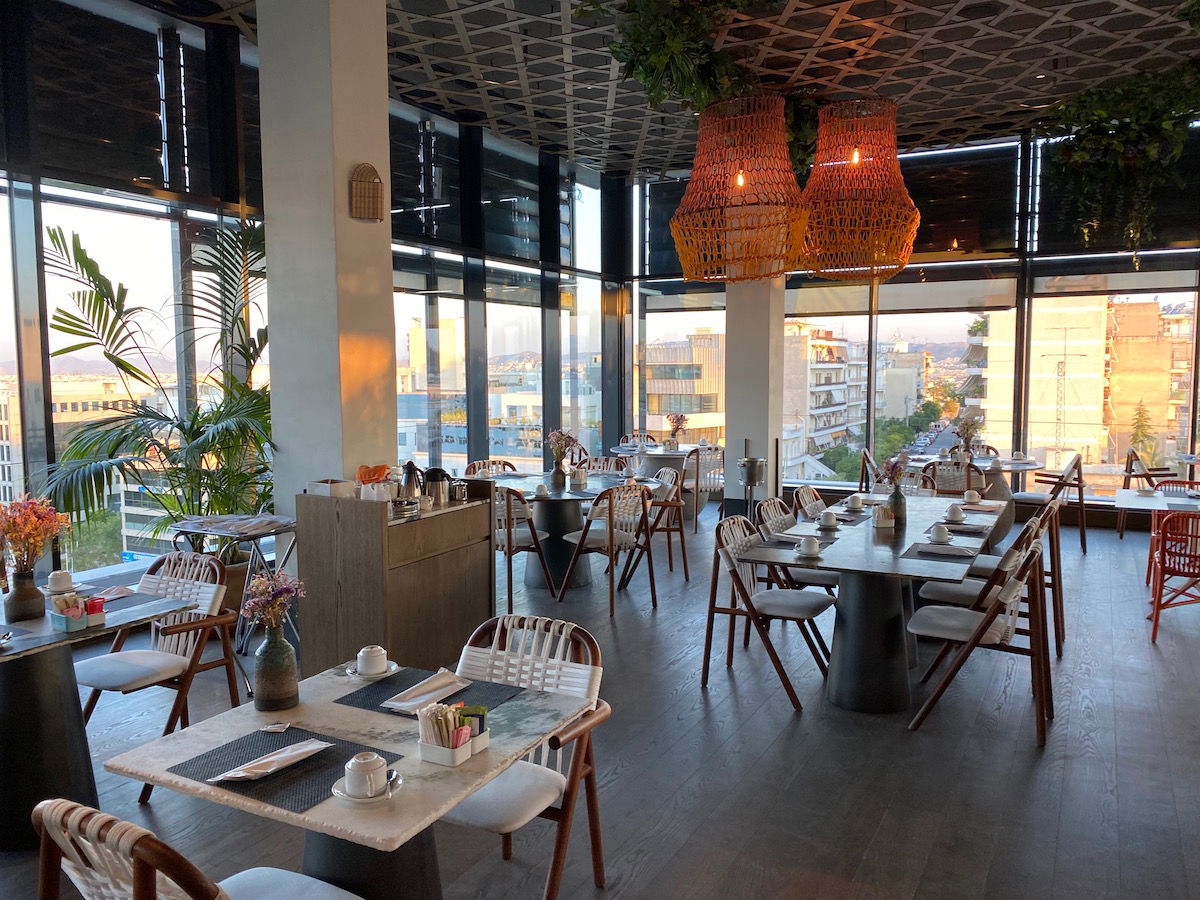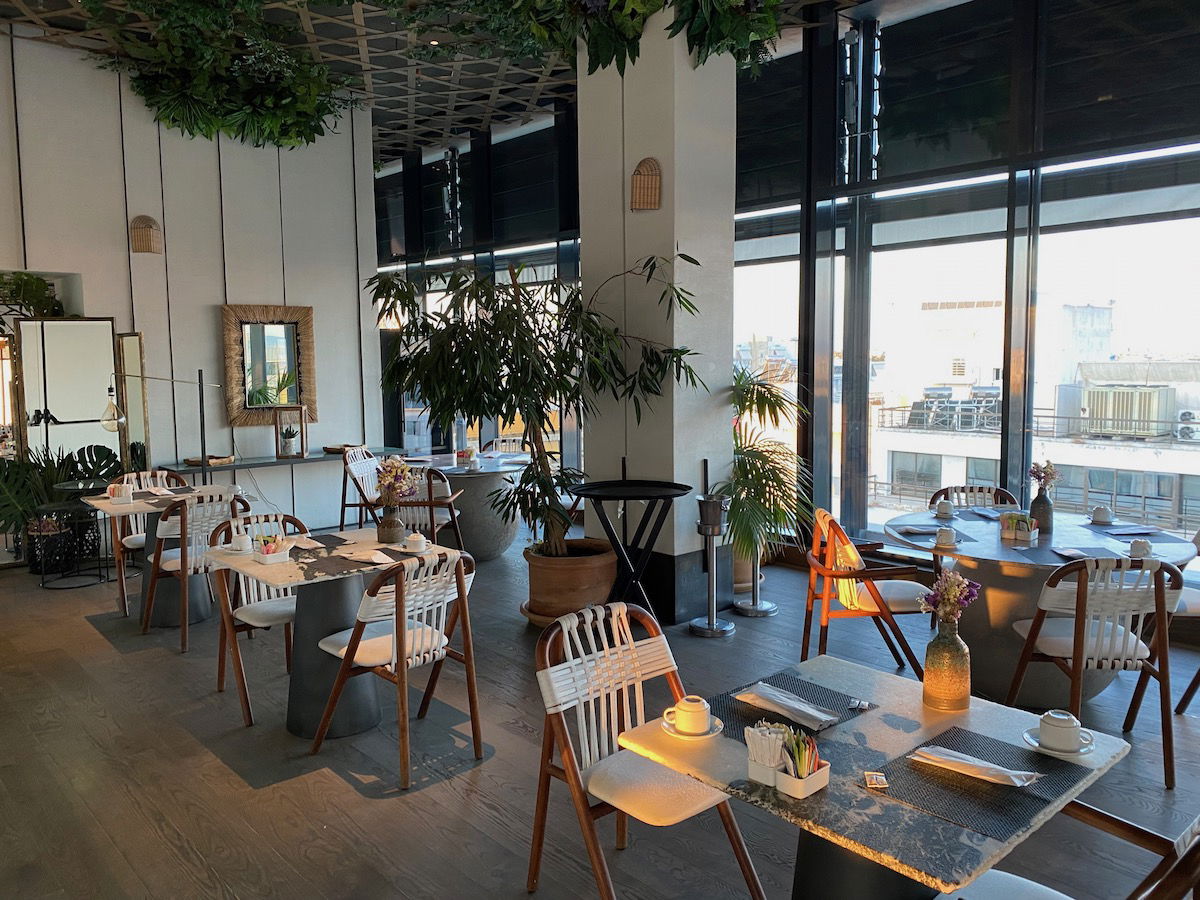 Since we had a 40 EUR credit to spend and were hungry, we decided to have lunch up there. The prices were fairly reasonable, and the menu and drink list read as follows: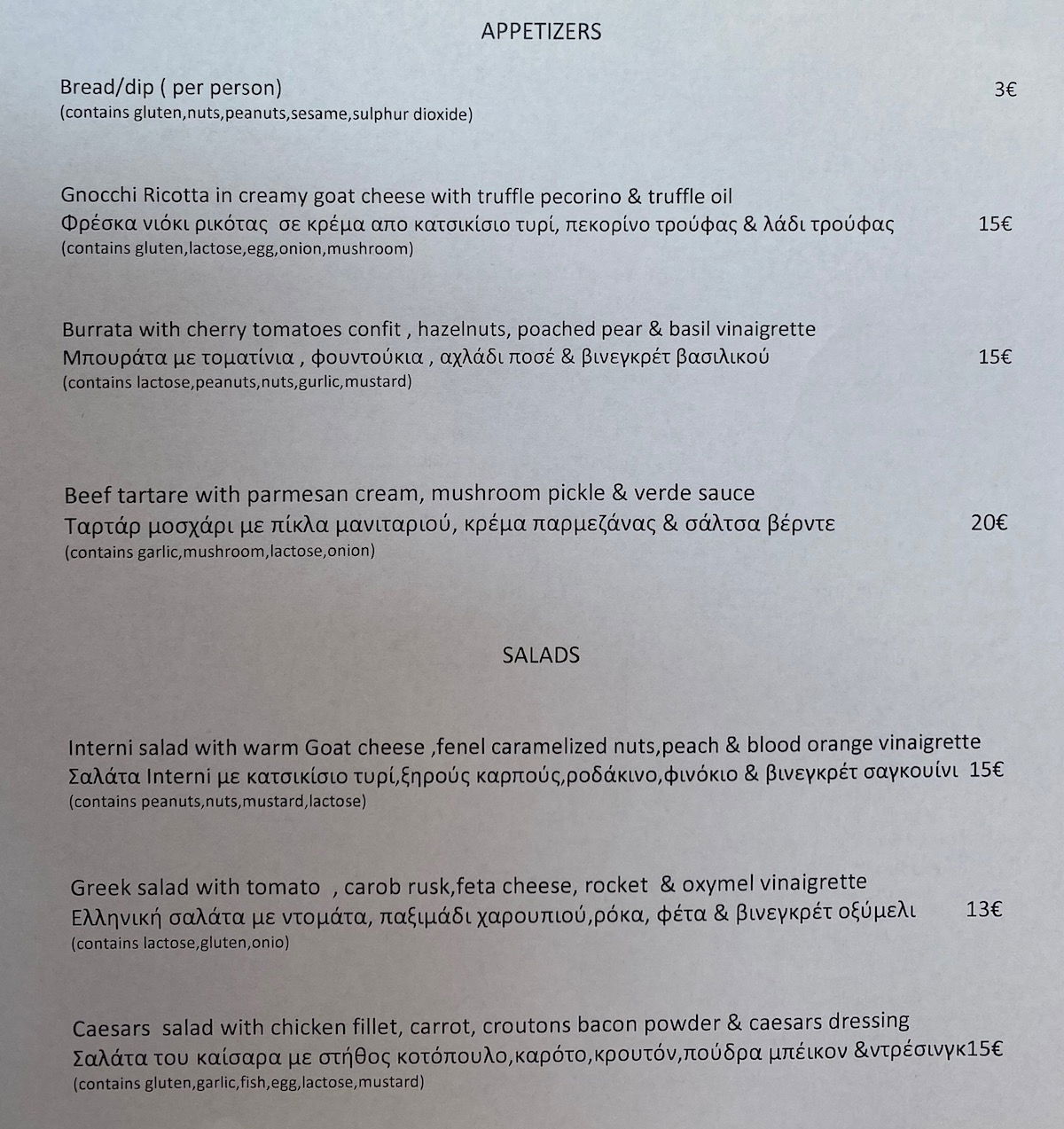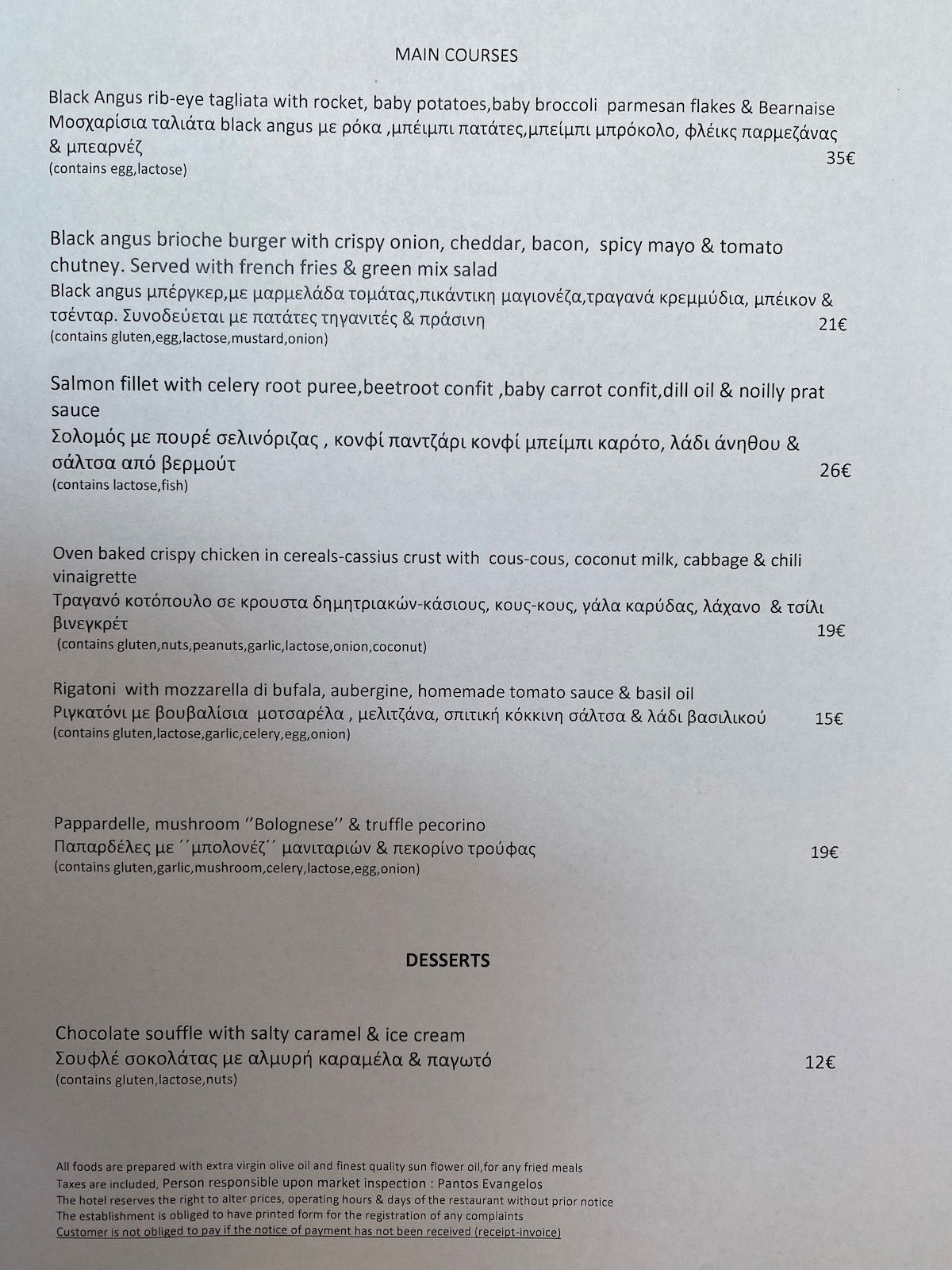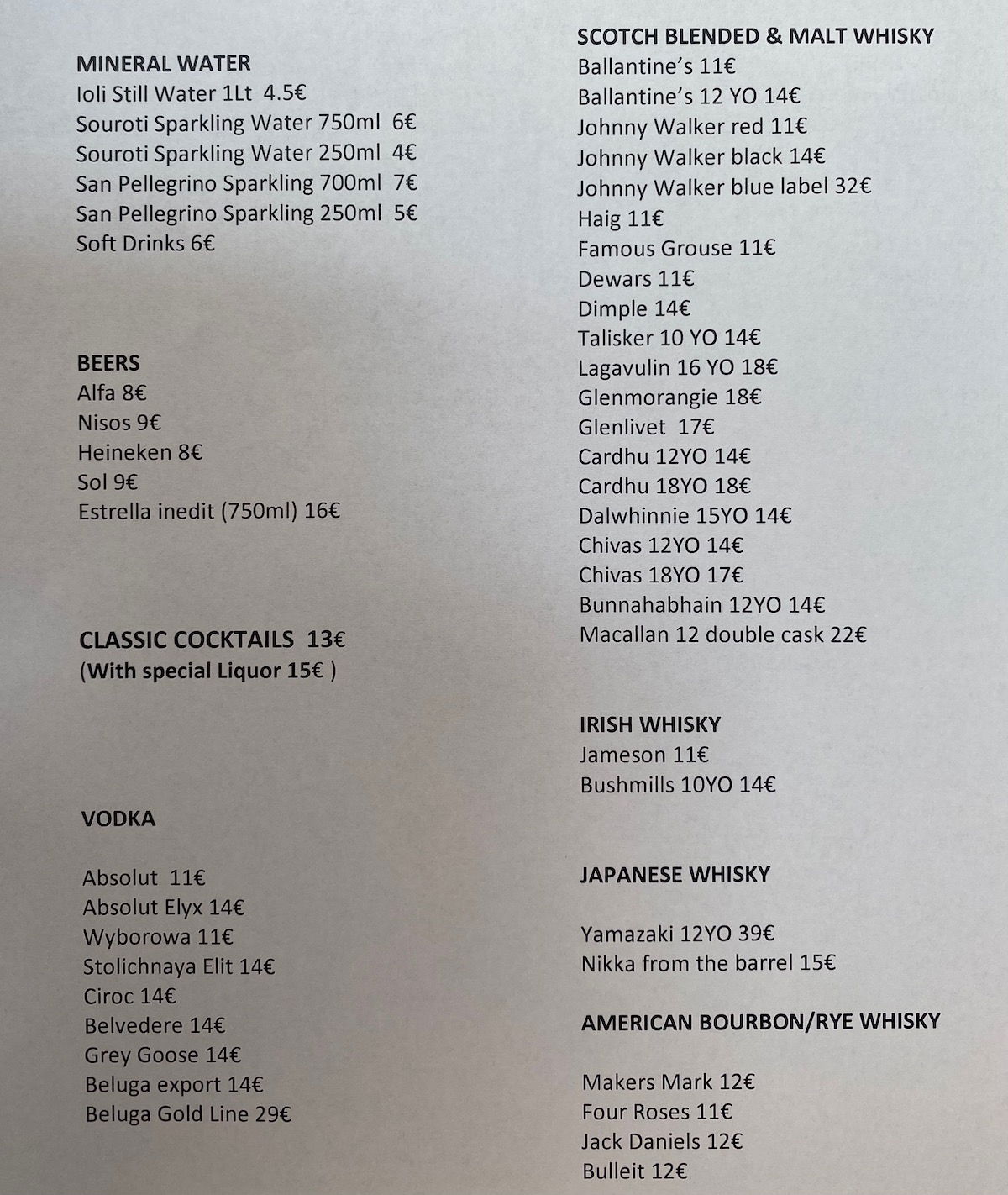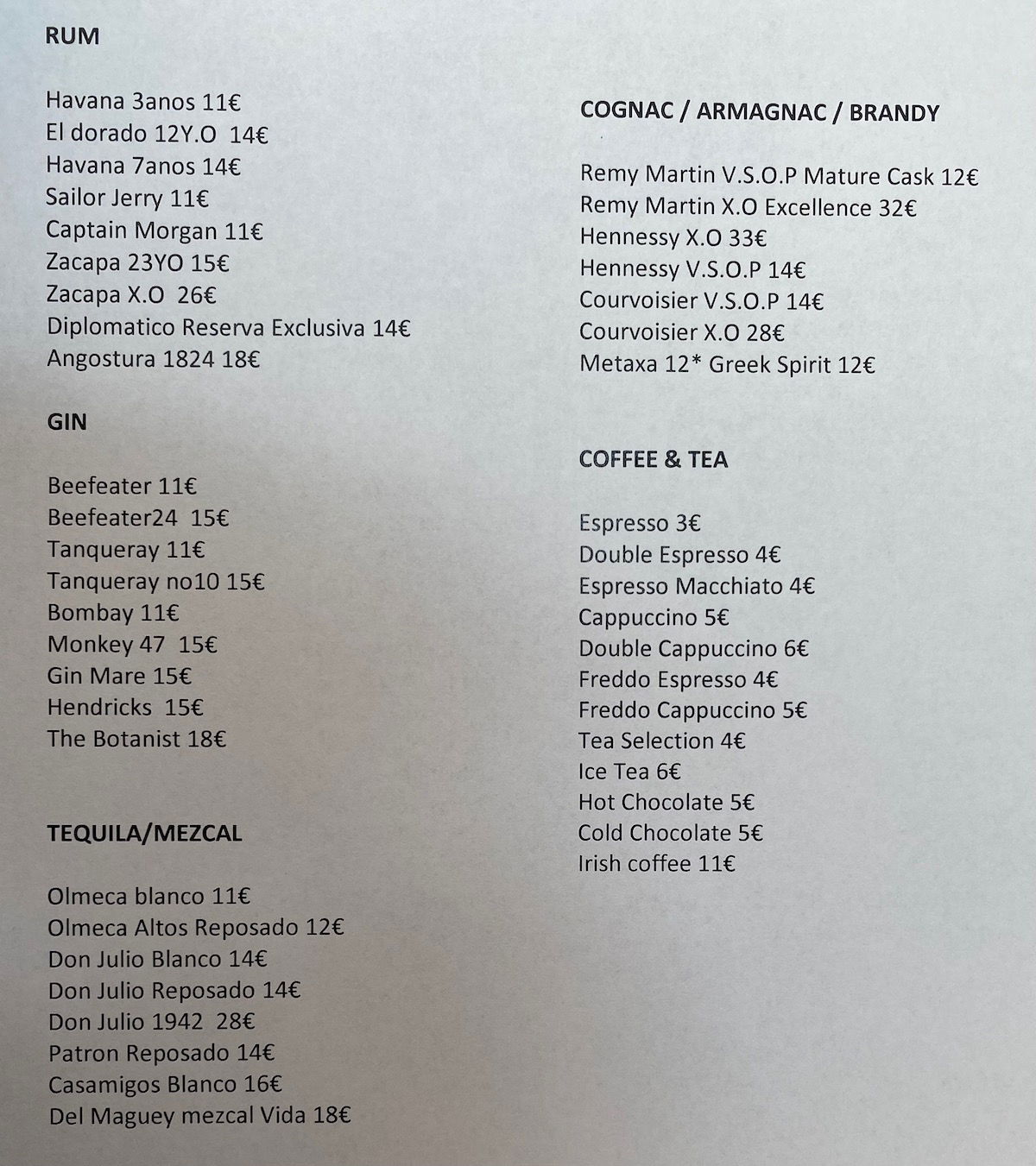 We both ordered Greek salads, which we enjoyed.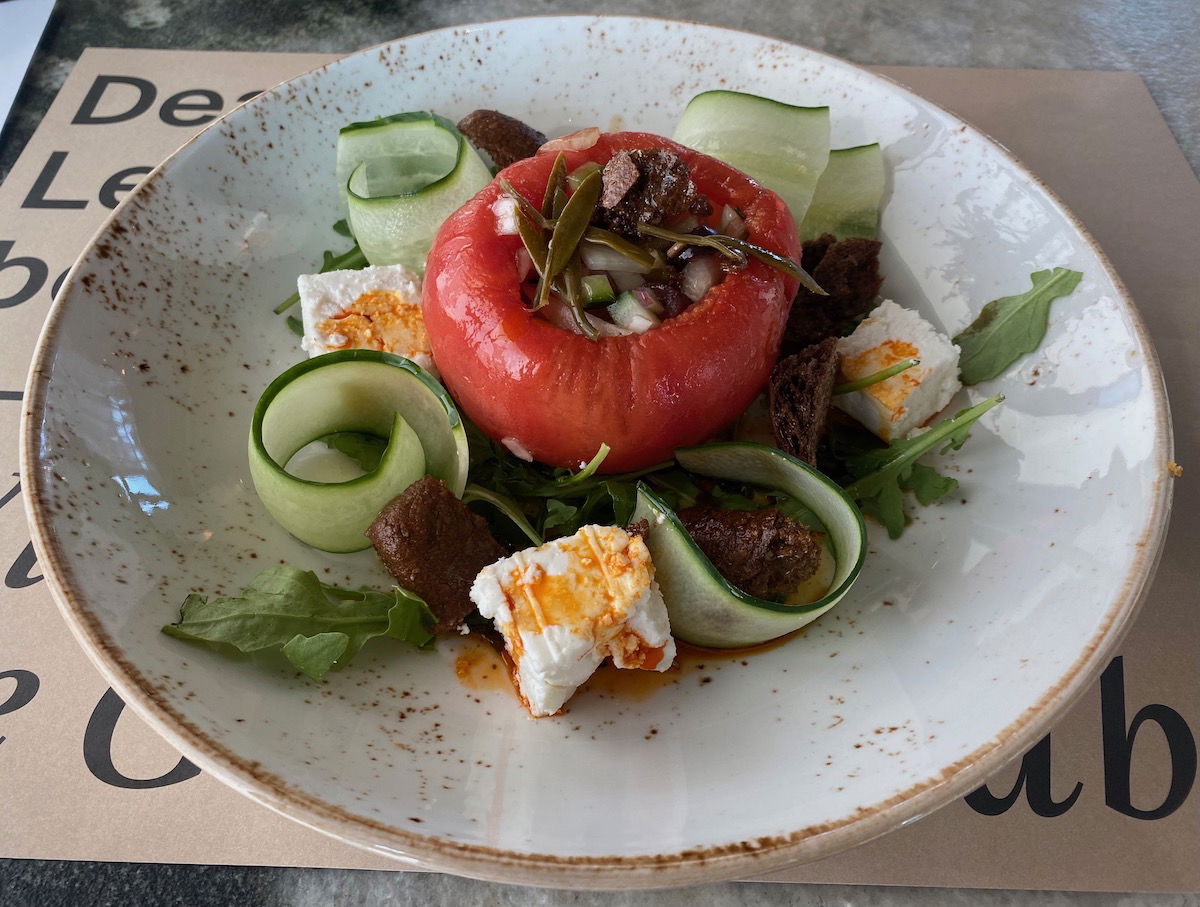 Grand Hyatt Athens room service
Late in the evening during our stay we were still a bit hungry, so we ordered delicious and healthy lentil salads, which were brought promptly and on a proper room service cart.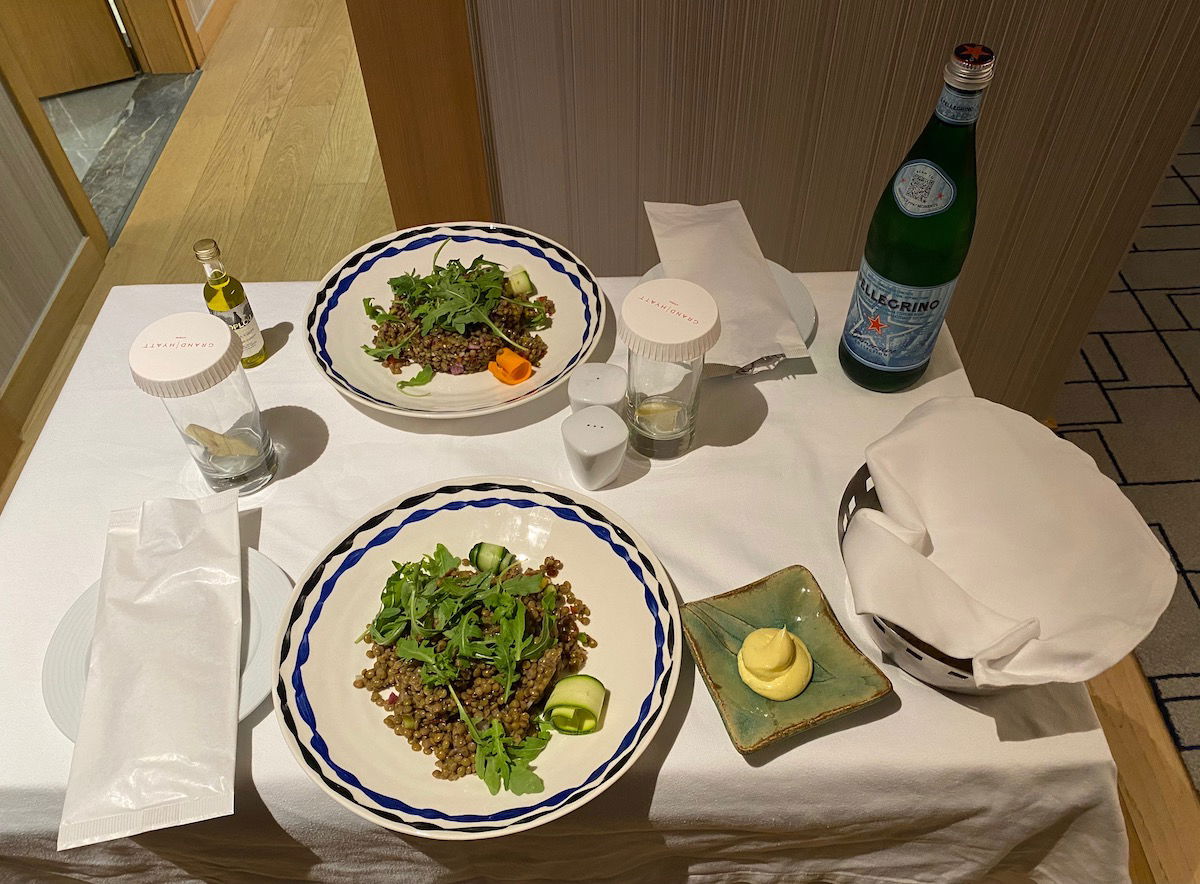 Grand Hyatt Athens breakfast
Breakfast at the Grand Hyatt Athens is served daily from 7AM until 11AM. It's also served at the rooftop restaurant, though with 300+ rooms, there's not enough seating in the main part of the restaurant to accommodate everyone. As a result, they basically have overspill seating. The whole setup feels like an afterthought, and the chairs and tables are what you might expect in a hotel conference room.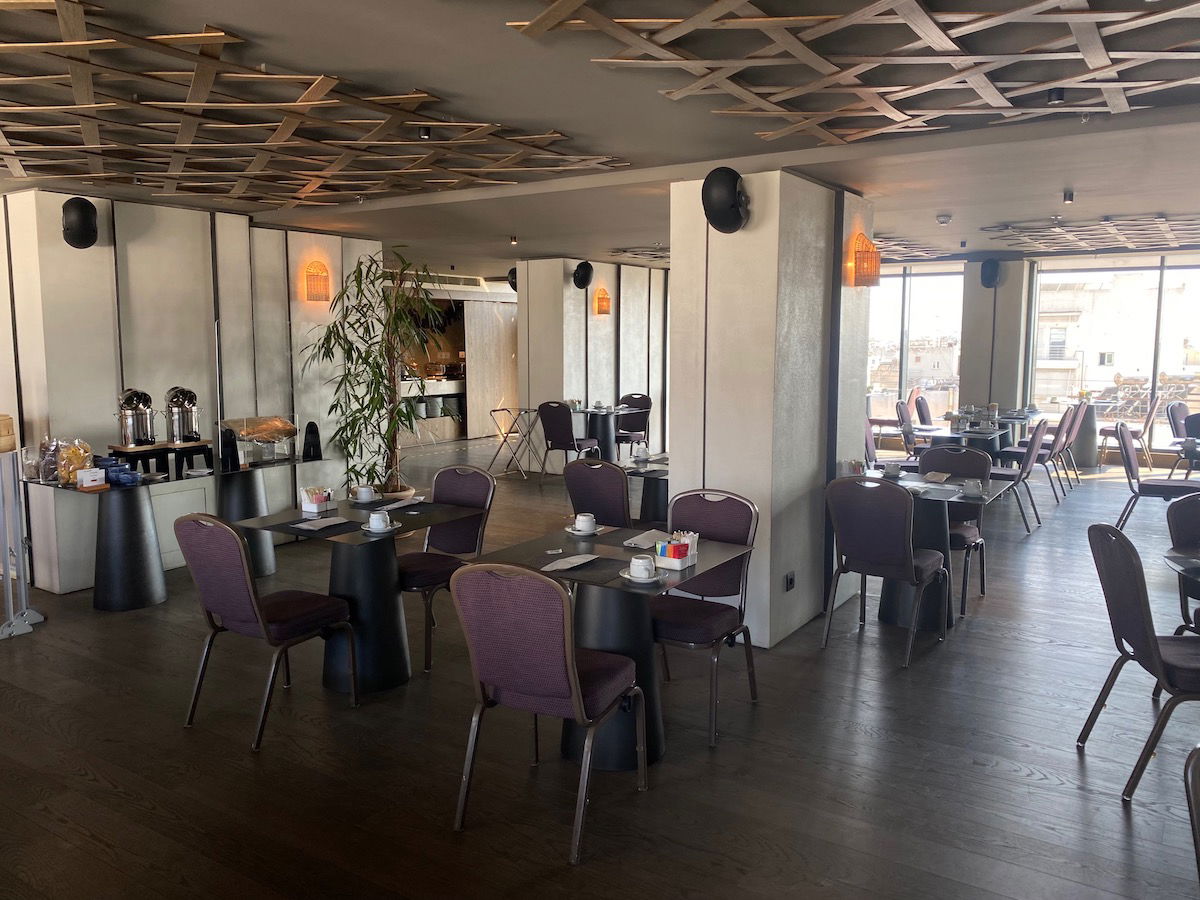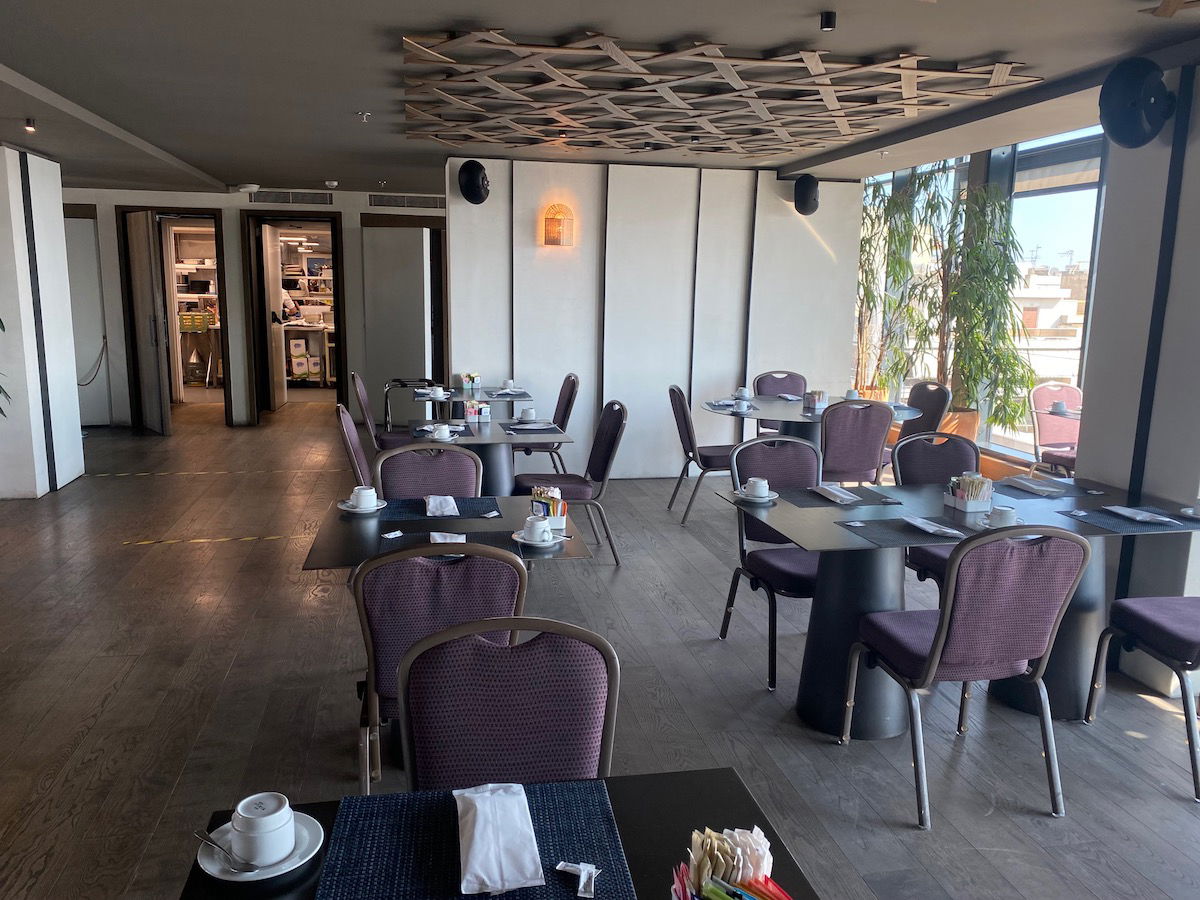 The buffet itself was reasonably decent. It was far from the best breakfast spread I've had in Greece, but it was perfectly fine, with a selection of pastries, fruit, yogurt, cereal, cold cuts, juice, eggs, sausage, and more.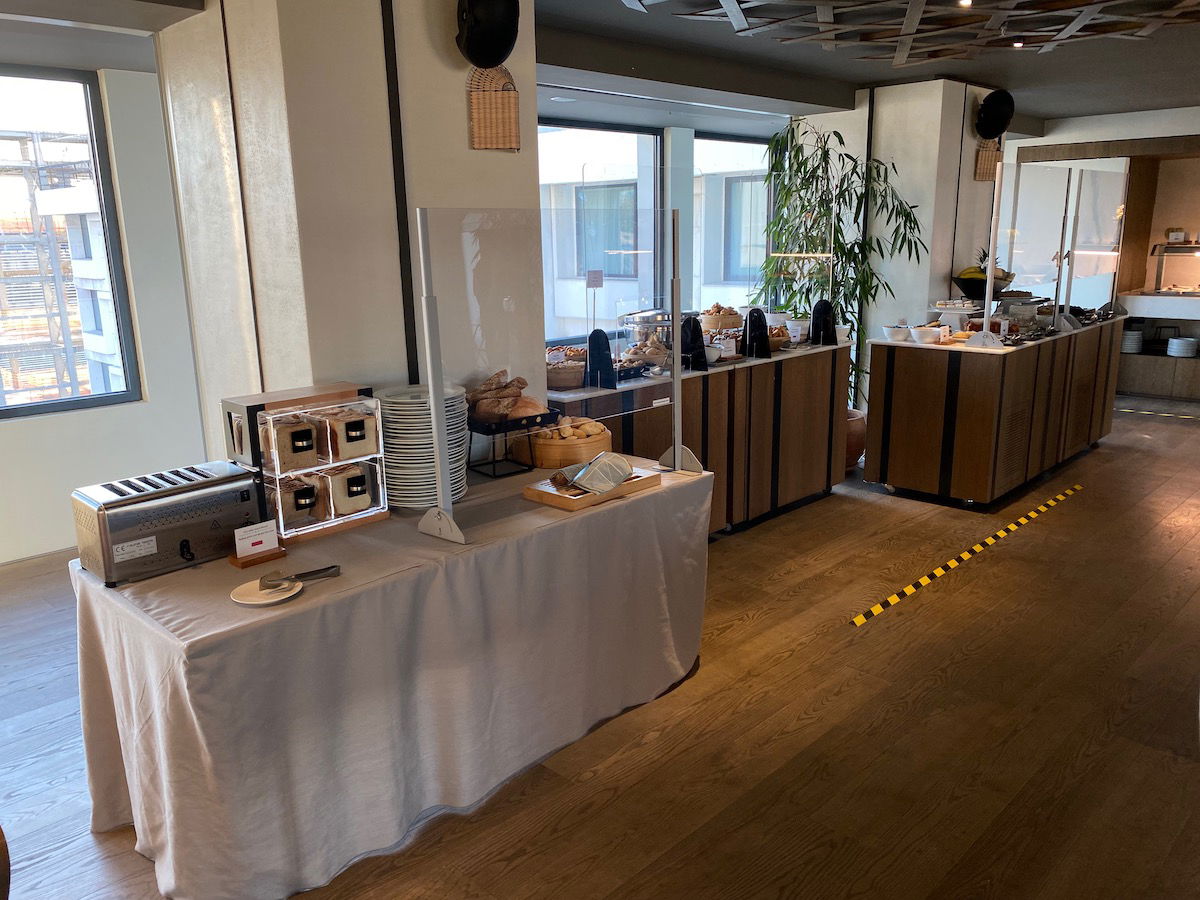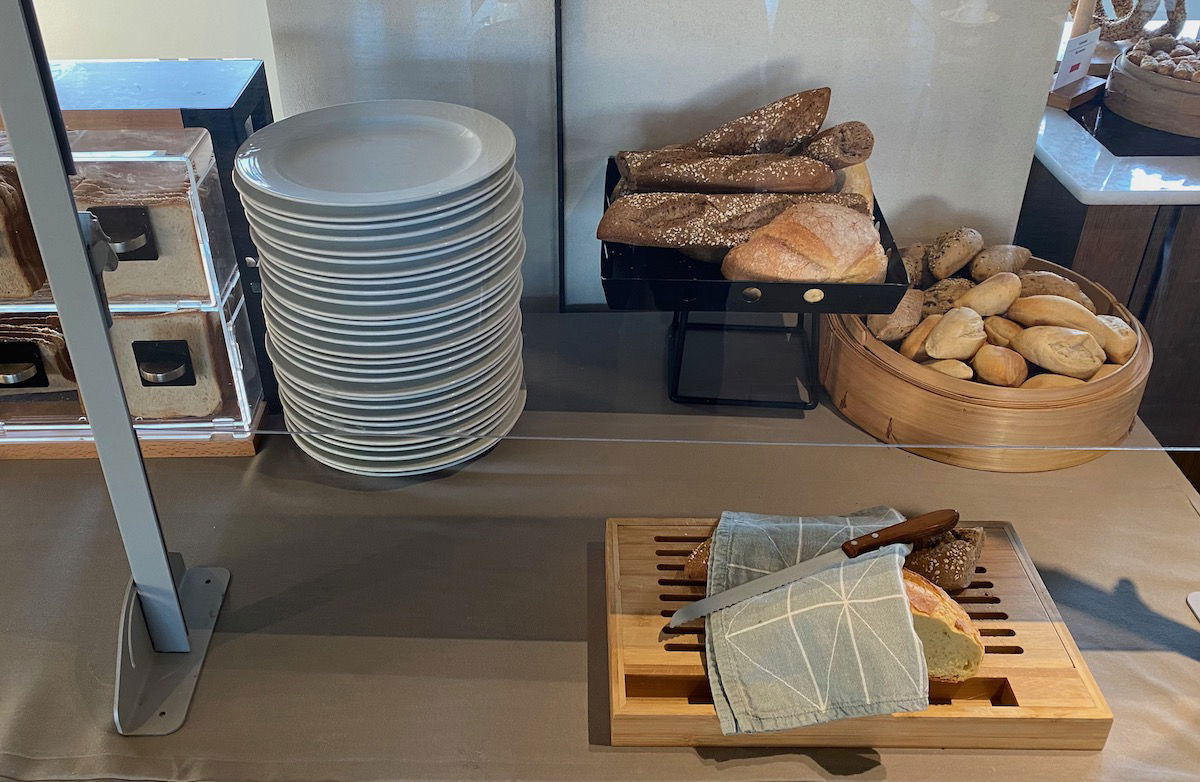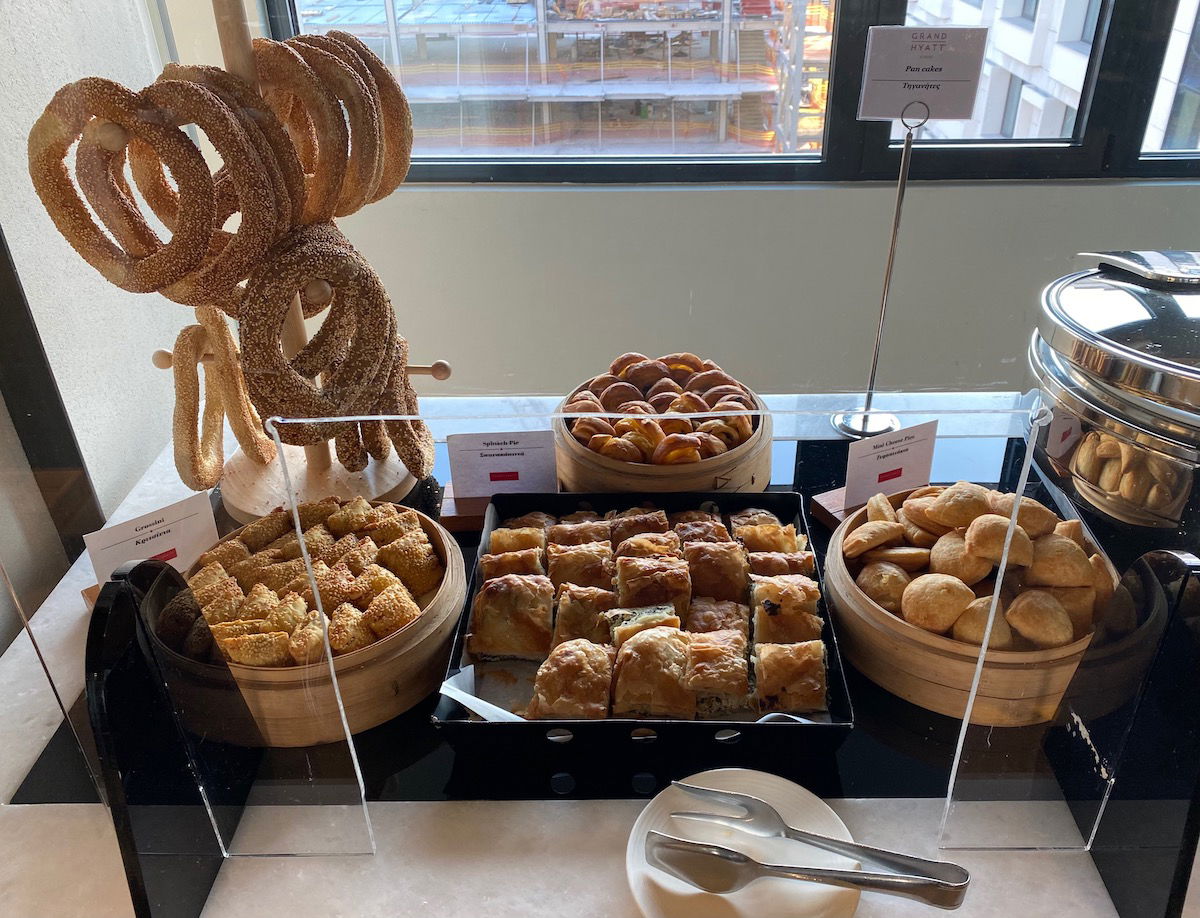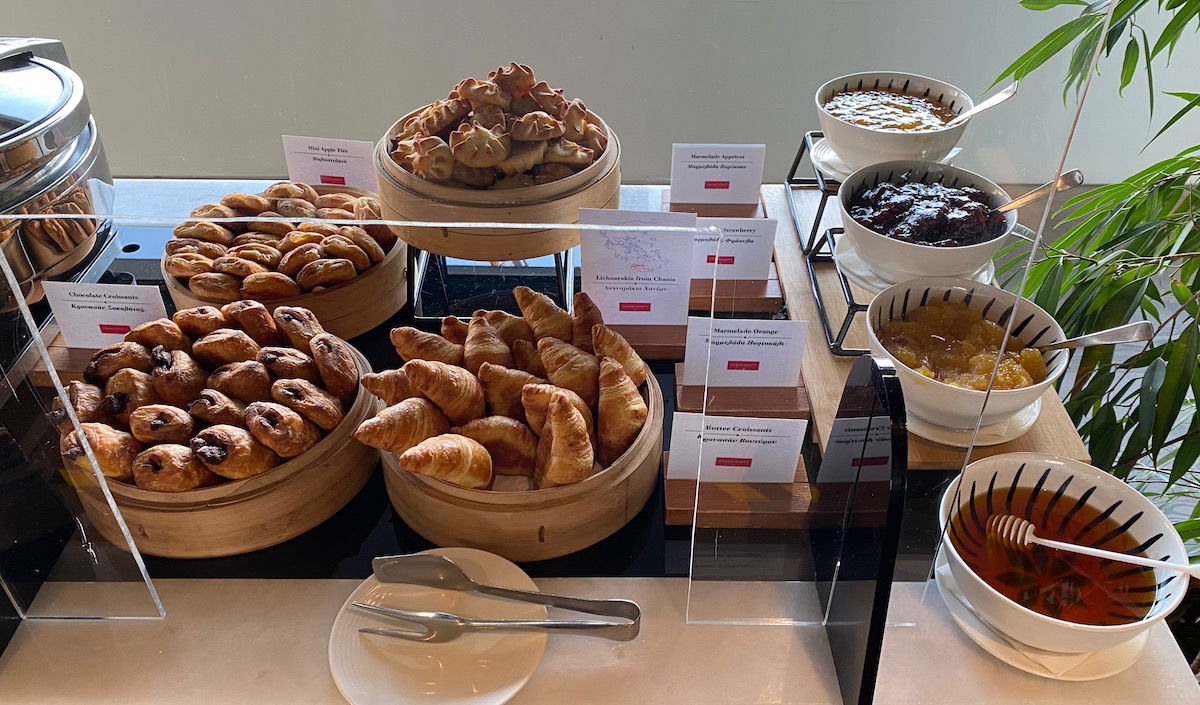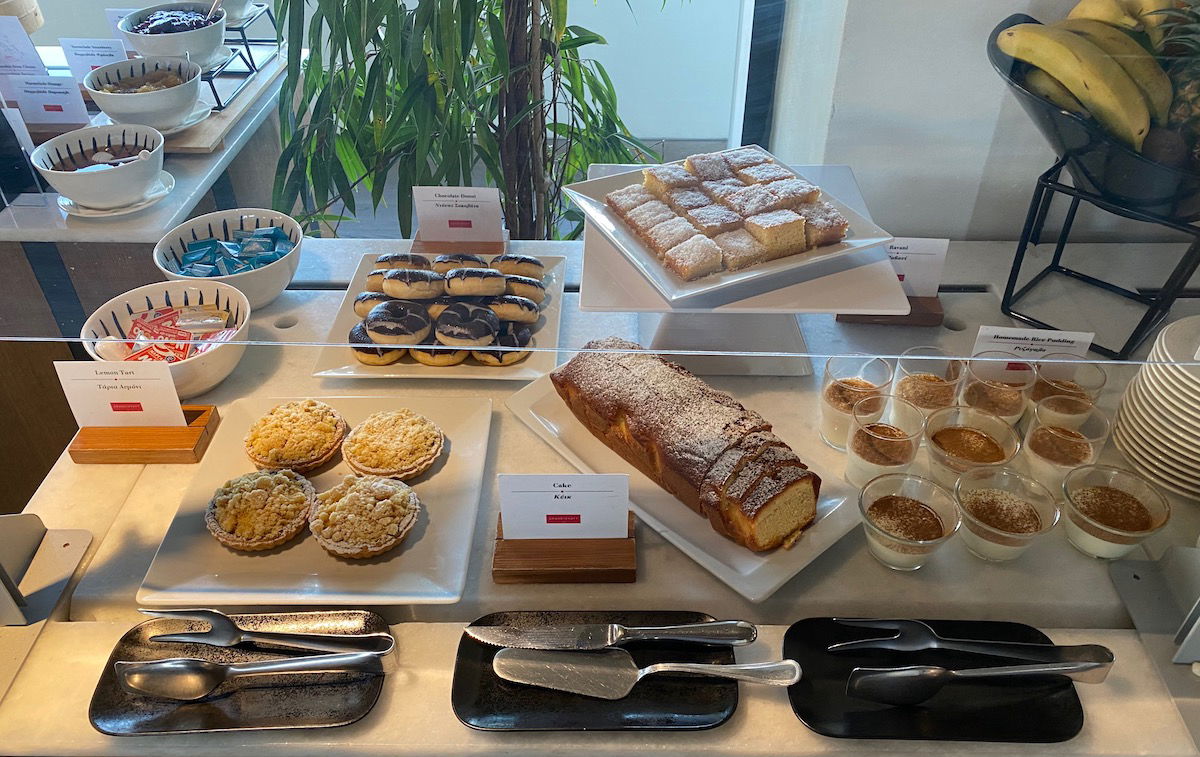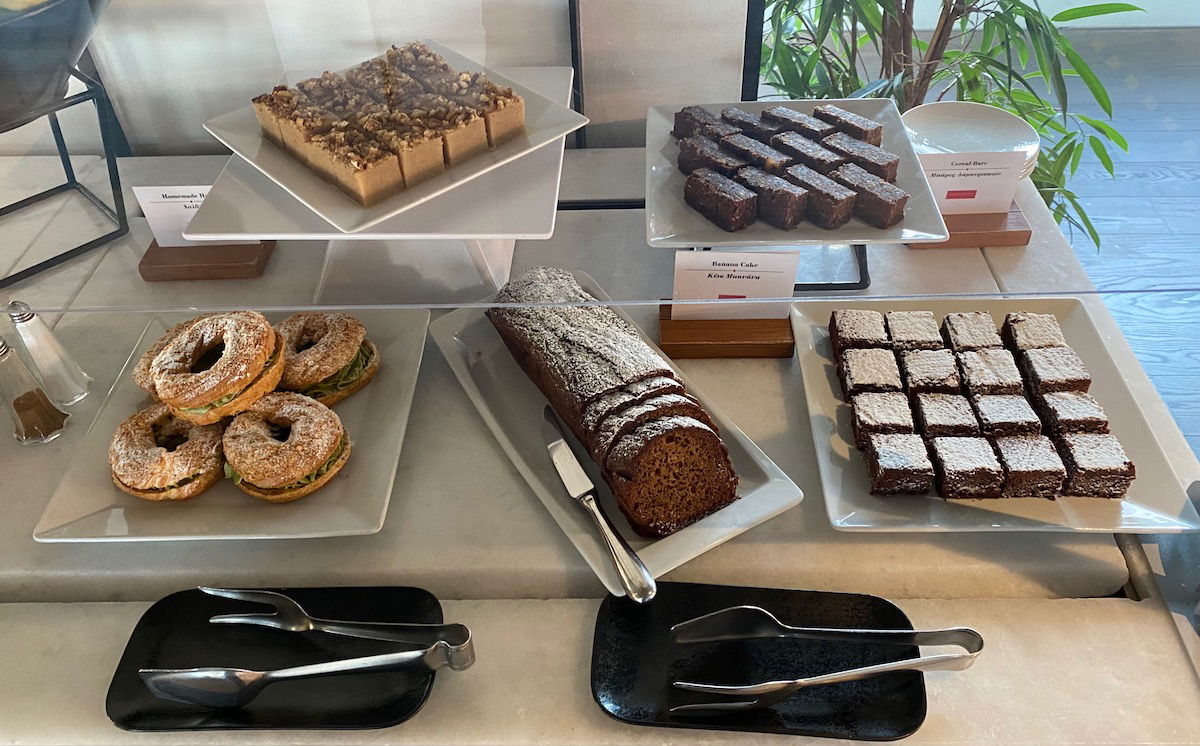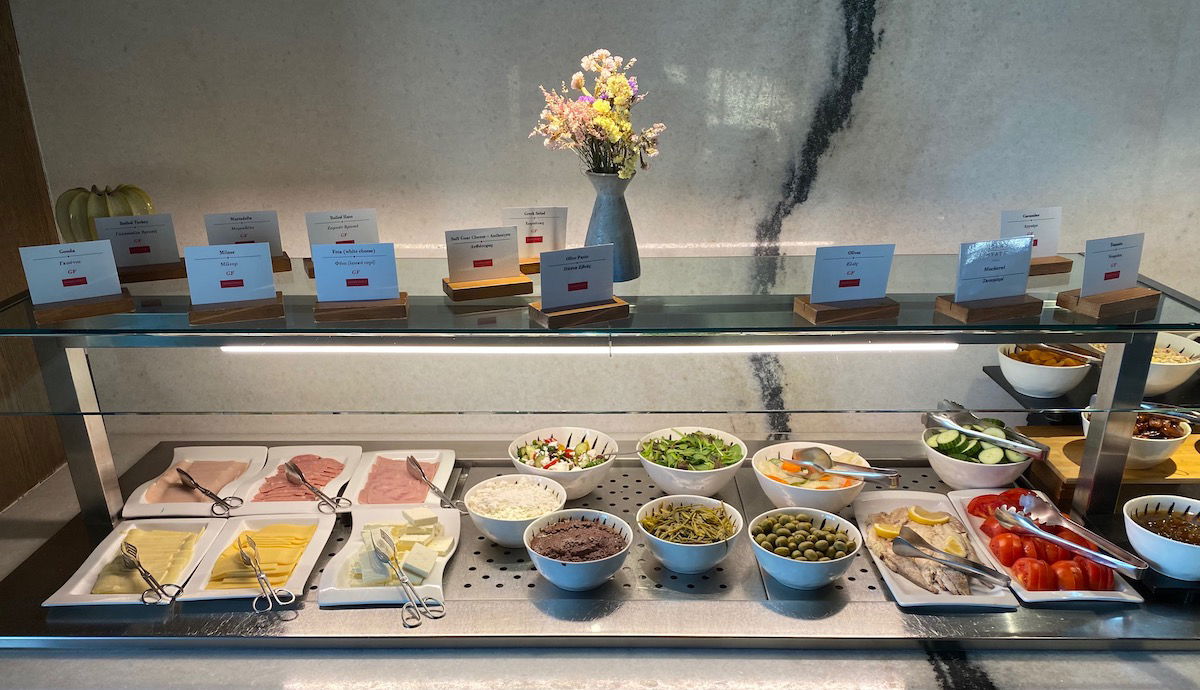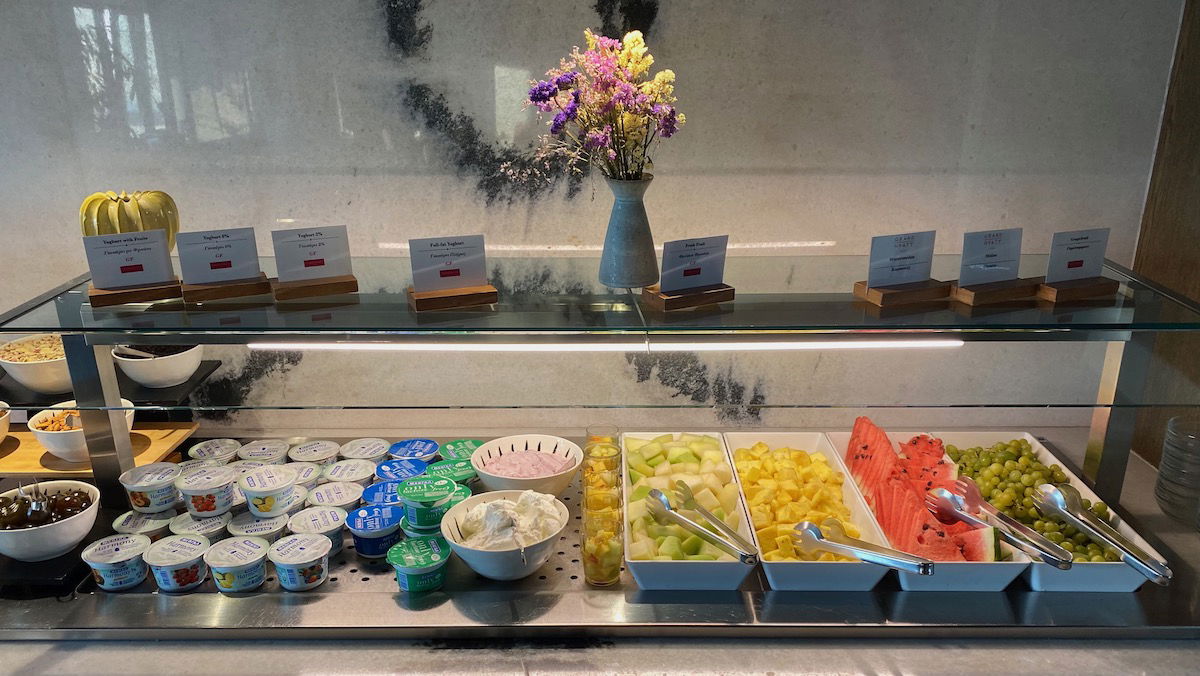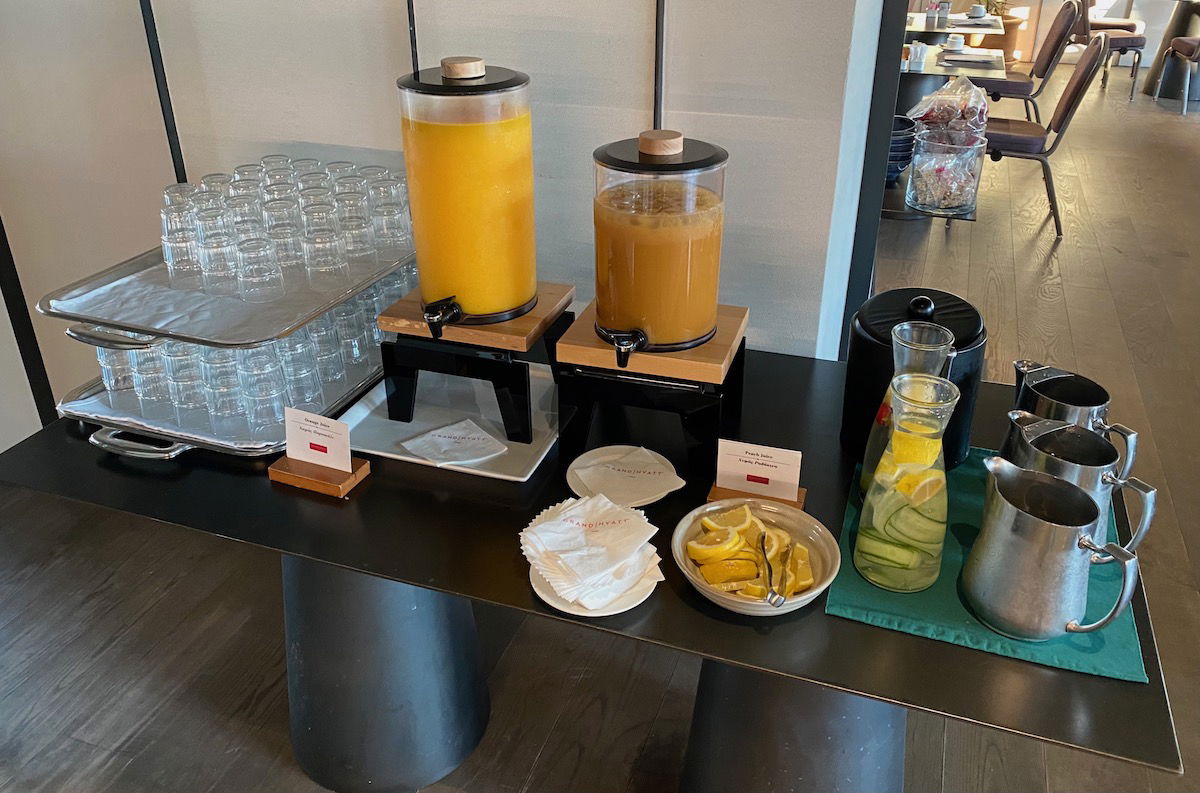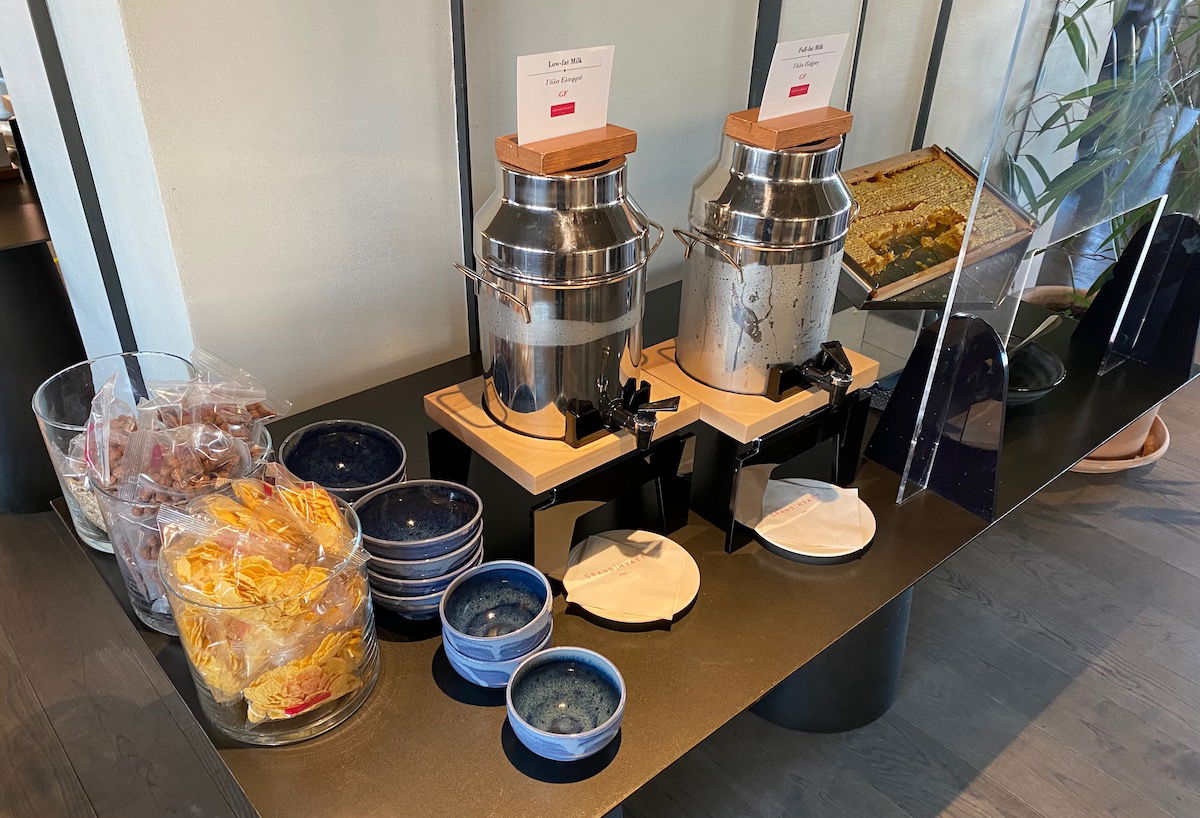 We did go to breakfast right when it opened, which meant that it was fairly quiet, and we could sit in the main part of the restaurant. However, I've heard from others that it can be a total zoo later in the morning, but I can't personally speak to that.
Grand Hyatt Athens pools
The Grand Hyatt Athens has two pools. There's a rooftop pool, which is a pretty cute space with incredible views, including of the Acropolis.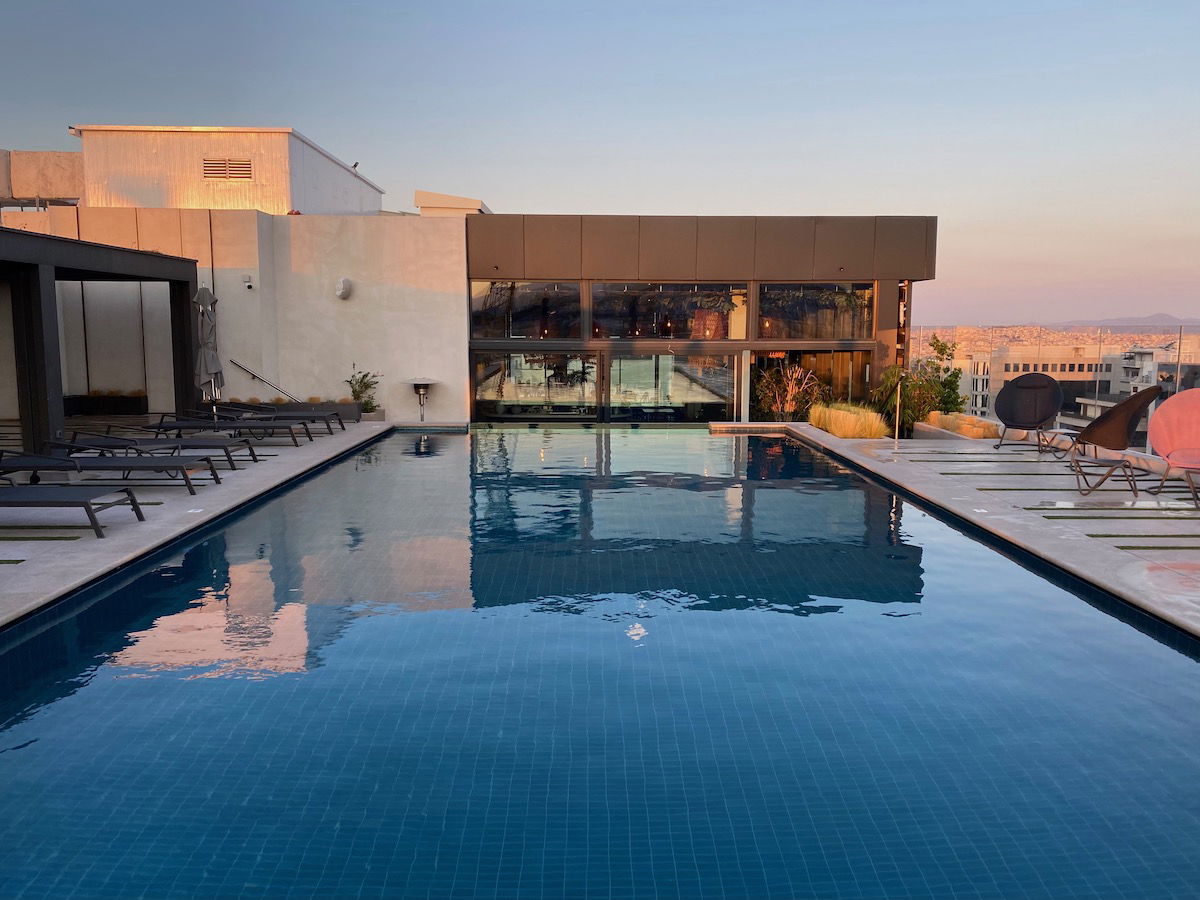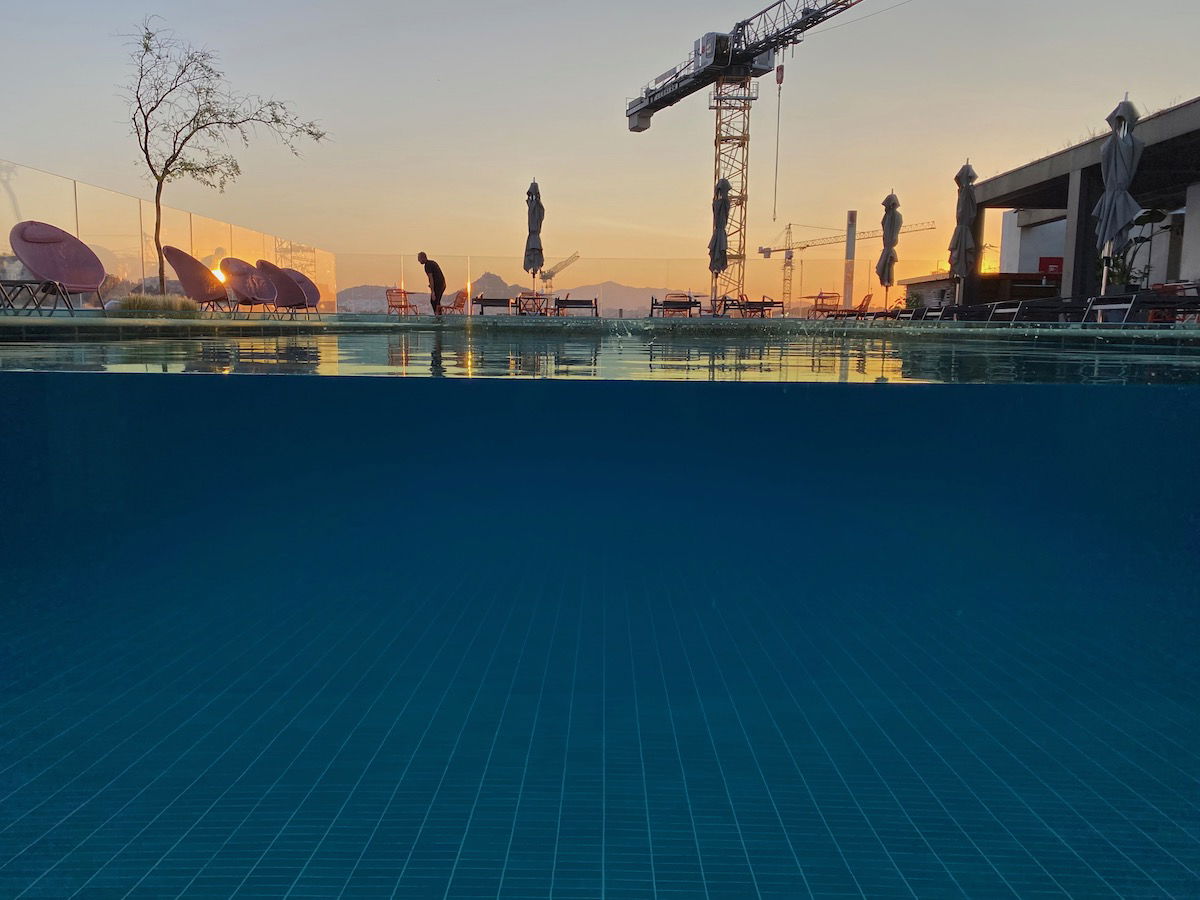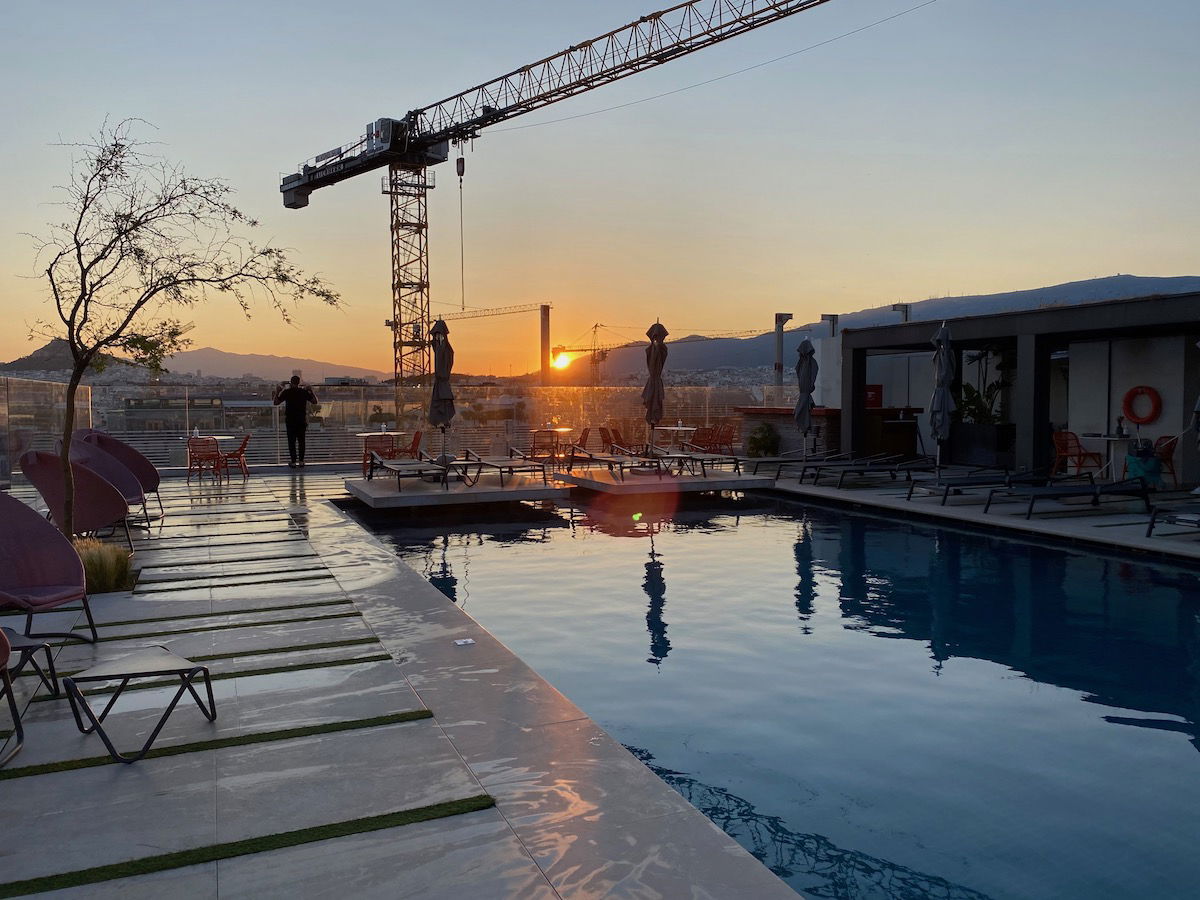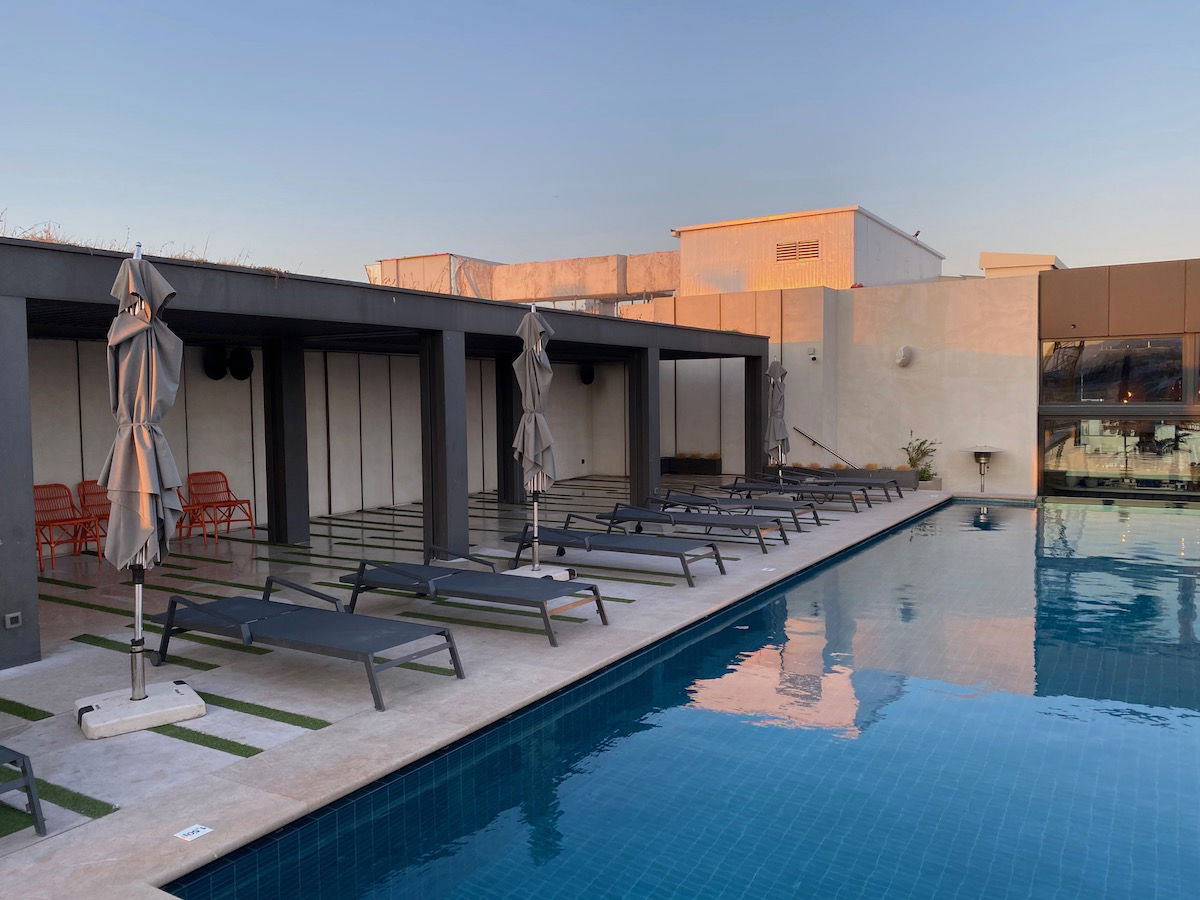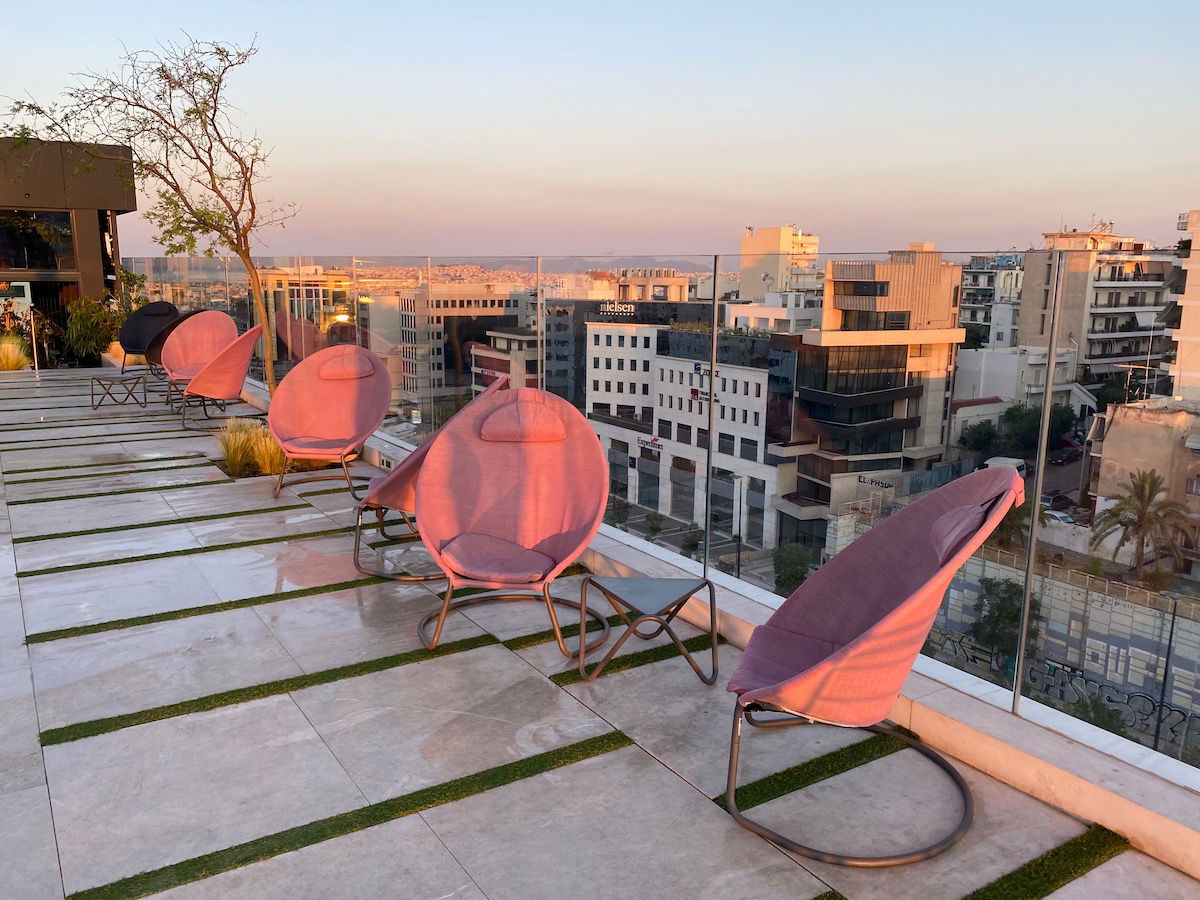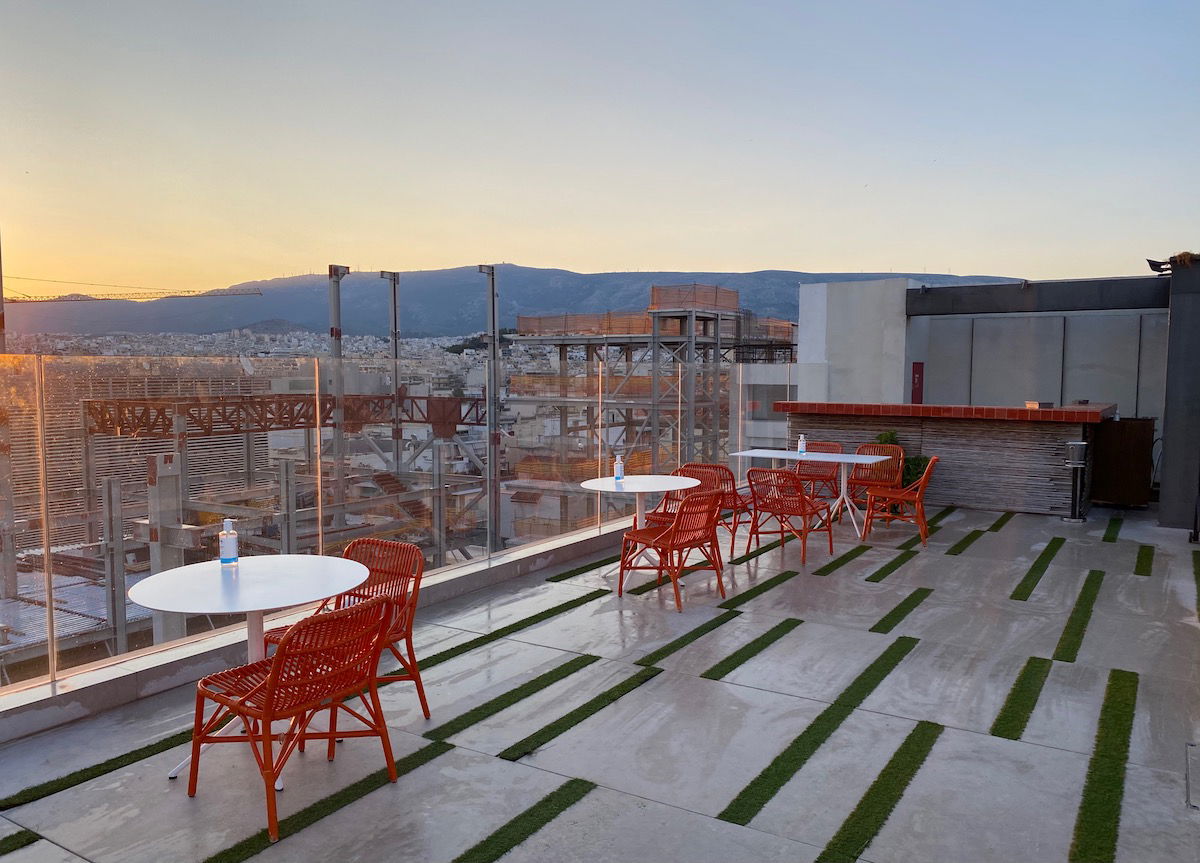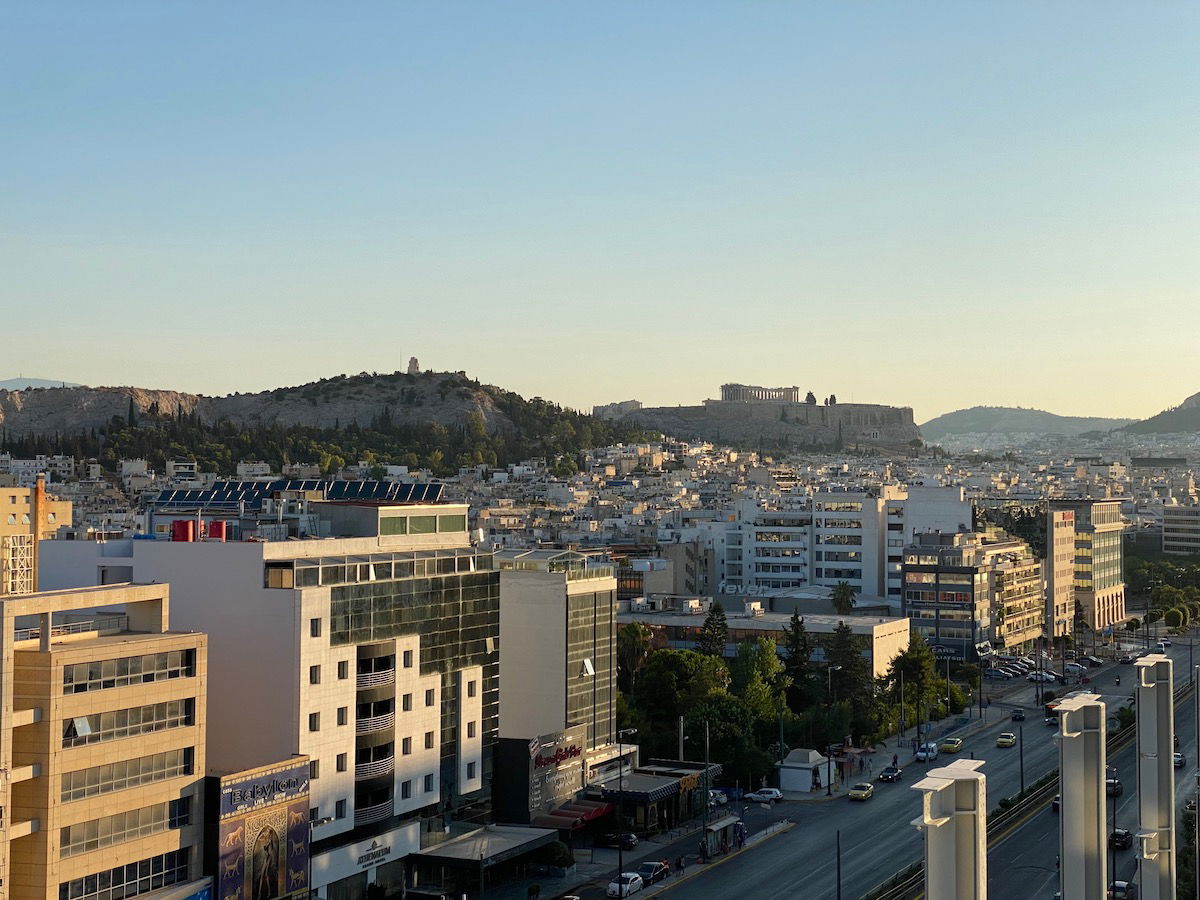 The catch is that there are many a few dozen seats at most, while this is a popular amenity with guests. So while I got pictures with the pool empty right at sunrise, during the day it was as crowded as a Spirit Airlines plane the day before Thanksgiving.
There was also a pool on the ground floor, which didn't get as busy.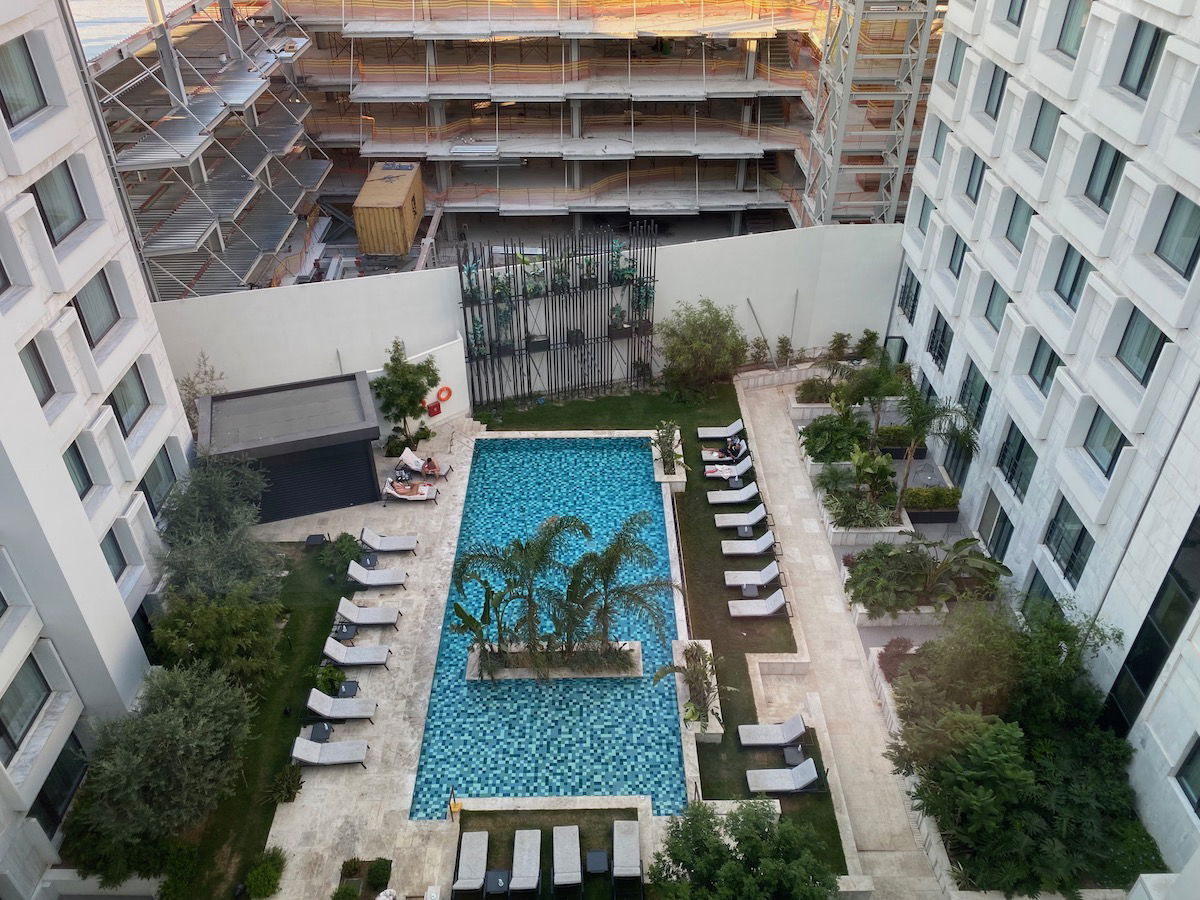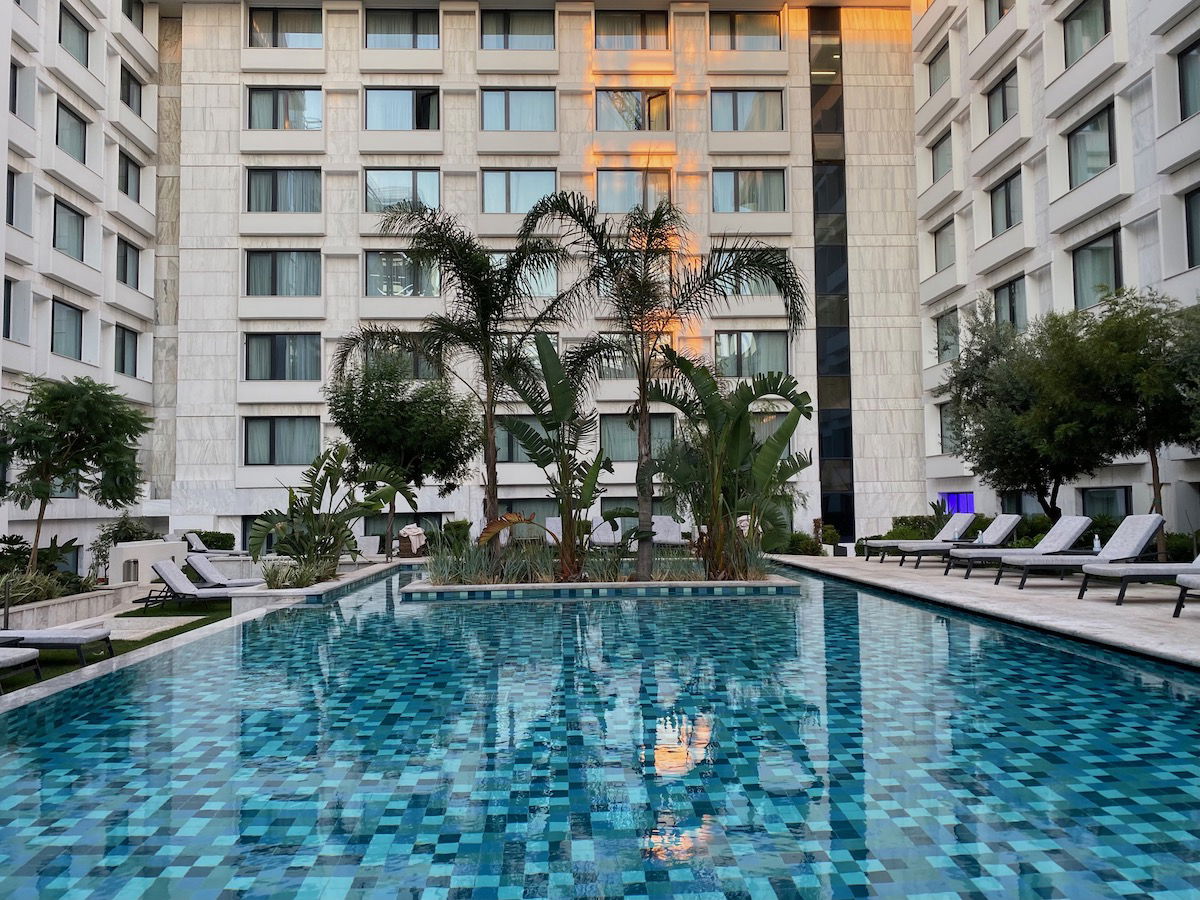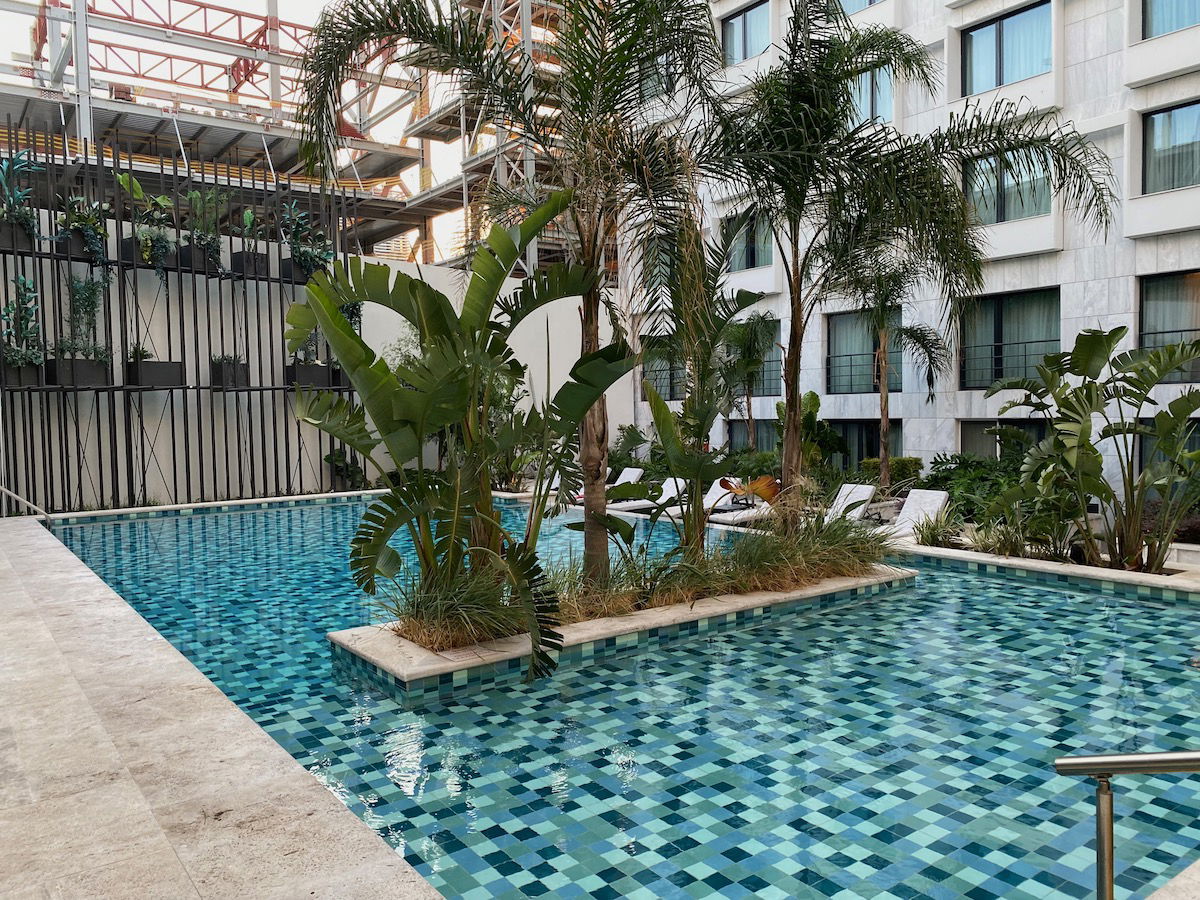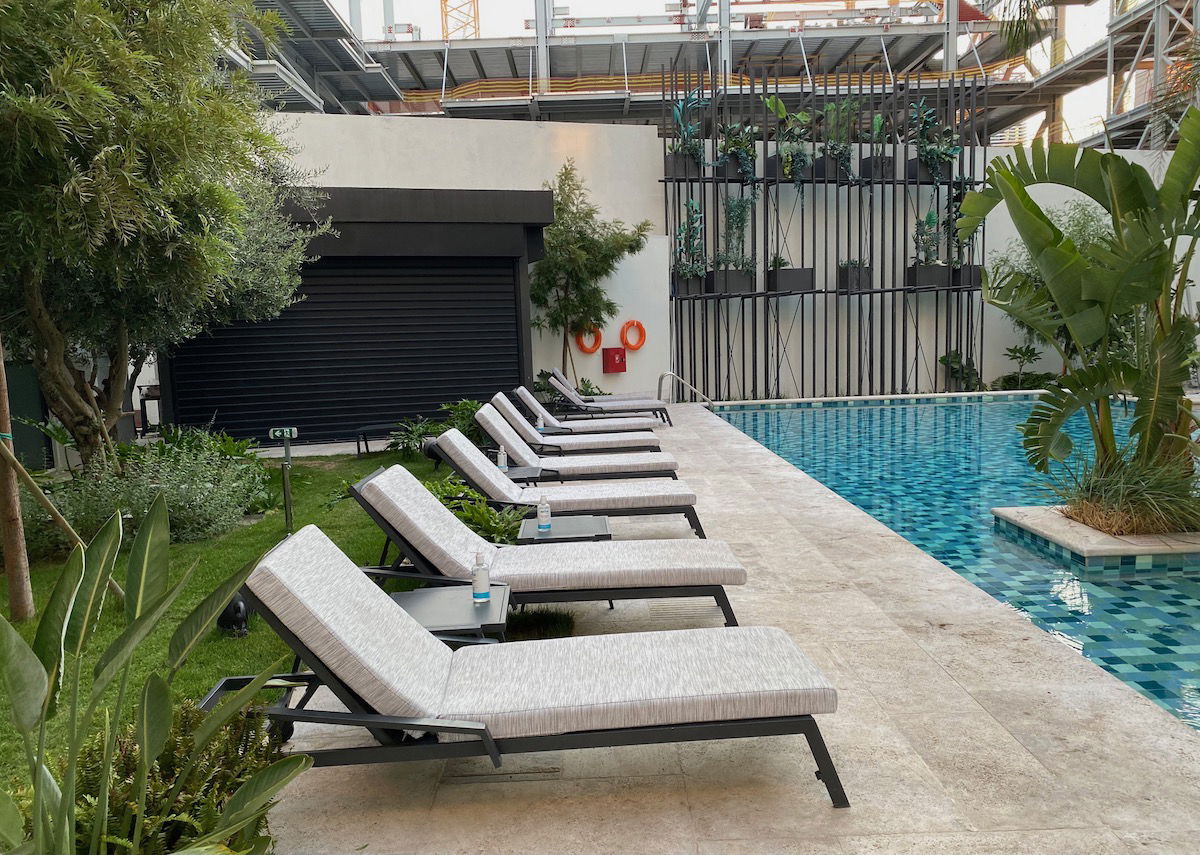 Admittedly the views weren't quite as good as from the rooftop.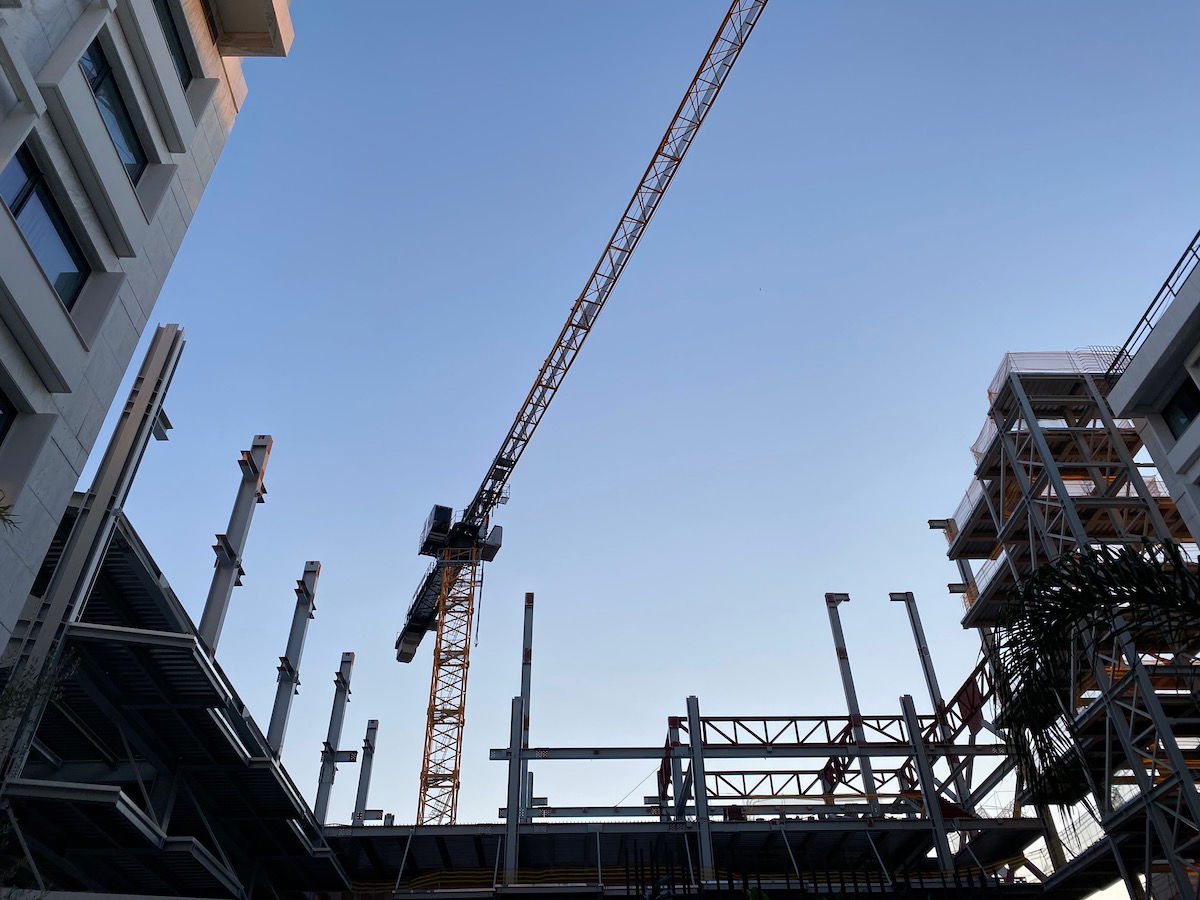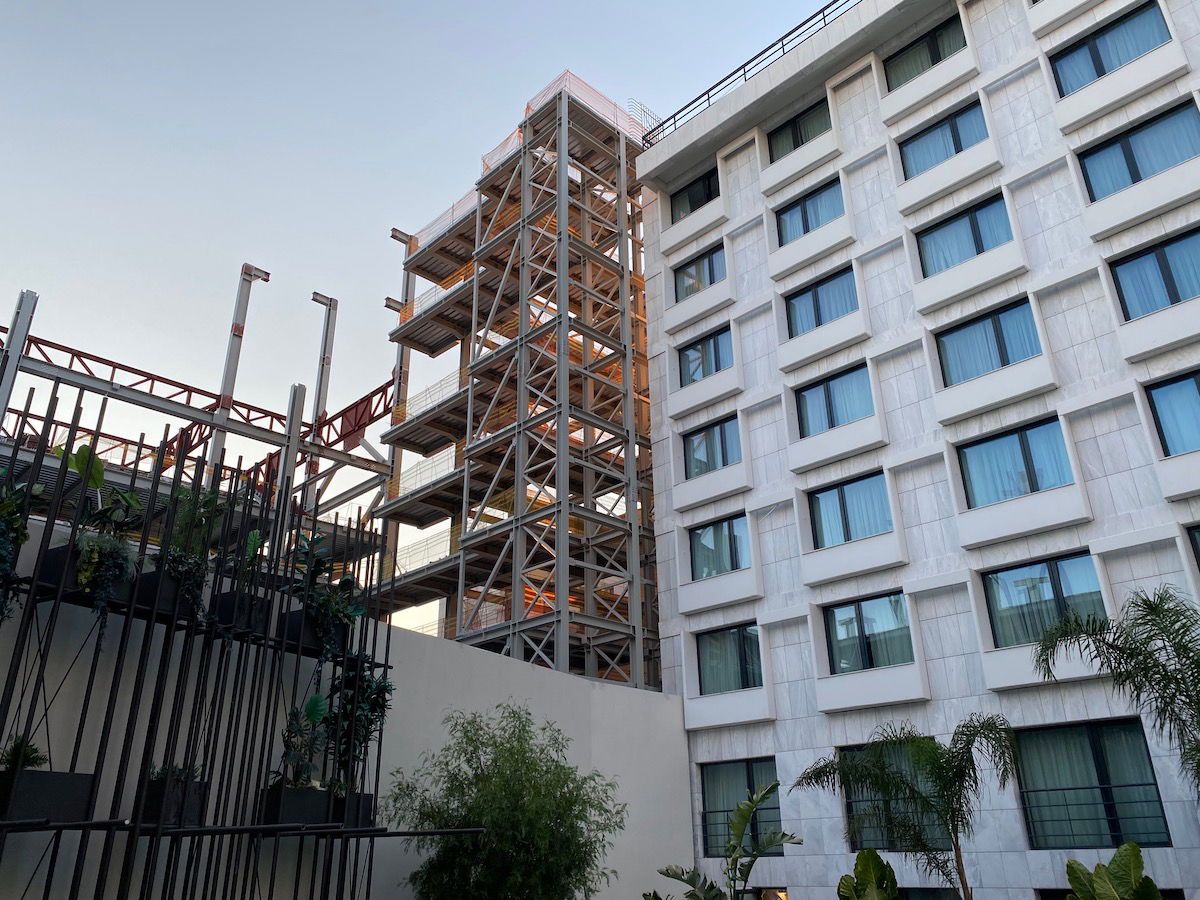 Grand Hyatt Athens gym
The Grand Hyatt Athens has a solid gym on the basement level, with modern equipment. The gym is a good size, but can get busy when you consider that the hotel has so many rooms.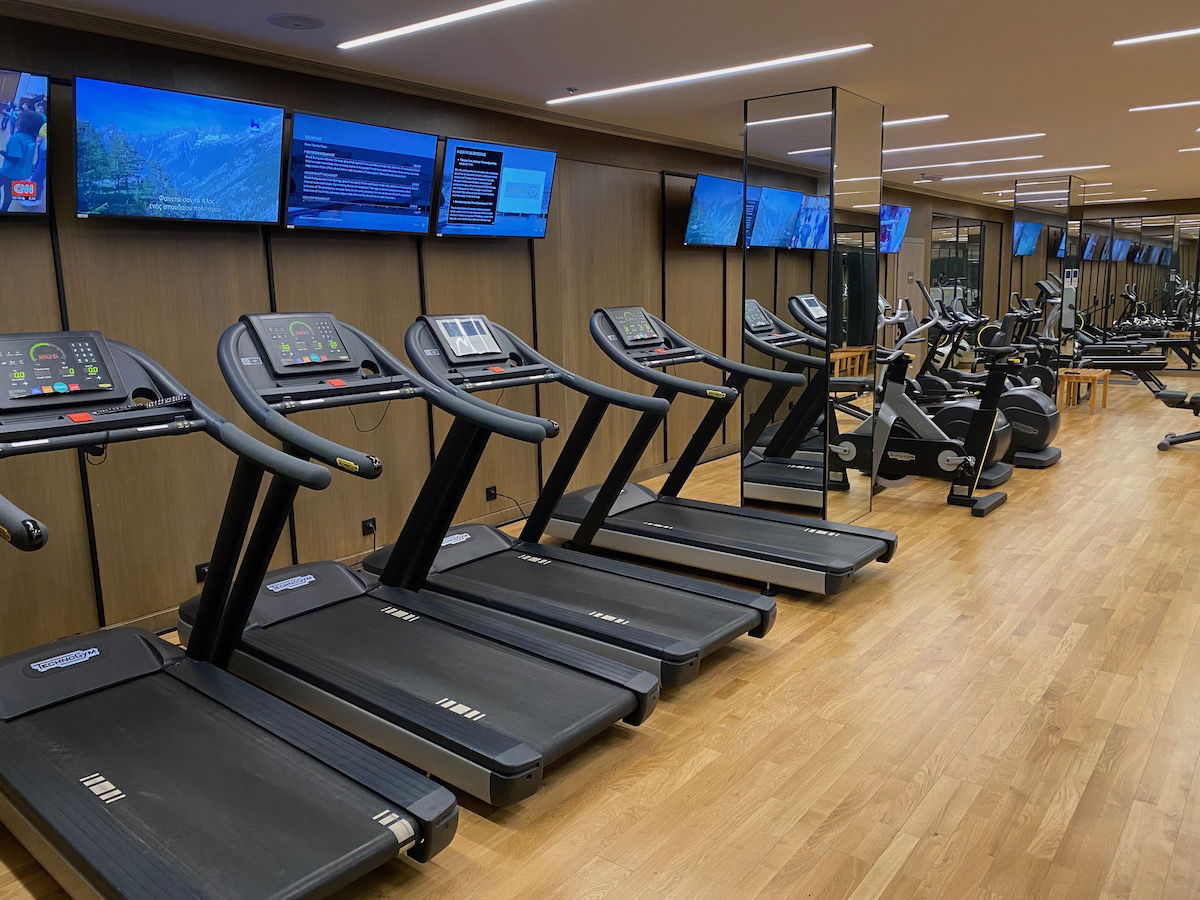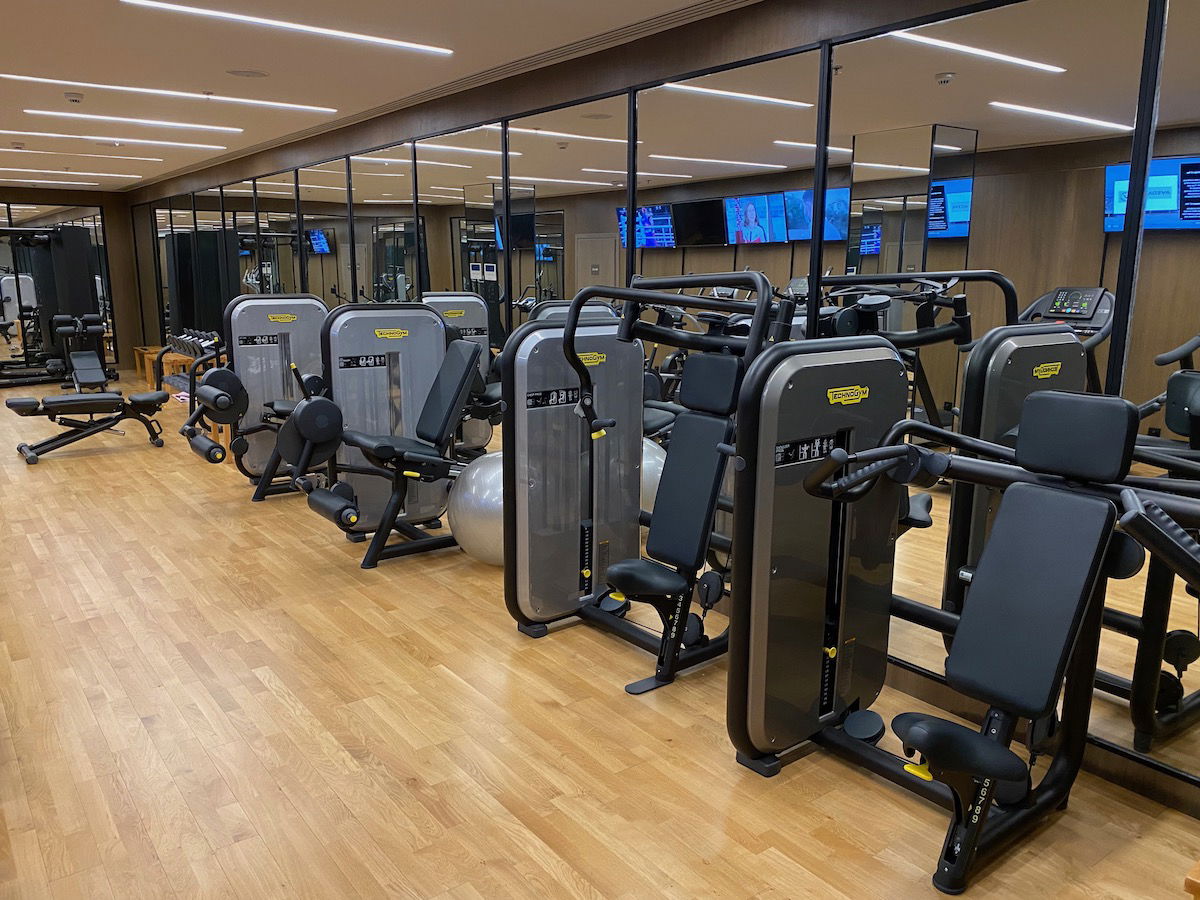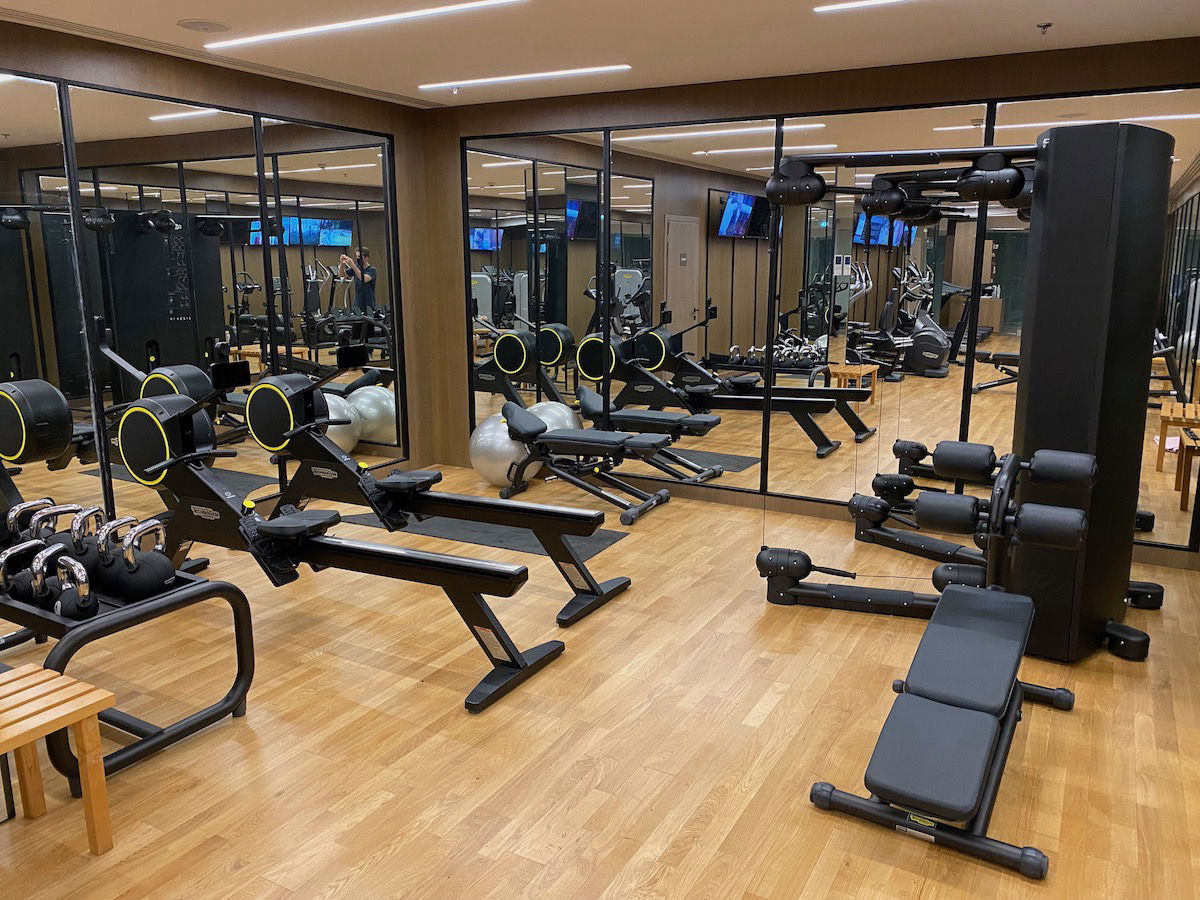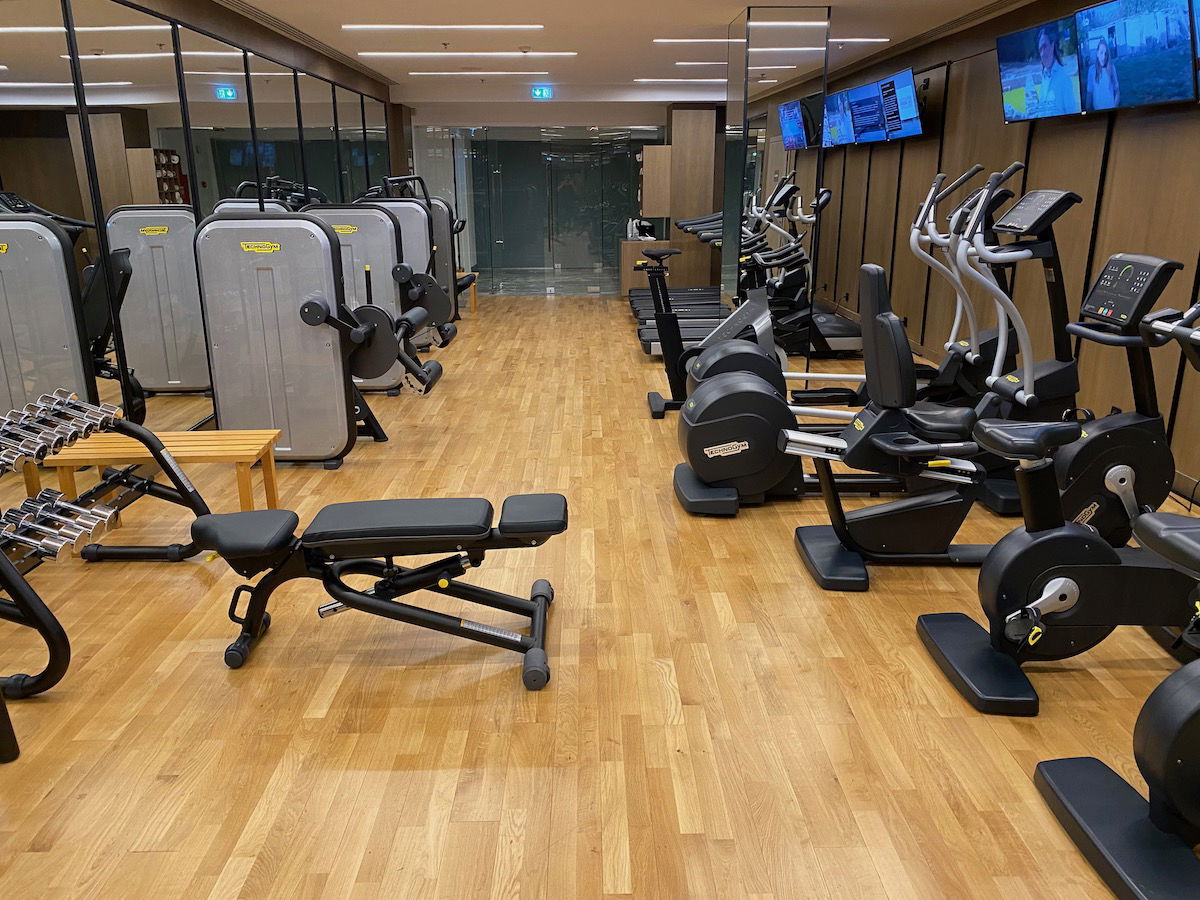 Grand Hyatt Athens service
I found everyone at the Grand Hyatt Athens to be polite, well intentioned, and way overworked. The hotel simply isn't staffed for the number of guests that stay here, so don't expect to get particularly attentive service at this property.
Bottom line
At the Grand Hyatt Athens you get what you pay for, and if you're a Globalist member, you get even more. Based on some of the reviews I had read, the hotel exceeded my (admittedly low) expectations.
The Grand Hyatt is a modern and reasonably priced hotel with great elite recognition, well intentioned employees, and pretty decent facilities. I would stay here again if I were just passing through Athens and wanted to briefly see the sights.
Personally I wouldn't stay here if I were looking to relax by the pool or wanted a hotel that's in a great area for walking. Also keep in mind that there's a massive construction project next to the hotel, though during my stay it was only an eyesore, and noise wasn't an issue.
At the price I paid in the peak of summer, I think the hotel offers a solid value. If the hotel didn't have these issues, it would probably be significantly more expensive.
If you've stayed at the Grand Hyatt Athens, what was your experience like? And if you haven't stayed there, would you consider the property?