After flying from Chicago to Amsterdam on the KLM Boeing 787-10, it was time to connect to Stockholm on a KLM Boeing 737-800. Let's pick up where I left off in the last installment.
How I redeemed miles for KLM business class
To briefly summarize, we redeemed 60,500 Flying Blue miles plus $240 per person in taxes and carrier imposed surcharges to fly the following routing in business class:
06/30 KL612 Chicago to Amsterdam departing 4:15PM arriving 6:55AM (+1 day)
07/01 KL1109 Amsterdam to Stockholm departing 10:40AM arriving 12:40PM
That's a pretty great value, especially when you consider how easy Flying Blue miles are to earn.
KLM Crown Lounge Amsterdam (AMS)
We had a 3hr45min layover in Amsterdam, so upon landing we headed straight towards the KLM Crown Lounge. While KLM has a separate Schengen lounge, the non-Schengen flagship lounge is much better, so that's what we decided to visit. I reviewed this lounge a couple of years back when it first opened, so I won't be fully reviewing it this time around.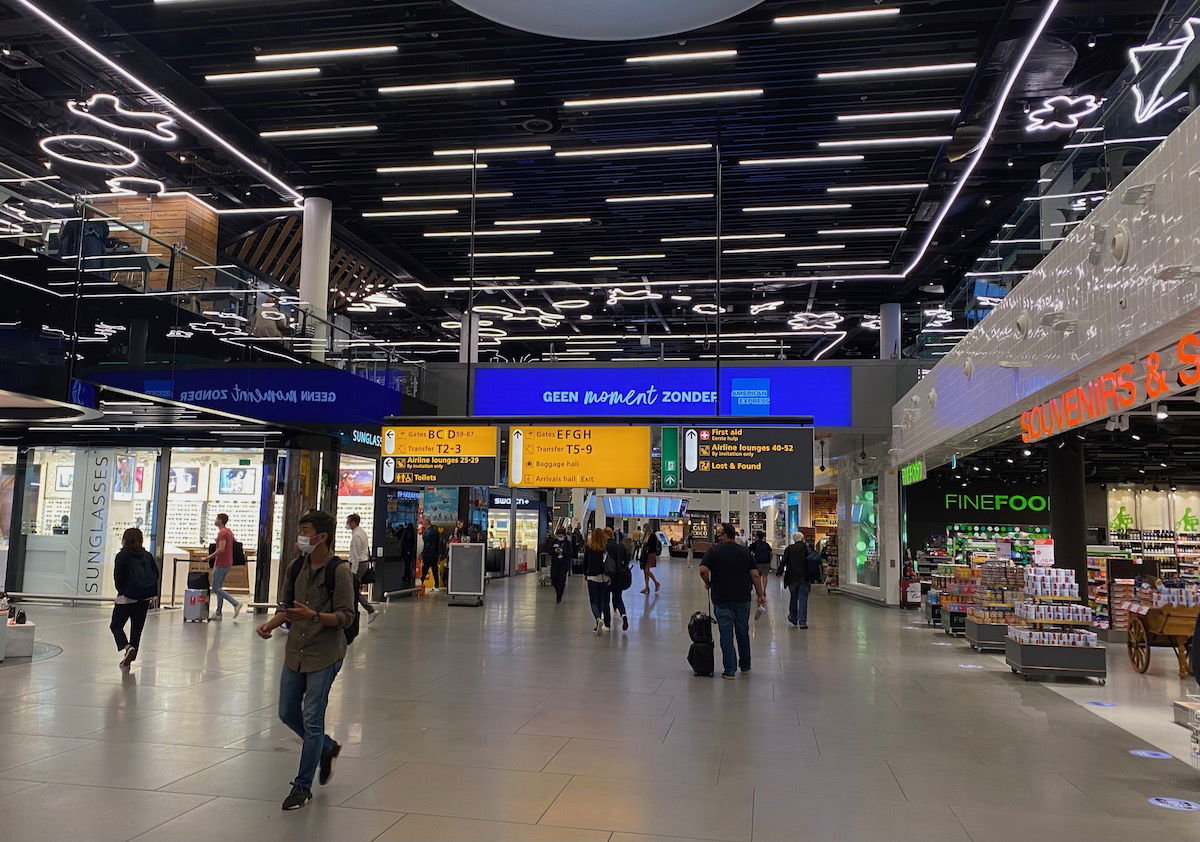 The Crowne Lounge was really great, better than last time I visited. The lounge grew since my last visit, and was also much quieter than the last time I visited (though I imagine that's changing with travel demand continuing to increase). That being said, the food seemed to be scaled back a bit. Nonetheless I liked the general fun and quirky vibe of the lounge.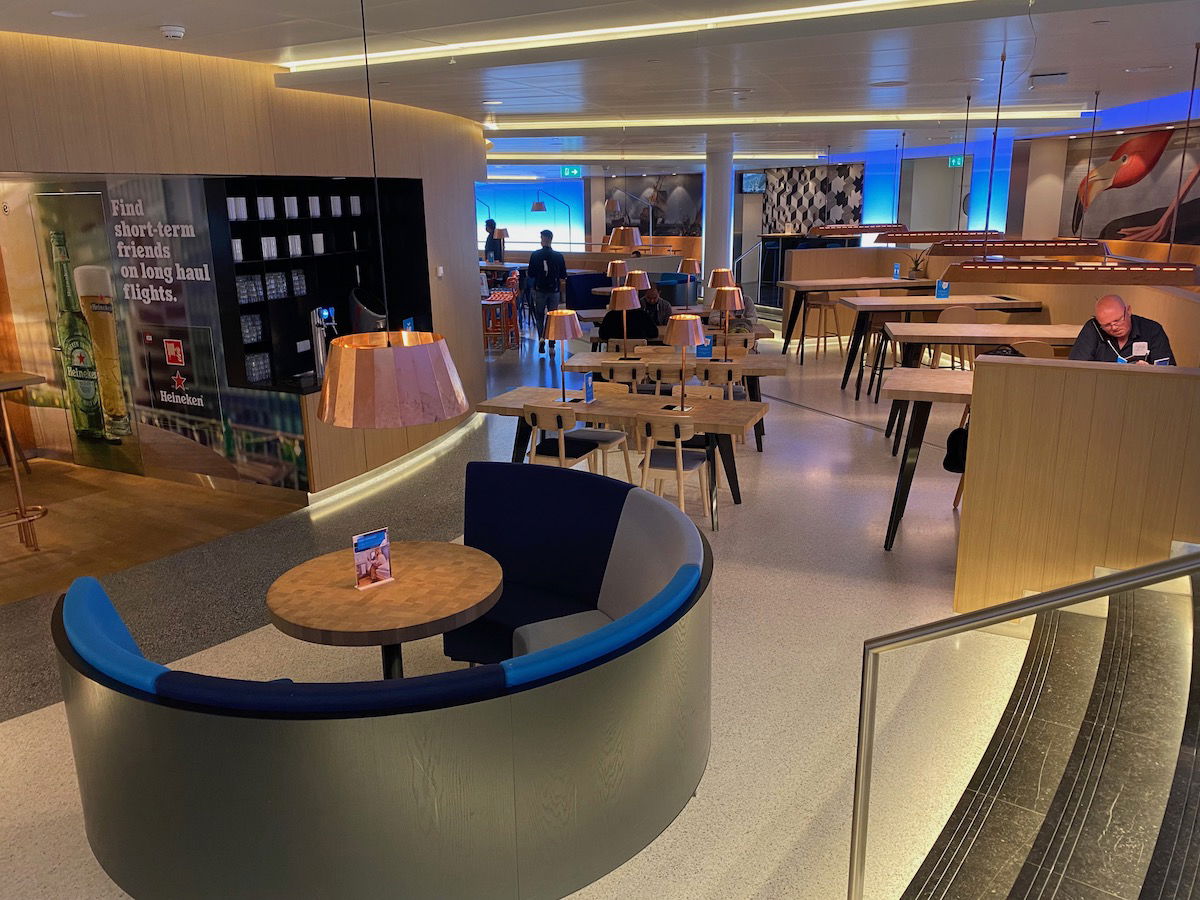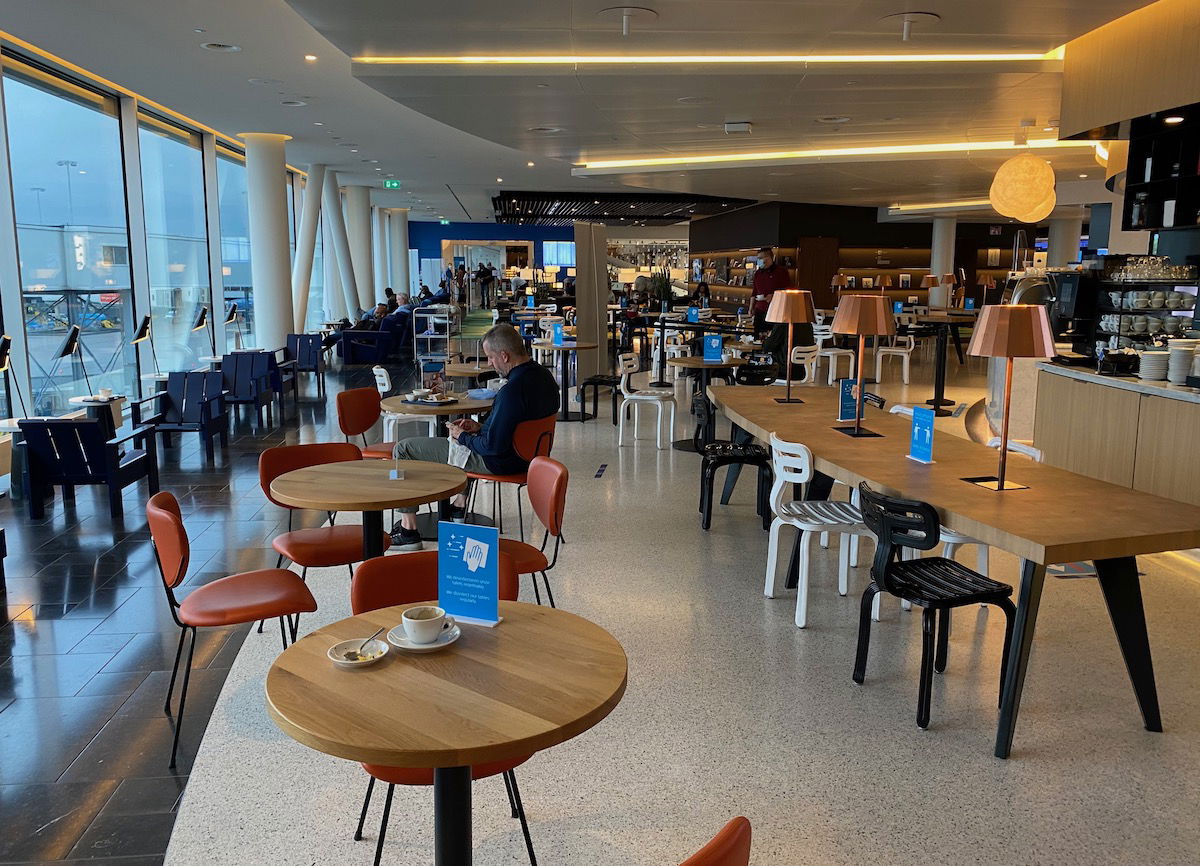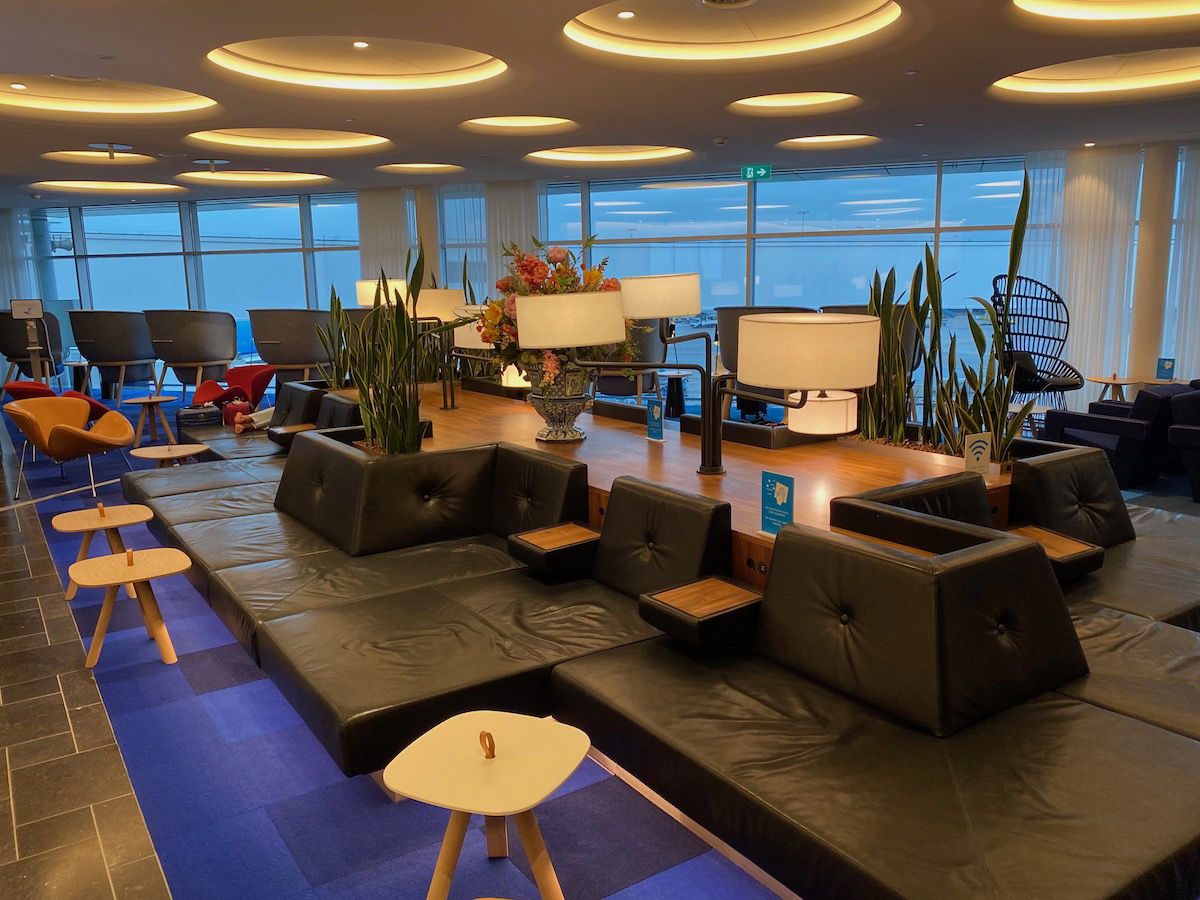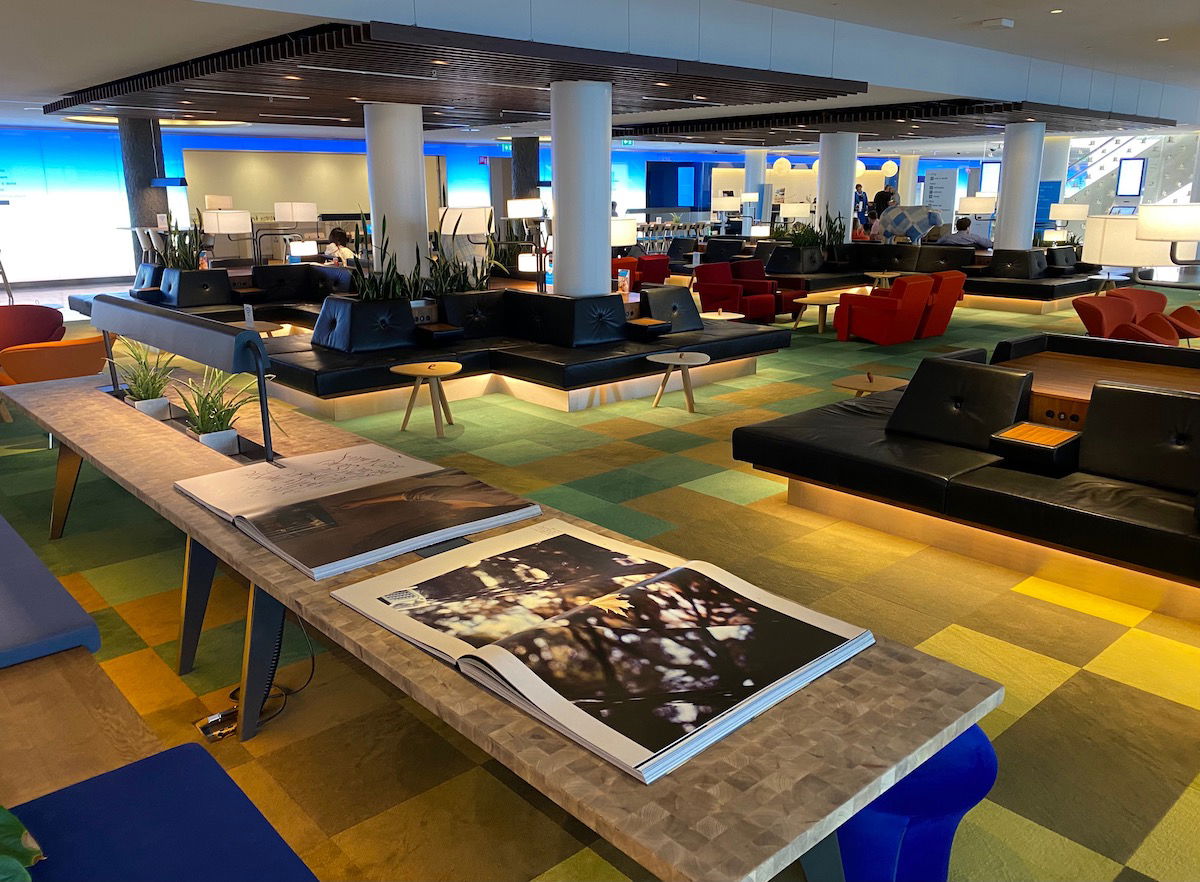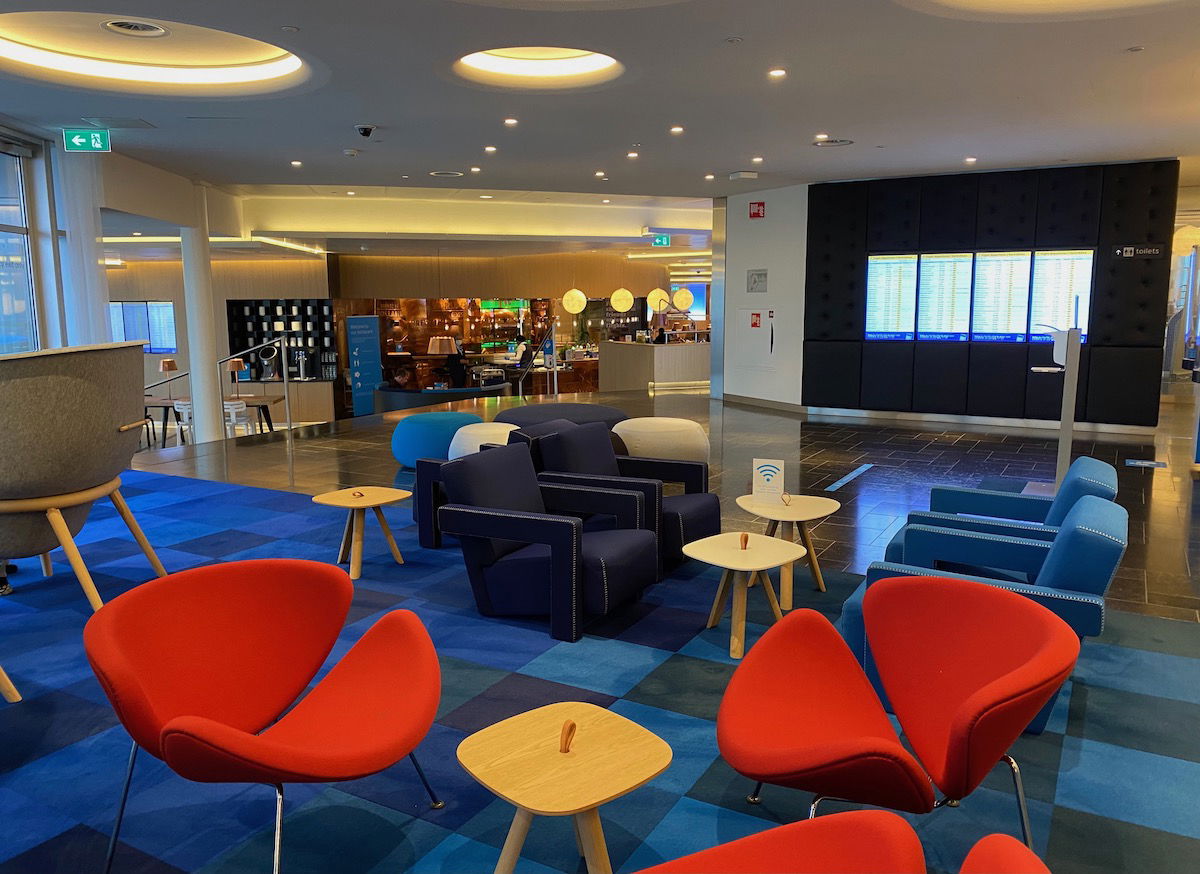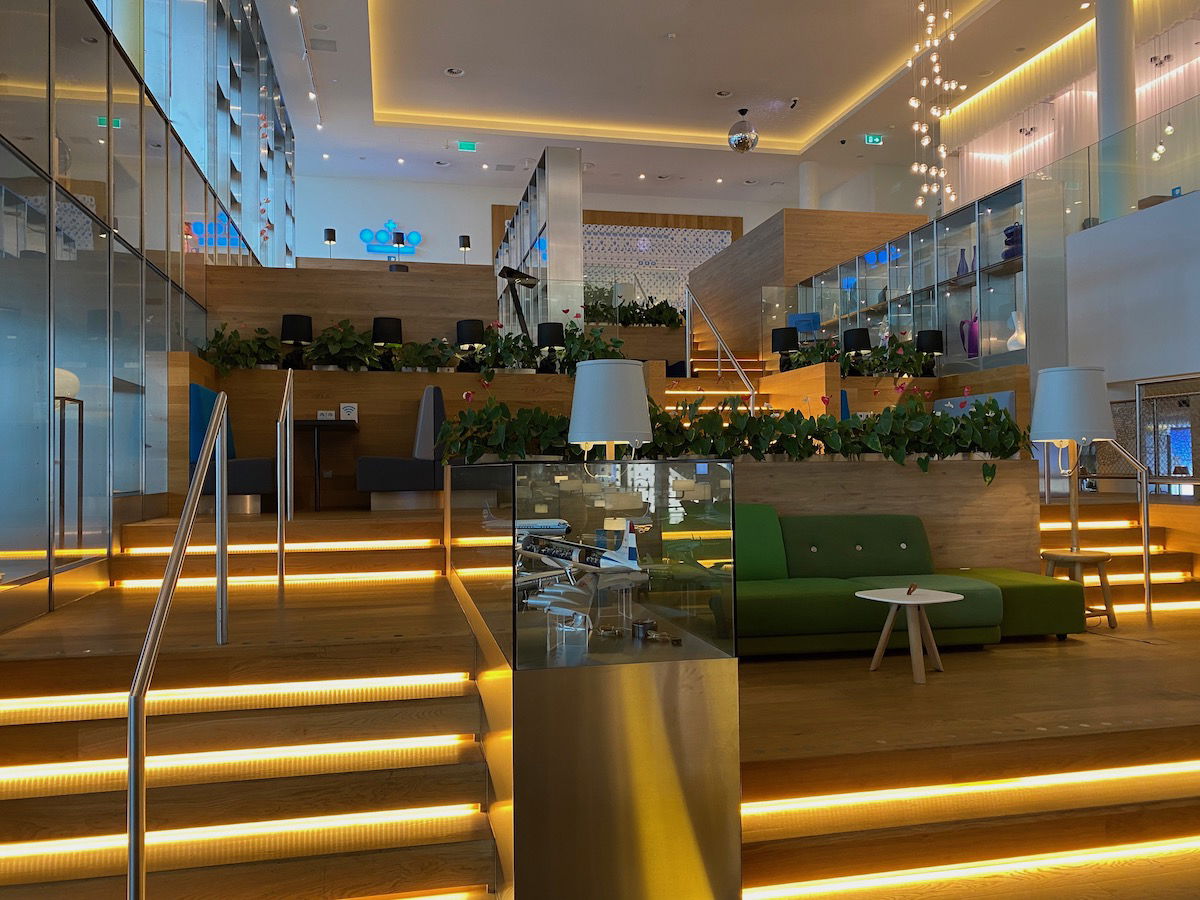 As someone who loves good coffee, I particularly liked the barista-made beverages, and I had a couple of cappuccinos.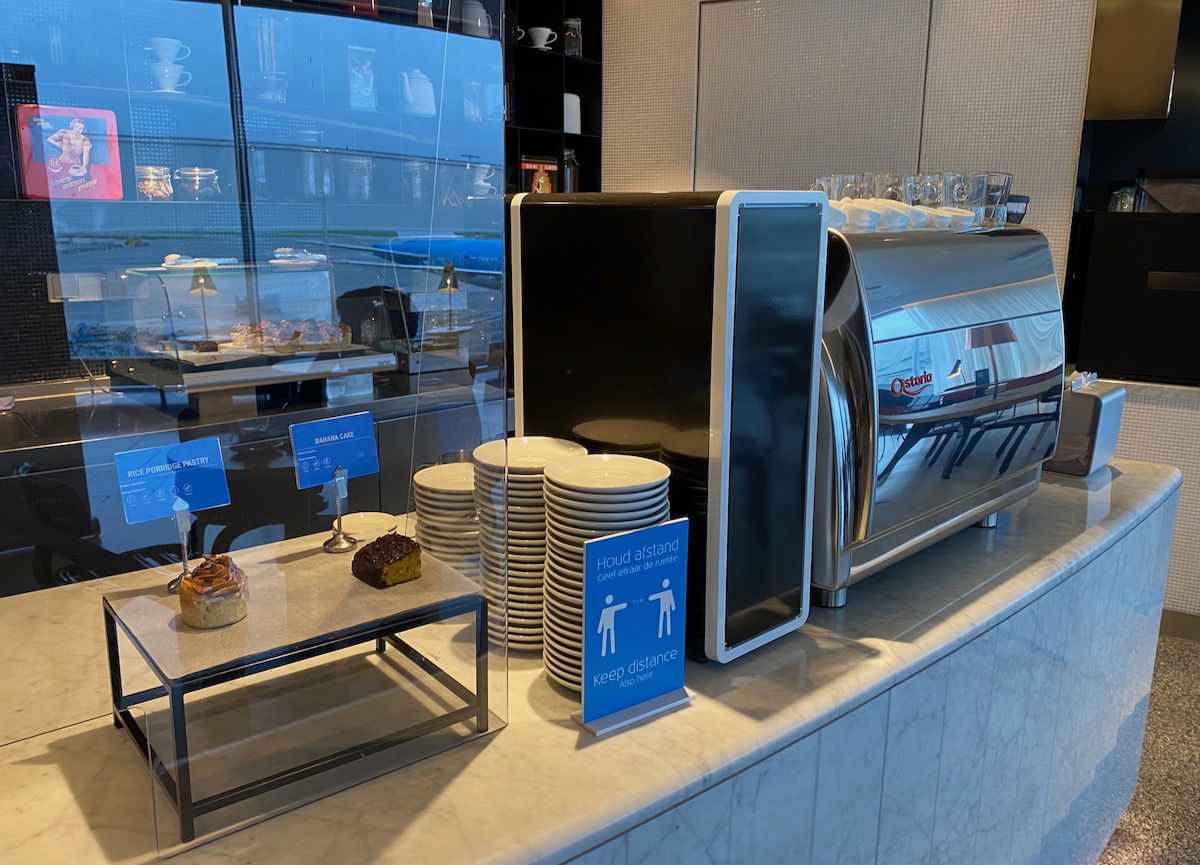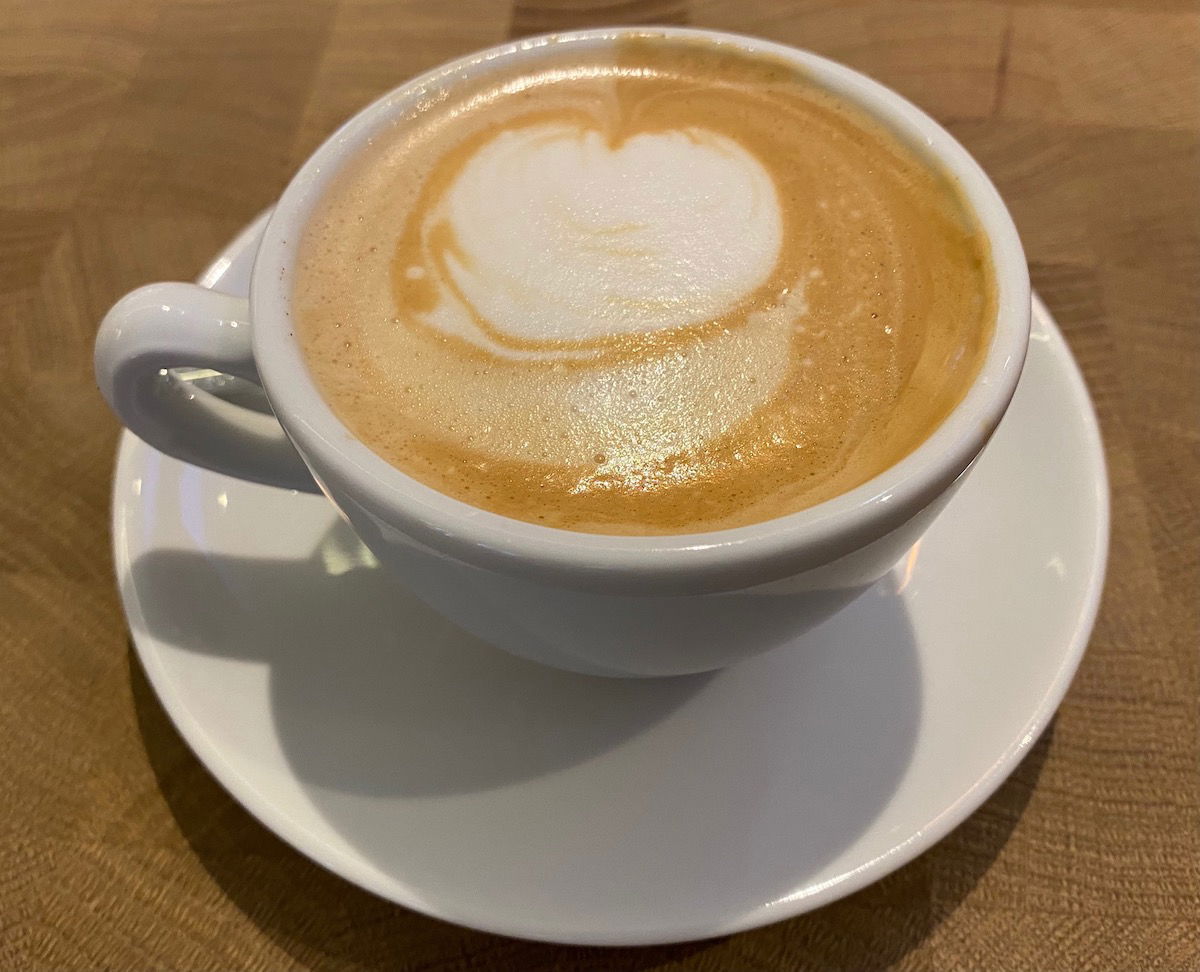 And as an avgeek I also appreciated all the miniature KLM Dutch Houses — there was a display with all of them, and then there were also a bunch at the entrance.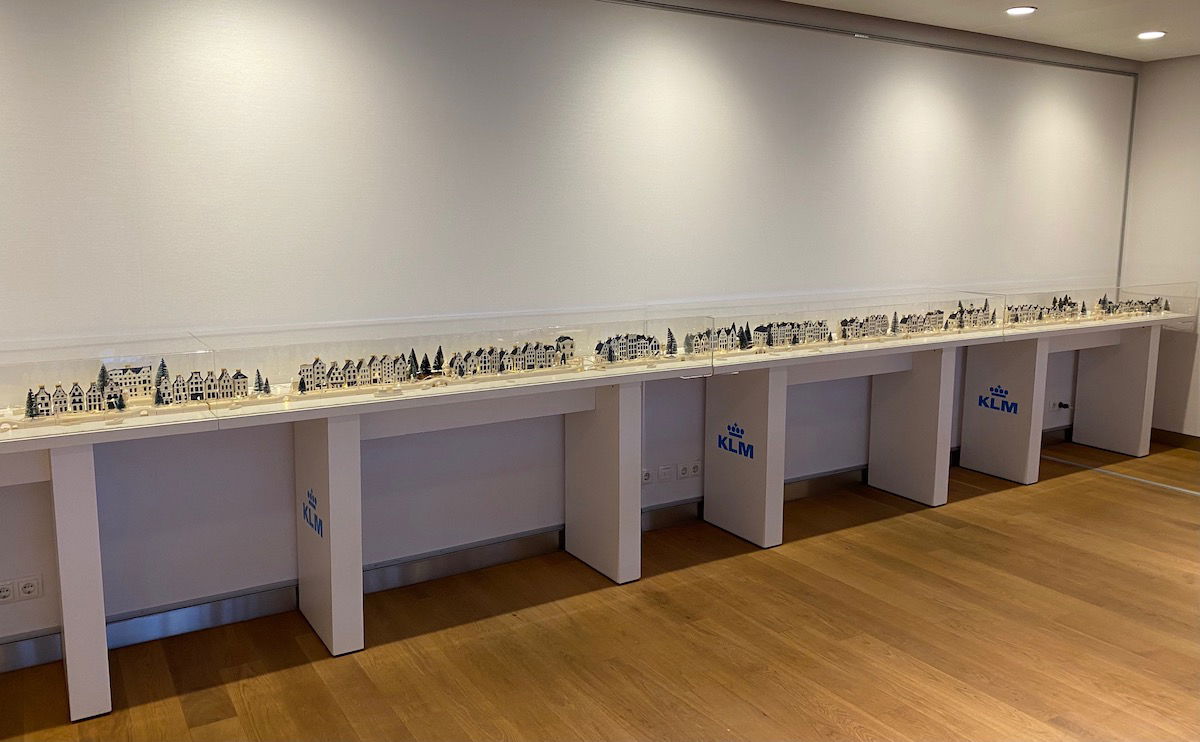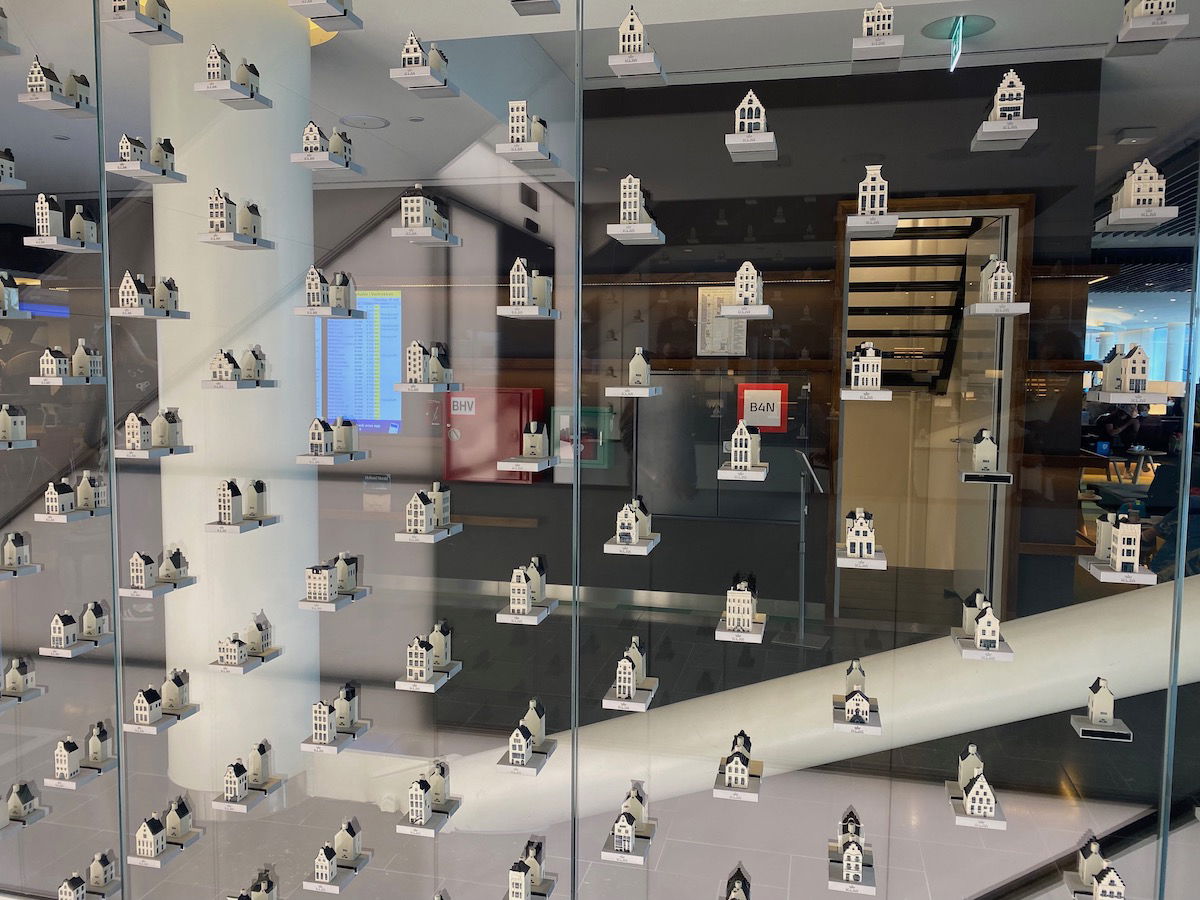 We spent a couple of hours in the lounge, and then headed to passport control, where there was a massive queue. It took about 30 minutes to get through. Fortunately we left plenty of time, and even had time to do some plane spotting.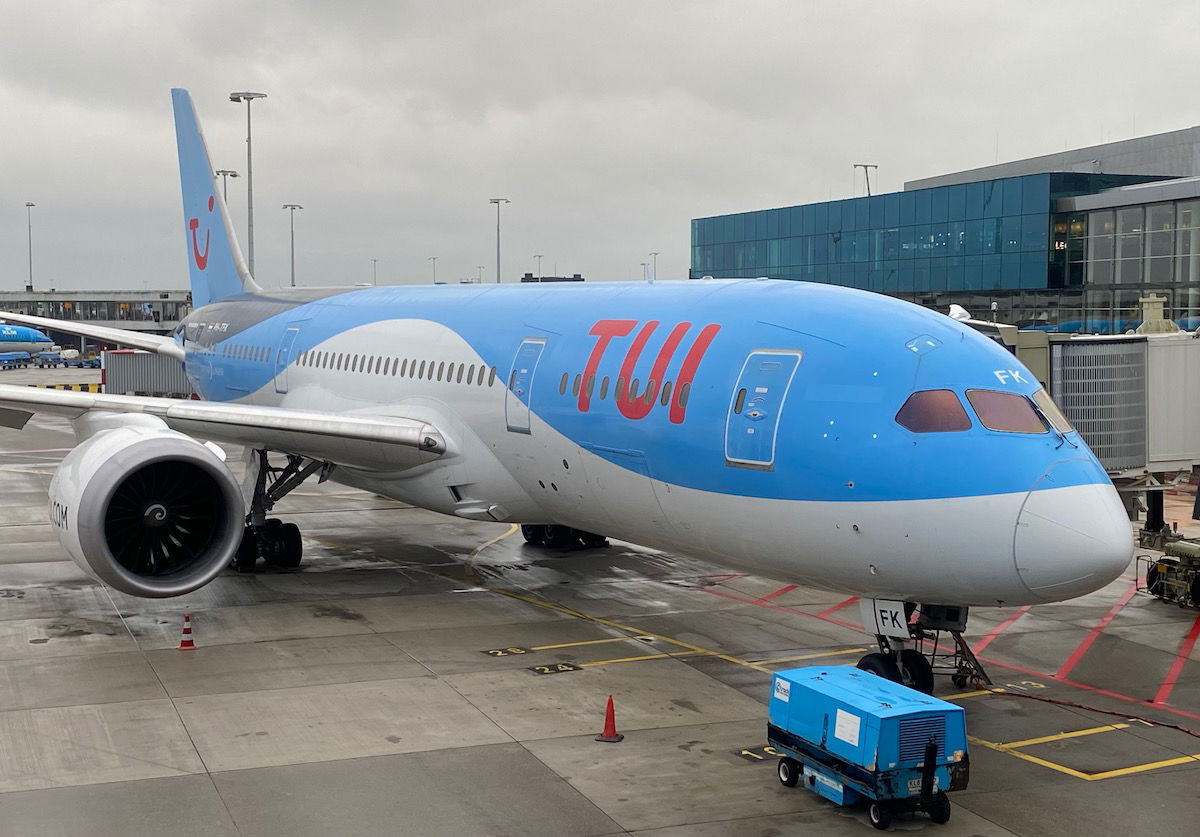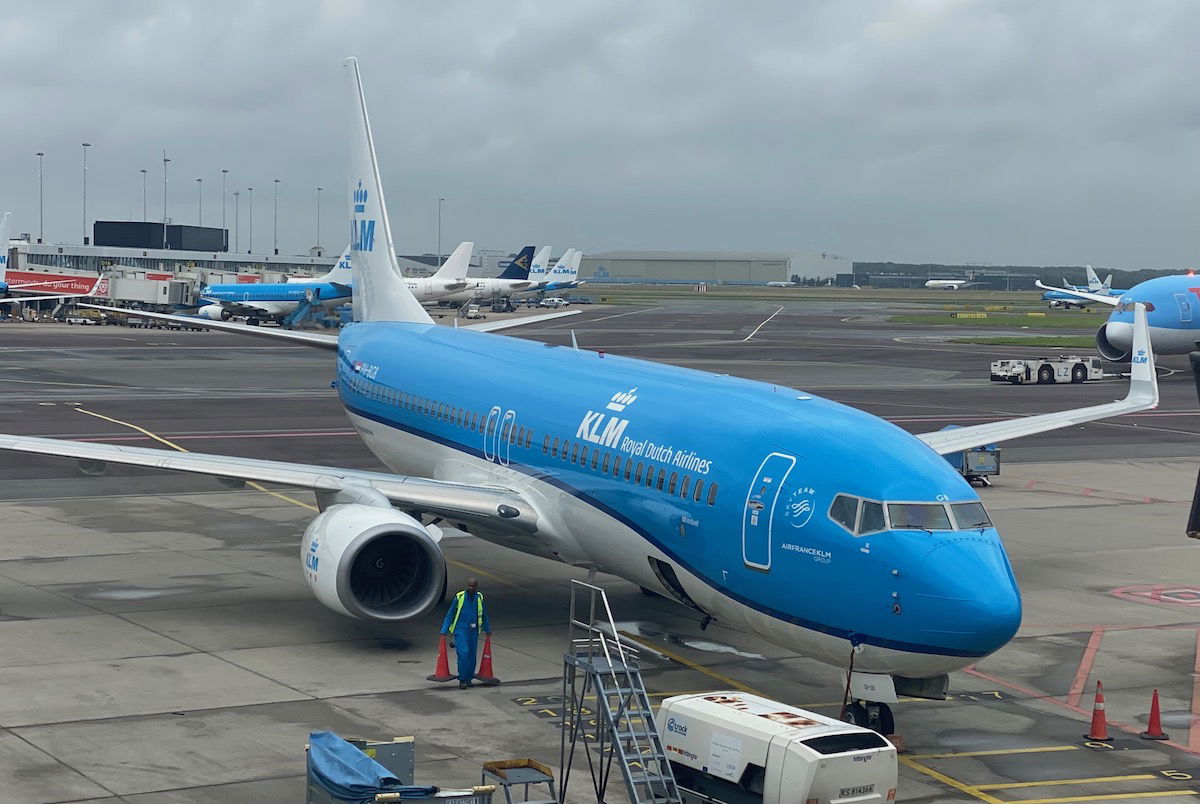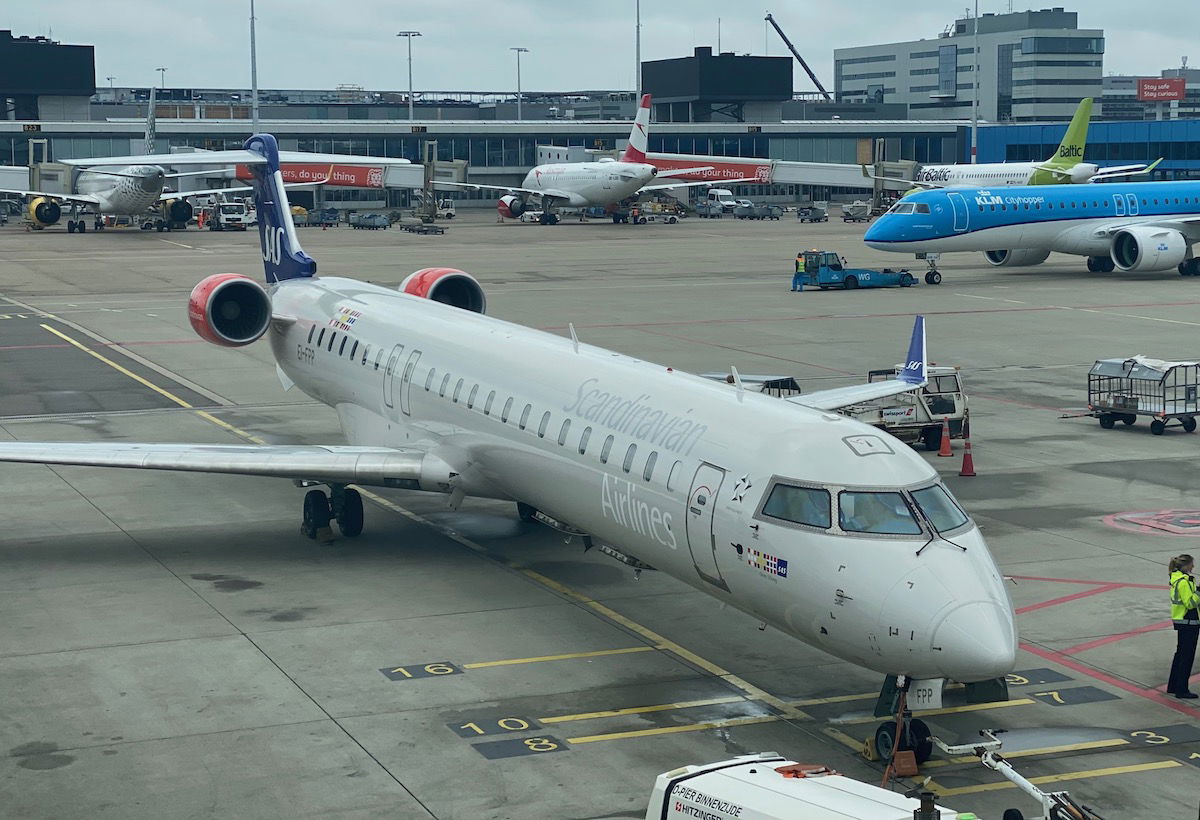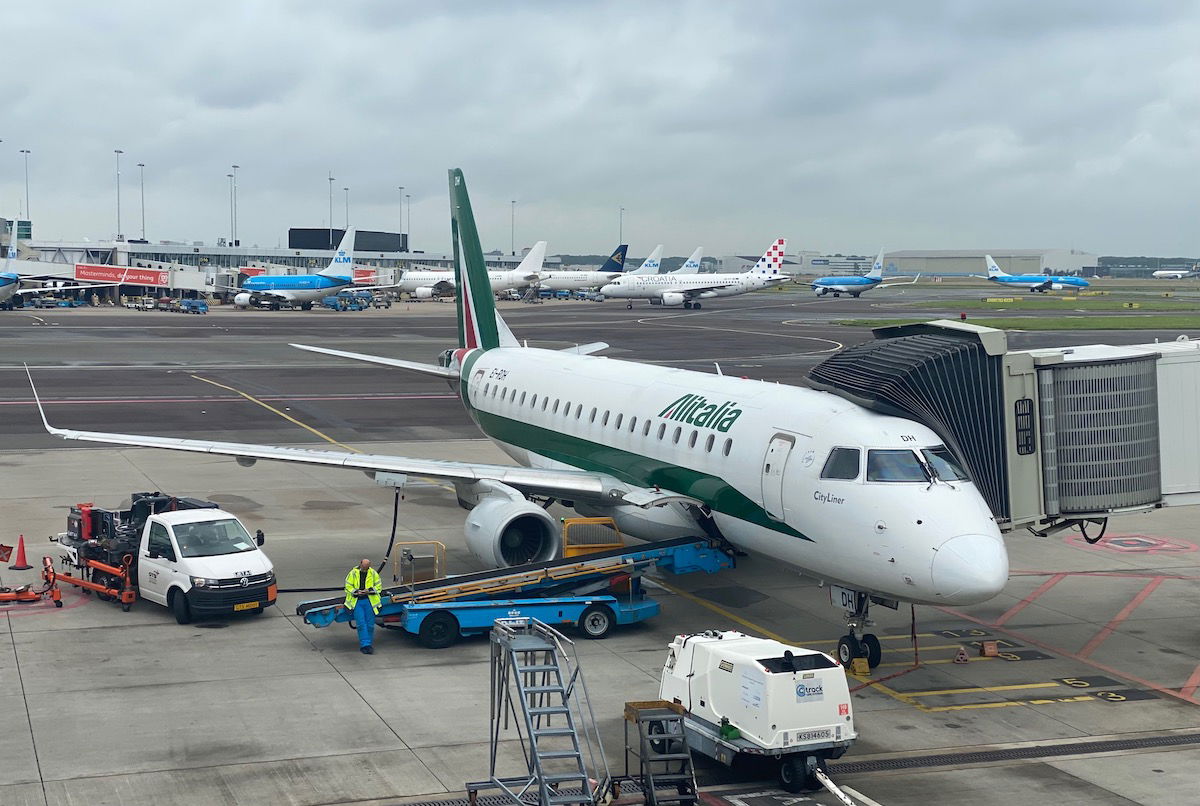 KLM Boeing 737-800 business class cabin & seats
Our flight to Stockholm was departing from gate C18. Boarding started at 10:10AM for our 10:40AM departure — this flight was using the self-boarding gates, which worked quite well.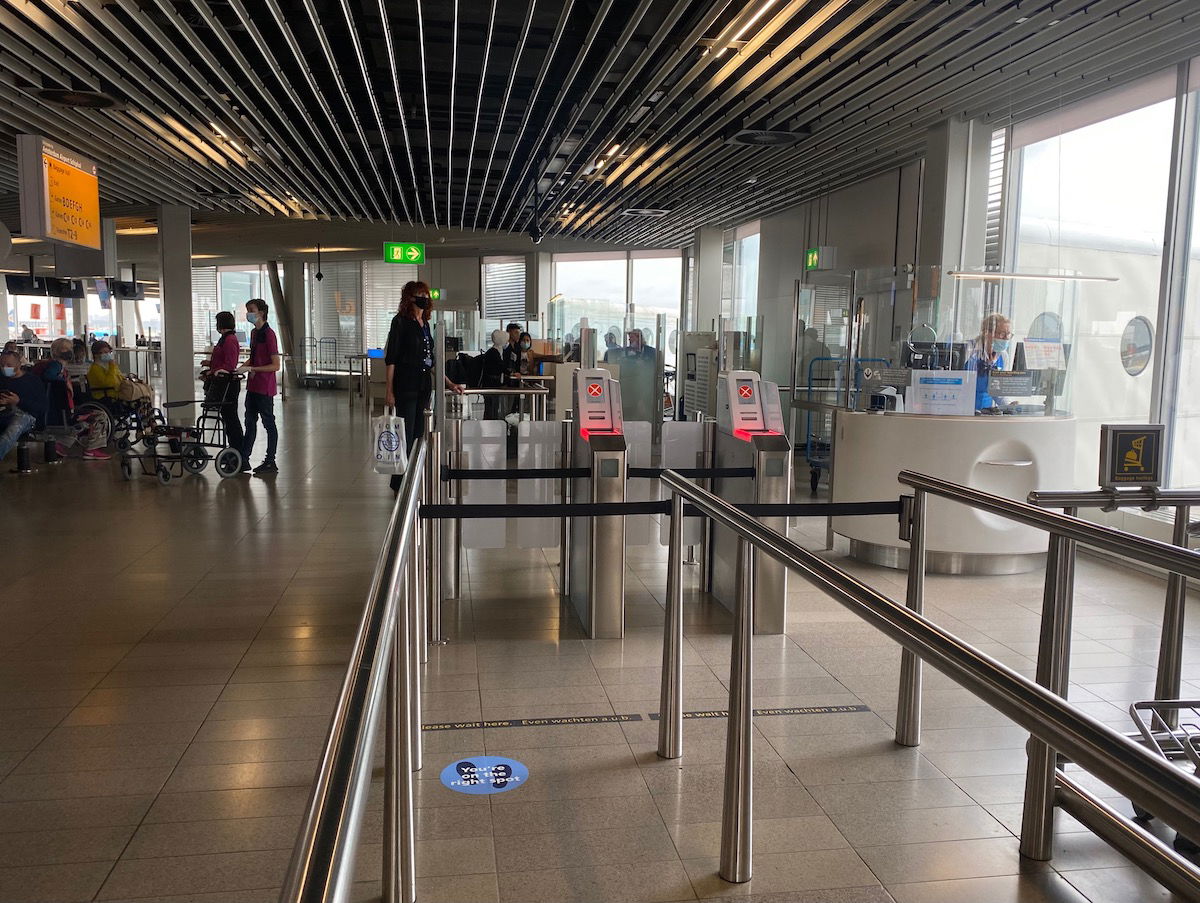 At the forward door we were greeted by the friendly purser. As is standard on intra-Europe flights, business class simply consisted of economy with blocked middle seats. The size of the cabin can change between flights, and on this particular flight there were four rows of business class.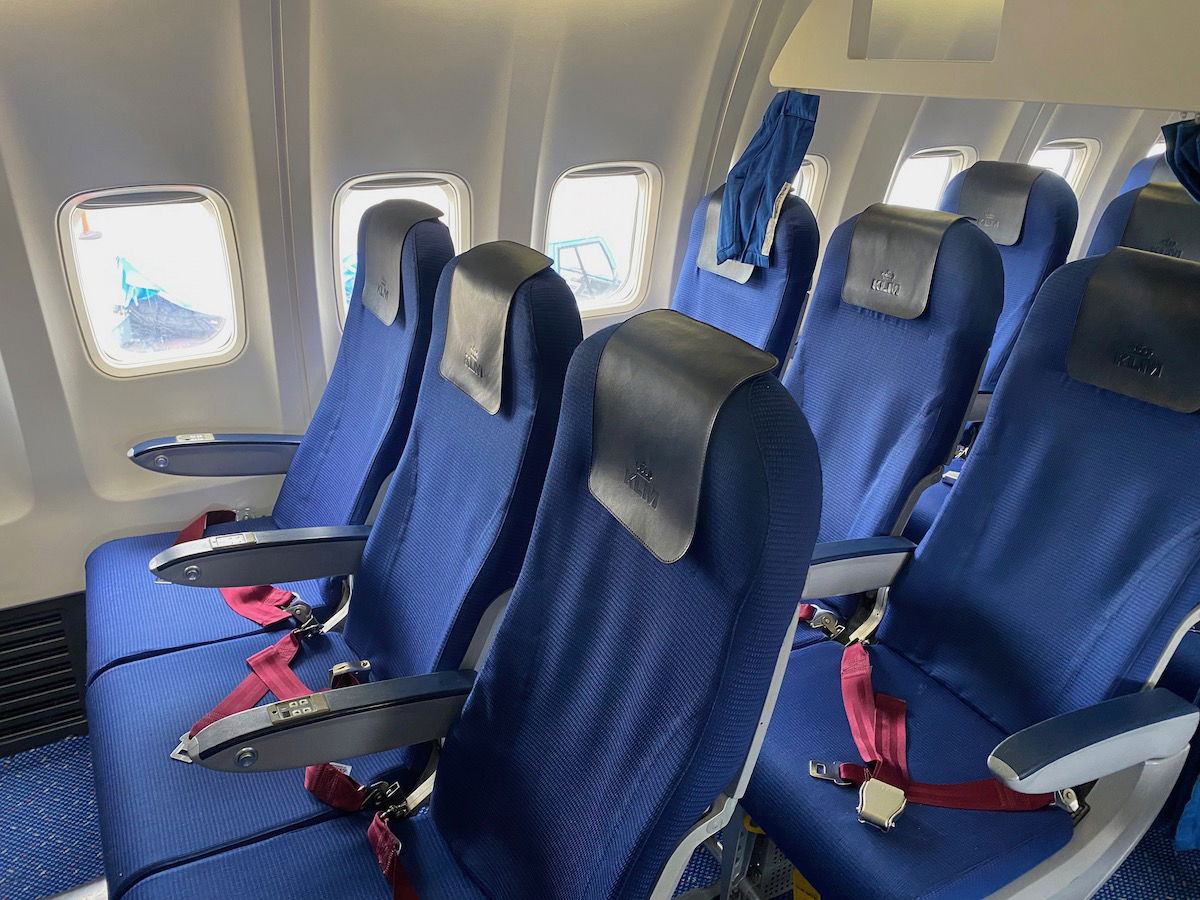 I assigned us seats 4A & 4C, the business class aisle and window seats in the fourth row on the left side.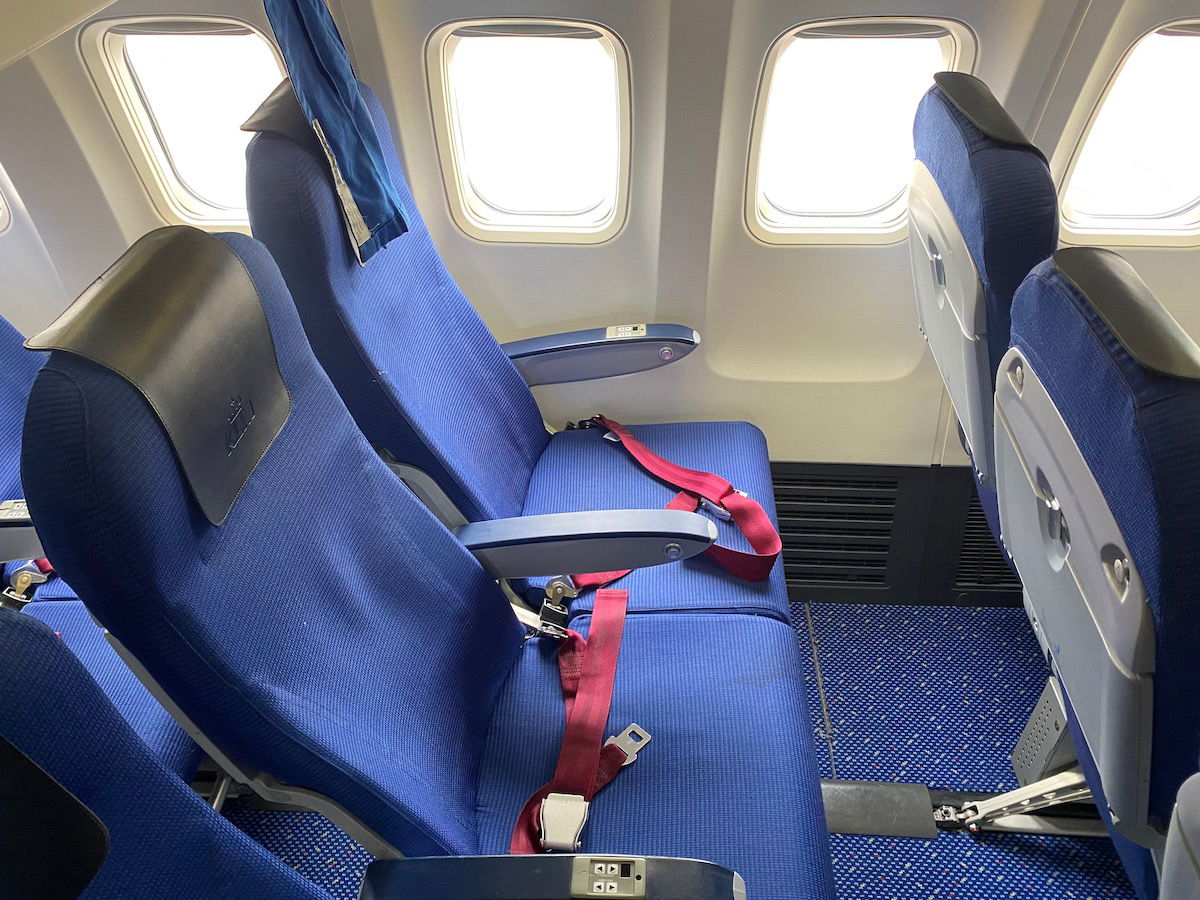 The cabin definitely felt a bit older, but on intra-Europe flights I'd consider that to be a good thing — the padding was comfortable, and the legroom was just about the best I've seen within Europe for these kinds of configurations. In intra-Europe business class you usually still only get 30″ of pitch, but KLM has 33″ of pitch in the first few rows of the 737, so that's awesome.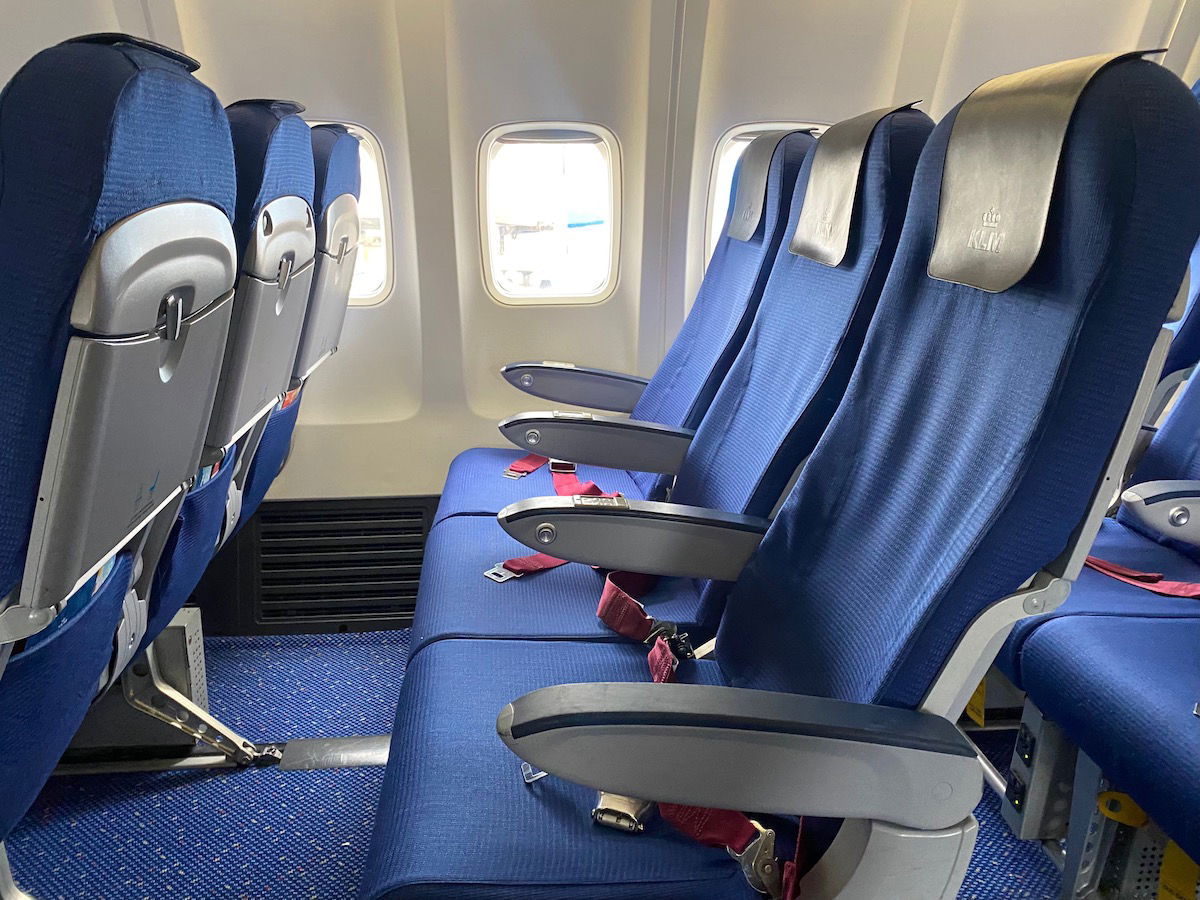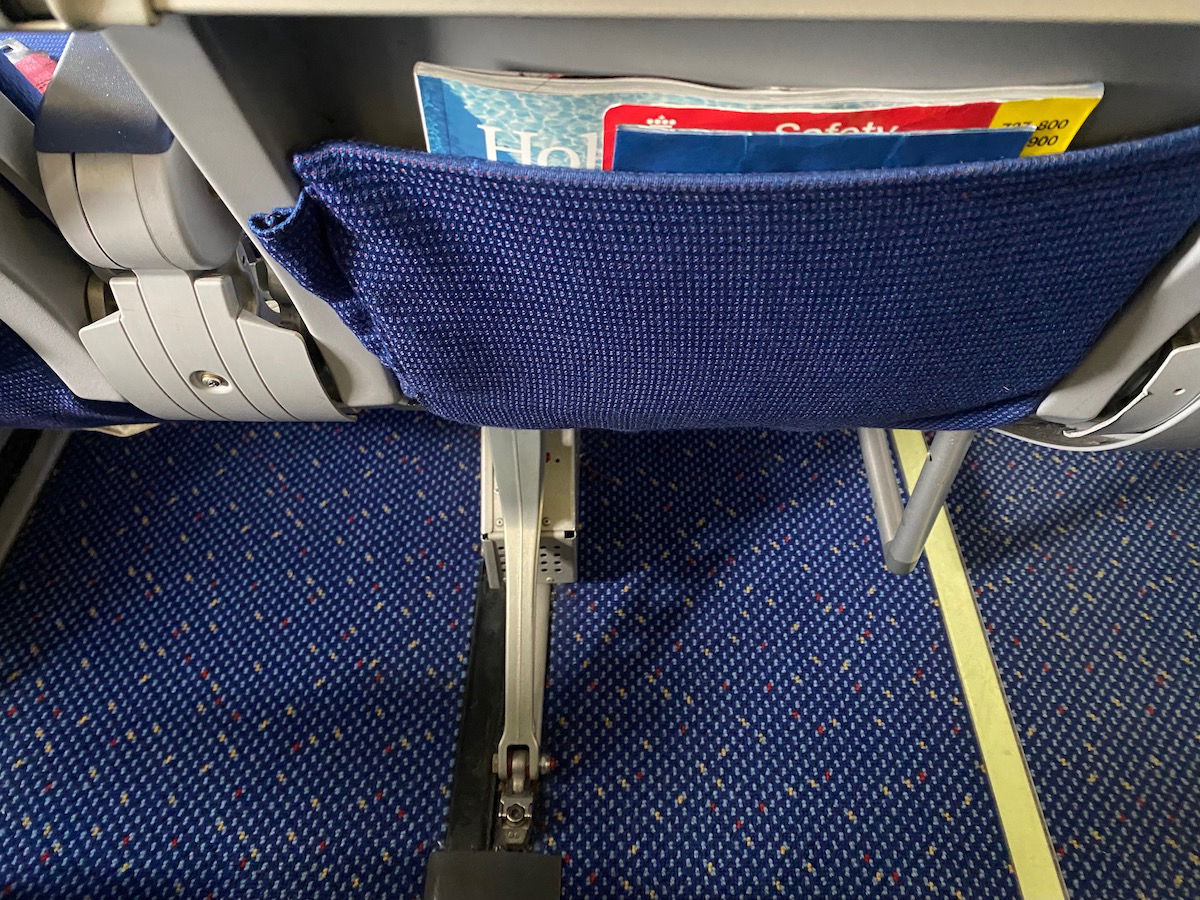 While this particular plane didn't have Wi-Fi, there were 110v outlets at every seat, which is a feature that I sure appreciate.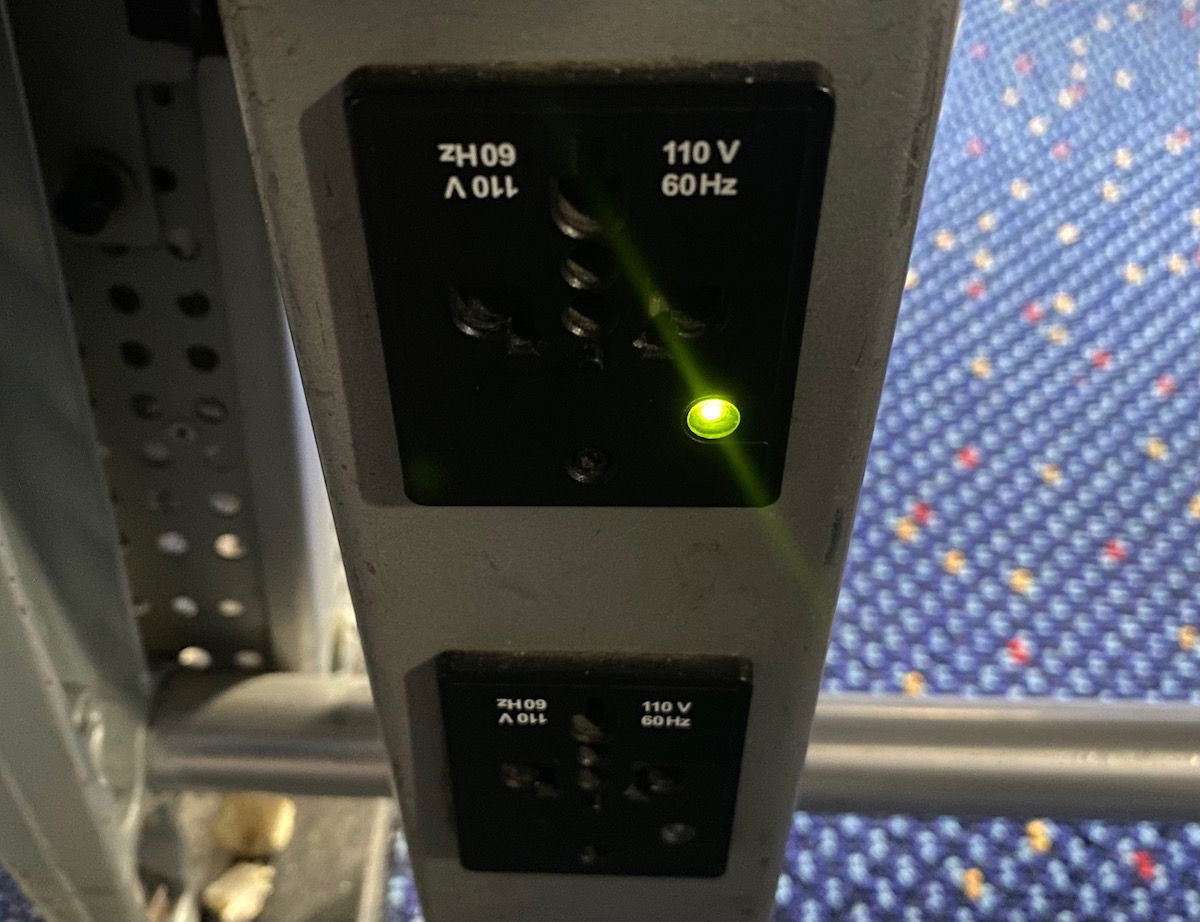 Departing Amsterdam
The boarding process was efficient, even though economy was mostly full (meanwhile nine of the 16 business class seats were occupied). The main cabin door closed at 10:35AM, and shortly thereafter the manual safety demonstration began. The crew wished a happy birthday to a passenger over the intercom — I'm not sure if this was somehow tracked based on the reservation, or if there was some other connection between the crew and passenger.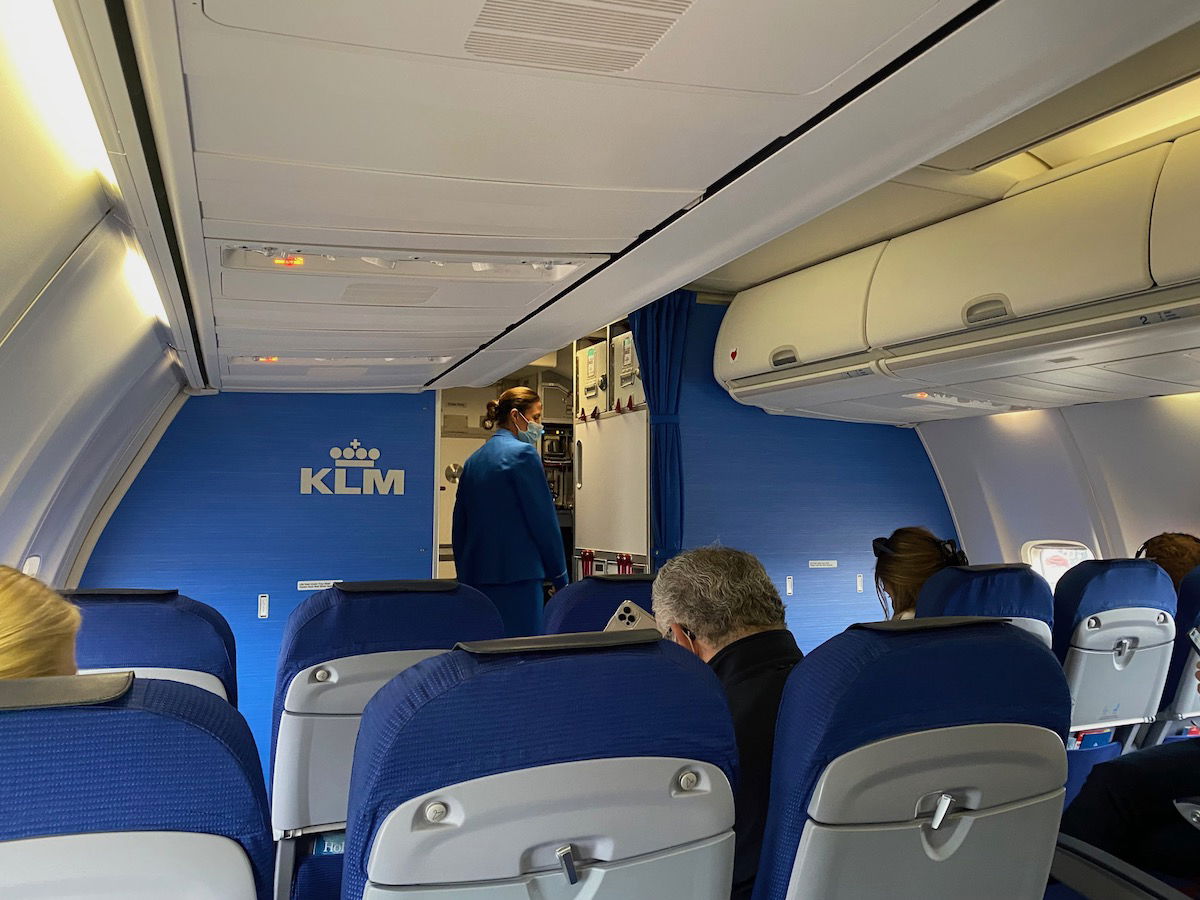 At 10:40AM we began our pushback, right next to a Transavia Boeing 737.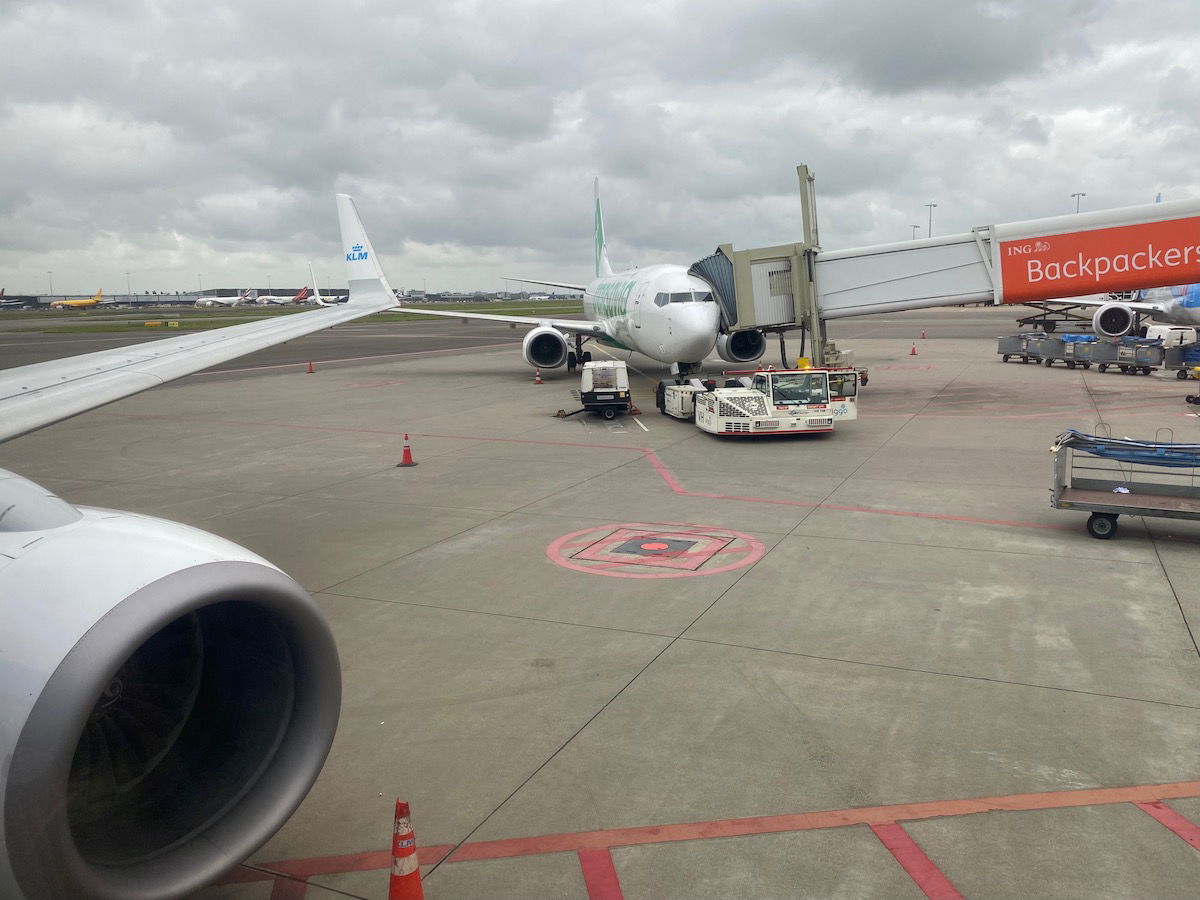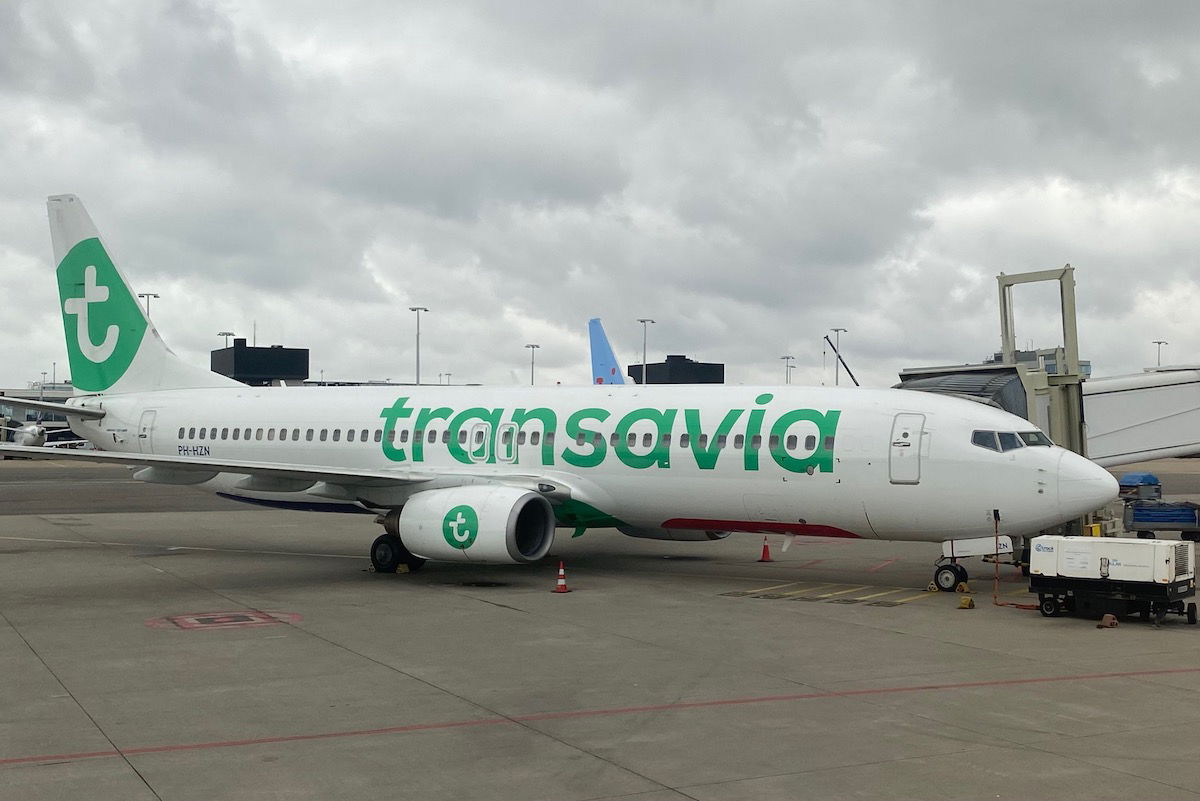 We had a pretty quick taxi to runway 24. Once there we were cleared for takeoff immediately, and rocketed off for our 1hr40min flight to Stockholm.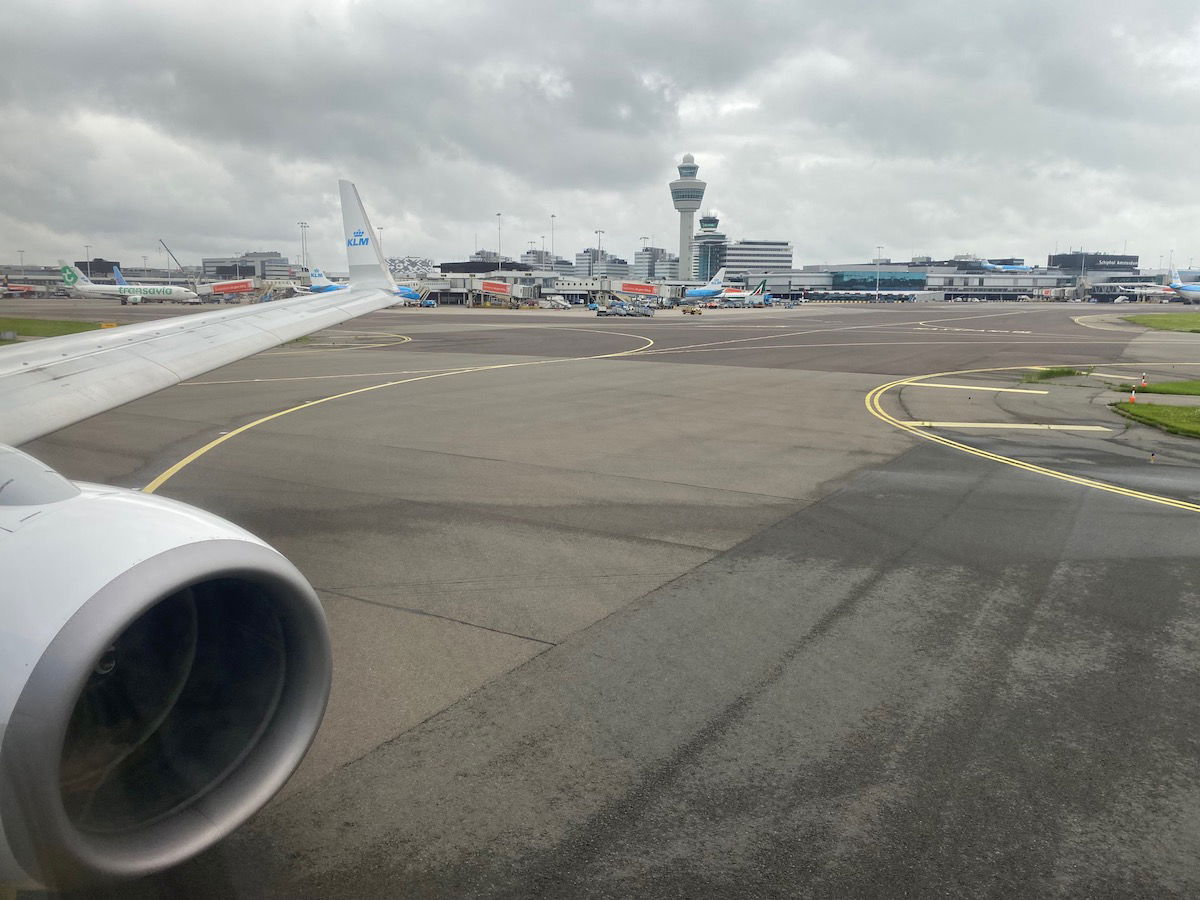 There was a bit of chop on the climb out, but after the initial cloud layer the ride got much smoother. The seatbelt sign was turned off within 10 minutes.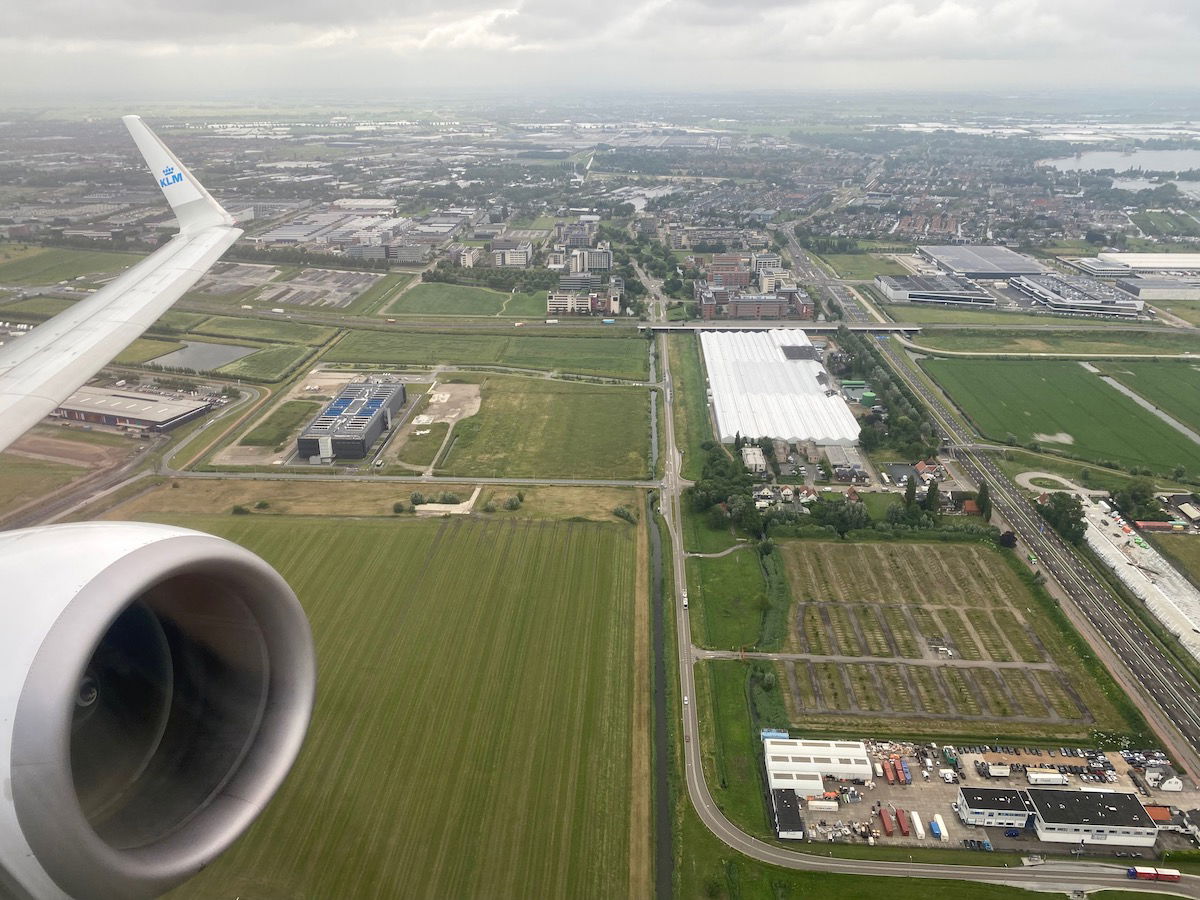 KLM business class food & drink service
A few minutes after the seatbelt sign was turned off, the crew closed the curtains and began the service.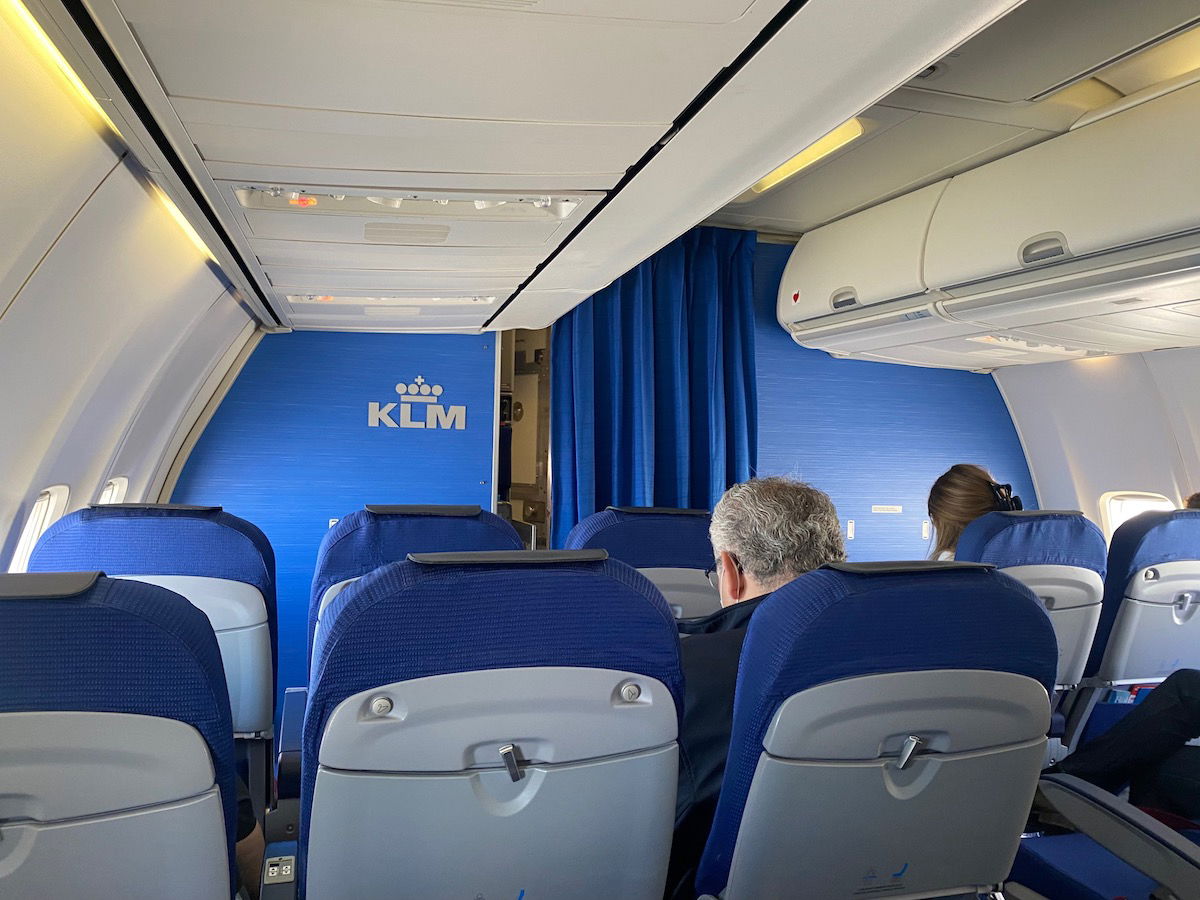 There was no choice for the meals, but rather each business class passenger was presented a box of food, plus a selection of drinks. I ordered coffee and water, which were served in proper glassware.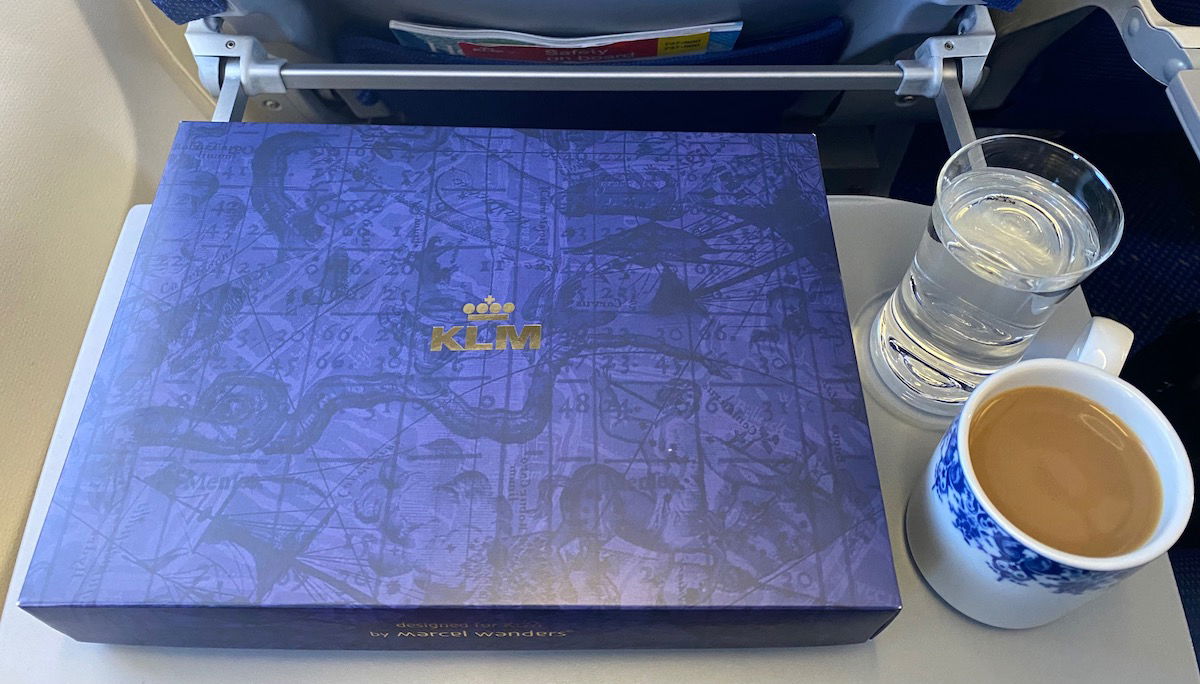 Intra-Europe catering usually isn't much to get excited about, but I thought this was fairly decent and simple. The meal included a fruit salad, yogurt and granola, smoked salmon, a boiled egg, and a bread roll.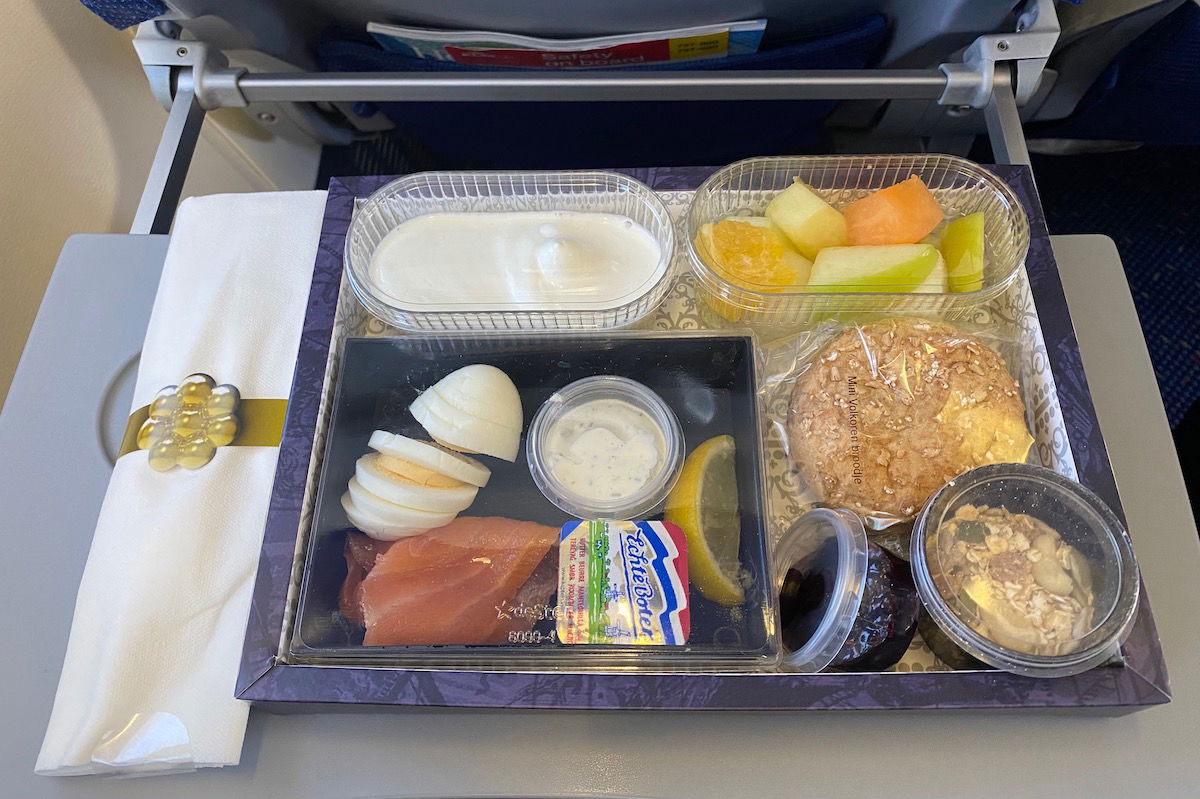 I also liked that there was a menu that came along with the meal, which included both the food and drink options. Too often within Europe you're served a meal with no clue of what it actually is, and the crew often doesn't have a lot more information either.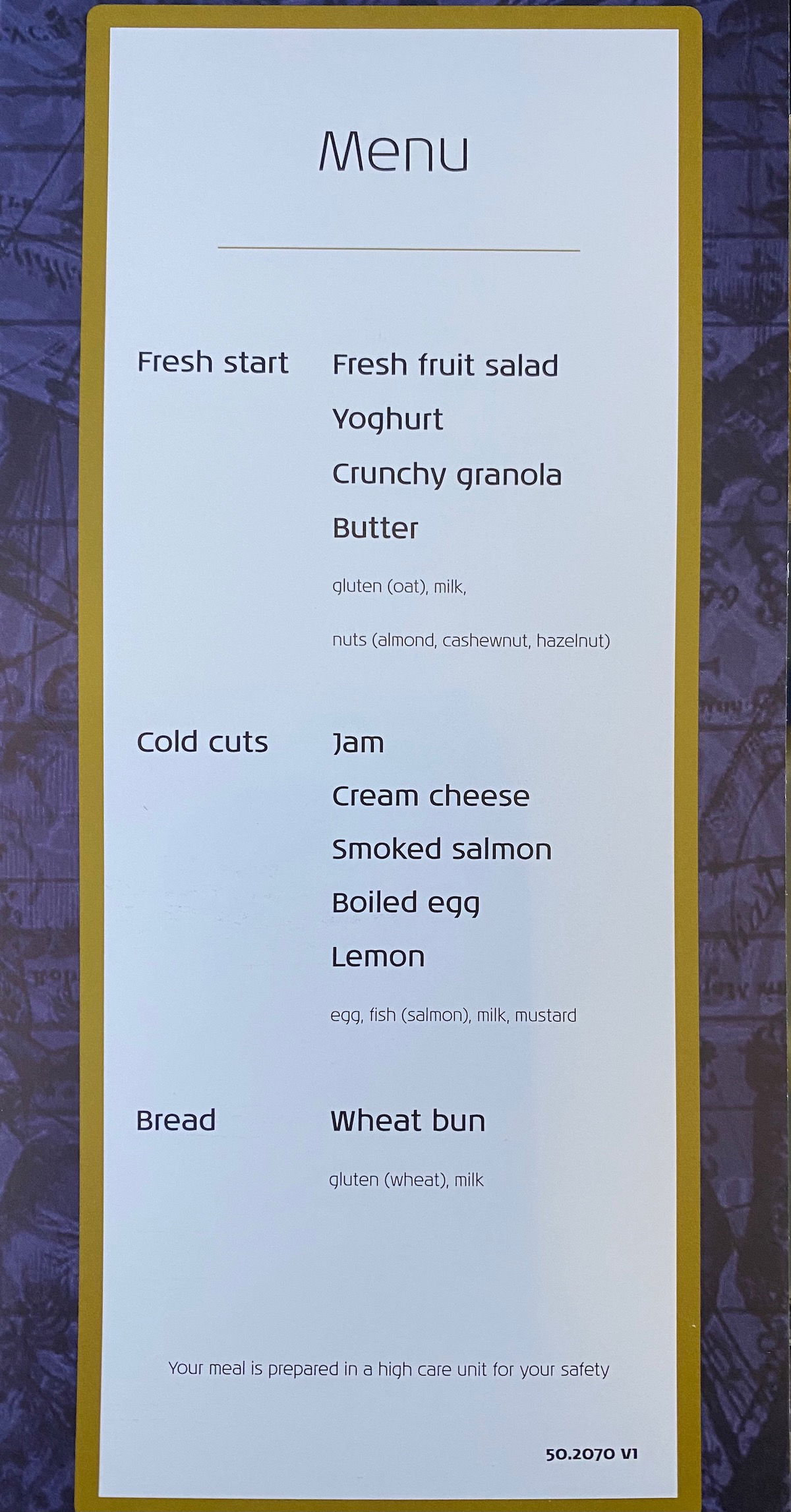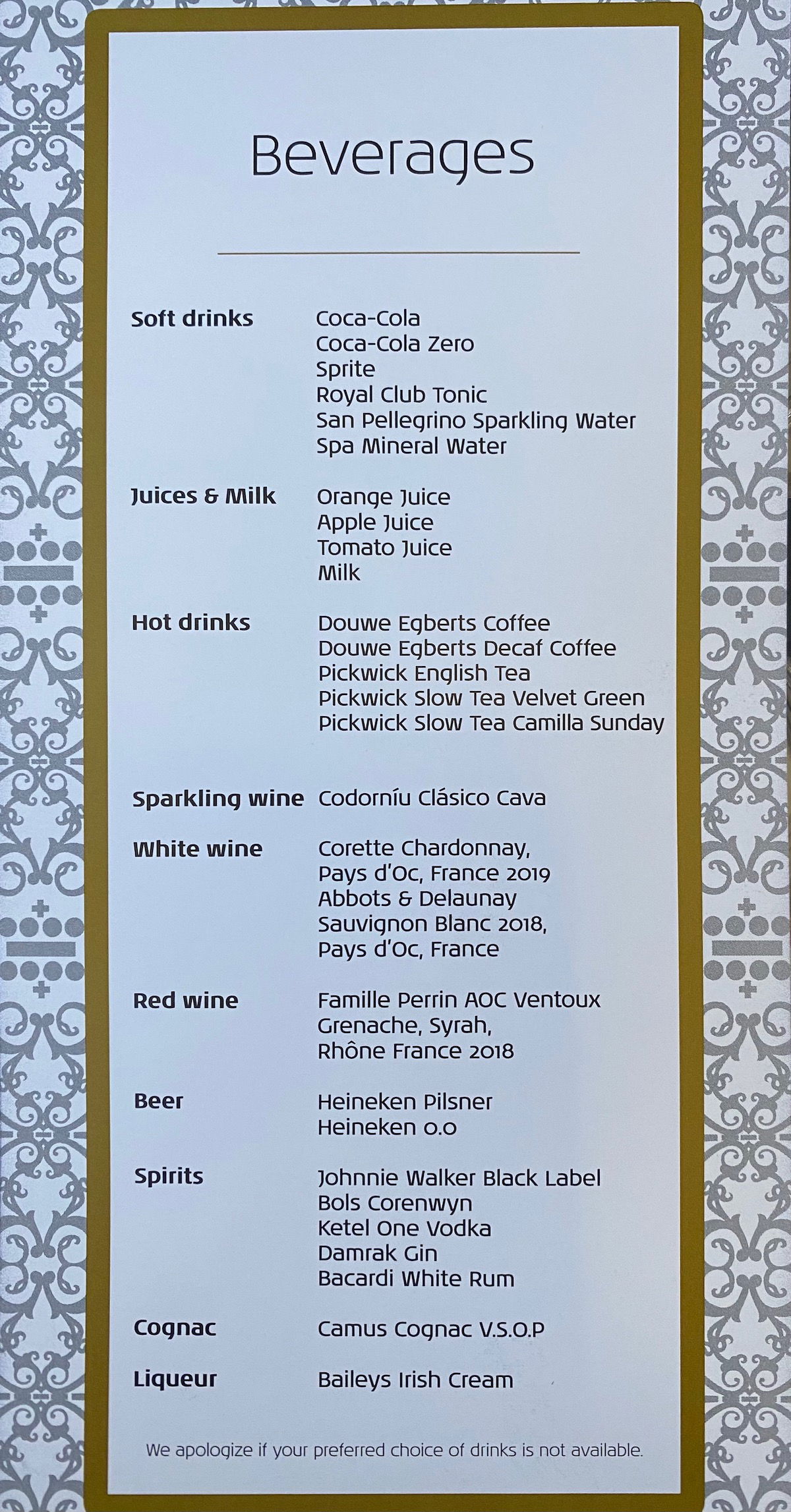 Later on in the flight I ordered a second cup of coffee, after the trays were cleared. I liked how this was served on a little coffee tray with a sweet — often it's the little touches that differentiate an experience.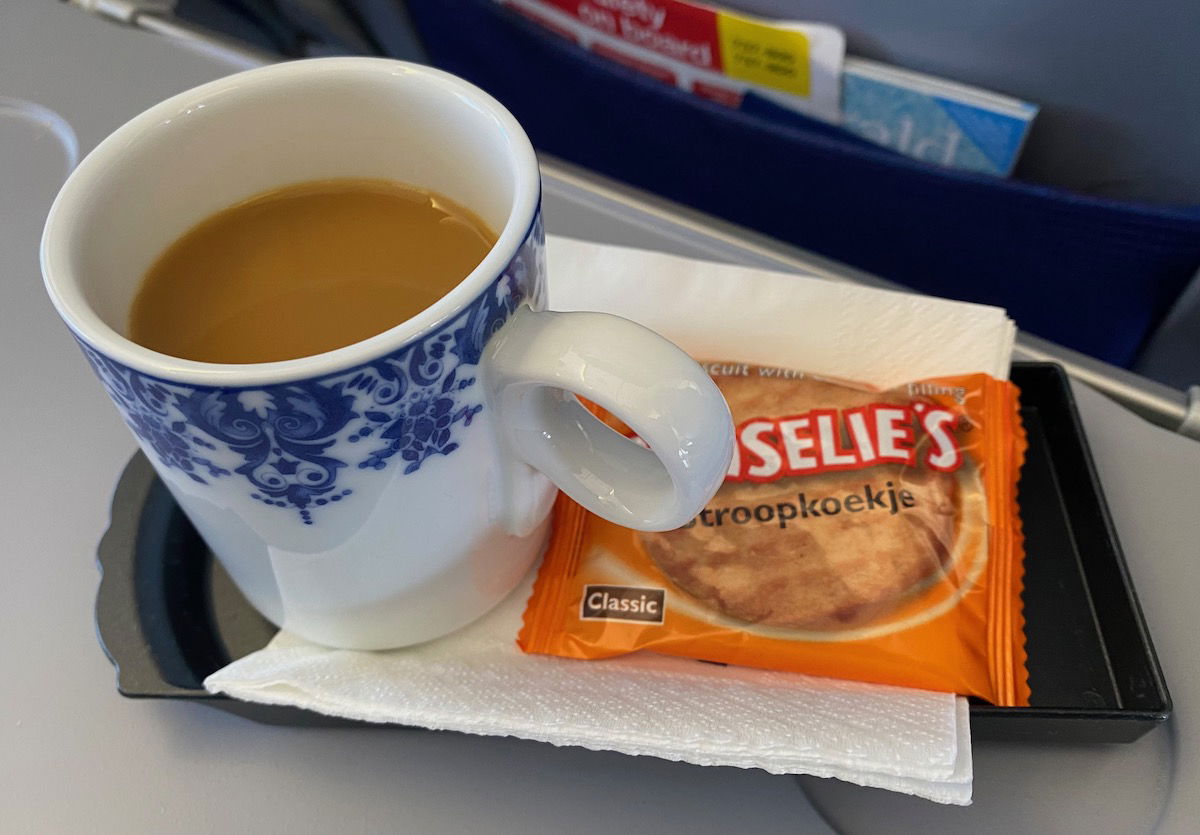 KLM business class service
The purser working this flight was delightful — she was friendly, professional, and incredibly attentive. She passed through the cabin several times even after the initial service, and provided service with pride. I have nothing but good things to say about her.
KLM business class lavatory
There was a lavatory located at the front of the 737, for the exclusive use of business class passengers. It was pretty no frills, but was clean, and at least there was never a wait to use it.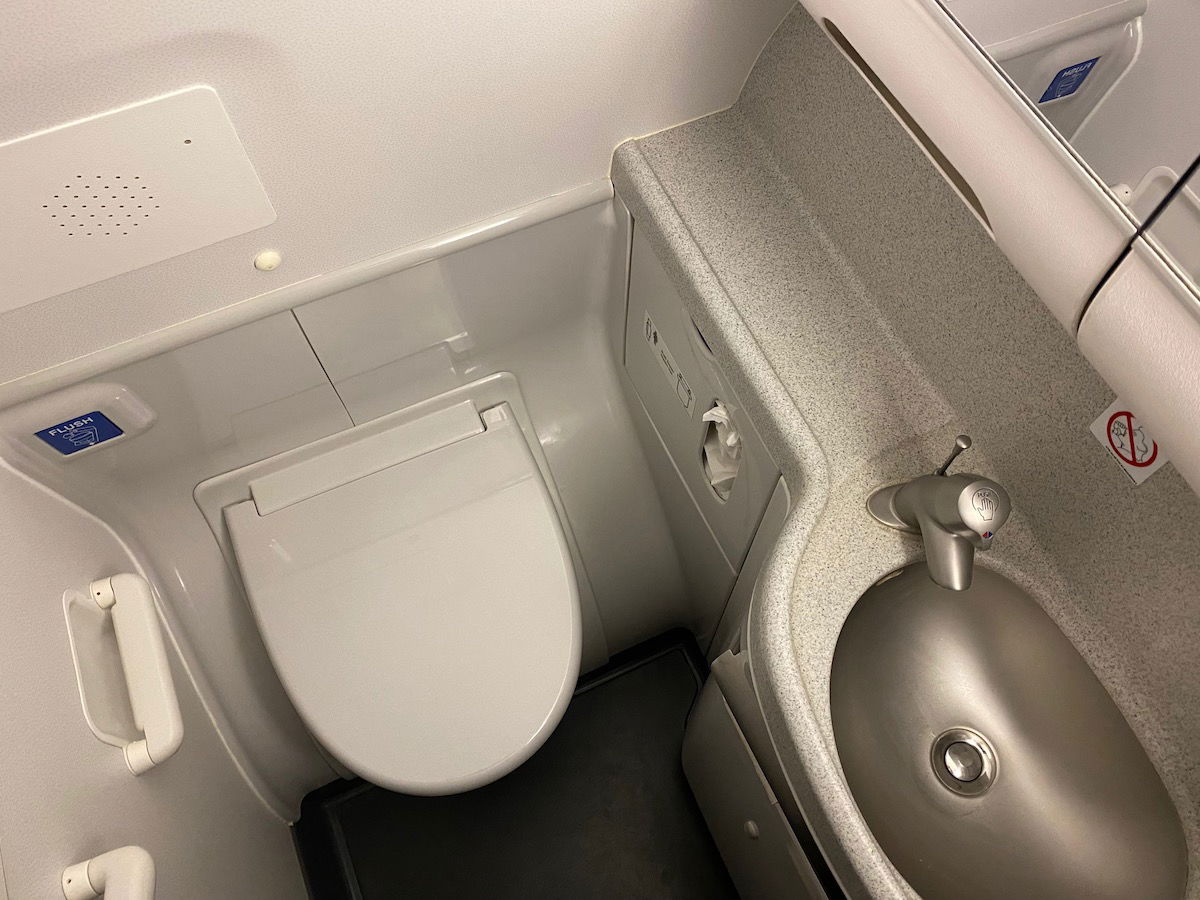 Landing in Stockholm
At around 12PM we began our descent towards Stockholm. Summer in Northern Europe sure is pretty, and it was a particularly lovely day outside.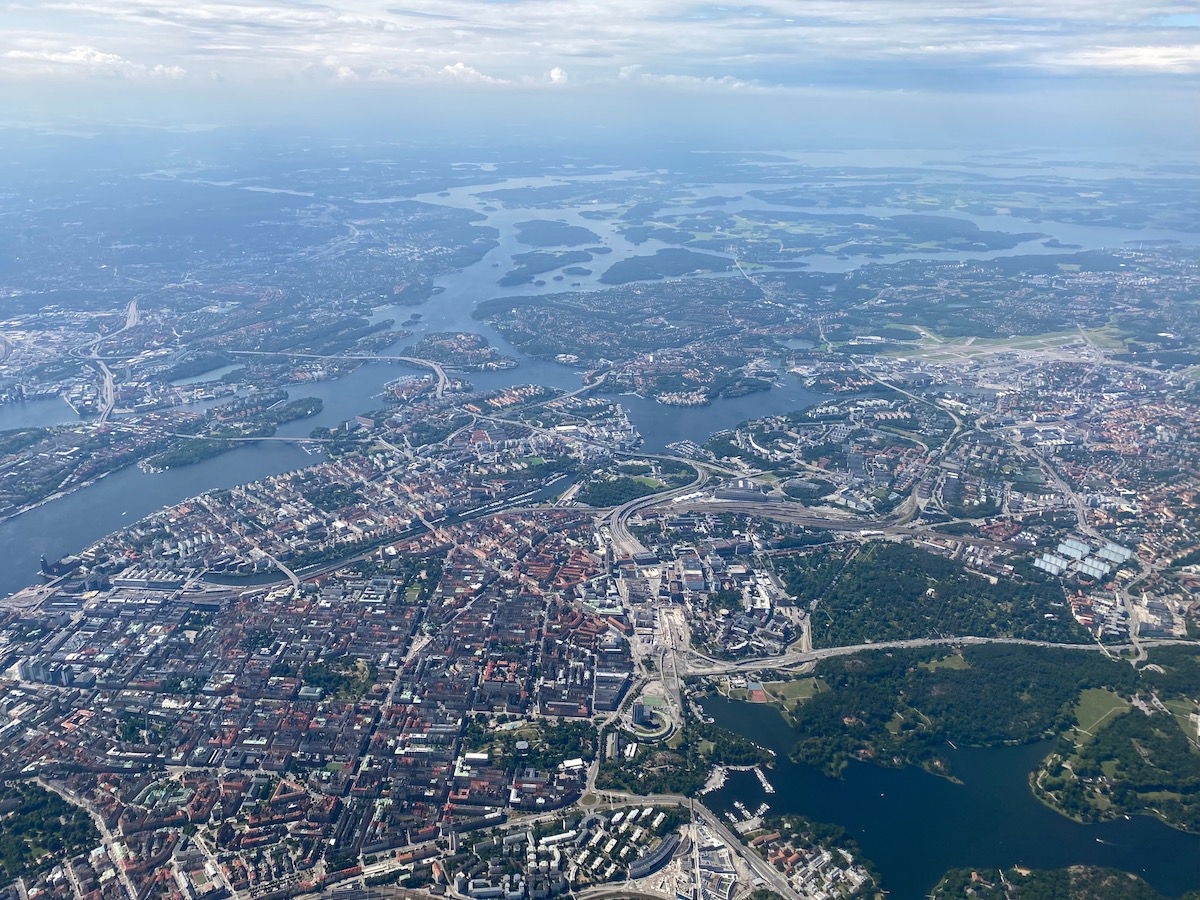 The seatbelt sign turned on about 10 minutes after we started our descent. After the gear dropped it got really bumpy, as there were some strong surface winds. So the plane was swaying back and forth as we approached, and felt like it was coming in at an unusually high speed. While the touchdown was on the rough side, we landed safely without a go around, so that works for me. 😉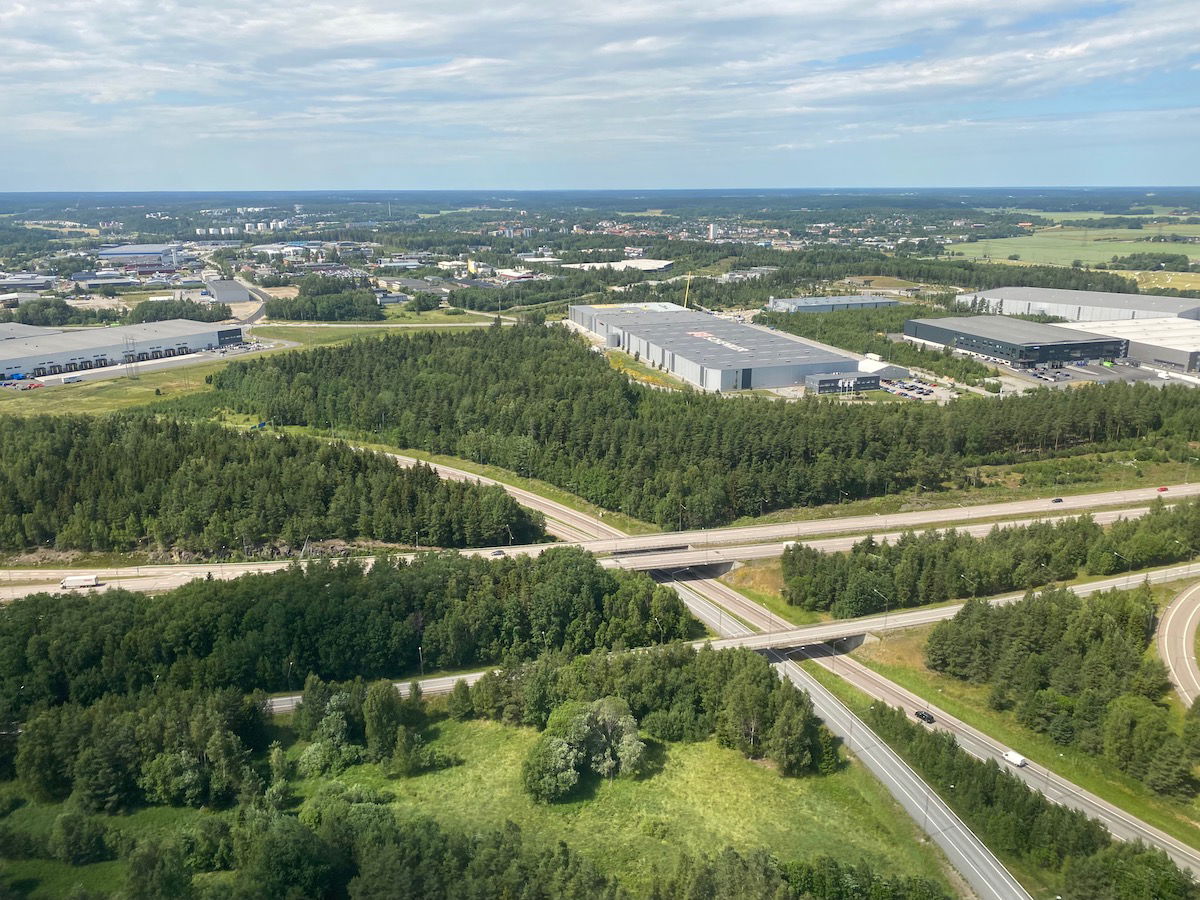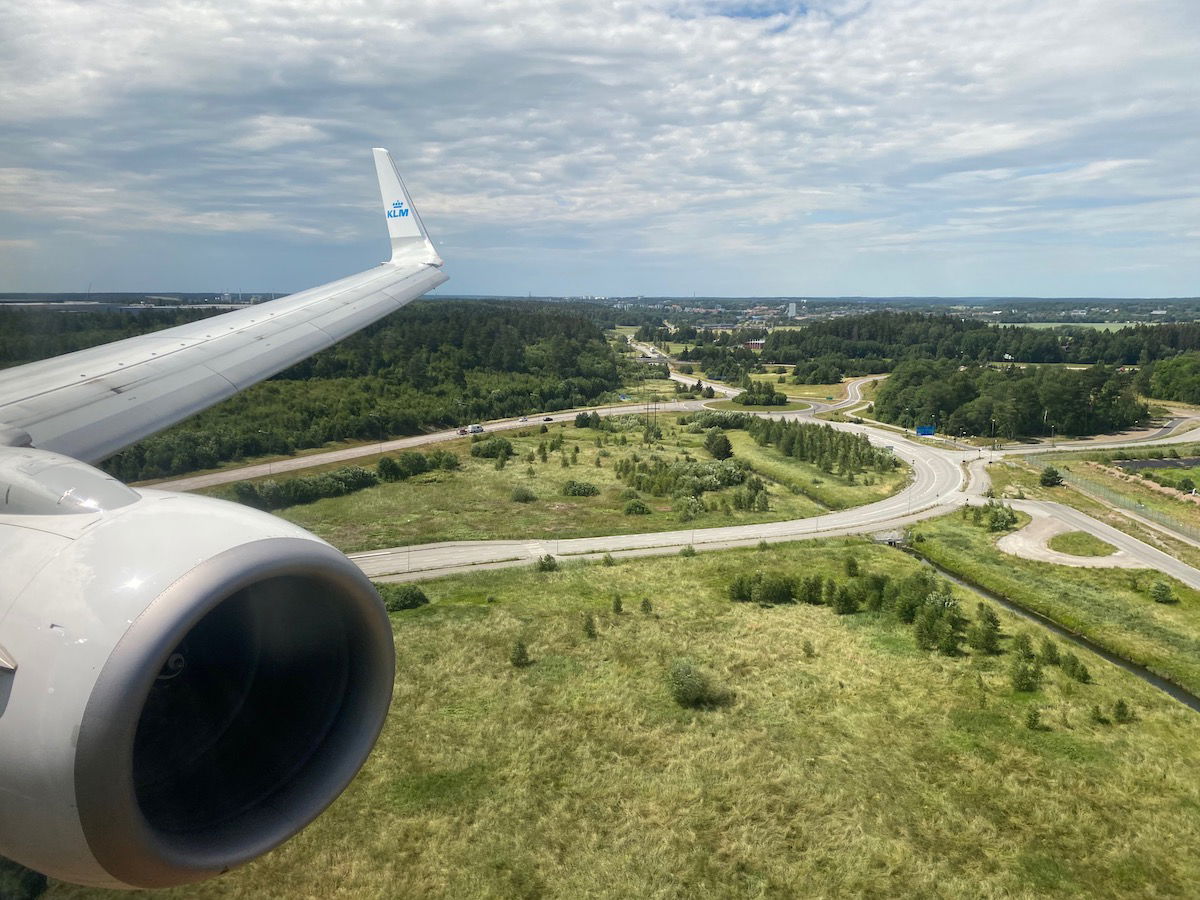 At 12:30PM we were on the ground in Stockholm, and the purser announced that we were on a very special flight, as KLM was celebrating flying to Stockholm for 85 years. How interesting, but also random. It's not like there was a gate party or anything to celebrate it, so does the airline just give the purser random interesting facts to announce, or…?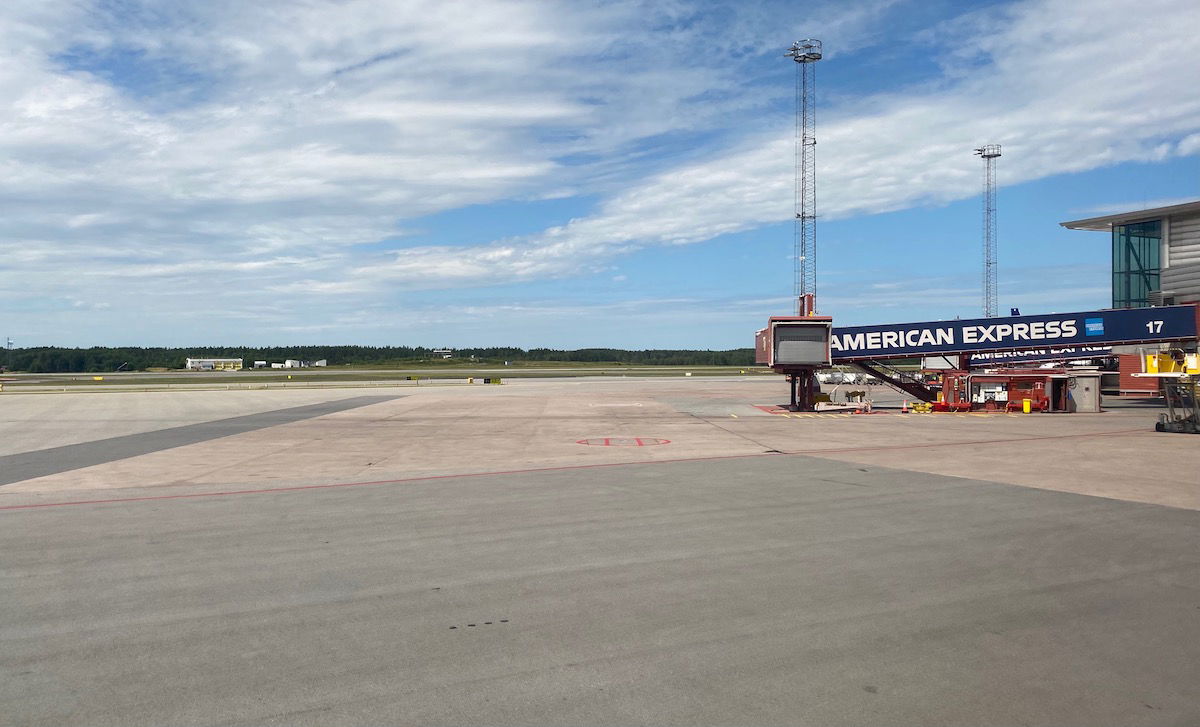 As we exited the plane, I think that's just about the last time we saw someone else wearing a mask until we boarded our flight departing Sweden. Masks are only required onboard planes, and not at the airport (or anywhere else, really).
Passport control in Stockholm took quite a while, as there were only a few immigration officers working, and there was another flight that landed at the same time. Usually passport control wouldn't be needed on this flight, but because every country currently has different entry requirements, we had to present proof of vaccination and/or a negative coronavirus test.
Bottom line
We had a great flight in KLM's intra-Europe business class from Amsterdam to Stockholm. KLM has excellent legroom on 737s, along with power ports. On top of that, the purser working the cabin was friendly, and the food was decent as well. The only shortfall was the lack of Wi-Fi, but that was hardly a huge issue on a short flight.
If you've flown KLM's 737 business class, what was your experience like?