EXTRA PERKS AVAILABLE
Enjoy breakfast, upgrades, & more
Want to take advantage of Hilton Impresario benefits at no extra cost (when paying for your stay with cash), including a room upgrade, free breakfast, a hotel credit, and more? Contact Ford ([email protected]) for more details. He doesn't charge booking fees, and may even be able to help if you already have a stay booked.
After spending some time in Germany, it was time to head to the Netherlands, the next step on our five country Europe adventure. We spent three nights at the spectacular 93-room Waldorf Astoria Amsterdam, which is now easily one of my favorite city hotels.
Why we traveled to Amsterdam
Our side trip to Amsterdam was planned pretty last minute. While visiting family in Frankfurt, Ford and I just randomly had a discussion with my mom about Amsterdam. She said she hadn't been in a long time, but had many fond memories visiting when she was younger. I jokingly said "well why don't we go for a few days?"
As I mapped things out and realized it was a fairly short drive and that the Waldorf Astoria Amsterdam had points availability, I quickly put something together. Before we knew it, we were off to Amsterdam!
How to book the Waldorf Astoria Amsterdam
Cash rates at the Waldorf Astoria Amsterdam range from 400 EUR to 800 EUR per night for a base room, depending on the time of year. For our dates, the cash rate would have been 600 EUR.
If you do book a cash rate at the Waldorf Astoria, I recommend doing so through Hilton Impresario, which offers all kinds of extra perks, including a room upgrade subject to availability, a $100 property credit, early check-in and late check-out subject to availability, double Hilton Honors points, and more.
This is better than booking through Amex Fine Hotels & Resorts or Virtuoso for a variety of reasons, including that upgrades are prioritized through Hilton Impresario, you get a $100 property credit (rather than a credit being specific to dining or the spa), you earn double Hilton Honors points, and more.
If you need help with a Hilton Impresario booking on a paid stay, Ford is happy to help, and can be reached at [email protected]
How to redeem points at the Waldorf Astoria Amsterdam
We redeemed points for a three night stay for two rooms:
While Hilton Honors doesn't have an award chart, the hotel generally costs 95,000 Honors points per night, so that's what we paid
You do get a fifth night free on award redemptions, and while that would have been a better deal, there was only award availability for three nights, and that's also all that fit into our schedule
It can be tough to find award availability at this hotel (since there are few base rooms), but often rooms become available last minute, so we lucked out since we booked just days before our trip
I like staying at Hilton properties when we are booking two rooms; that's because Ford and I are both Hilton Honors Diamond members through the Hilton Aspire Card, and therefore our strategy is to book one room in each of our names, so that we can get elite perks for both rooms
Waldorf Astoria Amsterdam location
I don't claim to be an expert on Amsterdam (the last time I properly visited the city was in 2014), though as far as I'm concerned the Waldorf Astoria has a perfect location. It's located on the Herengracht Canal (which is a UNESCO heritage site) and virtually everything was in walking distance. We just about explored the entire city, and did it all on foot.
I'd also note that the street that the Waldorf Astoria is on is particularly quiet, which sure is nice, in terms of both foot traffic and noise.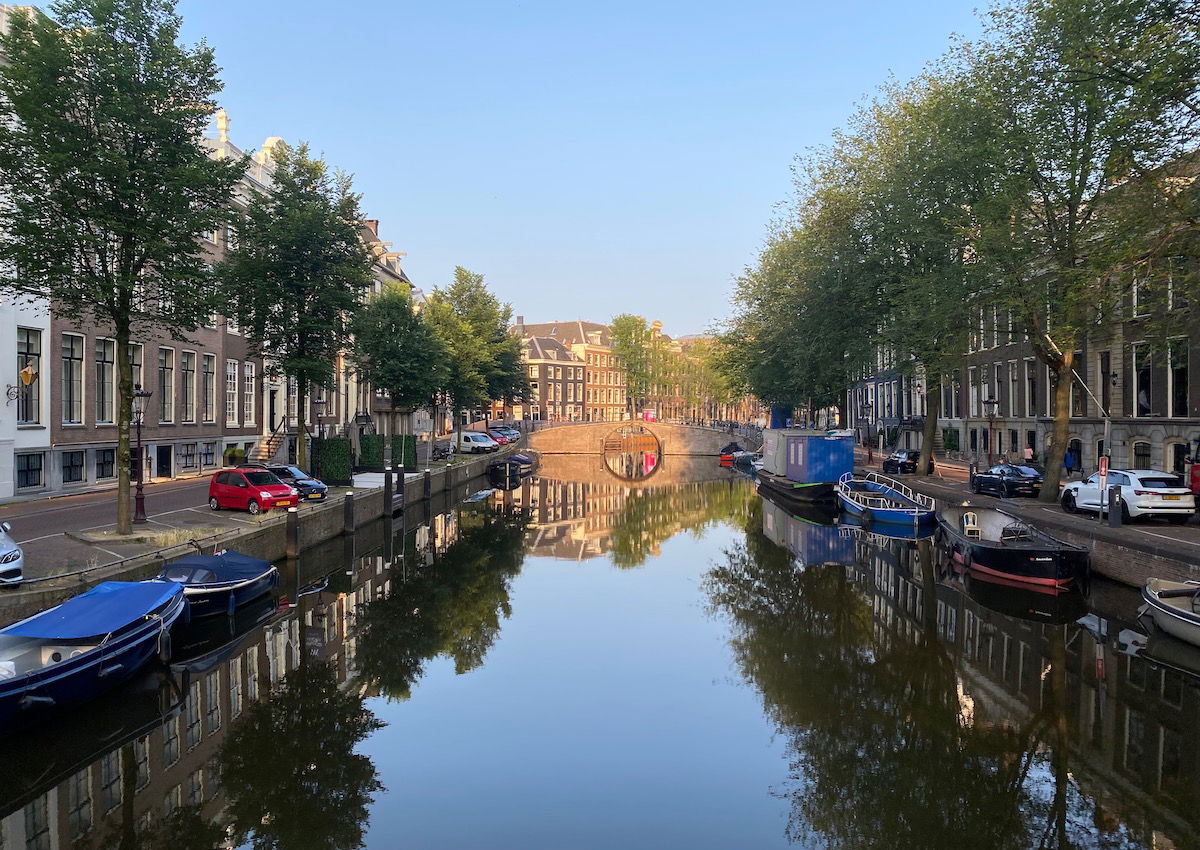 The hotel is comprised of six former canal houses. While they're all connected, you can easily tell them apart from the exterior.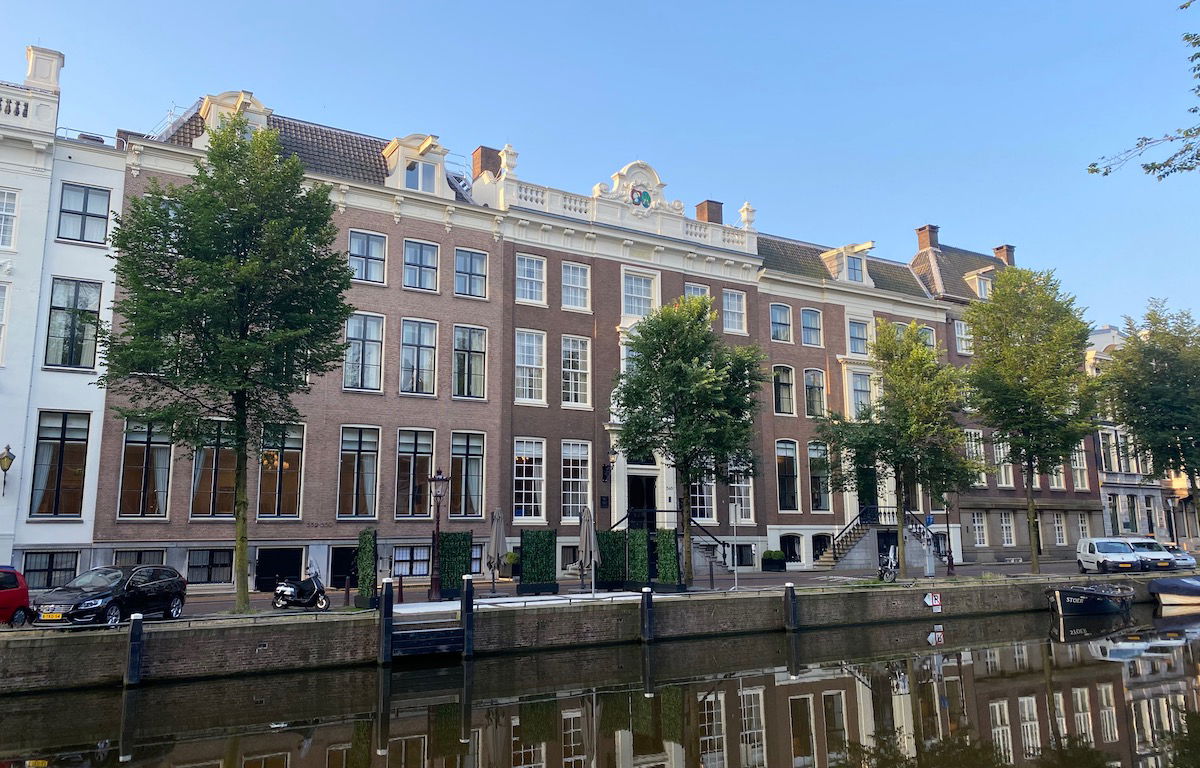 Waldorf Astoria Amsterdam check-in & lobby
Service at the Waldorf Astoria was flawless from the moment we arrived. As we pulled up, two bellmen immediately assisted us with your bags, and escorted us up to reception. This was up the exterior staircase and then to the right.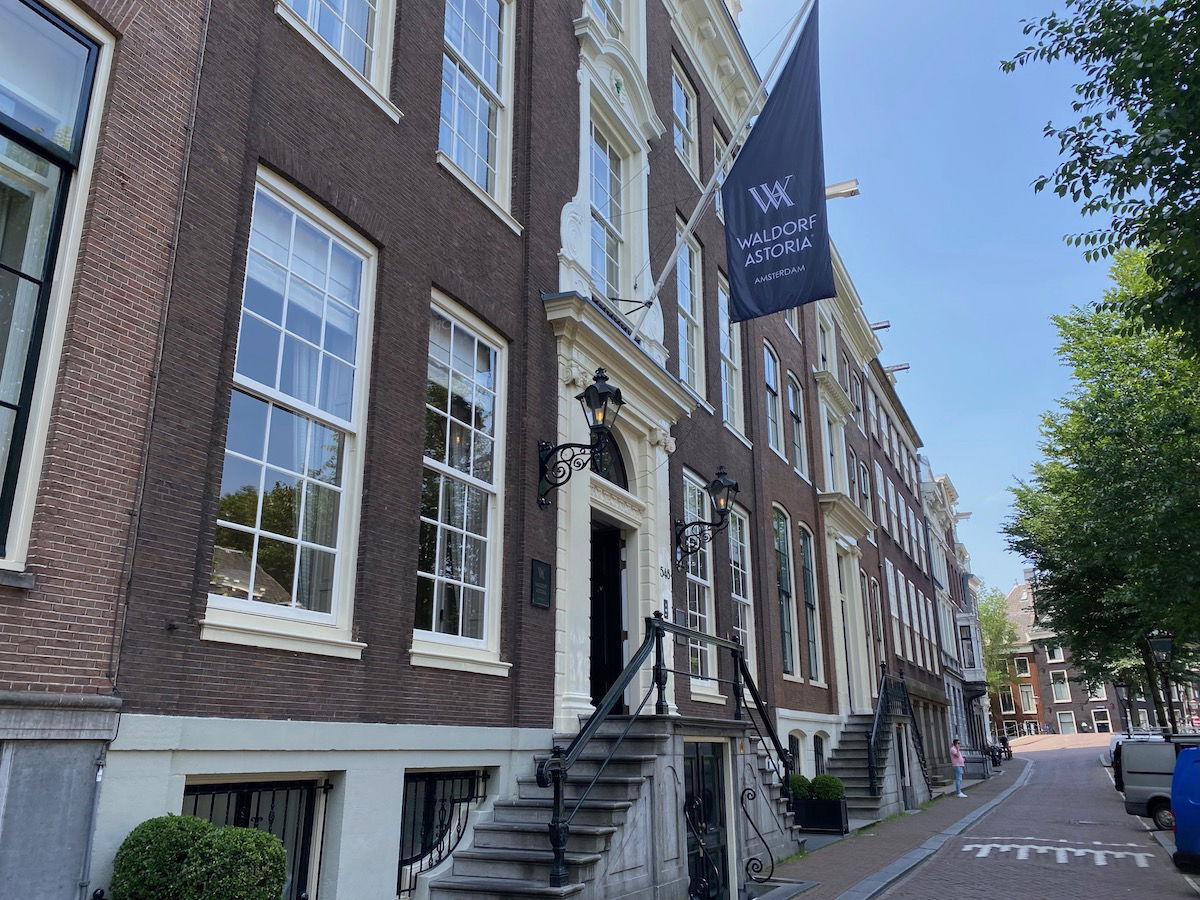 If you think the exterior of the hotel is cool, well, the interior is even more of a treat. The hotel dates back to the 1600s, and an amazing job was done maintaining some of the historical elements of the hotel, while making it modern and luxurious. Look at those moldings!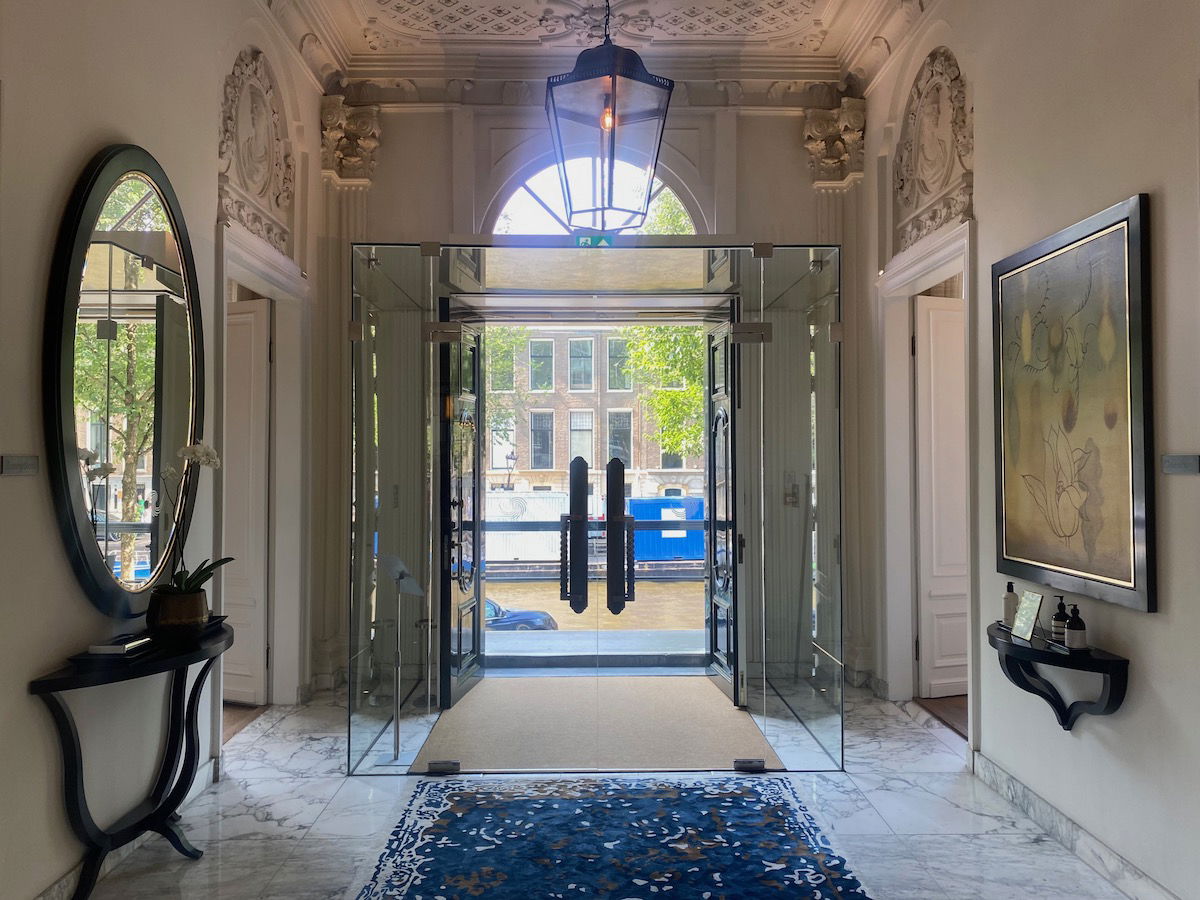 At reception were two desks for a sit-down check-in experience. As we checked in, we were all offered some chocolates that looked like bees, because they were made with honey from the hotel's garden. We were also offered refreshing towels.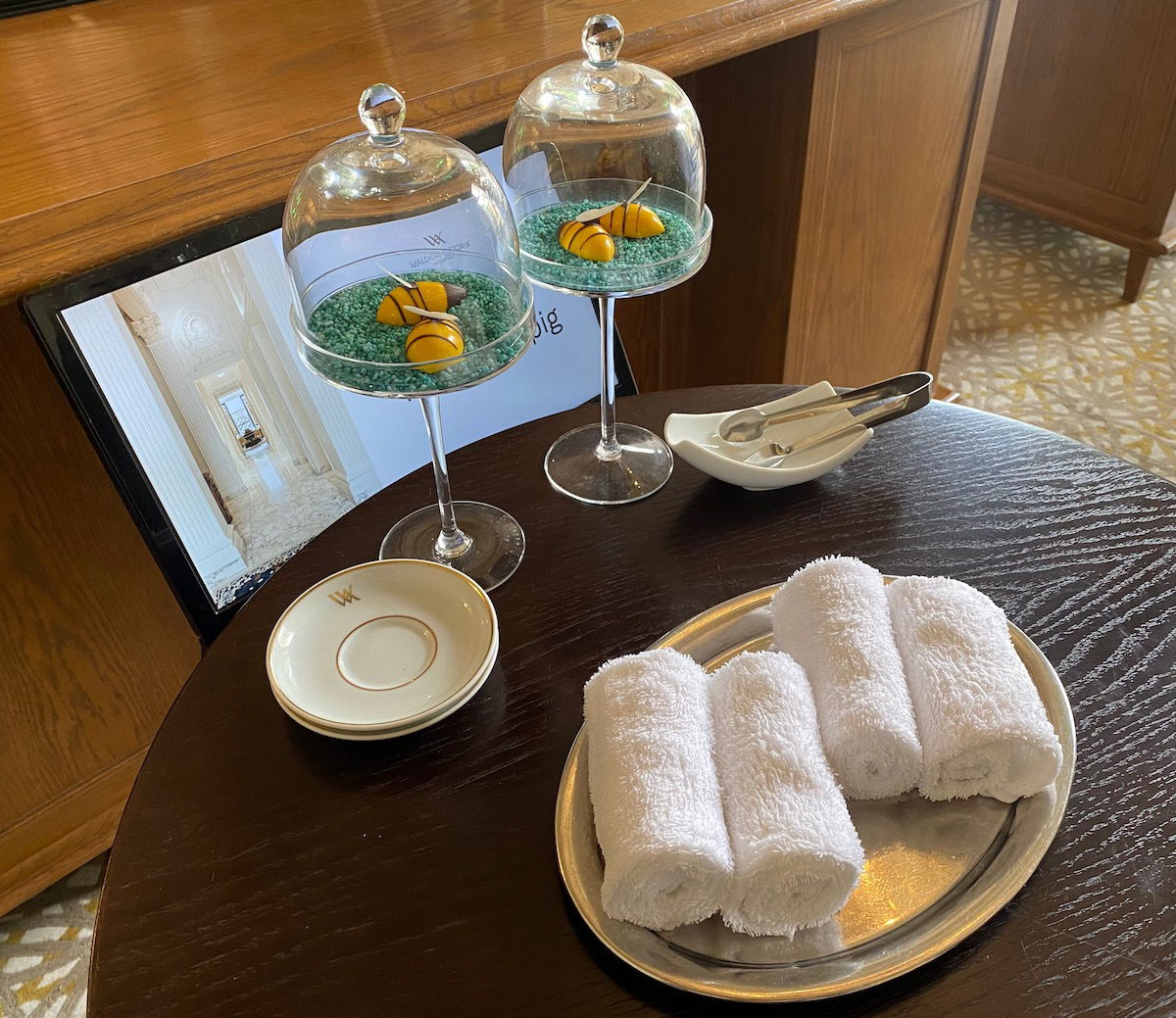 We were asked if we wanted anything to drink, and I ordered a coffee. As you can see in the above picture, there was a screen with the guest's name on it, and then during the check-in experience there's almost a little slideshow presentation going over the basics of the hotel, what's included with your rate, etc.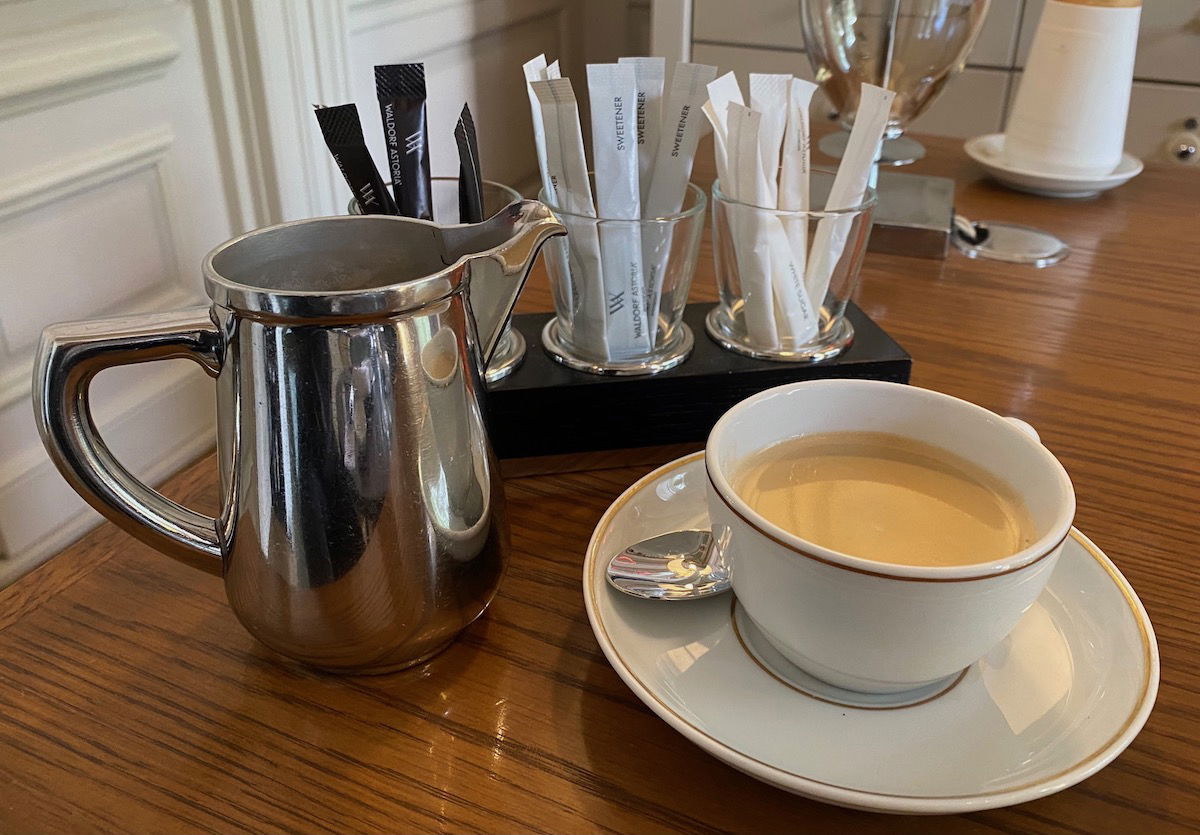 At the conclusion of the check-in experience, we were asked to select from one of four Cire Trudon scents, which would be sprayed in our room each evening with turndown service.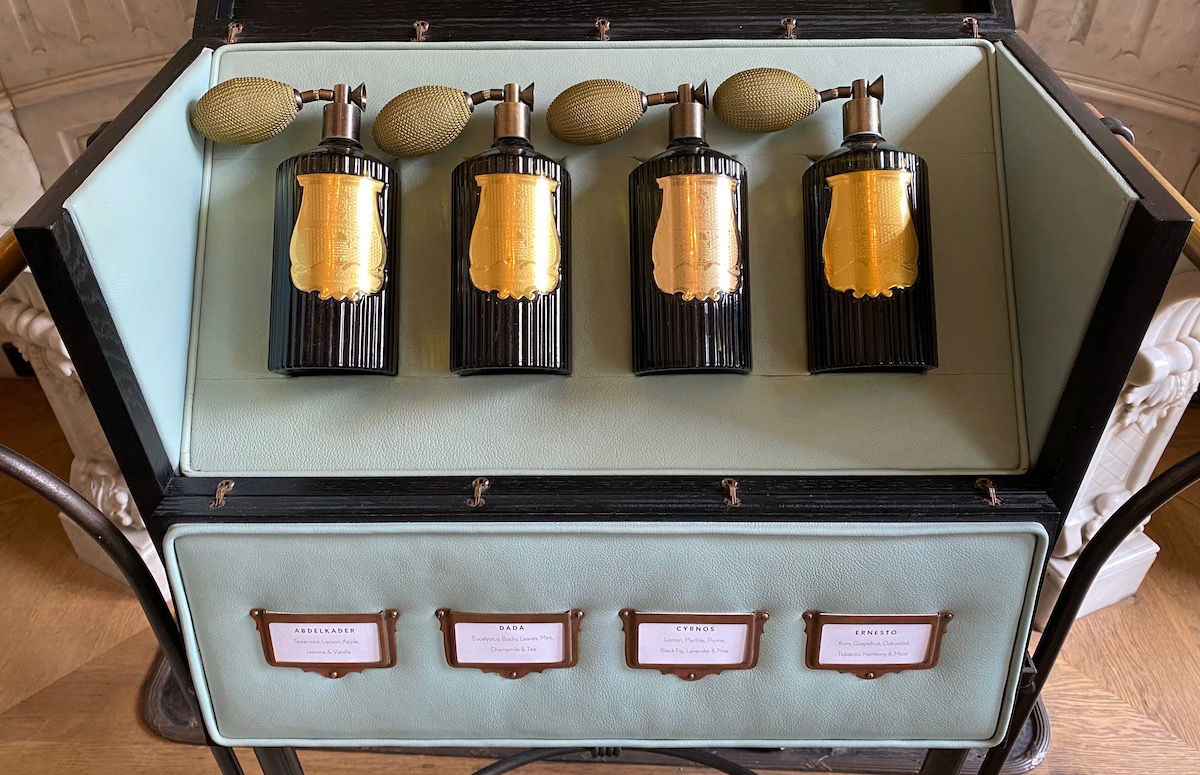 Both rooms were upgraded to King Grand Premier rooms with canal views.
It's not often I comment on something like this, but the staff at the Waldorf Astoria wear some really cool traditional local dresses, which is a cute touch, given the history of the hotel. Once we were checked in, we were given a brief tour of the hotel, including a rundown of the property's history.
For example, the staircase across from reception was built by Daniel Marot, the architect of Louis XIV.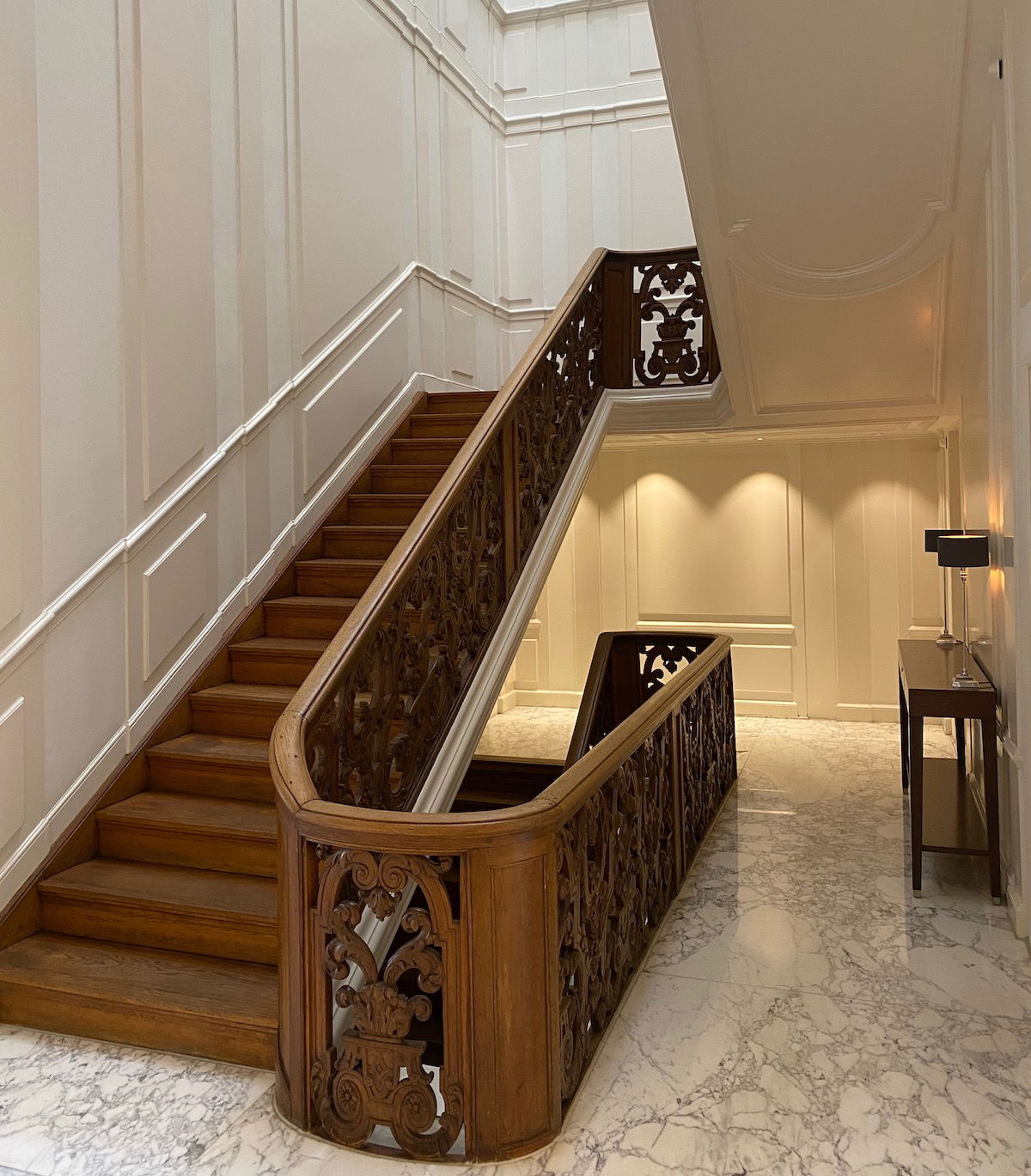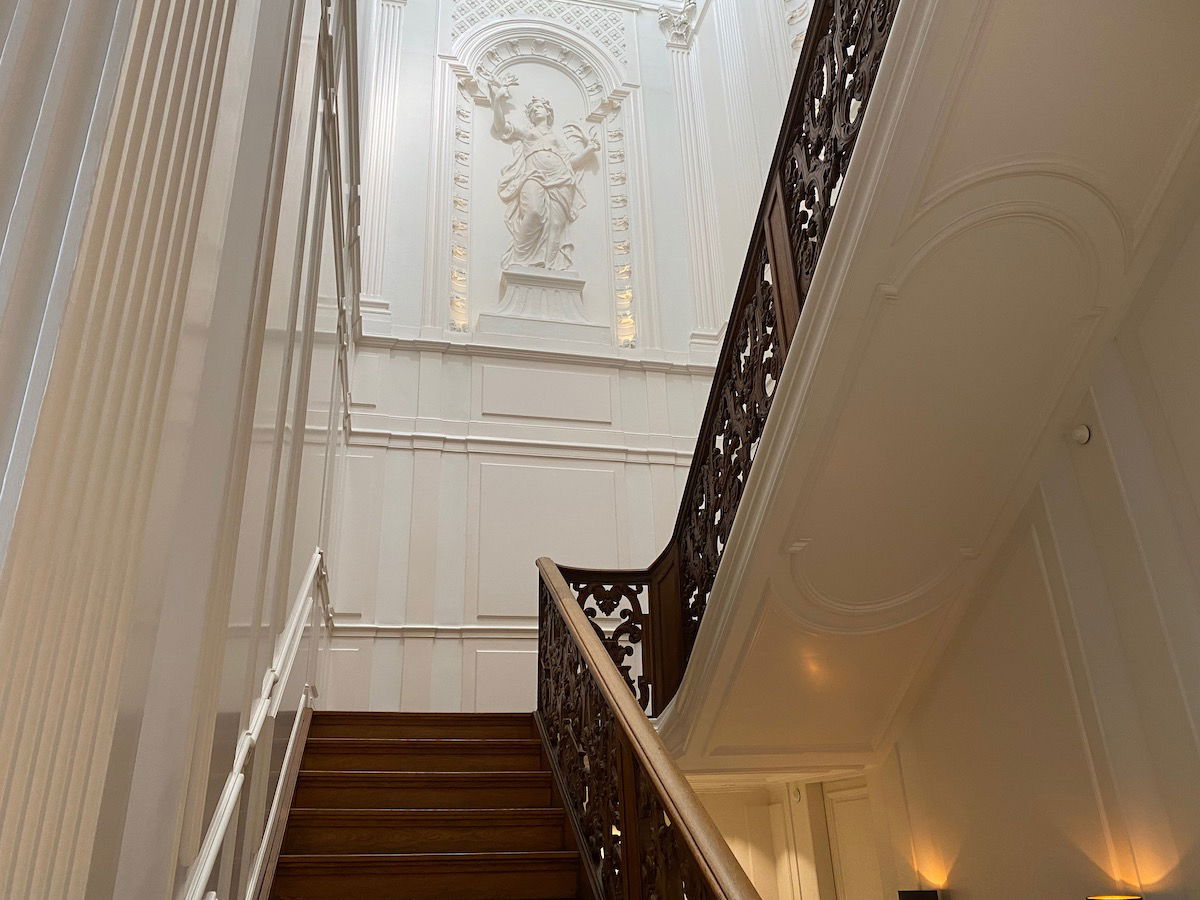 Further into the lobby was Peacock Alley, one of the hotel's restaurants. It's open for breakfast, lunch, and afternoon tea (more on that later).
The elevators are right across from Peacock Alley.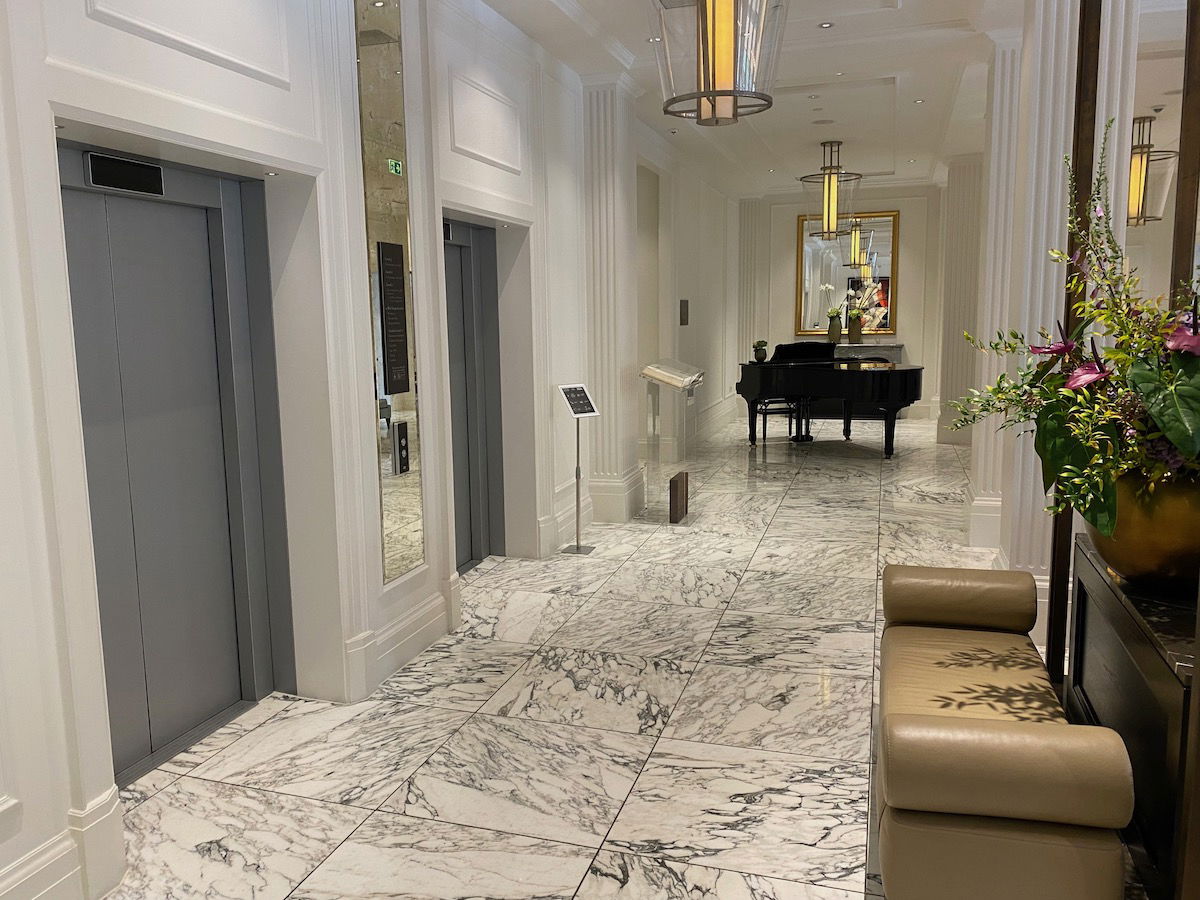 Further down the hall is a piano.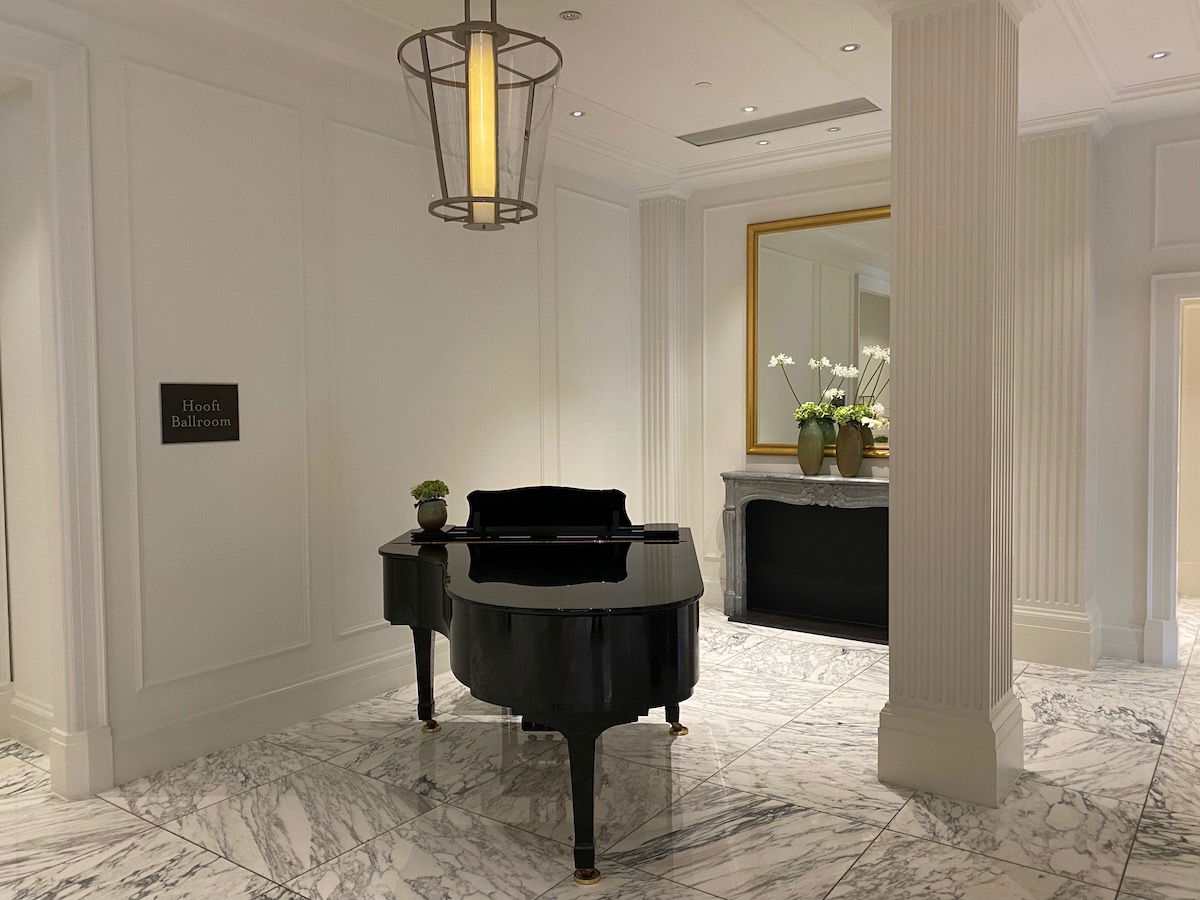 Across from that is Maurer Room, a private dining room featuring original Rococo style decorations and 18th century paintings. You can rent this for a private event, but I don't want to know how much it'll cost. 😉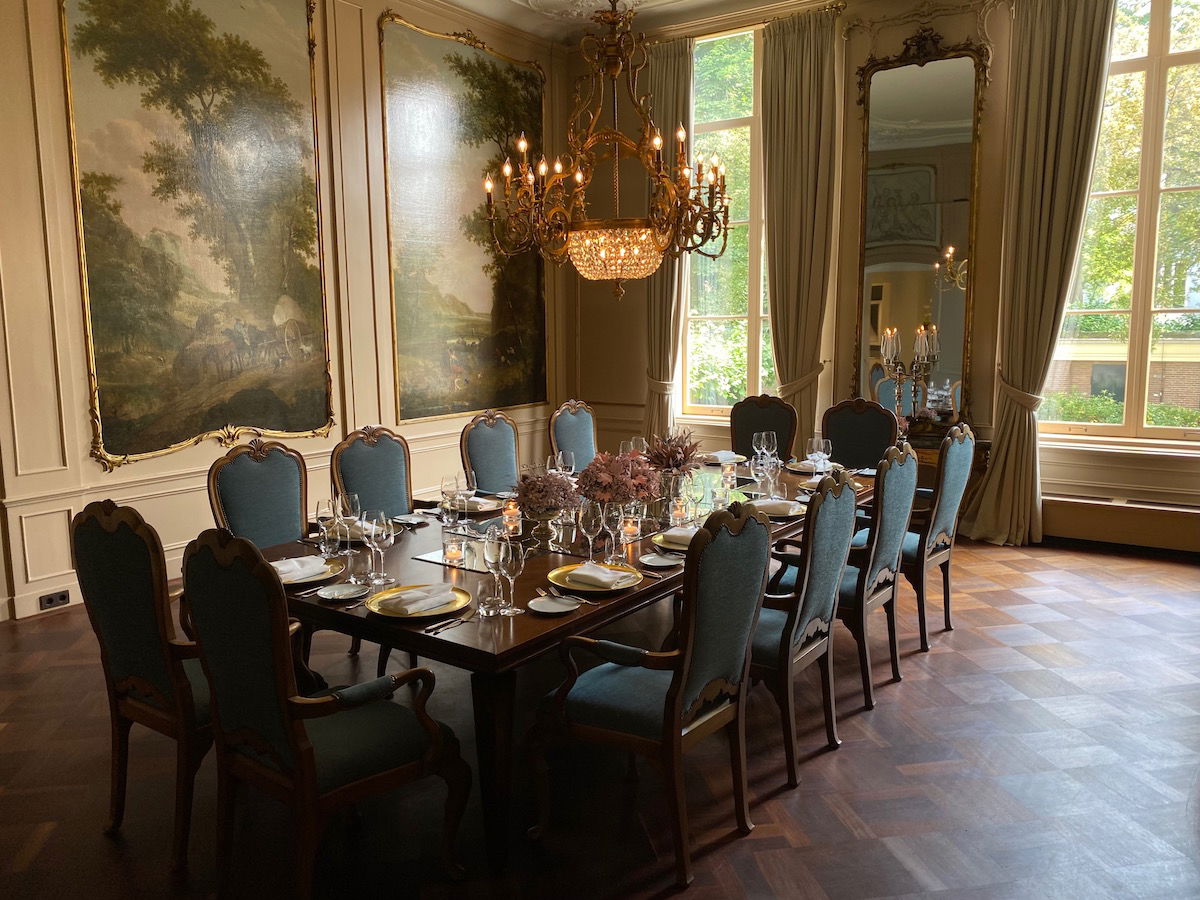 Waldorf Astoria Amsterdam King Grand Premier Room Canal View
Ford and I stayed in room 63, and getting to the room was quite an adventure. While the room was on the ground floor, we had to first take an elevator up a level, and then walk to the far end of the hotel.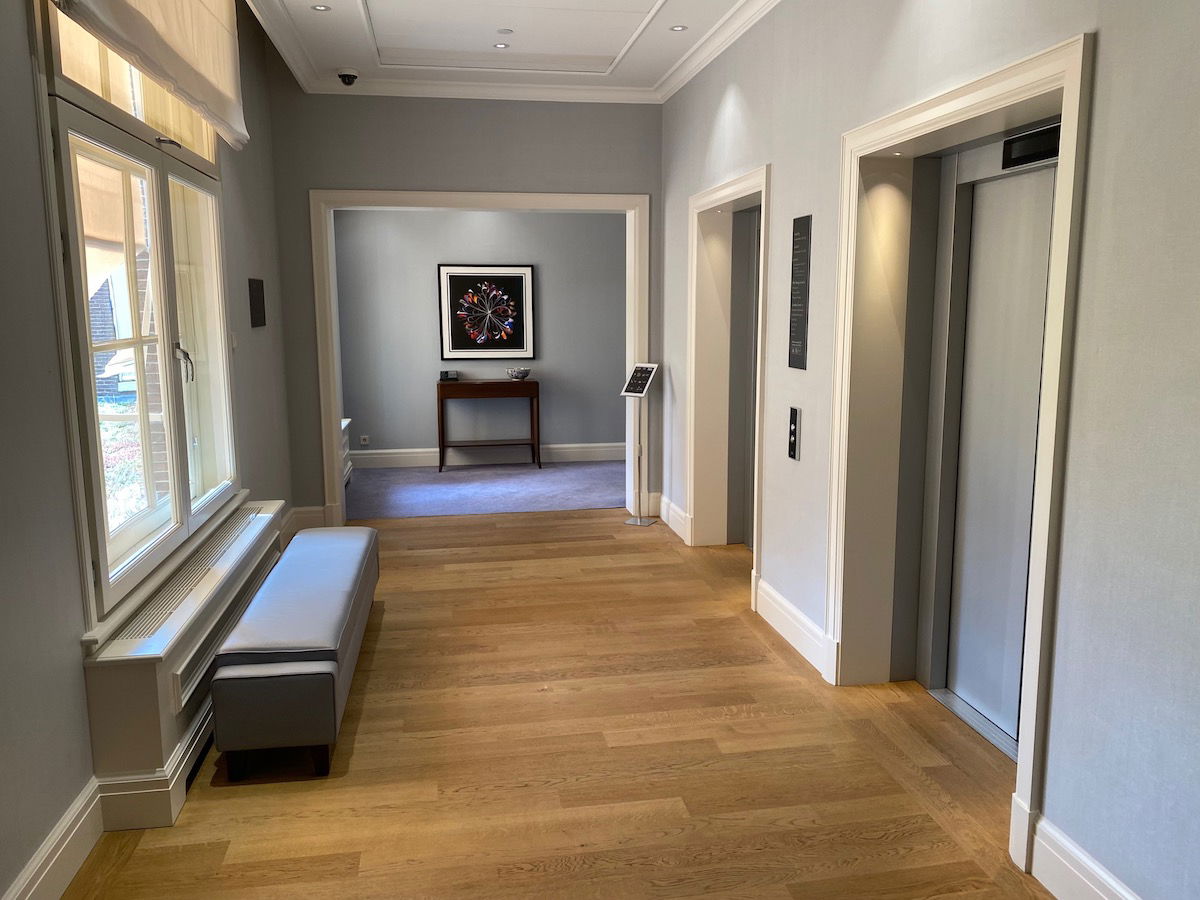 When walking down the hallway, it's cool how there are placards letting you know when you're moving between buildings.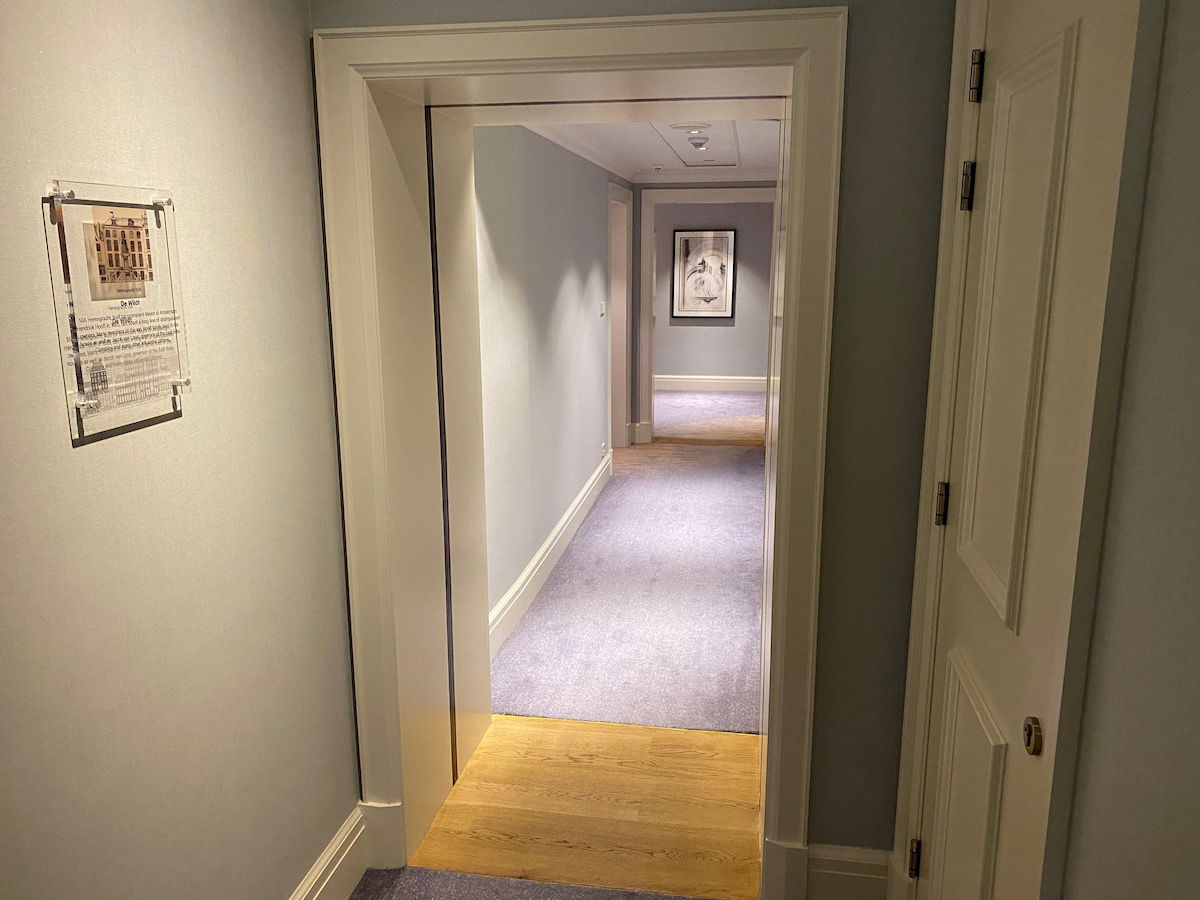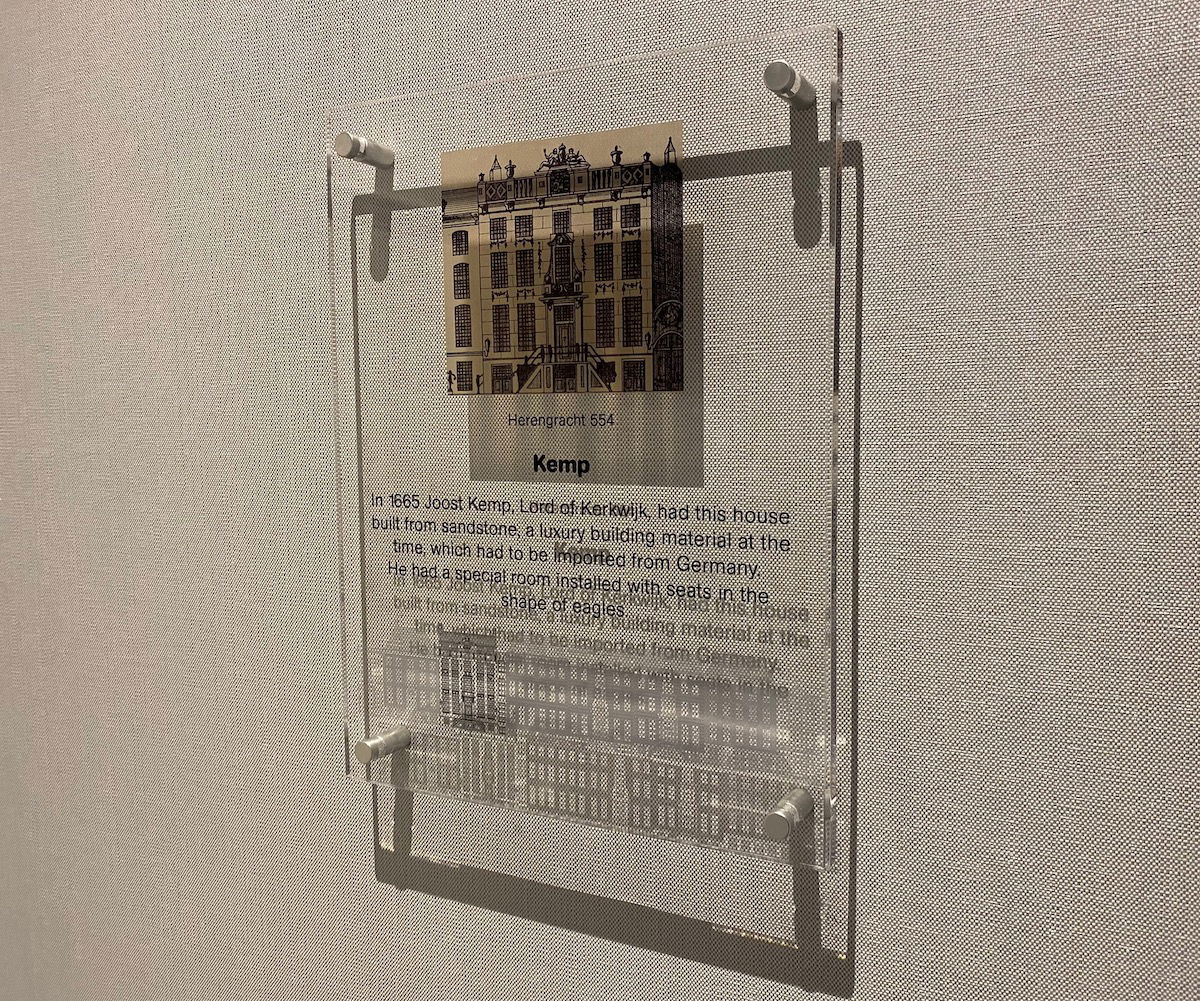 At the other end of the hotel we took the stairs down a level, and then our room was located in a rather wide hallway. For those with accessibility needs, this probably isn't the hotel for you (but that's a problem in Amsterdam in general, given how many old buildings have been restored).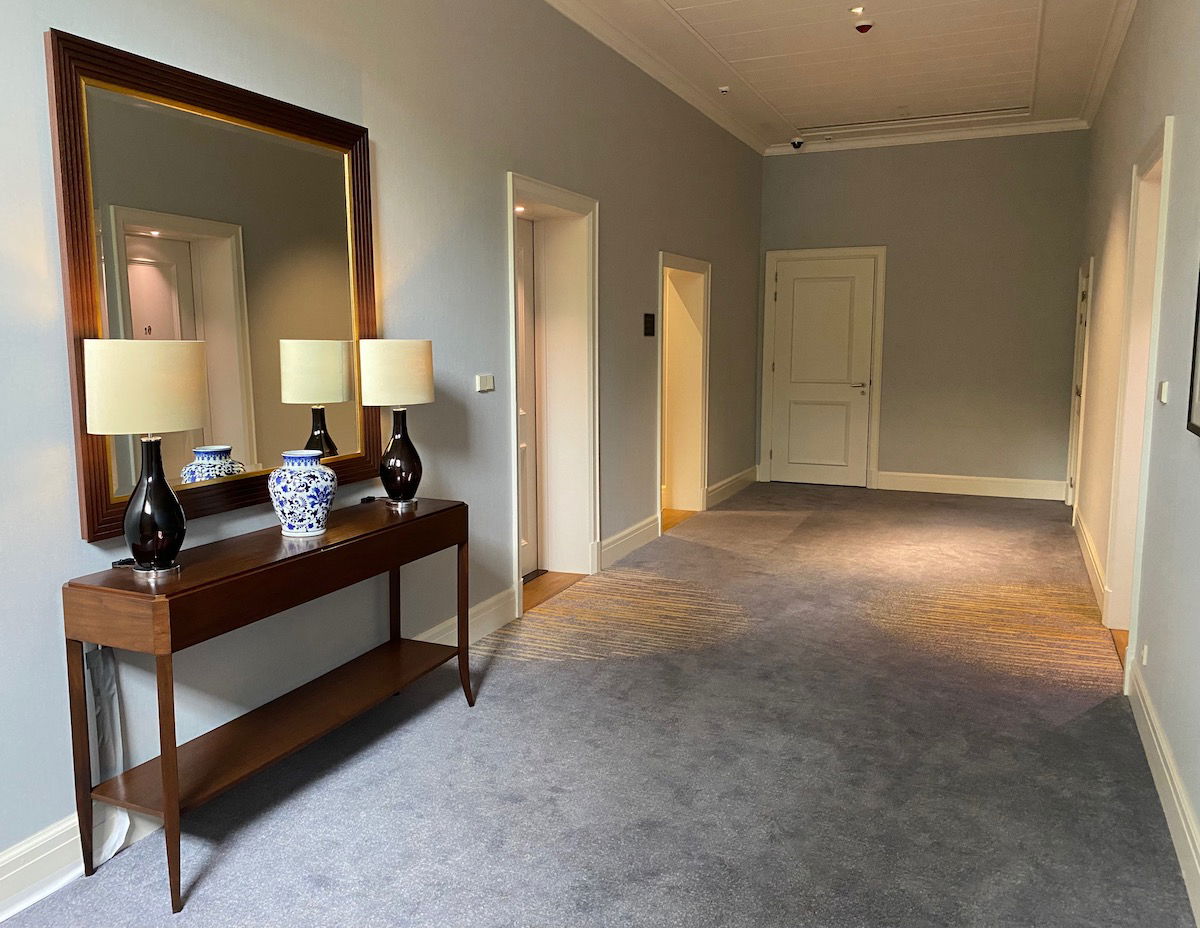 The King Grand Premier rooms at the Waldorf Astoria are marketed as being 474-592 square feet. Our room was stunning, and I'd guess it was on the lower end of that in terms of size, as it was definitely under 500 square feet.
The room featured an entryway with a closet to the right, and then the rest of the room to the left.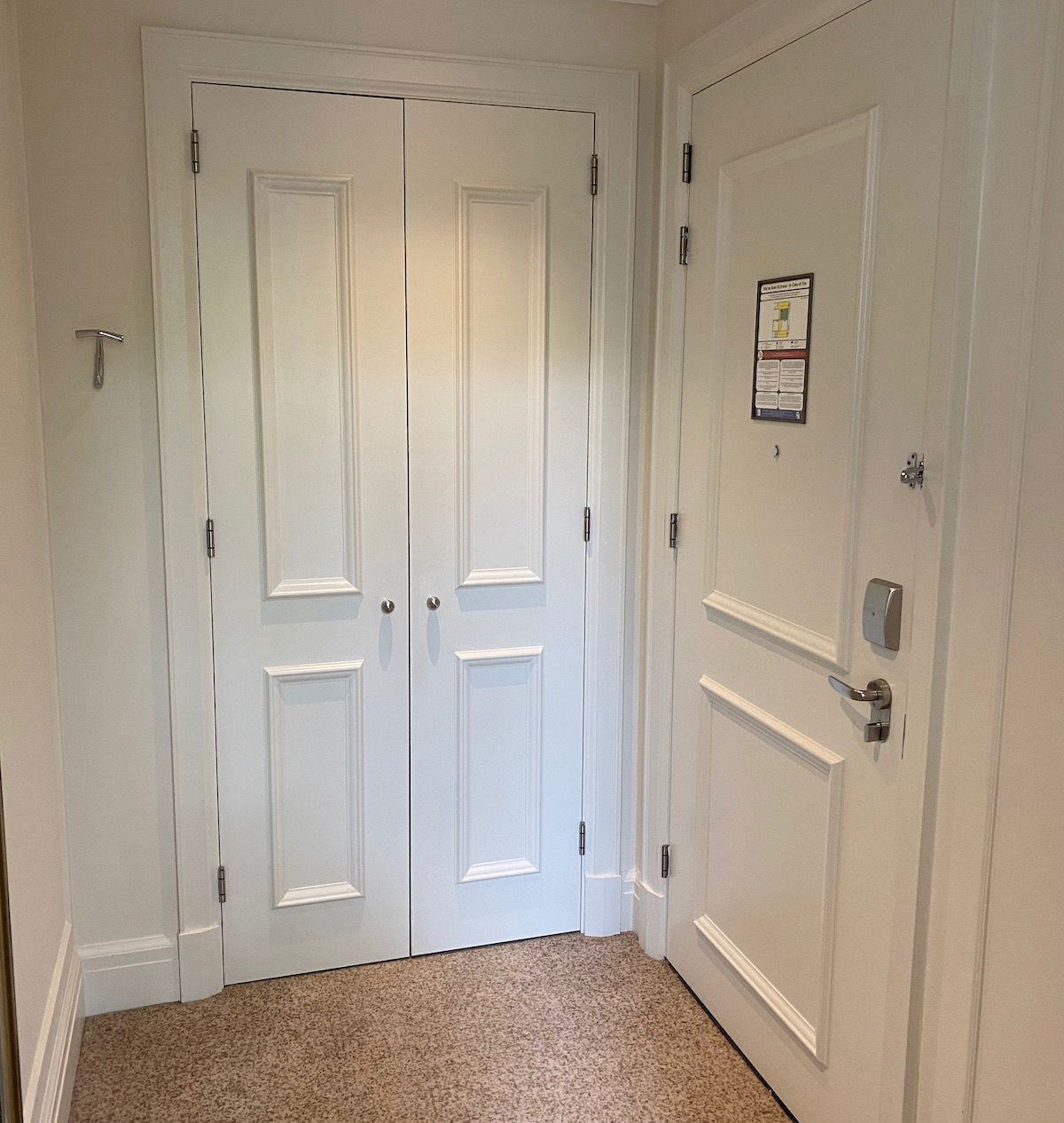 The room was simply gorgeous, in terms of the design, the incredibly high ceilings, and the amount of natural light. The room had a comfortable king size bed, with night tables on both sides.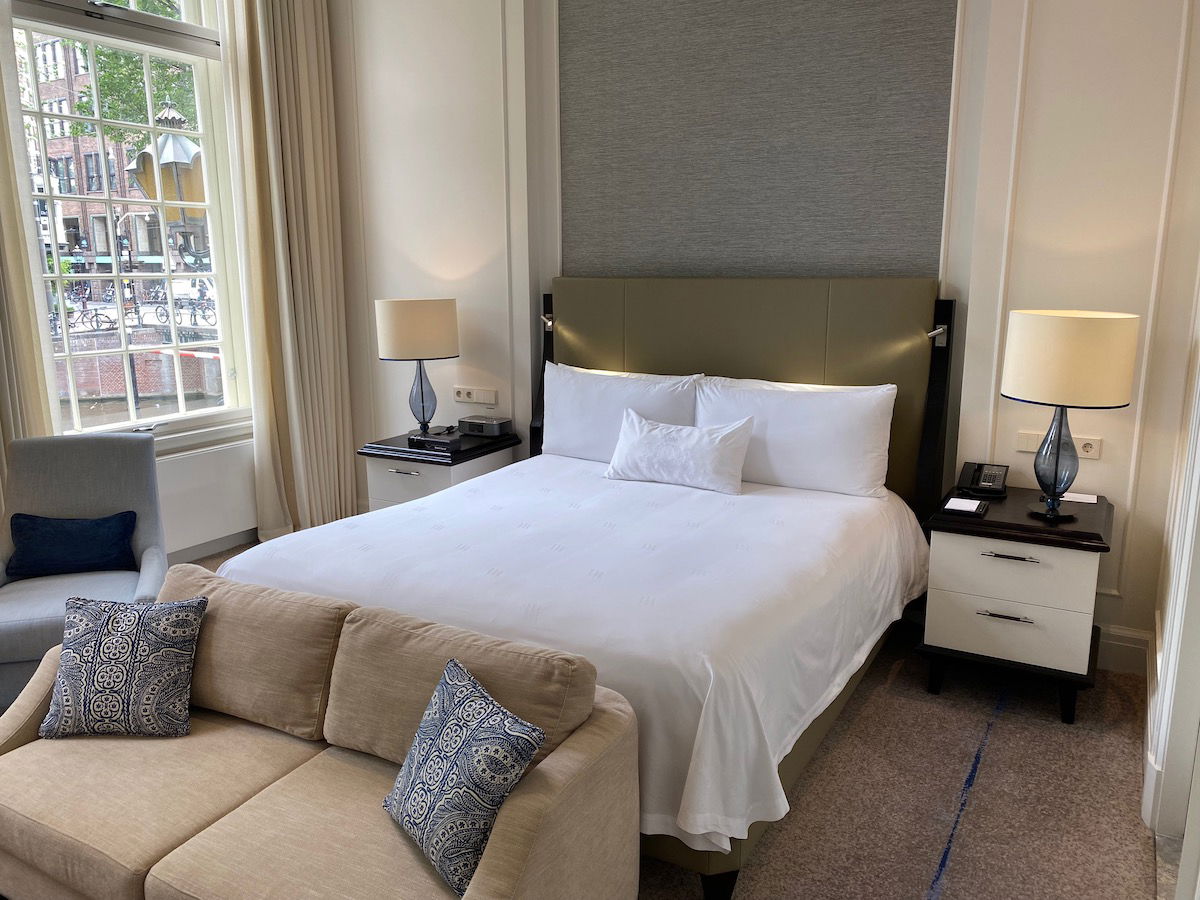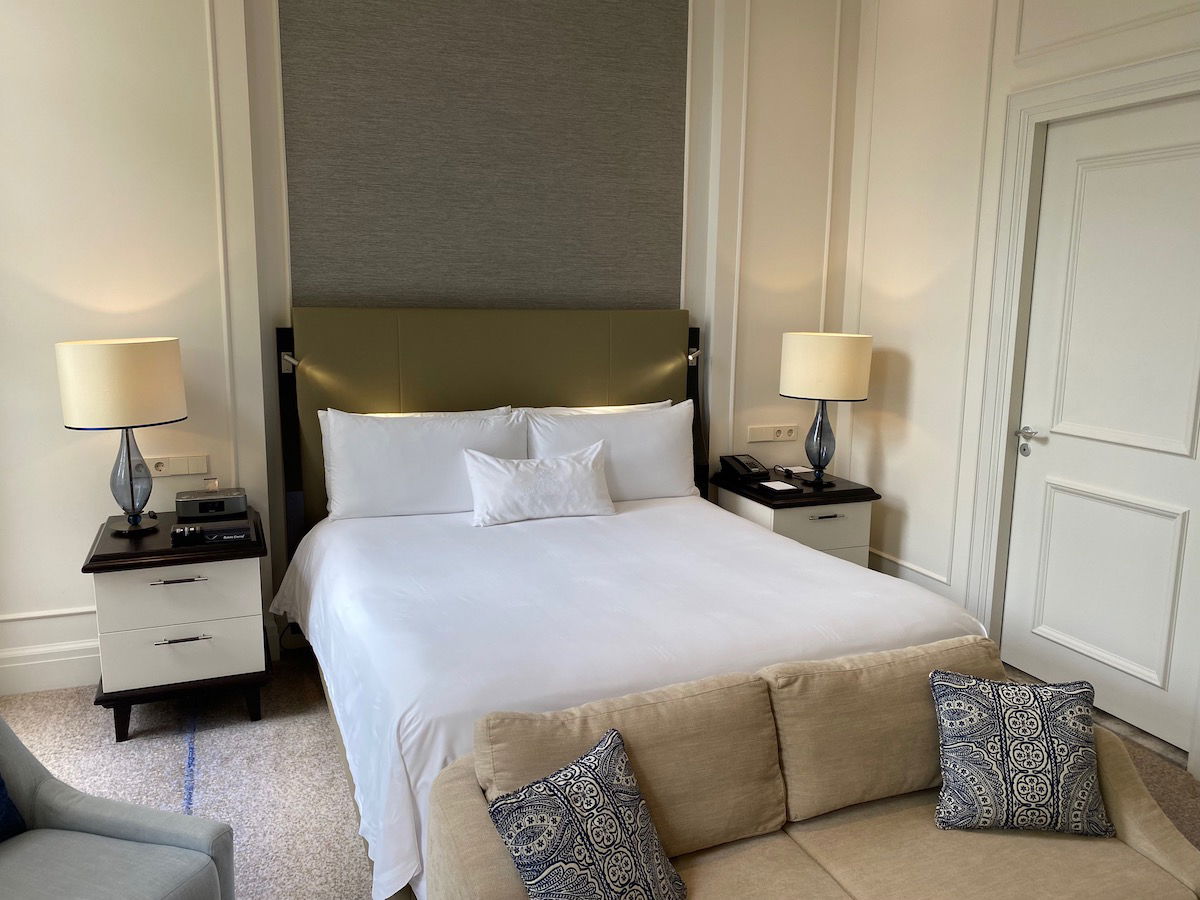 At the foot of the bed was a loveseat. Then there was also a desk with a chair, along with another chair near the window. That second chair could be moved to the desk if two people want to enjoy in-room dining together.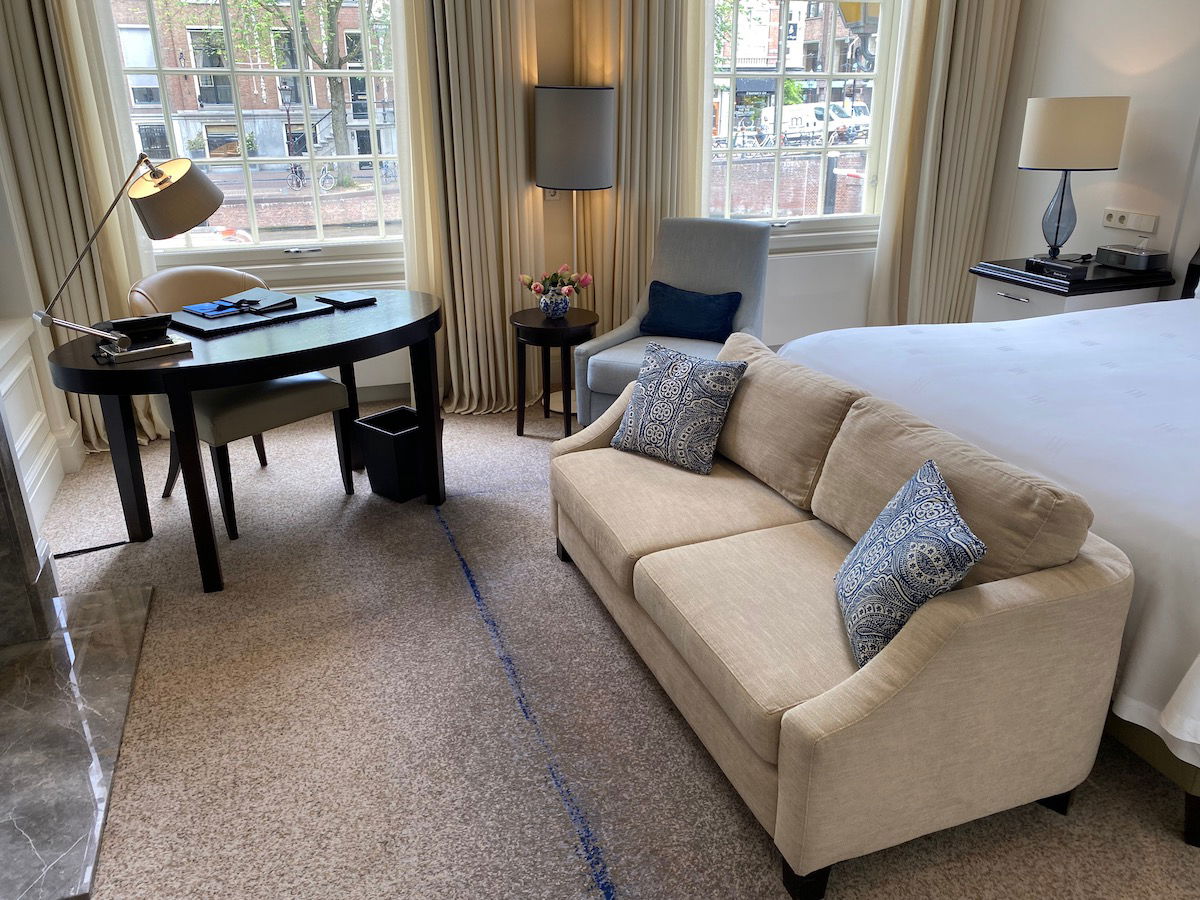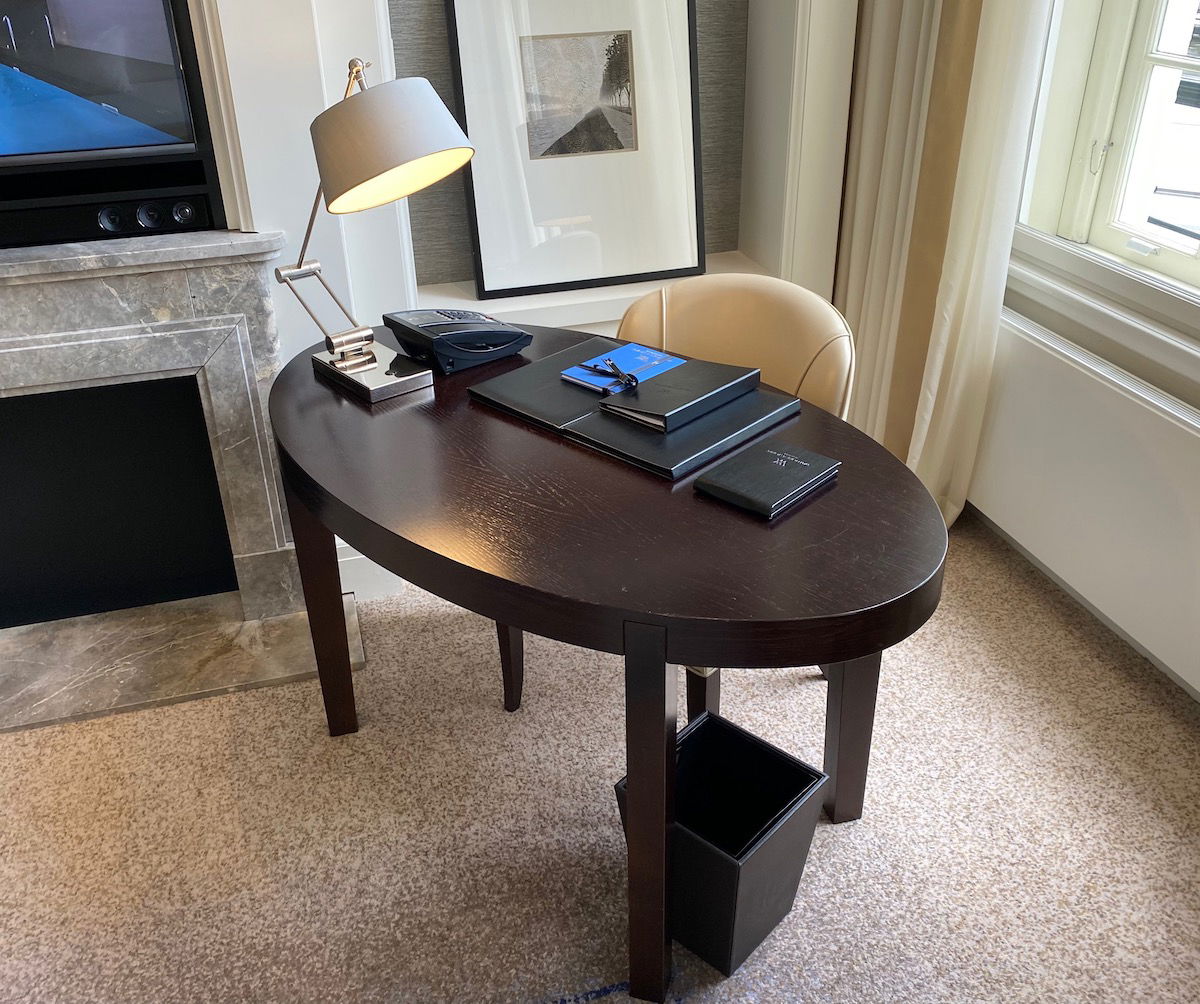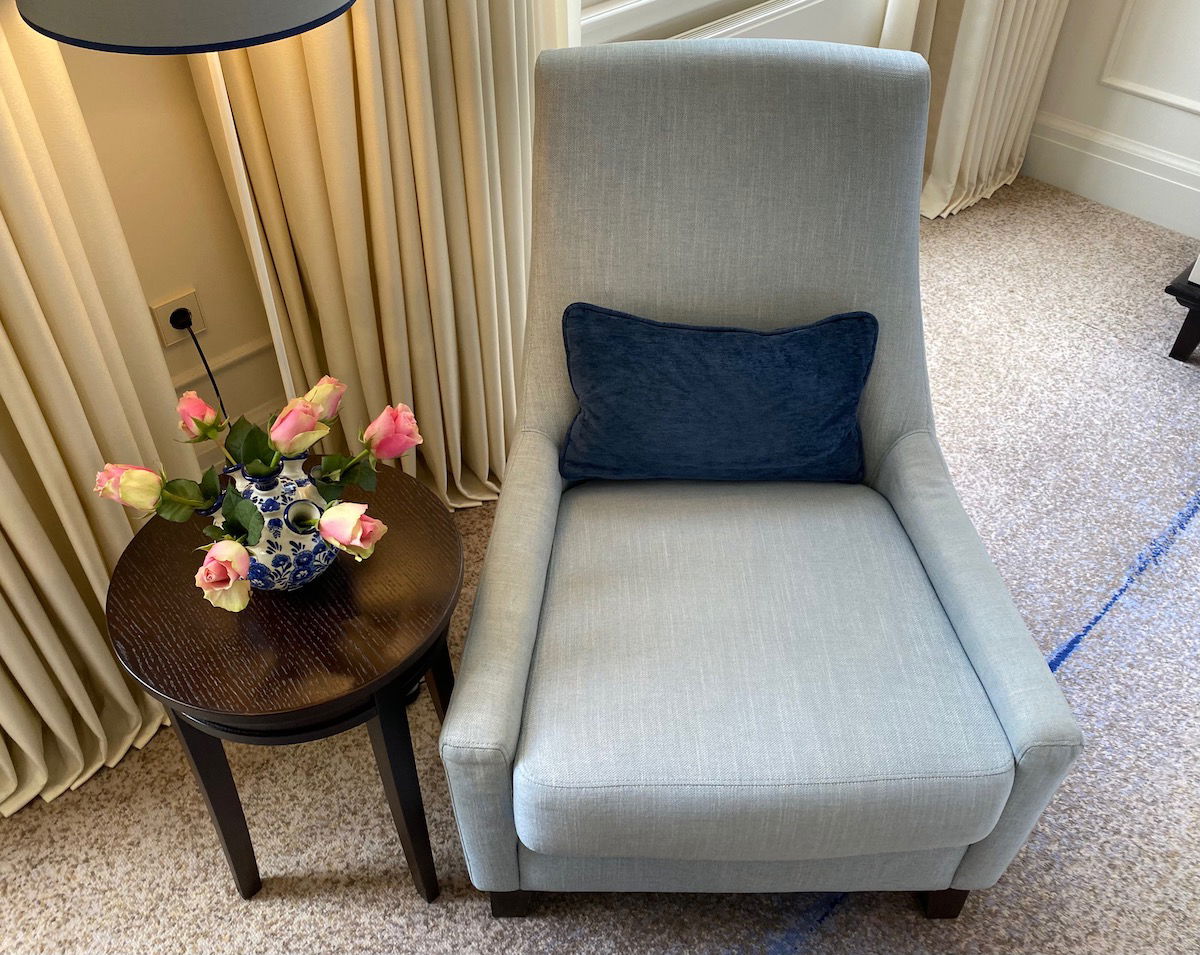 There was also a wall-mounted TV at the far end of the room, along with a minibar console. Seriously, look at how high those ceilings are!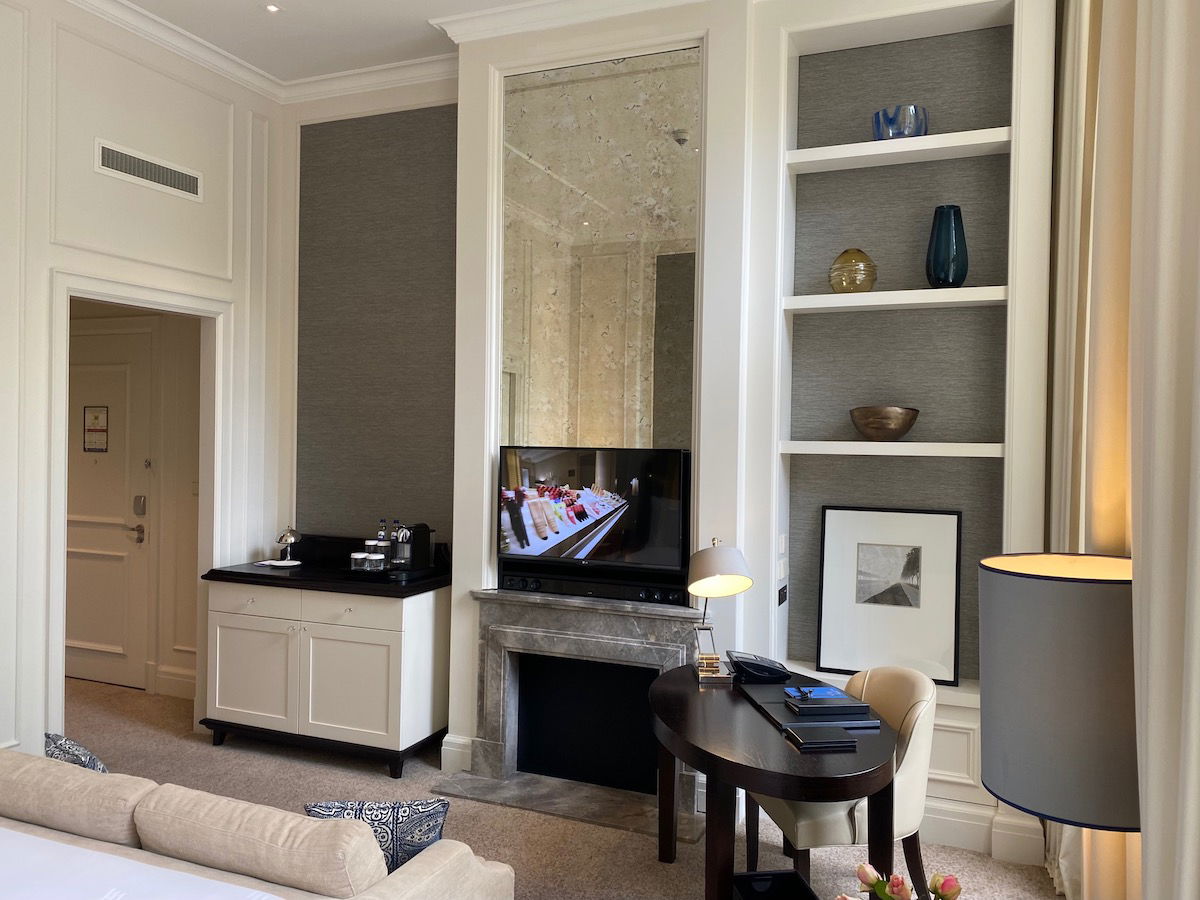 The minibar featured complimentary Nespresso coffee, tea, and bottled water, and then there were a variety of drinks and snacks for purchase.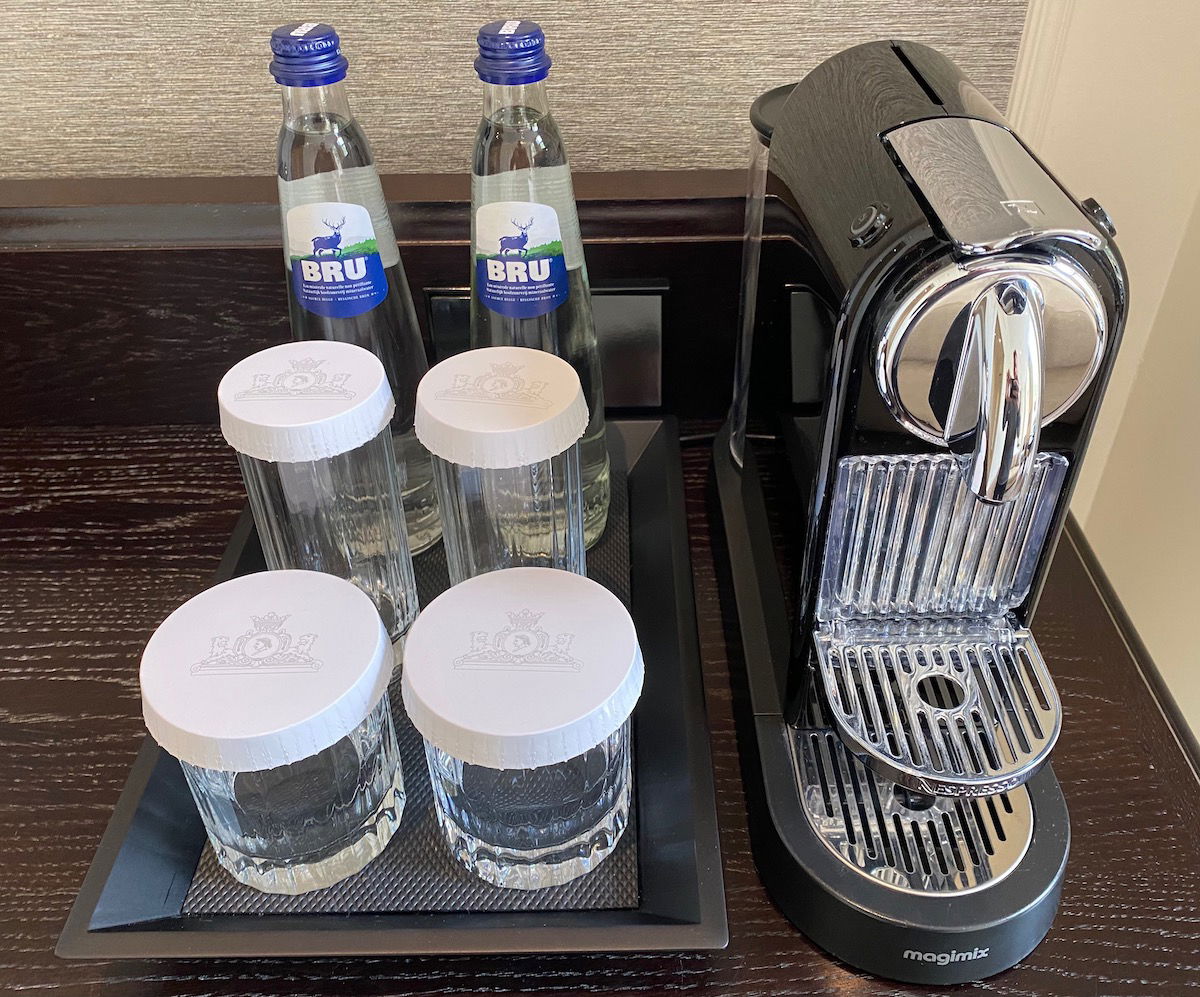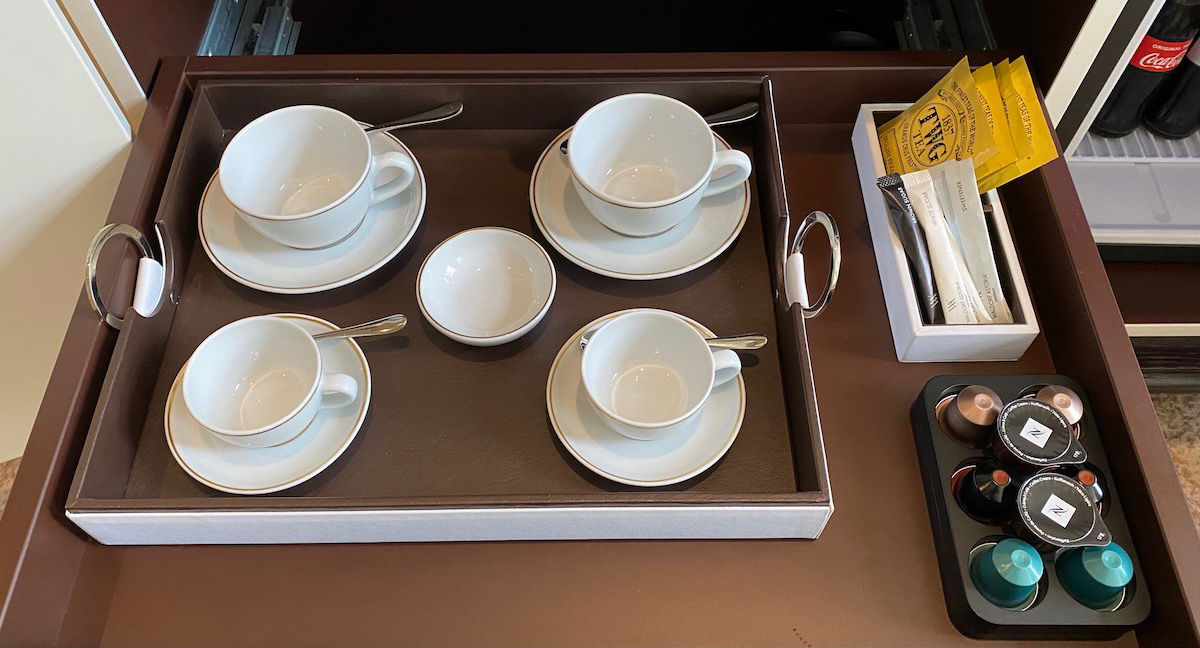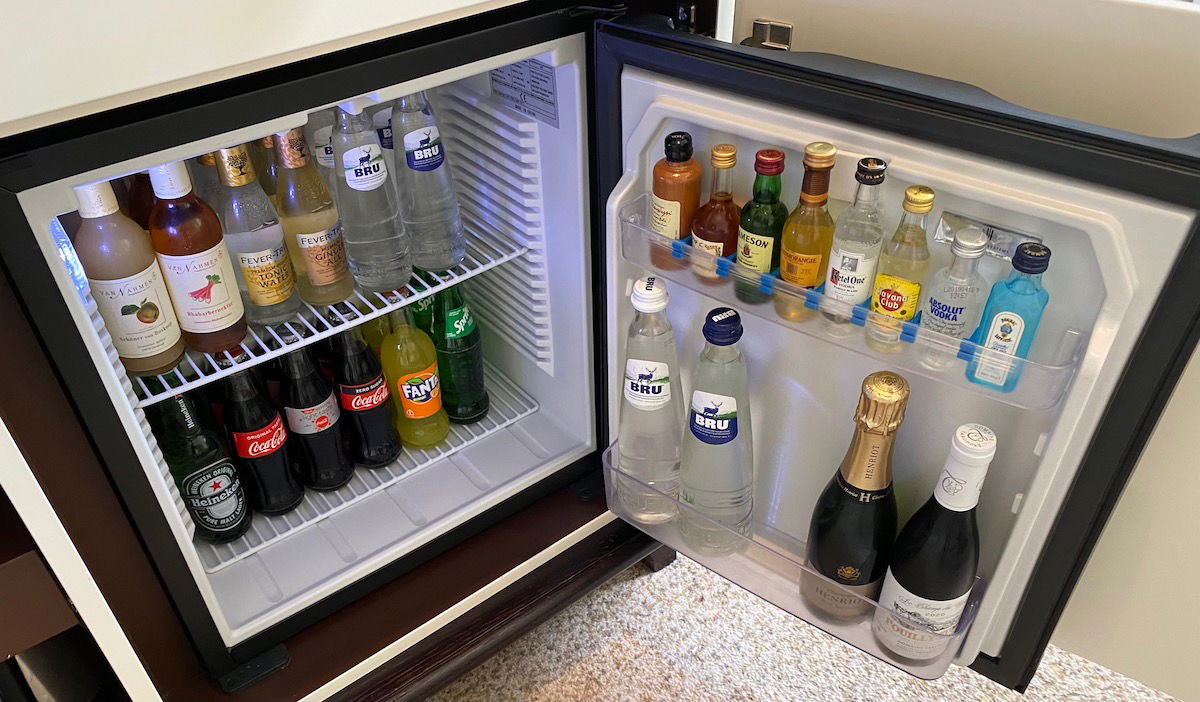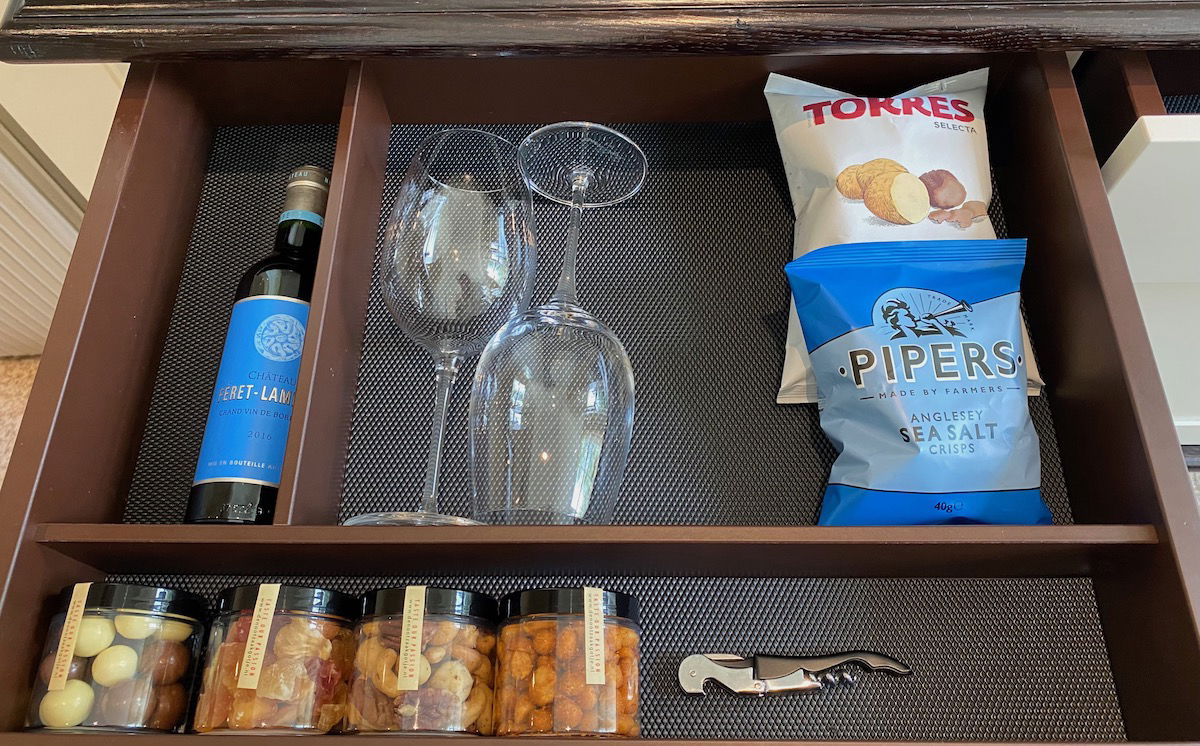 Also on this table was a welcome amenity of three madeleines. Yum.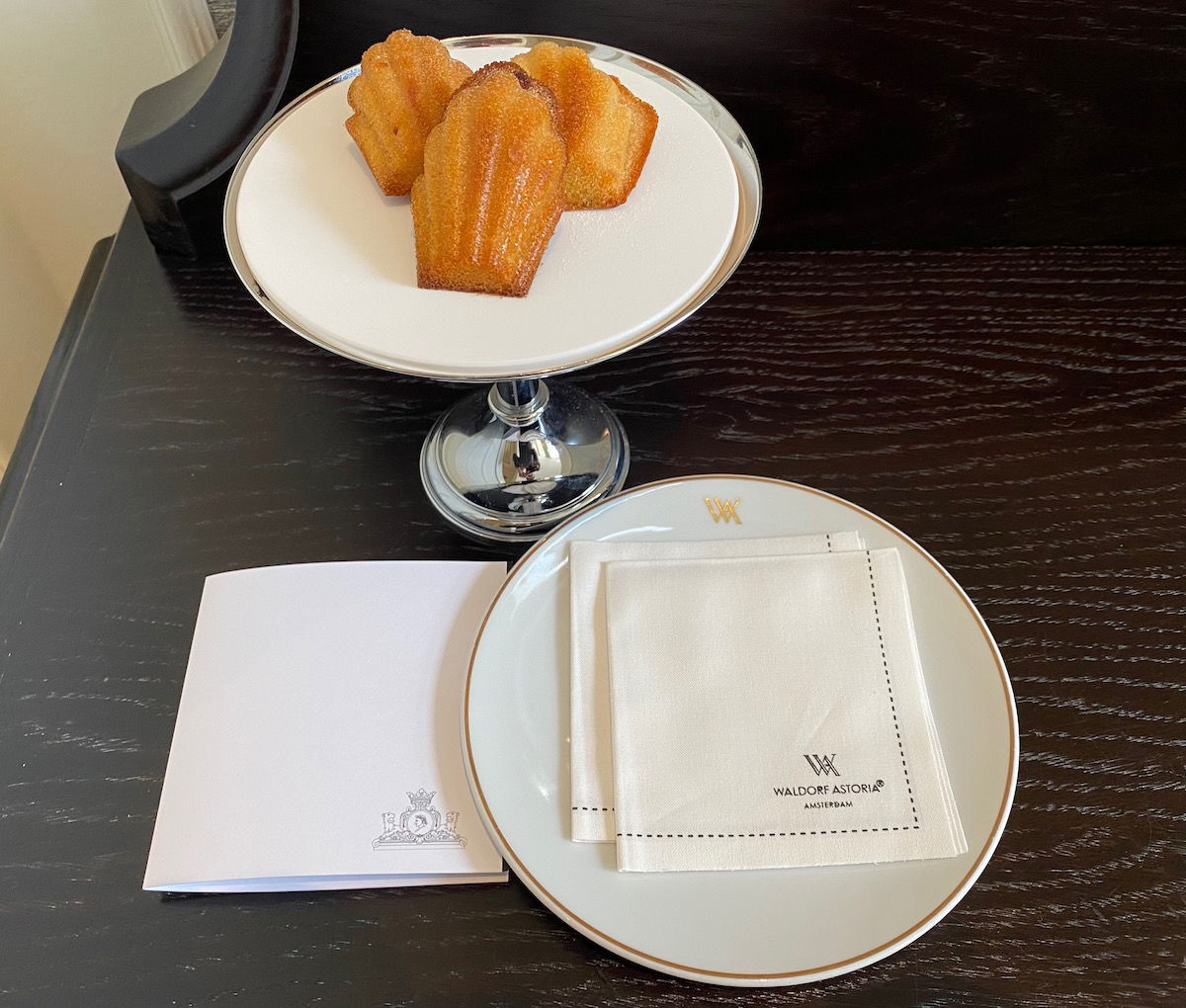 And of course the best part of the room was the view of the canal. At first I was worried about being on the ground floor, and the lack of privacy. However, we ended up loving this. As mentioned above, the Waldorf Astoria is on a quiet street, the room is elevated a bit off the ground, and it was cool to have such a direct view of the boat traffic.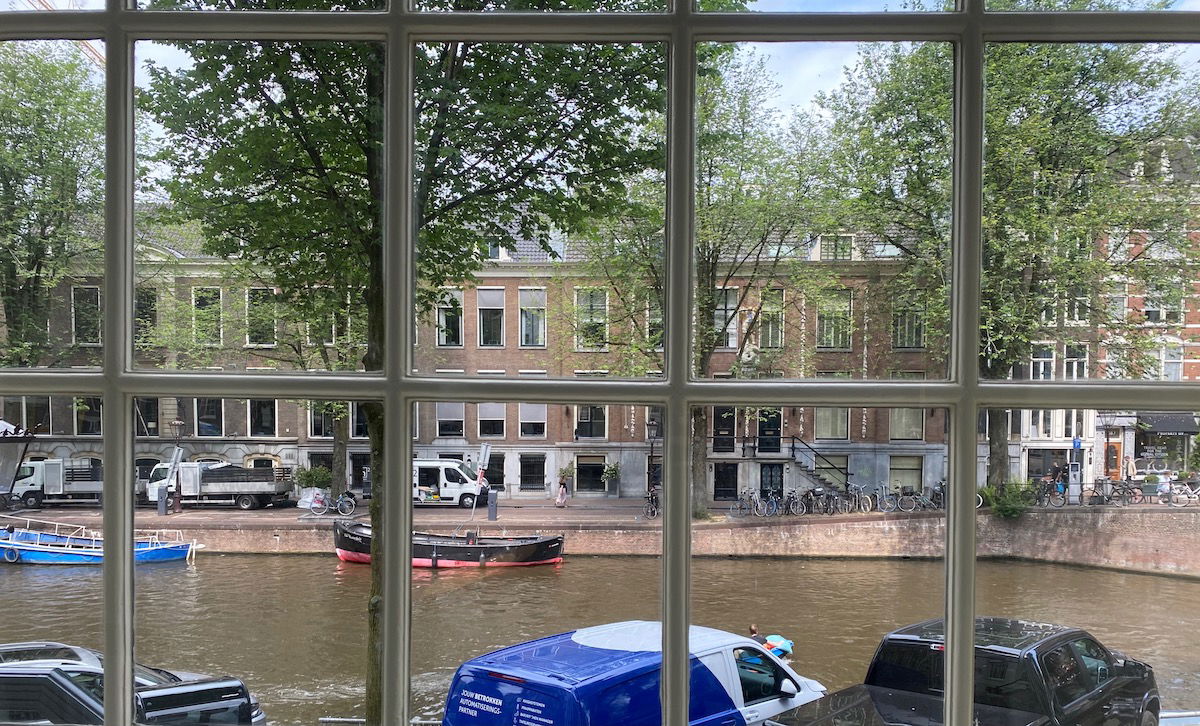 The bathroom was compact but well appointed, and featured a sink, a soaking tub with a TV, a walk-in shower, and a toilet.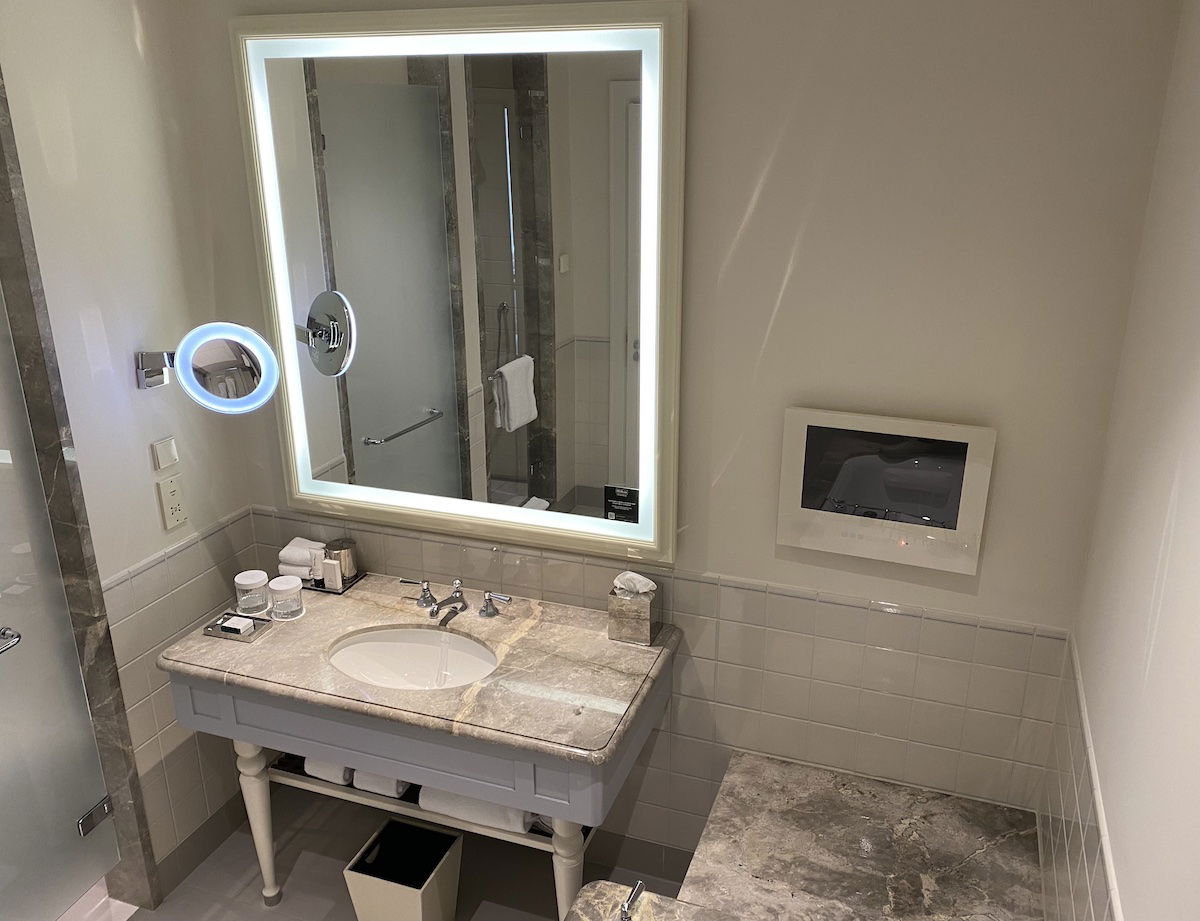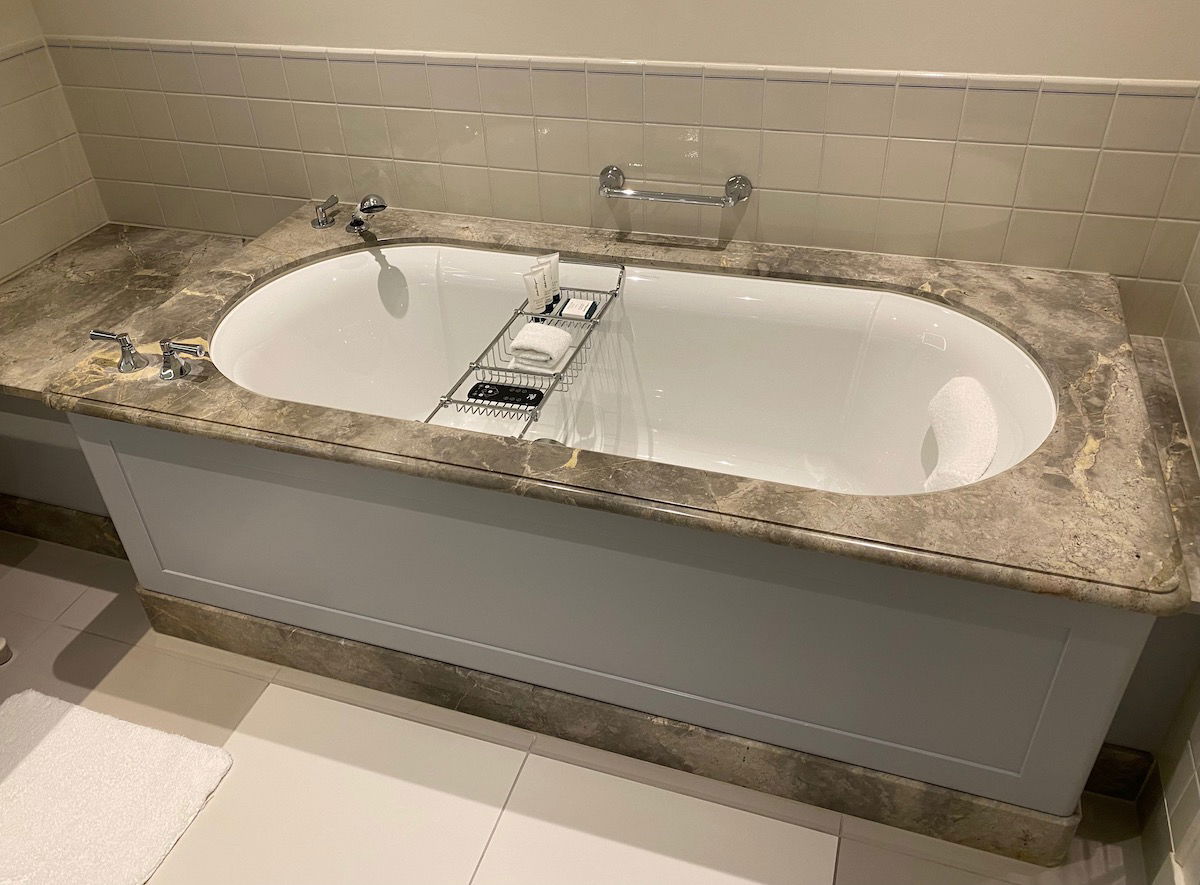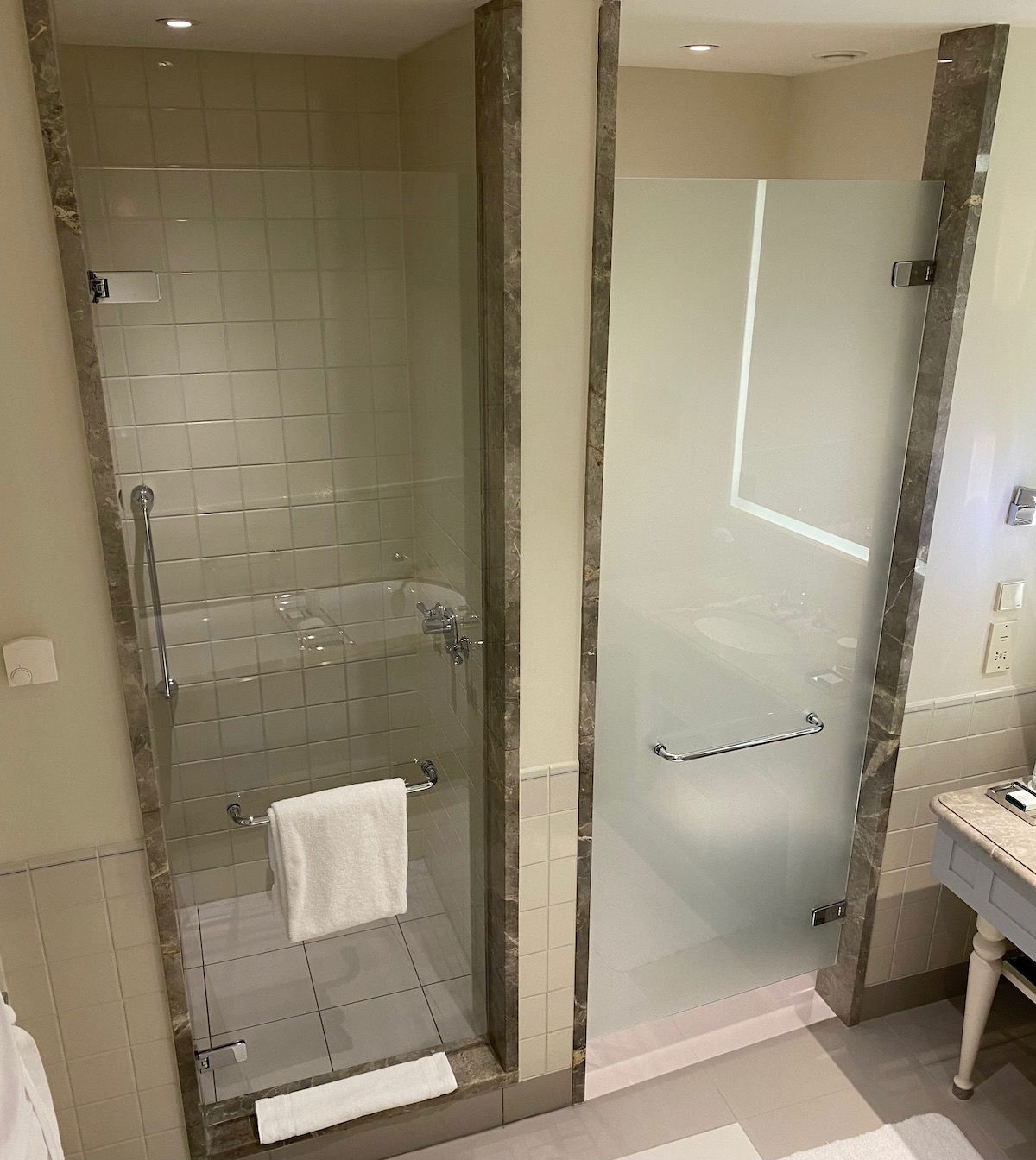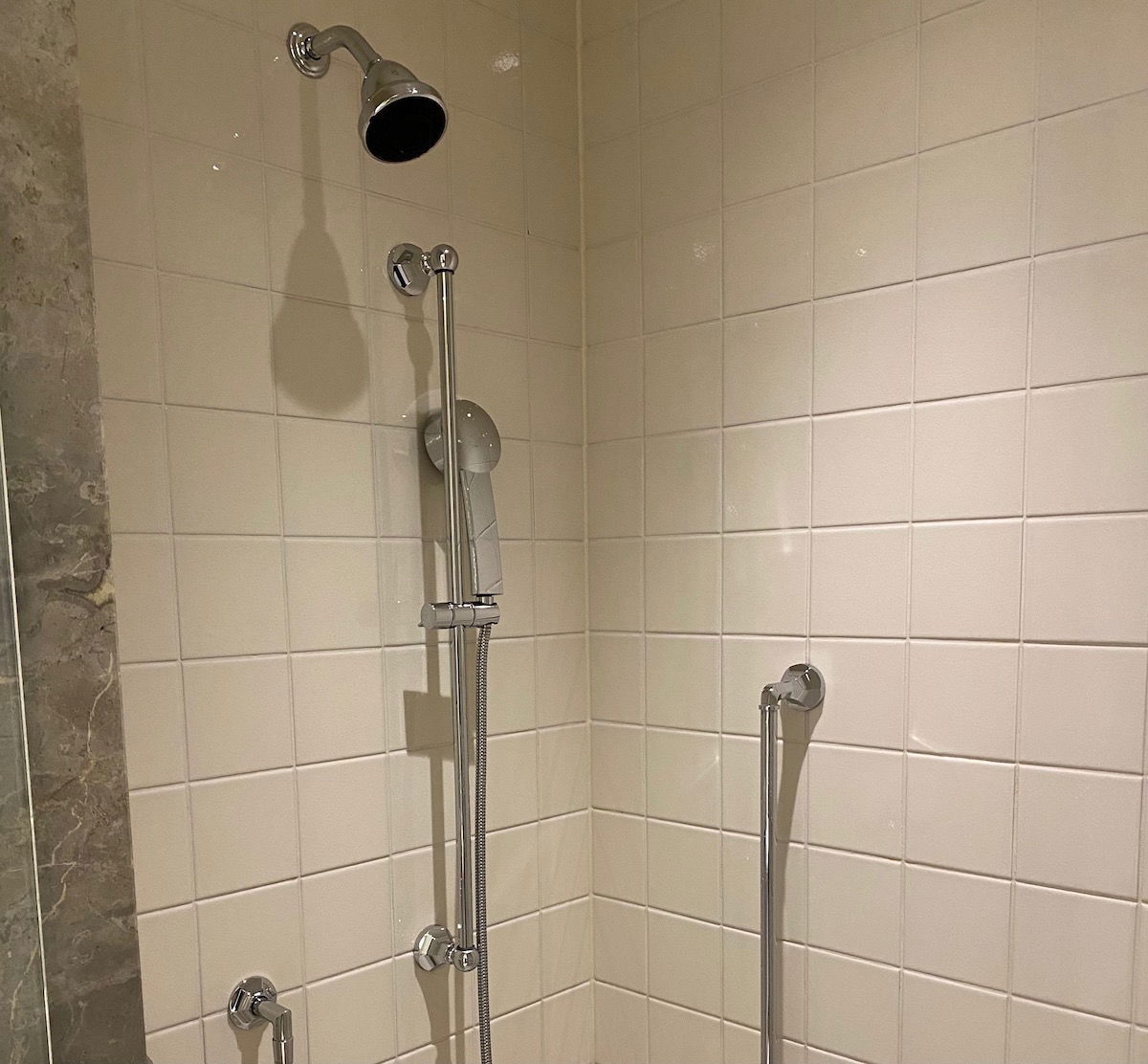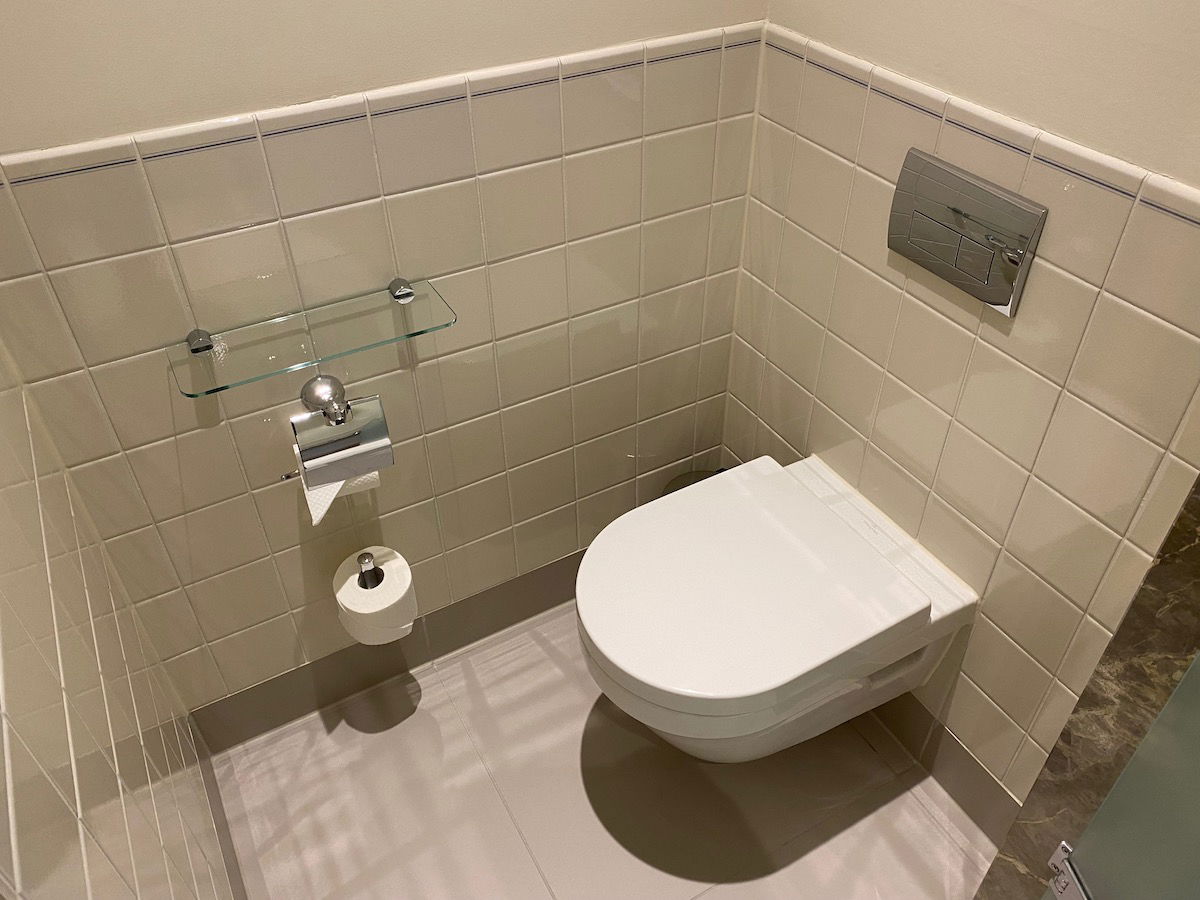 Toiletries were from Salvatore Ferragamo, as is standard at Waldorf Astoria properties.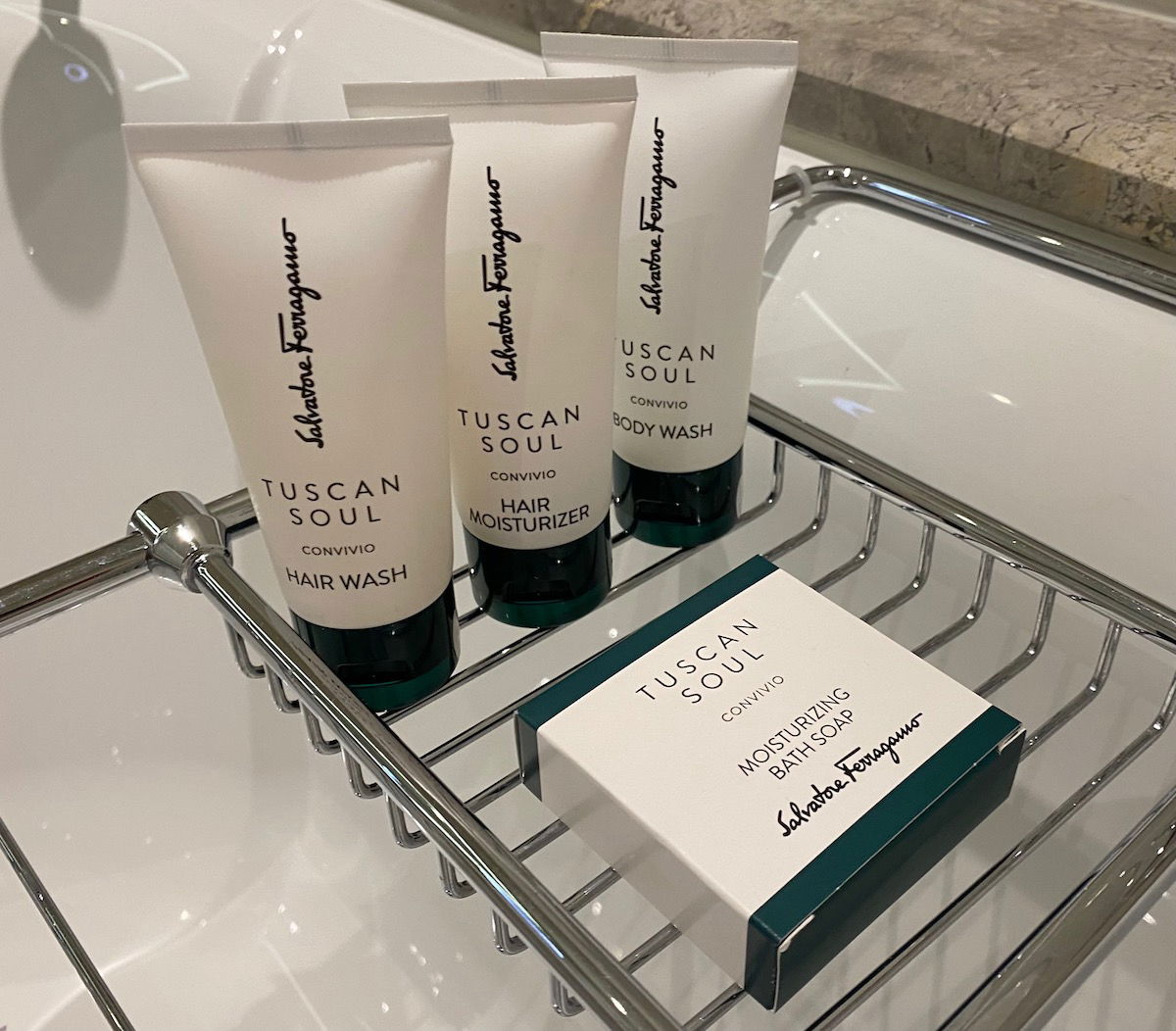 Wi-Fi in the room was fast and free, and housekeeping was provided twice daily, and was very thorough. Indeed, I loved the scent that they sprayed every evening, and on the last evening we were given a small tube with our preferred scent to enjoy at home. What a thoughtful touch.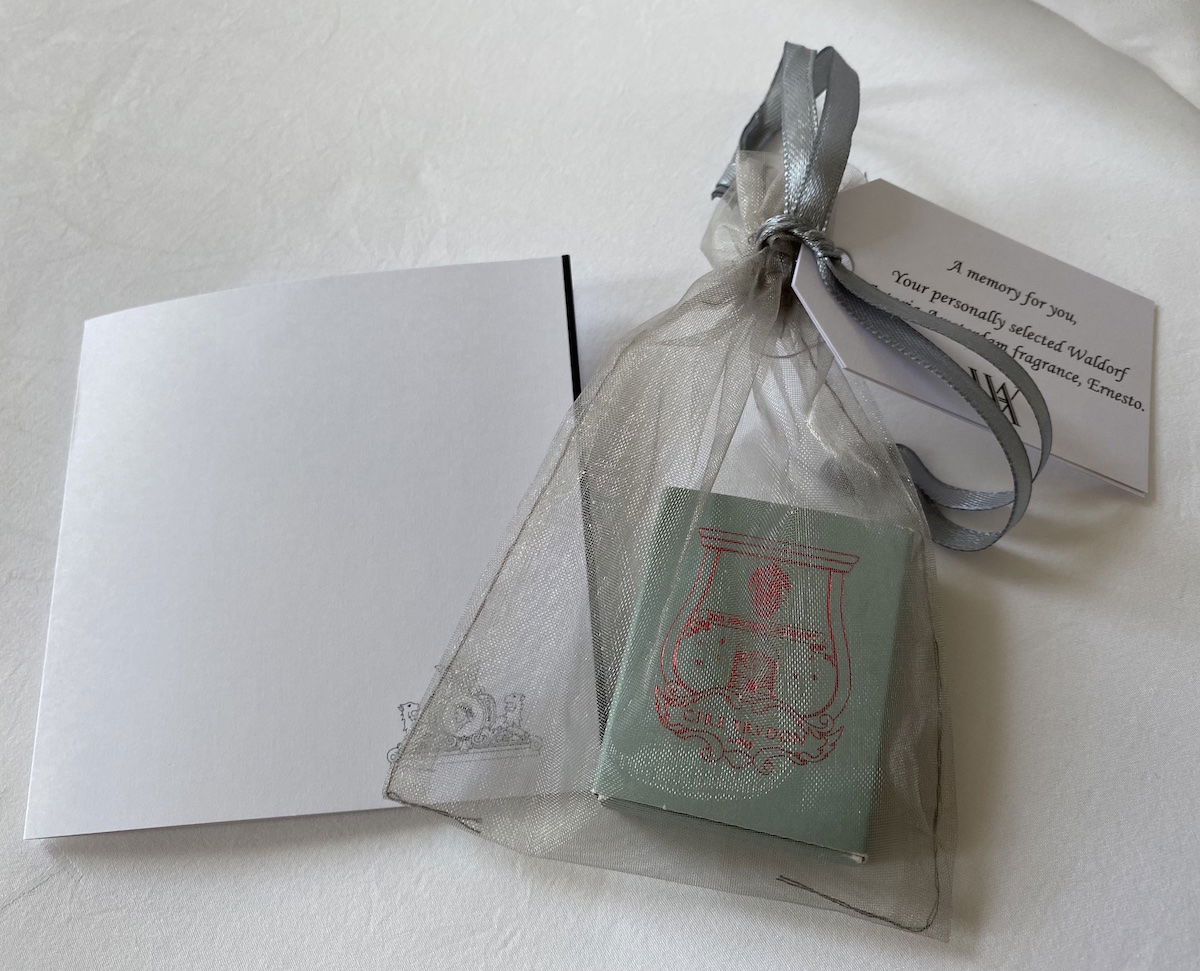 Waldorf Astoria Amsterdam Peacock Alley (breakfast)
We received complimentary breakfast on account of our Hilton Honors Diamond status, and this could be enjoyed either via in-room dining starting at 6AM, or at Peacock Alley from 9AM until 11AM. We had breakfast at Peacock Alley all three mornings.
This is the Waldorf Astoria's lobby lounge, so it's not really a traditional restaurant, but it is a gorgeous space.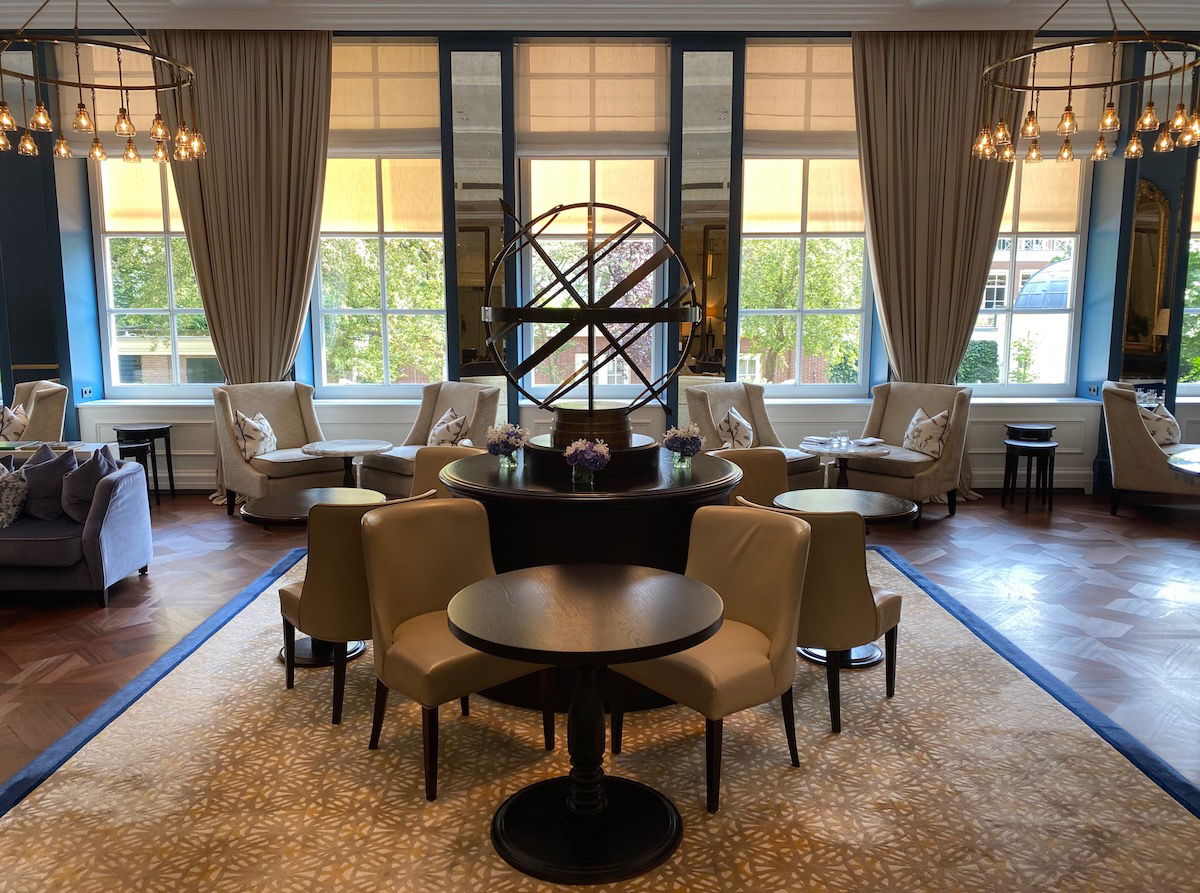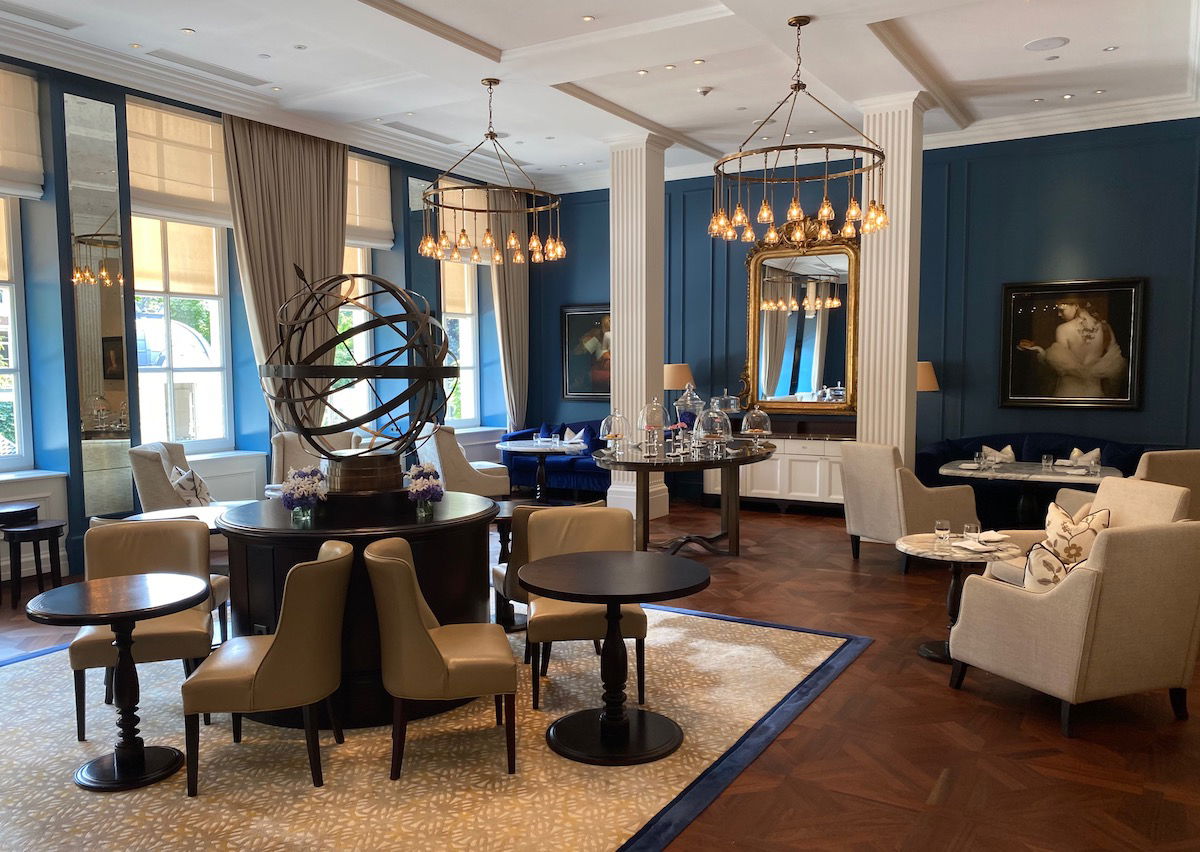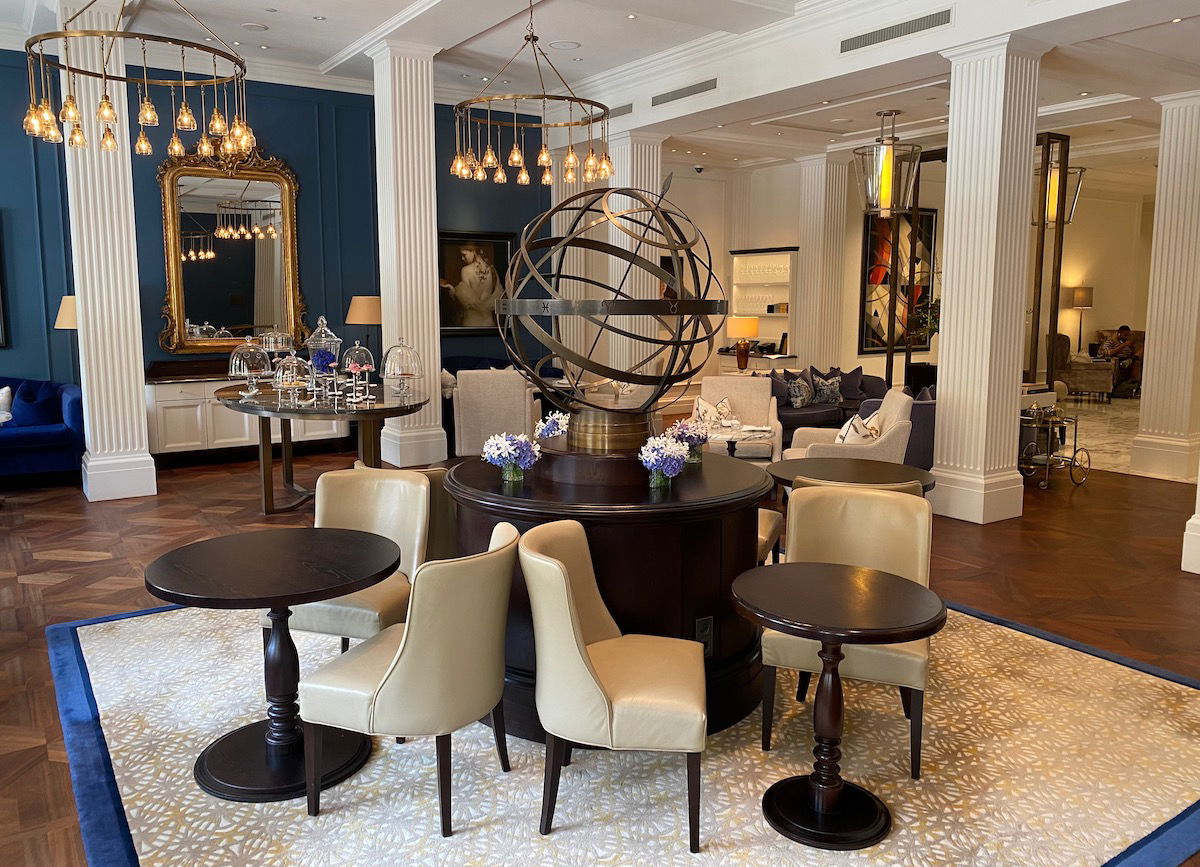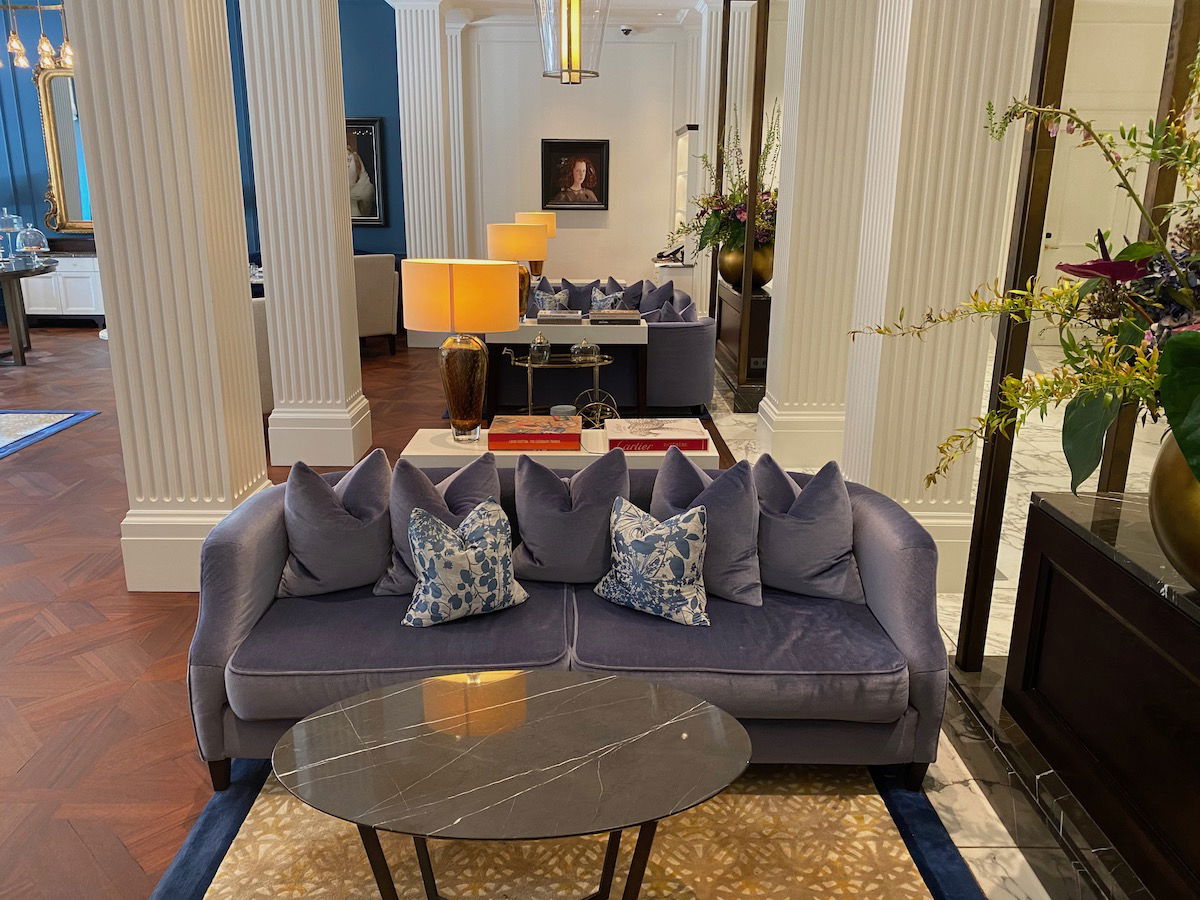 The standard breakfast here is "The Taste of Waldorf," which retails for 39 EUR per person.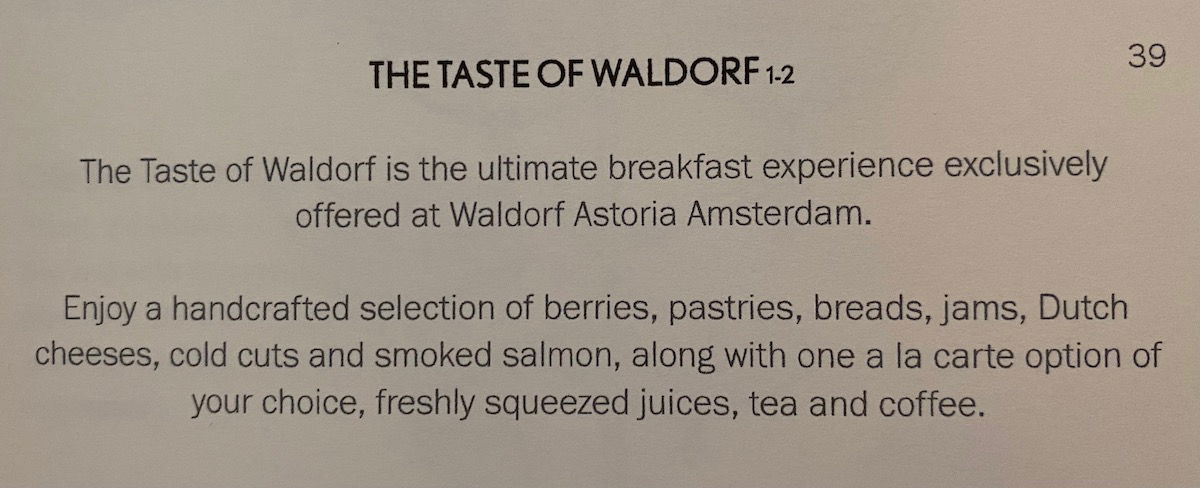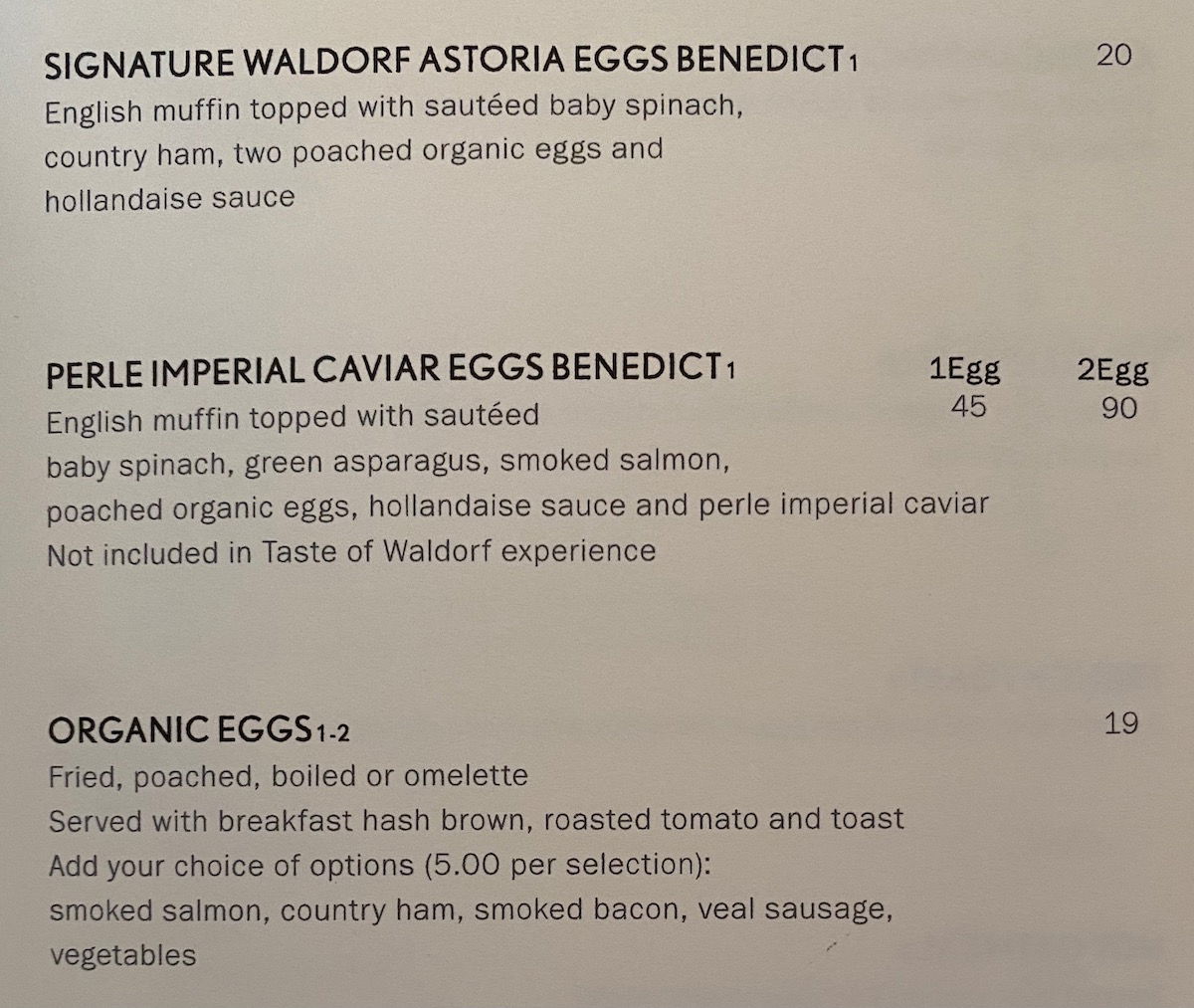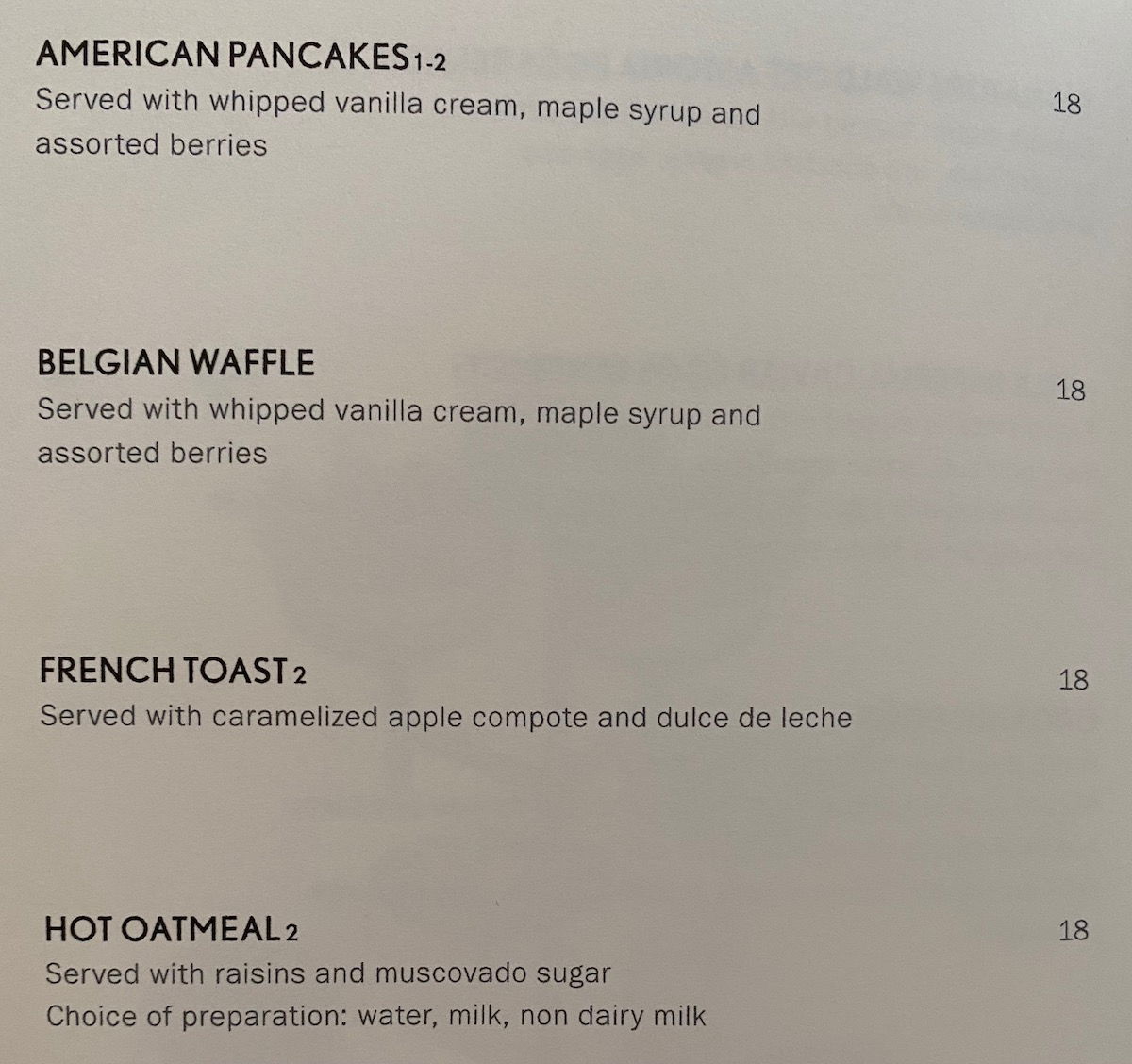 Breakfast each morning started with coffee or tea and a freshly squeezed juice. I had french press coffee and a green juice.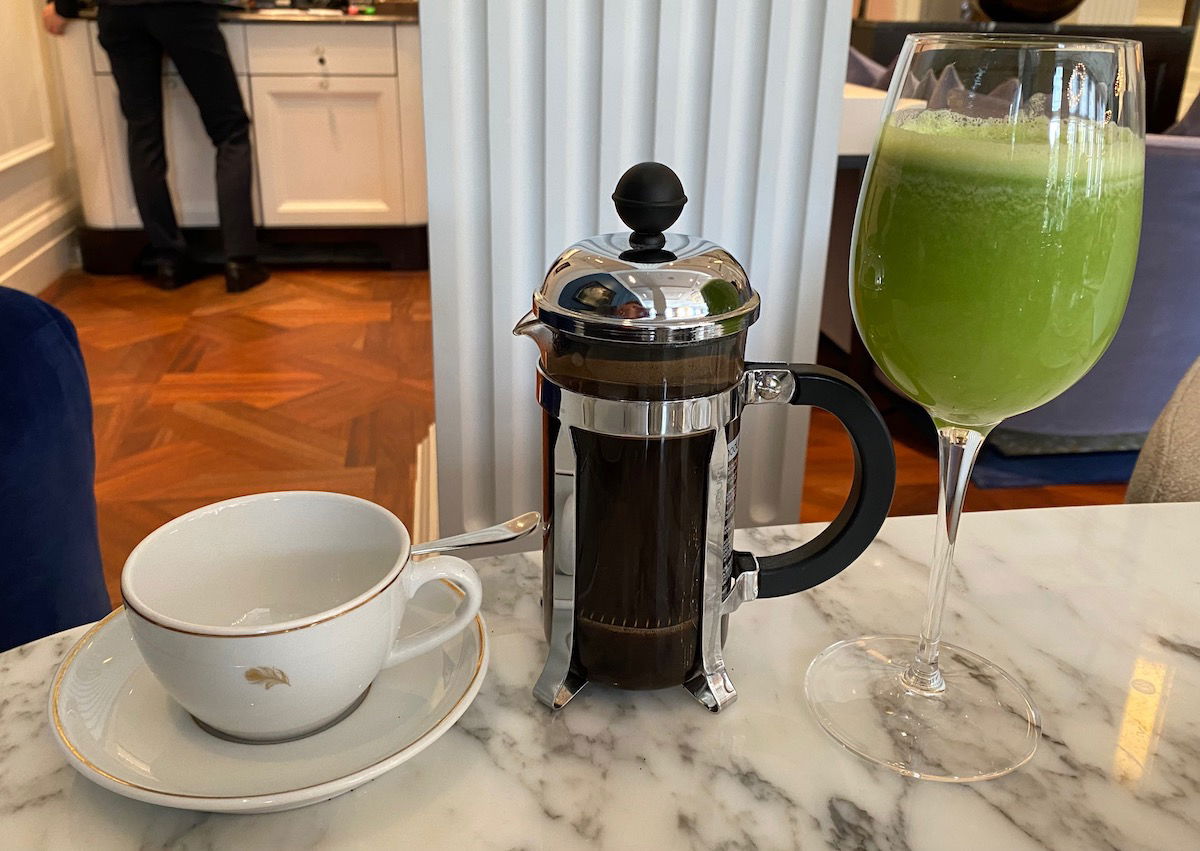 Then a gorgeous tray was brought out with berries, smoked salmon, cold cuts, cheese, yogurt, bread, and pastries.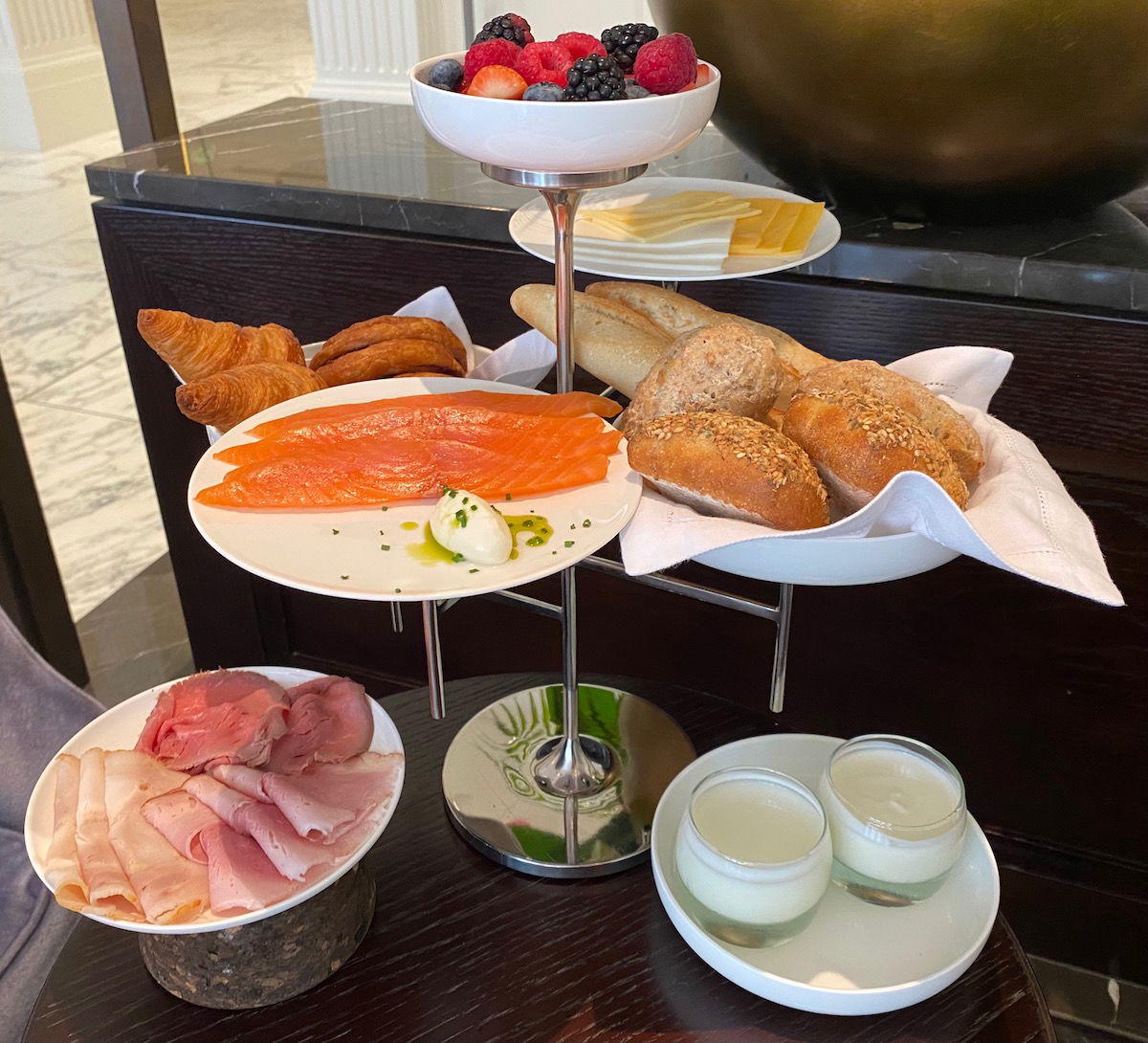 Then there was the choice of an a la carte option. Over the course of our stay we tried several things, including an omelet, eggs benedict, and oatmeal.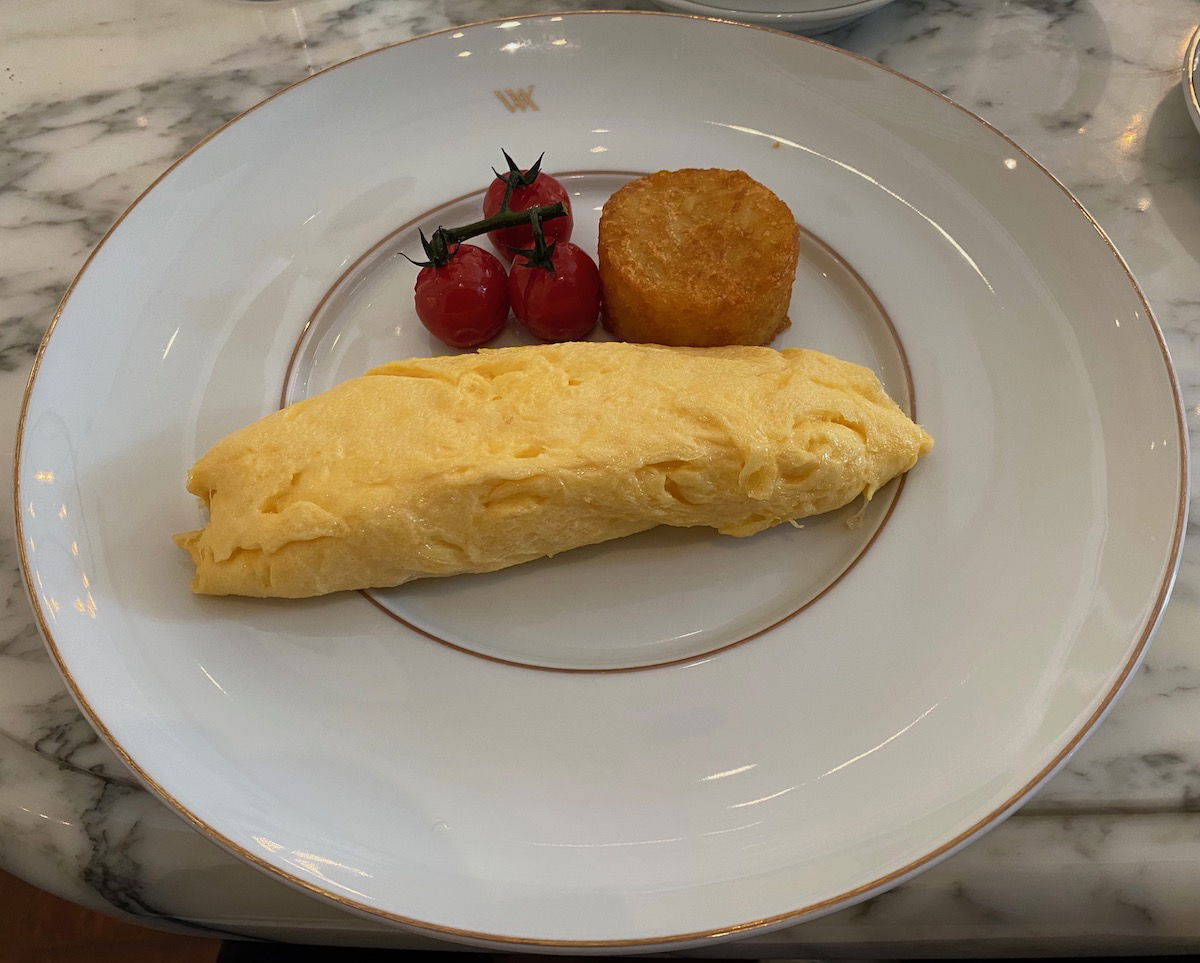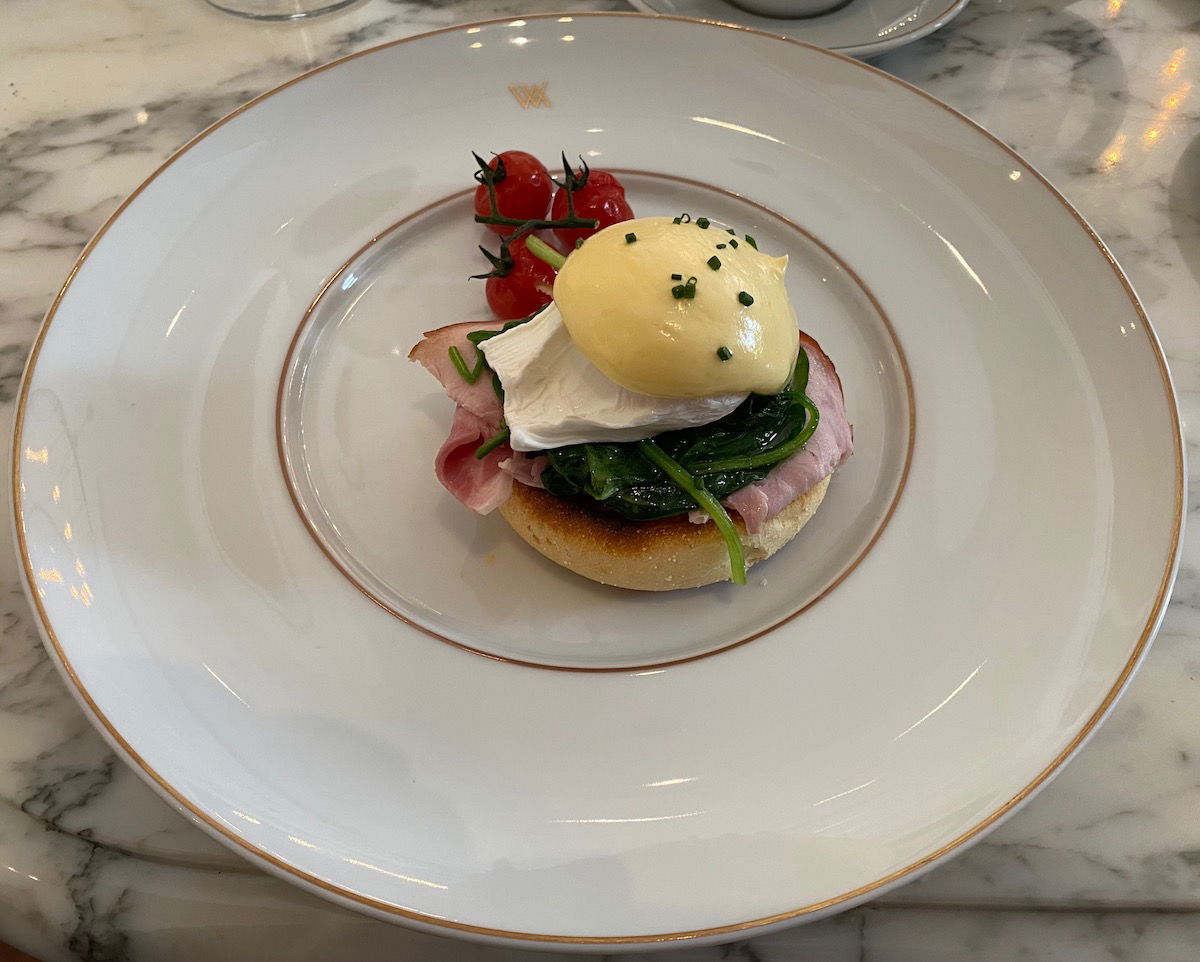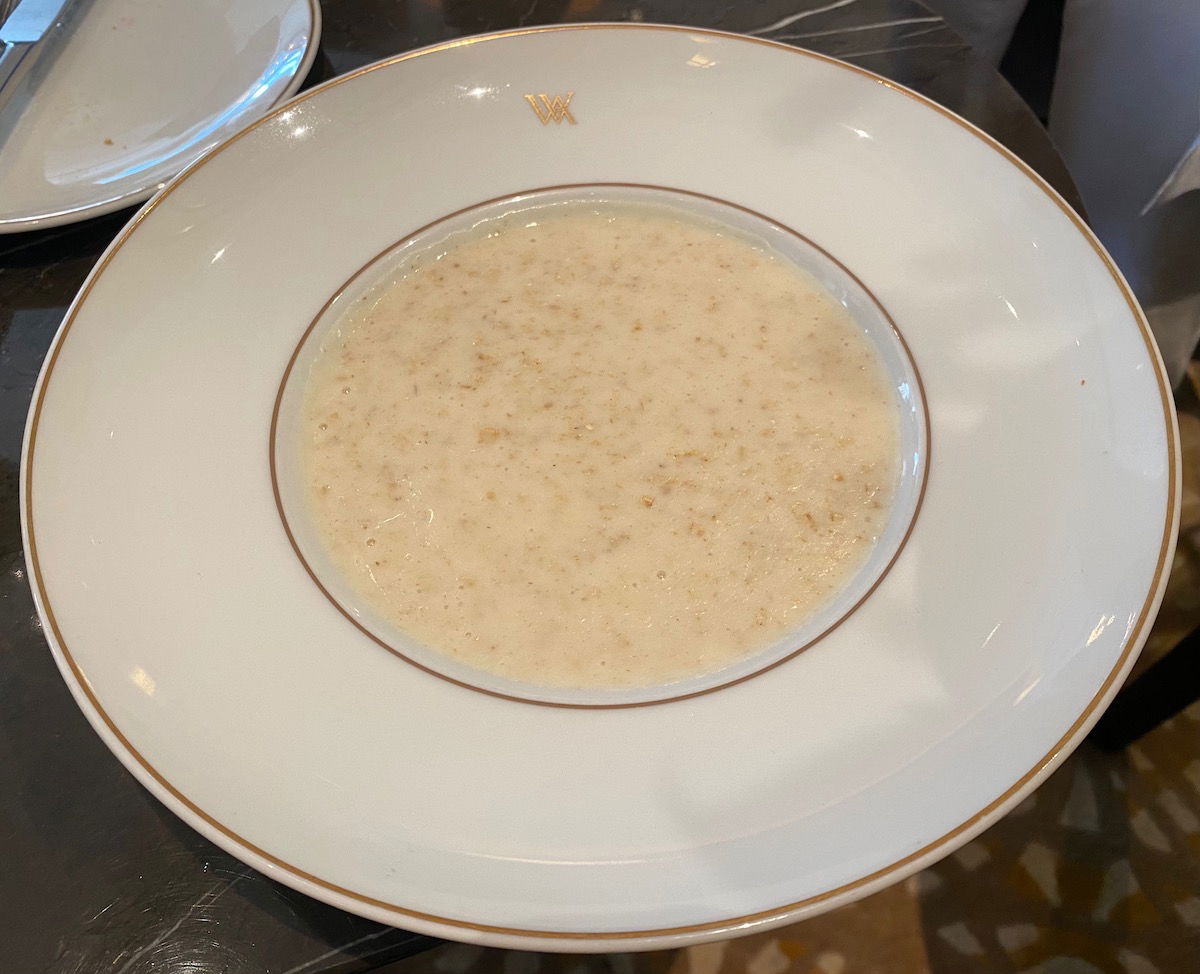 Breakfast was excellent, and I think it's also worth noting that the hotel went above and beyond, because technically they only have to offer elite members a continental breakfast, but they instead offer a full breakfast.
Waldorf Astoria Amsterdam in-room dining
On the day we arrived at the Waldorf Astoria we decided to order lunch via in-room dining. We had a long car ride and I needed to get some work done, so it seemed like the easiest option. You can find the in-room dining menu here.
We ordered chicken yakitori, a club sandwich, and a pizza to share, and all were excellent (don't worry, this was our least interesting meal in Amsterdam, as we otherwise enjoyed some awesome Indonesian food, and much more). The pizza also tasted much better than it looked, for the record.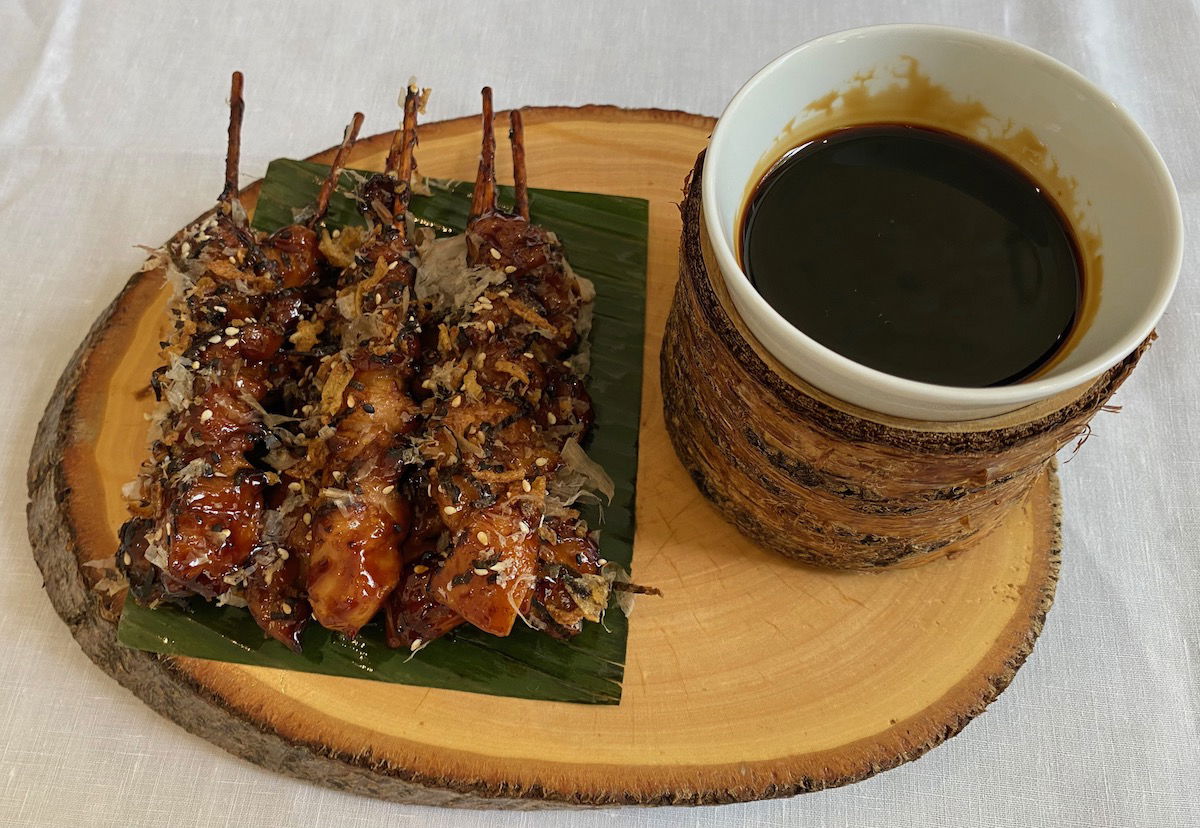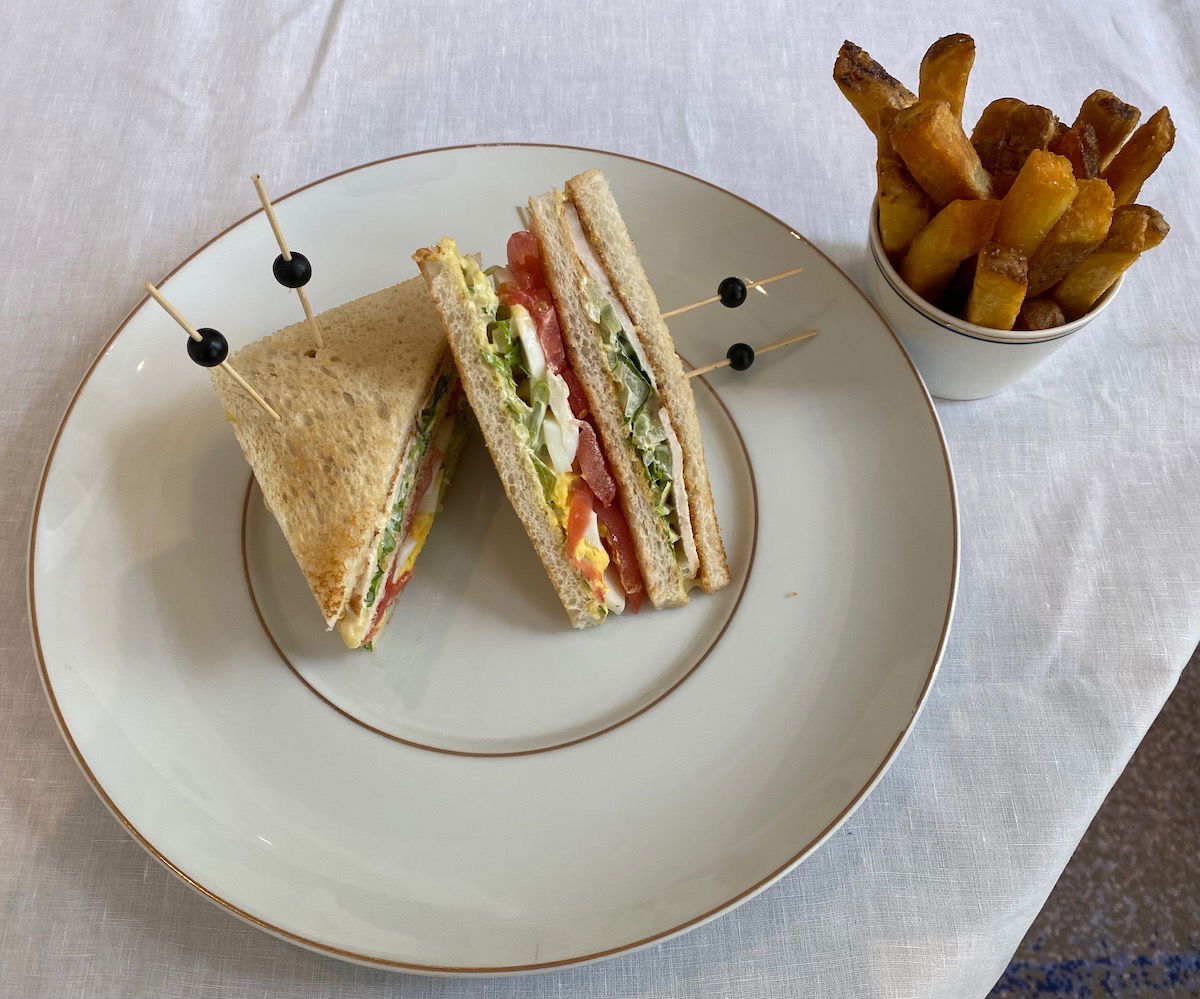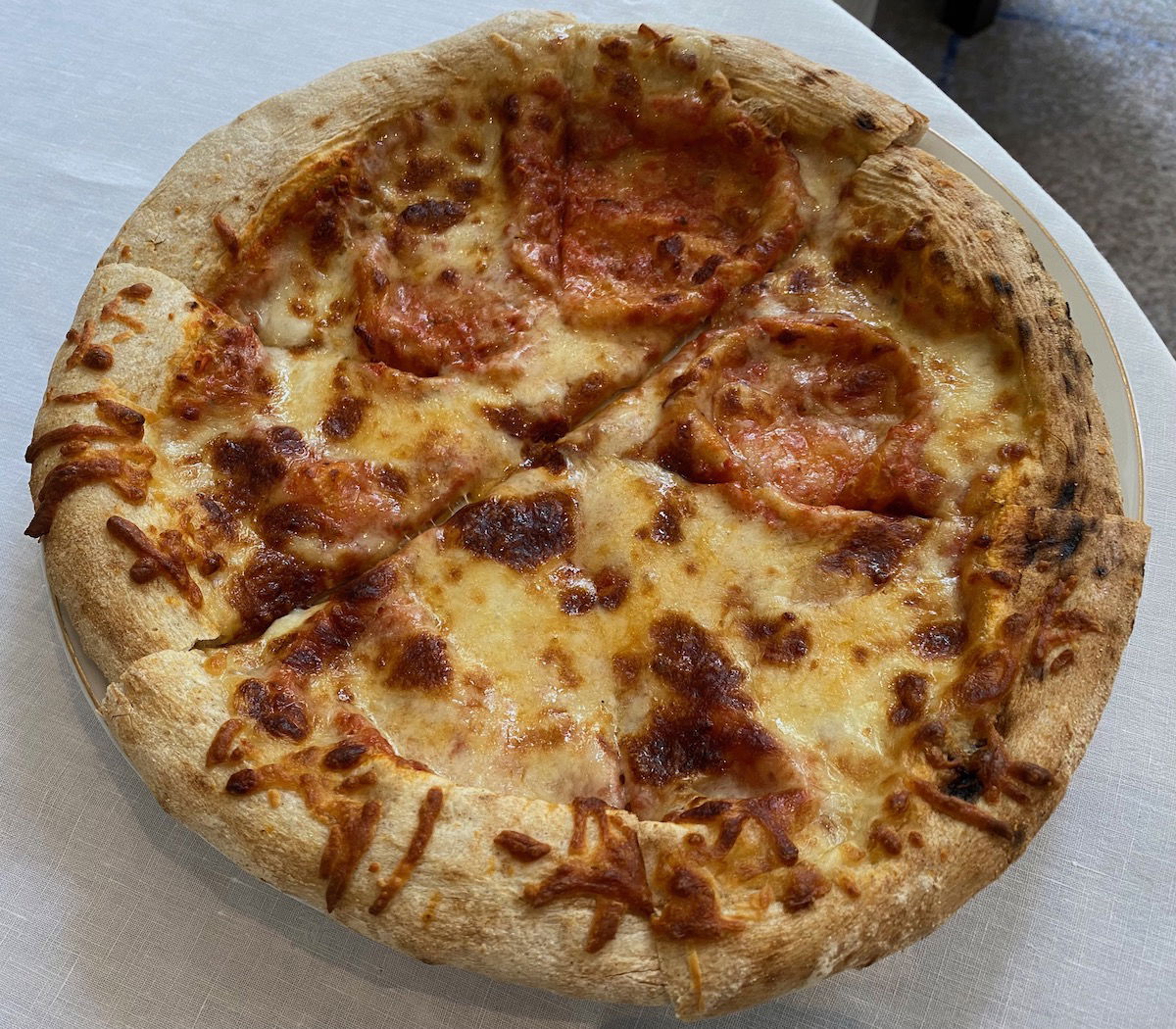 Waldorf Astoria Amsterdam canal view terrace
In the summers the Waldorf Astoria sets up a cute, small terrace with just a few tables, right on the canal. We had some drinks here one afternoon, which was lovely.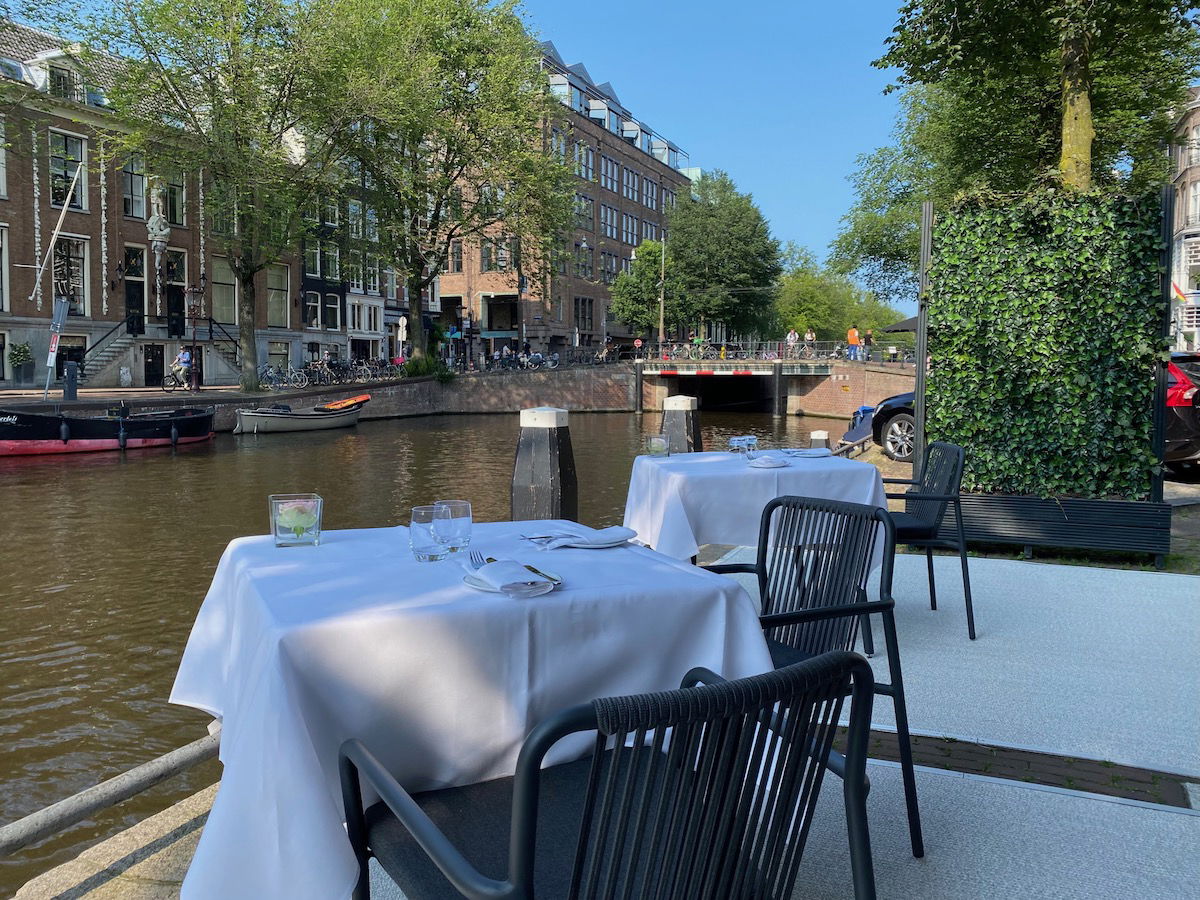 Waldorf Astoria Amsterdam Spectrum Restaurant
The Waldorf Astoria Amsterdam has Spectrum Restaurant, led by two Michelin-starred chef Sidney Schutte. Unfortunately at the moment this restaurant is only open three days per week (Thursdays through Saturdays), so we didn't have the chance to check it out. There's also a bar near the restaurant, which looked cute, though was closed.
Waldorf Astoria Amsterdam Guerlain Spa, gym, and pool
The Waldorf Astoria has Gerlain Spa, located on the basement level. While we didn't get any spa treatments, you can find the spa menu here.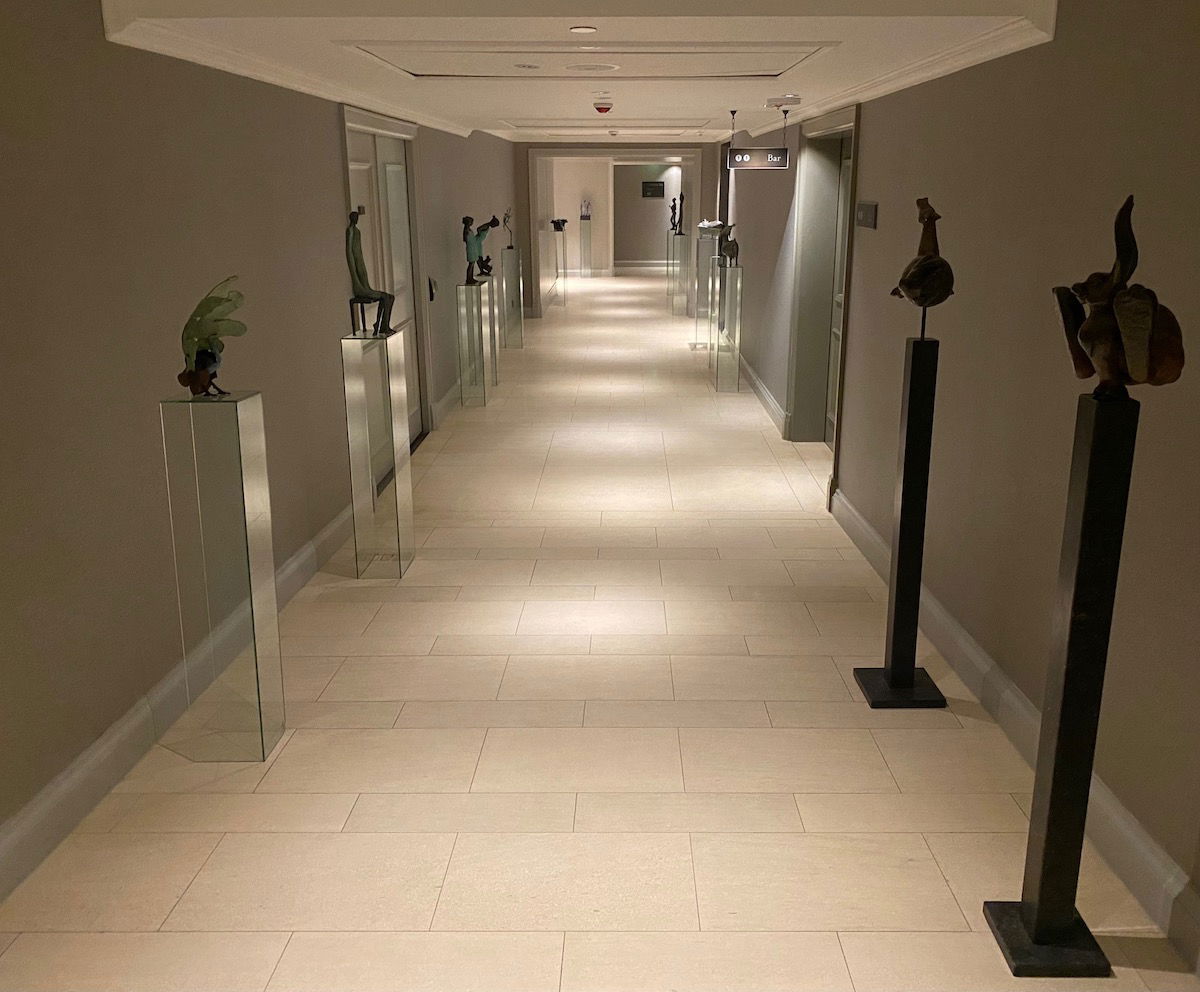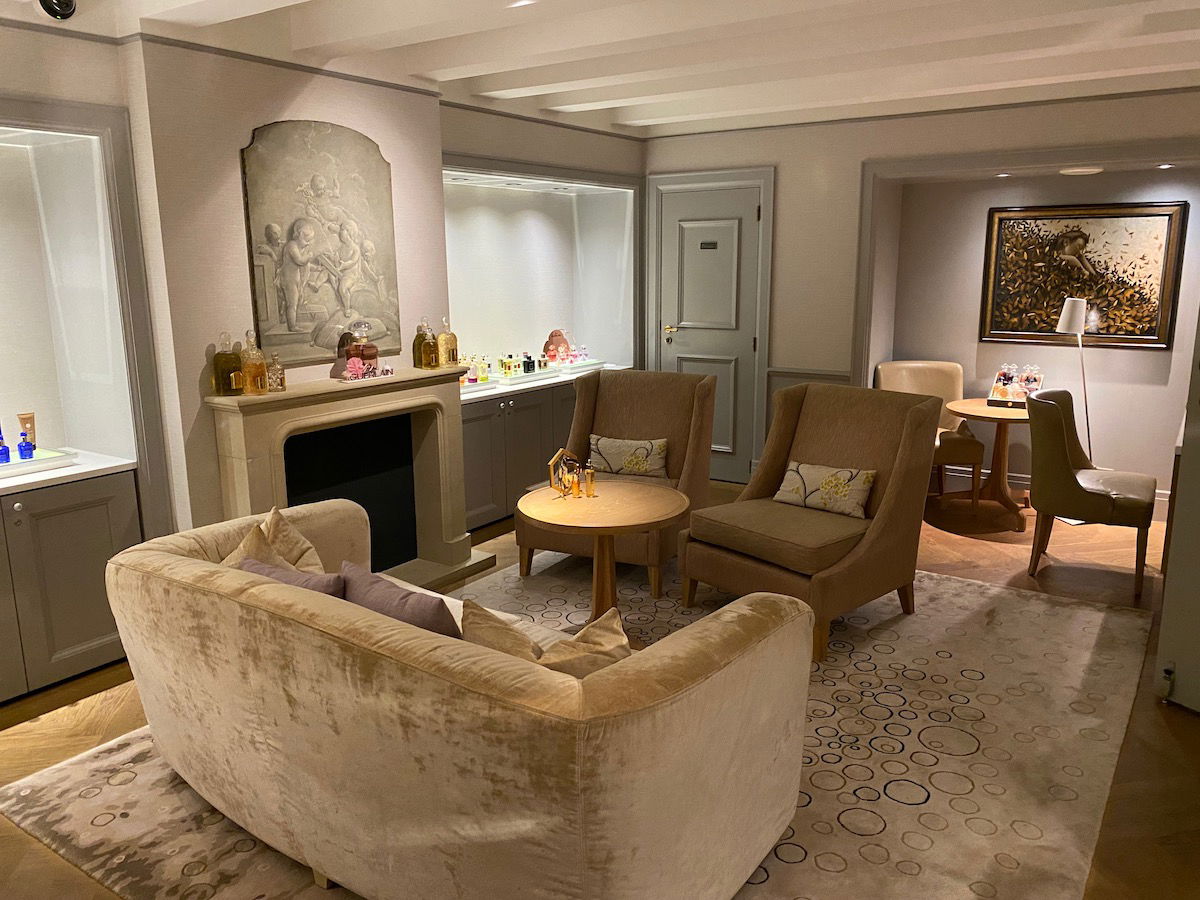 The spa was beautiful, and had a pool, sauna, steam room, etc.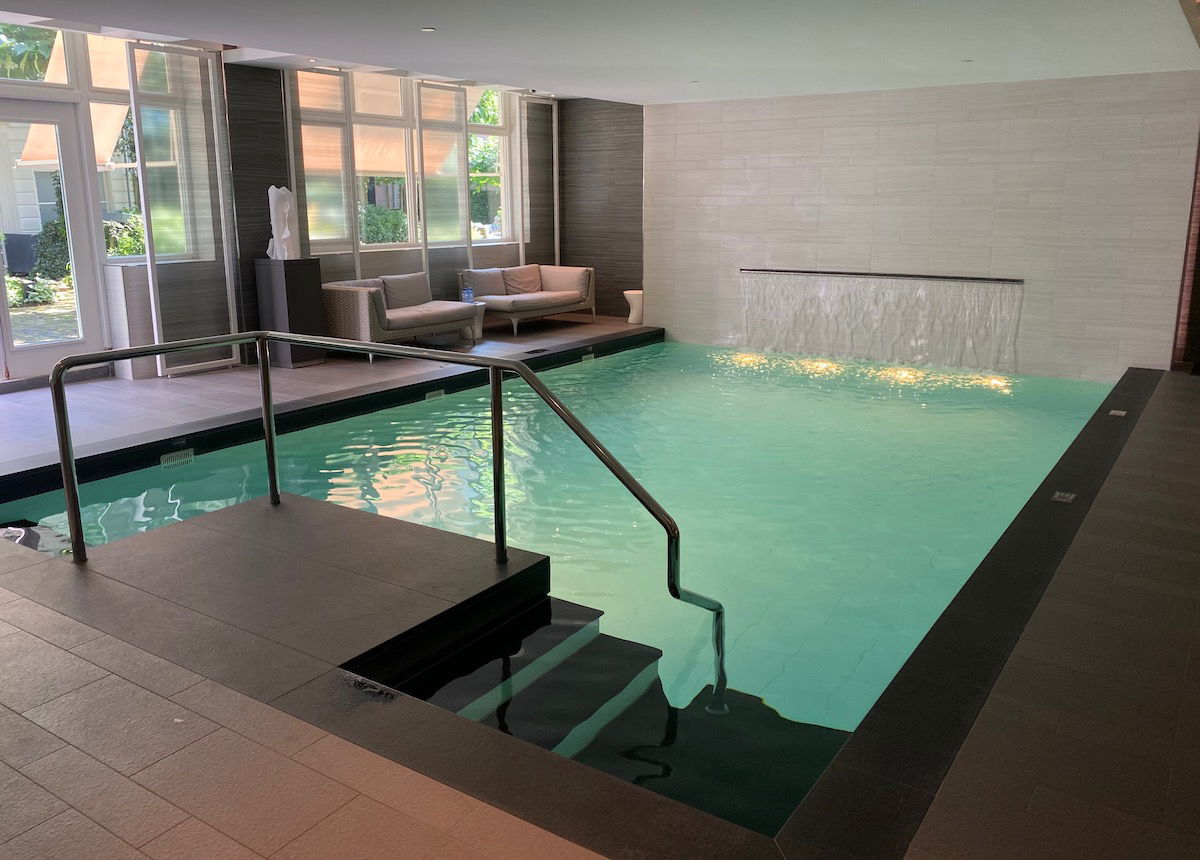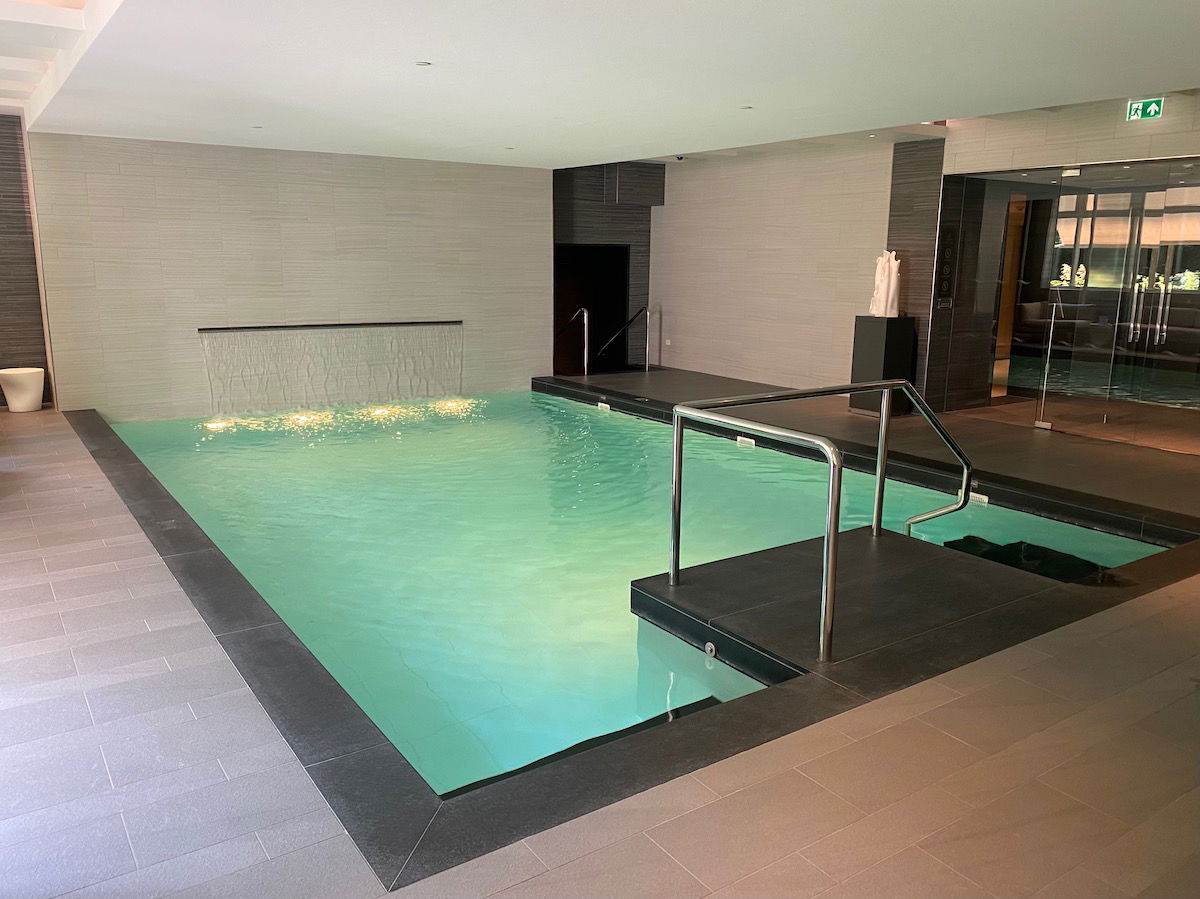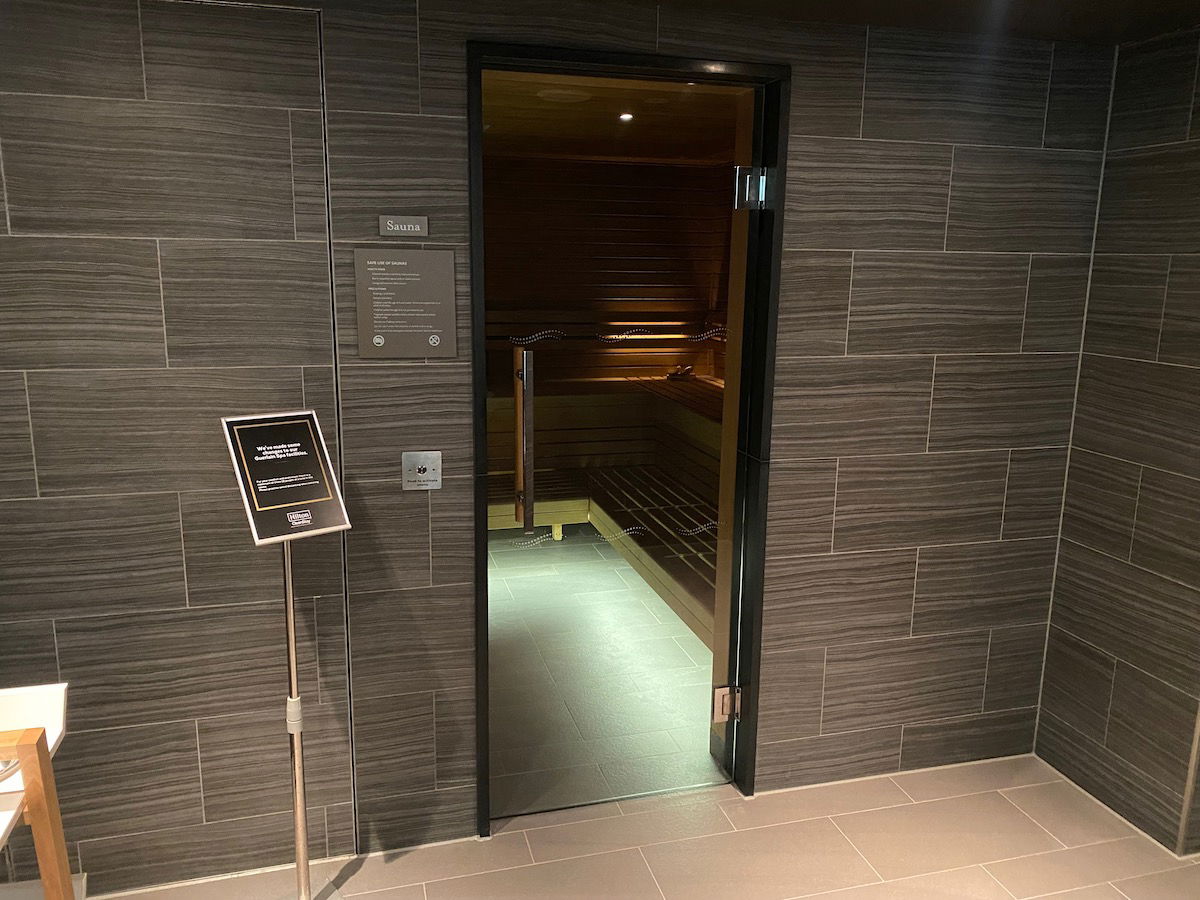 The gym is also located in this area, and I thought it was excellent for a historic hotel like this, with great cardio equipment and weights.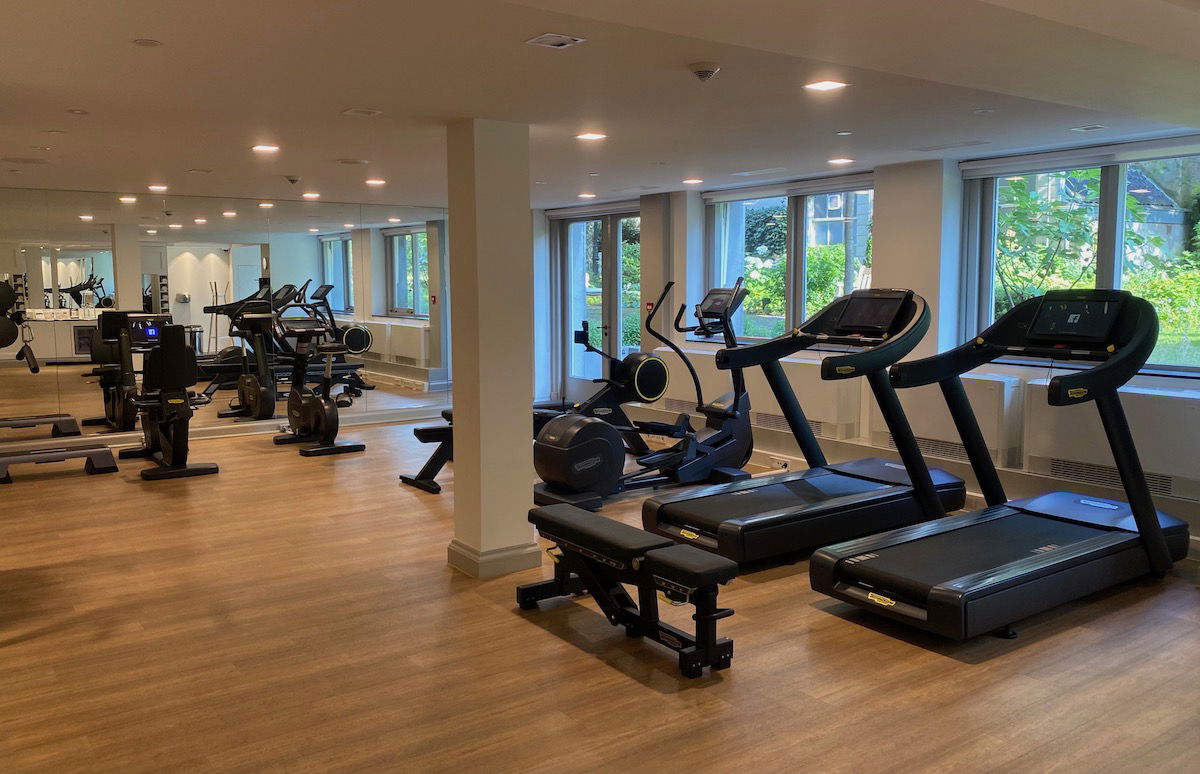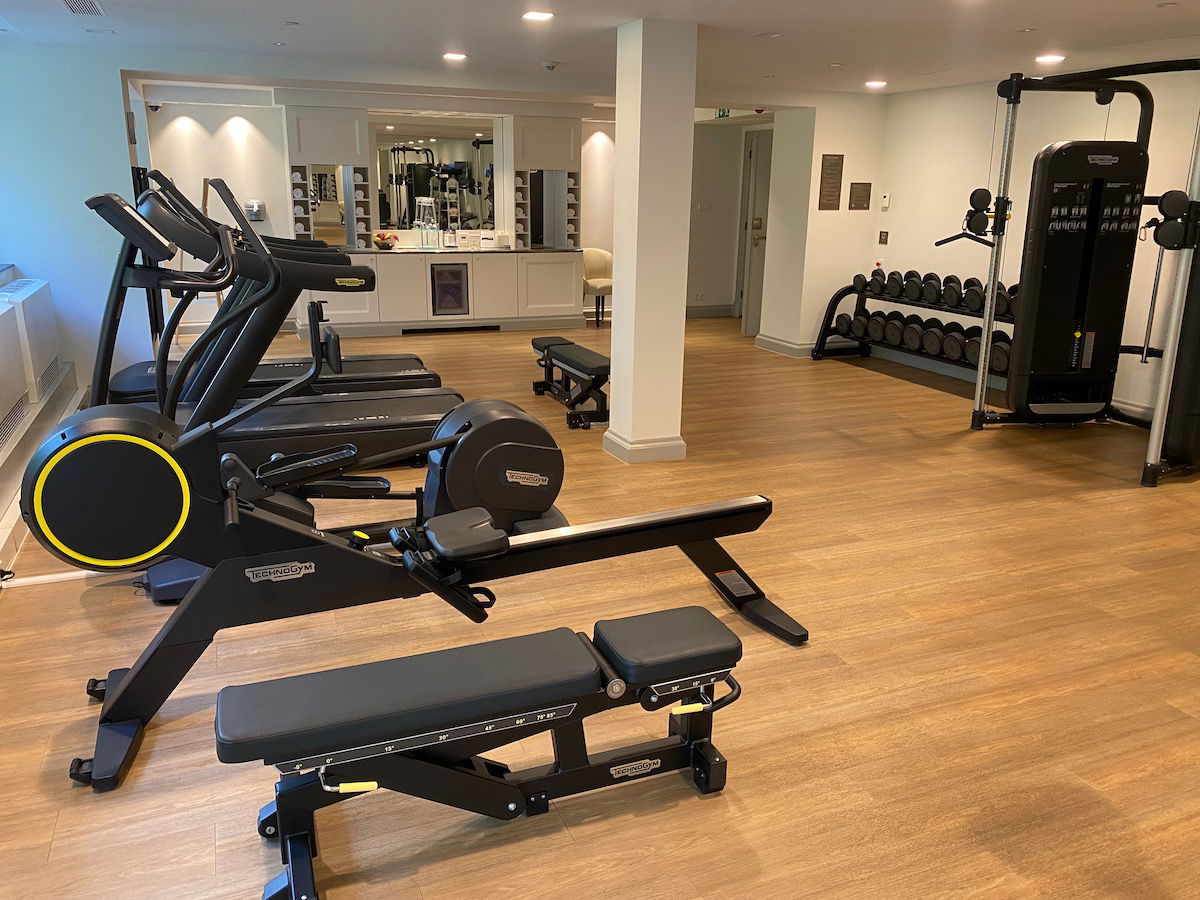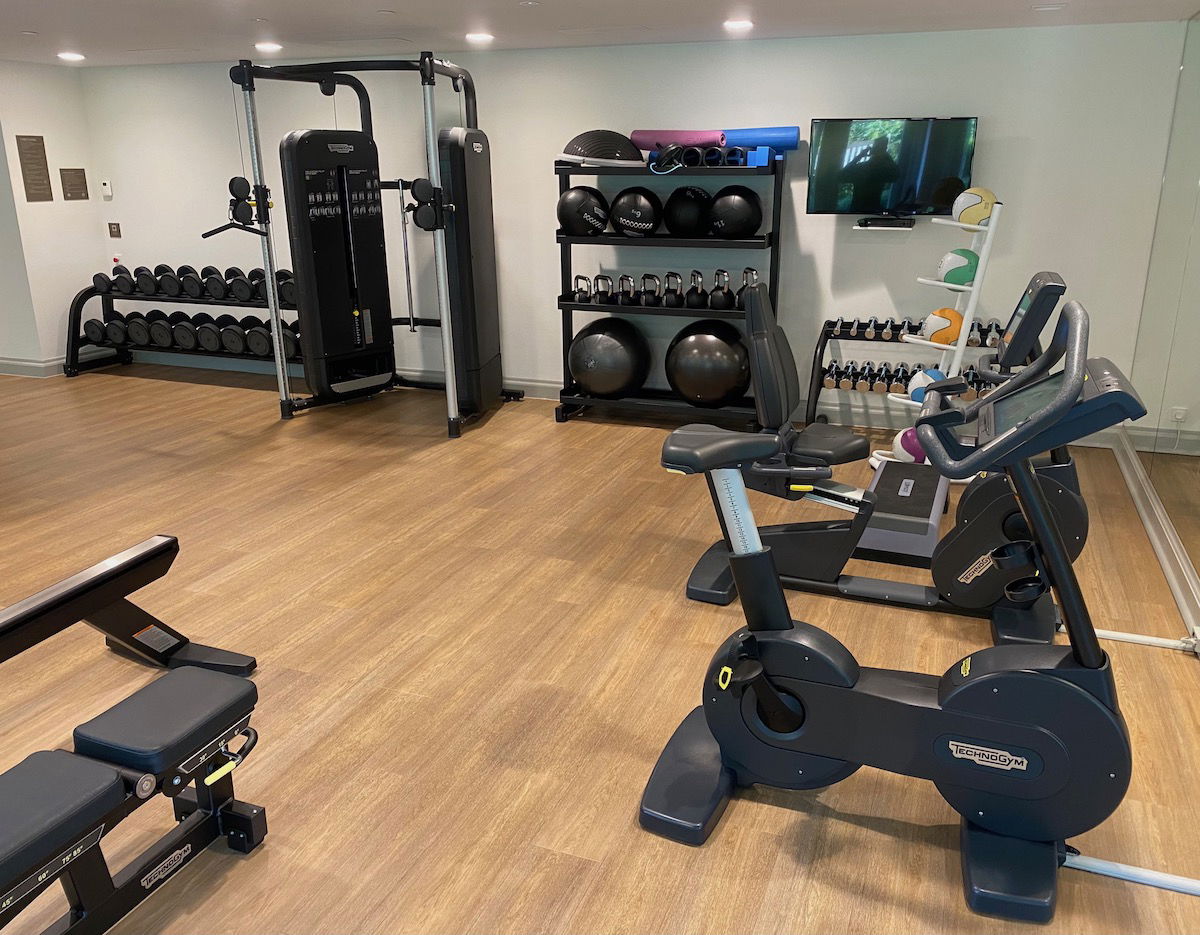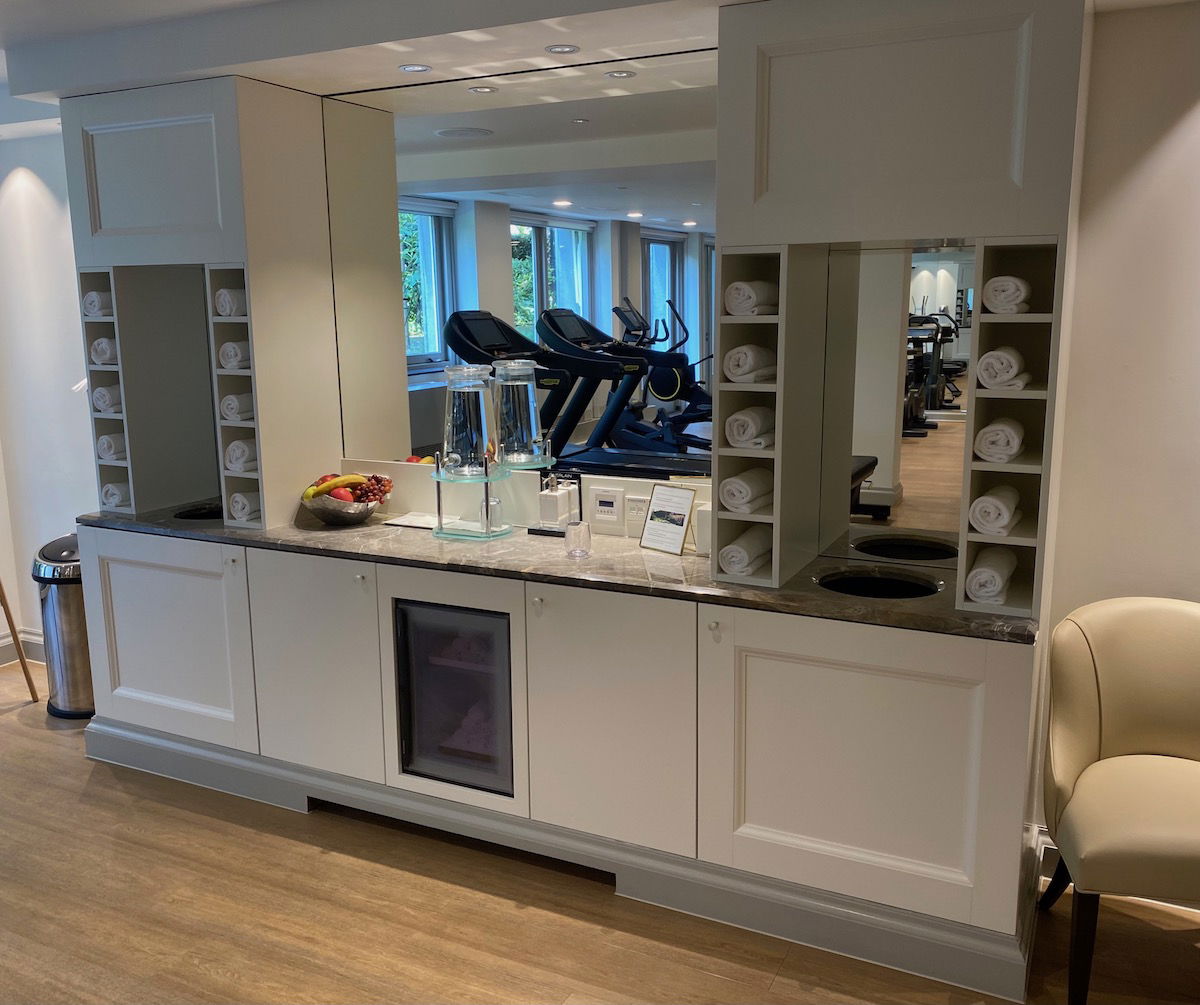 Waldorf Astoria Amsterdam outdoor garden
The Waldorf Astoria Amsterdam has a stunning garden, where you could read a book or get some work done (weather permitting, of course — we lucked out in that sense). Since the garden is a UNESCO heritage site, unfortunately there's no food or drink service out there. That's a shame, because this would be an ideal setting for a cafe.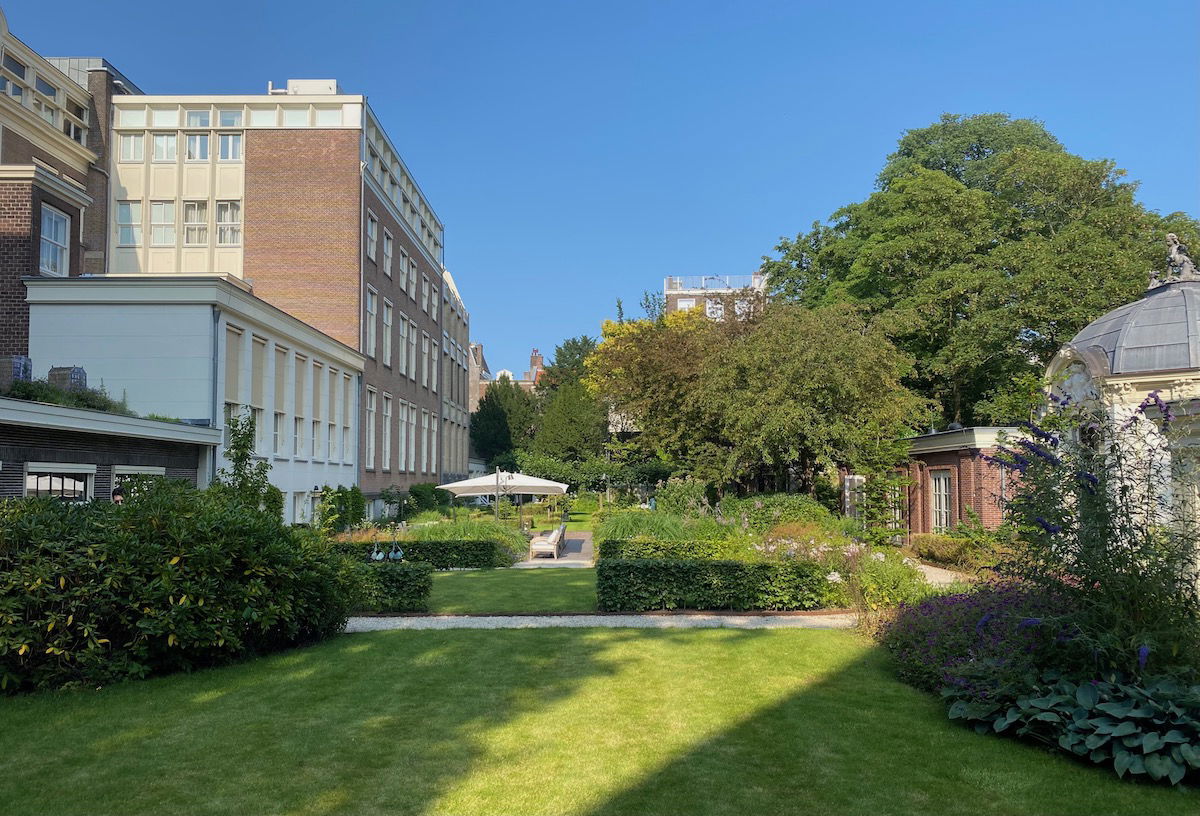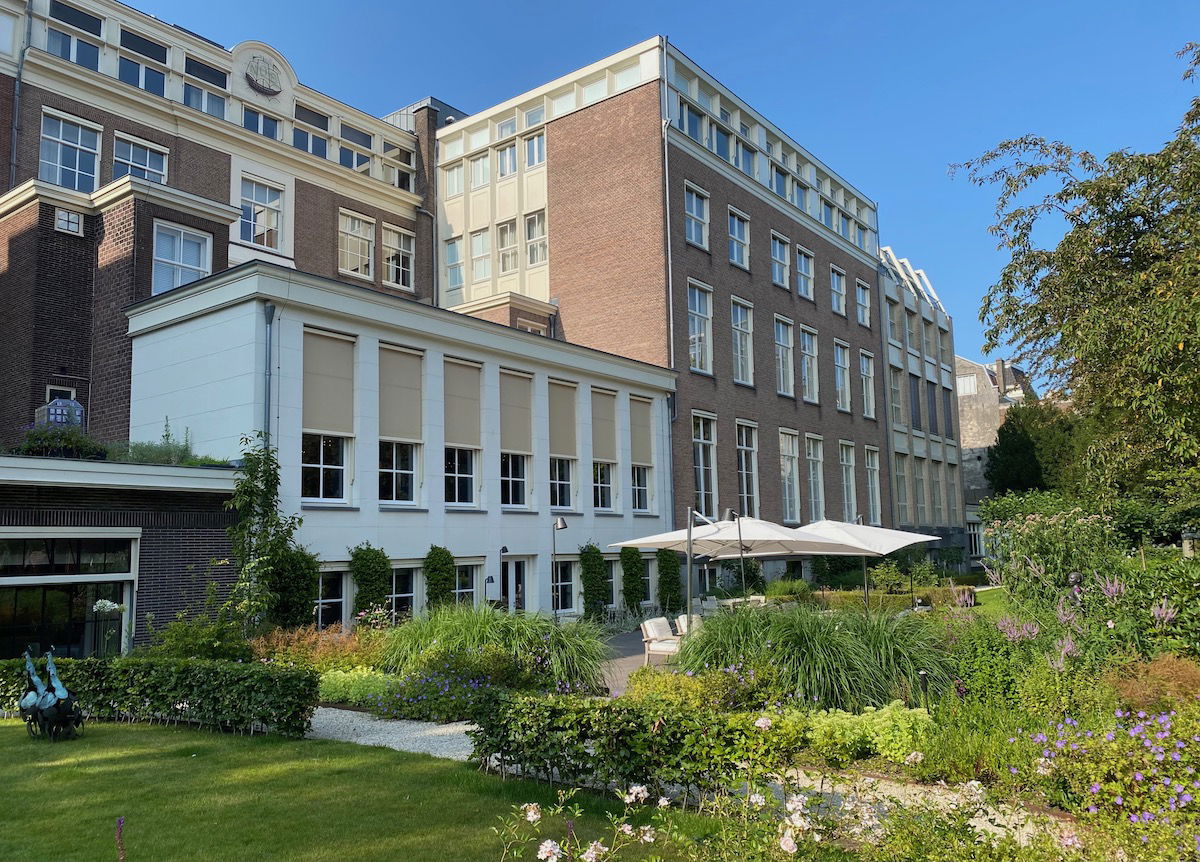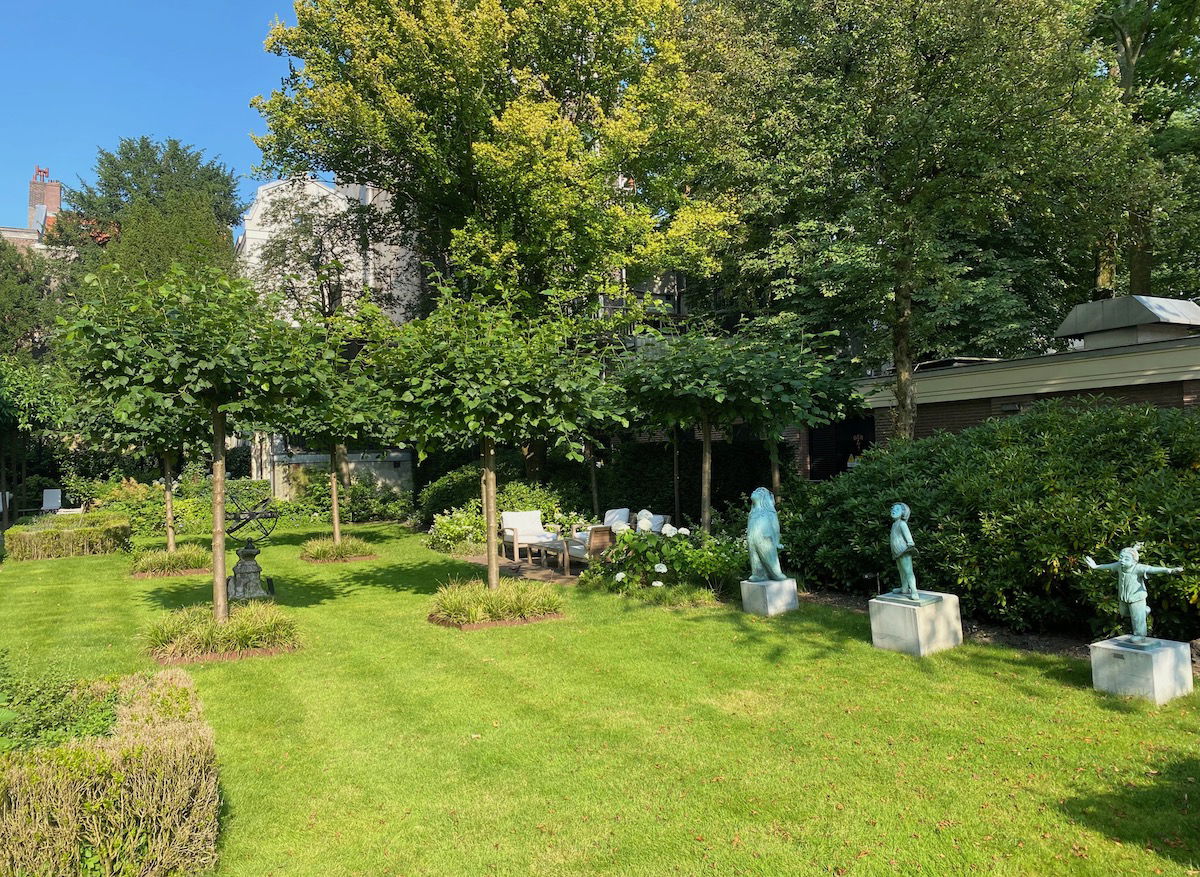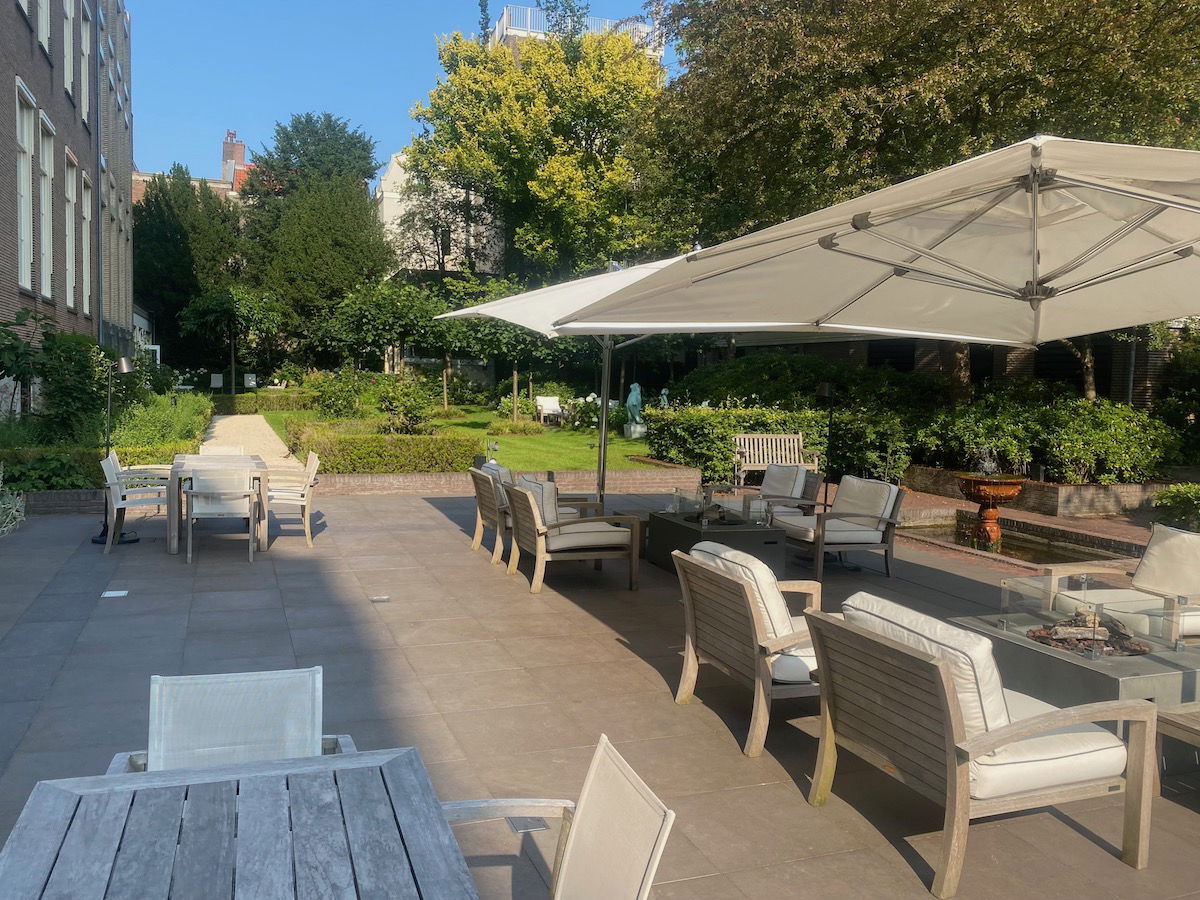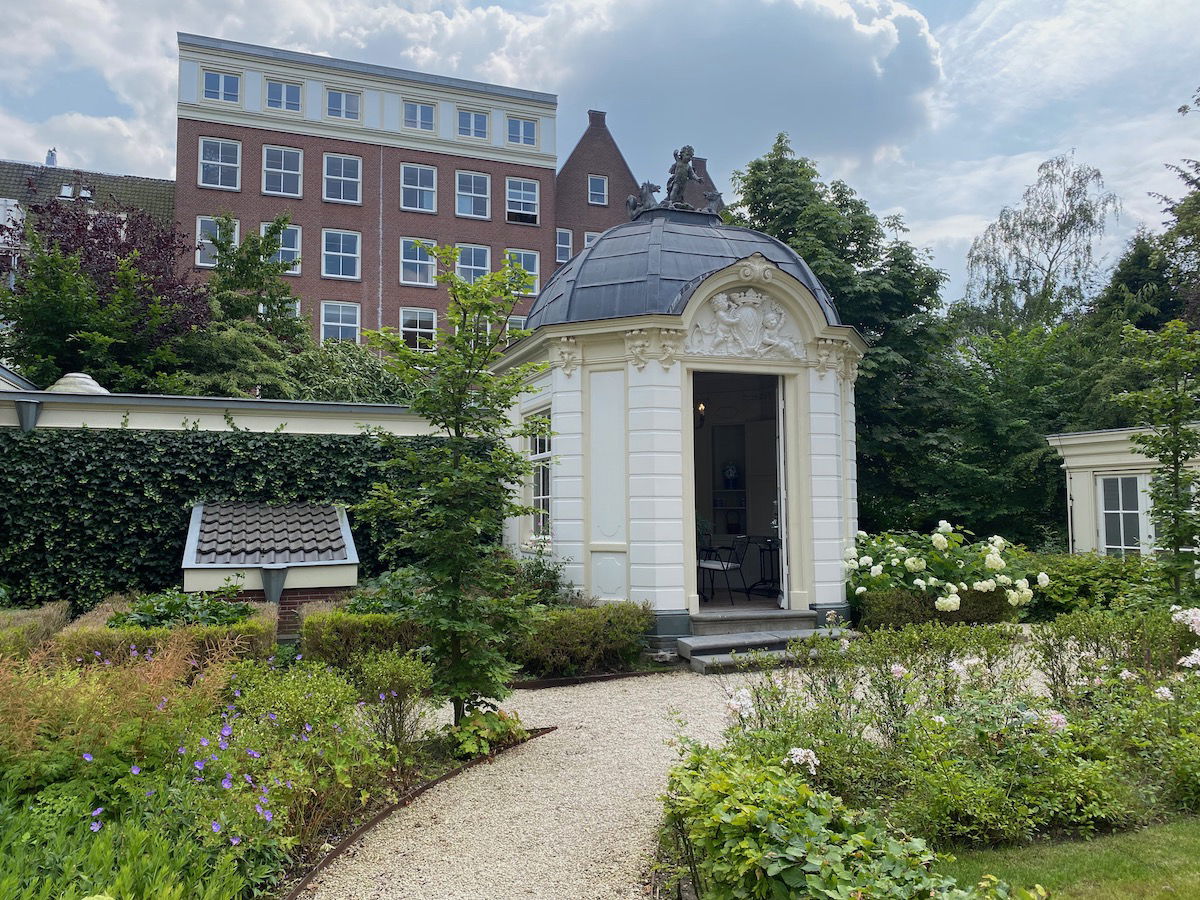 Near the garden was another nice sitting area. I'm not sure if this is sometimes used for something, or what exactly the intent is for this space.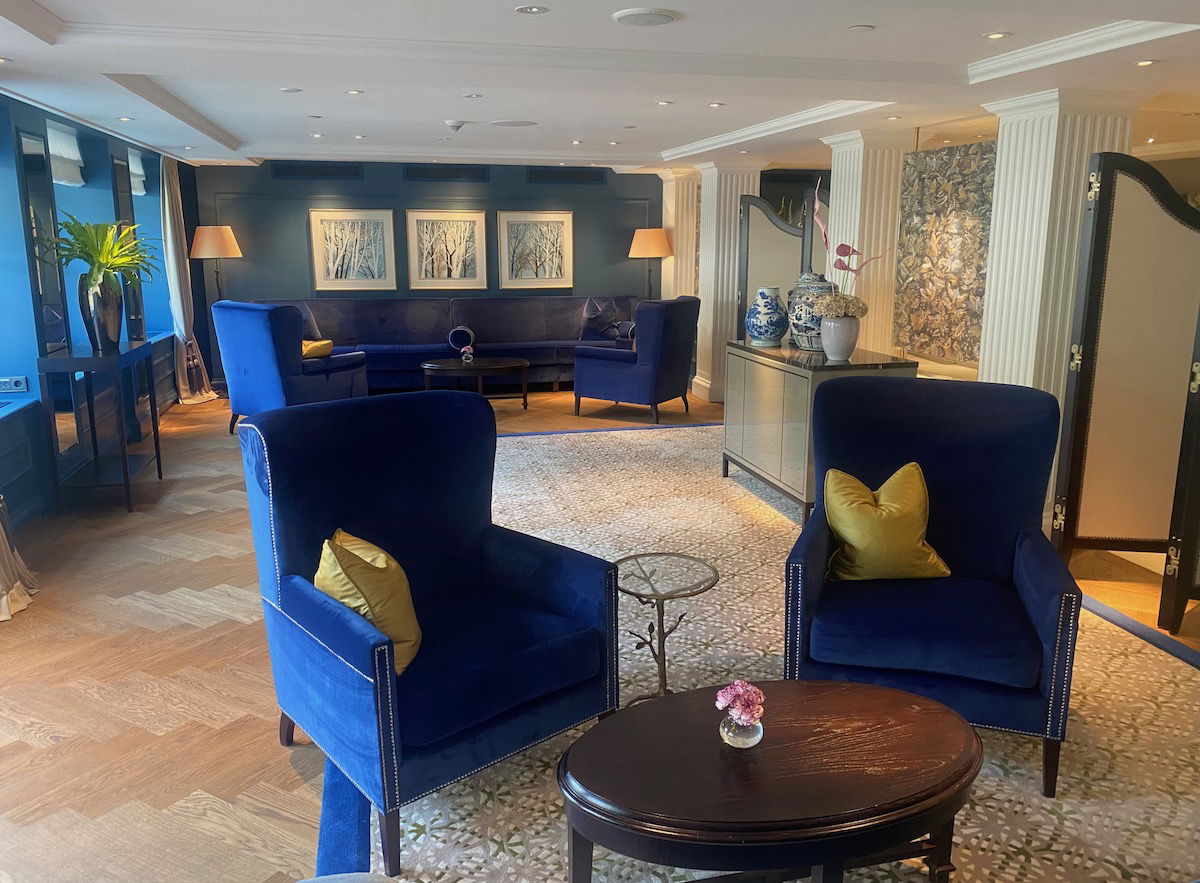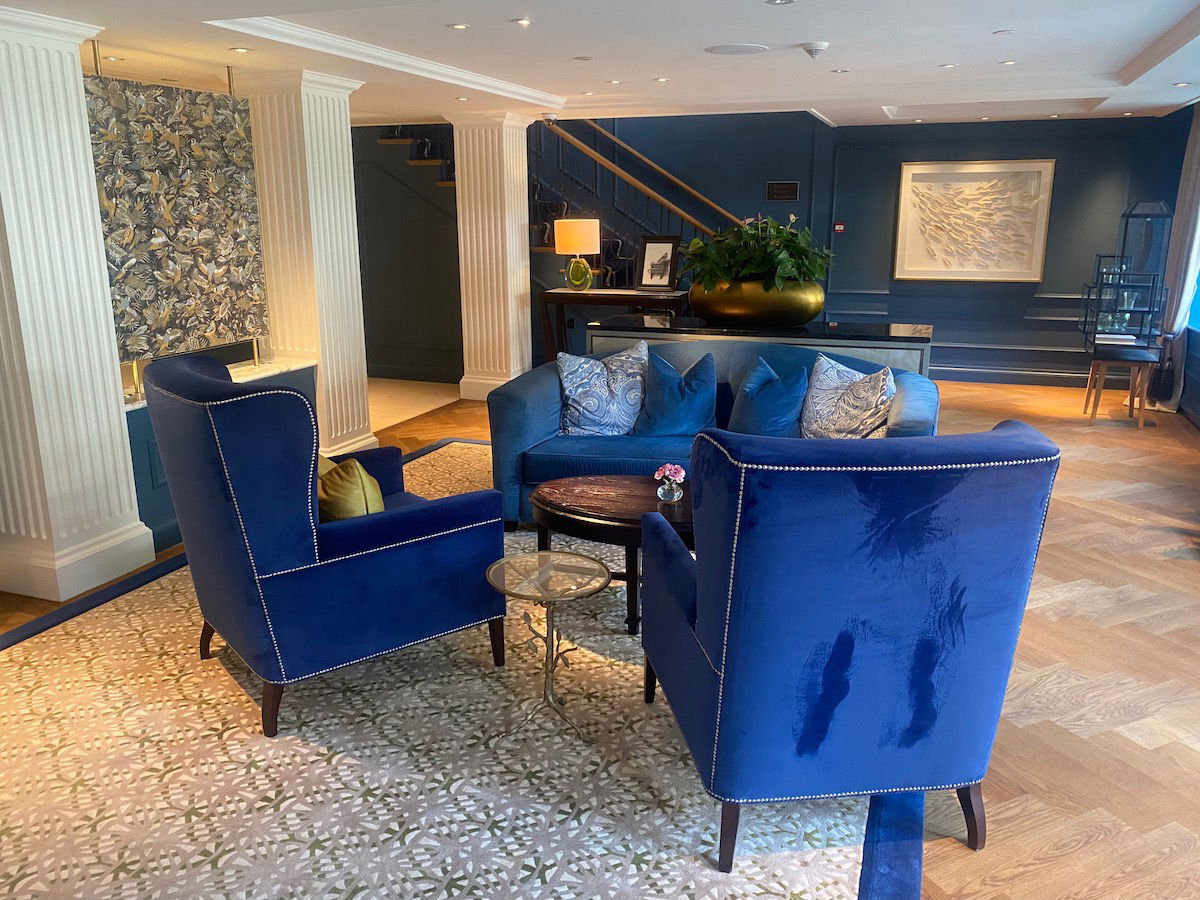 Waldorf Astoria Amsterdam service
The Waldorf Astoria Amsterdam has some of the best service I've ever received at a city hotel. I'd say the service matches the rest of the hotel, which is quite a compliment. Not only were staff genuinely friendly across the board, but they were also competent, polished, and attentive, which can be a tough combo to achieve. Where do we begin?
The concierges here are simply rockstars; a good concierge at a city hotel can be invaluable for securing reservations and getting the best table (especially when planning last minute travel), and the team here was awesome, and incredibly responsive by email
From the front desk staff, to the concierges, to the Peacock Alley servers, everyone had such an eye for detail and was genuinely friendly; for example, at breakfast the servers would ask us how our dinner was at a certain restaurant the evening before, even though we never discussed it with them
Similarly, I know it's minor, but I appreciate how envelopes were addressed to "Mr. & Mr." (if I had a dollar for every time I've received a "Mr. & Mrs." letter, despite the hotel having both passports on file, I'd use that money to book another stay here)
I loved all the little touches, from the drinks and chocolates at check-in, to the Cire Trudon scents at turndown service, and to take home
I pay very close attention to service at hotels, and it's normal that there's something I can critique. In the case of the Waldorf Astoria staff, there's quite literally nothing they didn't execute perfectly. Kudos.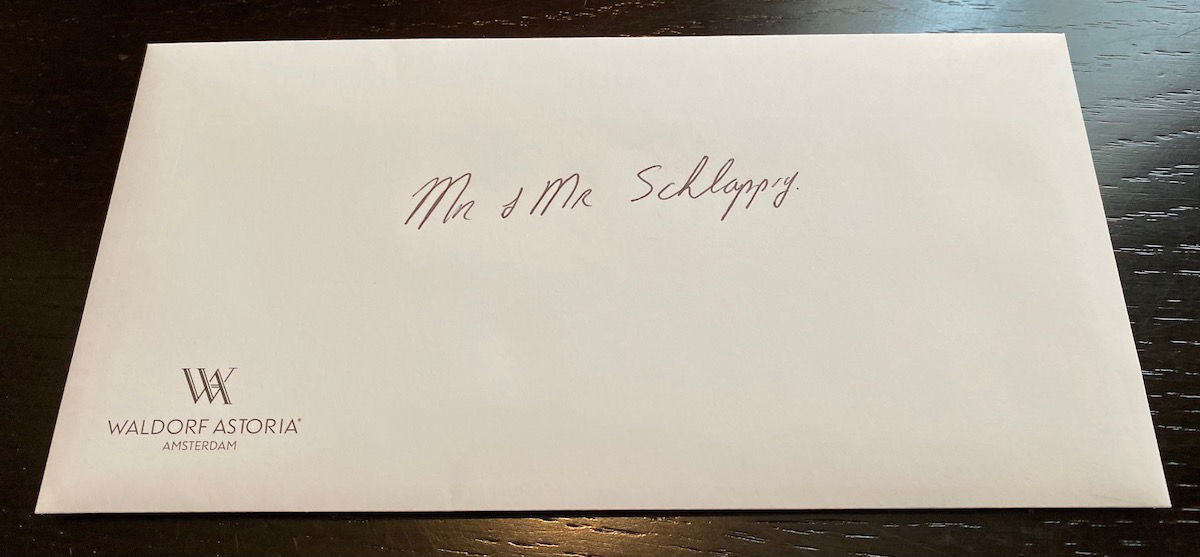 Bottom line
The Waldorf Astoria Amsterdam is a spectacular hotel that I can't recommend enough, whether you're paying cash or redeeming Hilton Honors points. This is now my favorite points hotel in Europe, and one of my top 10 city hotels in the world.
I love everything about this hotel — it's the perfect balance between being modern and historic, the rooms are beautifully appointed, the location is great, the elite recognition is very good, and the service is flawless.
If you're headed to Amsterdam and can swing it, I can't recommend the Waldorf Astoria enough.
If you've stayed at the Waldorf Astoria Amsterdam, what was your experience like? Alternatively, what's your favorite hotel in Amsterdam?