After a magical week in Kyoto, where we stayed at the Four Seasons, the Park Hyatt, and the Ritz-Carlton, we decided to finish off our trip by visiting nearby Nara for a night. Internationally, Nara is probably best known for its deer, and it's only a 30-minute train ride from Kyoto. So while we could have visited Nara with a day trip, we thought it would be more fun to stay for a night, especially since I could review a newly opened Marriott property.
The 43-room Shisui Nara is a Marriott Luxury Collection property that opened in August 2023. I don't even know what to say about this property, other than that it was very different than our three hotel stays in Kyoto.
This hotel has a lot of potential — it has a central location, parts of the property are historic, and the hotel hosts a generous champagne hour for all guests every night.
But the hotel is also heavily focused on the domestic market, it seems, and the service reflects that. As far as I could tell, with the exception of one Chinese couple, we were the only non-Japanese guests. I of course have no issue with that, except the hotel sort of lacked the flexibility and service level that I'd expect from an international hotel chain.
Furthermore, one of the issues with staying at a new hotel is that you never really know what to expect. Wait till you see the meal we had at the hotel's restaurant, which Marriott describes as offering a "one-of-a-kind gastronomic journey."
Anyway, let's just get into the review, because this preview could otherwise probably be several thousand words…
Booking Shisui Nara
While I would have liked to redeem Marriott Bonvoy points for our stay at Shisui Nara, unfortunately there was no points availability for the night we were trying to book. I kept an eye on this until close to our stay date, but no points stays opened up. This hotel seems to have very few standard rooms, and therefore has limited award availability.
So instead we booked our stay with cash. This ended up costing around 100,000 JPY (~$677) for the night. Obviously that's steep, but for one night and for an opportunity to review the hotel, it seemed worth it.
I booked through the Marriott STARS program, offering additional perks like a room upgrade subject to availability, a $100 hotel credit, and more. That at least added some additional value, especially for the short one-night stay.
Shisui Nara location
Shisui Nara has the ideal location within town, as it's right in the heart of the action. It's located on the eastern edge of the city, and is right next door to Nara Park, which features a lot of greenery, and is known for having so many deer.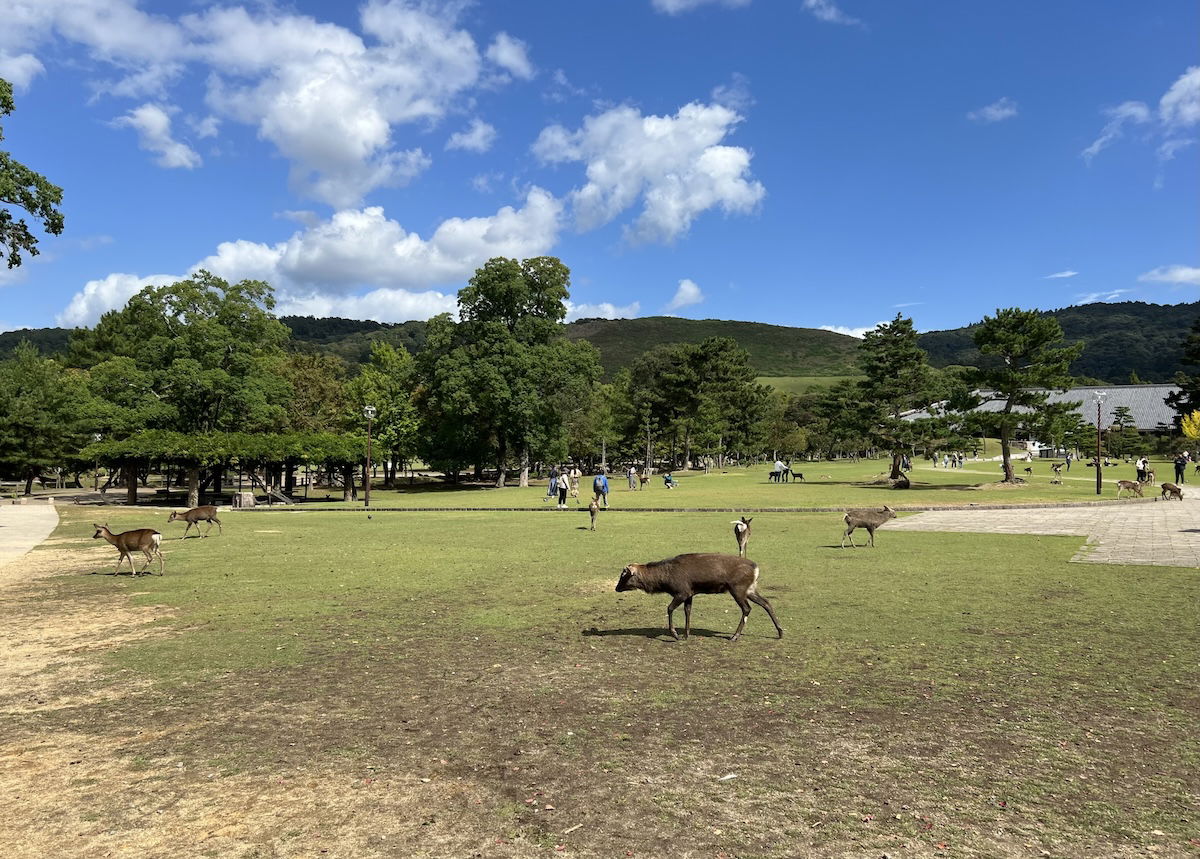 It can be pretty easy to miss Shisui Nara, as the hotel is located behind two walled off areas, across the street from one another.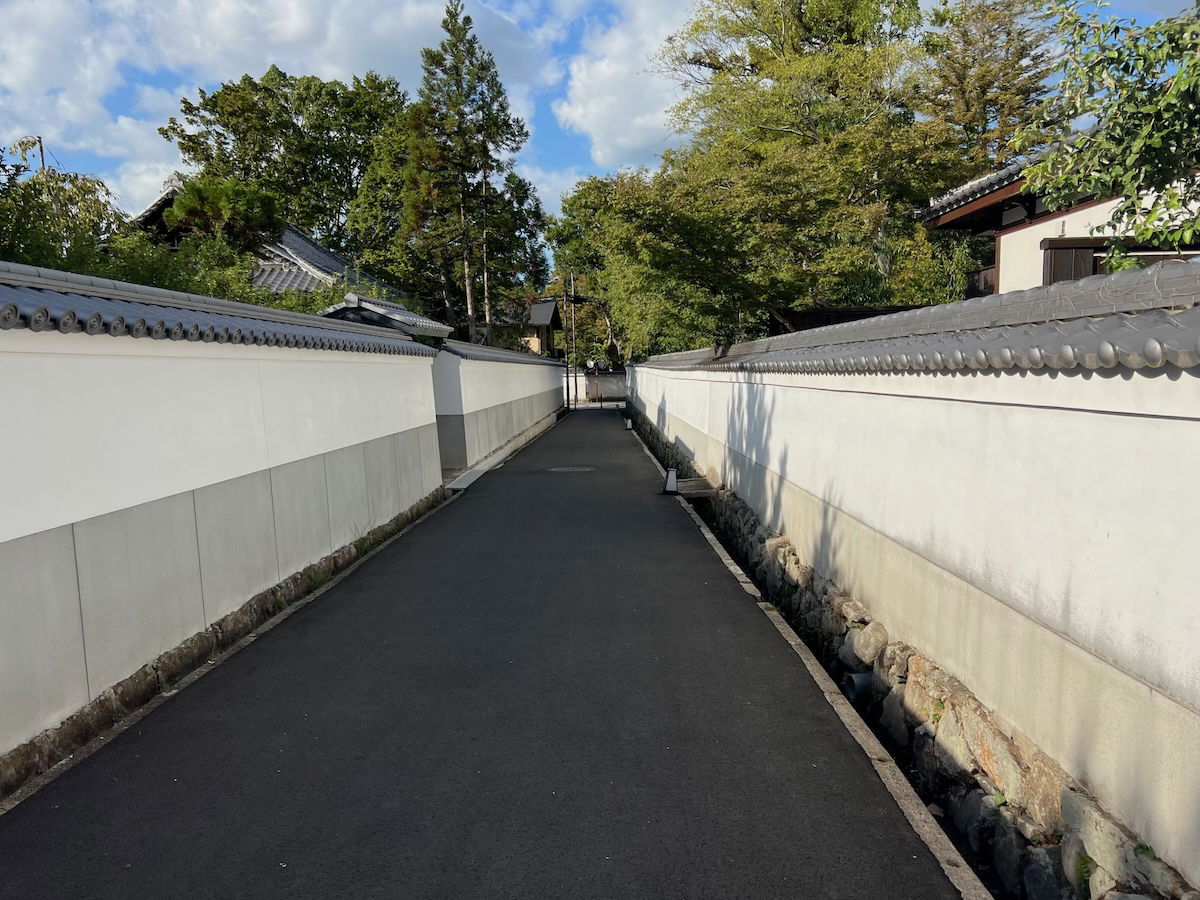 On one side of the street you have the hotel's lobby and restaurant…
…and on the other side of the street you have most of the guest rooms.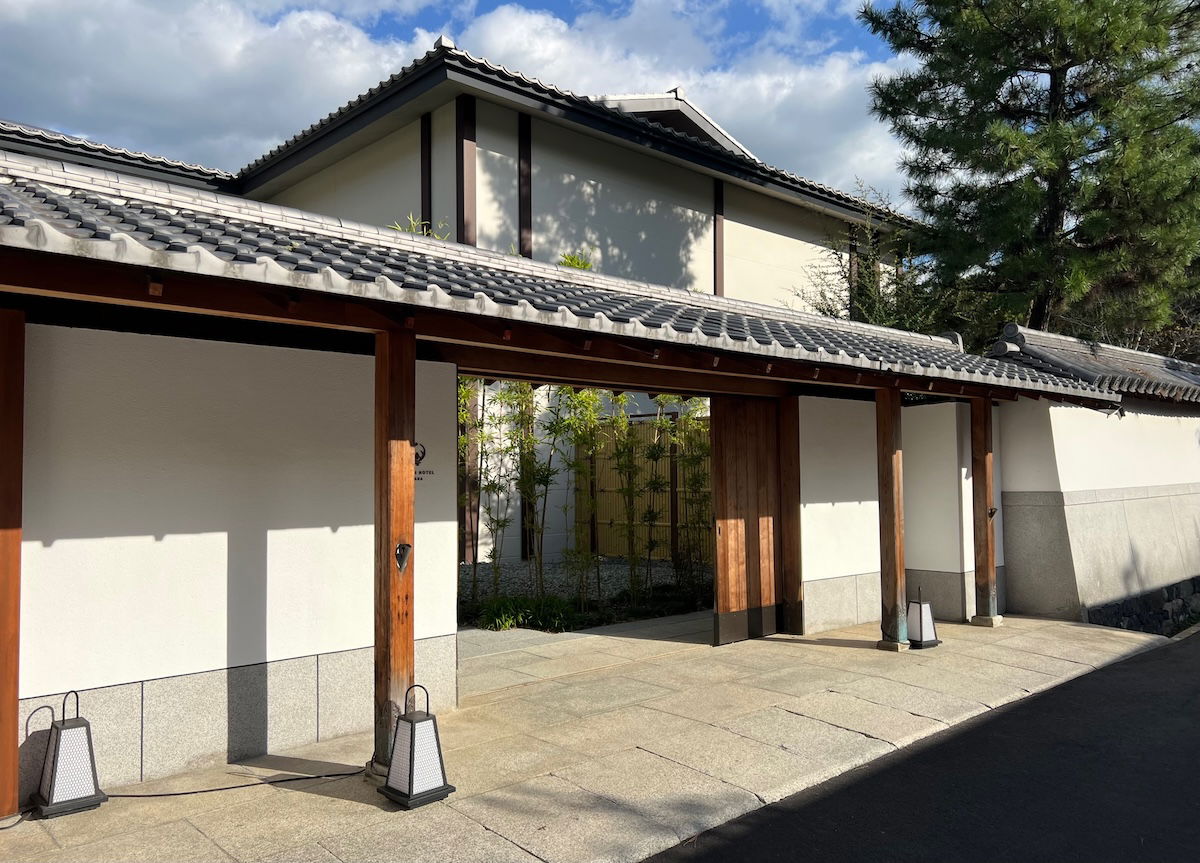 Tthe arrival experience was a bit confusing, as there was a lack of signage or staff to indicate where reception was. We ended up accidentally walking to the side of the hotel with guest rooms, only to not be able to enter. Fortunately a staff member eventually saw us, and pointed us in the right direction.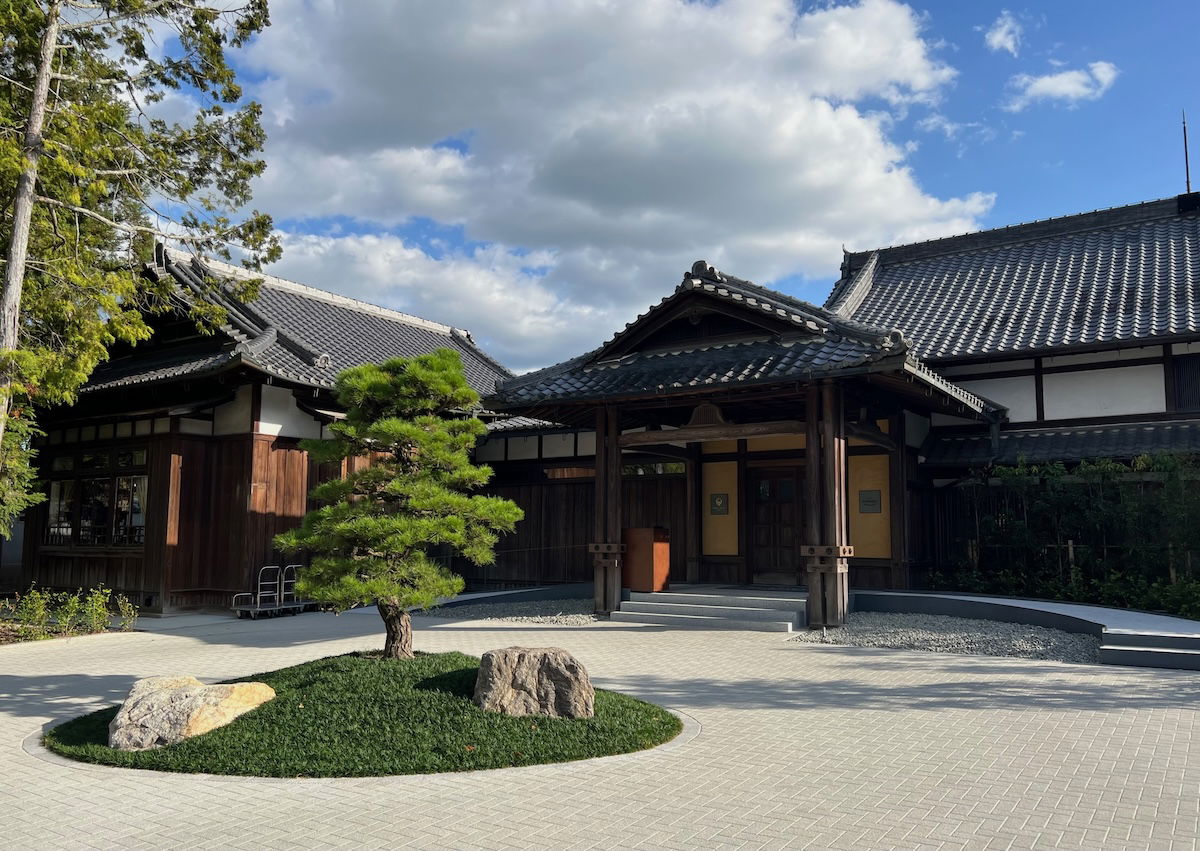 As far as getting to Nara goes, we were coming from Kyoto, which is about a 30 minute train ride away. While there are train services throughout the day, I'd highly recommend taking the Aoniyoshi train, which operates select frequencies. This is a special historic train, and it costs roughly ~$10 extra over the standard train.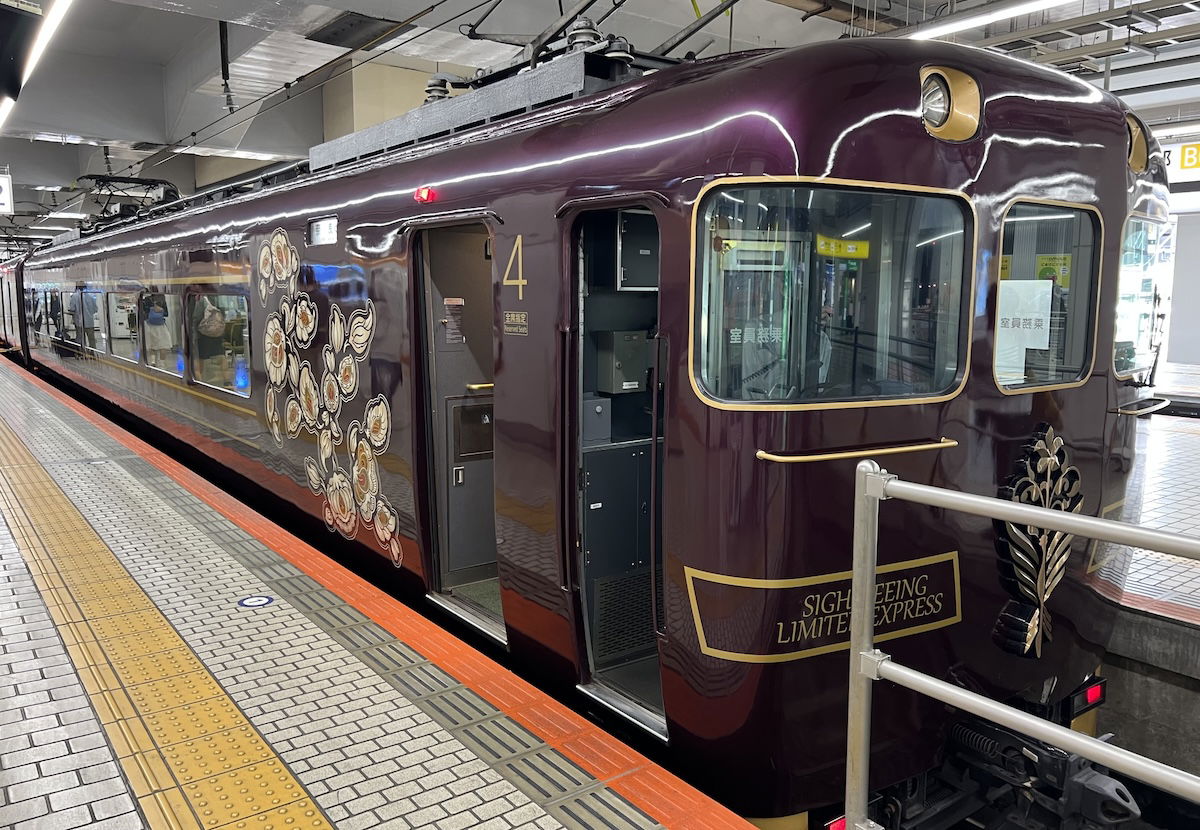 How beautiful is this cabin?!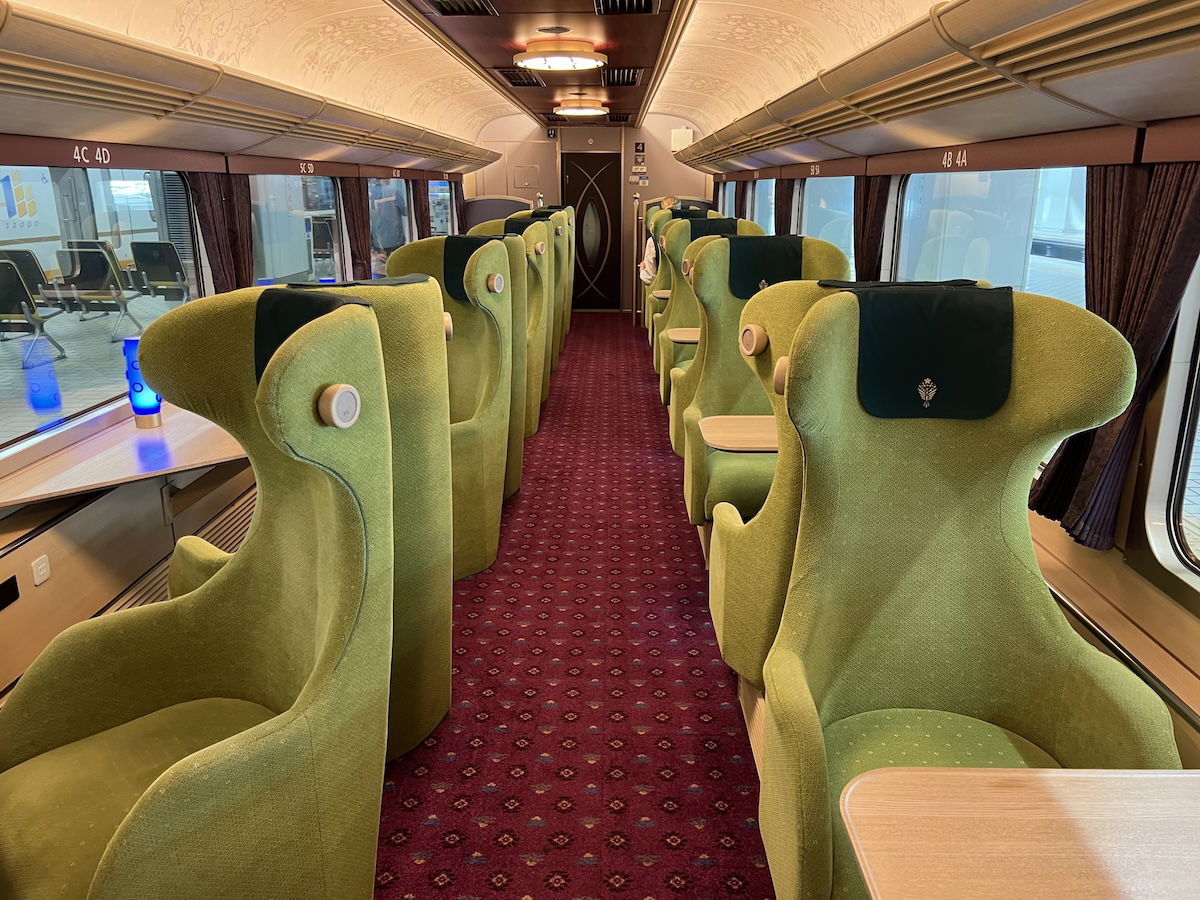 Meanwhile if you're wanting to visit Nara from further away, Kansai-Osaka (KIX) is the nearest major international airport to the hotel. It takes roughly 90 minutes to get between the airport and Nara, and there is a change of trains required, so it's not as straightforward as going to Kyoto, where you can take the Haruka Express.
Shisui Nara lobby & check-in
Shisui Nara is nestled in a beautiful garden area, and the main lobby and restaurant building has quite the history.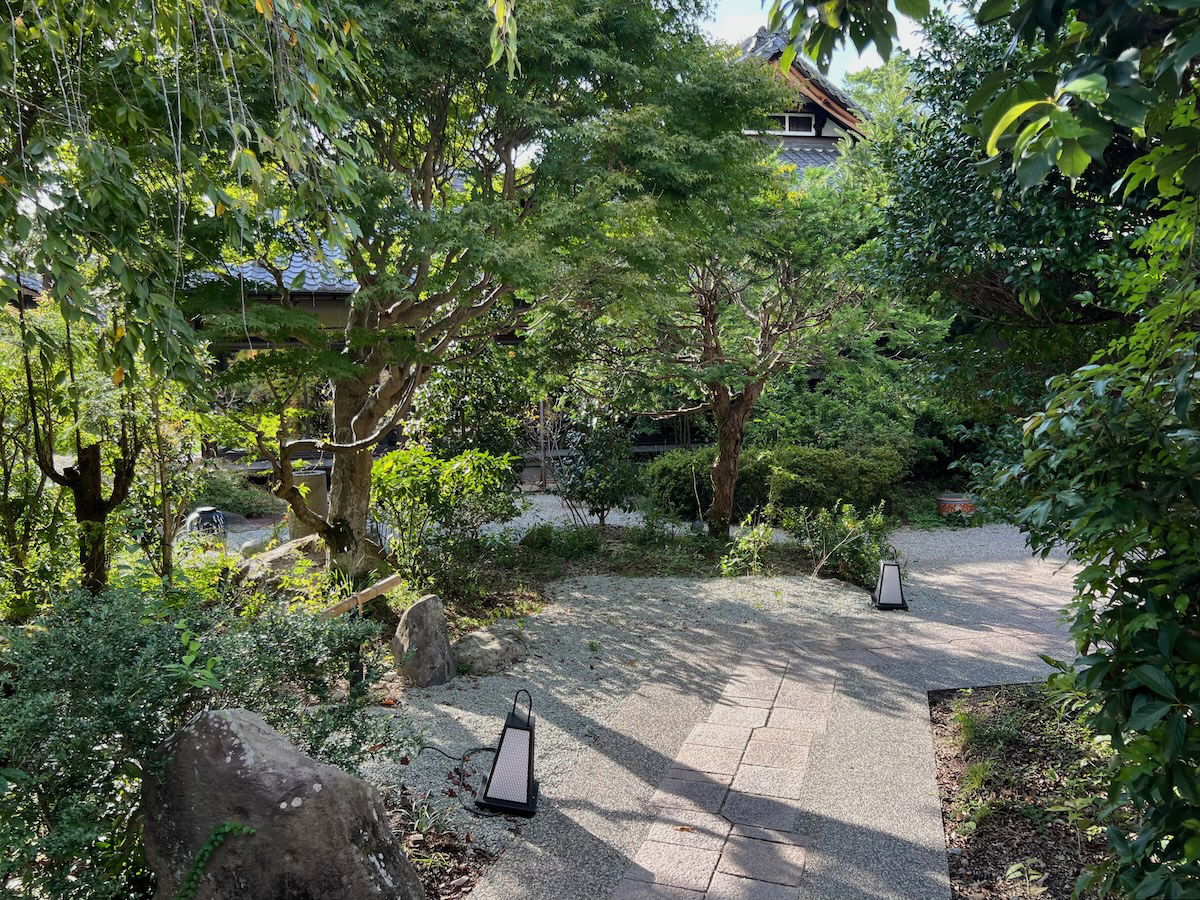 The structure was first built in 1922 as the residence of the governor of Nara, and the building has largely been preserved.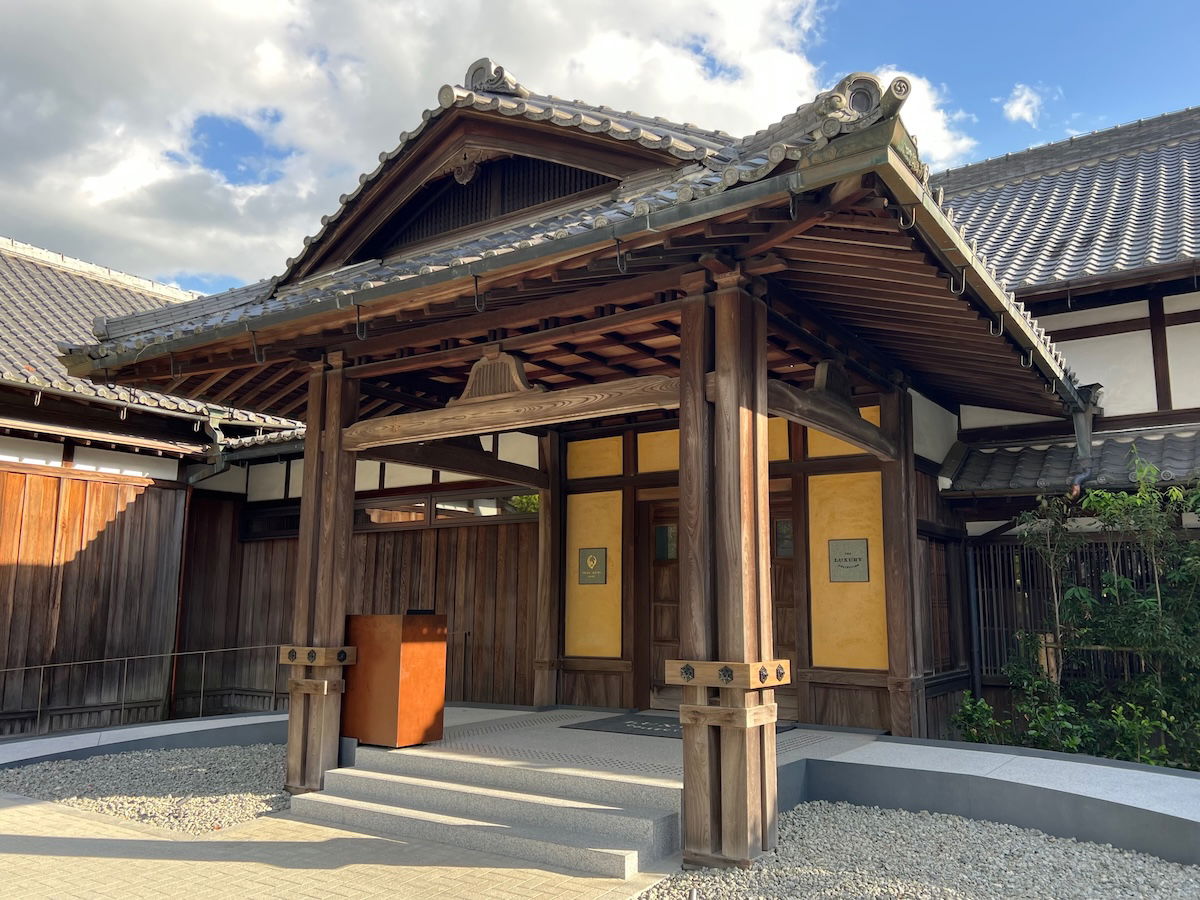 As you enter the lobby, there's even a room off to the side, where the Japan-US Security Treaty was signed in 1951.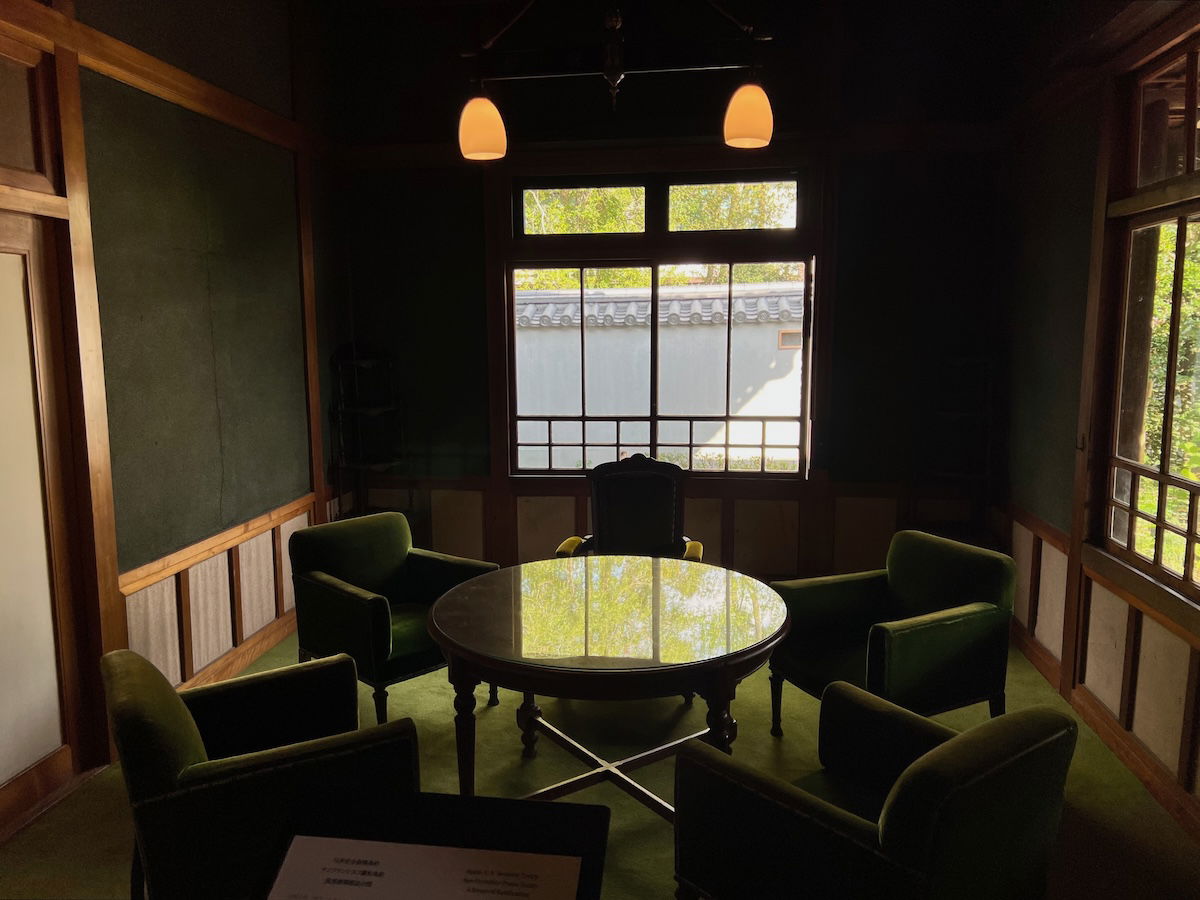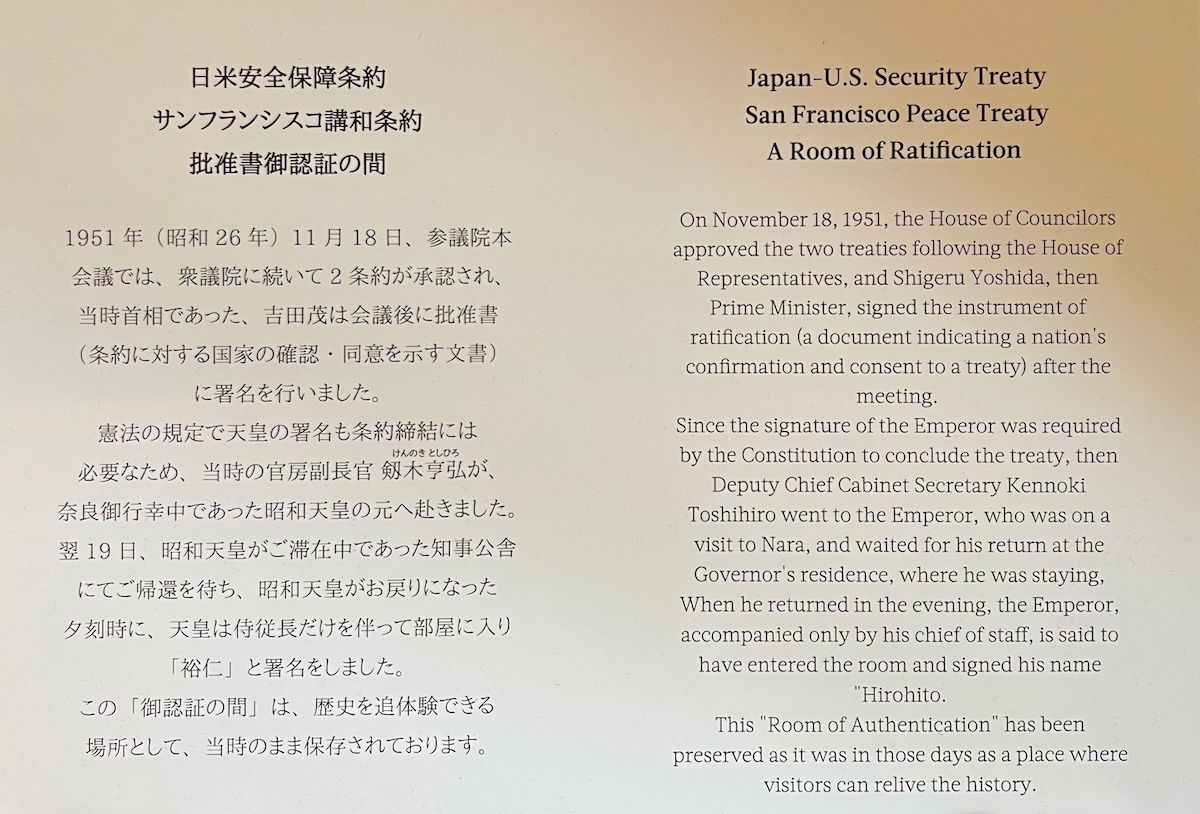 The lobby otherwise consists of a couple of hallways, a desk for reception and the concierge, and then a room off to the side, where guests can wait.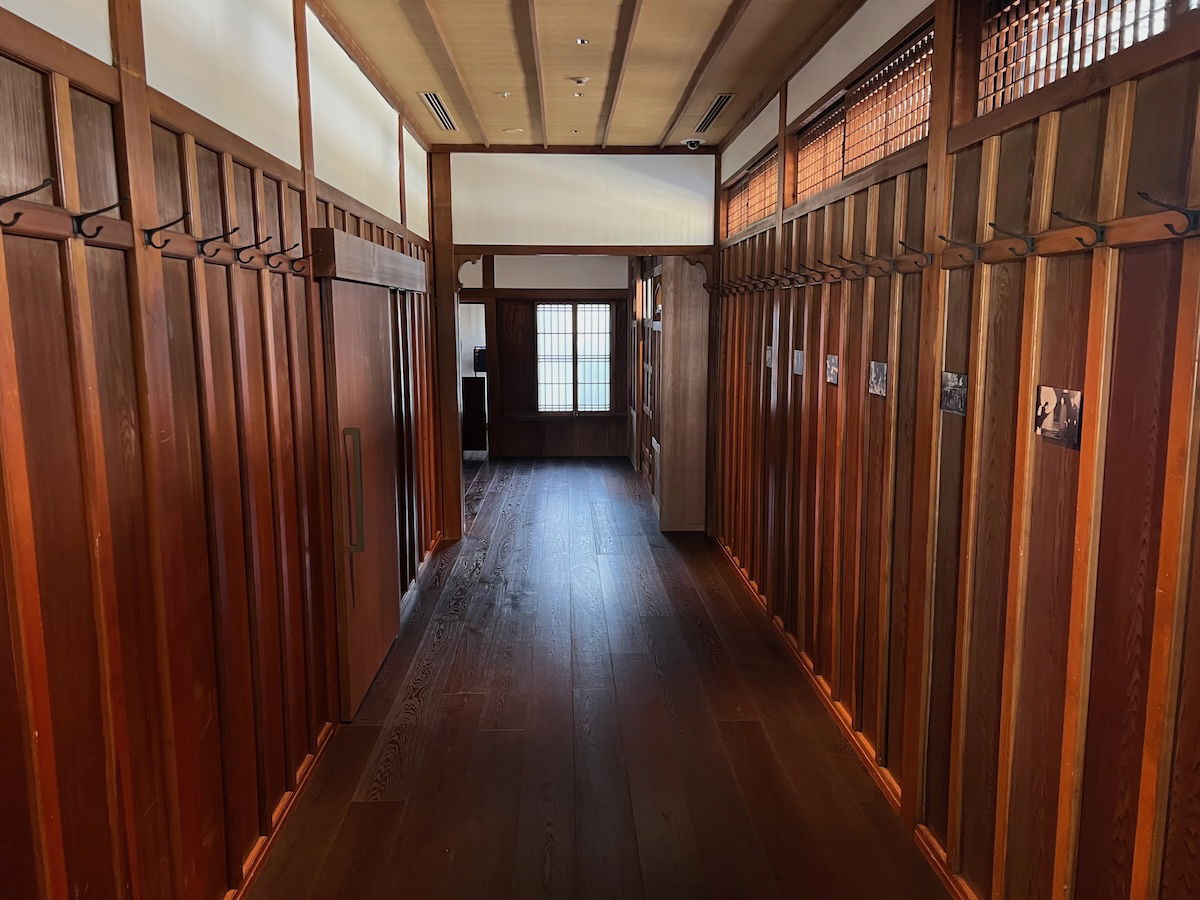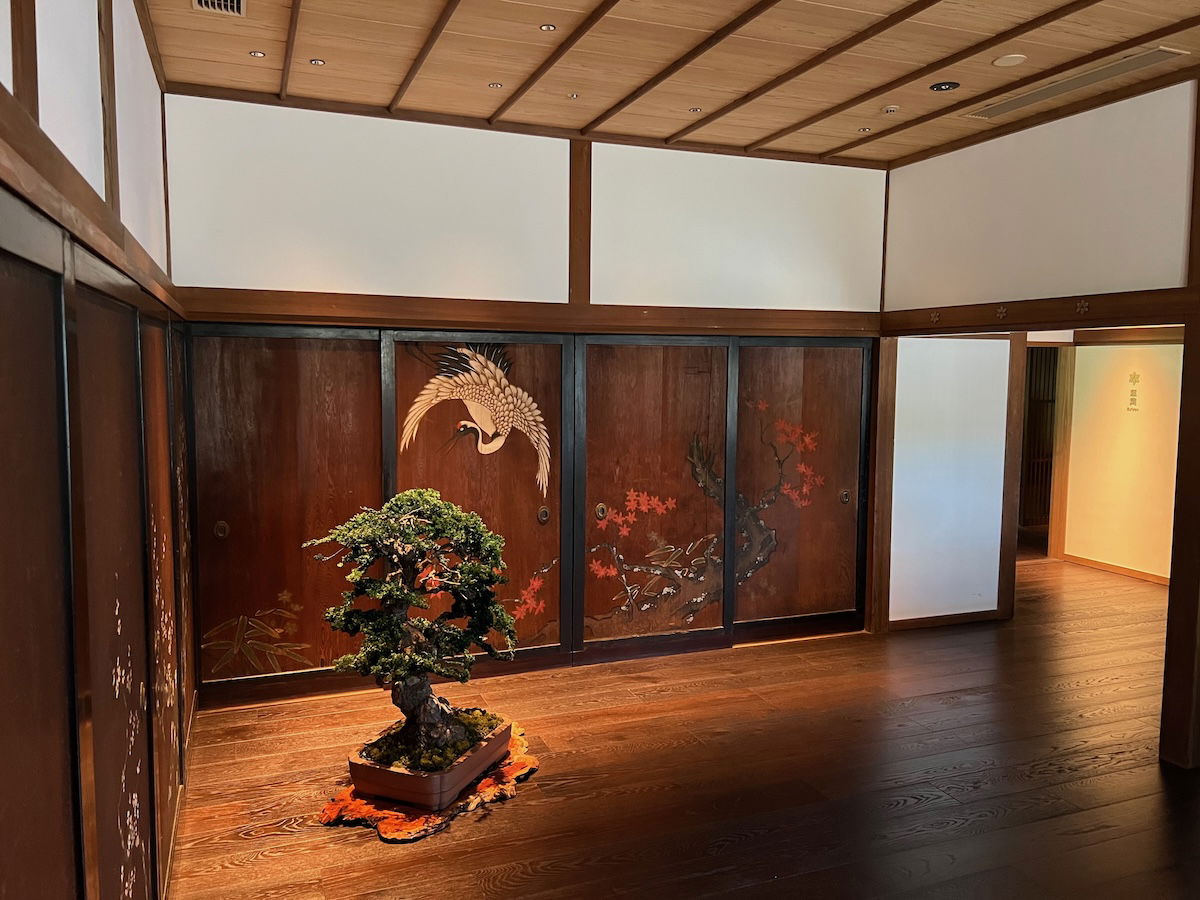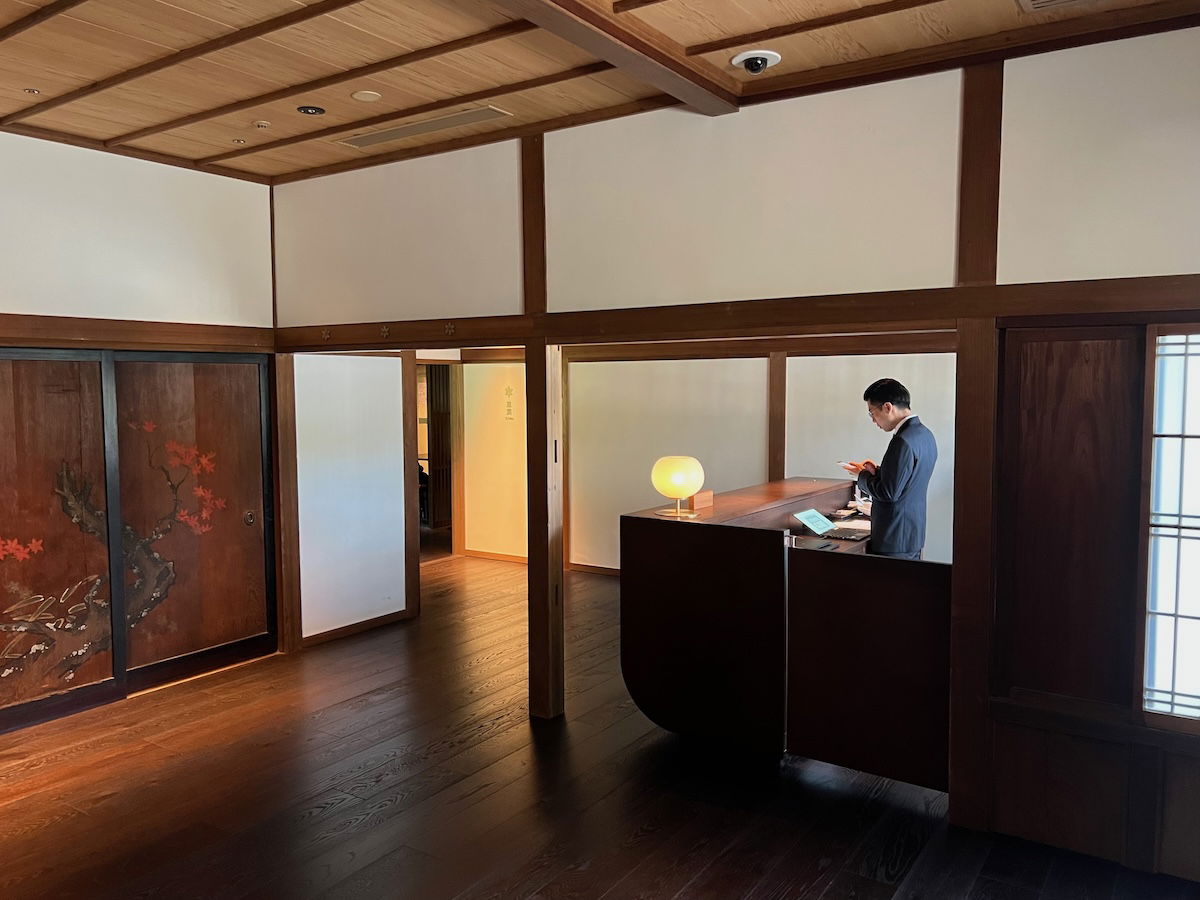 We arrived at the hotel at around 12PM, and were invited to have a seat in the main room in the lobby. We handed the staff member our passports, but as soon as we did, she handed them back without even looking at them, and said "check-in time is 3PM."
I think that kind of set the tone for the stay in terms of the service level. Okay, if I were staying at a traditional Japanese property, I can understand how "the rules are the rules." But one of the reasons you stay at an international hotel brand is because they have a bit more flexibility, and I've never stayed at a Marriott that wouldn't let you check-in a little early if the room was ready. I would totally get if the room just weren't ready yet, but she didn't even look.
So we left our bags with the hotel and then did some exploring, and returned at 3PM. Well, even though this property only has 42 rooms, I felt like we were walking into the Bellagio Las Vegas when we returned, based on how many people were trying to check-in. When you push everyone to check-in at the same time, that obviously creates a bottleneck.
Even beyond that, the check-in experience was just strange:
The check-in agent said "I see you reserved with points," though we booked a cash stay; not that it matters, but the attention to detail was lacking
They were having issues with processing my credit card, so they ended up just writing the card number on the back of a random piece of paper; I'm not paranoid about credit card security, but I'm sure some people wouldn't love that
The person checking us in obviously had some sort of a cold, and she kept wiping her nose with her fingers while also handling our passports, credit card, etc.; that felt decidedly un-Japanese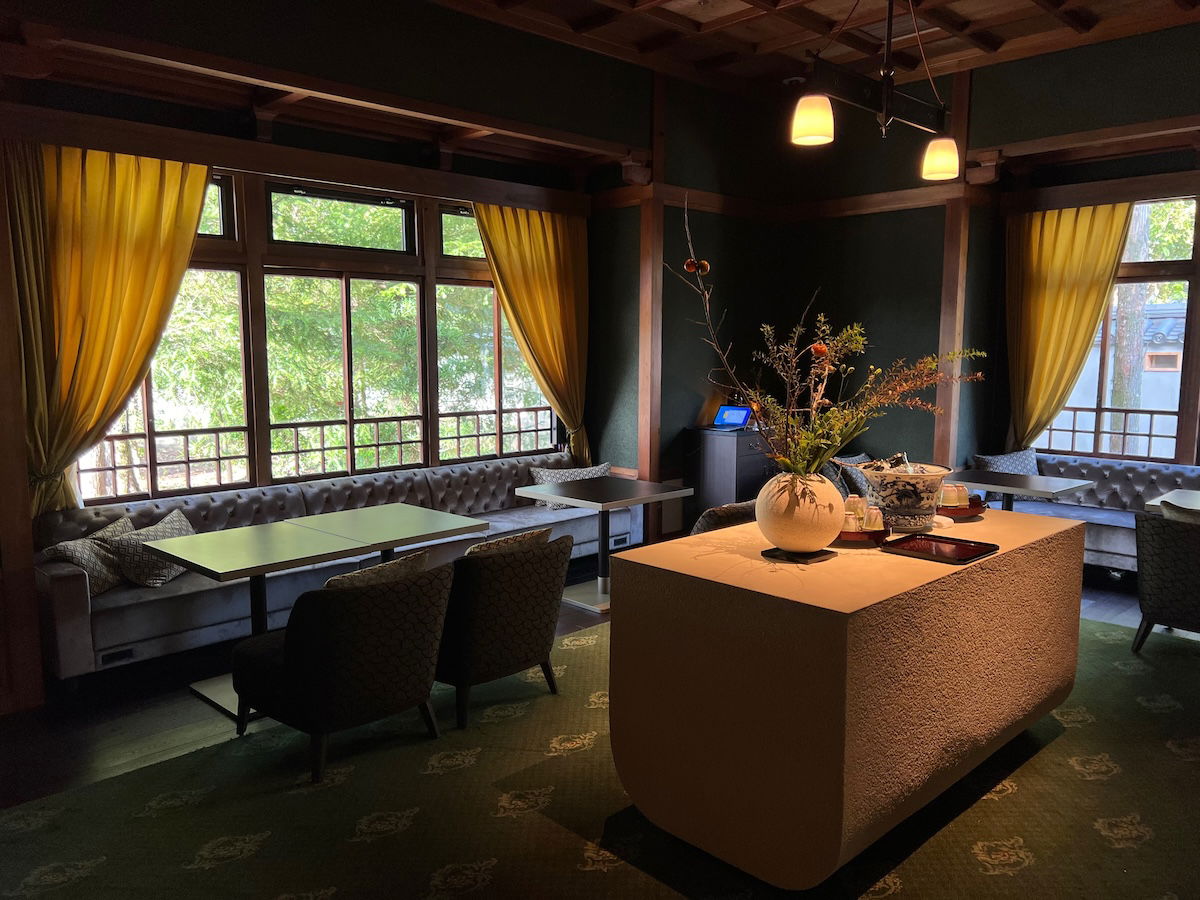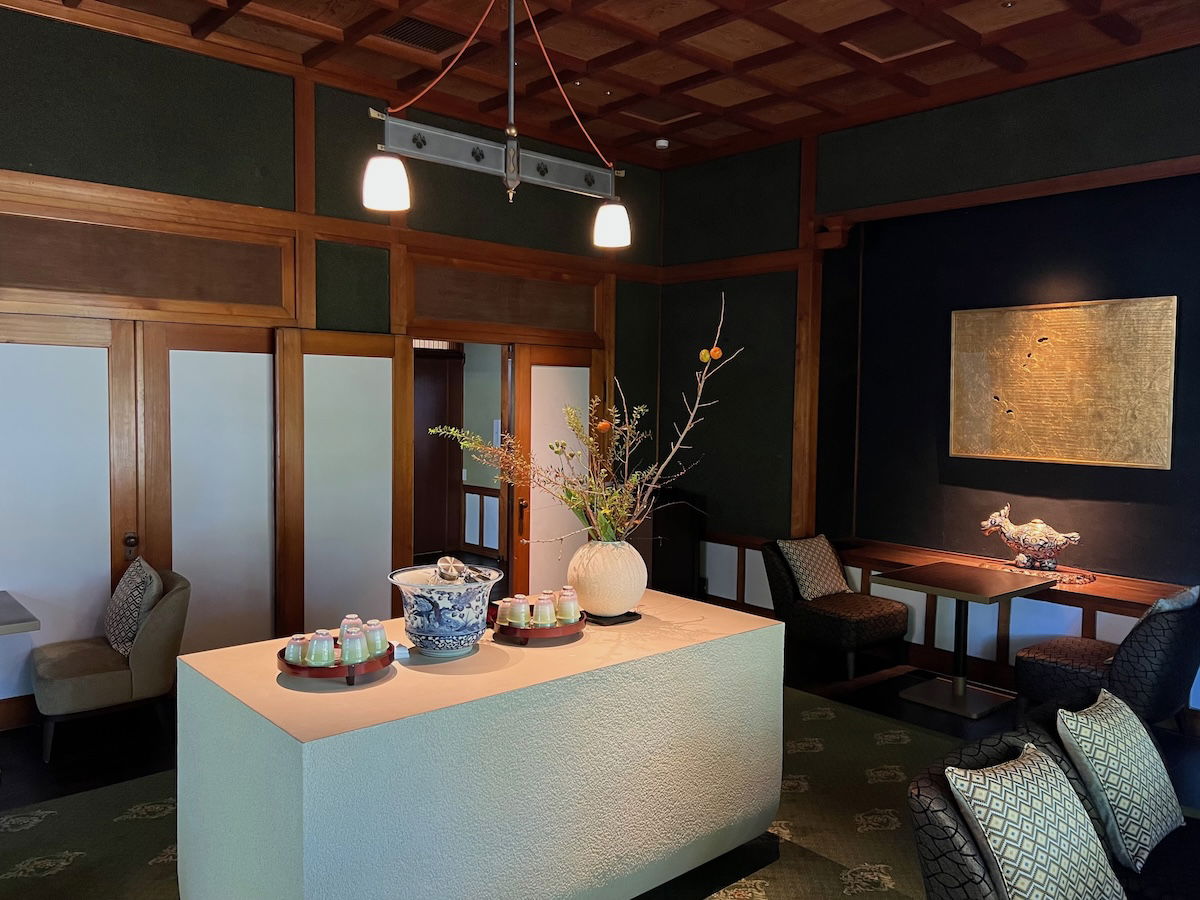 Anyway, we finally did get our room keys a little after 3PM.
Shisui Nara junior suite
I had used a Marriott suite upgrade award to confirm an upgrade to a junior suite onsen room. All junior suites seem to be configured with two beds, which counters the trend we see with premium rooms in the United States.
The guest rooms are located in two buildings across the street from reception, each of which has two floors. The building on the left is named Hanajika, and it has 24 guest rooms, while the building on the right is named Honou, and has 19 guest rooms. We were in the smaller building.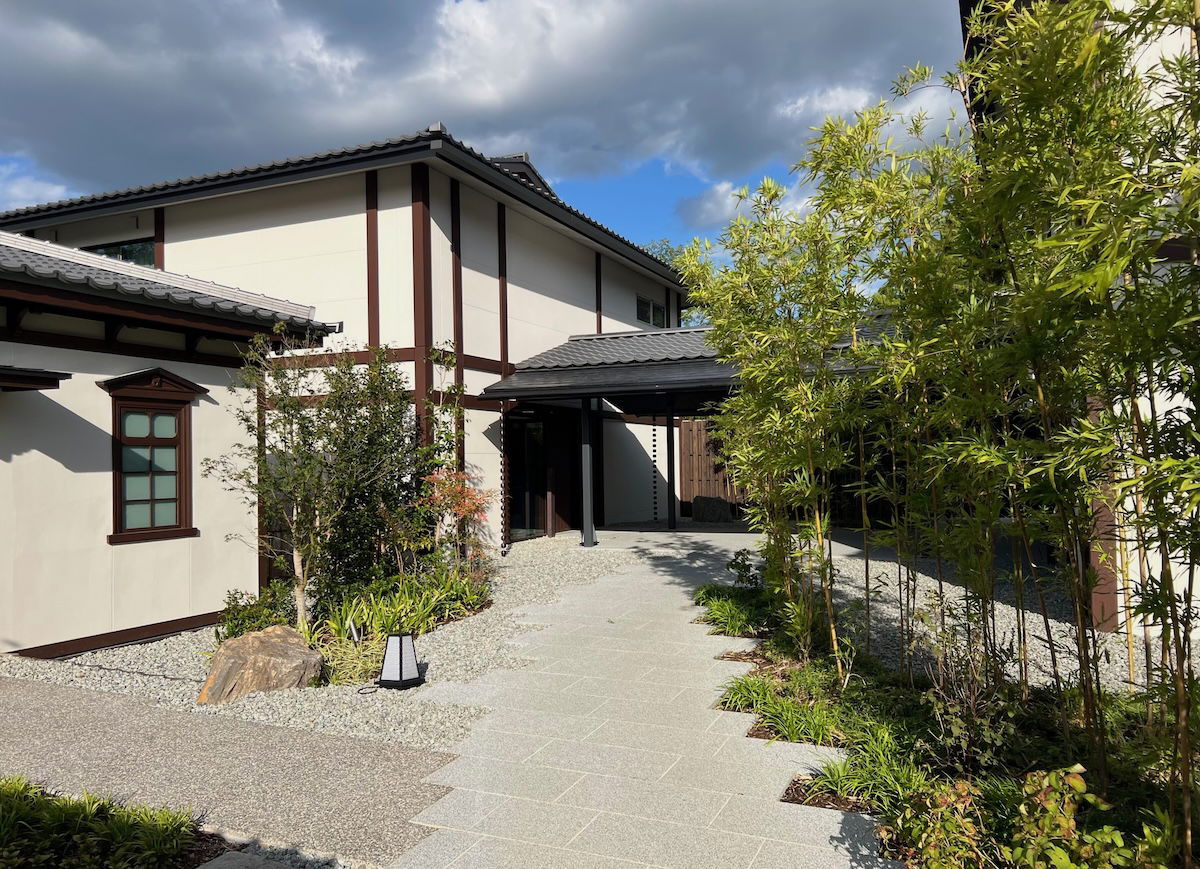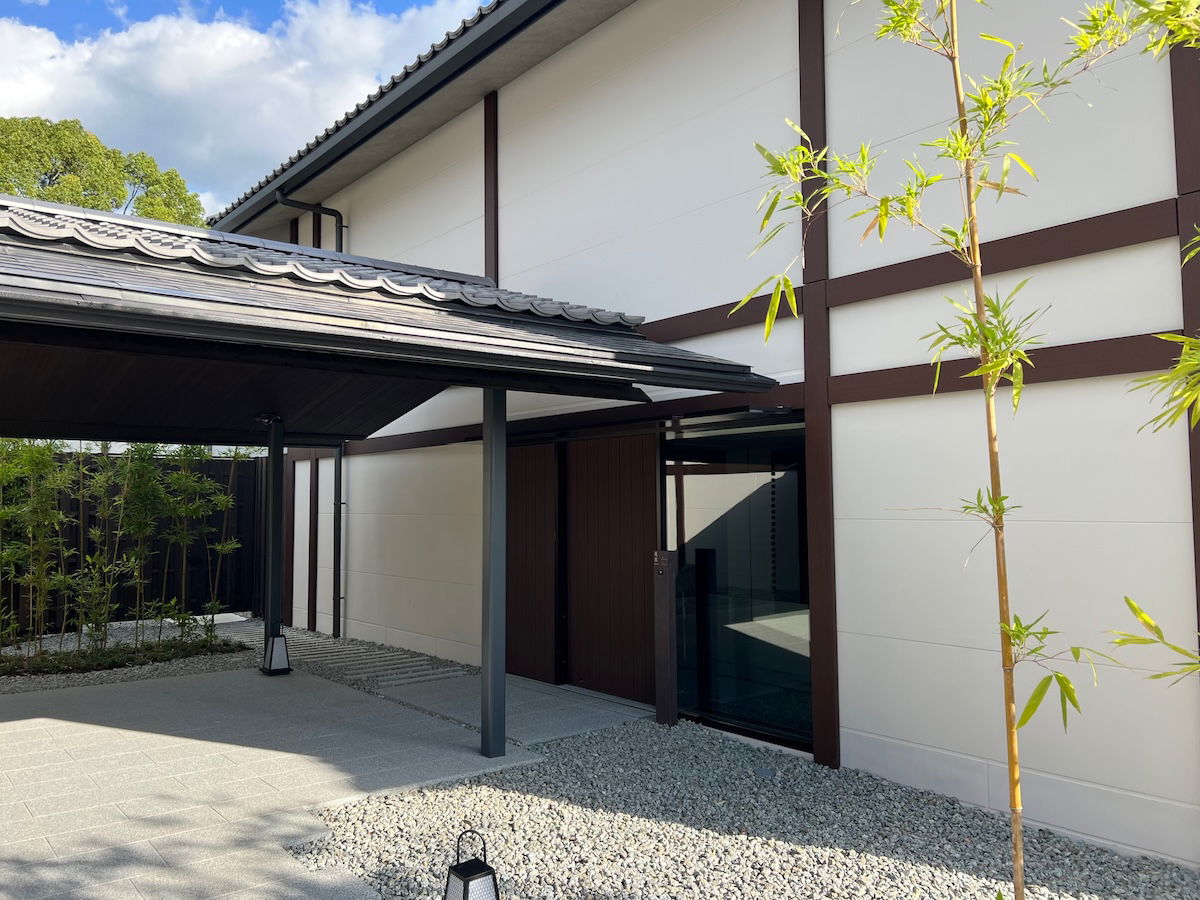 We were assigned room 2207, located on the second floor of the building on the right. While the reception area of the hotel is historic, the guest room wings are ultra-modern. Upon entering the building, there was a small elevator and a staircase leading up to the second floor.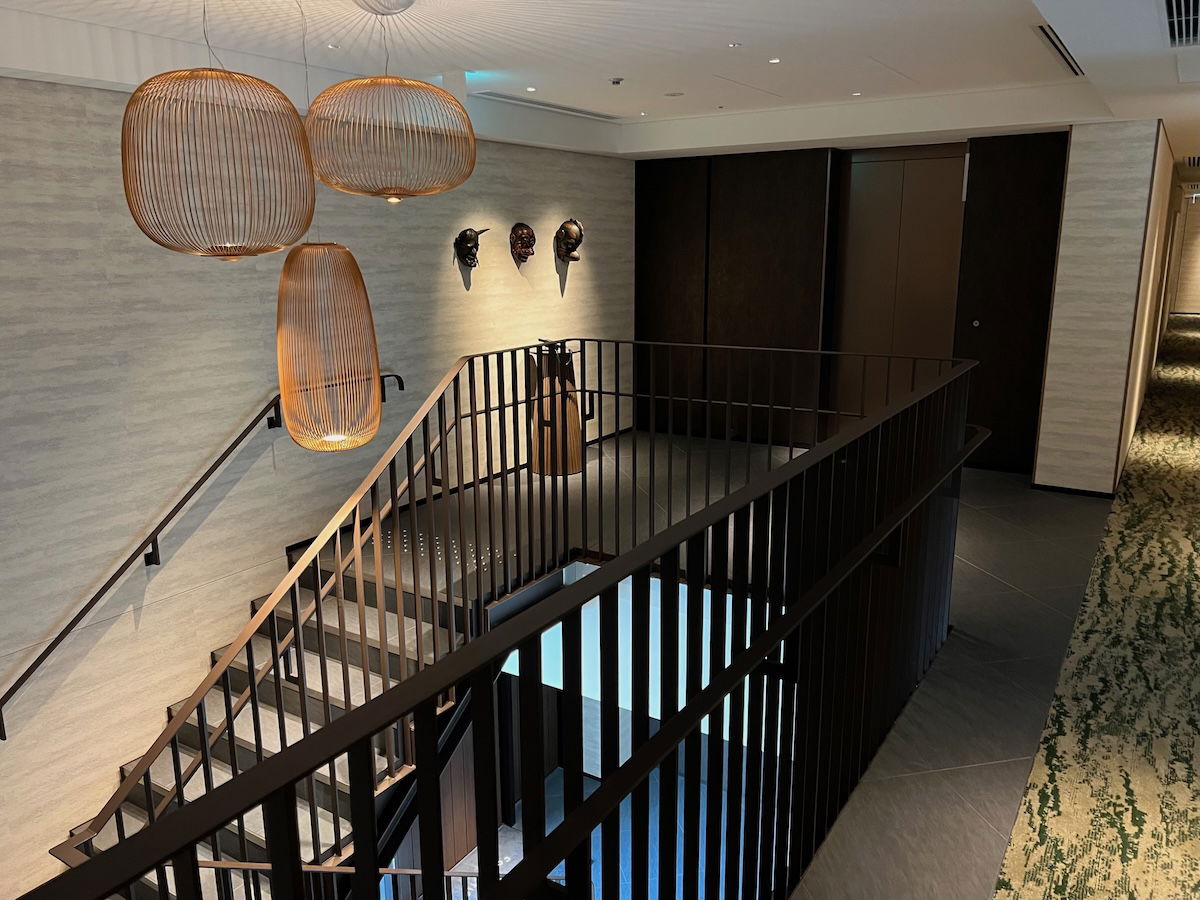 At the top of the stairs we walked left, and then our room was toward the end of the hallway and on the right.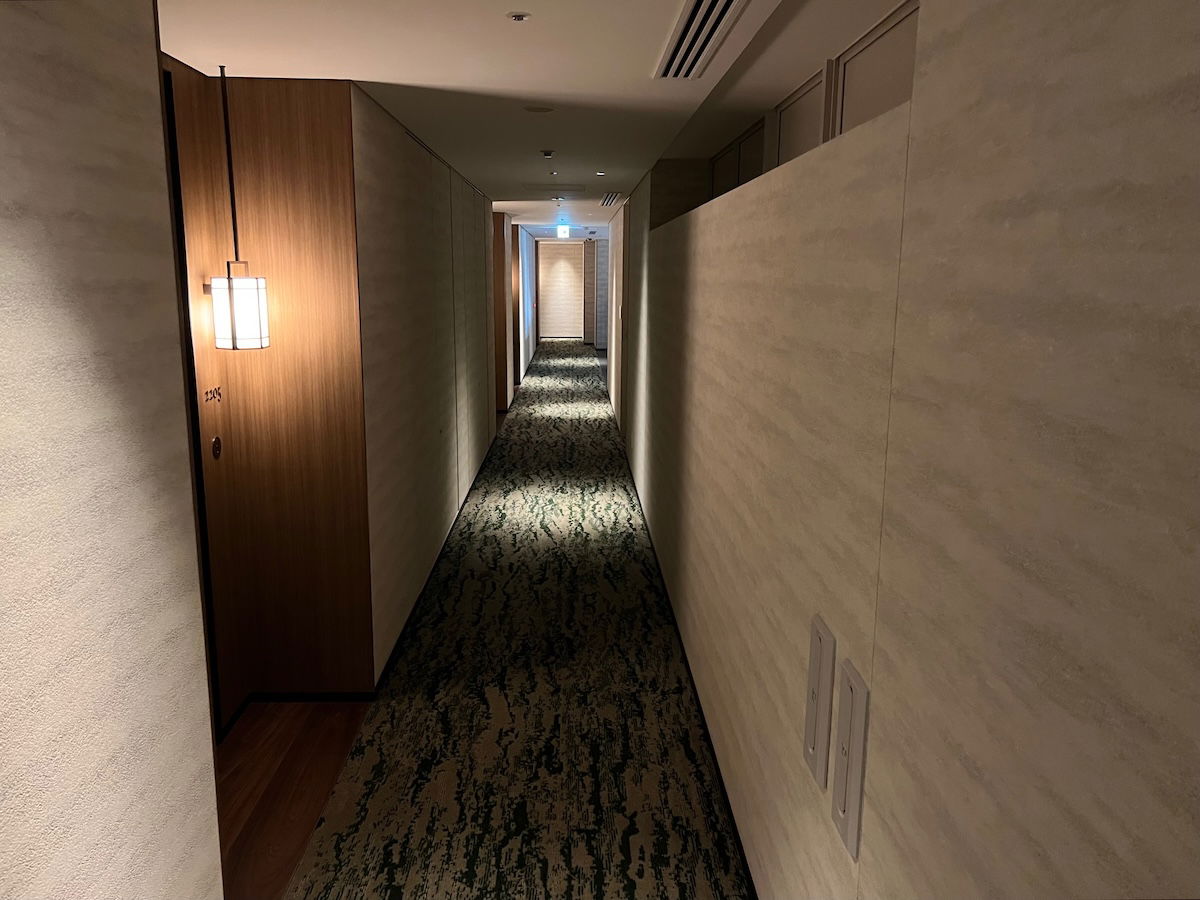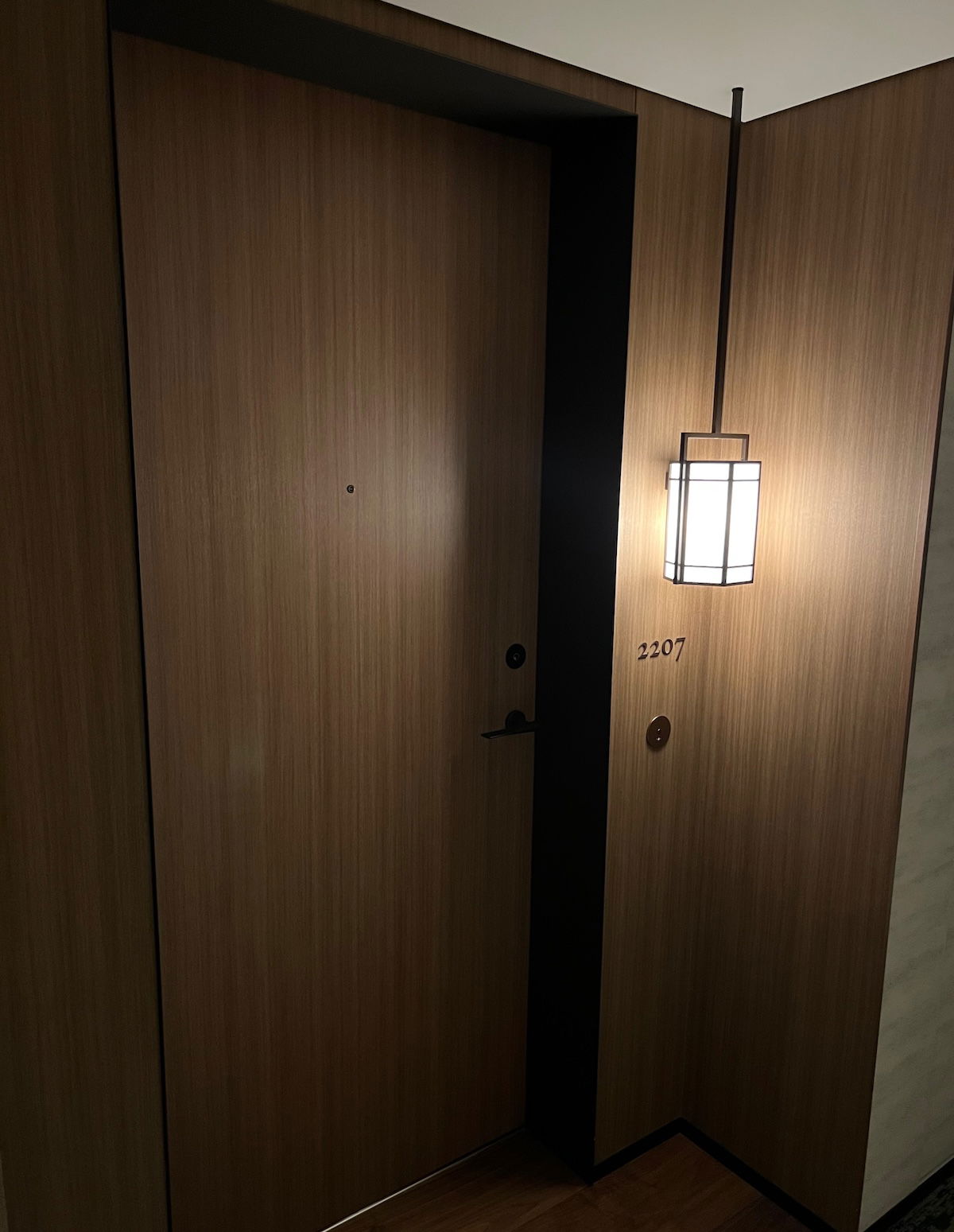 Junior suites at Shisui Nara are 613 square feet (57 square meters), so they're a pretty good size. Inside the entrance to the room and on the right was the bathroom, while the rest of the room was straight ahead.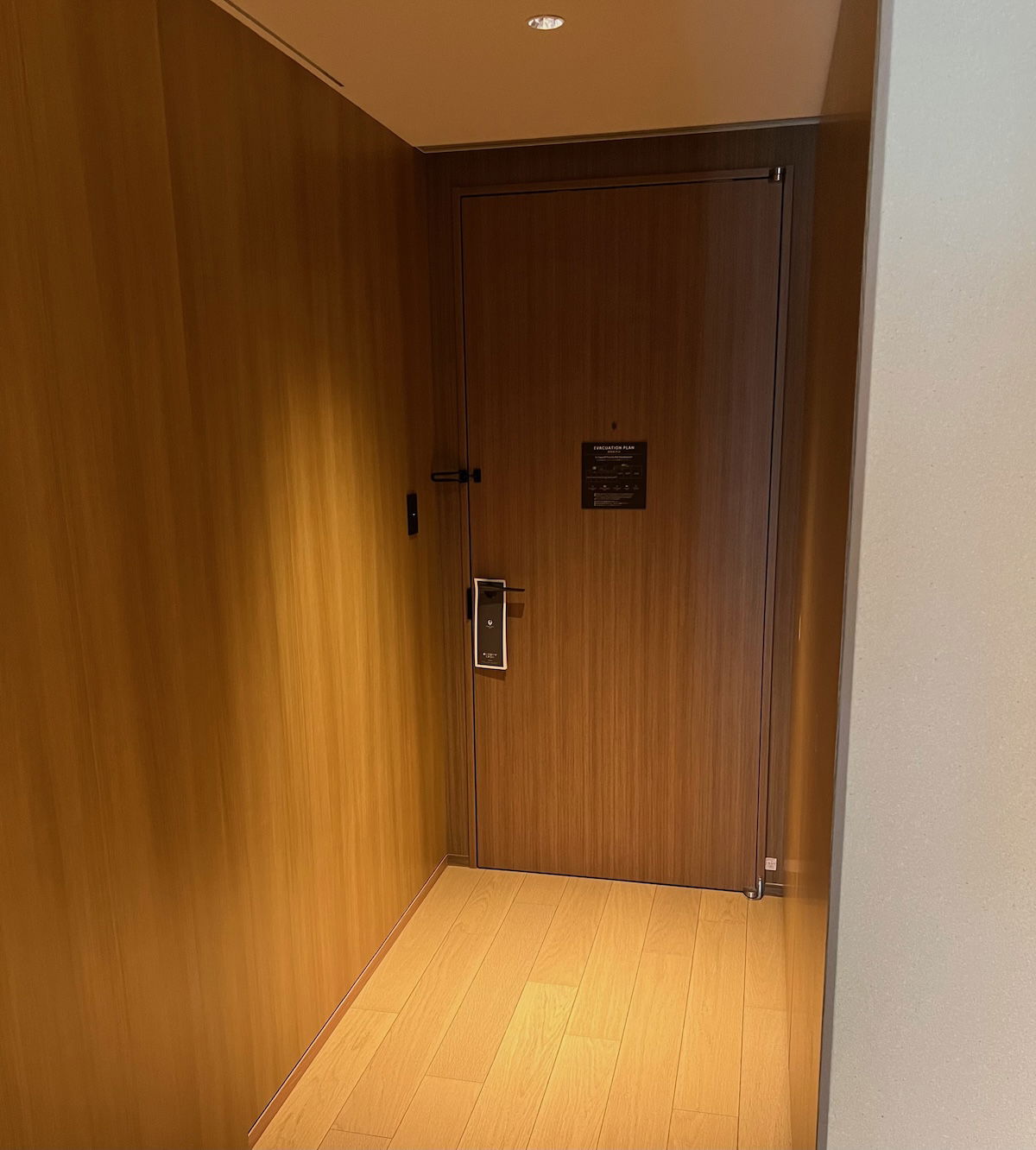 While the junior suite was described as having two twin beds, in reality they were much bigger than your typical twin beds, and were more like doubles. They were also pushed against one another. Personally I appreciated that, though perhaps others won't.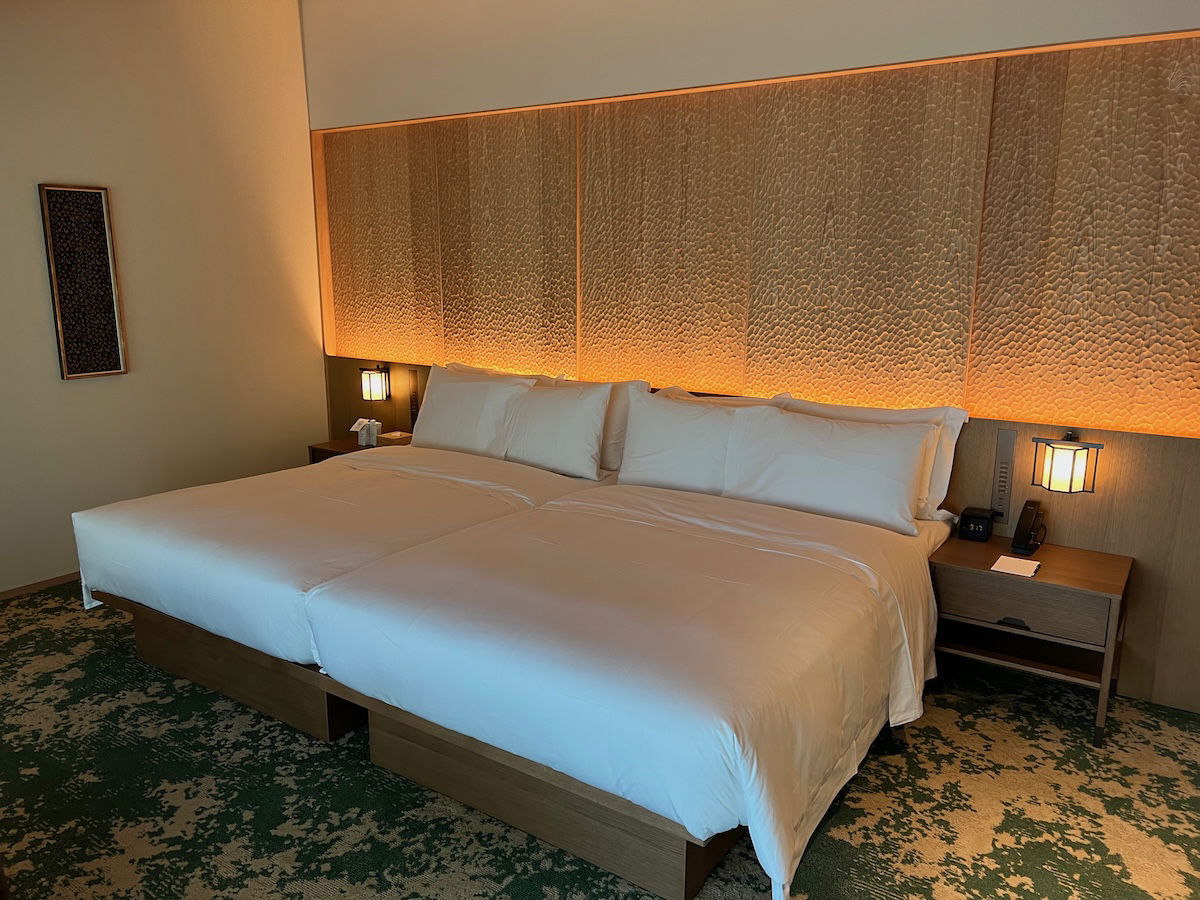 I'm not a TV watcher when traveling, but the TV is positioned off to the side of the bed, with a rather odd angle, even if it does move.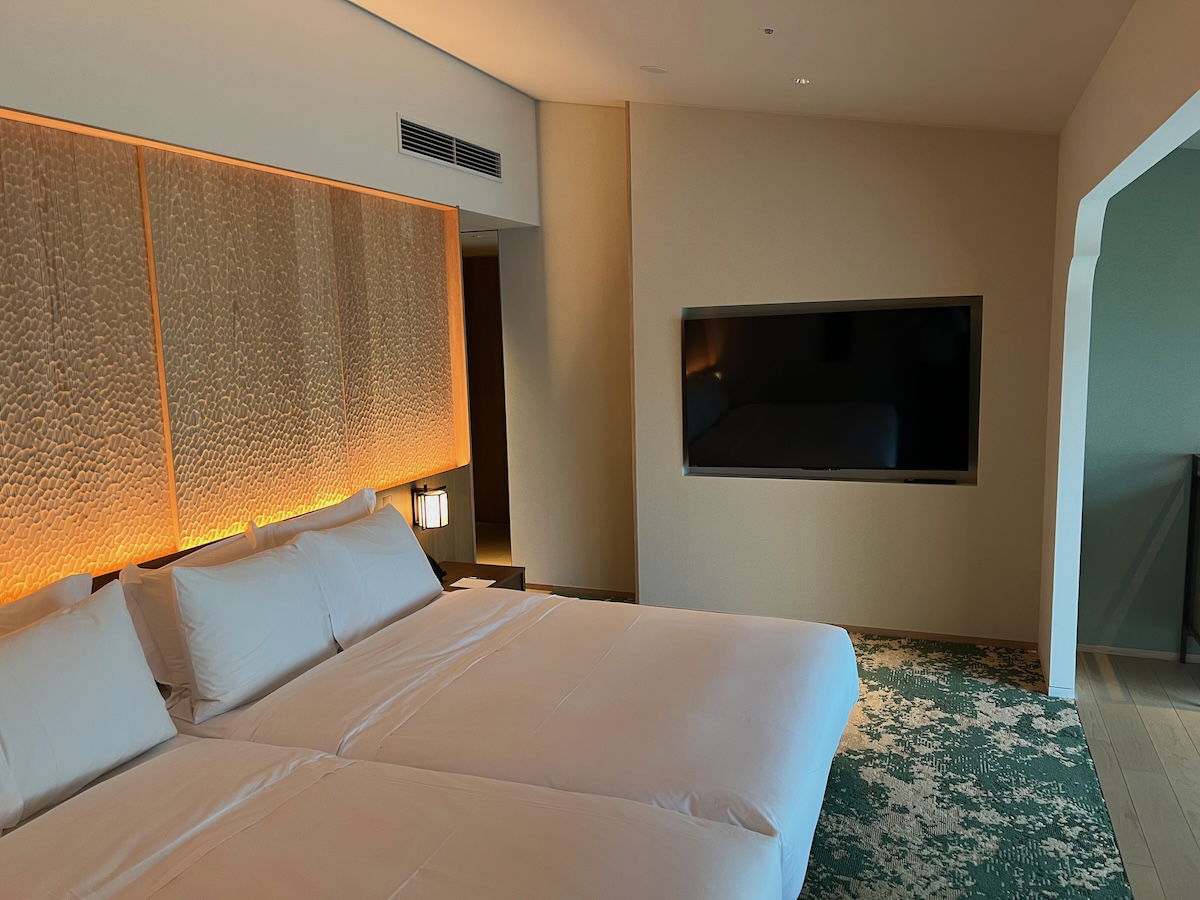 I quite liked the room's design, including the arched ceiling, which created some separation between the bedroom area and living area.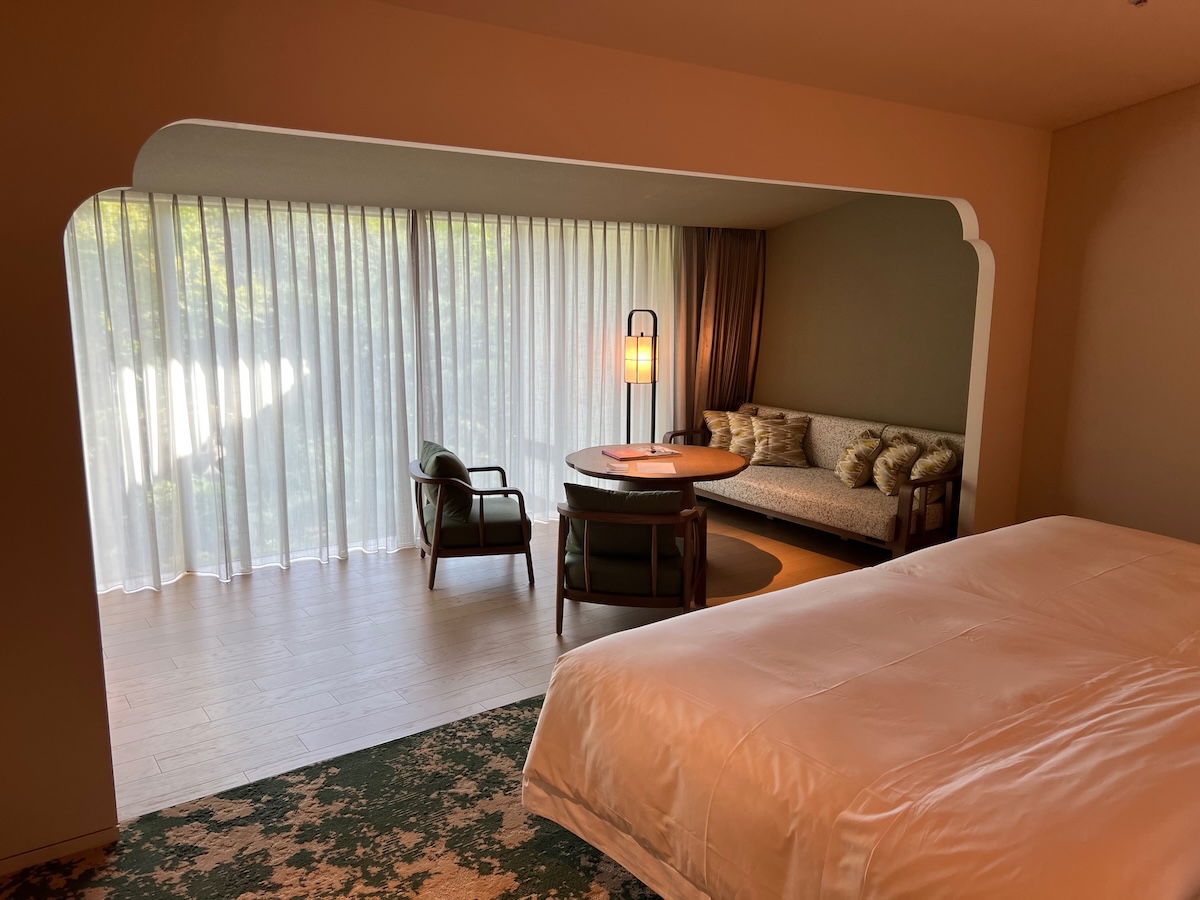 The room then had a sitting area, with a couch and two chairs, plus a table.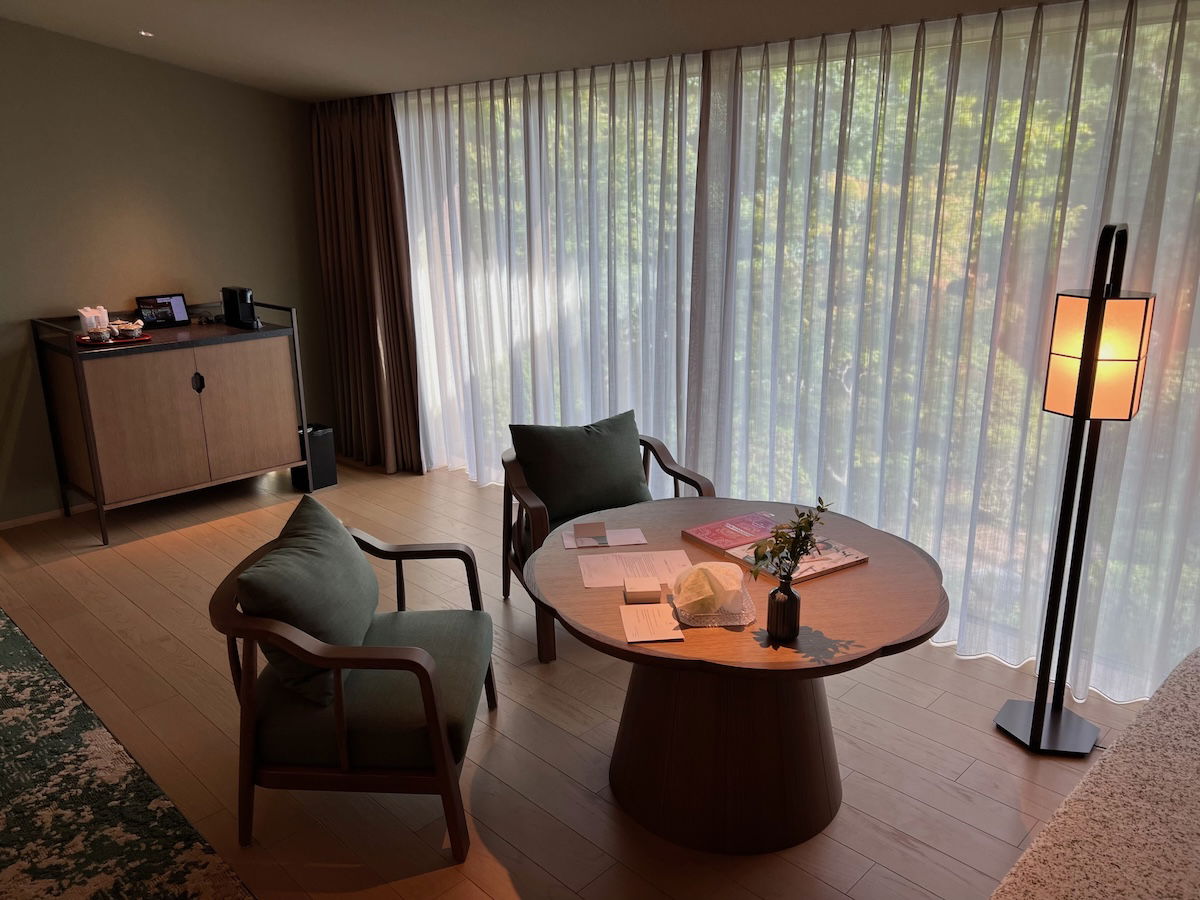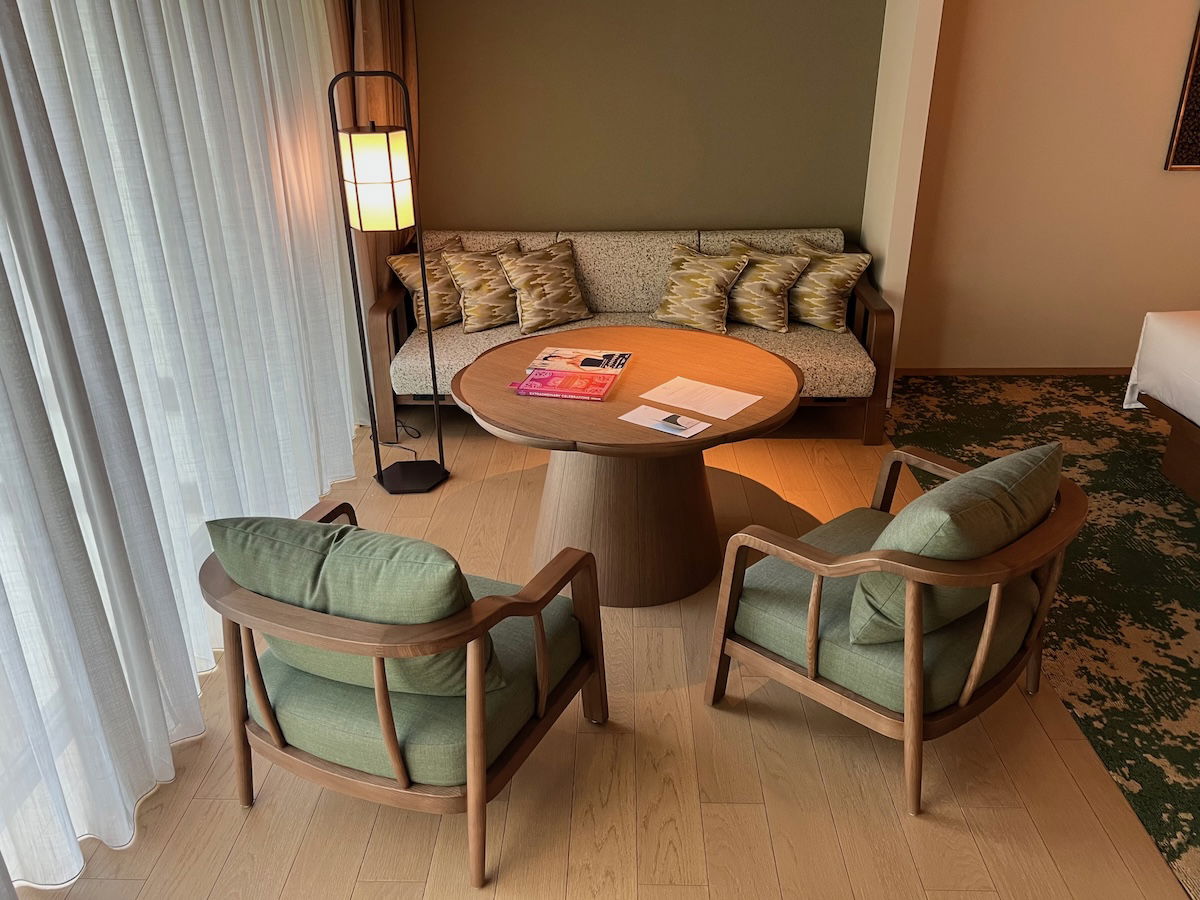 Across from the table was the minibar setup, with complimentary water, coffee, and tea, plus a variety of drinks and snacks for purchase.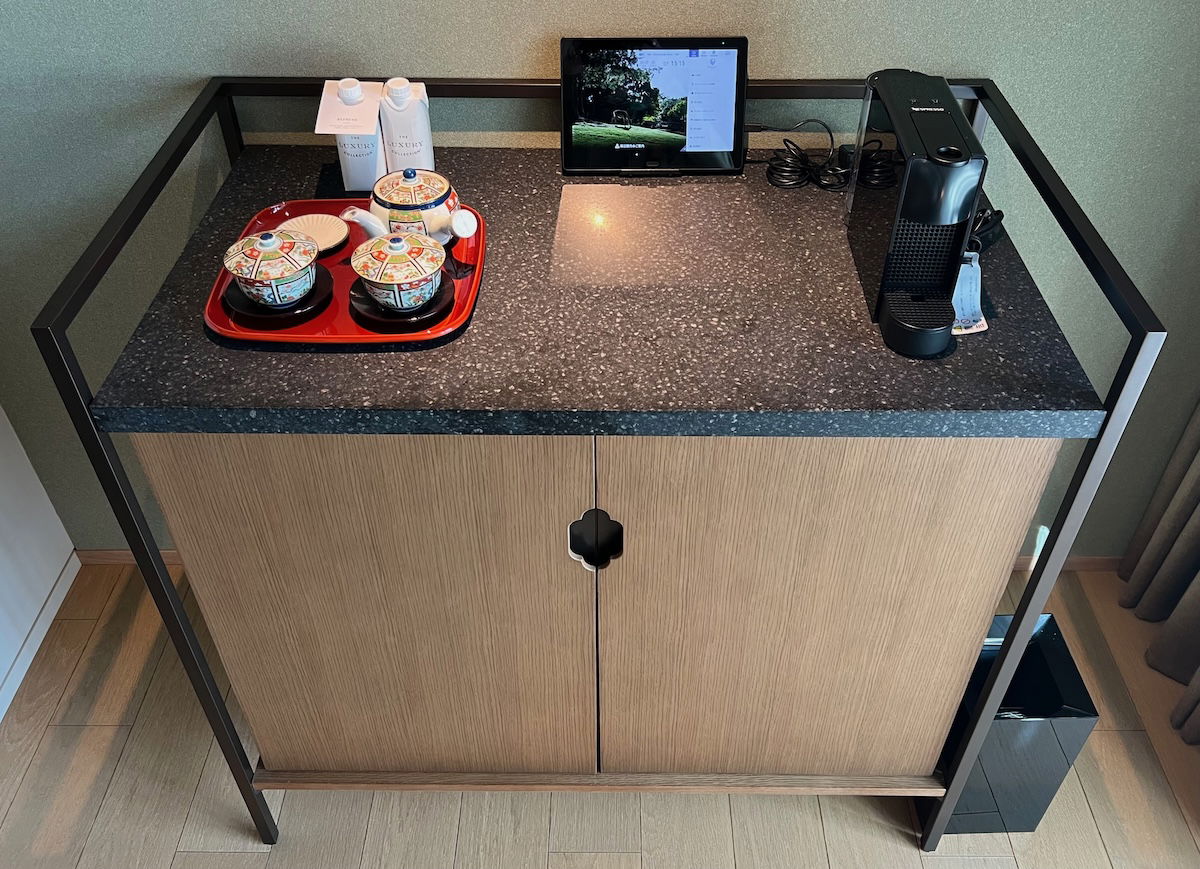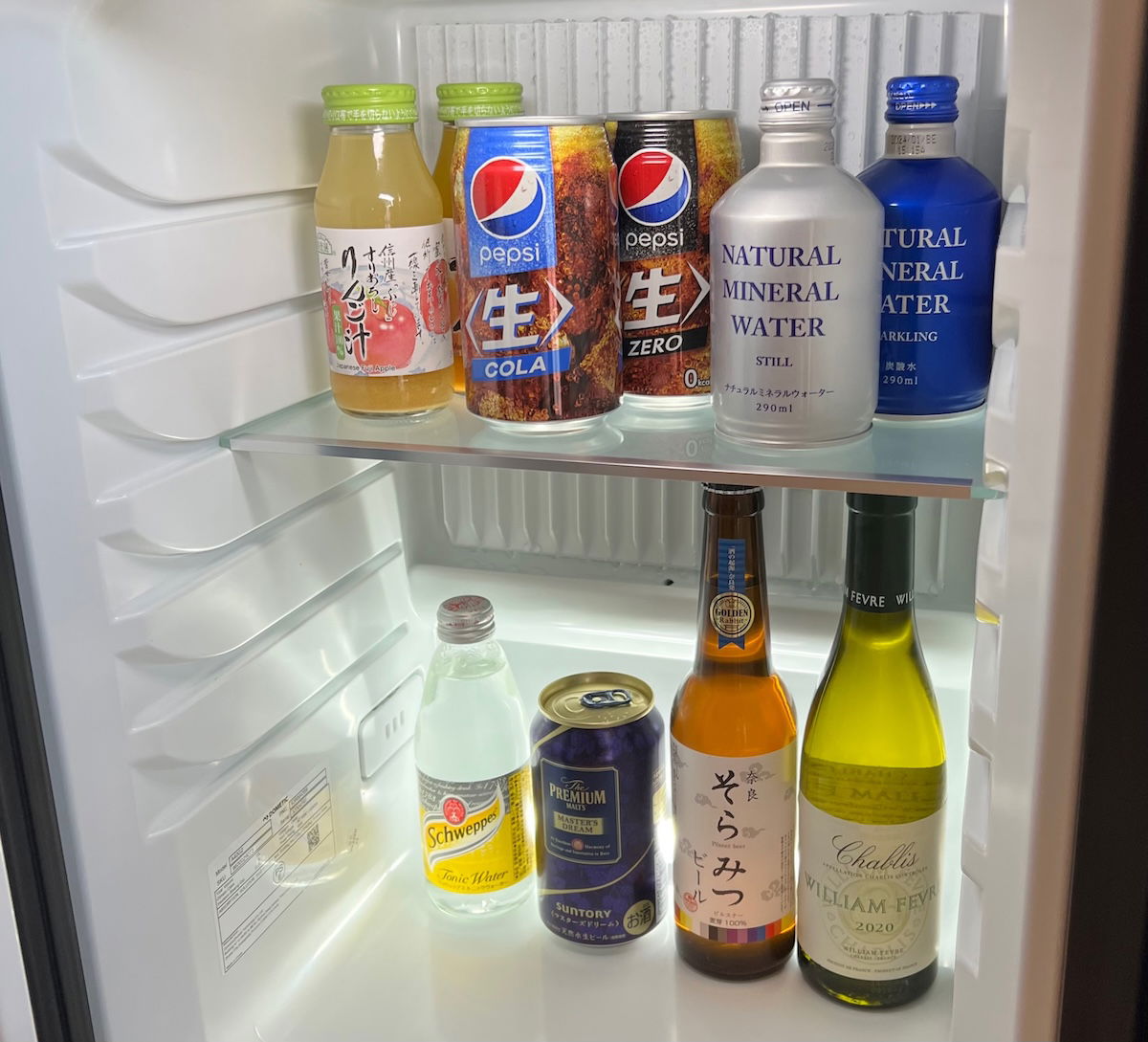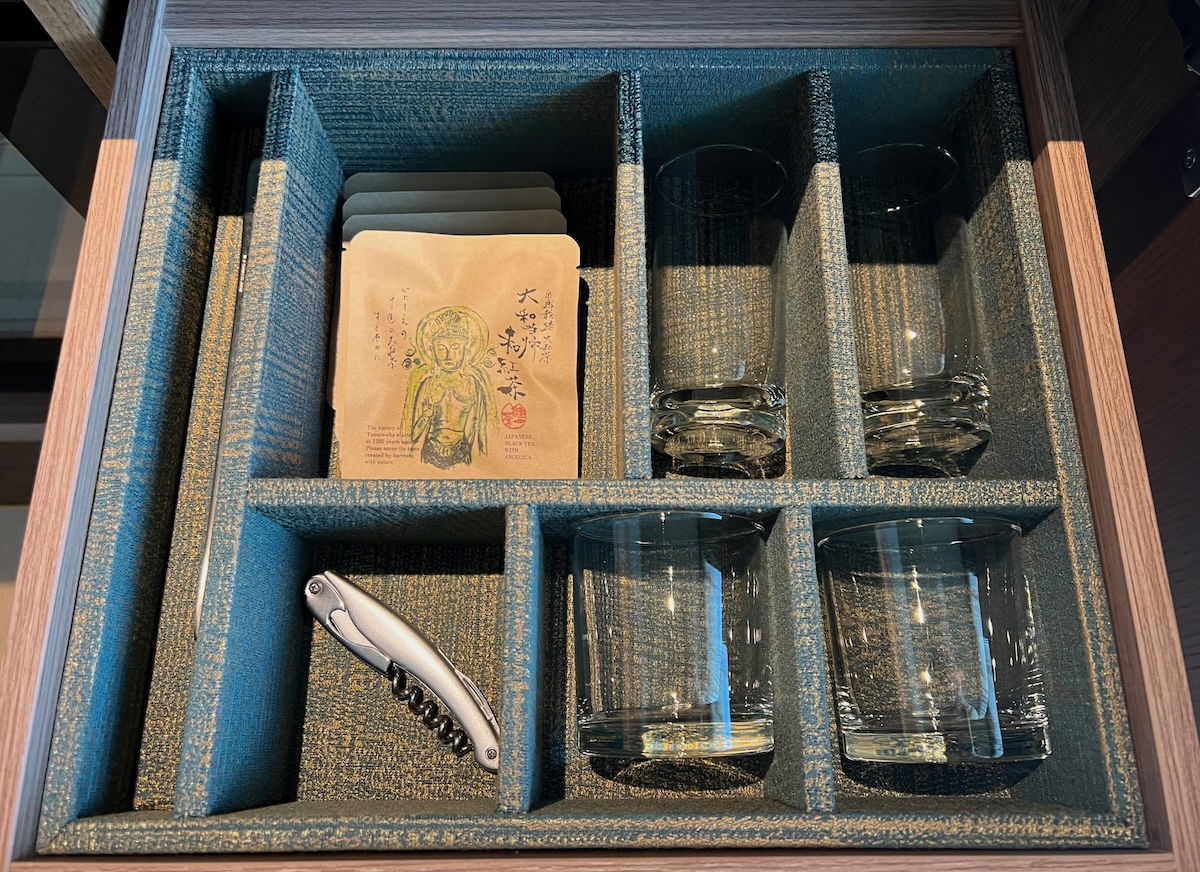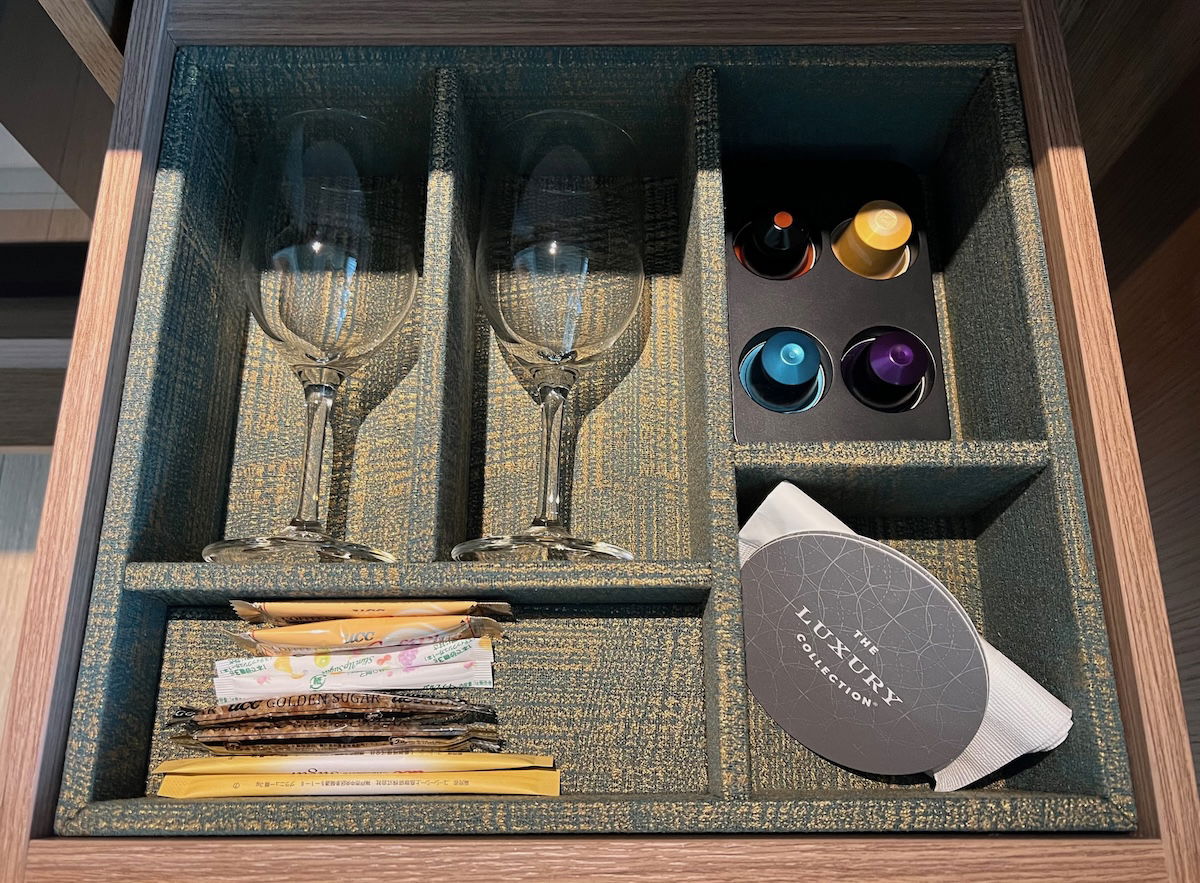 The room had a view of the gardens surrounding the hotel, which I liked. It doesn't get much more peaceful than this, though it sure would be nice if there were some outdoor space.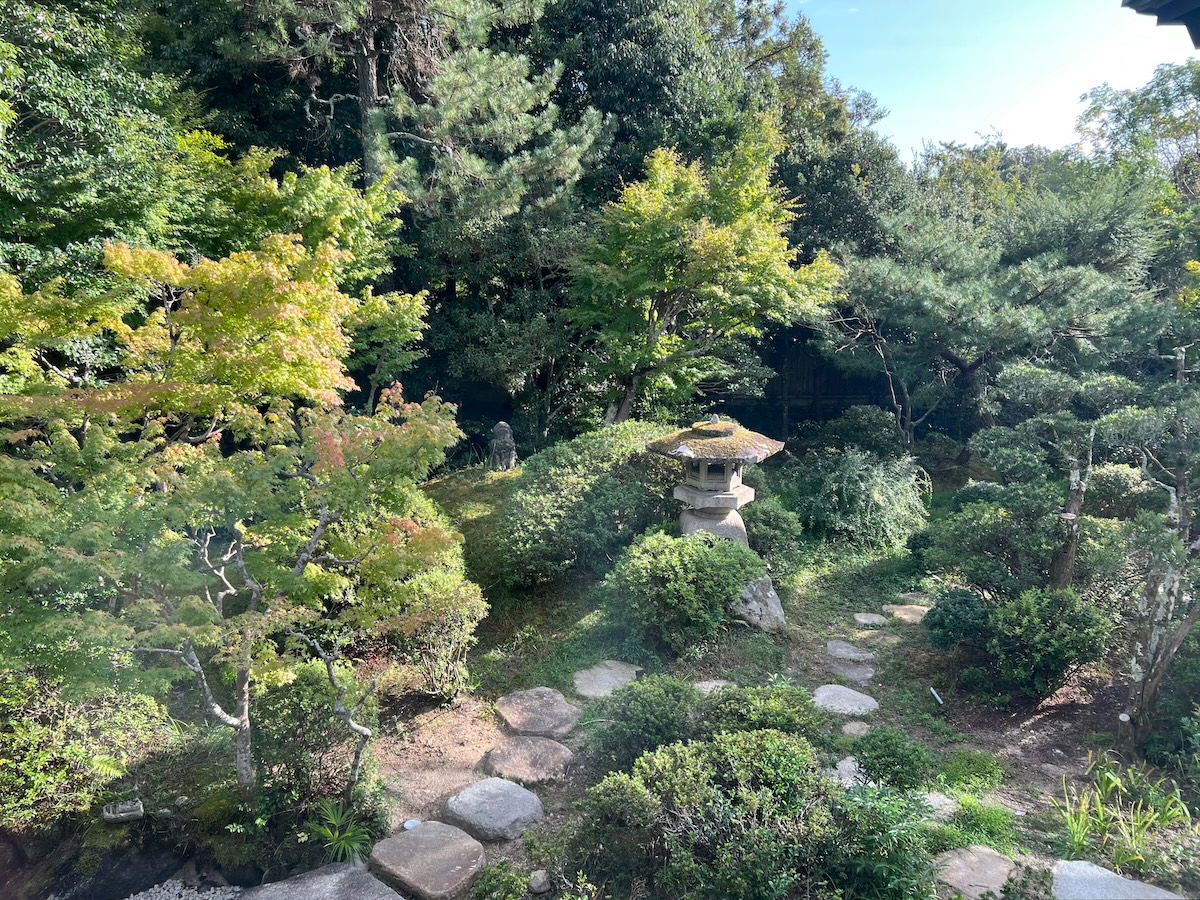 Then there was the bathroom, which had a sink (it's odd not to have double sinks in a junior suite, in my opinion), a Japanese toilet, and then an area with both a standard walk-in shower and the onsen tub.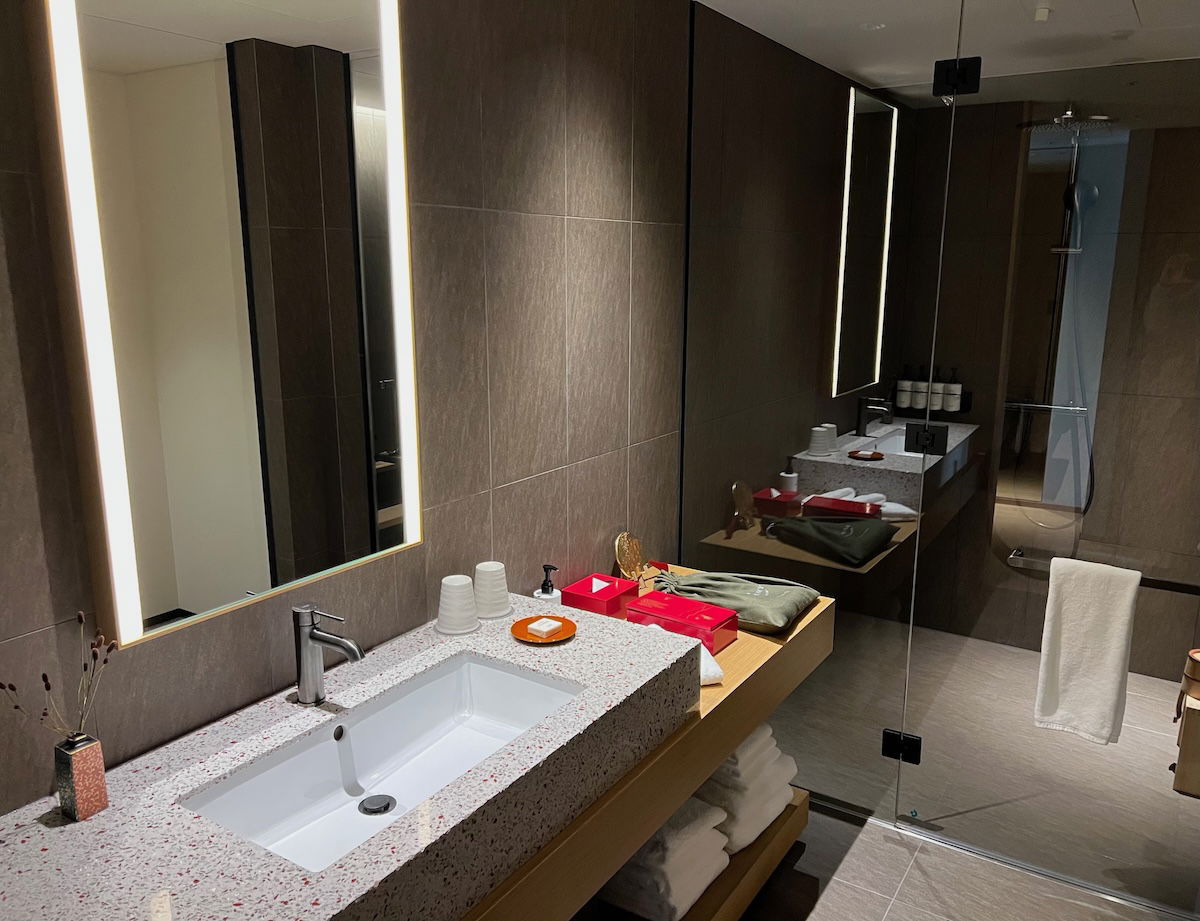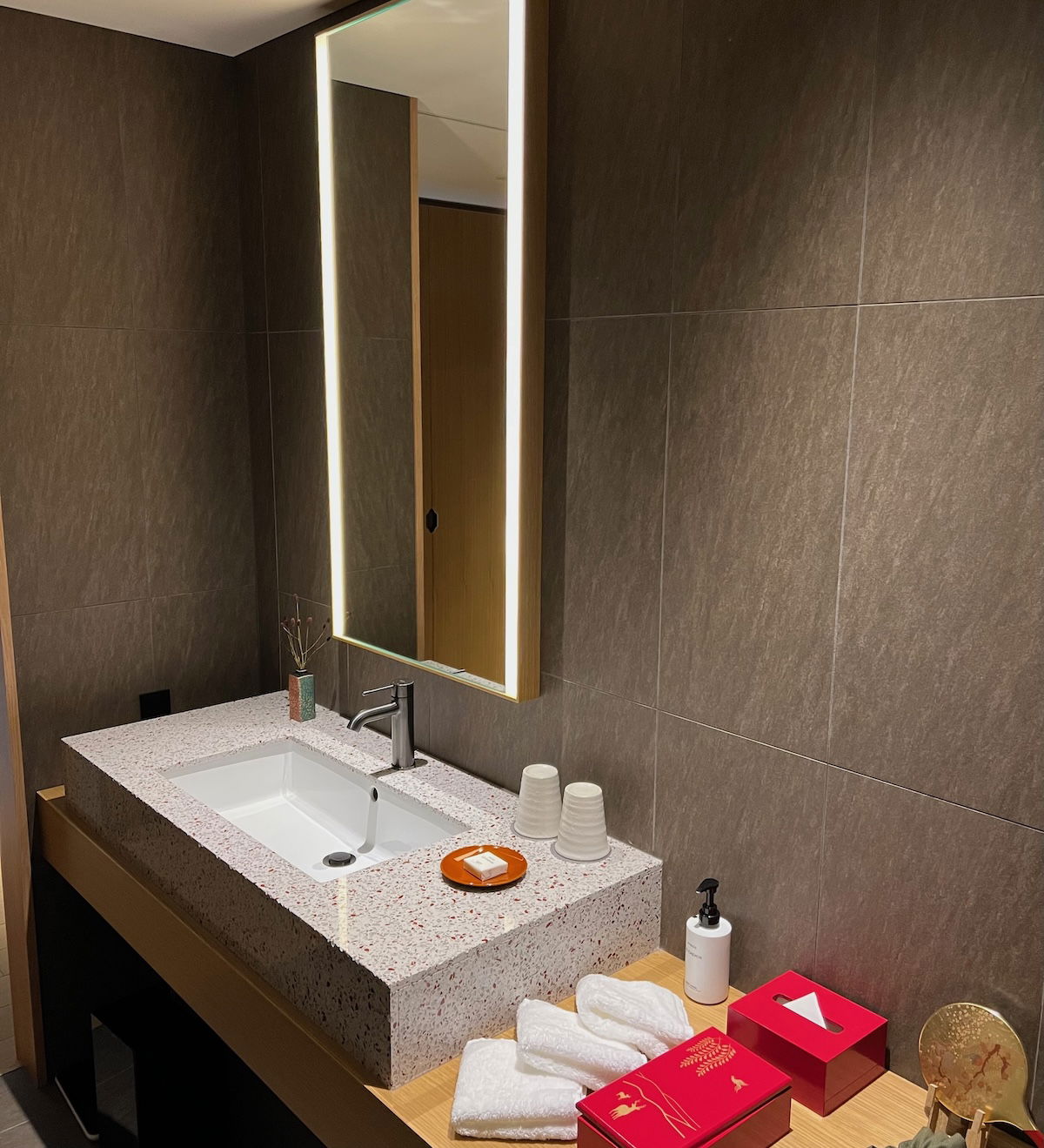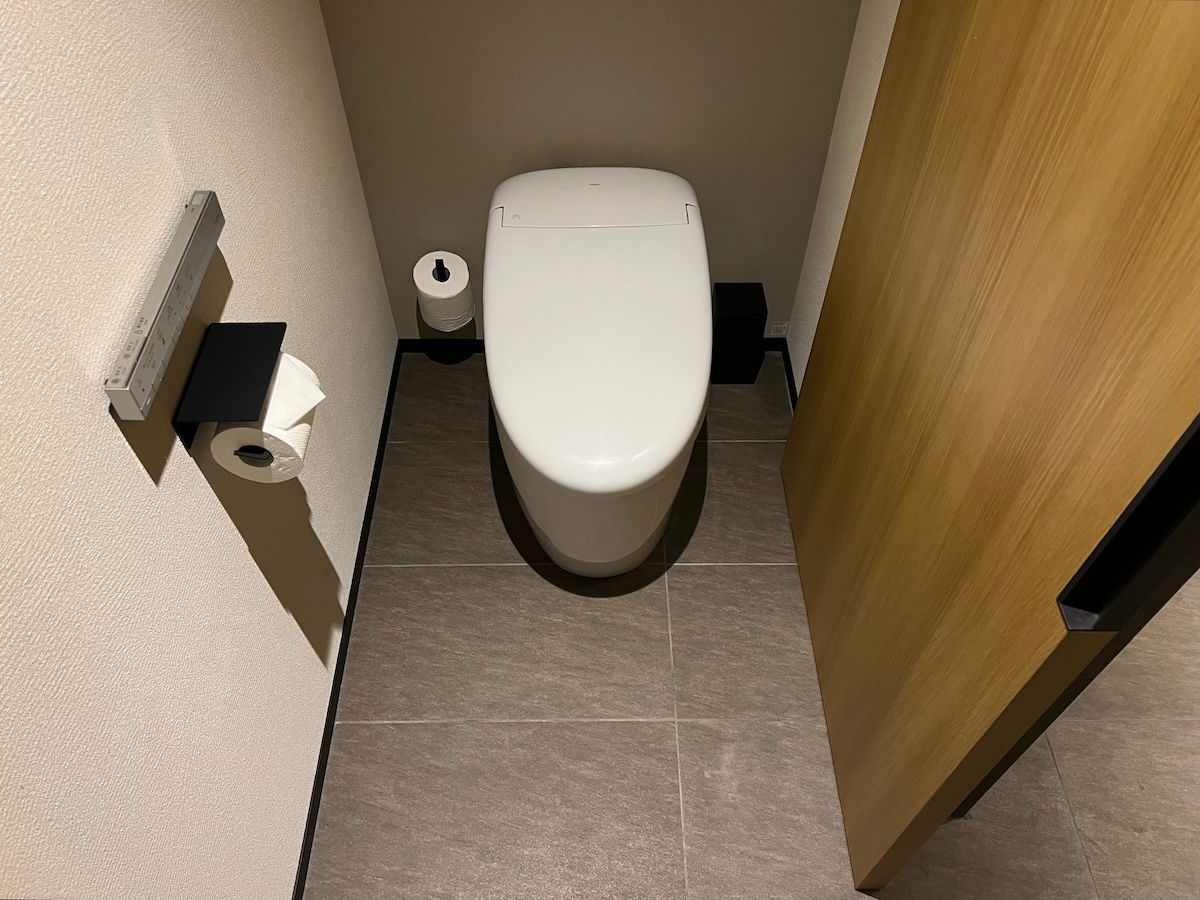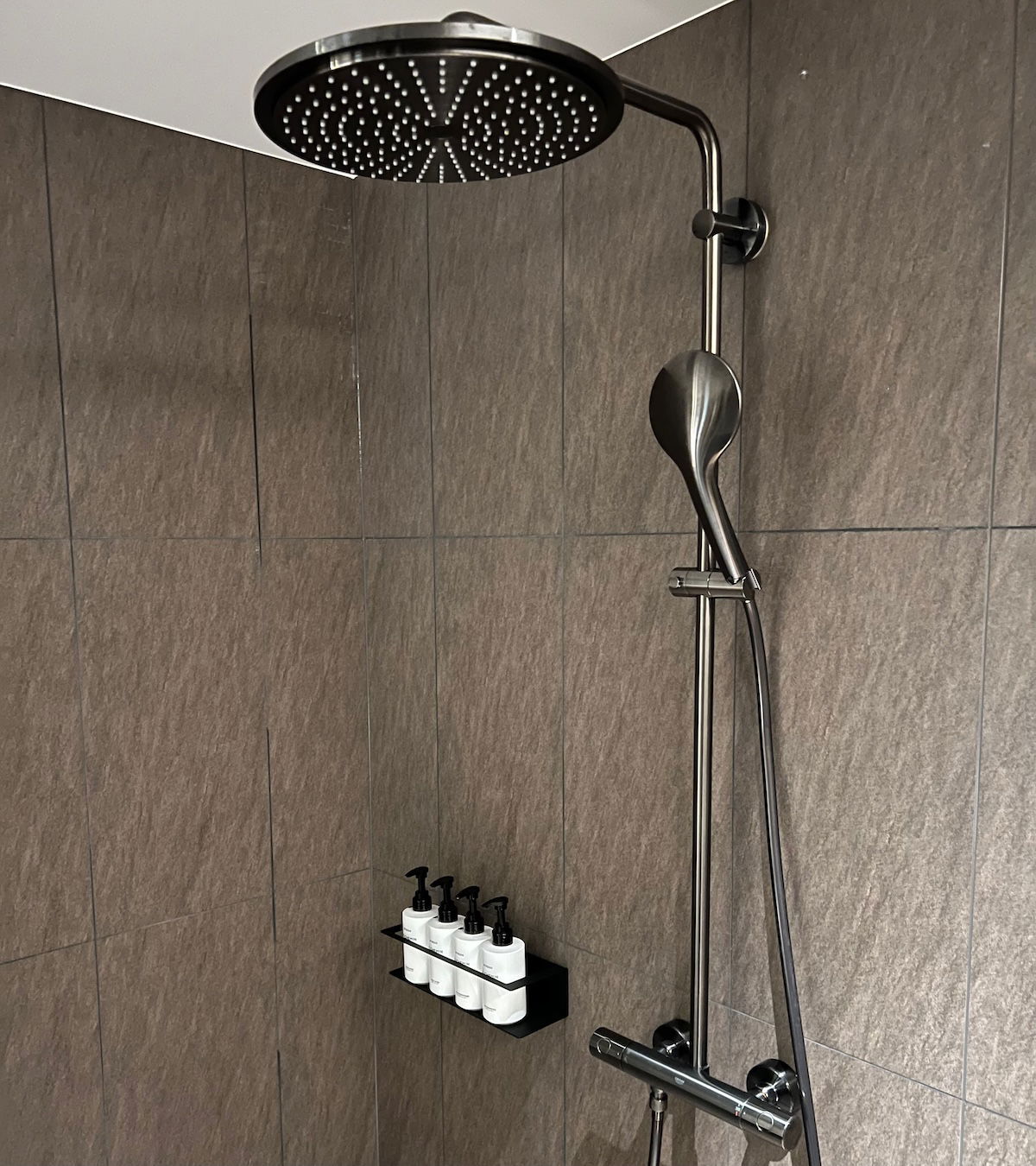 This was legitimately an onsen tub, with hot spring water, so it was always pre-filled.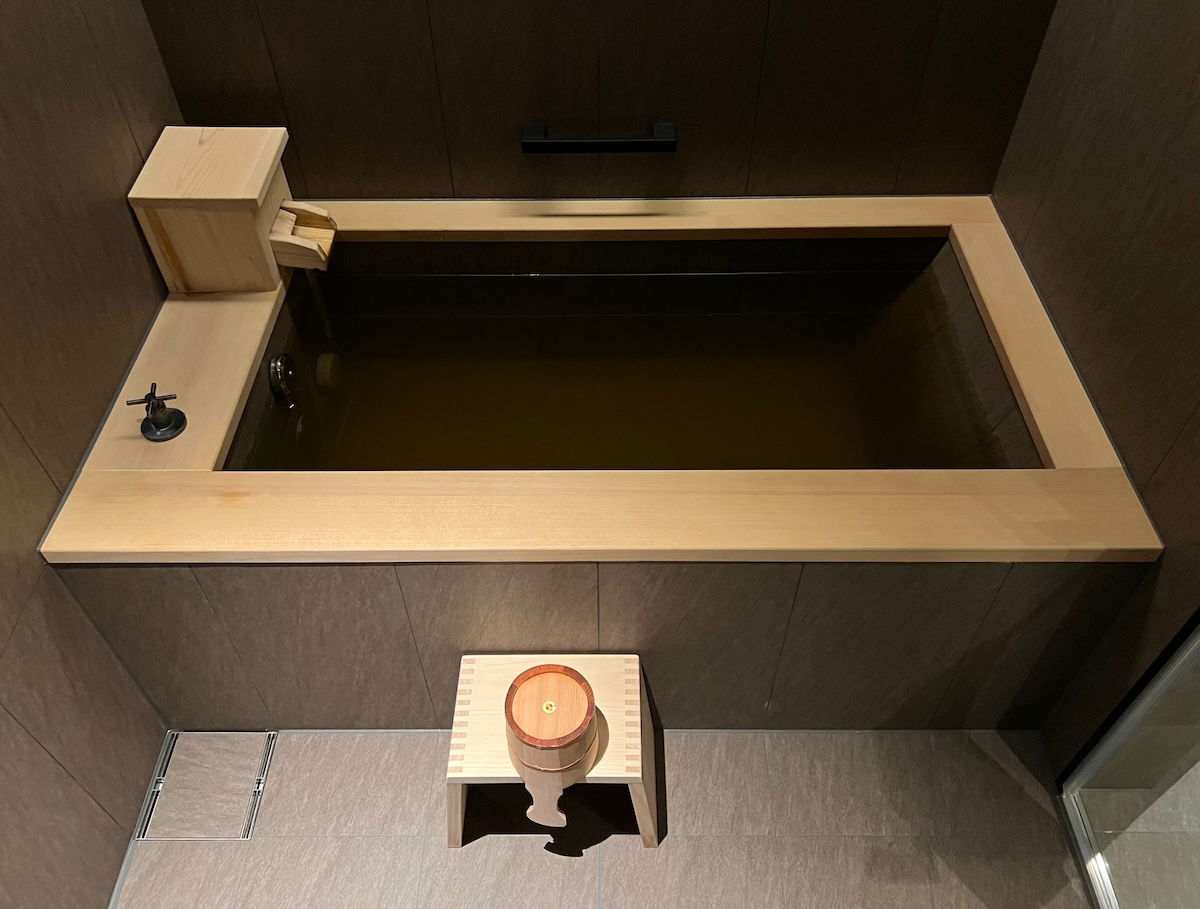 Toiletries in the bathroom were in reusable containers from BYREDO.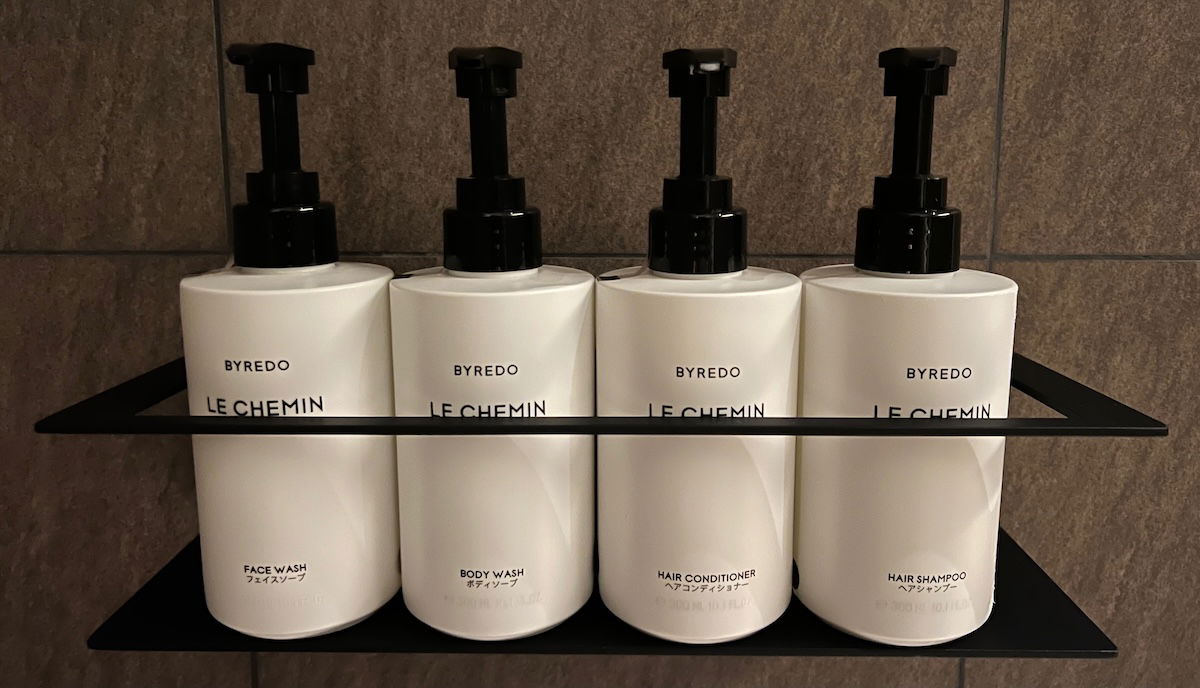 Shortly after arriving in our room, we were brought a welcome gift, consisting of some grapes, and a package of meringue.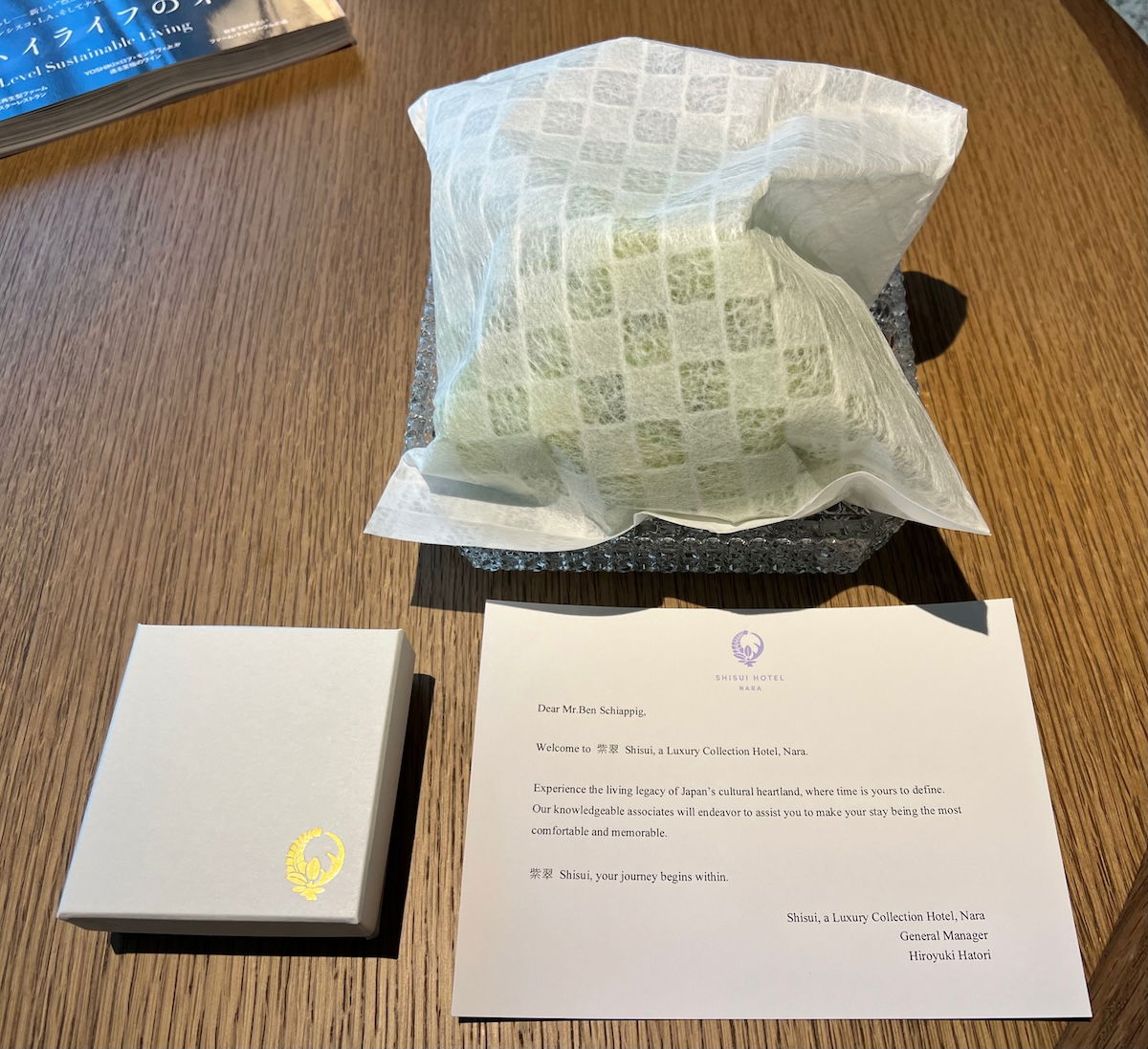 All-in-all, I quite liked the room. If I had one piece of feedback, it's that I wish the hotel rooms also had more of a historic vibe that matched the lobby area, as the rooms just felt more like what you'd expect in a brand new Westin, or something. There's nothing wrong with that, but the vibe between the public areas and the rooms definitely doesn't match.
Shisui Nara gym
Shisui Nara has a 24/7 gym that's located in the Hanajika building, on the ground floor. The gym is very small, but that's fair enough, since it didn't seem like many people were using it. It consisted of three pieces of cardio equipment, one weight machine, some free weights, and a bench.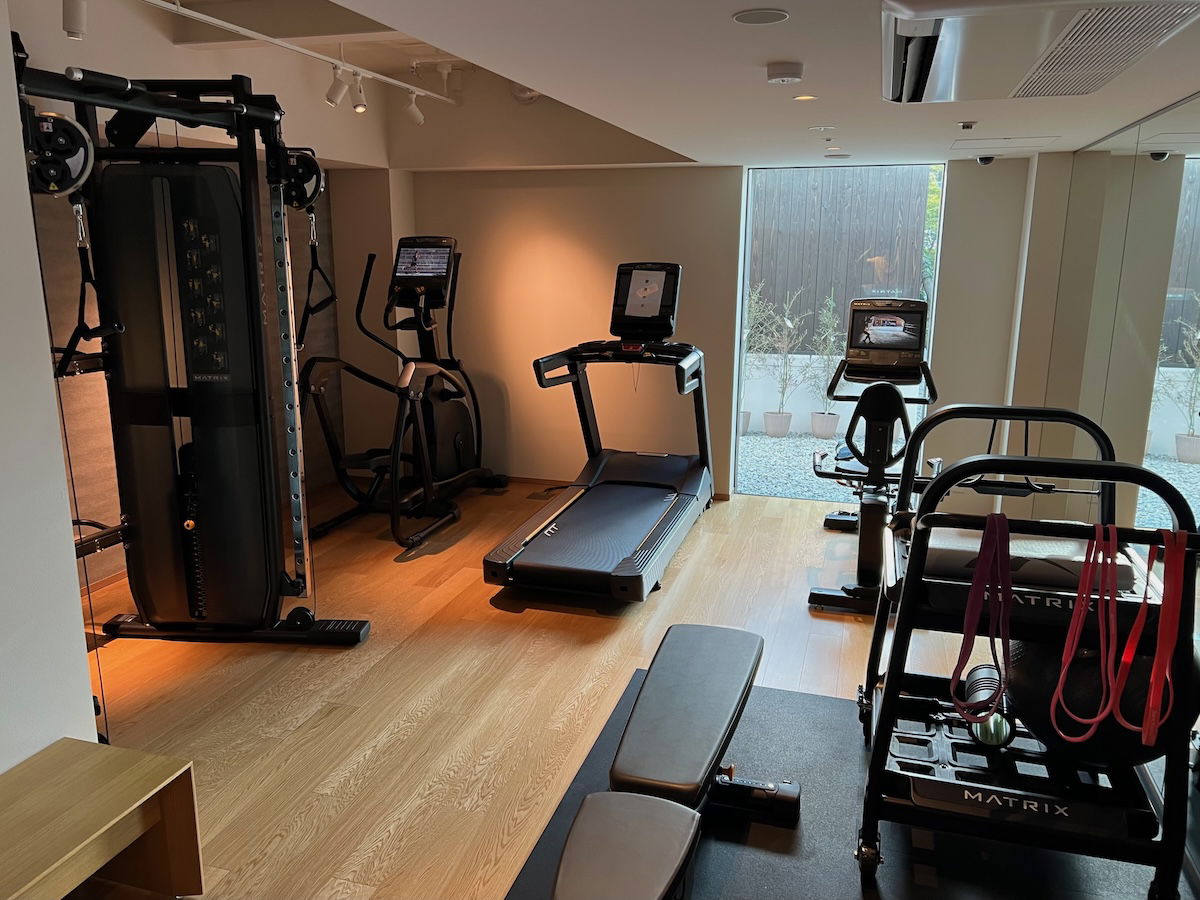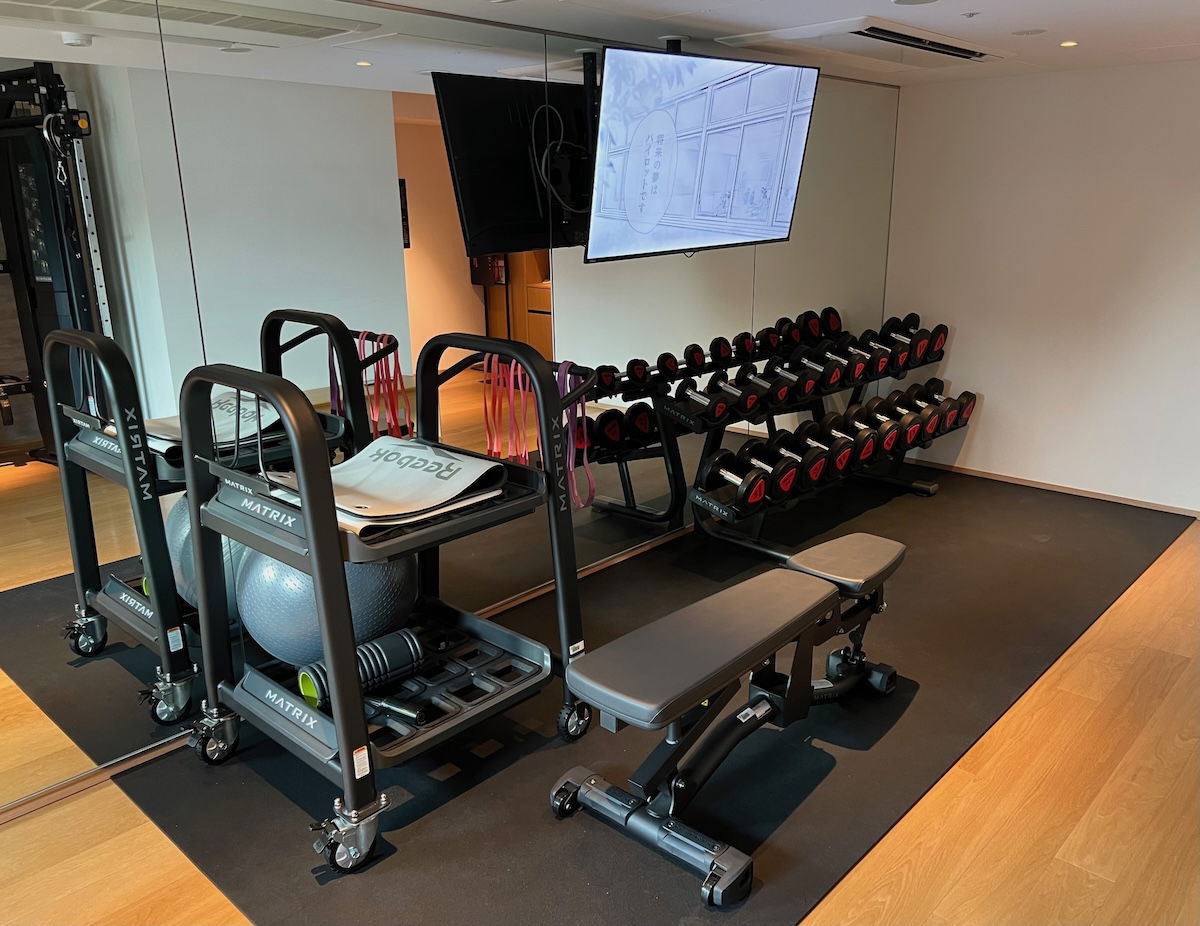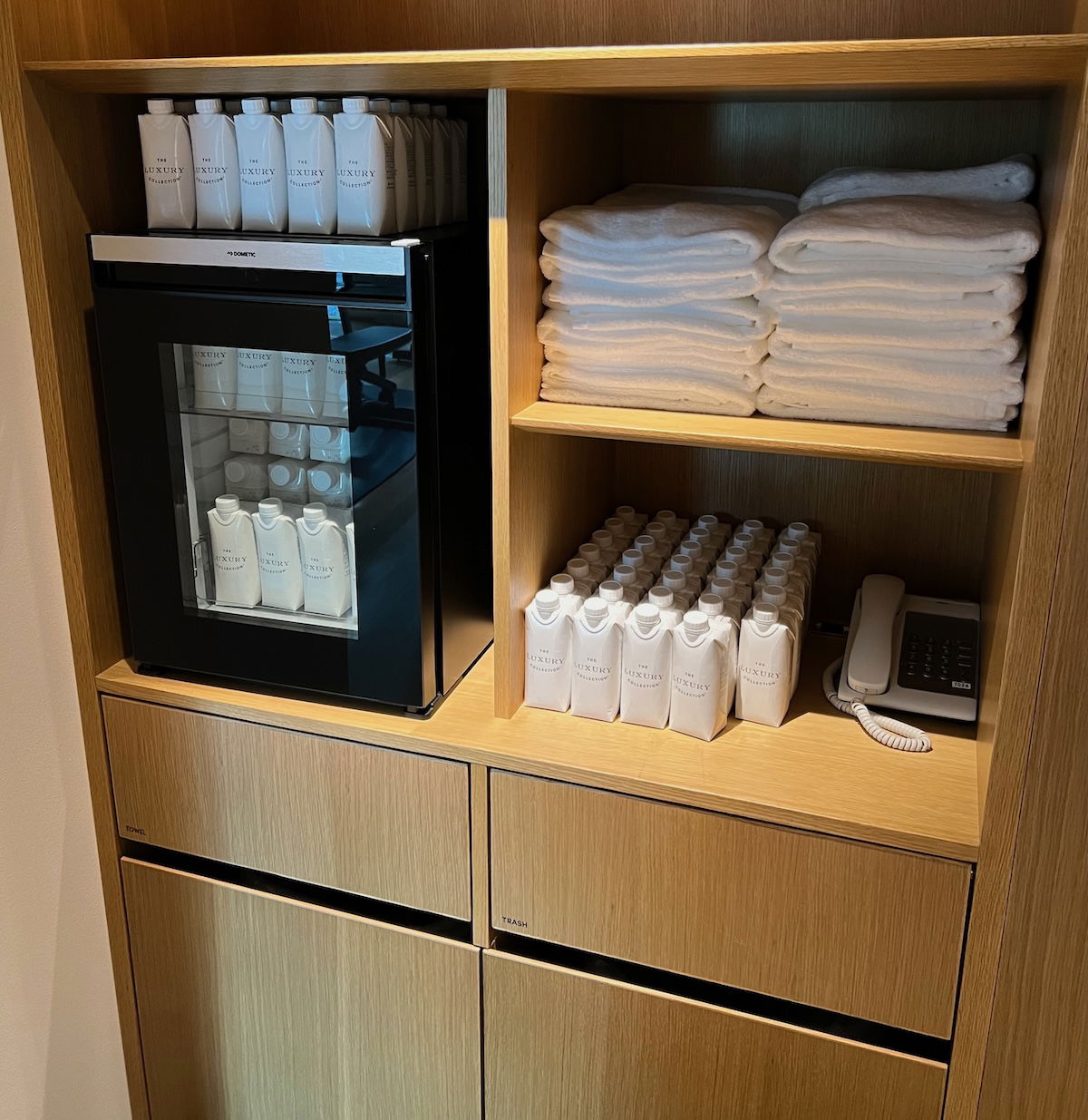 Shisui Nara SUI Spa
Shisui Nara has the SUI Spa, which offers two private treatment rooms, and apparently also features "volcanic hot springs." However, don't ask me what the spa is actually like.
You see, we weren't actually given any information about the property when we arrived. So after checking in, I returned to reception and asked about the spa area. One of the staff explained that the spa has an onsen that guests can use at any time, and we just needed to use our key card to enter it. My key didn't work when I tried to enter the spa, so I returned to reception, and they acted surprised. They then explained that I needed a separate key for the spa, which they made for me. It still didn't work.
I then returned to reception again, at which point they told me that an appointment is actually needed to use these facilities, and that's why my key wasn't working. At that point I just gave up.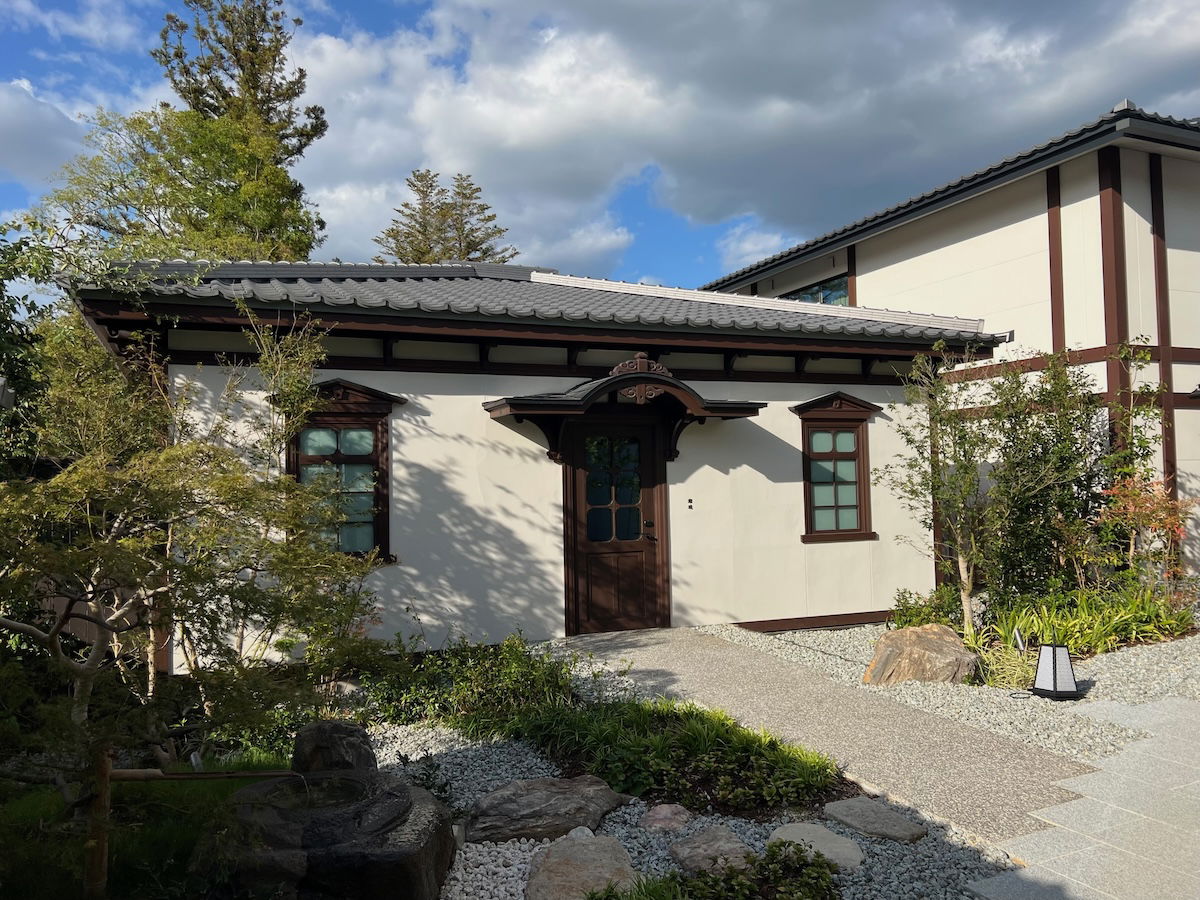 Shisui Nara champagne hour
Shisui Nara offers a "champagne delight" every evening from 5PM until 6PM. This isn't just for Bonvoy elite members, or anything, but rather is for all hotel guests. This is hosted in the cafe that's adjacent to the lobby and reception. I don't believe this space is currently being used for anything else, which seems like a missed opportunity, as it's a pretty cool space.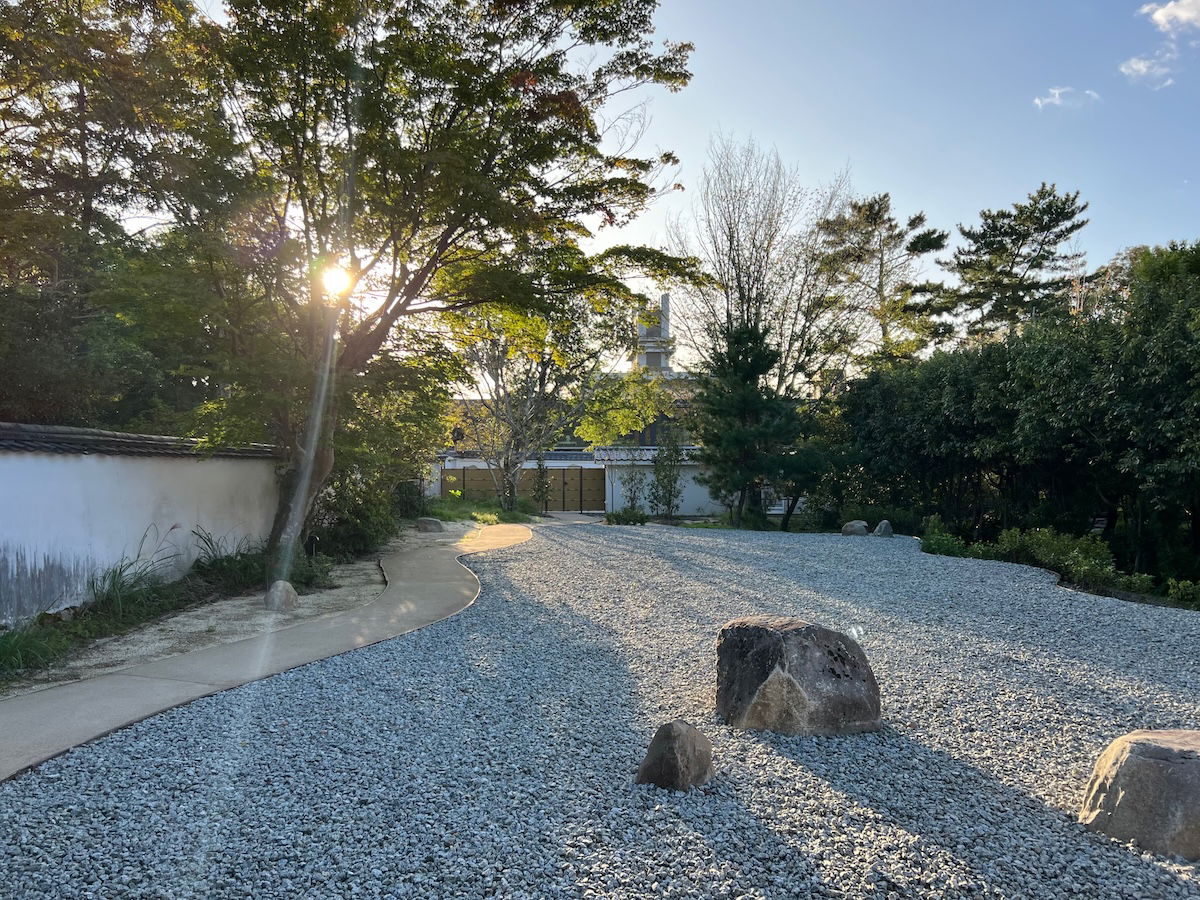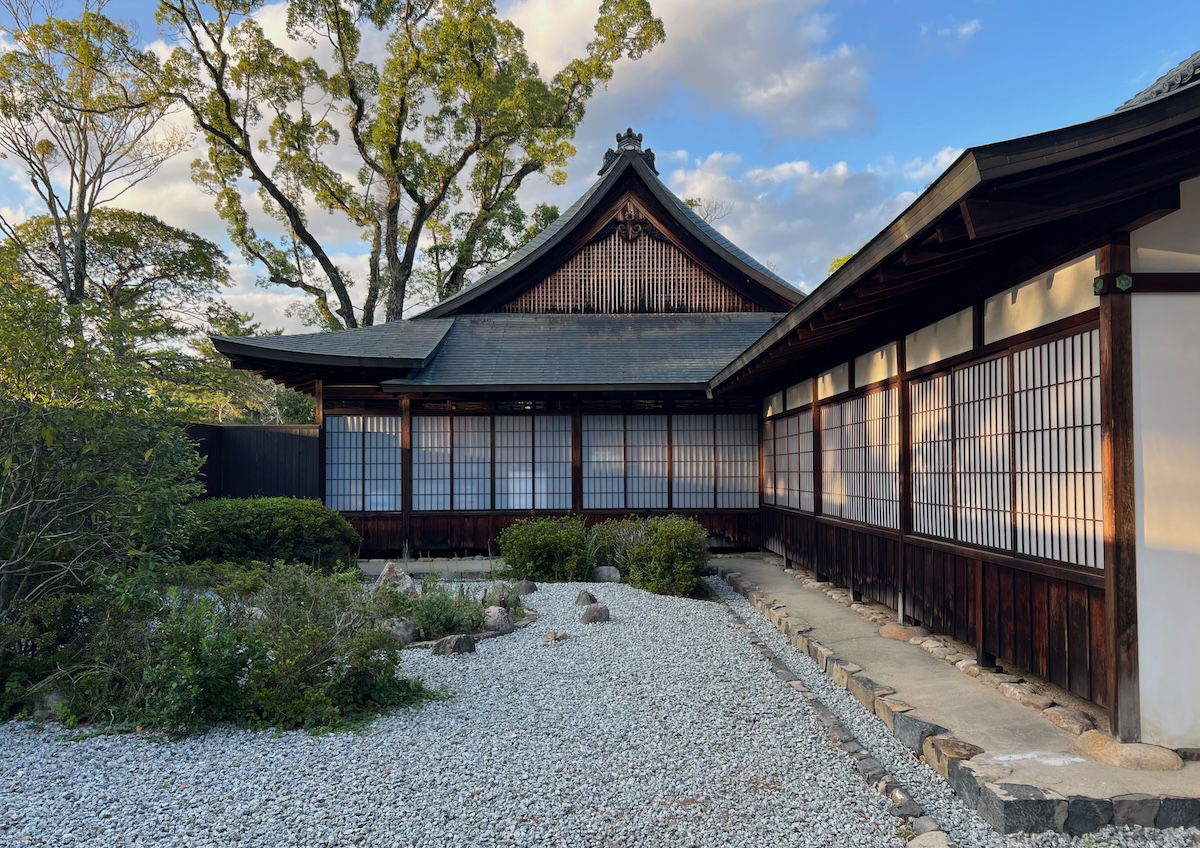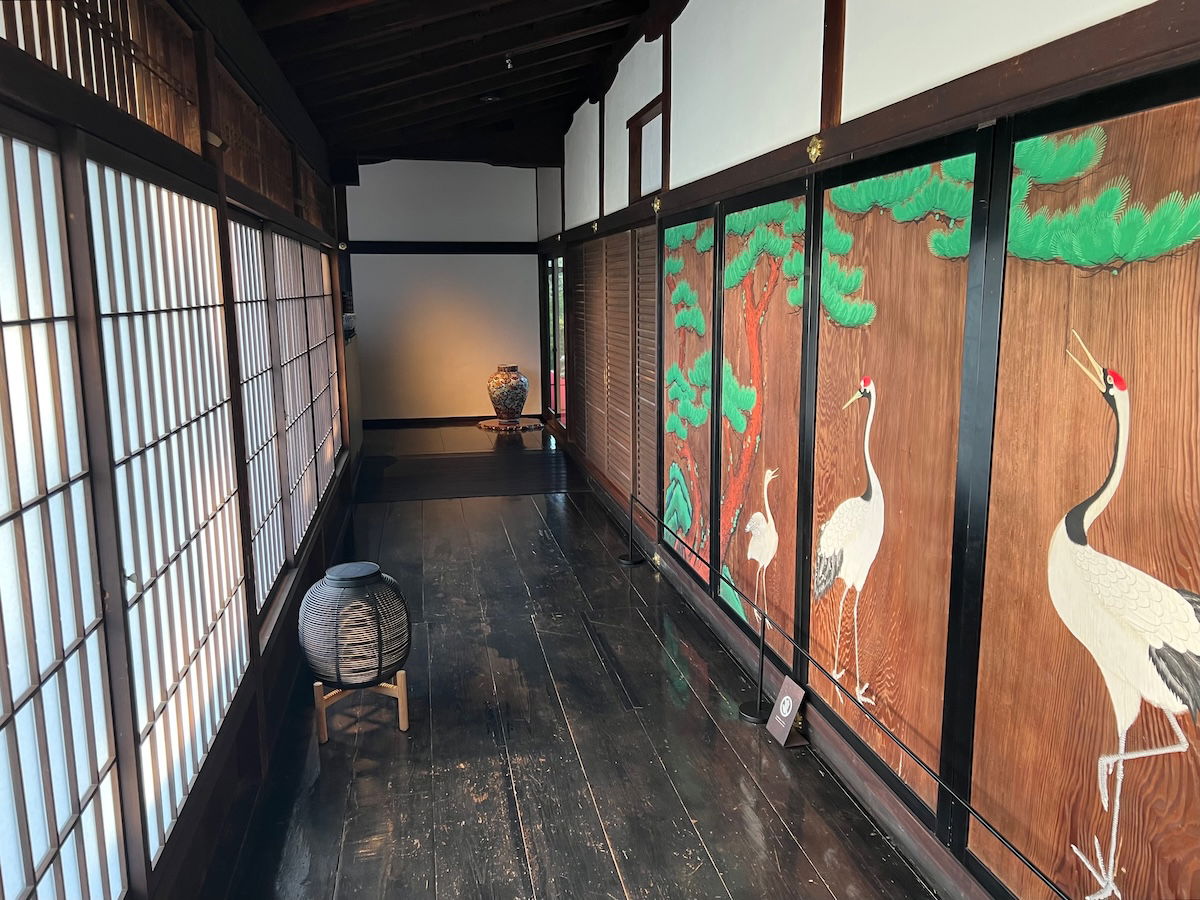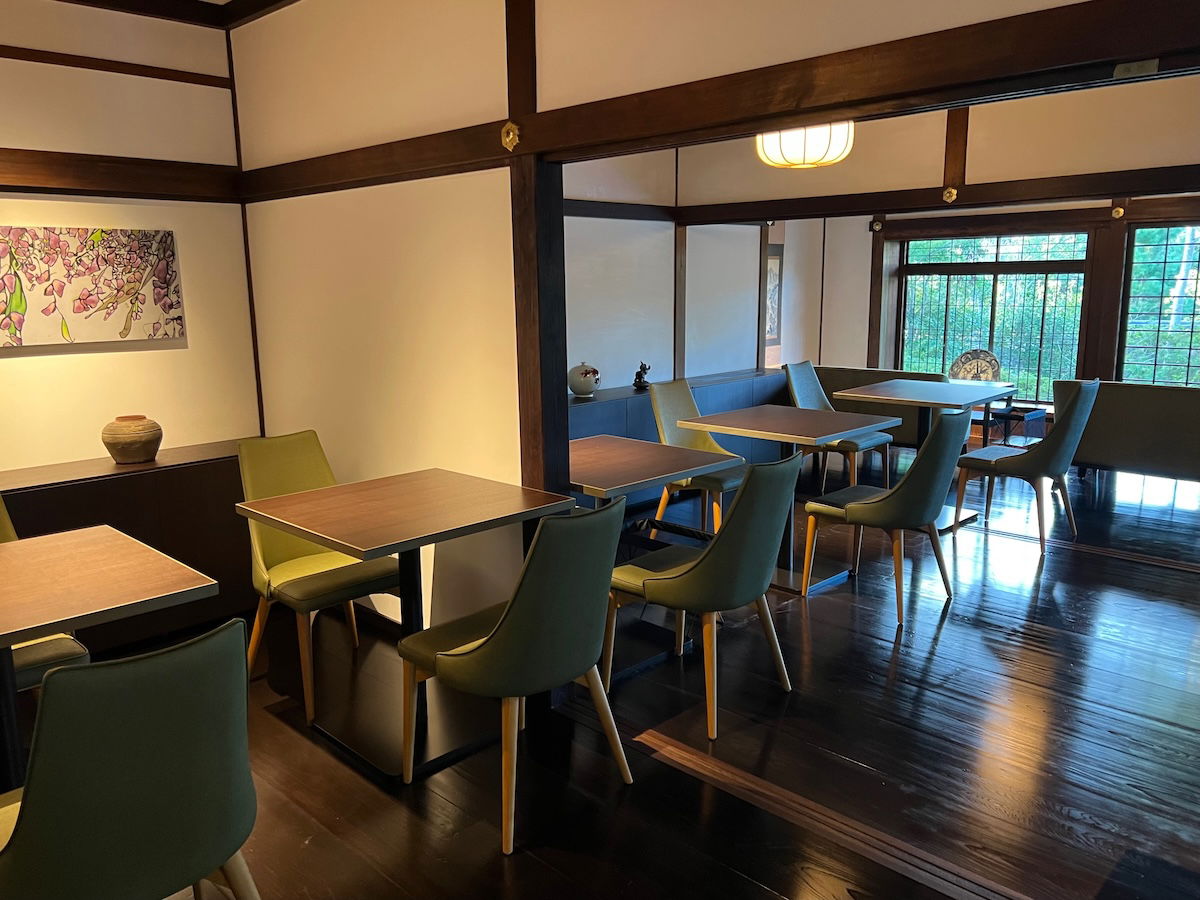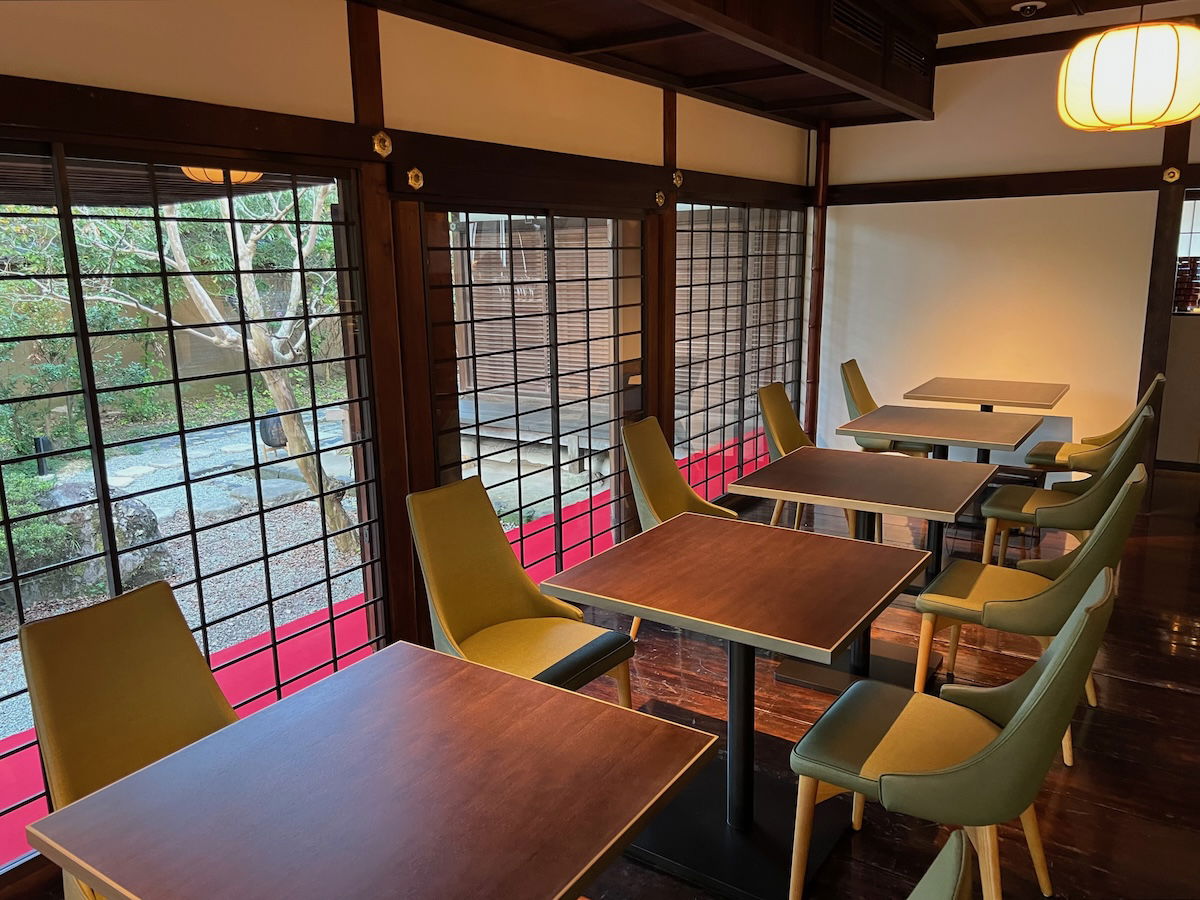 While it's really nice that this is offered, as you'd expect, it's very popular with hotel guests. So right around 5PM, this thing fills up faster than an aircraft with limited overhead bin space that's boarding, and all tables are pretty quickly occupied. At this reception, there was the option of Joseph Perrier Brut Champagne or Duc de Montagne Rose. There were also a couple of non-alcoholic drink options.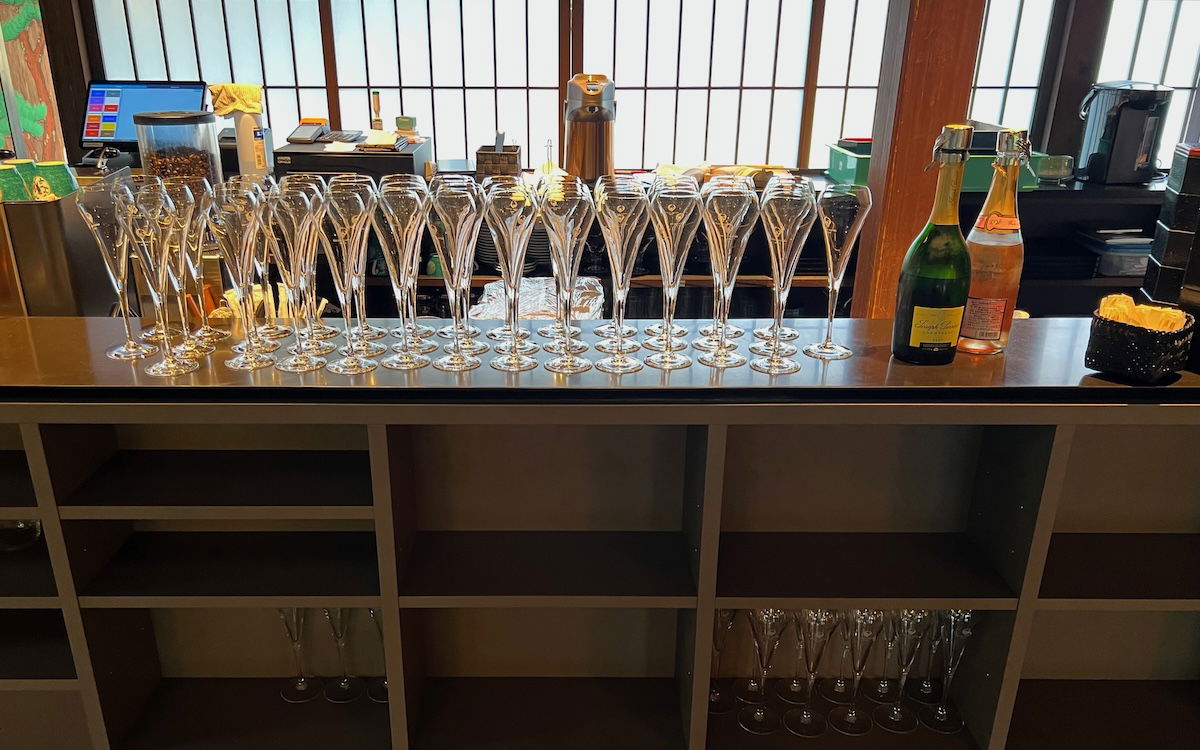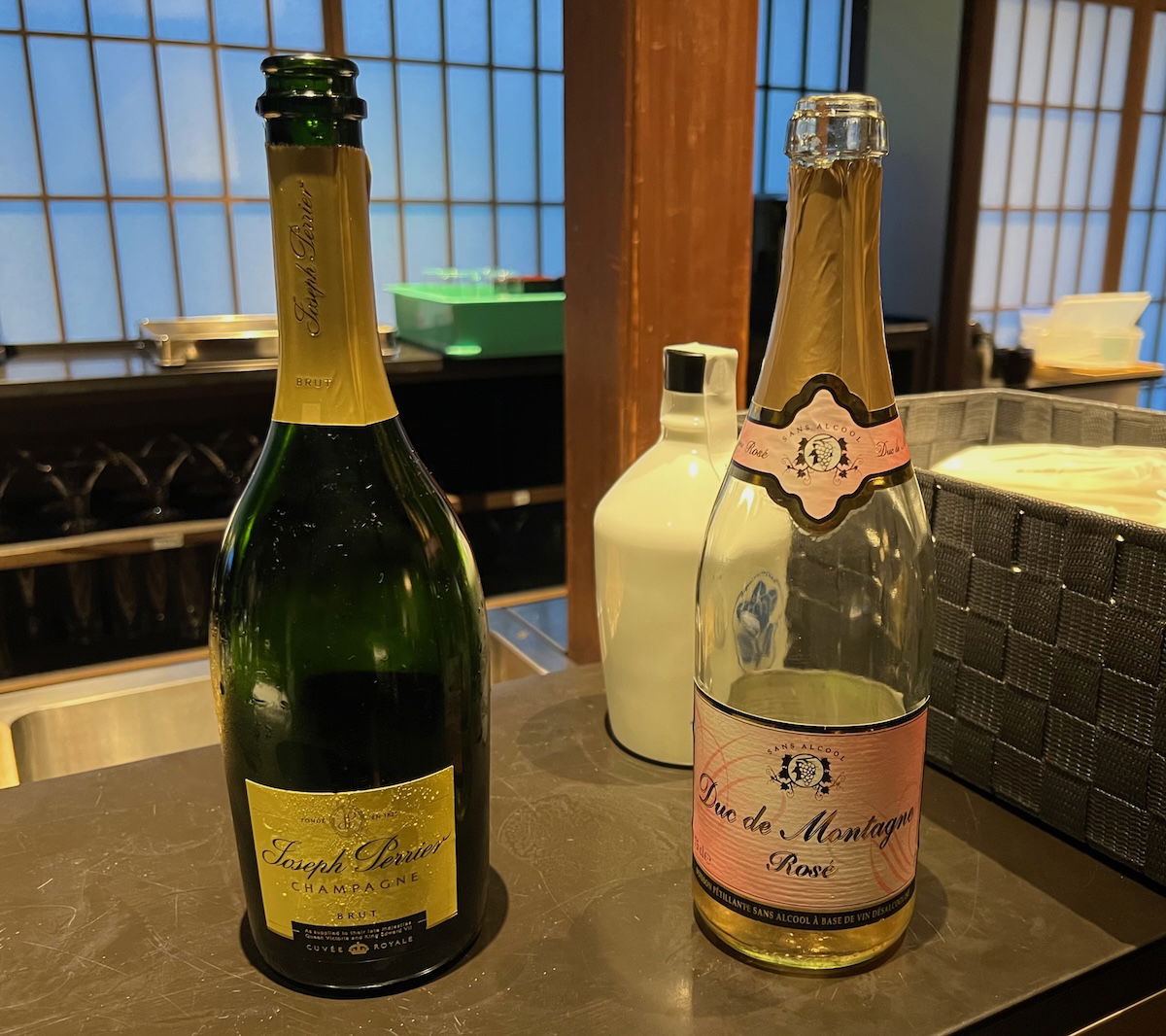 These drinks were served with some tasty snacks, and refills were offered (though we declined). Since the indoor area was so full, we ended up sitting outside along the side of the building, and enjoyed the sunset views.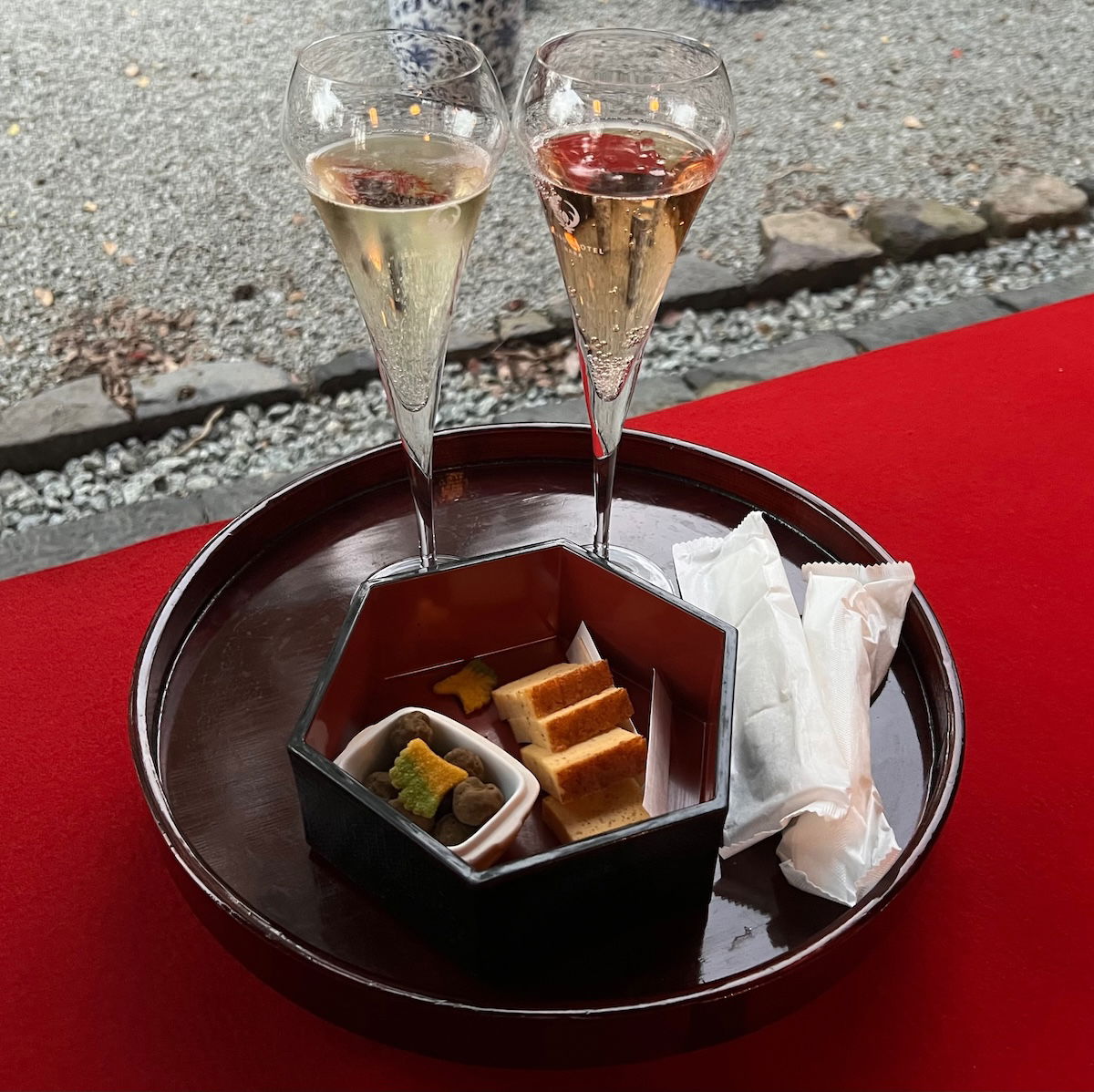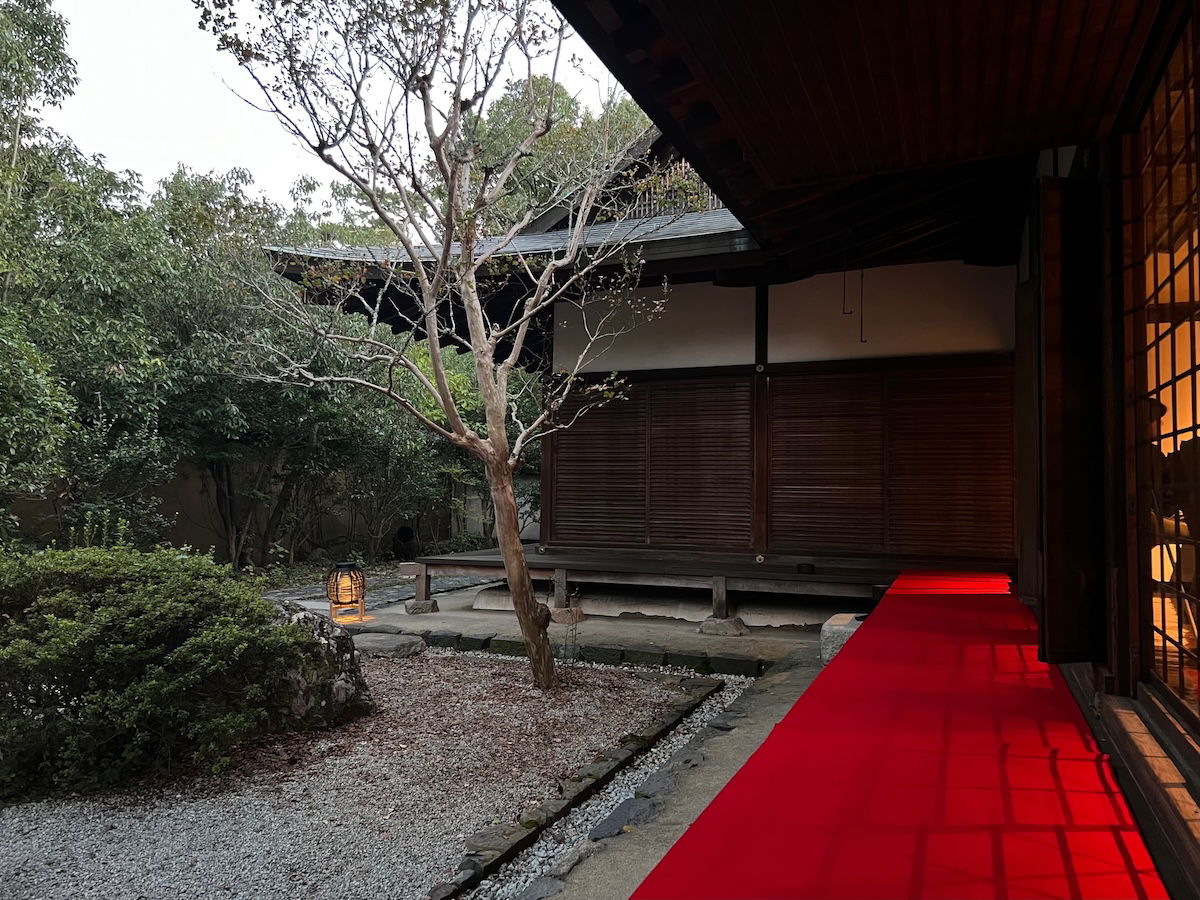 Shisui Nara Restaurant Suiyou dinner
Restaurant Suiyou is Shisui Nara's all-day dining restaurant. It's located near reception, and has views of the garden.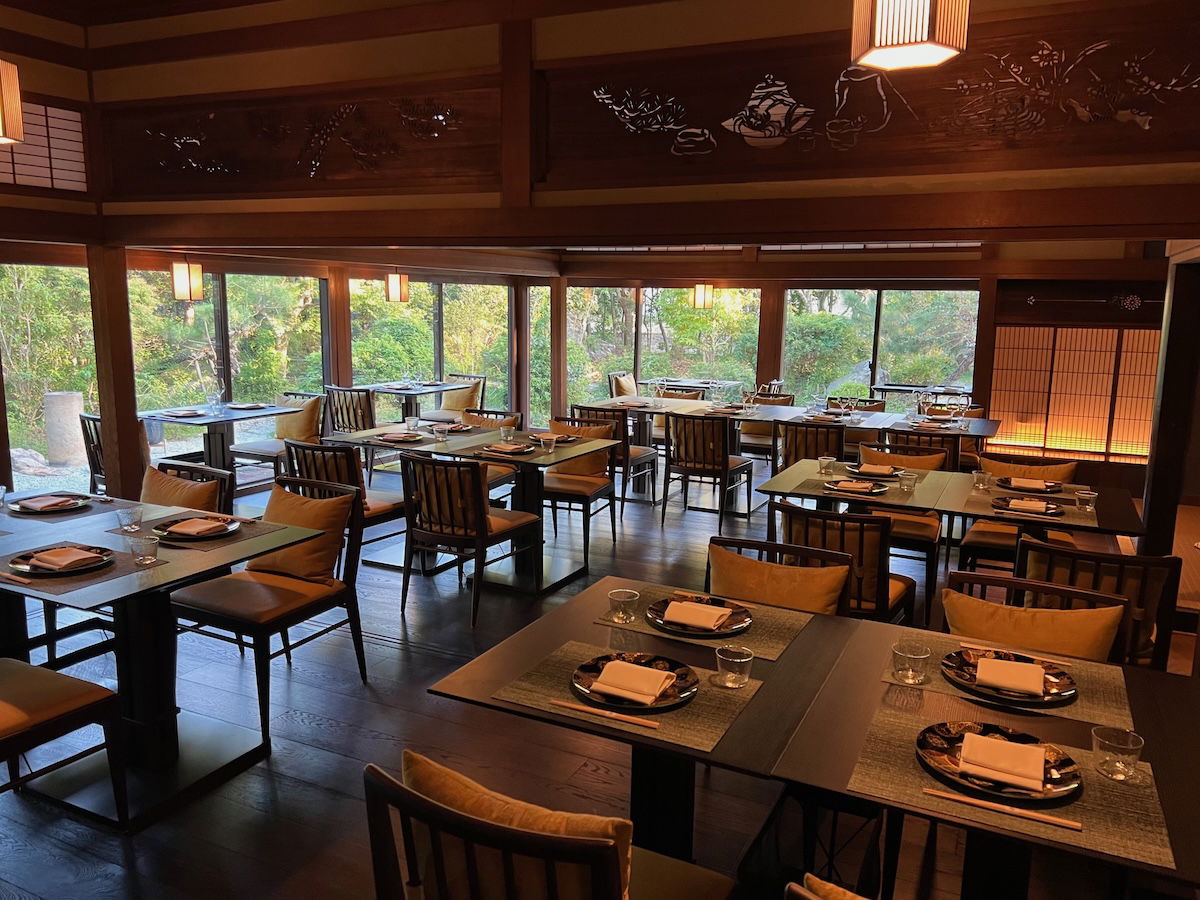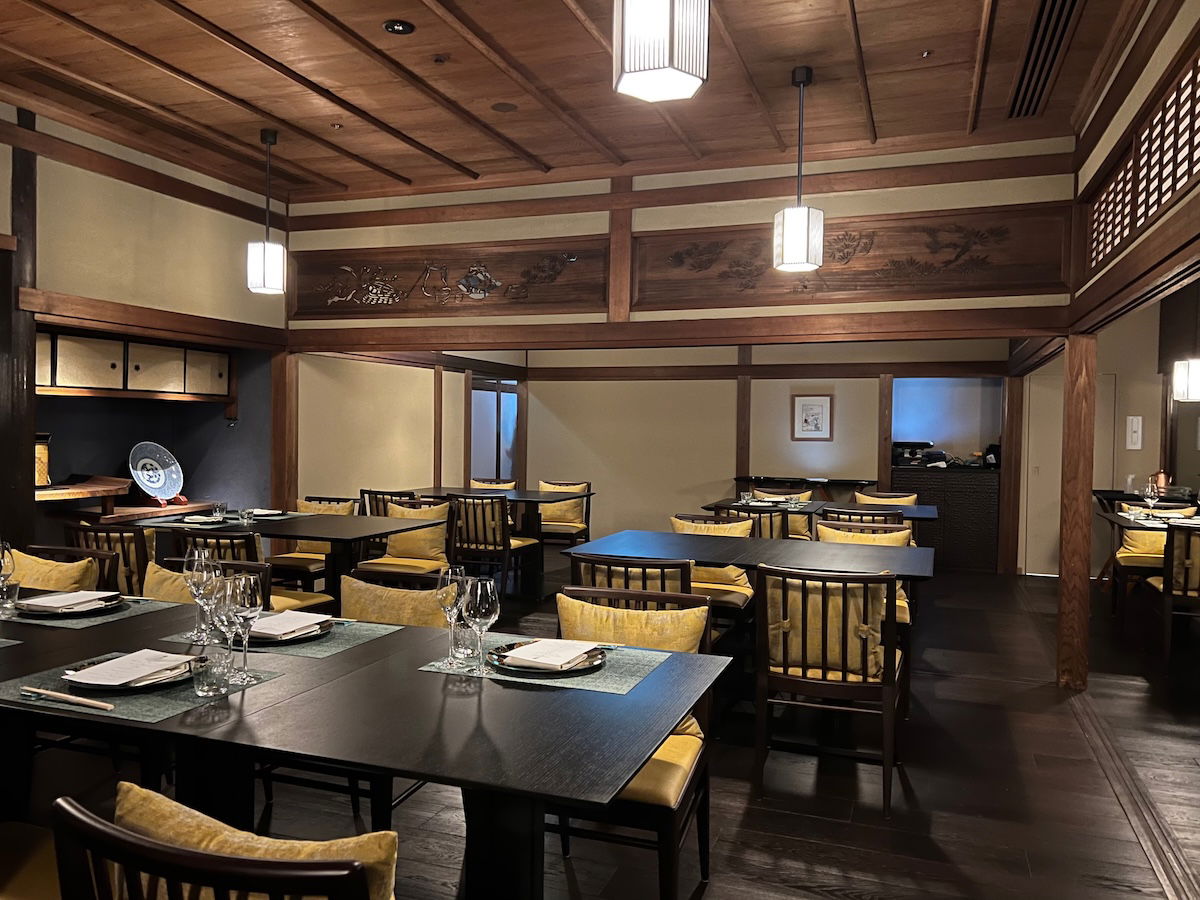 Here's how the Marriott's website describes this restaurant:
Embark on a one-of-a-kind gastronomic journey at the hotel's restaurant "Suiyou" and immerse in Japan's ancient capital Nara's rich culinary culture, traditions and the passage of time, nurtured by trade and cultural exchange along the Silk Road.
I had asked the staff what kind of a restaurant this was, and it was described to me as having Japanese and French influences. While Nara has lots of amazing restaurants, we decided to have dinner here for a few reasons:
We had a $100 credit to spend, so we figured we should use it, or else it would be lost
We had so many amazing Japanese meals in Kyoto, and we just wanted to go to bed early anyway, so appreciated having a simple night
Based on how this was described as a "one-of-a-kind gastronomic journey," I couldn't help but experience it for myself 😉
Since I review hotels, I eat at hotel restaurants more than I otherwise would, since it's part of the hotel experience
The first strange thing is that I tried to make a reservation for 6PM. This is an all-day dining restaurant, but we were told that wasn't available, but rather only 6:15PM was. Okay, great. I figured maybe this place would be popular, which is always good news.
Well, nope. We ended up being the only people in the restaurant for the entire meal, and it was beyond awkward. There was no music or anything, so we just sat there in total silence, and you could hear a pin drop.
Soon enough we were brought the menu and drink list, both of which were on iPads. So we literally had four iPads sitting on our table.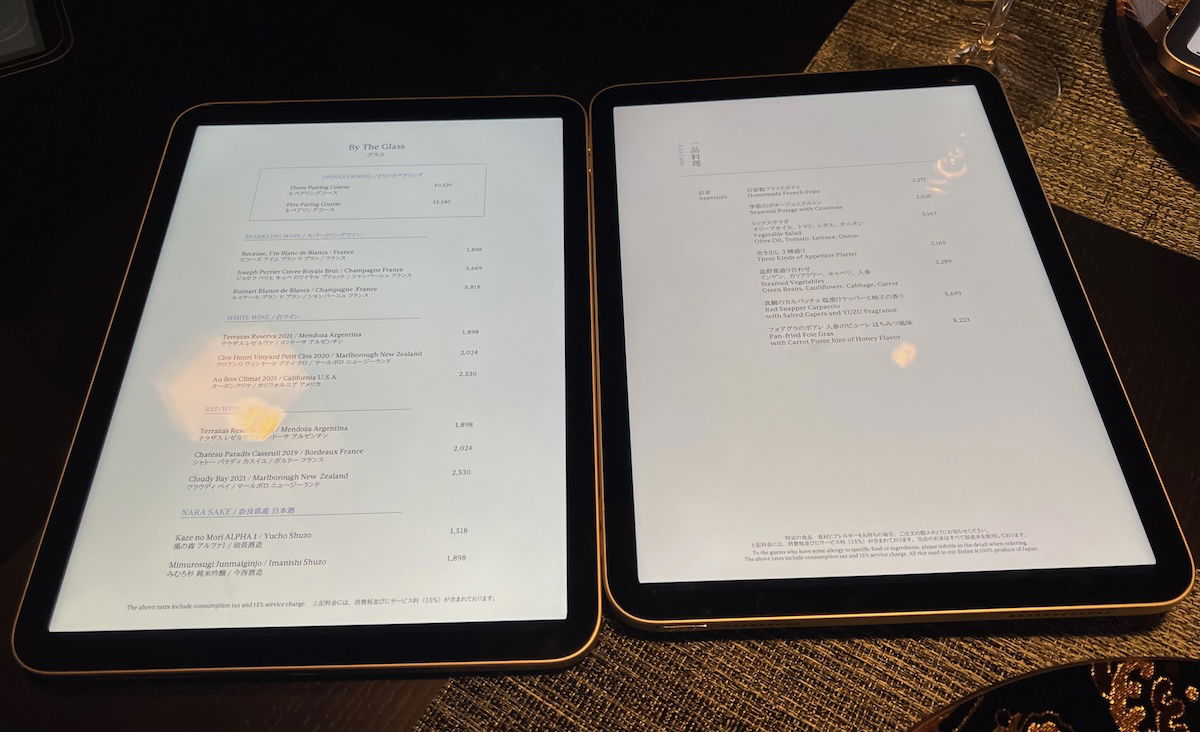 Below you can find the menu for the restaurant.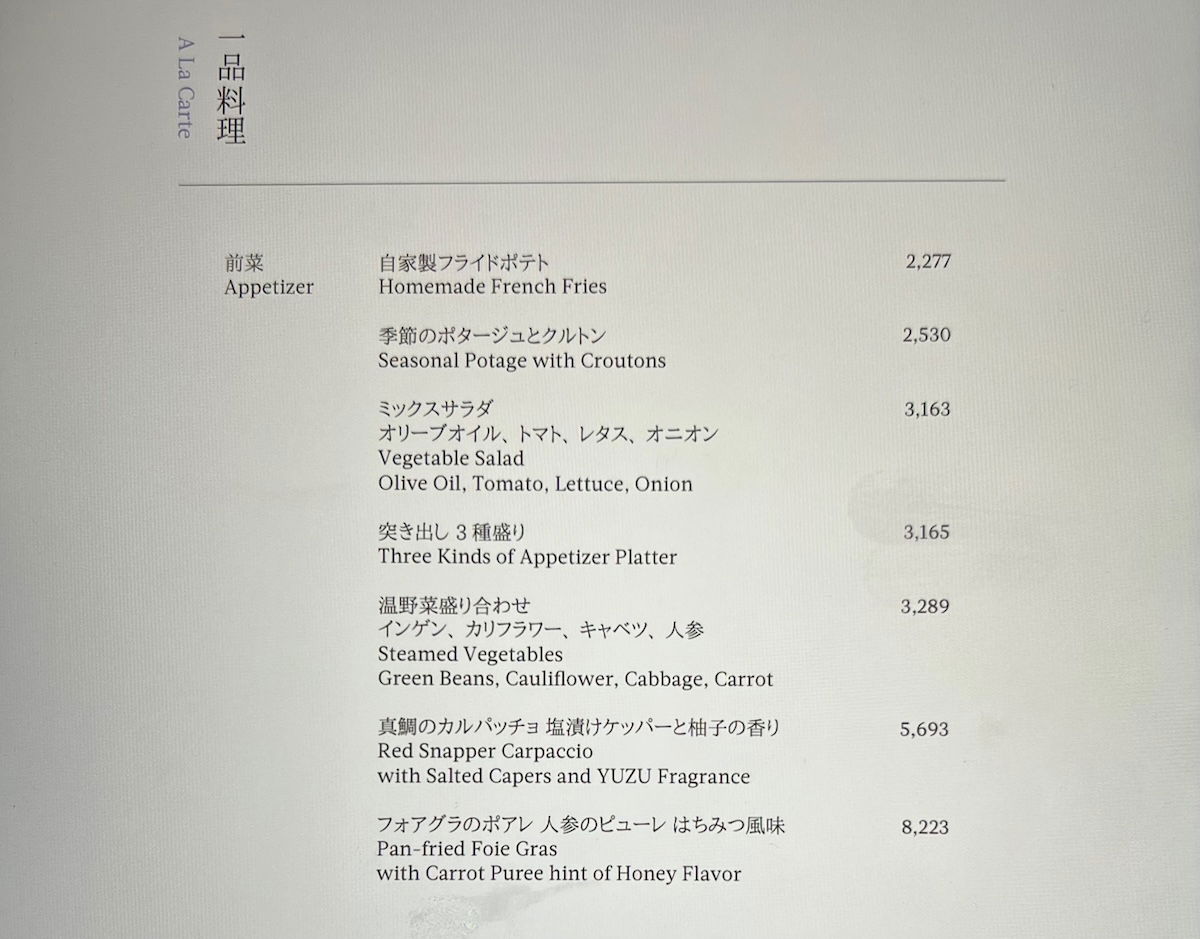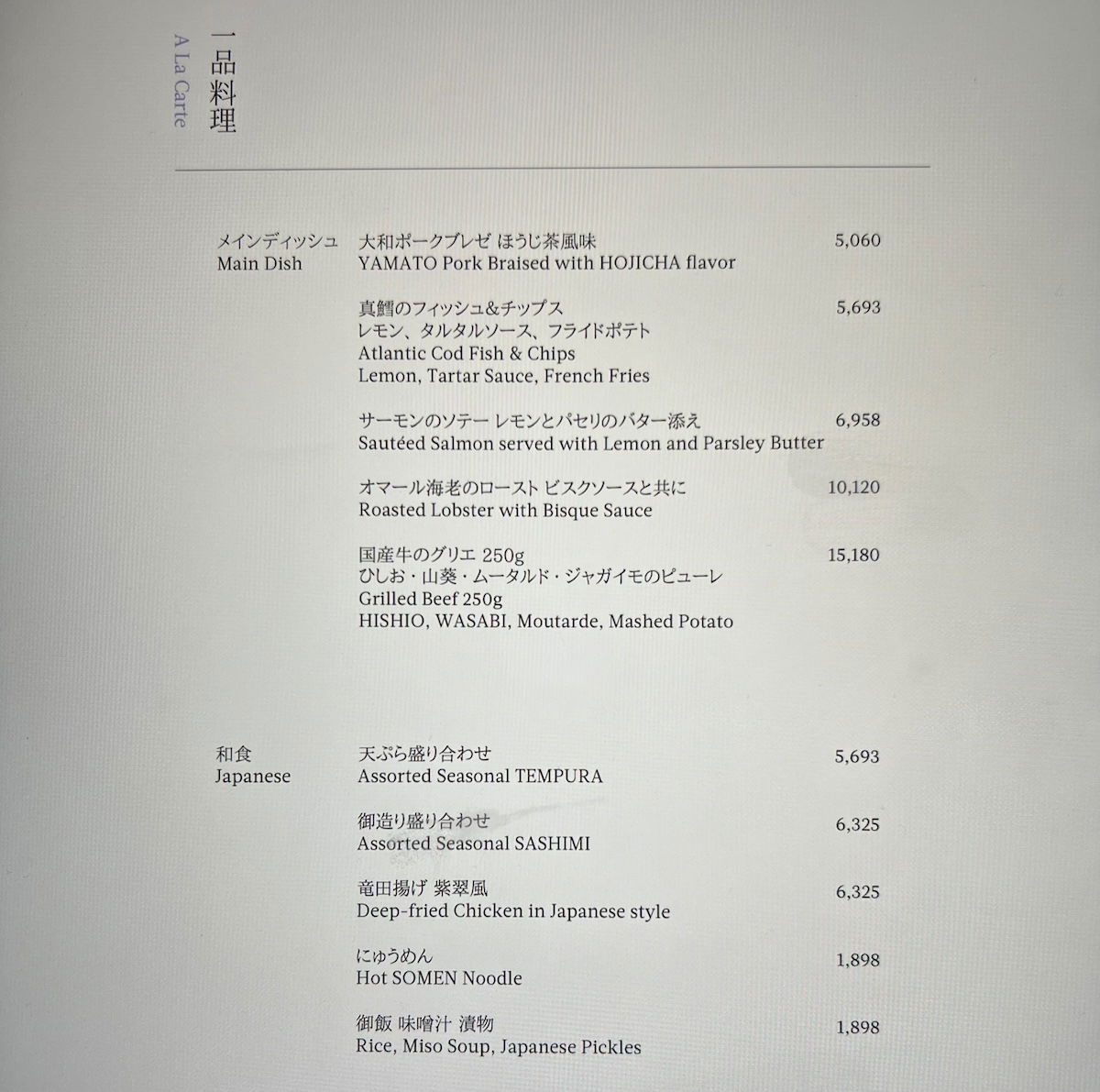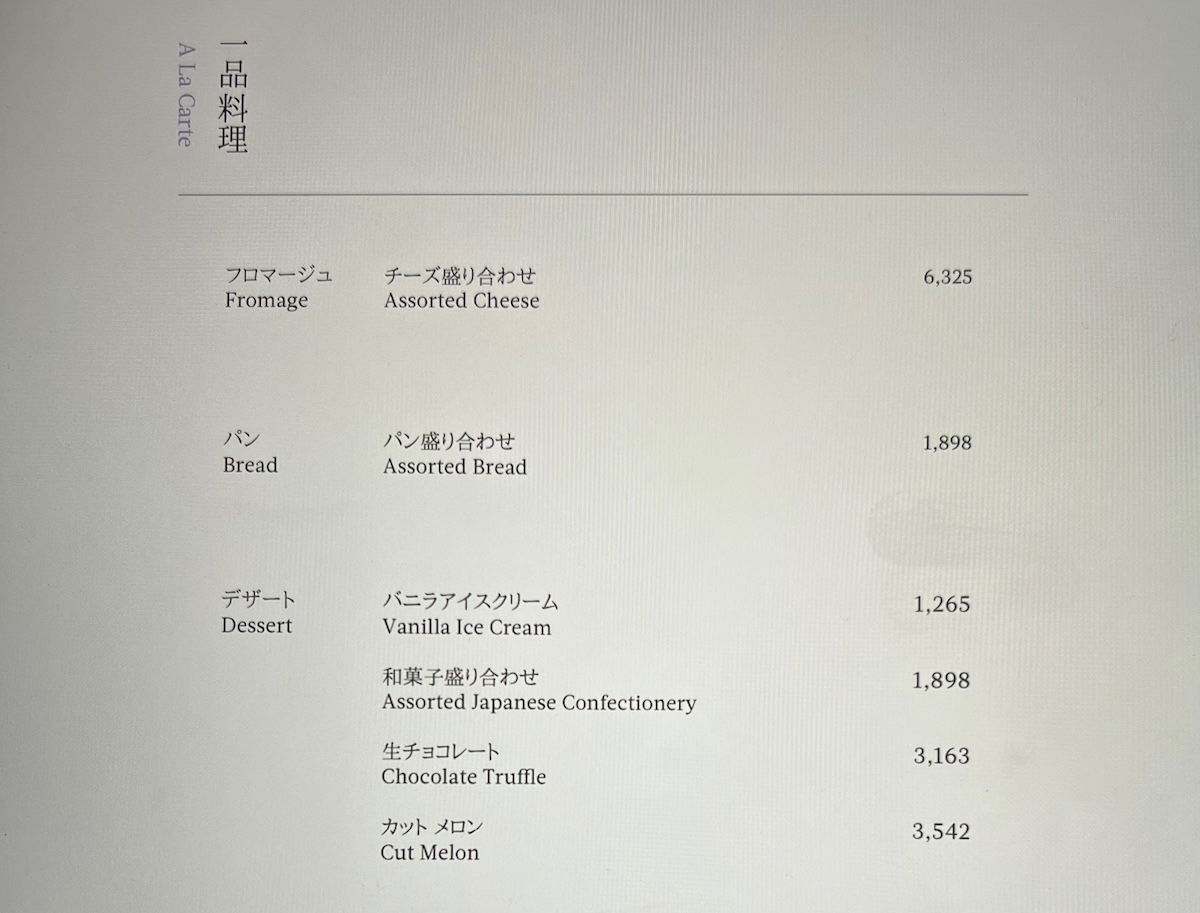 The meal was off to a good start, when we were brought a sesame tofu amuse bouche on a beautiful plate.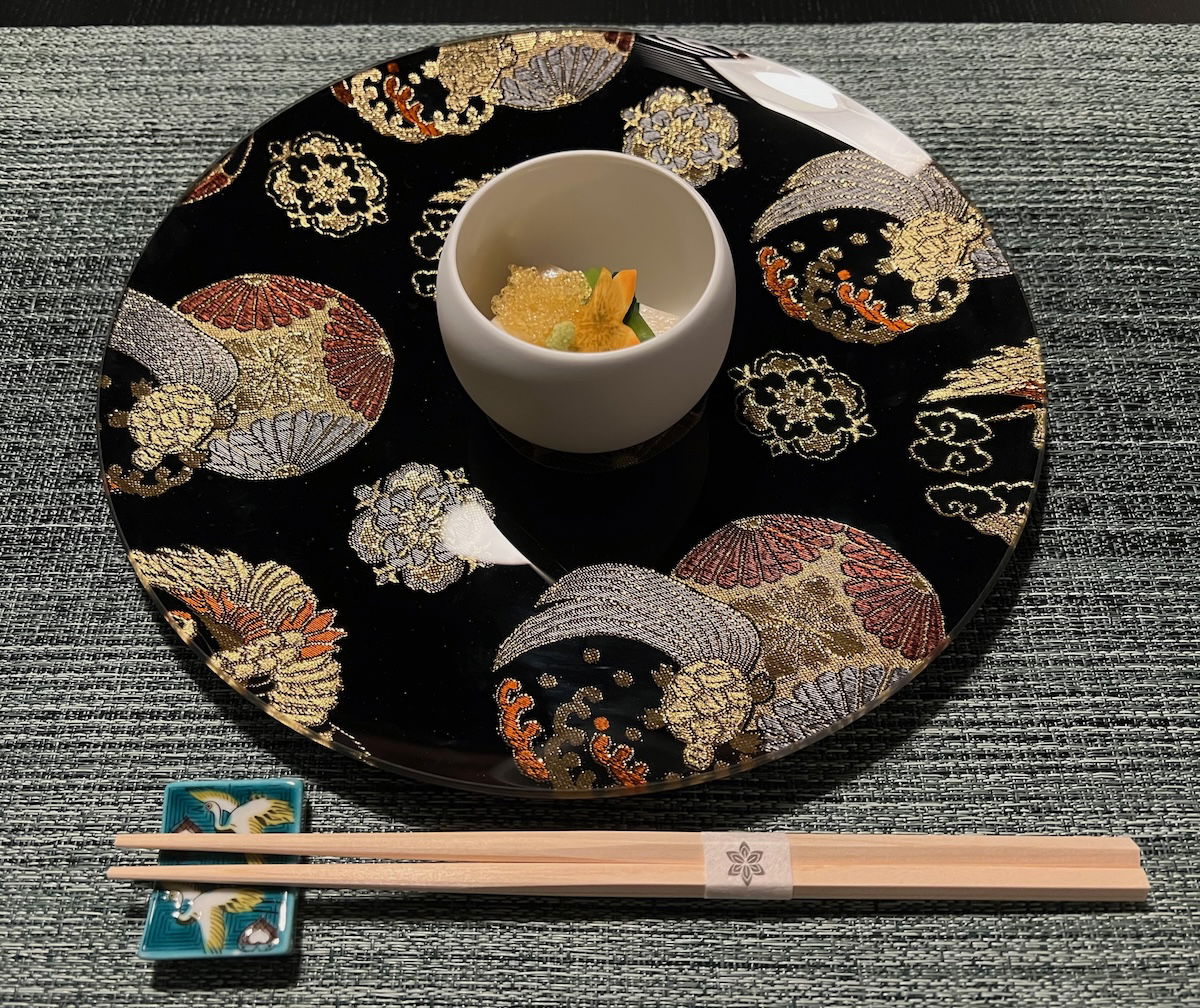 Unfortunately it all went downhill from there. Appetizer choices were pretty limited, but I couldn't help but order the "homemade french fries" (perhaps this is why the restaurant was described as having a French influence?) and steamed vegetables.
Well, I can confirm the hotel wasn't lying. This was indeed a "one-of-a-kind gastronomic journey." Below is what the dishes looked like. These are possibly the two saddest appetizers I've had in my life.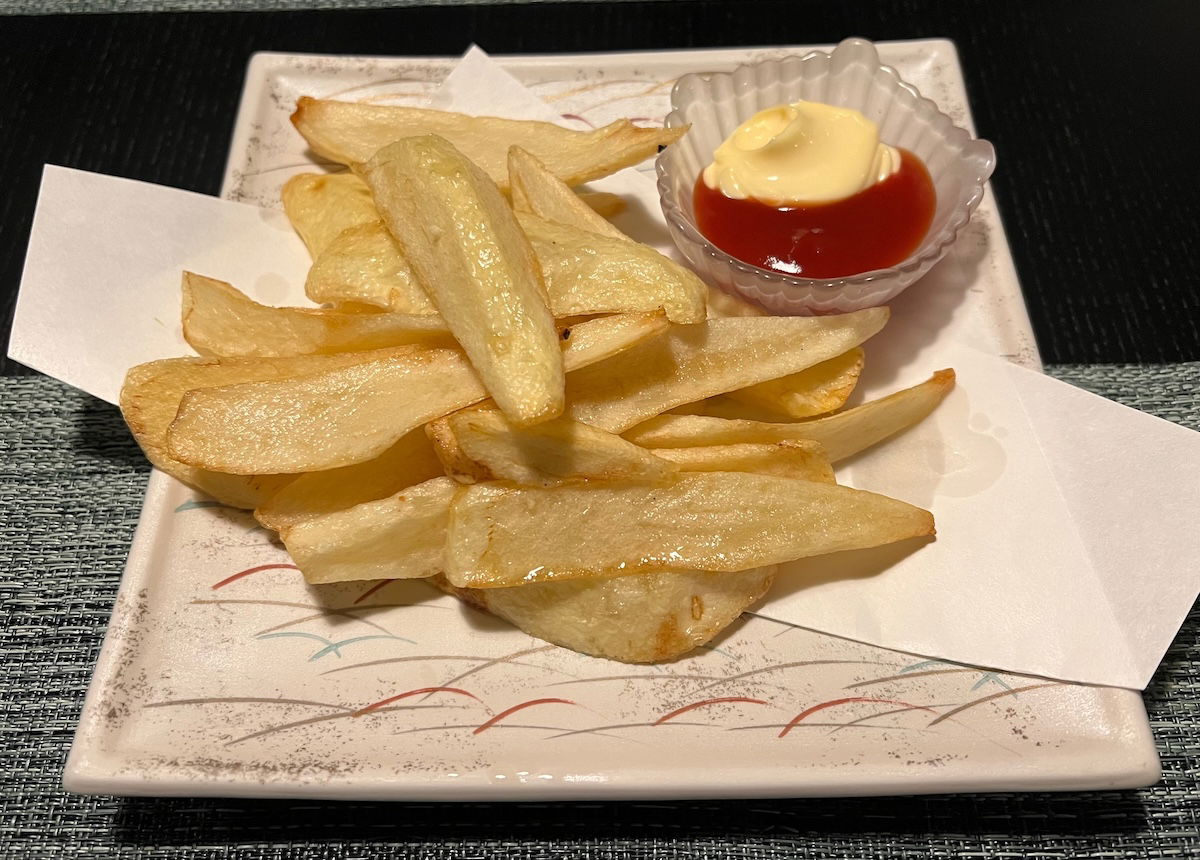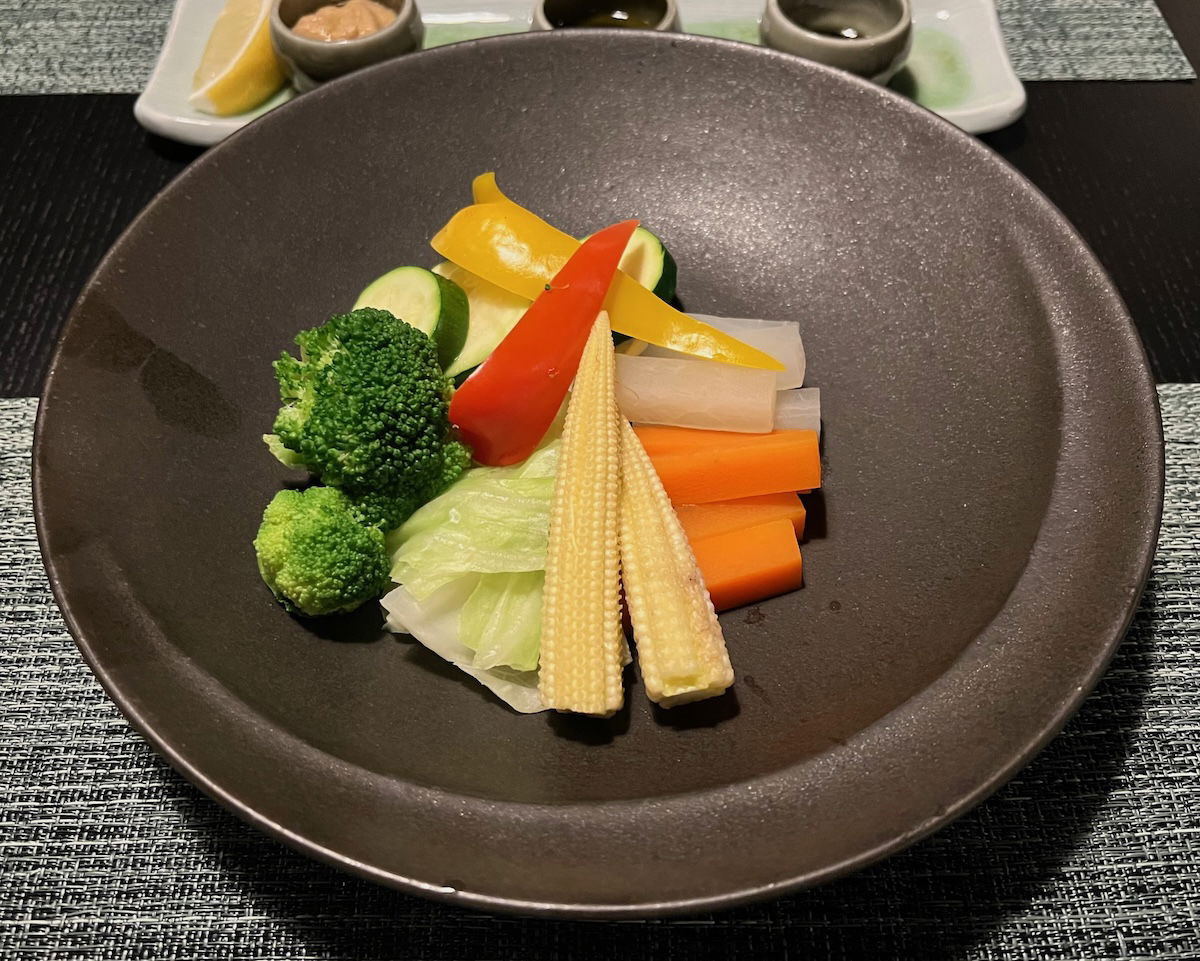 Fortunately for mains, there were more Japanese options, and we decided to order the somen noodles and assorted tempura. These dishes were better, but still among the weaker ones we had while in Japan.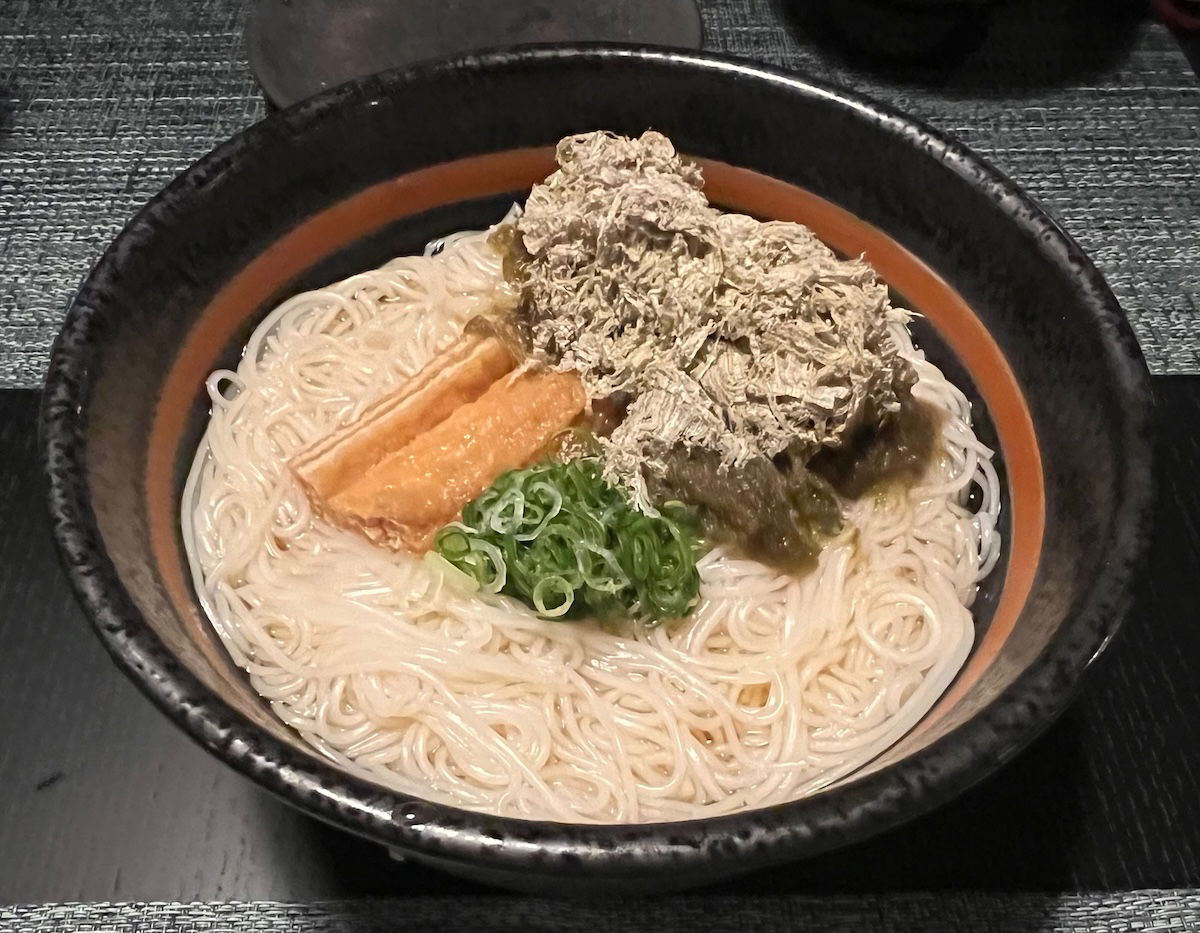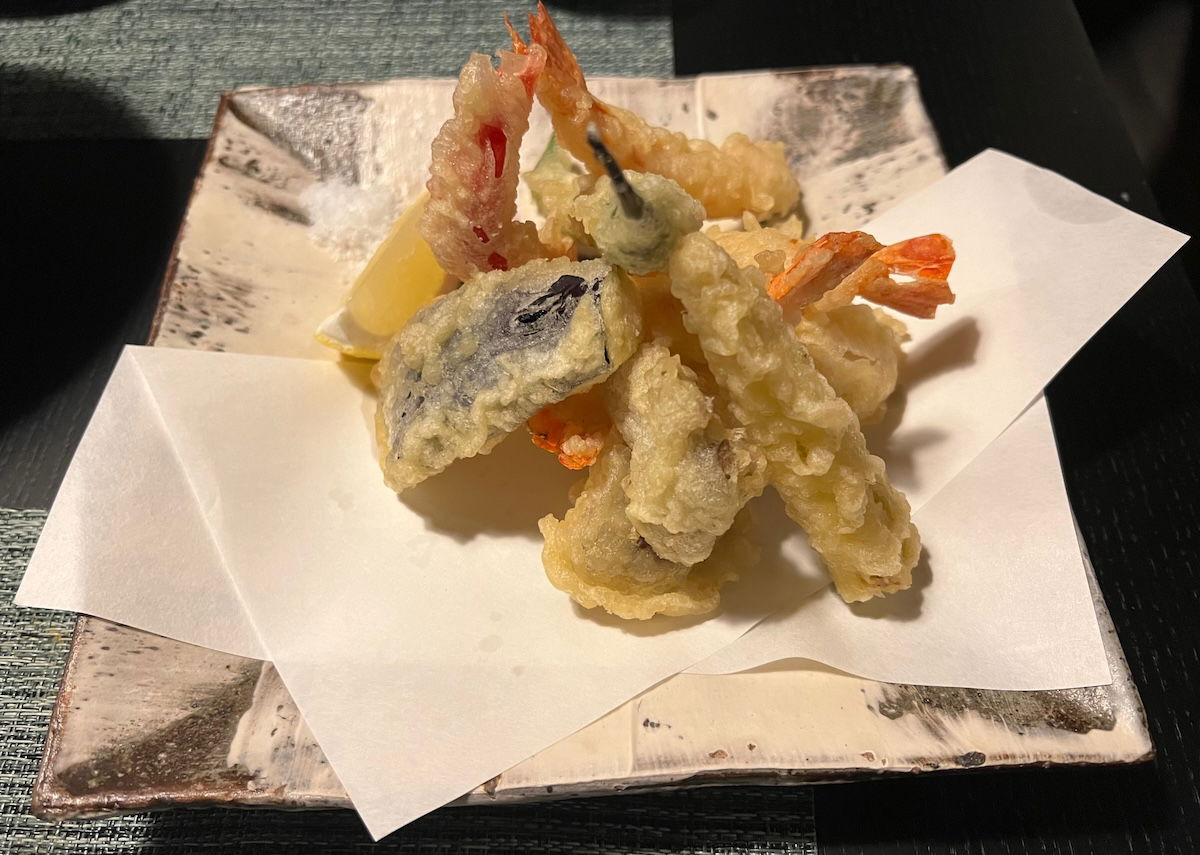 In some cases, I guess trying to use a hotel credit works against you, because this was definitely the worst meal we had while in Japan.
Shisui Nara breakfast
Shisui Nara serves breakfast from 7AM until 10AM, and it's offered in the all-day dining restaurant. There's not a choice of breakfast dishes, but rather Japanese breakfast is automatically served, which works for me, since it's what I would have wanted anyway. Interestingly there wasn't even a menu in English, so we could only guess as to what we were eating.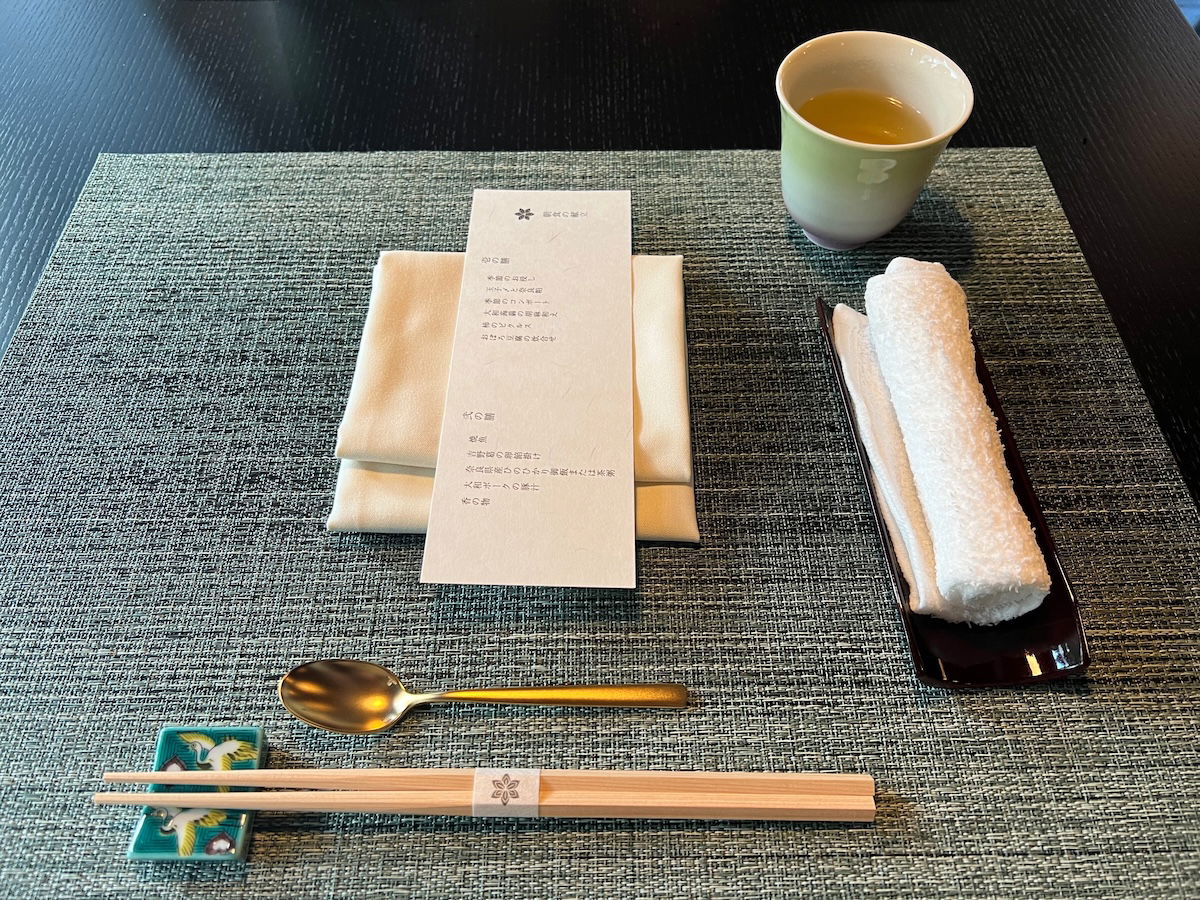 The breakfast was served in a couple of courses, and was quite good. It wasn't quite as exceptional as the Japanese breakfasts we had in Kyoto, but it was still good.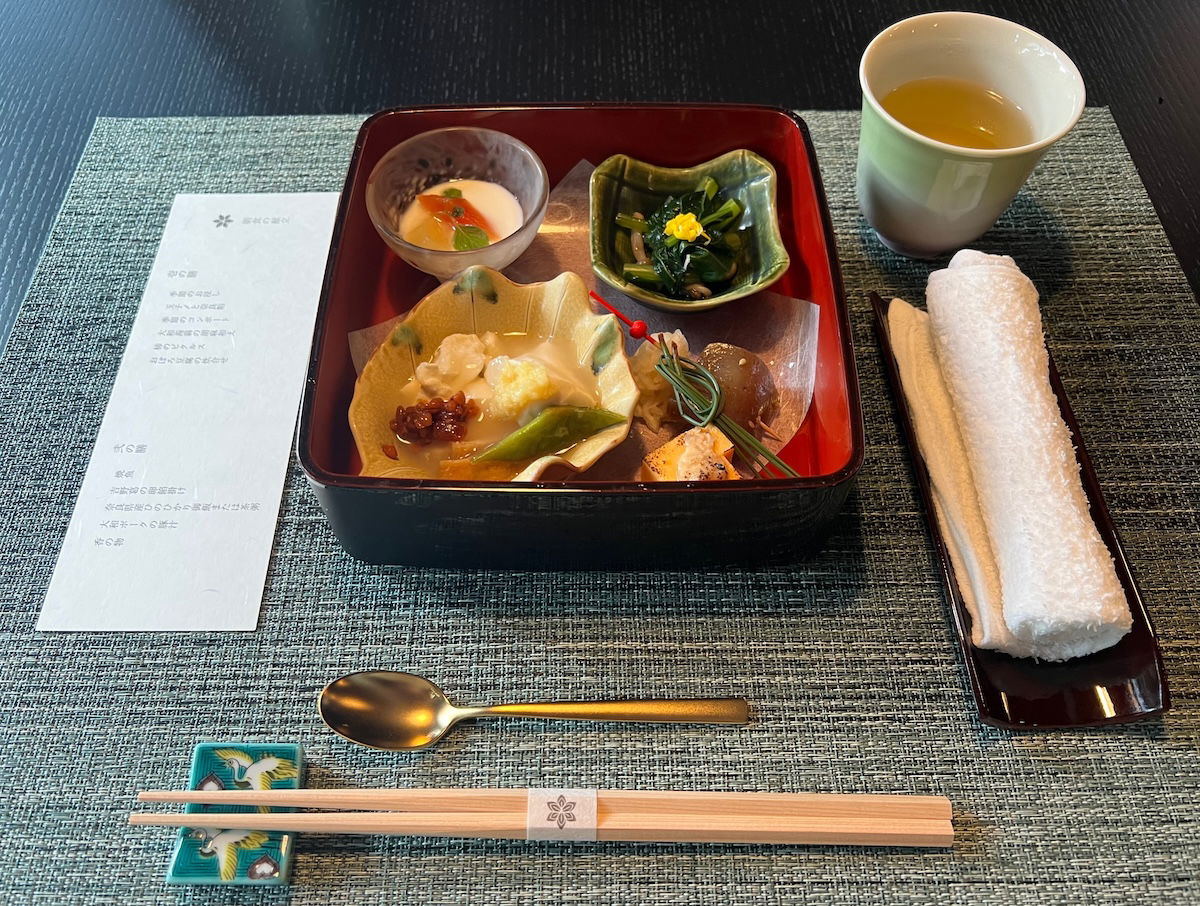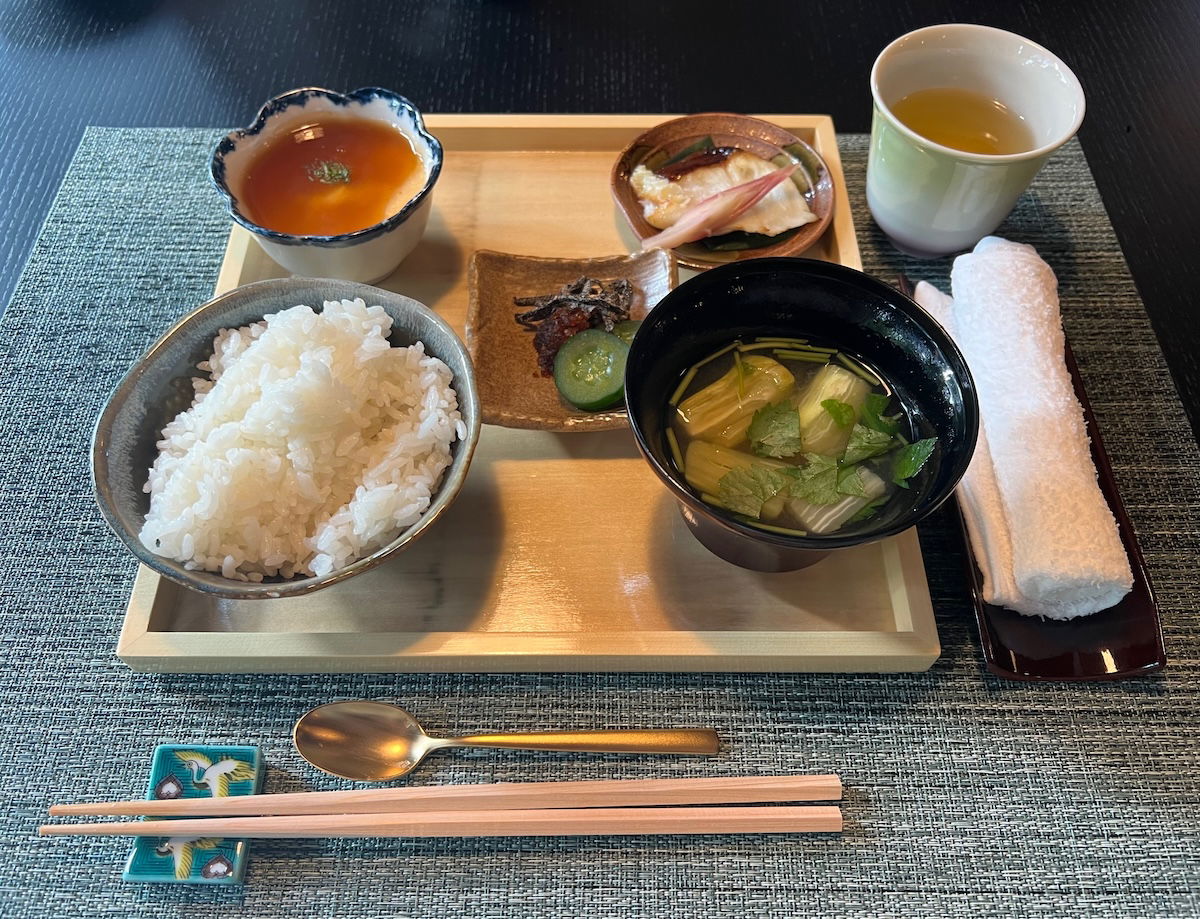 Finally for "dessert" we were asked if we wanted a cup of coffee, which I took them up on.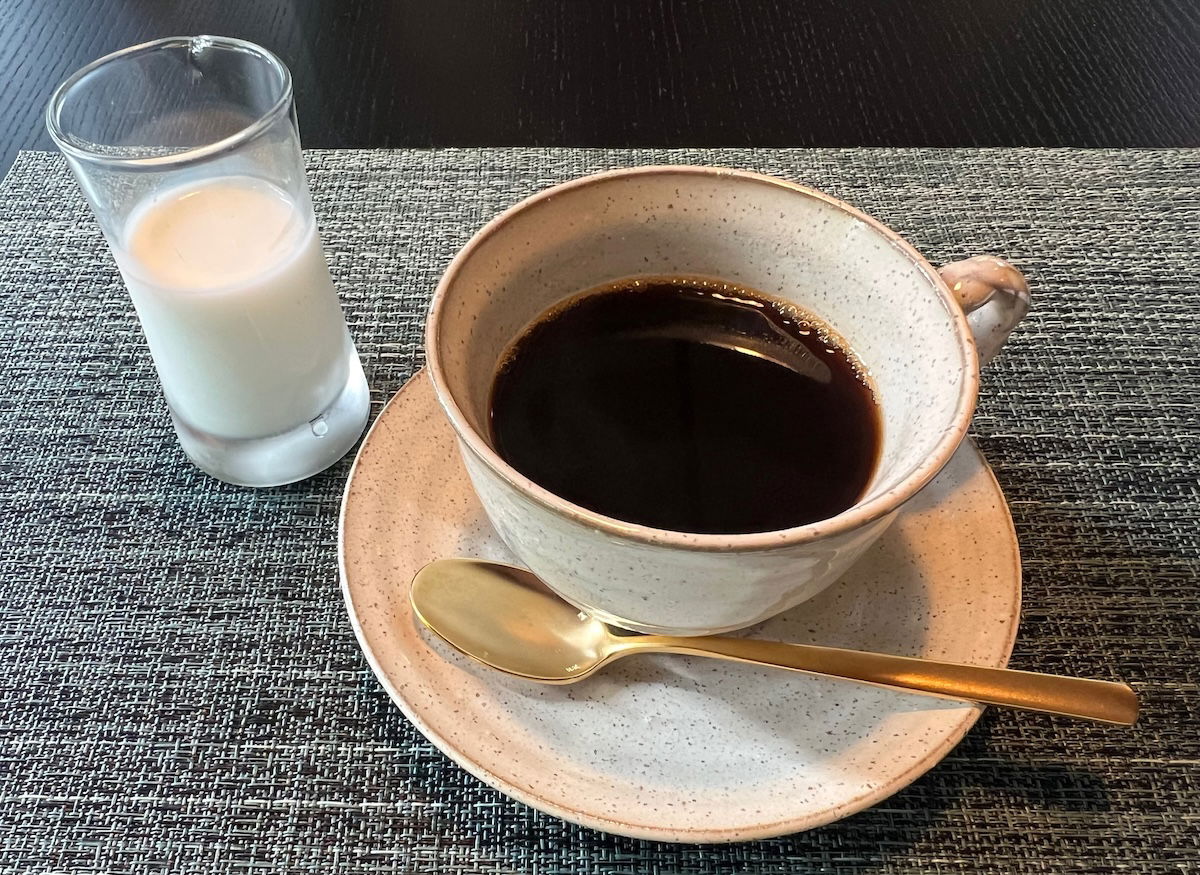 Shisui Nara service
I'd say that there was just constant friction with the service at Shisui Nara. I understand the hotel is clearly more geared toward Japanese guests, and that's fair. However, if that's the case, it would be nice if there were a bit more clarity for others.
For example, just getting a paper at check-in explaining all the hotel's facilities, how they can be used, when they're open, etc., would have been helpful. Instead, I feel like I just kept having to ask questions, and got different answers every time I'd ask.
Also, I think the service was sloppy even beyond some expected cultural differences. For example, I had tried to ask the concierge about the availability of bus service to Kansai-Osaka Airport, since I was reading conflicting things online as to whether or not it was running during our stay. He promised to get back to me shortly, but never did. I finally followed up several hours later, and still got a non-answer.
Then there was the check-out experience, which took 20 minutes, for seemingly no reason. Other hotels in Japan managed to check us out in a minute, so I'm not sure what took forever?
Shisui Nara definitely had the weakest service that we experienced in Japan.
Bottom line
Our stay at Shisui Nara wasn't great, unfortunately. The hotel has a lot of potential, thanks to the central location, cool history, design, and nightly champagne hour.
However, given the price and the service we experienced, I wouldn't return to this property. The soft product at this property just leaves a lot to be desired. Let me again emphasize that this hotel seems to be most popular with Japanese guests, which is great. I can appreciate the cultural differences. However, the issues go way beyond that.
What's your take on Shisui Nara?