To kick off our trip to Kyoto, we first flew from Miami to Los Angeles in JetBlue's Airbus A321 Mint business class. Recently much of the focus at JetBlue has been on the carrier's A321LR Mint business class, which is an all-new product. I was excited to once again check out JetBlue's "classic" business class product, since this is the more common product anyway.
I'm happy to report that JetBlue's Mint business class experience continues to be excellent, and the airline still has an edge. What an absolute treat the JetBlue Mint experience is on a domestic flight, as there's no better way to fly coast-to-coast.
How I booked our JetBlue Mint tickets
Ford and I both had JetBlue credits that were expiring soon (from previous tickets we had to cancel), so we booked standard revenue tickets. Specifically, we could book the following in business class for $619 per person:
9/26 B62986 Miami to Los Angeles departing 6:25AM arriving 9:17AM
That's really great pricing for a flat bed product on a transcontinental flight. Not only was JetBlue charging less than American, but all of American's flights that day were operated by aircraft without flat beds.
JetBlue A321 Mint boarding
We had checked in online the night before our flight, and as usual, made it to Miami Airport in no time, given the lack of traffic early in the morning. Our flight was scheduled to board at 5:40AM, 45 minutes before our 6:25AM departure (that seems like a really long boarding time for a narrow body jet, but…).
We arrived about an hour before departure, and went through the security checkpoint in Concourse E. Our flight would be departing from gate E22, which required taking the train. As much as I don't love Concourse D in Miami, the other parts of the airport are even worse.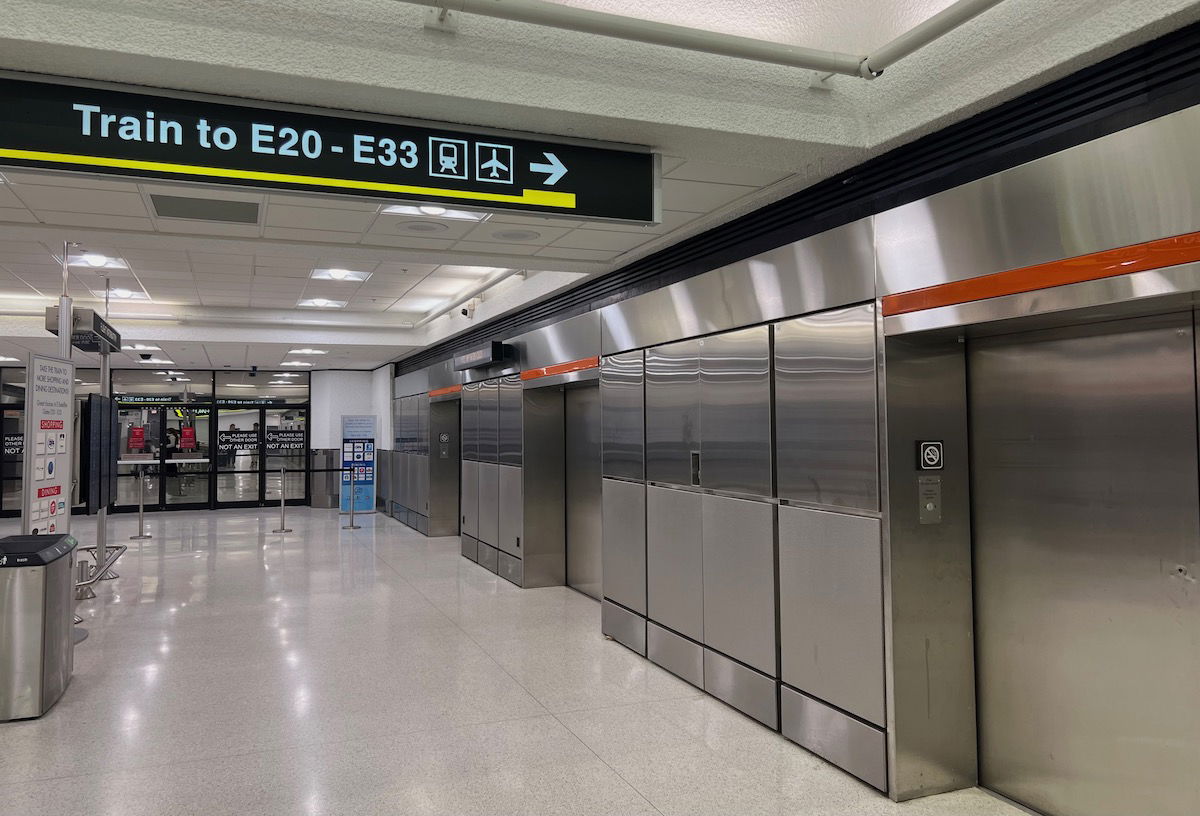 One weak point of the JetBlue experience is that the airline doesn't have lounges anywhere. However, since we were originating in Miami and could time our airport arrival correctly, that wasn't an issue, as we arrived at the gate just minutes before boarding started.
Sure enough, boarding started exactly at 5:40AM, with those needing extra time being invited to board first, followed by Mint passengers and Mosaic members. I appreciate JetBlue's simple boarding pass, compared to United, where it feels like a dozen groups are called ahead of first class.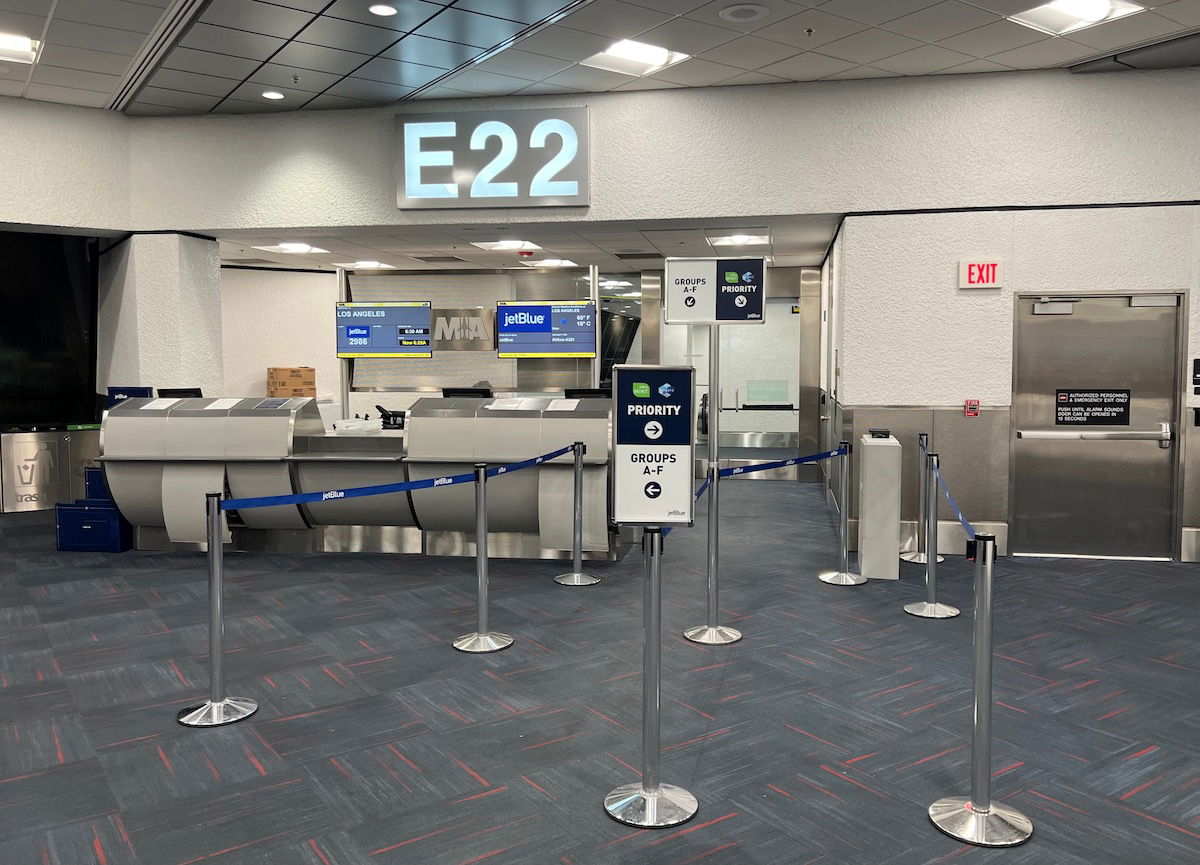 JetBlue A321 Mint cabin & seats
At the forward door we were greeted by one of the friendly Mint flight attendants, and pointed toward our seats. JetBlue's "classic" Airbus A321 Mint cabin consists of 16 seats, spread across five rows.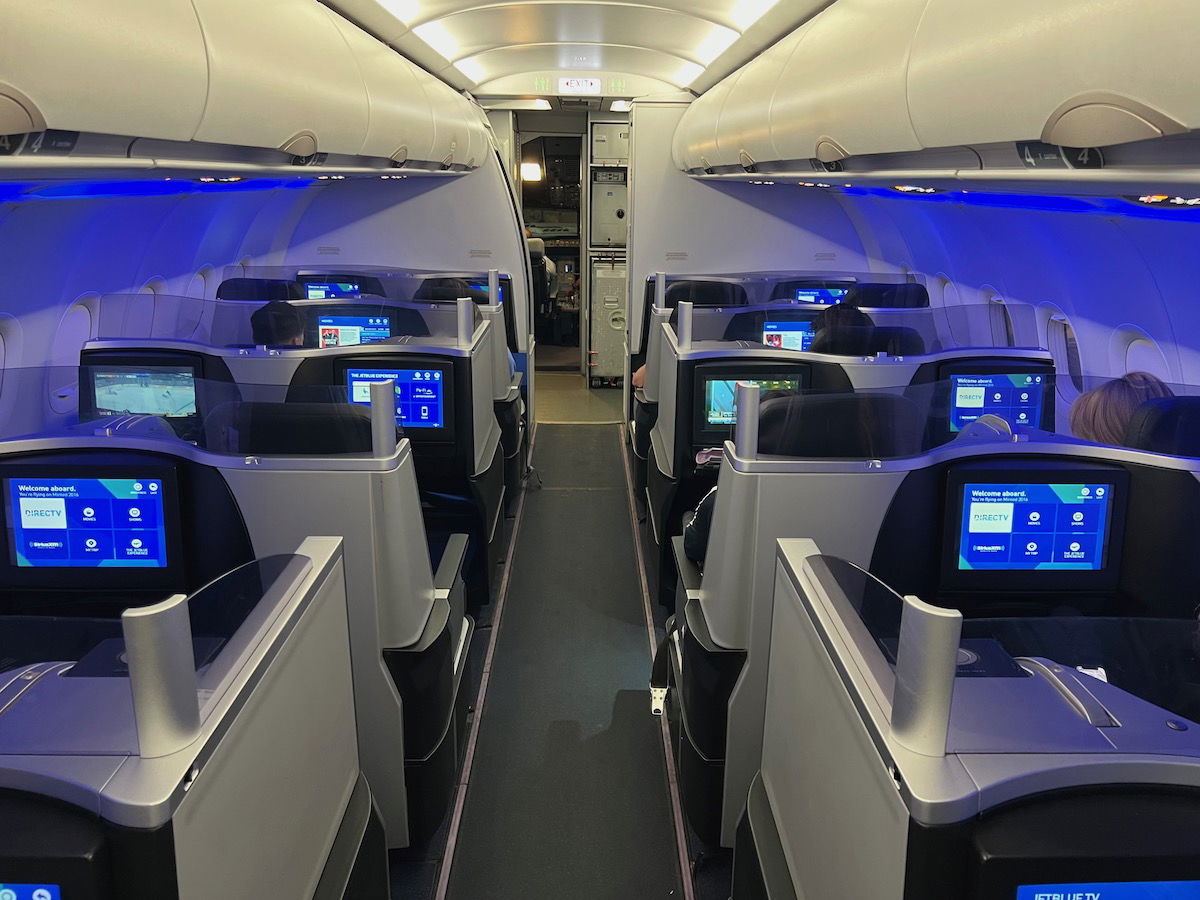 JetBlue chose a version of the Thompson Aero Vantage seat for its original Mint cabins, so seats are in a staggered configuration.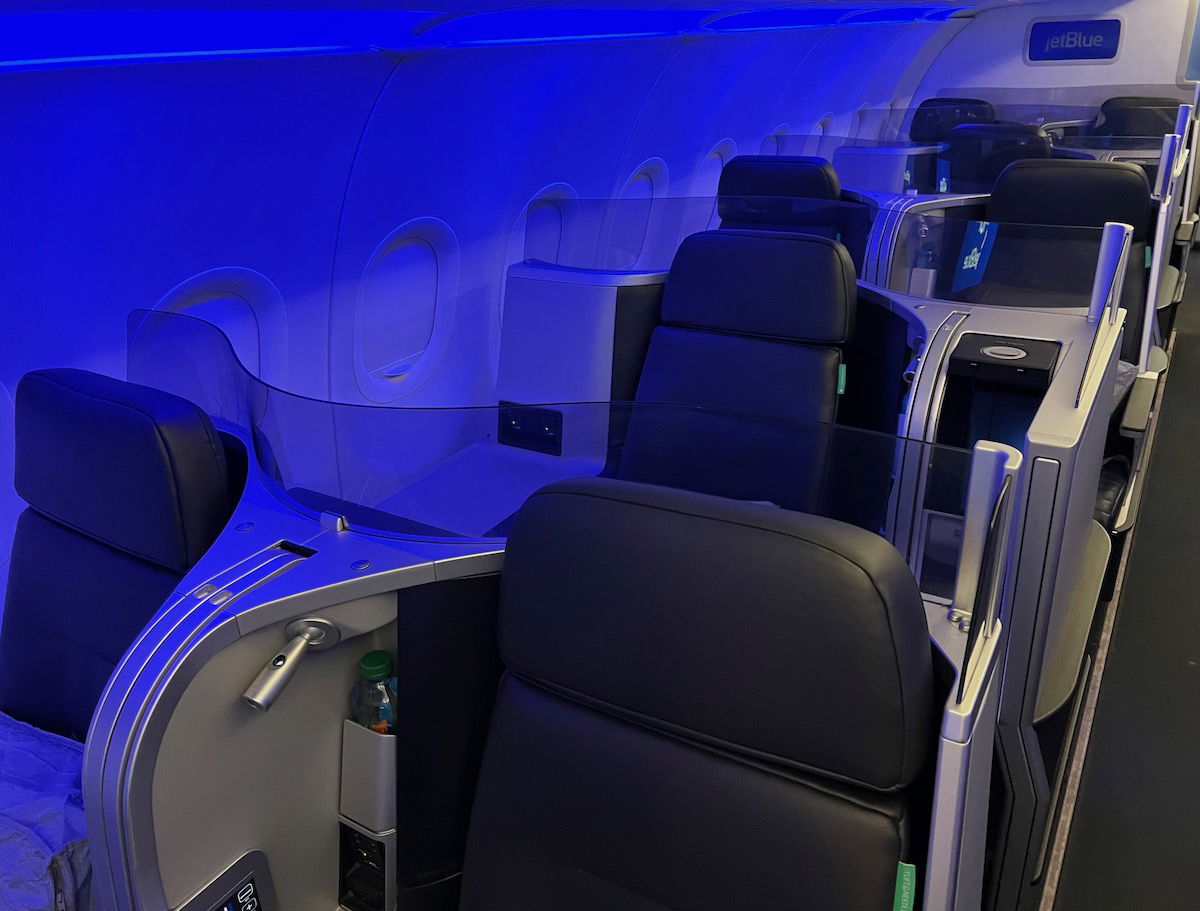 In the first, third, and fifth row, seats are in a 2-2 layout. These are perfectly nice seats, with a functional design. They even have quite a bit of privacy between the window and aisle seats, which is good if you're traveling alone, but perhaps less good if you're traveling with someone.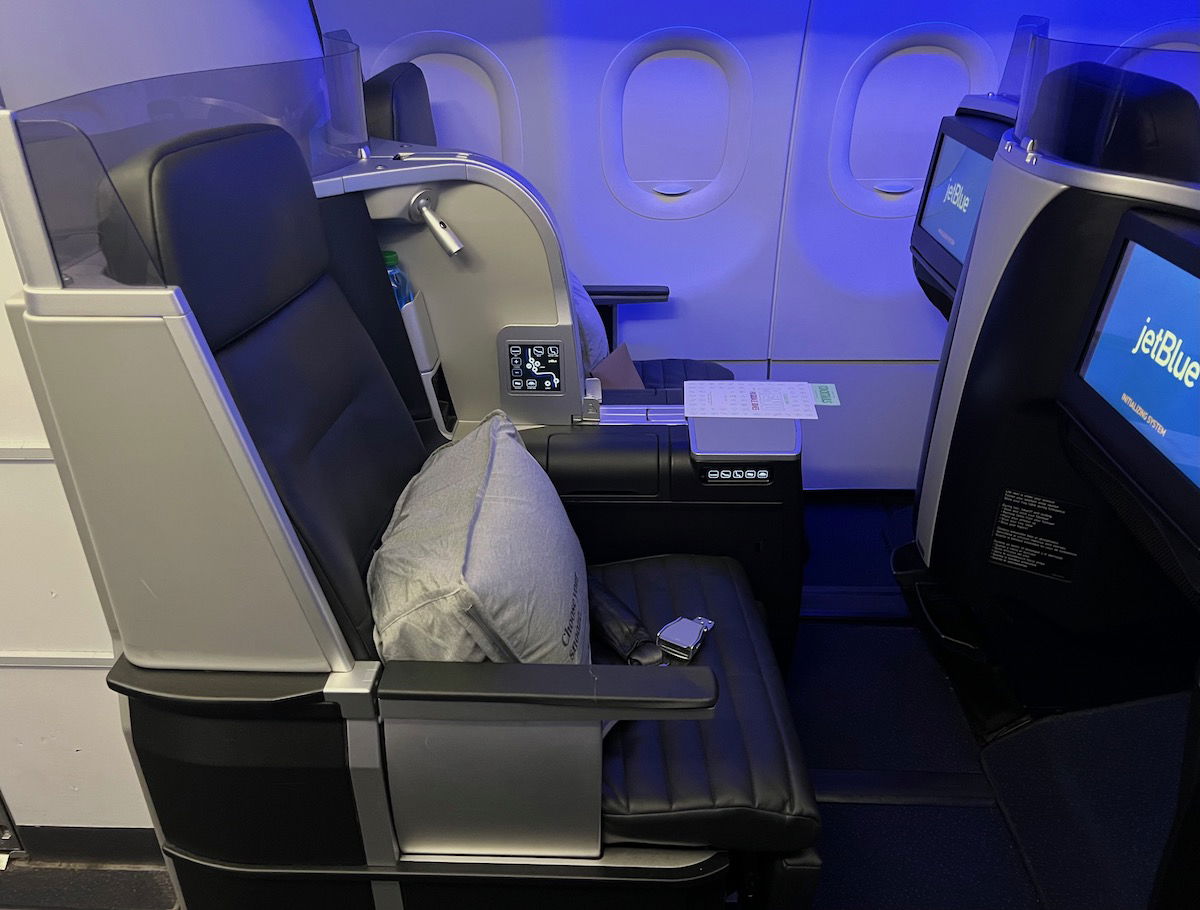 Ford ended up sitting in seat 5A, the window seat on the left in the last row. Before anyone thinks I abandoned him there, the cabin only had 10 of 16 seats occupied, and he had the entire fifth row to himself. That meant we could move between seats, and sit next to one another when we wanted to.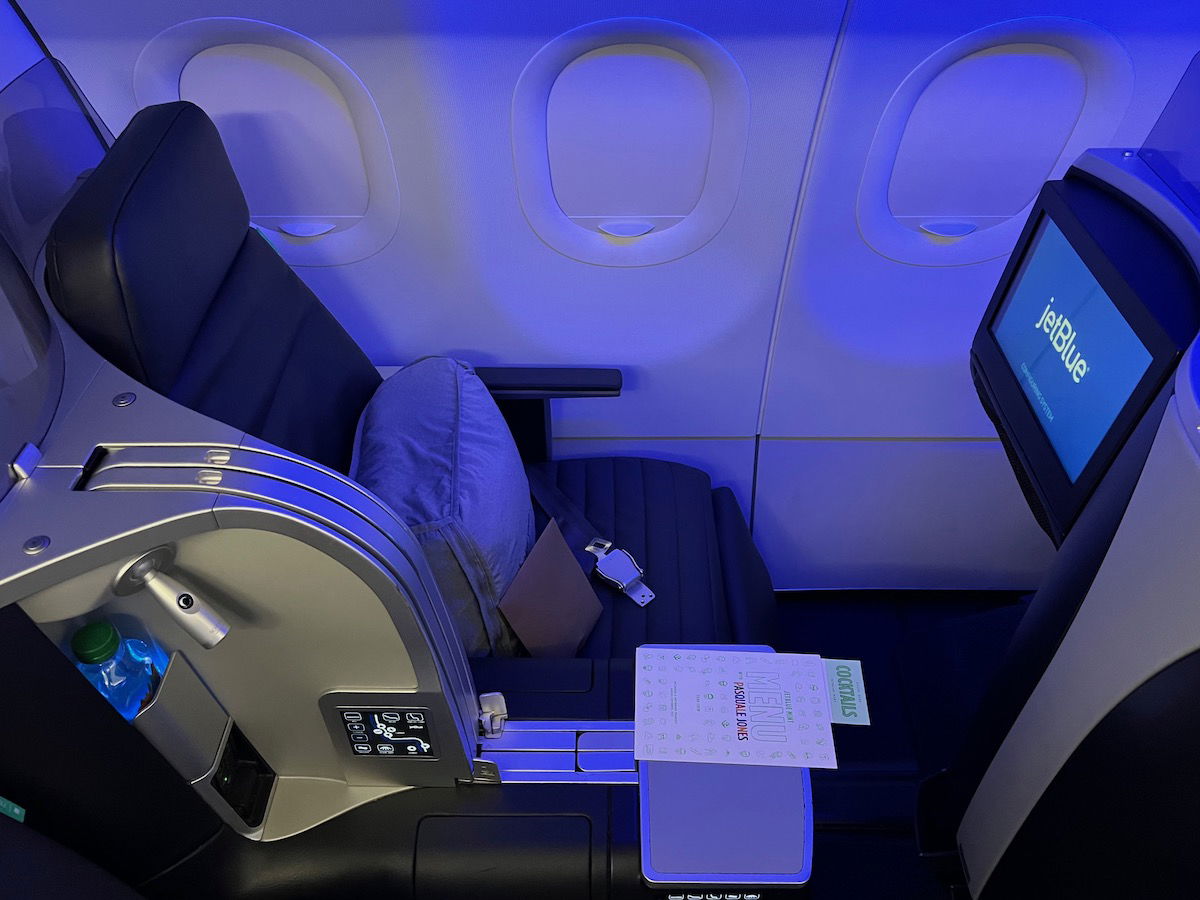 The star of the show in this configuration, though, are the four "throne" seats. These are located in rows two and four (I was seated in 4A), and are in a 1-1 layout. These staggered configurations are so efficient because the footwell for one seat is to the side of the seats in front. So since the rows around these throne seats have a pair of seats on each side, you end up getting quite a bit of extra space.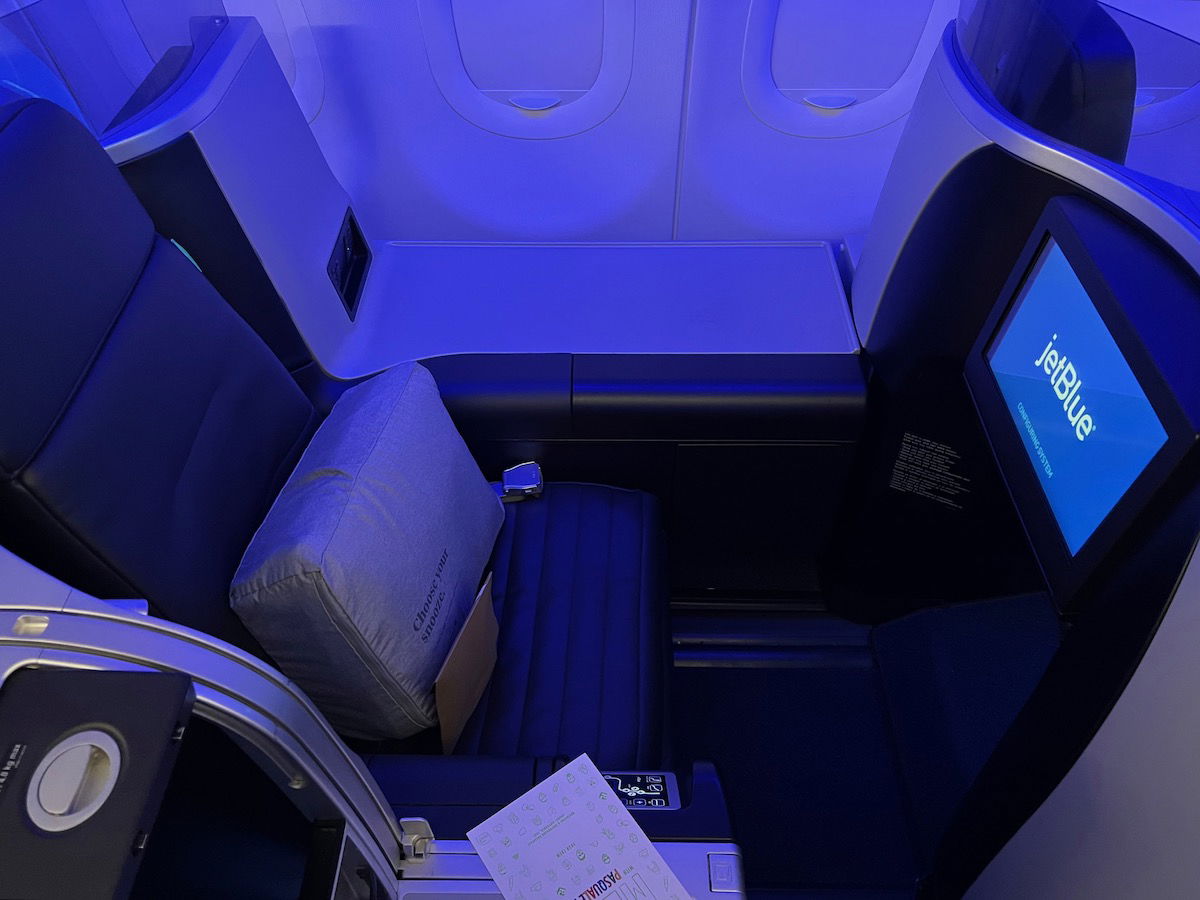 Each seat has a personal television, and in Mint the screens are 15″.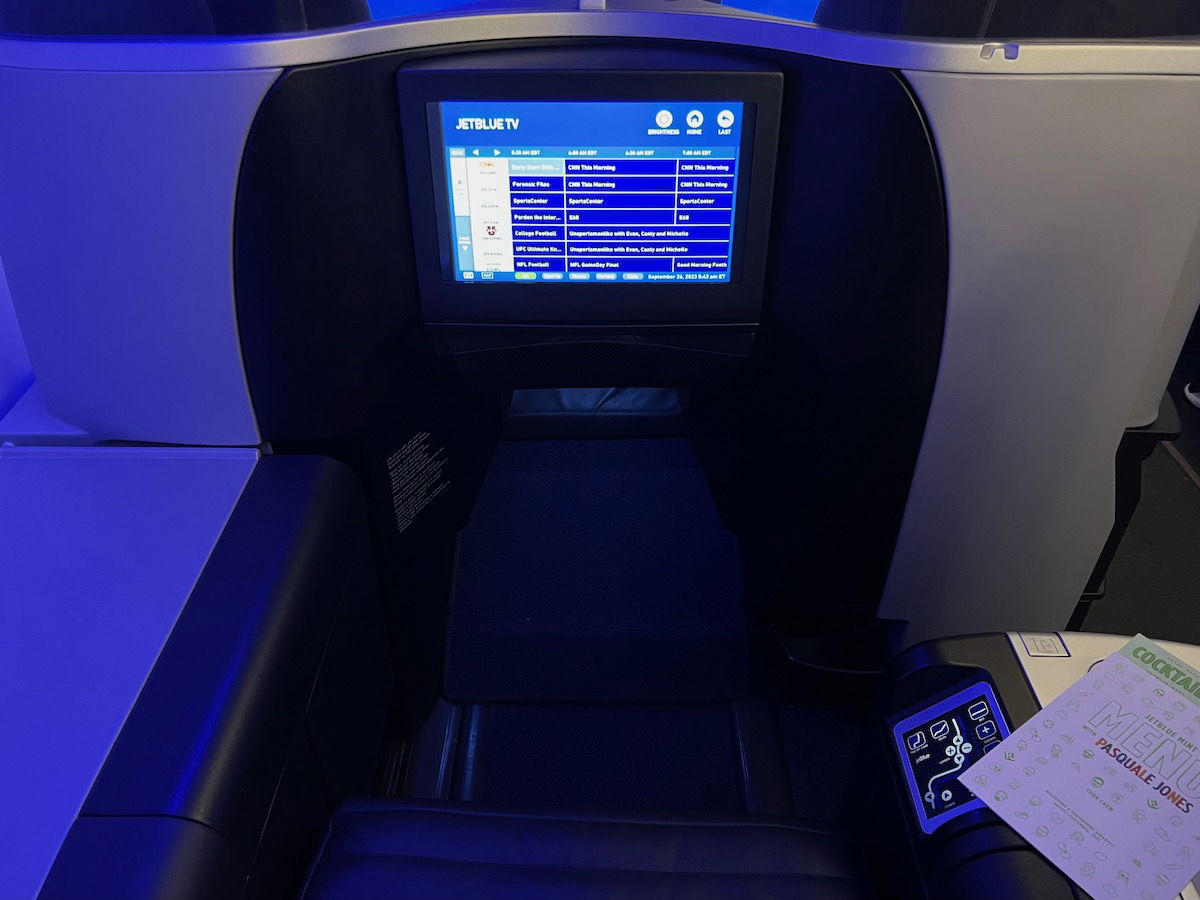 The throne seats have a huge counter on each side of the seat, where you can easily place things during the flight.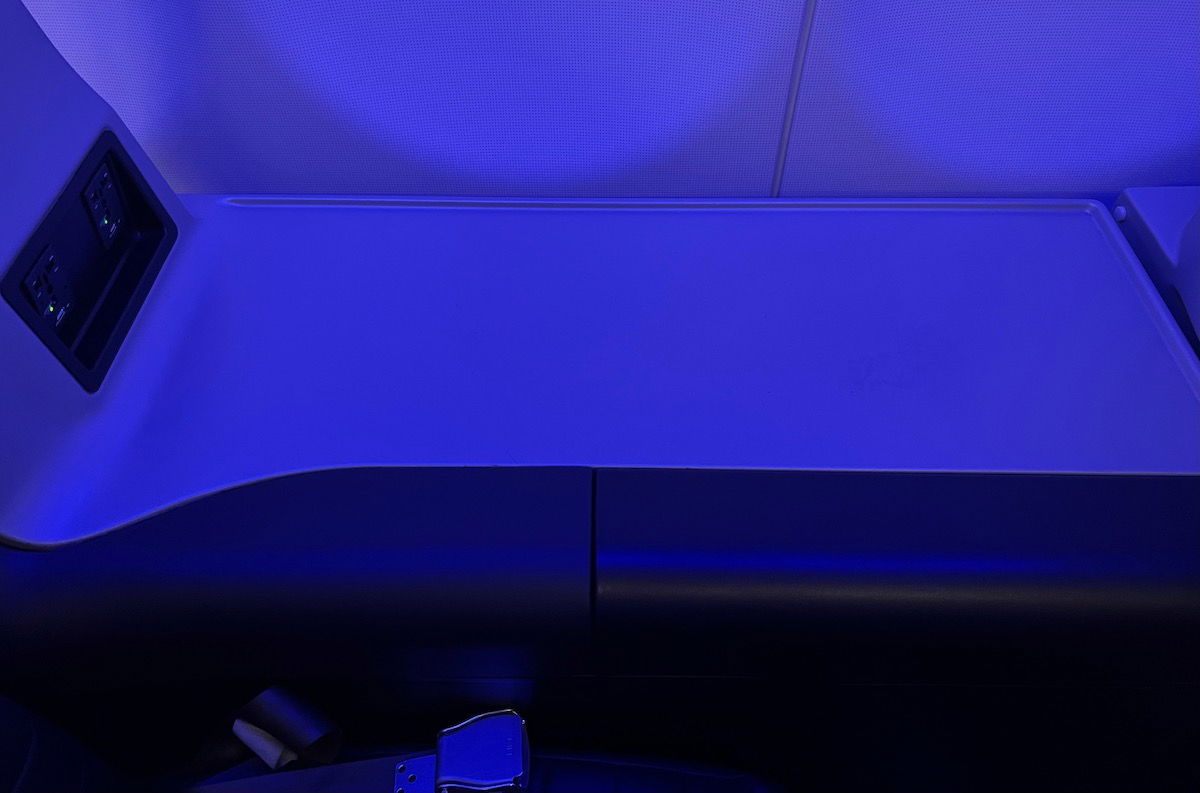 The right side of the seat had two sets of outlets, each of which had an AC power outlet plus a USB-A outlet.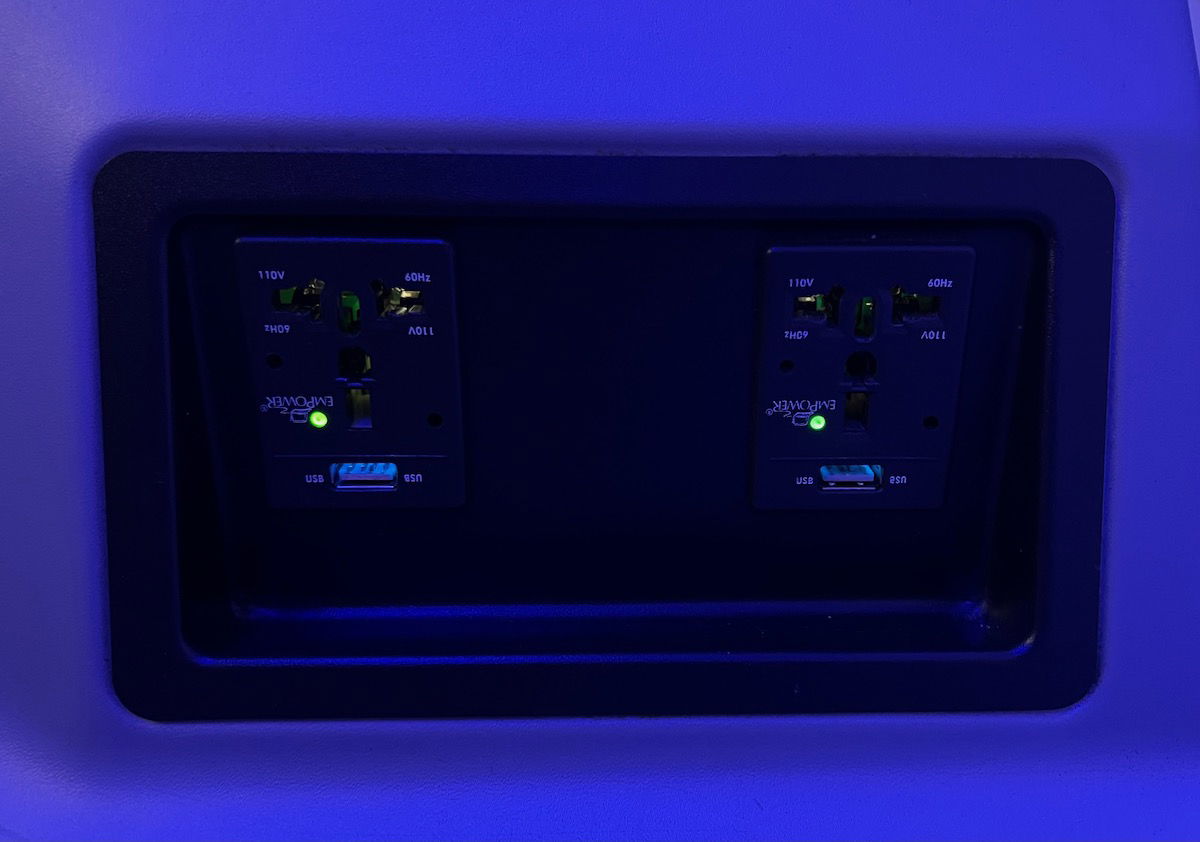 To the right side of the seat was a storage compartment that could be closed, a reading light, and a water bottle holder.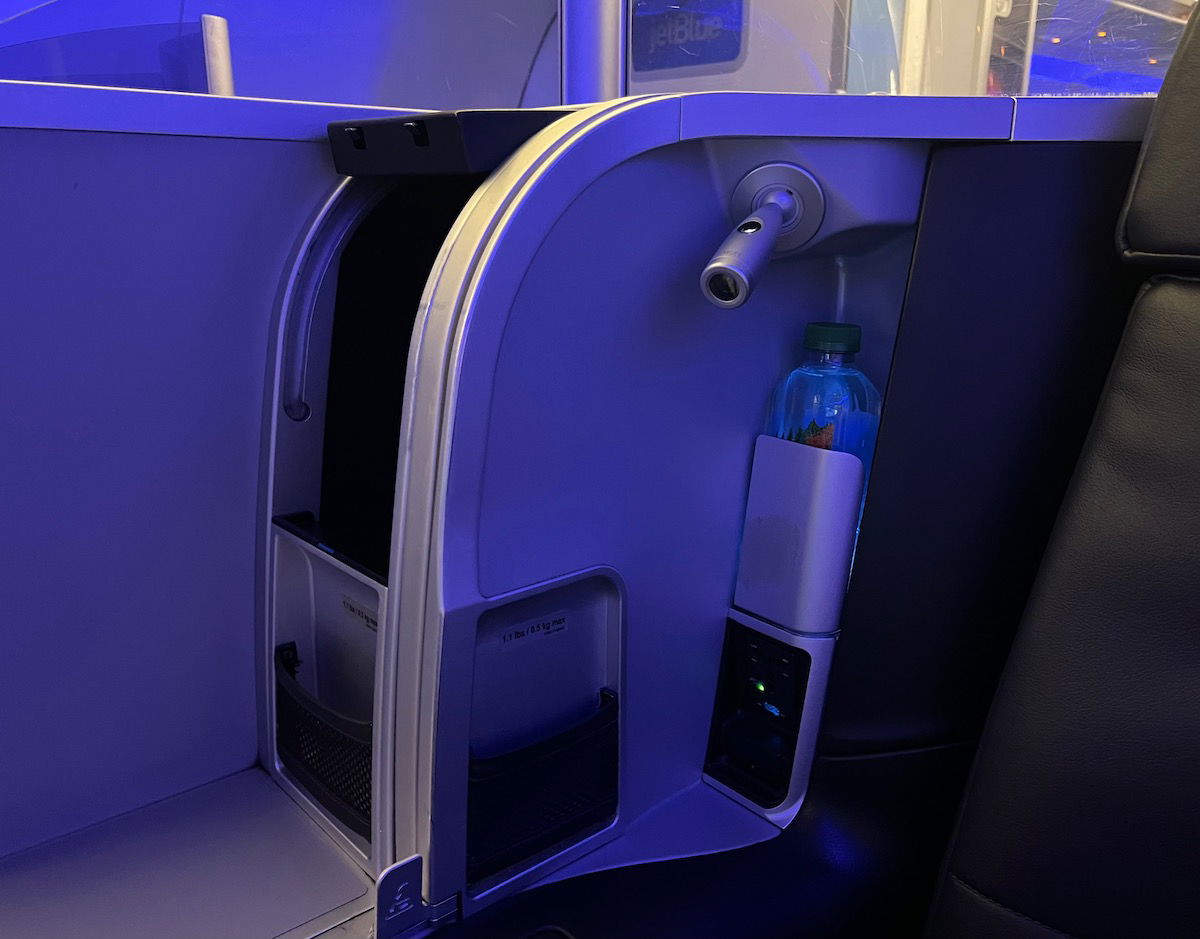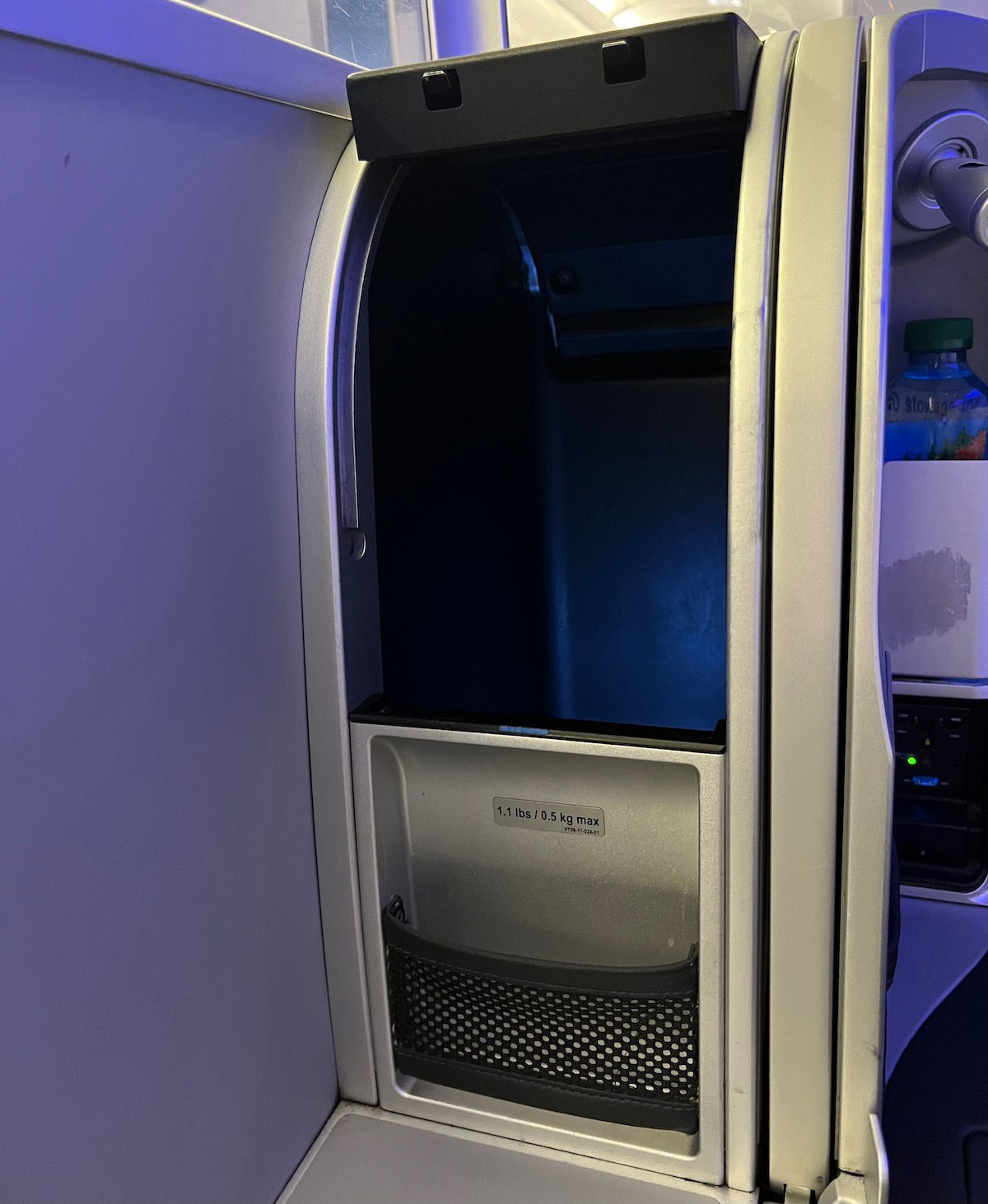 There was also yet another outlet, with both AC and USB-A charging. Talk about a charging overkill!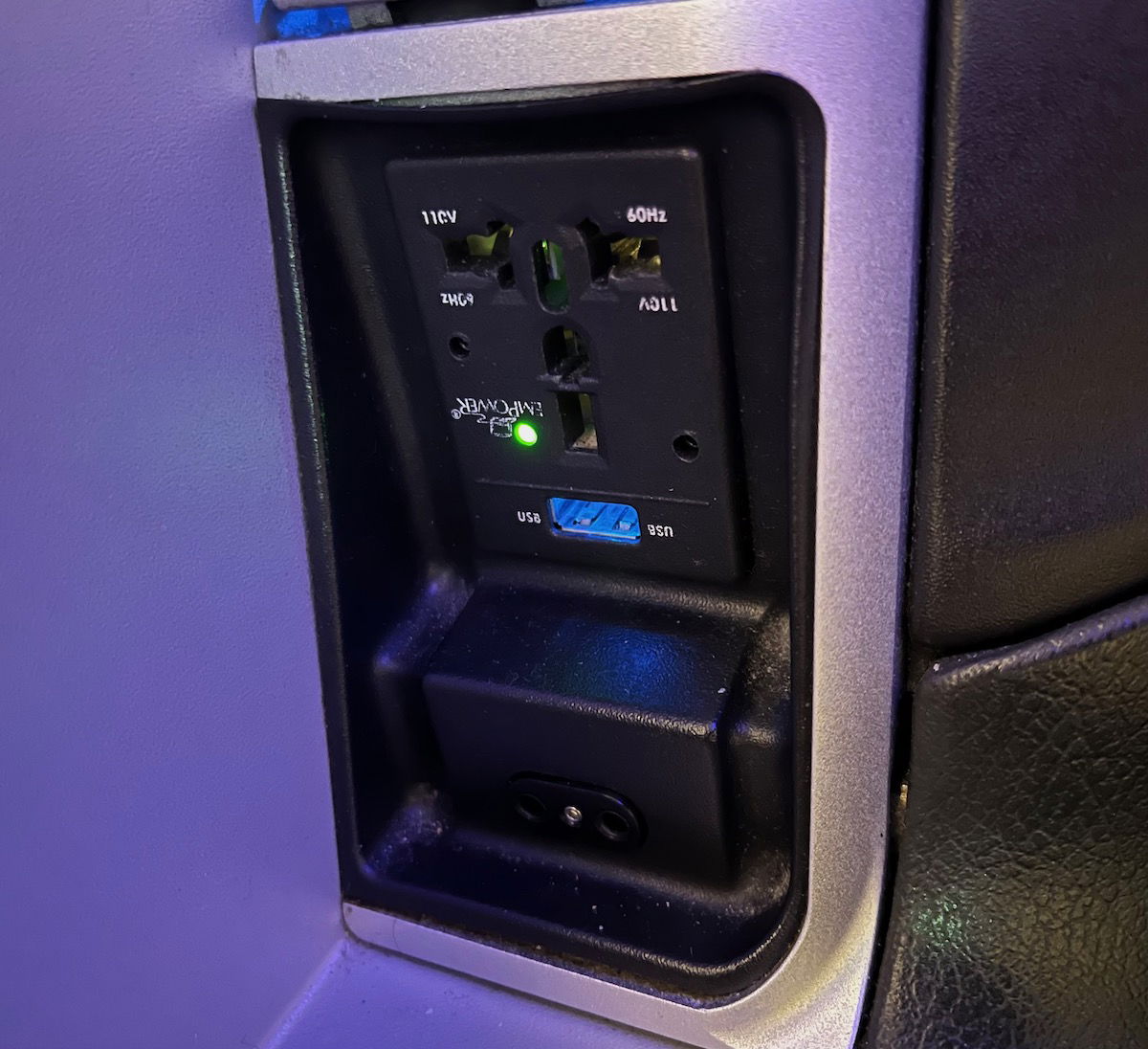 The tray table extended out from the side of the storage compartment, and it was a single surface. This was at least easier to use than some of the other tray tables you'll find in these Vantage seats, which require a degree to operate.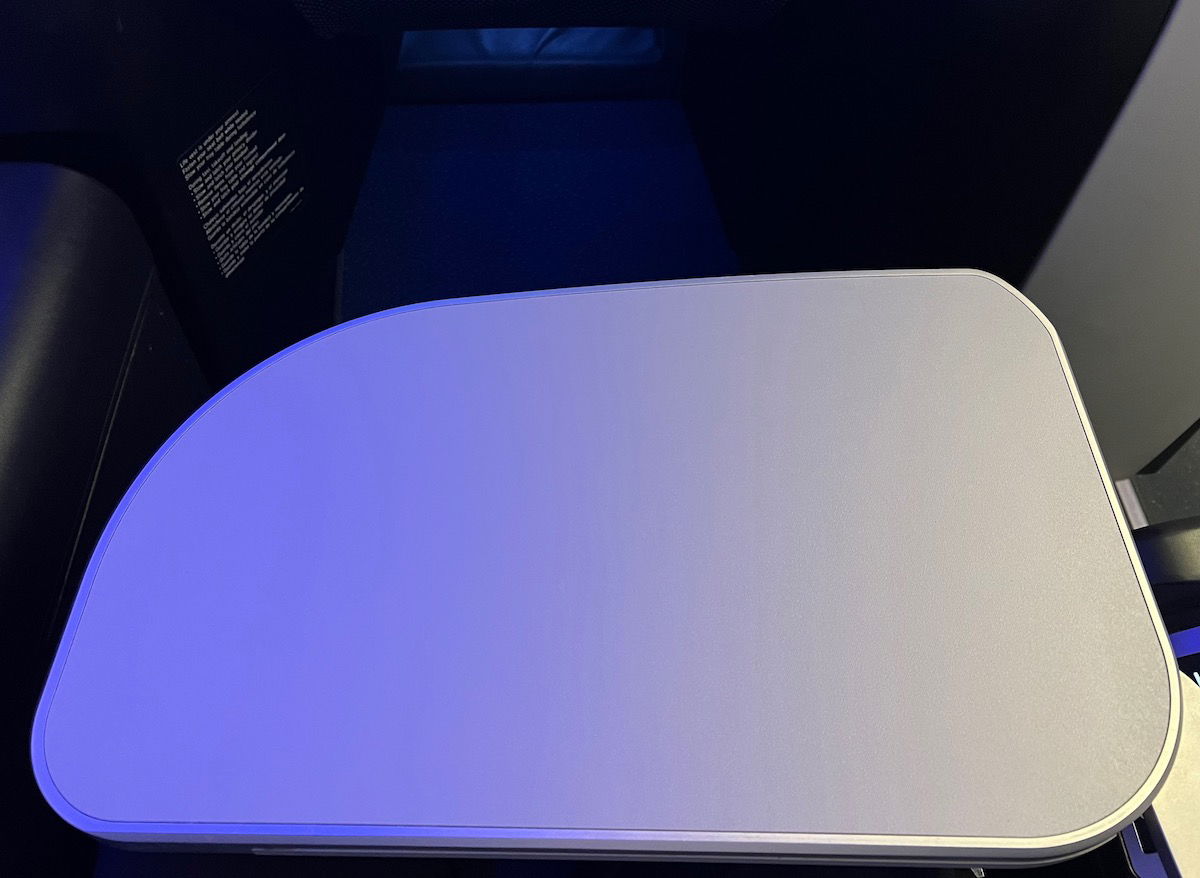 The armrest contained both the seat controls, as well as the entertainment controller (which I found unnecessary, since the entertainment was also touchscreen).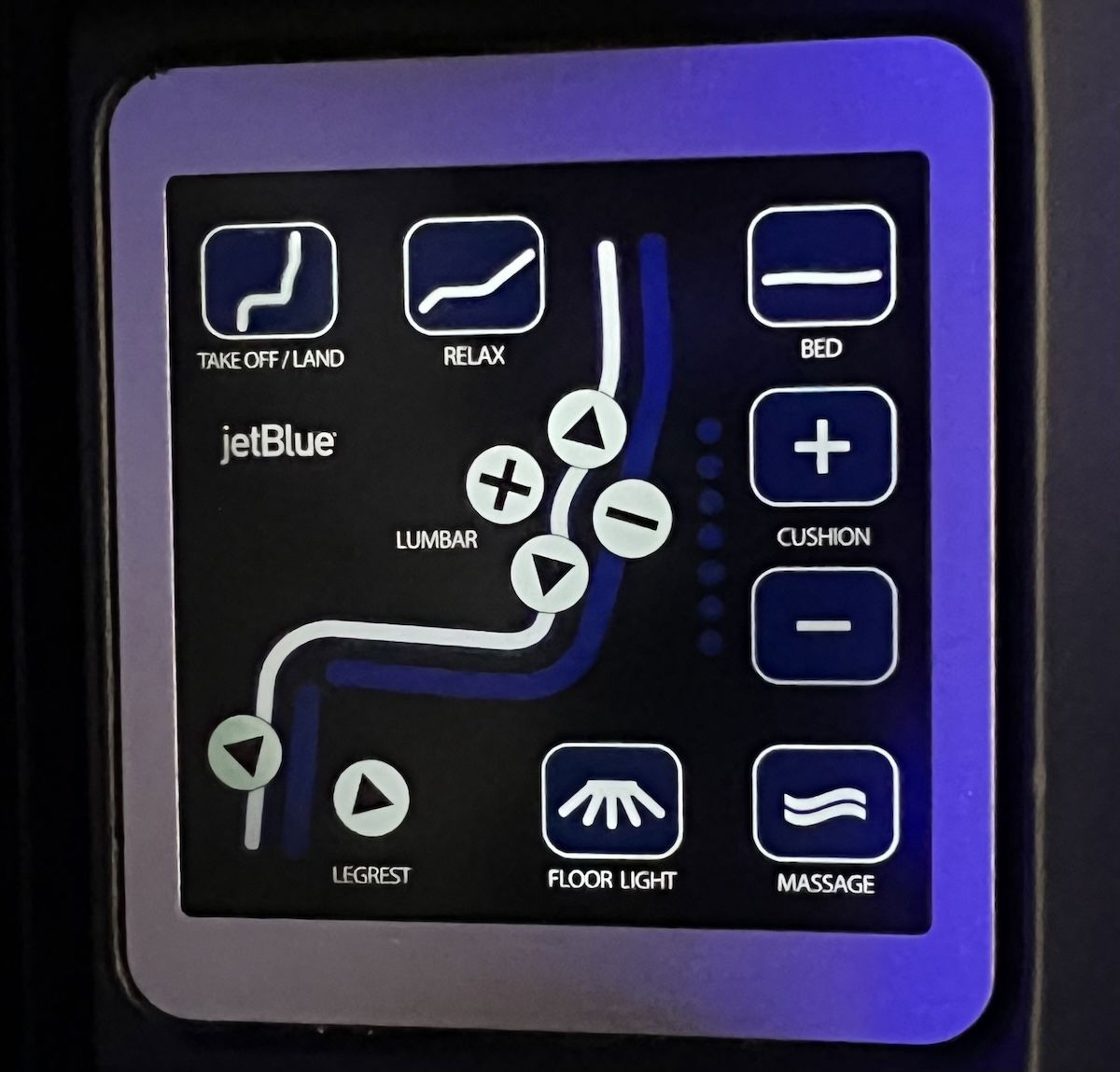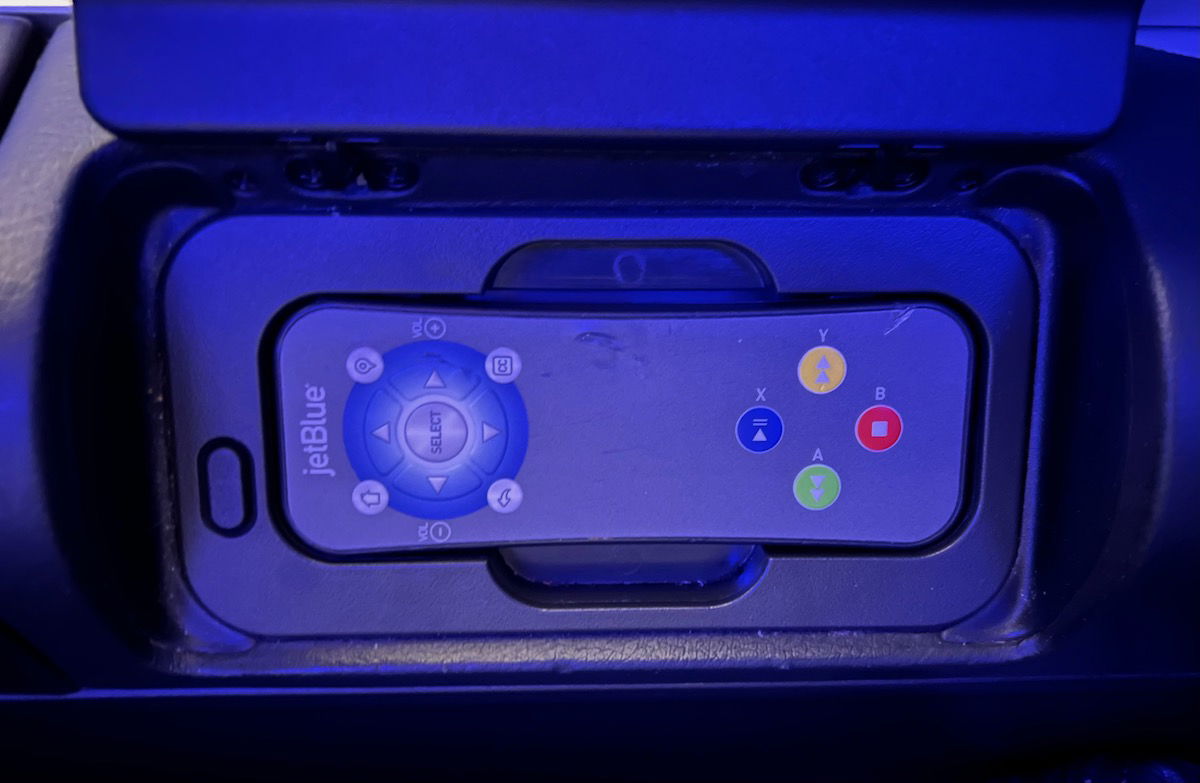 Also, I can't forget the absolute coolest feature of these throne seats, which is that they have privacy doors. Just push the little button to the side of the seat, and the door will slide out. It's quite remarkable how JetBlue was the first airline in the world to introduce doors on business class seats.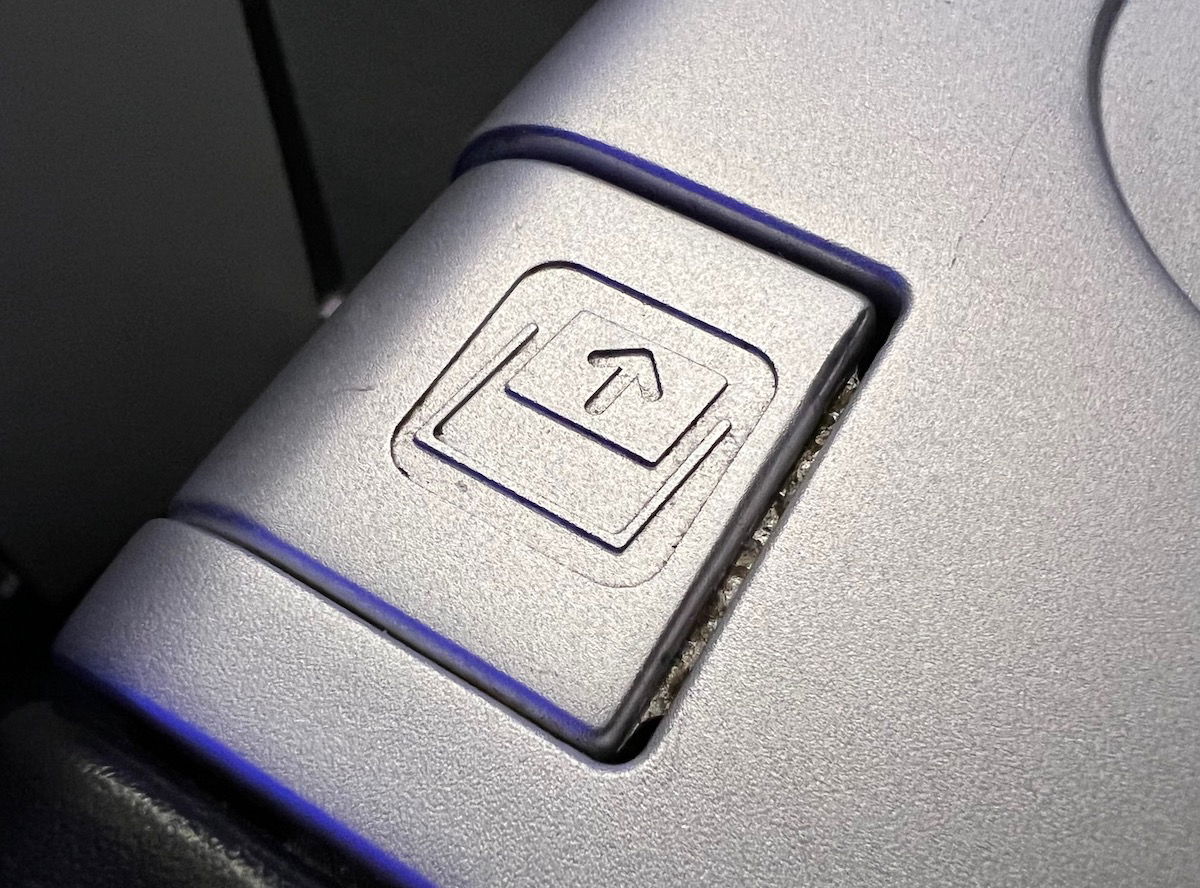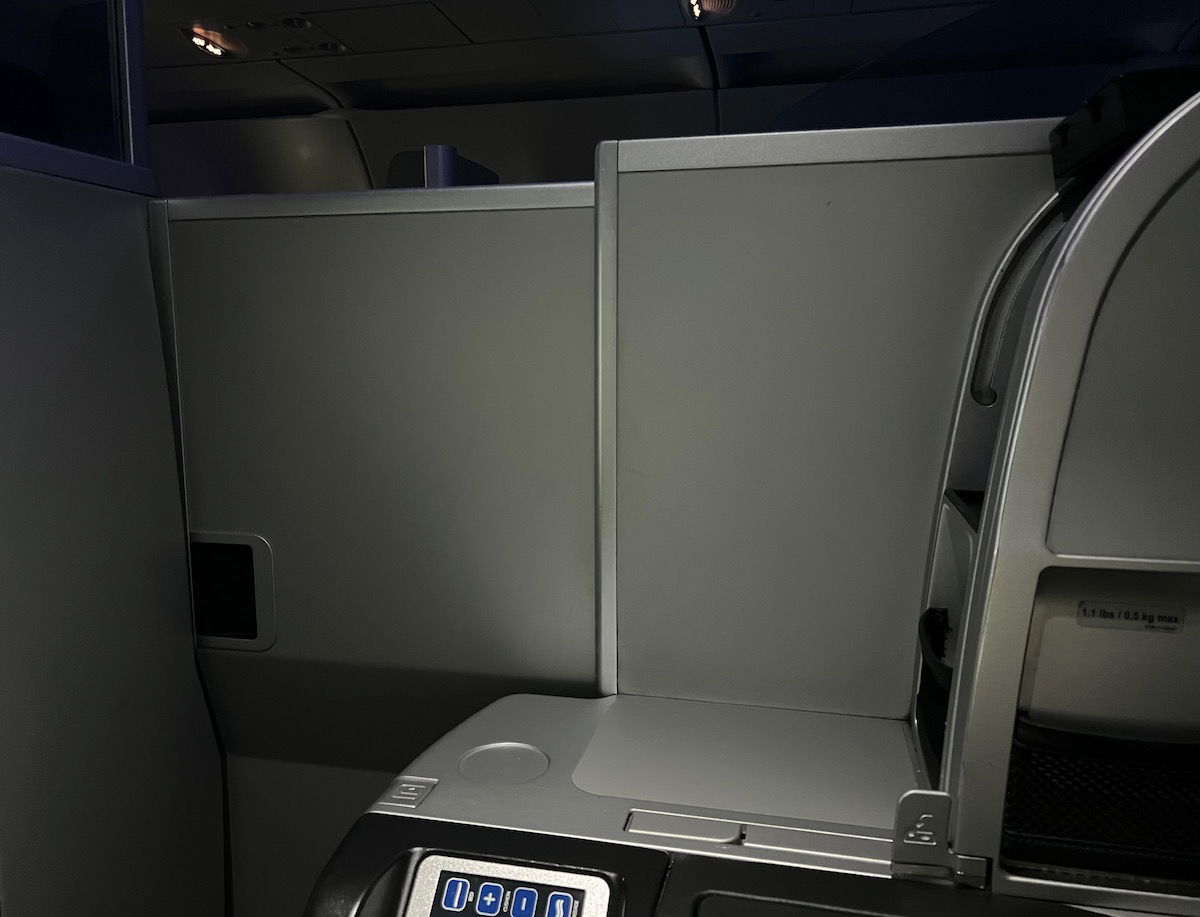 The overhead console had both a reading light and individual air nozzle.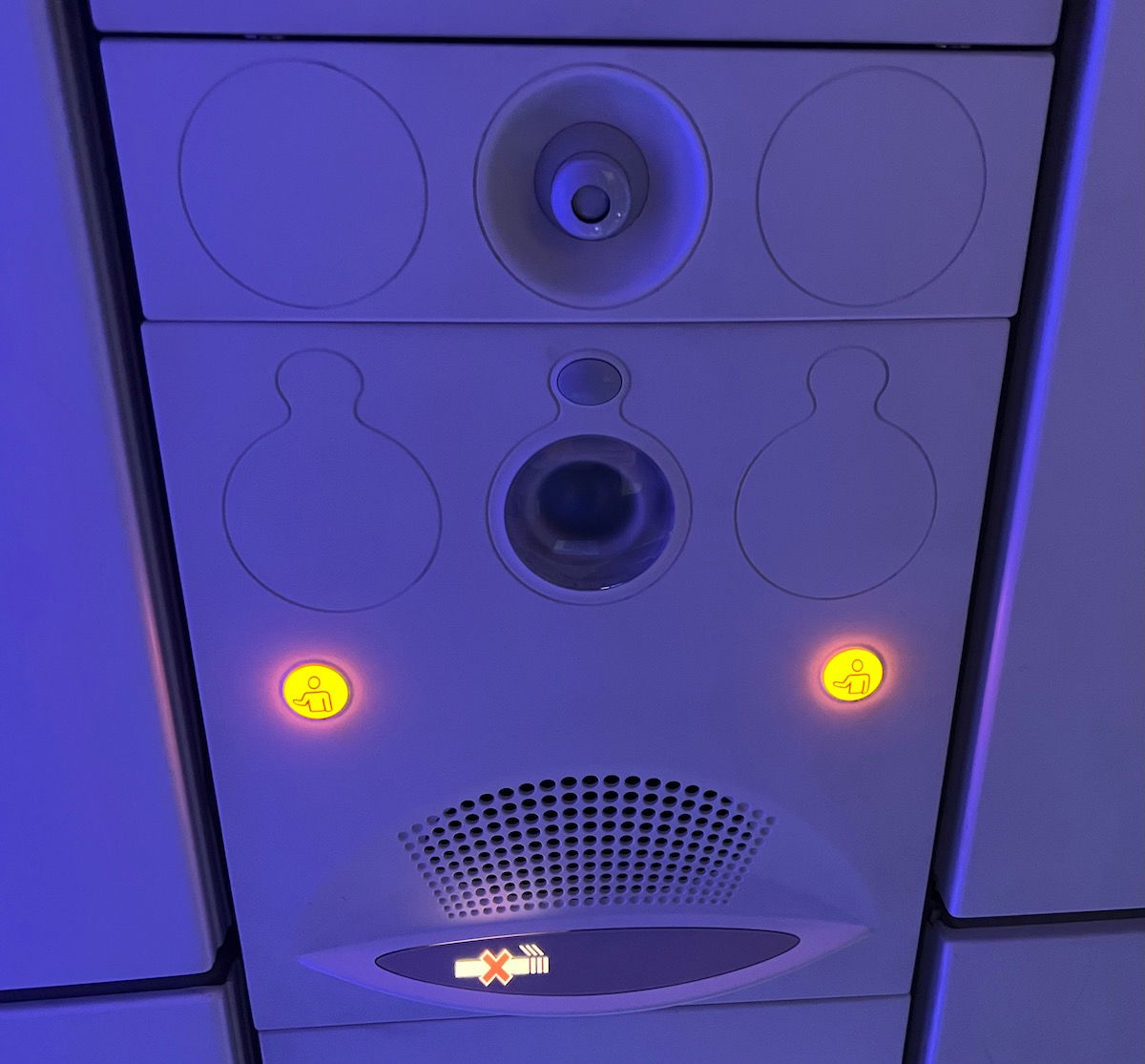 JetBlue's classic Mint product is holding up very nicely. The cabin was pretty well maintained, and I also noticed how the seats had been reupholstered compared to many years ago, and I found the padding to be much better.
If I had one criticism of the classic Mint cabin, it's that I find the plastic dividers at each row to be kind of cheap-looking. I mean, I guess they're supposed to add additional privacy to seats, or something, but they're just kind of scratched up, and don't feel very premium.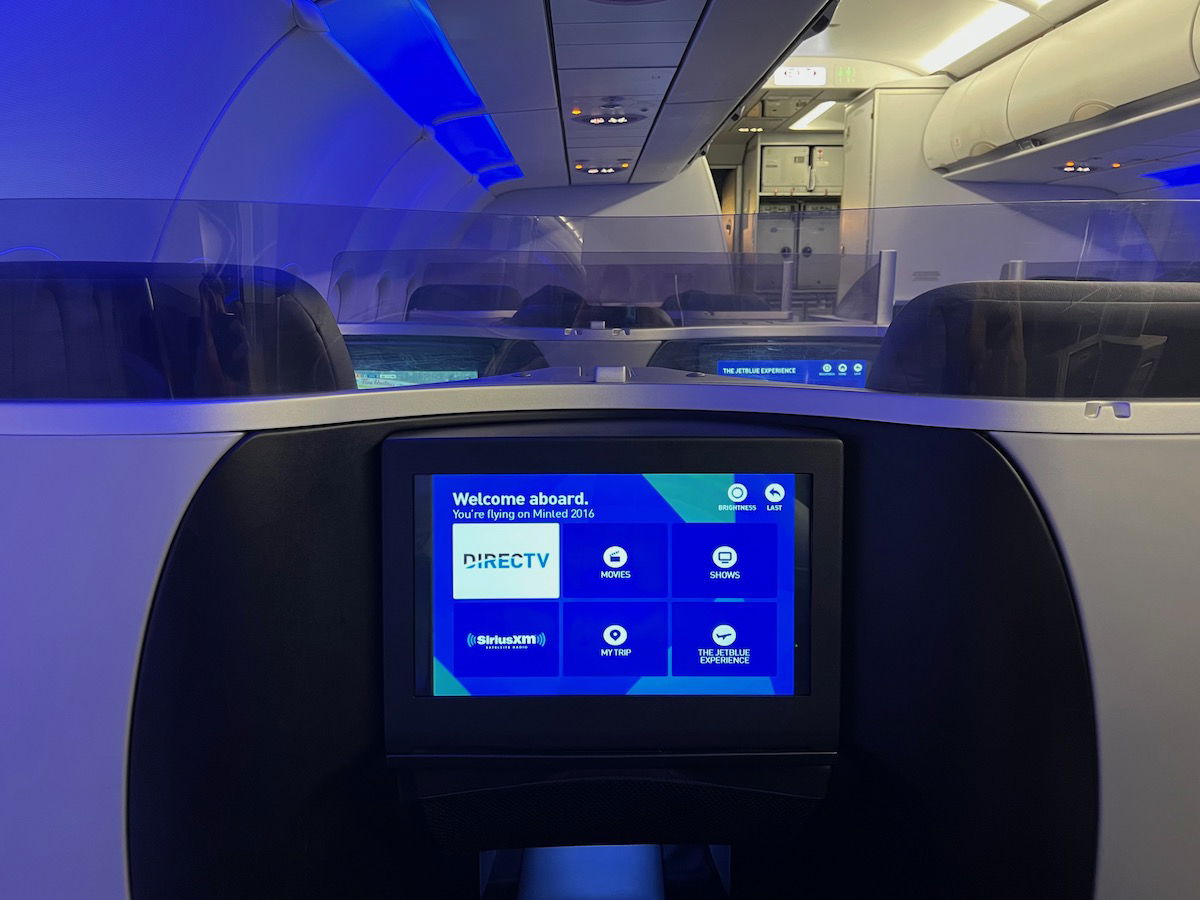 JetBlue's Mint product is such a great experience, especially compared to what you'll find on most airlines on domestic flights. It's wild how for the past decade, JetBlue has charged the same for the standard Mint seats as for the "throne" seats, as they've just been available on a first come, first served basis. That's expected to change soon, and I'm curious to see what pricing is like.
JetBlue Mint amenities
There was no shortage of amenities on this flight in JetBlue Mint. For one, there was Tuft & Needle bedding waiting at my seat, which was excellent. This included a plush pillow, plus a cozy but not overly warm blanket. When combined with the better padding on the JetBlue Mint seat (compared to years ago), it's very easy to get comfortable.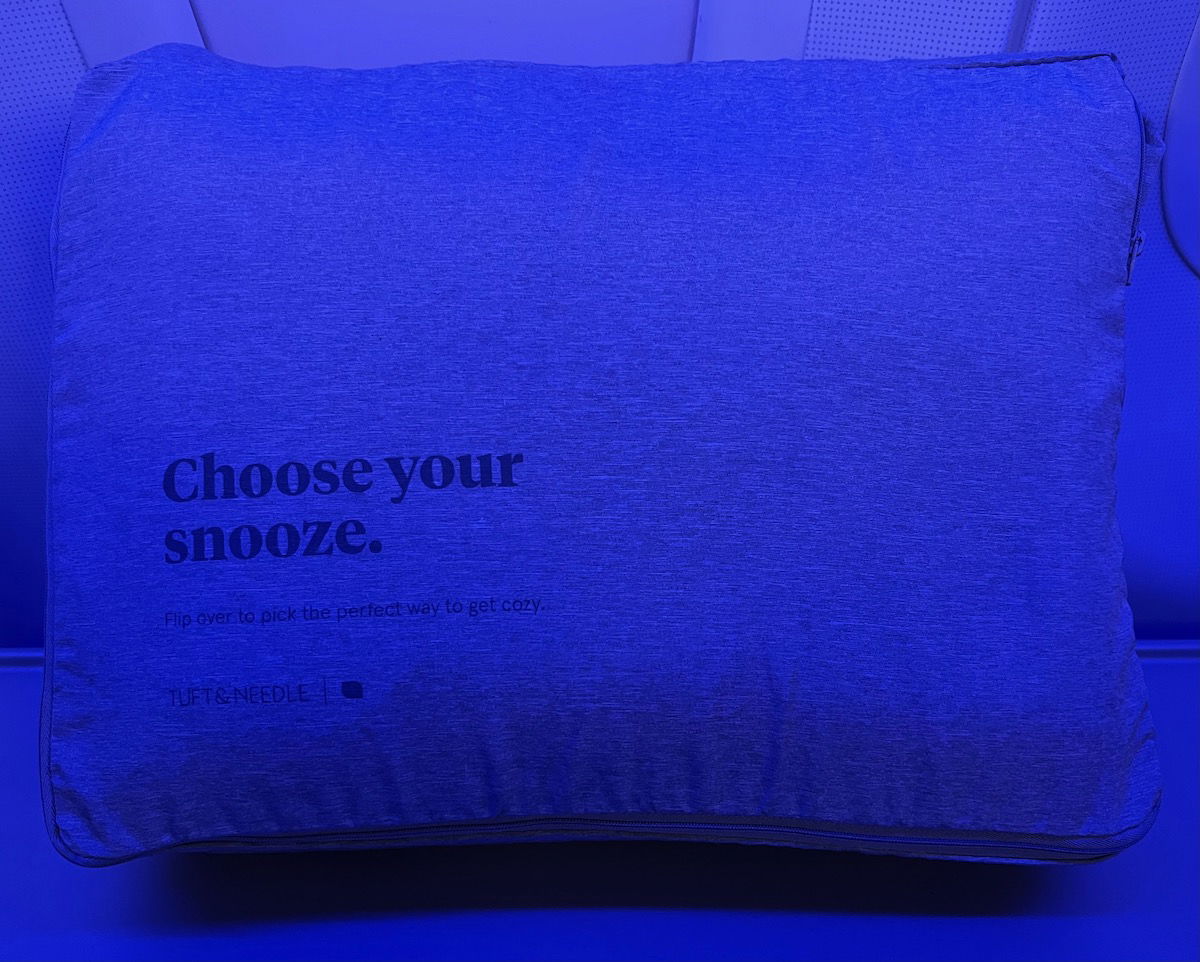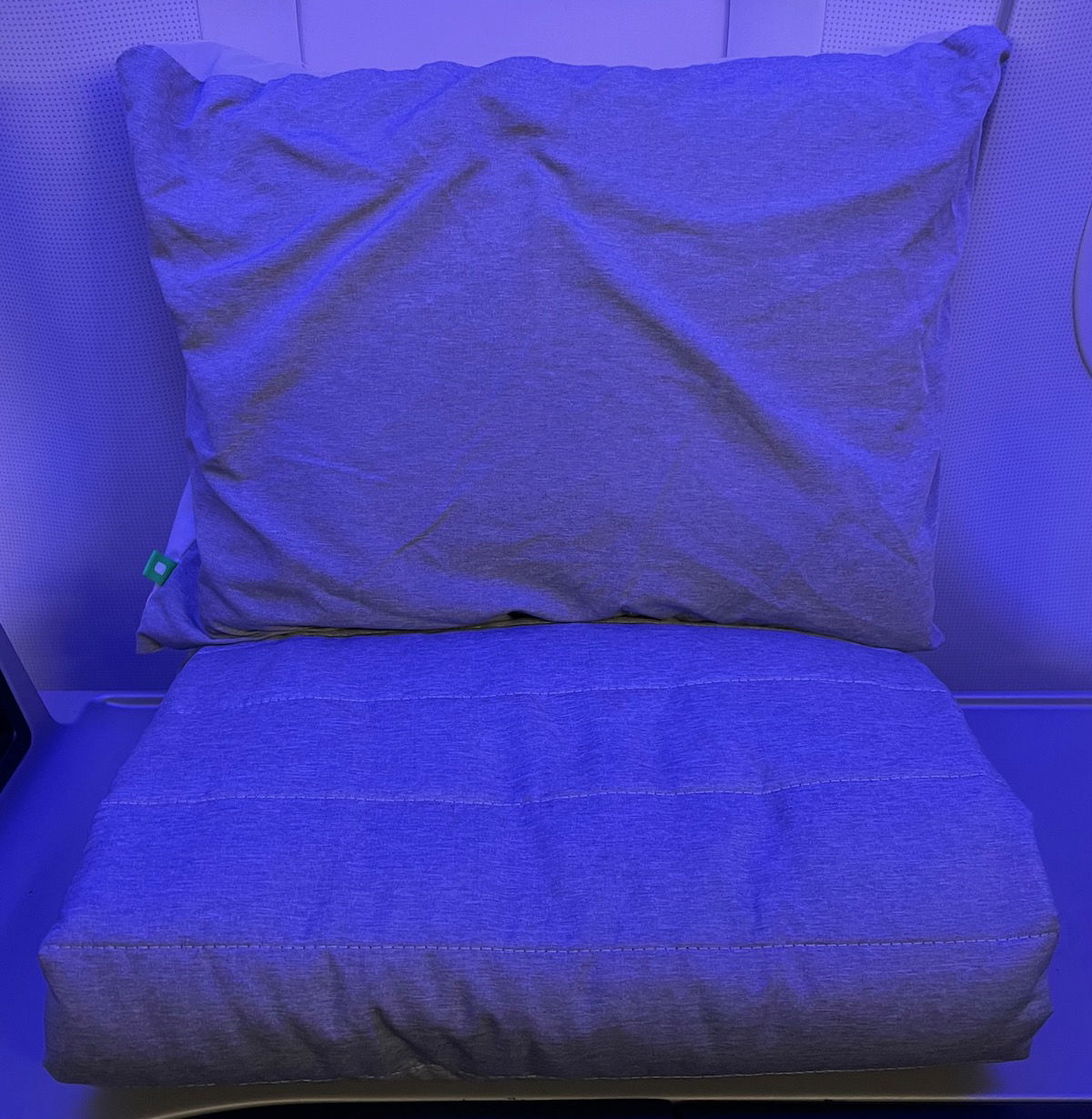 There was also an amenity kit (or perhaps more accurately, a cardboard pouch) for each Mint passenger. This included a dental kit, eyeshades, earplugs, socks, a face wipe, an electrolyte drink mix, and lip balm. While the kit itself isn't great, the contents are solid, especially for a daytime domestic flight.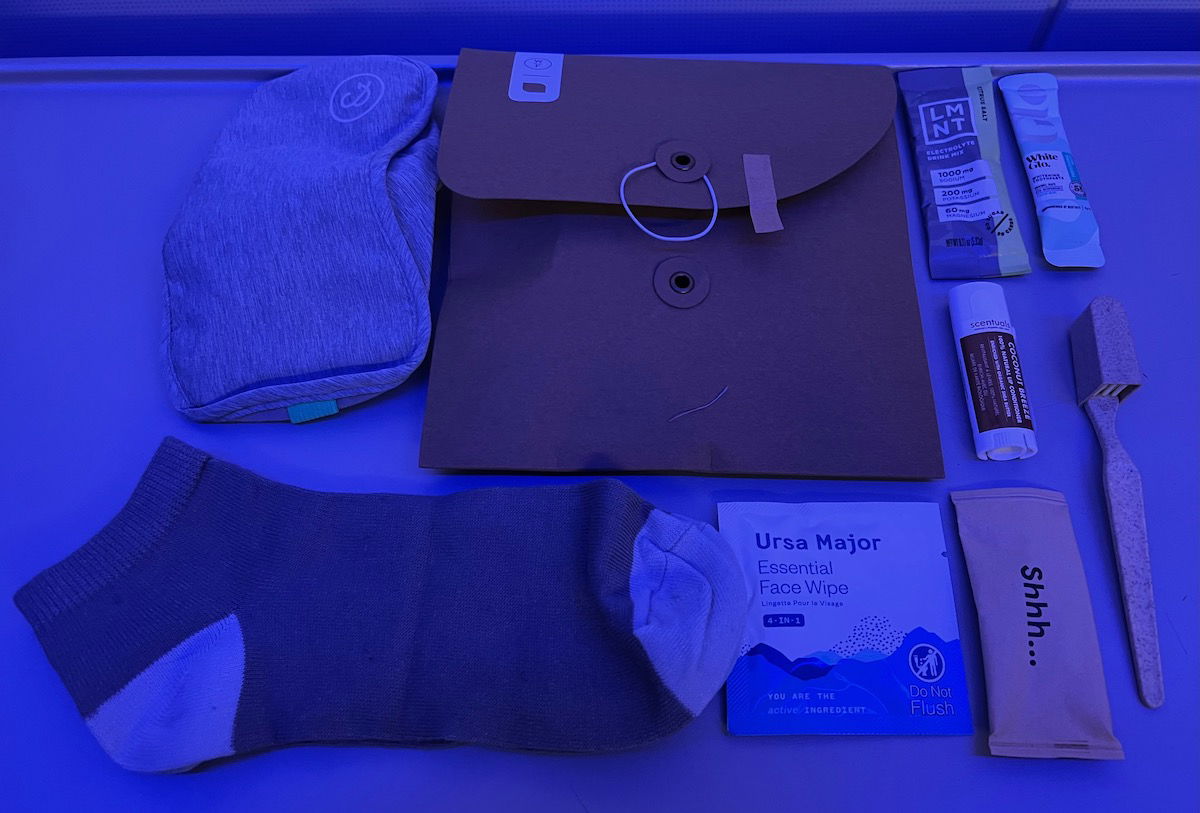 There were also a pair of Master & Dynamic noise canceling headphones for each passenger, which are among the better headphones you'll find on any airline.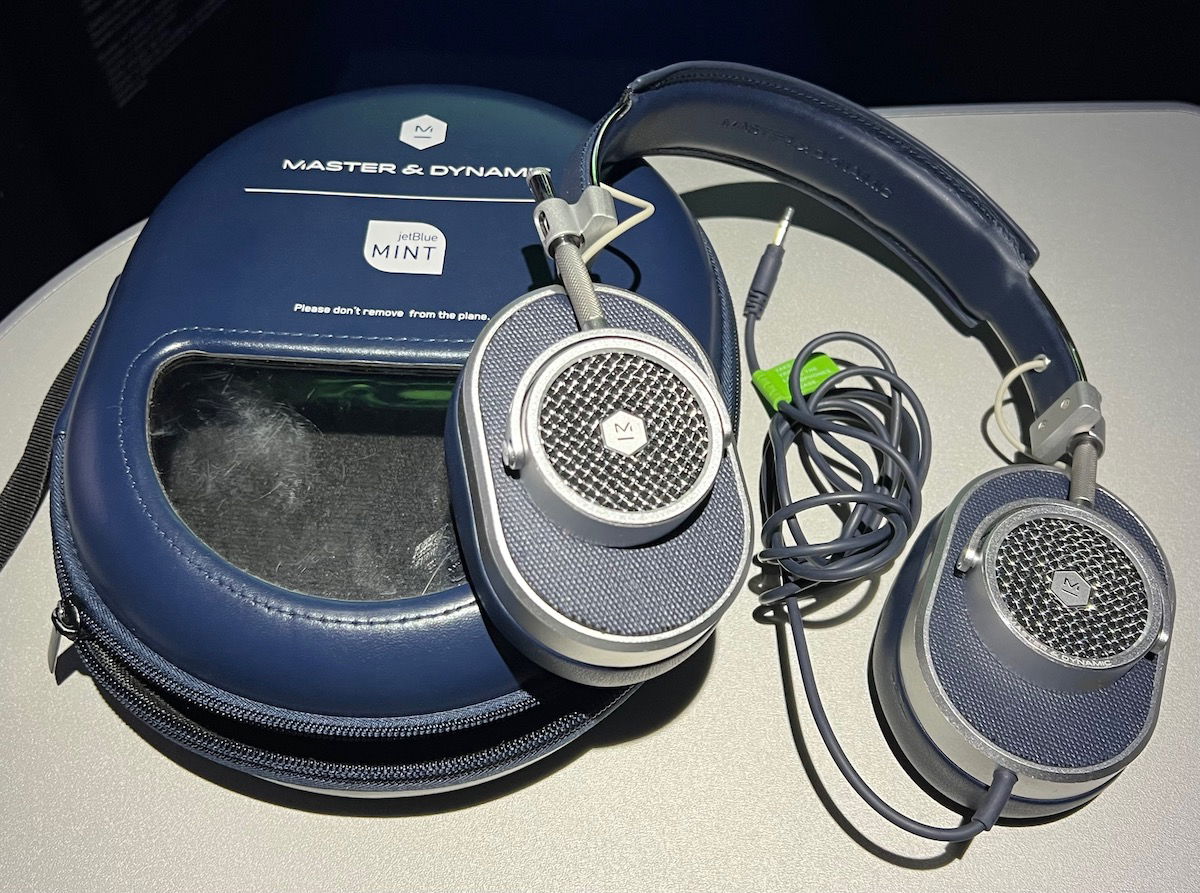 Then there was a bottle of water for each business class passenger.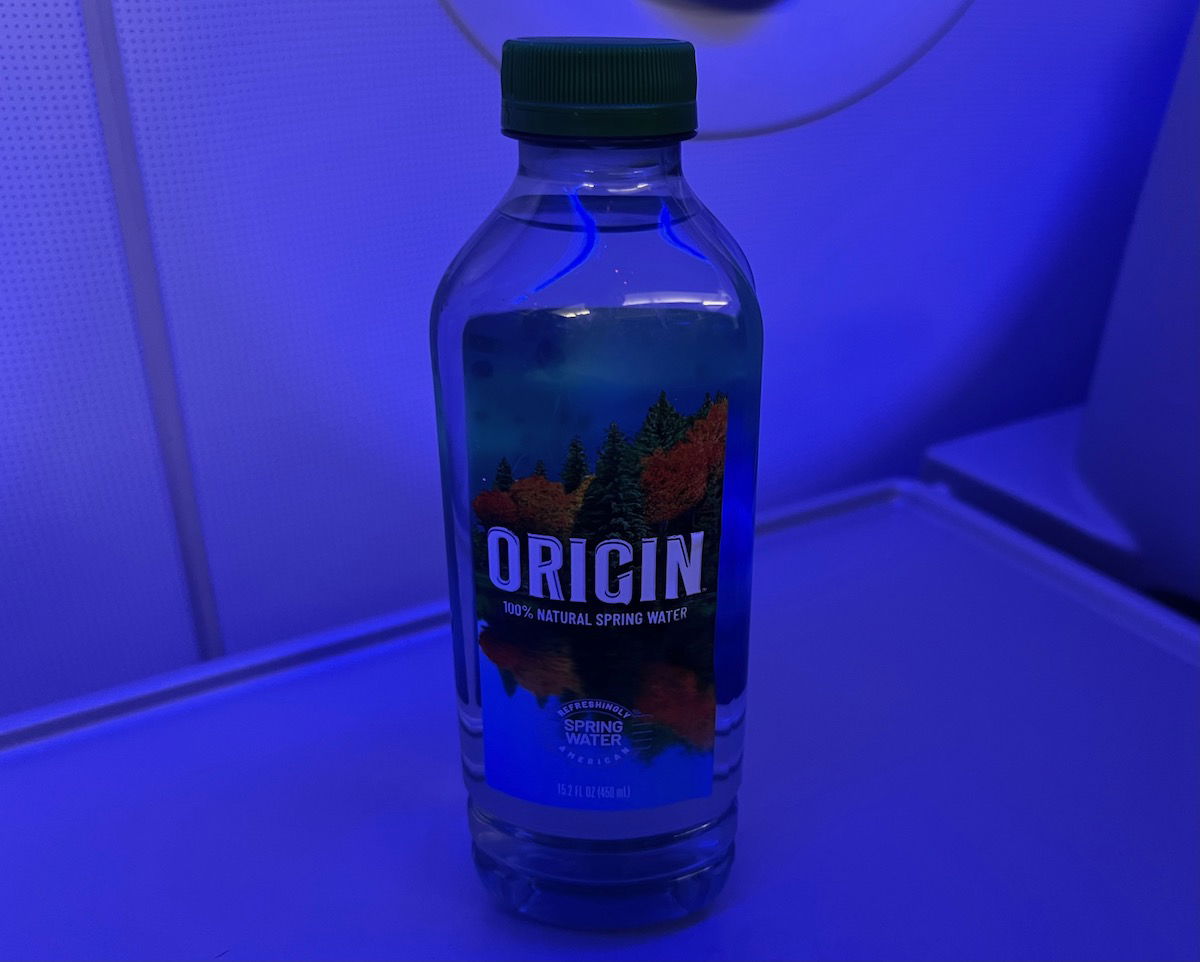 Last but not least, there was the menu and drink list.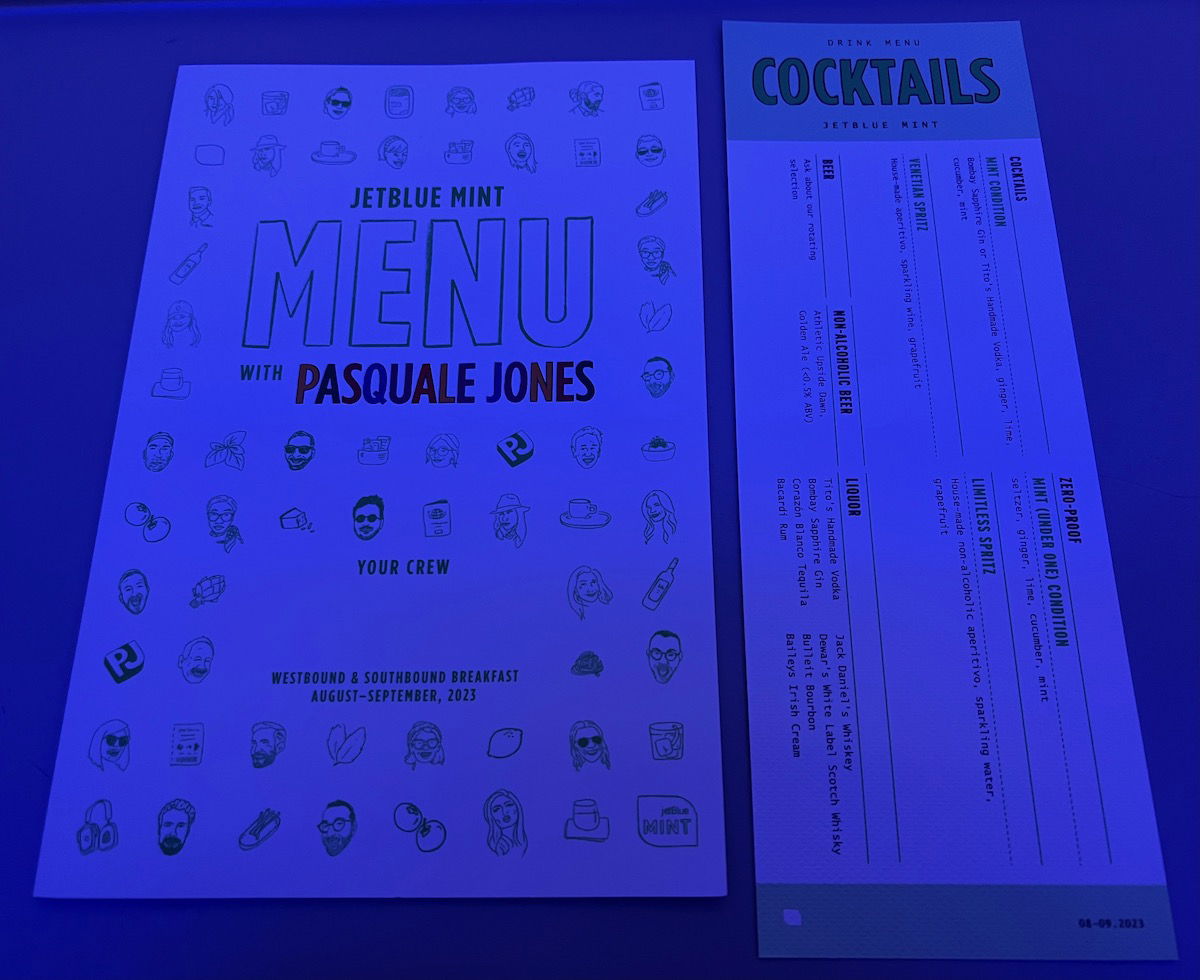 During boarding, the friendly New York-based Mint flight attendants, Kieran and Sara, introduced themselves to each passenger, and asked if we had any questions about the seat. I don't remember the last time I've received that kind of an introduction and rundown on any other US airline. JetBlue really is a step above. Pre-departure drinks of choice were also offered.
I asked for a cup of coffee. JetBlue serves Dunkin' coffee, which I must say I prefer to the drip coffee served on other US airlines. I also like how the cup is served with a lid, which makes it easy to hold onto the drink during takeoff, if you want.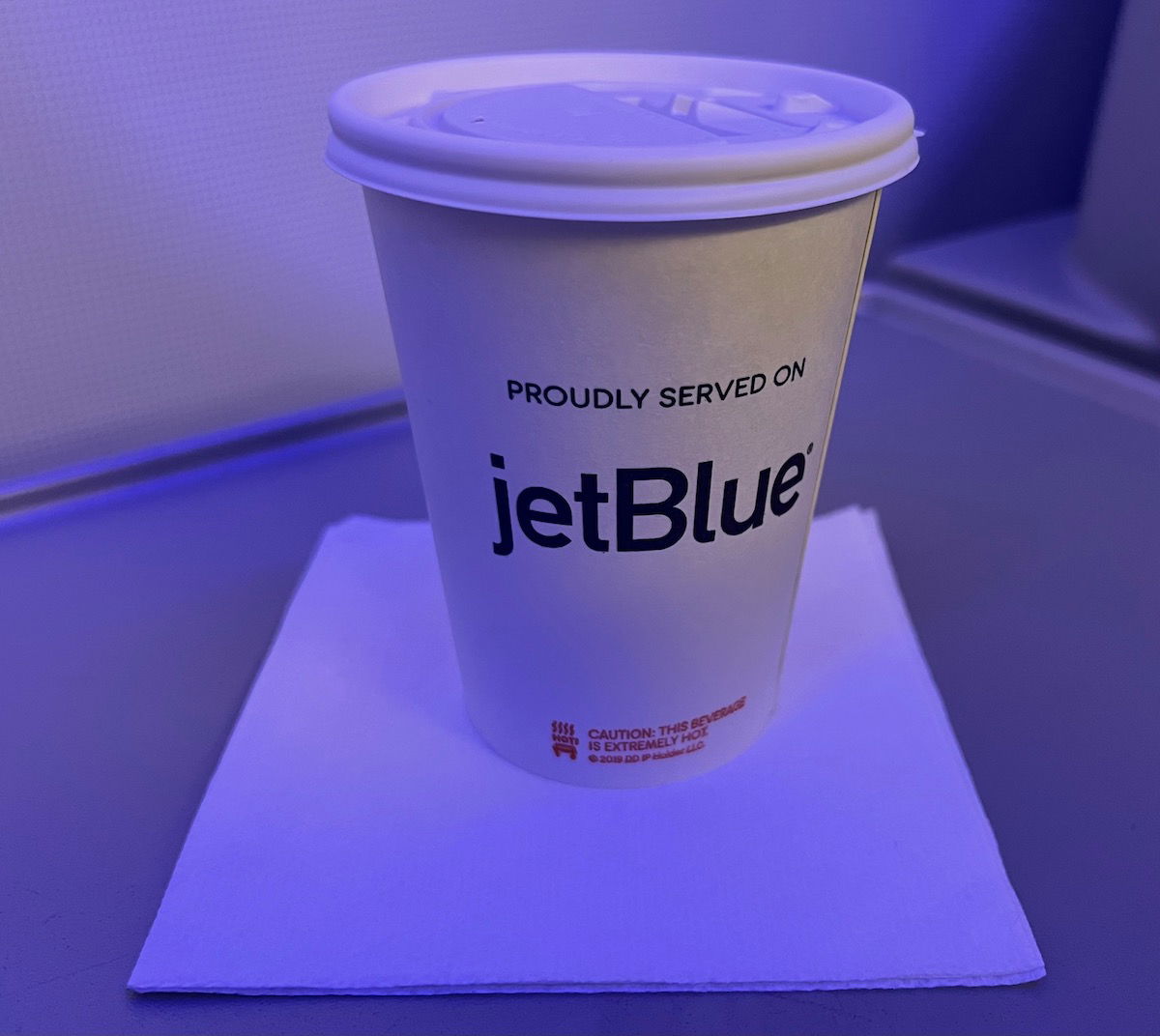 JetBlue Mint entertainment & Wi-Fi
JetBlue's aircraft are known for having an impressive selection of entertainment. In Mint, each passenger has a 15″ personal touchscreen. Let's start with the bad news — the screen is rather low resolution, and at this point definitely doesn't feel cutting edge.
Fortunately the selection is otherwise quite good, with everything from DIRECTV, to SiriusXM, to a library of movies and TV shows.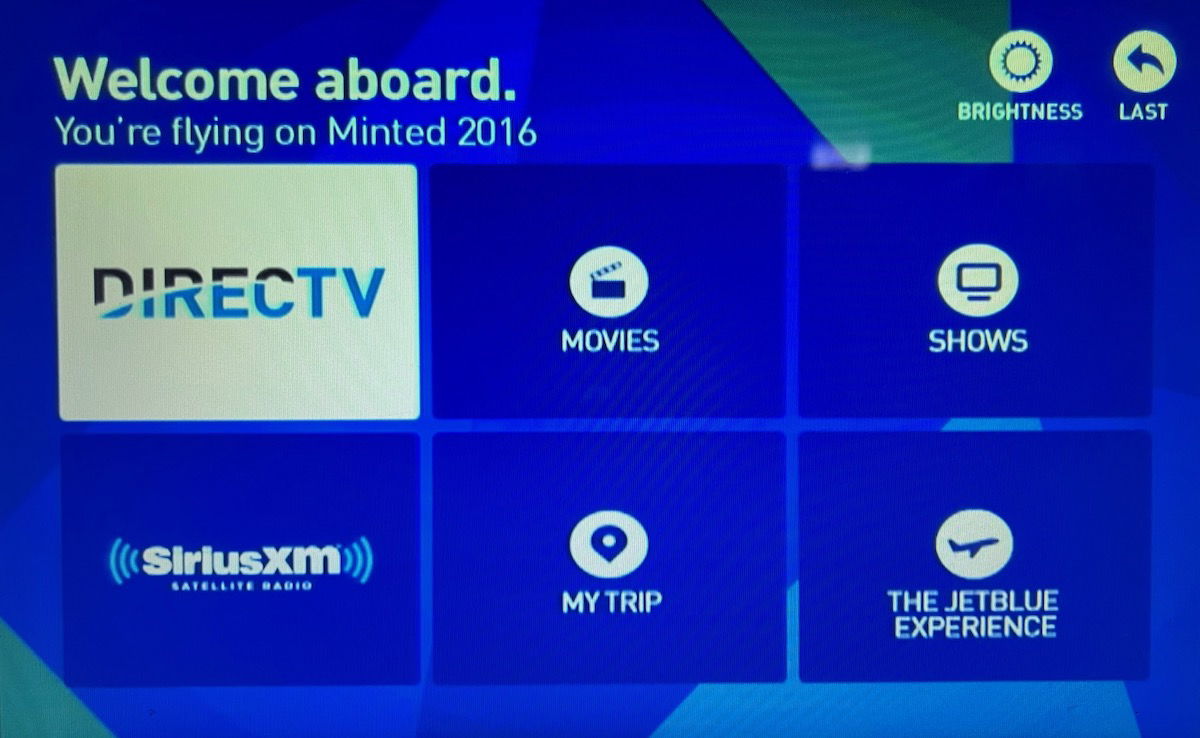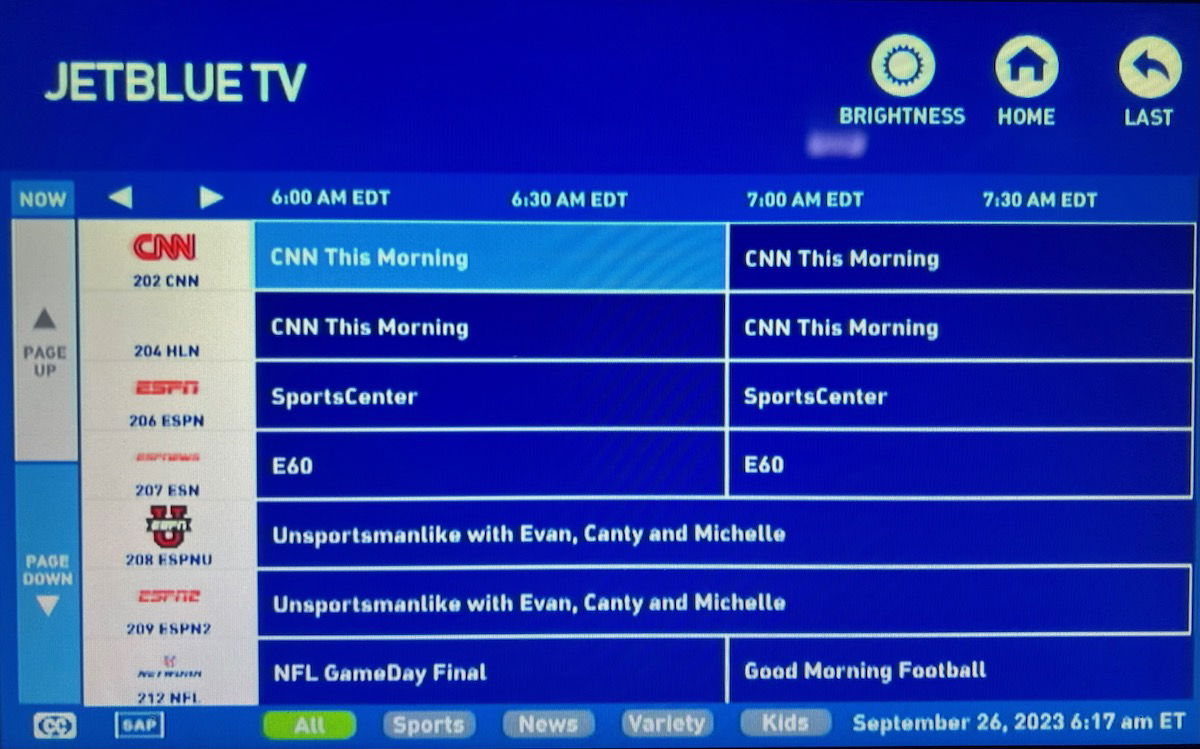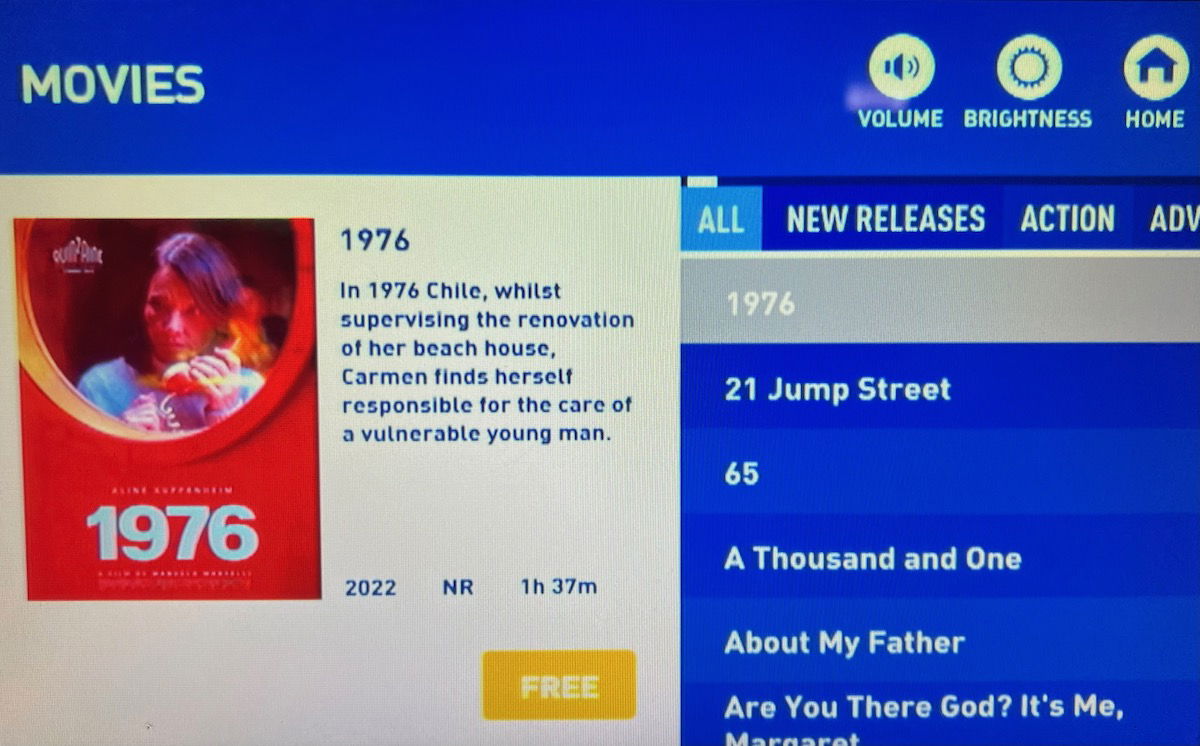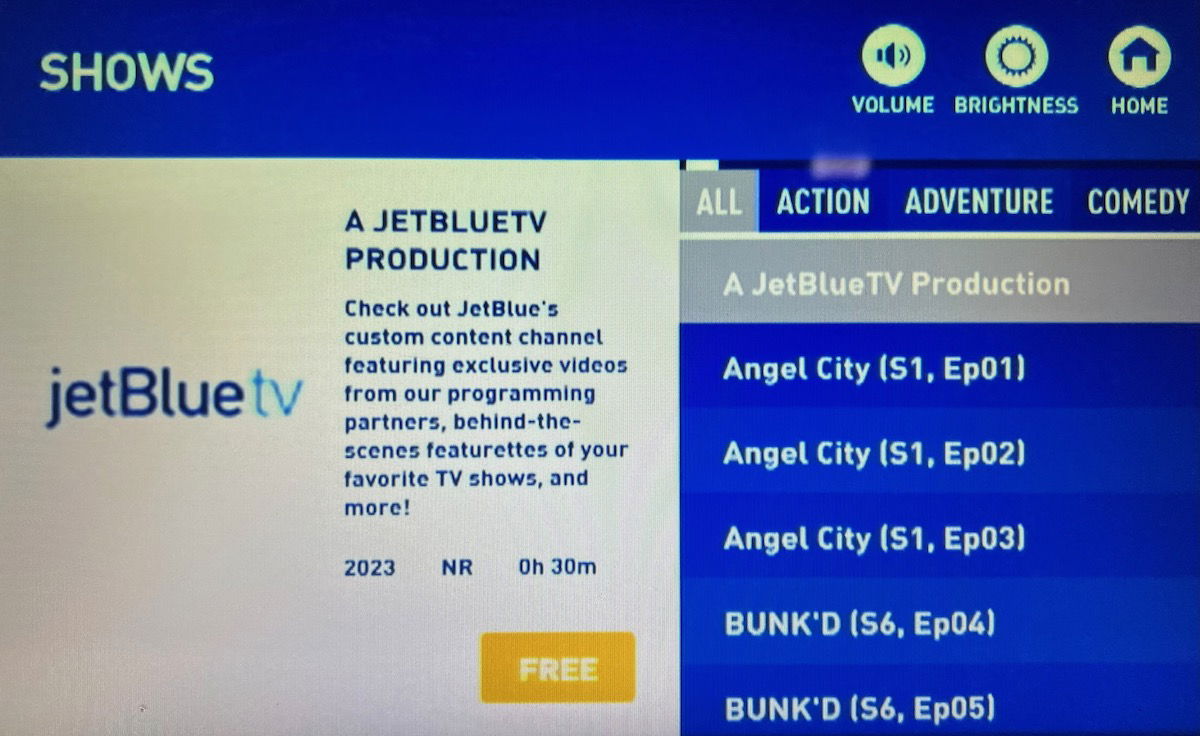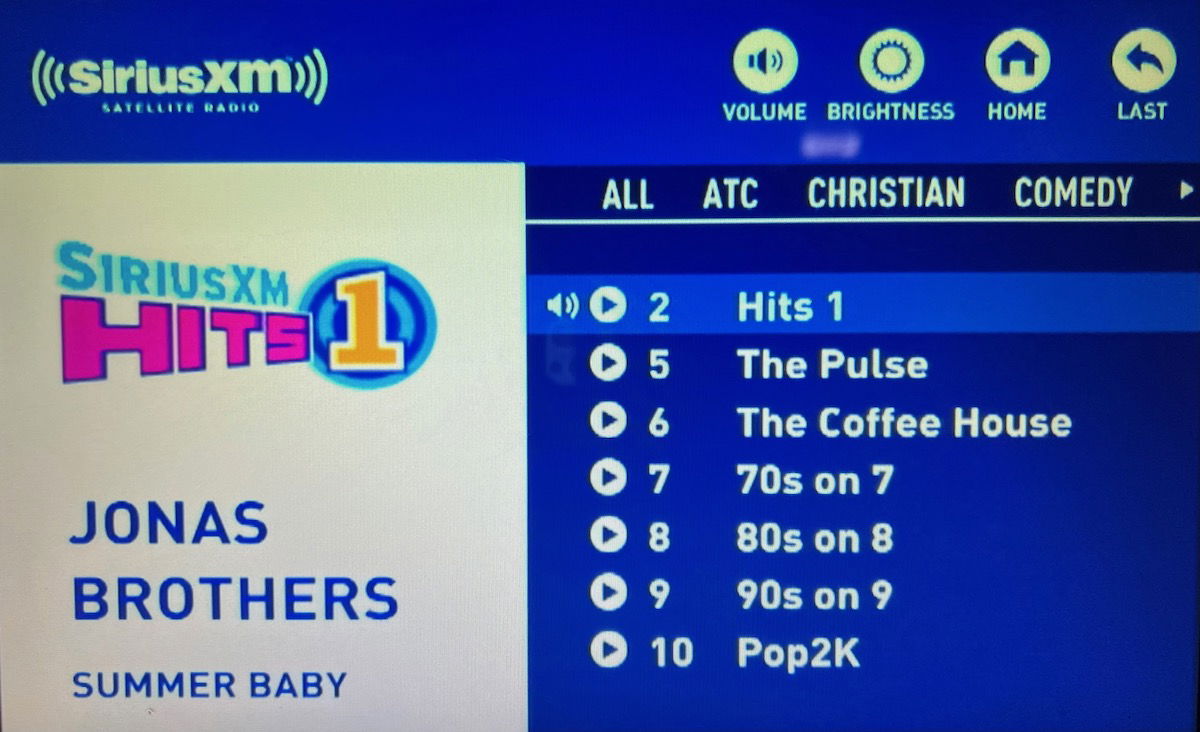 My favorite feature, of course, is the ability to monitor the progress of the flight, even if JetBlue's map feature is a bit outdated.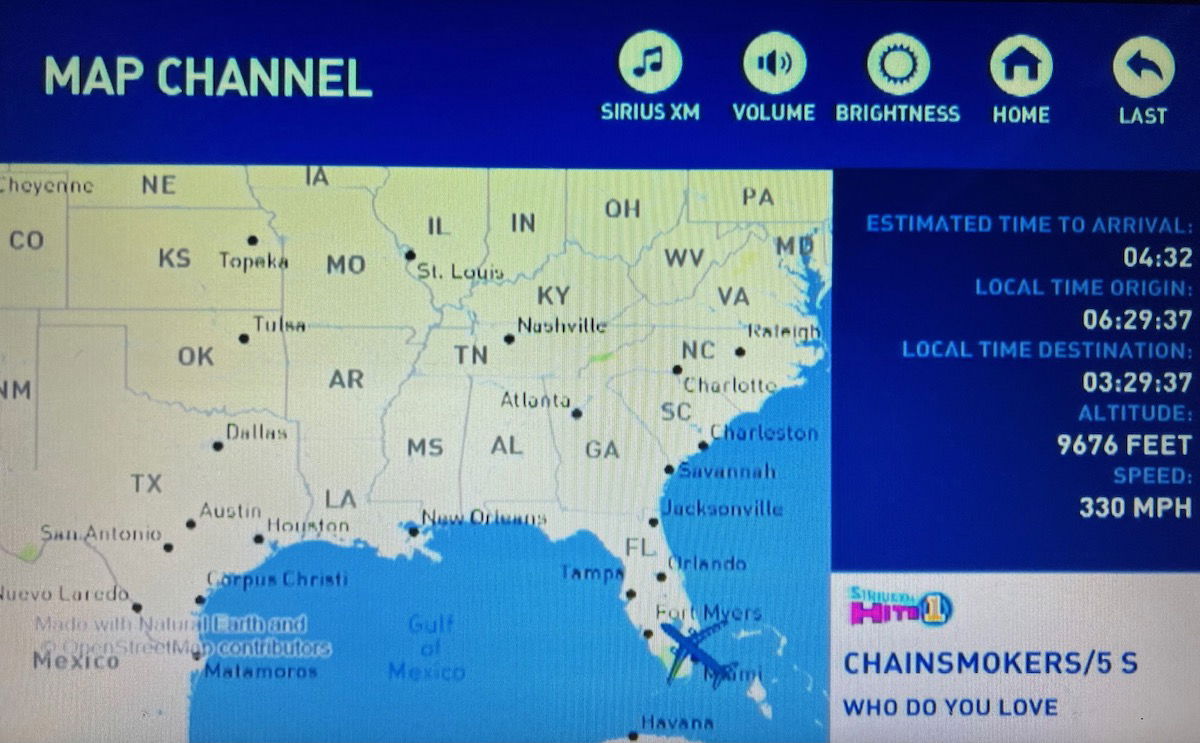 More exciting than the seat back entertainment (at least to me) is that JetBlue offers free Viasat Wi-Fi. You can log-in with just one click, and you don't even have to be a member of the loyalty program to use this.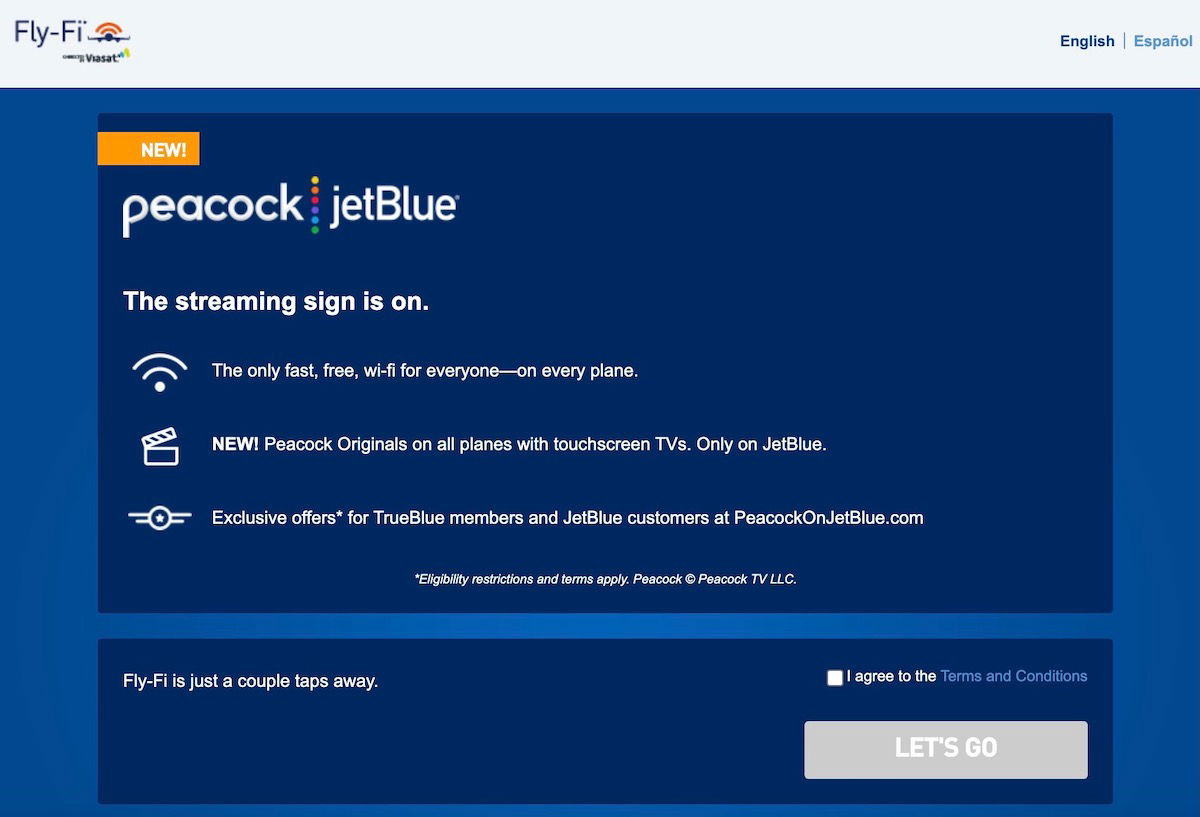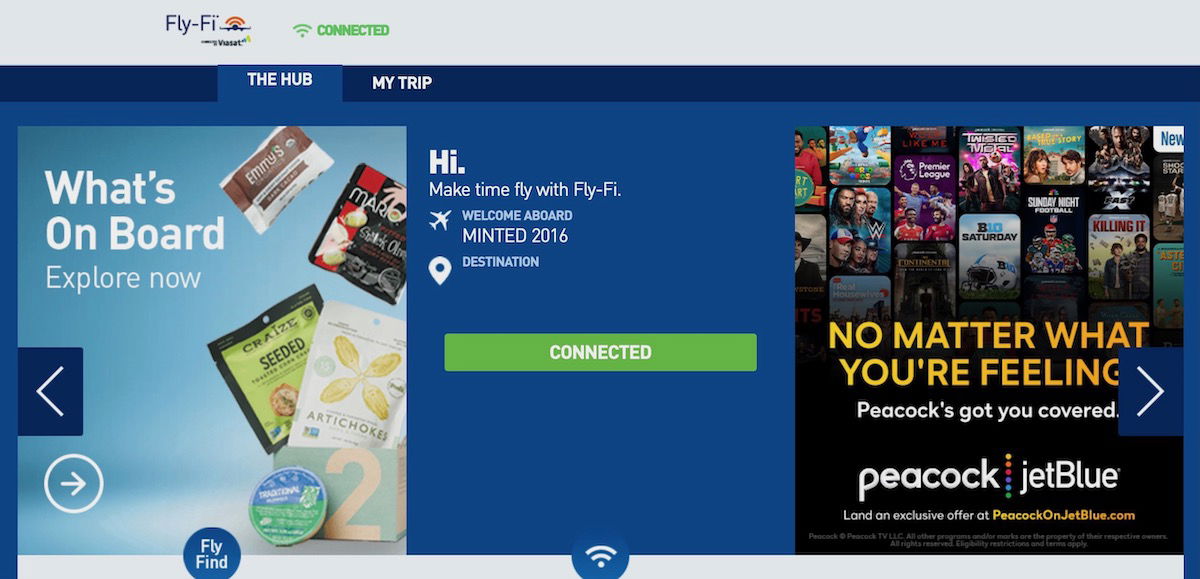 While Viasat Wi-Fi is the best major provider of inflight Wi-Fi, it's not surprising that speeds are significantly slower than on airlines that charge for Wi-Fi, given the increased use of the system. It's nice to have free Wi-Fi for just casually texting and browsing the web, but for those looking to get work done, the Wi-Fi speeds aren't amazing.
JetBlue A321 departure from Miami
Boarding was really efficient, as the flight was only about half full. By 6:05AM (20 minutes ahead of departure) it was announced that boarding was complete, and the door was closed. At that point the captain made his welcome aboard announcement, informing us of our flight time of 5hr16min.
The crew then began their manual safety demonstration. I've always found it strange how JetBlue does manual safety demonstrations, even though the airline has seat back televisions on all of its aircraft. Is this a money saving thing (in terms of the production cost of the video), or…?
By 6:10AM we began our pushback, and at 6:15AM we began our taxi. We had just a short 10 minute taxi to our departure runway, where we were cleared for takeoff at 6:25AM. That was our initial scheduled departure time, so it's awesome when you takeoff at the time you were supposed to leave the gate.
We had a smooth climb out, but despite that, the seatbelt sign stayed on for around 30 minutes (as seems to be standard on US airlines).
JetBlue Mint breakfast service
Breakfast was served on this transcon flight. Even though breakfast is ordinarily the least exciting meal of the day (especially on an airplane), JetBlue still manages to make it good. You can find the JetBlue Mint breakfast menu below.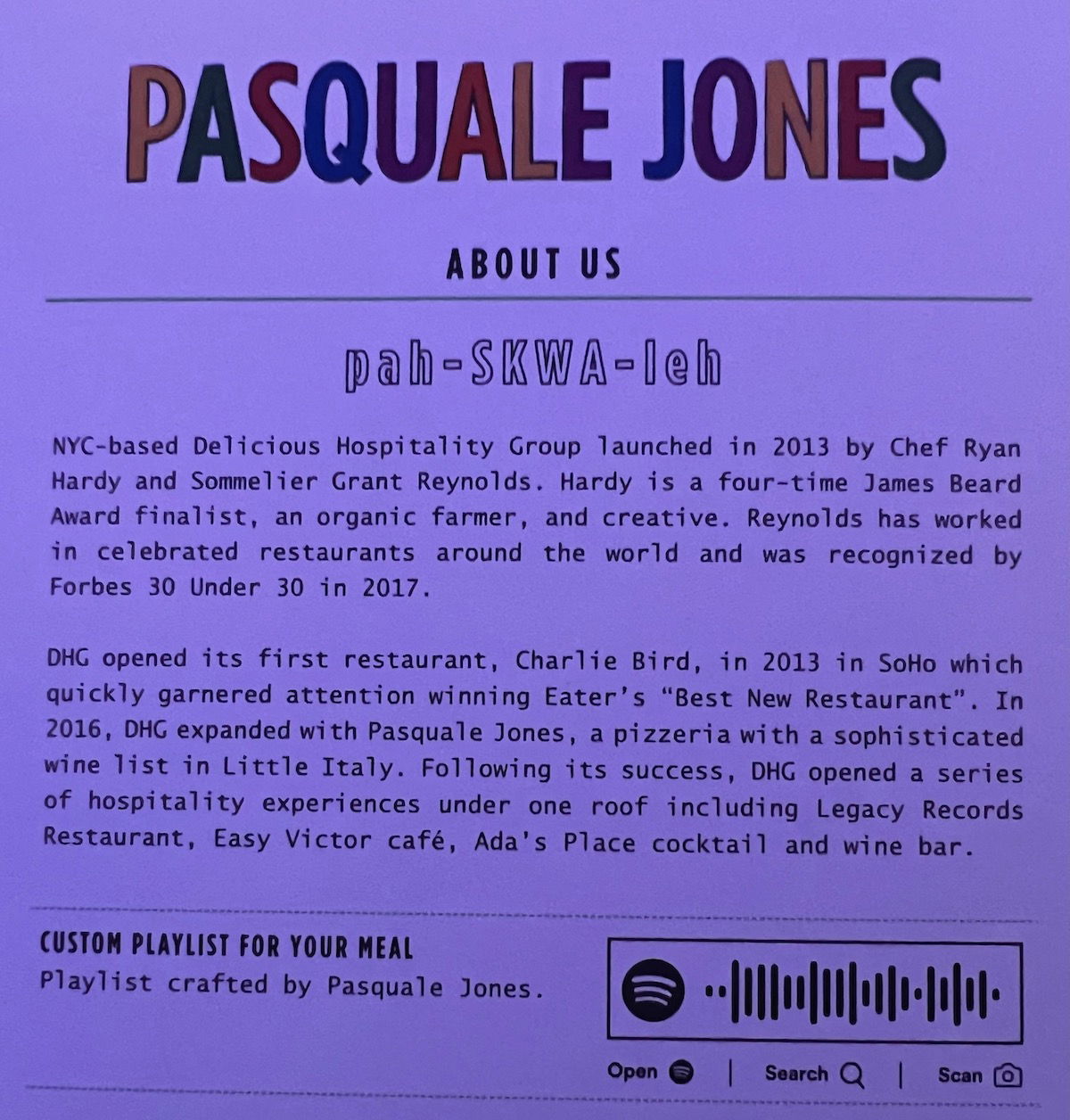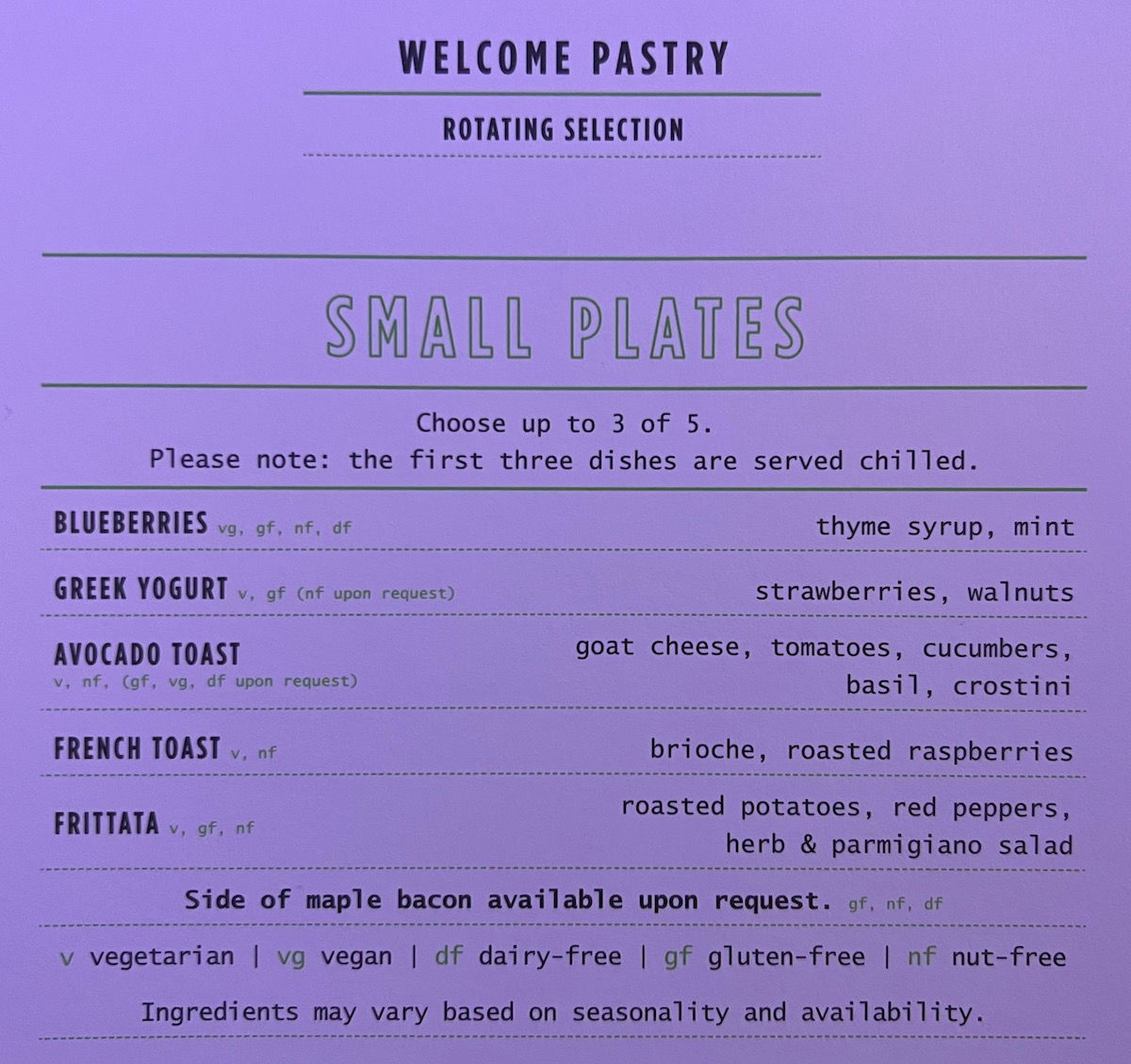 You can find the JetBlue Mint drink list below.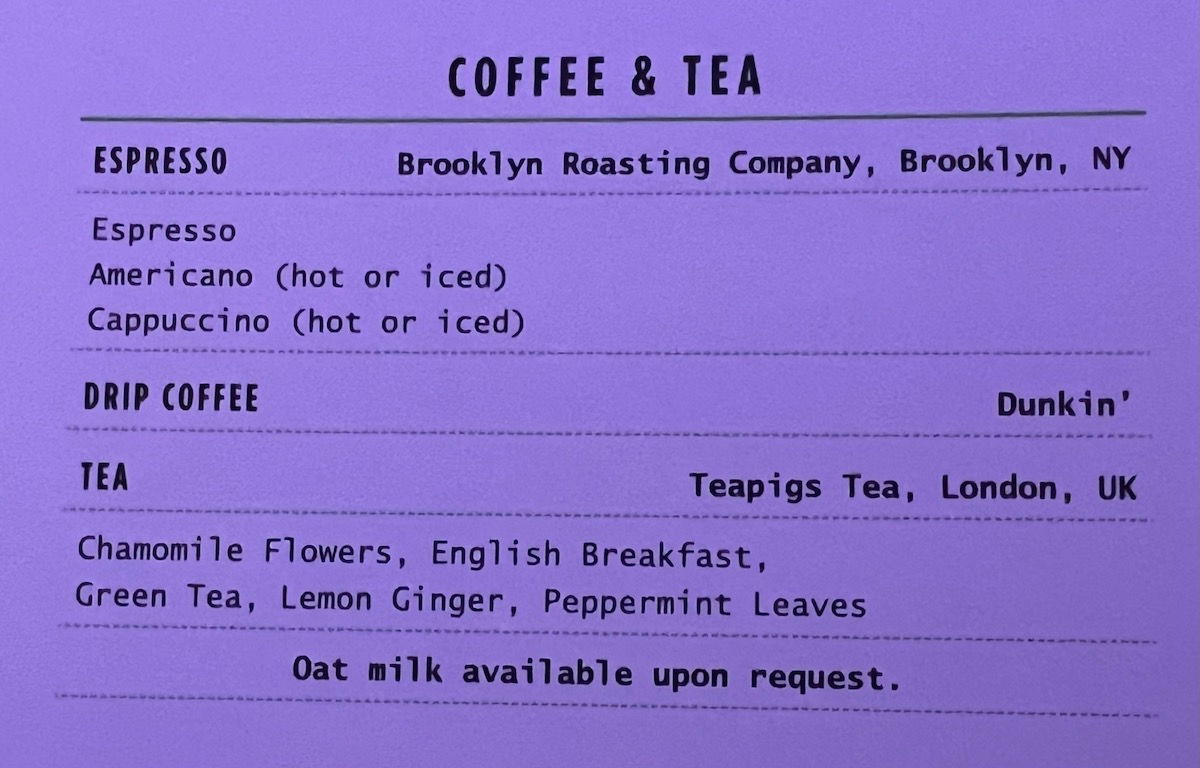 Just 10 minutes after takeoff, the crew came through the cabin to take meal orders. I love how JetBlue has espresso based drinks (including cappuccinos) in Mint, though unfortunately on this flight, the milk frother was broken, so I had to change my coffee selection up a bit.
About 35 minutes after takeoff I was brought my after takeoff drink, which was an iced coffee, and that was served with a butter croissant (which was really good — at least the couple of bites that I had, because it was huge).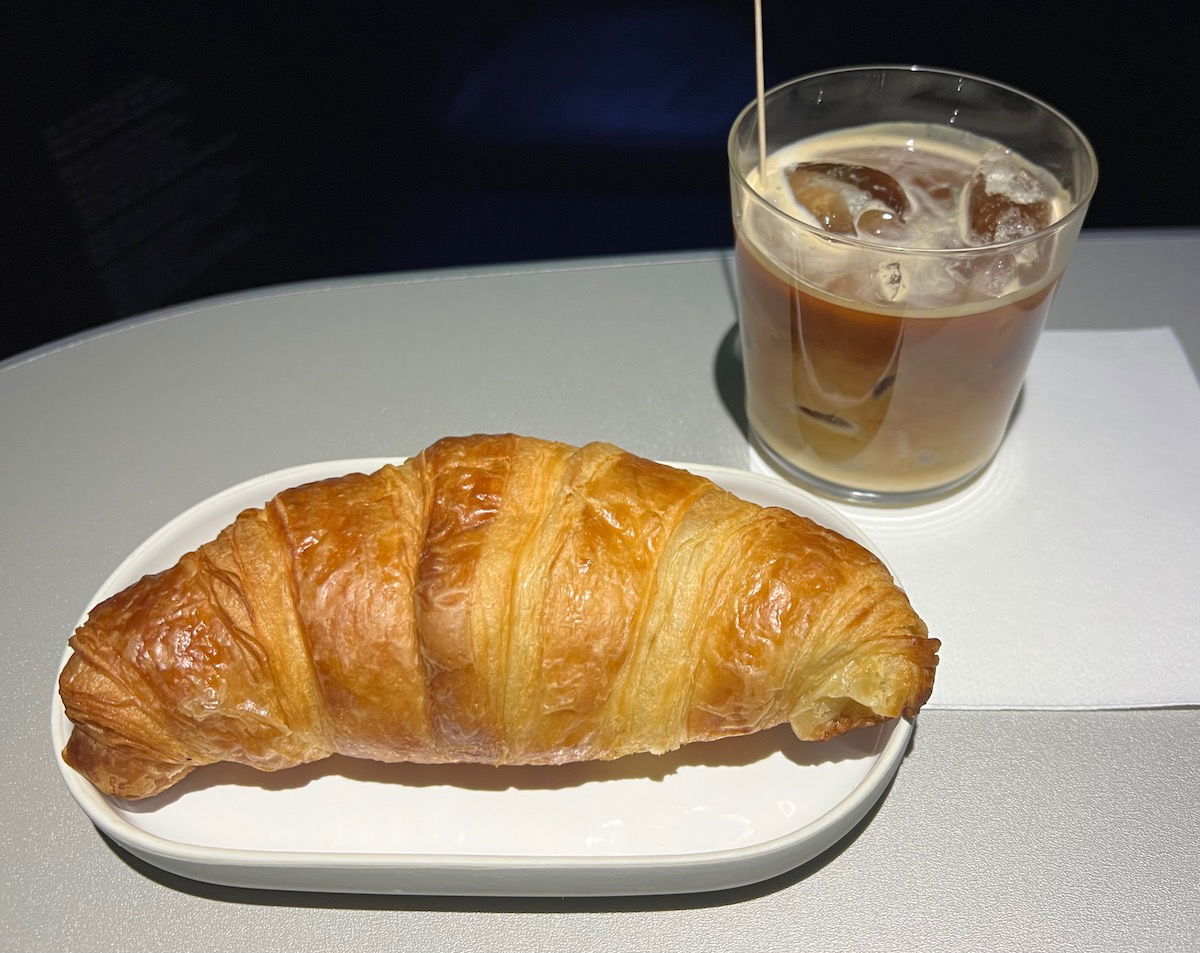 JetBlue has a very consistent and untraditional dining concept. The menu typically has five different dishes to choose from, and you can select three of them. They're then all served on a single tray (for lunch and dinner flights there are also desserts, served separately).
I selected the following three options:
Greek yogurt with strawberries and walnuts
Avocado toast with goat cheese, tomatoes, cucumbers, basil, and crostini
Frittata with roasted potatoes, red peppers, herb and parmigiano salad
All three dishes were excellent, and I particularly liked the frittata. The avocado toast wasn't exactly what I was expecting (it was more like crostinis with guacamole), but I still enjoyed it. This was leaps and bounds better than anything I've been served for breakfast on any other US airline.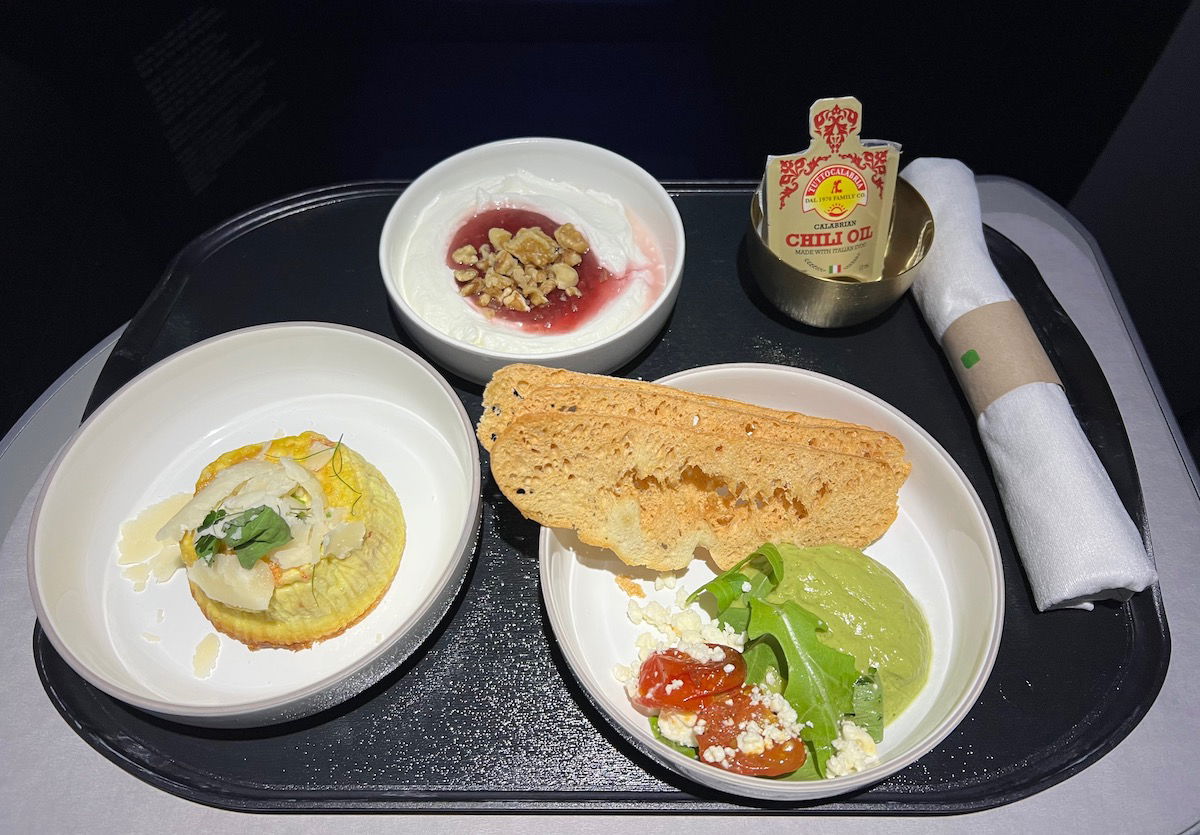 After breakfast, I decided to have a cup of drip coffee. I loved the cup it was served in, plus the little container with the milk.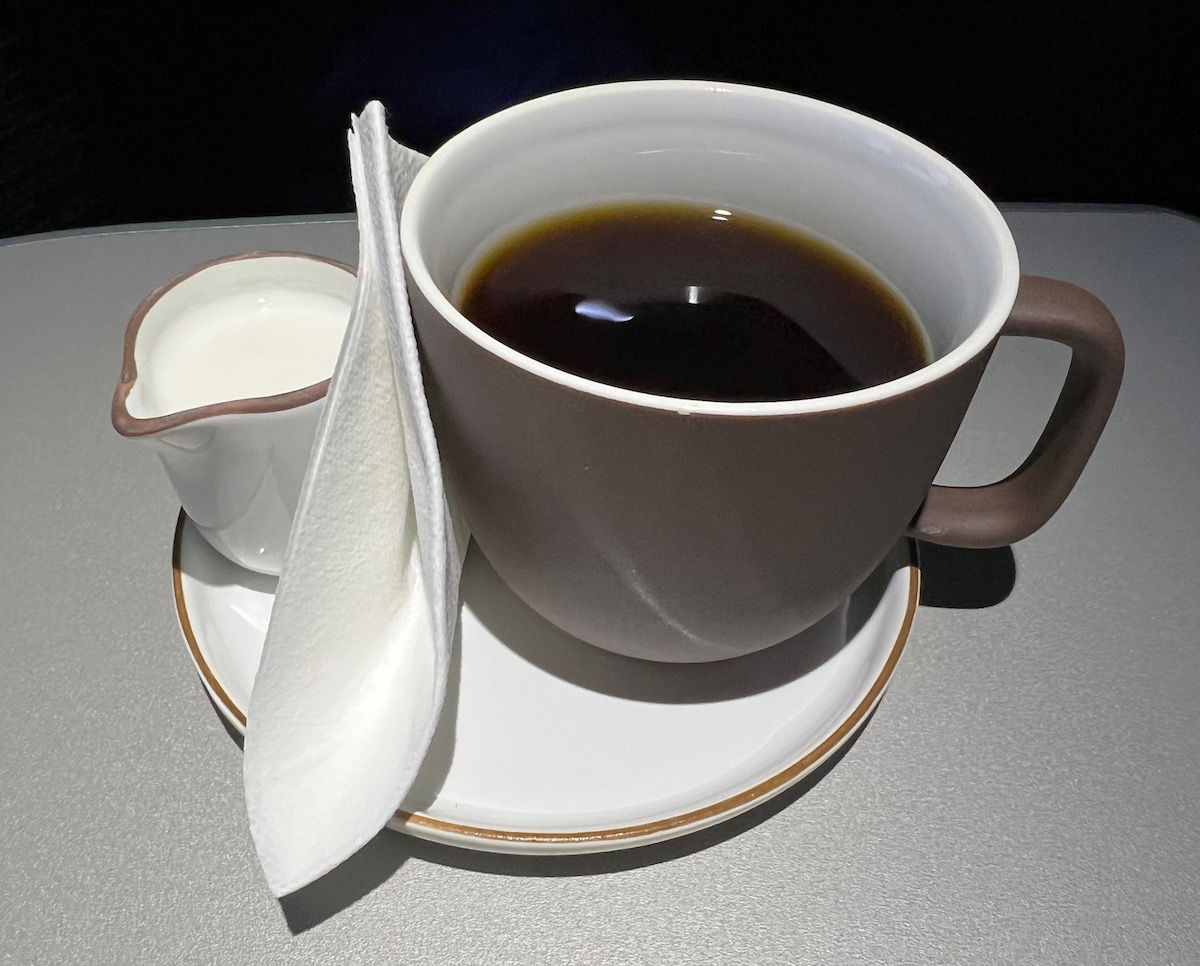 I enjoyed the sunrise view as we made progress toward Los Angeles, and interestingly we stayed completely over land with our routing.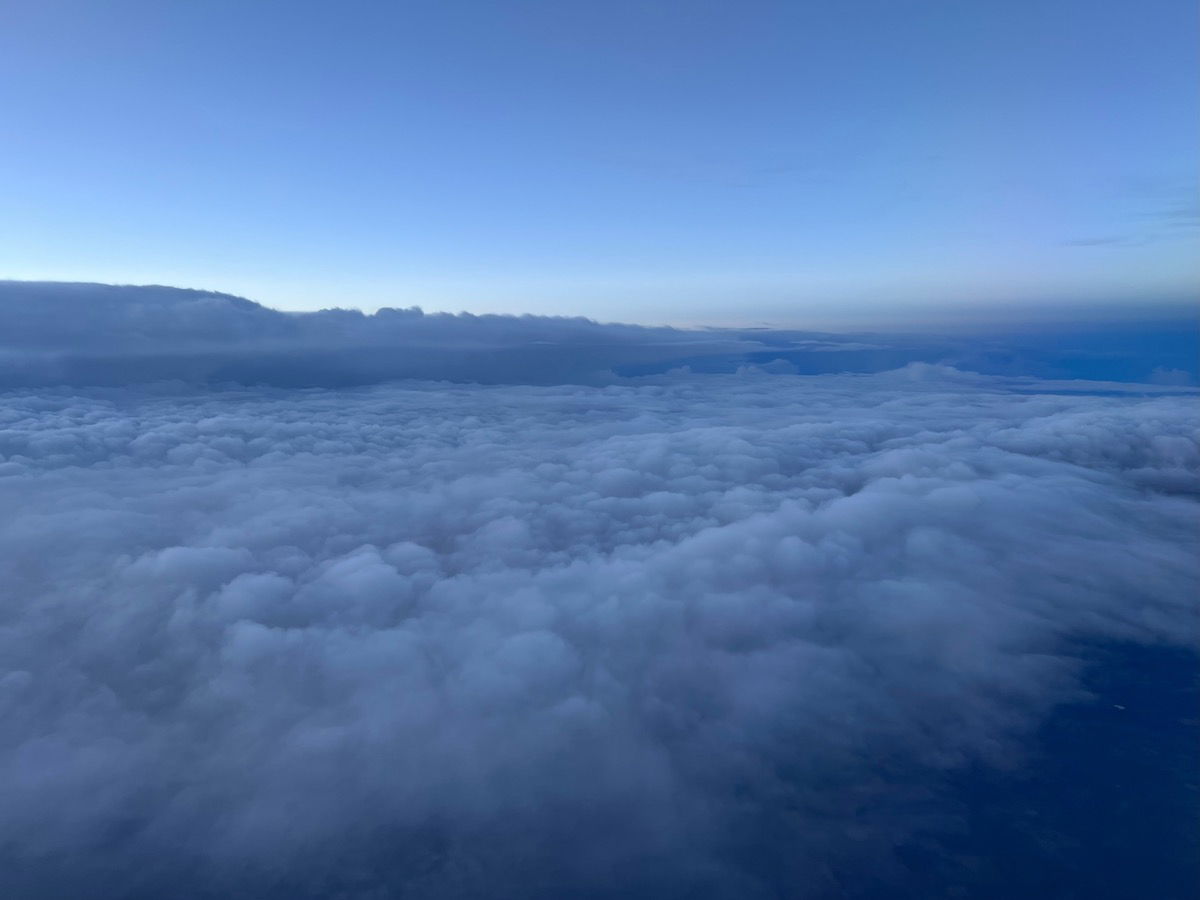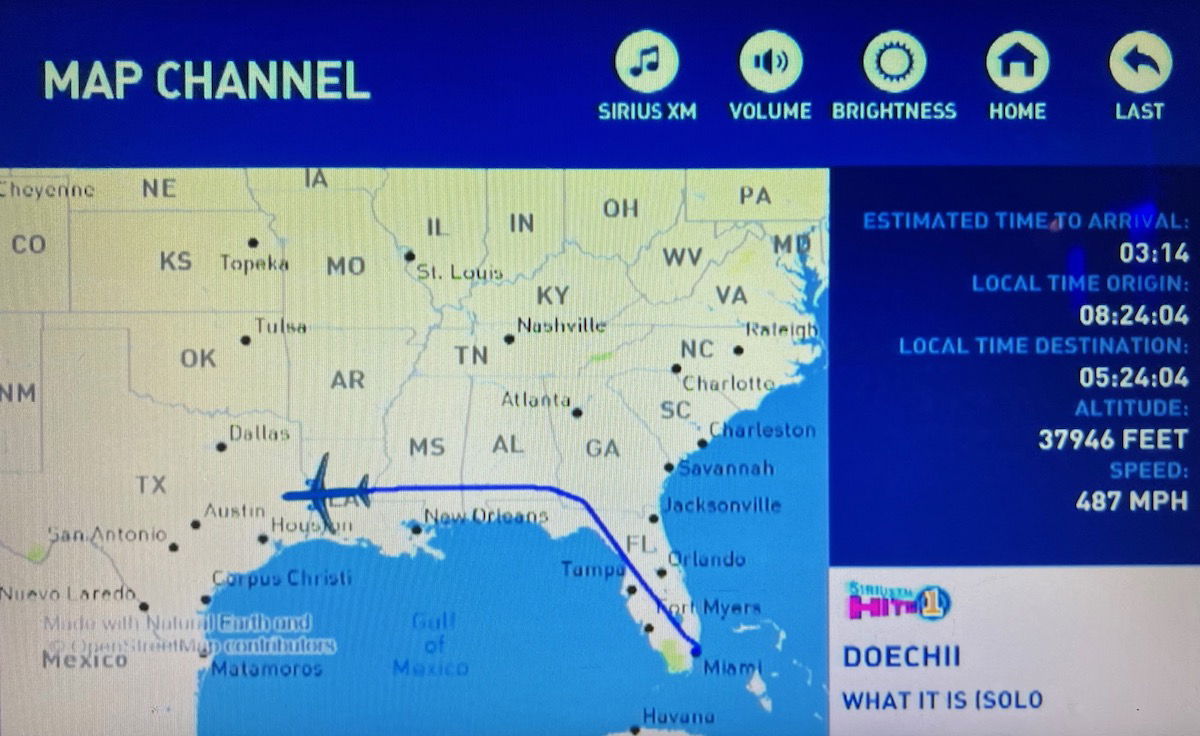 JetBlue A321 Mint lavatory
At the front of the Airbus A321's cabin was the Mint lavatory. It's perhaps the thing that JetBlue puts the least thought into when it comes to the Mint experience, as there were no special amenities, or anything. At least it had significantly less traffic than the other lavatories, and therefore was presumably cleaner.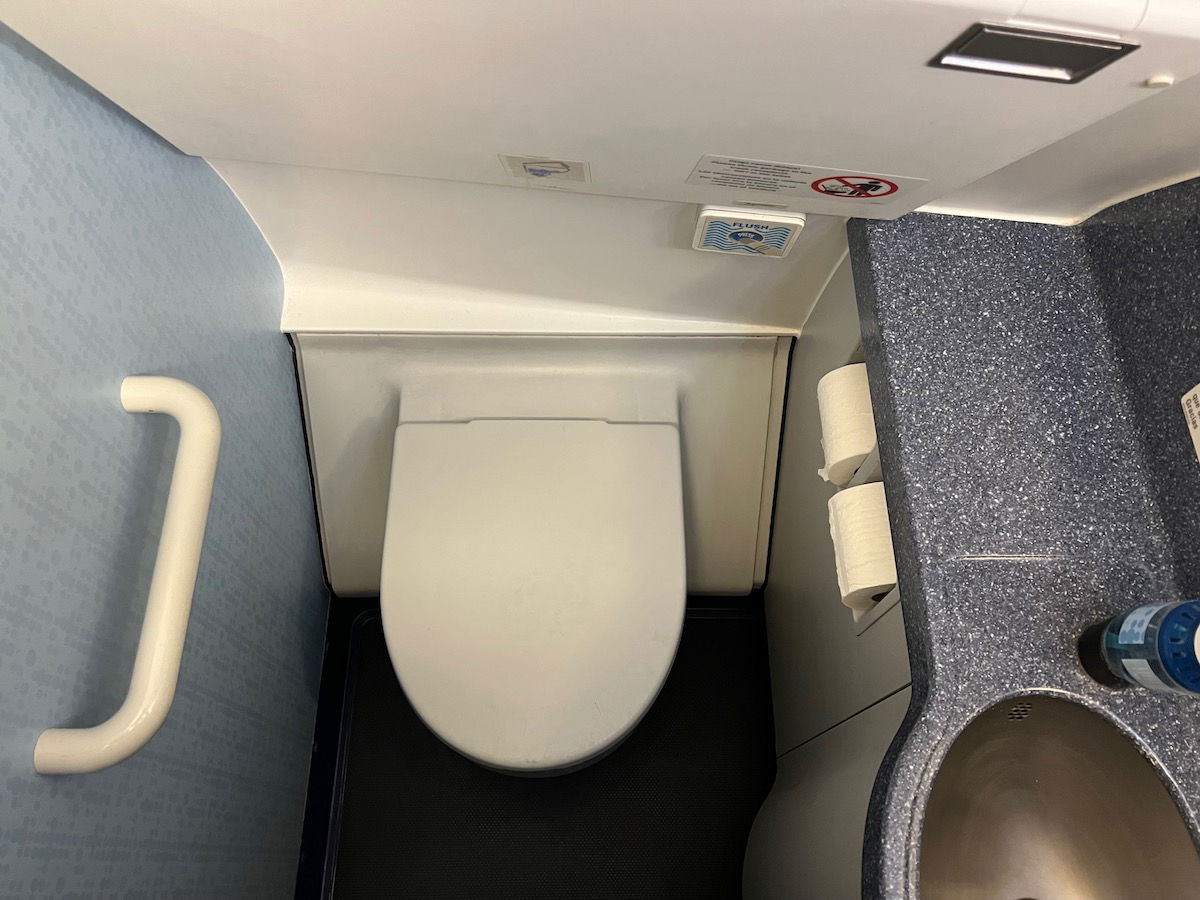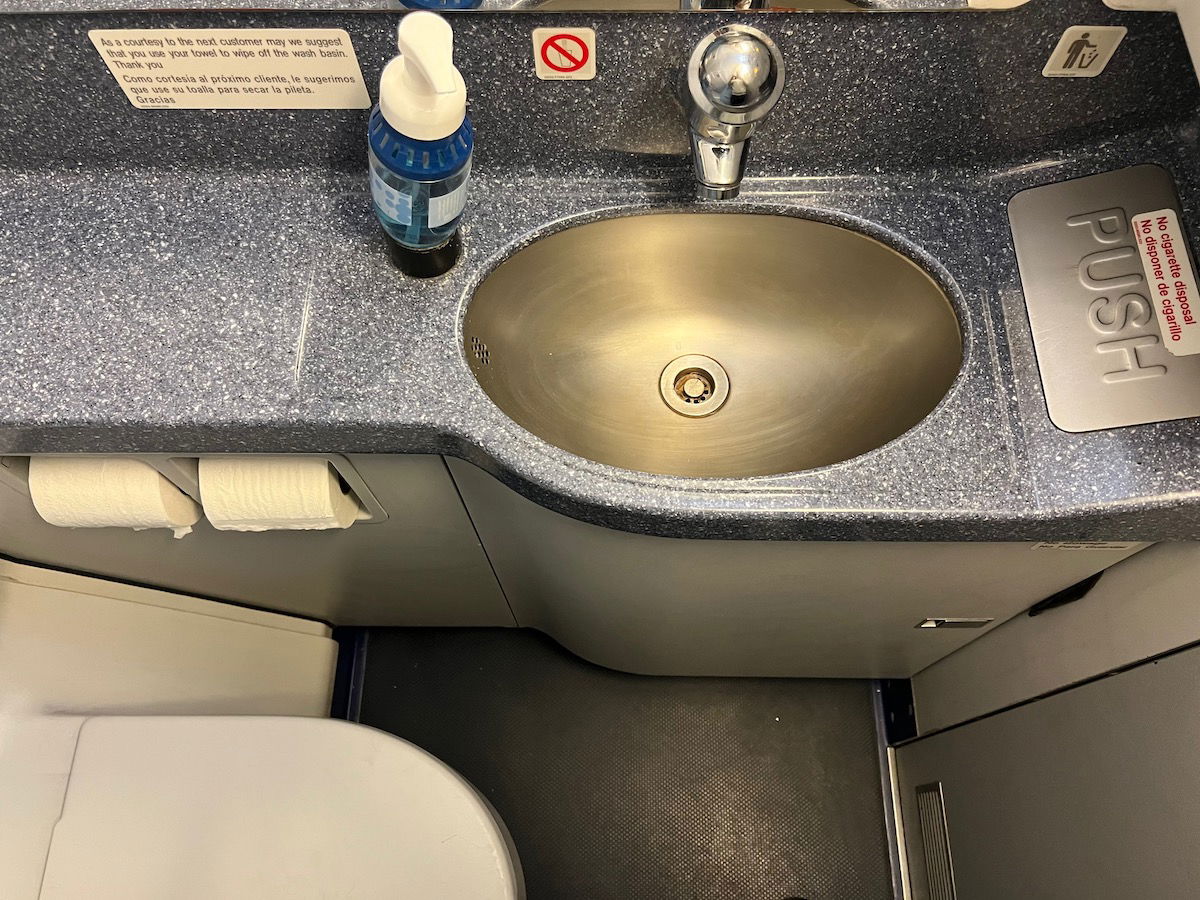 JetBlue A321 Mint business class bed
Before I even talk about bed comfort, I just have to briefly comment on something. I'm a morning person, so I got a full night of sleep prior to my flight, and got up at my usual time. Heck, we didn't even set an alarm. So personally on a daytime flight like this, I want to be awake the entire time, enjoy the views, etc.
I seem to be in the minority, though, because the cabin was pitch black for the entire flight. I of course don't want to be the one jerk who keeps his window open when all the other windows are closed, but I'm not a huge fan of how crews often try to encourage everyone to close their windows on a daytime flight. Sorry y'all ain't morning people, but… 😉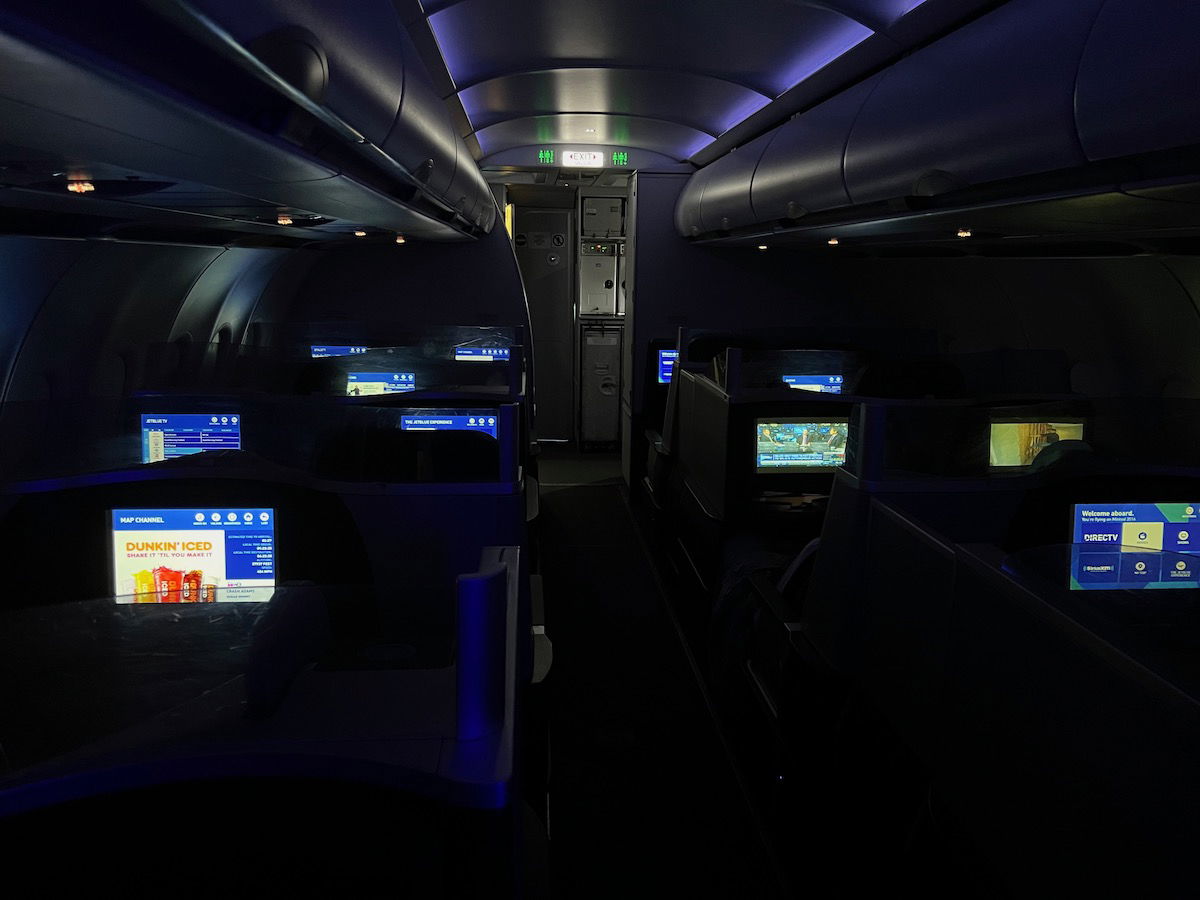 Anyway, on to the bed comfort. I found the bed to be very comfortable, especially thanks to the bedding and seat padding.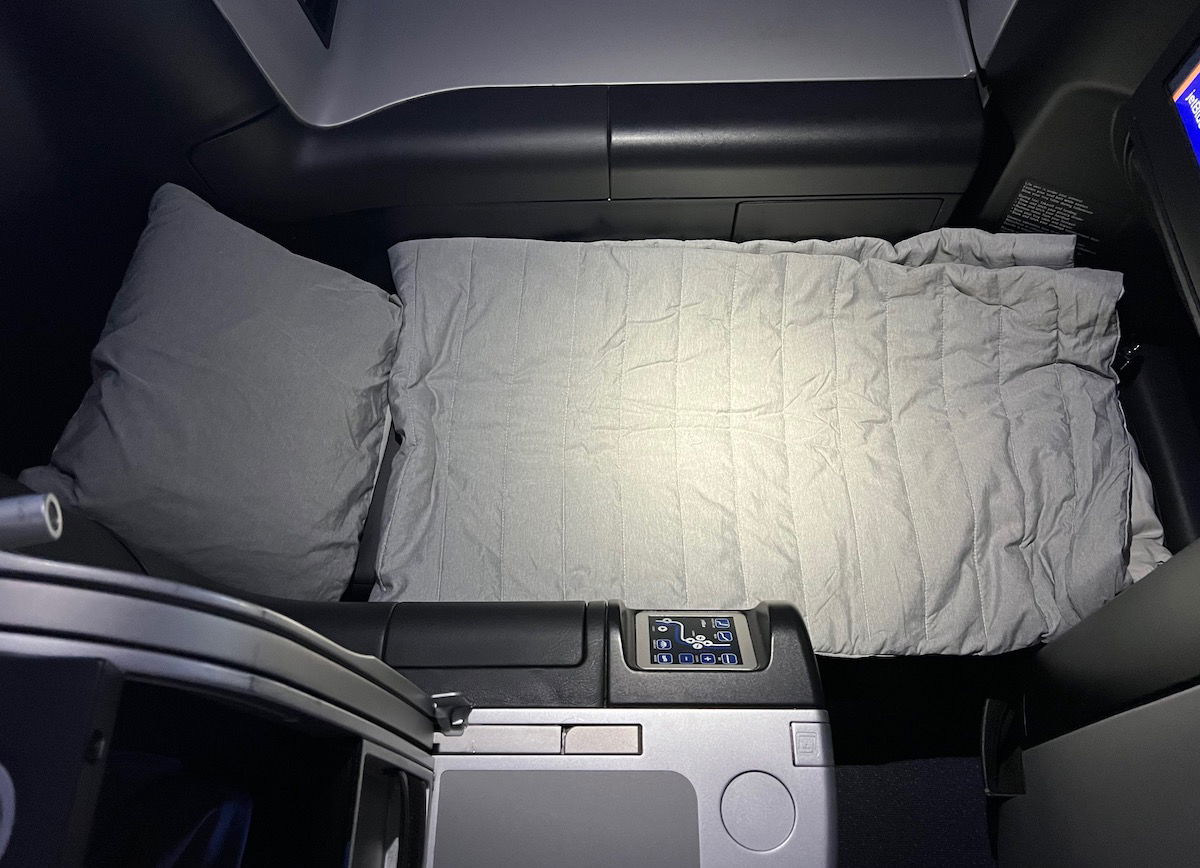 With these staggered configurations, each seat has a footwell you need to place your feet into when reclined, and the footwell in the throne seats is a bit tighter than in the other seats. So it definitely does feel snug in the fully reclined position, but it's also important to remember this is a narrow body jet…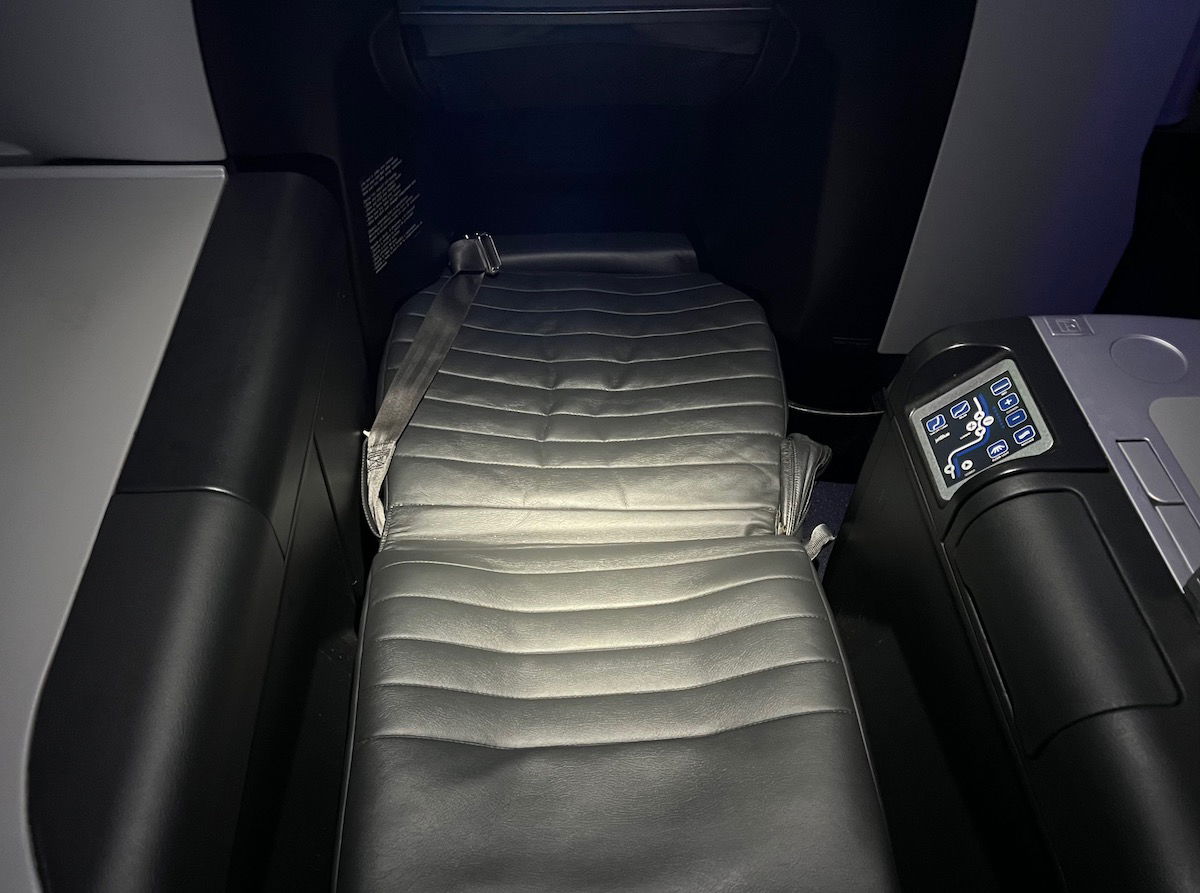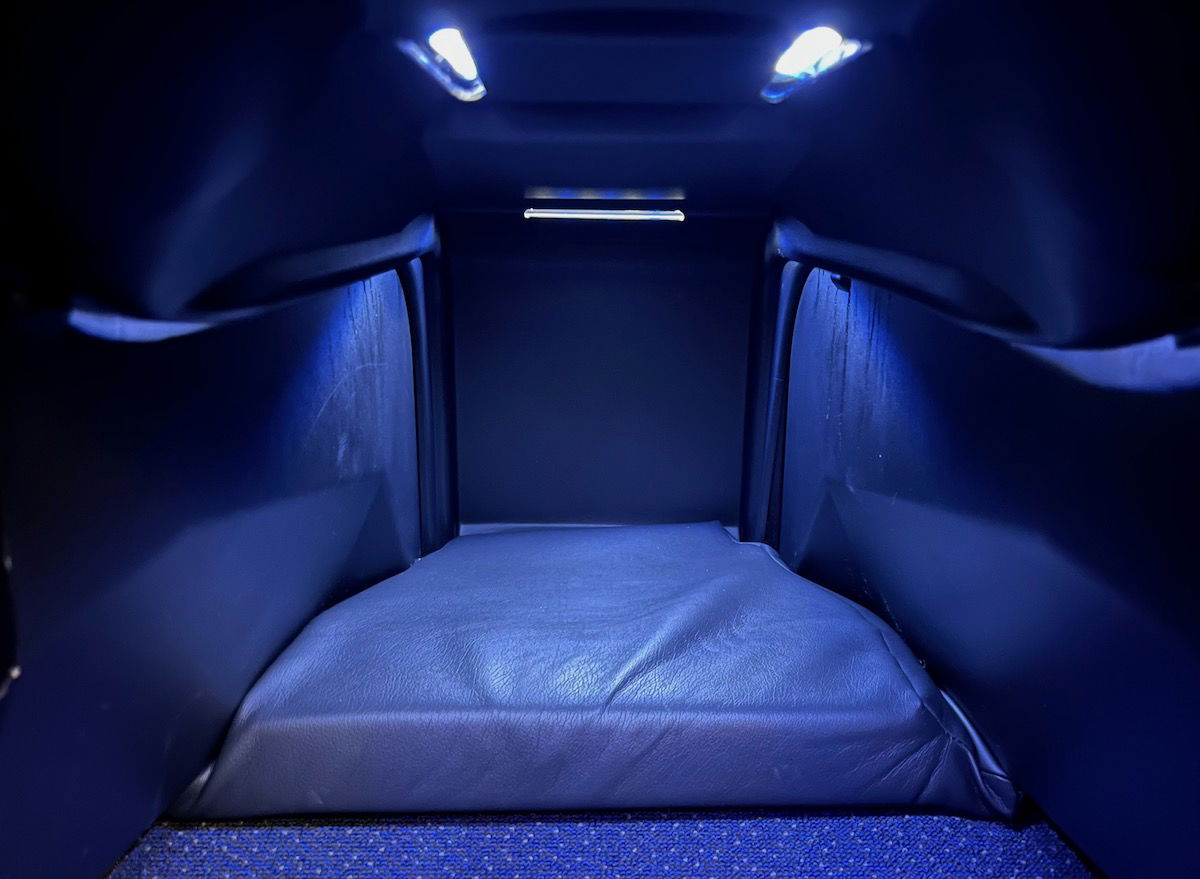 JetBlue Mint business class snacks
While the crew frequently checked to see if passengers wanted anything else to drink, a snack basket wasn't ever passed around. However, immediately behind the Mint business class cabin was the snack bar, which has all kinds of packaged snacks that passengers can help themselves to. It's just another way that the JetBlue experience in economy is a lot more pleasant than on other airlines.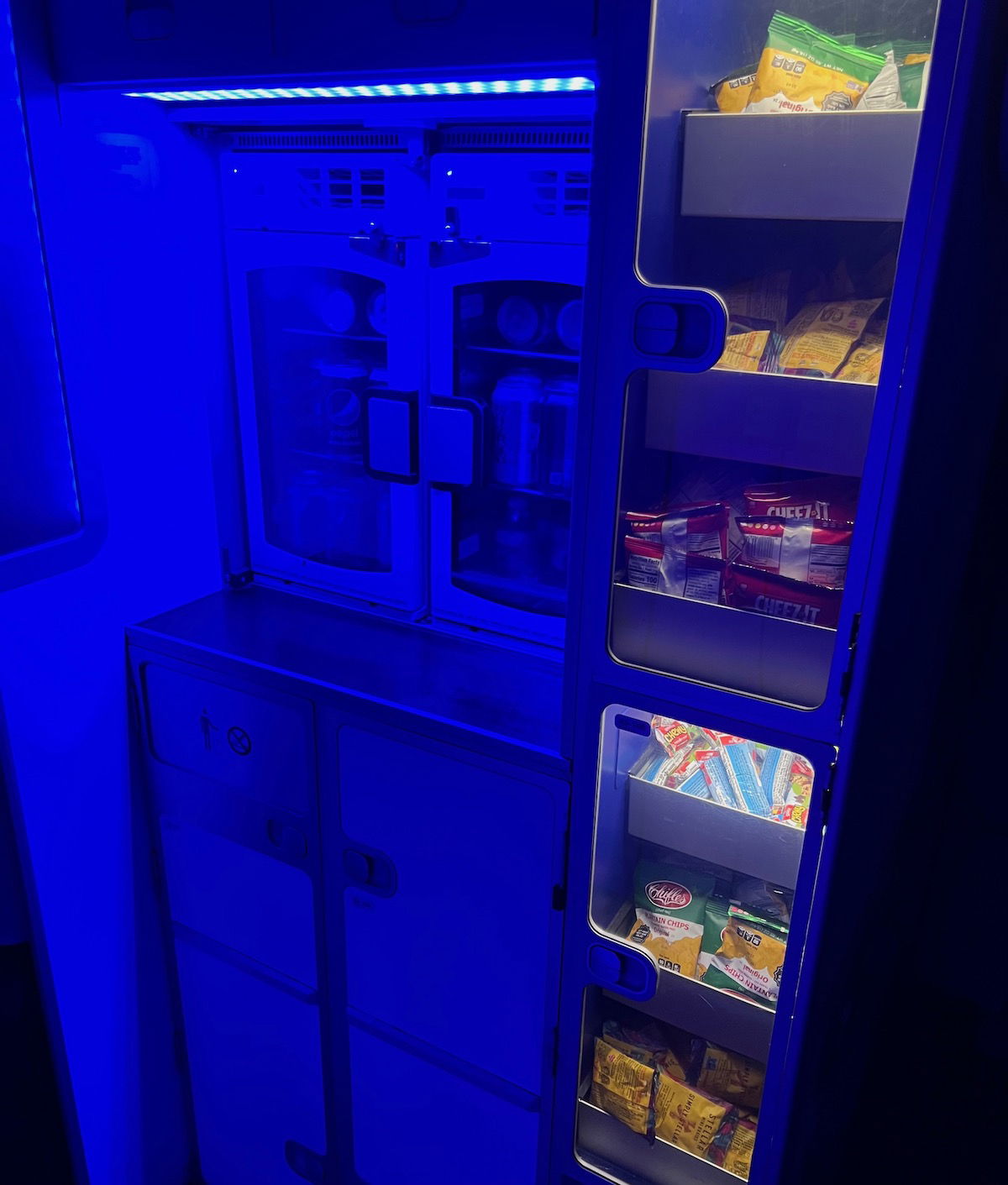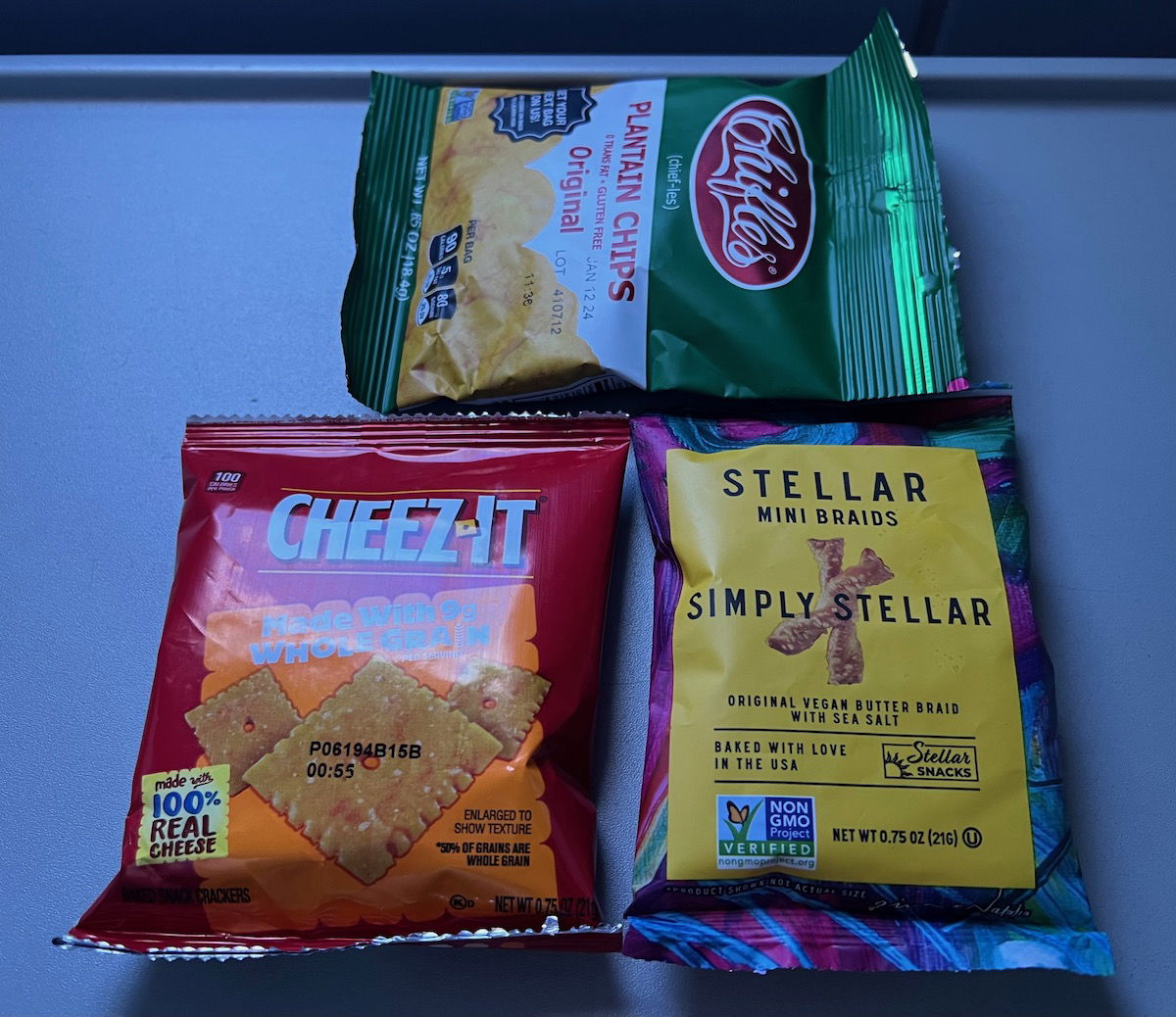 In addition to that, shortly before landing, the crew passed out chocolate covered cashews to Mint passengers. I remember back in the day, JetBlue would pass out Milk Bar treats prior to landing, but I guess that has been cut.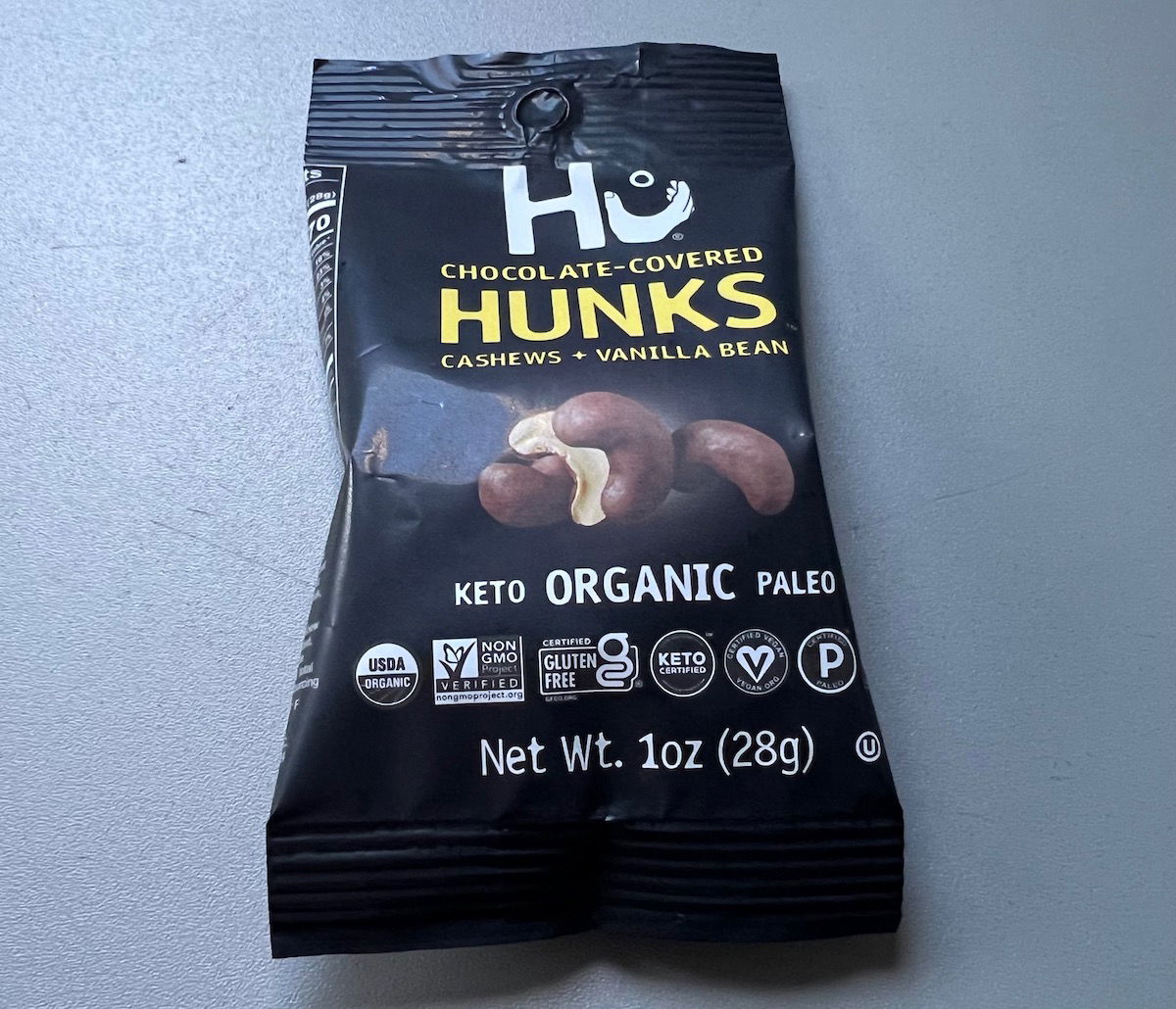 JetBlue Mint service
The service in JetBlue Mint was great, as always. The crews in Mint really seem like they enjoy their jobs, and they actually provide attentive and consistent service. I don't know why other US airlines can't offer the same elevated service level in premium cabins that JetBlue offers.
JetBlue A321 arrival in Los Angeles
At around 8AM Los Angeles time, the captain announced that we would soon start our descent, and would be landing in around 40 minutes. Sure enough, we started our descent around 10 minutes later. The views approaching LAX are consistently mesmerizing…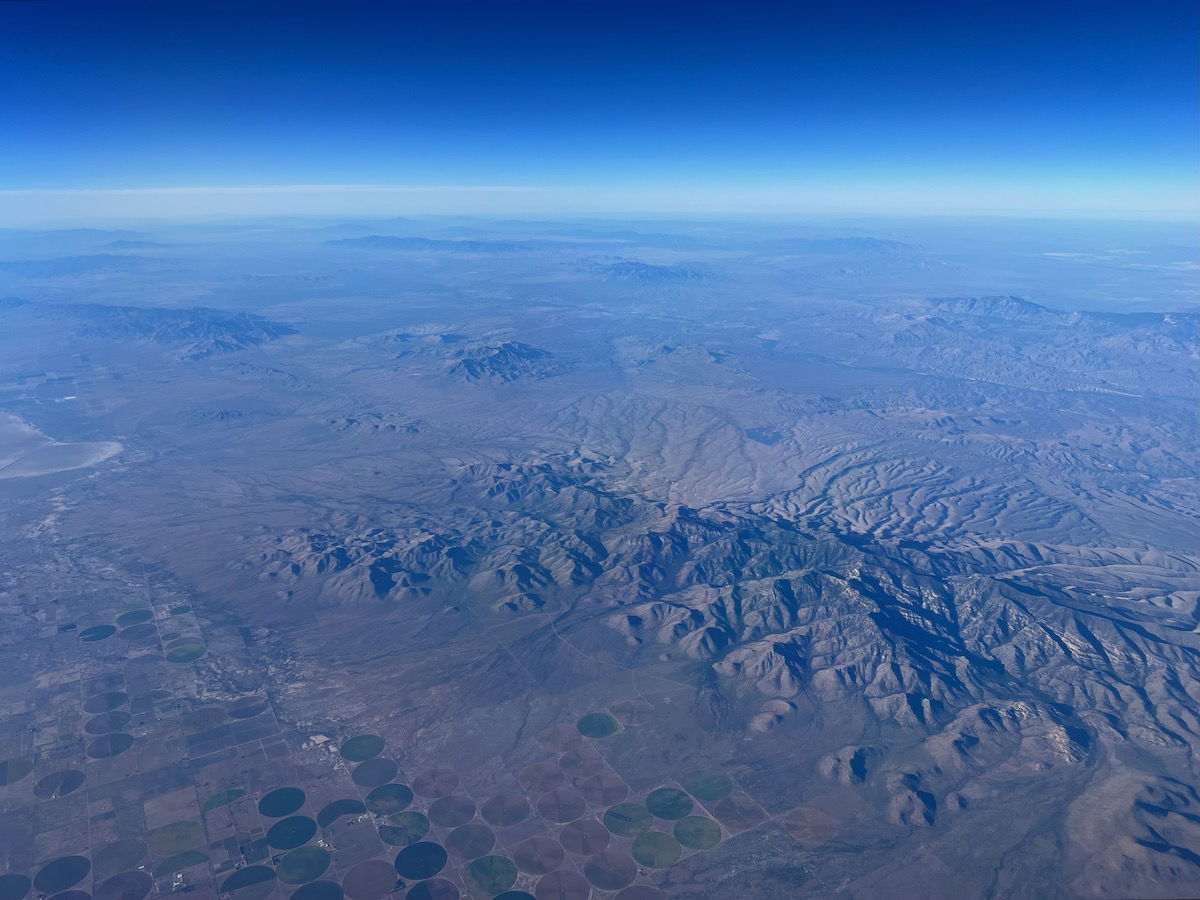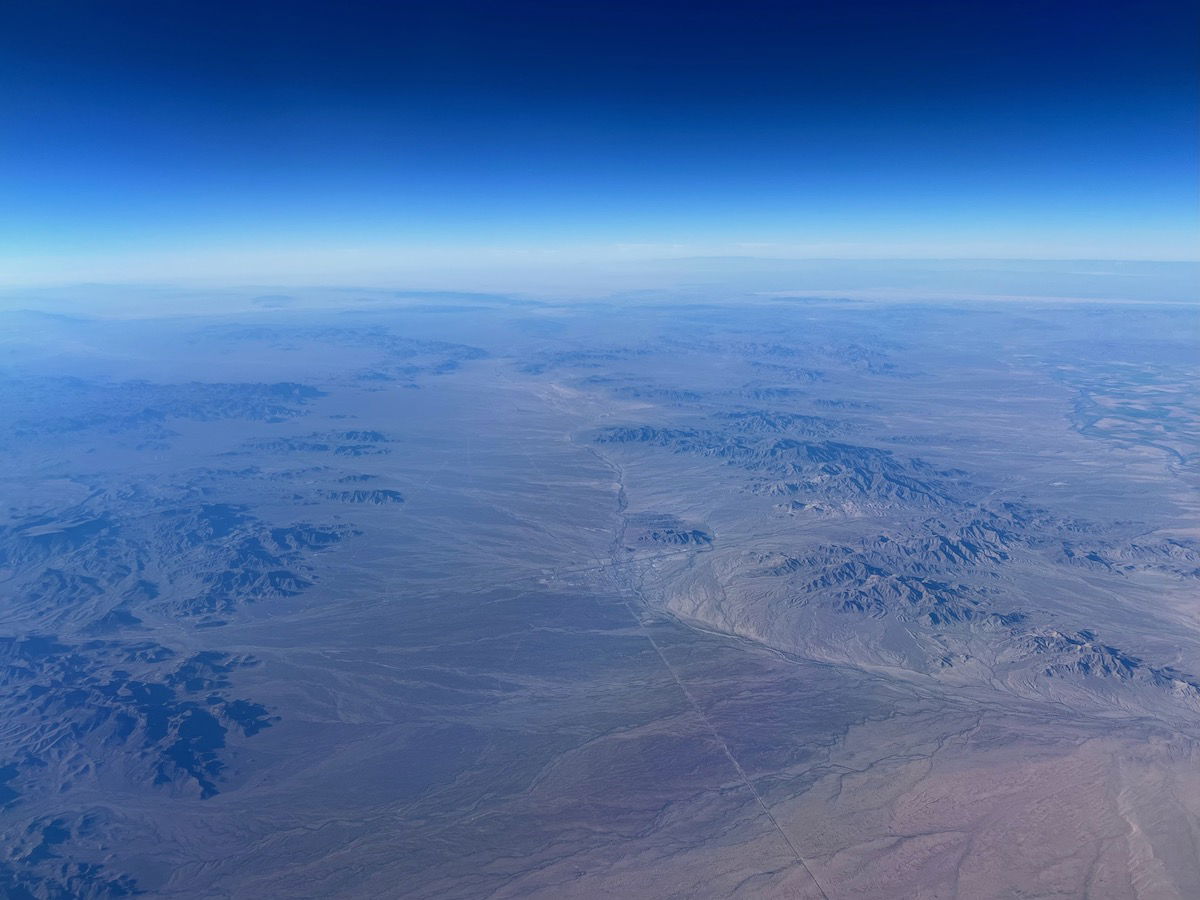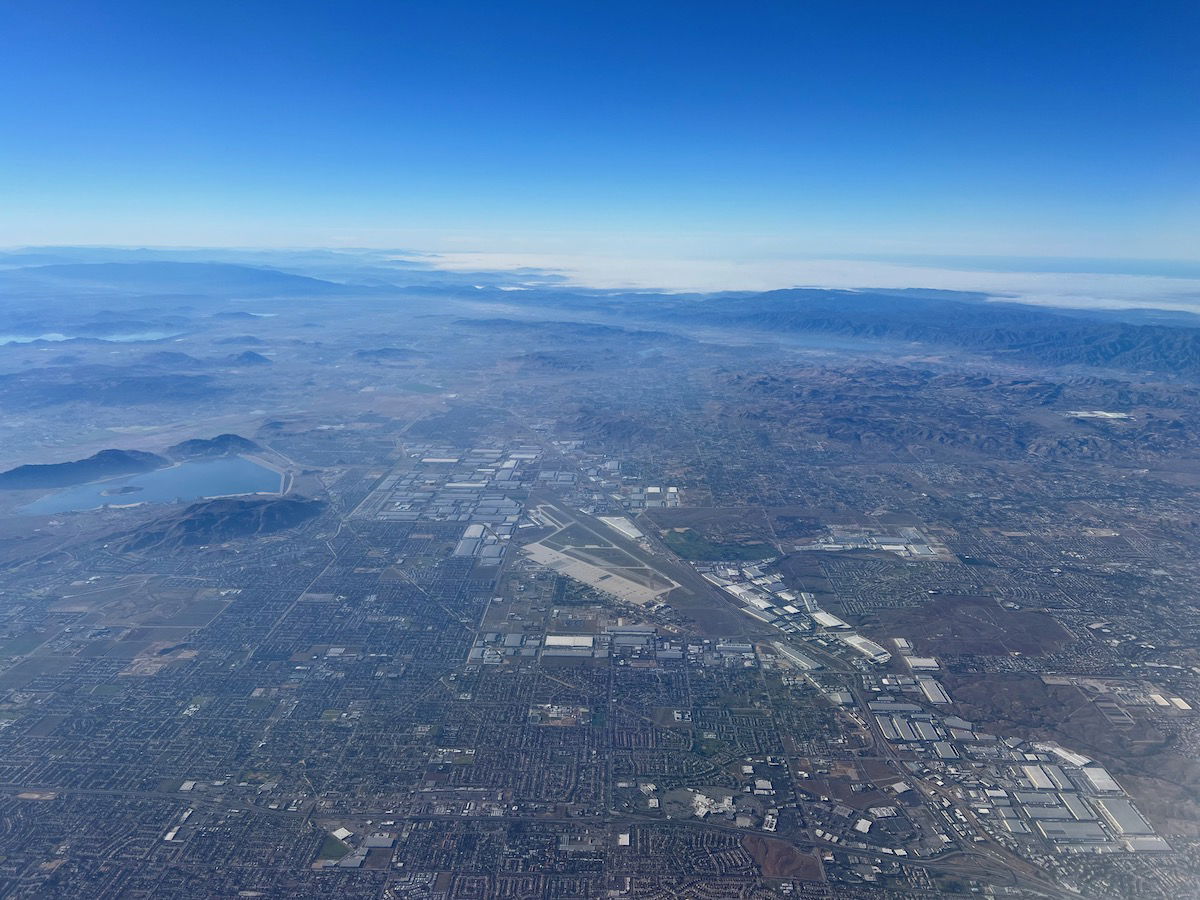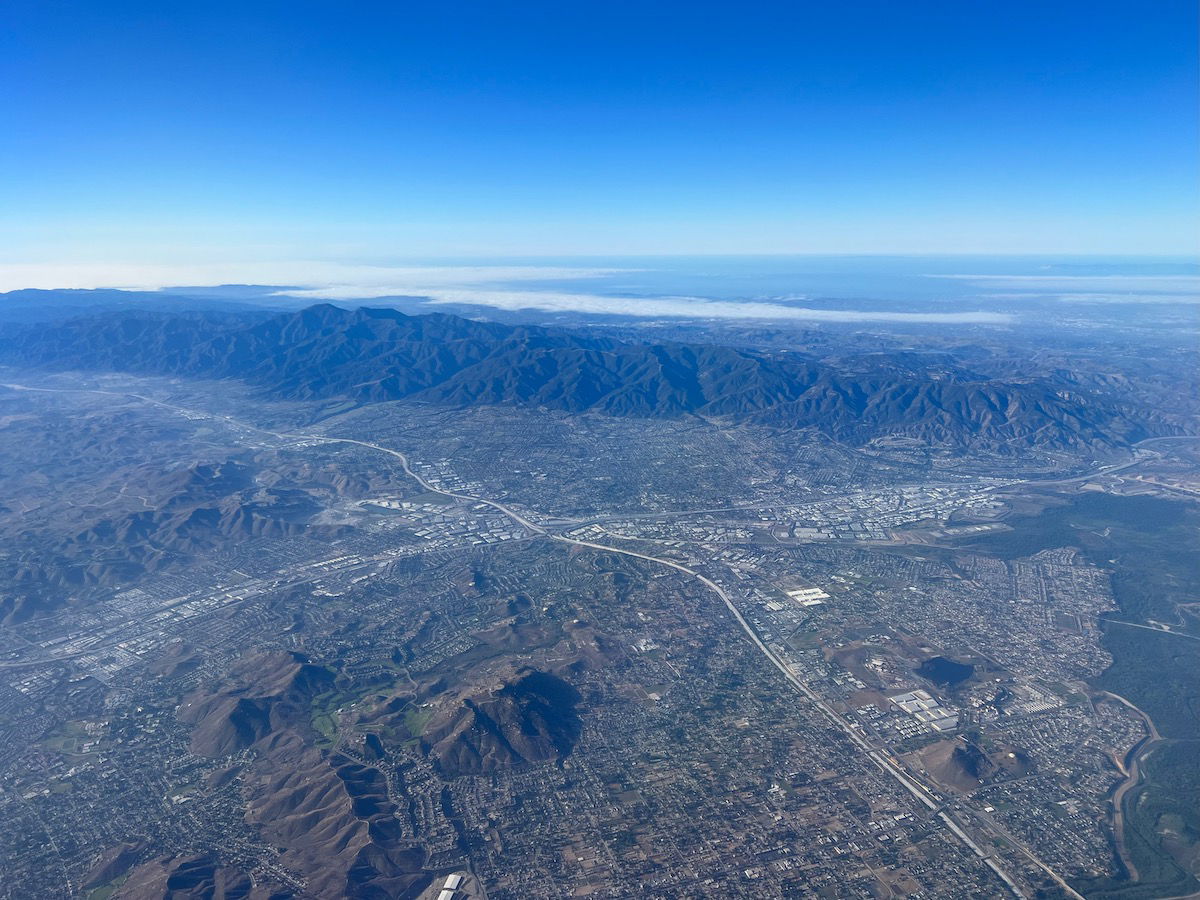 The seatbelt sign was turned on around 8:25AM. From there we just had an additional 15 minutes of flying, and touched down at LAX on runway 25L at 8:40AM.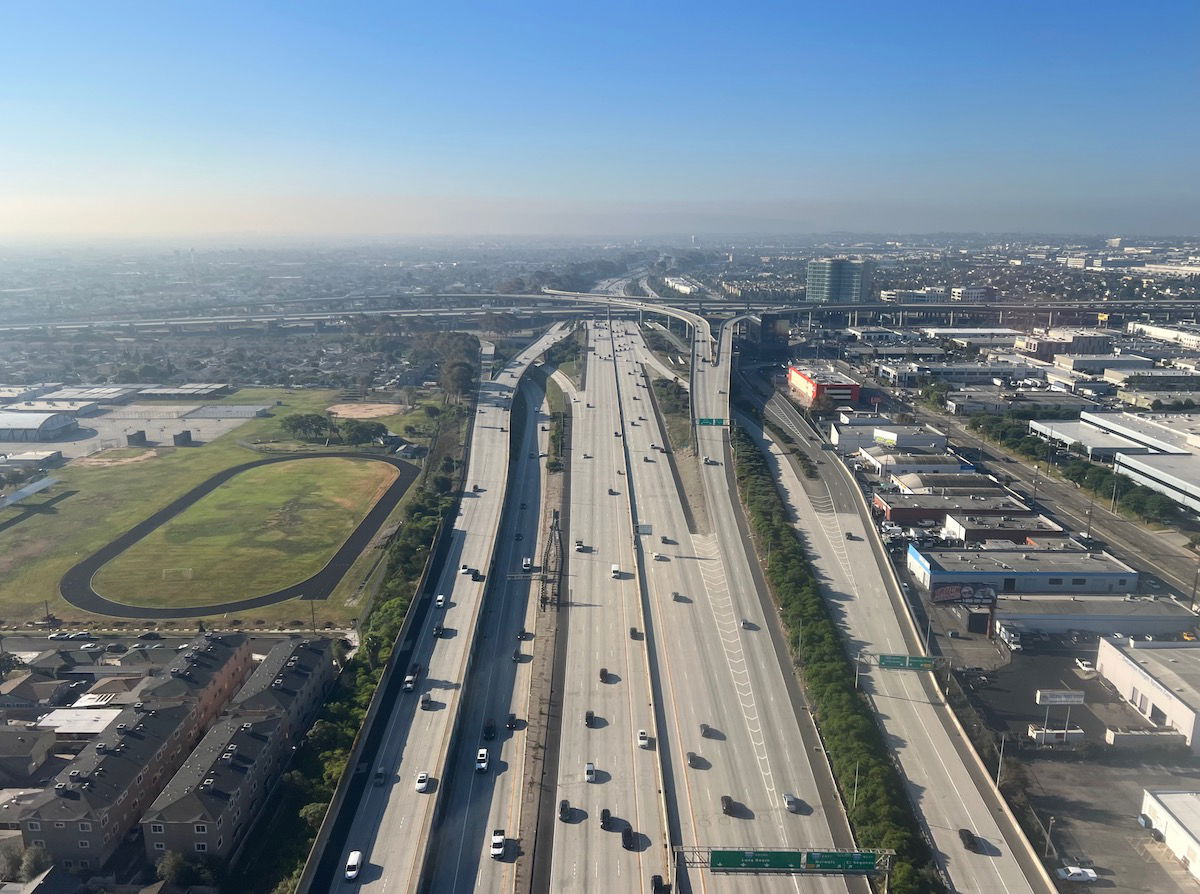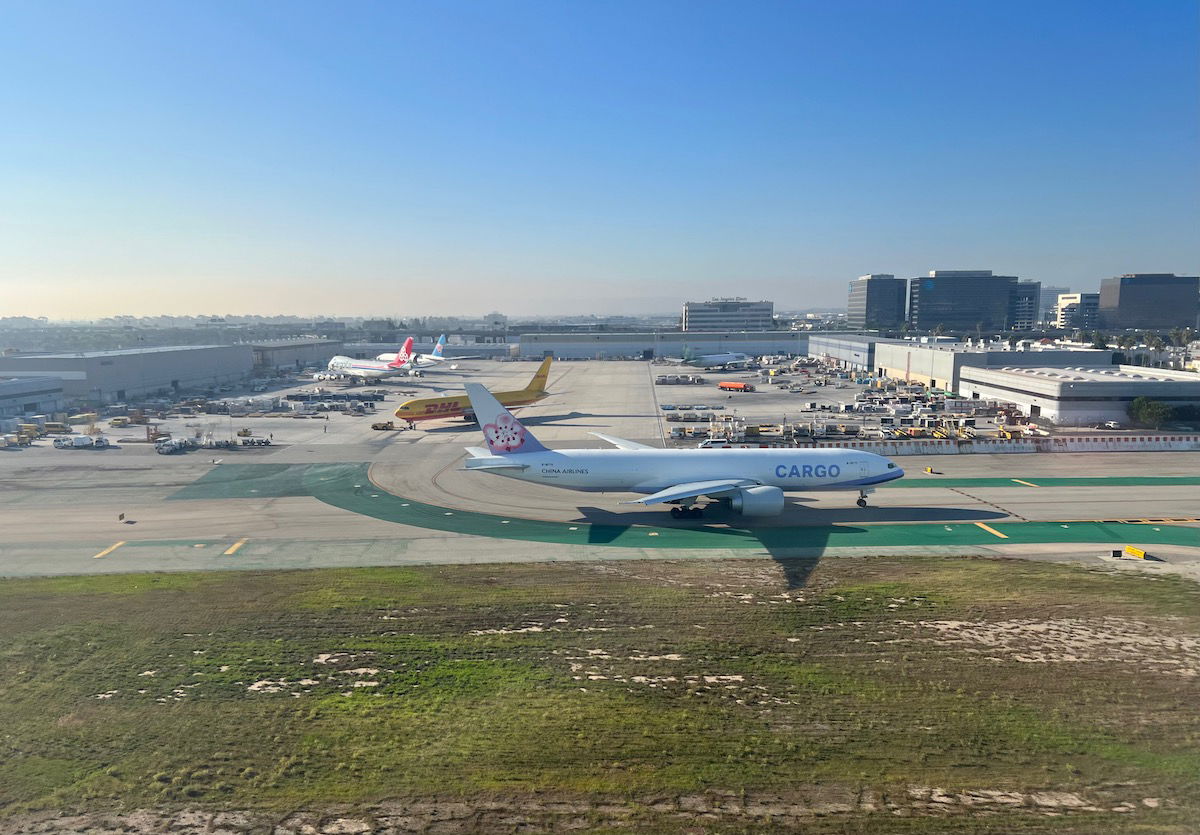 From there we had a rather lengthy taxi to our arrival gate at Terminal 5, where we arrived at 8:55AM, over 20 minutes ahead of schedule.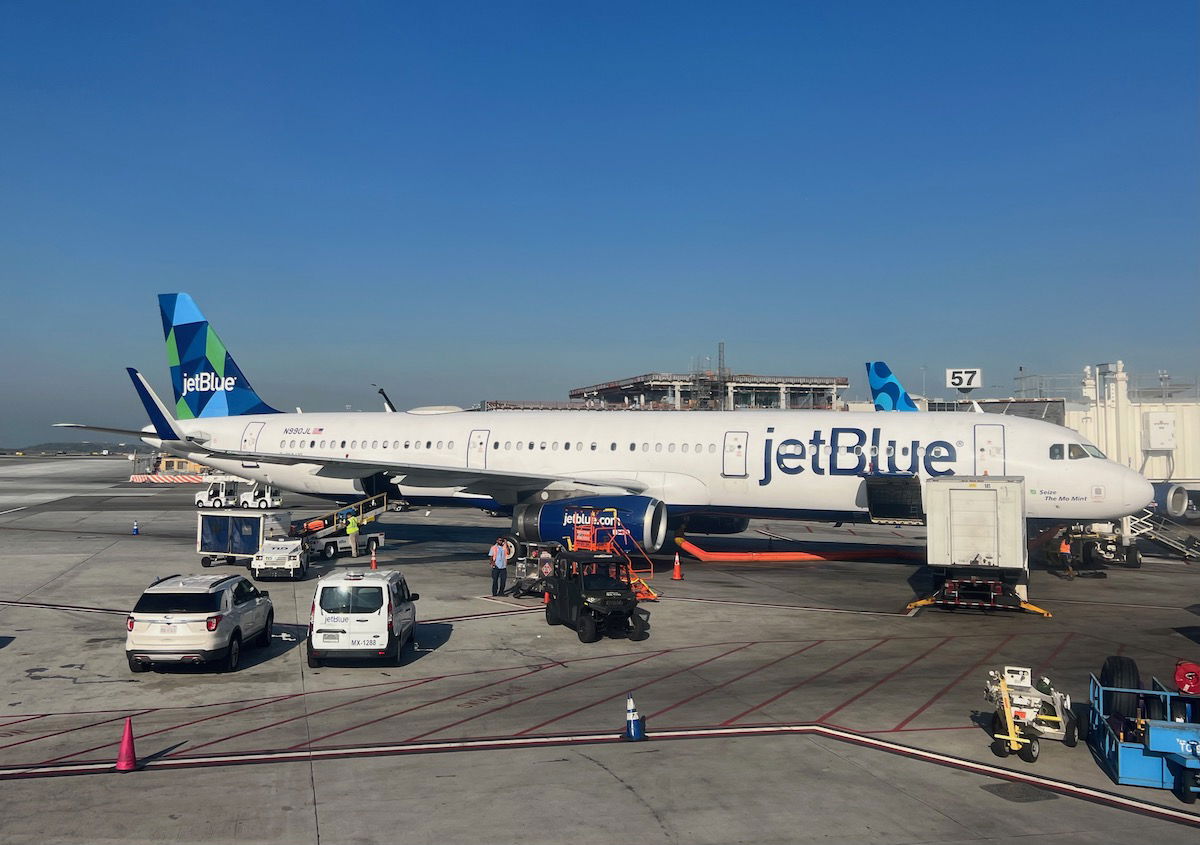 Bottom line
JetBlue Mint continues to be an amazing way to travel across the country. JetBlue's business class product offers comfortable seats (especially if you can snag a throne seat), extensive entertainment, free Wi-Fi, legitimately tasty food and drinks, and friendly service. Honestly, what more could you ask for on a domestic flight? It just amazes me how no other US airline can offer this level of service consistently.
What's your take on the JetBlue Mint experience?