In the interest of full disclosure, OMAAT earns a referral bonus for anyone that's approved through some of the below links. These are the best publicly available offers (terms apply) that we have found for each product or service. Opinions expressed here are the author's alone, not those of the bank, credit card issuer, airline, hotel chain, or product manufacturer/service provider, and have not been reviewed, approved or otherwise endorsed by any of these entities. Please check out
our advertiser policy
for further details about our partners, and thanks for your support!
EXTRA PERKS AVAILABLE
Enjoy breakfast, upgrades, & more
Want to take advantage of Hyatt Privé benefits, including a room upgrade, complimentary breakfast, a hotel credit, and more, when booking a cash stay? Contact Ford ([email protected]) for more details. He may even be able to help if you already have a stay booked.
During our time in Kyoto, we decided to check out three different hotels — the Park Hyatt, the Ritz-Carlton, and the Four Seasons — all of which are regarded as among the best hotels in the city. All of these hotels are great, though they offer surprisingly different experiences, each with their pros and cons. In this post I'll be reviewing the Park Hyatt.
The 70-room Park Hyatt Kyoto is a phenomenal hotel, which opened in 2019. It's the most boutique of the properties, the design is just gorgeous, the location couldn't be more central for tourists, and the hotel has excellent food & beverage outlets.
The downsides of the Park Hyatt are that the property doesn't have any real outdoor spaces, there's no pool, the gym and bathhouse situation could be a bit better, and there were also some missed opportunities with some of the property's features.
On balance, this is a spectacular property, among my favorite Park Hyatts out there.
Booking the Park Hyatt Kyoto
I redeemed World of Hyatt points for our stay at the Park Hyatt Kyoto. This is a Category 8 World of Hyatt property, meaning that a free night award costs anywhere from 35,000 to 45,000 points per night. For our stay, the cost was 40,000 points, so it was right in the middle.
This property is an amazing use of points. I value World of Hyatt points at 1.5 cents each, meaning that I value 40,000 points at $600.
Even if you're not a Hyatt loyalist, earning World of Hyatt points can be pretty easy. In addition to being able to earn World of Hyatt points with the World of Hyatt Credit Card (review) and World of Hyatt Business Credit Card (review), you can also transfer over points from Chase Ultimate Rewards.
As a point of comparison, cash rates at the Park Hyatt Kyoto were over $2,000 per night for a base room. Pricing was virtually the same at all three properties we stayed. Of course the pricing doesn't reflect the experience you're getting at these hotels, but rather just reflects the amount of luxury demand for Kyoto at the moment, so hotels can get away with charging that.
If you're gong to book a cash stay at the Park Hyatt Kyoto, I'd recommend doing so through the Hyatt Privé program. Hyatt Privé rates cost the same as standard flexible rates (not member rates, advance purchase rates, AAA rates, etc.), and include additional perks, like daily breakfast, a $100 property credit, a room upgrade, a welcome gift, and more. Ford's team can help with these bookings, and can be reached at [email protected].
Park Hyatt Kyoto location
The Park Hyatt Kyoto couldn't have a more central location. It's located in the Higashiyama-ku area, which is a historic area of Kyoto, and probably the most famous. The hotel is basically integrated into this area, and there's not any other major hotel offering this kind of access.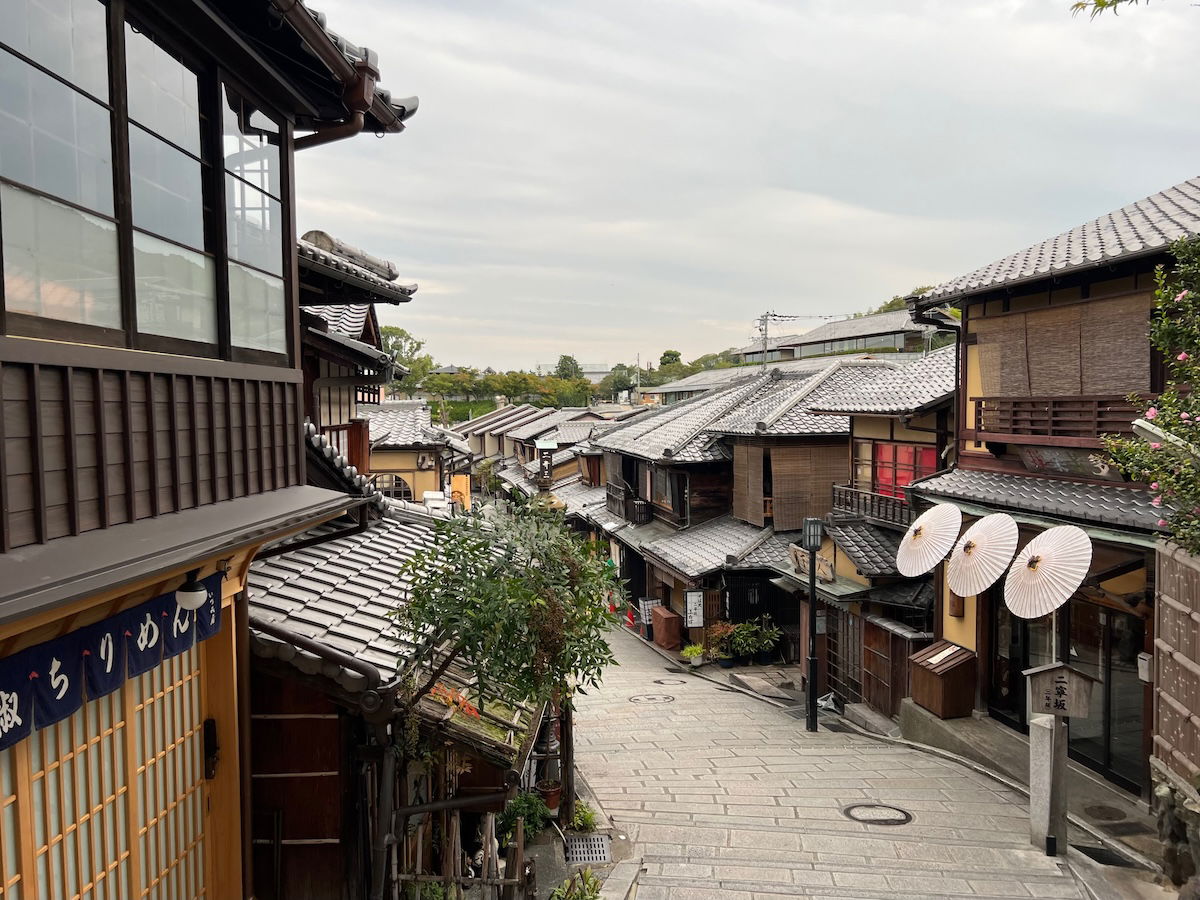 The Park Hyatt Kyoto is built quite vertically, so that means the property provides breathtaking views of the area. To make a comparison, I'd say the Park Hyatt Kyoto is the equivalent of the Park Hyatt Sydney in terms of how central its location is, and in terms of the views it offers.
Now, I should acknowledge that people won't universally love this location, as being in the center of the action is a double edged sword. When you exit the hotel, there are just swarms of tourists. In terms of crowding, it's almost like Times Square (though I'd say Kyoto is a bit more charming!).
Despite the busy area the hotel is in, the property is an oasis of calm from the second you arrive. I love the design, as it's sort of a hybrid between traditional Japanese design and typical Park Hyatt modern minimalism.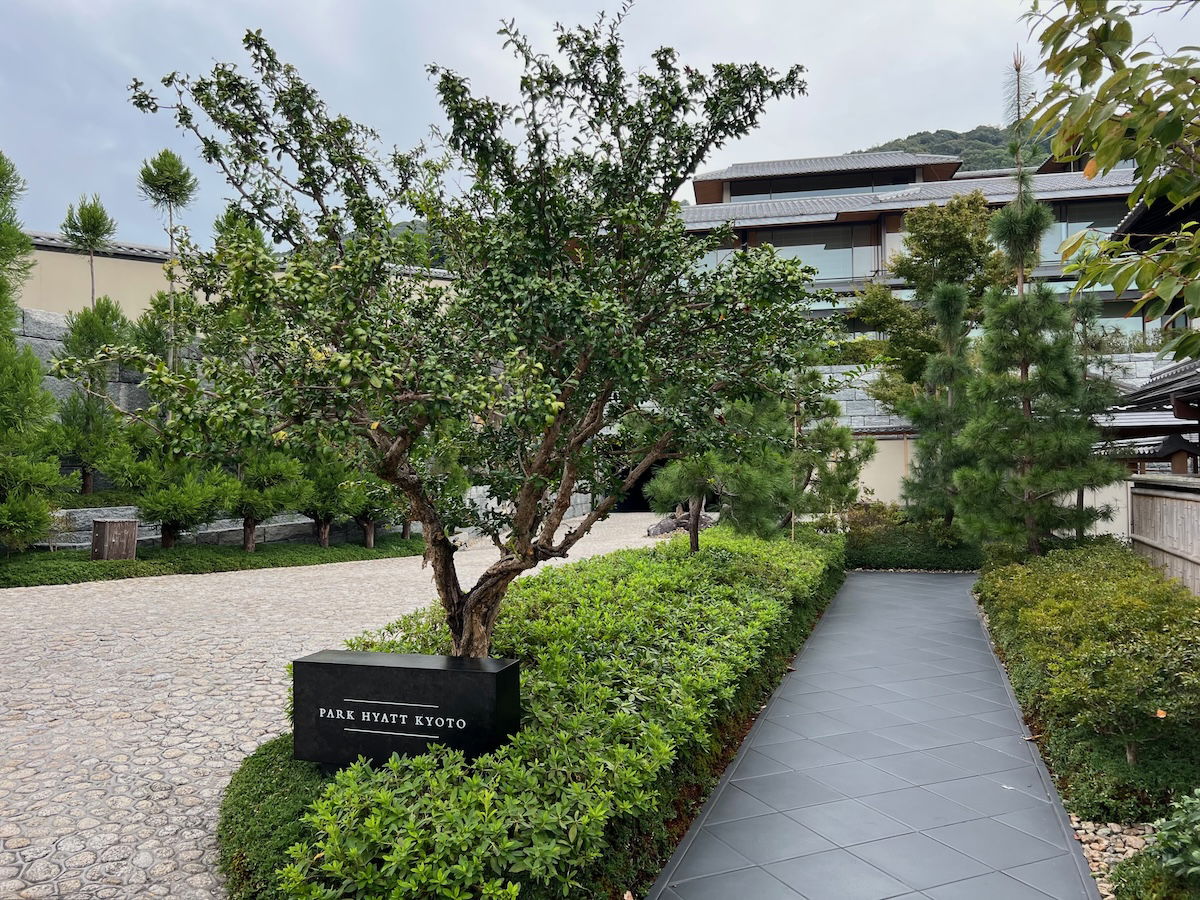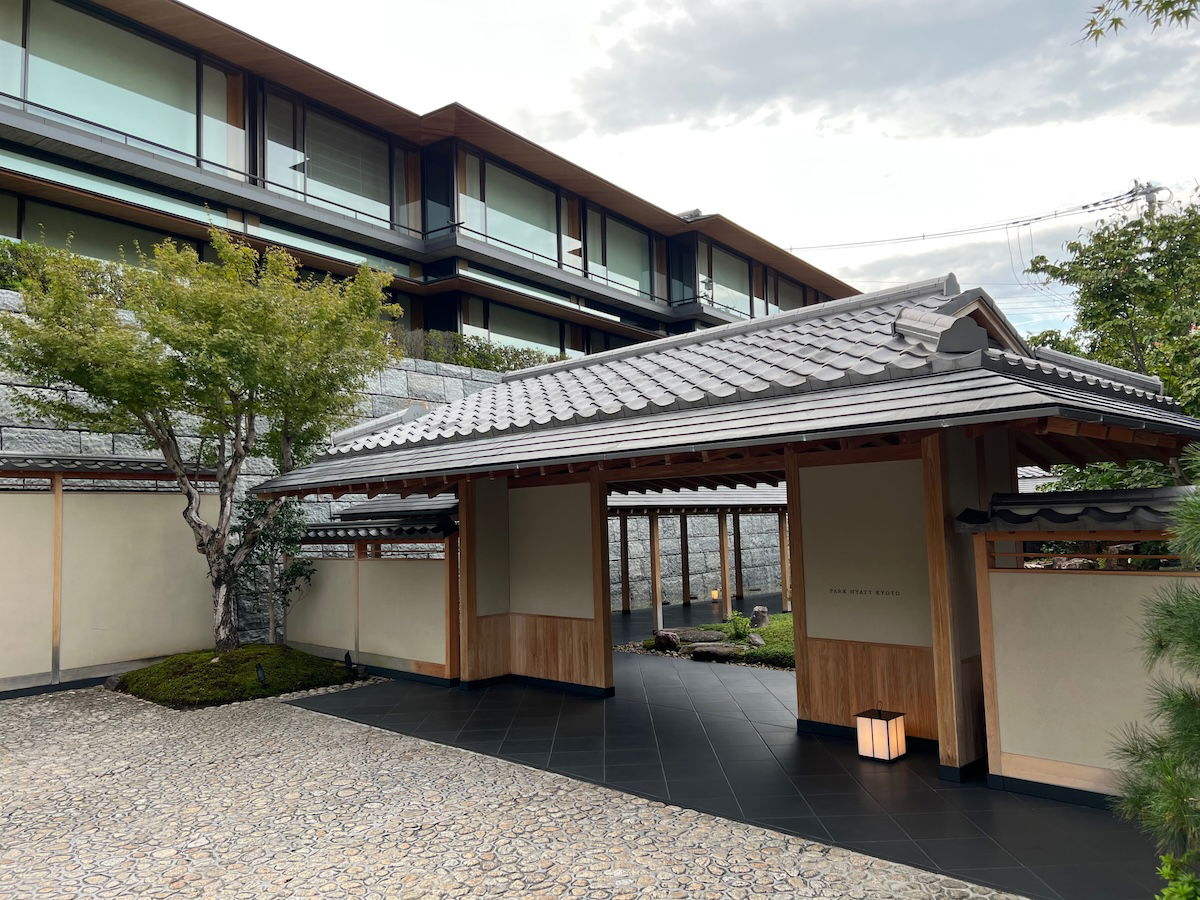 Once you walk through the entrance of the hotel, there's a long path through the garden that leads to reception.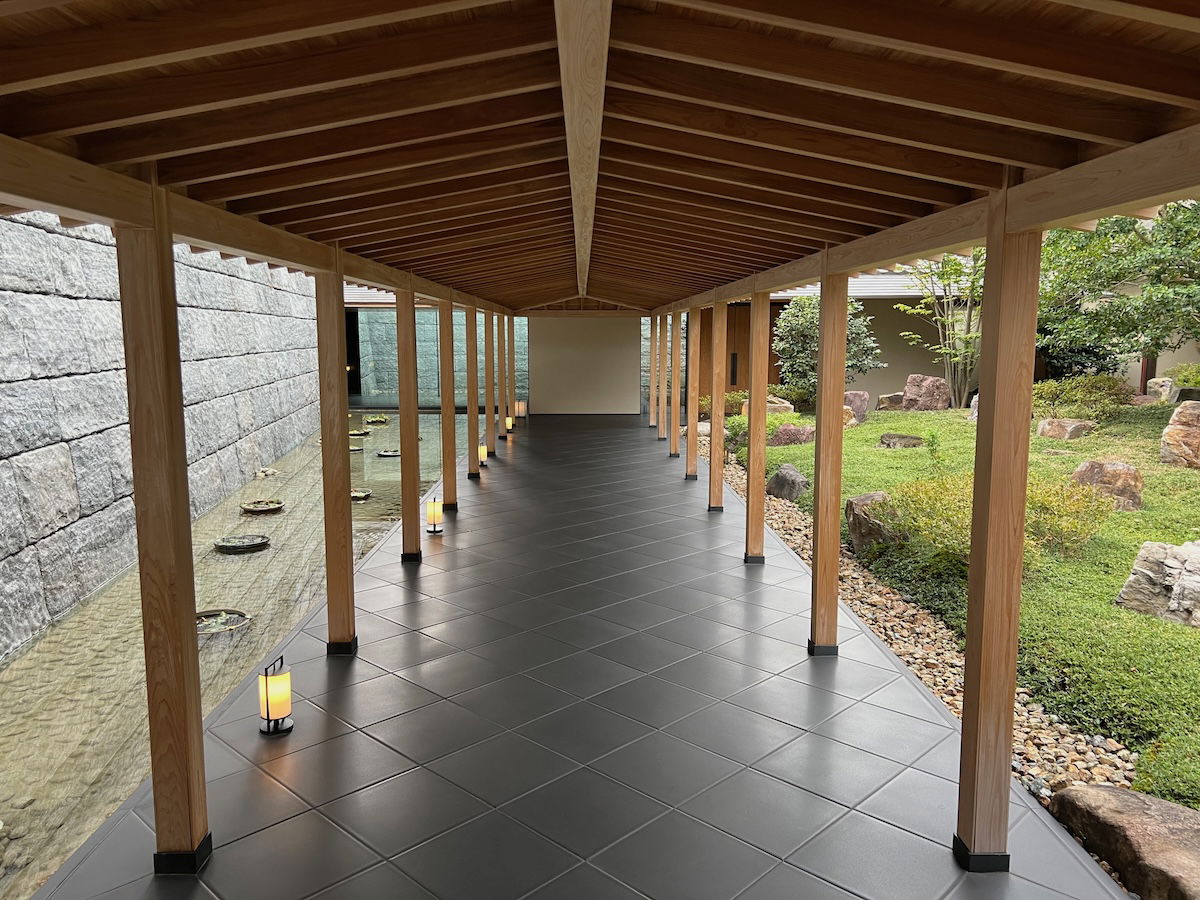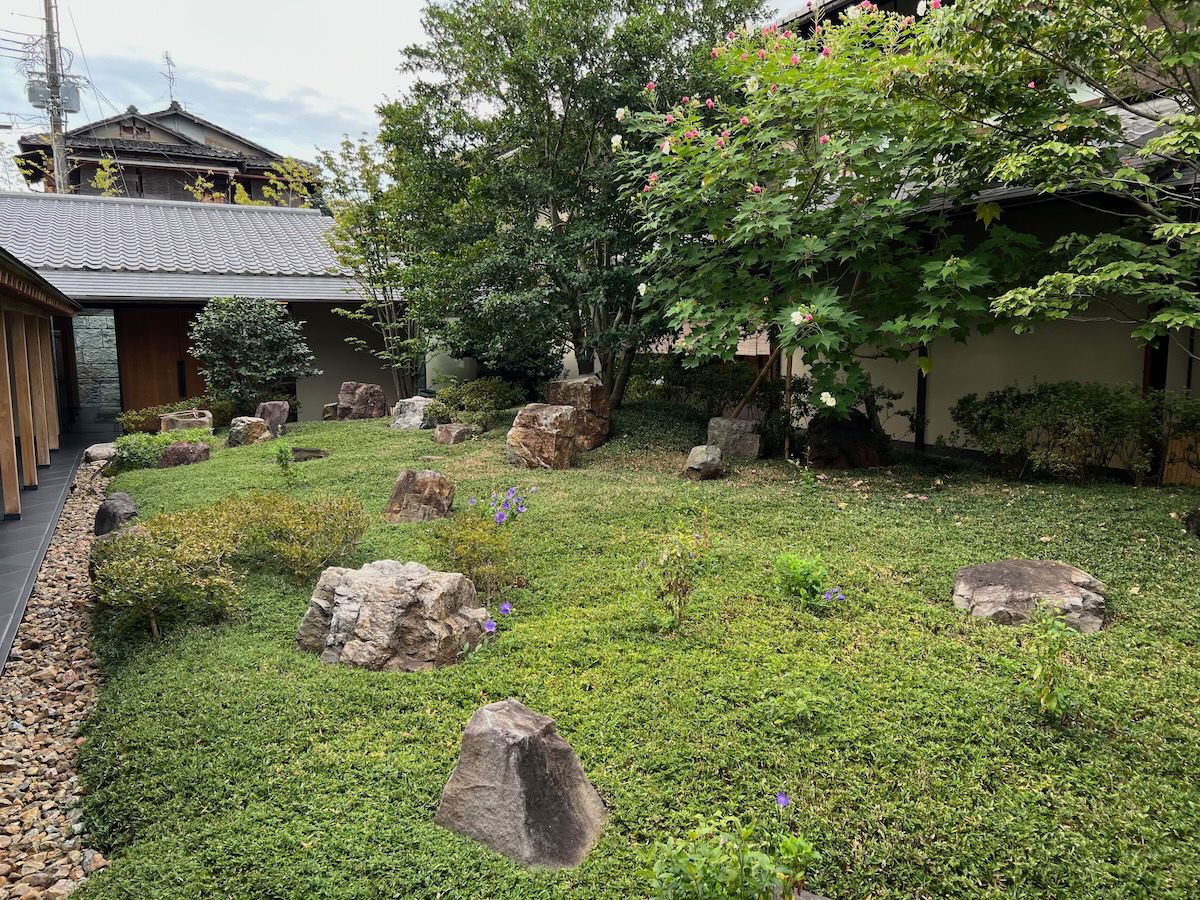 As far as getting to Kyoto goes, the most convenient major international airport is Kansai Osaka Airport (KIX). Directly from the airport you can take the Haruka Express train to Kyoto, which takes around 75 minutes. From there, the hotel is around a 15-minute taxi ride away.
Park Hyatt Kyoto lobby & check-in
As you enter the hotel, you can either turn left or right. Turning left brings you into the main part of the hotel, while turning right brings you to Kyoto Bistro, the hotel's all-day dining restaurant.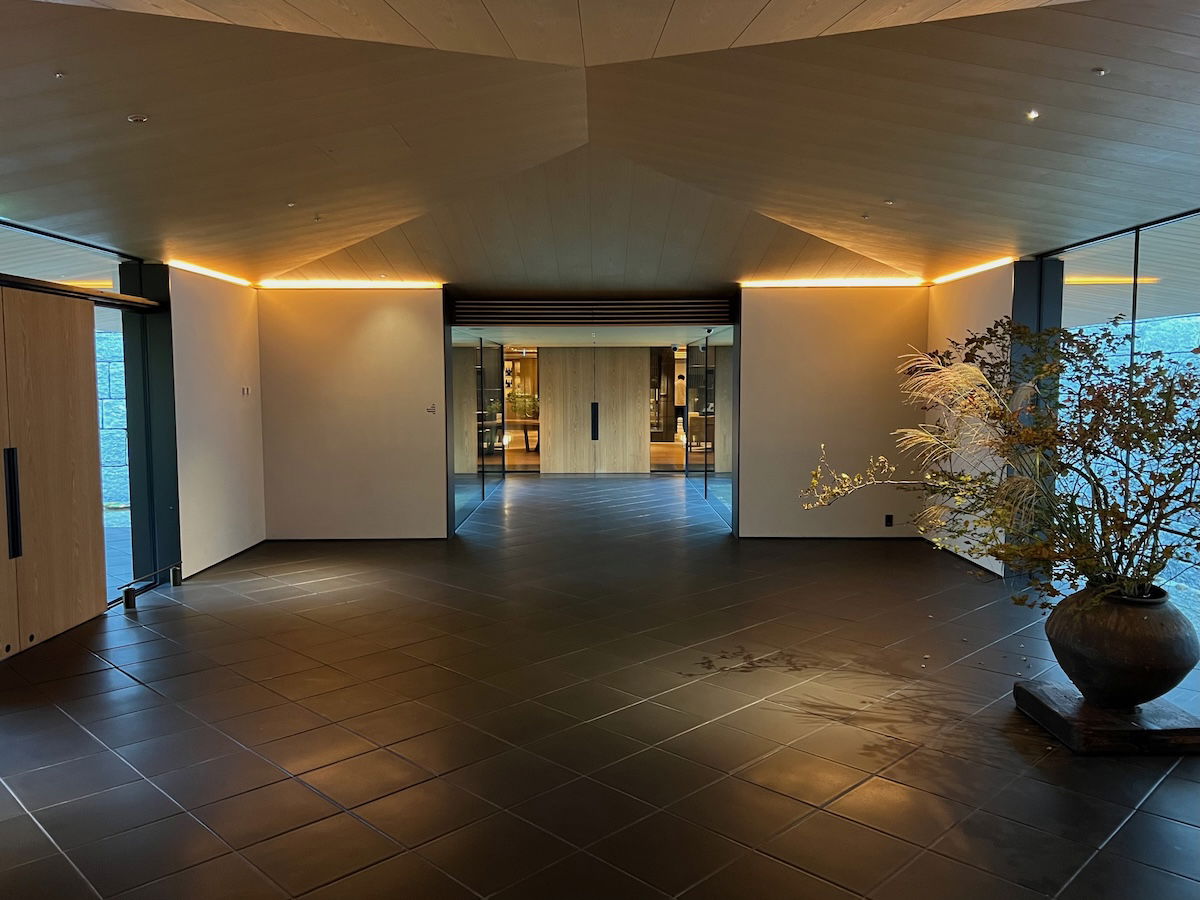 When you're in the main part of the lobby, reception is located to the left. There's then the Living Room, the all-day lobby lounge, which I'll cover more in a bit.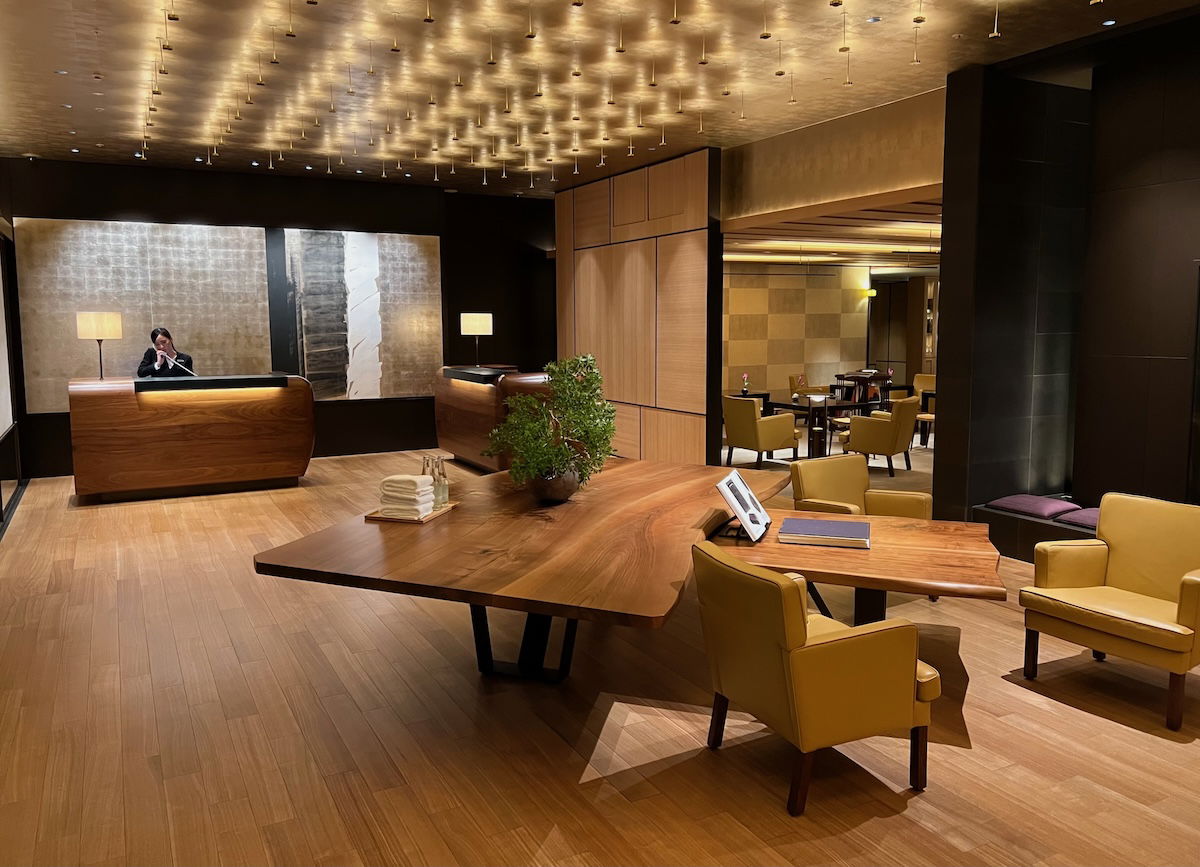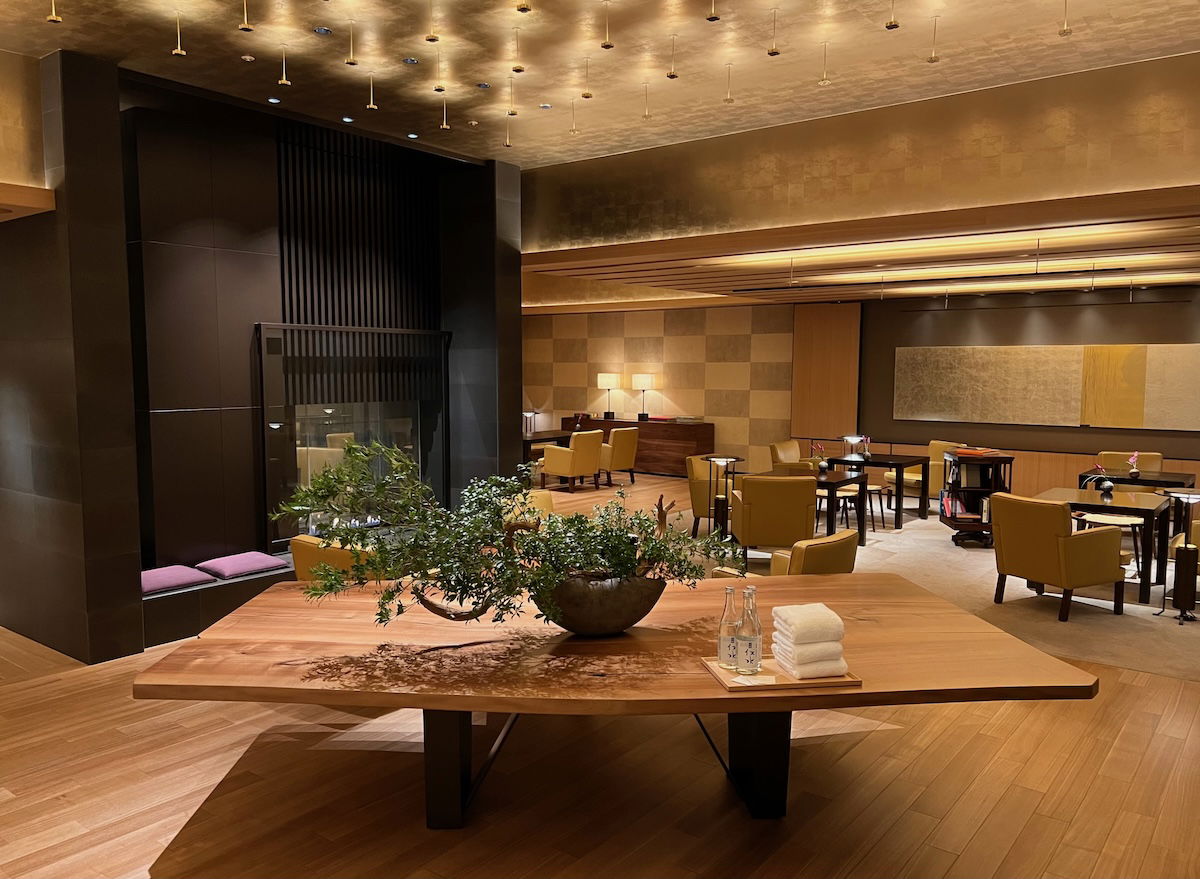 At check-in we were invited to have a seat. We were asked for our passports and a credit card, and were then invited to order a welcome drink off a menu. It's a nice touch how this property offers this — I wish we'd see more properties provide options for welcome drinks, to reflect peoples' preferences.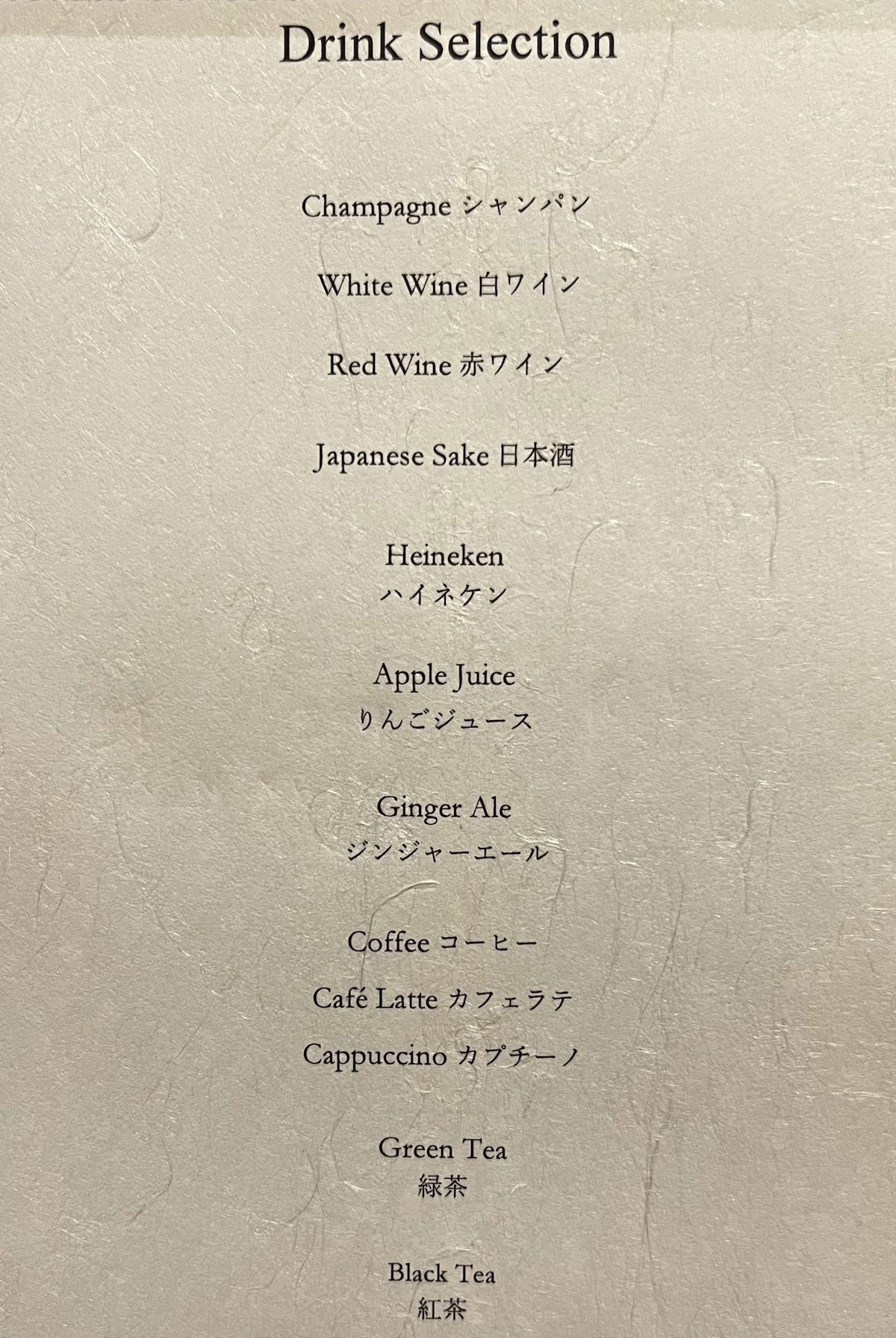 Ford and I both had a cappuccino, which was excellent.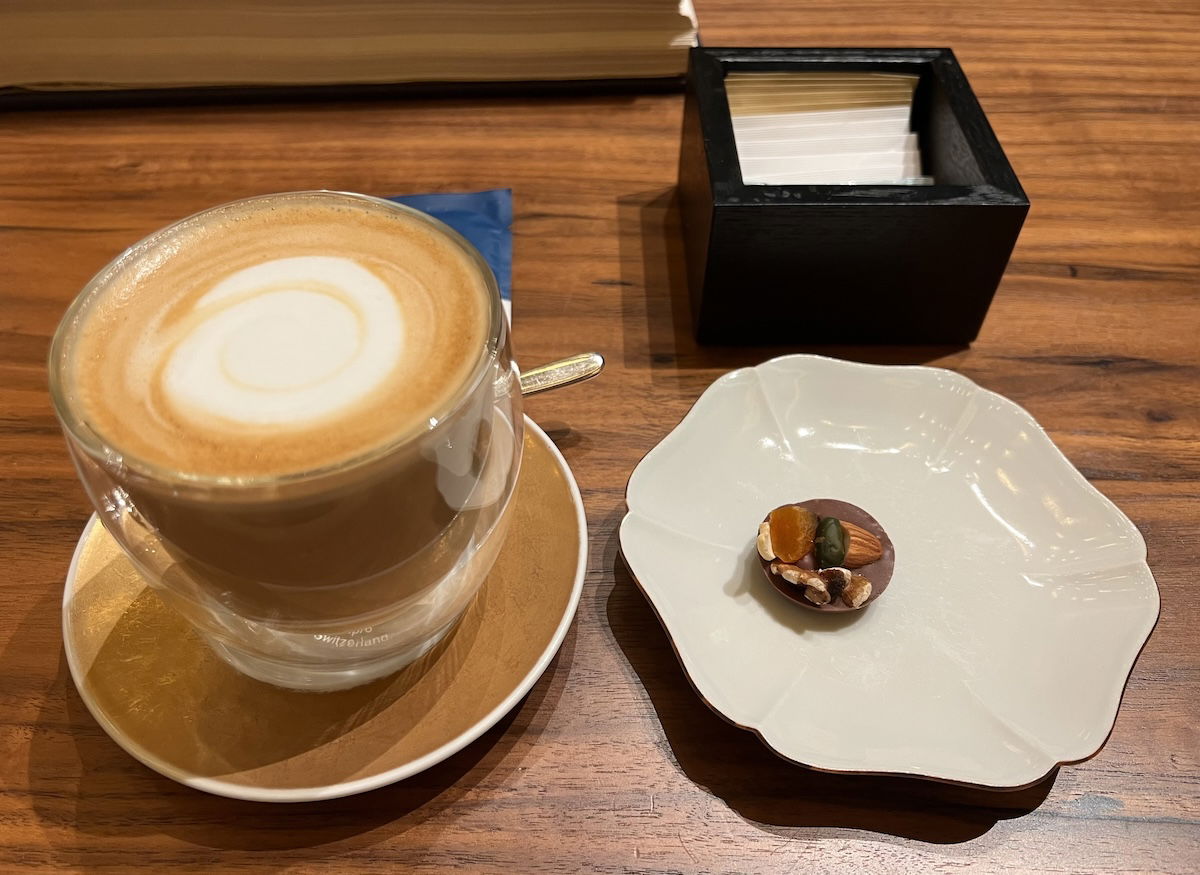 The check-in process was rather detailed. For example, you're asked at what time you want breakfast, and if you want the Western or Japanese breakfast (there's an extra charge for the latter, and it needs to be ordered in advance). You're also asked at what time you want your room cleaned.
The front office staff also went over the Globalist benefits at the property, including complimentary breakfast and a nightly champagne hour. The senior staff at the property seem to be very hands on as guests arrive, and both the director of rooms and front office manager came by to greet us.
Unfortunately there wasn't much in the way of room upgrades. When I booked with points, only a twin room was available. I had emailed the hotel to ask for a king room, but they weren't able to accommodate that. With the hotel being so small, I get that there's only so much that can be done. On the plus side, we were upgraded to a garden terrace room.
Park Hyatt Kyoto guest room
We were assigned room 510, a twin bed garden terrace room on the fifth floor. The hotel has a layout that feels kind of residential based on the flow of everything (in a palatial way). Most of the rooms can be accessed by first taking one of elevators up to the fifth floor, as this is how you access floors five through seven.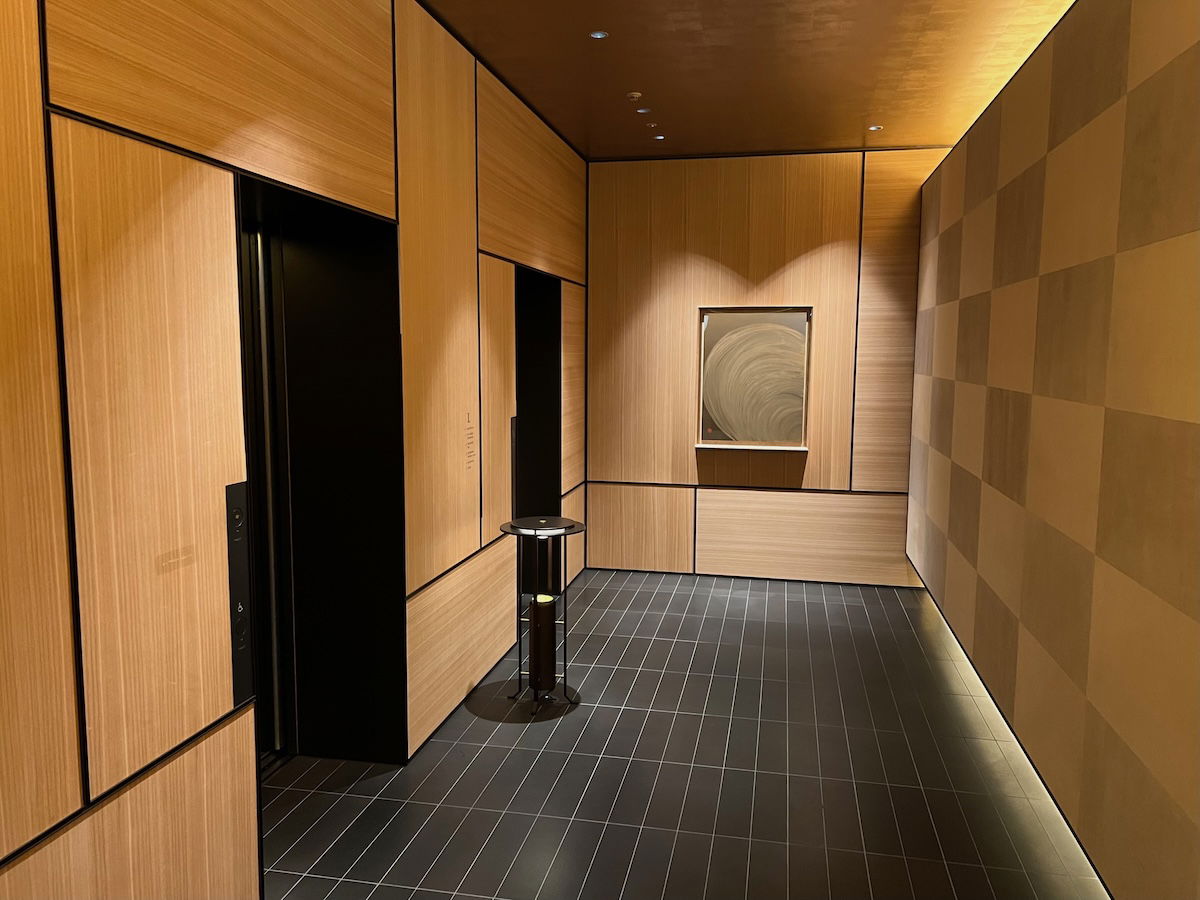 When you exit the elevator on the fifth floor, there are some amazing views of Kyoto.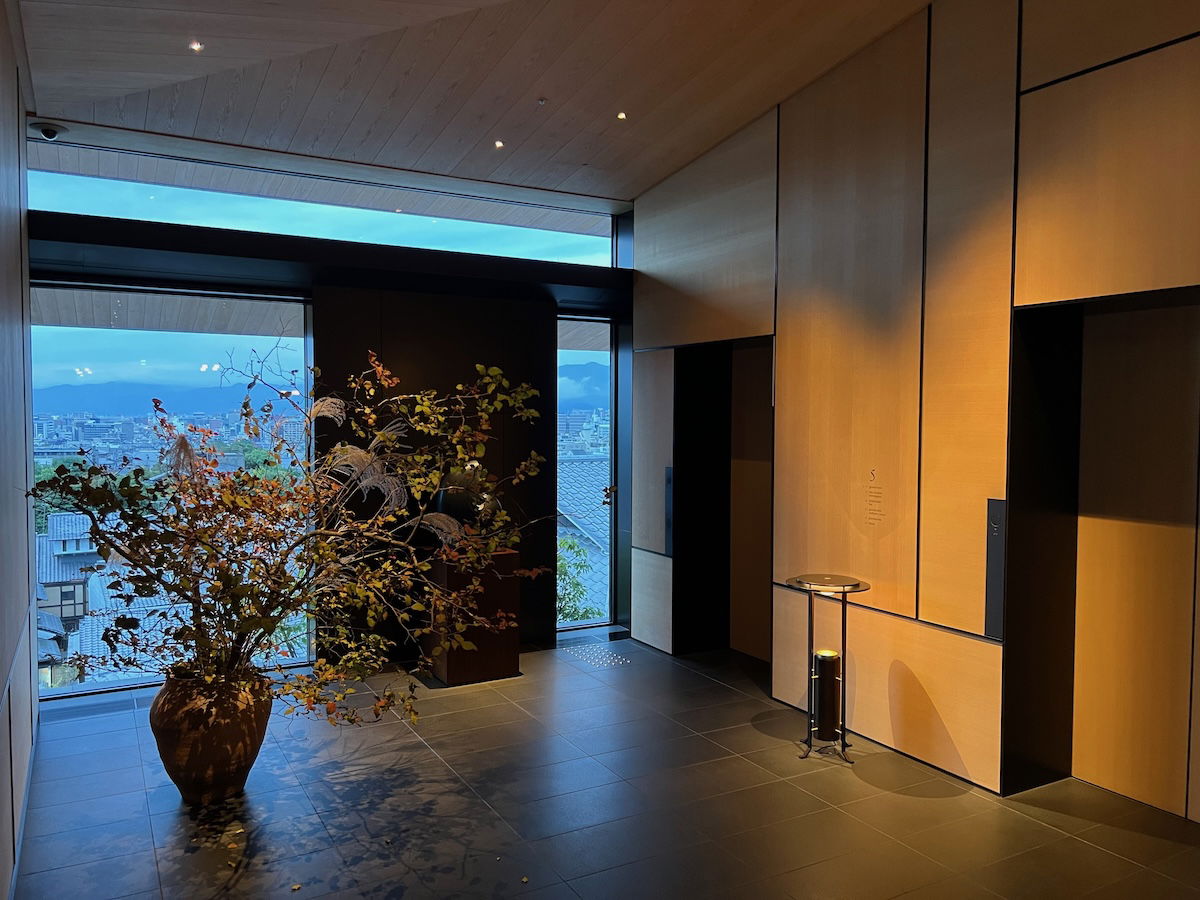 Then you'll find yourself walking through the hotel's Tea Lounge (more on that in a bit)…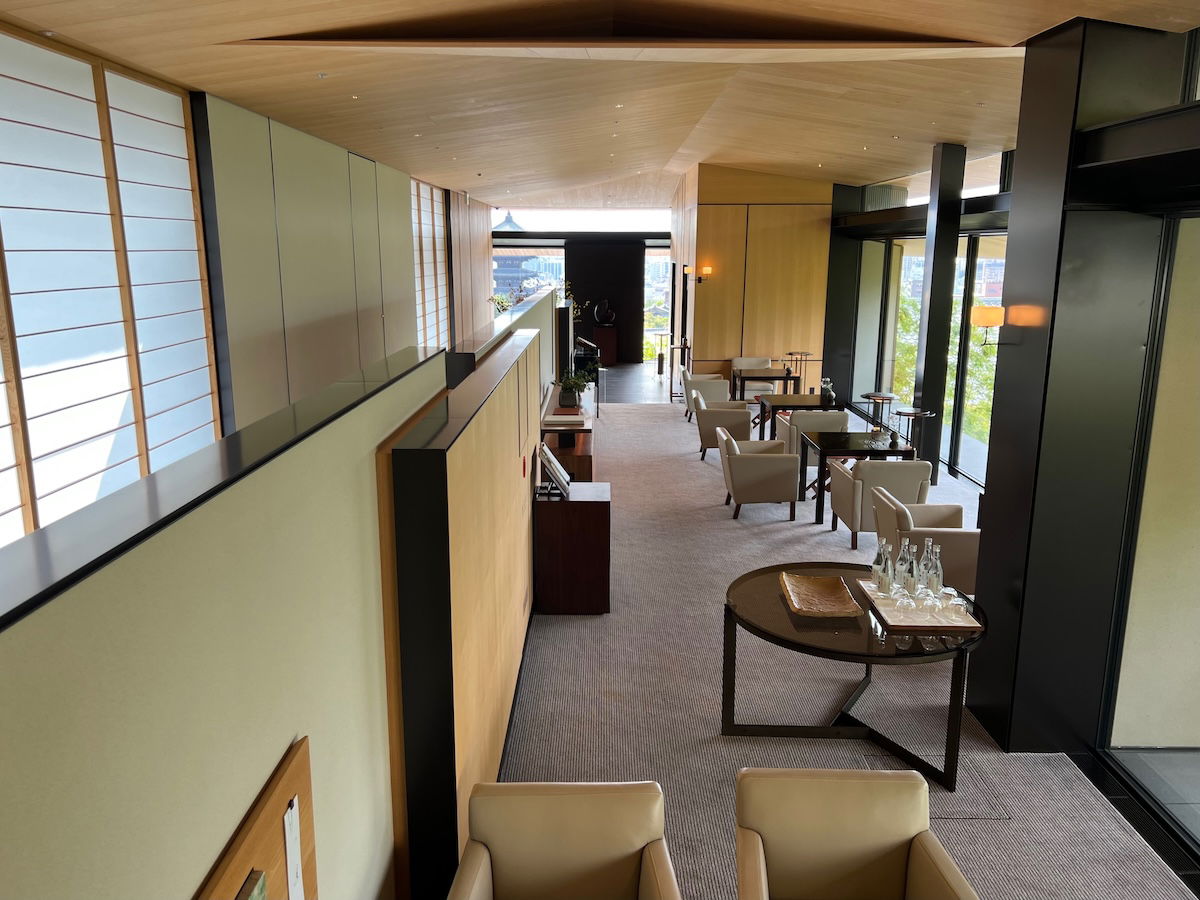 Then down an exterior hallway…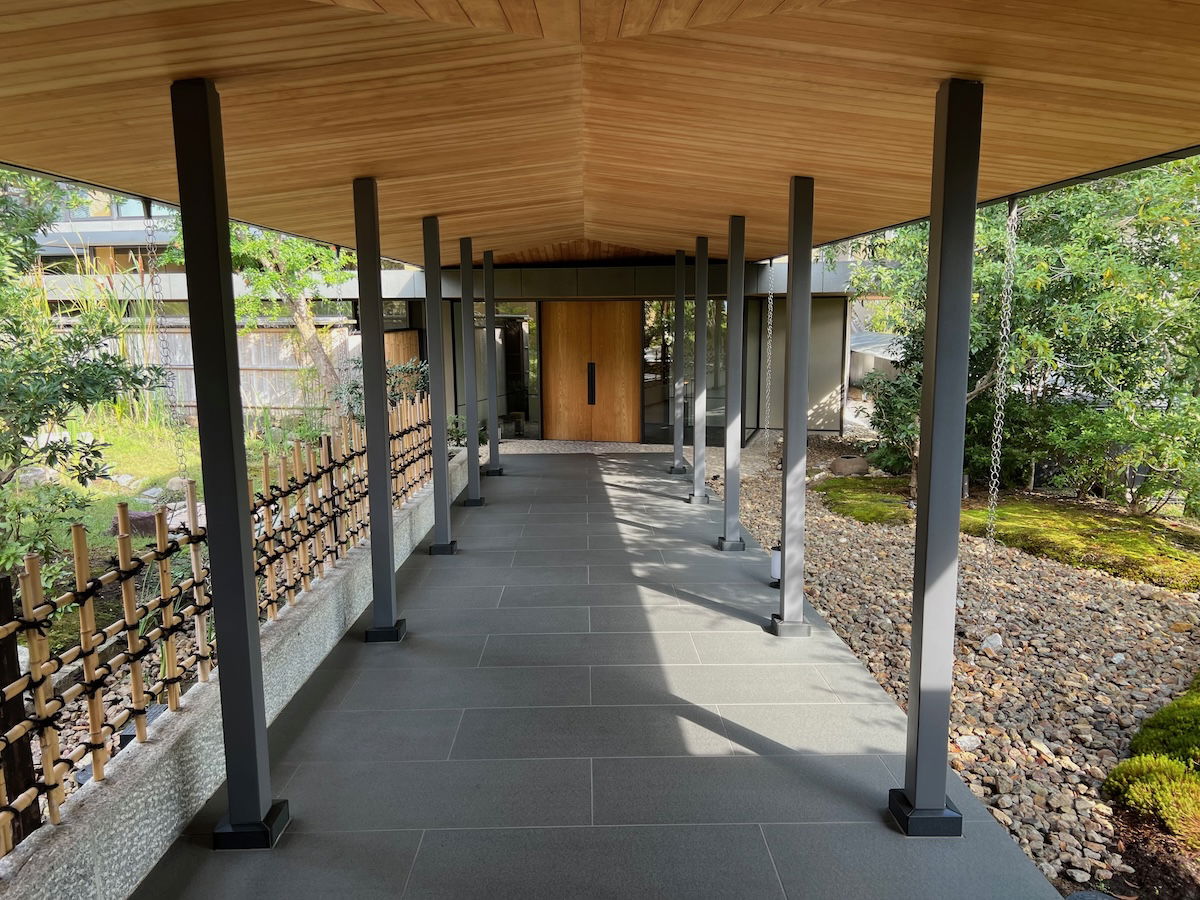 Then through another sitting area…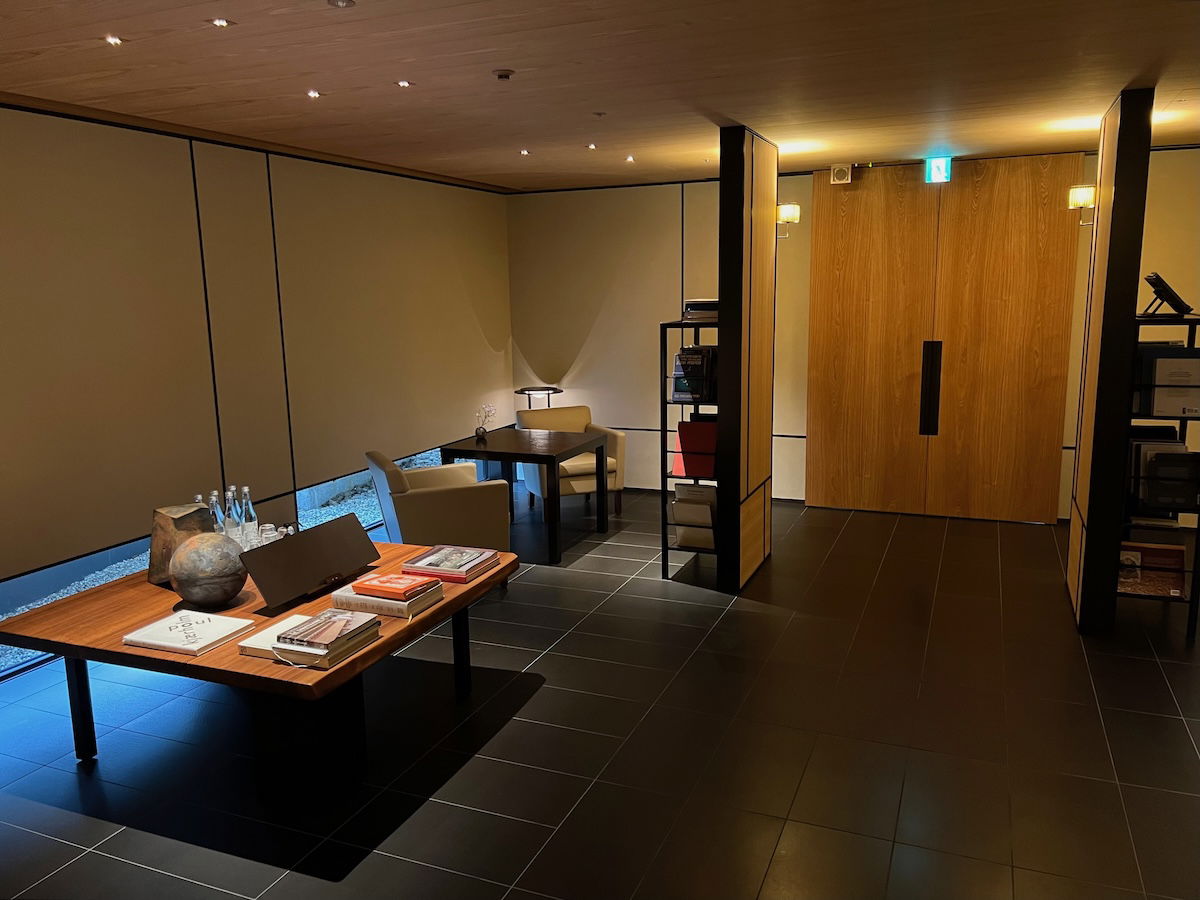 And then you'll finally be in the hall with guest rooms, which is dimly lit and has hardwood floors. Our room was just down the hall and on the left.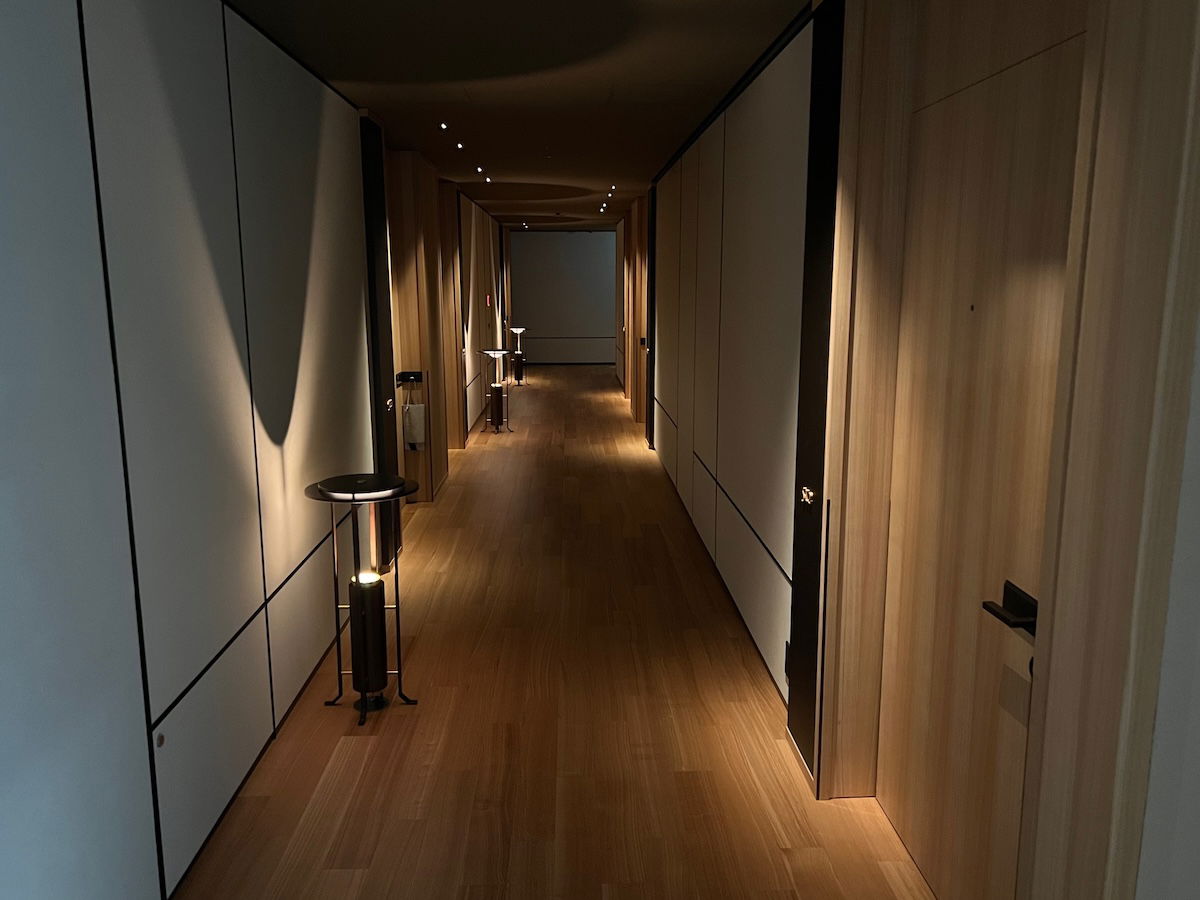 The garden terrace rooms at this hotel are 45 square meters (~485 square feet), which is an extremely generous size for a standard(ish) room. The room featured an entryway with some closets to the left, the bathroom to the right, and the rest of the room straight ahead.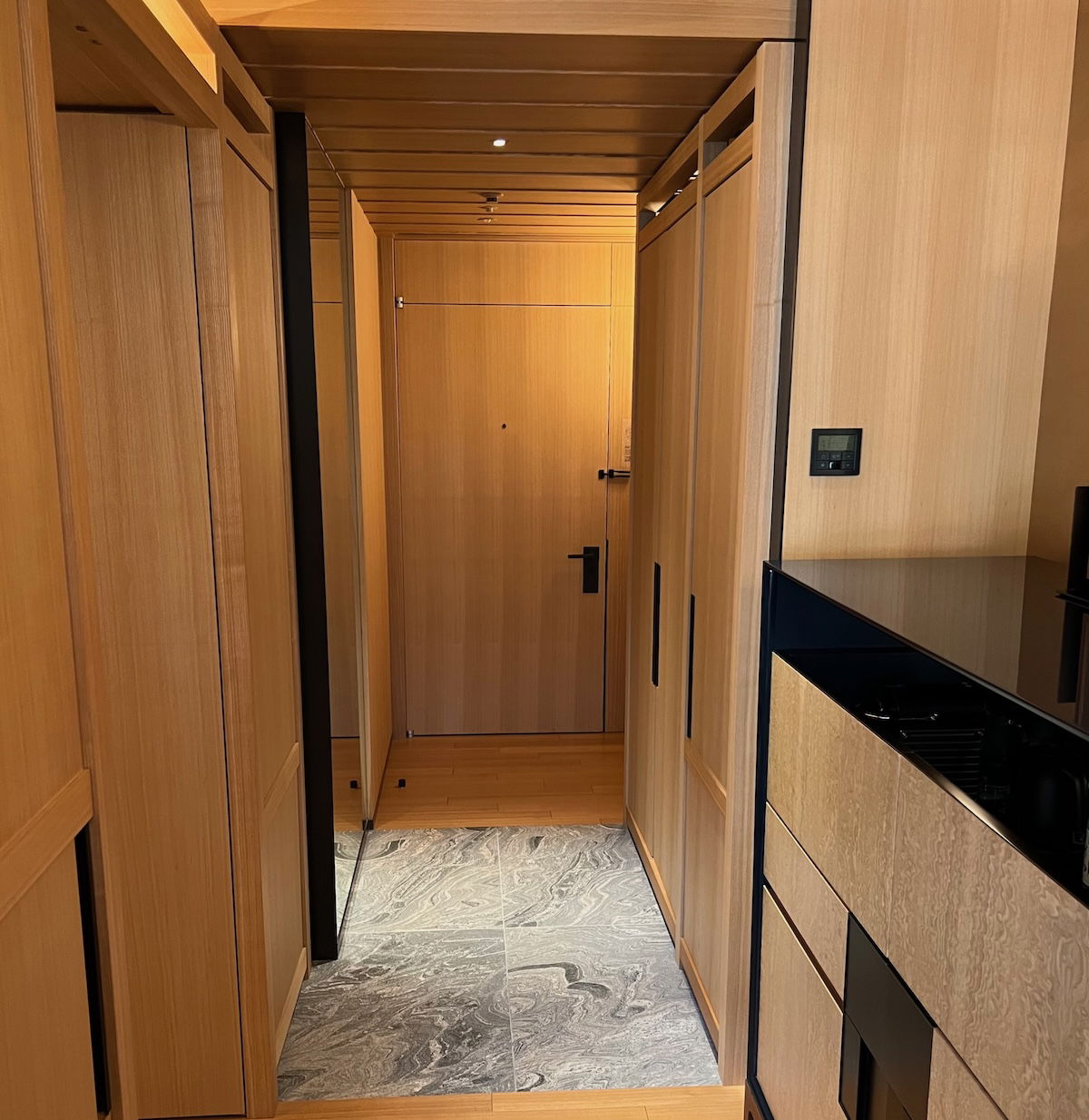 Given its size, the room is rather generously furnished, and almost feels more like a junior suite in terms of the seating area.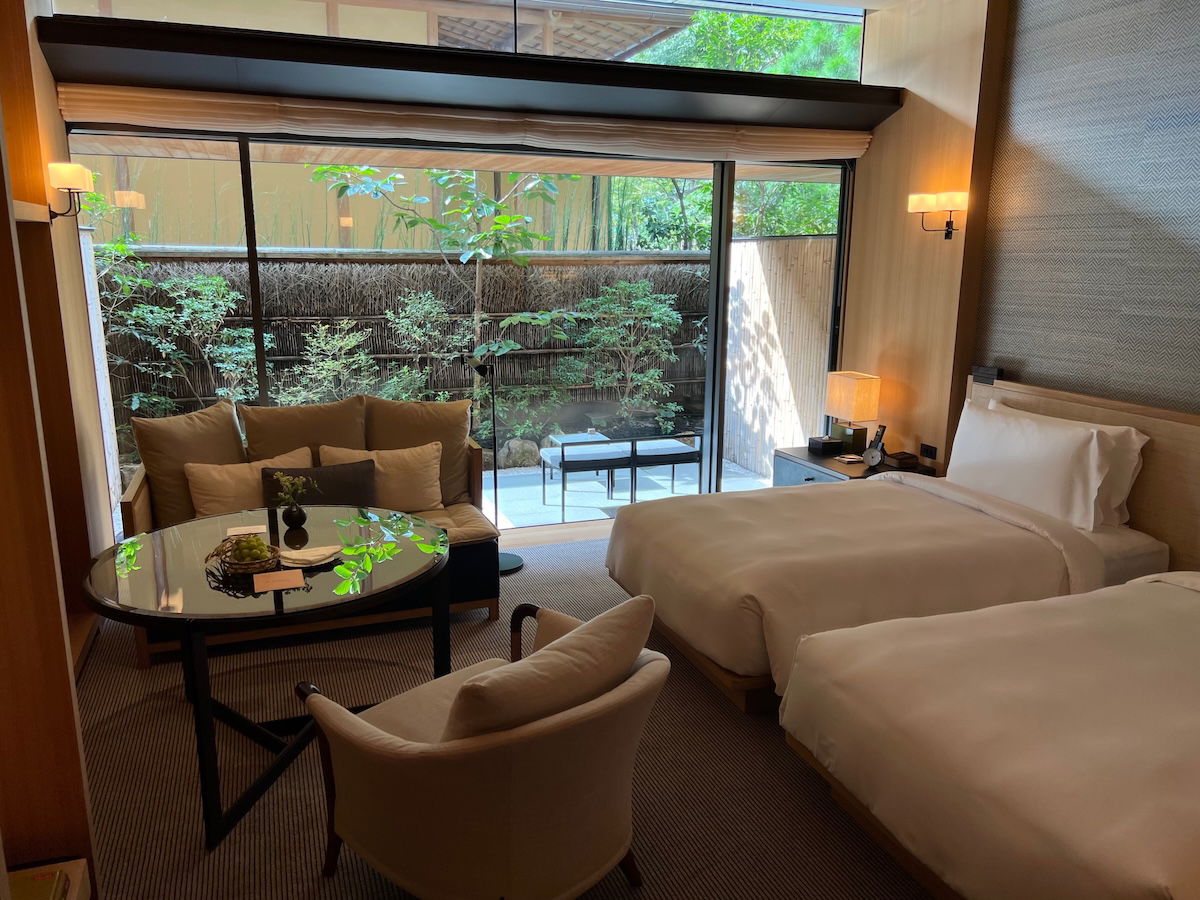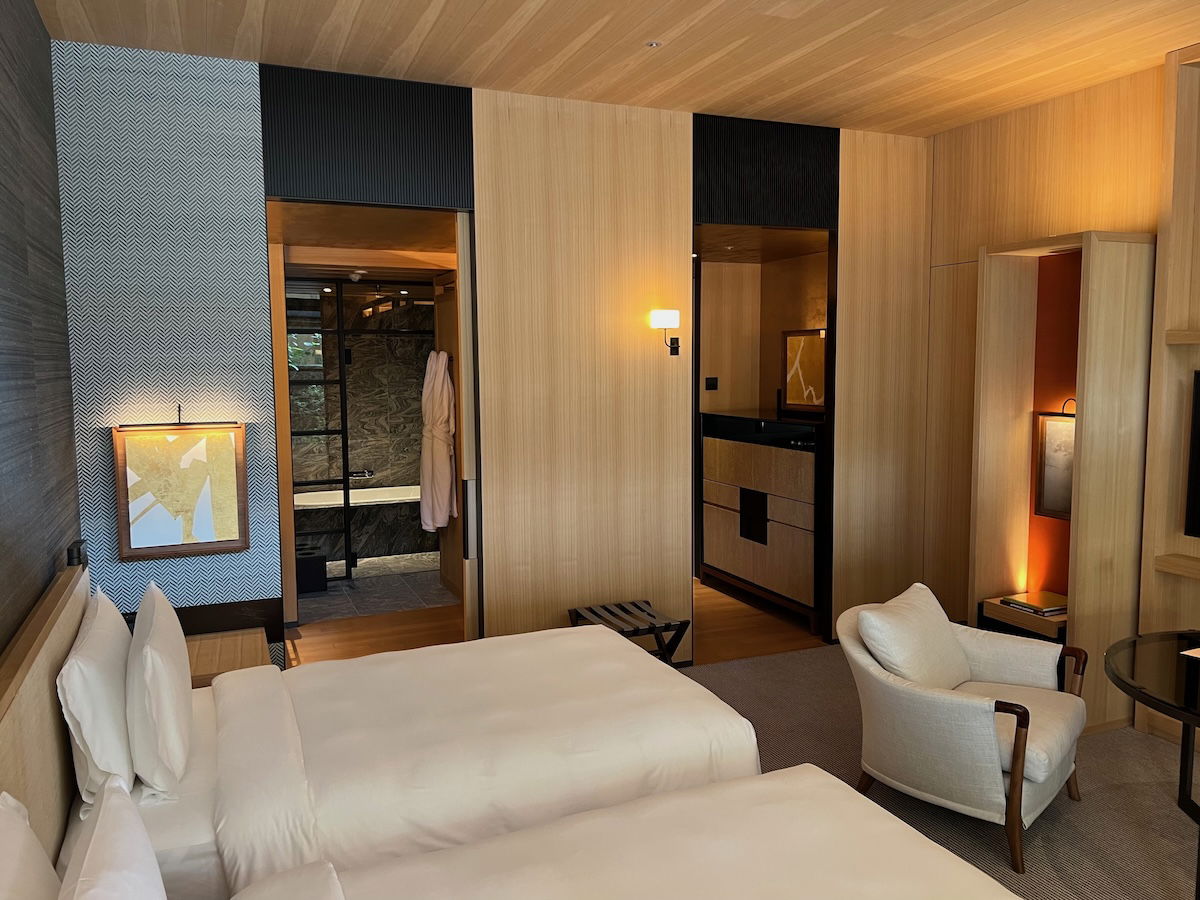 The room's twin beds were very plush and had soft sheets, which was appreciated (since I've found some beds in Japan to not be particularly comfortable).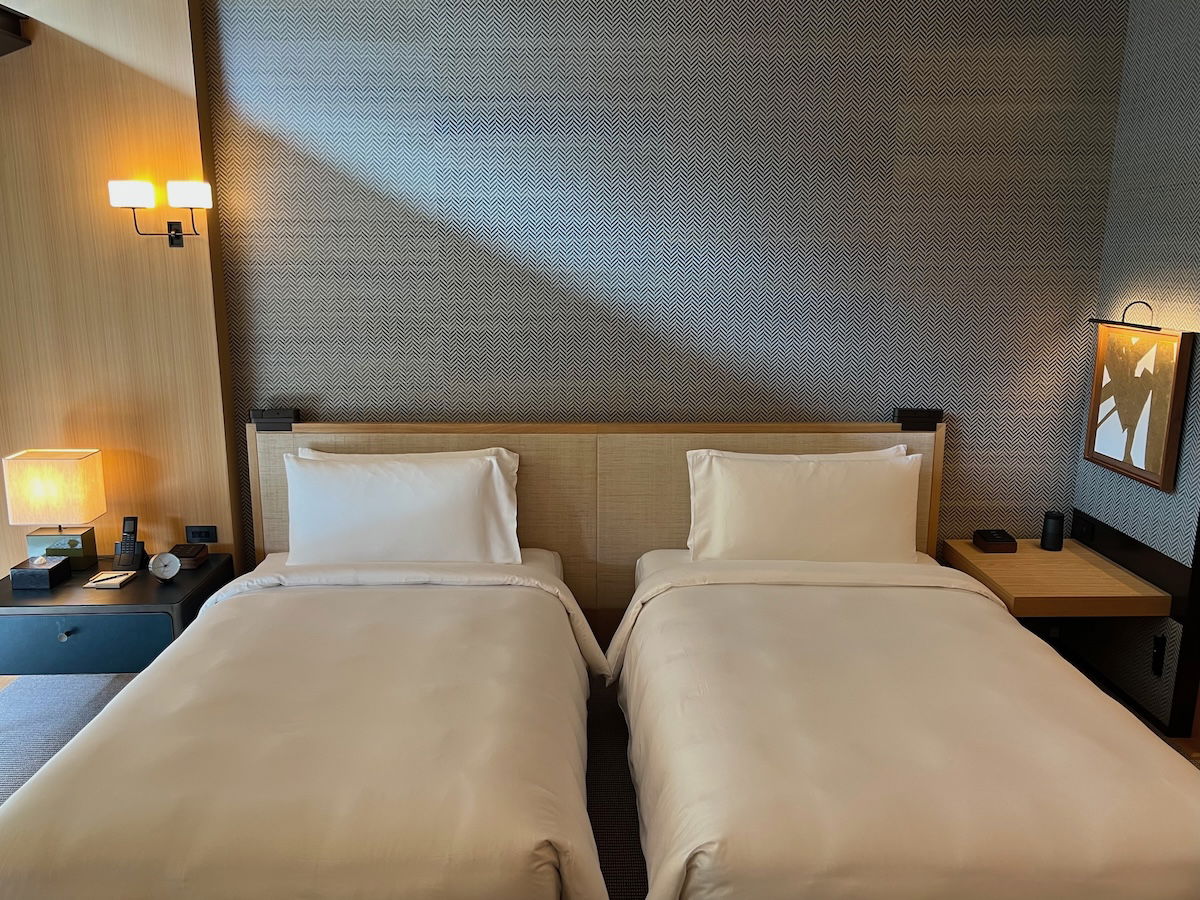 Across from the bed was the sitting area, with a chair, a couch, a coffee table, and then a wall mounted TV.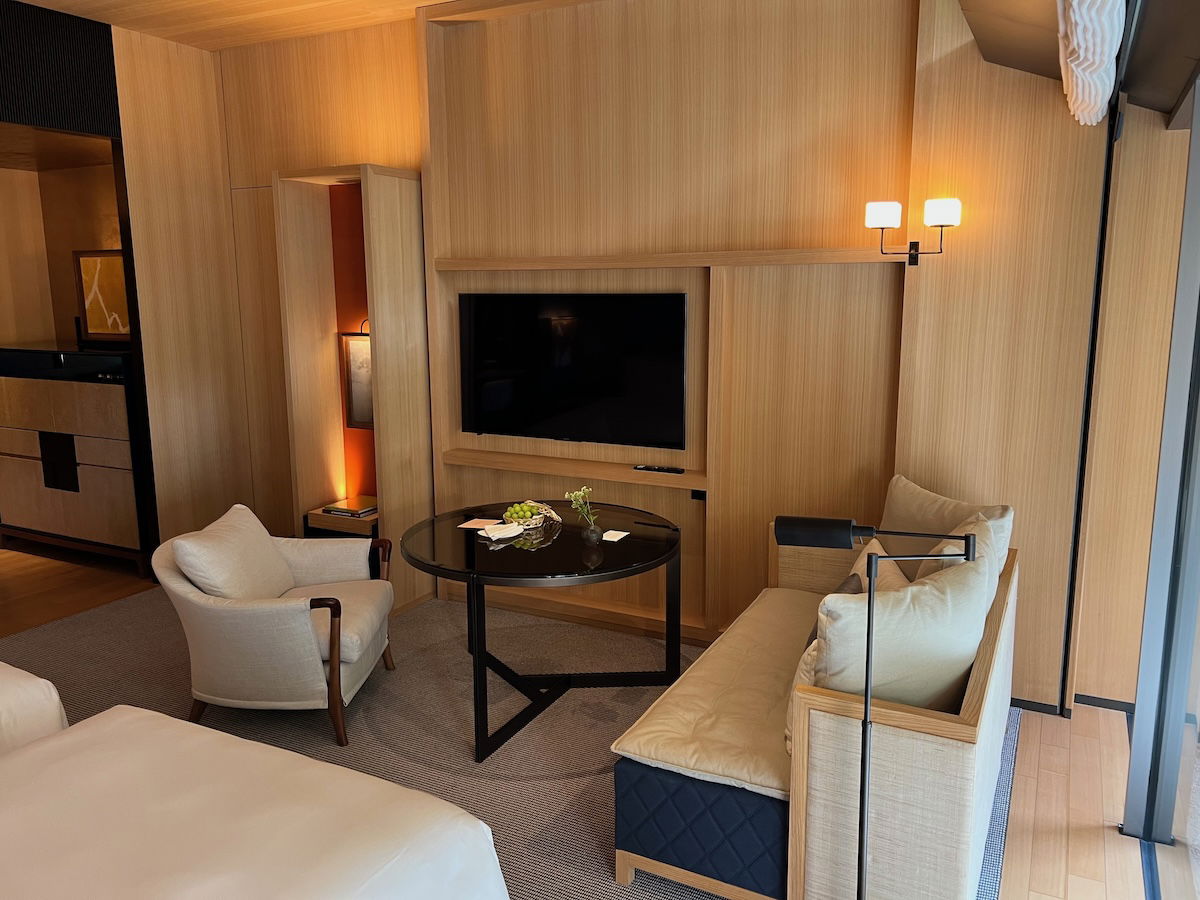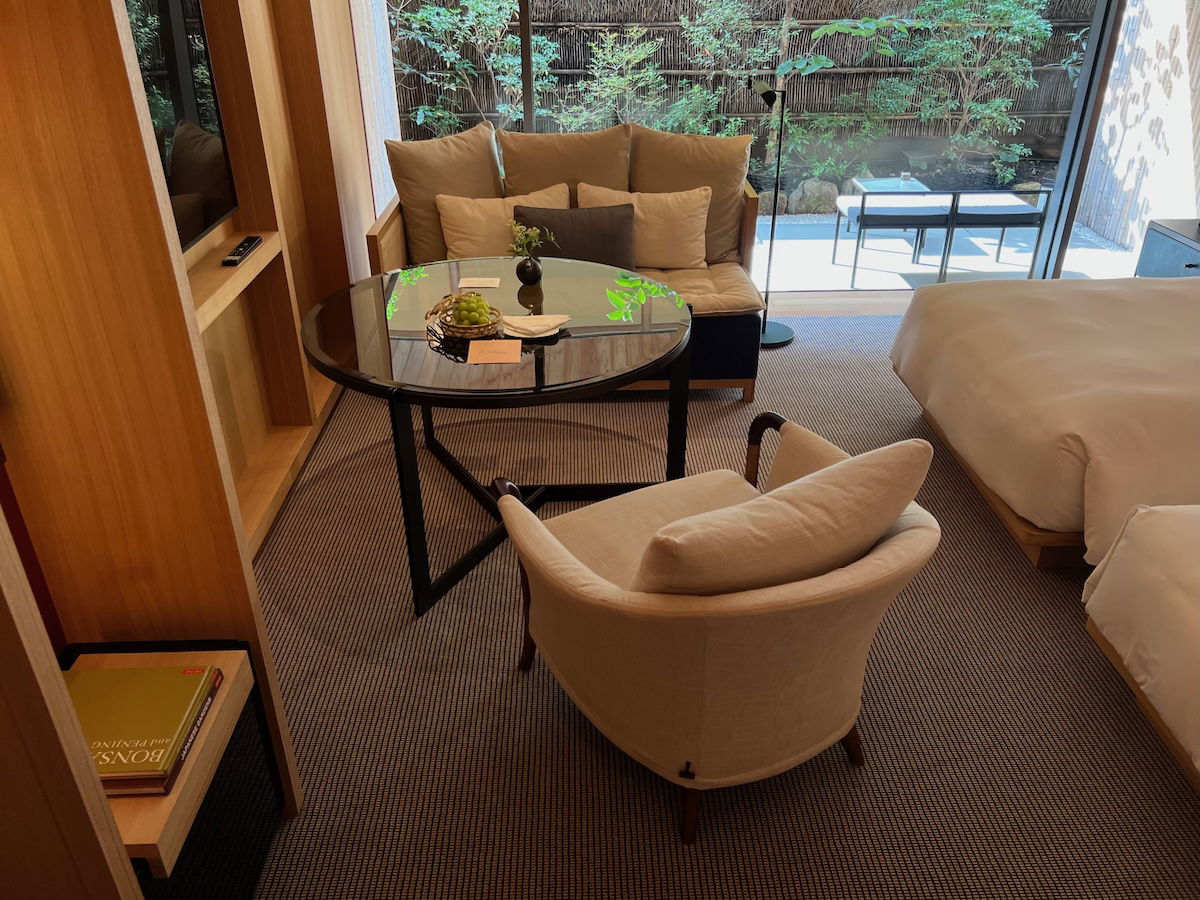 Waiting on the table was a welcome amenity, consisting of some grapes.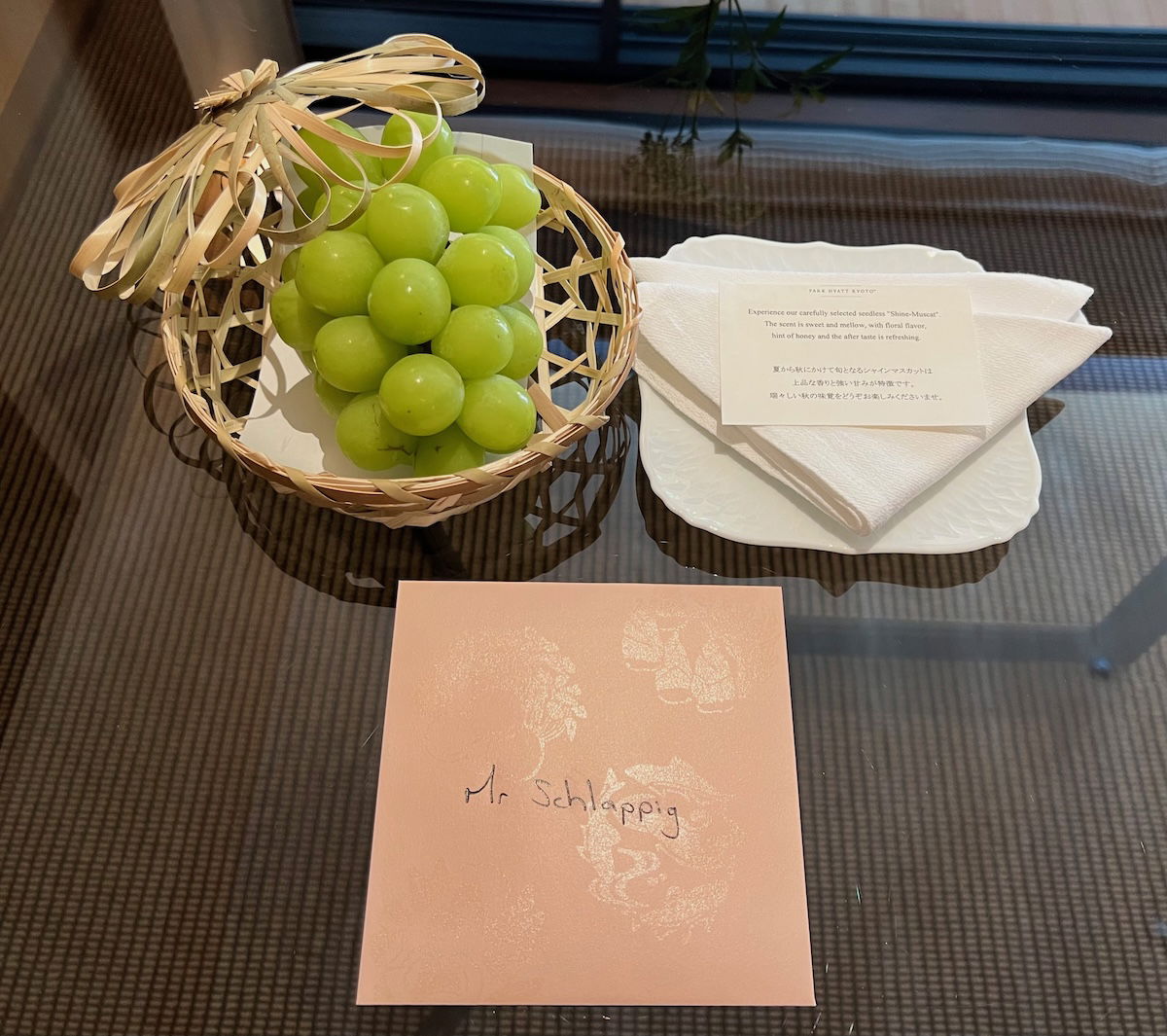 Back near the entrance was the minibar setup, which had a Nespresso coffee machine, a kettle, and a variety of drinks (alcoholic and non-alcoholic) and snacks for purchase.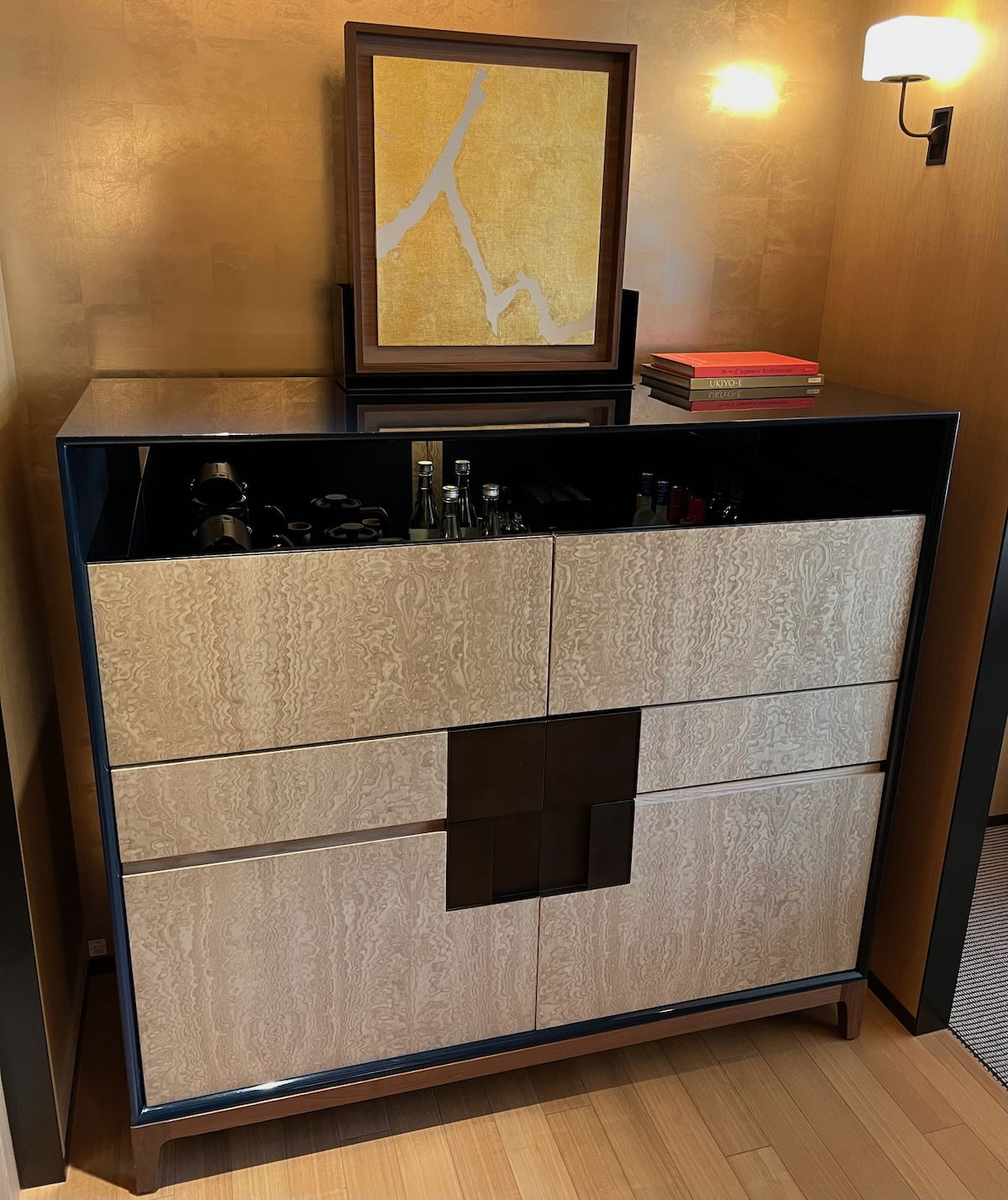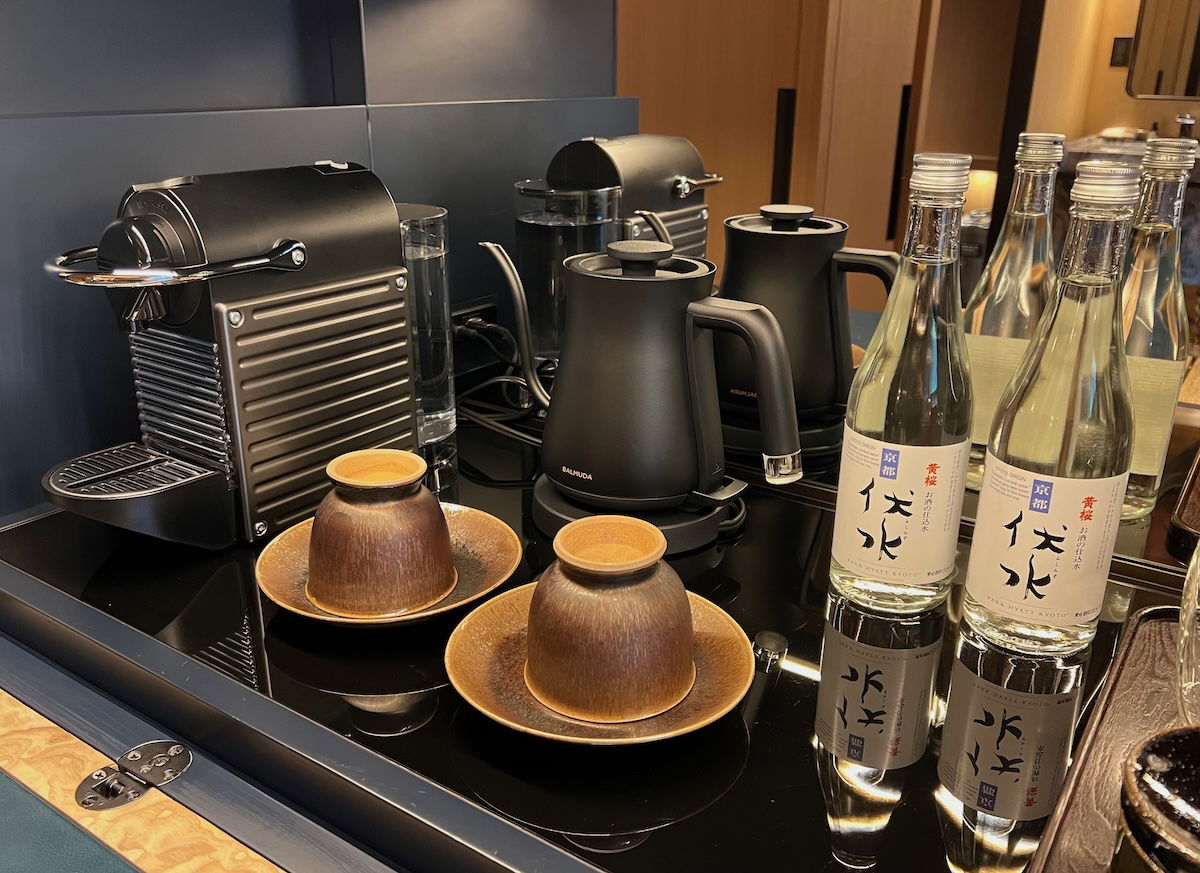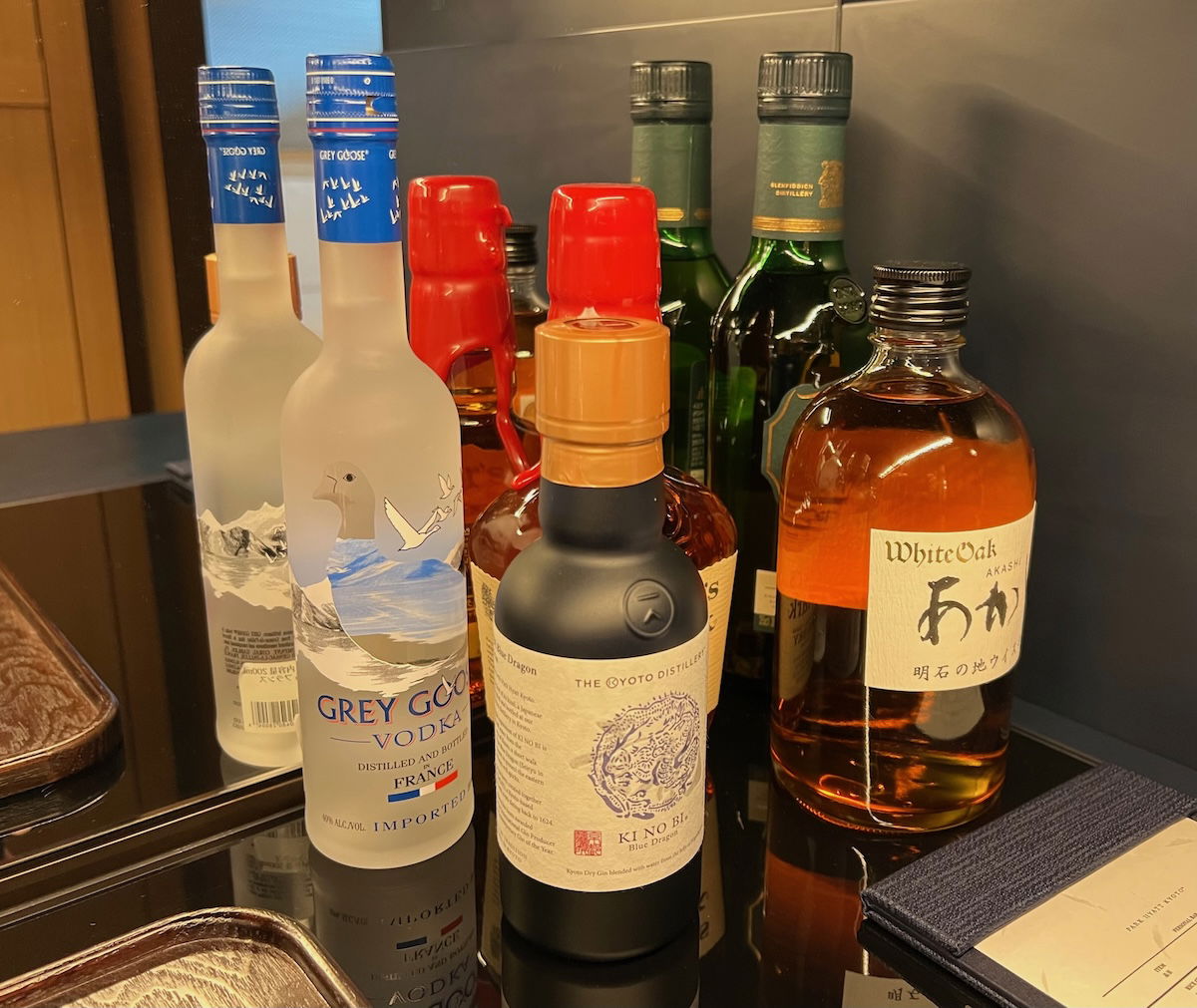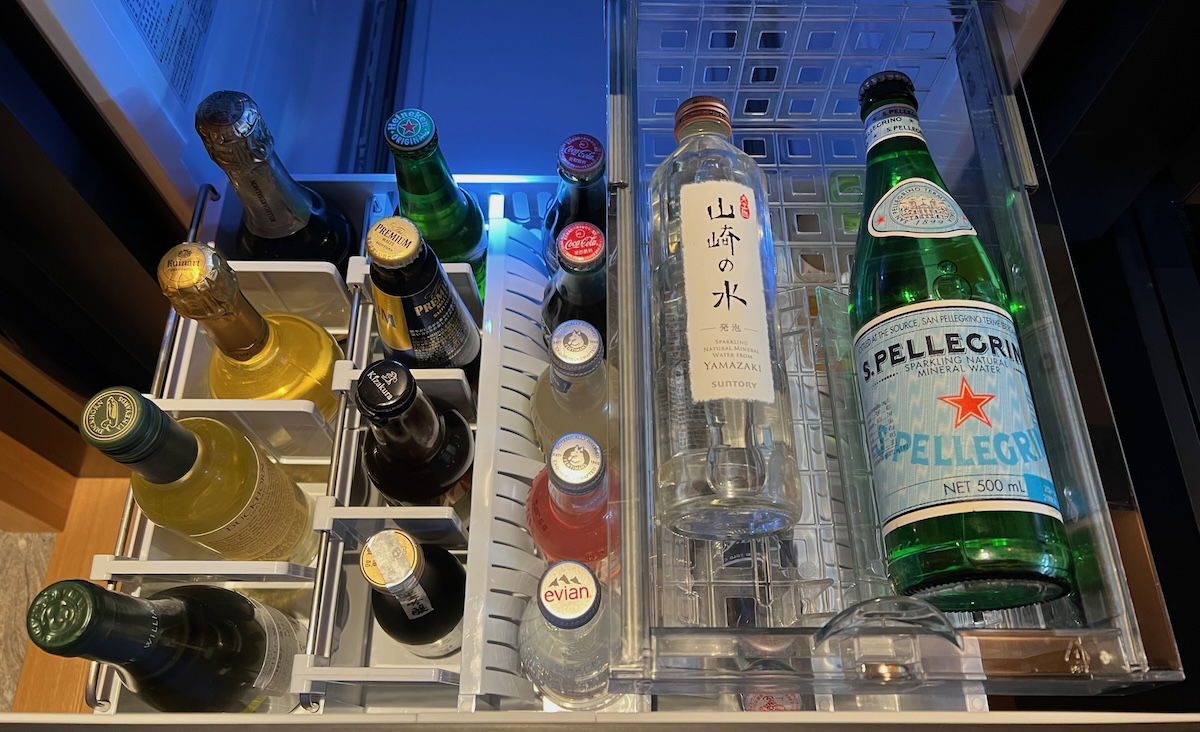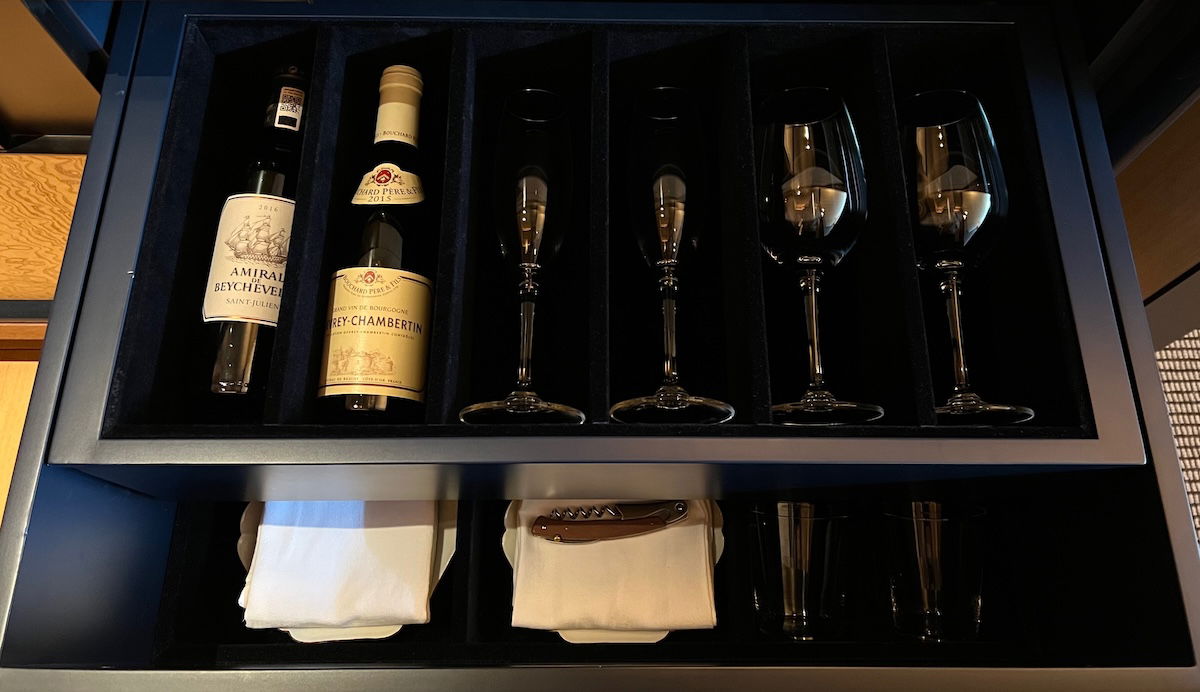 Then there was the bathroom area, with double sinks, a proper Japanese toilet, and then a shower compound.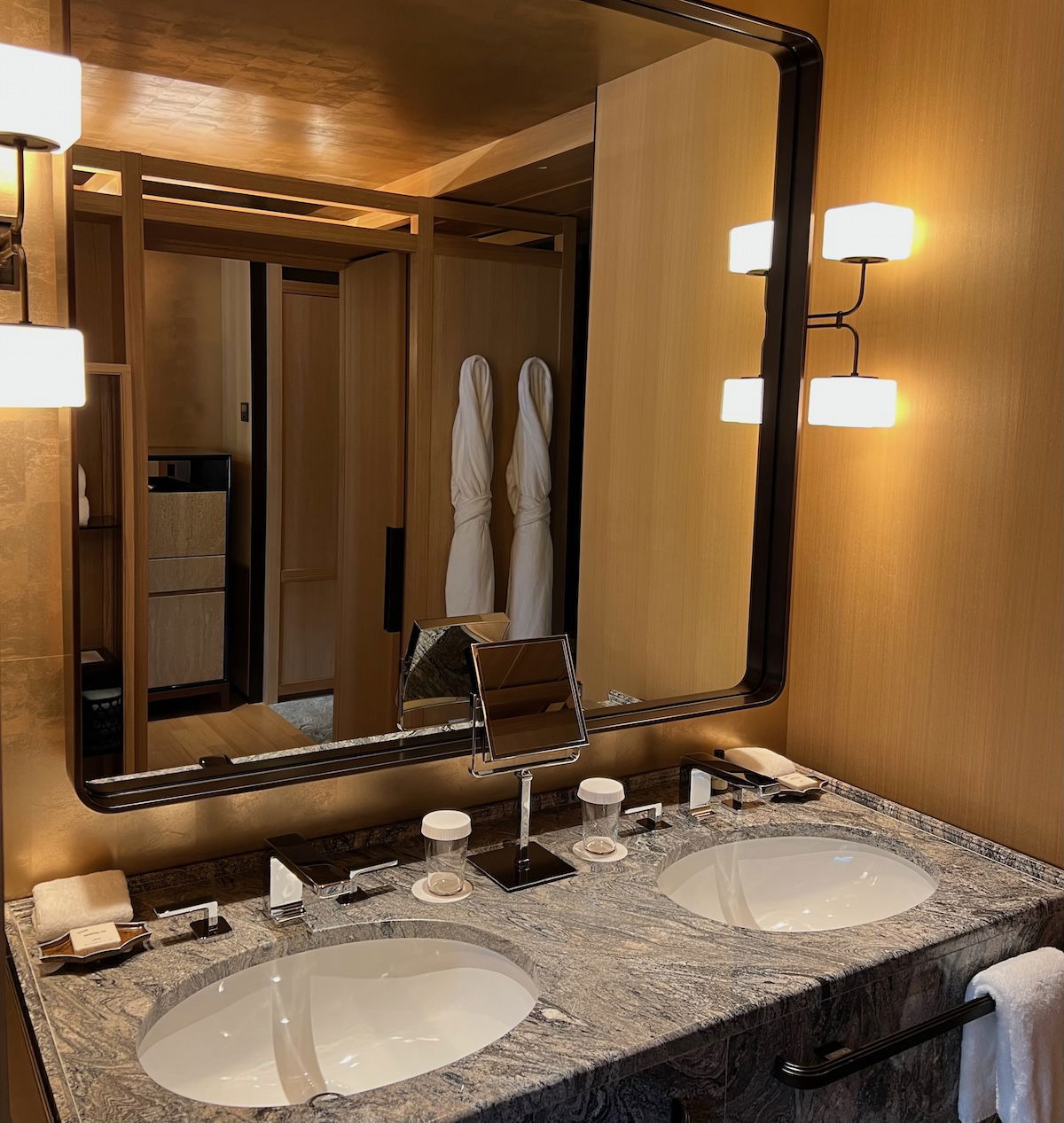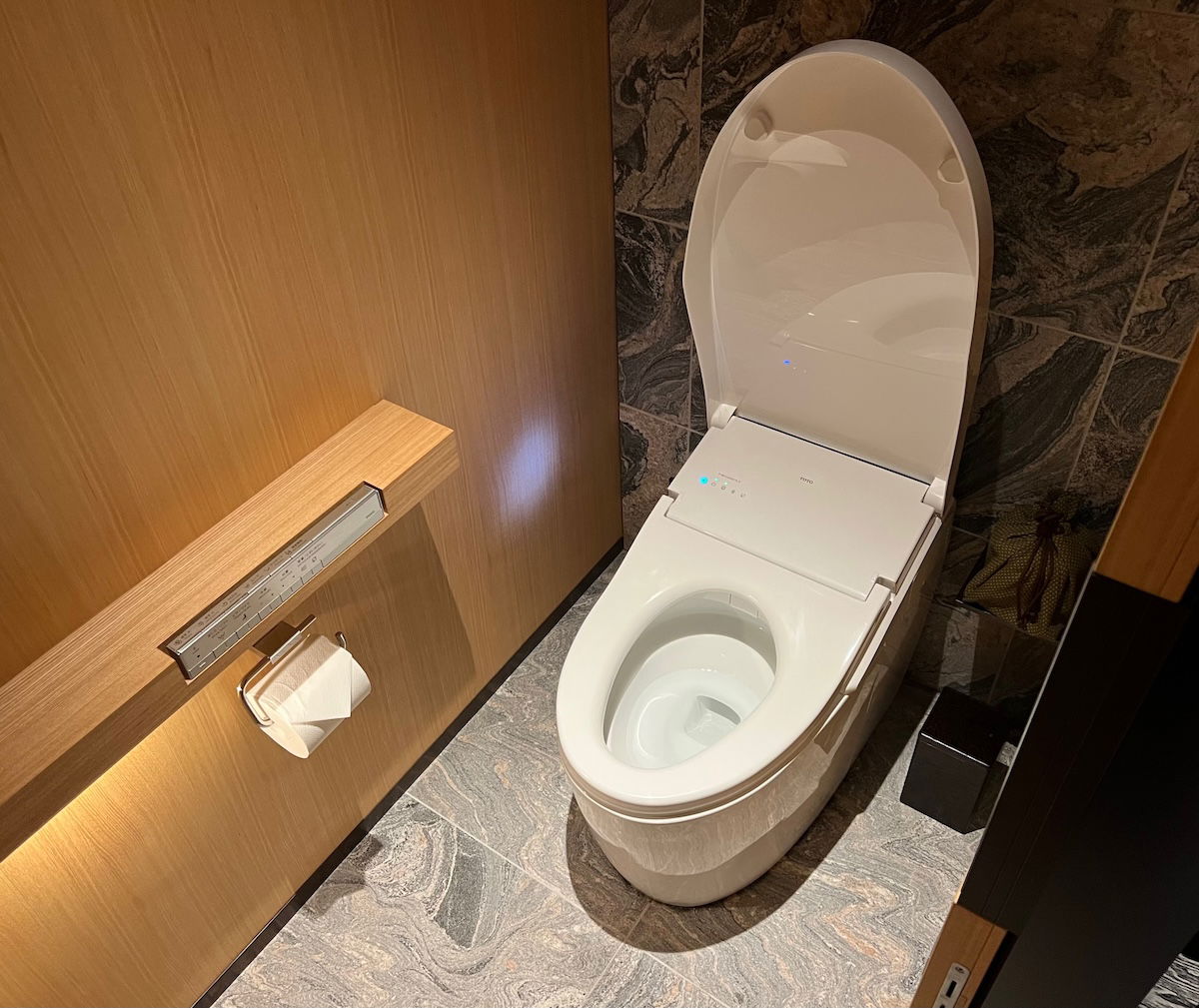 The shower area had both a walk-in shower and a bathtub, with excellent water pressure.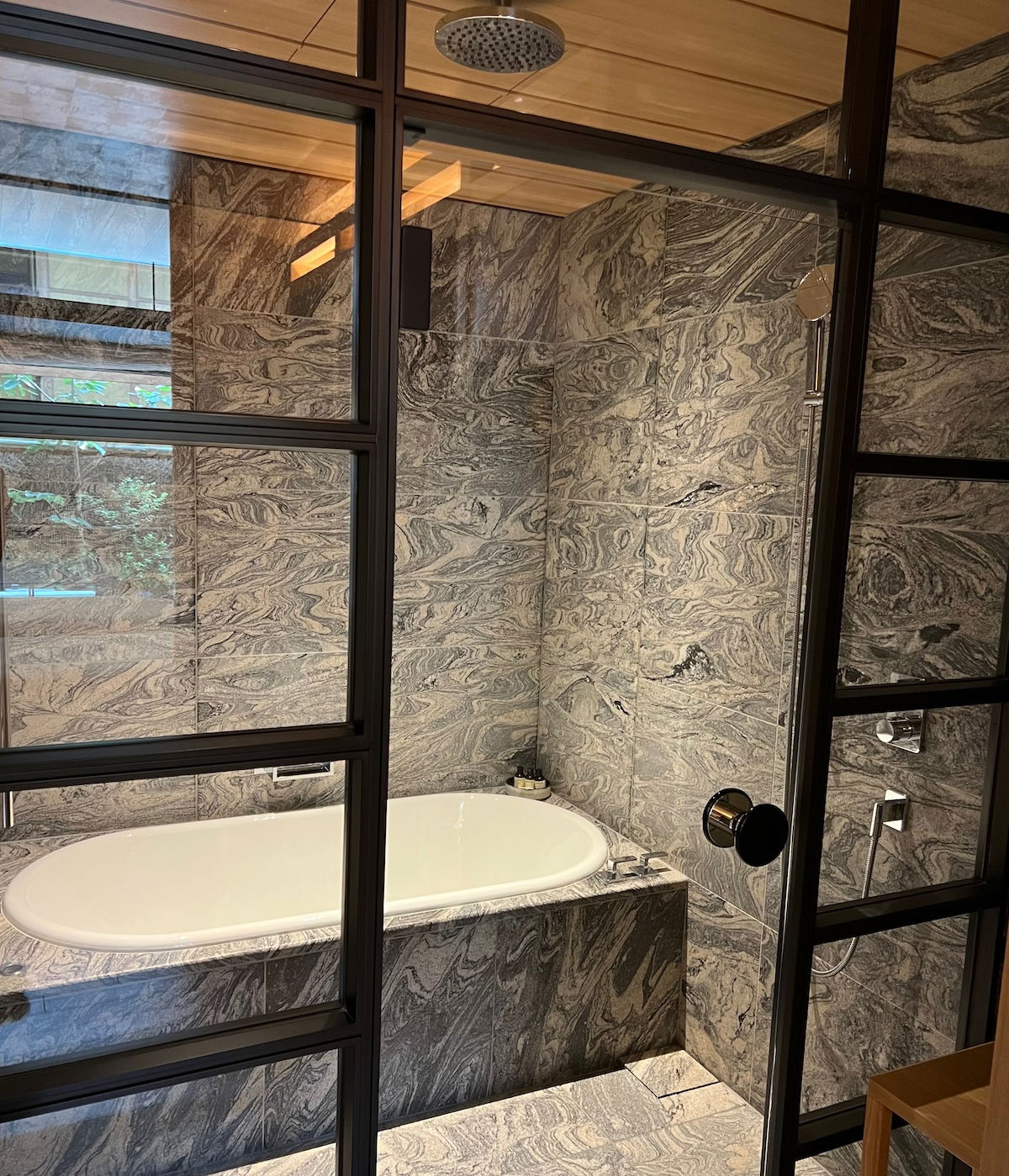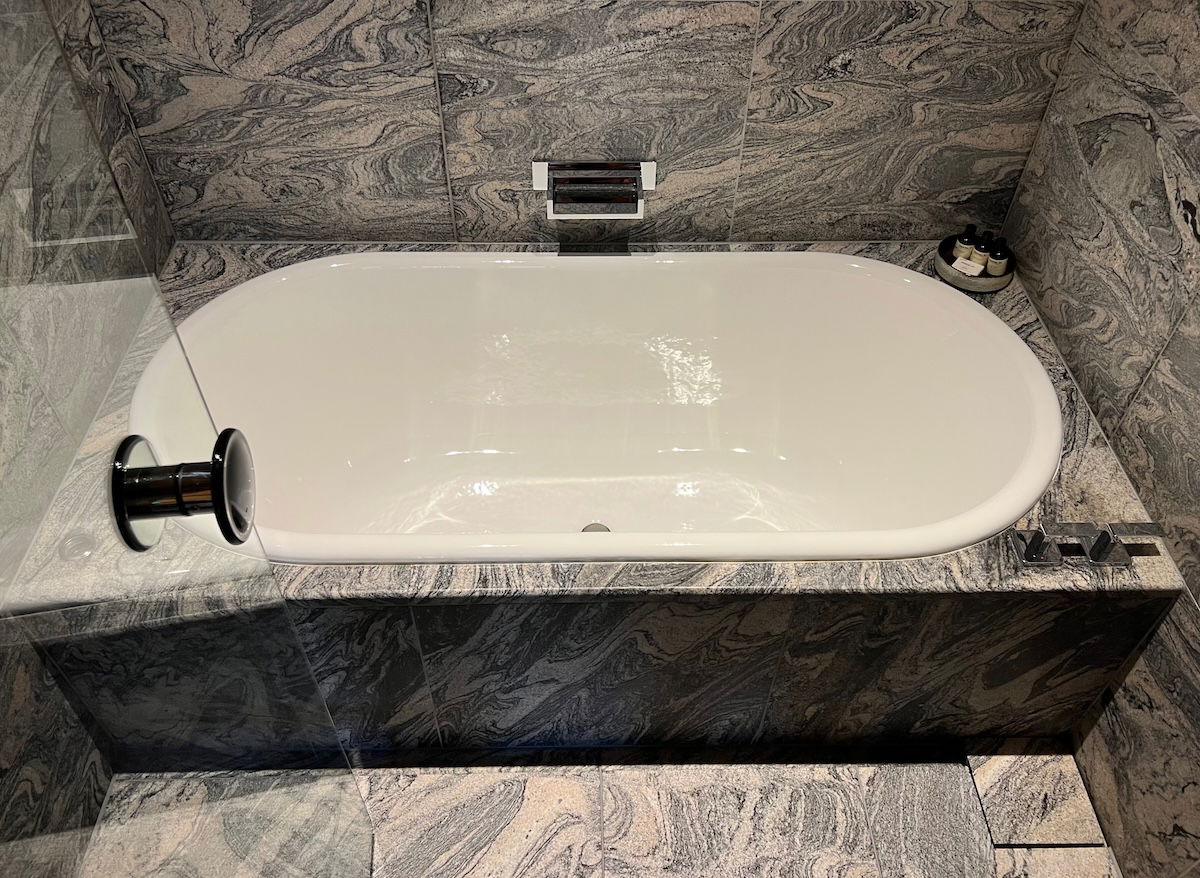 Toiletries were from Le Labo, and were the Santal 33 line.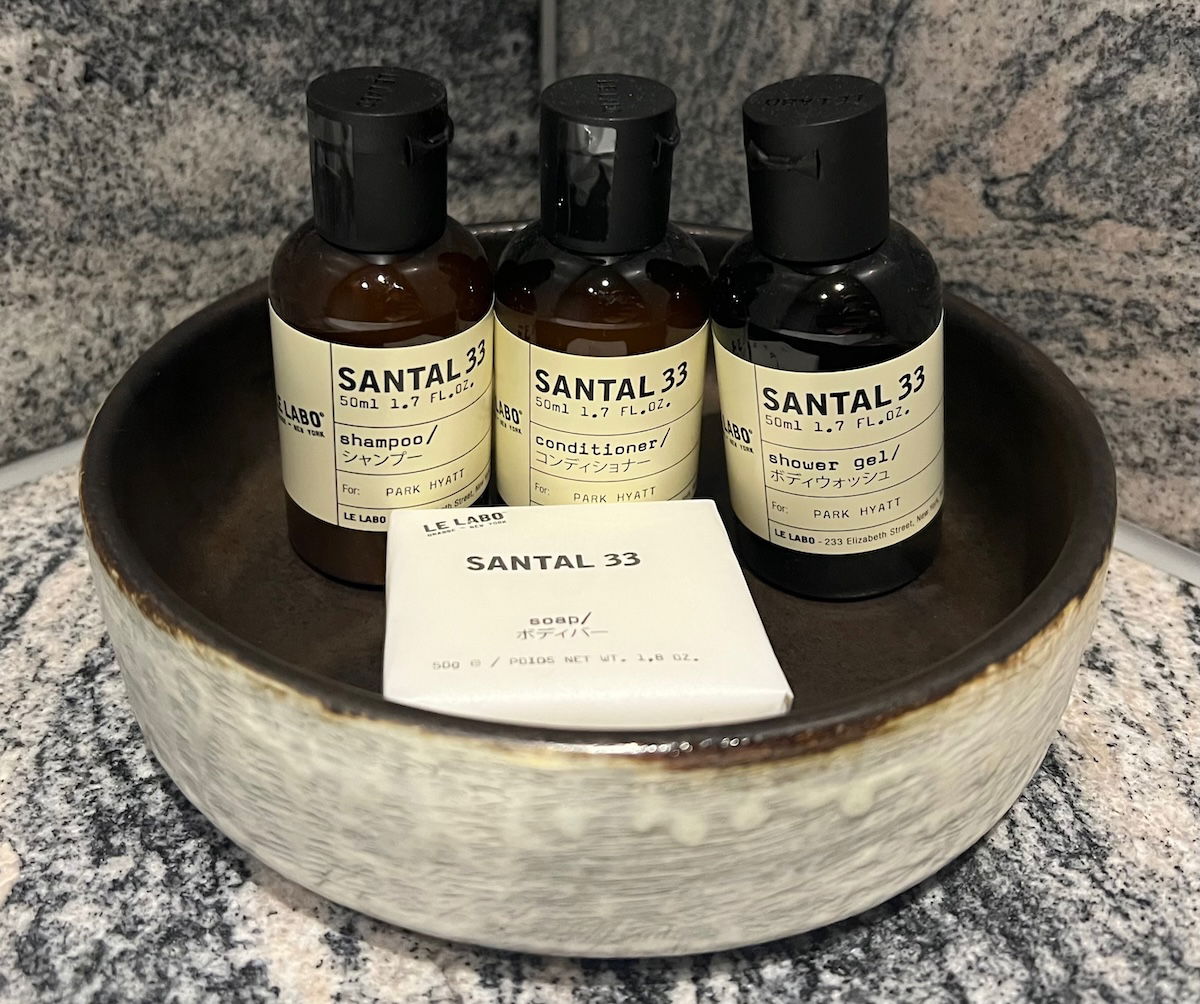 I also loved how the bathroom had all kinds of amenities readily available, rather than having to call down to request them.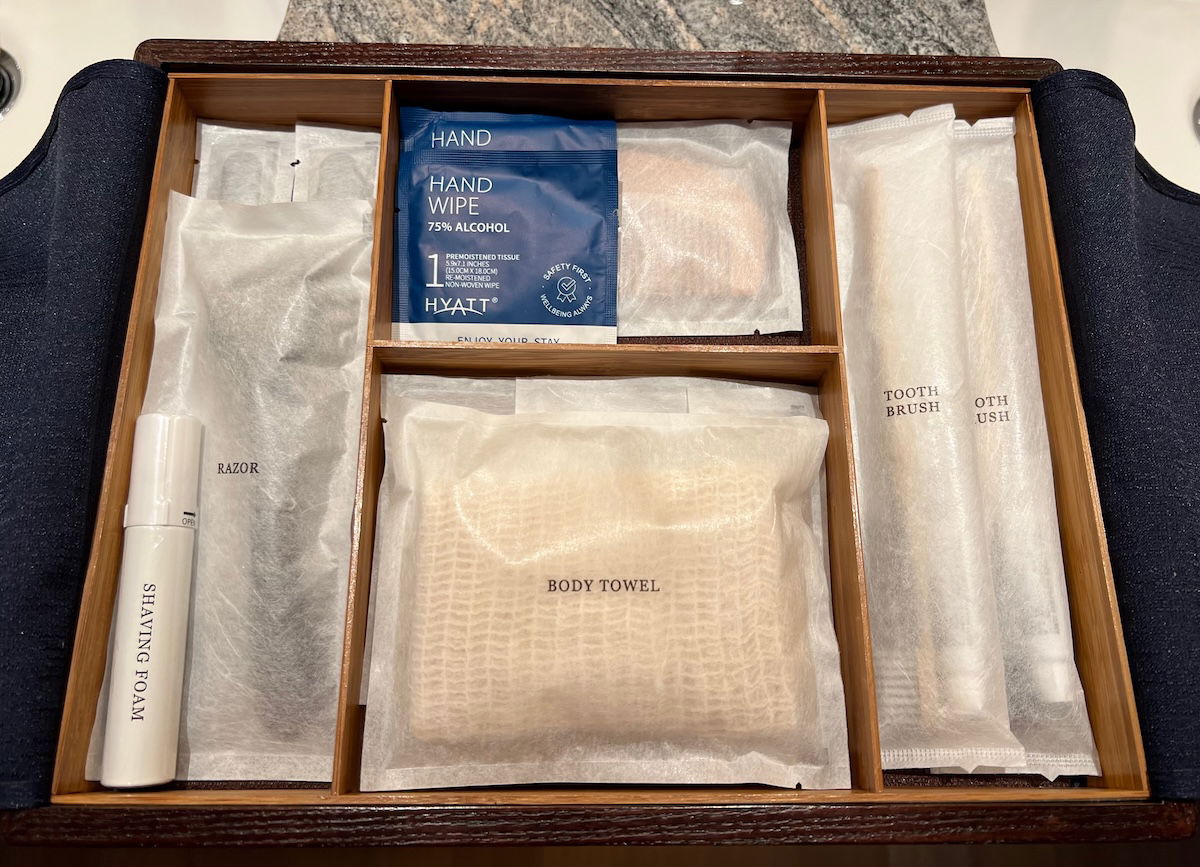 What makes the garden terrace rooms unique is that they do have a small outdoor space. The room doesn't have any views, but rather faces some greenery. I will say that I think the outdoor area could have more comfortable seating, as we didn't end up spending any time out here.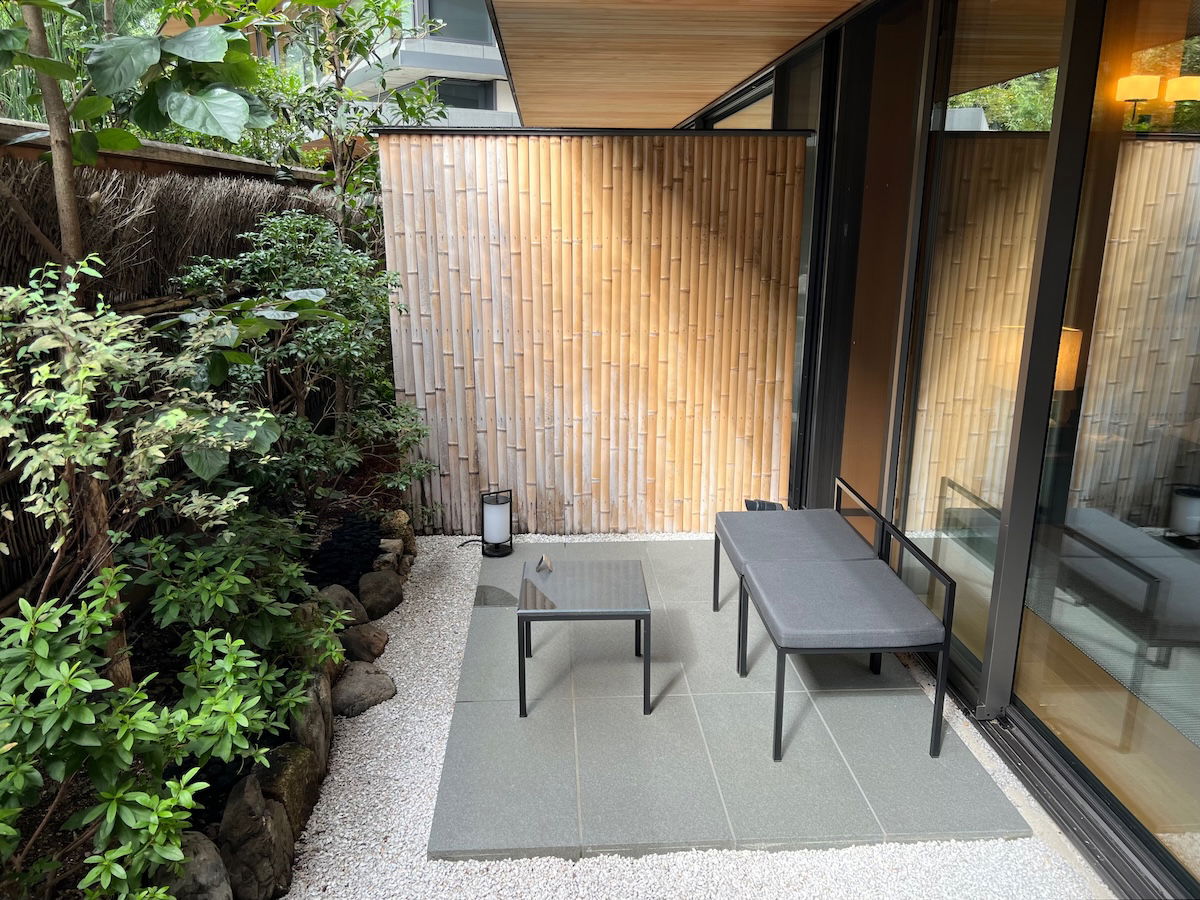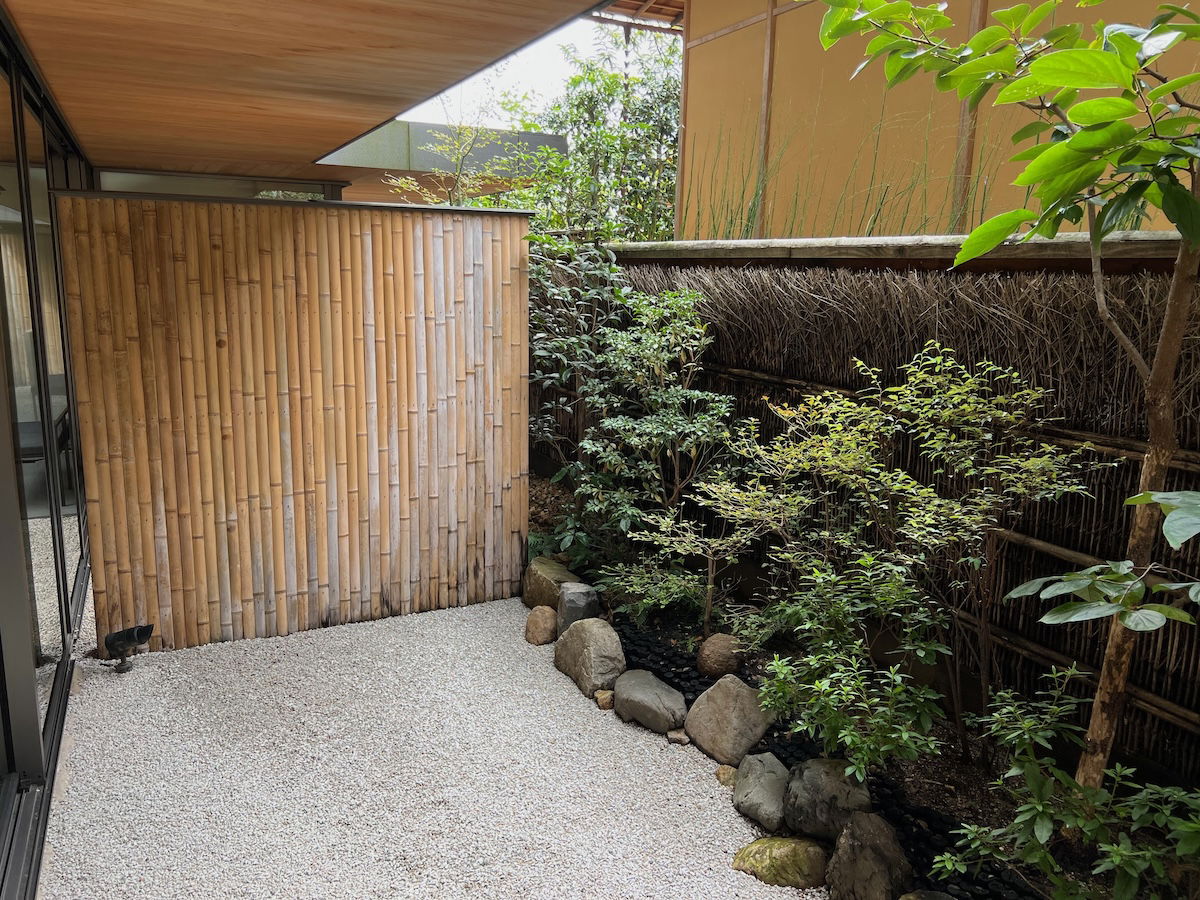 All-in-all, I thought the room was gorgeous. Of the three hotels we stayed at, the Park Hyatt probably had my favorite room design. The attention to detail and finishes in the room were just phenomenal, and I think pictures don't do justice to that.
Park Hyatt Kyoto gym, bathhouse, & spa
The Park Hyatt Kyoto's wellness area is located on level three, and it takes up the entire floor. This is where the hotel's gym, bathhouse, and spa, are all located.
When you exit the elevator, you'll first find yourself in the 24/7 gym area, featuring cutting edge equipment. I've seen some complaints online about this setup, and I'd largely agree, as the layout is a bit strange.
There's one long hallway, and then the gym equipment is in small areas on either side of that. Immediately to the right as you enter is the cardio equipment.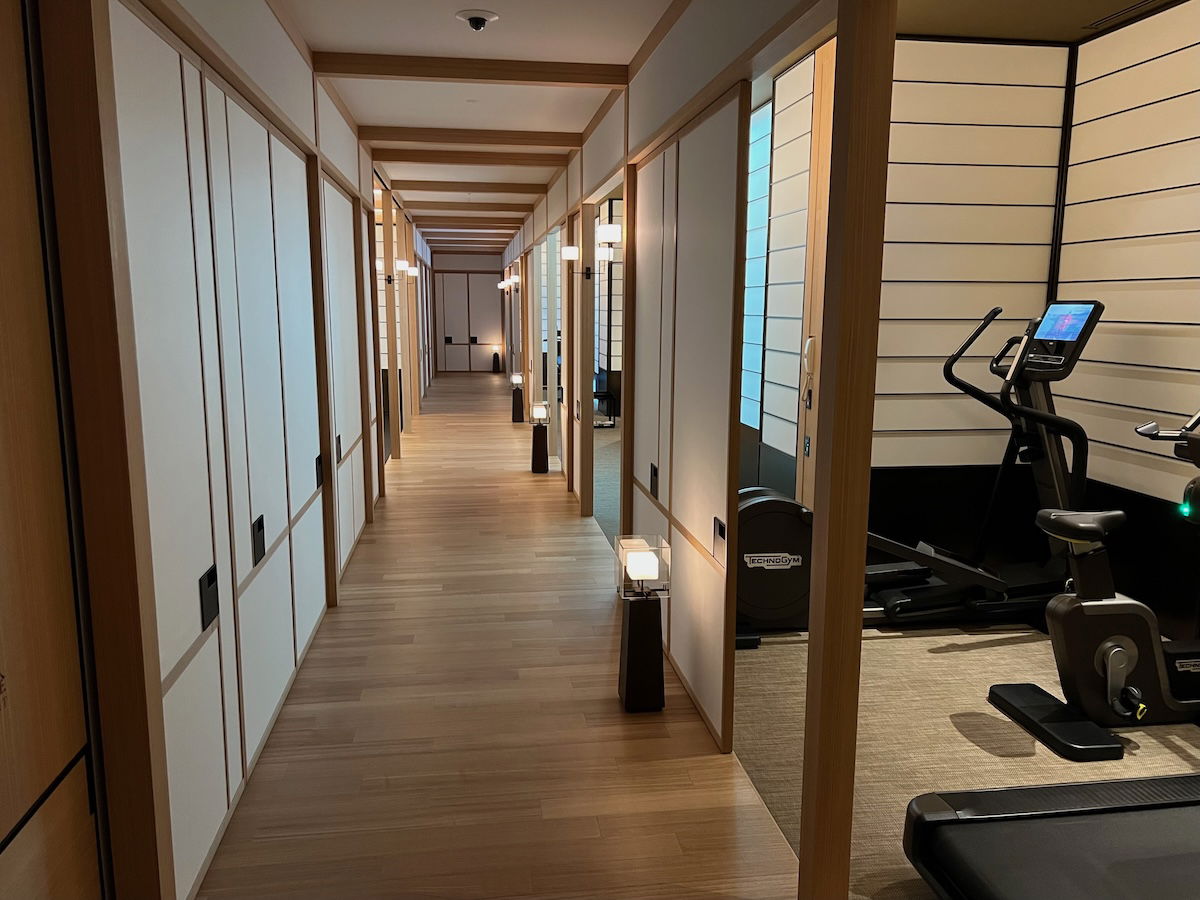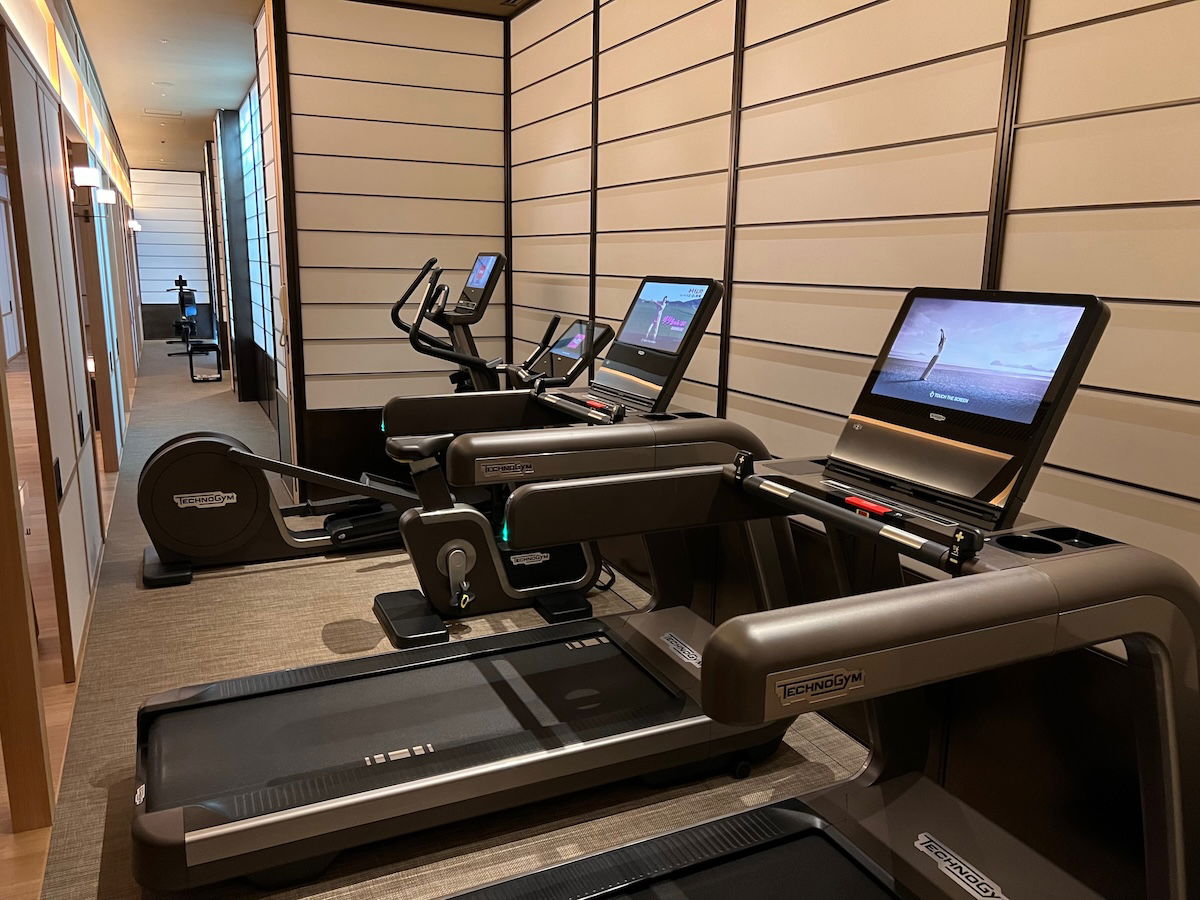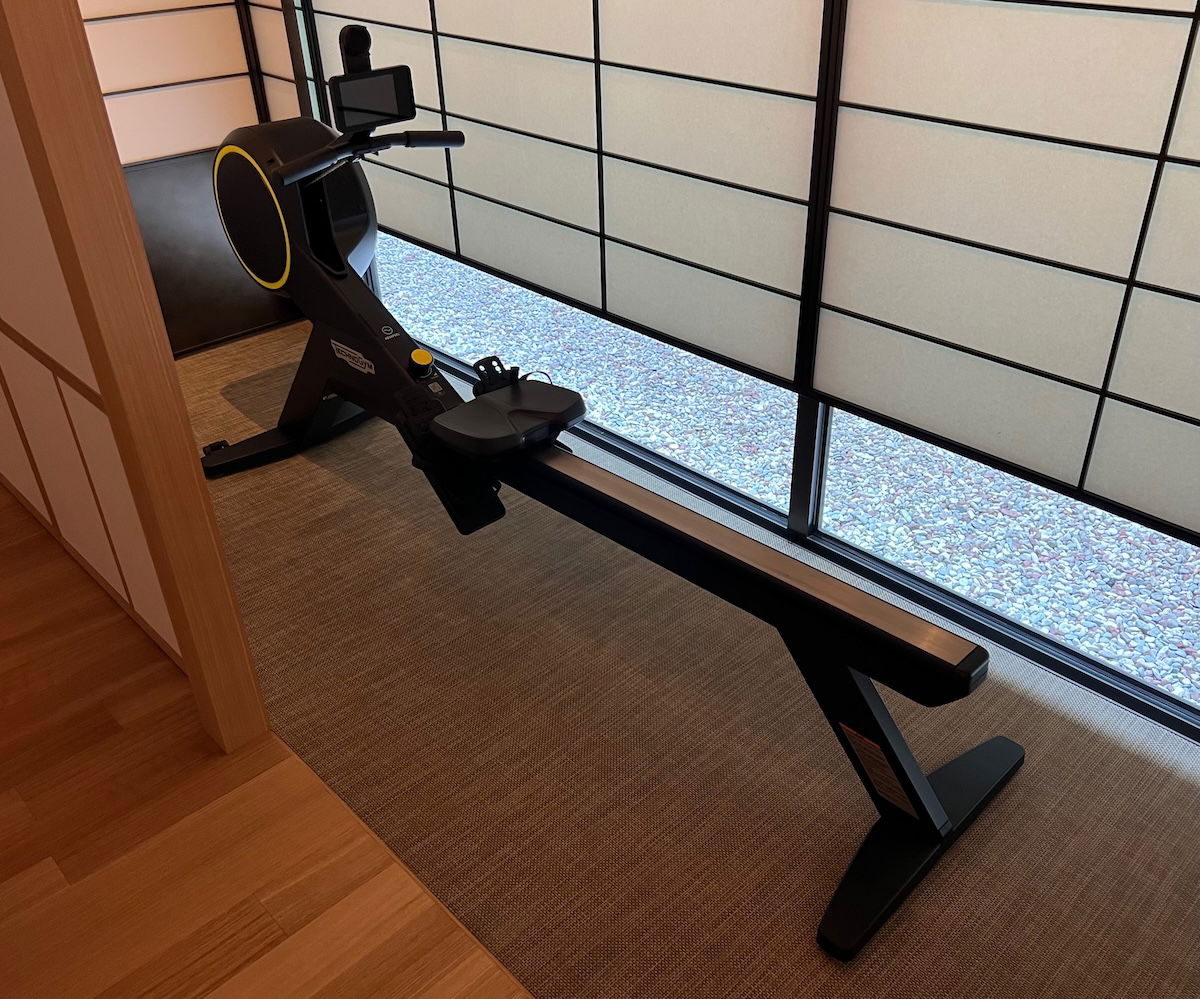 Then to the left is the weight equipment. The issue is that the layout is awkward if there's more than one person using it, since the bench is right in the middle of the room, with all equipment facing it. Furthermore, the free weight selection is way too limited, as the heaviest weights are 10kg. I think there's some opportunity for this space to be optimized and improved.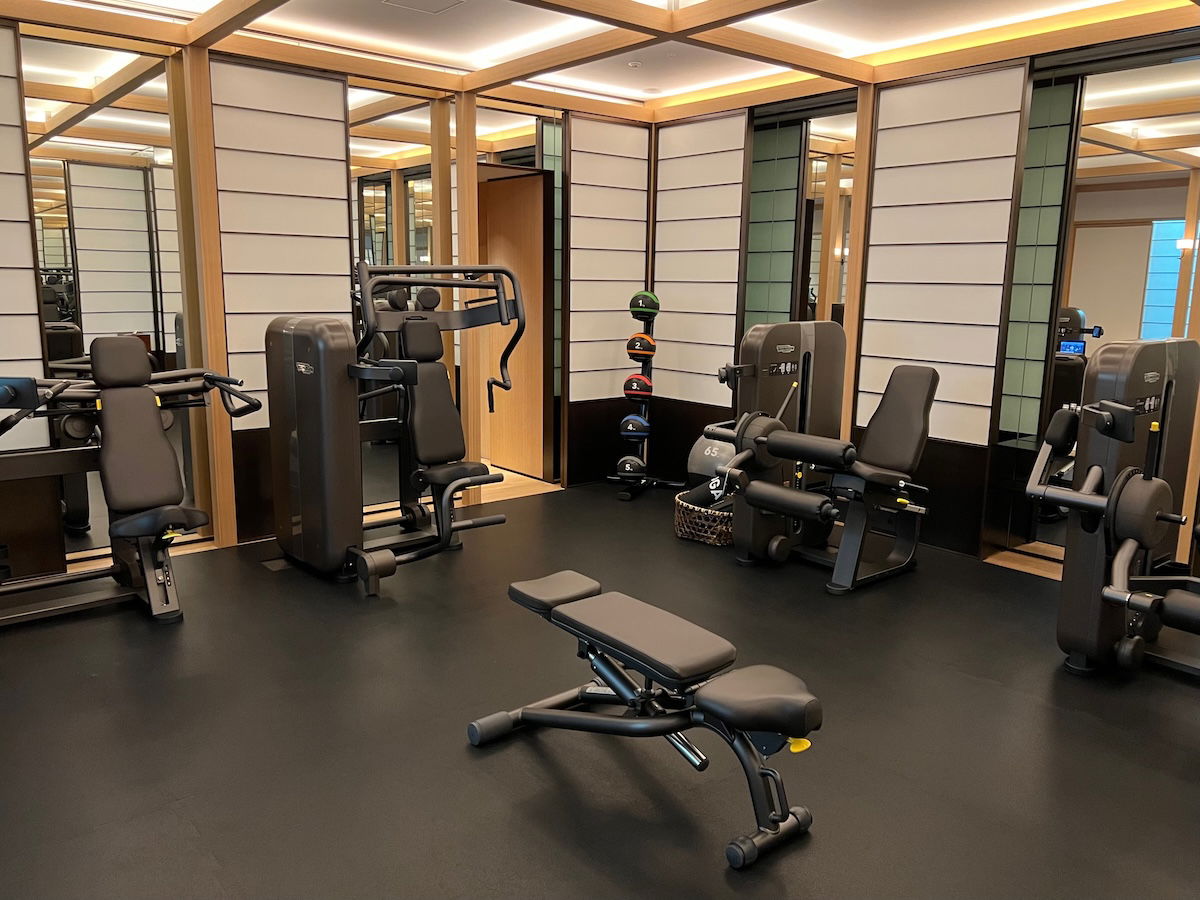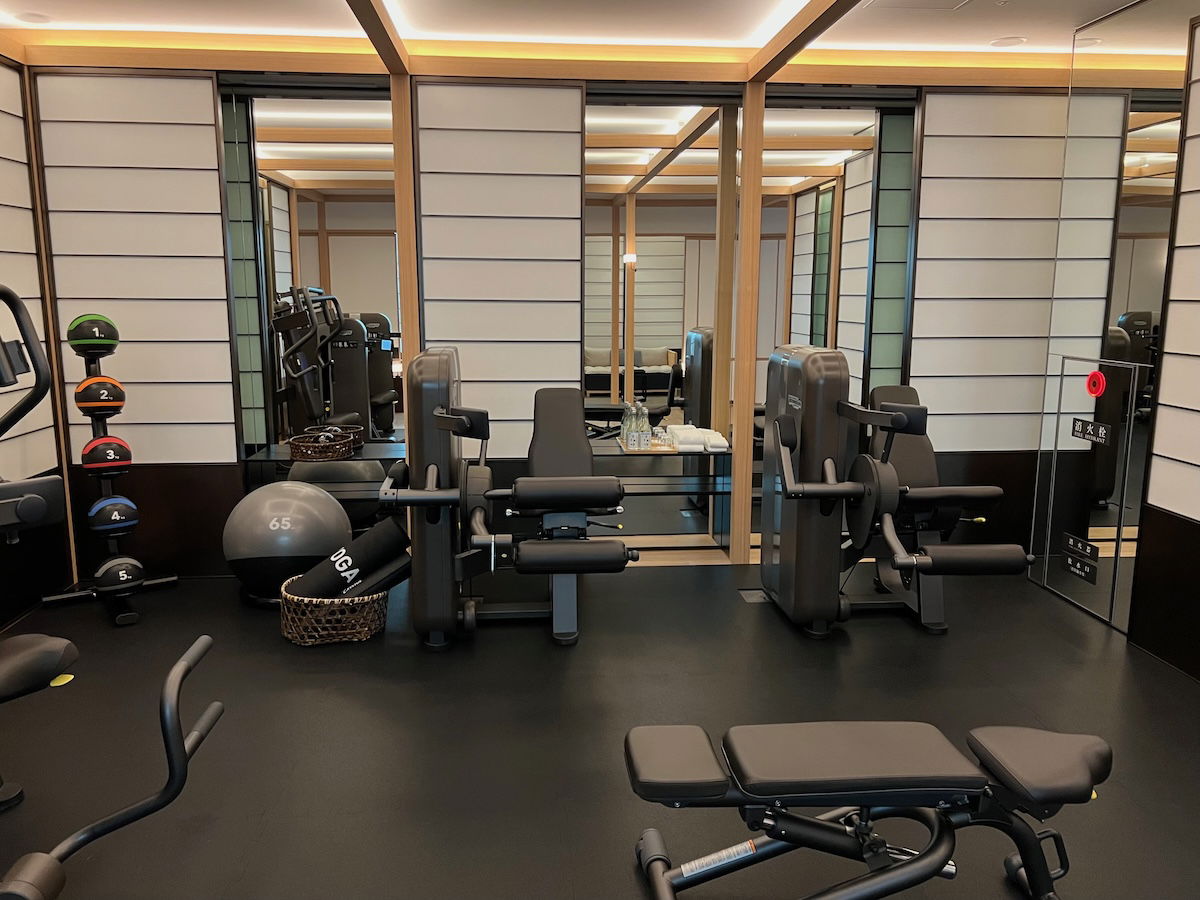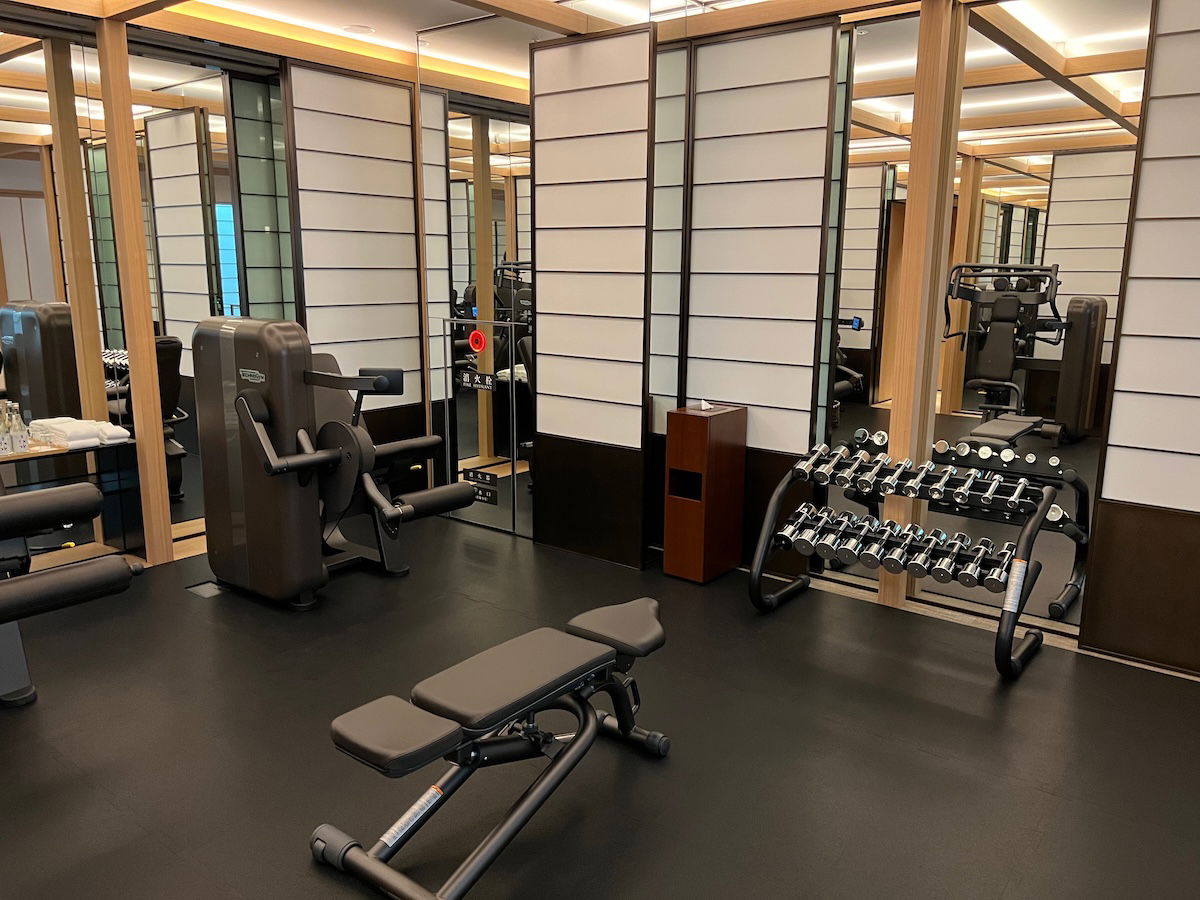 Unlike the Four Seasons and Ritz-Carlton, the Park Hyatt doesn't have a pool. That's largely because the hotel is much smaller and space in this area comes at more of a premium, so I totally get why. The hotel does have a bathhouse area, though, located down the hall from the gym. This is open daily from 7AM until 10PM, and hotel guests can use it without a reservation.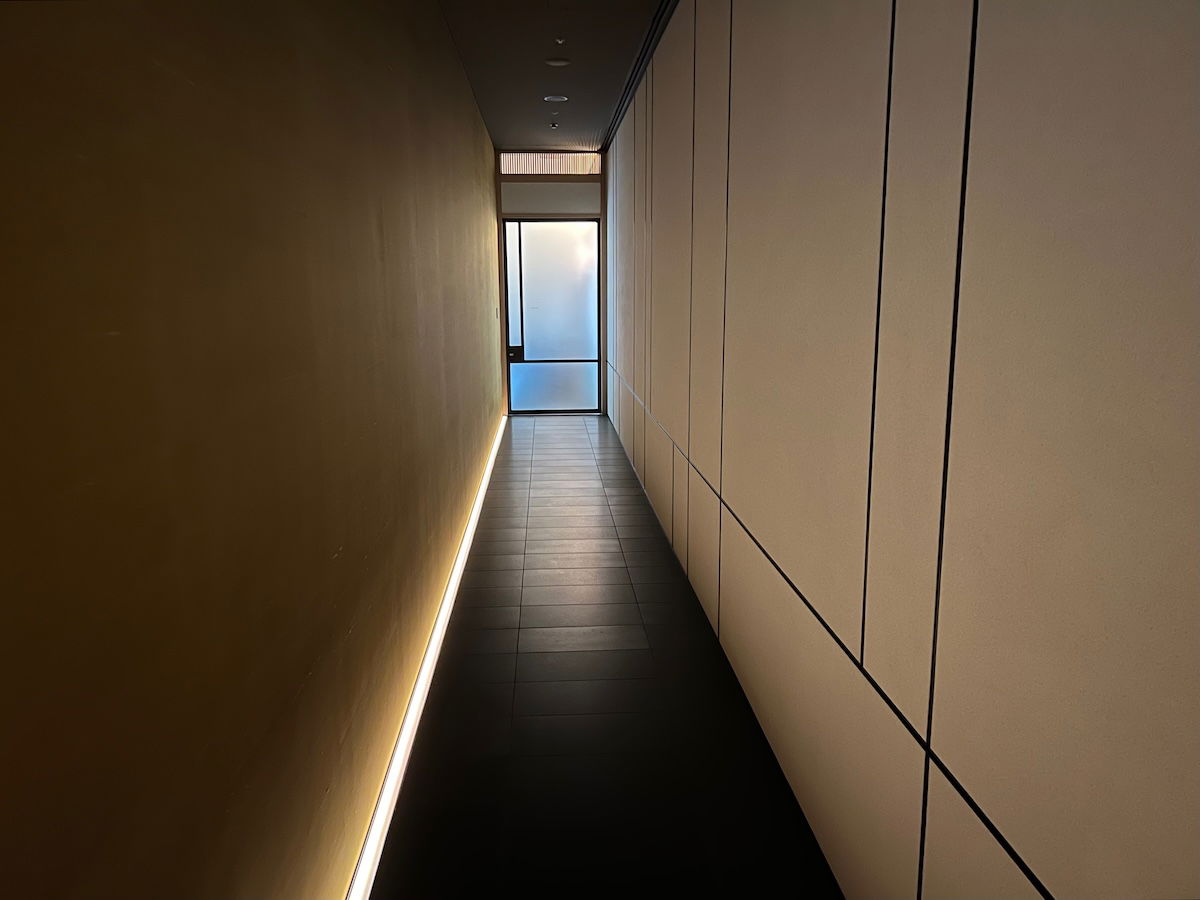 The space is separated by gender, and then within each space there's a changing area.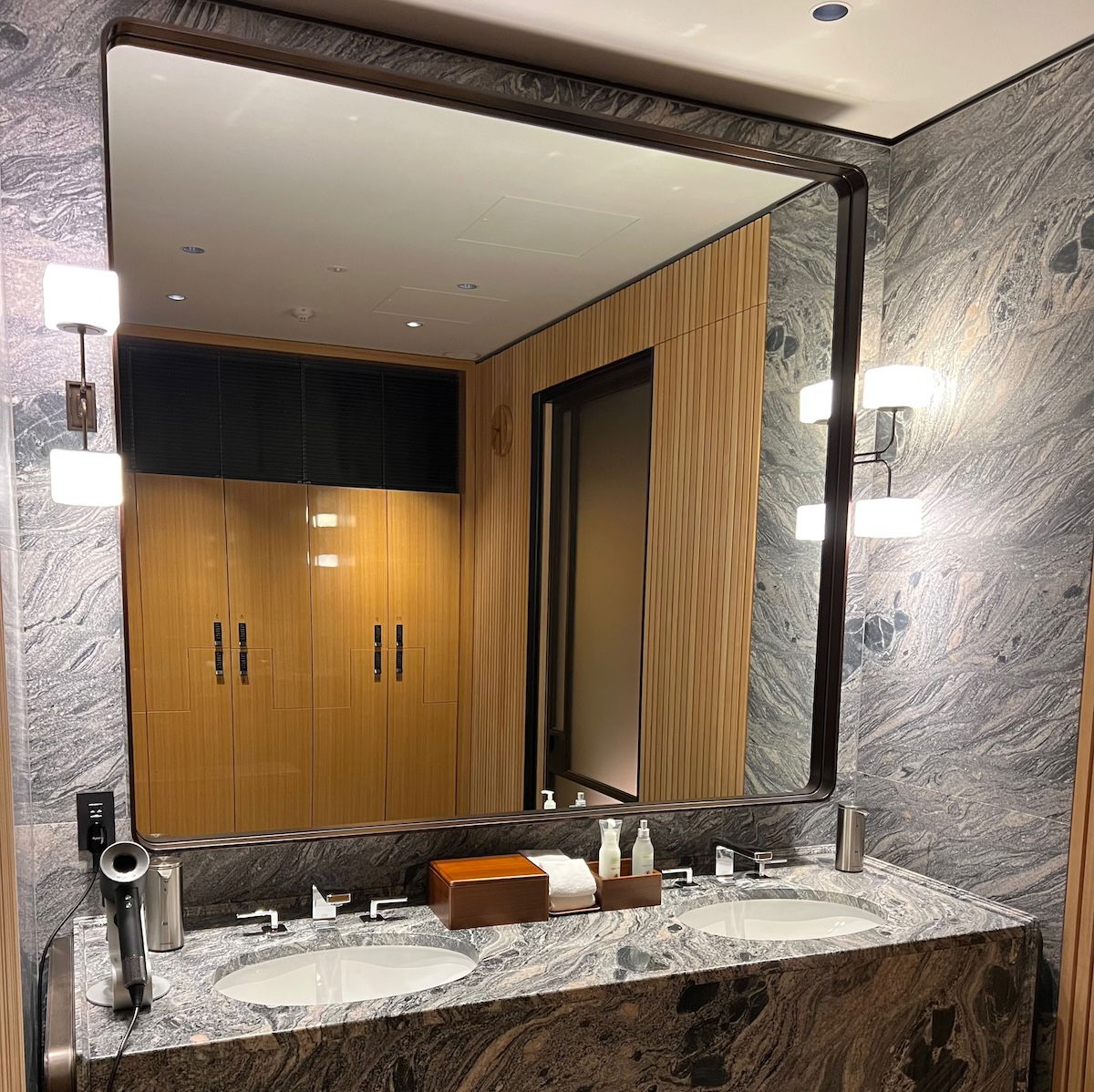 The bathhouse and onsen facilities consist of a hot bath, a cold bath, a sauna, and a steam room. It's a perfectly nice space if you have it to yourself, though if multiple people visit at once, it might feel a bit more crowded and less relaxing.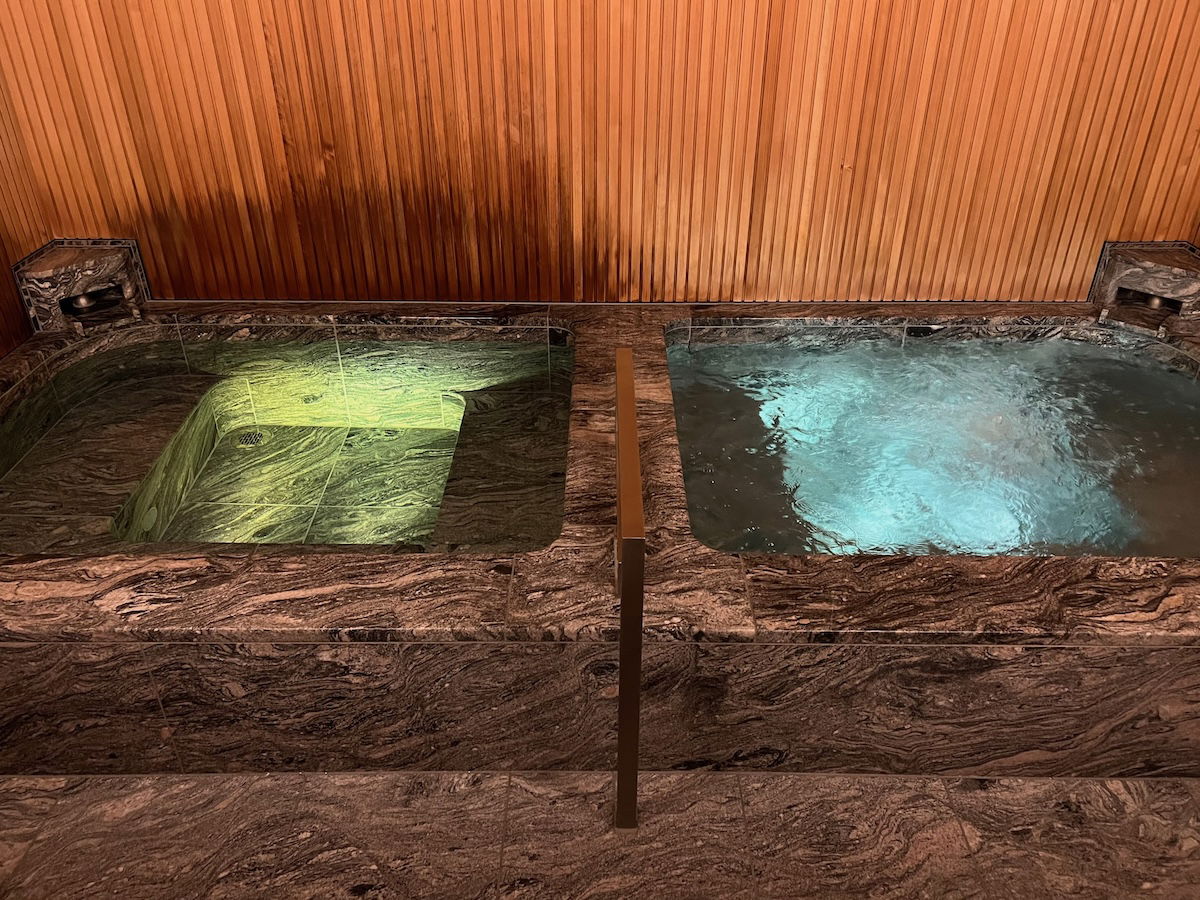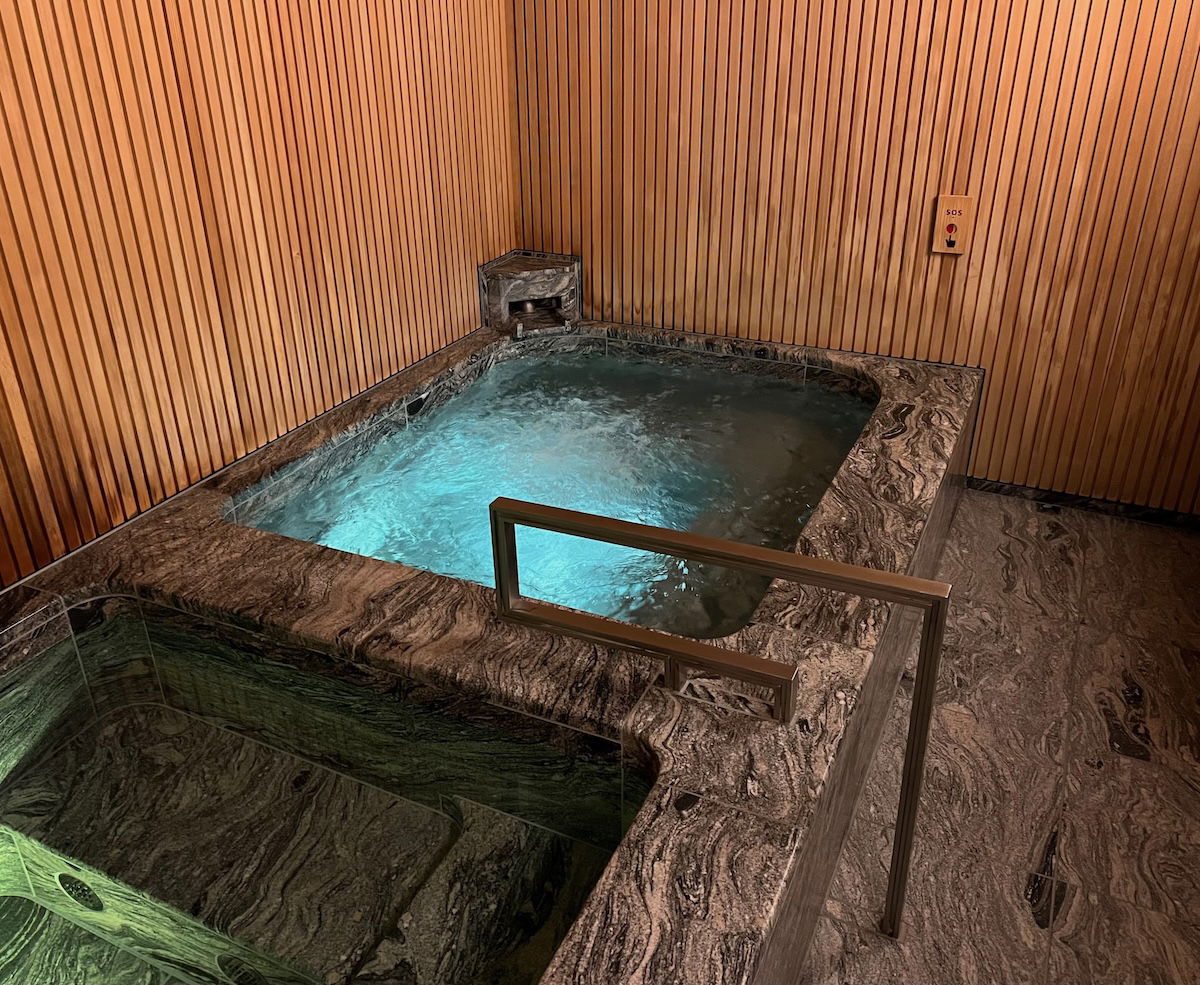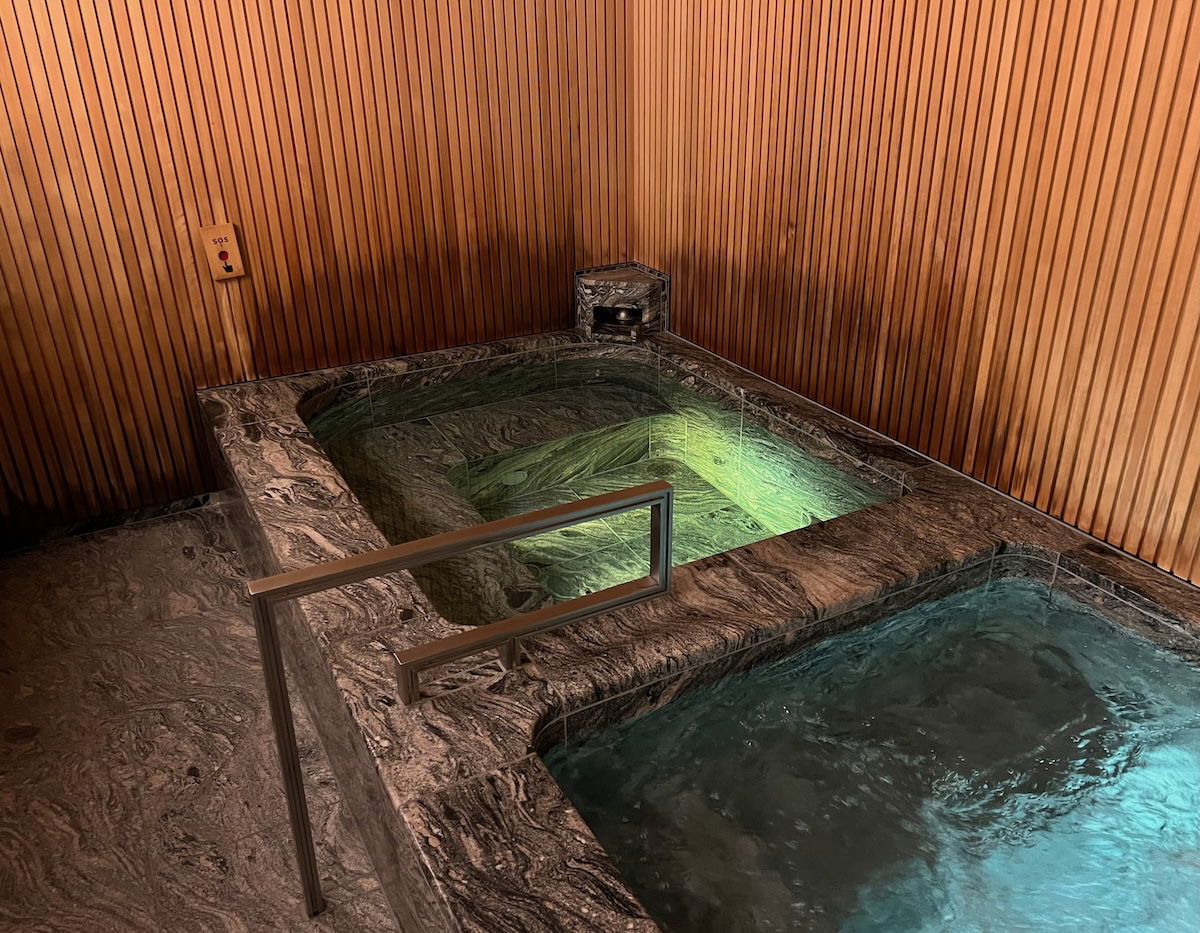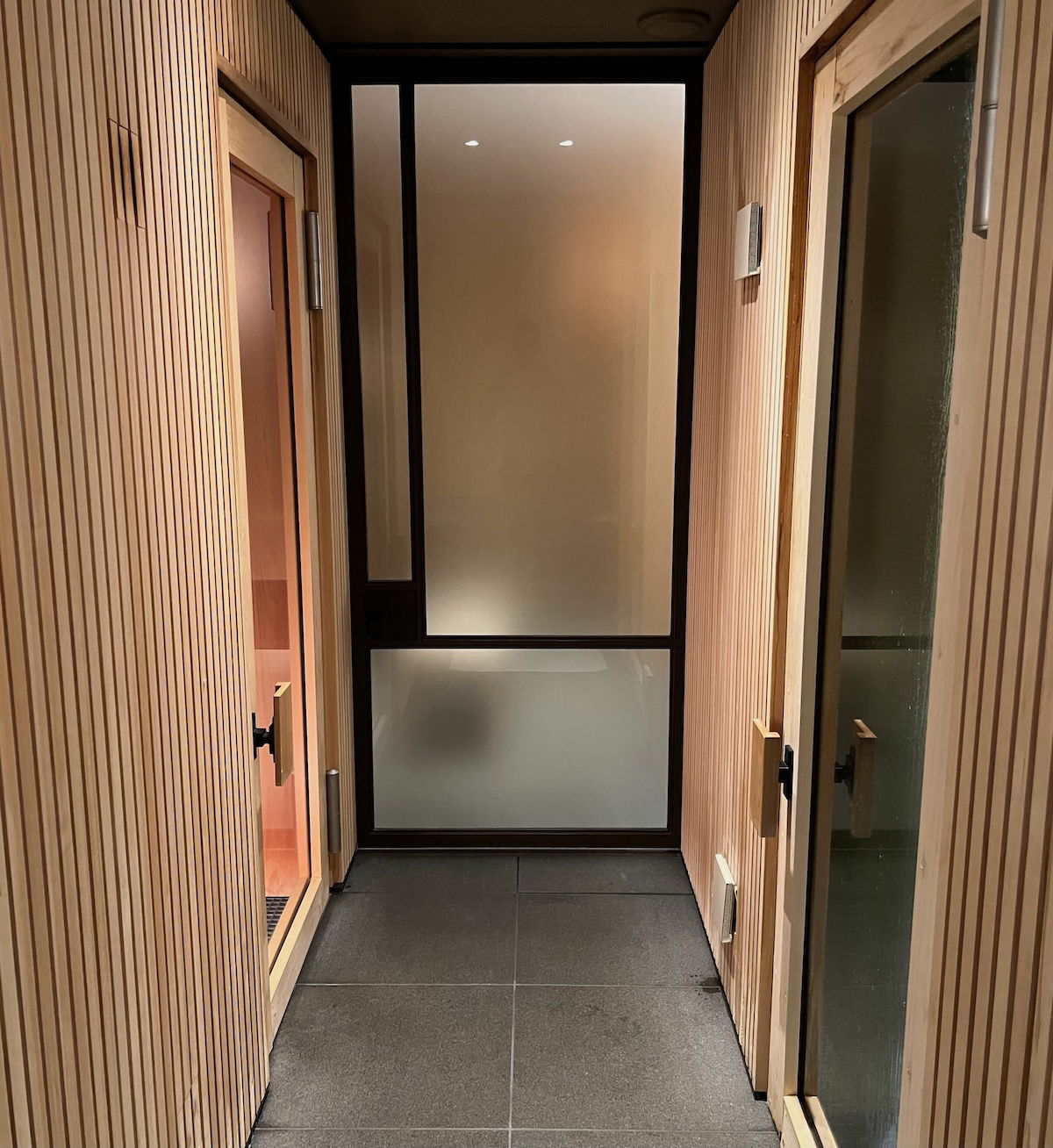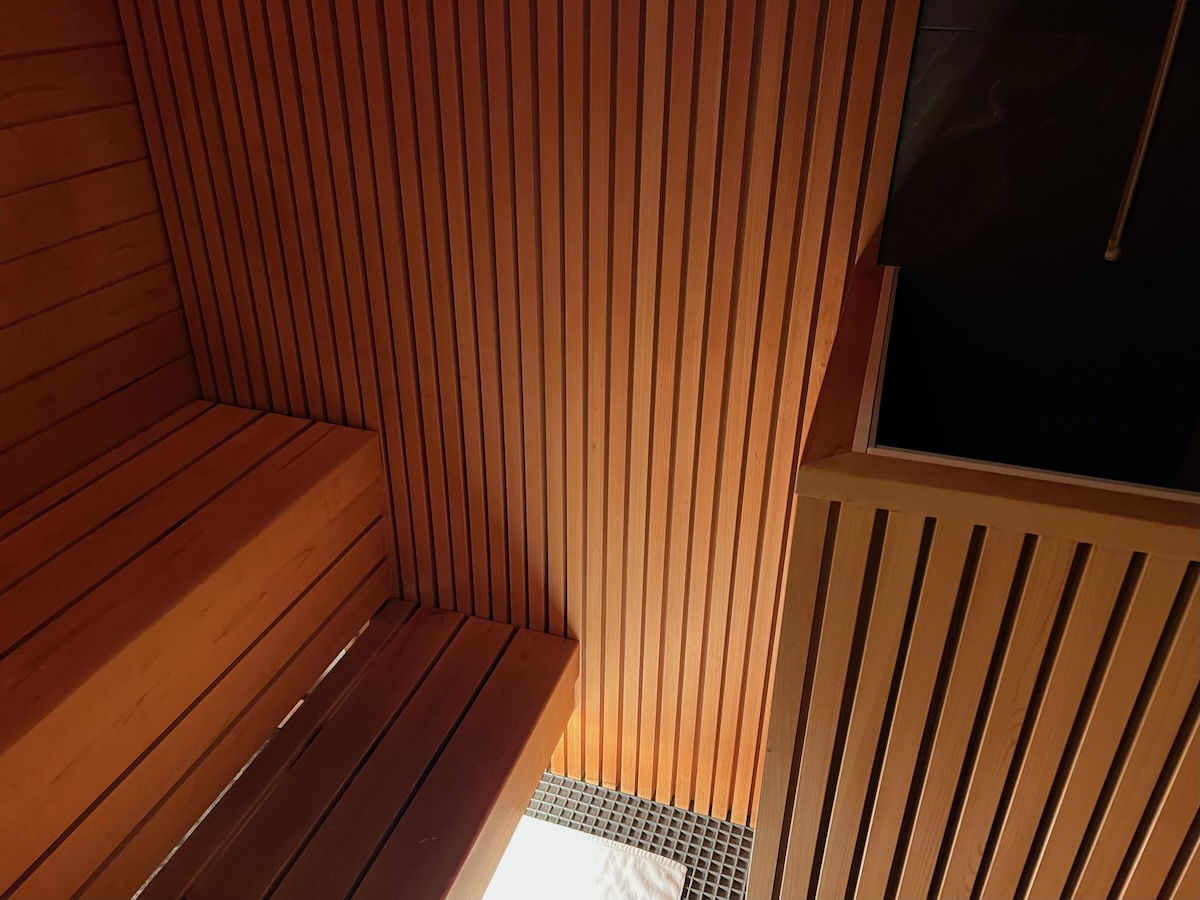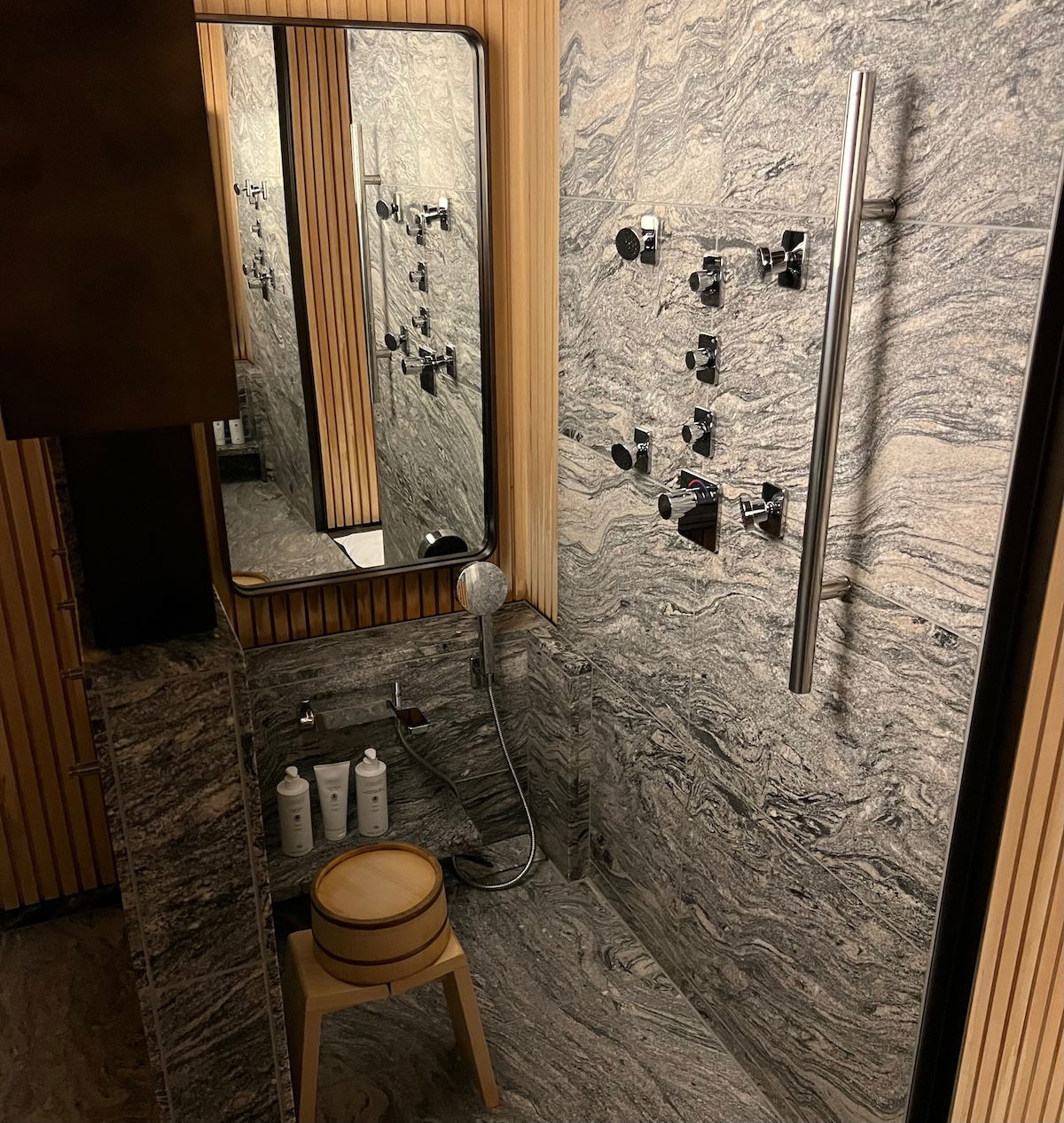 The Park Hyatt Kyoto also has limited spa facilities, right near the gym and bathhouse. There are a couple of treatment rooms, but there's no spa reception, so you can make reservations through the hotel operator. You can find the spa menu here, and as you can see, there are all kinds of unique treatment options.
Park Hyatt Kyoto Tea Lounge
When you exit the elevator on the fifth floor you'll find yourself in the Tea Lounge. You'll pass this every single time you go to and from your room, since most rooms are located in this direction. The Tea Lounge has about half a dozen tables.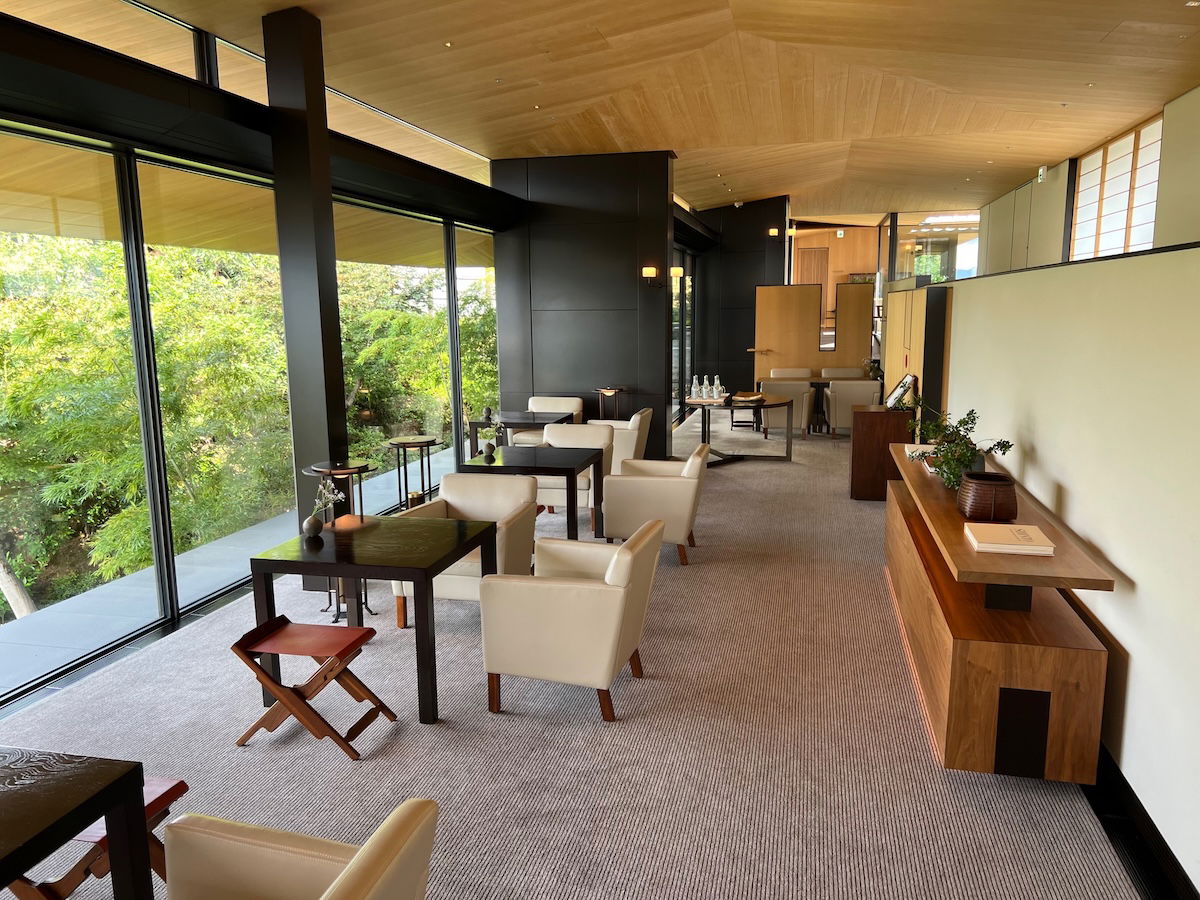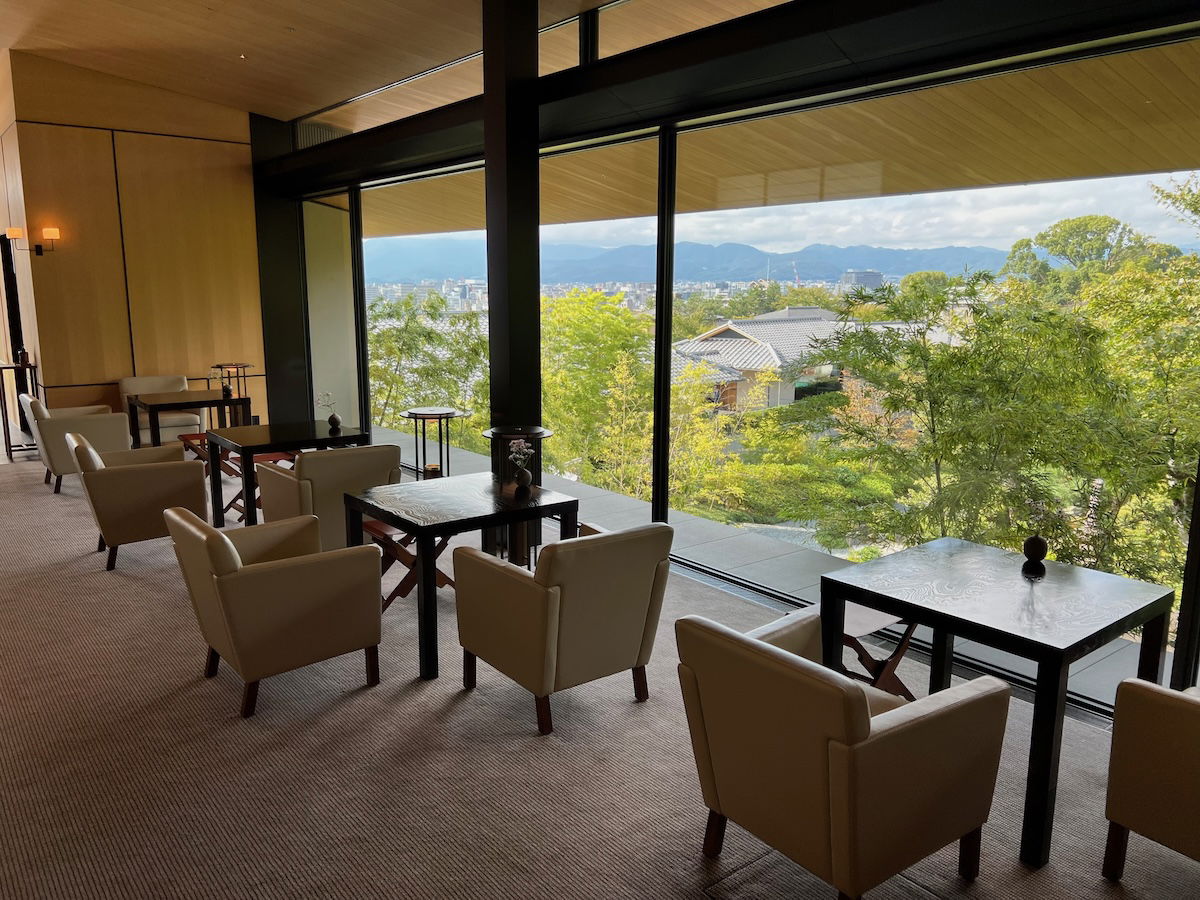 It's so nice that this hotel has a communal space where you can hang out, as this also features among the best views from the entire property. It really shows you how amazing of a vantage point this hotel has, as you're elevated a bit over Kyoto.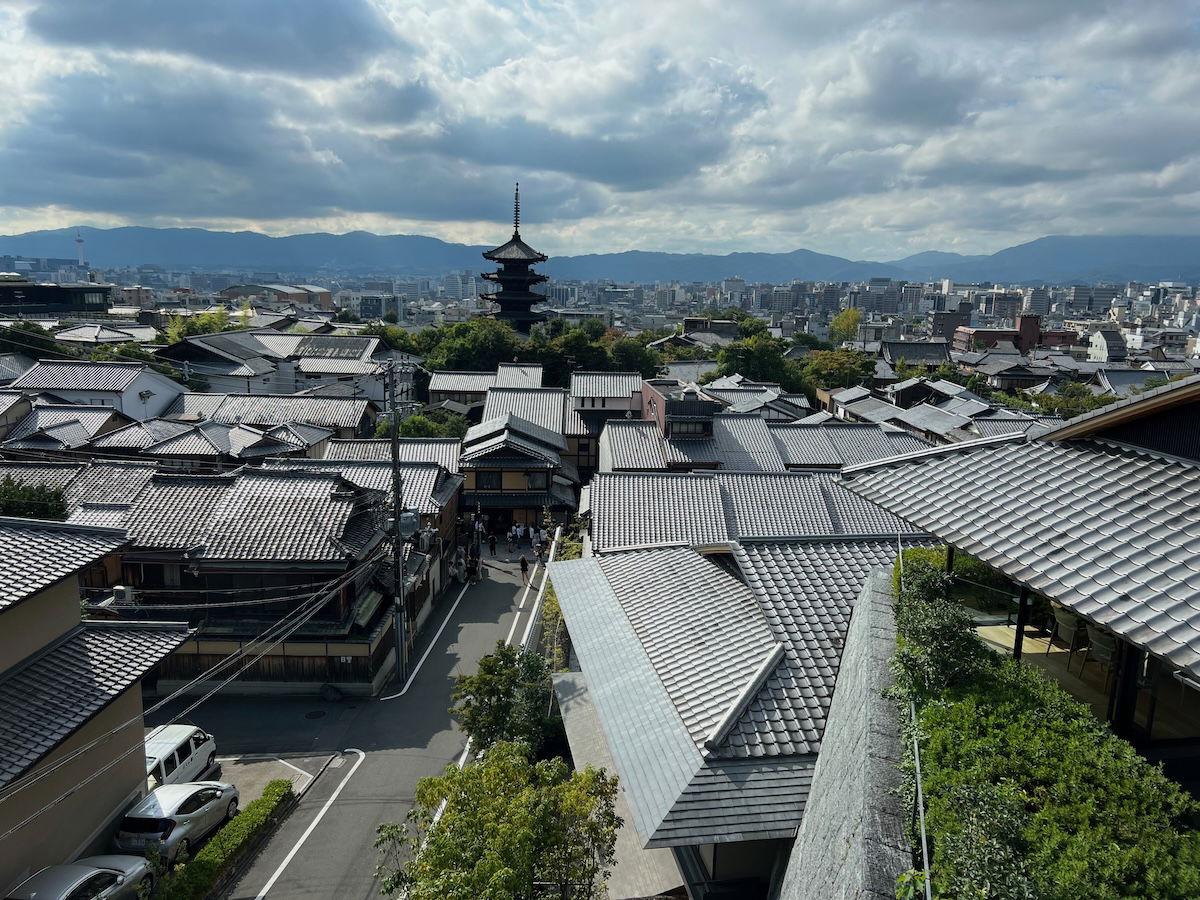 The views are especially breathtaking in the evening, around sunset…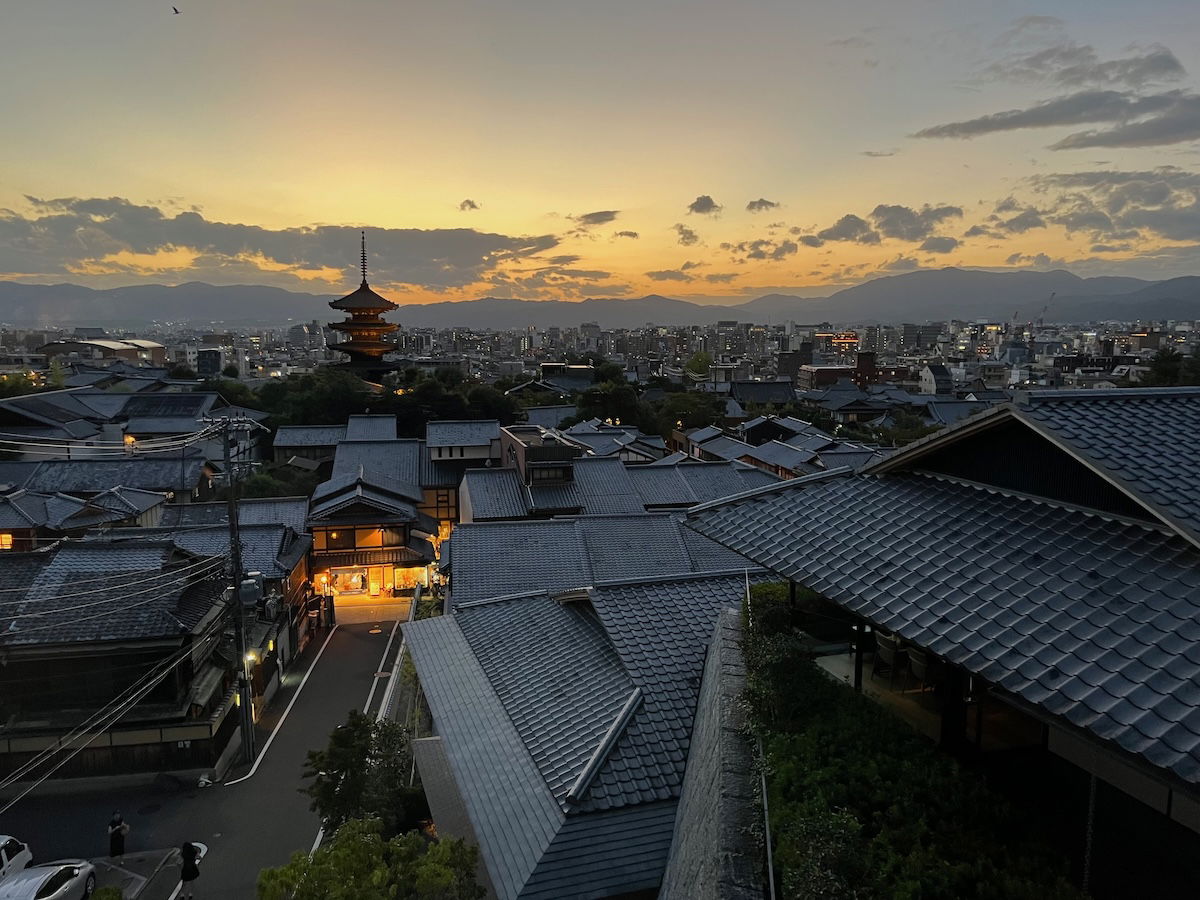 Here's the thing I don't really get — the Tea Lounge has complimentary bottled water available throughout the day, but that's it (at least as far as I know). Given that it's called the Tea Lounge, you'd think they could maybe serve some… you know, tea?
This is just such a gorgeous part of the hotel that you'd think the property could generate a bit more goodwill with it, given how much rates here are. I spent hours working from here and made this my "office," and almost no one else seemed to be enjoying this space. It seems like a missed opportunity.
Park Hyatt Kyoto Kyoto Bistro
Kyoto Bistro is the Park Hyatt Kyoto's all-day dining restaurant, and it's also the only place that breakfast is served (available from 7AM until 10:30PM), so we ate here both mornings. The restaurant is a charming space that's on street level, so you have views of everyone enjoying the Higashiyama-ku area.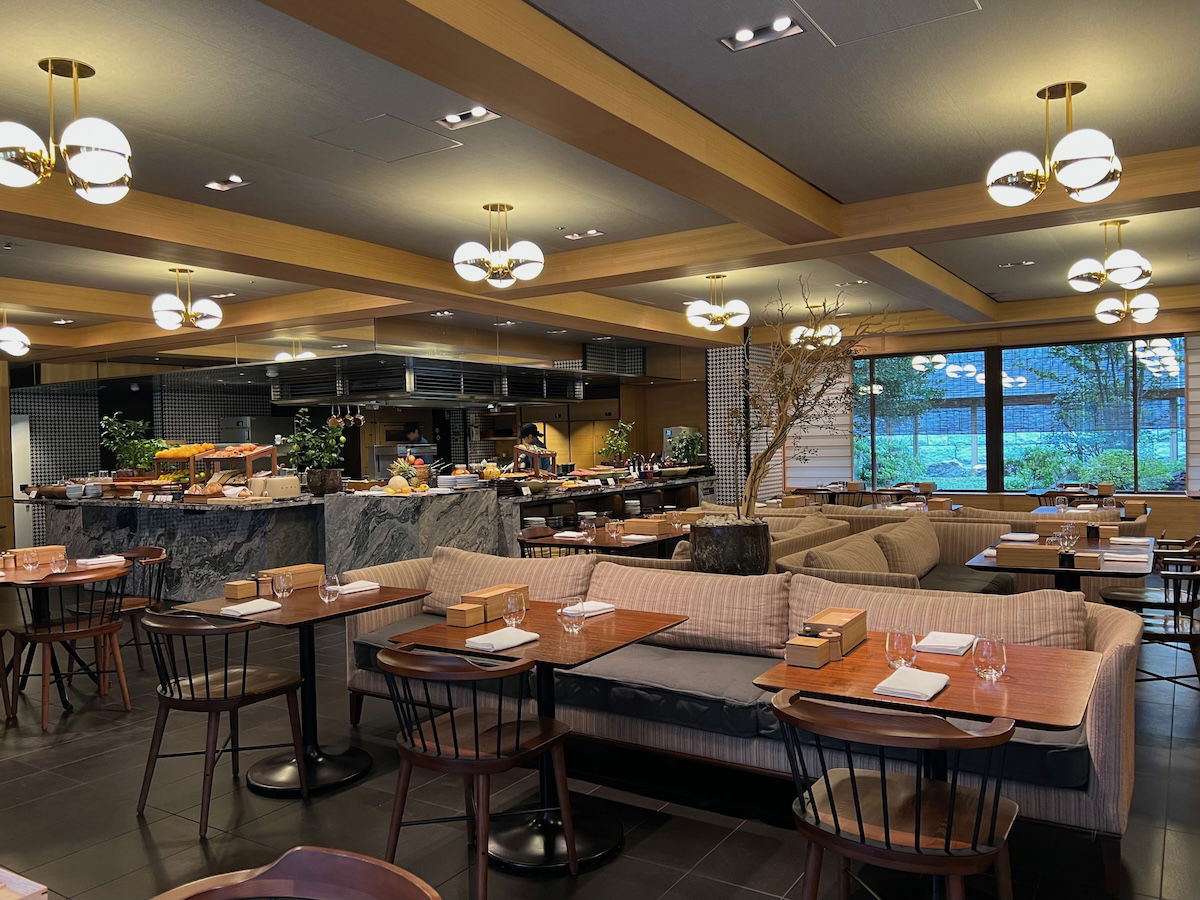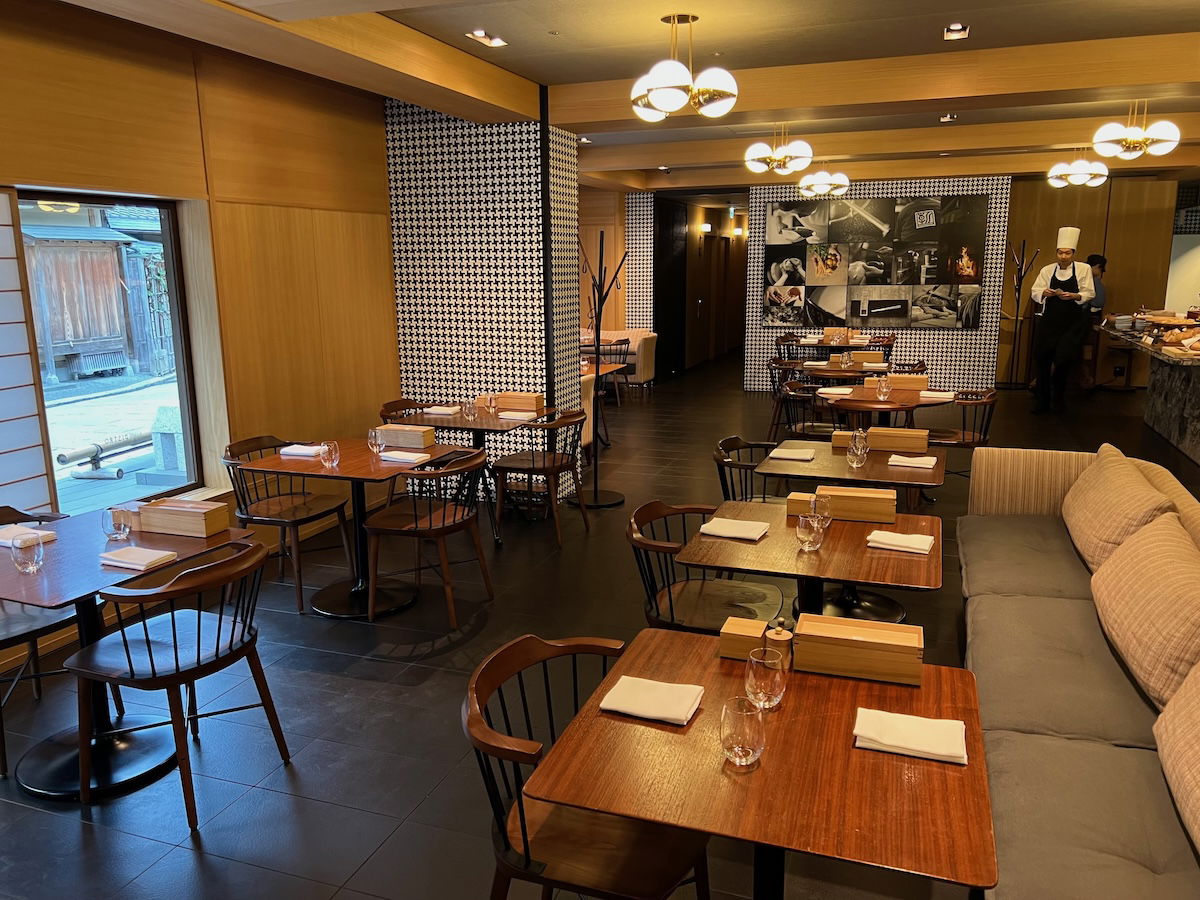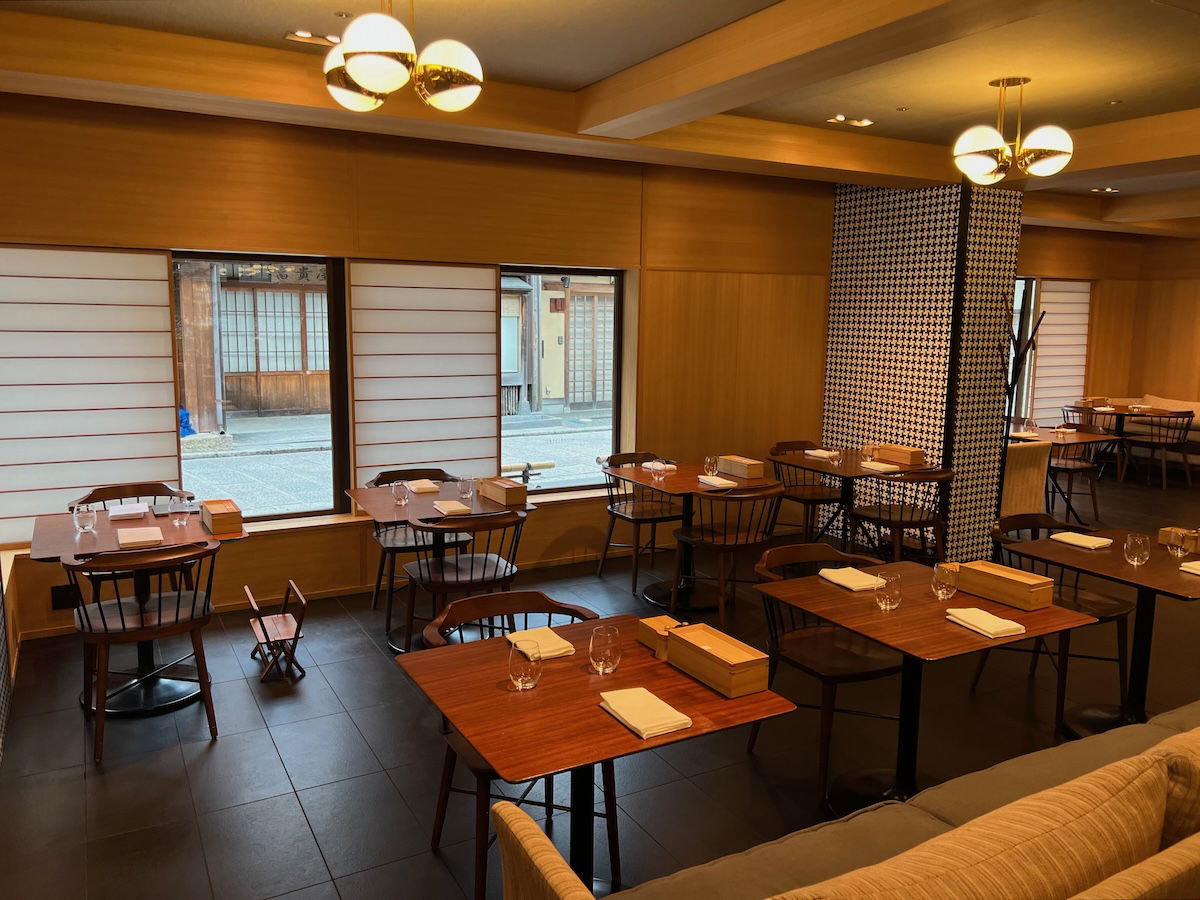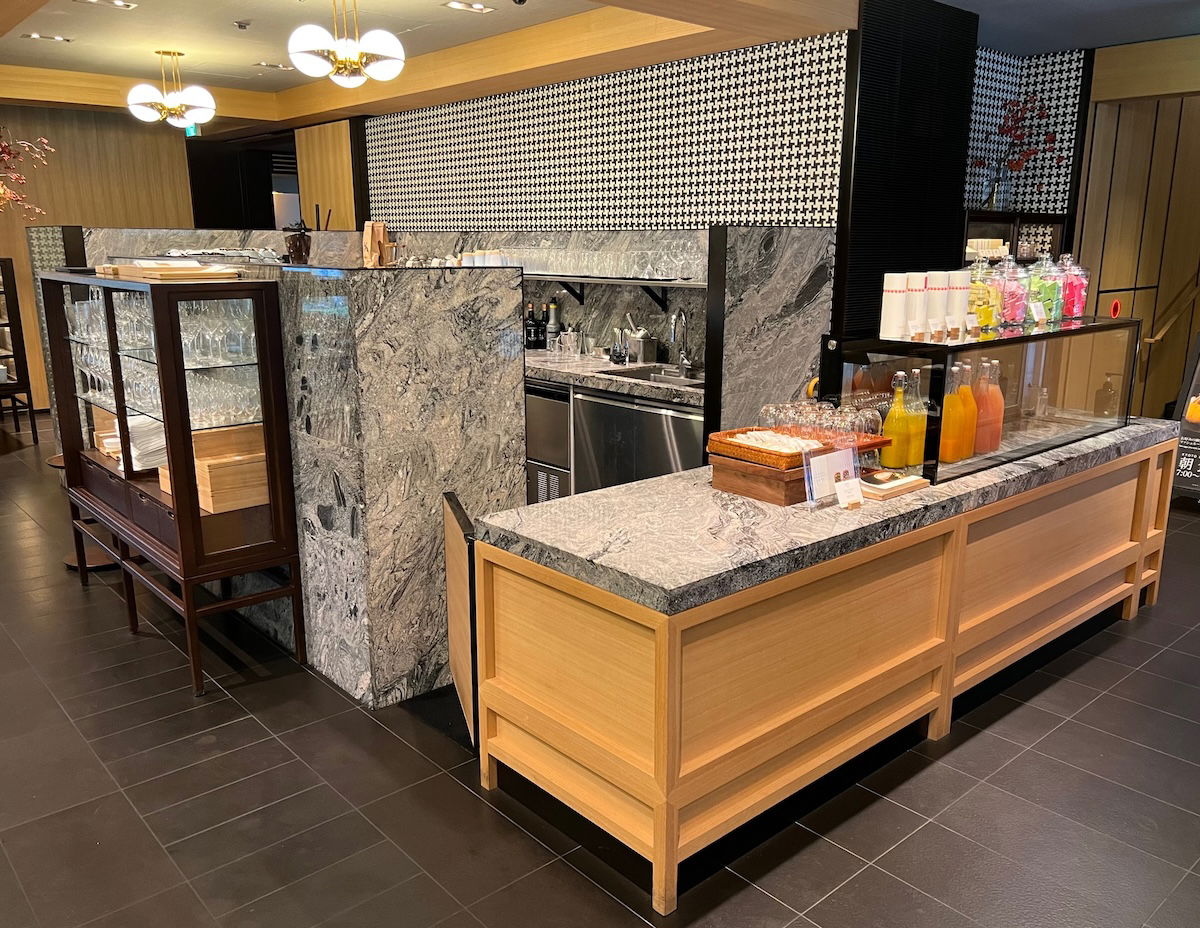 The hotel has two breakfast options, either Western or Japanese, with the latter needing to pre-ordered. We tried the Western breakfast the first morning, and the Japanese breakfast the second morning. The Western breakfast is the standard included breakfast here, and consists of access to the buffet, plus the ability to order one dish from the menu.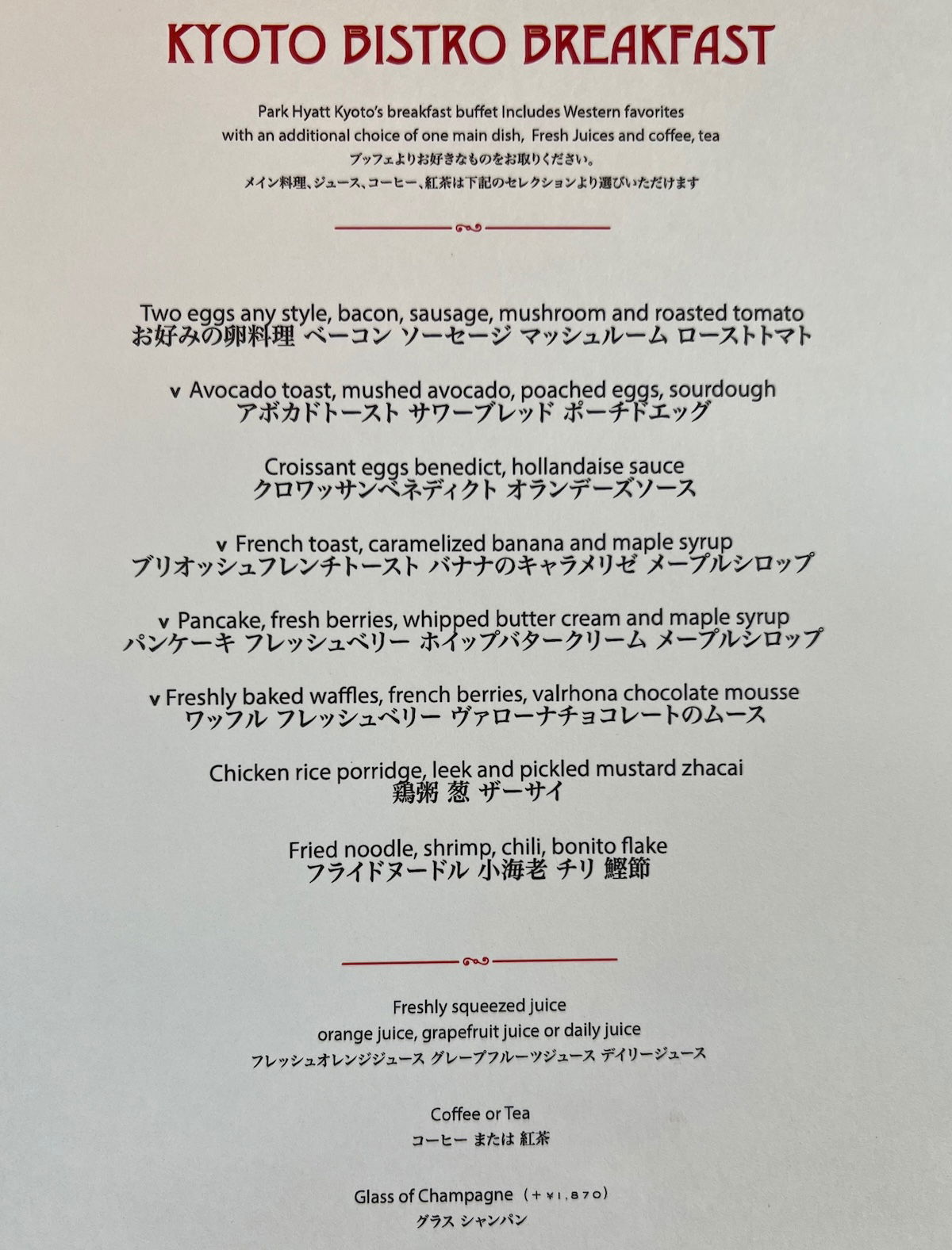 The breakfast buffet wasn't huge, but was very high quality.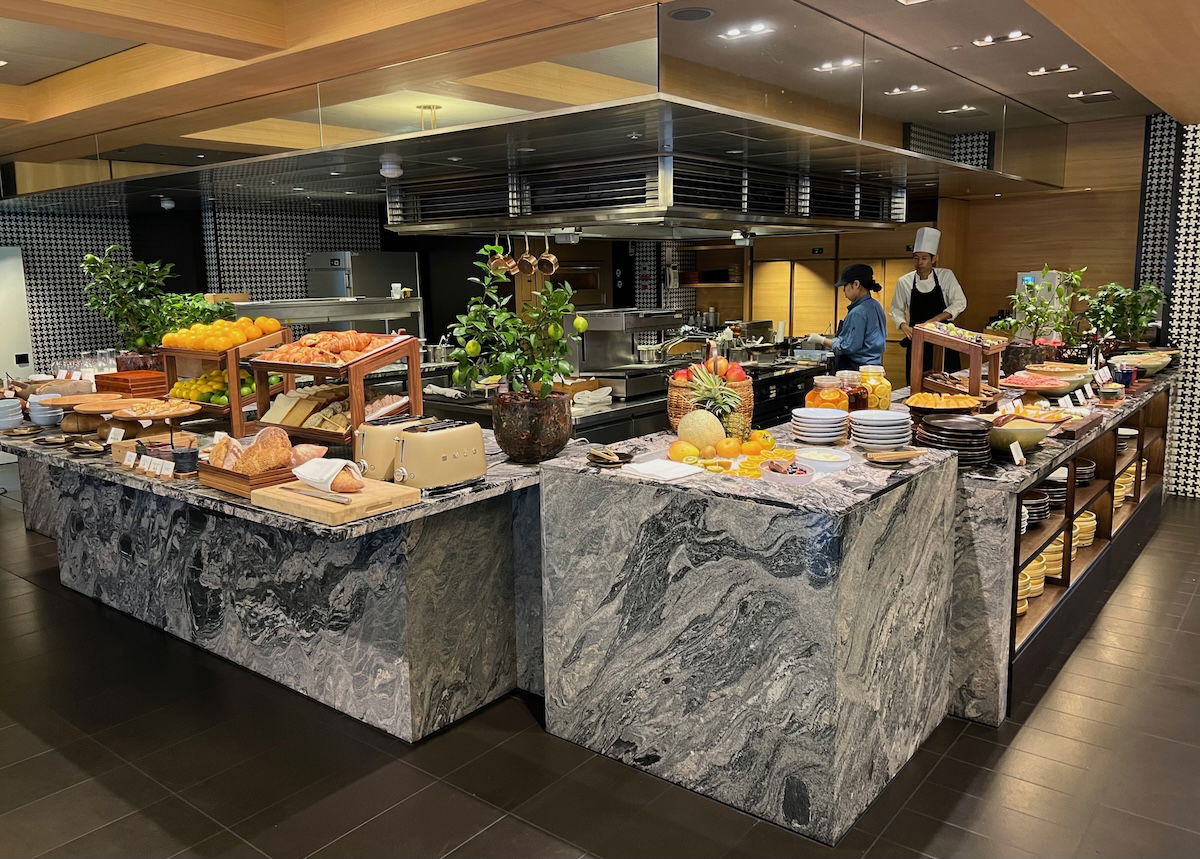 The buffet had everything from cereal and muesli, to freshly baked bread and croissants, to fresh fruit, to cold cuts and cheese, to veggies.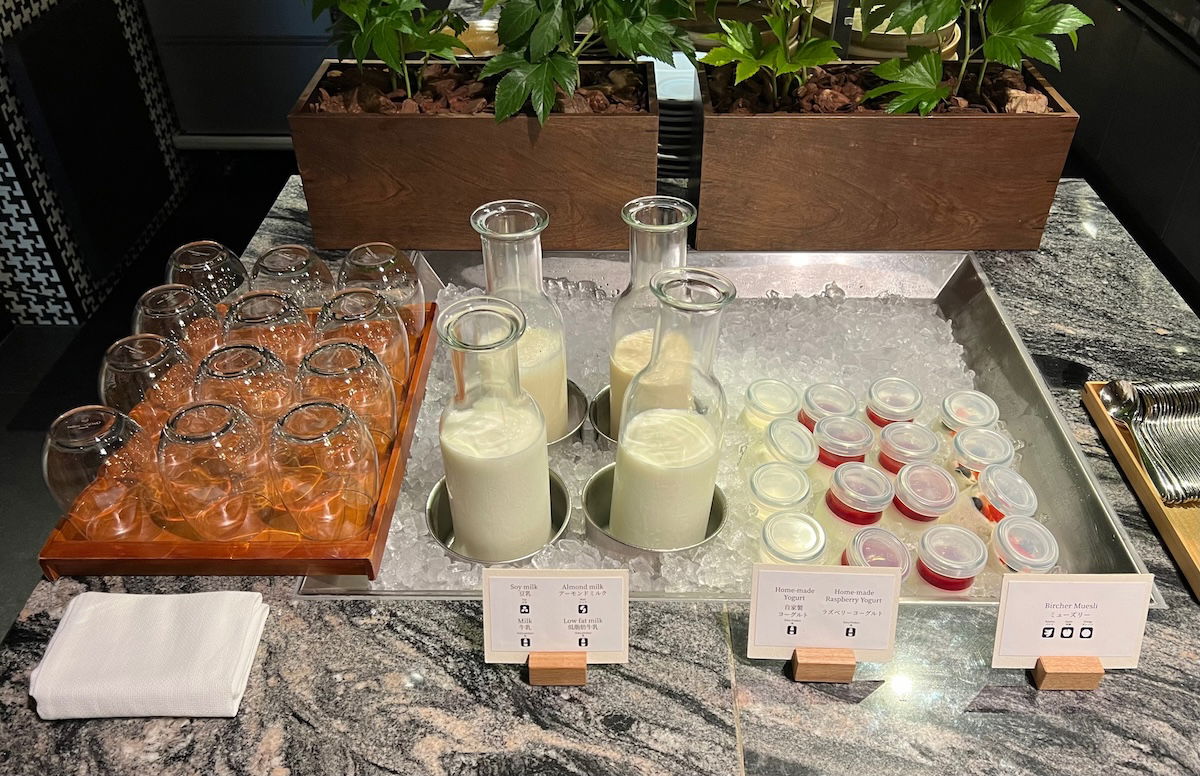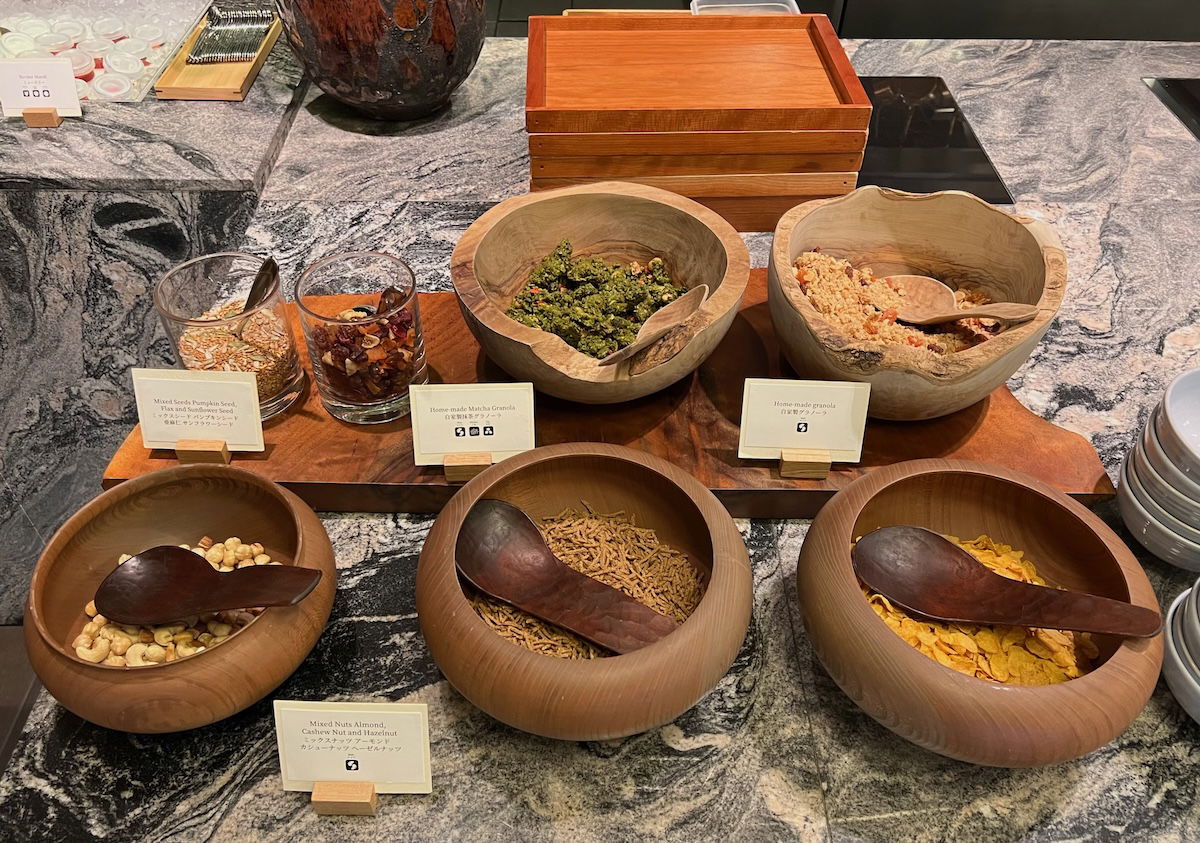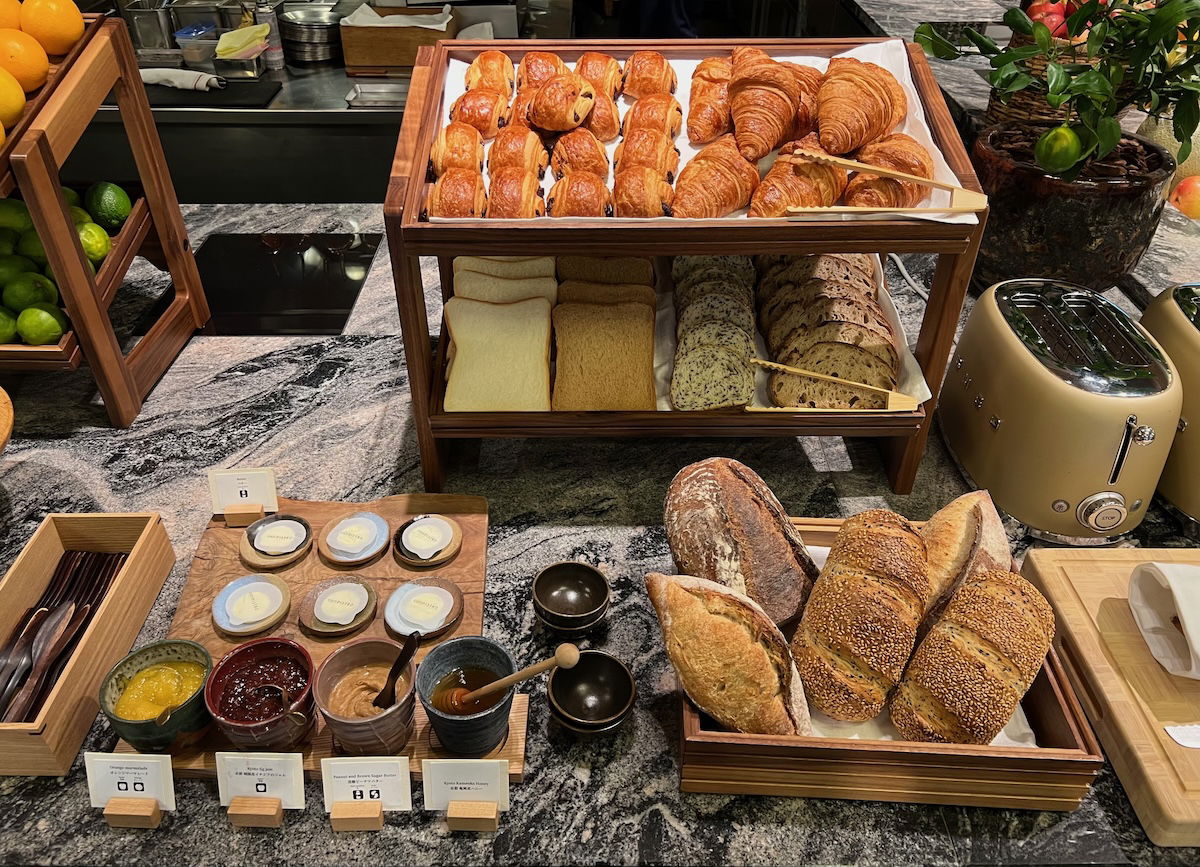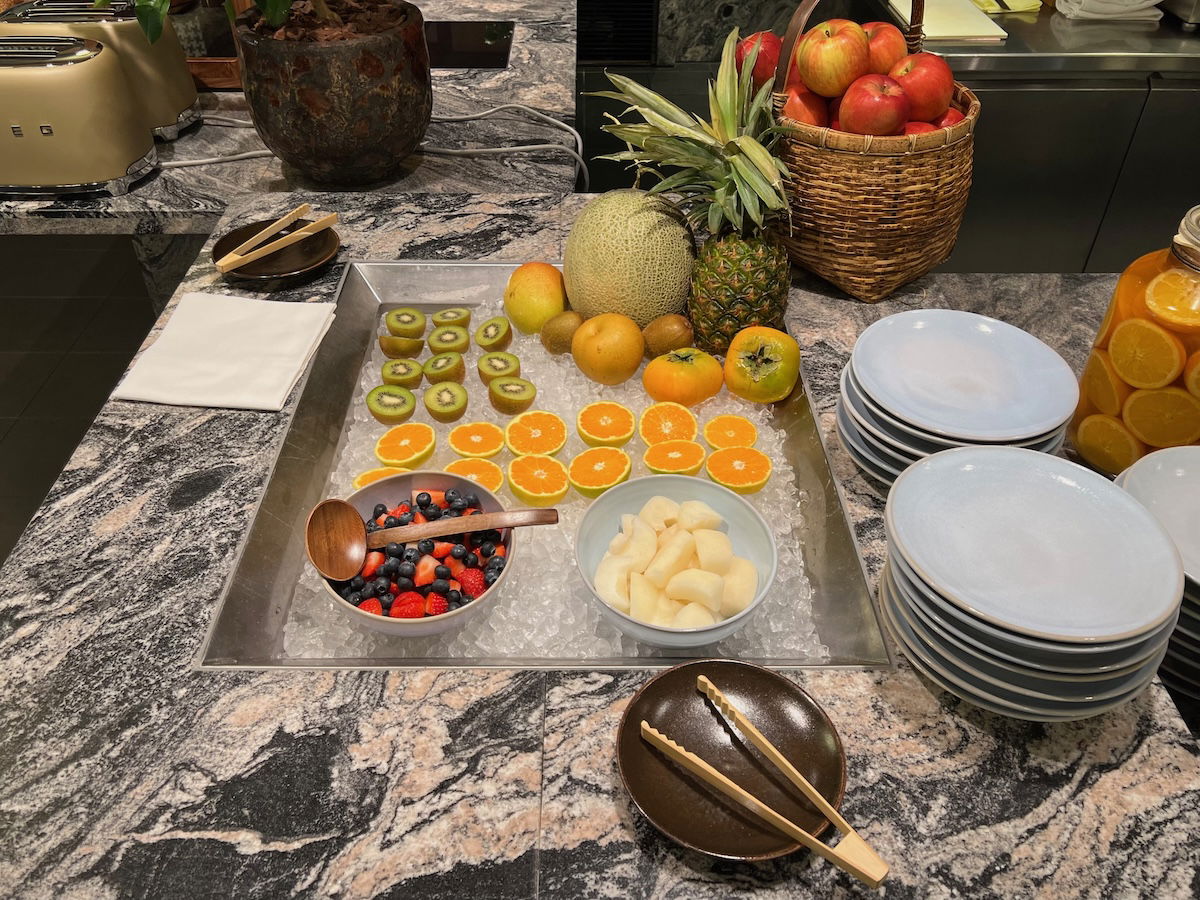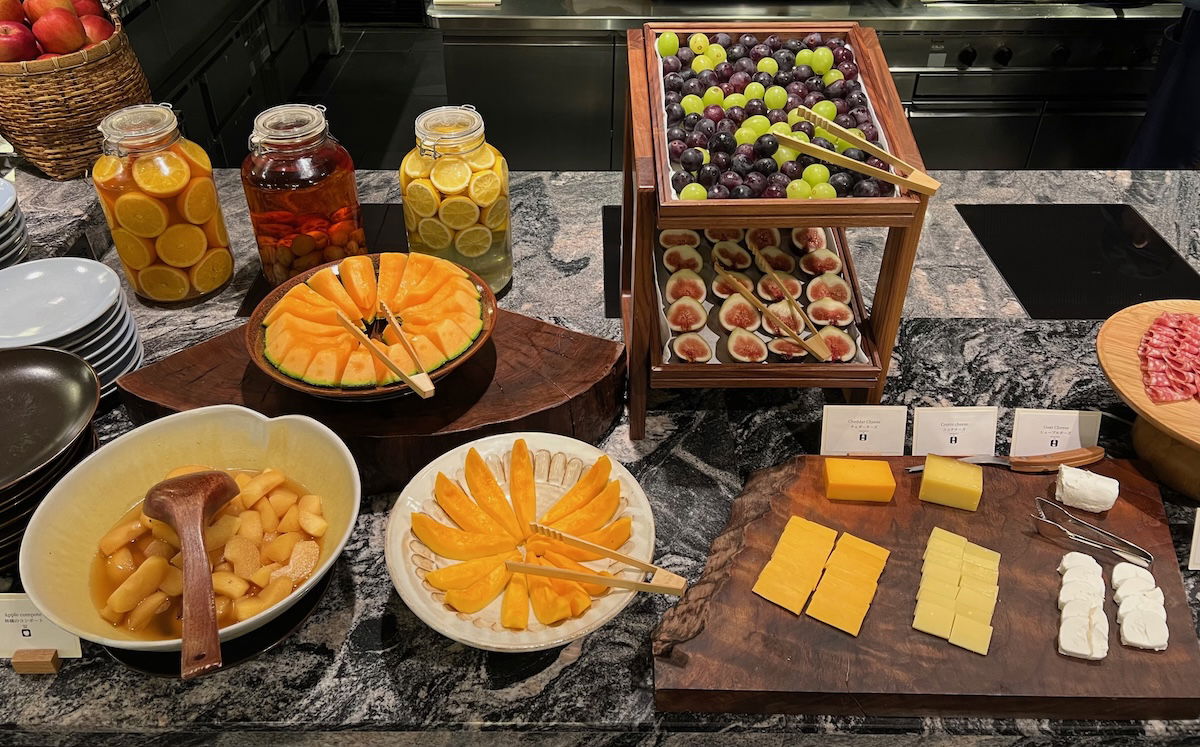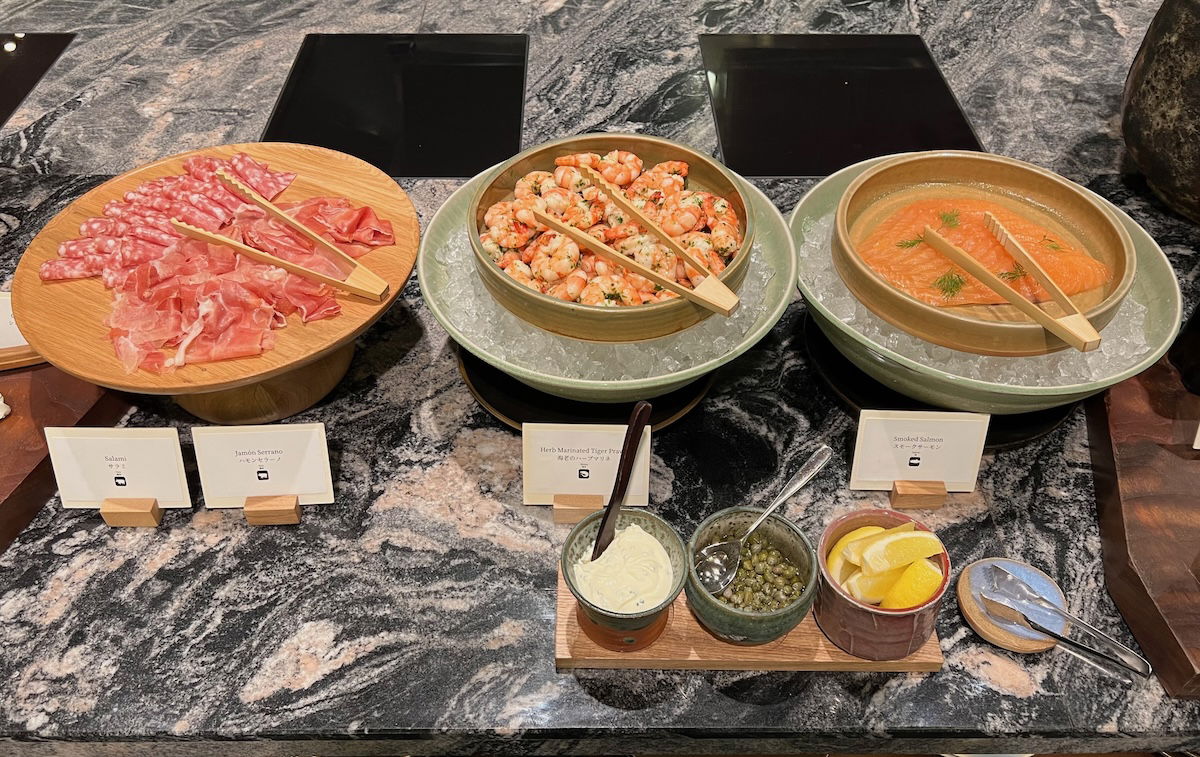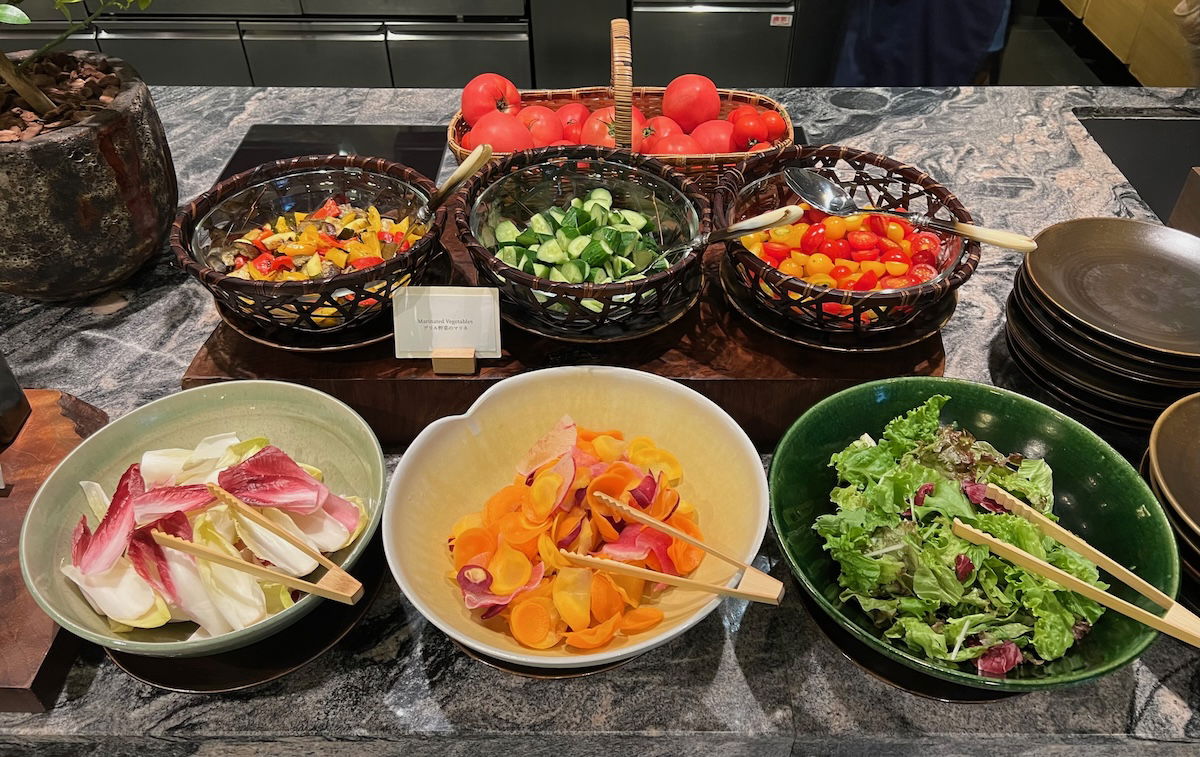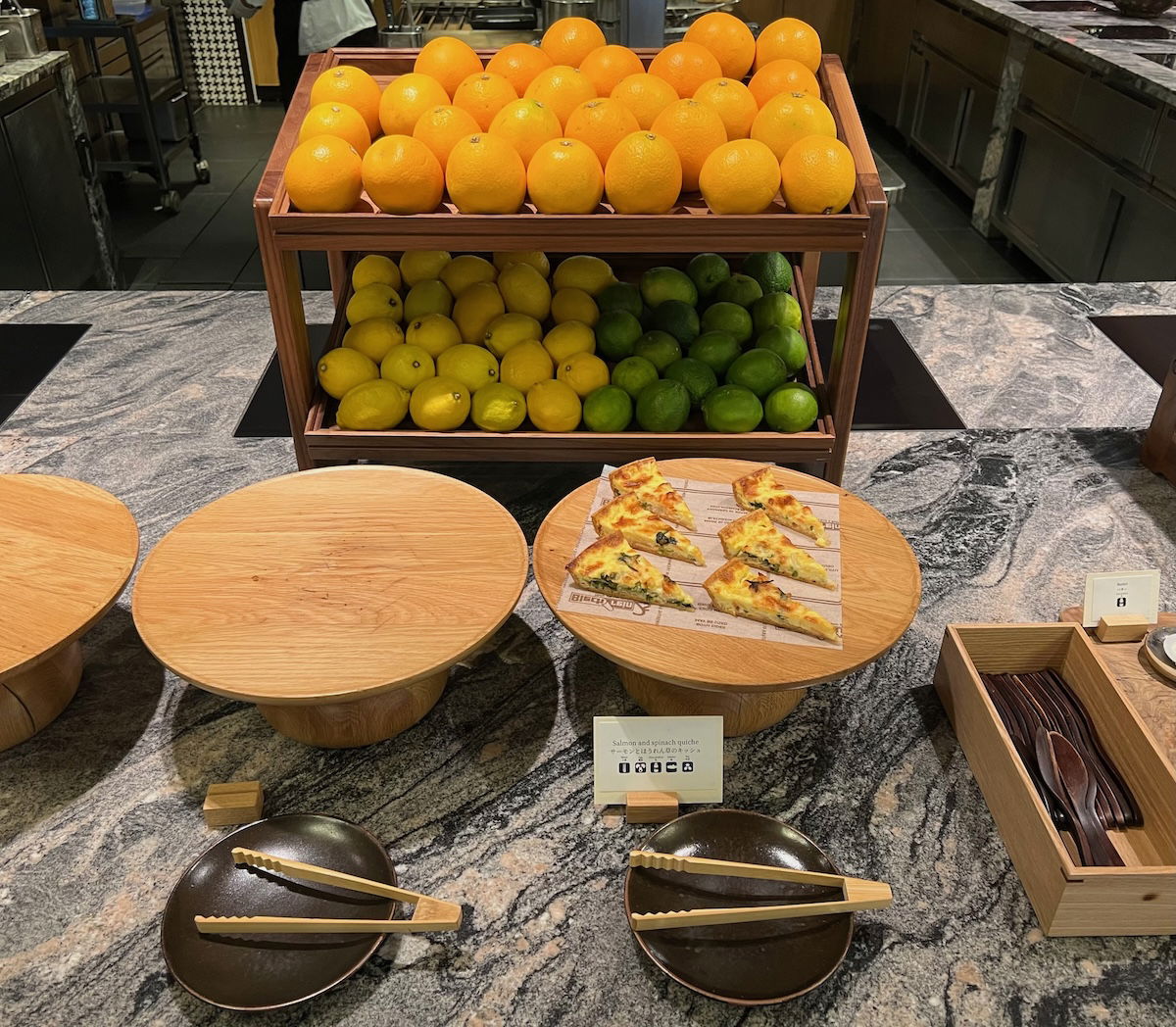 There was also a selection of freshly squeezed juices (I loved the carrot ginger juice), and the espresso-based drinks were exceptional (I particularly liked the cappuccino).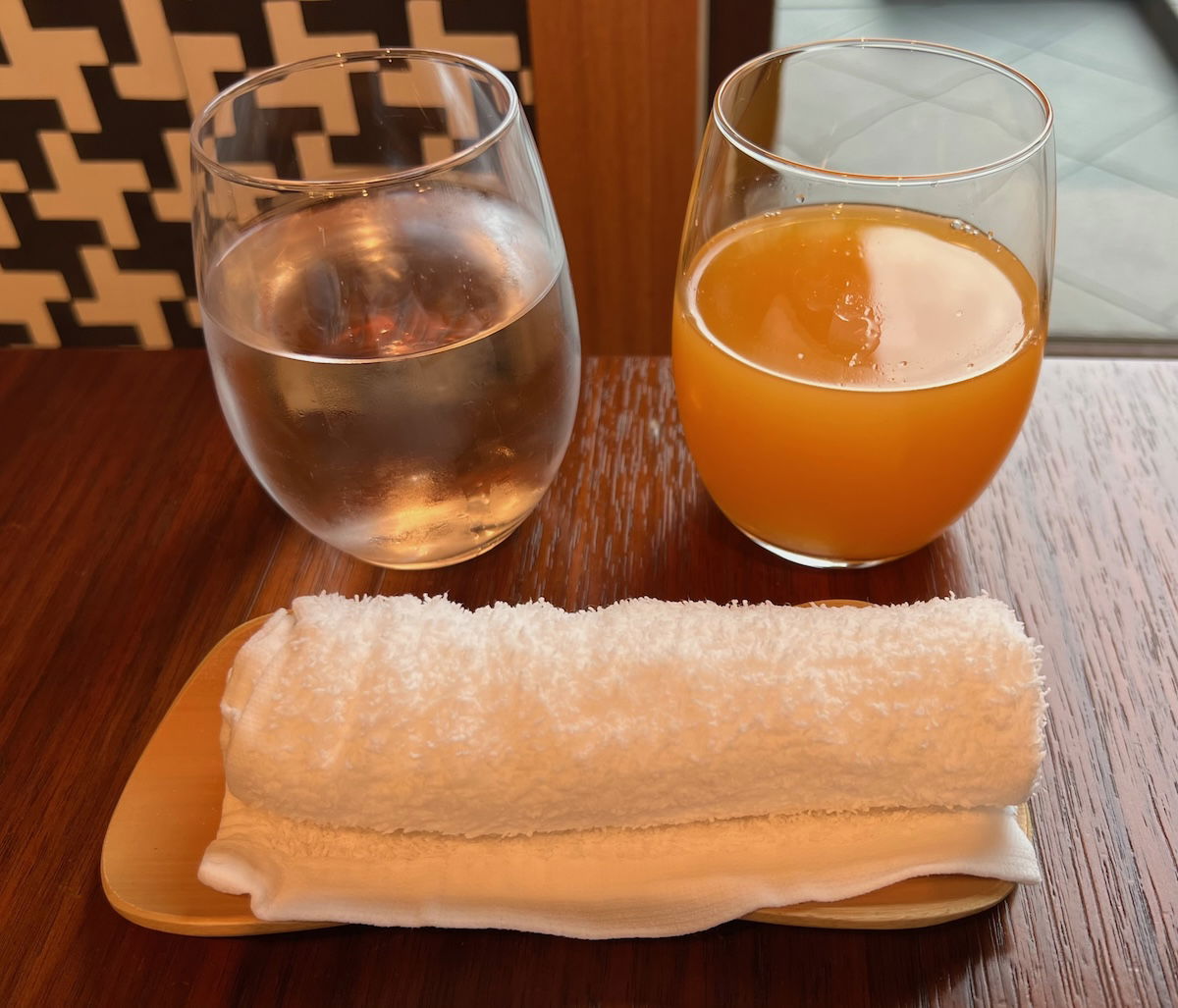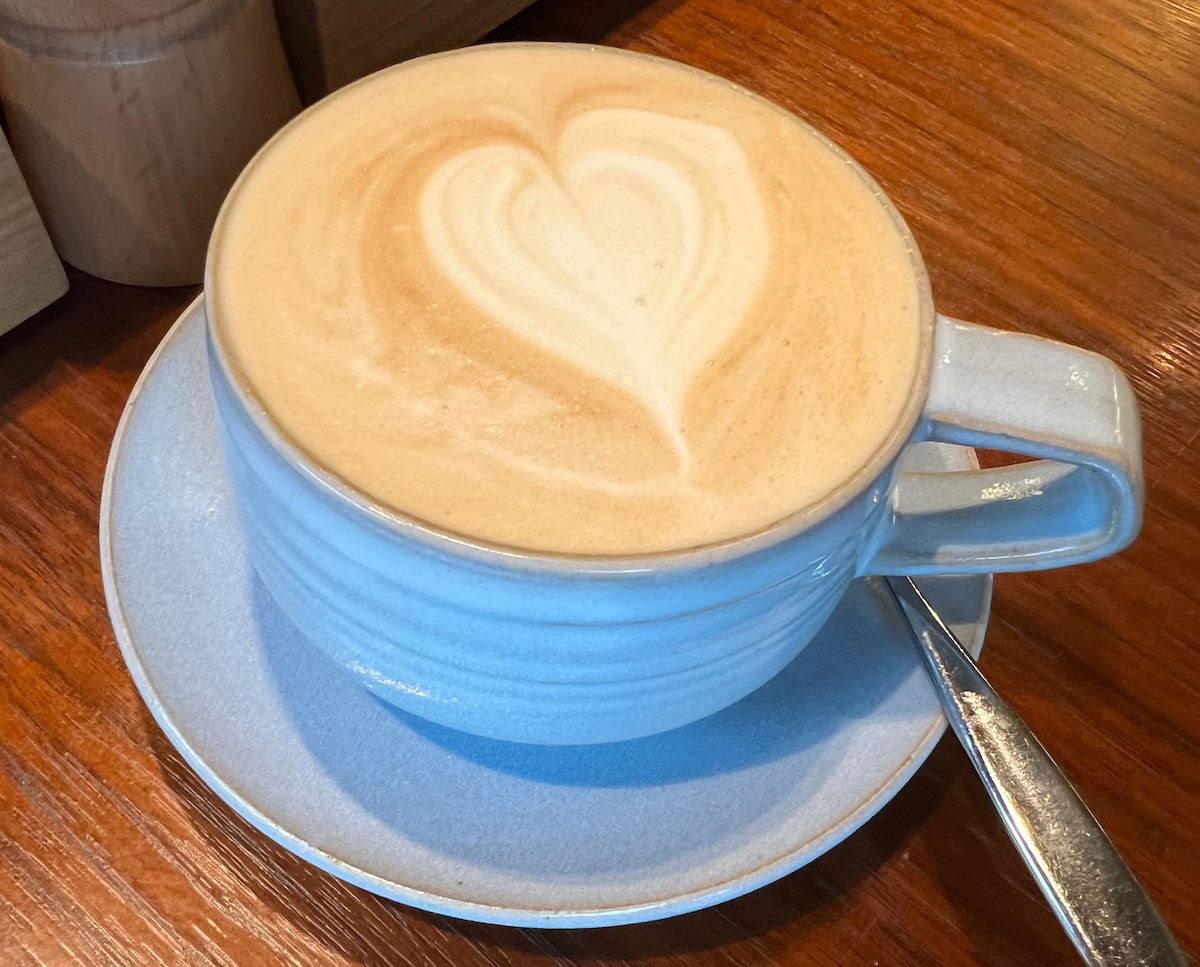 From the buffet, I very much enjoyed the matcha granola and berries. Yum.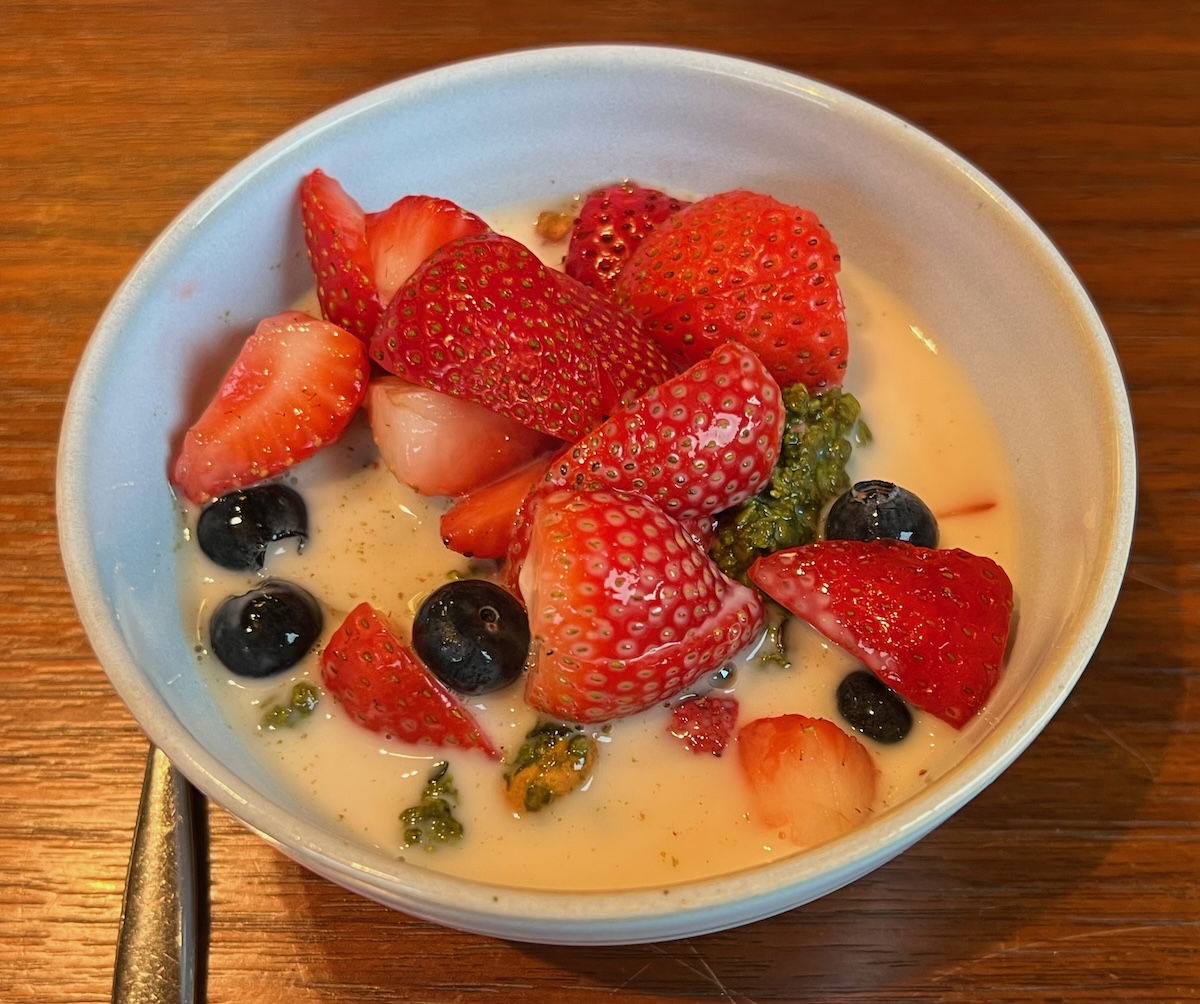 From the menu, I ordered the avocado toast with poached eggs (but of course!), which I enjoyed.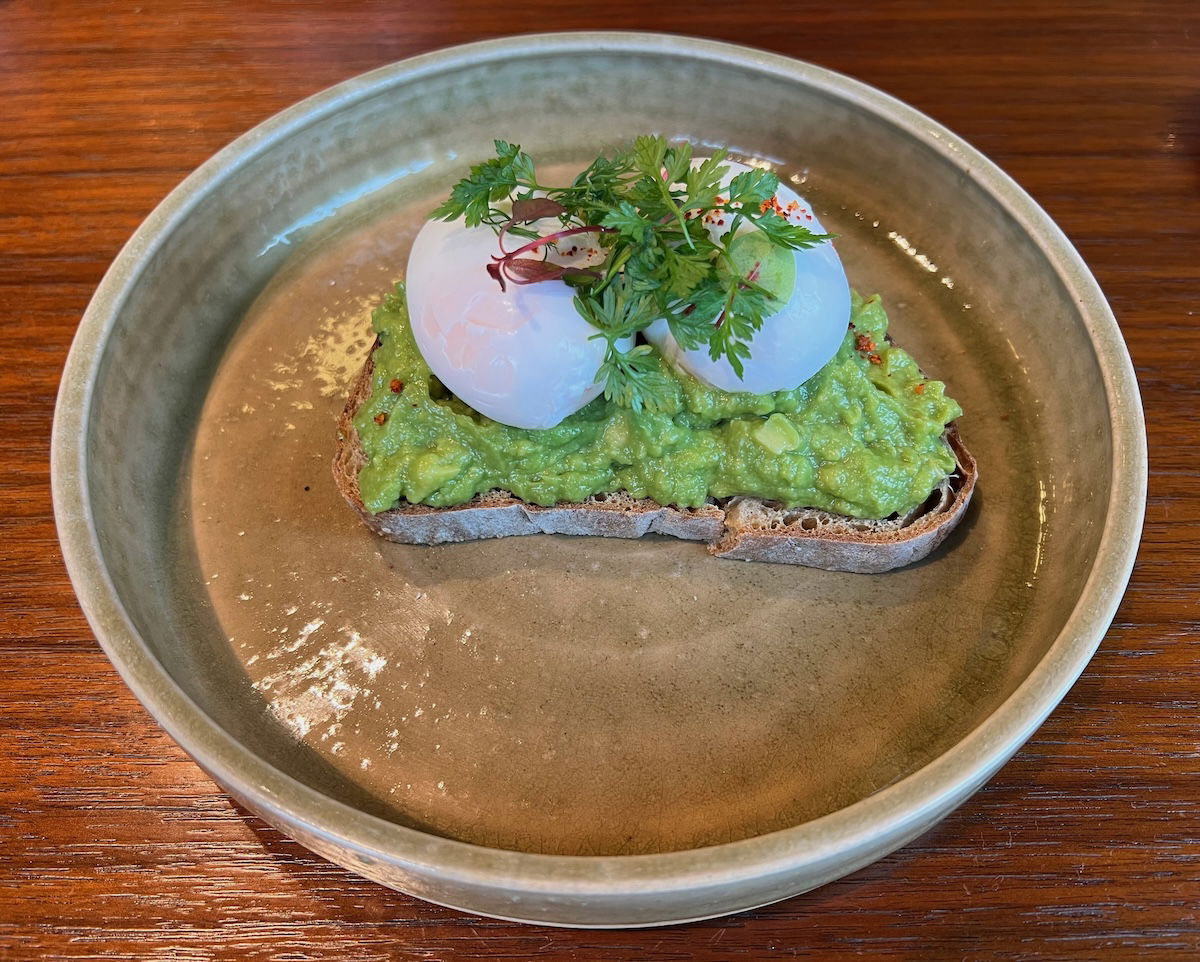 The other breakfast option is the Japanese one. If breakfast is included with your stay, the Western breakfast is automatically offered, while there's an extra charge for the Japanese breakfast. It costs an extra 3,300 JPY (~$22) per person.
On the one hand, I find it quite cheap for a Japanese hotel to charge extra for a Japanese breakfast, especially when competitors don't do this. The hotel justifies this by explaining that this is catered from Kyoyamato, the hotel's Michelin star restaurant. To the hotel's credit, the Japanese breakfast was exceptional, easily the best we had on this trip, so it's definitely worth trying.
We were first presented with the Japanese breakfast menu, as well as some green tea.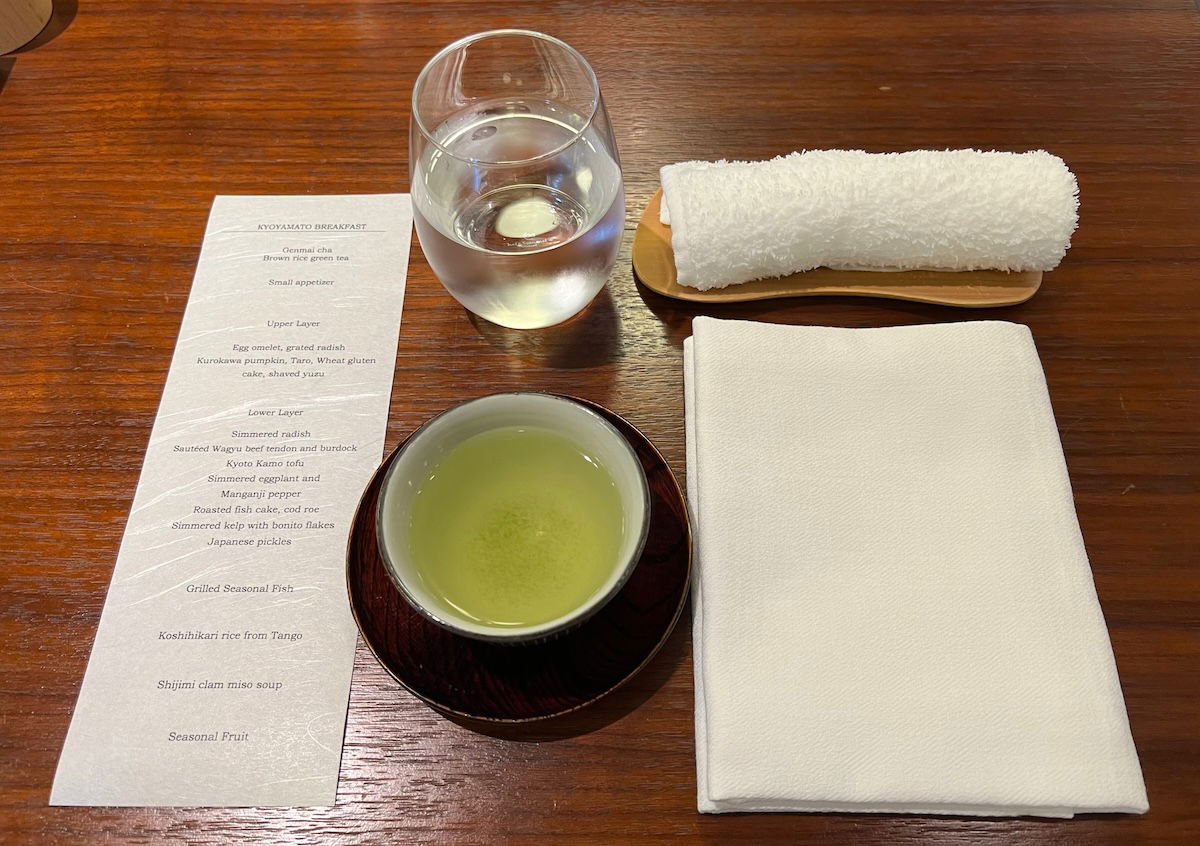 To start, we were served a small appetizer.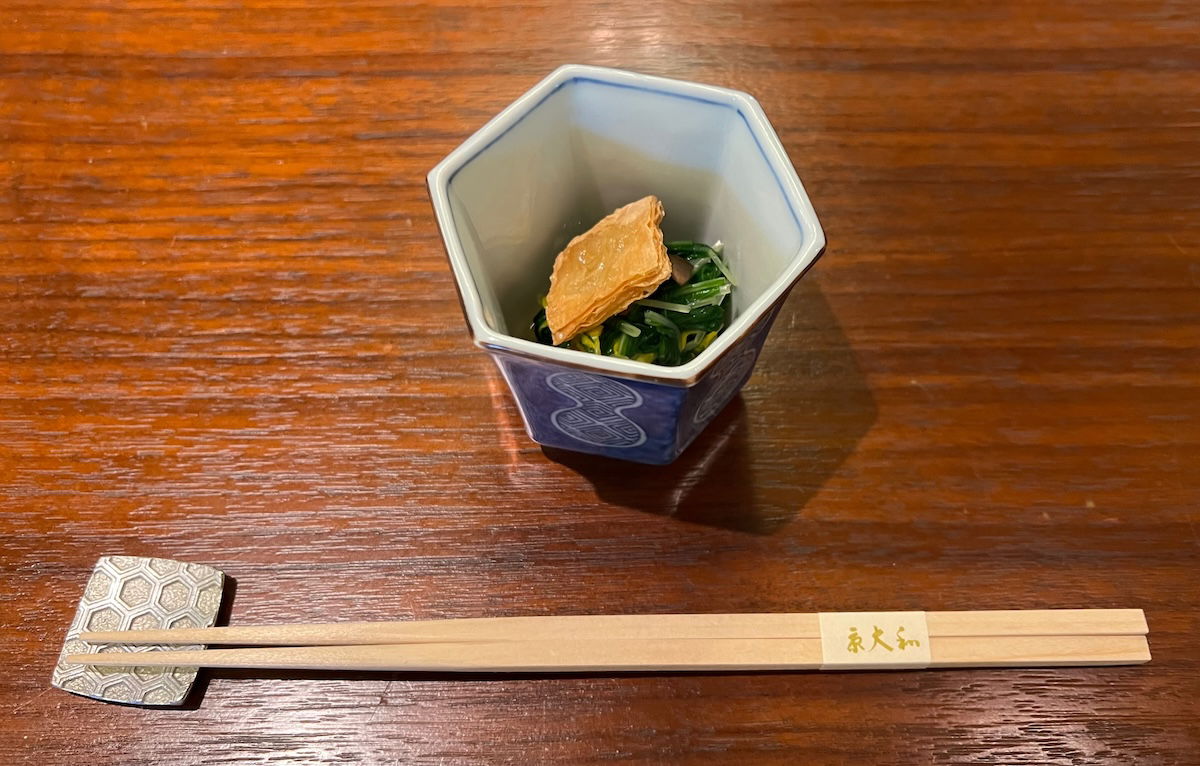 Then we were brought a bento box containing the rest of the breakfast, along with a side of salmon.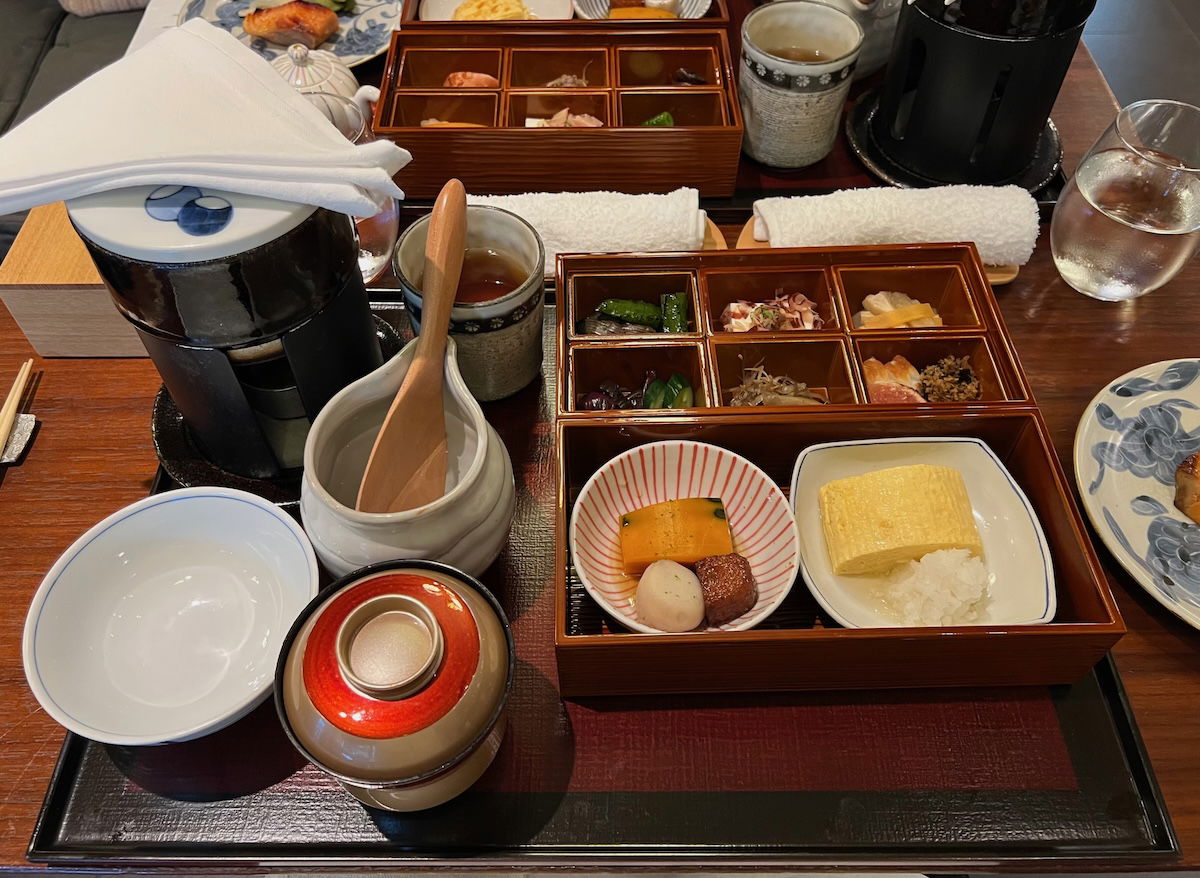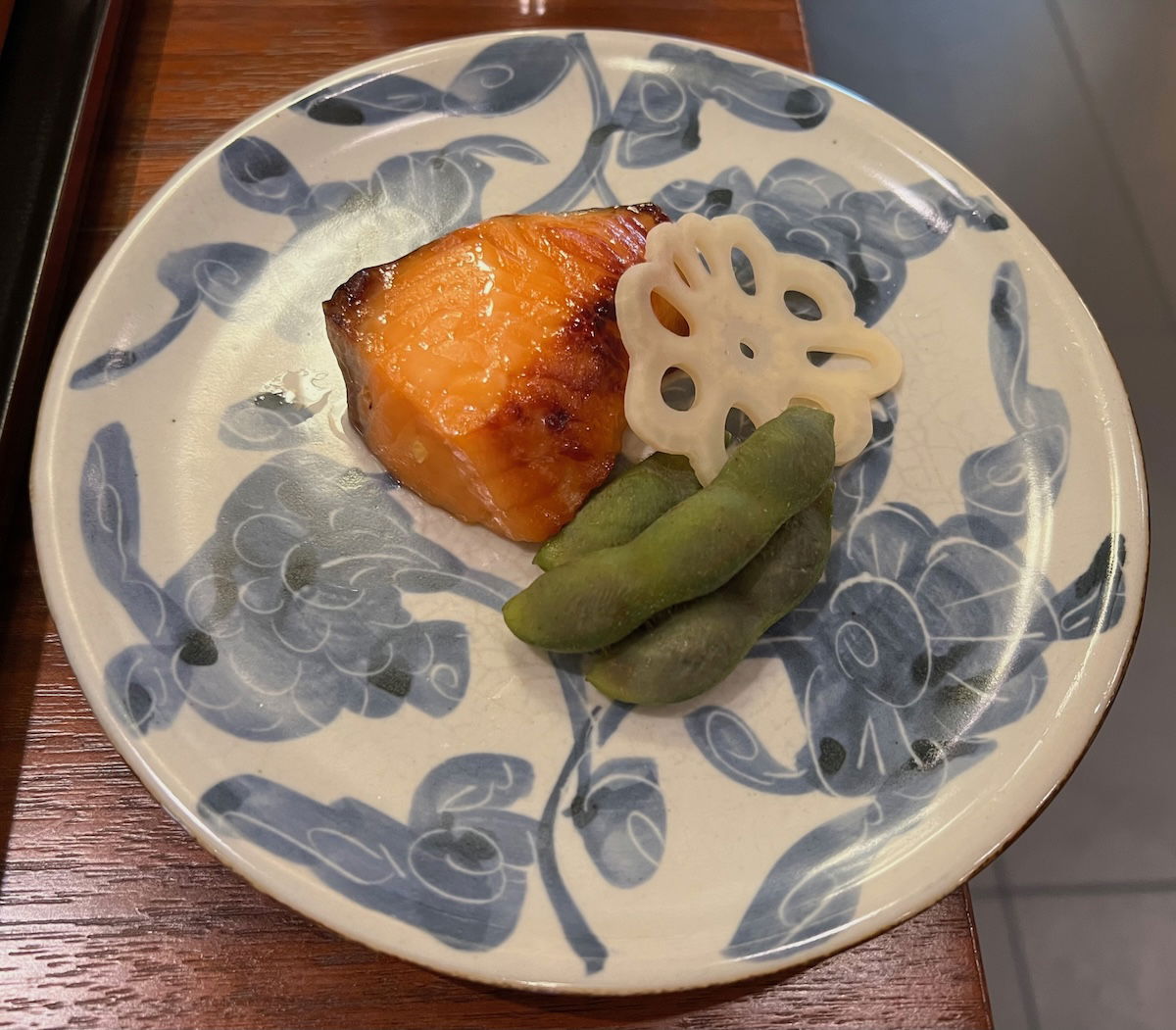 Lastly, there was a small fruit dessert.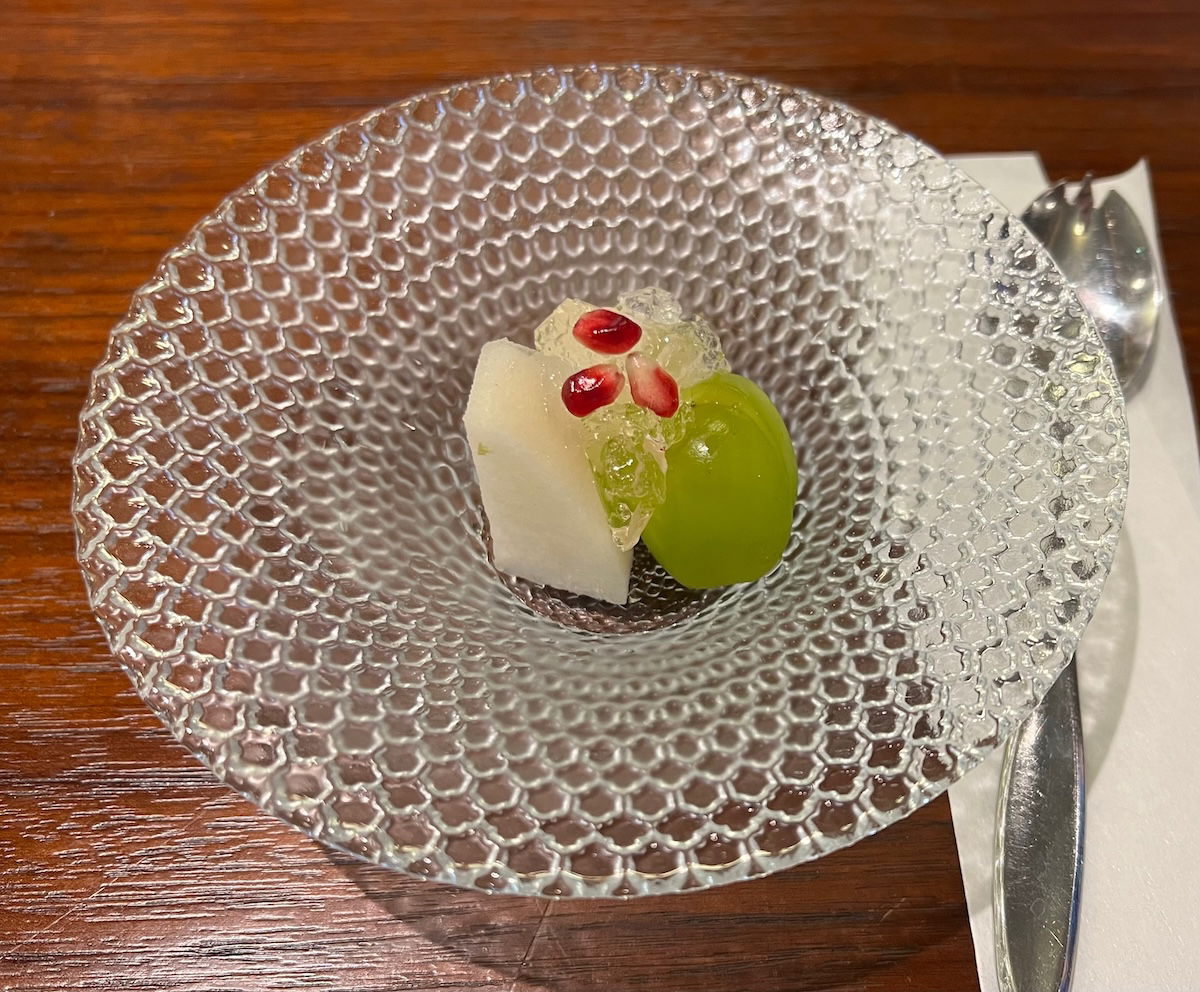 The breakfast couldn't have been tastier, so I'd highly recommend ordering it.
You can also enjoy other meals at Kyoto Bistro. While we didn't eat here otherwise, you can find the lunch menu here and find the dinner menu here.
Park Hyatt Kyoto Living Room
The Living Room is the standard name for lobby bars at all Park Hyatt properties, and this one is open daily from 7AM until 10:30PM. The lobby is quite a large space, so the Living Room has a ton of seating. The entire space feels dark (due to lack of windows) but elegant and cozy.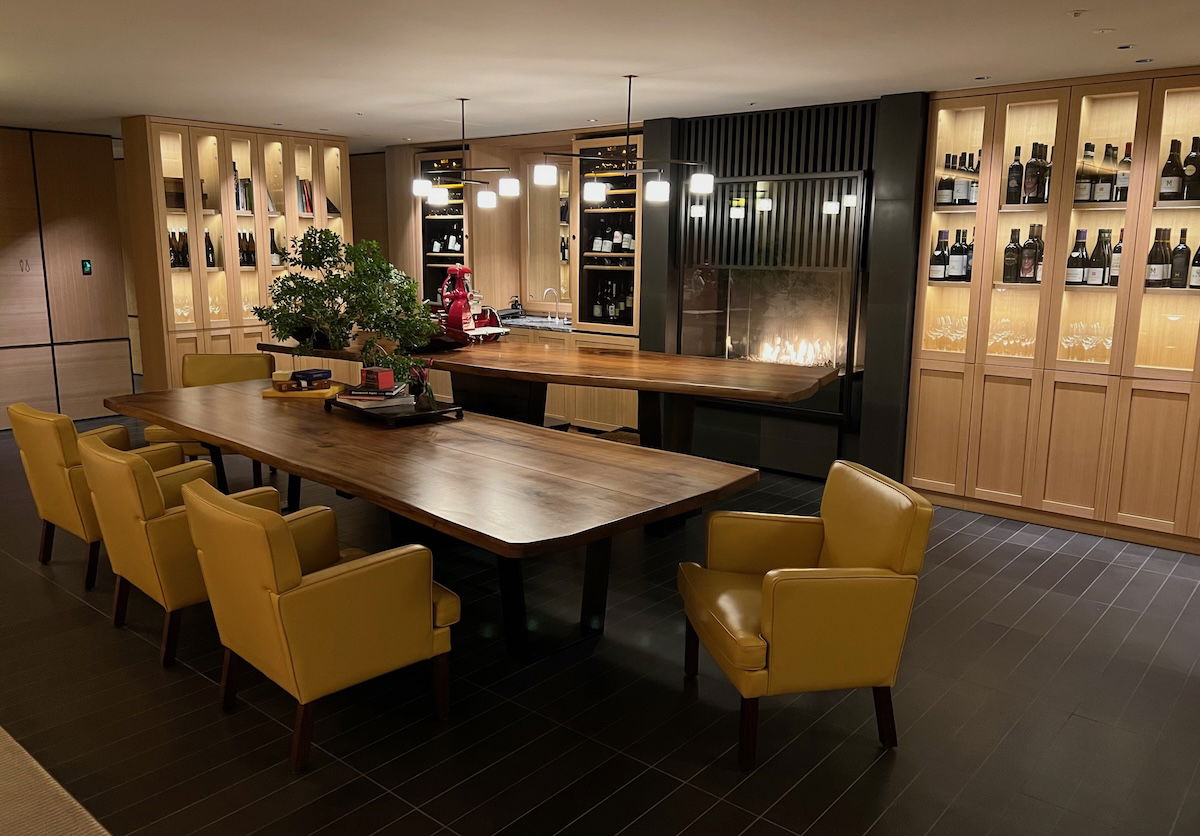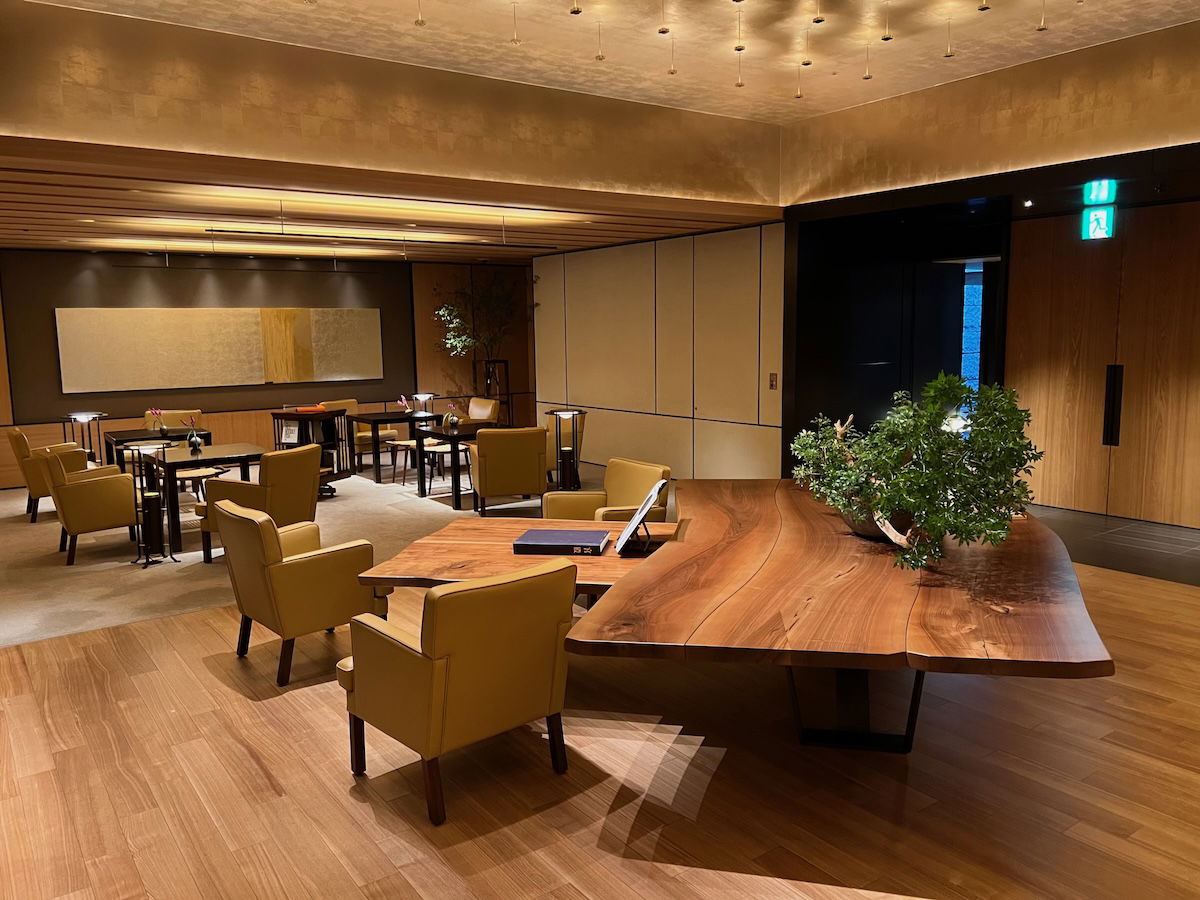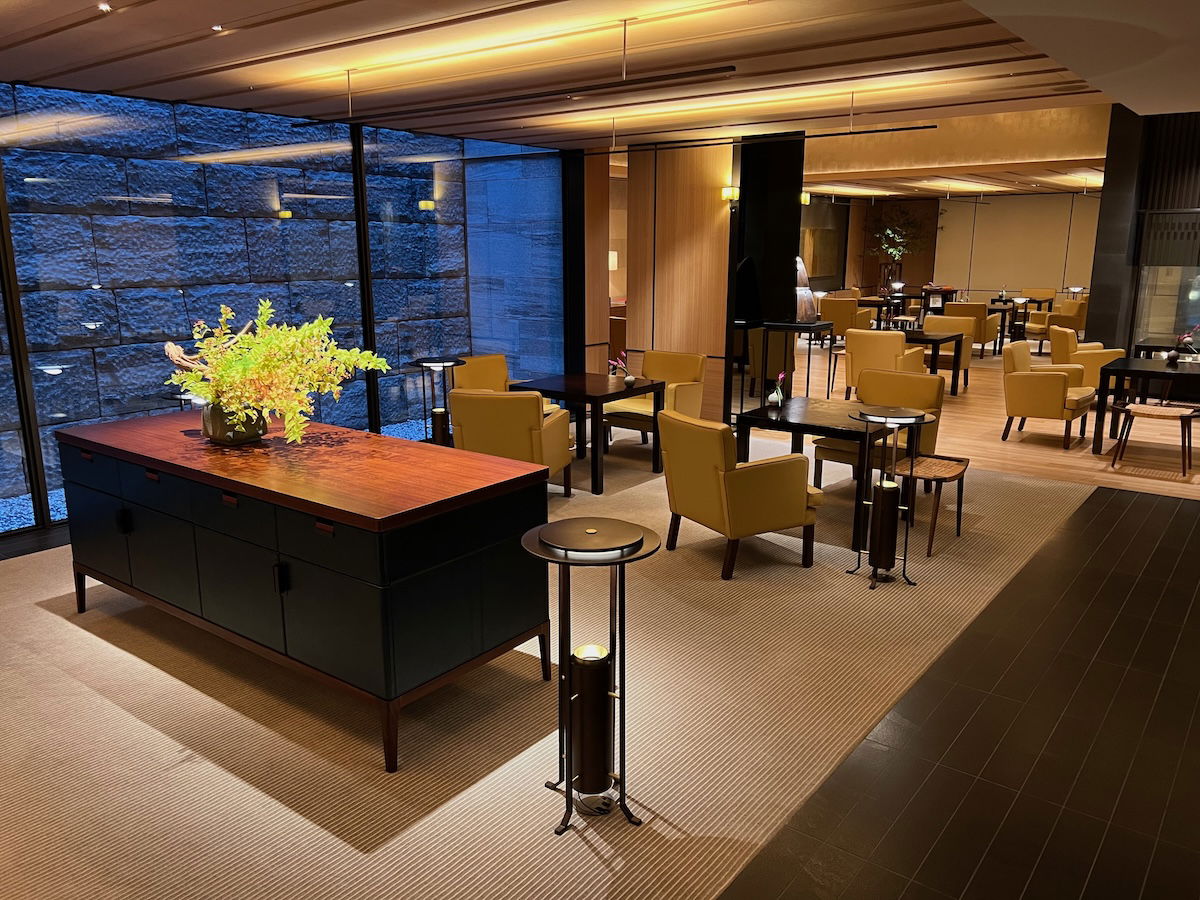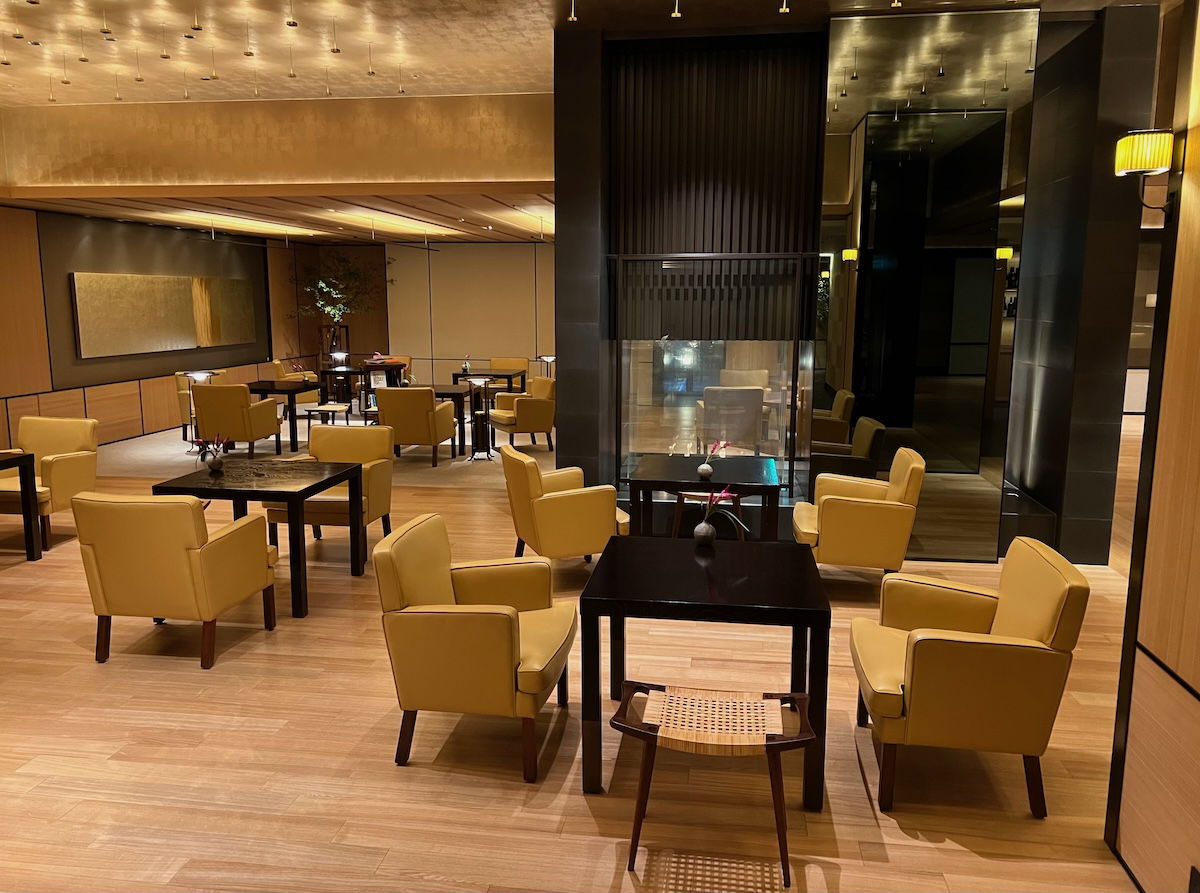 The Living Room serves a selection of drinks and snacks throughout the day, and you can find the snack menu here, the drink menu here, and the afternoon tea menu here. What's probably most noteworthy about this space is that there's a nightly champagne hour from 5PM until 6PM, which is available to World of Hyatt Globalist members and guests in suites.
It's generous that the hotel offers this, and it's basically free flowing Thiénot champagne, along with water and some crackers.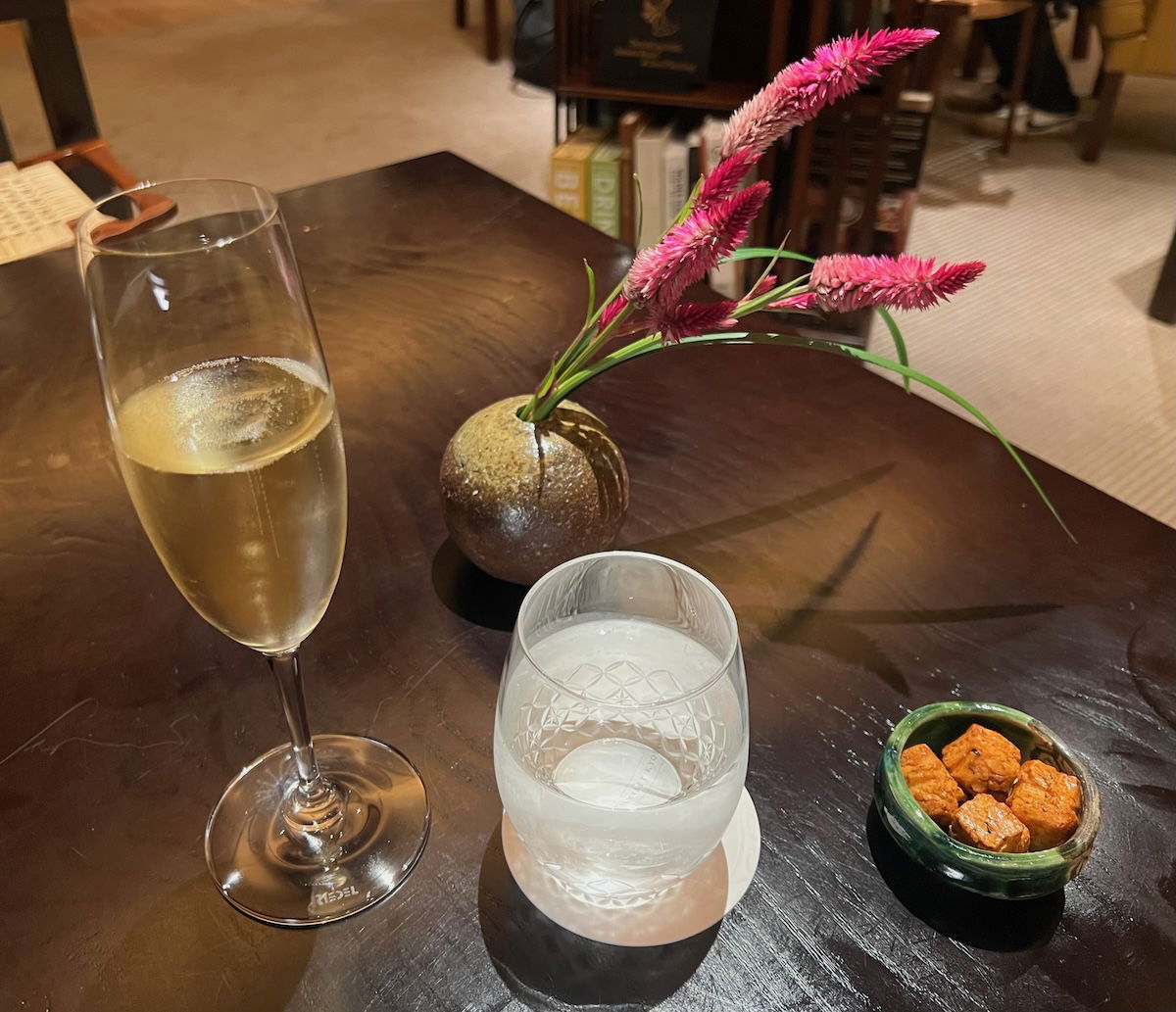 Park Hyatt Kyoto Kohaku Bar
Kohaku is the Park Hyatt Kyoto's signature bar, and it's open nightly from 4PM until 12AM. It's on the fourth floor, right next to Yasaka Restaurant. This bar has so much potential — it's an intimate space with great views of Kyoto.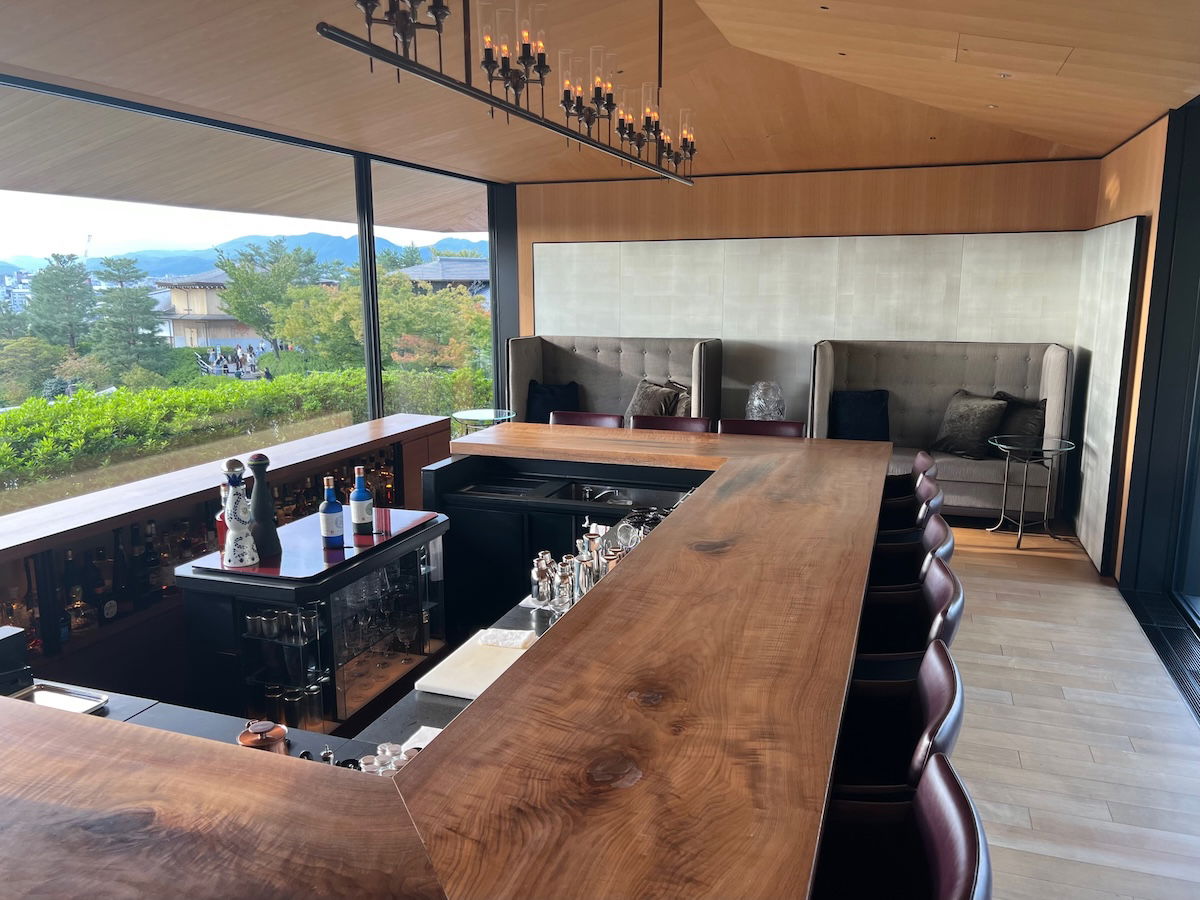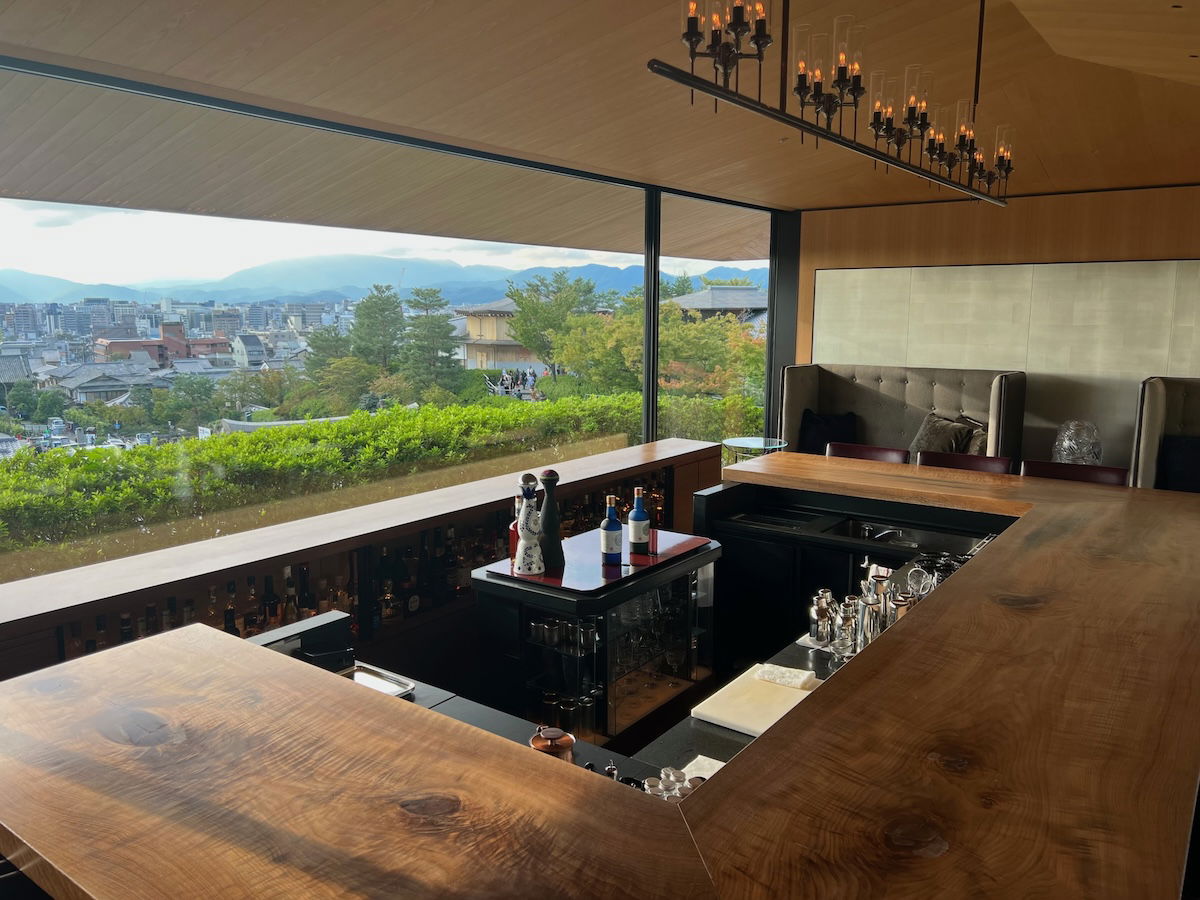 The daytime pictures don't really do justice to it, but hopefully the below picture shows how magical the views can be from here.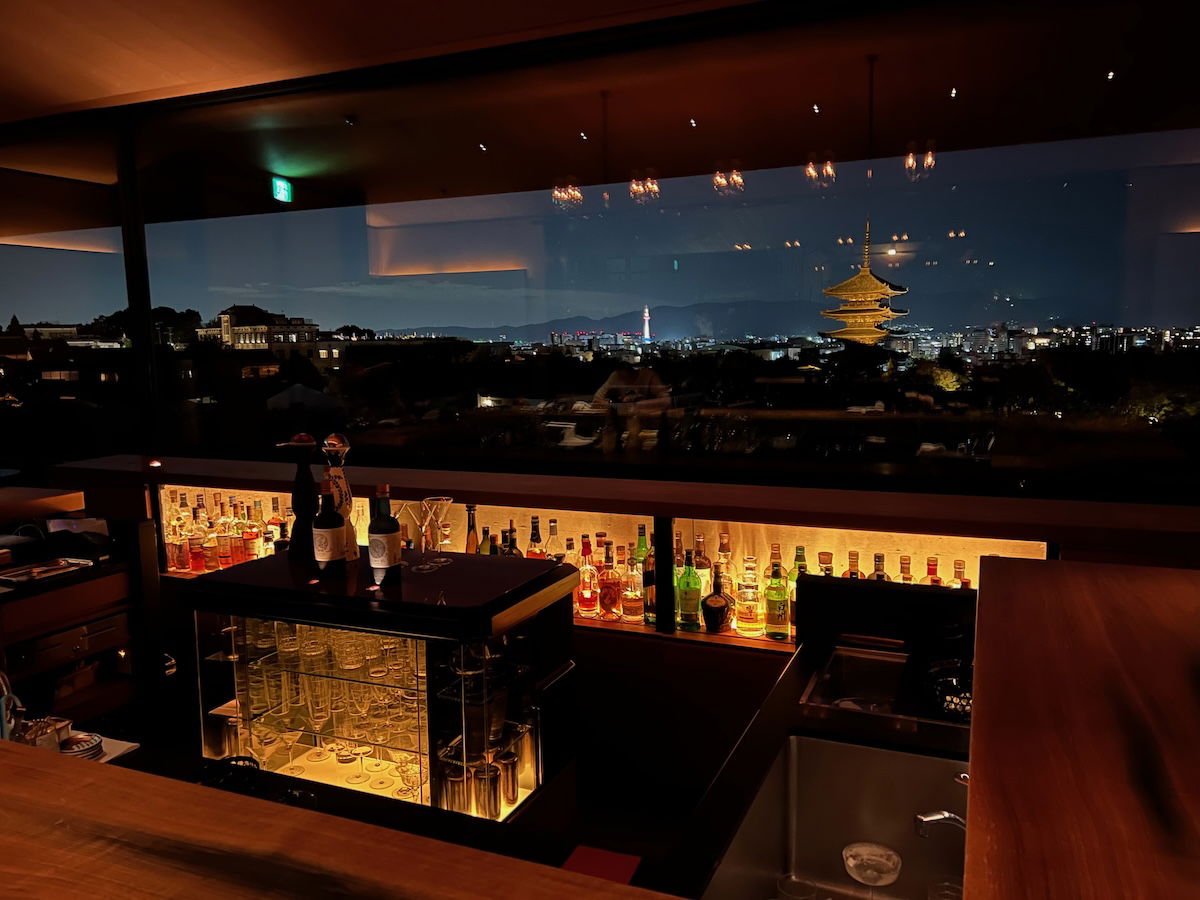 Kohaku Bar also has a really imaginative cocktail list, and the bartenders put a lot of effort into the drinks. You can find the drink list here, and find the snack menu here. Ford had the Shuhari Cocktail, while I had the Pagoda Martini. The drinks were served with some popcorn.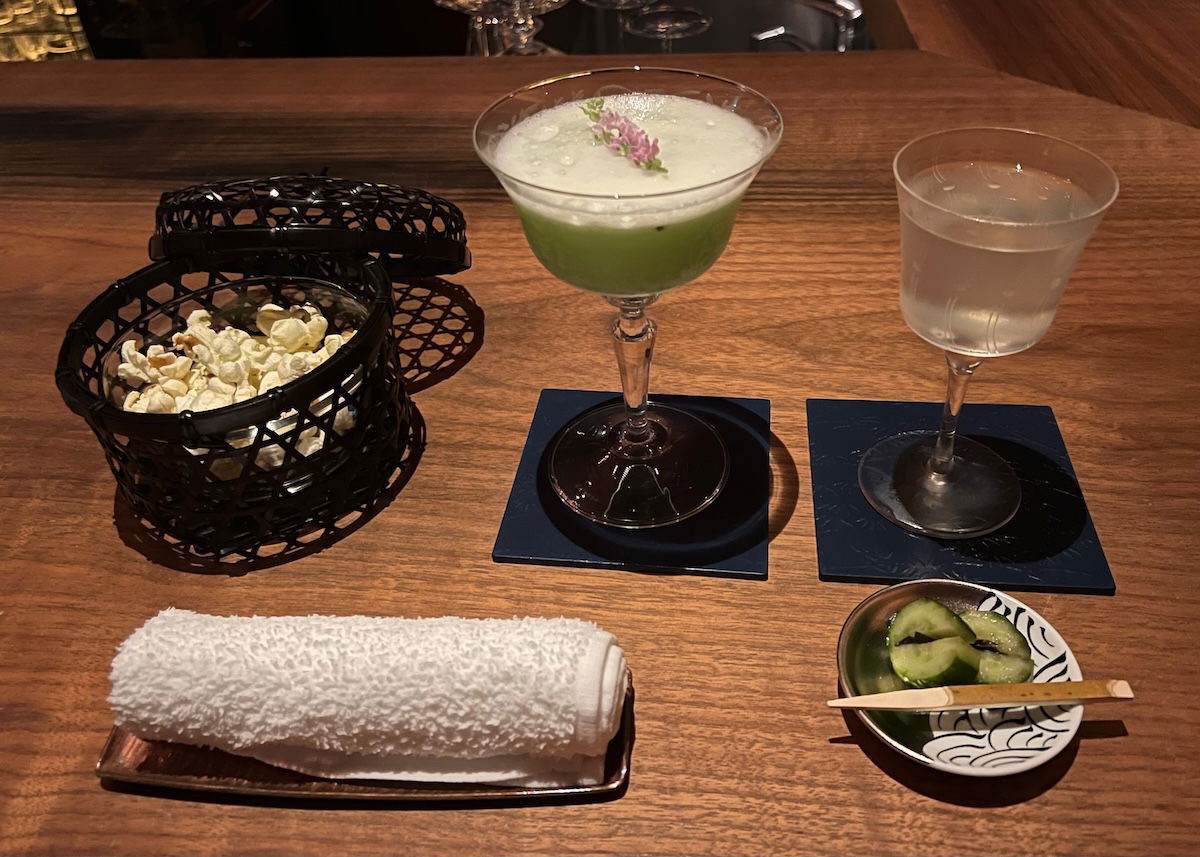 We also ordered some vegetable crudité with tofu hummus.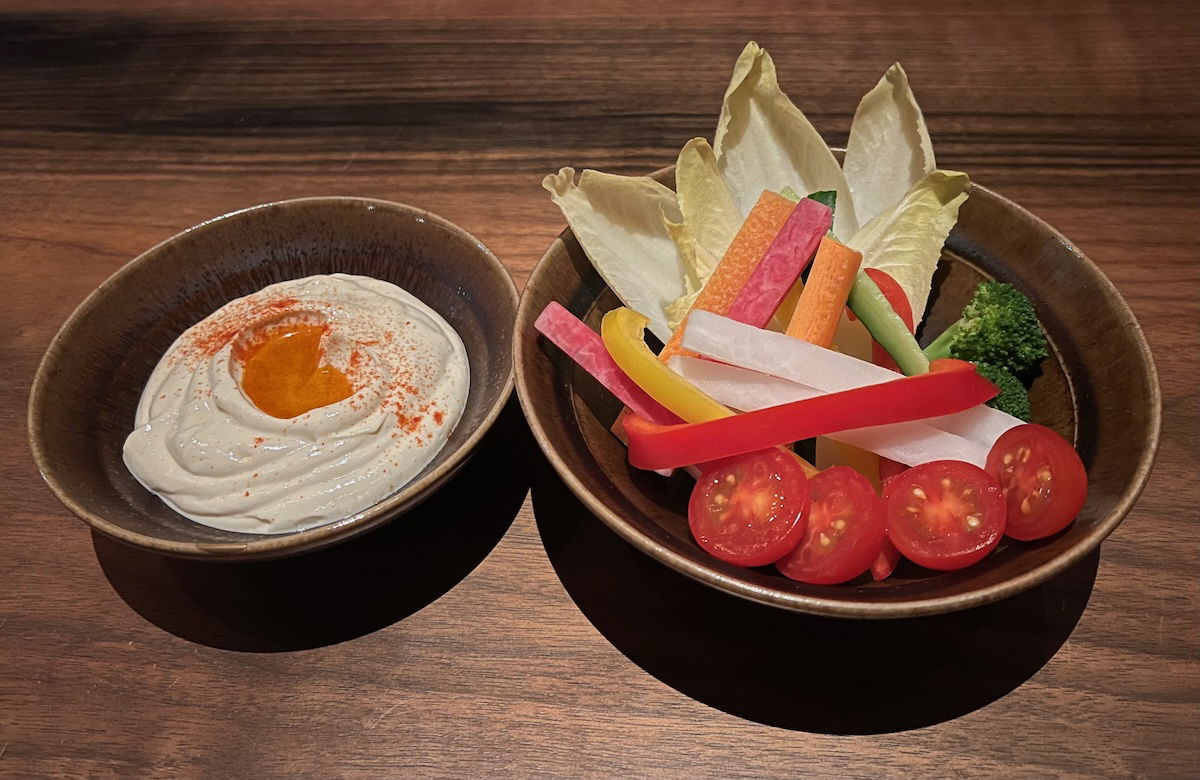 Okay, this all sounds awesome, so what's the issue? Well, you have to make reservations way in advance. I tried to make reservations for 5:30PM, but was told the bar was booked out, and the earliest that was available was 7:30PM.
Okay, fair enough, I figured that meant this place would have a fun vibe then. We ended up showing up at 7PM, hoping that maybe they had some availability earlier. Well, when we arrived at the bar, there were a total of four people in there. It was two couples, and they both just sitting there staring at their phone. I don't think either of them said a word to one another the entire time we were there.
The music in the bar was so quiet that you could basically hear a pin drop. Combined with the lack of people there, it was just such an awkward experience that felt more like being in a library than in a bar.
Look, I'm a huge introvert, and I don't like crowds. But I also appreciate when a bar has a vibe or is a bit lively, and that was lacking here. I almost felt uncomfortable talking to Ford, as if I was disturbing the peace.
This should be an easy fix, because the current reservations system just makes no sense. I can only imagine how many people are being turned down for reservations here, even though the place is at nowhere close to capacity. Get more people in here and turn up the music a bit, and this would be an awesome place.
Park Hyatt Kyoto Yasaka Restaurant
Yasaka is the Park Hyatt Kyoto's signature restaurant, located right next to Kohaku Bar, on the fourth floor. This is open for dinner, and is a Japanese teppanyaki restaurant with some French influence. The restaurant consists of two separate rooms, each with a table seating around 10 people.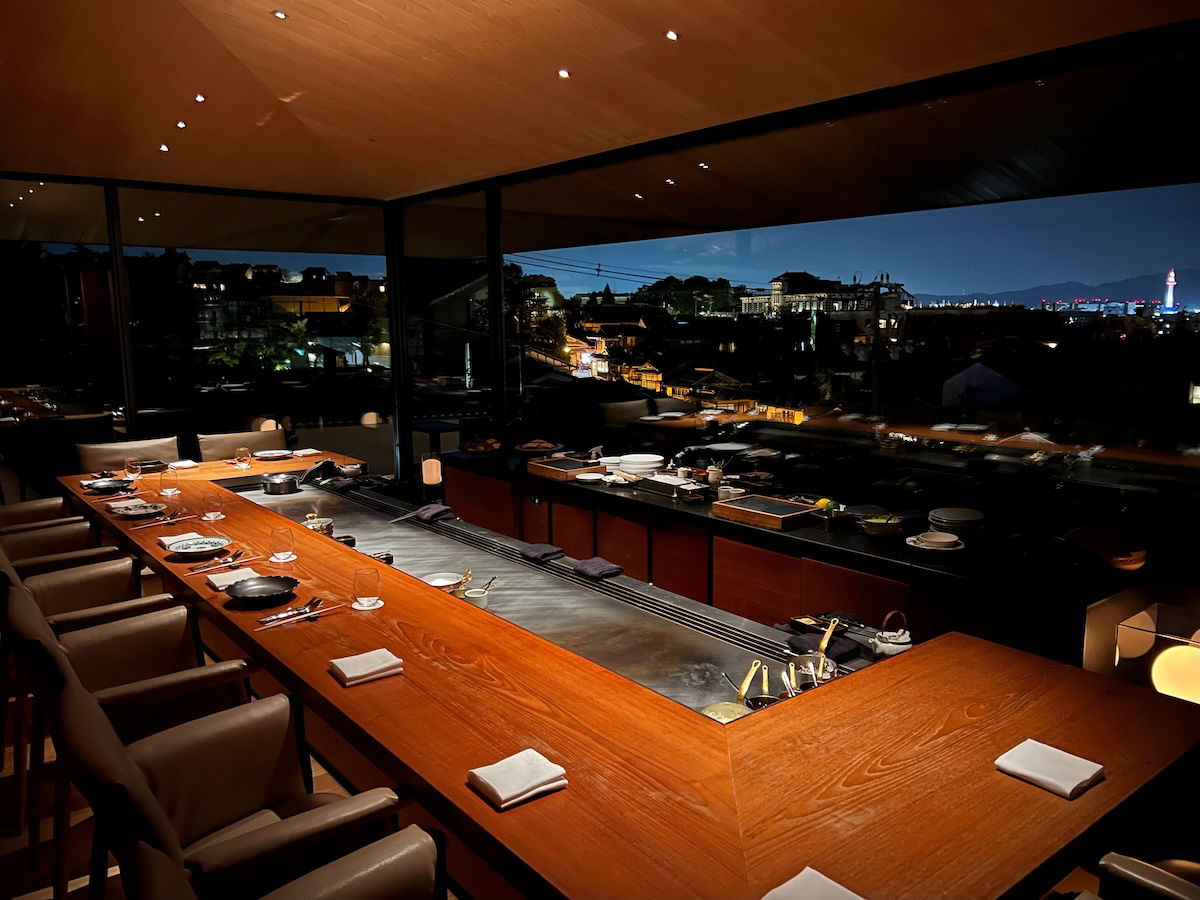 As you might imagine, a big draw of this restaurant is the amazing views.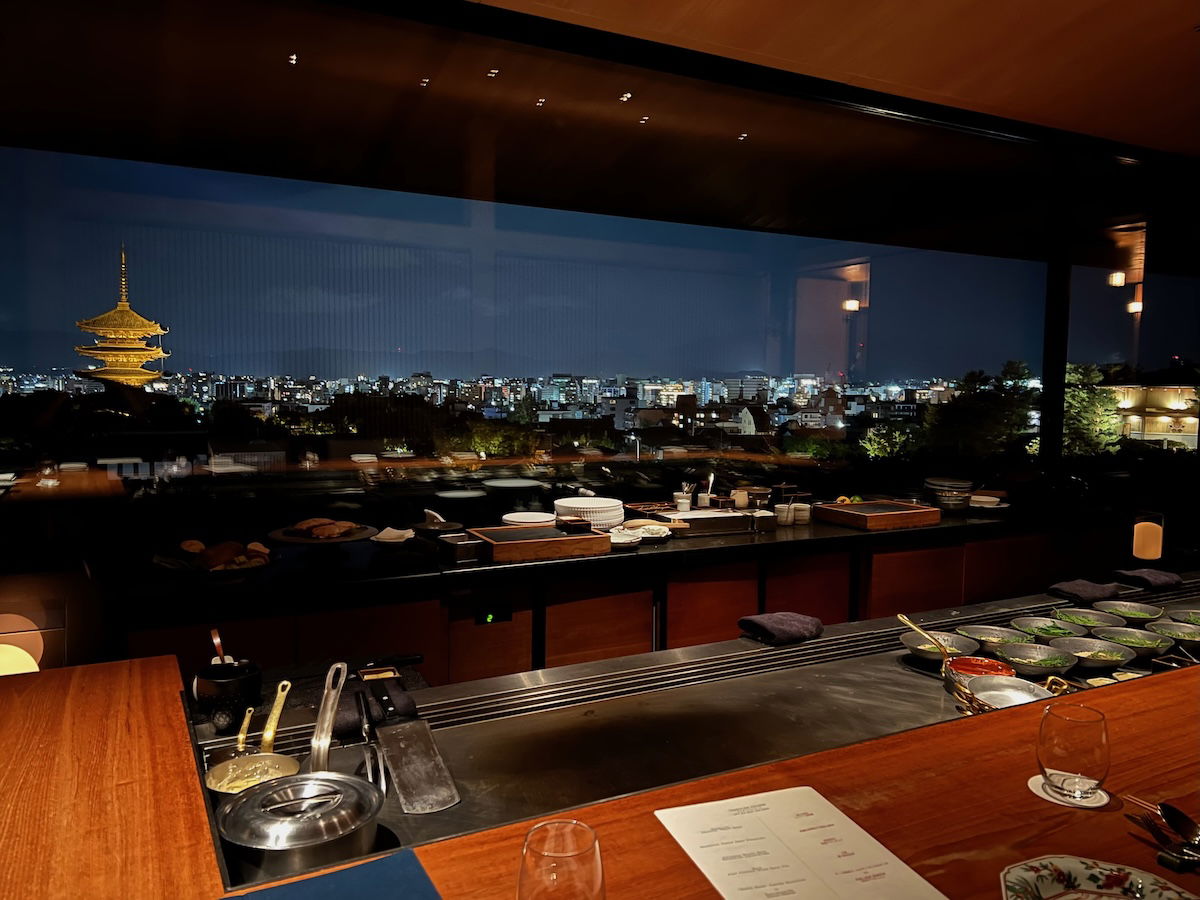 We had an incredible dinner here one evening. We just went with the simplest menu, which cost 22,000 JPY per person (~$147), including the service charge. Given the quality, I thought that wasn't half bad.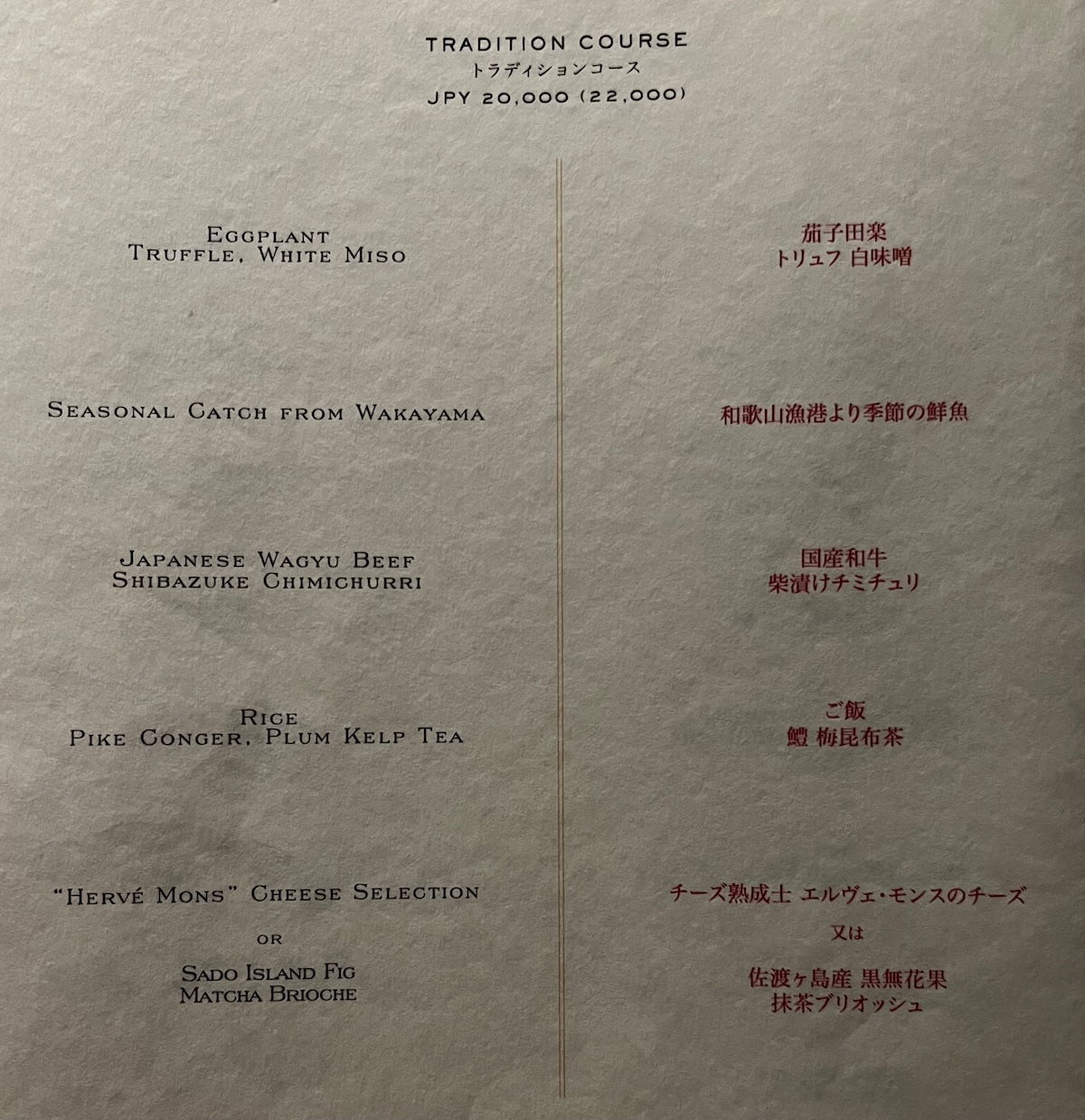 The meal began with a delicious caviar amuse bouche…
That was followed by an eggplant, truffle, and white miso dish…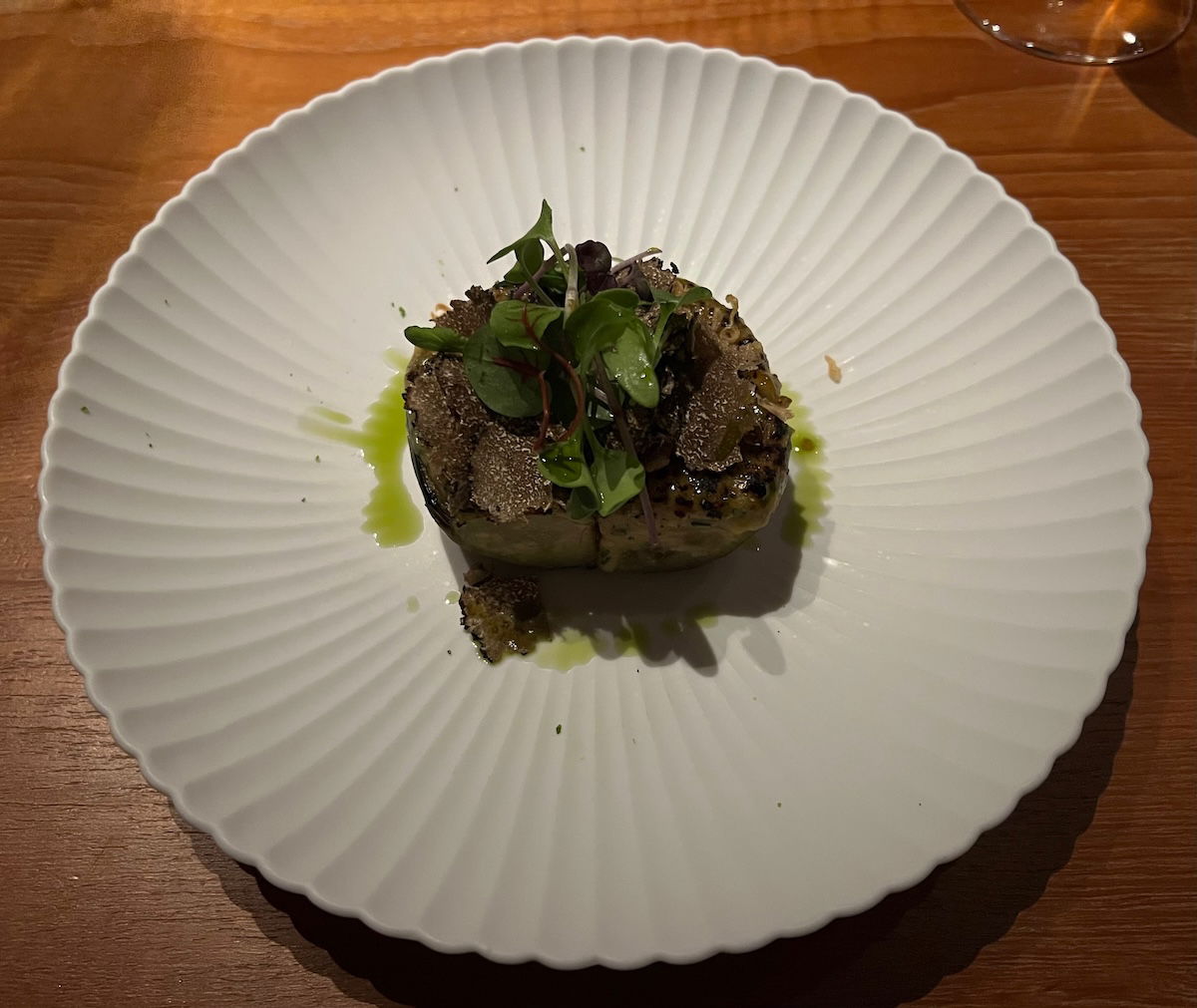 Then there was a seasonal catch, along with some bread.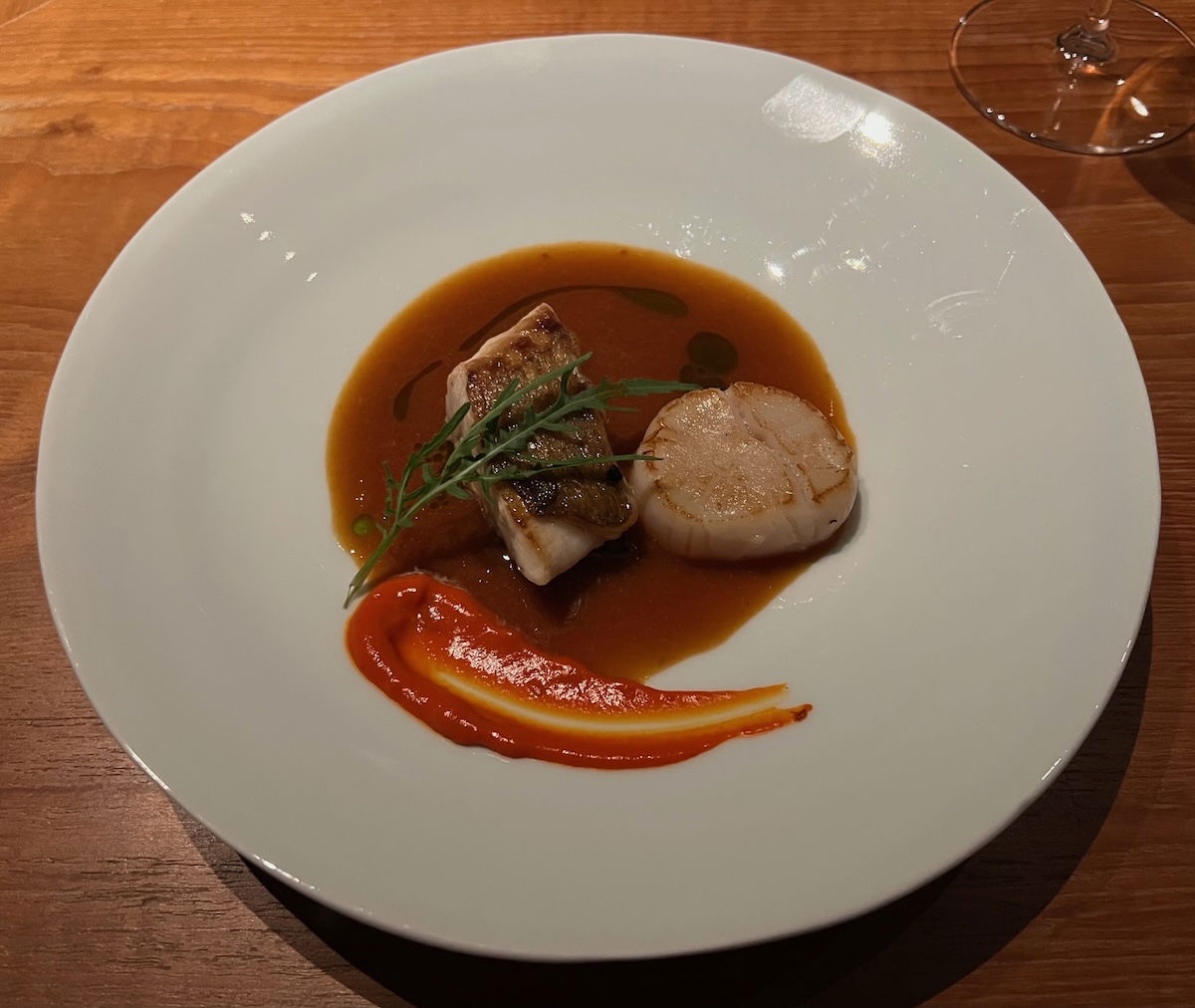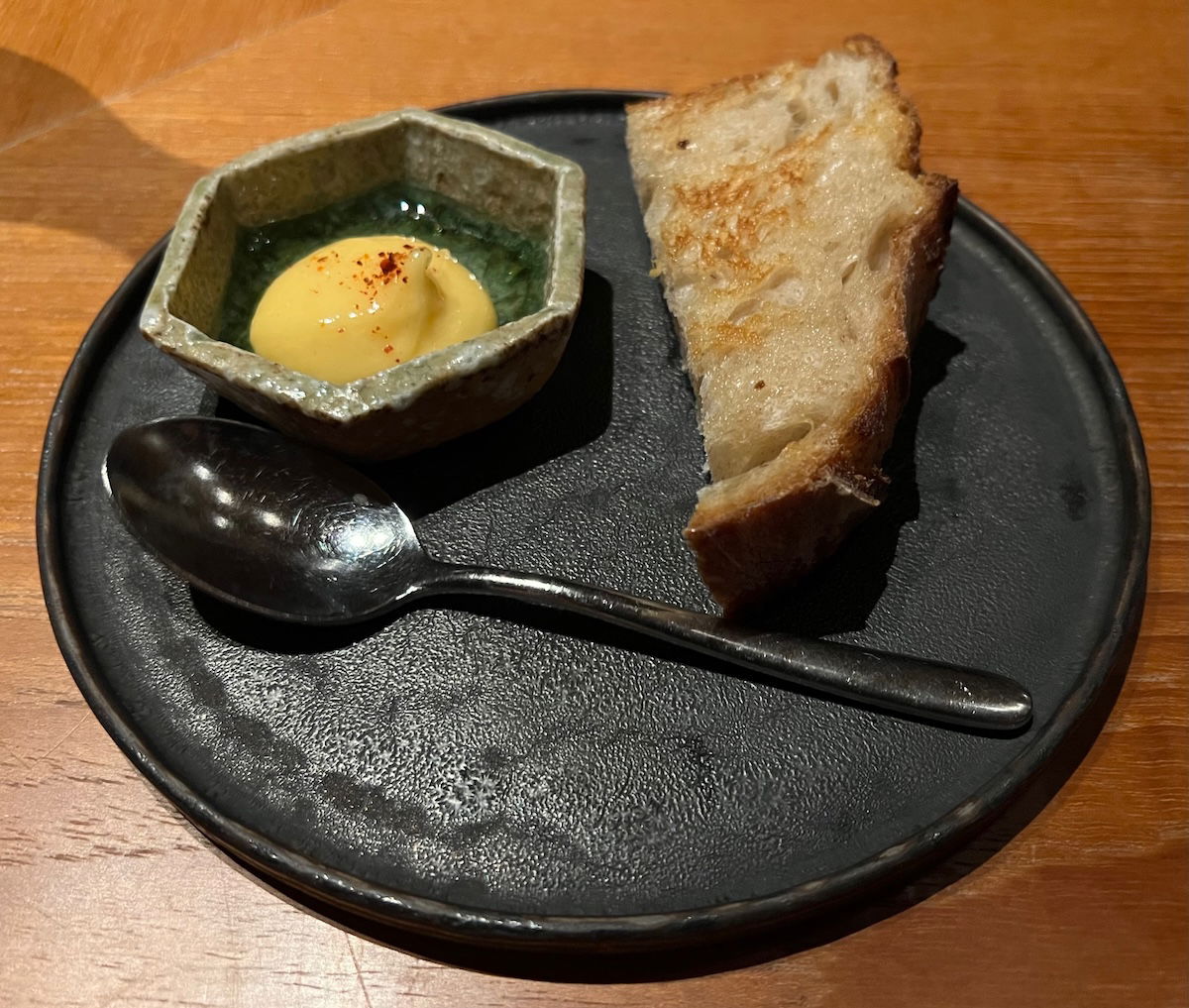 That was followed by a palate cleanser…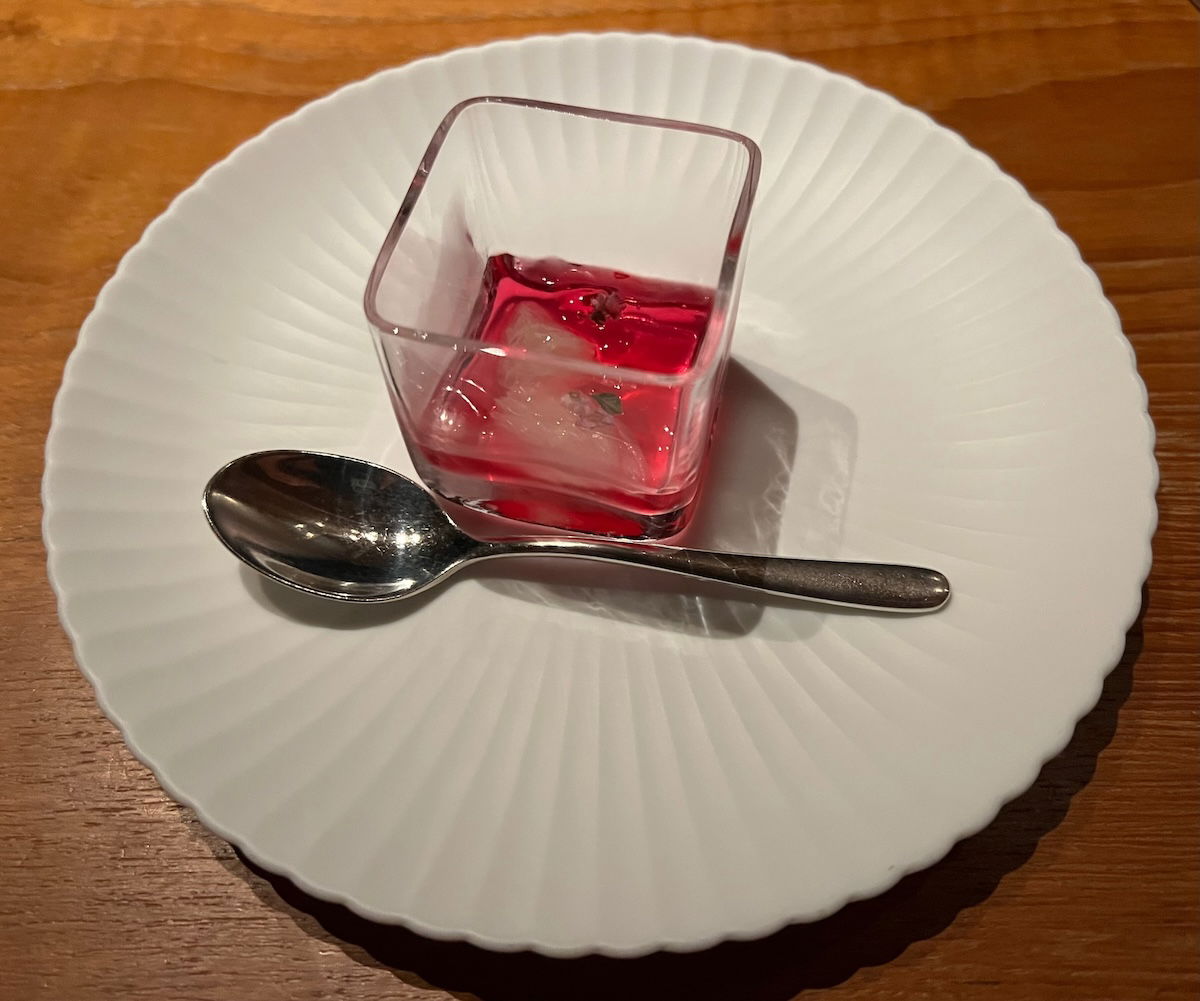 Next up there was wagyu beef with chimichurri…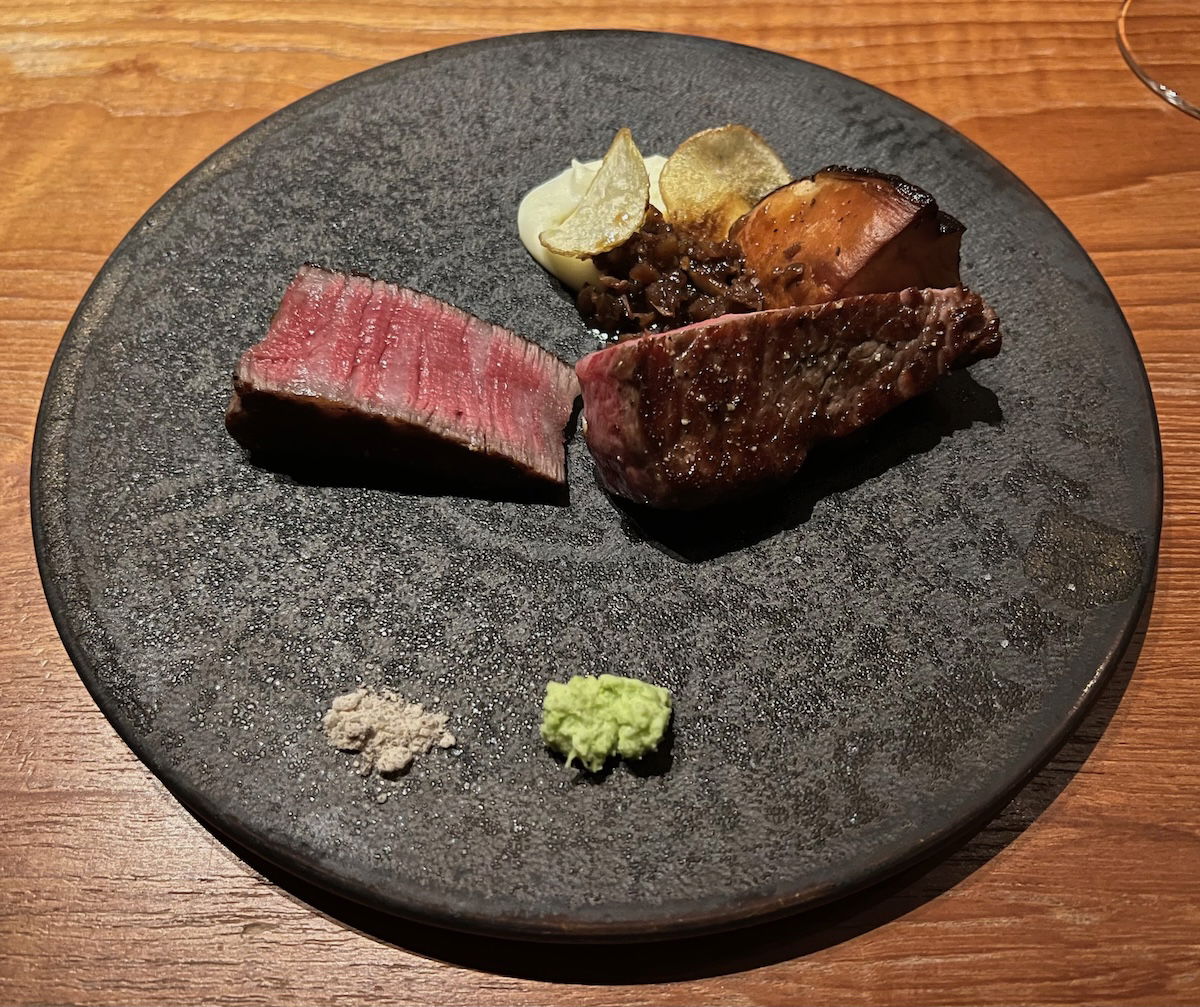 Then there was pike conger with plum kelp tea…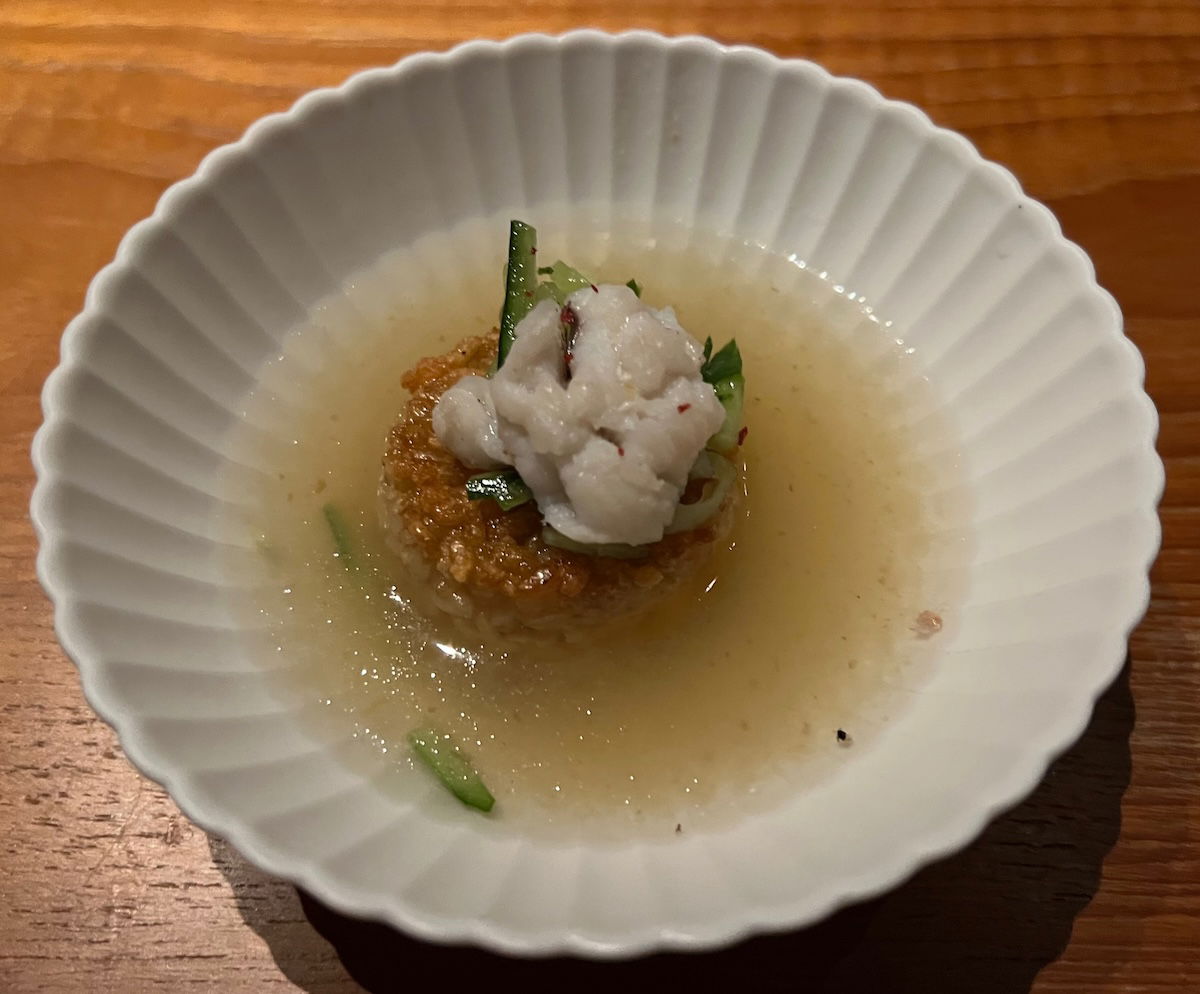 Then for dessert there was the choice of a fig matcha brioche…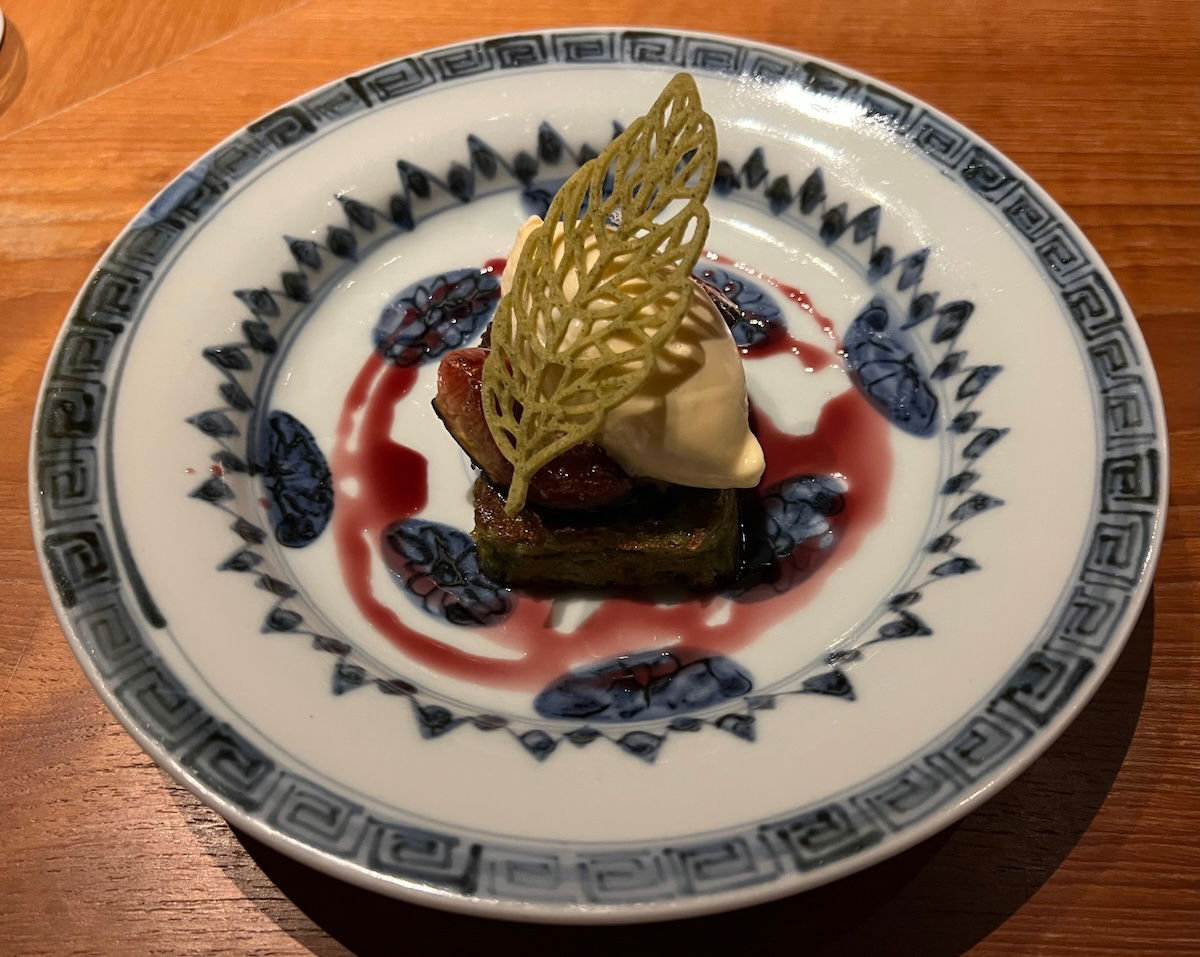 …or a cheese selection.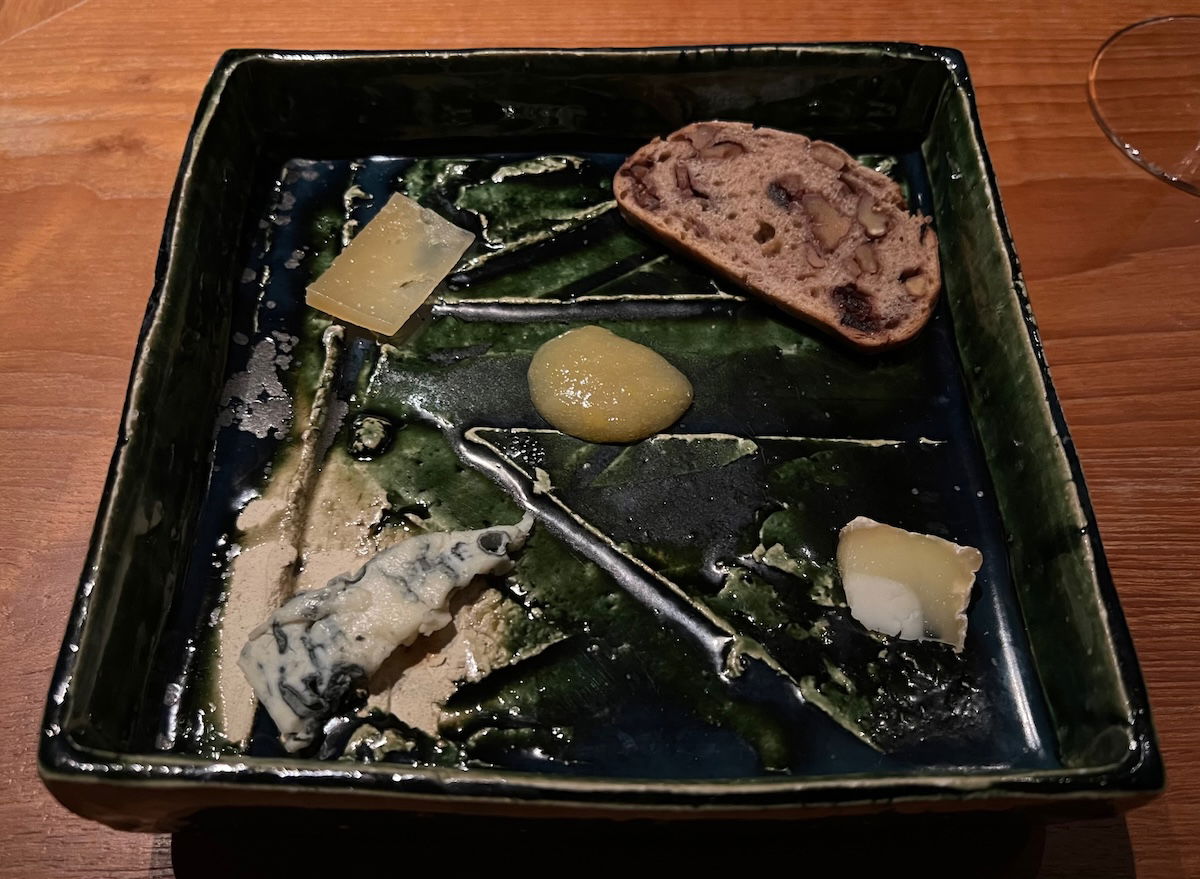 The meal finished with some tea and petit fours.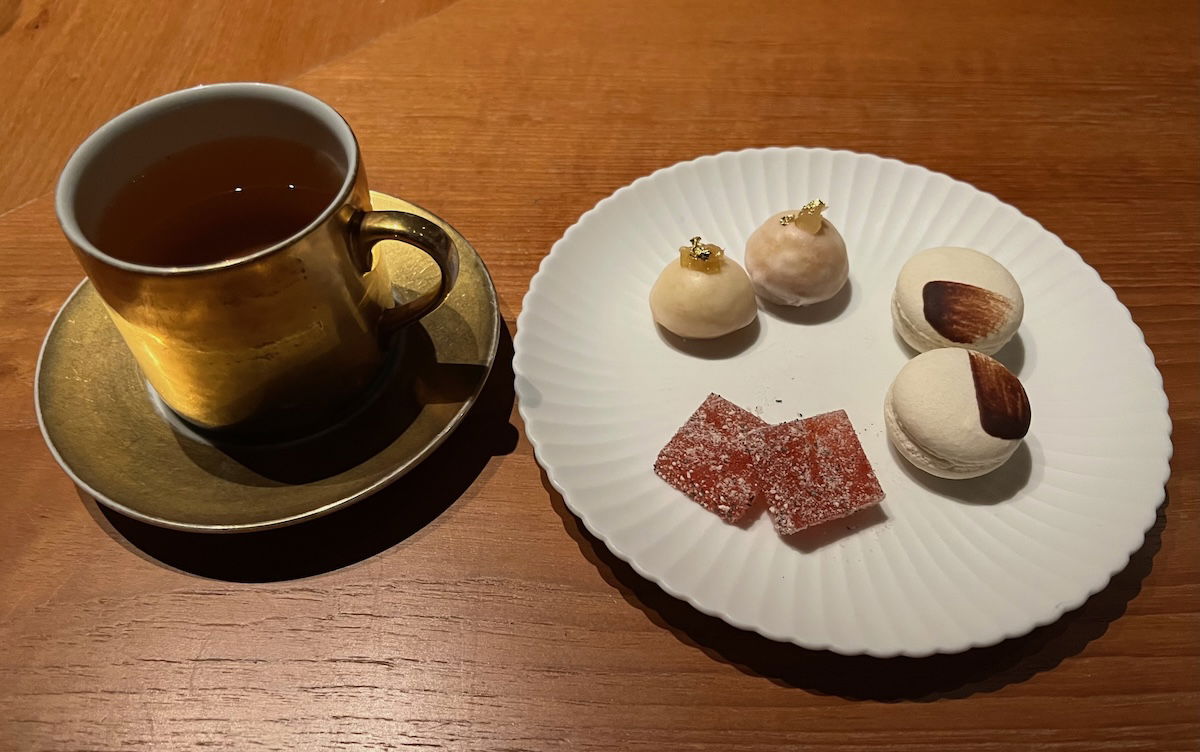 We were also given some additional sweets to take with us.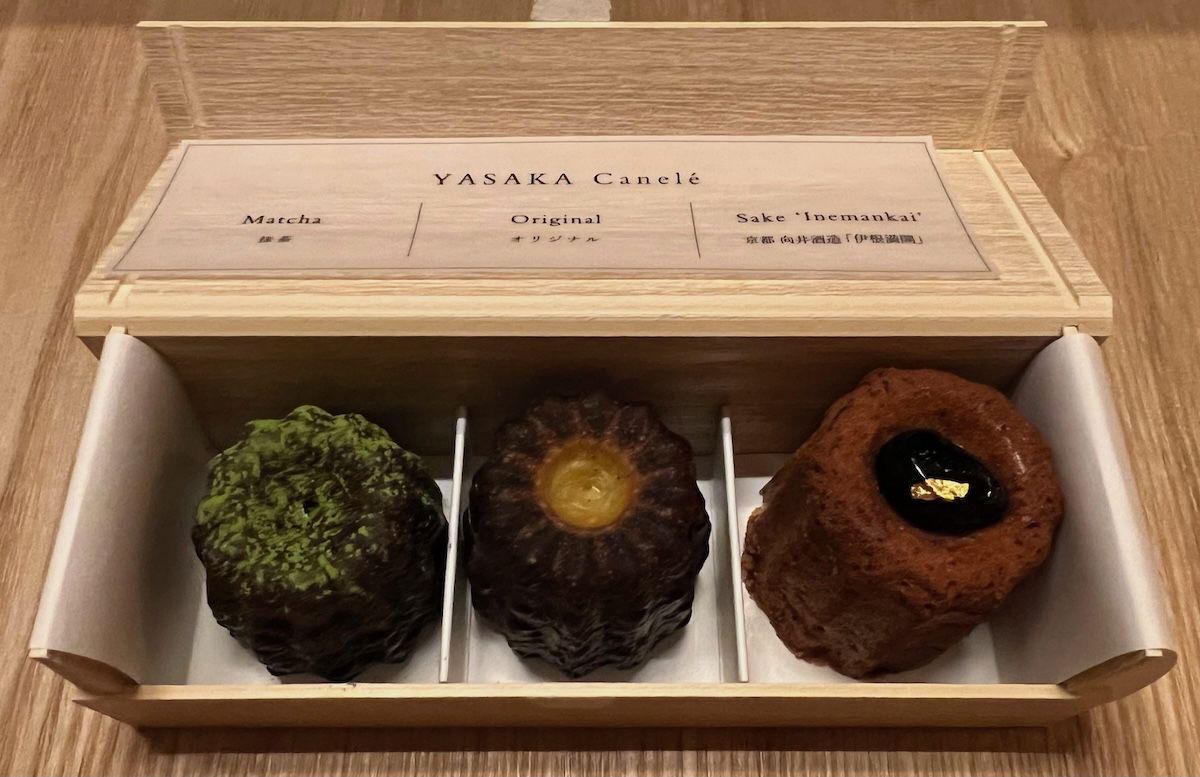 This was an incredible meal, and I can't recommend this restaurant enough. While this was a bit more of a "fusion" menu than some of the other traditional meals we had in Japan, we enjoyed it just as much.
Park Hyatt Kyoto Kyoyamato Restaurant
Kyoyamato is the Park Hyatt Kyoto's Michelin star restaurant, and it's open for both lunch and dinner. This is a historic kaiseki restaurant, and I've heard a lot of people rave about it. We didn't end up eating here, as we went to a different kaiseki restaurant instead. However, it's worth acknowledging that the Park Hyatt Kyoto has quite a strong food & beverage presence.
Park Hyatt Kyoto service
Service at the Park Hyatt Kyoto was for the most part very good. Because the hotel only has 70 rooms, service feels a bit more personalized, with some of the more senior staff remembering guest names, checking on them during the stay, etc.
The concierge team at the Park Hyatt is also on top of things, and couldn't be better. That's kind of important in a place like Kyoto, given how complicated securing restaurant reservations in Japan can be. Both before and during our stay, I was amazed by the speed at which they got things done.
Service was universally well intentioned, though it seems that Japan is dealing with many of the same labor shortages we've seen in the rest of the world in recent years. The hotel had a fair bit of foreign staff, which we found to be the case at all three hotels we stayed at.
There were some minor service issues, though. For example, at Kyoto Bistro, service was quite slow multiple times. When we got our avocado toast served, we asked for some hot sauce, and we ended up having to ask two more times before it was finally delivered. As another example, I called down to ask for housekeeping when we were leaving for the day, and they promised they'd send someone up soon. When we returned four hours later, our room still wasn't clean.
These things are minor in the scheme of things, though given the rates being charged, there's definitely a little room for improvement.
Bottom line
The Park Hyatt Kyoto is an excellent hotel. In particular, this hotel features stunning design, a one-of-a-kind location, and it's also a boutique property, significantly smaller than the Ritz-Carlton or Four Seasons. I also very much enjoyed breakfast at the hotel (both Western and Japanese), and liked all the food and drinks we had on property.
If you want the best luxury property in Kyoto that feels really intimate and is right in the heart of the action with stunning design, the Park Hyatt is the place to stay. Meanwhile if you're looking for a hotel with more outdoor space, or with a pool or larger wellness area, I'd maybe consider one of the other properties.
All-in-all, I had high expectations for the Park Hyatt Kyoto, and I'd say they were met. What a treat it is to have this hotel be part of World of Hyatt. Next time I'm hoping to book further in advance, so that I can confirm a suite upgrade at the time of booking.
What's your take on the Park Hyatt Kyoto?