In the interest of full disclosure, OMAAT earns a referral bonus for anyone that's approved through some of the below links. These are the best publicly available offers (terms apply) that we have found for each product or service. Opinions expressed here are the author's alone, not those of the bank, credit card issuer, airline, hotel chain, or product manufacturer/service provider, and have not been reviewed, approved or otherwise endorsed by any of these entities. Please check out
our advertiser policy
for further details about our partners, and thanks for your support!
EXTRA PERKS AVAILABLE
Enjoy breakfast, upgrades, & more
Want to take advantage of Marriott STARS benefits, including a space available room upgrade, complimentary breakfast, a hotel credit, and more? Contact Ford ([email protected]) for more details. He may even be able to help if you already have a stay booked. This is valid for paid stays at BVLGARI, EDITION, Ritz-Carlton, Ritz-Carlton Reserve, and St. Regis.
During our time in Kyoto, we decided to check out three different hotels — the Ritz-Carlton, the Park Hyatt, and the Four Seasons — all of which are regarded as among the best hotels in the city. All of these hotels are great, though they offer surprisingly different experiences, each with their pros and cons. In this post I'll be reviewing the Ritz-Carlton Kyoto.
The 134-room Ritz-Carlton Kyoto opened in 2014, and it was the first "true" international luxury hotel to open in Kyoto, though in the meantime there's so much competition.
There's a lot to like about the Ritz-Carlton Kyoto — it has the best service we experienced in Kyoto, it has a beautiful pool and spa, I like the location, and it has great elite recognition (Platinum members and above receive free breakfast, even though that's not required per the Bonvoy breakfast policy).
However, I have to say that I liked both the Park Hyatt and Four Seasons more, each for different reasons. The Ritz-Carlton doesn't have the stunning design, intimate feel, and views of the Park Hyatt, and it doesn't have the gorgeous outdoor space and level of facilities of the Four Seasons.
That's not to say this isn't a great hotel, and that we didn't enjoy our stay here. Quite to the contrary, we had an awesome stay, and if you're a Marriott Bonvoy loyalist, by all means book a stay here, especially with points.
But it's also not surprising that as the luxury market in Kyoto has become much more competitive, the Ritz-Carlton isn't quite as remarkable anymore, given that it has been open for nearly a decade, without a major renovation.
Anyway, let's get into the review…
Booking the Ritz-Carlton Kyoto
I redeemed Marriott Bonvoy points for our stay at the Ritz-Carlton Kyoto. Marriott Bonvoy has dynamic award pricing, so the cost of a stay varies by night. For our nights, the rate was 100,000 points per night. I value Marriott Bonvoy points at 0.7 cents each, meaning that I value the nightly points requirement at $700.
What worked out great as well as is that I had a free night certificate through the Marriott Bonvoy Brilliant® American Express® Card (review) valid at a hotel costing up to 85,000 points. You can top that off with up to 15,000 extra points, so that worked out perfectly, as I redeemed a free night certificate plus 115,000 points for our two night stay.
As a point of comparison, cash rates at the Ritz-Carlton Kyoto were over $2,000 per night for a base room. Pricing was virtually the same at all three properties we stayed at. Of course the pricing doesn't reflect the experience you're getting at these hotels, but rather just reflects the amount of luxury demand for Kyoto at the moment, so hotels can get away with charging that.
If you're gong to book a cash stay at the Ritz-Carlton Kyoto, I'd recommend booking through the Marriott STARS program, so you can receive extra perks, like complimentary breakfast, a room upgrade subject to availability, a hotel credit, and more. Since STARS is Marriott's own proprietary program, these upgrades are prioritized over those through Amex Fine Hotels & Resorts, Virtuoso, etc. If you want help with a Marriott STARS booking at a Ritz-Carlton Turks, Ford's team is happy to help, and can be reached at [email protected].
Ritz-Carlton Kyoto location
The Ritz-Carlton Kyoto is located on the banks of the Kamo River, and has a pretty central location within Kyoto. The hotel is walking distance to many of Kyoto's most popular attractions. While the Park Hyatt is in a much more famous location, I also like the location of the Ritz-Carlton, as it's a much more serene area. It was also nice to be able to walk along the river.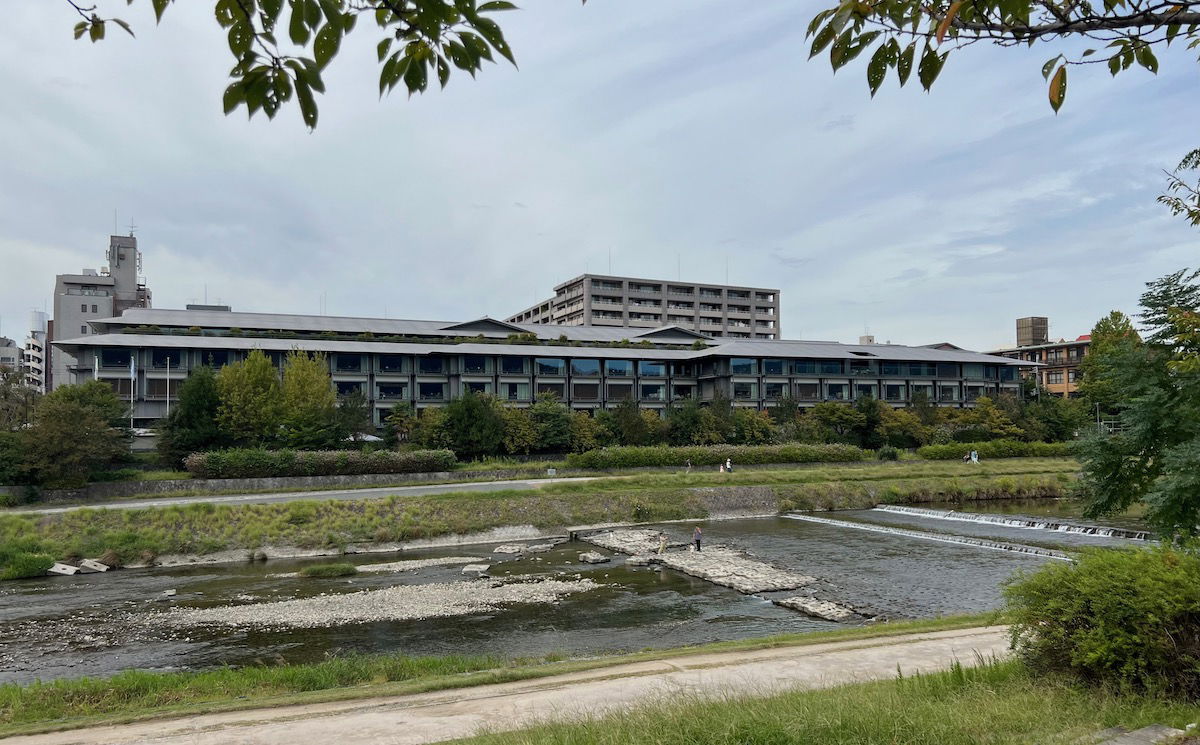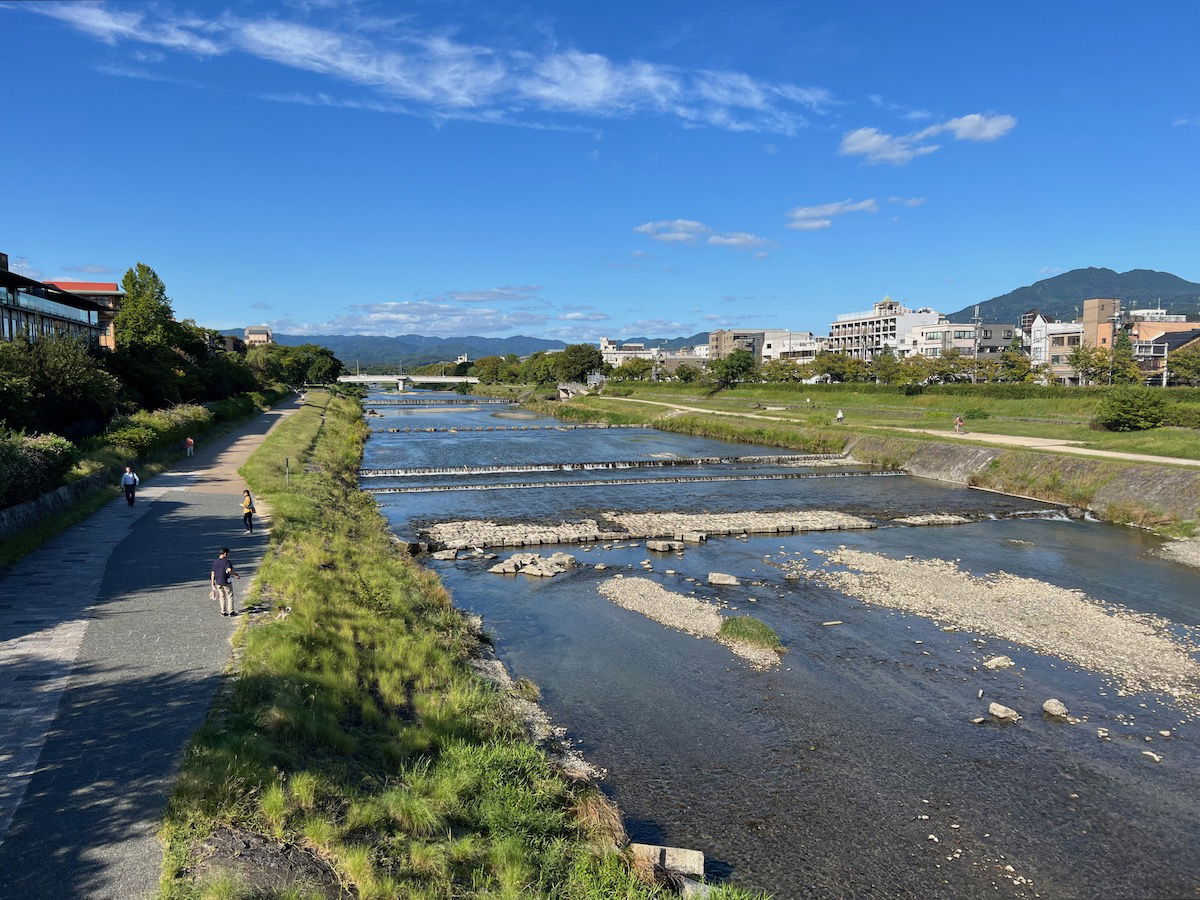 As you can see above, the hotel is quite narrow but long, so you can best see the hotel from the river. Meanwhile when arriving at the hotel by road, you could easily walk past the hotel without even recognizing it, as it's not that wide.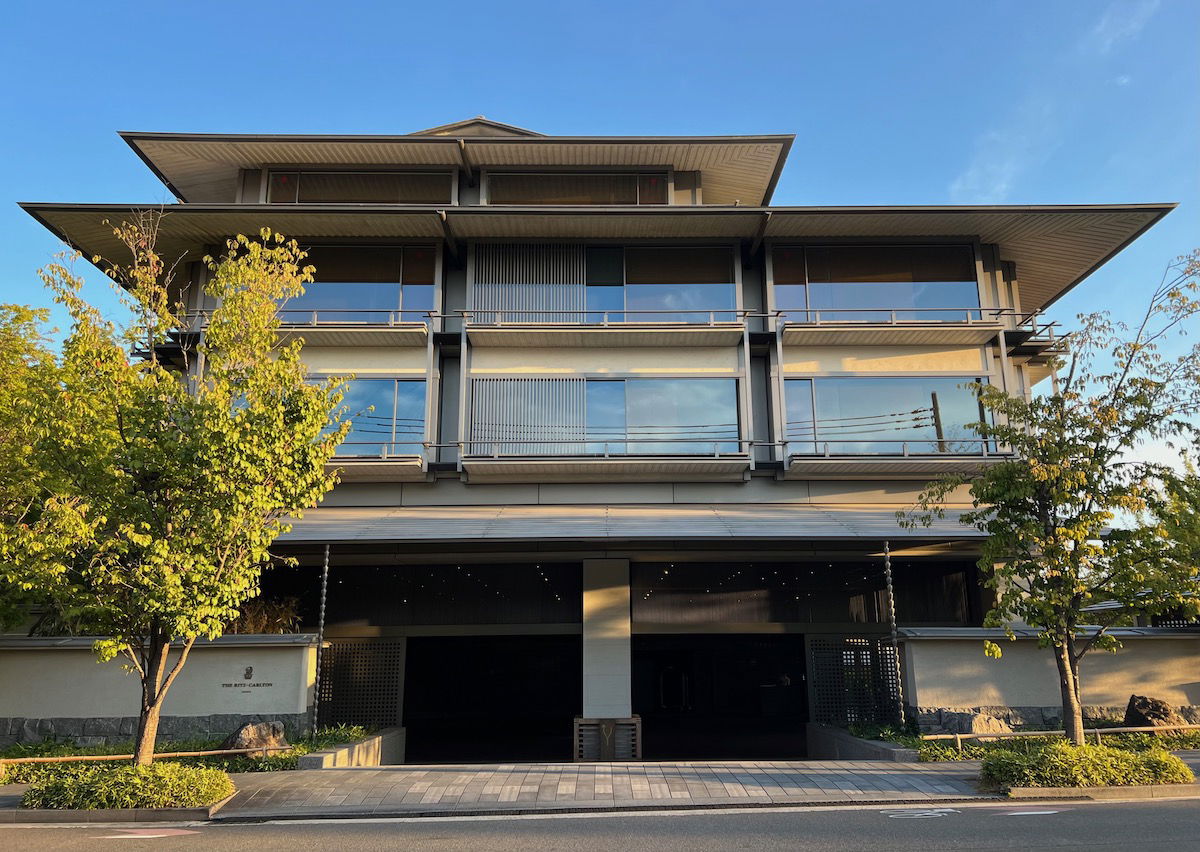 As far as getting to Kyoto goes, the most convenient major international airport is Kansai Osaka Airport (KIX). Directly from the airport you can take the Haruka Express train to Kyoto, which takes around 75 minutes. From there, the hotel is around a 10-15 minute taxi ride away.
Ritz-Carlton Kyoto lobby & check-in
Let me first talk about the lobby area, before I share our check-in experience, which was perhaps the most seamless check-in experience I've ever had at any hotel.
You can enter the lobby of the hotel through the driveway, or otherwise there's a long walkway with some water features on both sides that leads indoors. Unfortunately this is the extent of the outdoor facilities at this hotel, which I didn't love.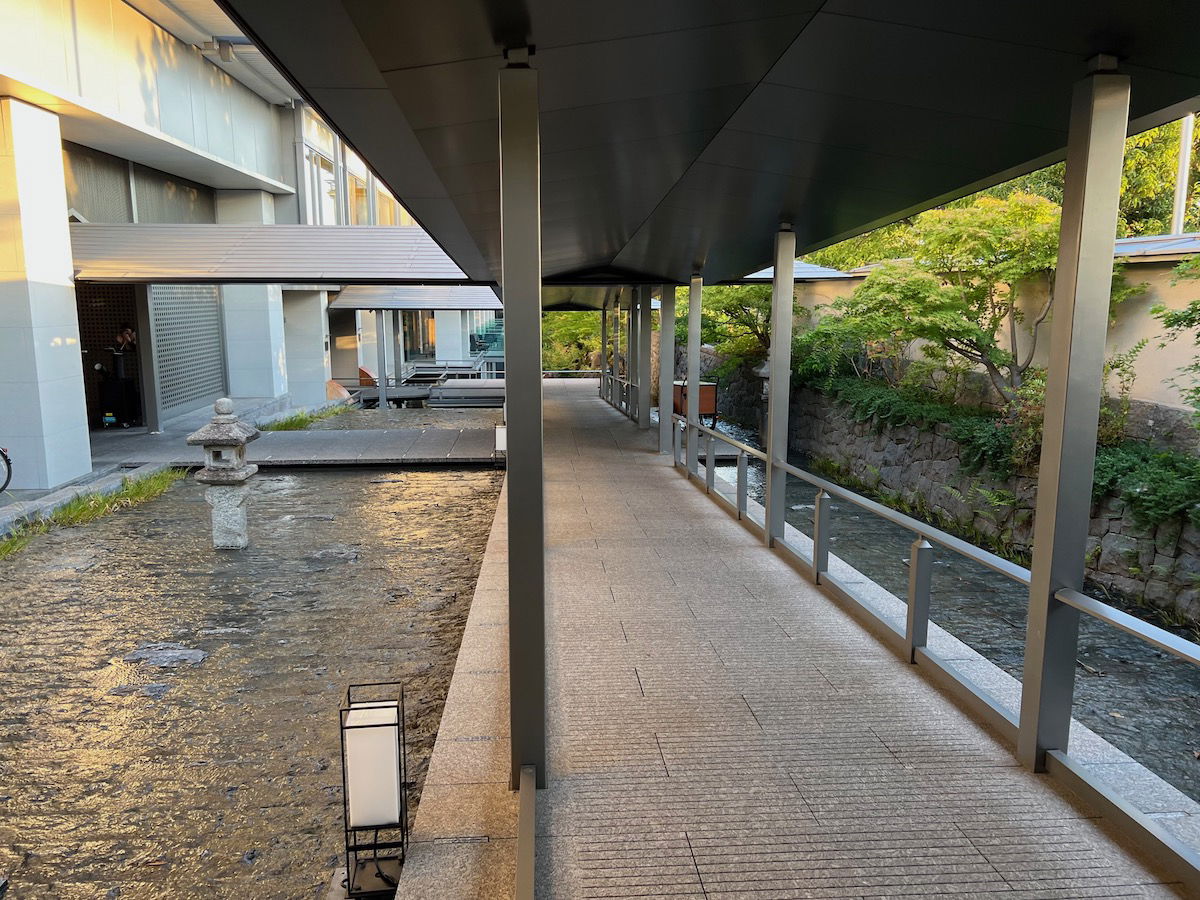 Upon entering the hotel, there was the desk with bellmen just inside the entrance, along with some seating.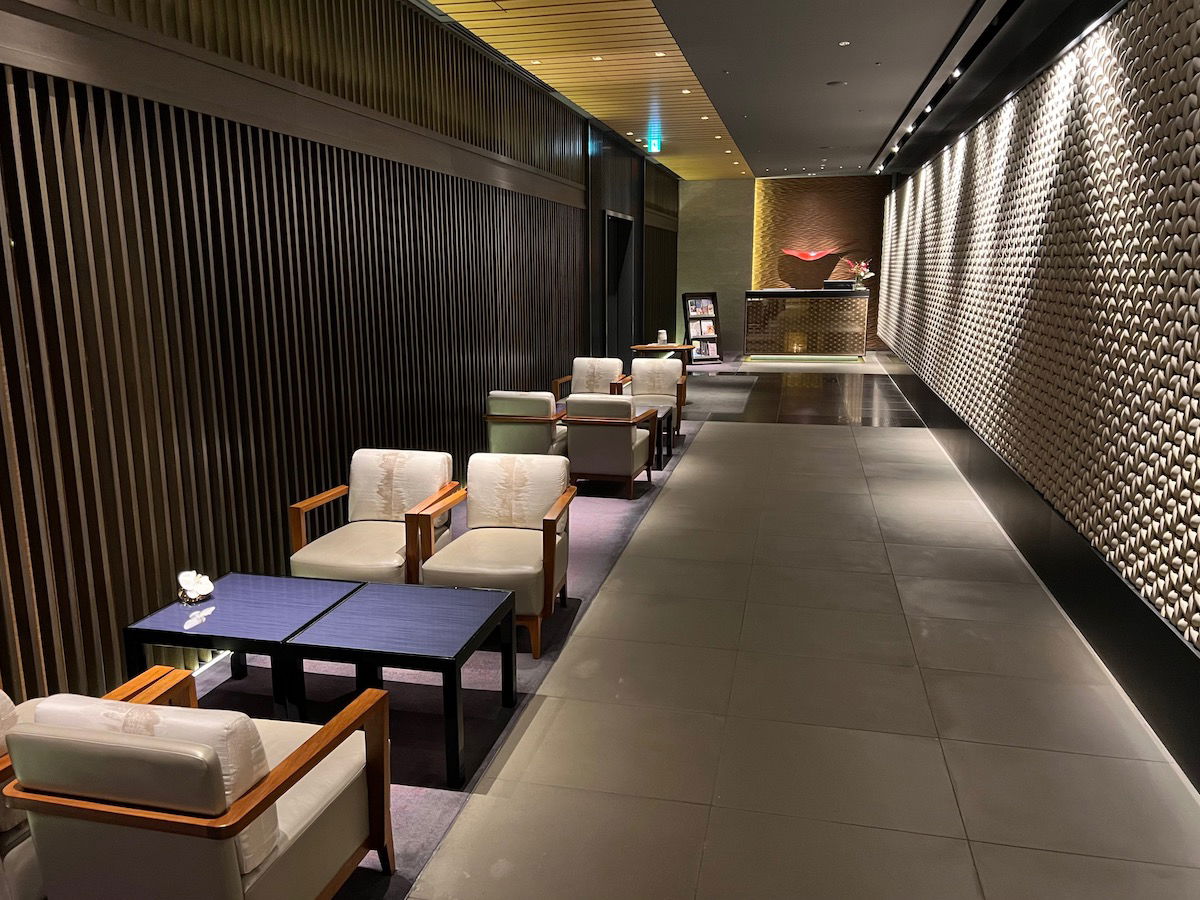 You might assume that this doesn't lead anywhere, but as you walk toward the end of the room, there's an ribbed black door at the very end that automatically opens, leading into the rest of the hotel.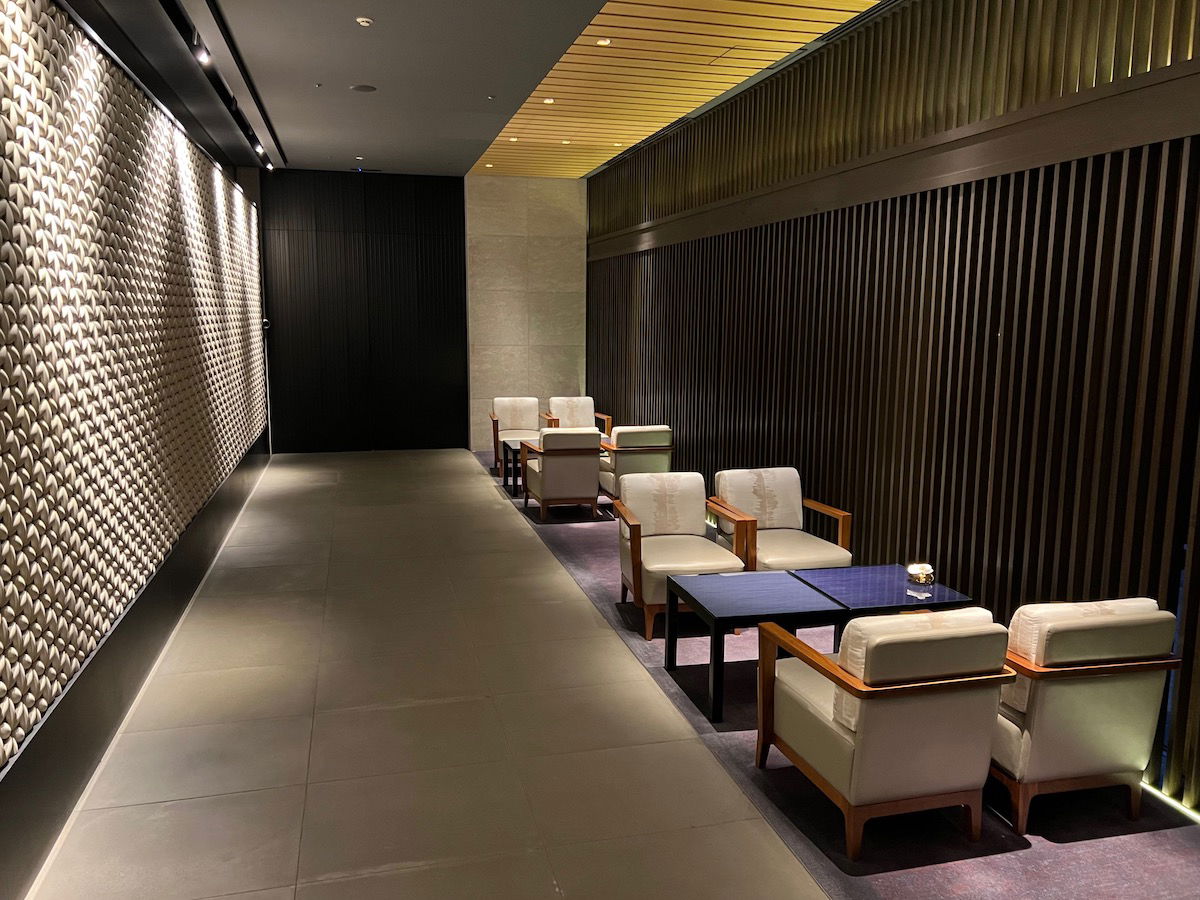 There's a bonsai tree just inside the entrance to the main part of the lobby.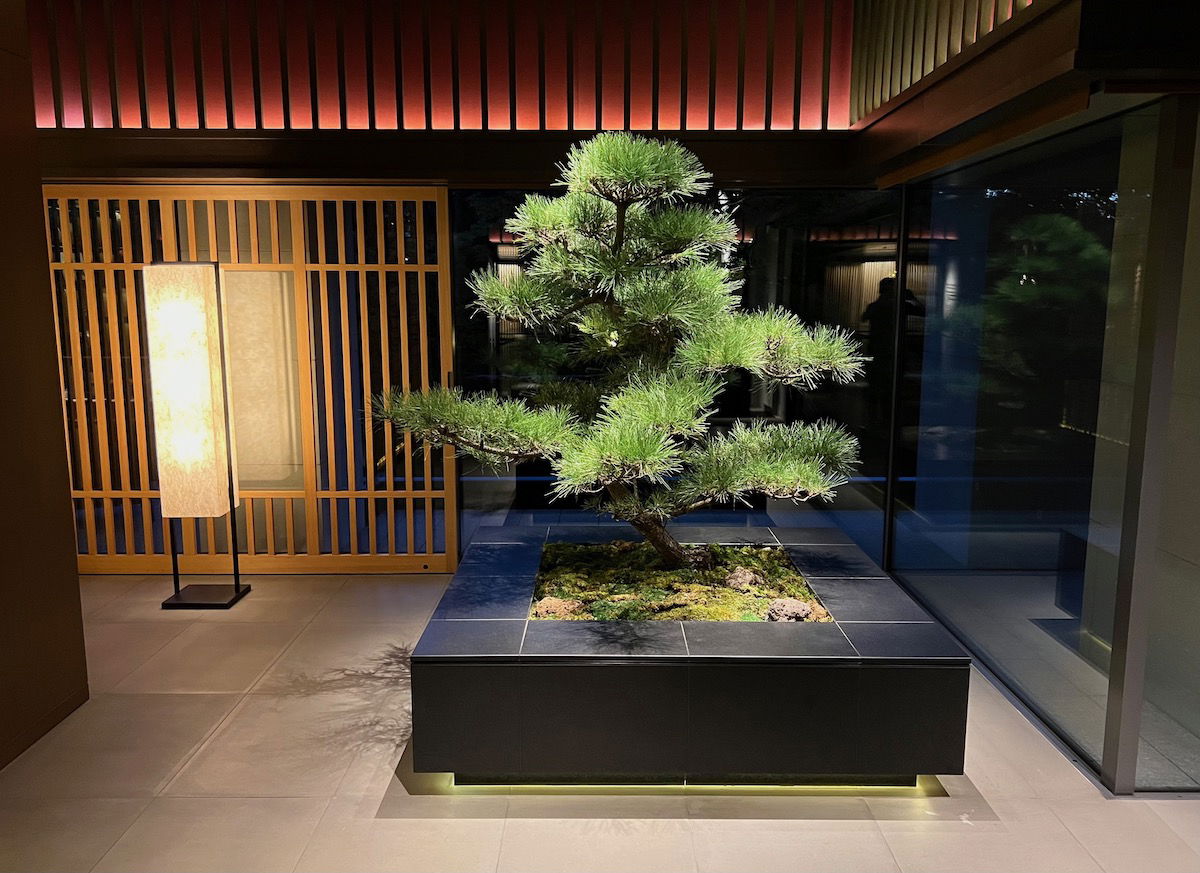 There's then an atrium spanning a few floors, with the hotel's restaurants being one level down, and meeting rooms being two levels down.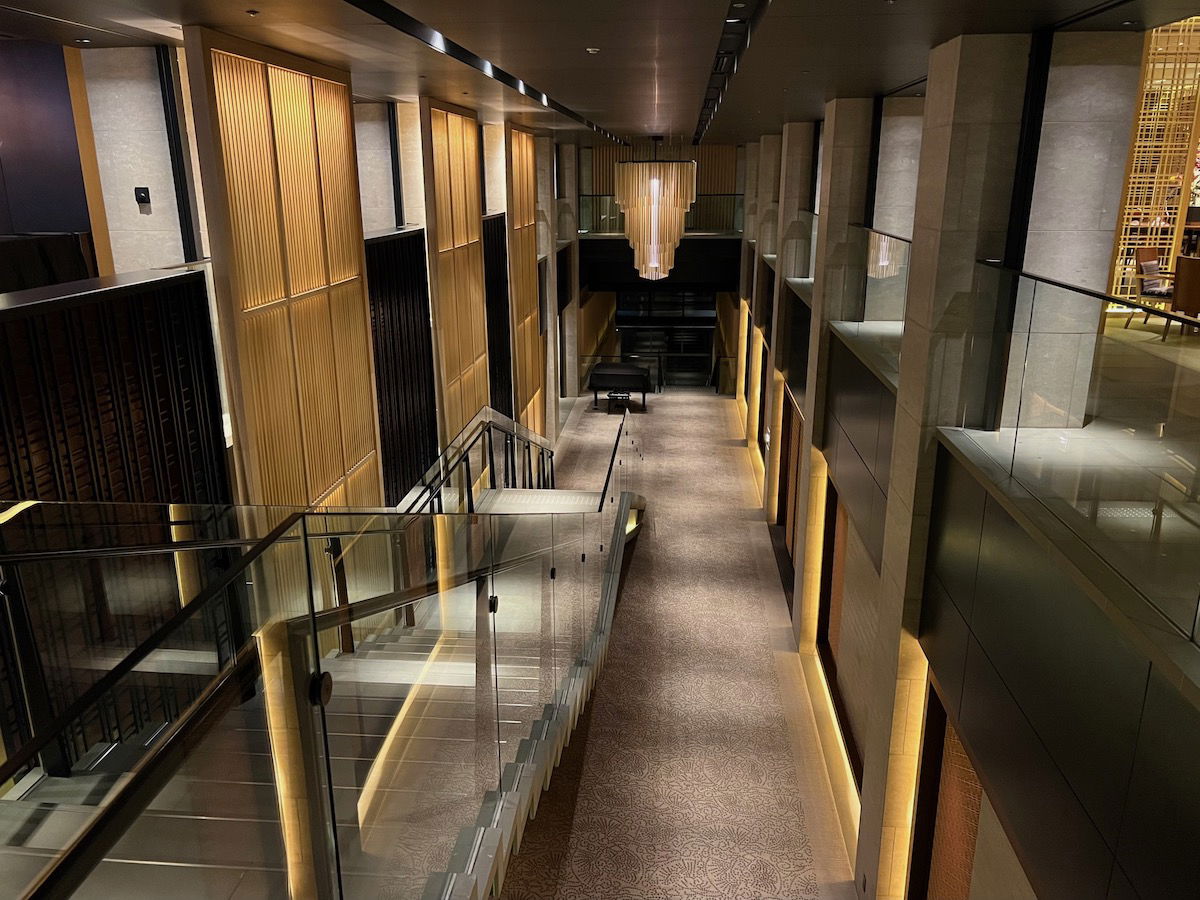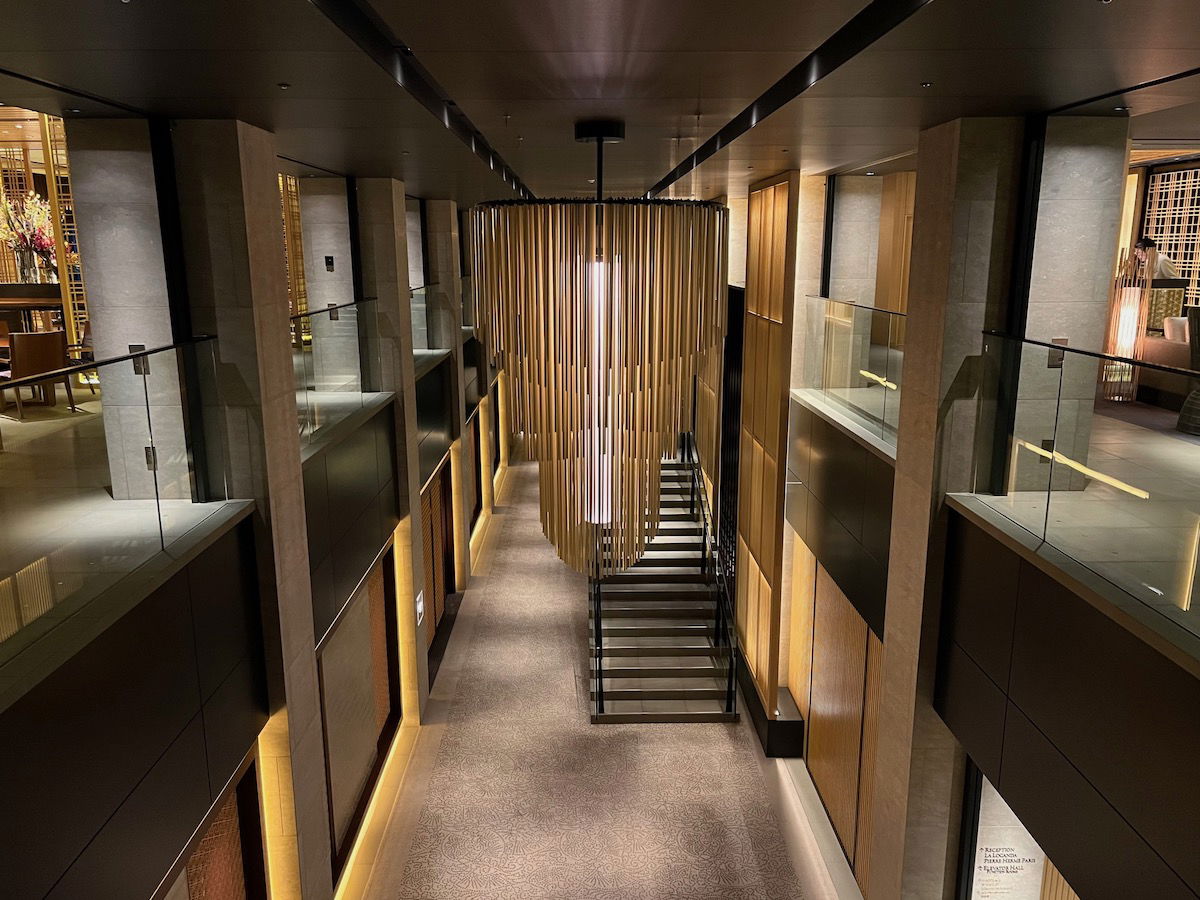 On one side of the atrium was reception, the concierge desk, and a sitting area.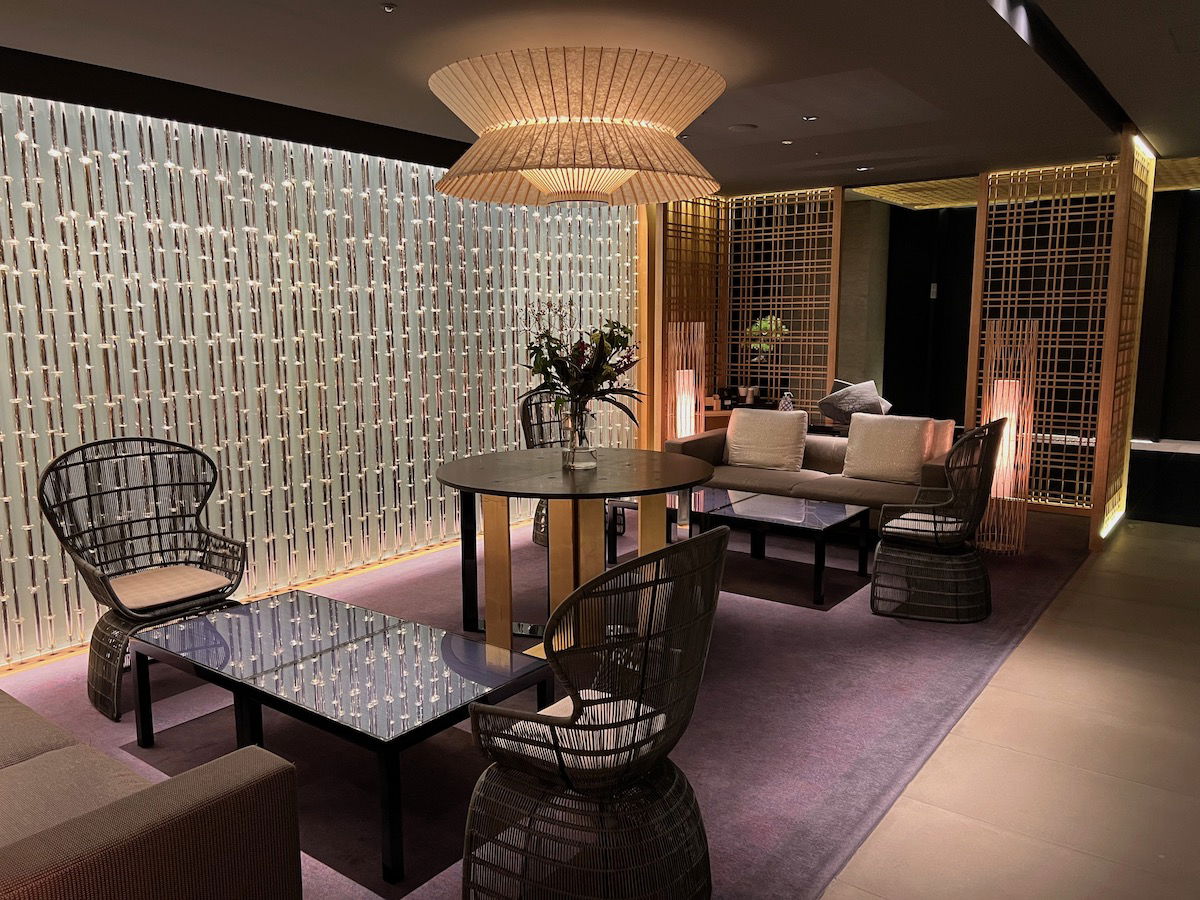 On the other side of the atrium was the lobby lounge, which I'll cover in more detail in a bit.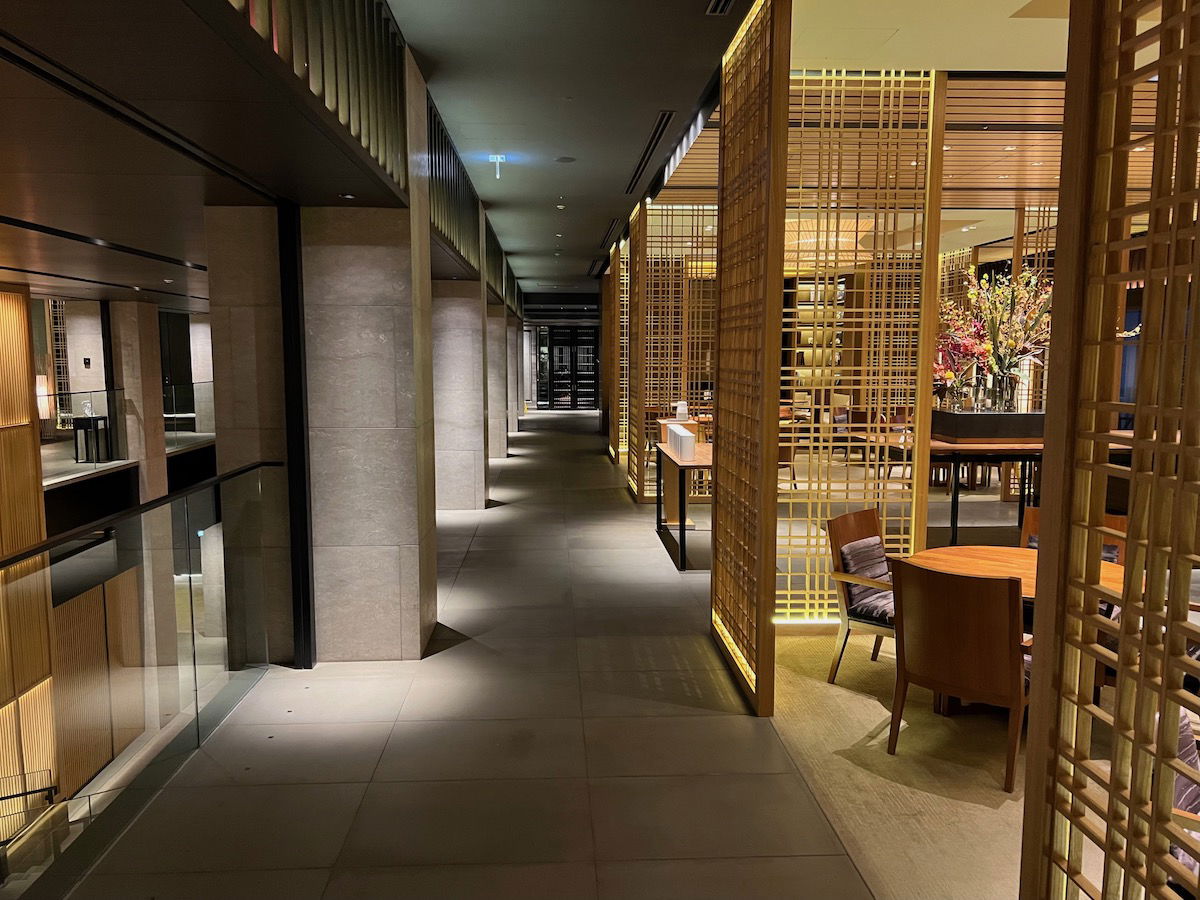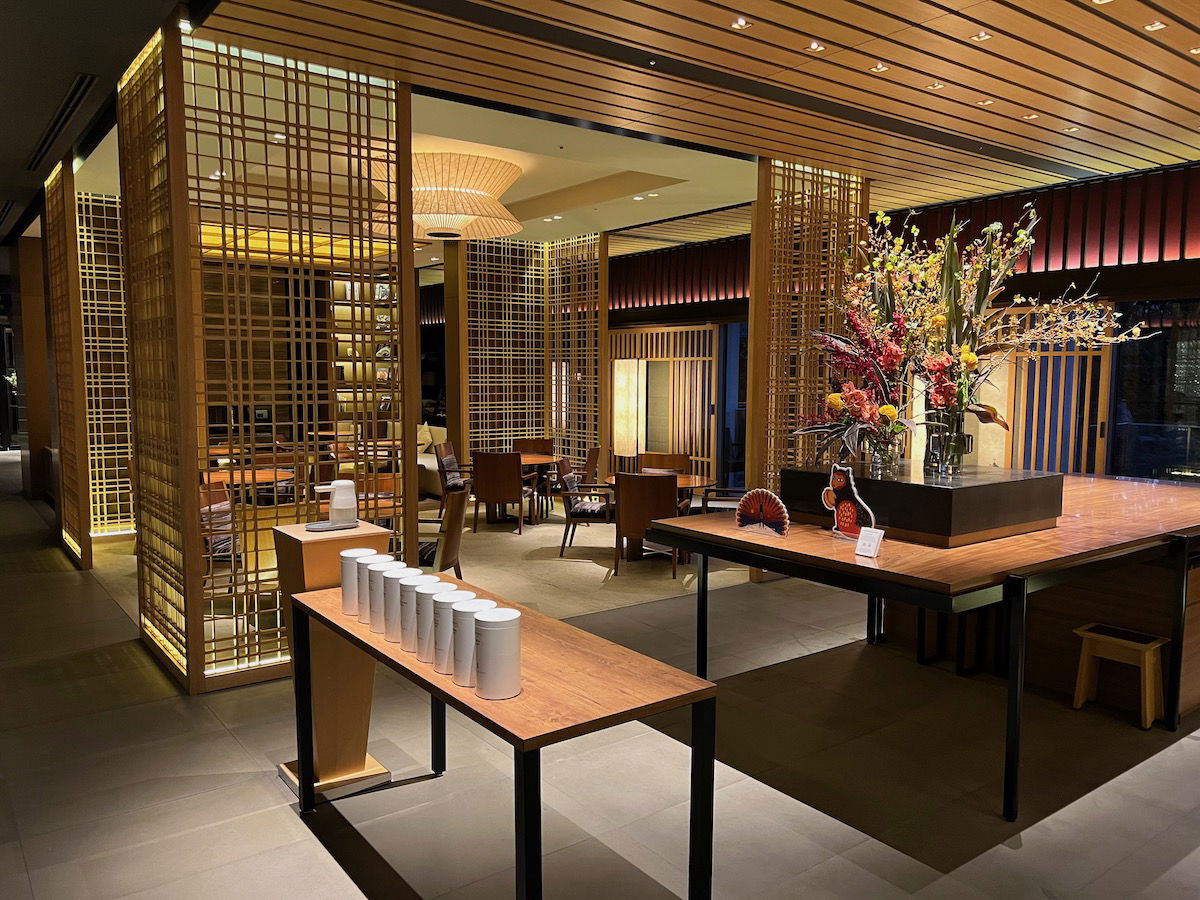 The lobby is no doubt elegant, but there's something about it that makes it feel more like a luxurious traditional city hotel with a large conference facility, rather than something that necessarily reflects what you'd expect from a destination like Kyoto. Maybe that's just me, though.
Now, the beauty of our arrival was that we could skip the entire traditional check-in experience. As we exited our taxi we were greeted by Thain (who was fascinating — he's South African, but grew up in Saudi Arabia, and I could've listened to his stories all day). He asked for our names, and then escorted us inside.
We walked toward reception, though in reality we literally just walked past reception as Thain grabbed the keys to our room, and escorted us to our room, where all check-in formalities were taken care of.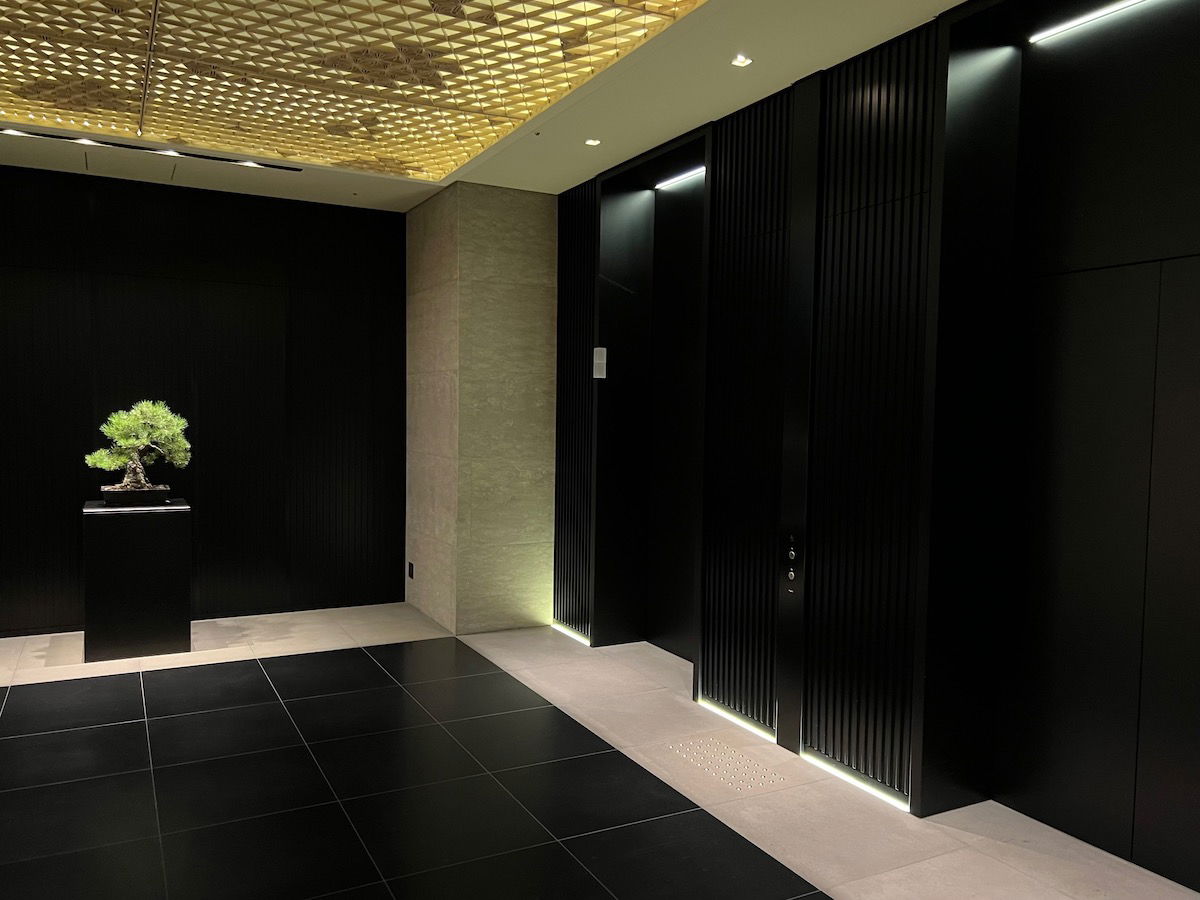 Fortunately that level of service didn't end up being a one-off, but rather reflected the service culture of the hotel.
Ritz-Carlton Kyoto guest room
The Ritz-Carlton Kyoto spans from level B2 (basement level two) to level five, and our room was located on the fourth floor. Specifically, we were assigned room 427, which was a king courtyard room. This was exactly the room that we had booked — there were no upgrades available, as the hotel was sold out, which is fair enough.
Despite this not being Kyoto's newest luxury property, the design is still pretty, and is luxurious while integrating some Japanese design touches.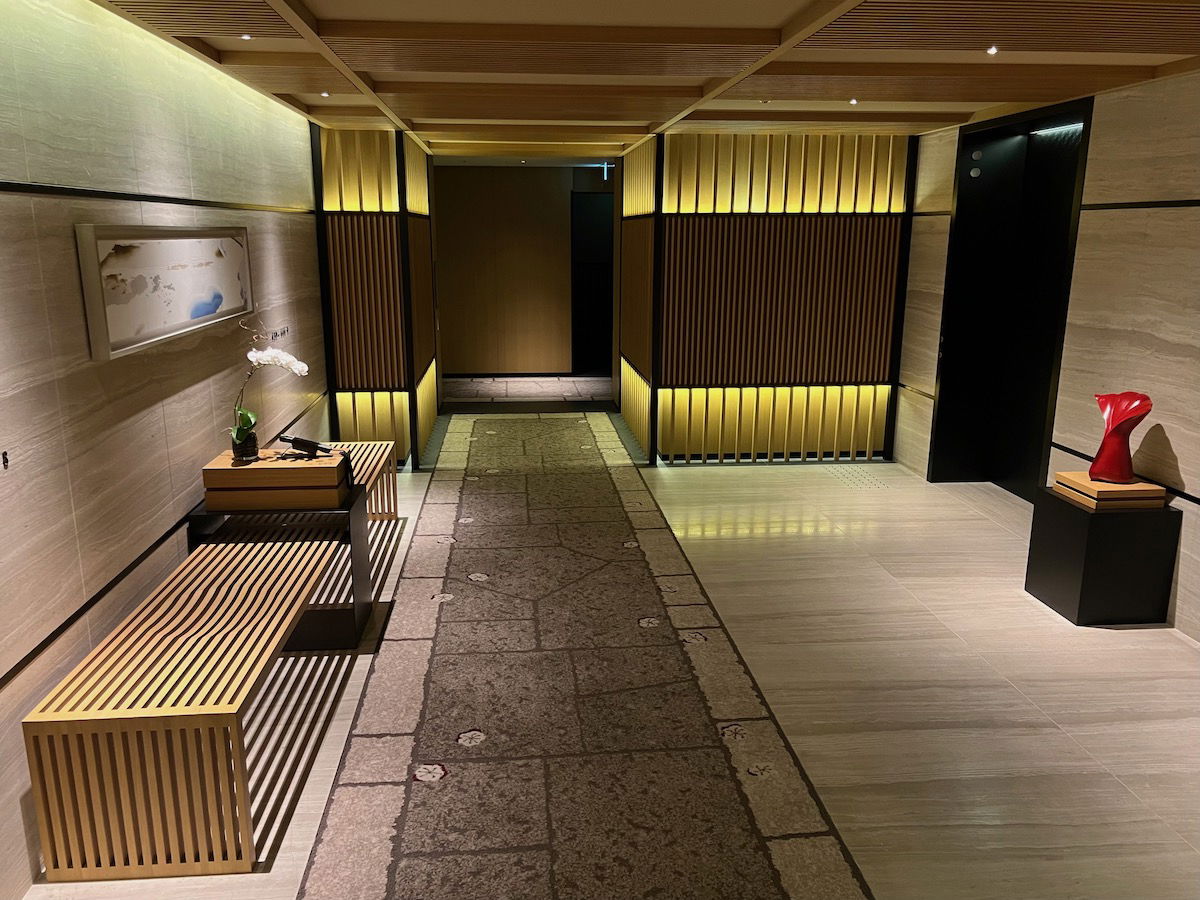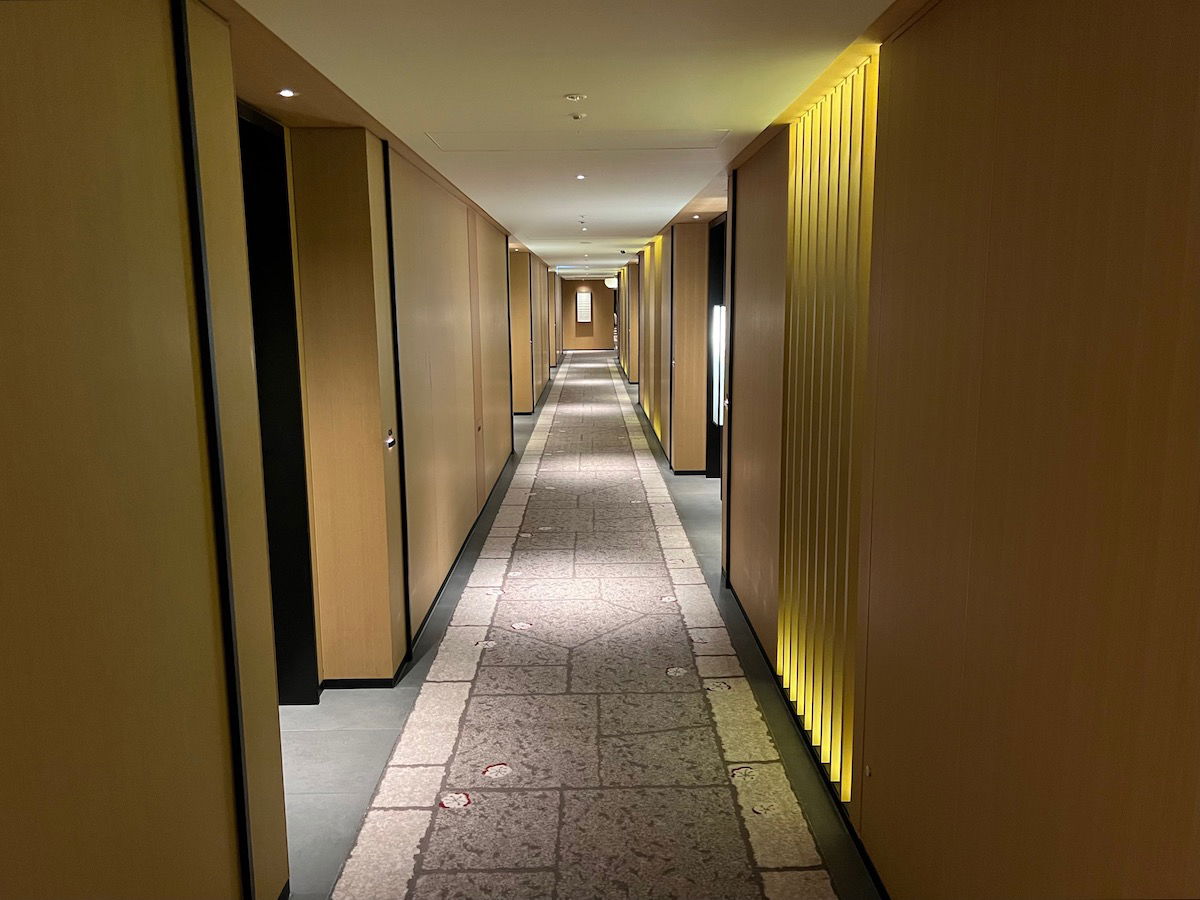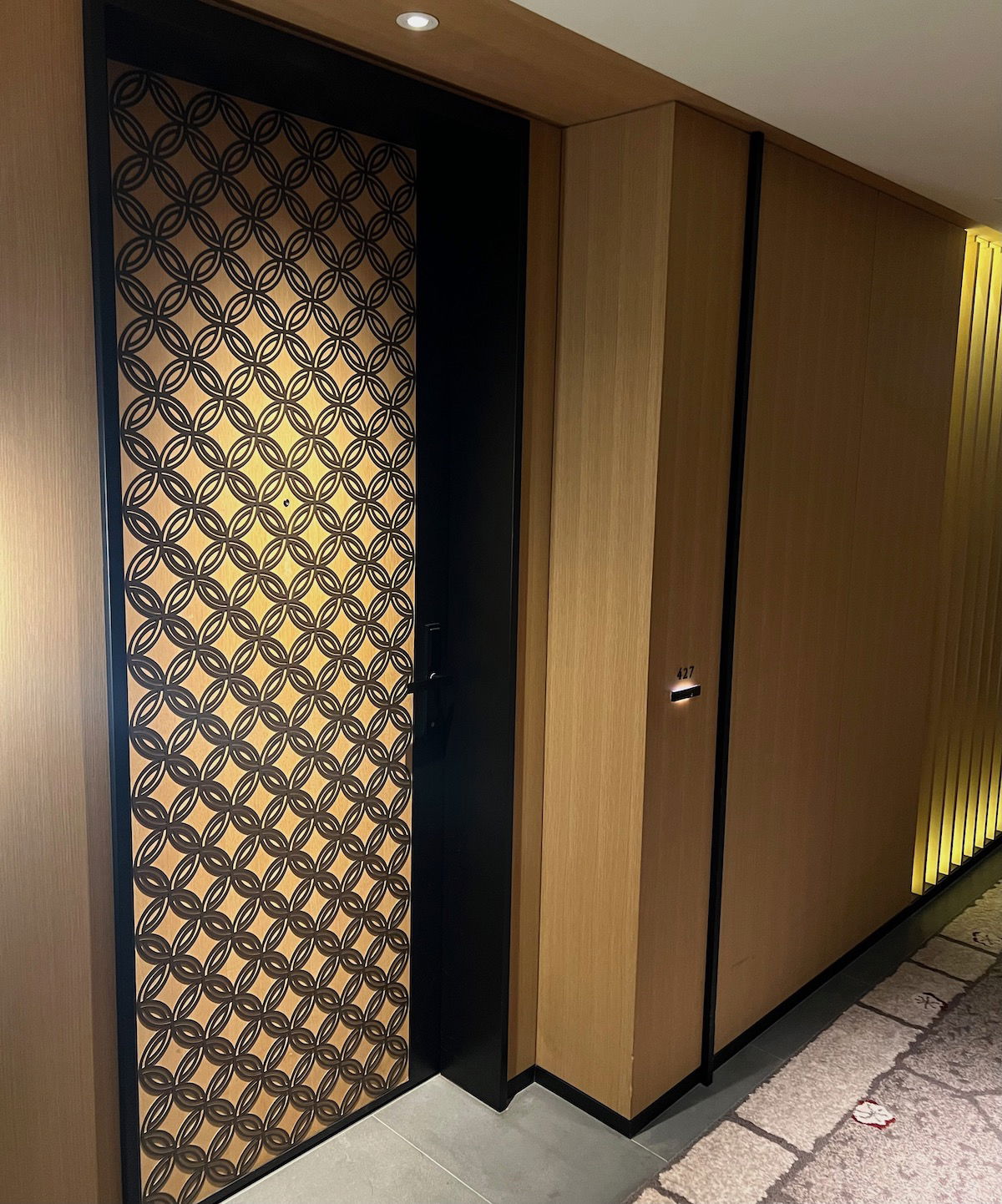 The deluxe rooms here are 50 square meters (538 square feet), so they're a great size for standard rooms. The room featured a long entryway with the bathroom to the right, and the main part of the room straight ahead.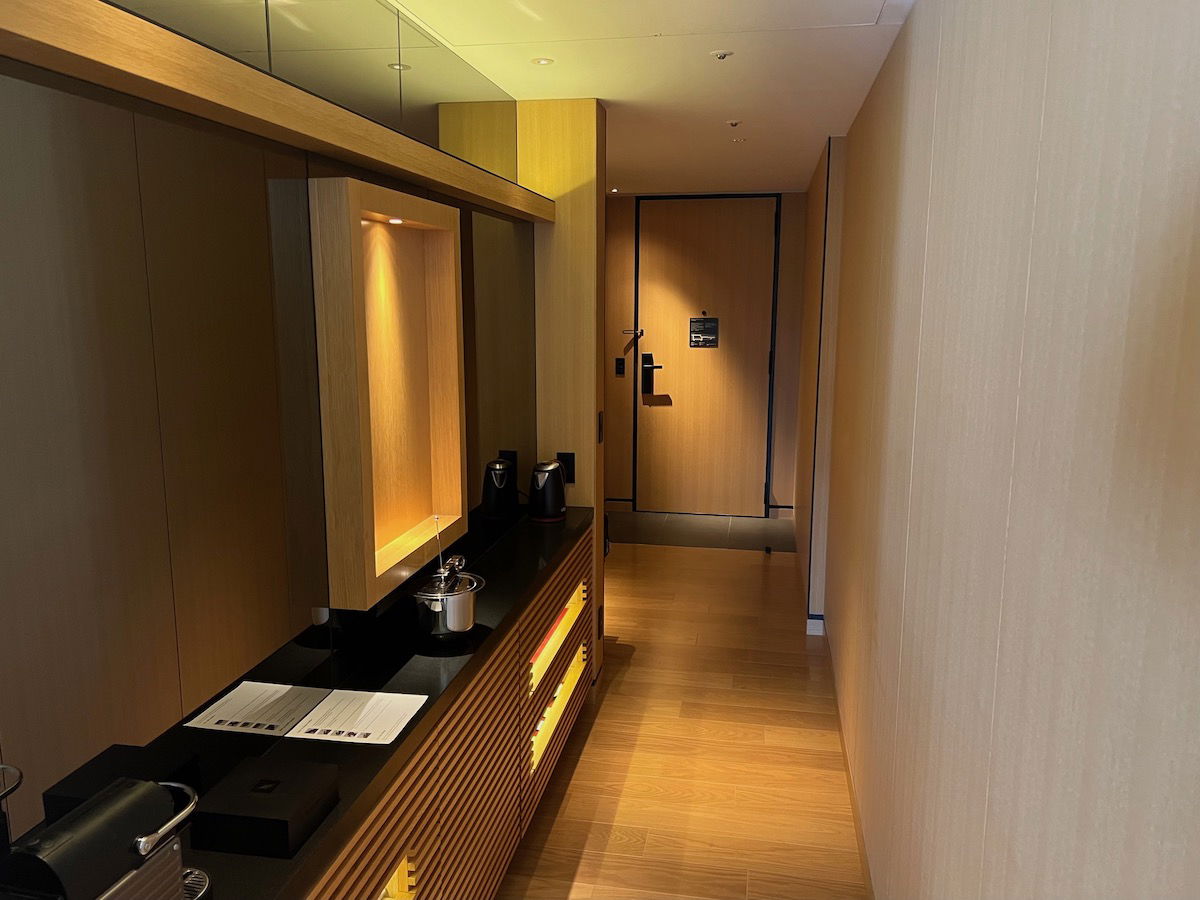 The main part of the room consisted of a king size bed and a table with two chairs.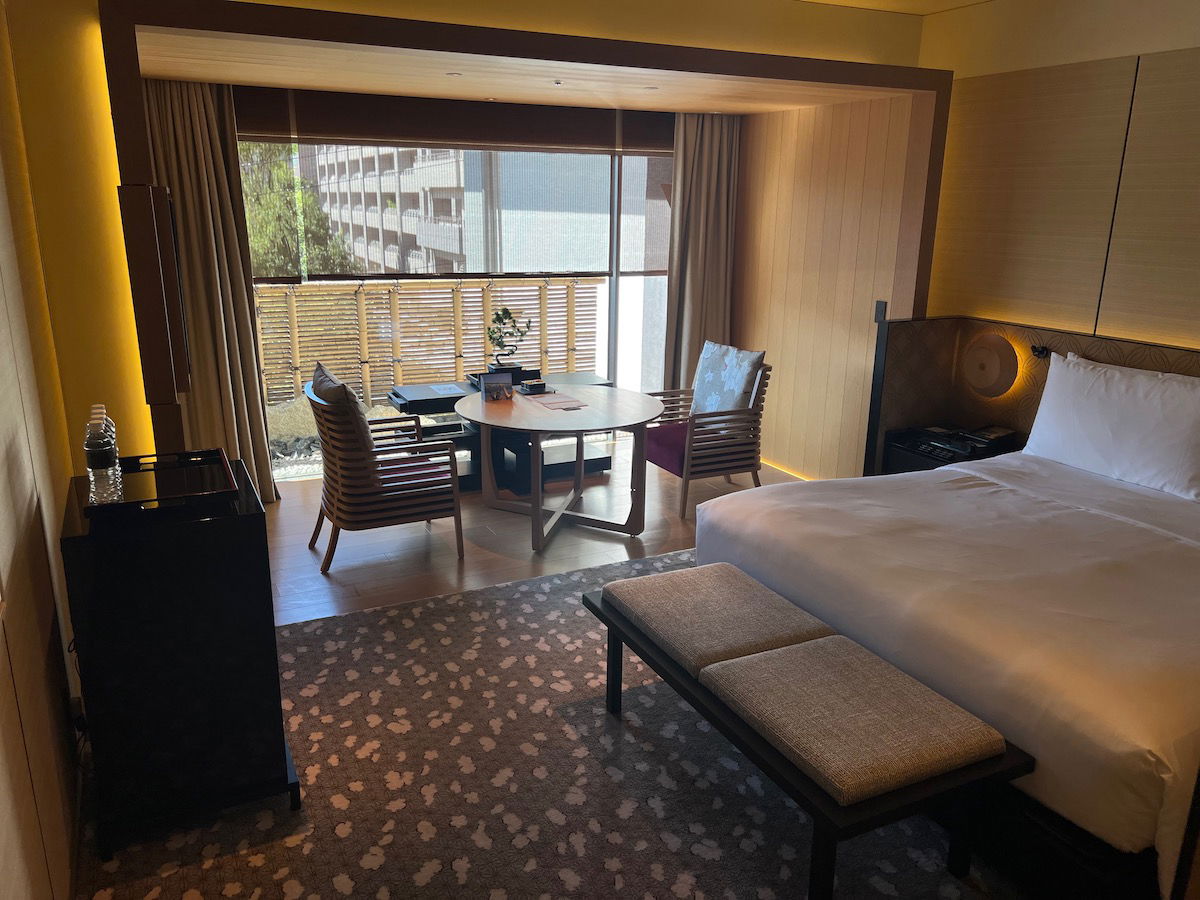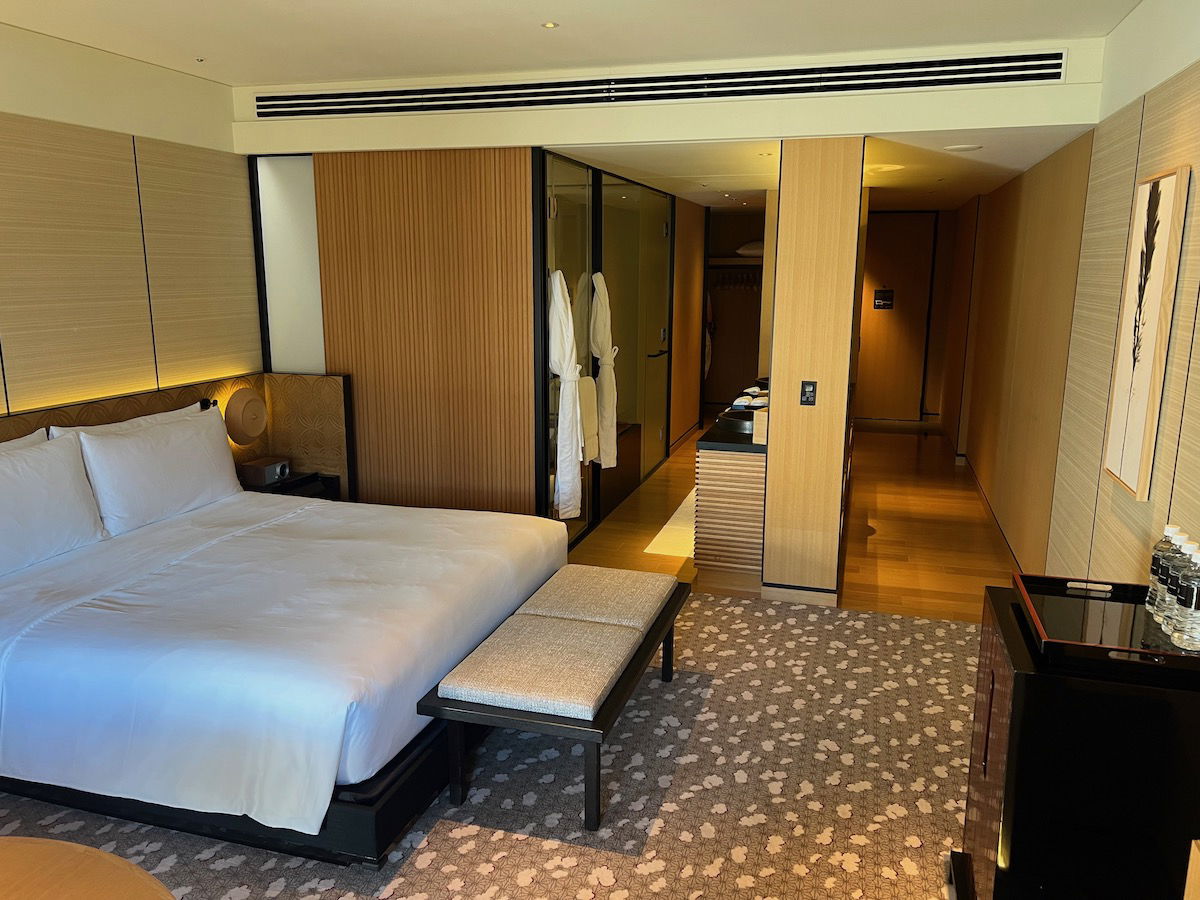 The bed was extremely comfortable, and had a bench at the foot of it.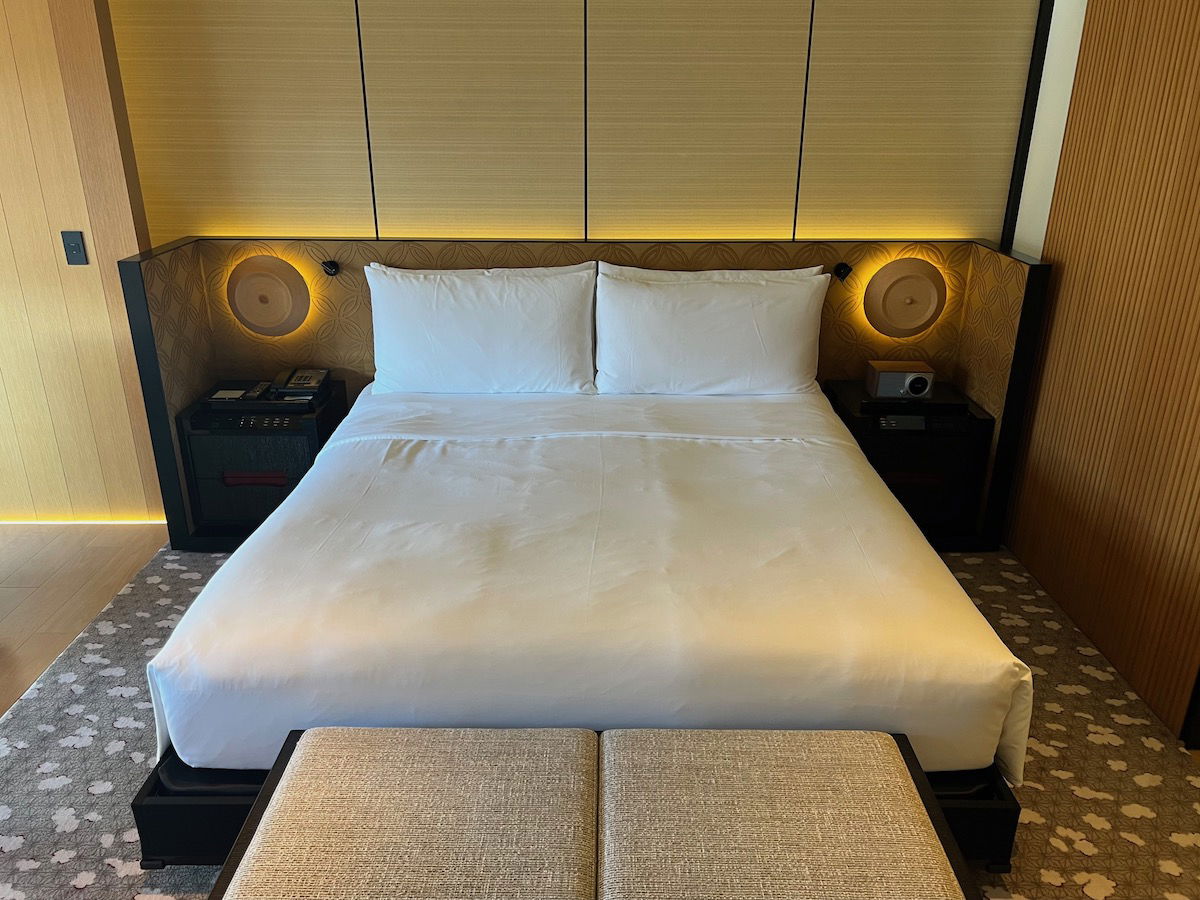 I'm not a big TV watcher, but if you are, be warned that the TV isn't angled well for the bed. The screen can be turned a bit, but you're still going to be watching it at a pretty strange angle.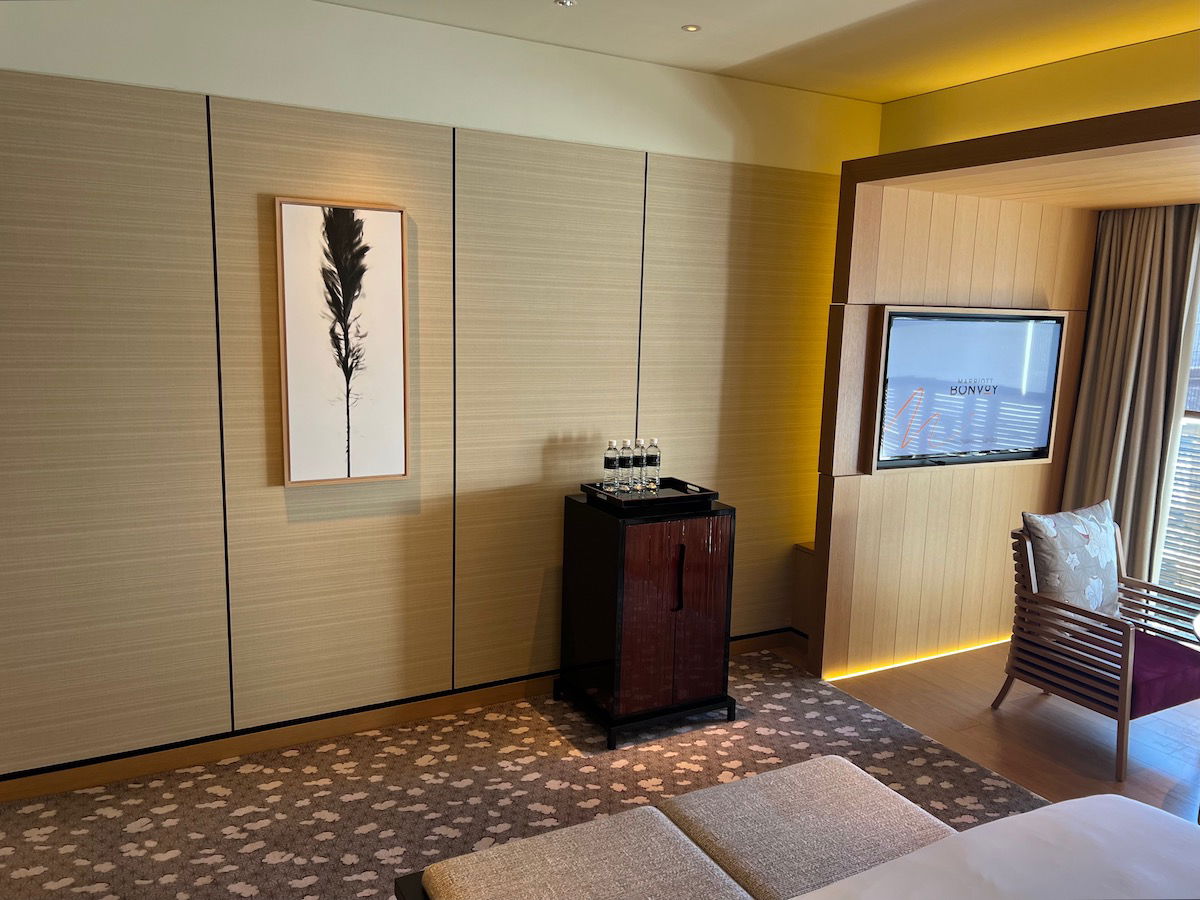 The sitting area had a table with two chairs, along with some cute decorations.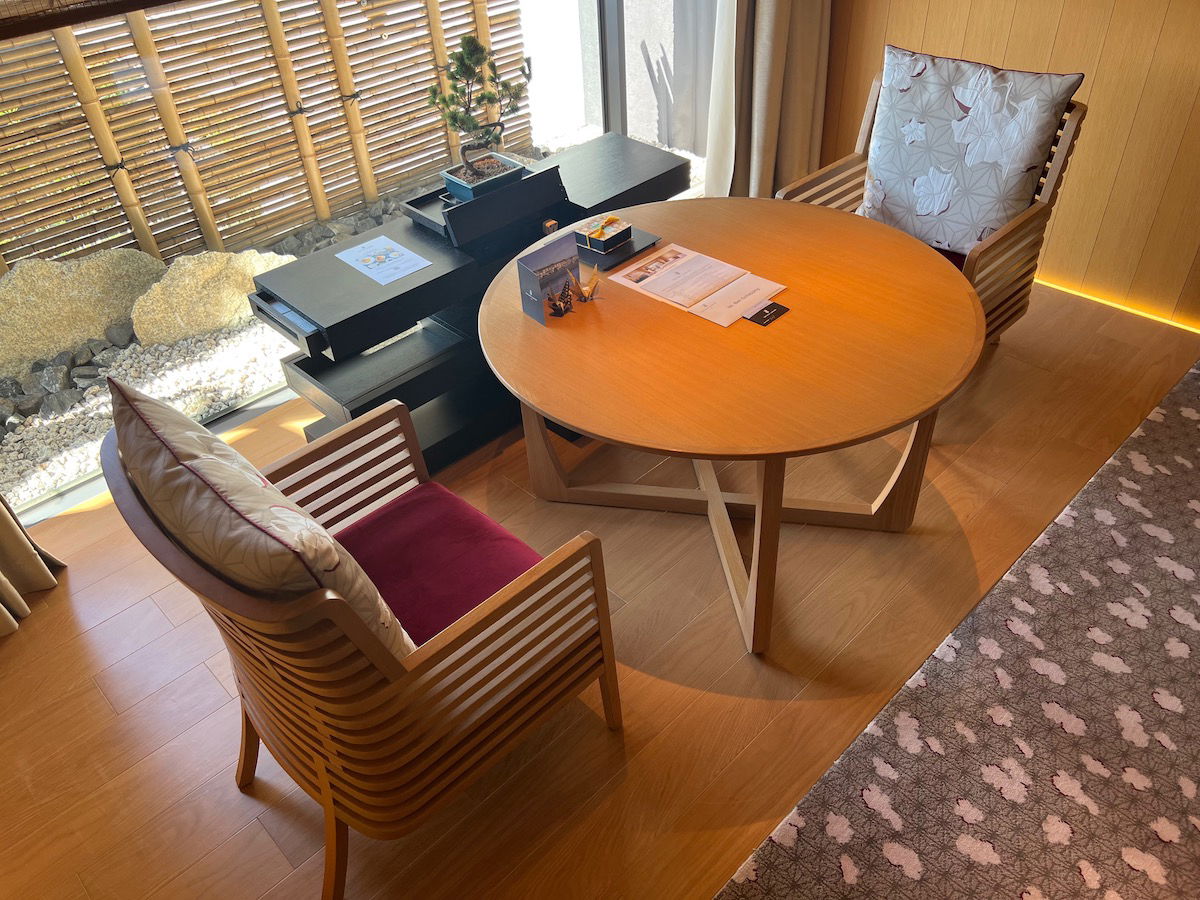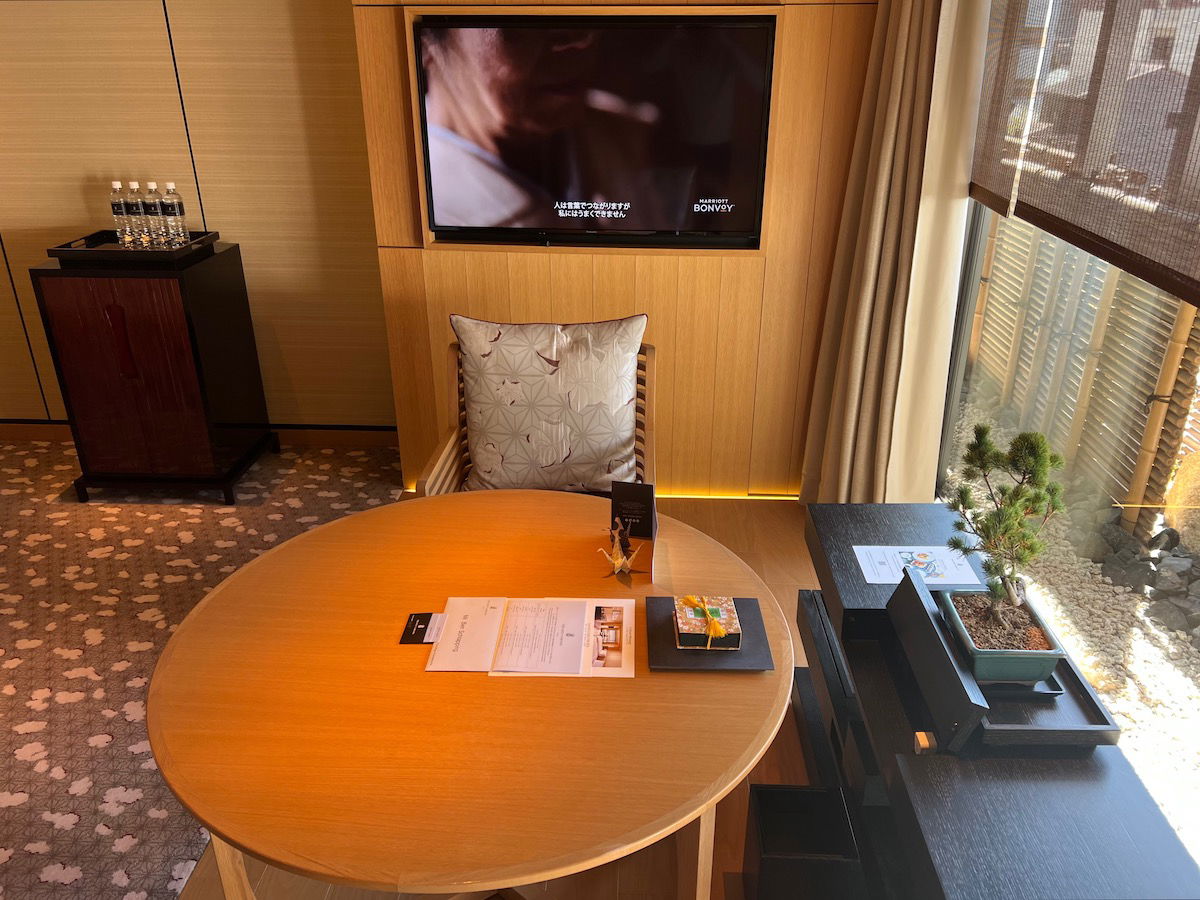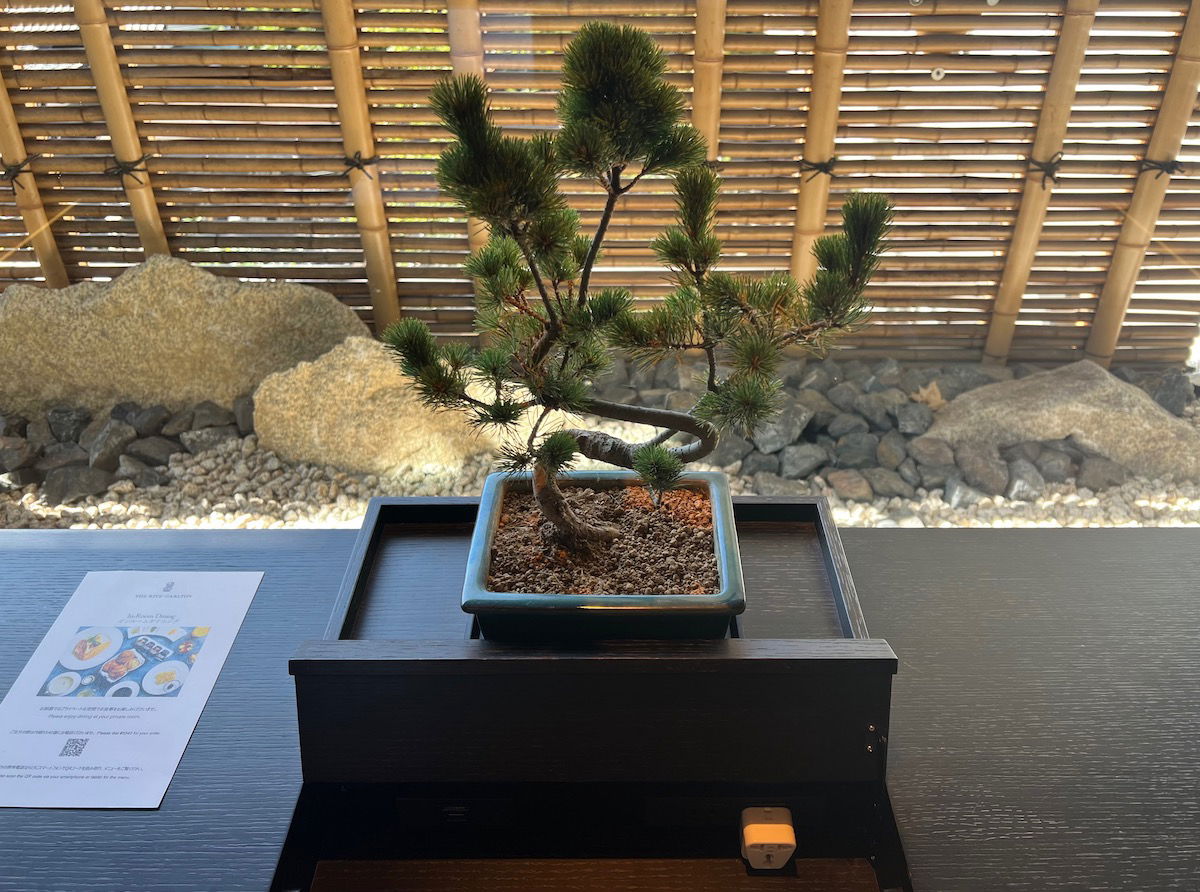 We were offered a couple of welcome amenities, including packaged green tea waffles and some grapes.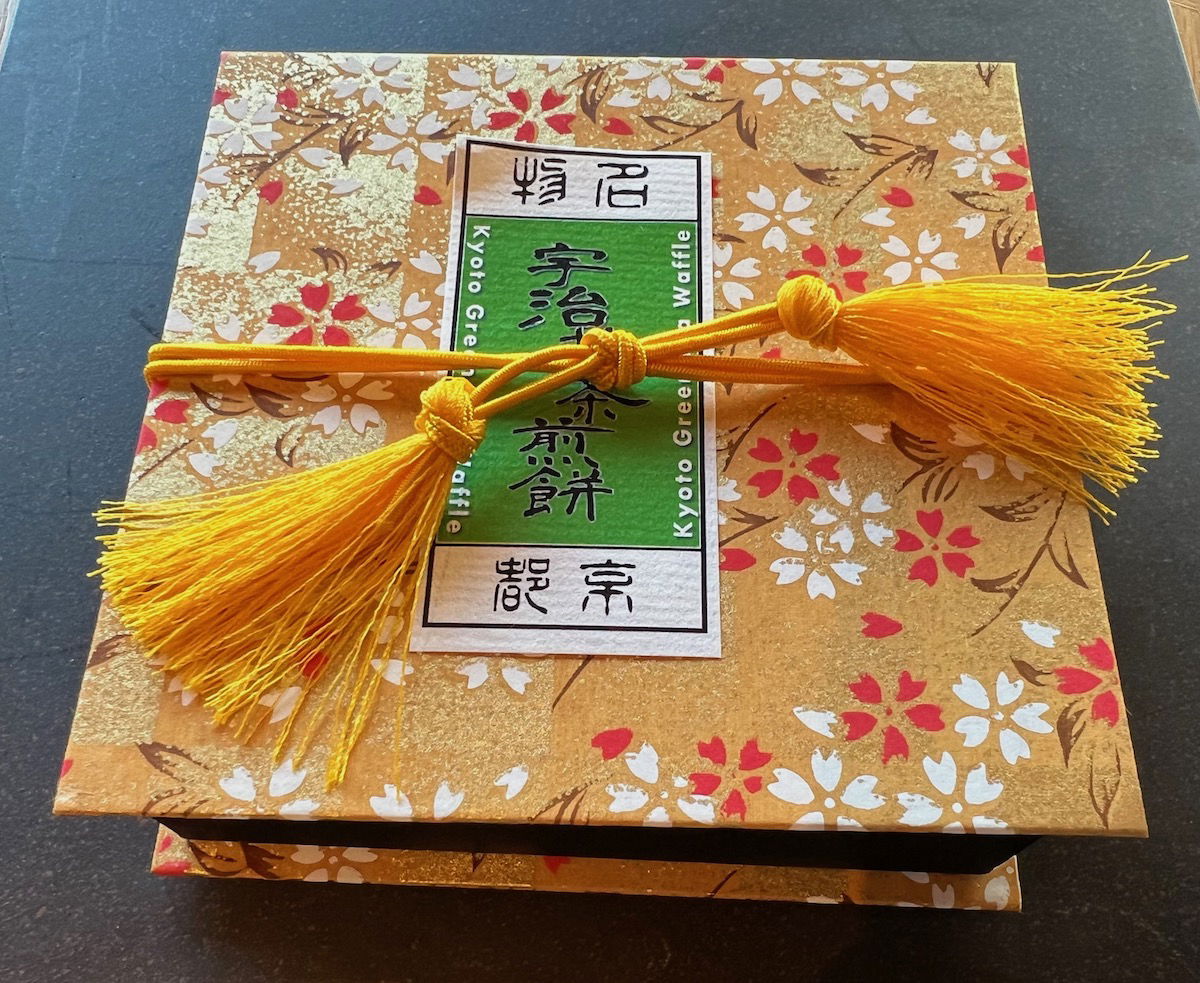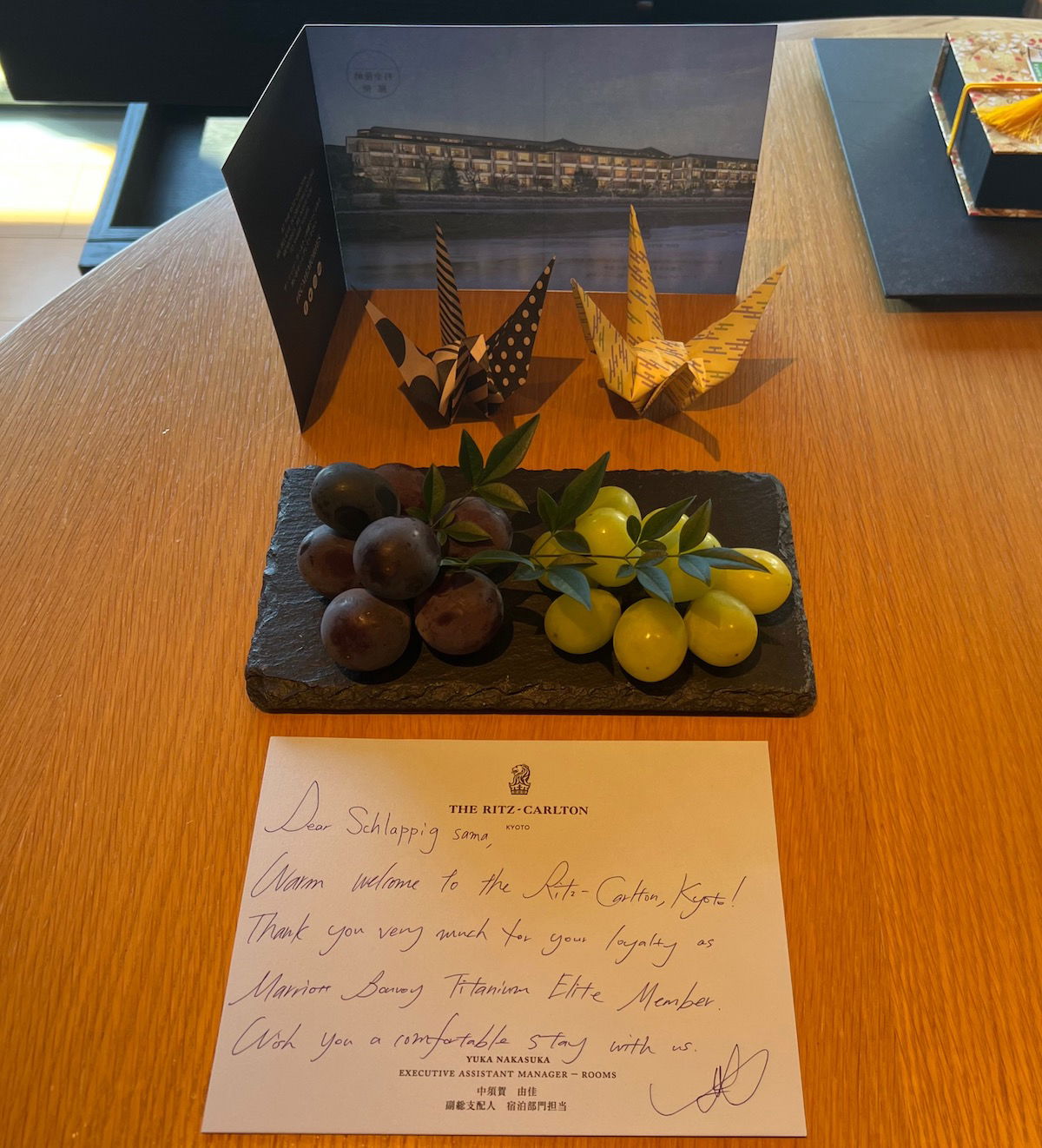 Back along the entrance hallway was the minibar setup, which included a Nespresso coffee machine, and a variety of drinks and snacks for purchase.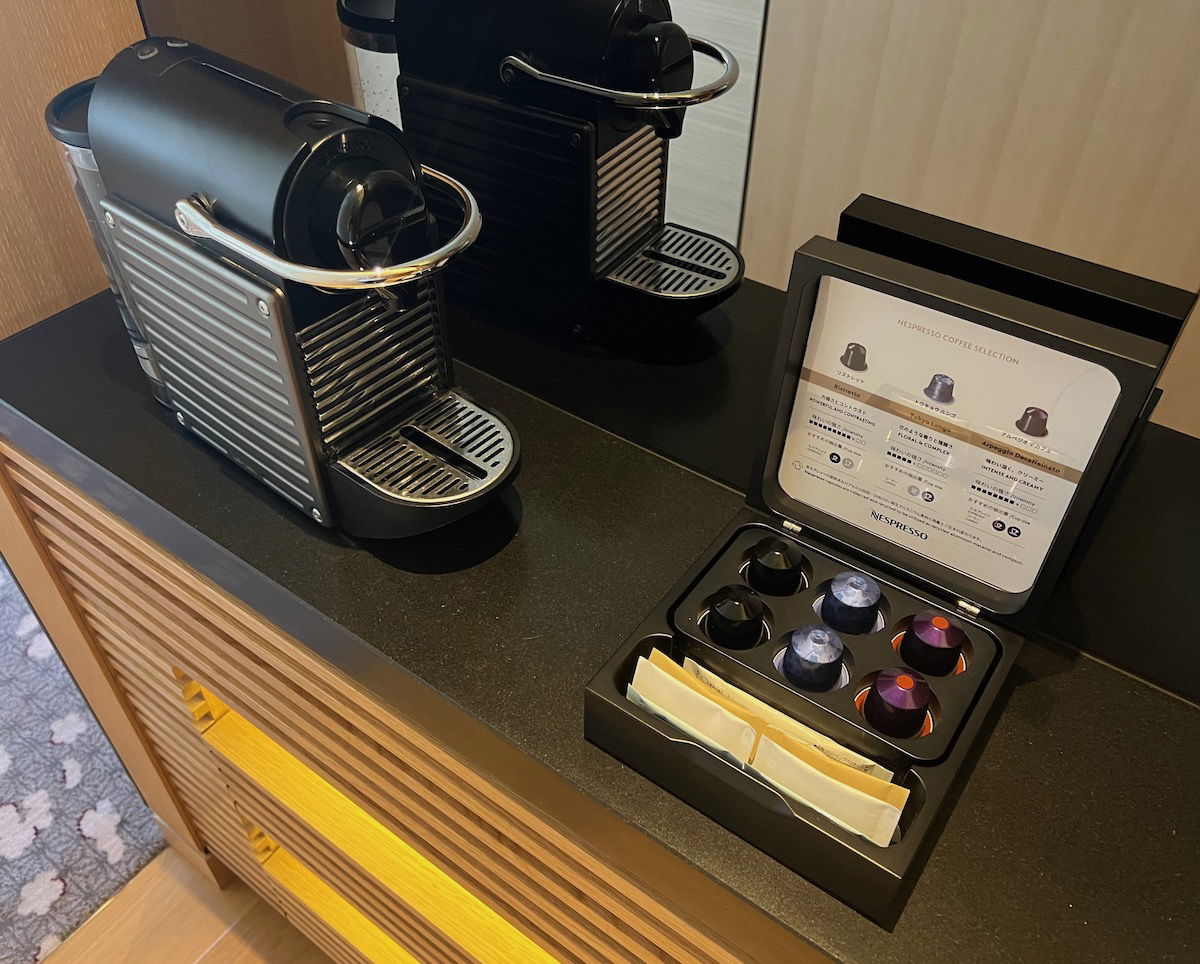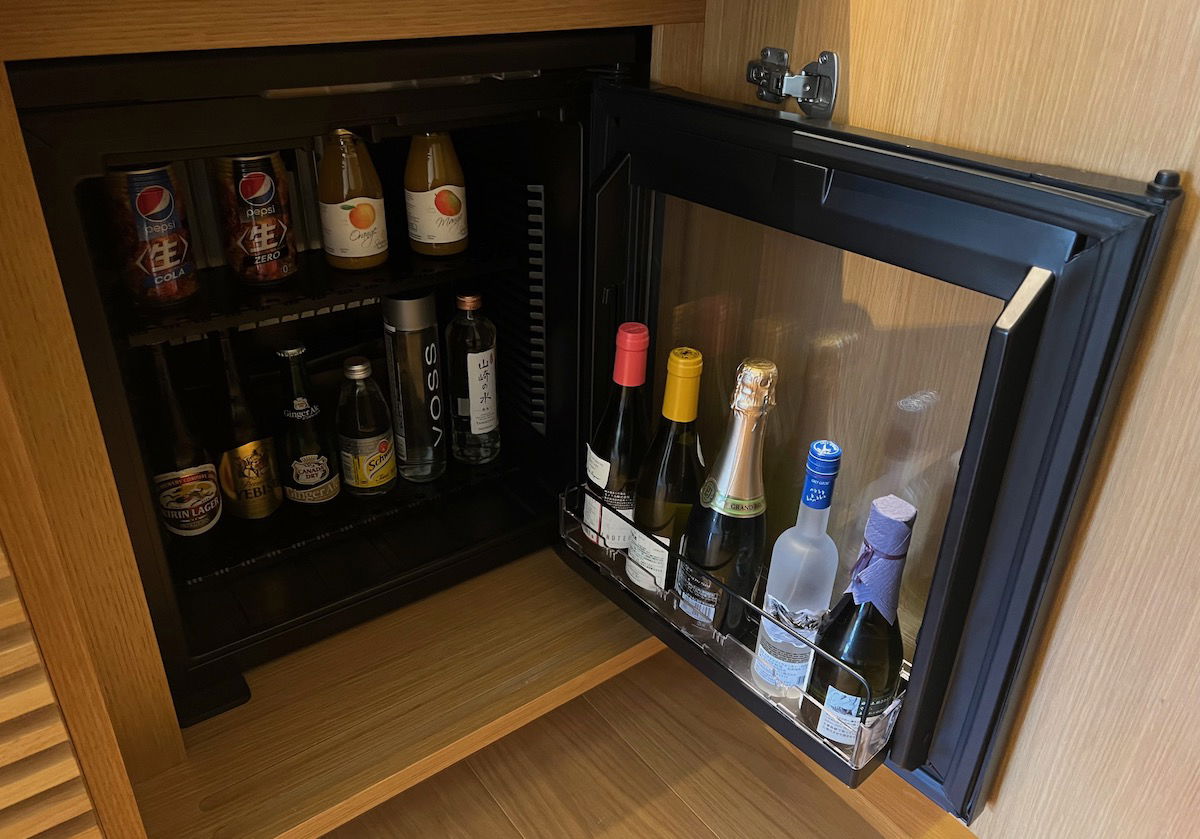 There was also a closet area in this space.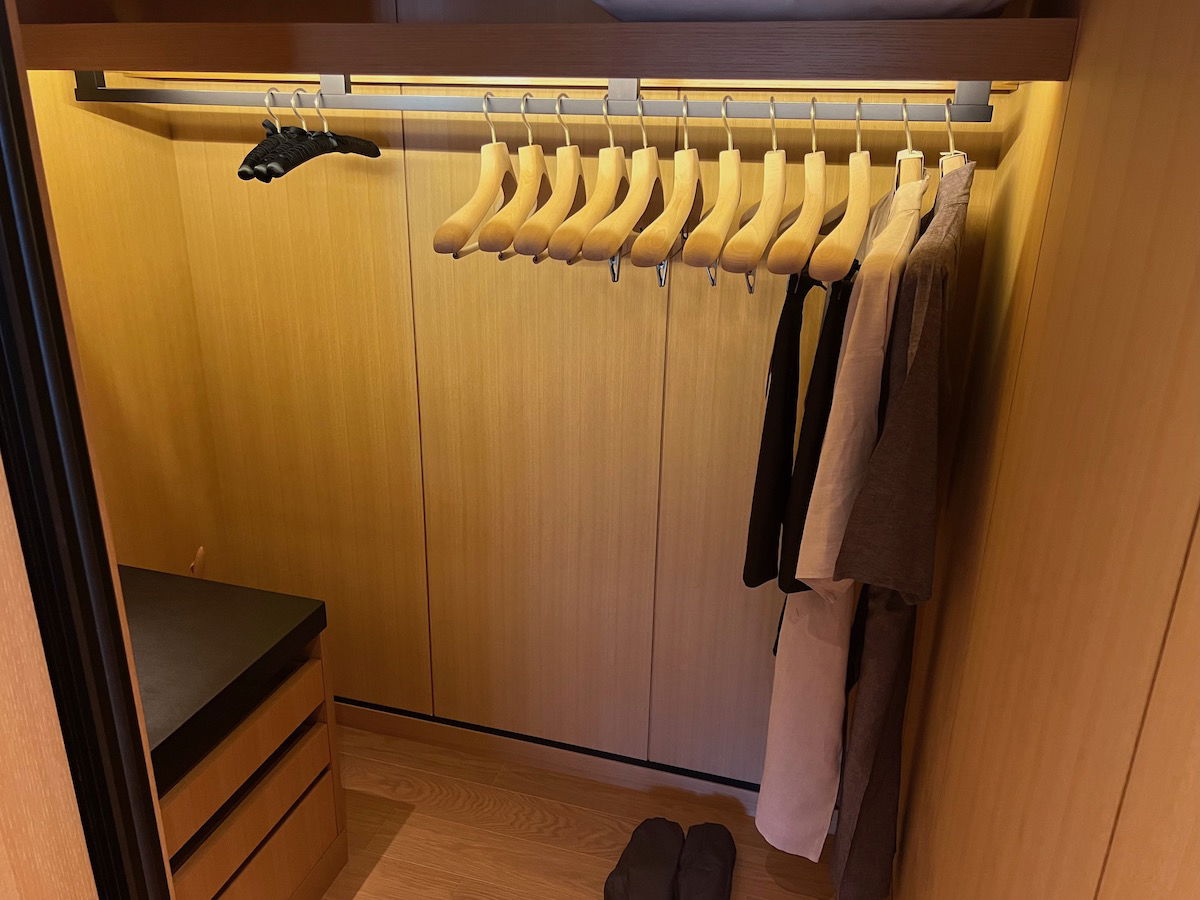 The bathroom could be accessed either from the bedroom or from the hallway. There was a sliding door that could be extended in this area, to separate the bathroom from the bedroom.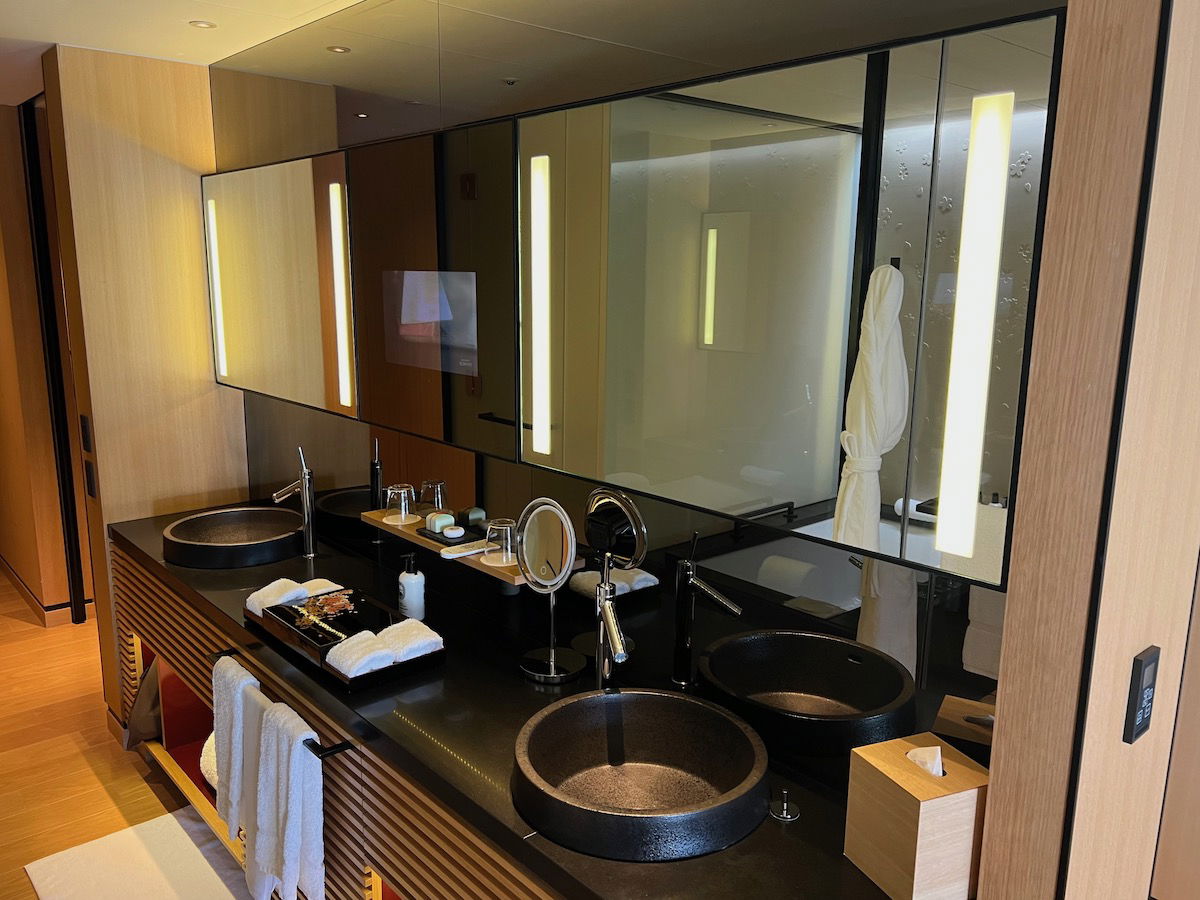 The bathroom was large, and had double sinks, plus a compound with a walk-in shower and bathtub.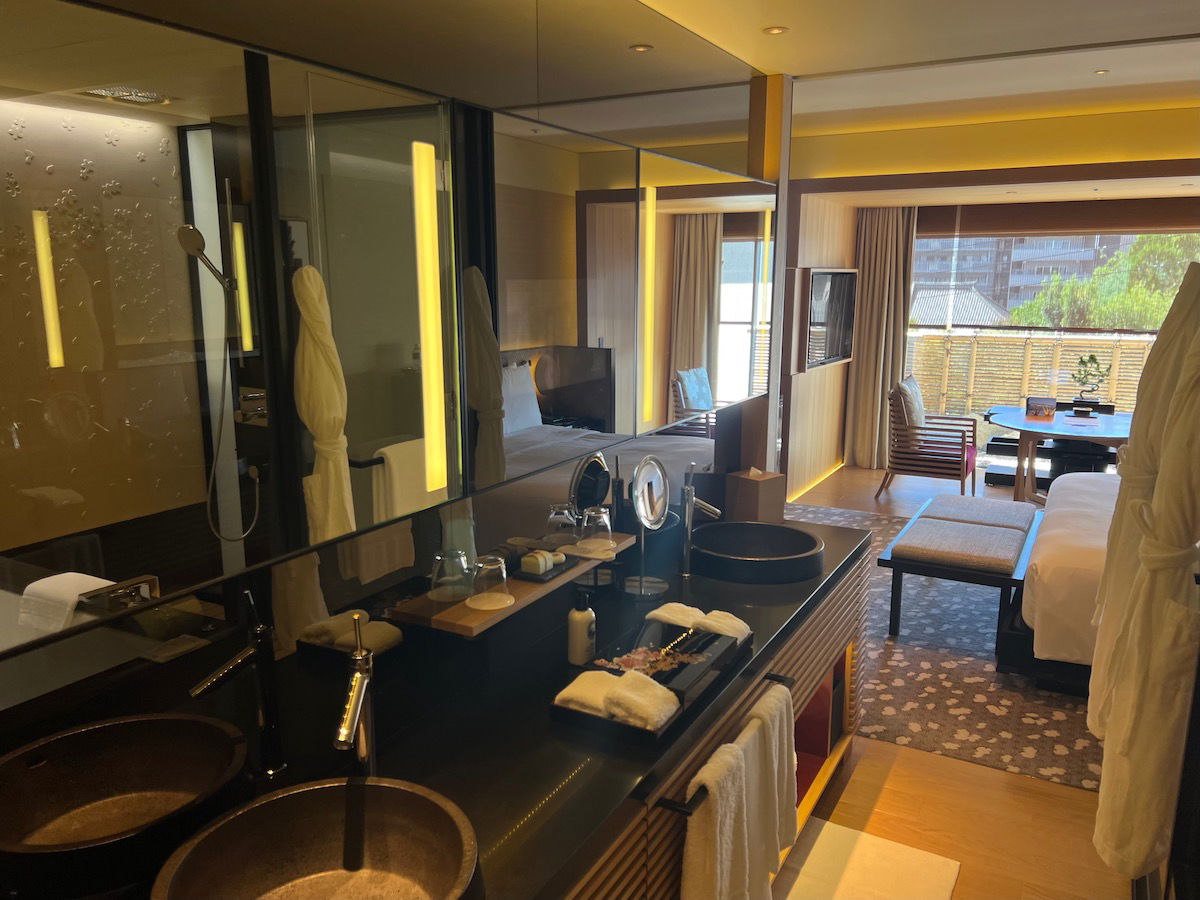 The walk-in shower had both a rainforest and handheld shower head. There was also a soaking tub.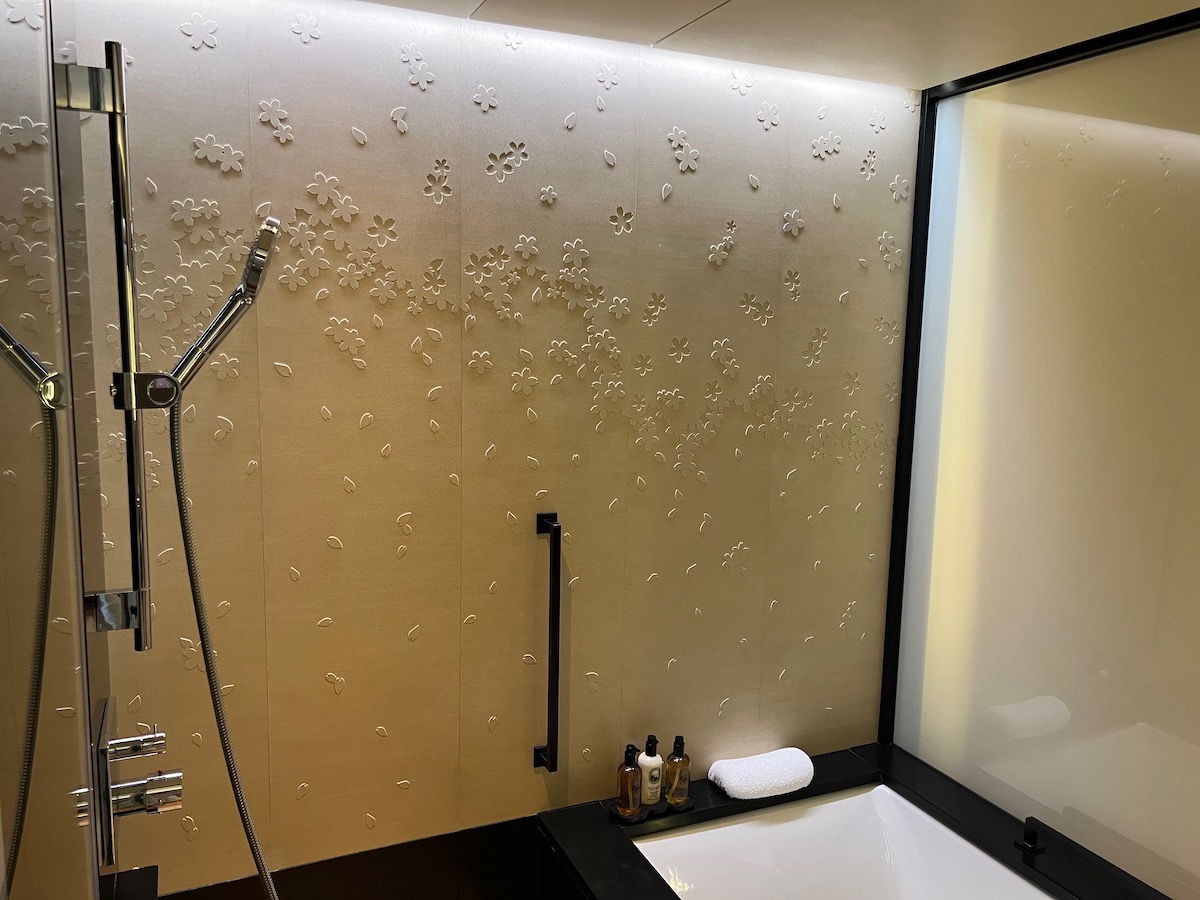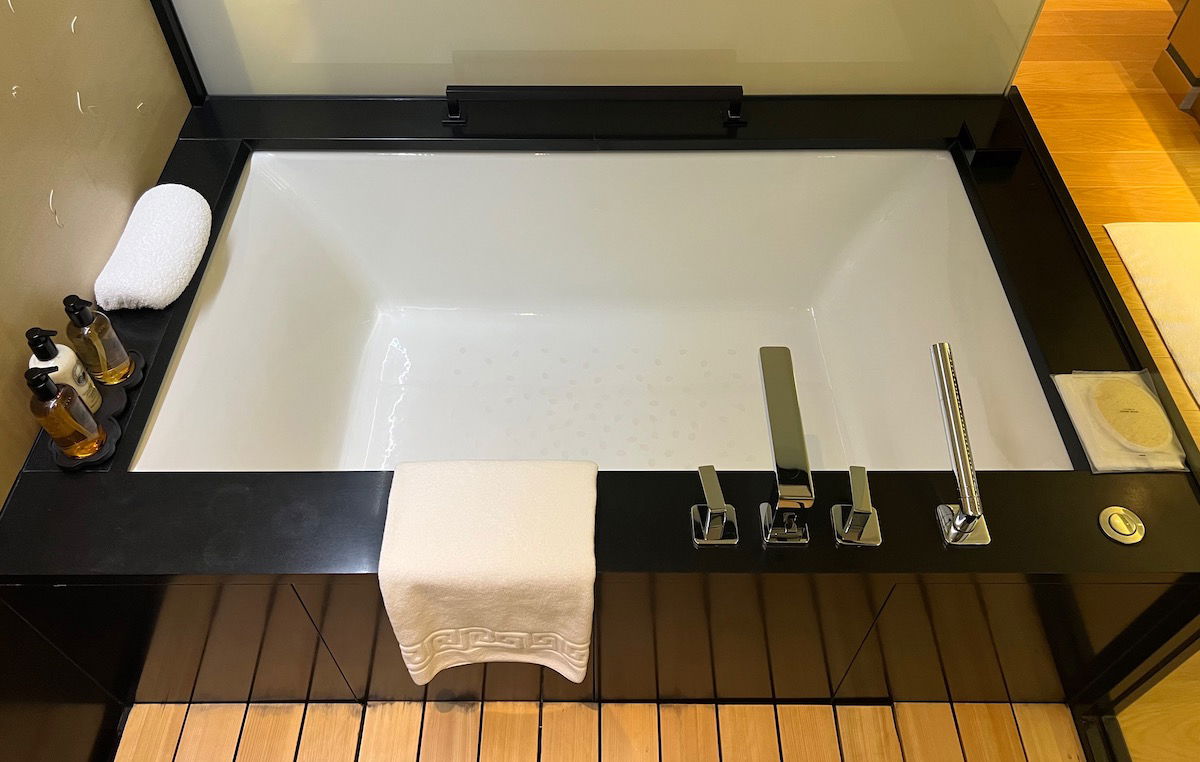 Toiletries were in reusable container from Diptyque, which I love.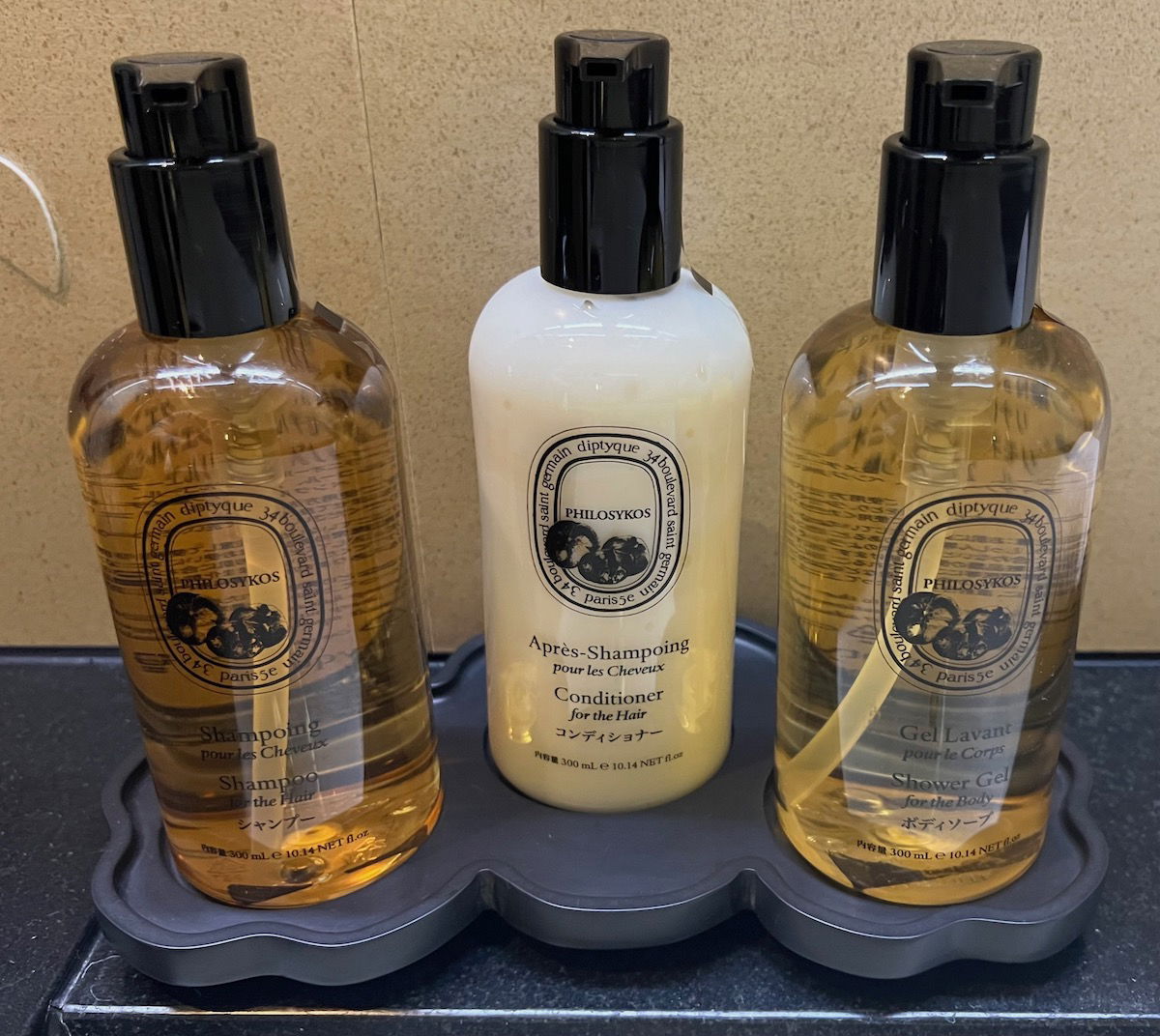 There was also a partitioned off area with a proper Japanese toilet.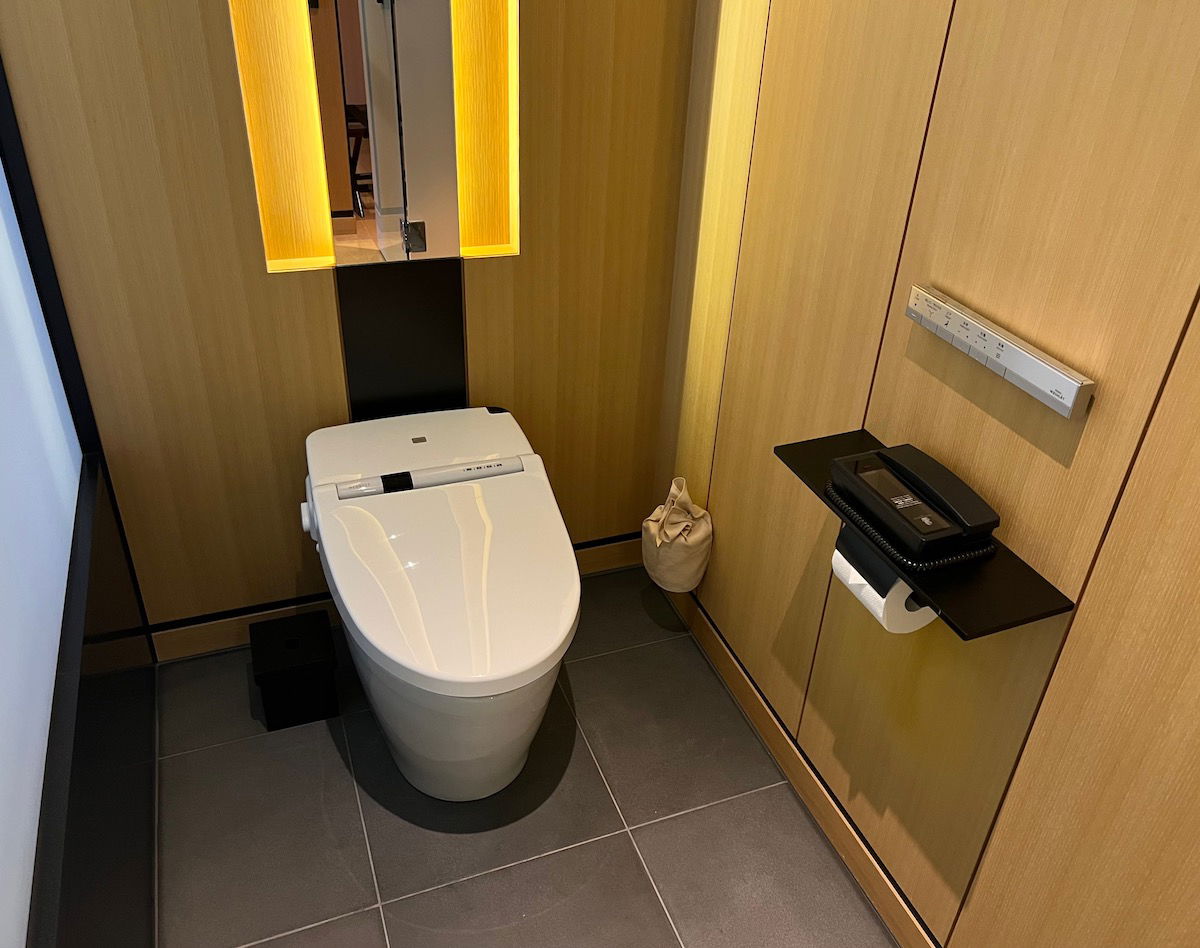 While I'm sure some rooms at the hotel have great views, unfortunately our view wasn't much to get excited about, as it just faced some nearby buildings (some of which were charming, and some of which weren't).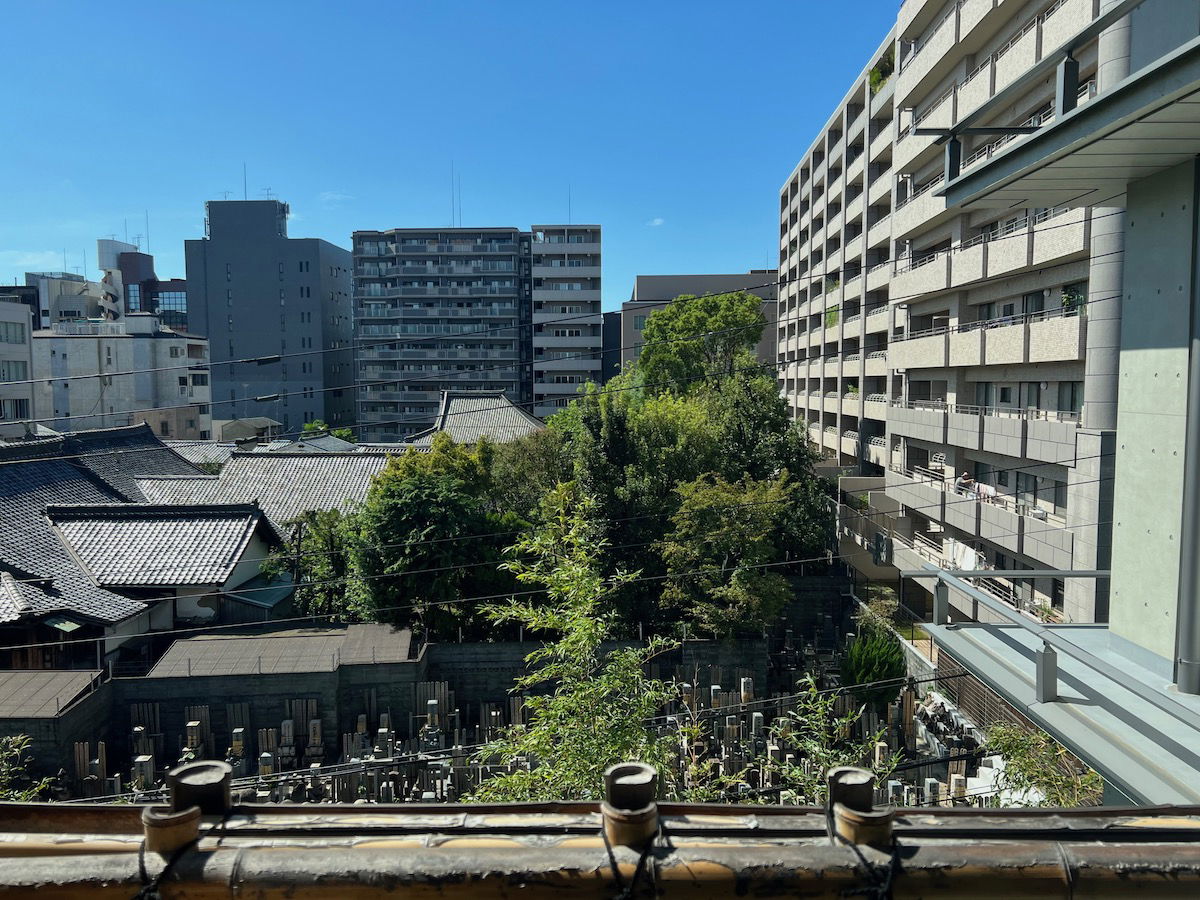 I found the room to be spacious and comfortable, though it was definitely my least favorite of the design styles of the three properties we stayed at.
Ritz-Carlton Kyoto spa, pool, & gym
The Ritz-Carlton Kyoto has a large spa complex on level B2, which is open to hotel guests. When you arrive on level B2, you first have to walk down a long hallway to access it.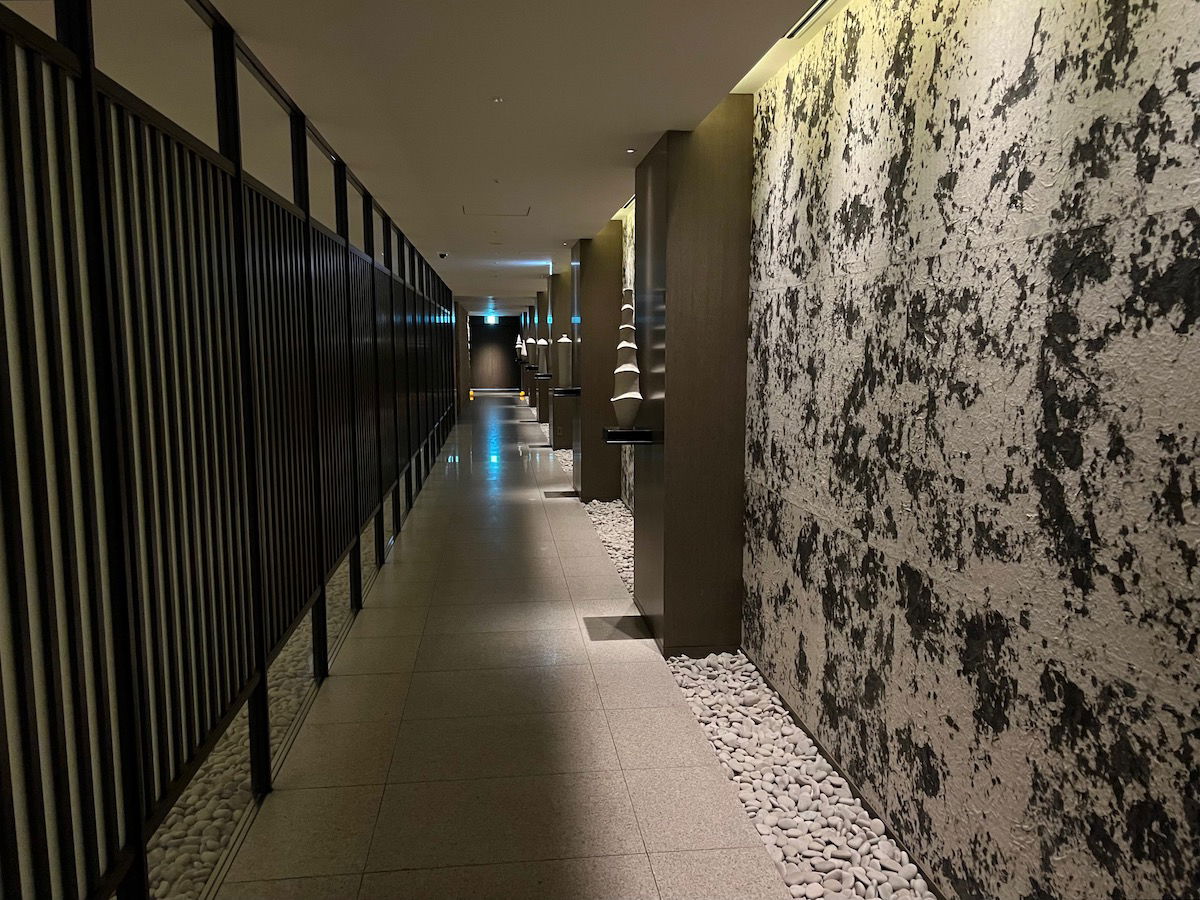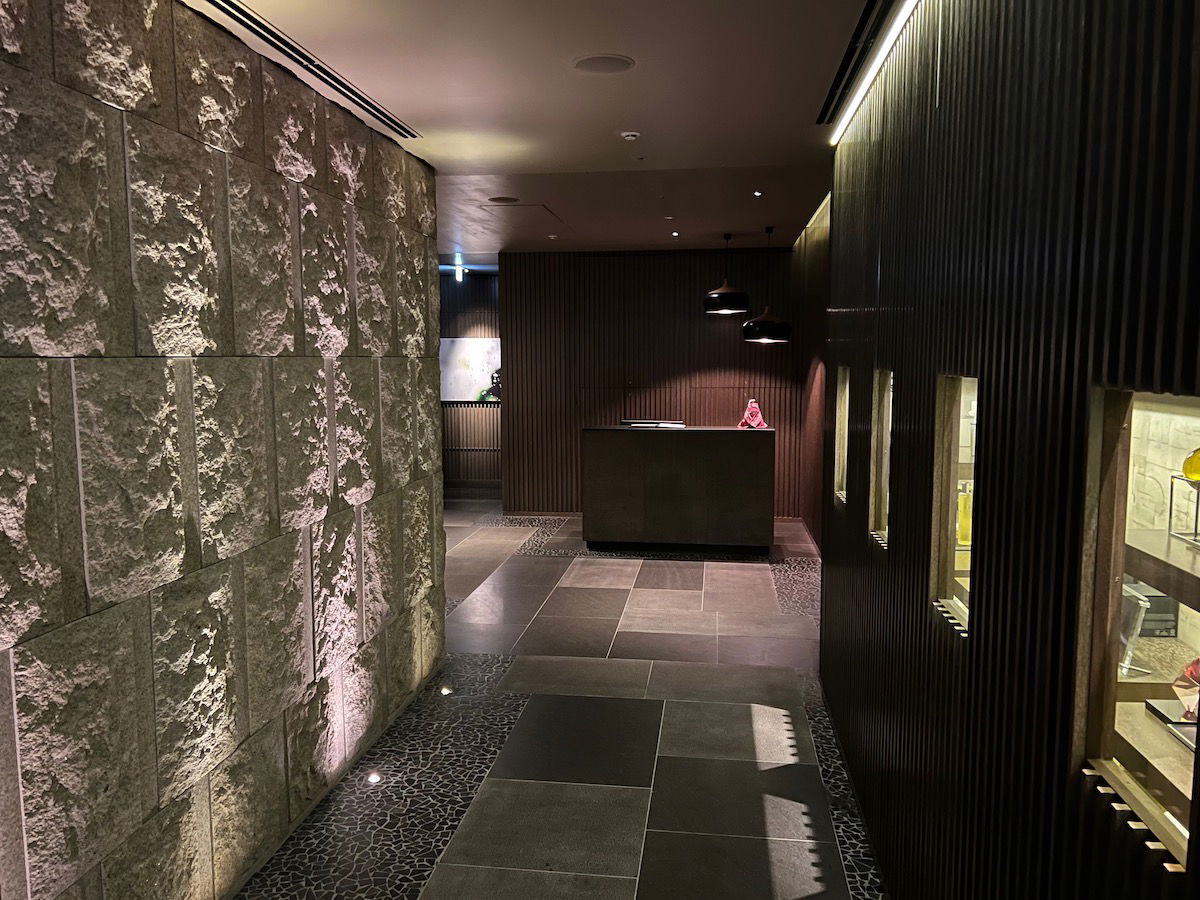 Hotel guests have unlimited access to the spa's wellness area, open daily from 6:30AM until 10PM. This includes a big indoor pool, along with quite a bit of seating.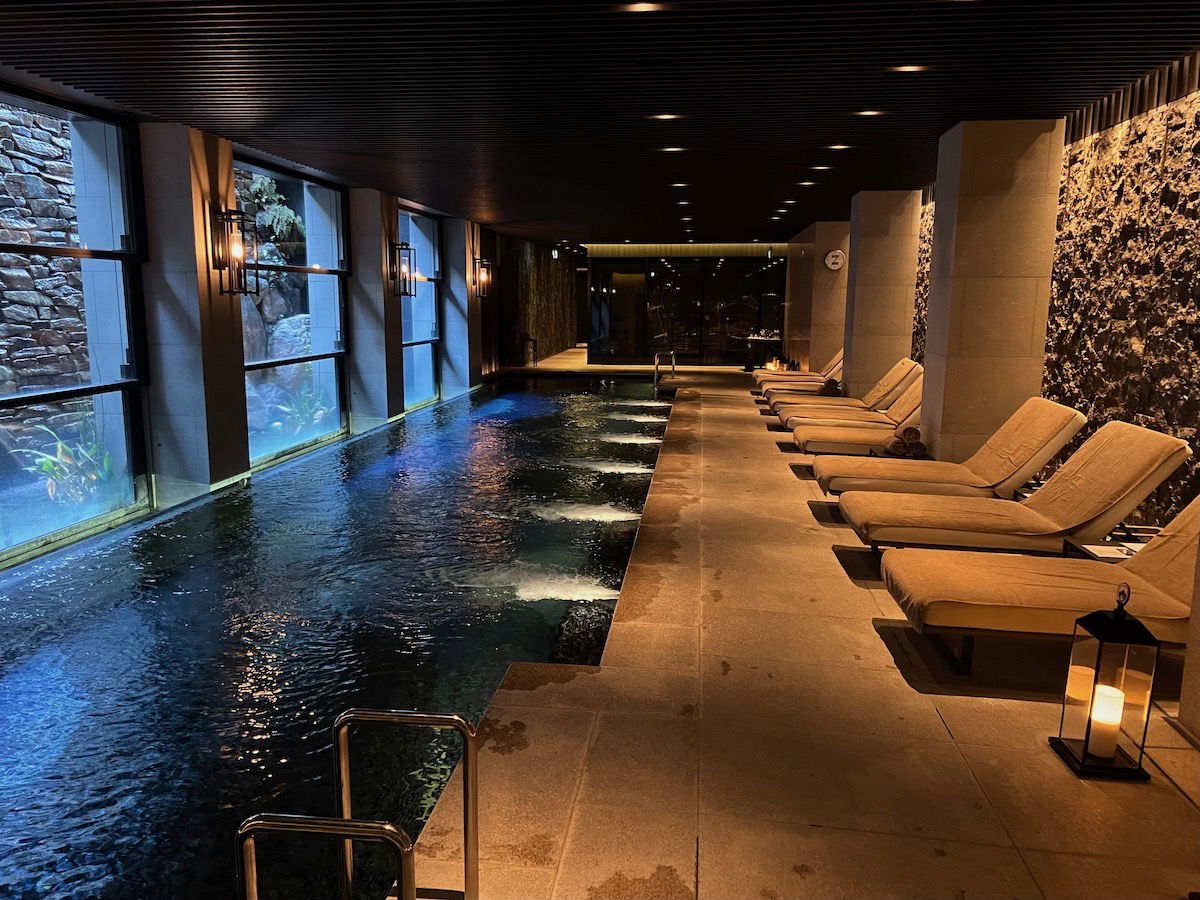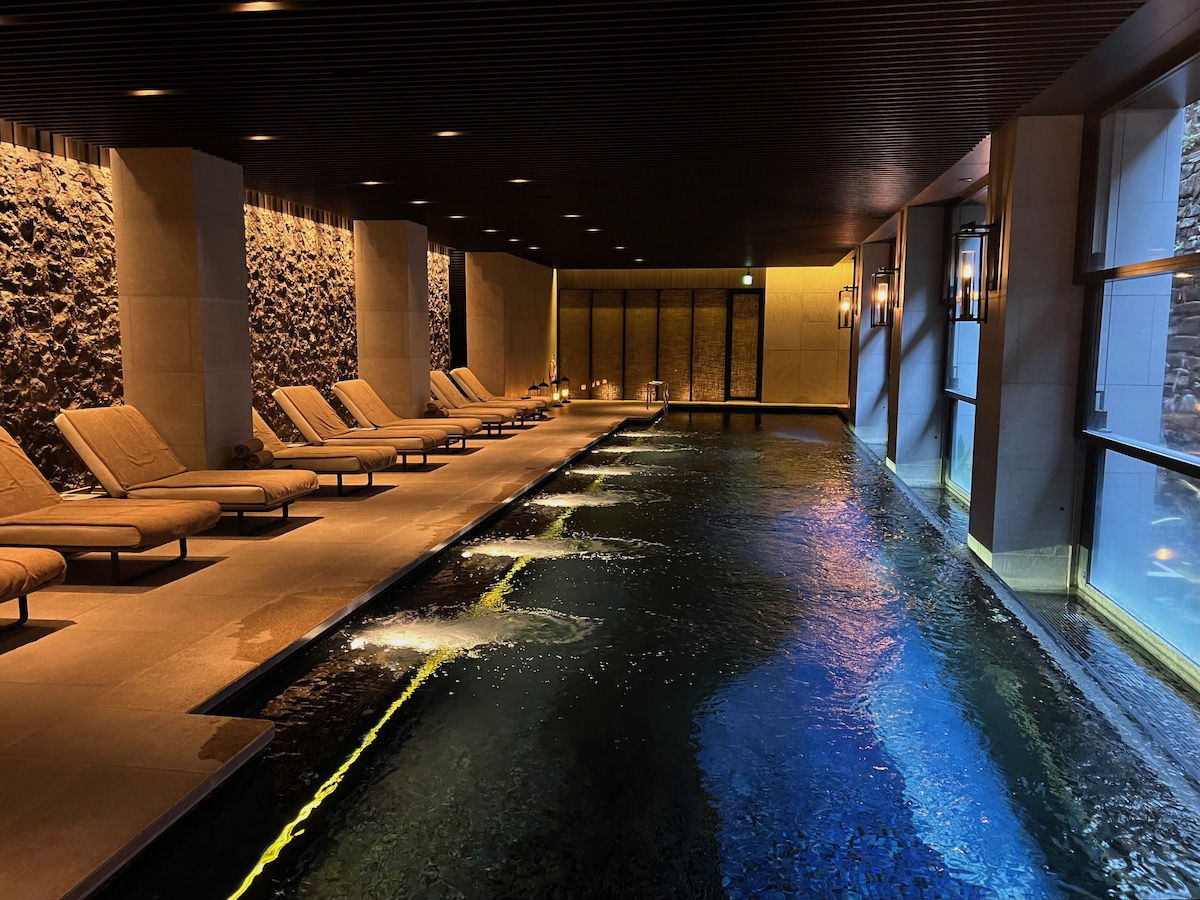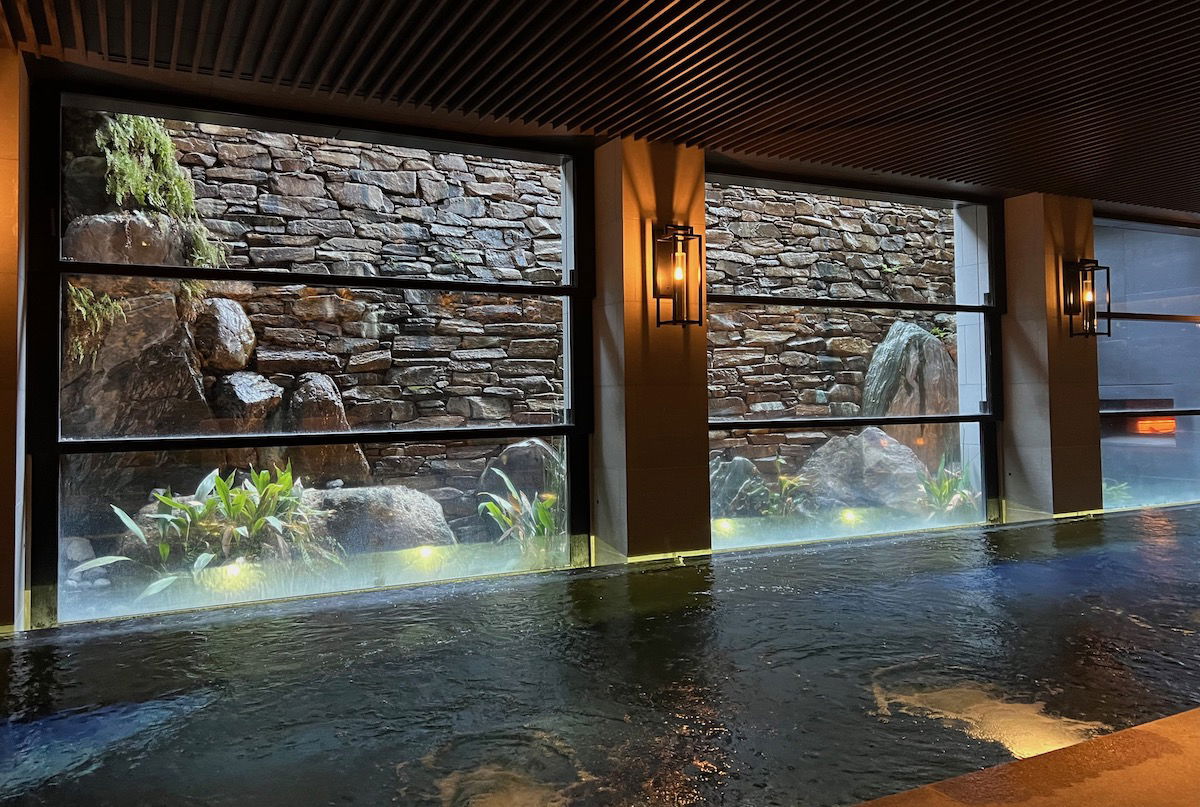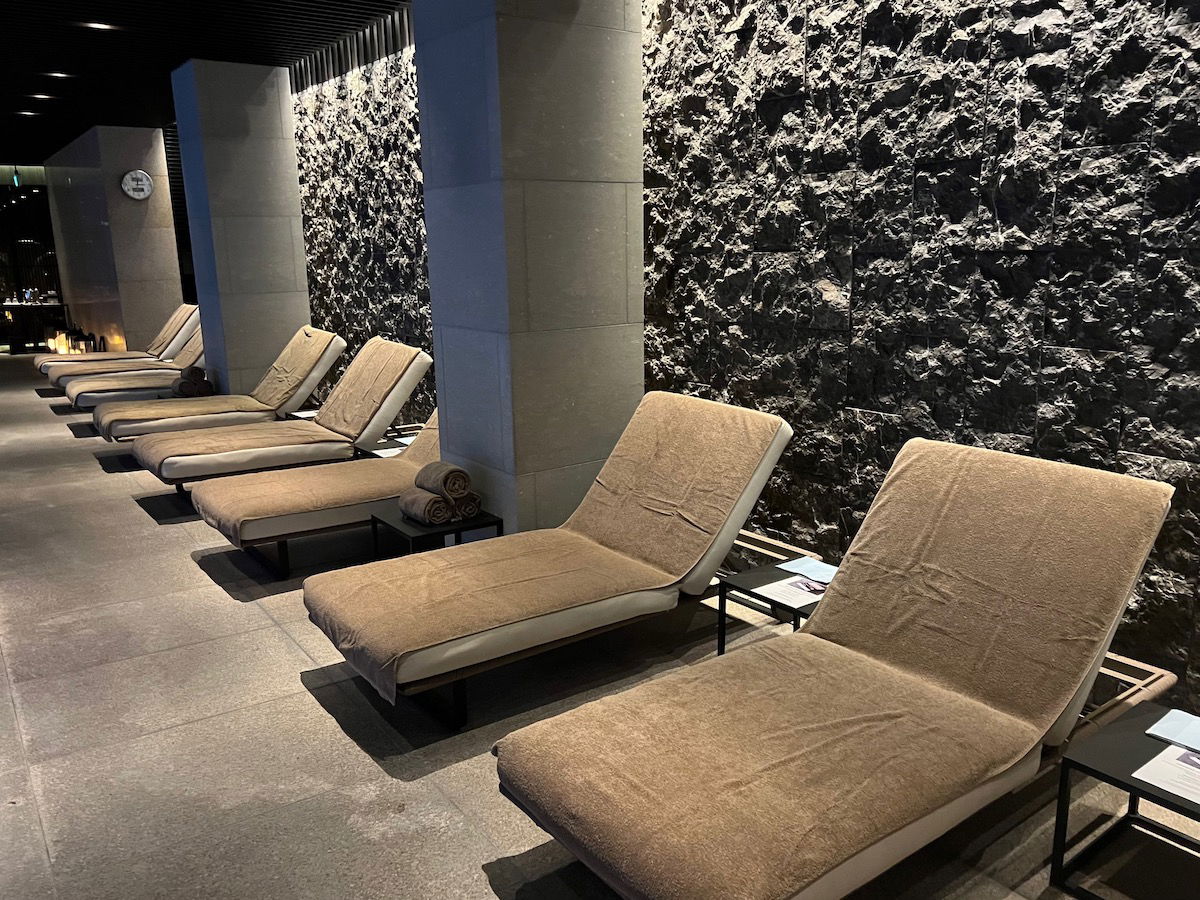 The pool area also has a sauna and steam room.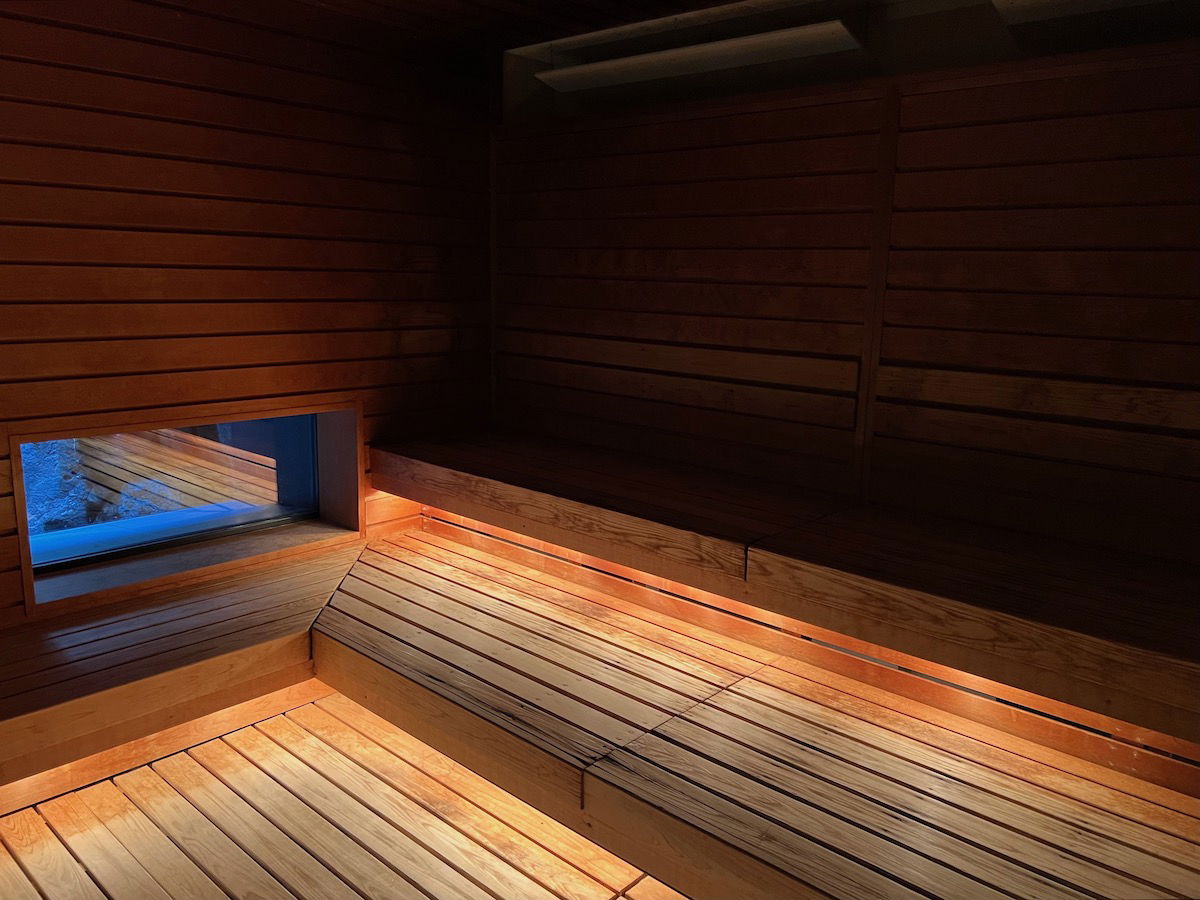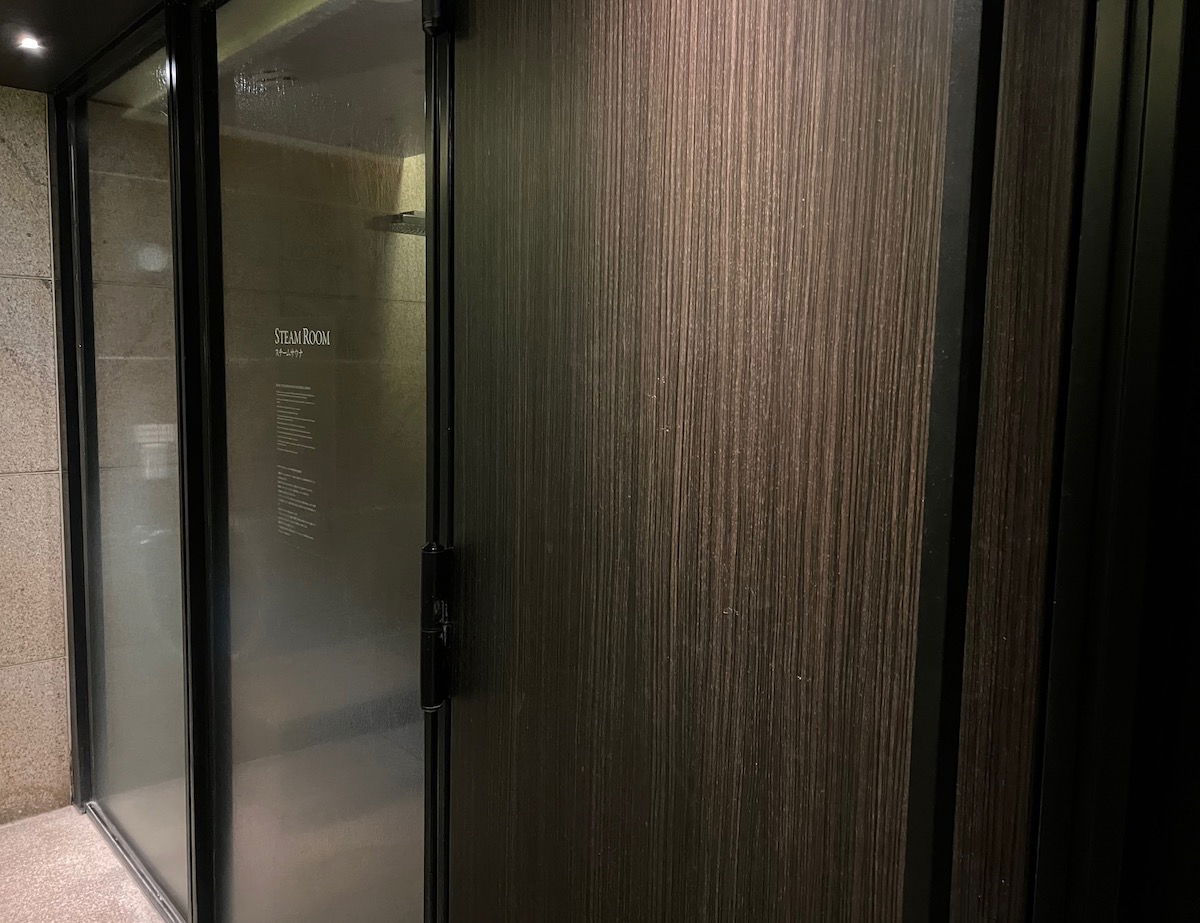 What I found strange is that while the hotel invested in an impressive pool area, there was no whirlpool of any sort. The Four Seasons Kyoto was the only one of the three properties to have a pool and a whirlpool.
The Ritz-Carlton Kyoto's gym is also located in the spa area, and can be accessed 24/7. While the gym is pretty dense in terms of the amount of equipment in this space, it was excellent, with both cardio and weight equipment, as well as free weights.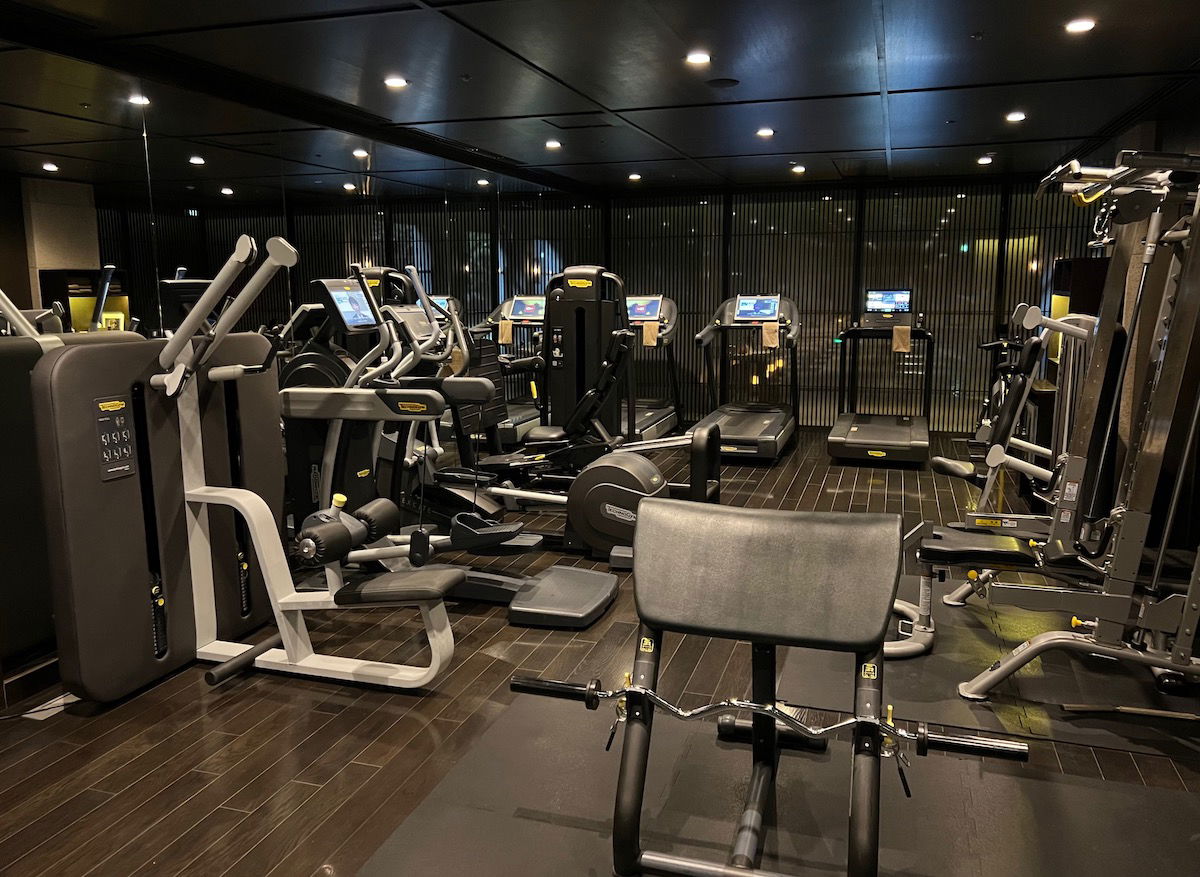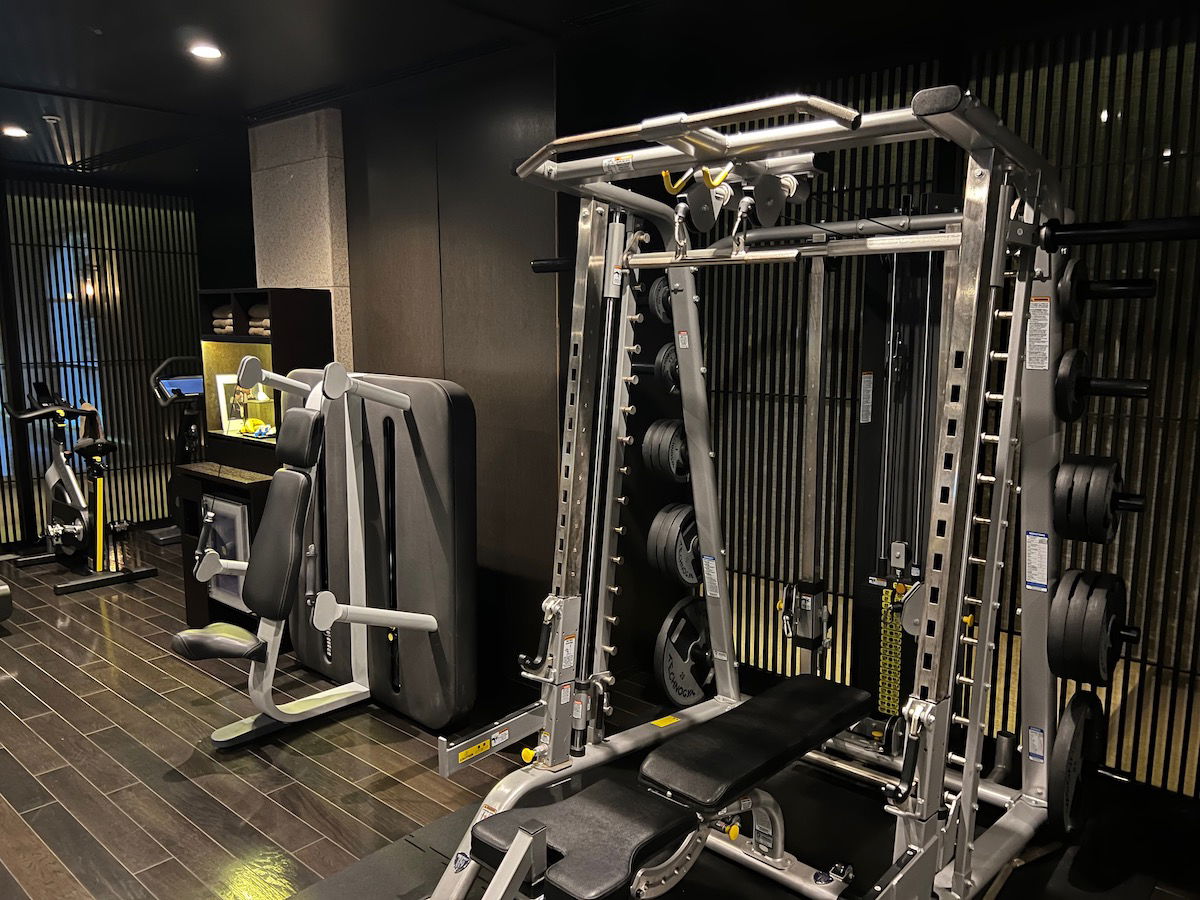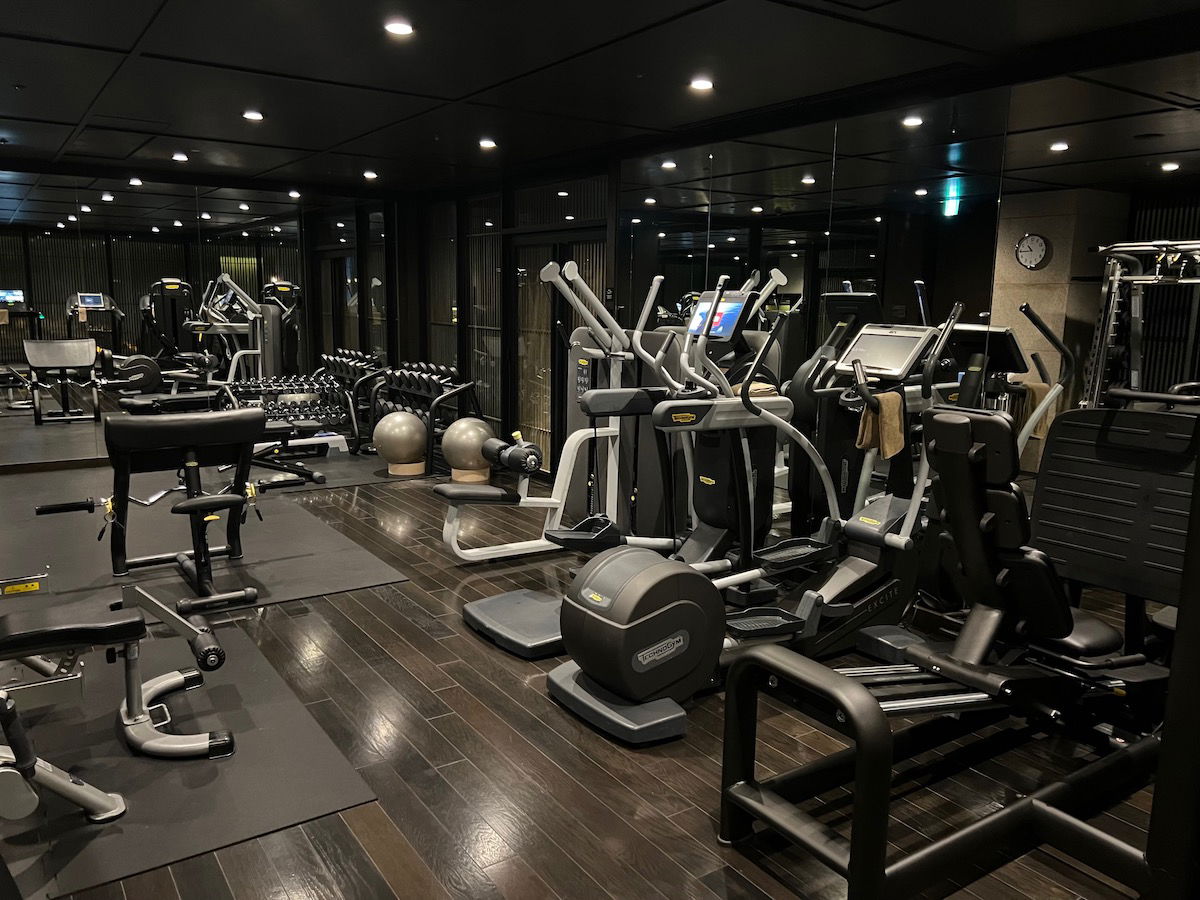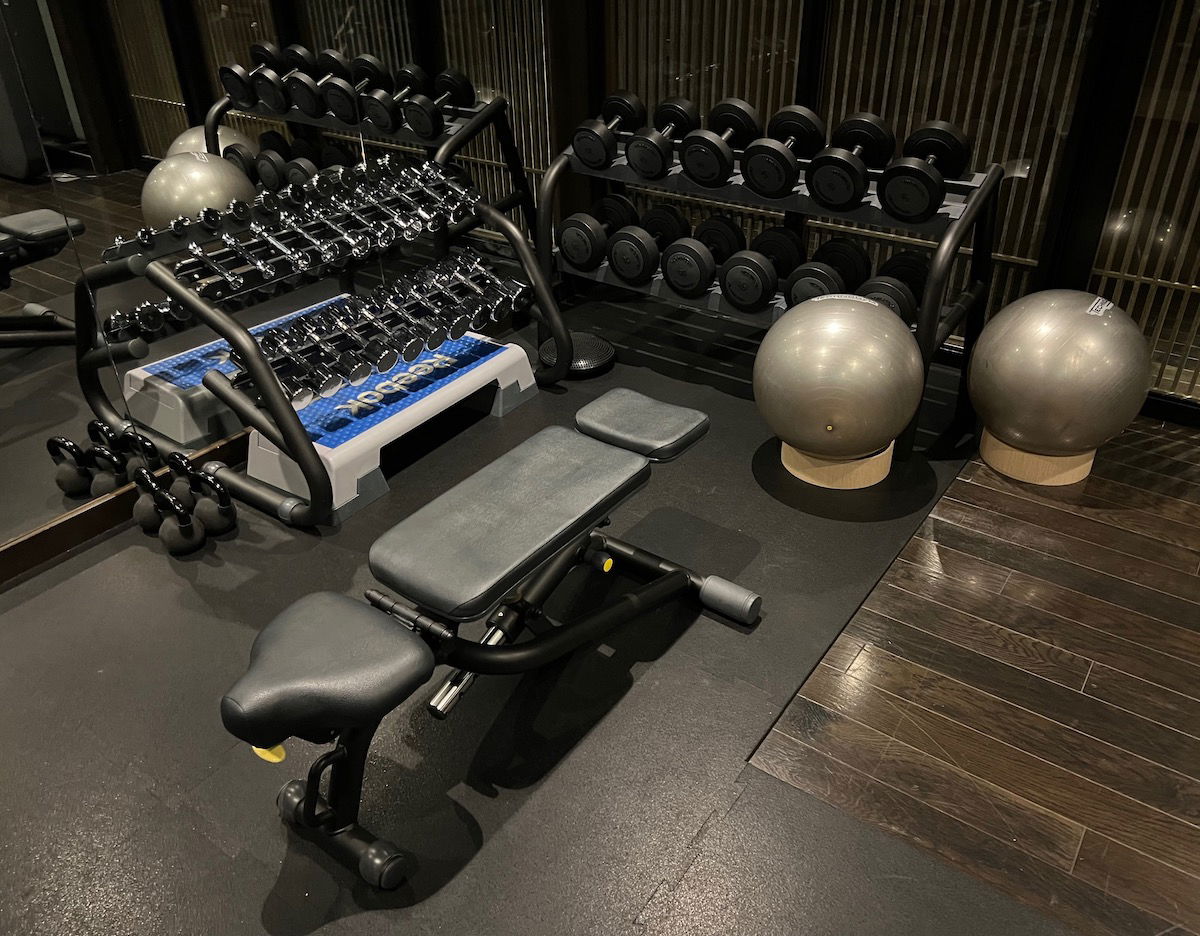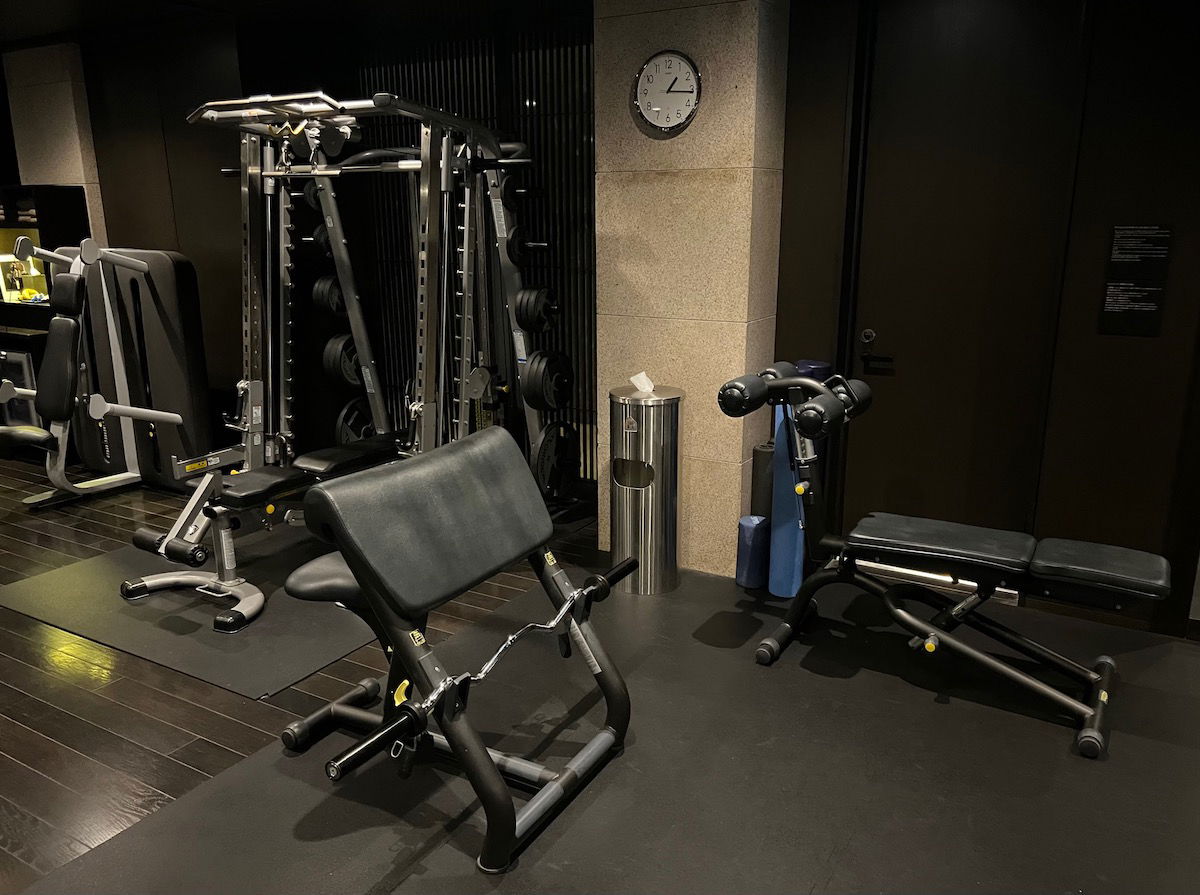 Also, this is possibly the first hotel I've ever stayed at that has free protein bars that you can just grab. Well done, Ritz-Carlton Kyoto!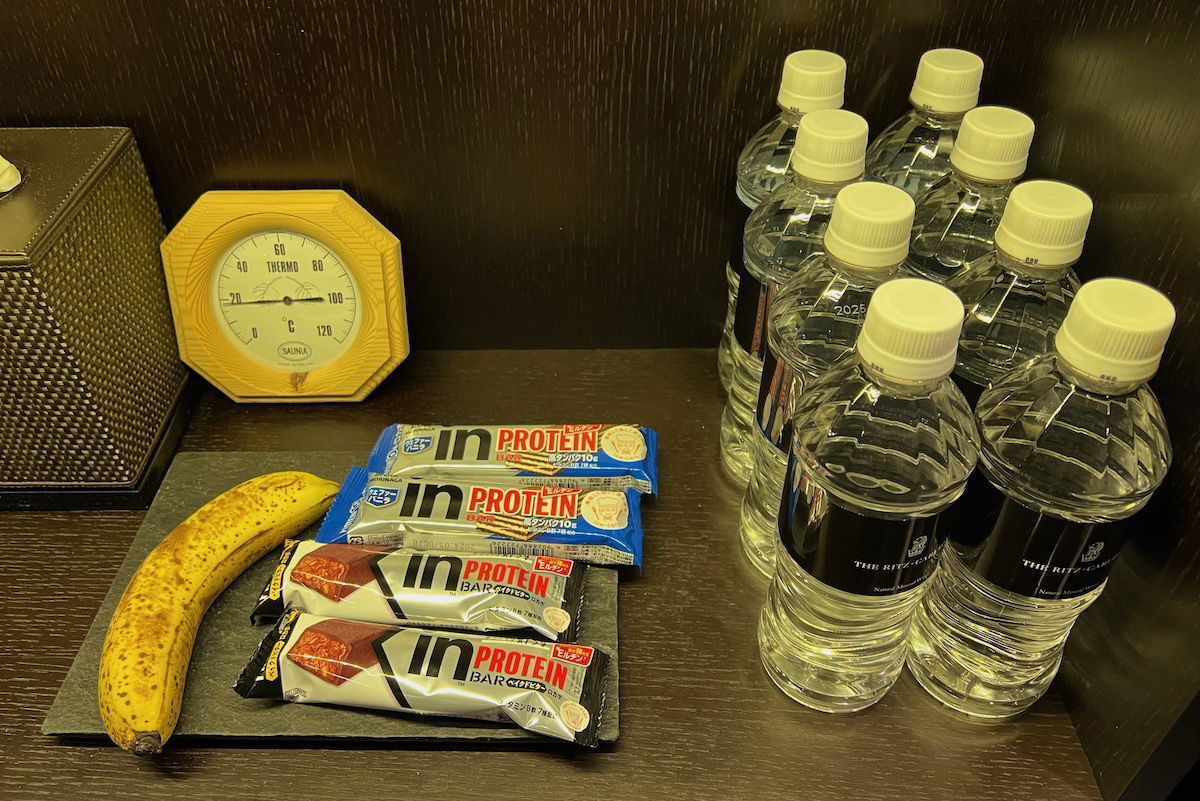 We didn't get any spa treatments during our stay, but the spa has seven treatment rooms, and you can find the spa menu here.
Ritz-Carlton Kyoto La Locanda Restaurant
La Locanda Restaurant is the Ritz-Carlton Kyoto's Italian restaurant, and it's open for breakfast, lunch, and dinner, though it's closed on Mondays. This is ordinarily where the Western breakfast is served.
The hotel also has Mizuki Restaurant, its Michelin star Japanese restaurant. It's open for breakfast, lunch, and dinner, though it's closed on Tuesdays and Wednesdays. This is ordinarily where the Japanese breakfast is served.
Our first morning we decided to have the Western breakfast, served at La Locanda. As you enter the restaurant, there's the bar area and lounge, and then further into the restaurant are the tables.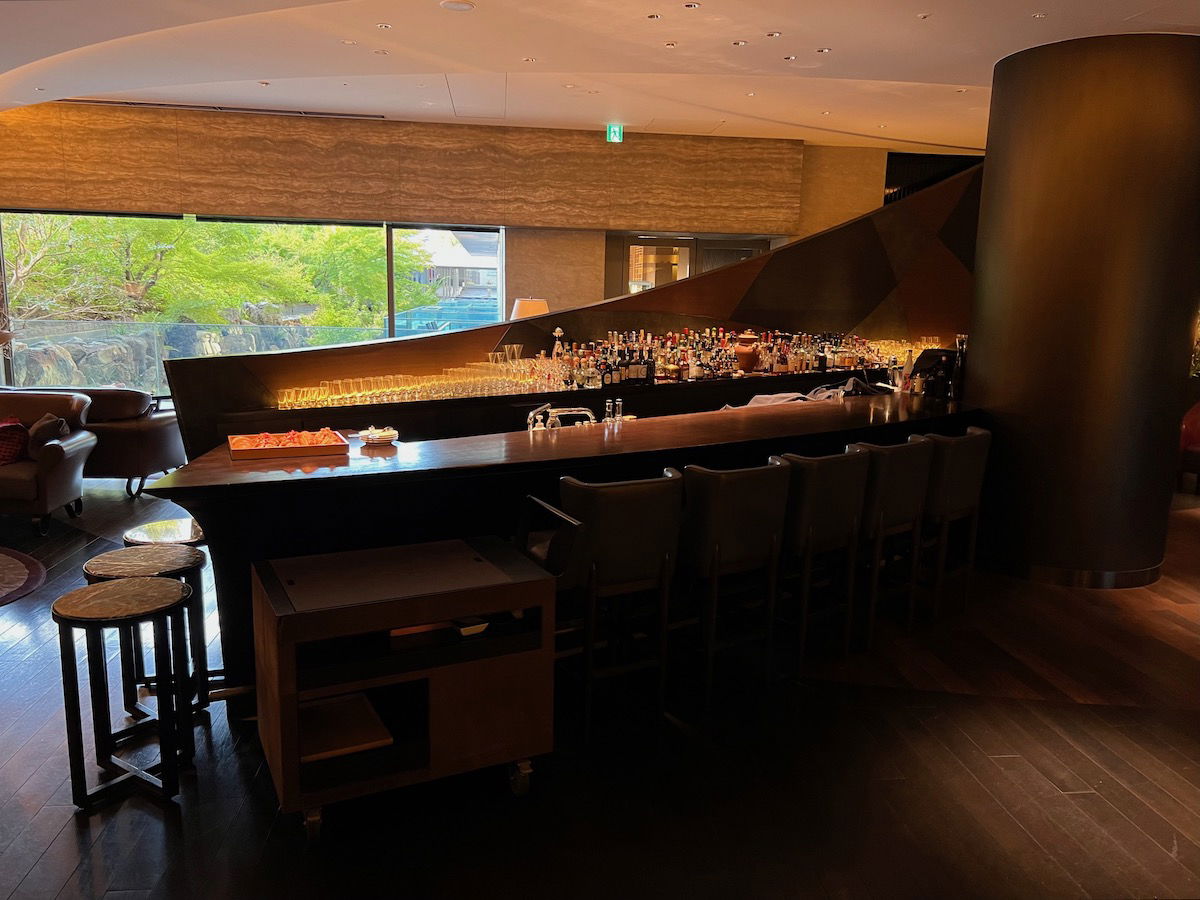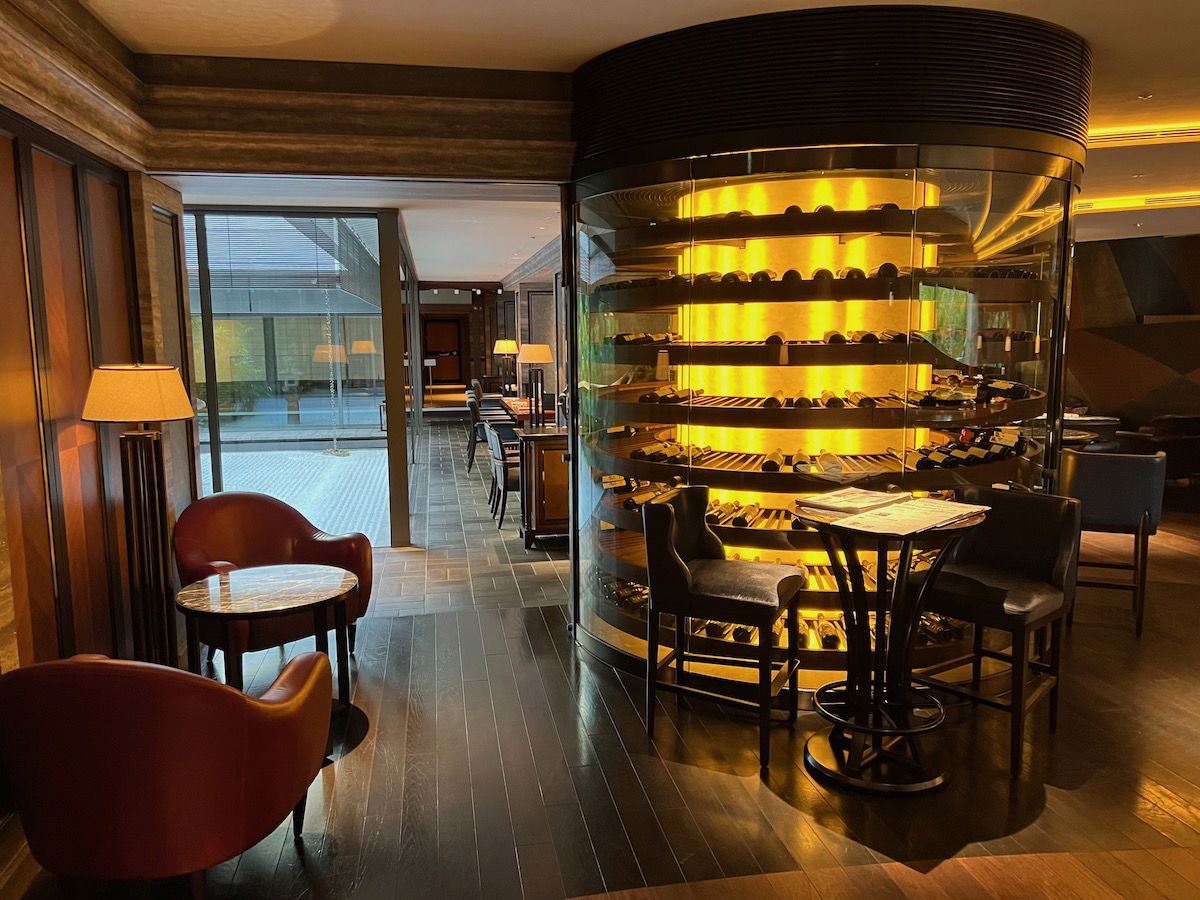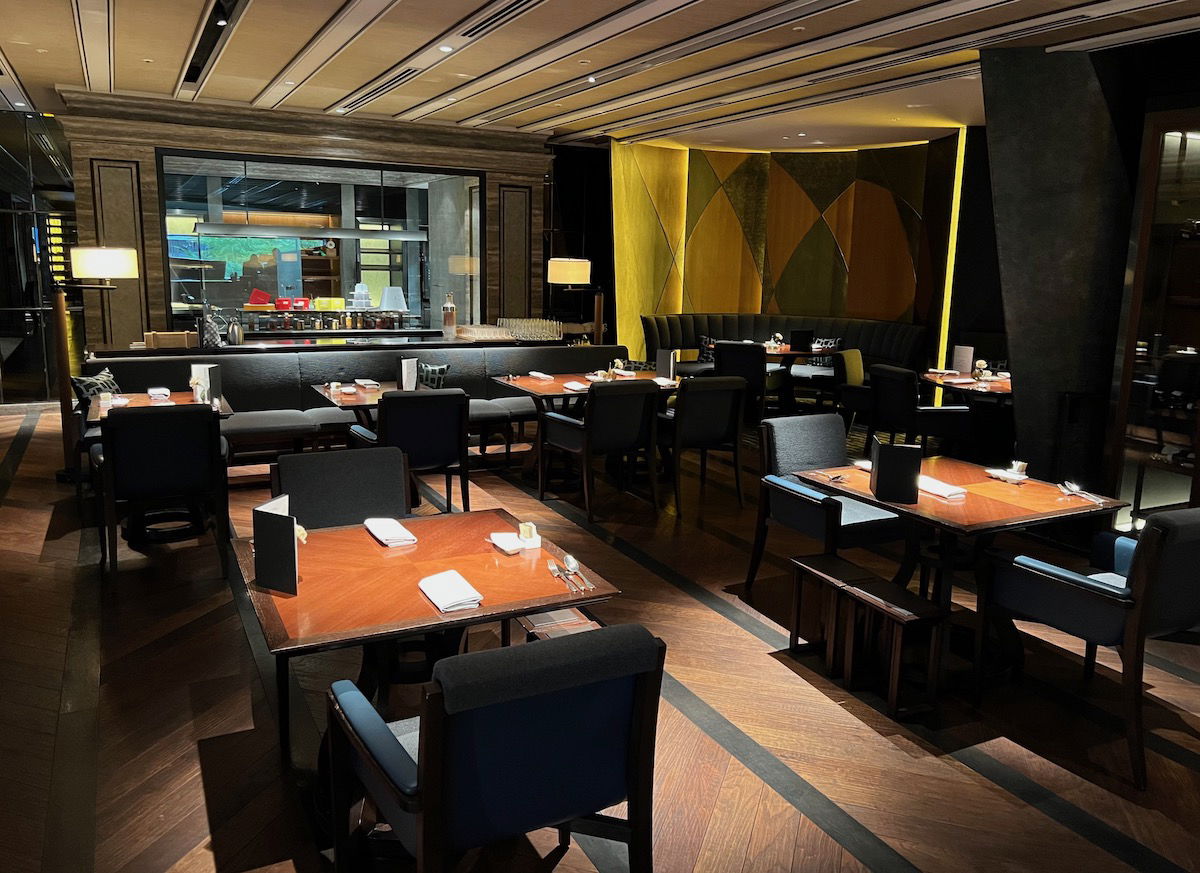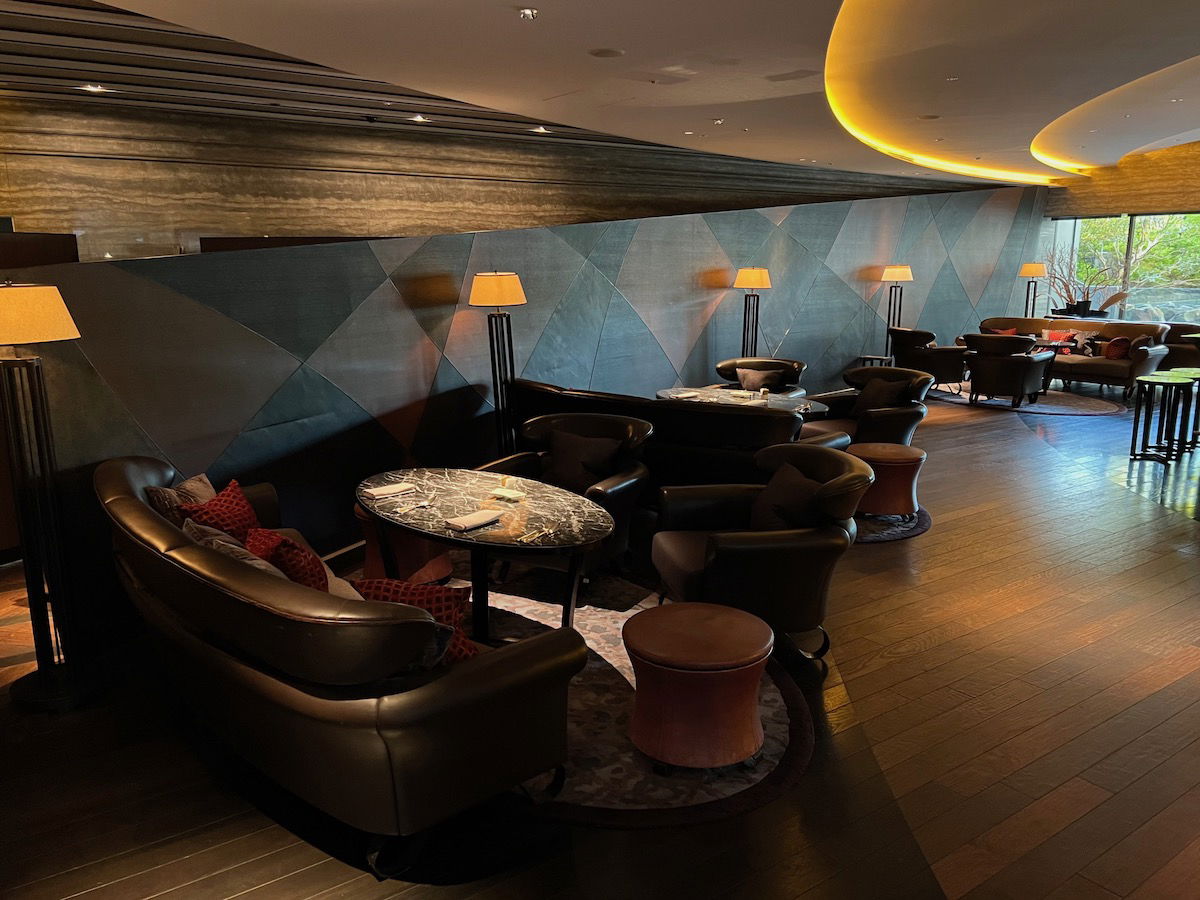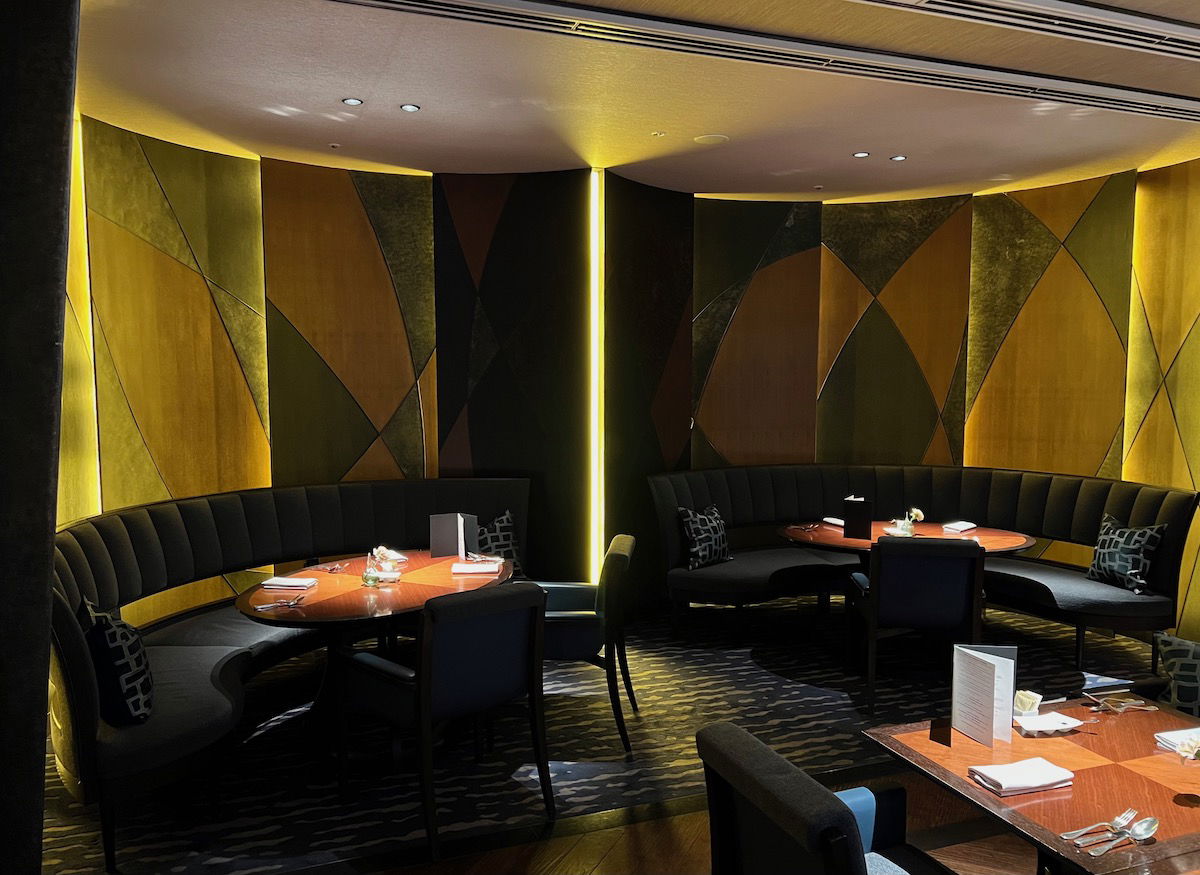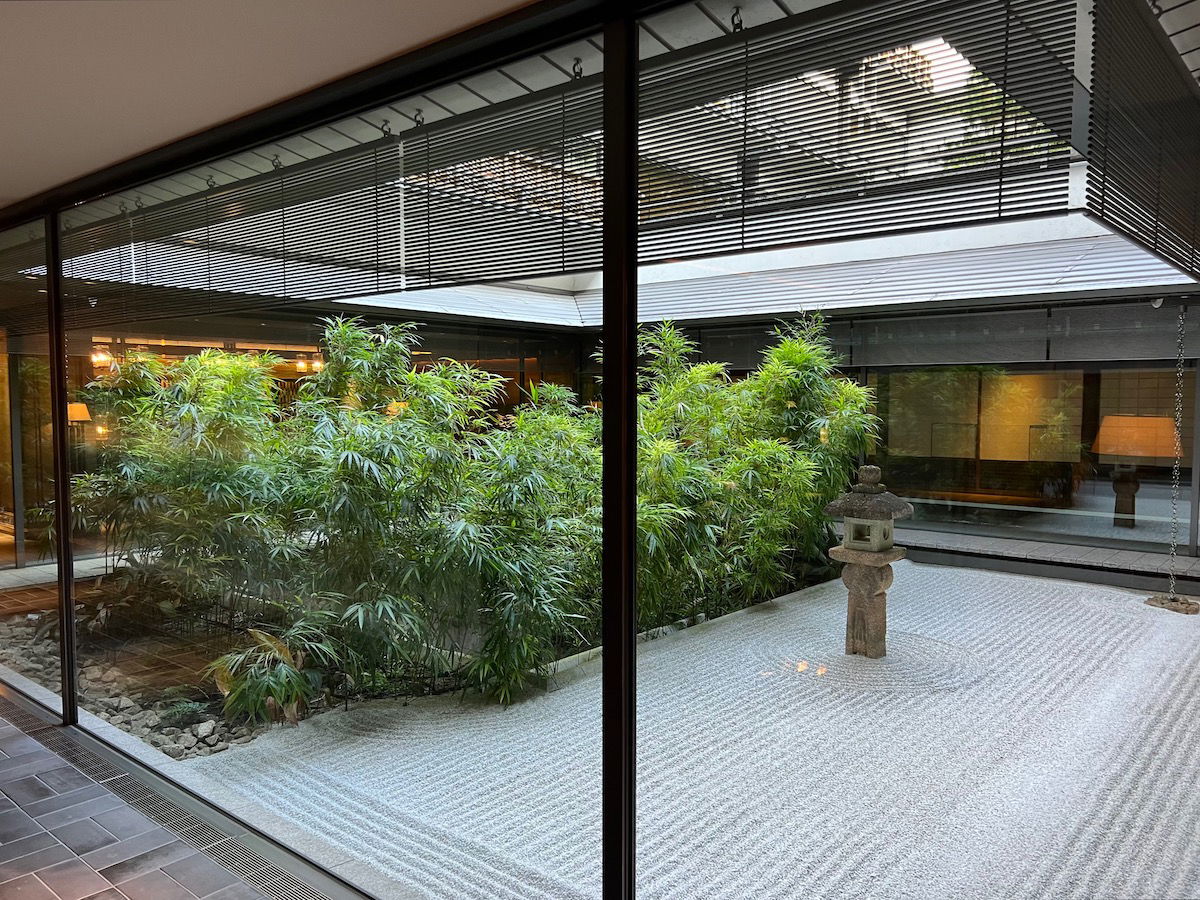 There was already a menu on the table, so we had a look at it.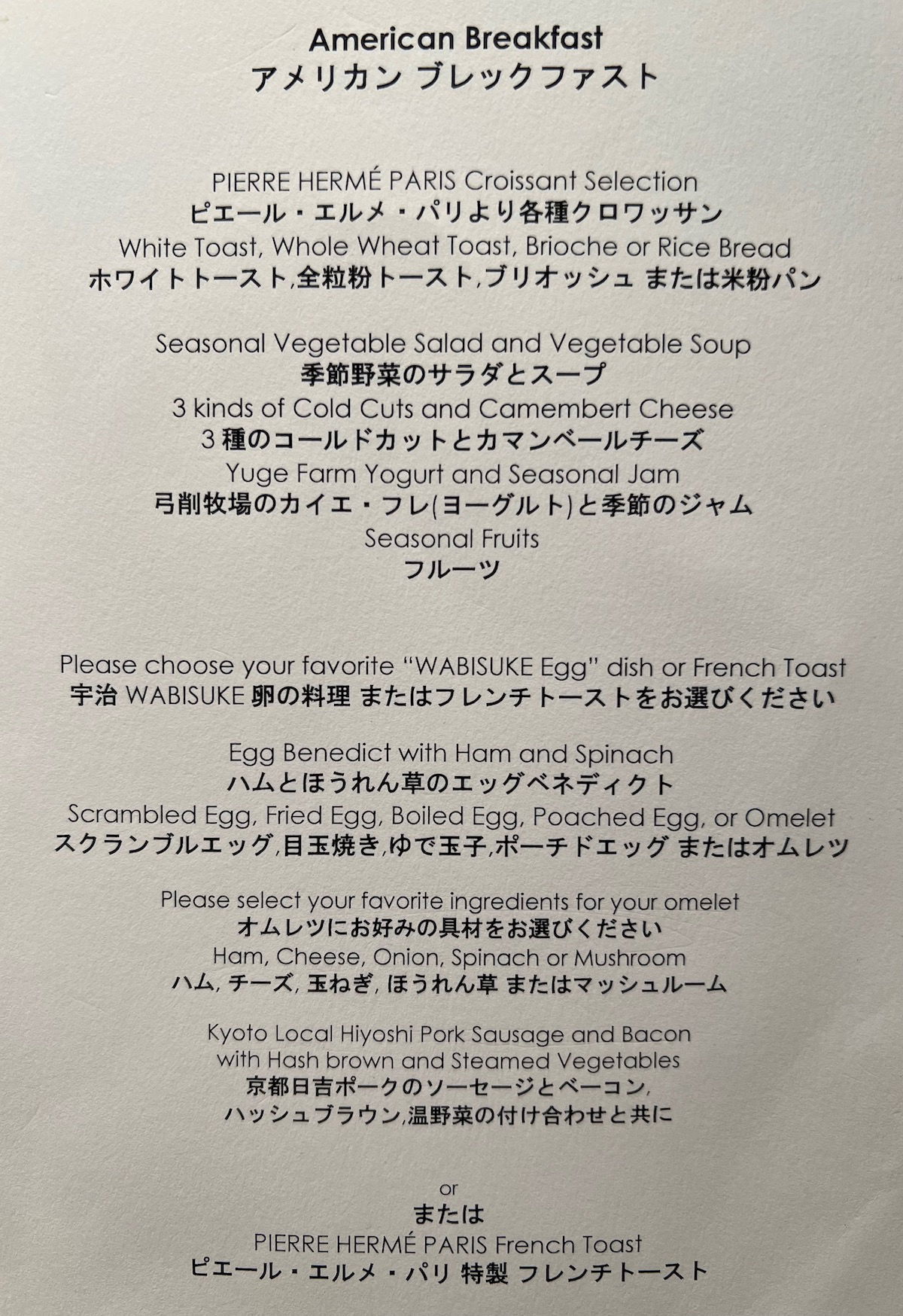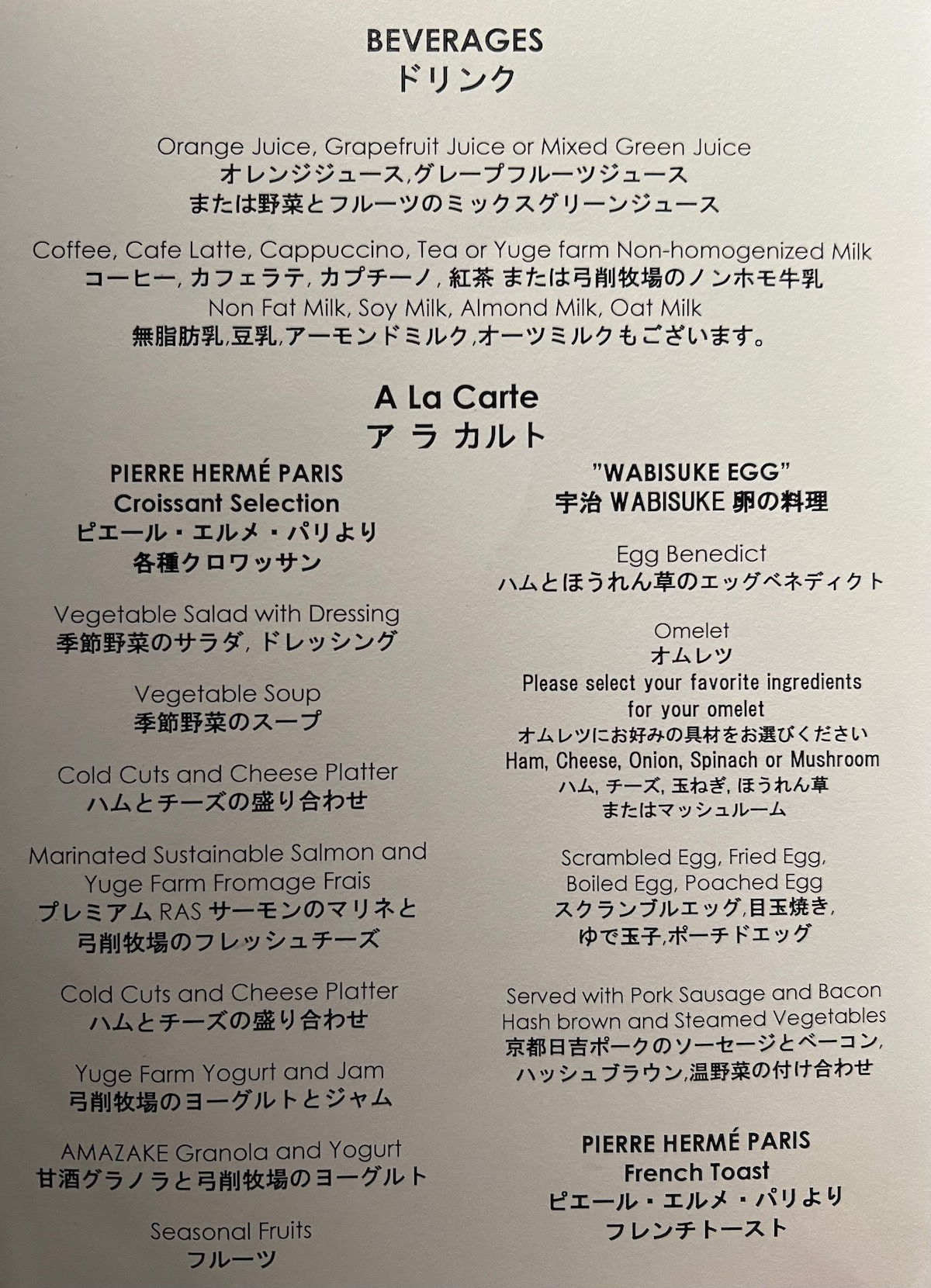 We were also offered warm towels and some energy shot drinks.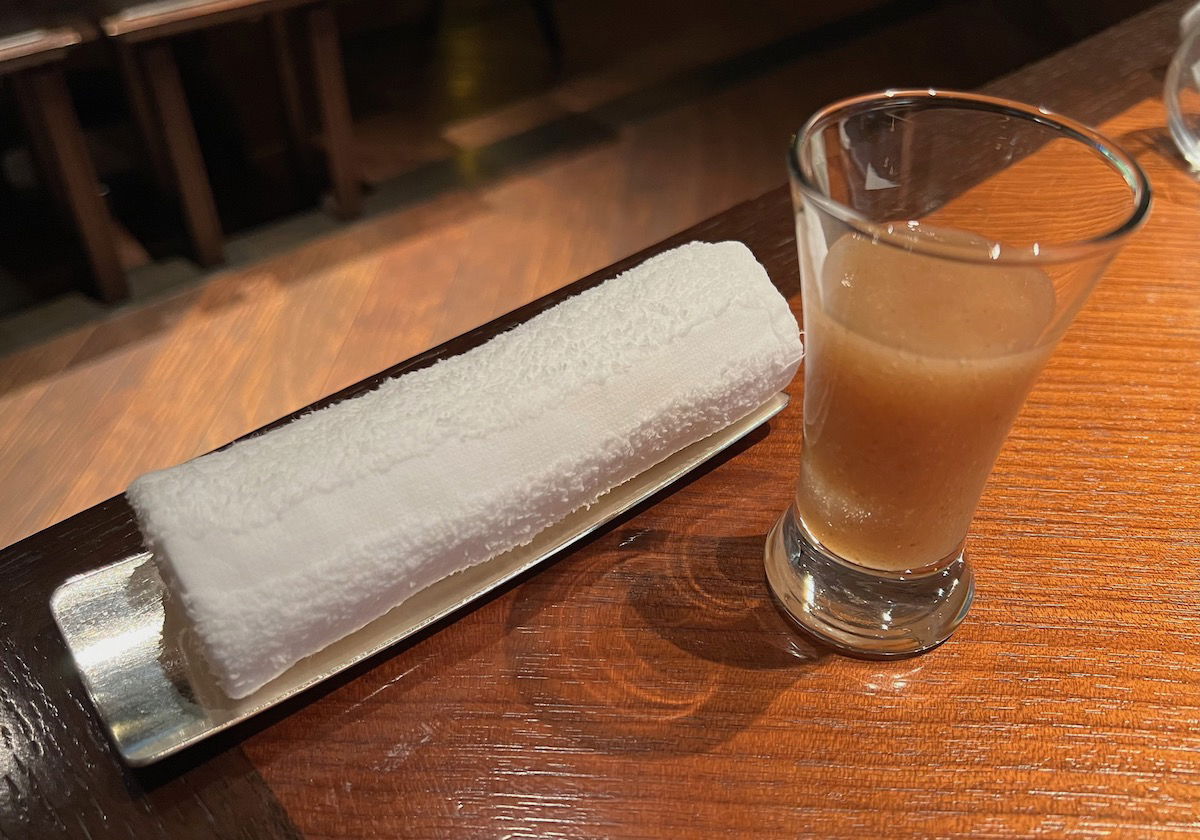 While I found service at the Ritz-Carlton to be amazing for the most part, service at breakfast confused me. Within two minutes of sitting down, three different staff came by to ask if we were ready to order, with no additional introduction or explanation of the breakfast concept.
It would have been nice if someone explained how exactly breakfast works, as it wasn't clear to me (and I'm not exactly a hotel breakfast rookie). For example, there was food stationed throughout the restaurant, but it didn't appear to be a buffet, but rather was where the servers would grab the food that they brought to tables. After asking, it was eventually explained to us that we could just order as much off the menu as we wanted.
To drink, I ordered a cappuccino and a green juice, both of which were excellent (though I was skeptical when I first ordered the cappuccino based on the appearance).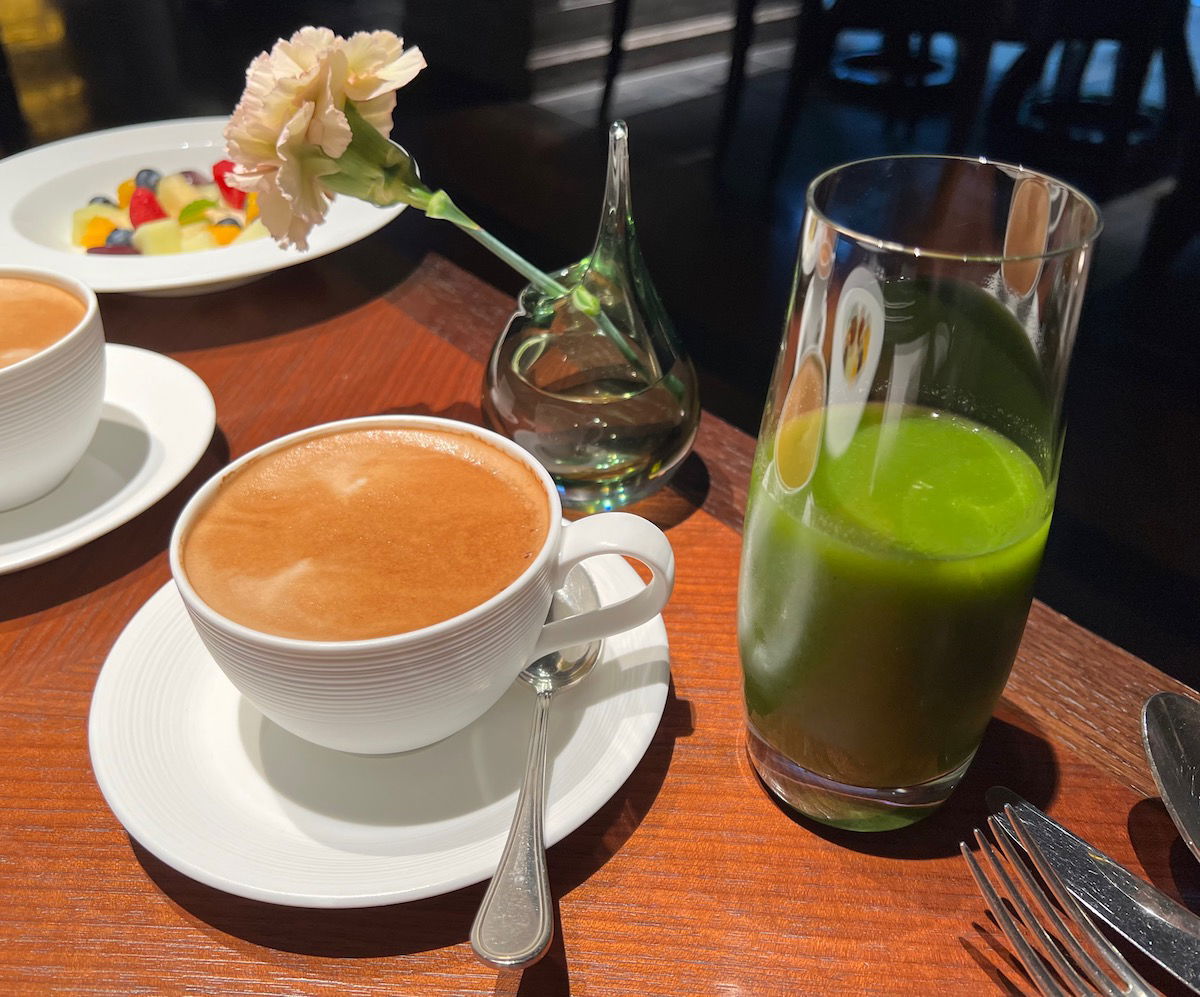 To eat, we ordered some fresh fruit, as well as some yogurt and granola.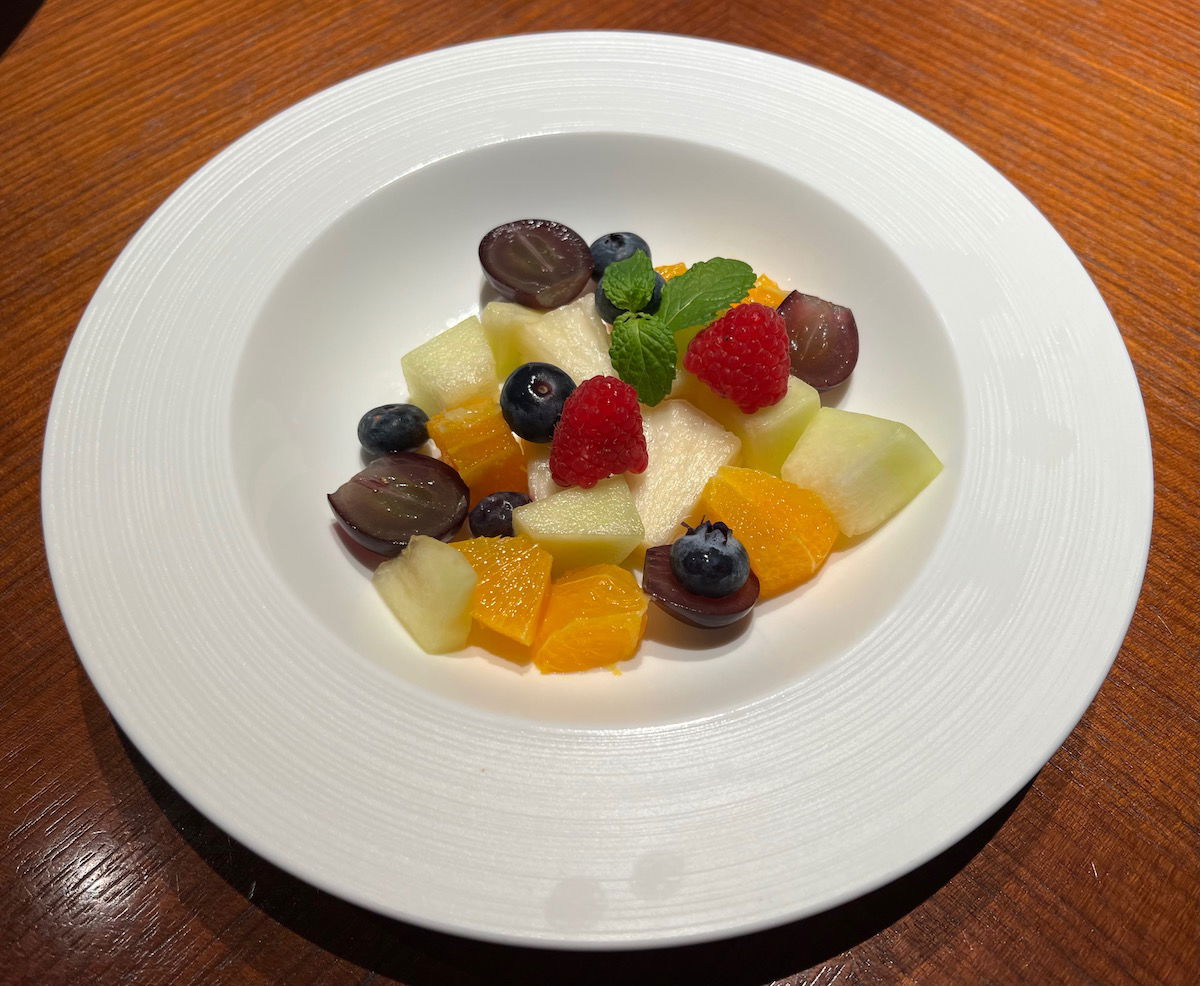 Am I the only one that finds this presentation to be a little weird?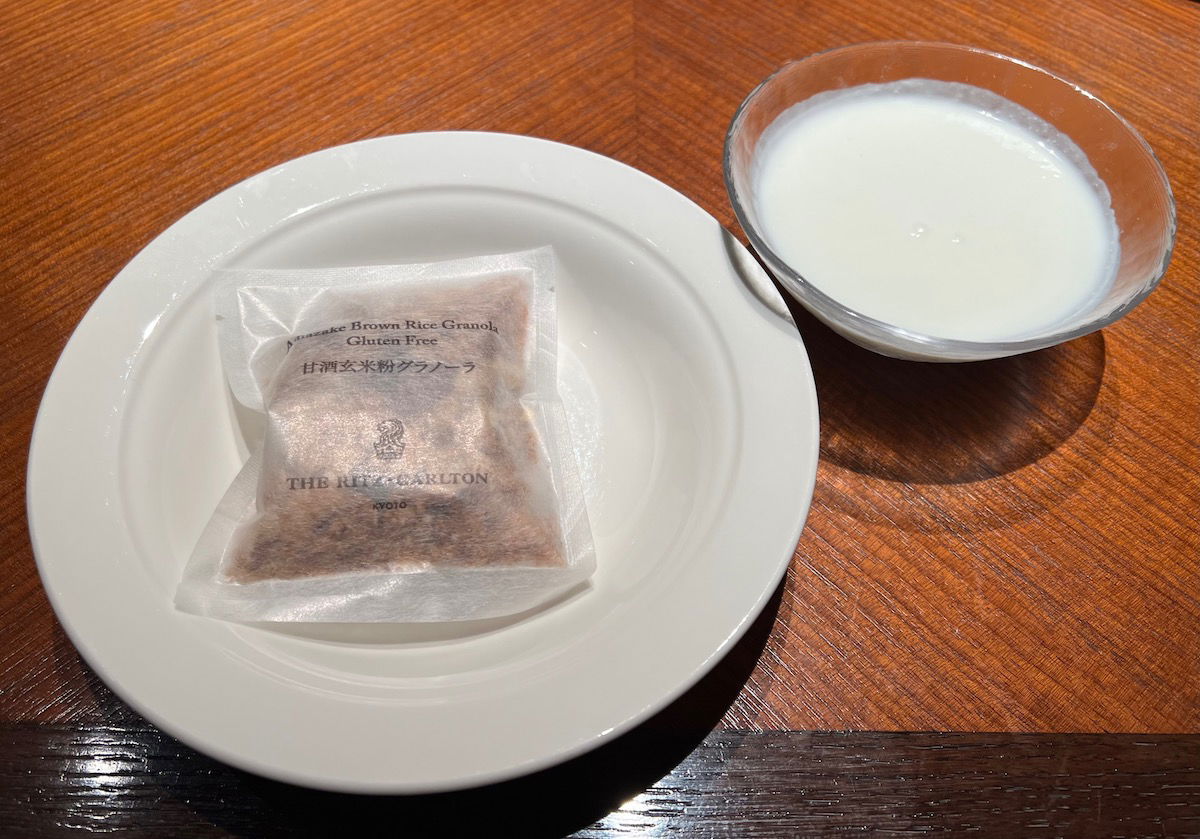 Then we split the french toast and an omelet for our mains, both of which were delicious.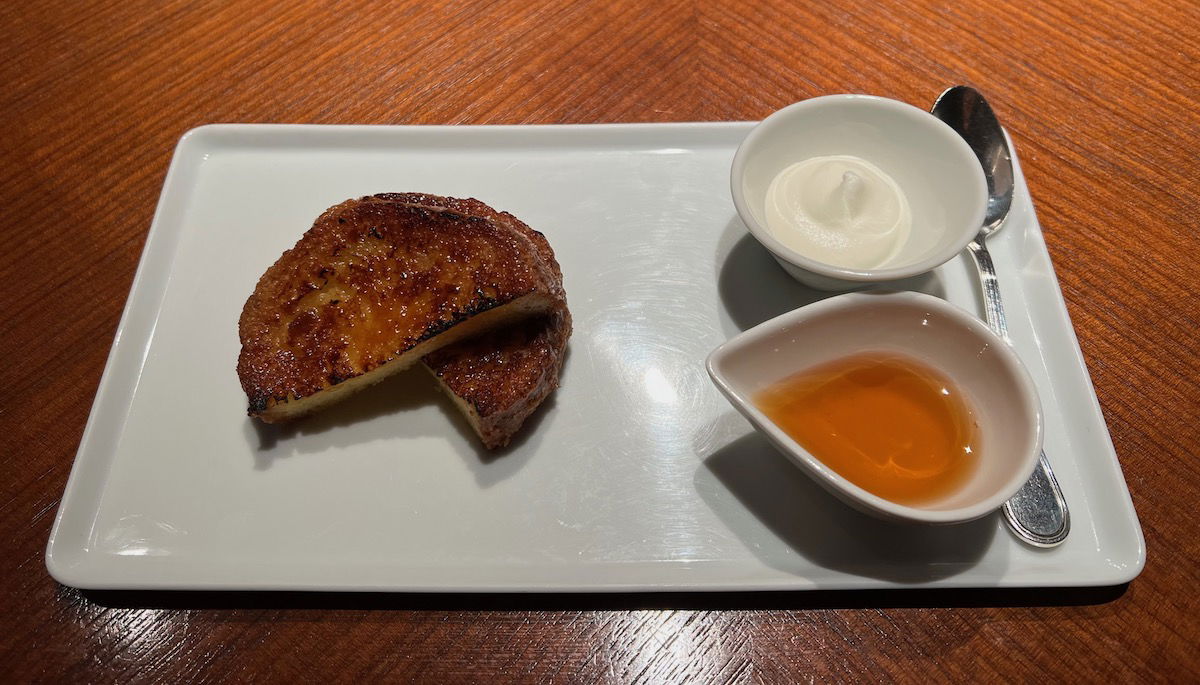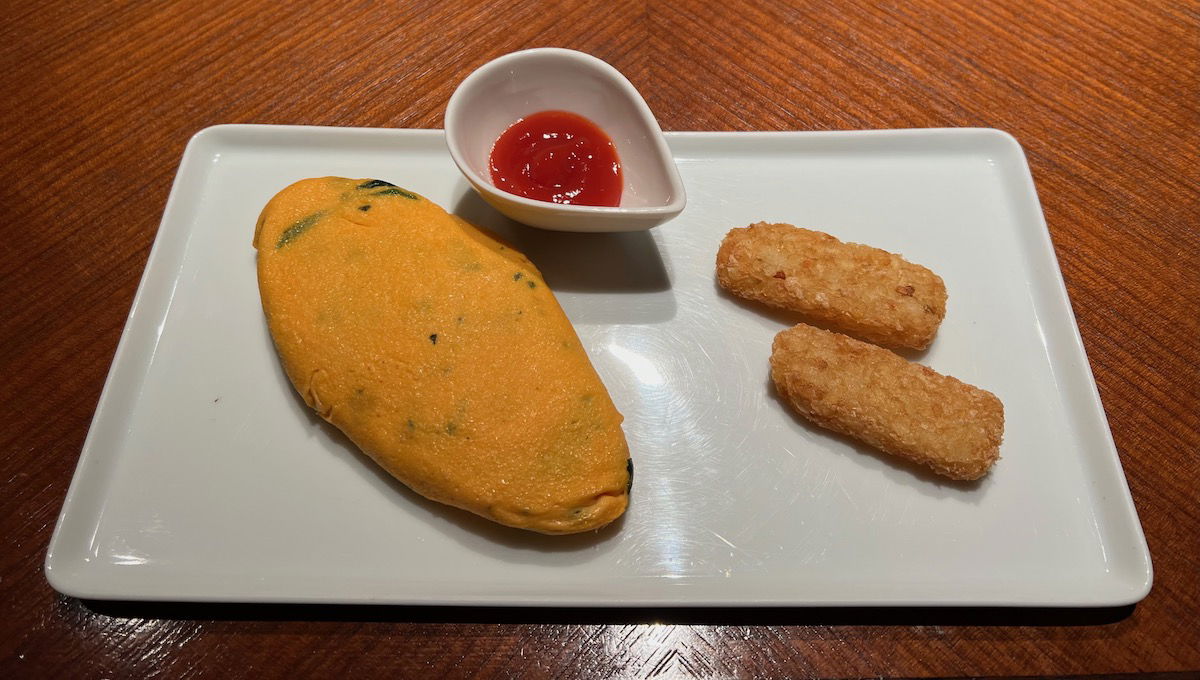 While we didn't indulge, there was also a display with some croissants, which I assume guests can either grab, or maybe the staff serve them to you.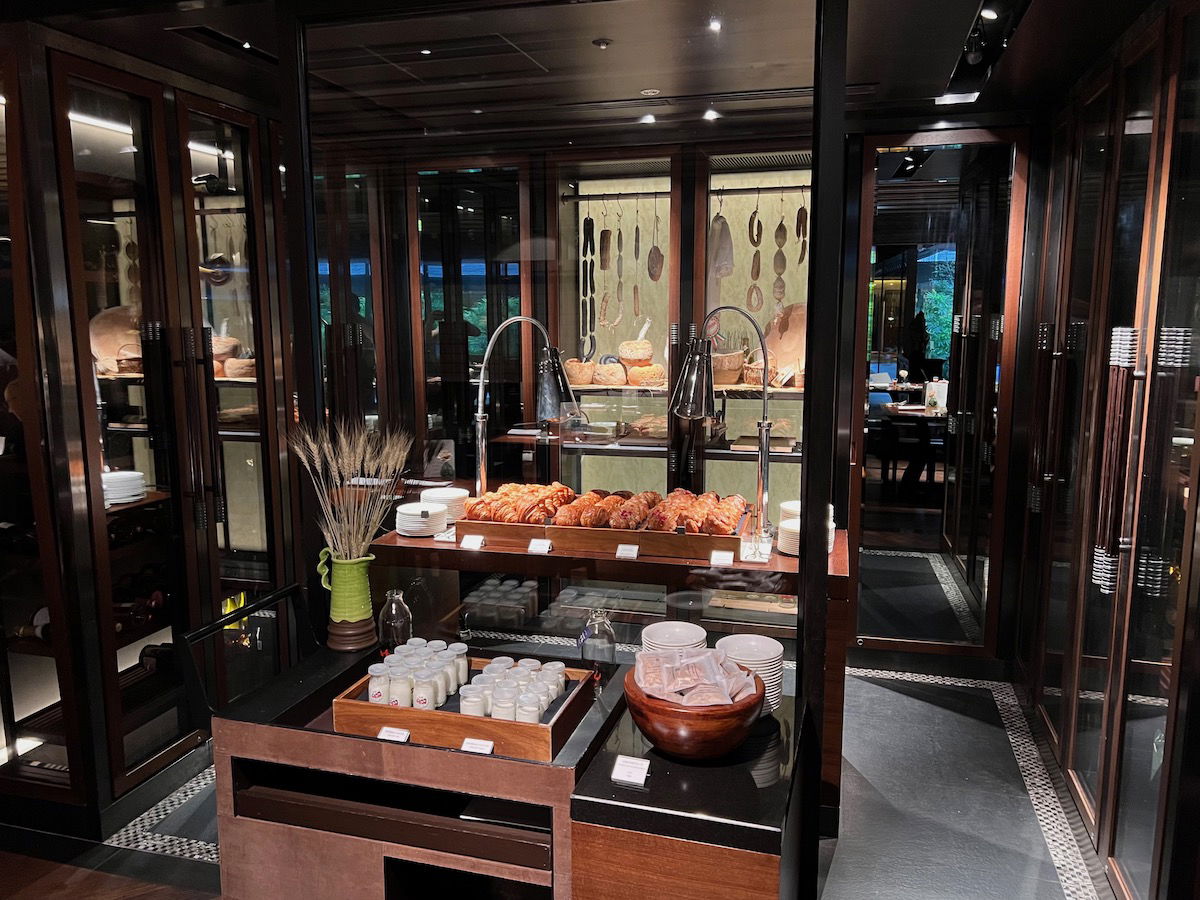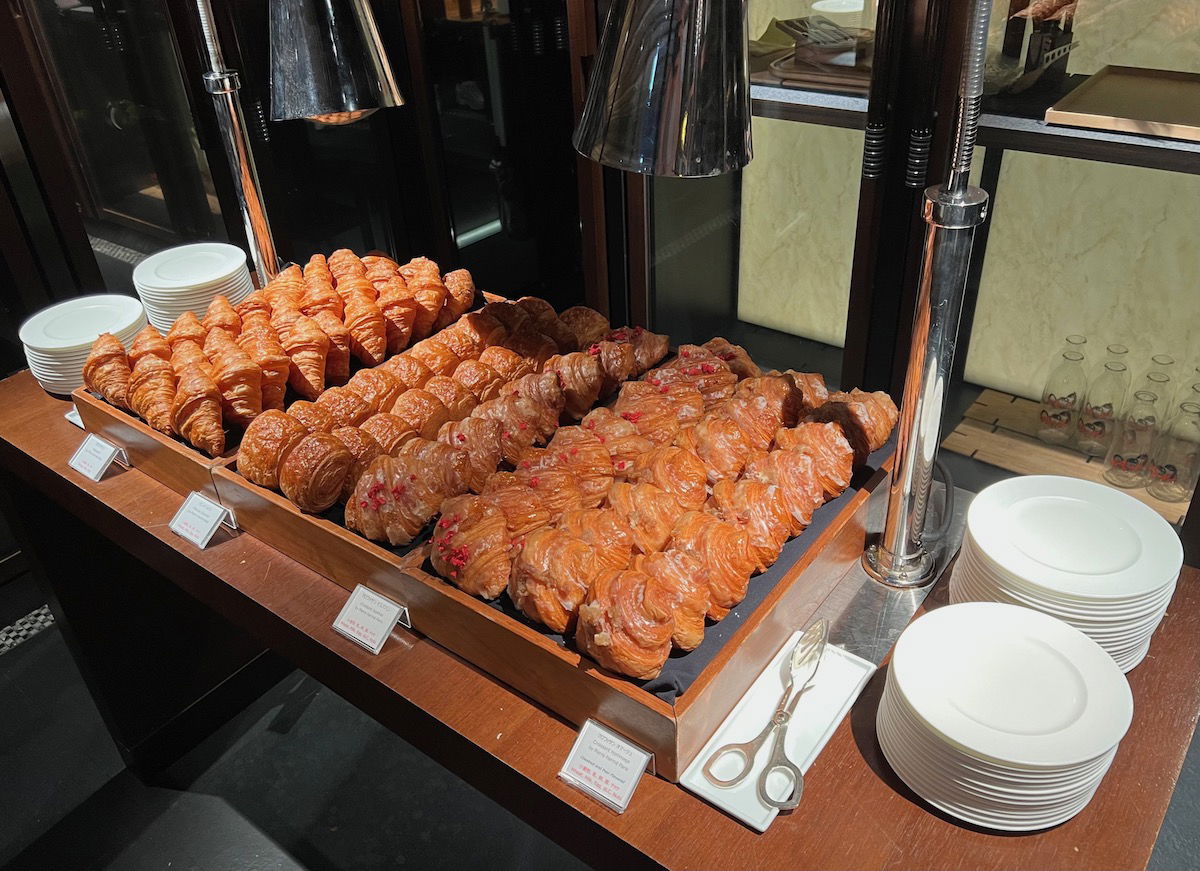 I found the Western breakfast at this hotel to be a weak point of the experience, as it was significantly worse than at the Park Hyatt or Four Seasons, which had more logical buffet concepts, with the option of adding a la carte dishes.
We didn't have lunch or dinner at La Locanda, but if you're looking to mix things up from Japanese food, this could be a great option.
Ritz-Carlton Kyoto Mizuki Restaurant
Mizuki Restaurant is the Ritz-Carlton's other primary restaurant, and it even has a Michelin star. It's quite the varied restaurant setup, as it offers kaiseki, tempura, sushi, and teppan options. I would have loved to eat here, except this restaurant is closed on Tuesdays and Wednesdays, and go figure, those are the days we stayed at the hotel.
Ordinarily, the Japanese breakfast would be served at this restaurant (since it's catered from here), but due to the days we were visiting, it was instead served at La Locanda. Unlike at the Park Hyatt, the Ritz-Carlton doesn't have an extra fee for the Japanese breakfast (as it should be). You do have to let the hotel know the day before if you plan to have the Japanese breakfast, though.
You can find the Japanese breakfast menu below.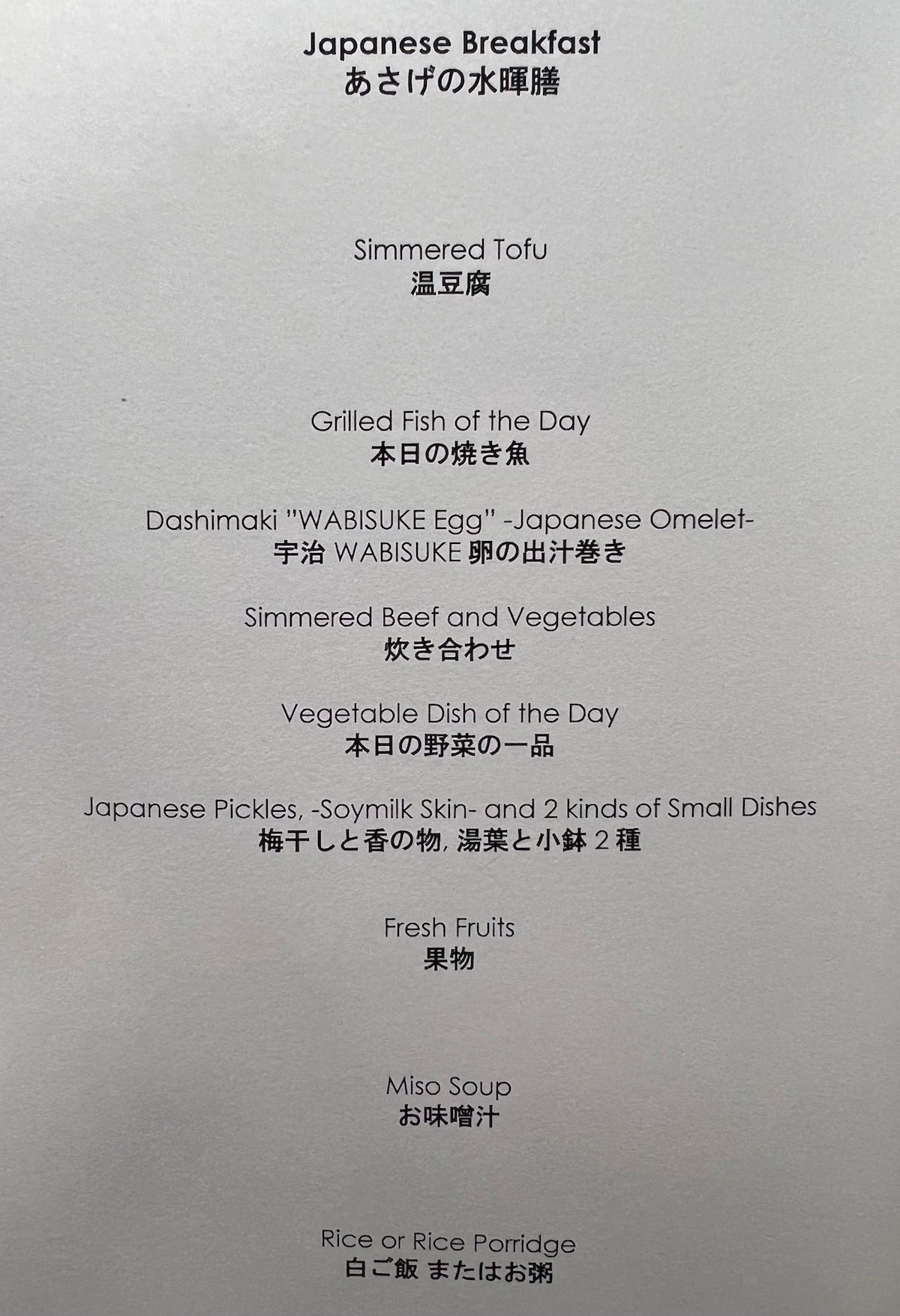 The Japanese breakfast was excellent, and started with some tea and simmered tofu.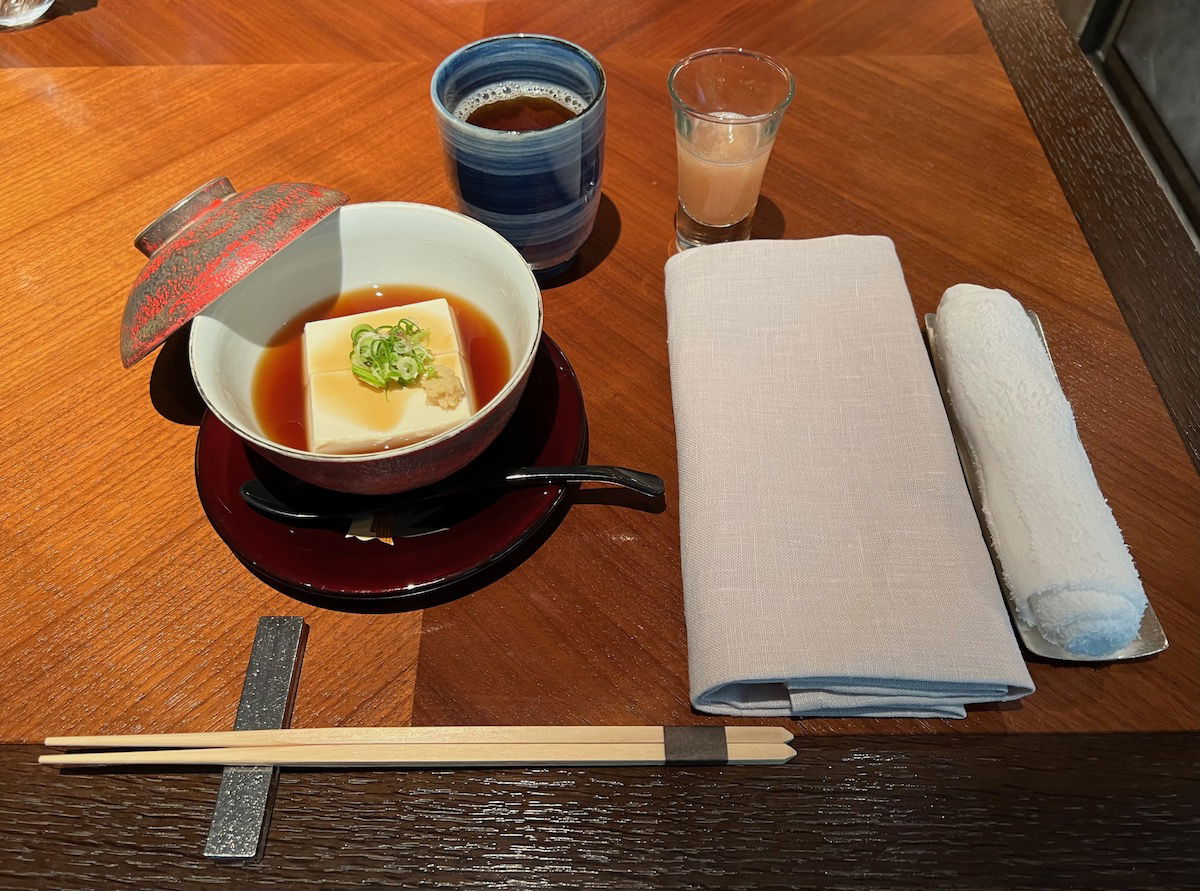 Then the bento box came with the rest of the meal, which included a Japanese omelet, simmered beef and vegetables, Japanese pickles, miso soup, fresh fruit, rice, and more.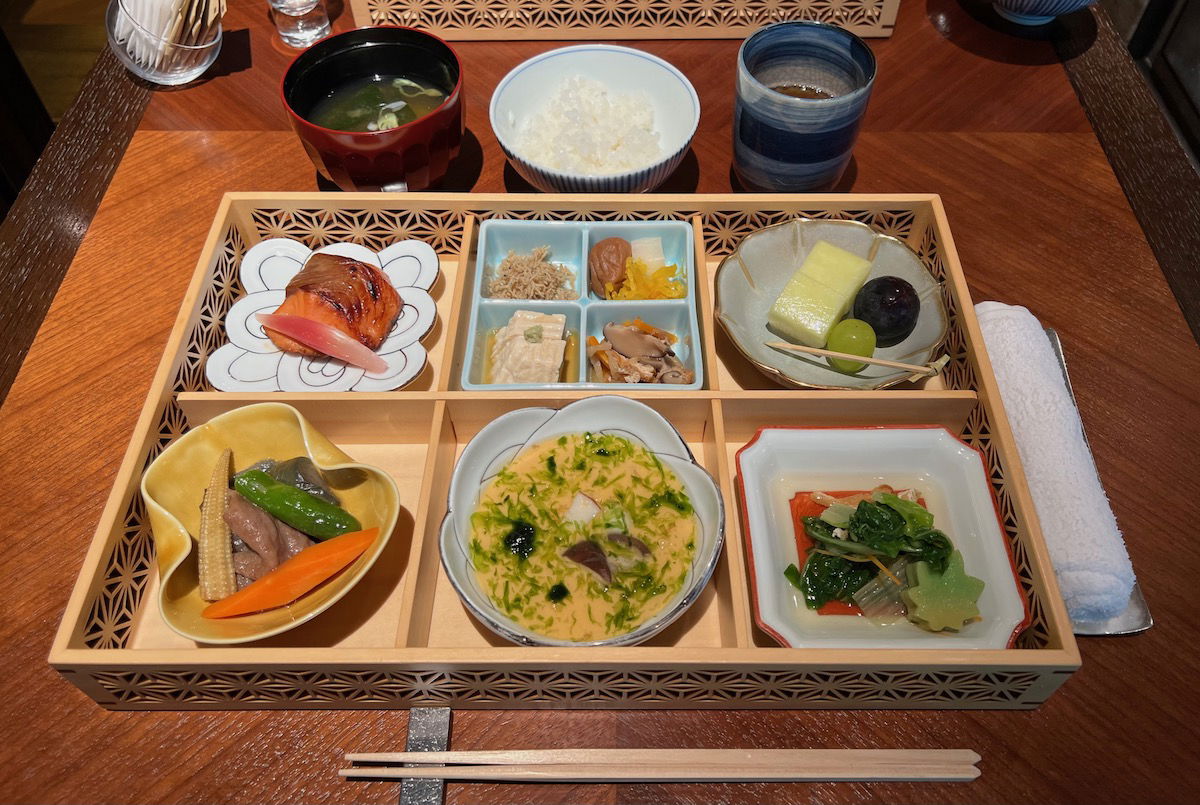 Ritz-Carlton Kyoto Lobby Lounge
The Ritz-Carlton Kyoto also has the Lobby Lounge, open daily from 11AM until 6PM. This is most popular for afternoon tea (you can find the menu here), but you can also come here for a drink. This area has a variety of tables and sofas, as well as a few outdoor tables.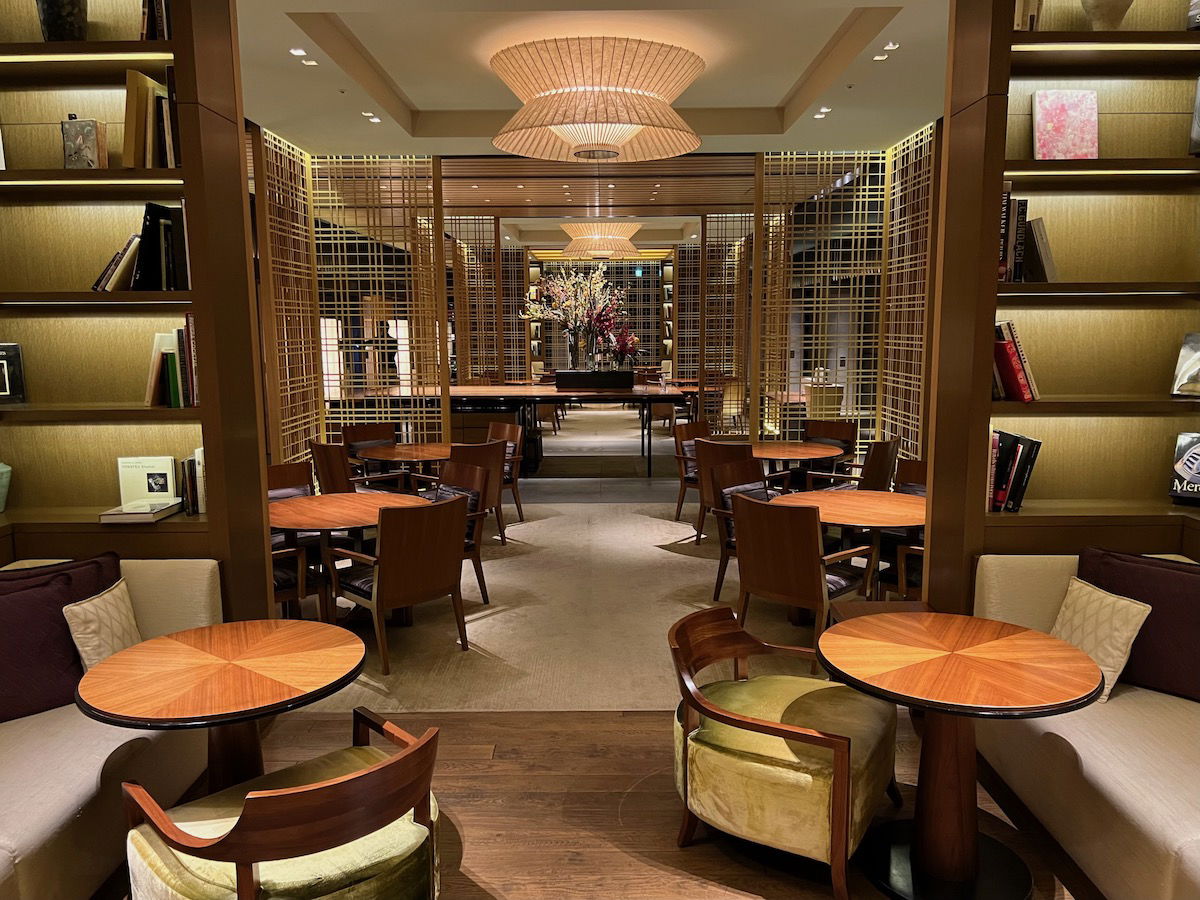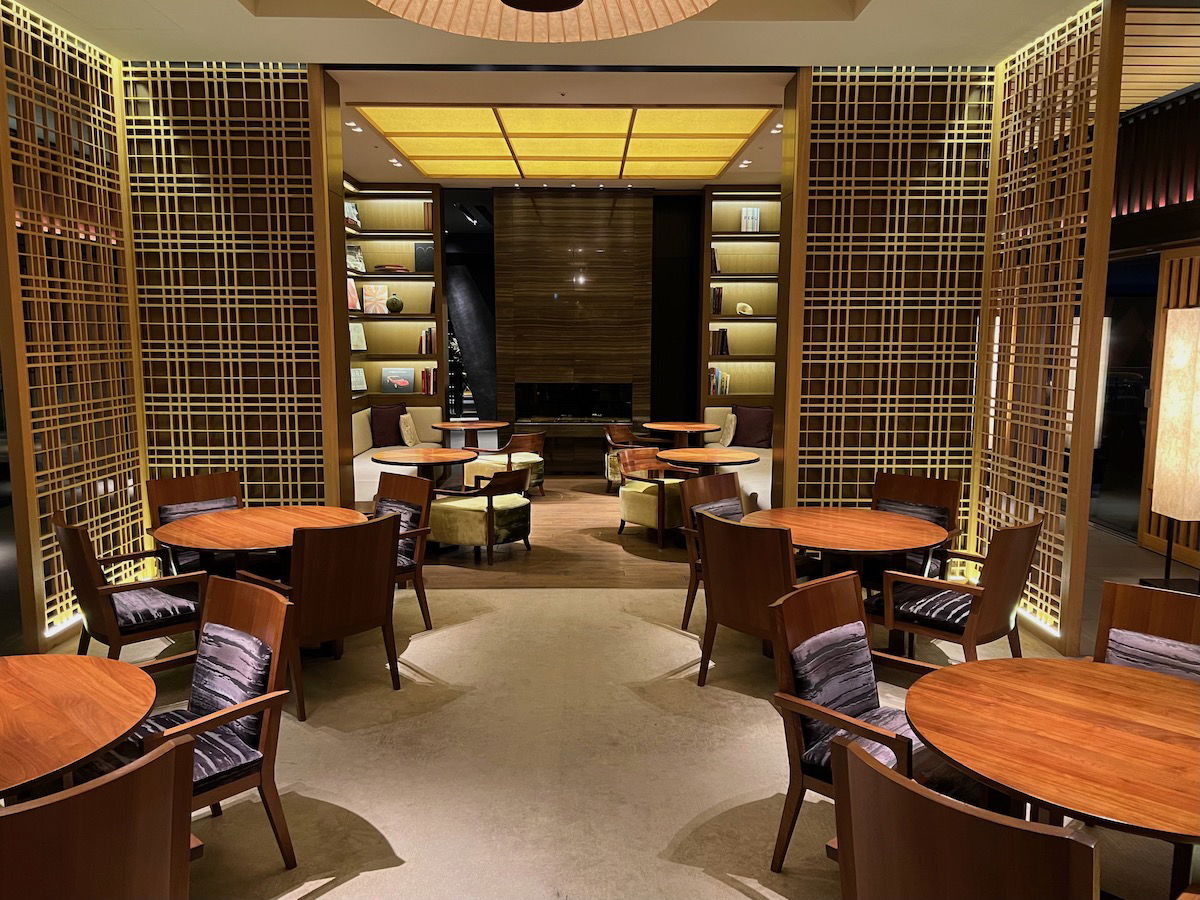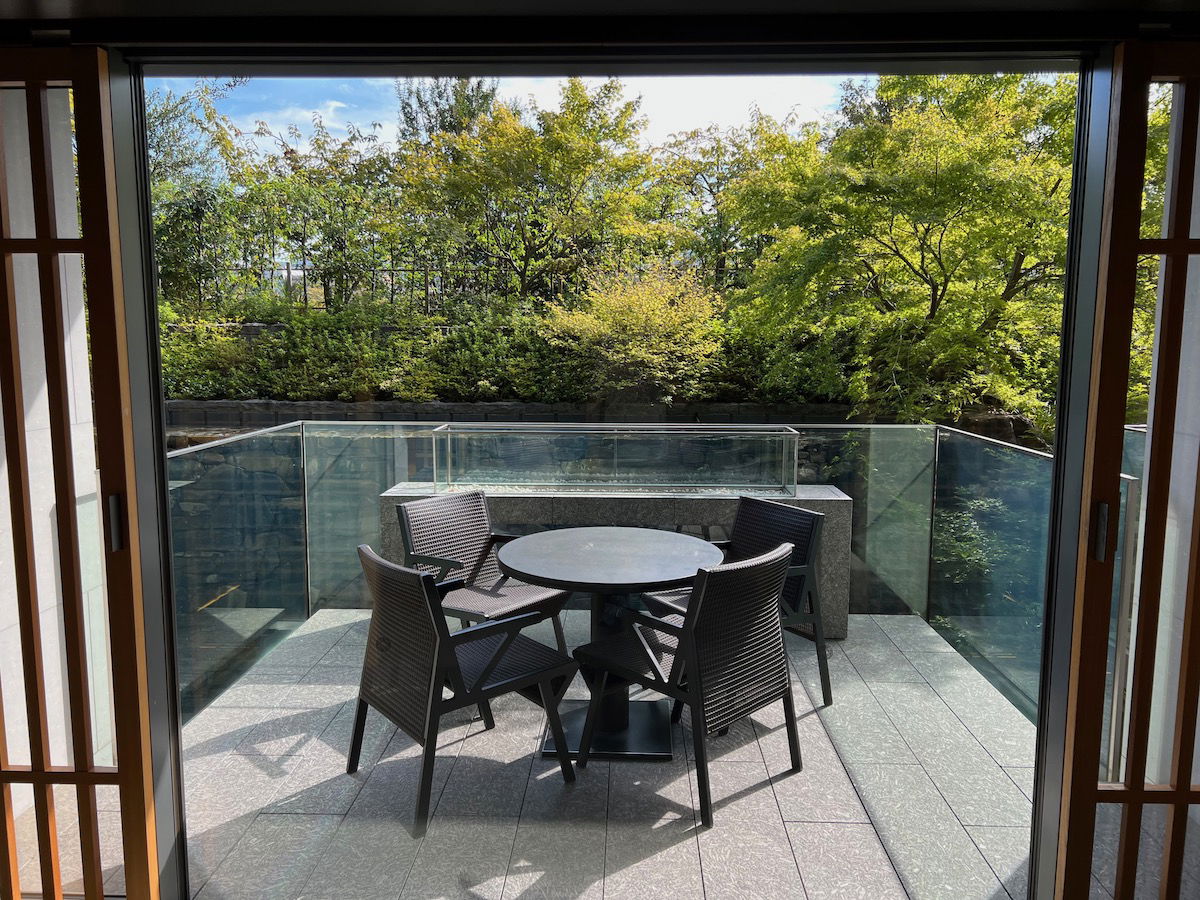 We came here one evening for a pre-dinner drink, and I ordered a dirty martini. I wasn't expecting it to actually be made well (since it's not really a thing in Japan), but to my surprise, it was very good.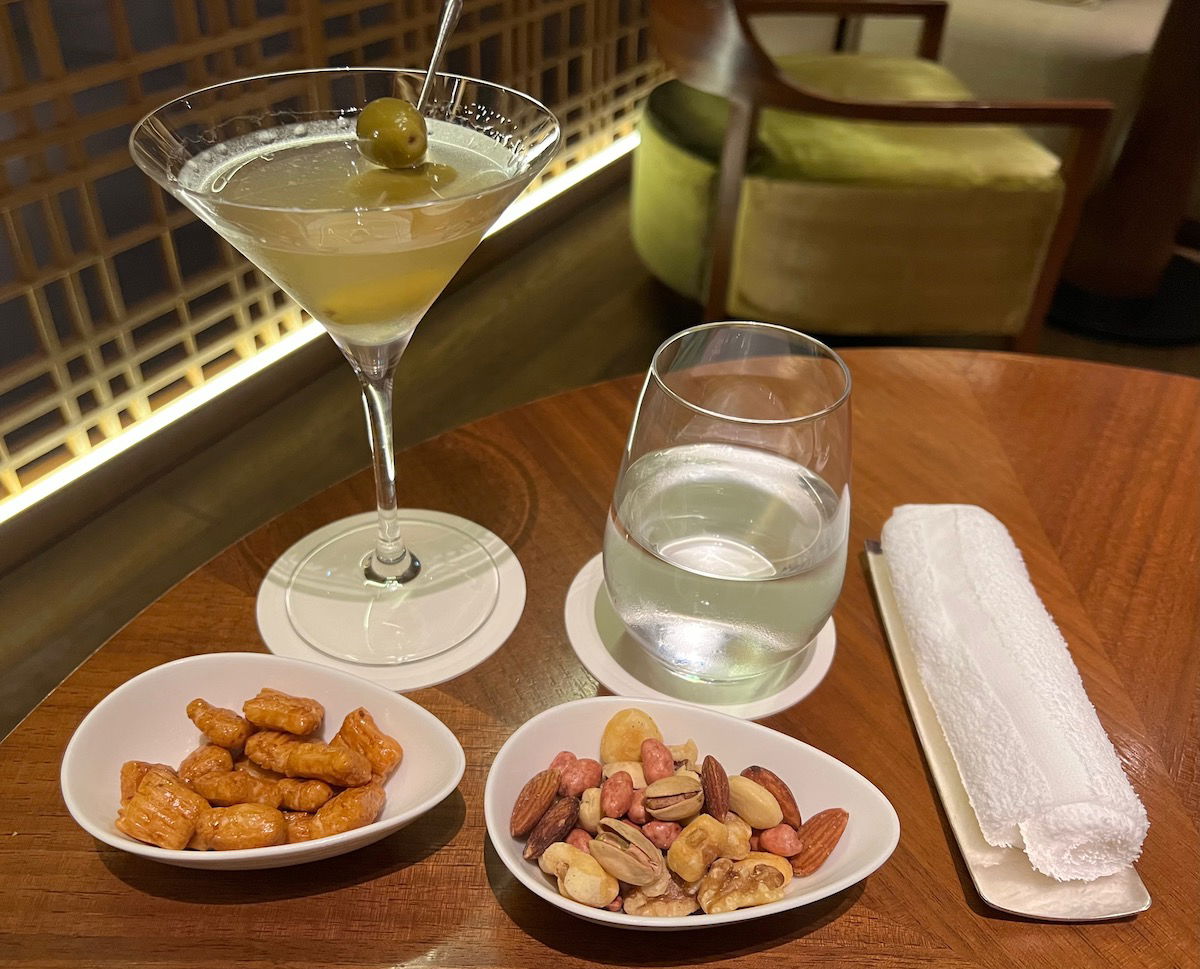 Ritz-Carlton Kyoto service
Service at the Ritz-Carlton Kyoto was delightful, and was even better than at the other two properties we stayed at. Aside from the weird service at breakfast that I highlighted above, service was otherwise perfect.
It just seemed like staff at the Ritz-Carlton had a level of attention to detail that wasn't as consistent at the other hotels. I talked above about how good our check-in experience was, and that same level of service continued throughout most of the stay.
To give an example of how over-the-top service was, sometimes the hotel would have two staff members positioned at the elevators to simply hold the doors for people, and then bow as the elevator doors closed. Gosh, I sure do love Japan.
The concierge staff at the Ritz-Carlton were also on top of things, and responded to emails in no time, with great recommendations.
Much like at the Park Hyatt and Four Seasons, staff were a combination of locals and foreigners. There was even a staff member from Florida, which I wasn't expecting.
Bottom line
The Ritz-Carlton Kyoto was the city's first true international luxury hotel, and continues to be excellent. The hotel has very good service, a central location, solid dining, and goes above and beyond for elites. If you're a Marriott loyalist and are looking for a great hotel in Kyoto, you can't go wrong with this property.
That being said, I don't think the Ritz-Carlton is Kyoto's best option, and it was my least preferred of the three hotels we visited. I wish the Ritz-Carlton Kyoto had some outdoor space to enjoy, and I also wish there were some sort of a whirlpool setup, rather than just a pool. Furthermore, while the hotel's design is pretty, it's definitely not as cutting edge as the city's newer luxury properties.
What's your take on the Ritz-Carlton Kyoto?