For our trip to Kyoto, we had a nearly three hour layover at Taipei Taoyuan Airport (TPE), after landing from Los Angeles in Starlux's A350-900 business class, and prior to connecting to Osaka in Starlux's A330-900neo business class.
We spent most of our transit in the Starlux Airlines Galatic Lounge, which is the carrier's only lounge. The lounge has nice decor and a pretty decent selection of food and drinks. However, the space is tiny, it doesn't have showers or even bathrooms, and it's not even open in the evenings, prior to Starlux's long haul flights from Taipei.
I understand the problem Starlux has — it's a new airline, and securing lounge space at a crowded, existing airport can be tough. So I absolutely believe that Starlux just hasn't been able to secure more lounge space. Still, this whole setup is kind of disappointing from a passenger experience standpoint. Let's get into the review.
Starlux Airlines Lounge Taipei location
Our flight from Los Angeles arrived at Terminal 2 at Taipei Taoyuan Airport, while our flight to Osaka departed from Terminal 1. On the plus side, there was no transit security when arriving from the United States, so we were immediately in the departures terminal. However, that's where the easy part of this transit ended.
Even though Terminal 2 and Terminal 1 are connected airside, I found the signage in the terminal to be horrible. A Starlux representative who met the flight informed us that we had to go to Terminal 1, with no further explanation. We figured it would be easy enough to navigate there on our own, though that was a bad assumption. A vast majority of the signage in the terminal only referenced gate areas associated with certain letters, rather than terminal numbers.
Furthermore, the signage for the Starlux Lounge is also lacking. We finally found the lounge area around 40 minutes after getting off our flight from Los Angeles. It's entirely possible we were just exhausted and weren't paying attention properly, but I was confused, and I'm not exactly an airport rookie.
Anyway, the Starlux Airlines Galactic Lounge Taipei is located in the same area as the China Airlines Lounge, Plaza Premium Lounge, and Cathay Pacific Lounge, near the B and C gate areas.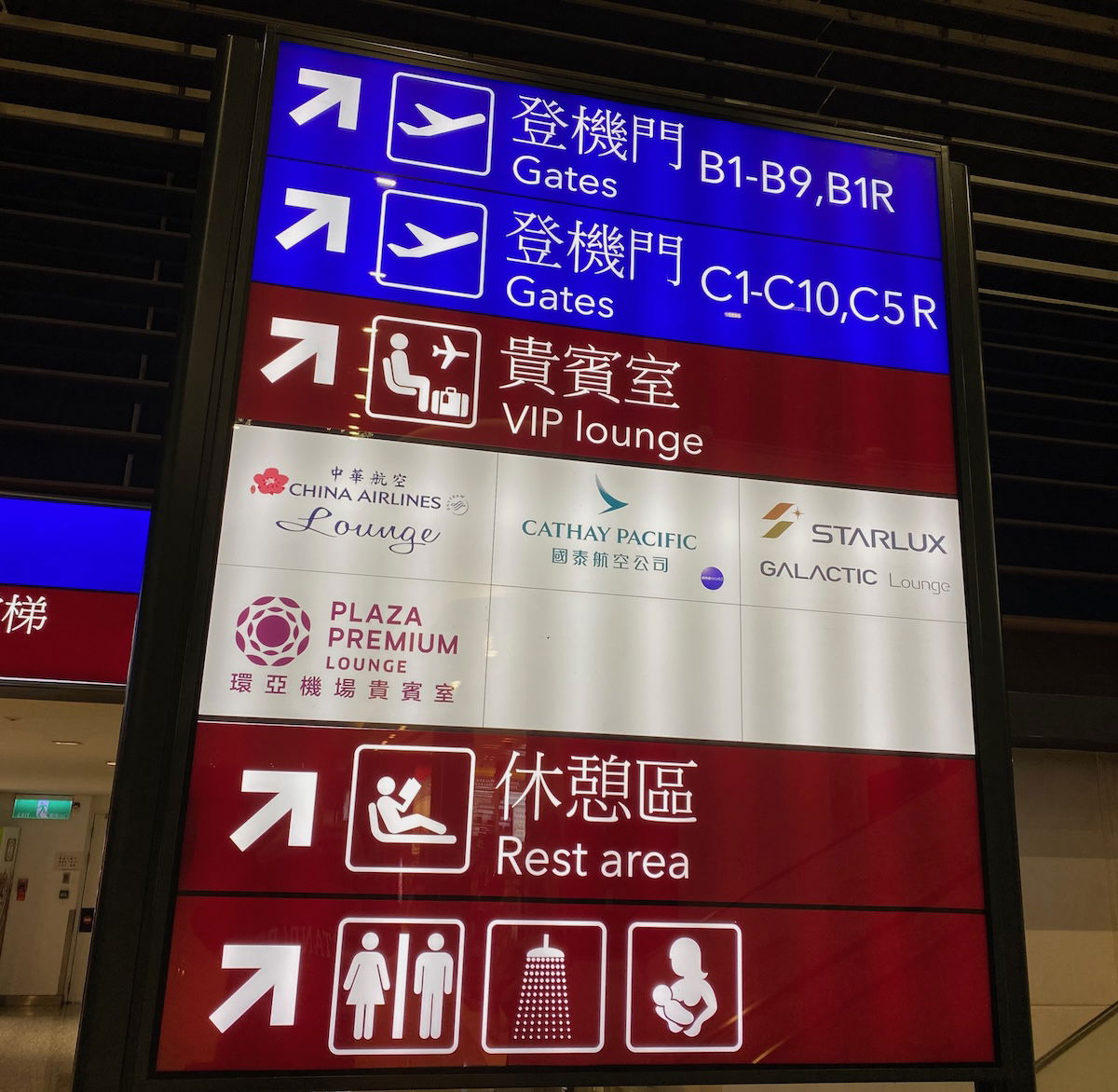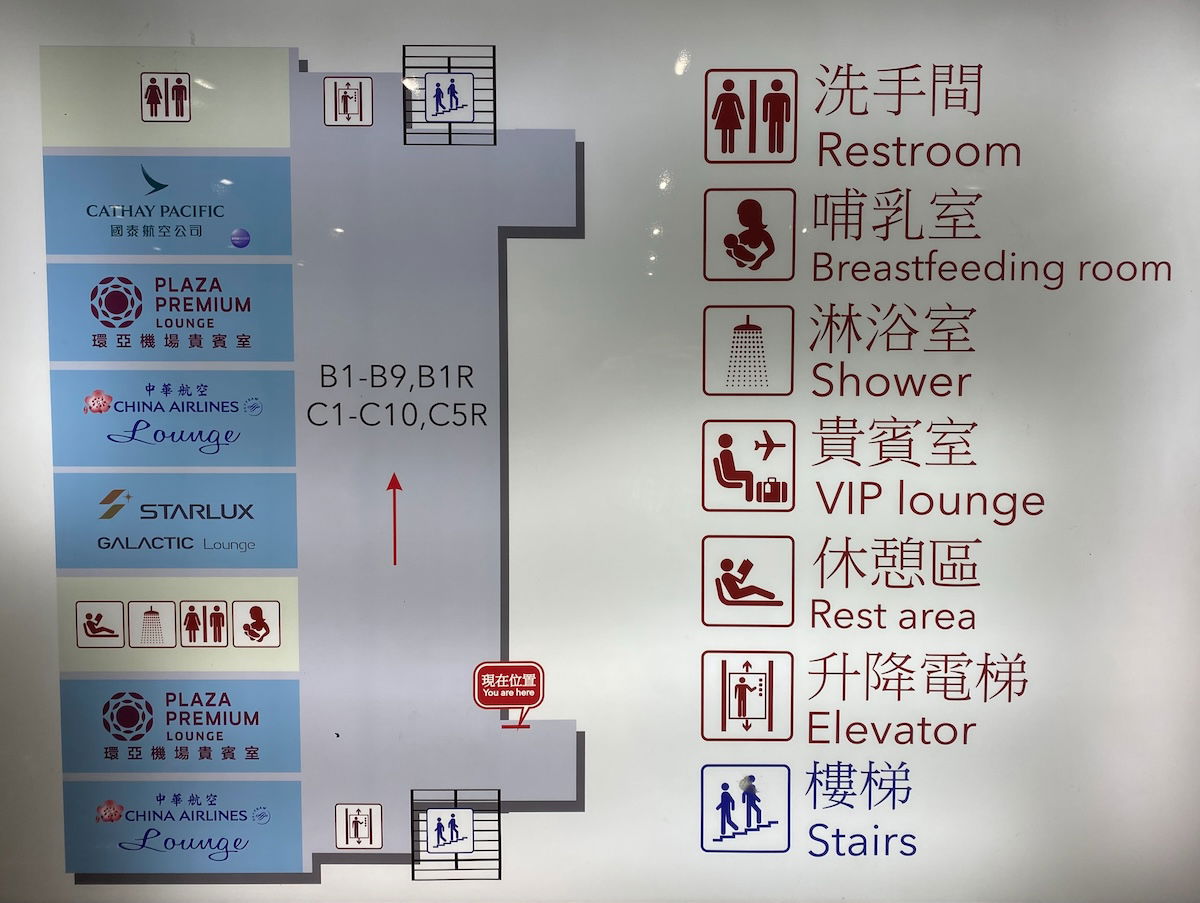 The lounges are one level up from the main terminal concourse, and you can either take stairs or an elevator.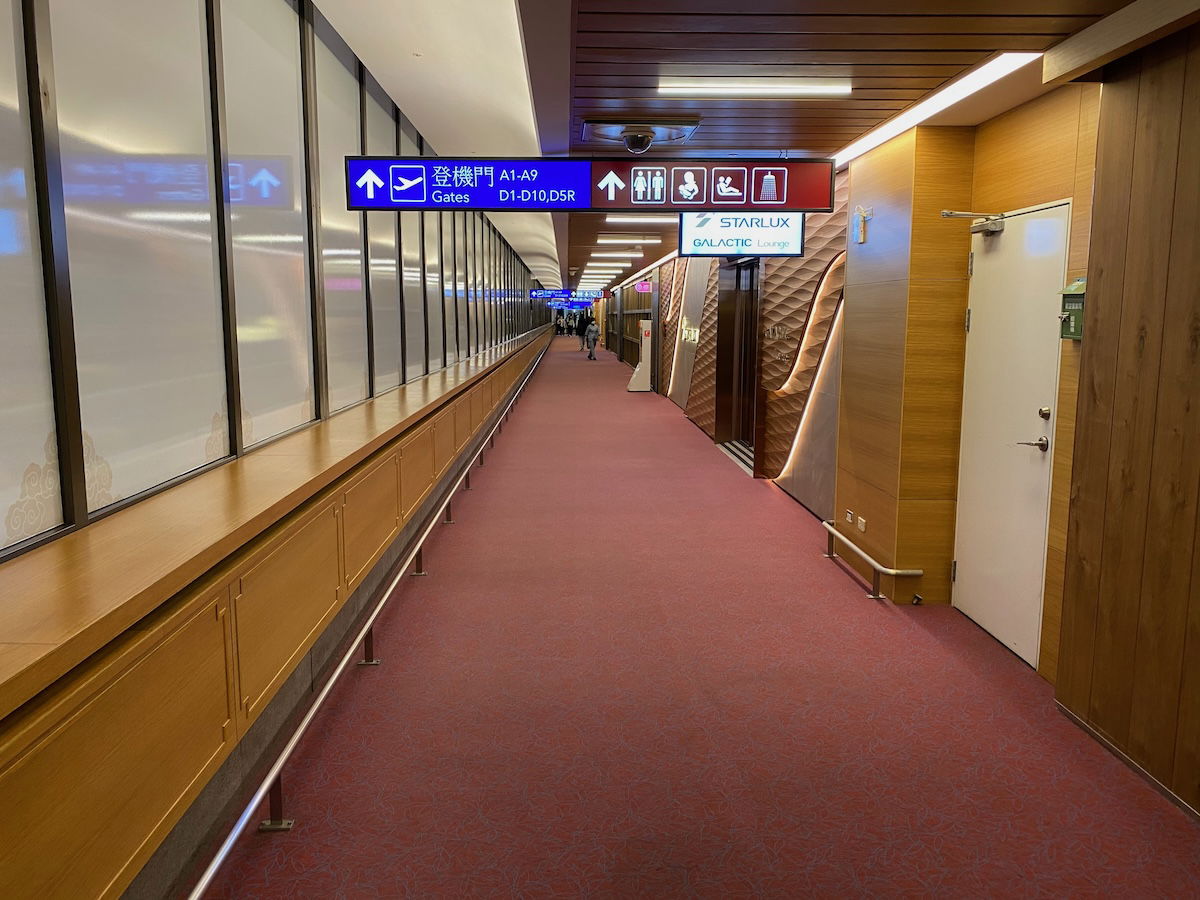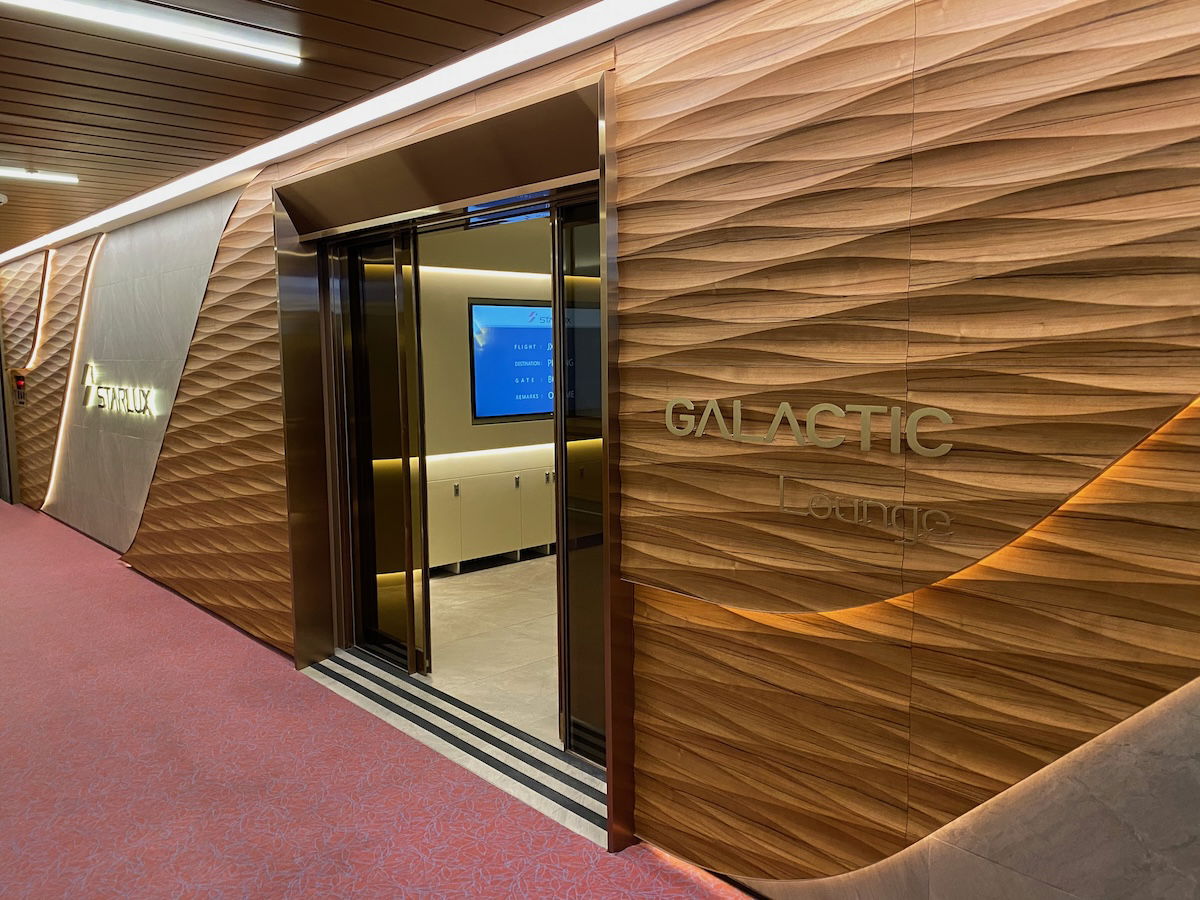 Note that if your travels are originating in Taipei, it's much easier to find this lounge. When you pass security you can either turn left or right and walk down the hall, and then the stairs and elevators leading to the lounge are along the center of the terminal on level four, not far away.
Starlux Airlines Lounge Taipei hours
The Starlux Airlines Galactic Lounge Taipei is currently open daily from 5AM until 7PM. This covers all of Starlux's morning, afternoon, and evening flights, though it doesn't cover Starlux's nighttime flights to the United States, which depart around midnight.
Why isn't the lounge open then? Well, Starlux's flights to the United States depart from Terminal 2, so at that time passengers are instead sent to the Orient Club Lounge Terminal 2. Being sent to a contract lounge when flying out of a carrier's hub on a flagship route isn't exactly a great experience, but again, I understand the logistical challenges. For that matter, using the carrier's own lounge isn't a great experience either. 😉
Starlux Airlines Lounge Taipei entry requirements
Who can access the Starlux Airlines Galactic Lounge Taipei? For one, the lounge is open to all Starlux business class passengers, with no guests being allowed. On top of that, elite members in the Starlux COSMILE frequent flyer program also get lounge access — Explorer members can bring one guest, while Insighter members can bring two guests.
Starlux Airlines Lounge Taipei seating & layout
The Starlux Airlines Galactic Lounge Taipei is really small. I'd estimate that the seating is maybe a couple of thousand square feet, and that it can accommodate around three dozen people.
The lounge consists of a few seating options, all of which are quite stylish. In the center of the lounge there are seating arrangements that are sort of like couches, which each seat two to four people.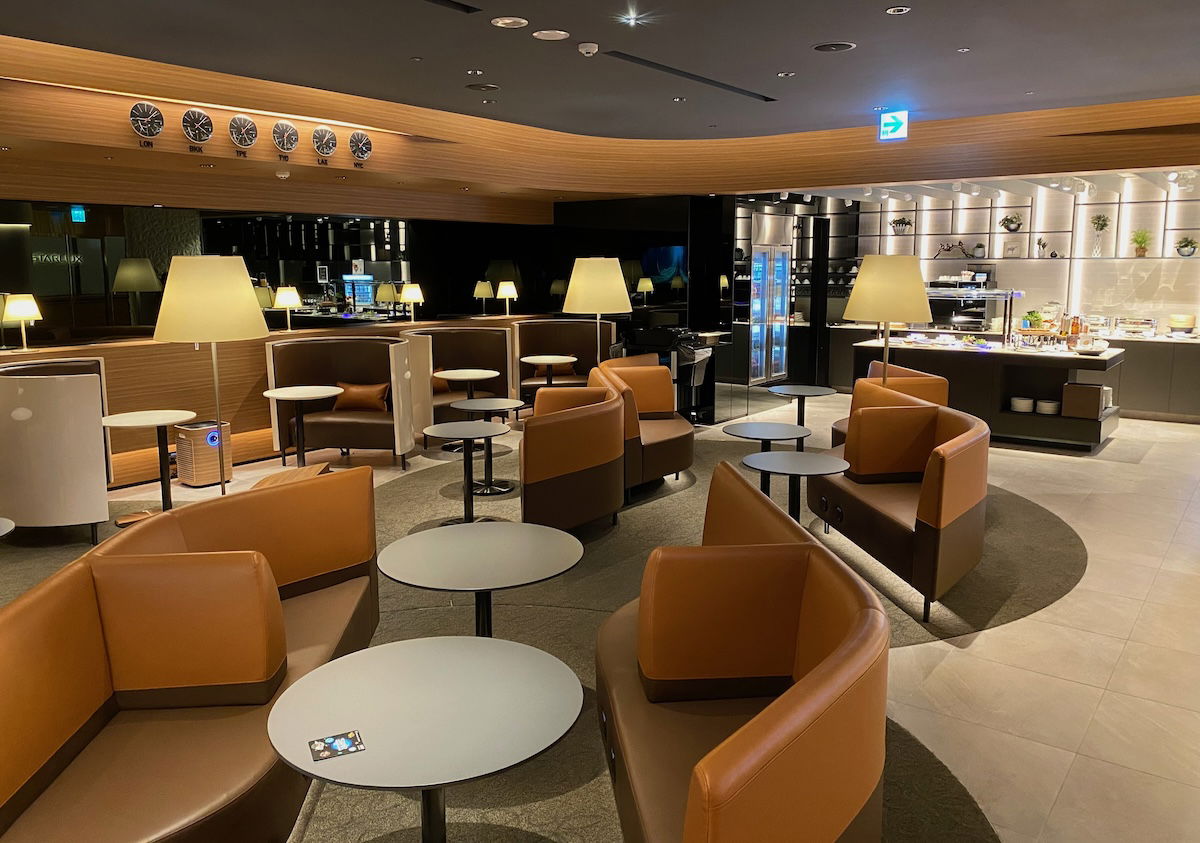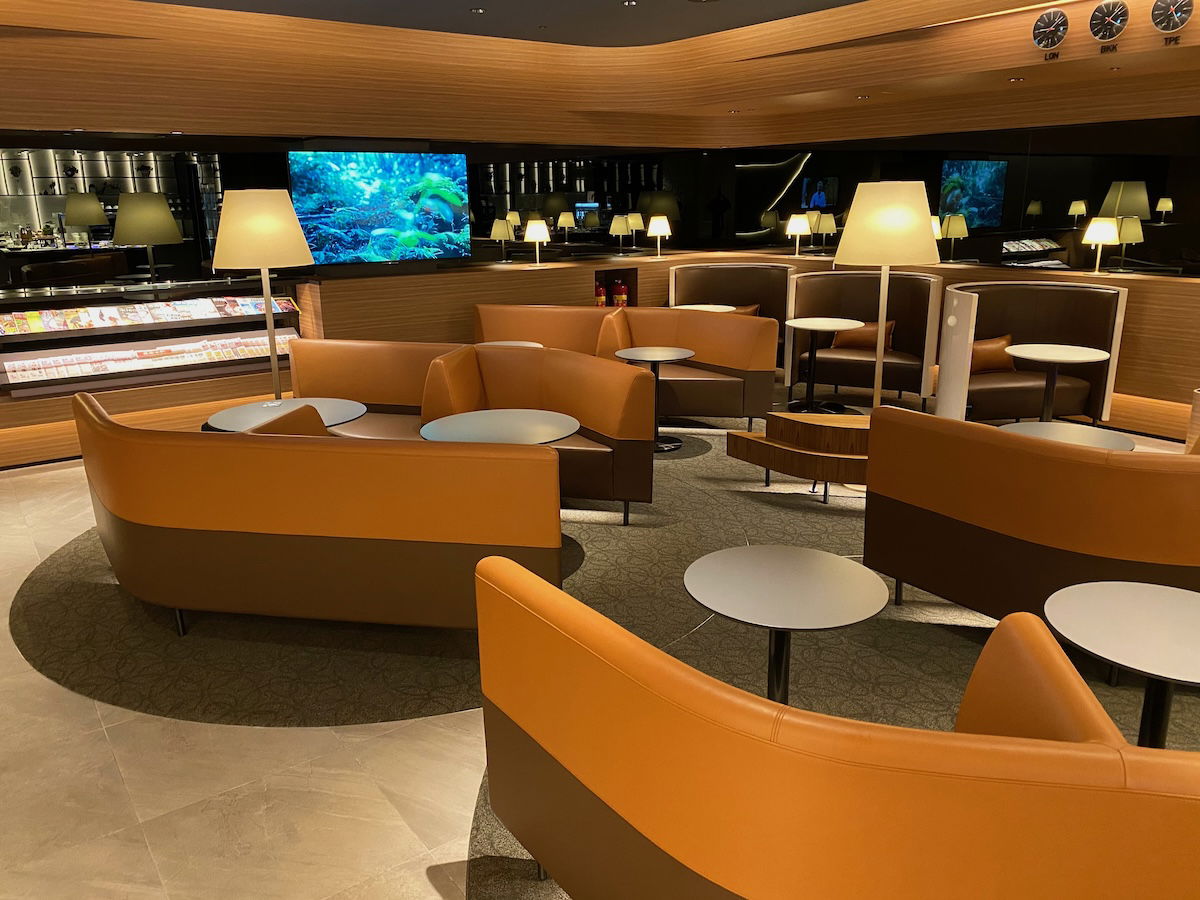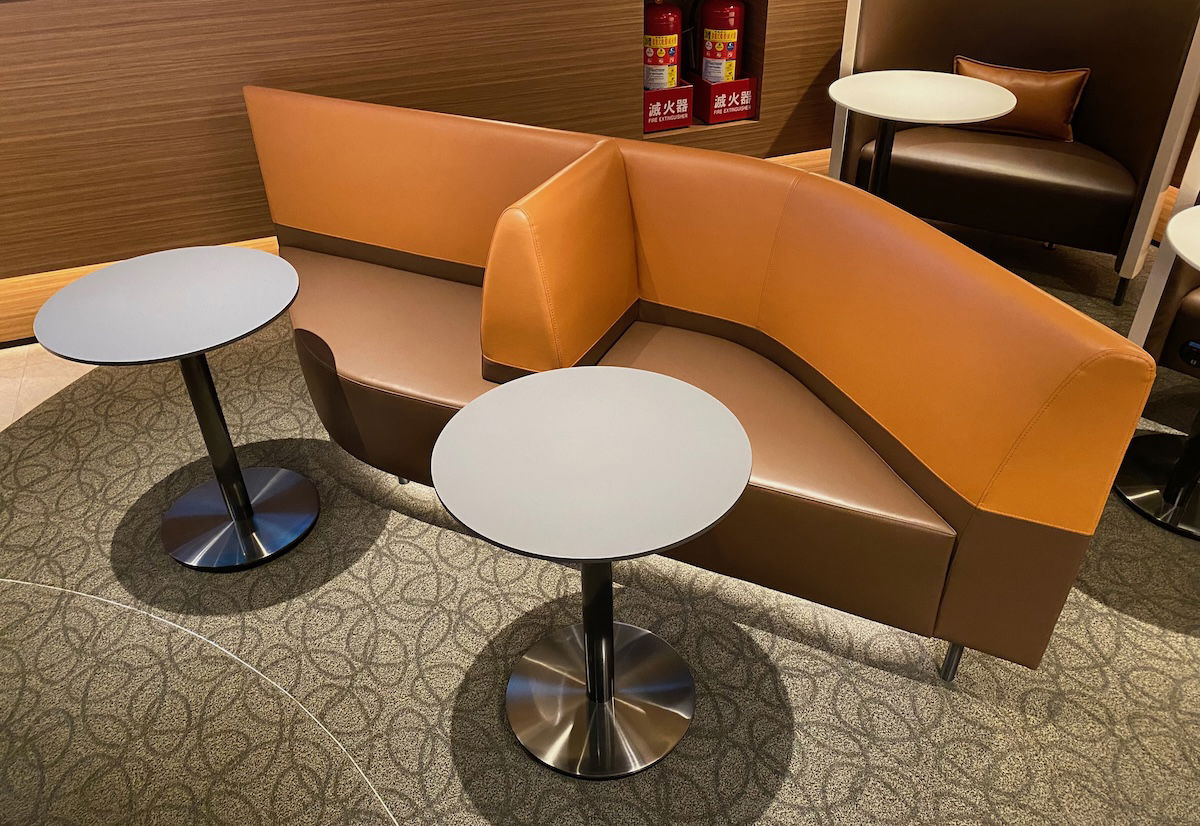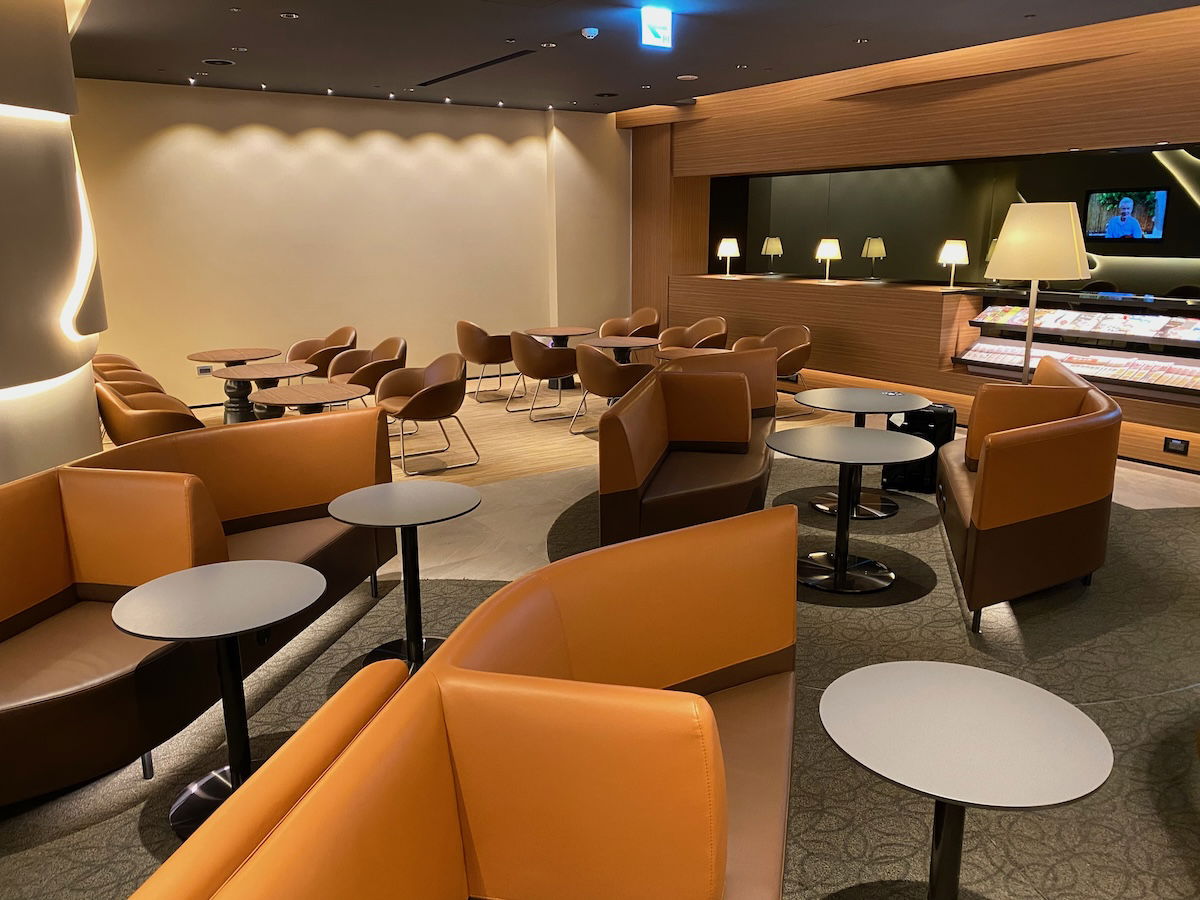 Then along the interior wall of the lounge are half a dozen curved chairs, which I'd consider to be the most comfortable seating options in the lounge.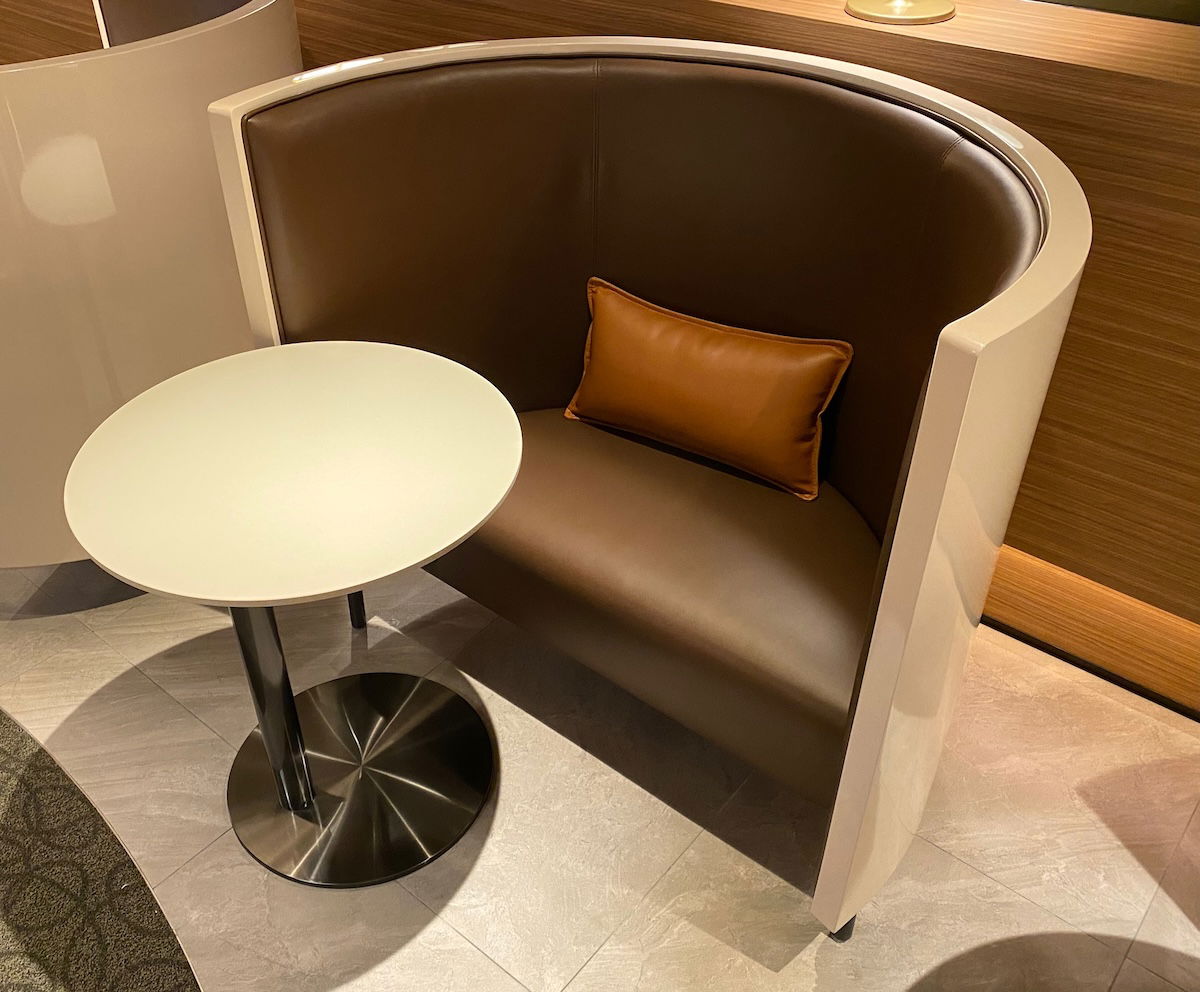 Then in the back corner of the lounge there are a dozen additional chairs, arranged in two rows, with each pair of seats having a coffee table.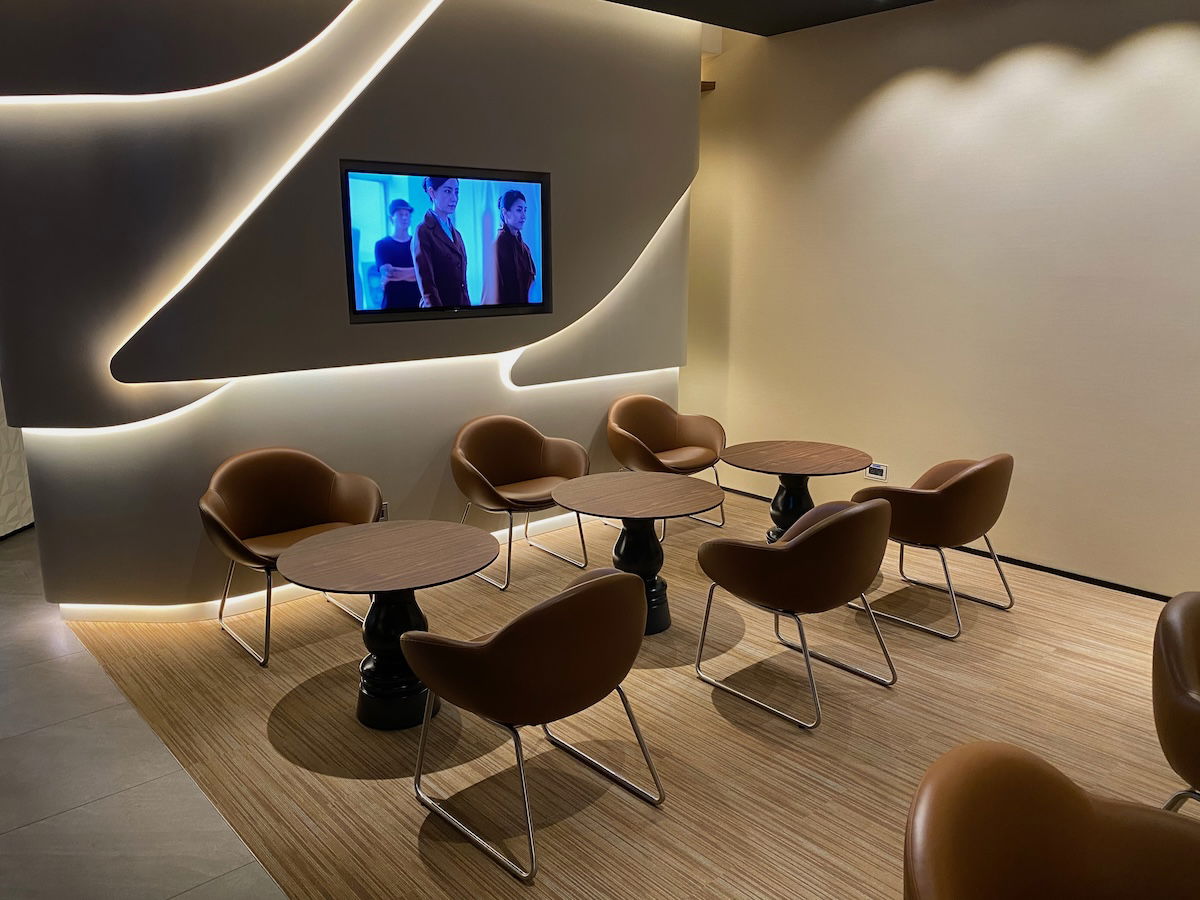 That's the extent of the lounge. As you can see, it's pretty stylish, but it doesn't exactly have a whole lot of amenities. As you'd expect, crowding can become a major issue here, and this will only get worse as the airline continues to grow. Thank goodness our flight was mostly empty, because a full business class cabin on a single flight could almost fill up this lounge.
Starlux Airlines Lounge Taipei food & drinks
The Starlux Airlines Galactic Lounge has both a buffet and a small menu you can order off of. I'd say the options are pretty high quality, though not necessarily that substantial.
The buffet consists of an "L" shaped counter, plus an island. Since we were there early in the morning, there was a breakfast selection available.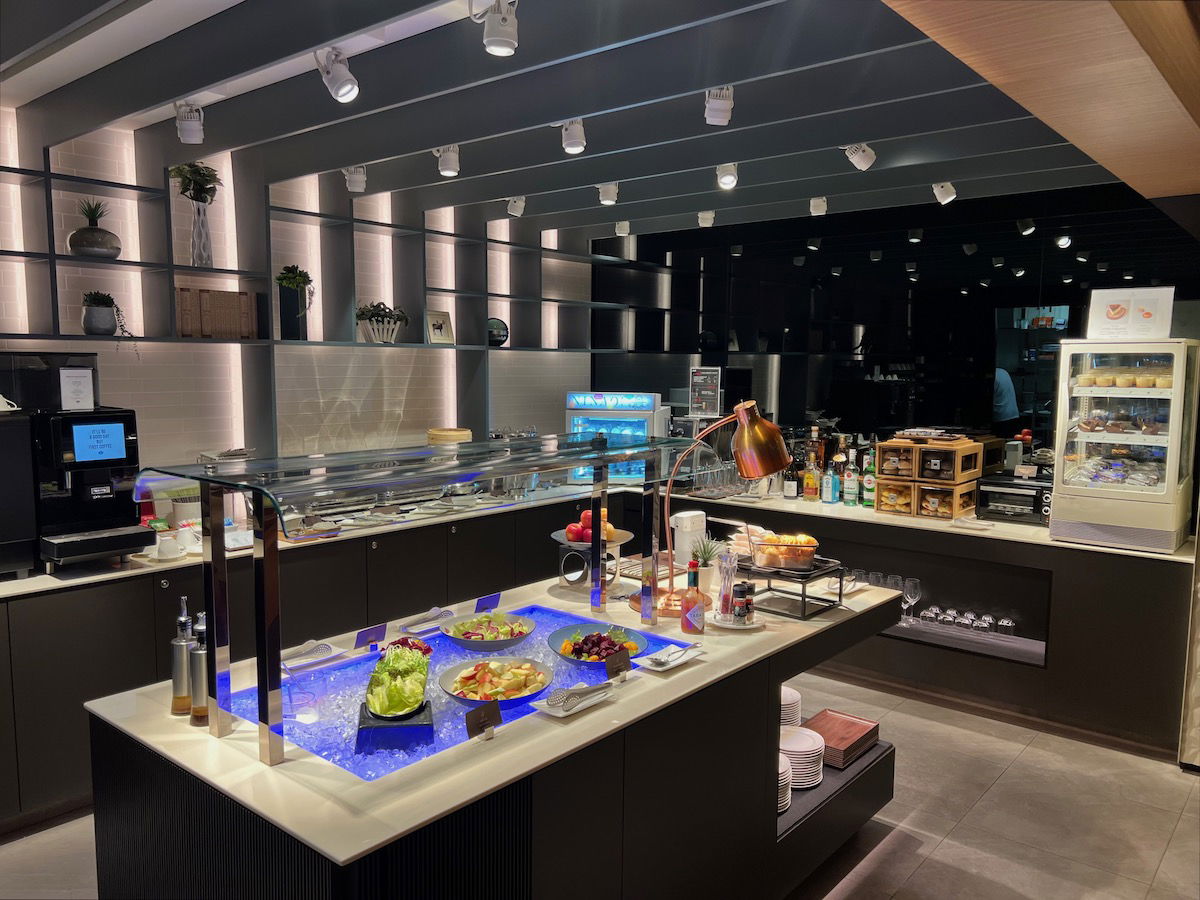 Cold options included several types of salad (fruit salad, a beet salad, lettuce, etc.), pastries and bread, ice cream from NINAO, and some desserts from SEASON (both local brands, which Starlux is great at highlighting).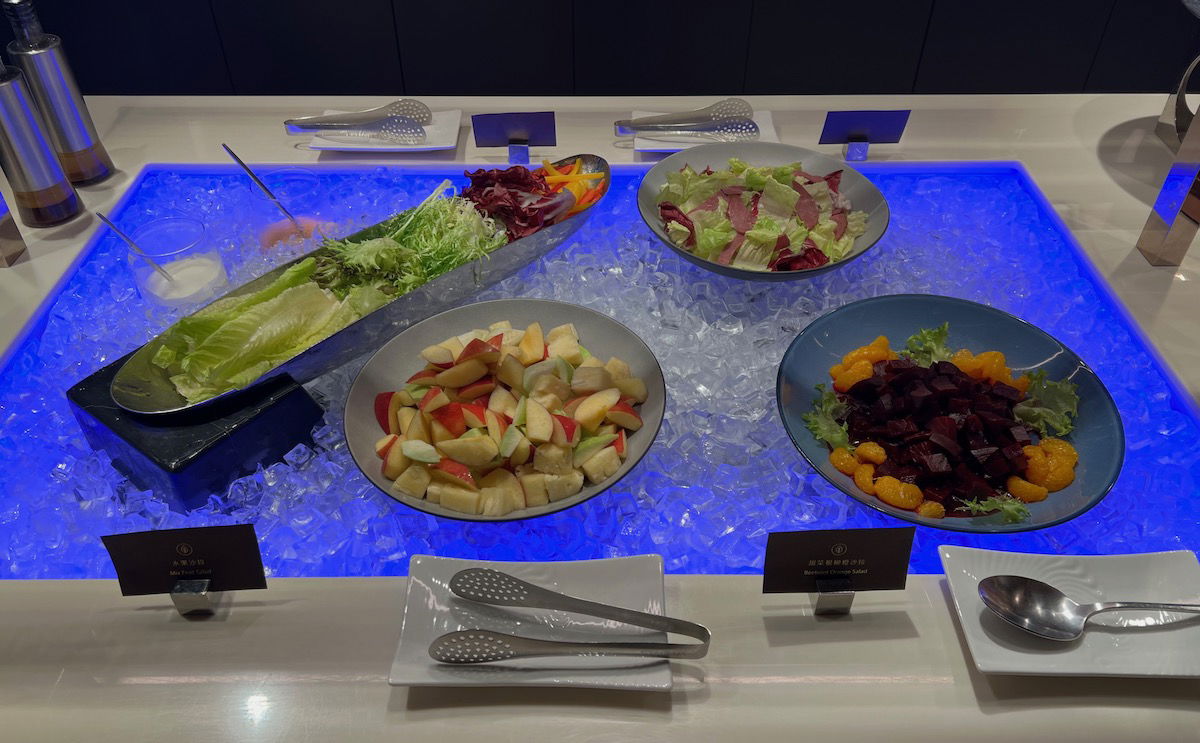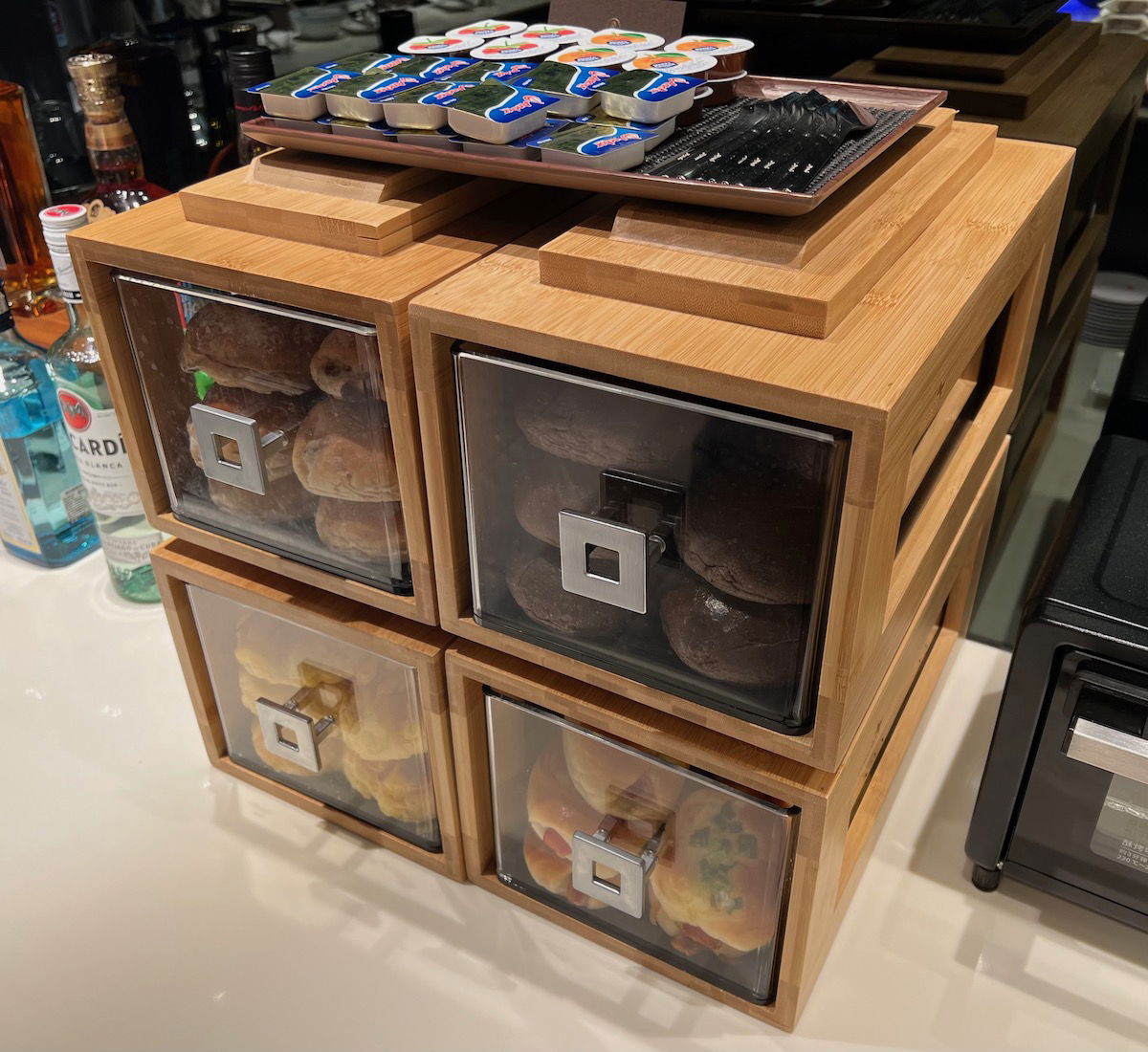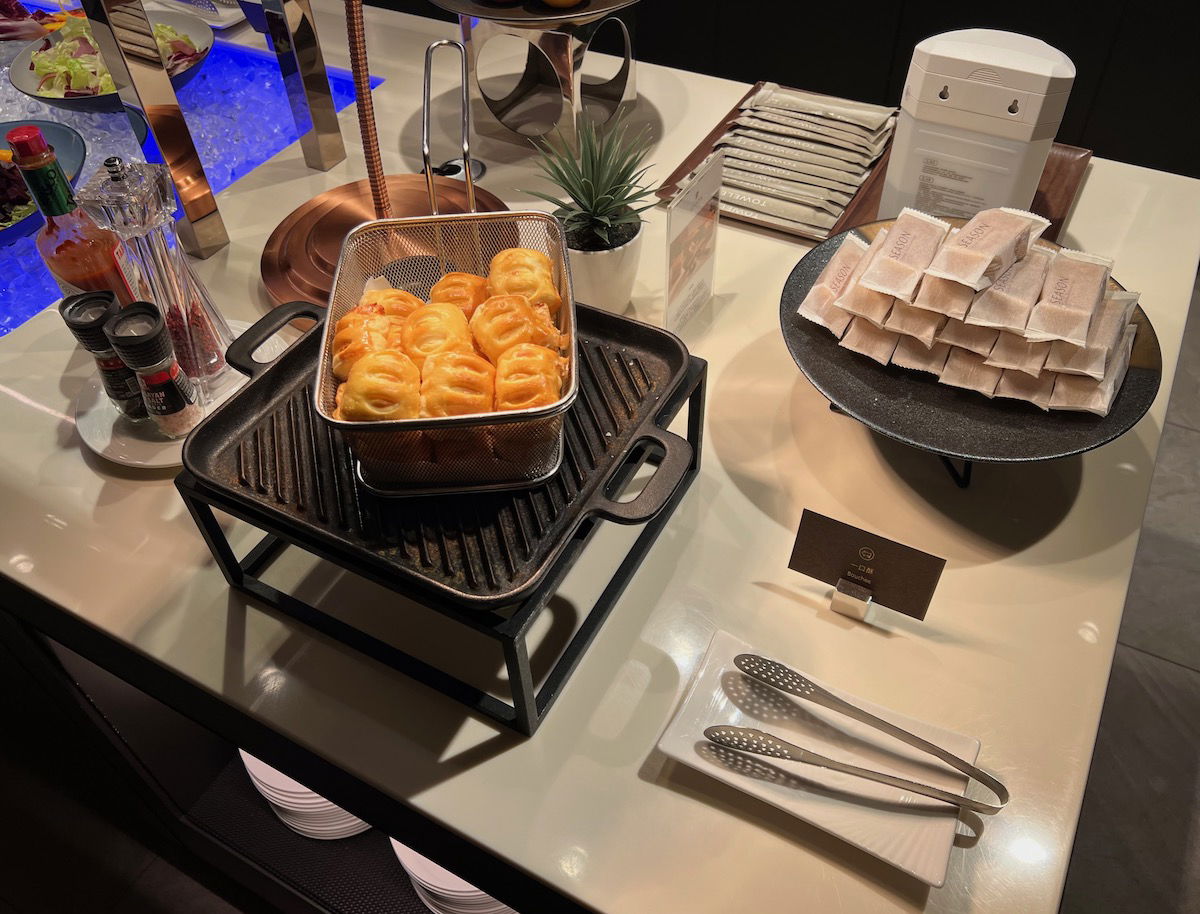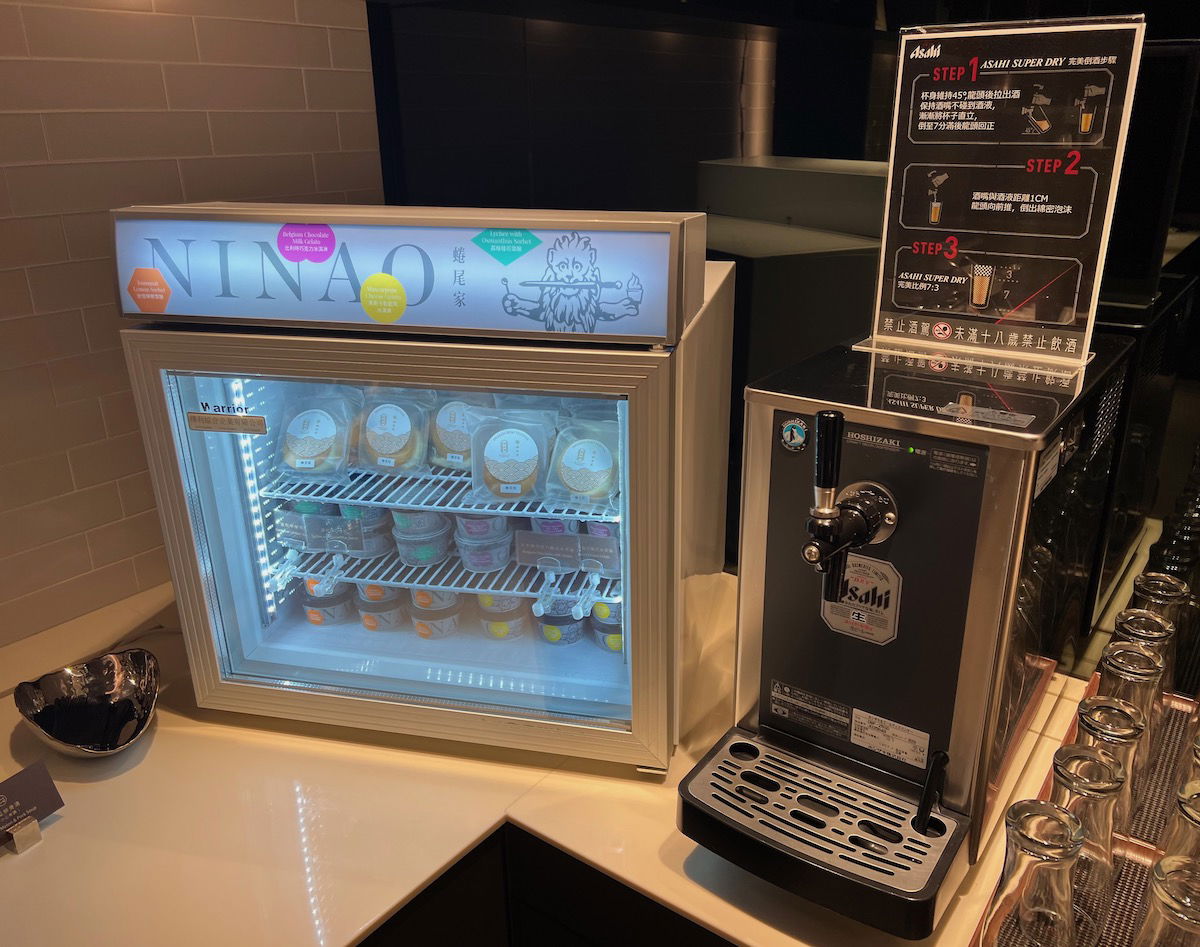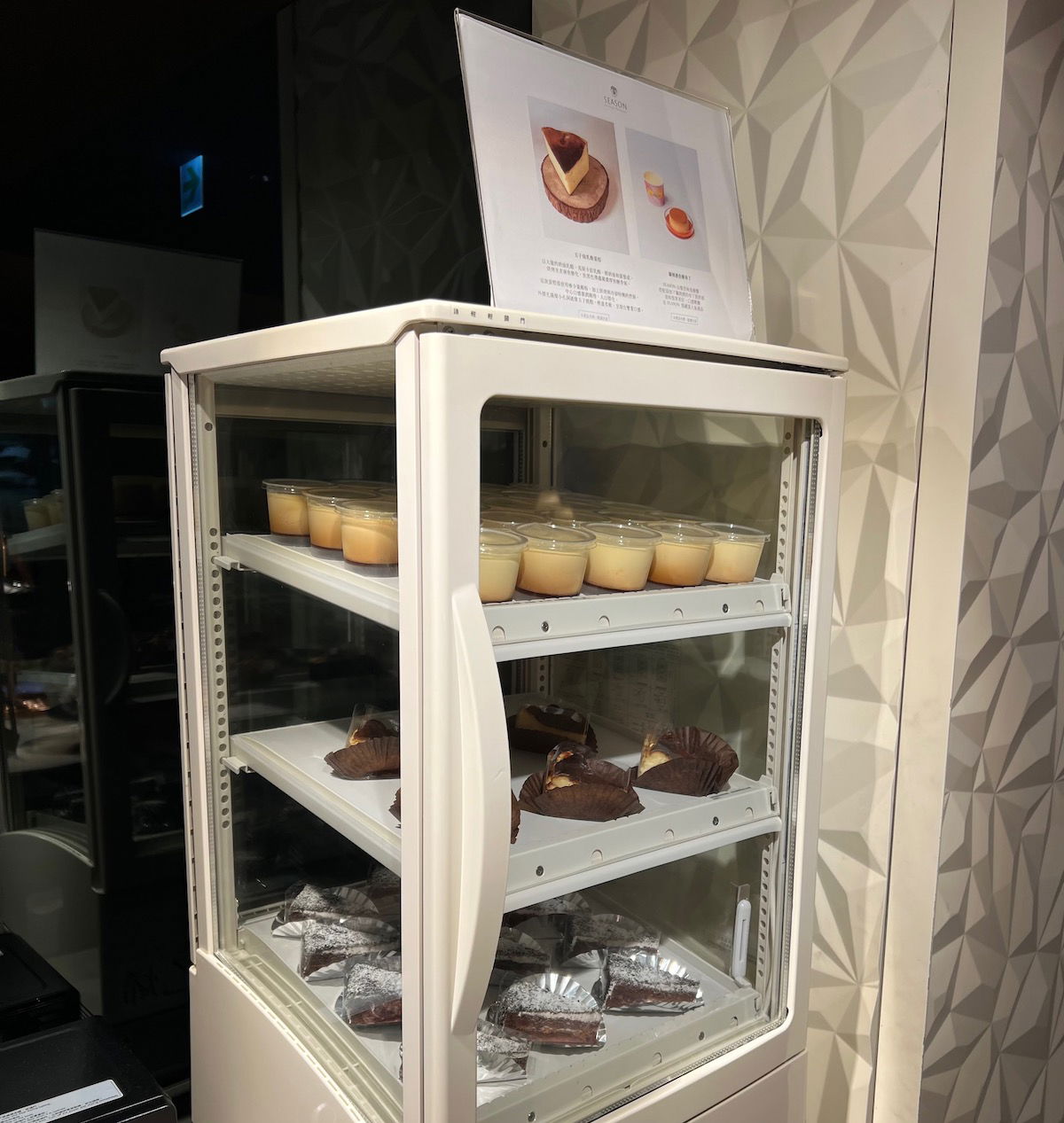 There were also half a dozen hot options, including winter melon and pork soup, bacon, chicken sausage, dumplings, boiled tea eggs, and taro-flavored piggy buns.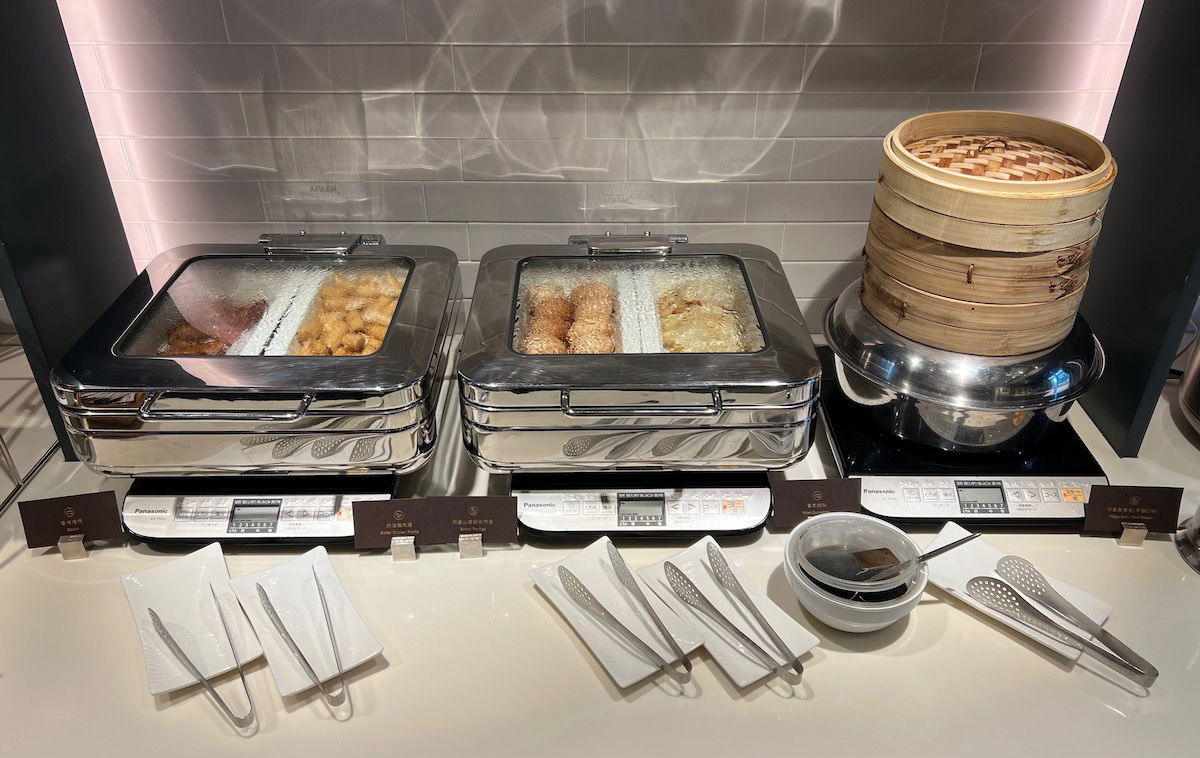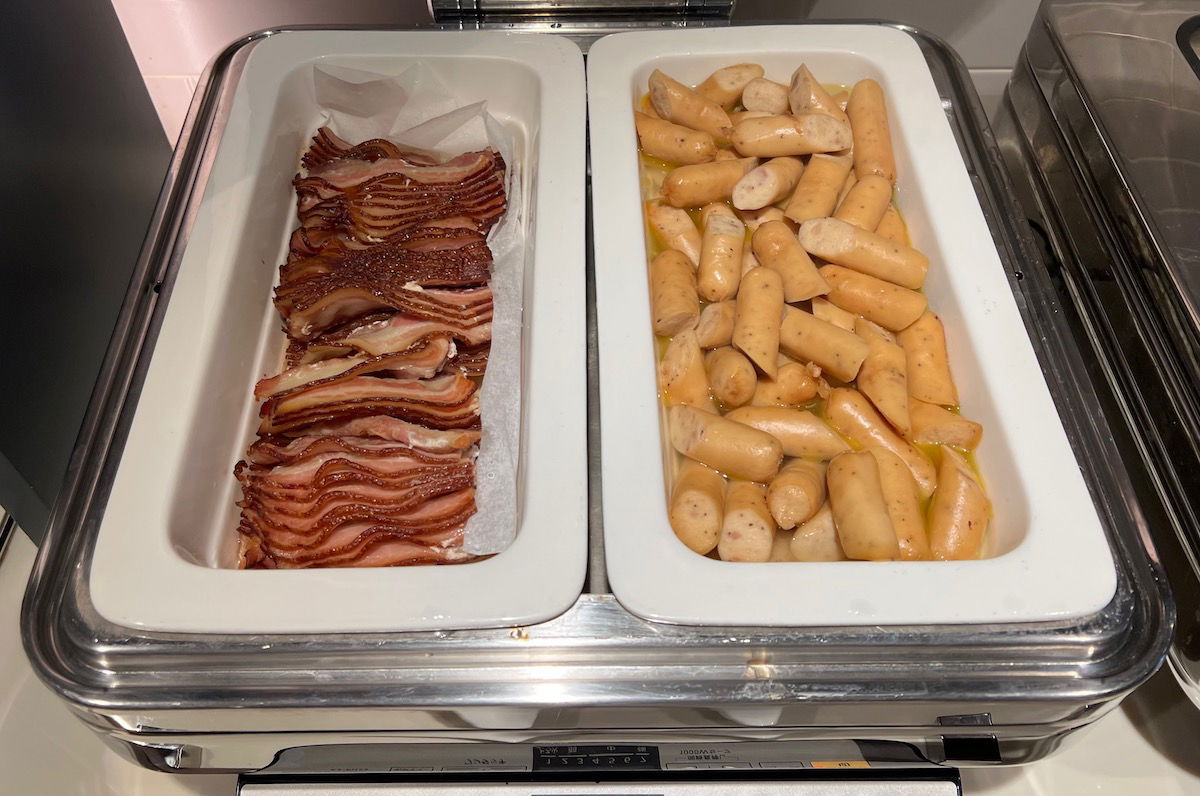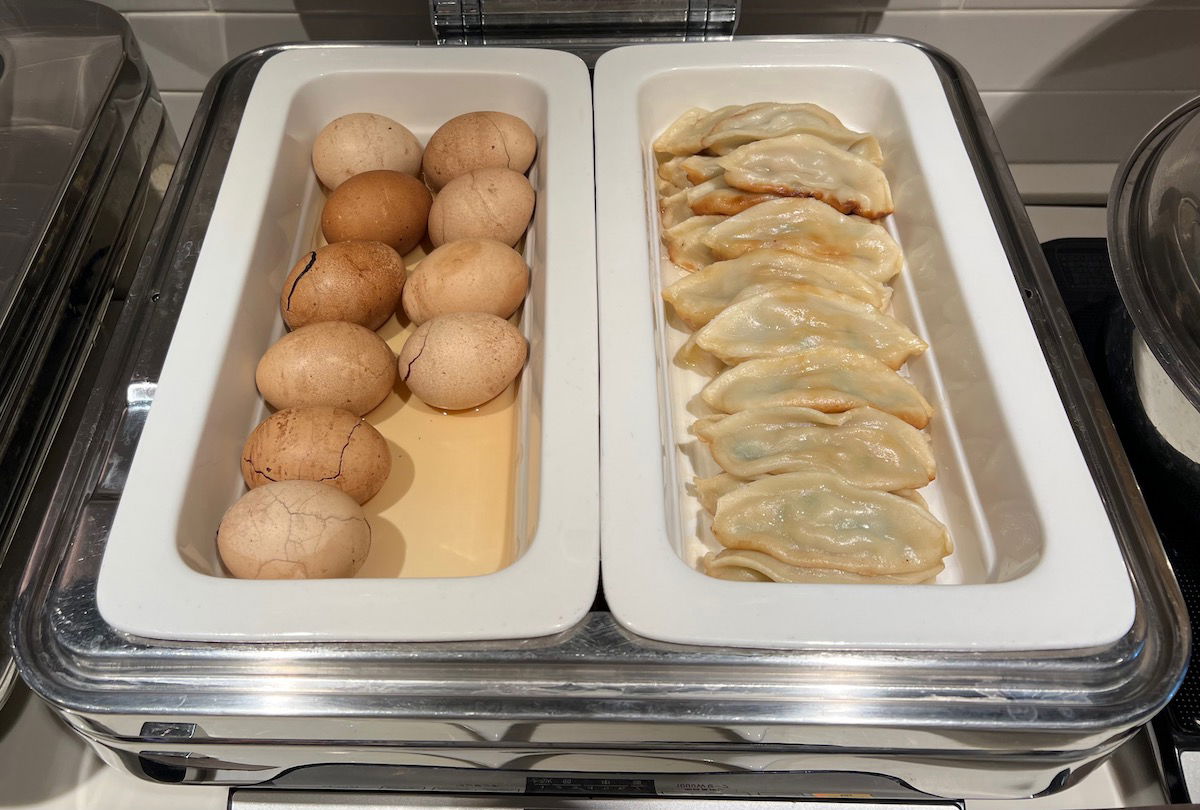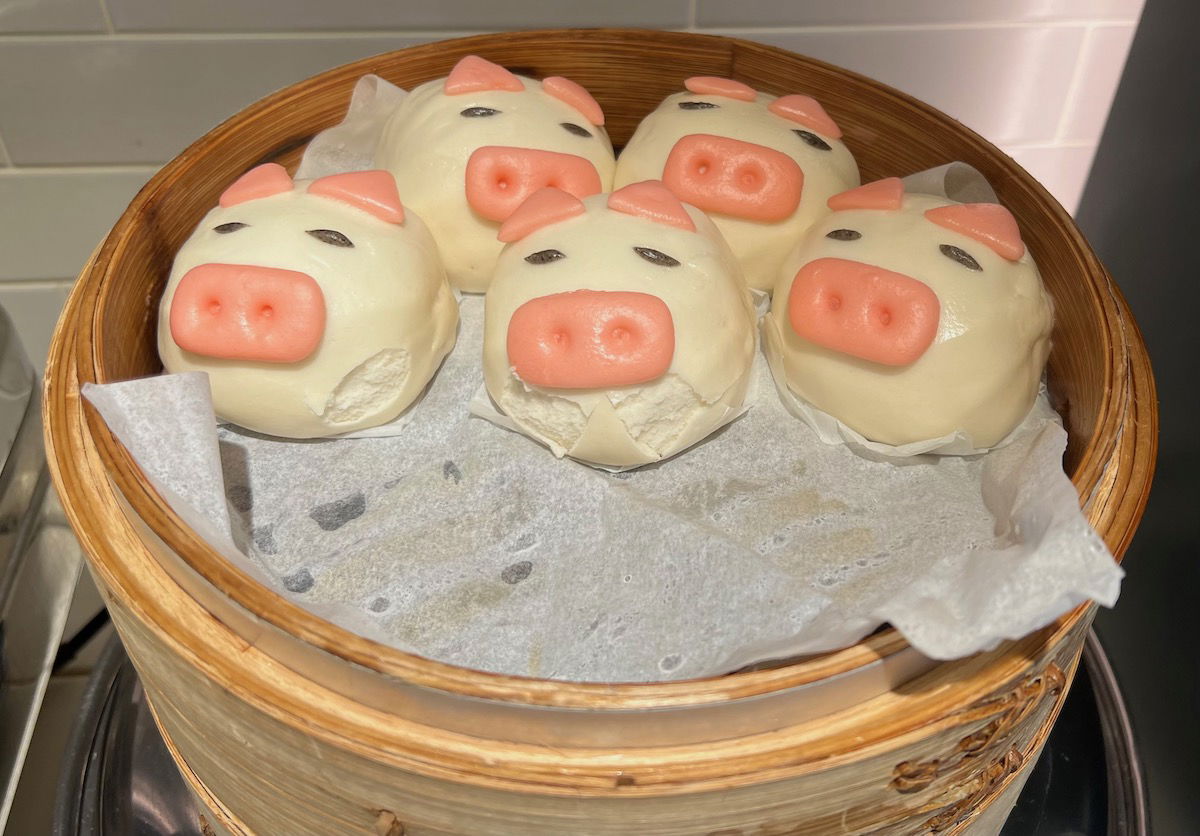 As far as drinks go, the buffet had a coffee machine, Twinings, beer, and a small selection of wine and liquor.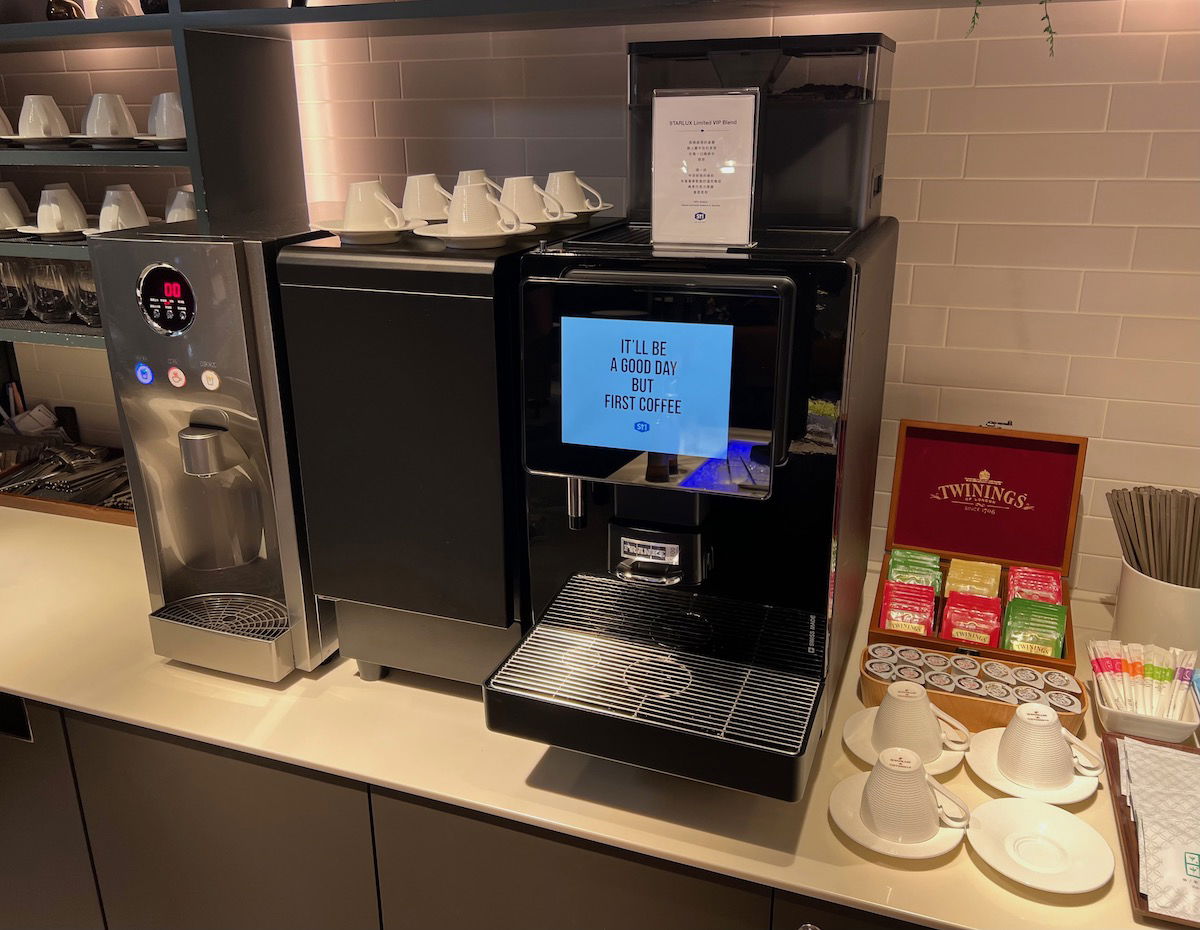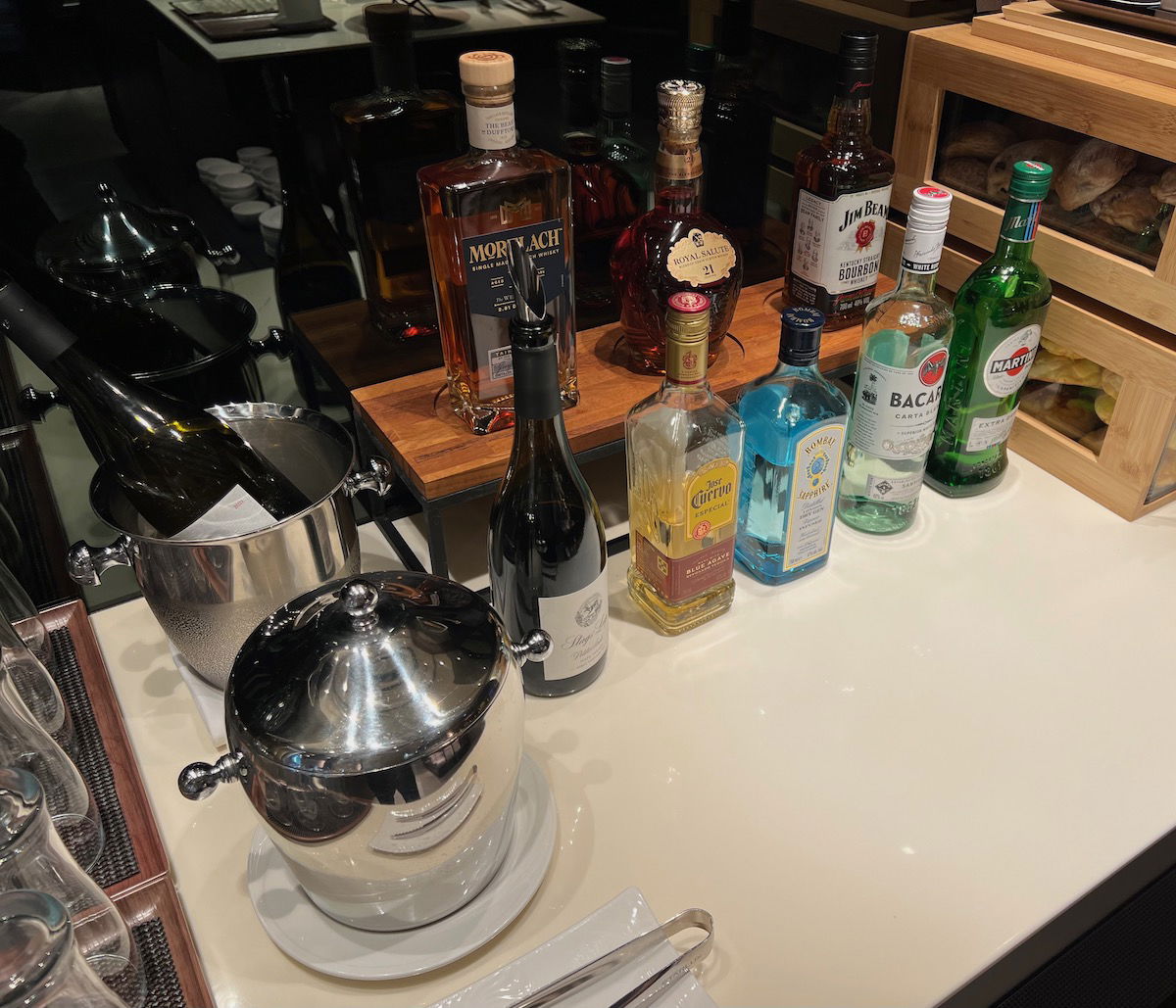 At first I was amused how the coffee machine indicated that the coffee blend was a "limited VIP" one, but I've gotta say, the coffee was surprisingly great.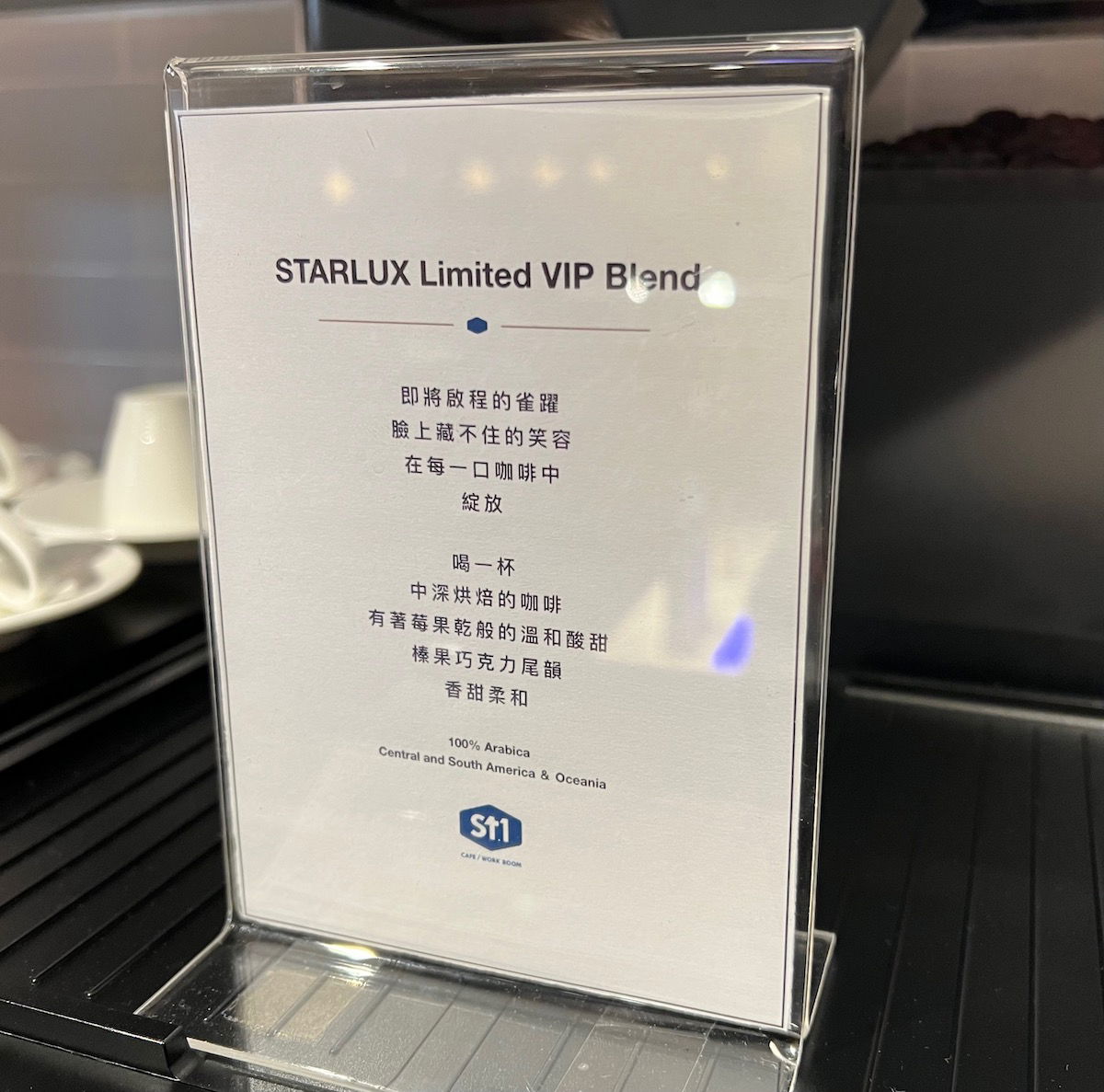 I was really impressed by the fridge that had non-alcoholic drinks, ranging from iced tea, to several juices, and even Evian and San Pellegrino.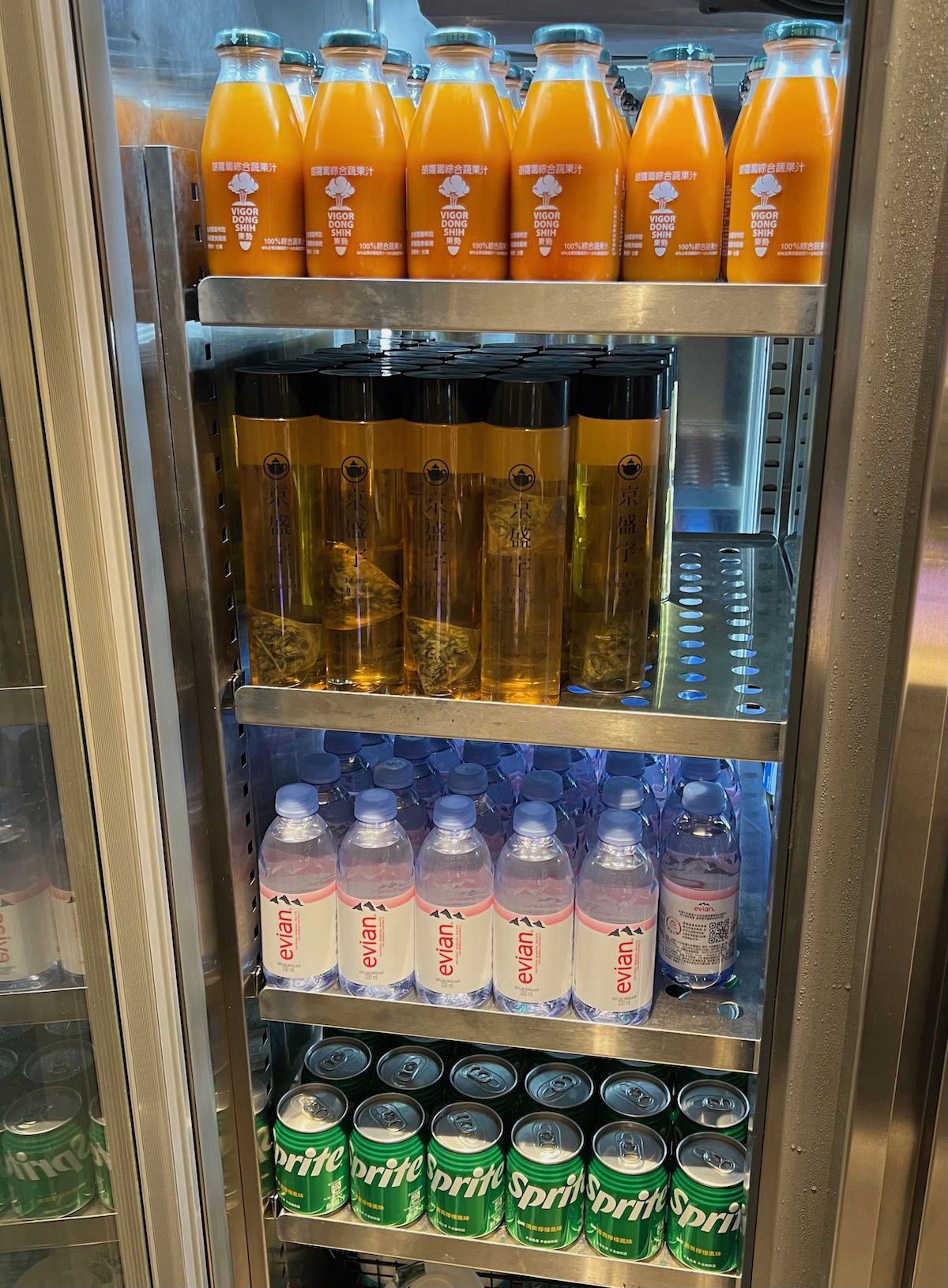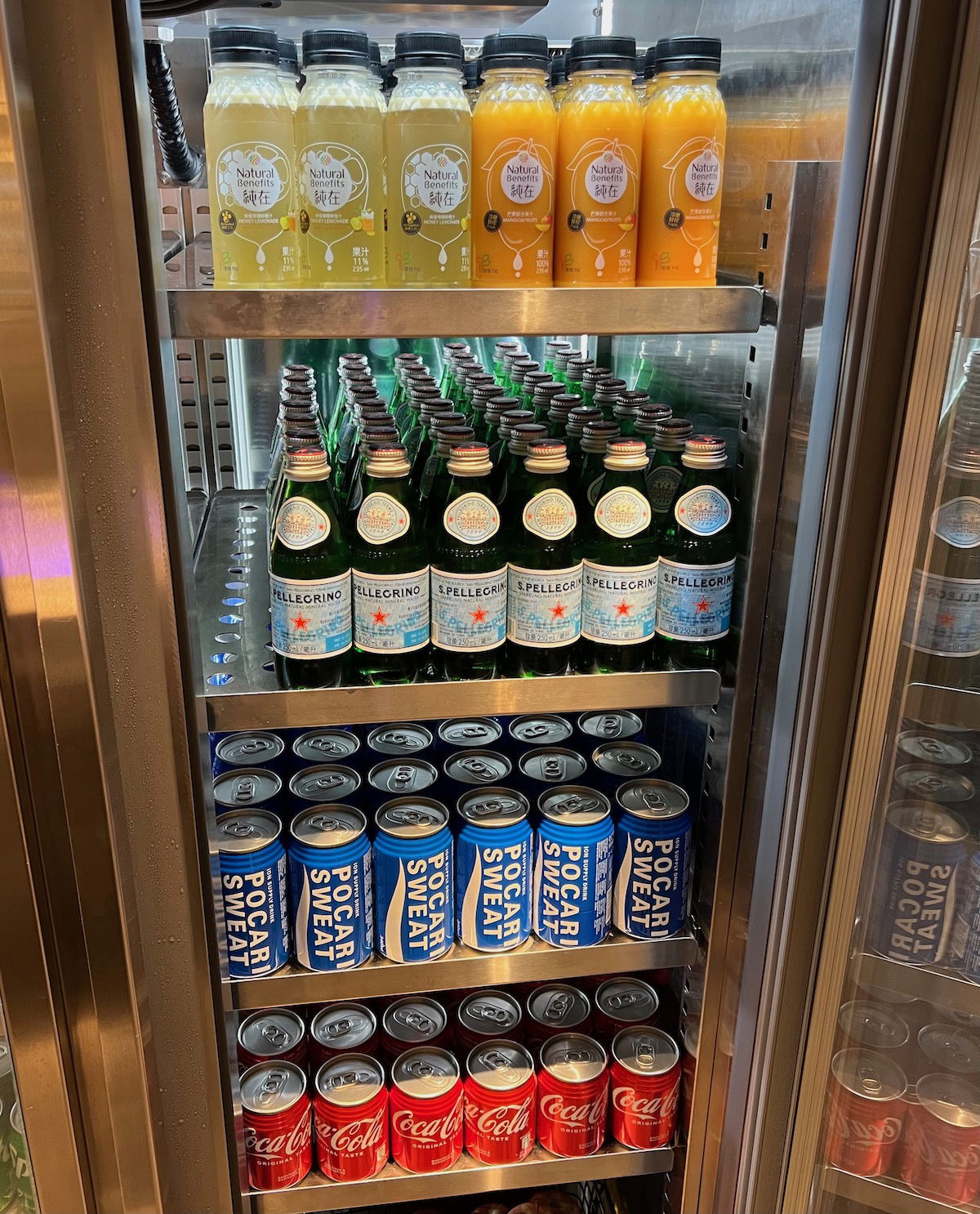 Then there was the small a la carte selection, which you can find below. This is presented as soon as you walk into the lounge. It had three options, including the fuhang soy milk set, a bagel with egg and bacon, and then ramen.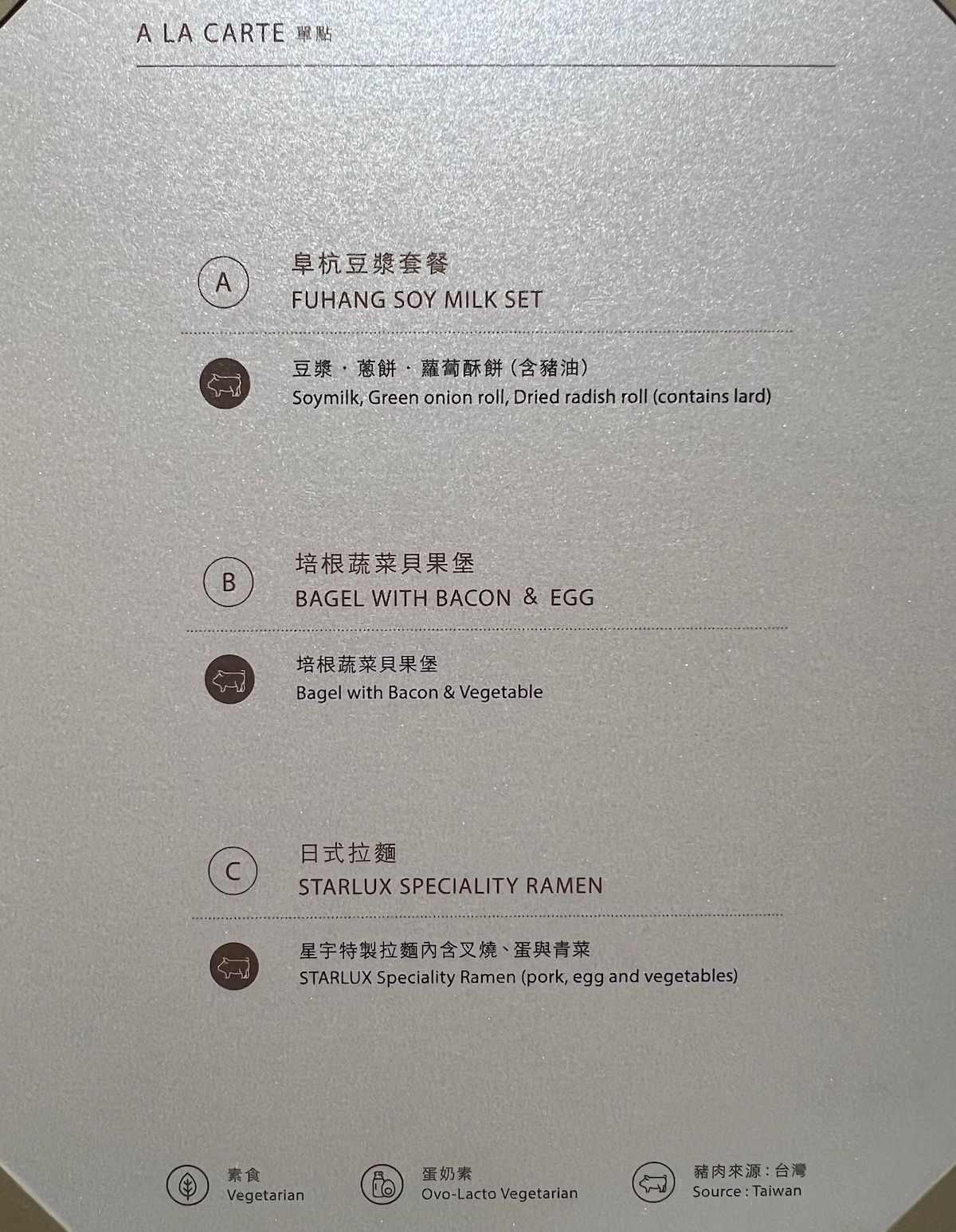 Look, I totally get that pork is really popular in Taiwan in general, but couldn't the airline try to provide an alternative? I mean, you're excluding two major religious groups, plus me (not religious, I just think pigs are smart and cute, and I don't want to eat them). You have the options of pork, pork, or… pork. I love how the menu lists the symbol for a vegetarian dish, but it's jut not used anywhere.
When I asked if they had any non-pork options, they explained that they could make the bagel without pork. So I ordered that, not because I was hungry, but for a picture. It was nicely presented, but it wasn't actually great.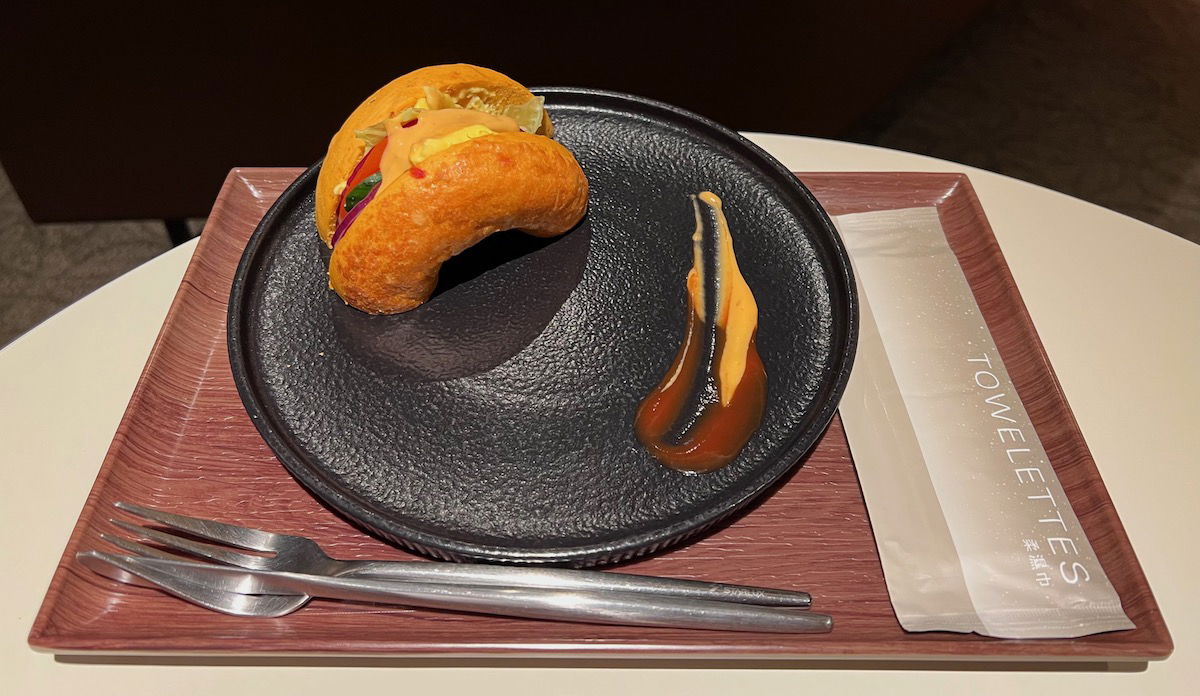 I met a kind reader who was on both of our flights, and he let me take a picture of his ramen, for those who are curious what it looks like.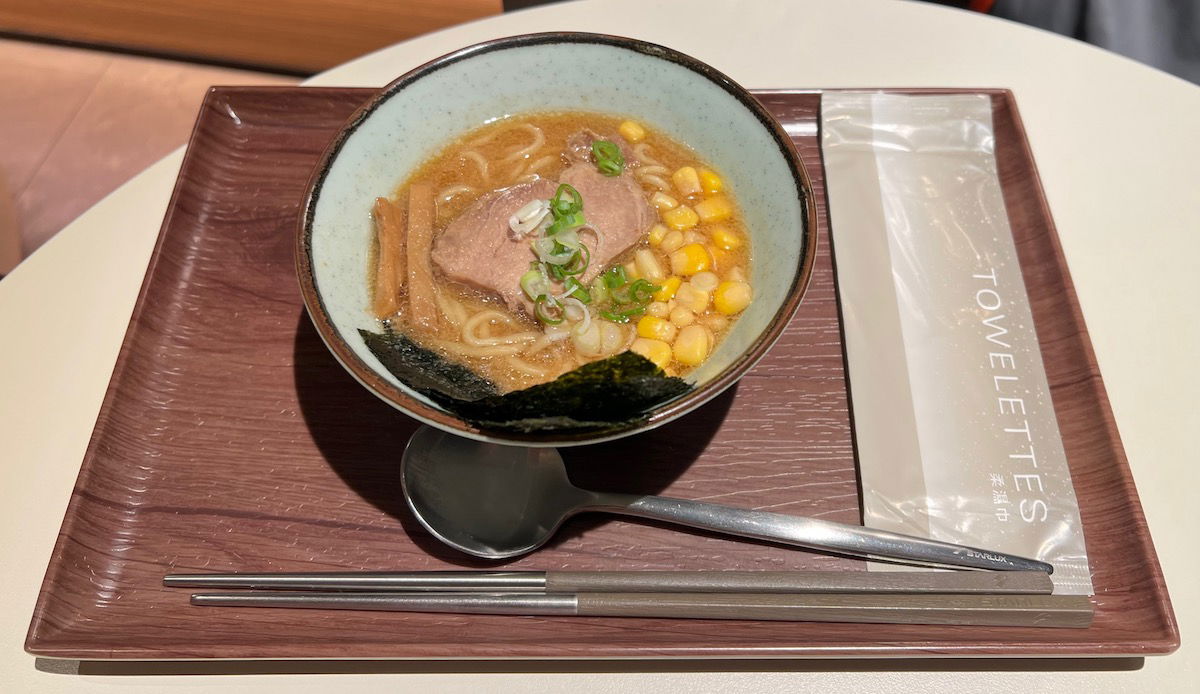 I also couldn't help but eat one of the taro buns. Ironically one of the few things that doesn't contain pork is still made to look like a pig… lol.
Mainly I just enjoyed the drink selection, including some water, a delicious tea, and some great coffee.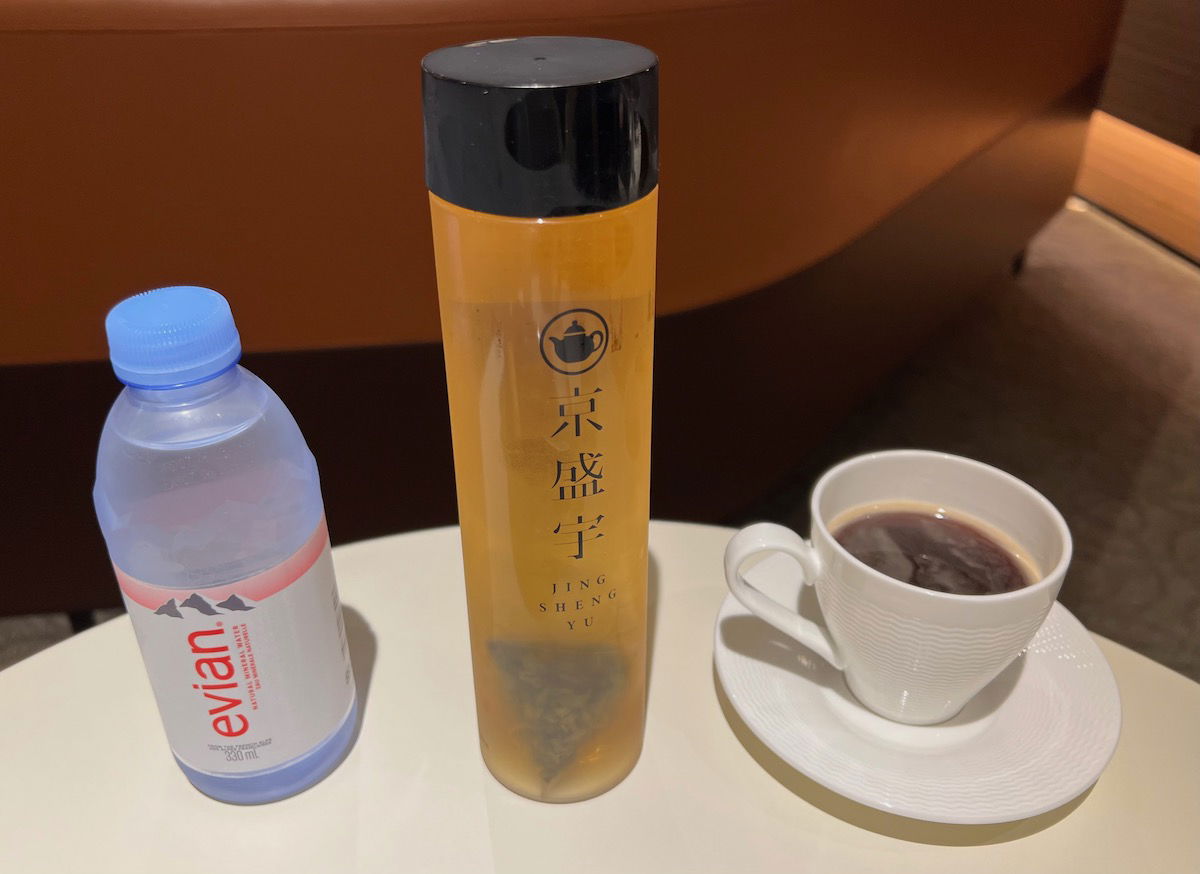 You know what the problem is when you hydrate, though? You've gotta go to the bathroom. And that brings me to the next issue with this lounge…
Starlux Airlines Lounge Taipei bathrooms & showers
The Starlux Airlines Galactic Lounge Taipei doesn't have bathrooms. I'm sure the airline would love to provide bathrooms, but again, I recognize space is limited, and it's hard to be a startup airline in an already crowded airport.
There are some bathrooms adjacent to the lounge, which are open to the public.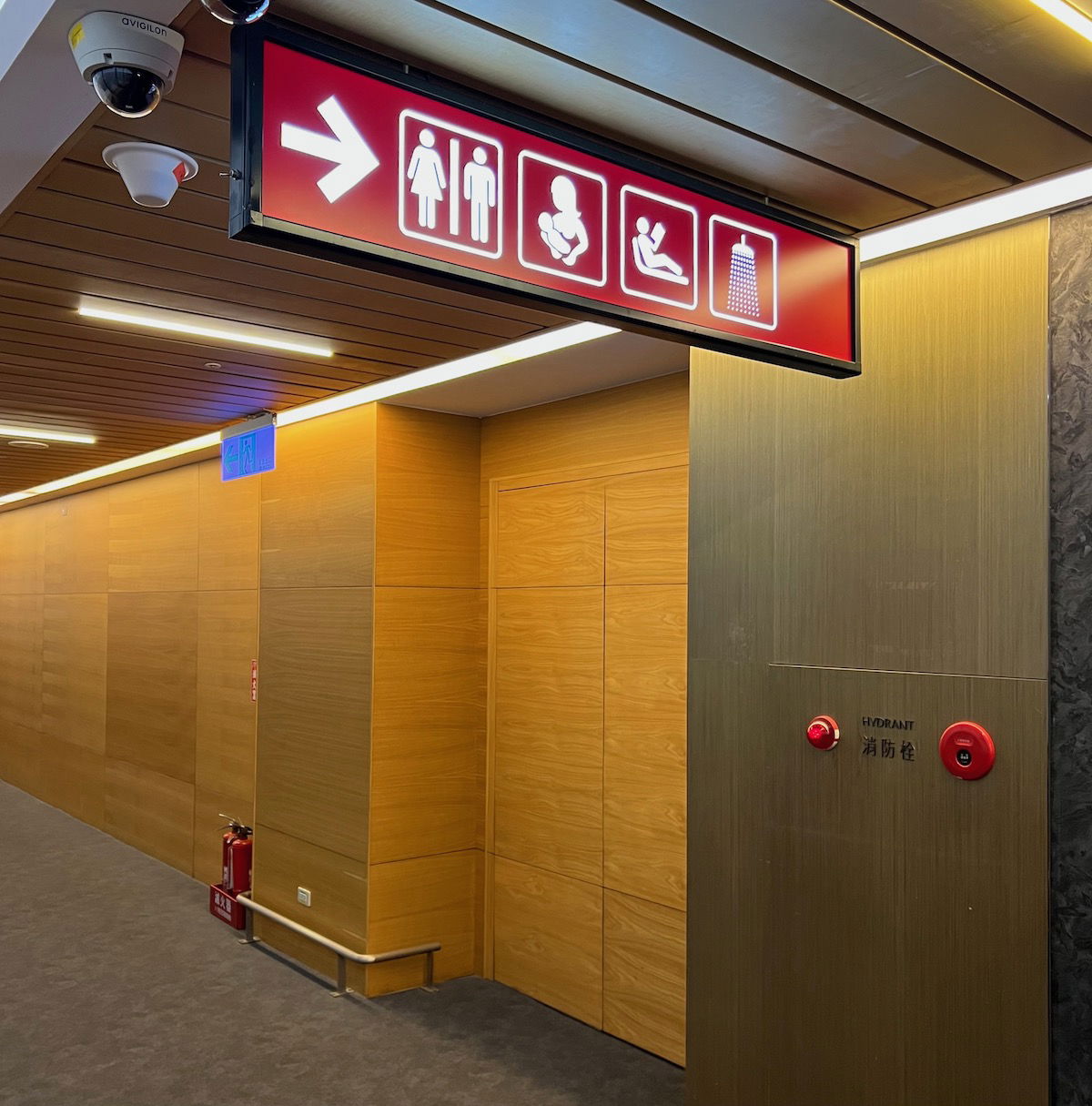 They were located down a hallway, and there was a line to use them when I visited.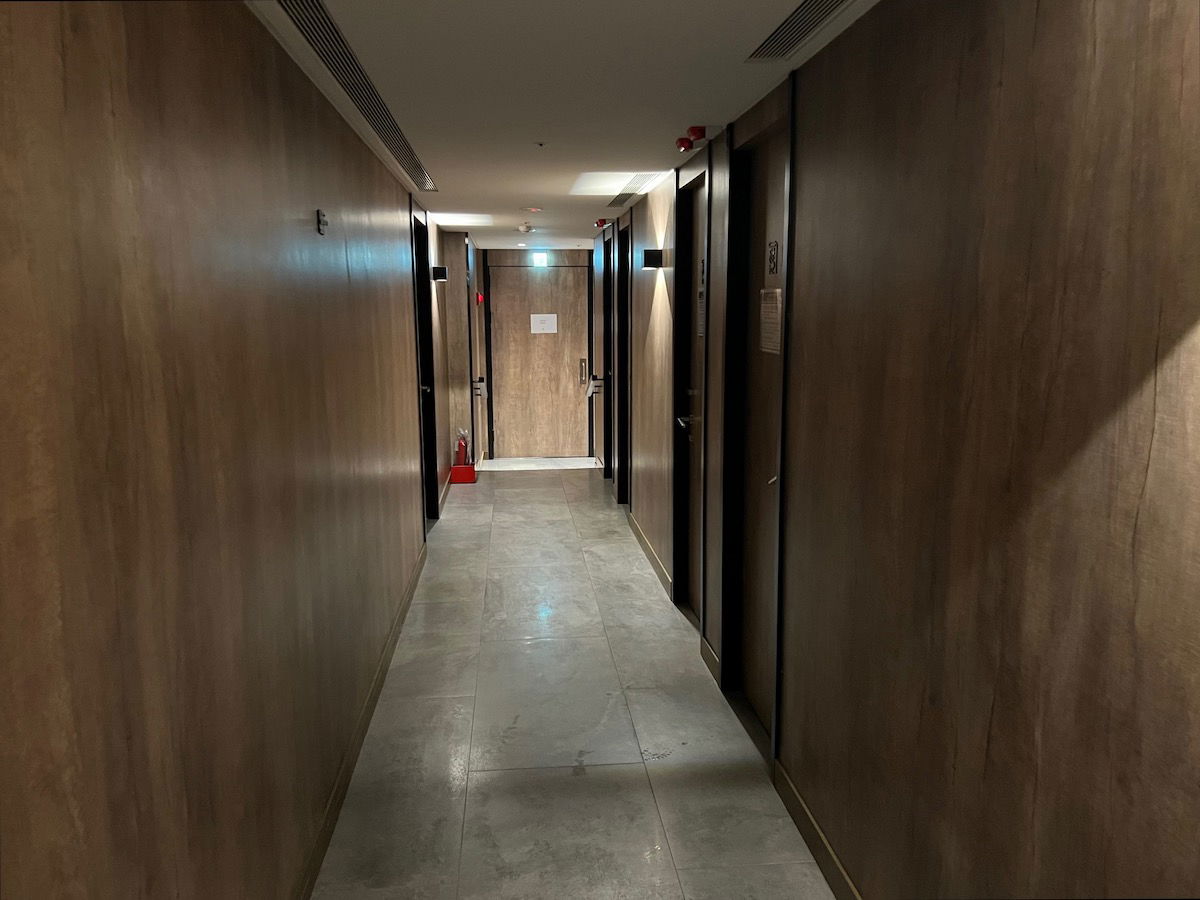 The bathrooms weren't at all in good condition, and there wasn't even soap or paper towels in the bathroom.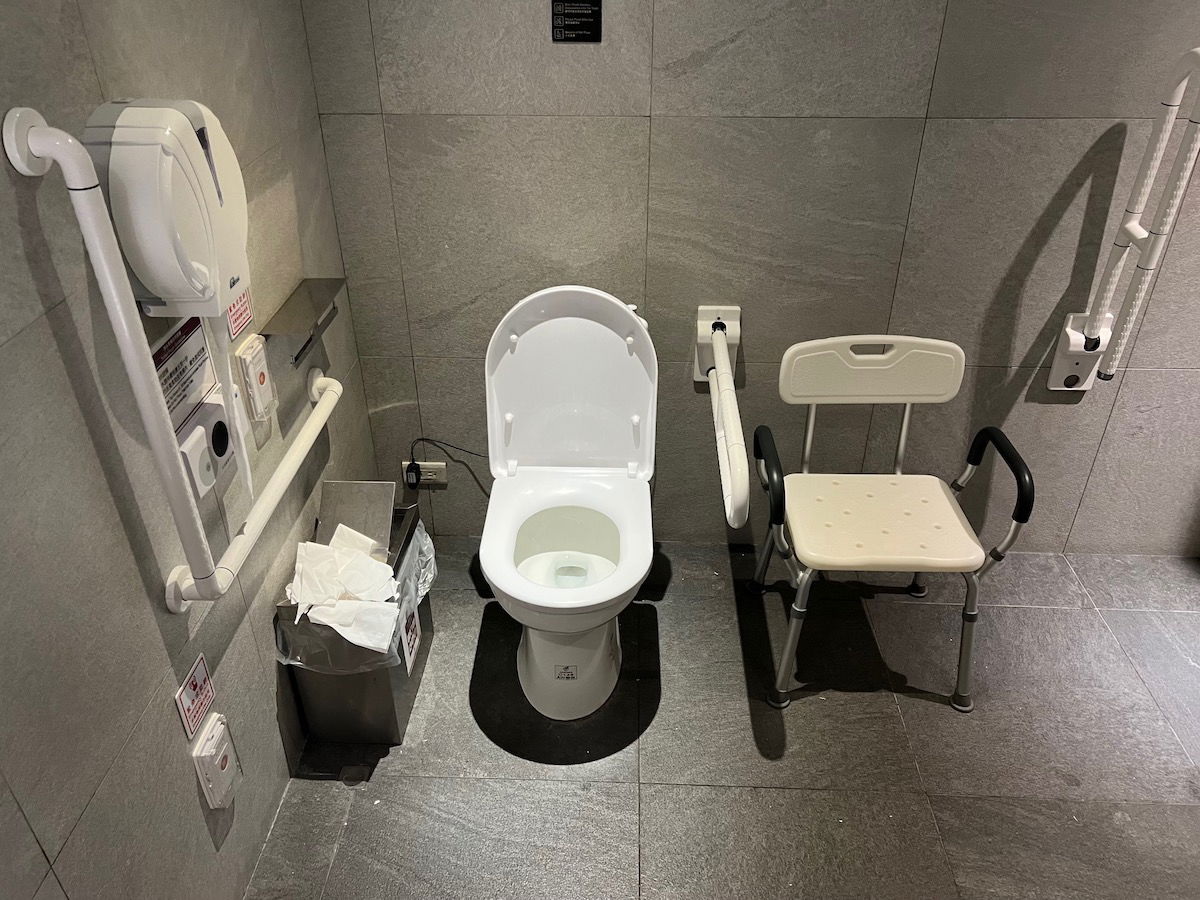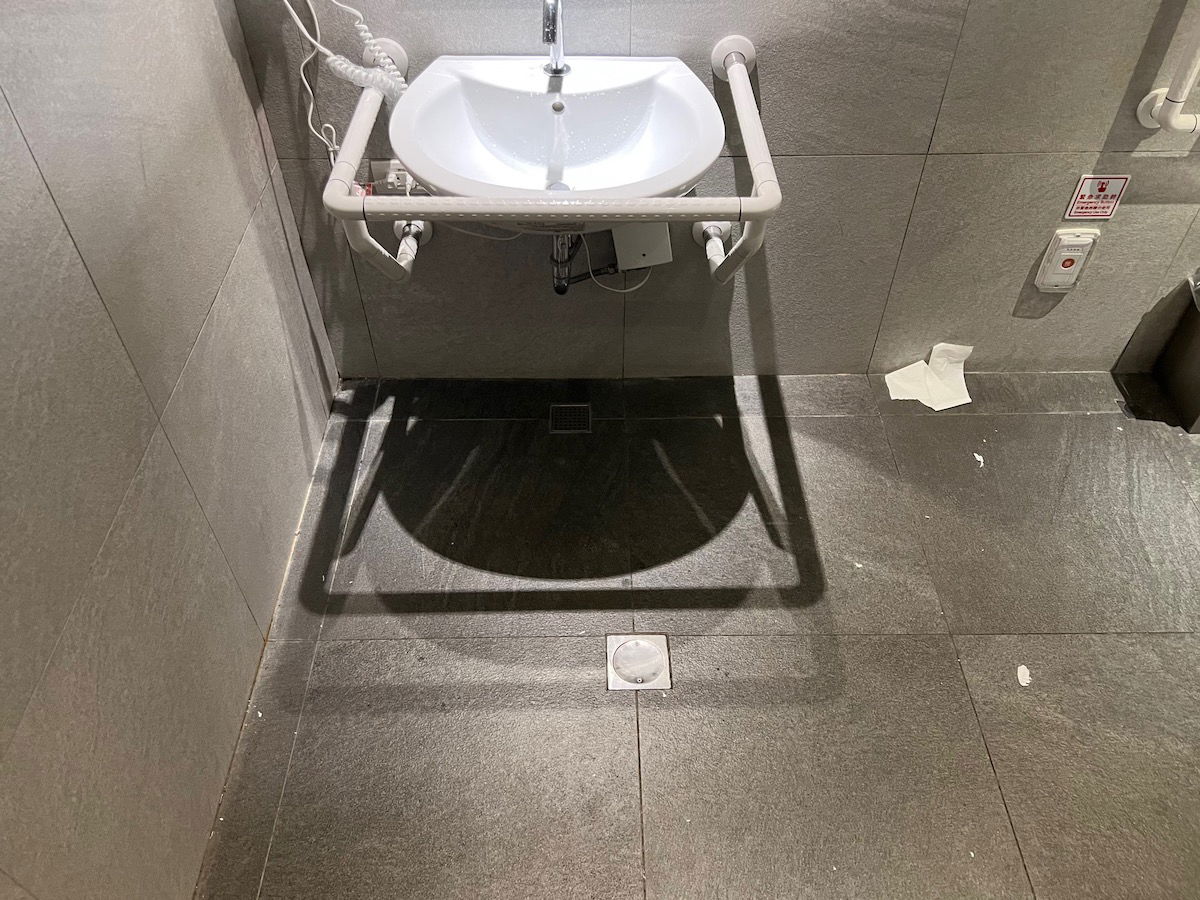 There were also showers, I guess, but… I'd probably feel dirtier after showering, so I don't recommend this.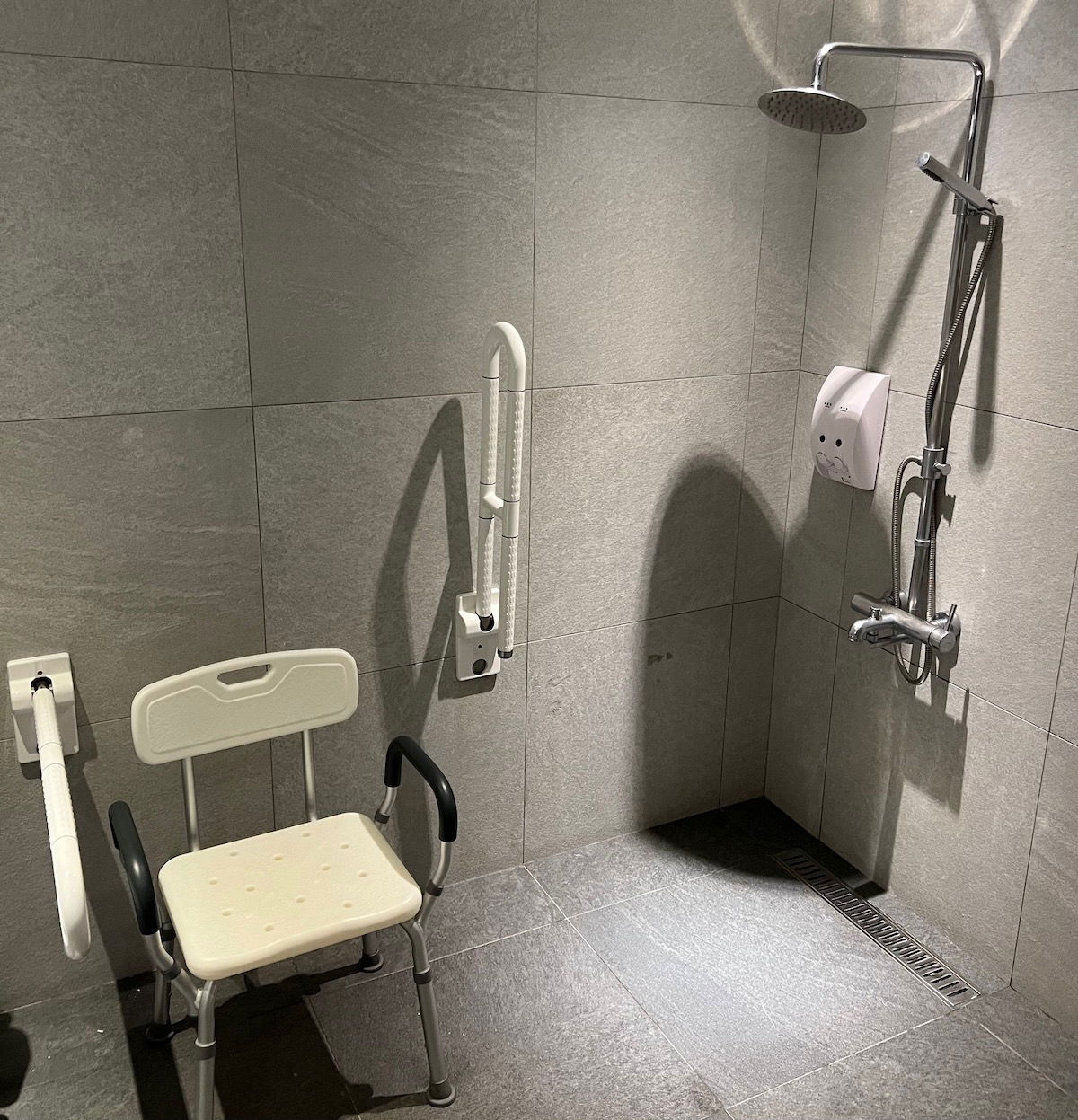 Bottom line
The Starlux Galactic Lounge Taipei Airport leaves a lot to be desired. On the plus side, the lounge has a fairly stylish design, a good drink selection, and a modest selection of both buffet and a la carte dining. The catch is that the lounge is very small, and doesn't even have bathrooms. Furthermore, if you're flying Starlux in the evening on a US-bound flight, you won't even use this lounge, as you're instead sent to a contract lounge in Terminal 2 (which maybe at least has bathrooms?).
I understand this is all just a function of lack of available lounge space at the airport, but this isn't the most premium ground experience. I'm curious what Starlux does as it continues to grow, because this lounge basically has enough space to accommodate the business class passengers on a single, full wide body flight.
What do you make of the Starlux Airlines Galactic Lounge Taipei?