For the outbound portion of our trip to Kyoto, we flew Starlux Airlines via Taipei. In a previous installment I reviewed Starlux's A350-900 business class from Los Angeles to Taipei, and in this post I wanted to review Starlux's A330-900neo business class from Taipei to Osaka.
While the transpacific flight wasn't quite as impressive as I was hoping, the short hop over to Japan was spectacular. The flight featured flat beds, free Wi-Fi, a very friendly crew, delicious food and drinks, and plenty of amenities. It's just hard to go back to flying in the United States after taking flights like this.
I think Starlux offers a much better experience when departing Taipei than when leaving from an outstation, given the much better catering, so it makes sense to adjust expectations accordingly. Let's get into the review…
How I booked our Starlux Airlines business class tickets
I booked our Starlux Airlines business class tickets using Alaska Mileage Plan, thanks to the partnership between the two airlines. This was when the partnership first launched, and award pricing was great, and availability was plentiful (unfortunately that changed very quickly, and pricing is now much higher).
At the time, I booked the following in business class for a total of 75,000 Alaska Mileage Plan miles plus $46.60 in taxes and fees per person (the first segment cost 60,000 miles, the second segment cost 15,000 miles):
9/28 JX1 Los Angeles to Taipei departing 12:50AM arriving 5:40AM (+1 day)
9/29 JX820 Taipei to Osaka departing 8:30AM arriving 12:05PM
Starlux Airlines business class lounge & boarding
In a previous installment I reviewed the Starlux Airlines Galactic Lounge Taipei Airport, which is the carrier's only lounge. While it's a modern space, it's tiny, and doesn't have bathrooms, so I wouldn't spend more time there than you need to.
Fortunately our layover wasn't very long — our flight was departing from gate B7 at 8:30AM, and boarding was scheduled for 30 minutes before that.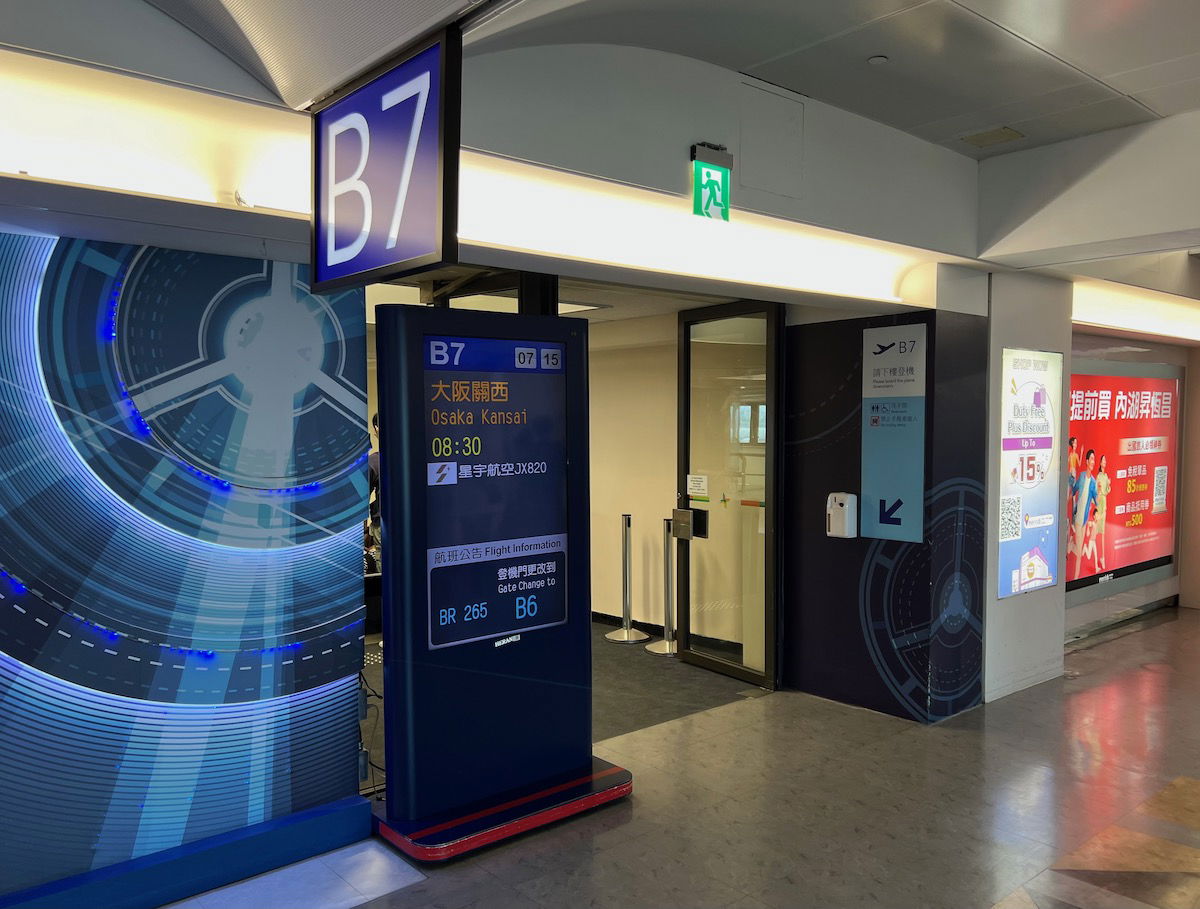 The gate was one level down from the main concourse. Unlike in the United States, boarding was orderly, with no one crowding the gate area. Boarding did indeed start at exactly 8AM as planned, with business class passengers being invited to board first.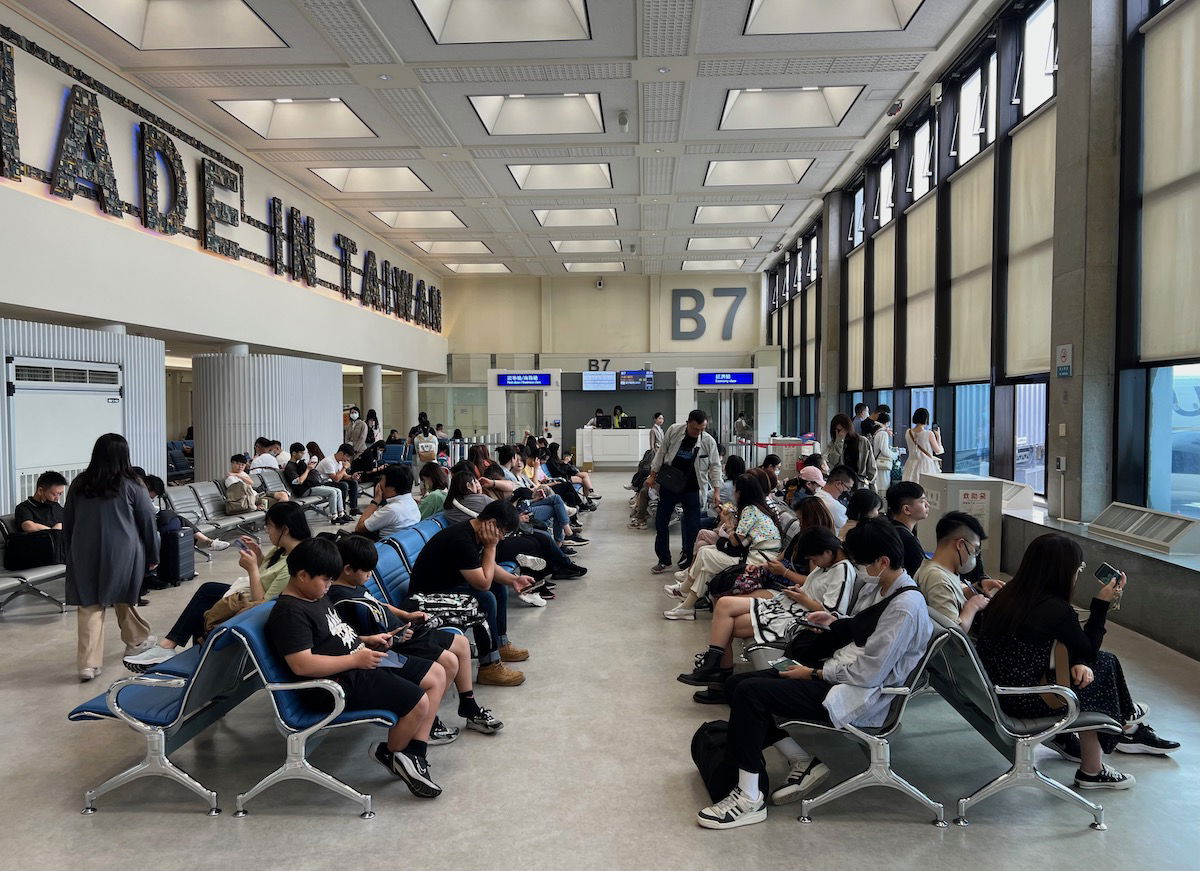 On this sector we were flying on the A330-900neo with the registration code B-58301, which joined Starlux's fleet in early 2022.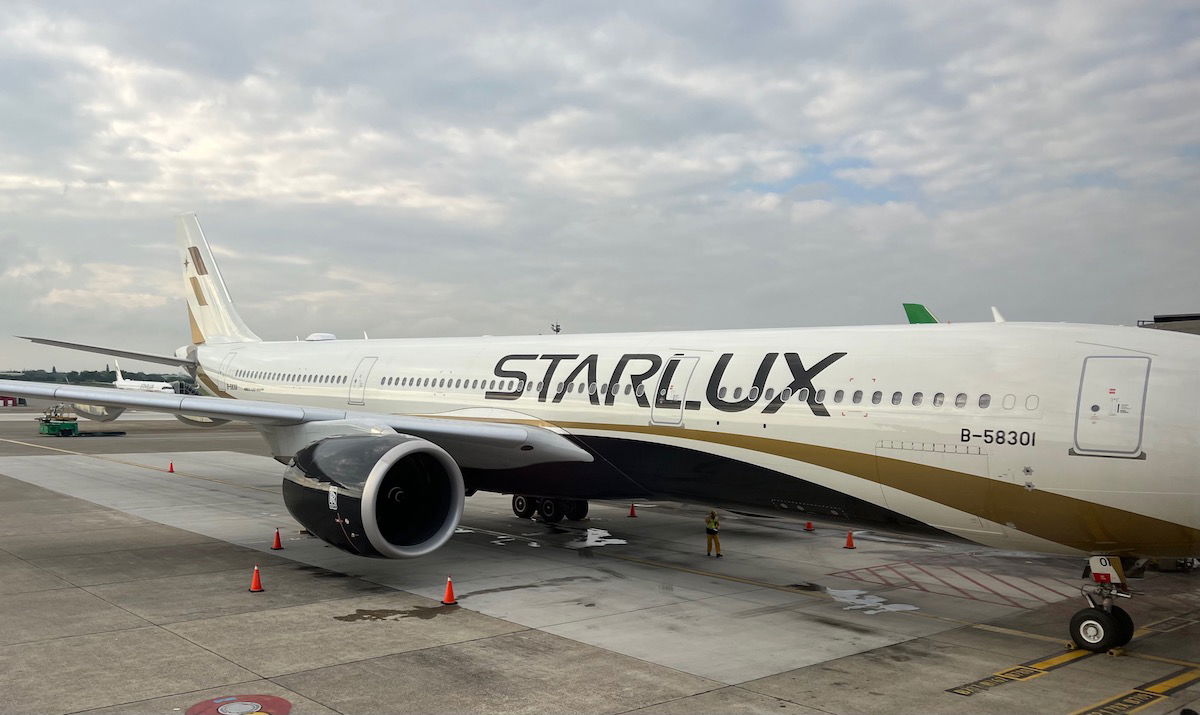 Starlux Airlines A330neo business class cabin & seats
We boarded through the forward door, where we were greeted by the fabulously friendly crew, and pointed to our seats. On Starlux's A330-900neos, business class takes up the entire space between doors one and two. The cabin has 28 seats, spread across seven rows in a staggered, 1-2-1 configuration.
Starlux selected Safran's Skylounge Core product for these jets, and the airline is the launch customer for these seats (just as the airline is the launch customer for the Collins Aerospace Elements product on its A350-900s). The airline primarily uses these planes for short and medium haul flights, so this is a pretty awesome seat for those purposes.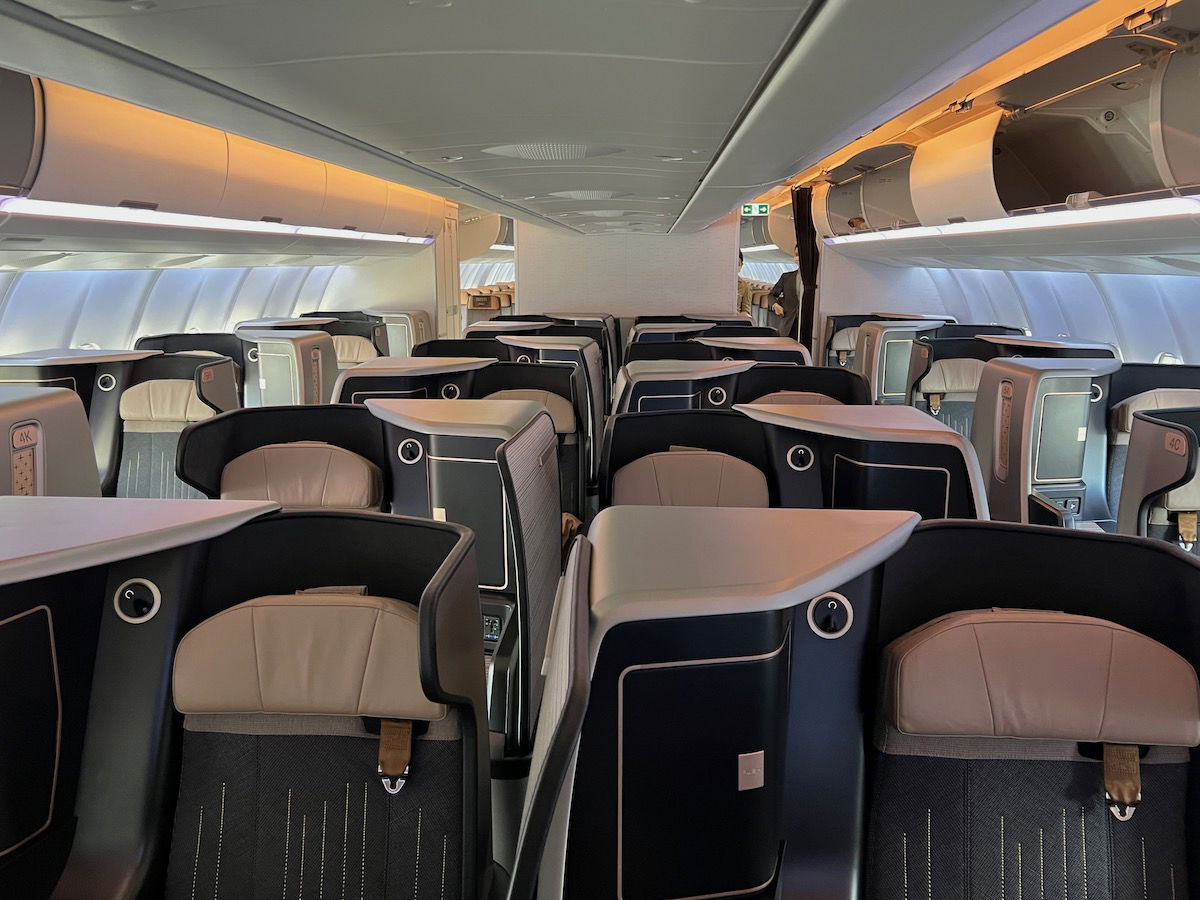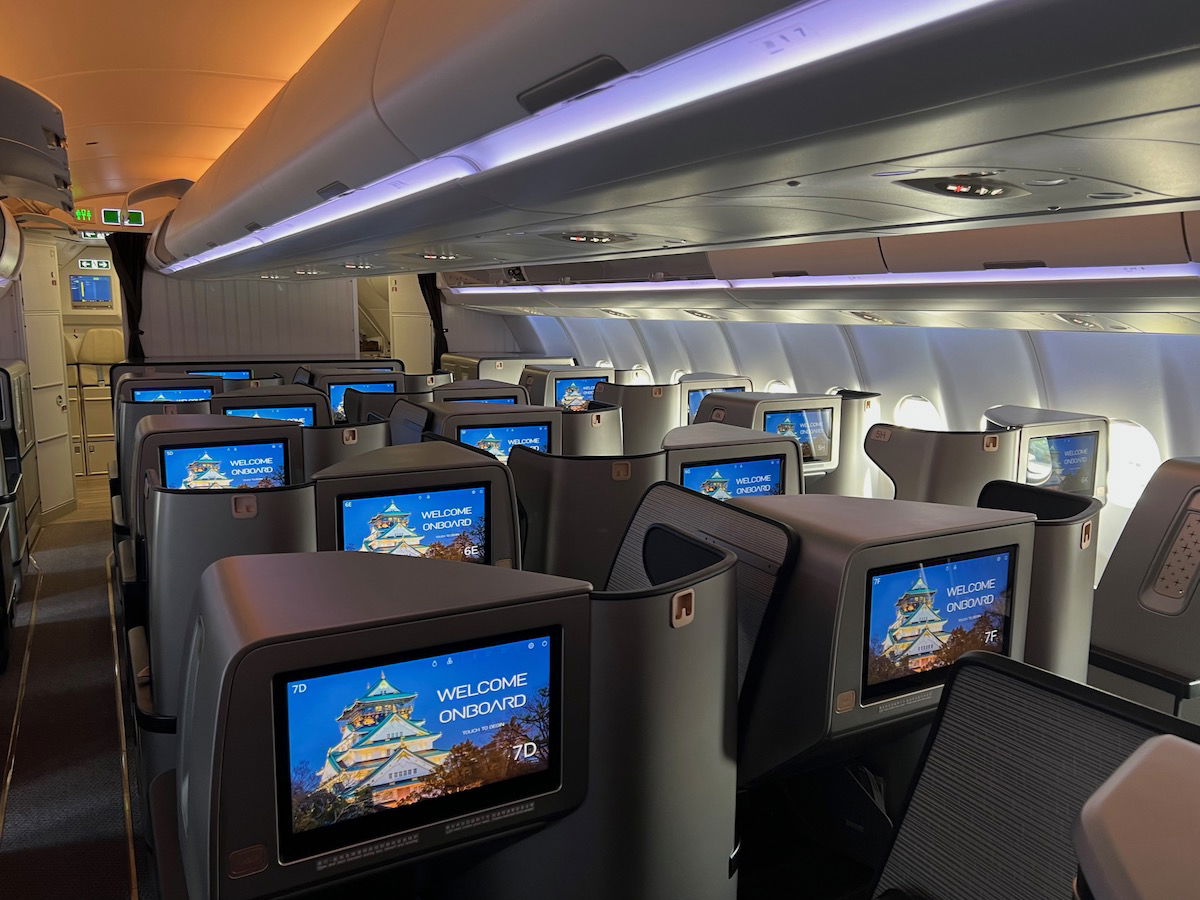 In the center section, seats alternate between being closer and further from the aisle. Note that unlike with some other staggered products, there are no "honeymoon" seats here, but rather the seats are consistently spaced from one another.
Usually I say that if you're traveling with someone it could be worth selecting center seats so that you can enjoy the flight with a travel companion. However, these center seats have quite a bit of privacy between them, so you can't even really do that. Therefore I'd try to select a window seat, if possible.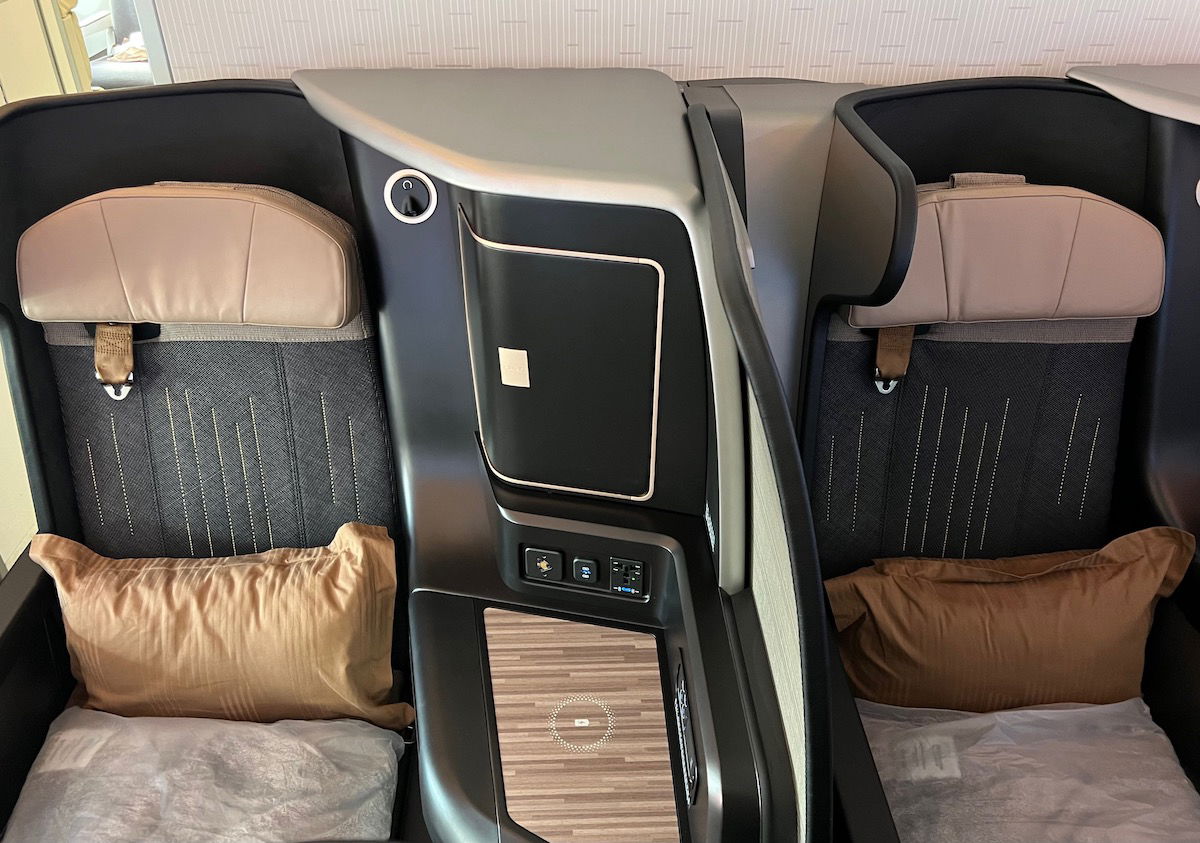 Speaking of the window seats, they alternate between being closer to the aisle and closer to the windows, with the latter being the preferred option.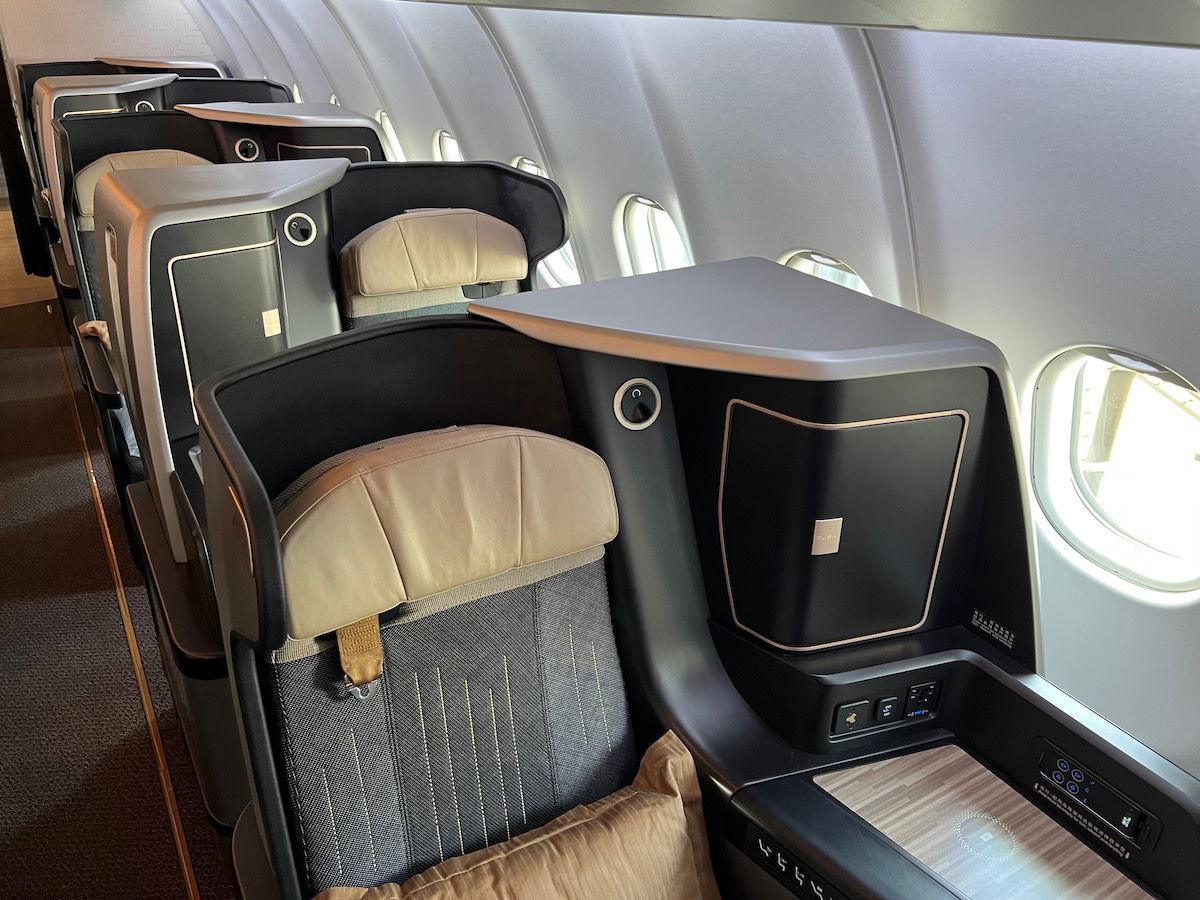 Seats in odd numbered rows are closer to the windows and have the most privacy. I assigned Ford seat 7A, which was the window seat in the second to last row on the left.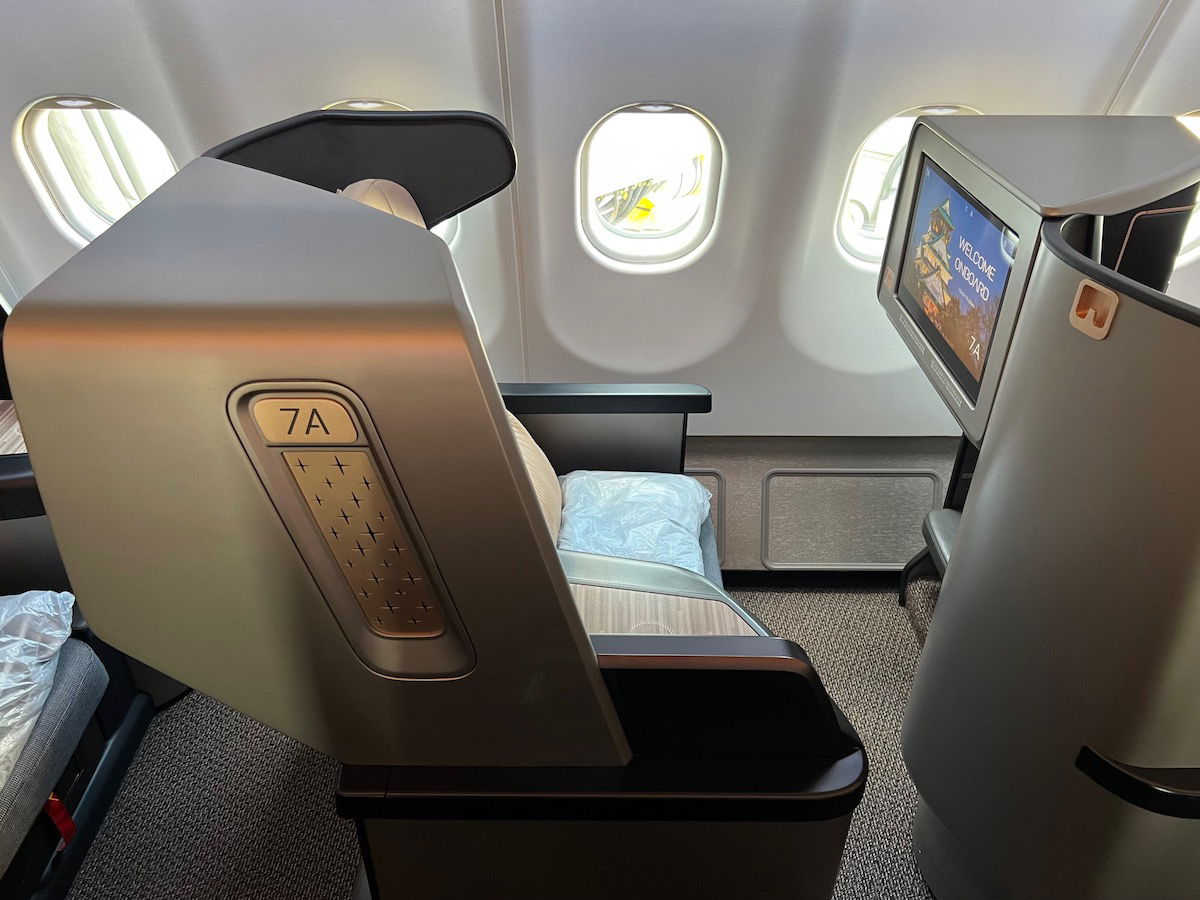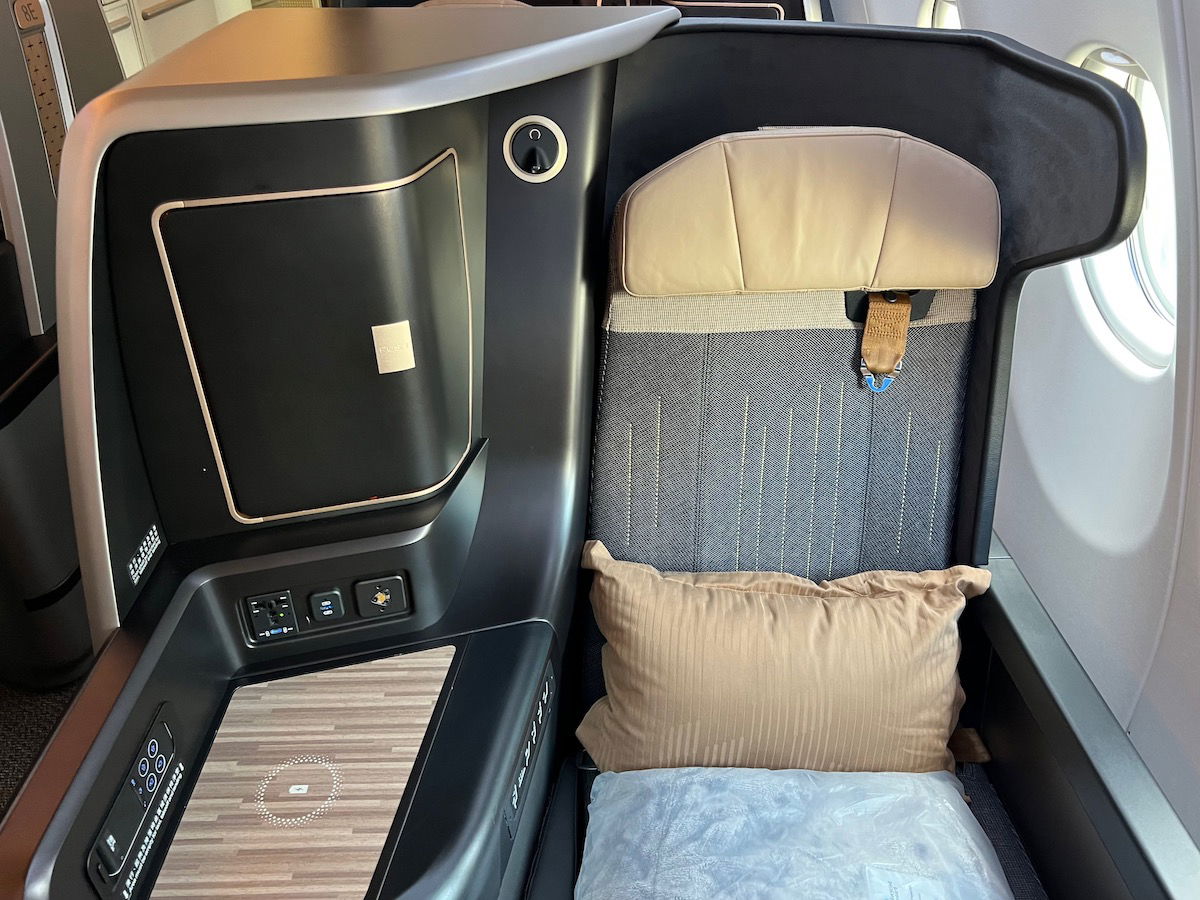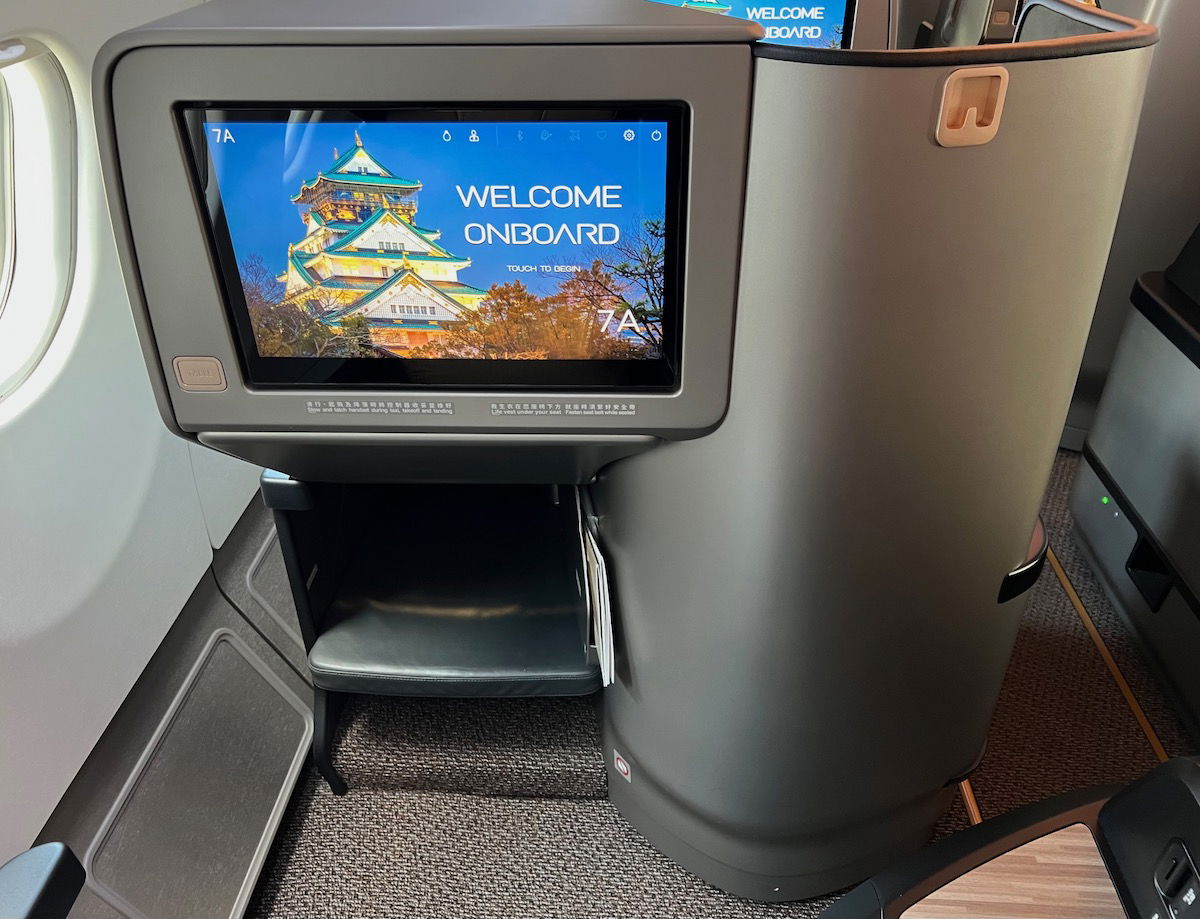 Meanwhile seats in even numbered rows are closer to the aisle and have less privacy. I assigned myself seat 8C, which was the window seat in the last row on the left, right behind Ford.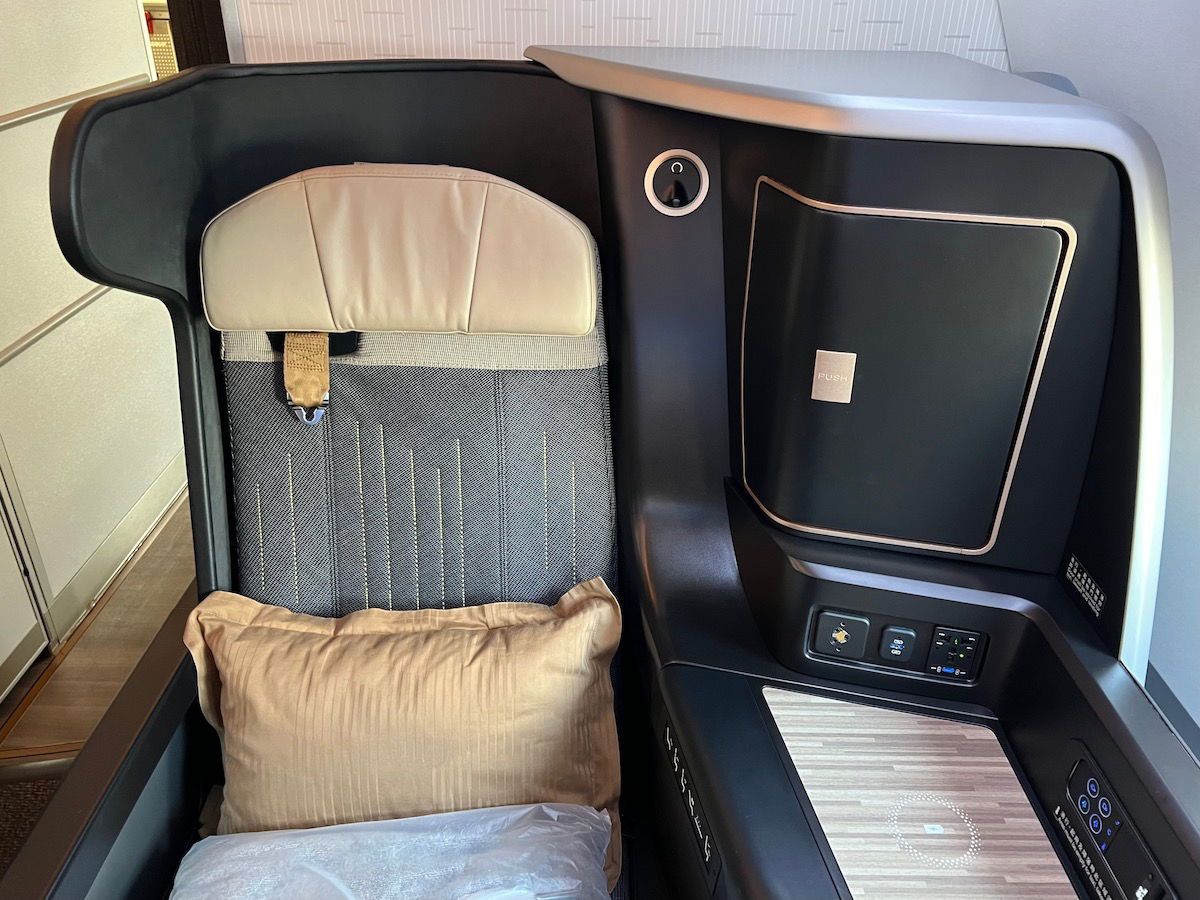 Every business seat seat has a 17.3″ personal television on the seat in front, which is 4K, so the quality is excellent. Then to the side of each seat is a console.
In addition to being able to store things here during the flight, this also contains the the entertainment controller, headphone jack, and all the charging options. This includes a USB-A, USB-C, AC, and wireless charging options.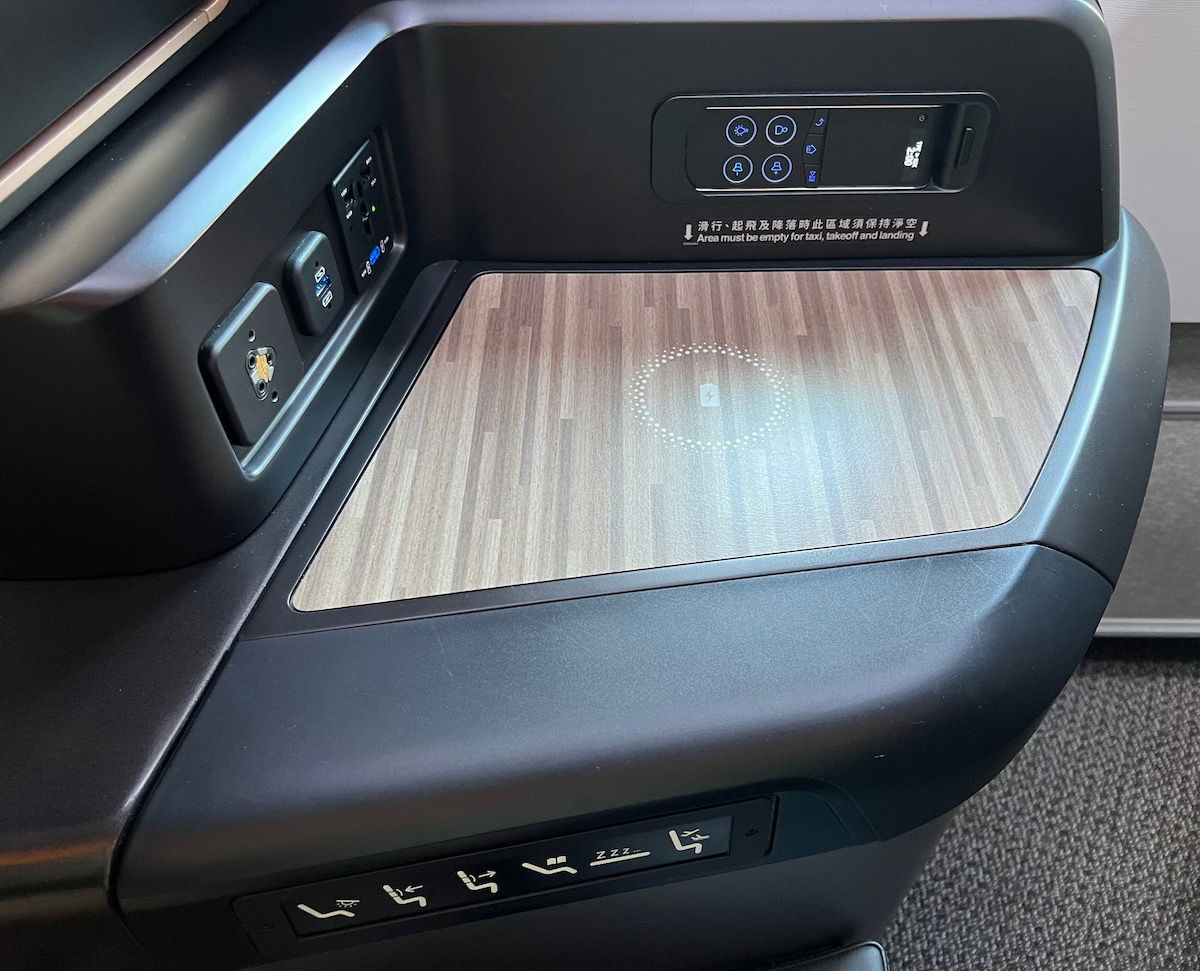 There's also an enclosed storage compartment with a mirror. This has a hook on which you can hang headphones. The compartment isn't especially deep, but it's big enough for a phone, passport, glasses, etc.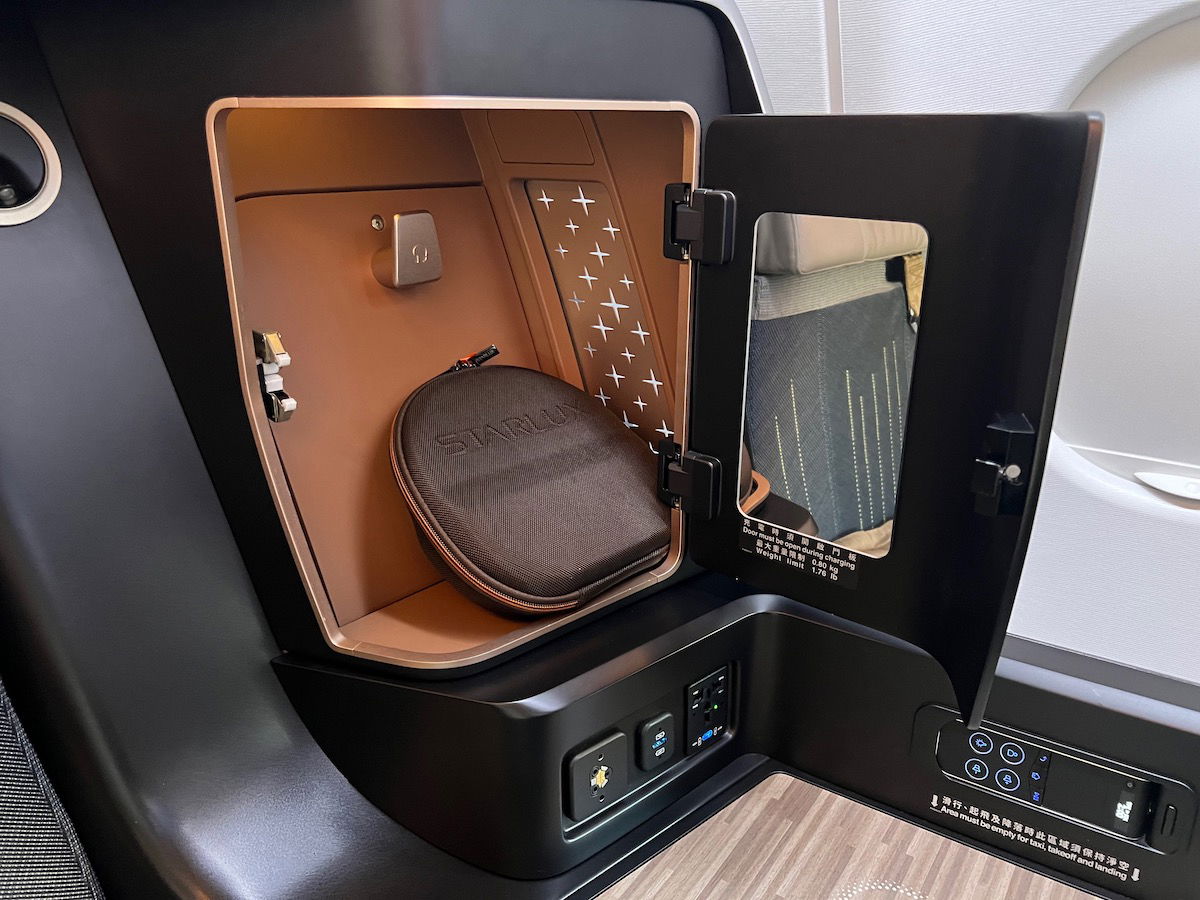 As you'd expect for a staggered configuration, the seat has a footwell to the side of the seat in front. This footwell was a pretty good size, and it shouldn't be hard to get comfortable if you're trying to get some rest.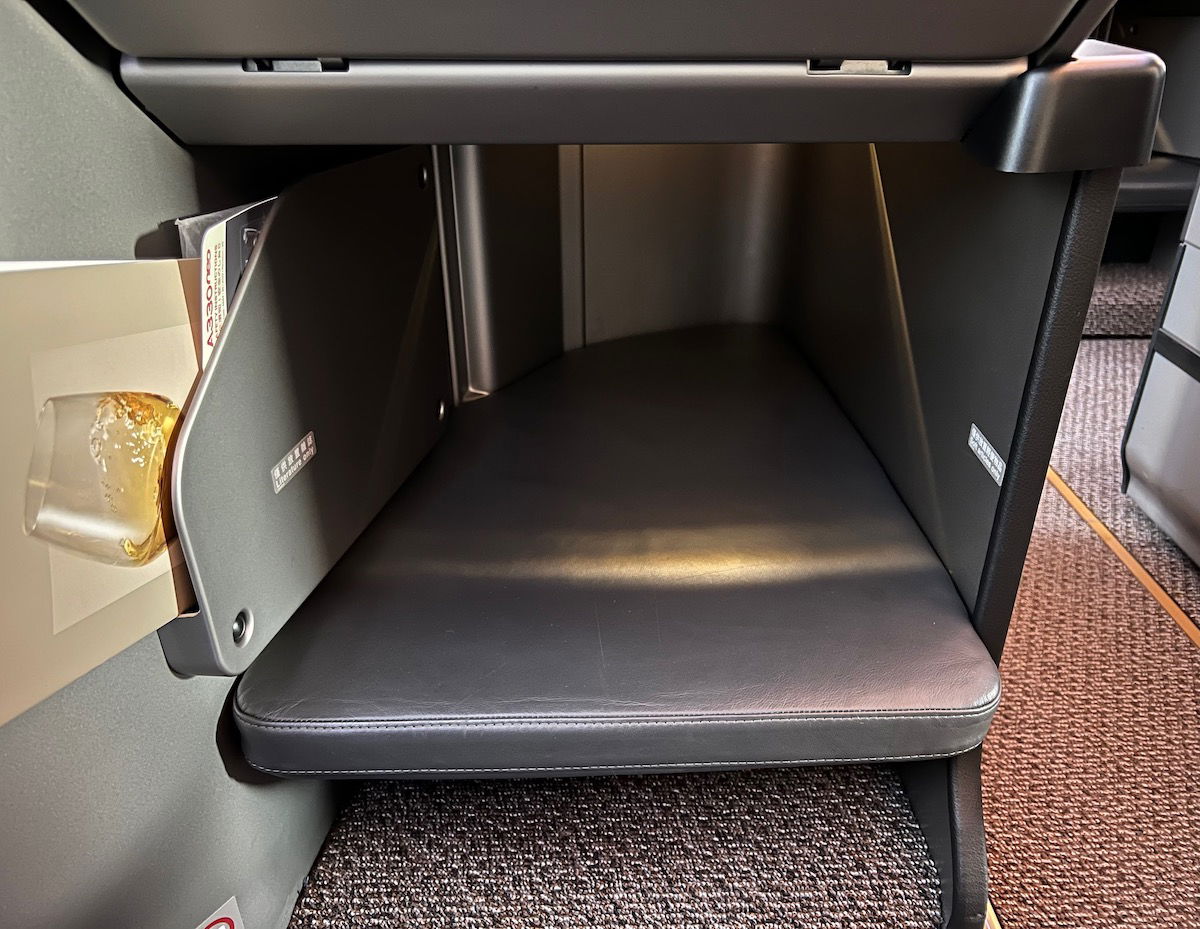 The tray table extends from above the footwell. The table is curved, and then can easily be slid in and out, depending on where you want to position it.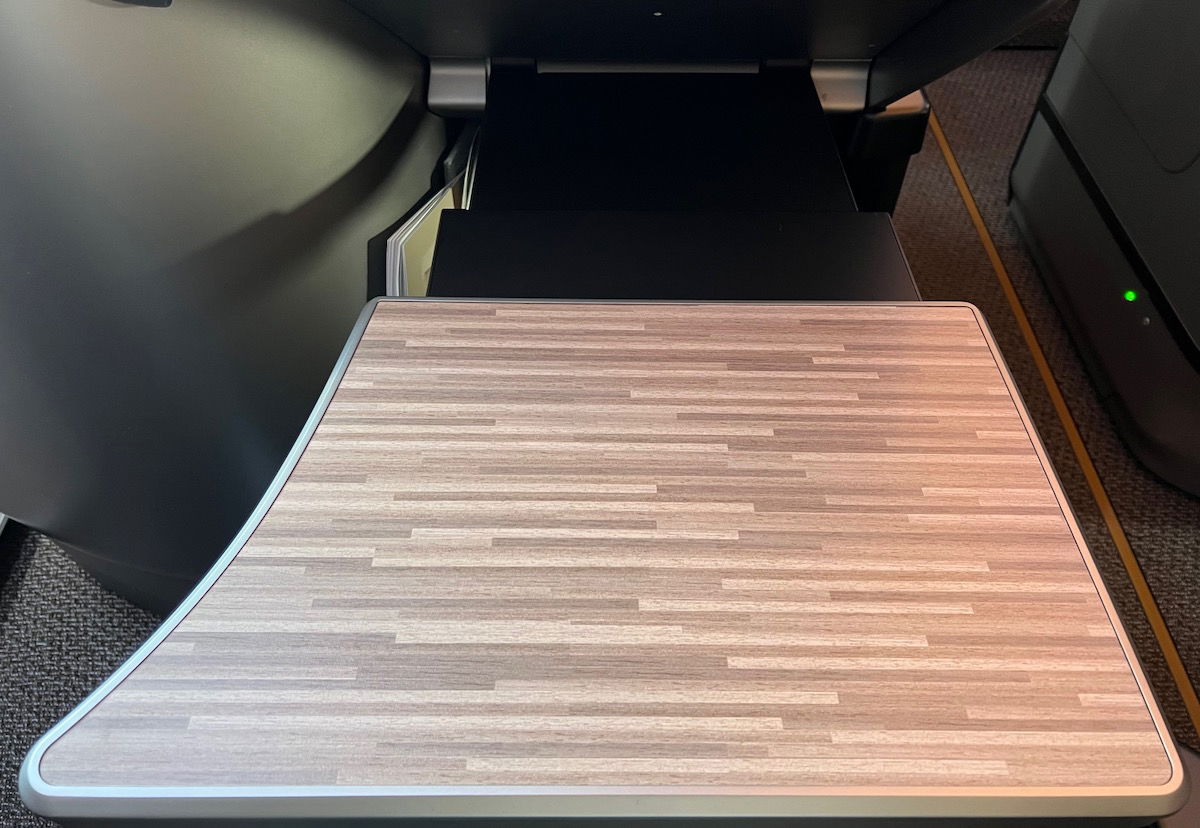 The overhead console was modern, but unfortunately didn't have individual air nozzles.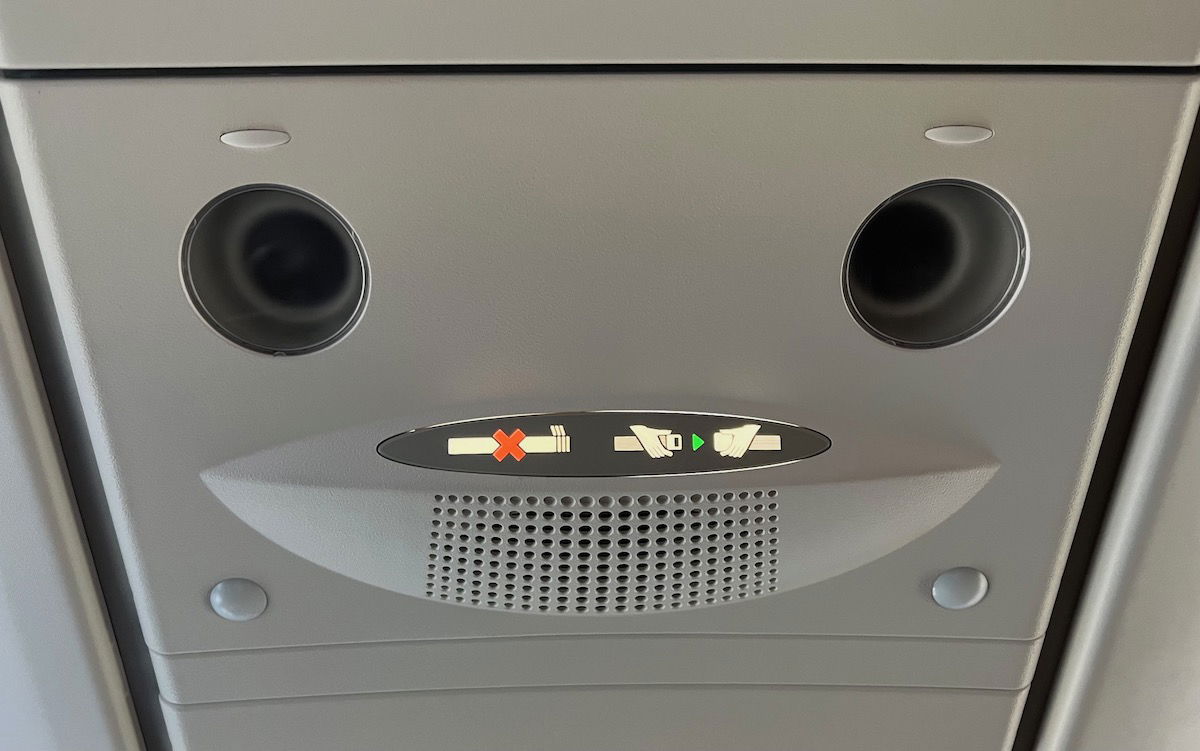 This is an excellent business class product, especially for a two hour daytime flight. However, it would even be very comfortable on a longer overnight flight.
Starlux Airlines business class amenities
Waiting at each seat upon boarding were a great pillow and blanket. I love when airlines provide comfortable bedding on shorter flights, since it's not something that all airlines provide, even in premium cabins. I just like getting cozy, even if I don't want to sleep.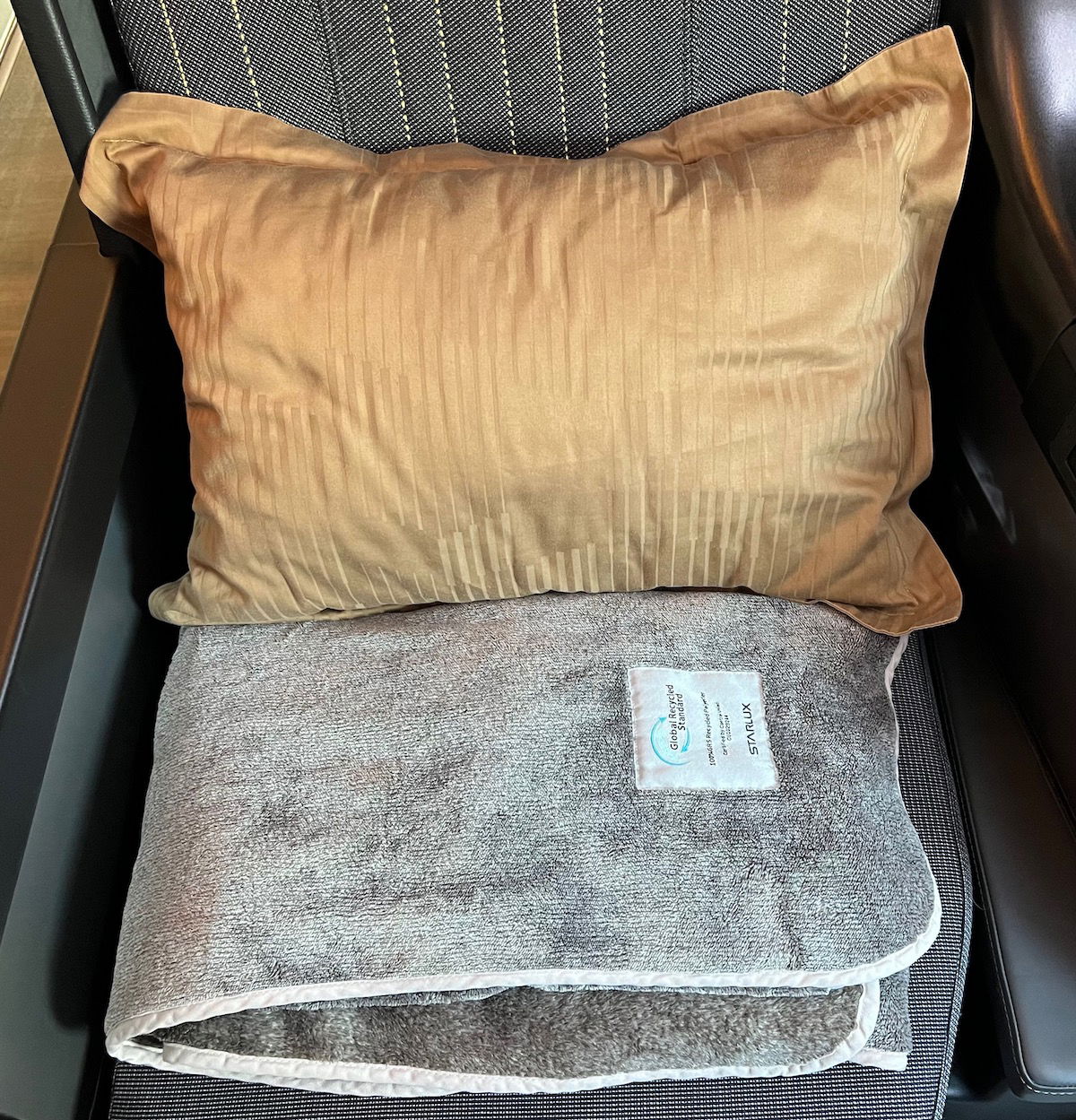 There were also a pair of noise canceling headphones waiting at the seat, the same ones I received on the long haul flight. They were very good, but weren't really needed, given that the inflight entertainment also works with your own devices, thanks to bluetooth audio.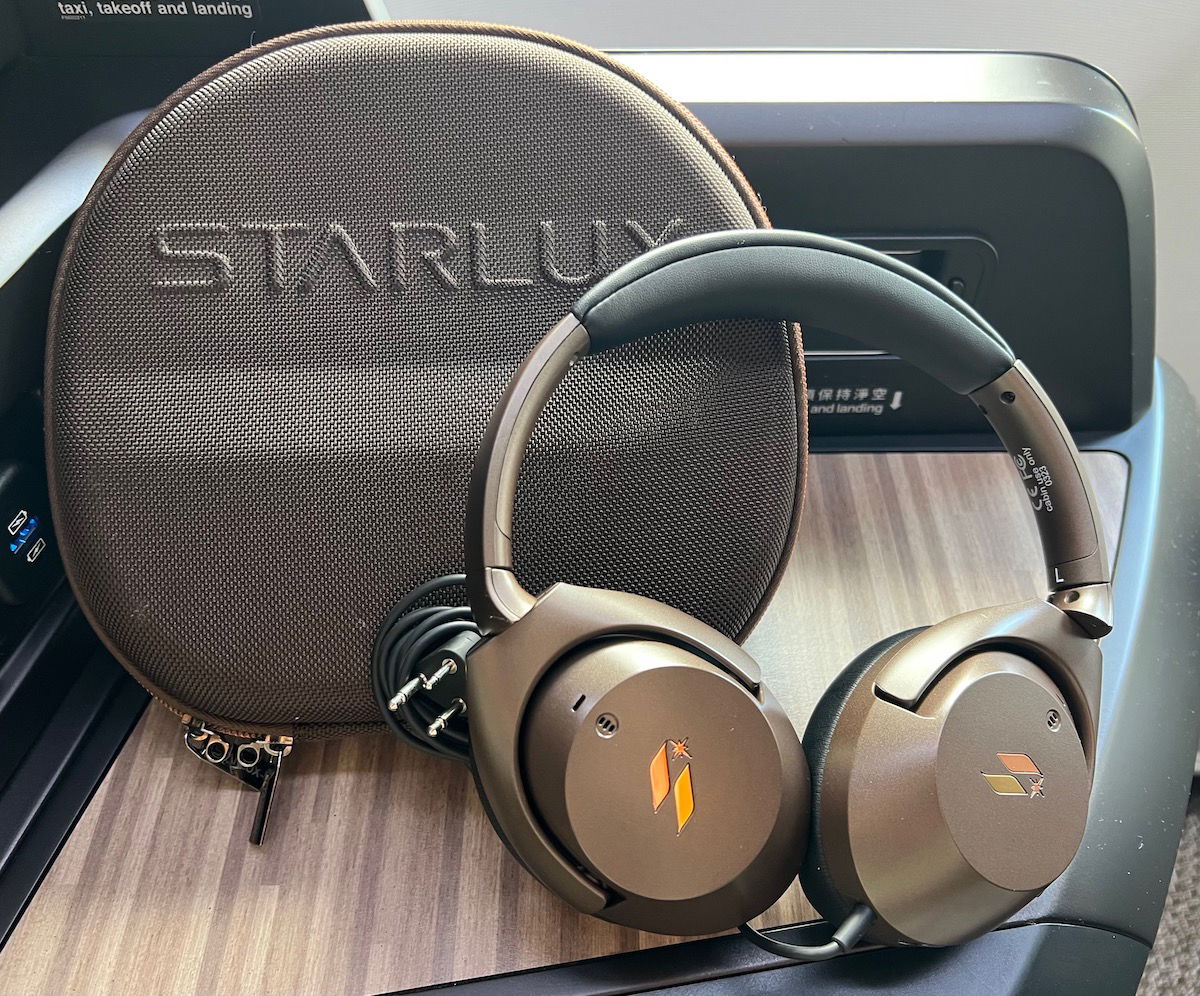 A moment after settling in I was greeted by Bobo, one of the flight attendants who would be taking care of us. She familiarized me with the seat's features, and offered me a pre-departure drink and a warm towel. This was a honey, tangerine, and passion fruit juice, and it was delicious.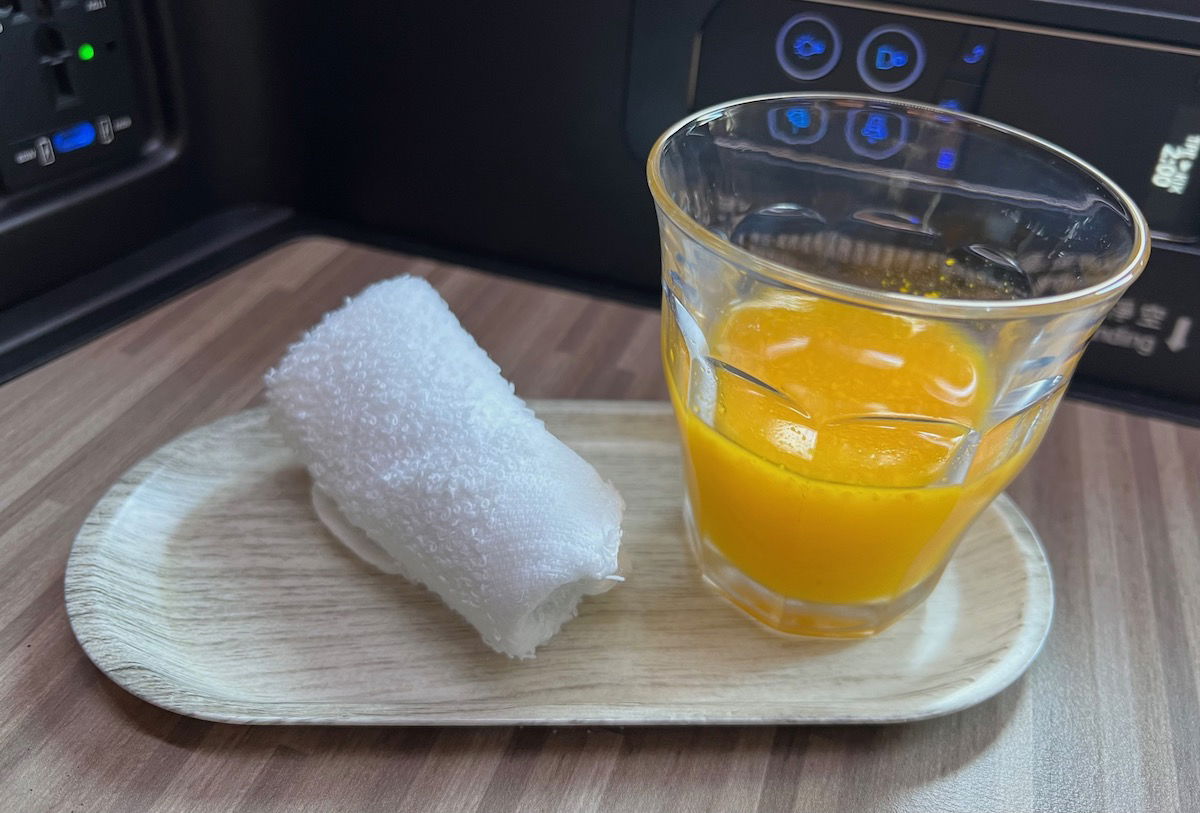 We were also presented with the menu and wine list for the flight. A few minutes later our drink and meal orders were taken as well.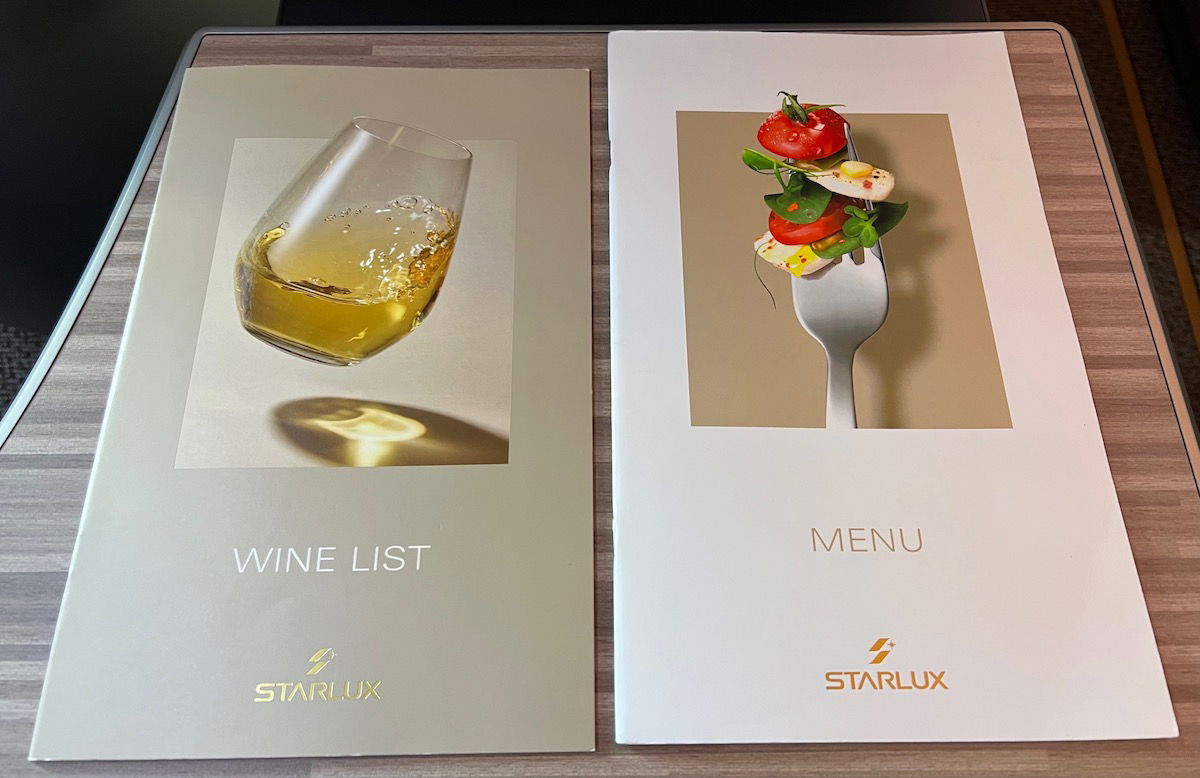 Last but not least, we were given slippers to use during the flight, along with a shoe bag.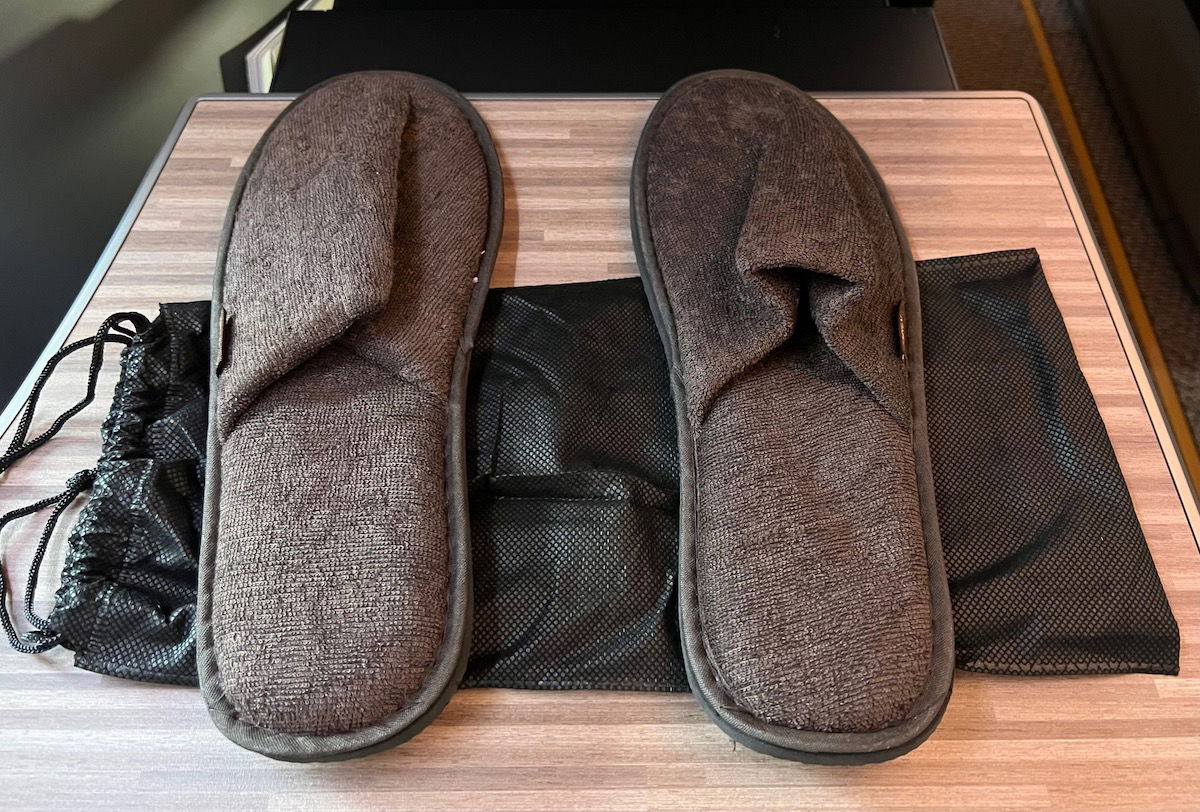 Starlux Airlines A330neo business class entertainment & Wi-Fi
Starlux Airlines' A330-900neos have a great inflight entertainment interface, with audio and video on demand.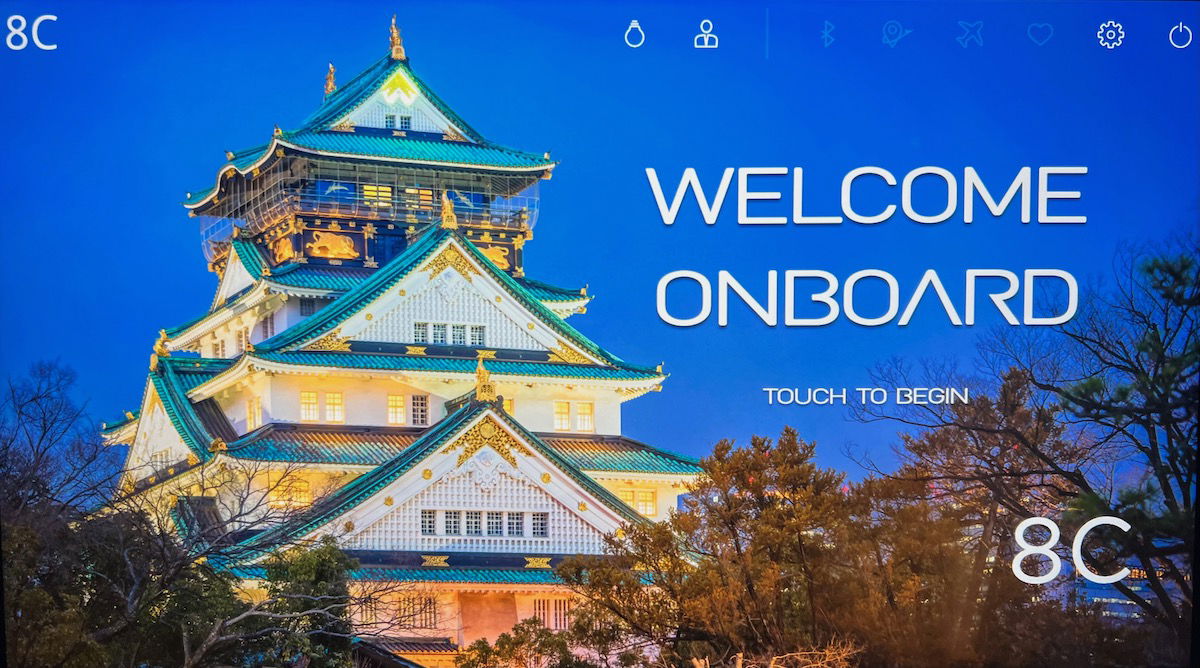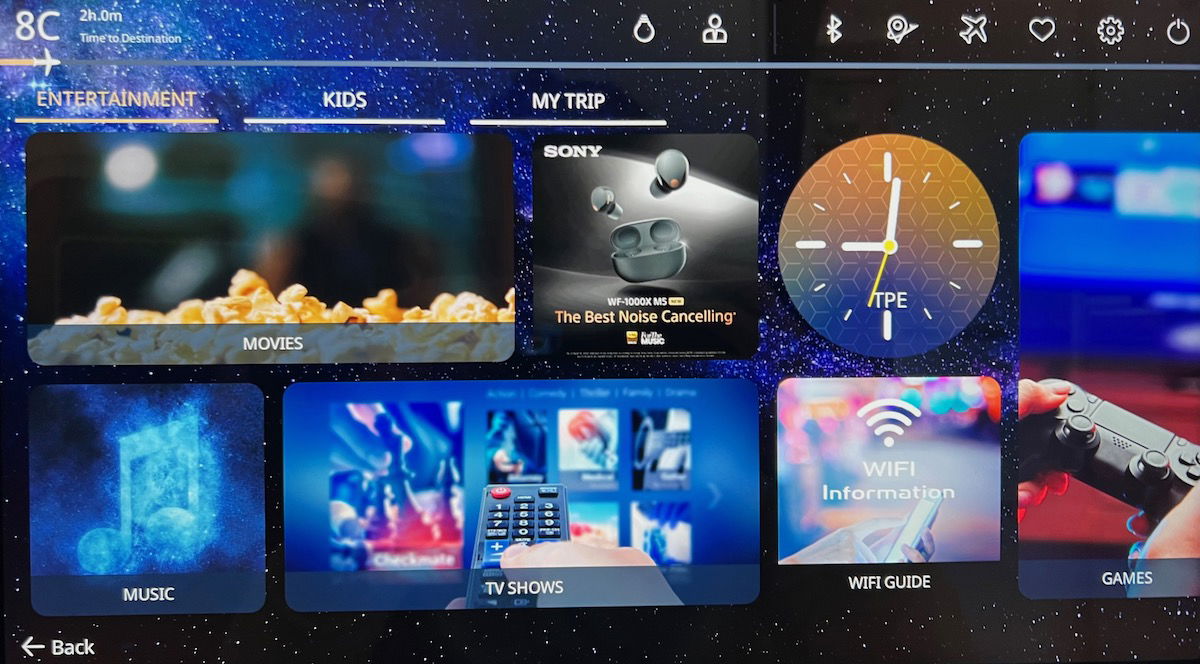 While I loved the system's design, the selection wasn't necessarily quite as good. There were roughly 130 movies and around 80 TV shows, which were heavily geared toward Asian options, with fairly limited Western options. I didn't find that to be an issue on such a short flight, though.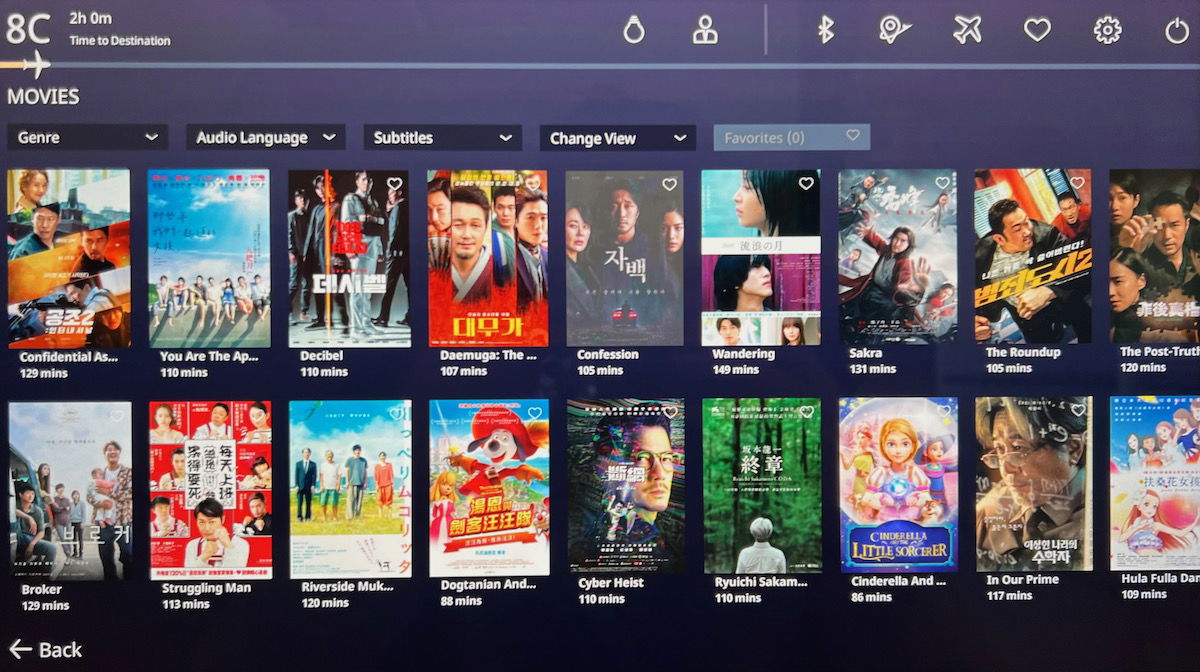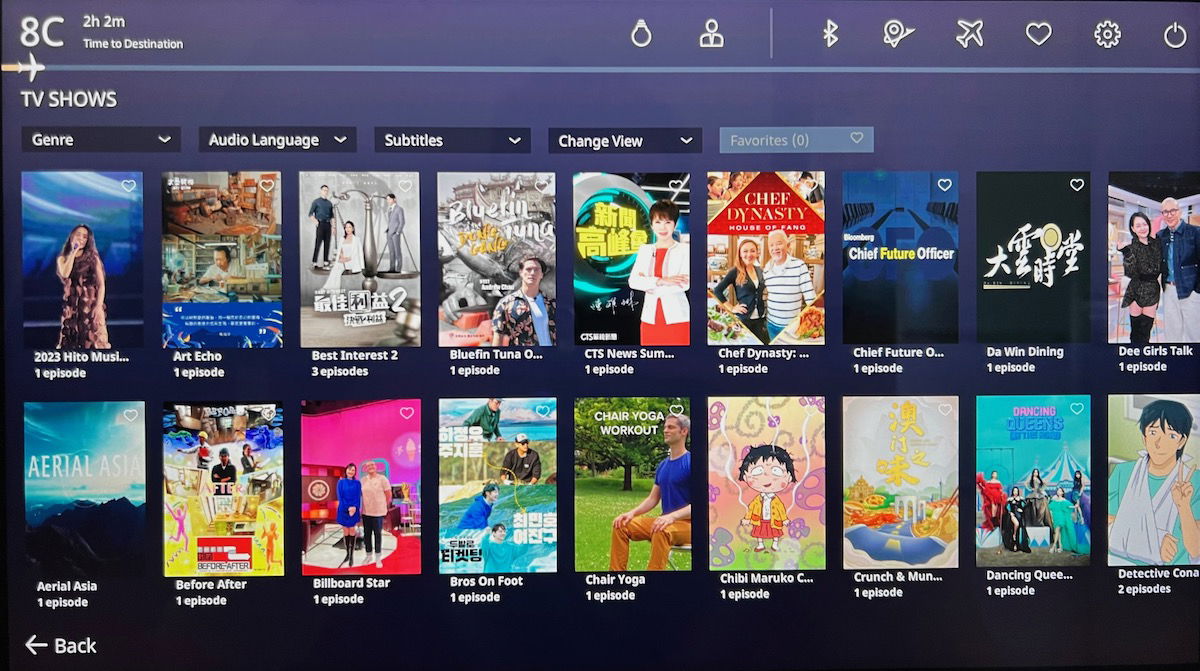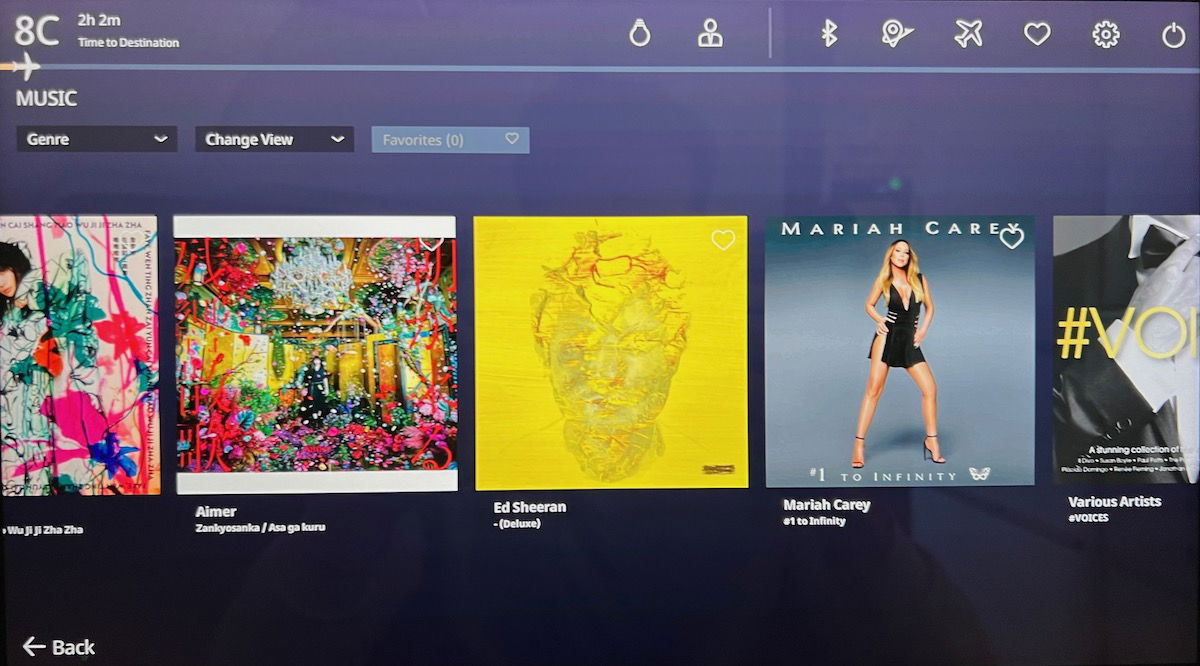 I spent most of the flight just watching the map feature, which never gets old.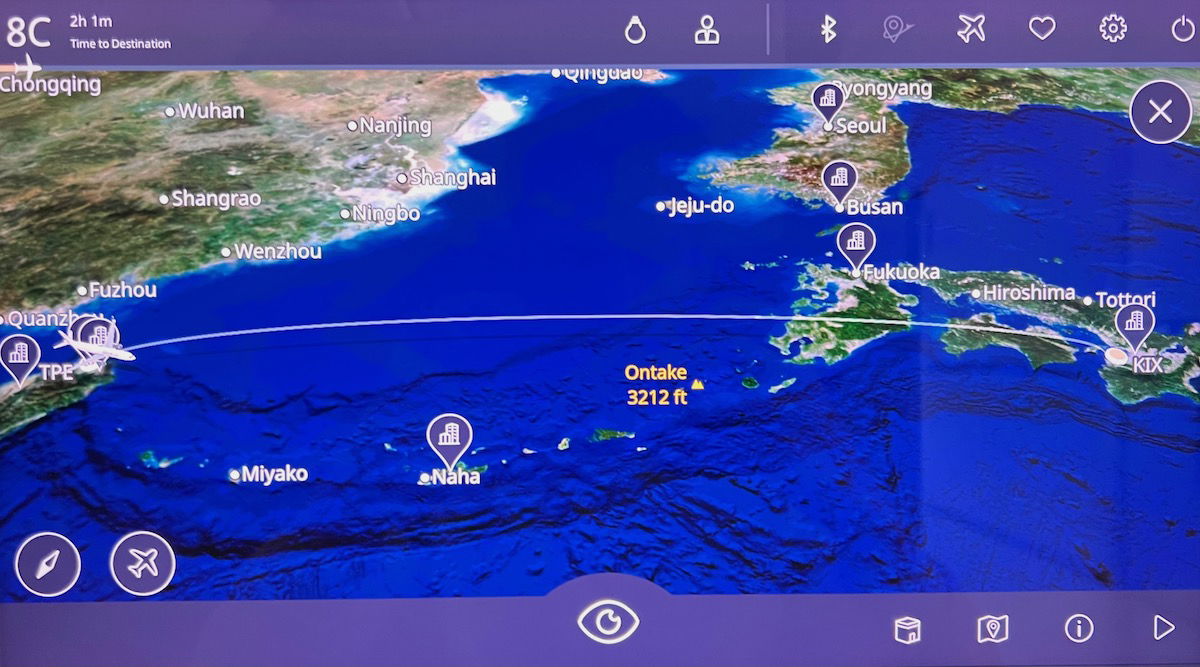 I also appreciate how Starlux offers bluetooth audio, and it was easy to connect to.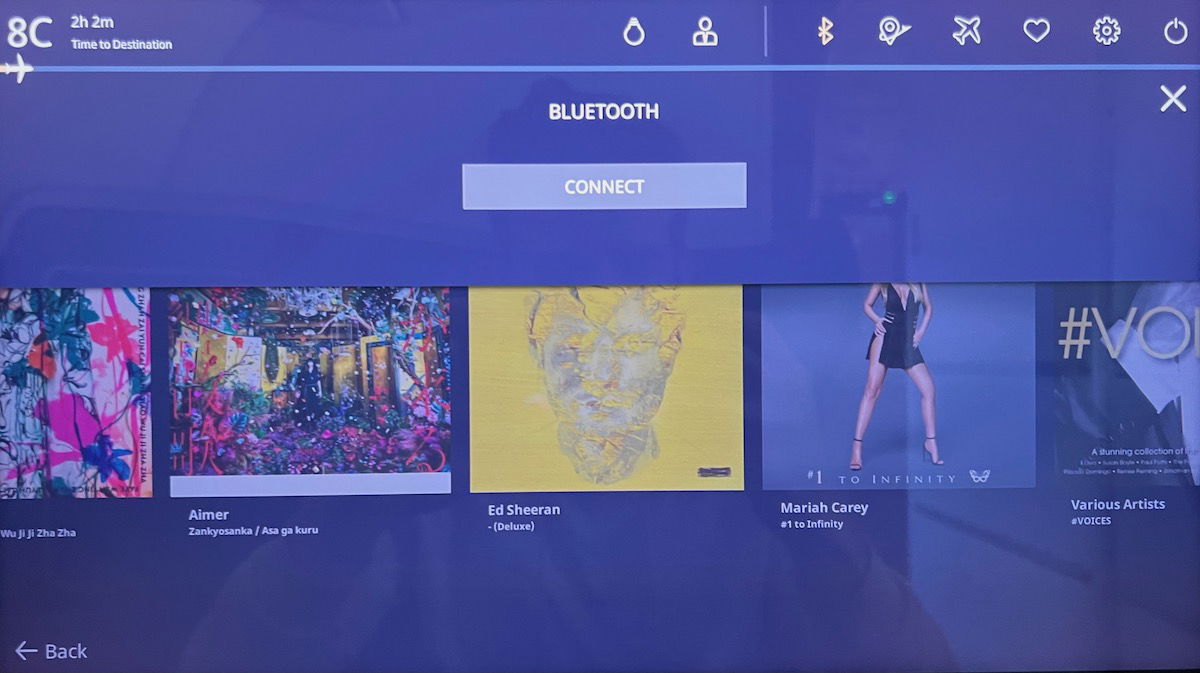 Starlux also has Wi-Fi on its A330-900neos. Starlux offers all passengers free messaging throughout the flight, and offers business class passengers free Wi-Fi throughout the flight, both with no data caps.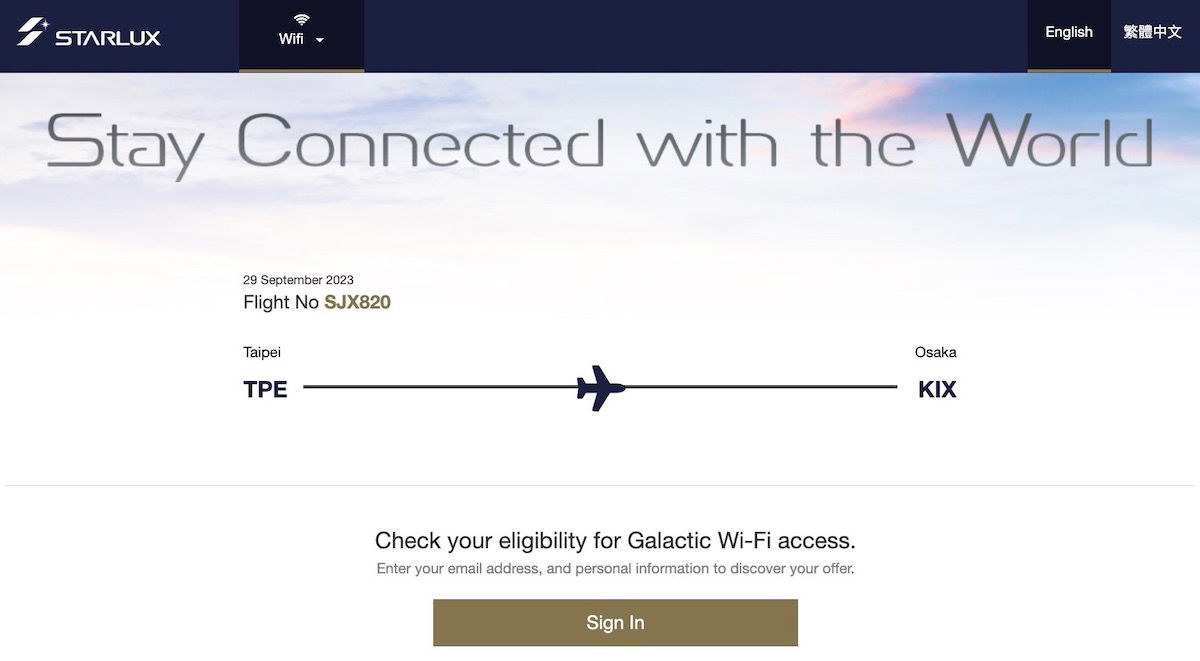 If you're paying, you can expect to pay $5 for 30MB of data, or $10 for 100MB of data.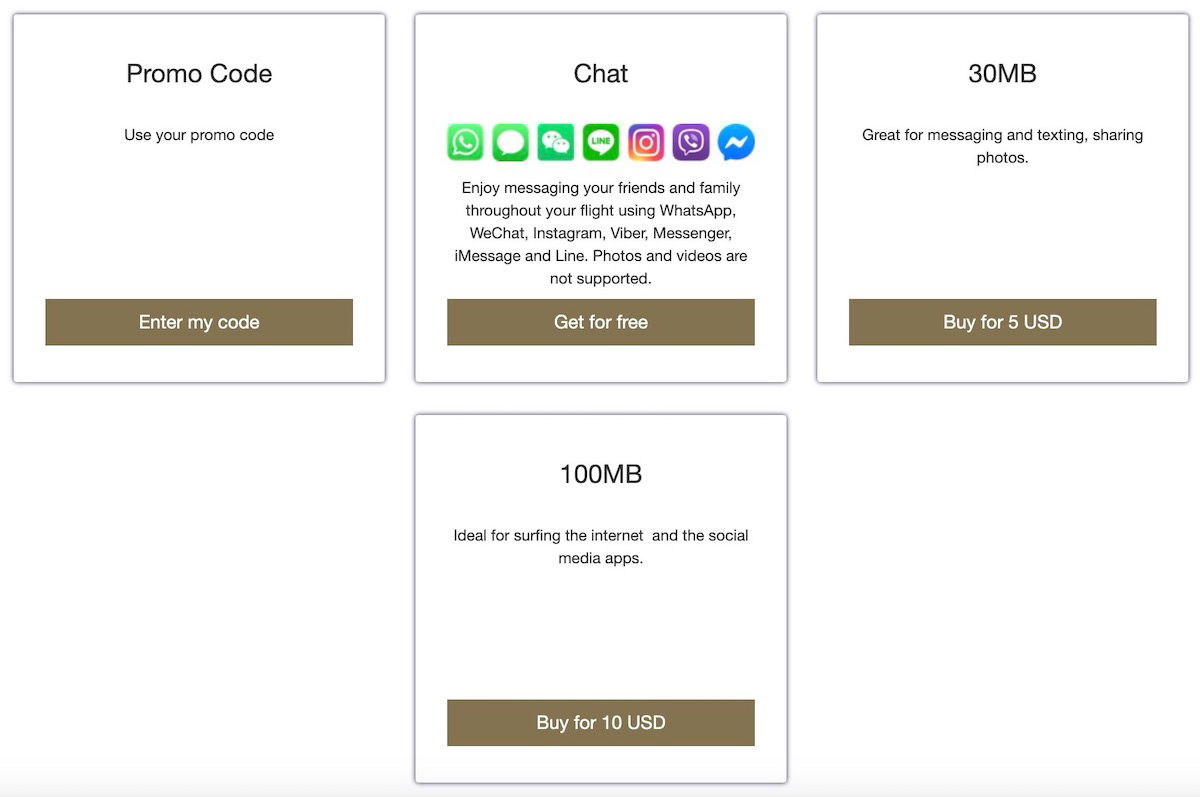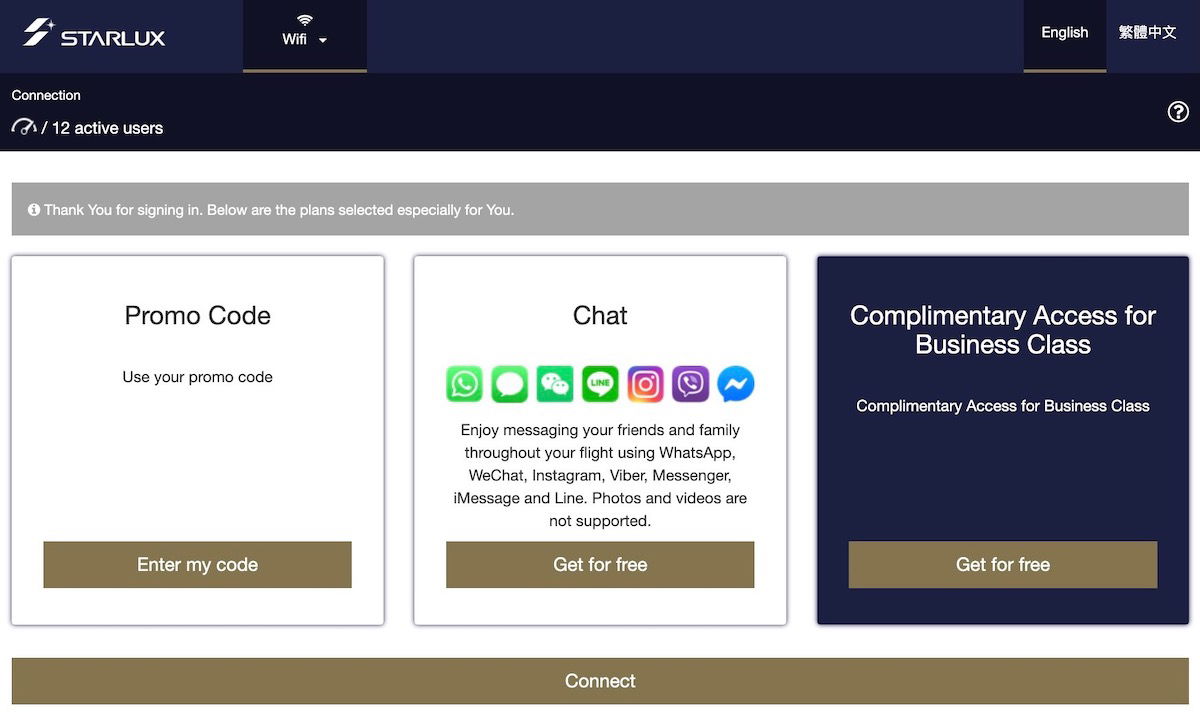 While Starlux's OnAir Wi-Fi isn't terribly fast, I appreciated being able to stay connected throughout the flight for free.
Starlux Airlines A330neo departure from Taipei
Boarding was efficient, and was completed within 15 minutes of when it started. Just like the last flight, this flight was nowhere close to full, with just nine of the 28 business class seats taken.
At around 8:15AM the captain added her welcome aboard announcement, informing us of our flight time of 2hr5min, and our cruising altitude of 35,000 feet. I loved how we had a female captain, since I don't believe Taiwan has as high of a percentage of female pilots as some other countries (like India). Huge respect to her, and here's to hoping the day comes where that's not something worth recognizing anymore.
At 8:25AM, Starlux's ridiculously cute safety video was screened, and then at 8:30AM, we began our pushback.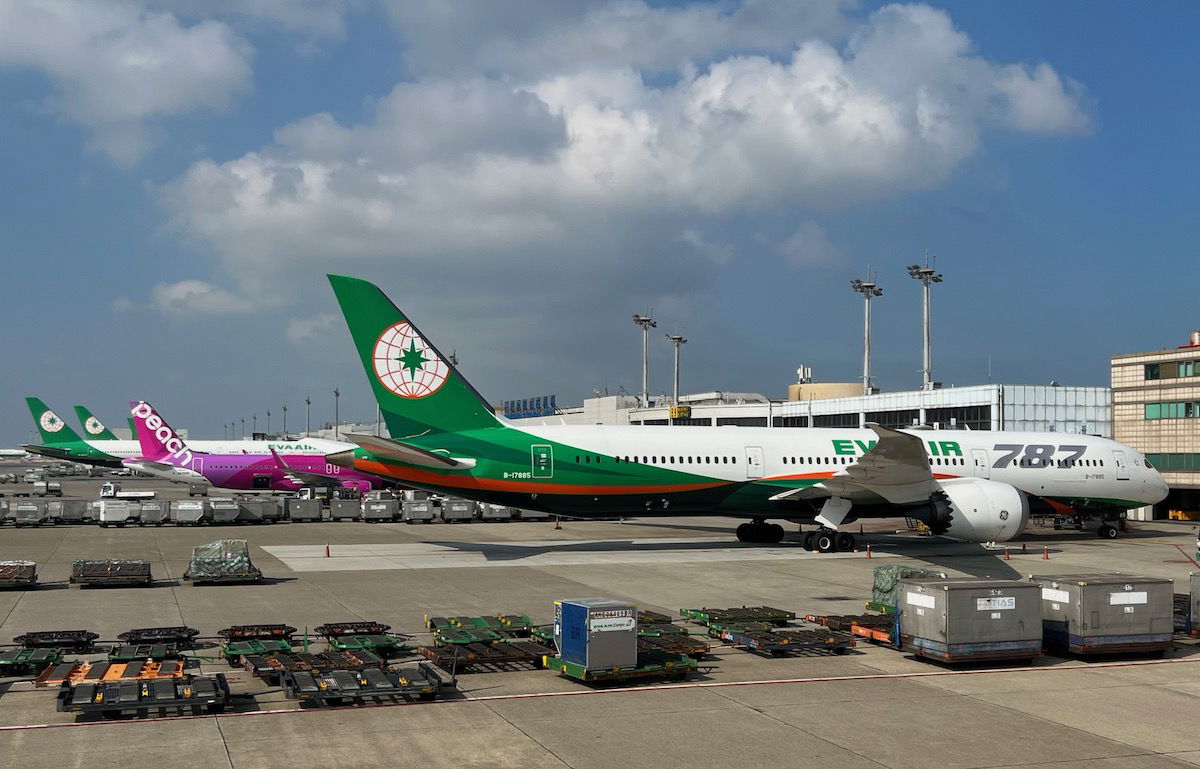 At 8:40AM we began our taxi to runway 5R.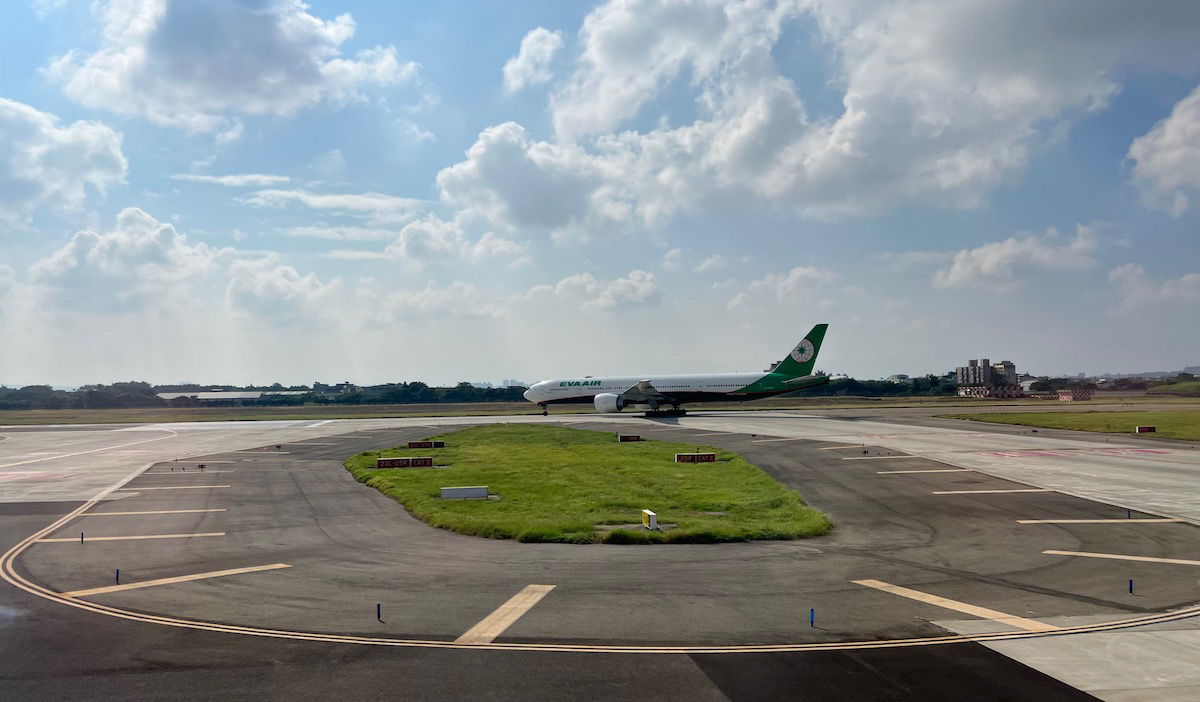 It took us about 20 minutes until we were cleared for takeoff, due to a number of planes taking off and landing. Finally we were cleared for departure at 9AM.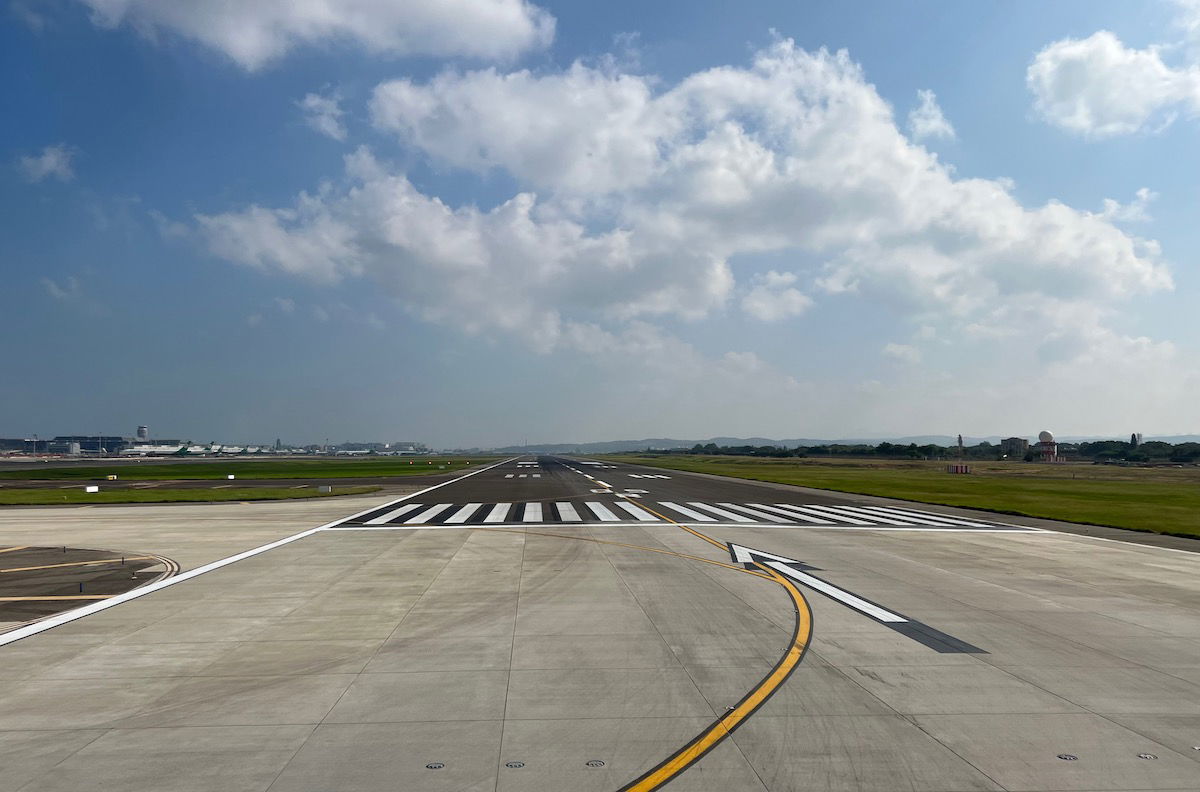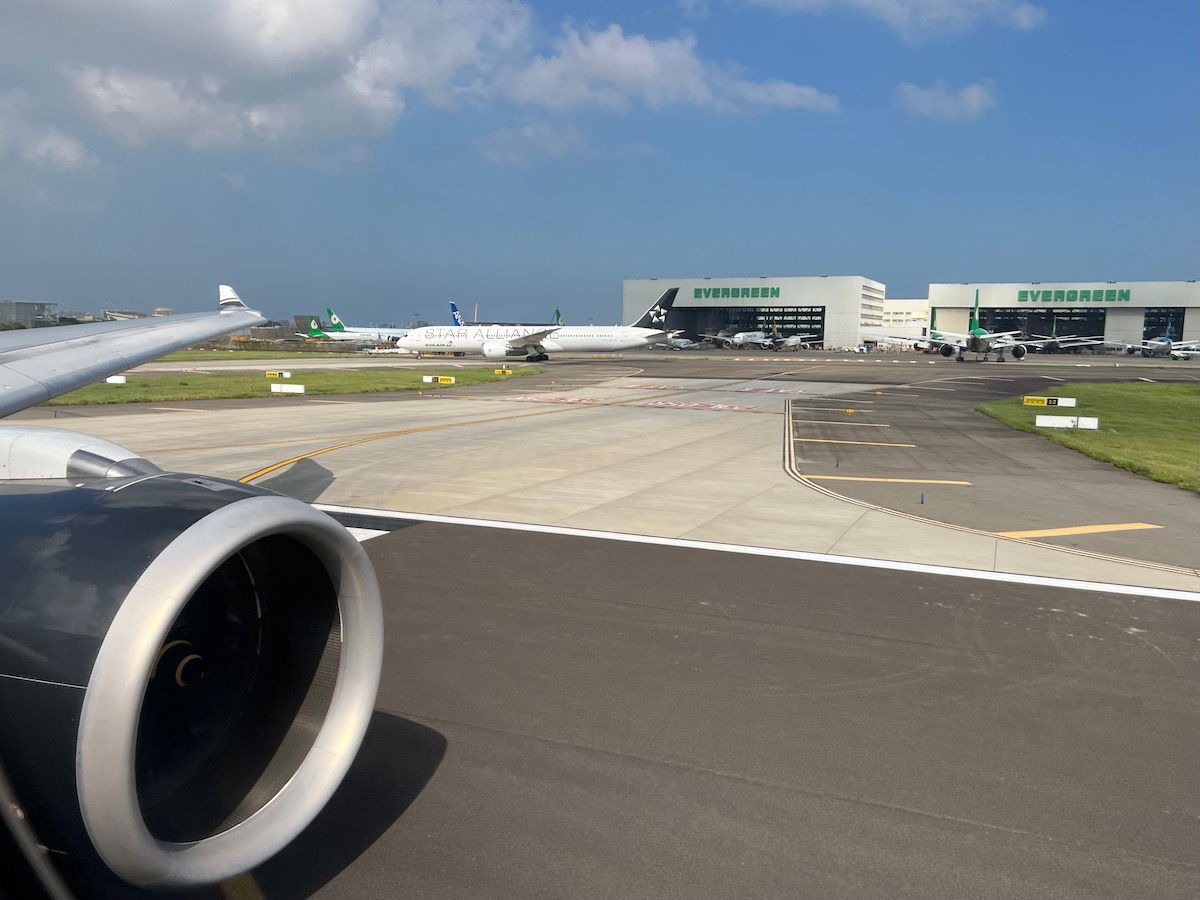 We had a smooth takeoff roll, and a steep climb out of Taipei…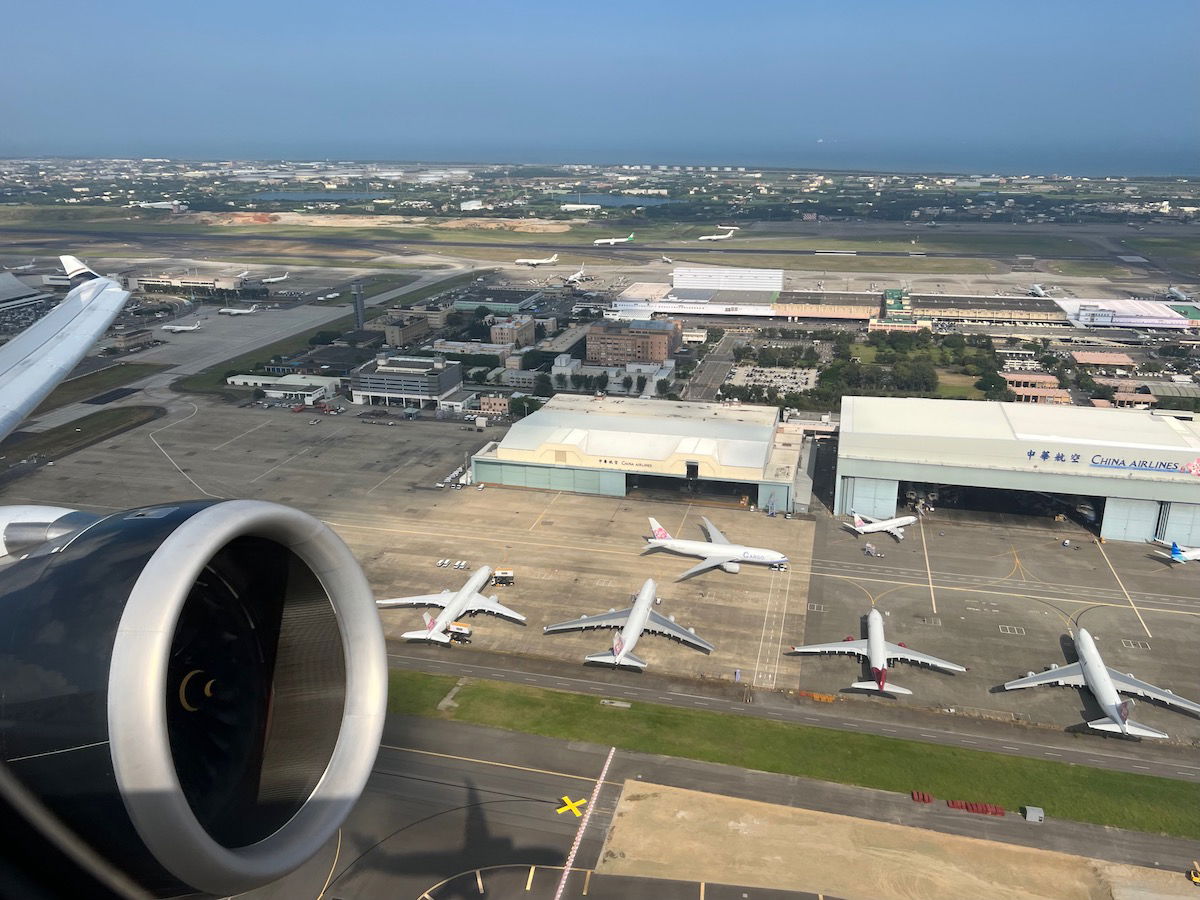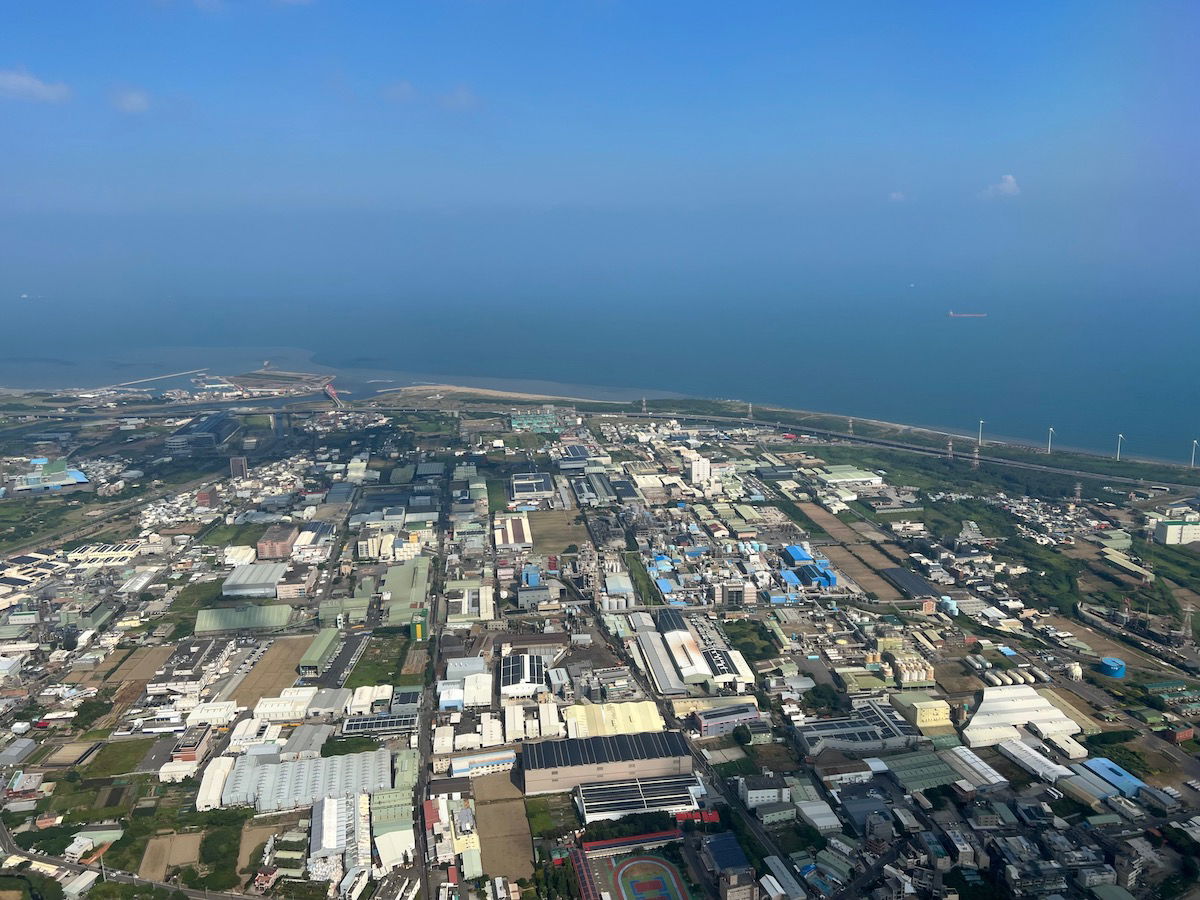 The seatbelt sign was turned off just five minutes after takeoff.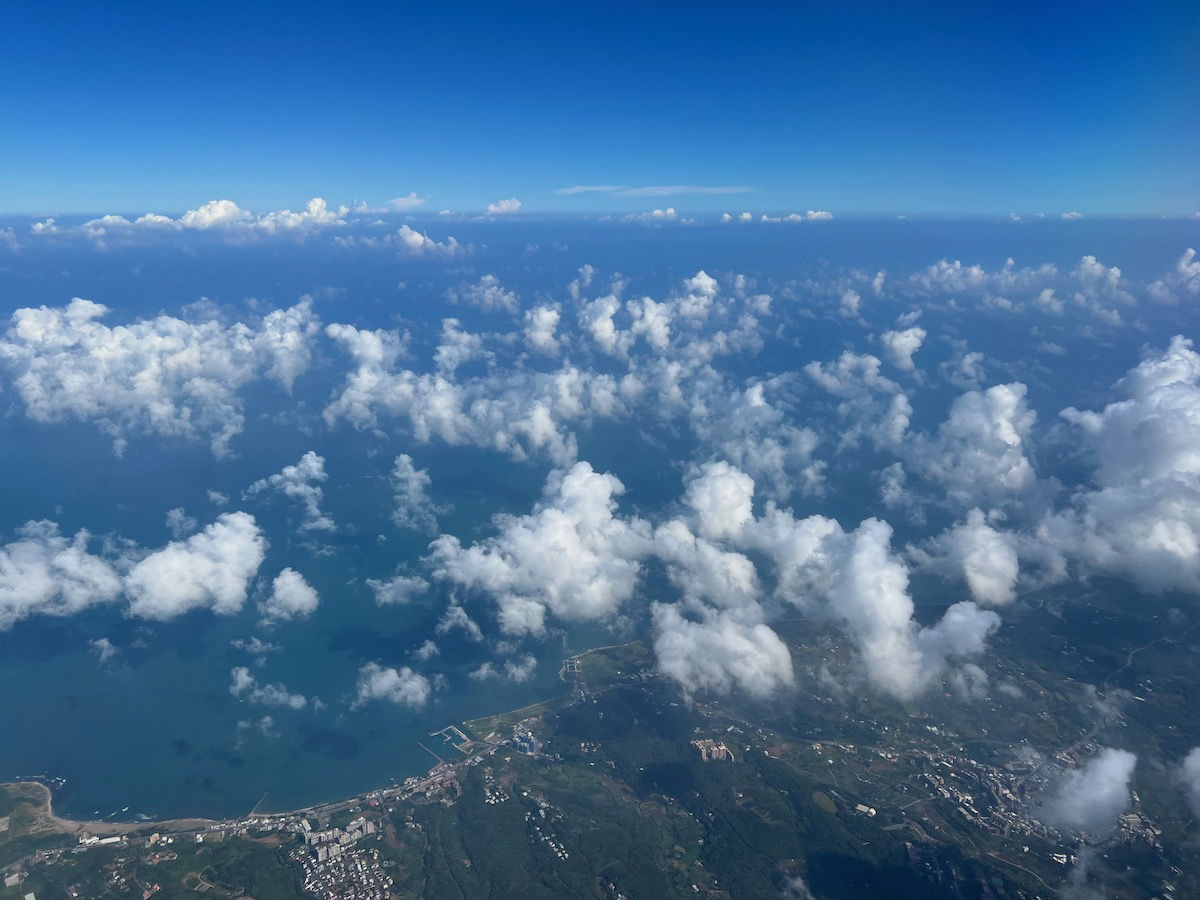 Starlux Airlines business class meal service
Given the short flight time, service began quickly after takeoff. Below you can find the Starlux business class menu for this flight.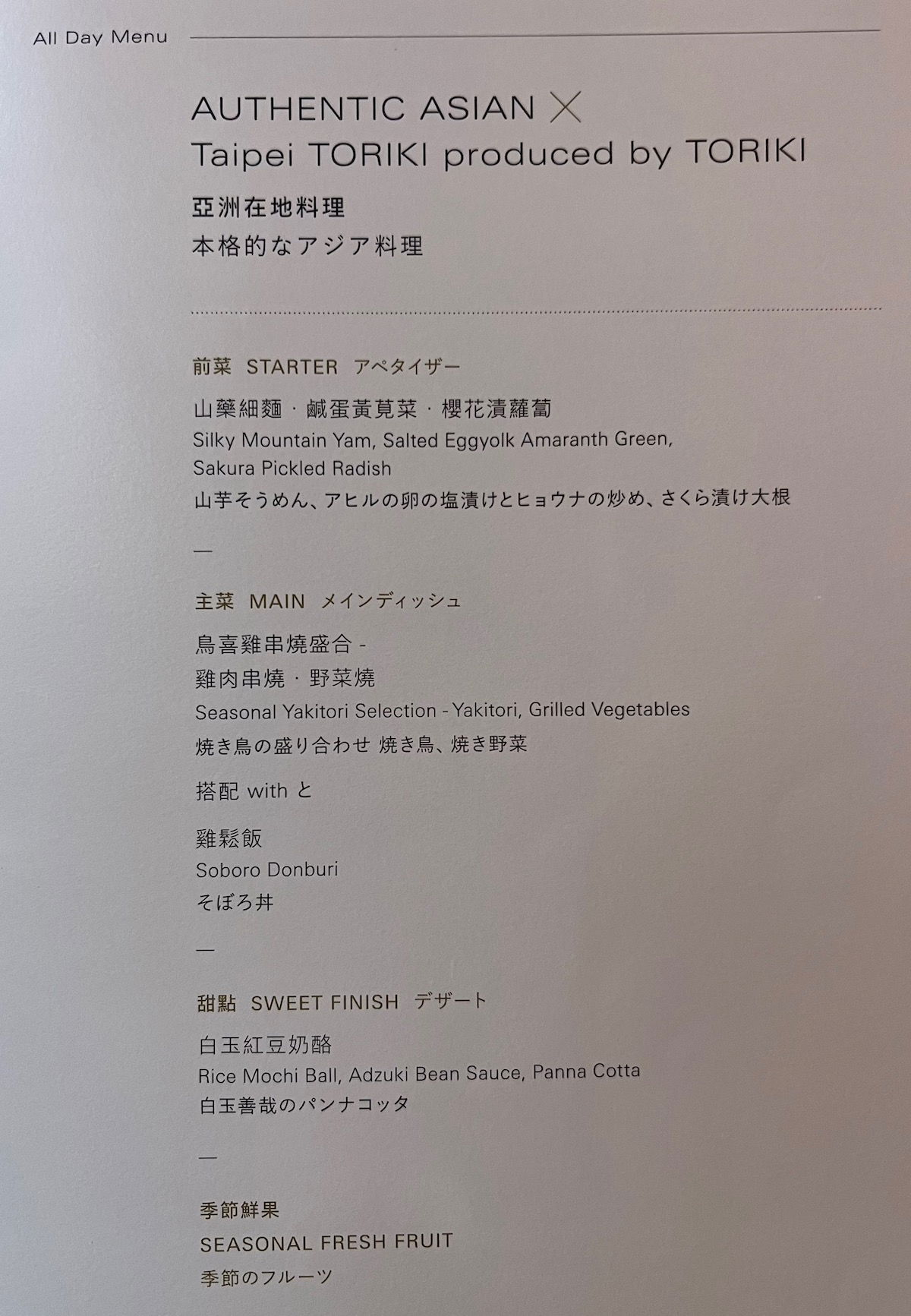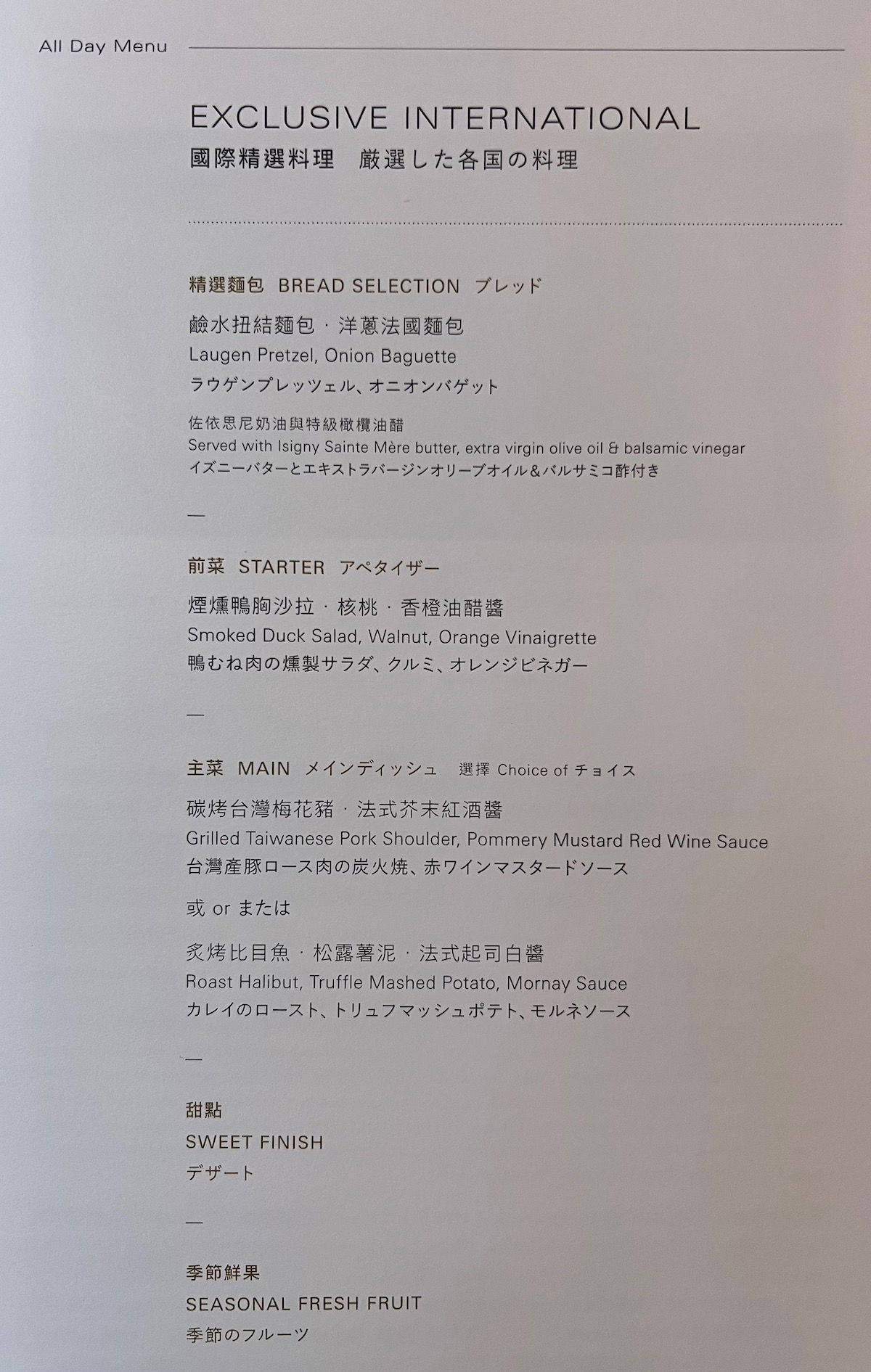 And below you can find the (extensive) Starlux business class drink list for this flight.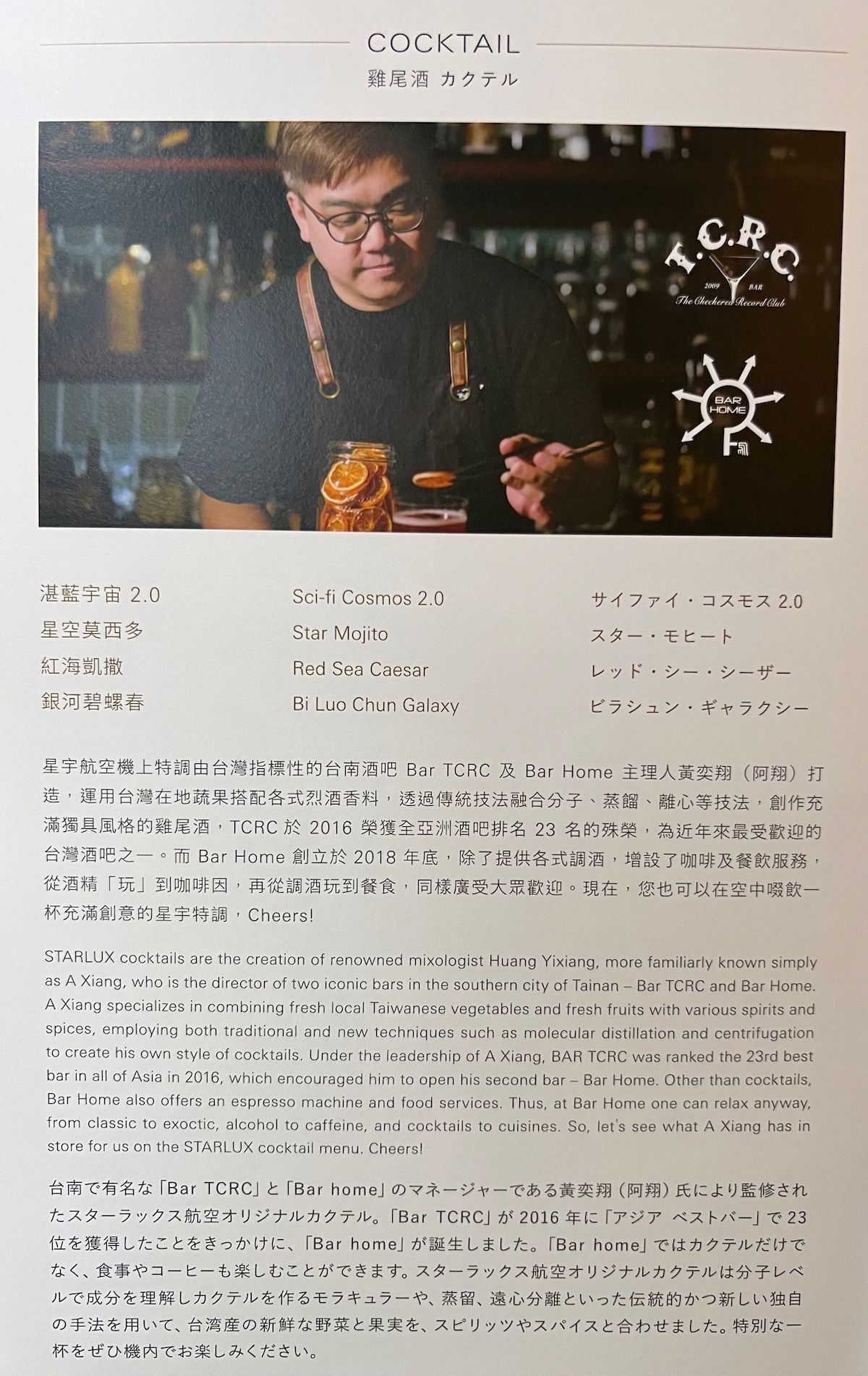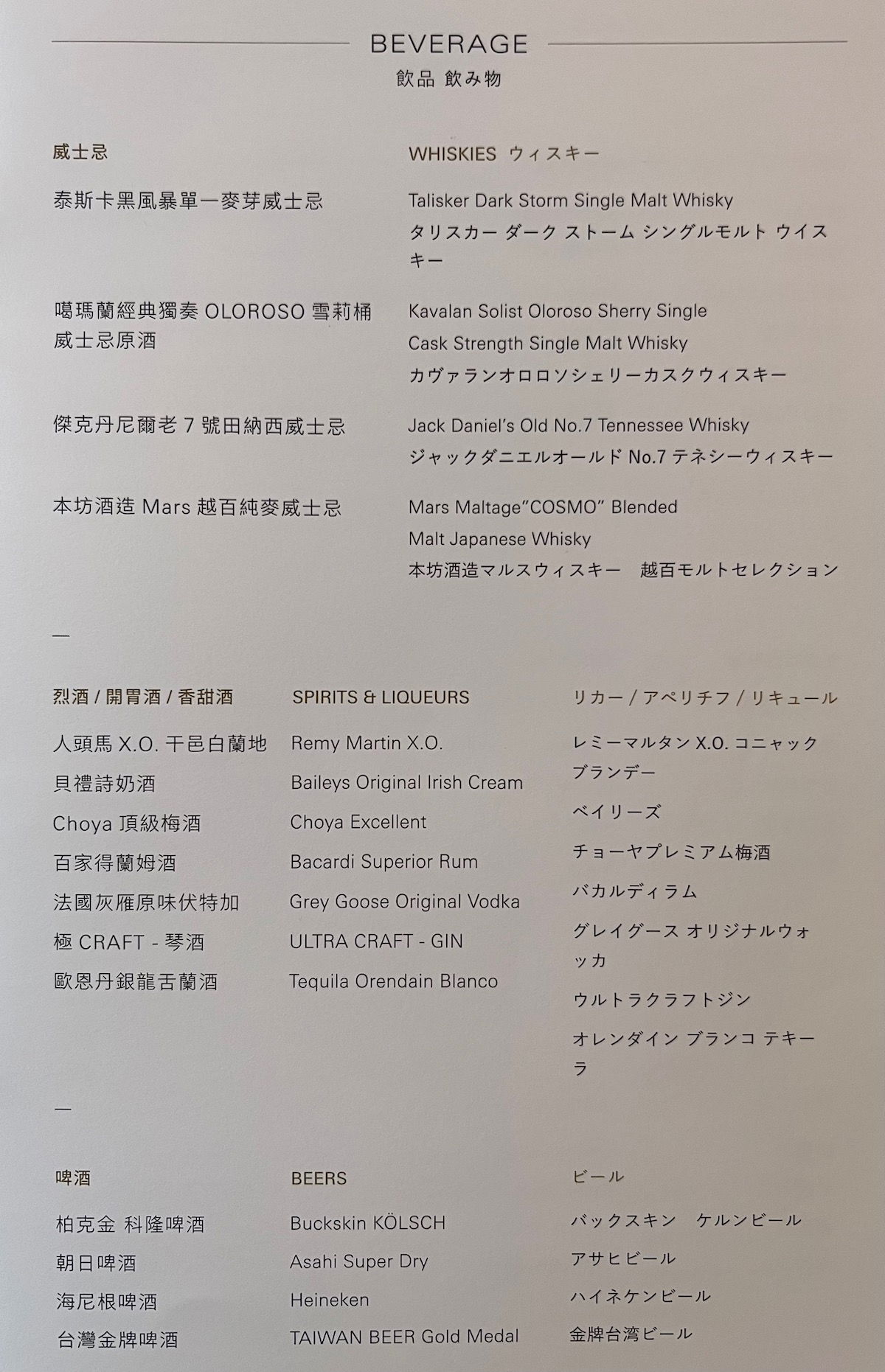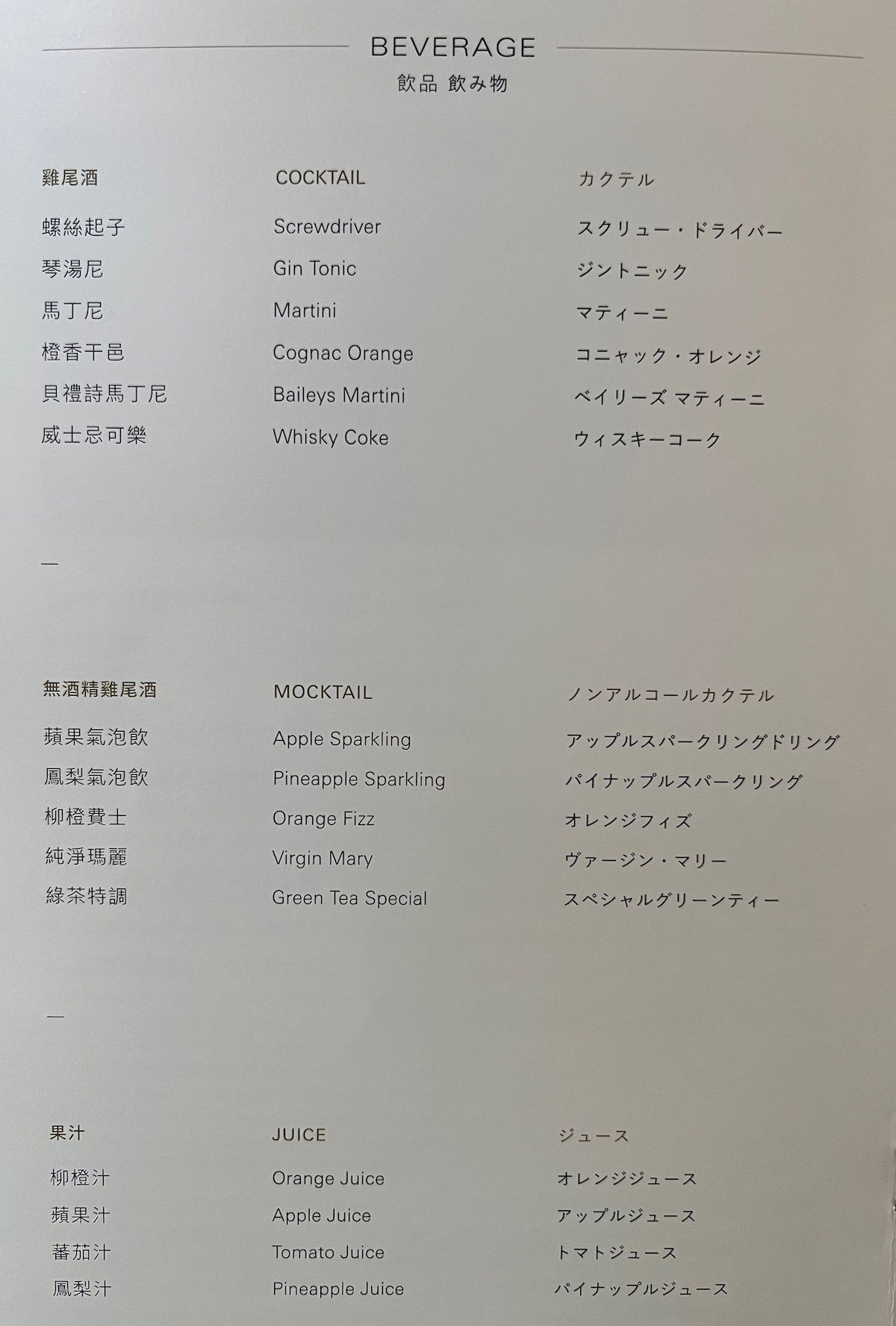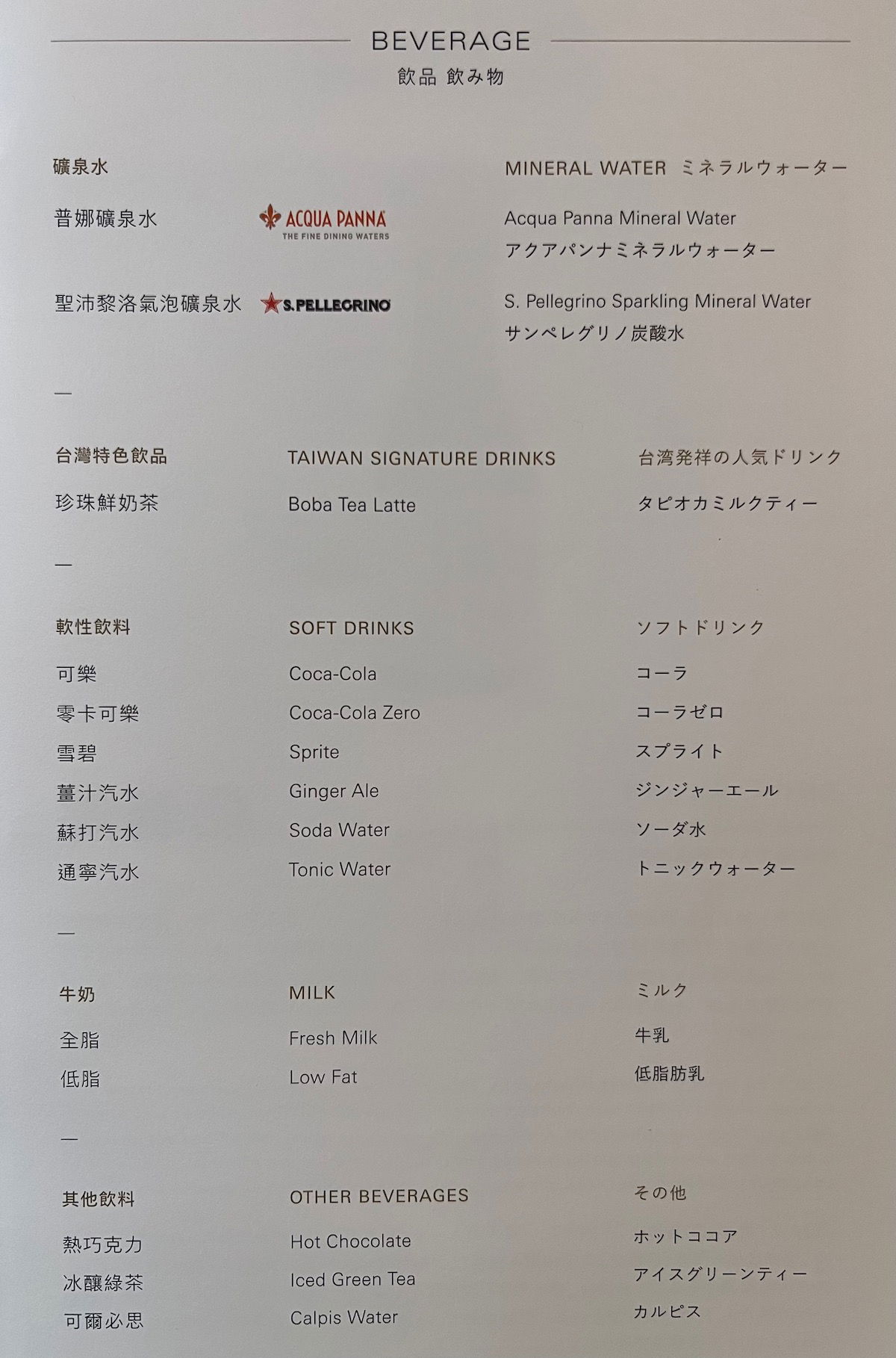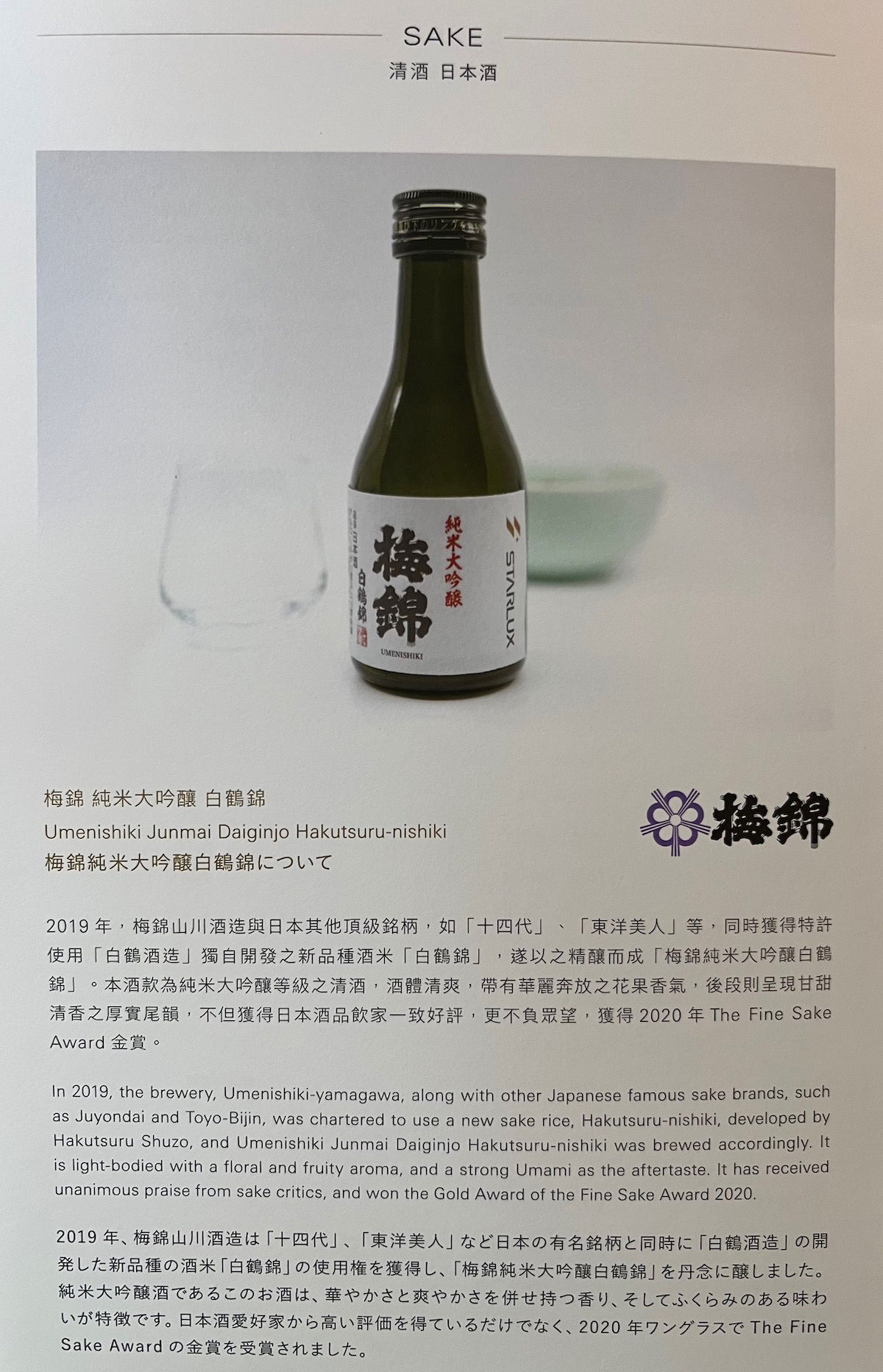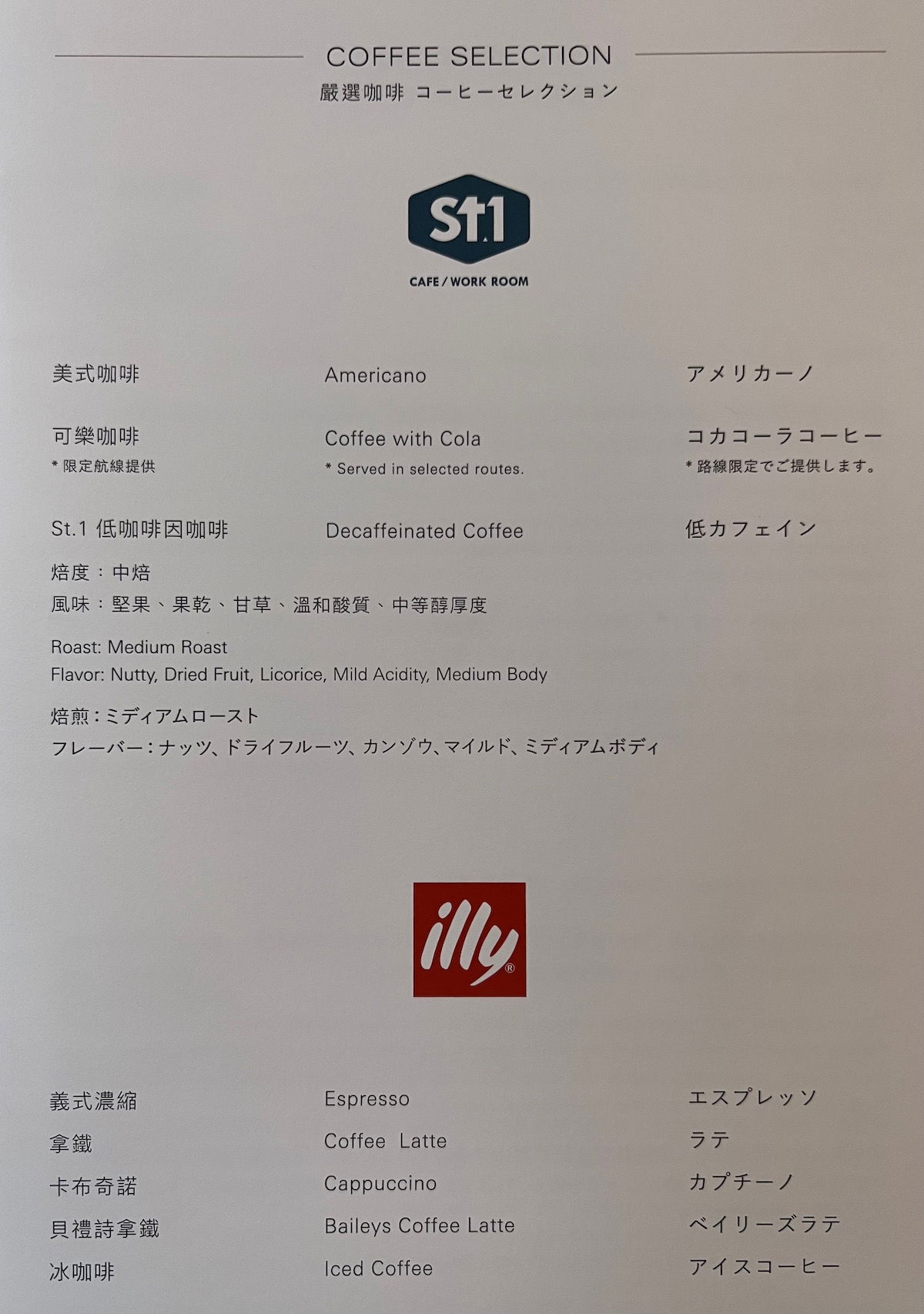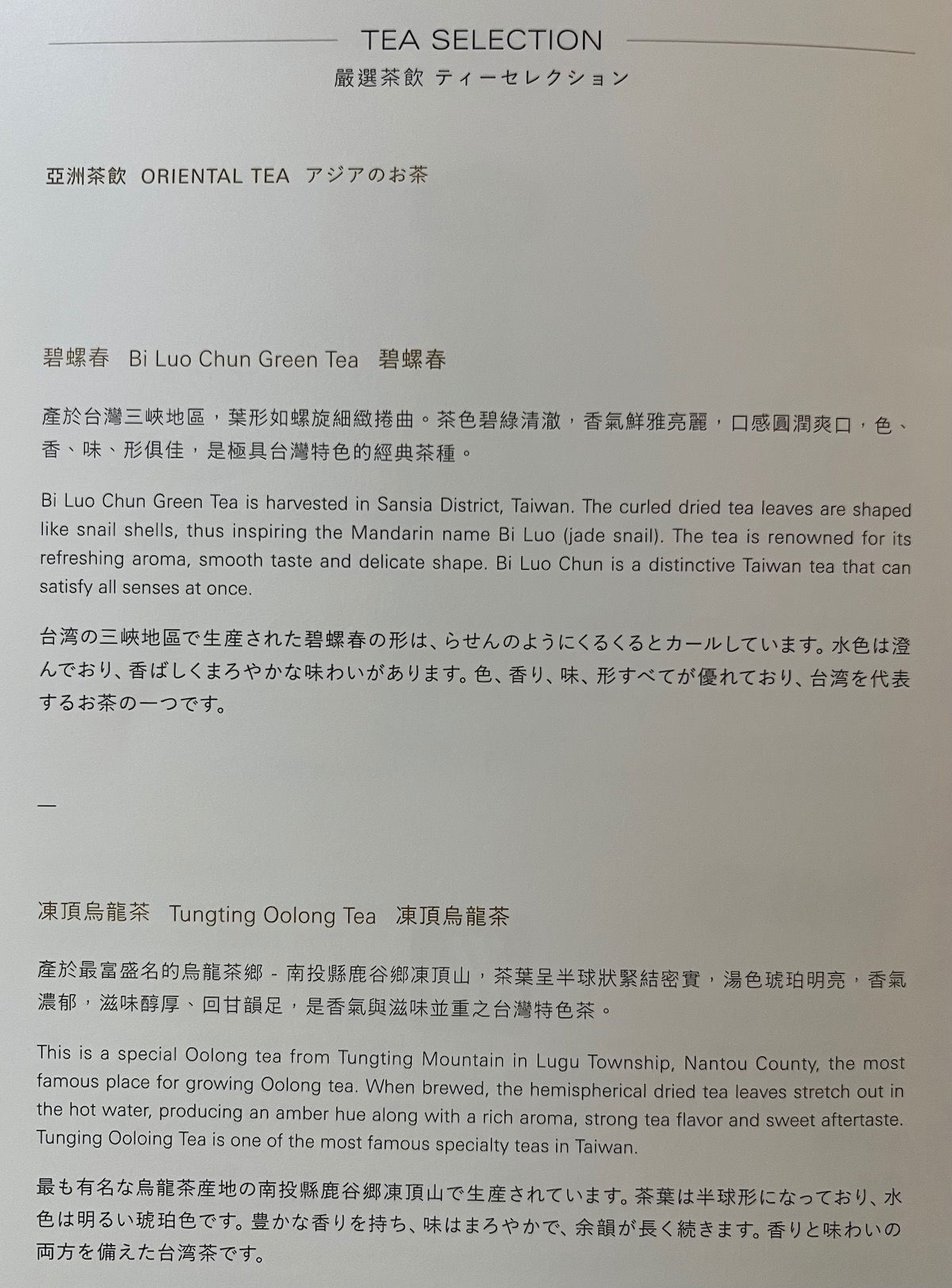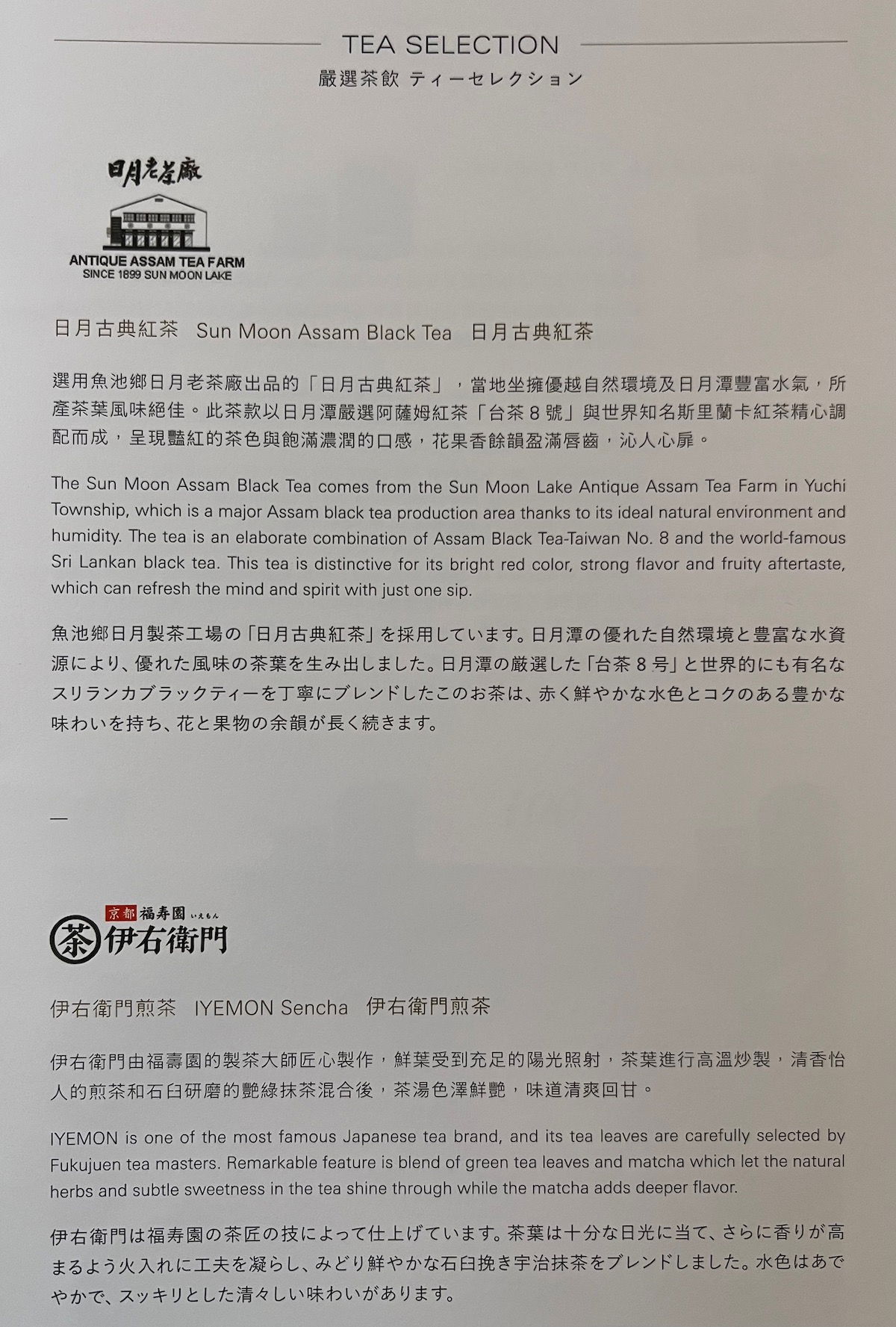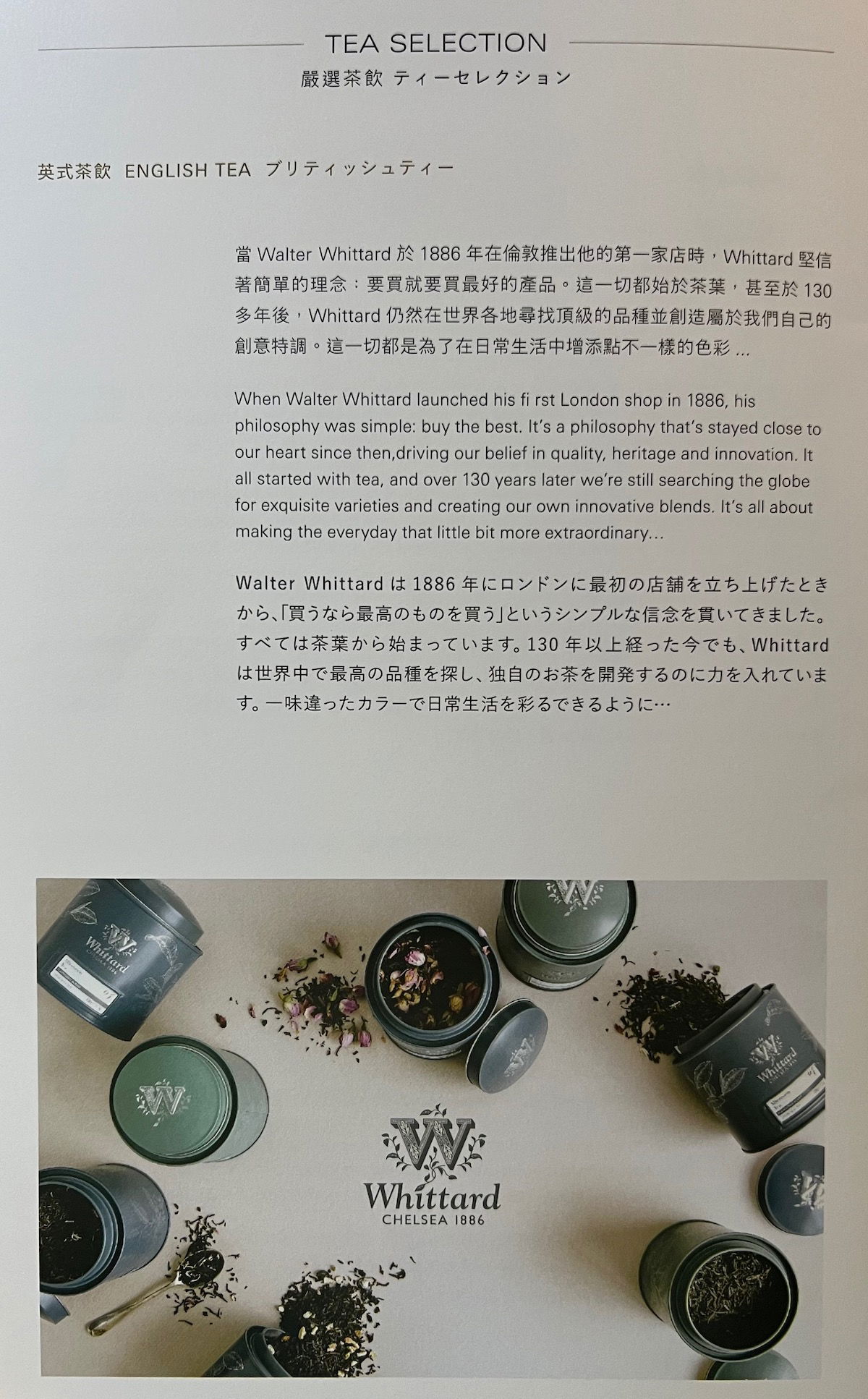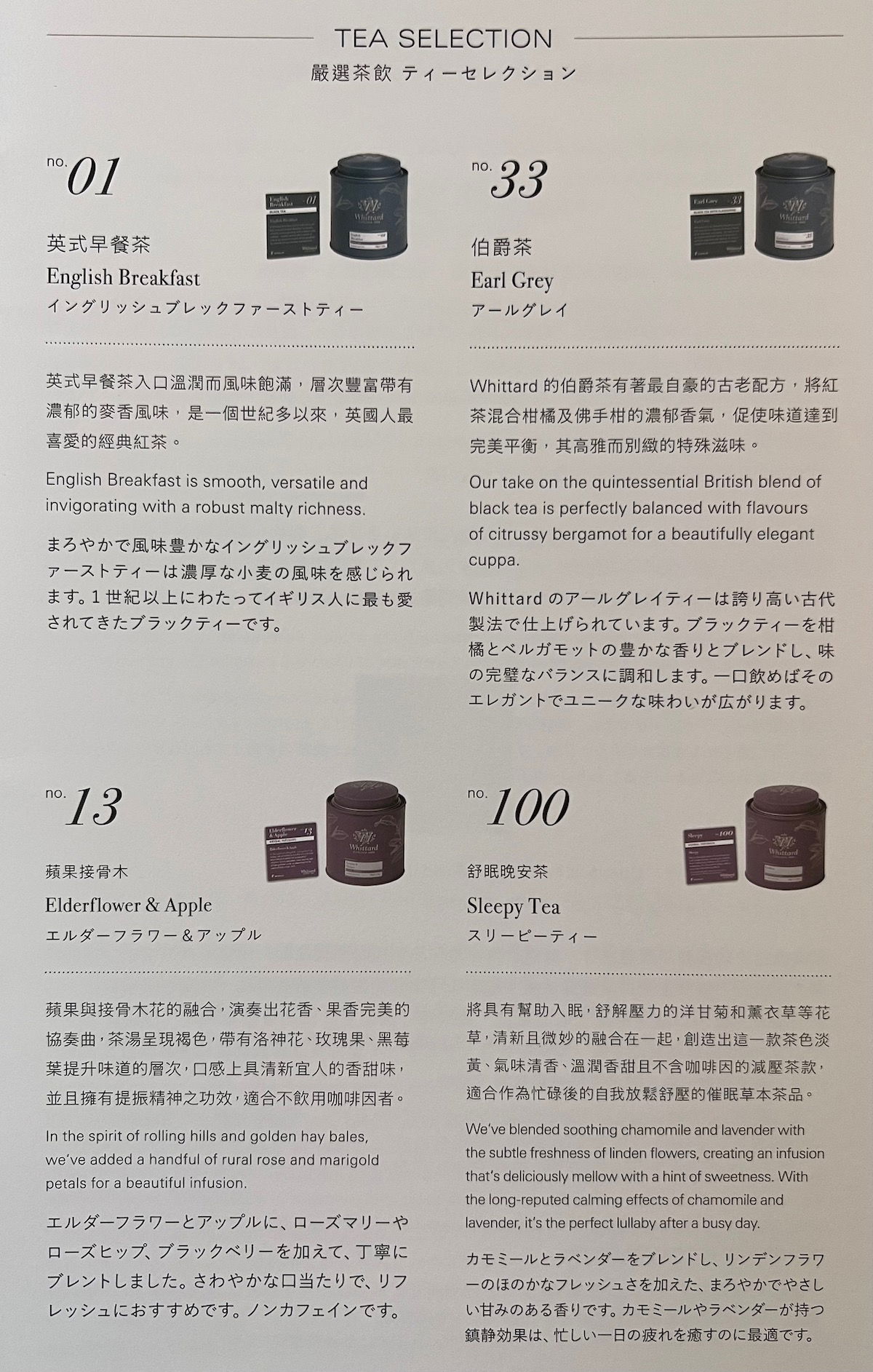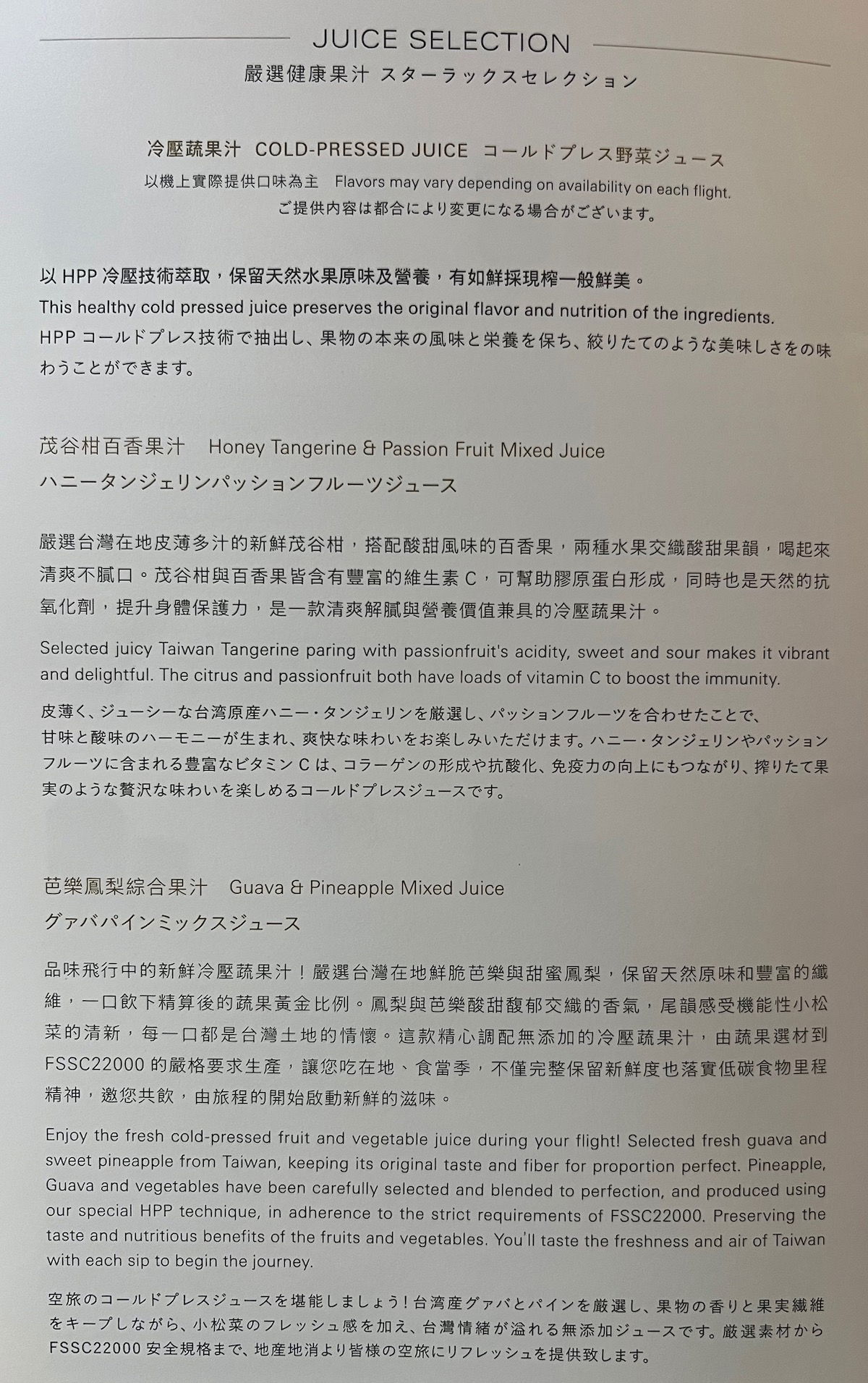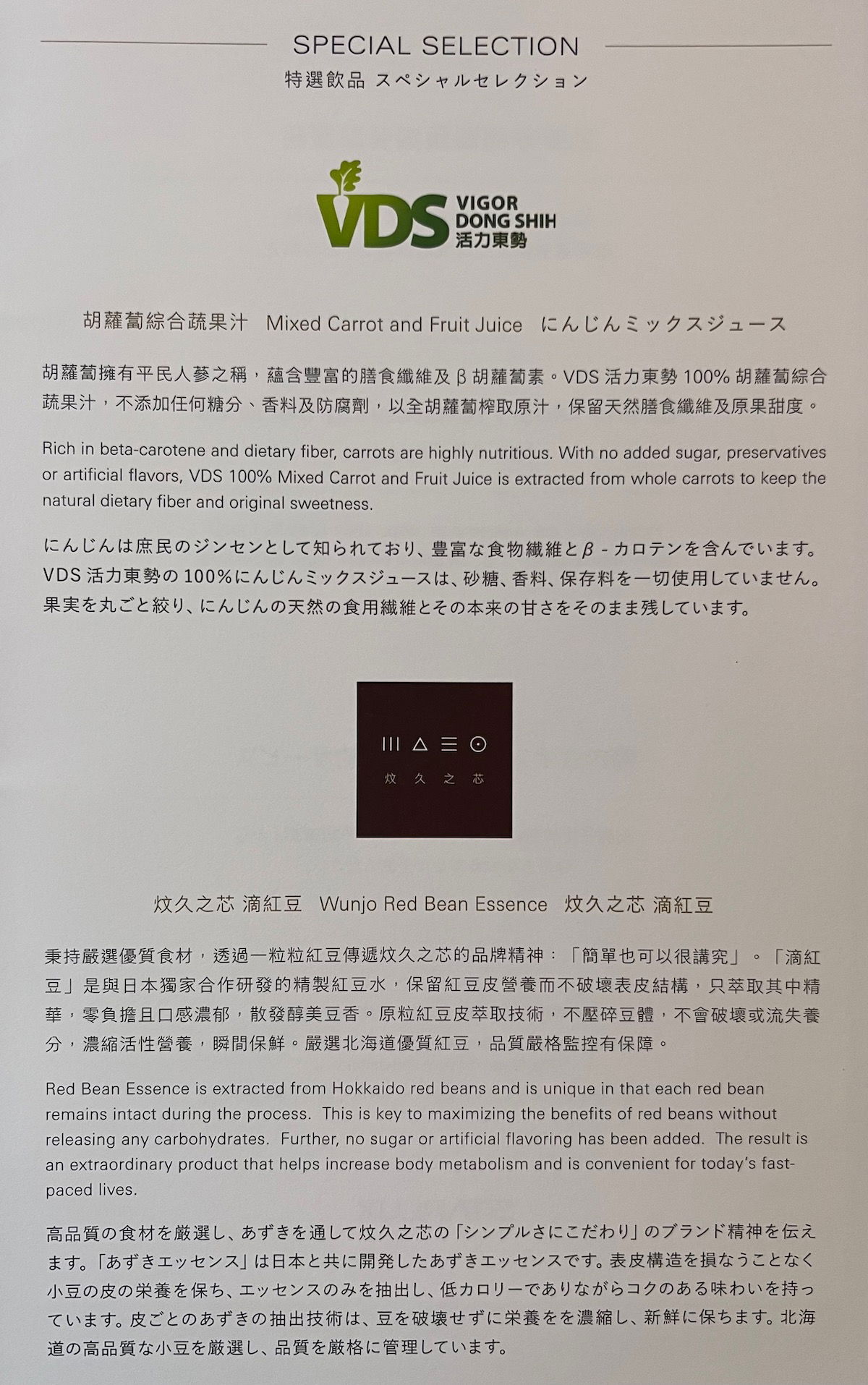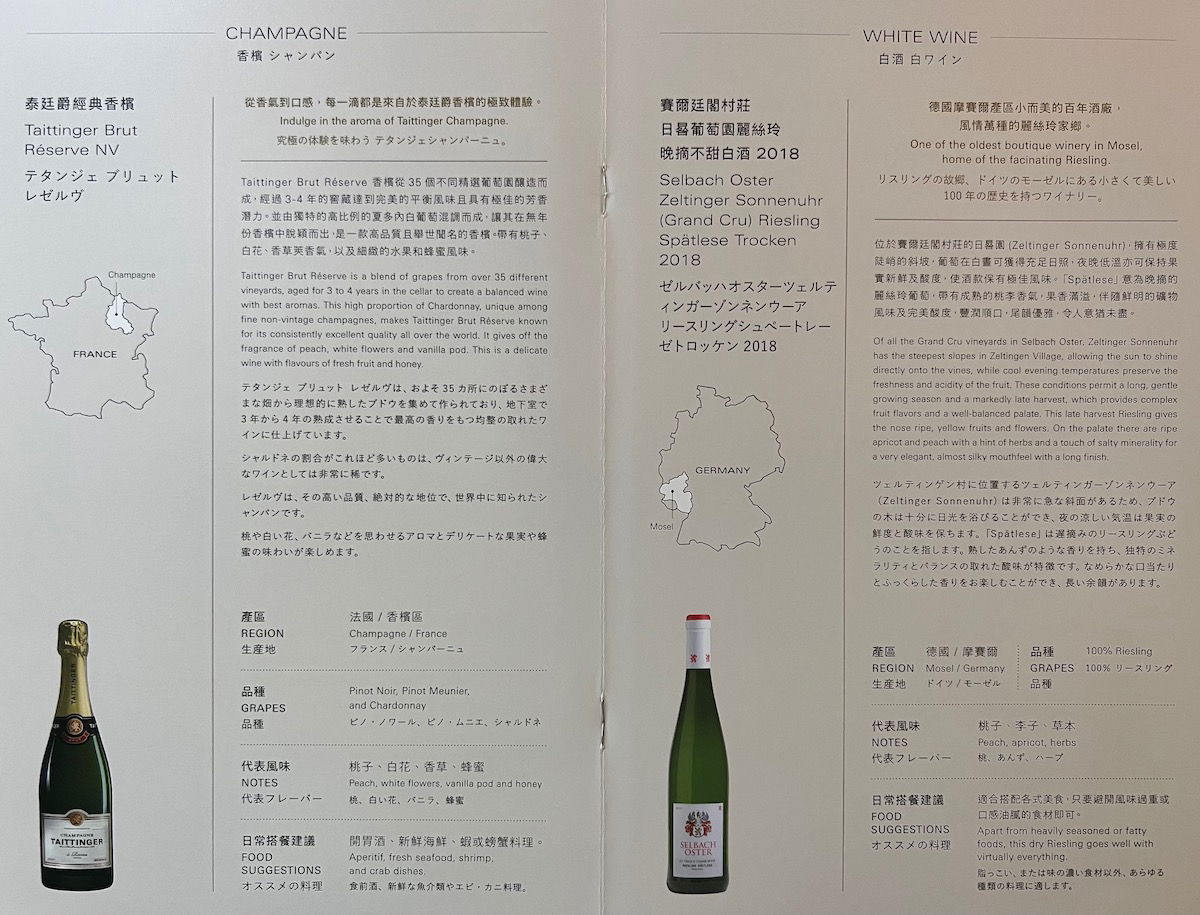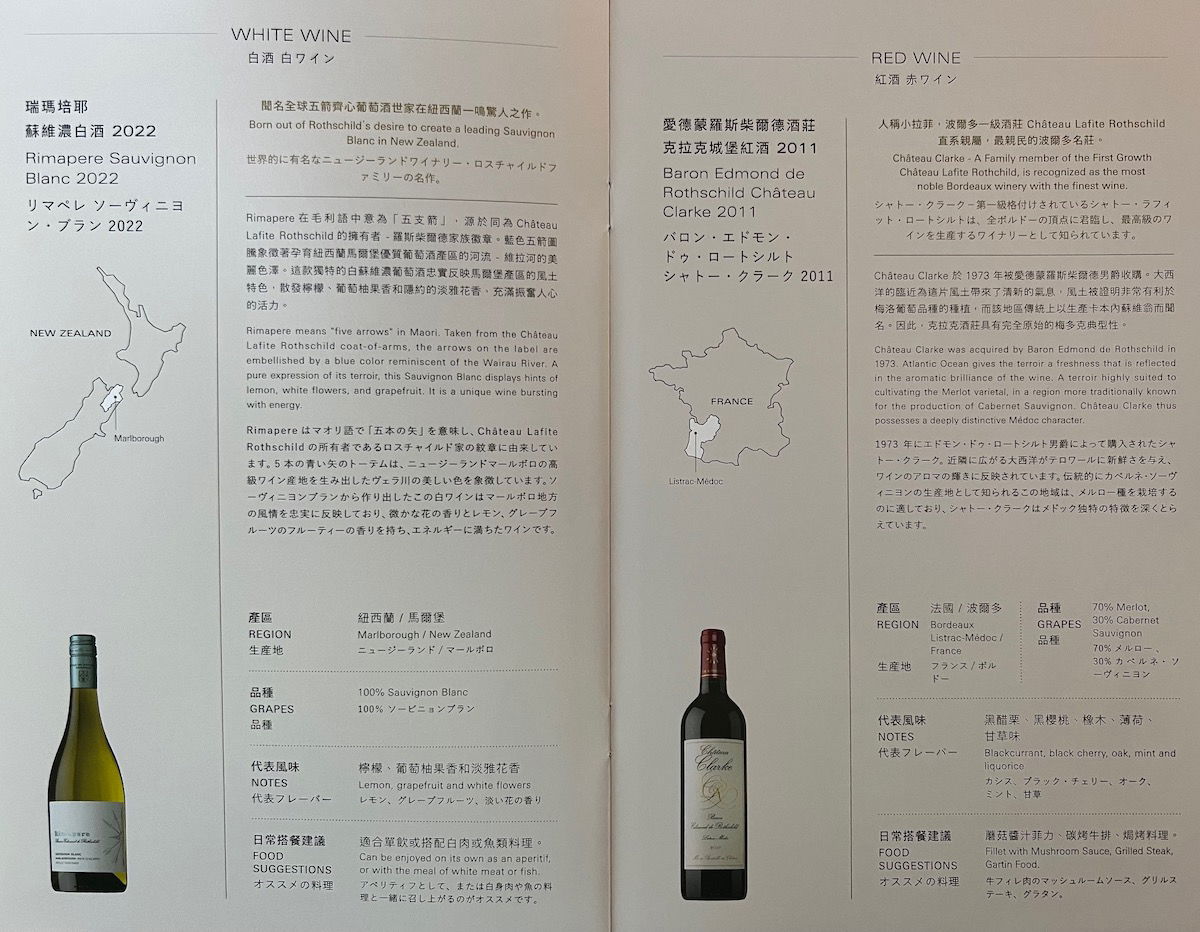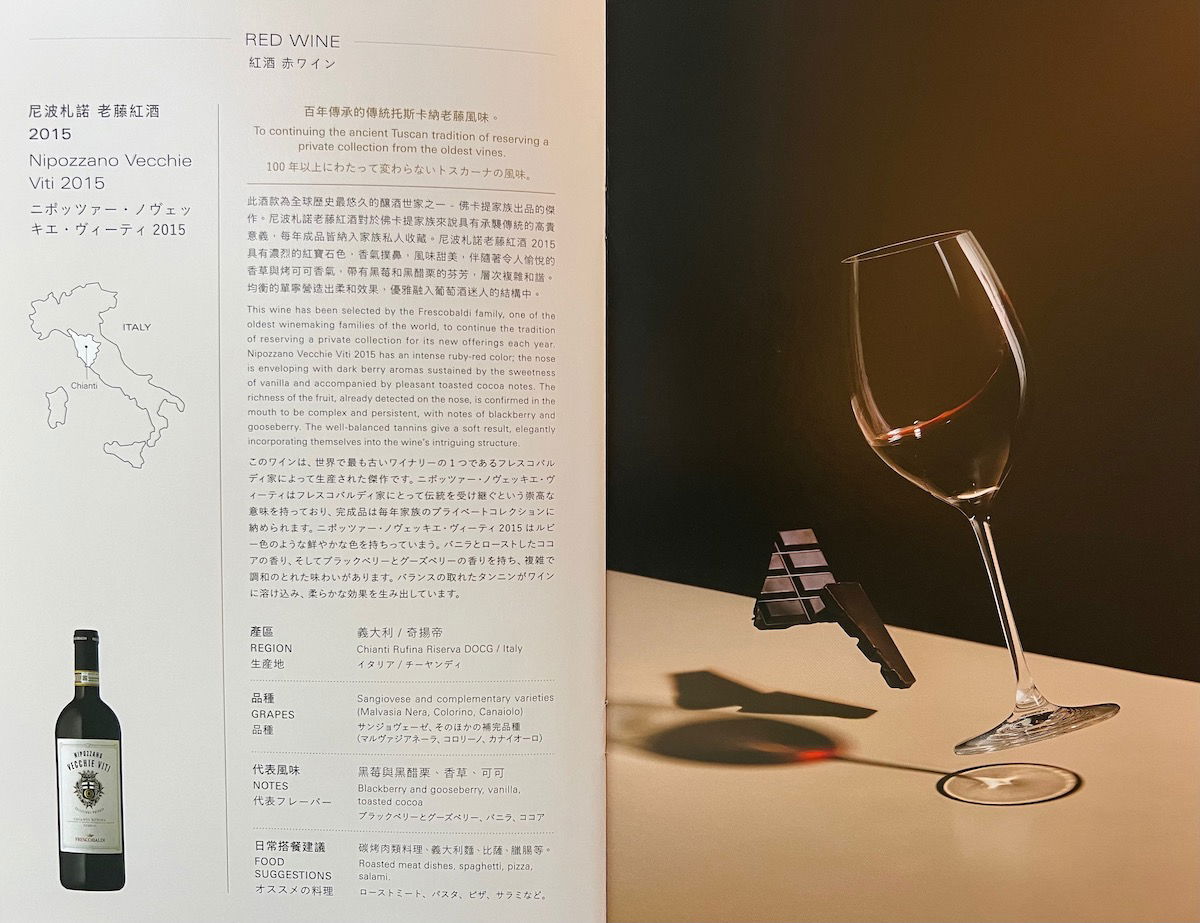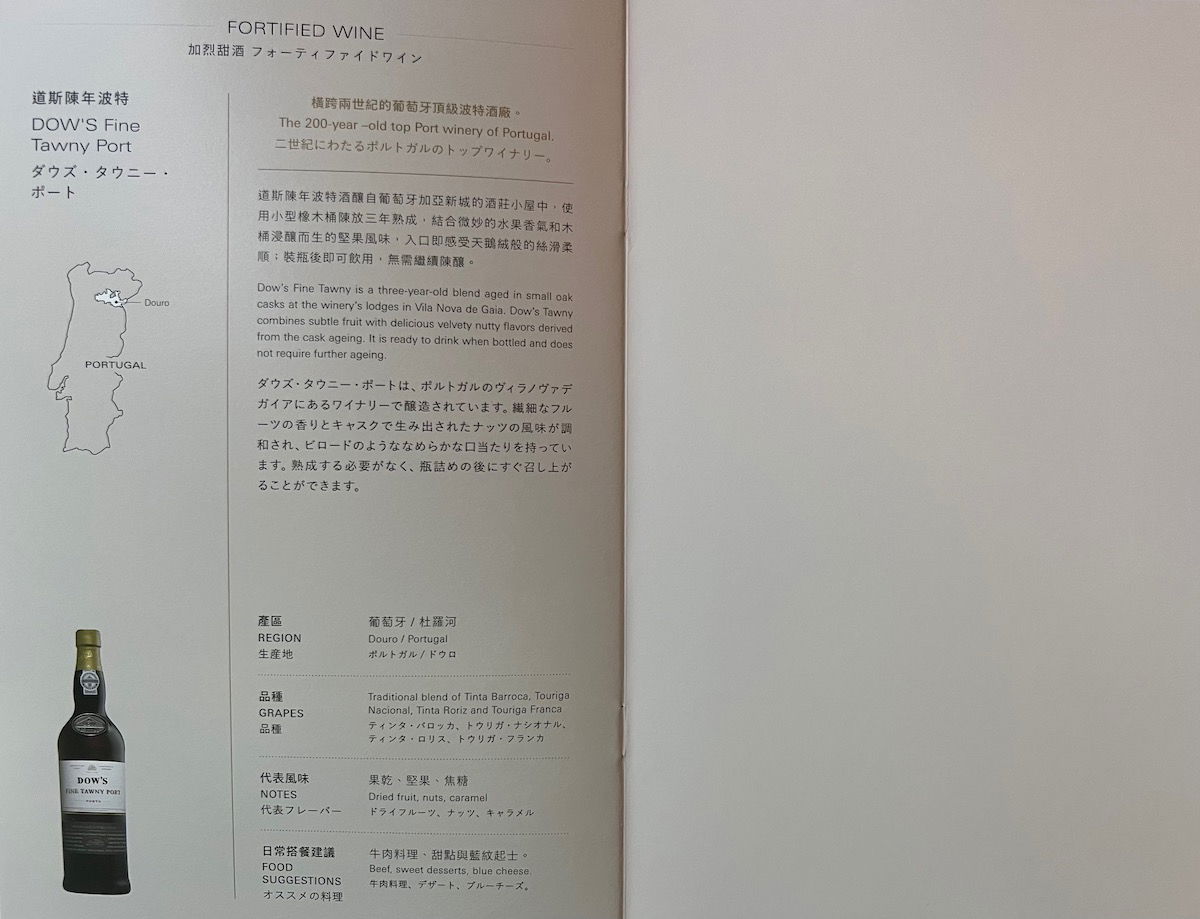 Starlux has much better dining when departing Taipei, and I particularly appreciated all the destination specific options, from sake, to the collaboration with Toriki, a Japanese Michelin-star yakitori restaurant.
Less than 15 minutes after takeoff, a tablecloth was brought out, and the first round of drinks were served. I decided to order the Red Sea Caesar, the carrier's take on a Bloody Mary. I'm not usually into drinking early in the morning (or at all, really), but I had seen in marketing that Starlux showed these drinks being served with a big ice cube, and I was curious if that was really the case.
Well, yep, it was. This has to be one of the best presented cocktails I've ever been served on a plane. Very impressive, and it wasn't even my favorite drink of the flight!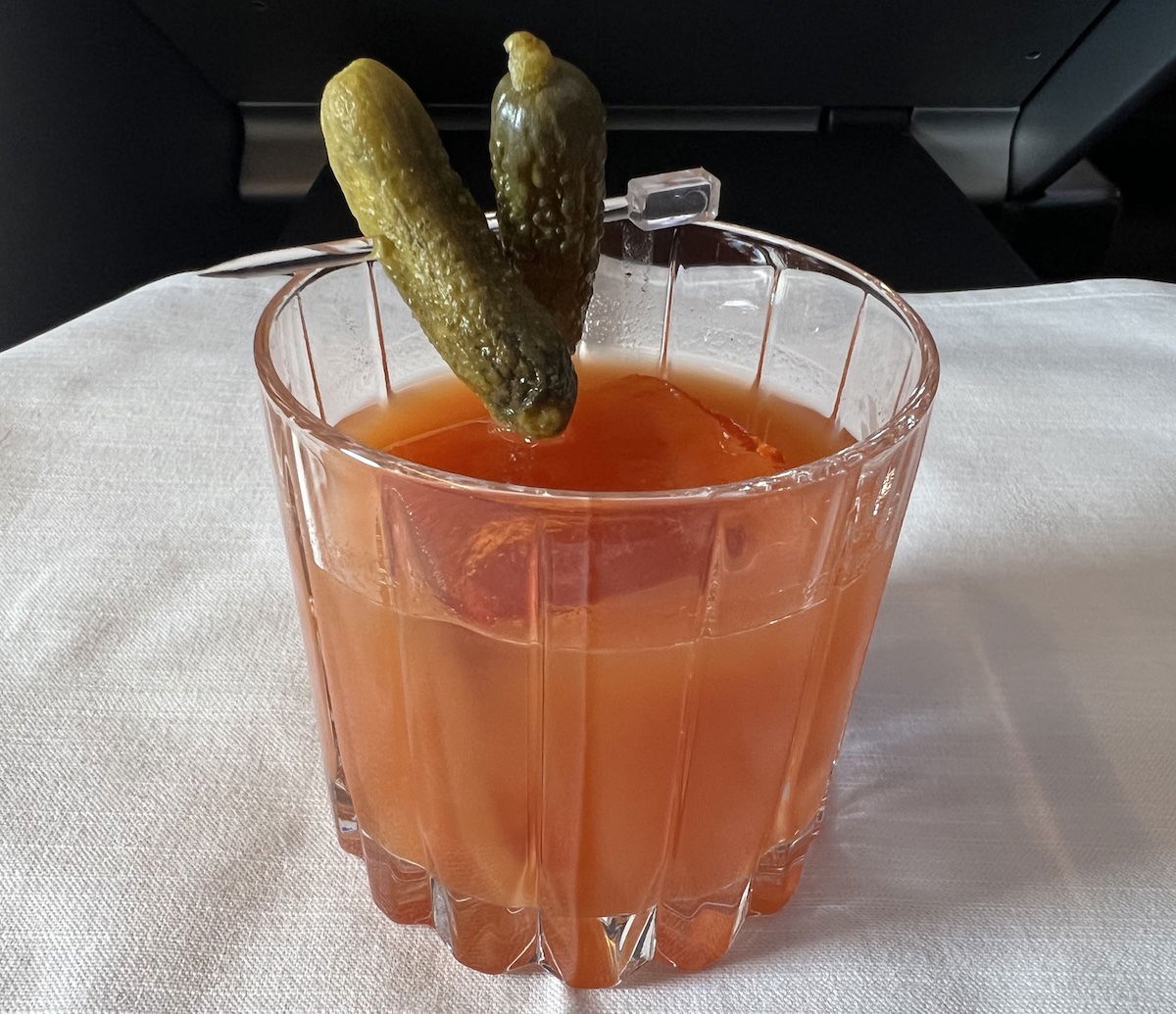 Given the short flight, the stater and main were served on one tray. Ford wanted to try the signature meal in collaboration with Toriki, which consisted of a starter of silky mountain yam, salted egg yolk amaranth green, and sakura pickled radish, and a main course of yakitori with grilled vegetables and soboro donburi. It looked excellent, and Ford enjoyed the dish.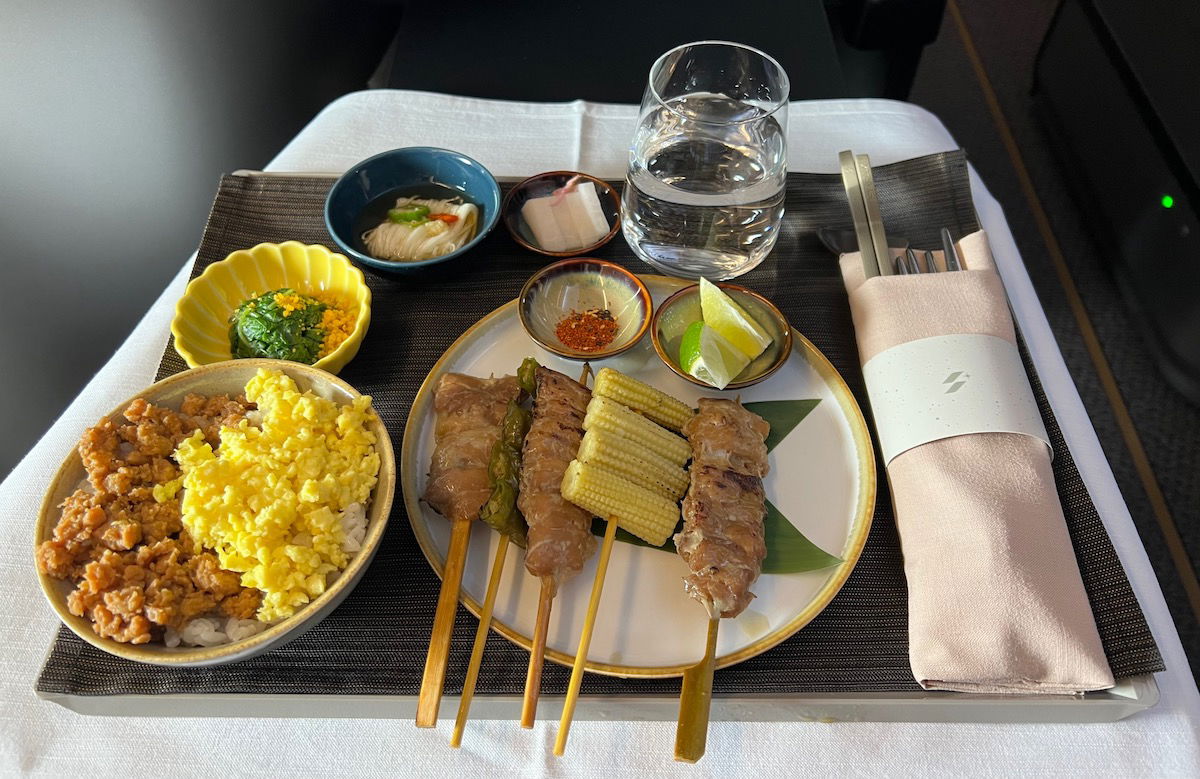 I would have ordered the same, but I wanted to get pictures of both of the meal options, so I instead selected the Western meal. This consisted of a starter of smoked duck salad with walnut and orange vinaigrette, and a main course of roasted halibut with truffle mashed potato and mornay sauce. While I'm not a huge duck fan, the halibut was very flavorful, and I enjoyed the meal.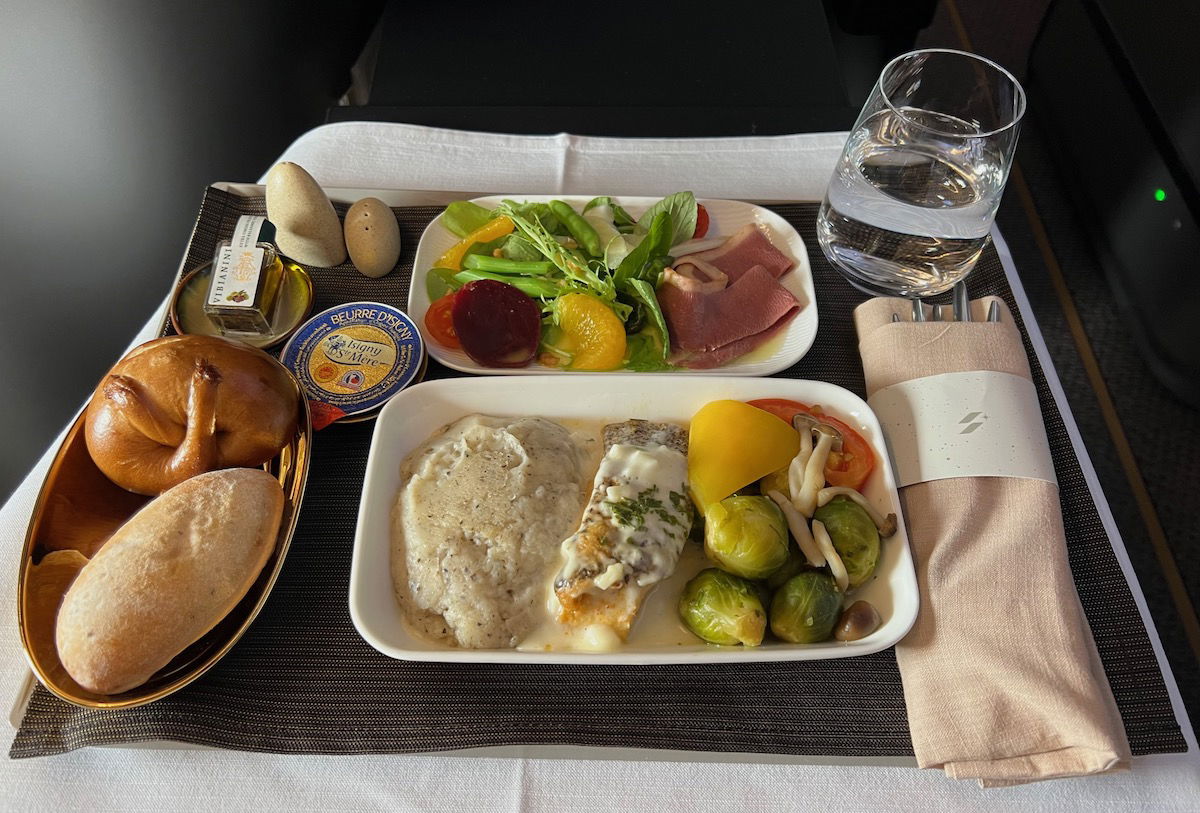 Once we were done, our mains were cleared, and we were brought new trays with the dessert. For the Asian meal, this included rice mochi balls with adzuki bean sauce and panna cotta, a fresh fruit plate, and a special egg yolk cake, in celebration of our flight being during Taiwan's Mid-Autumn Festival. OMG those two desserts were to die for.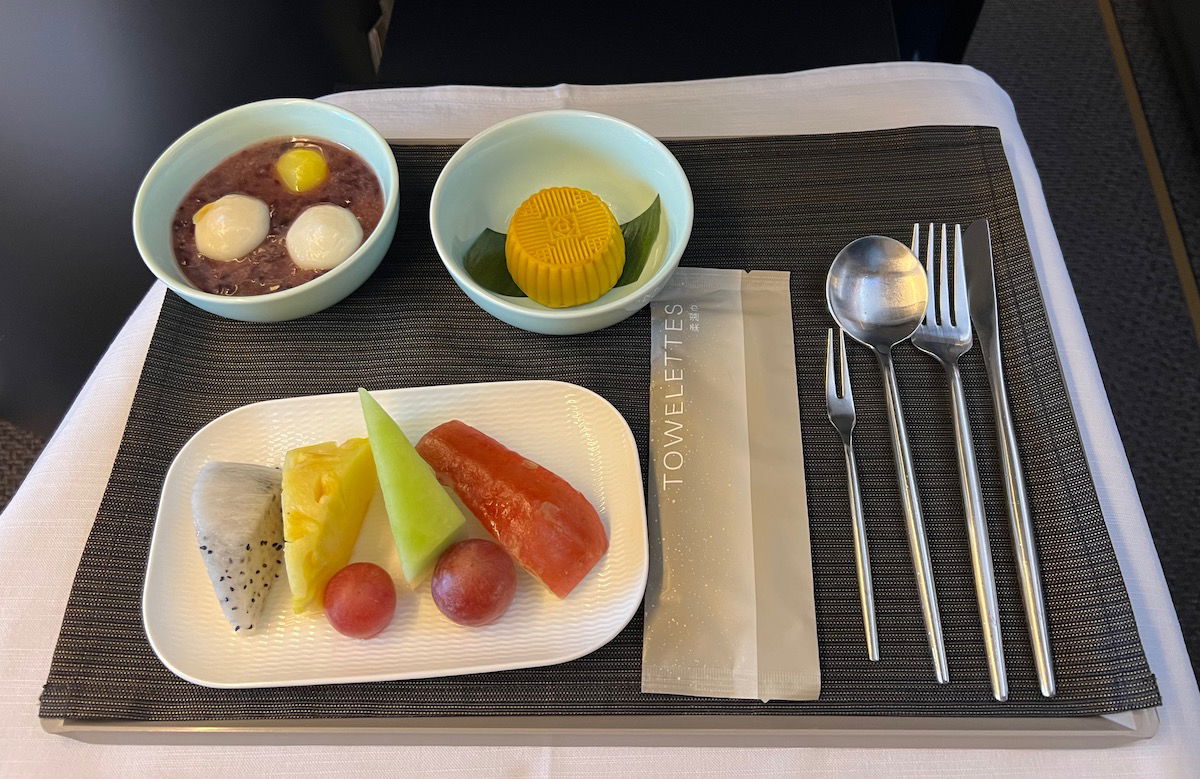 The Western meal, meanwhile, just came with a fruit plate and the celebratory dessert as well. I also ordered a cup of coffee to go along with the meal.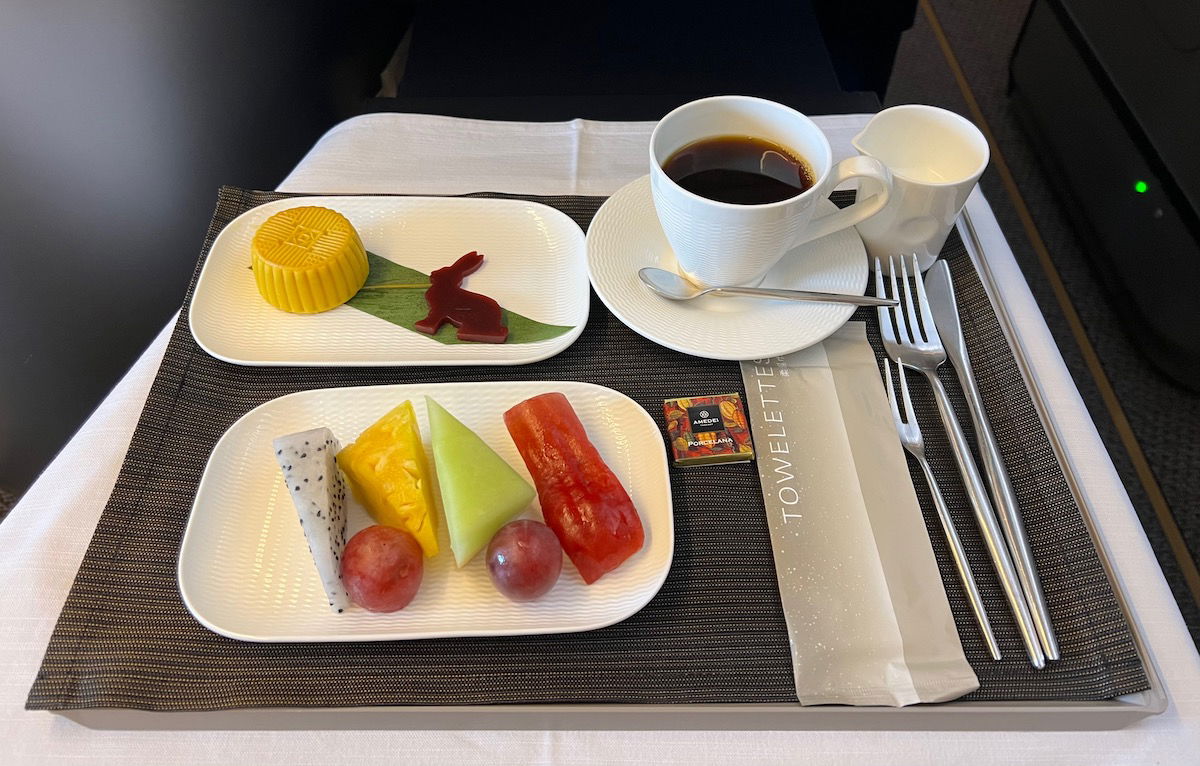 After the meal, I couldn't help but order one more thing. Starlux serves boba tea lattes on select routes departing Taiwan. As a recovering boba addict (this goes back over a decade), I couldn't help but have my first inflight version of this drink. It was delicious, and I love how Starlux even has a custom straw, perfect for enjoying boba.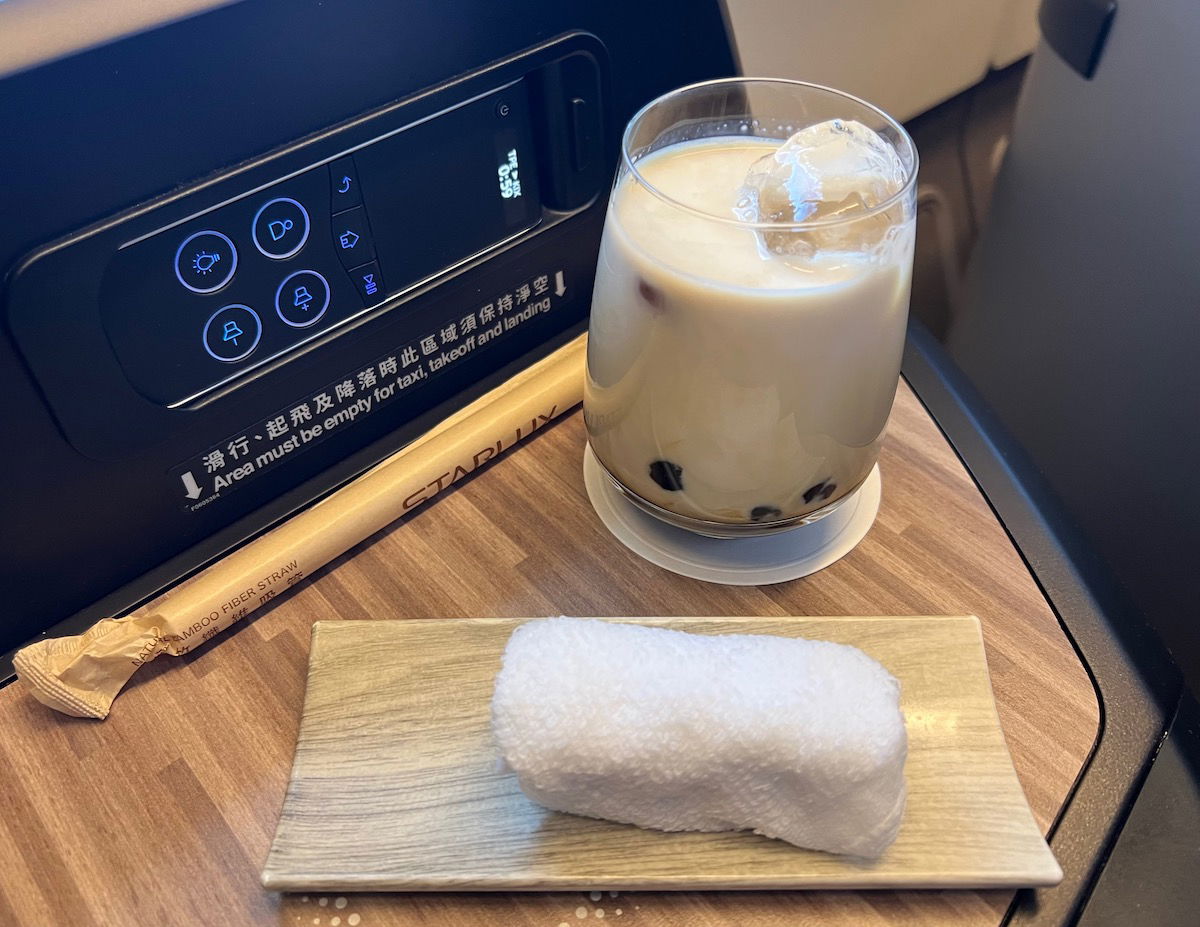 What a delicious meal (especially the desserts, which I'm still thinking about)! The entire meal service was done just over 40 minutes prior to arrival.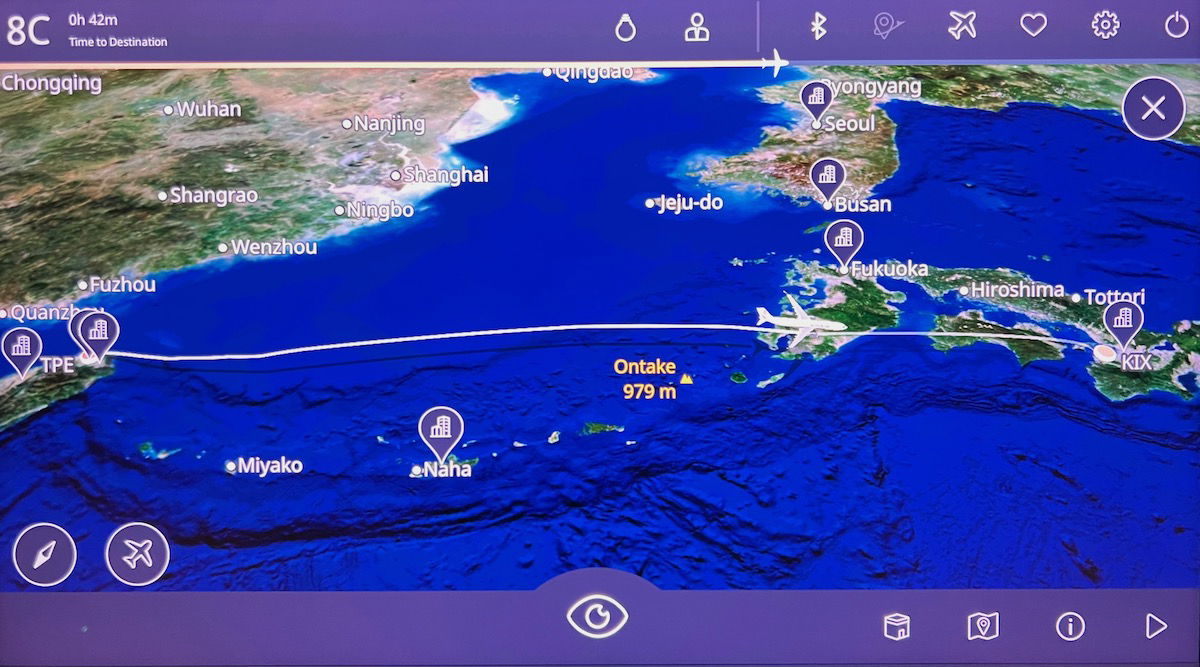 Starlux Airlines A330neo business class lavatories
Starlux Airlines has an impressive three business class lavatories on its A330-900neos, with two being behind the cabin (by the second set of doors), and one being at the front of the cabin. None of the lavatories were particularly large, but they were spotlessly clean, had HUYGENS products, and even featured Starlux branded toilet paper.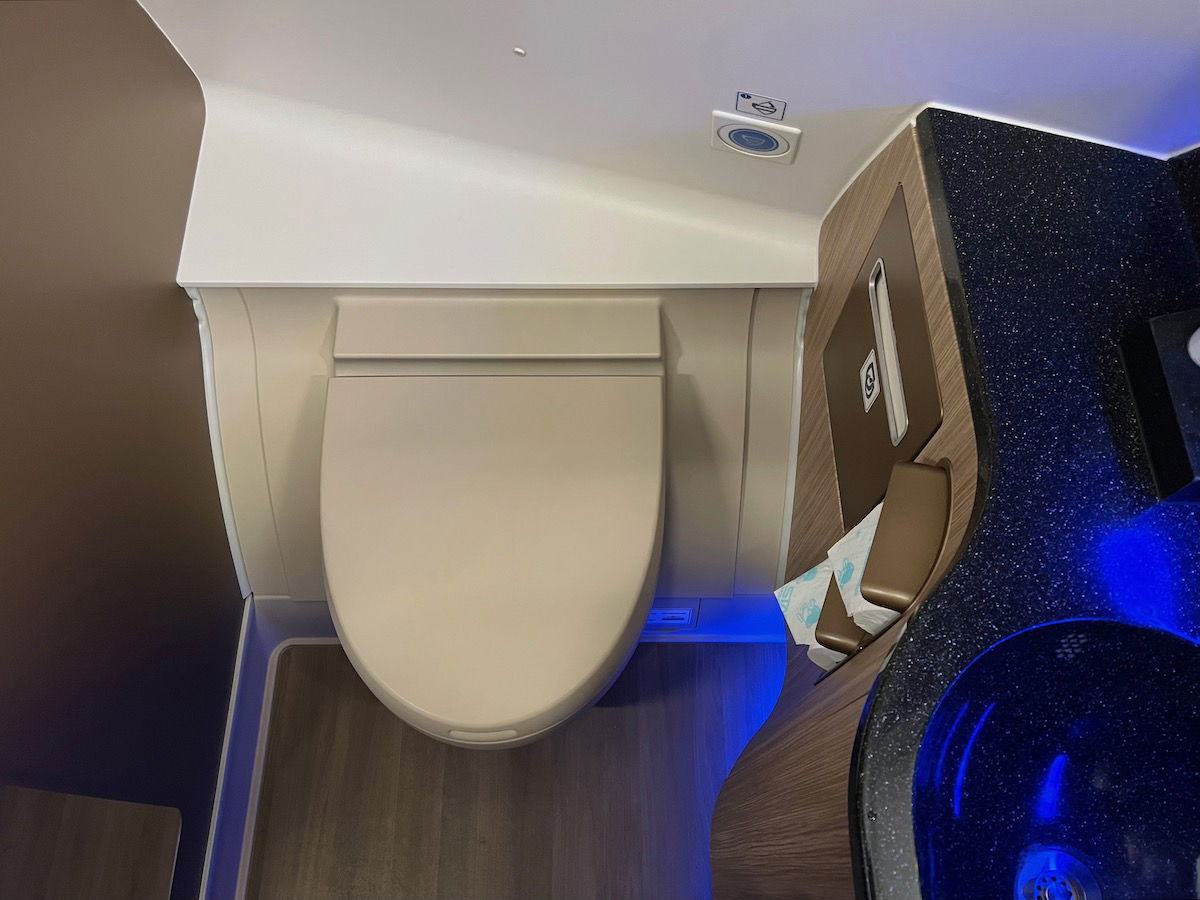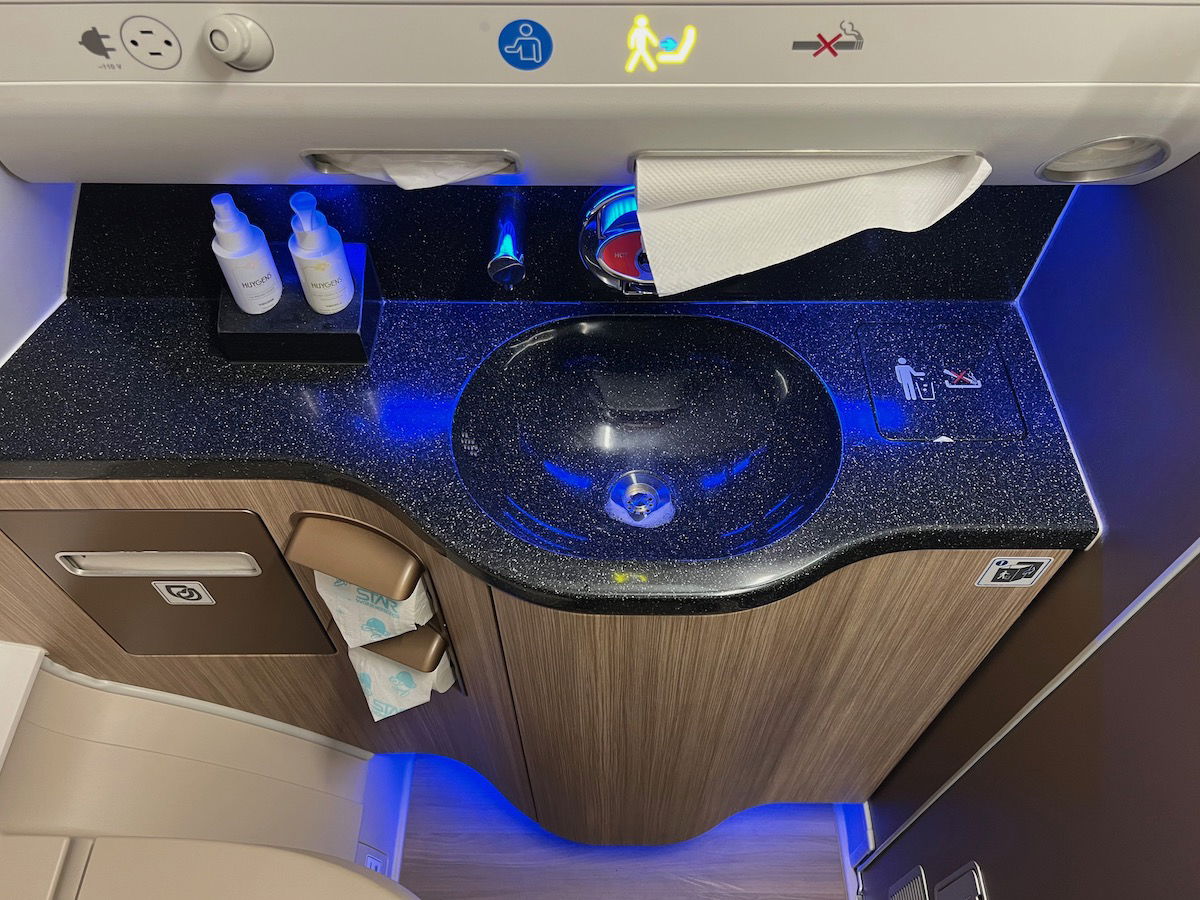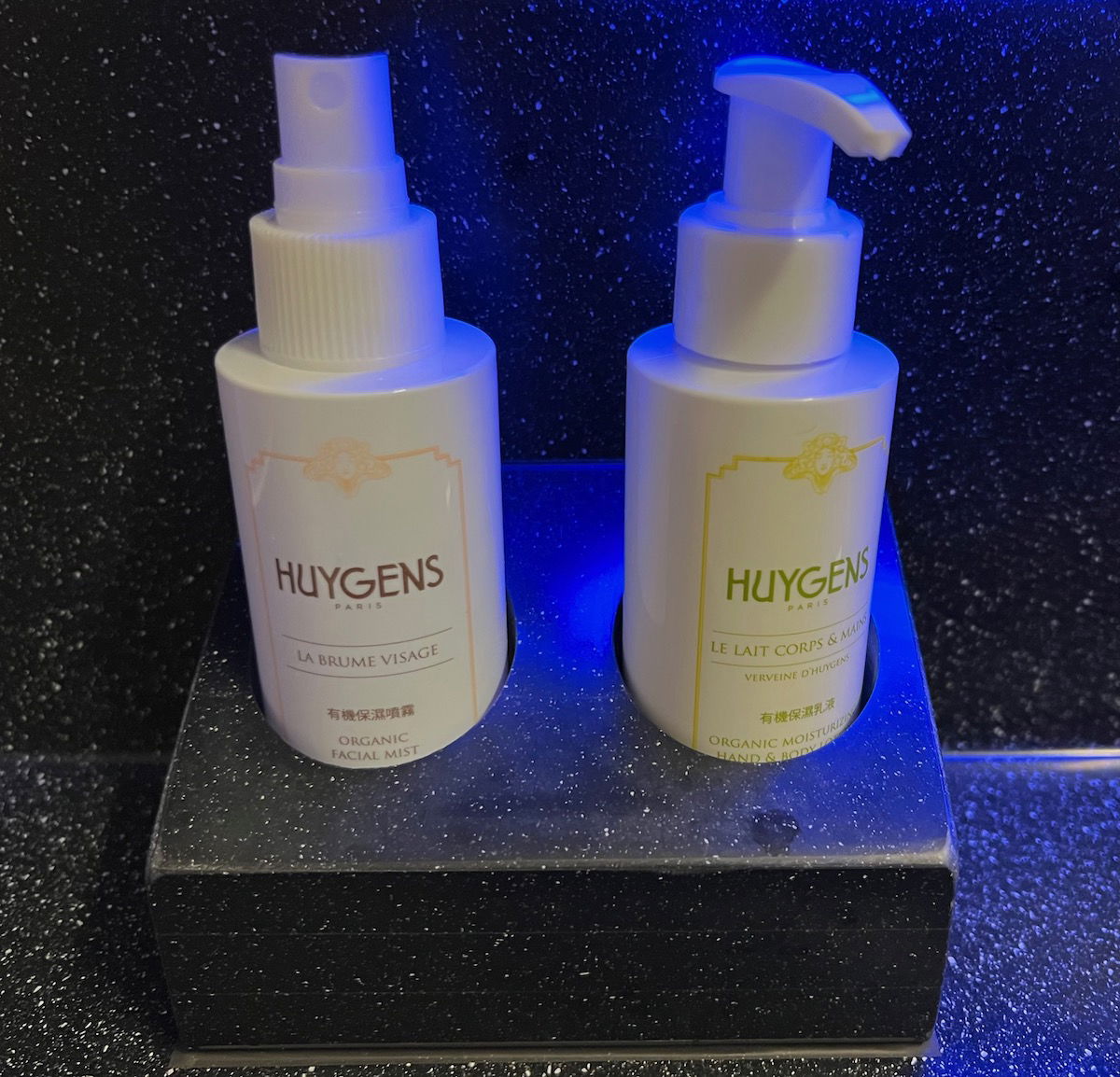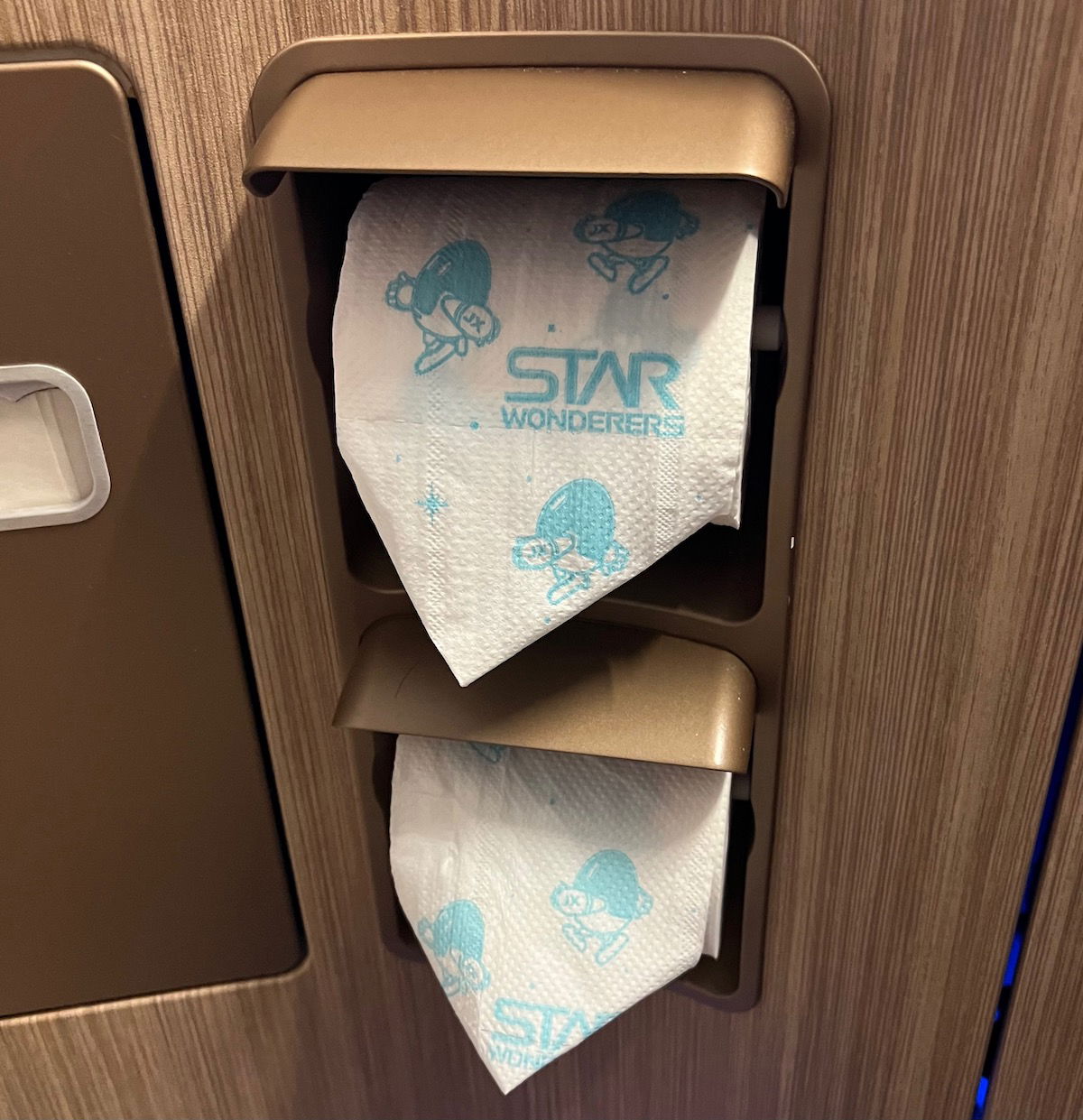 Starlux Airlines A330neo business class bed
I obviously didn't have the chance to sleep on this very short flight, but I did briefly recline, just to test out the bed function. While this isn't the most spacious business class bed in the world, I found it to be comfortable, and could've easily dozed off if the flight were a bit longer.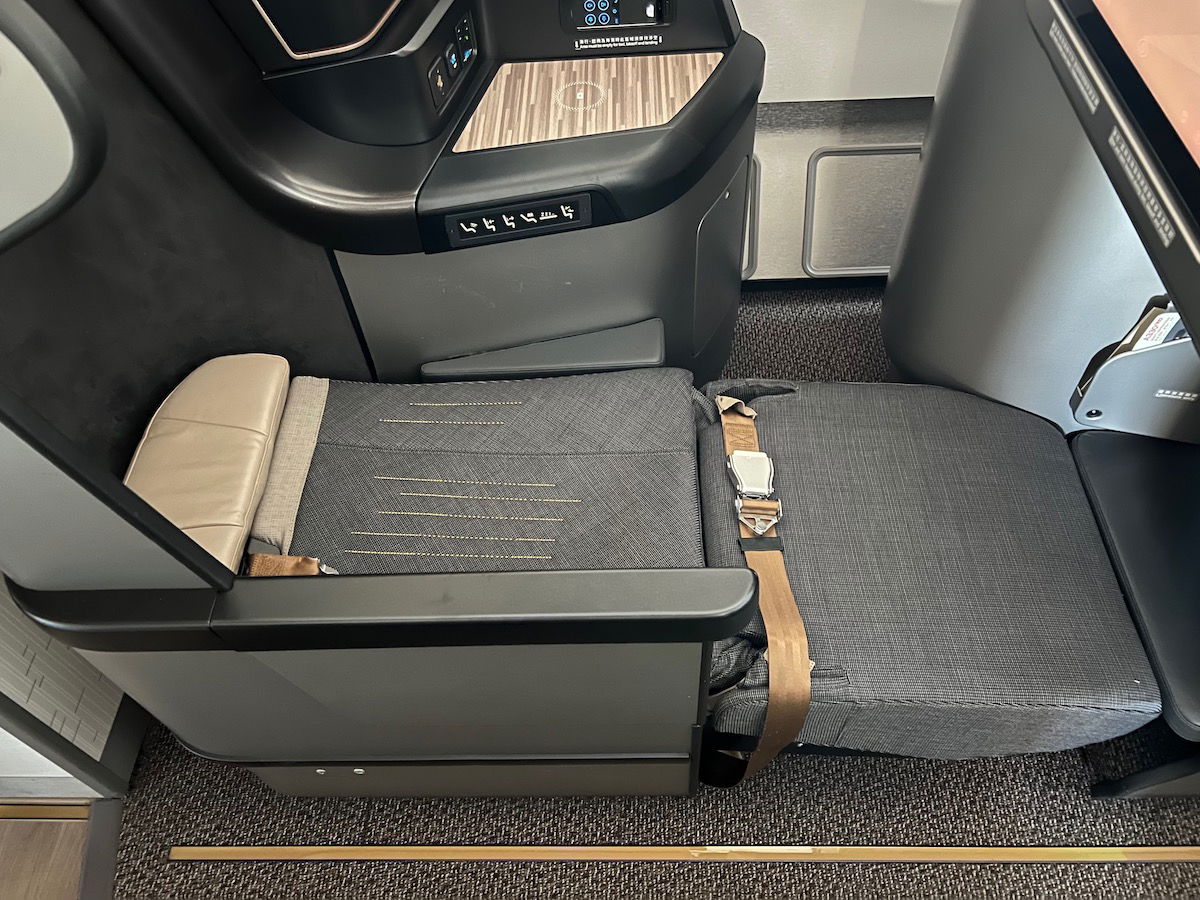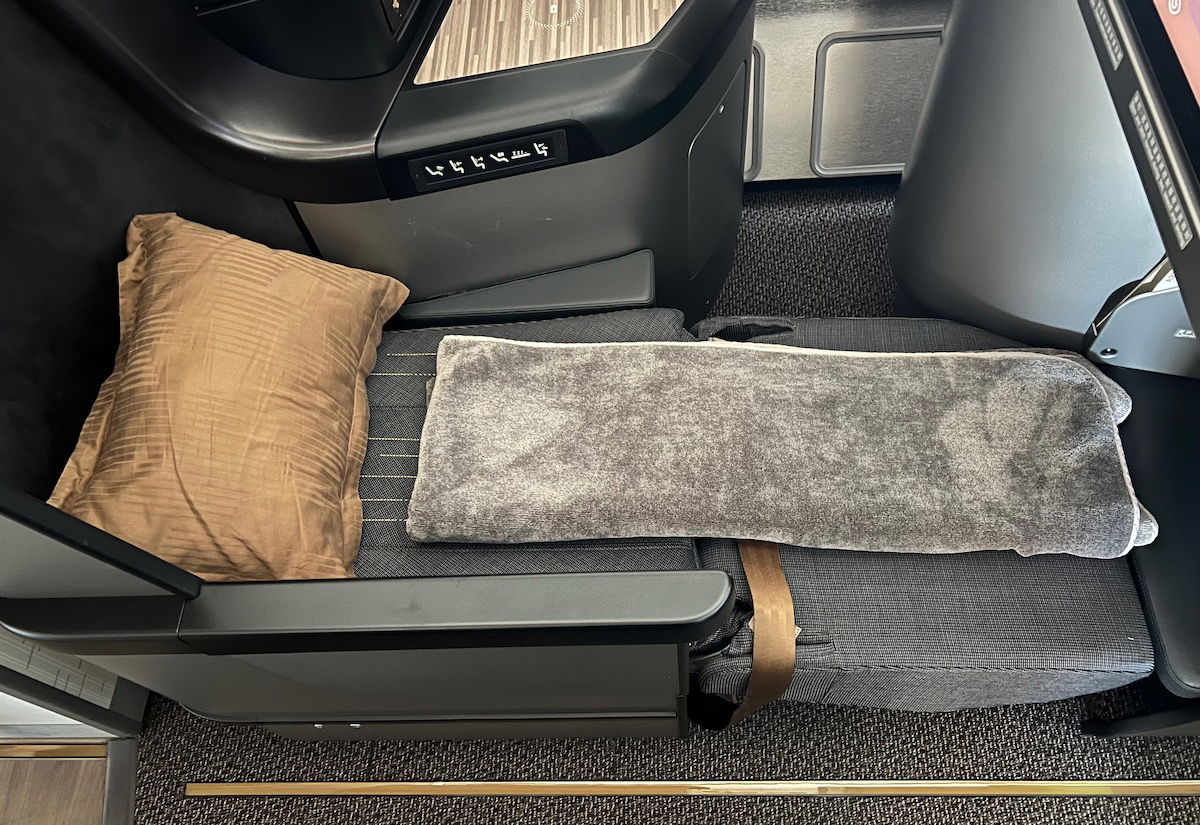 Starlux Airlines business class service
The crew on this flight couldn't have been better. Bobo was primarily taking care of our aisle, and she was attentive, and had such a radiating smile. Meanwhile the cabin manager, Anne, was also extremely polished and professional.
Shortly after takeoff she came around to each business class passenger to introduce herself as the cabin manager. Then prior to landing, she made another round to ask passengers for feedback on the flight, and to also offer candy.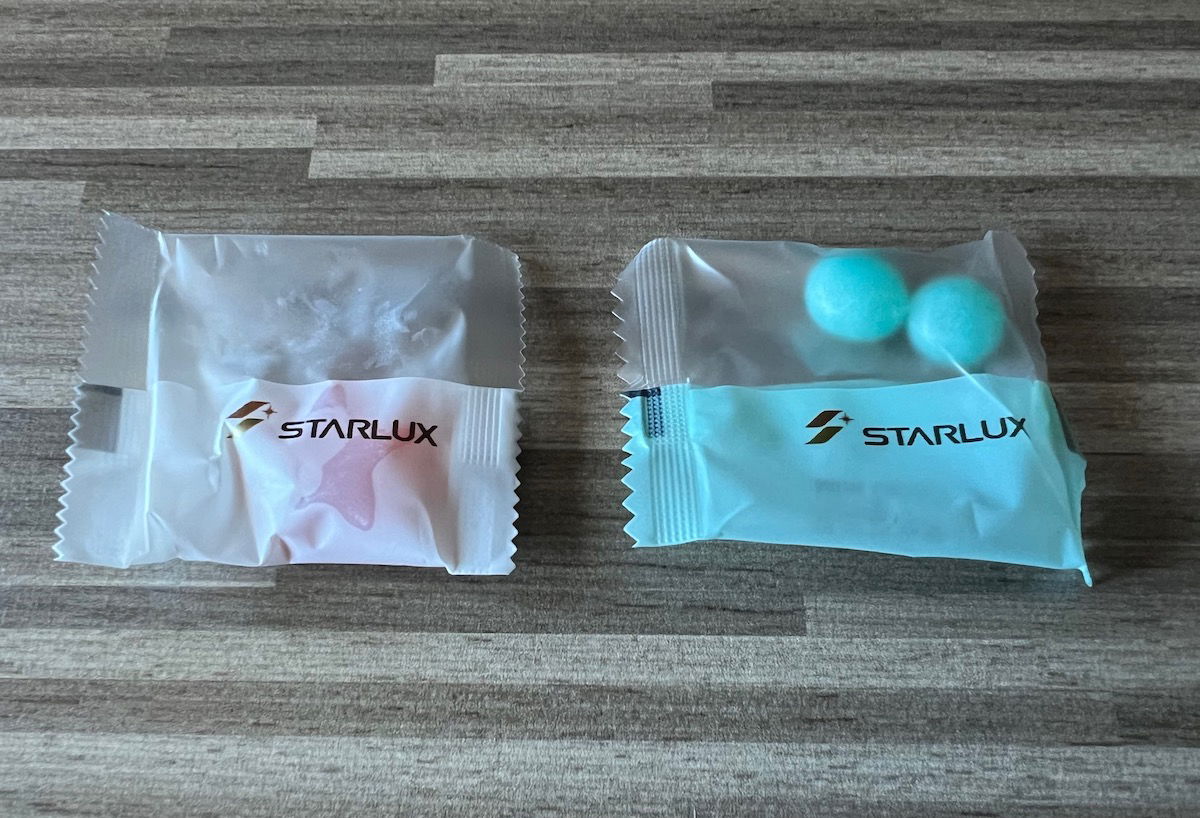 This service level in line with what I remembered on my first-ever Starlux flight, and was much better than on the transpacific flight.
Starlux Airlines A330neo arrival in Osaka
At 11:30AM Osaka time, the captain was back on the PA to inform us that we'd be landing in around 35 minutes. A few minutes later we began our descent. It was a stunning day outside along the Japanese coast, and my eyes were glued out the window.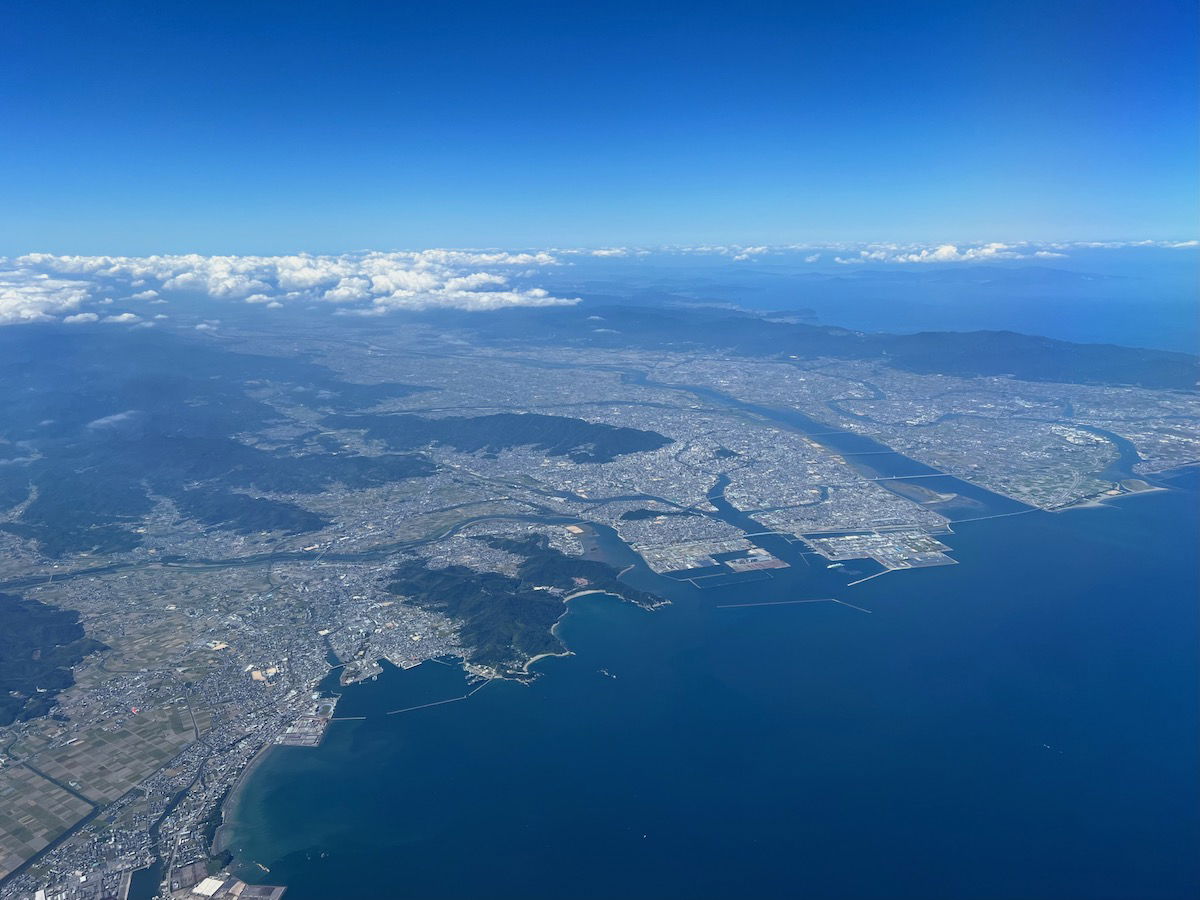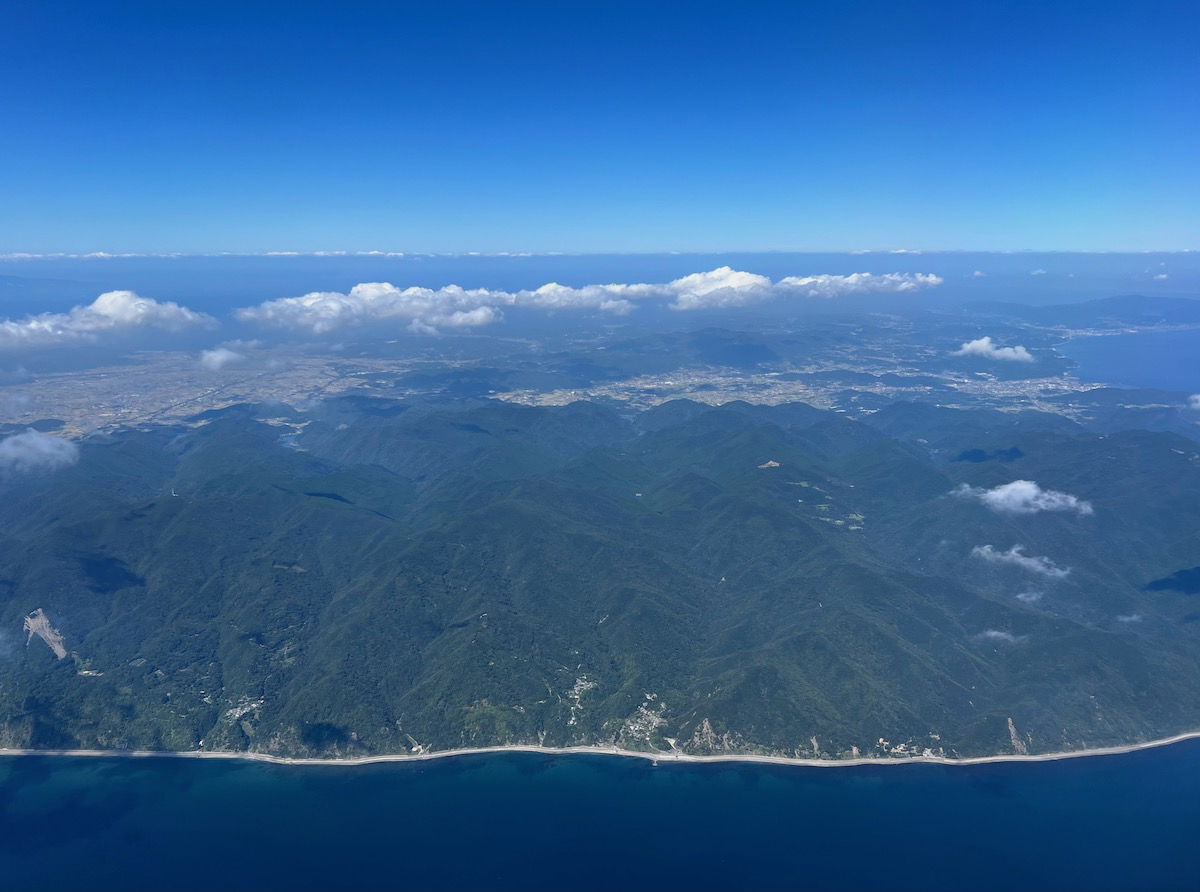 The seatbelt sign was turned on around 10 minutes before landing.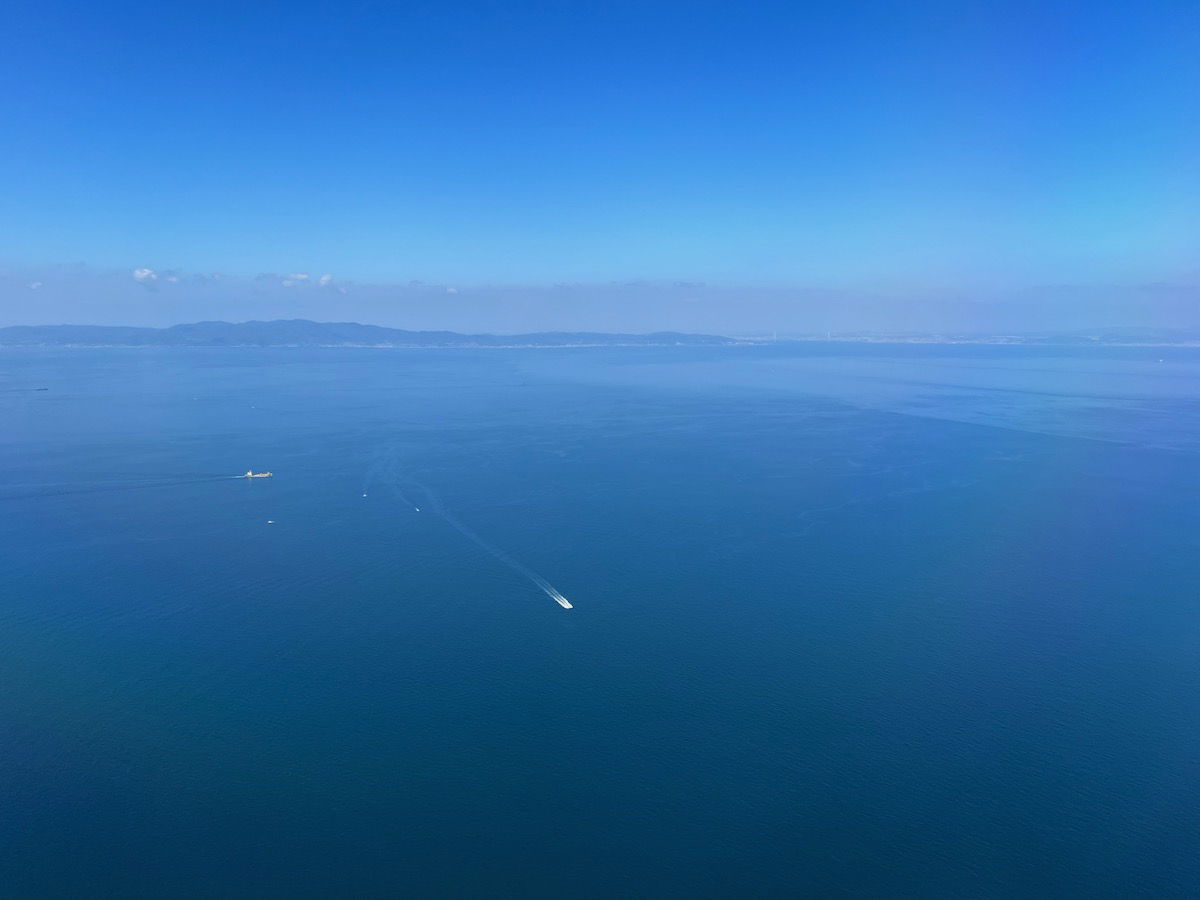 Sure enough, we touched down at exactly 12:05PM.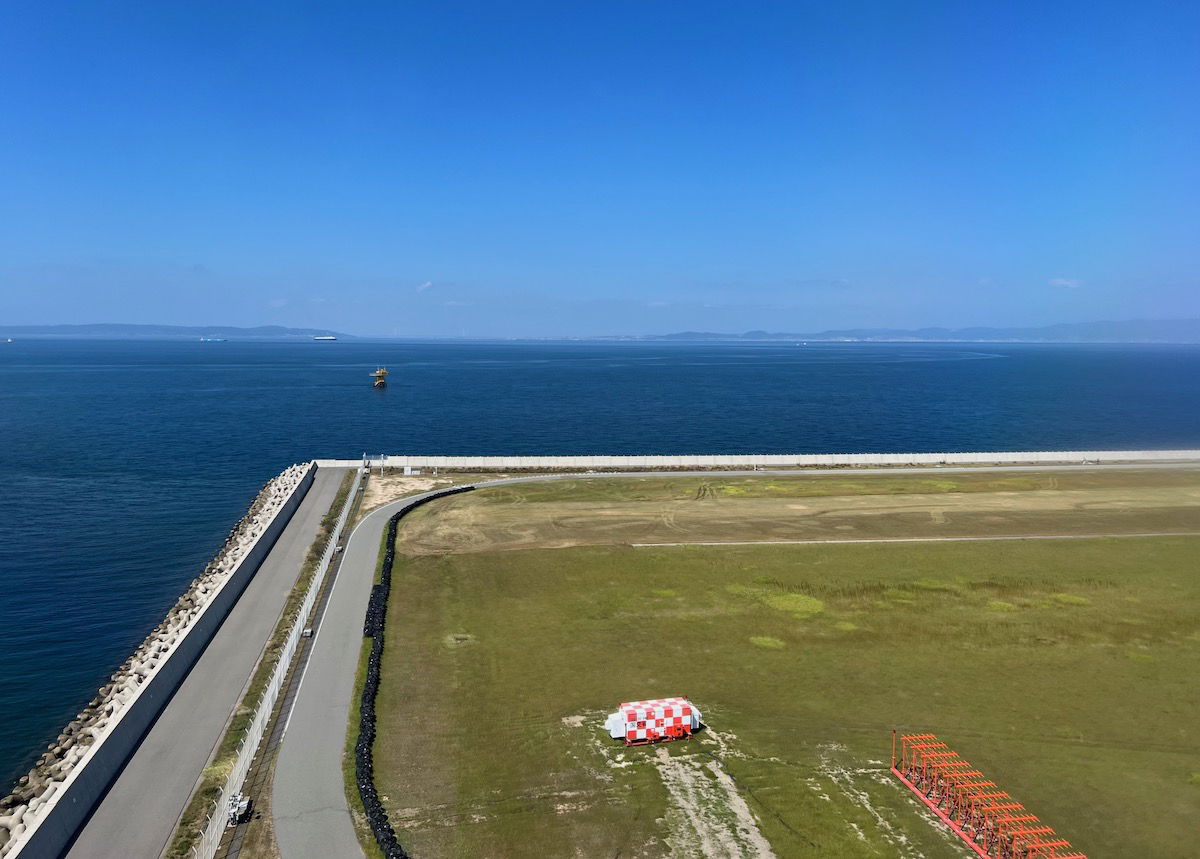 I was keeping an eye on Flightradar24 both before departure and after arrival. I couldn't help but note how an EVA Air Boeing 787 flying exactly the same route took off immediately after us but landed right before us, so it overtook us in the air. Meanwhile another China Airlines 777 flying the same route departed and arrived just minutes after us. Talk about a busy market!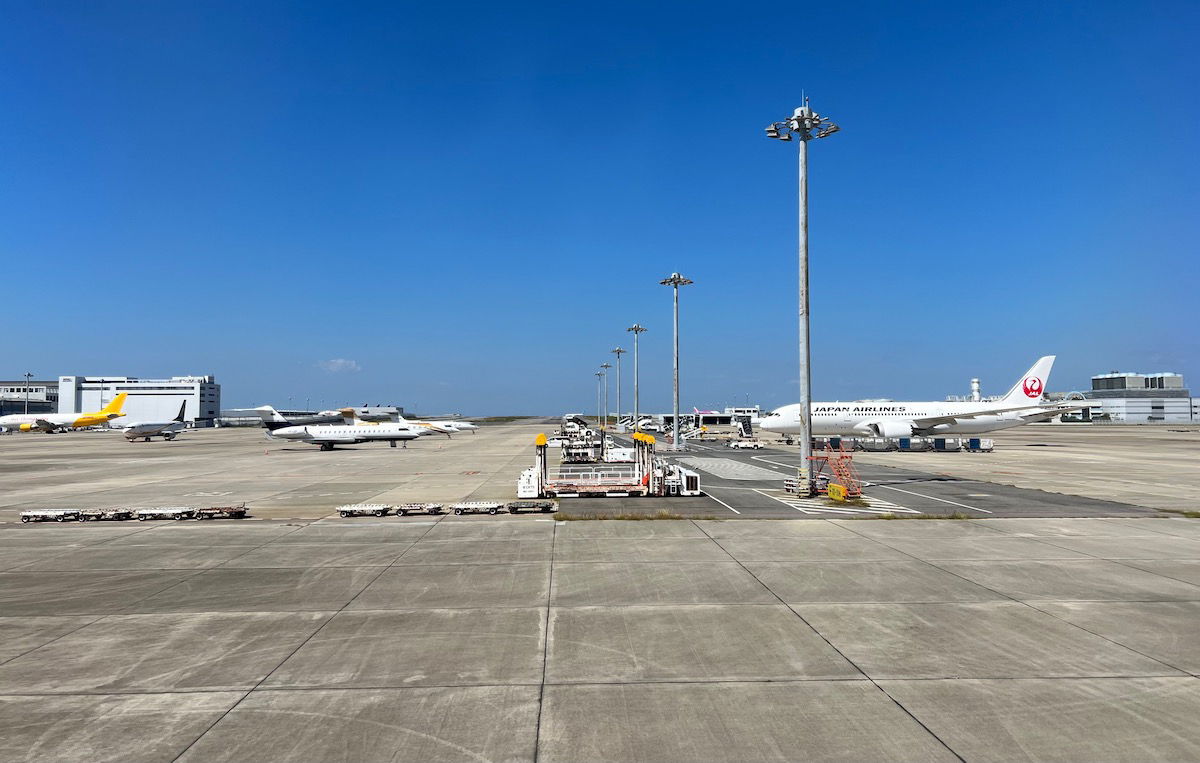 We had a roughly five minute taxi to our arrival gate, where we pulled in at 12:10PM, right next to a Juneyao Airlines Airbus A321.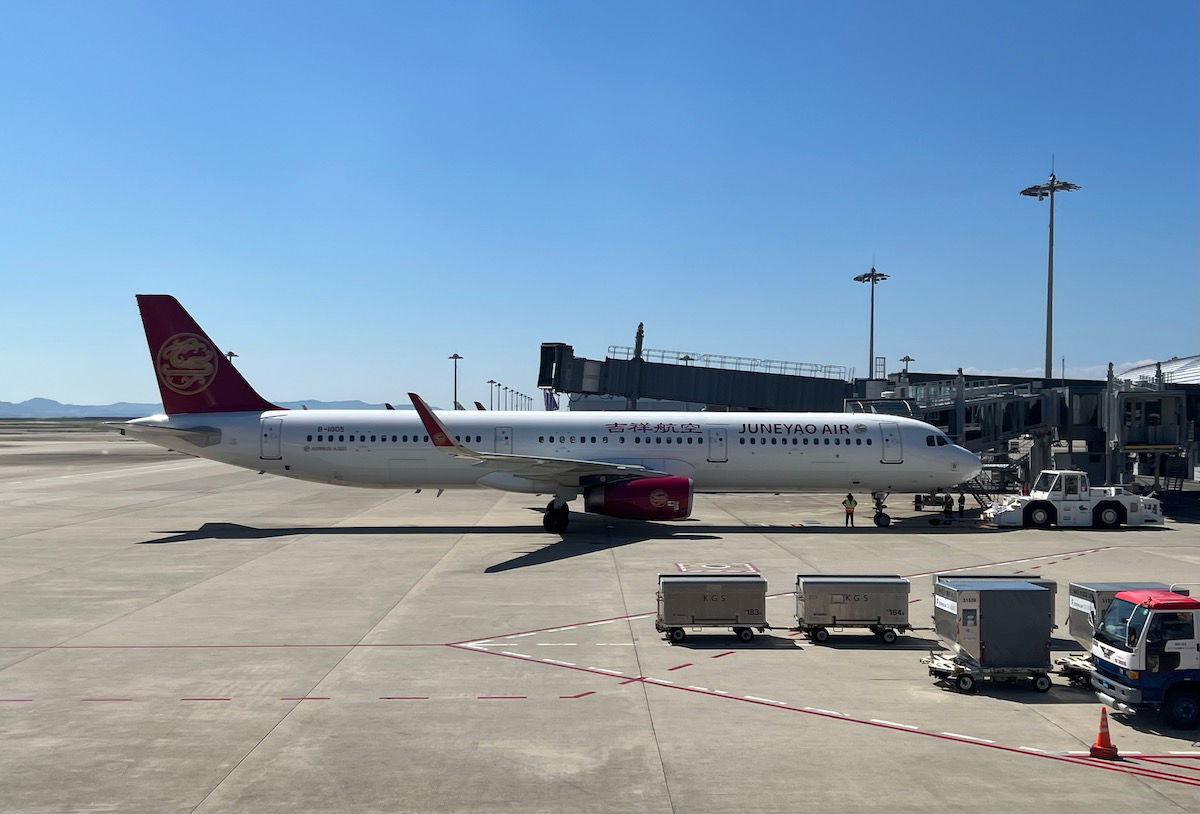 From there we headed through immigration, which was a bit of a process, but could've been worse. The facility was very crowded, but efficient — I'd estimate it took maybe 30 minutes to get through. While we had a great outbound journey, we were excited to finally be on the ground, and to start enjoying Japan!
Bottom line
We had a phenomenal two hour flight in Starlux Airlines' A330-900neo business class. Starlux's business class product is comfortable, the catering departing Taipei was great, the crew couldn't have been friendlier, and there was even free Wi-Fi.
My only complaint about this flight is that it's really sad when you return to the United States and take a flight of a similar length, as American Airlines offers an ever-so-slightly different passenger experience.
What do you make of Starlux Airlines' A330 business class?