Prior to our flight from Honolulu to Kona we had the chance to check out the Hawaiian Airlines Plumeria Lounge, might just be the saddest "flagship" hub lounge of an airline anywhere? I can't really complain since we accessed with Priority Pass, but it's sad that this is also Hawaiian Airlines' lounge for international business class passengers.
Hawaiian Airlines Plumeria Lounge Honolulu location
The Plumeria Lounge is located in Terminal 1 at Honolulu International Airport (HNL). Once you've cleared security, just followed the signage toward the Wiki-Wiki Shuttle, as the lounge is located in the same area, near gate A18.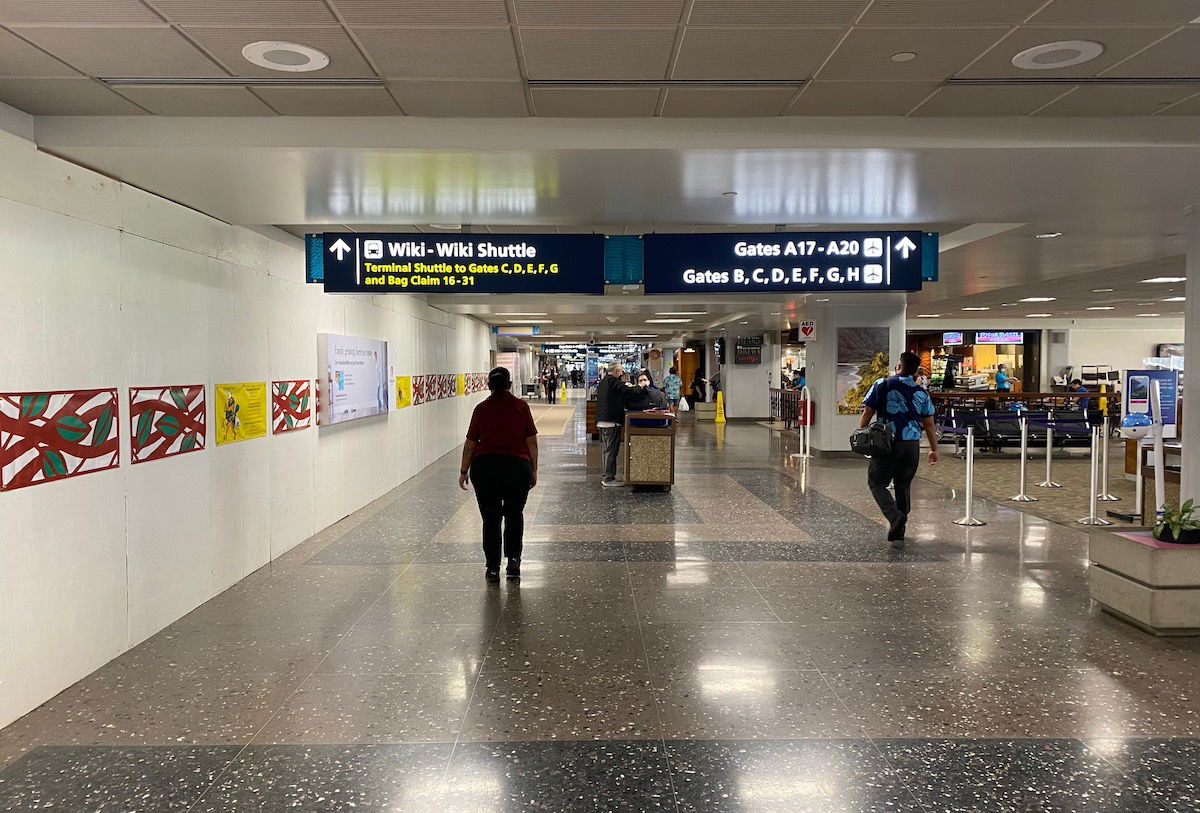 You should also eventually see signage explicitly for the Plumeria Lounge.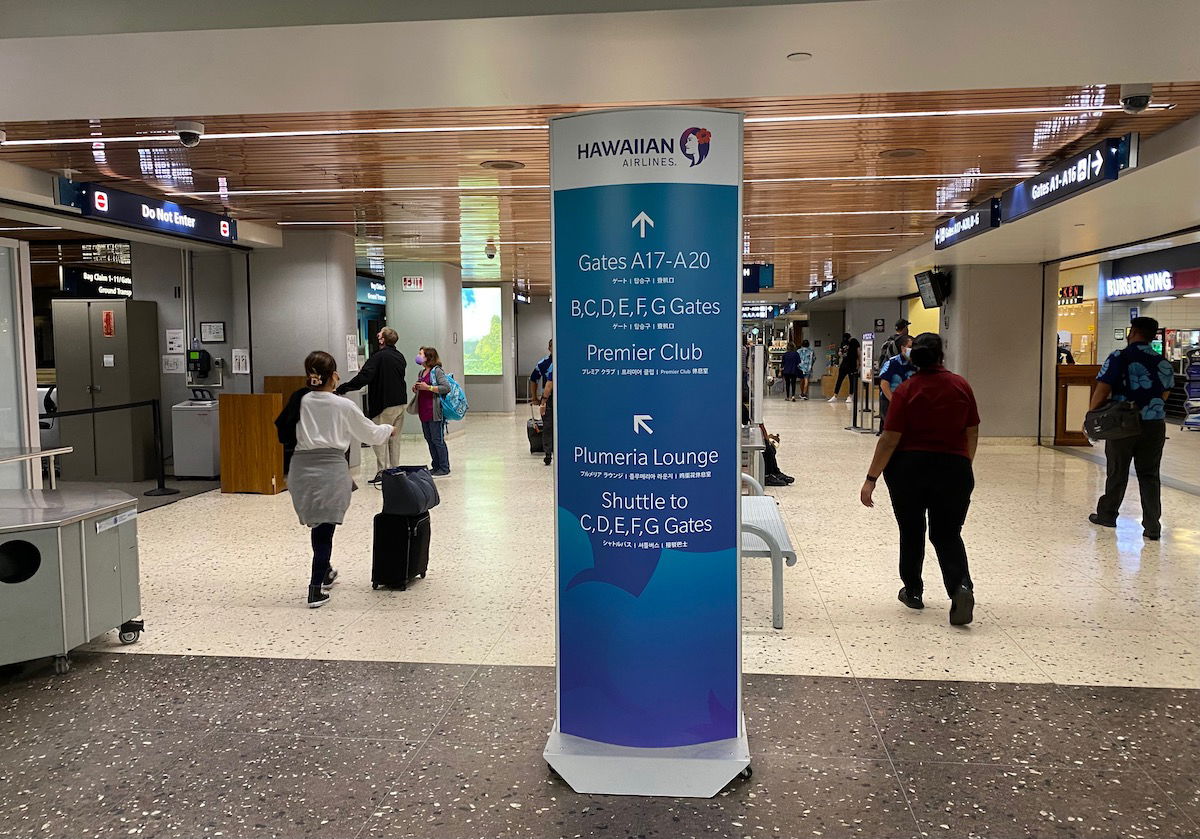 Just take the escalator up a level (to the third floor), and then the entrance to the lounge is right there.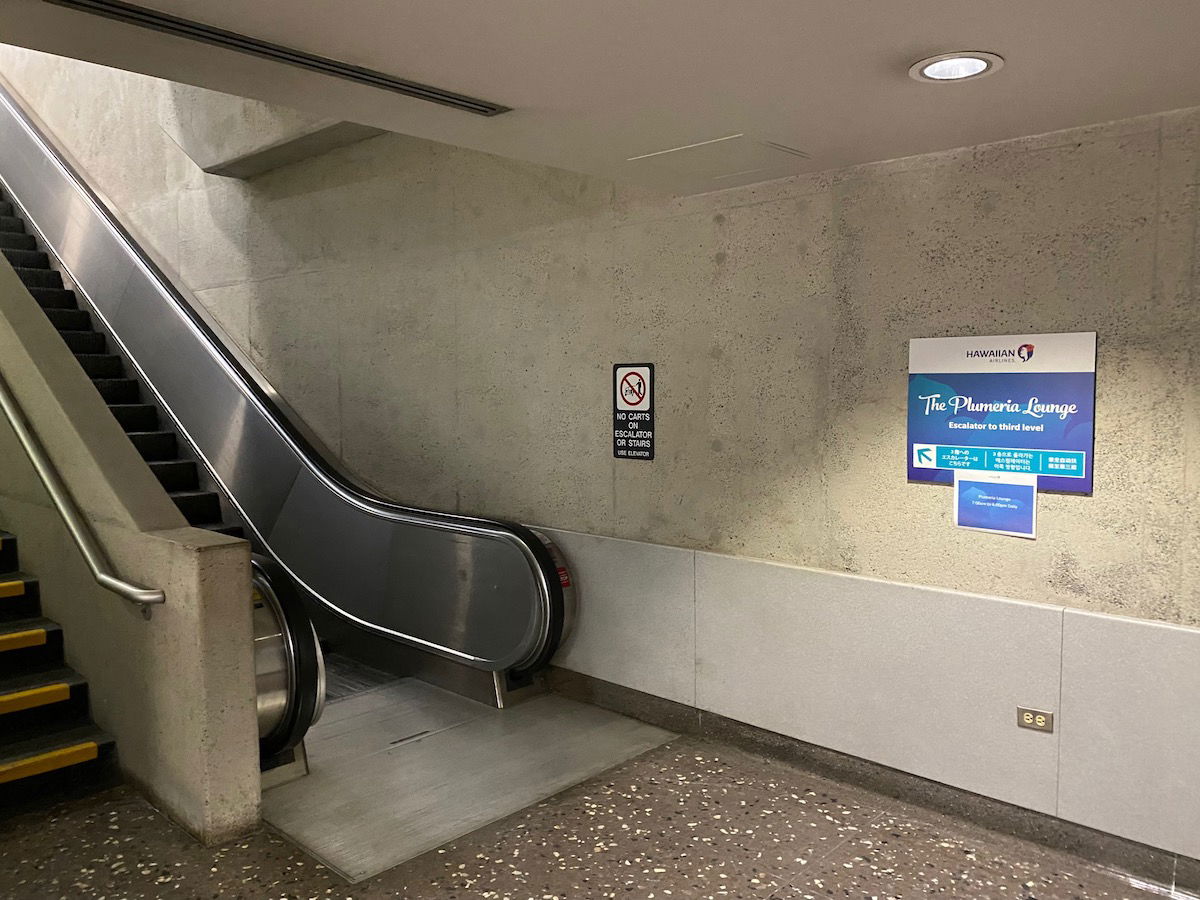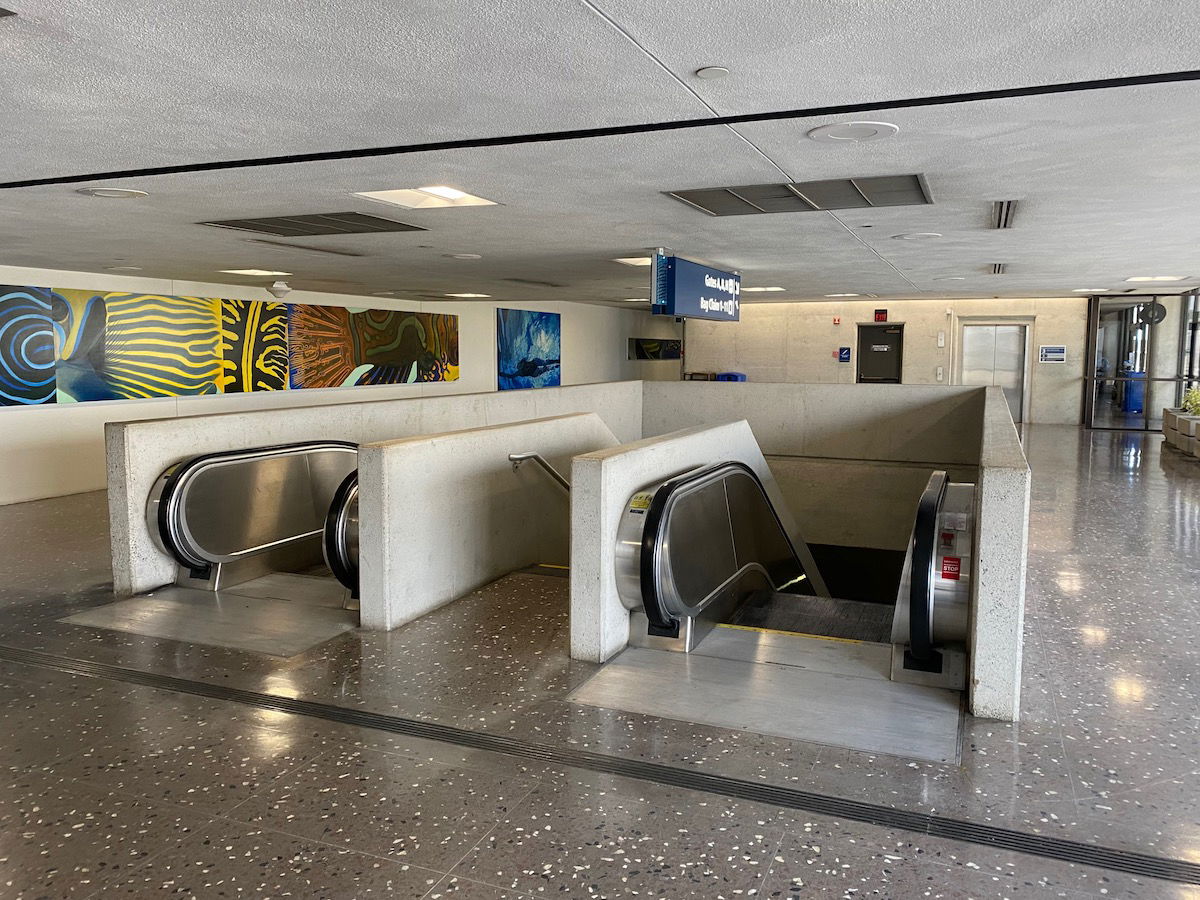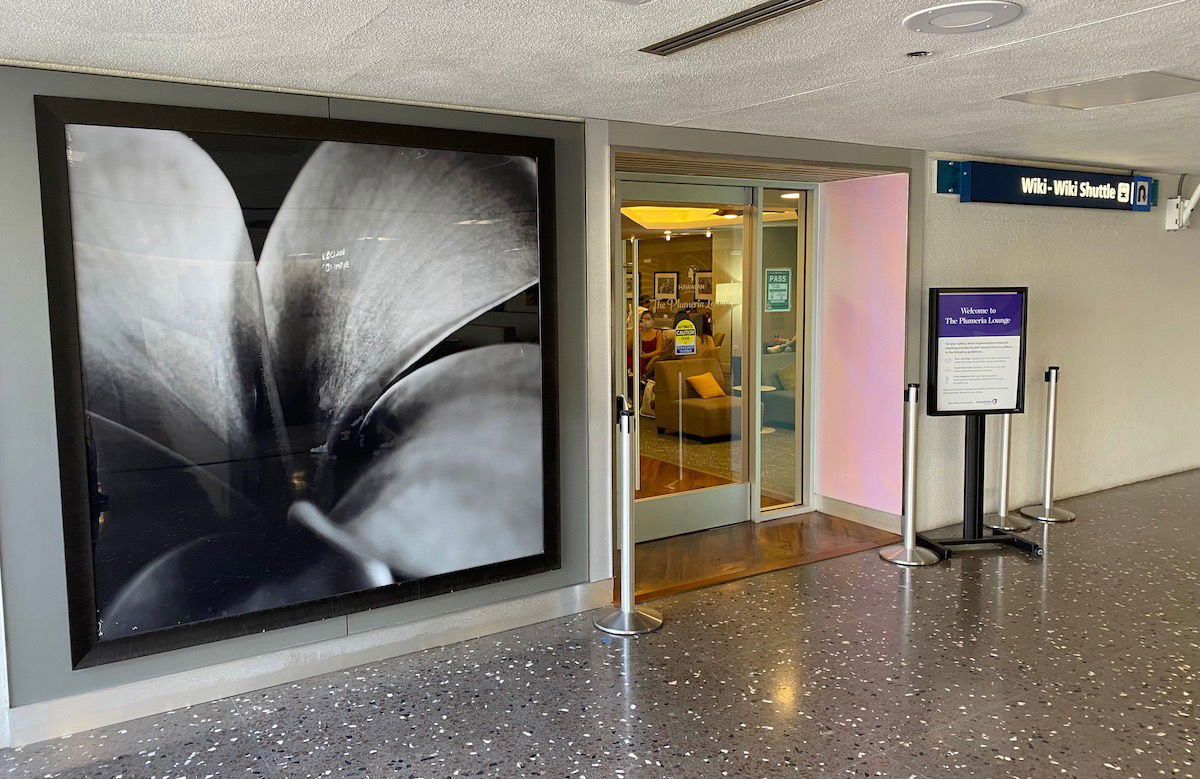 Hawaiian Airlines Plumeria Lounge Honolulu hours & entry requirements
The Plumeria Lounge is open daily from 7AM until 6PM, so it covers a majority of the departures from the airport. As far as Plumeria Lounge access goes:
The lounge is open to those flying Hawaiian Airlines business class to international destinations, plus those flying Hawaiian Airlines first class to the mainland East Coast (others flying to the mainland don't get access to this lounge)
The lounge is also open to HawaiianMiles Pulani Platinum members traveling same day on an international flight
The lounge is open to Priority Pass members, and of course there are lots of great cards offering Priority Pass memberships
The lounge sells day passes at the door for $40
As you may have guessed, a vast majority of passengers visiting this lounge do so via Priority Pass.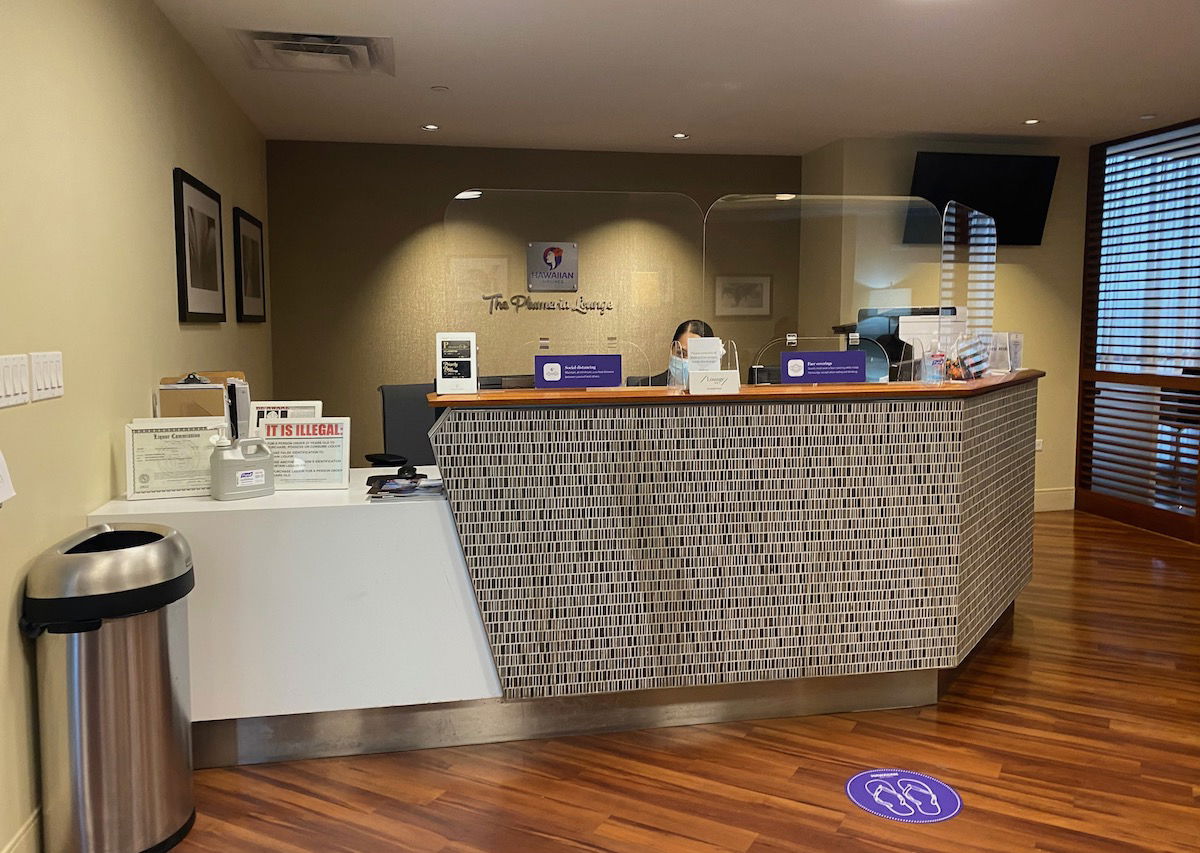 Hawaiian Airlines Plumeria Lounge Honolulu seating & layout
The Plumeria Lounge is just over 3,000 square feet, so while it's not tiny, it's not exactly huge given how many passengers potentially use the lounge. Hawaiian Airlines describes this lounge as "a special place for guests to relax and share memories of the sights, sounds, and flavors of the Islands." That might be a bit of a stretch.
The lounge primarily consists of one big room, and when we arrived there were barely any empty seats. Roughly half of the lounge has seats in various arrangements intended for relaxing, along with a communal table along the windows.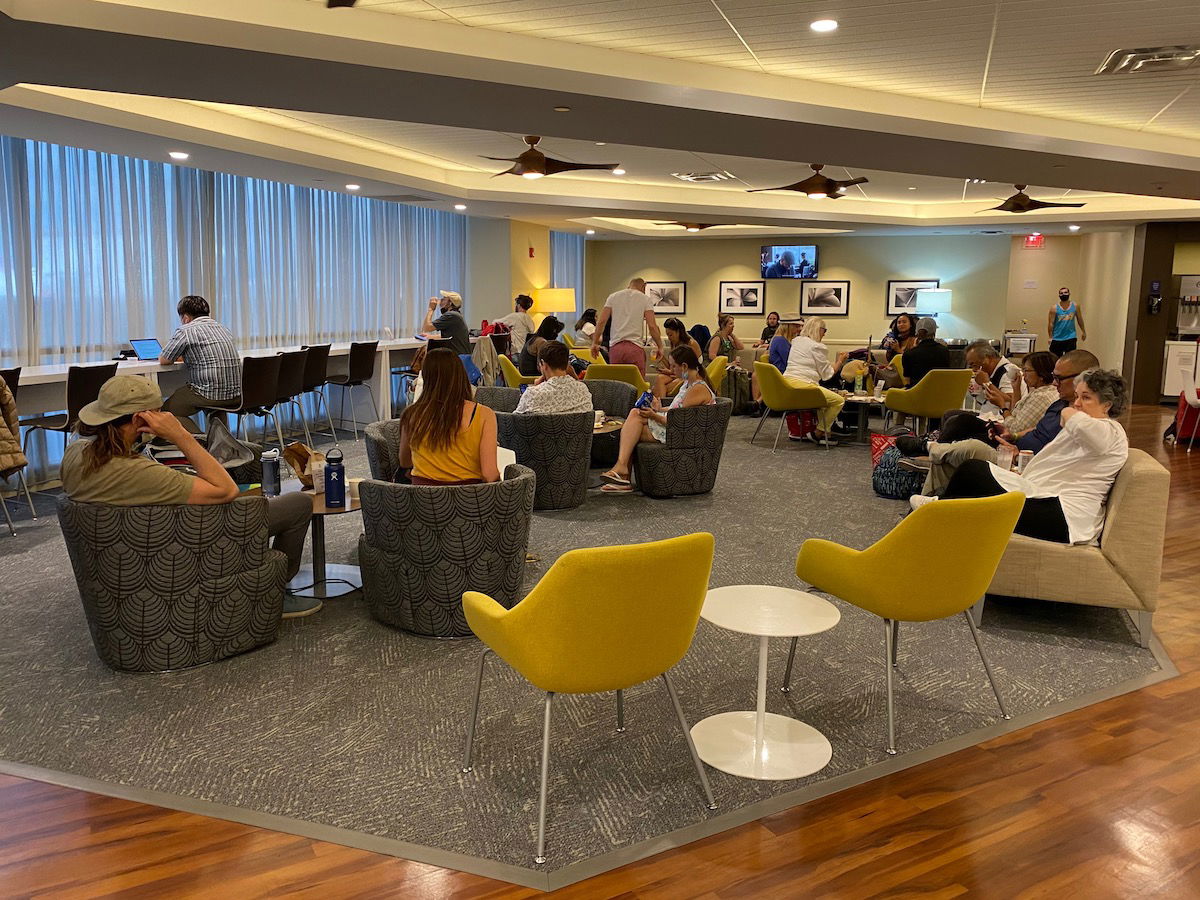 The other side of the lounge has a bunch of dining tables.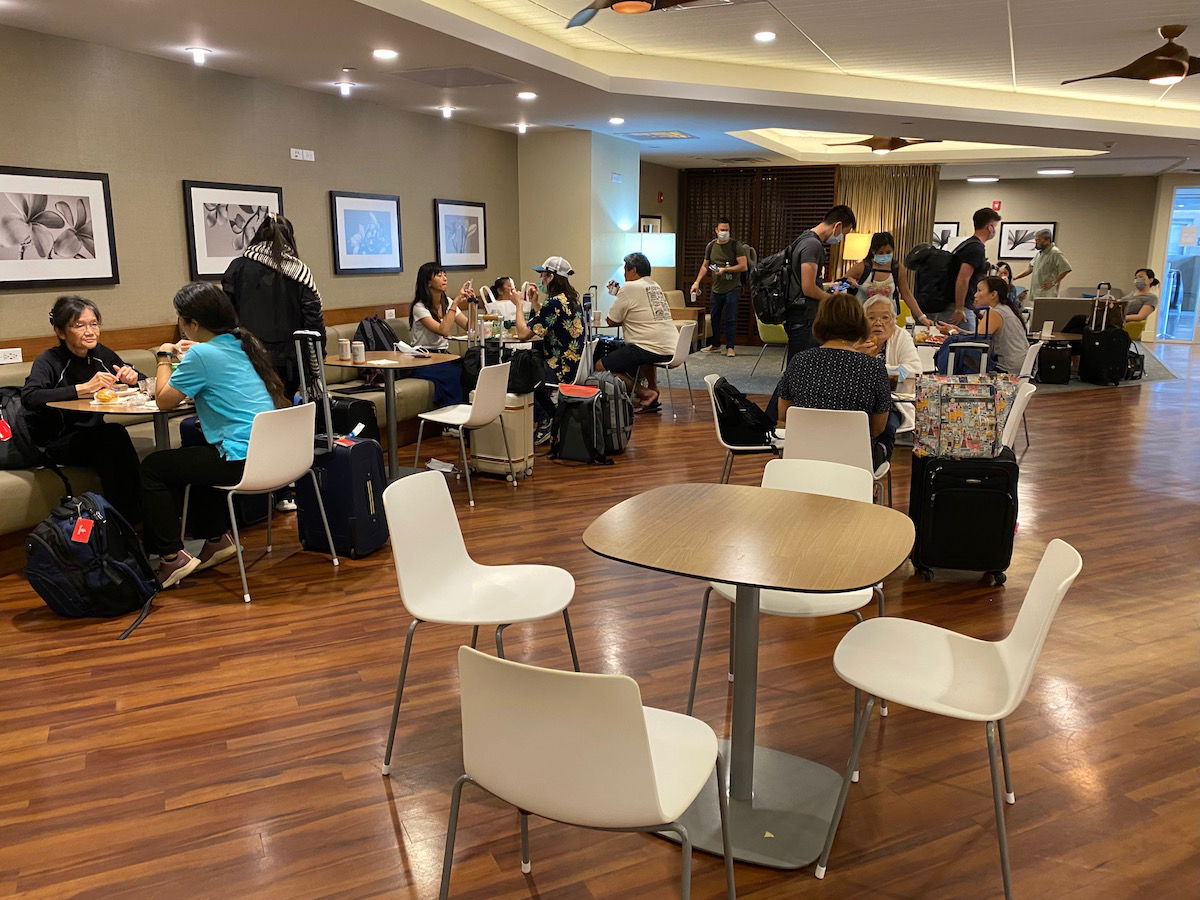 There was also a sitting area near the entrance. When we arrived it was roped off, but there weren't any open seats in the lounge. Just at that moment they opened this space, as I guess this is typically reserved for Hawaiian Airlines international business class passengers, and such a flight had just left.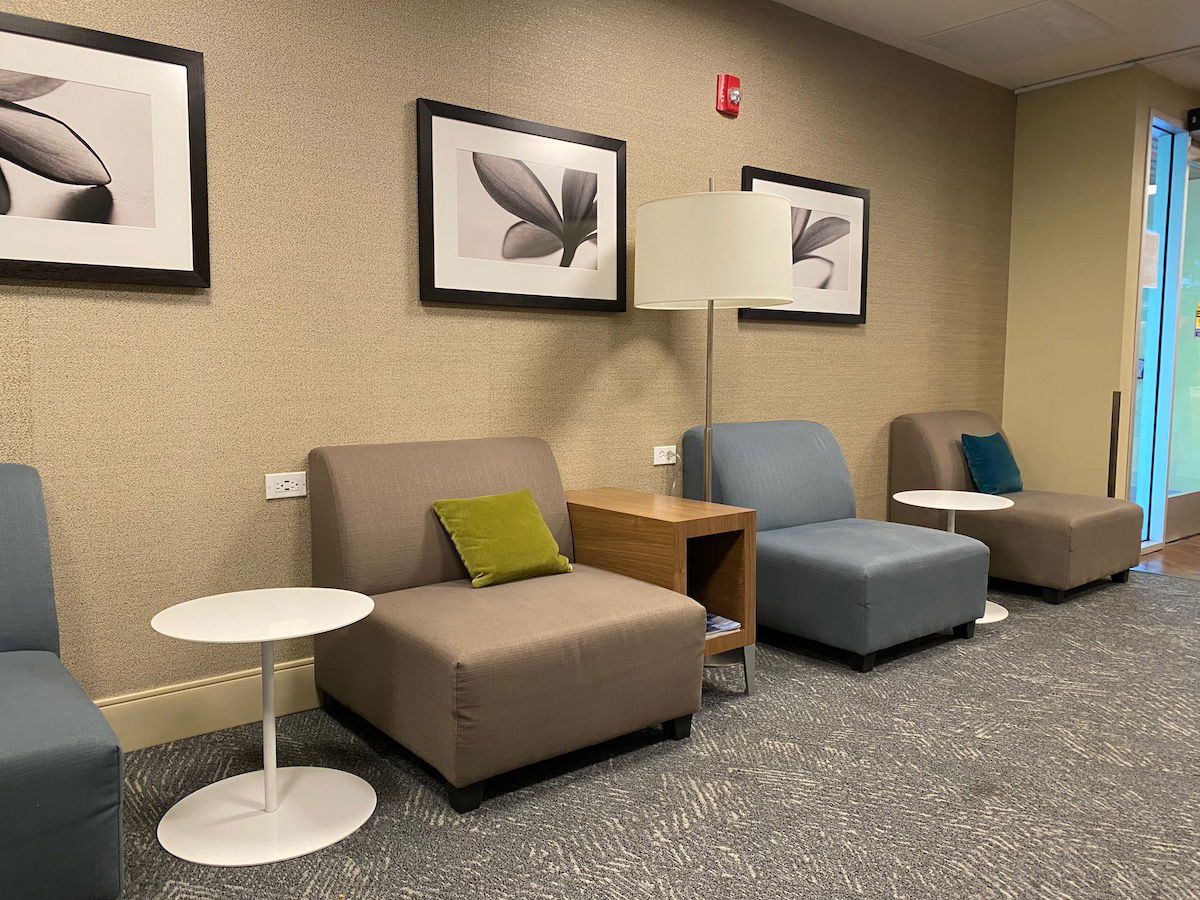 Hawaiian Airlines Plumeria Lounge Honolulu food & drinks
The Plumeria Lounge has one of the most basic food spreads I've seen at any Priority Pass lounge, and that's saying quite a bit.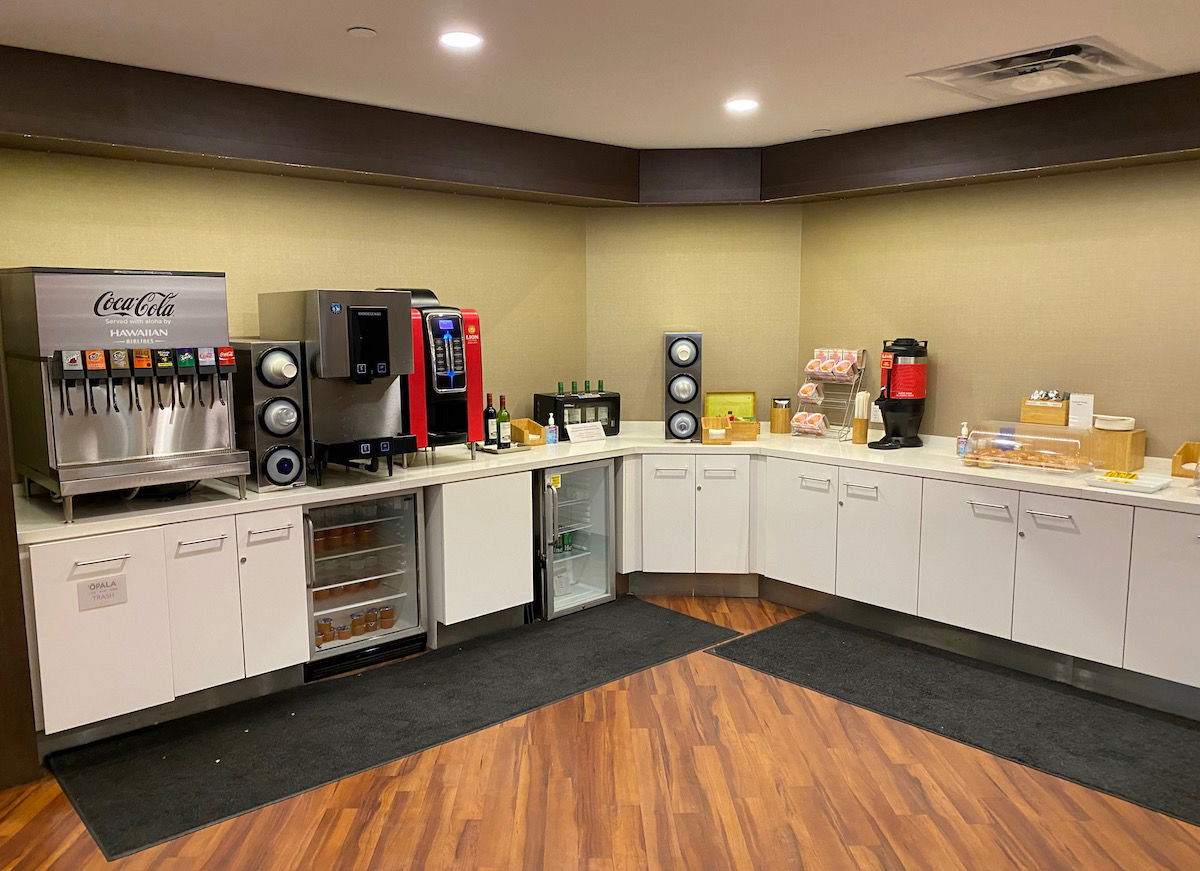 The lounge had small saran-wrapped mini-sandwiches and whole fruit, packaged chips, and packaged gummies.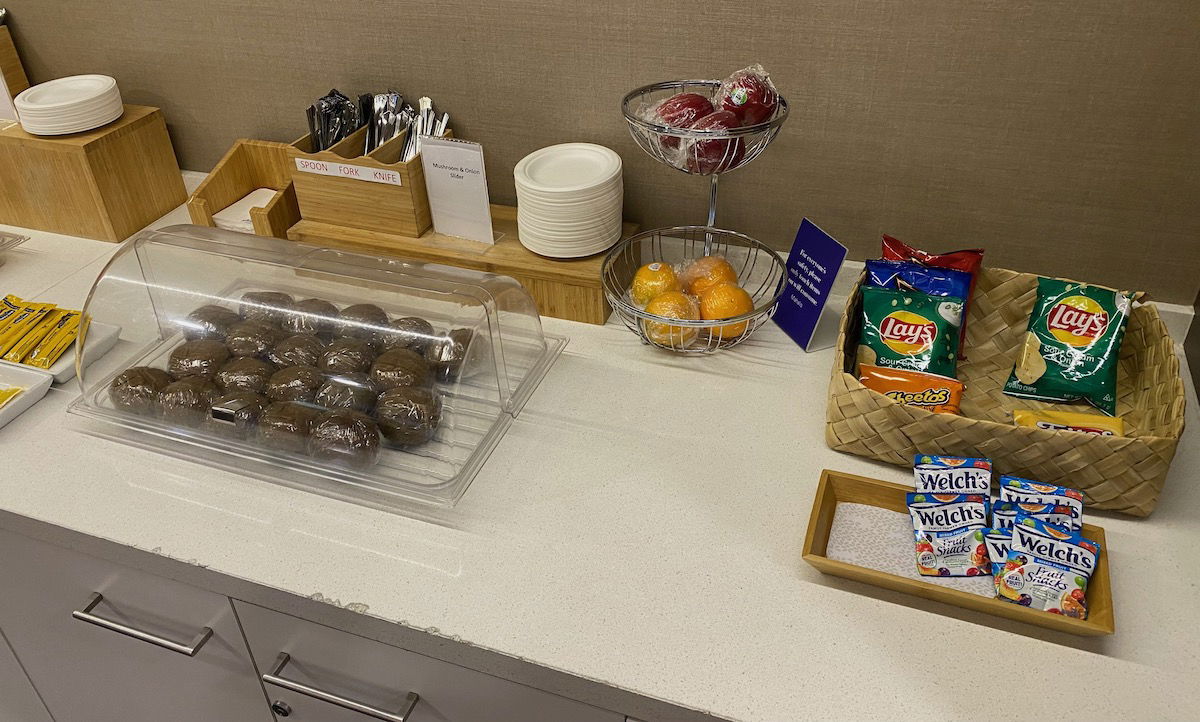 For those expecting hot meals, you're in luck — there are instant noodles with hot water!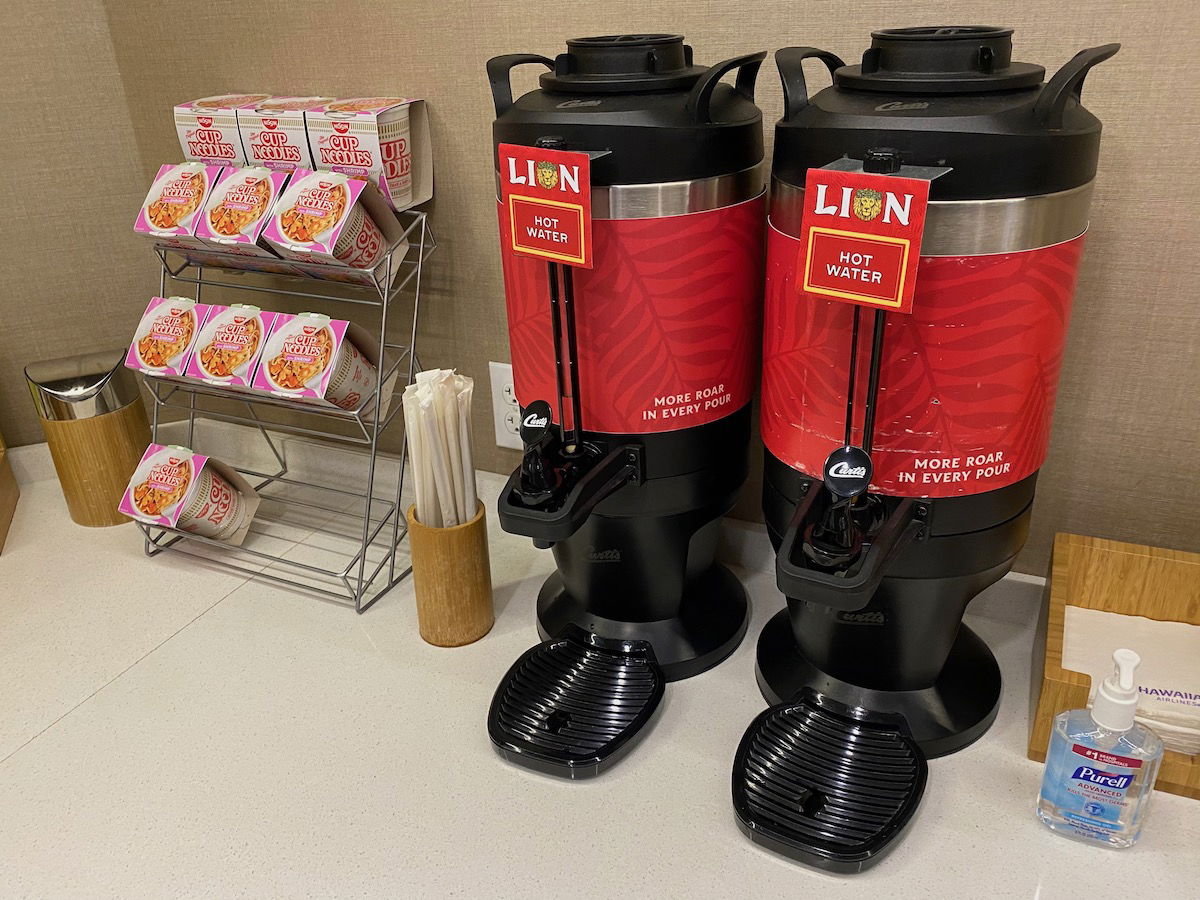 By comparison the drink selection was impressive, with a soda fountain, a coffee machine, and an ice machine.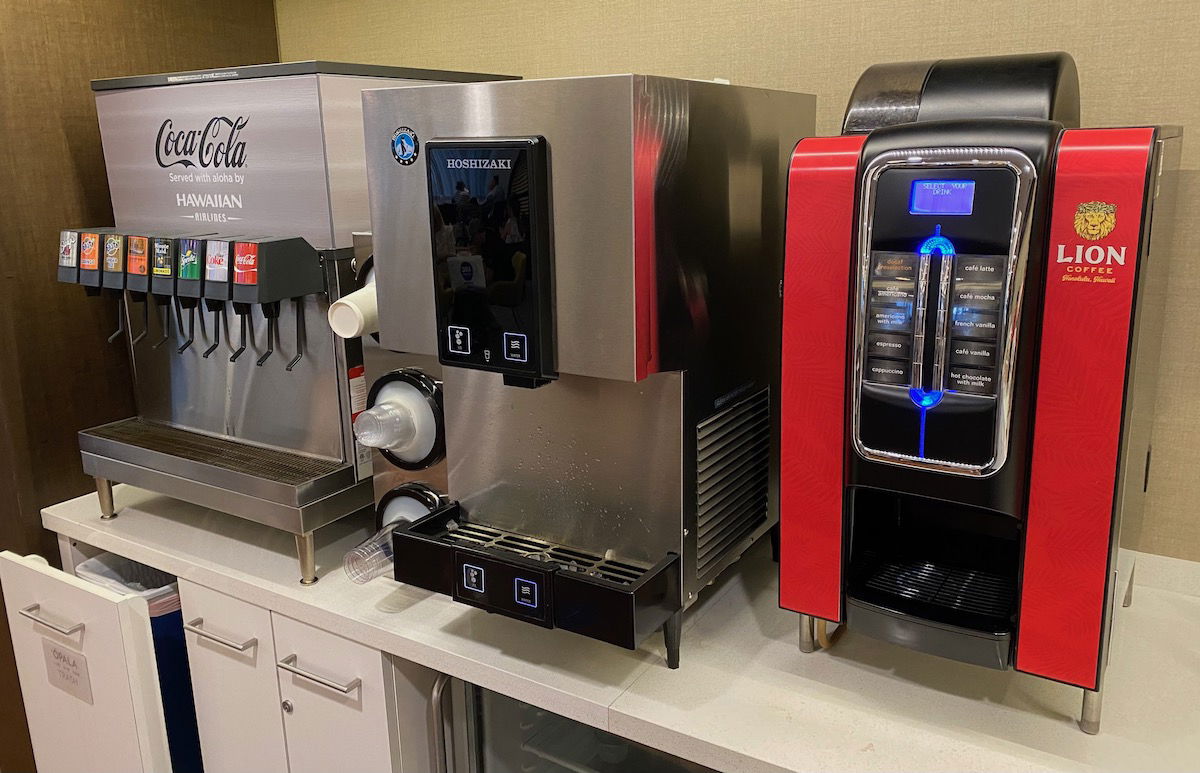 There was also some self-serve wine.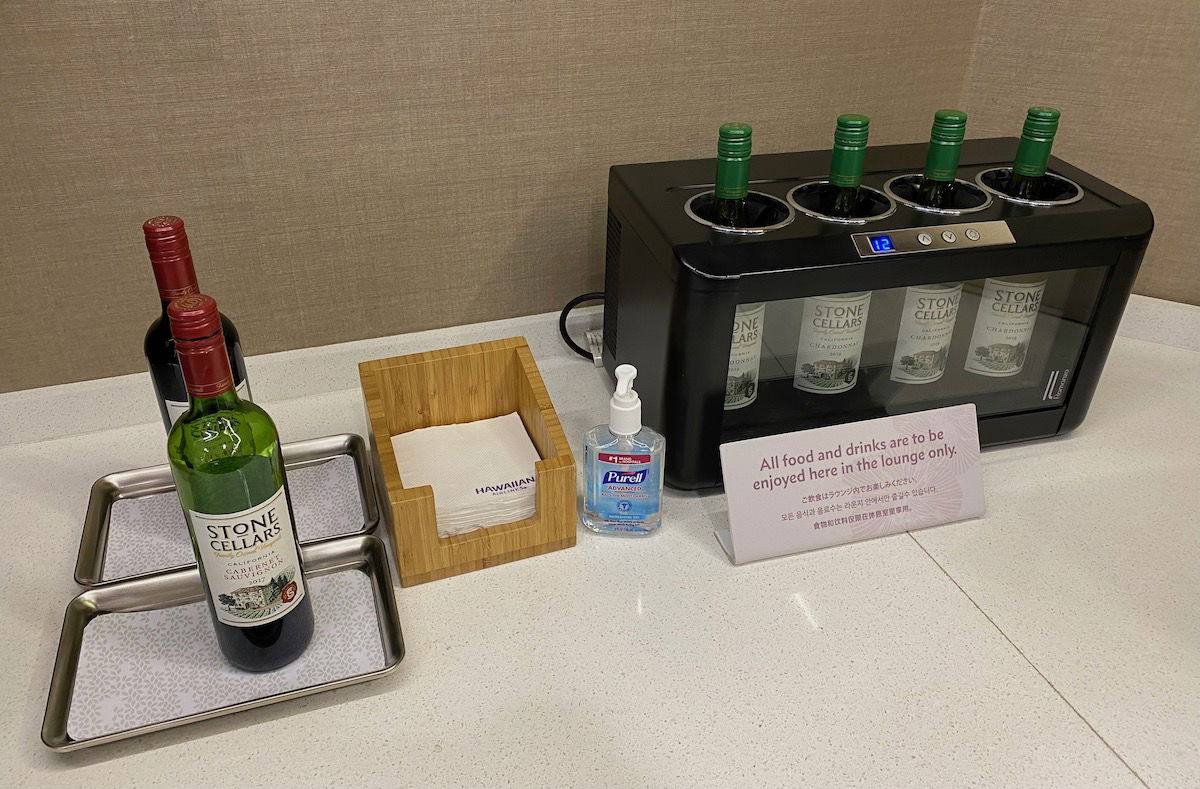 Water was available in little rationed cups, as was POG juice. You've gotta love hydrating four ounces at a time…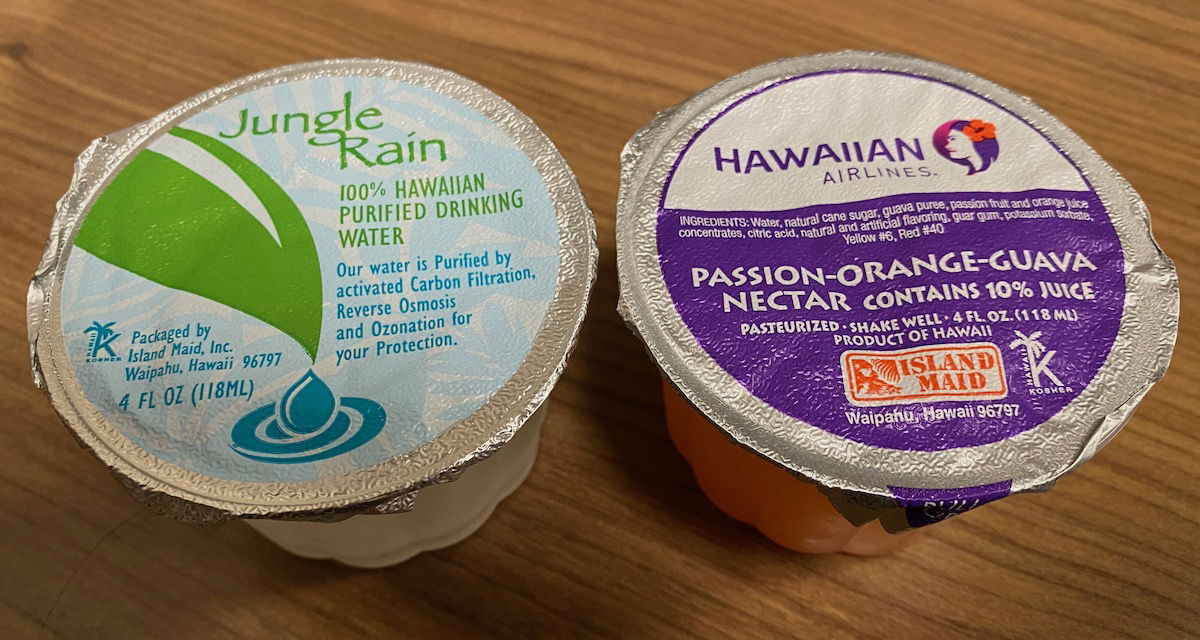 Credit to the lounge, they did have some Hawaiian POG hard seltzer, which seems like a cute touch. There was also one beer from Maui, plus Heineken.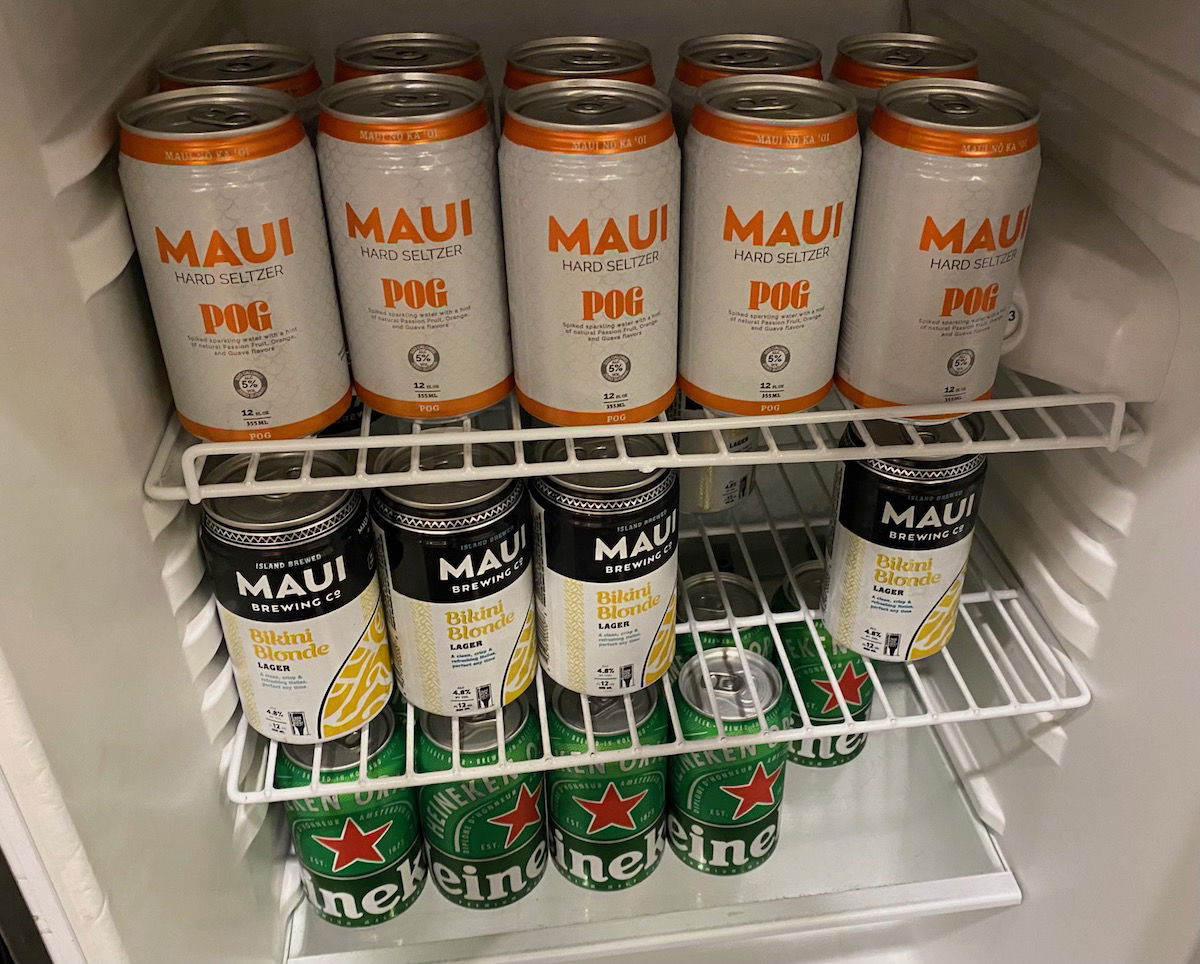 Hawaiian Airlines Plumeria Lounge Honolulu bathrooms
The lounge had pretty standard bathrooms, which were well maintained, but seemed quite small given how many guests there were in the lounge. There weren't any shower facilities.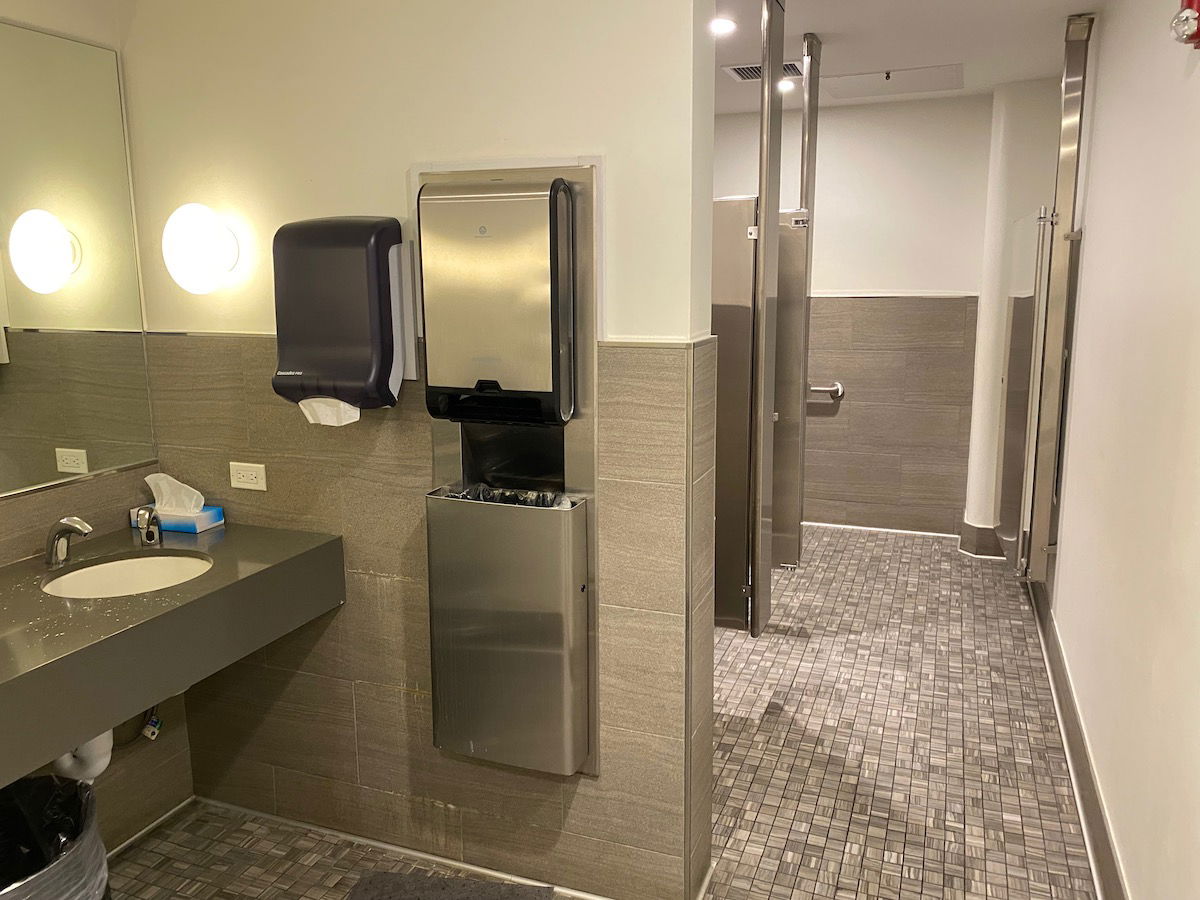 Bottom line
If you're passing through Honolulu Airport as a Priority Pass member, the Plumeria Lounge could be worth dropping into, if you really want a beverage, or… well, actually that's the only reason I can think of. But purely in terms of sitting in comfort, you'll find a lot more space and better views in the terminal.
What's perhaps more noteworthy is that I'd still consider this to be the better of the two Priority Pass lounges at the airport, as the IASS Lounge is even worse. Lastly, I find this lounge to be particularly disappointing as Hawaiian Airlines' primary space for international business class passengers.
If you've visited the Plumeria Lounge, what was your experience like?