To kick off our journey to Hawaii, we flew American Airlines' A321neo first class from Tampa to Los Angeles. I've never reviewed American's A321neo before, so this seemed like a good opportunity, especially since American recently reinstated pre-pandemic service in first class.
For a non-premium transcon flight on American, this ended up being a pretty great experience. It was also quite entertaining, because I swear just about everyone in first class was off-their-rocker drunk. I guess that's what people do when traveling late at night on a Friday?
How I booked our American Airlines first class tickets
Usually when I travel from the East Coast to Hawaii, I prefer to connect somewhere in the middle of the country, so that I could fly a wide body aircraft on a longer segment. For example, the last time I traveled to Hawaii, I flew an American 777 from Dallas to Maui.
We planned this trip pretty last minute, and virtually any of the "good" routings weren't available in first class, or were prohibitively expensive. I eventually stumbled upon the following routing in economy for $350 per person:
03/04 AA1476 Tampa to Los Angeles departing 8:34PM arriving 11:00PM
03/05 AA31 Los Angeles to Honolulu departing 8:15AM arriving 12:22PM
There were two things that made this routing attractive:
These flights both looked ridiculously empty, and I assumed that upgrades were a near sure bet; not only was first class empty on both flights, but so was economy, meaning there weren't many people to compete with for upgrades
If I'm not going to get a flat bed, I like the idea of breaking up the journey on the West Coast, because sitting in a domestic first class seat for 12+ hours straight isn't great
The joy of upgrades clearing in advance
I have Executive Platinum status with American, while Ford has Platinum Pro status. Both of those status tiers include unlimited space available upgrades, though of course the "space available" part is a major caveat.
If a flight is long and I don't think an upgrade is a slam dunk, I usually try to find a way to confirm a first class seat, whether it's by paying cash (when the premium is reasonable), or by using a Business Extra upgrade certificate.
When an upgrade clears for me on American, it's often just on the Tampa to Miami route, and often it's an onboard upgrade, because there were no shows.
I felt pretty confident about the upgrades on this itinerary, but still, you never know, especially when you're trying to upgrade with a companion. The Executive Platinum upgrade window starts 100 hours out, so I was thrilled when I received an email at exactly that time informing us that both of our upgrades cleared for both flights — woot!

I don't remember the last time I've received an upgrade this valuable on account of being Executive Platinum, so I was pretty excited about that.
American Airlines first class boarding
We got to Tampa Airport at around 7PM for our 8:34PM flight to LAX. We had already checked in online, so headed straight to Terminal F for our flight. Boarding was scheduled to start at 7:59PM at gate F81. By the time we were through security, we had about 30 minutes to kill.
While there's an Admirals Club in Tampa (and I have an Admirals Club membership), my preference is to visit the Priority Pass restaurant in the terminal, which is Cafe by Mise en Place.
The restaurant has chargers, is quieter than the Admirals Club, and I'll take a glass of New Zealand sauvignon blanc and some brussels sprouts over what's on offer at the Admirals Club.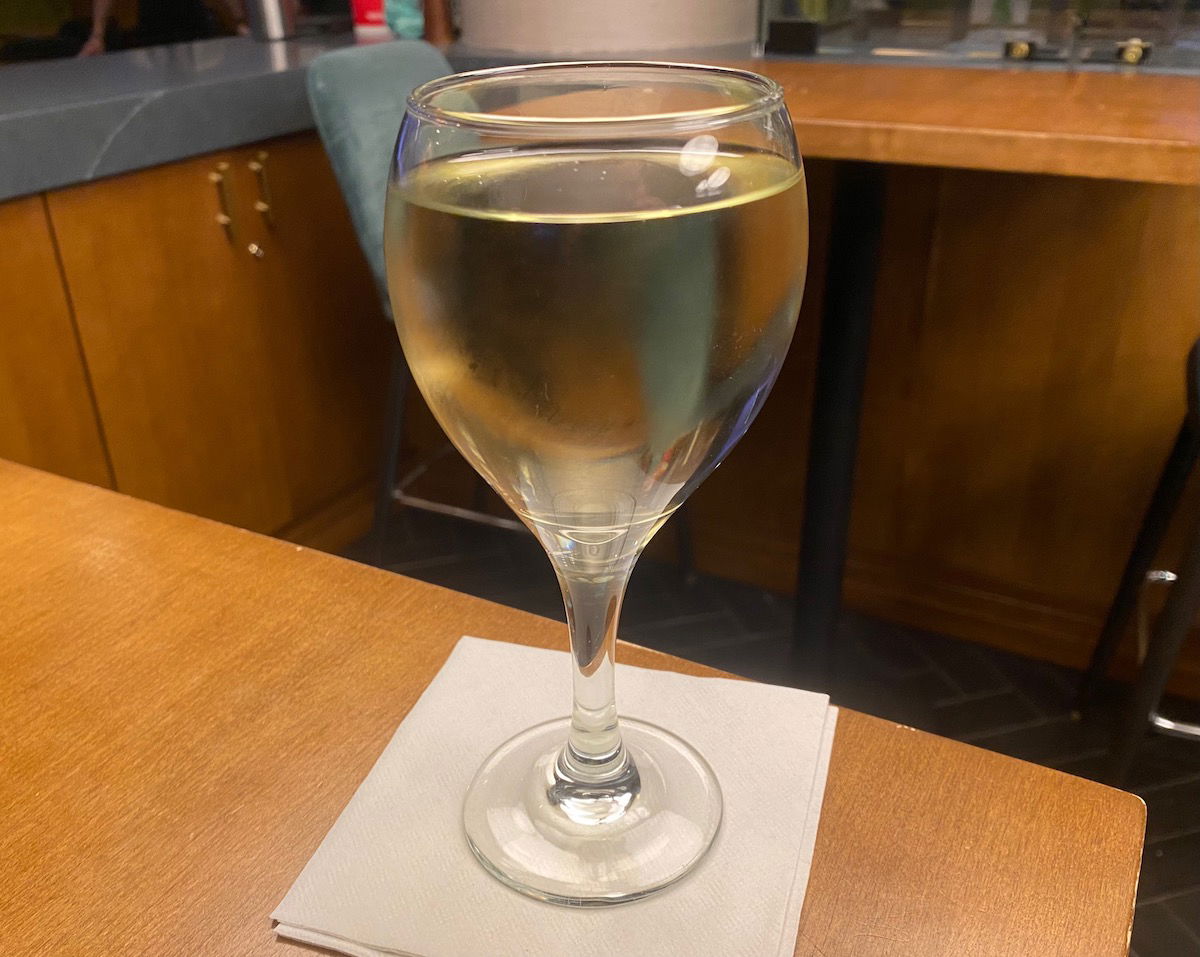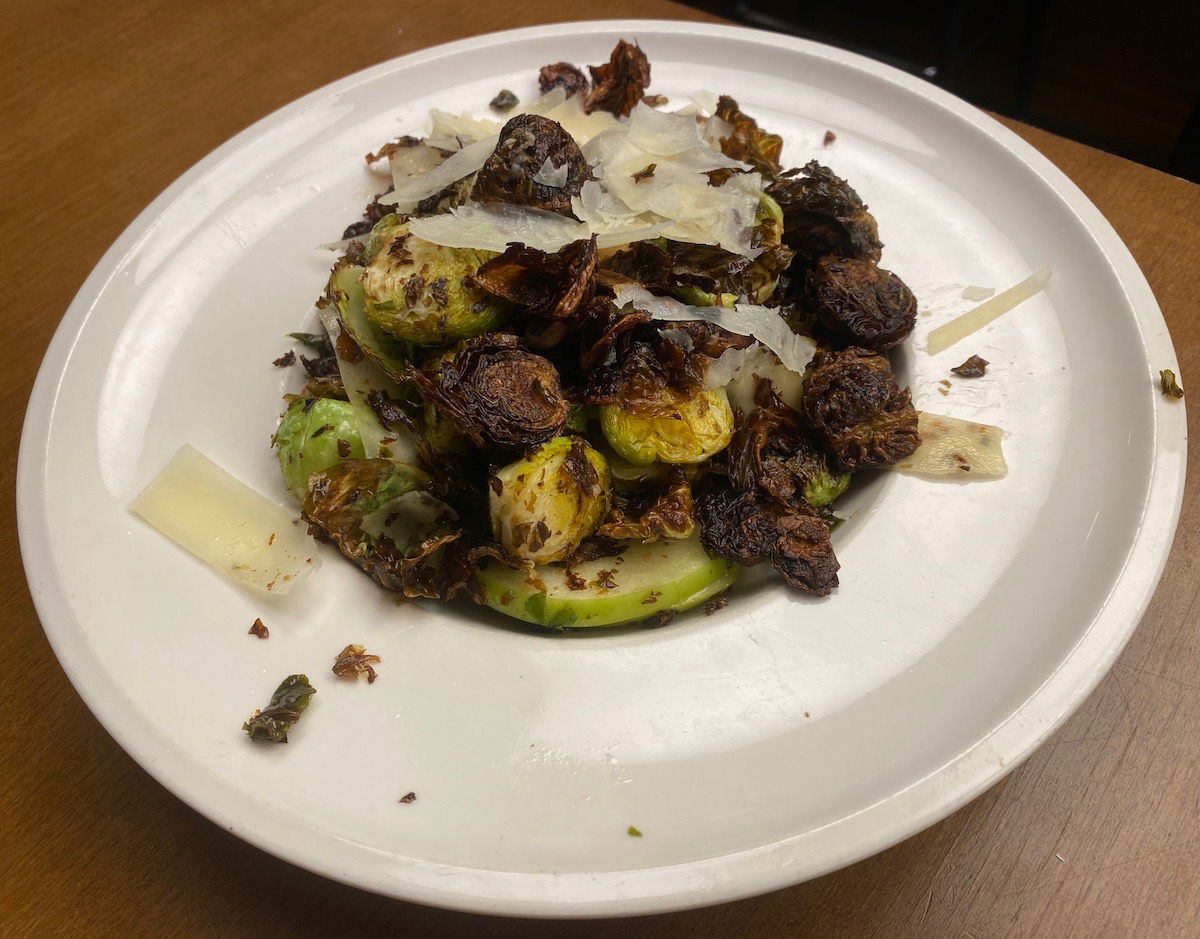 At around 7:40PM we headed to the gate, and then boarding started shortly before 8PM. Concierge Key members were invited to board first (though there weren't any on this flight), along with anyone needing extra time. First class passengers and Executive Platinum members were invited to board next.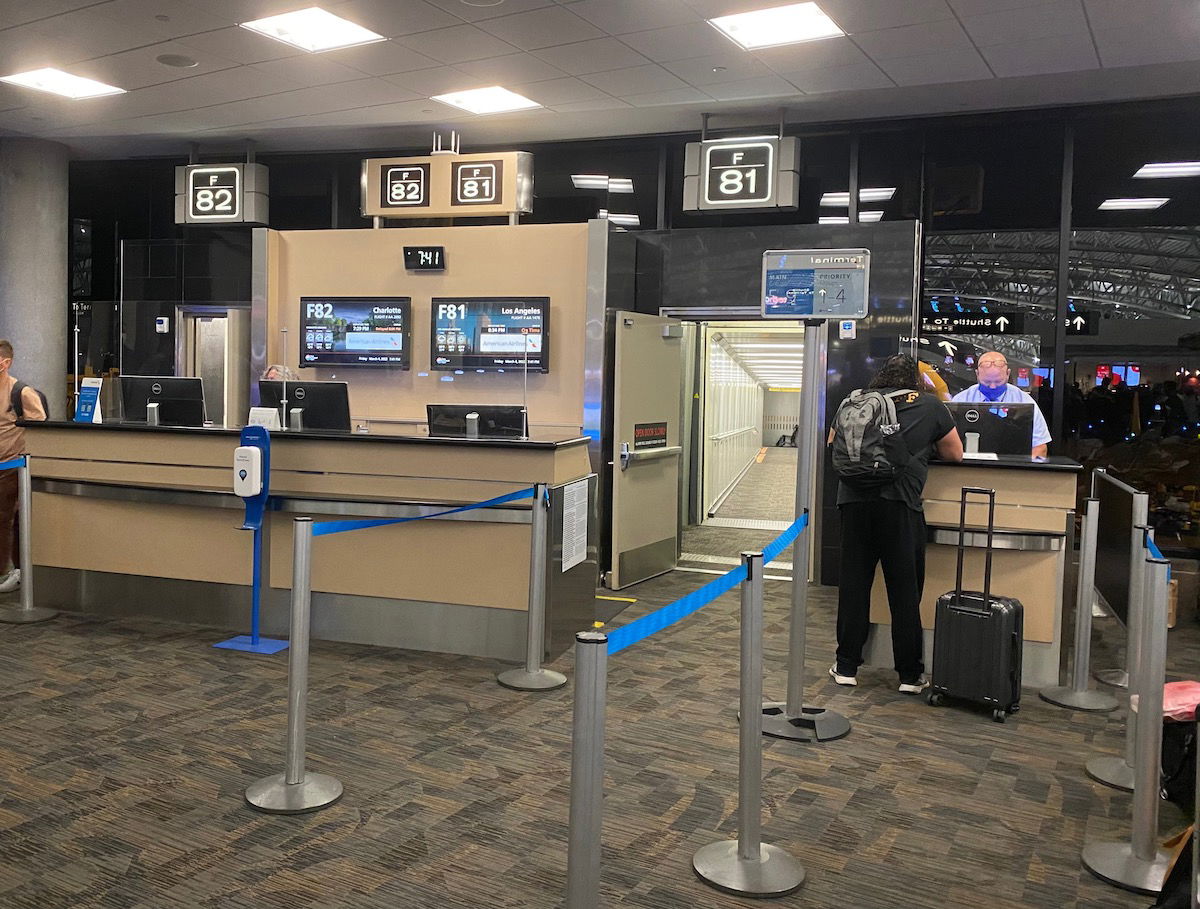 American Airlines A321neo first class cabin & seats
American Airlines Airbus A321neos feature 20 first class seats, spread across five rows in a 2-2 configuration. These are very similar to the seats that you'll find on the American Airlines Boeing 737 MAX fleet (and other 737s have been retrofitted with these cabins as well).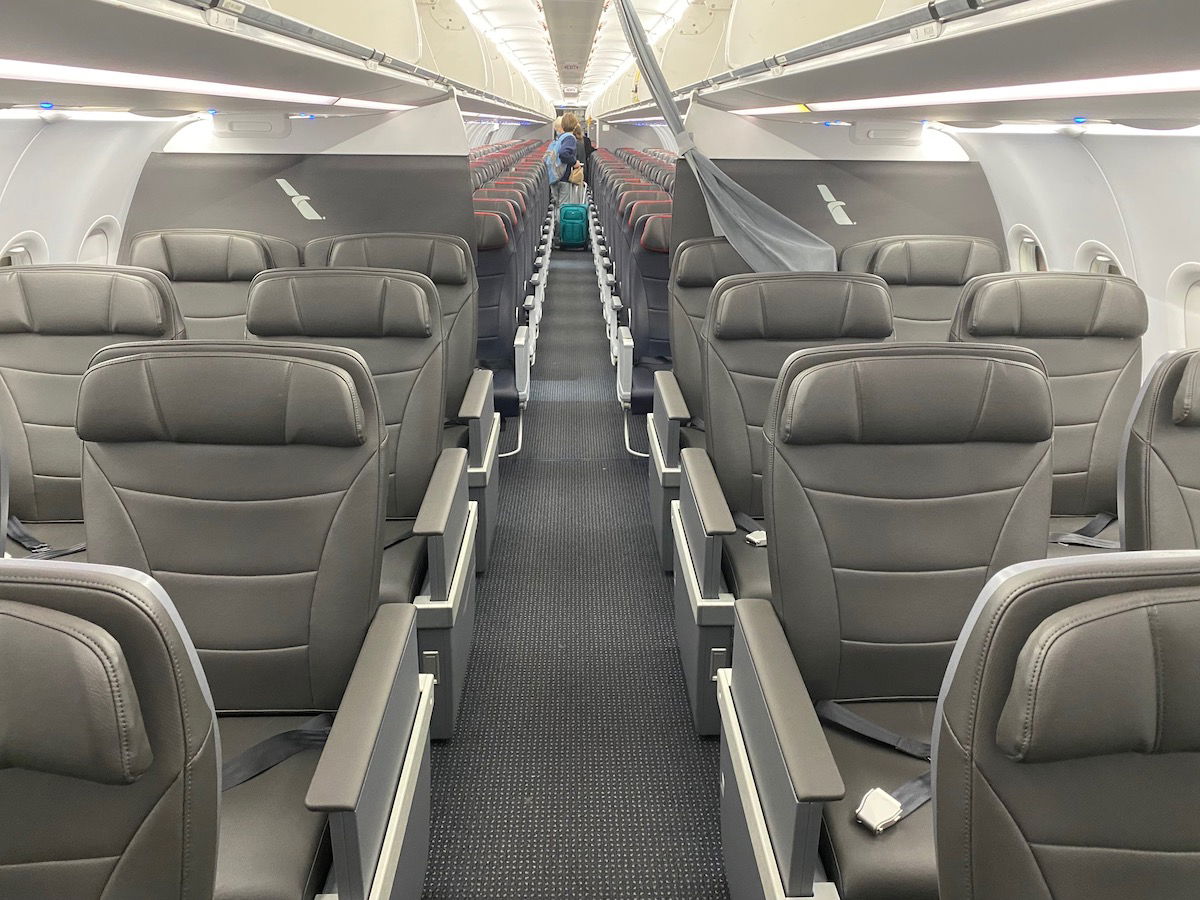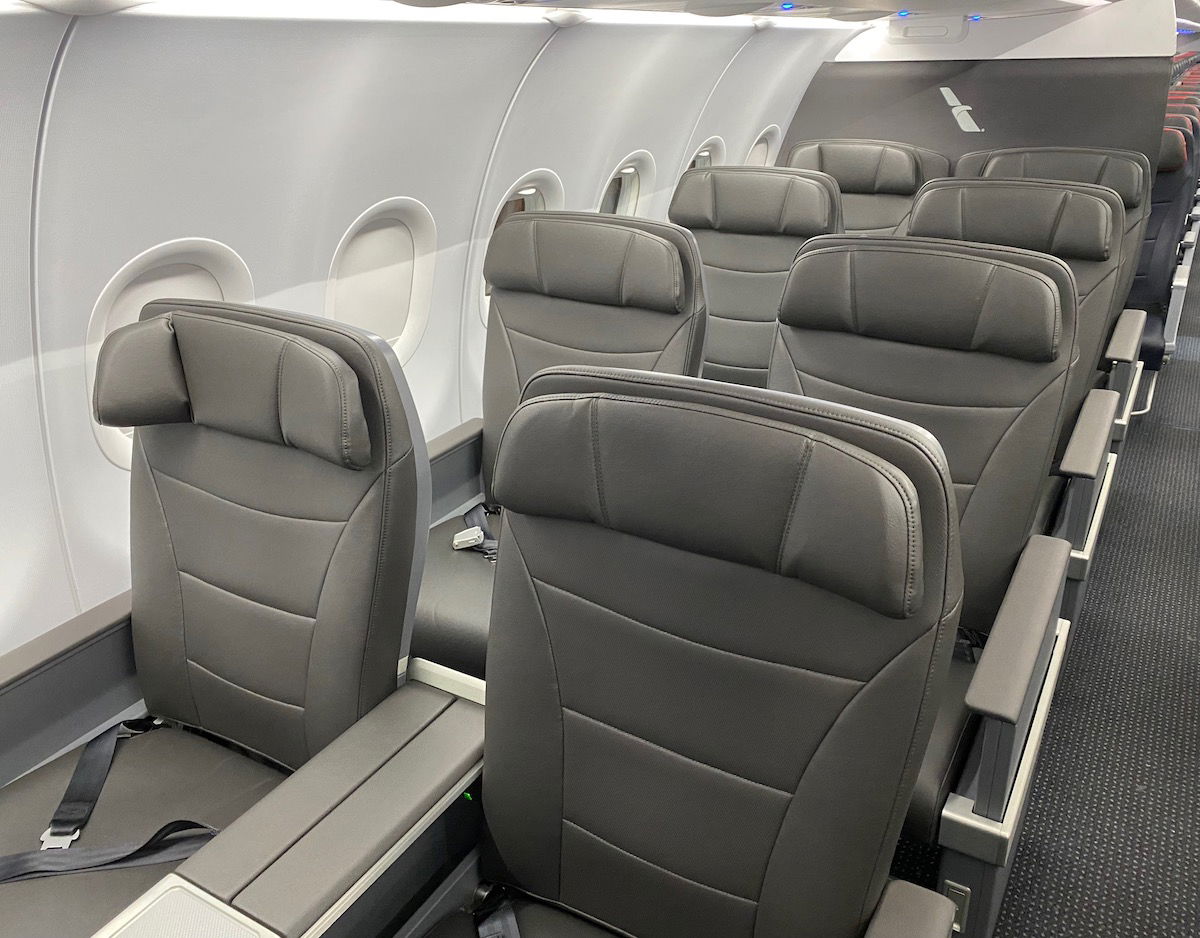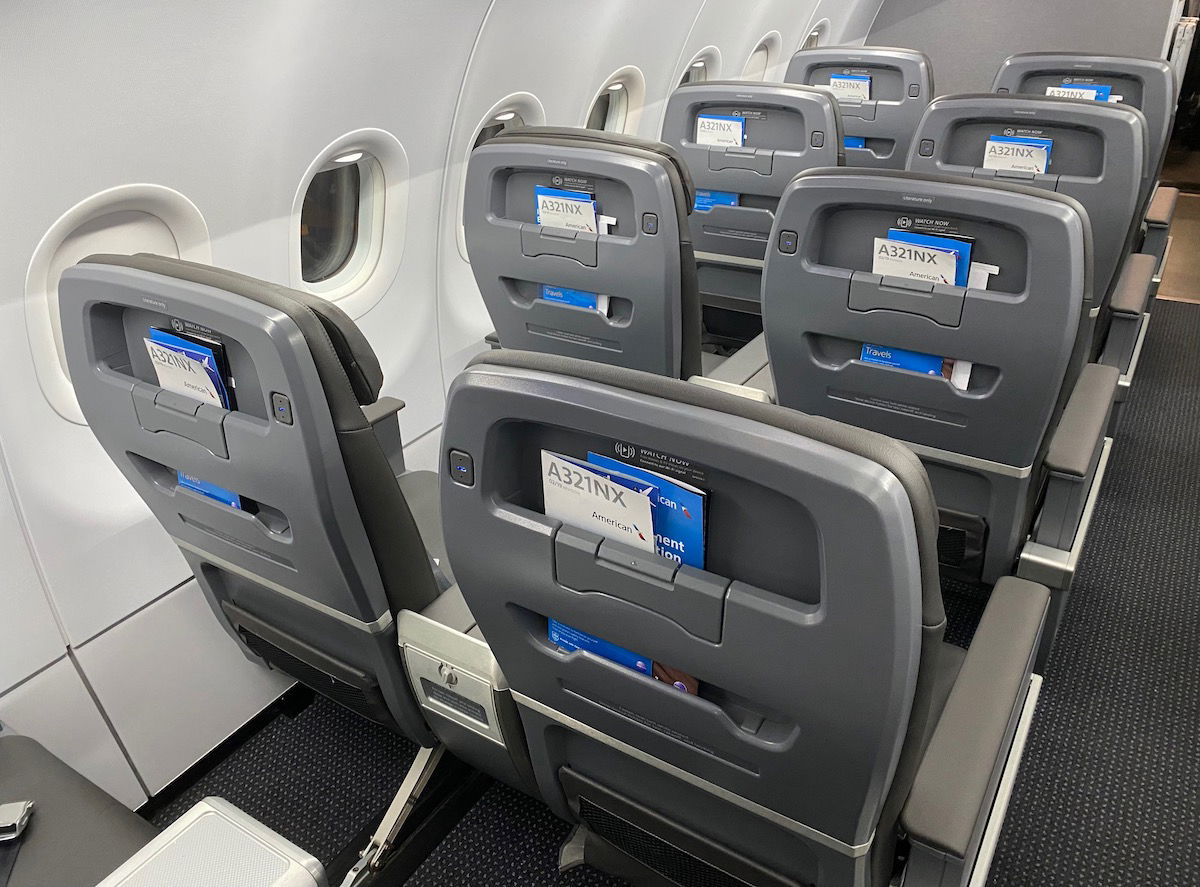 While it looks like there's a bulkhead at the back of the cabin when you first enter the plane, in reality there's just a flimsy shield behind the last row of seats, so there's not really much separation between the two cabins.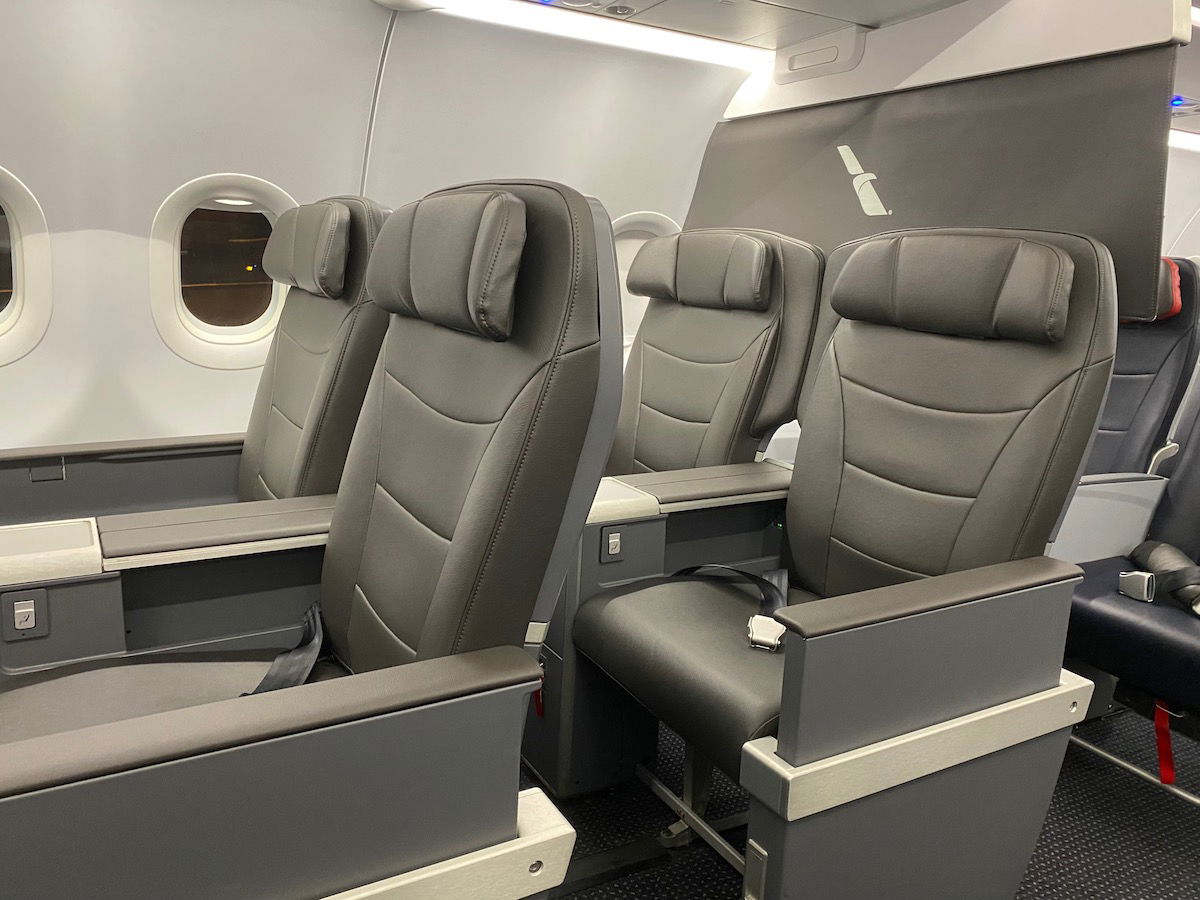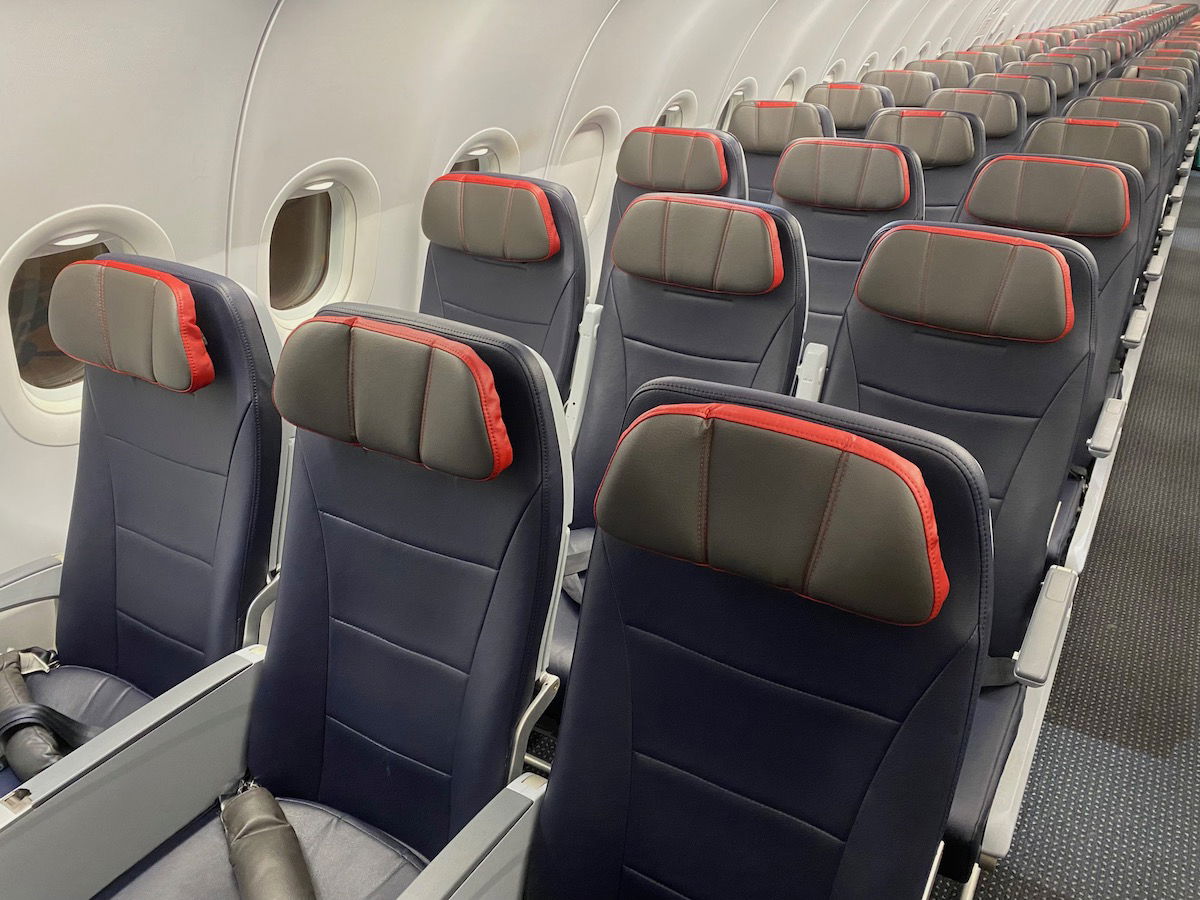 American's first class legroom is decent(ish). Delta is the king of tight first class configurations, so I'd say legroom was maybe marginally better than you'd find on Delta. However, it was nothing compared to the Turkish Airlines A321neo I recently flew. While the seats had the same "bones," the legroom was so much better, and the seat even had a legrest.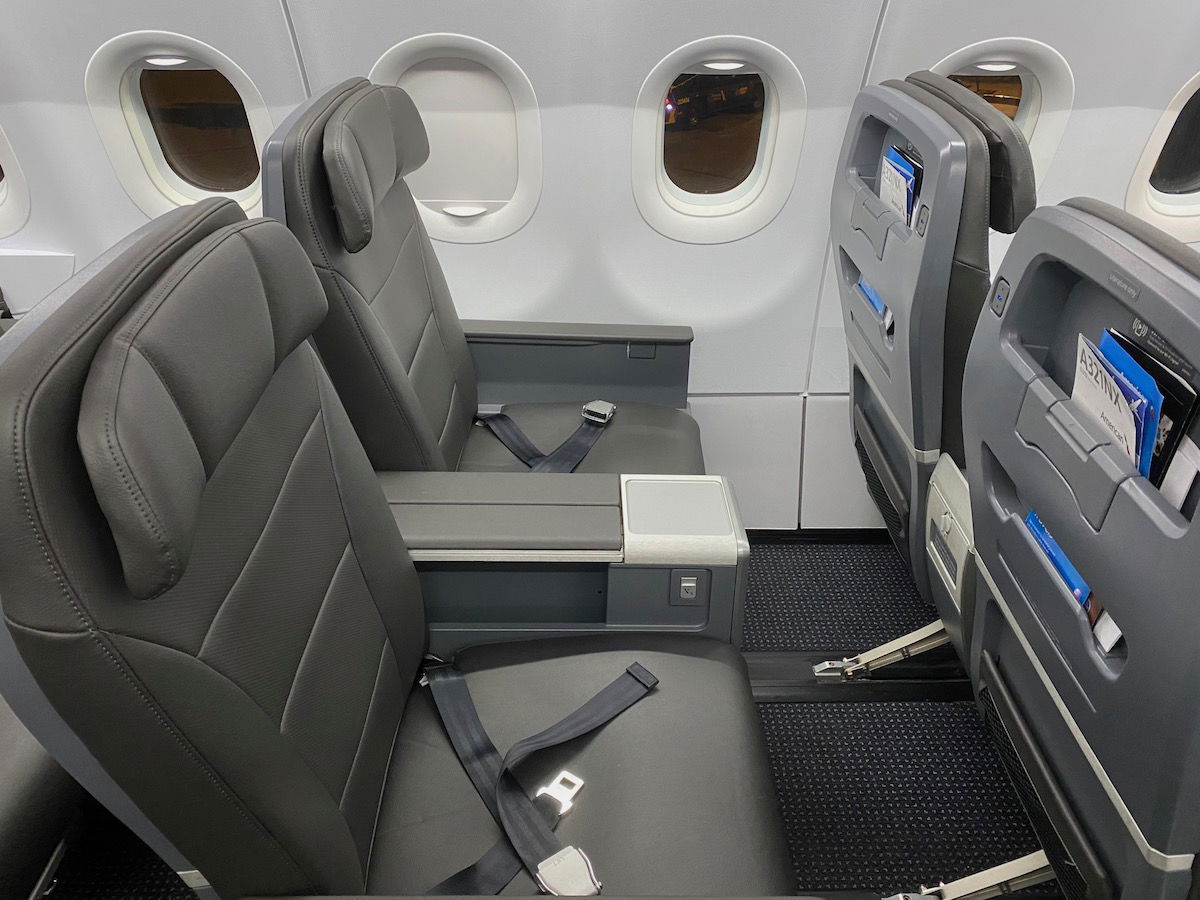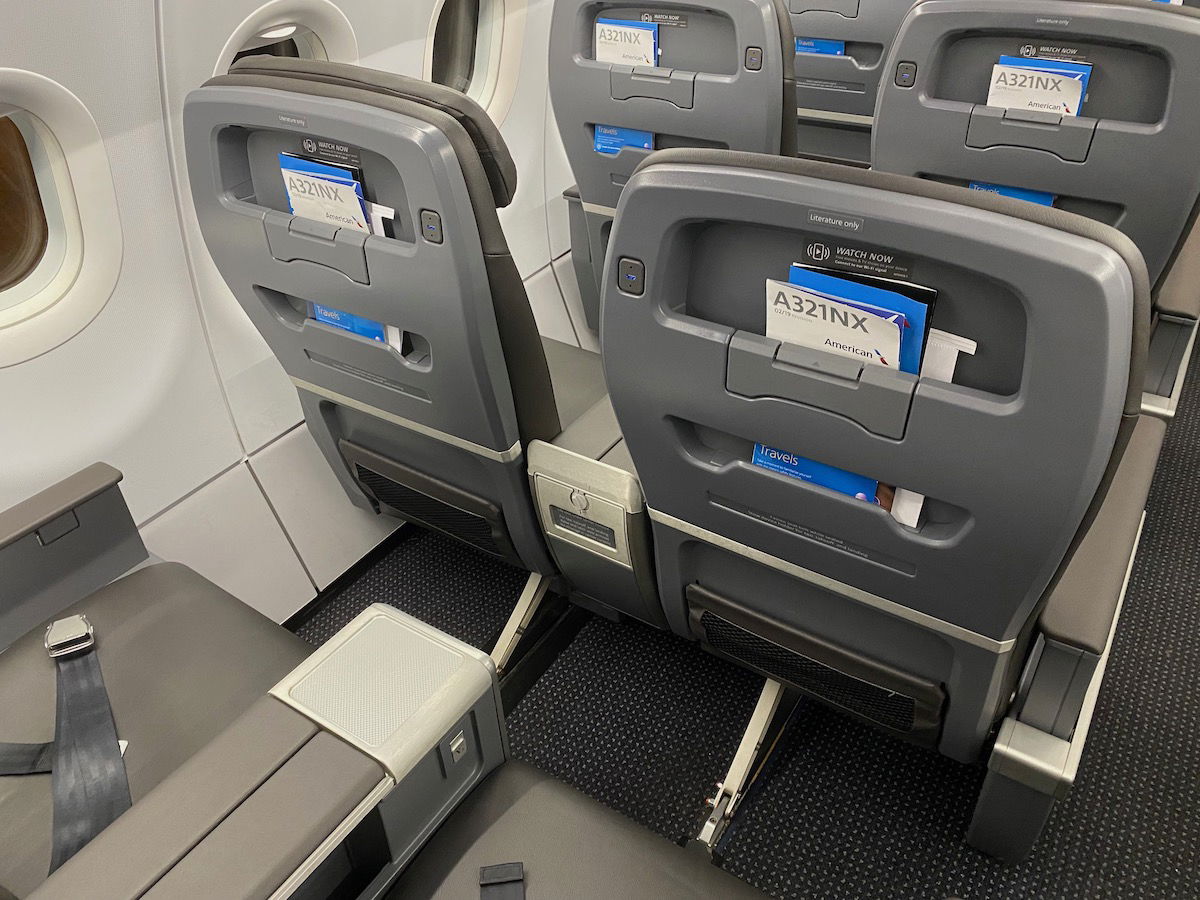 Unfortunately one area where American most definitely can't compete with Delta is when it comes to inflight entertainment. As you can see, American doesn't have any seatback entertainment. Rather the seatback just has a clip so that you can place your own personal device there, as well as a USB port.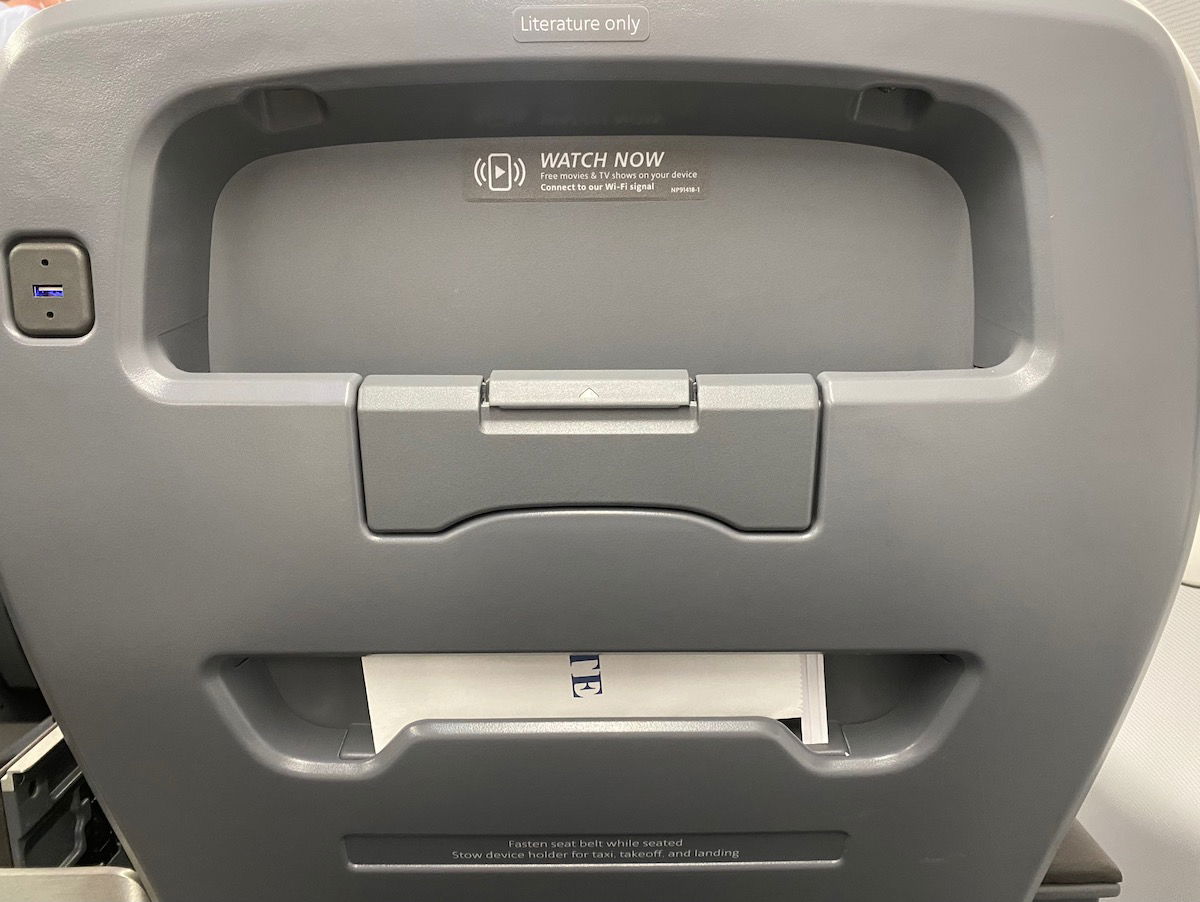 The seatback had a literature pocket near the top, and then a netted pocket (where you can store your laptop) toward the bottom.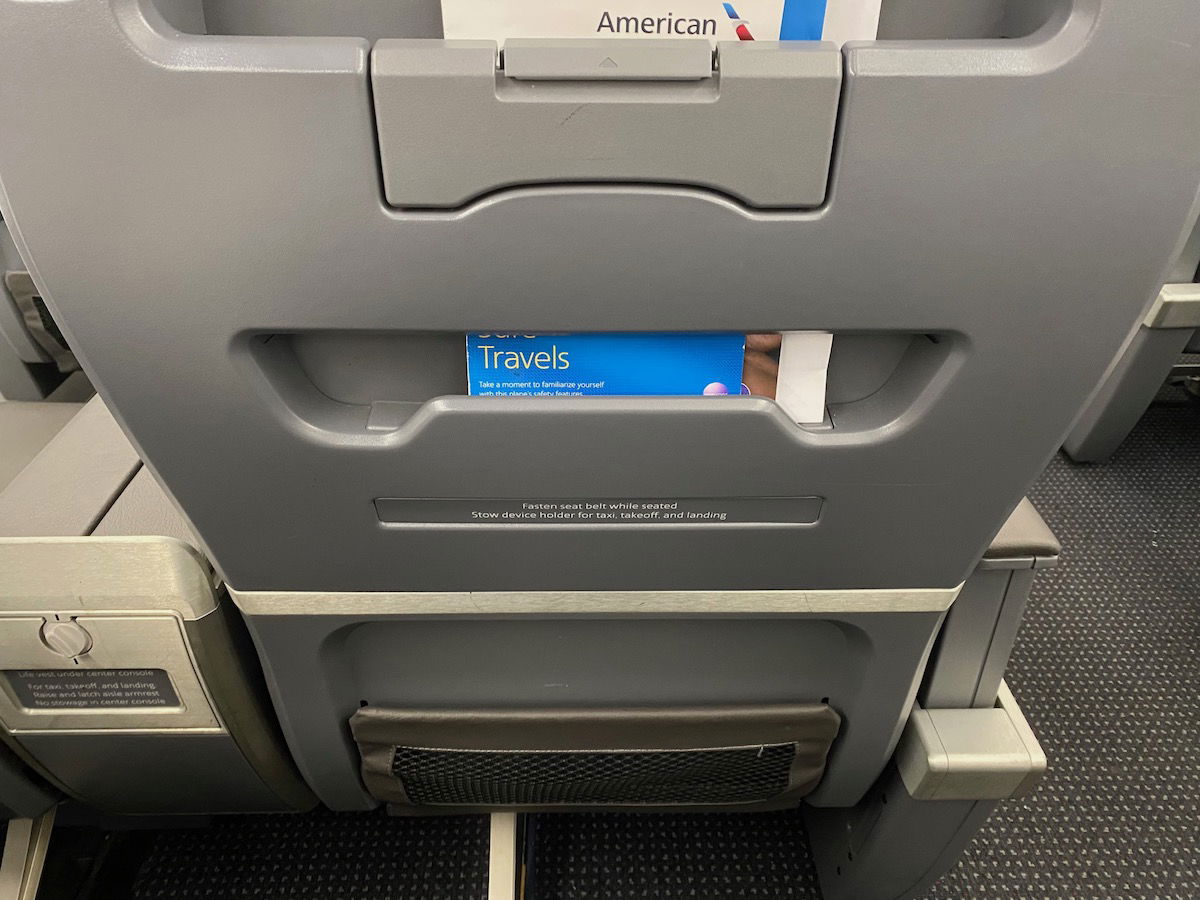 The tray table extended from the far armrest, and could be folded over in half. When folded over in half there was a personal entertainment device holder, which you could use to watch a show on your own device.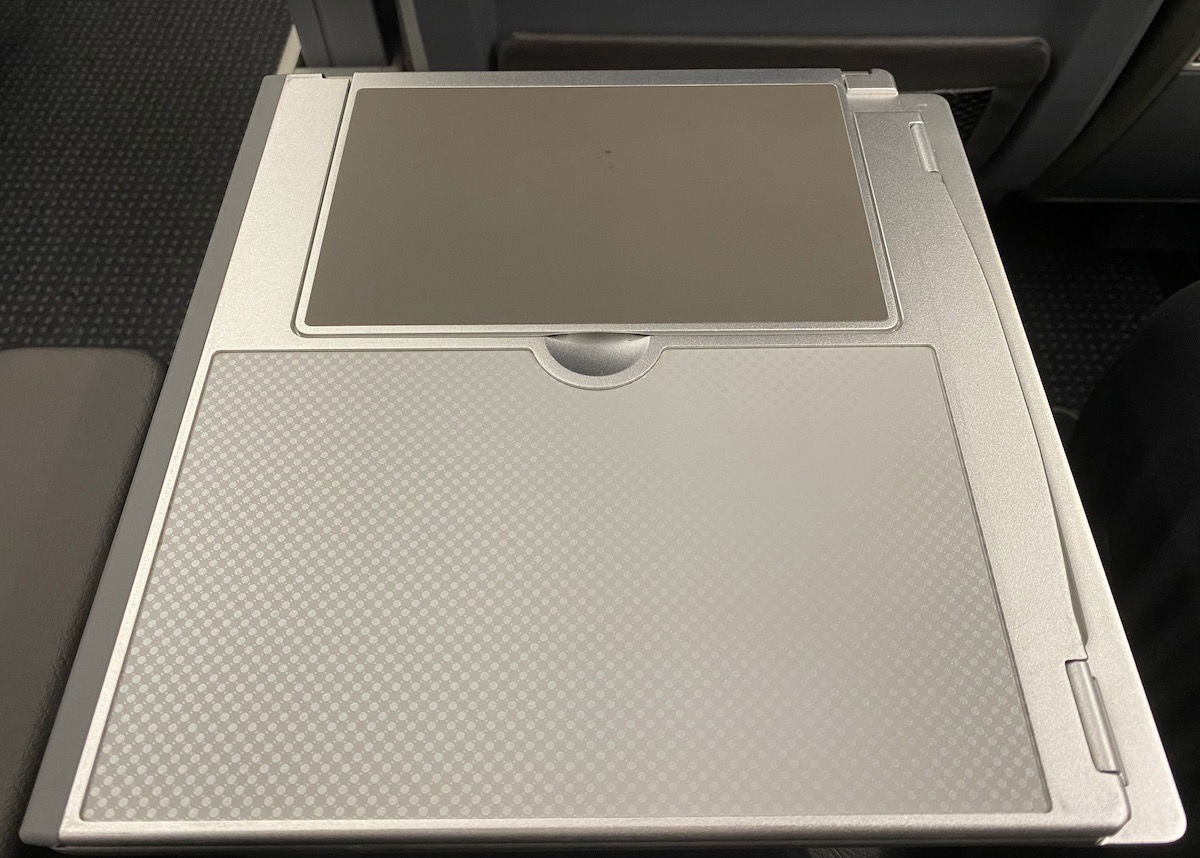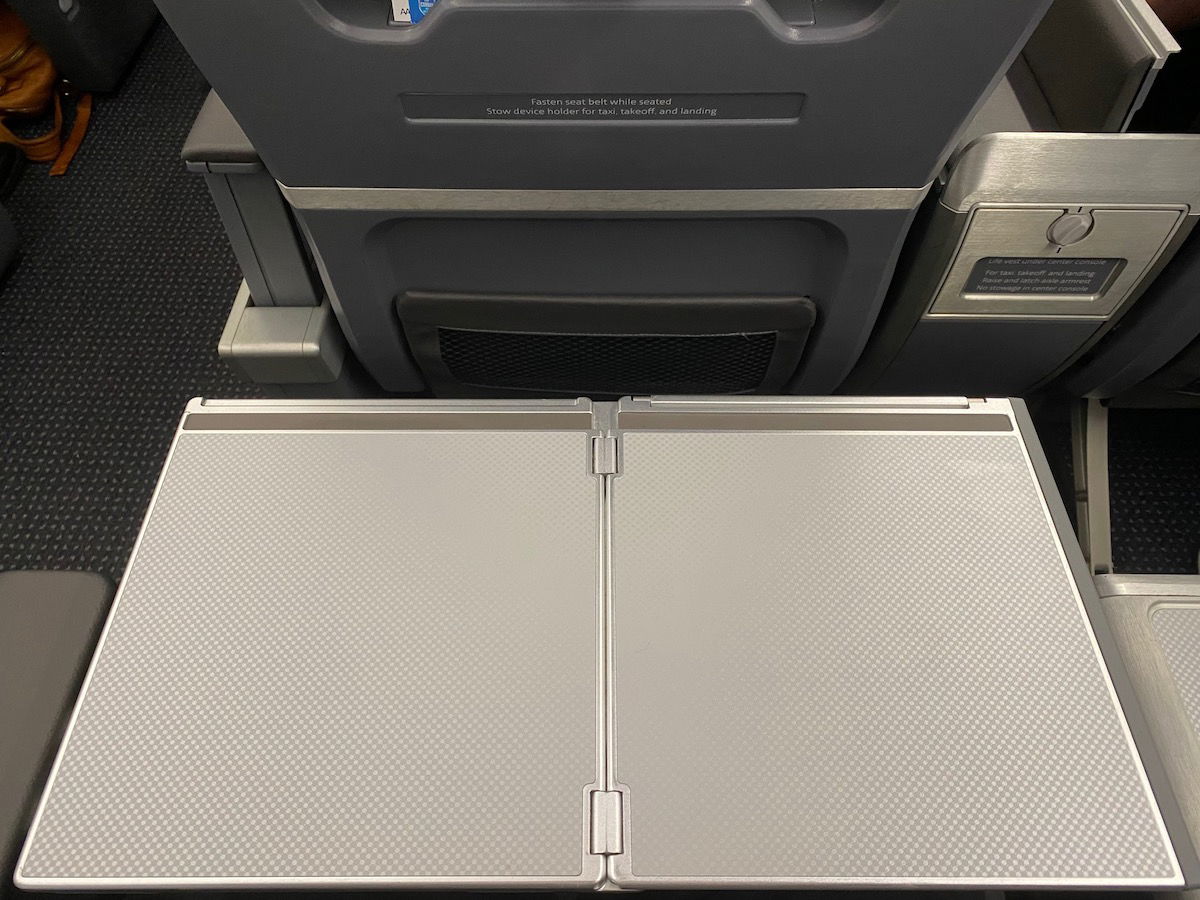 There was also a center tray, plus a tray between the seats in front, so that you have plenty of places to put drinks without having to use your tray table.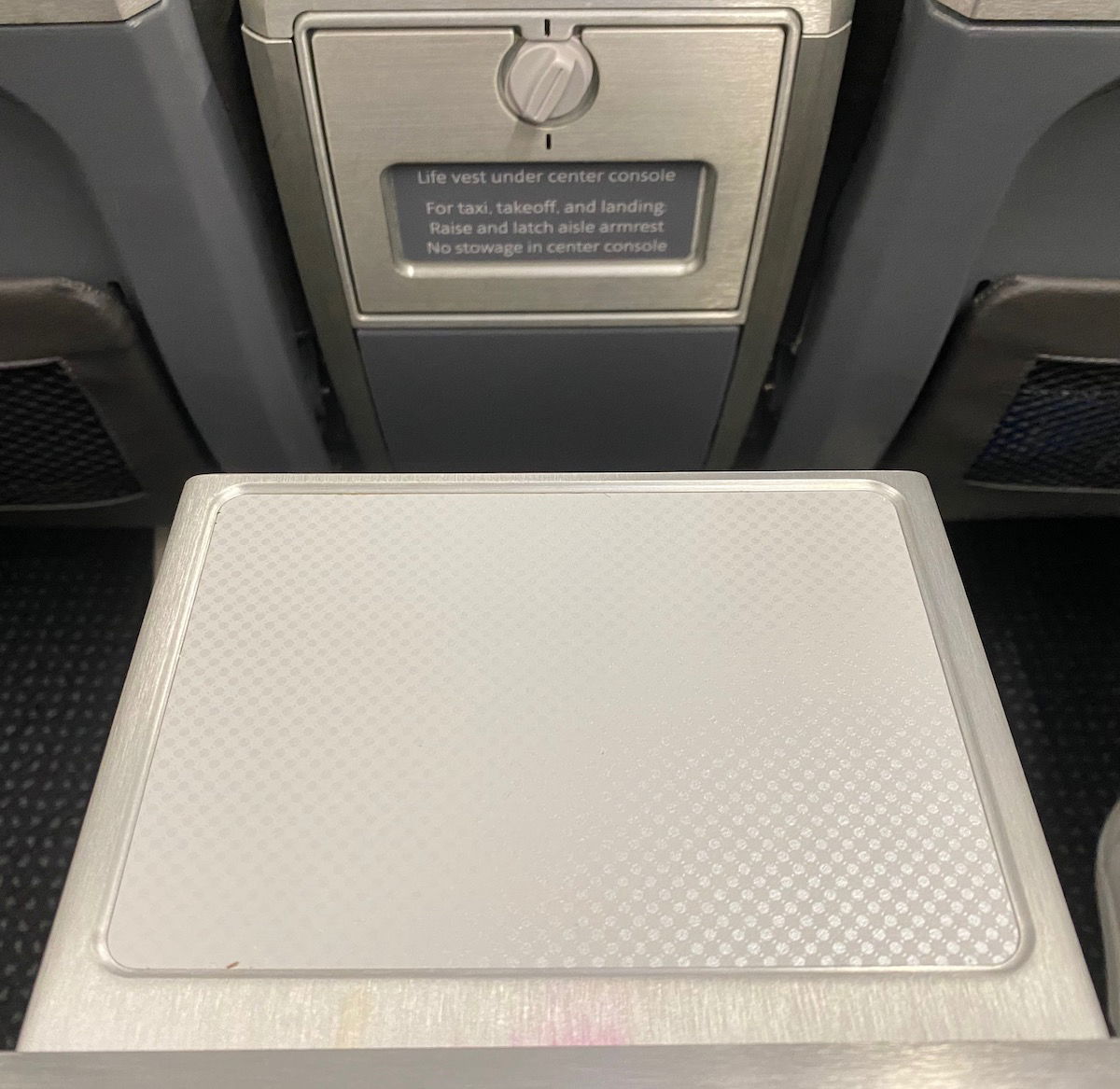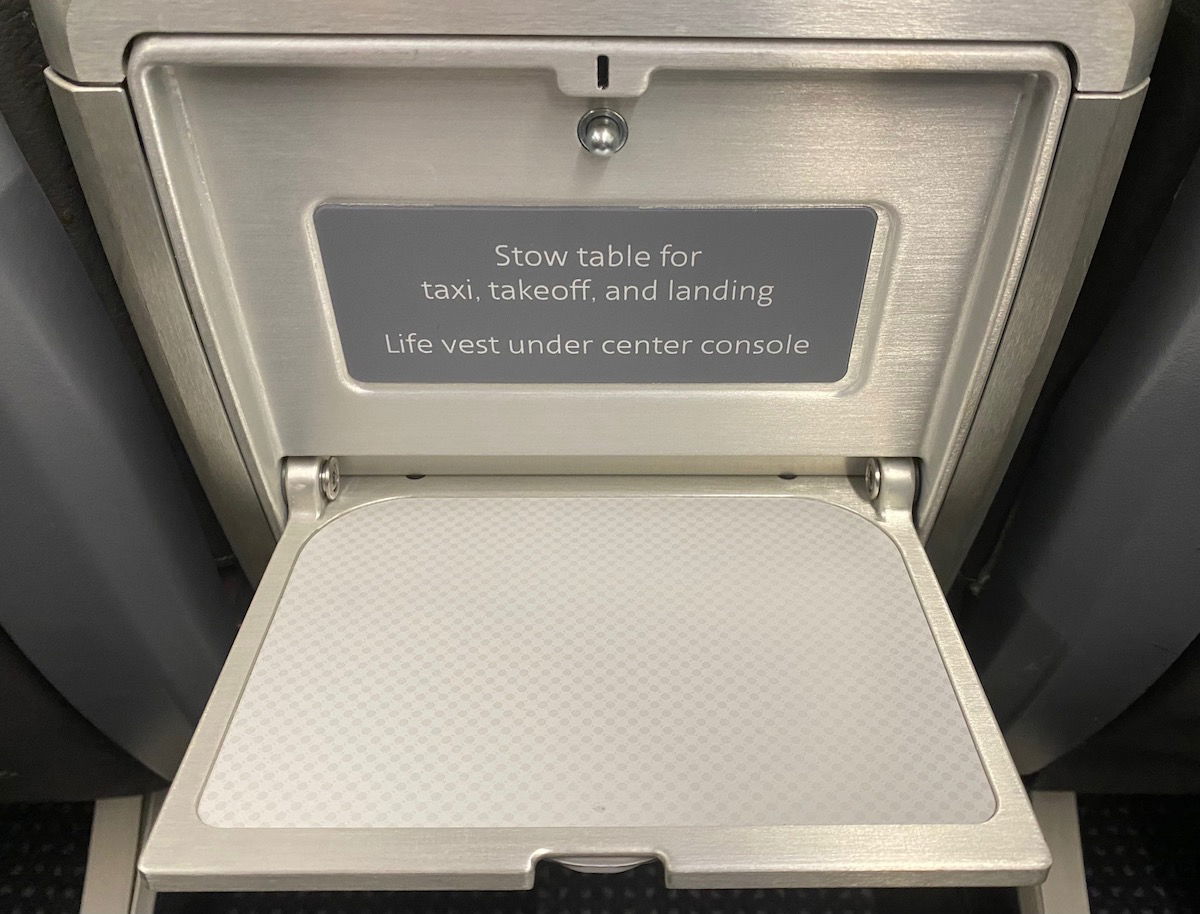 Underneath the center armrest was another storage compartment, which is also where the AC power outlet was.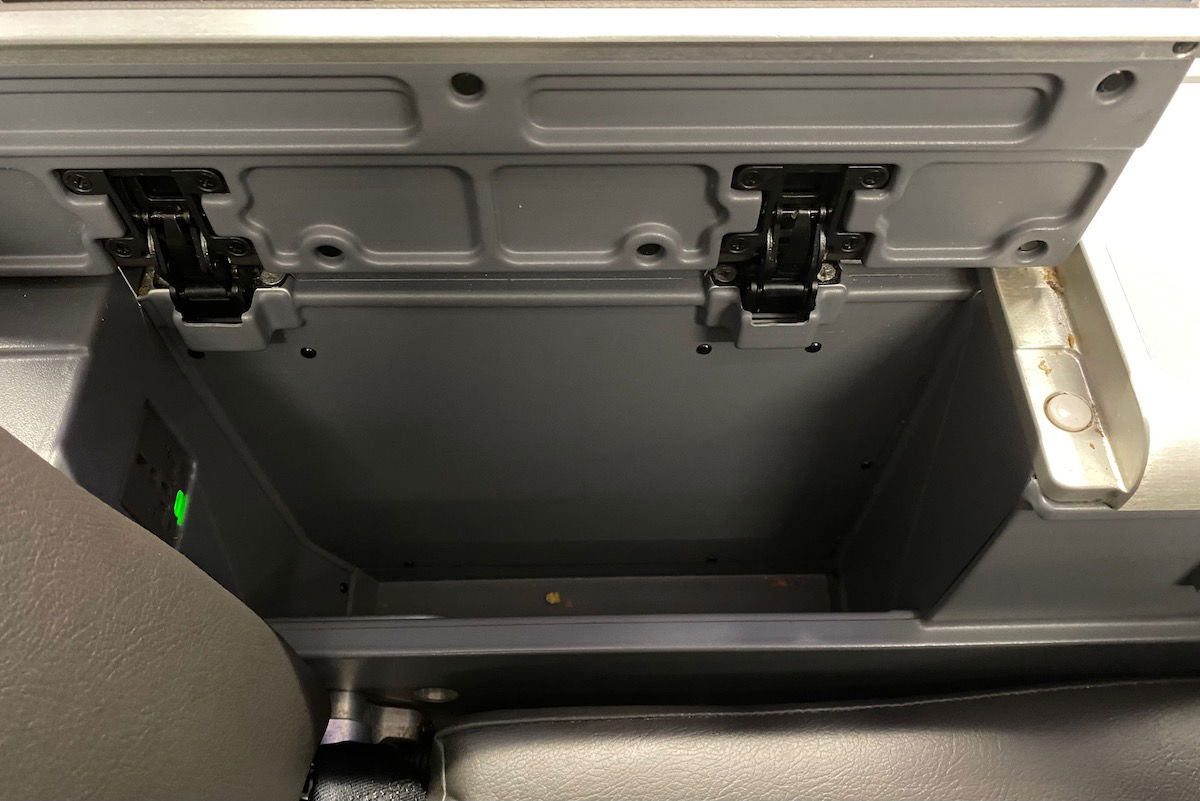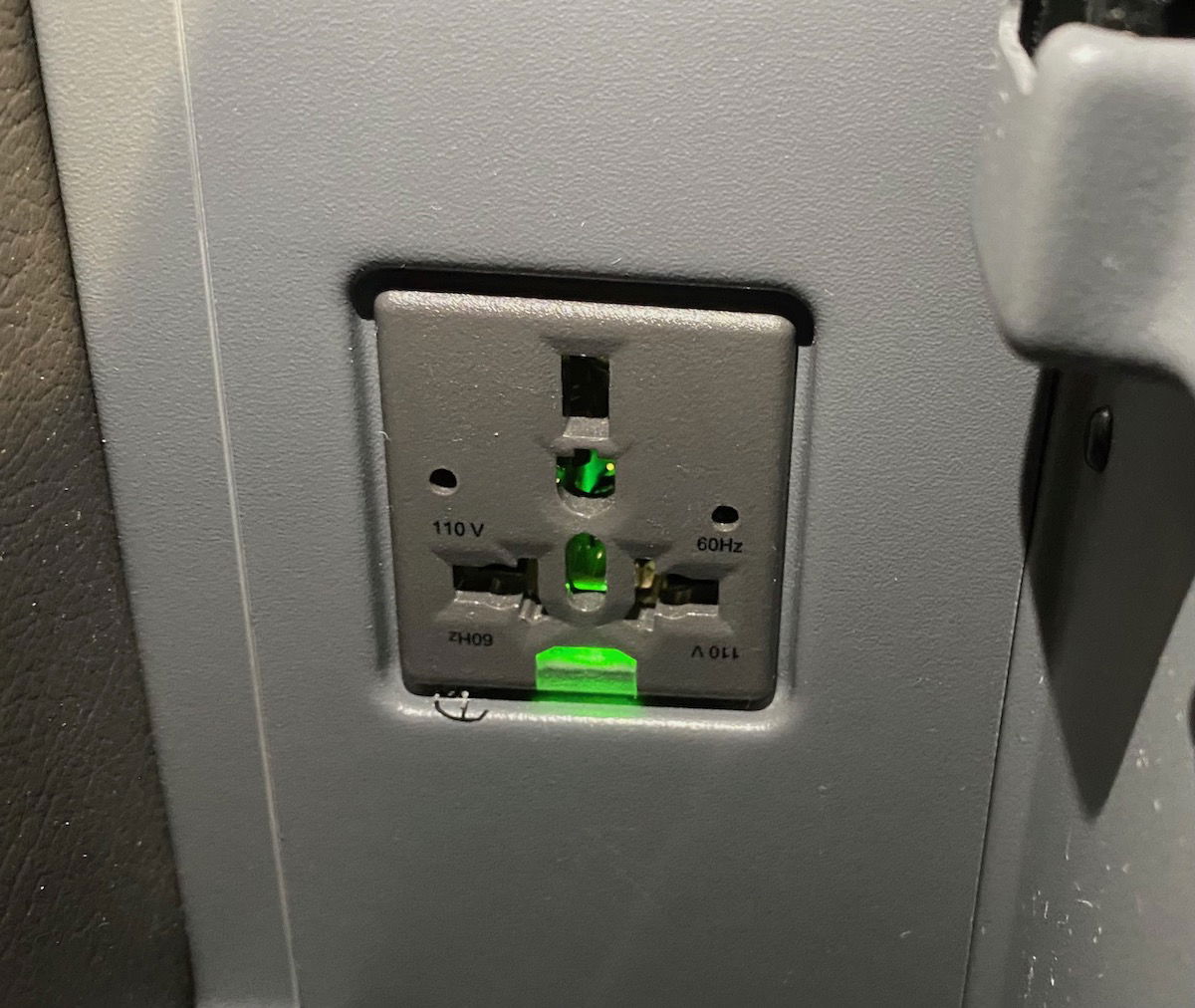 I can't say American is doing a great job cleaning planes between flights, though…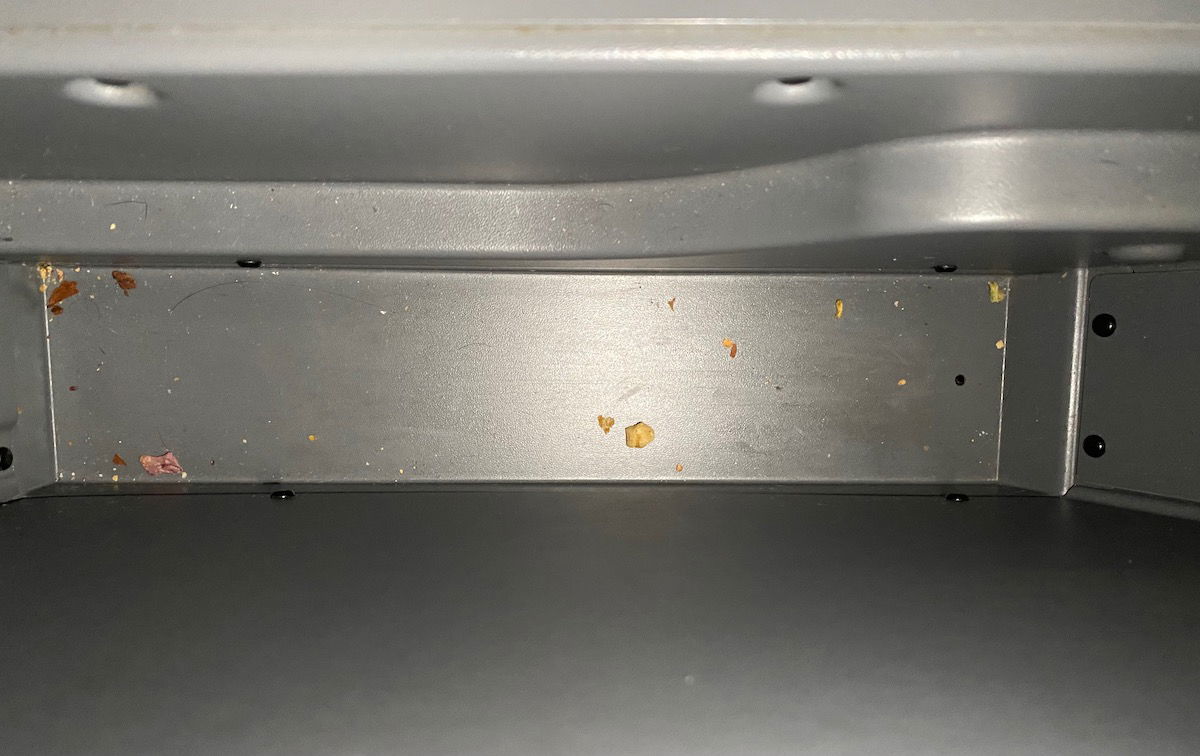 The seat recline button was also located underneath the center seat.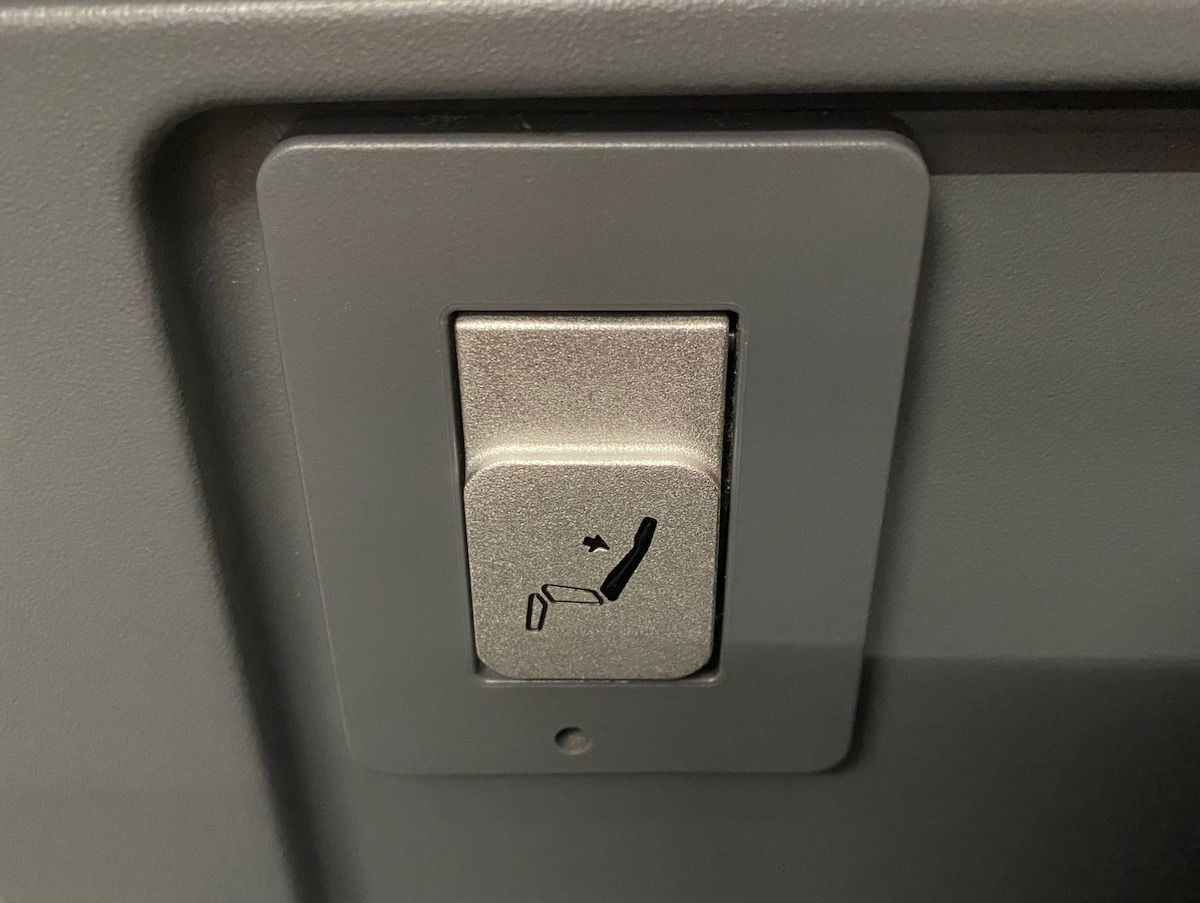 Each seat had an individual air nozzle, which is a feature I sure appreciate.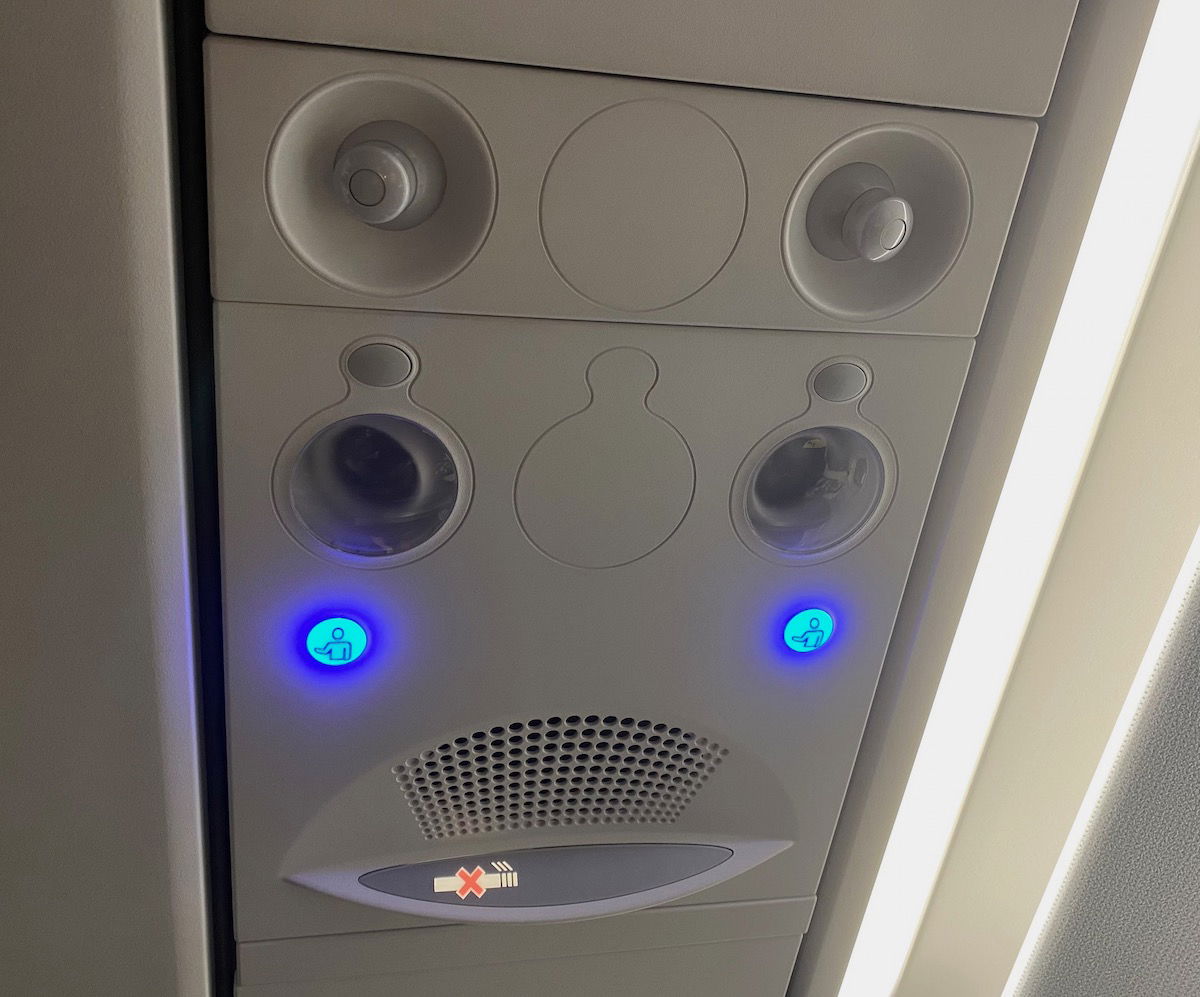 One great thing about the A321neo is that the plane has huge overhead bins. I find these to be even bigger than the new Boeing bins. So you really shouldn't have much trouble finding space for all bags, as long as the bins are utilized correctly.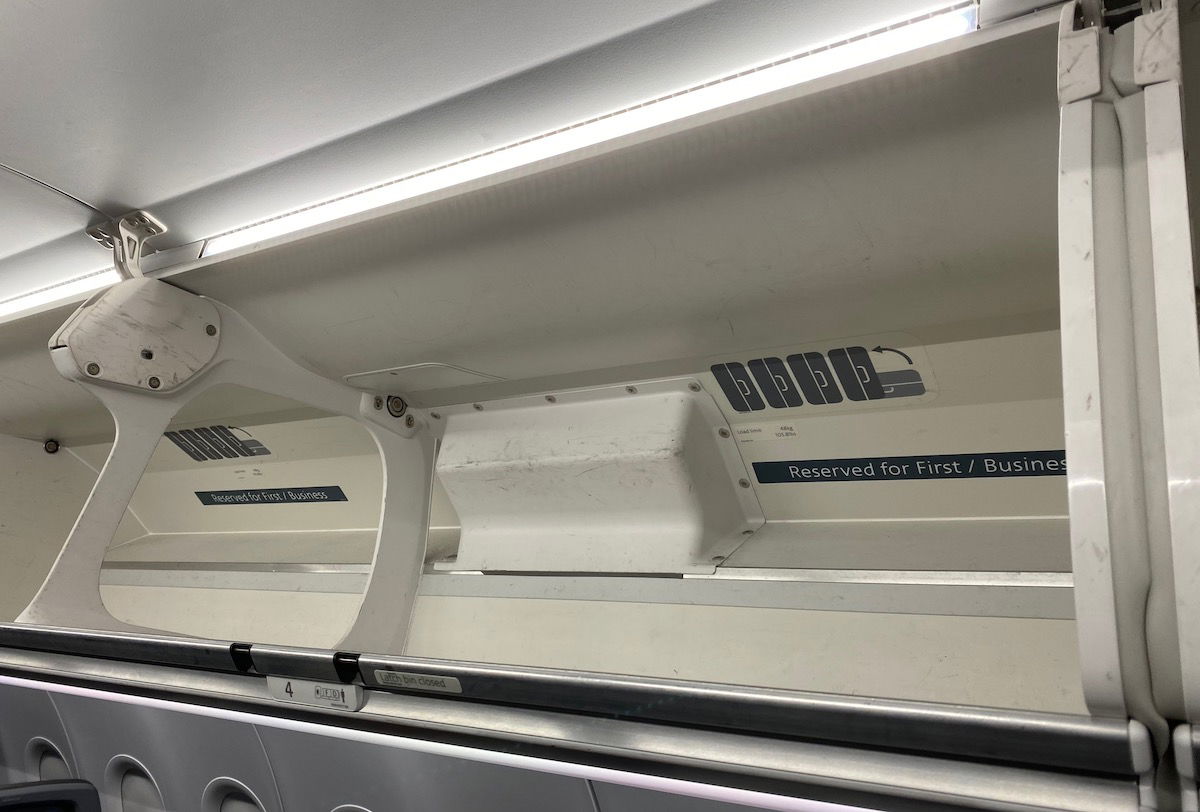 There was a lavatory at the front of the cabin, which was pretty basic. On the plus side, it's better than the 737 MAX lavs. American doesn't generally have any premium amenities in lavatories, since all passengers can use the first class lavatory.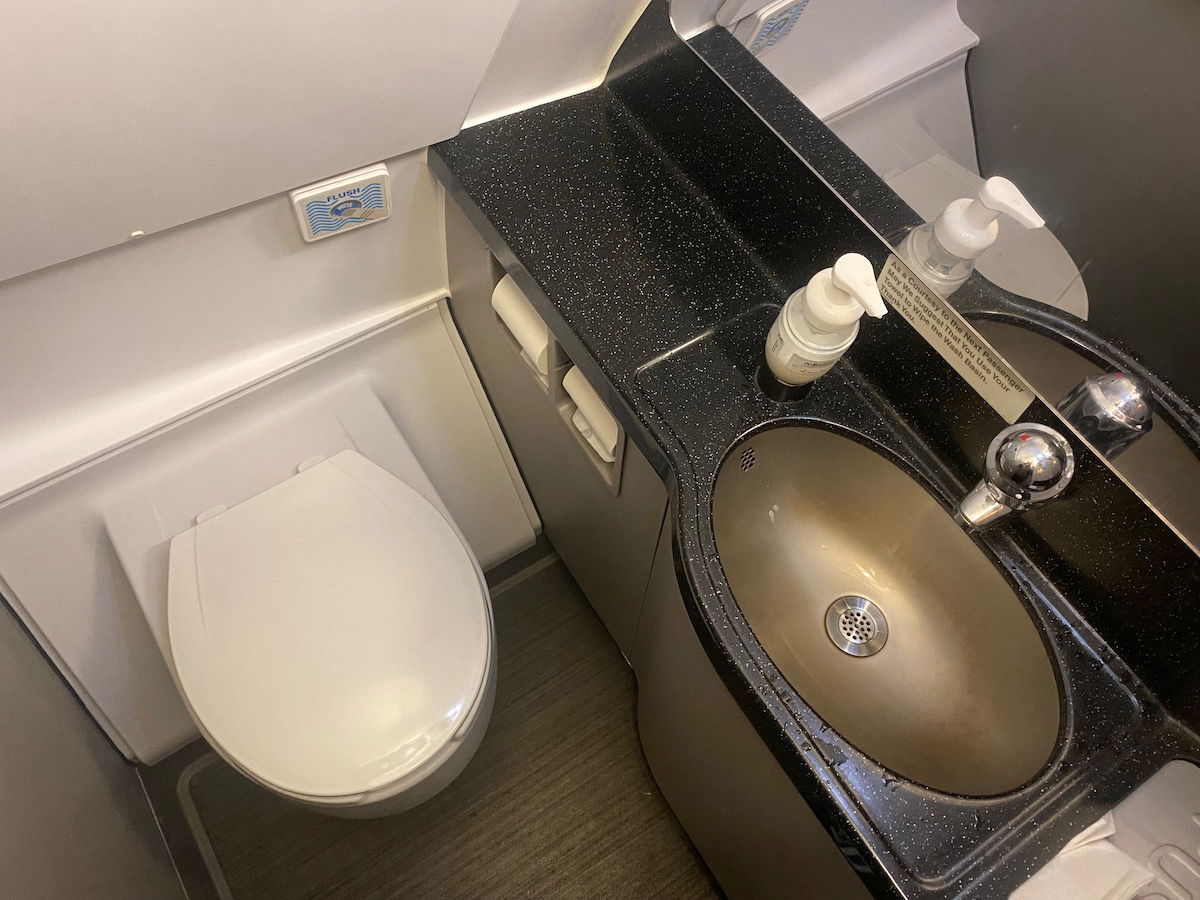 American Airlines first class amenities
There's not much to speak of when it comes to amenities. There weren't even pillows and blankets on this transcon flight. The only "exciting" amenity was pre-departure drinks, which just recently returned, and haven't otherwise been available during the pandemic. The flight attendant on this flight offered pre-departure drinks of choice, and we both just had water.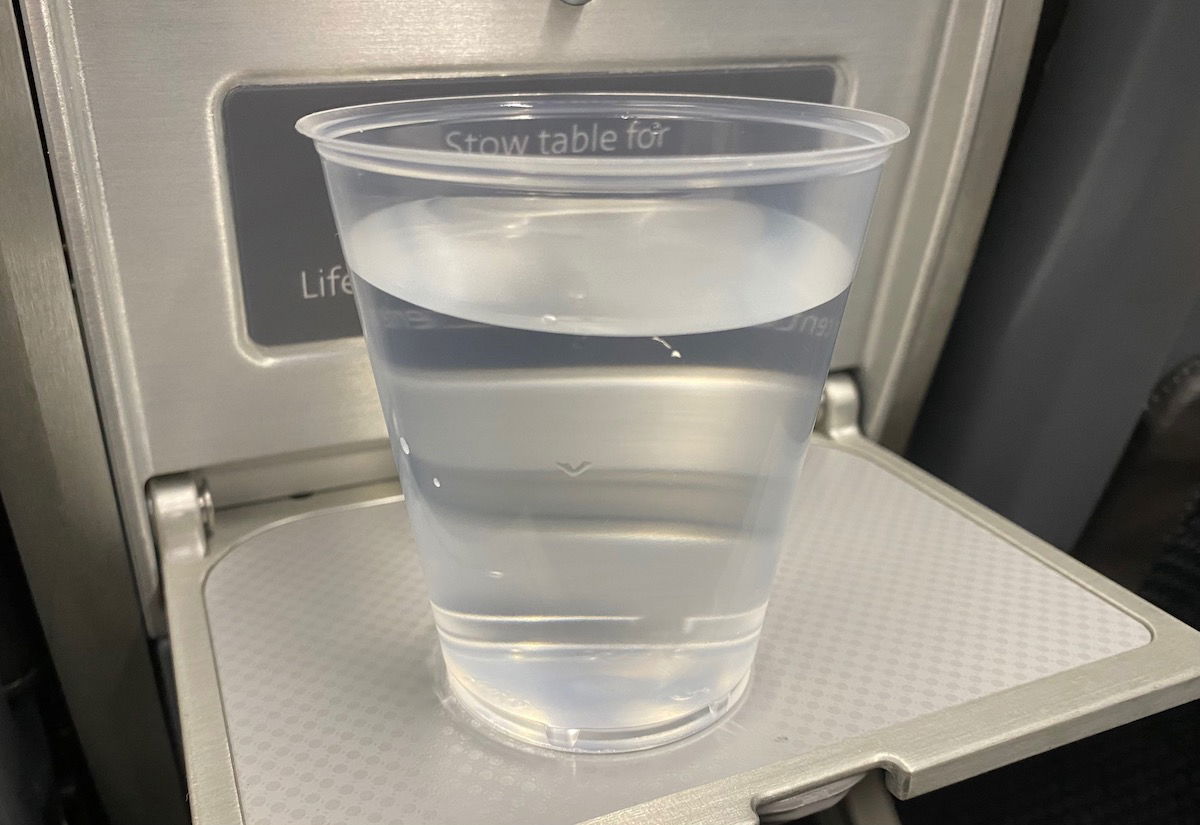 American Airlines departure from Tampa
The boarding process was efficient, as there were only 88 passengers on the flight (including all 20 first class seats being occupied), meaning the flight was ~45% full. At 8:25PM the main cabin door closed. The captain informed us that we'd have a flight time of 4hr56min, and should arrive at LAX ahead of schedule.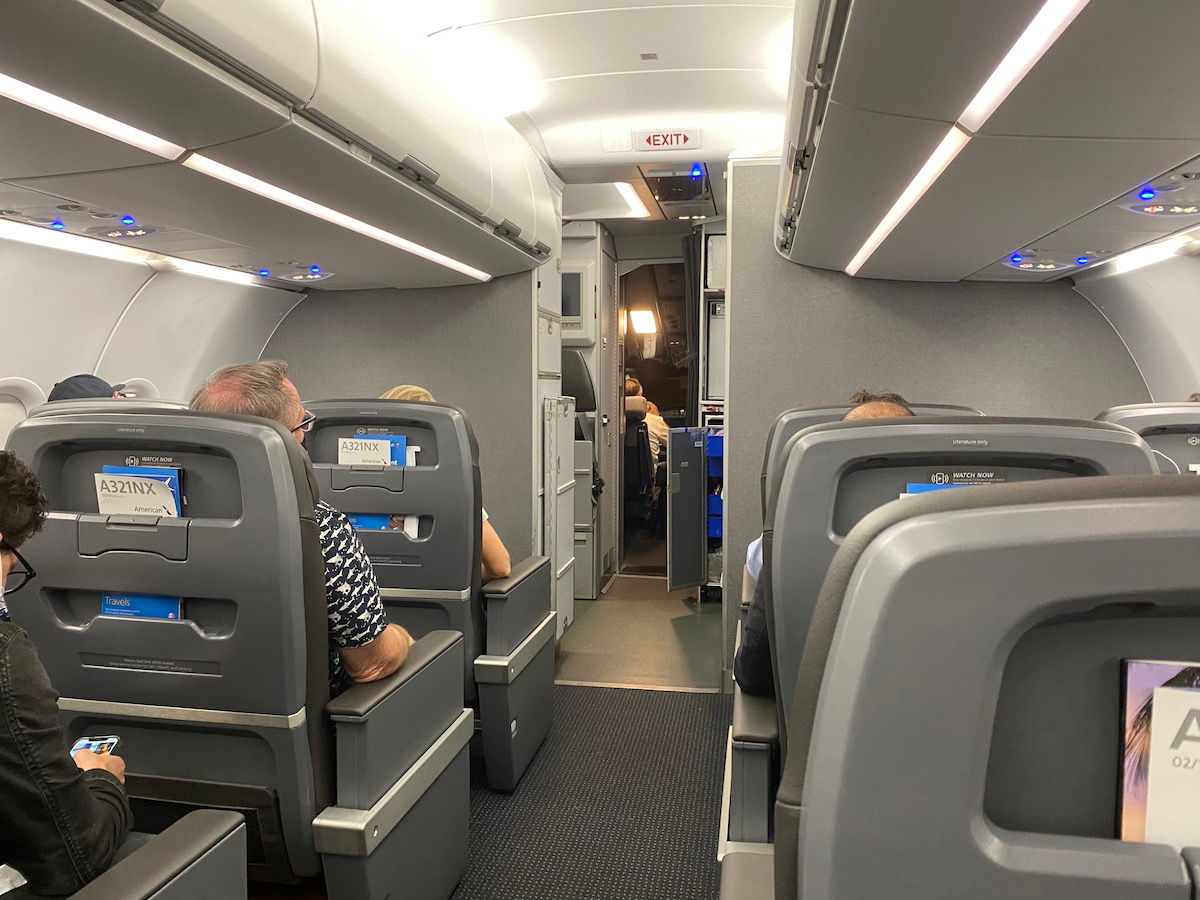 We ended up pushing back at 8:30PM, at which point the safety demo was performed. Since American doesn't have TVs on A321neos, there was a pre-recorded audio track, and then flight attendants were in the aisle to manually perform the safety demo.
By 8:40PM we were cleared for takeoff, and had a pretty smooth climb out. The seatbelt sign was turned off about 20 minutes after takeoff.
American Airlines first class entertainment & Wi-Fi
Let's start with the positive of American's inflight entertainment. American's A321neos have Viasat Wi-Fi, which is the best in the industry. It's available starting on the ground, and there are no data caps when you purchase a plan.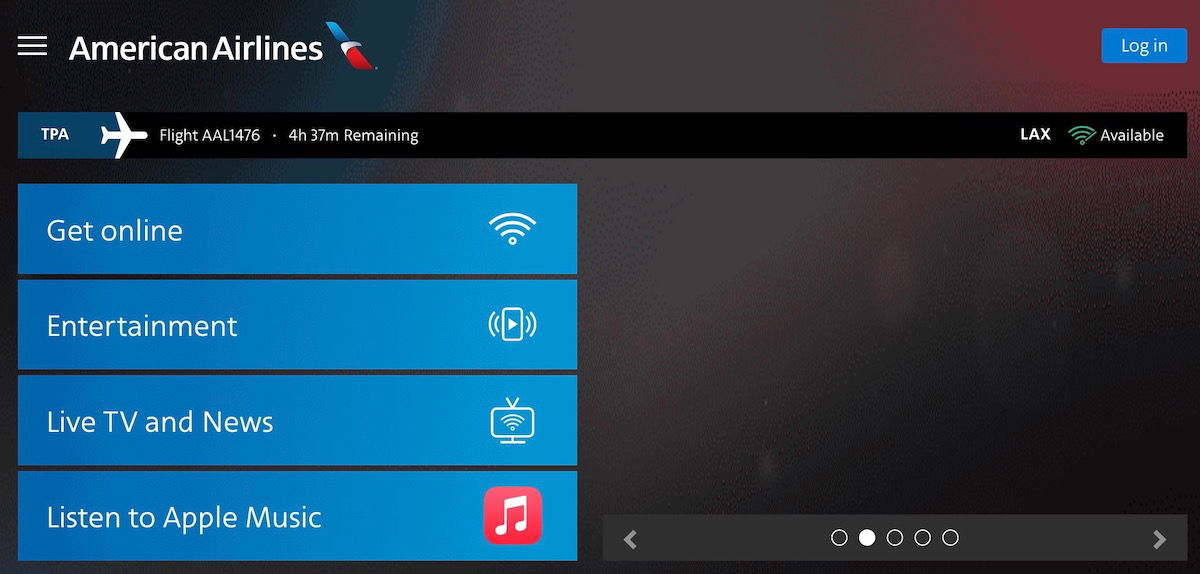 On this flight you could buy a one hour pass for $19, or a full flight pass for $25. That seems like odd pricing. Fortunately I have an unlimited monthly Wi-Fi plan, so I don't have to pay on a per-flight basis.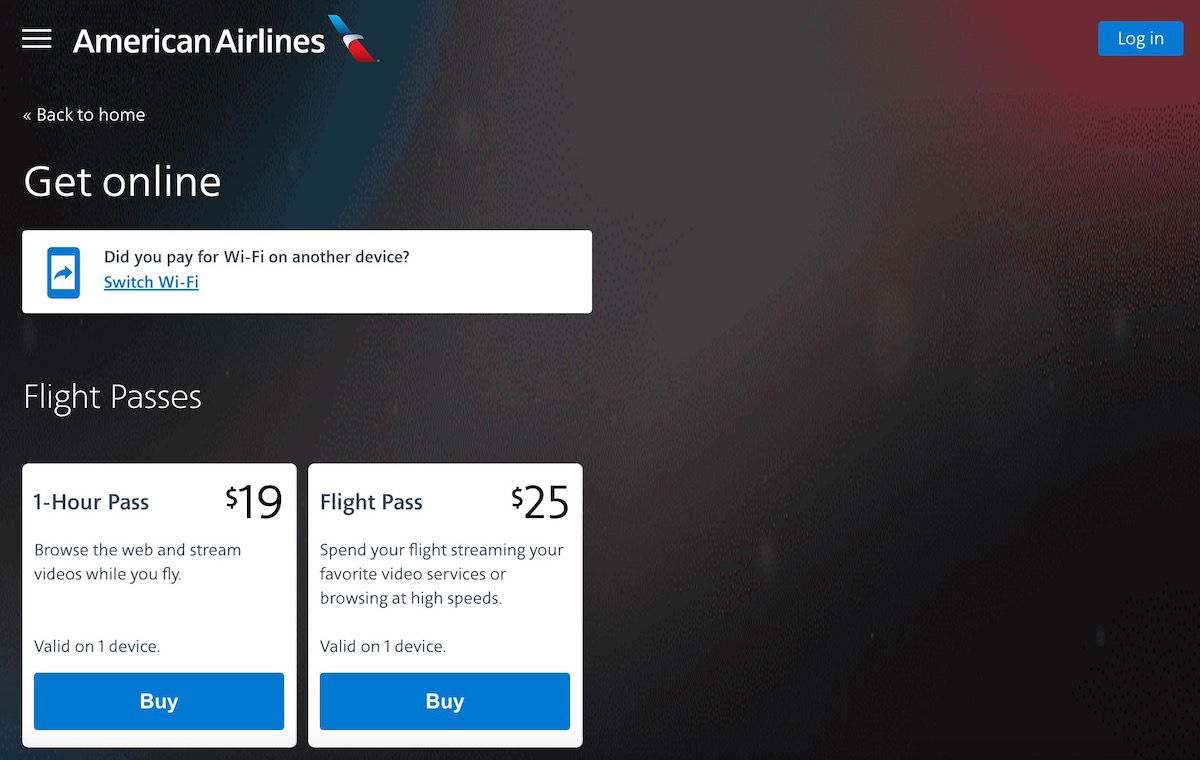 American's A321neos don't have personal televisions, but there is streaming entertainment available through your own device. I can't say that I've ever used this, but it's there.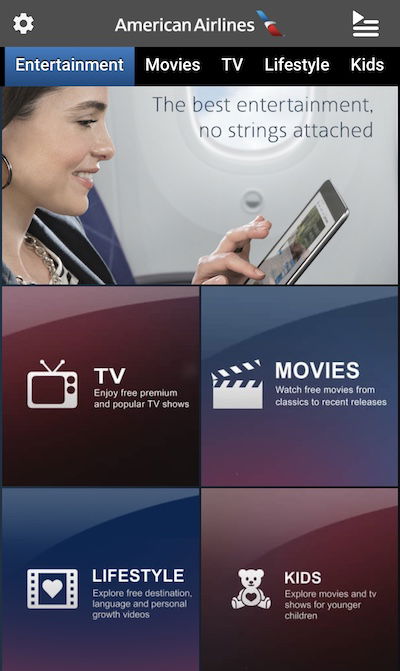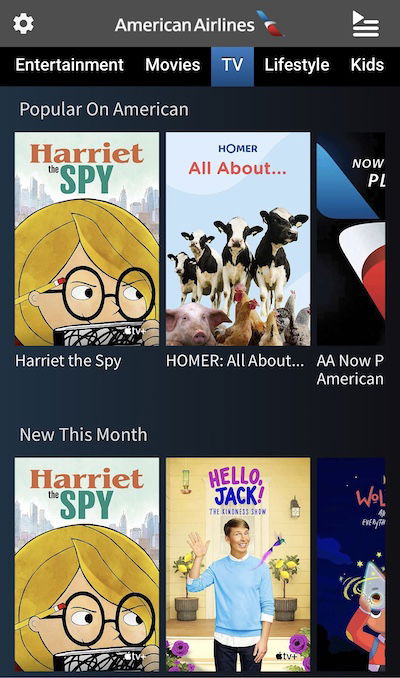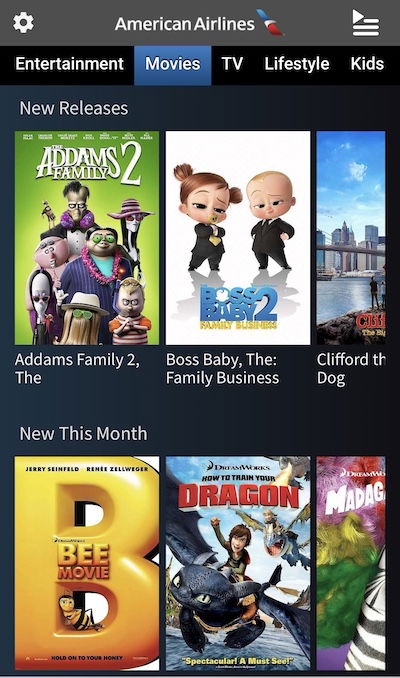 Instead I got caught up on some shows I had downloaded onto my iPad, including "90 Day Fiance: Before the 90 Days." This season is something else… I'm not sure who is the worst.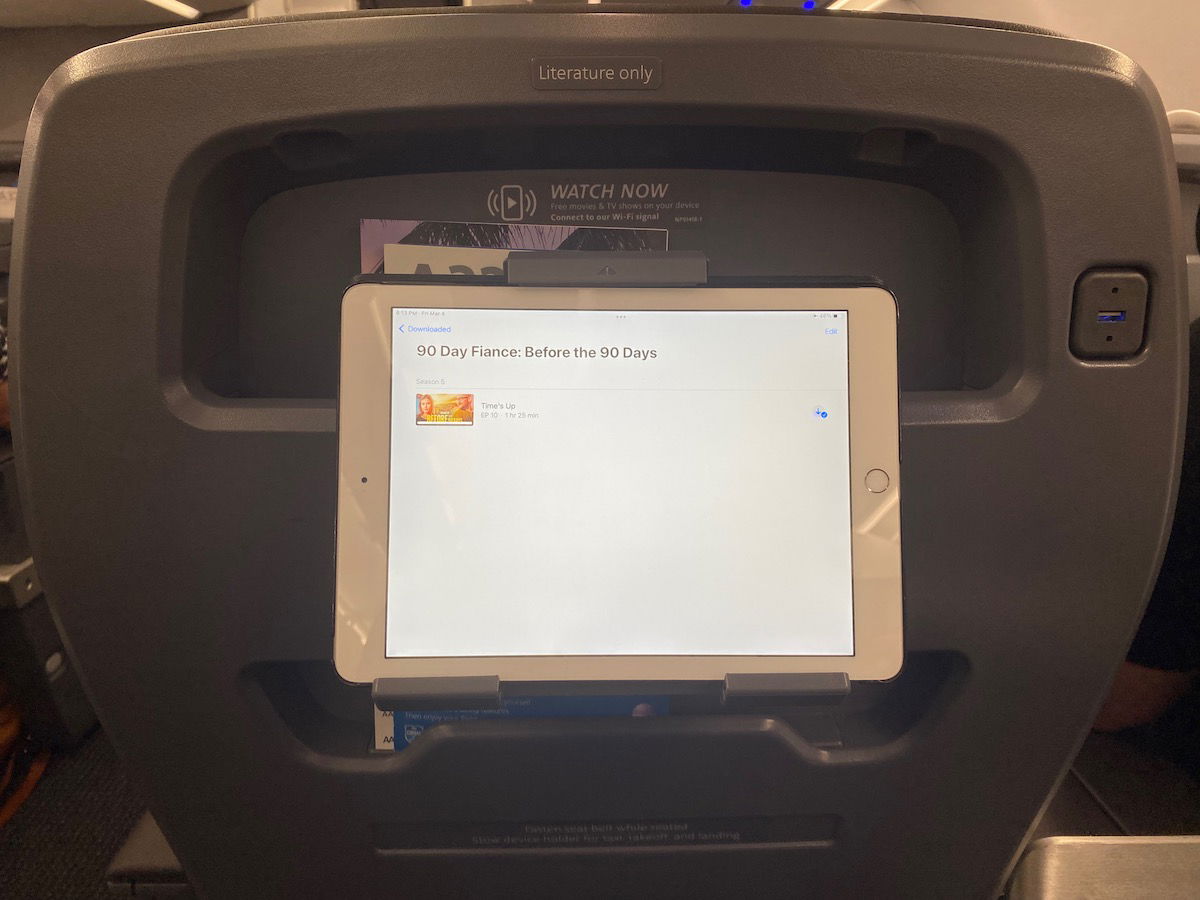 American Airlines first class meal
American Airlines recently brought back full meal service in first class, so I was looking forward to checking that out. First of all, I was impressed that a proper dinner was actually served in first class. Didn't American used to have an 8PM cutoff for dinner service? So getting one on a flight departing after 8:30PM was a pleasant surprise.
Meal and drink orders were taken roughly 30 minutes after takeoff. To eat, the choices were described as chicken piccata with cauliflower mash or cacio e pepe pasta with a smoky red sauce and vegetables.
To drink I decided to order a Diet Coke with vodka. I don't usually drink on domestic flights (I make exceptions for SkyClub Dom Perignon), but it was a late night flight and I was hoping to get a nap in, so a drink or three helps with that. Also, everyone (including Ford) makes fun of me for ordering Diet Coke with vodka, and I just don't get it. Anyway…
That was served with warm mixed nuts, though I guess ramekins weren't loaded, because the nuts were served in plastic cups. I was happy to see the return of mixed nuts at last, even if the presentation left a bit to be desired.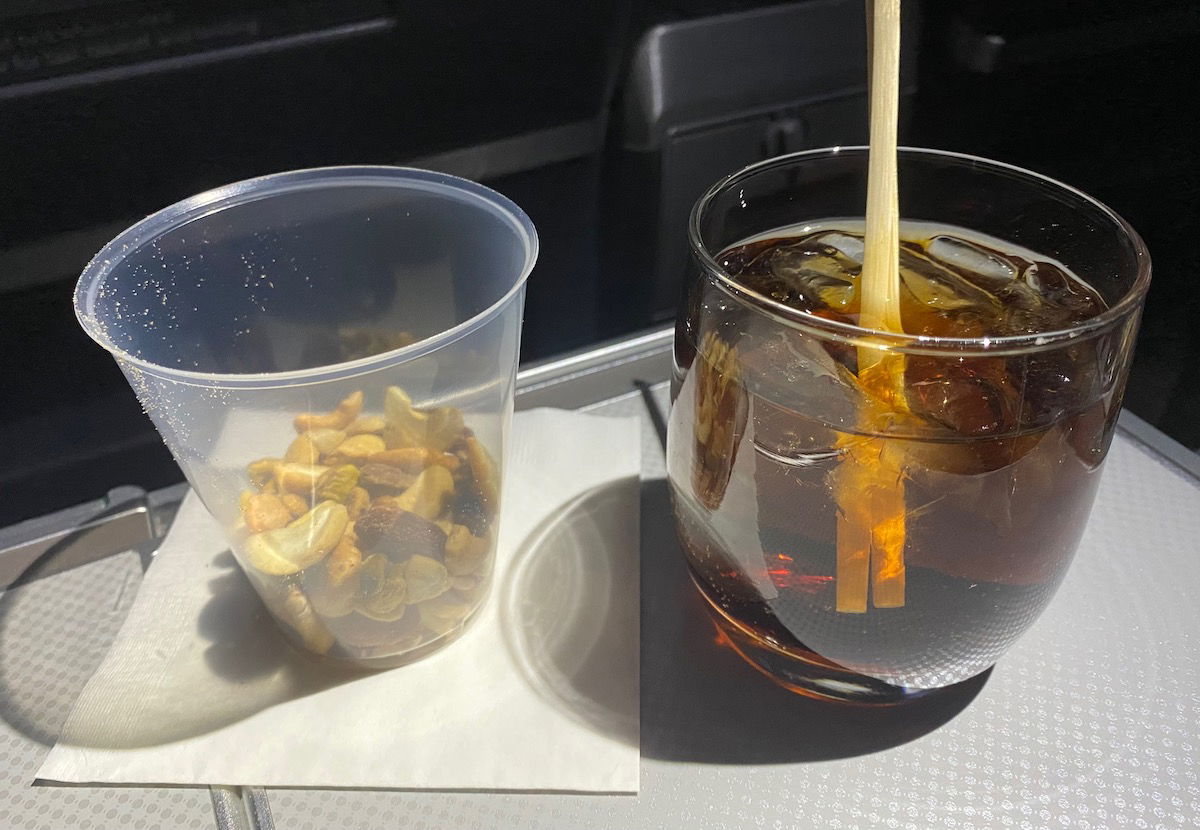 Much to my surprise, the food was decent. I had the pasta dish, and the pasta was pretty good, and had a bit of a kick to it. It wasn't grossly cheesy, and even had some grated parmesan on top. The main course was served with a side salad, plus an appetizer consisting of zucchini and other veggies with some sort of a French dressing-esque sauce.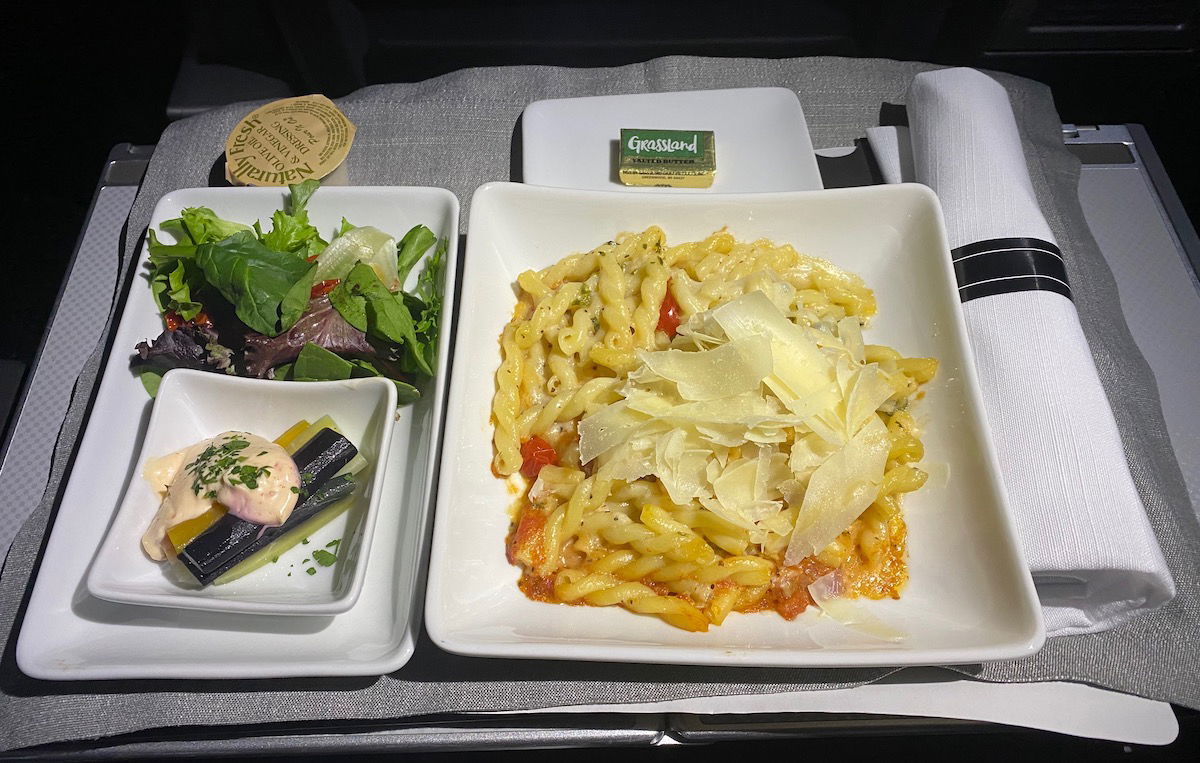 Ford's chicken was served with a side salad and an appetizer consisting of shrimp.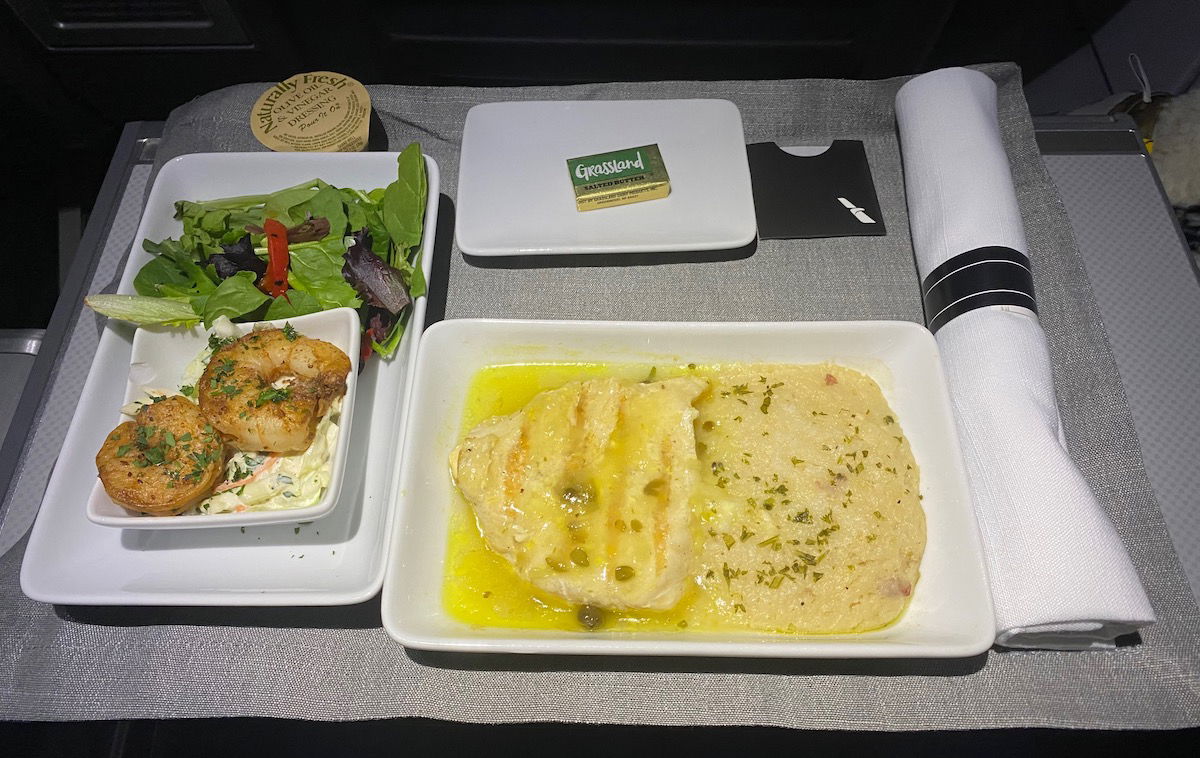 A selection of bread was also offered, including the choice of sourdough, multi-grain, or french.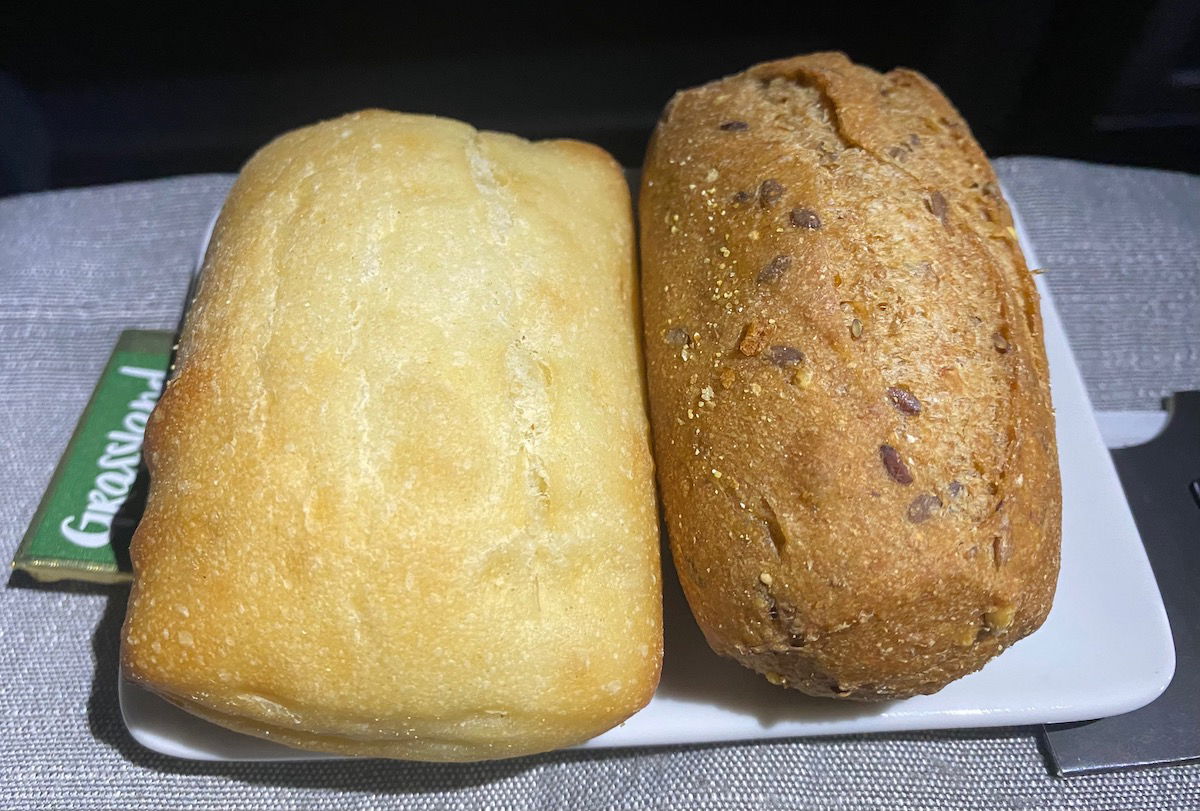 Once trays were cleared, the choice of either ice cream or fruit & cheese was offered. The ice cream was a small cup of dulce de leche Haagen-Dazs, while the cheese plate had two types of cheese, grapes, and packaged sourdough flatbread.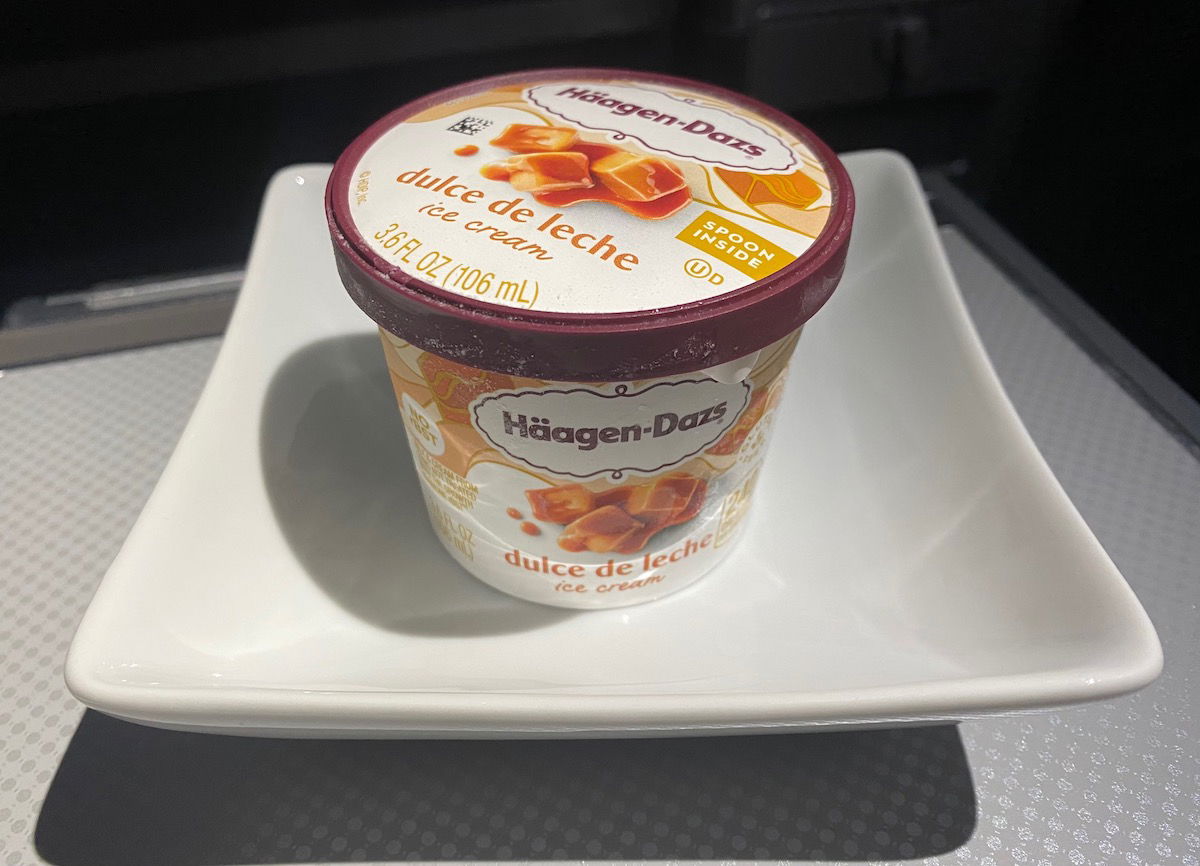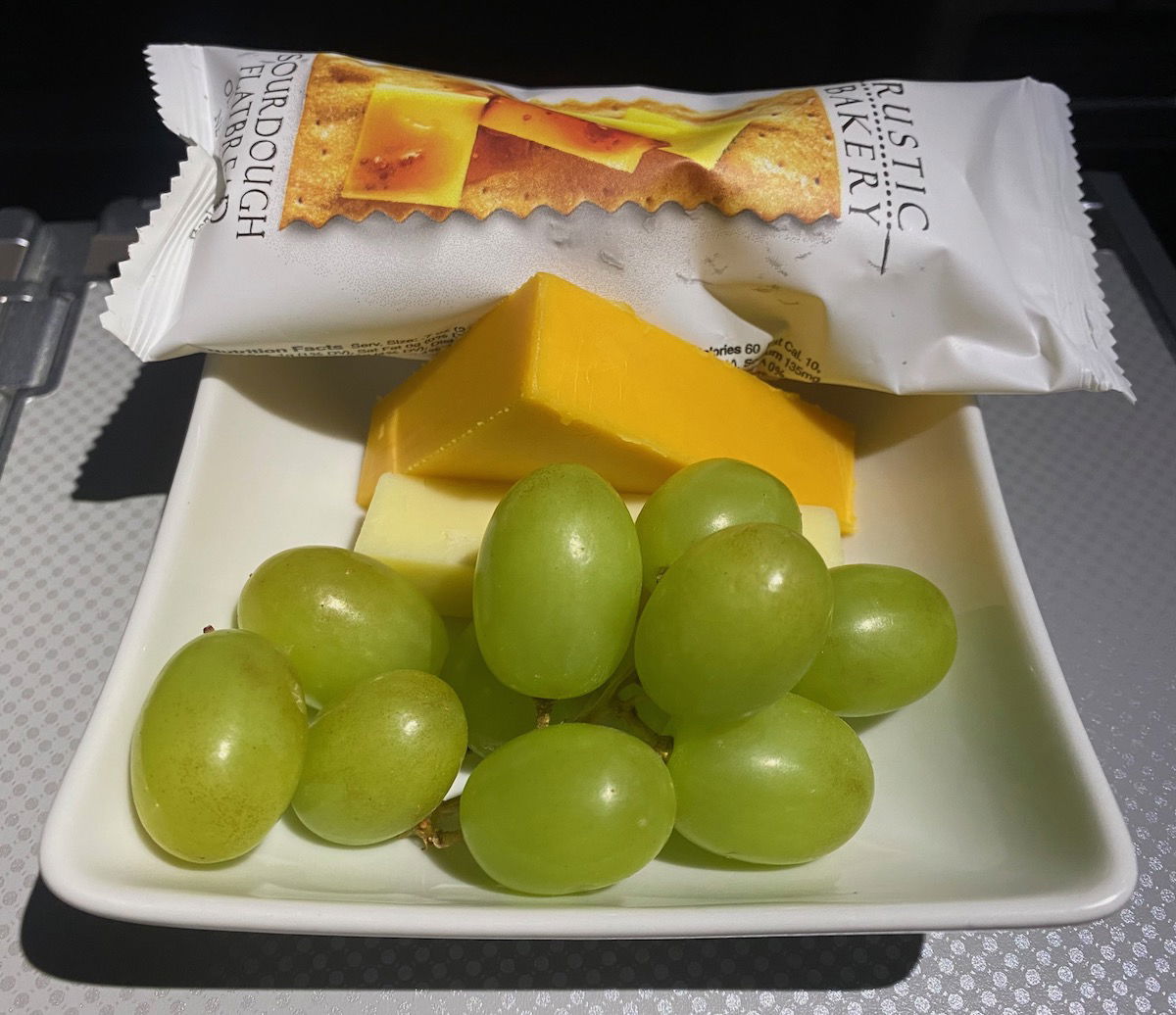 This was a pretty good meal, and infinitely better than the "turkey" sandwich that I feel like I've been offered on American for the past year.
American Airlines first class service
The crew working this flight seemed to be pretty junior, and the flight attendant working in first class was lovely. She was attentive, constantly provided drink refills, and was just generally friendly. If only service were always this good on American.
OMG, the crowd on this flight…
I almost always take early morning flights, because I'm a morning person. The departure time of this flight is ideally when I'm usually in bed. So it's rare that I take a late night flight, much less a late night flight on a Friday.
But my gosh, I can't even begin to describe how many drinks people on this flight were having, and frankly I'm shocked they didn't run out of alcohol. Almost everyone was just out-of-their-mind wasted. Nobody was behaving poorly, or anything, but so many people were just hilariously drunk.
The guy seated behind Ford must have ordered five scotch doubles in the first half of the flight. The guy behind me kept trying to order tequila, only to be told that they don't have tequila. But literally two minutes after being told there was no tequila he'd ask about tequila again. Also, I don't know how often the guy dropped his phone during the flight, but it was like clockwork. In fairness, he was wasted when he boarded the flight, because he was seated next to us in the Priority Pass restaurant drinking… you guessed it, tequila.
And then there was the guy in front of me who kept quizzing flight attendants over the most random things. And I'm not just talking about asking something once, but badgering. For example, on approach he urgently stopped a flight attendant to ask why they dim the lights for landing. That's a fair question on the surface, but he didn't just ask once, but repeatedly.
"Excuse me, can you tell me why they just turned off the lights for the first time?"
"It just comes down to the flight attendant's preference."
"Well yeah, but why do they do it?"
"It's just if the flight attendant wants to."
"But why haven't the lights been dimmed until now, though? I just don't understand."
This conversation must have gone on for a full minute, with him just asking the same questions over and over. Ironically the flight attendant didn't even seem to know the correct answer — it's not even flight attendant preference, it's just standard to dim lights for a nighttime landing so that it's easier to see outside.
And by the way, I'm not in any way judging peoples' alcohol consumption, it's just not something I've seen often on the flights I usually take. And for that matter I had a few drinks as well, and slept gloriously for the last three hours of the flight (though hopefully otherwise didn't act like a fool), which almost never happens for me if I don't have a bed.
We ended up arriving at LAX well ahead of schedule at 10:35PM, at gate 46B. From there it was off to the Hyatt Regency LAX for the night.
Bottom line
I've gotta say, this was a pretty good American Airlines first class flight. My upgrade cleared, it was nice to see the return of pre-pandemic meal service and pre-departure drinks, and the flight attendant working the cabin was friendly.
Of course American's domestic configurations aren't exactly great, given the lack of TVs, and lack of amenities. However, at least American has high speed Viasat Wi-Fi, which I find to be excellent. If all my American flights were this good I'd be a very happy camper.
If you've flown American's A321neo first class, what was your experience like?