In the interest of full disclosure, OMAAT earns a referral bonus for anyone that's approved through some of the below links. Citi is an advertising partner of OMAAT. These are the best publicly available offers (terms apply) that we have found for each product or service. Opinions expressed here are the author's alone, not those of the bank, credit card issuer, airline, hotel chain, or product manufacturer/service provider, and have not been reviewed, approved or otherwise endorsed by any of these entities. Please check out
our advertiser policy
for further details about our partners, and thanks for your support!
After flying from Tampa to Los Angeles in American's A321neo first class, and then spending the night at the Hyatt Regency LAX, it was time to fly from Los Angeles to Honolulu the following morning. Since this flight was also on the American Airlines A321neo in first class, I don't think it makes sense to do a full review of the flight, since it'll be very similar to the review I just published.
Rather I'll just focus on some of my key takeaways from this flight, which departed LAX at 8:15AM, and got to Honolulu at 12:22PM.
The American Airlines LAX airport experience
It has been a couple of years since I've flown through LAX Terminal 4, and it was exactly as I remembered it. We got to the airport at around 6:30AM, and security took around five minutes to clear, so that was easy.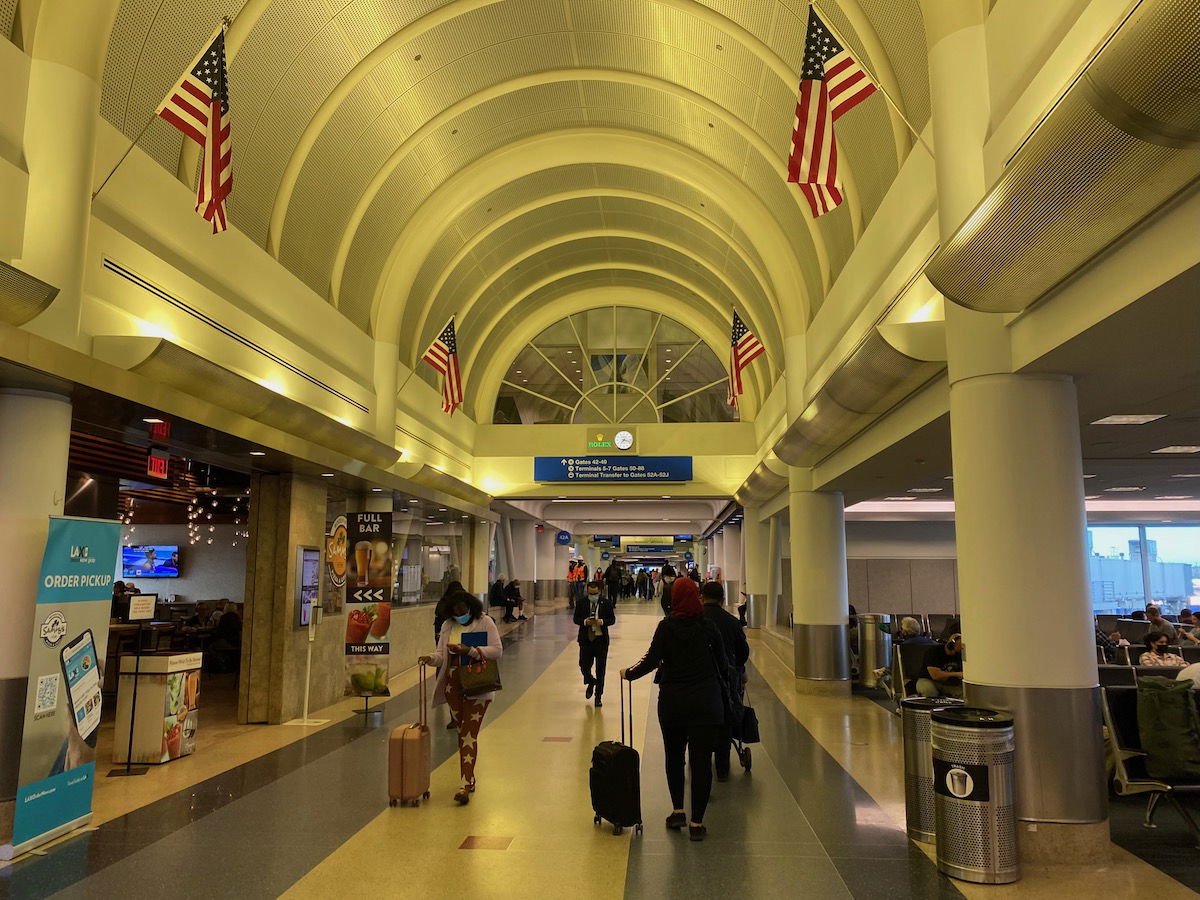 We visited the Admirals Club — access isn't included with a ticket, but I'm a member thanks to the Citi® / AAdvantage® Executive World Elite Mastercard® (review). The club was busy but not overcrowded.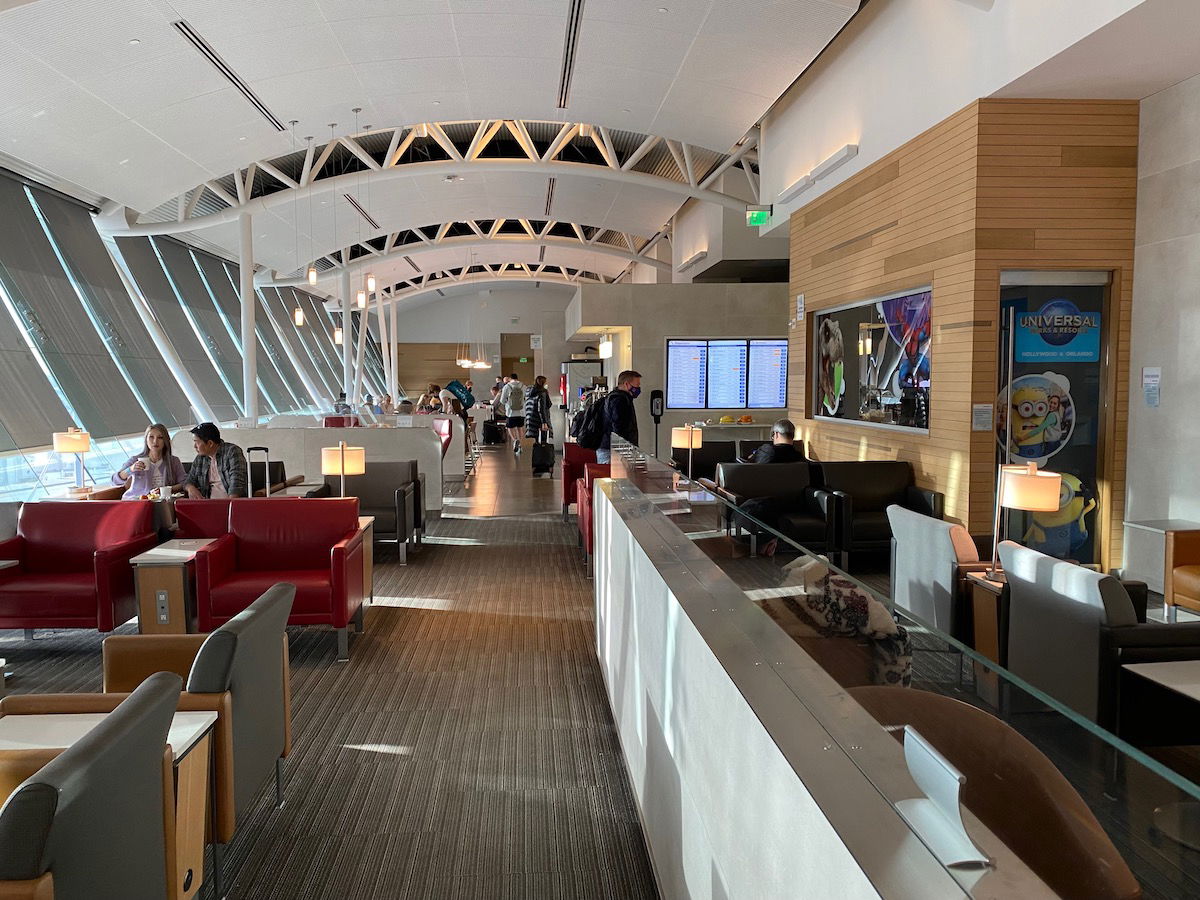 One nice thing about having access to the club is that we could get Hawaii PreClearance wristbands. While Hawaii is dropping all domestic travel requirements later this month, currently you still have to fill out a pre-travel form, and show proof of vaccination or a negative test. The Admirals Club agents were able to verify our documents and give us wristbands, allowing us to bypass any entry formalities on arrival.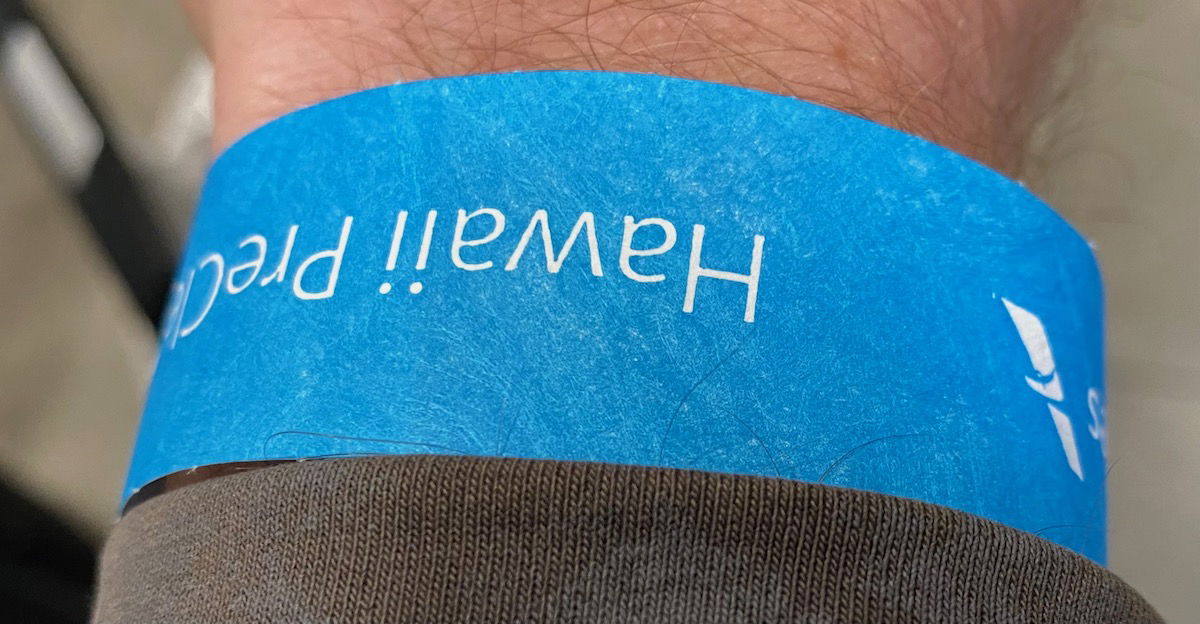 Boarding was scheduled to start at 7:30AM from gate 46B, and indeed that's exactly when it started. Funny enough, this was exactly the same gate we arrived at the evening before, as we flew the same plane all the way from Tampa to Honolulu.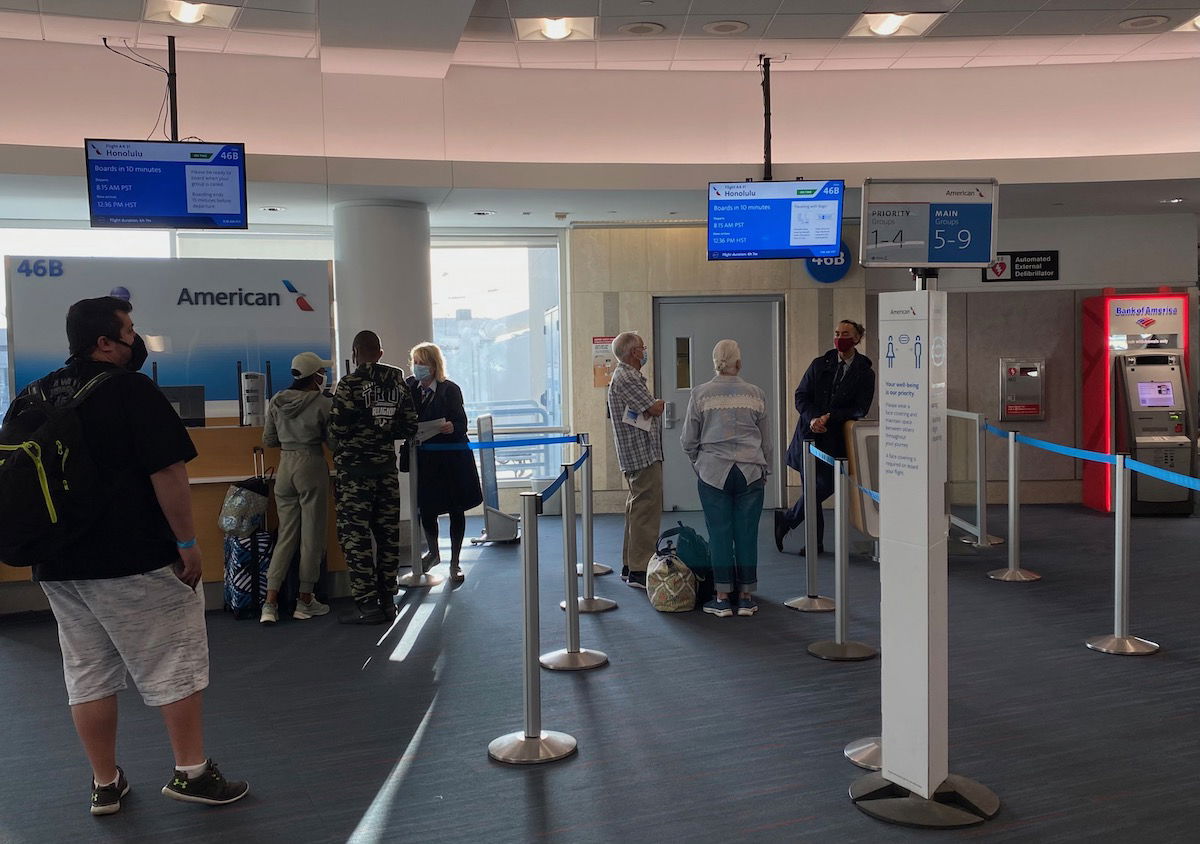 The same old American Airlines domestic first class
It's always hard to judge hard products to Hawaii, since airlines fly a combination of narrow body and wide body aircraft to the islands. Last time we flew to Hawaii on an American 777 with reverse herringbone seats, while this time we had the standard domestic configuration.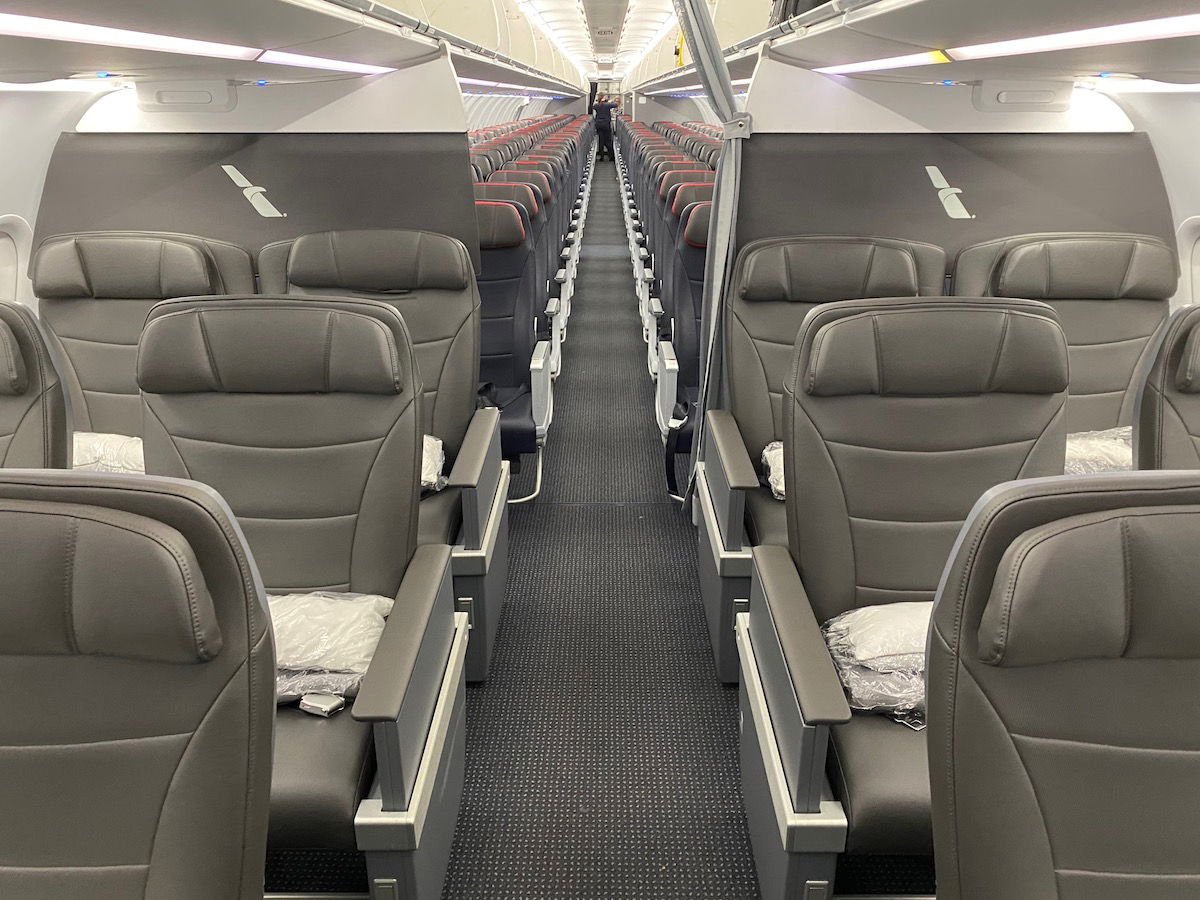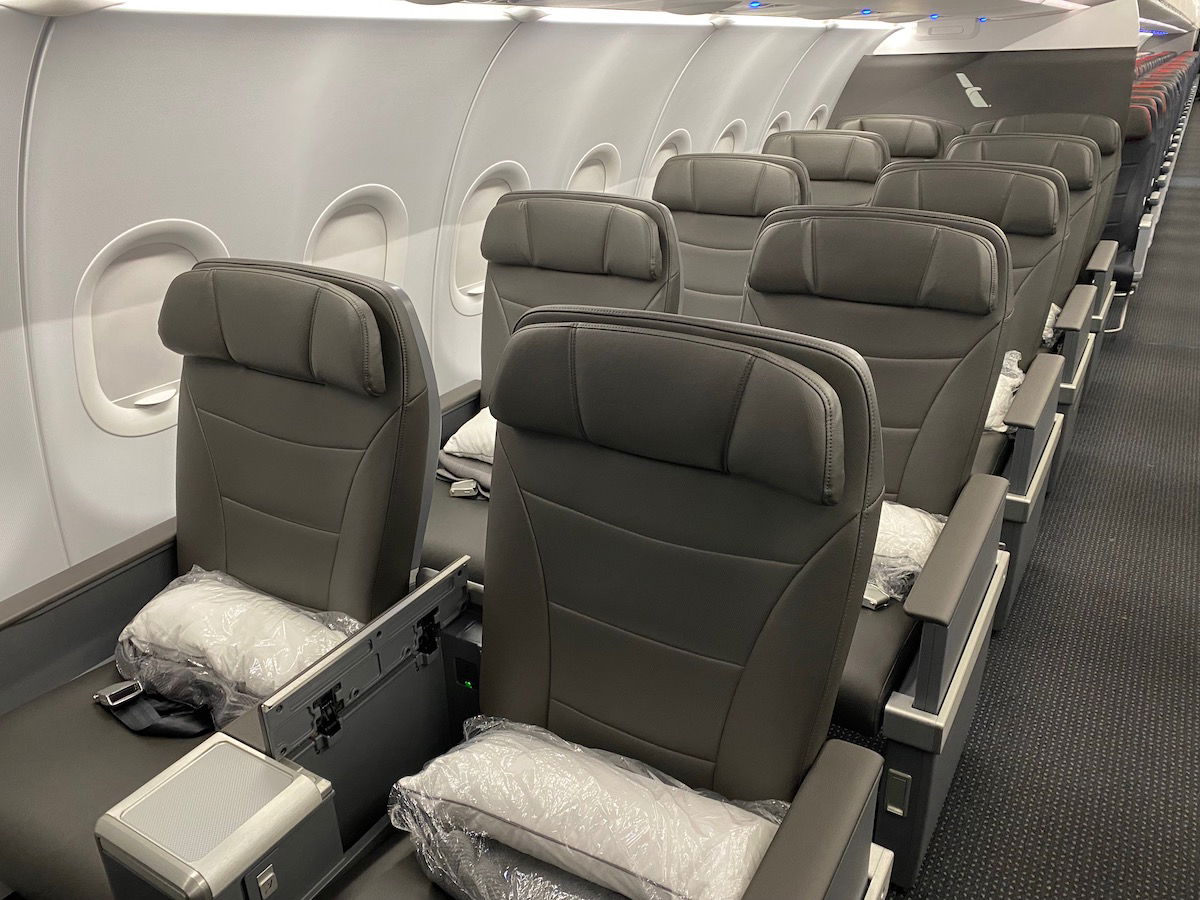 The only difference from the evening before was that there was some bedding. I believe this is the standard long haul premium economy Casper bedding, with a small pillow and a somewhat scratchy blanket. Still, it's better than nothing.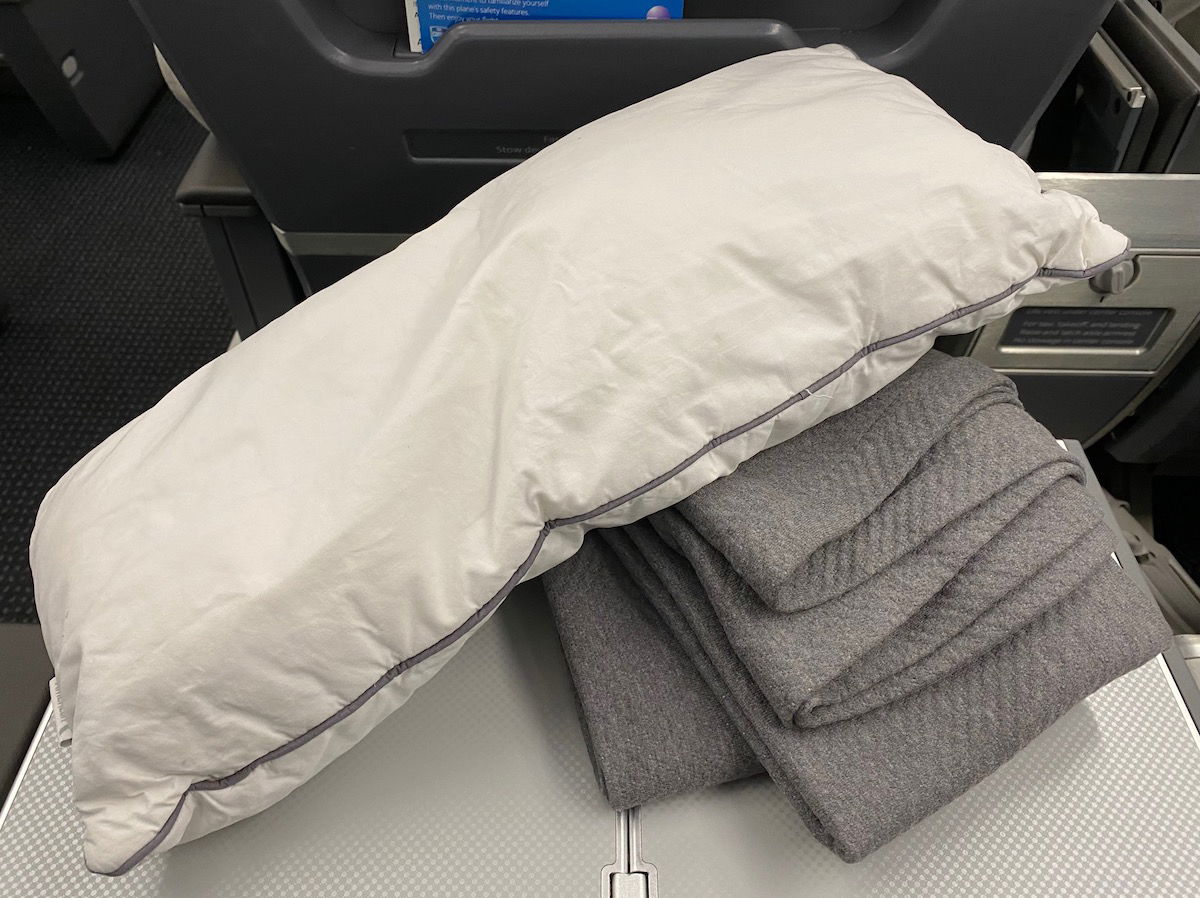 Obviously this wasn't the ideal product for a 5hr55min flight (we had very strong headwinds, so the flight was a bit longer than usual), but at least it was a daytime flight, so we were wide awake.
A fantastic American Airlines crew
Service can make such a difference in terms of the experience one has on a flight, and this crew was lovely. I felt like I won the lottery, because this was my second American Airlines flight in a row with a good crew.
A special shoutout to the male flight attendant who was working in economy (I didn't get his name), but still managed to entertain all passengers. Hawaii has travel forms that passengers have to fill out, and as usual, many people didn't bring pens with them. This is often an issue, and typically crews proactively make announcements that they don't have any extra pens.
That wasn't the case here. The flight attendant proactively got on the PA to offer passengers pens:
"If you need a pen, you're in luck. I brought my vintage hotel pen collection, so just let me know if you need one."
He provided hilarious commentary as he distributed the pens. "Ohhhh, Ramada Las Vegas, you'll love that one." He also came up during descent to thank me and one other passenger for our loyalty, which was a nice touch. Since there were only 80 people on the flight he said "next time make sure you bring some friends too, we have empty seats."
While the first class crew was great, this guy really stood out, and made the flight more memorable. Often little positive interactions like this can have such an impact on one's perception of a flight.
American Airlines first class breakfast to Hawaii
As you'd expect, breakfast was served on this flight. There were pre-departure drinks of choice, and we both had water.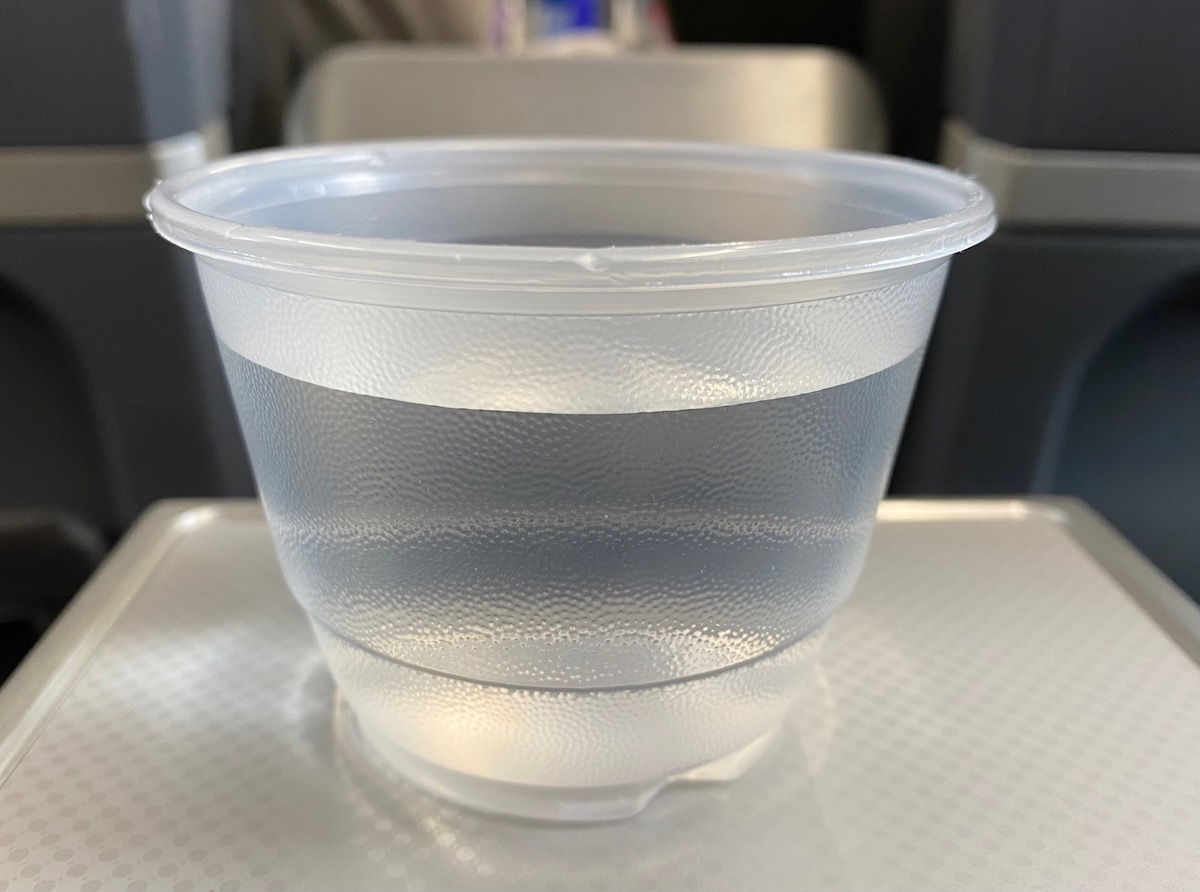 After takeoff warm towels were distributed. I think this is the first warm towel I've received on American Airlines in over two years, so that was pretty exciting?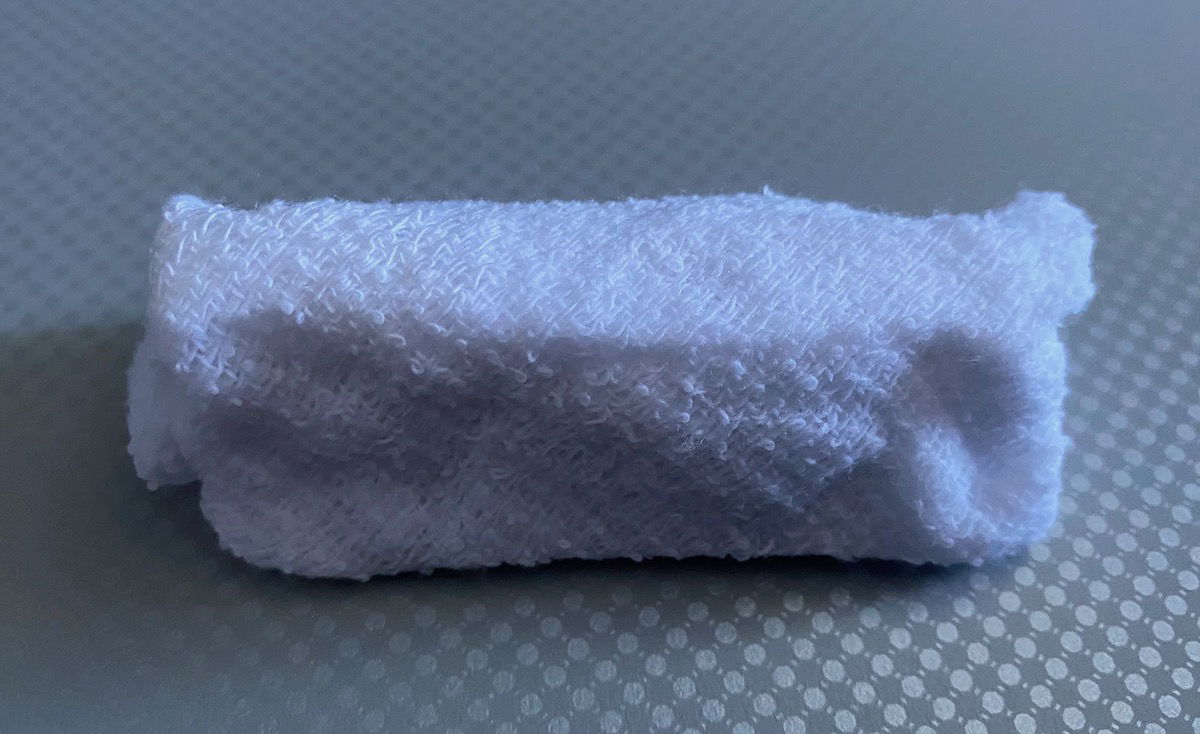 Drinks were offered next — I had water and coffee.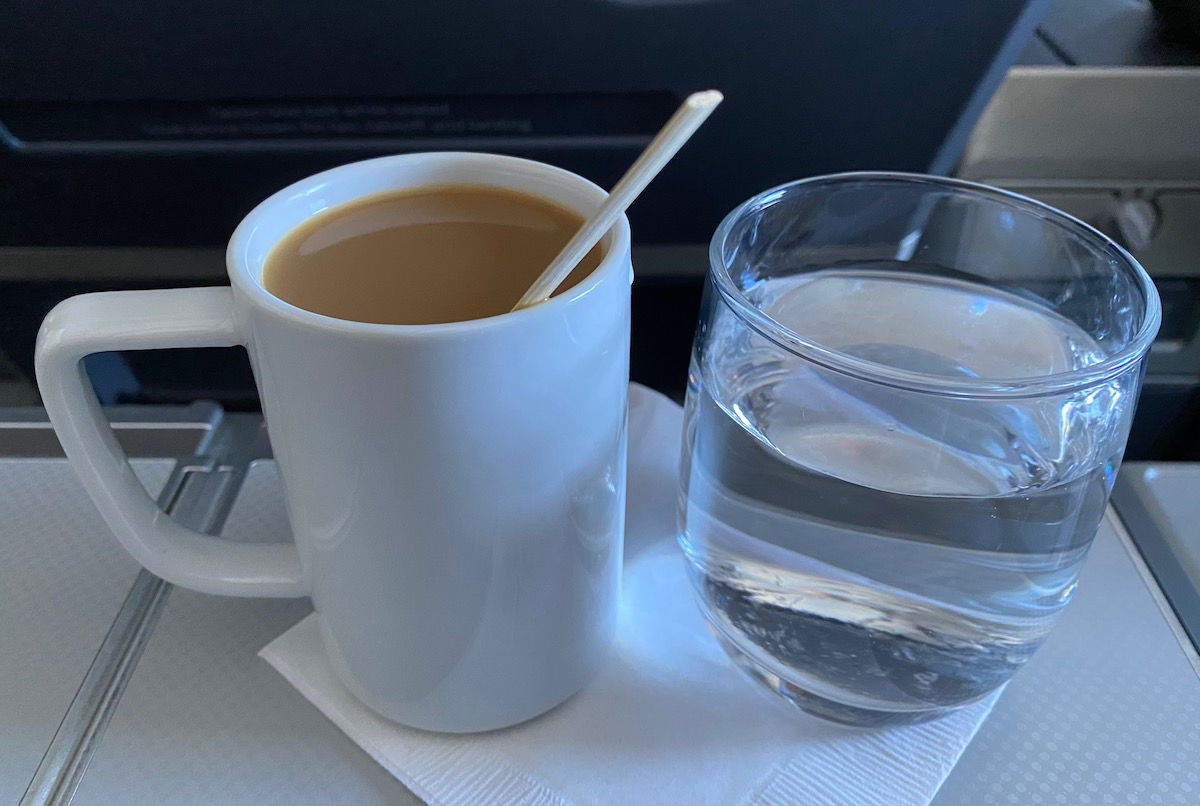 There were two breakfast options — either a fruit plate or an omelet. We selected one of each. Then there was the choice of a croissant, biscuit, or cinnamon roll.
I had the fruit plate, which consistent of melon, pineapple, strawberry, and blueberries. Then there was a side of greek yogurt, and some granola.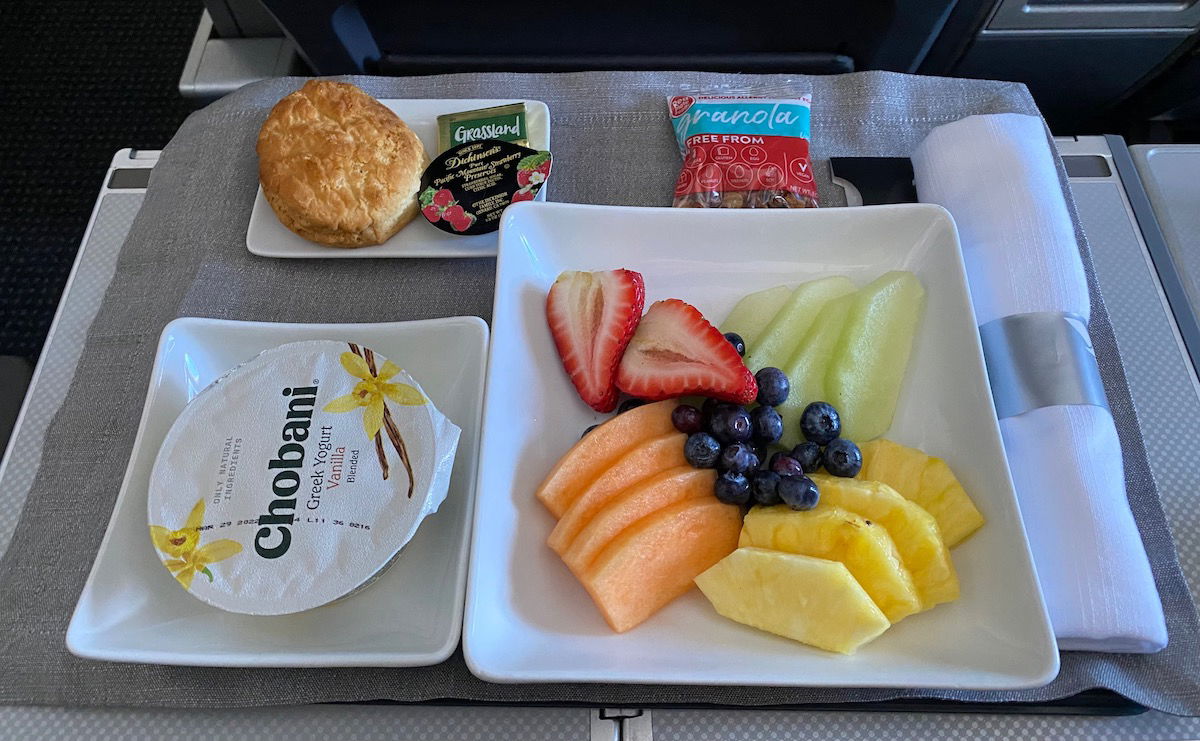 The omelet didn't exactly have great presentation, but Ford said it was otherwise pretty decent. It came with a side of greek yogurt, plus a fruit plate.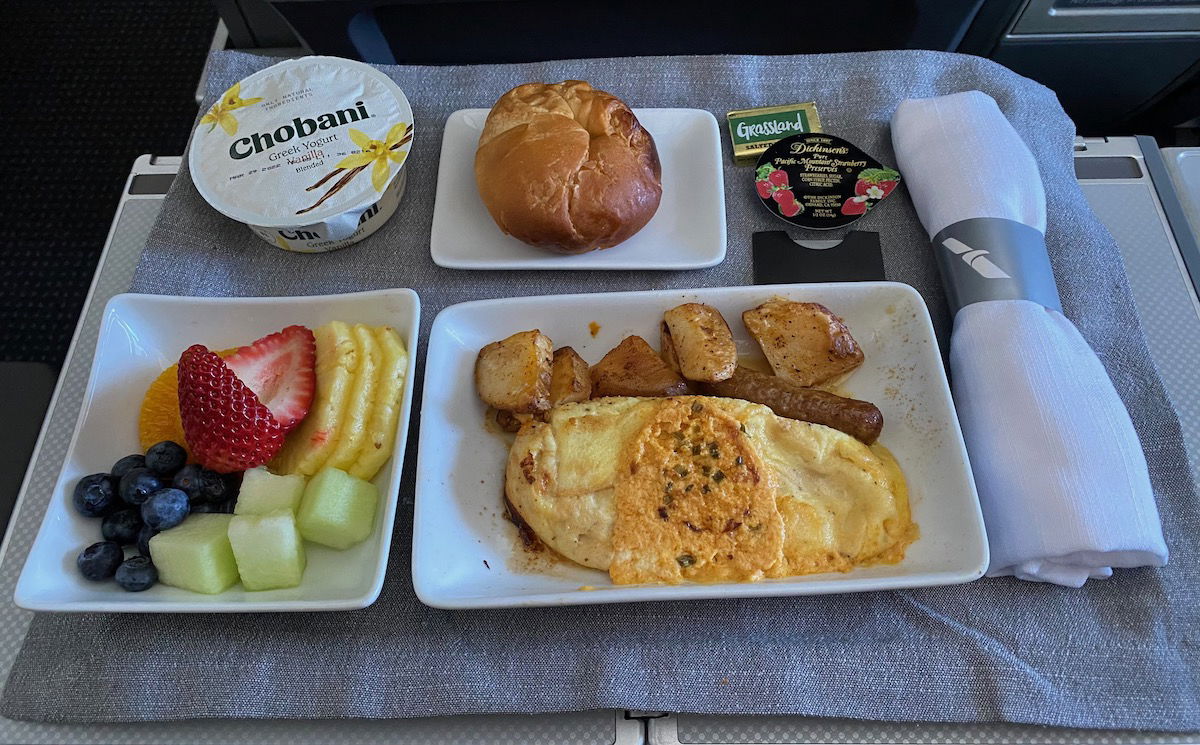 Before landing a snack basket was passed around, with a variety of snacks from brands you've probably never heard of.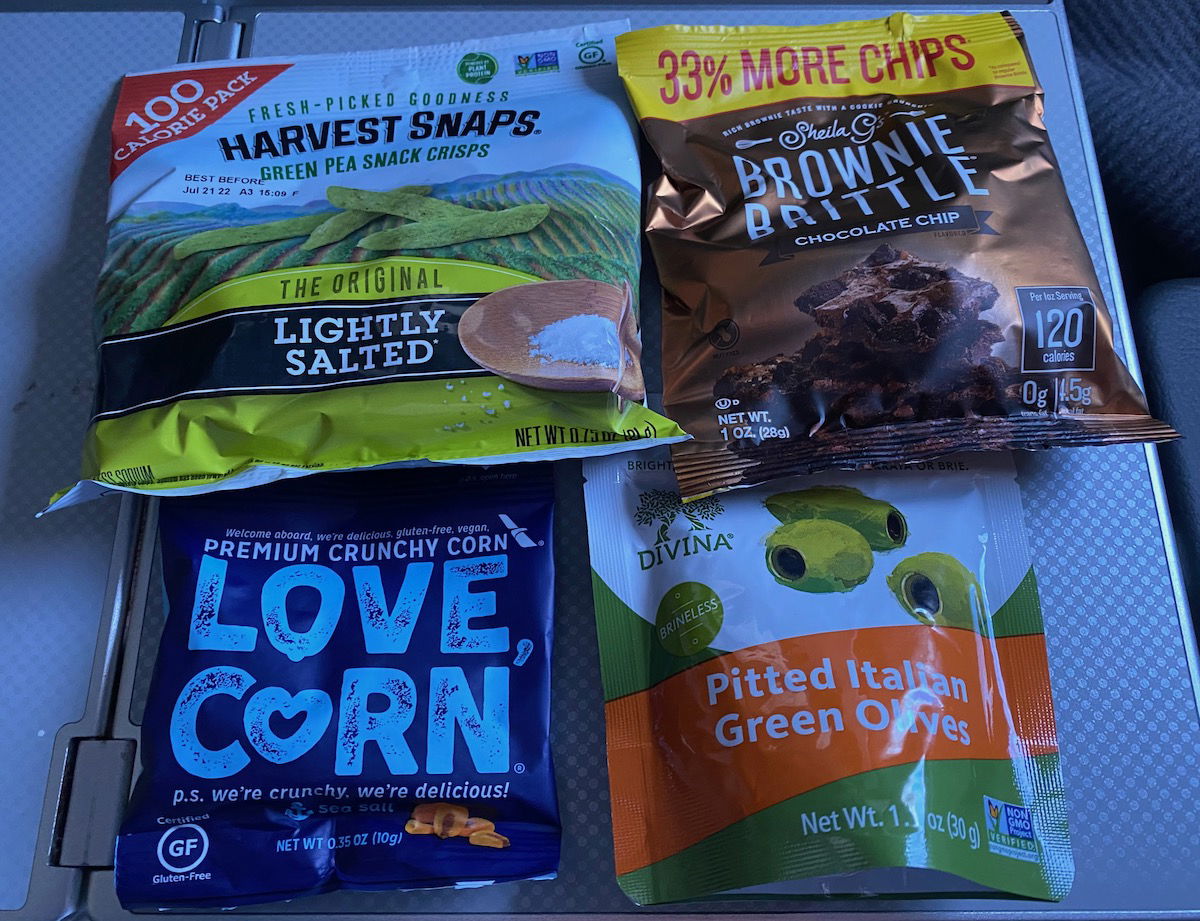 A long American Airlines flight without Wi-Fi
Usually one of the best parts of flying with American is the Viasat Wi-Fi, which is among the best in the industry. Unfortunately this doesn't work over most of the Pacific, so most of the flight didn't have Wi-Fi. Due to very strong headwinds we first flew up toward the Bay Area, before starting our Pacific crossing. So we ended up having about an hour of Wi-Fi, and usage of Wi-Fi was even free.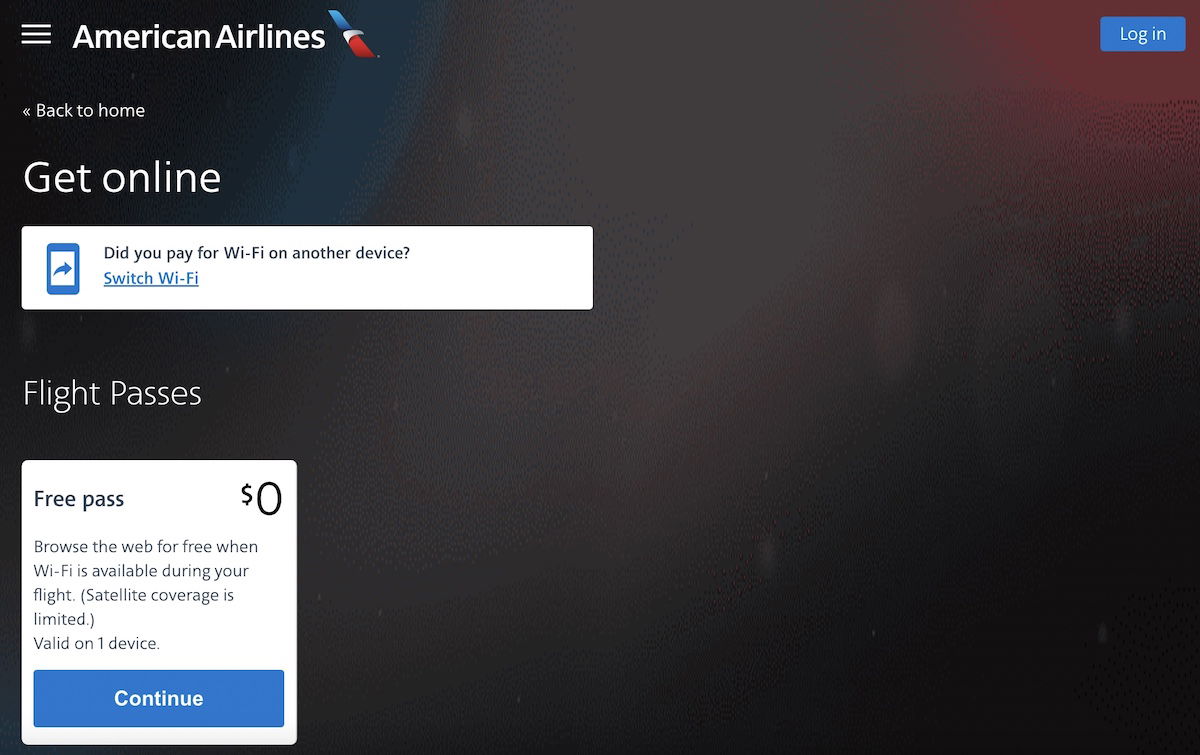 American also has streaming entertainment, though we just downloaded some of our own shows, and I did some (offline) writing for much of the flight.
Stunning views on approach to Hawaii!
When you fly from the mainland to Hawaii you're over the Pacific for around five hours, so it's exciting when you finally see land. Flying to Oahu you first pass some other islands. I think below that's Maui… or maybe Molokai?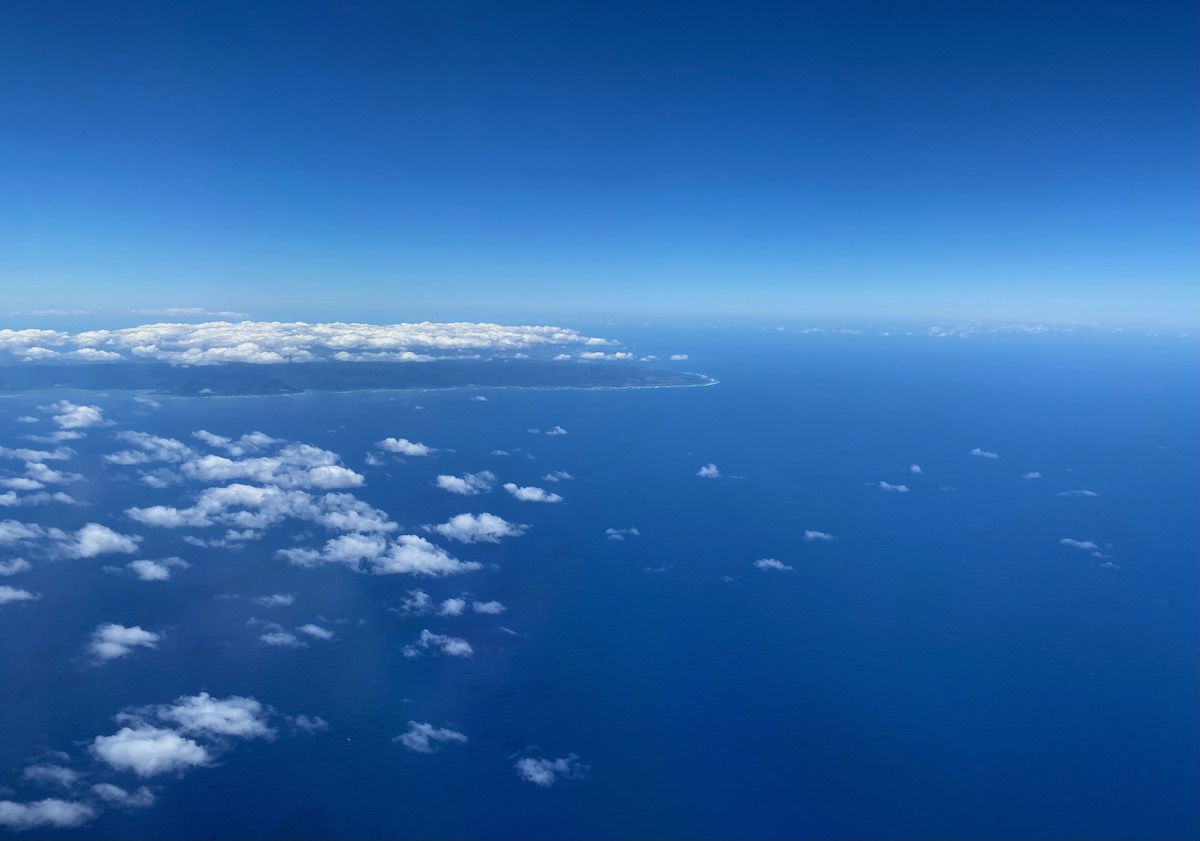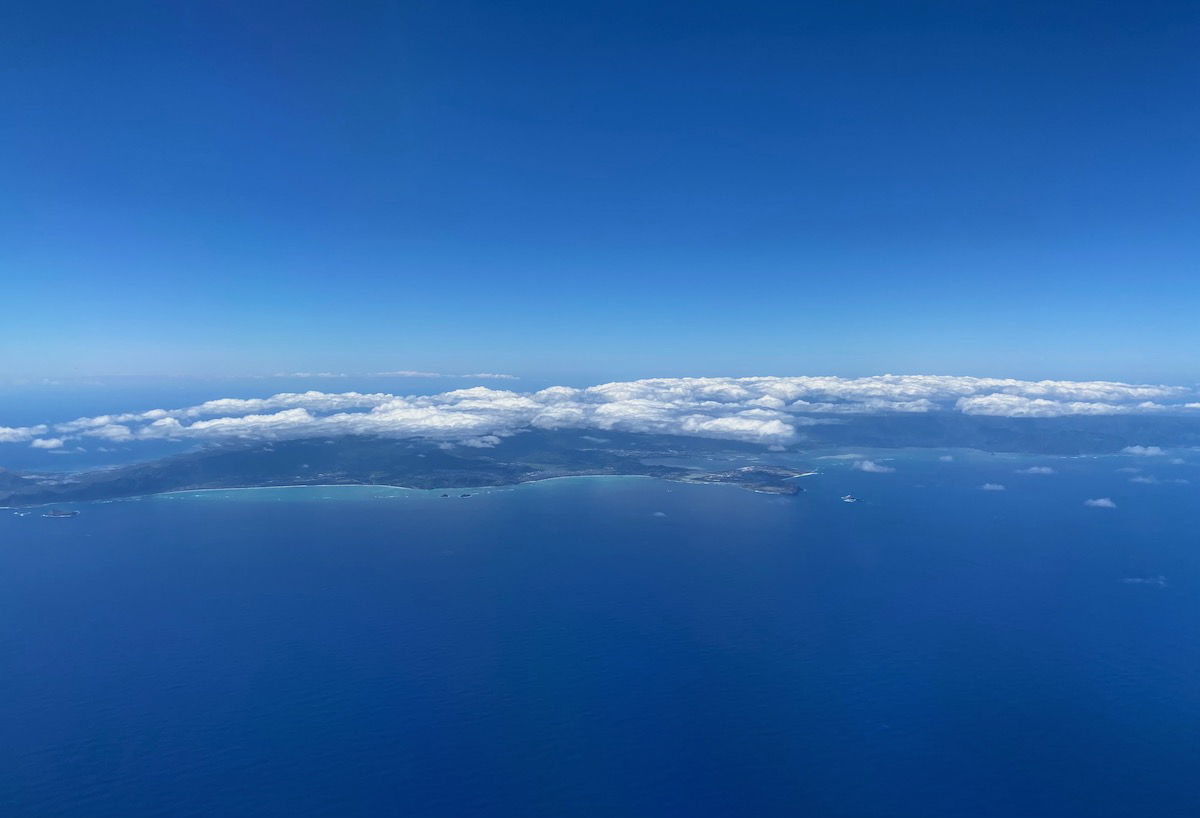 Soon enough we were over Oahu, and even flew past the airport, before turning back toward the airport.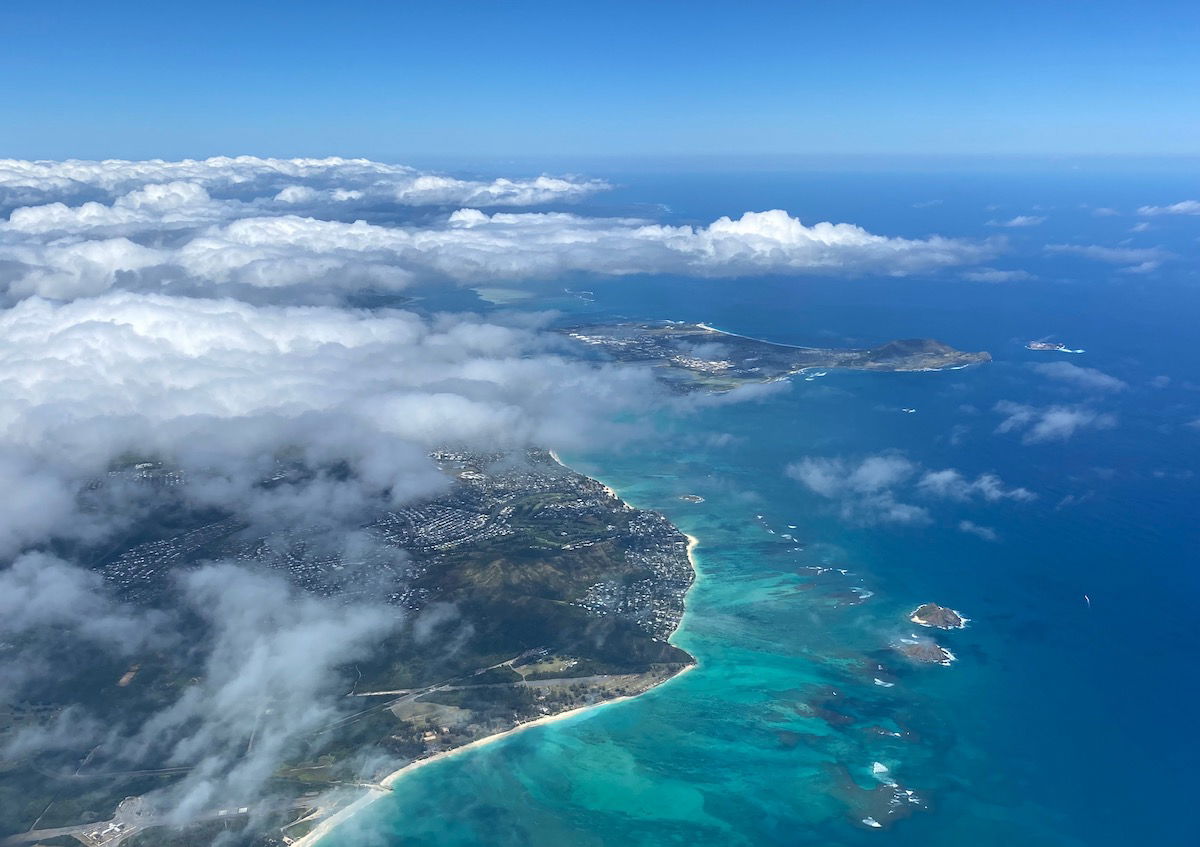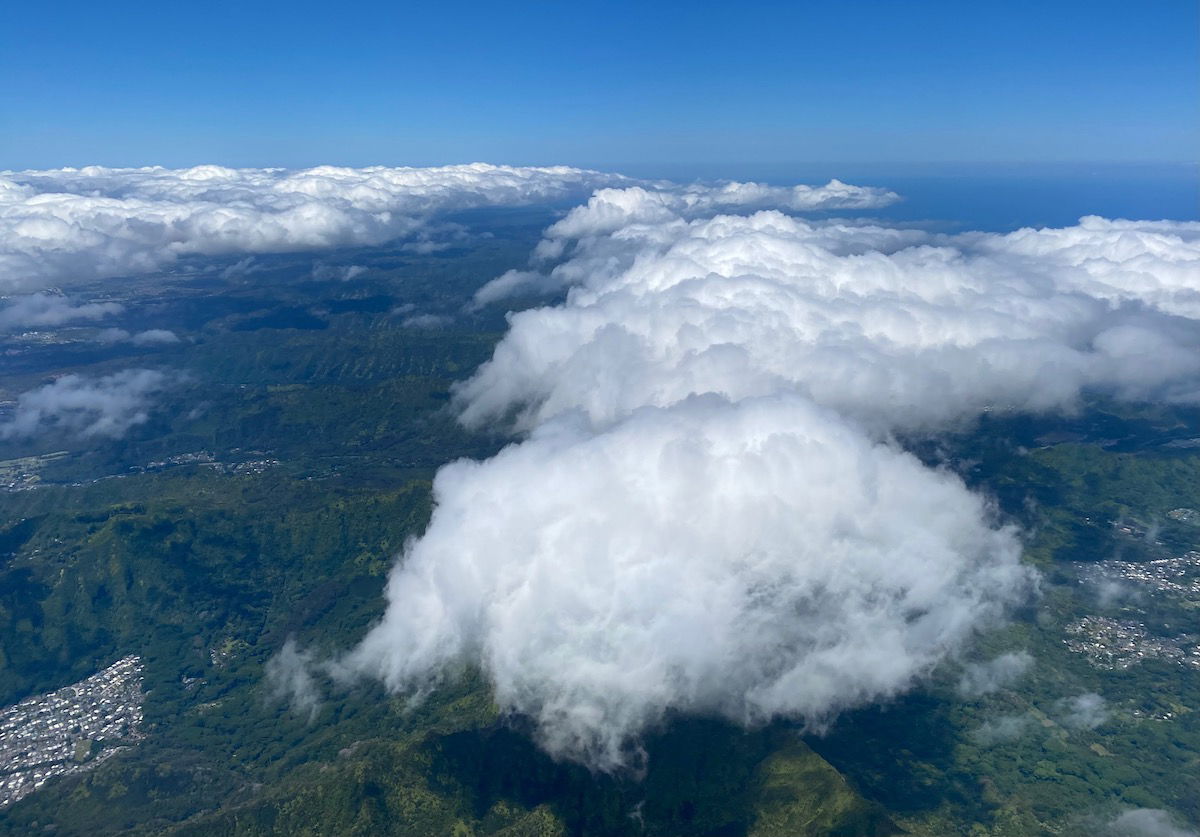 Hi, reef runway!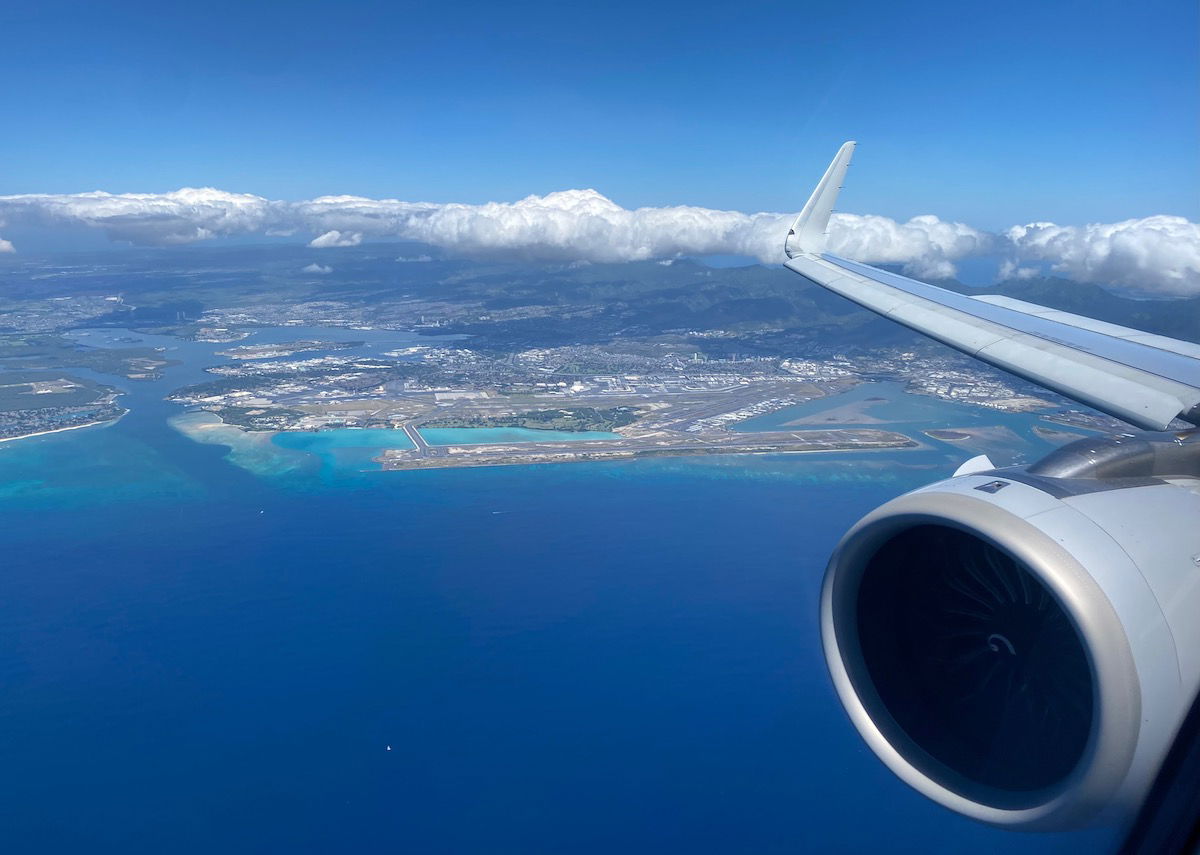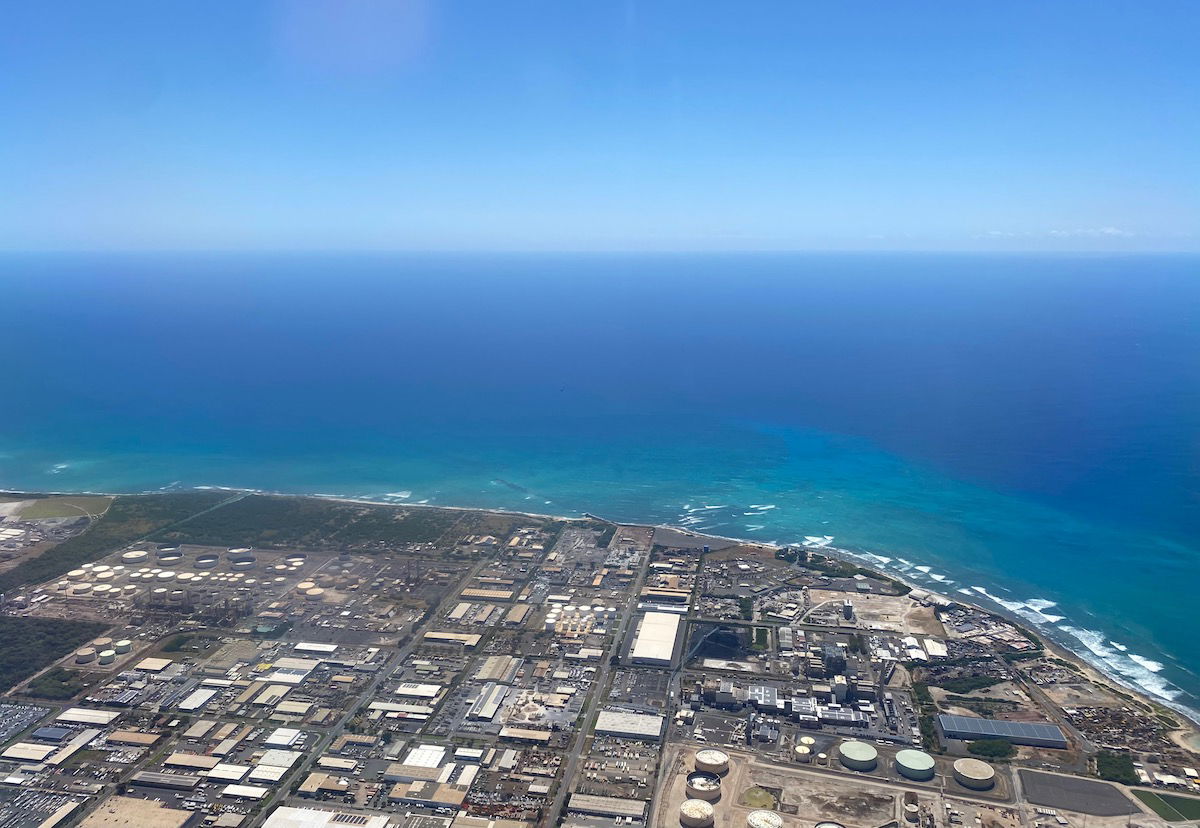 Hi, Kalaeloa Airport!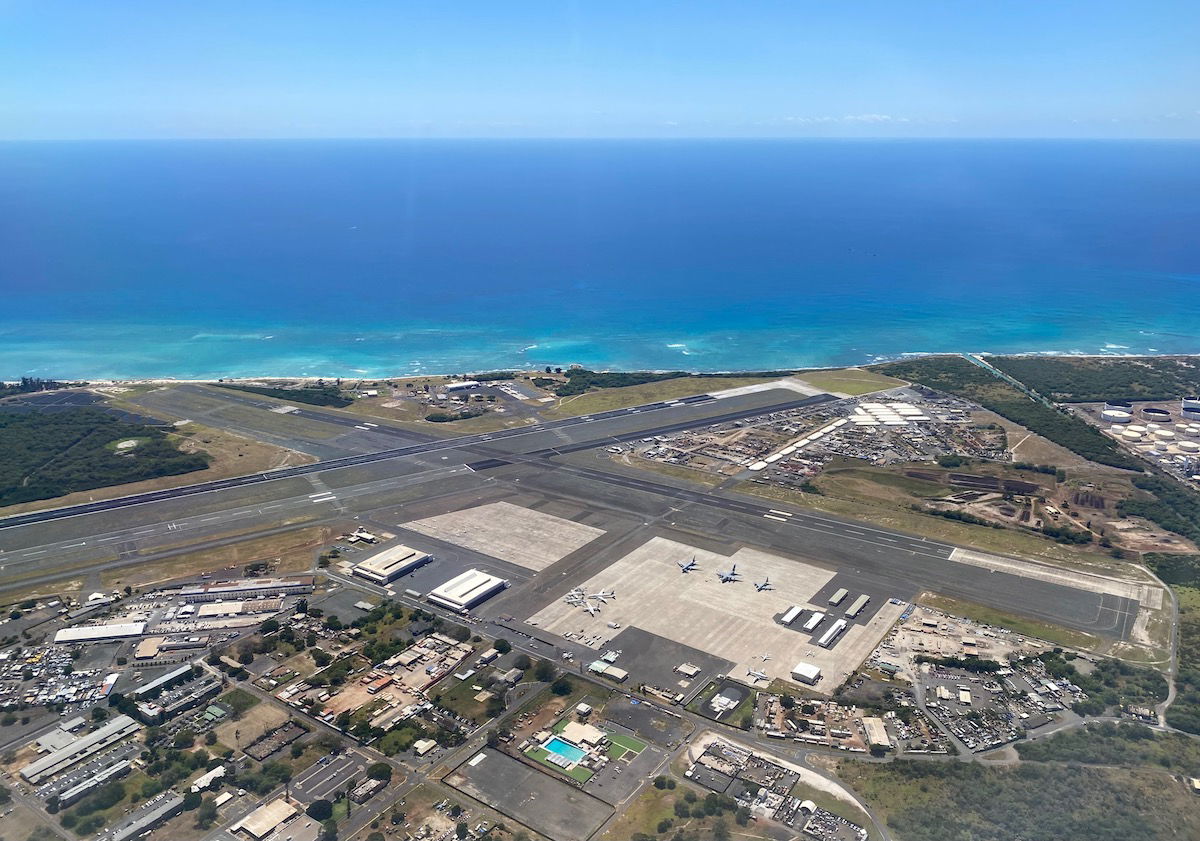 We ended up landing in Honolulu a bit behind schedule due to the strong headwinds, but fortunately the arrivals experience was otherwise quick. Parking across from a Japan Airlines Boeing 767 sure made me miss Japan!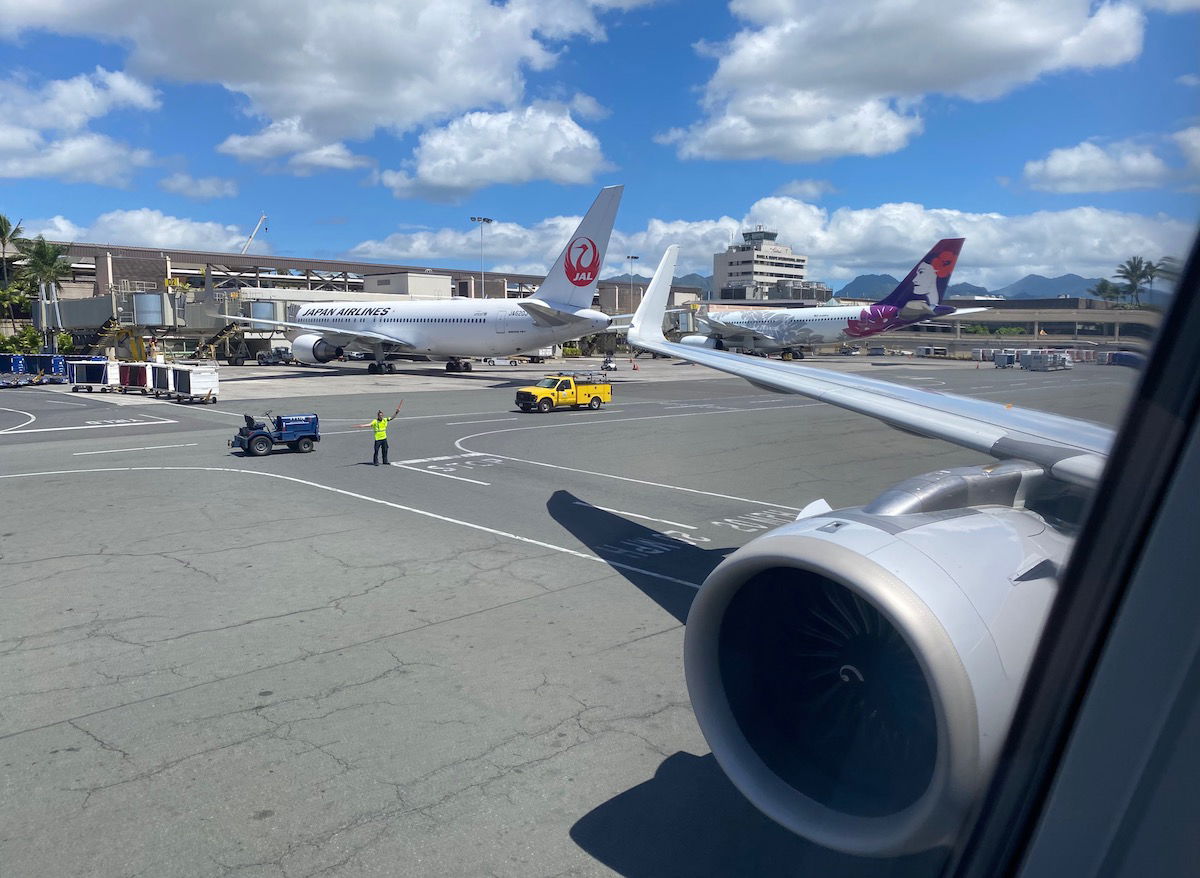 As we deplaned we had a nice view of the American A321neo that flew us safely all the way from Tampa to Honolulu.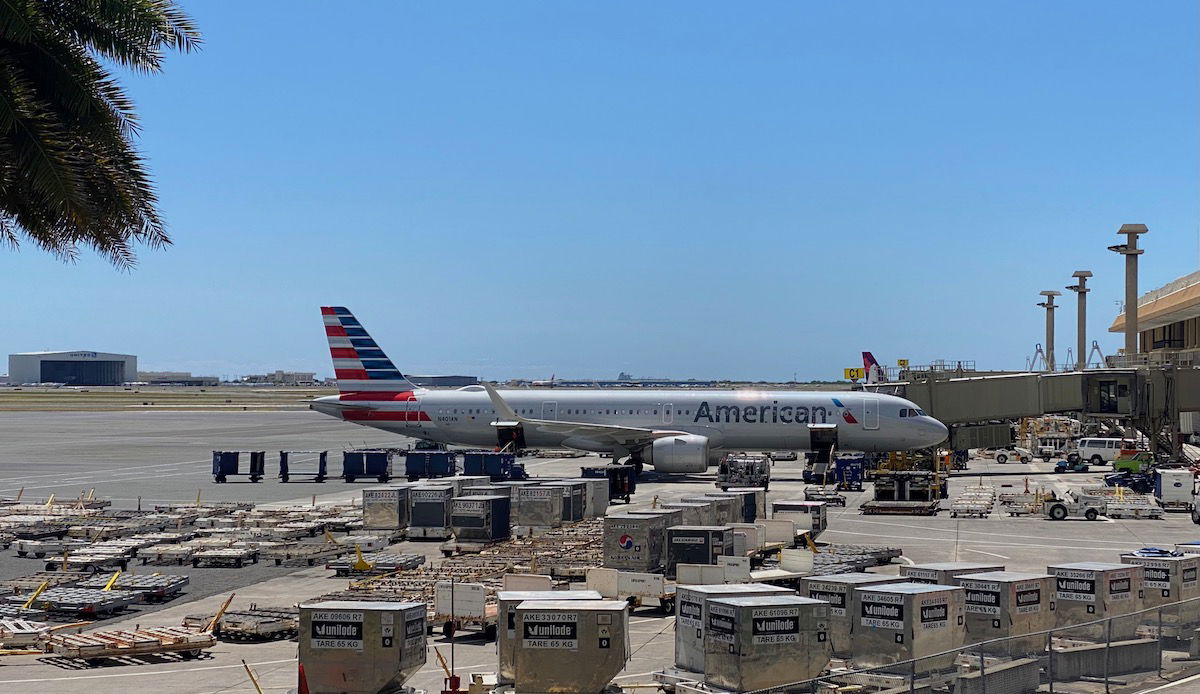 Thanks to the Hawaii PreClearance wristbands we had, we were immediately on our way to the Four Seasons Oahu at Ko Olina, which we were looking forward to visiting.
Bottom line
All things considered we were very happy American Airlines flyers on this trip. Our upgrades cleared on both segments in advance, we had friendly crews on both flights, and it was nice to see a return of American's (admittedly not great) pre-pandemic catering.
Ultimately there's a huge amount of inconsistency when it comes to the products offered between the mainland and Hawaii. On some routes you'll find that airlines offer flat beds with direct aisle access in first class, while on other routes it's just a standard domestic experience.
Lastly, while I of course prefer a routing where I can get a flat bed to Hawaii, I otherwise really enjoyed this routing. Flying from the East Coast to the West Coast in the evening, having a quick overnight, and then flying to Hawaii the next morning, really broke up the journey and made it more pleasant. I'd repeat a routing like this in a heartbeat.
If you've flown American first class to Hawaii, what was your experience like?