To get from Oahu to the Big Island, we managed to fly Hawaiian Airlines' A321neo first class. This is a plane that Hawaiian Airlines also flies between Hawaii and the mainland, so I was looking forward to experiencing it on a shorter flight.
I've reviewed Hawaiian Airlines' Airbus A330 first class and Boeing 717 first class, with the latter generally being what's offered between islands. However, select frequencies are operated by the A321neo, and I specifically sought out one of those flights.
How I booked our Hawaiian Airlines first class tickets
I booked first class tickets on the following Hawaiian Airlines flight for $143 per person:
03/07 HA370 Honolulu to Kona departing 1:30PM arriving 2:20PM
For reference:
This was around $50 more expensive than economy; it's debatable whether the premium is worth it for such a short flight, but I wanted to review the A321neo first class seats, so it seemed worth it
There aren't many good award options for these kinds of flights; for example, HawaiianMiles charges a minimum of 15,000 miles one-way for inter-island first class flights, so it wasn't worth transferring points to book that way, even if there were availability
Hawaiian Airlines first class boarding
We used Priority Pass to visit the Hawaiian Airlines Plumeria Lounge during our time at the airport. The lounge is quite lackluster, so we decided to head into the terminal, where there was great plane spotting of all the planes in Hawaiian Airlines' fleet. Note that Hawaiian inter-island first class passengers otherwise get access to the Hawaiian Airlines Premier Club, which is even more lackluster than the lounge we visited.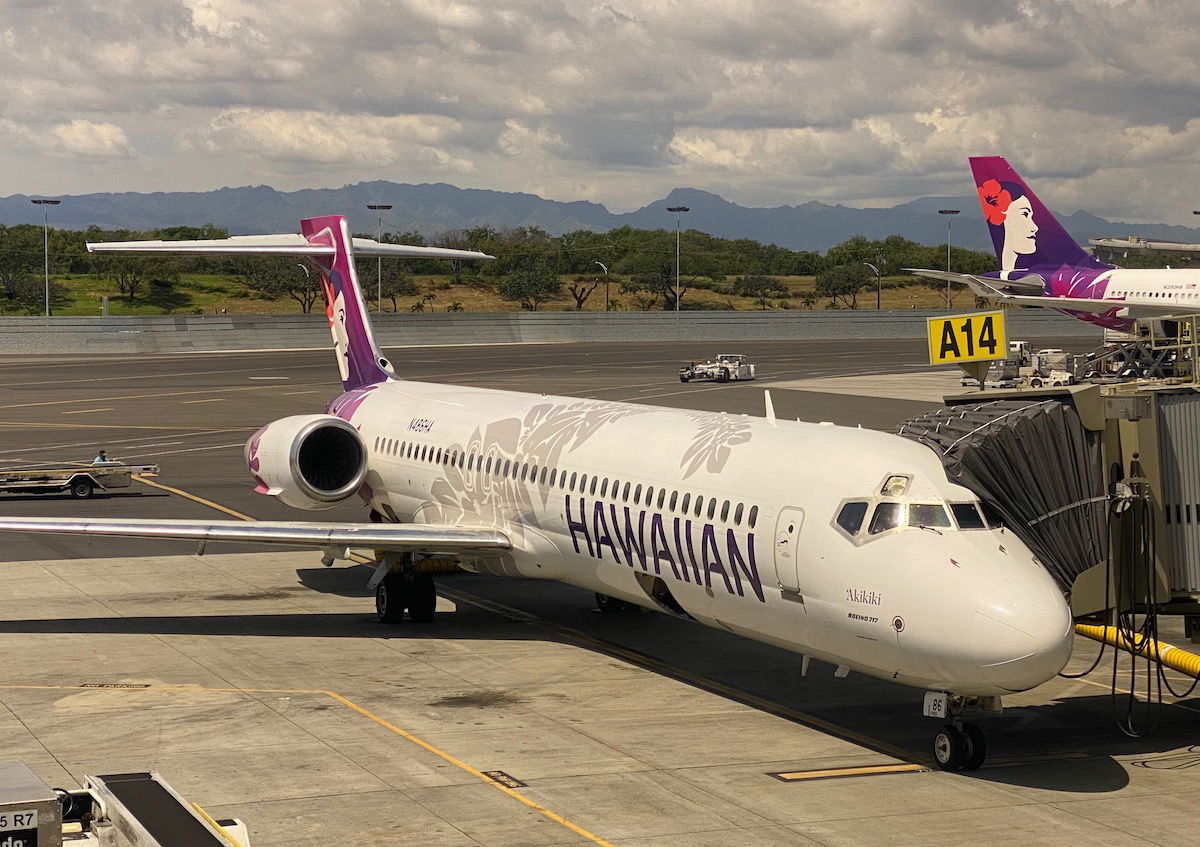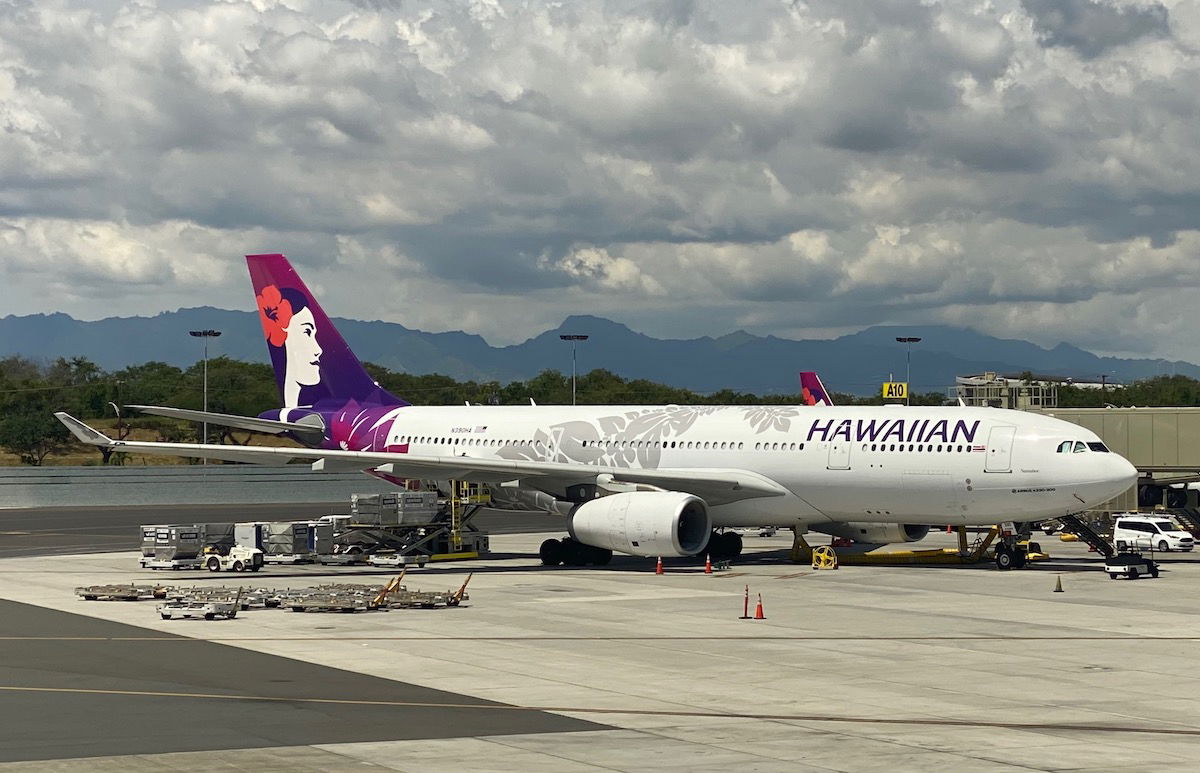 We eventually headed to gate A17, where our Hawaiian Airlines A321neo was parked. I sure do love Hawaiian's livery!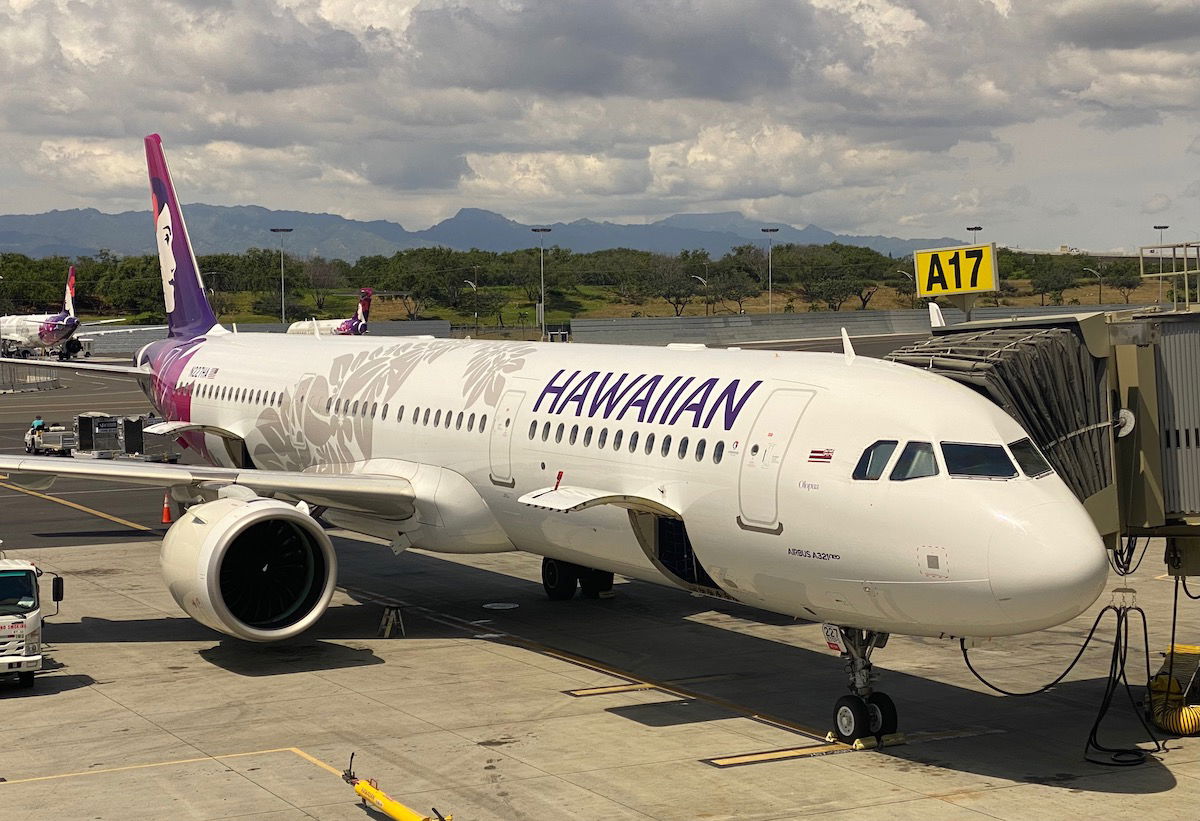 Boarding was scheduled for 12:55PM (35 minutes before departure), but ended up starting around 10 minutes after that. Those needing extra time were invited to board first, followed by first class passengers.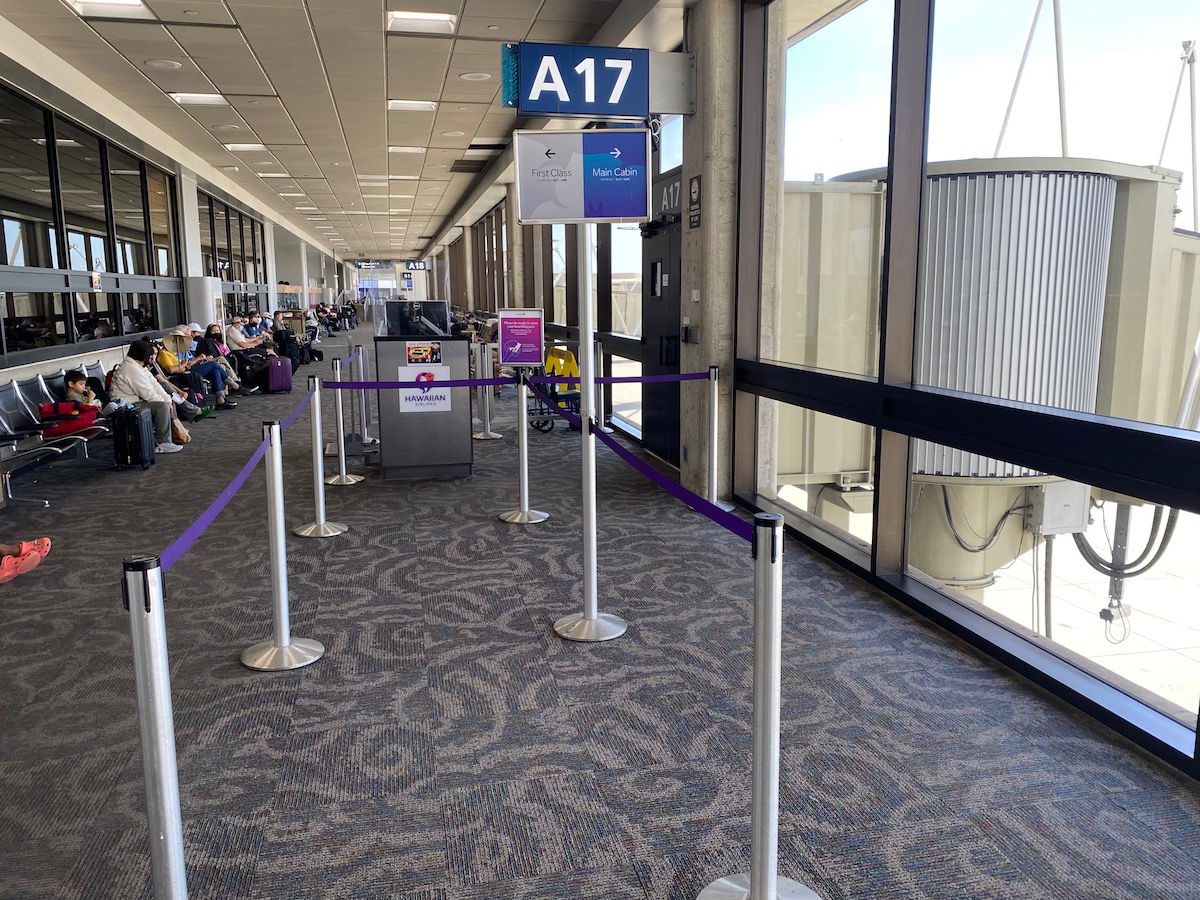 Hawaiian Airlines A321neo first class cabin & seats
Hawaiian Airlines' Airbus A321neos have a total of 16 first class seats, spread across four rows in a 2-2 configuration. If the cabin looks familiar, that's for good reason — Hawaiian has the same types of first class seats that American has on its A321neos, but with different finishes.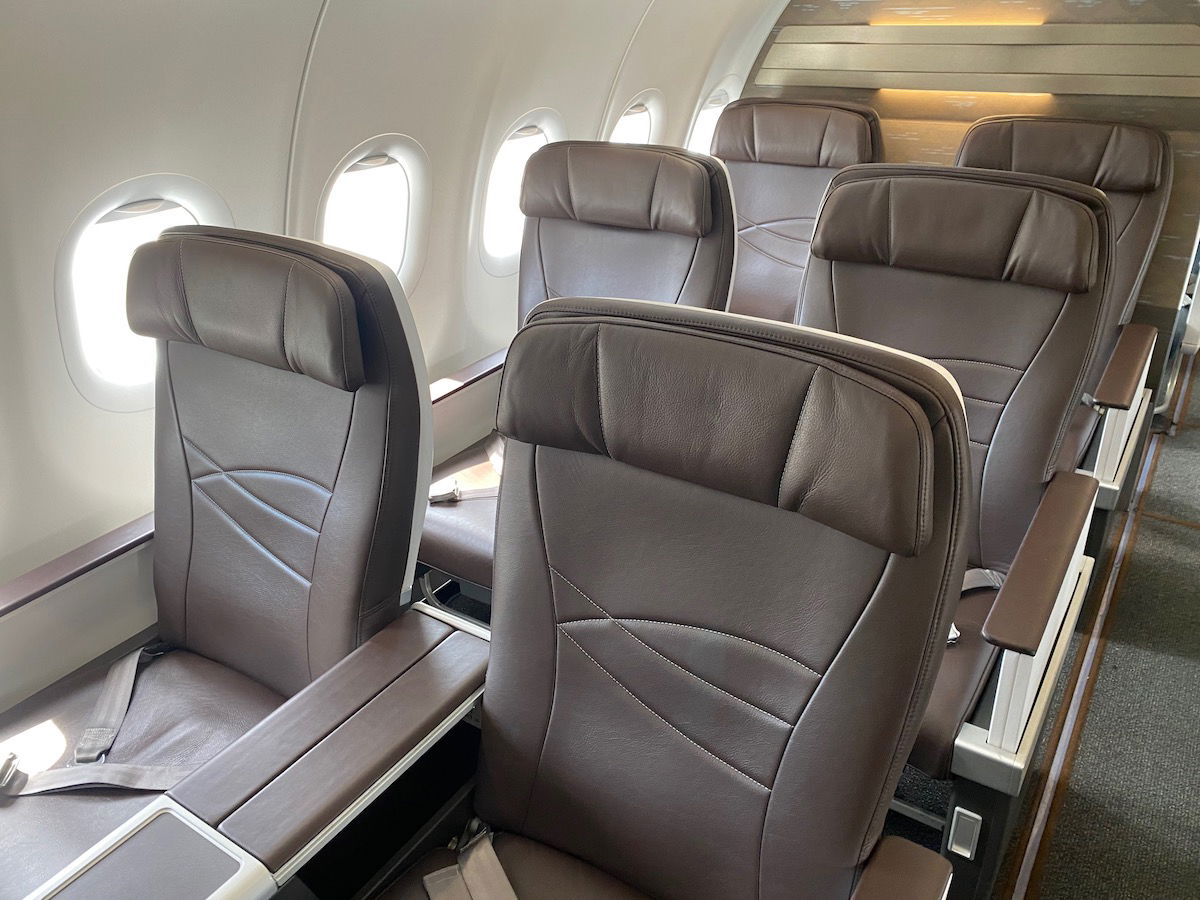 During boarding I also briefly glanced into the economy cabin, and specifically the Extra Comfort section in the front, featuring extra legroom.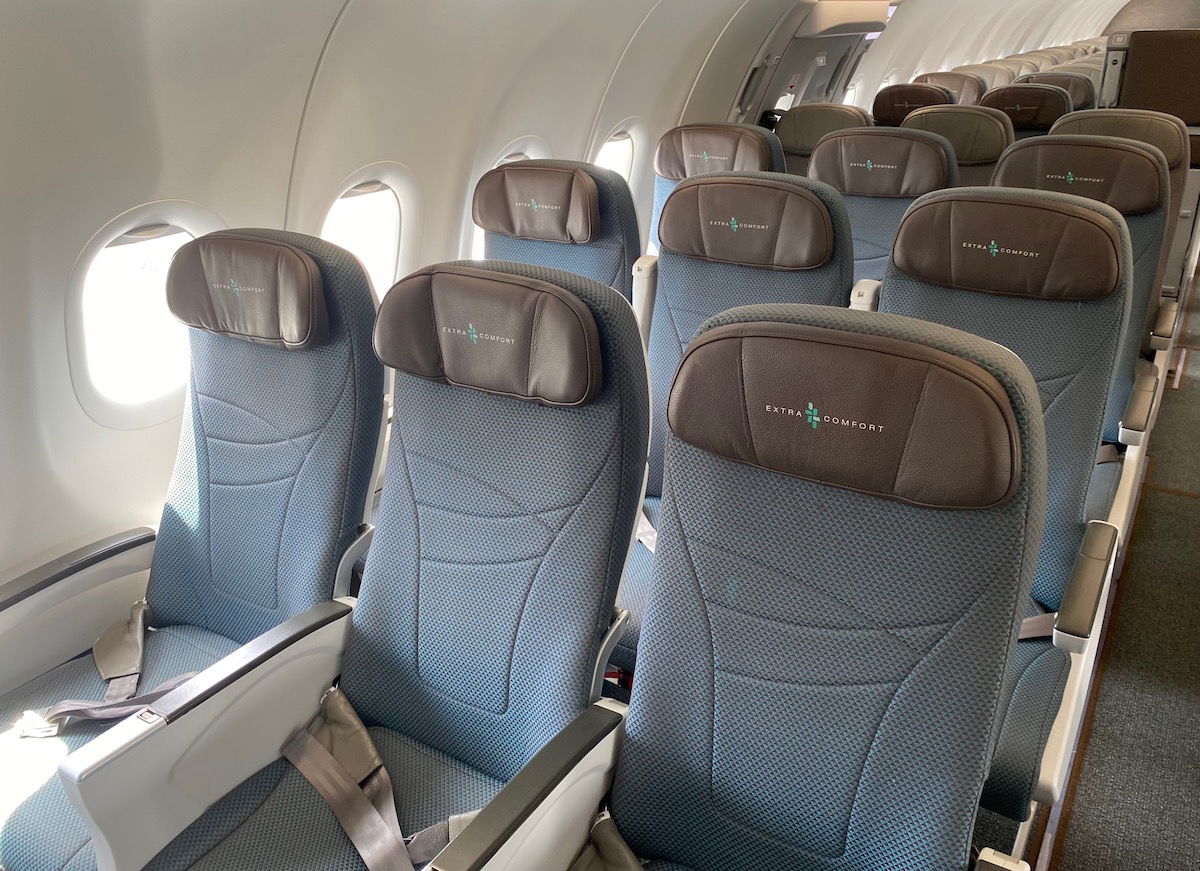 Legroom is pretty decent for first class, and I like some of the cabin finishes, like the patterns on the seats and rear bulkhead.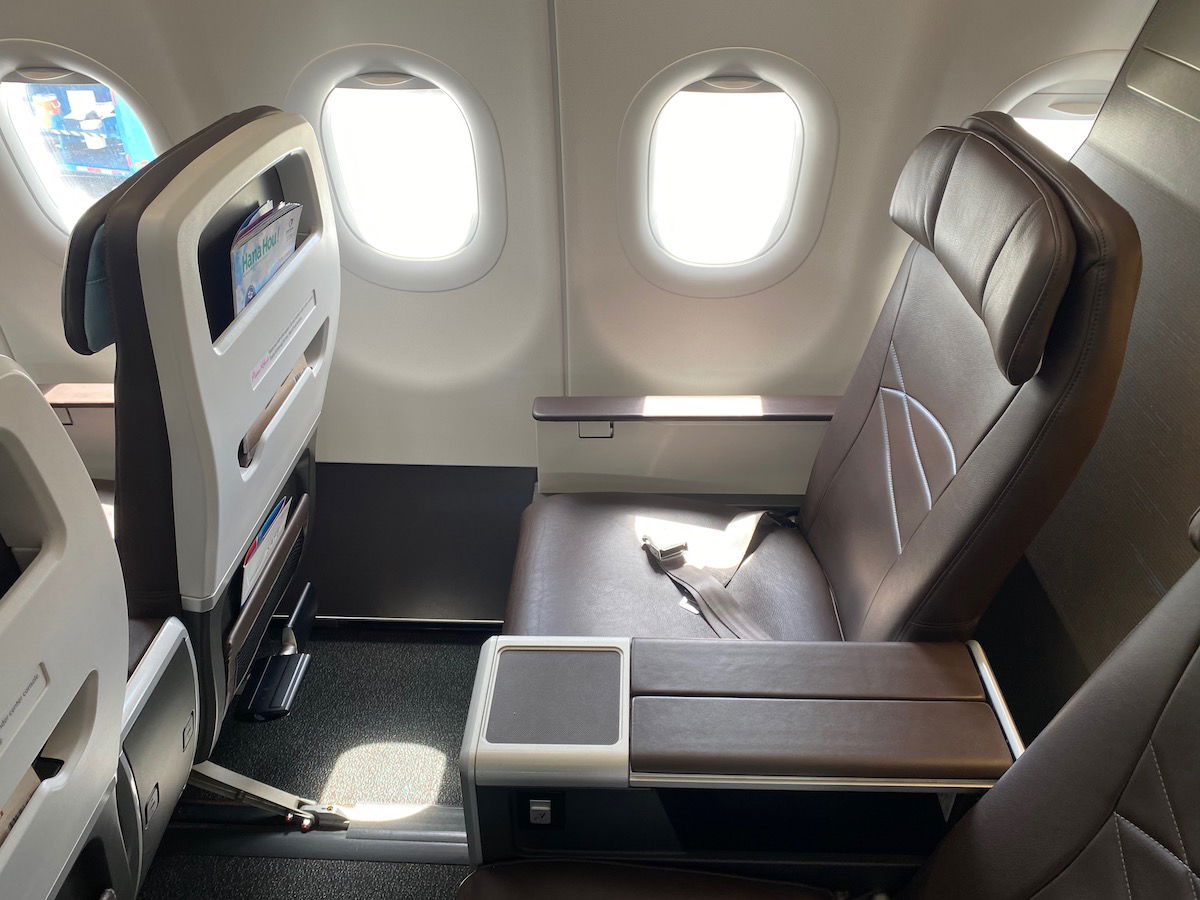 Unfortunately there are no personal televisions, and unlike on American, there's no holder for a personal device on the seatback. Hawaiian does have footrests in first class, which is a nice feature.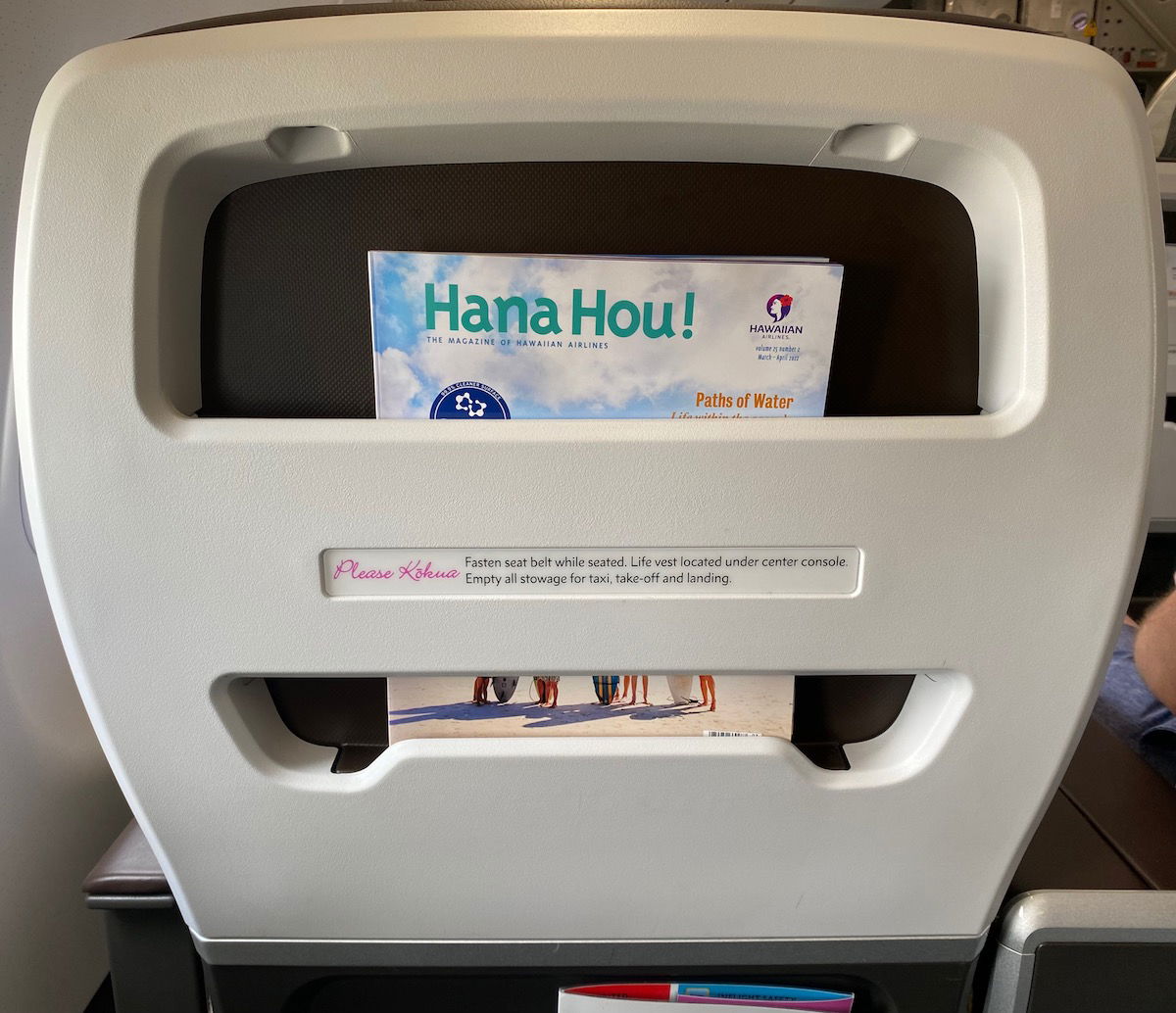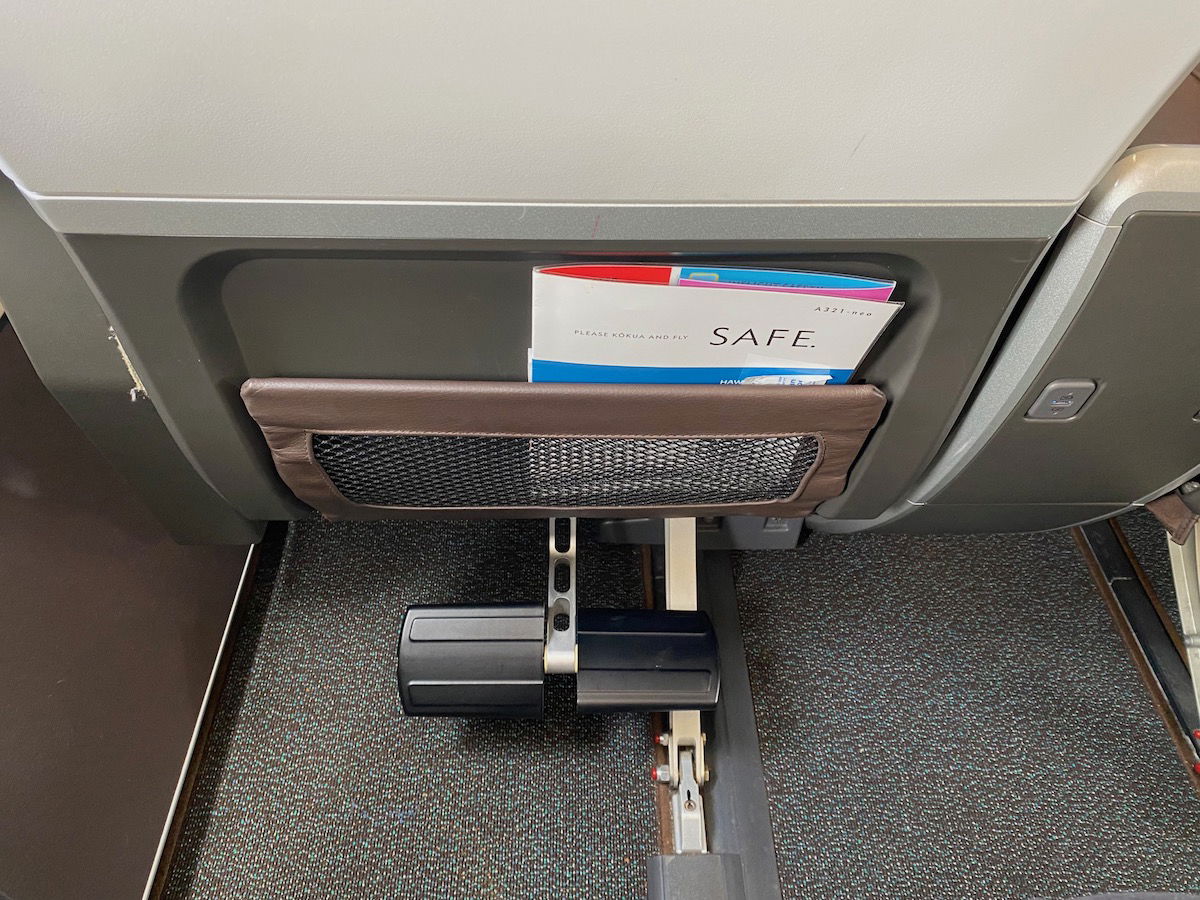 Between the literature pockets on the seats in front were two USB outlets.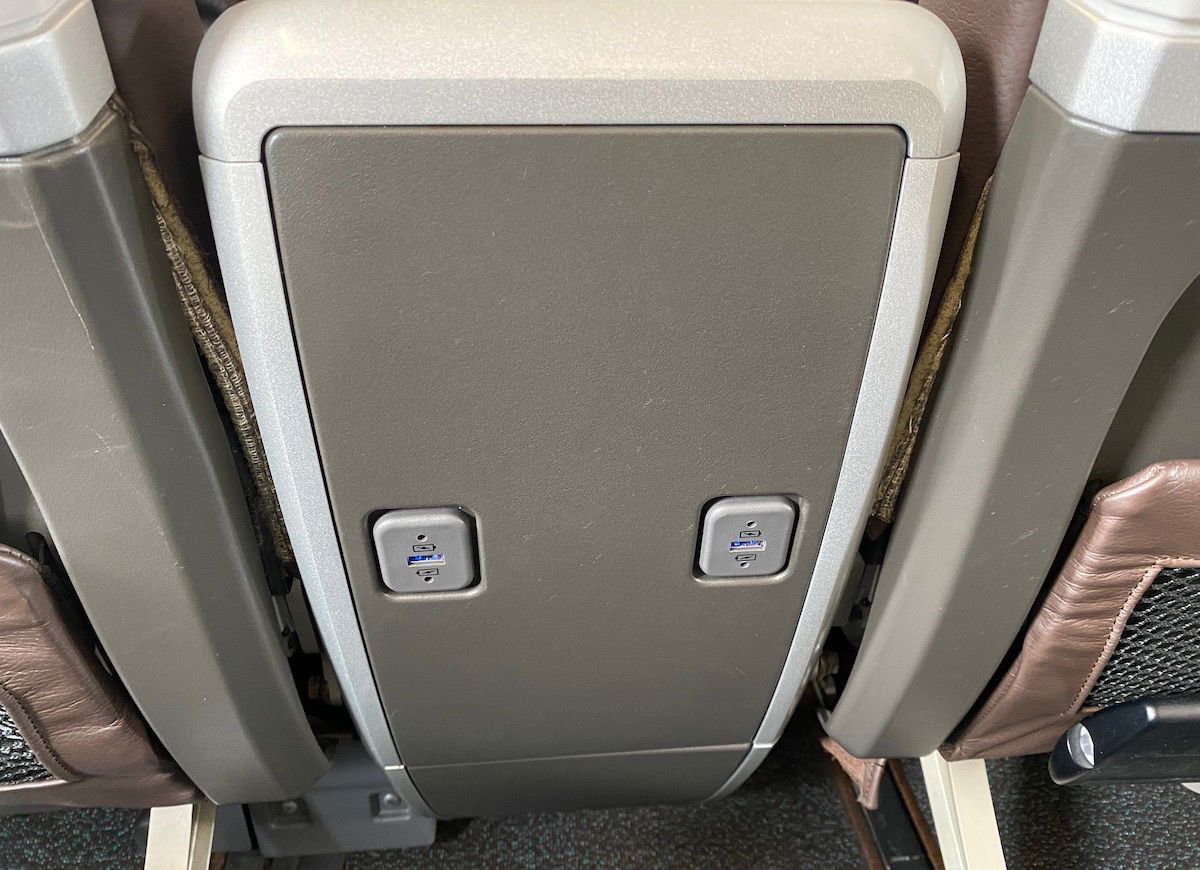 Across from that, between our seats, was an exposed storage compartment.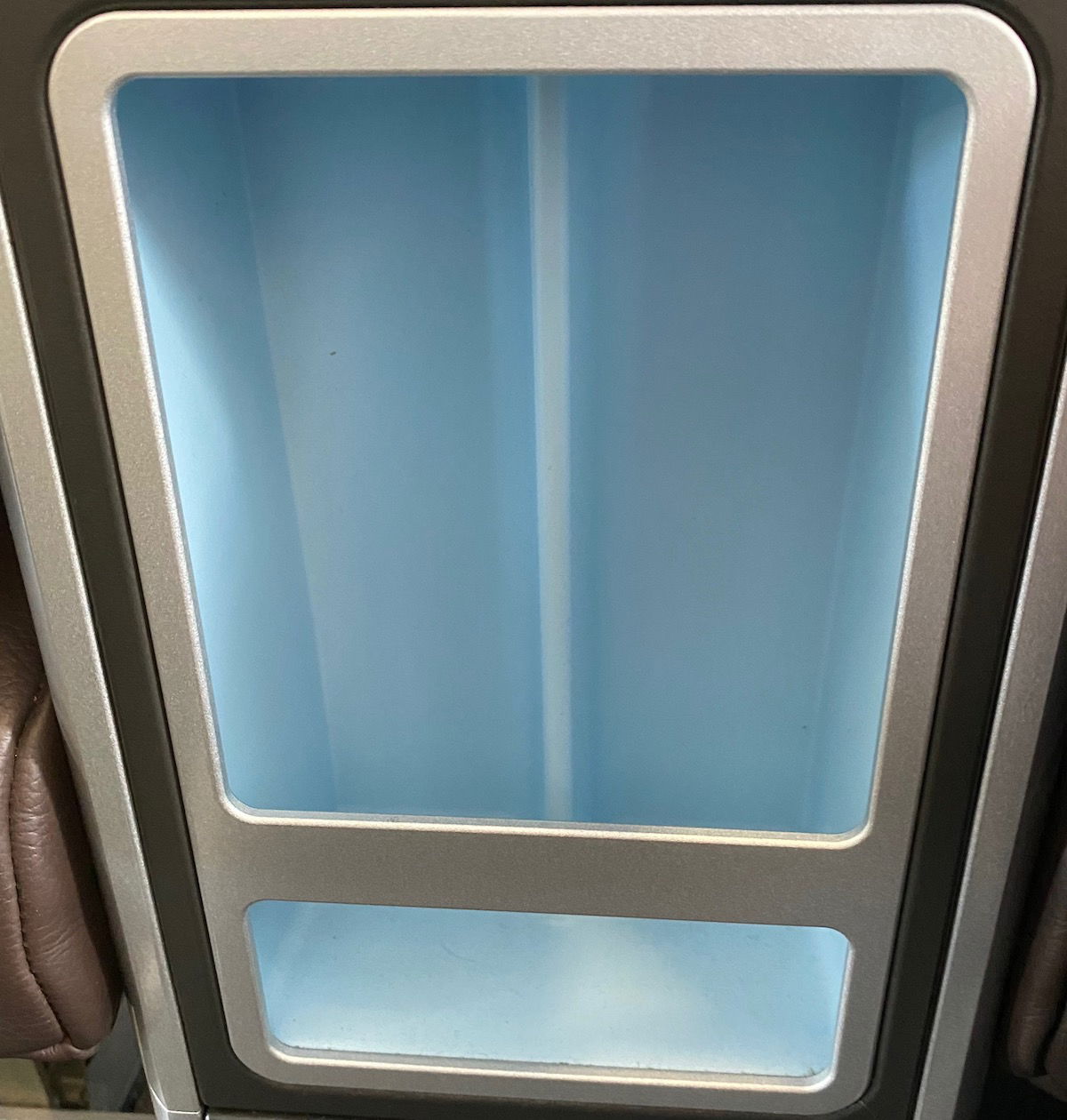 Armrests could be lifted to reveal another storage compartment, as well as an AC power and USB outlet.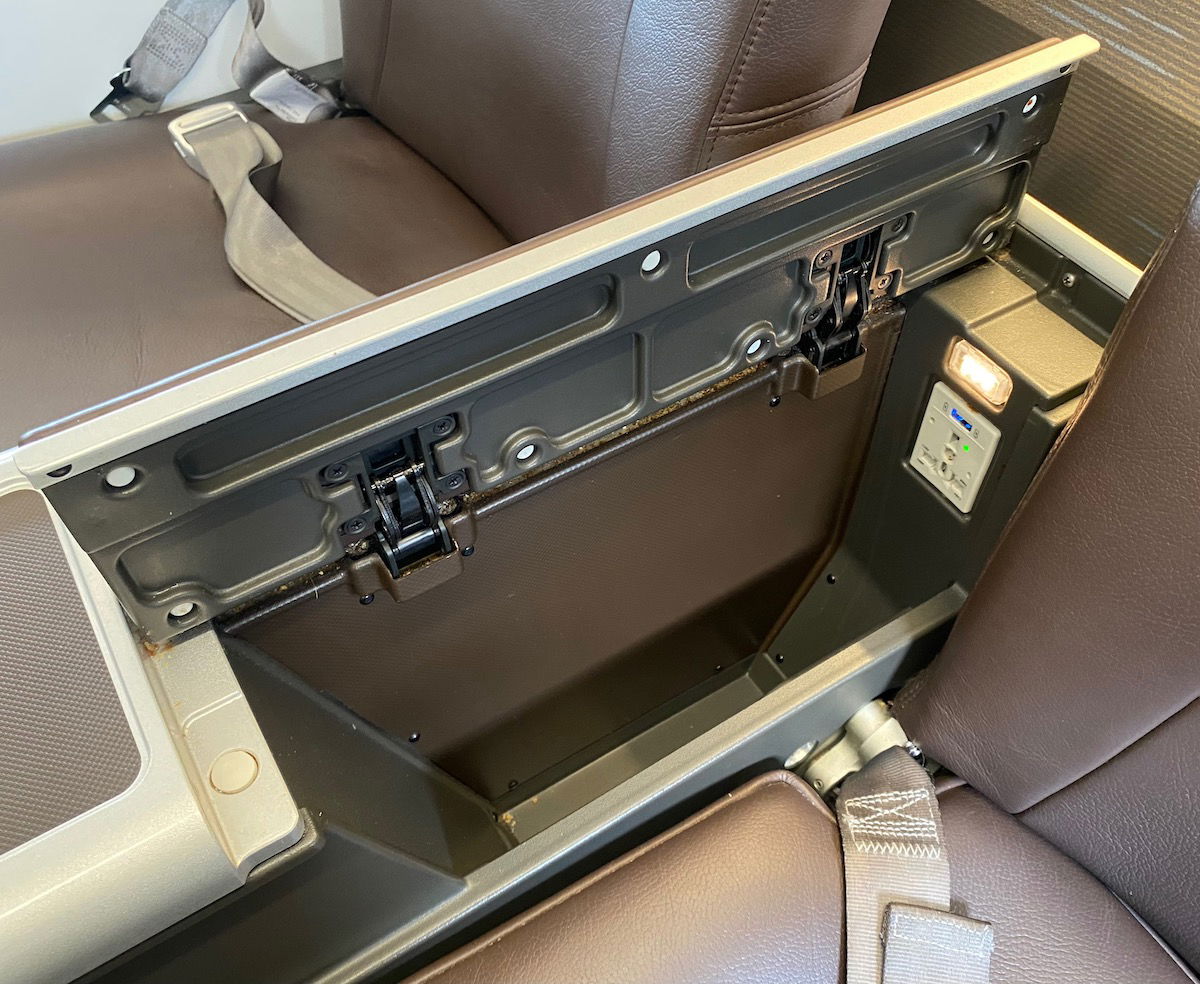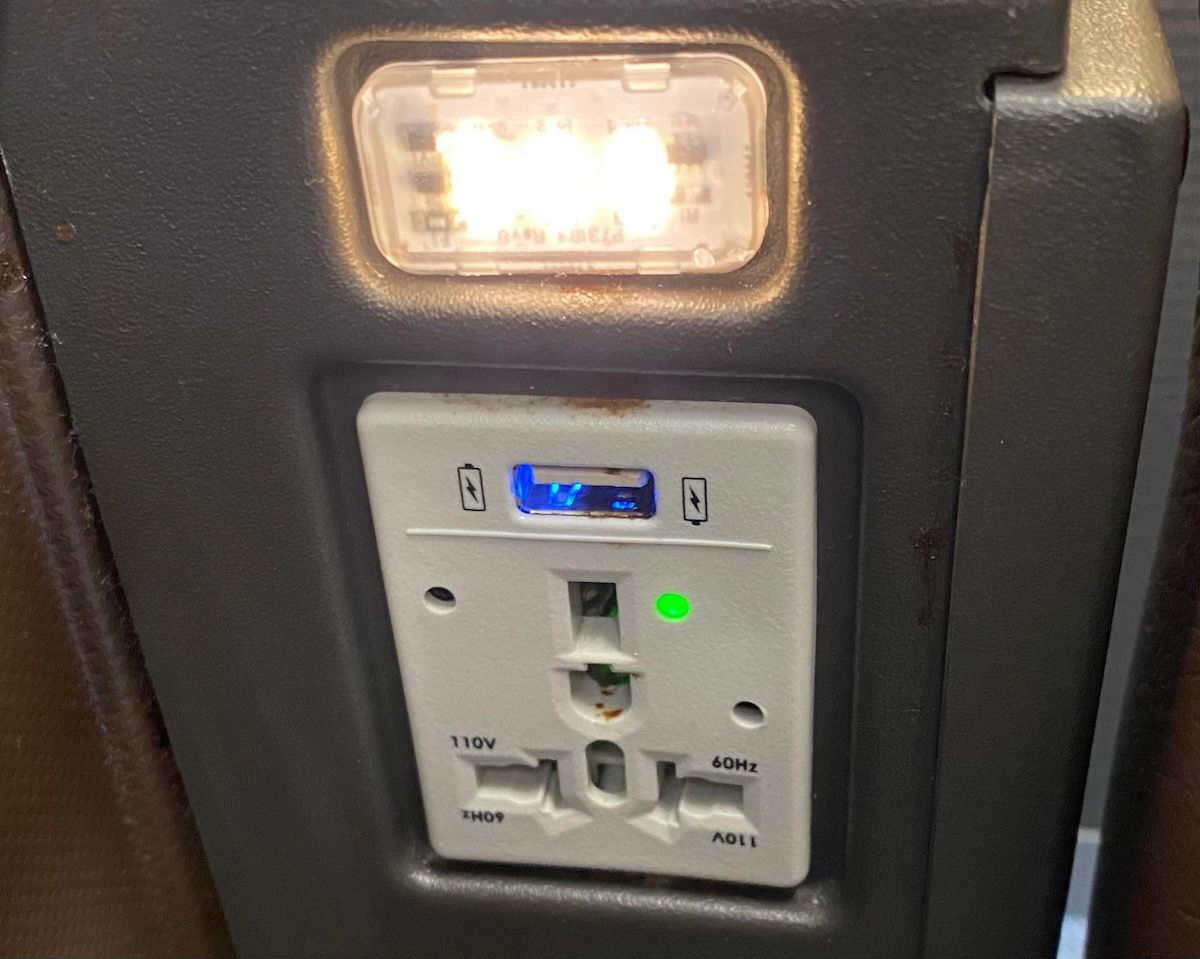 The tray table extended from the far armrest, and could be folded in half.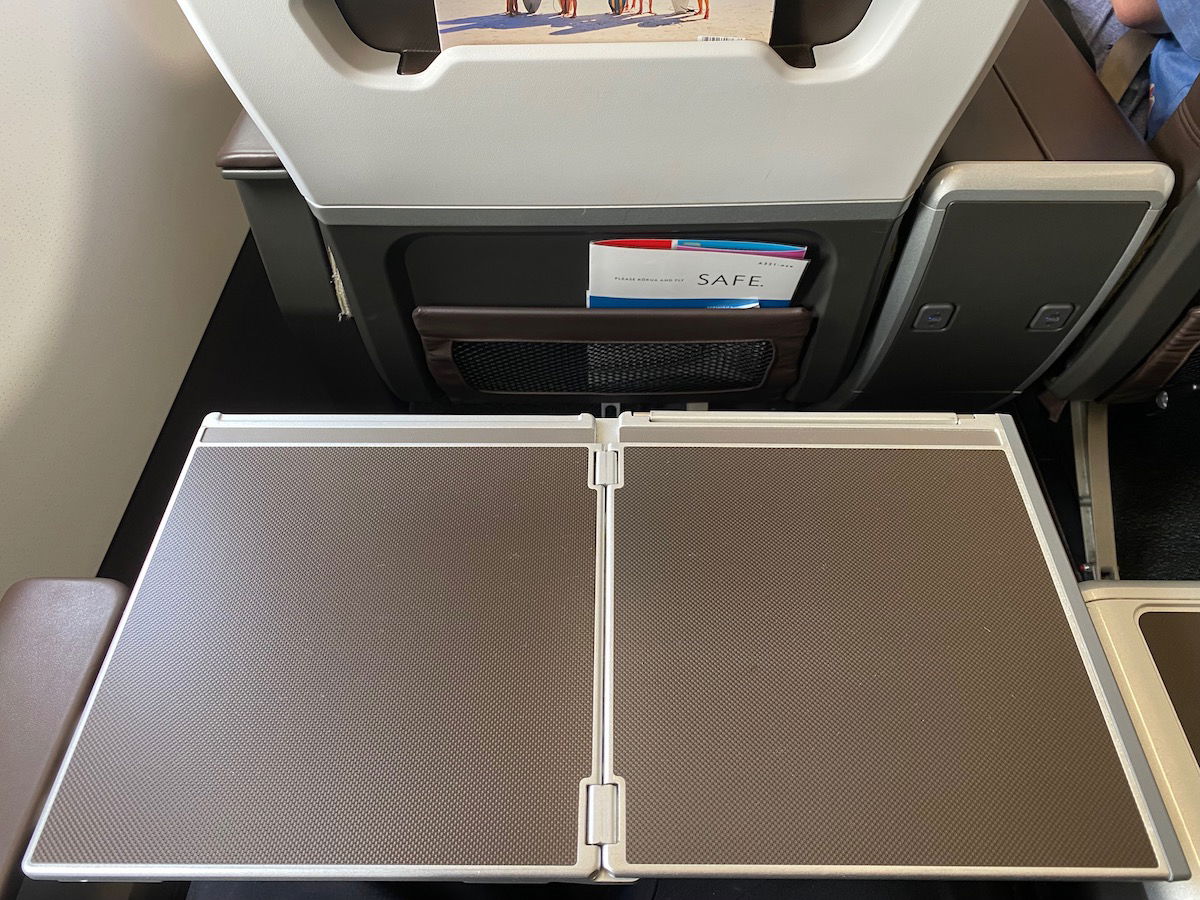 The tray table had a feature whereby you could place your personal device holder onto the tray while also having something on it, which is a useful feature.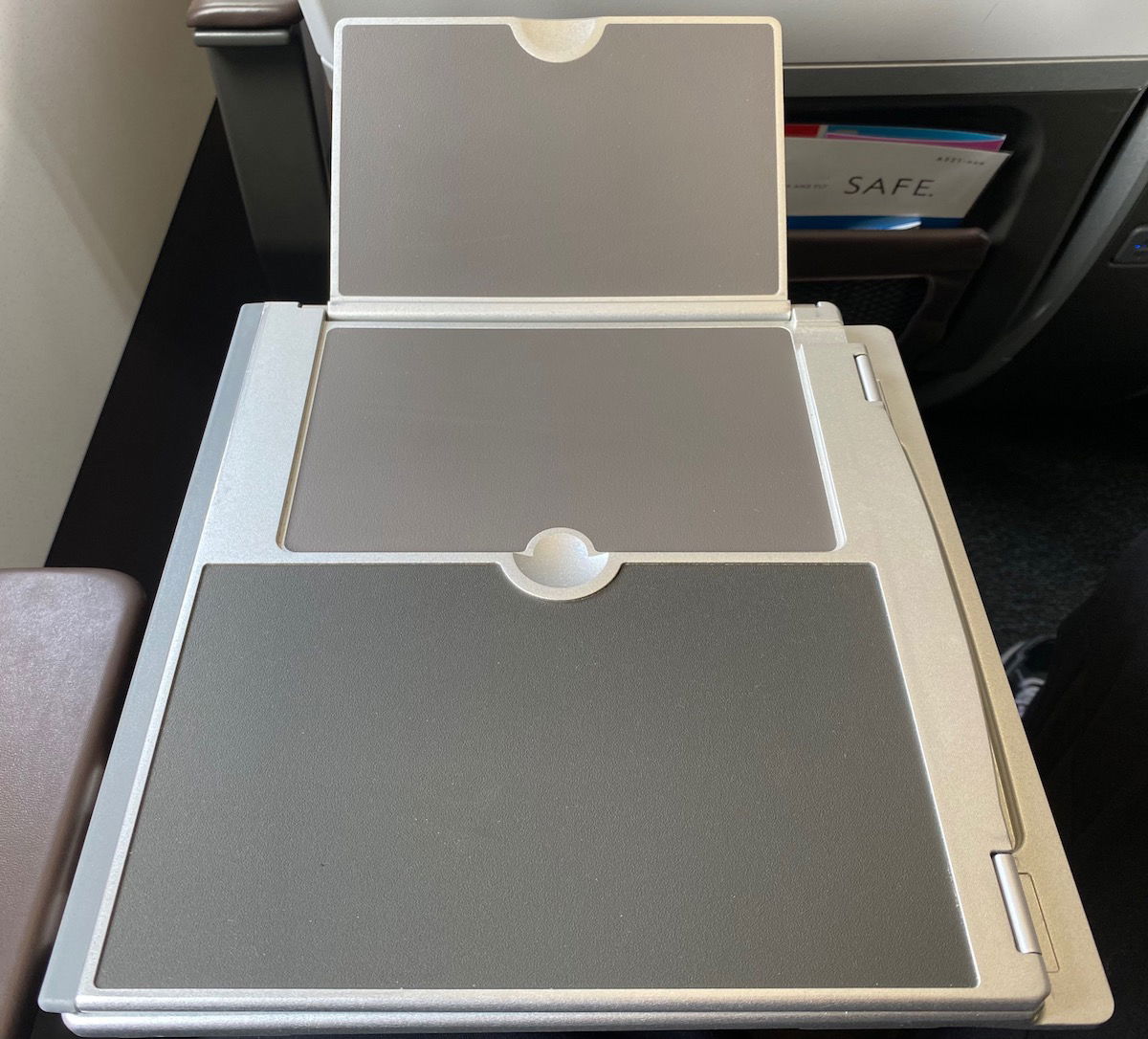 There was also a small tray area on the center console.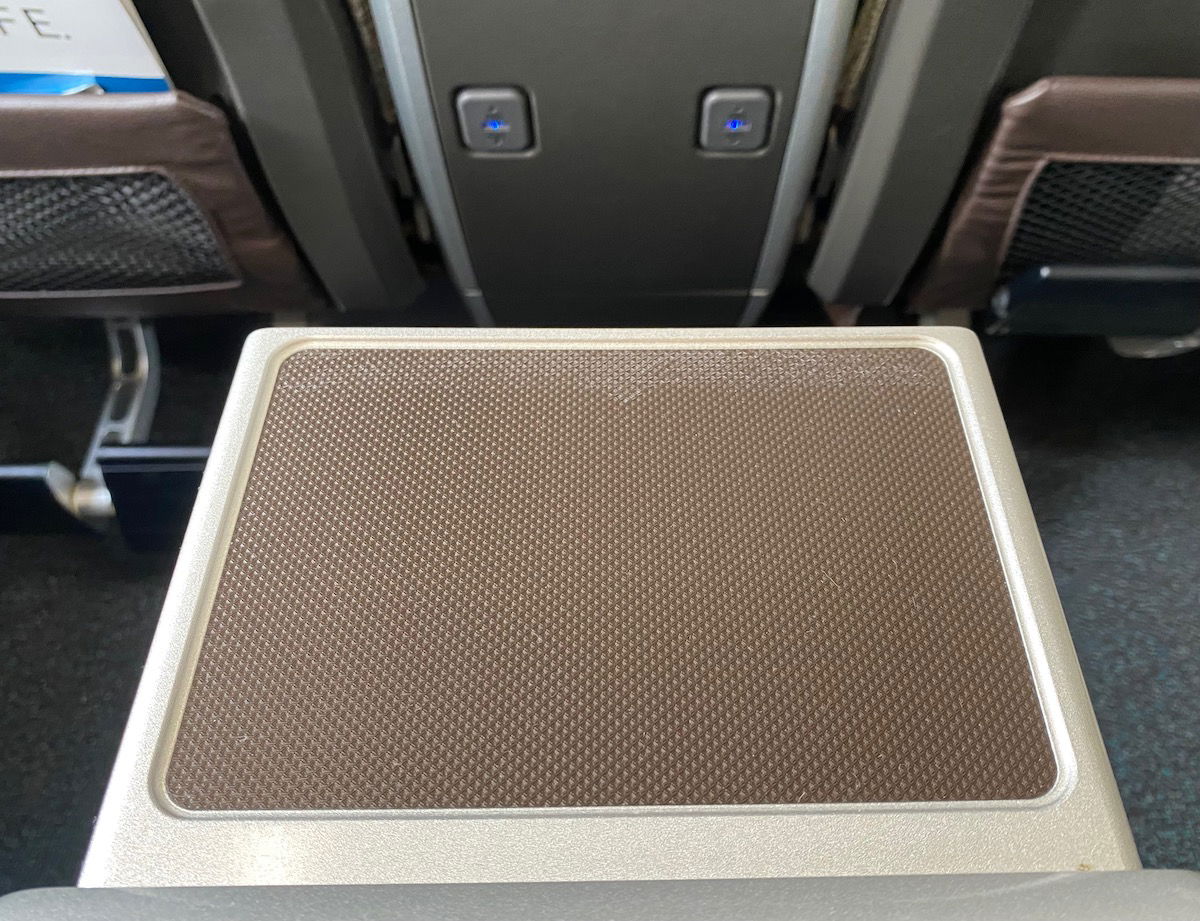 Each seat had an individual reading light and air nozzle.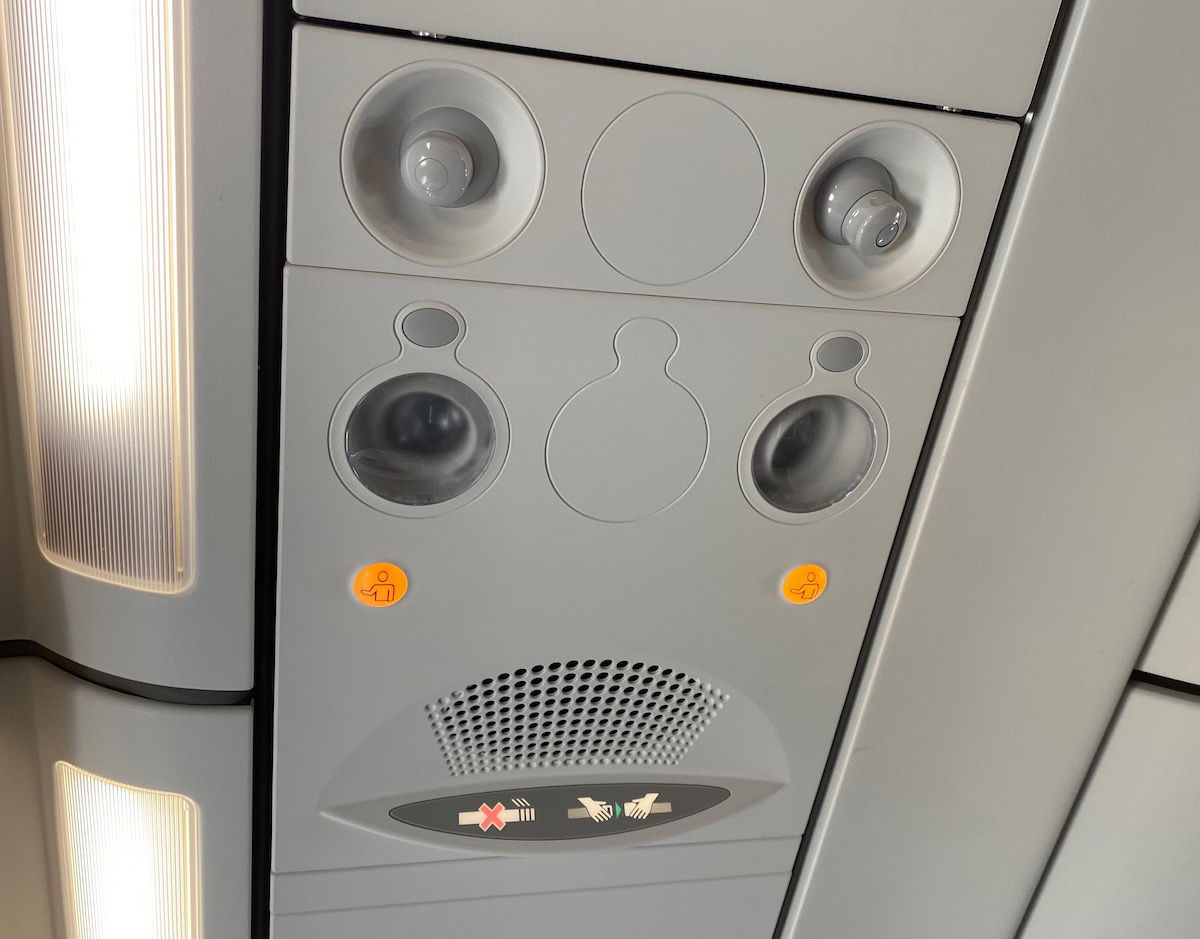 As you'd expect from the latest generation A321neos, there was mood lighting, and overhead bins were large.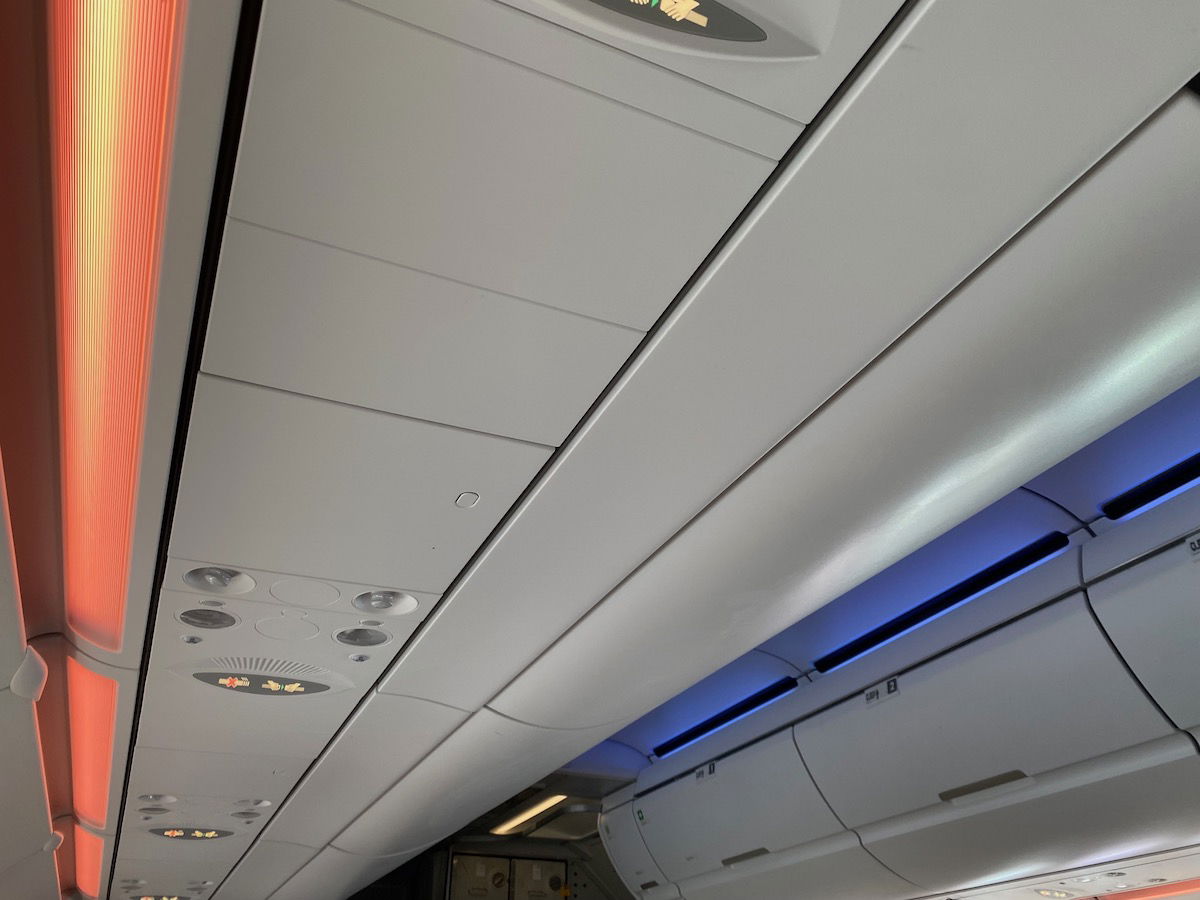 There was a bathroom at the front of first class, which was pretty basic and no-frills.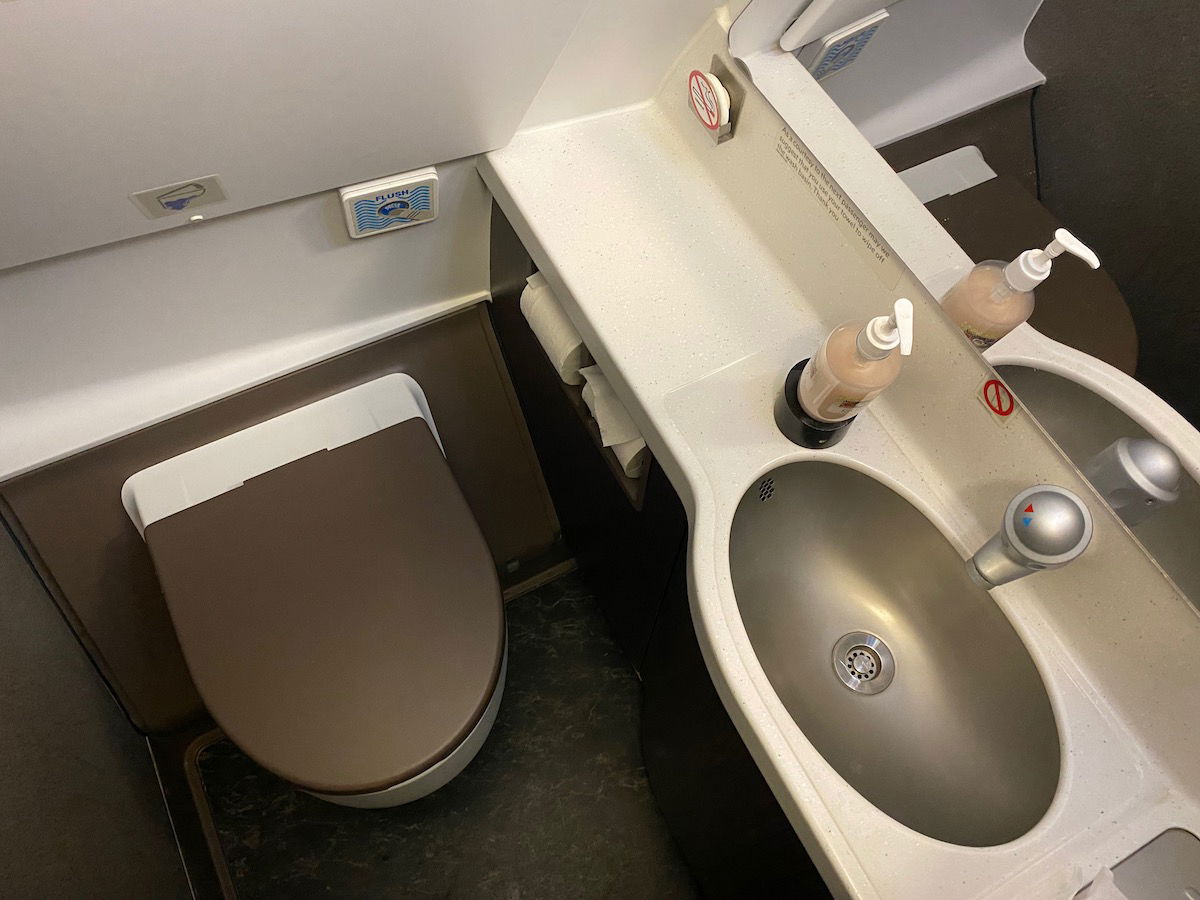 So yeah, I'd say that Hawaiian offers a pretty standard domestic first class hard product on its A321neos. Minus the lack of personal televisions it's perhaps marginally more comfortable than what you'd find on some other airlines, but the difference isn't huge.
Hawaiian Airlines departure from Honolulu
The flight was packed, with almost all seats on the plane occupied. Boarding finished around 12:25PM, so only took around 20 minutes. During the end of the boarding process, drink orders were already taken in first class, given the short flight time. I like how Hawaiian Airlines plays relaxing Hawaiian music during boarding (I think it's the track below?), which I wish more airlines would do.
The main cabin door closed at 1:25PM, at which point the captain made a welcome aboard announcement, informing us of our flight time of 29 minutes. A few moments later the crew performed a manual safety demonstration with a pre-recorded announcement.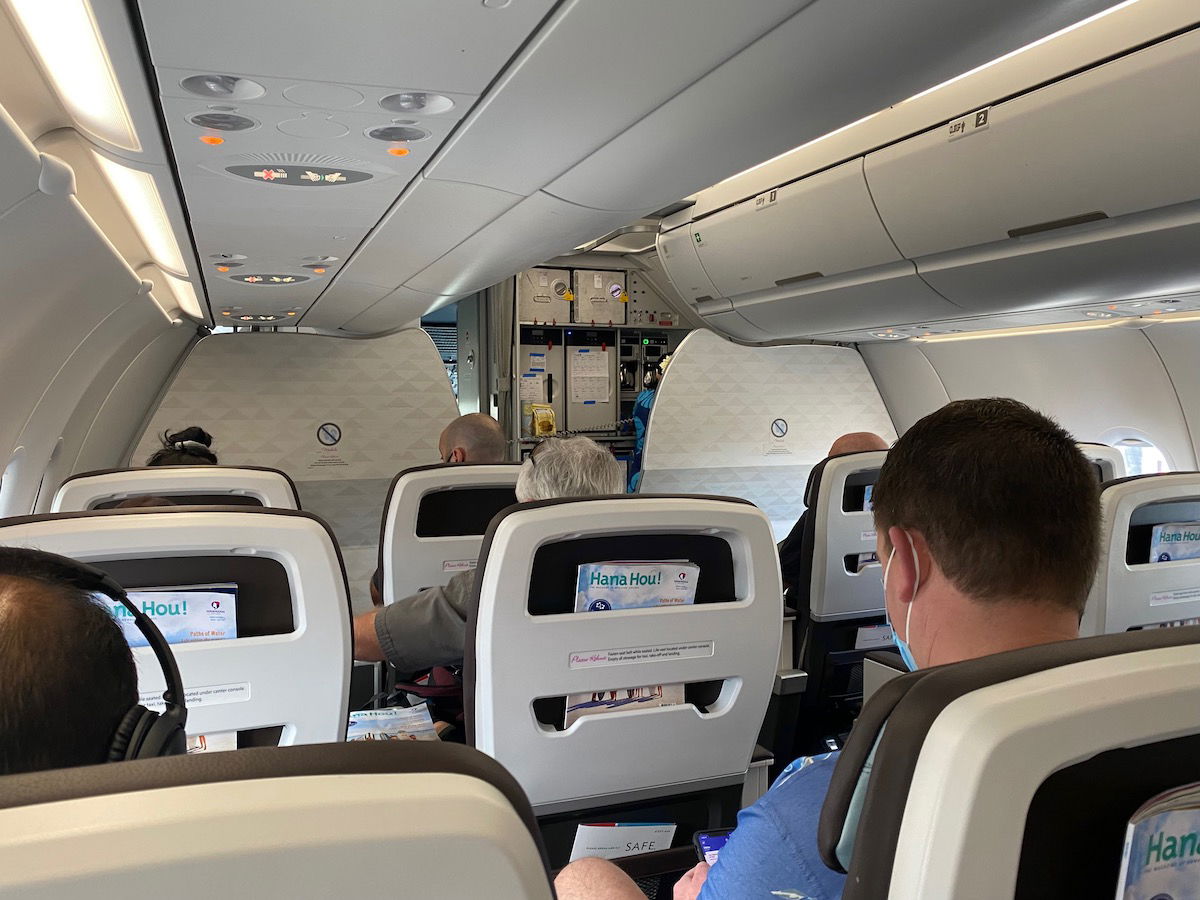 We pushed back at 1:30PM, and five minutes after that started our taxi.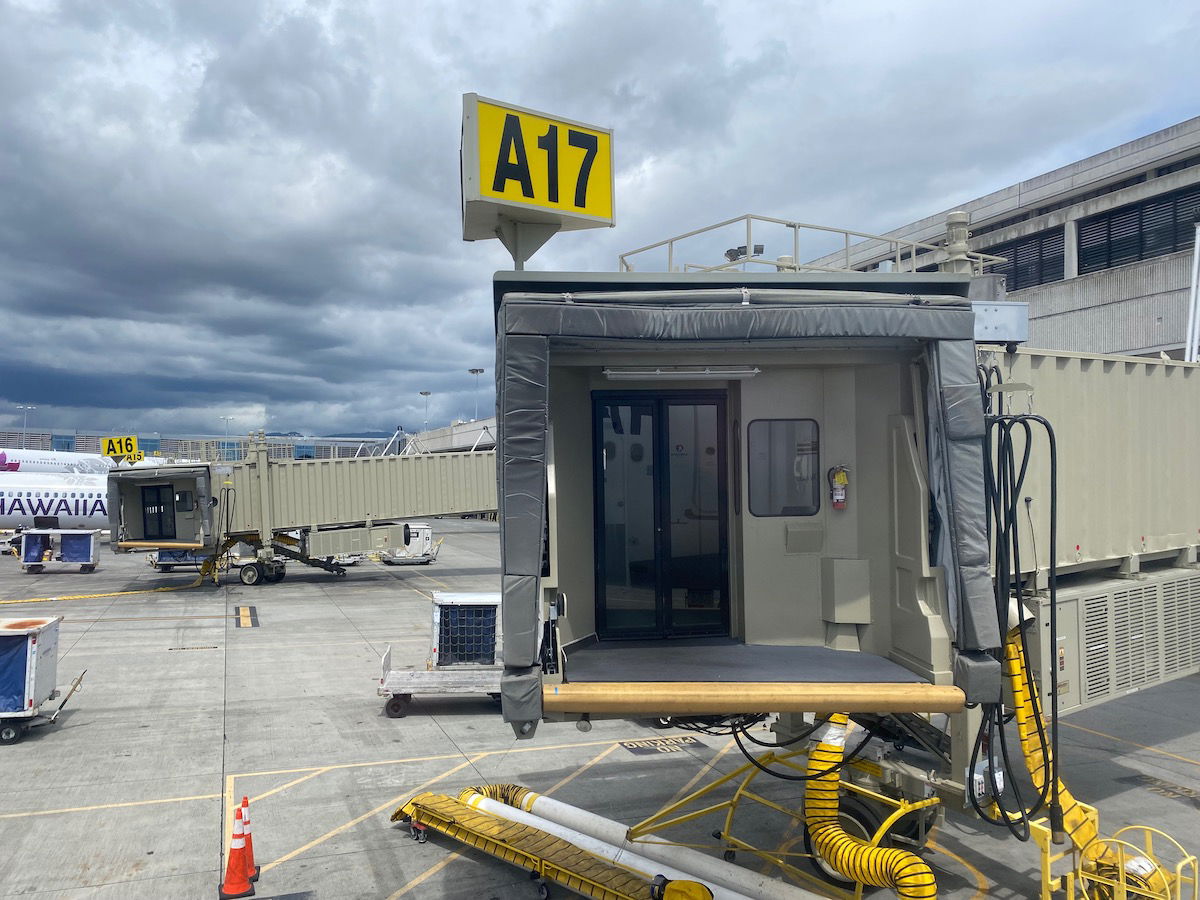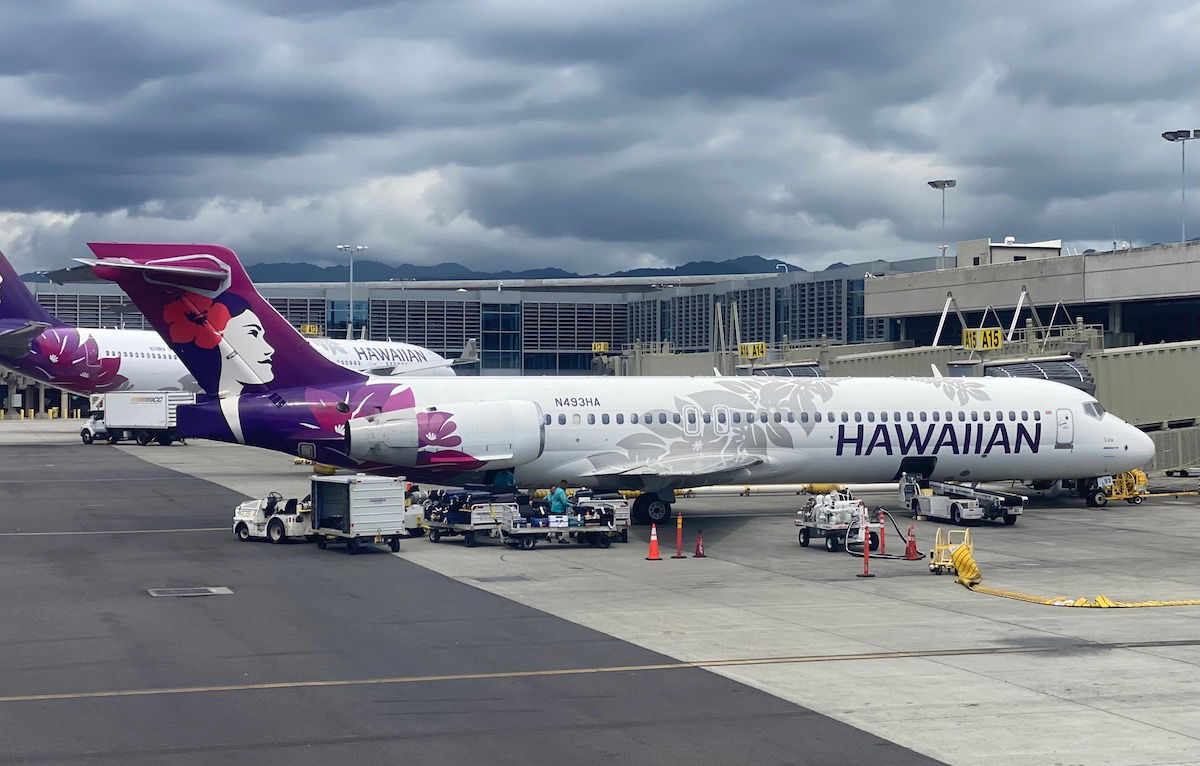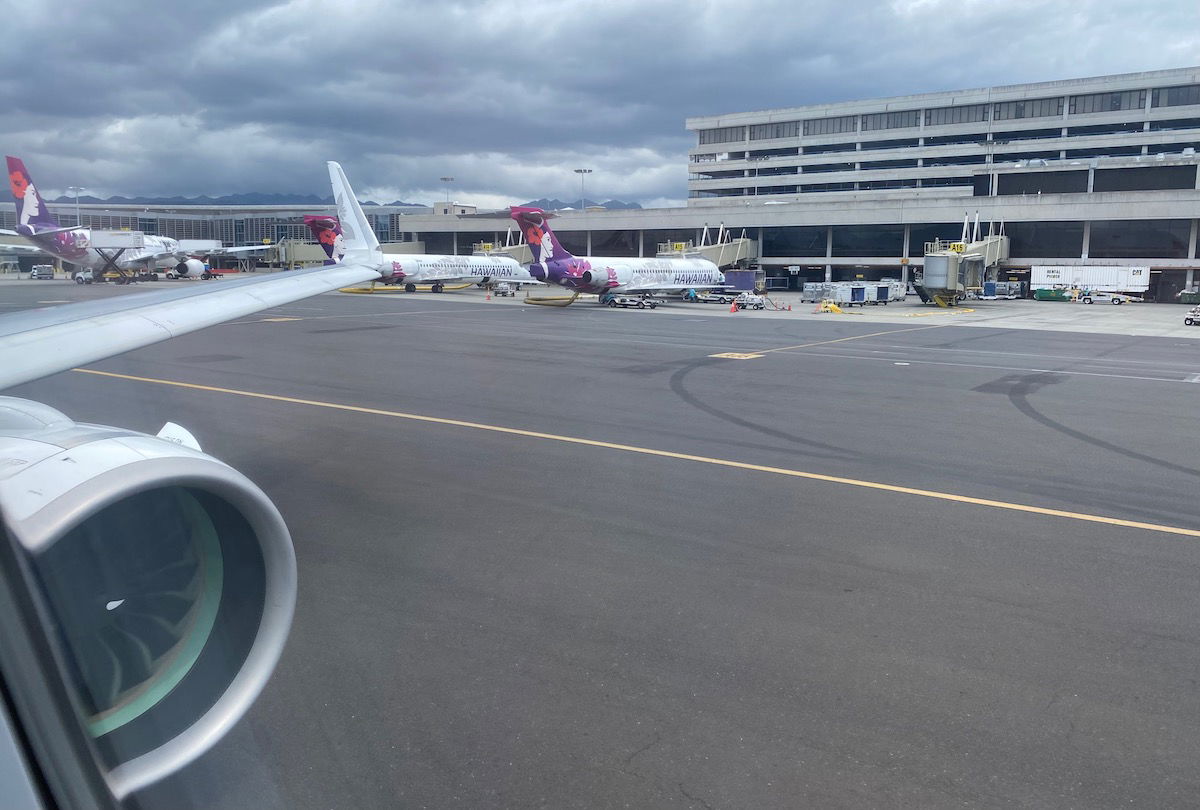 We were departing from the reef runway, which is quite a long taxi from the terminal. So despite taxiing really fast, it took around 15 minutes to get to the runway. On the plus side, the views are pretty awesome even during taxi!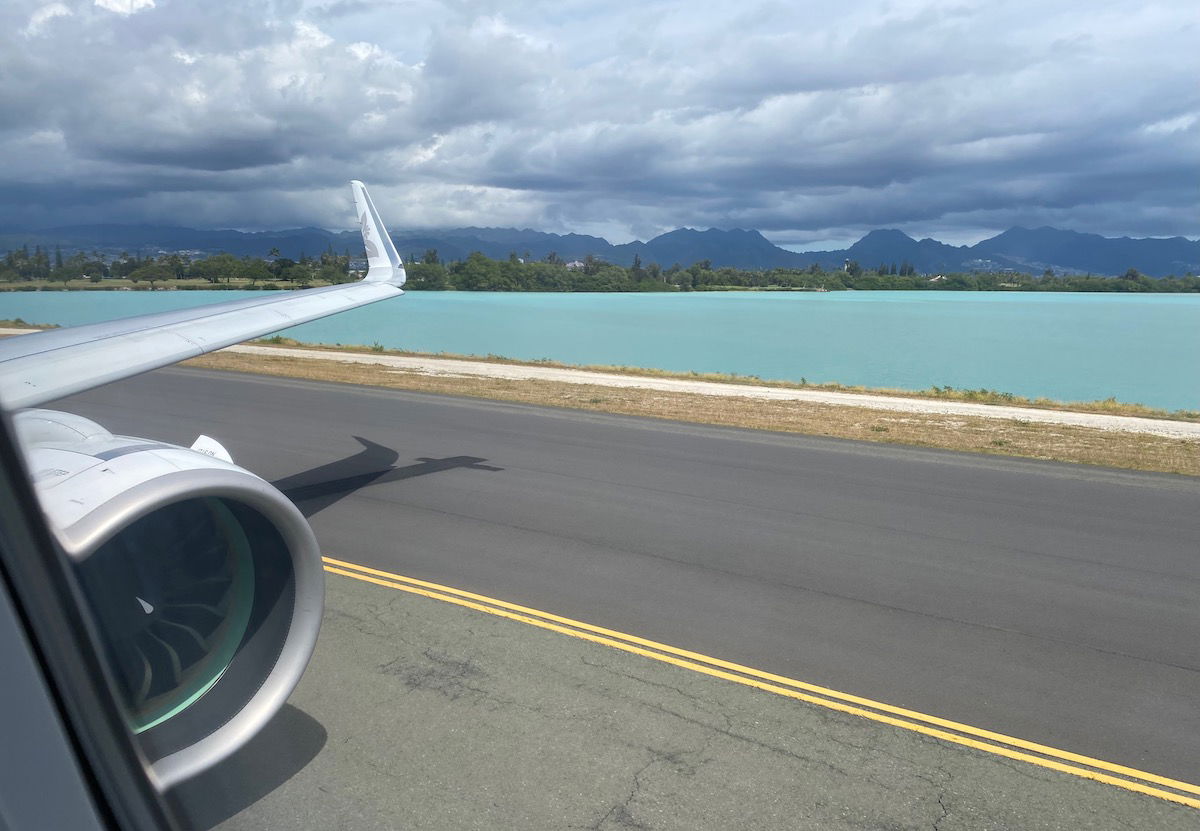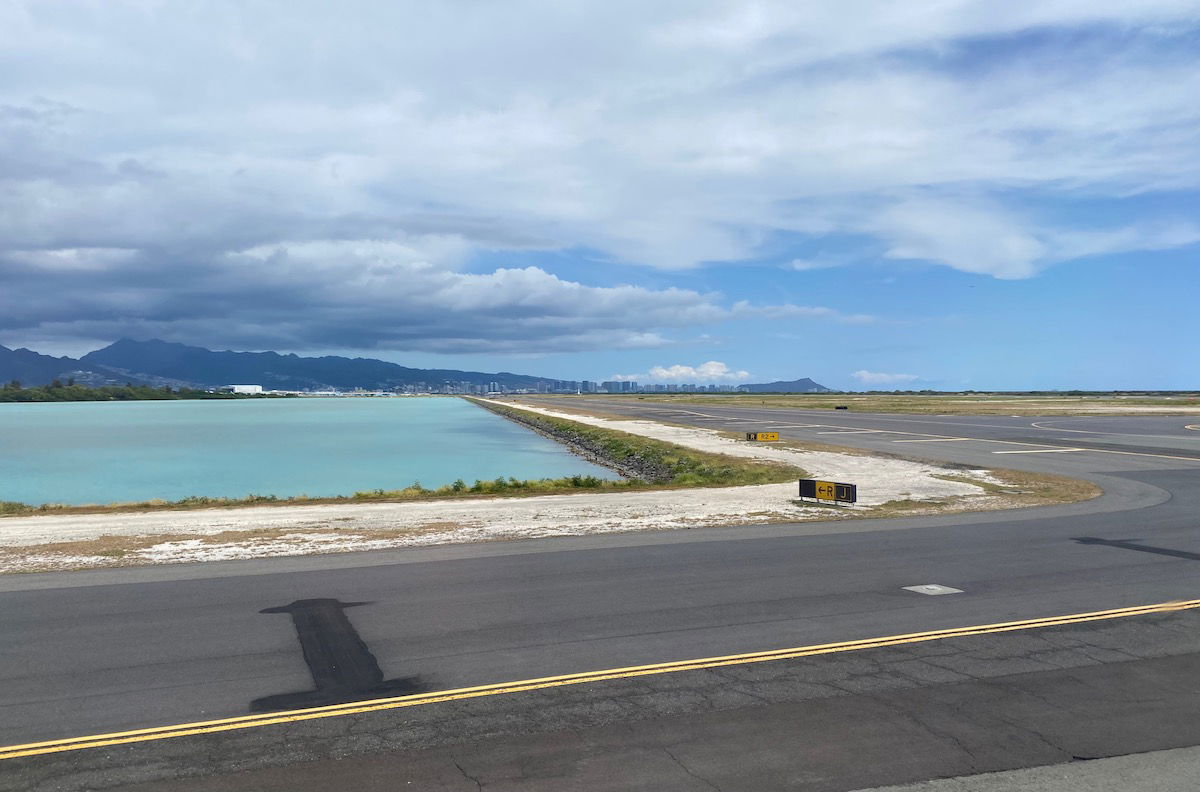 We were cleared for takeoff on runway 8R at 1:50PM.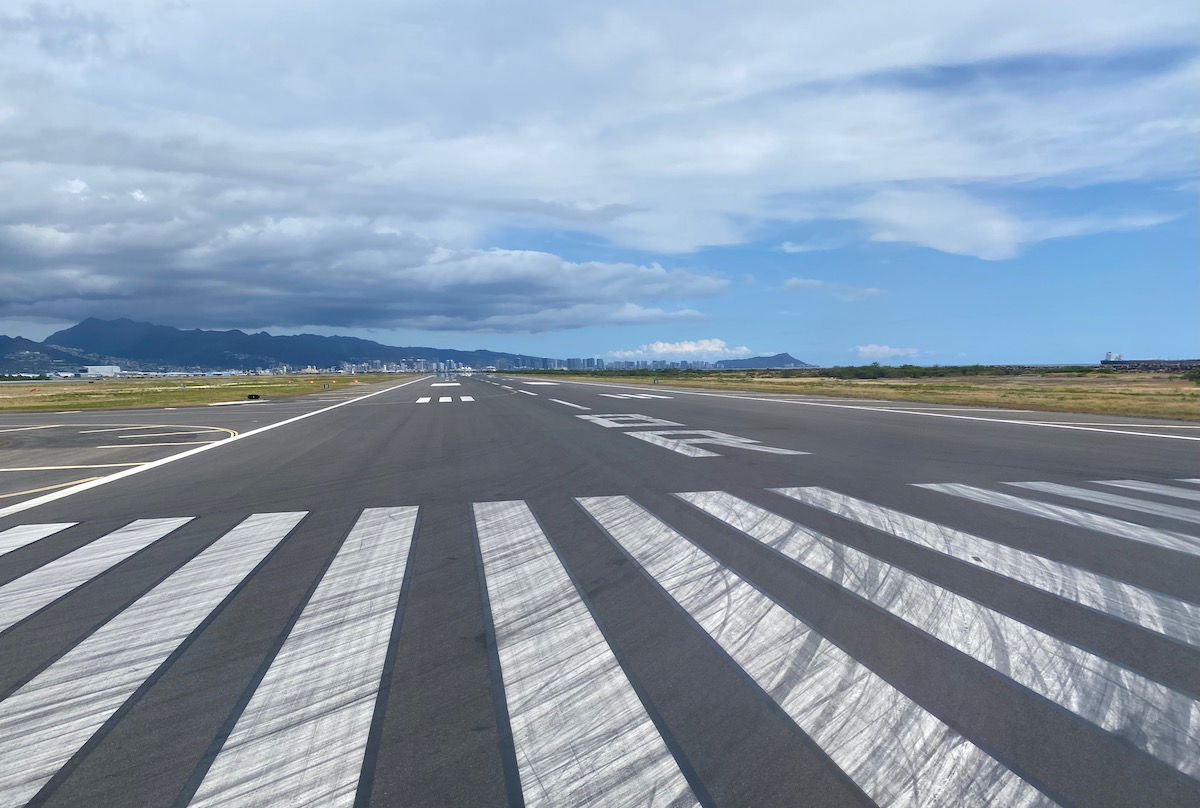 We had stunning views of Honolulu on our climb out!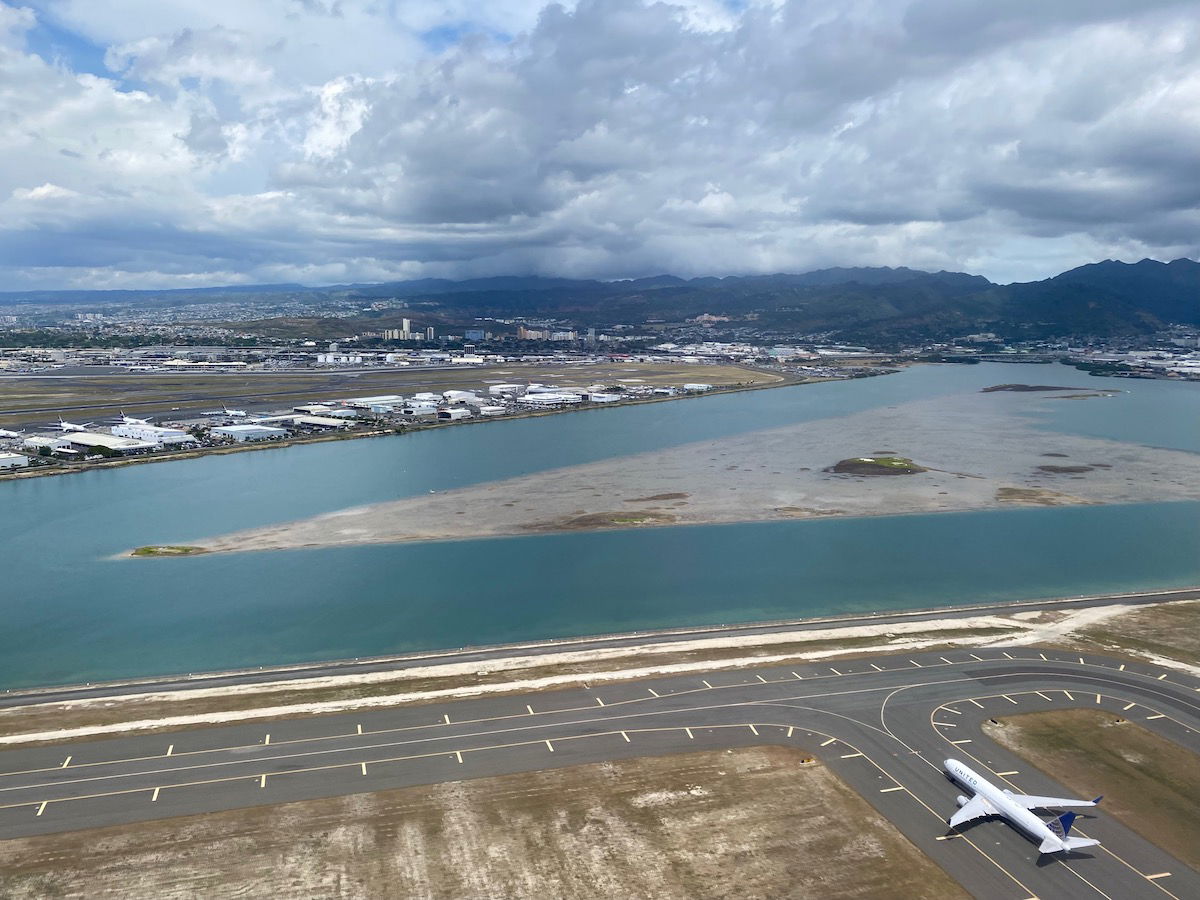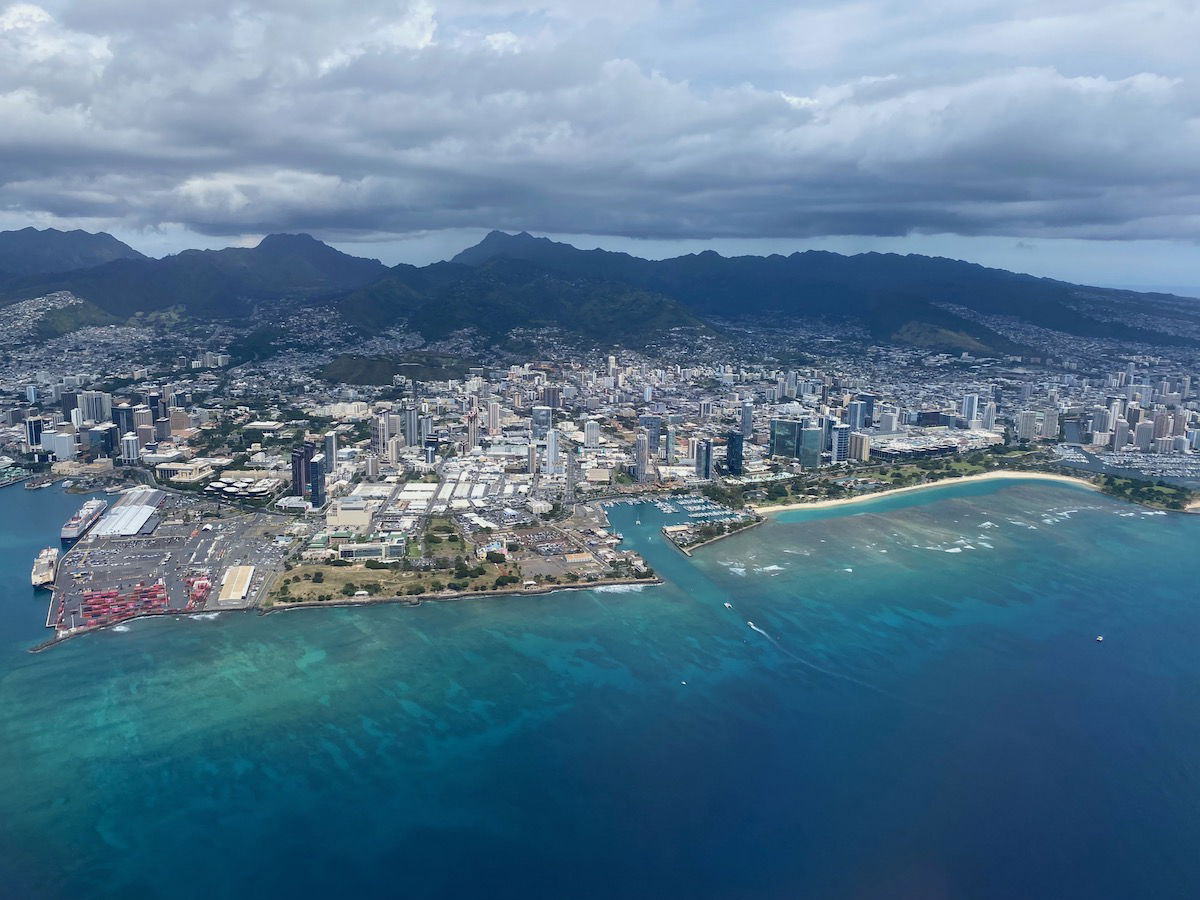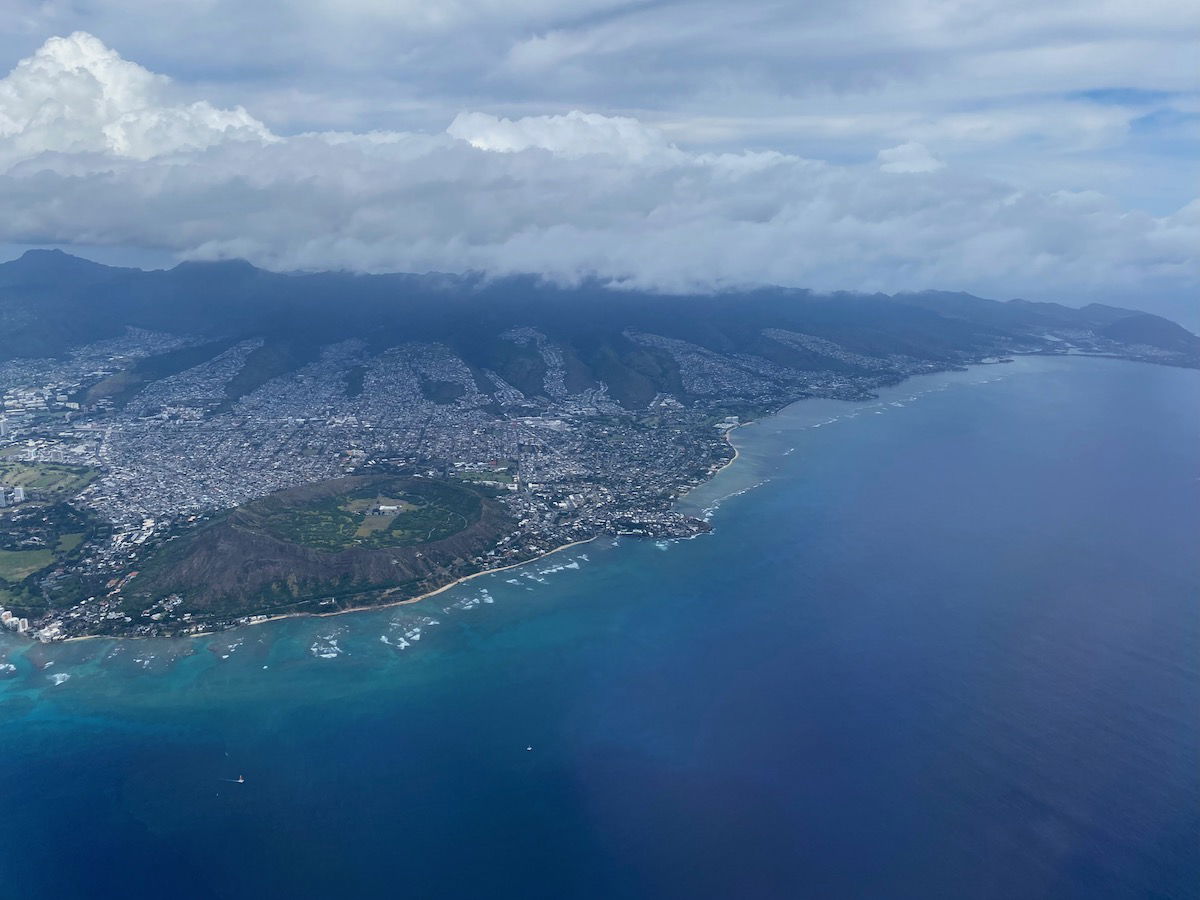 Hawaiian Airlines first class inflight service
About five minutes after takeoff the inflight service began.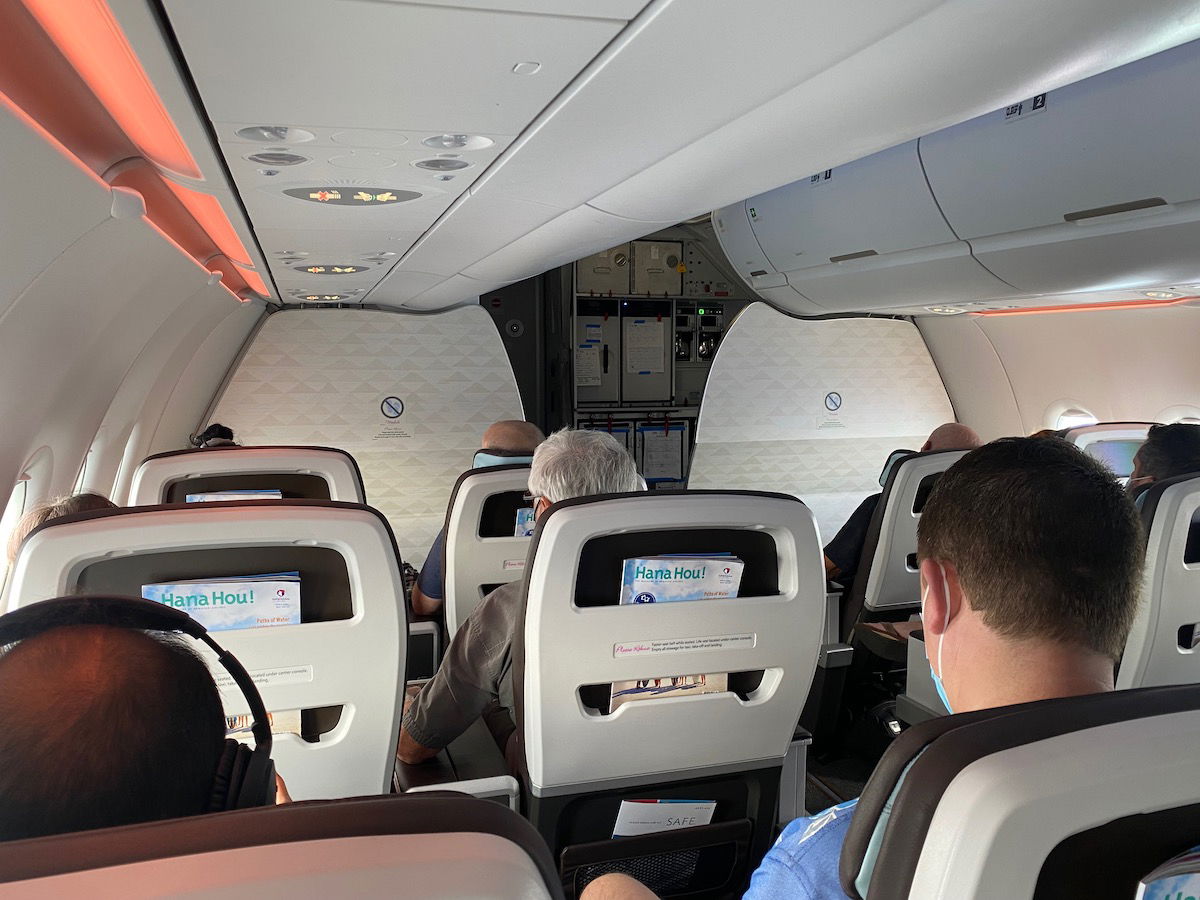 We were first offered our choice of three snacks — lemon berry cookies, snack mix, or Biscoffs.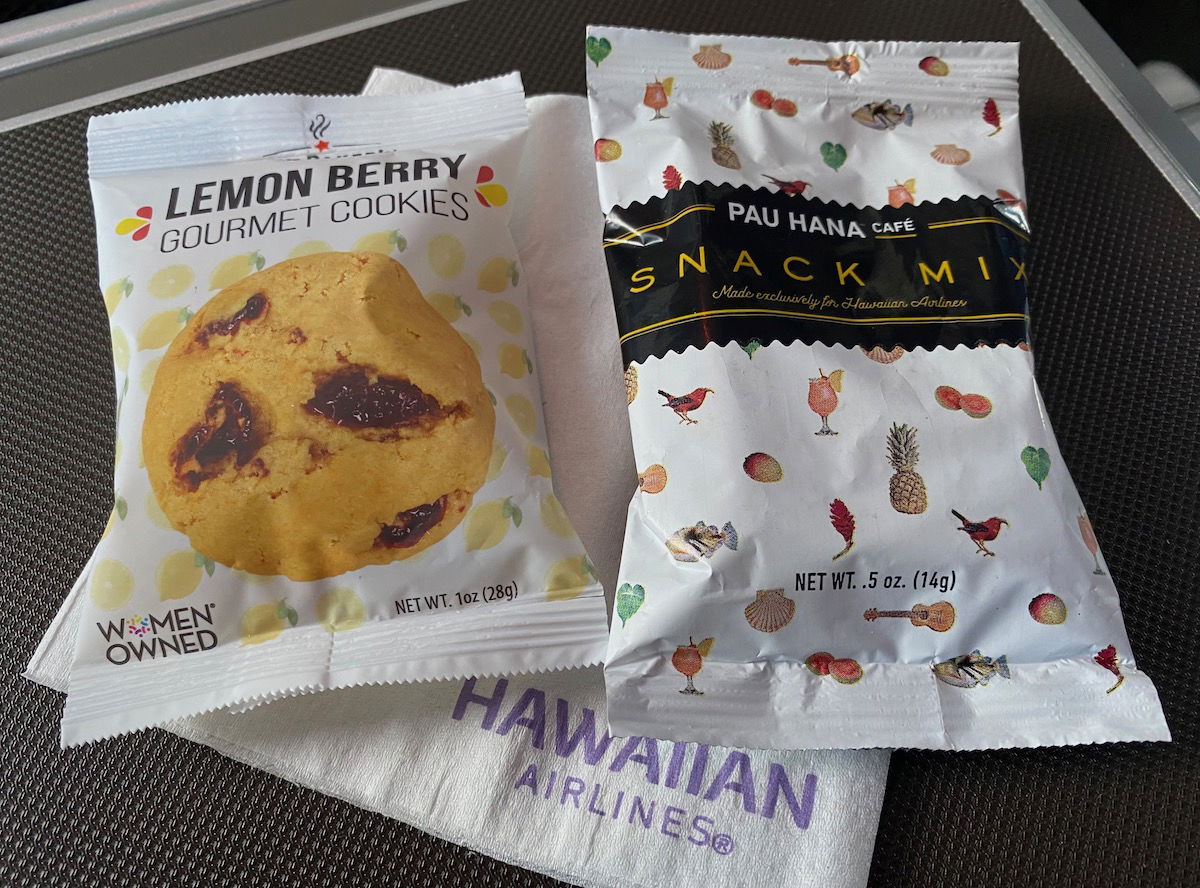 A few moments later we were brought the drinks we had ordered. I ordered a Moloka'i Mule, while Ford had a Mai Tai. The drinks were served in plastic cups, and tasted pretty decent, given that I believe these are pre-mixed cocktails.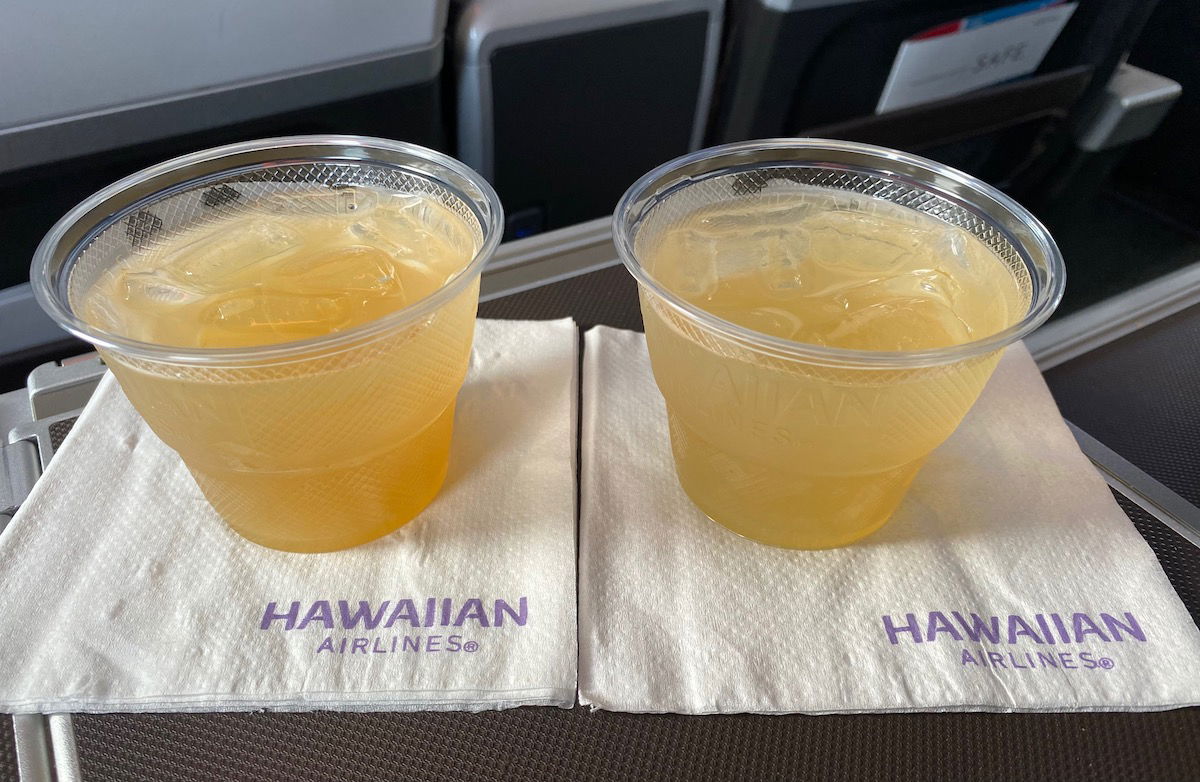 Impressively enough, we were offered a drink refill around 10 minutes before landing, but we declined. The two flight attendants working first class were super friendly.
For context, below is the drink selection from the inflight magazine. I believe this is also the selection available in first class, though on a complimentary basis.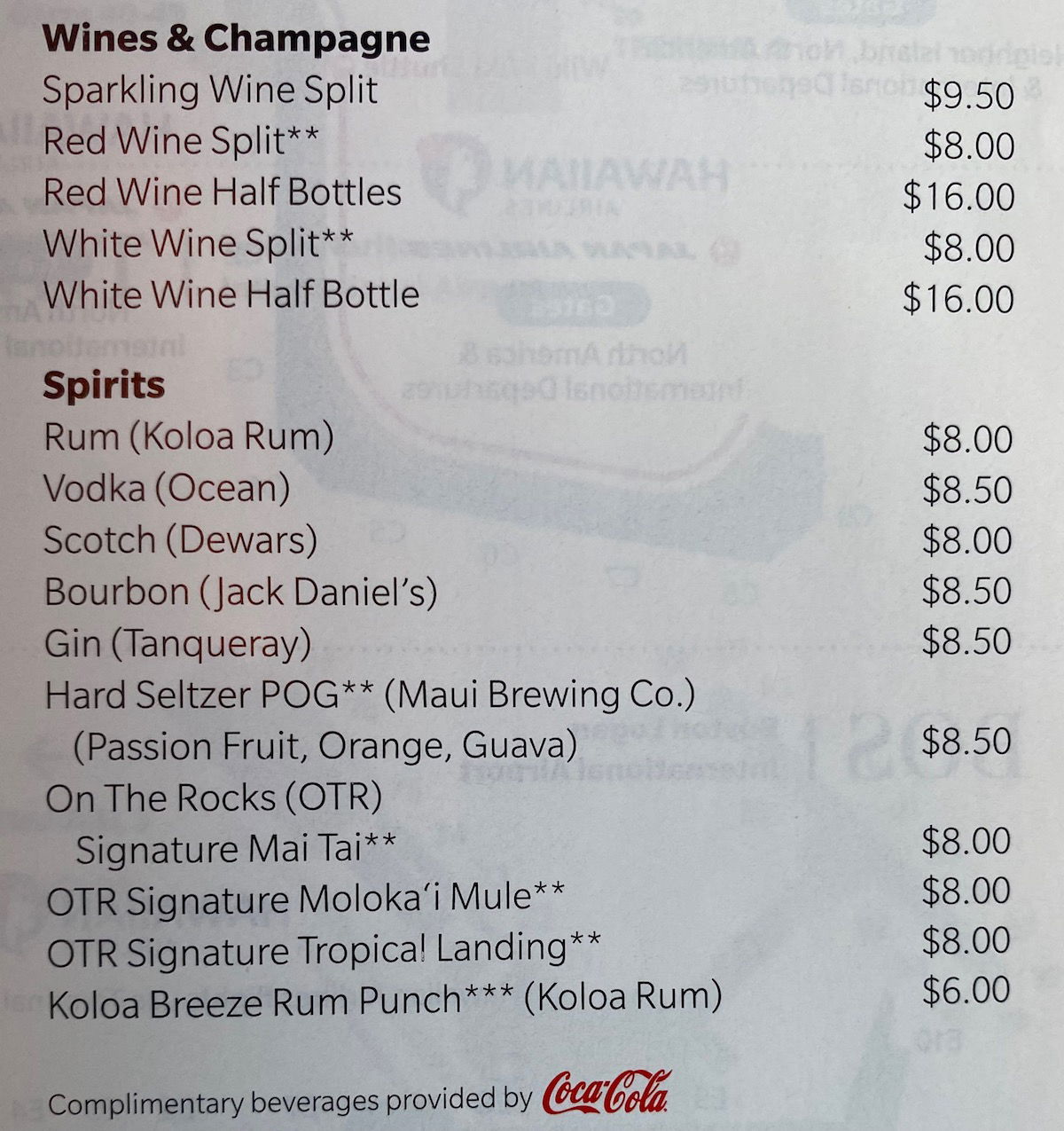 Hawaiian Airlines A321neo inflight entertainment
Obviously inflight entertainment doesn't matter on a flight this short, but keep in mind that Hawaiian also flies this plane to the mainland, where something like this matters a lot more. Unfortunately Hawaiian Airlines doesn't have Wi-Fi on its A321neos (or any aircraft, for that matter).
The airline does, however, have a portal with streaming entertainment. So you can choose from dozens of movies or TV shows to stream to your device.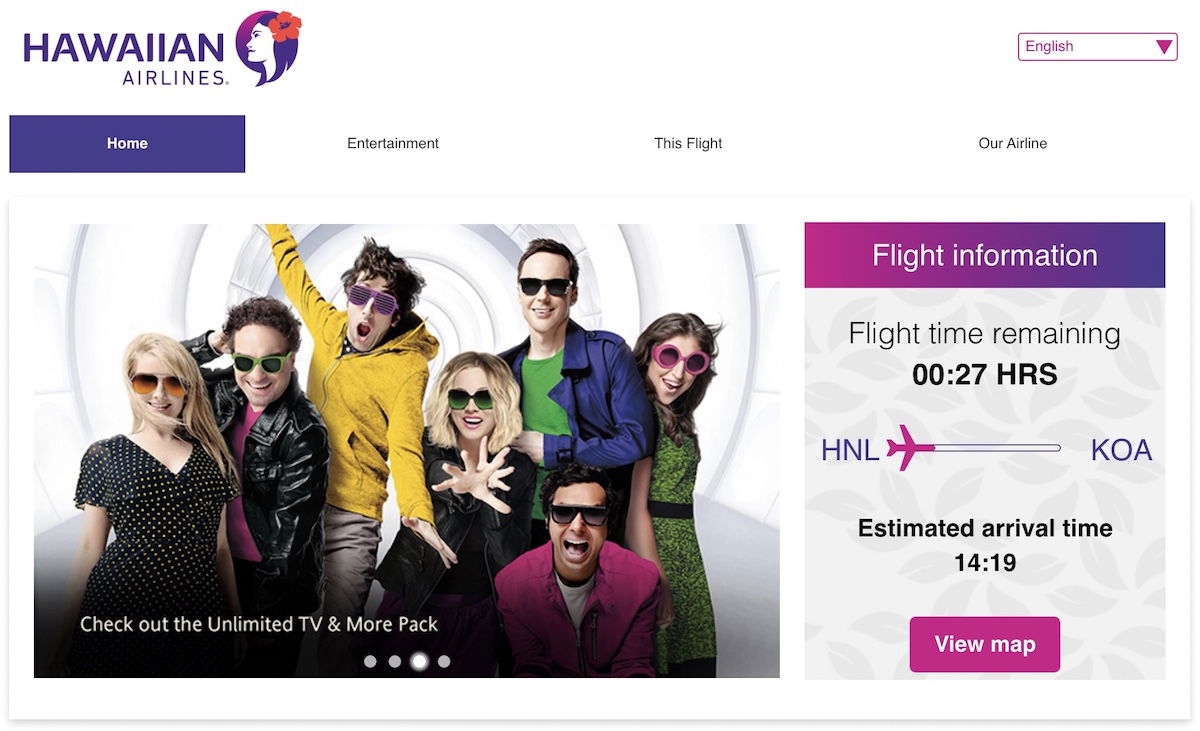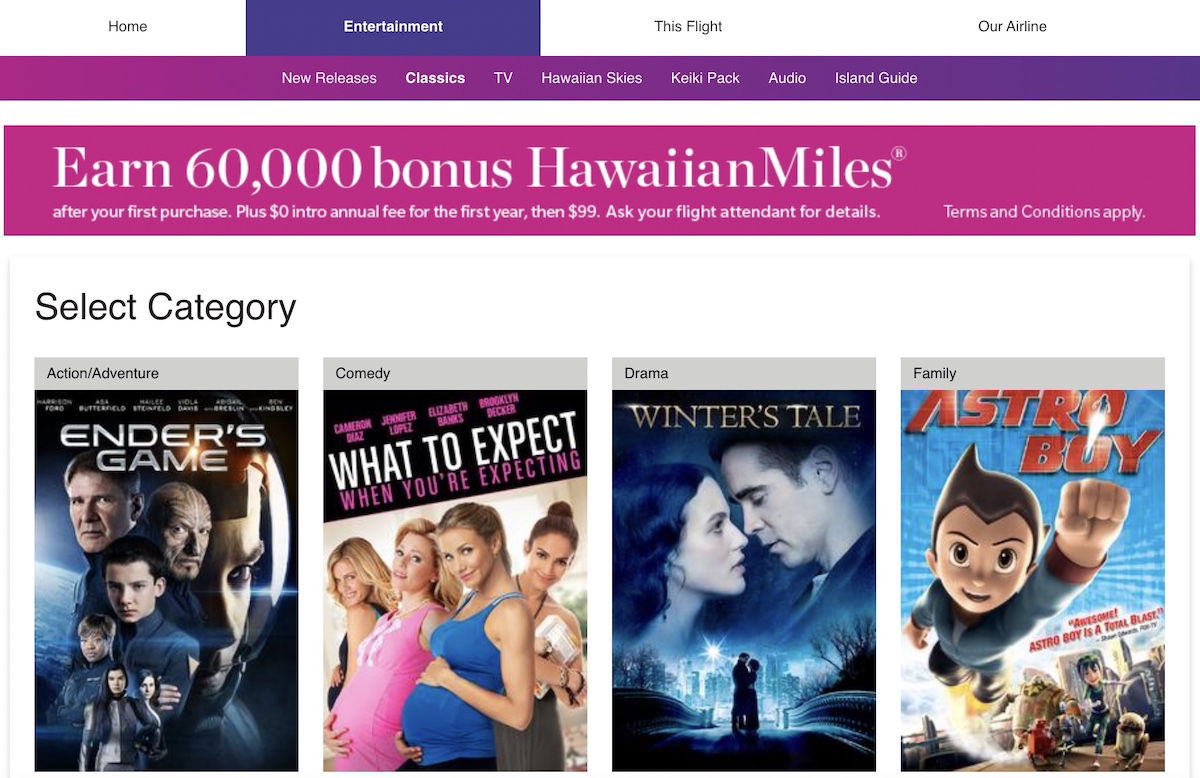 There's even a flight tracking feature, which I appreciate.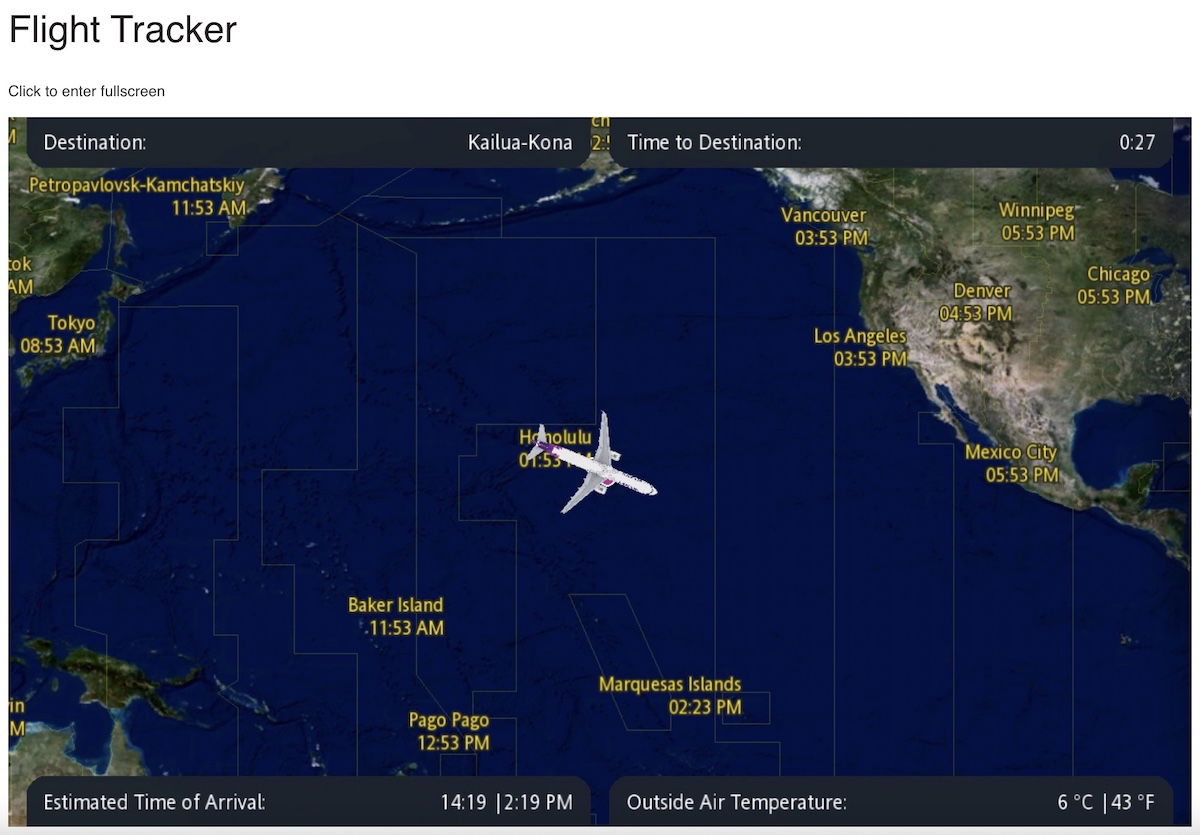 The only other entertainment is the inflight magazine, which you don't see on many US airlines anymore. Apparently it's for sale at newsstands for $3.99? Hah…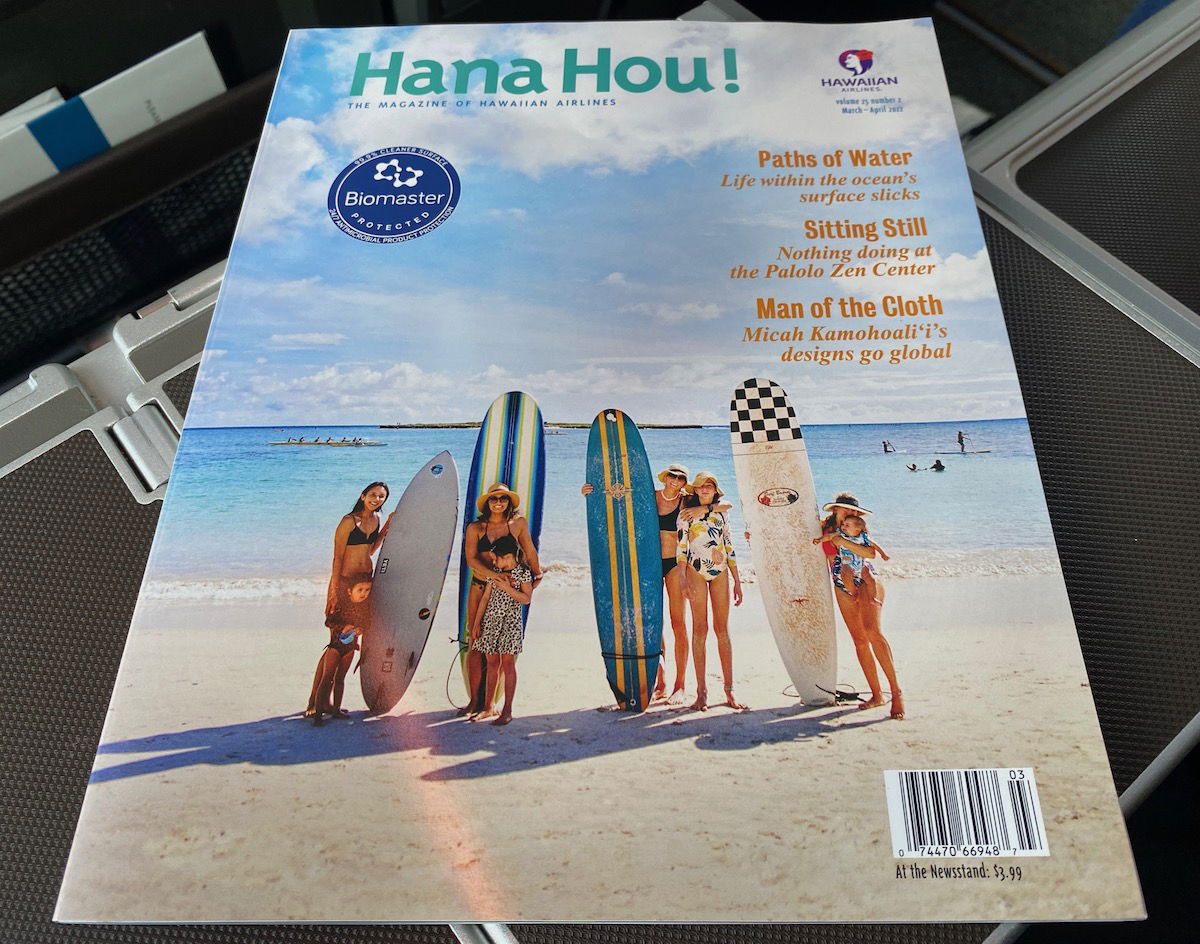 It's a bit disappointing that Hawaiian Airlines chose not to install TVs on these new jets. There's no Wi-Fi, so on a flight to the mainland your only option is to stream entertainment to your device.
Hawaiian Airlines arrival in Kona
The 163-mile flight from Honolulu to Kona is one of the longer inter-island flights, and affords some incredible views. Below is a map of our flight, to give you a sense of just how much there was to see. I'm happy we selected seats on the left side of the aircraft, which offered all the views.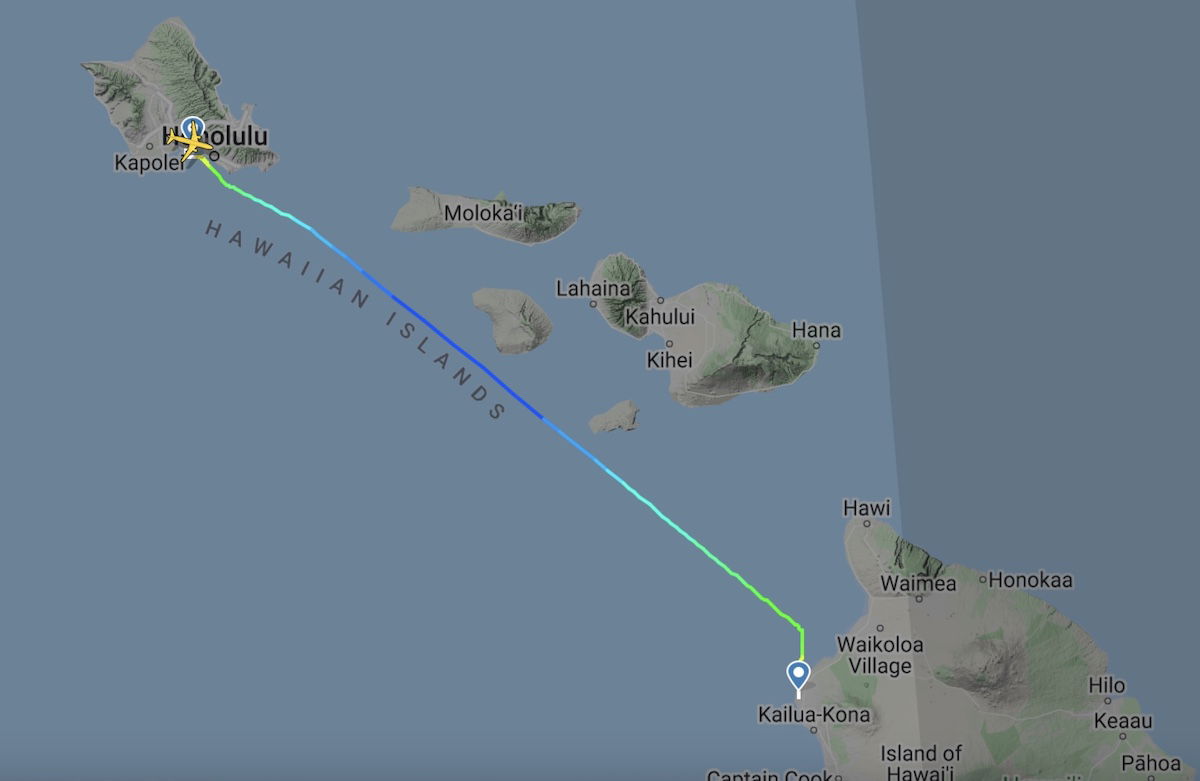 I'll let OMAAT readers chime in on exactly which islands those are below. I think that's Lanai and Kaho'olawe, though I'm sure someone will correct me if I'm wrong.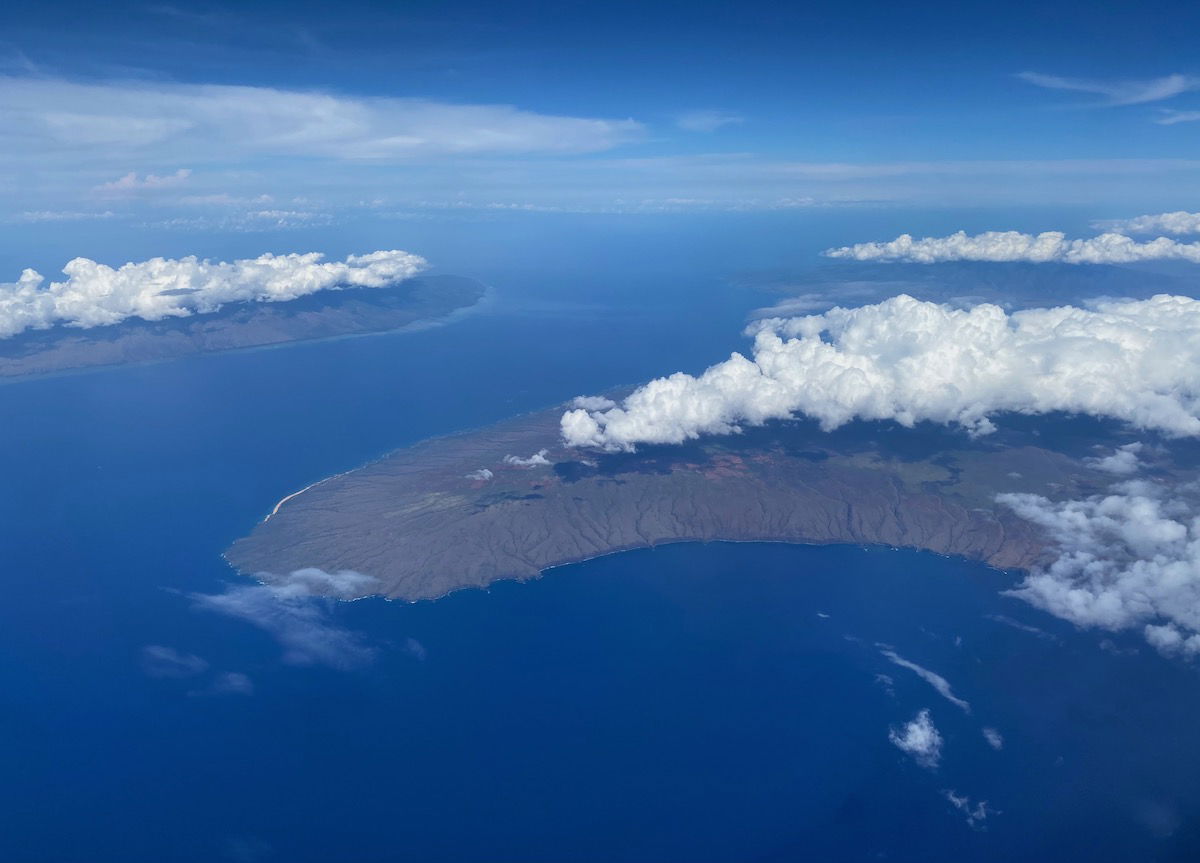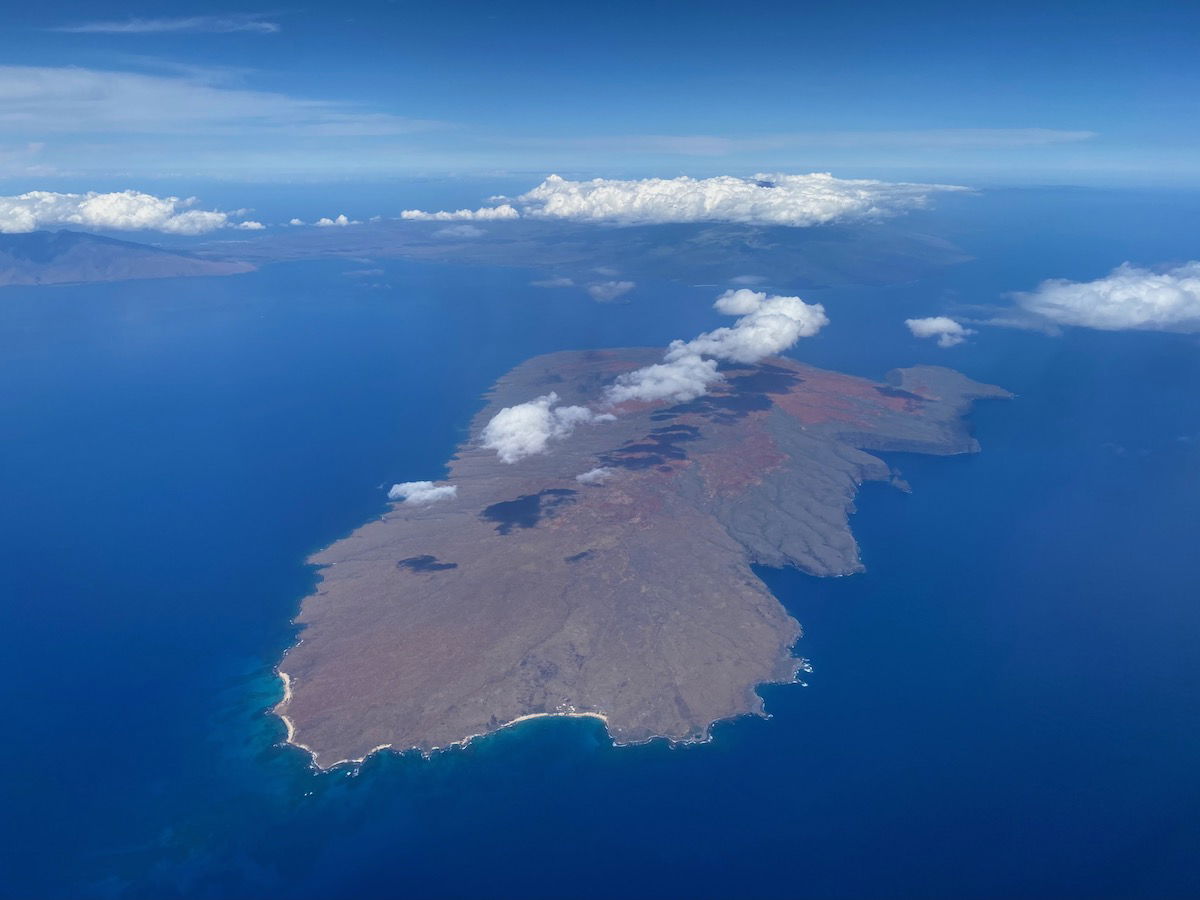 Eventually the Big Island was in sight, and the cabin was prepared for landing.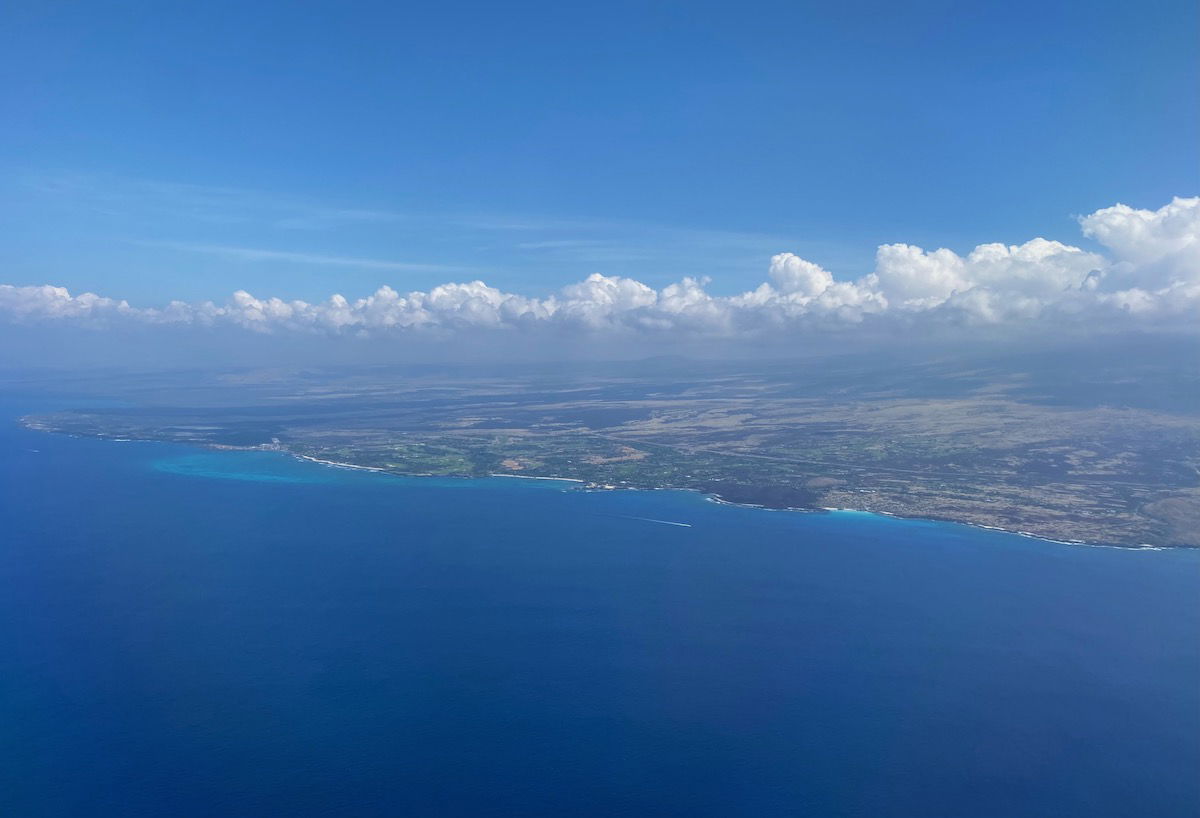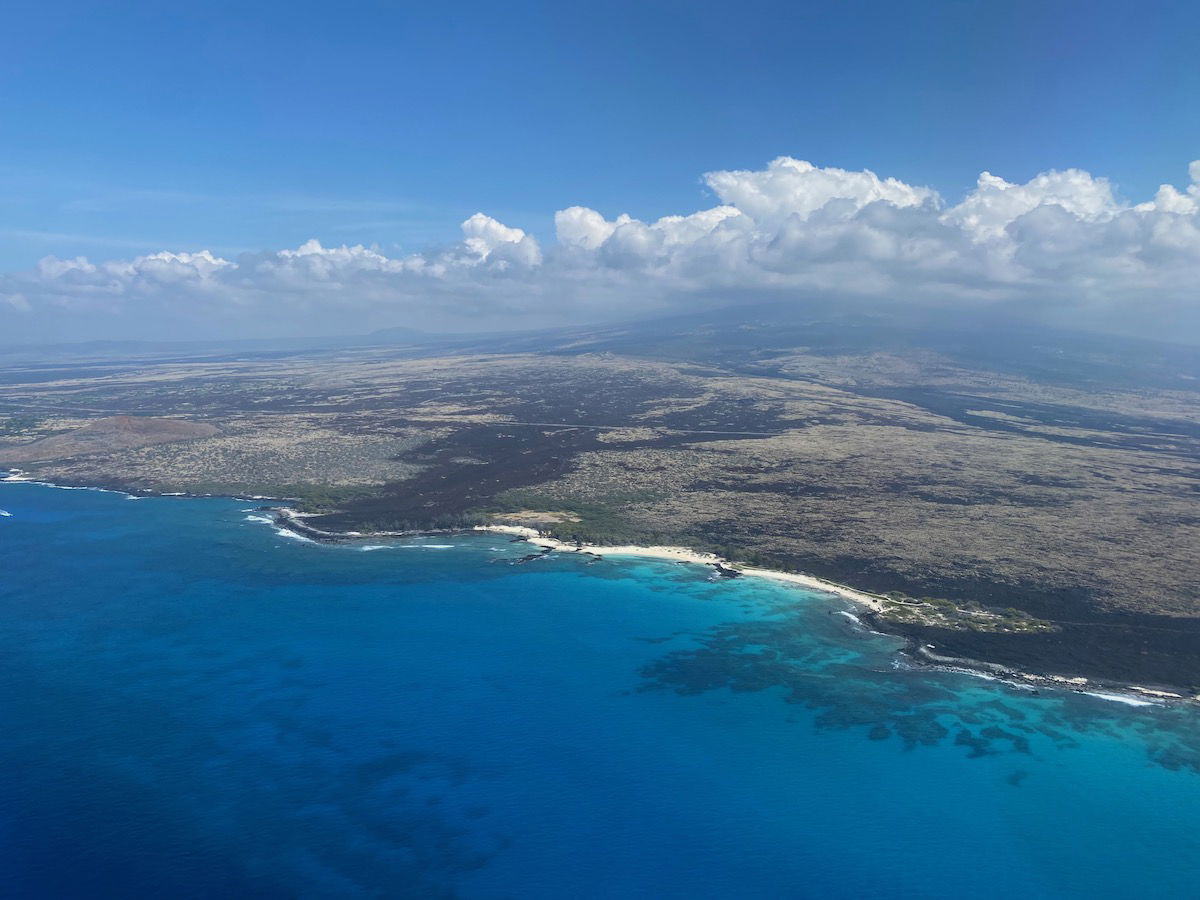 One of the things that makes the Big Island unique is all the black rocks, which you won't find to this extent on other islands. It was especially cool to see from above (I know a lot of people do helicopter tours to see this stuff — I'm terrified of helicopters — so I was happy to have the chance to see this from a plane).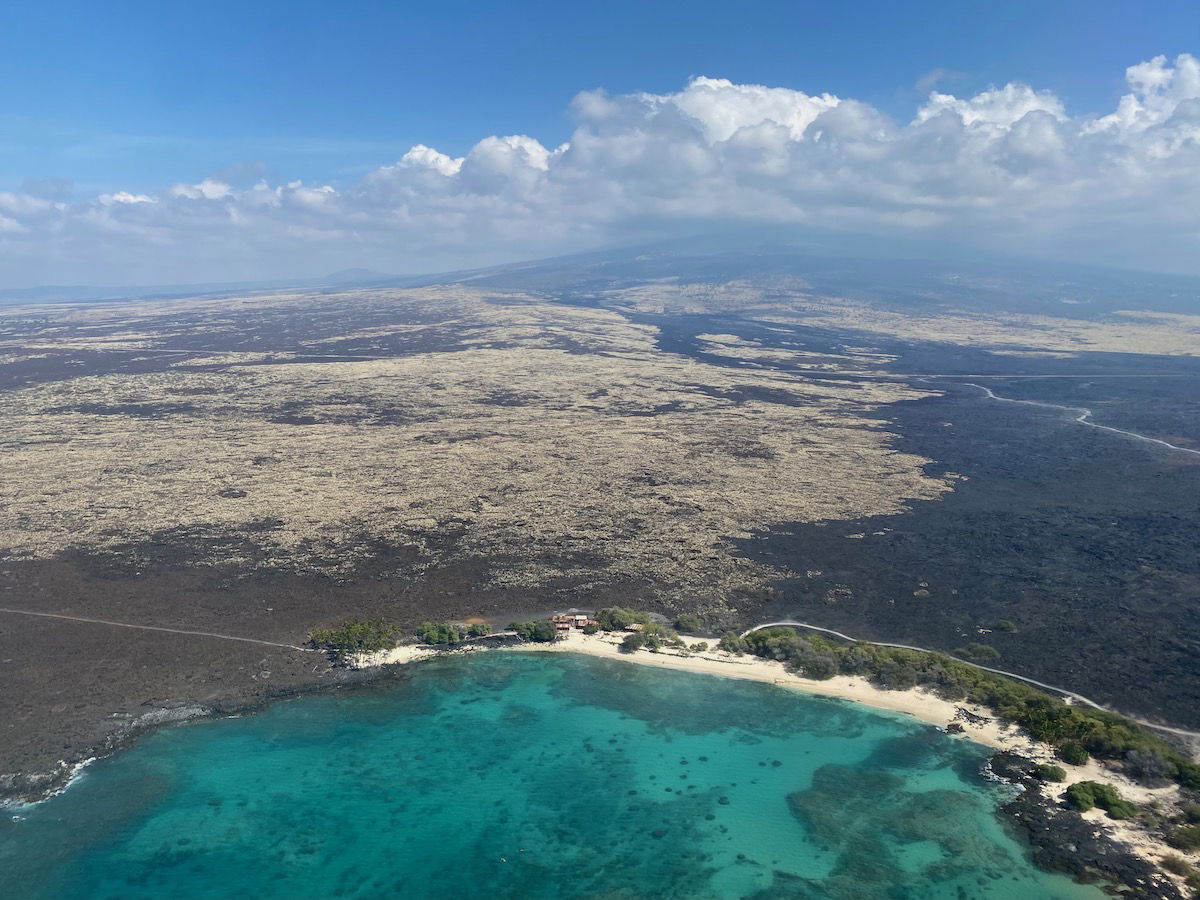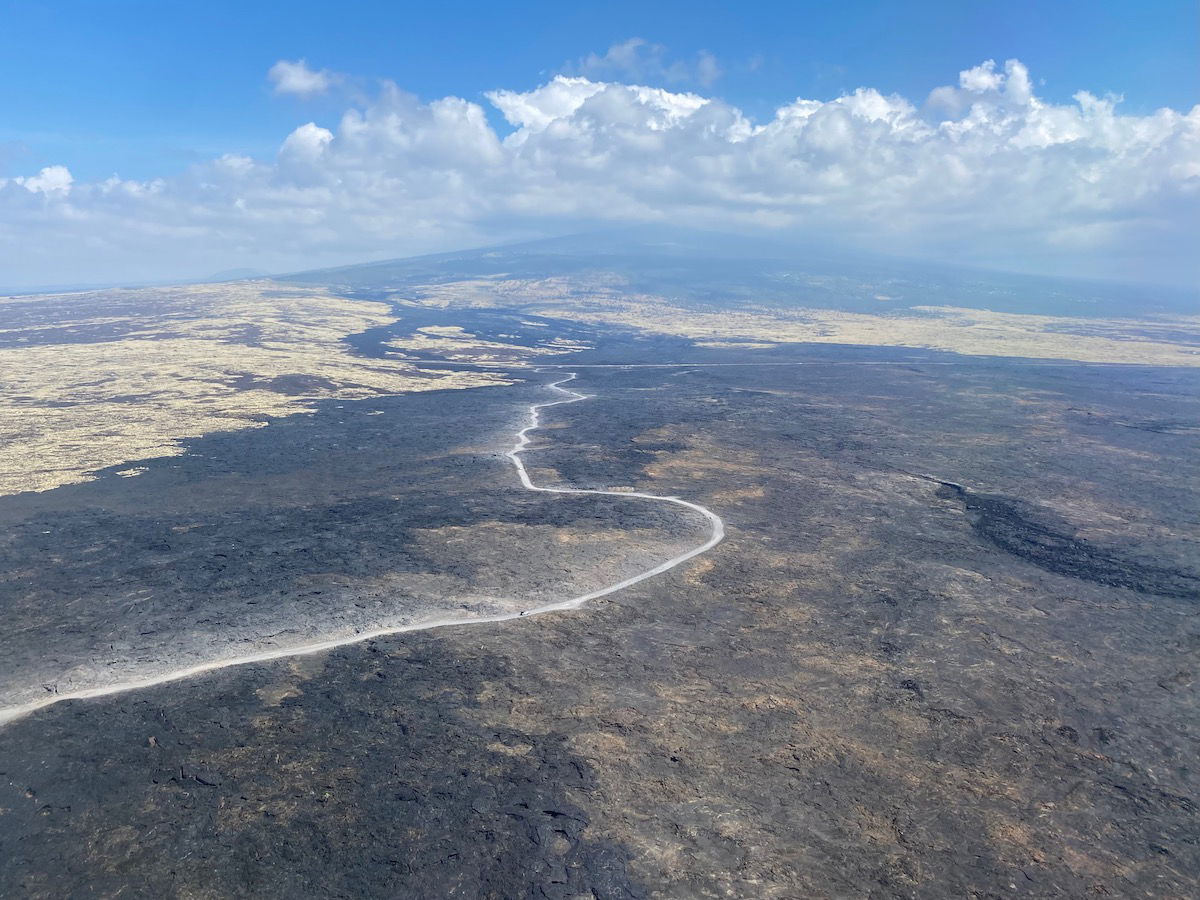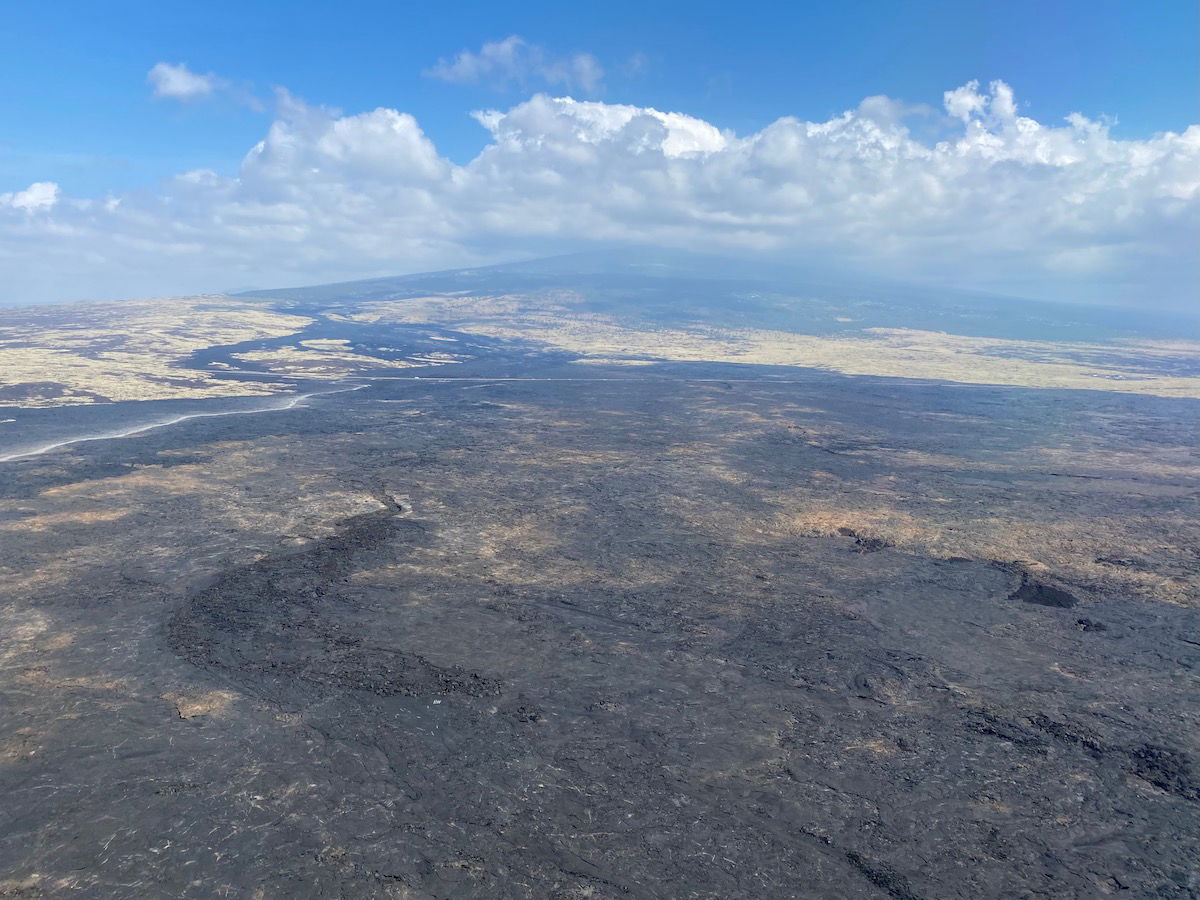 We touched down on runway 17 at around 2:20PM, with a Hawaiian Airlines 717 and United 737 holding short of the runway.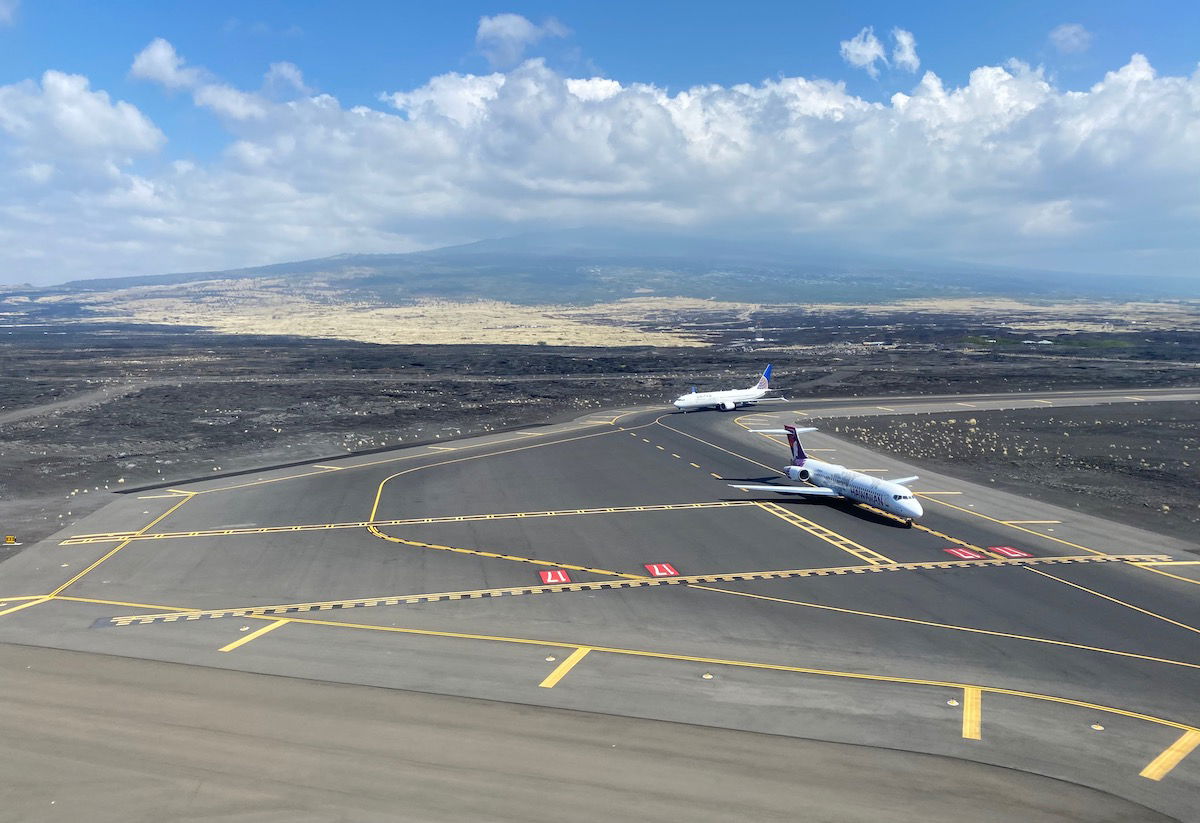 From there we had a short taxi to our arrival stand. There were five other planes on the ground, including two Southwest 737s, one American A321, one United 737, and one Alaska 737.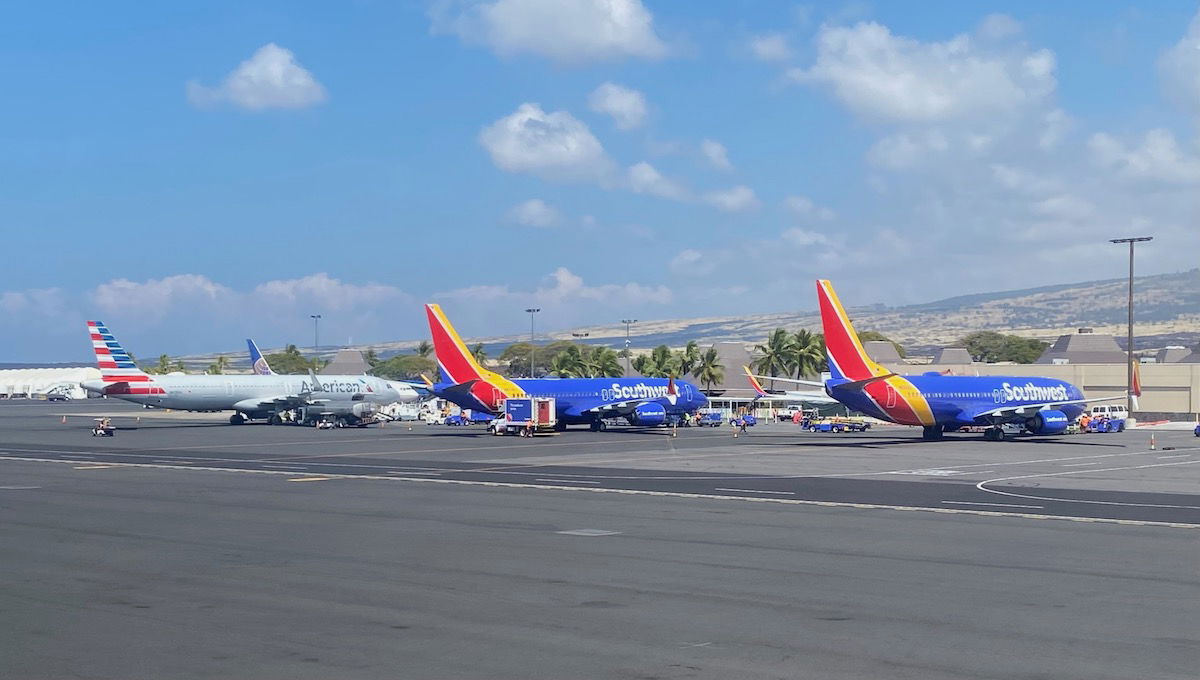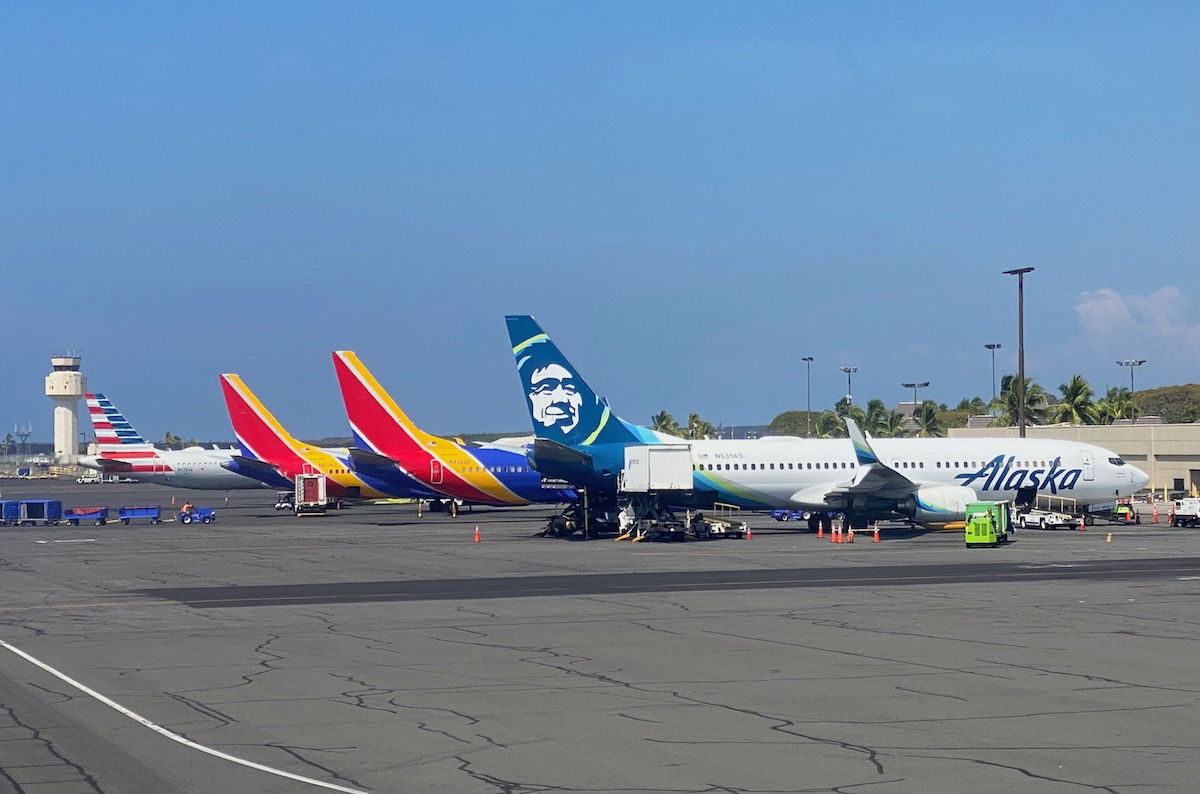 Kona Airport doesn't have any gates, so a ramp was pushed up to the forward left door of the plane.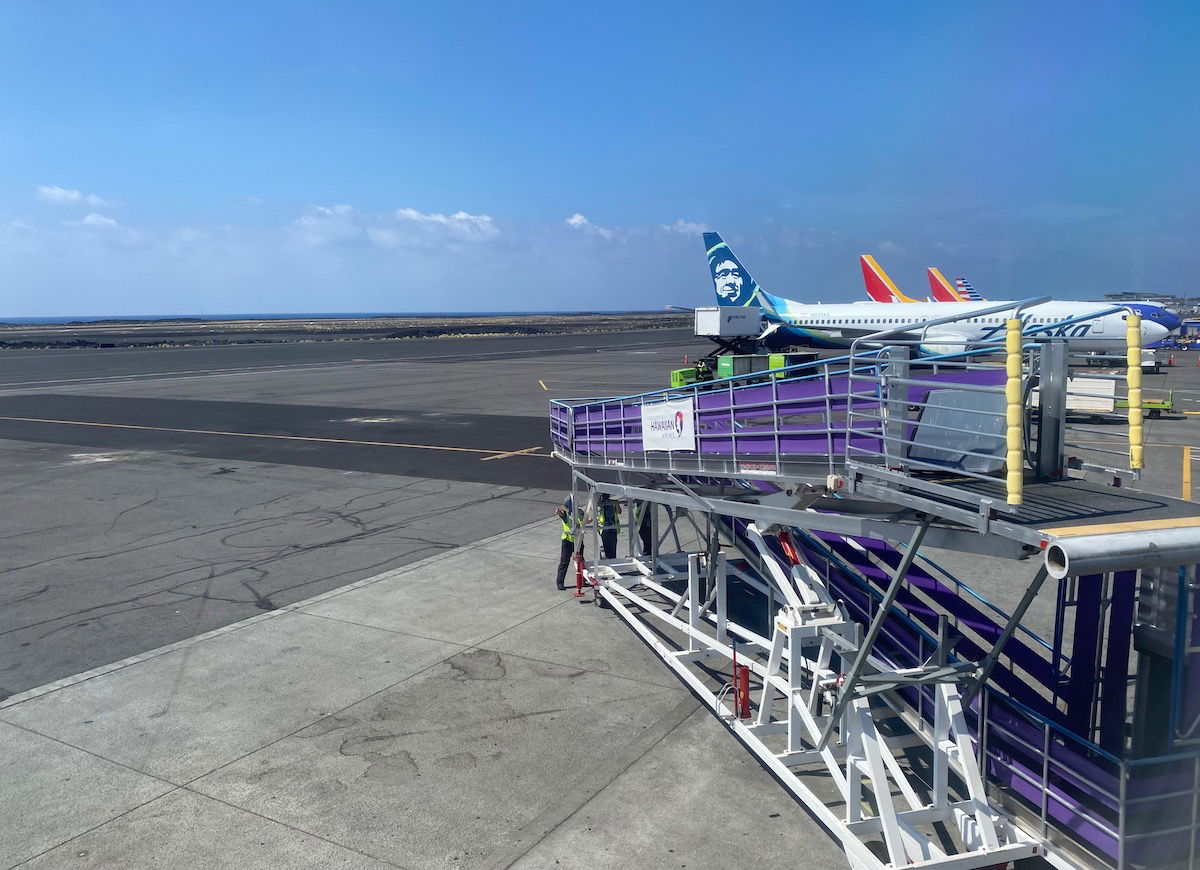 I always love getting these kinds of plane views!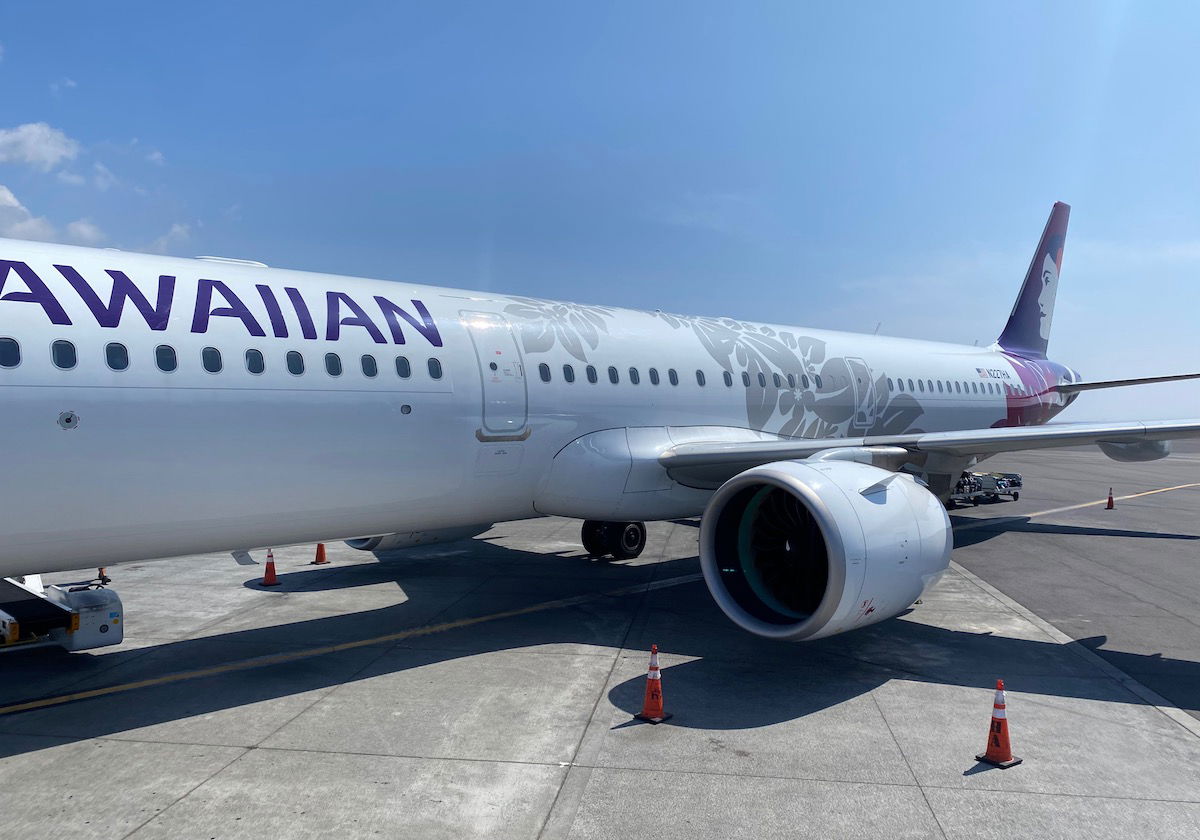 From there we were directed into the terminal, which is entirely open air (and kind of awful, though I'll save that for the report of our flight departing Kona).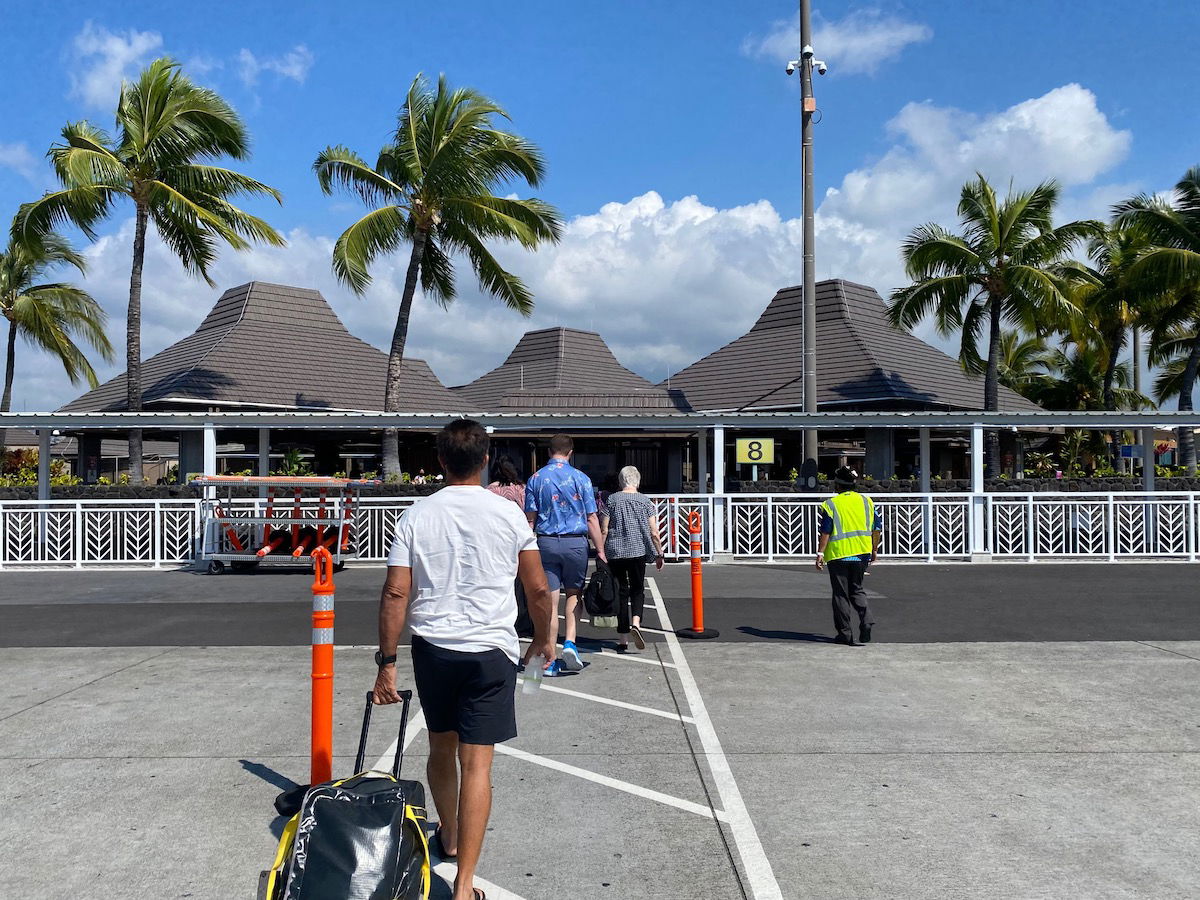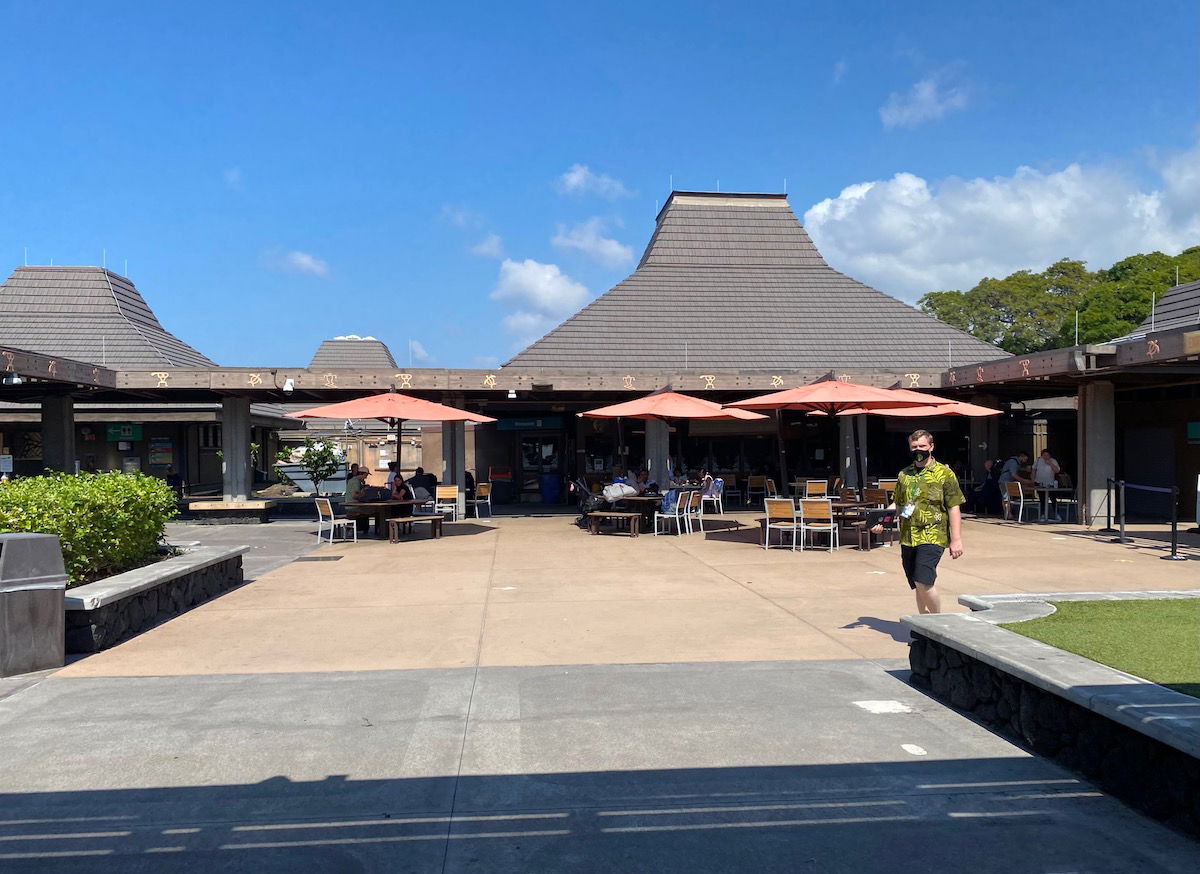 We headed to the arrivals area and then the rental car shuttle, and were at our hotel in less than 30 minutes.
Bottom line
I'm happy I had the chance to fly Hawaiian Airlines' A321neo first class on an inter-island flight, because this way I won't have to go out of my way to review it on a flight to the mainland.
Ultimately Hawaiian's A321neos are awesome for inter-island flights, and even offer a competitive product to & from the mainland, at least compared to other airlines flying domestically configured planes. However, the planes don't offer nearly as good of an experience as the A330s the airline has, which have flat beds in first class, plus personal televisions.
So I'd say Hawaiian's A321neos are totally fine — they're not worth avoiding (unless there's an option for a flat bed), but also not worth seeking out.
What do you make of Hawaiian Airlines' A321neos?