EXTRA PERKS AVAILABLE
Enjoy breakfast, upgrades, & more
Want to take advantage of Marriott STARS benefits, including a space available room upgrade, complimentary breakfast, a hotel credit, and more? Contact Ford ([email protected]) for more details. He may even be able to help if you already have a stay booked. This is valid for paid stays at BVLGARI, EDITION, Ritz-Carlton, Ritz-Carlton Reserve, and St. Regis.
As I mentioned in the introduction post, the whole reason we went to Puerto Rico was because our JetBlue Mint ticket to London was significantly cheaper when originating there. Since we were going to fly to Puerto Rico anyway, we decided to visit what's generally regarded as the island's best resort — Dorado Beach, a Ritz-Carlton Reserve.
I recently reviewed Zadun, the Ritz-Carlton Reserve property in Los Cabos, and figured it would be interesting to check out Ritz-Carlton Reserve's only other property in North America. Dorado Beach opened back in 2012, and was the second-ever Ritz-Carlton Reserve property (after the one in Phulay Bay, Thailand).
How to book Dorado Beach Ritz-Carlton Reserve
Ritz-Carlton Reserve properties don't participate in Marriott Bonvoy, so unfortunately there's no way to earn or redeem points for stays at this resort.
If paying cash for your stay at Dorado Beach, I'd highly recommend booking through a travel advisor affiliated with the Marriott STARS program, so you can receive extra perks, like complimentary breakfast, a room upgrade subject to availability, a hotel credit, and more.
Since STARS is Marriott's own proprietary program, these upgrades will typically be prioritized over those through Amex Fine Hotels & Resorts, Virtuoso, etc. Ford is happy to help with this and compare rates and perks between programs, and can be reached at [email protected].
As is the case at virtually all luxury properties in the United States right now, paid rates are steep. This is a reflection of supply and demand — with restrictions around international travel, including testing requirements, many prefer to vacation within the United States. That's why hotels in Puerto Rico, Hawaii, etc., have all had record rates over the past year.
Rates at Dorado Beach seem to start at $1,300+ per night, and in peak season entry level rates can be significantly higher than that.
Not included in the rate is a $125 daily resort fee, which at least includes quite a few things — bicycles, snorkeling gear, non-motorized water sports, water park access, valet parking, access to the Dorado Beach fitness center, morning coffee & tea, and a rum welcome amenity.
While I believe this is the highest resort fee of any property anywhere, in fairness it does get you access to most of the Dorado Beach amenities outside of the resort, so that will be valuable to many guests.
In the interest of full disclosure, we stayed here on a travel advisor rate. This is something Ford arranged, and I figured OMAAT readers would still enjoy getting a sense of what the resort has to offer.
What is Dorado Beach?
Dorado Beach is both the name of the Ritz-Carlton Reserve, and of the development that it's in. I think some context might be valuable here. Dorado Beach as such is a 1,400+ acre oceanfront development, about a 45 minute drive from San Juan.
Dorado Beach has endless beachfront (as the name suggests), four golf courses, and lots of other amenities. There are plenty of houses in Dorado Beach, and they're really pricey. Residents of Puerto Rico don't have to pay federal income taxes, and Dorado Beach is more or less the most expensive development in Puerto Rico, and it's home to everyone from tech billionaires to superstars. Suffice to say the people watching in Dorado Beach sure is fun.
By the way, Dorado Beach has some fascinating history, especially for us avgeeks. The property was first owned by the Livingstons, who purchased it in 1905. Clara Livingston was a female aviation pioneer, and she befriended Amelia Earheart, who stayed at the property immediately before embarking on her last attempt to fly around the world.
After the Livingstons, the property was purchased by the Rockefellers, who opened the first resort here in 1958.
Dorado Beach Ritz-Carlton Reserve check-in & lobby
The check-in experience at Dorado Beach was flawless — since you drive through a gate when you arrive at the hotel, staff are able to come down and greet you right at the driveway as you arrive, and create a personalized experience.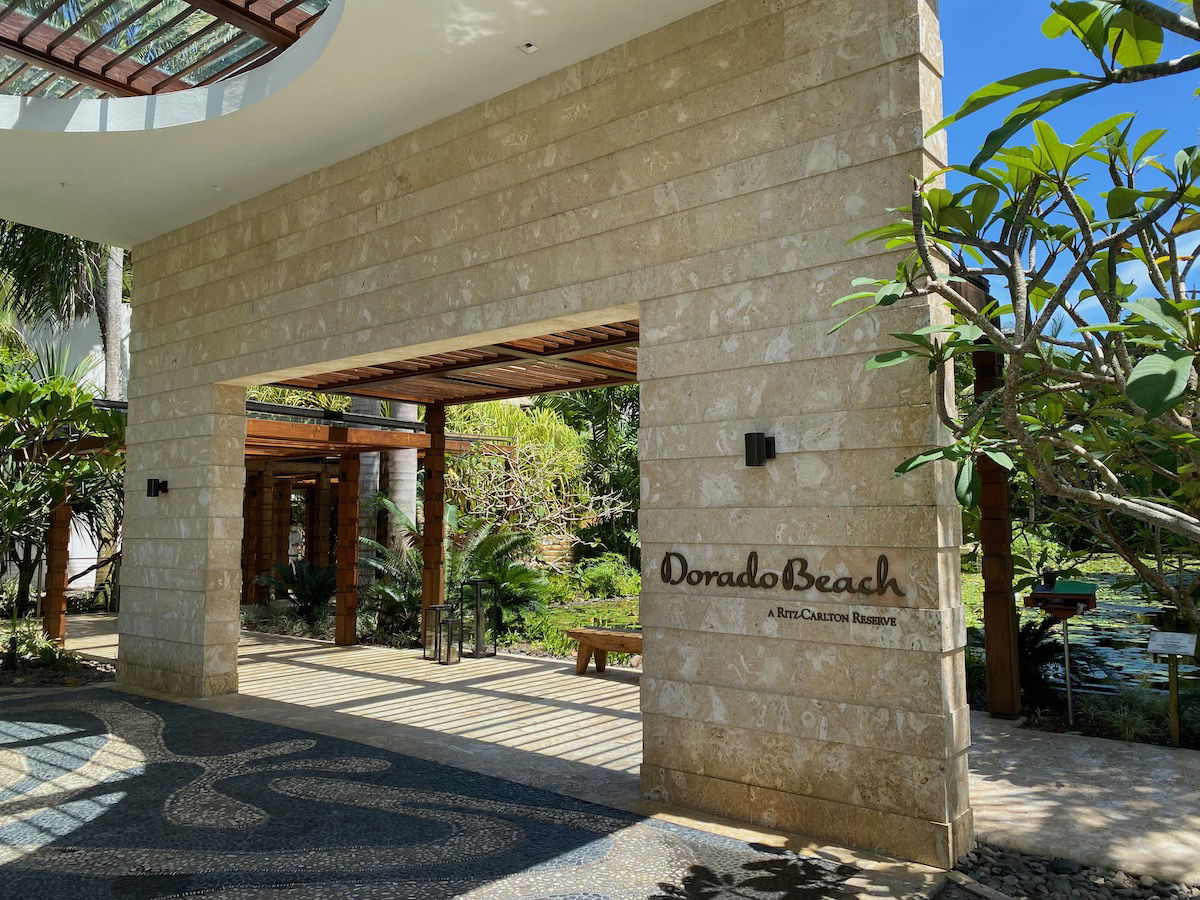 We were welcomed with our choice of refreshing popsicles — talk about a nice welcome!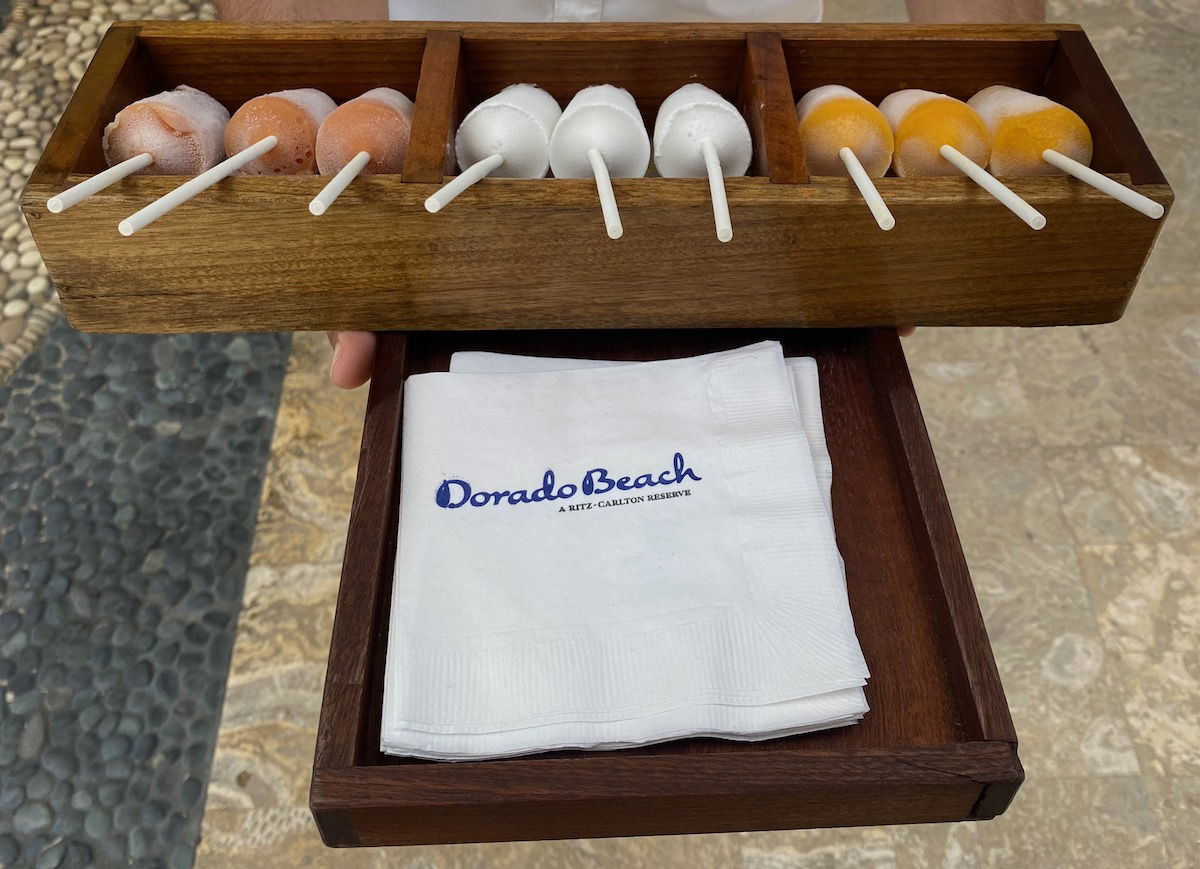 We were escorted up a set of stairs to the open air lobby, which had beautiful views of the resort — there's quite a bit of greenery around the lobby, and you also have the view towards the pool and ocean.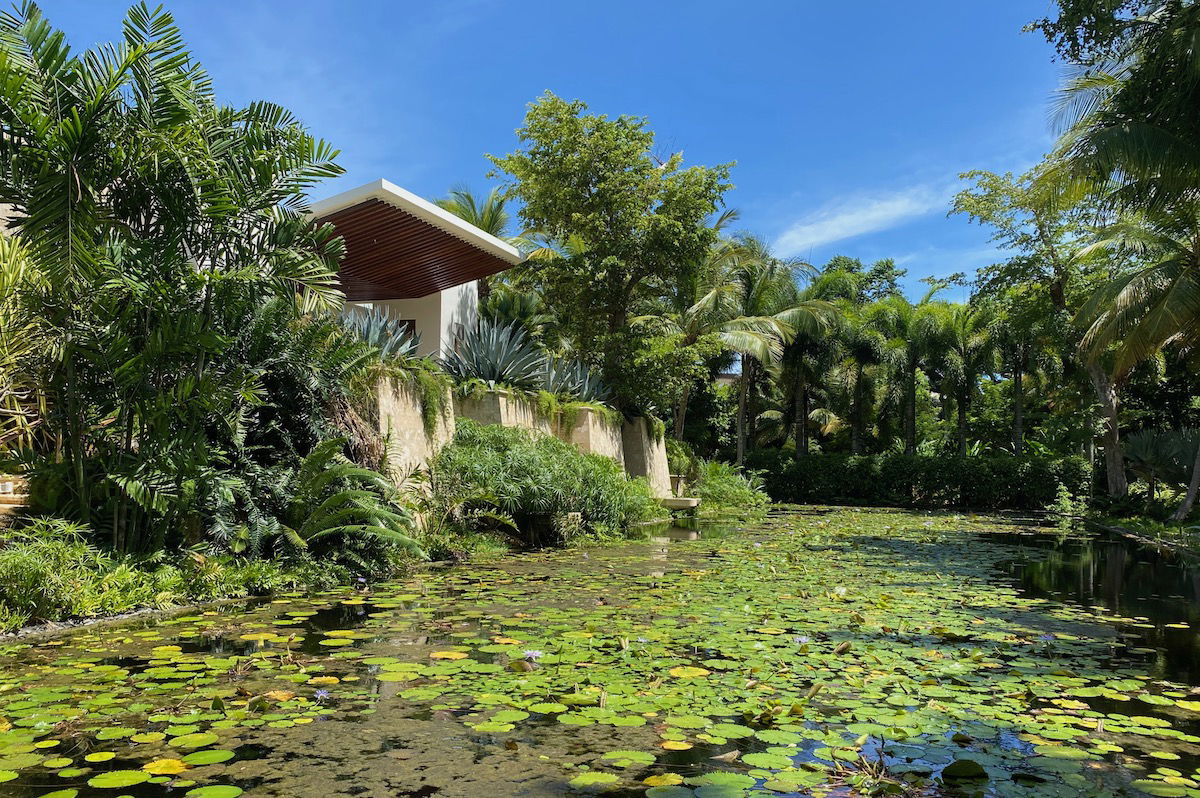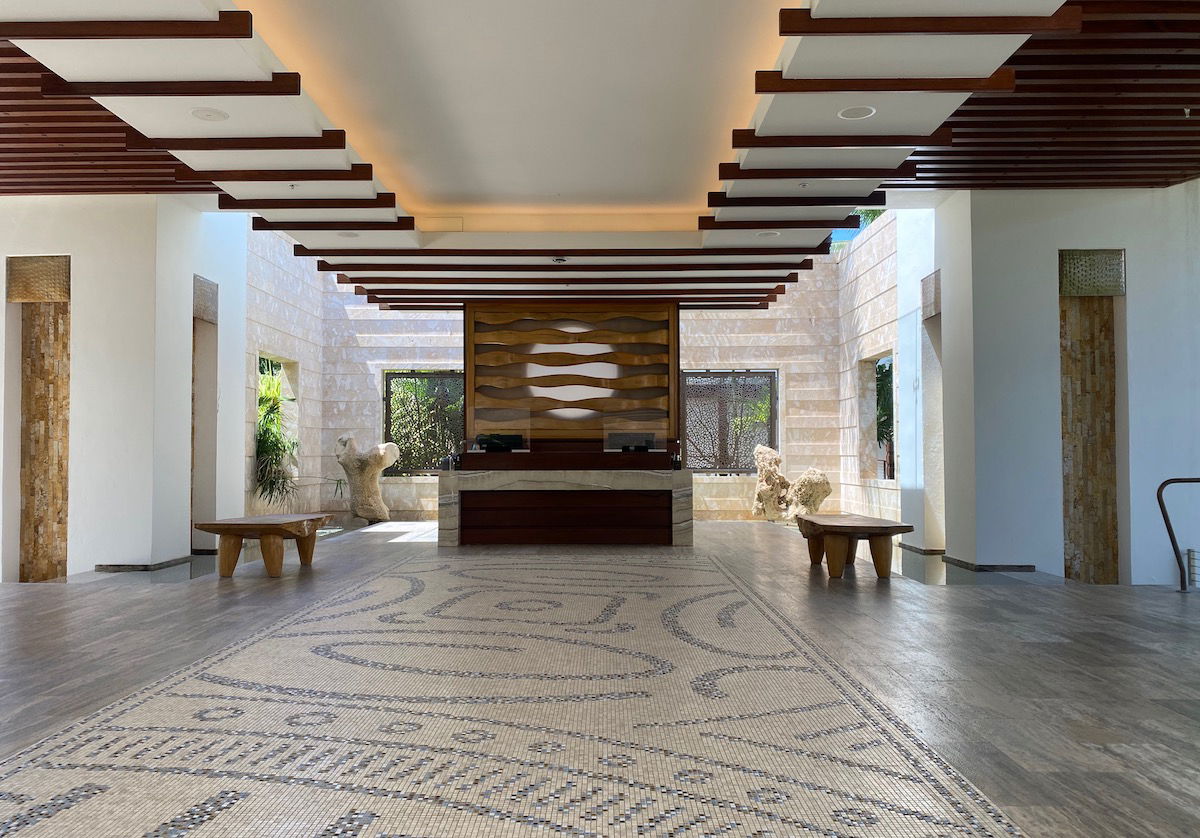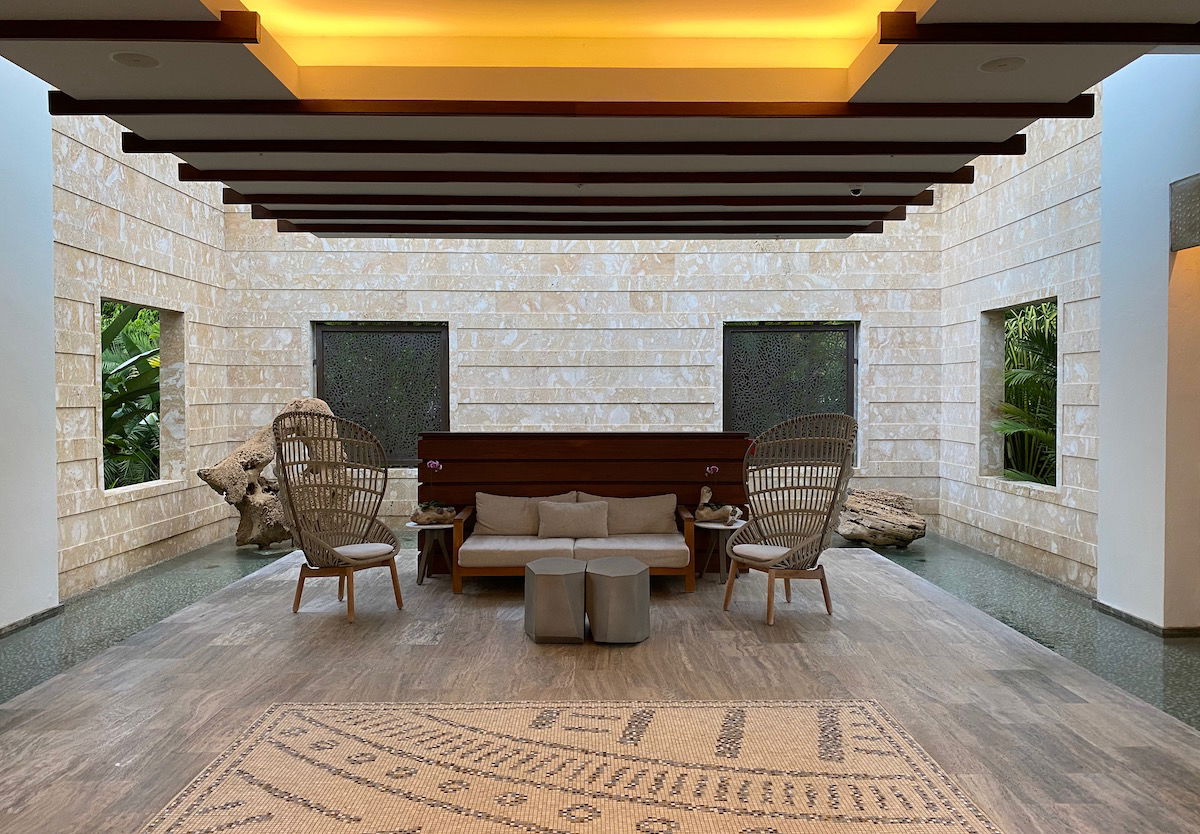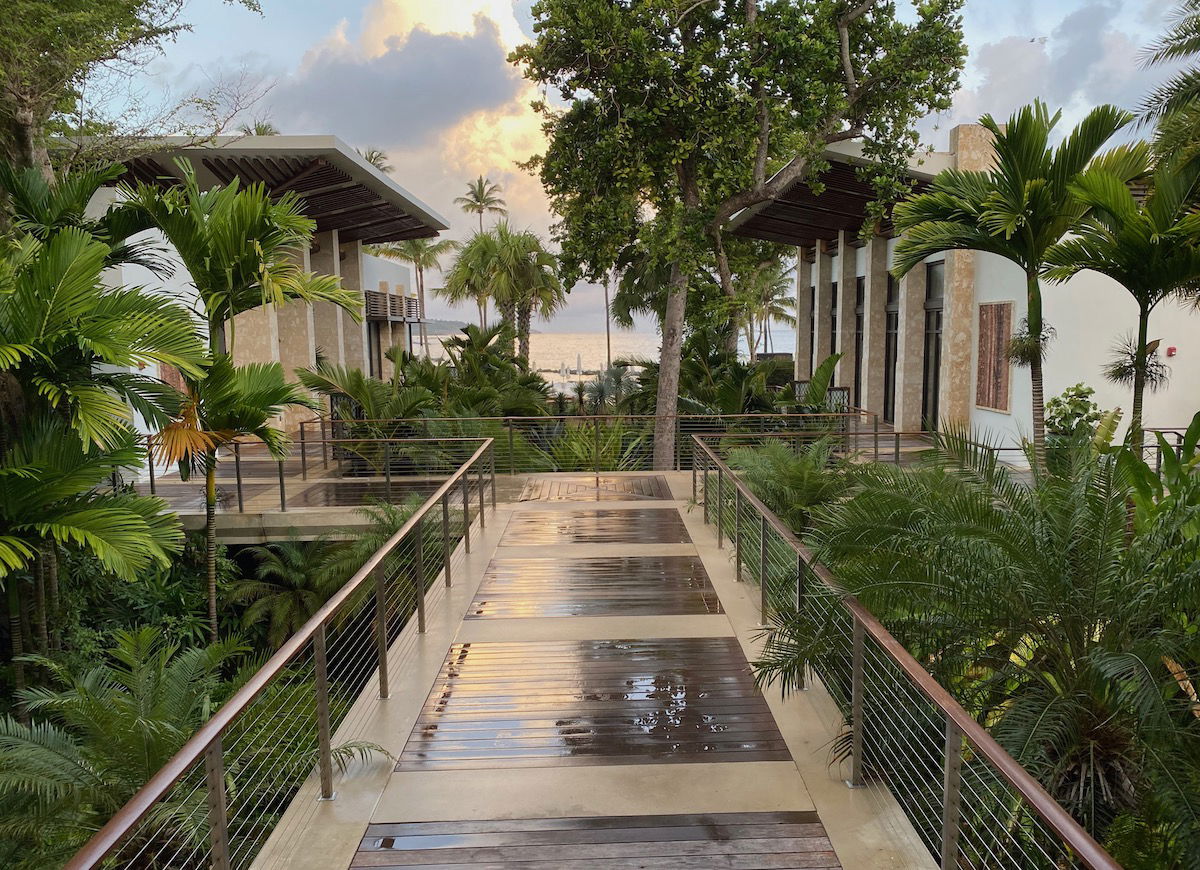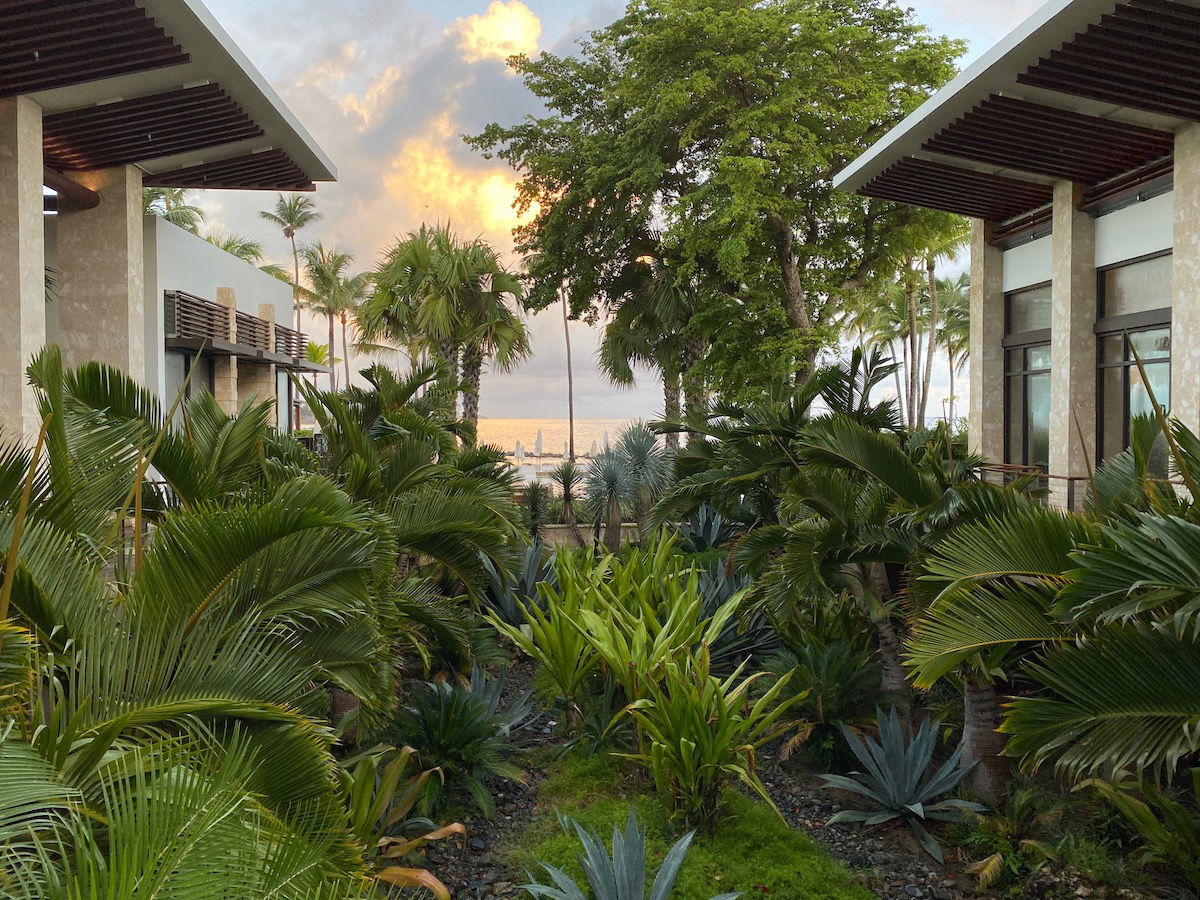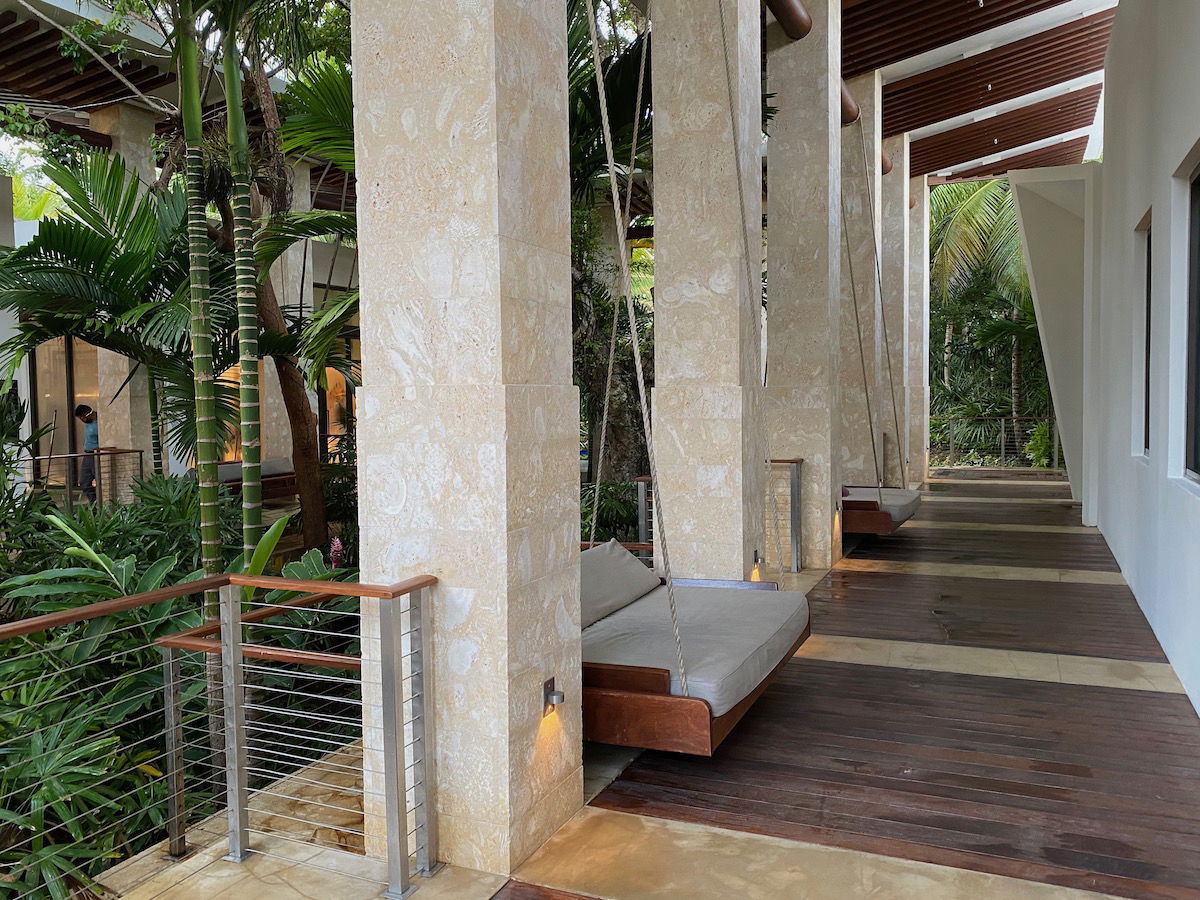 After a brief check-in experience, we were escorted to our room by an "embajador" (ambassador), which is the hotel's version of butler service.
Dorado Beach Ritz-Carlton Reserve one bedroom suite
The Dorado Beach Ritz-Carlton Reserve has a total of 114 accommodations, spread out across several buildings. For some context, here's a map of the resort (the resort itself covers around 50 acres, while Dorado Beach overall is 1,400+ acres):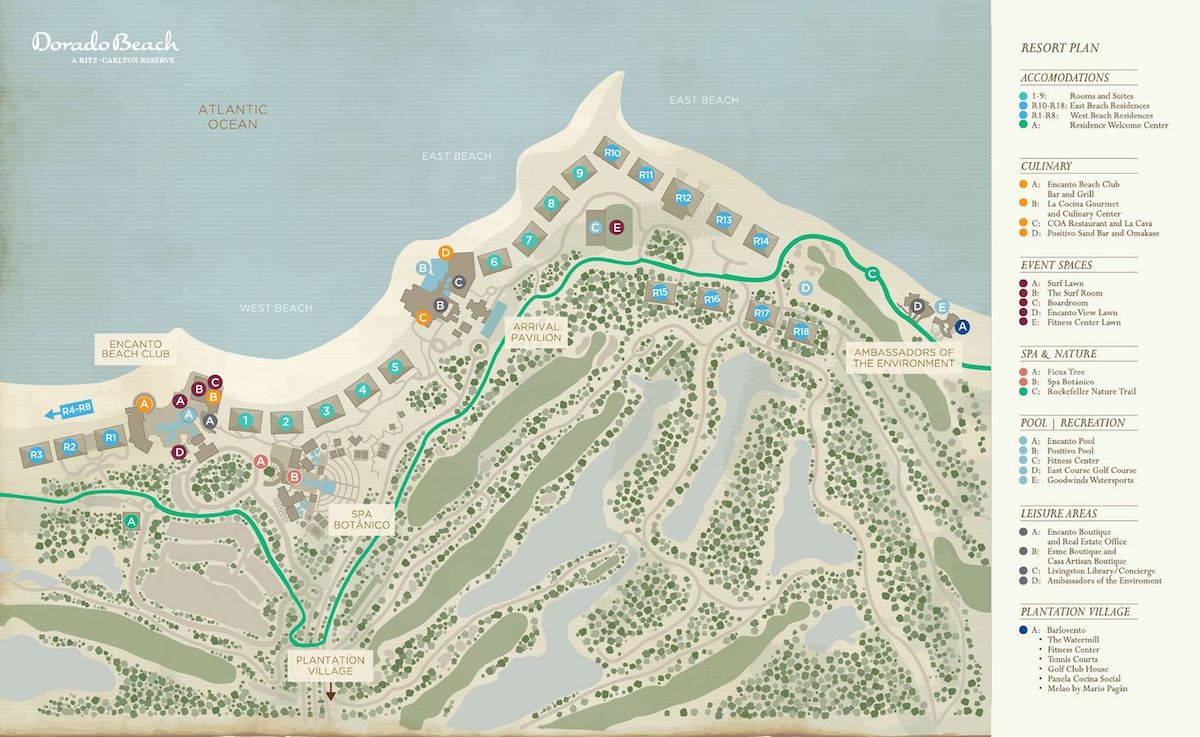 All accommodations are connected by paths, and are either in the "east" or "west" portion of the property. Generally speaking the west side is considered more premium — that's because the west side has a more picturesque beach with pathways, so you have a nicer view from there of both the beach and the ocean.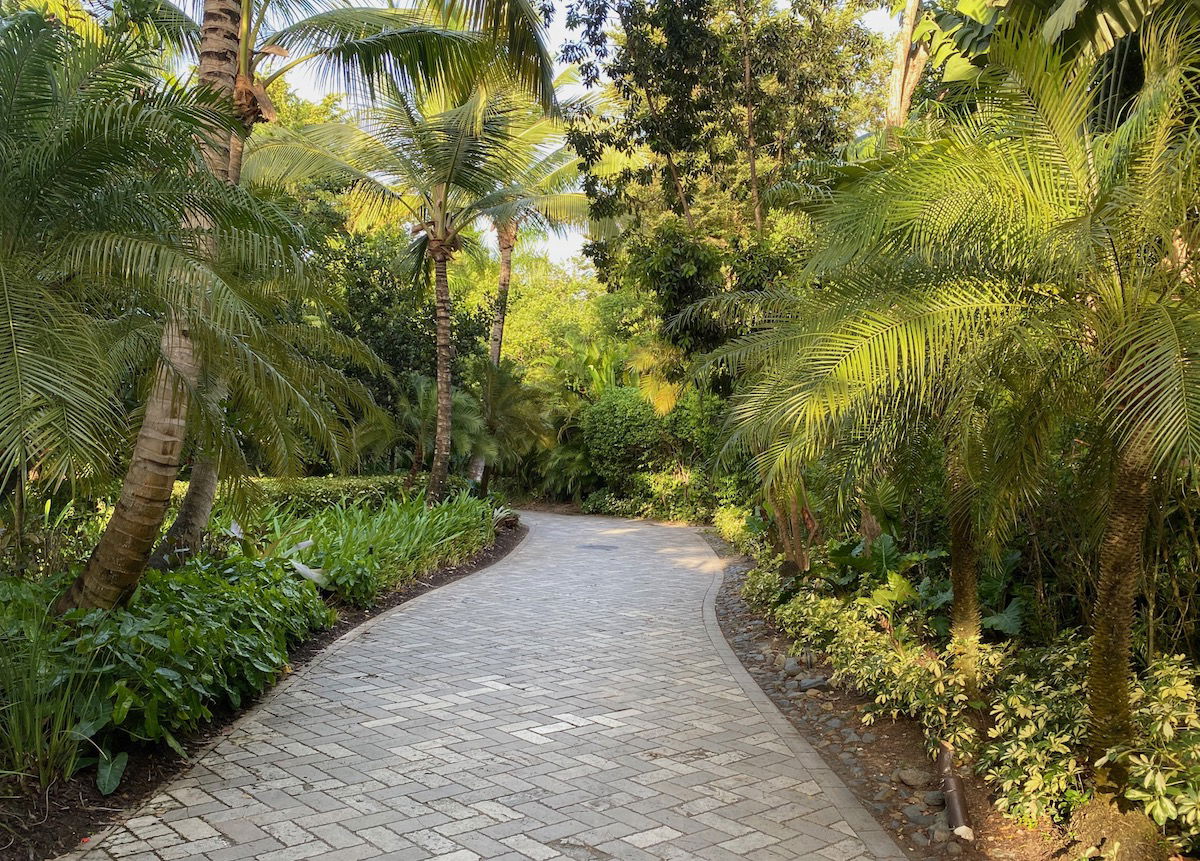 We were assigned room 315, a West Beach one bedroom suite on the ground floor.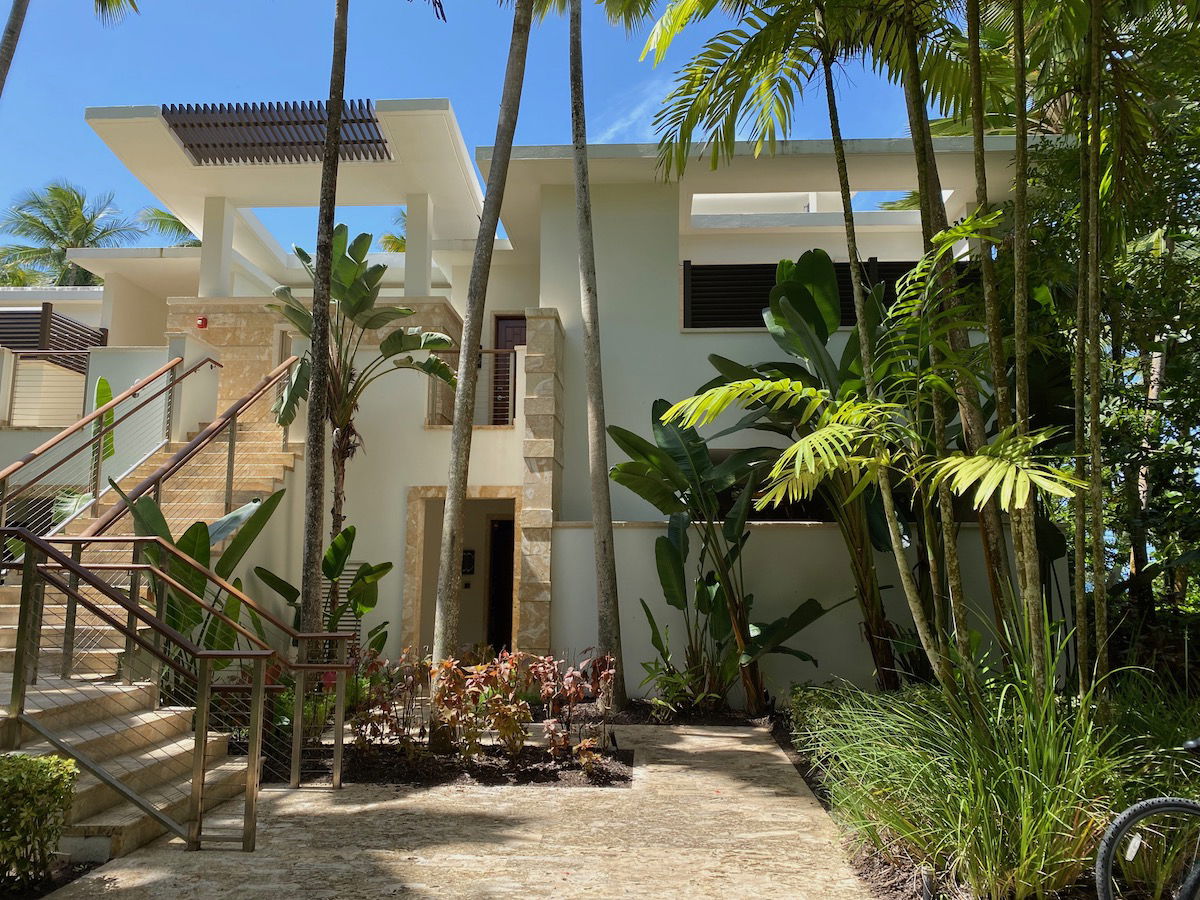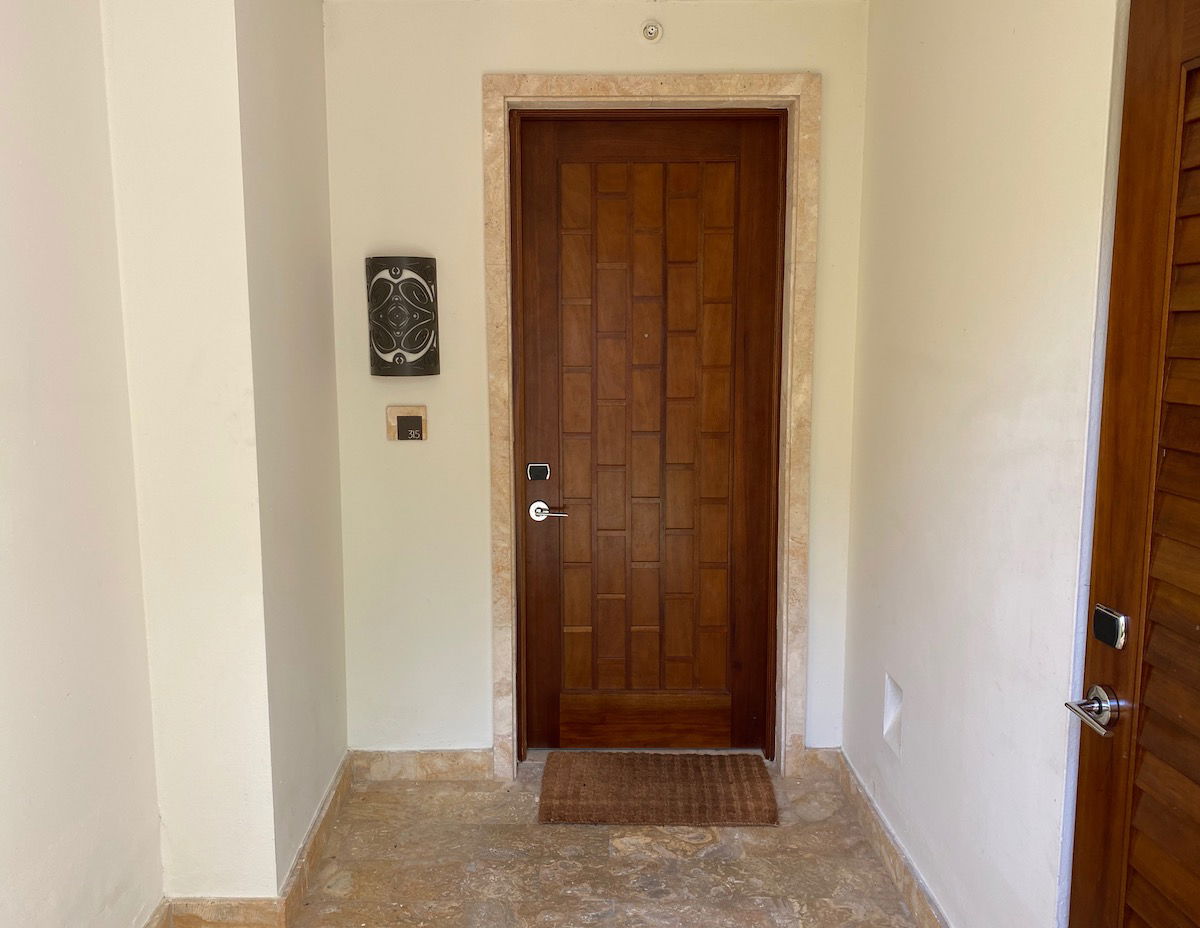 The suite is marketed as being 1,256 square feet, so it was a huge space (in general the accommodations at the Ritz-Carlton Reserve are large). Just inside the entrance to the room was a hall with a half bathroom to the right, and then a wet bar, which also housed the minibar.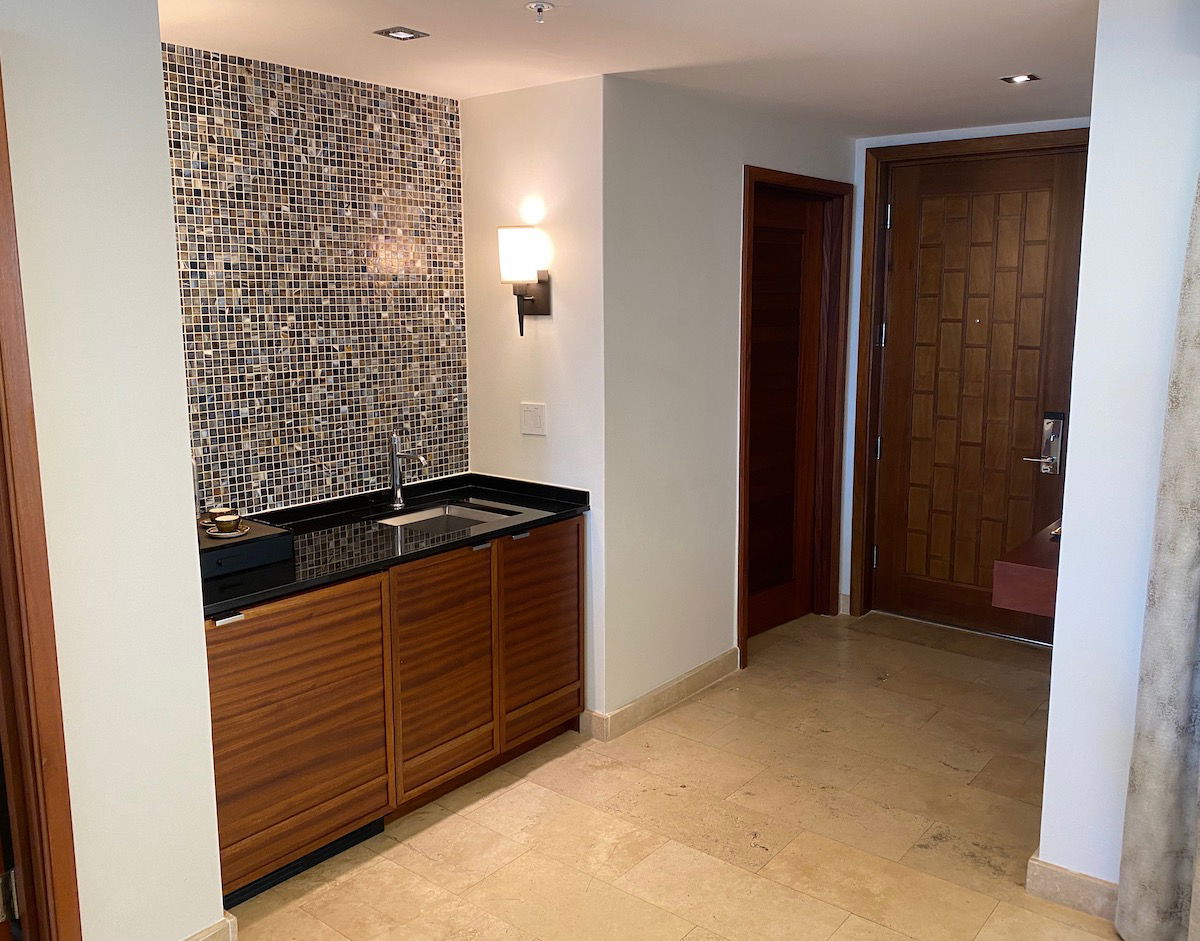 Past that was the huge dining area and then living room. There was a circular dining table with four chairs, and then past that an "L" shaped couch facing a wall-mounted TV console.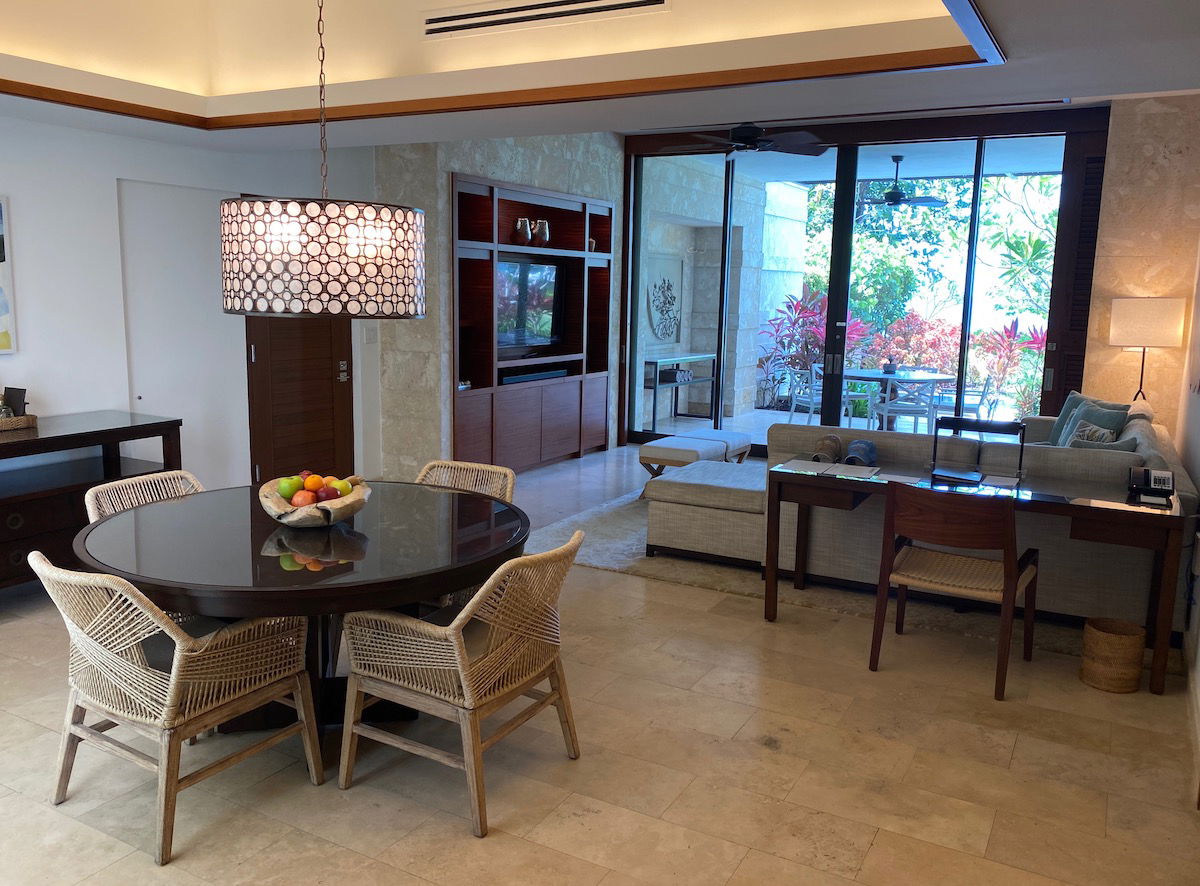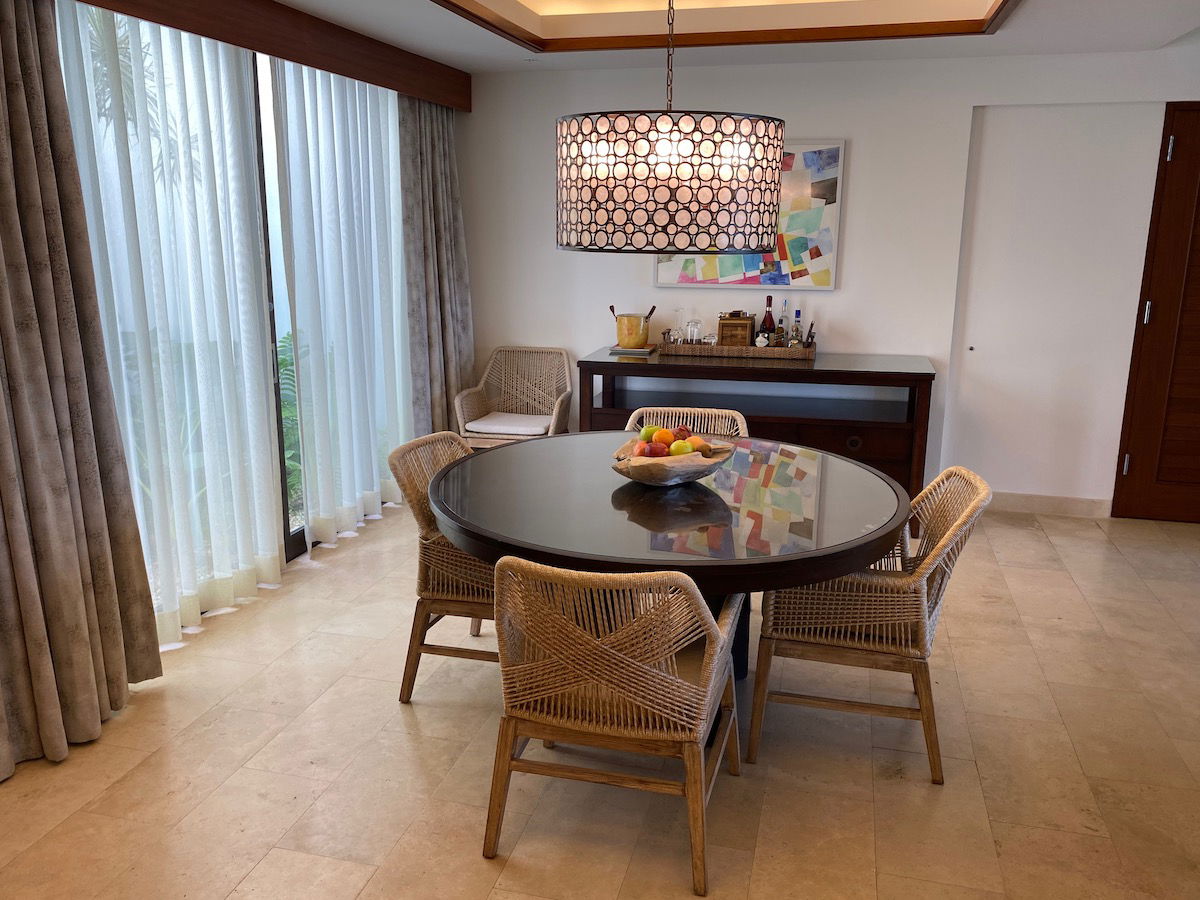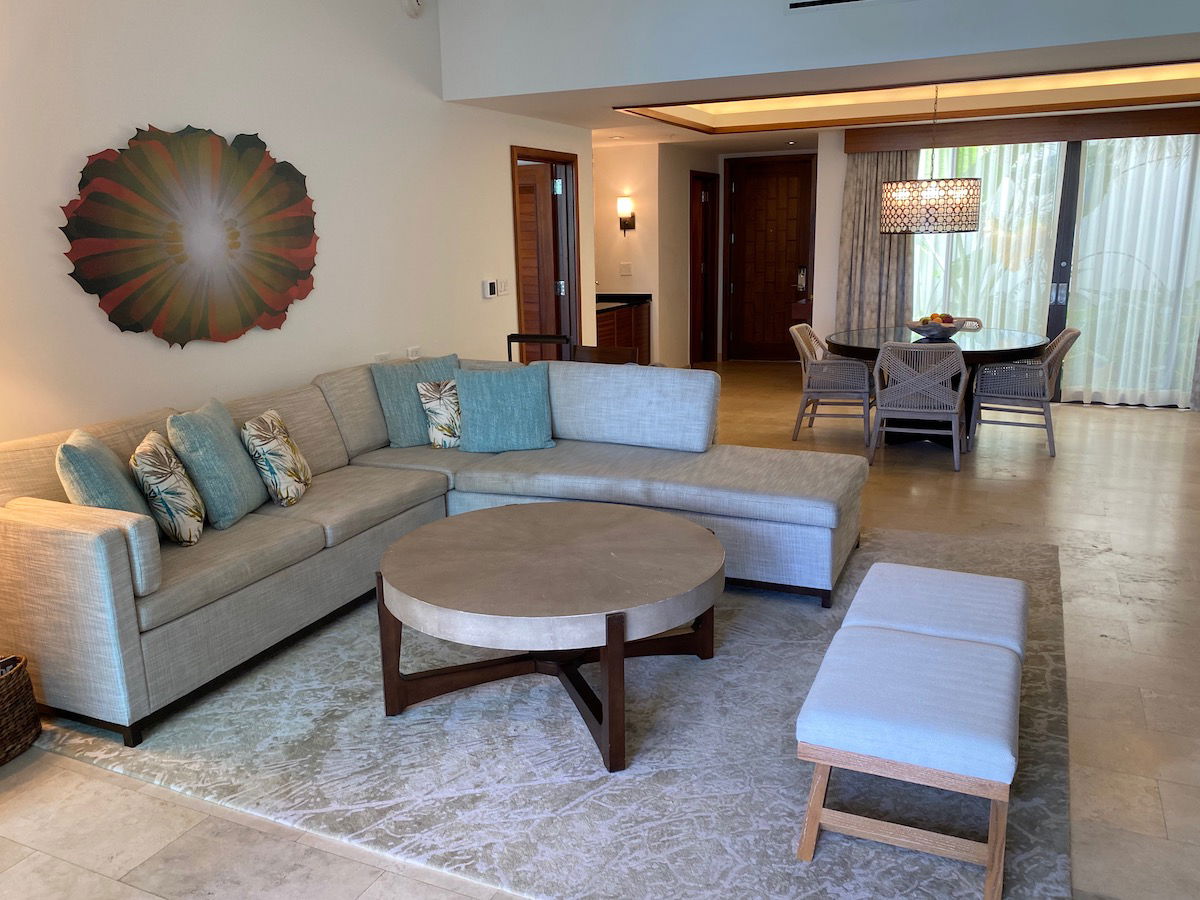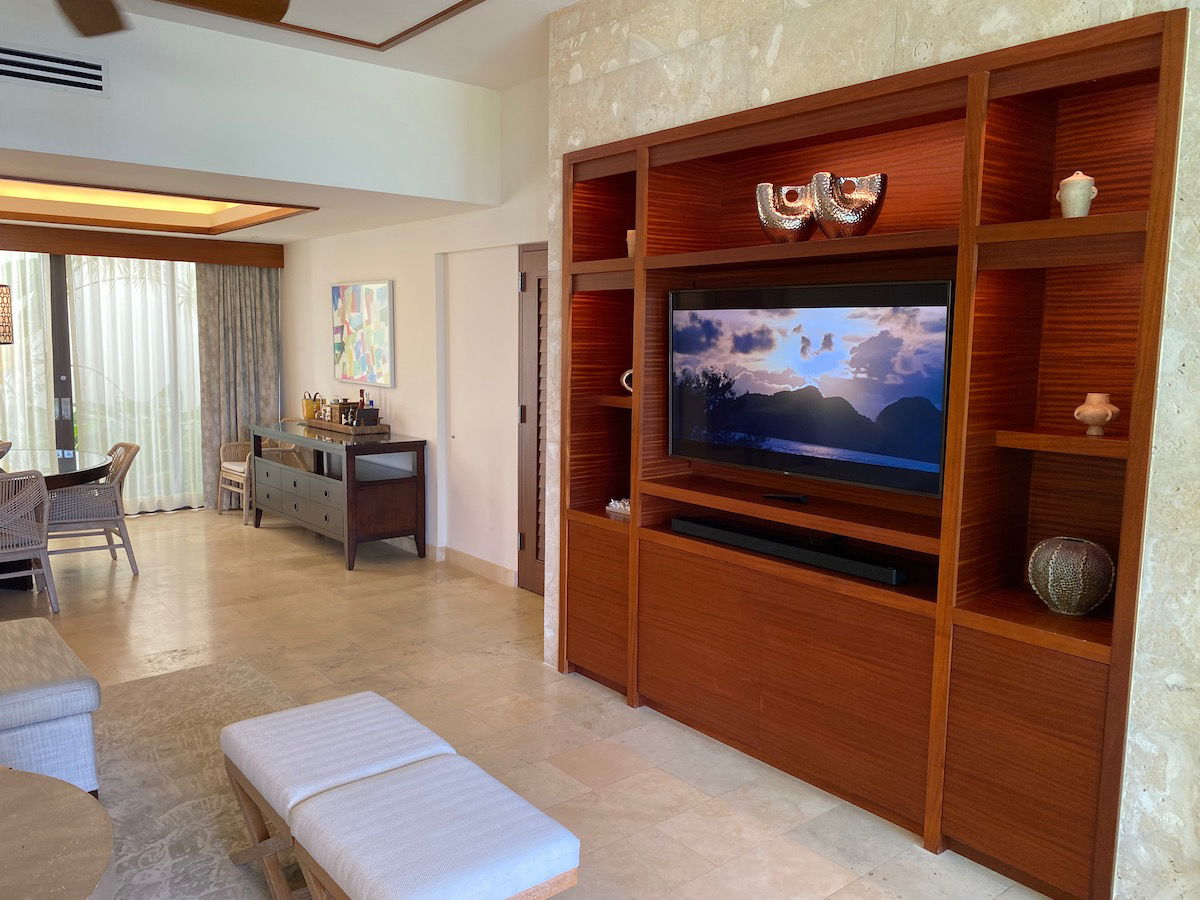 The minibar setup was substantial, with a Nespresso machine, tea kettle, and all kinds of drinks and snacks for purchase.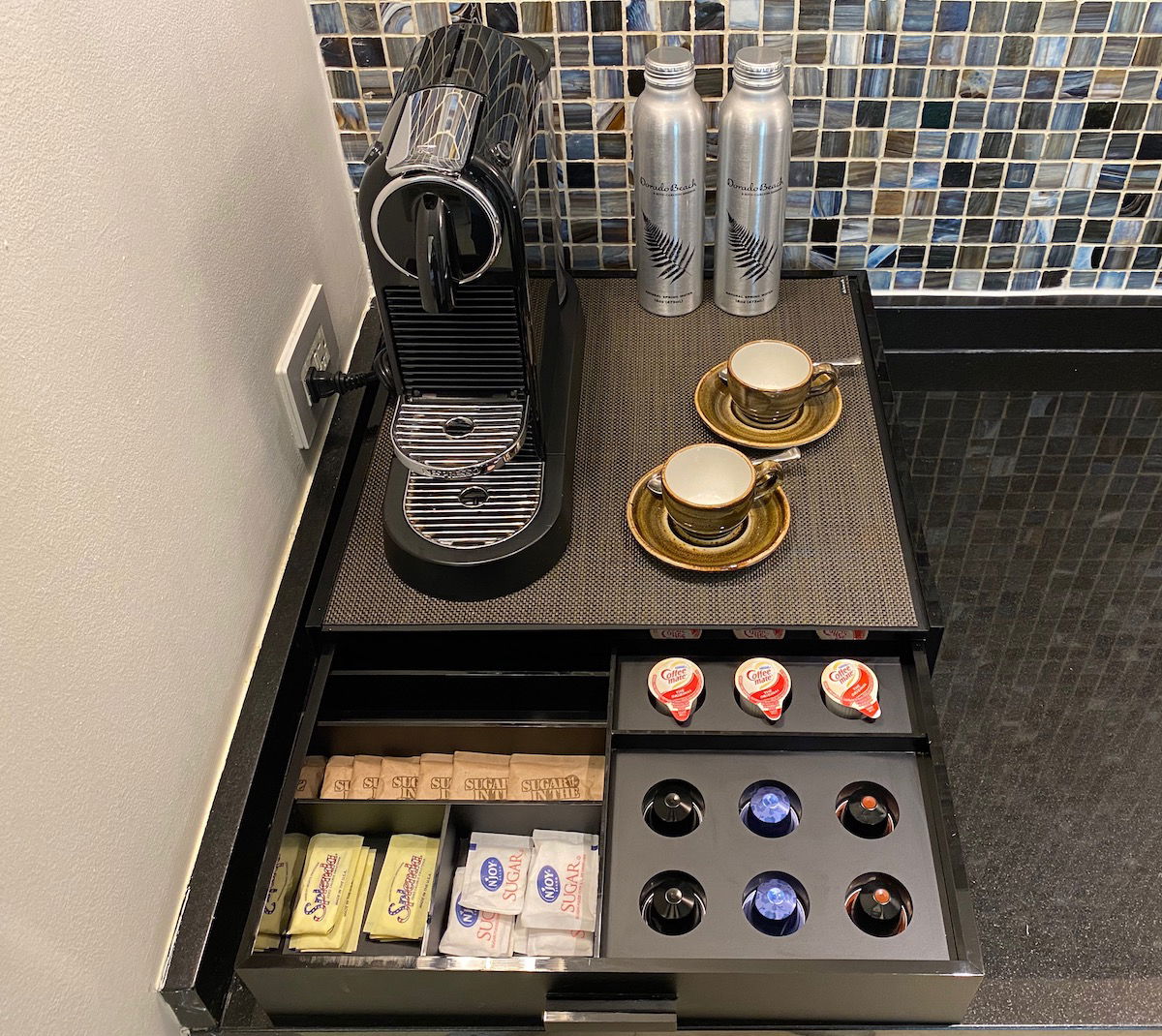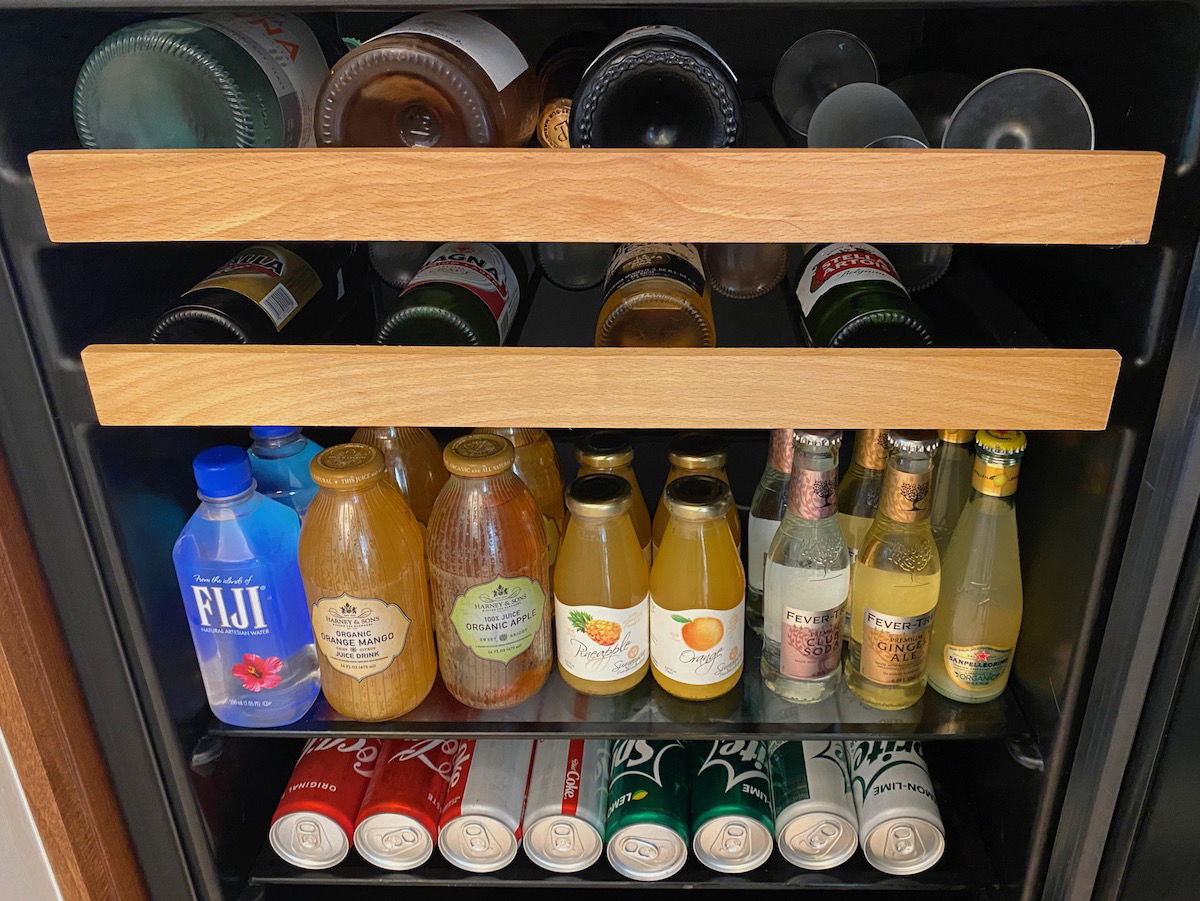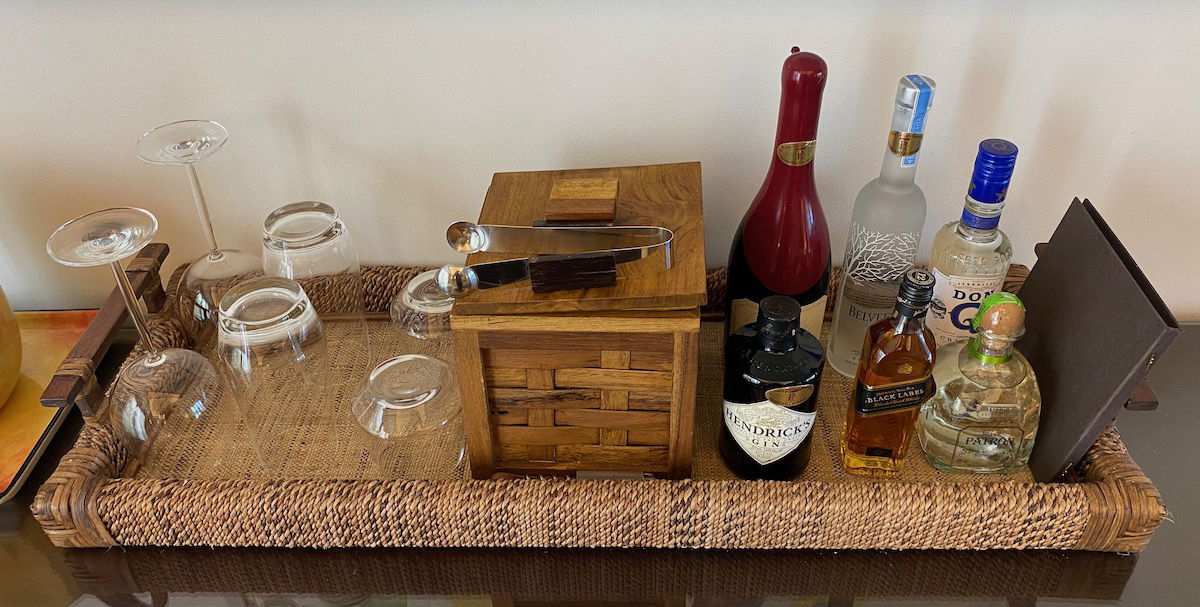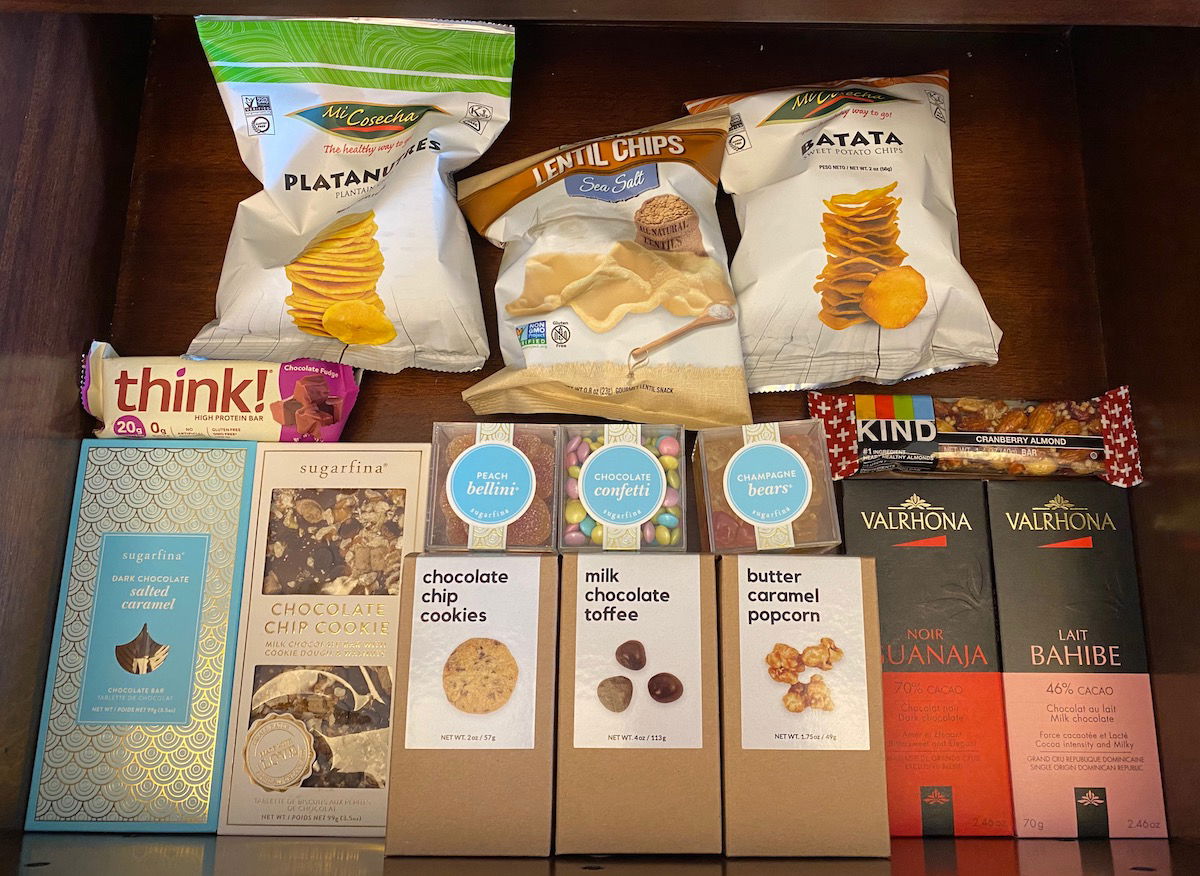 As mentioned above, the half bath was also located here near the entrance.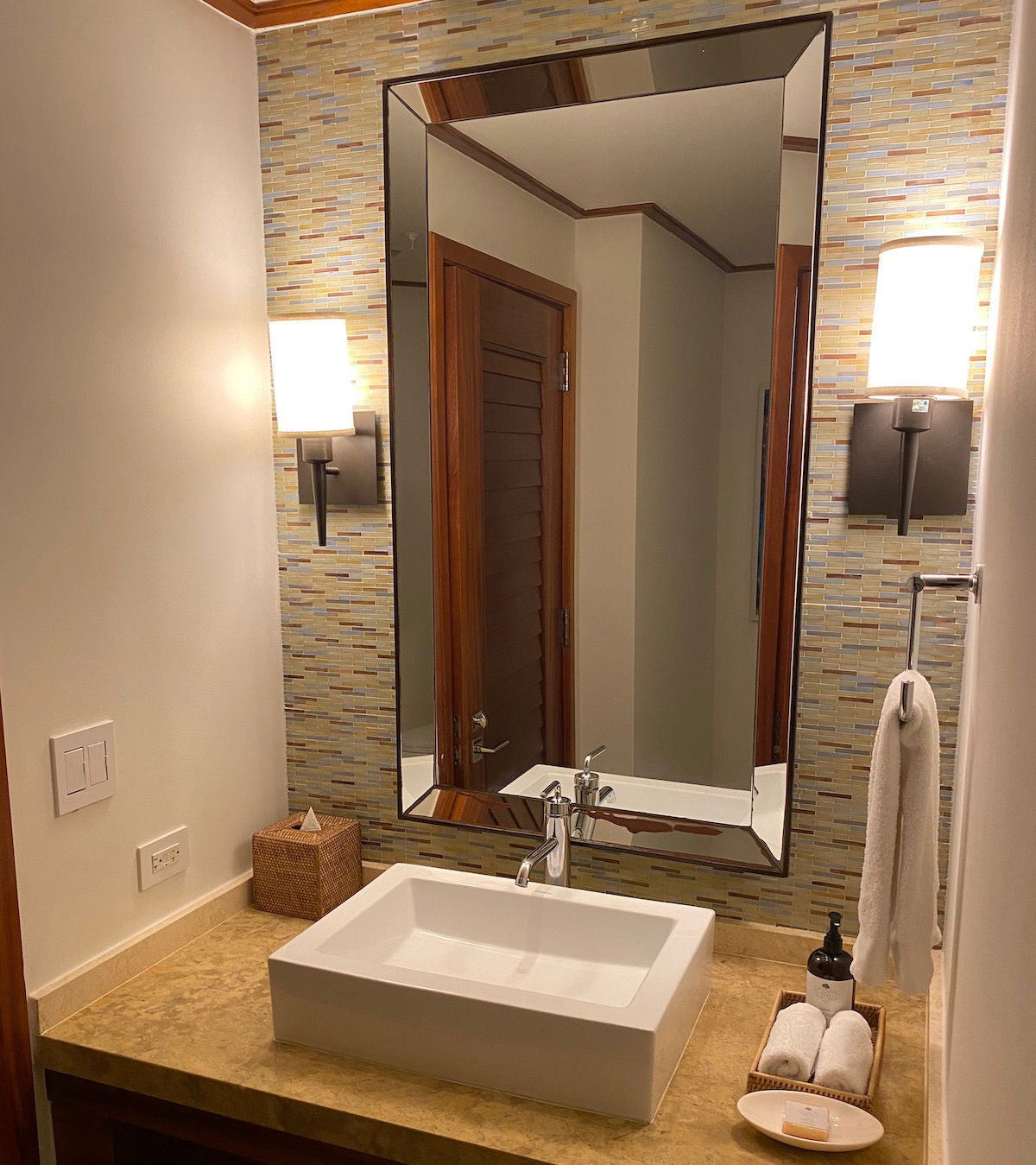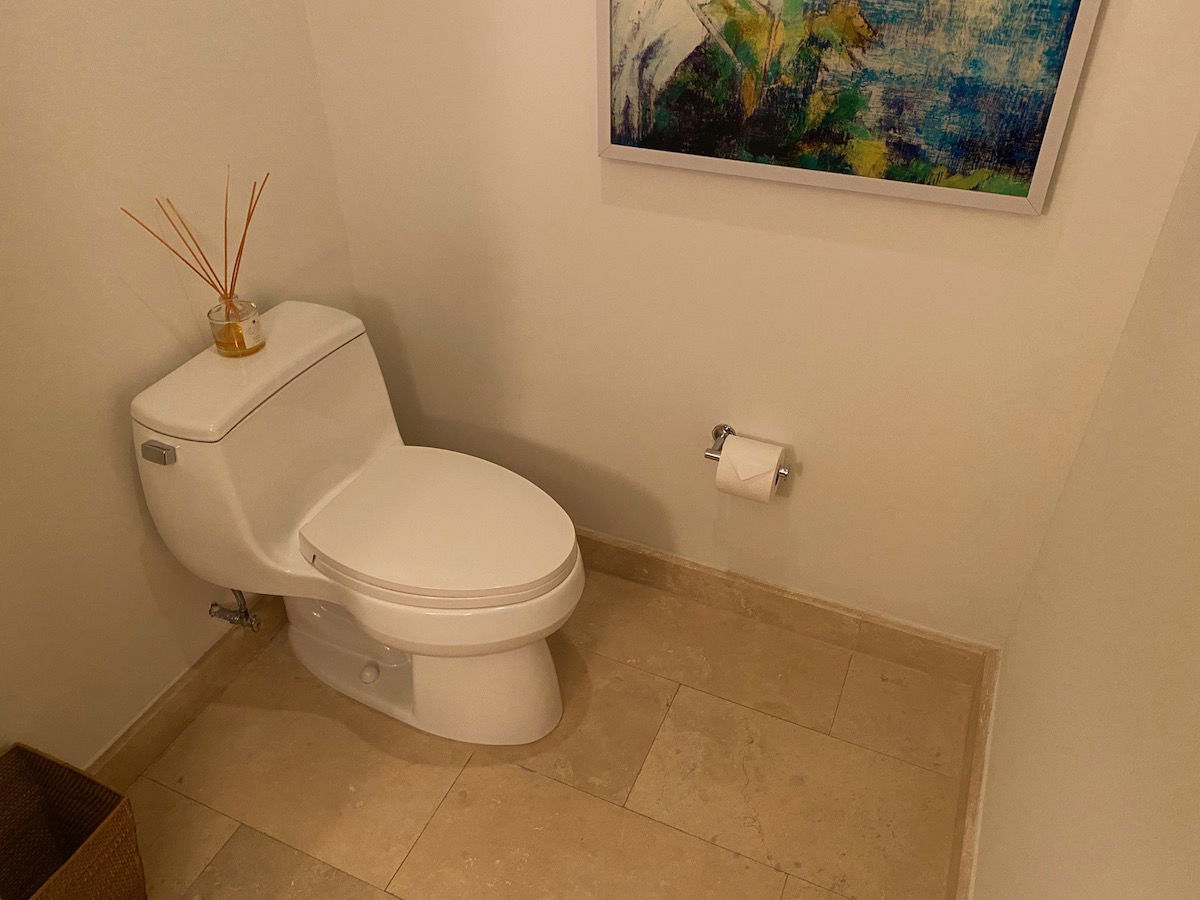 Then there was a door leading over to the bedroom, which had a very comfortable king size bed, and a chair with an ottoman in the corner.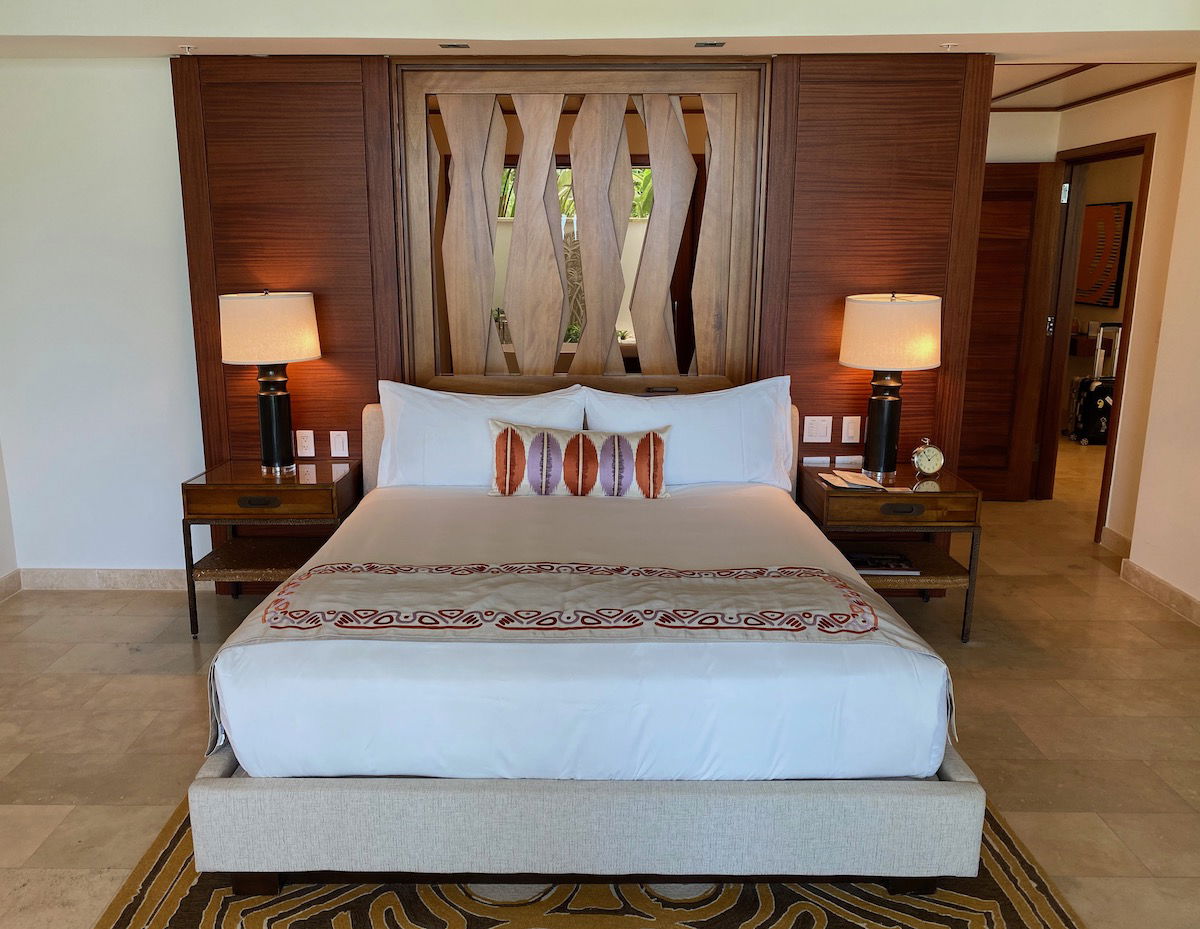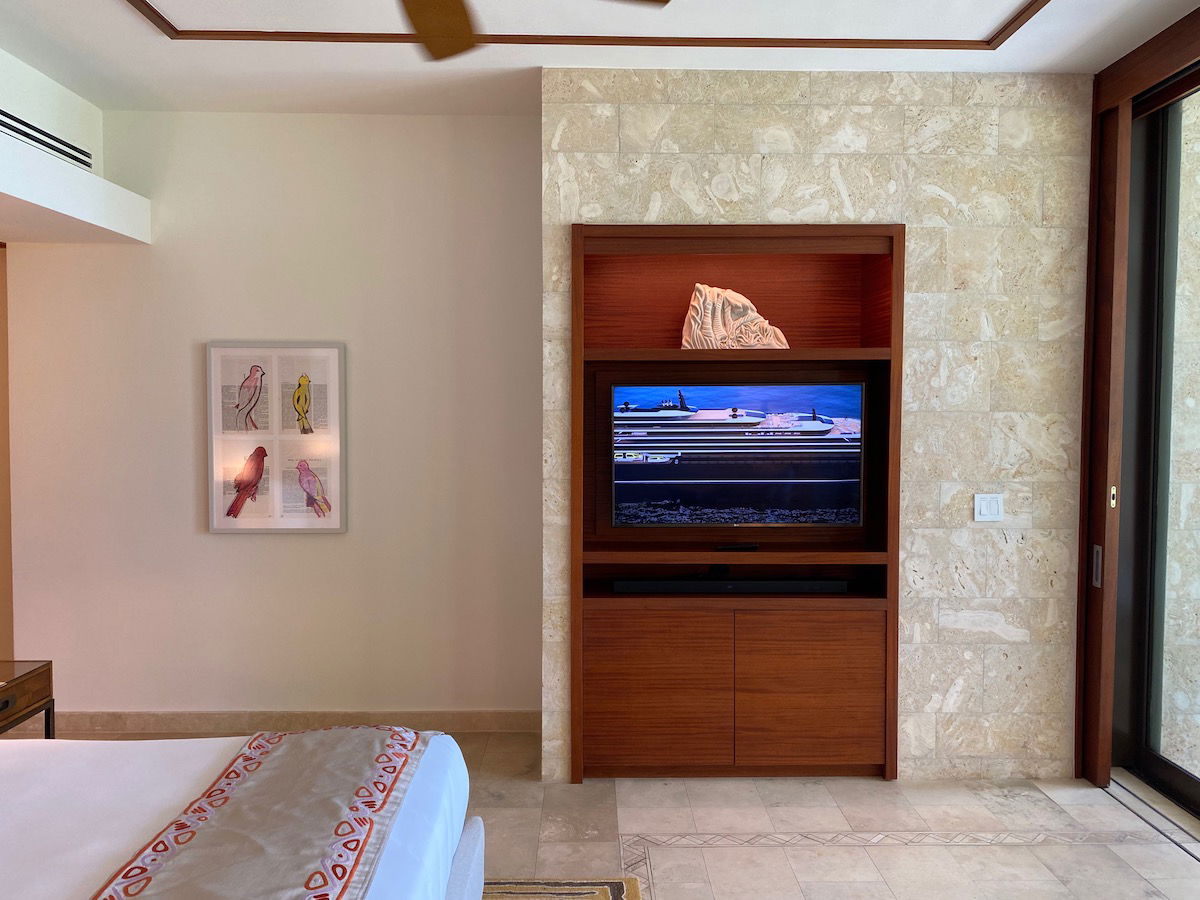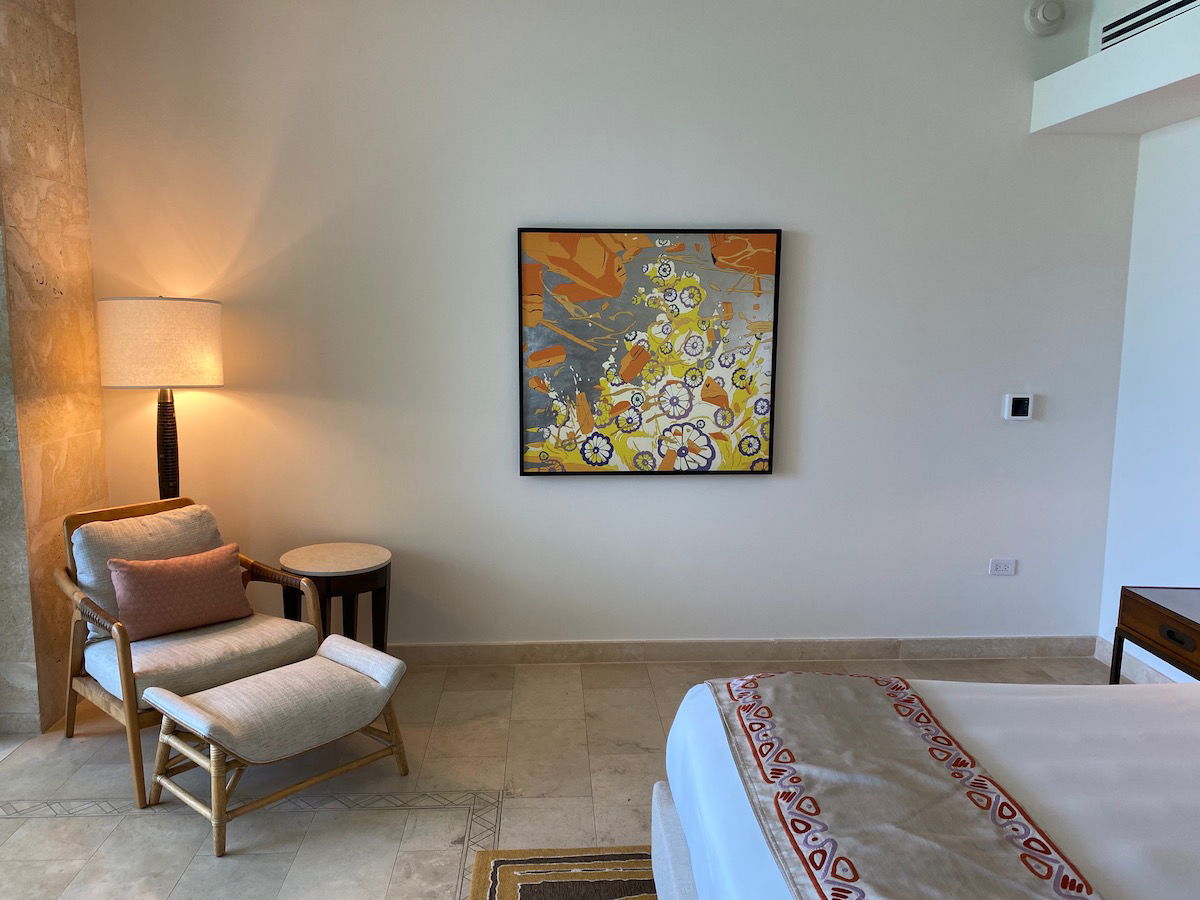 Behind the bedroom was the main bathroom area, and also in that area was what could either be a desk or vanity, depending on your use.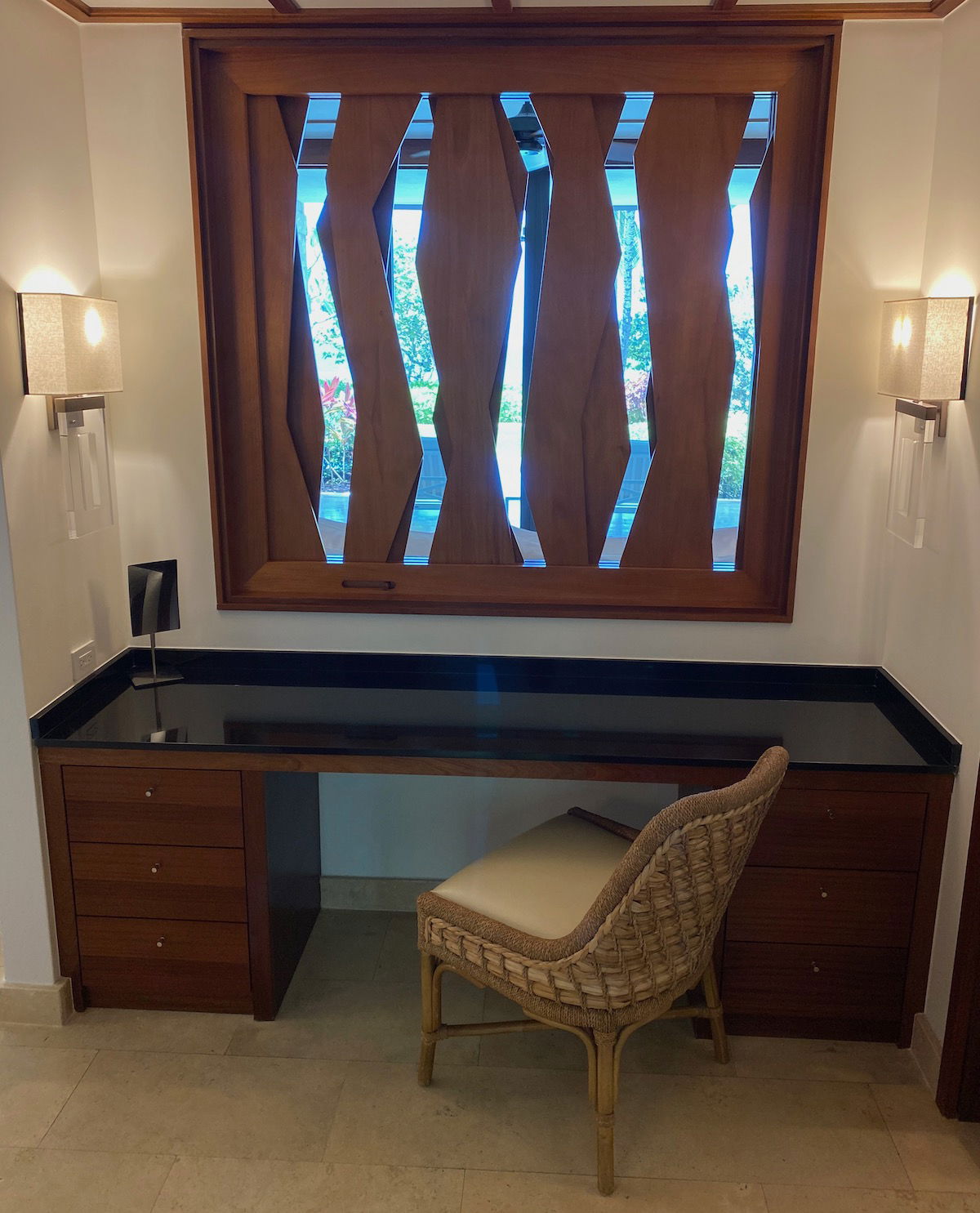 The bathroom was also impressive — there were double sinks, a soaking tub, a large indoor shower, an outdoor shower, and a toilet in a separate room.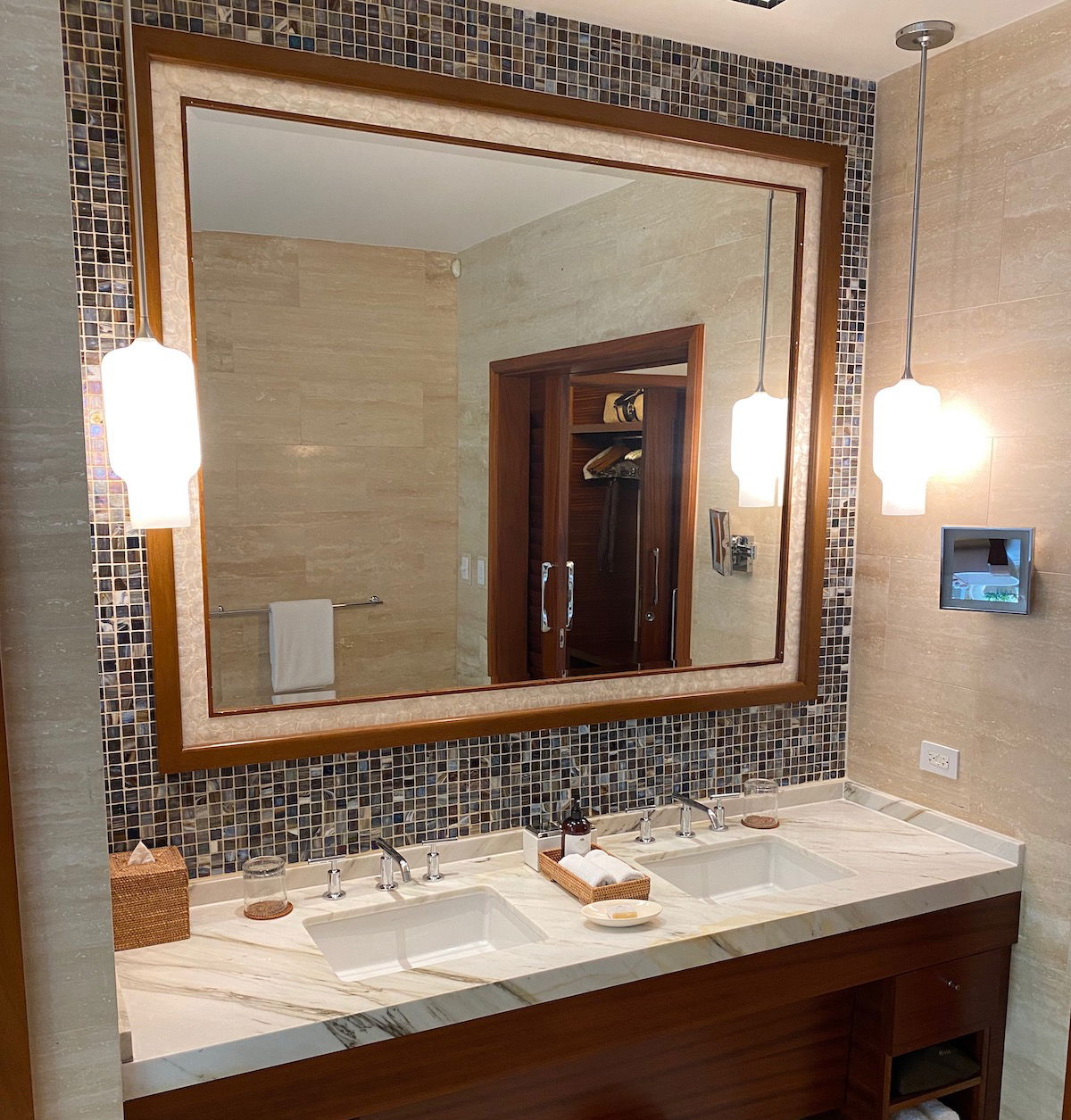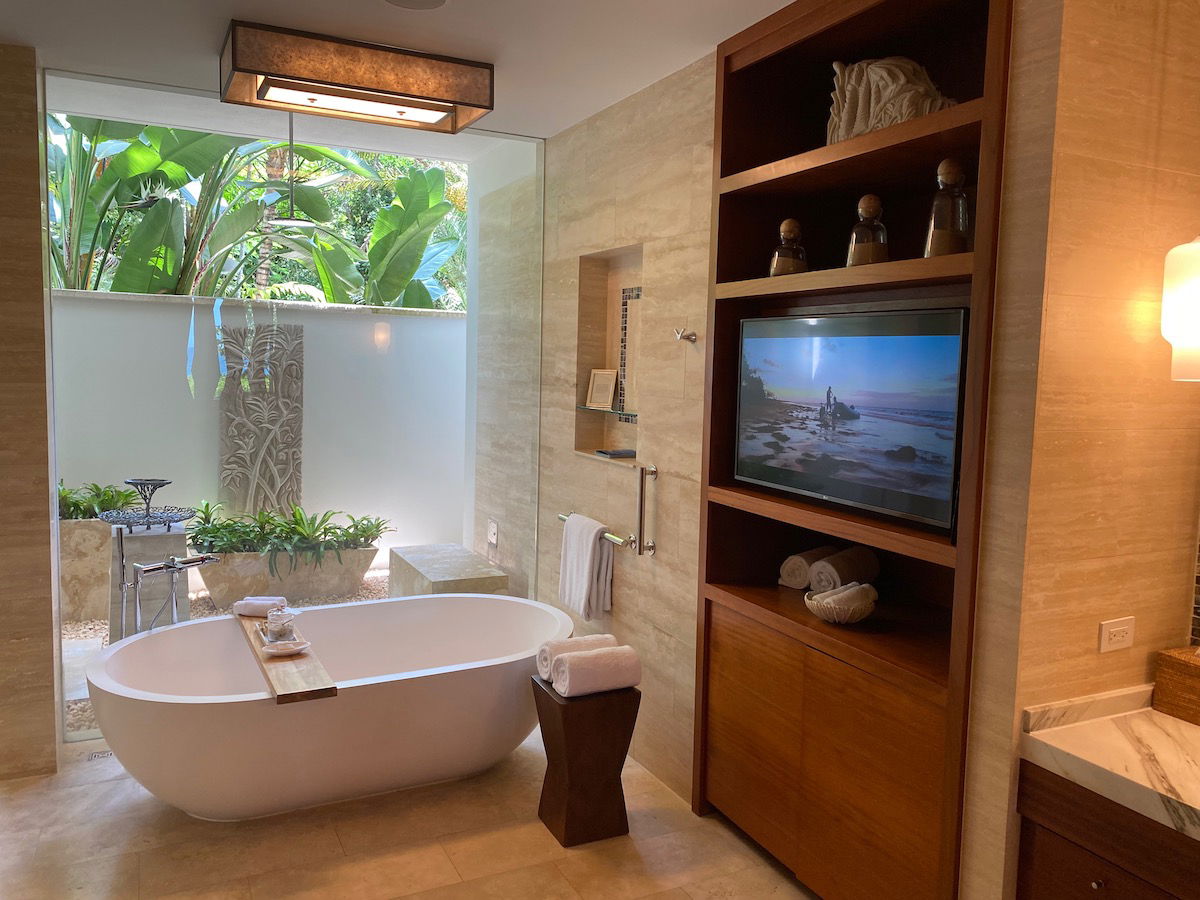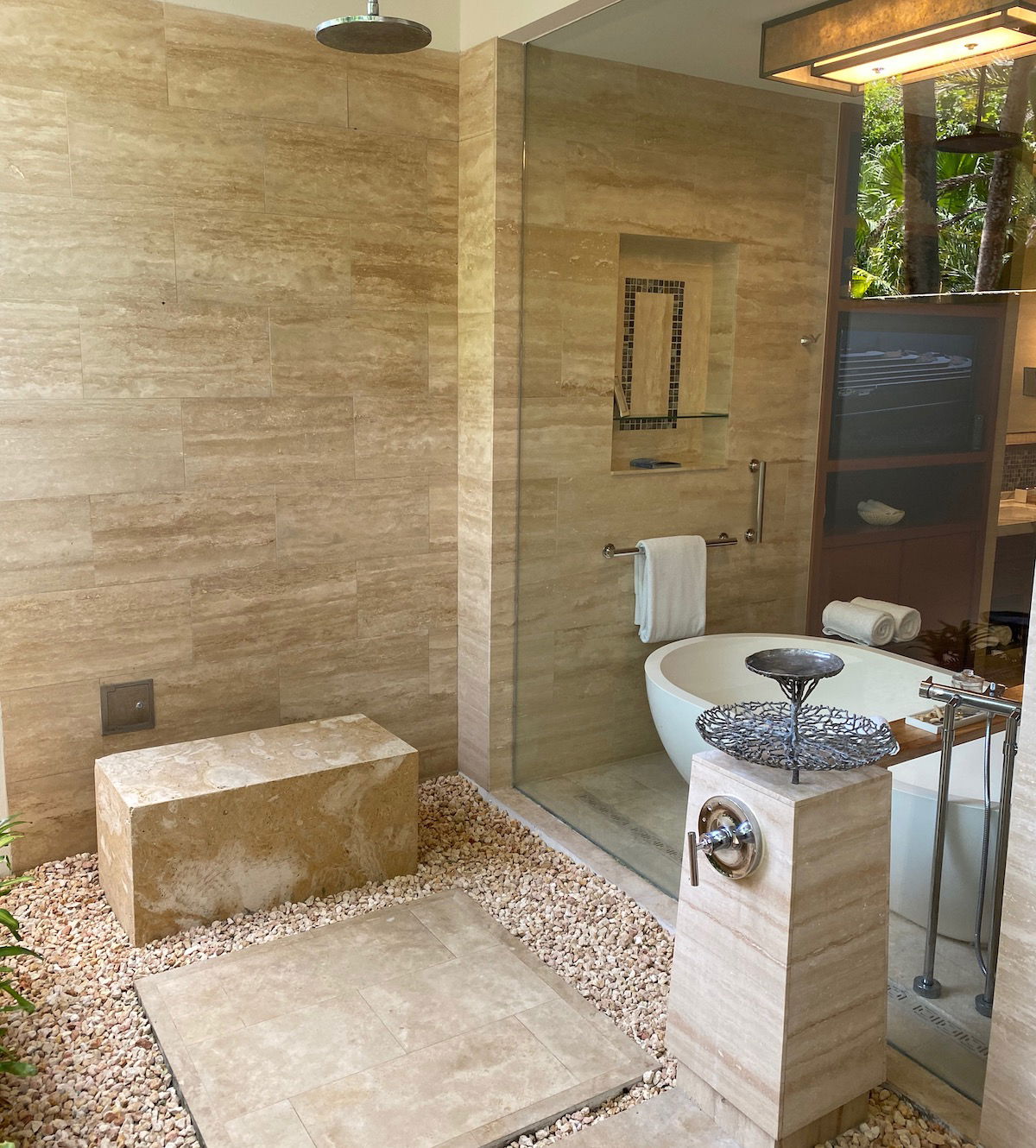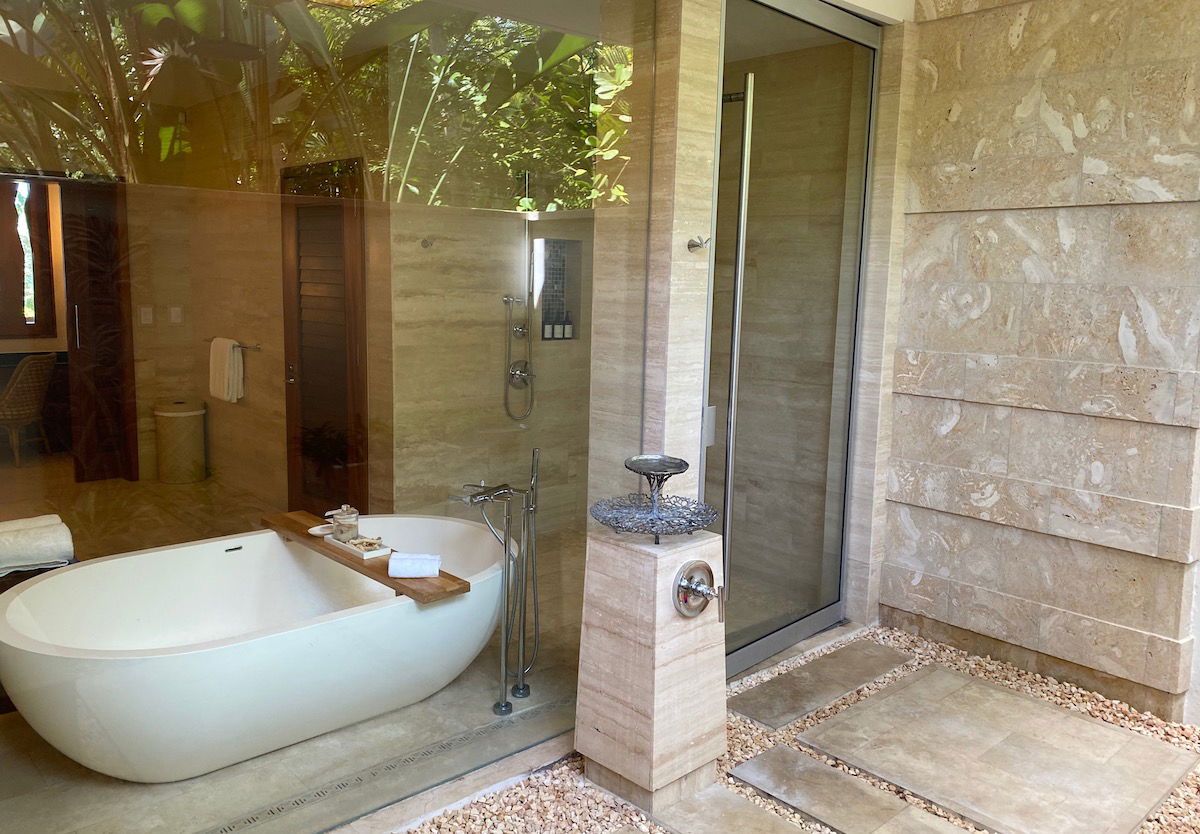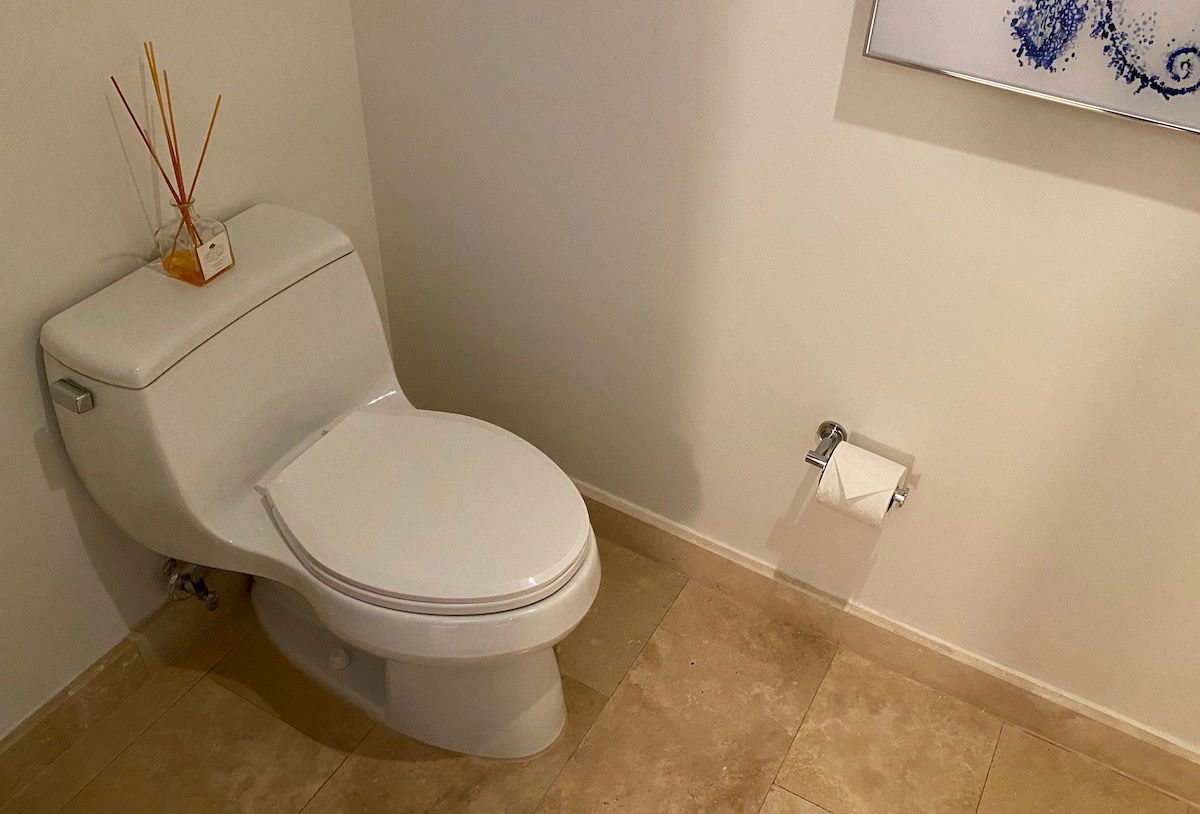 Toiletries were in reusable bottles from Spa Botanico, the Ritz-Carlton Reserve's spa.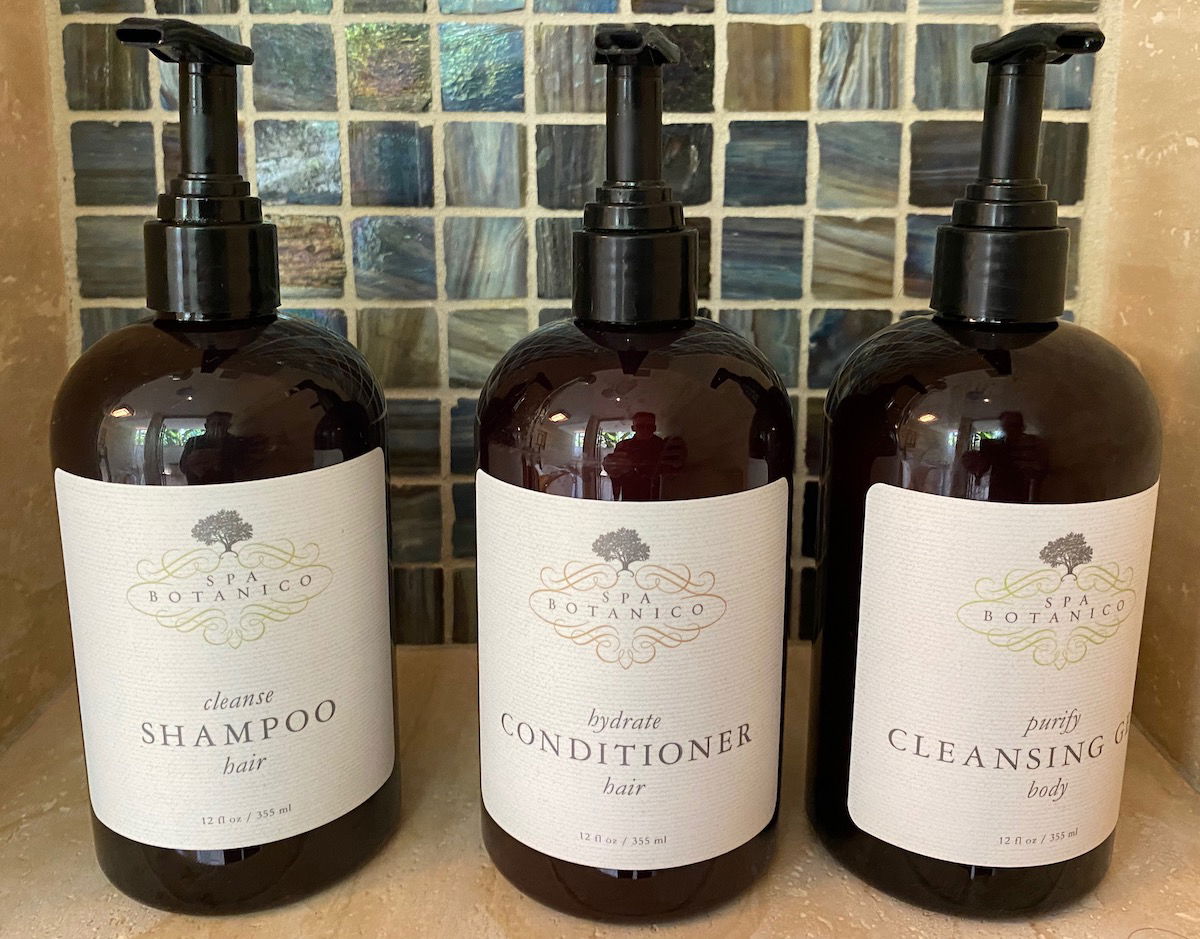 The highlight of the room was the outdoor area, which had a dining table, a couple of loungers, and a pool (which was much larger than your typical plunge pool).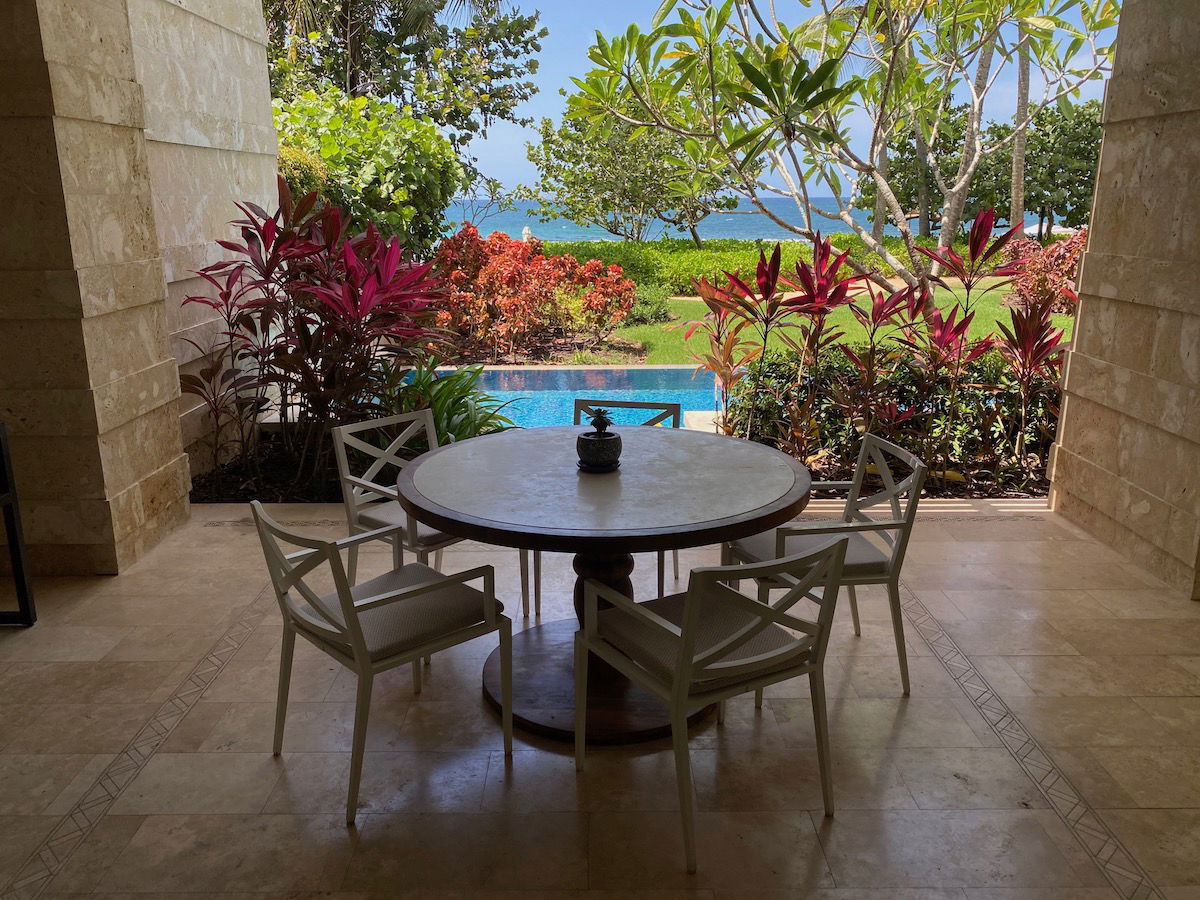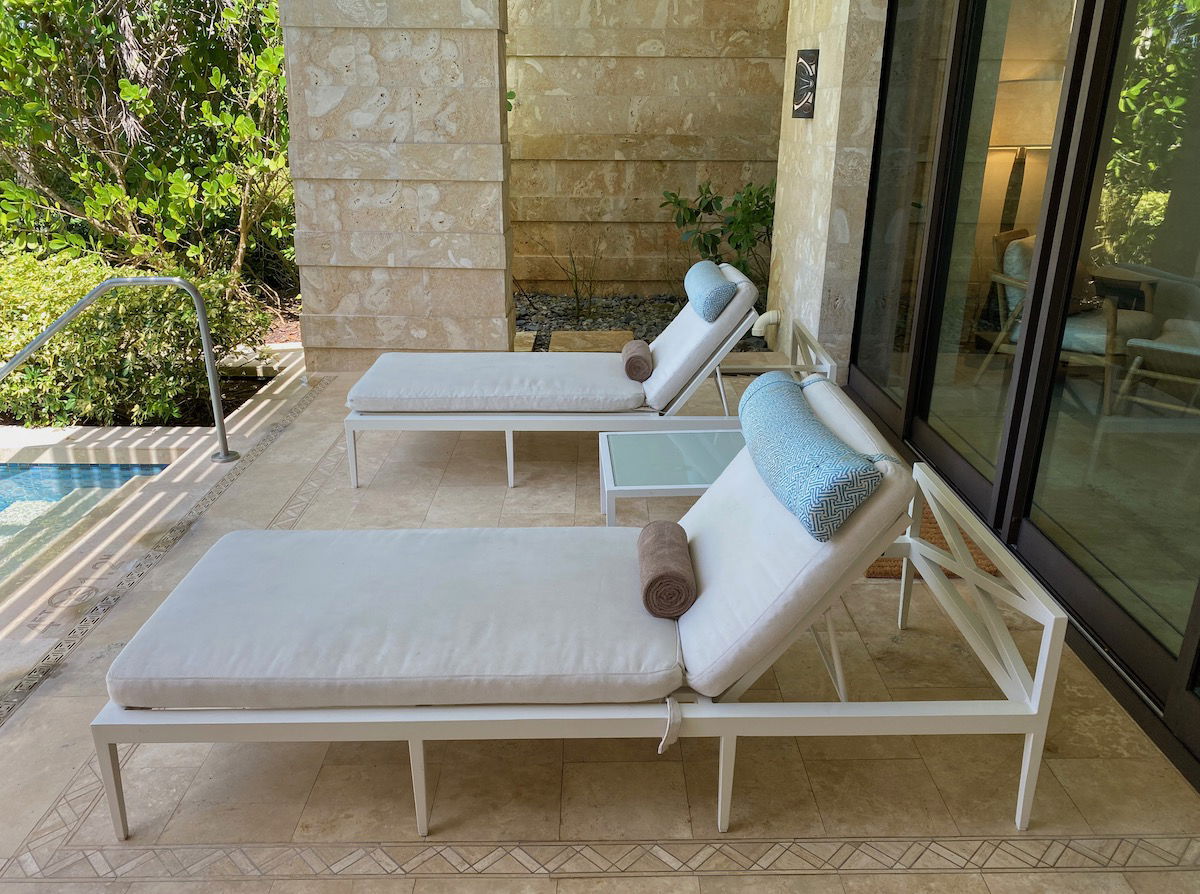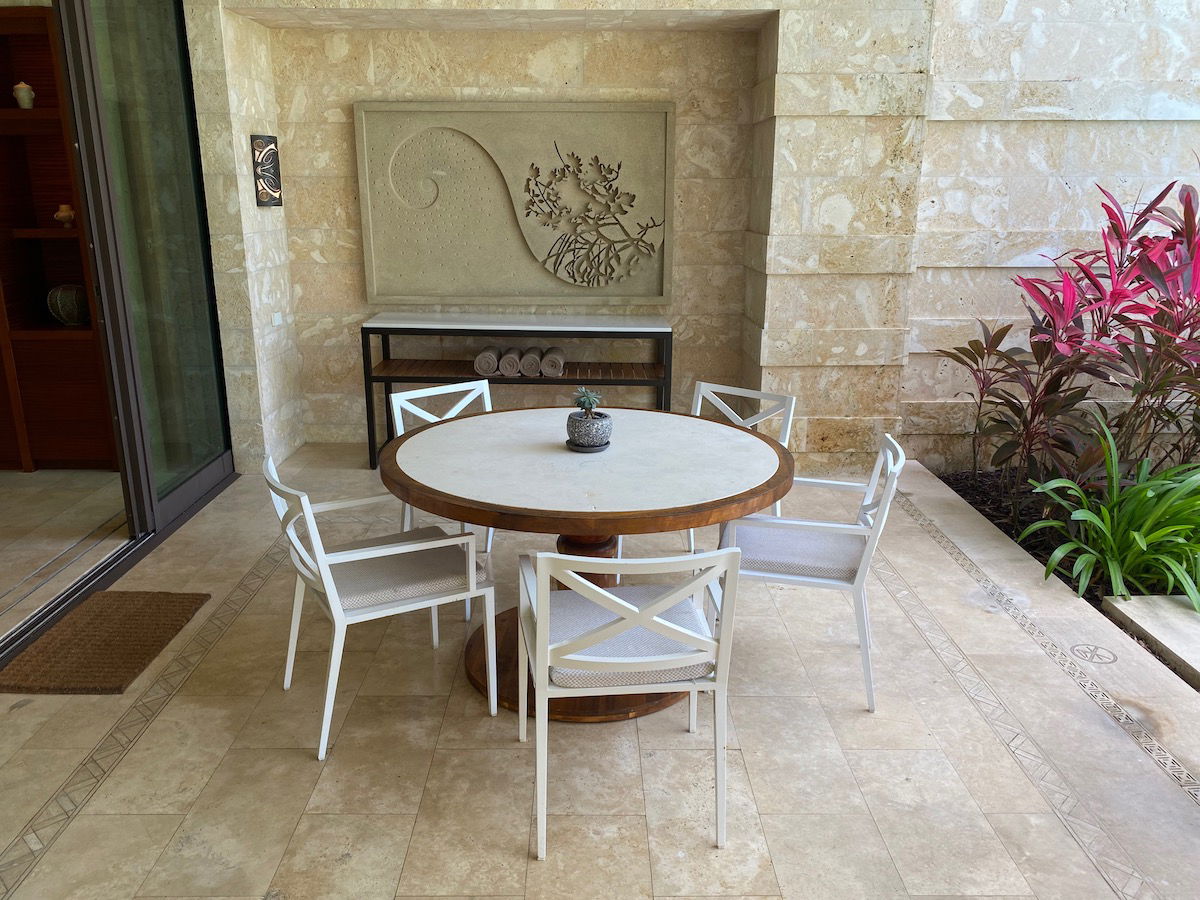 The pool can be heated on request, though it was a great temperature without the need for that during our visit.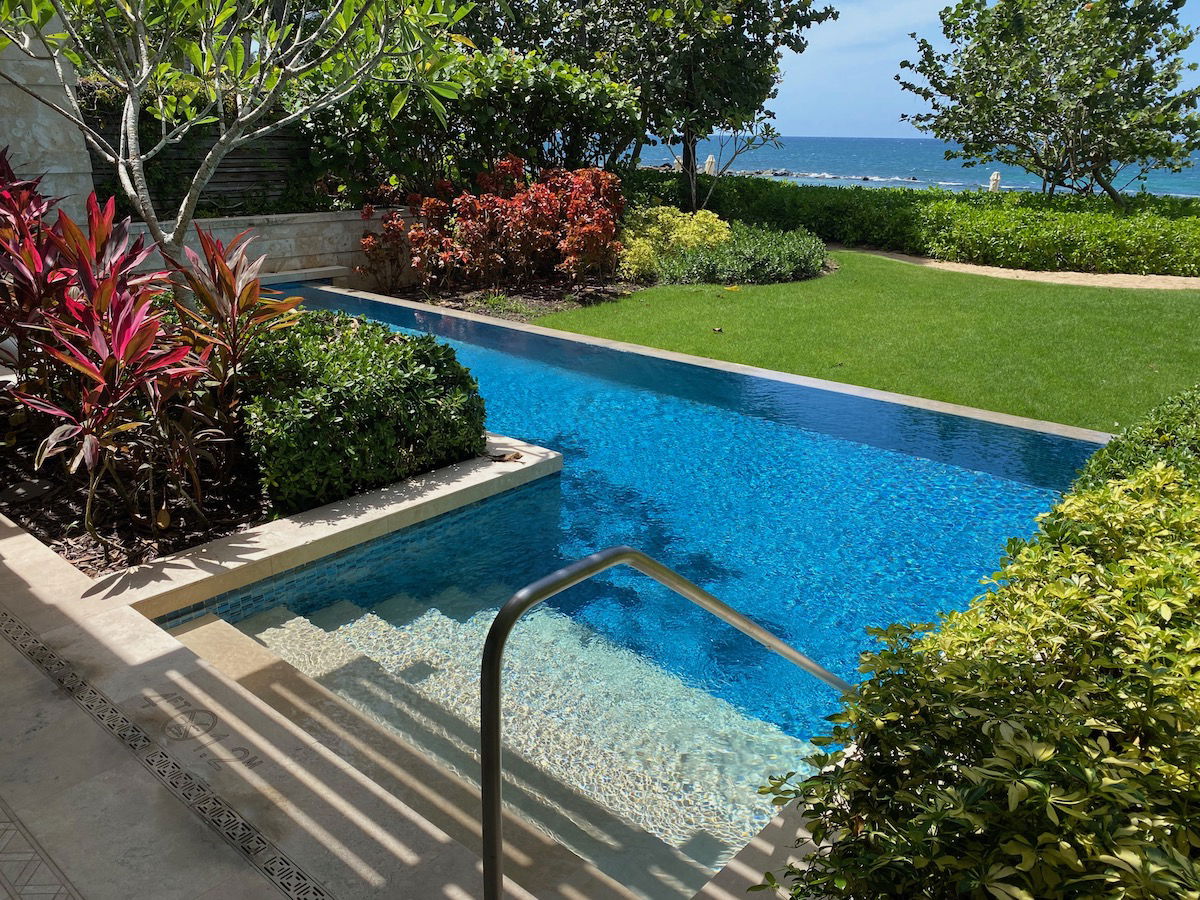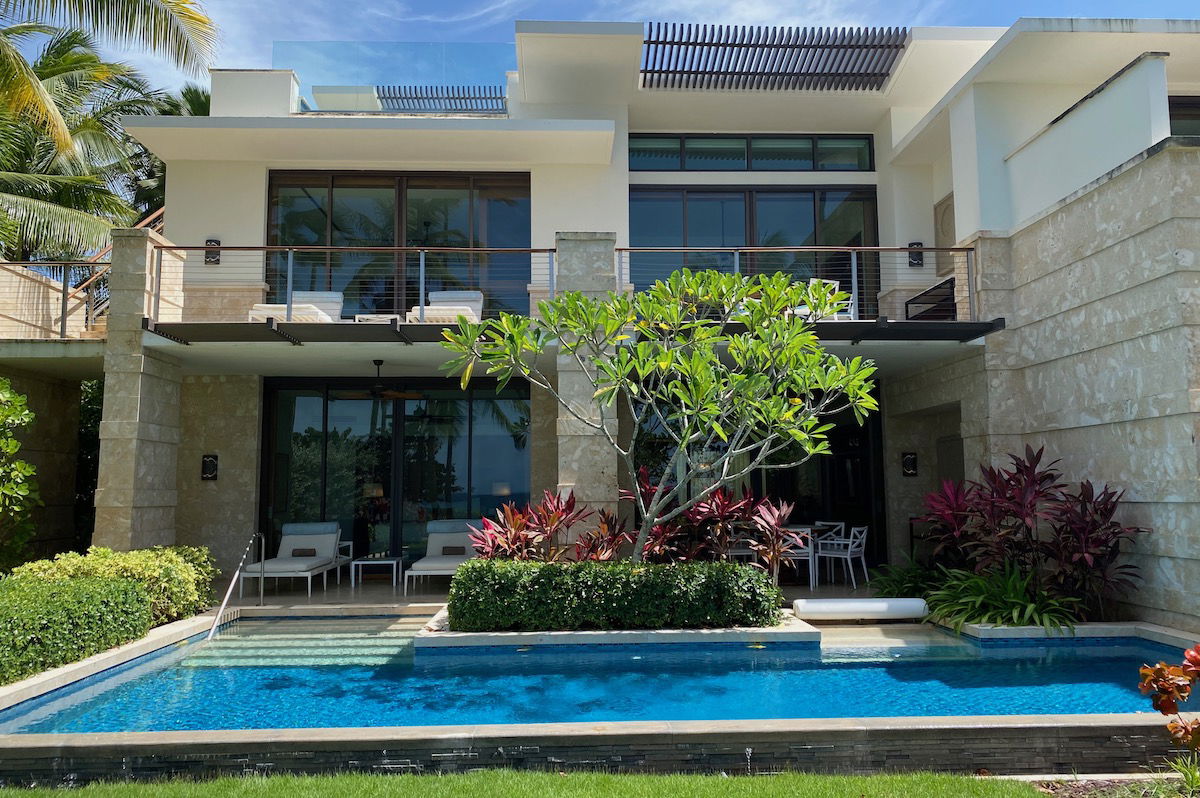 Best of all, the hotel had a direct path leading down to the beach and ocean.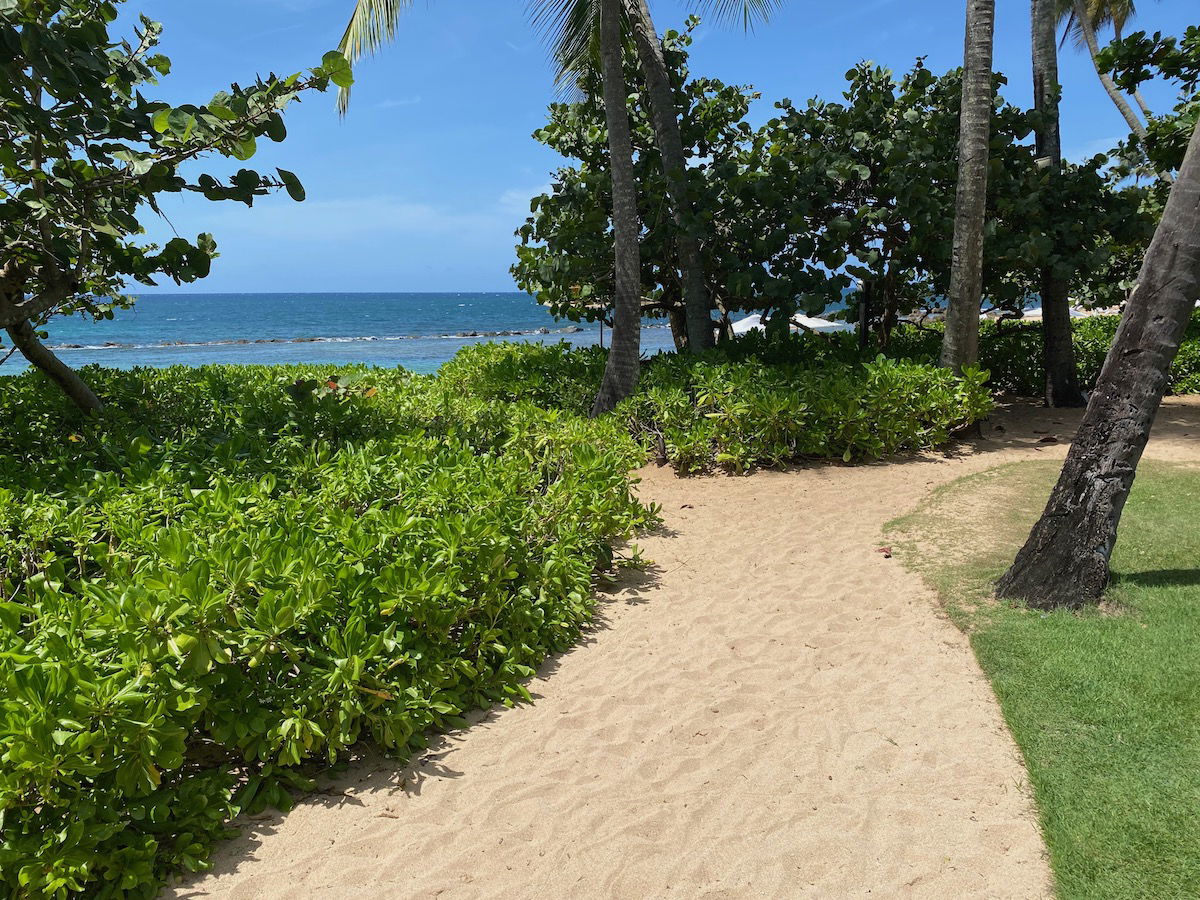 A few more things to note about the room. First of all, both Wi-Fi and air conditioning worked really well, which is worth calling out, because both can be a challenge at some beach resorts.
Next, stays here include a rum tasting on arrival, which is a cute touch. There's a rum setup in your room, and then you just let the ambassadors know when you'd like to enjoy it, because they bring you large coconut-infused ice cubes.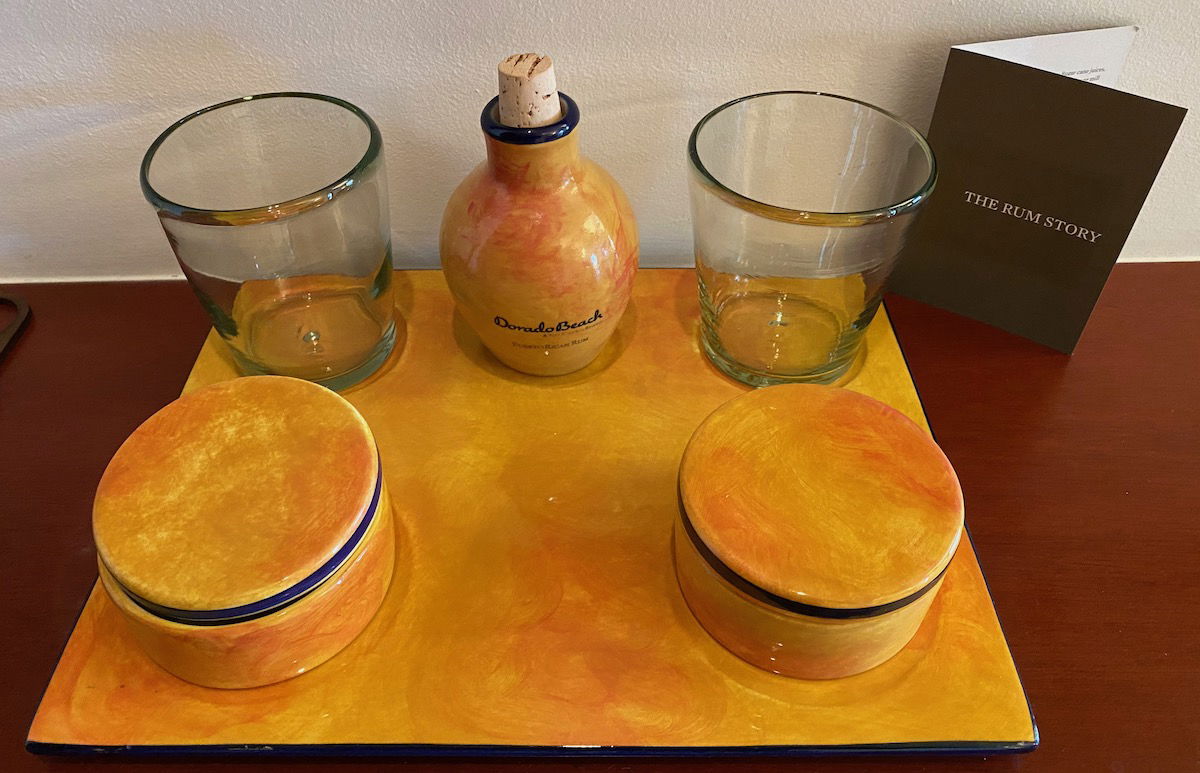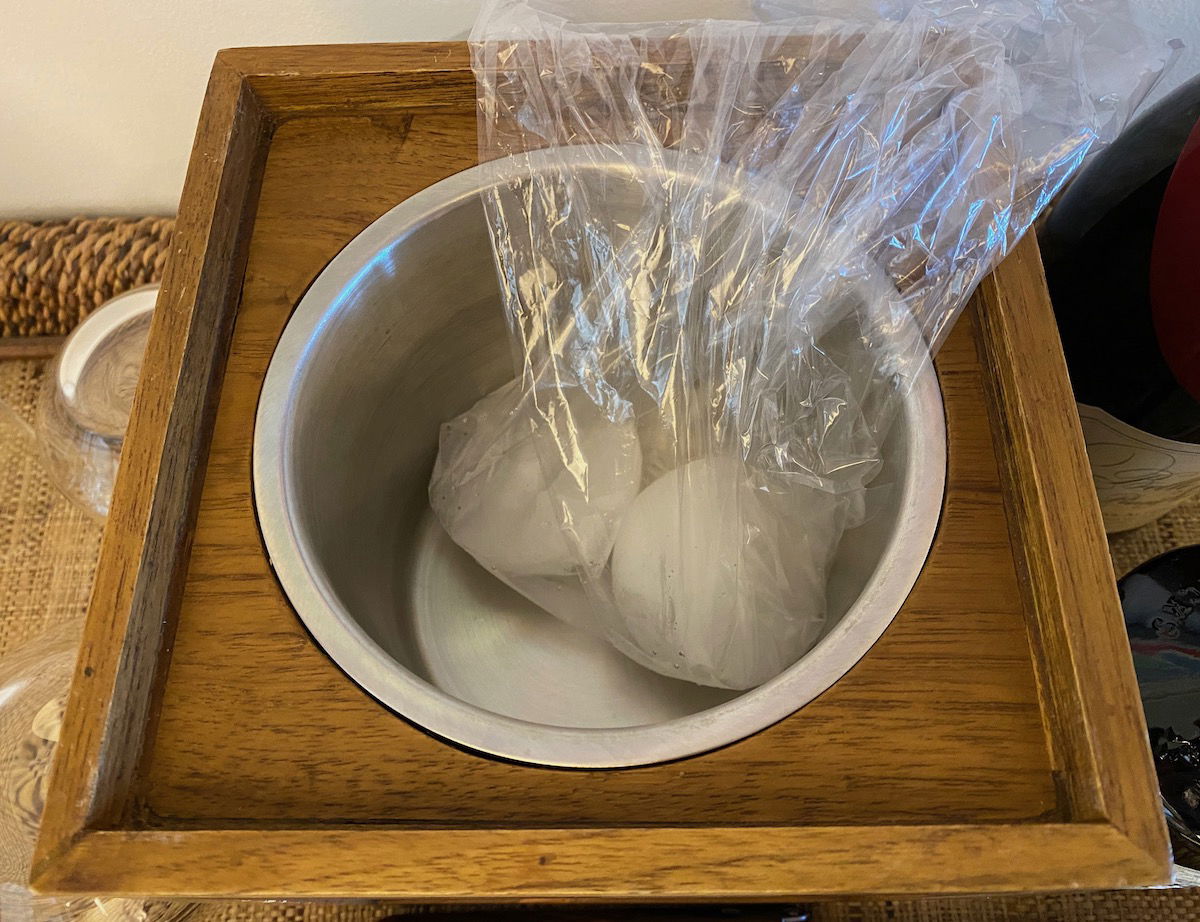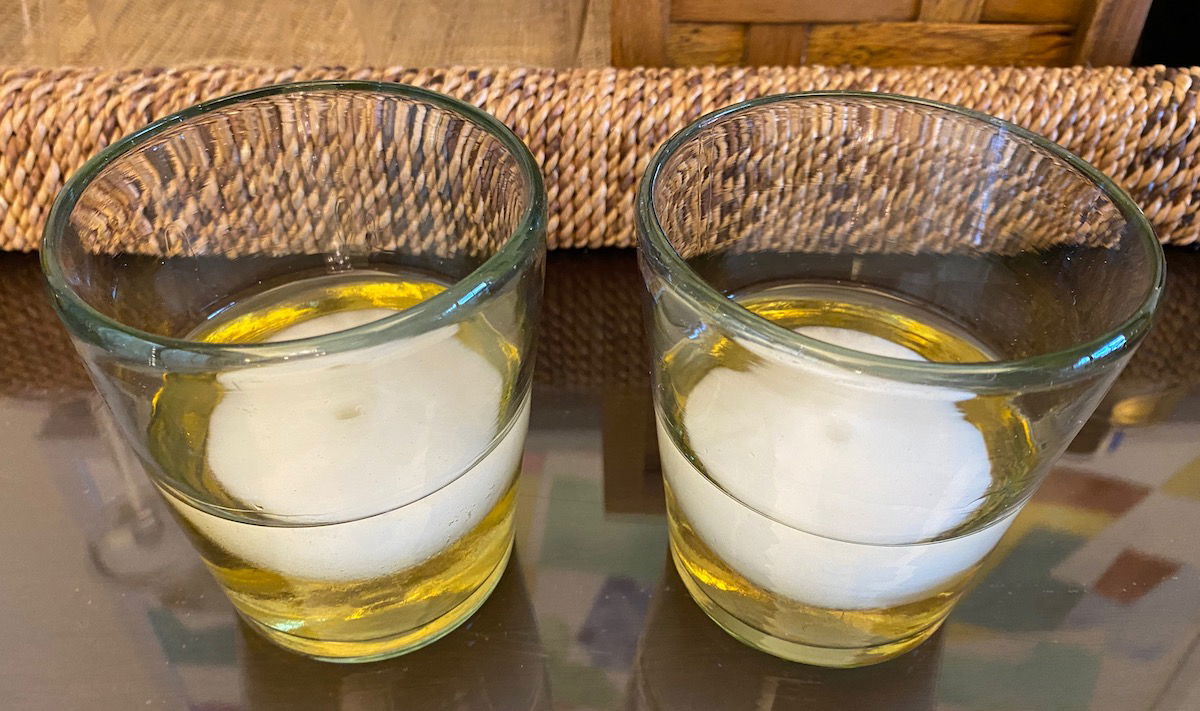 There were also Dorado Beach hats on the desk, which guests can keep.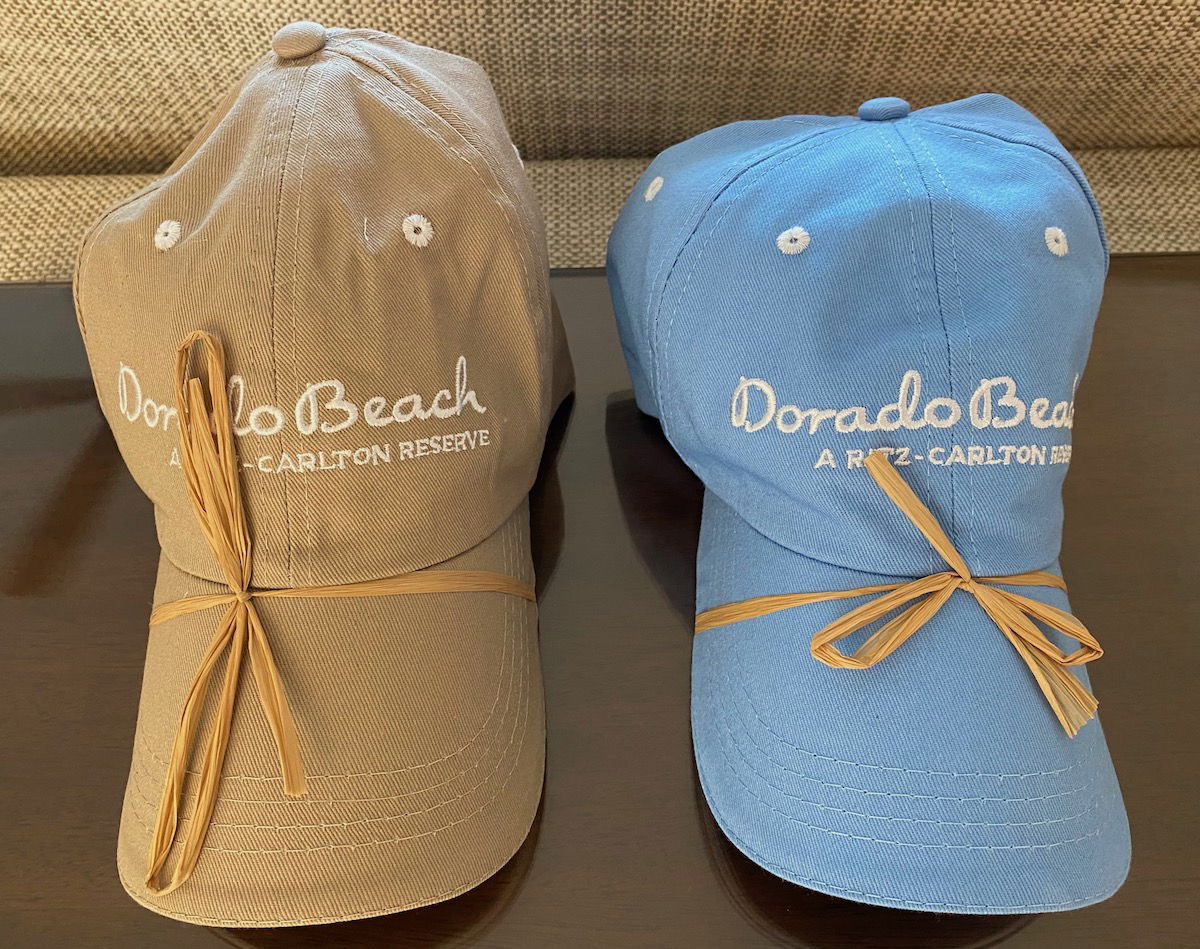 Each room also comes with bicycles upon request, which you can use to get around the Dorado Beach compound. It's cute how they even have wooden license plates that have guests' names etched into them.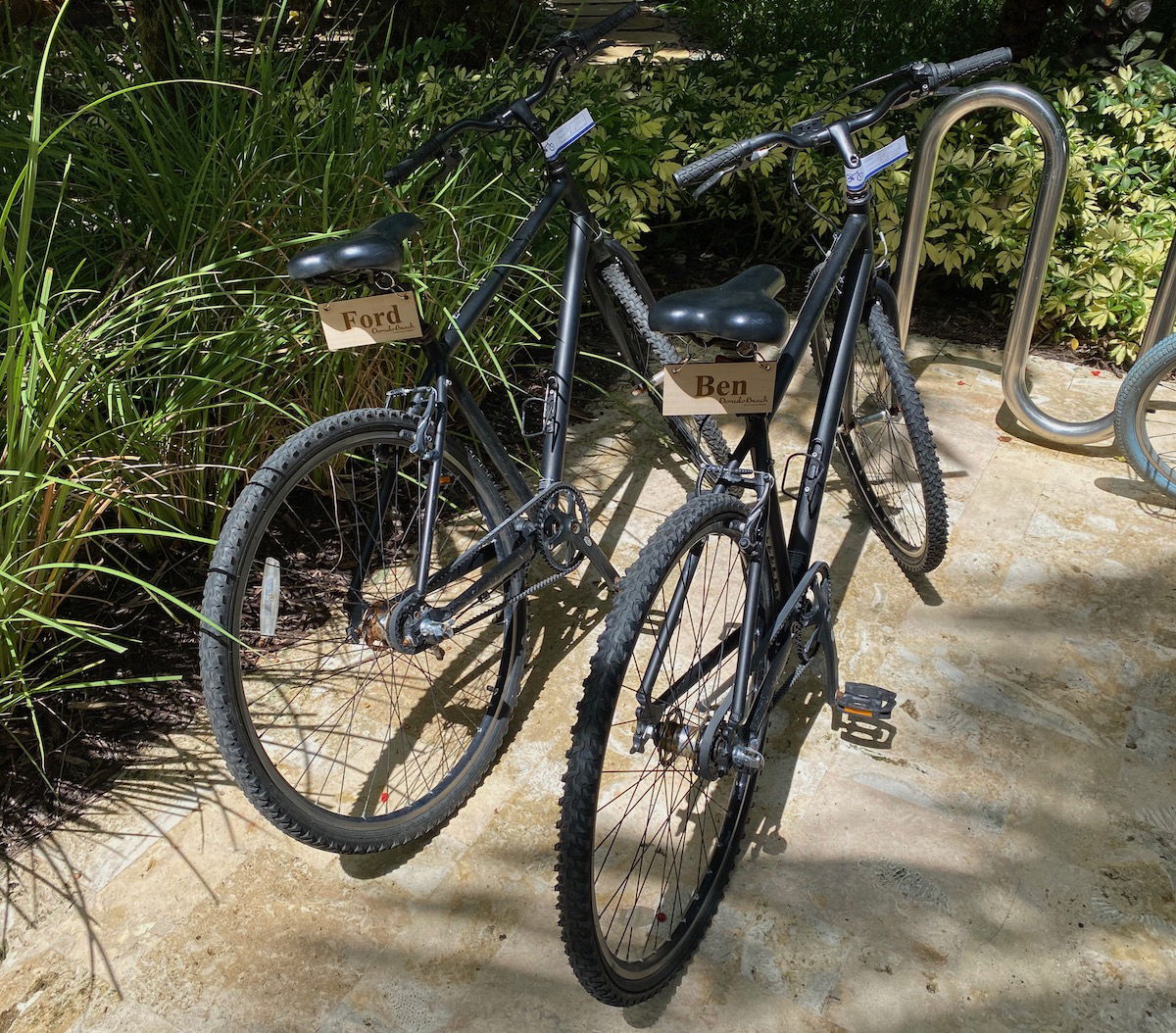 Lastly, I've gotta say that I've become kind of obsessed with Ritz-Carlton Reserve's brand video. It was always on the TV when we entered the room after it was serviced, and we kind of just left it on for extended periods of time, as I love the music. Am I the only one who is a fan?
The below is the closest version I could find — this isn't actually what they show in rooms, as the in-room version also features the Ritz-Carlton Yacht Collection, and more. Anyone know if you can find the current version online anywhere?
Dorado Beach Ritz-Carlton Reserve pools
The Ritz-Carlton Reserve had two main pool areas. The most impressive pool was near the lobby, and was the most popular with guests.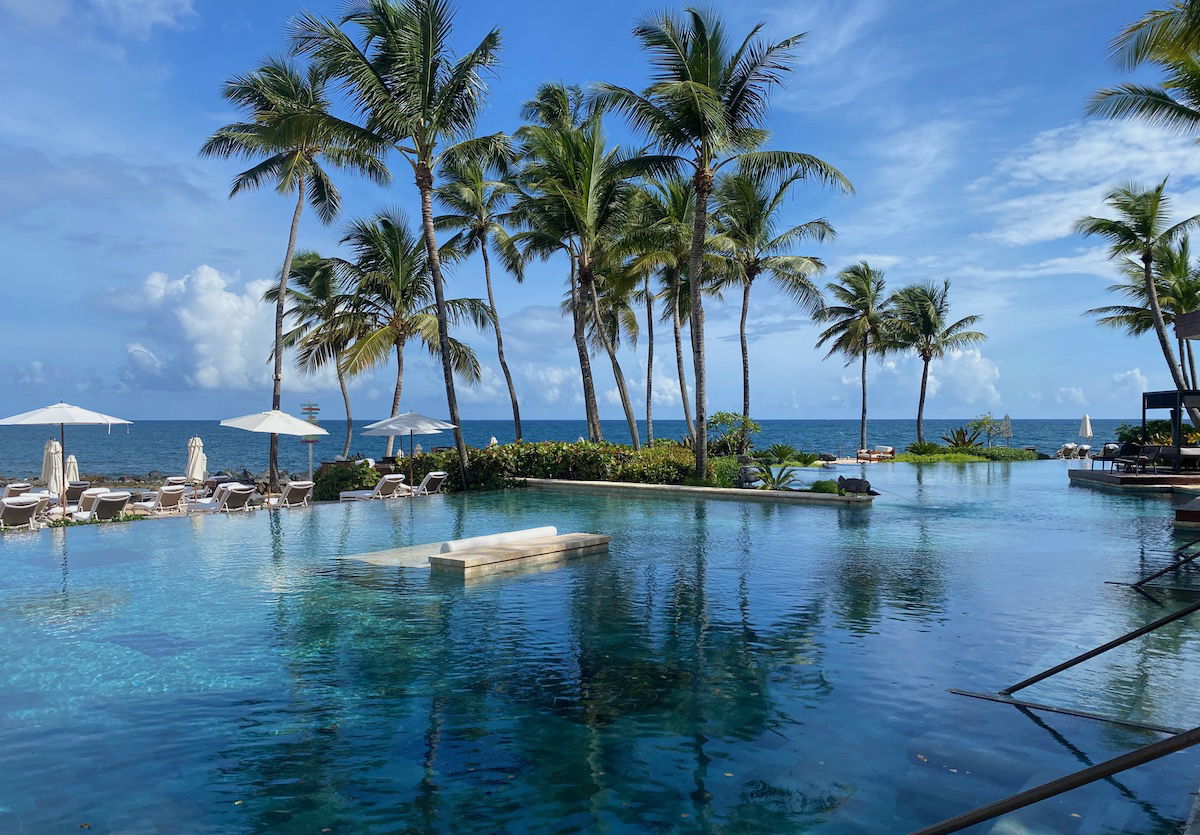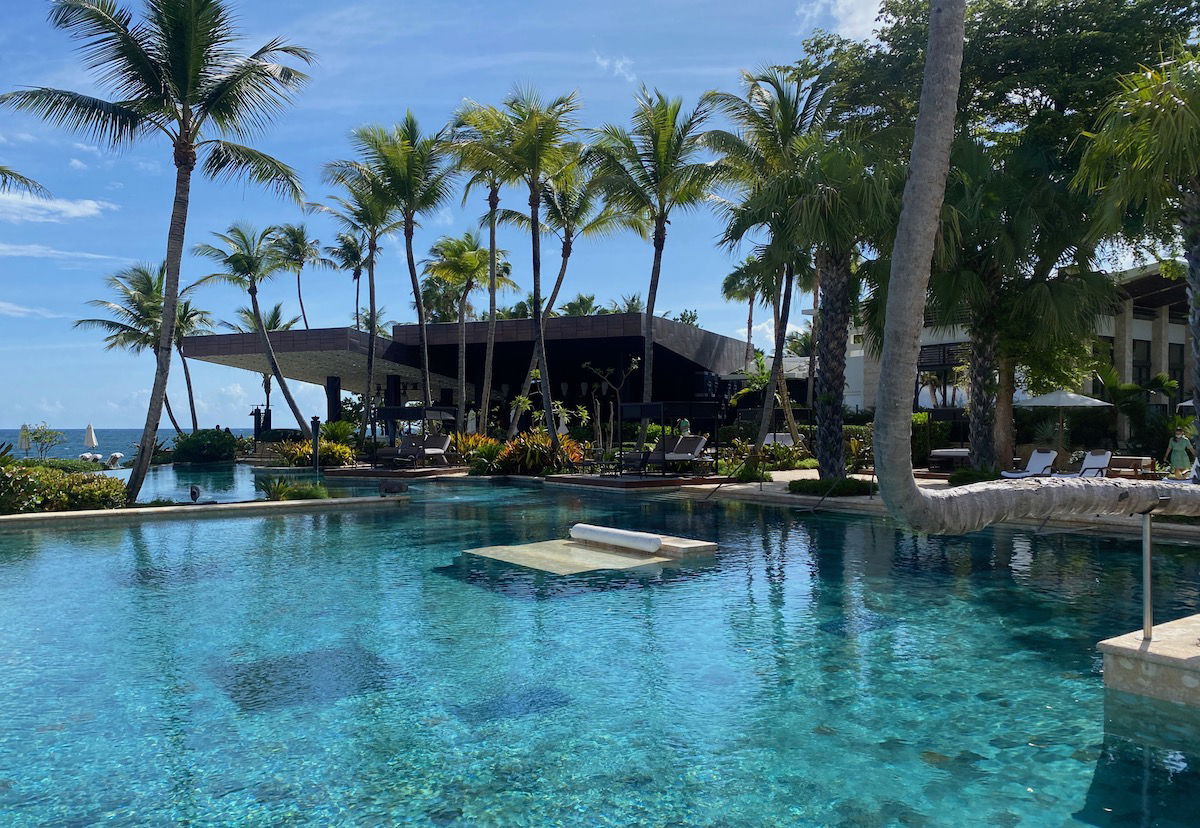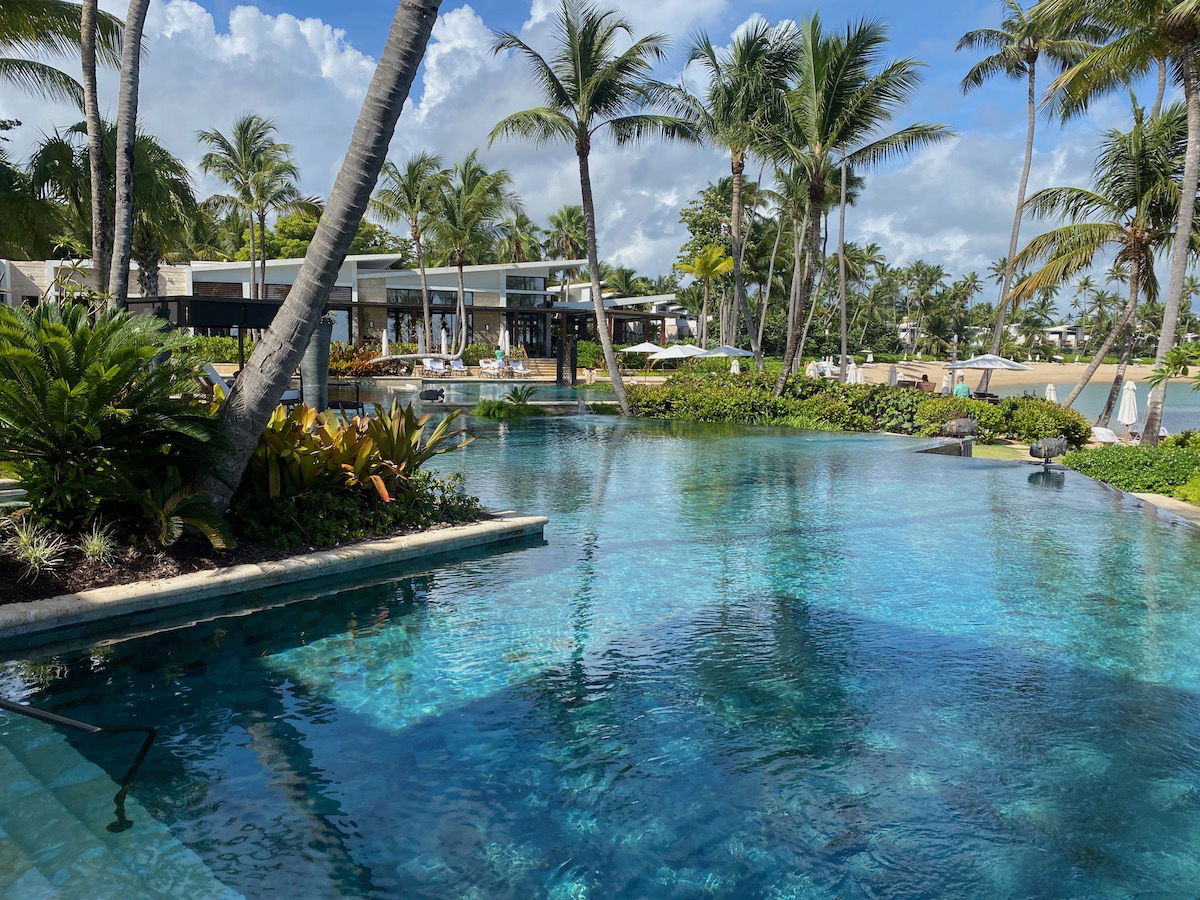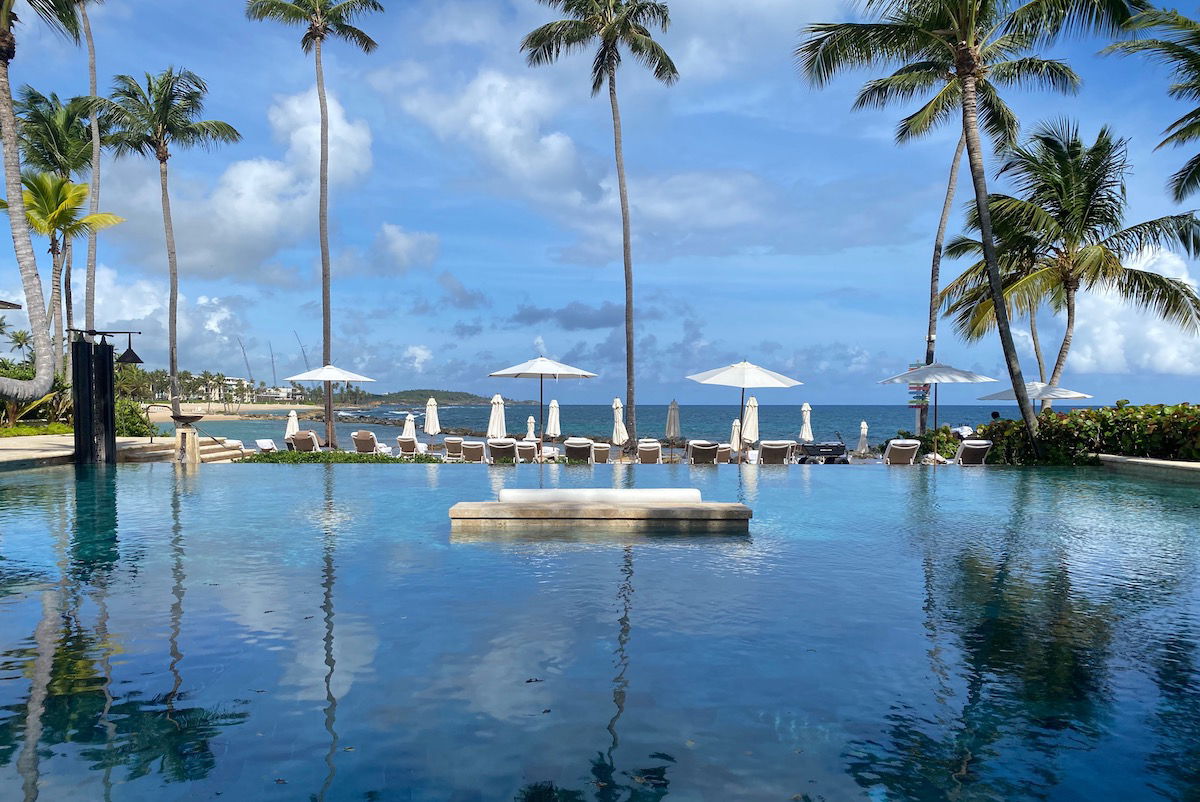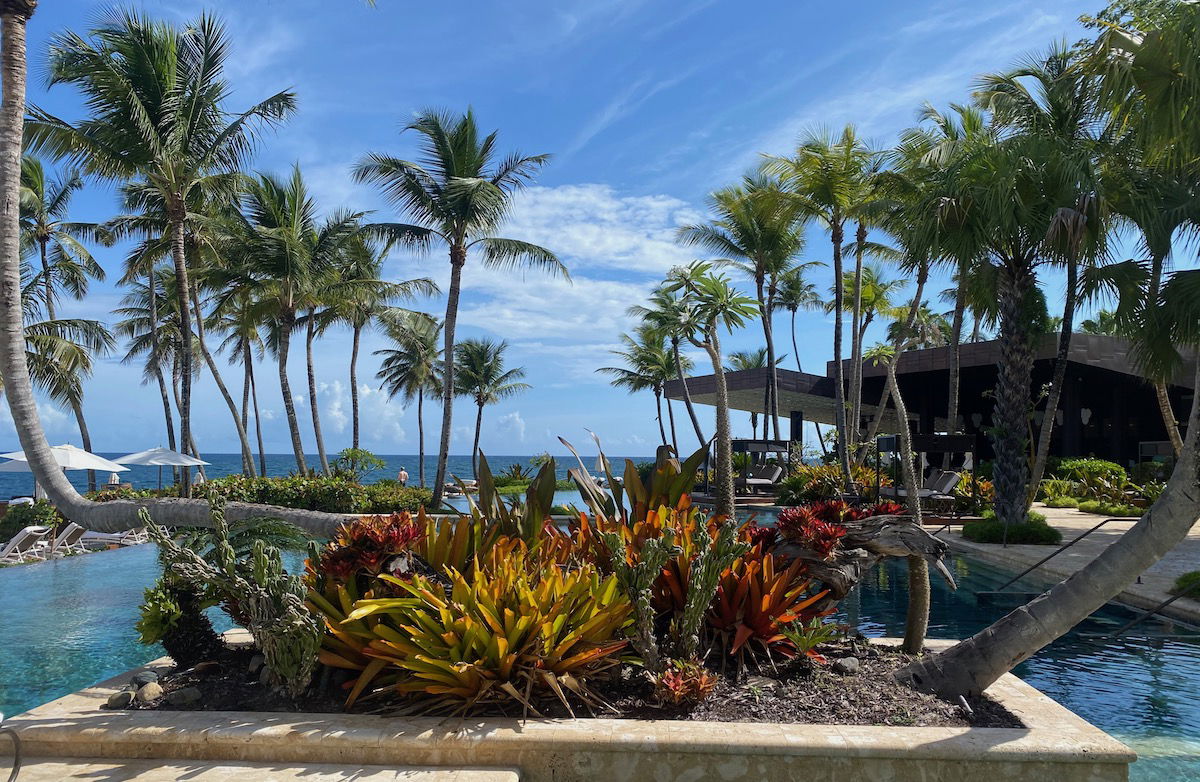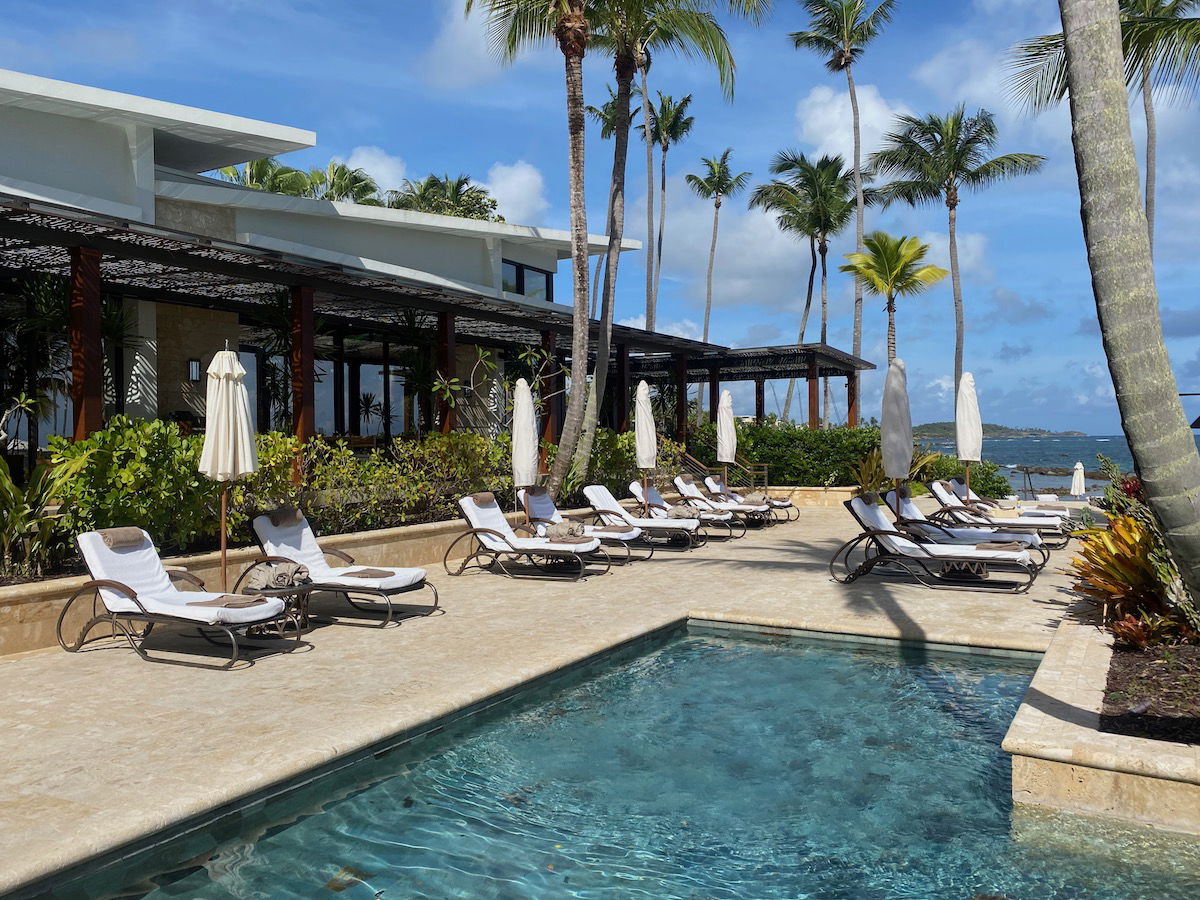 Next to this pool was a smaller tranquility pool right on the ocean, which was intended for adults.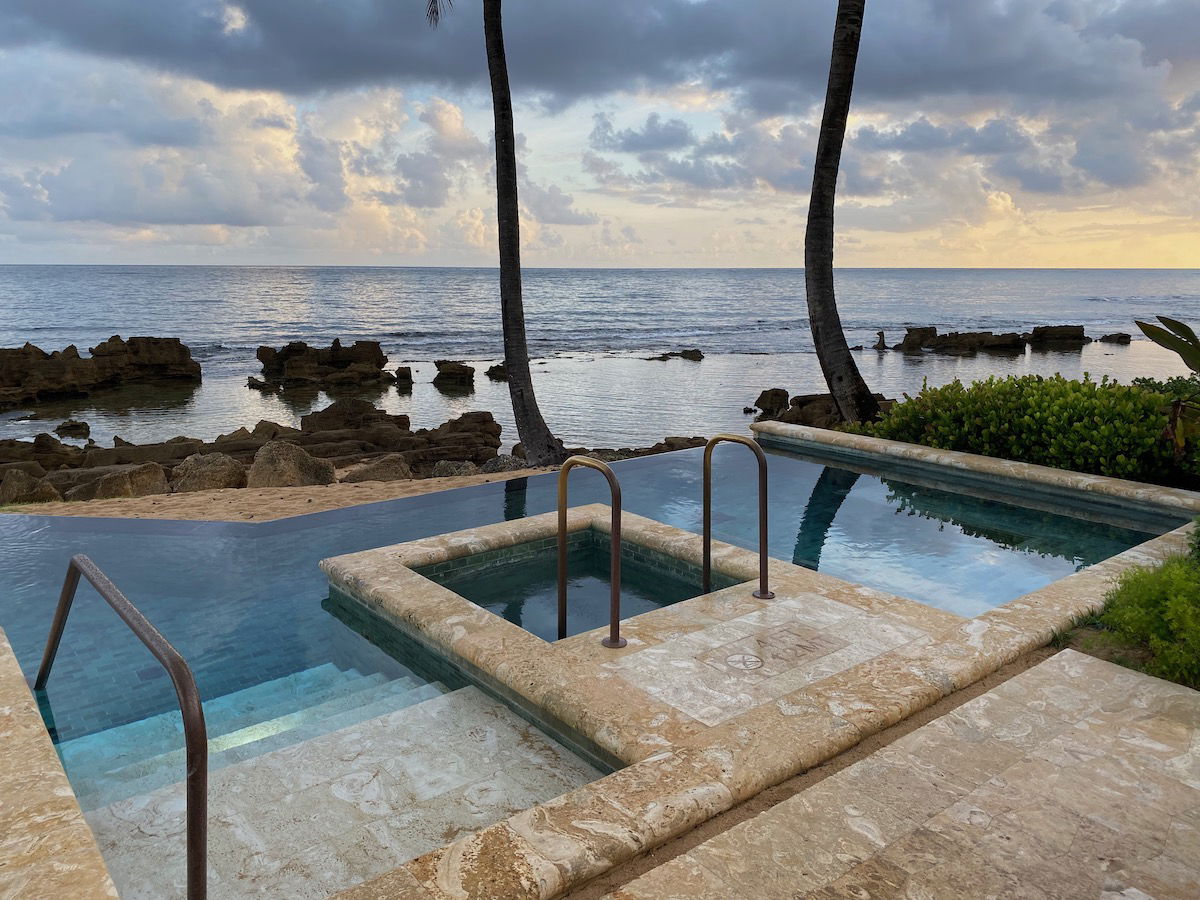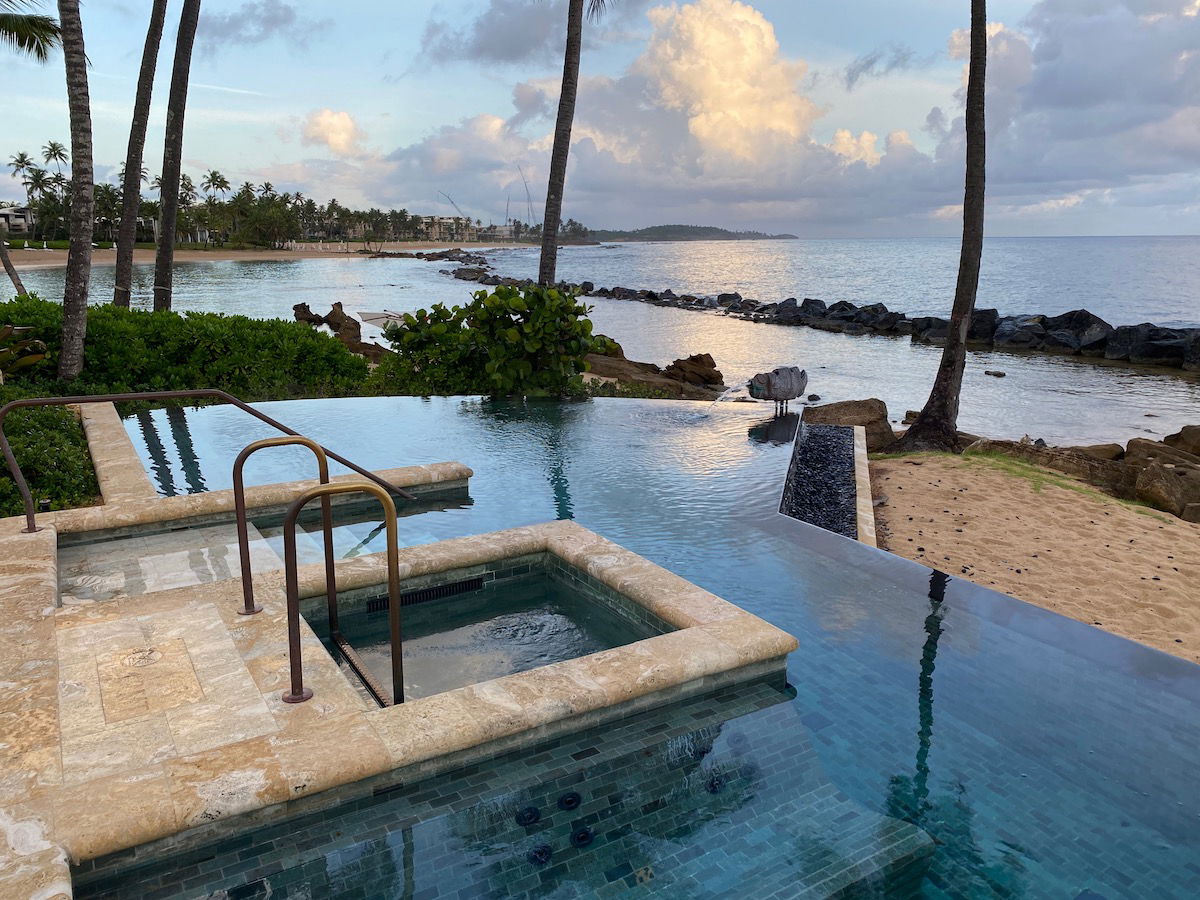 The next big pool was at Encanto Beach Club, which is also a club that people living in Dorado Beach can join. This pool was huge, but wasn't quite as visually impressive as the other one.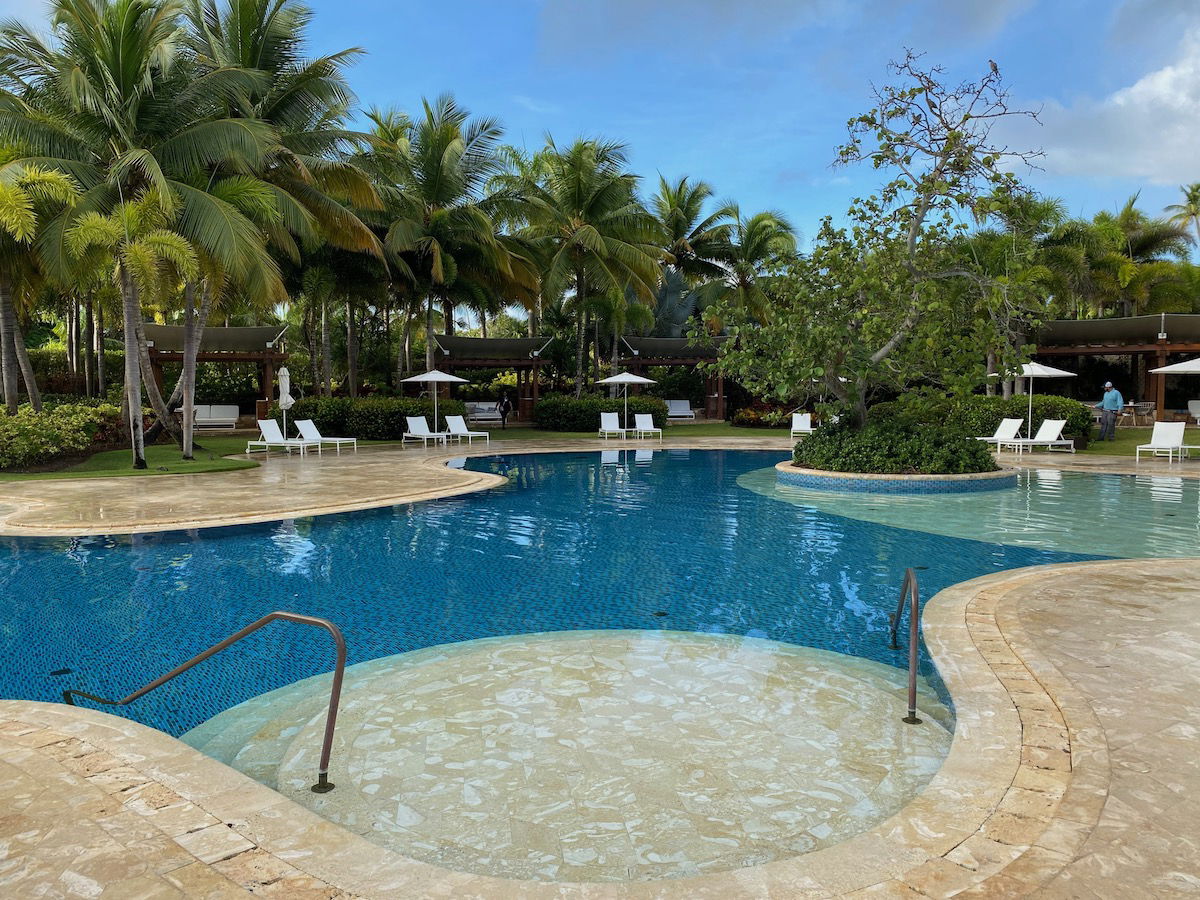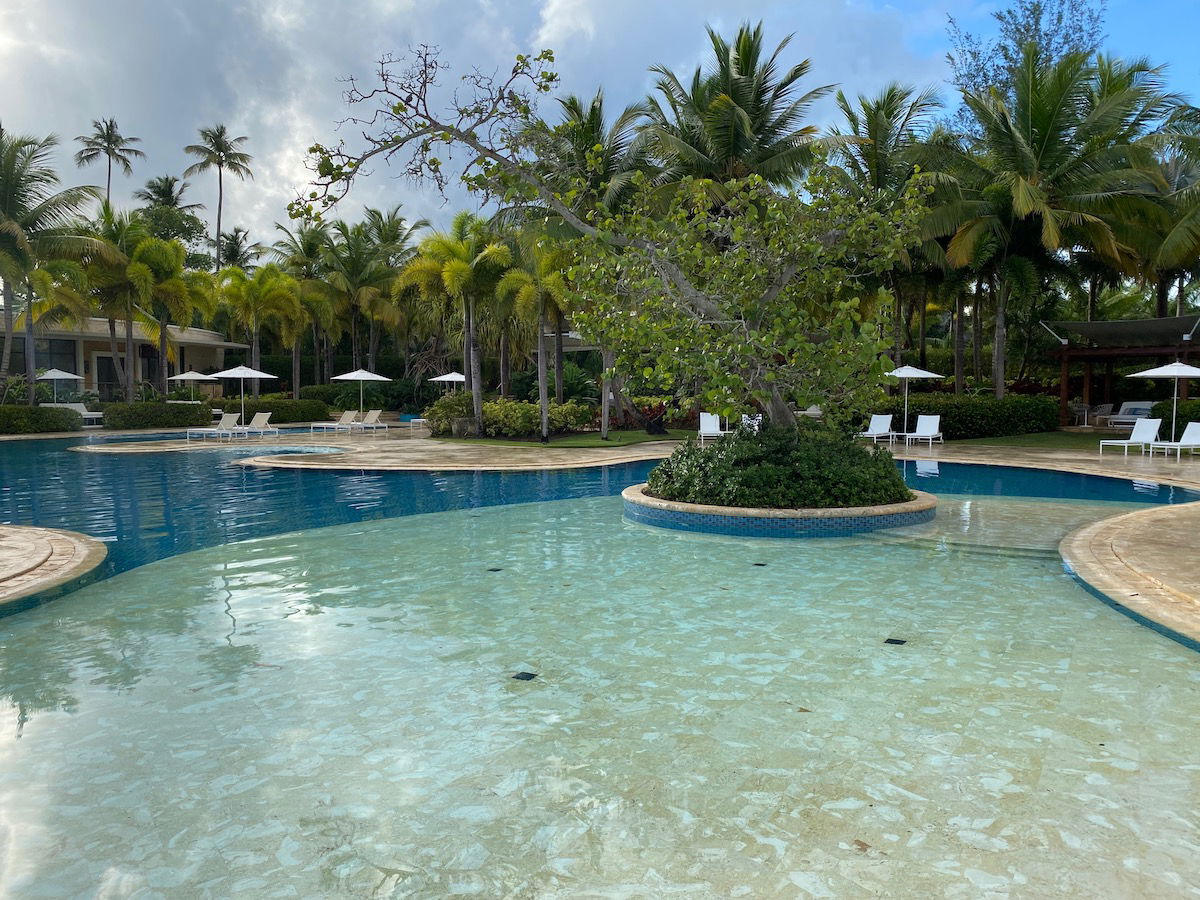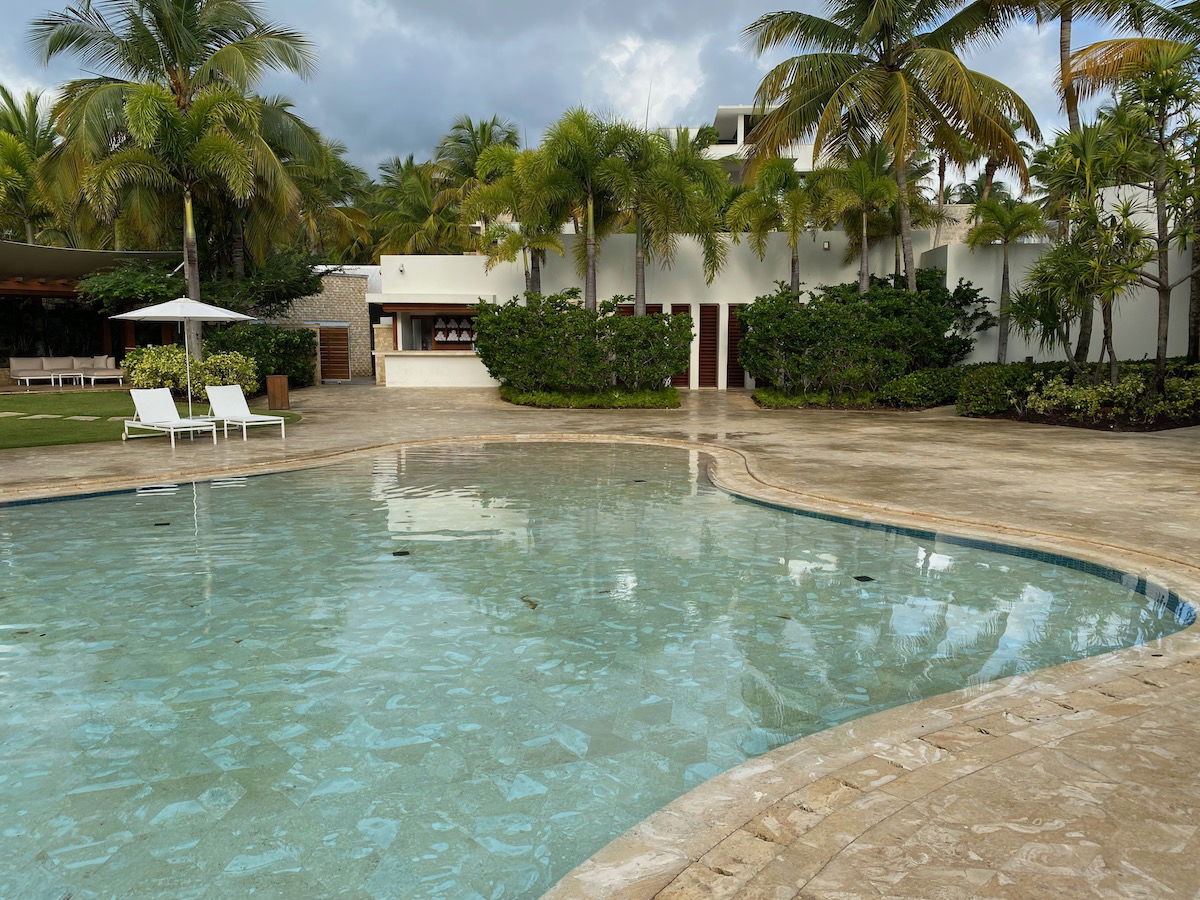 Dorado Beach Ritz-Carlton Reserve beach
The Ritz-Carlton Reserve has a sprawling beach, giving guests plenty of space, whether they want to lounge around or go on a walk.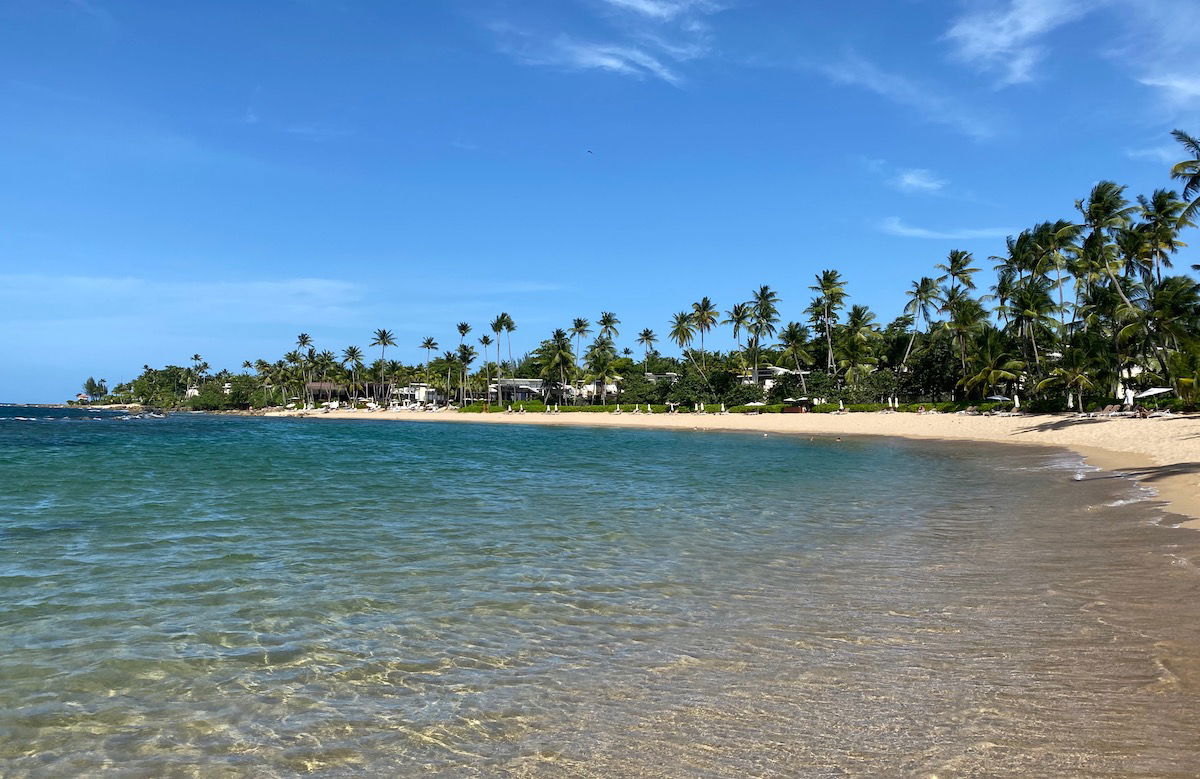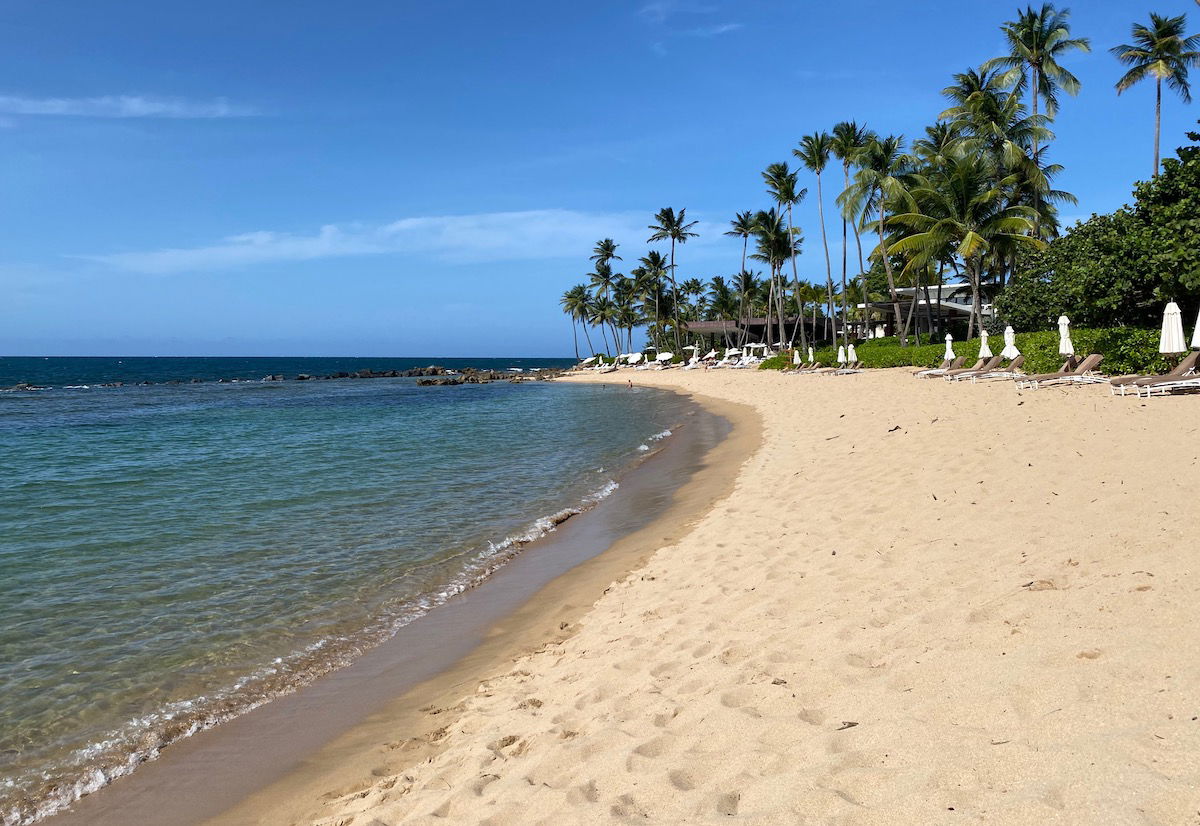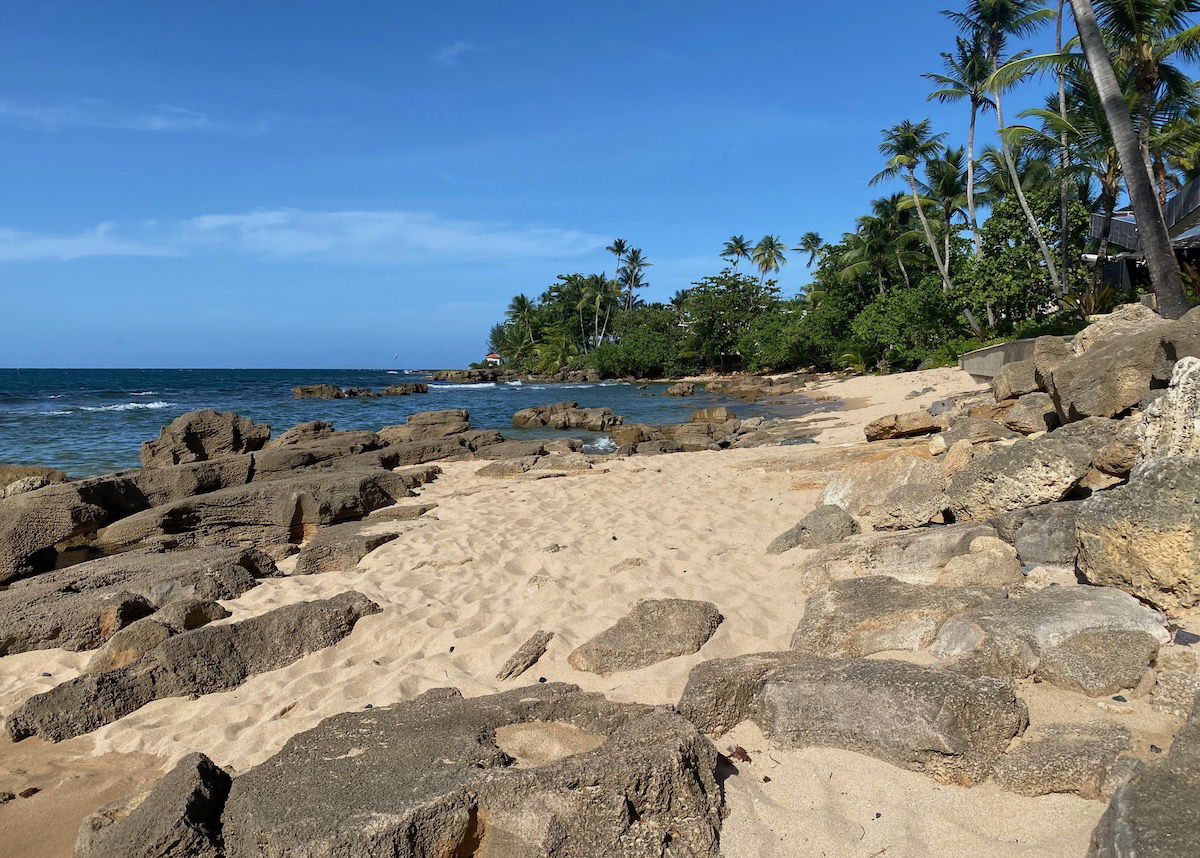 There are some rock formations maybe a couple of hundred feet into the water, which break the waves and make it safe to swim at the hotel.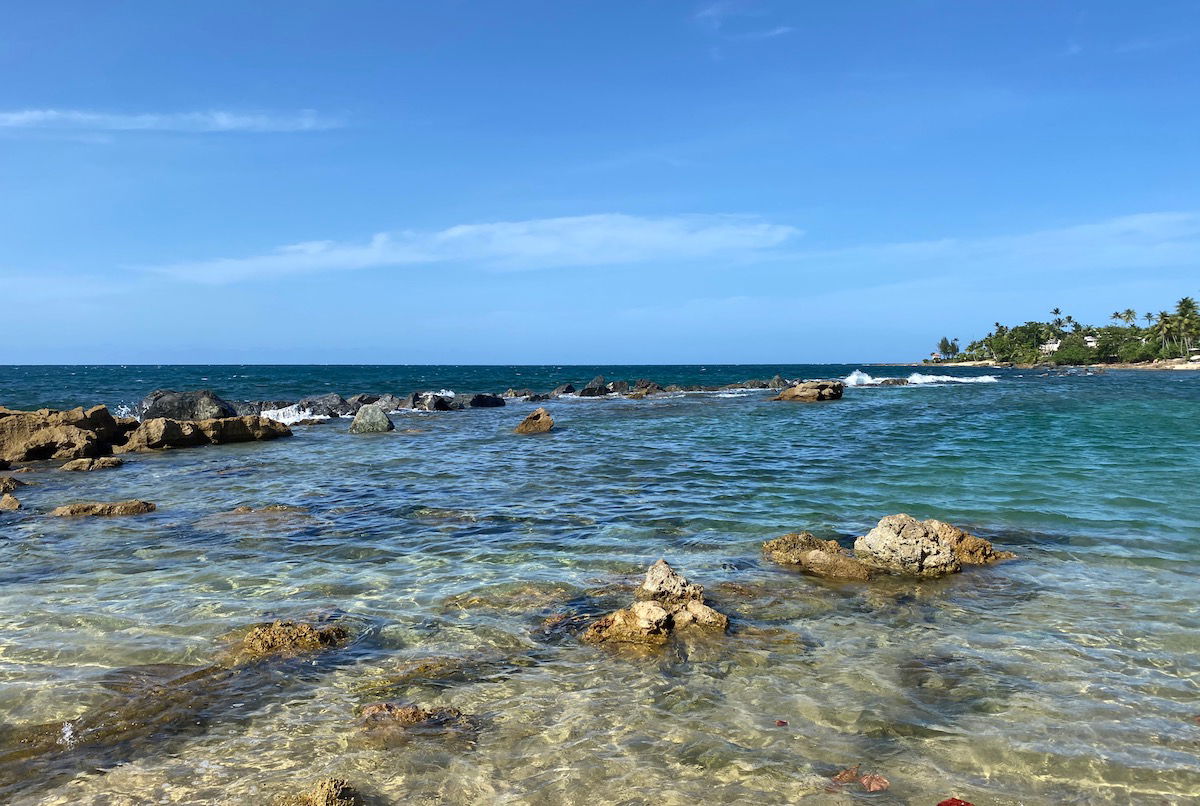 It's nice to have a private beach that's this big, because it's not often you get access to such a large and quiet beach.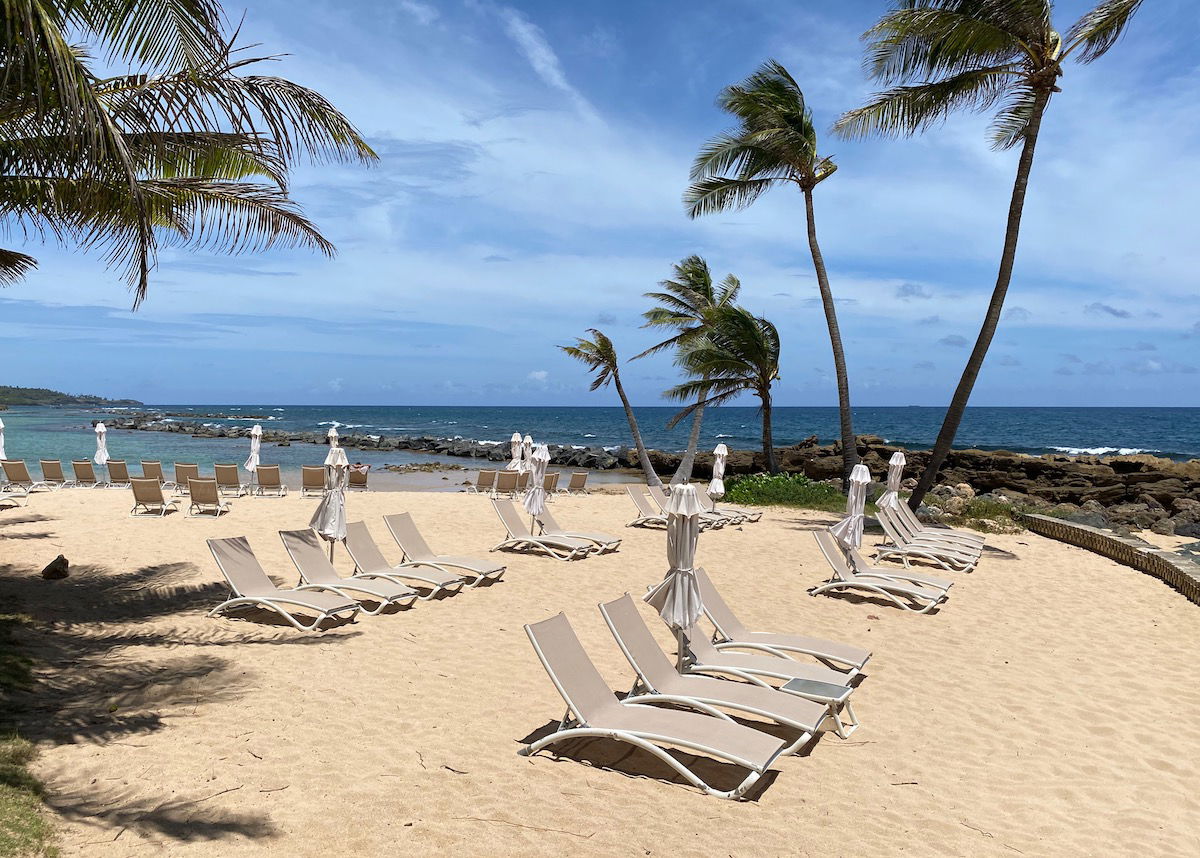 While there are some areas where the beach is no doubt nicest, the beach really does go the entire length of the coast, so below you can see what some of the "less nice" beach looks like, by comparison.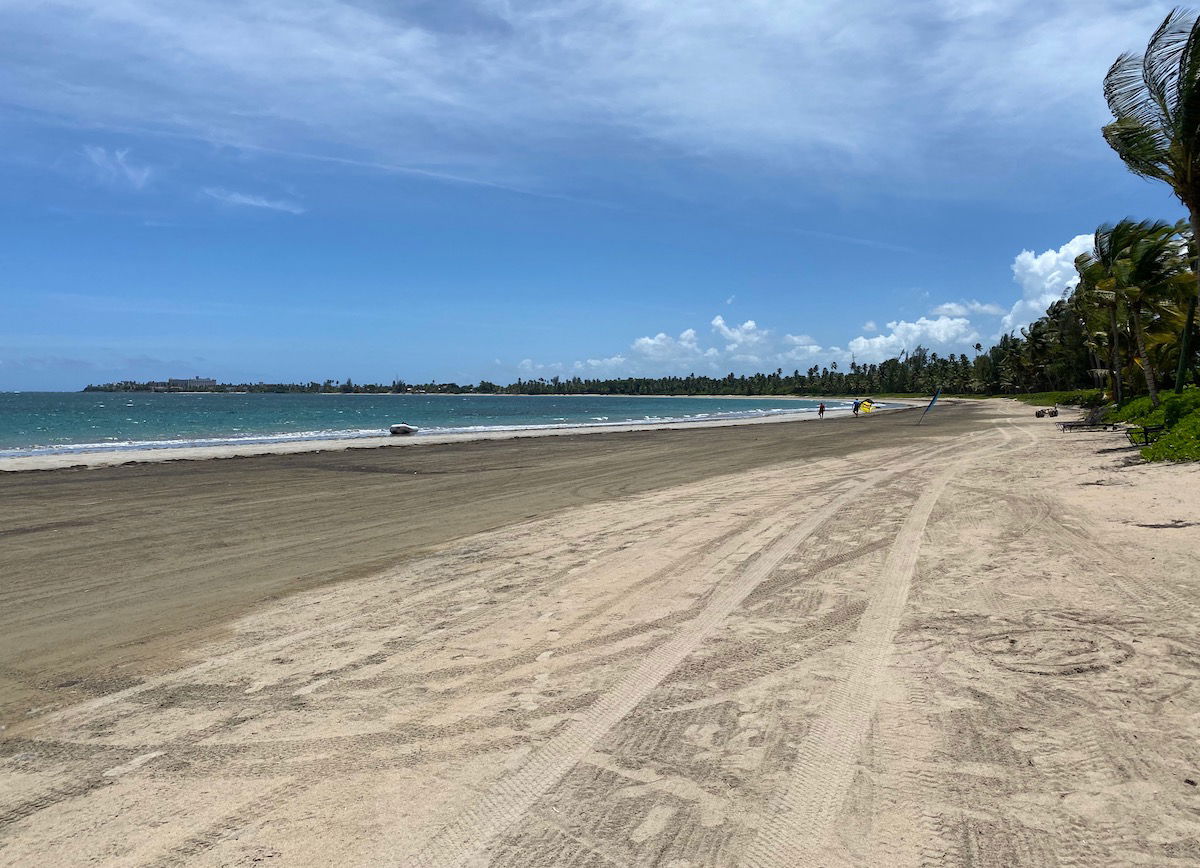 The resort also offers plenty of non-motorized water sports, including kayaks.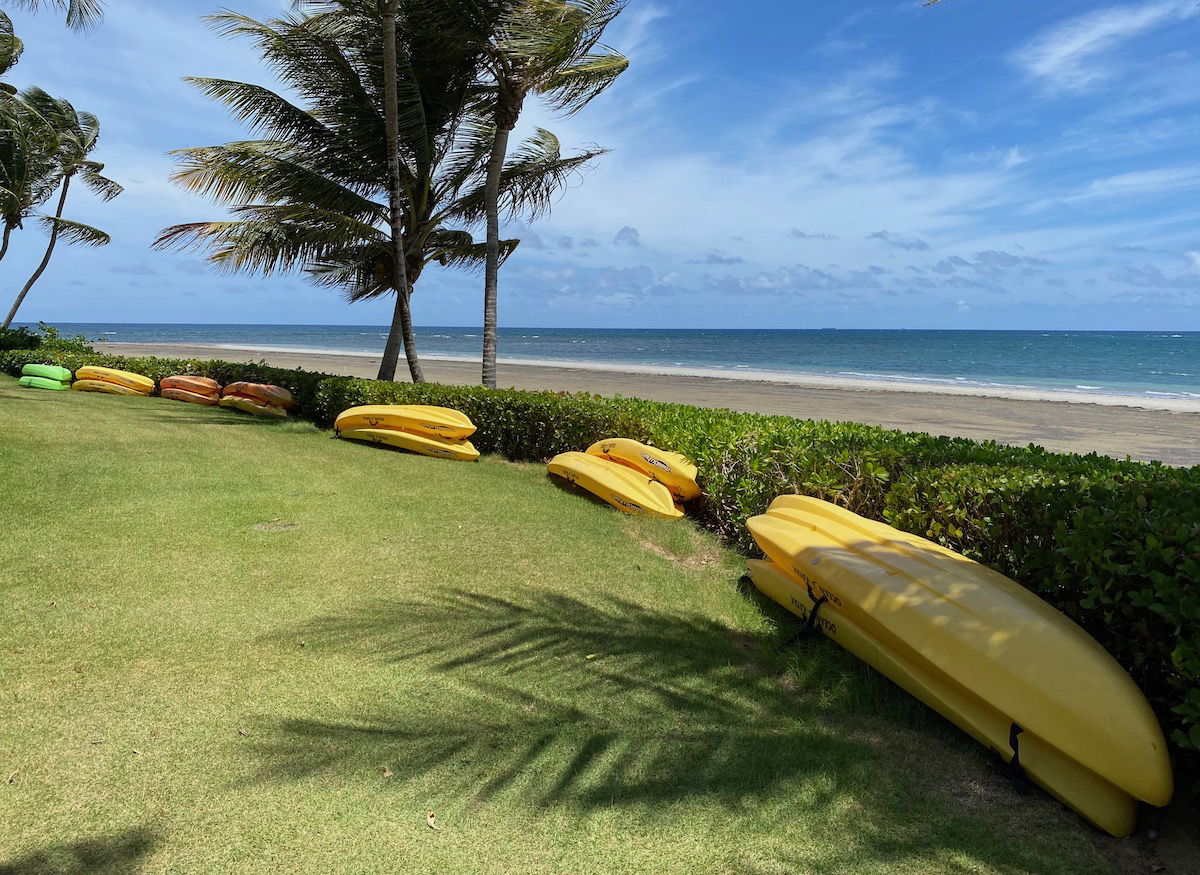 Dorado Beach Ritz-Carlton Reserve gym
Guests at the Ritz-Carlton Reserve have access to two different gyms. There's the hotel's gym, which is open 24/7, and is in a standalone building.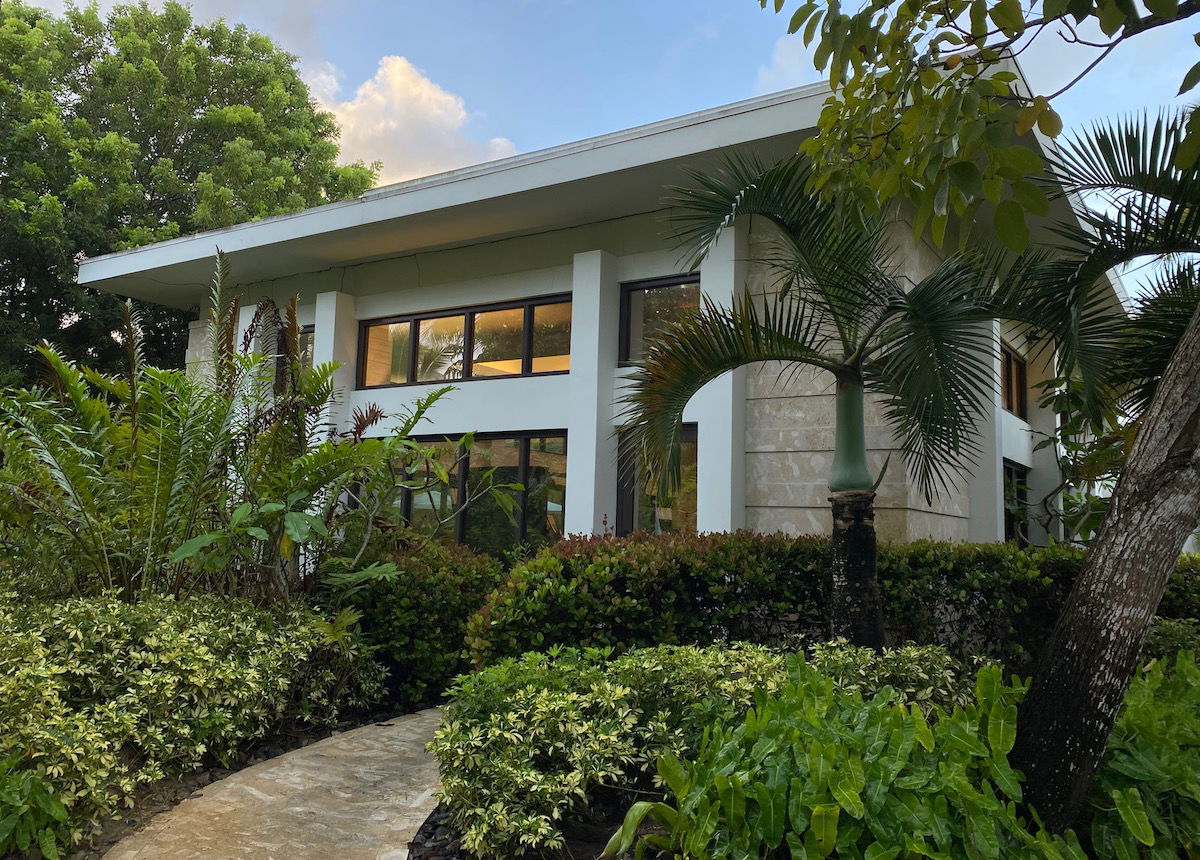 This was more than sufficient, and had a good variety of cardio, strength training, and free weights.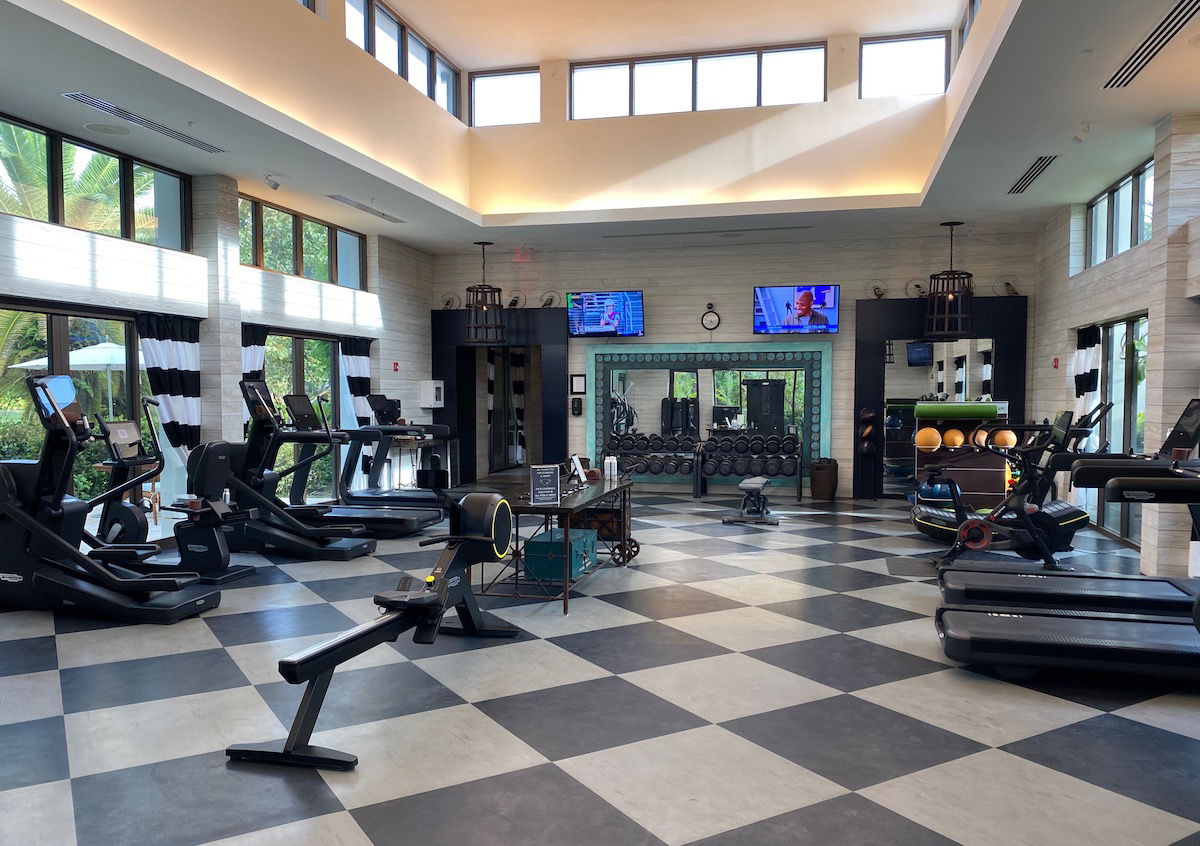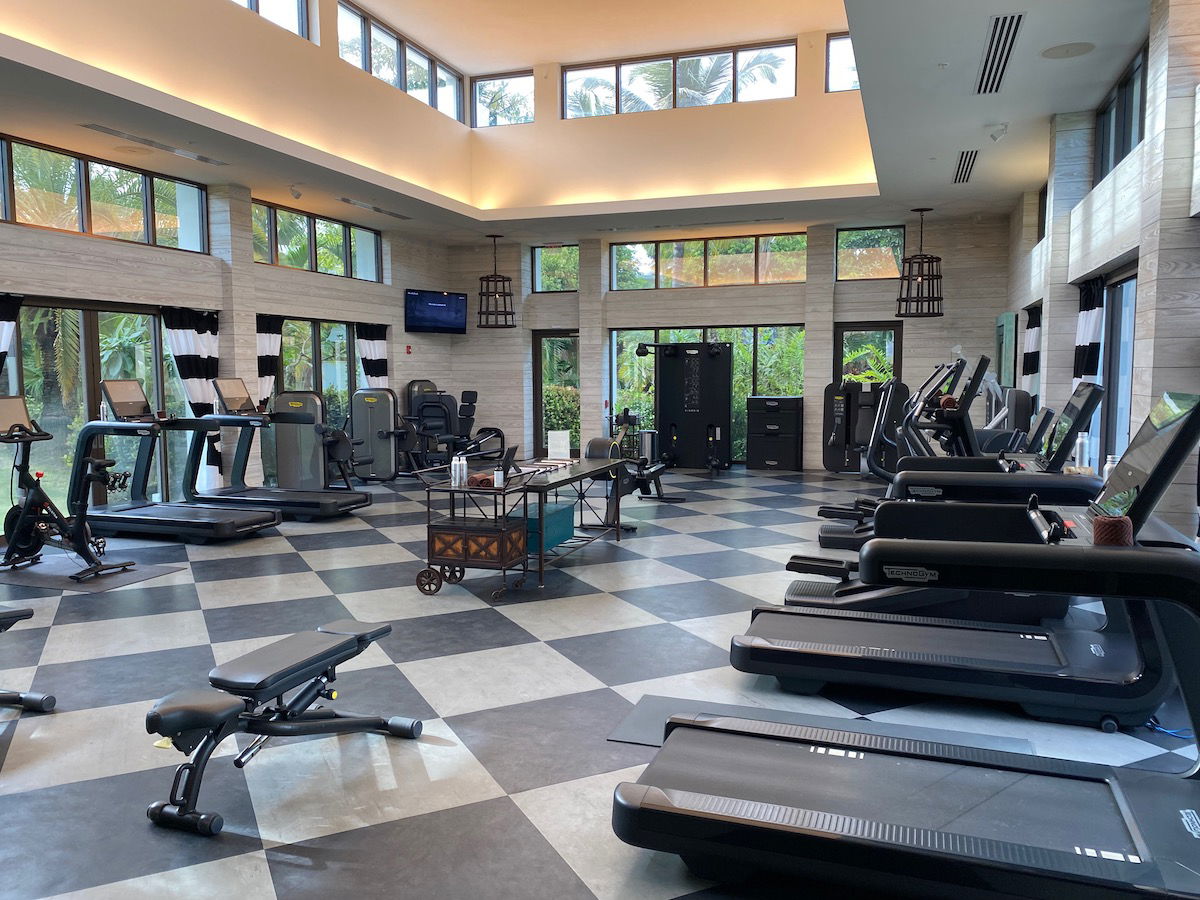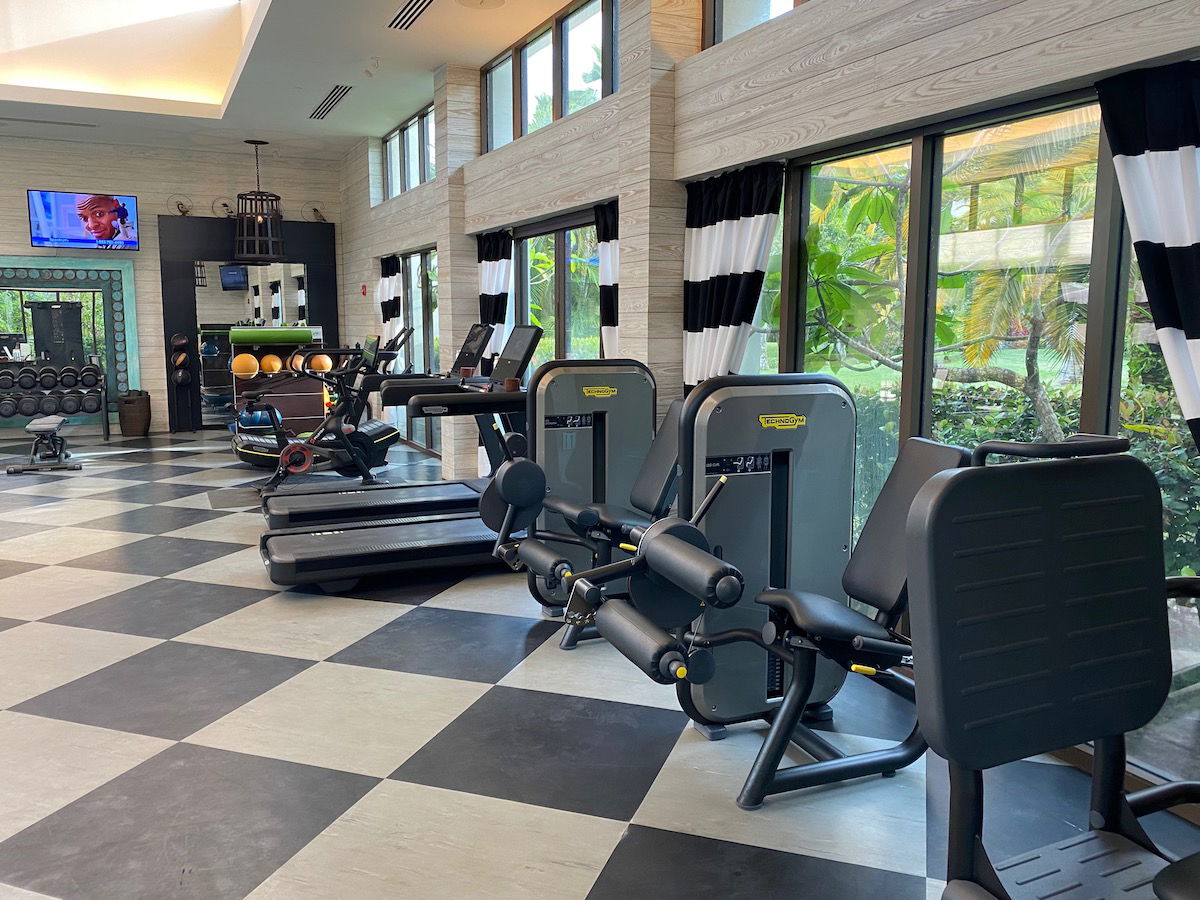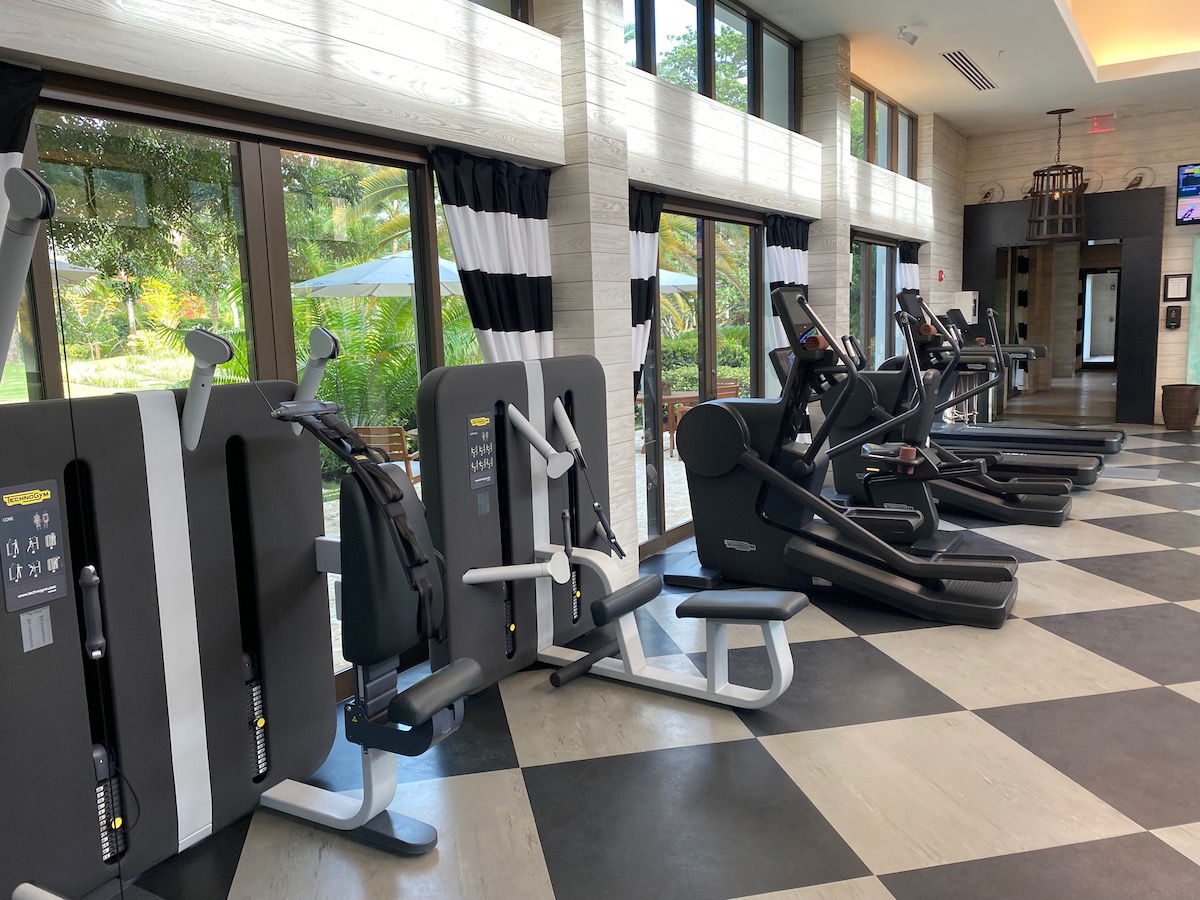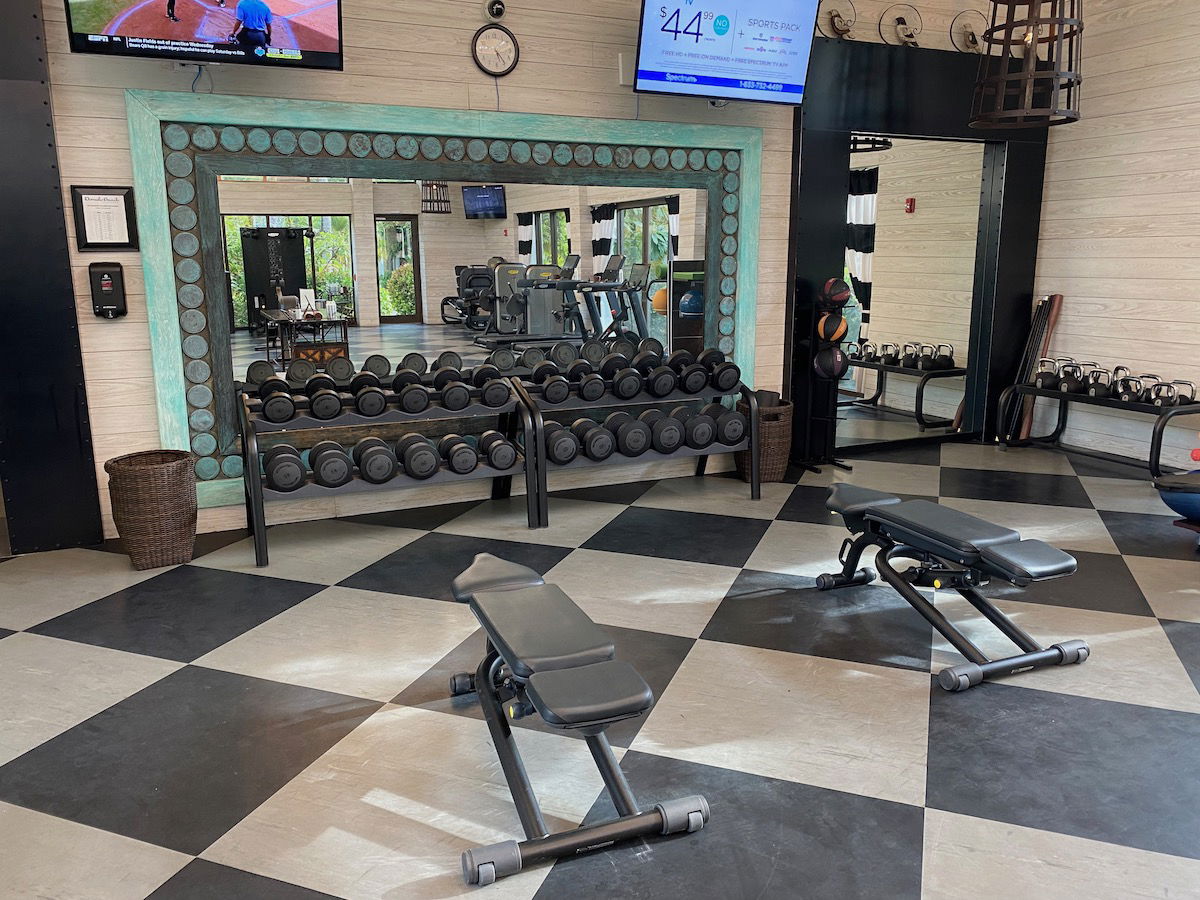 There were even free energy and protein bars, which you don't often find in a hotel gym.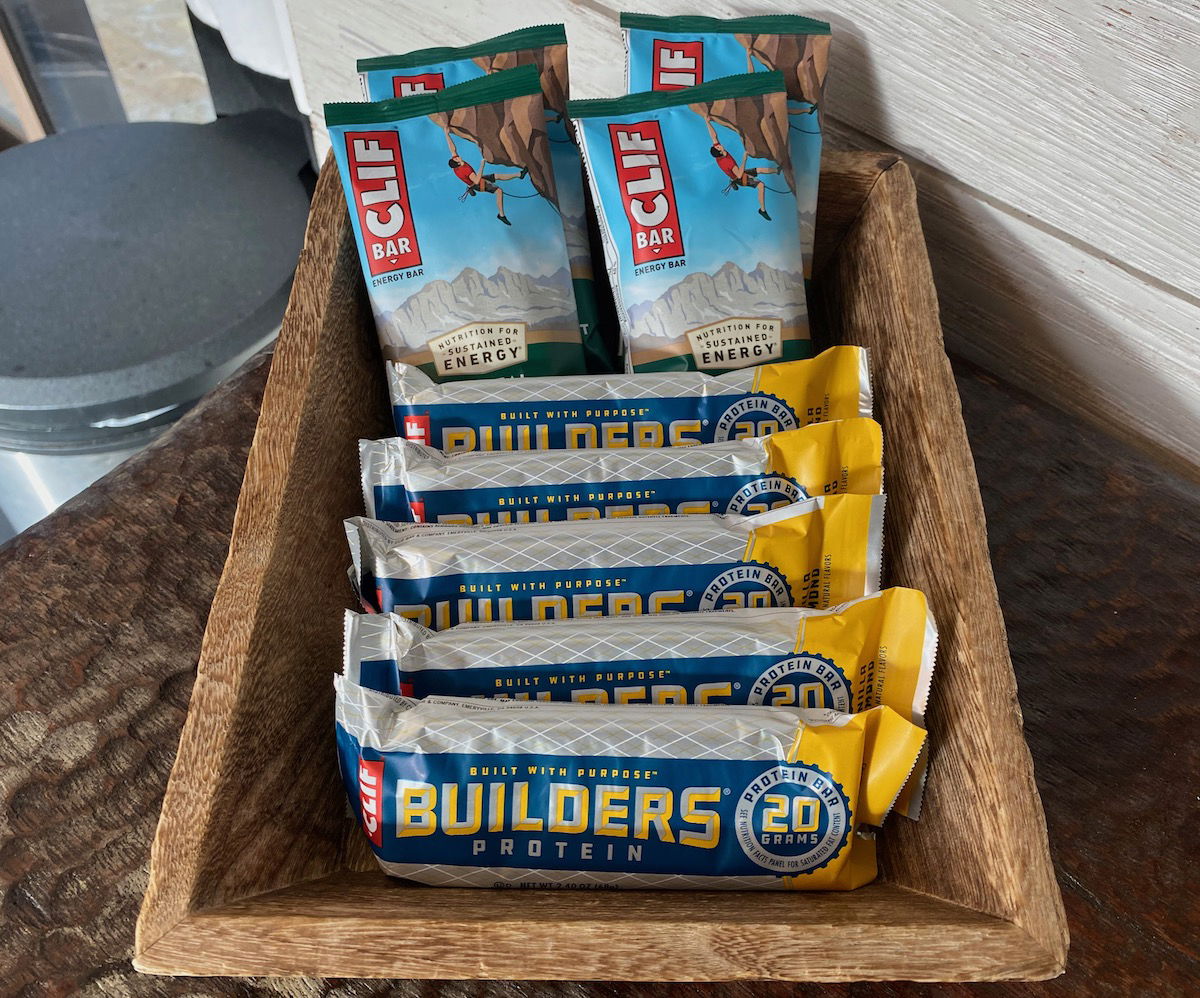 But there was another gym option — as a hotel guest you also have access to the Dorado Beach wellness complex, which includes an 8,000+ square foot fitness center, a basketball court, a volleyball court, five tennis courts, a dance and yoga studio, and more.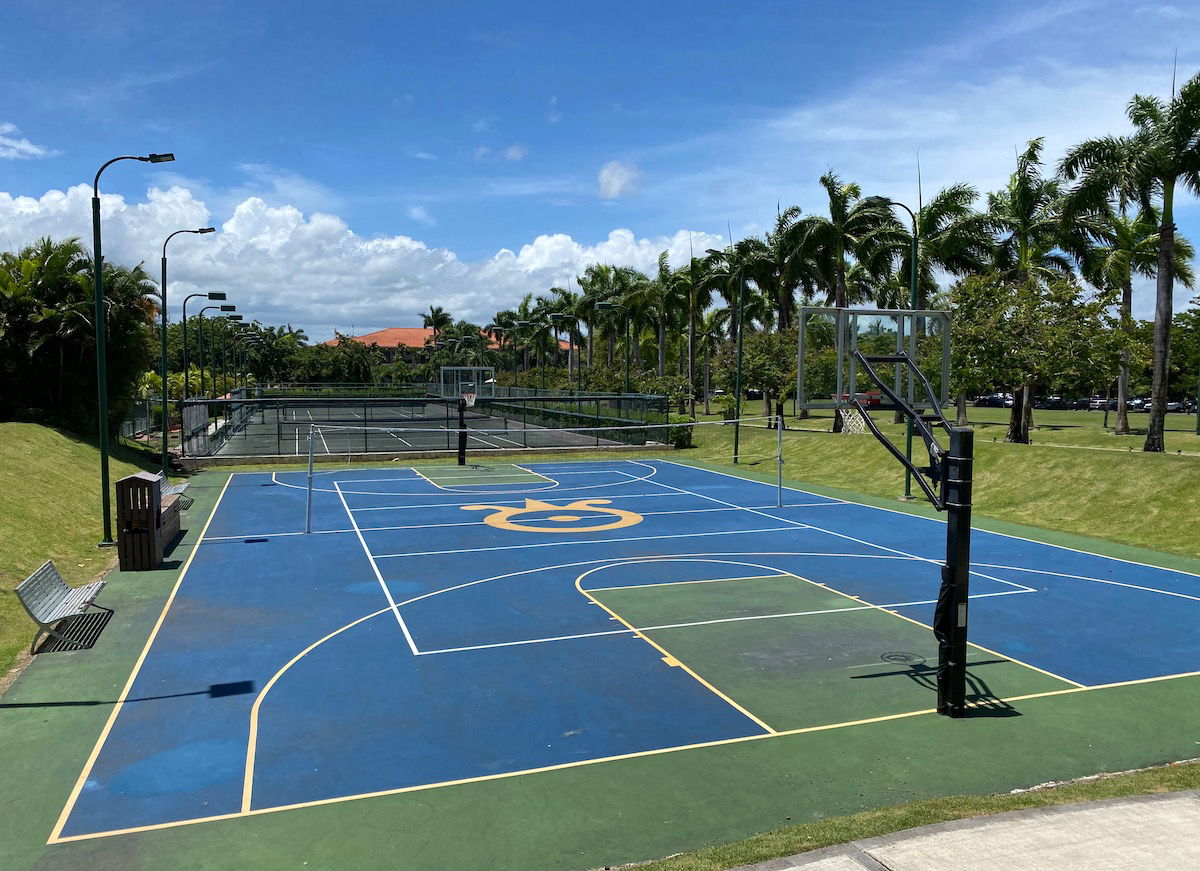 There's even a water park across from Dorado Beach's gym, which hotel guests have access to when it's open (generally on weekends).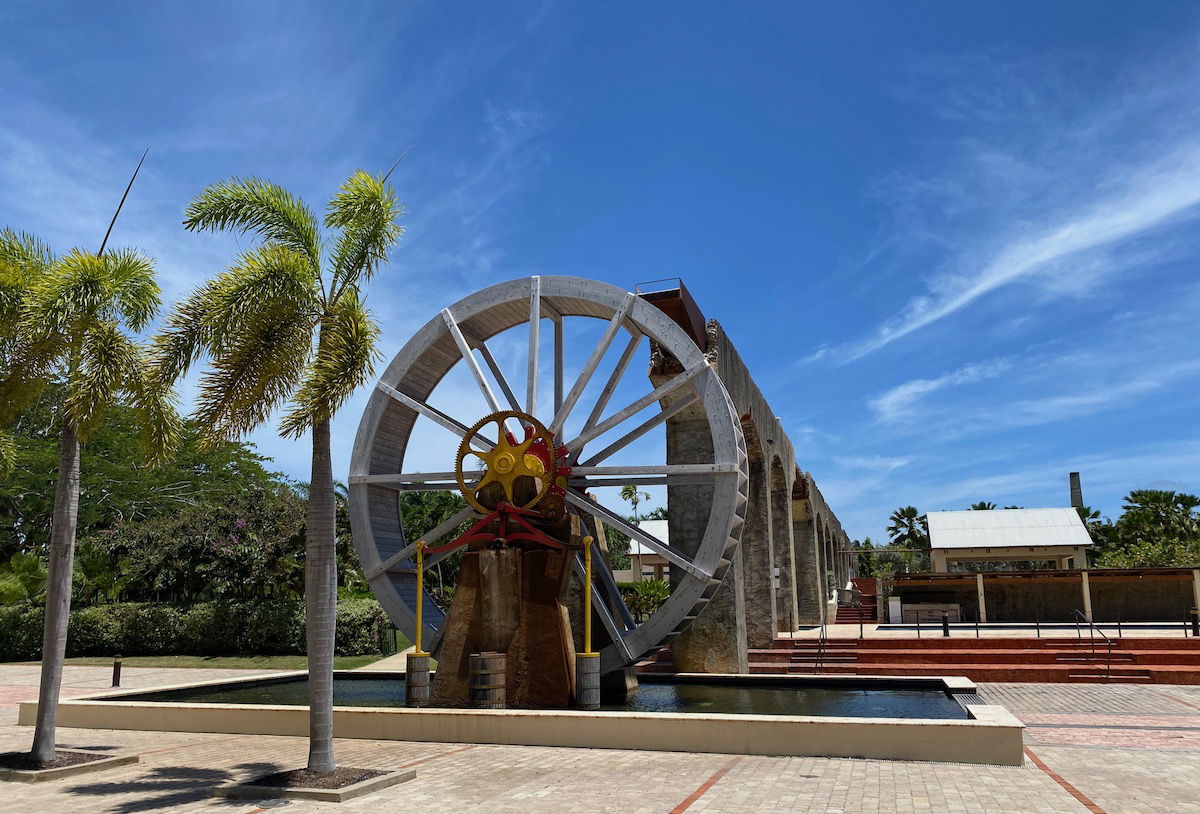 Dorado Beach Ritz-Carlton Reserve Spa Botanico
While I didn't have a chance to get a spa treatment (I couldn't get an appointment time that worked during our short stay), I did tour the spa, and I think this might just be the most impressive spa I've seen anywhere. The spa itself is five acres, and at the entrance is a beautiful 100 year old ficus tree.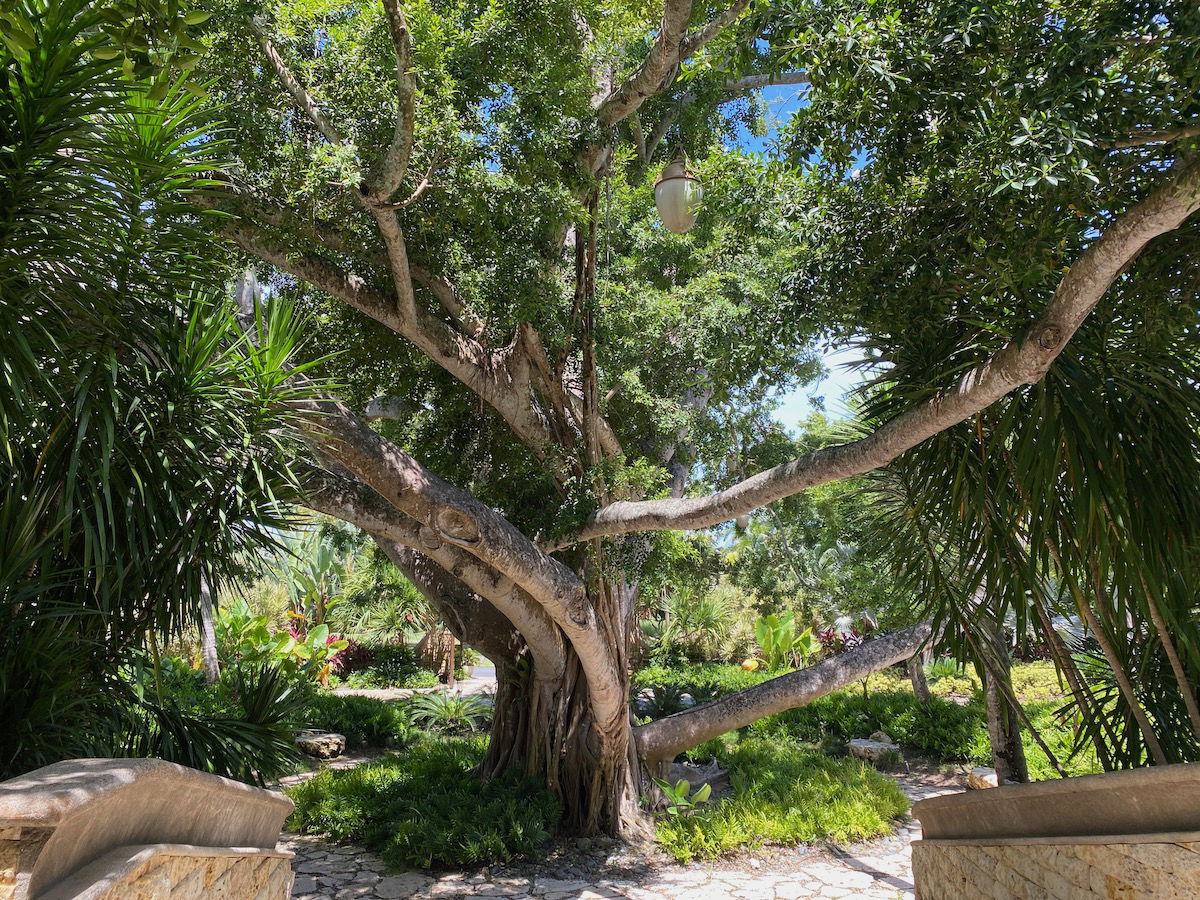 Inside the entrance to the spa is an "apothecary portal" with local botanicals, which are used for the spa products used during treatments.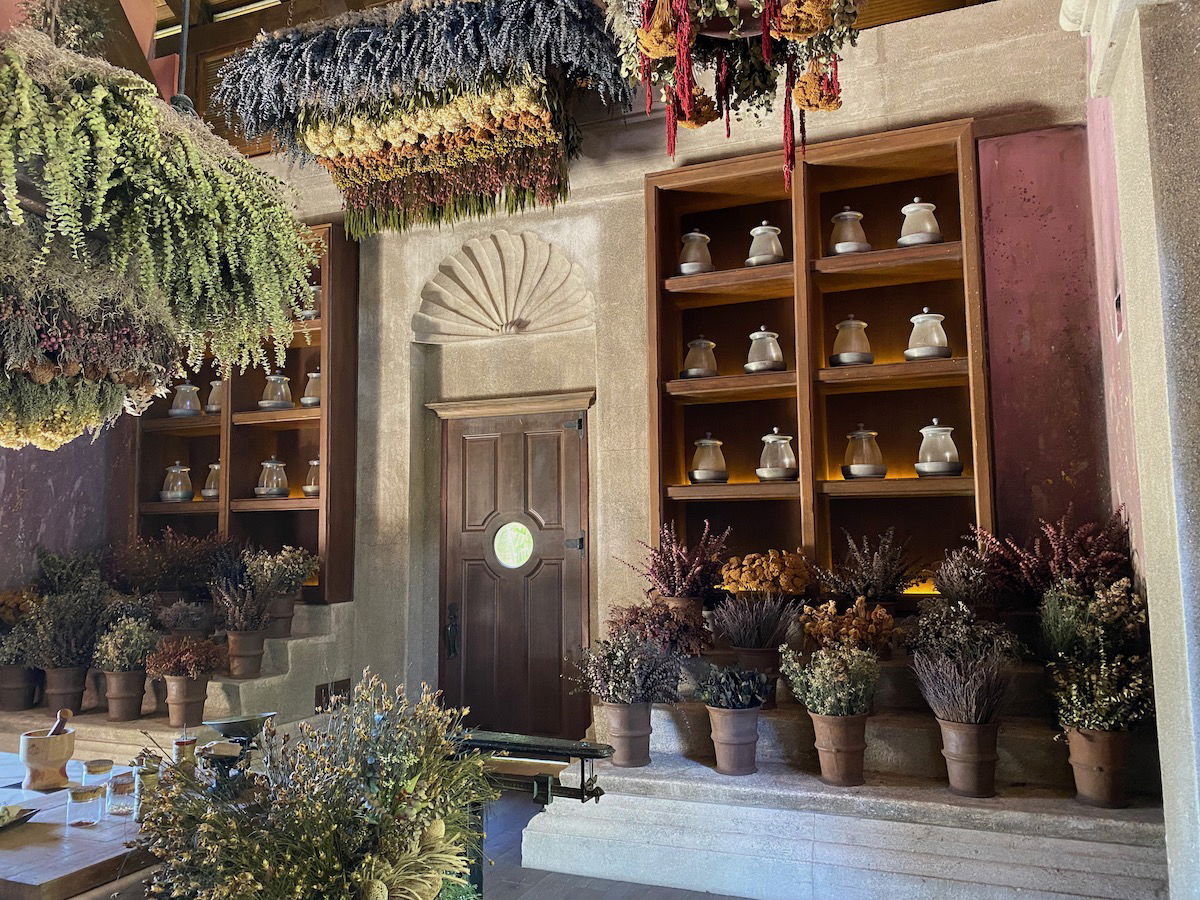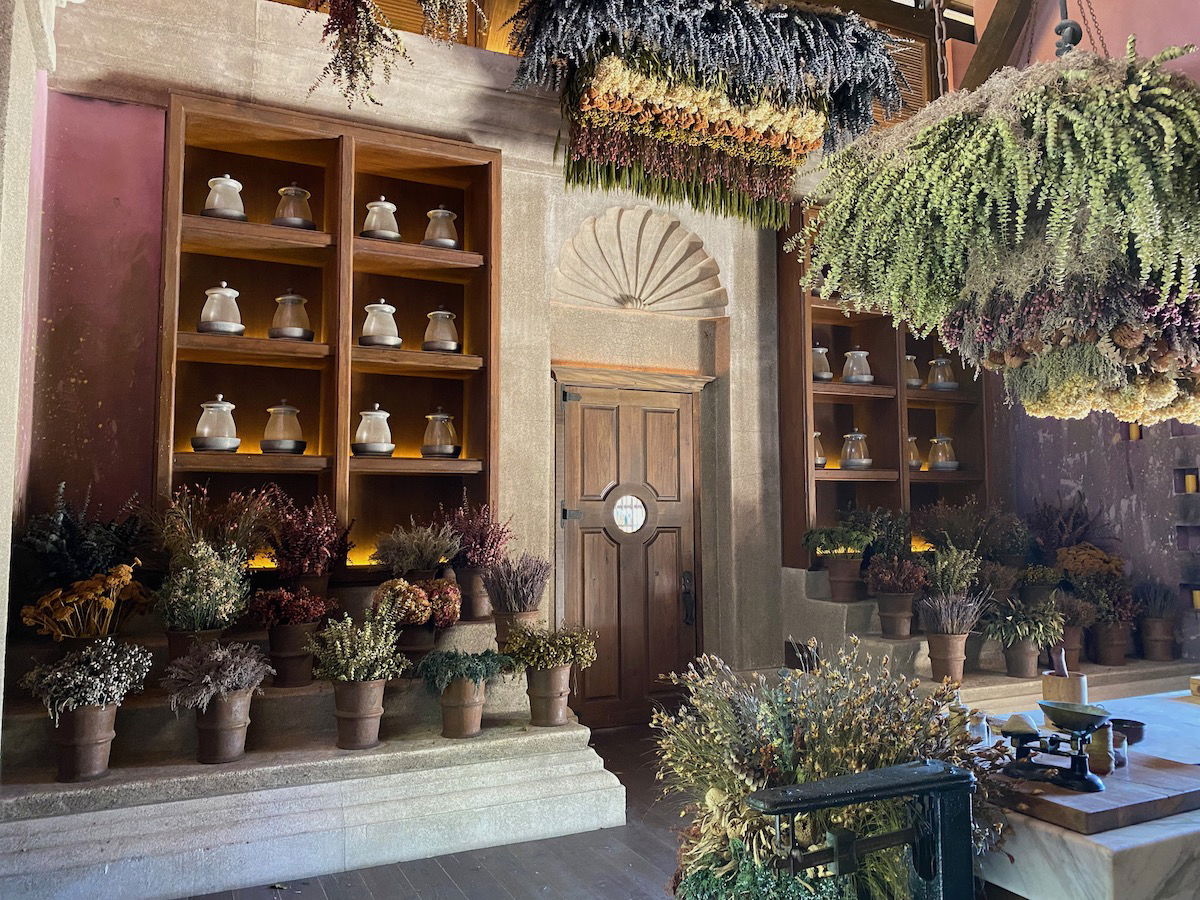 Past that was the spa's relaxing pool and then herb garden, where there's plenty of seating.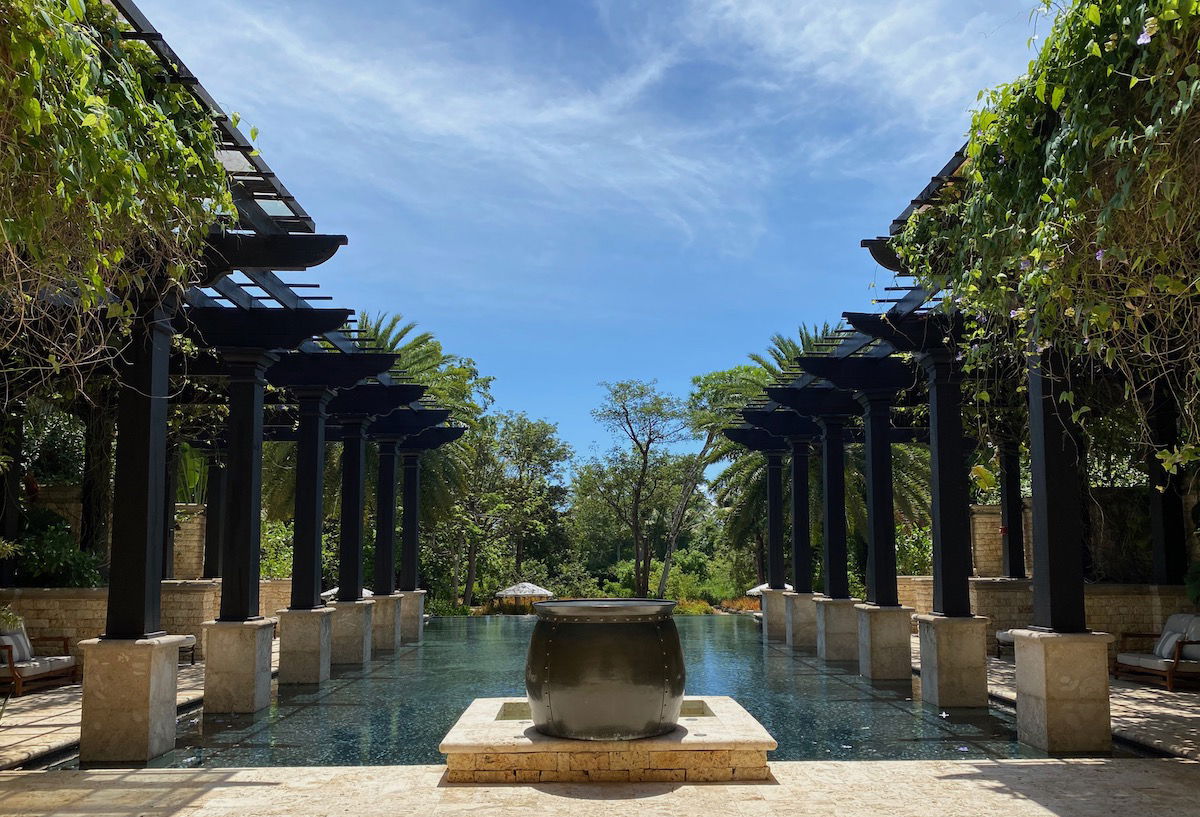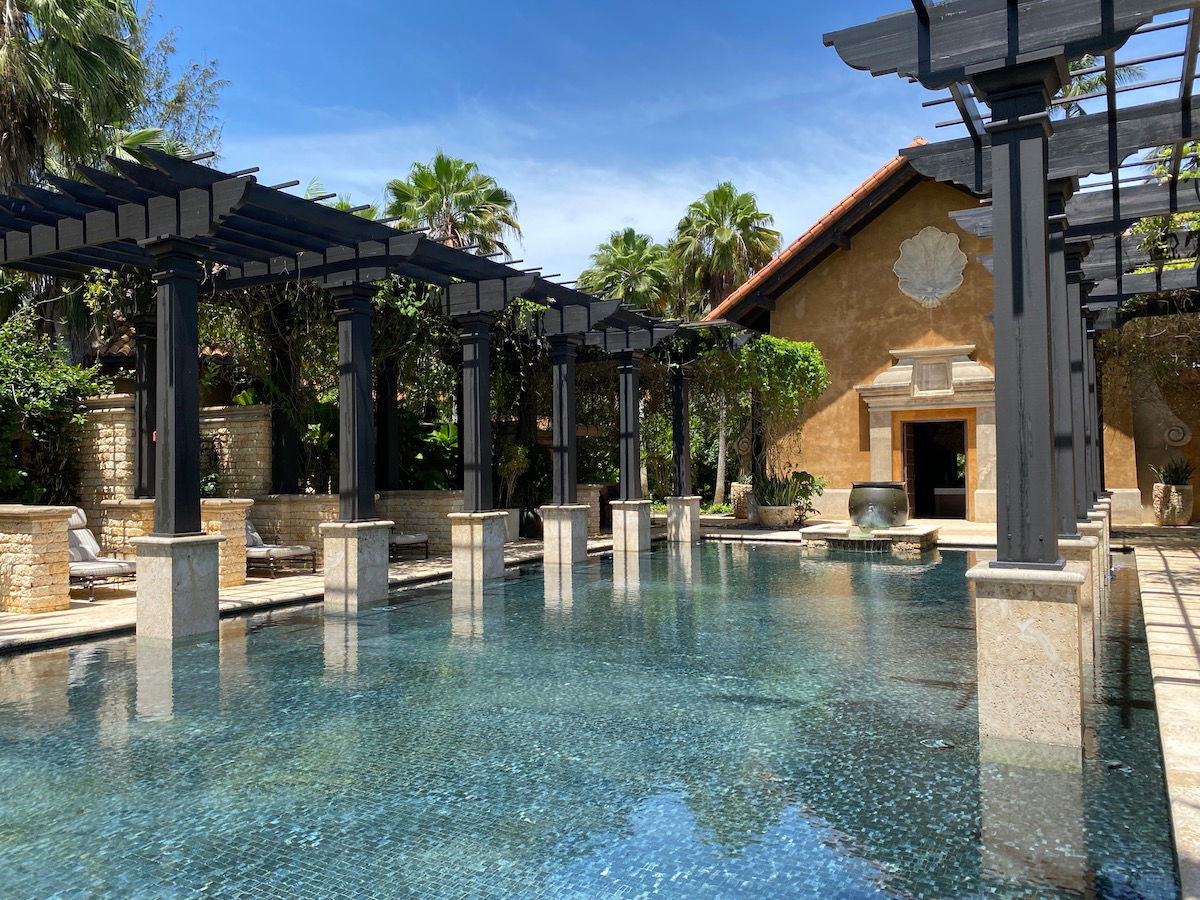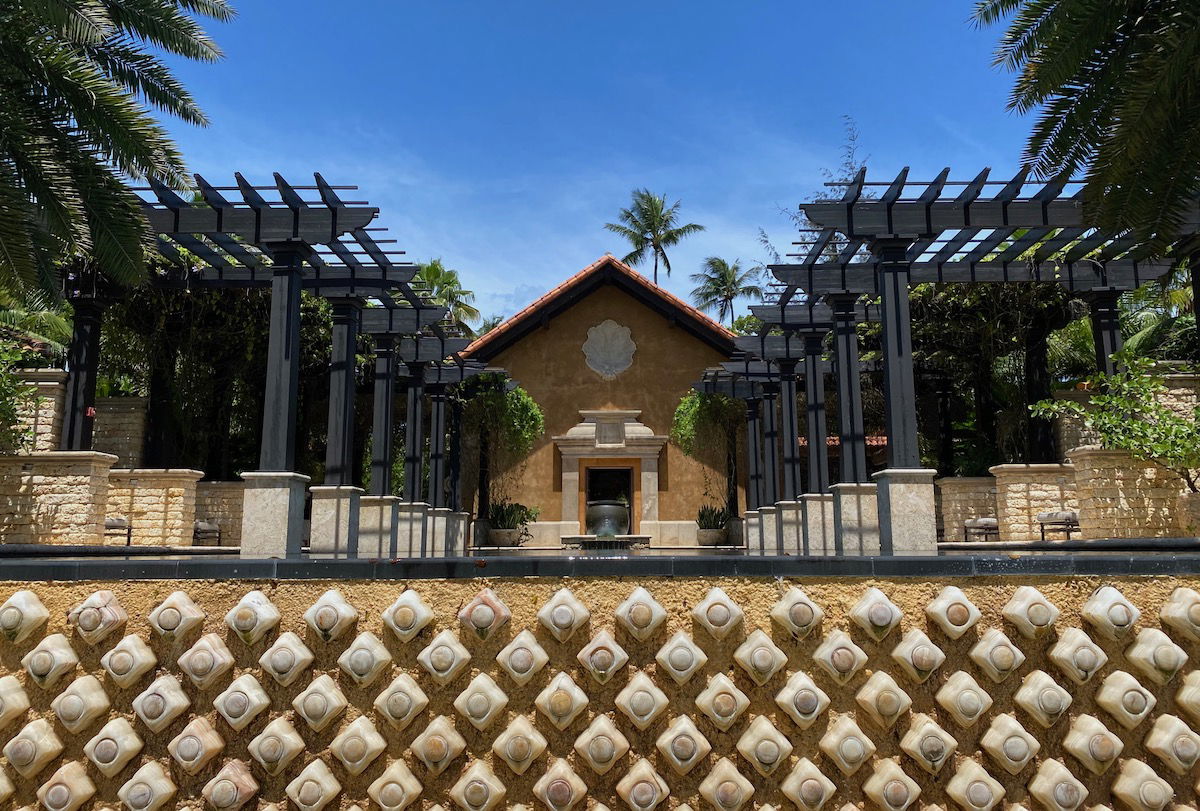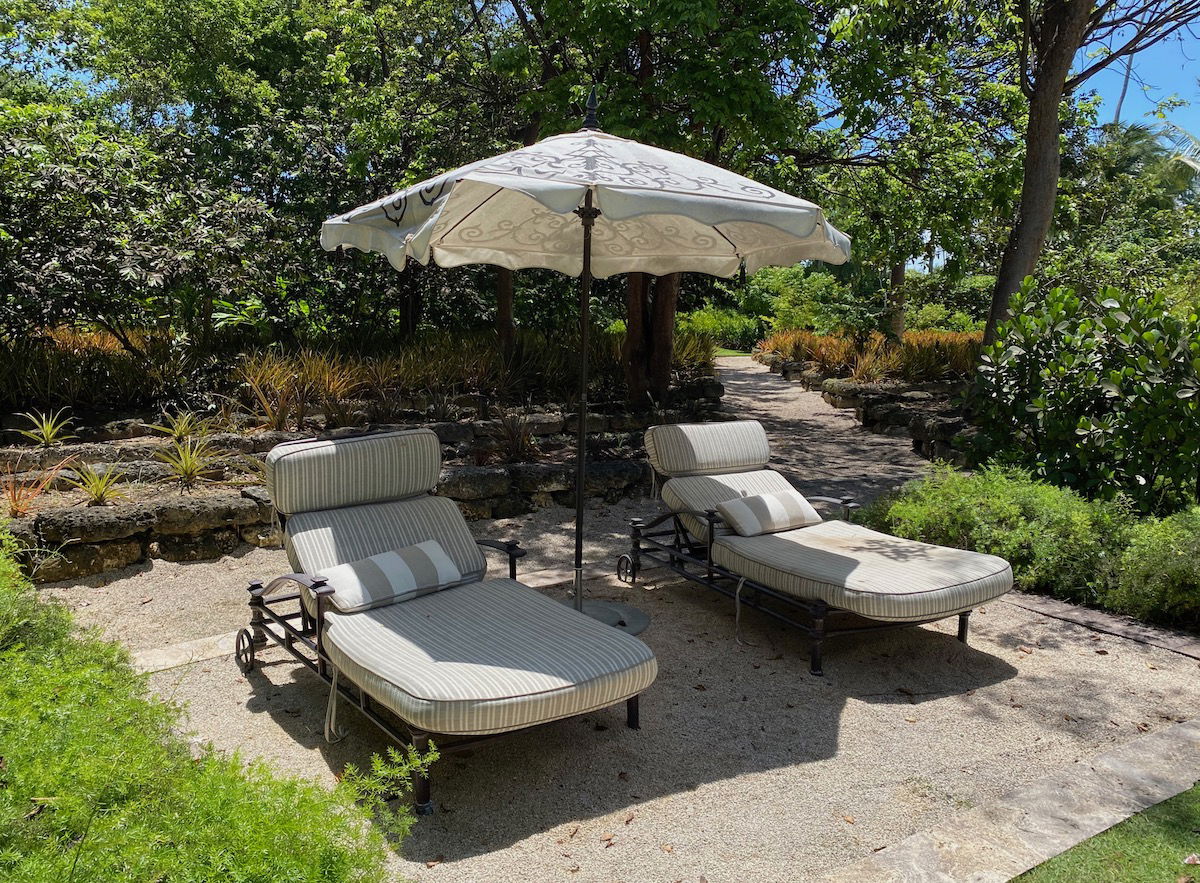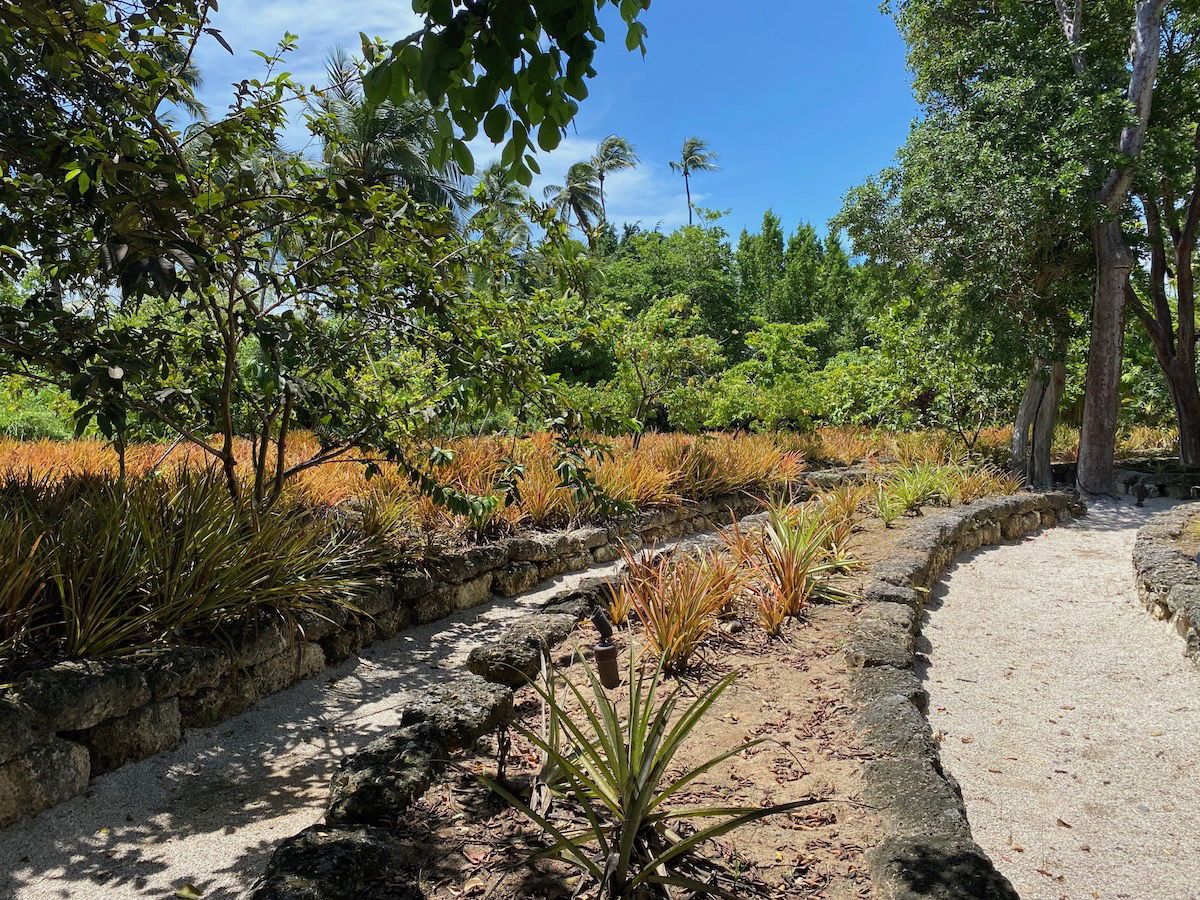 The spa then has separate gardens for men and women, including with cold plunge pools, hot tubs, steam rooms, saunas, and more.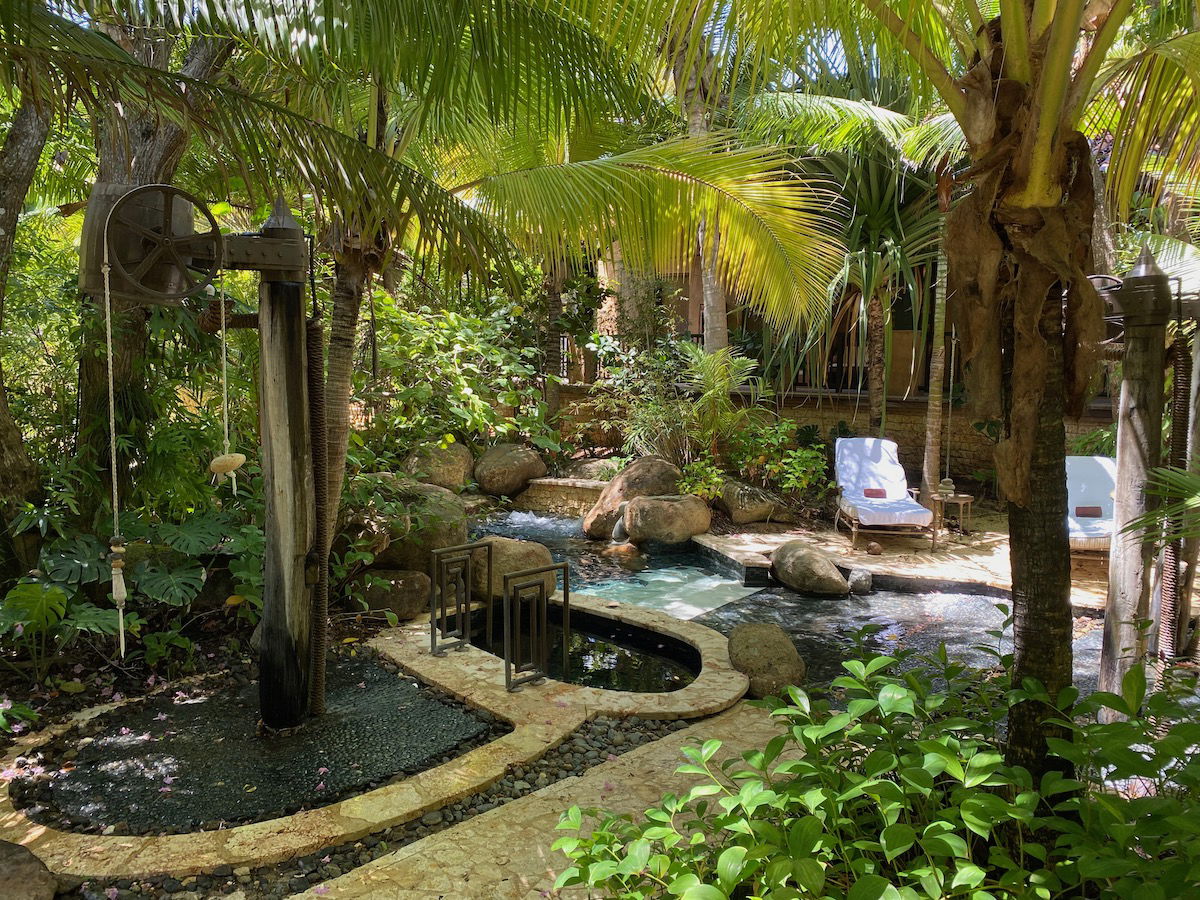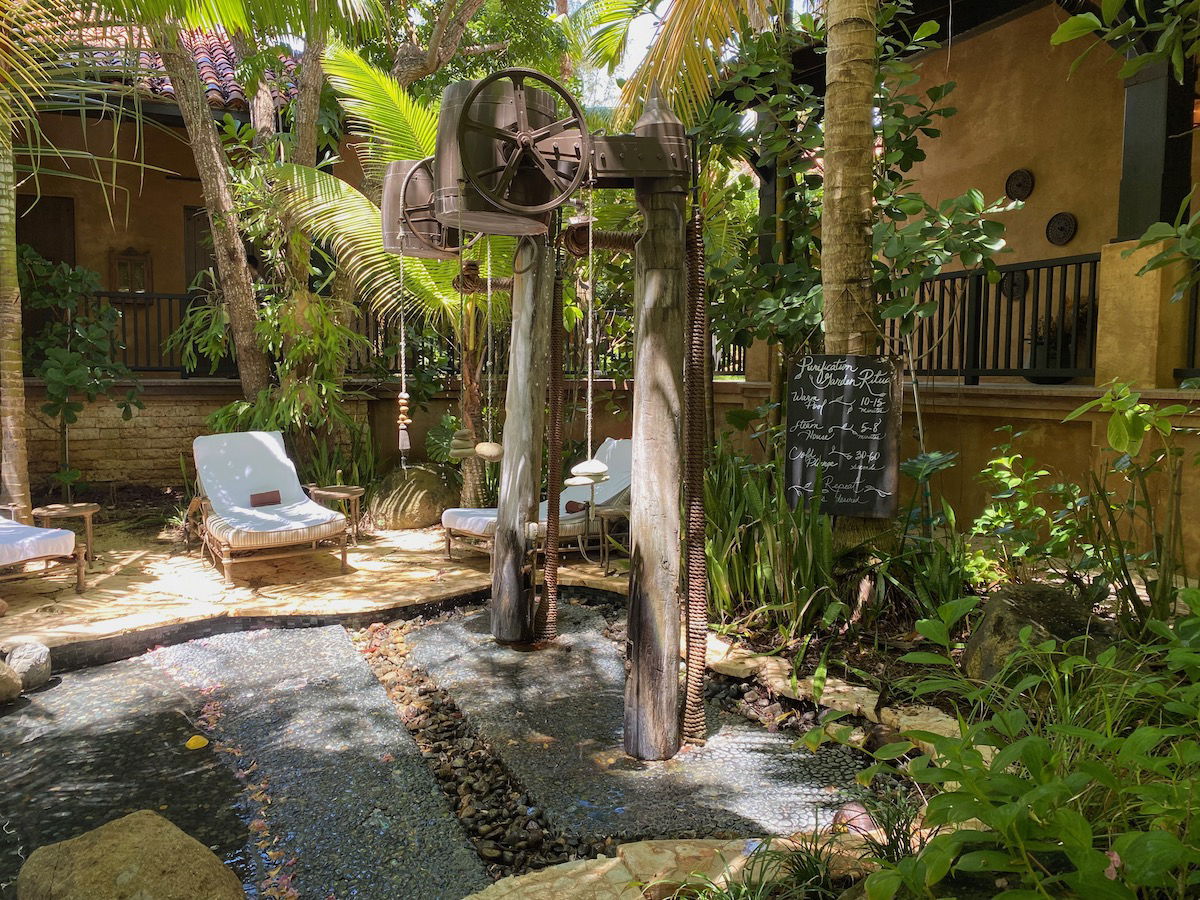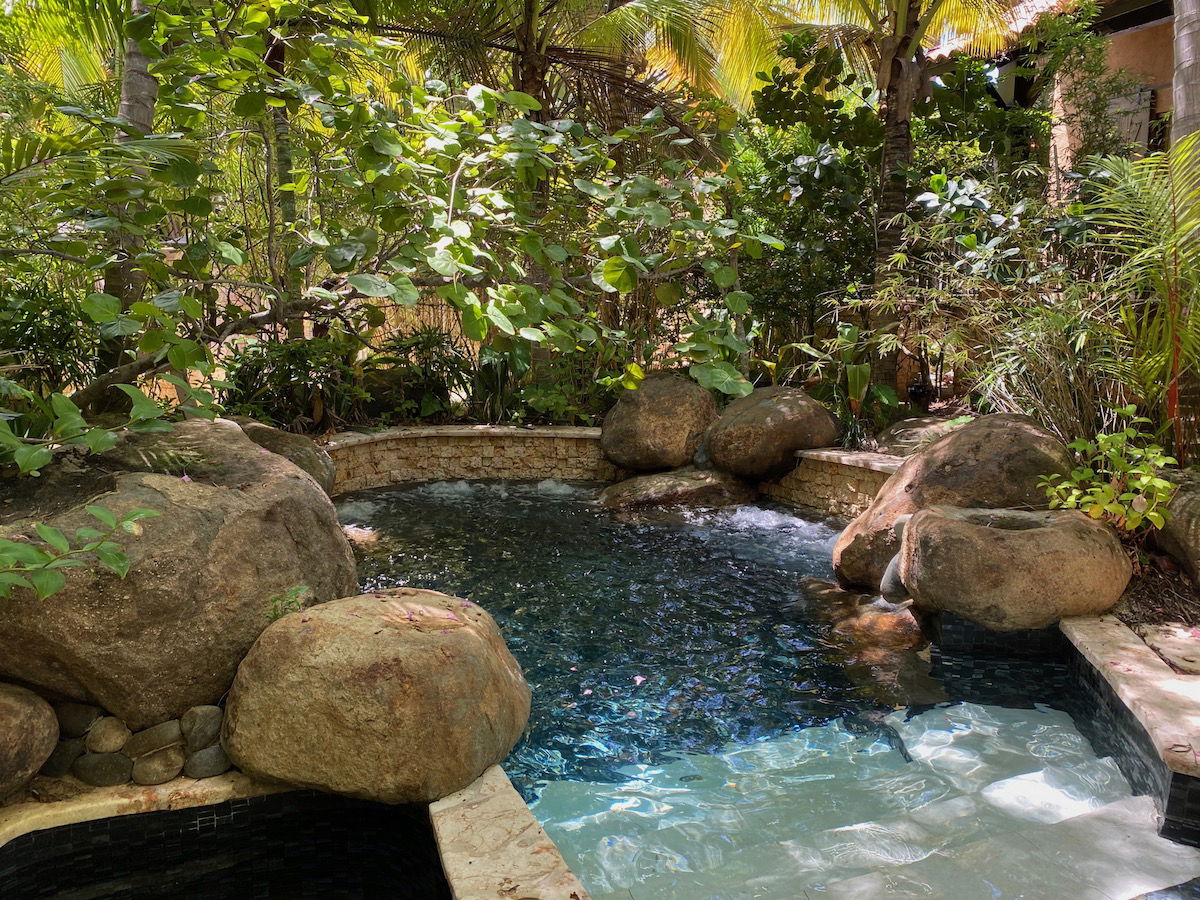 There are also a bunch of treatments rooms, and two are even in treehouses (I didn't have the chance to see these, since they were occupied, but what a cool concept).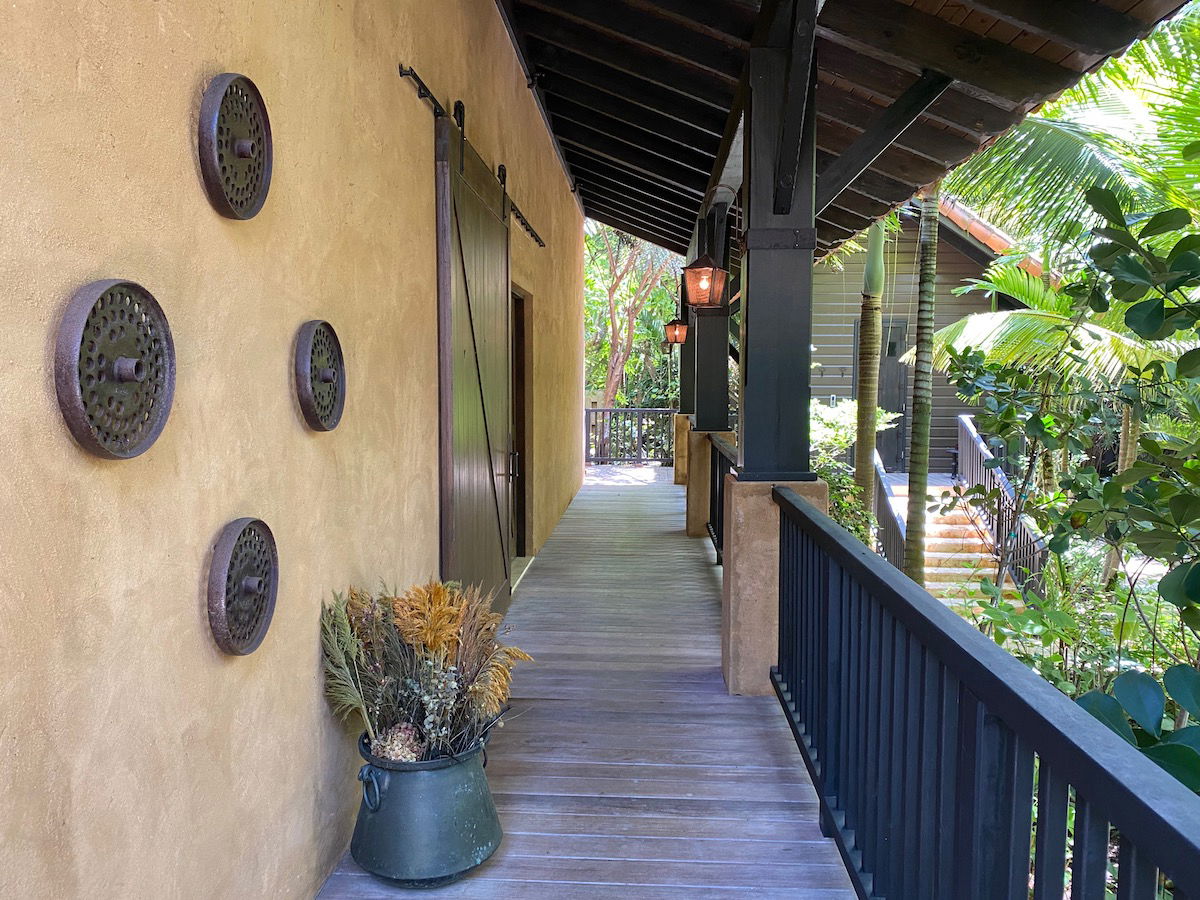 I know for many Ritz-Carlton Reserve guests, the spa is a destination in and of itself, and I can understand why.
Dorado Beach Ritz-Carlton Reserve Livingston Library
Livingston Library is located near reception, and is an indoor space where you can cool off, play some games, read a book, or organize an activity through the concierge.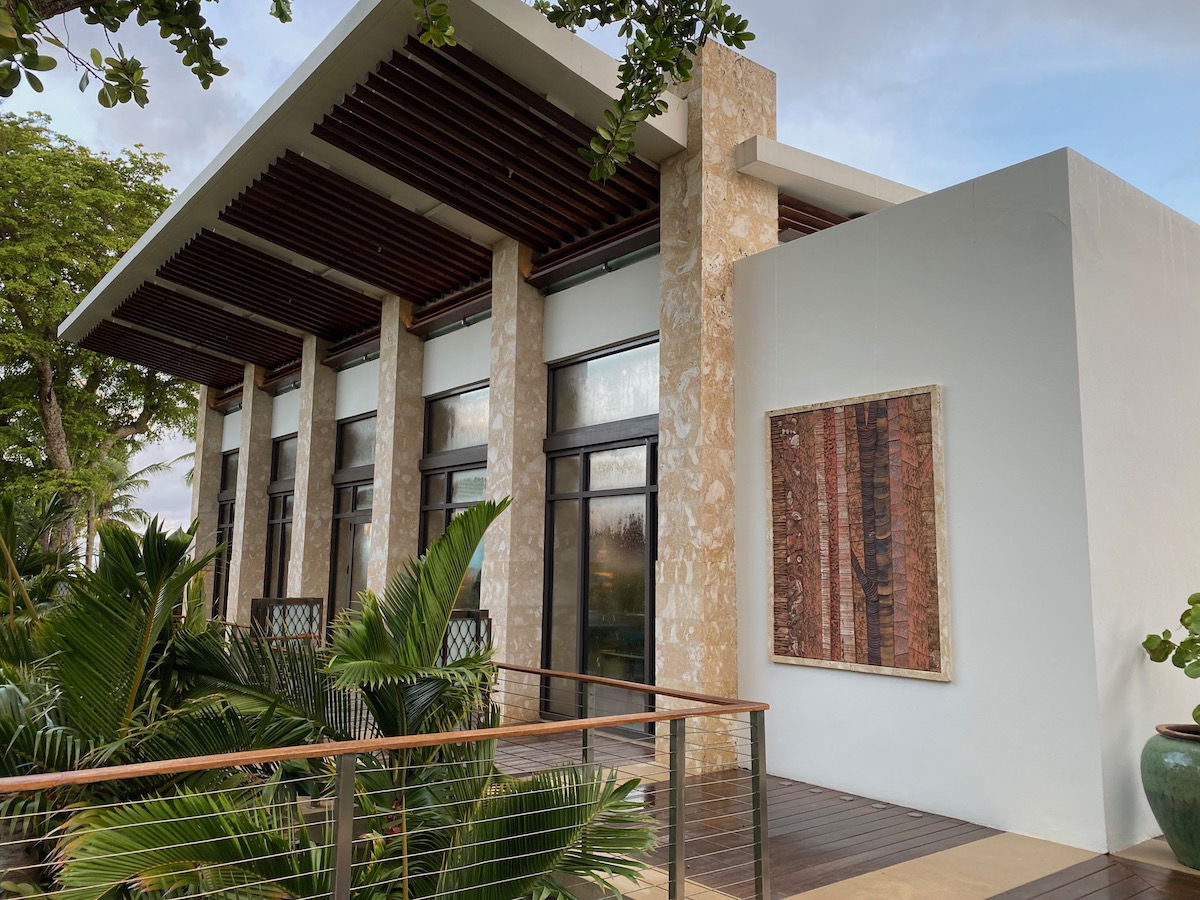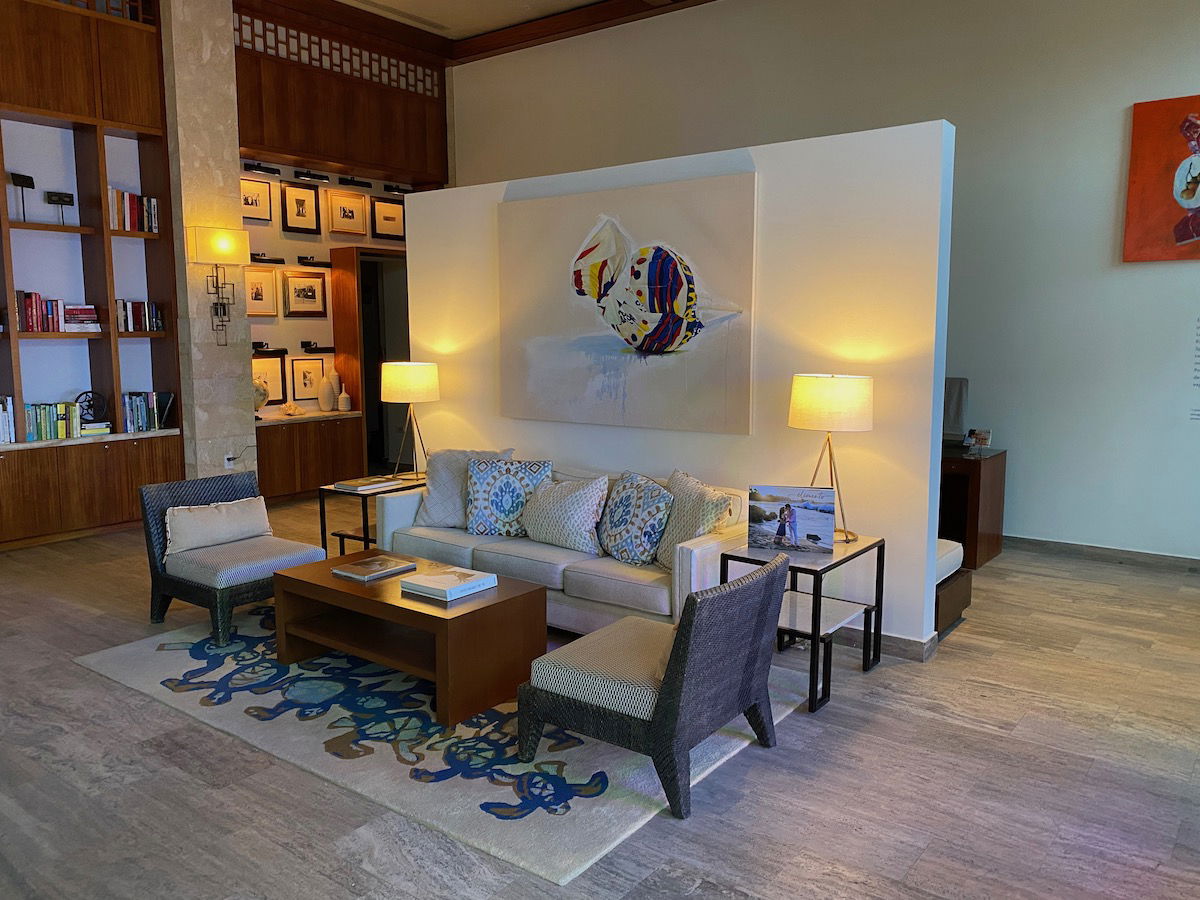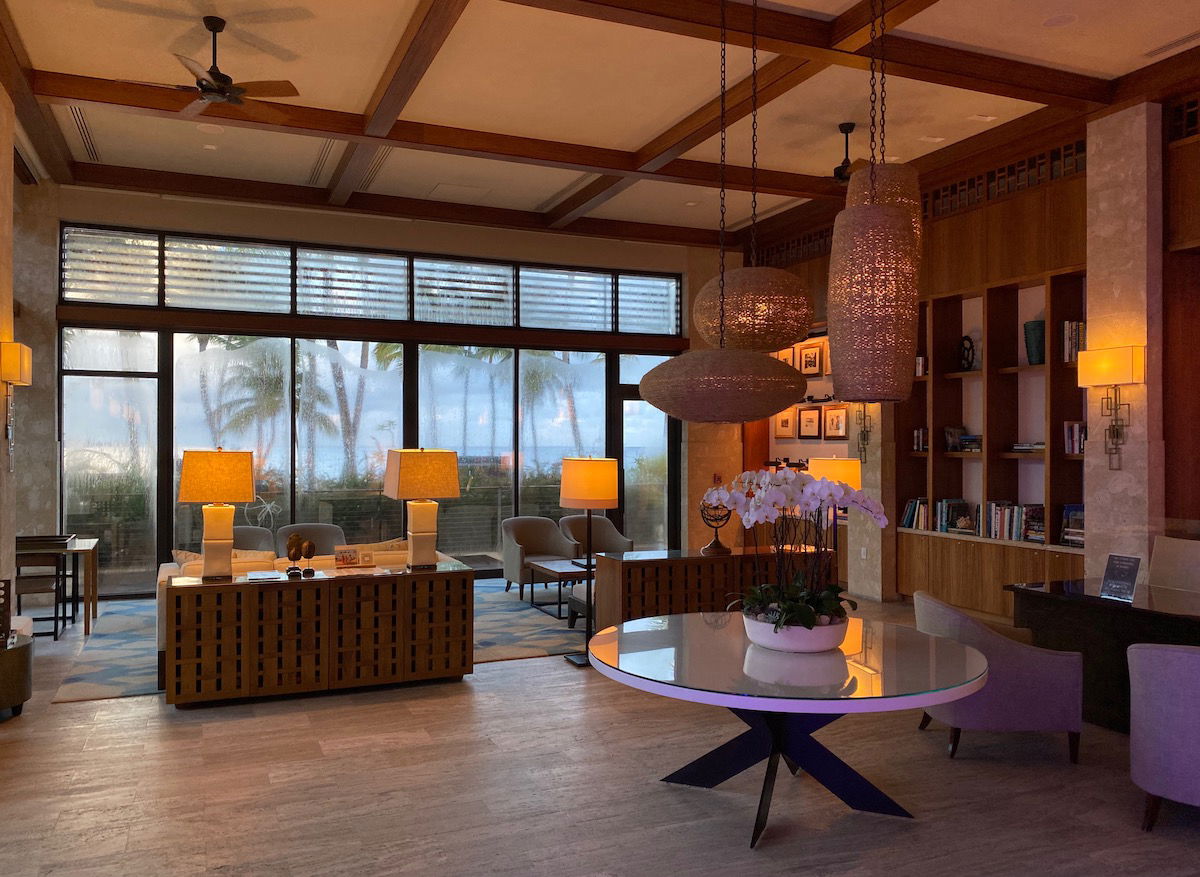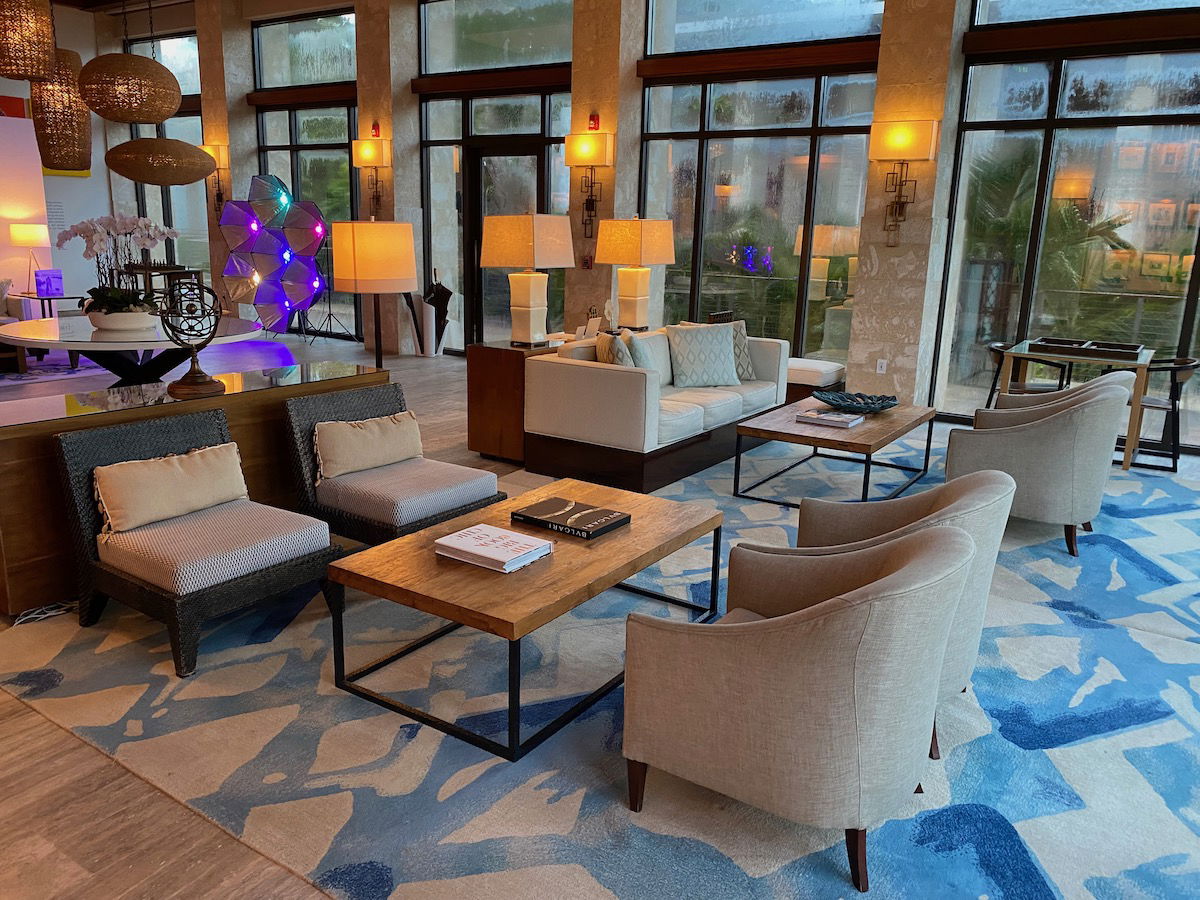 This is also where complimentary coffee, tea, and muffins are available in the mornings.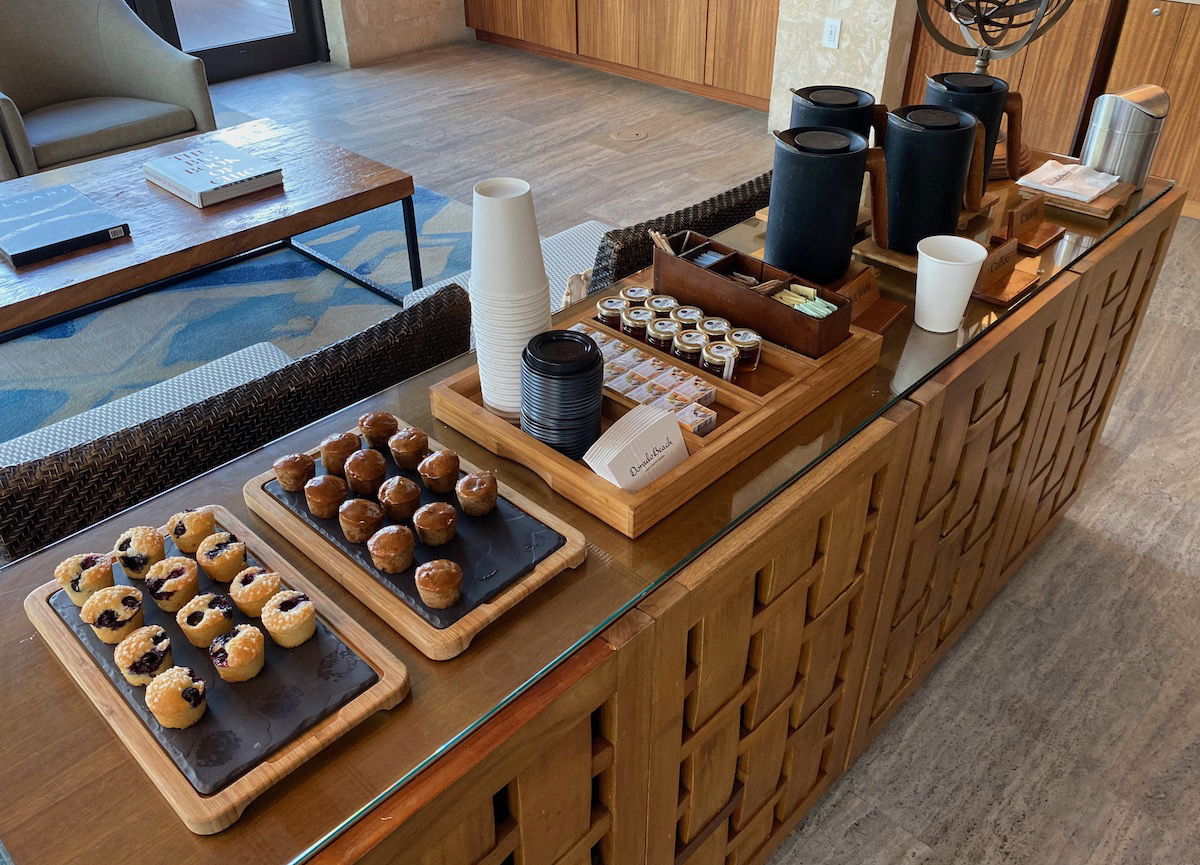 Dorado Beach Ritz-Carlton Reserve COA Restaurant (breakfast & dinner)
The Ritz-Carlton Reserve has several dining options (you can find the menus for all of them here), with COA Restaurant being the hotel's signature dining outlet. This is where breakfast (from 7AM until 11AM) and dinner (from 6PM until 10PM) are served. The restaurant has a lounge and bar area (including an outdoor area), where you could get a drink before dinner.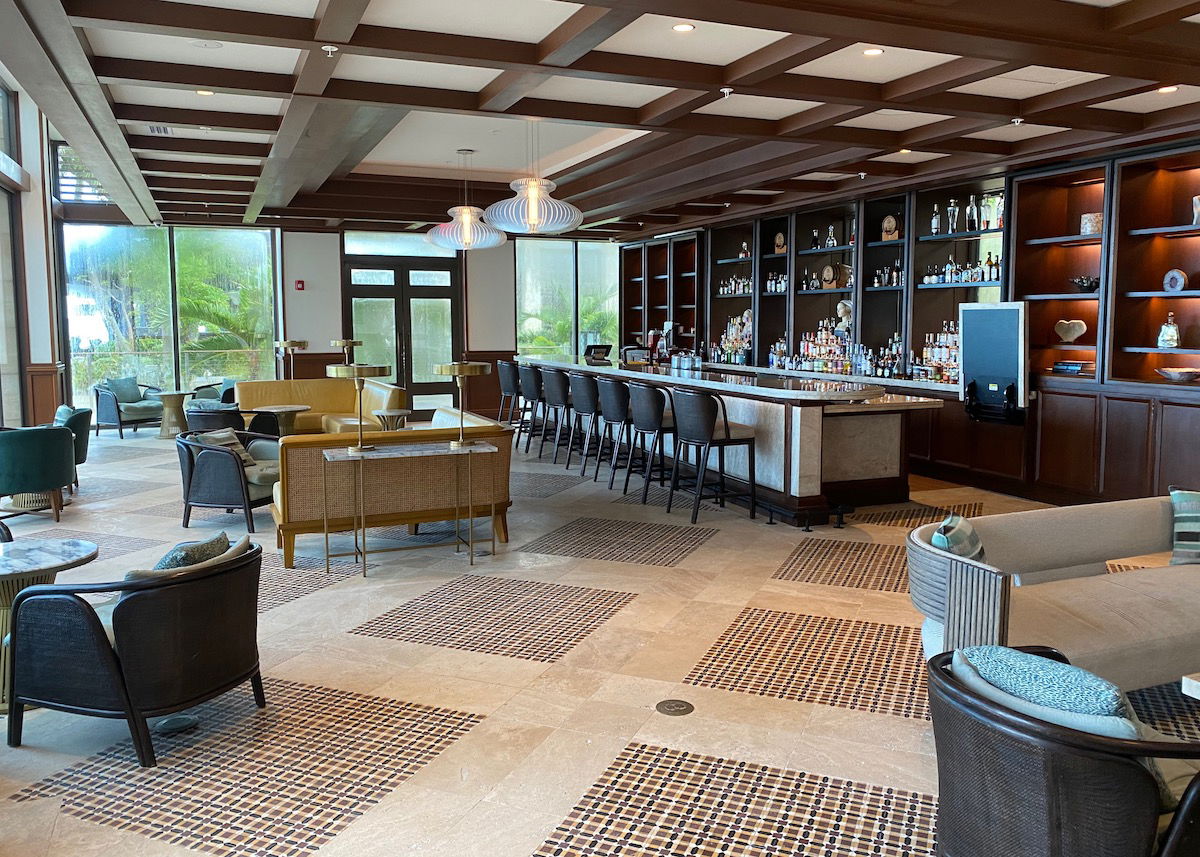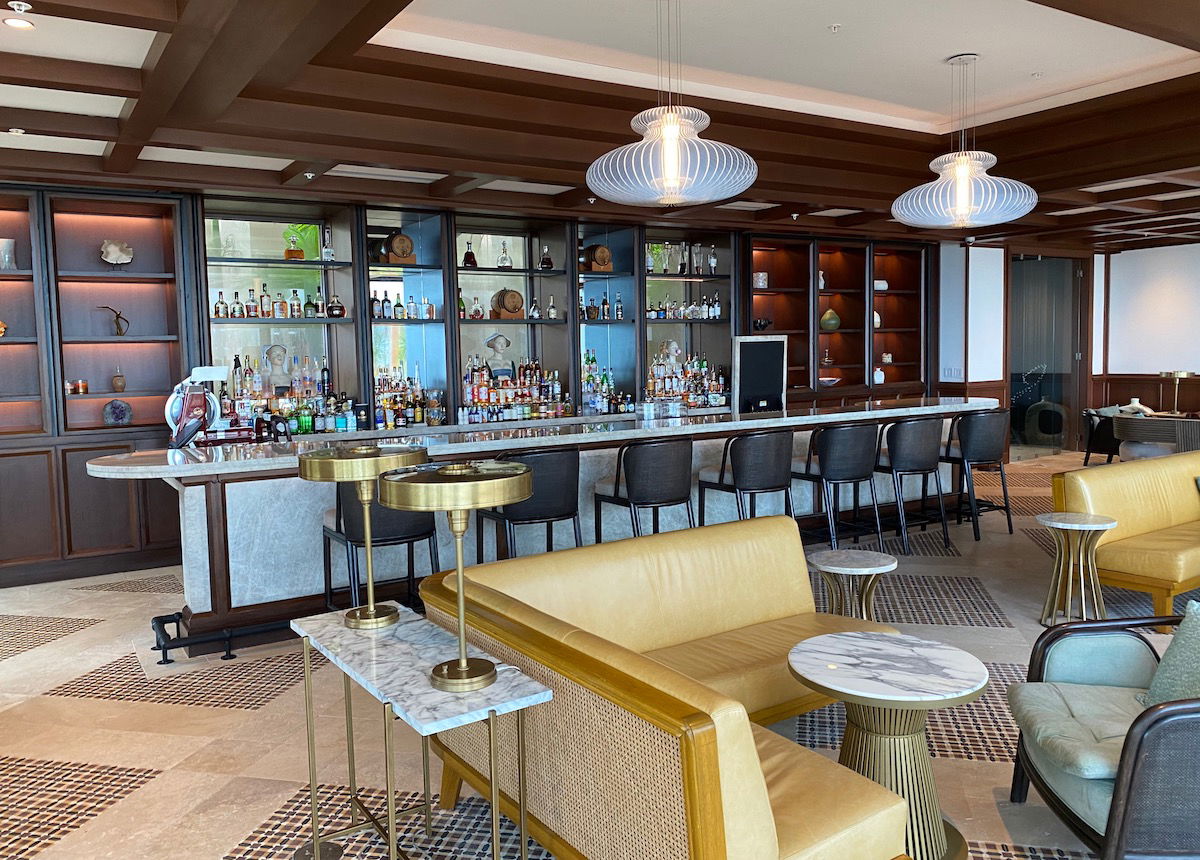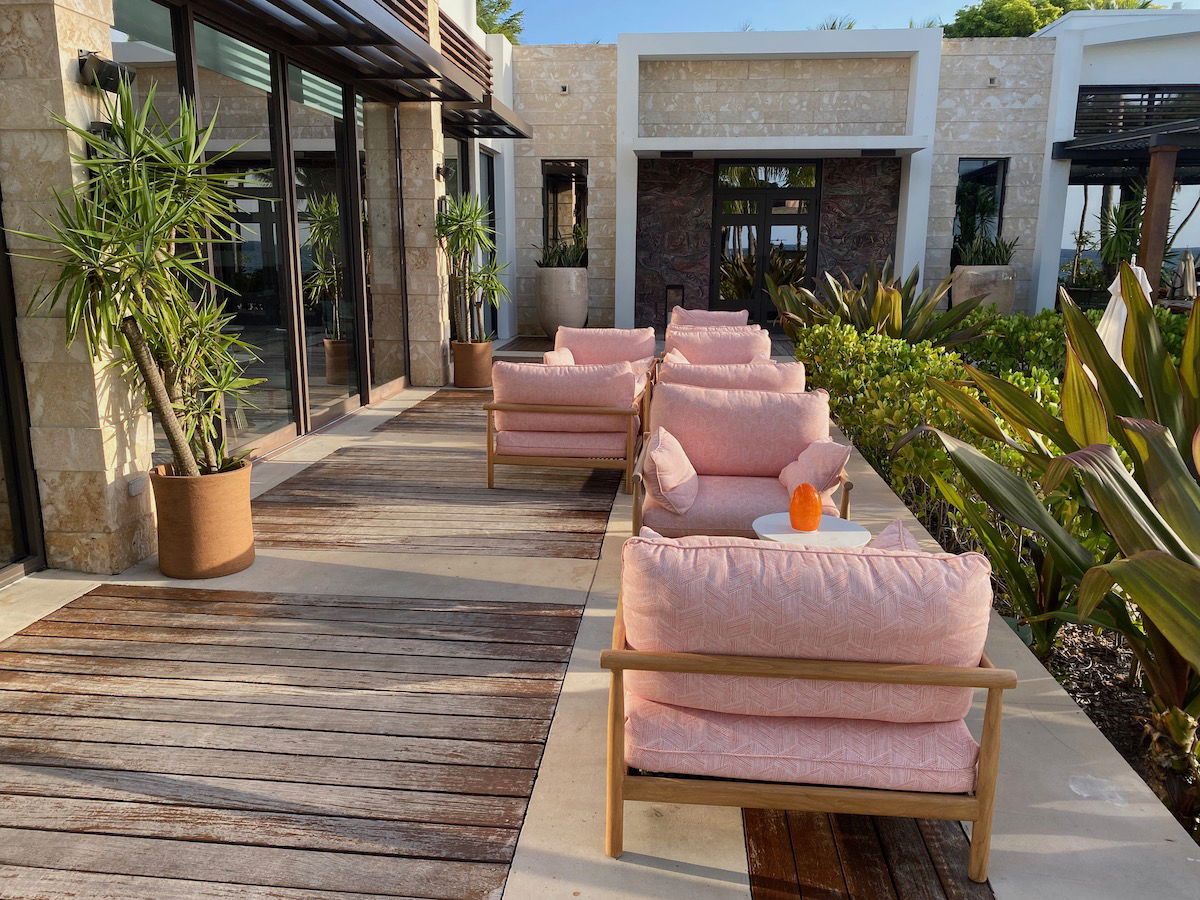 Then there was the main part of the restaurant, which also featured extensive indoor and outdoor seating.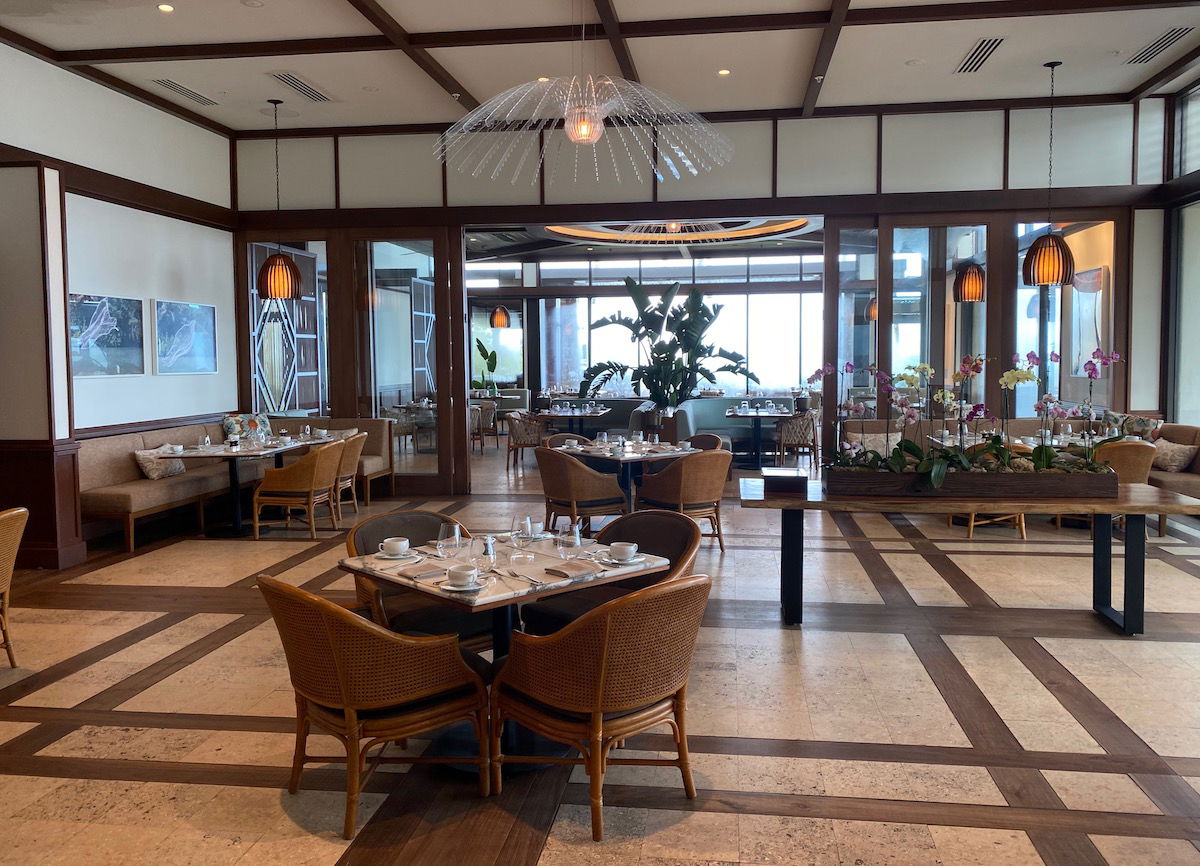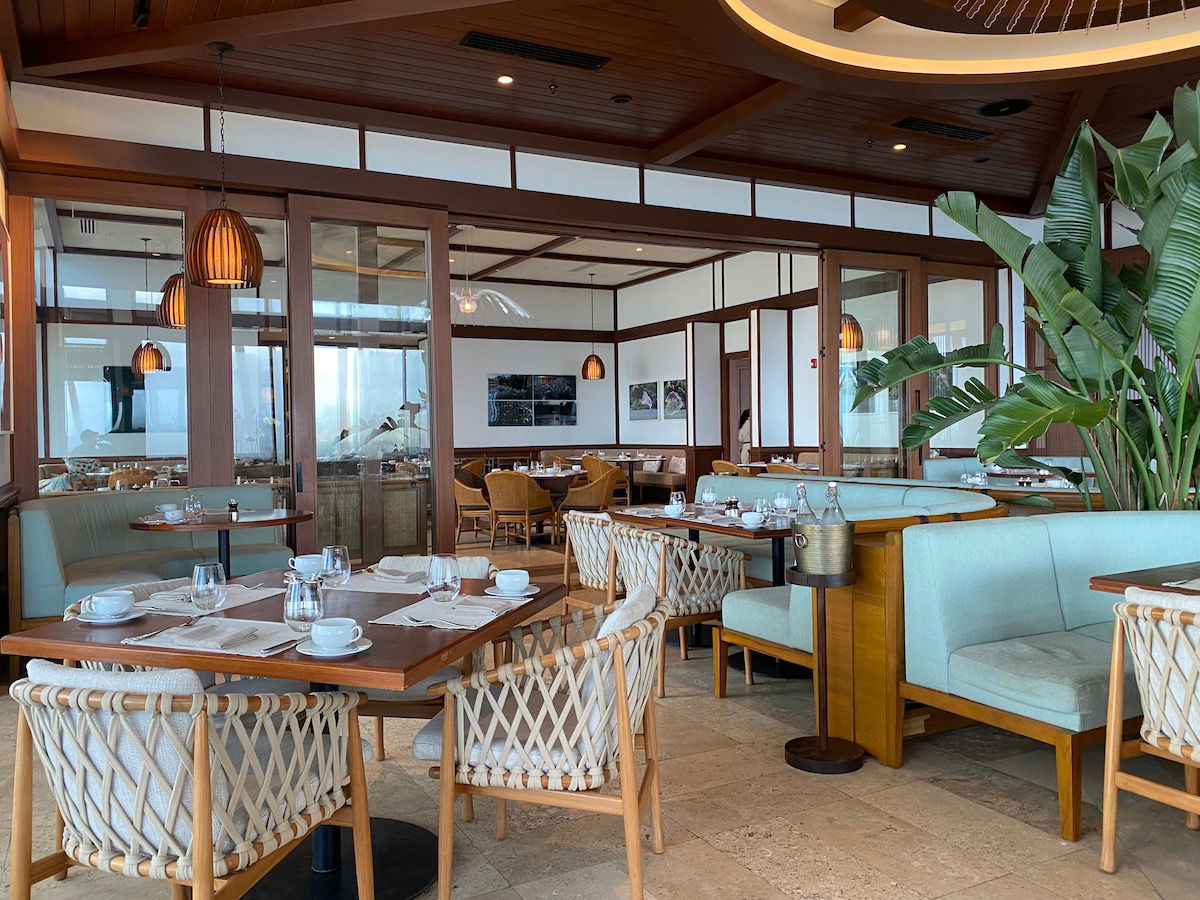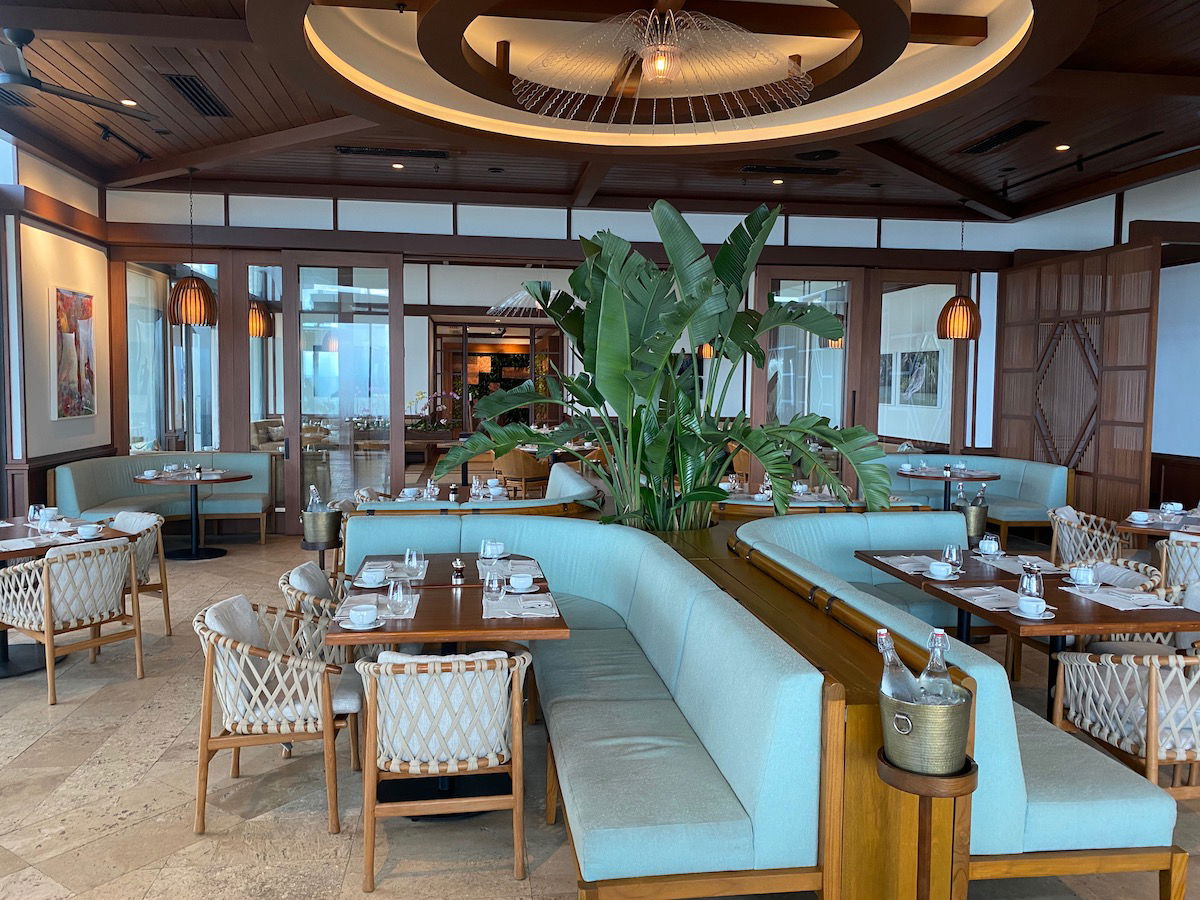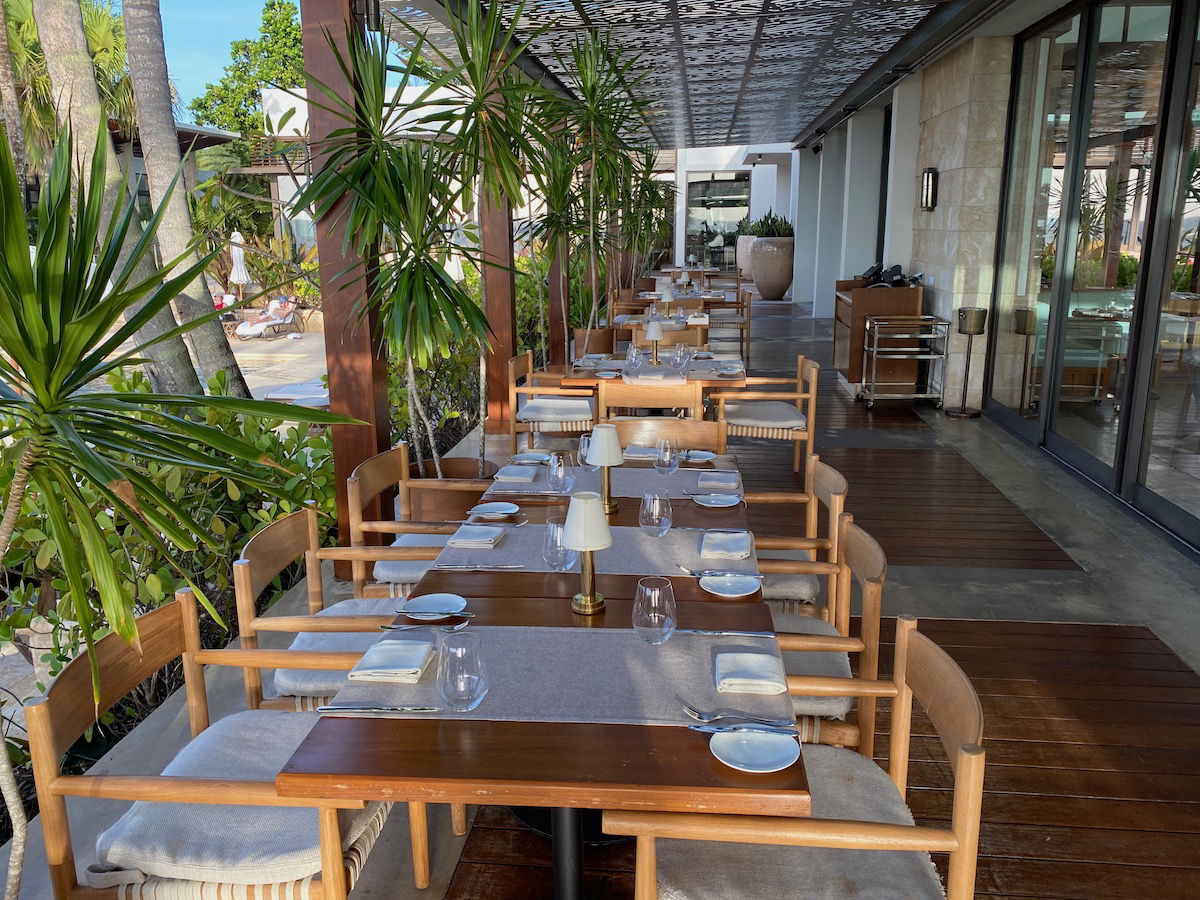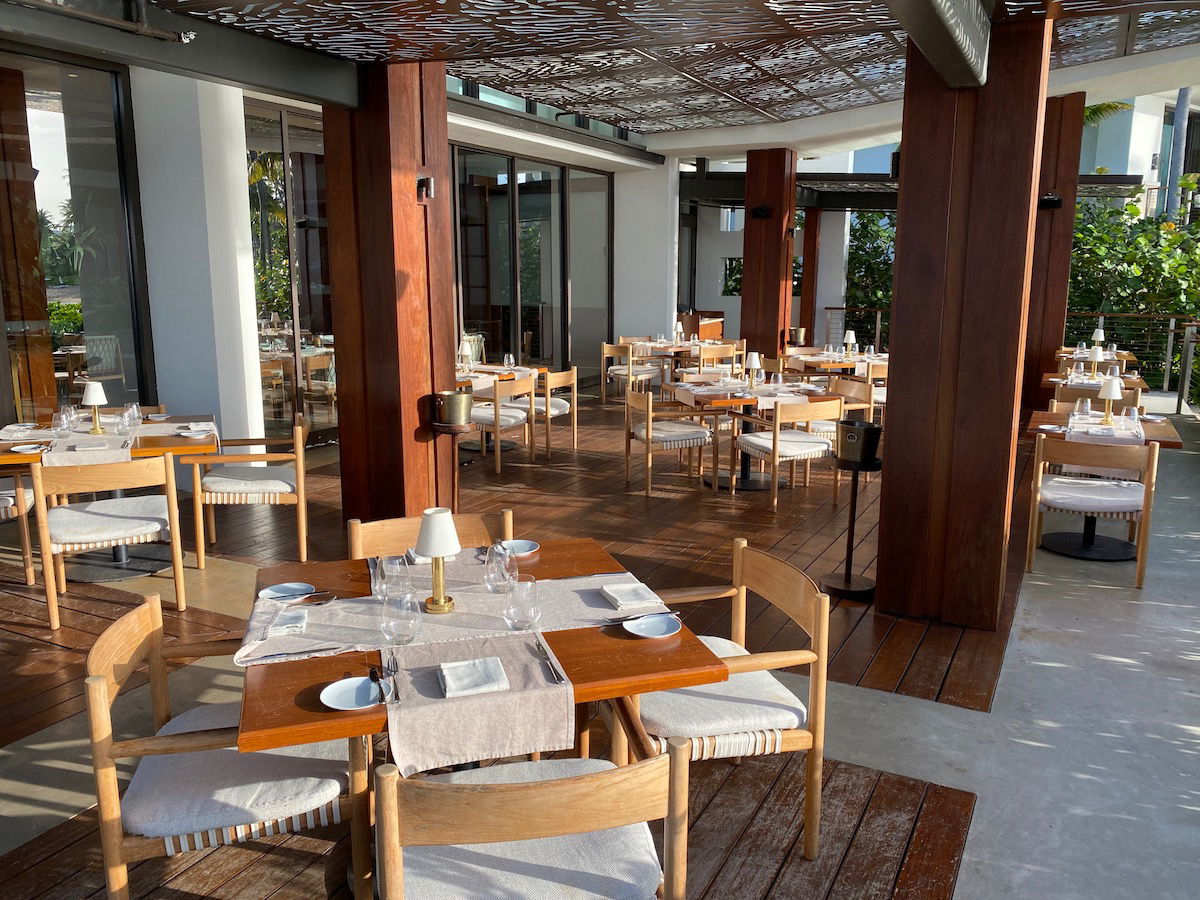 If you want a special experience, the restaurant also has a wine cellar, and you can arrange a private dinner in the room (though be sure to bring a jacket to stay warm!).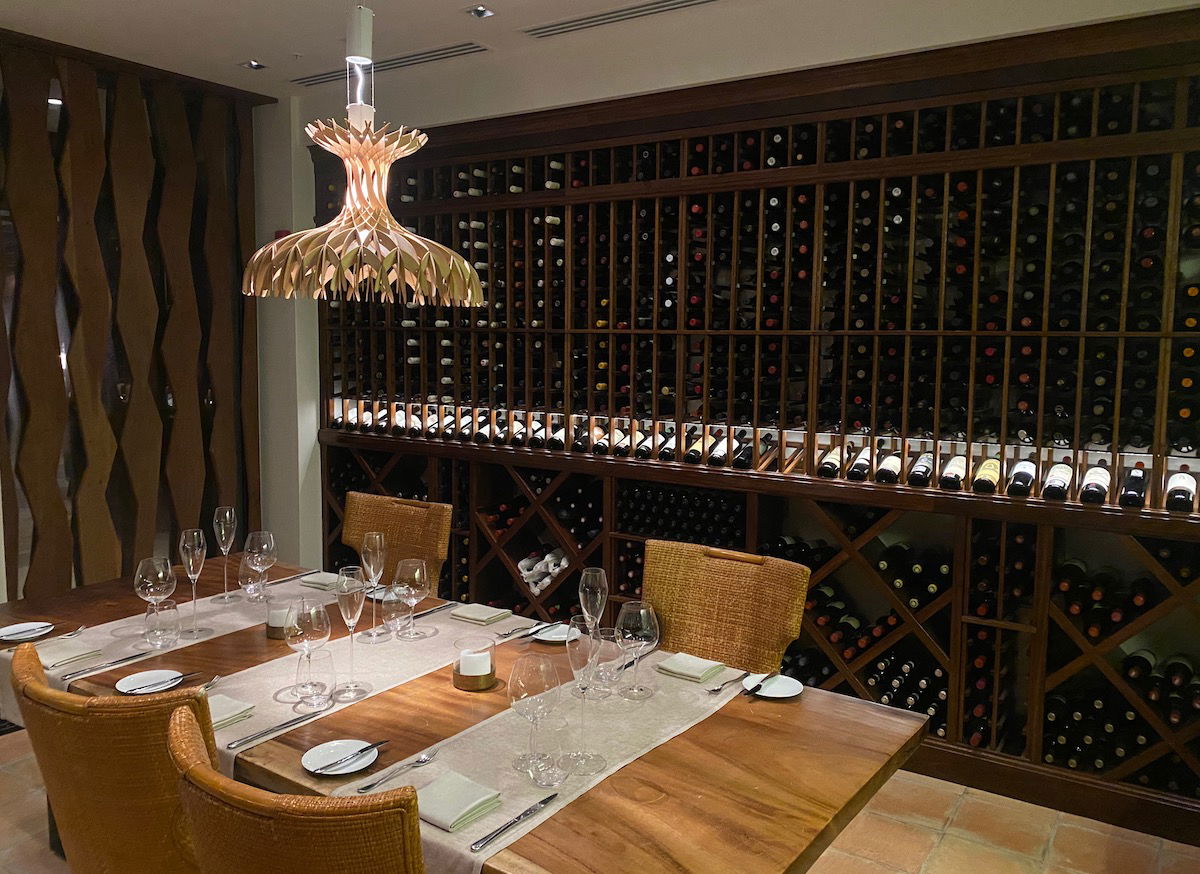 We had breakfast at COA Restaurant both mornings, and the service was entirely a la carte. If your rate includes breakfast, you can more or less order whatever you'd like. To drink I just had a hot coffee, while Ford had an iced coffee and a mixed juice.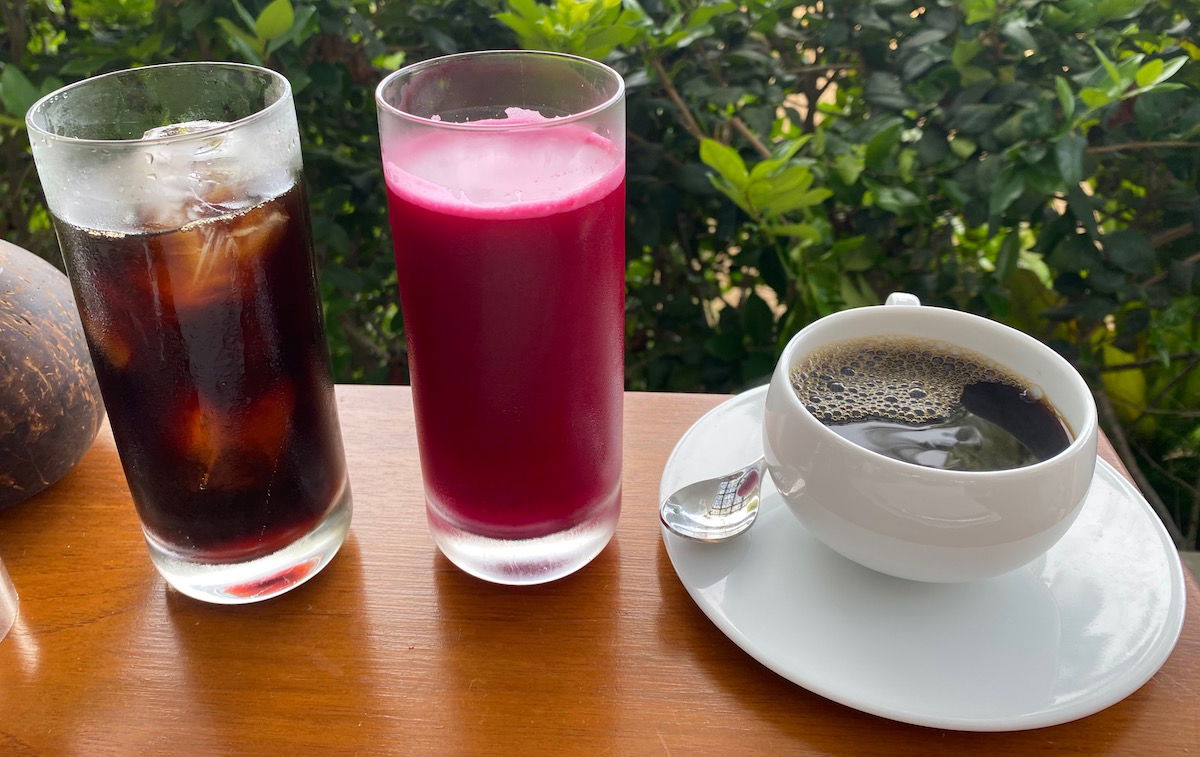 The first morning I ordered the avocado toast, Ford ordered the eggs benedict, and we split a berry yogurt parfait.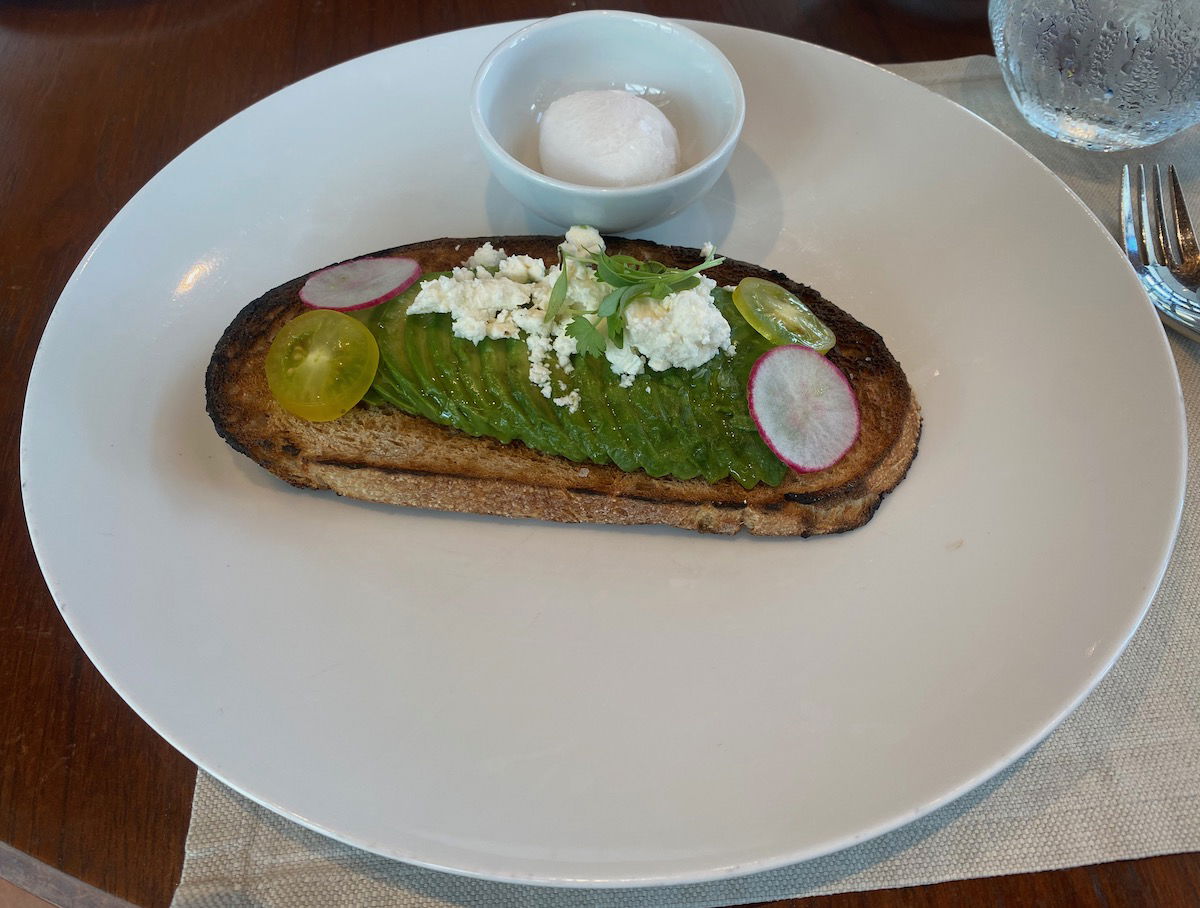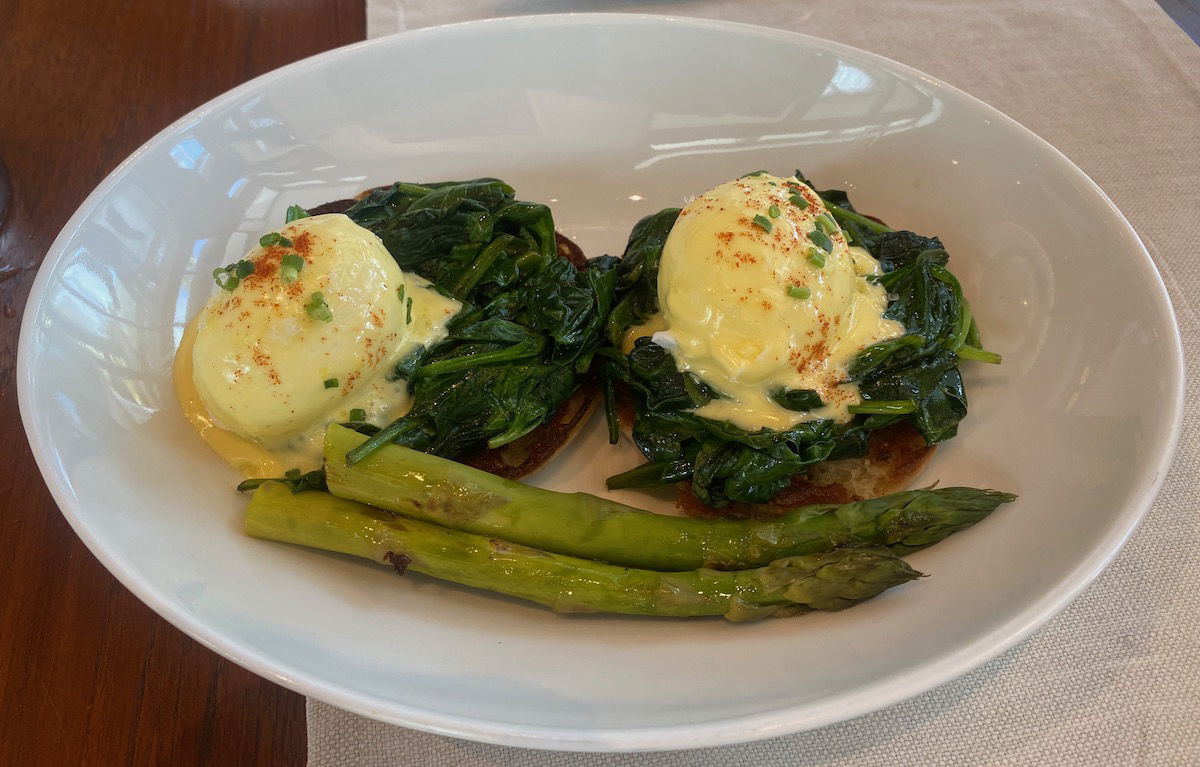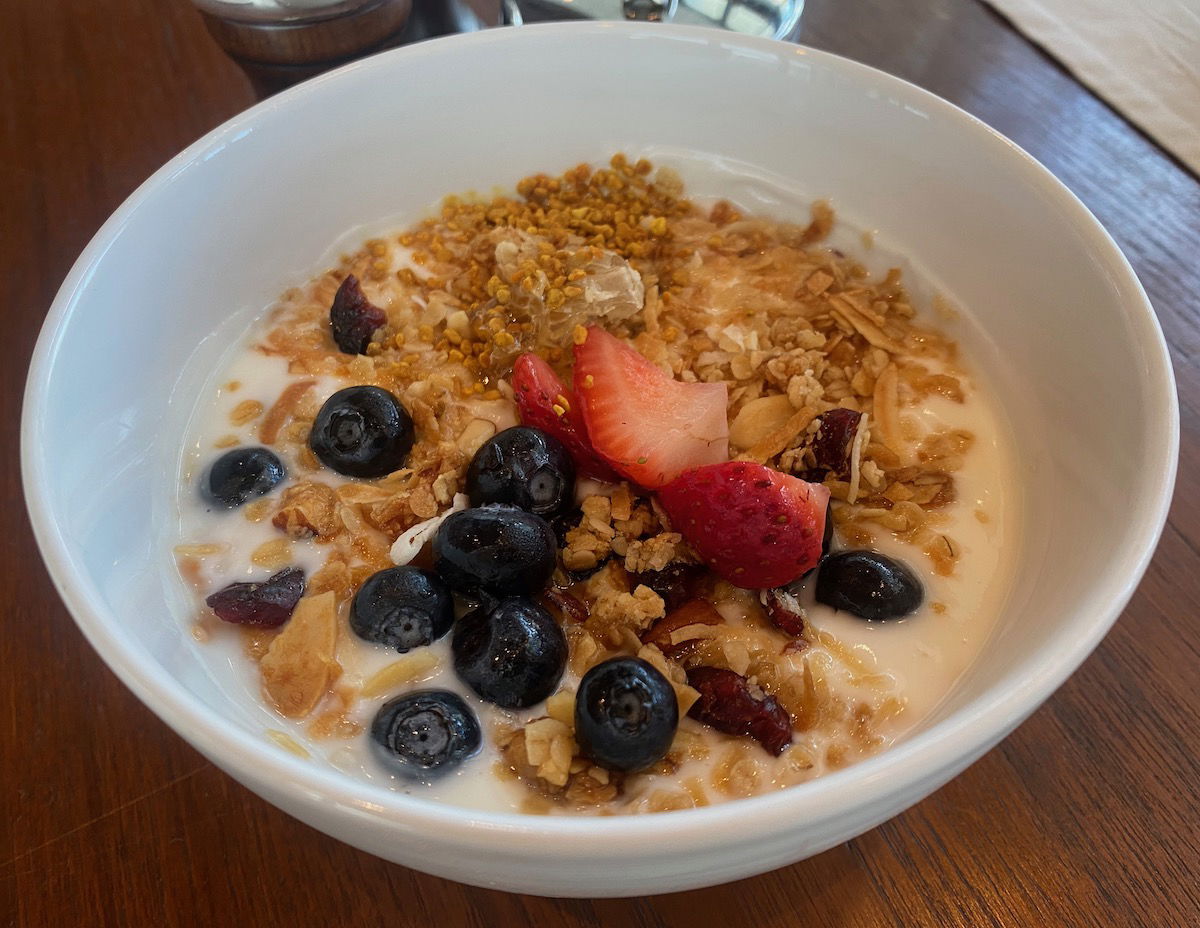 The next morning we went with an awesome breakfast concept the hotel now offers. The Ritz-Carlton Reserve used to have a breakfast buffet pre-coronavirus, and in order to recreate that experience, there's the "Reserve breakfast experience." The idea is that you can order literally anything off the menu in tasting portions, so you can try a lot of things. There are no limits, so you can order as much as you'd like, and it allows you to sample as much as you'd like.
For example, below is what we split — pretty cool, eh?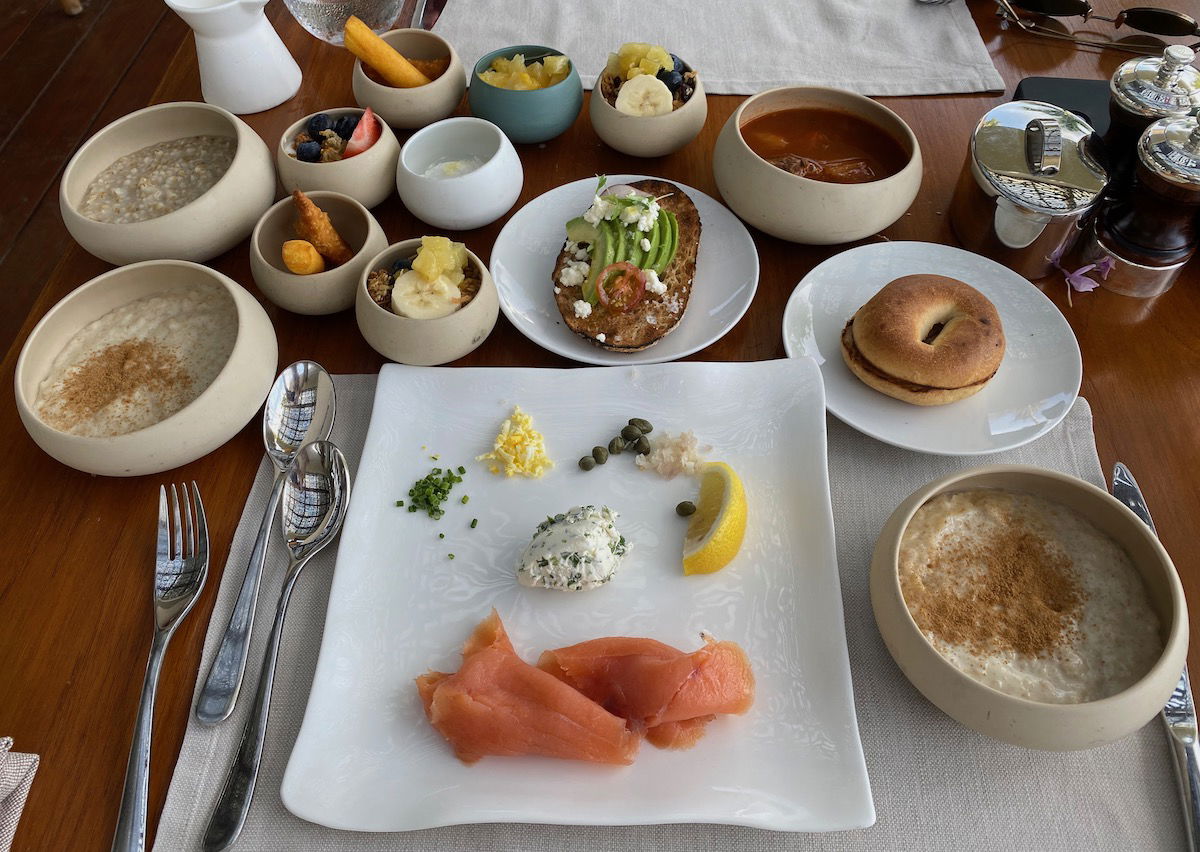 We also had dinner at COA Restaurant our first evening. We enjoyed the cocktails we ordered — Ford had a negroni, while I had a dirty martini.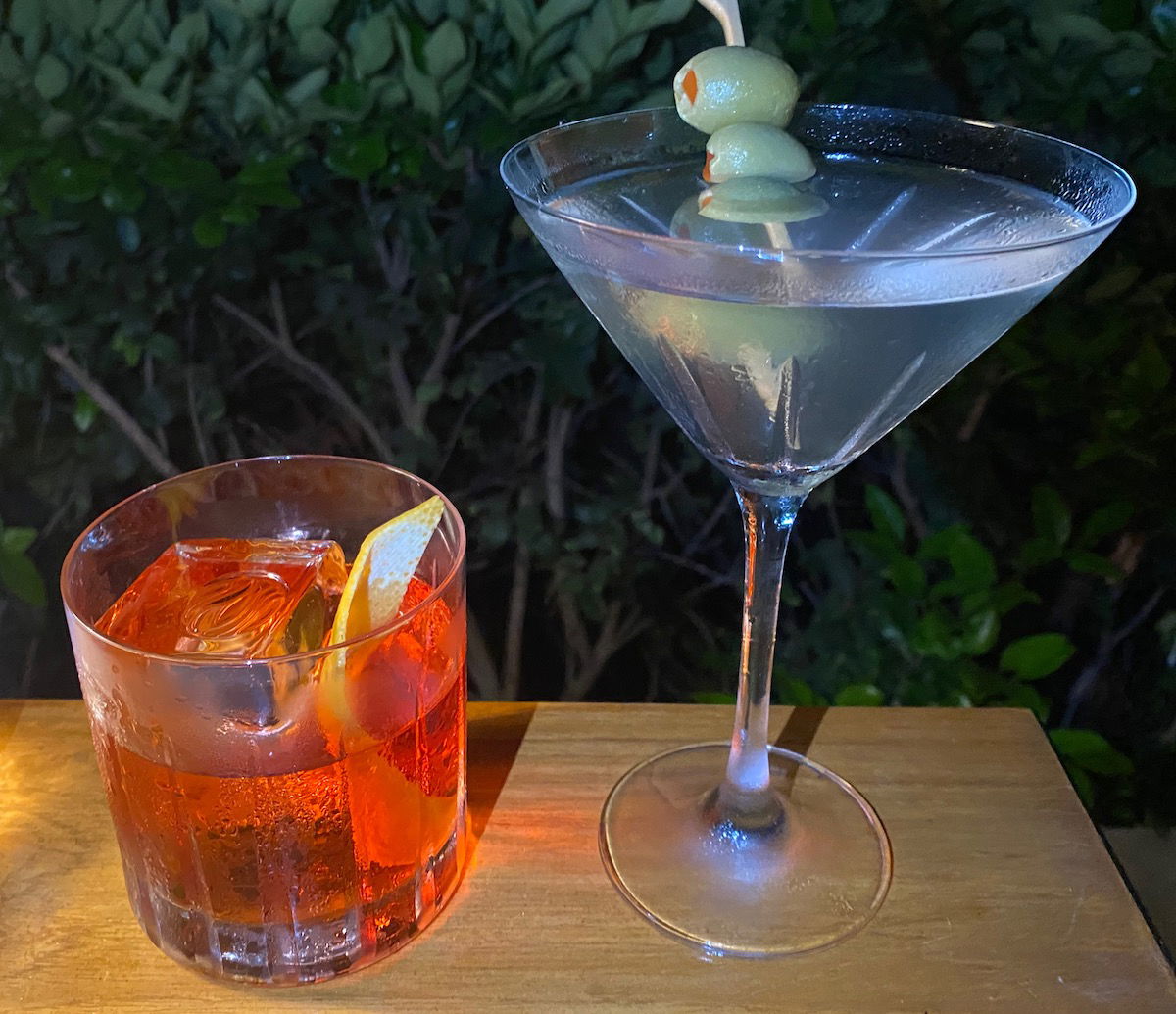 To start we were offered some bread, and a couple of treats from the kitchen.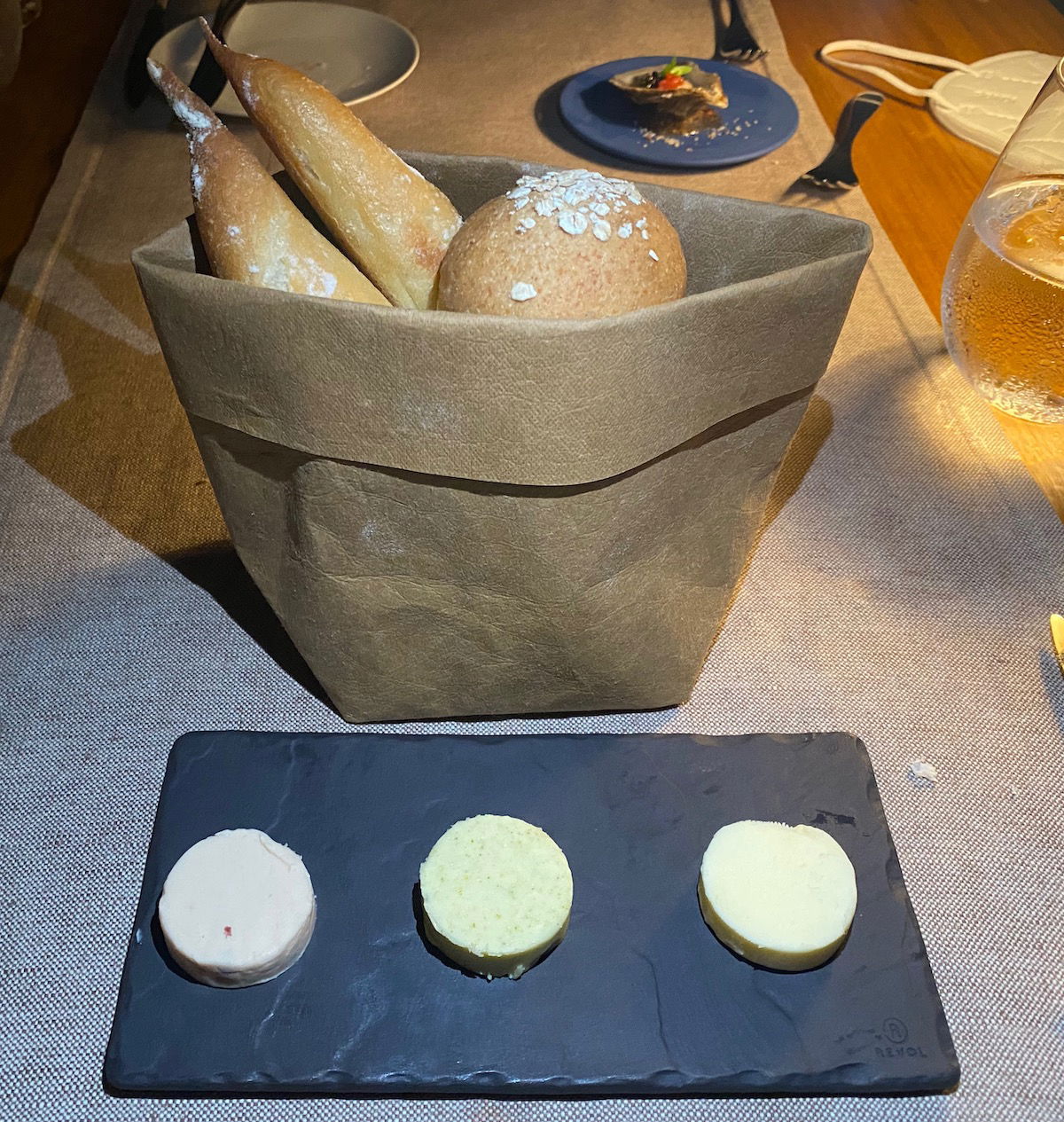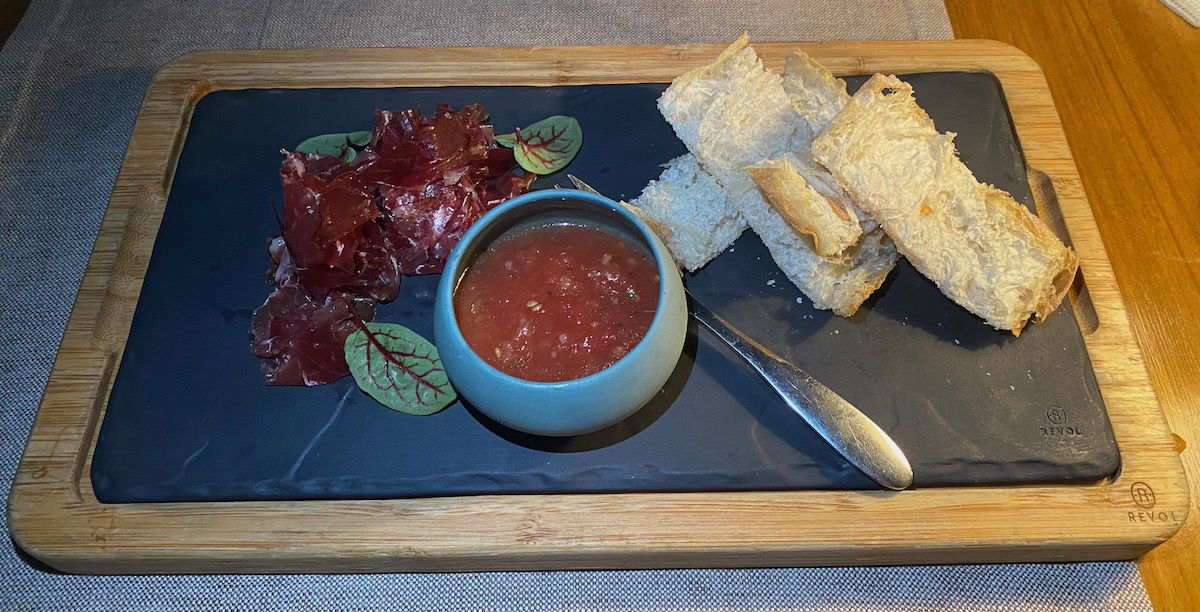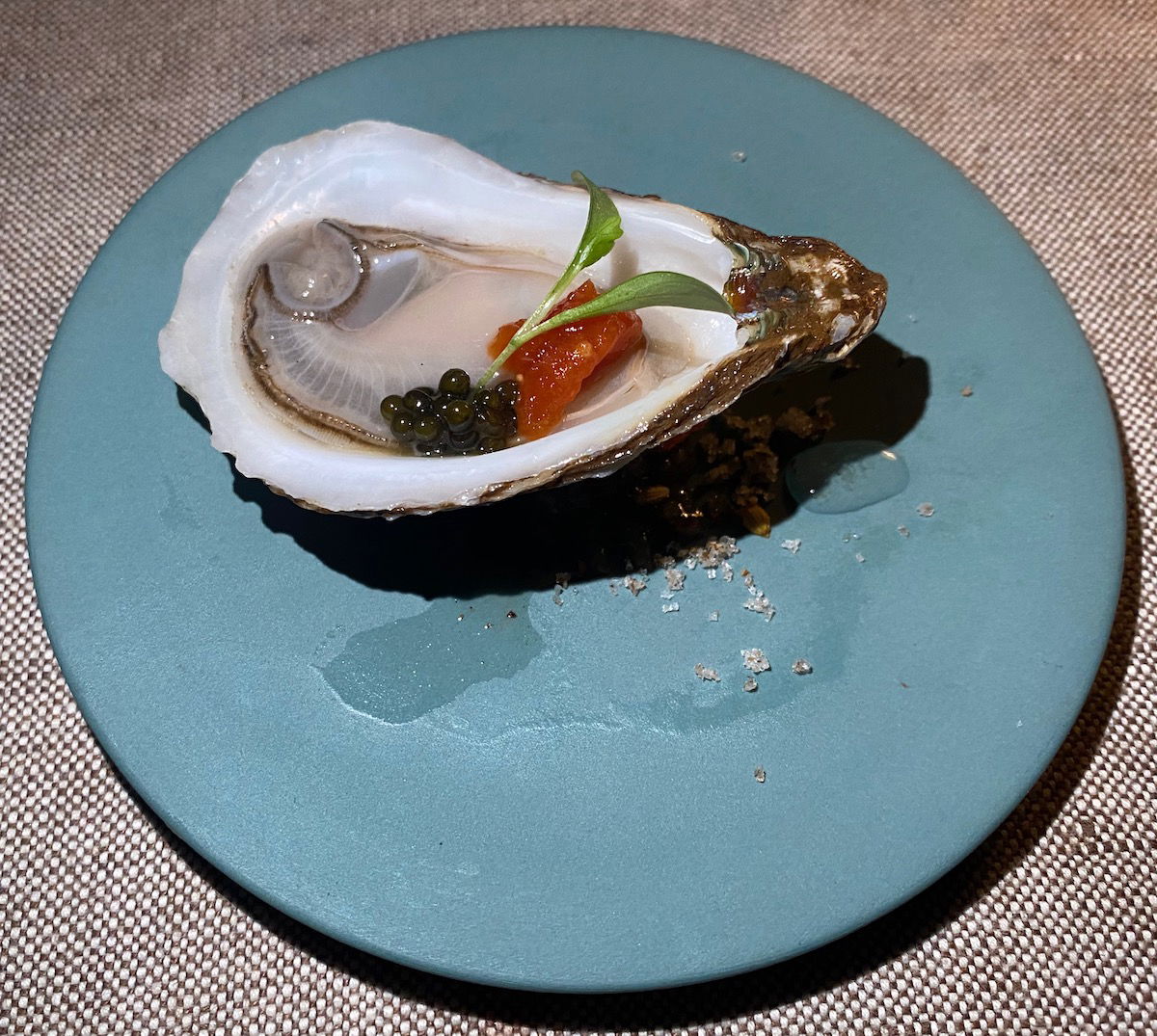 As an appetizer we split an artisan salad, with mesclun, endives, pomegranate, and citrus.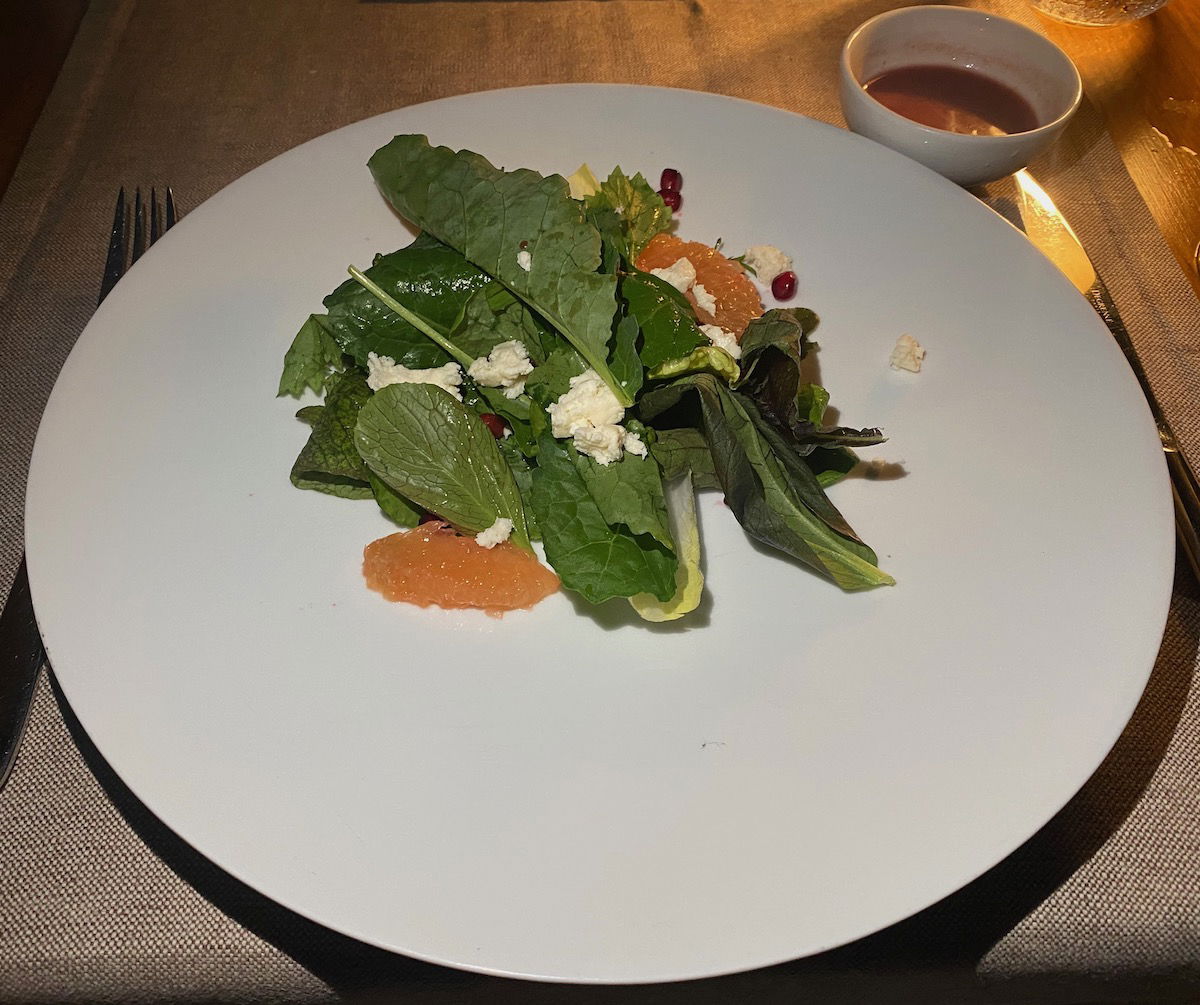 For the main course I ordered the dover sole, while Ford ordered the tenderloin.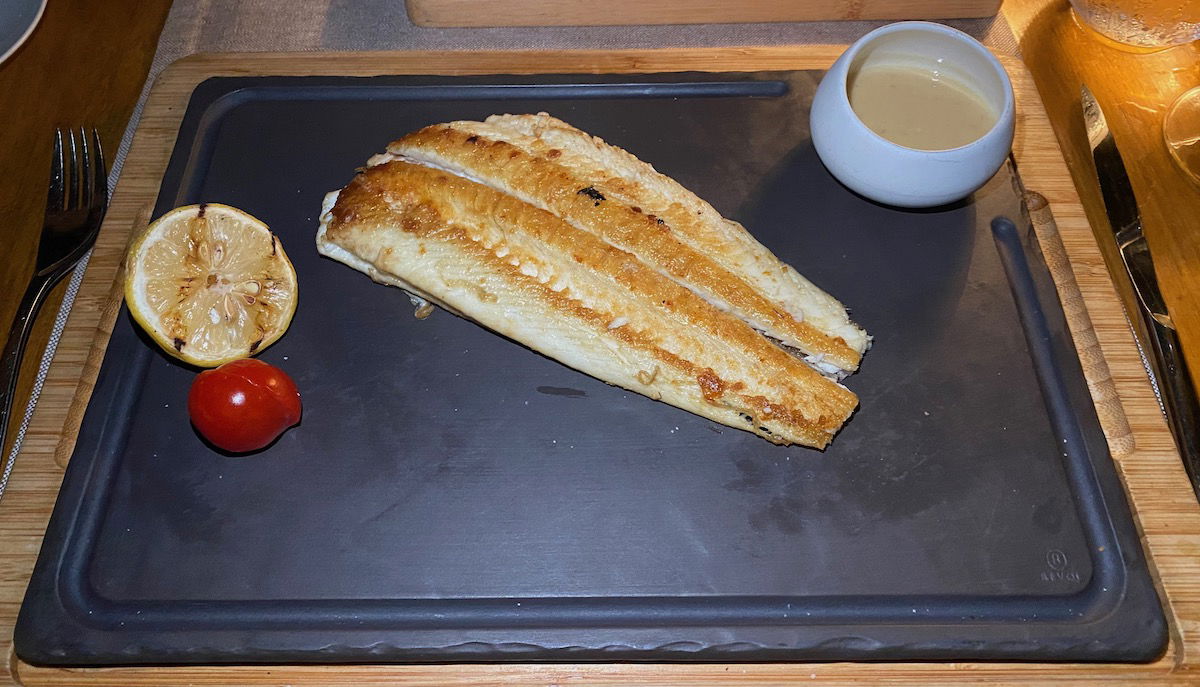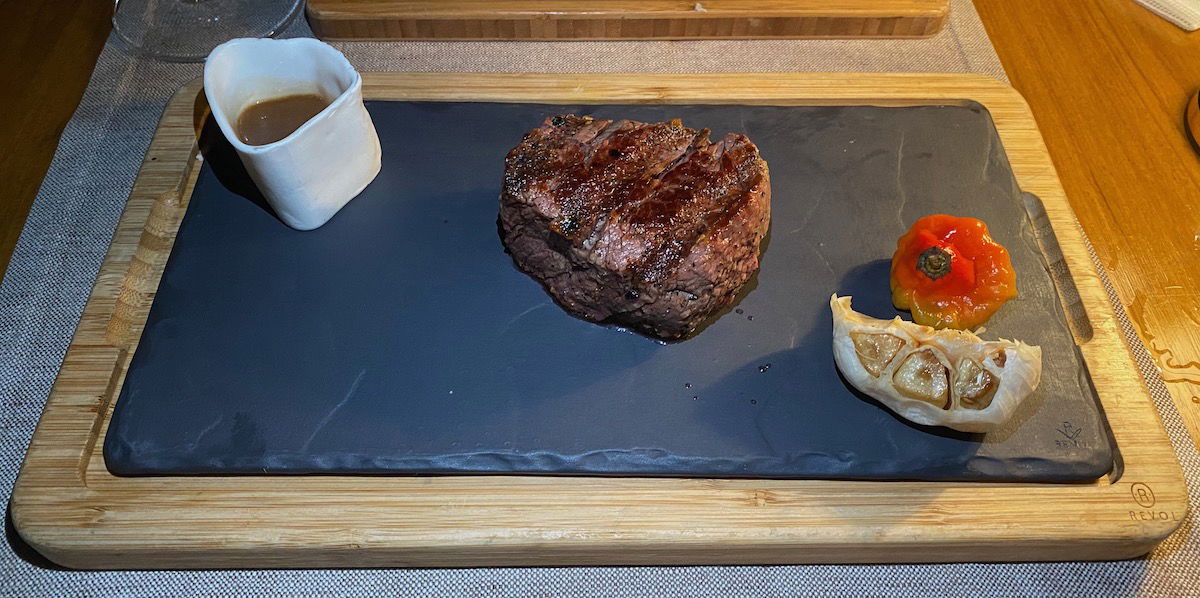 For sides we ordered pan roasted heirloom carrots and sautéed broccolini.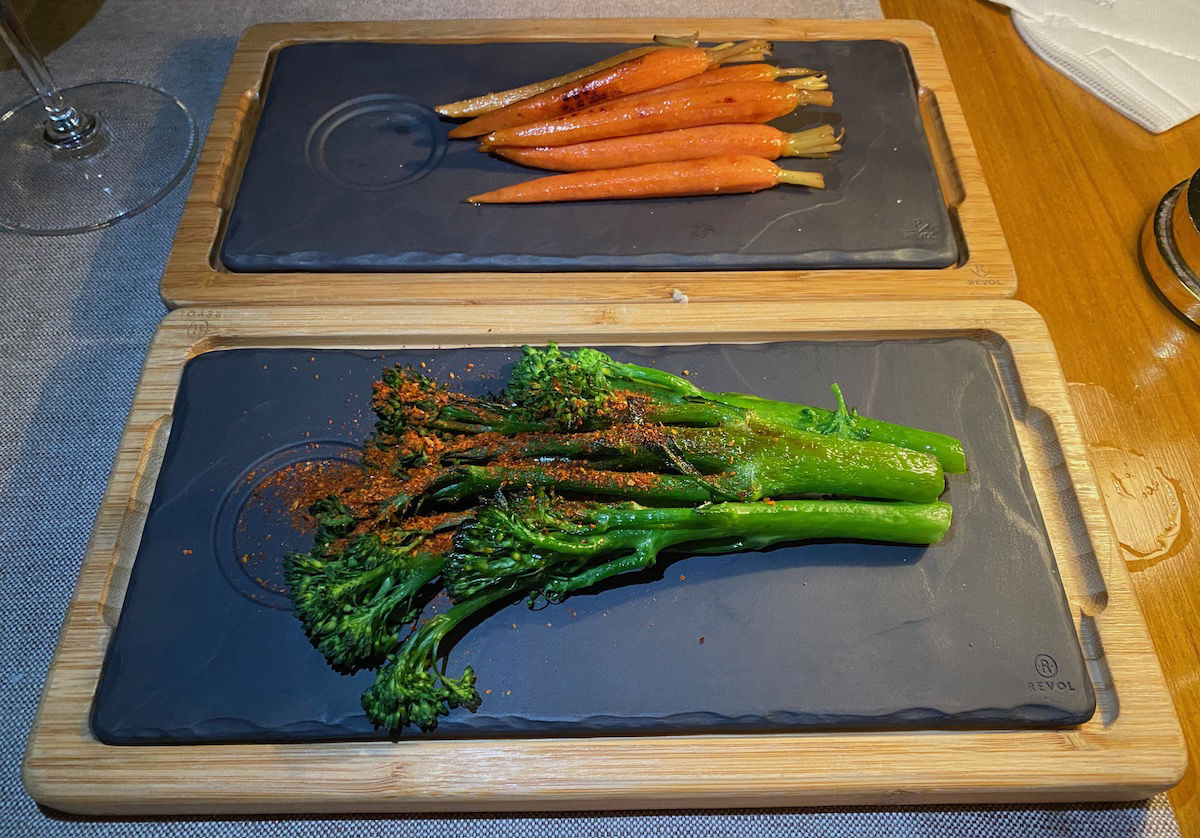 At the conclusion of the meal we were offered some chocolates.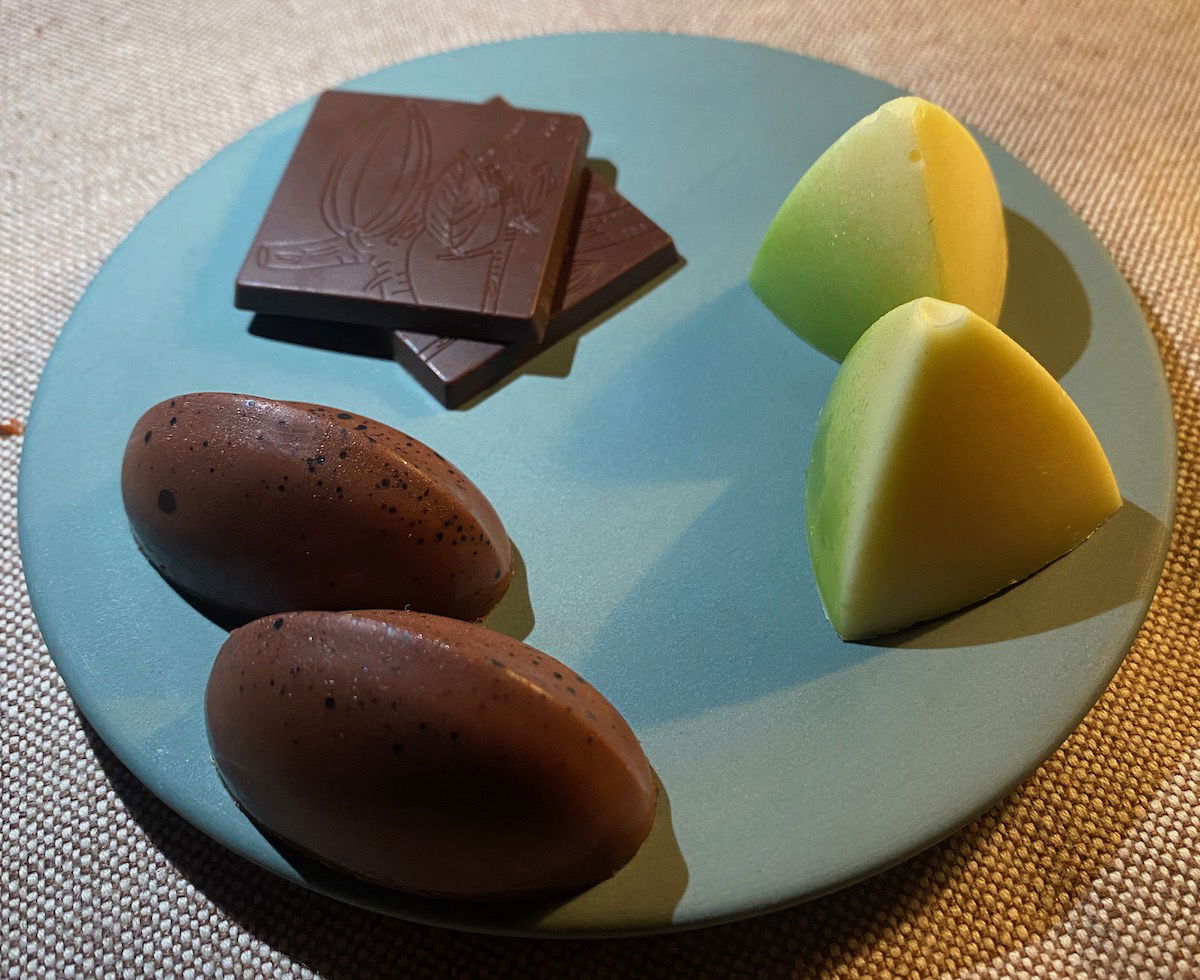 Everything about the meal was fantastic, from the quality of food to the service.
Dorado Beach Ritz-Carlton Reserve Positivo Sand Bar (lunch & dinner)
Positivo Sand Bar is the Ritz-Carlton Reserve's poolside restaurant, serving lunch and dinner. The restaurant is open throughout the day, from 11AM until 10PM. It's entirely open air, and has great views of the pool and ocean.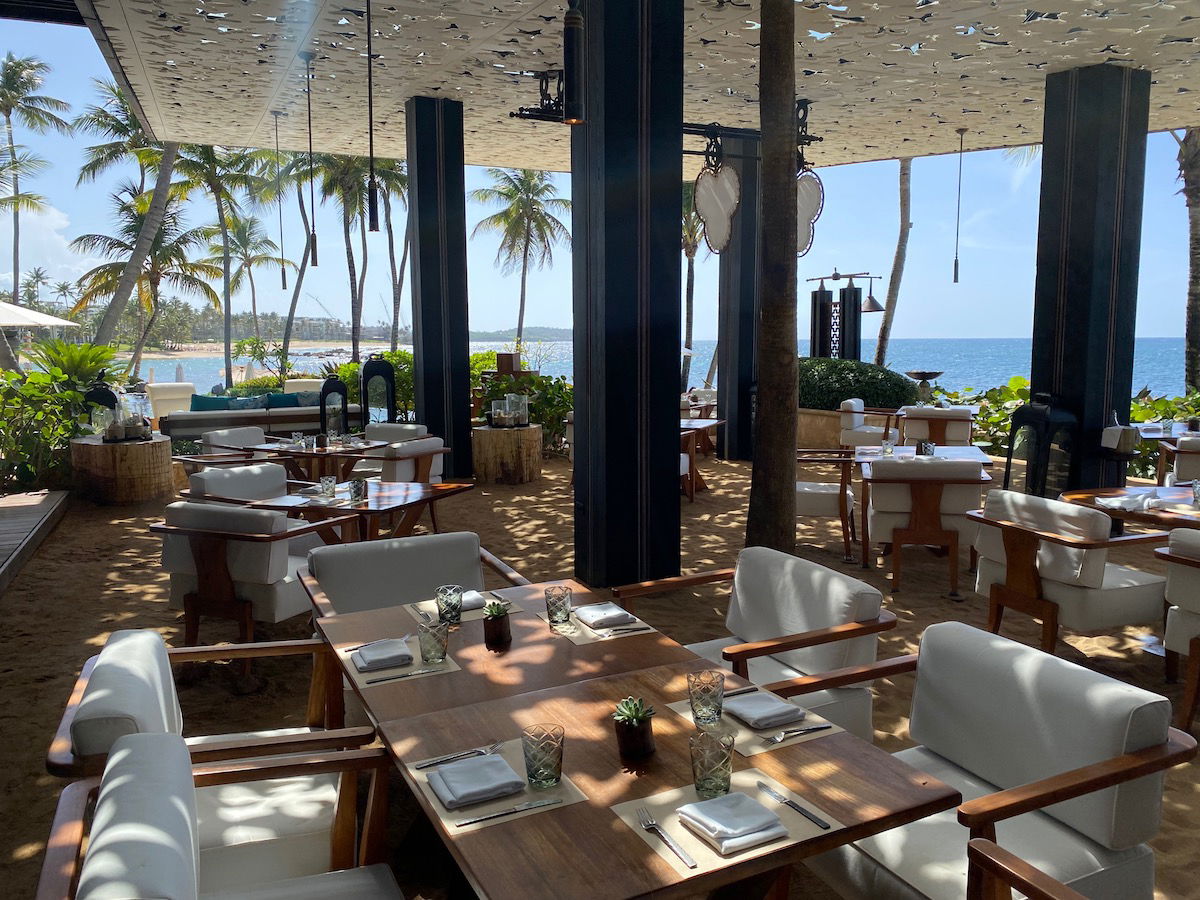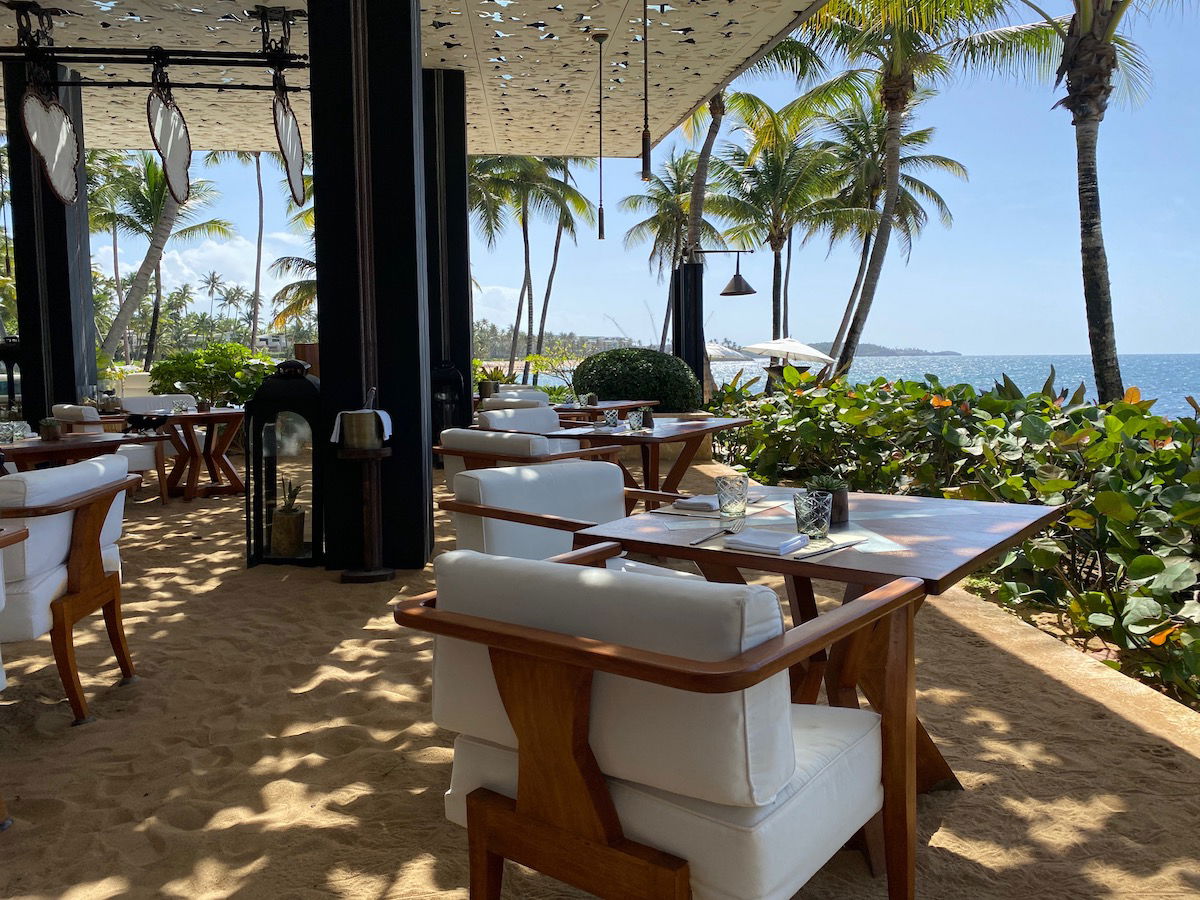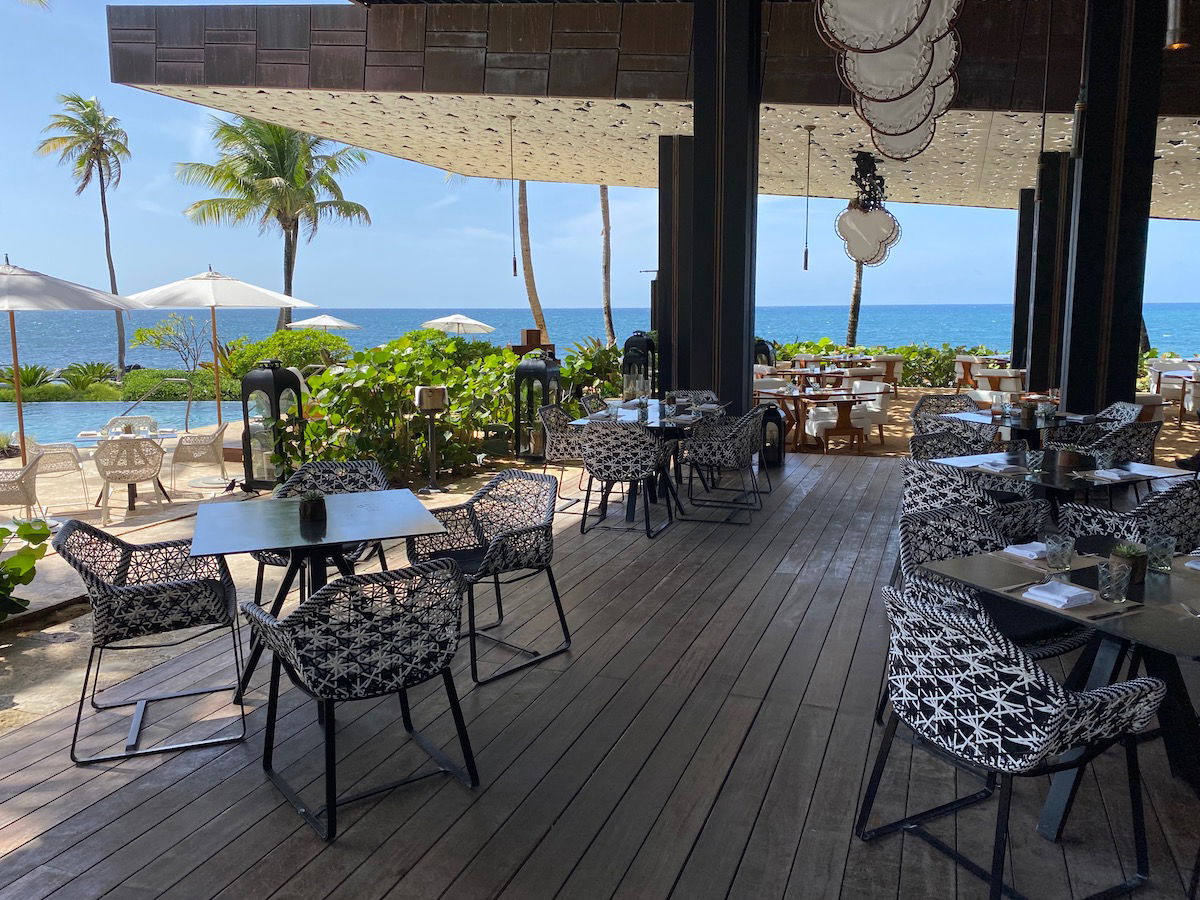 We had lunch here on our first day. We had delicious cocktails, and then to eat I had the fish tacos, while Ford had the coconut Thai basil ceviche.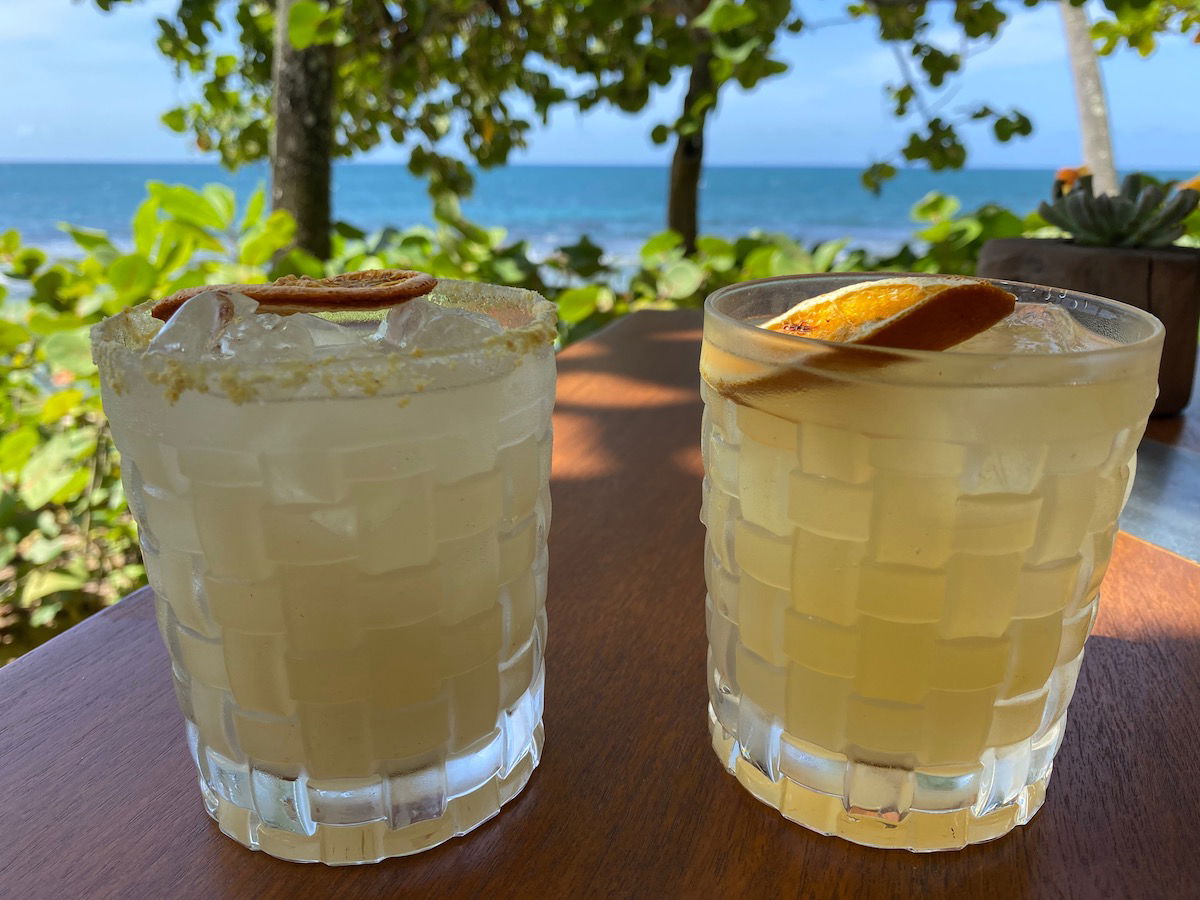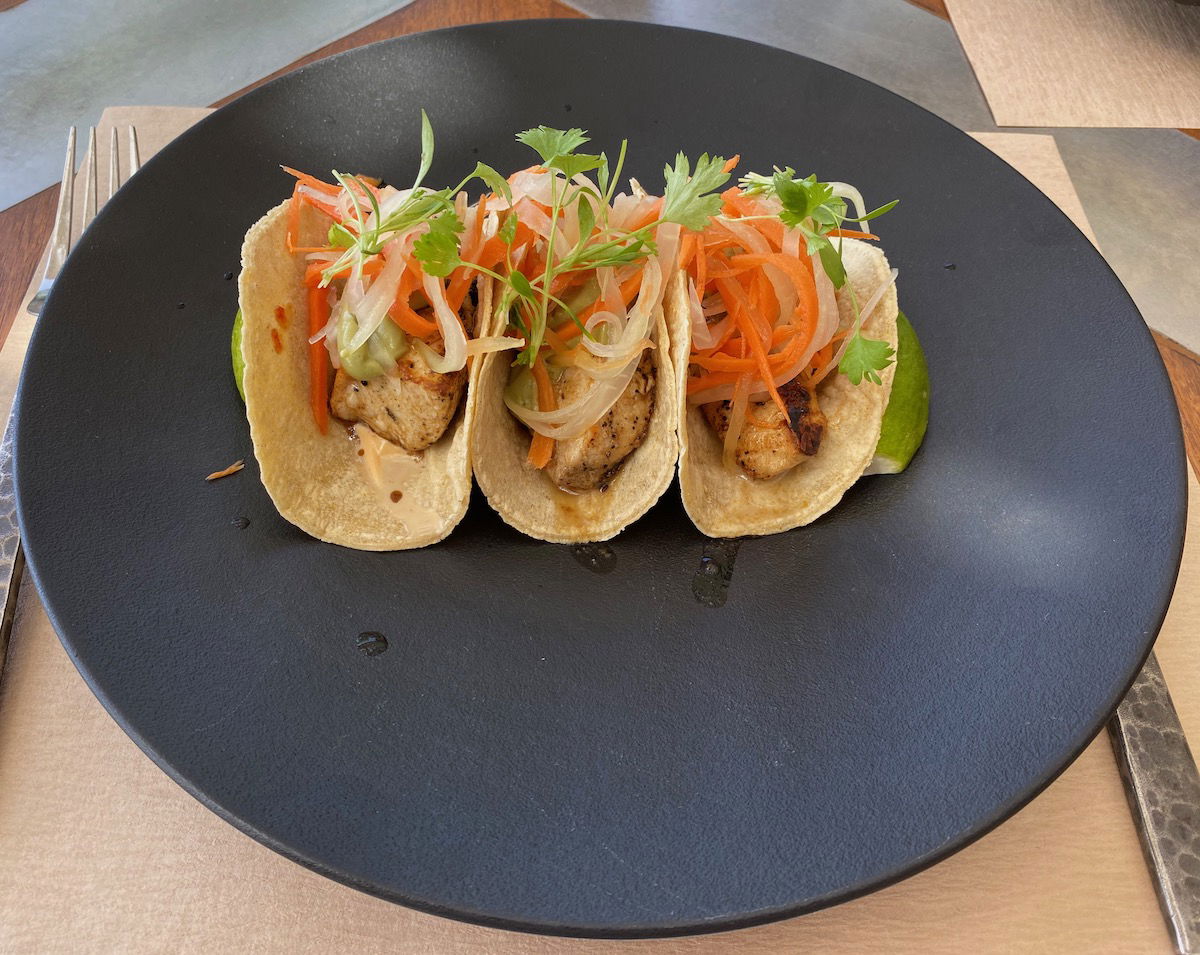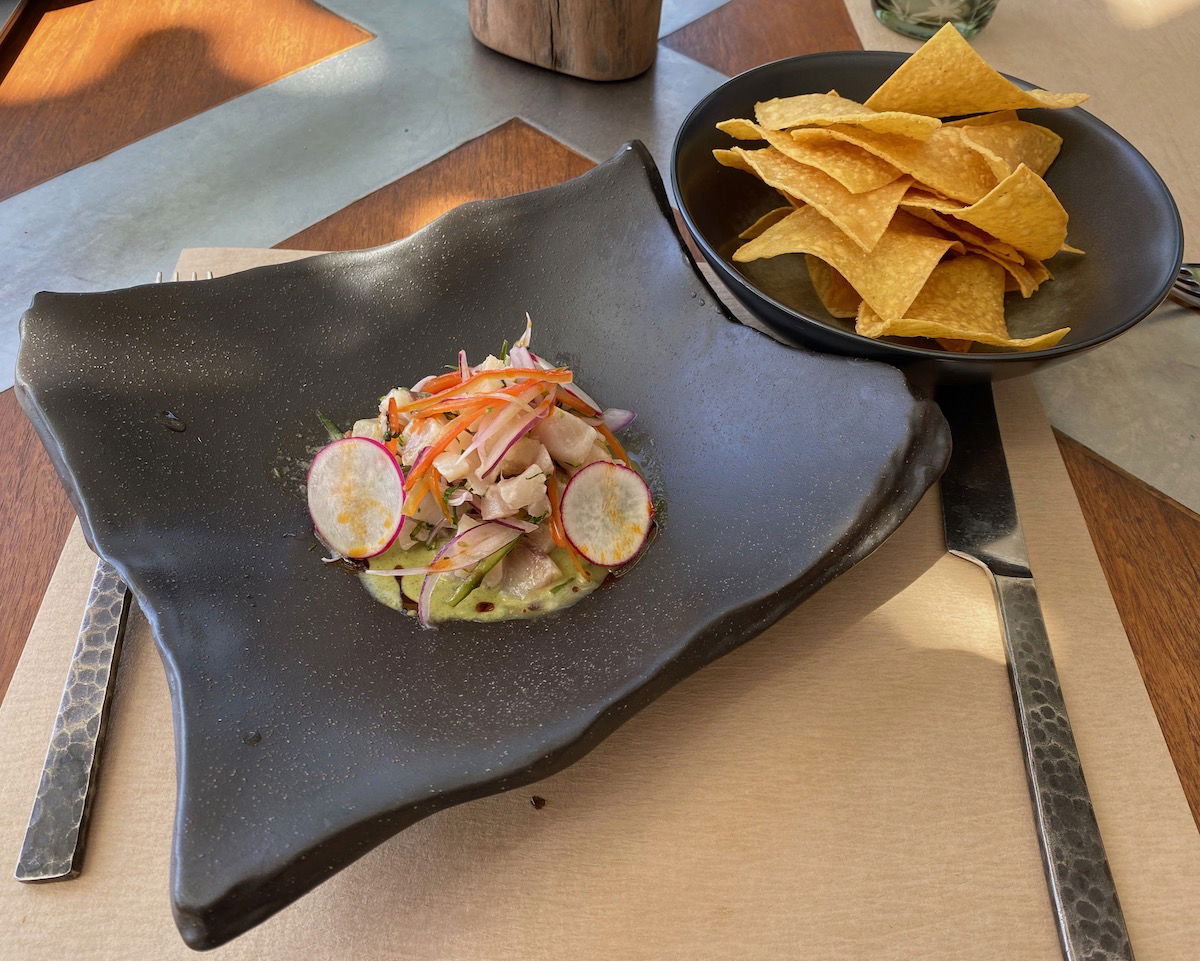 In the evenings, Positivo turns into more of a full-on Asian fusion restaurant.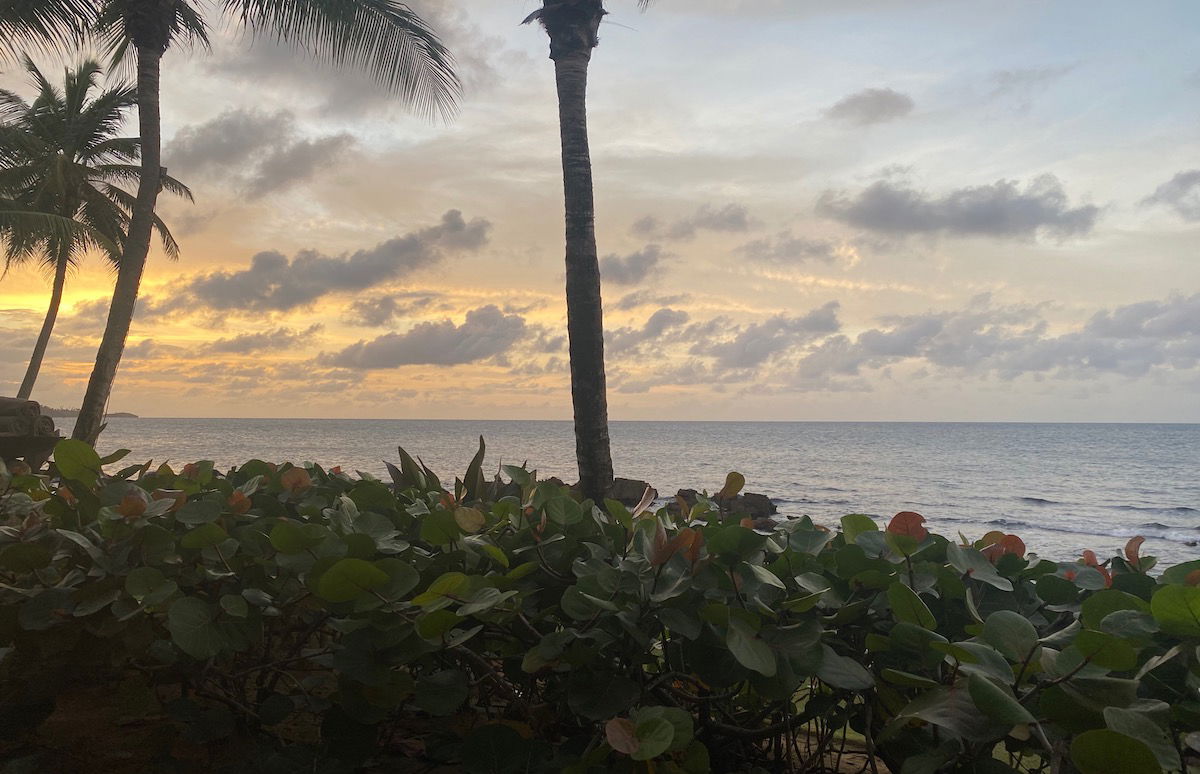 We decided to do a sake pairing with our meal.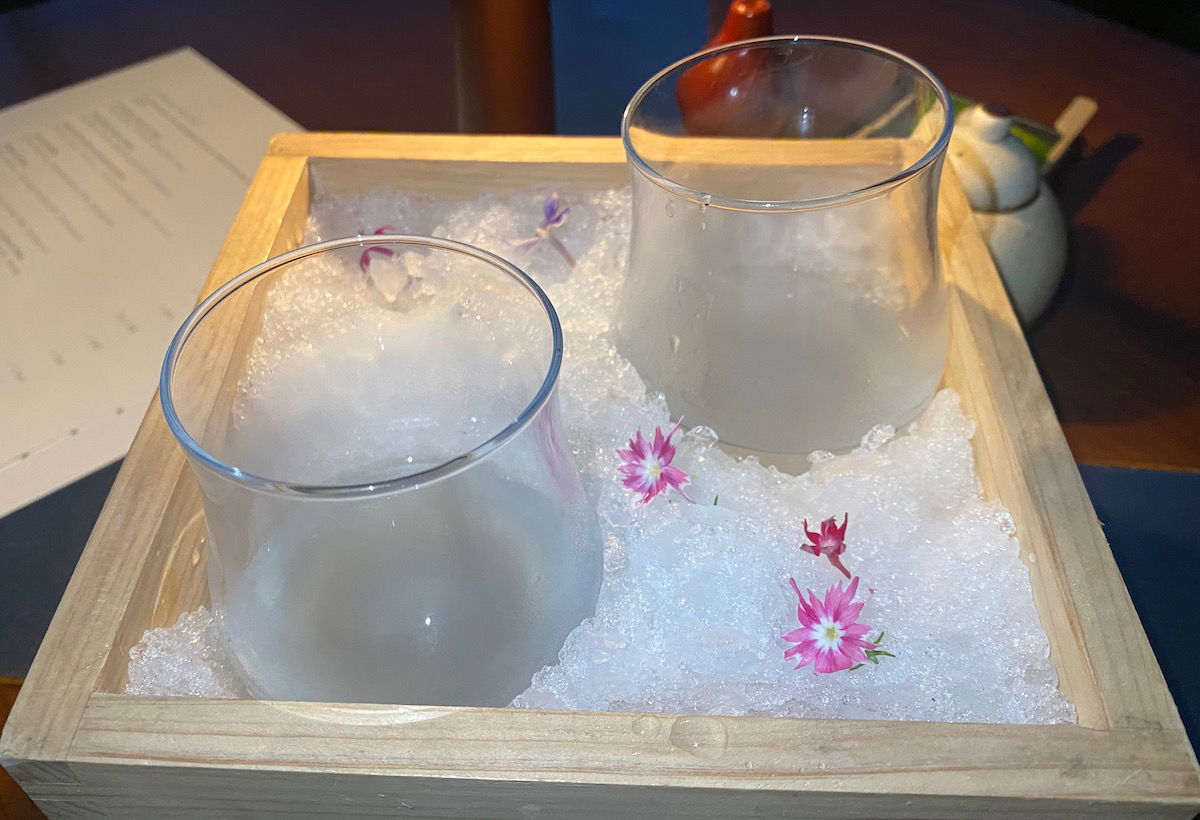 Among other things, we ordered edamame, shishito peppers, soft-shell crab bao, and some sushi.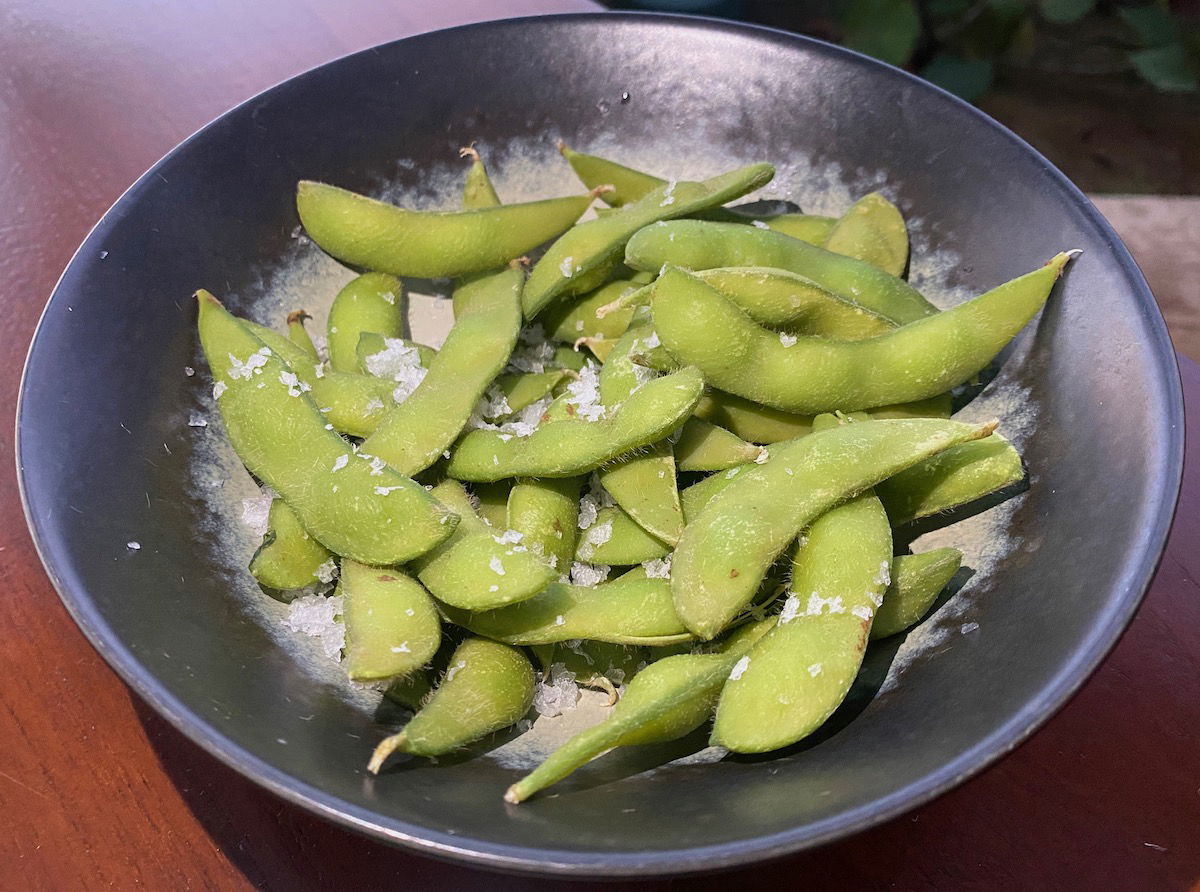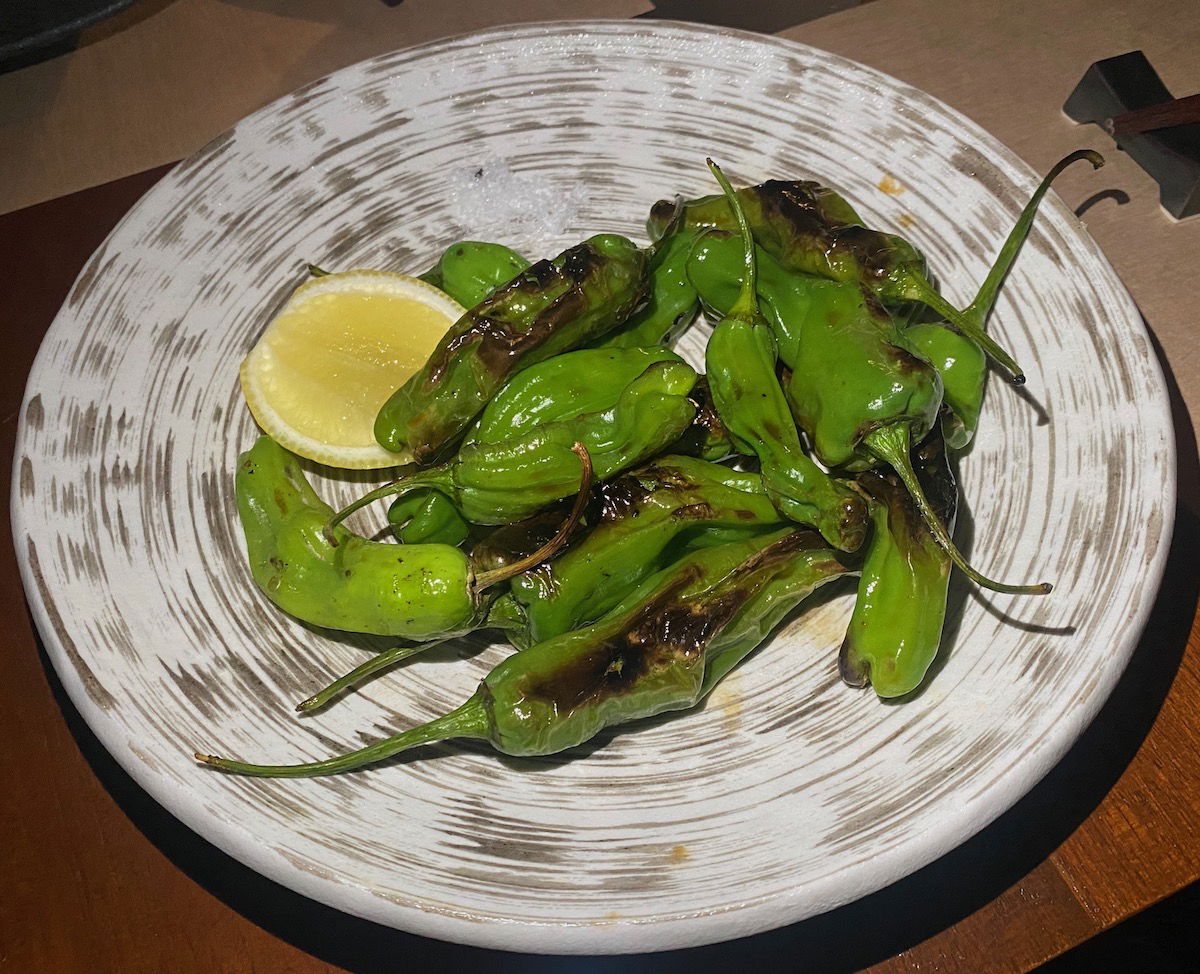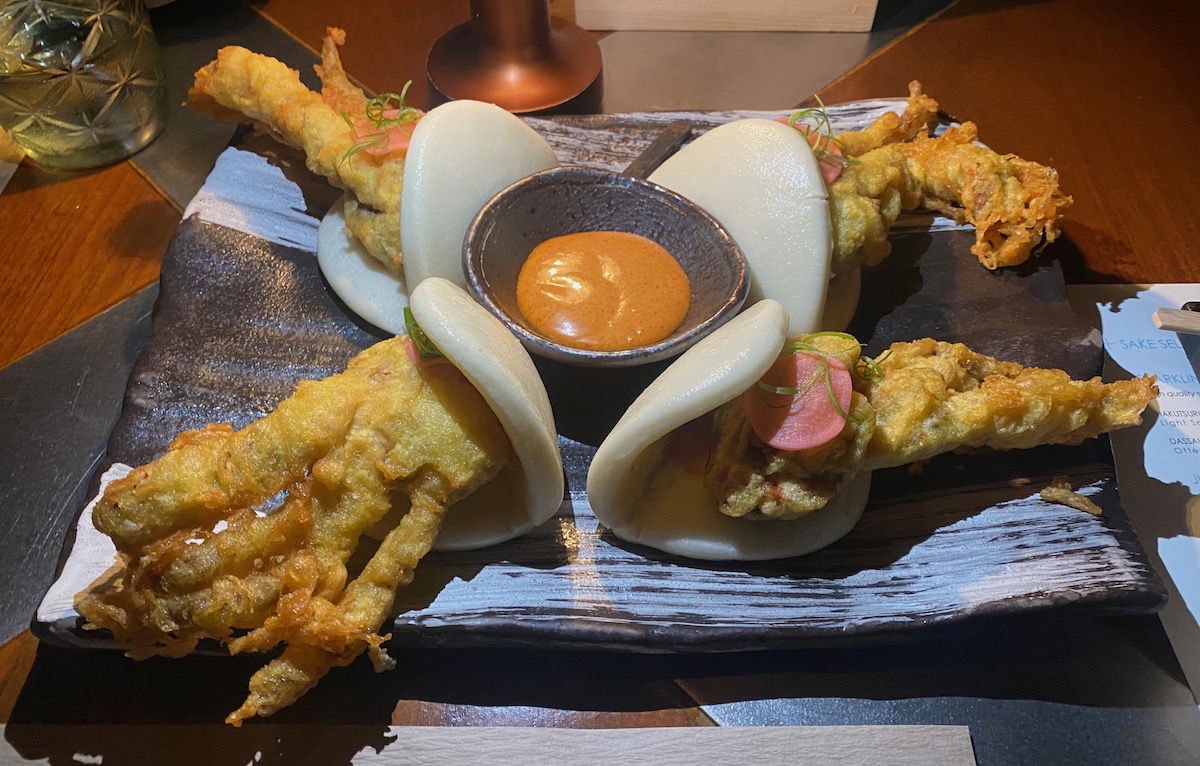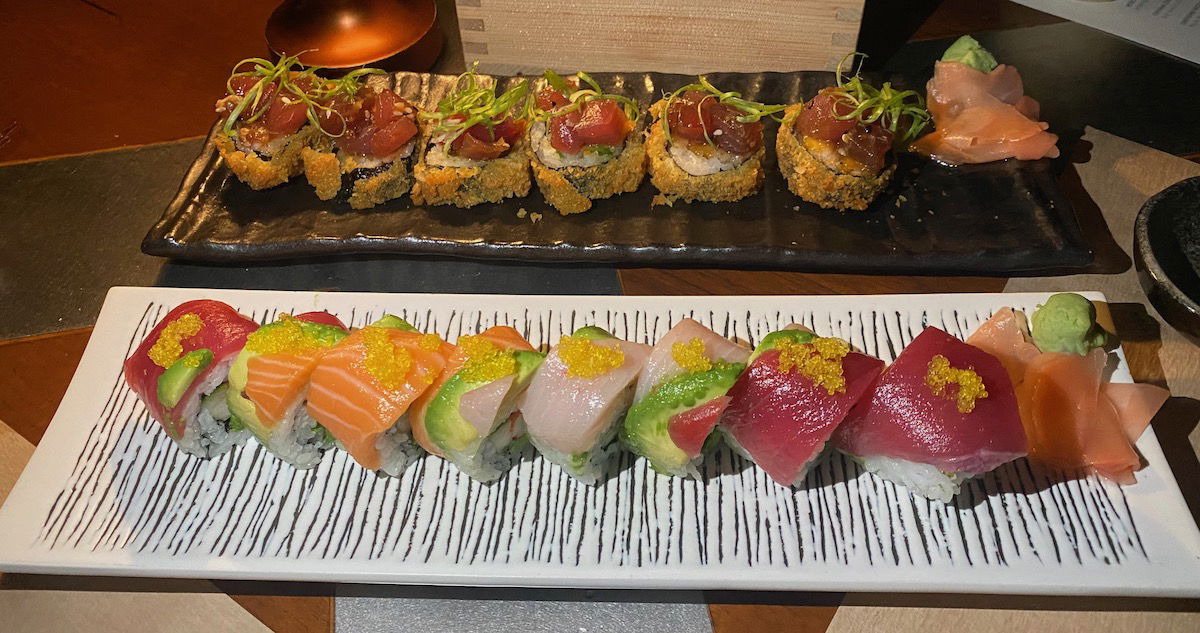 Dorado Beach Ritz-Carlton Reserve Encanto Beach Club & Grill (lunch)
Encanto Beach Club & Grill is located by the second large pool, and is open daily from 11AM until 10PM. The restaurant has great views of the beach and ocean, and serves everything from pizza, to burgers, to sandwiches, to salads.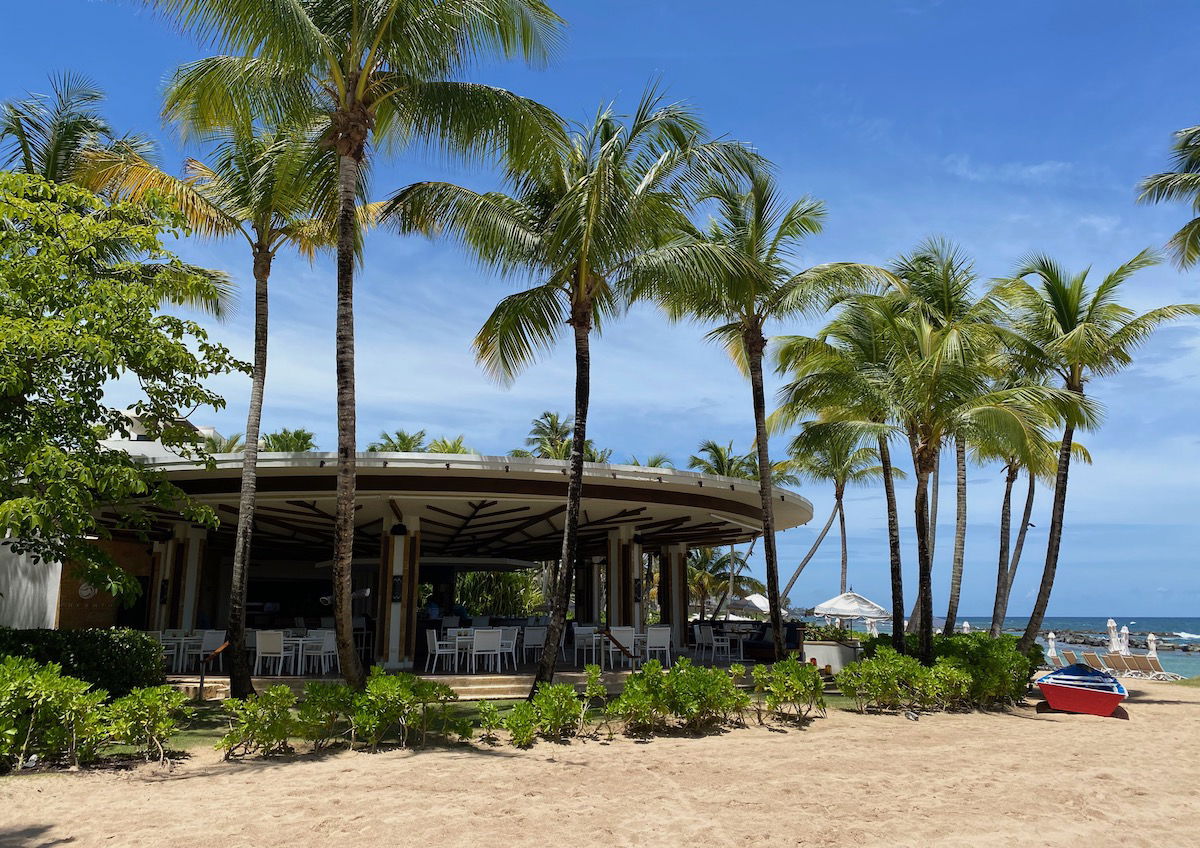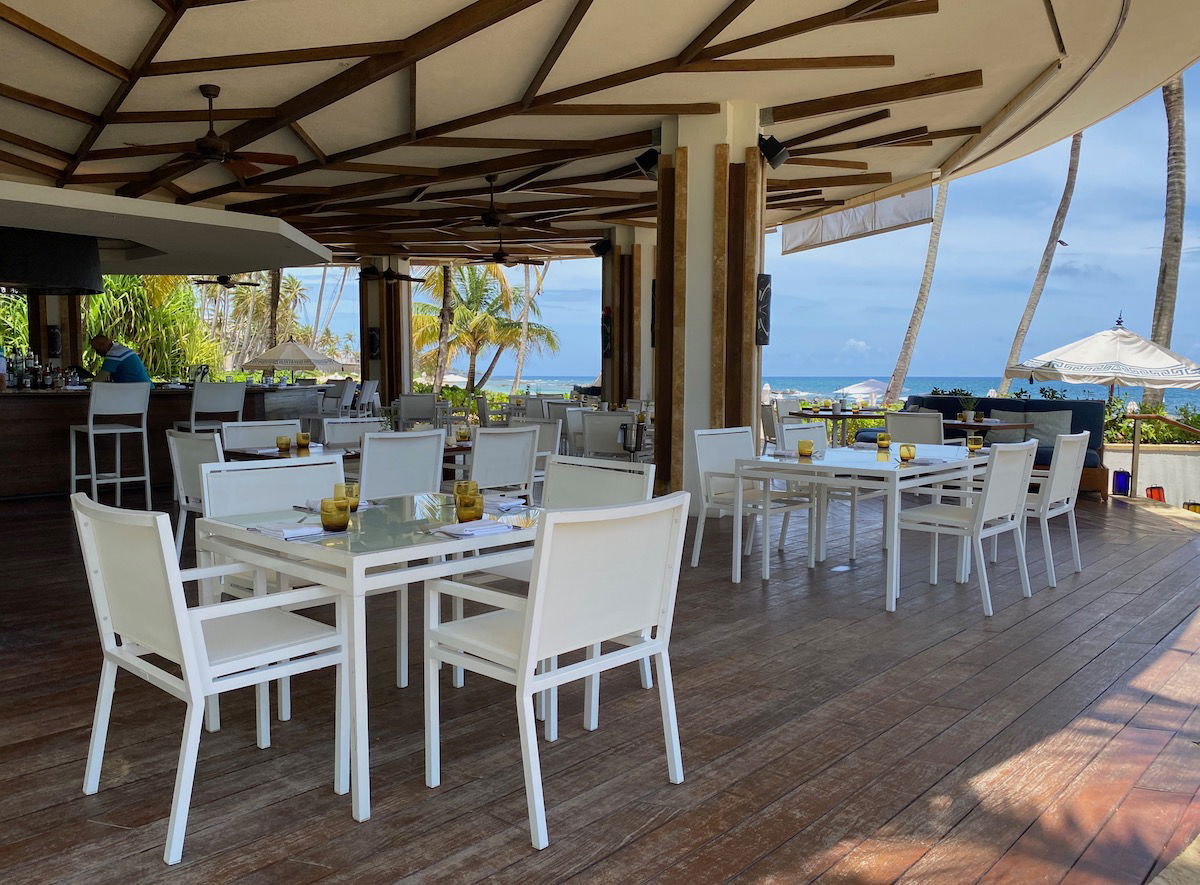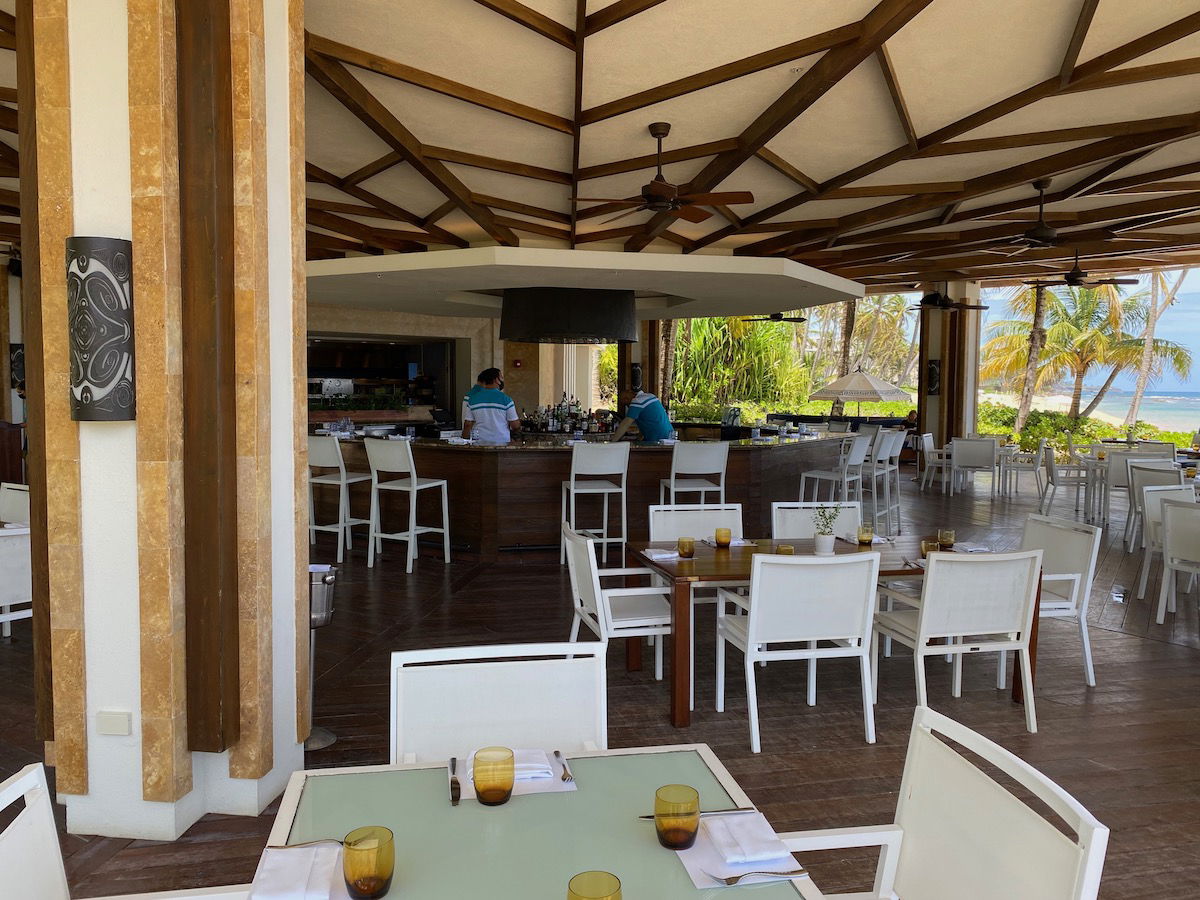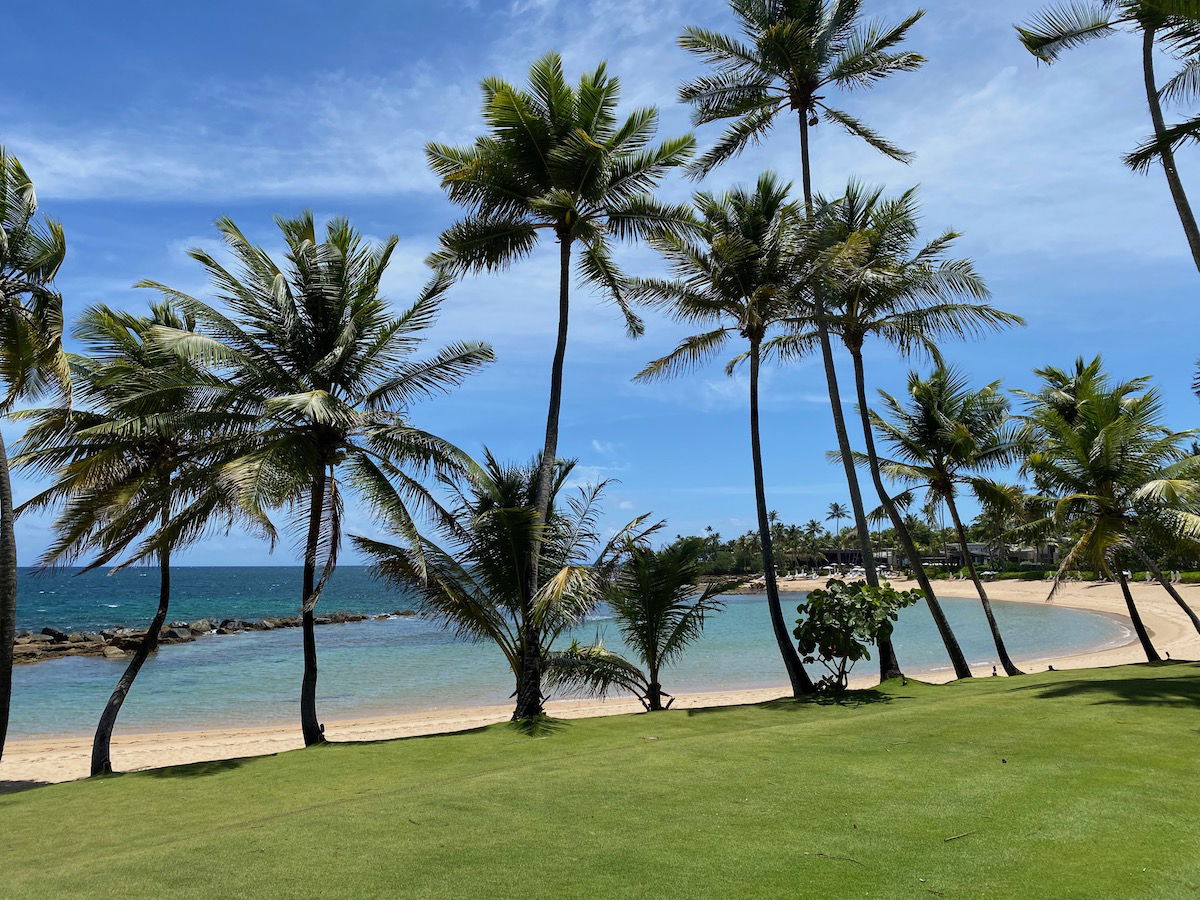 I decided to order the heirloom tomato lavash, while Ford had the turkey burger — we both enjoyed our dishes.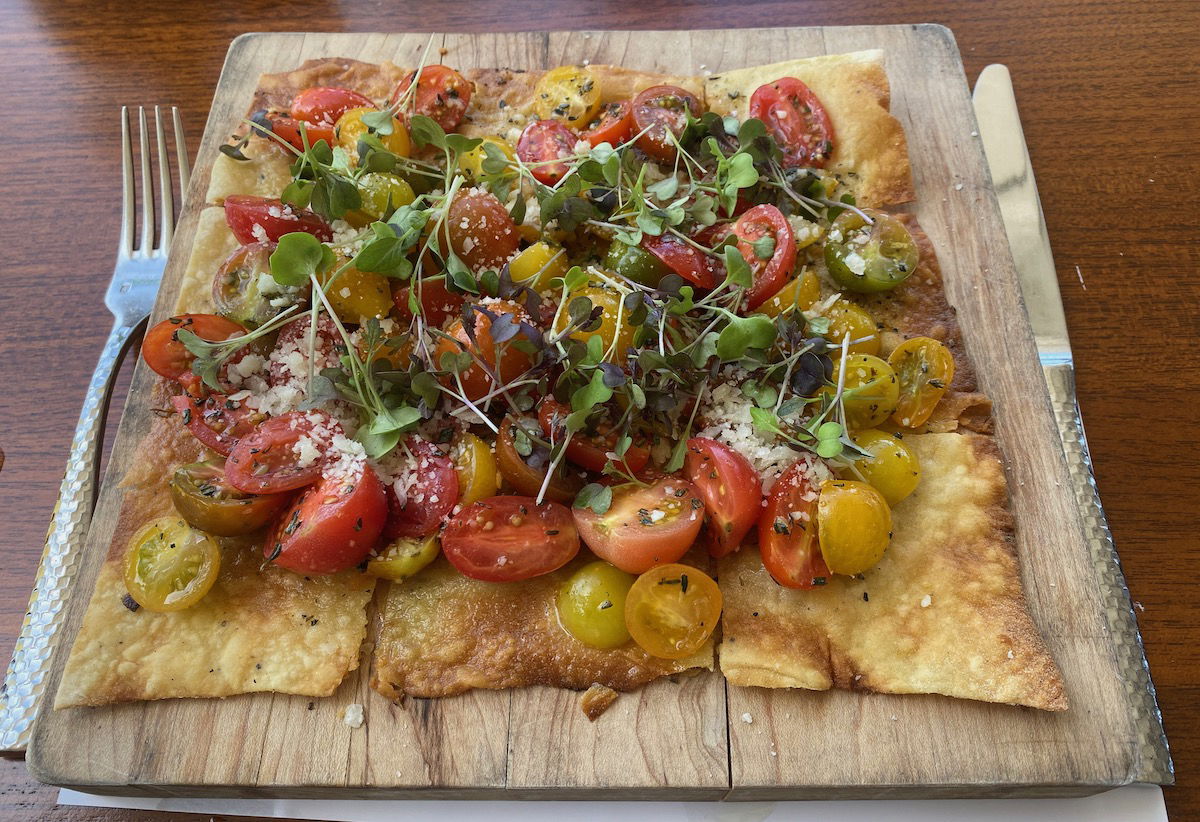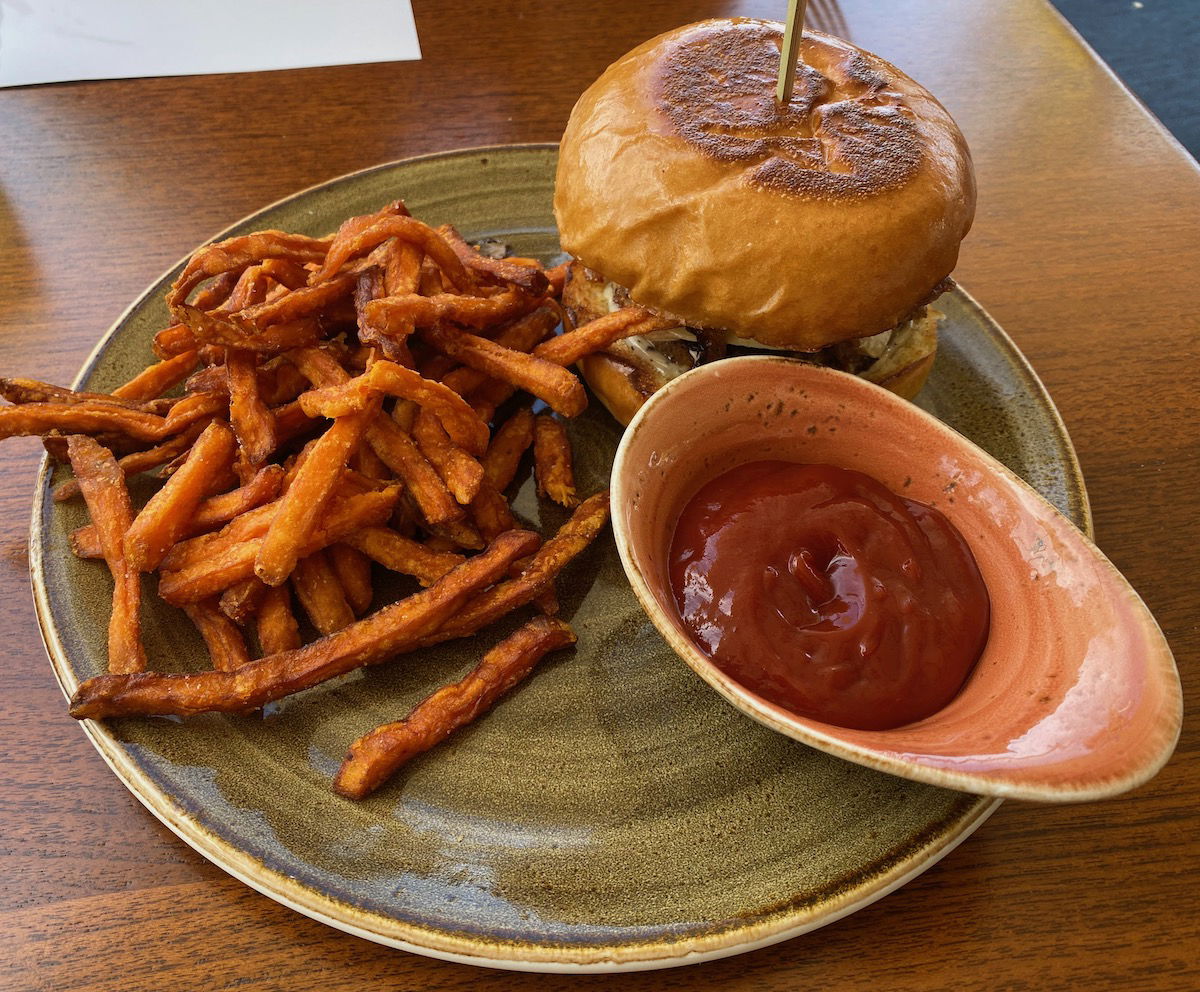 Dorado Beach Ritz-Carlton Reserve La Cocina Gourmet
The Ritz-Carlton Reserve has La Cocina Gourmet, which is a market open from 8AM until 5PM daily. This can be a great place to pick up a cappuccino, beer, sandwich, or something else along those lines.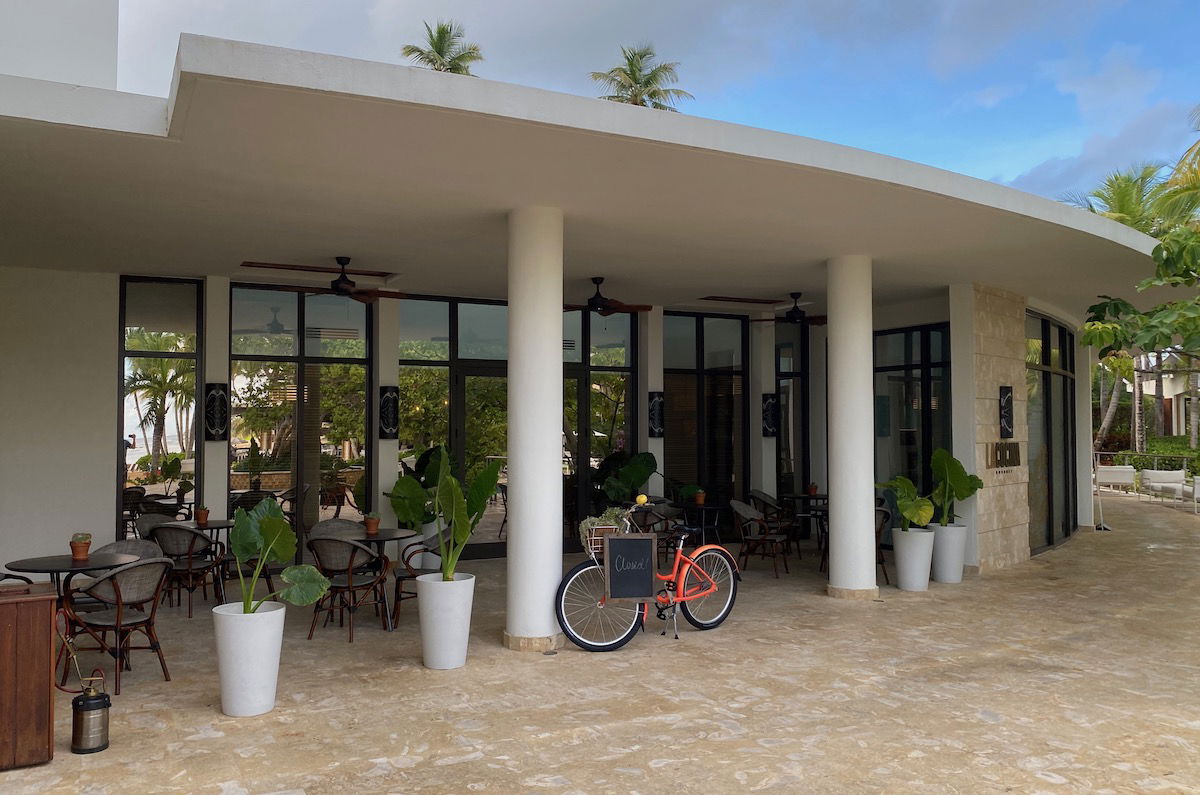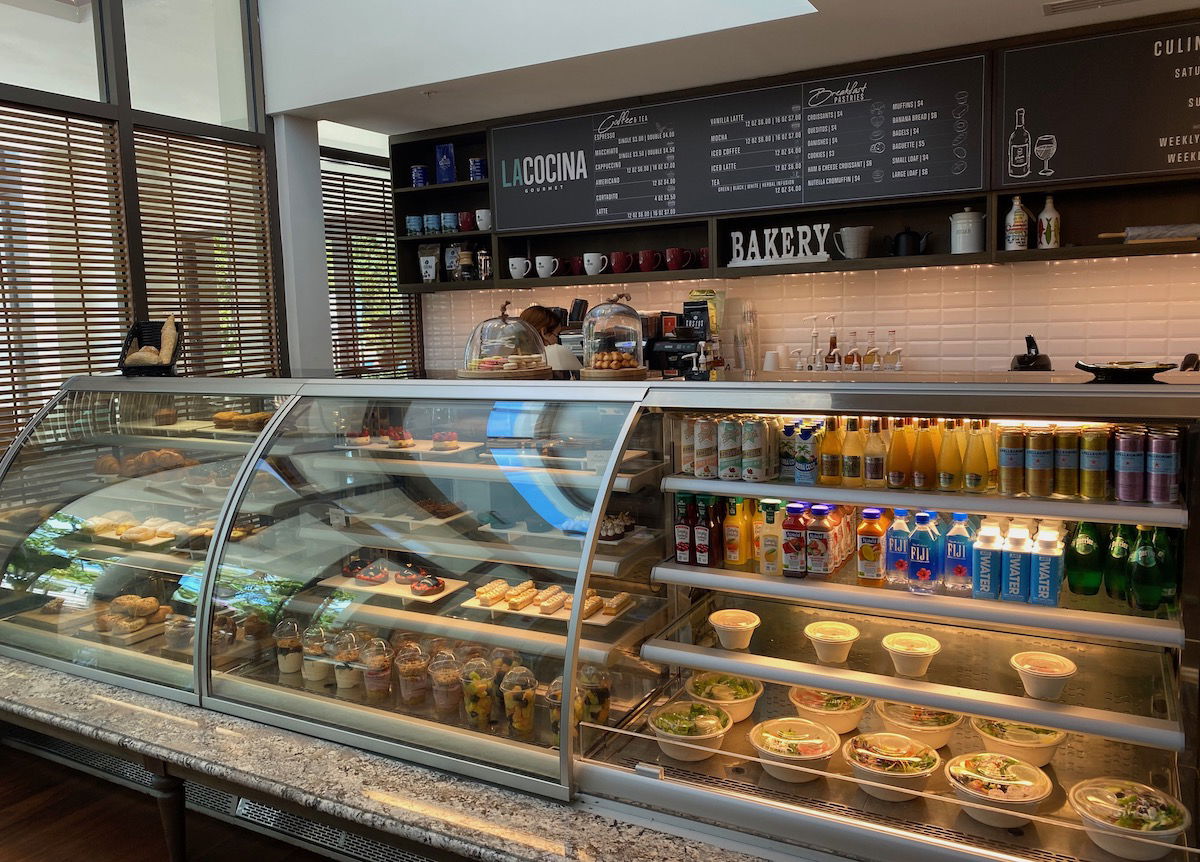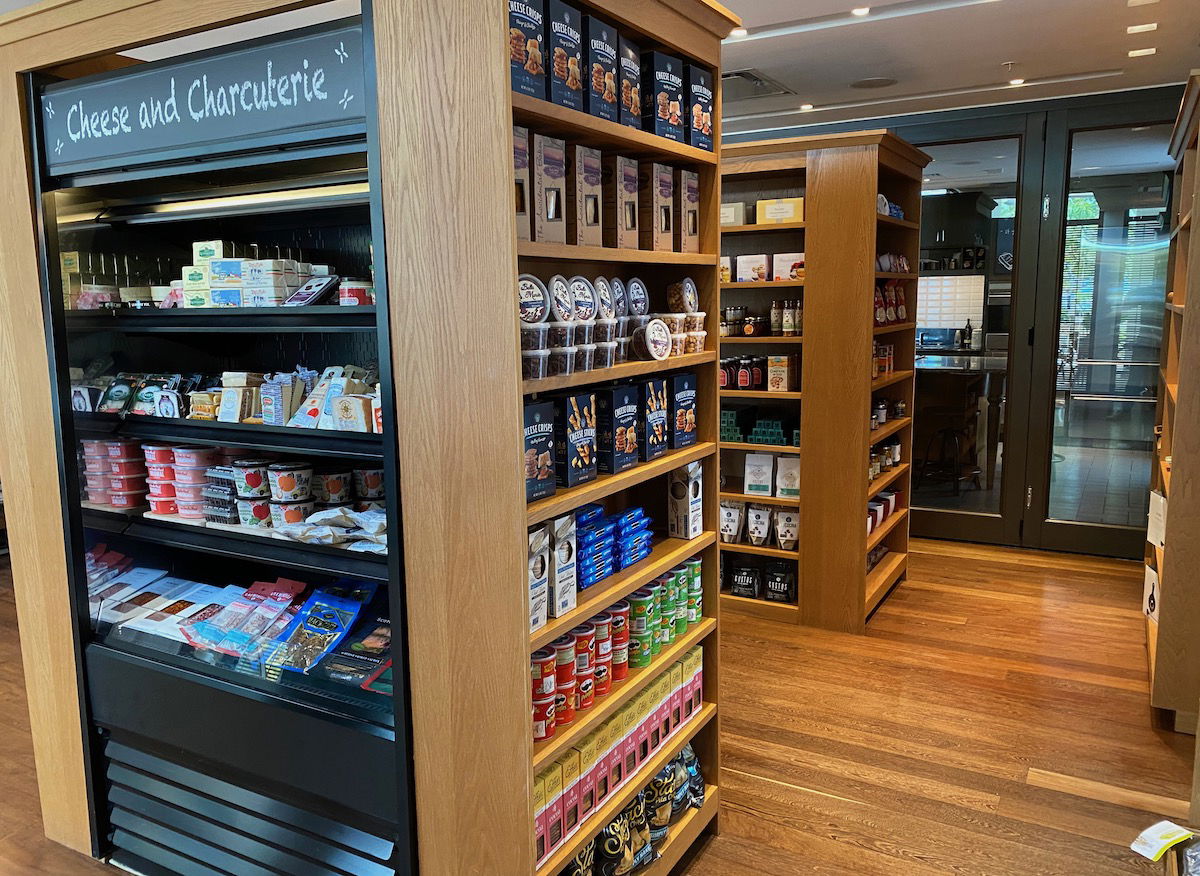 Dorado Beach Ritz-Carlton Reserve service
I was impressed by the service at Dorado Beach, as it was excellent across the board:
Virtually all staff seemed eager to please, and requests were quickly taken care of, thanks to the excellent staff to guest ratio
It was cool to get to know some of the staff here, because Puerto Rico is an interesting place in terms of the people who choose to live there, and everyone has a story — you have some people from the "mainland" who were looking for an adventure, some people who have lived in Puerto Rico their while lives, and some people who have roots in Puerto Rico, moved to the mainland, and are now back on their home island
Housekeeping was efficient, thorough, and had excellent attention to detail, and even left cute notes (like the below) in the room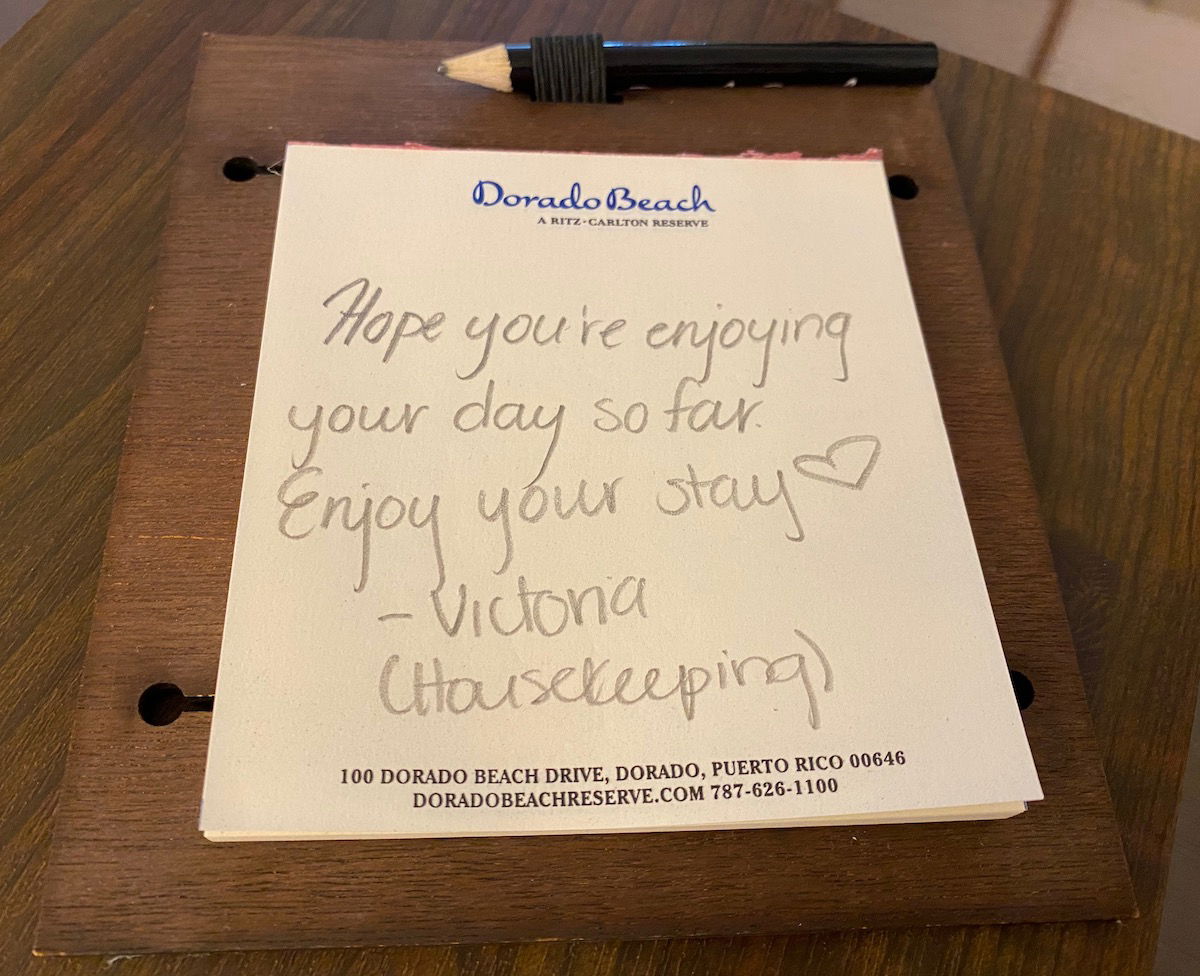 I honestly had nothing but good experiences with service here, though admittedly our stay was short.
What kind of traveler should consider Dorado Beach?
A few thoughts about the type of traveler who might want to consider the Ritz-Carlton Reserve Dorado Beach:
This place can't be beat for overworked people looking for an easy vacation with limited time off — you can fly nonstop to San Juan from all over the United States, and it's "domestic," so there's no testing requirement when you return home within the United States (this has been a huge draw for people to visit here lately)
You really couldn't come up with an easier and more comprehensive beach vacation with something for the whole family, thanks to the Dorado Beach complex — in addition to great pools and beaches, you have everything from golf courses, to an amazing athletic center, to kids clubs and water parks
This could be a great stopover point for a few days if you're traveling to Anguilla, St. Barts, etc., which are places that historically haven't been connected directly to the mainland of the United States
What's awesome is that you get such an easy vacation without sacrificing quality — the service, food, and amenities here are top notch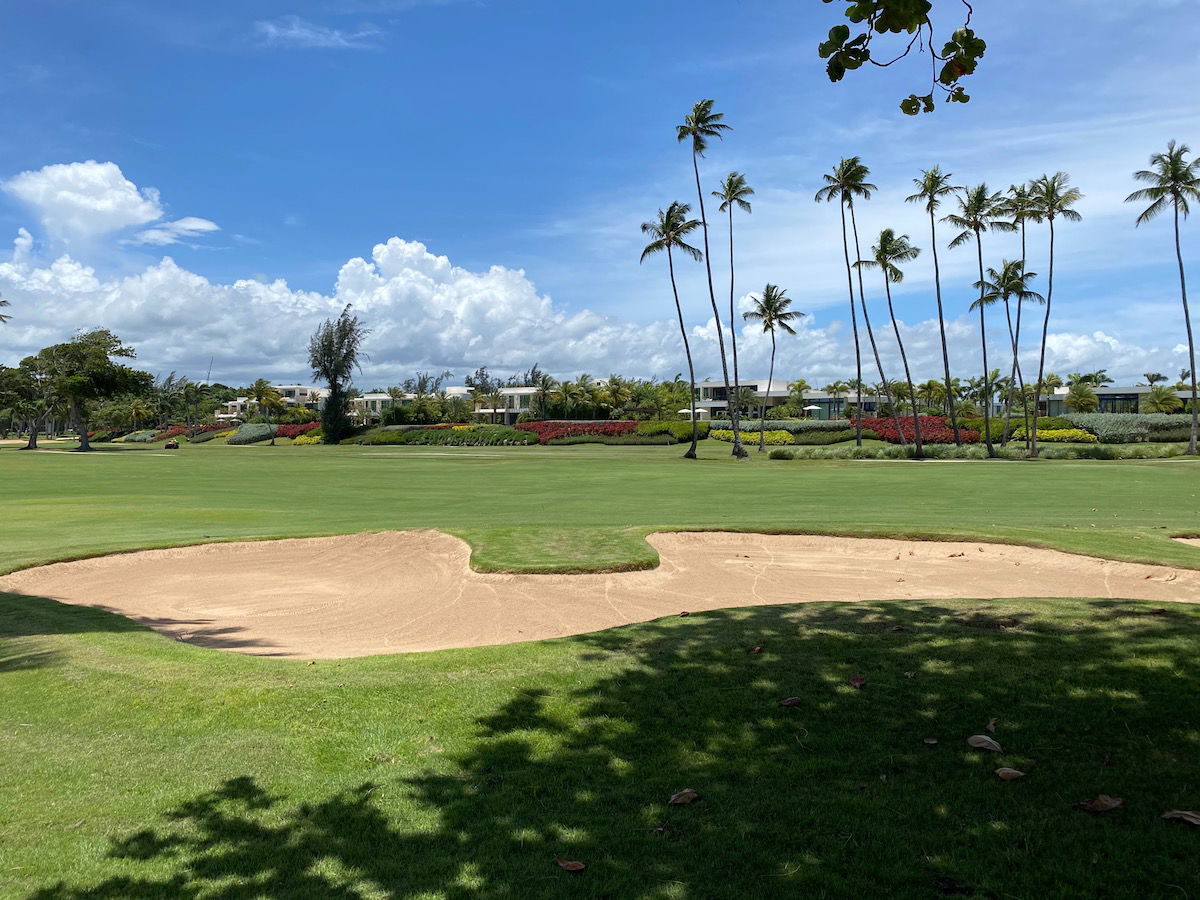 That being said, I think it's also important to state that this is a very different vibe than St. Barts or Turks & Caicos. In other words, if you're a couple on your honeymoon, or if you're a Francophile who likes St. Barts, Dorado Beach isn't going to be a replacement for that. It can certainly be a nice complement (with San Juan being a convenient stopover point to other places), but this property definitely has a different vibe.
Bottom line
The Ritz-Carlton Reserve Dorado Beach is often regarded as the best resort in Puerto Rico, and one of the best in the United States, and that's for good reason. Everything about the resort is easy and seamless, from getting there, to the endless amenities of Dorado Beach, to the great service, to the beautiful beaches and pools, to the excellent dining outlets.
This is a resort that has something for everyone, from a breathtaking spa, to four golf courses, to a water park for kids.
If you've visited Dorado Beach, what was your experience like?