After flying from Kona to Chicago in United's Boeing 787-9 business class, it was time to connect from Chicago to Boston in United's Boeing 737 MAX 9 first class. I was curious to experience this product, as I hadn't yet flown a United 737 MAX.
Now, unfortunately only United's 737 MAX 8 aircraft feature the carrier's new "modernized" cabins that will eventually be retrofitted on most planes. However, even the 737 MAX 9 featured a pretty nice cabin, at least in comparison to American's Boeing 737 MAXs.
How I booked our United Airlines first class tickets
As I explained in the previous installment, I booked the following for ~$1,200 one-way per person in first class:
03/12 UA67 Kona to Chicago departing 5:55PM arriving 6:00AM (+1 day)
03/13 UA2129 Chicago to Boston departing 7:15AM arriving 10:30AM
While not cheap, this was the most comfortable and direct way to travel between Kona and Boston, which is what we needed.
United Club Chicago O'Hare
We had a 75 minute layover at Chicago O'Hare, with our flight from Kona arriving in the C Concourse, and our flight to Boston departing from the B Concourse. We took the good old tunnel between the two concourses — I'm happy to see that "Rhapsody in Blue" is still playing here.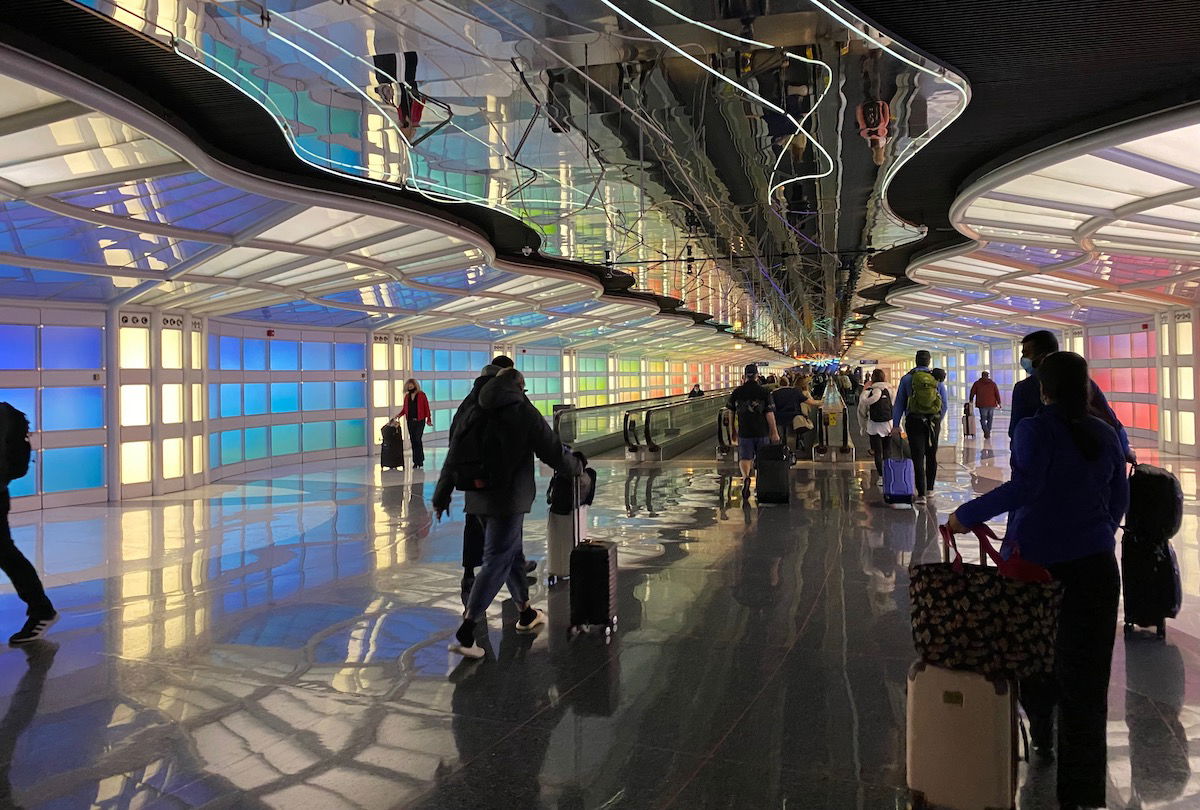 Since we had about 30 minutes to spare, we headed to the United Club located by gate B6, near our departure gate. I have Star Alliance Gold status through a recent Singapore Airlines KrisFlyer promotion, which grants United Club access even on domestic itineraries.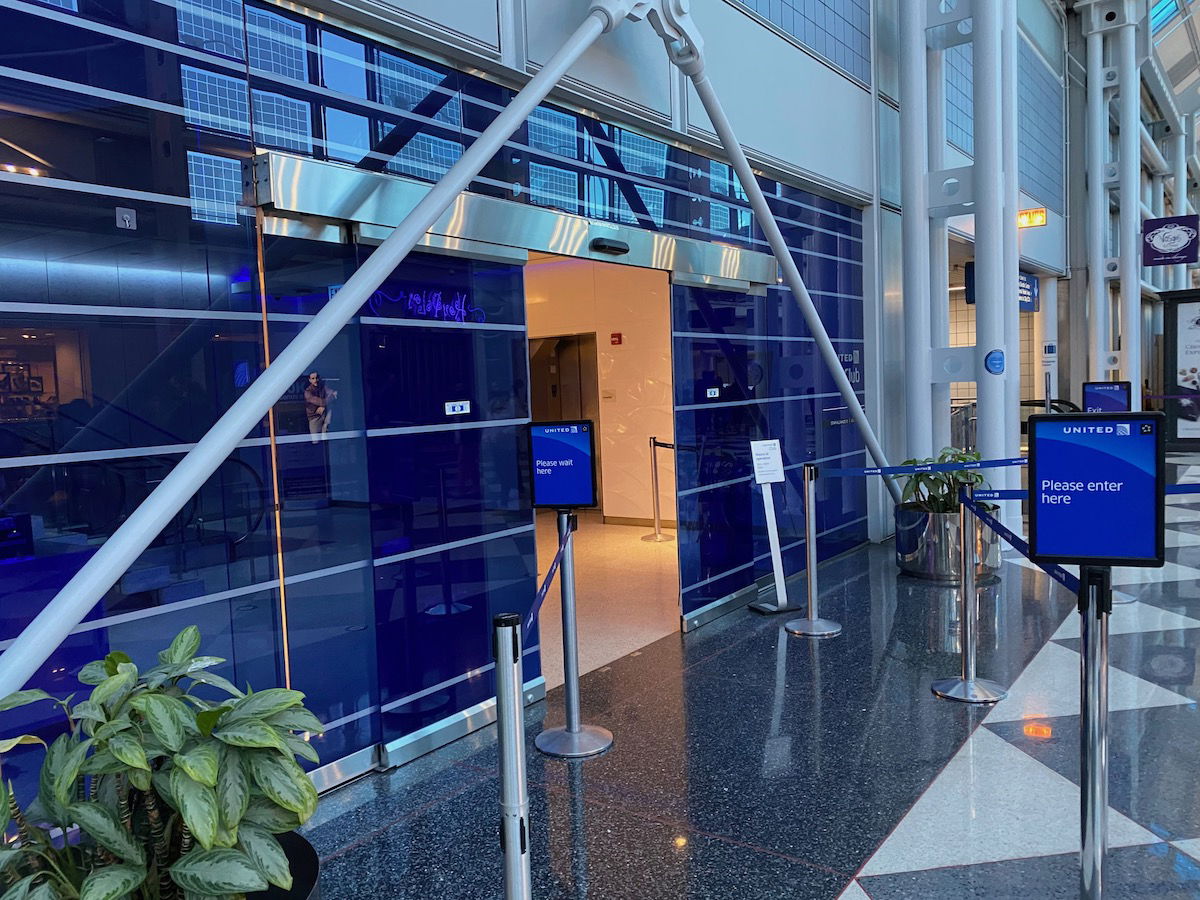 While I won't be doing a full review of the United Club, I was reasonably impressed — the lounge was pretty quiet and modern.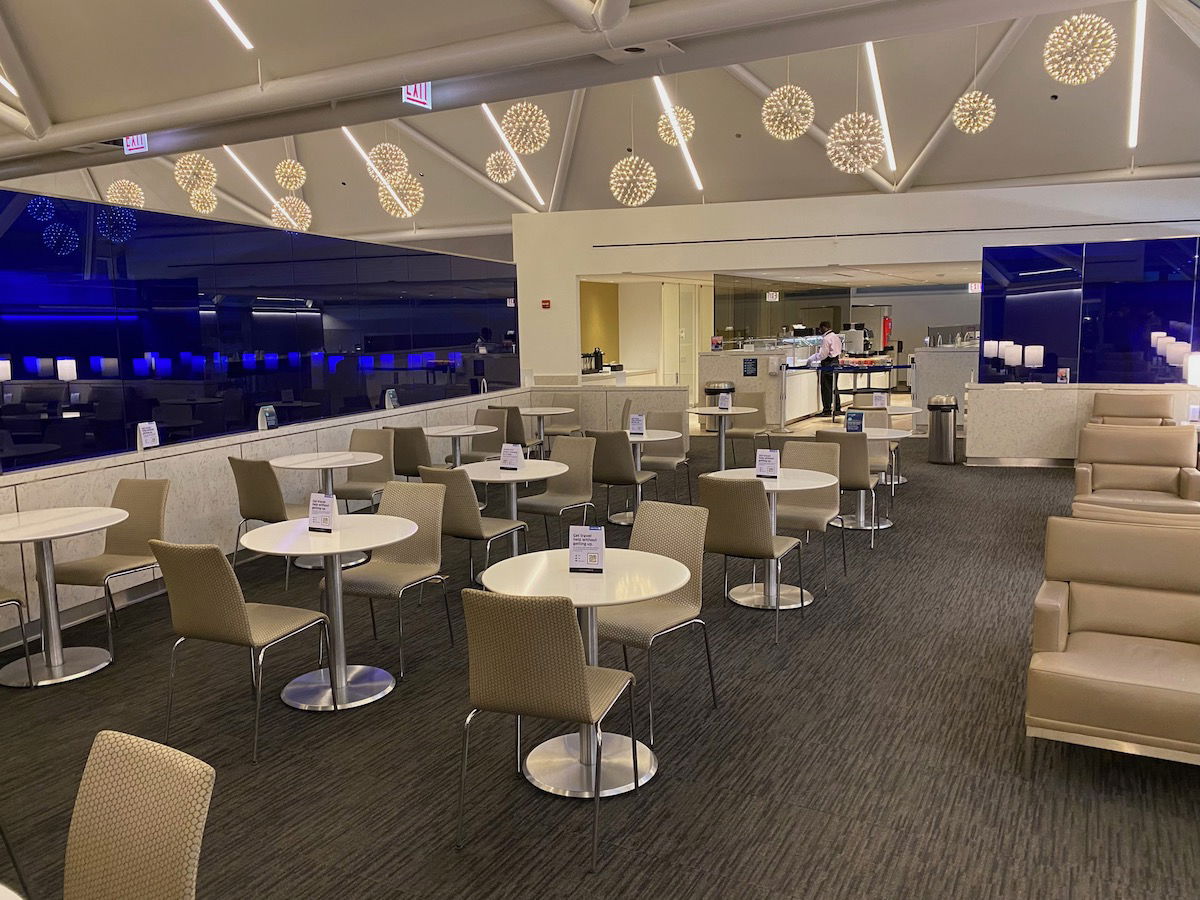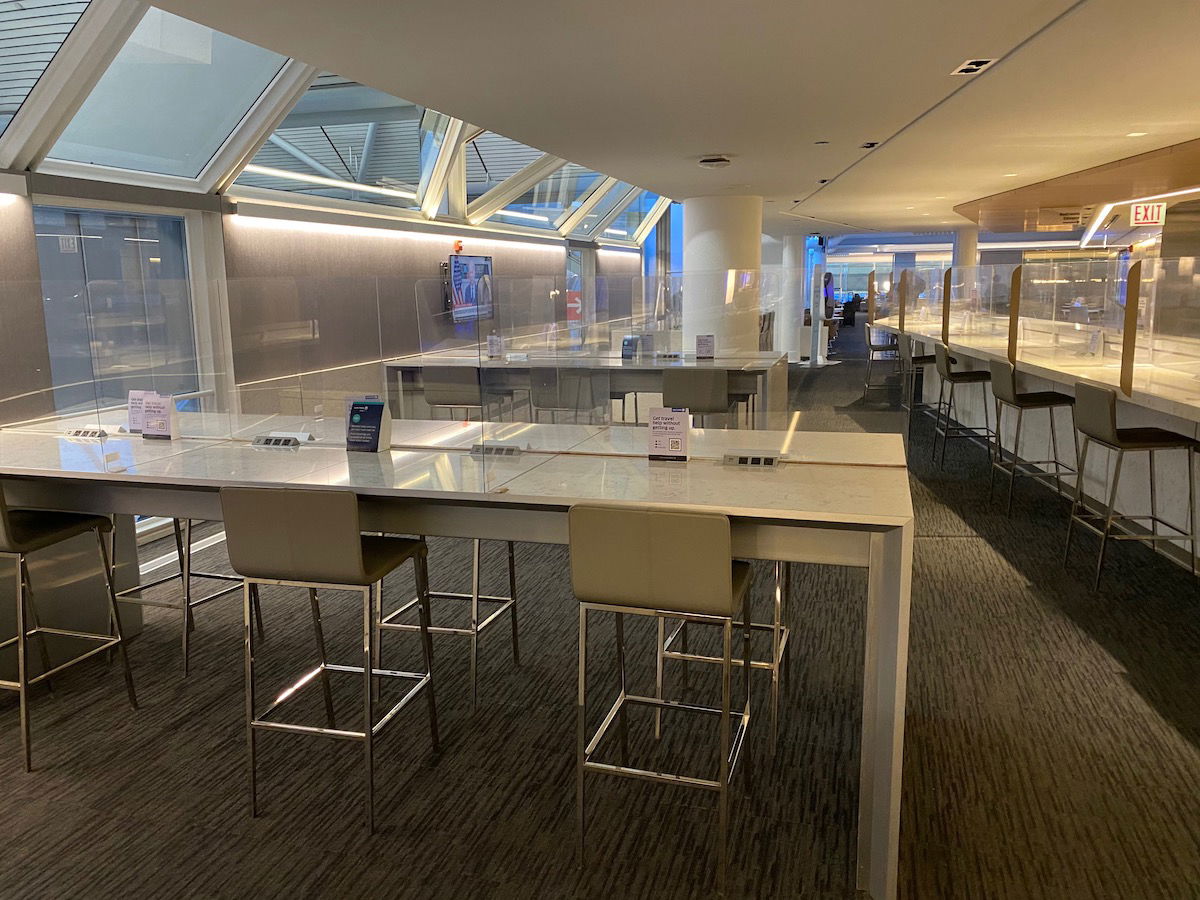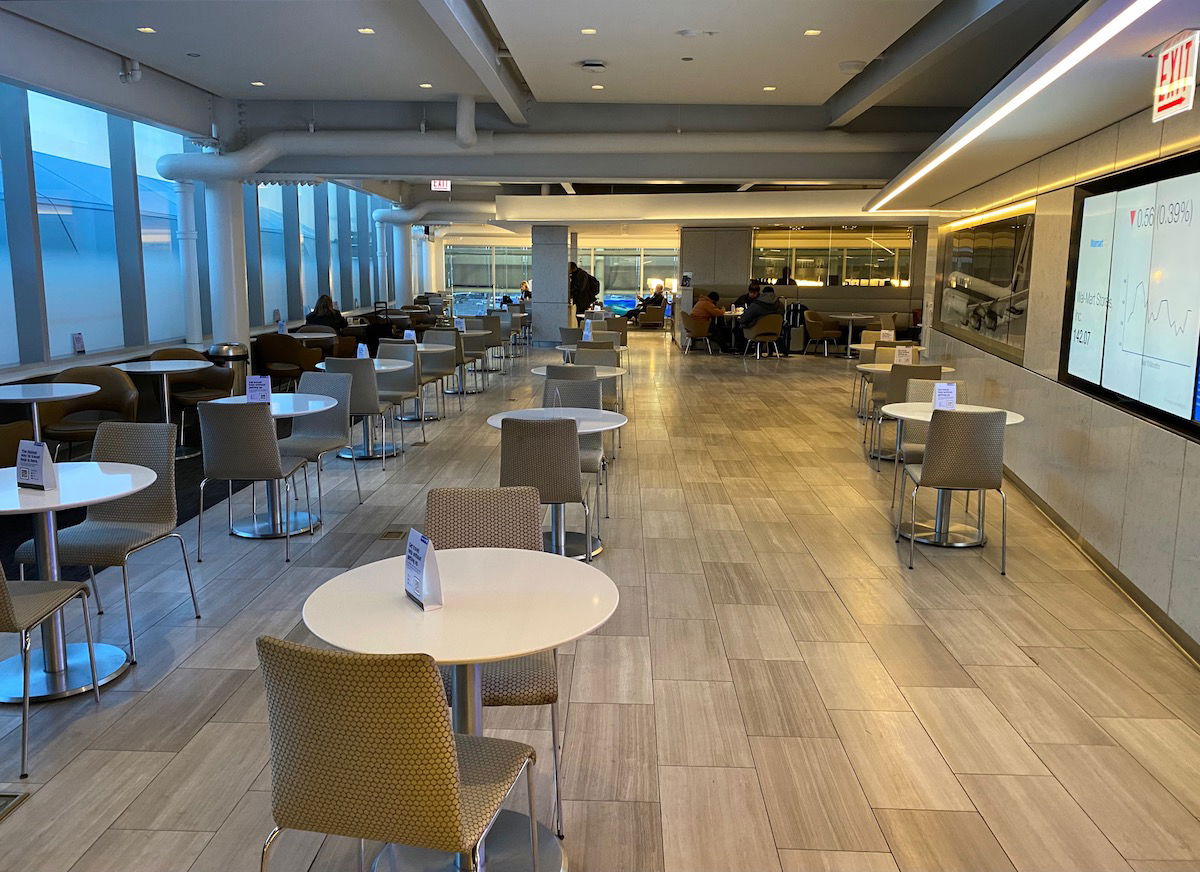 The food selection was limited, but what was available was pretty decent (for example, I liked that they had yogurt, fruit, and granola).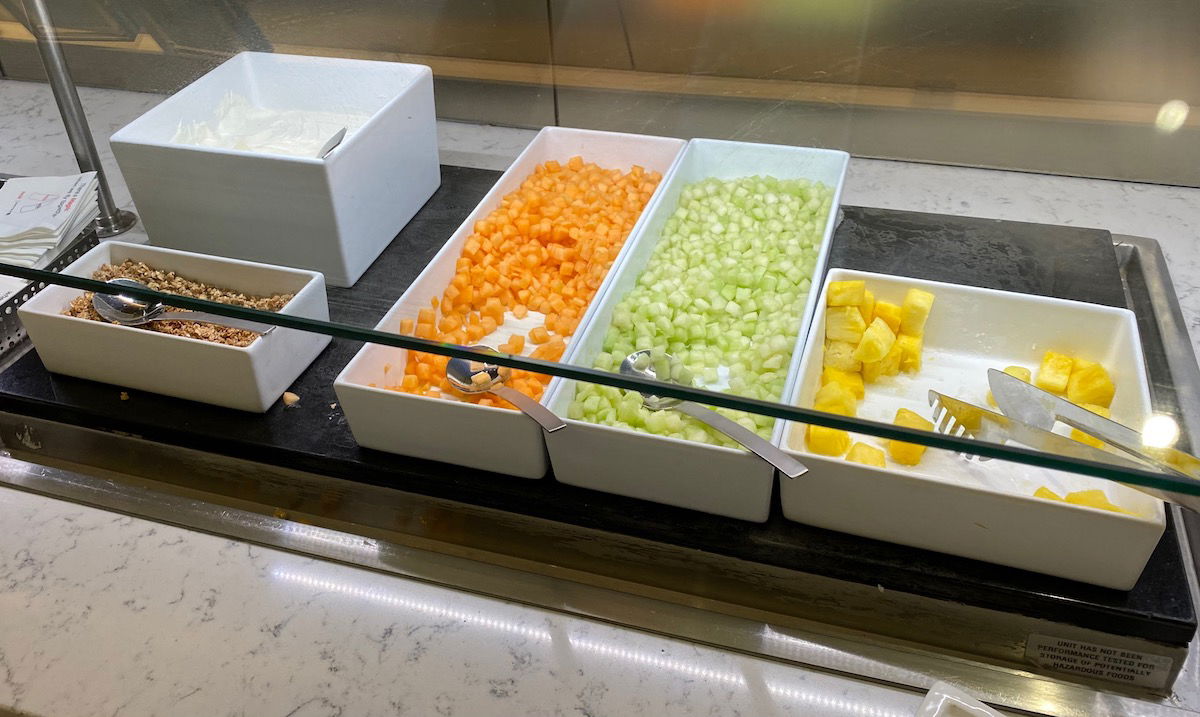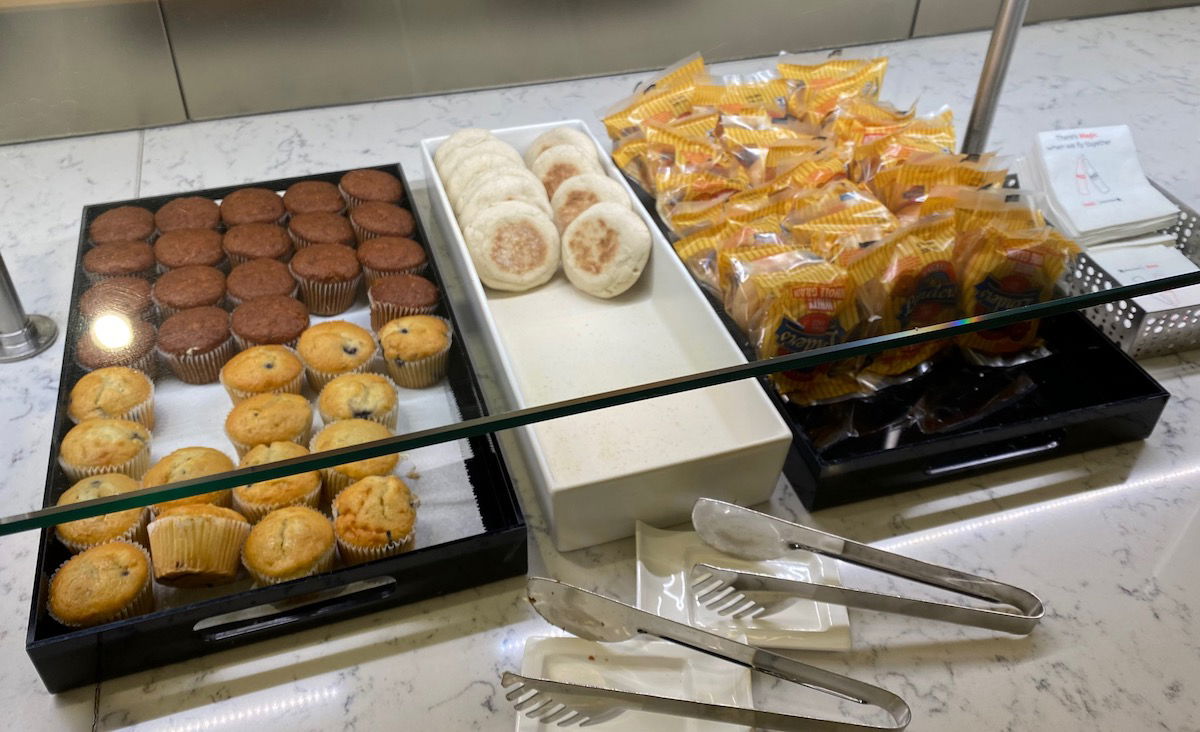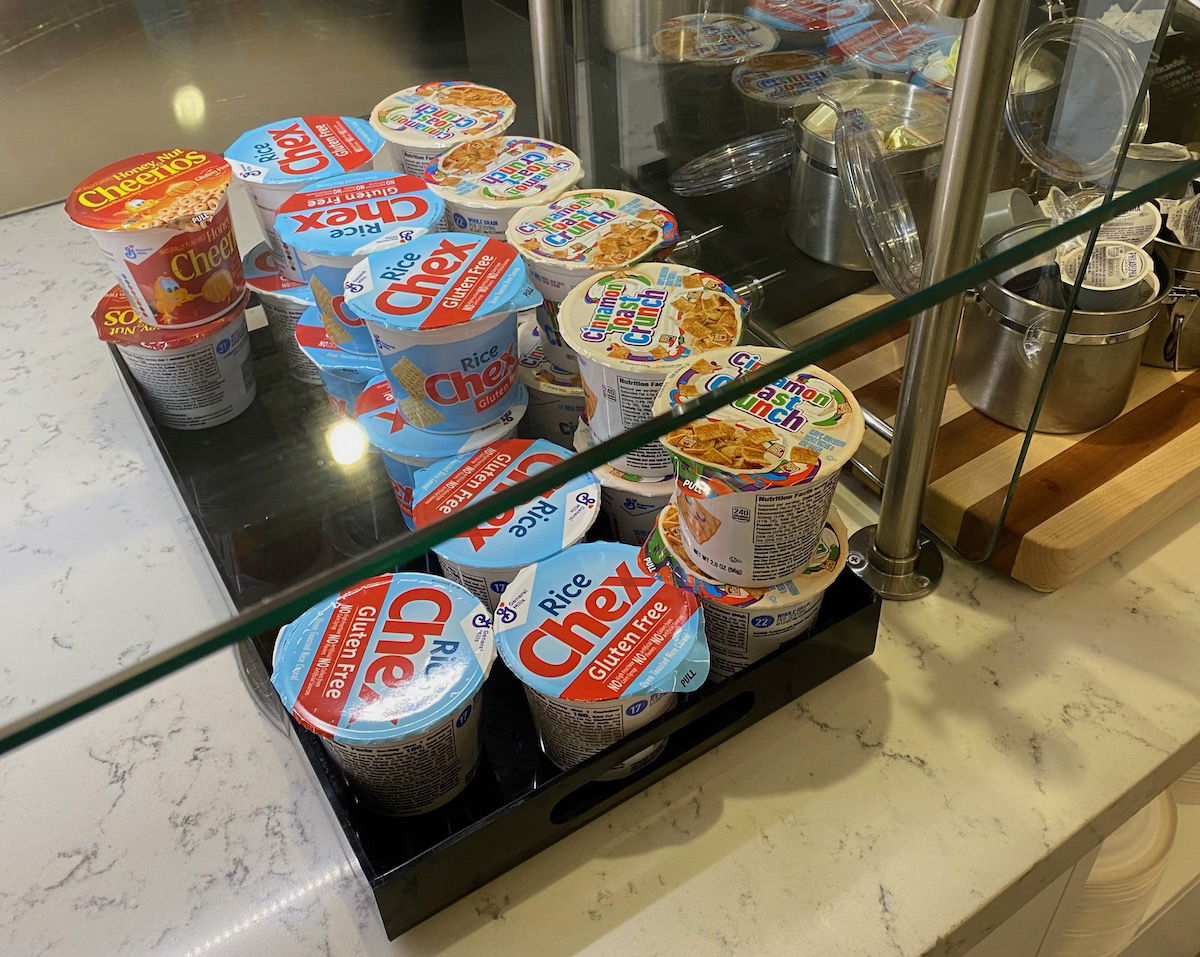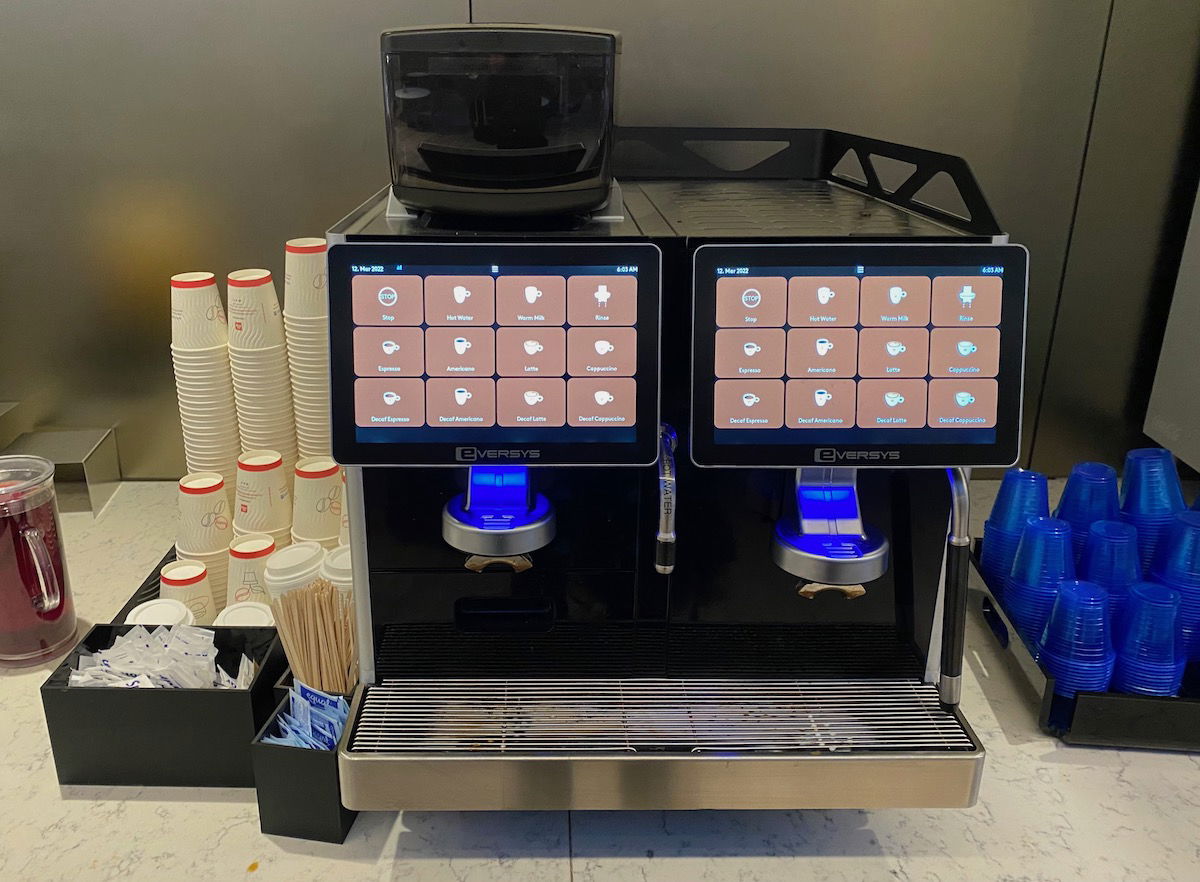 Soon enough it was time to head to our departure gate…
United Airlines first class boarding Chicago O'Hare
Our flight was departing from gate B7, and was scheduled to board at 6:35AM, 40 minutes before departure. The gate agent was friendly and very detailed over the PA, and started boarding right on time. As far as premium passengers go, Global Services members were invited to board first, followed by Premier 1K members (there were six of them, per the PA, and sadly they were all in economy… ouch).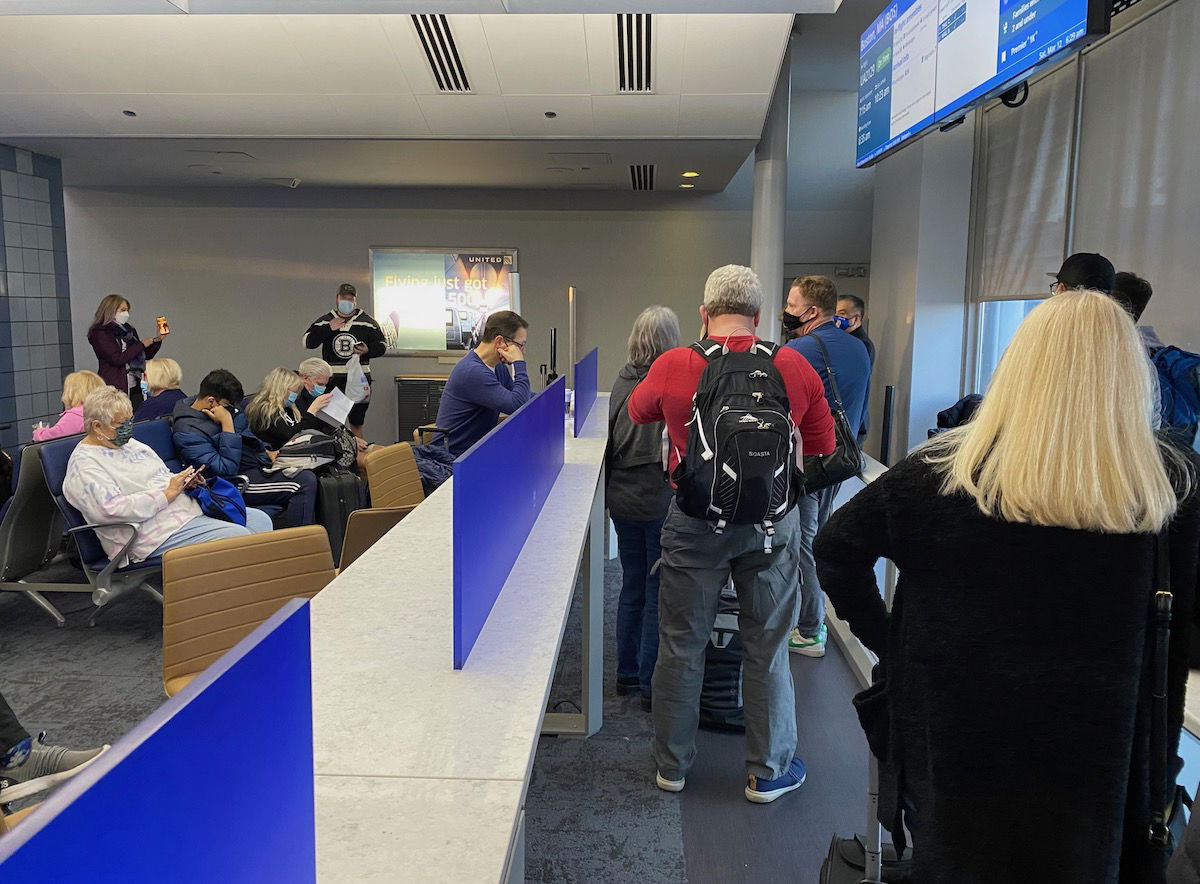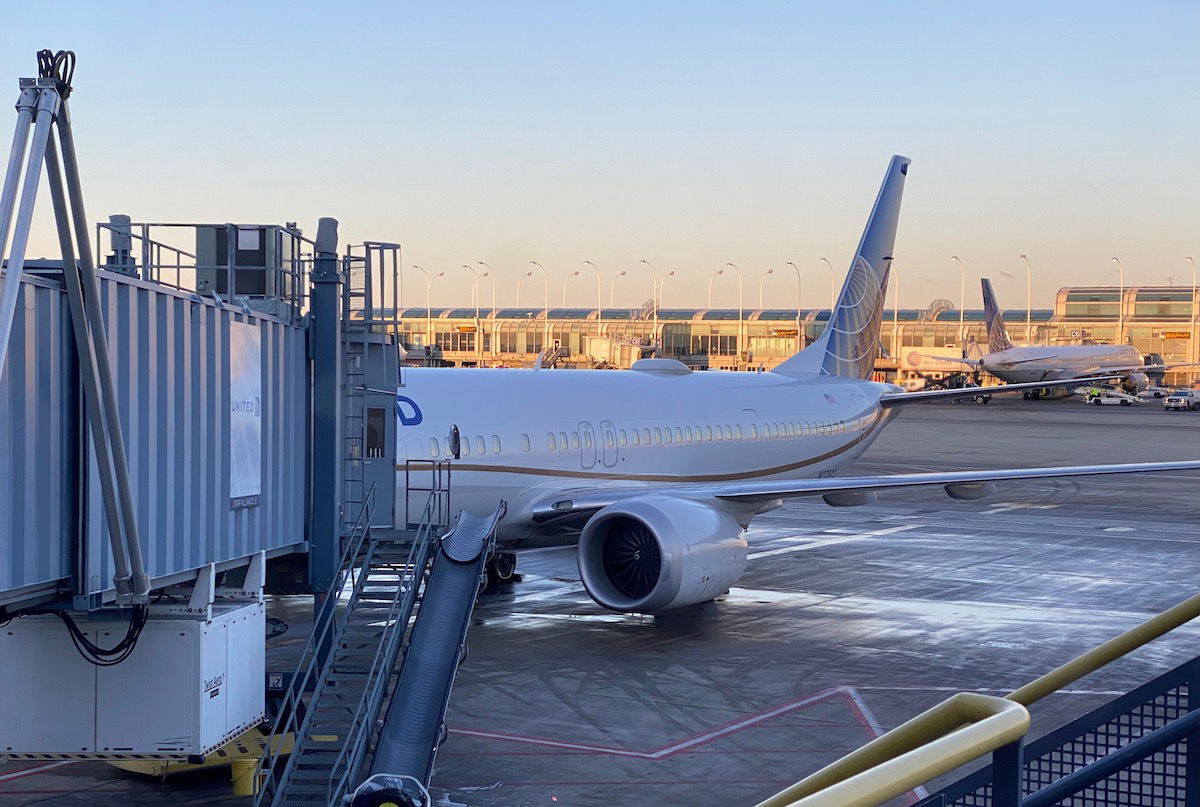 United Airlines Boeing 737 MAX 9 first class cabin & seats
United's Boeing 737 MAX 9s are simultaneously pretty bare banes, and also kind of elegant, at least compared to American's 737 MAXs. United has 20 first class seats on the 737 MAX 9, spread out over five rows in a 2-2 configuration.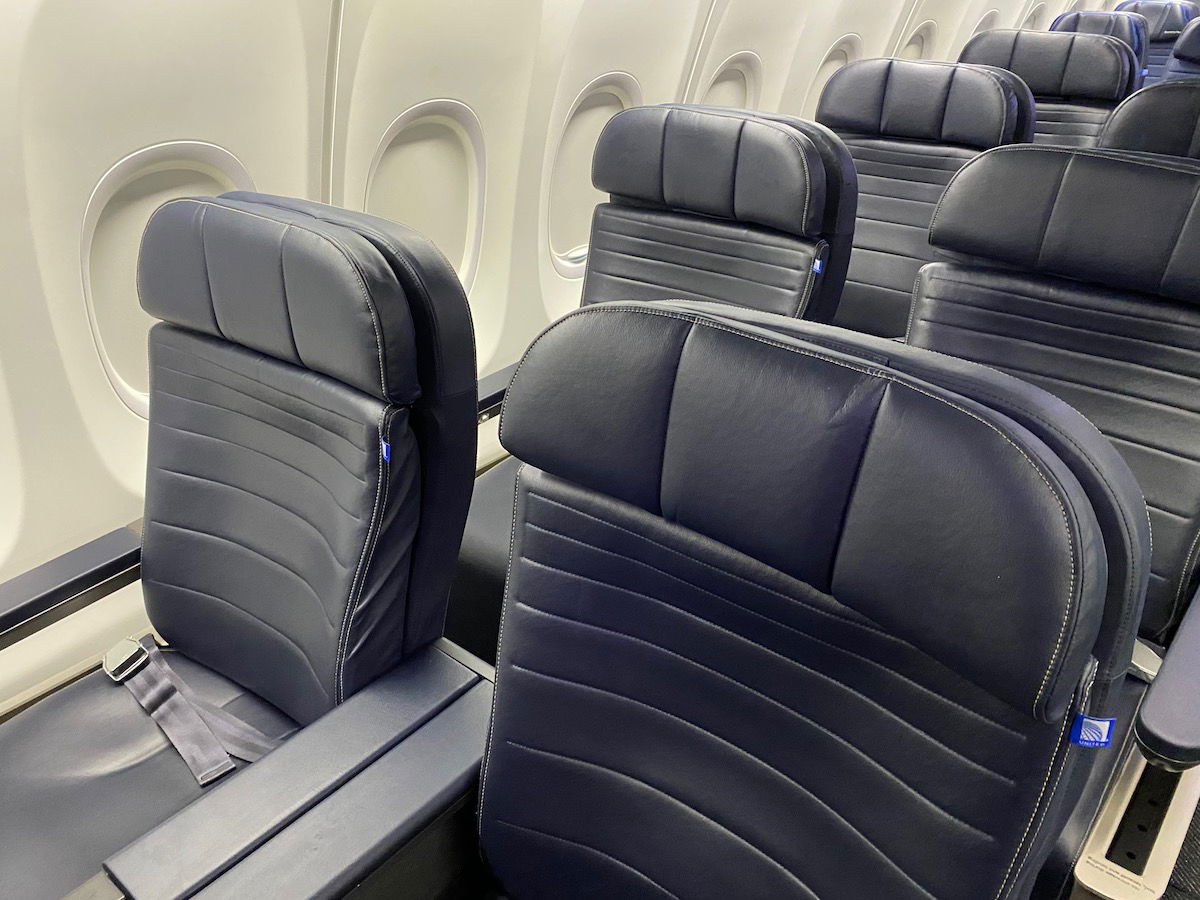 Legroom was pretty solid, as seats allegedly have 38″ of pitch, which is slightly above average for domestic first class nowadays. I know I'm really grasping at straws here, but I do appreciate the cabin finishes, from the difference in color between the seats and the seatbacks, and even the trays having a different texture. They're just a bit more exciting than American's interiors.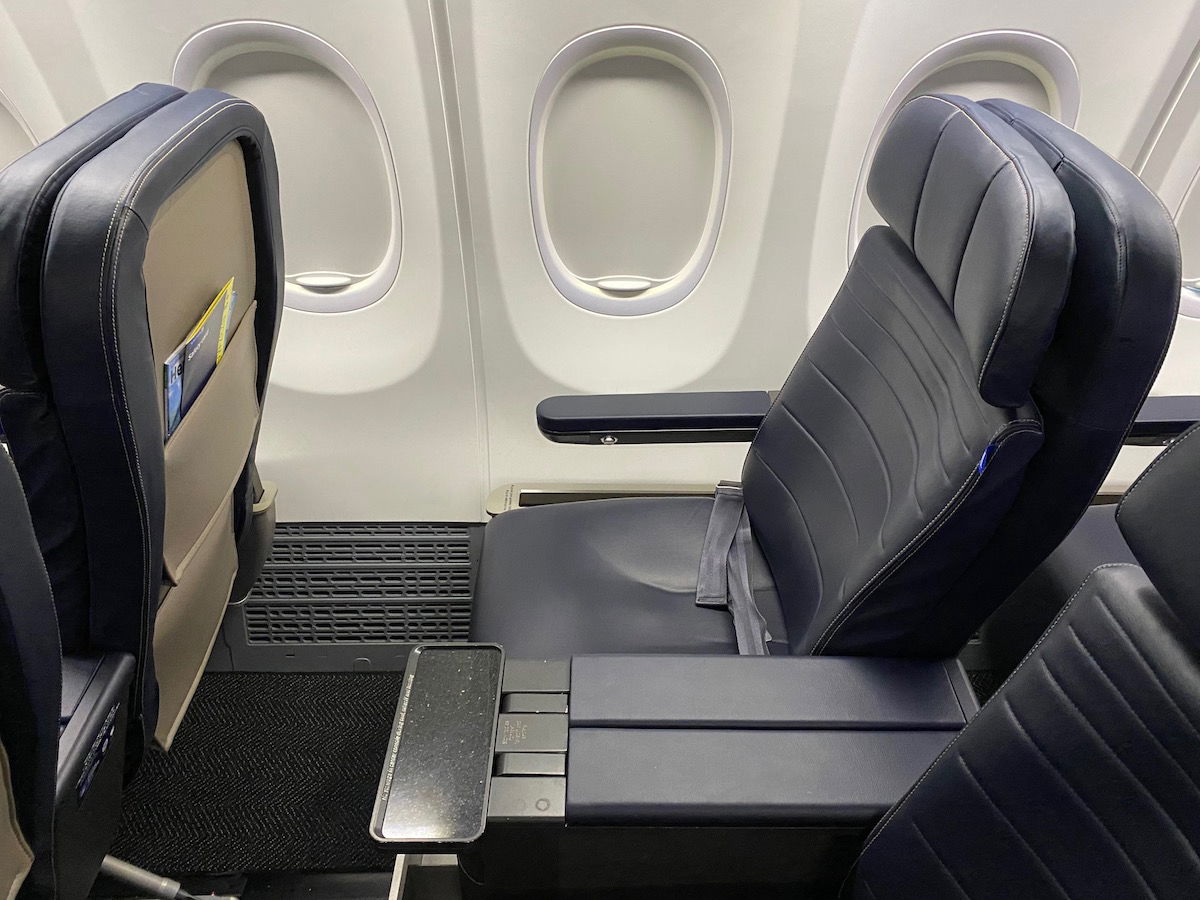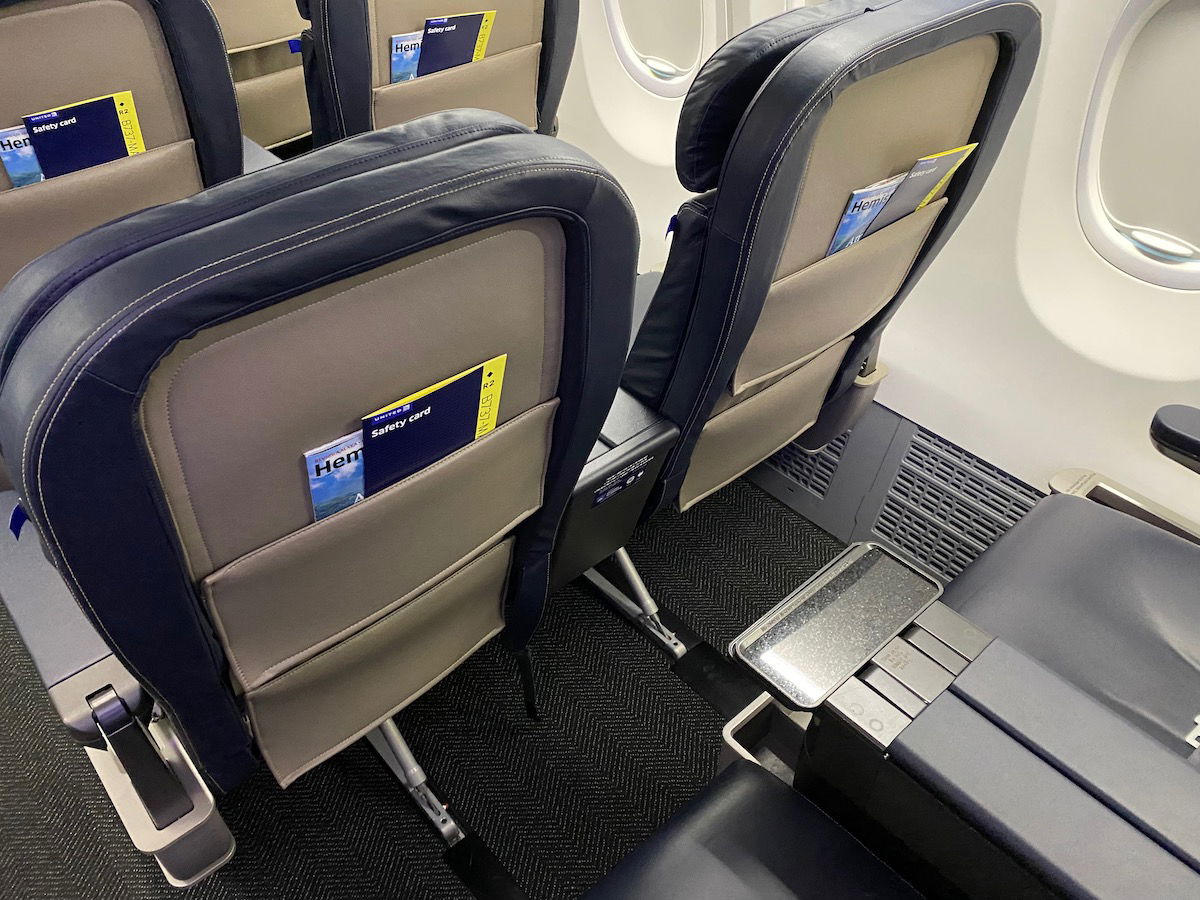 United's 737 MAX 9s don't have personal televisions, but they do have two large seatback pockets in first class.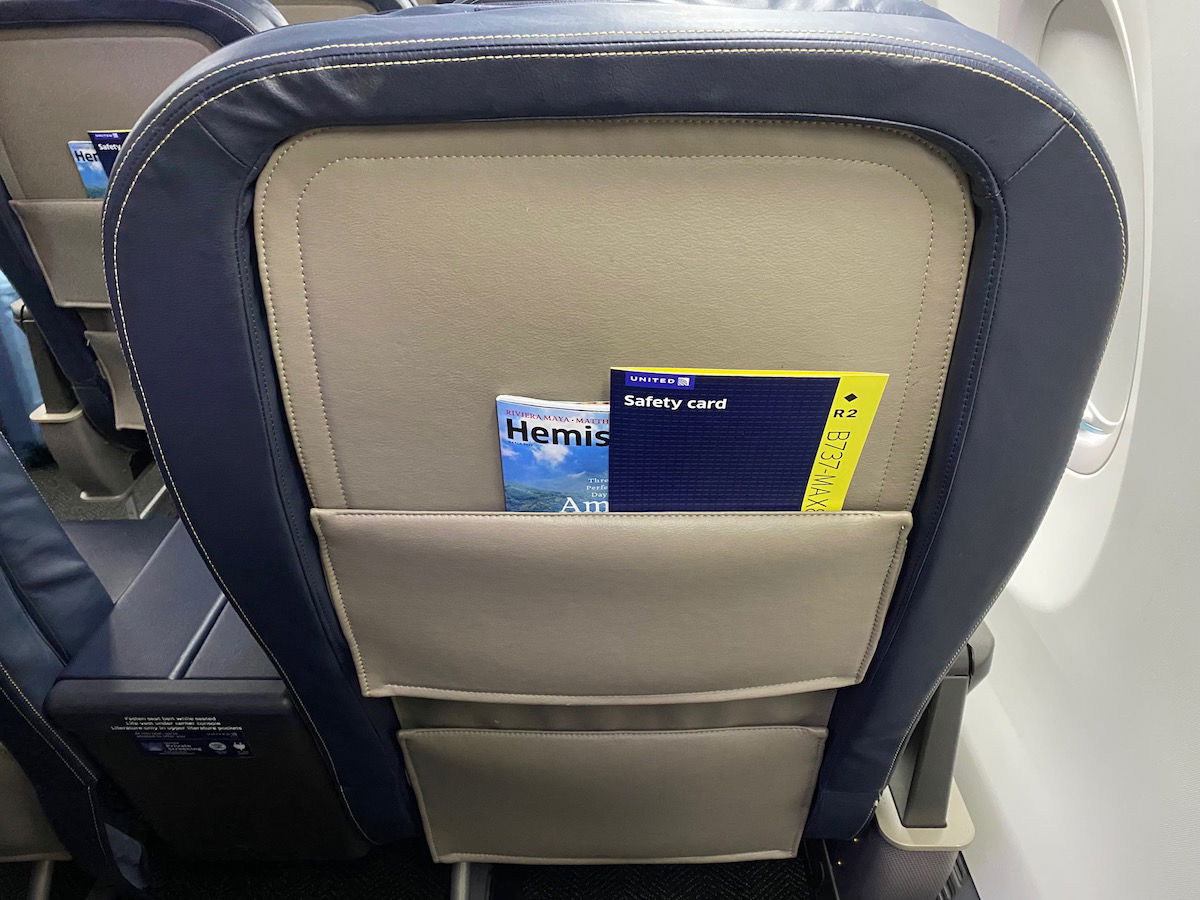 There was a Hemispheres magazine in the seatback pocket. Nowadays inflight magazines are pretty rare, so I suppose that's some form of entertainment.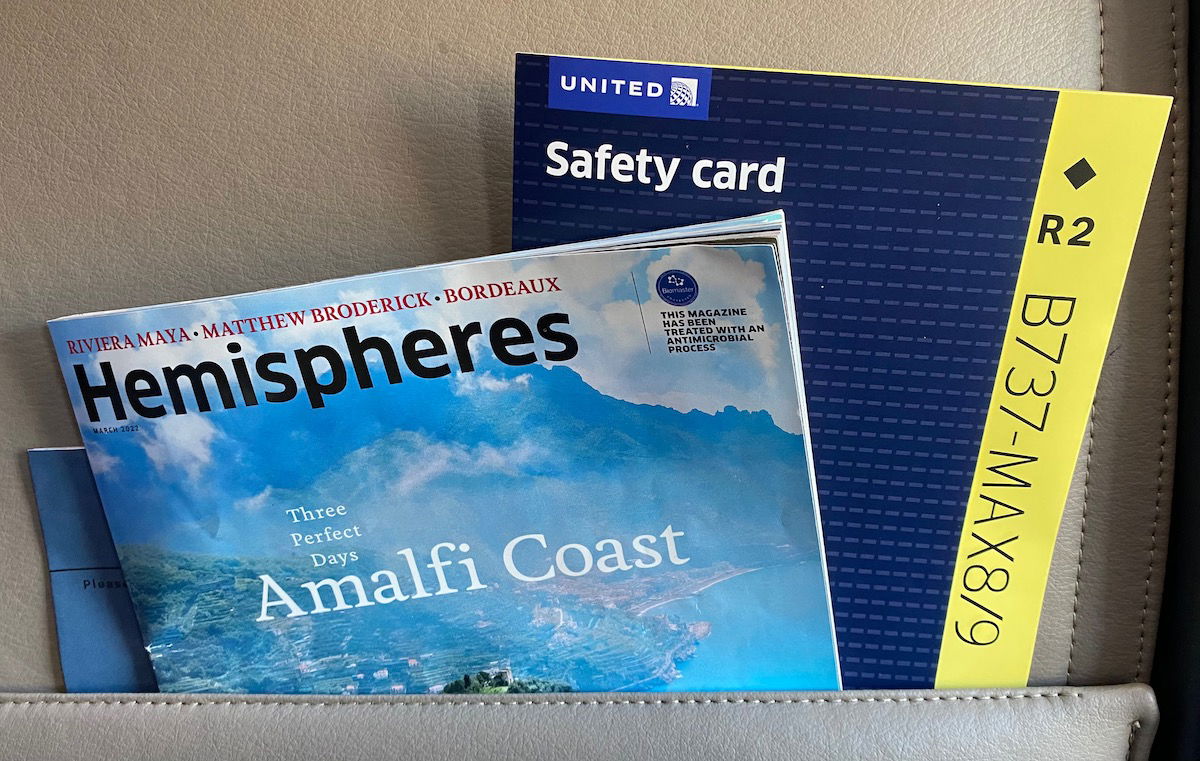 To the side of the seat was a storage compartment, where you could place a laptop or book during the flight.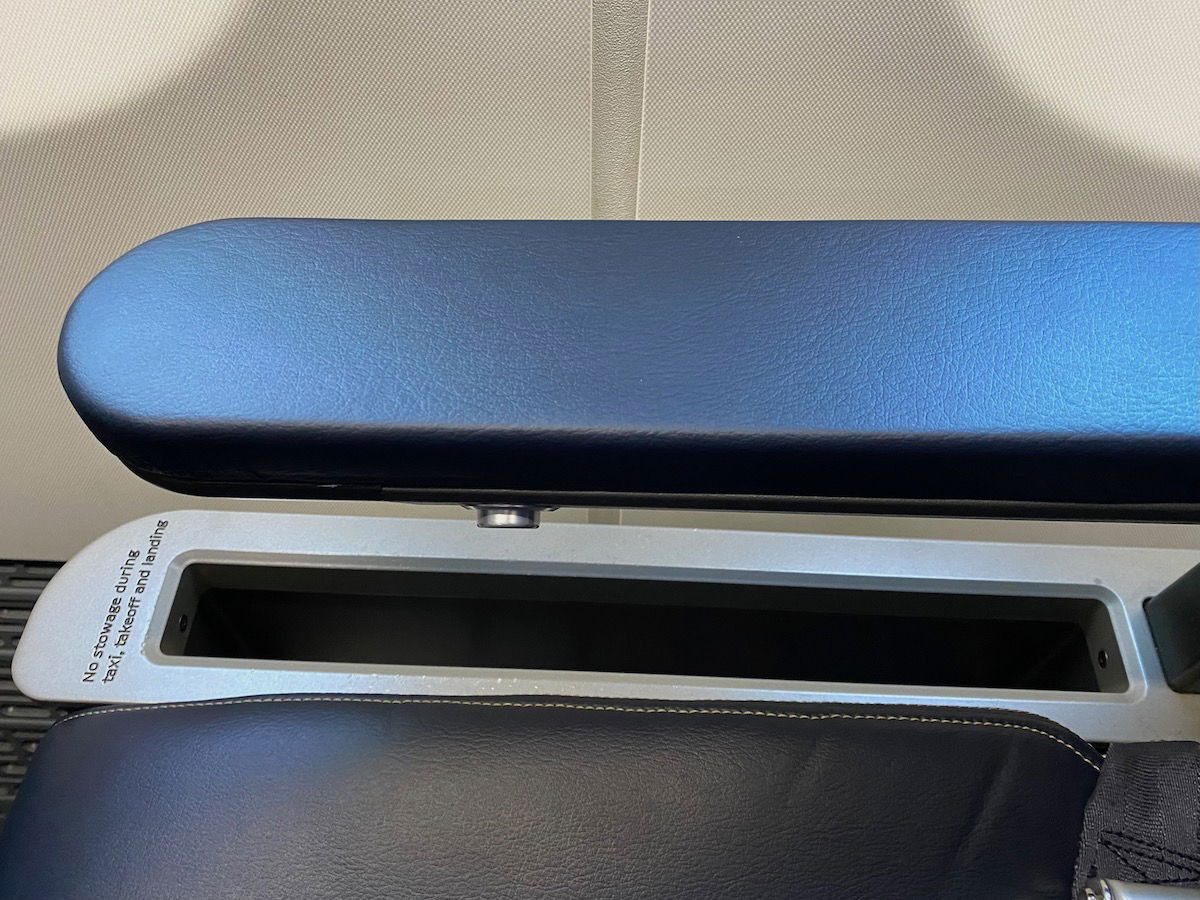 The tray table folded out from the center armrest, and it had a little device holder that folded up, so it could be used for personal entertainment.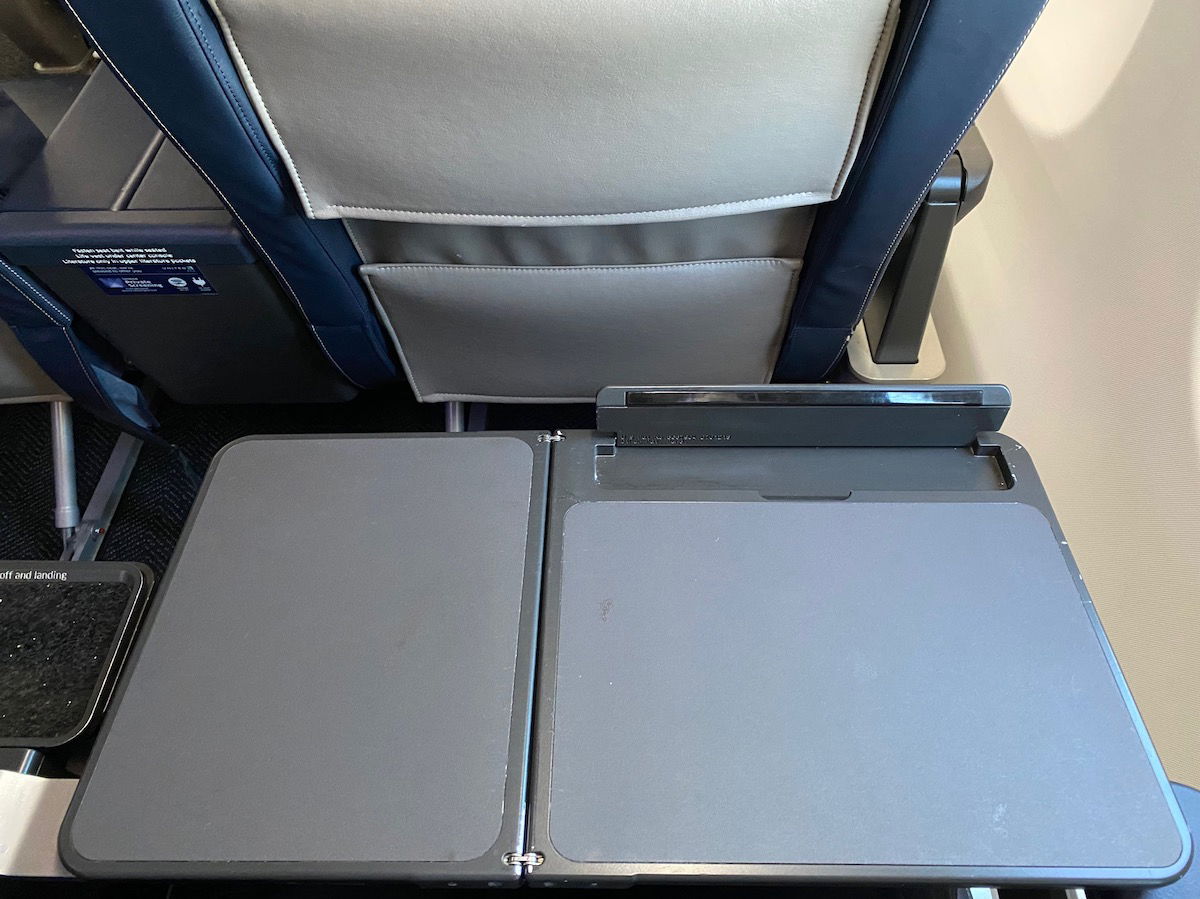 In the center section was a small exposed storage compartment, and this is also where the AC power outlets were located. Interestingly there were no USB outlets (which doesn't bother me personally, but I know it's something others care about).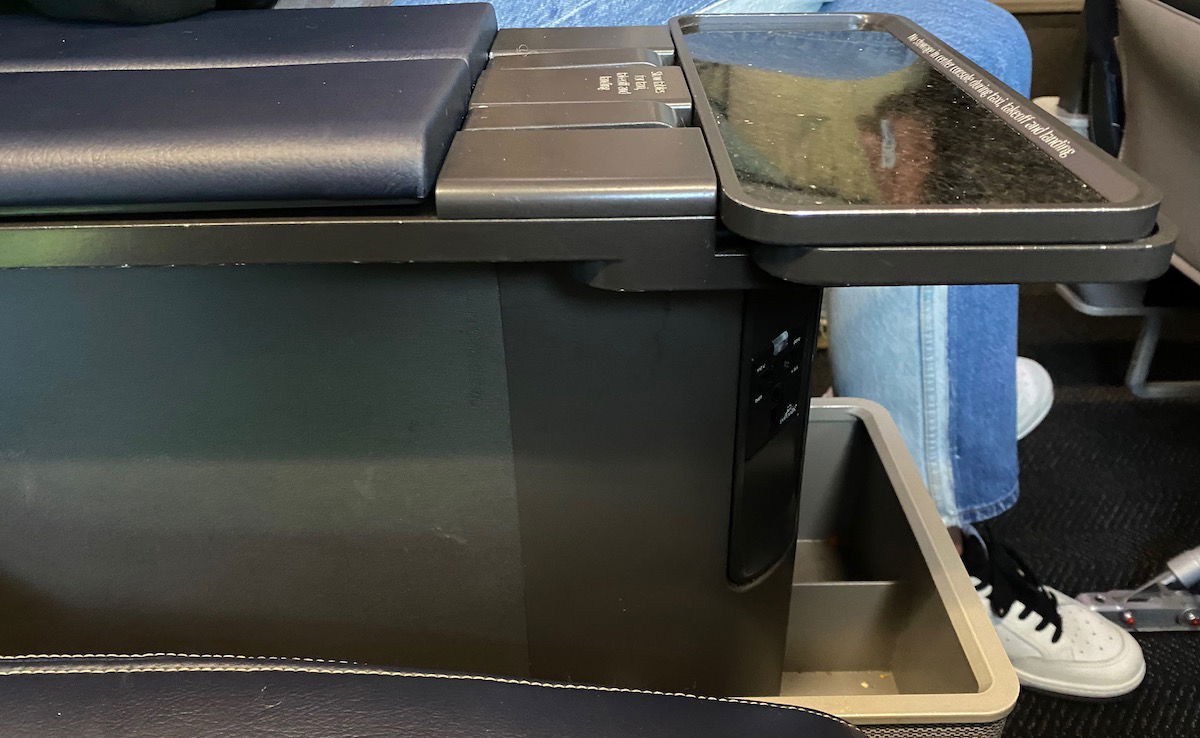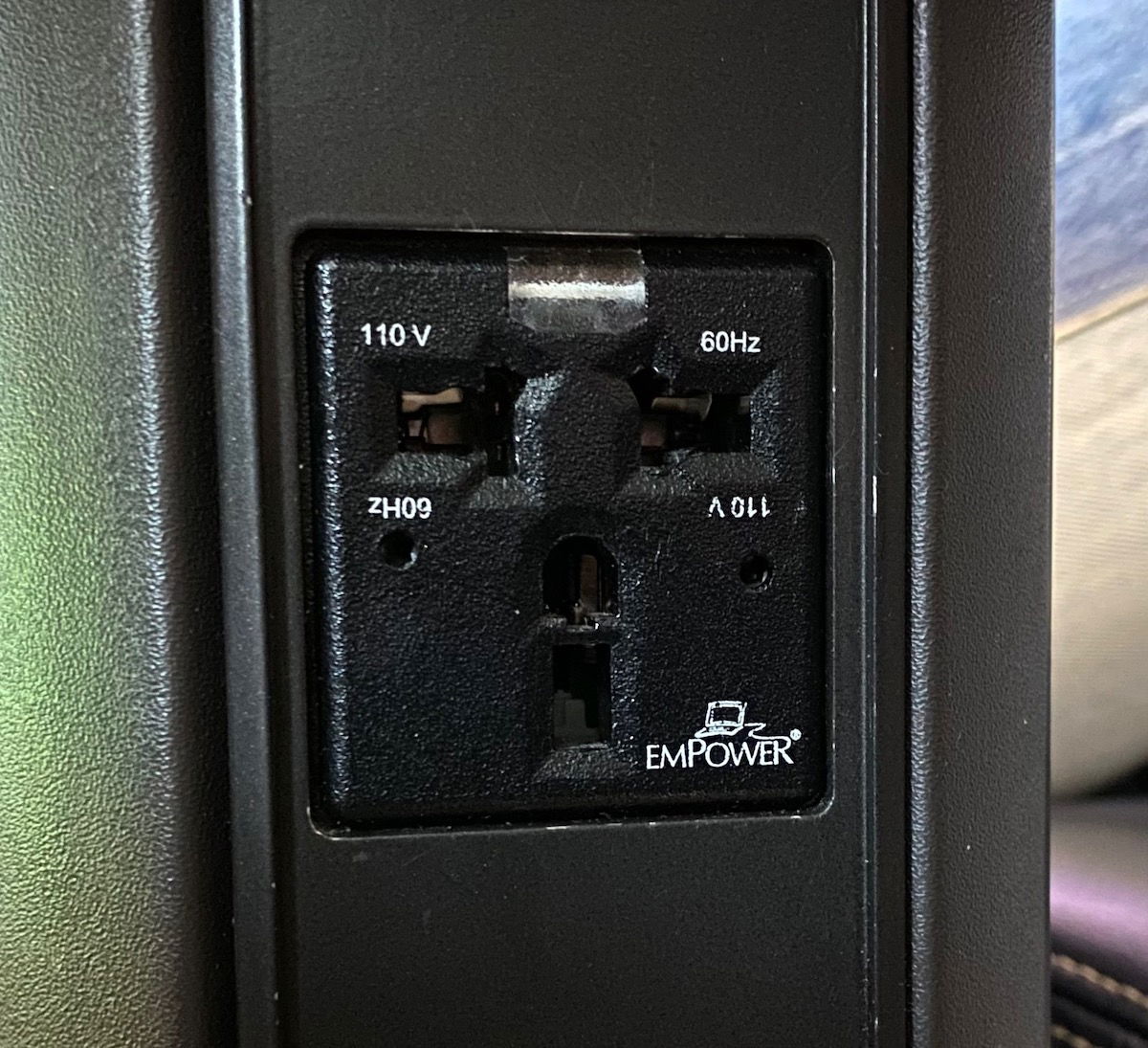 Then there was a center tray where you could place drinks.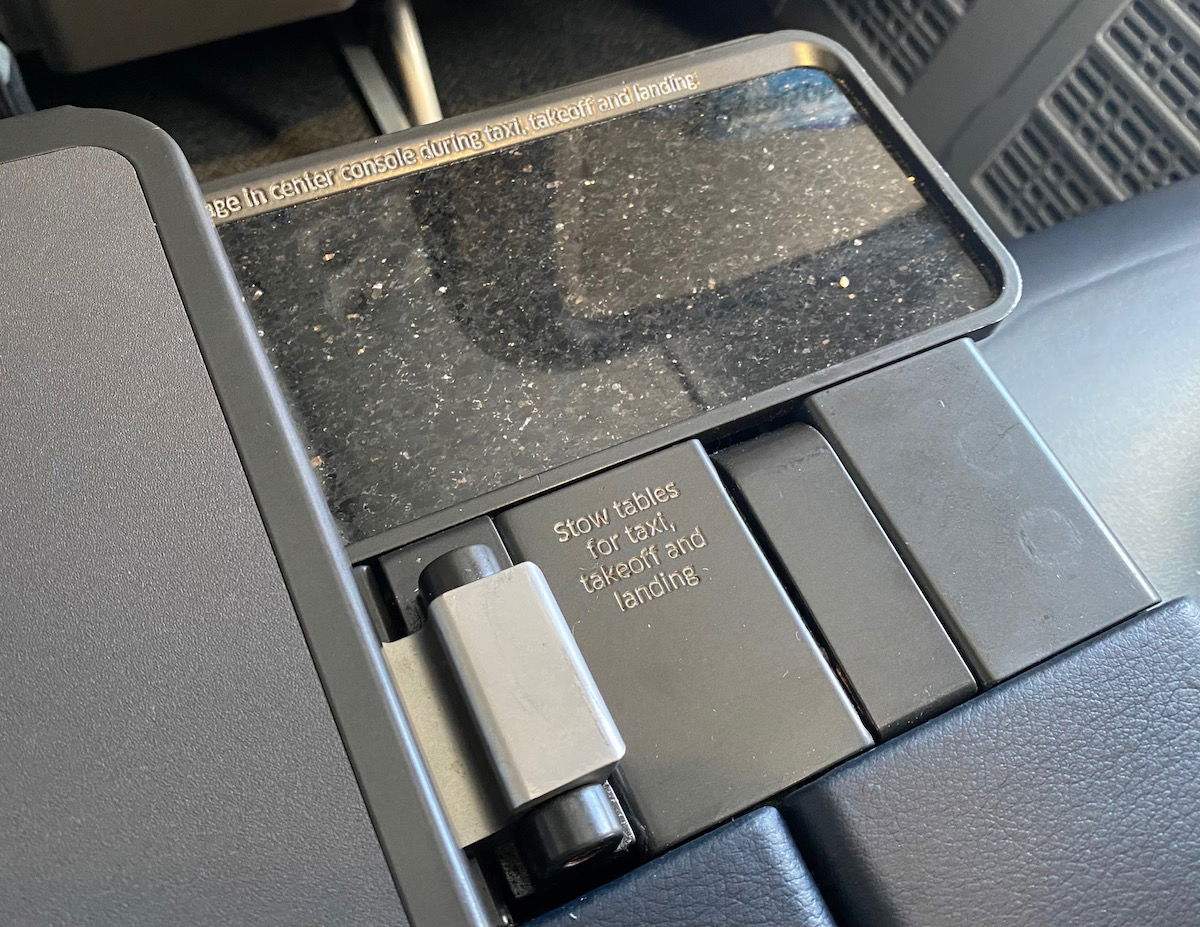 The overhead consoles were modern, as you'd expect, with big overhead bins, individual air nozzles, and reading lights.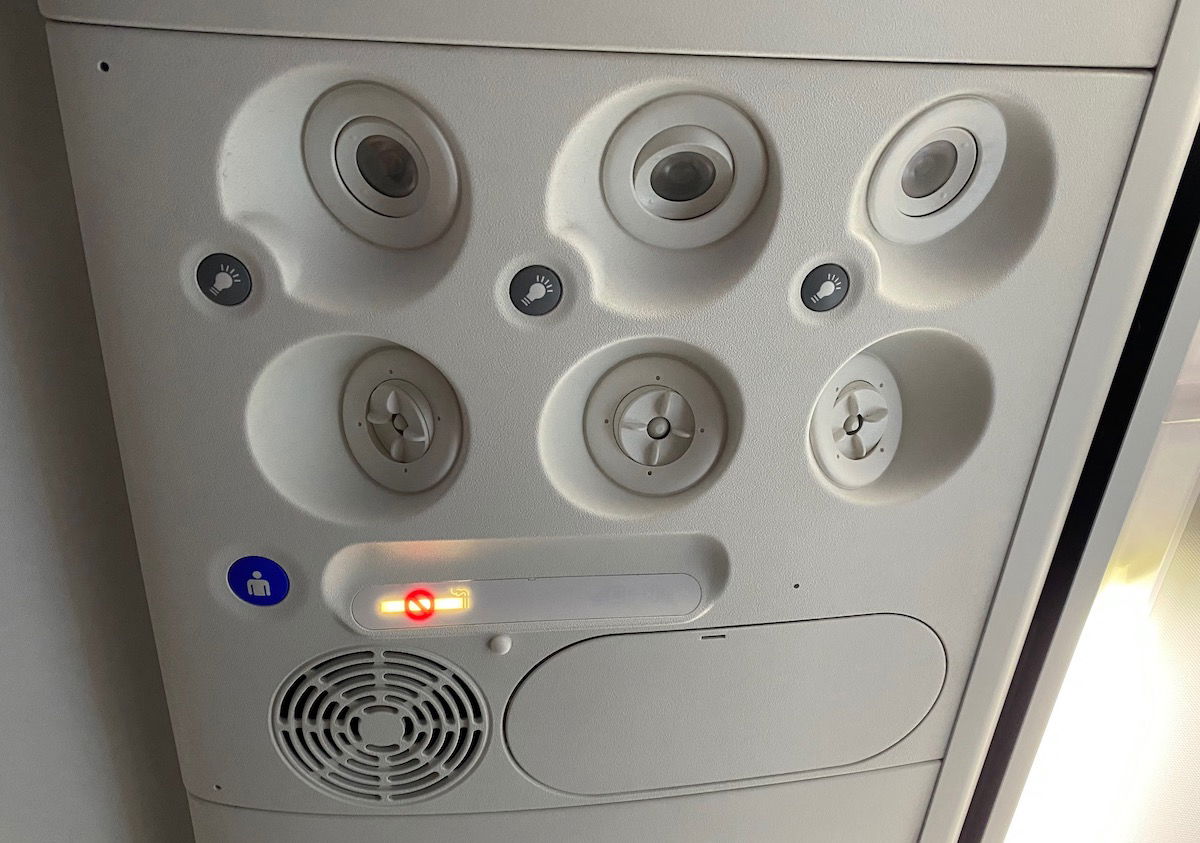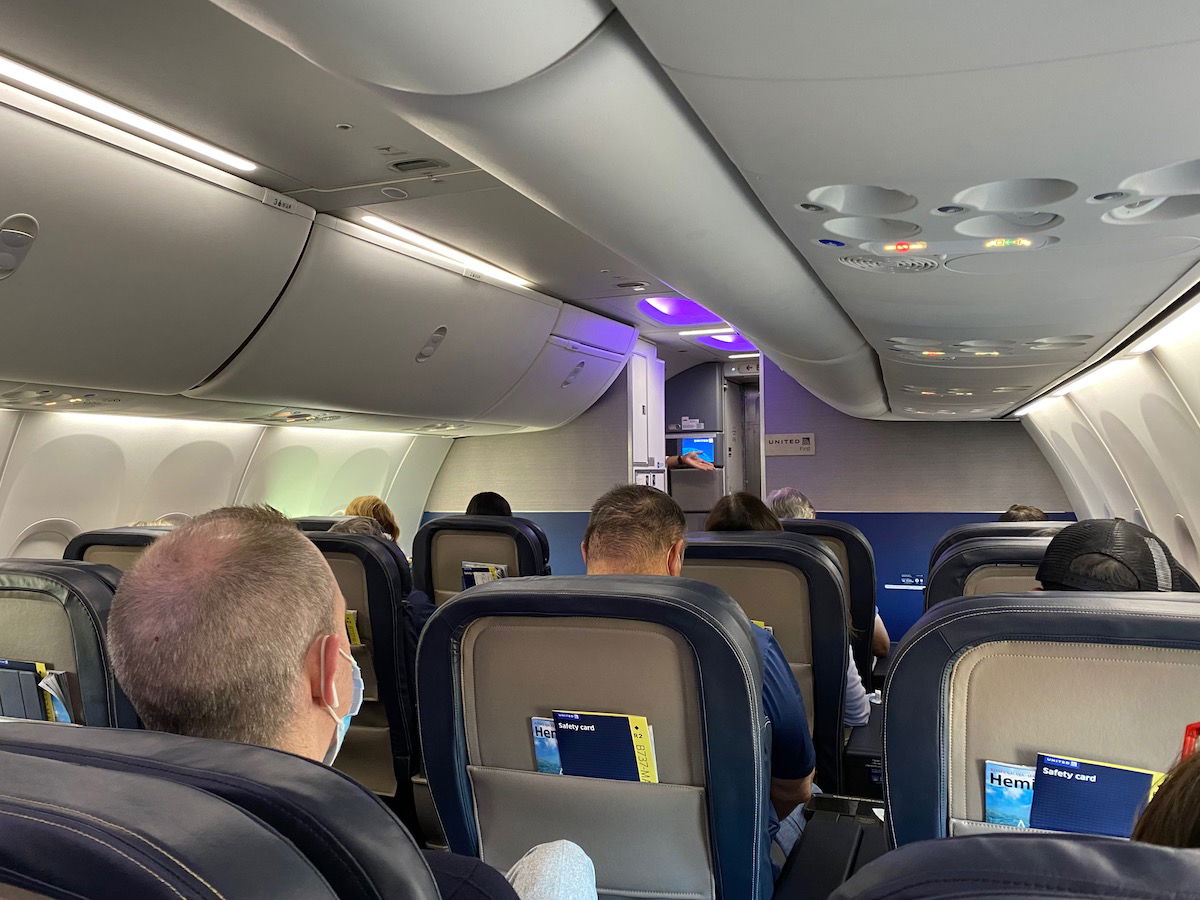 Since we were seated in the last row of first class, I also peeked into the economy cabin, which looked fine.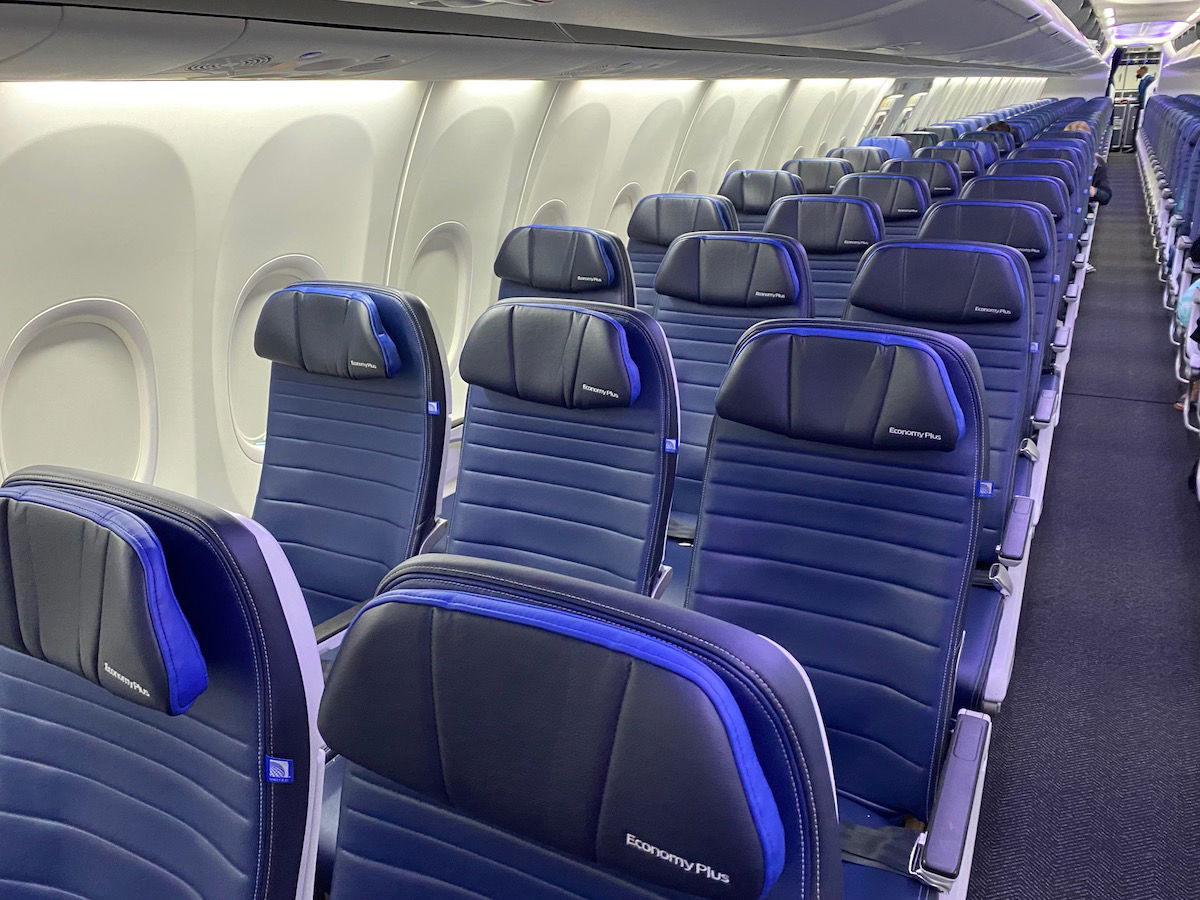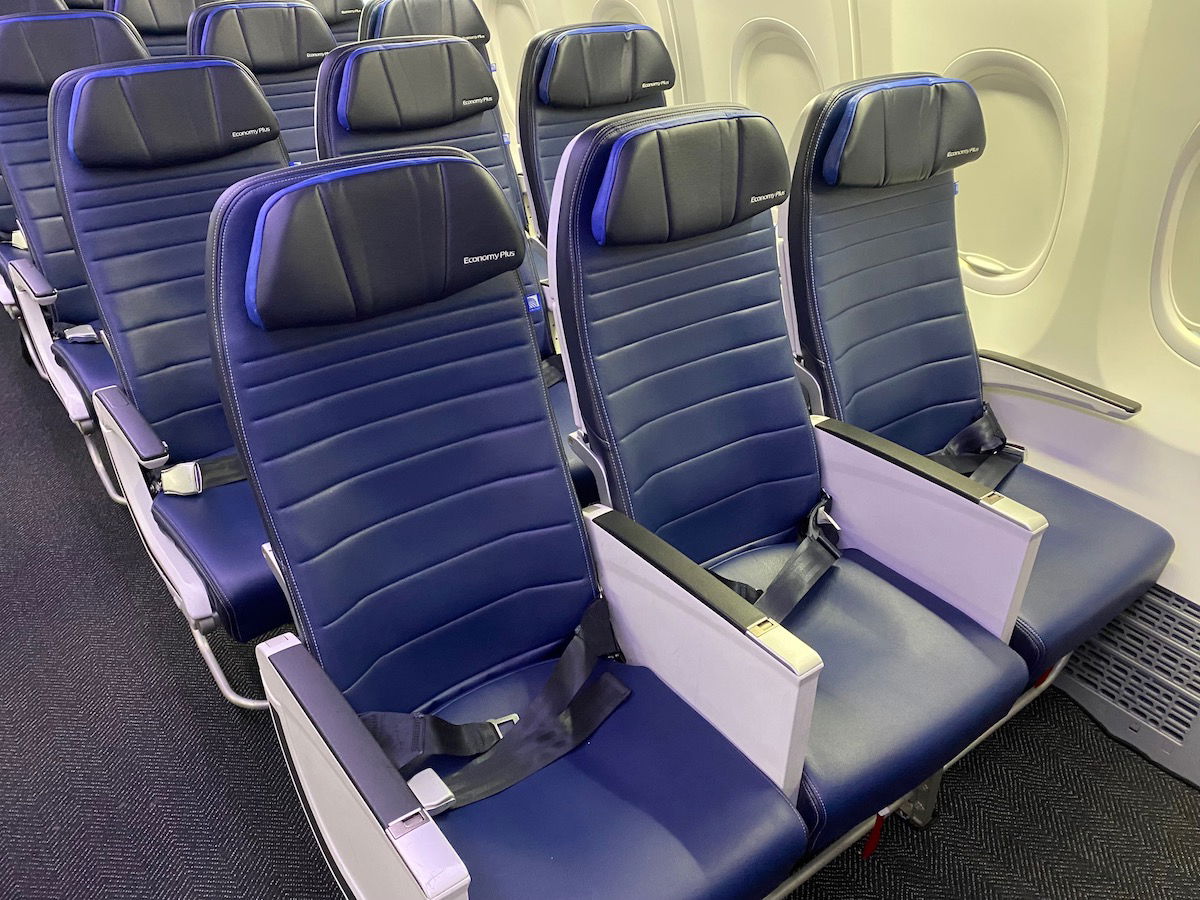 There was a lavatory at the front of first class, as well as one immediately behind first class. Since there was no bulkhead between economy and first class, you could easily hear and smell when the lavatory was being used, which isn't ideal. Then again, it's useful to also have a lavatory at the front of economy.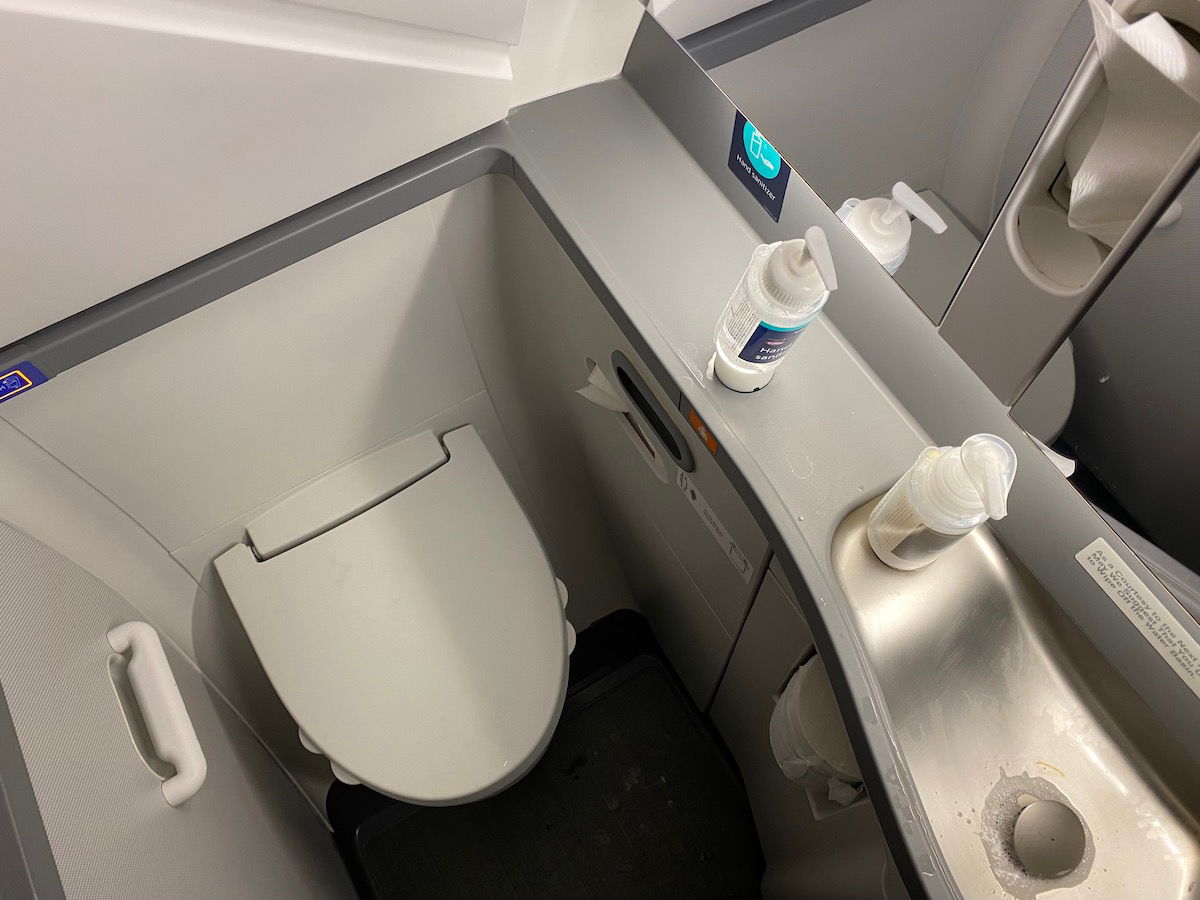 Unfortunately these lavatories were the standard space saving Boeing 737 MAX ones, with tiny sinks.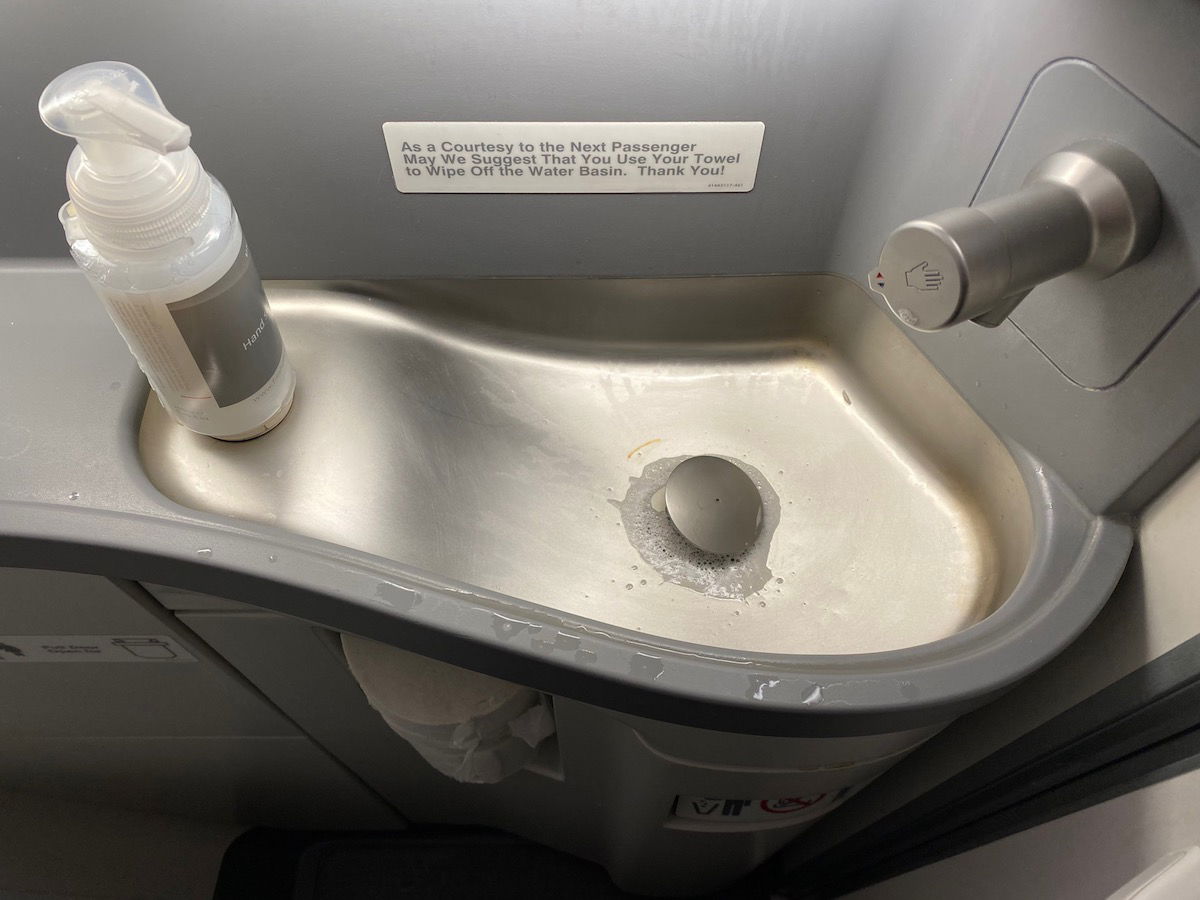 United Airlines departure from Chicago O'Hare
The flight from Chicago to Boston was packed, with all first class seats occupied, and only three open seats in economy. Despite the busy boarding process, the crew offered pre-departure drinks, with the choice of water or orange juice.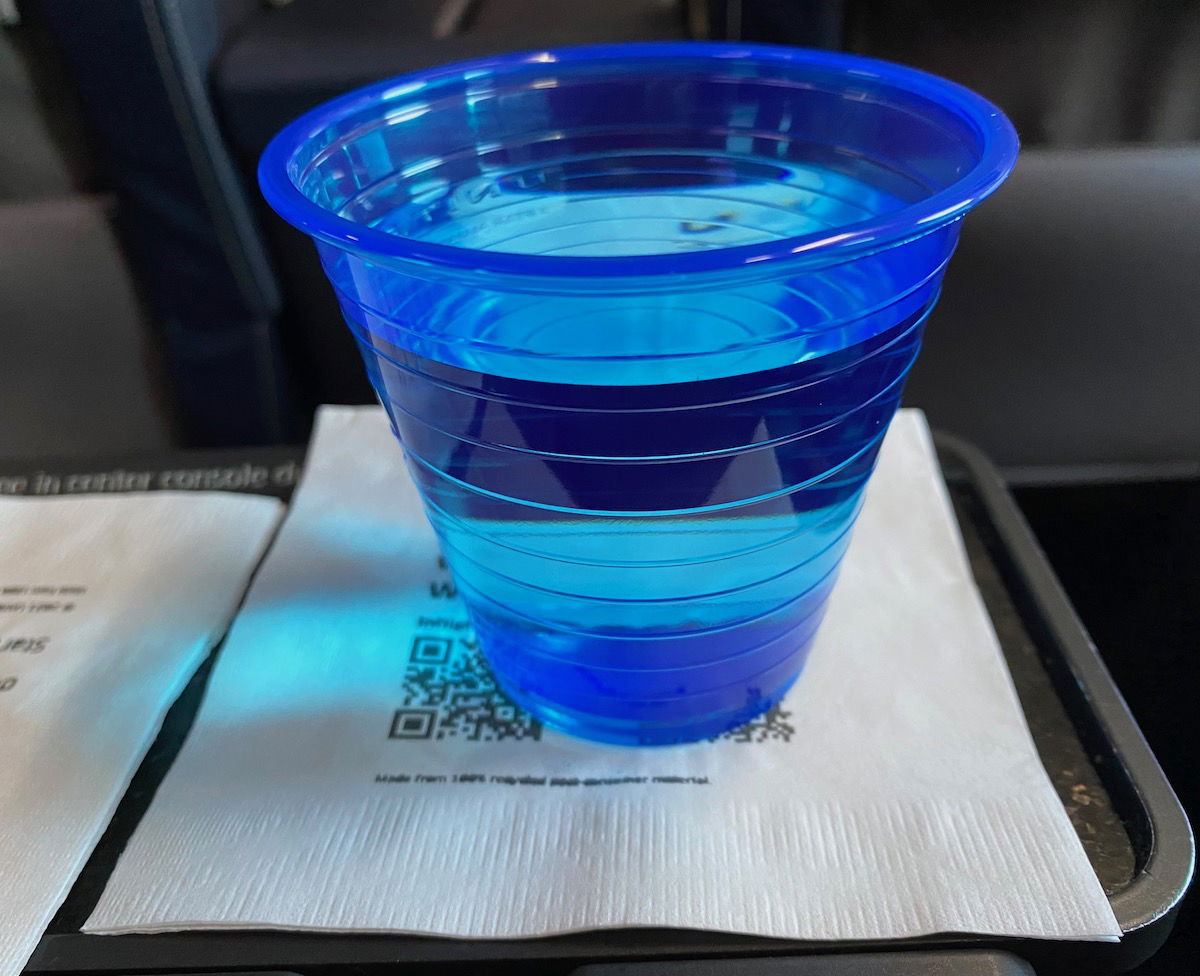 At around 7:10AM the captain made his welcome aboard announcement, informing us of our flight time of 1hr44min. I noticed that United's pilot mask announcements aren't quite as aggressive as American's. At around 7:10AM we began our pushback, at which point the safety demonstration was performed.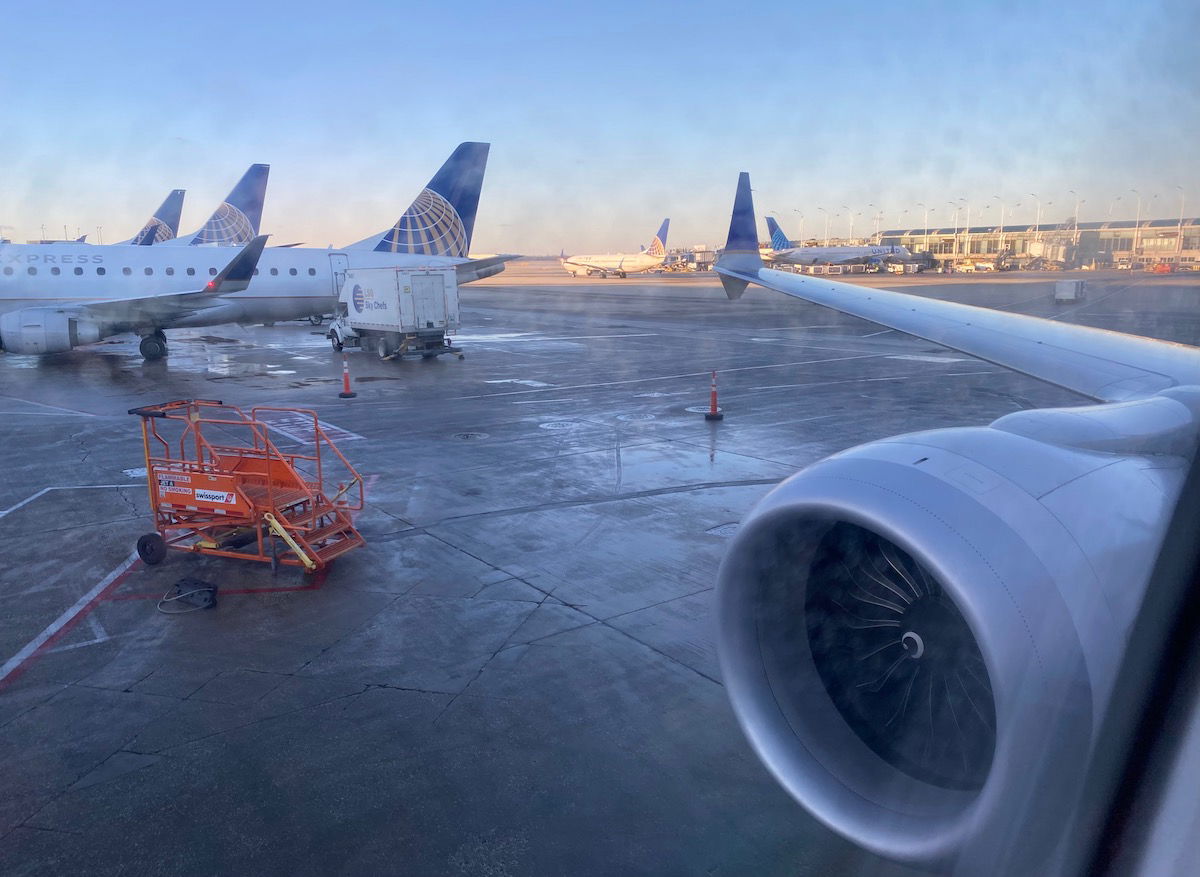 By 7:15AM we started our taxi to runway 28R.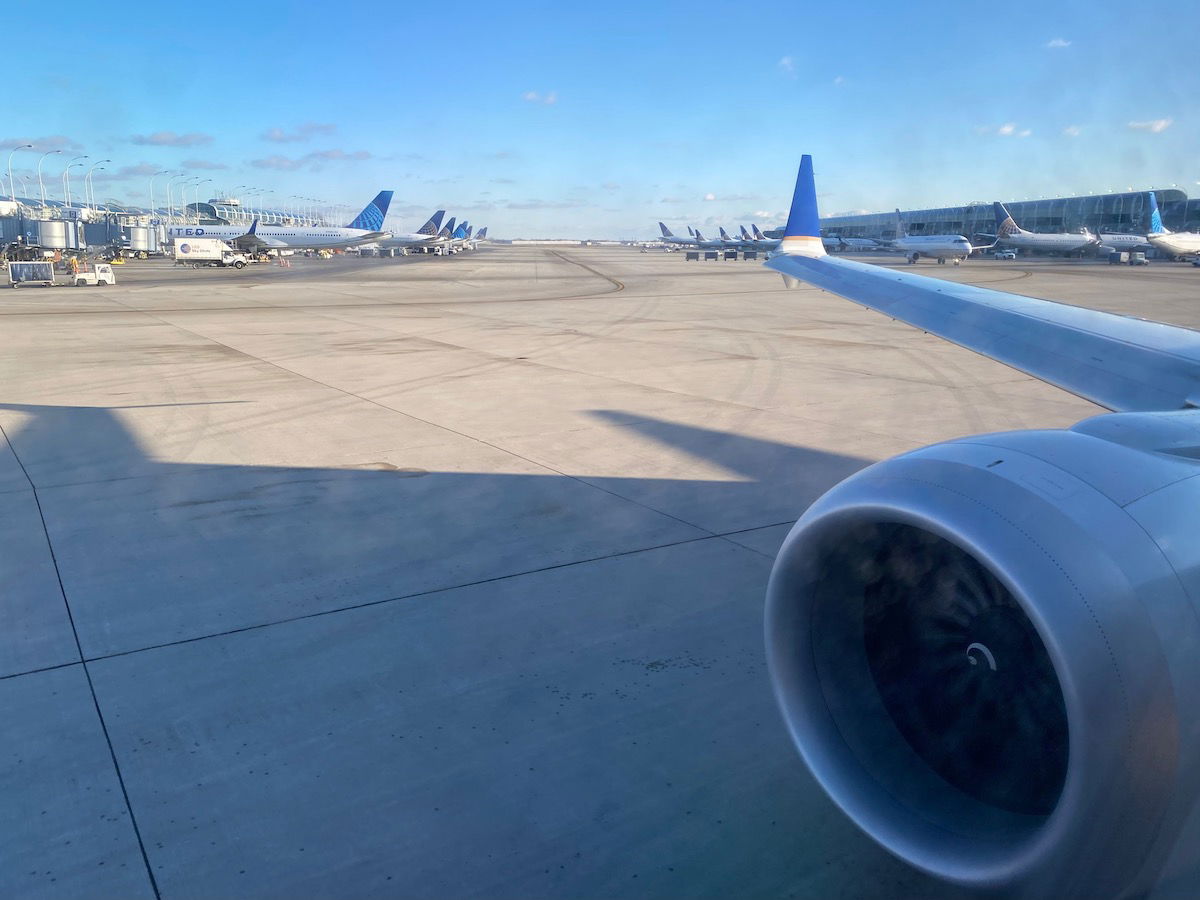 Not only did we have quite a long taxi, but when we approached the runway the captain announced that we were still waiting on our "numbers" from the load planners, regarding our takeoff weight. That took about an extra five minutes, and by 7:35AM we were cleared for takeoff.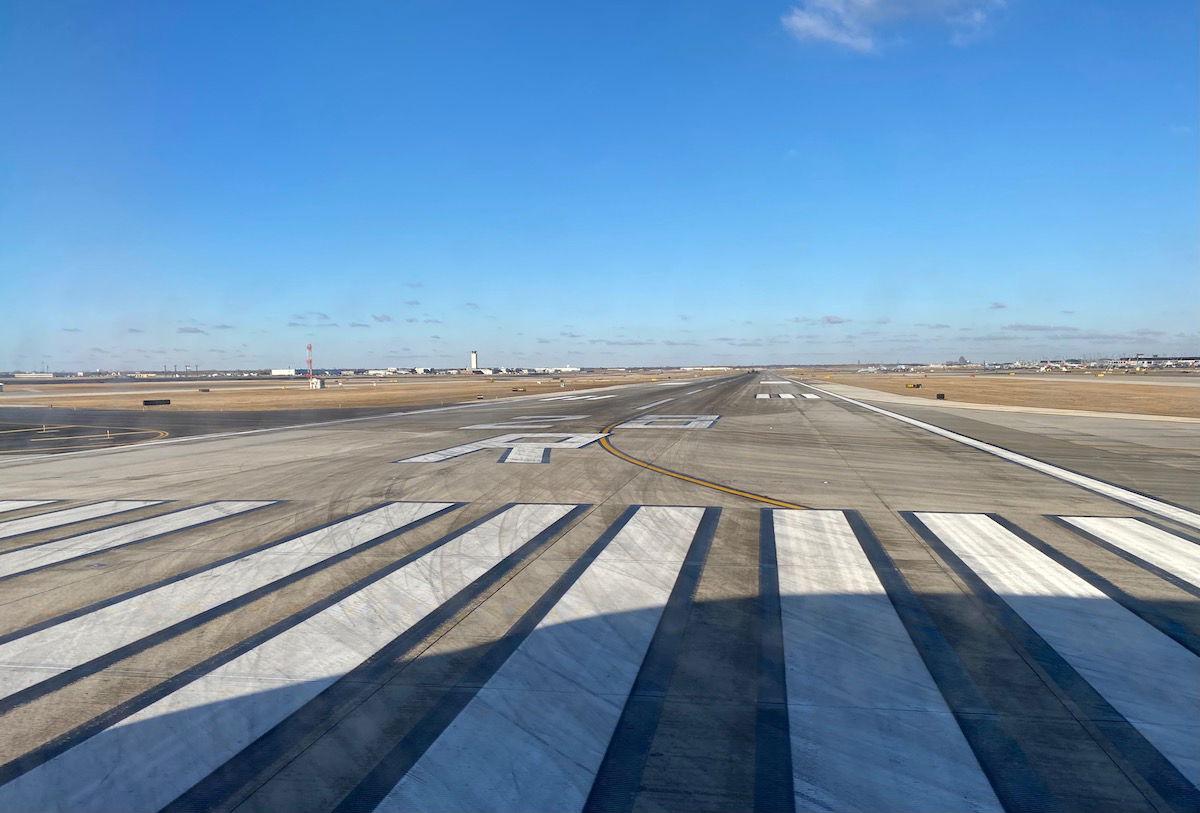 We had beautiful views on departure on this gorgeous (but beyond freezing) morning.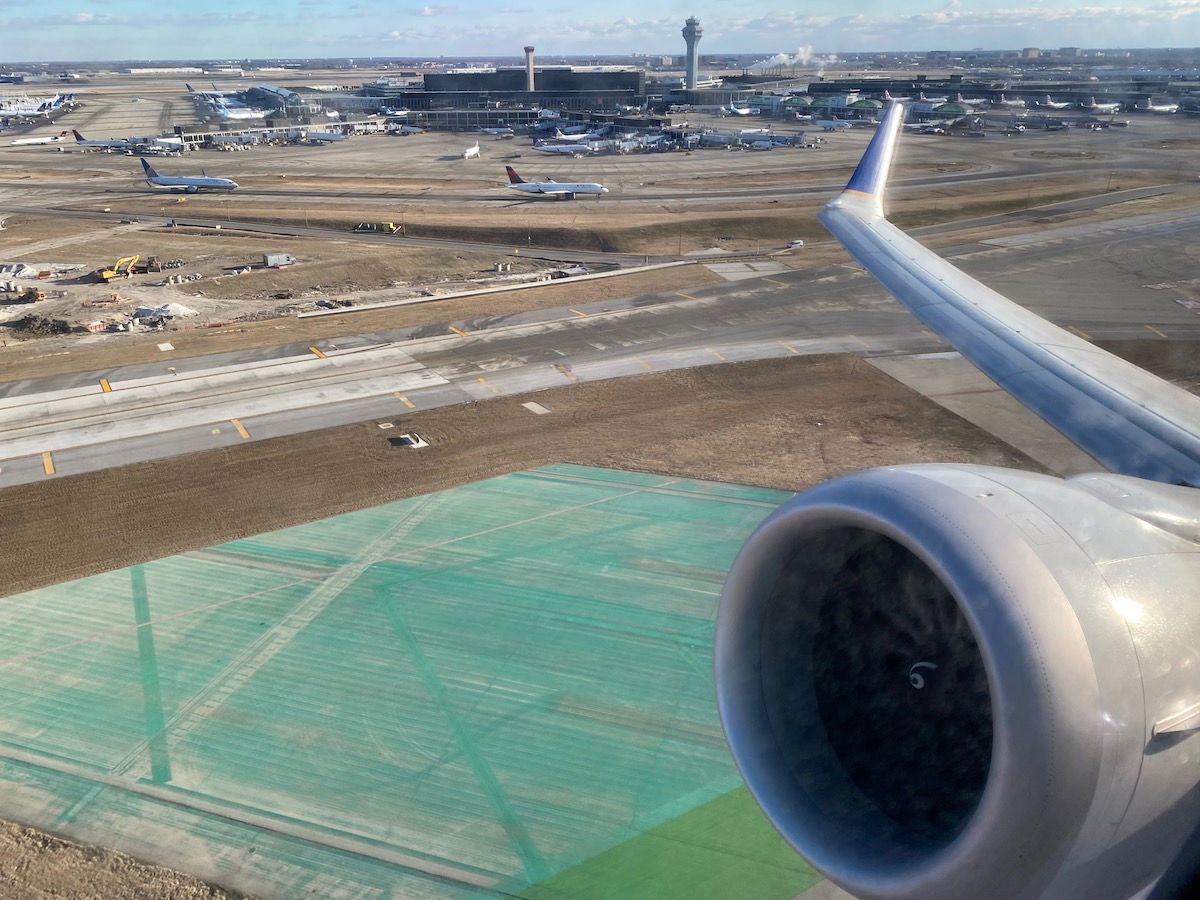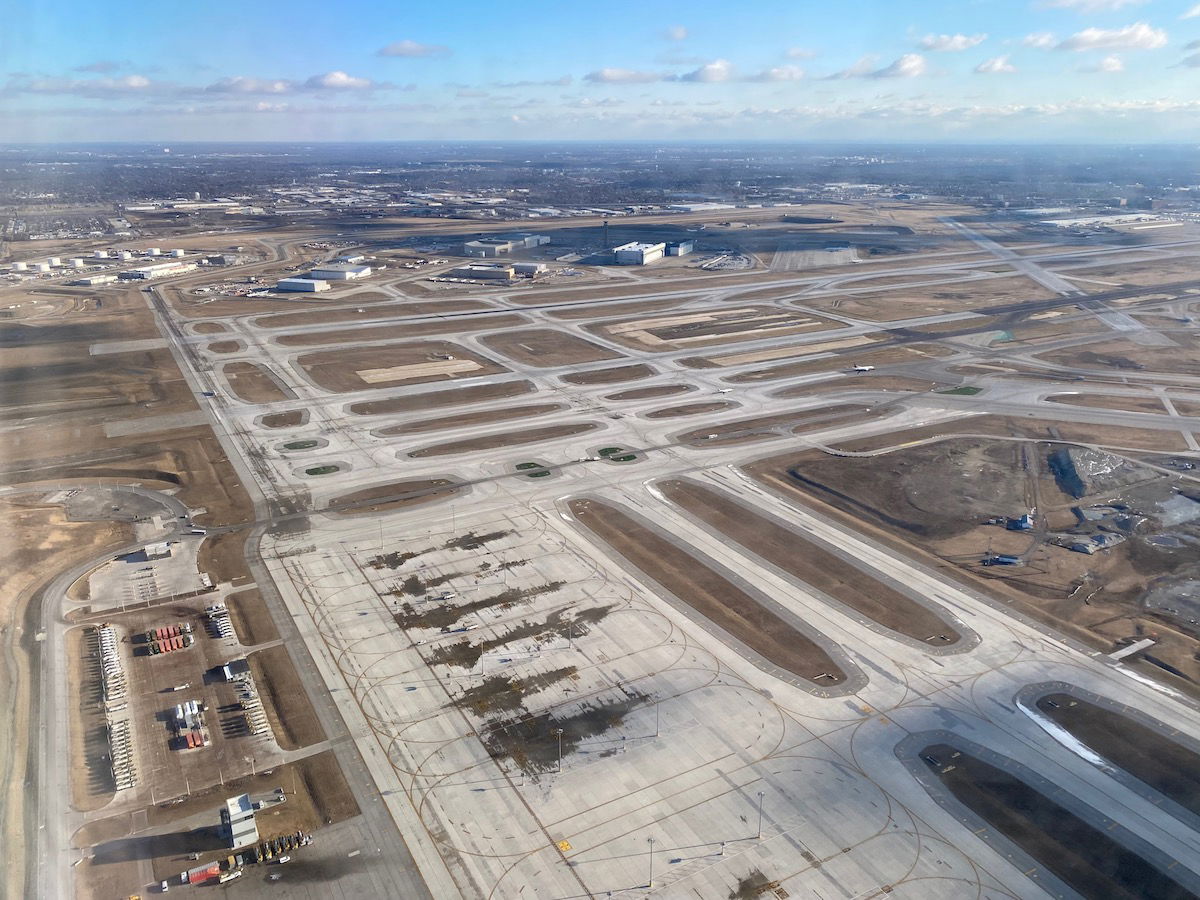 Thanks to the direction we were flying, we even made some turns that afforded a great view of the airport, which really puts into perspective how big O'Hare is.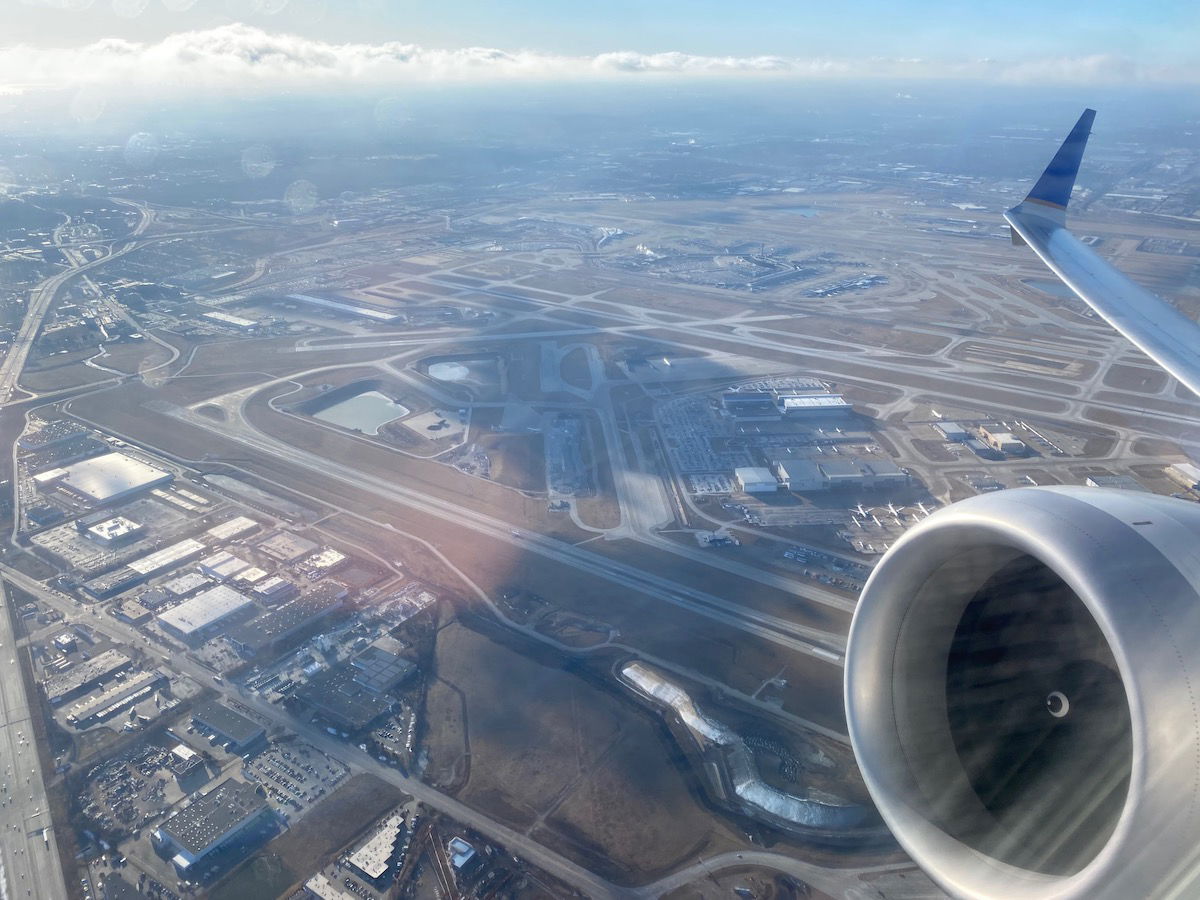 United Airlines first class breakfast snack
This flight was marketed as offering a "snack" service for breakfast, which in United's case means more than packaged snacks, but less than a full meal. Service began with drinks of choice, and I ordered a cup of coffee and some water. It's nice to see glassware fully return to domestic flights.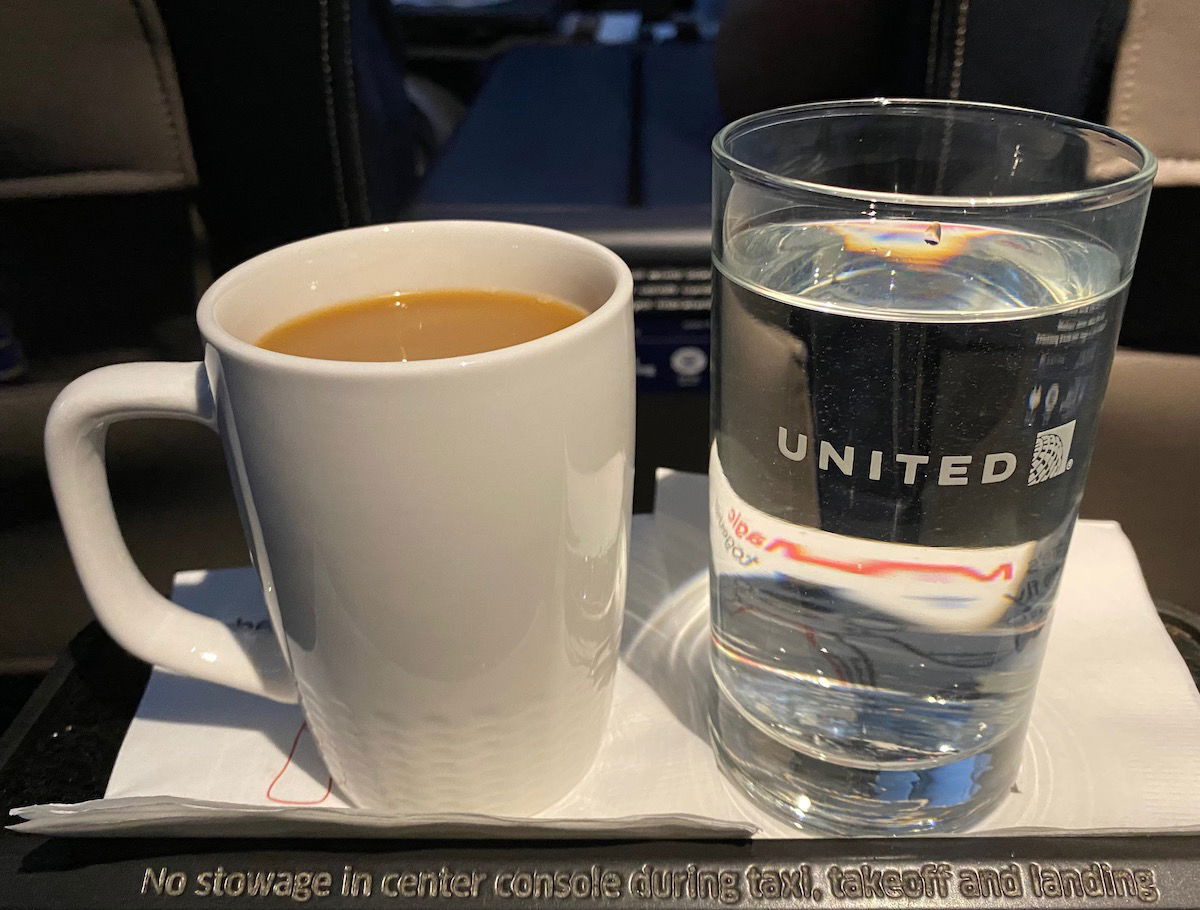 As far as the breakfast snack goes, the choices were either a cream cheese veggie sandwich, or a ham & cheese breakfast sandwich. I don't eat pork, so it was the former for me.
United's food might just be worse than American's, and that's saying a lot. Let's take a look at this snack. This was described as an "everything baguette with veggie cream cheese," and it was on everything ciabatta with swiss cheese, cream cheese, carrots, scallion, and red pepper.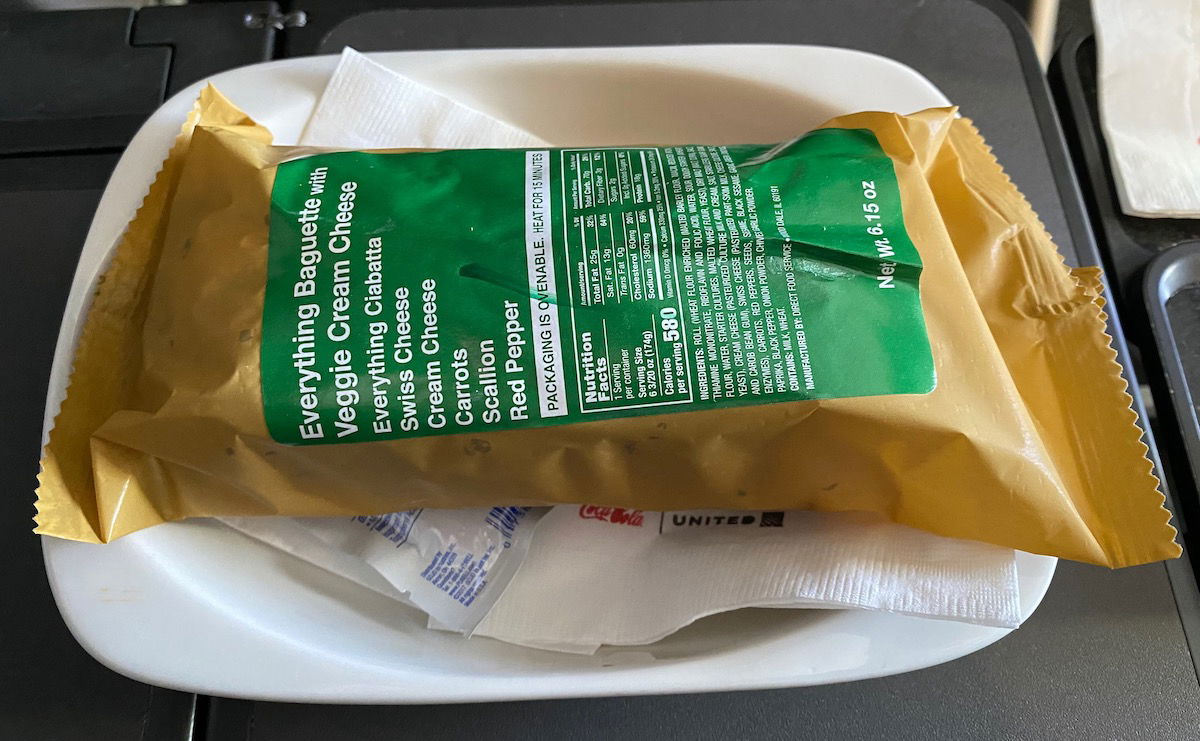 I at least commend United for keeping the nutrition label on the meal, because this is always eye-opening. This snack had 25 grams of fat, 13 grams of saturated fat, and 1,360 milligrams of sodium.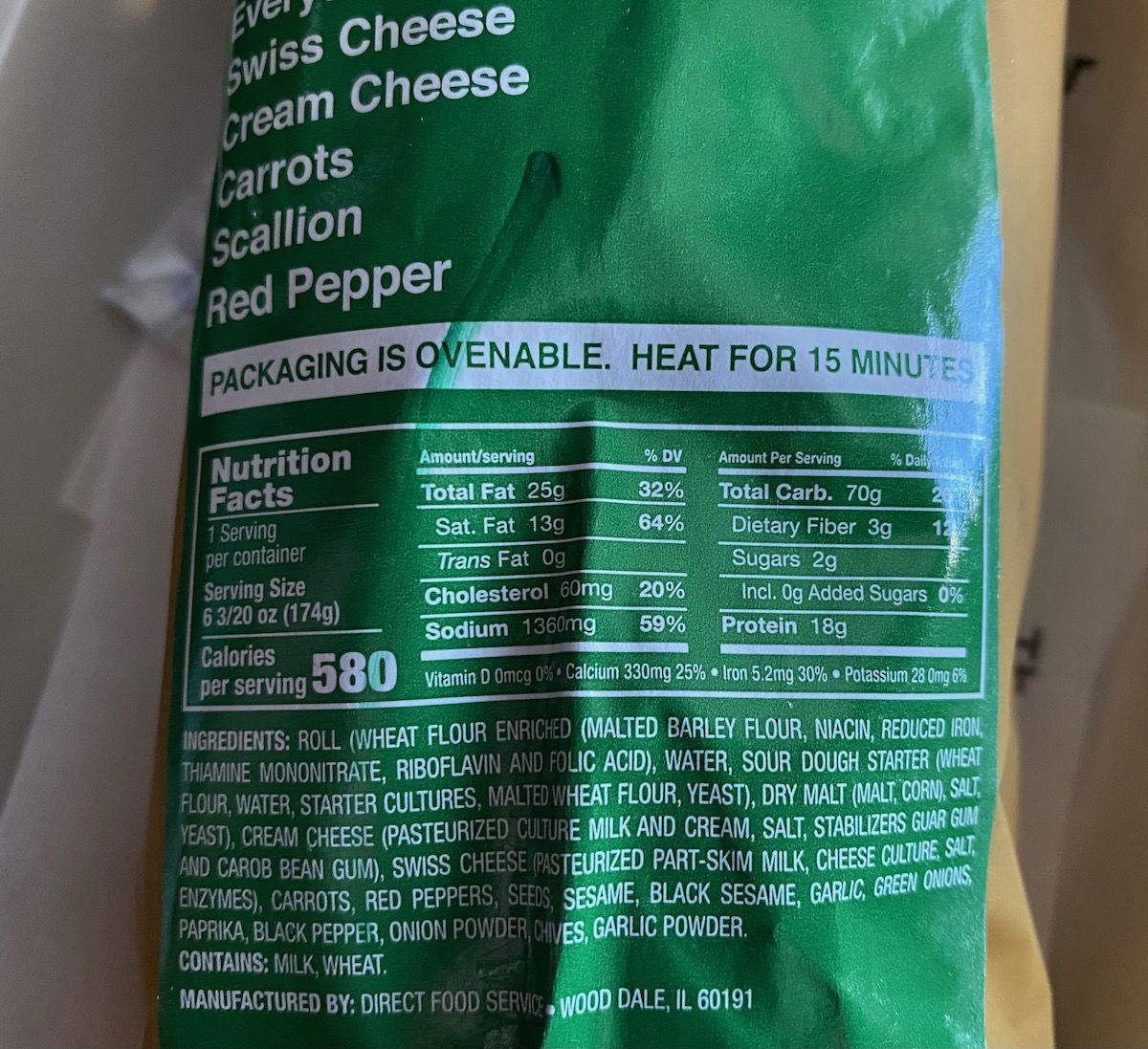 Below is a look at the sandwich…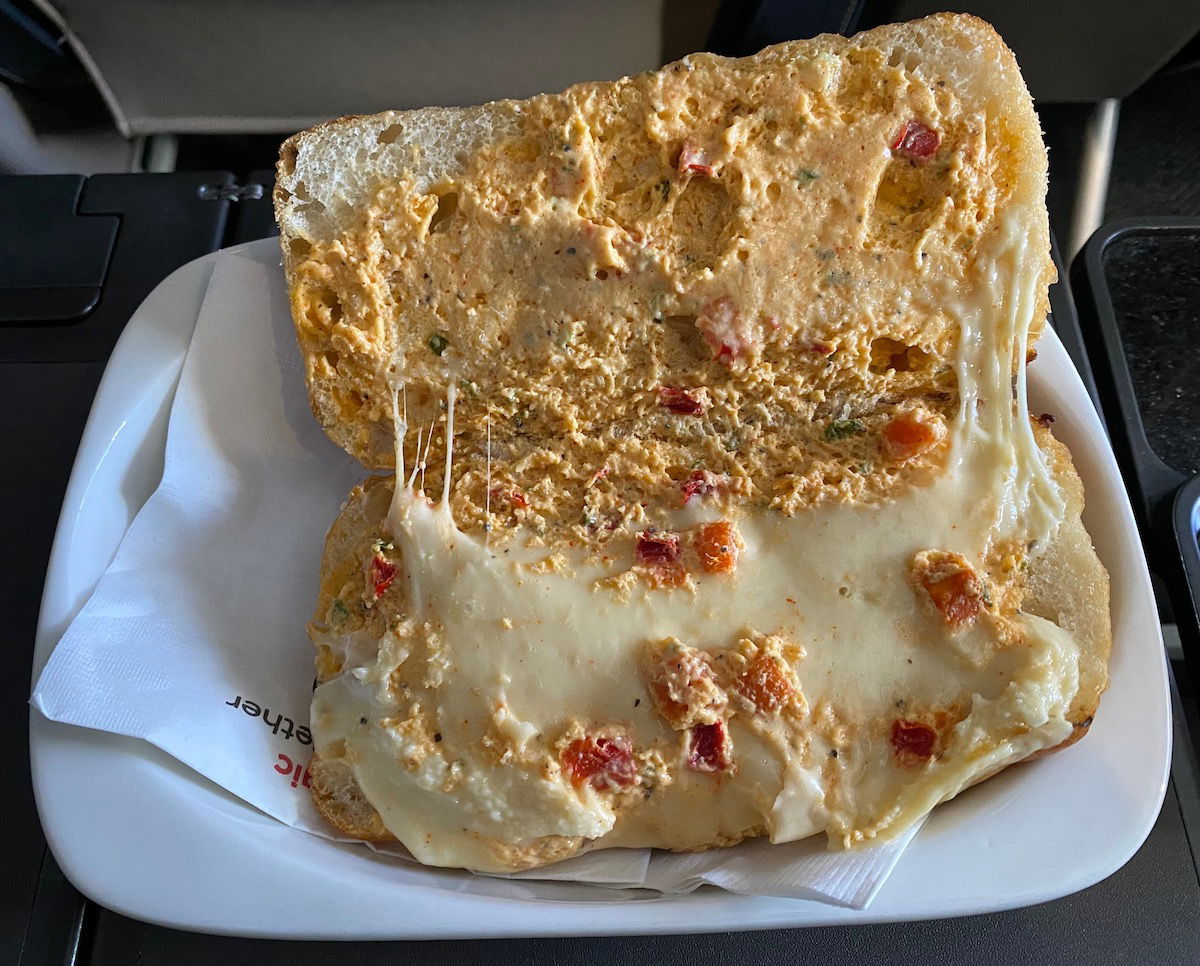 I had a bit of it, and I'm not going to lie, it was both disgusting and delicious. But seriously, this is just next-level unhealthy. United is serving a reheated piece of bread with multiple types of processed cheese, and calling that a snack.
I just don't get it. I mean, I do get it — it's cheap, and unfortunately this kind of food is considered acceptable in the United States. But how about something a little healthier as a snack, like a greek yogurt parfait, or some egg bites, or something?
United Airlines Boeing 737 MAX entertainment & Wi-Fi
While this United 737 MAX 9 didn't feature personal televisions, it did feature high-speed Viasat Wi-Fi. Wi-Fi is an area where United historically lags both American and Delta in terms of speed, but that's slowly improving. I think this was my first United flight with Viasat, and the speeds were great.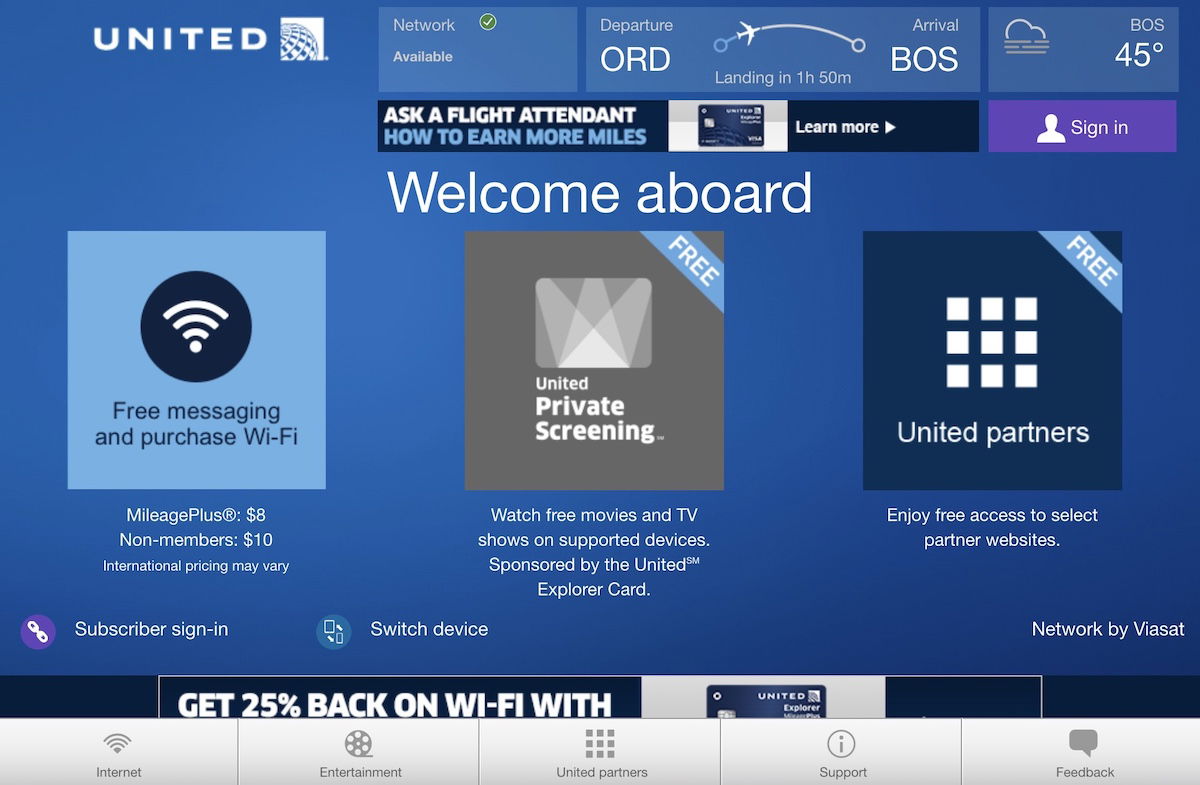 A Wi-Fi pass for the entire flight cost $10, which was reasonable. Messaging was also available for free.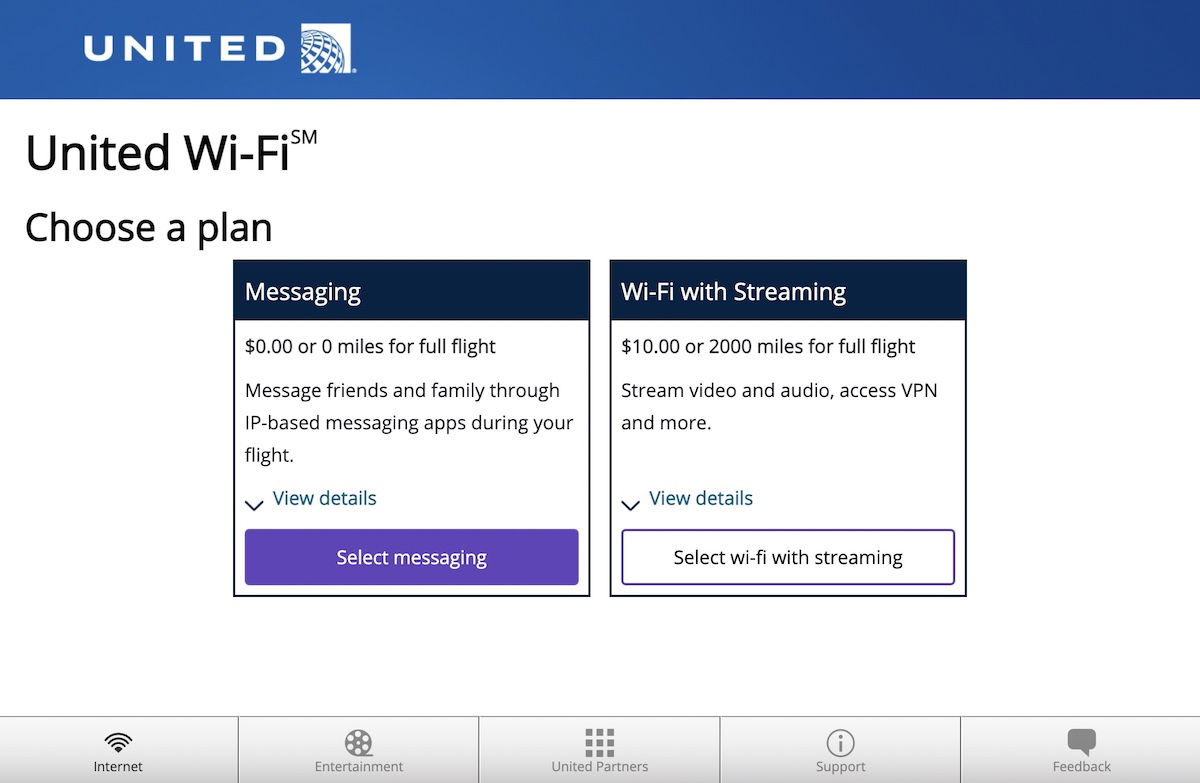 United Airlines first class service
There were two flight attendants working first class, and they were both friendly and attentive. I can't count the number of times I was asked if I wanted something else to drink. By the way, it's interesting to me that United has two flight attendants working first class in a 20 seat cabin, while I believe American typically only has one.
The crew really only had the first hour to perform any service, because the cabin had to be prepared for landing early.
United Airlines arrival in Boston
We were traveling when there was a bomb cyclone in the Northeast, and there was quite a bit of weather on approach. Unfortunately I don't have many pictures to share, as the cloud ceiling was low, so there were no views until a few seconds before touchdown.
We landed in Boston at 10:25AM, and were at the gate a few minutes after that.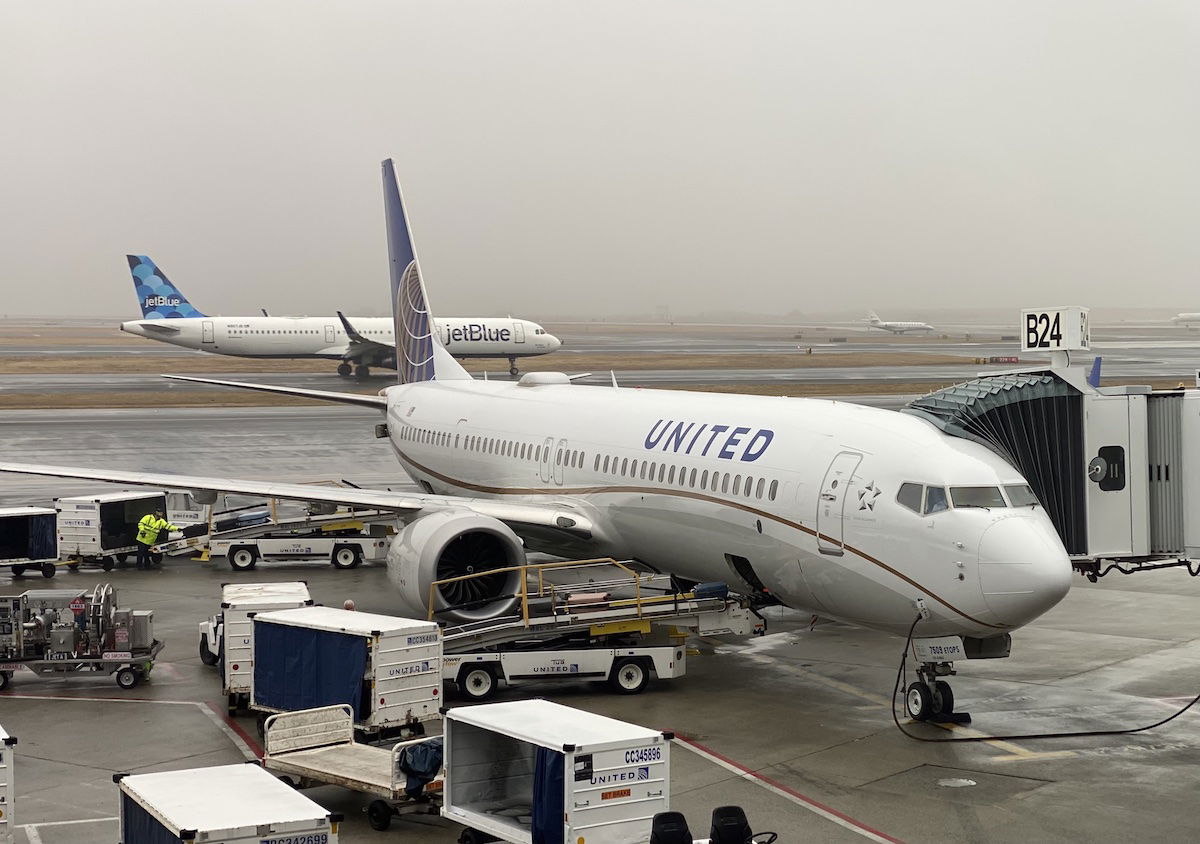 Bottom line
On balance I'd say this was a solid United Airlines experience. The flight was on-time, the crew was friendly, and United's cabins without personal televisions are nicer than American's cabins without personal televisions (and unlike at American, United is actually improving its cabins beyond this). Furthermore, this flight had high-speed Viasat Wi-Fi, which I don't think I've ever had before on United.
My only criticism of the experience is the food. But then again, which US airline (other than JetBlue) actually does a good job with that?
If you've flown United's 737 MAX 9 first class, what was your experience like?