After a great stay at the Four Seasons Hualalai, it was time to return to the mainland. We decided to fly United's Boeing 787 business class from Kona to Chicago. Even though the flight ended up featuring United's old business class seats, it was still much better than my last United flight from Hawaii to Chicago.
How I booked our United Airlines business class tickets
Rather than returning to Florida, we had to first travel to Boston, as we had a commitment there. Premium options out of Kona were extremely limited:
For the date we were traveling not a single flight from Kona to Los Angeles had even one first class seat left for sale, let alone available with miles or an upgrade
You can always connect through Honolulu to get access to more routing options, but that adds quite a bit of travel time
I set a price alert with Google Flights for Kona to Boston, and eventually received an alert for an option that seemed quite good compared to the alternatives. United operates a Boeing 787 flight from Kona to Chicago. This is currently the only flat bed option directly out of Kona, and it's also a long enough flight that you can get some real sleep. The ticket wasn't cheap, though — we paid about $1,200 one-way per person.
What somewhat took the sting out of this is that we had vouchers from a United itinerary we canceled in late 2021, so at least our out of pocket wasn't quite that high. We ended up booking the following, with the first flight scheduled to be operated by a Boeing 787-8 with the new Polaris seats, and the second flight scheduled to be operated by a Boeing 737 MAX 9:
03/12 UA67 Kona to Chicago departing 5:55PM arriving 6:00AM (+1 day)
03/13 UA2129 Chicago to Boston departing 7:15AM arriving 10:30AM
A last minute United aircraft swap
The morning of our flight we got an email indicating that the aircraft for the Kona to Chicago flight had been swapped. It was initially supposed to be a Boeing 787-8 with the new Polaris seats, while it was now a Boeing 787-9 with United's old business class seats.
Obviously that's a significant downgrade, but frankly we were happy to just have a conveniently timed business class flight in a flat bed.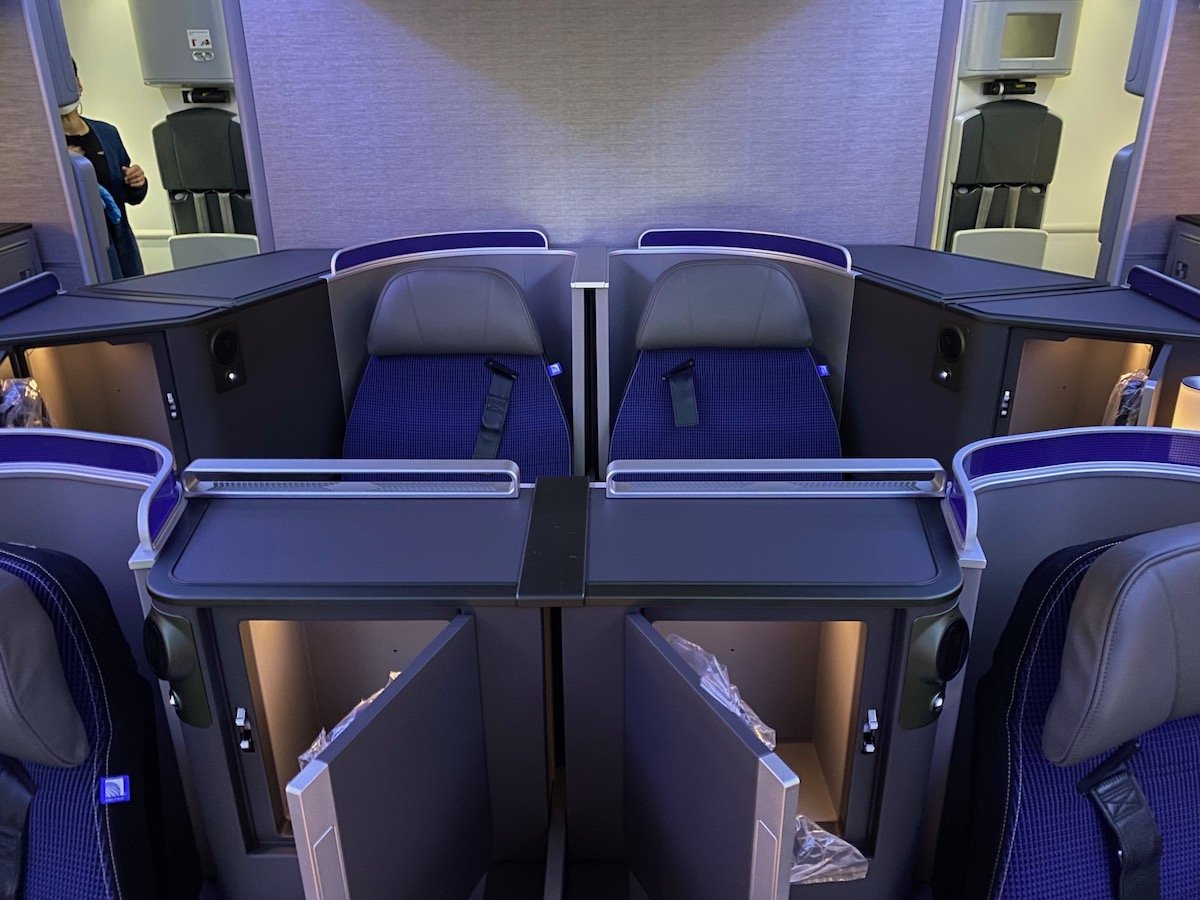 I strongly dislike Kona Airport
We arrived at Kona Airport a little after 3PM, plenty early for our 5:55PM flight. We arrived early because we had a rental car, and we had picked it up at the same time four days earlier, and didn't want to get charged for an extra day.
We easily found United's check-in counter, which was empty. A friendly agent helped us. After seeing our Four Seasons luggage tags she mentioned she also works at the Four Seasons, and this was her other gig. Hah. The check-in area is entirely open-air, and I still found this part of the airport experience to be sort of charming.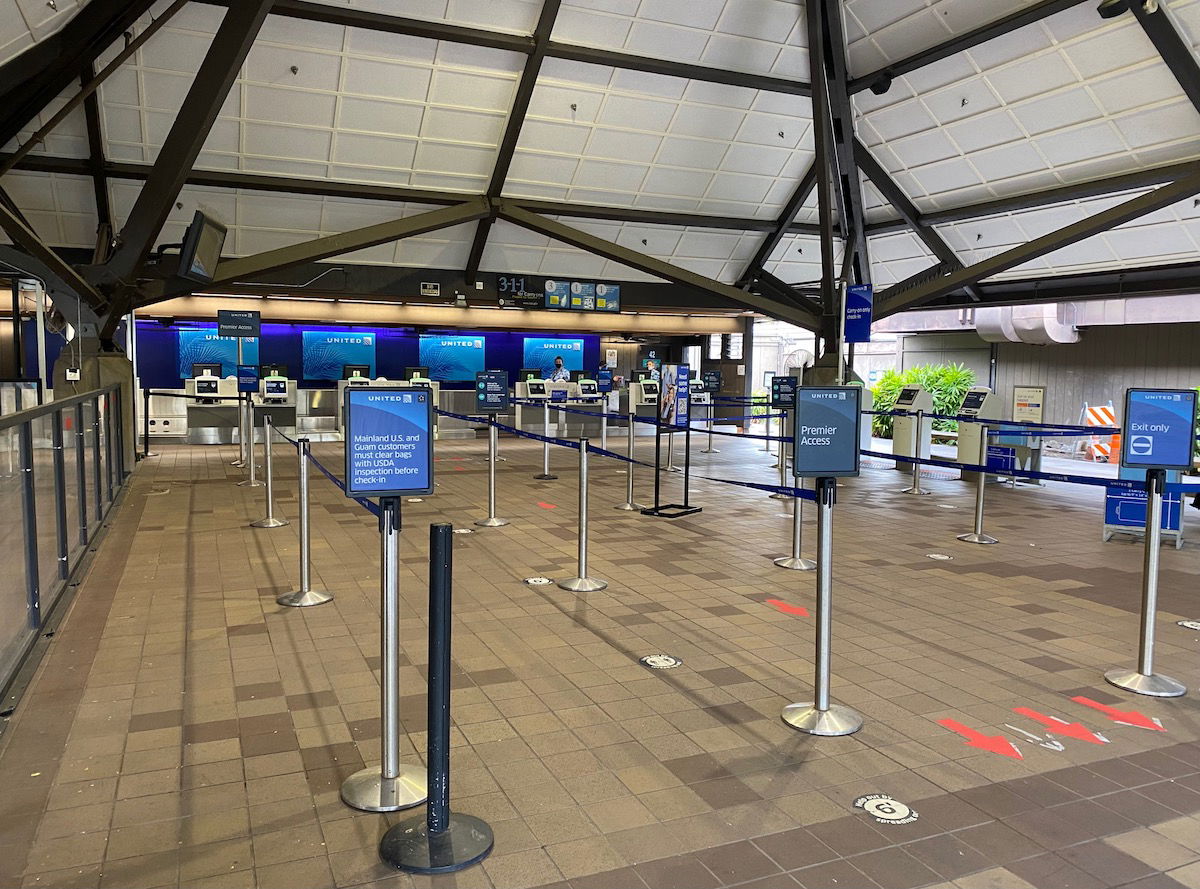 Security was just a short walk away, and oddly the TSA Pre-Check line had more people in it than the standard security line. We still stayed in that line, and fortunately it moved pretty quickly.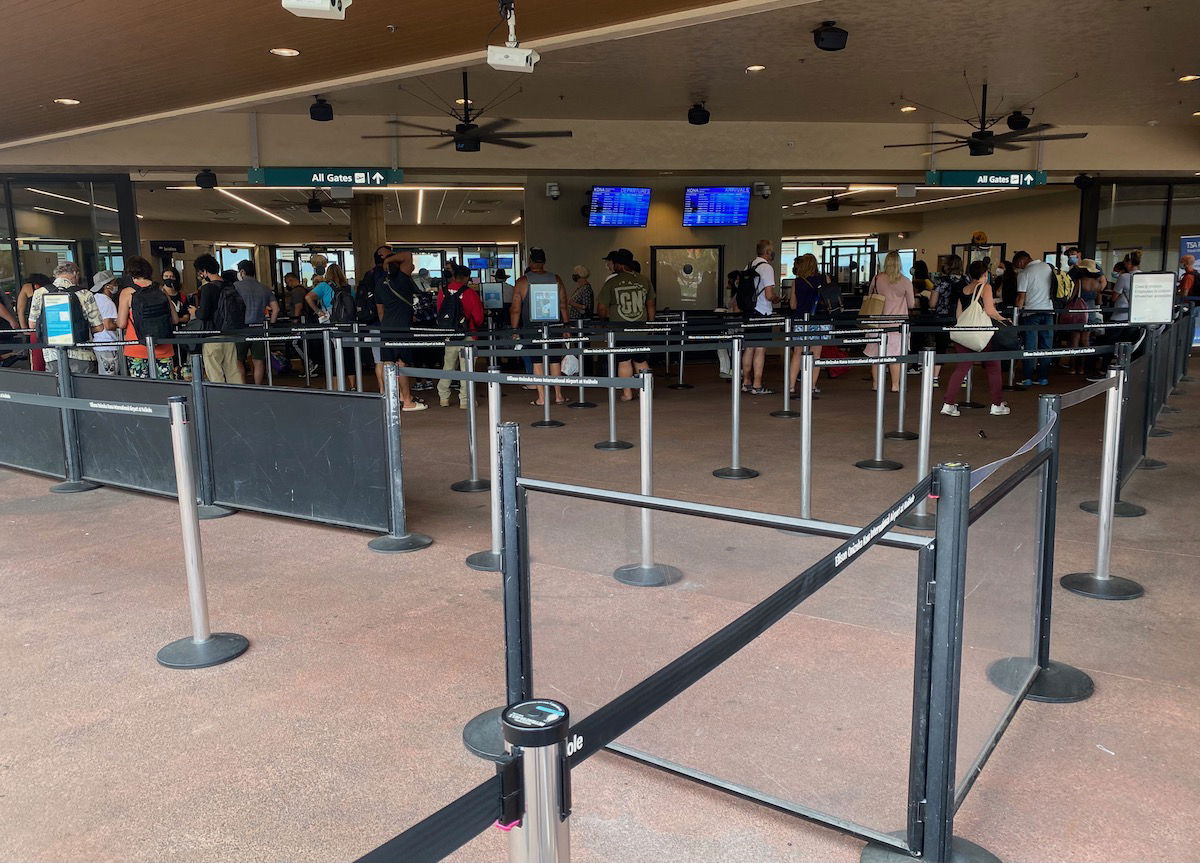 We had about two hours to kill before our flight boarded, which is way more time than you want to spend at Kona Airport. Look, let me acknowledge that on the surface it's cute for an airport to have an outdoor space, especially in the coronavirus era. It's awesome to be able to go outdoors at an airport, as that's not something you often see.
The problem is that Kona Airport has almost no indoor space:
The only things that are indoors are the two restaurants; even though the airport was busy, only one restaurant was open, and it was packed
The airport has no lounges of any sort
The airport has very limited seating, and much of it isn't even covered
It started raining, and we basically had to take cover
Then you add in the mask mandate; it was humid as could be, and there was no real option to go anywhere to cool off
If you're departing Kona Airport, I'd recommend arriving as close to departure as possible (well, without missing your flight). While Hawaii generally doesn't have world class airports, this is my least favorite airport I've visited in the state. Who knows, maybe I was just unlucky.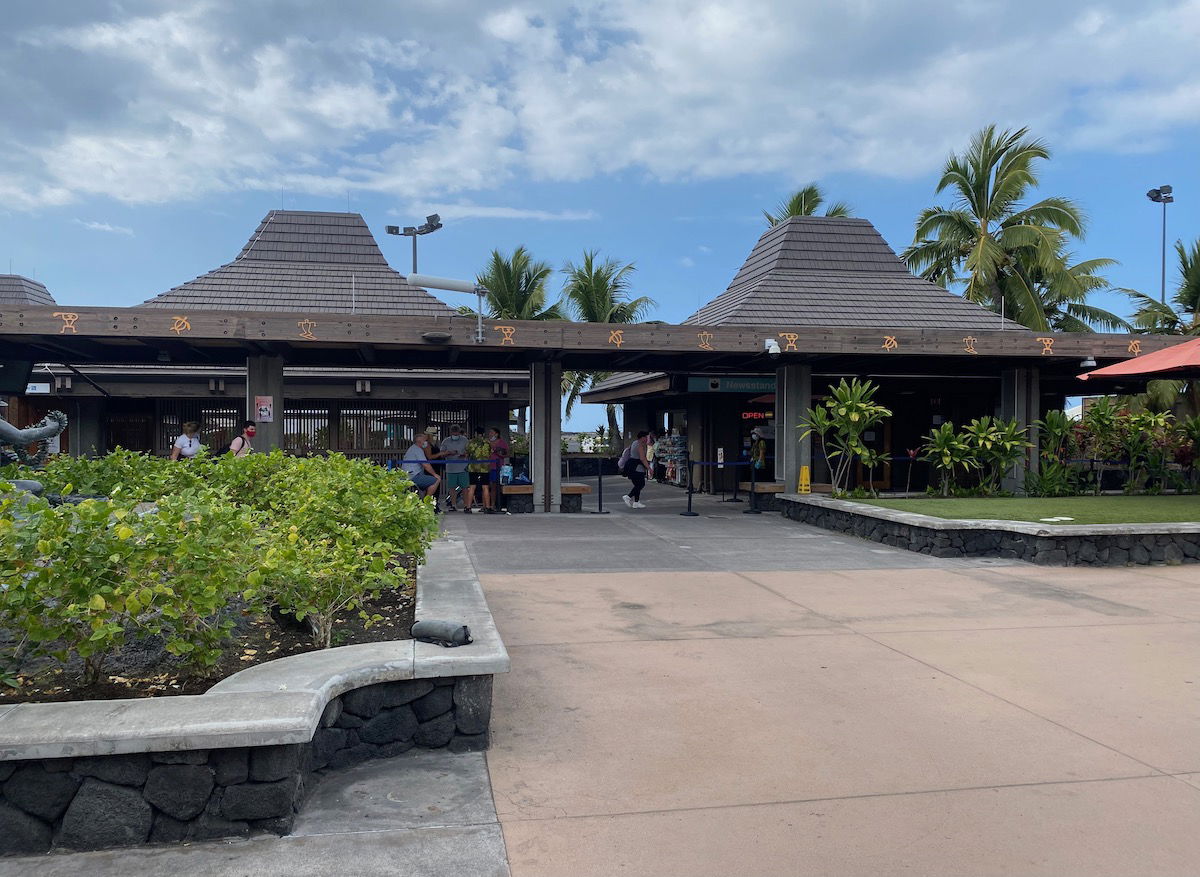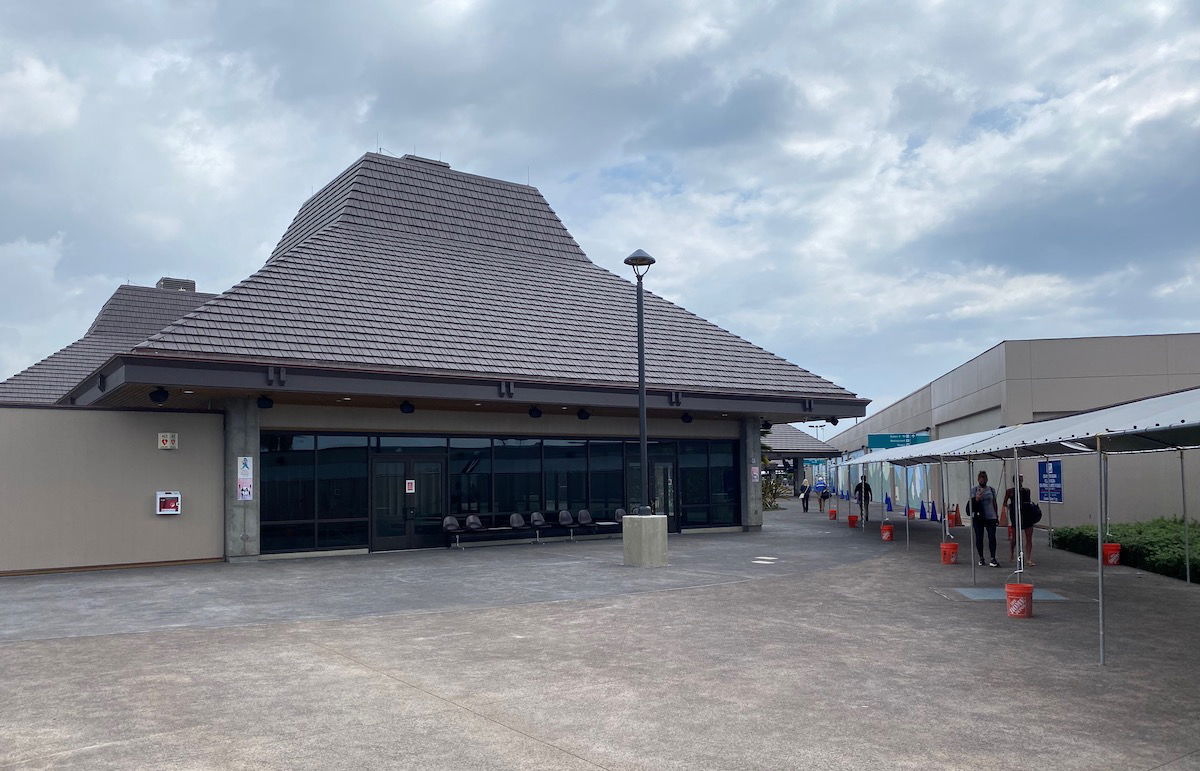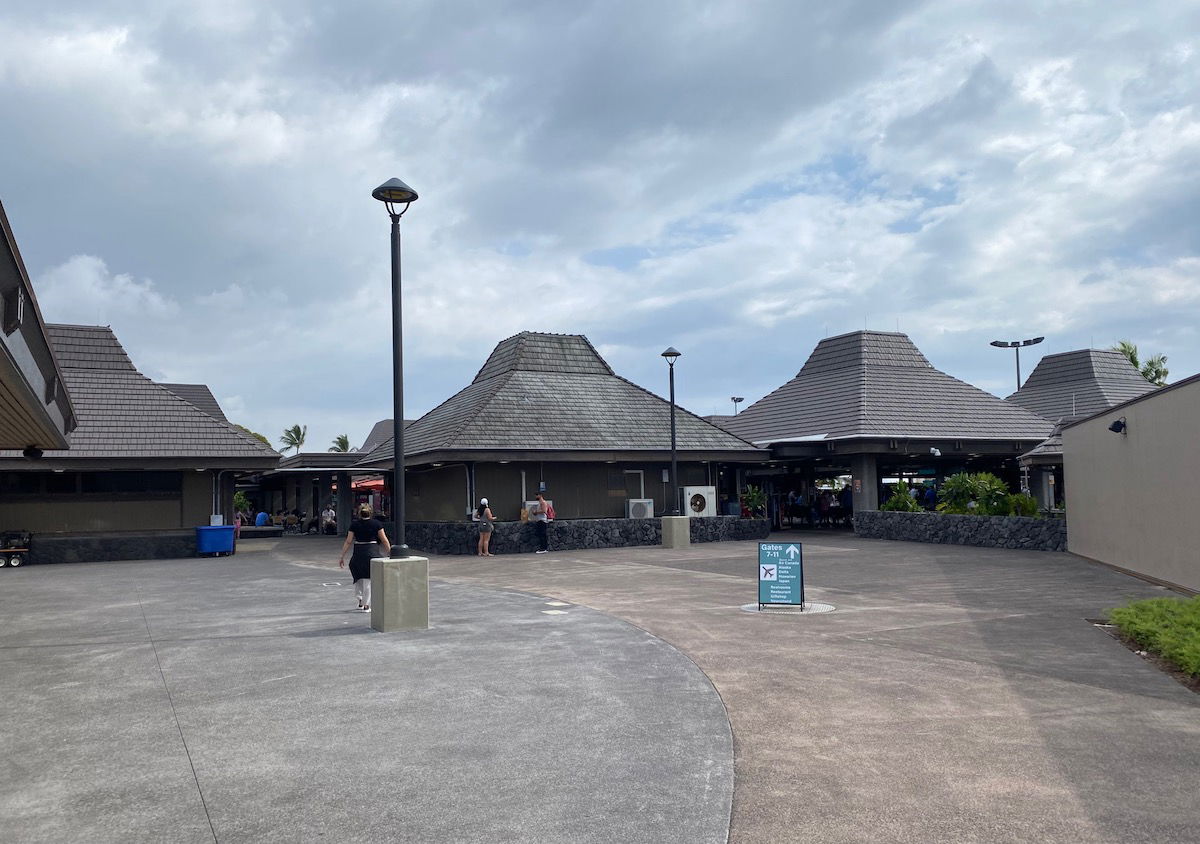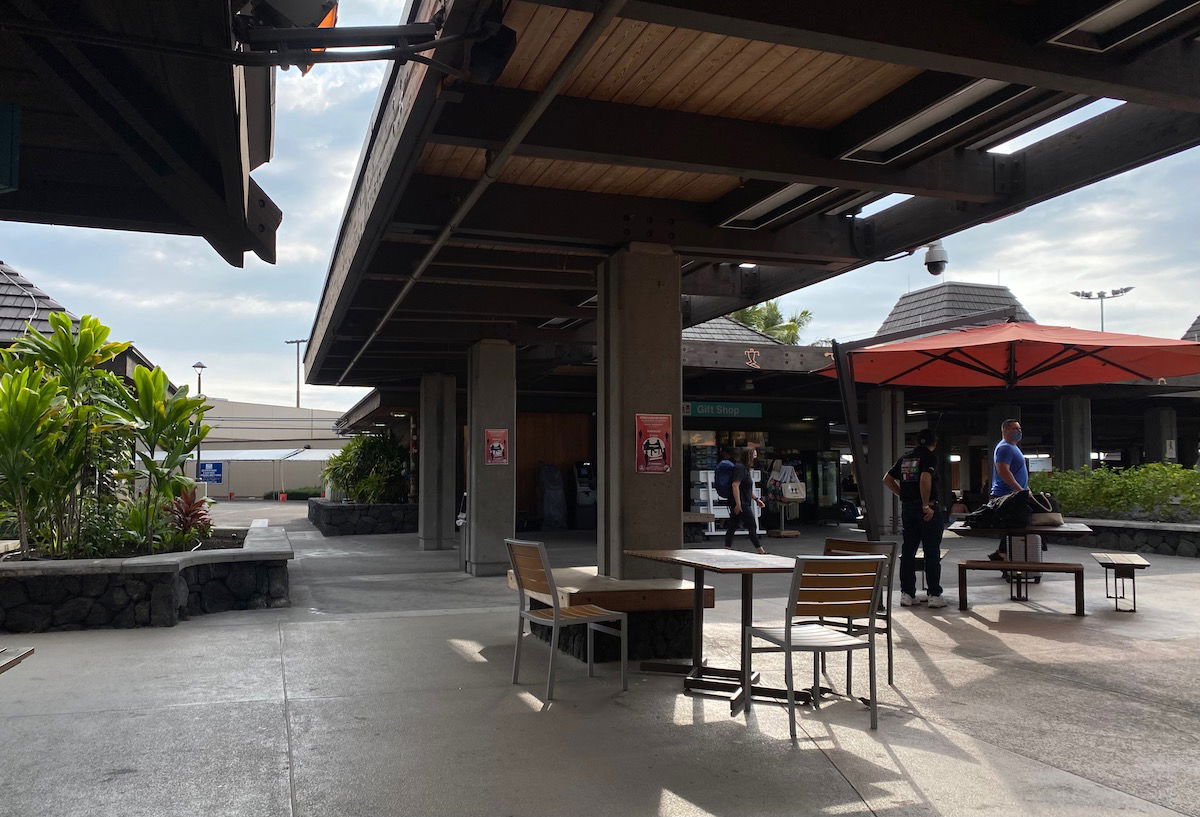 United Airlines business class boarding
Boarding was scheduled for 5:05PM, 50 minutes before departure. Our flight was departing from gate two, and the view of the plane from the gate was kind of cool.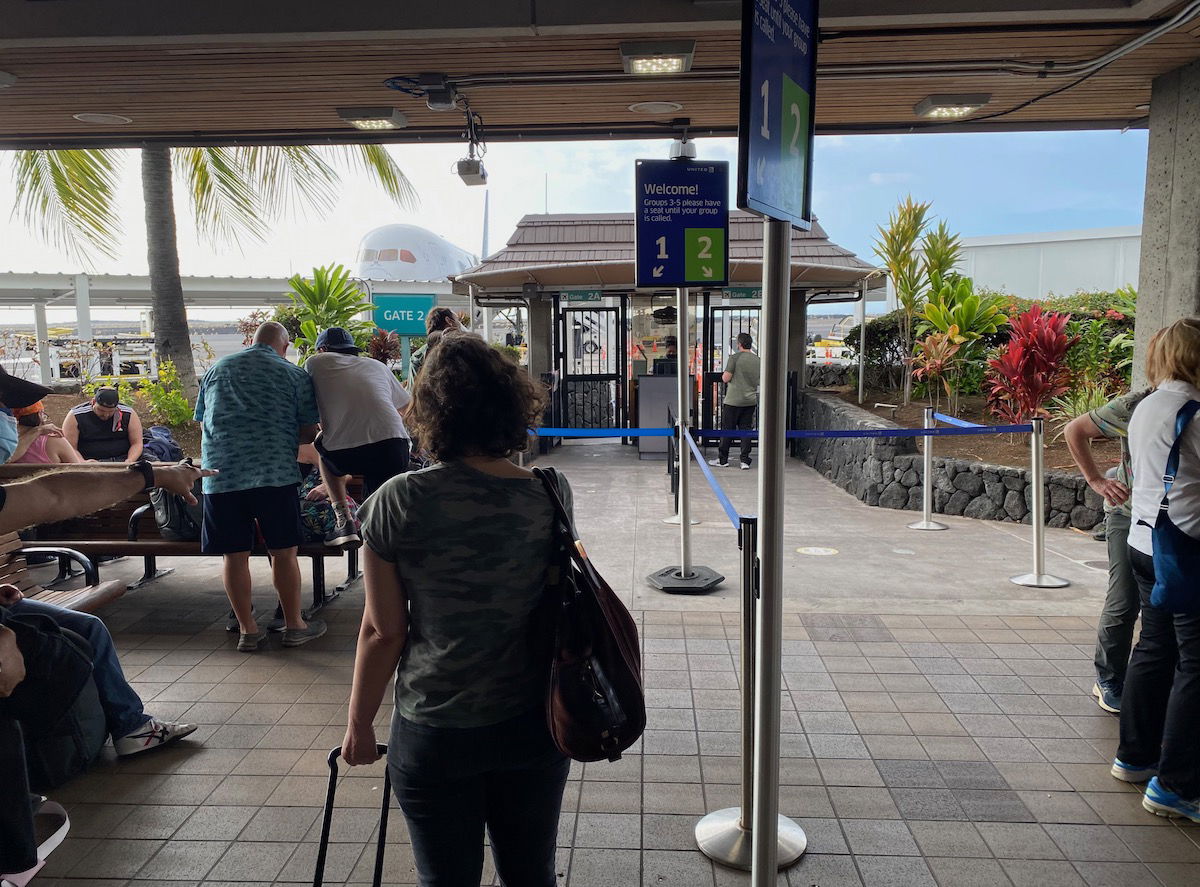 Personally I find United's boarding process to be unnecessarily complicated. The number of different groups that they call prior to boarding first and business class almost reminds me of the below SNL skit.
Since Kona Airport has no jet bridges, you board via air stairs. That's kind of fun to do when boarding a wide body, in my opinion.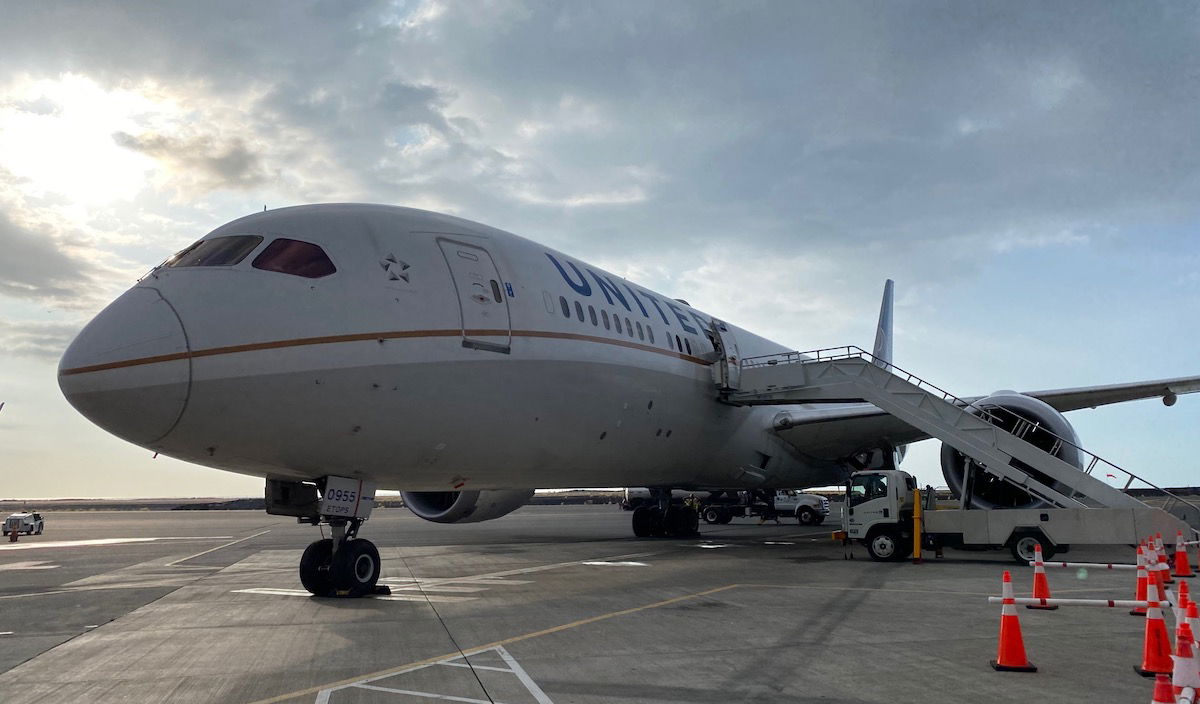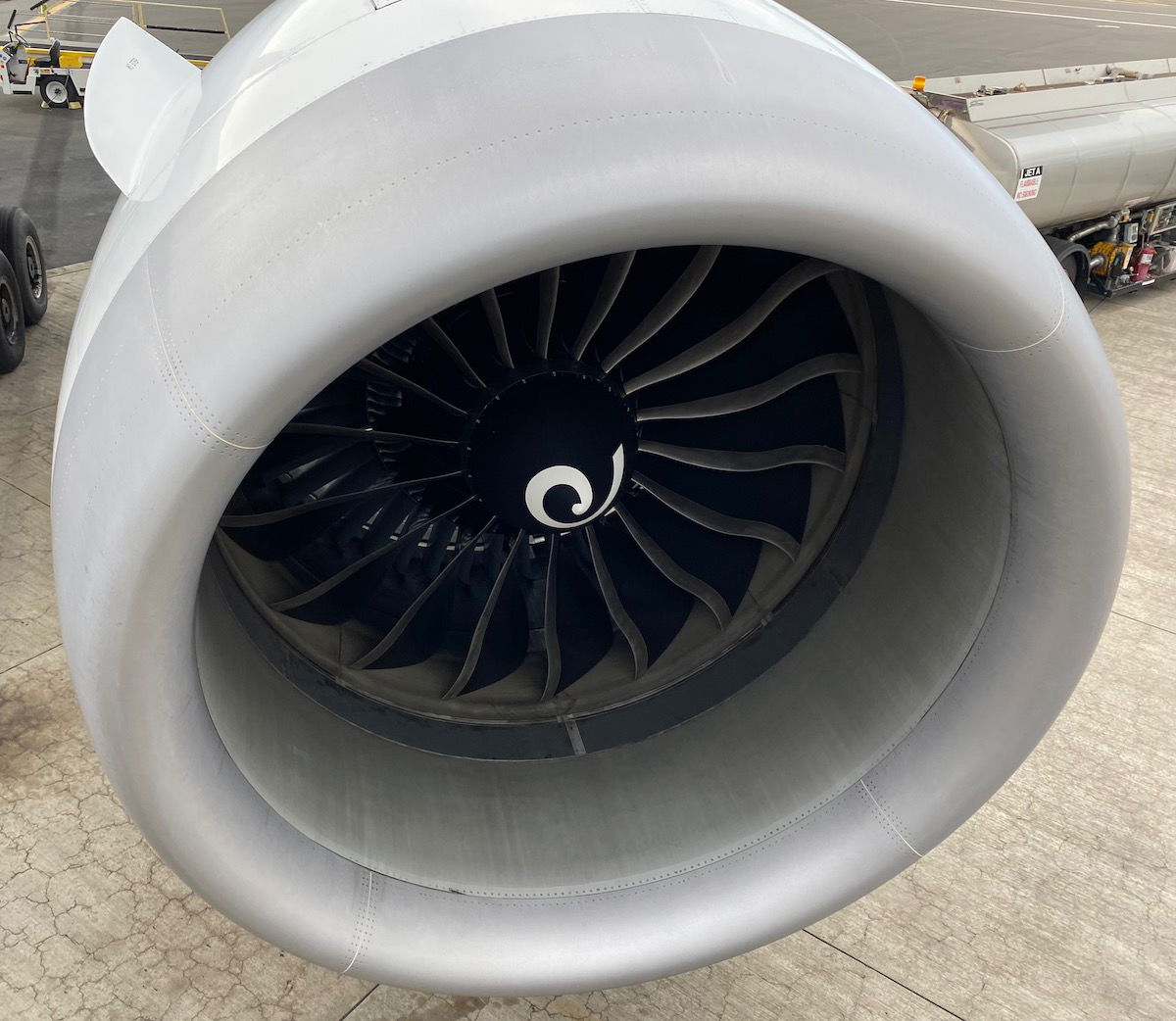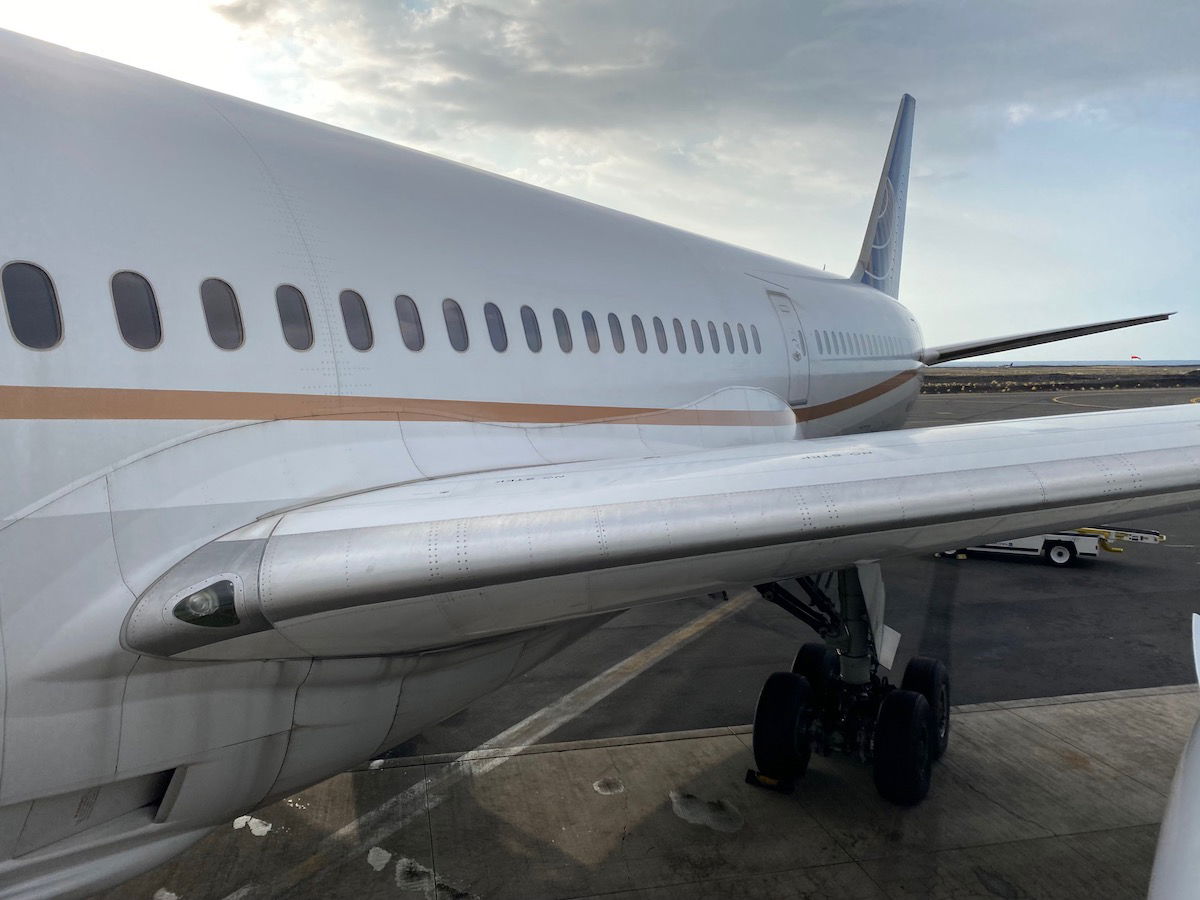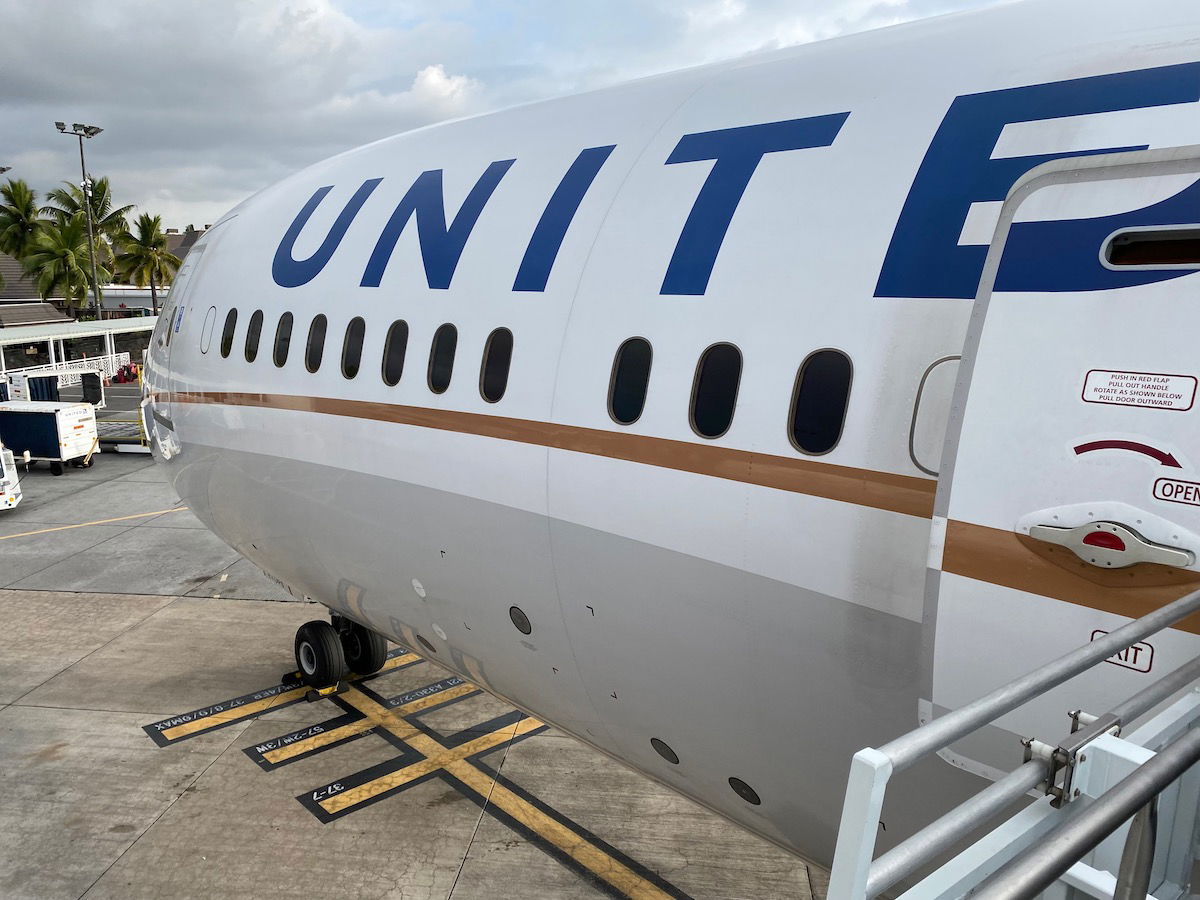 United Airlines Boeing 787-9 business class cabin & seats
We boarded through the second set of doors, and turned right into the rear business class cabin. United's old Boeing 787-9 layout features 48 business class seats, spread across eight rows in a 2-2-2 configuration. The forward cabin has five rows, while the rear cabin has three rows.
United's old business class seats are Collins Aerospace Diamond seats. They're about the most efficient fully flat seats you'll find, as the footwell for each seat is to the side of the seat in front.
These seats are quite nice for a roughly eight hour flight when you're traveling with someone, while I'd be much less happy with these seats if traveling solo from San Francisco to Singapore, for example (though a vast majority of 787-9s have been reconfigured, so at this point that's a moot point).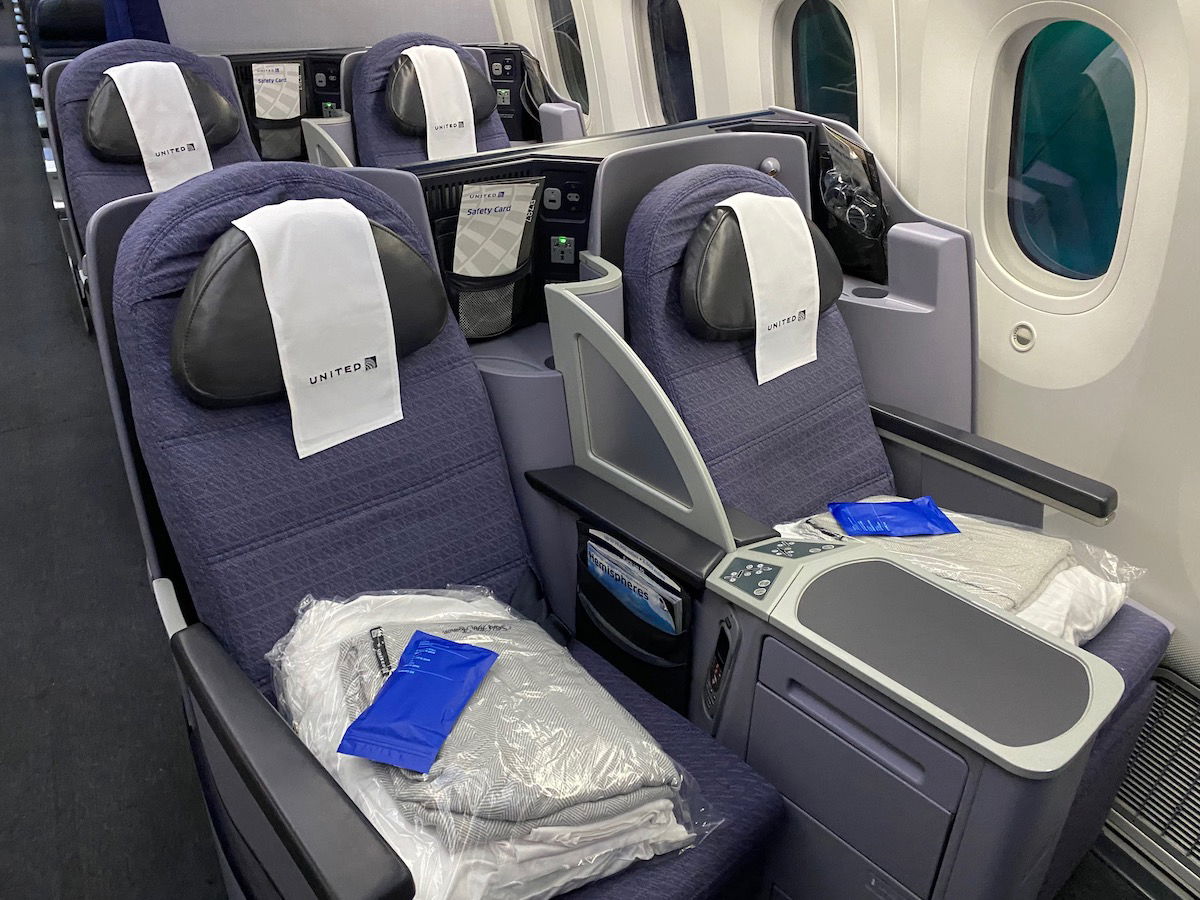 I assigned us seats 8A & 8B, the aisle and window seat on the left side in the last row.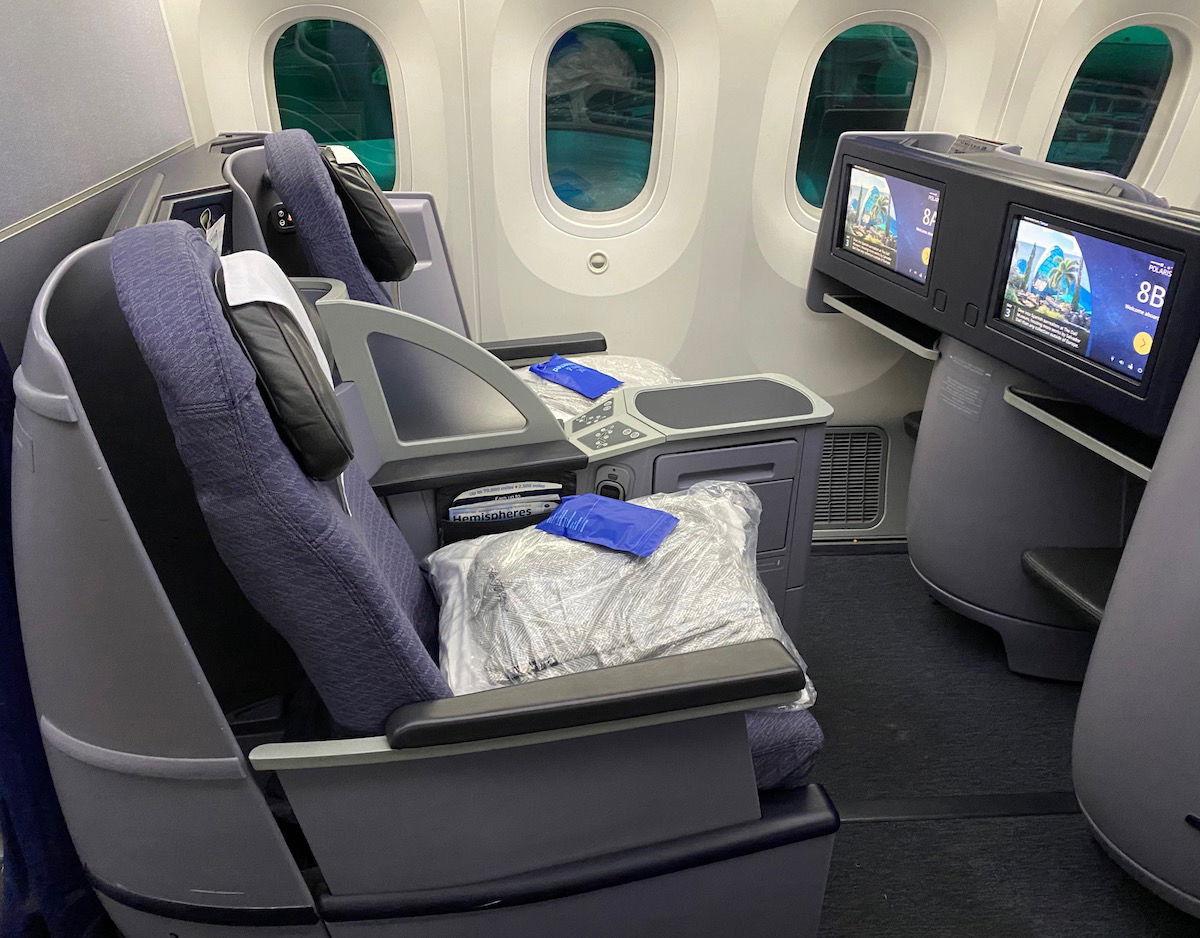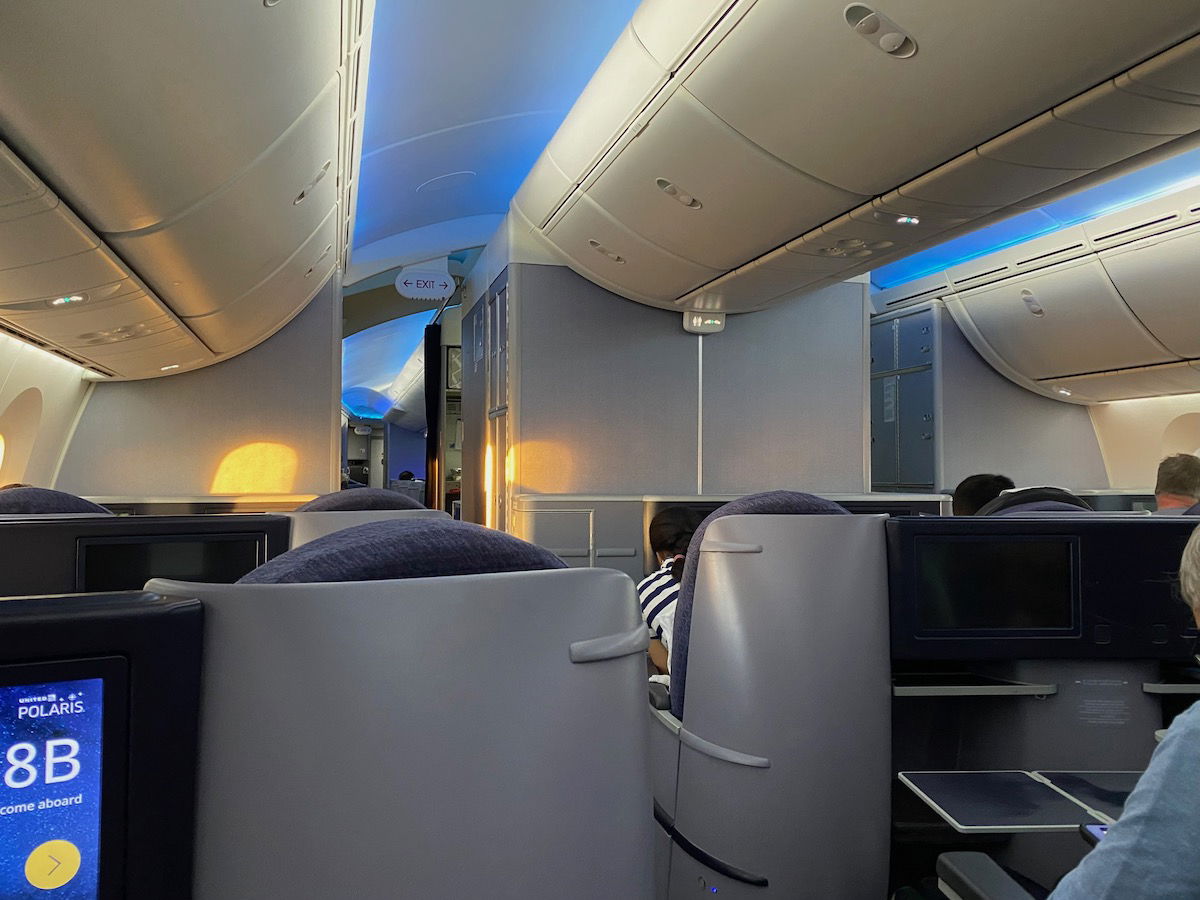 I also glanced into the economy class cabin, which looked pretty standard.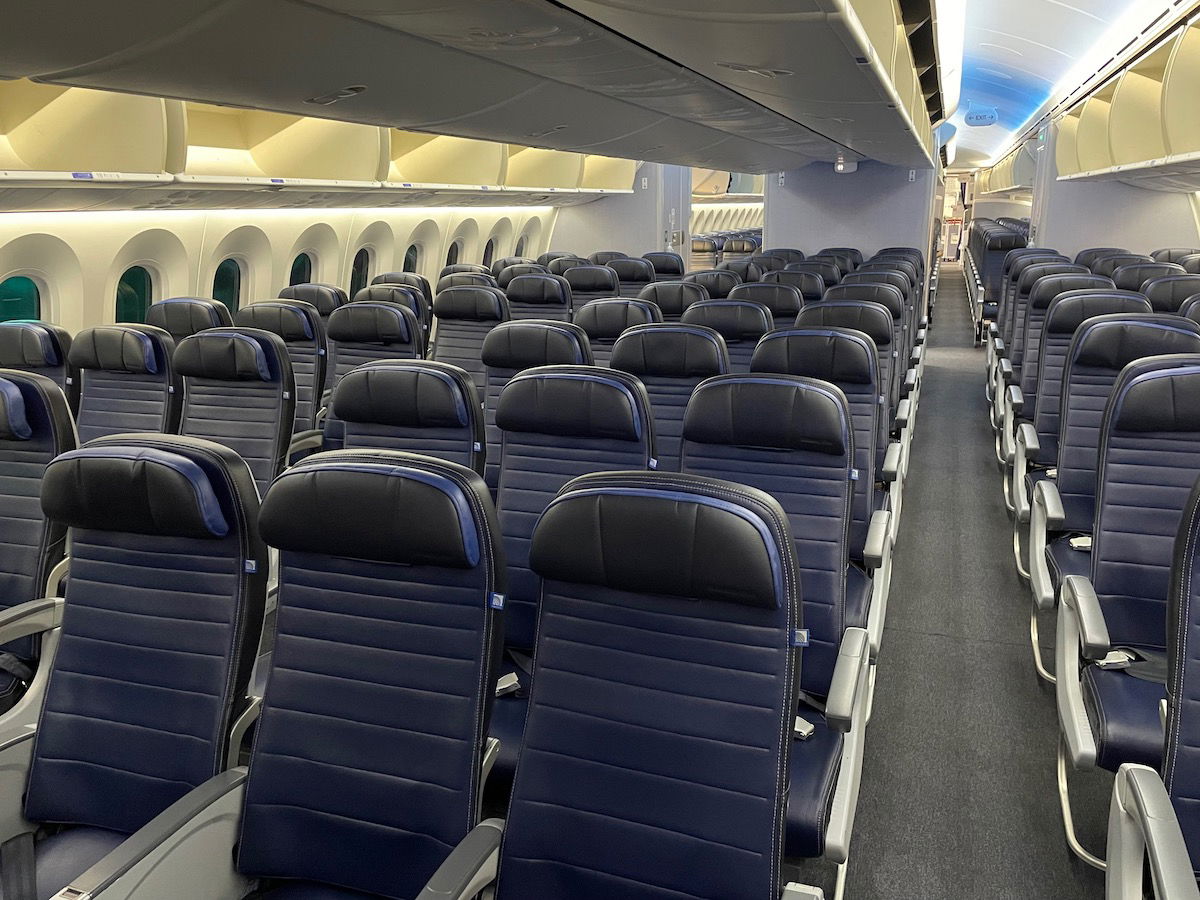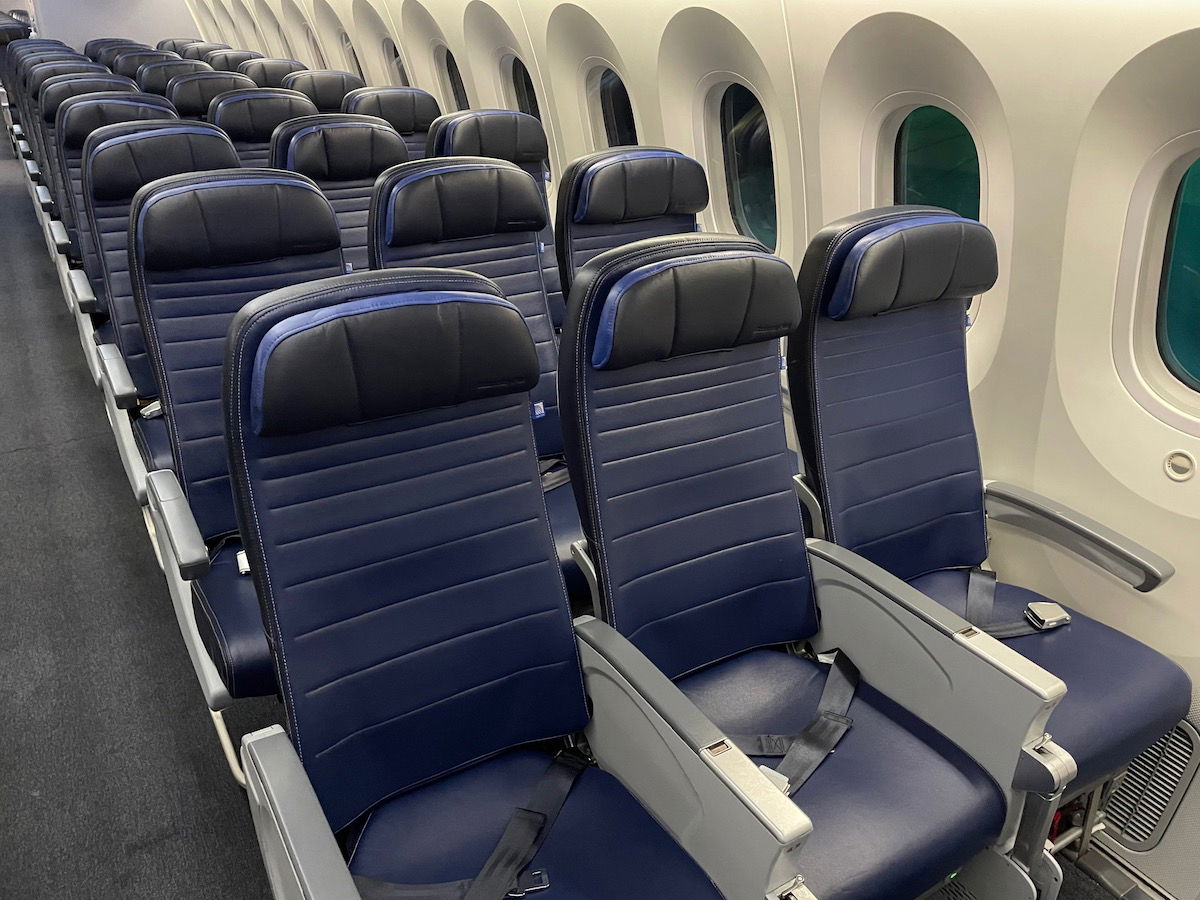 There were three lavatories in business class — one at the front of the aircraft, and two in the galley between the two cabins. The lavatory on the left side between cabins was by far the largest.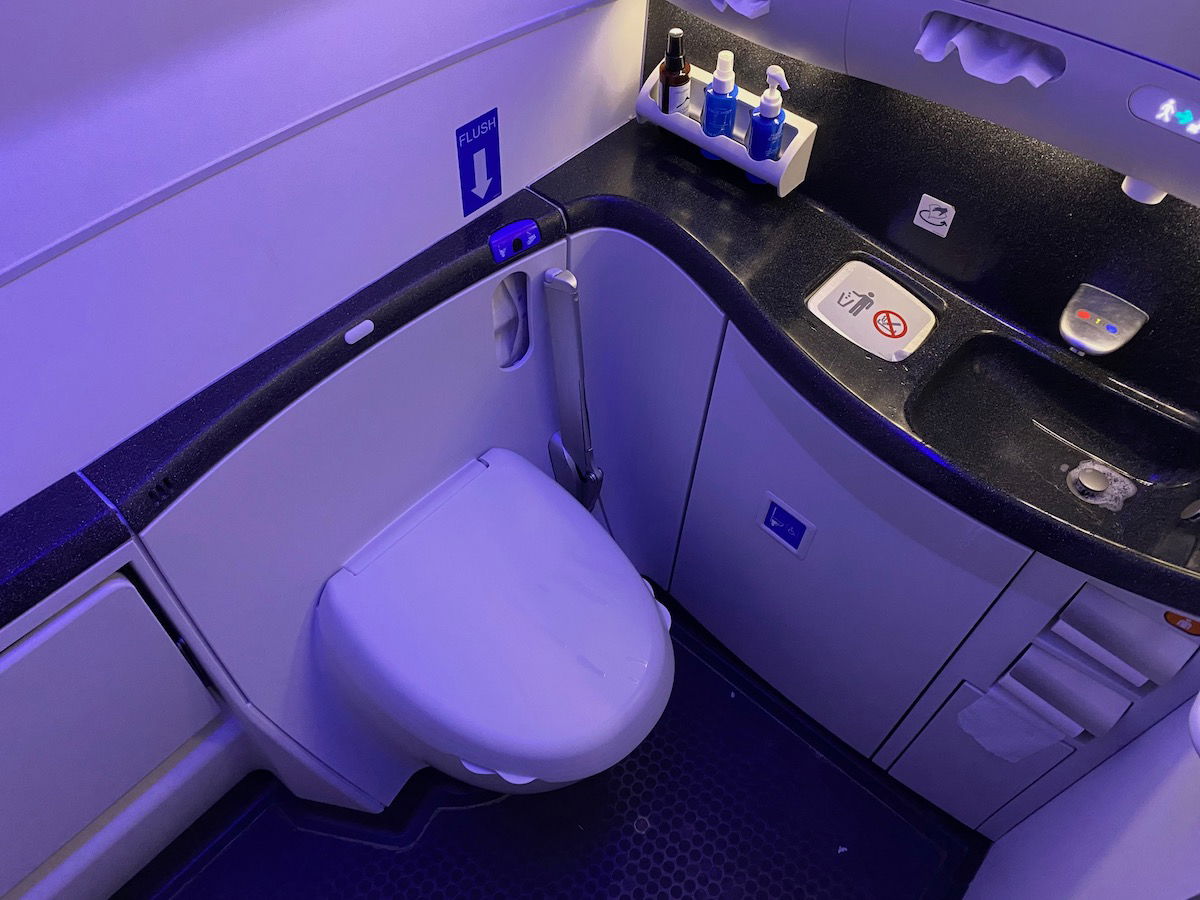 For what it's worth, initially business class had only around 28 passengers (the capacity of the 787-8's business class cabin), but there were roughly 15 standby passengers (I assume mostly non-revs) that ended up clearing into business class. There still ended up being some empty seats in business class.
United Airlines business class amenities
This flight had better amenities than you'd typically find in domestic first class, but not quite the standard long haul Polaris amenities. There was a comfortable Saks pillow, plus a decent blanket. The Polaris duvet wasn't offered on this flight, though.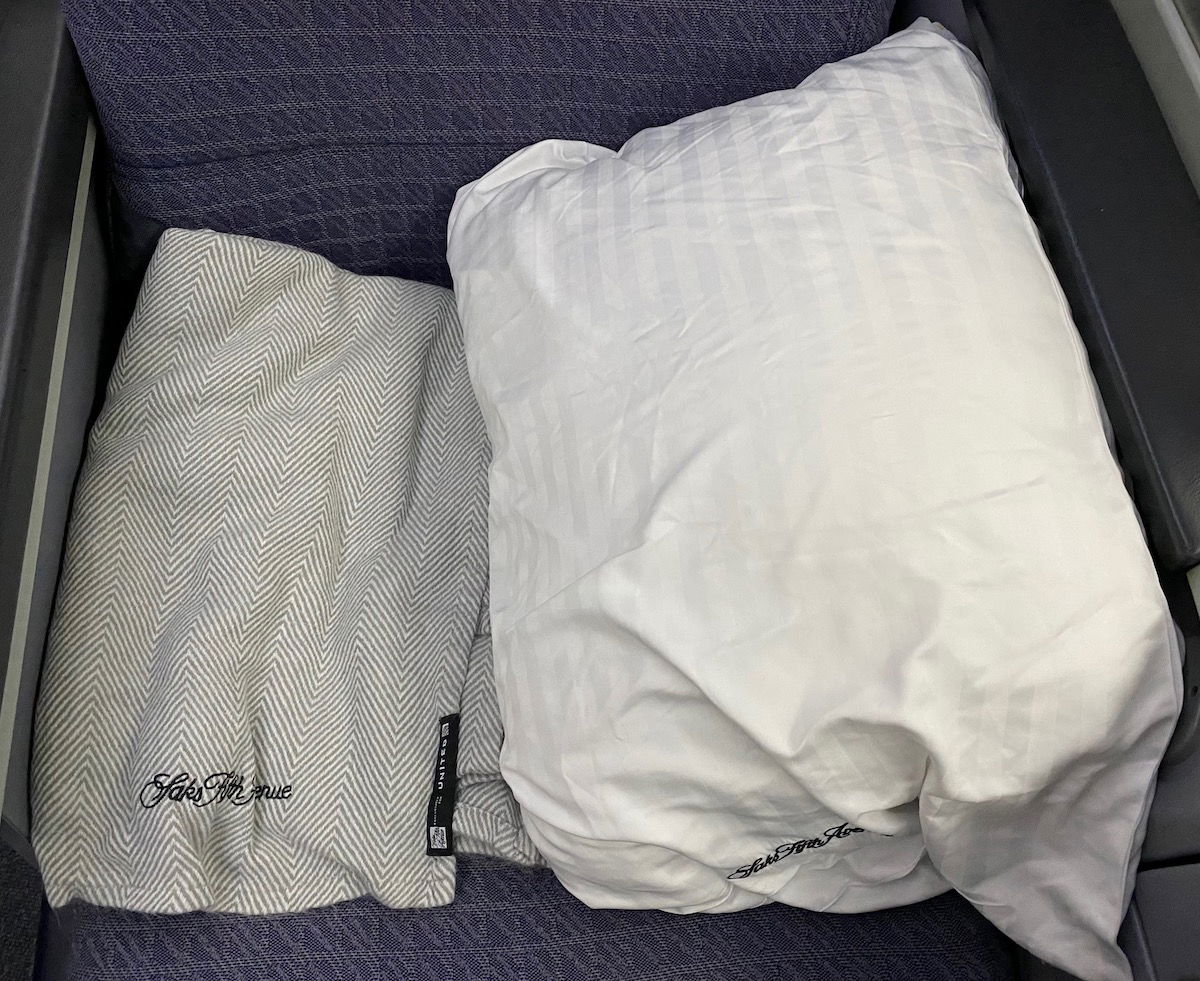 Each business class passenger was given a small pouch with amenities, including eyeshades, earplugs, and a dental kit.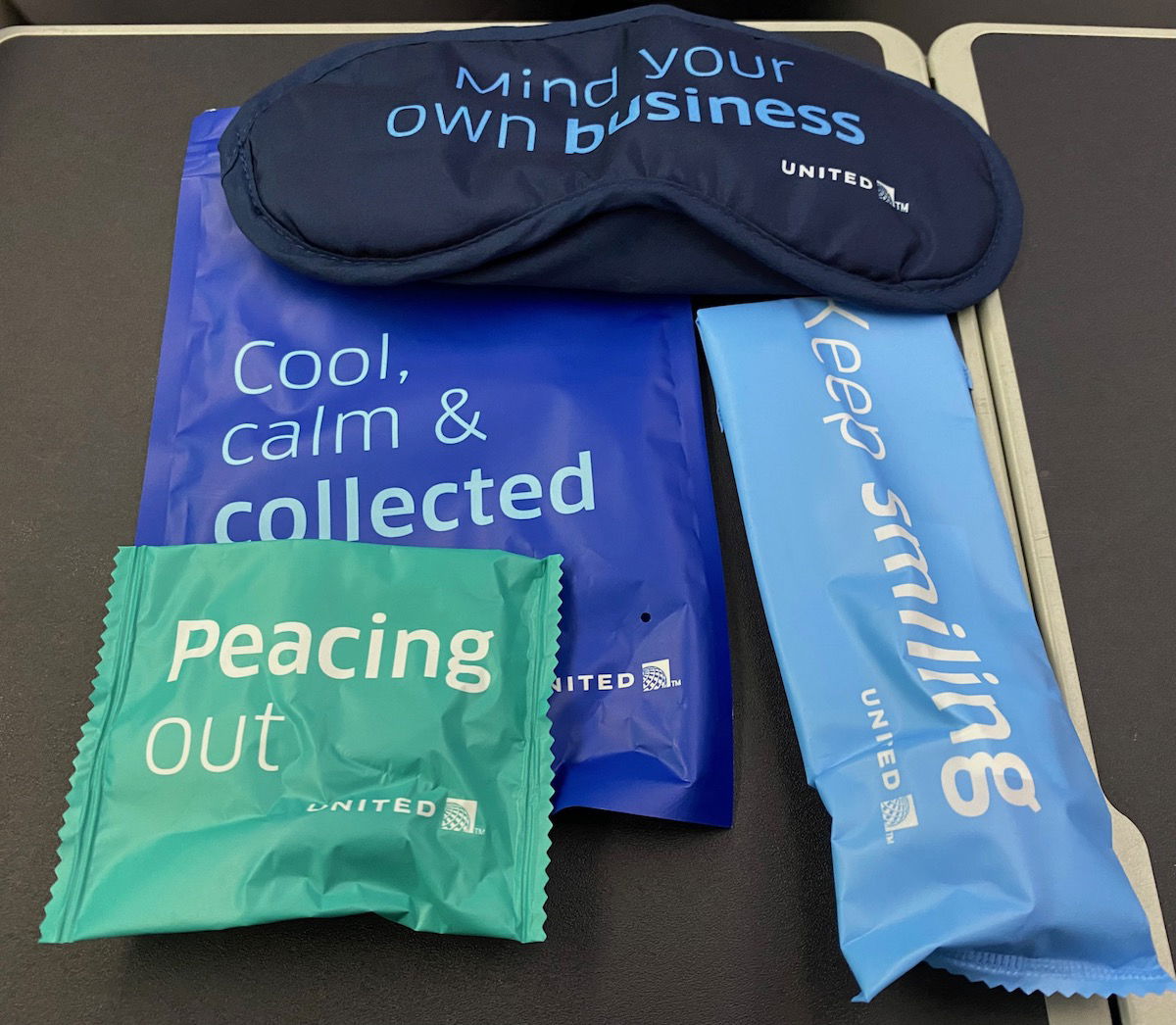 Before takeoff each passenger was offered a mimosa or water. I wouldn't typically drink airplane orange juice or United's prosecco, but when you combine the two, it's not half bad.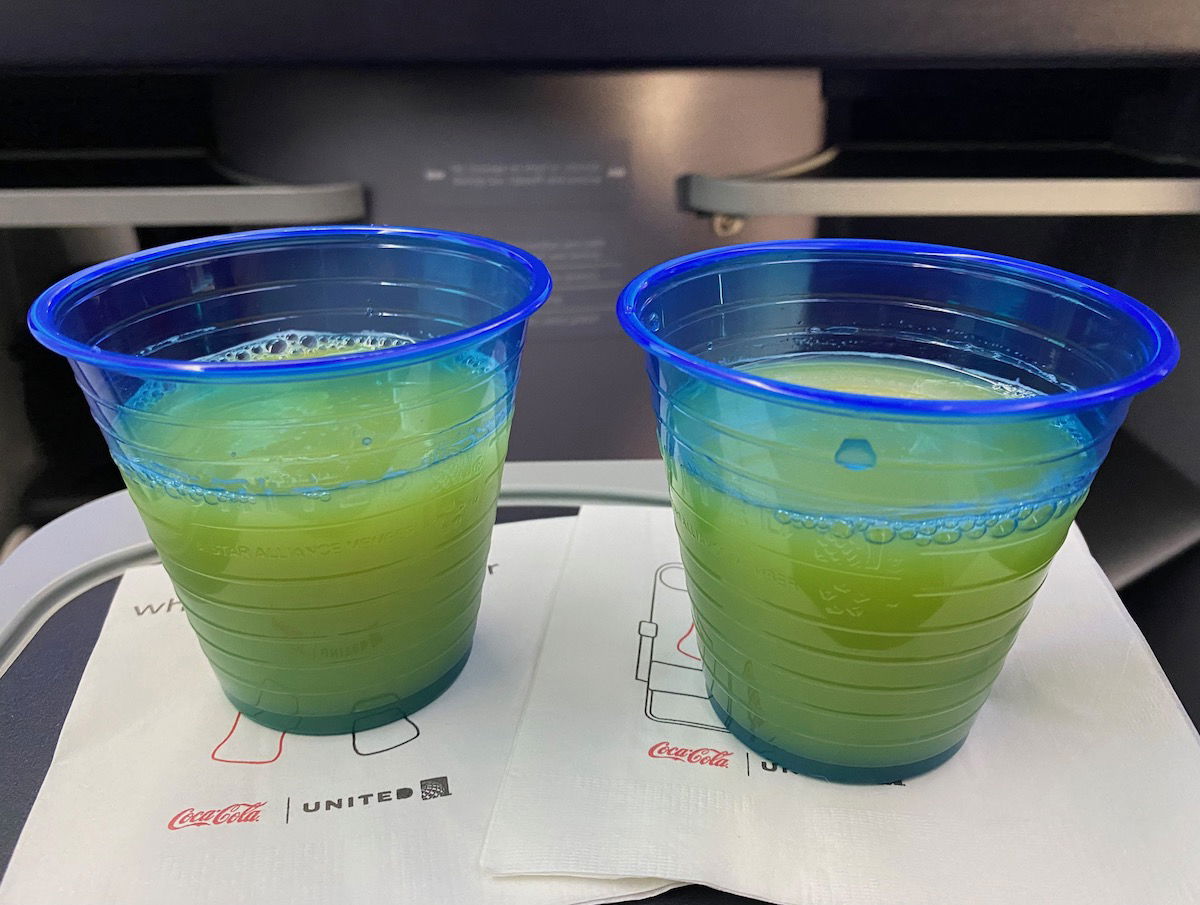 United Airlines business class dinner
What was service like on this 7hr46min flight? Well, dinner was served pretty efficiently after takeoff. Before departure we were asked for our preference, with the choices being described as chicken strips with rice or pasta with red sauce and vegetables.
Based on the chicken I had on my last United flight from Hawaii, I decided to order the vegetarian option, and encouraged Ford to do the same. To drink we both decided to order an old fashioned. United has "On the Rocks" pre-made cocktails, which are pretty awesome for what they are.
Everything was served on a single tray. This included warm mixed nuts in a ramekin, a wrapped pretzel roll, an appetizer (consisting of rice and… I'm not sure, maybe chicken?), a main course (I'm not sure "pasta with red sauce and vegetables" really describes this well), plus a blondie for dessert (is that the right term?).
Was the meal gourmet or beautifully presented? No. But it was much better than the meal on my last United flight from Hawaii. The vegetarian main was reasonably tasty but not particularly exciting or memorable, though the sauce helped add some flavor.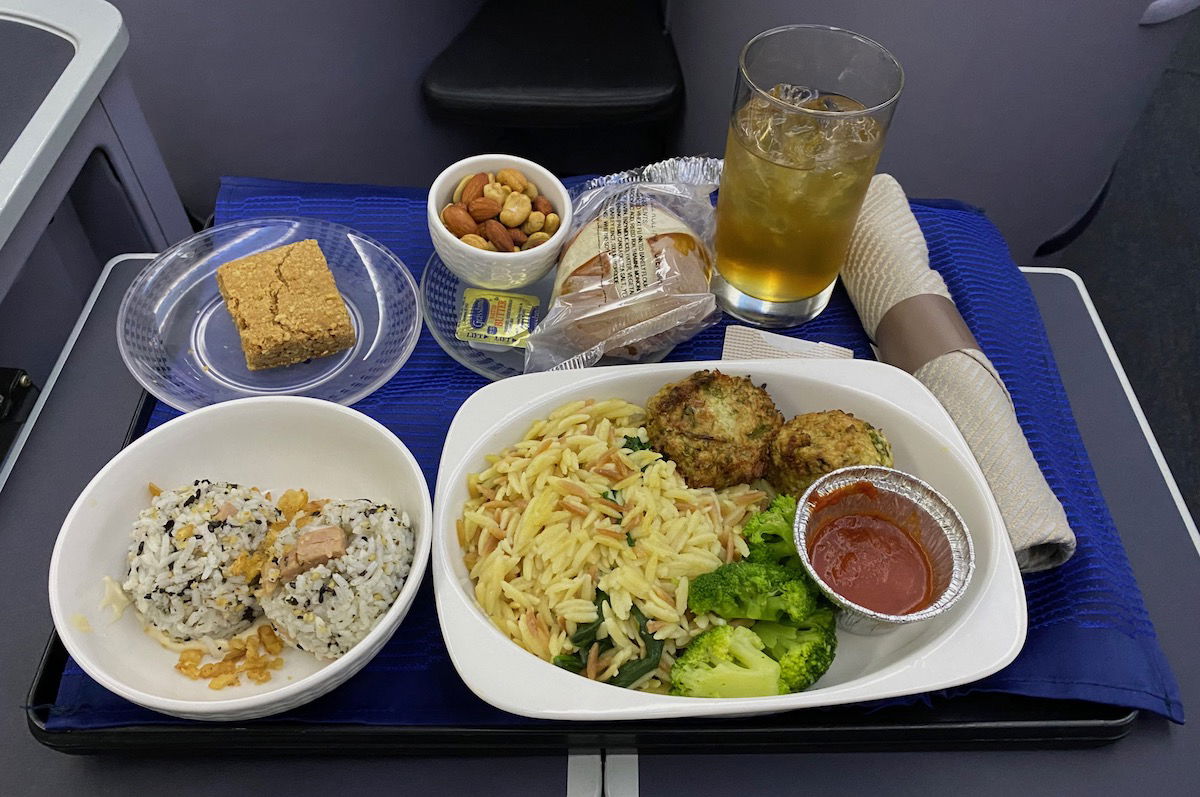 The flight attendant taking care of us provided a refill of our cocktails, plus also proactively brought us some water.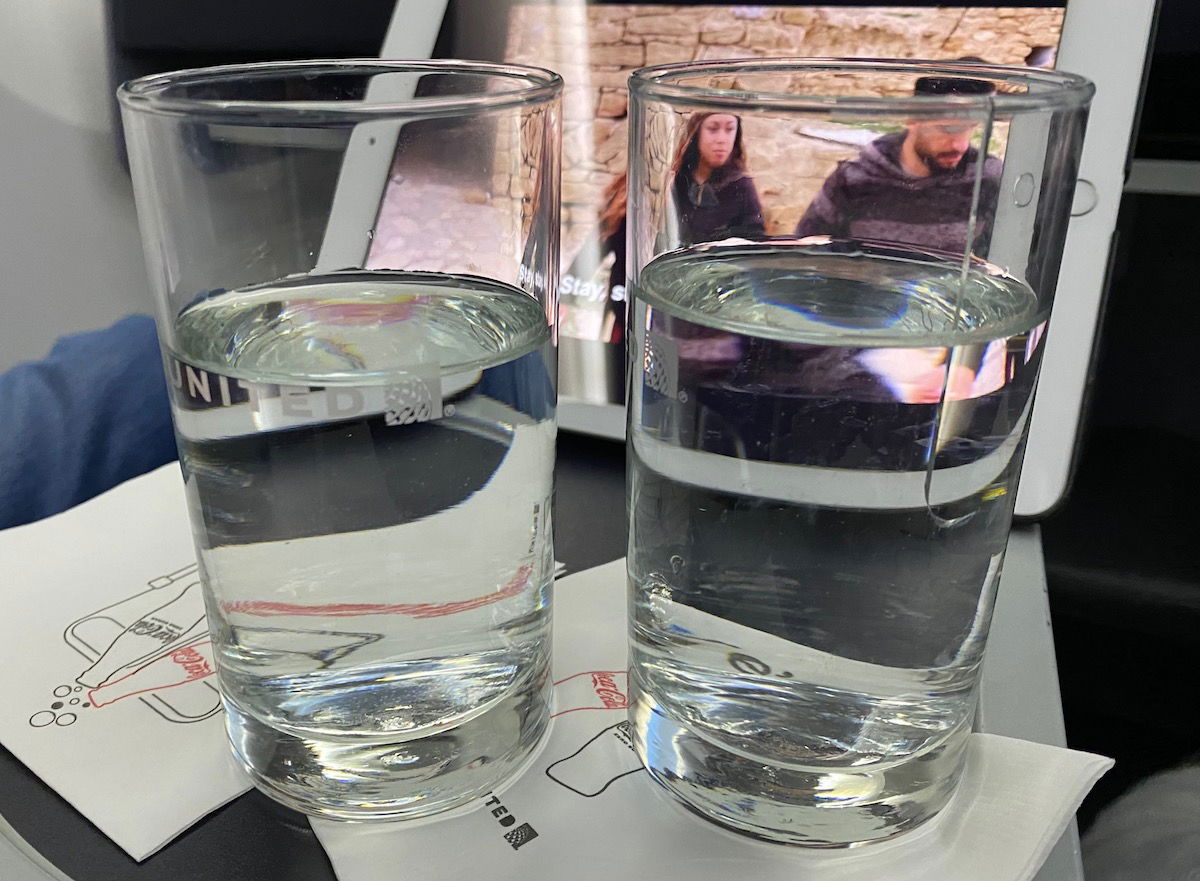 I appreciated how quickly after takeoff the meal service was done, as the tray was cleared only about an hour after takeoff. We were also treated to a gorgeous sunset during the meal.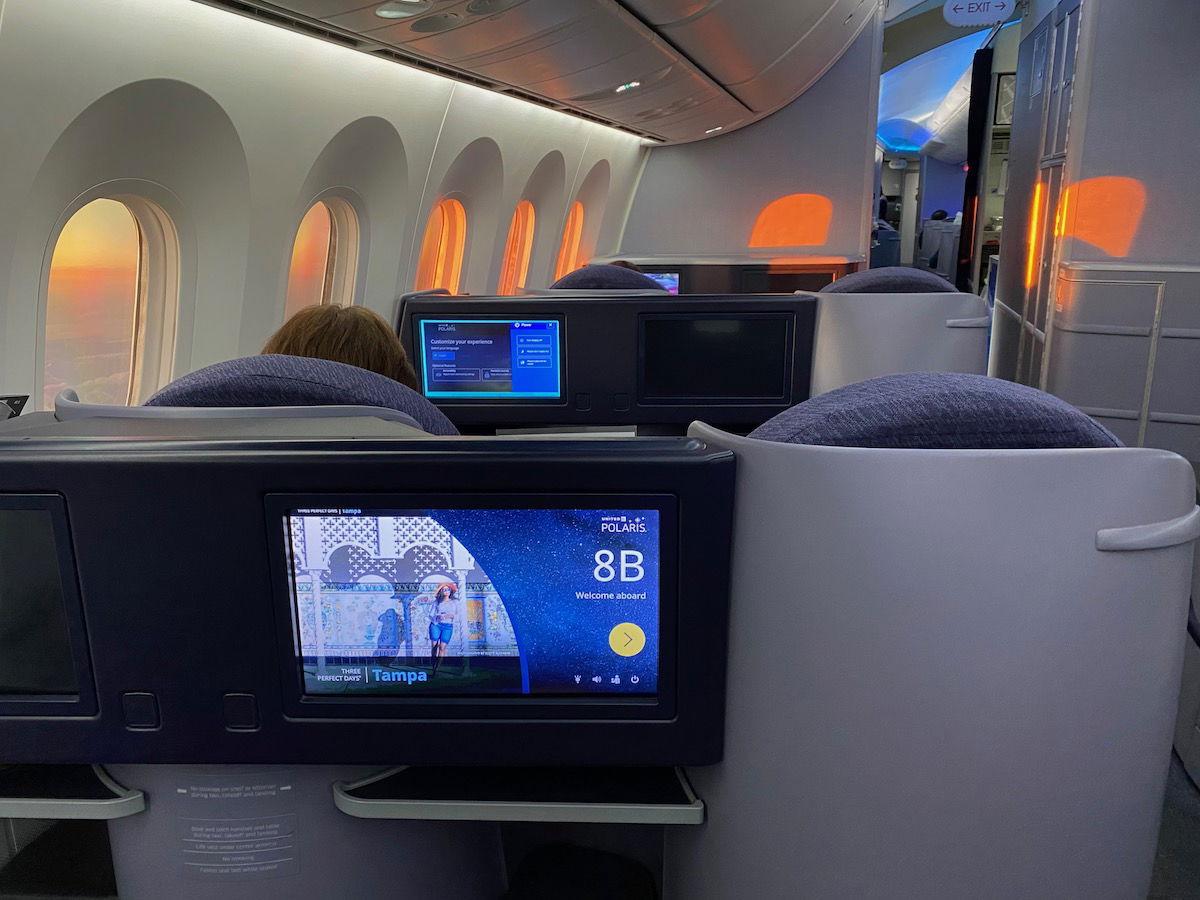 United Airlines Boeing 787-9 entertainment & Wi-Fi
United has a pretty extensive entertainment selection on the Boeing 787-9, with plenty of movies and TV shows. However, I only watched the moving map.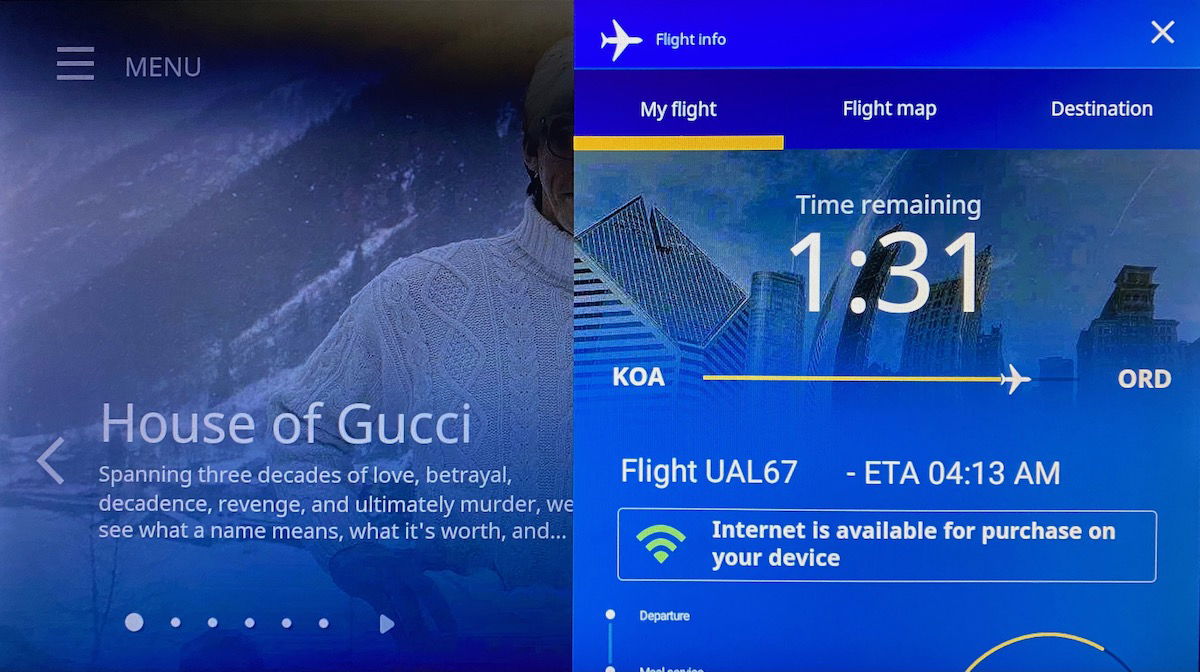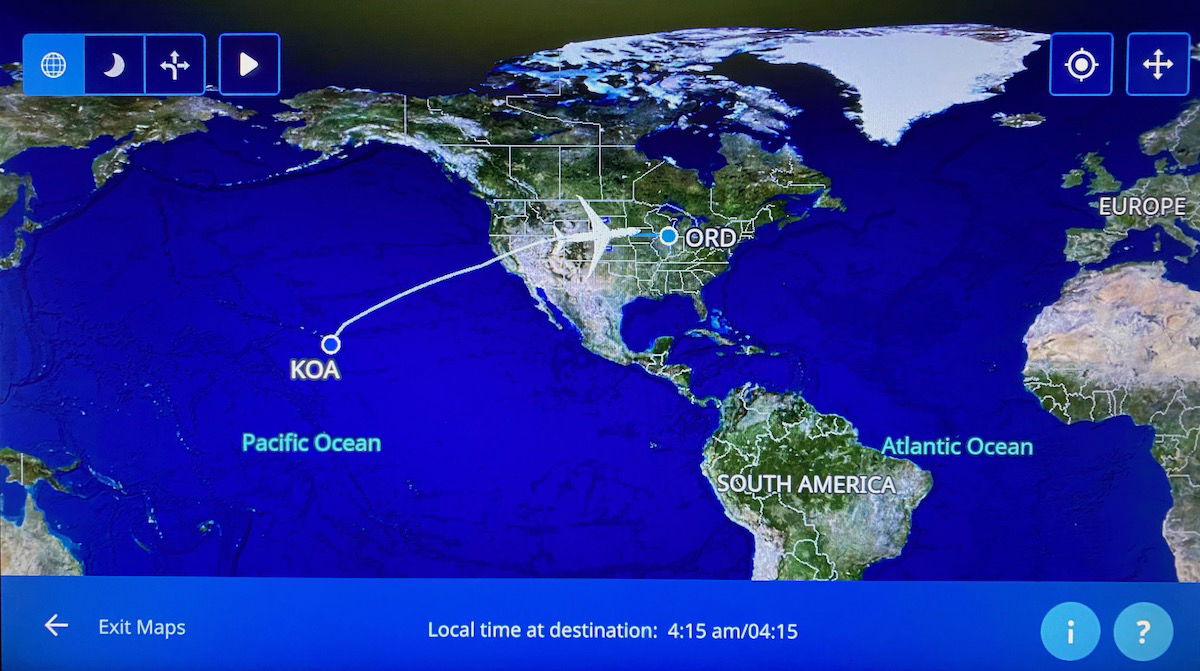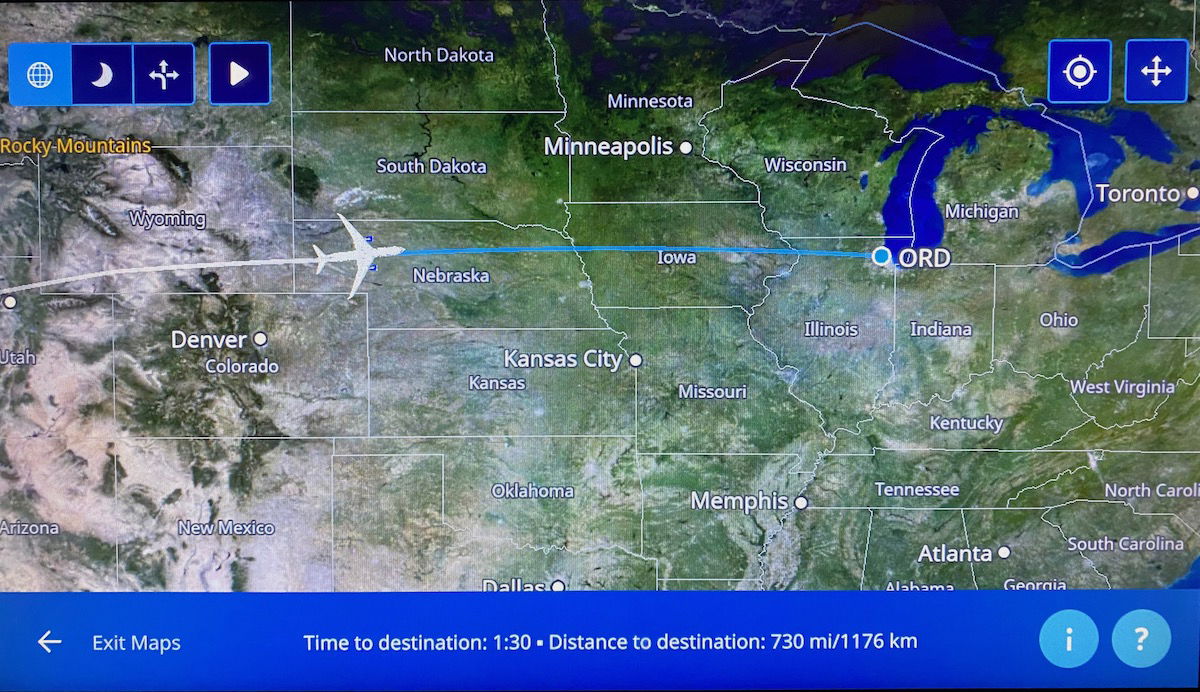 United also has Wi-Fi on the 787-9, though I didn't end up using it, given that this was an overnight flight.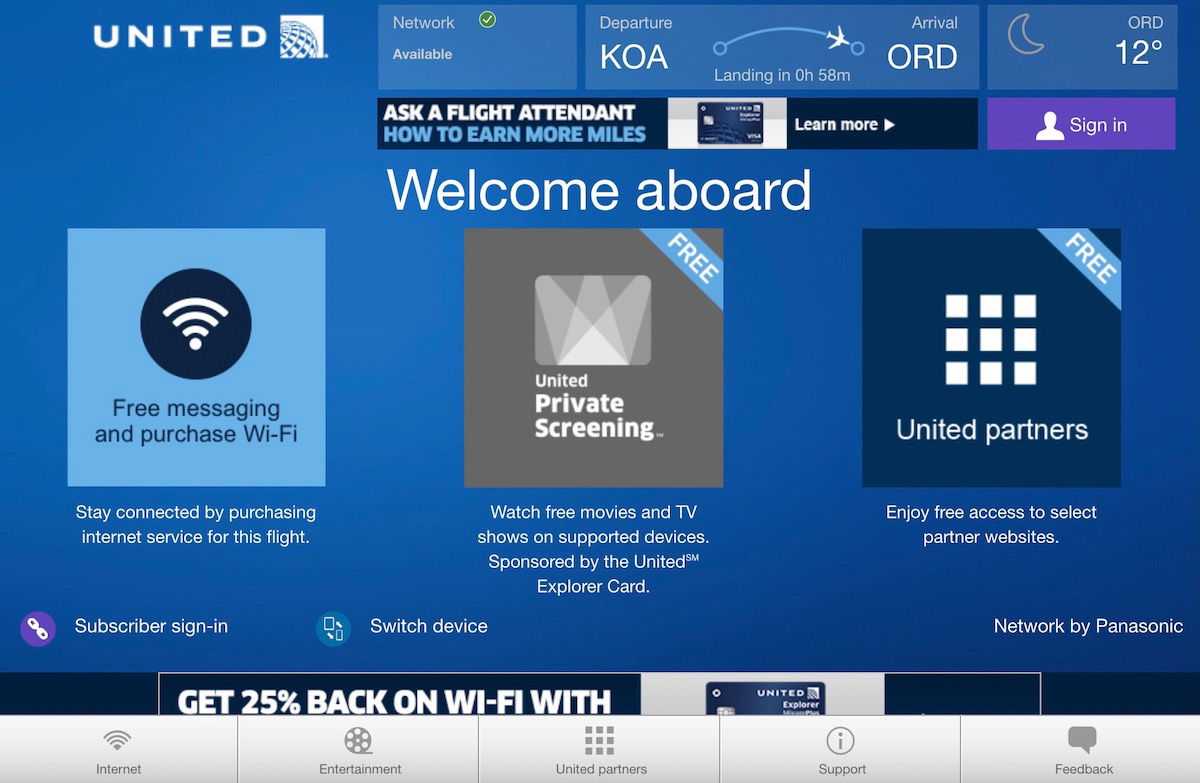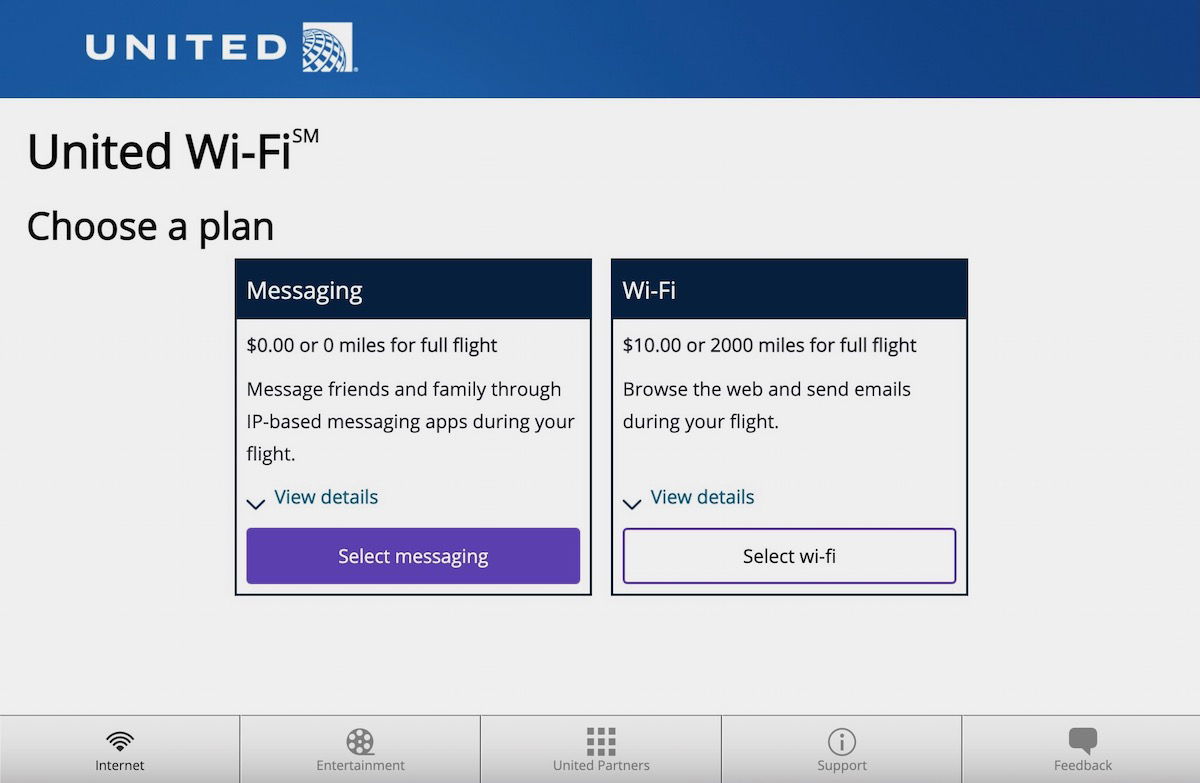 United Airlines business class breakfast
When I flew United from Maui to Chicago last year there was no breakfast service, while this time around there was. About an hour before landing breakfast was served, with the choice of eggs or a fruit and cheese plate. We ordered one of each.
The egg dish came with rice and sausage, a side of fruit, and a croissant.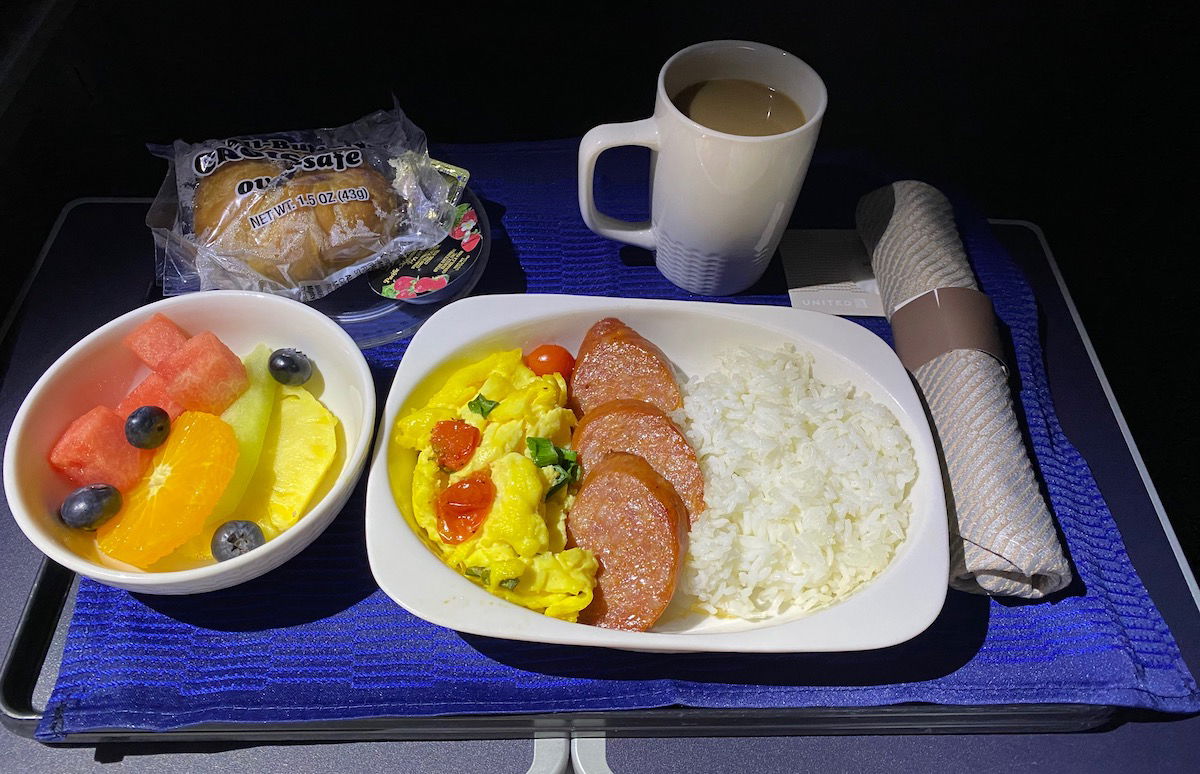 The fruit & cheese plate had pineapple, strawberries, grapes, cheese, almonds, cashews, and a hardboiled egg. It came with a croissant plus some sort of a cold oatmeal mango side, or something.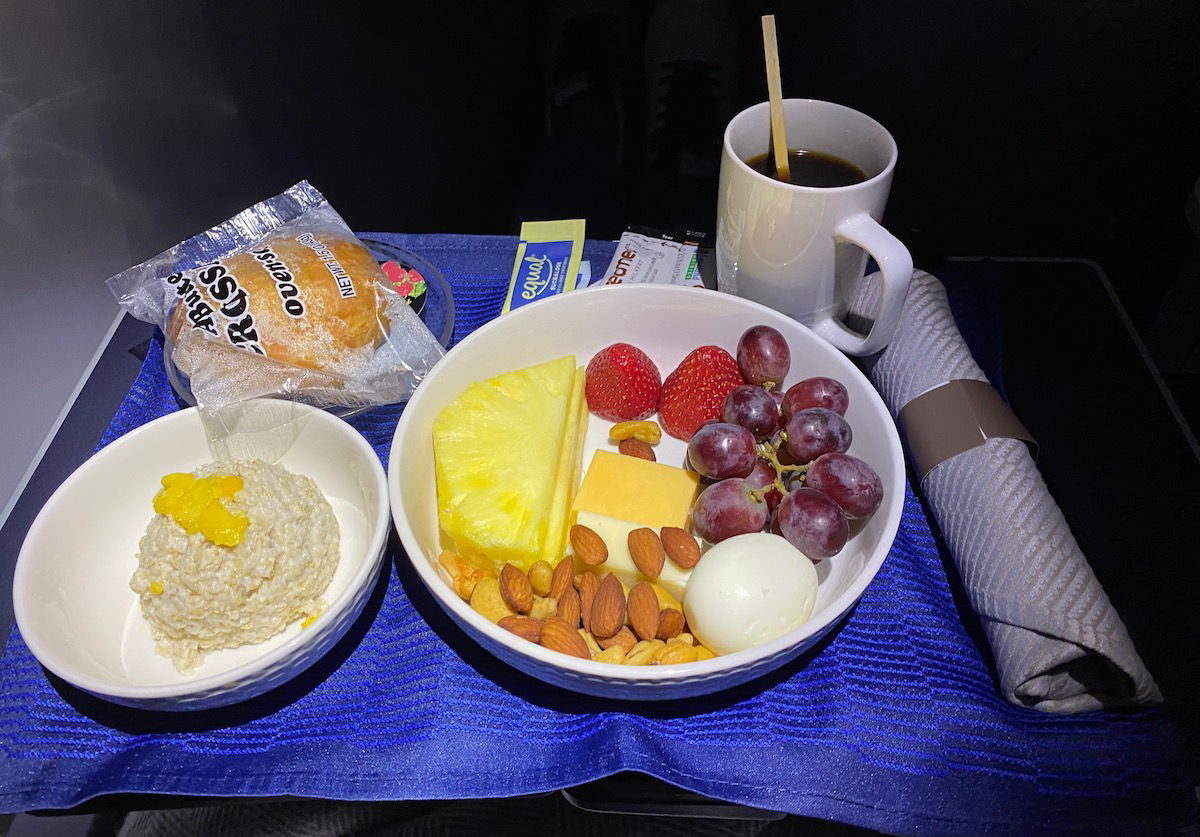 United Airlines business class service
What stood out to me most about this flight was the excellent service. I find service on United to be a mixed bag, with both some of the best and worst flight attendants in the industry. The flight attendant working our section was a delight.
She was kind, attentive, friendly, efficient, and genuinely seemed to enjoy her job. For example, at the end of the meal she'd say "what else can I get you?" She's one of the best United flight attendants I've had in a long time, so huge kudos to her.
Bottom line
All things considered we had a pretty great United flight from Kona to Chicago. For one, United currently offers the only flat beds from Kona, and for that matter operates the only flight from Kona that's further east than Phoenix.
Even though we had a last minute aircraft swap that caused us to get United's old business class seats, everything else about this flight was better than my last United flight from Hawaii. The flight attendant taking care of us was friendly, there was a dinner and breakfast service, and the food quality was better (which admittedly is a very low bar).
While hardly a memorable experience, this ended up being a comfortable and efficient way to return to the mainland.