EXTRA PERKS AVAILABLE
Enjoy breakfast, upgrades, & more
Want to take advantage of Virtuoso benefits at no extra cost, including a room upgrade, free breakfast, and roundtrip airport transfers with VIP meet & greet? Contact Ford ([email protected]) for more details. He doesn't charge booking fees, and may even be able to help if you already have a stay booked.
For our last night in Paris, we decided to stay in the city's newest luxury hotel, the 72-room Cheval Blanc, which opened in September 2021.
This hotel is jaw-droppingly gorgeous, and has completely different decor than the Ritz and the Four Seasons George V. This might be the most beautiful city hotel I've ever stepped foot in, from the rooms, to the pool, to all the other public spaces. While there are some kinks to be worked out, this hotel can compete with the best of them.
What is Cheval Blanc?
For those not familiar, Cheval Blanc is the boutique uber-luxury hotel group that's owned by LVMH (Moët Hennessy Louis Vuitton). There are a few luxury goods company that have gotten into the hotel business, and Cheval Blanc is among the most popular of those.
Currently there are five Cheval Blanc properties (as you can see, there's a heavy focus on France), including the following:
How to book Cheval Blanc Paris
Entry level room rates at Cheval Blanc Paris are very similar to those at the Ritz and the Four Seasons. Rates start at around 1,100 EUR to 1,300 EUR, depending on the day and time of year you're staying. For our one night stay, we paid 1,200 EUR.
There's one absolute best way to book Cheval Blanc Paris, and that's through a travel advisor who is affiliated with Virtuoso. Virtuoso offers guests extra perks at luxury hotels around the world, all without it costing anything extra. Ford is more than happy to help with these requests, and can be reached at [email protected]
For booking Cheval Blanc Paris through a Virtuoso travel advisor, you receive the following additional benefits:
Upgrade on arrival, subject to availability
Full breakfast daily for two guests per bedroom
Complimentary roundtrip airport, train station, or hotel transfers, with VIP meet & greet and fast track immigration
Early check-in and late check-out, subject to availability
It's great how some luxury Paris hotels offer roundtrip airport transfers as a Virtuoso amenity, since that's worth way more than the typical $100 value-add amenity. Perks are much better through Virtuoso than through Amex Fine Hotels & Resorts for this property, so this is definitely a property where you want to book through a Virtuoso travel advisor.
Cheval Blanc Paris location
Cheval Blanc is located in Paris 1st arrondissement, in front of the Pont-Neuf (the oldest bridge across the Seine), between Le Louvre and Le Marais. This is a pretty central location. It's nice to have such easy access to walking along the river, and the proximity to Le Marais is also nice.
The immediate area around the hotel isn't quite as high-end as you'd find at the other two properties we stayed at (which is either good or bad, depending on how you look at it).
Cheval Blanc is located within Paris' historic La Samaritaine department store. The building is owned by LVMH, which explains why Cheval Blanc ended up opening here. Essentially part of the department store was converted into a hotel.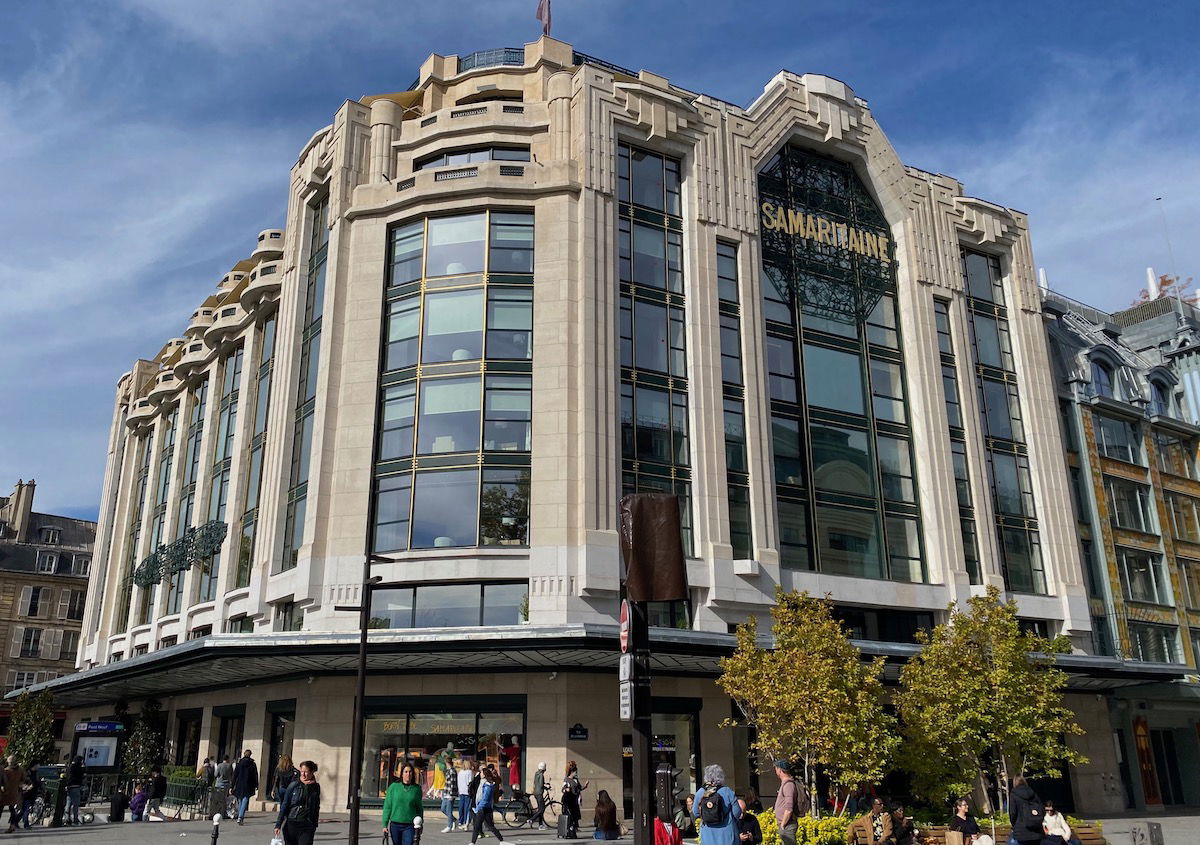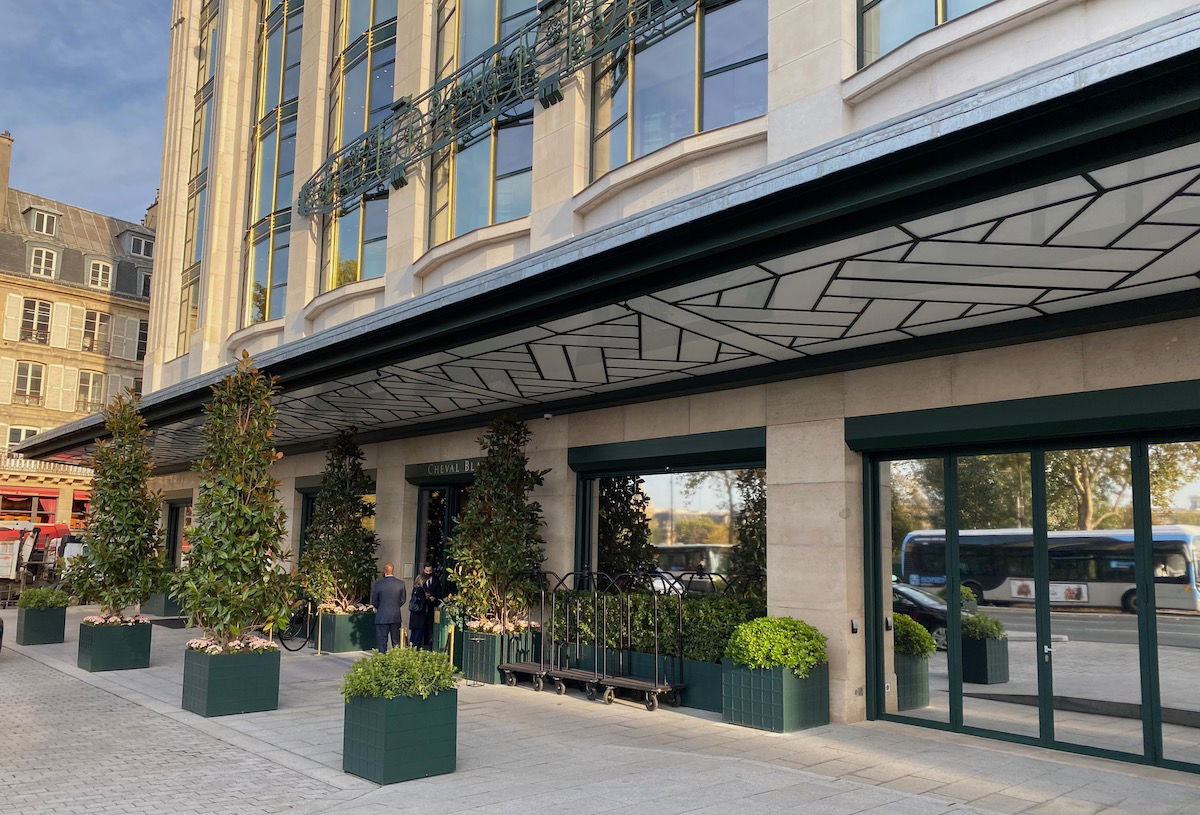 Cheval Blanc Paris lobby & public areas
I'm not sure that there's anything I can say that will do justice to how gorgeous this hotel is. We were speechless the second we walked into the hotel's lobby. Obviously we loved the public areas of the Ritz and the Four Seasons, since they're appropriate given the history of the properties. As I mentioned in both cases, I wouldn't actually want to live somewhere with decor like that.
Well, Cheval Blanc Paris is a different story. The decor is modern and simply exquisite, and I can't even imagine how much money went into this property. Anyway, inside the lobby there was reception to the left (with sit-down check-in) and then the concierge to the right. The lobby also had a good bit of seating.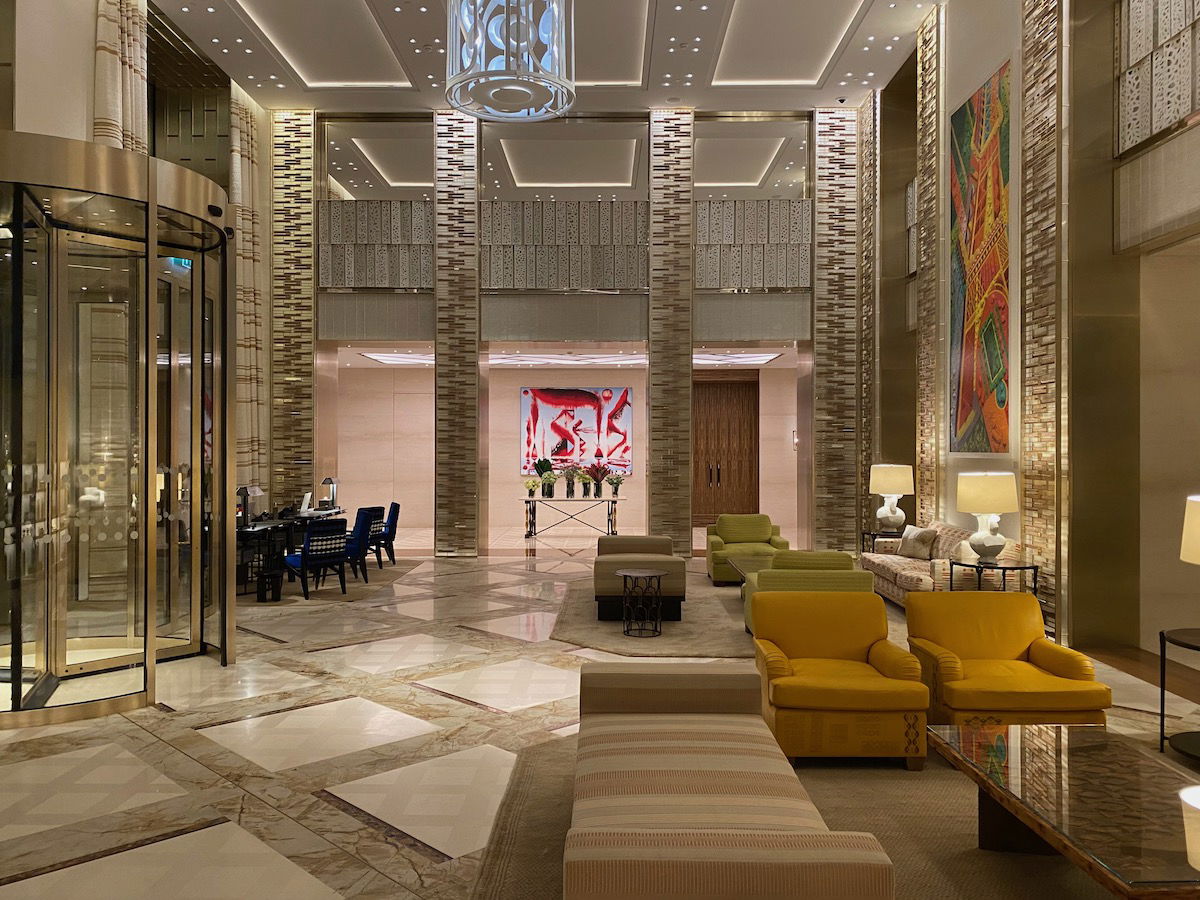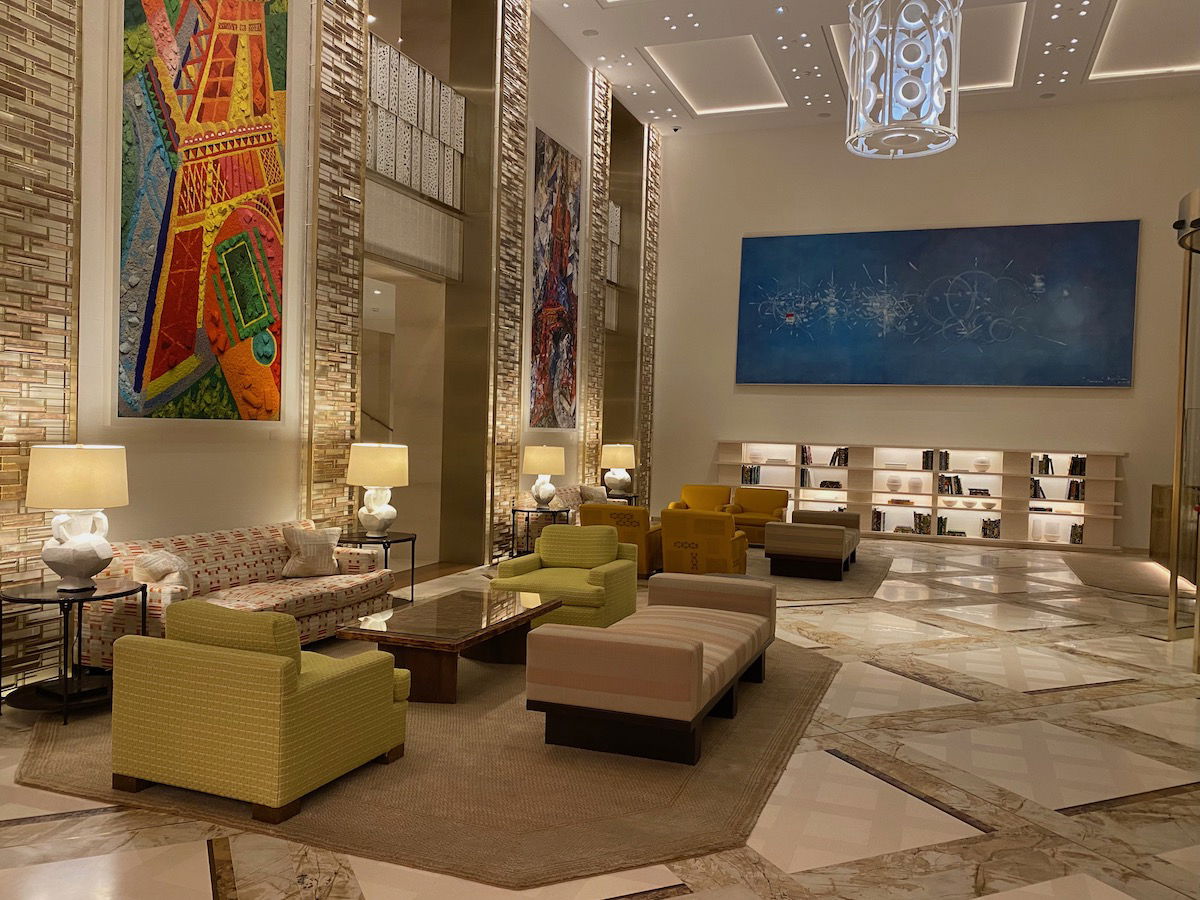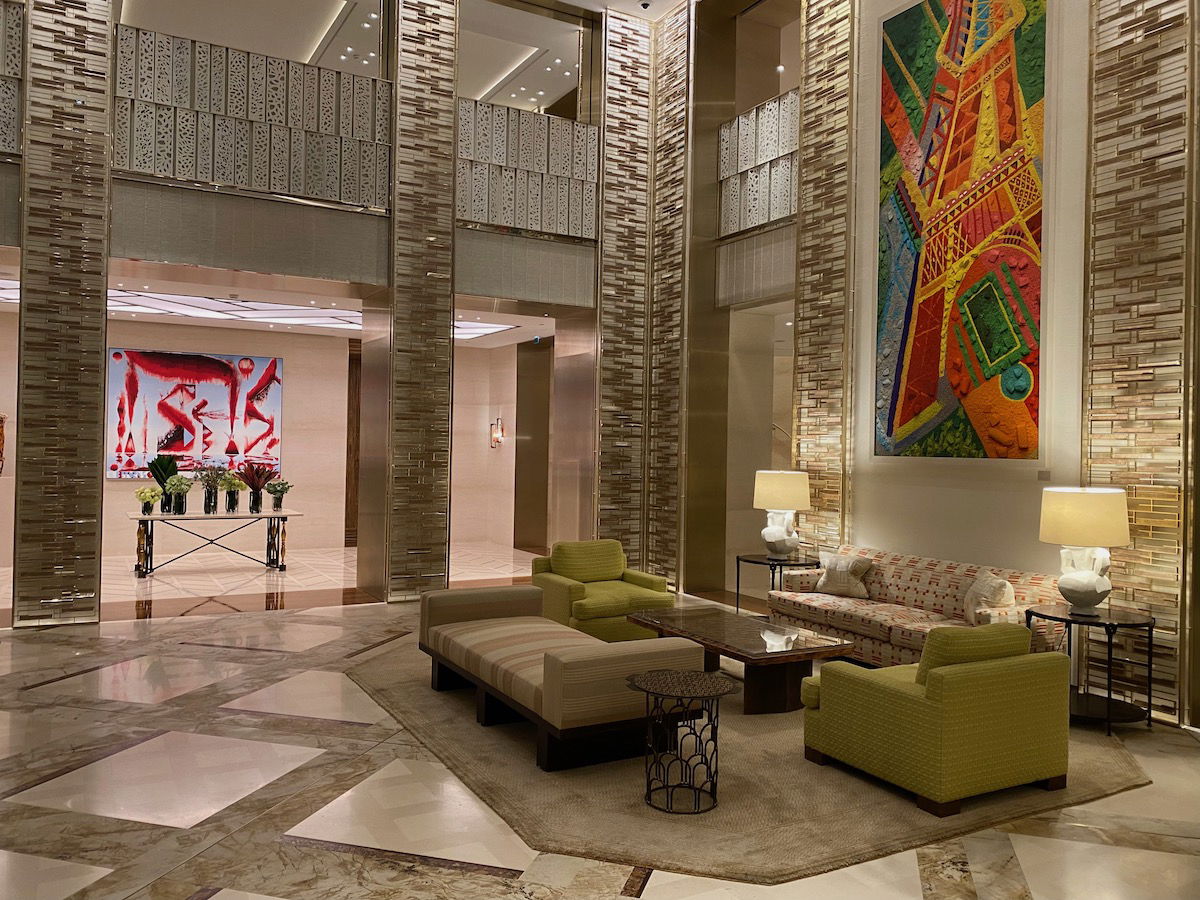 Behind the lobby was a long hallway leading to the elevators, spa, and the ground floor restaurant.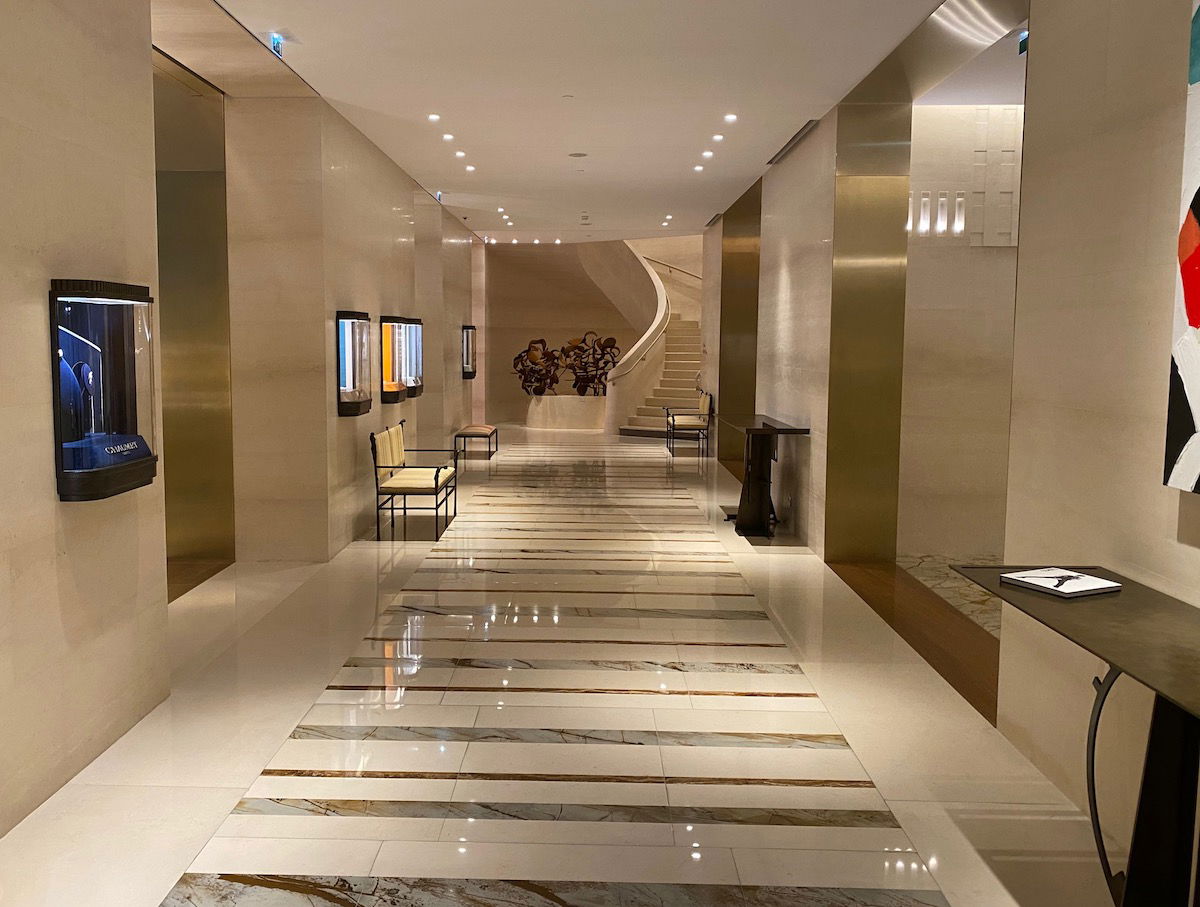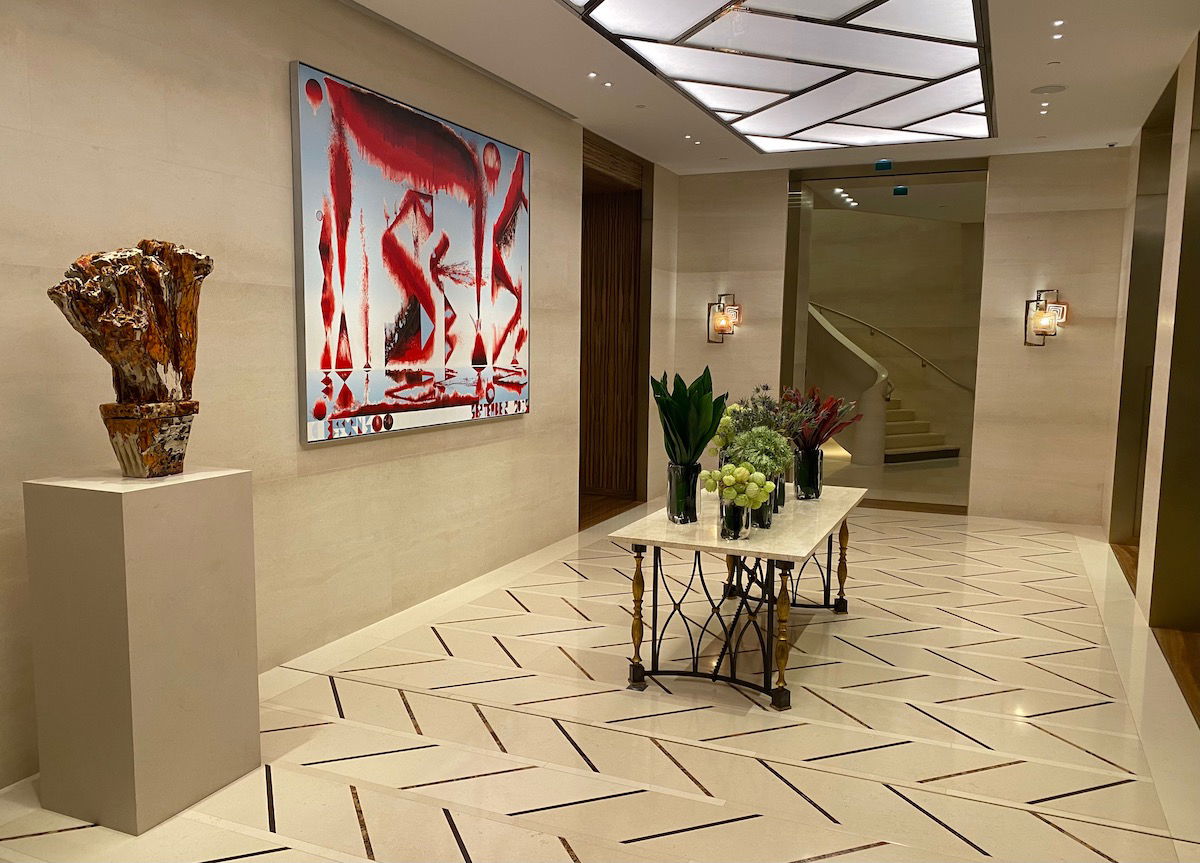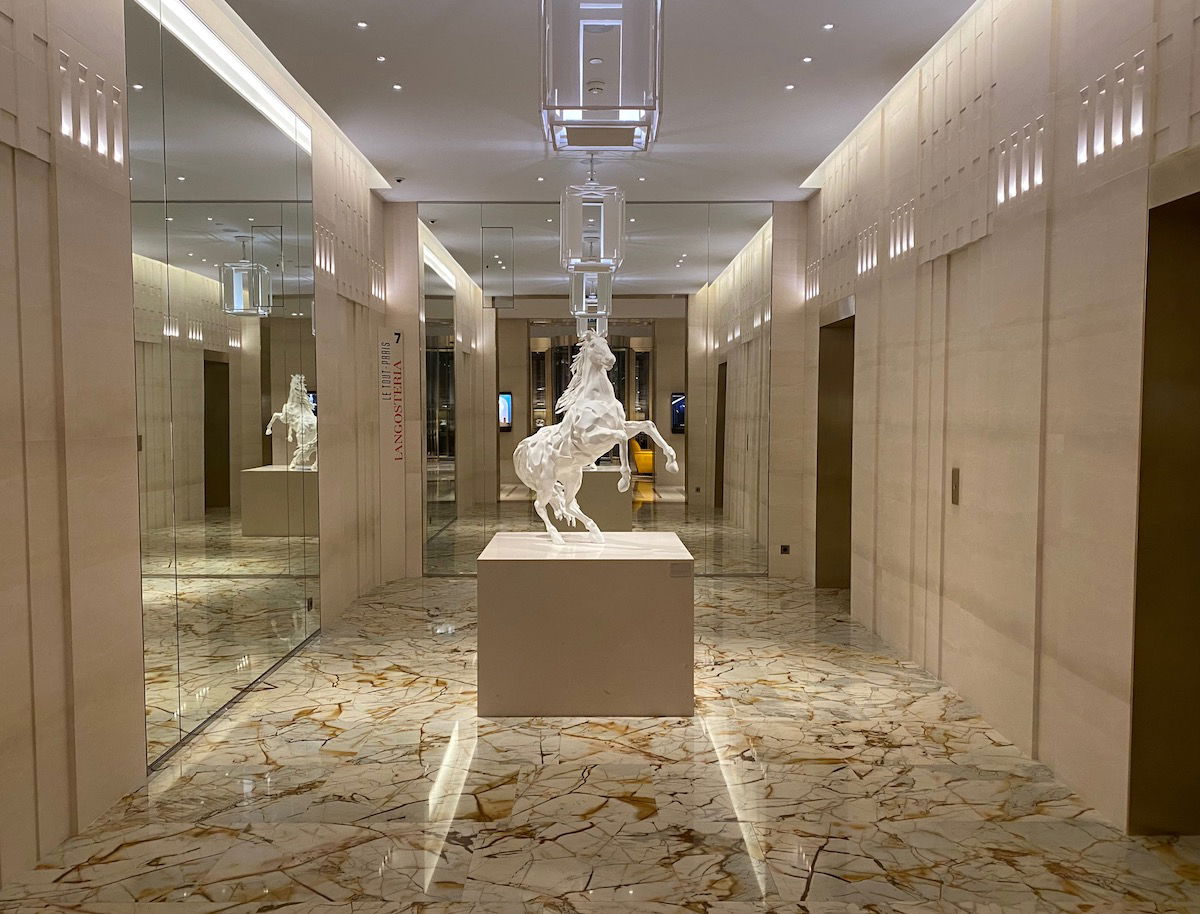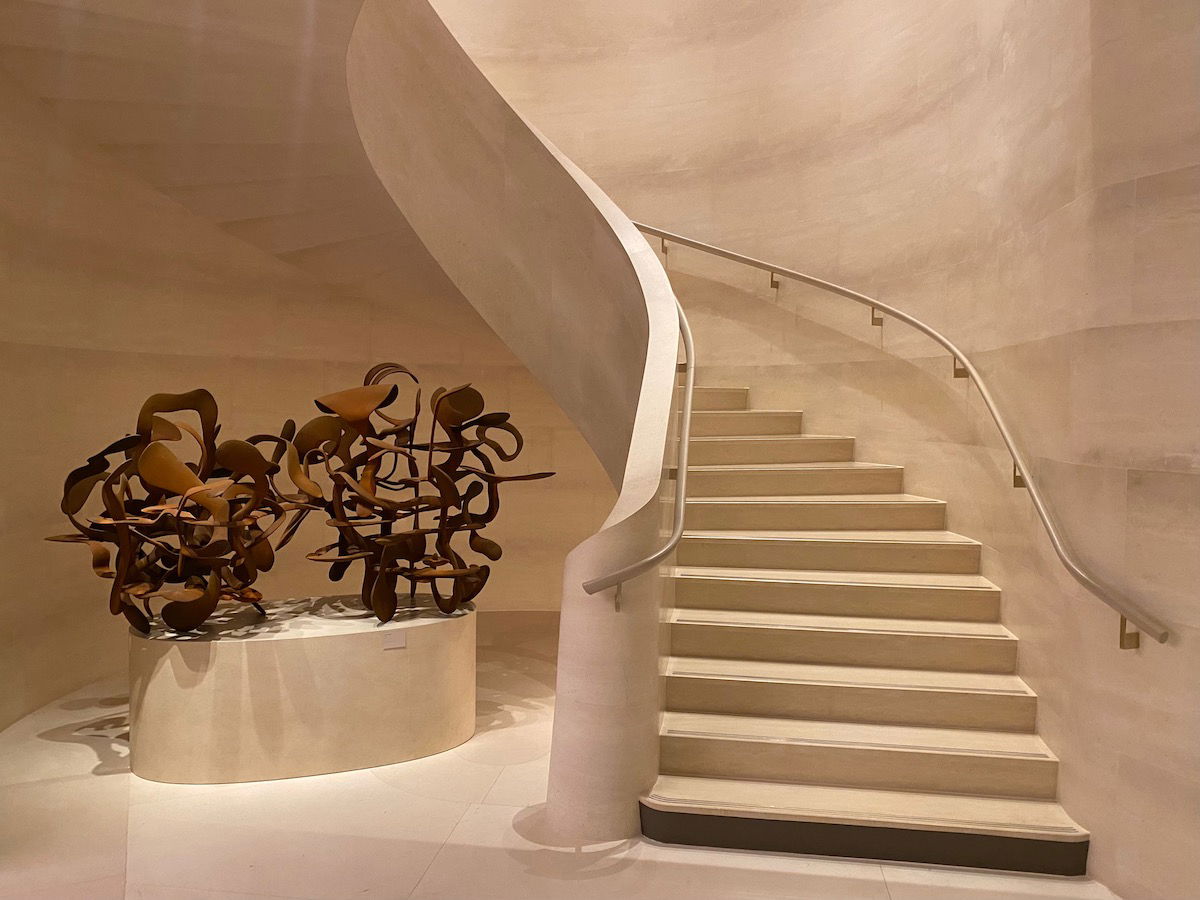 Cheval Blanc Paris Deluxe Junior Suite
For our one night stay we had booked a deluxe room, and were upgraded all the way to a deluxe junior suite. For context, we paid 1,200 EUR for the former, and the latter retailed for 2,150 EUR for the night we stayed.
This was an excellent upgrade — while booking through Virtuoso offers a space available upgrade, this was an upgrade of several categories. We had let the hotel know in advance that we were celebrating Ford's birthday, and we were also staying for one night and the hotel was sold out, and often shorter stays are good for upgrades, especially when inventory is limited.
The check-in process was quick and professional, and we were escorted up to our room. The hotel has seven floors, and we were assigned room 515, on the fifth floor.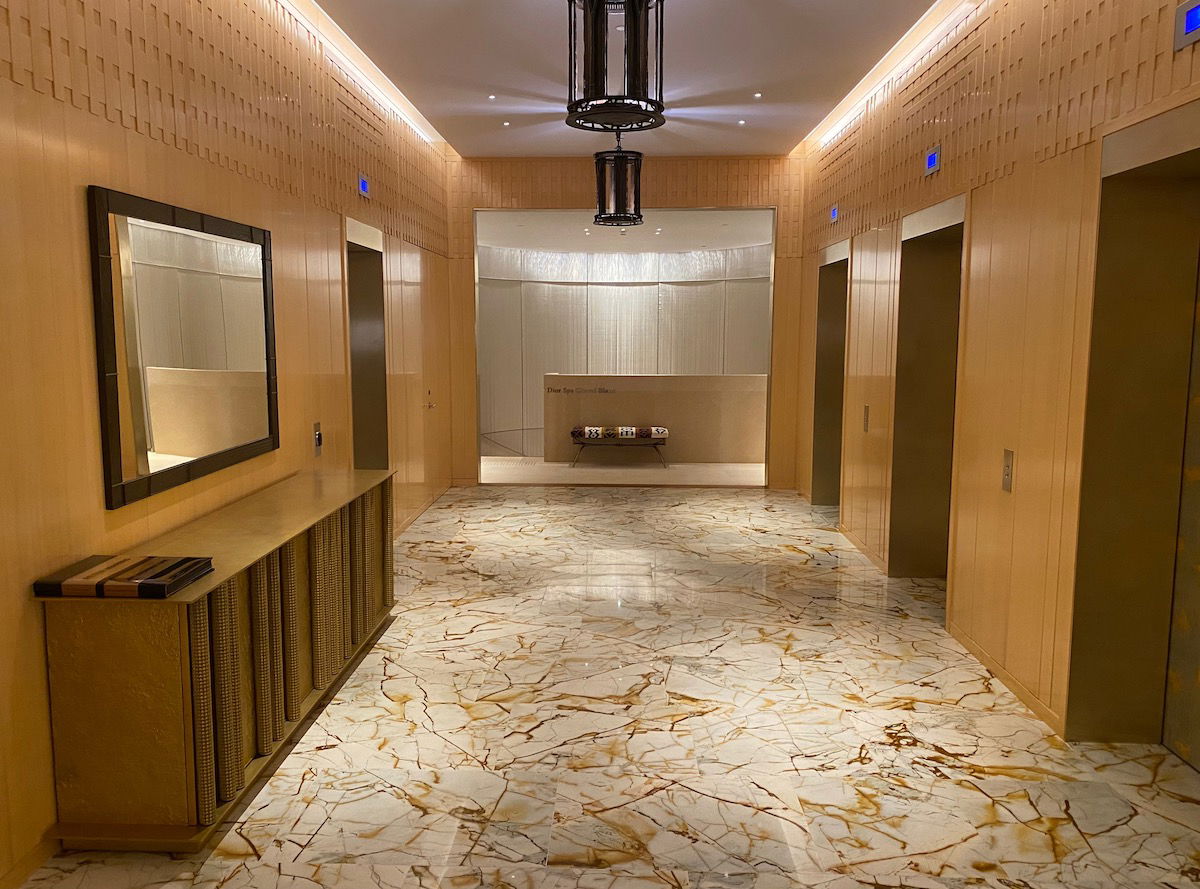 Everything about this hotel is a work of art, including the hallways. Our junior suite was located at the end of the hall and on the right.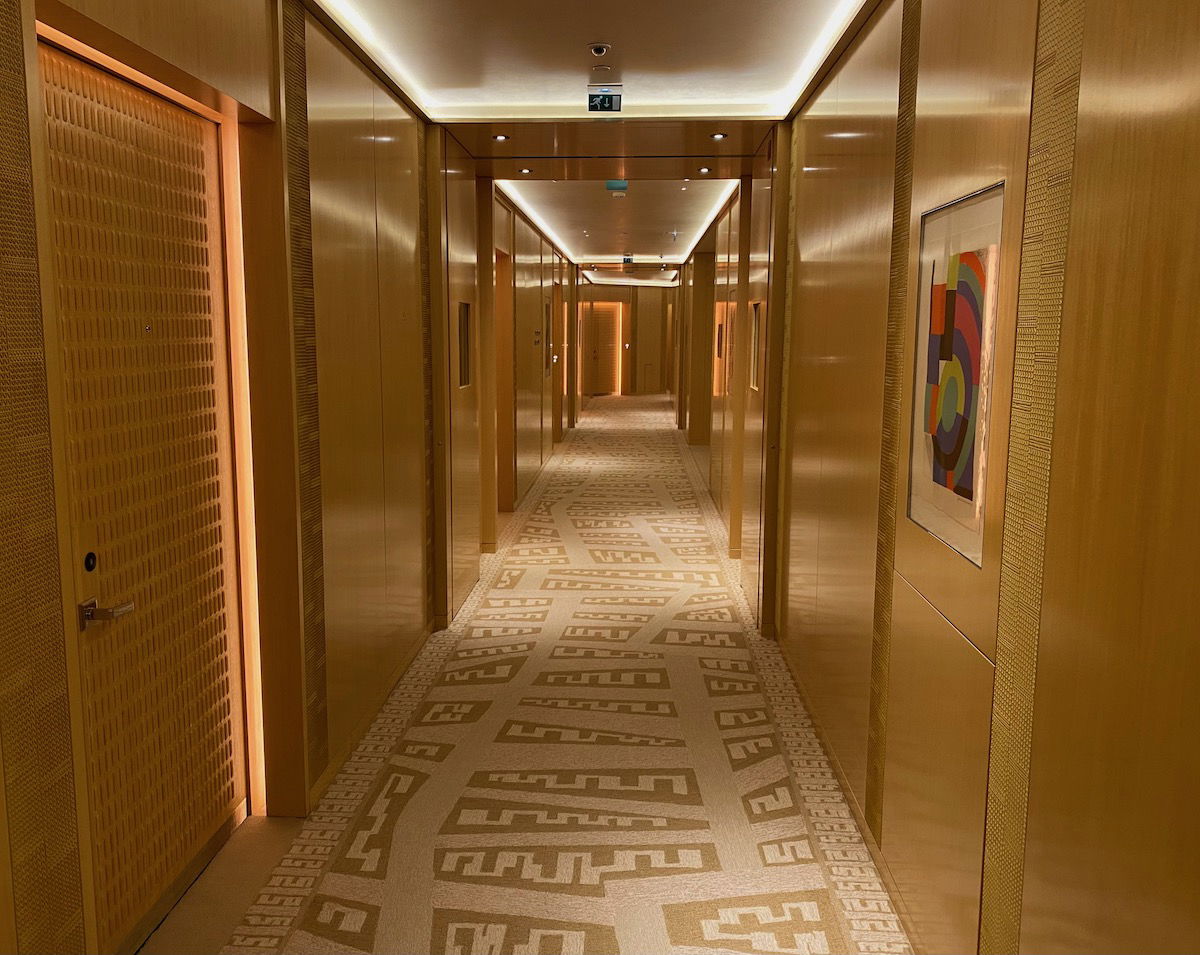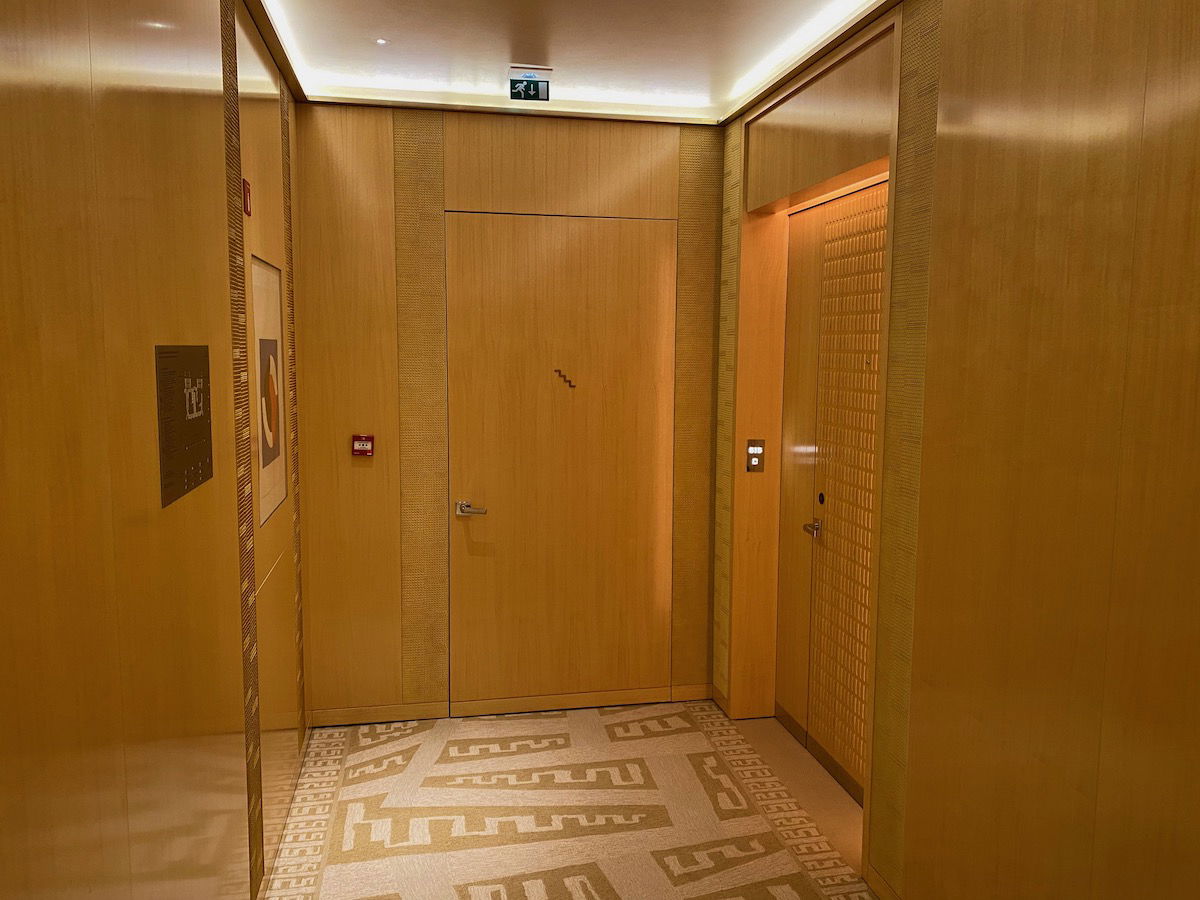 The deluxe junior suite at Cheval Blanc is marketed as being 65 square meters, or around 700 square feet, so it's large for a junior suite. Are you ready for this, because I think this might just be the most beautifully designed hotel room I've ever stayed in?
The room featured a long entryway with a dark wood pattern. At first this threw me off a bit, because it wasn't what I was expecting from the room's decor.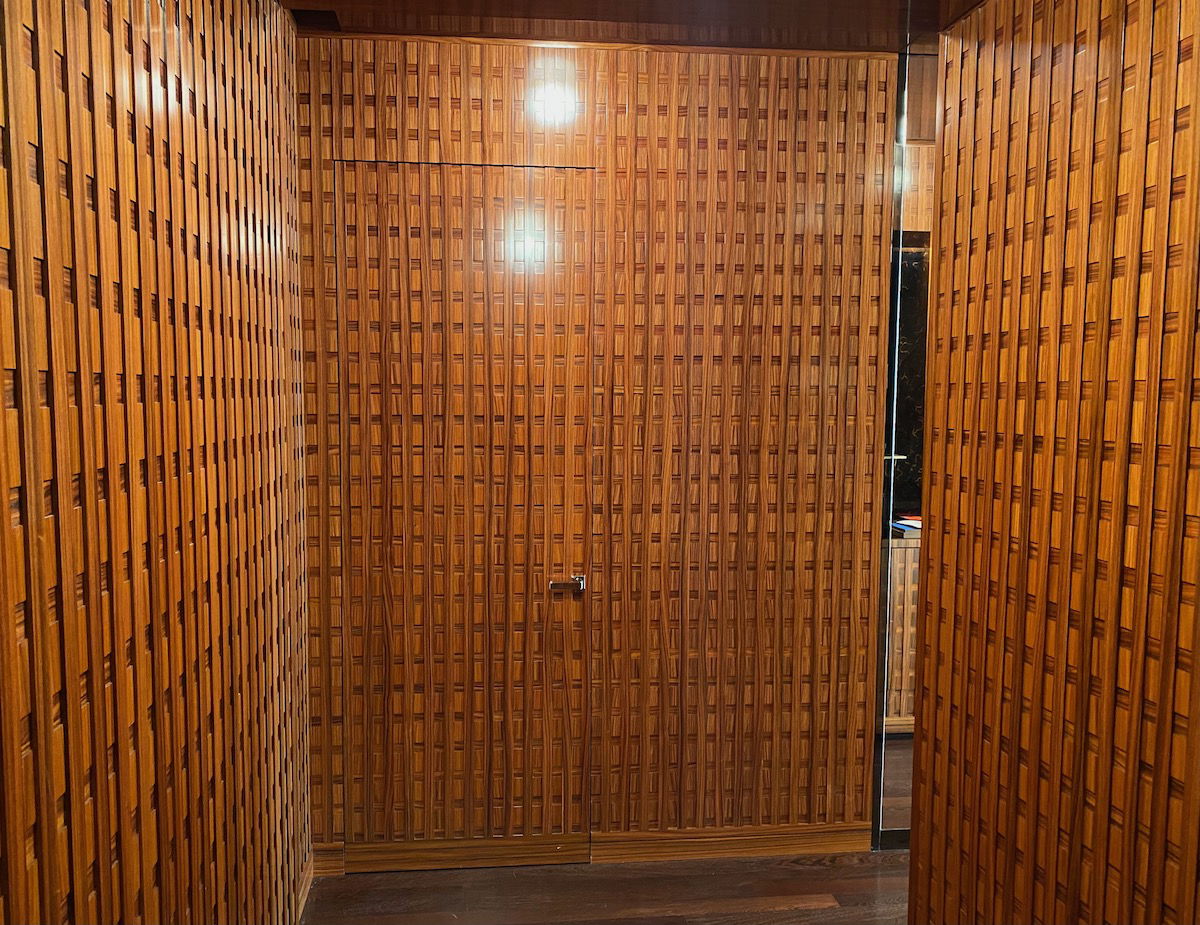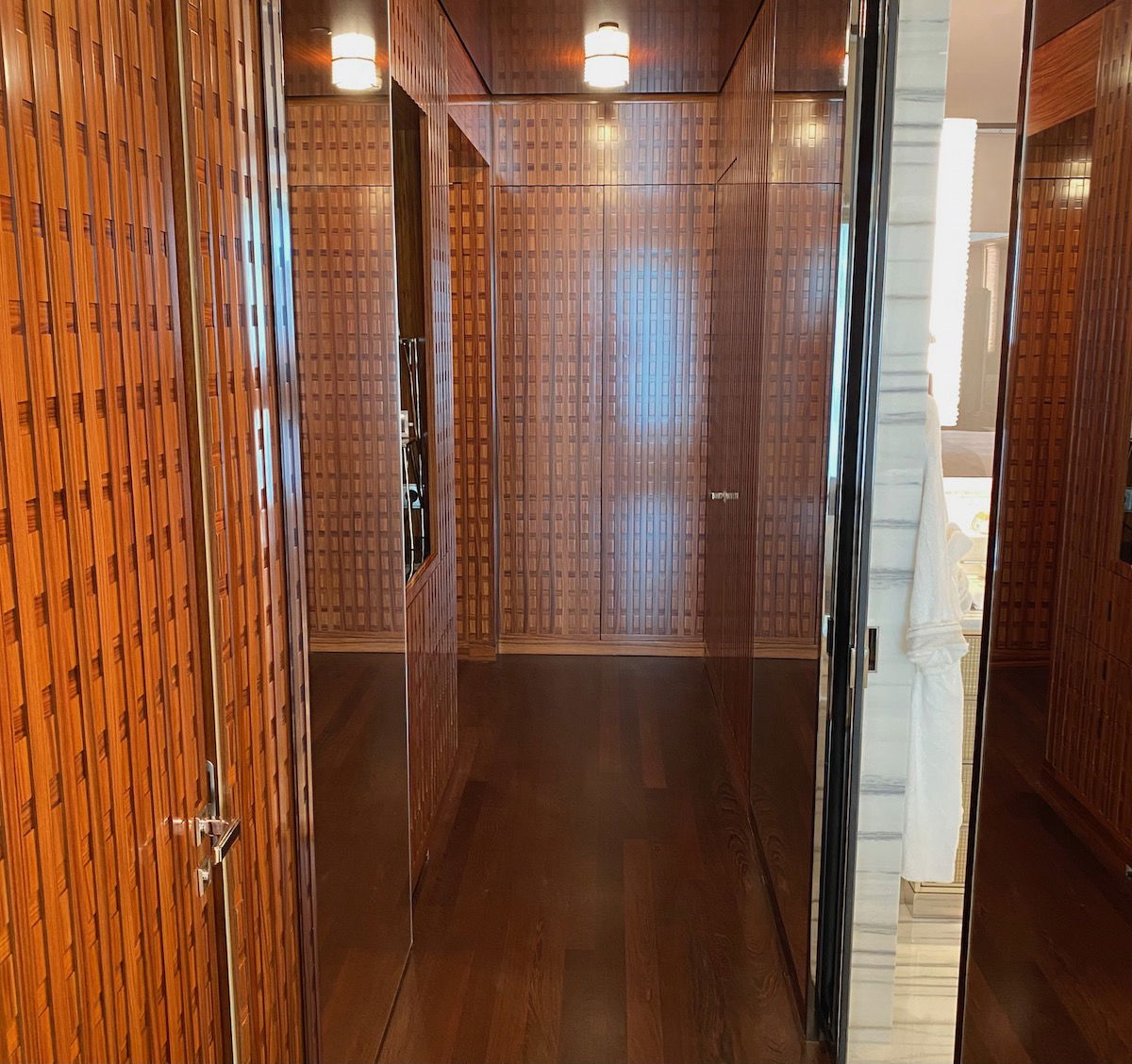 Indeed the rest of the room was very different. In the main part of the room and on the left was a super-comfy king size bed and a chair with an ottoman.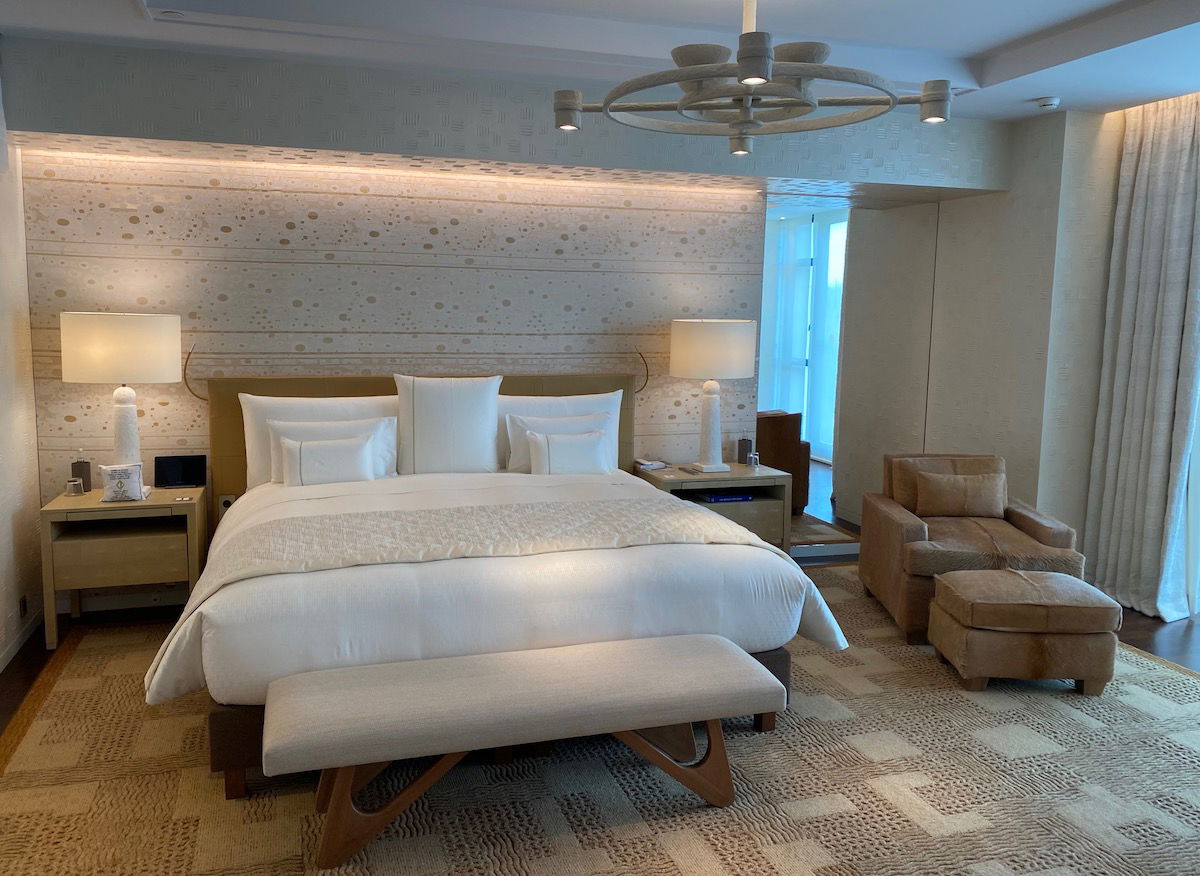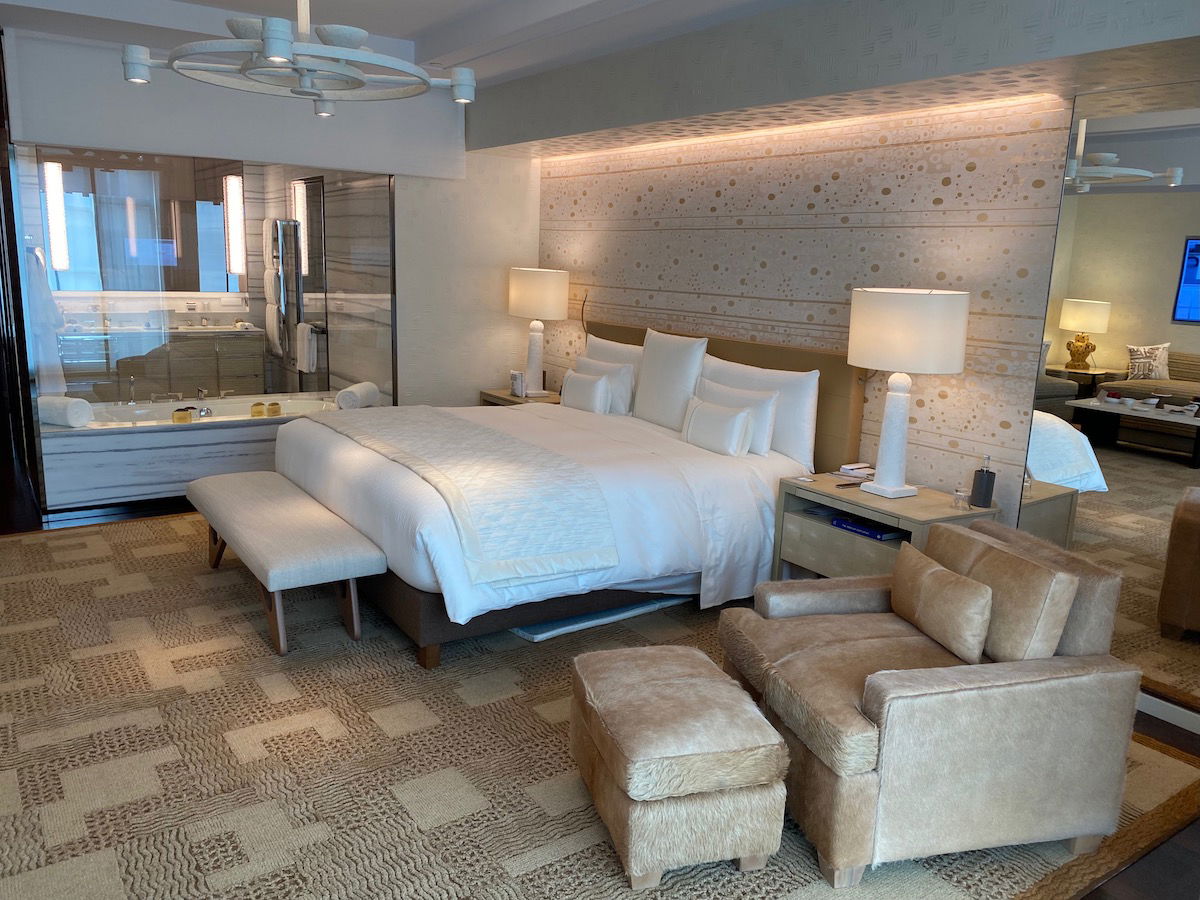 Then to the right was the living area, which featured two couches, and a comfortable desk, which had two chairs so that it could double as a dining table.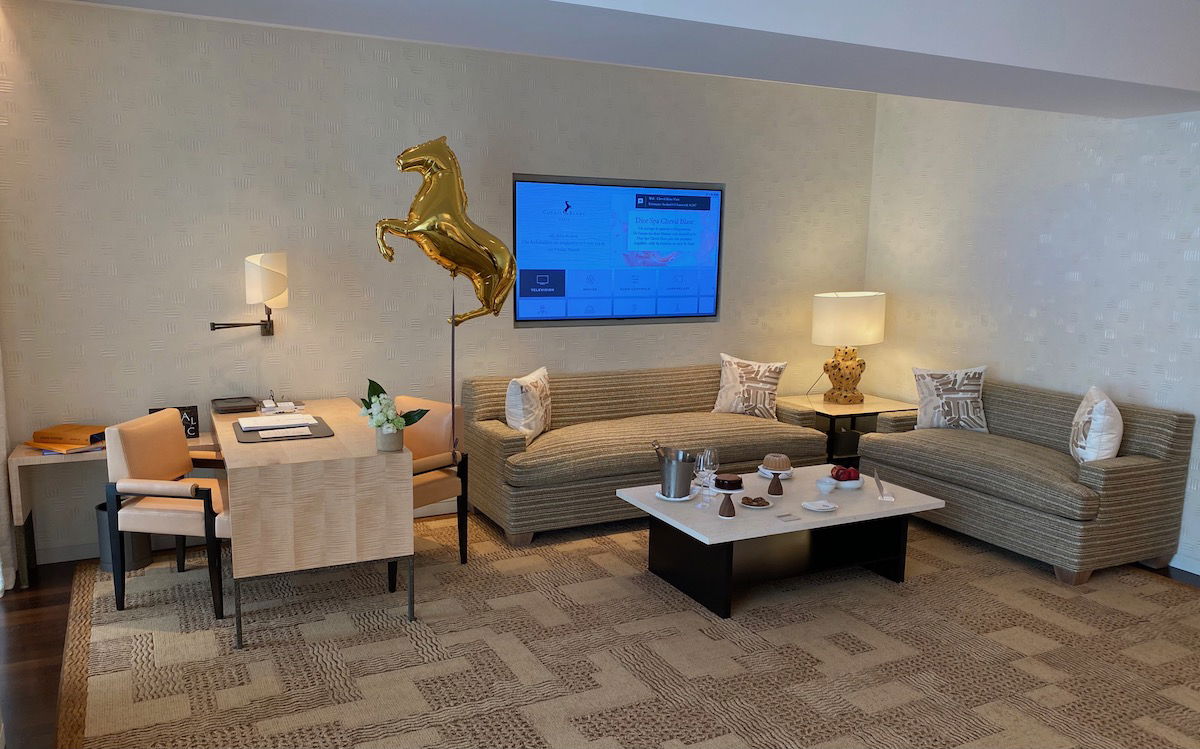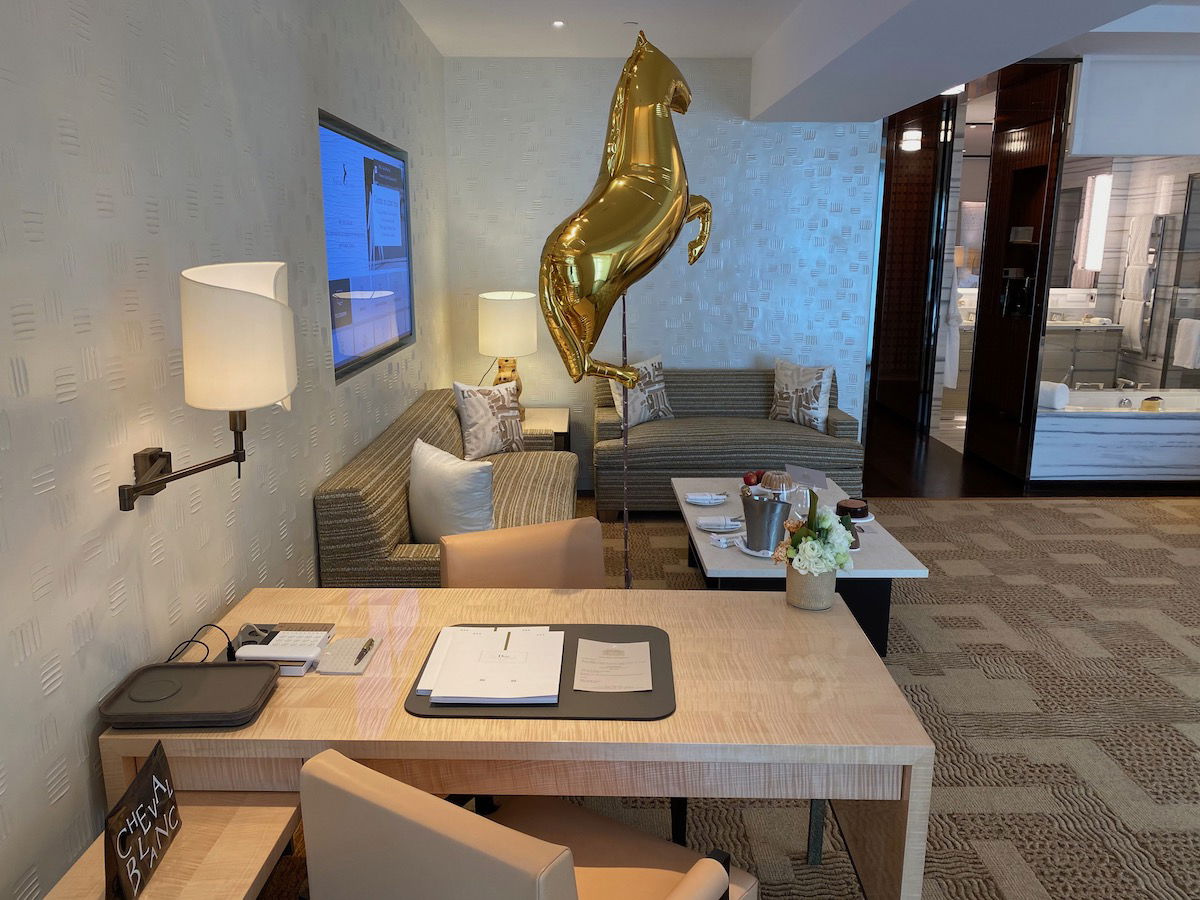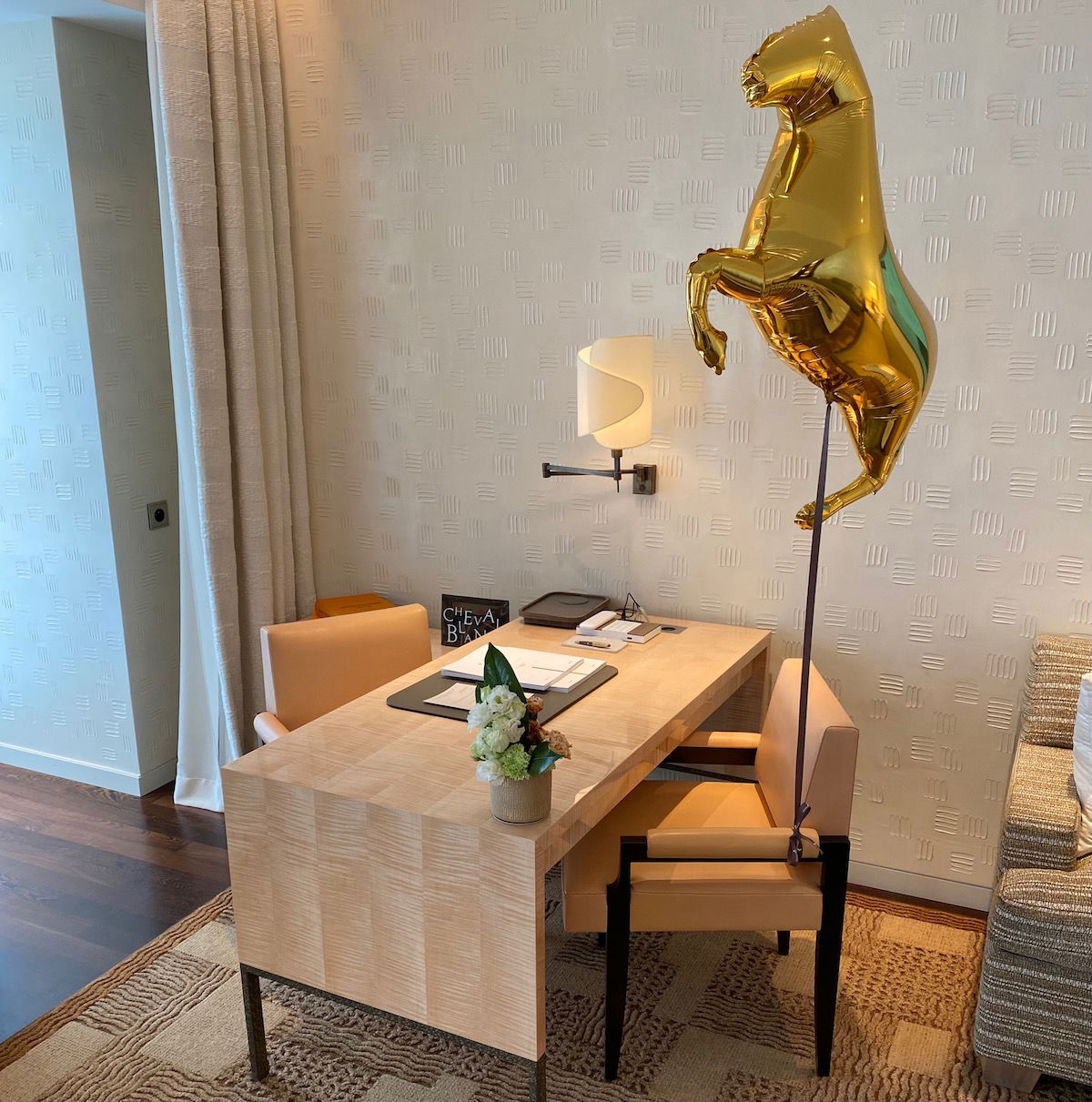 The attention to detail and tech in the room was endless. For one, everything could be controlled from panels by the bed, and on top of that there was an in-room iPad which also had room controls and info about the hotel.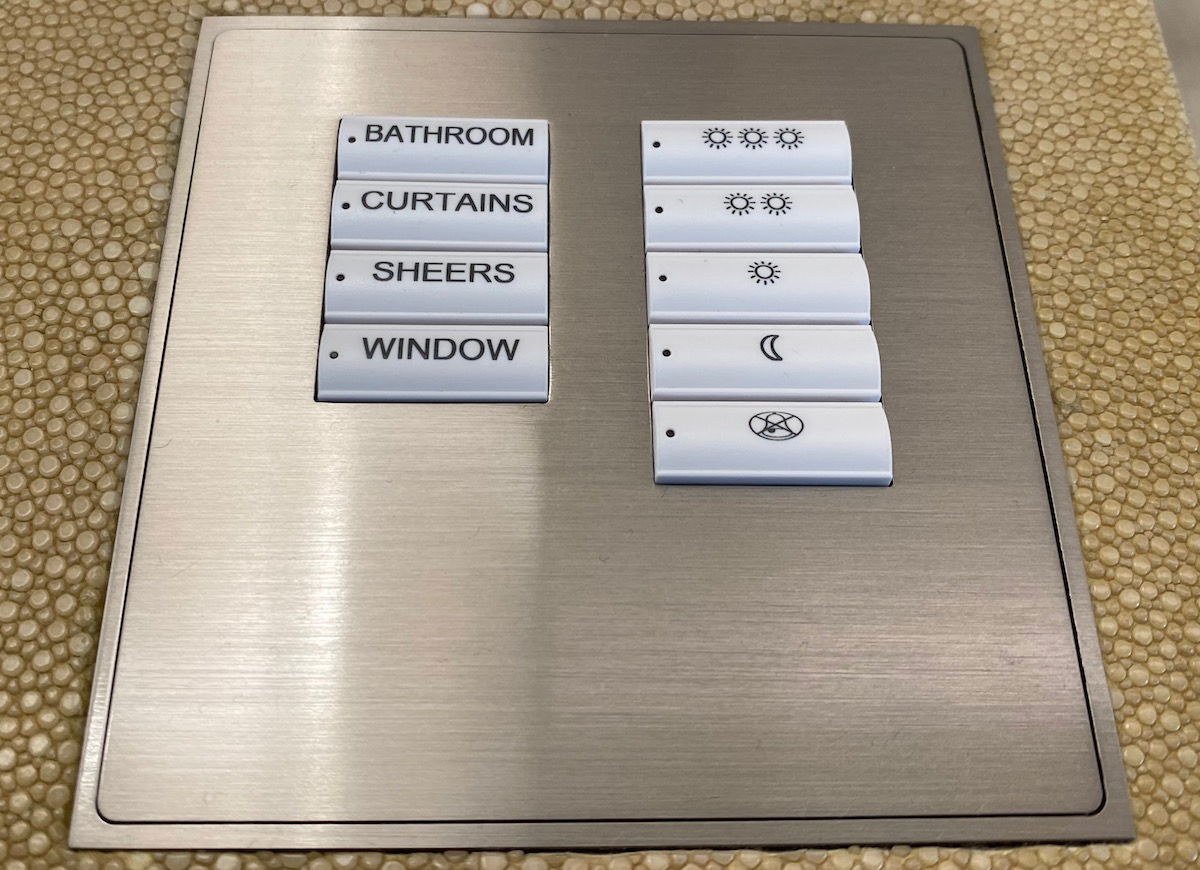 The design elements all around the room amazed me. For example, there was a small pillow listing all the different kinds of pillows you could request.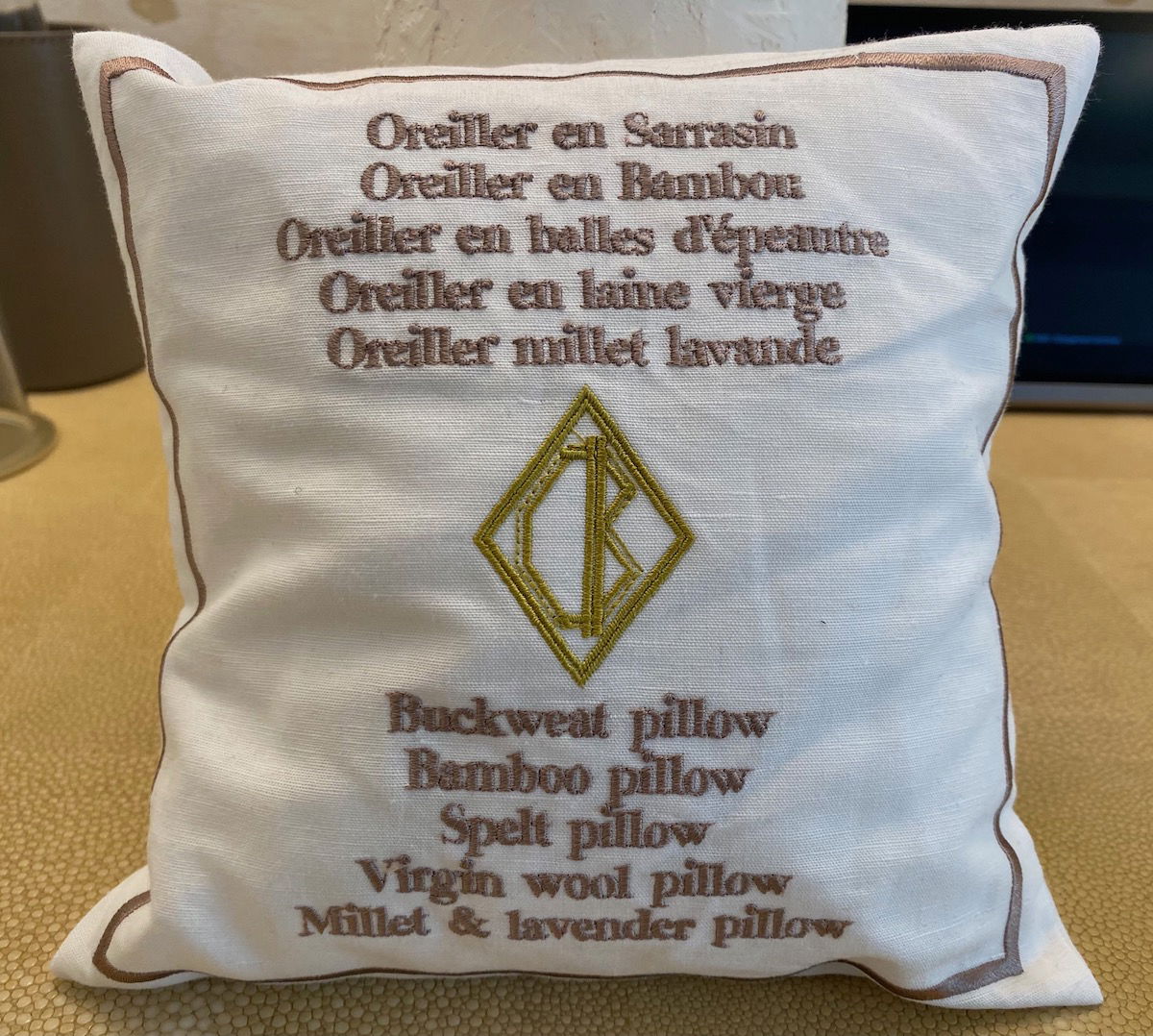 I loved the cute phone, as well as how the paper by the phone was shaped like the hotel.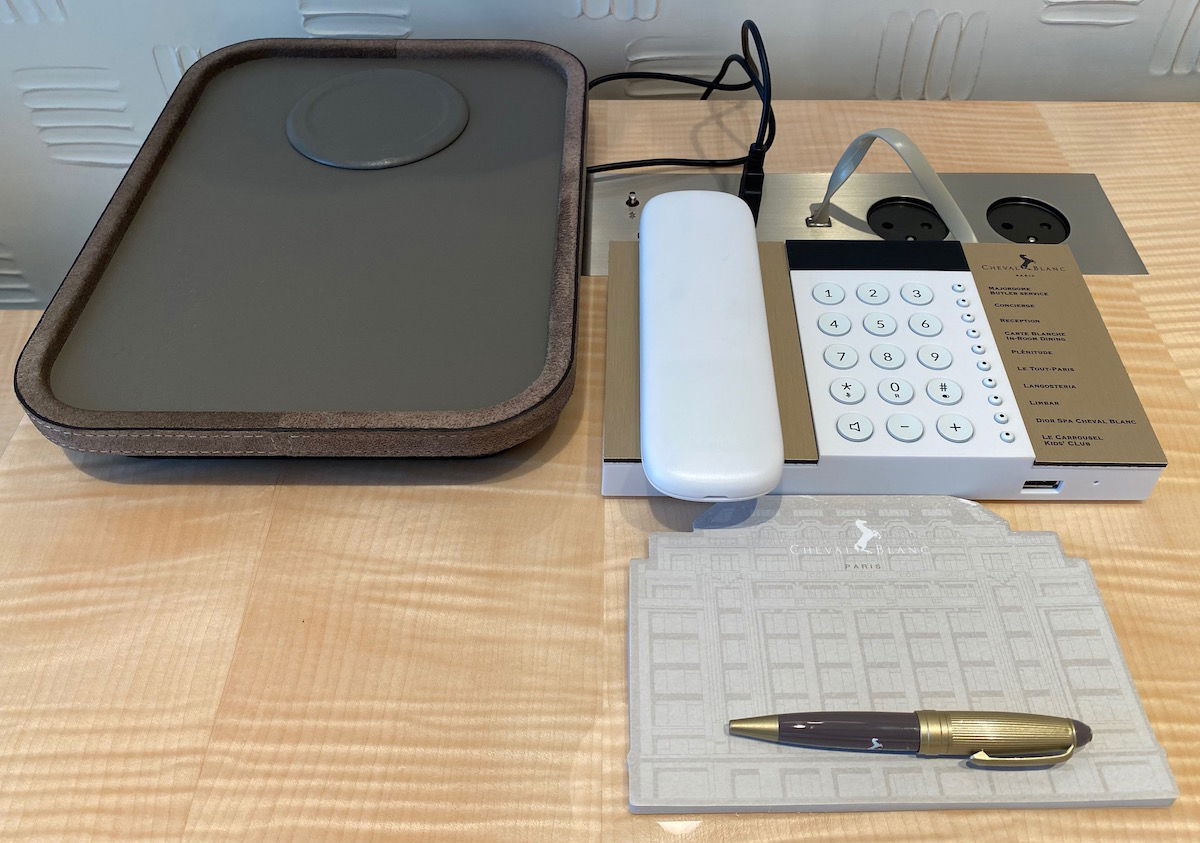 The PPE kit was in a Cheval Blanc bag, and there were Louis Vuitton coffee table books in the room.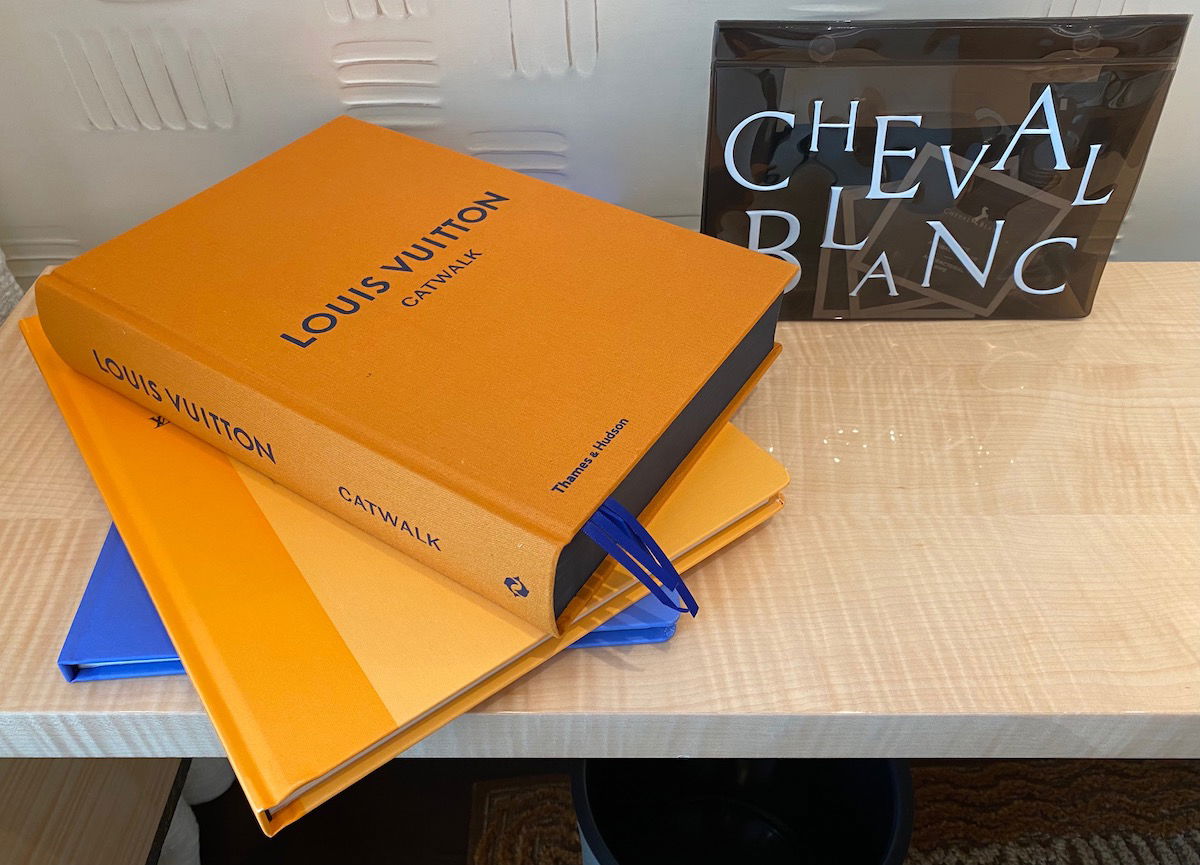 Because it was Ford's birthday, they had an incredible welcome amenity waiting for us, with two cakes, four cookies, fresh apples, and a bottle of Ruinart champagne, plus the horse-shaped balloon.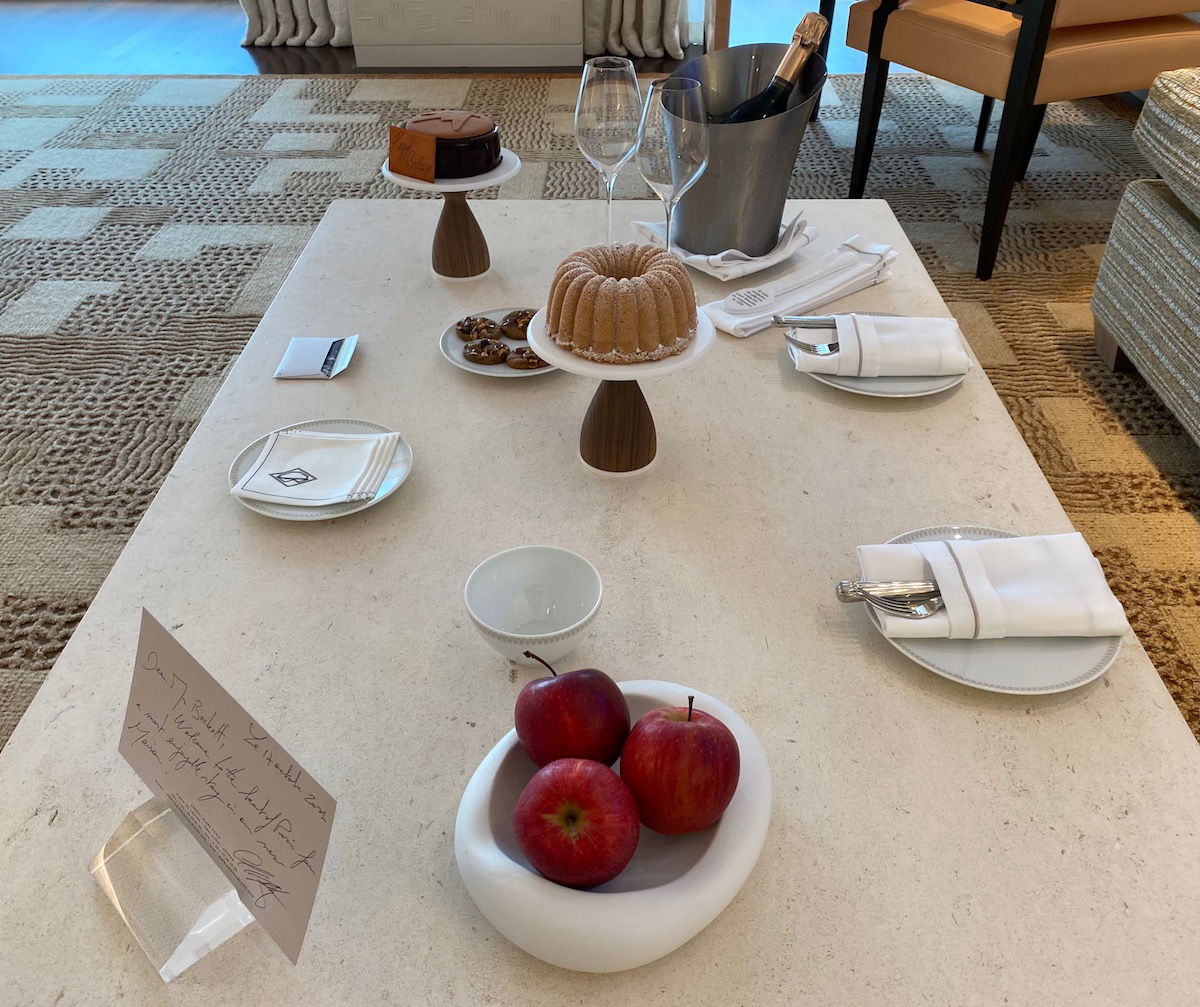 I can't even imagine how much the hotel spent on wall treatments alone, as there were several different patterns.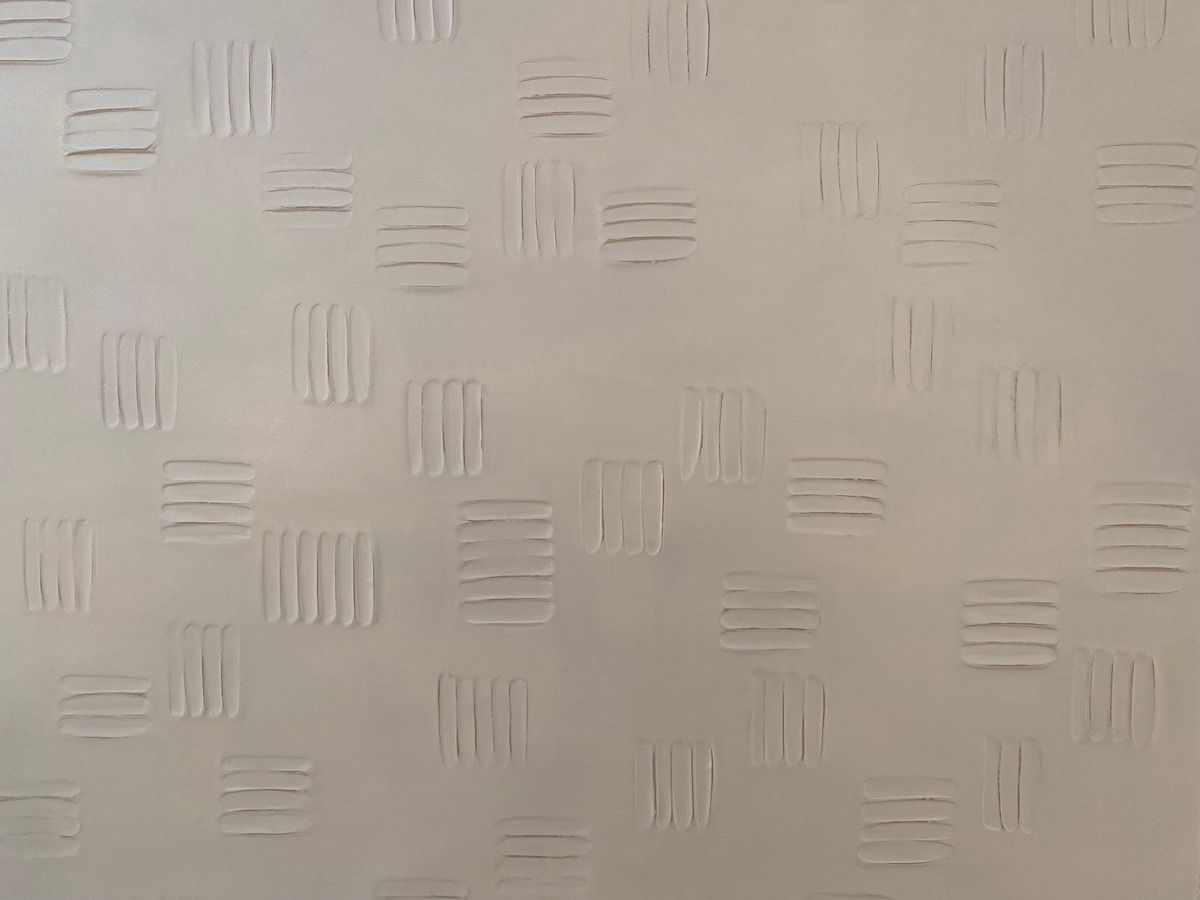 The bathroom was equally impressive. It was back by the hallway, and featured double sinks with a TV built into the mirror, a soaking tub, and a shower that could also be turned into a steam room.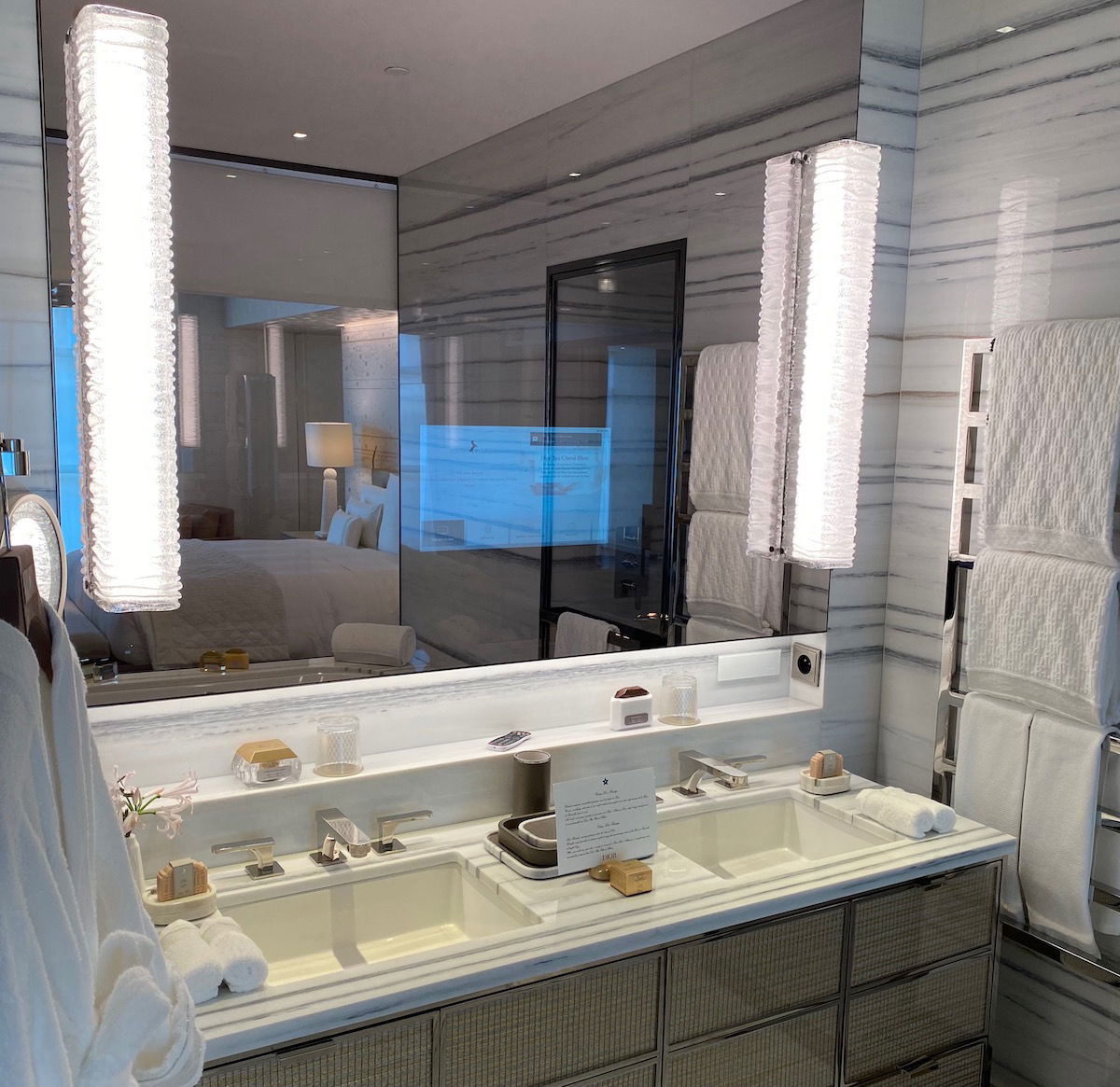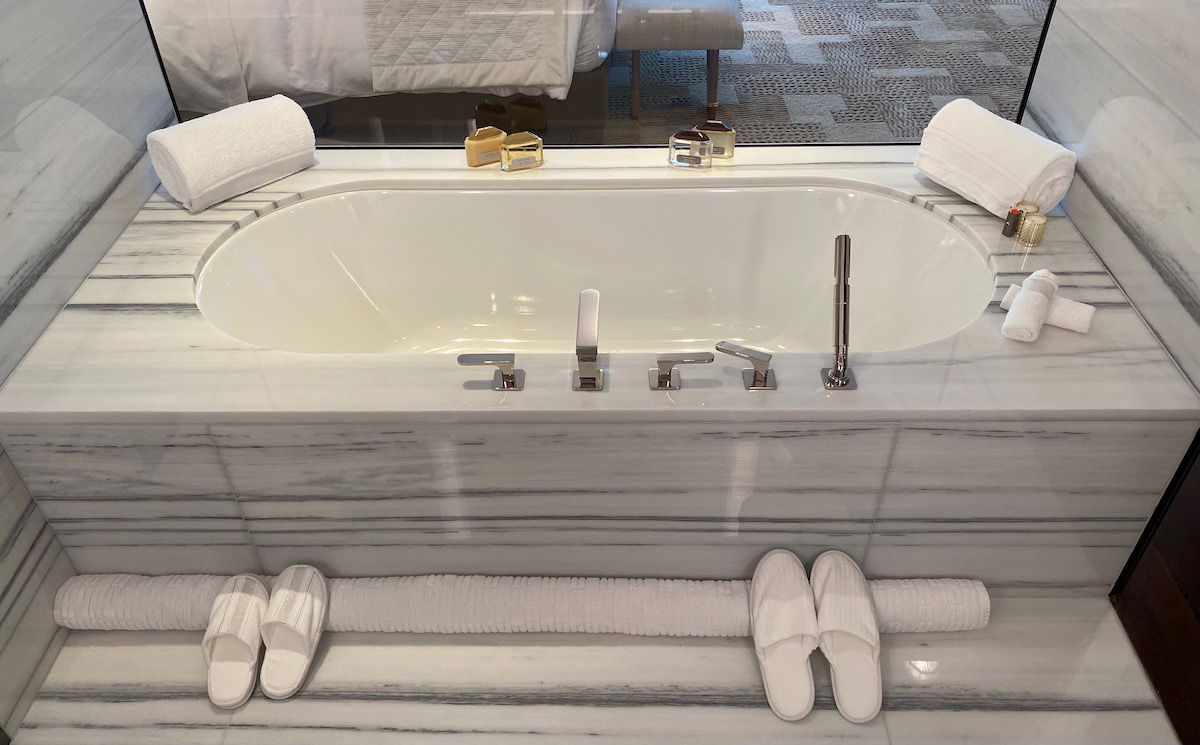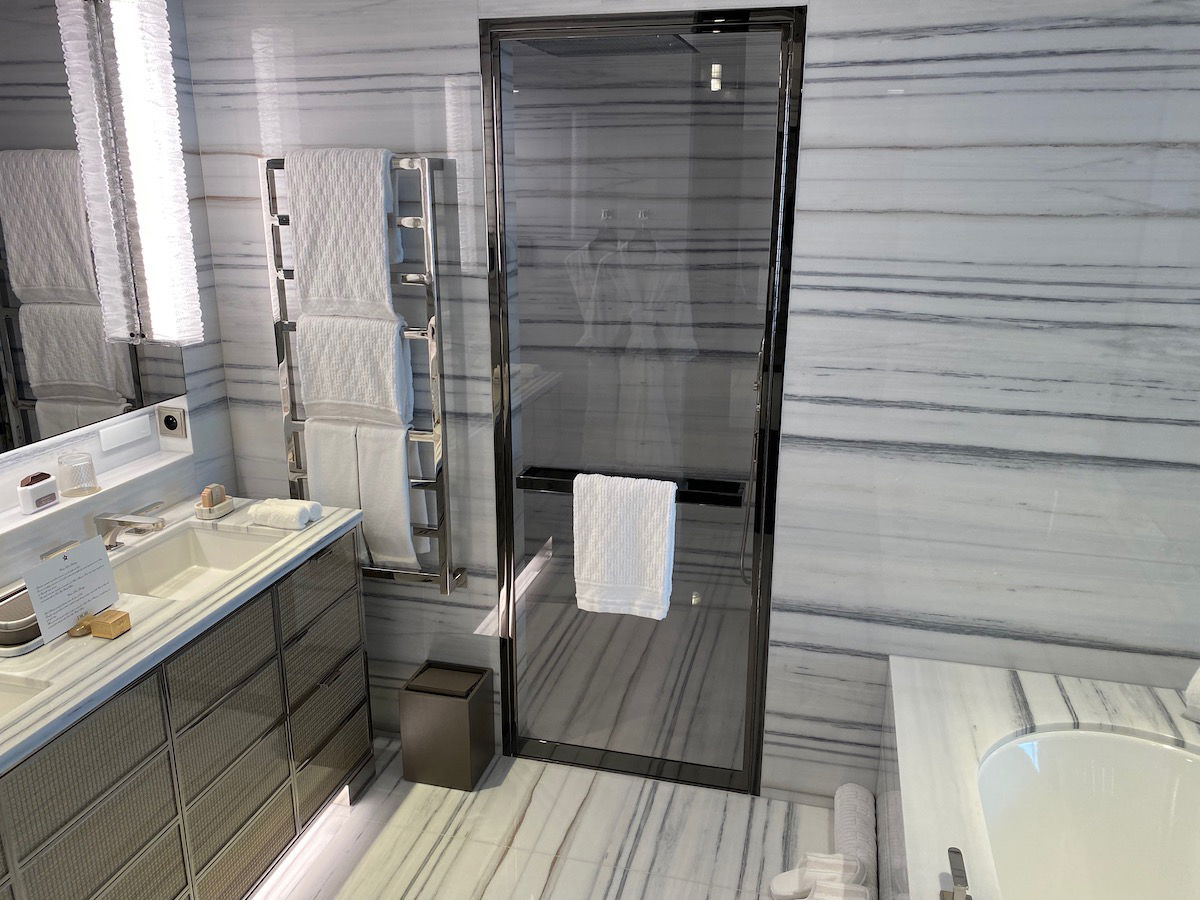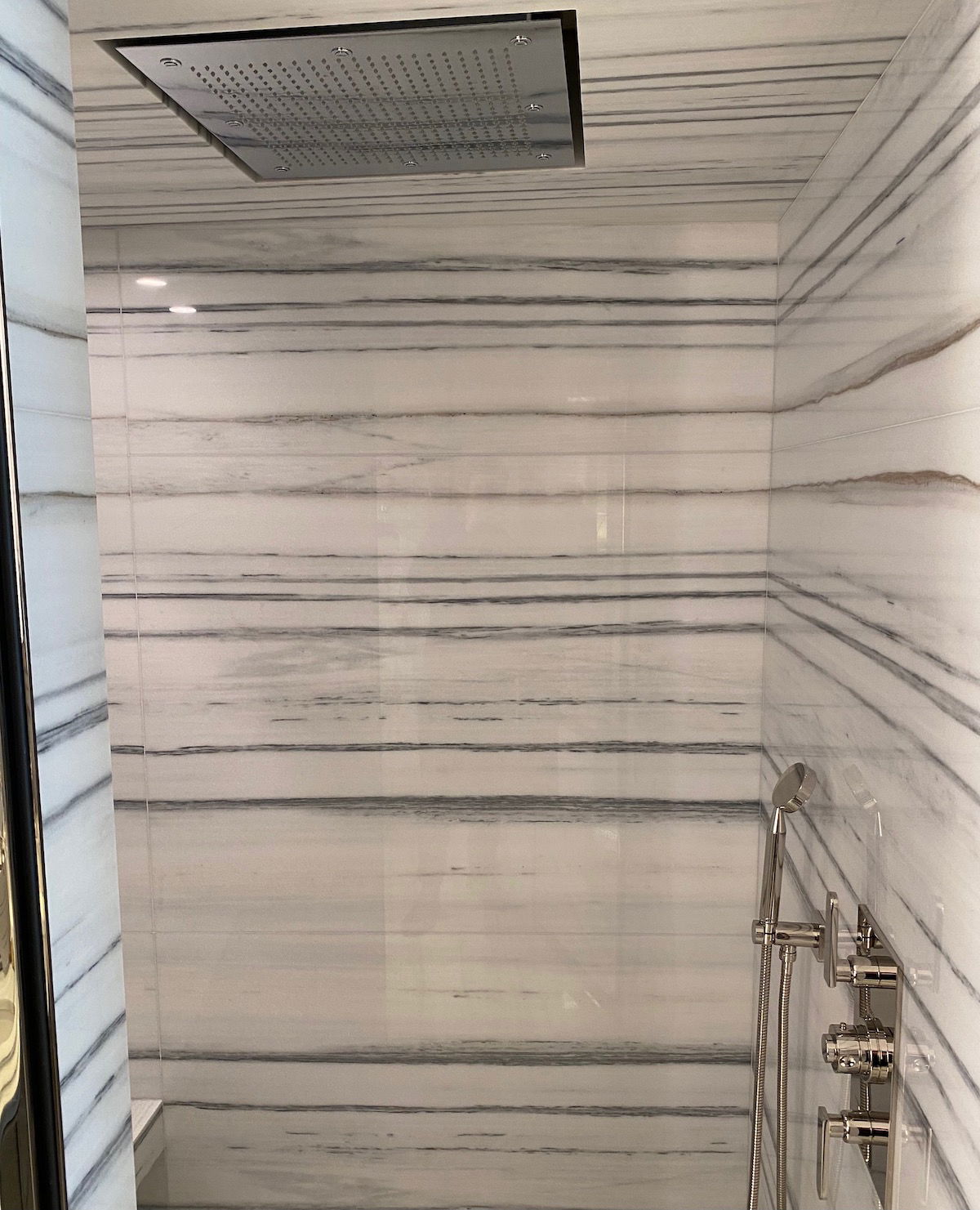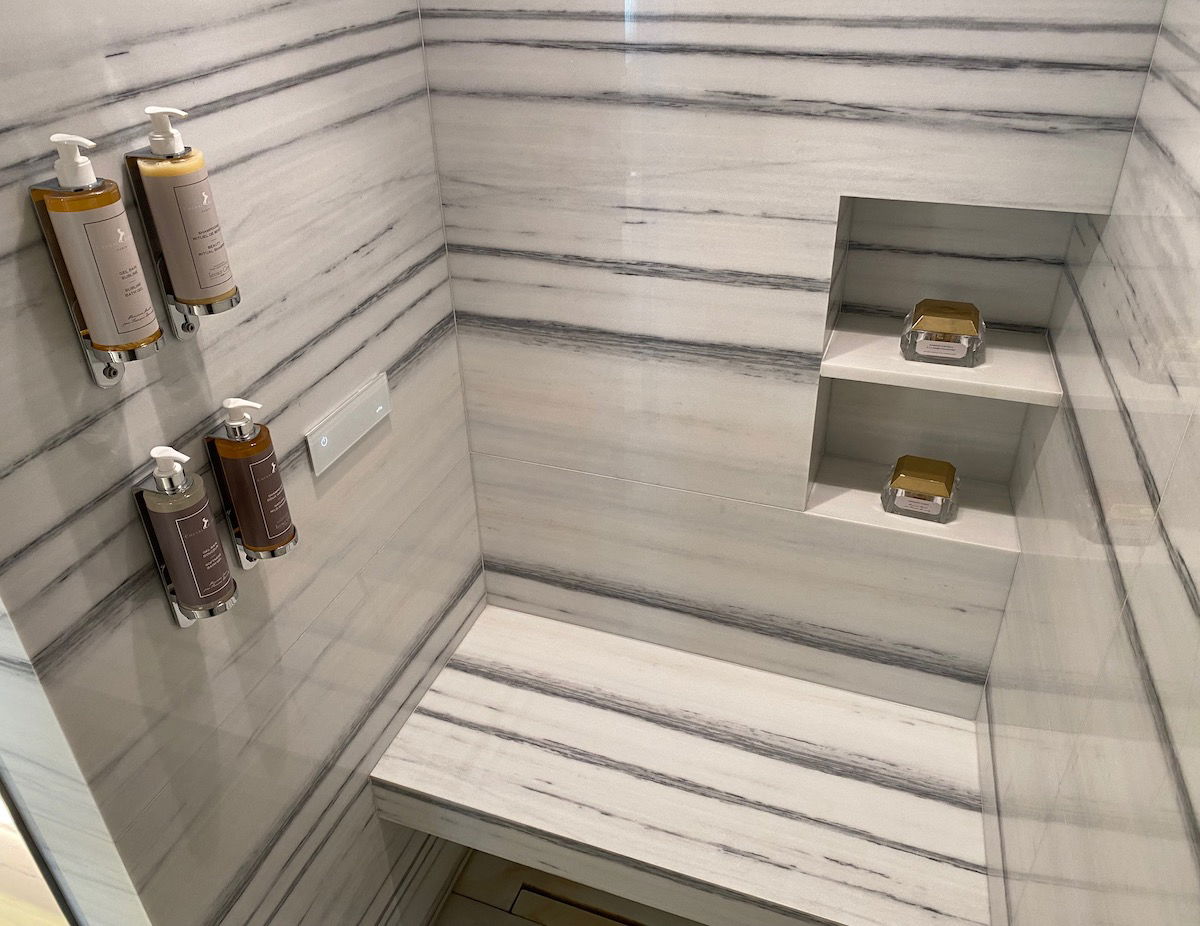 In the shower, toiletries were in reusable Cheval Blanc-branded containers, with quite a selection.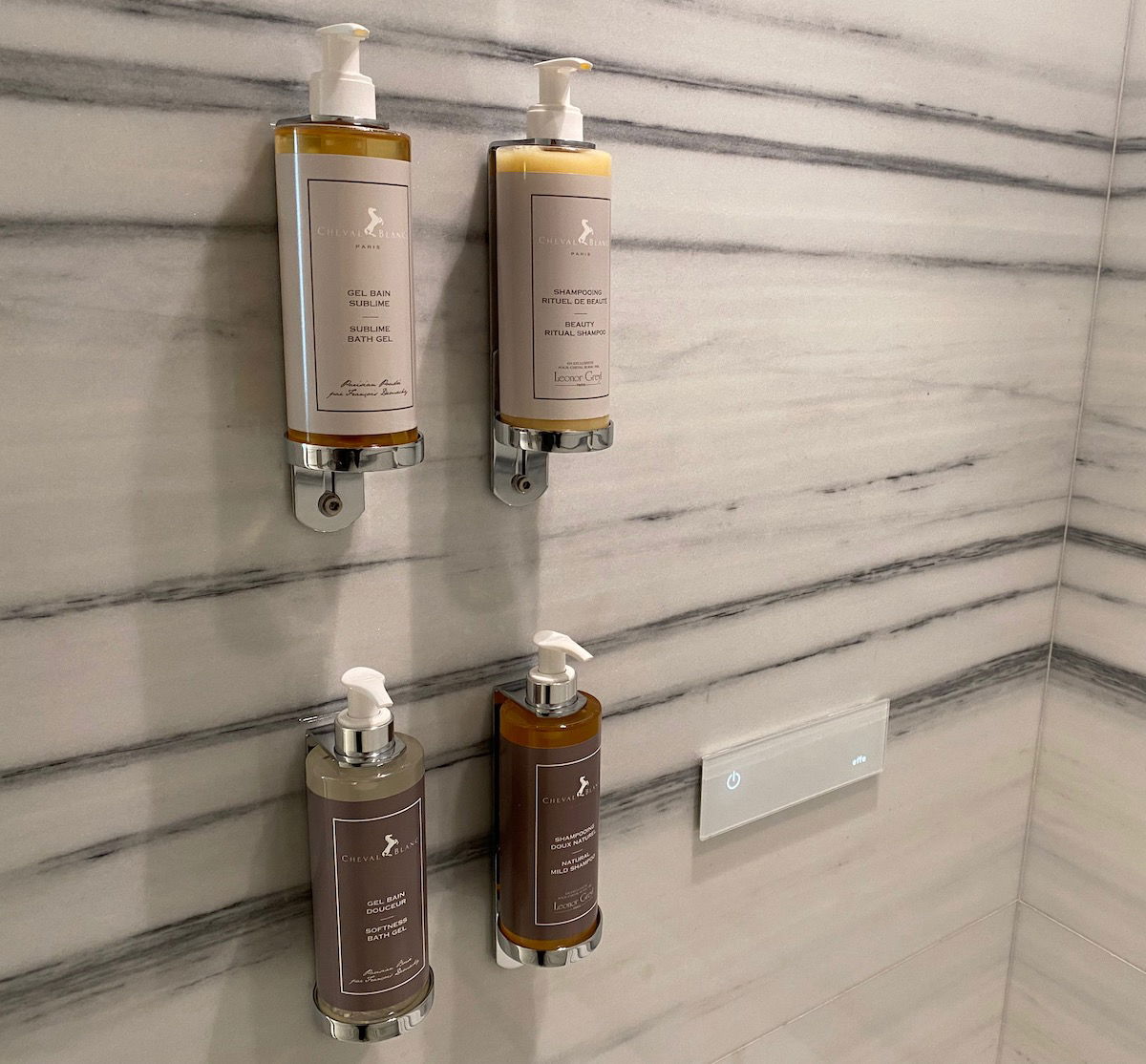 What amazed me was the number of toiletries and amenities in the room beyond that. For example, check out the toiletries located underneath the sink. We're not just talking the basics, but it was more like an airline amenity kit, with everything from lip balm, to deodorant, to a comb, to a bracelet.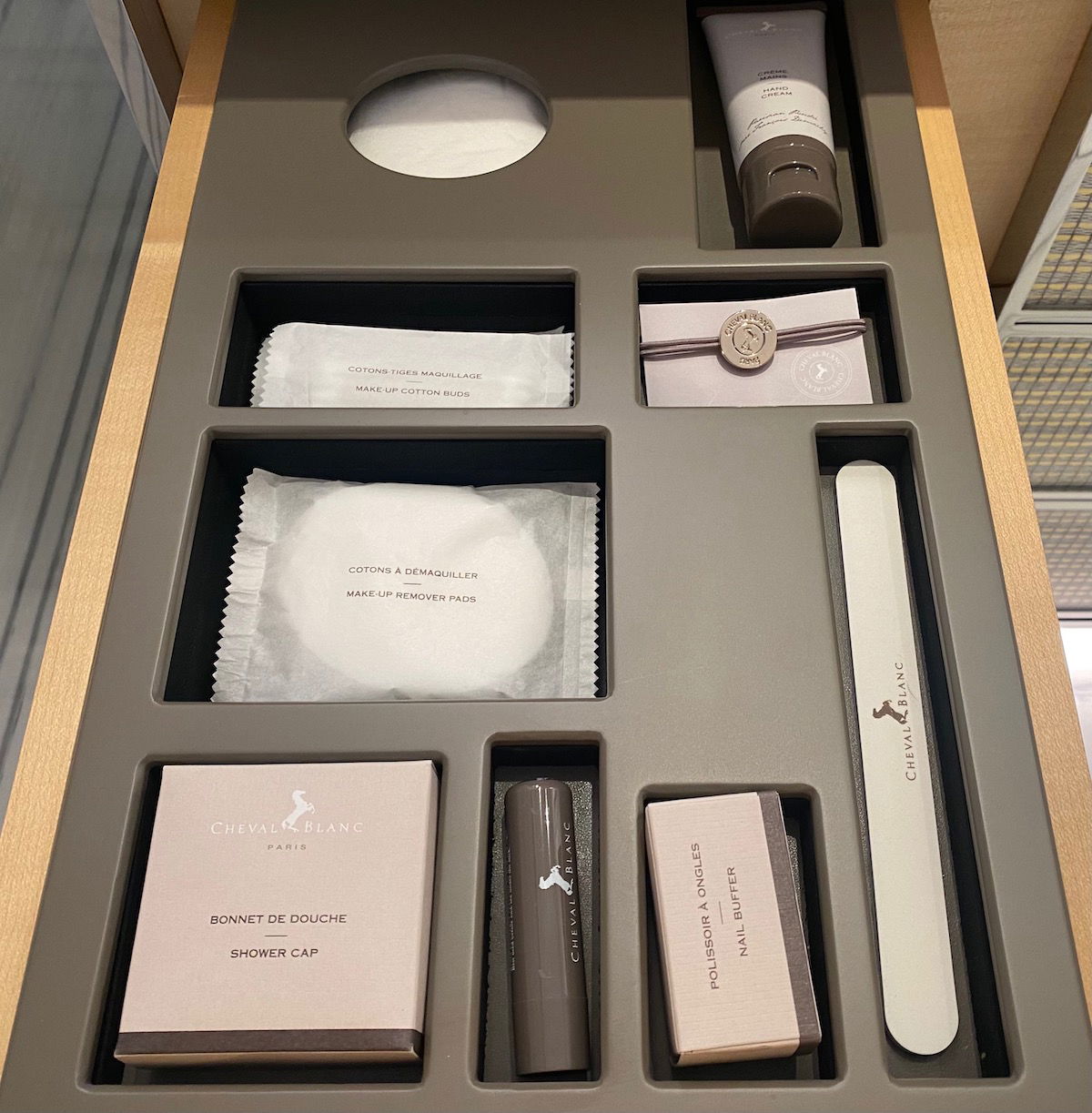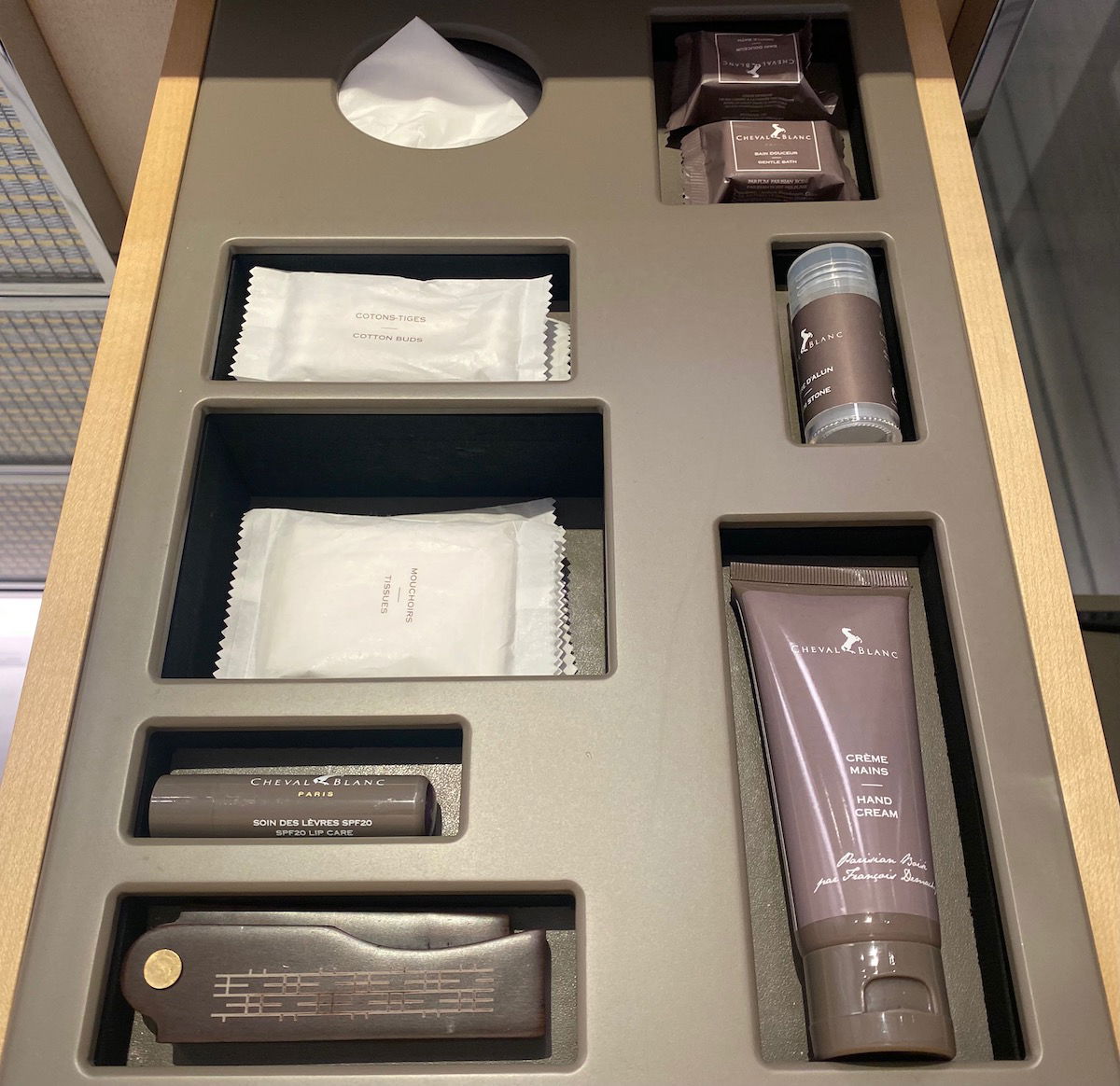 On top of the toiletries in the shower, there were endless additional toiletries, each in massive 6.5 ounce containers.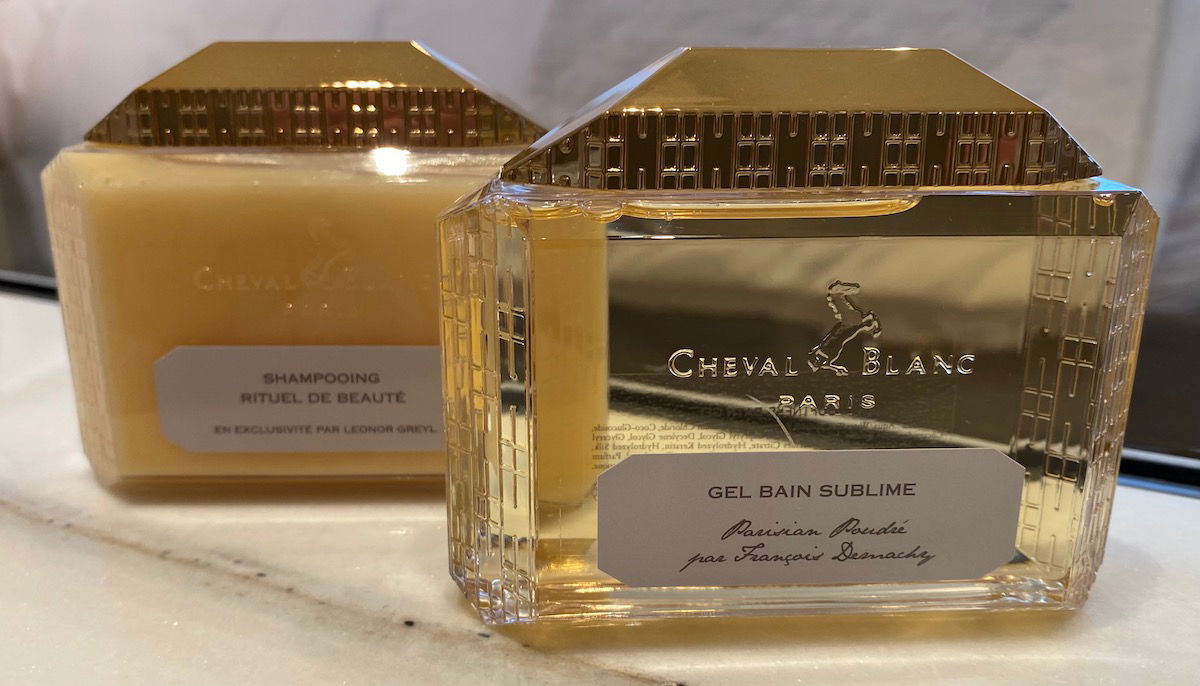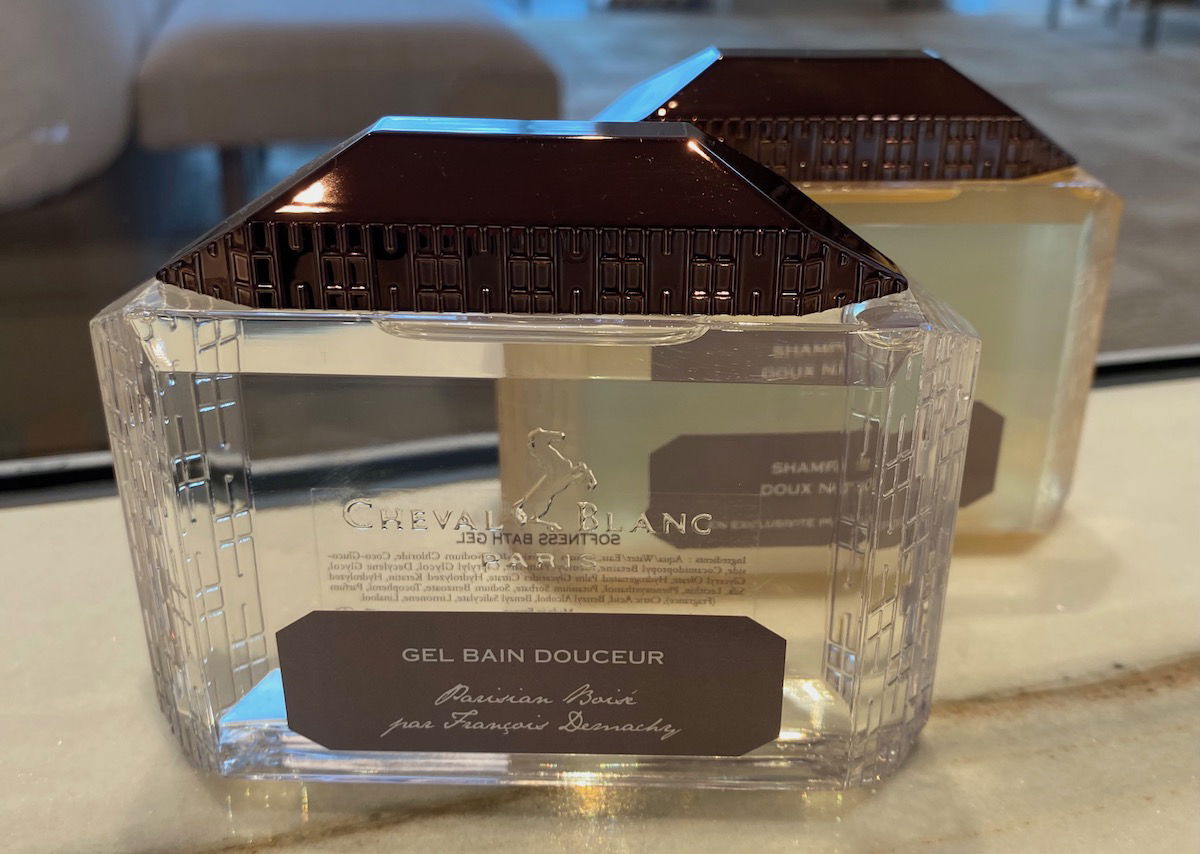 There were even huge containers with creams, soap shaped like the hotel, and candles by the bathtub (with the hotel's signature scent).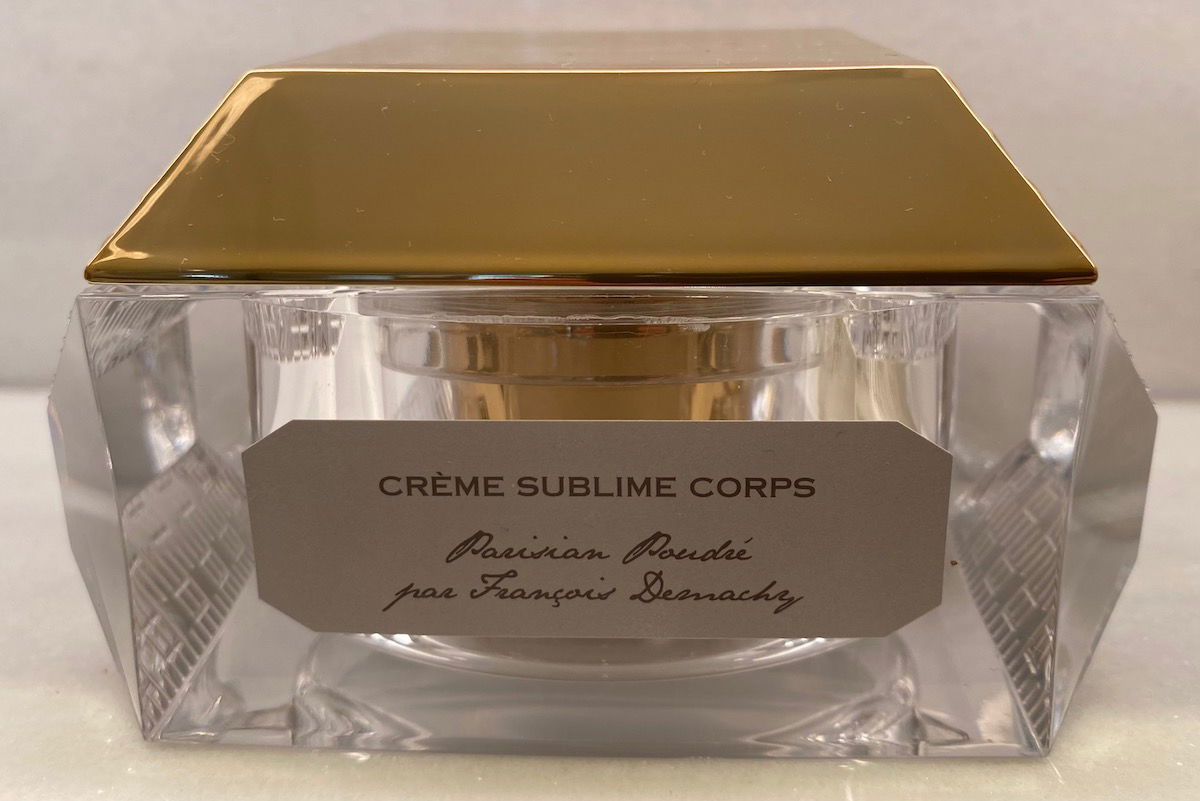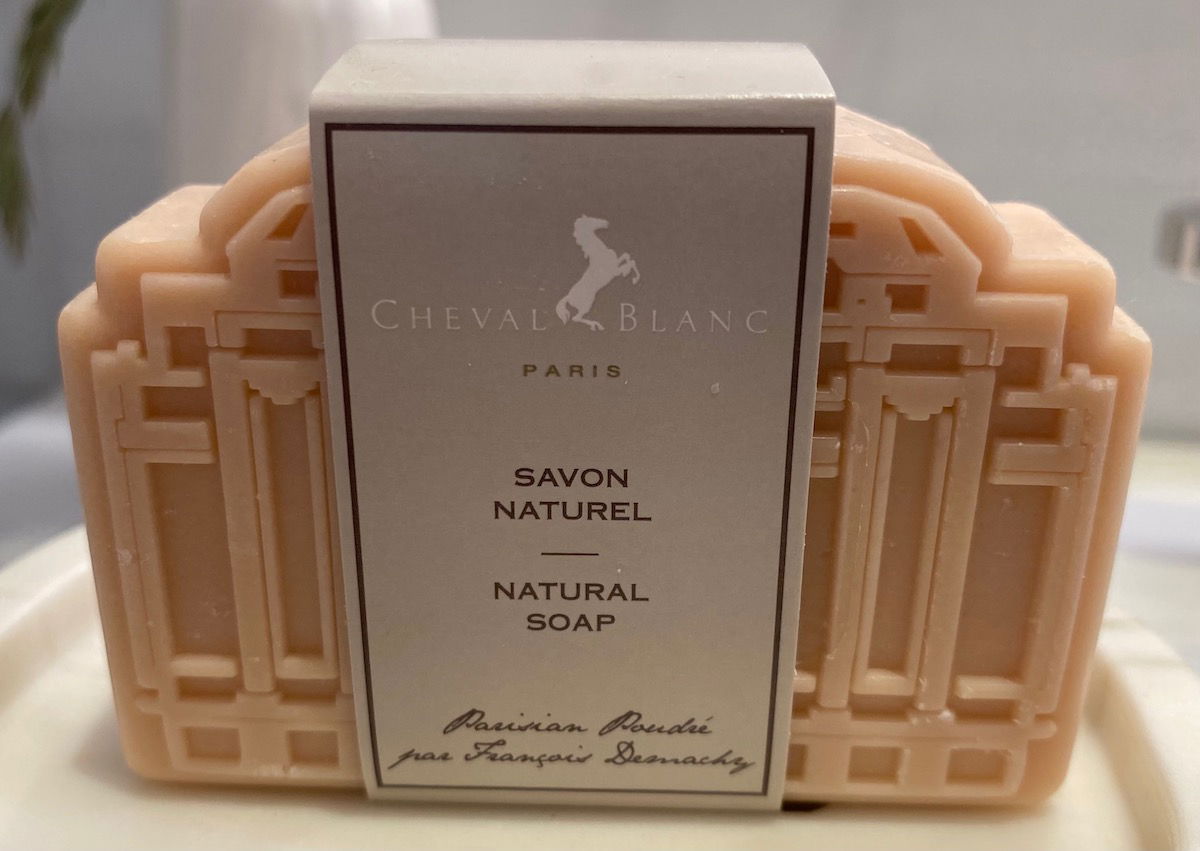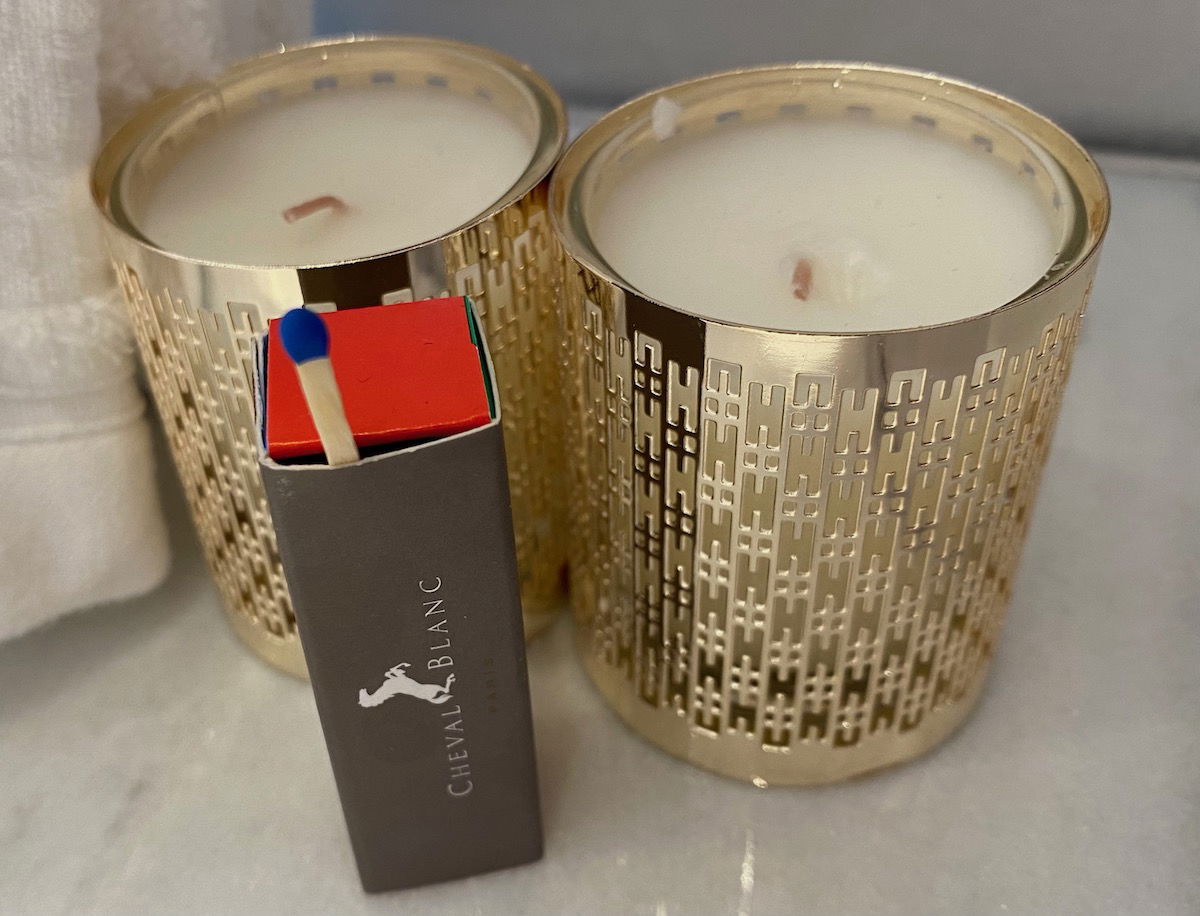 While I'm not usually one to raid hotel toiletries, we may or may not have taken the below home with us…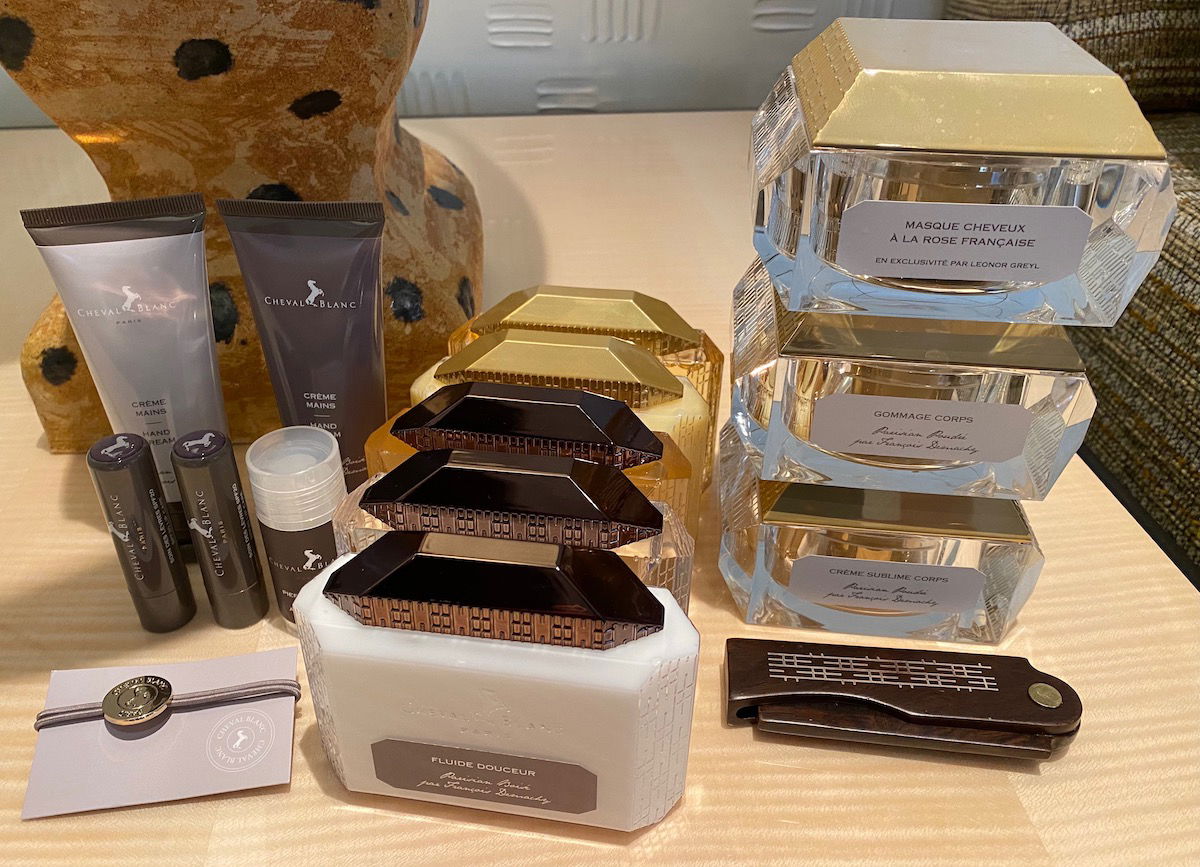 Ford had booked a facial the afternoon we were there (the hotel has the world's only Dior Spa, and he was intrigued), and there was a note about how he should take this eye cream the night before. That's amazing attention to detail and a cute treat, but at the same time we weren't staying the night before, so…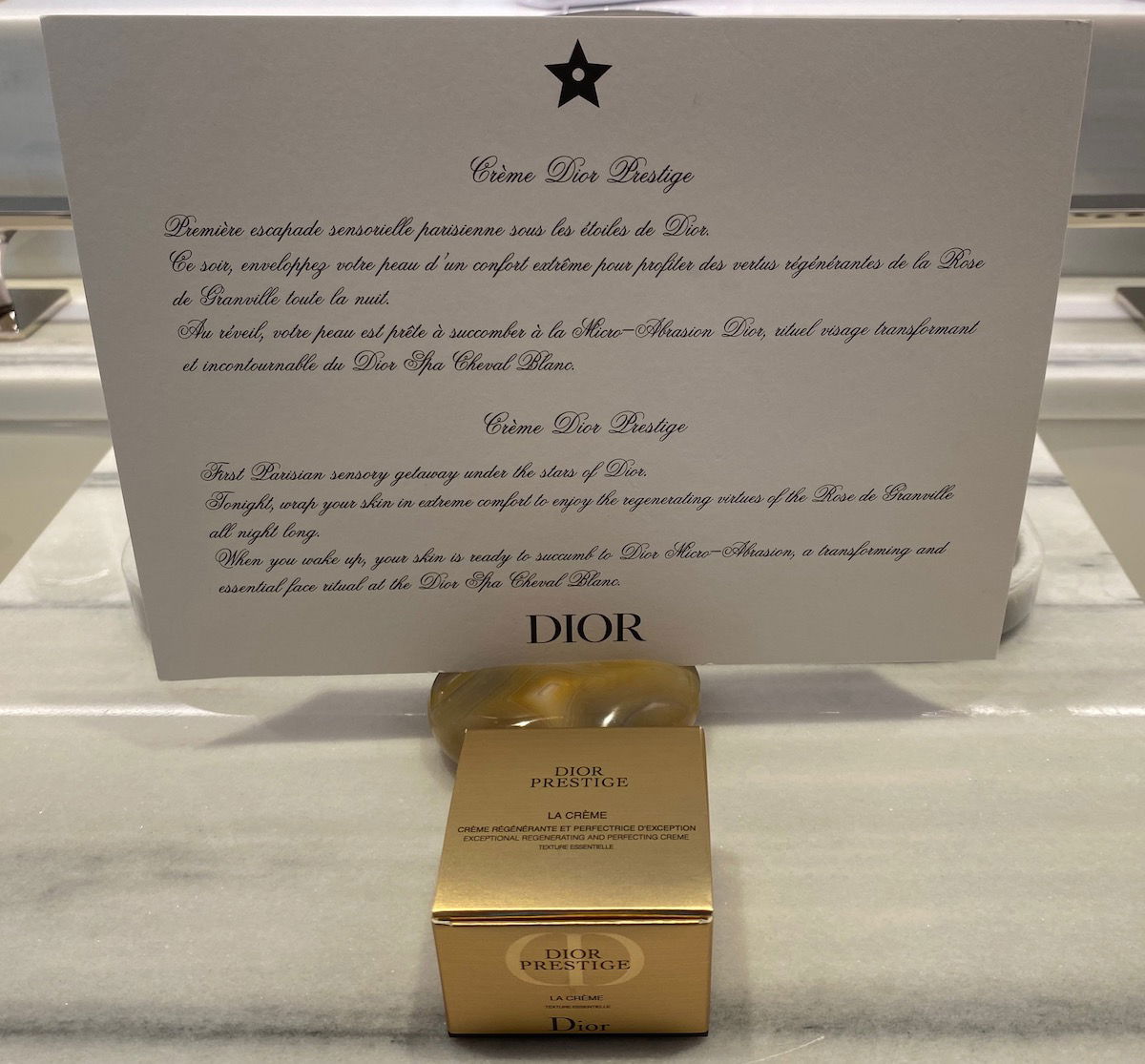 The toilet was in a separate room across the hall from the rest of the bathroom, and personally I like this kind of separation. There was also a proper bidet-style toilet here.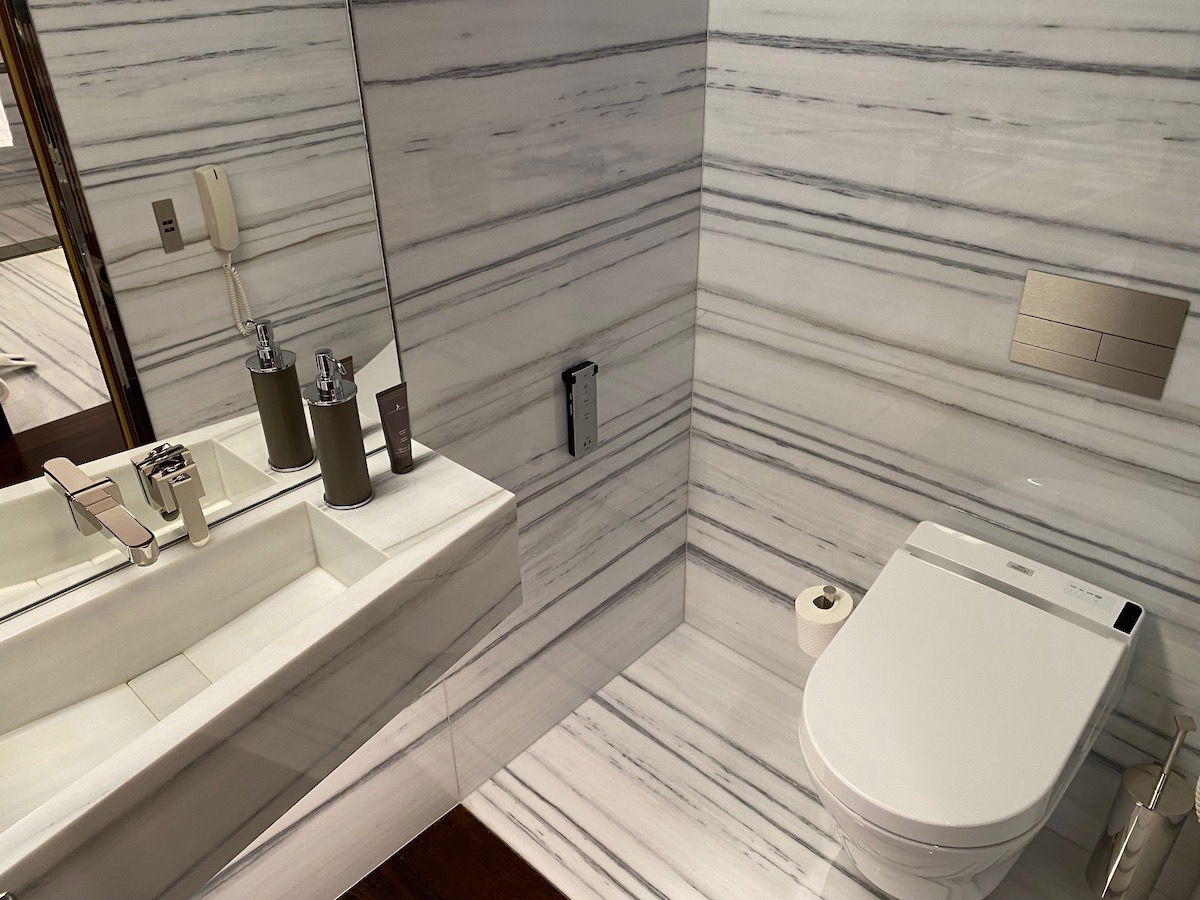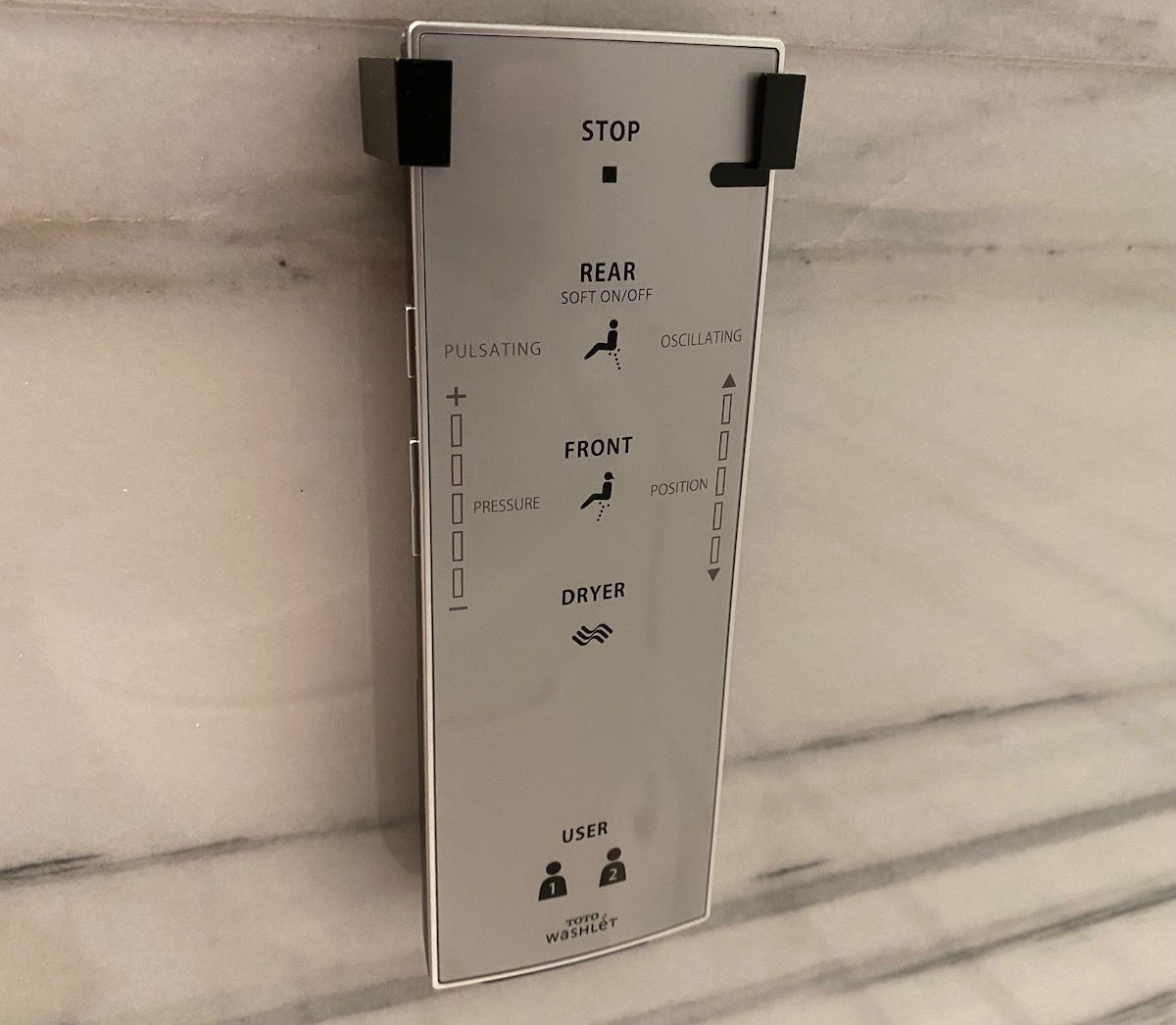 Also in the hallway was the minibar, which featured everything from candles from each Cheval Blanc property, to a Nespresso machine, to soft drinks and alcohol. Cheval Blanc offers all non-alcoholic drinks in the minibar for free. While minor, I noticed that there was no milk (or milk substitute) in the minibar, which would have been nice to have with coffee.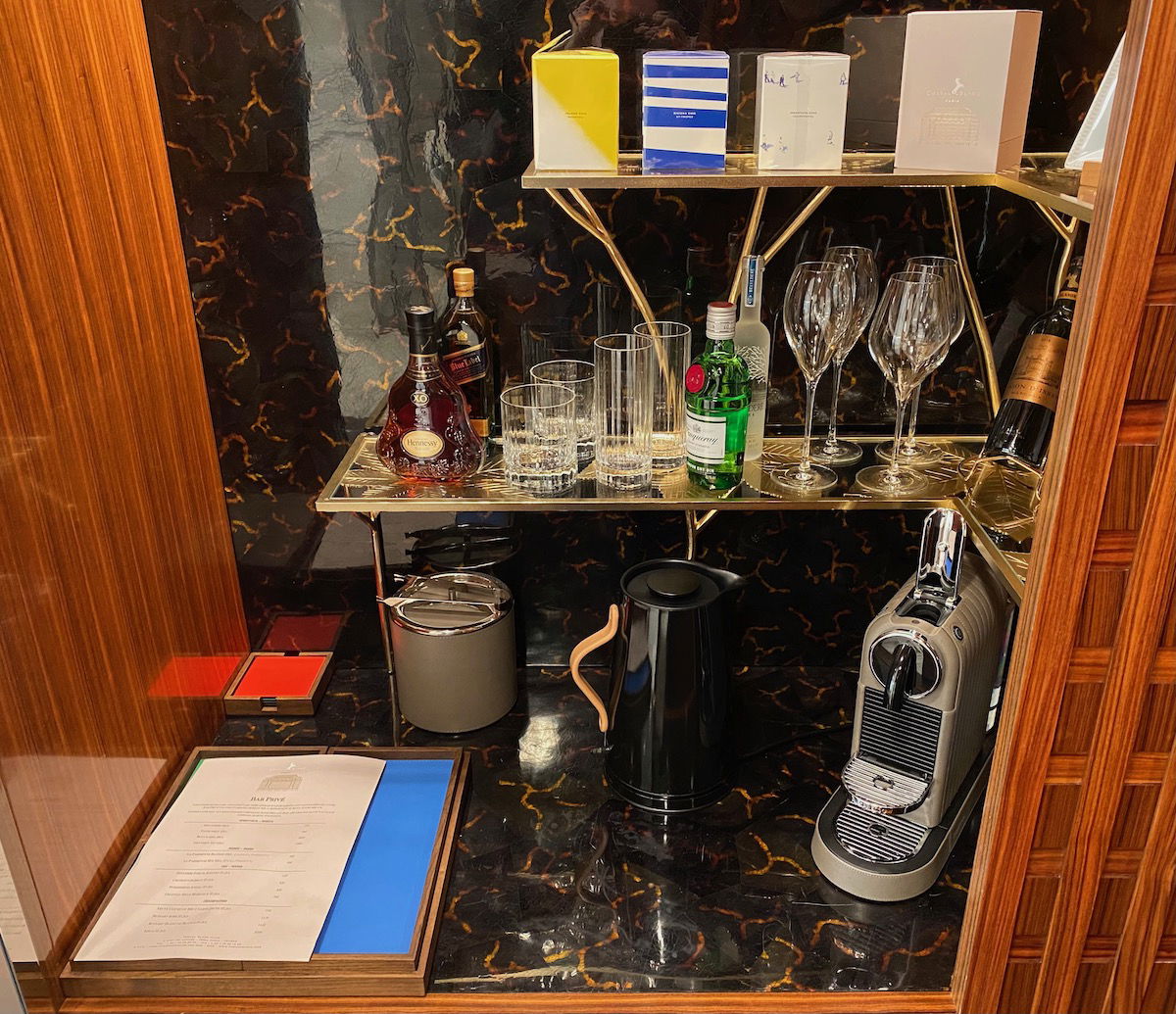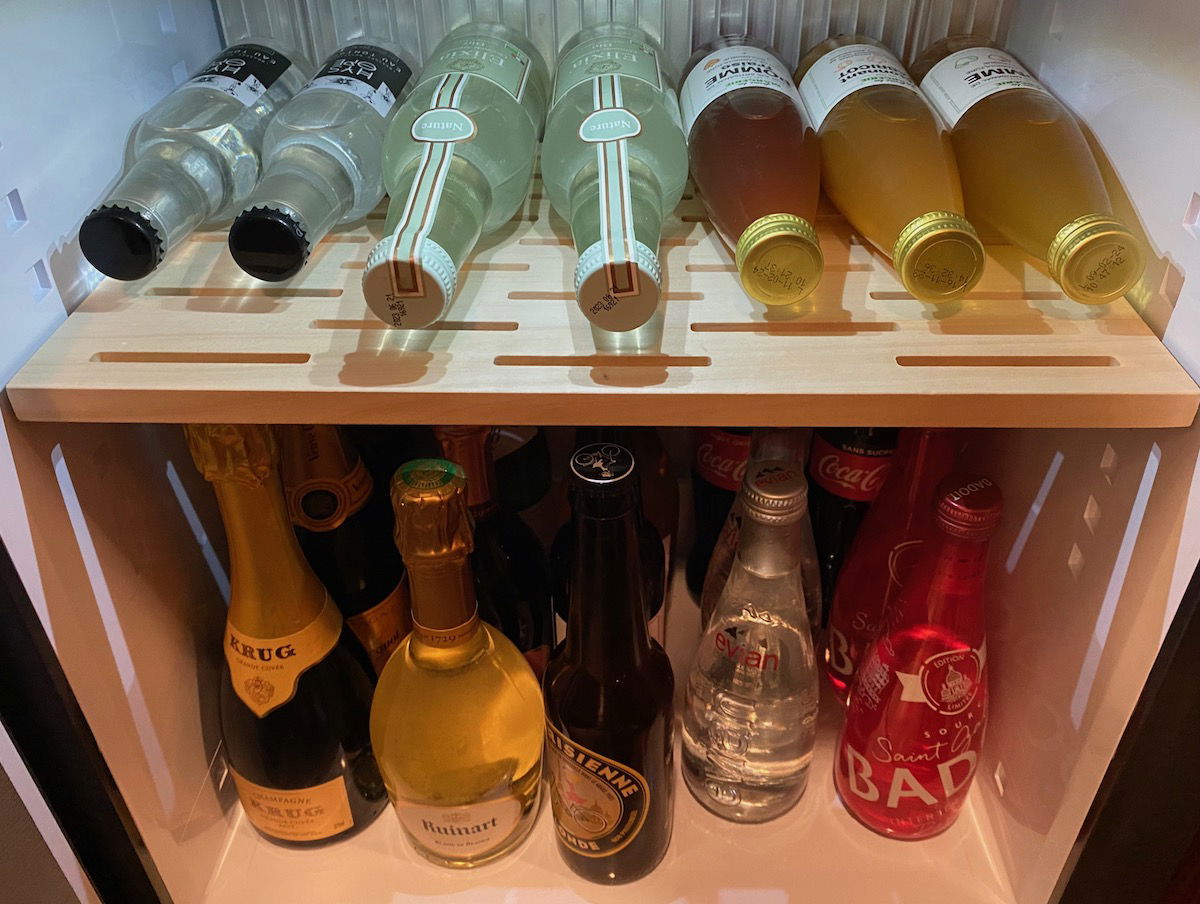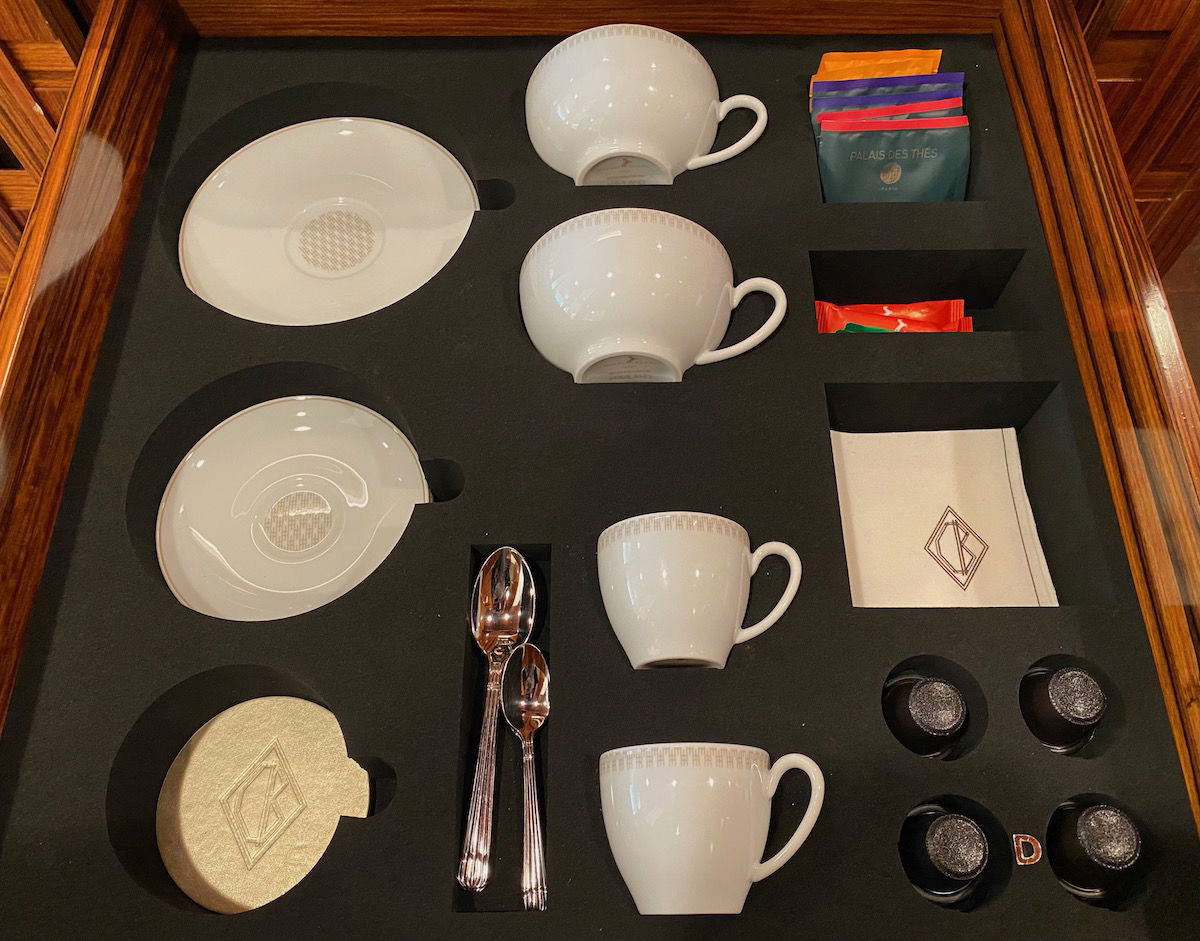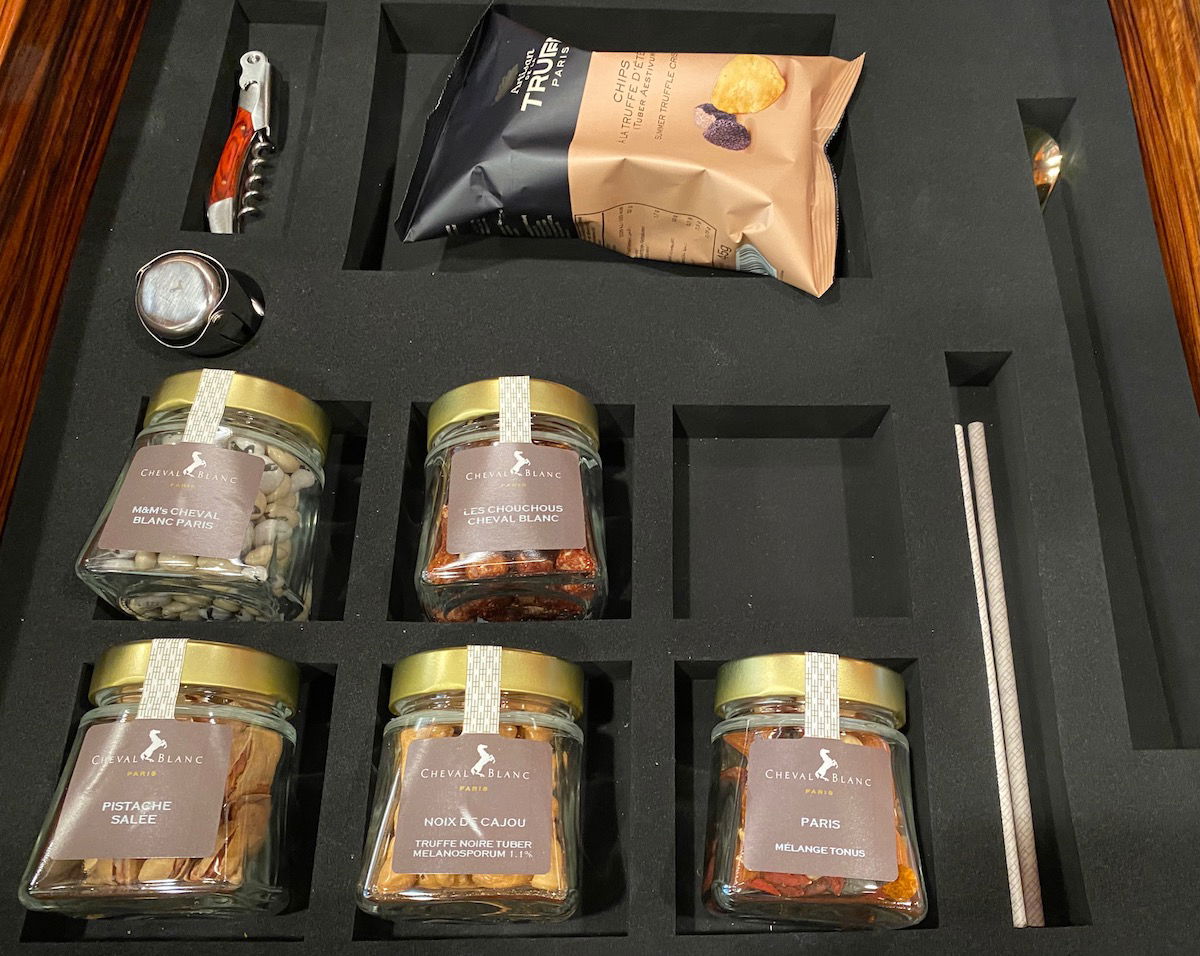 Also near the entrance was the massive closet, which is perhaps the nicest closet I've ever seen in a hotel room.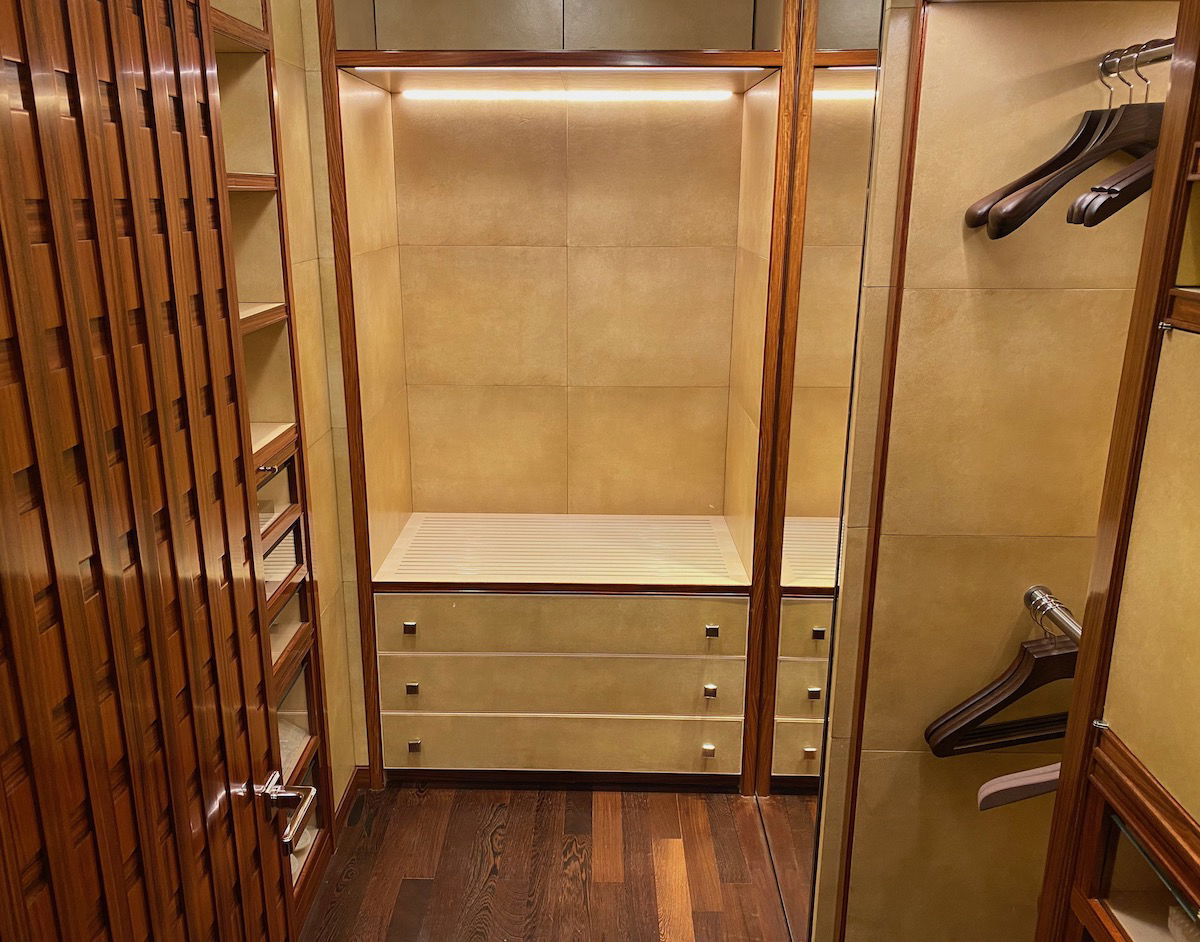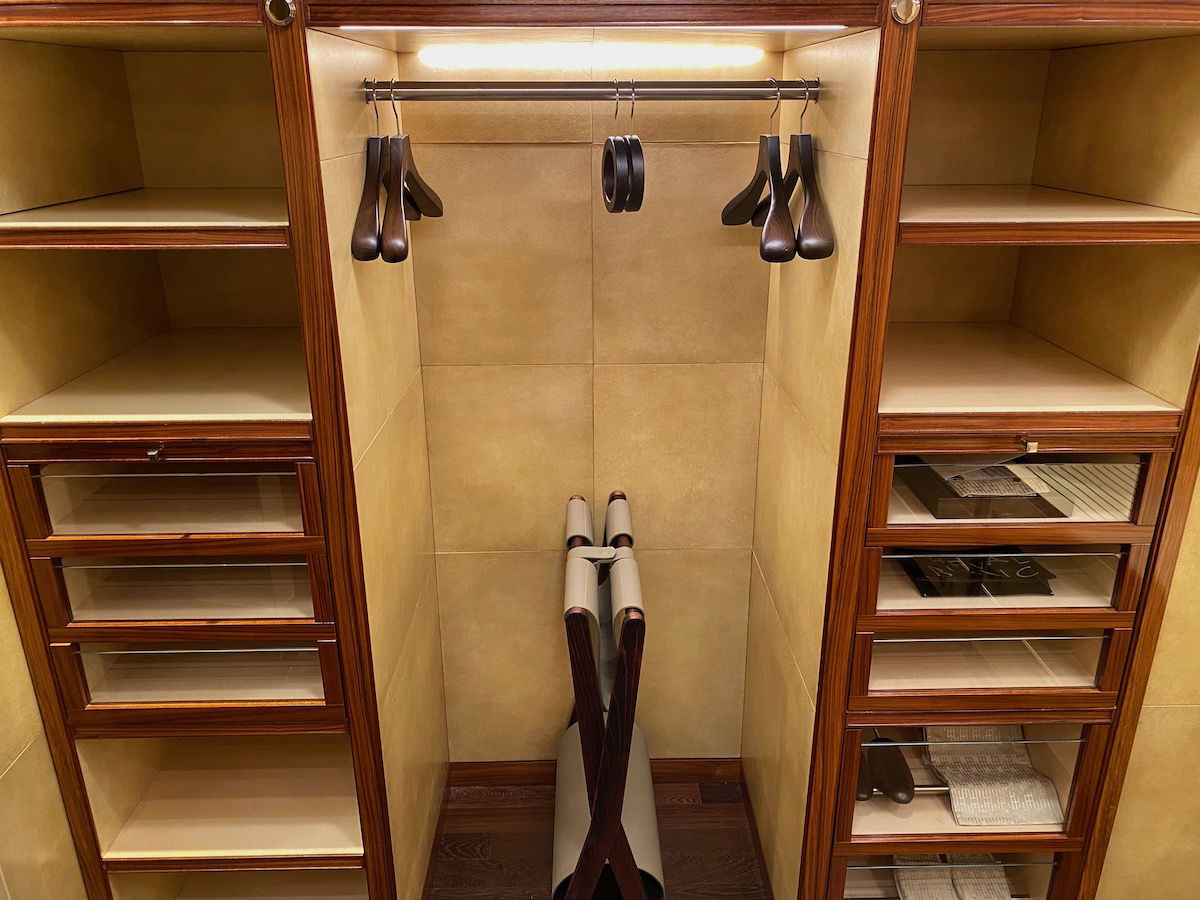 Just as an example of the attention to detail here, the in-room safe had several compartments with watch winders, and even had USB outlets.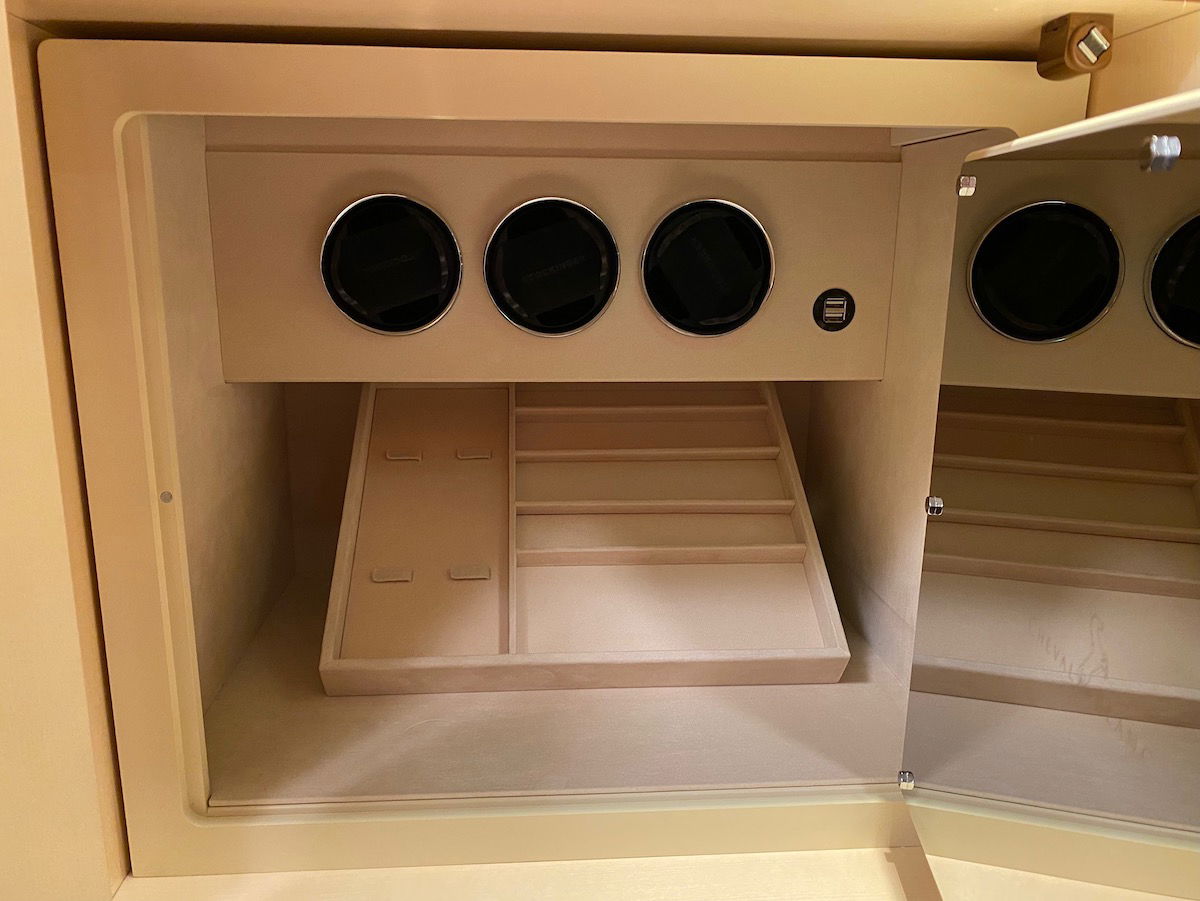 There was also a pamphlet in the closet about a complimentary shoe shine service.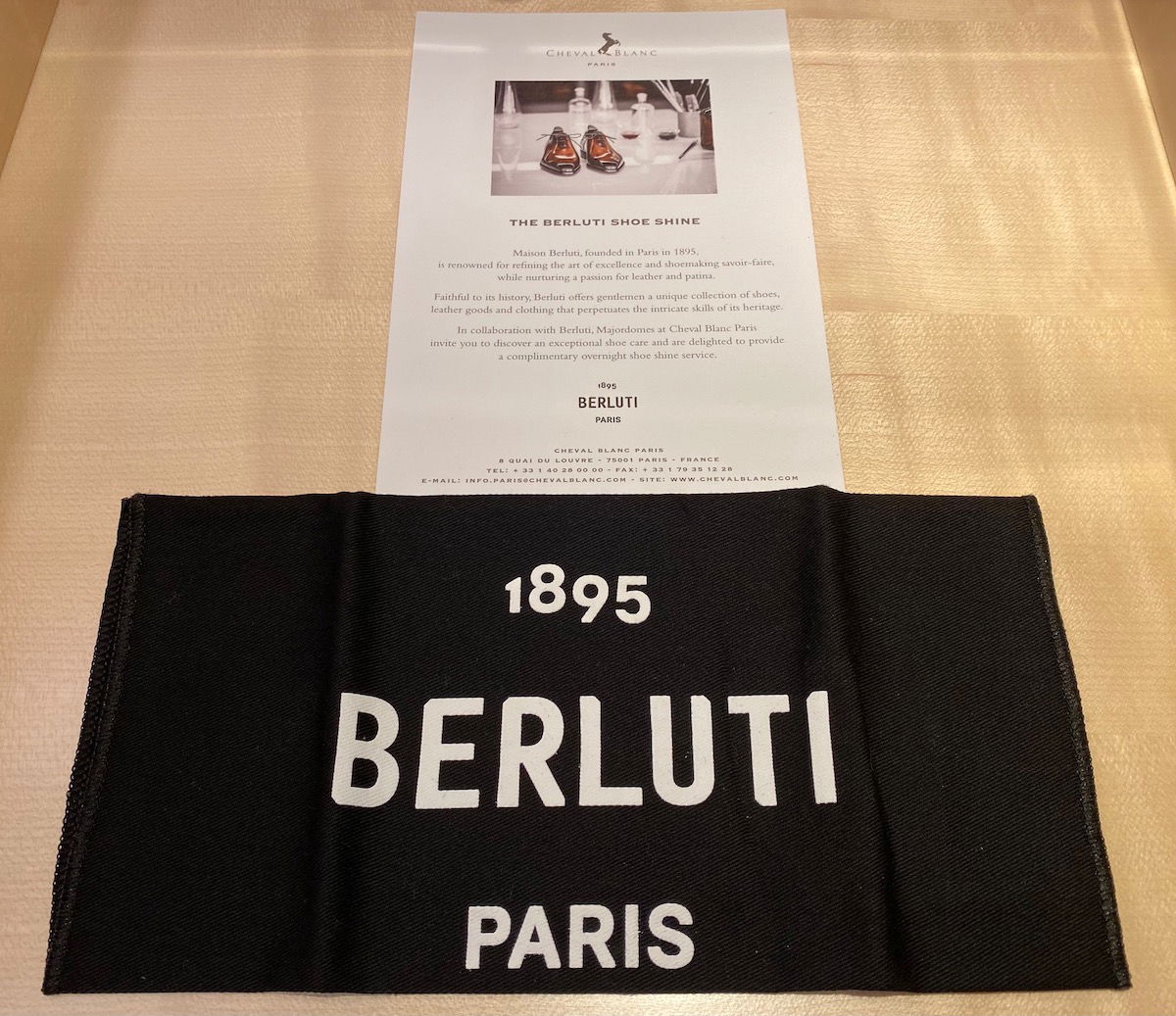 This was one of the most incredible hotel rooms I've ever stayed in. Of course nothing in the world is perfect, and that brings me to my one issue with the rooms here — the sound insulation. Our room faced a fairly quiet pedestrian area, or so we thought.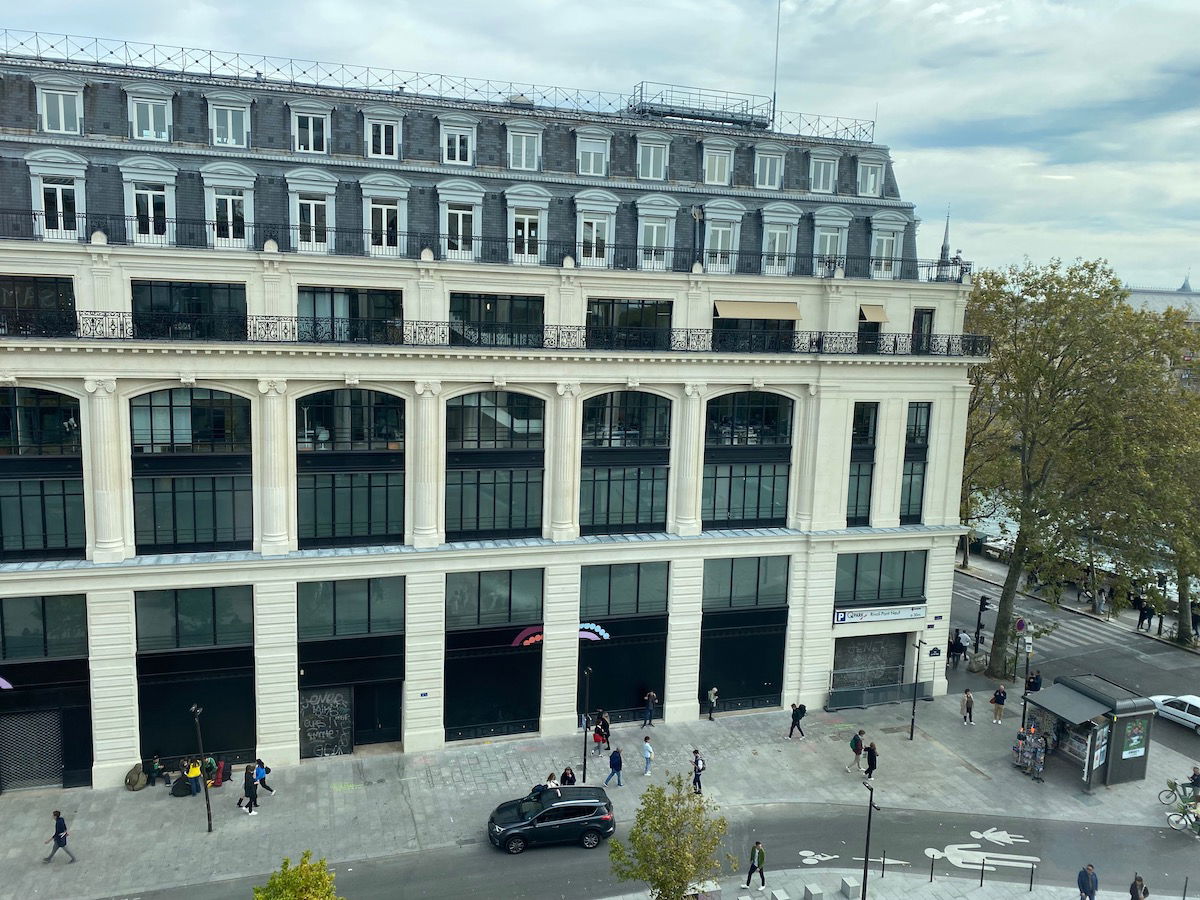 Well, for much of the day some street musicians set up shop on the other side of the street, and you could hear everything from inside our room.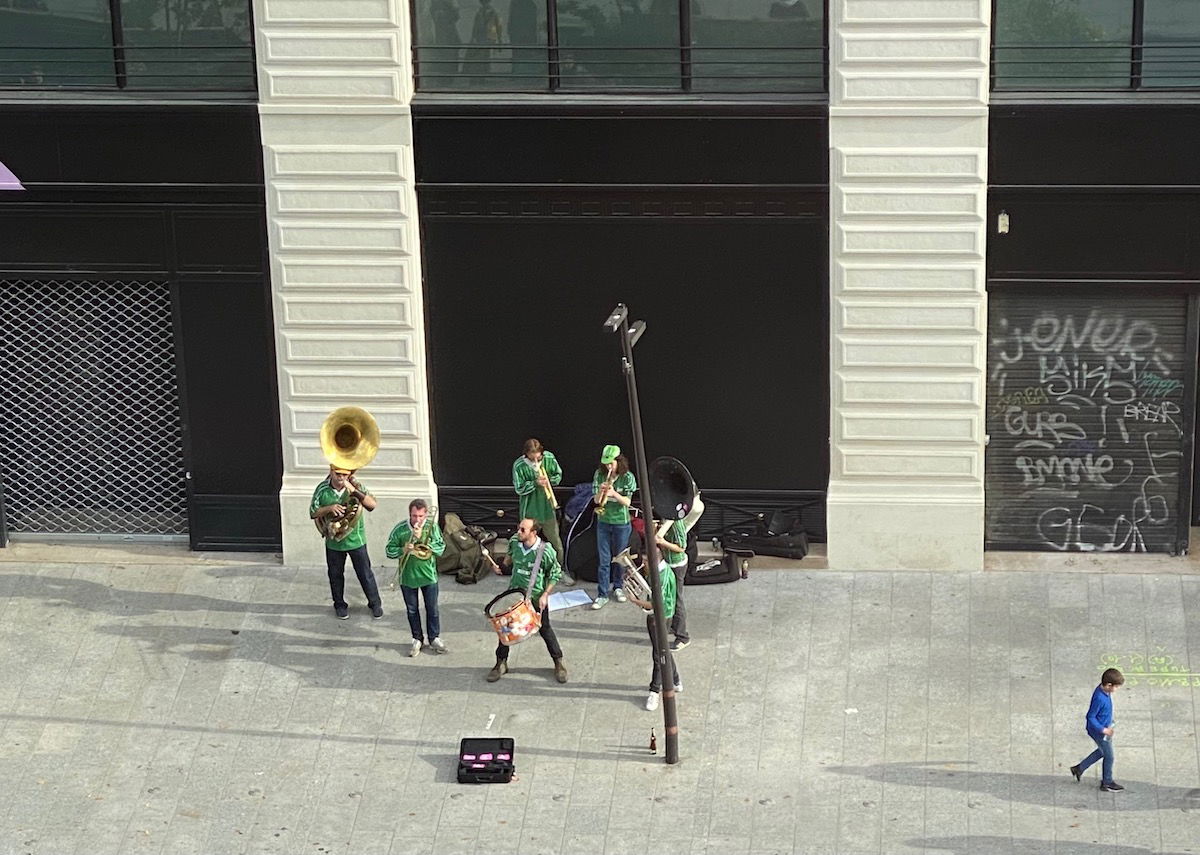 I would think that maybe this was an isolated incident, except on the introduction post to the trip report series, reader HC left the following comment:
We just came back from Paris yesterday and stayed at Cheval Blanc for a week. Curious to see your thoughts. We were somewhat disappointed. Very nice rooms and facilities, but extremely poor soundproofing. We had a balcony room on the 6th floor and could hear everything from the restaurants on the 7th floor especially when they start moving chairs and tables around after closing. Could even hear them vacuuming… Traffic in the area being crazy also didn't help.
This is something to be aware of, and unfortunately this probably won't be an easy fix for the hotel. Then again, I imagine this won't bother everyone, especially as it shouldn't impact sleep at night.
Cheval Blanc Paris Dior Spa
Cheval Blanc Paris' wellness area is all on the basement level, and this includes a spa, pool, and gym.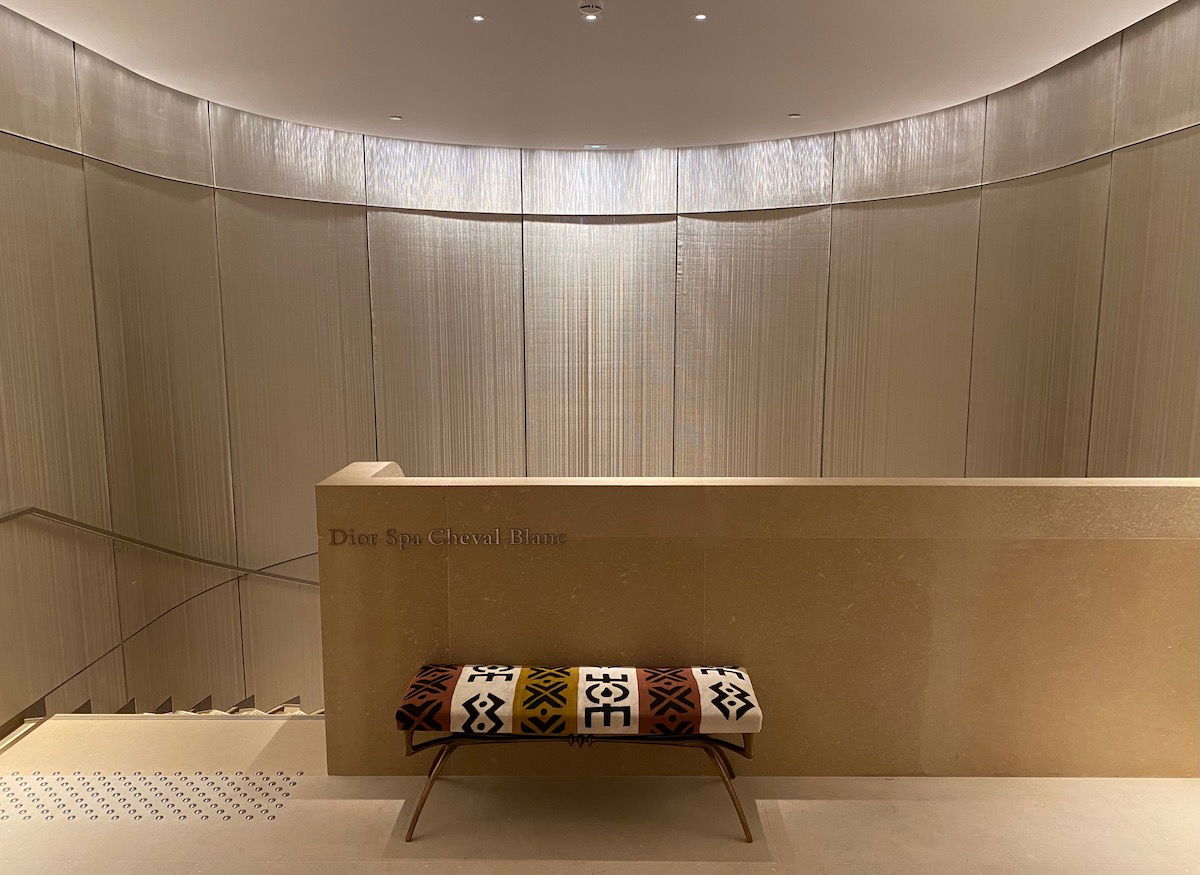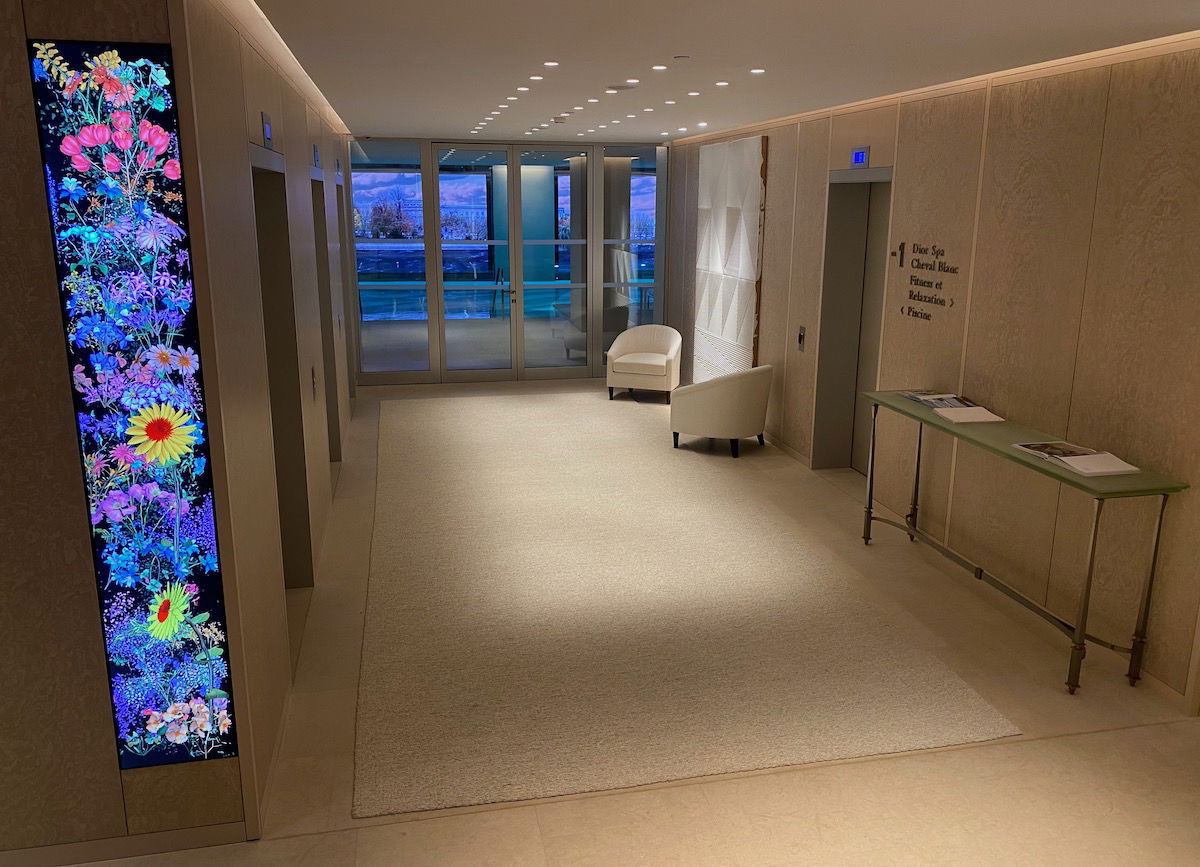 Cheval Blanc Paris has the world's first Dior Spa, which features six treatment rooms, and offers everything from massages to facials. You can find the Dior Spa treatment menu here.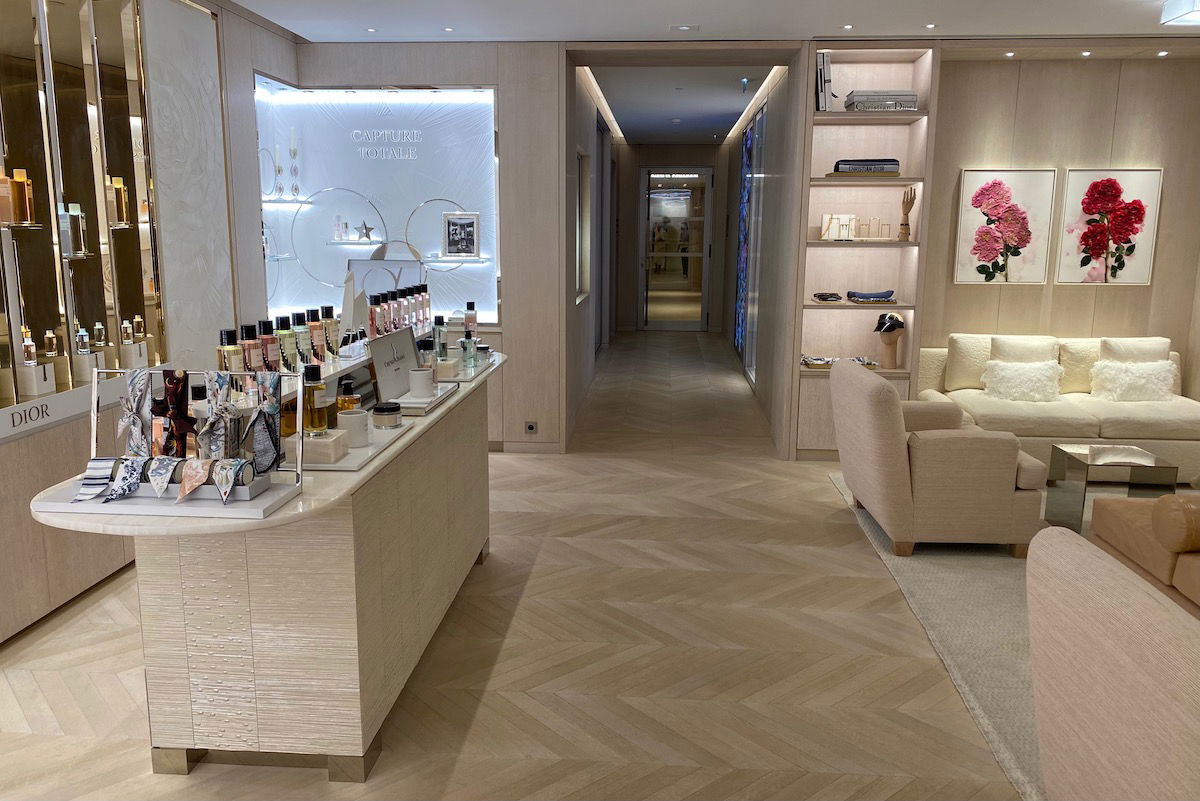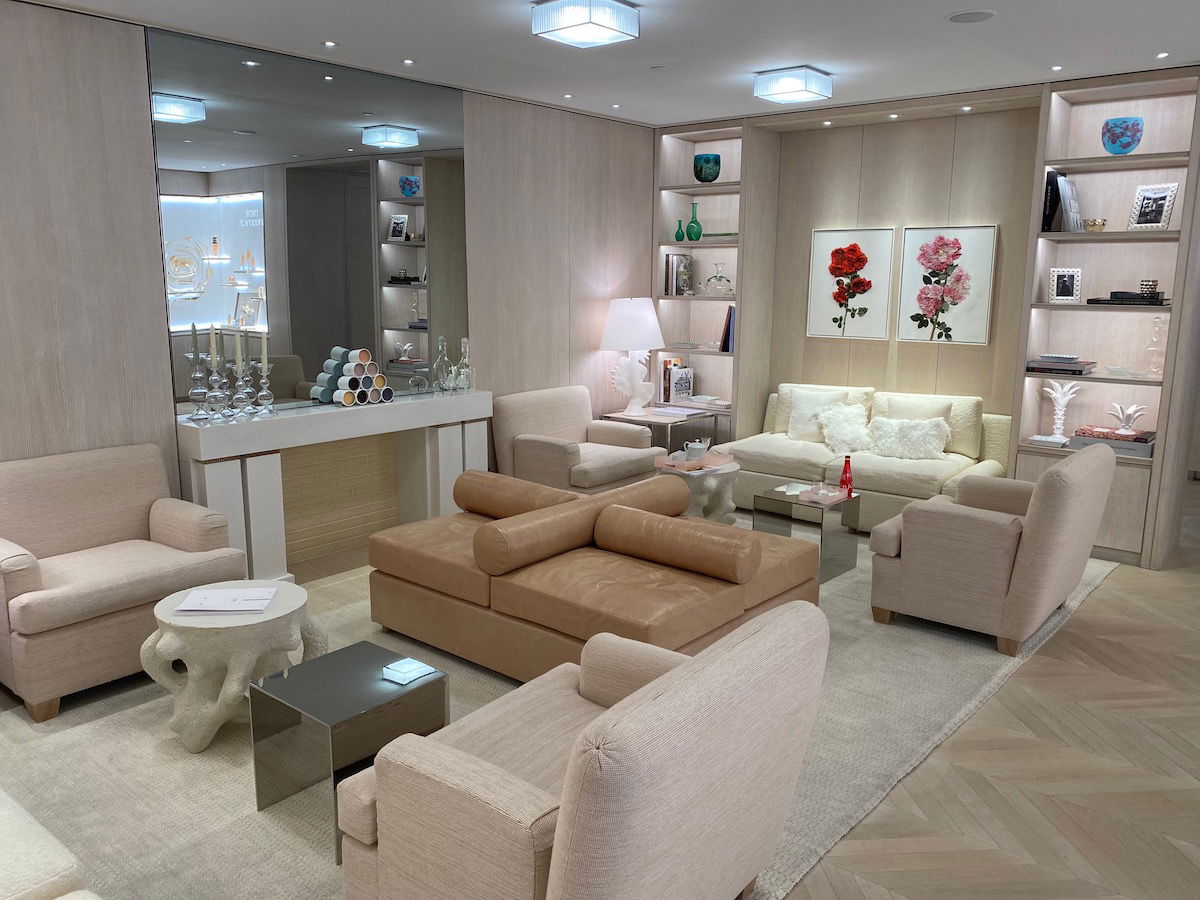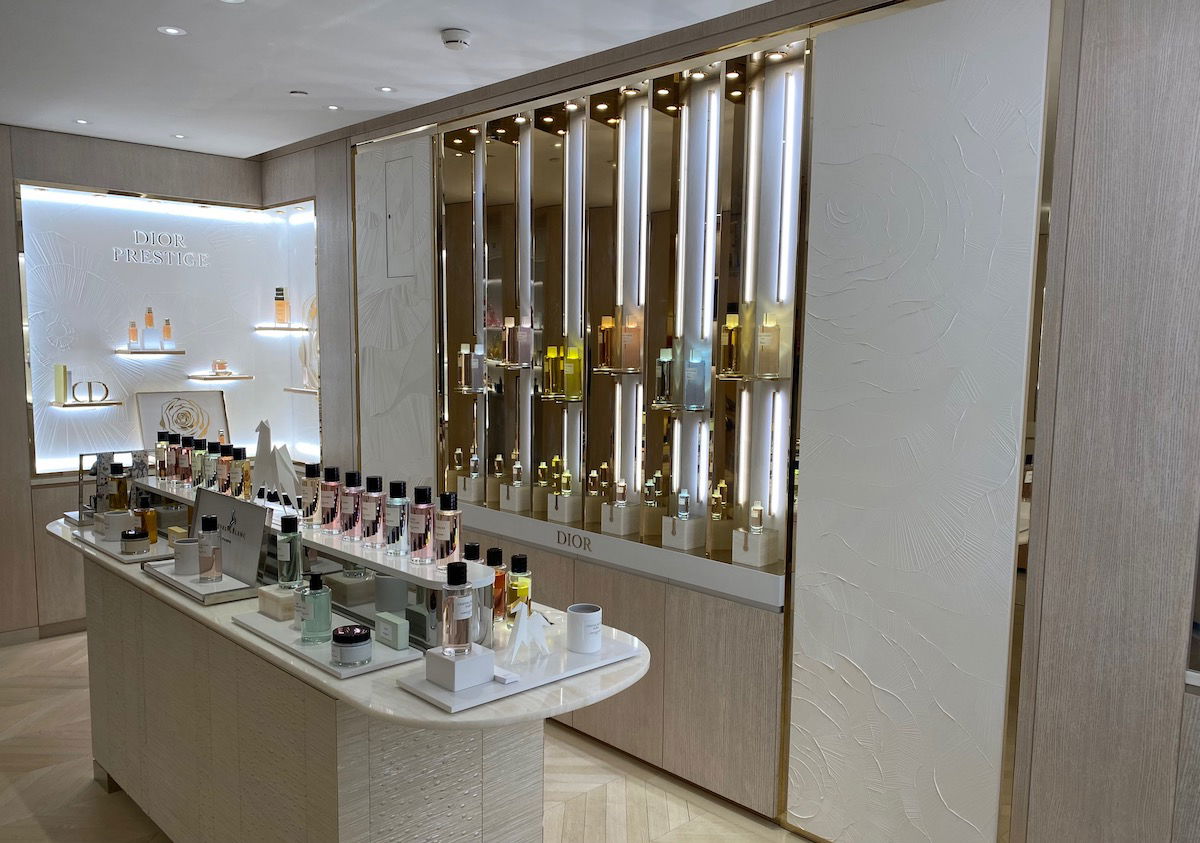 Cheval Blanc Paris pool
Cheval Blanc Paris has what's probably the most impressive indoor pool I've seen in my life. The hotel has a 30 meter pool, which is visually stunning. It's open daily from 6:30AM until 10:30PM.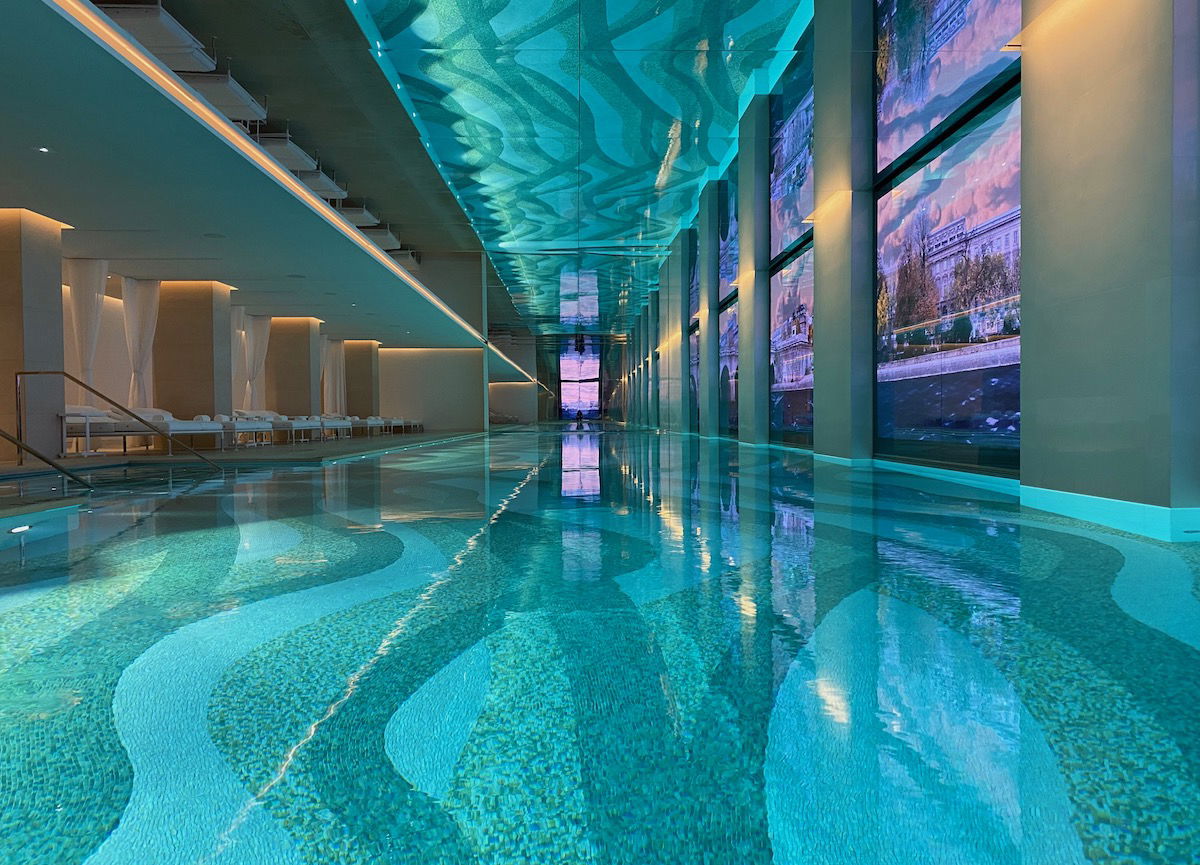 The pool has a video wall of sorts that depicts what the view would be like outside. What's so cool is how it's constantly changing — you can see the waves, you can see flocks of birds fly by, etc. And then with how the pool area is mirrored, you also see a reflection of everything.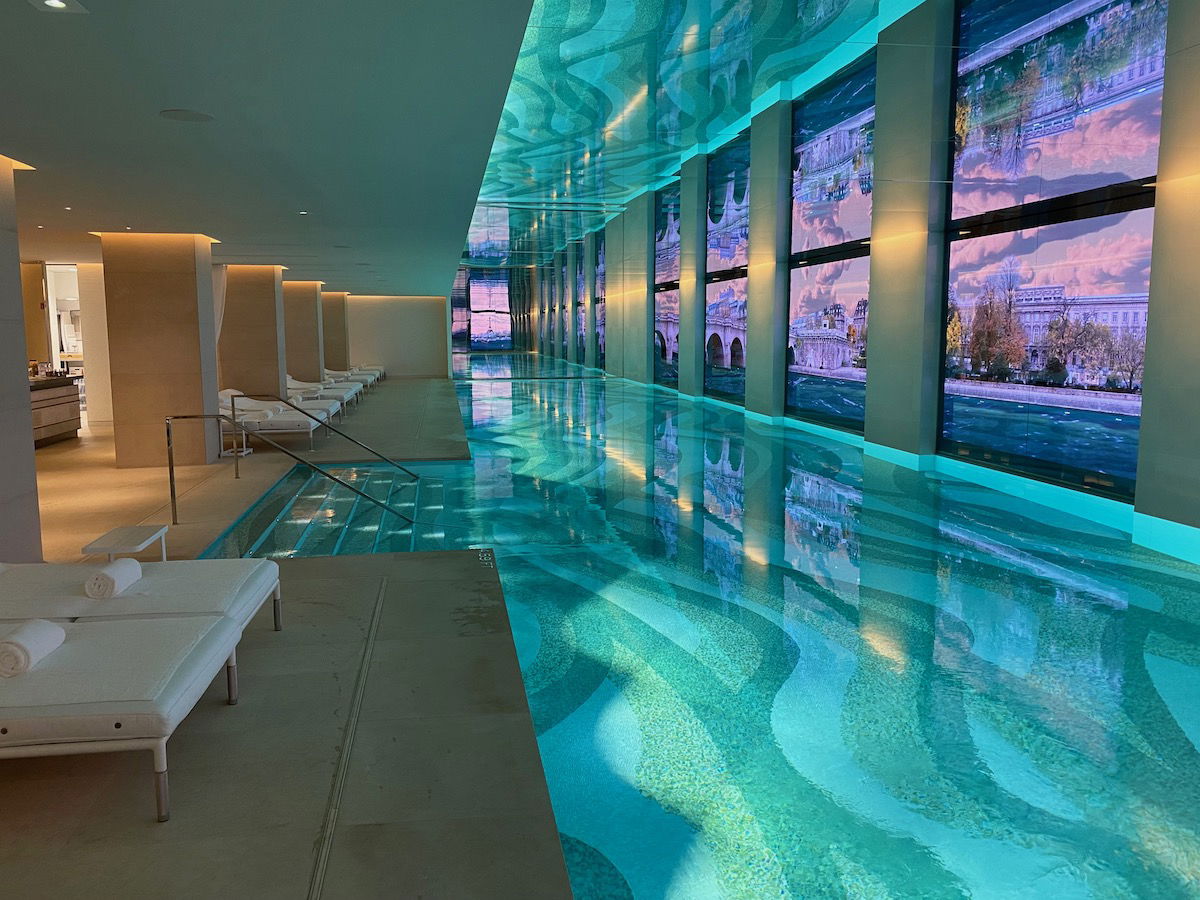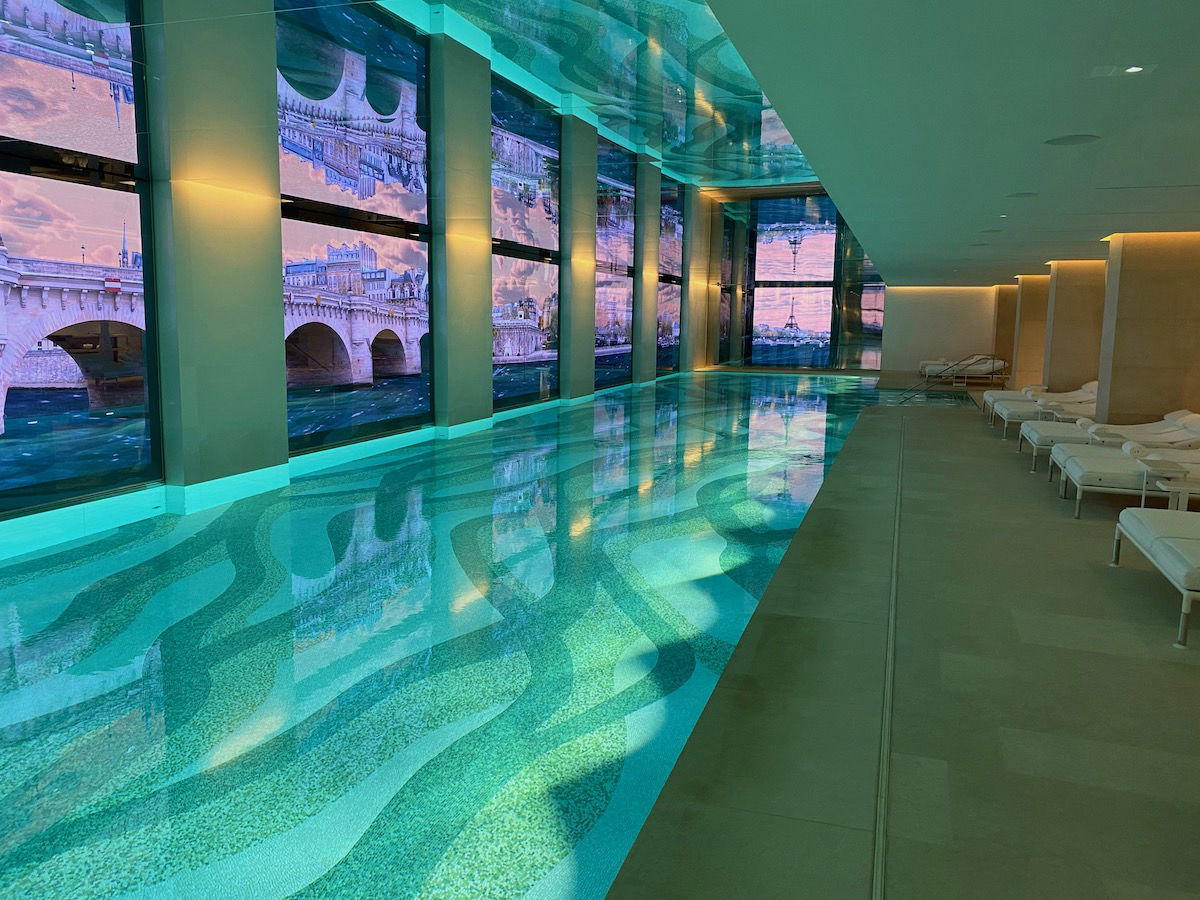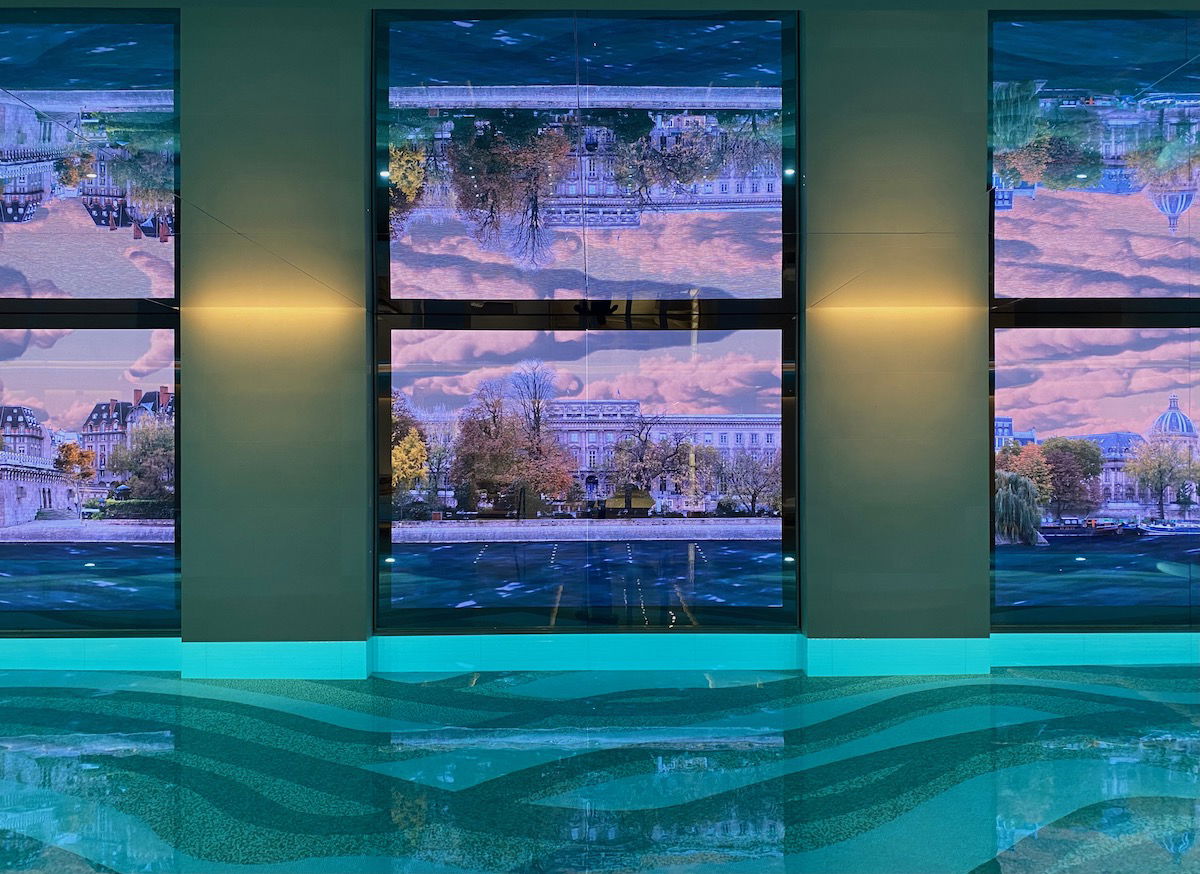 There's also plenty of seating around the pool, and there are also nets that can be drawn around pool beds for more privacy.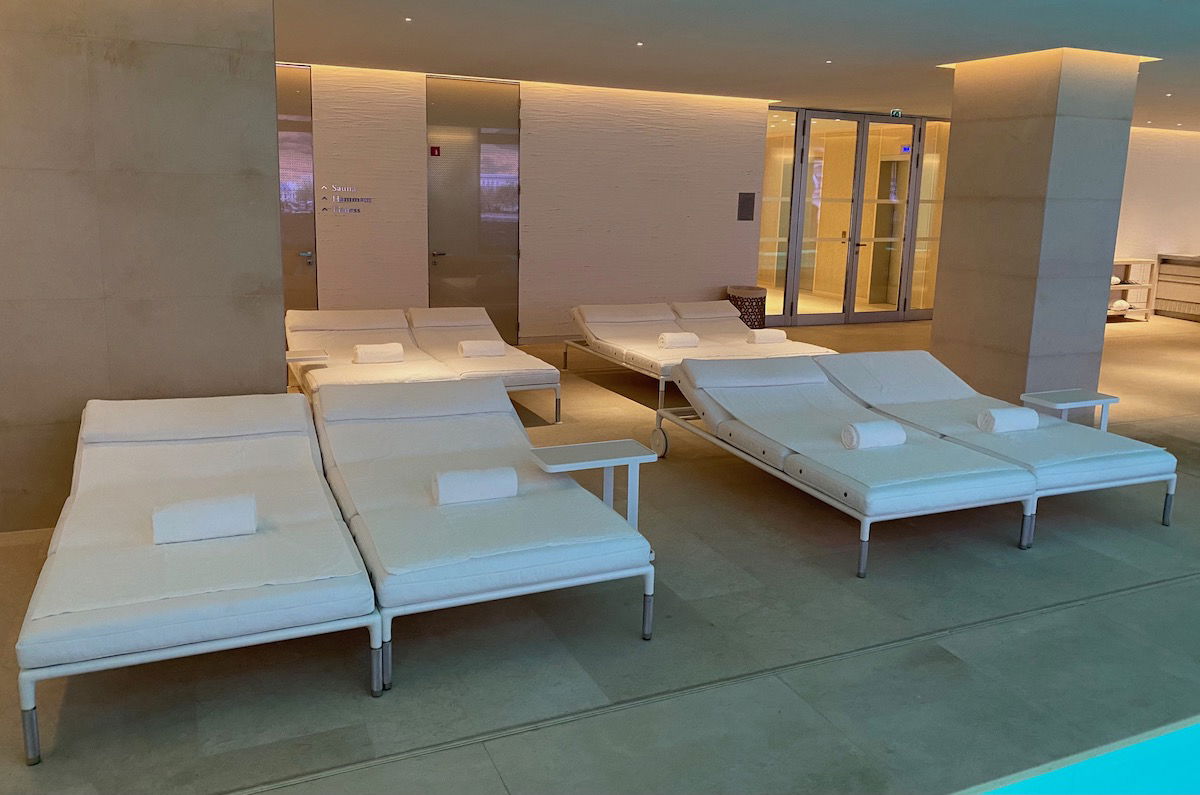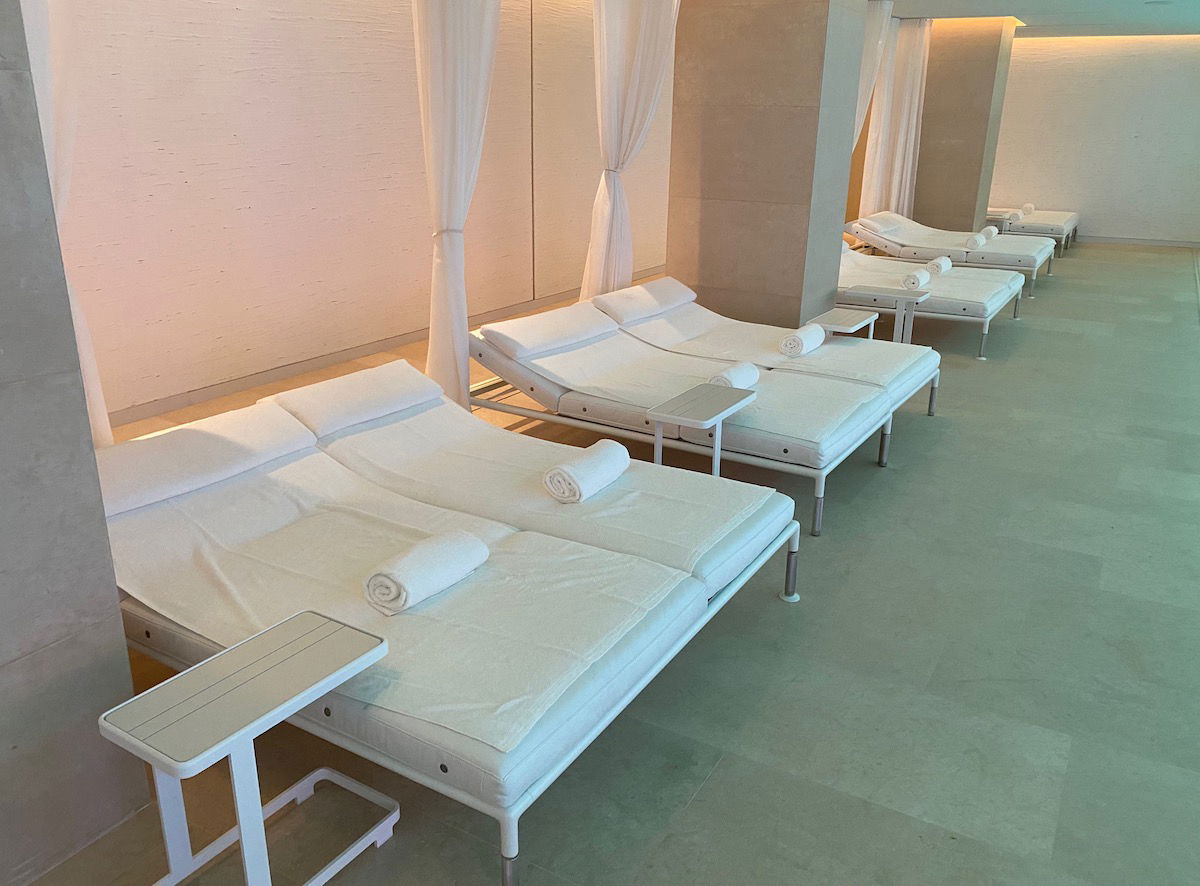 The pool area also has a hammam and sauna, which we enjoyed using.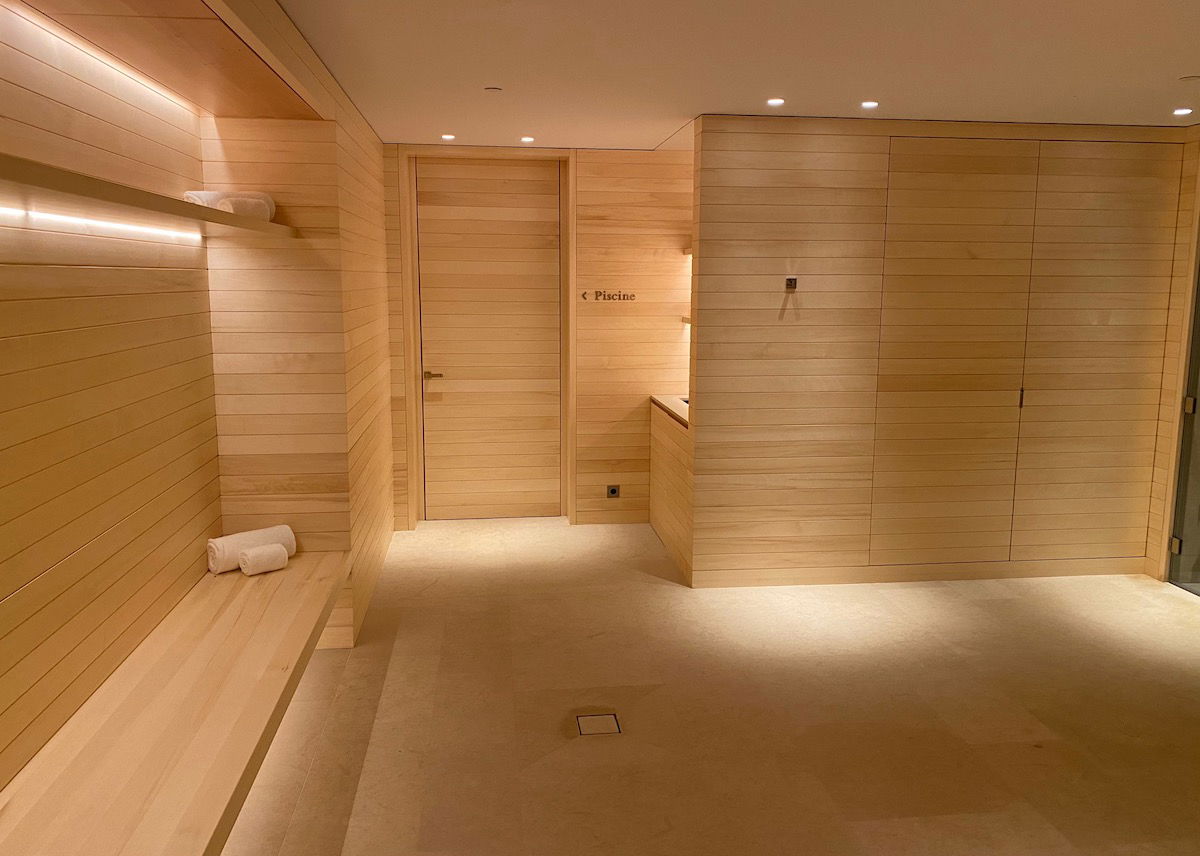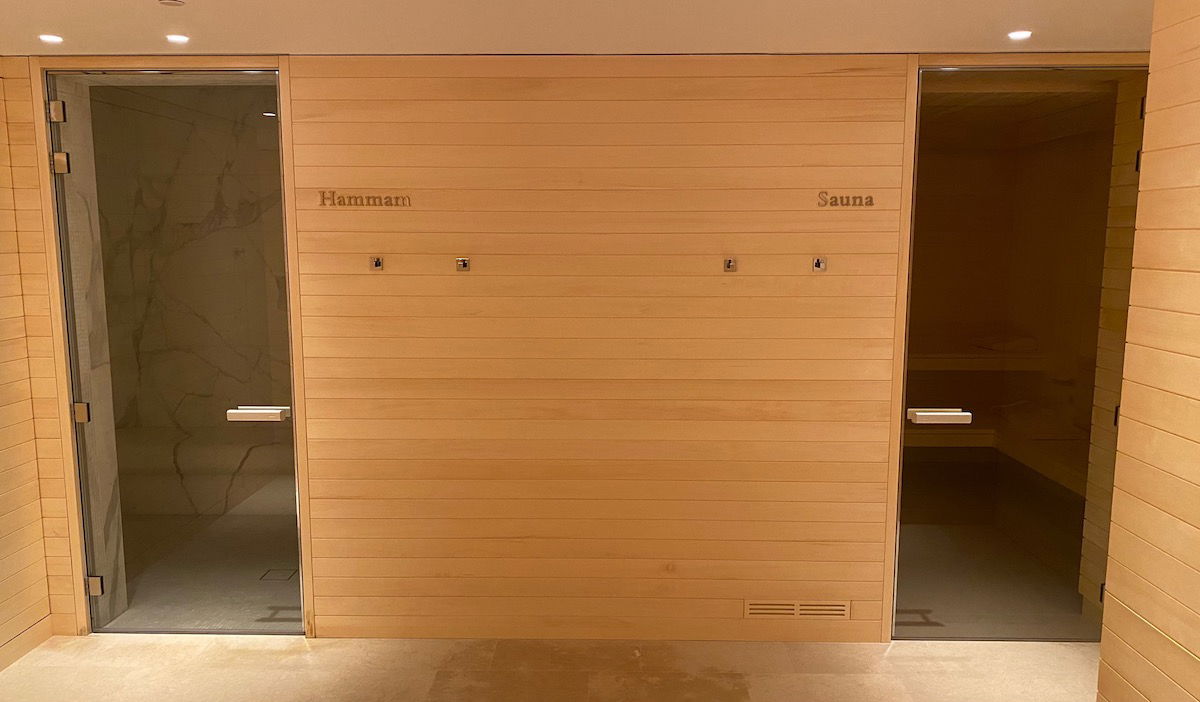 Cheval Blanc Paris gym
Cheval Blanc Paris has a lovely gym with modern equipment, which can be accessed by guests 24/7. My only feedback there is that the free weights selection was somewhat limited — there were only six types of weights, with the heaviest being 17.5kg.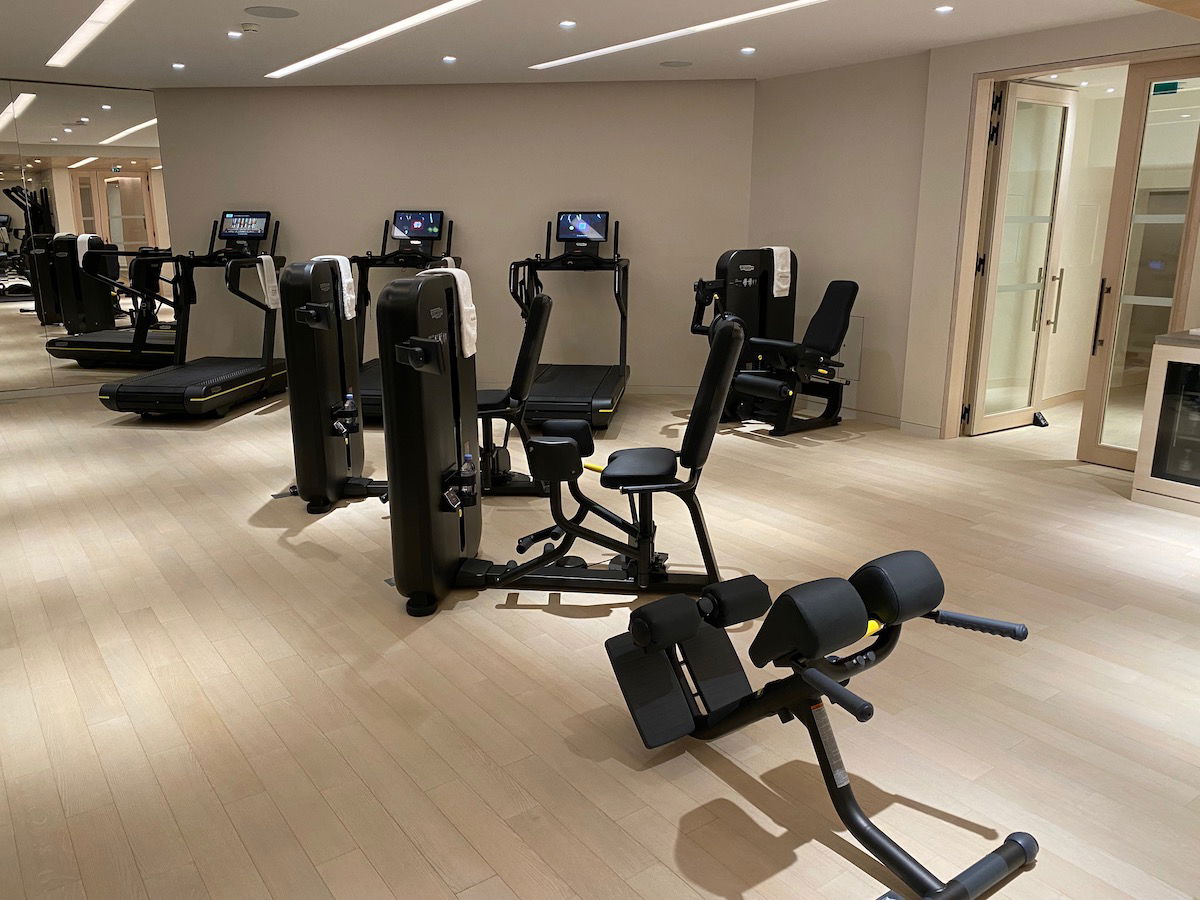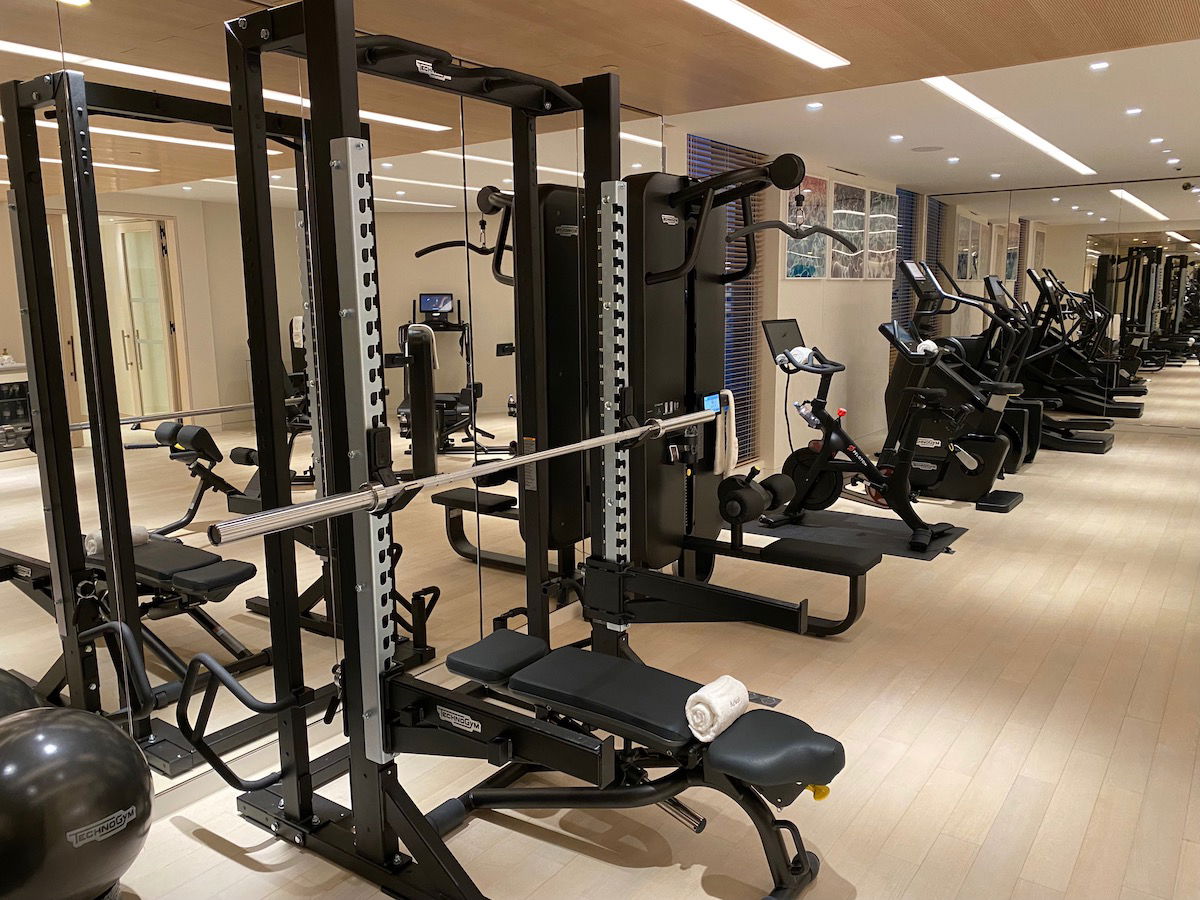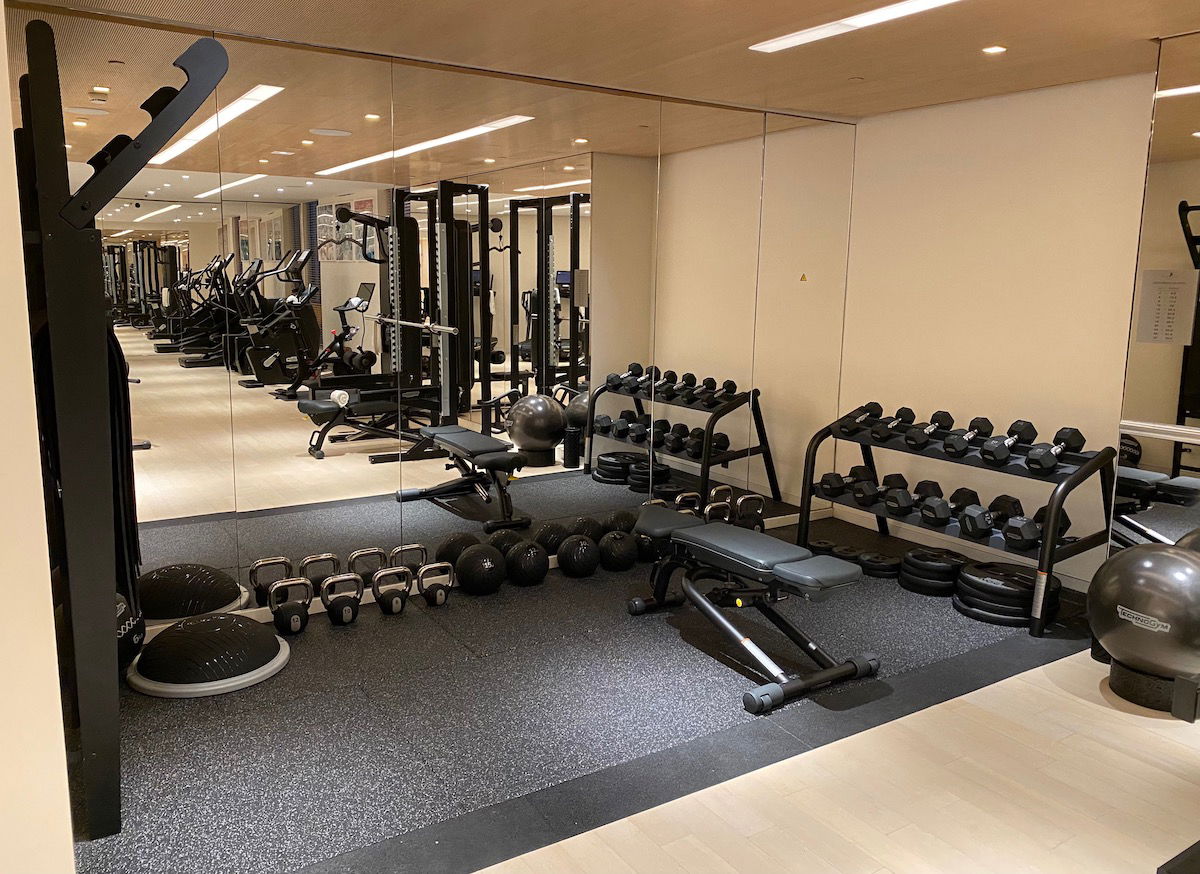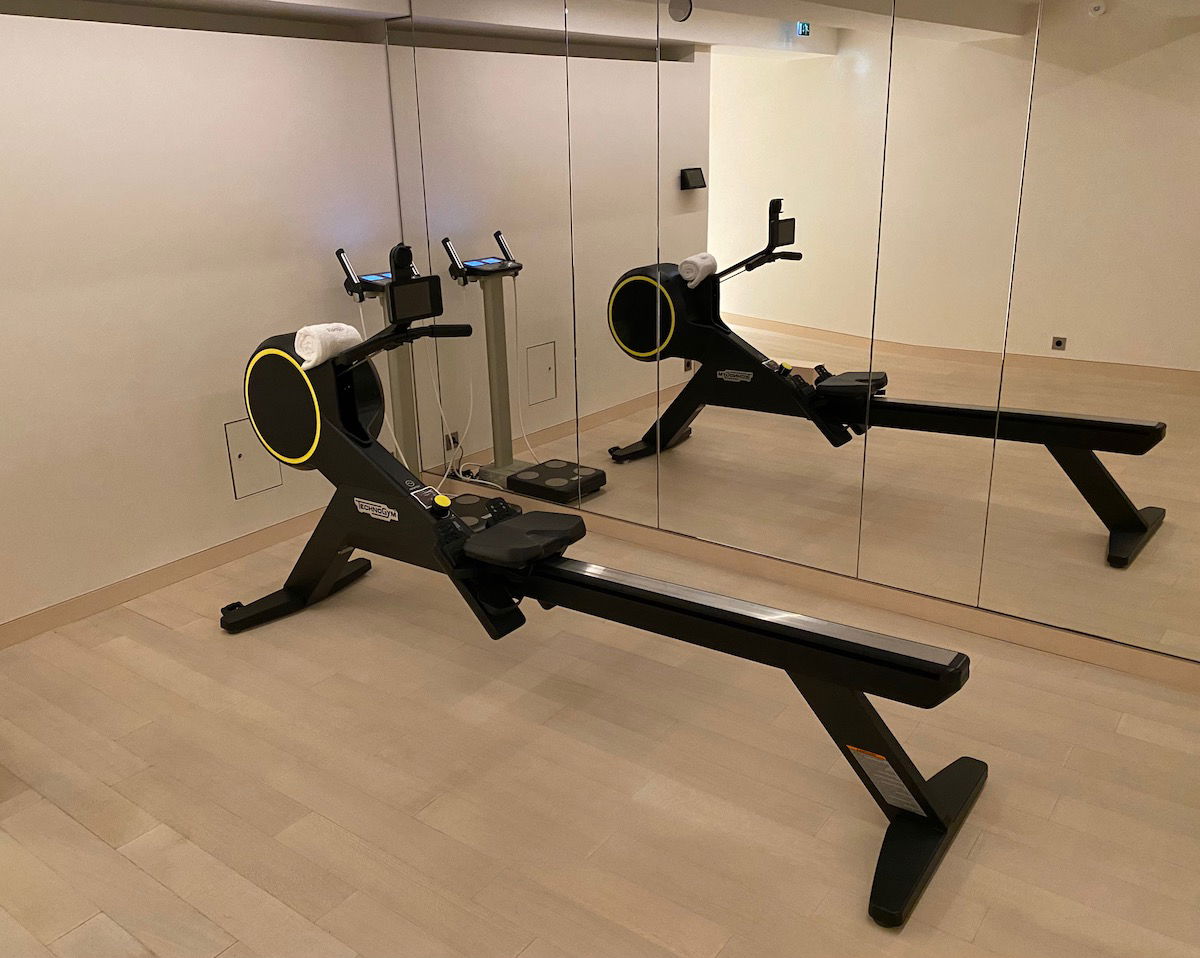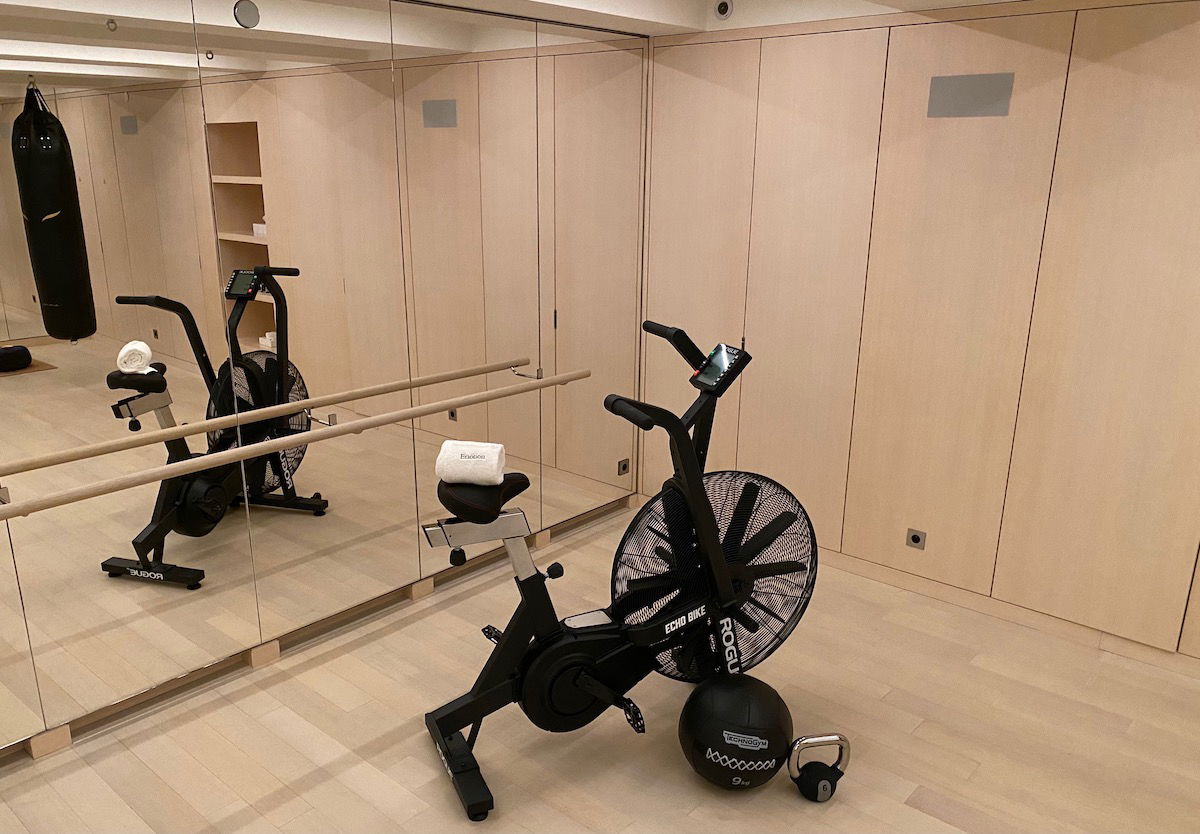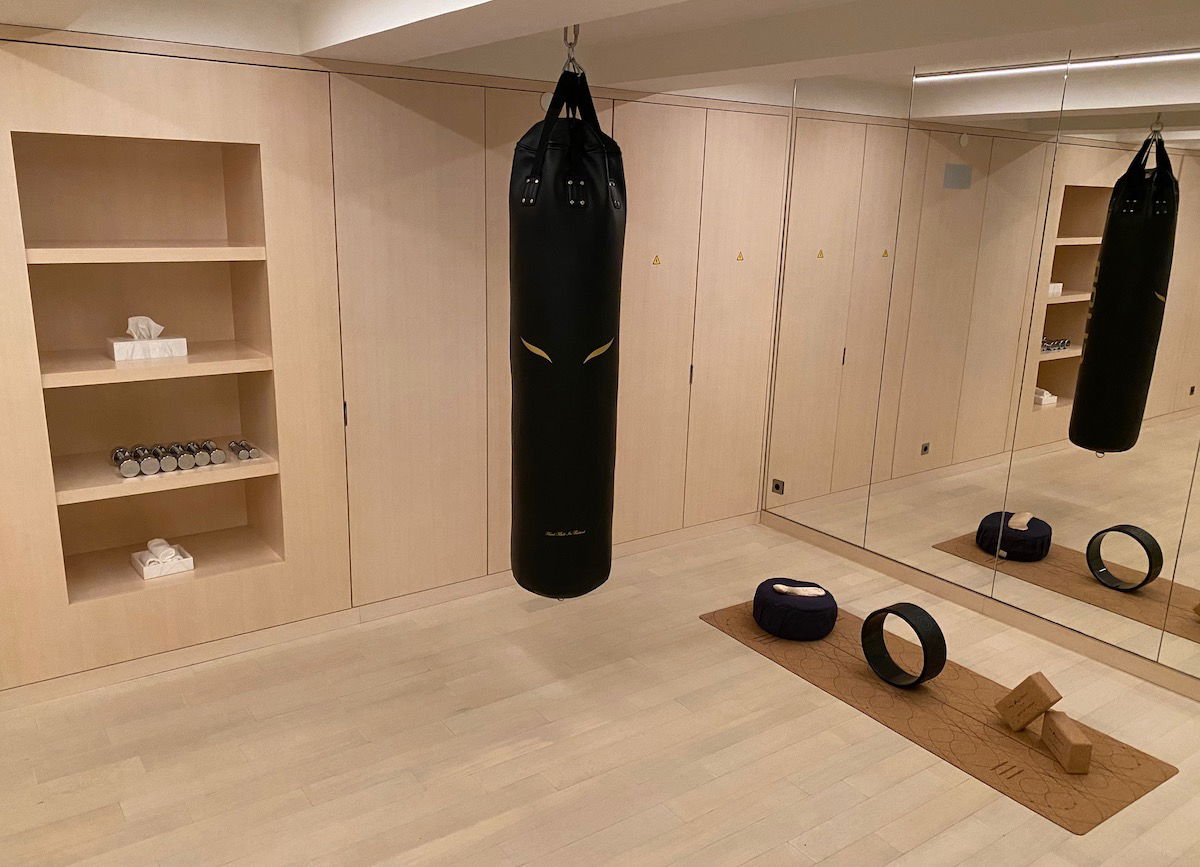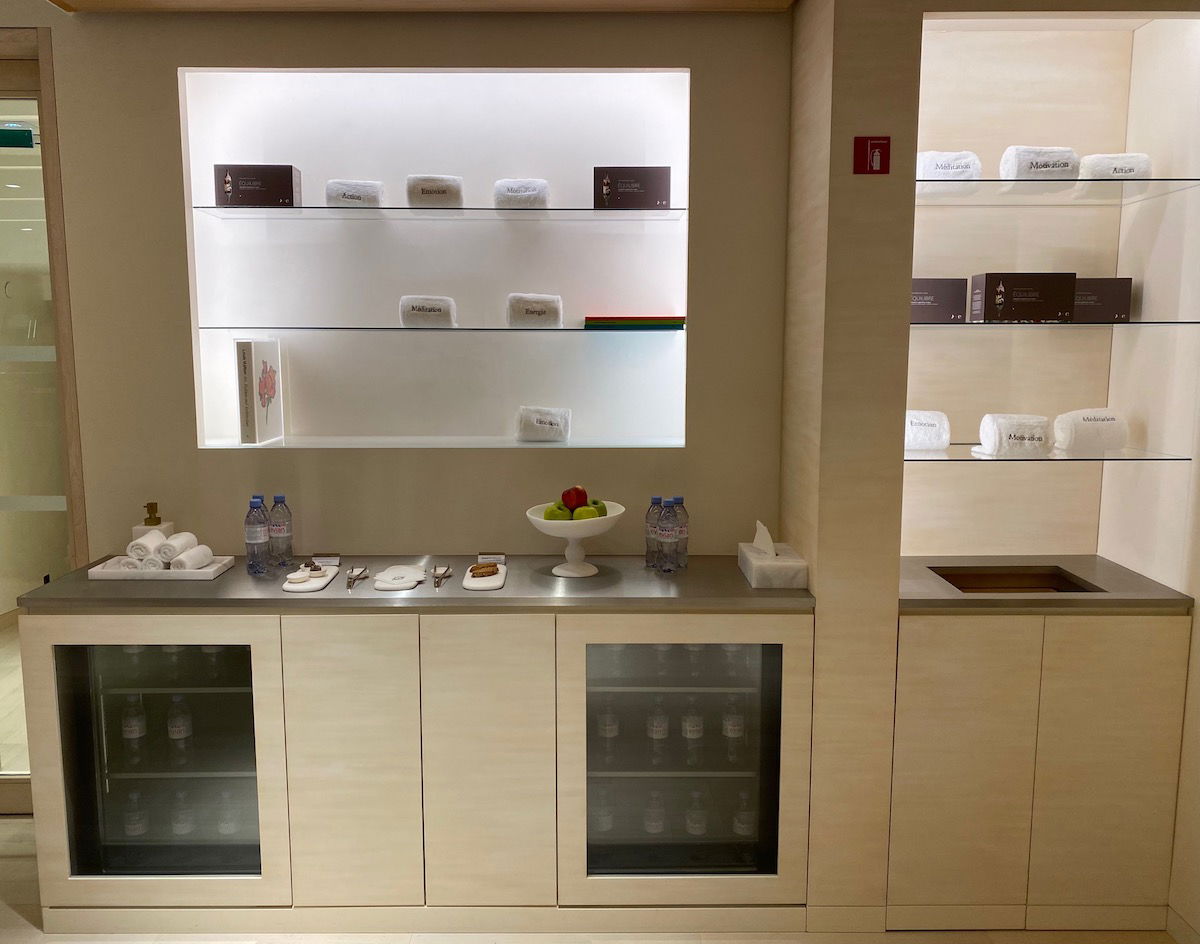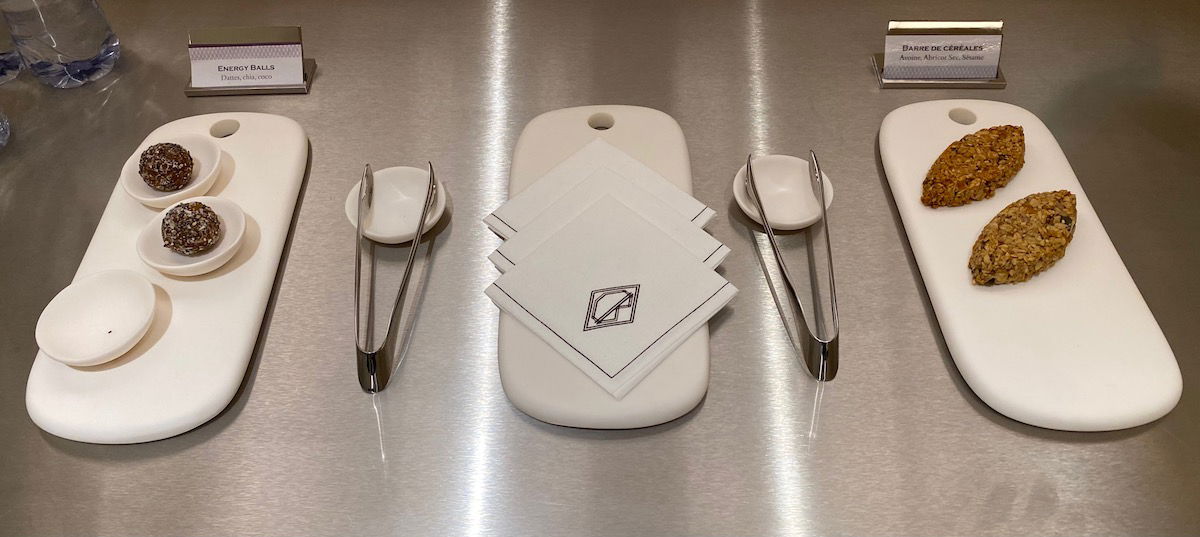 Cheval Blanc Paris restaurants & bars
One major aspect of a good luxury hotel in Paris is having awesome food & beverage outlets. We were coming from Four Seasons George V, which has a staggering three different Michelin-starred restaurants. So what's the restaurant situation at Cheval Blanc? There are four outlets:
Plénitude is Cheval Blanc's fine-dining restaurant, run by Chef Arnaud Donckele; it's located on the first floor, and is open for dinner
Langosteria is Cheval Blanc's most popular restaurant; it's an Italian restaurant that is open for dinner
Le Tout-Paris is Cheval Blanc's all-day dining restaurant; it's located on the rooftop level, and is supposed to be a cross between a brasserie and a cocktail bar
Limbar is Cheval Blanc's all-day cafe; it's located on the ground floor, and during the day it has pastries, coffee, and snacks, and in the evenings it turns into a cocktail bar
Cheval Blanc Paris Plénitude
I unfortunately didn't have the chance to check out Plénitude during our stay, though this restaurant has been awarded three Michelin stars within six months of opening, which is almost unheard of. Chef Arnaud Donckele is behind the restaurant, and he's the same chef who is behind the three Michelin star restaurant at Cheval Blanc Saint-Tropez.
You can find the menu for Plénitude here.
Cheval Blanc Paris Langosteria
We had dinner at Langosteria, the hotel's popular Italian restaurant. Langosteria also has two locations in Italy (in Milan and Paraggi). We made a reservation last minute, and they only had availability at the counter overlooking the kitchen, which worked great for us.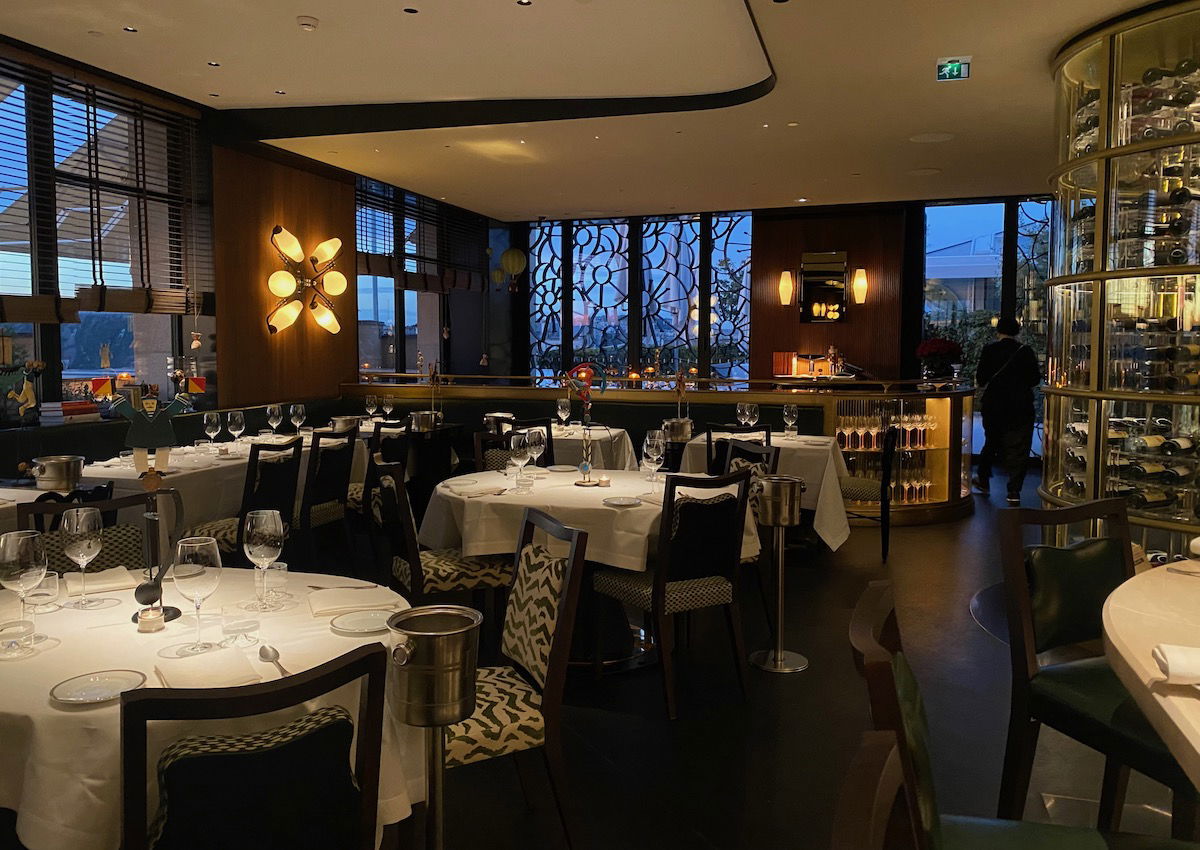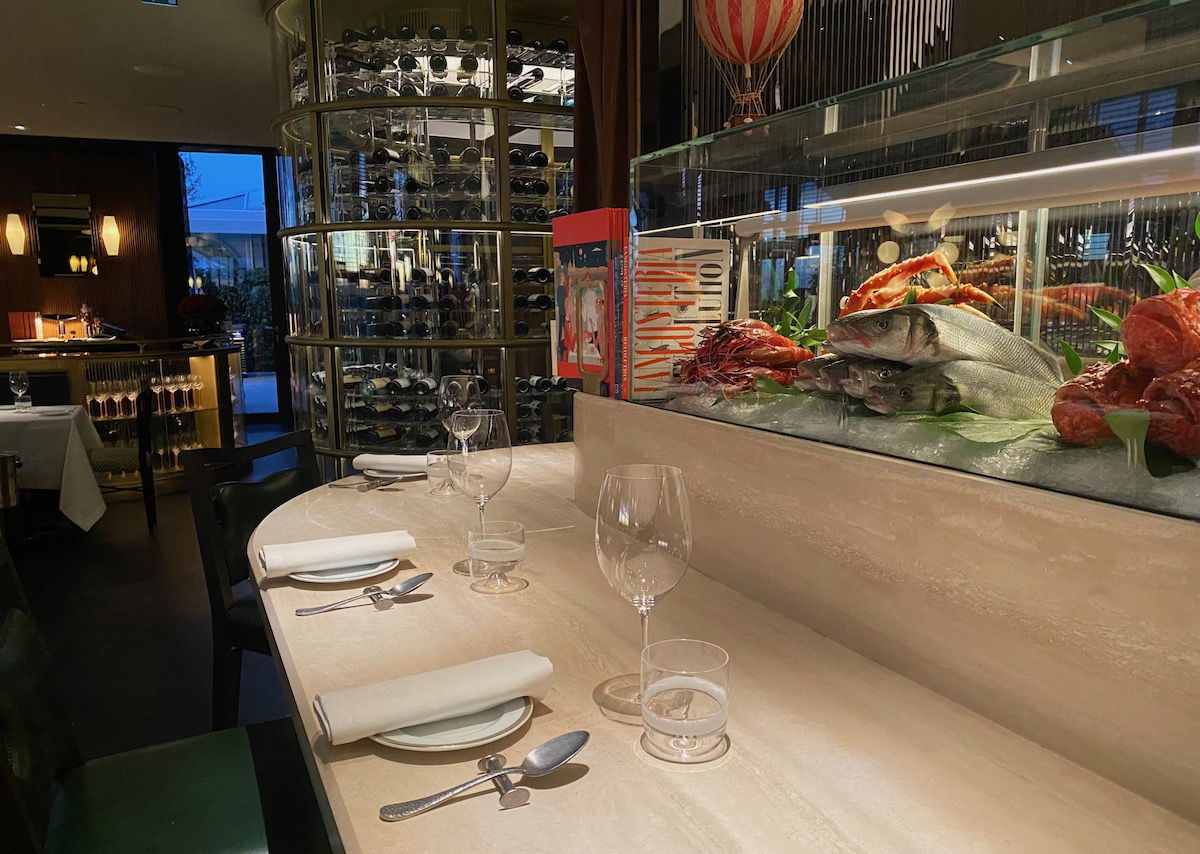 Below you can find the Langosteria dinner menu.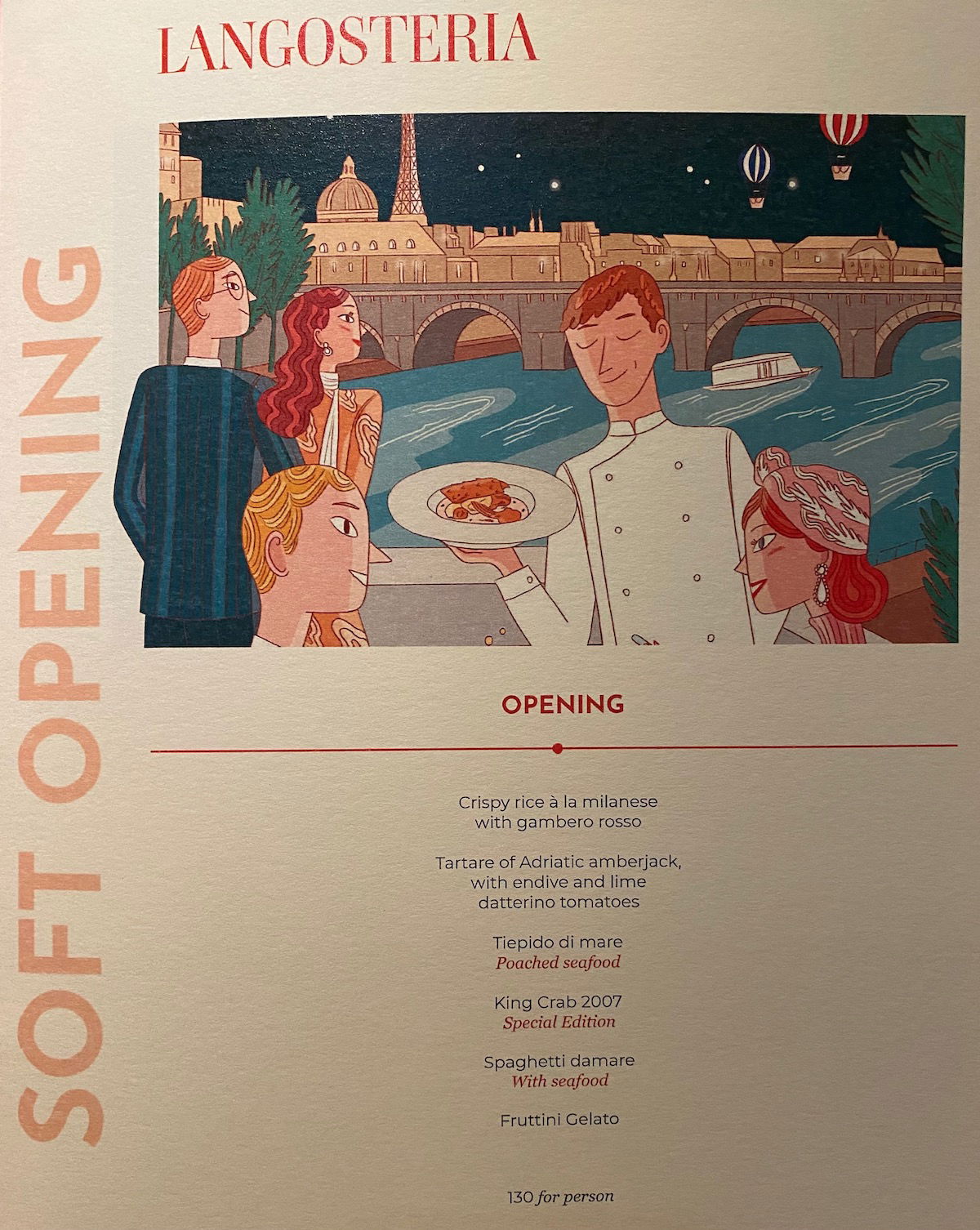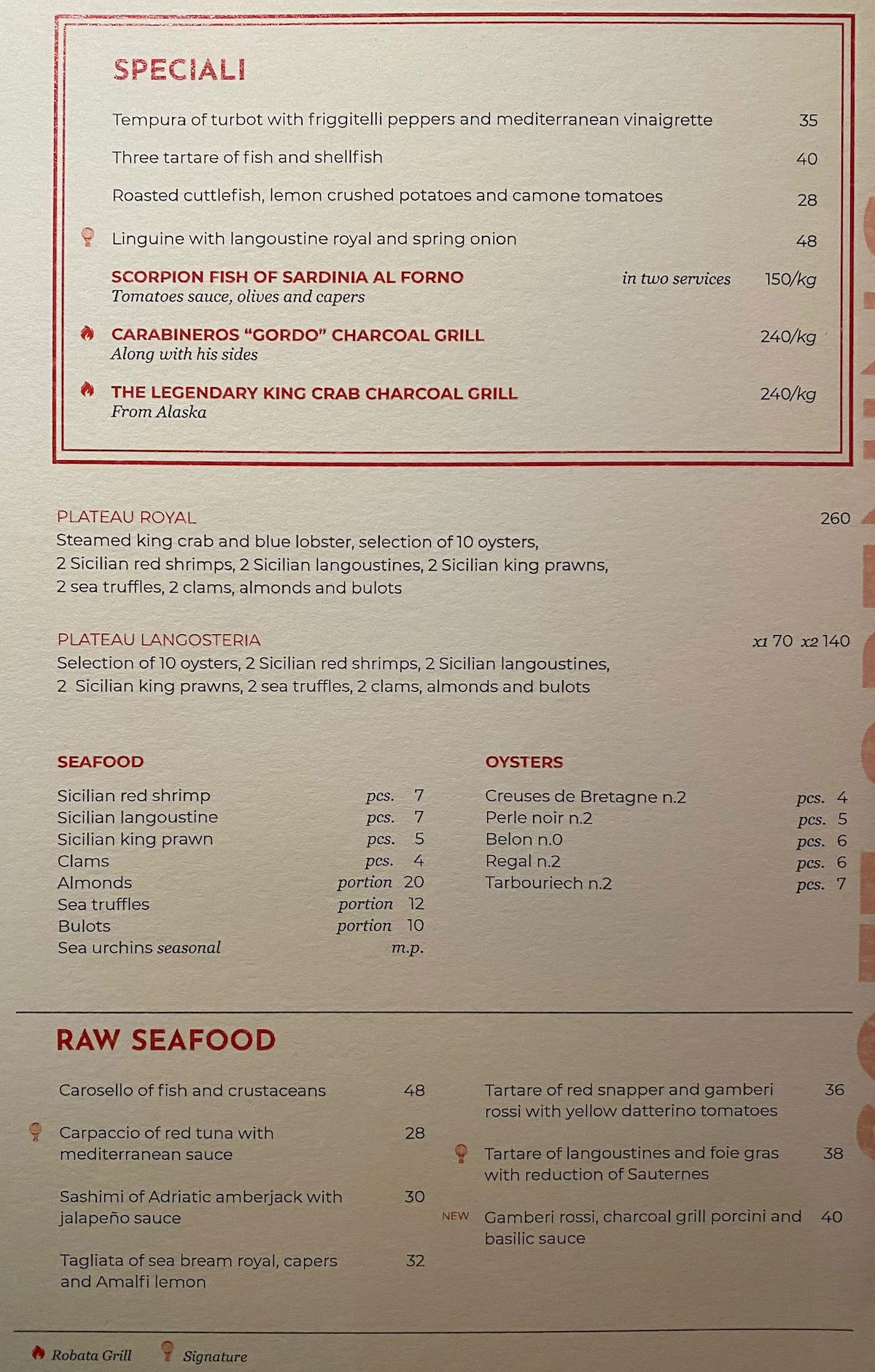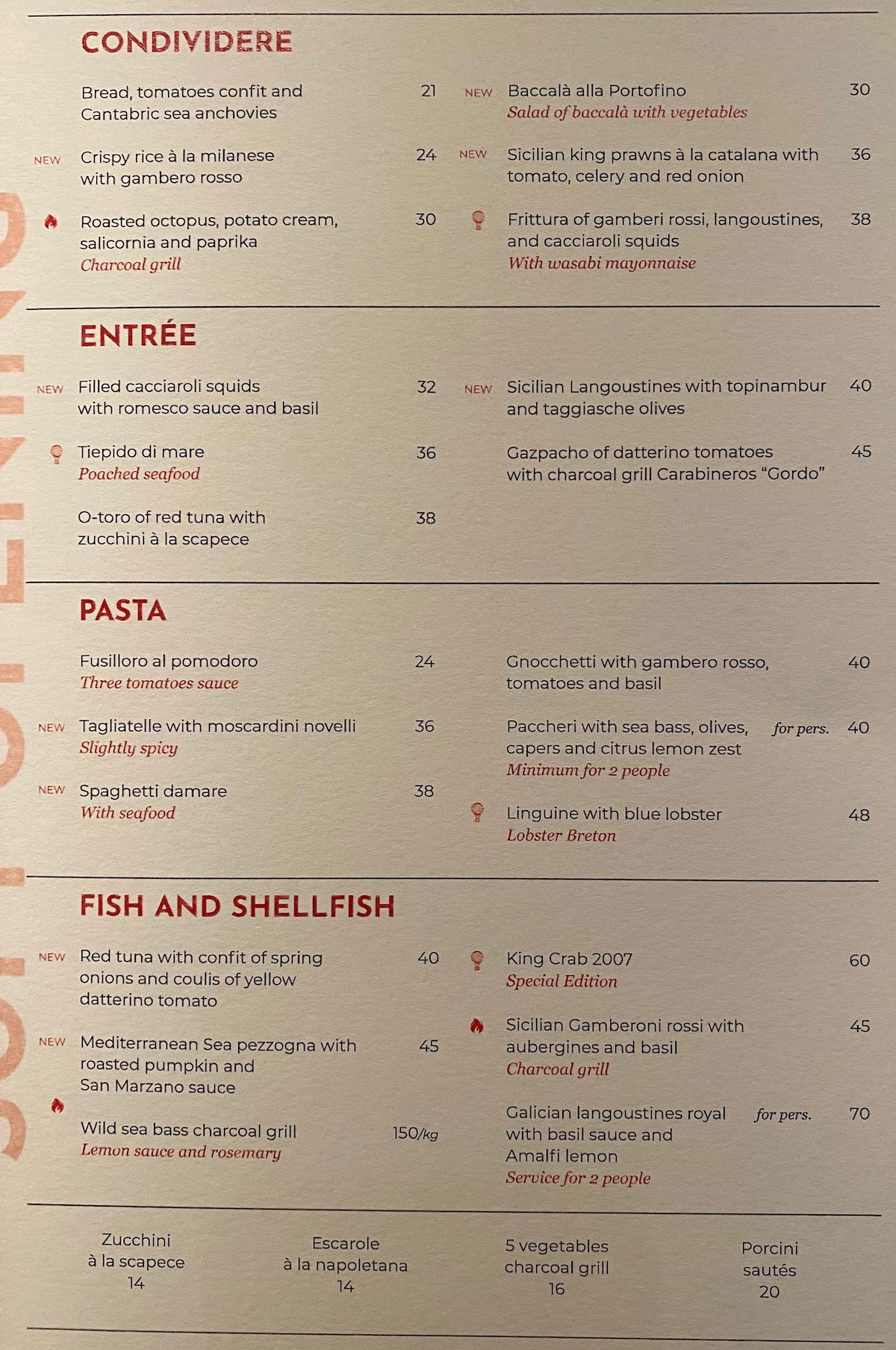 To drink, Ford and I had dirty martinis.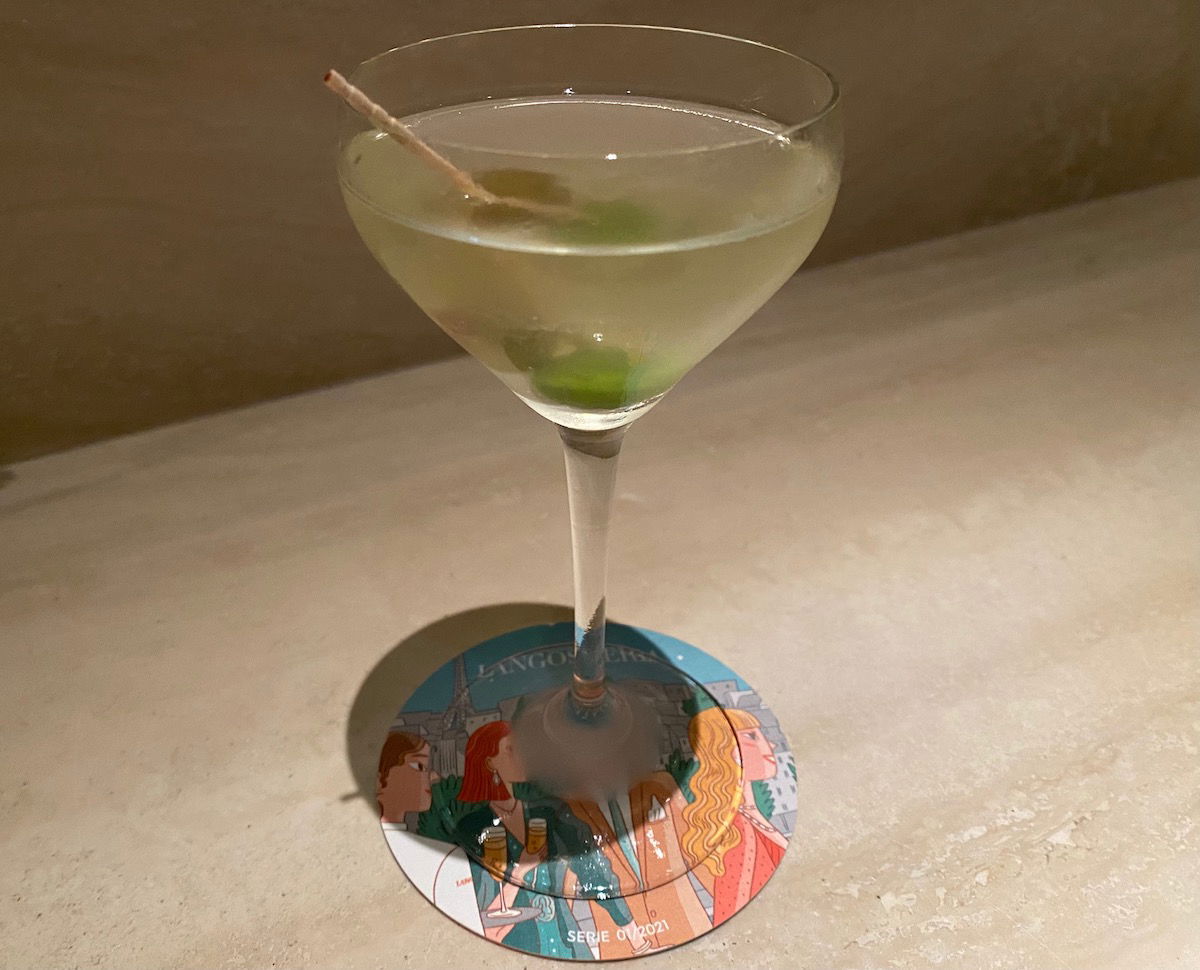 The meal began with bread, as well as an amuse bouche with clams.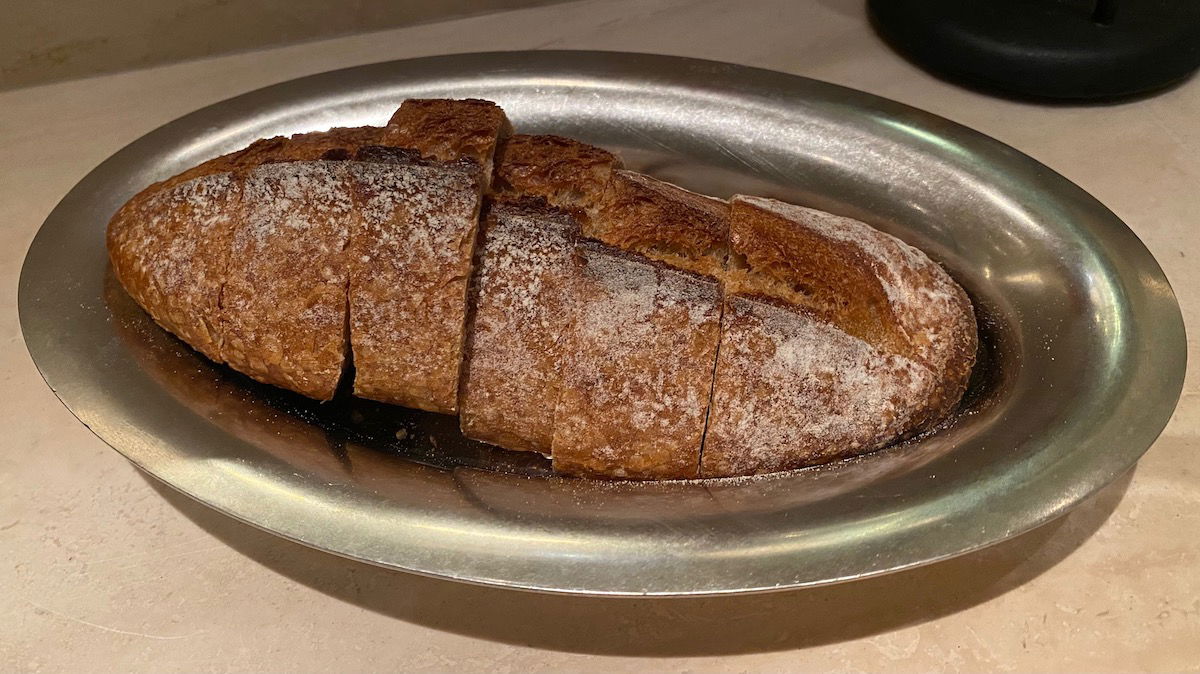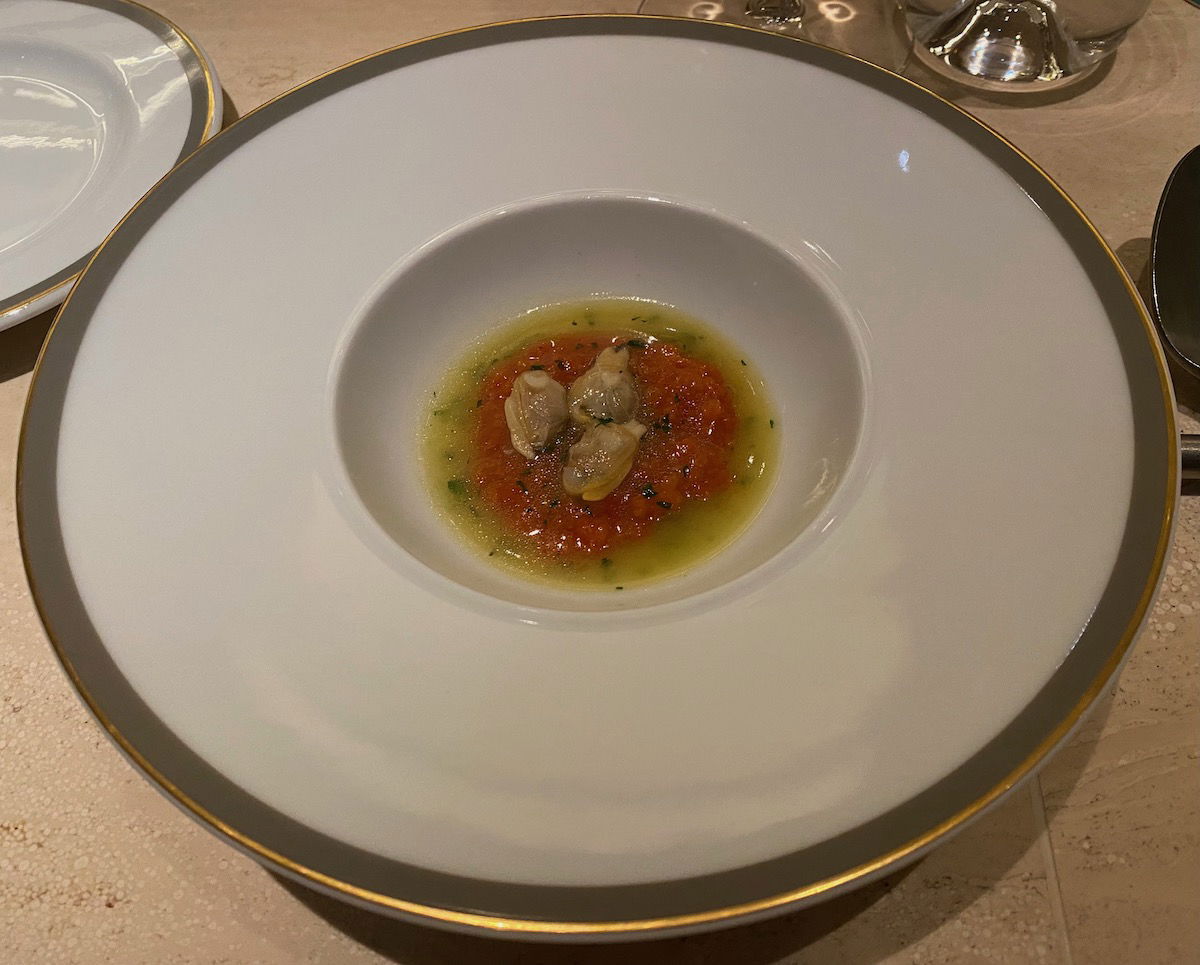 For starters, I ordered the carpaccio of red tuna with Mediterranean sauce, while Ford ordered the sashimi of Adriatic amberjack with jalapeño sauce.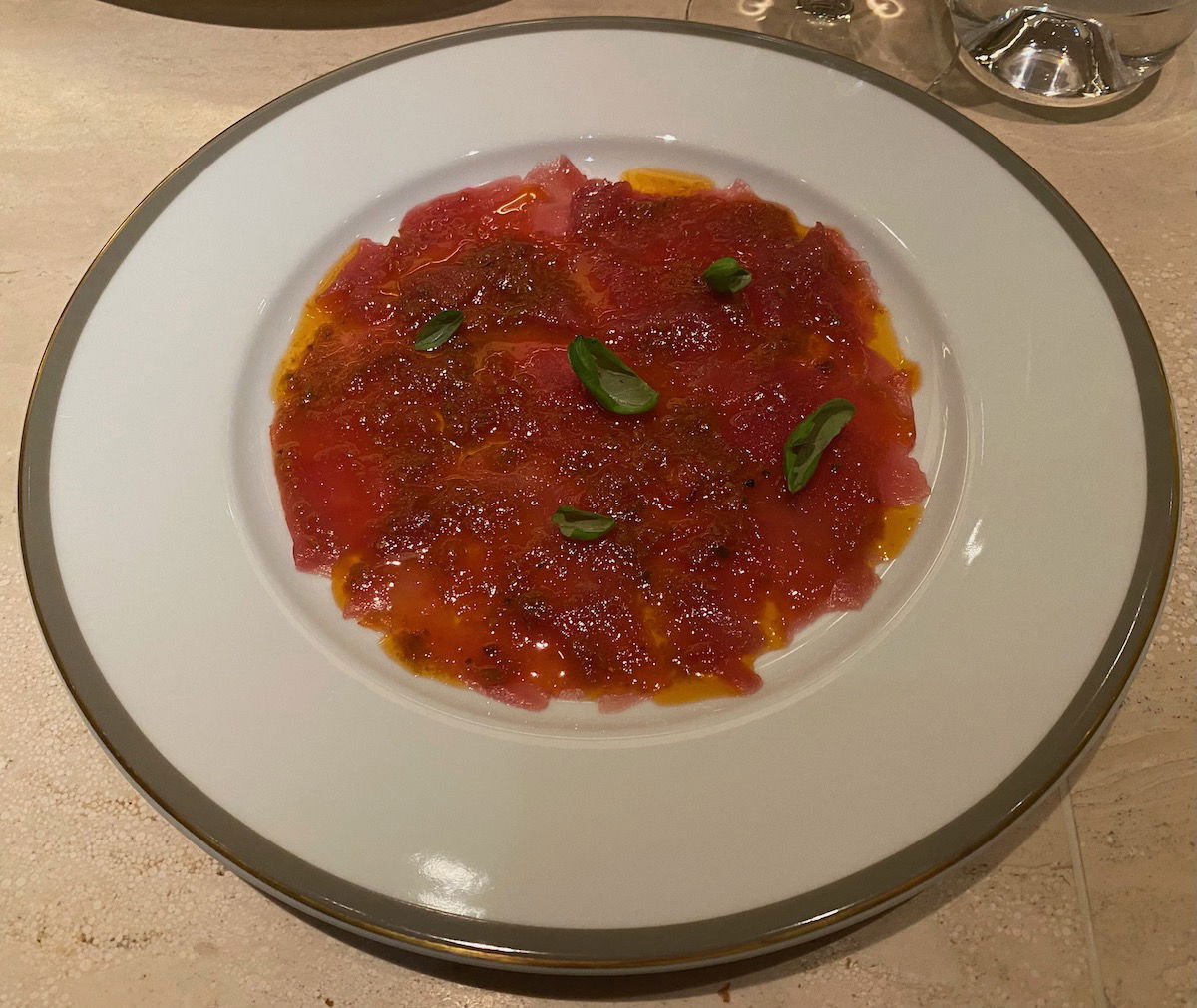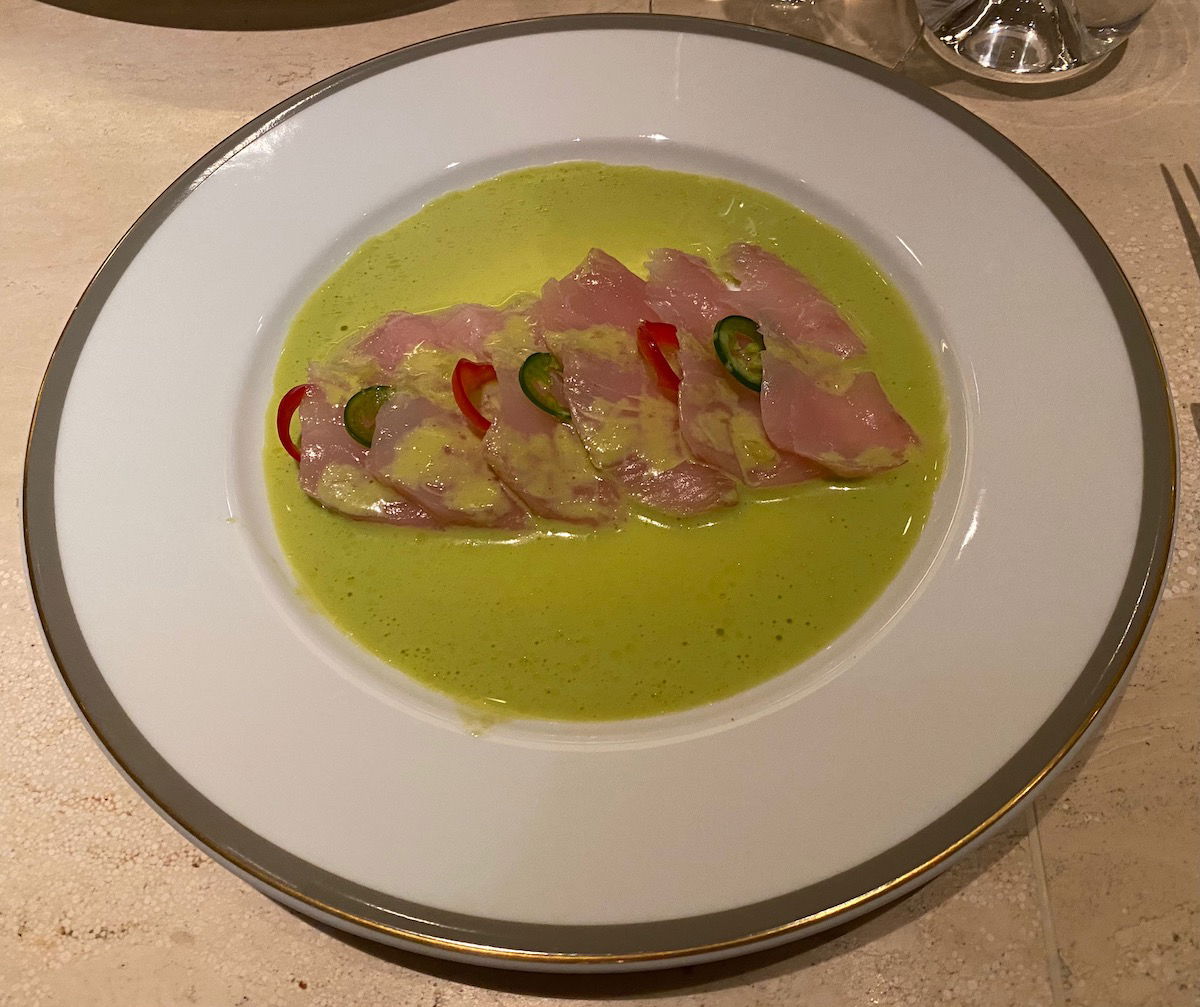 For mains, I ordered the fusilloro al pomodoro, while Ford ordered the red tuna with confit of spring onions and coulis of yellow datterino tomato.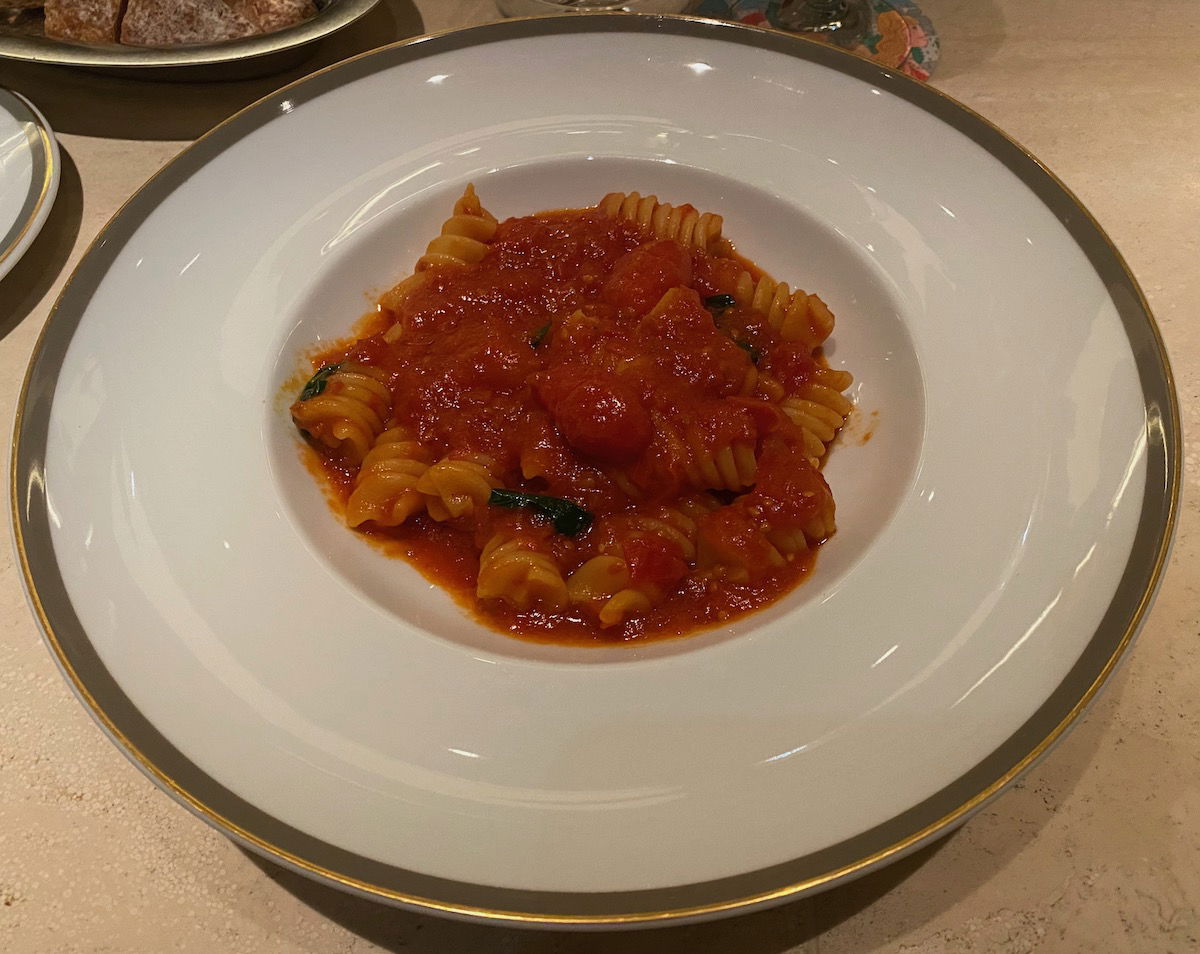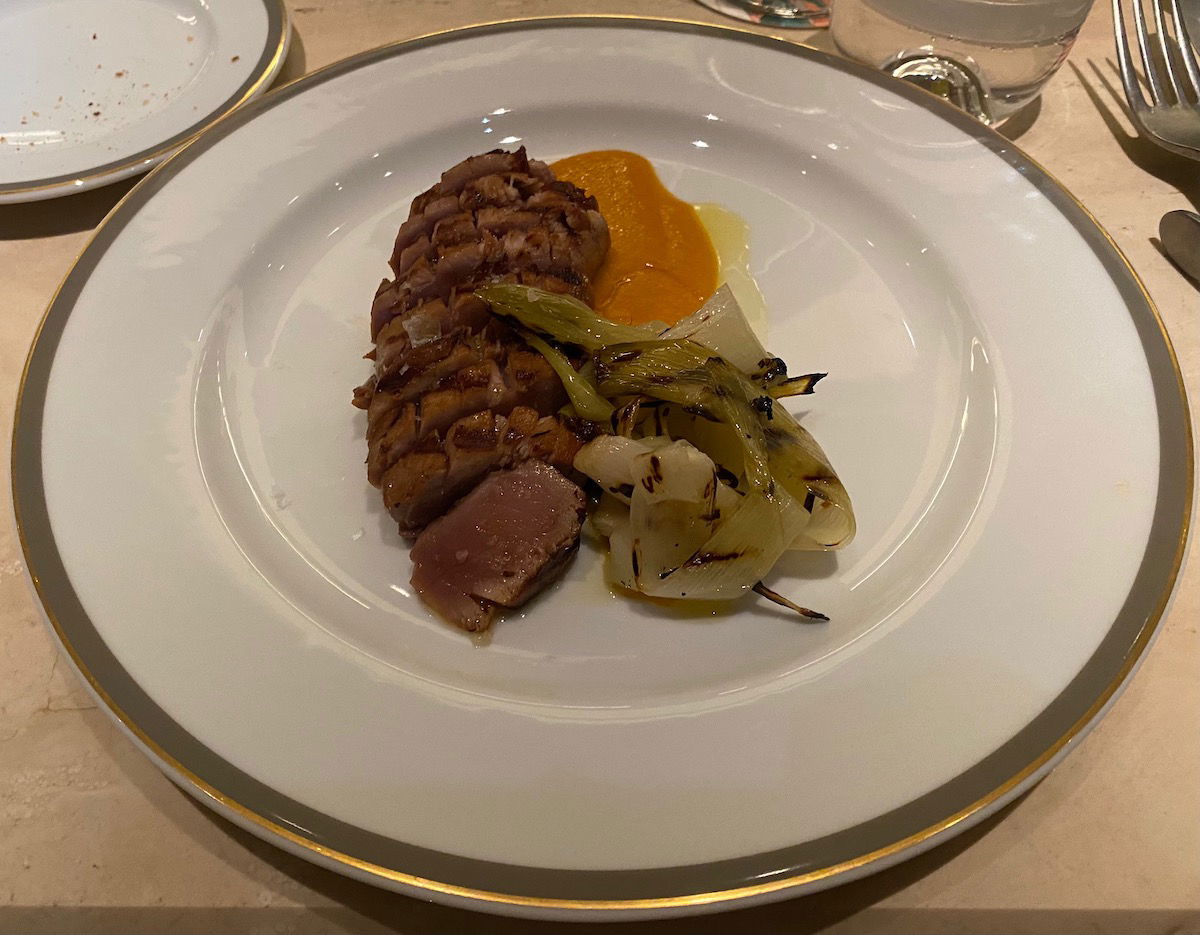 We were so full at this point and skipped dessert, but we were still offered a box of chocolates to take with us (just what we needed, especially since we had two cakes and four cookies still waiting for us in our room). 😉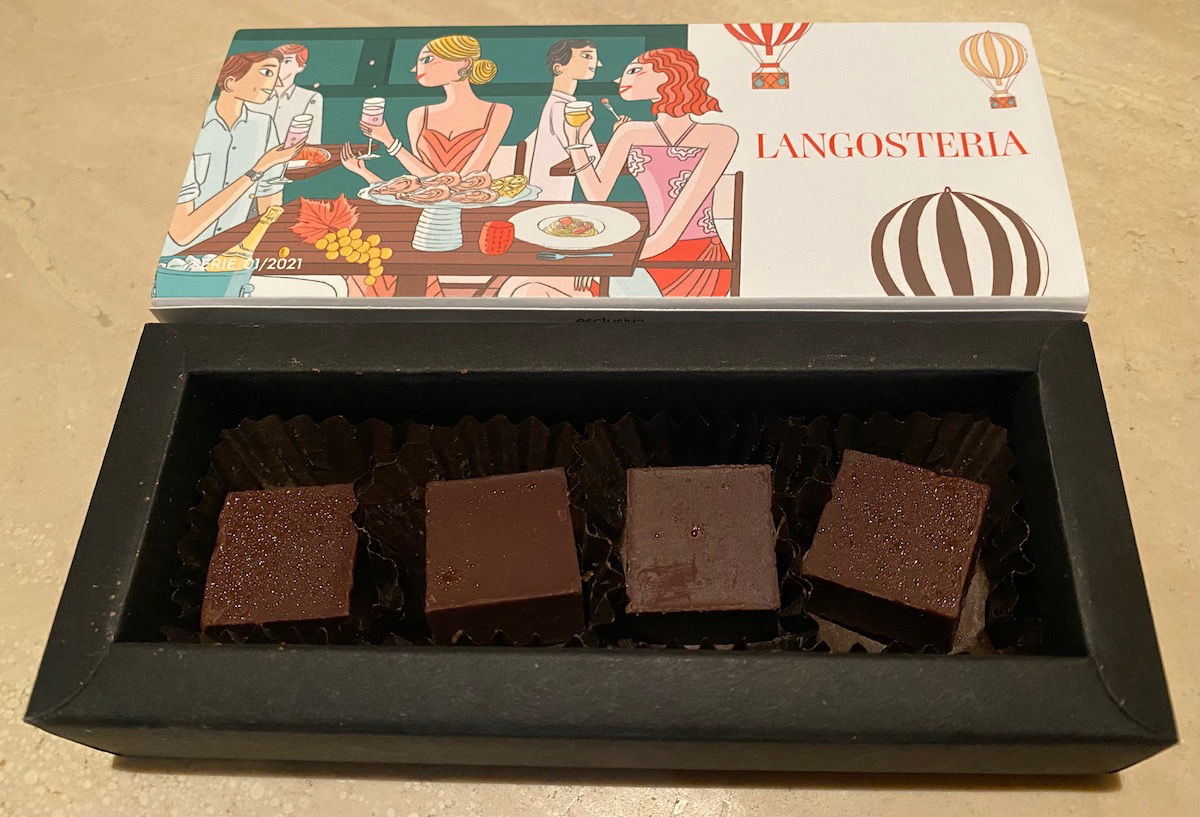 The food quality and service were excellent, and I'd highly recommend this restaurant. That being said, at the end of the day this is simply a trendy Italian restaurant with good food, so the food here wasn't quite to the level of what we experienced at the Four Seasons, which really is a restaurant powerhouse.
Cheval Blanc Paris Le Tout-Paris
Le Tout-Paris is Cheval Blanc's other rooftop restaurant, and you can come here for everything from breakfast, to lunch, to dinner, to cocktails. You can find the lunch & dinner menu here, and you can find the cocktail list here.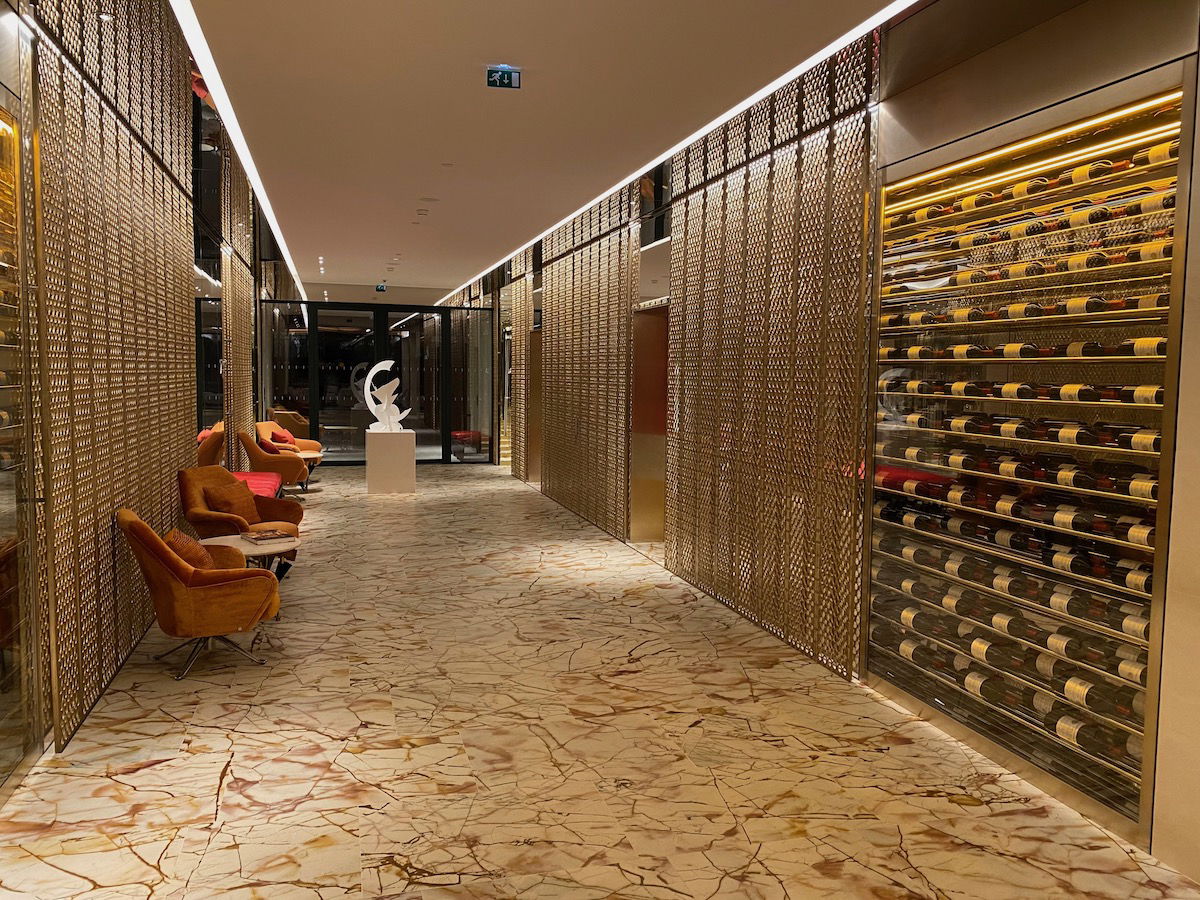 The space itself is beautiful — there's a gorgeous bar at one end of the room, and then all kinds of seating options throughout the restaurant, including booths.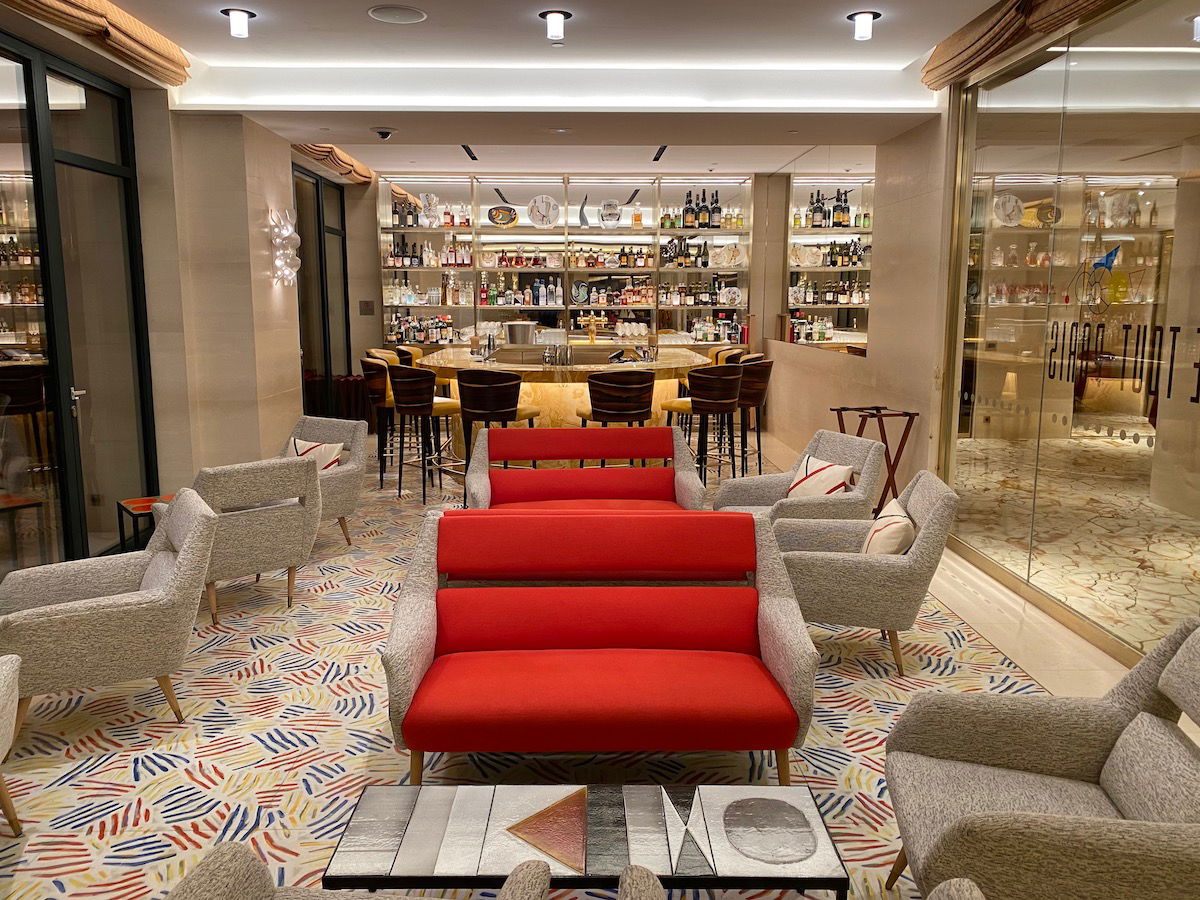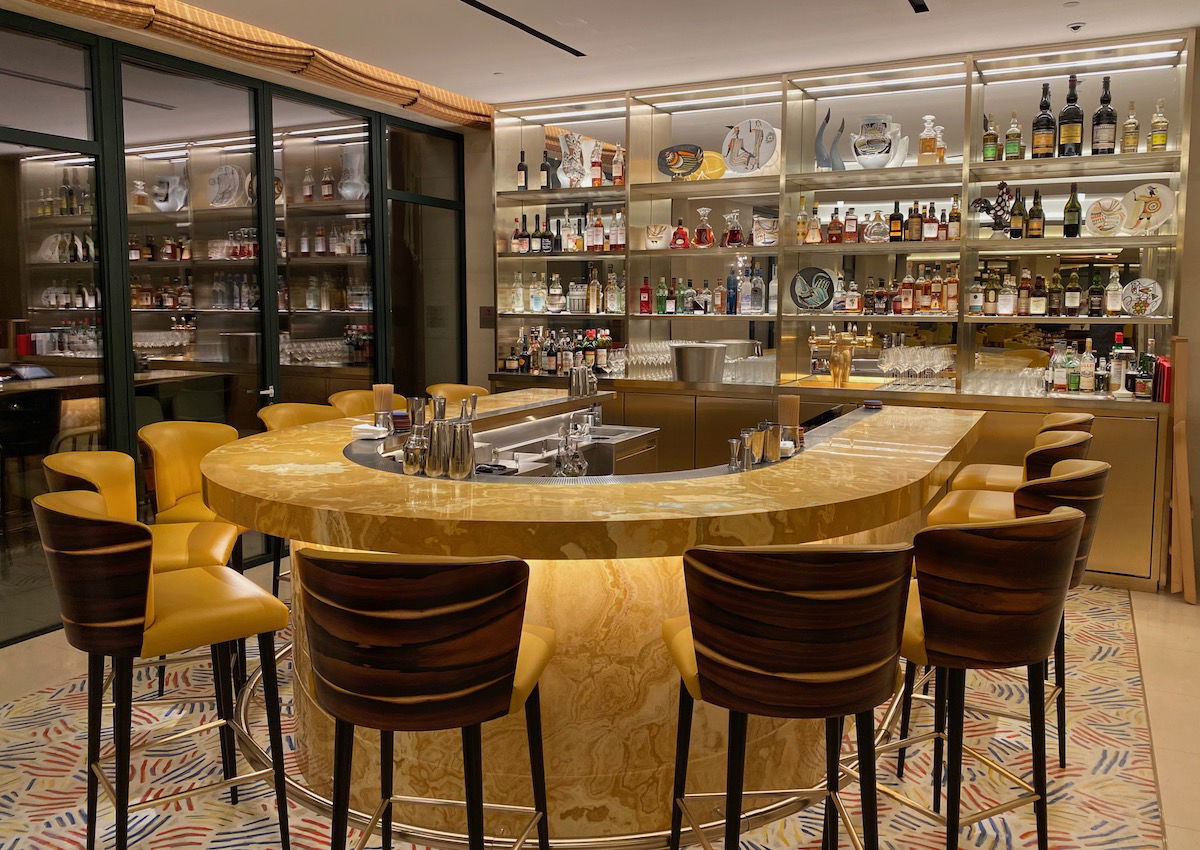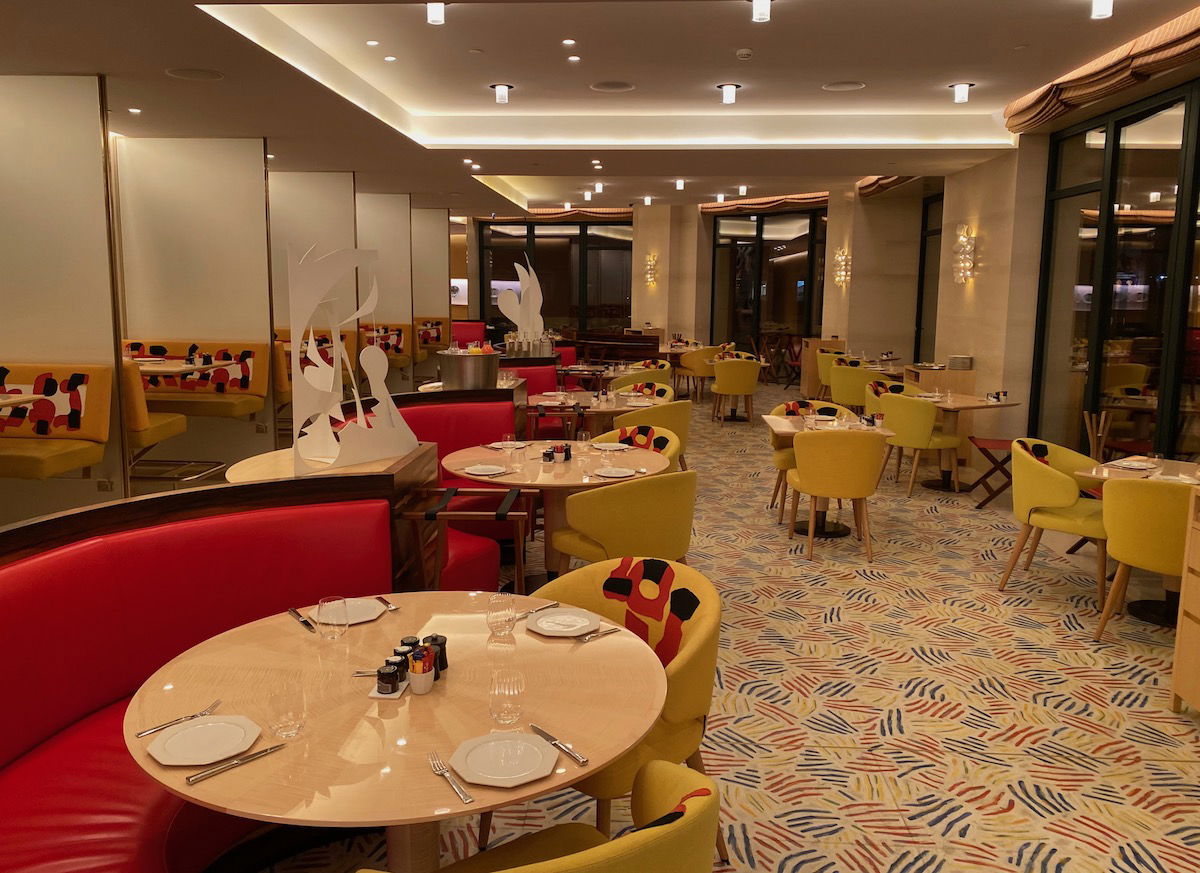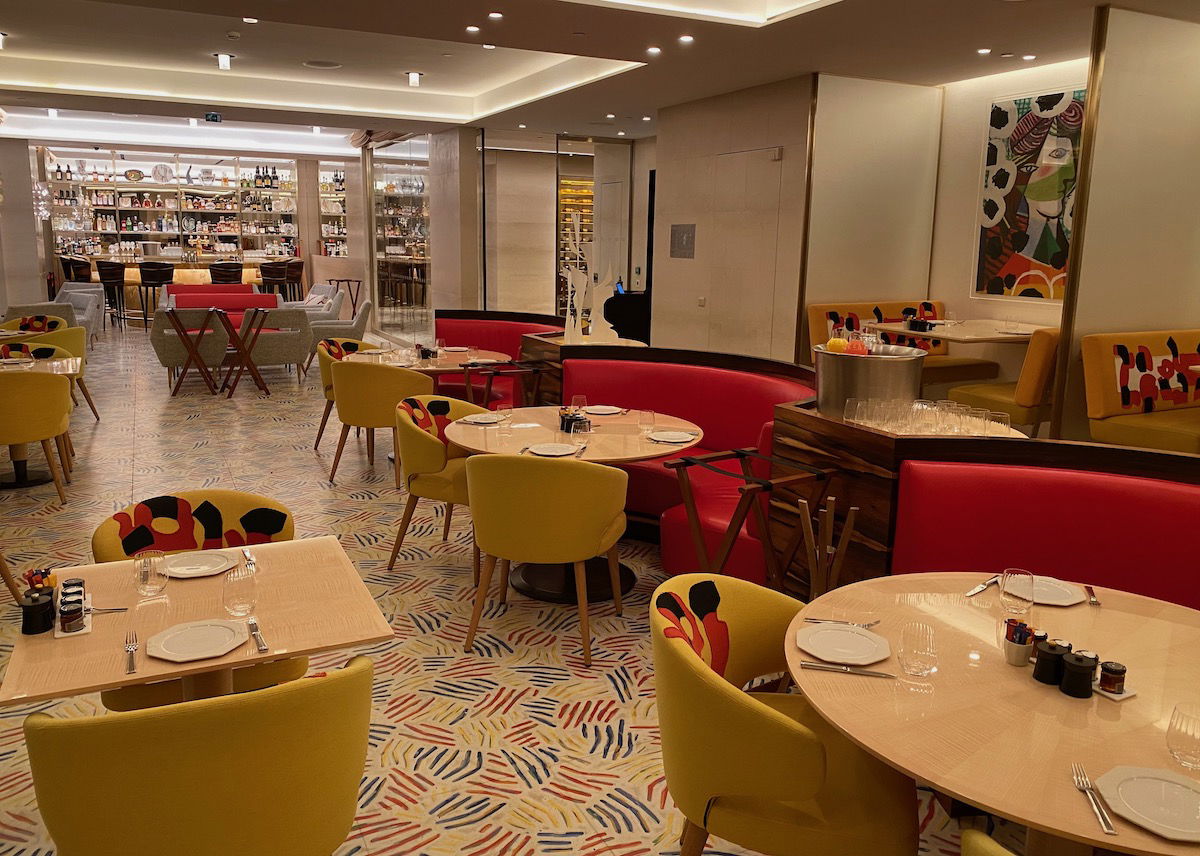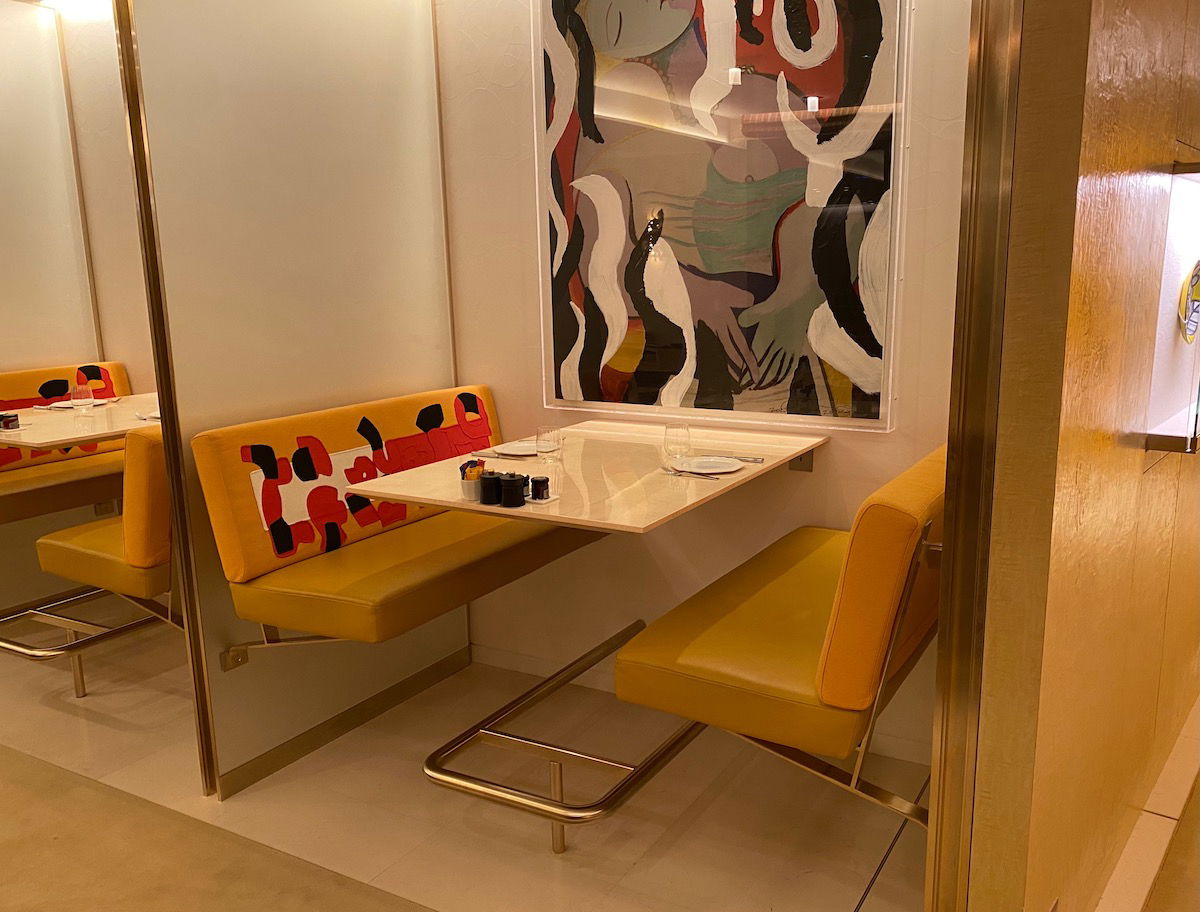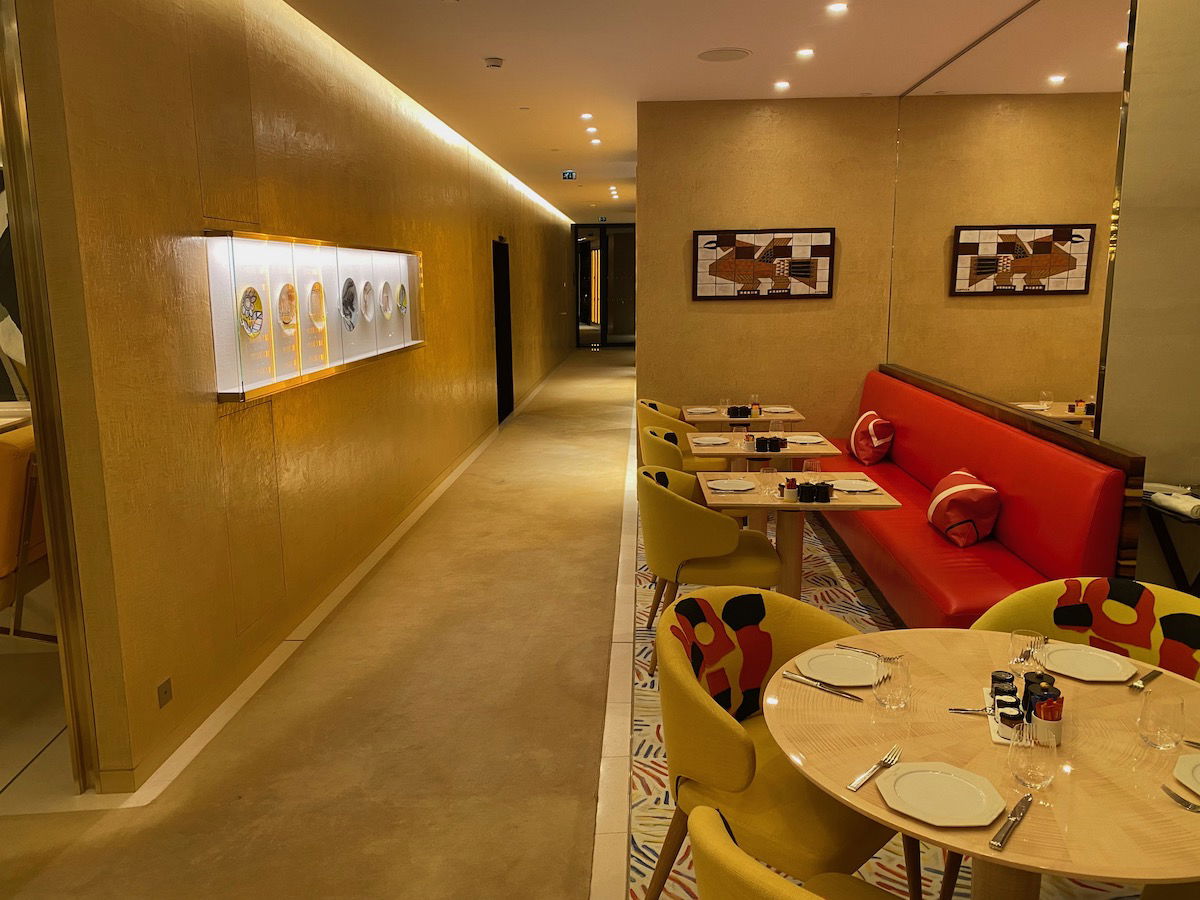 Without a doubt the most impressive part of the restaurant is the outdoor terrace, overlooking the Seine. This is such a special space, and a real selling point for the hotel, in my opinion.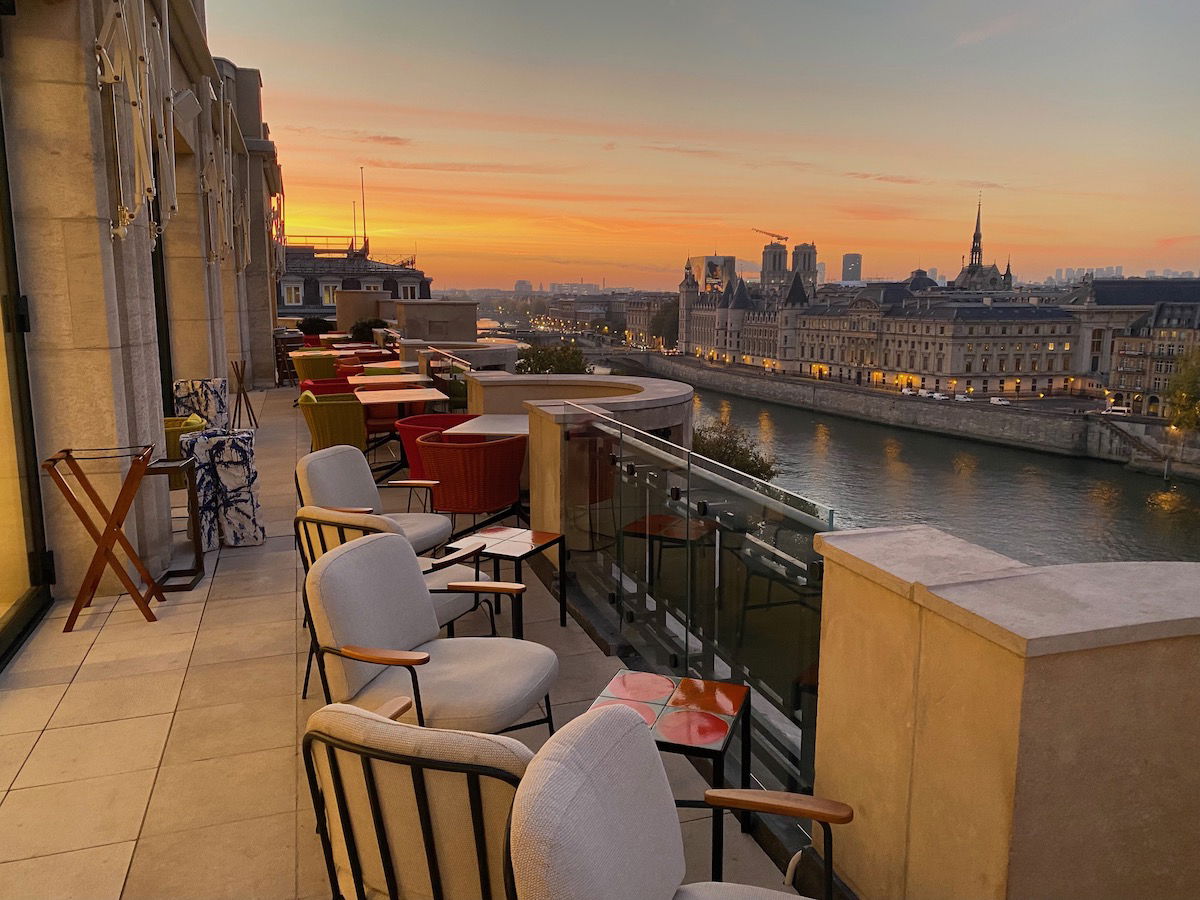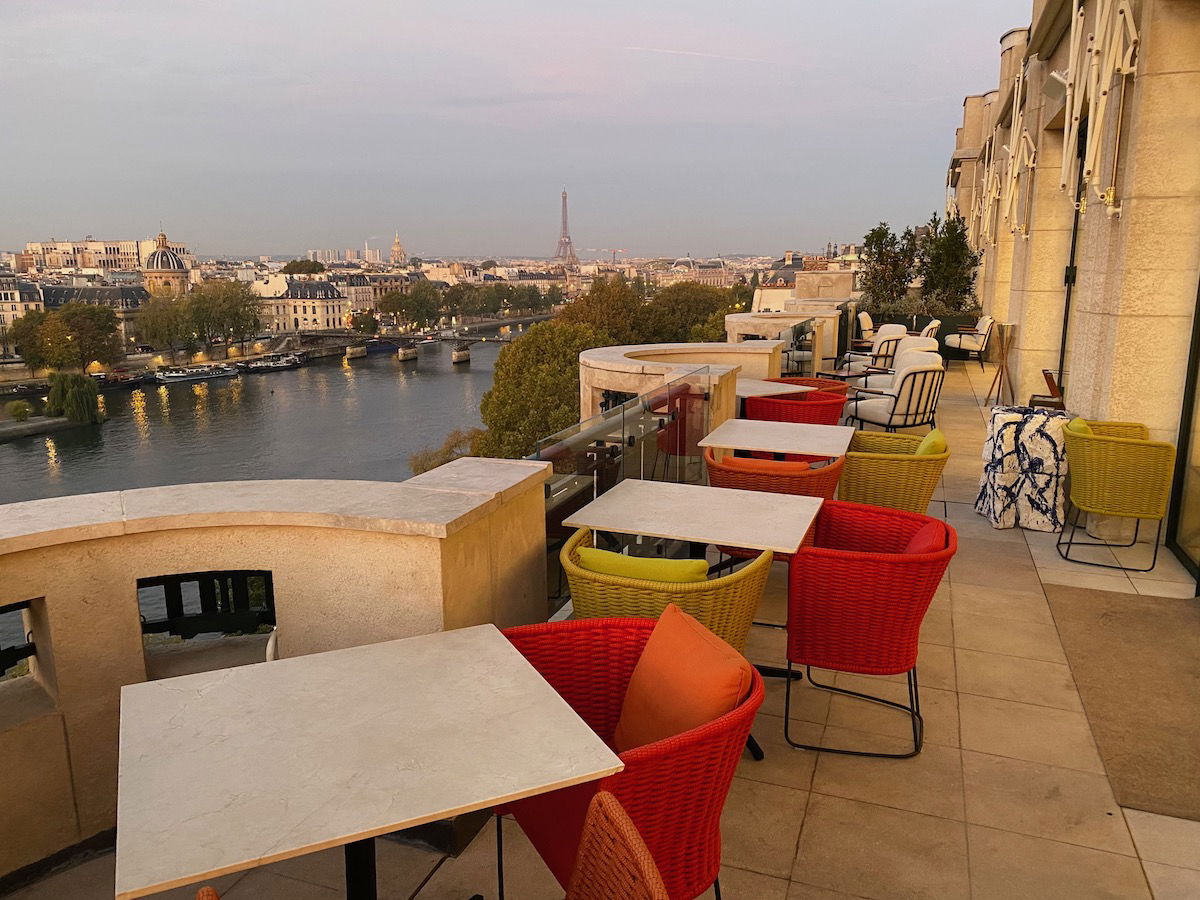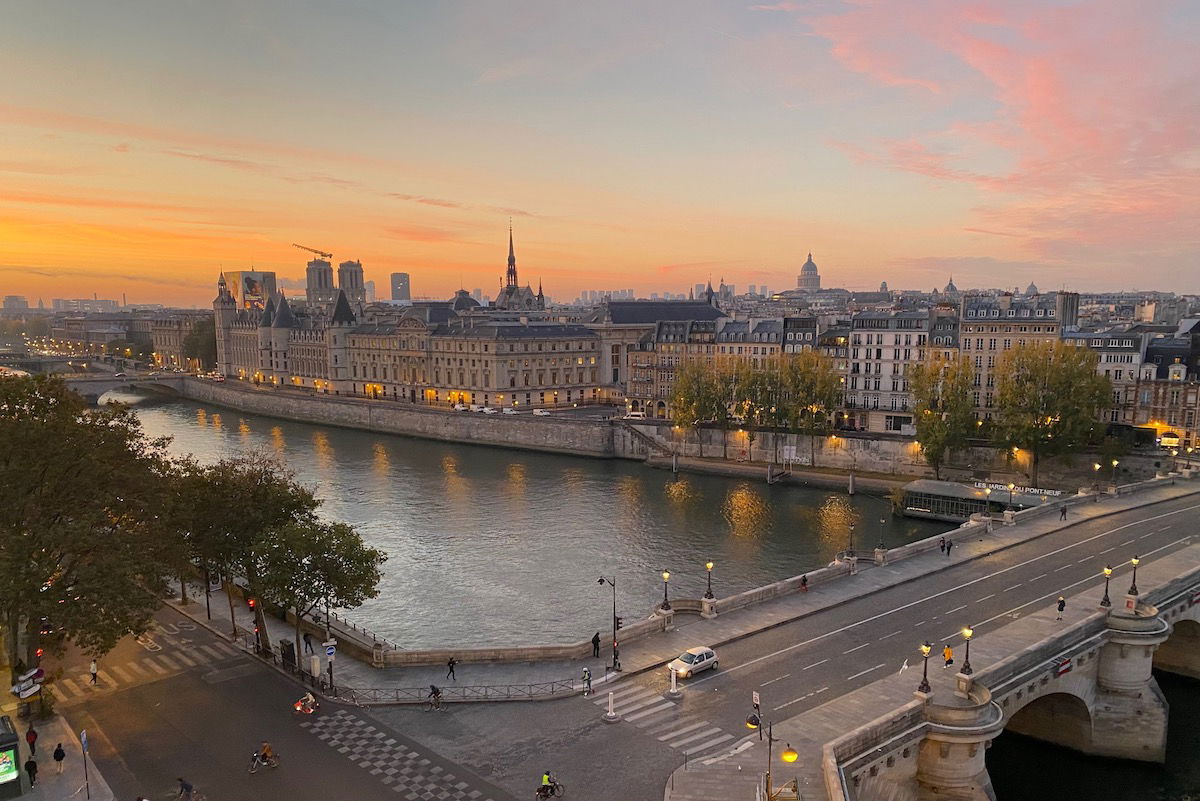 We stopped here in the evening for a cocktail and a couple of snacks. While pricing generally seemed comparable between the Ritz, the Four Seasons, and Cheval Blanc, drinks here were significantly cheaper. Cocktails at the other two properties were in the range of 30-34 EUR, while here cocktails were 22-26 EUR.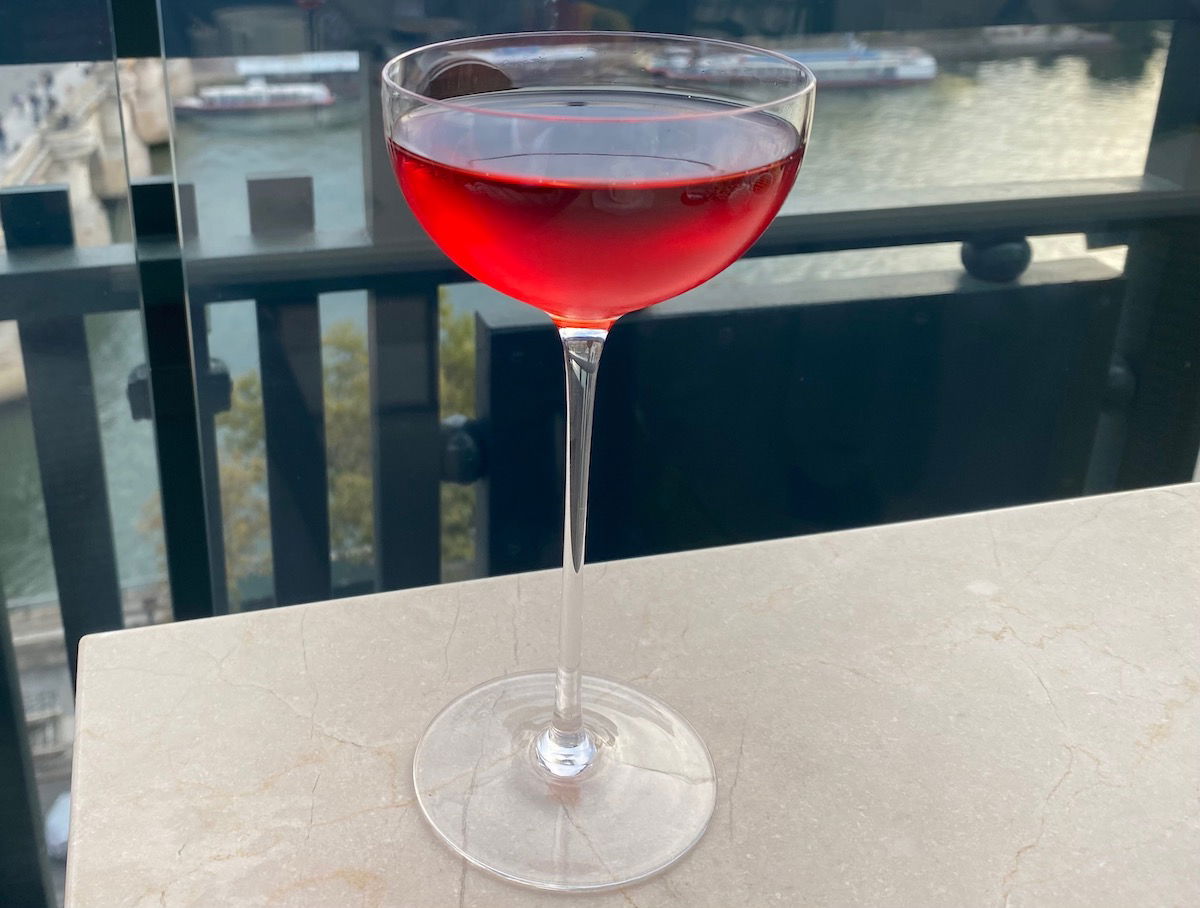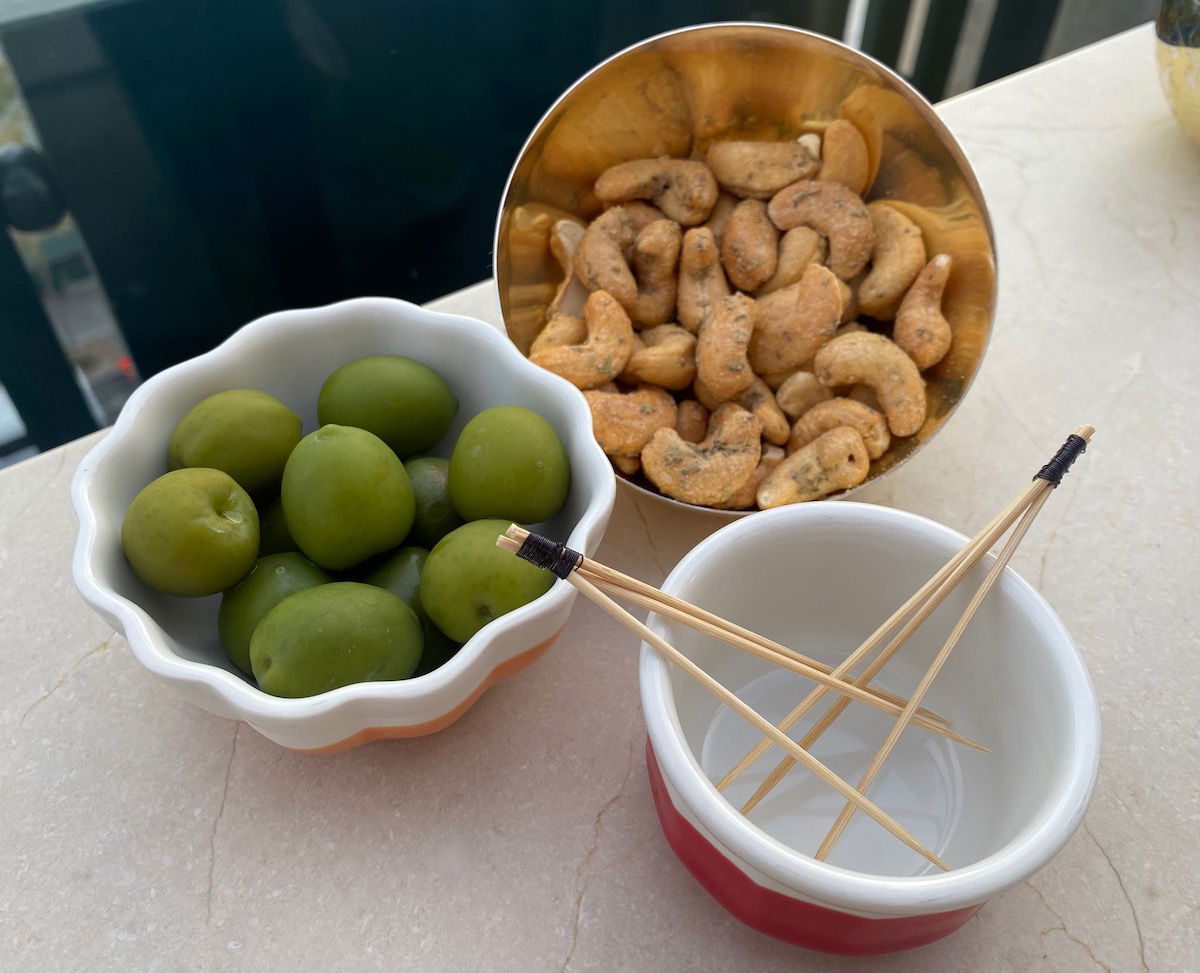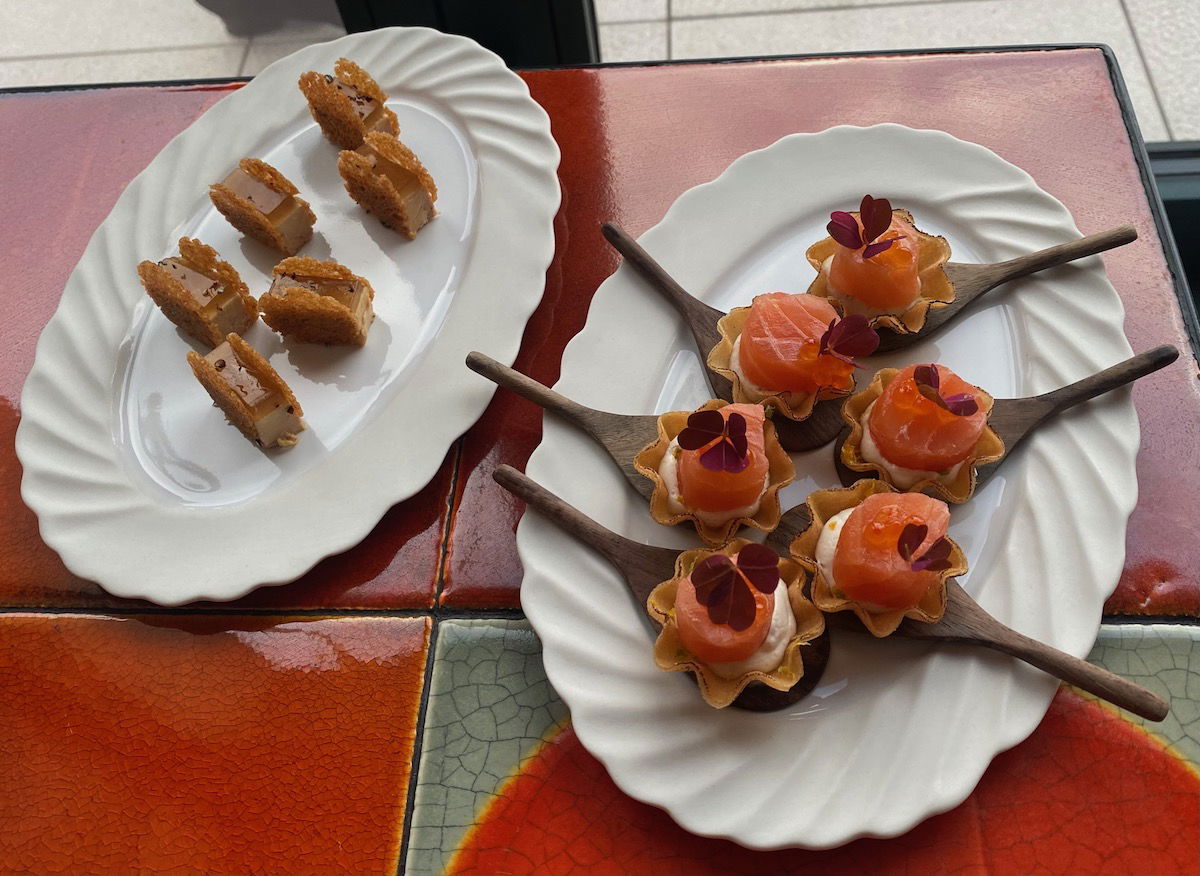 Cheval Blanc Paris breakfast
Our stay at Cheval Blanc Paris included breakfast because we booked through Virtuoso. There are three options for breakfast — you can have it via in-room dining, you can have a light breakfast at Limbar (which I'll talk about below), or you can have a full breakfast at Le Tout-Paris. We decided to dine at Le Tout-Paris.
Cheval Blanc Paris' breakfast is fully a la carte, and you can find the menu below.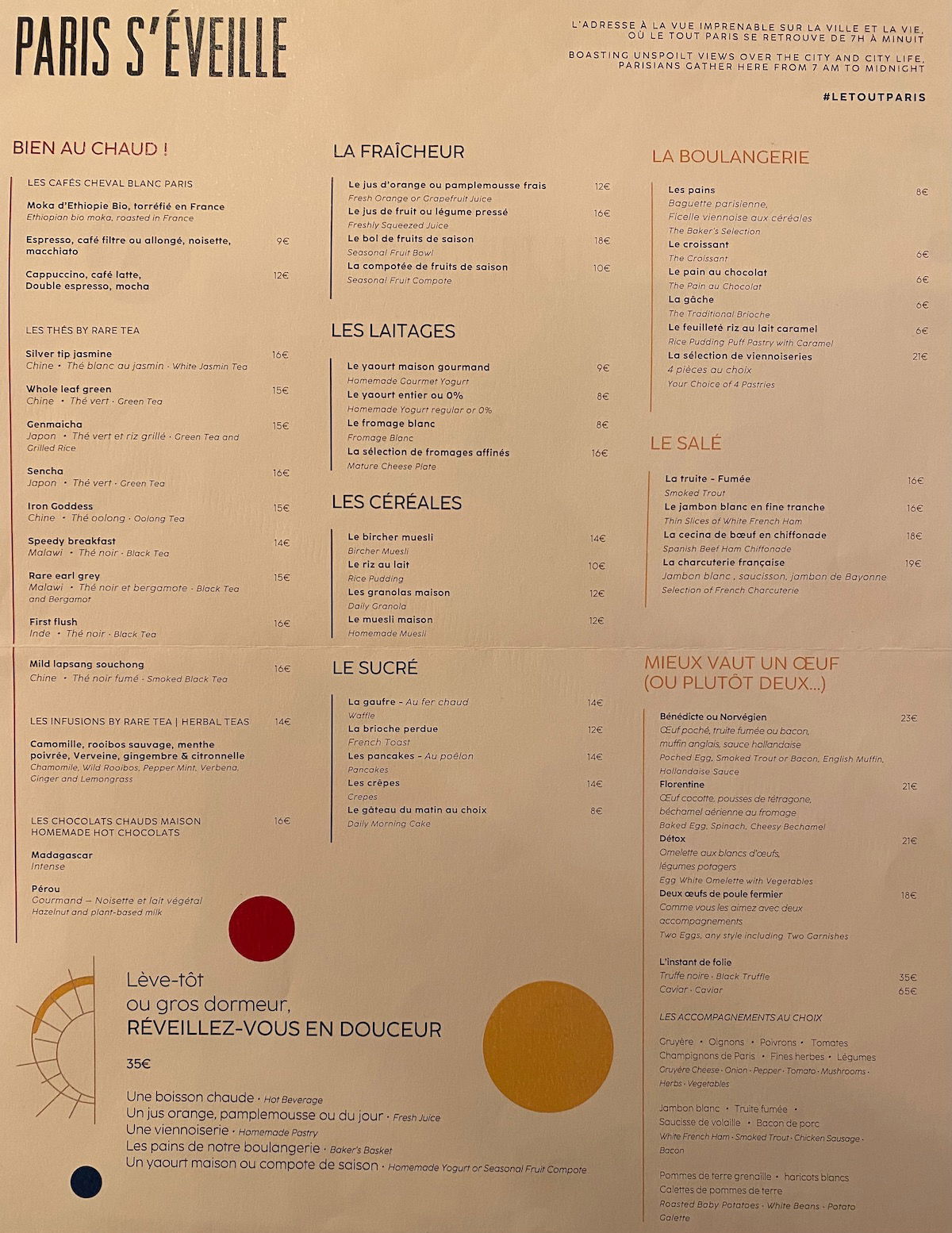 While we could order whatever we wanted, I was surprised that there were no set menus, but rather each item had to be ordered individually. We started with some coffee and tea — I loved the presentation!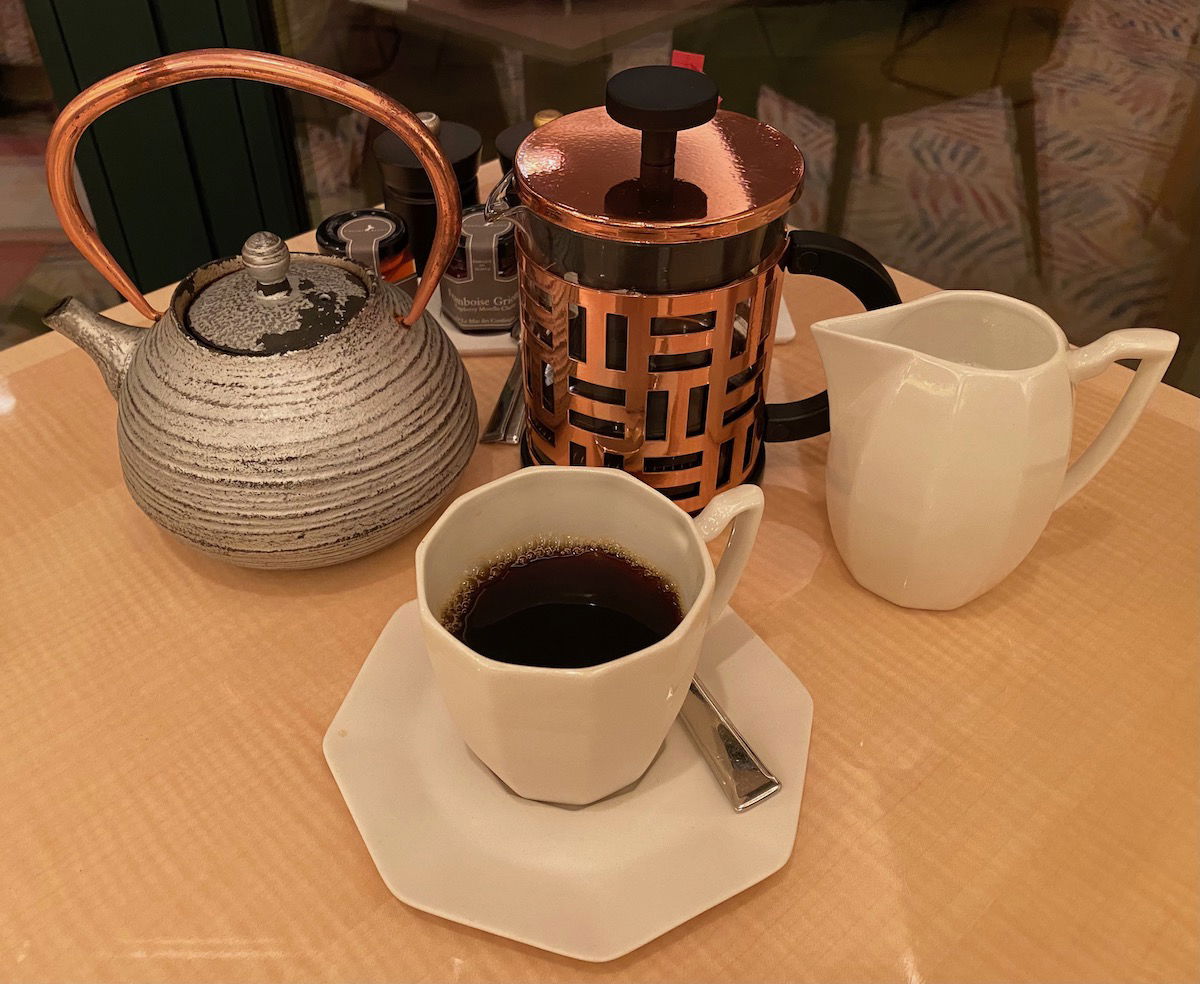 We were then offered a couple of baguettes.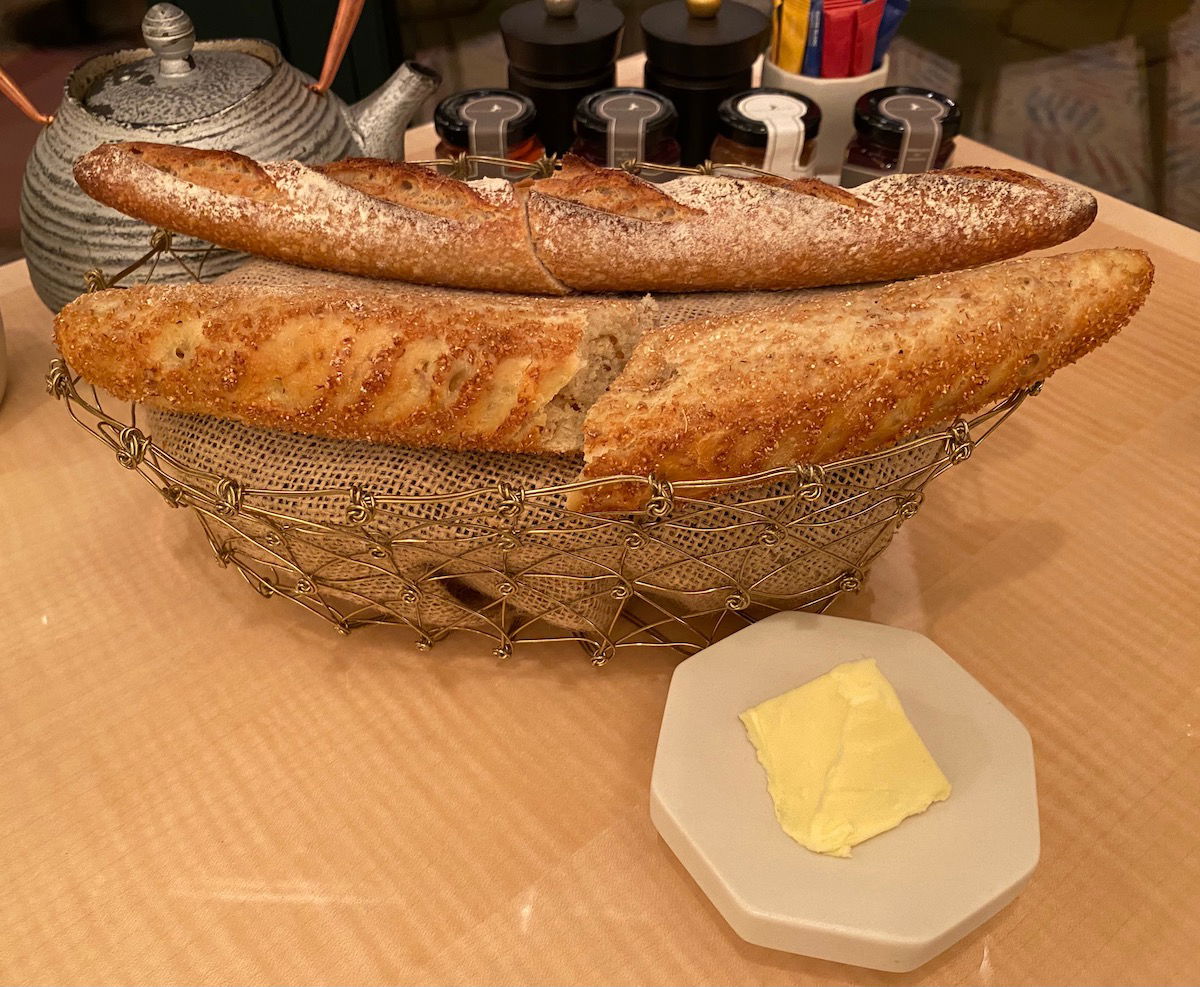 We also ordered a beetroot juice to drink.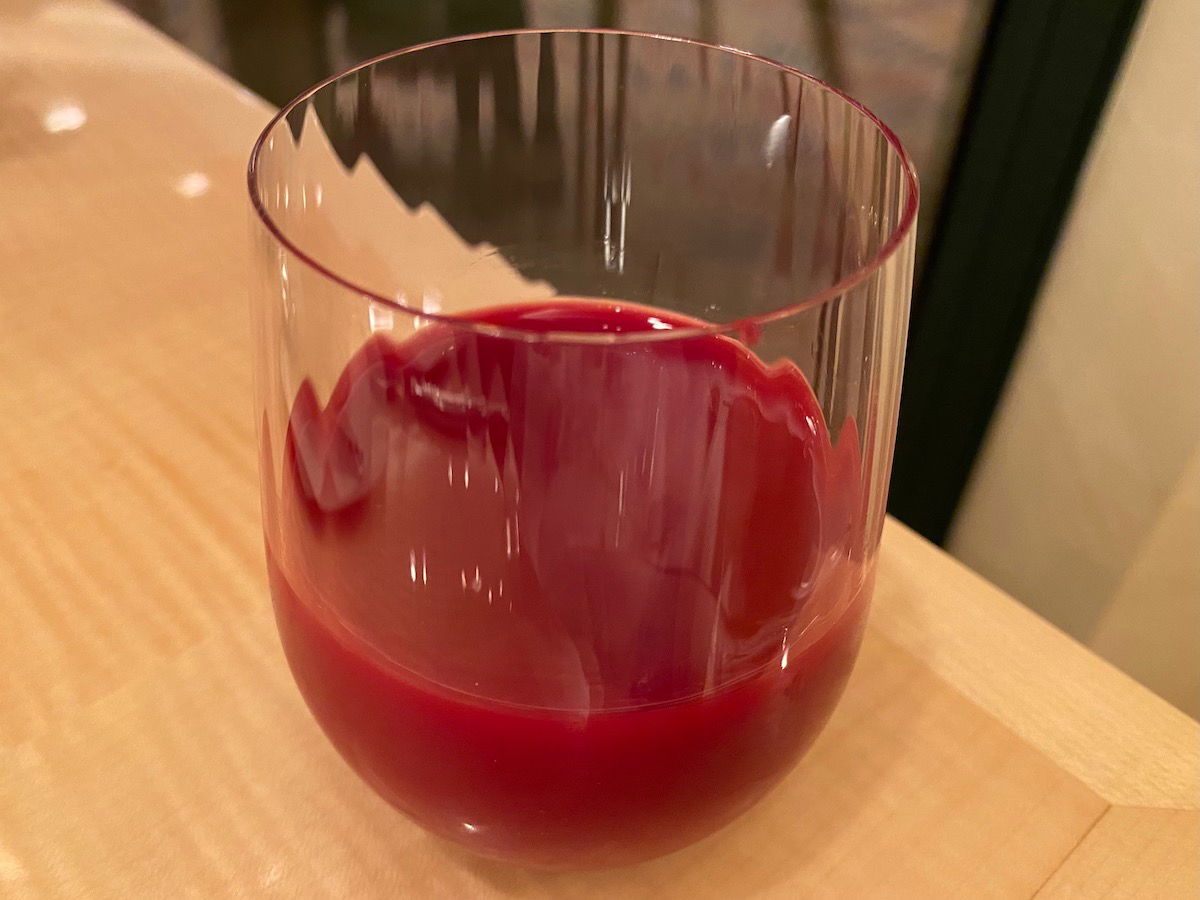 Our server explained that the hot dishes take the longest to prepare, so he recommended that we order something from the cold section first, while hot dishes are prepared. In particular, he recommended the pain au chocolat and homemade yogurt, so we followed his advice and split the two. Both were excellent.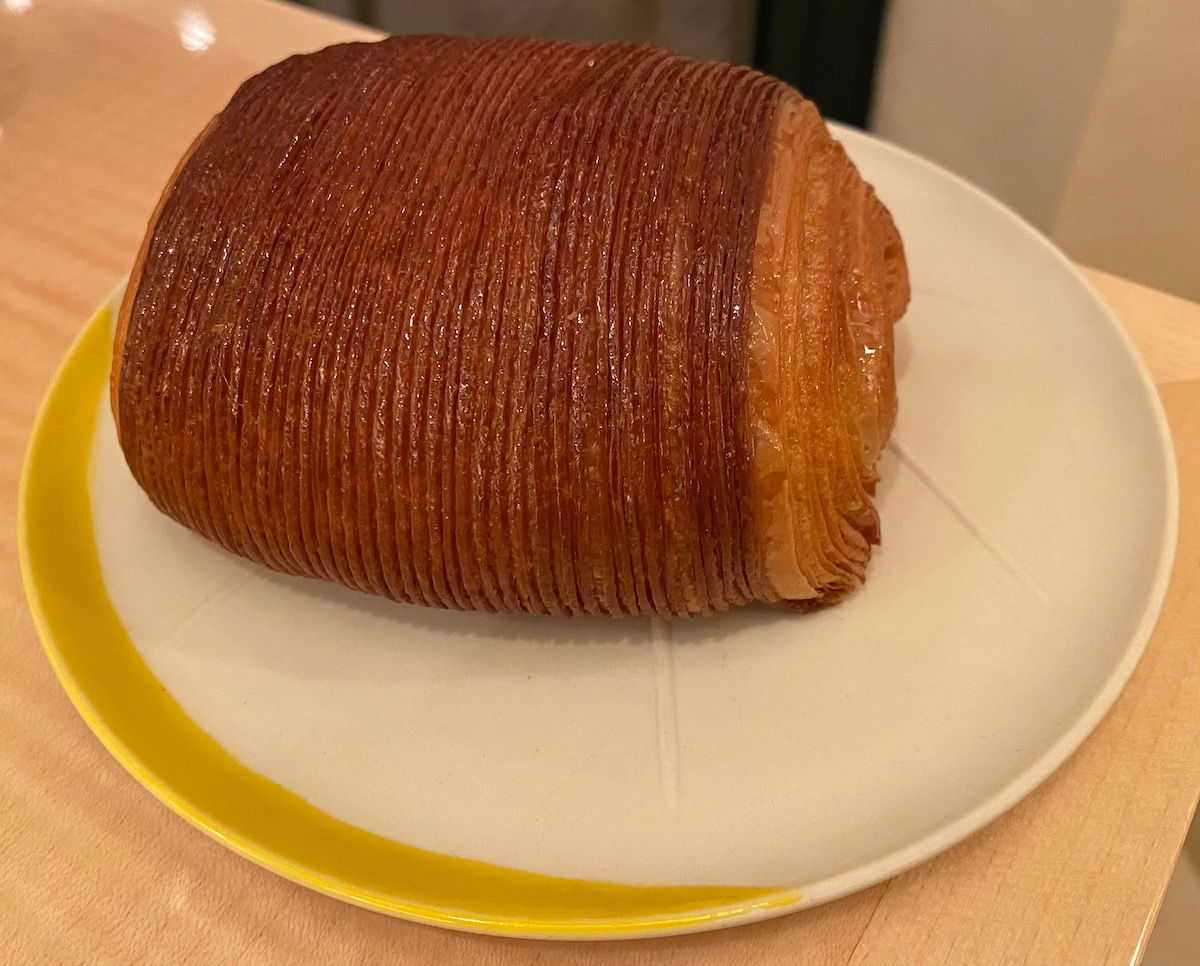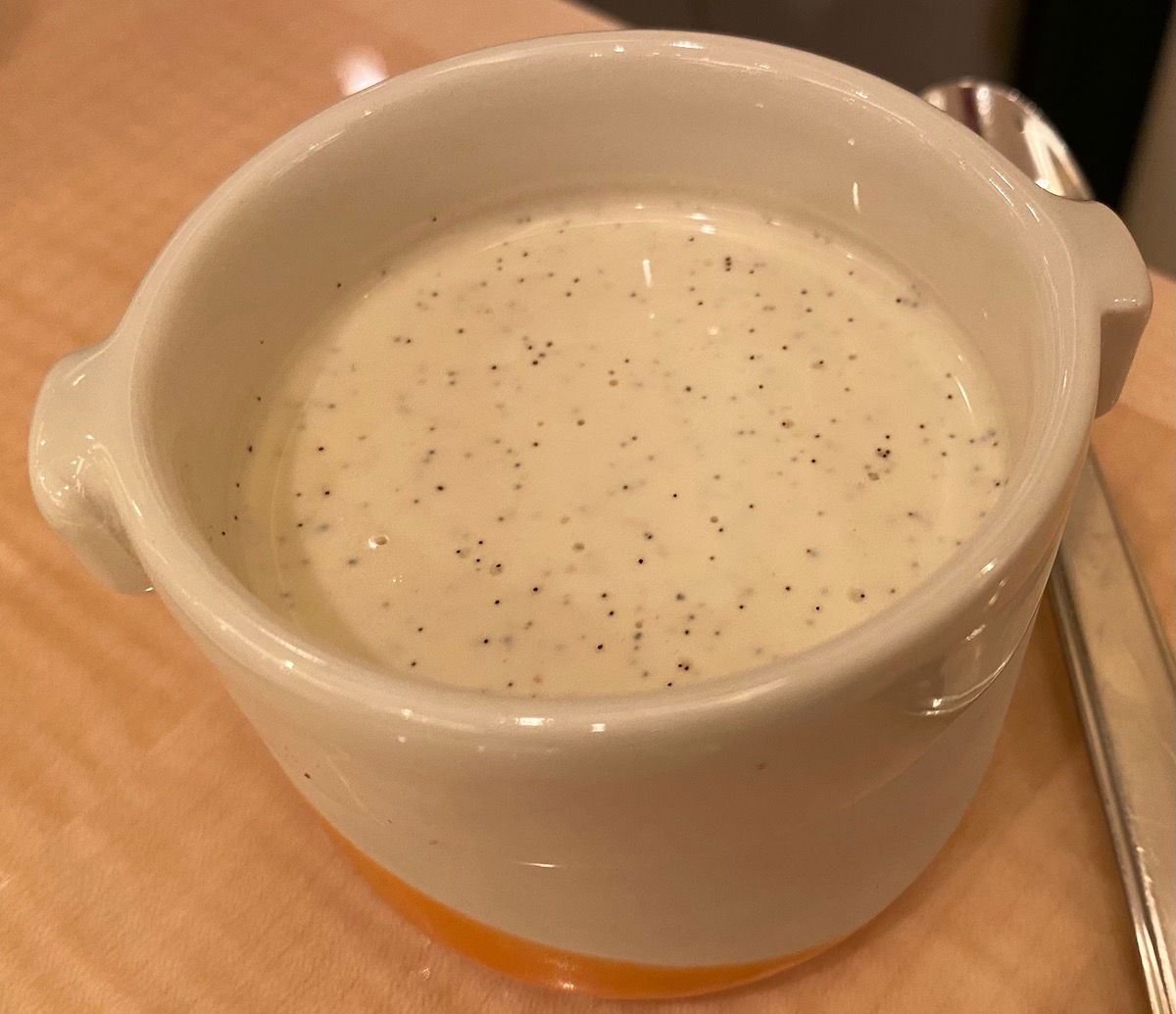 Then for our mains, I ordered the eggs florentine, consisting of a baked egg, spinach, and cheesy bechamel. I probably wasn't fully prepared for how cheesy it would be, but it sure was delicious.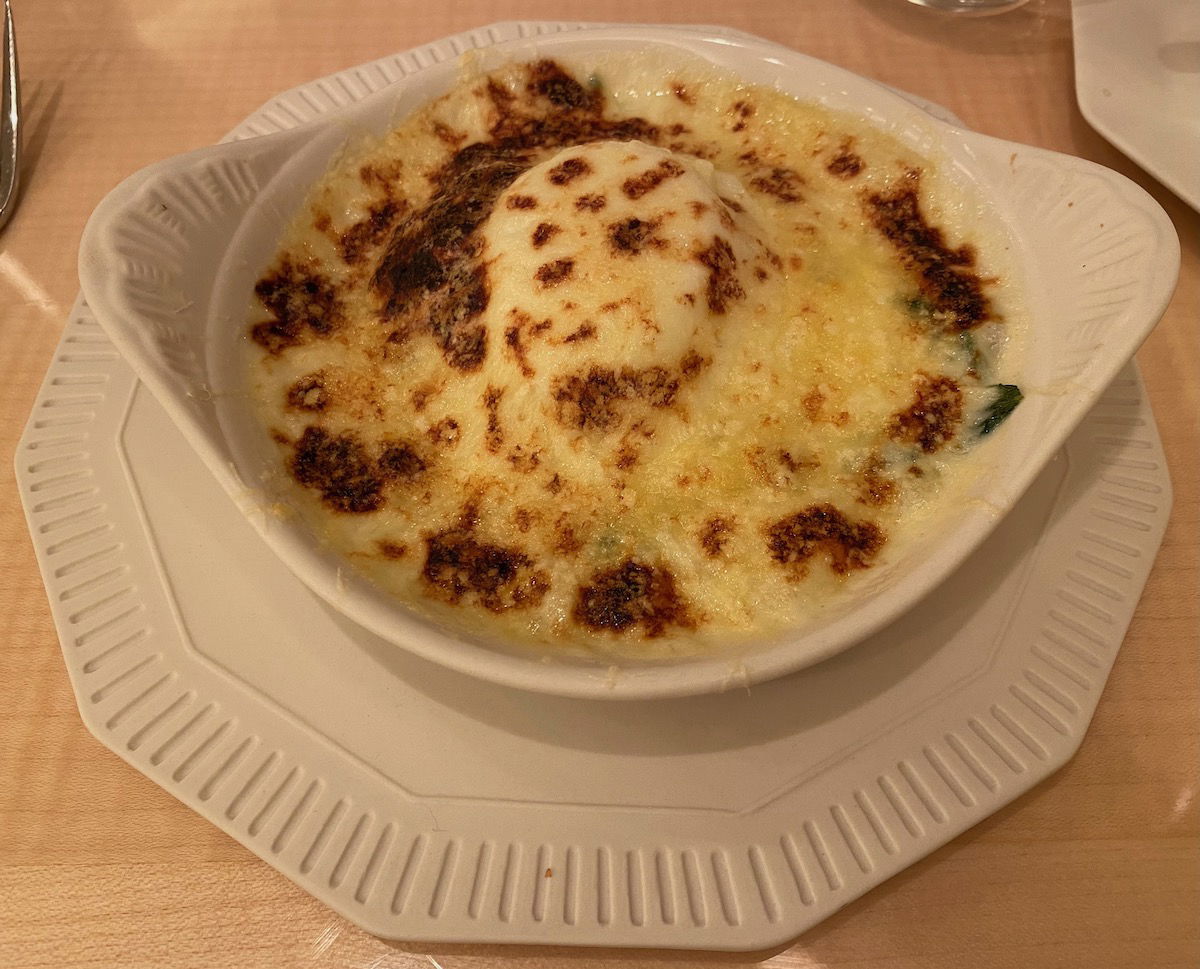 Ford had two poached eggs with some potatoes.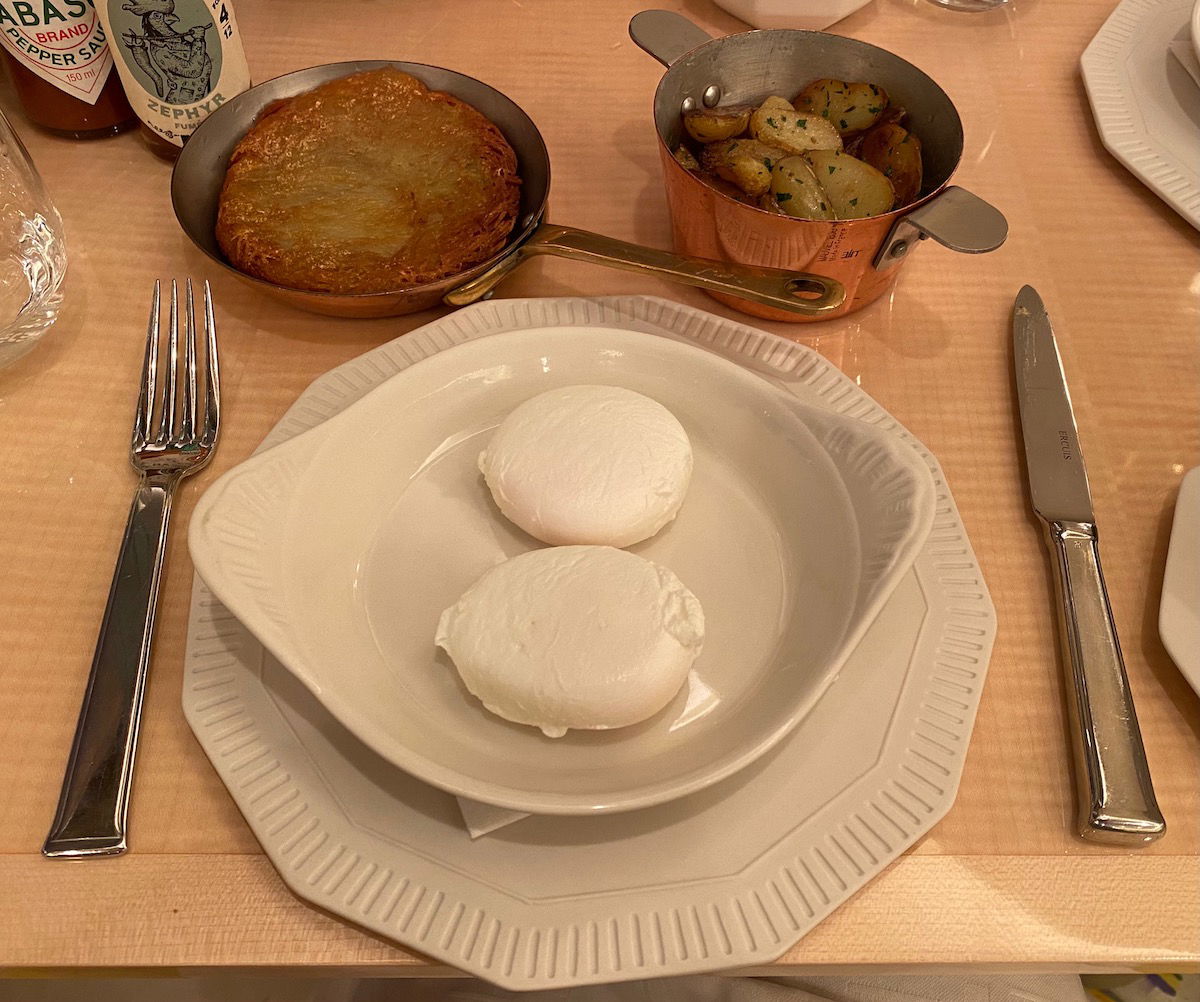 Cheval Blanc Paris Limbar
Limbar is Cheval Blanc Paris' ground floor cafe, which is open all day. It's a nicely appointed space, with plenty of seating — I could totally see myself coming here and working for a couple of hours while enjoying a coffee.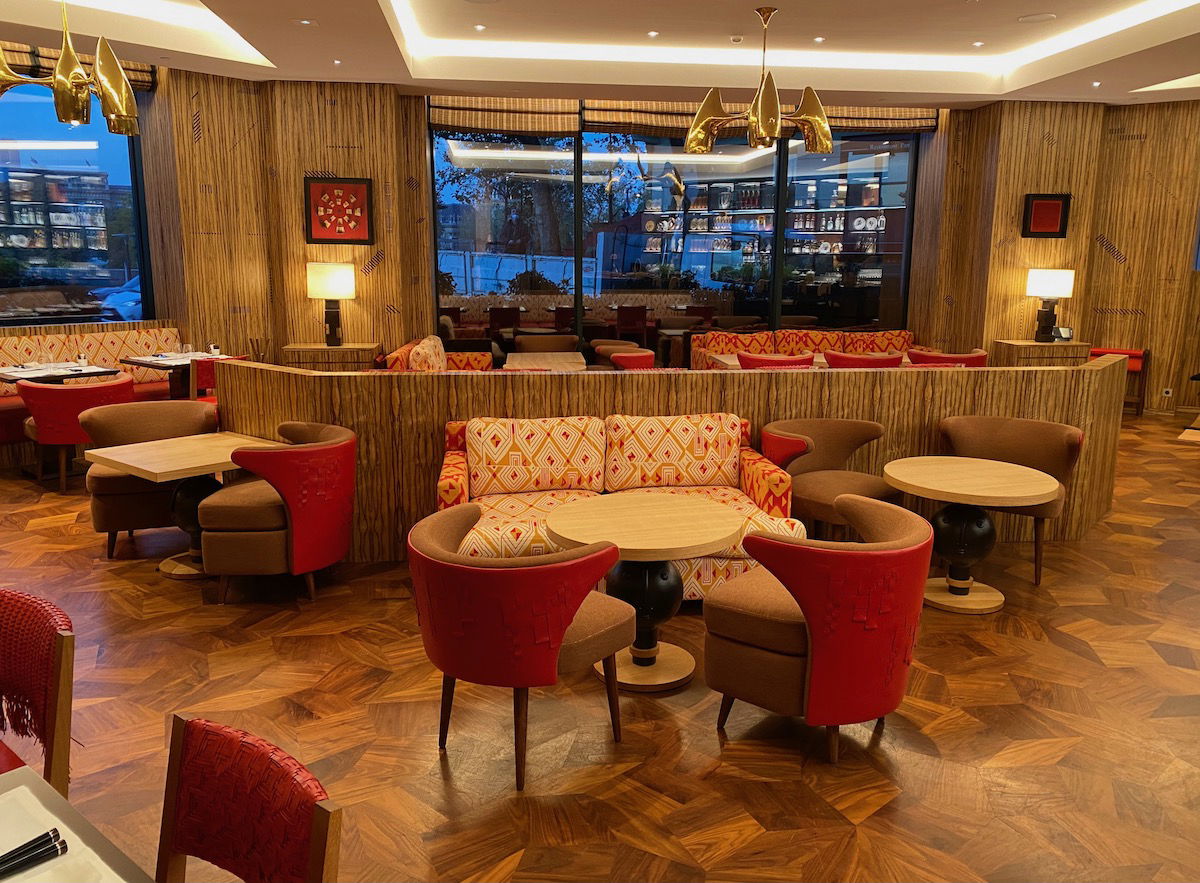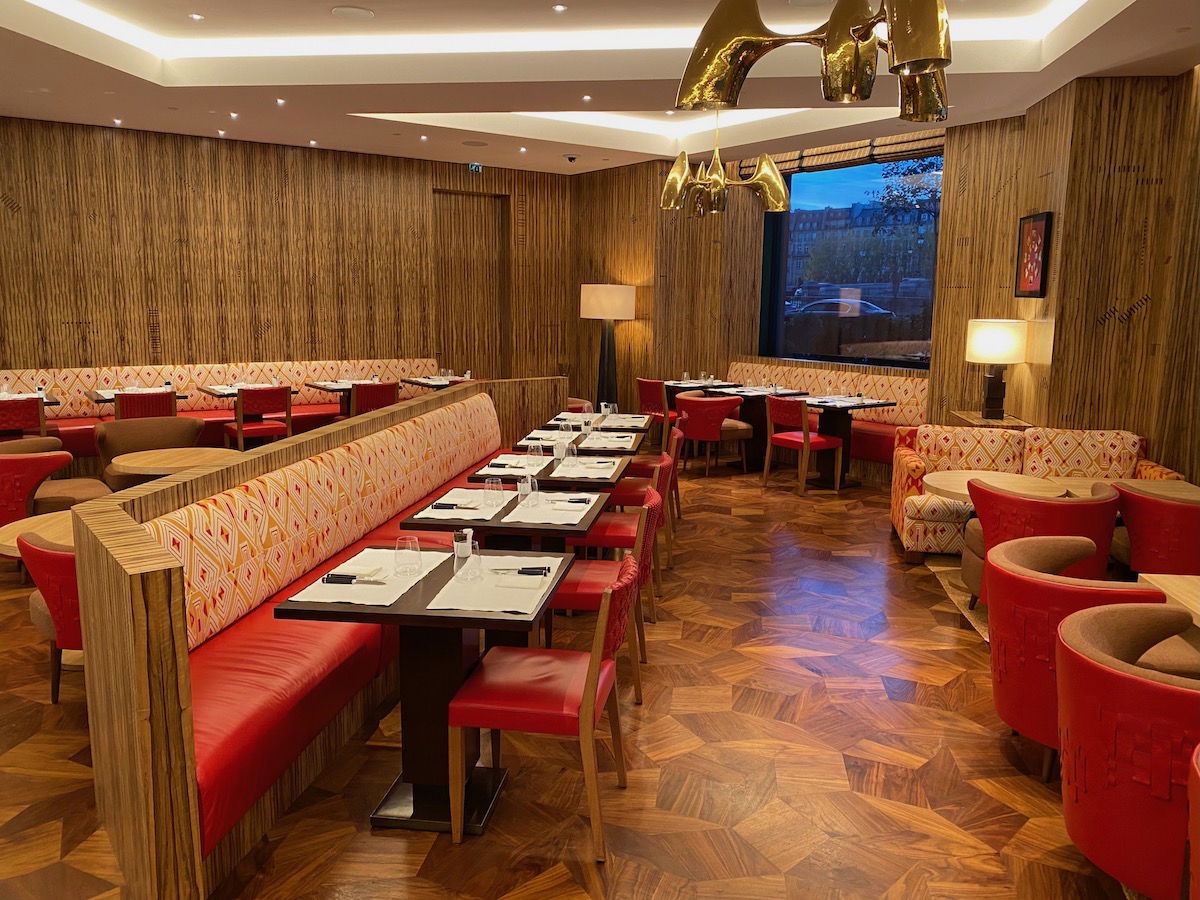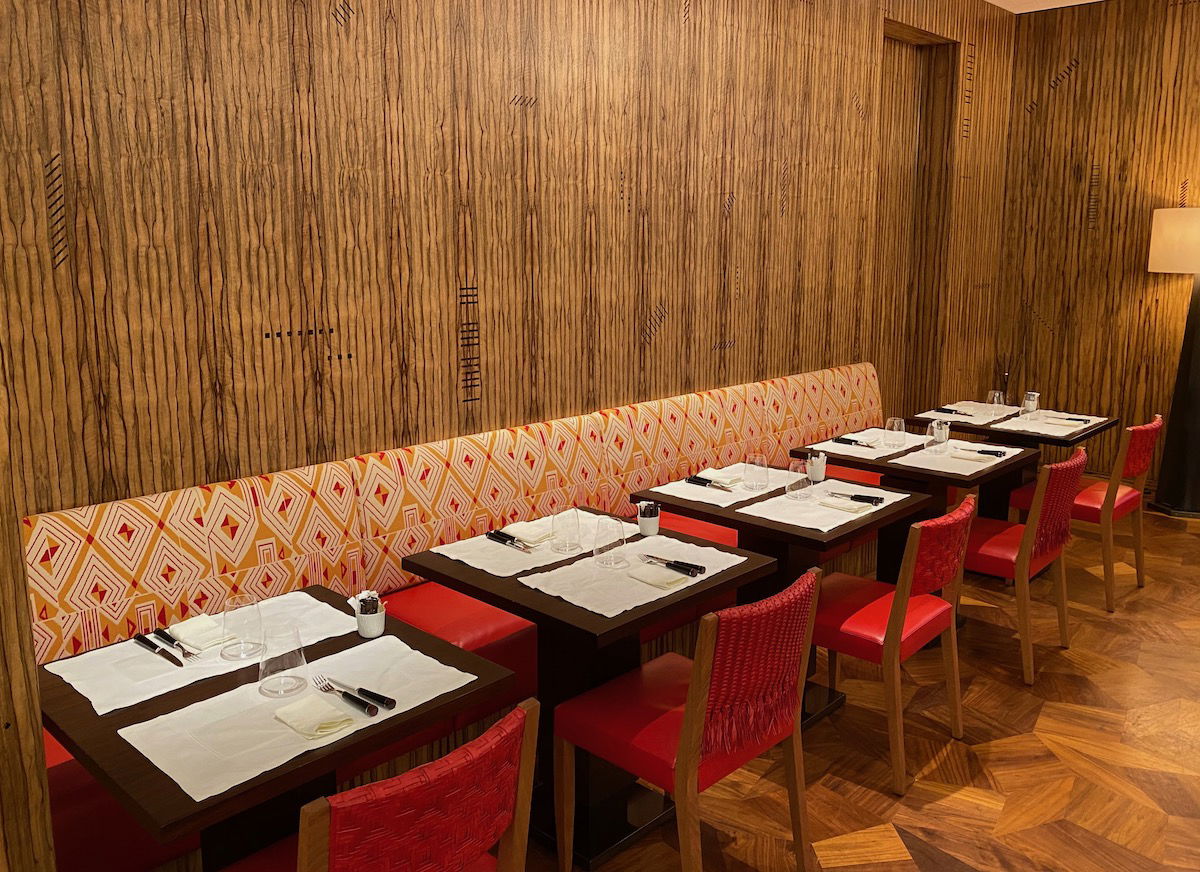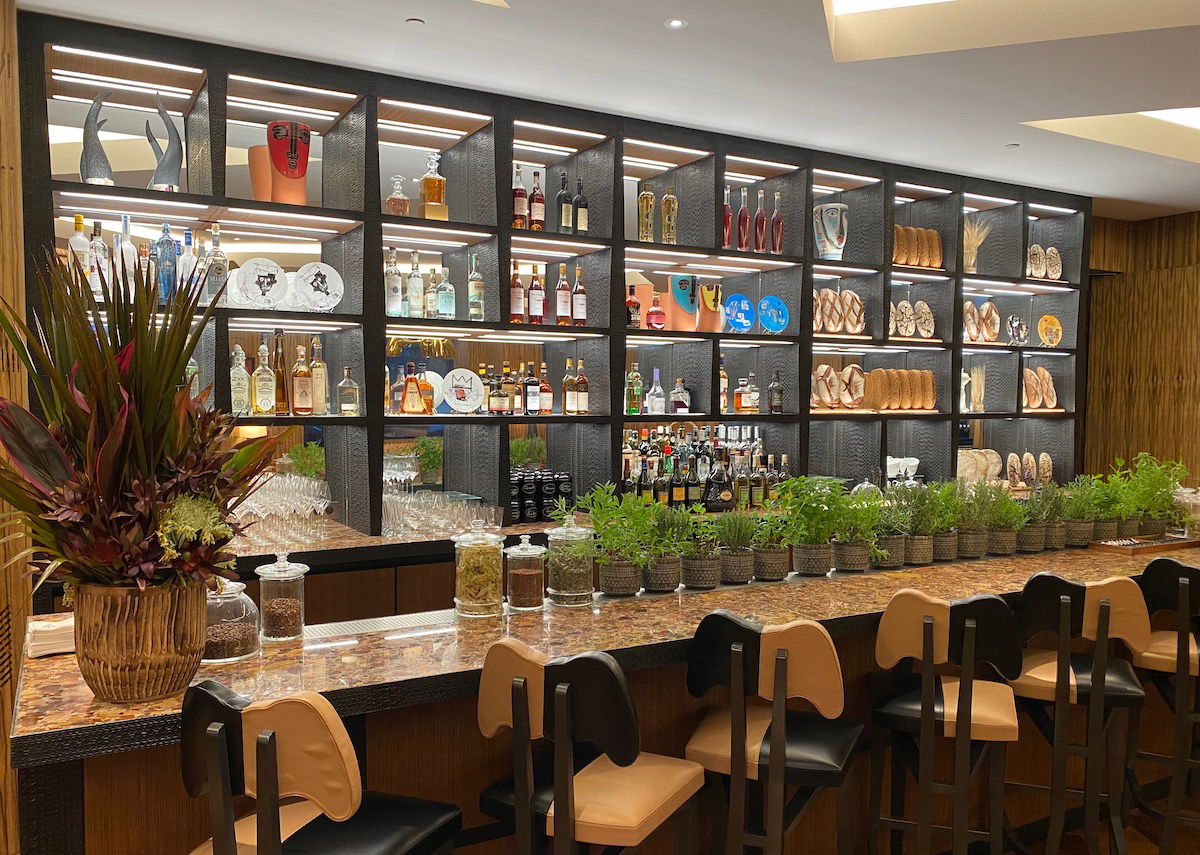 You can find the breakfast menu here, you can find the lunch menu here, you can find the goûter menu here, and you can find the cocktail list here.
If you come to enjoy breakfast here, it's a simple concept — you can get a coffee or tea of your choosing, and then you can select from pastries and cakes that they have on the counter. We instead opted for the breakfast at the rooftop restaurant, which was more extensive.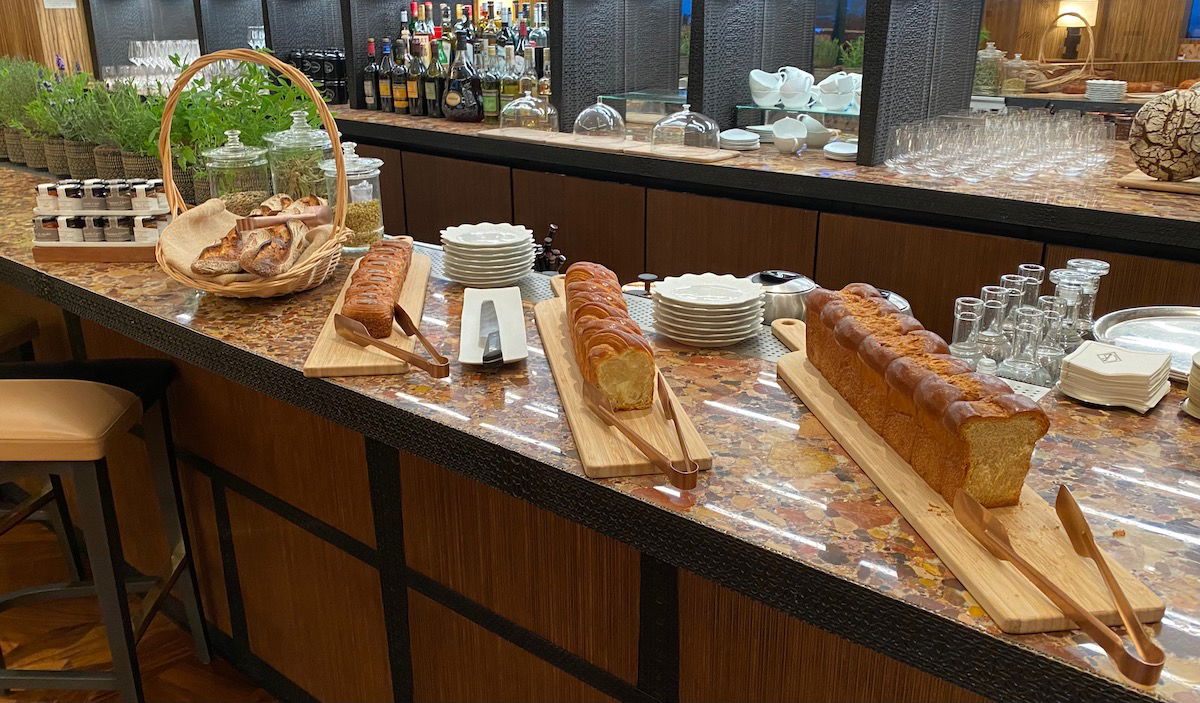 Cheval Blanc Paris airport transfer
Since we booked through Virtuoso, our stay included roundtrip airport transfers (though in our case we asked to be picked up at the Four Seasons, and to be dropped off at the airport). Our transfer experience was great, especially as it included an airport VIP service, where a porter helps you at the airport, including through immigration. What an awesome feature for several luxury hotels in Paris to offer.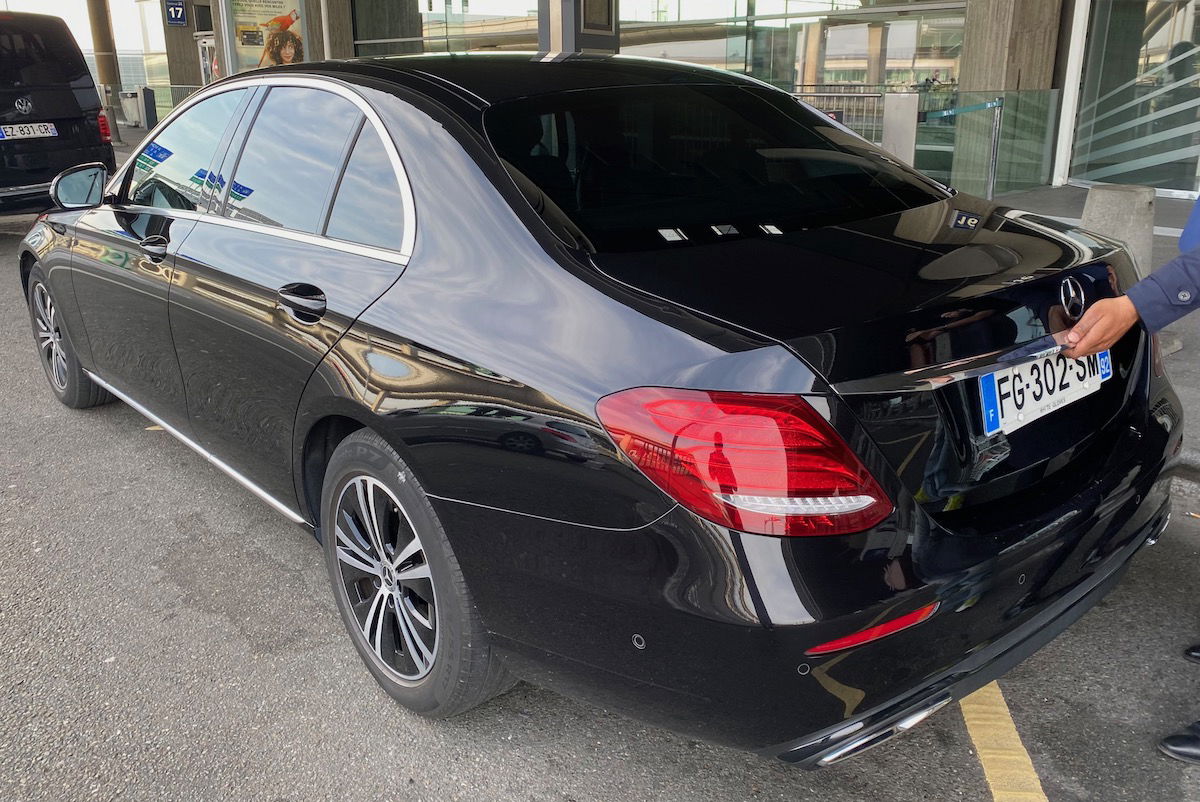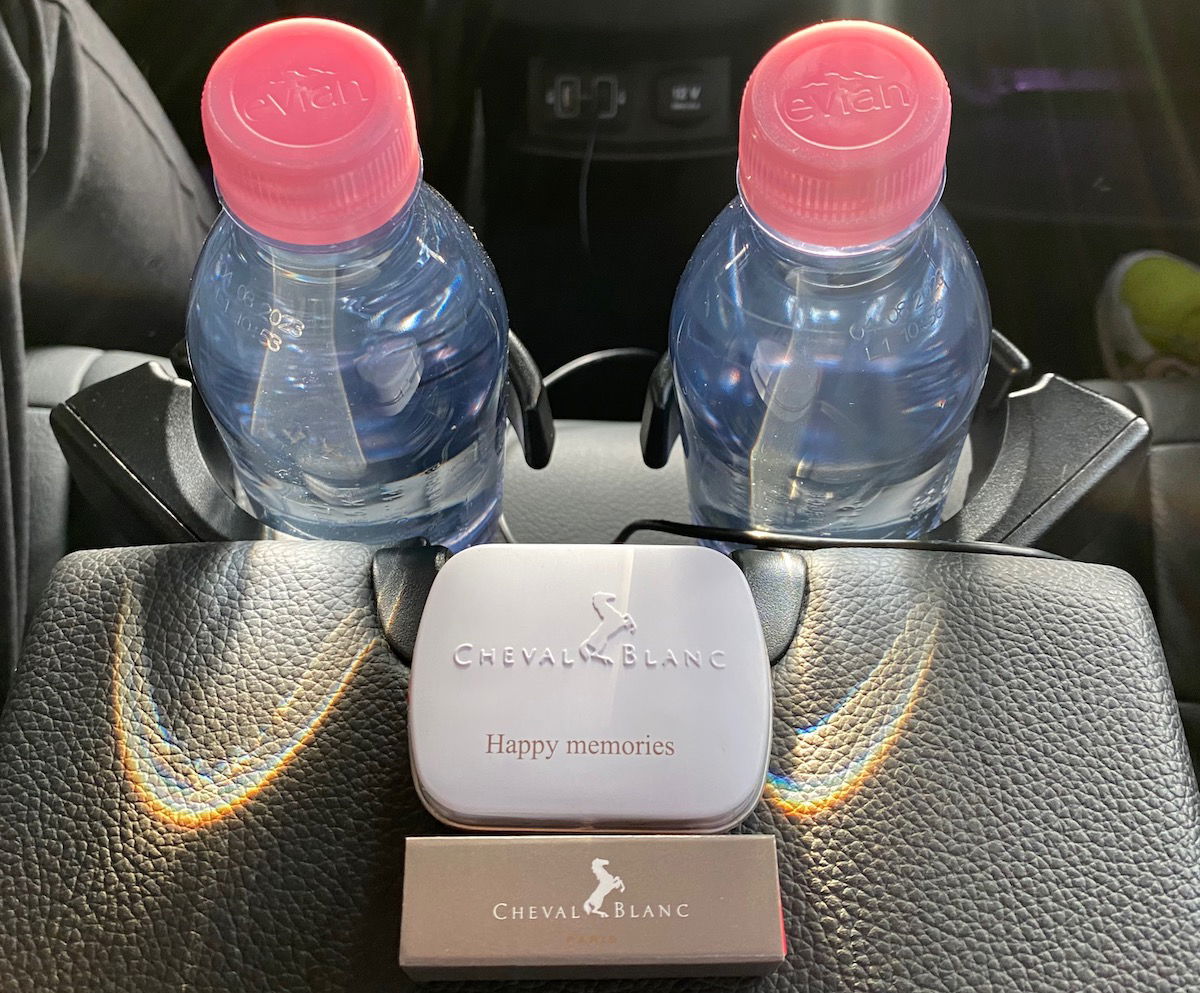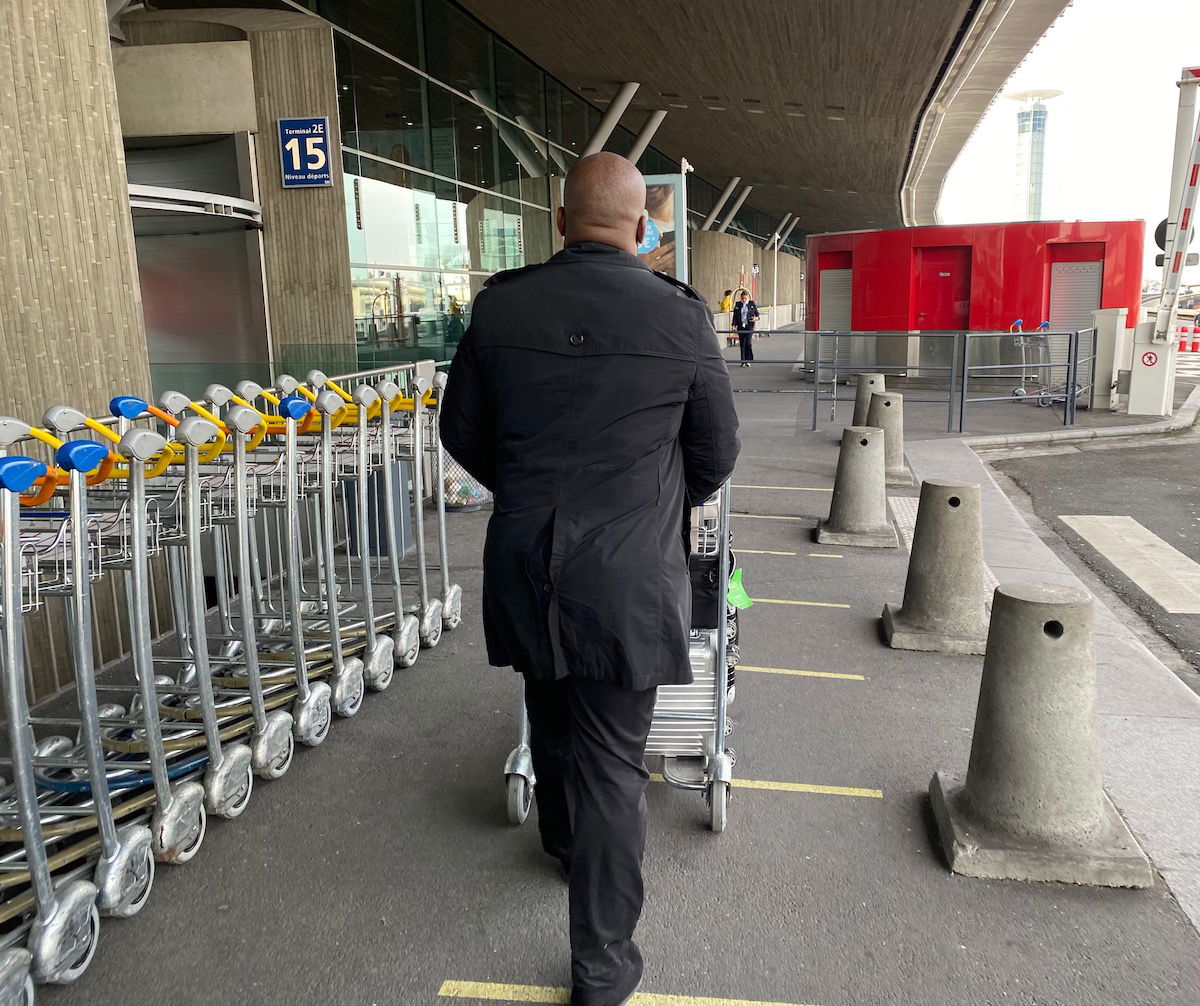 Cheval Blanc Paris service
Cheval Blanc Paris only opened several weeks ago, and unfortunately that's reflected a bit with the service. There were some highs and lows when it came to service.
On the plus side, the front office staff at Cheval Blanc are phenomenal — they're professional, friendly, and highly competent. The same is true of the concierge, butler service, and the staff at the pool and gym.
Unfortunately at Le Tout-Paris it was a totally different story. I had read reviews online of bad service and figured people were exaggerating or it was a one-off, but my gosh, our experience supported that. When I went there for drinks, I sat there for 20 minutes before anyone acknowledged me. And to be clear, I would have gladly flagged someone down (I wasn't being passive), but rather there was no one in sight to flag down.
The whole restaurant was packed, yet there seemed to be just one person working the whole outside area. People at tables on both sides of me were complaining as well, and I overheard the guy next to me say "I've been trying to pay for 30 minutes, this is ridiculous." Compare that to service at the Four Seasons, where a glass of water would basically be refilled after every sip.
Breakfast was only moderately better when it came to service. Service was ridiculously slow, even though there was only one other person in the restaurant. For example, our yogurt and pastry arrived before our coffee and tea, and it's not that the food arrived quickly either.
At the end of the meal we were accidentally billed for four people instead of two (and funny enough when I called over the server after receiving the check, he already stated as he came over "I accidentally charged you for four people, didn't I?").
Ultimately these are fairly minor things, but Paris is a hyper-competitive hotel market. Properties like the Four Seasons have flawless service, no matter how many guests there are. So these kinds of experiences no doubt put a stain on an otherwise incredible hotel.
The good news is that these issues should be easy enough for the hotel to work out. It's not that the staff weren't friendly, there just weren't enough servers, and they weren't properly trained.
For the record, we mentioned this feedback during check-out to the excellent front office manager, so hopefully it's addressed.
Bottom line
Cheval Blanc Paris is a stunning new hotel. There's so much to love about this hotel — it has just 72 gorgeously appointed rooms with incredible attention to detail, the amenities and surprises for guests are endless, the dining outlets are phenomenal, and the pool is so cool. Most of Paris' top luxury hotels offer old world charm, so it's cool to visit a hotel that's a bit more modern.
However, I have two concerns with Cheval Blanc Paris, one of which can be easily addressed, and one of which can't. The hotel doesn't have good sound insulation, and that has the potential to be a problem. For some people this could be a big issue (those who like to nap during the day), while for others this could be a non-issue. The easier to fix problem is the service at Le Tout-Paris. Hopefully this is just a reflection of this hotel being new and kinks being worked out, but I'm hopeful this won't be an issue for long.
Of the three hotels in Paris we stayed at, personally I'd be most likely to return to the Four Seasons and Cheval Blanc. I love the Four Seasons for the perfect service, old world charm, and incredible dining outlets, while I love Cheval Blanc for the design (which is so much more my style than the other properties), the pool, and the endless amenities. While I was grateful to have experienced the Ritz, it's not necessarily a property I'd need to stay at again.
What do you make of Cheval Blanc Paris? Have any other OMAAT readers stayed at this hotel, or another Cheval Blanc property?