I can't even begin to say how much we enjoyed our Lufthansa first class flight. There's something so special about sitting in the nose of the 747, and I think the pandemic's impact on travel makes me savor experiences like this even more than ever before.
How I booked our Lufthansa first class tickets
If you're trying to book Lufthansa first class with miles through a partner frequent flyer program (which is the best way to do so), you can only book at most 15 days in advance. The Miami to Frankfurt route is notoriously difficult to snag first class award seats on, given that the cabin often fills up with paying passengers.
Fortunately we lucked out in this case. Just under a week before departure two first class award seats opened up, so we booked the following:
10/11 LH463 Miami to Frankfurt departing 4:50PM arriving 8:00AM (+1 day)
10/12 LH1040 Frankfurt to Paris departing 4:20PM arriving 5:35PM
I redeemed 100,00 Air Canada Aeroplan miles per person for these tickets, and the taxes & fees totaled $75 per ticket. I had booked while there was a 20% transfer bonus from Amex to Aeroplan, meaning I really only paid around 84,000 Amex Membership Rewards points per ticket.
What an awesome itinerary! As you can see, we had a very long layover in Frankfurt (the midday Frankfurt to Paris flight didn't have award availability), but I sure didn't mind. It would be like the good old days of spending a day in Lufthansa's incredible First Class Terminal, one of my favorite lounges in the world.
Lufthansa first class ground experience Miami
Lufthansa certainly makes you wait until you're on board to enjoy the first class experience, especially when departing Miami. On the plus side, the check-in hall was quite empty. We were quickly helped in the line for first class passengers and Star Alliance Gold members, and the check-in associate was friendly and professional.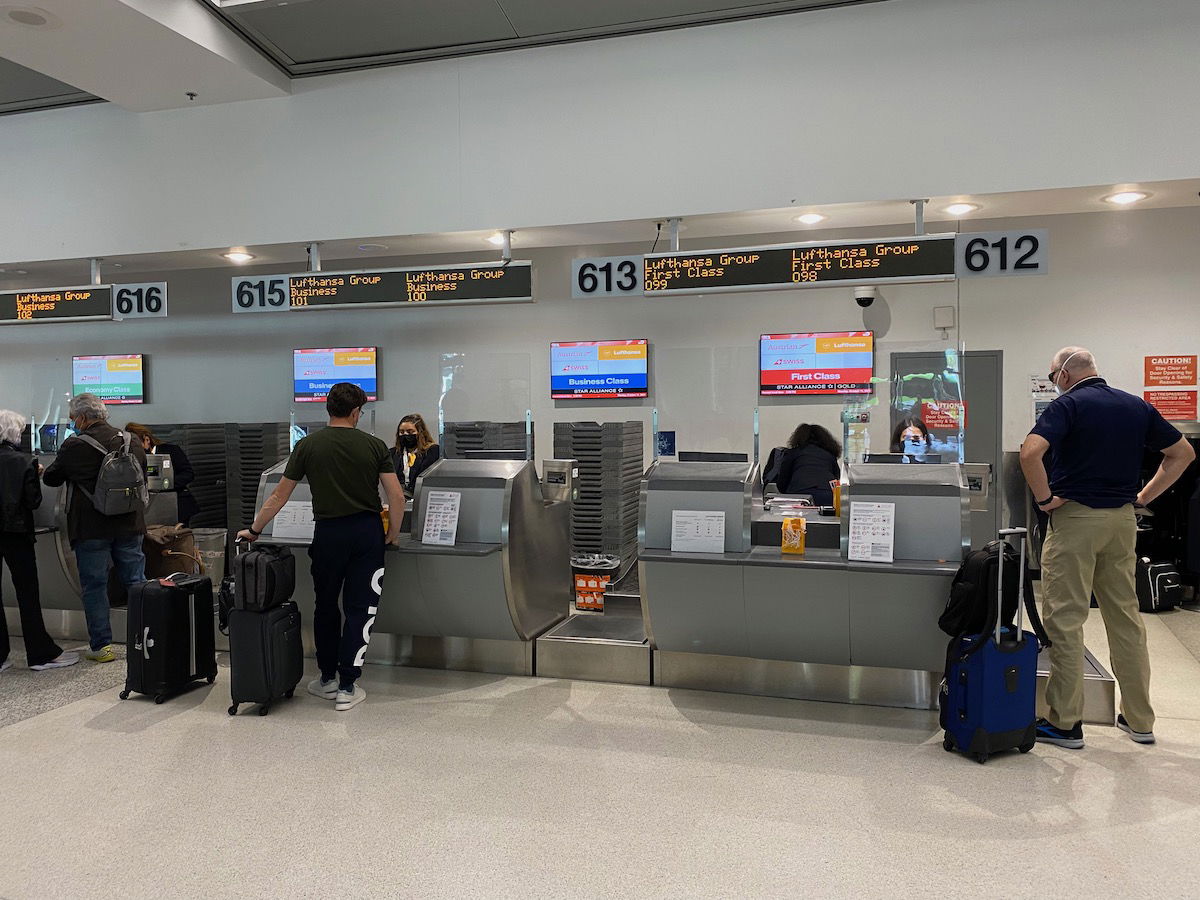 Lufthansa used to offer first class passengers escorts through security, but that doesn't seem to be a thing anymore. On the plus side, I was happy to see the short security lines to get into the concourse, given that they can be out of control in the international terminal. We were airside within 15 minutes of arriving at the airport. Remind me again how this was voted America's best airport?!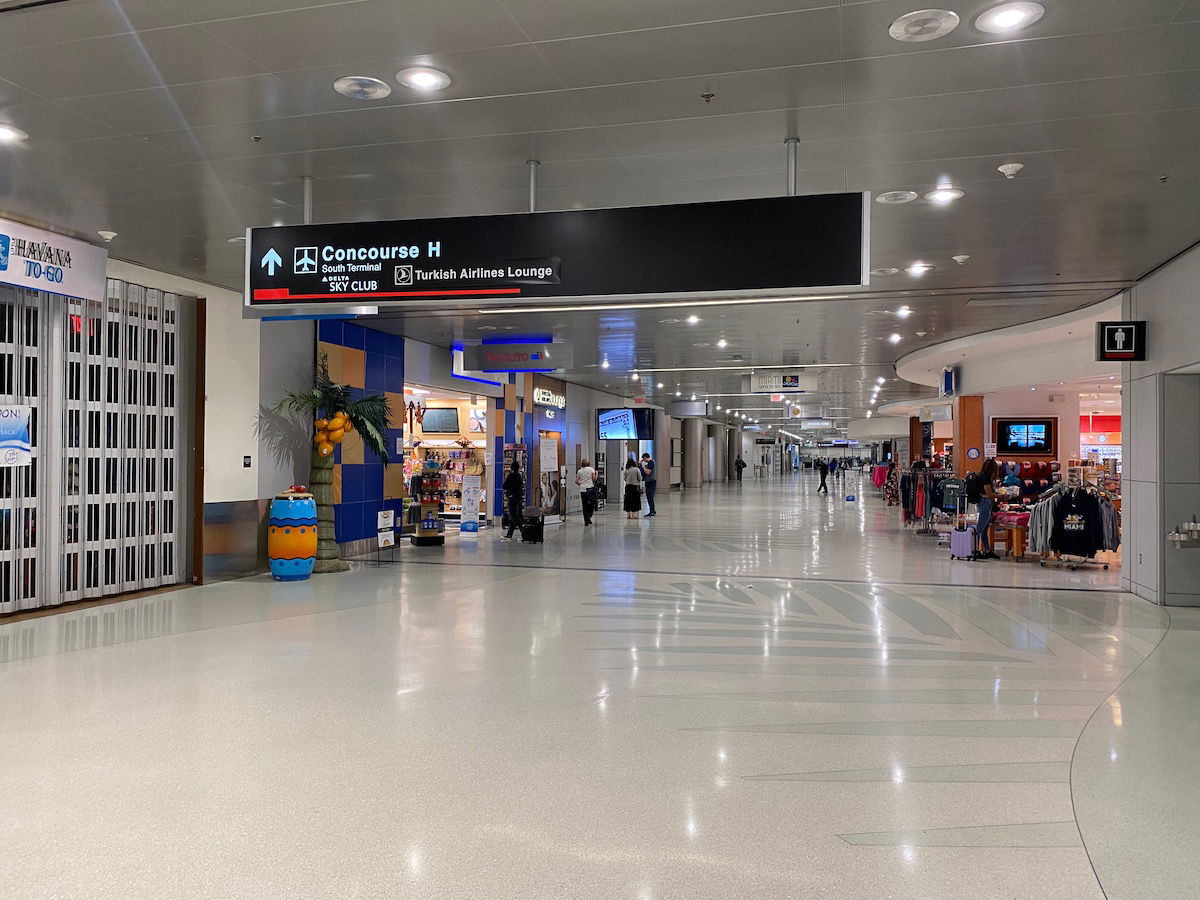 All Lufthansa premium passengers have access to one of the two Turkish Airlines Lounges at Miami Airport, and in this case I was visiting the one I hadn't previously reviewed.
The lounge is open to just about all premium passengers, as well as Priority Pass members, so there was a slow-moving queue to get into the lounge.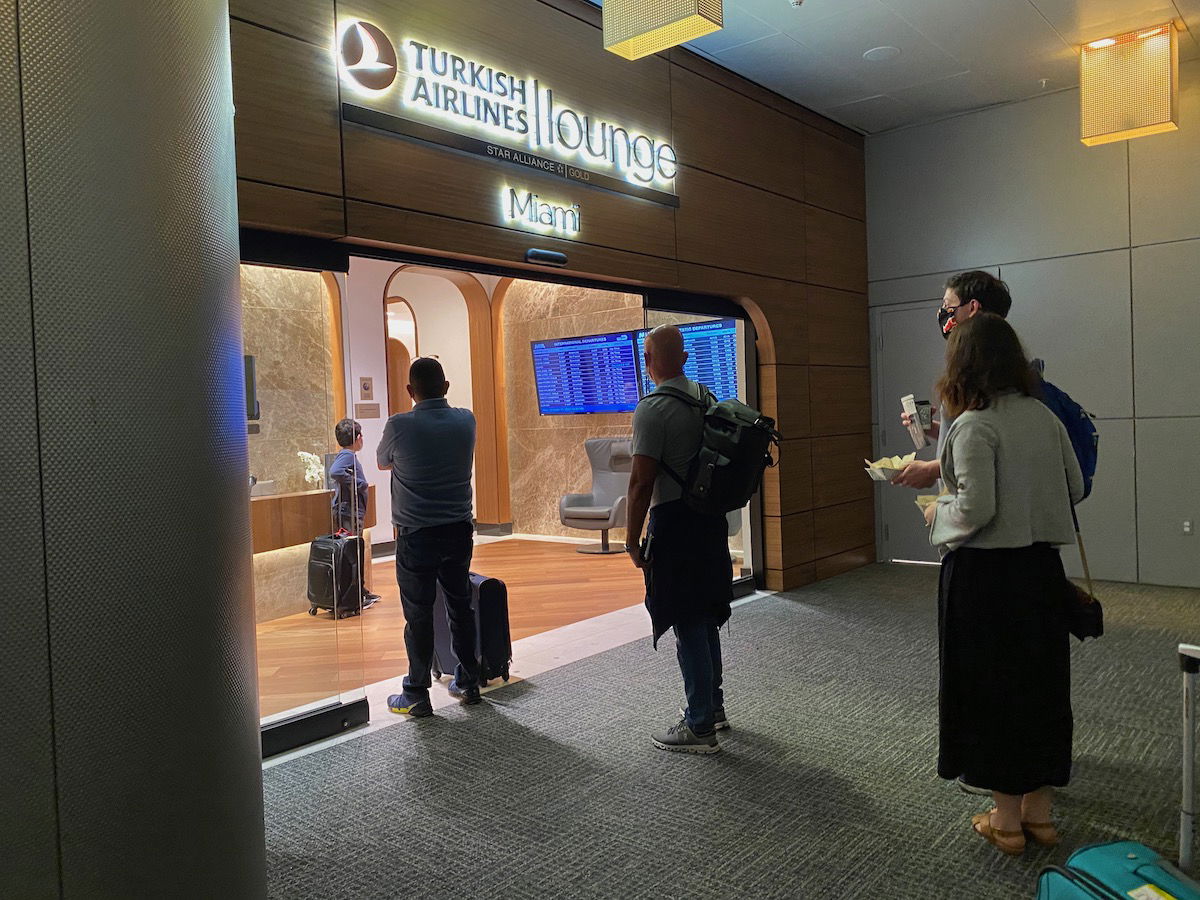 The lounge itself was totally okay for Priority Pass or a contract lounge. It got extremely crowded a bit after we arrived, to the point that virtually every seat was taken. We just spent the time in the lounge getting caught up on some work. Fortunately we didn't have that much time to kill in the lounge.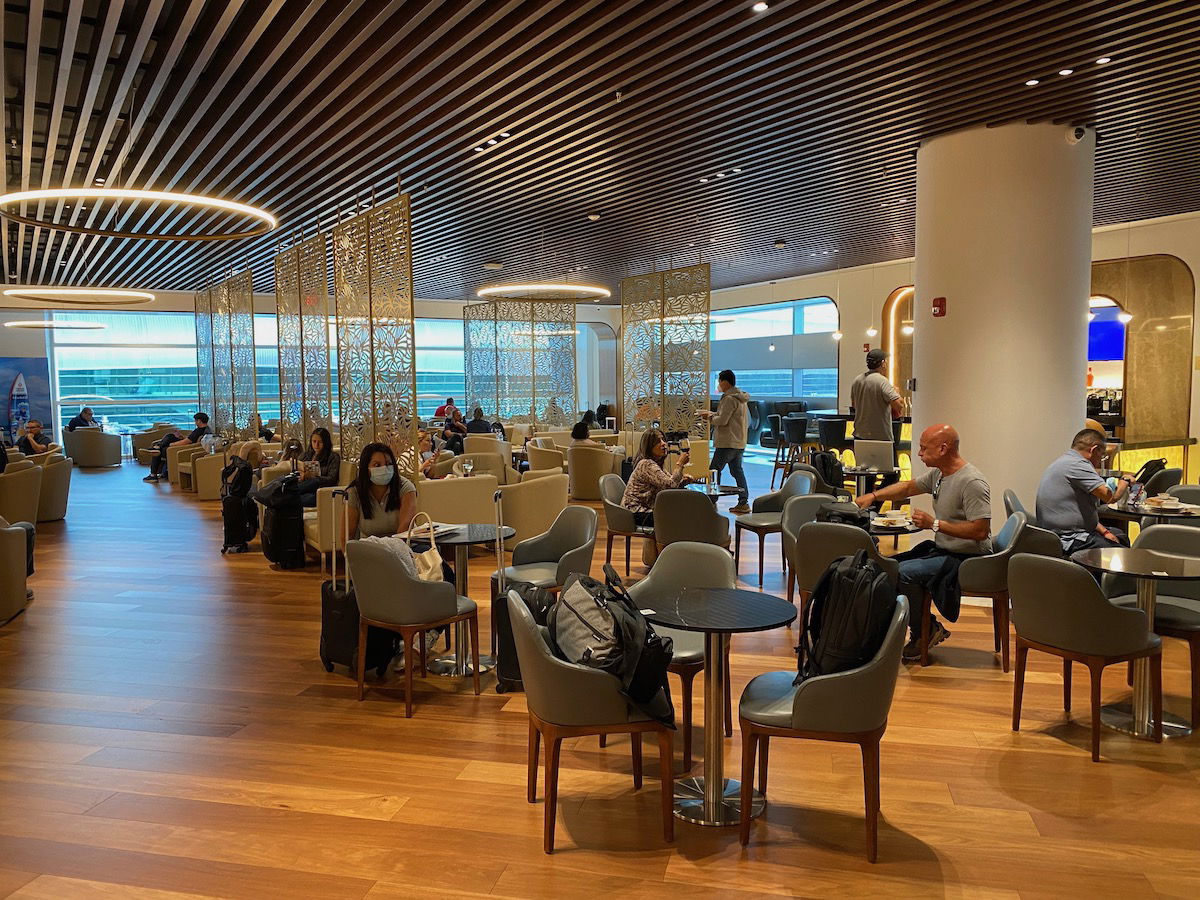 Boarding for the flight was scheduled to start at 4:10PM, 40 minutes ahead of scheduled departure time. Sure enough, that's exactly when boarding started, with first class passengers being invited to board first.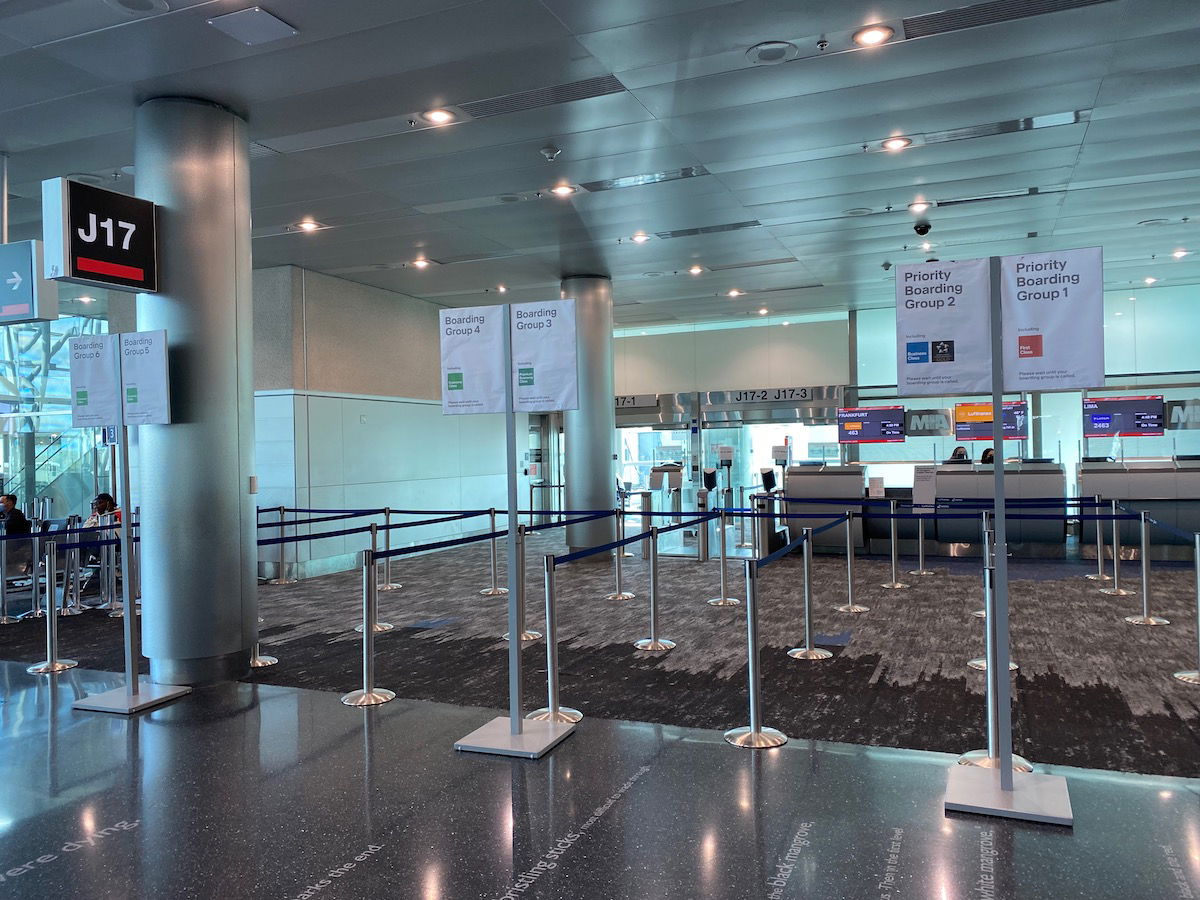 Lufthansa Boeing 747-8 first class cabin & seats
It had been at least a couple of years since I flew the Lufthansa Boeing 747-8, and boy was I happy to be back onboard! The 747 is my favorite plane in the world, and as an avgeek there's nothing like sitting in the nose of the plane. At the door we were greeted by the friendly crew, and one of the first class flight attendants escorted us to our seats.
While Lufthansa's first class cabin isn't the most private out there, I find it to be elegantly understated. The cabin features a total of eight seats — there are three rows with one seat on each side, and then in the last row there are also two seats in the center section.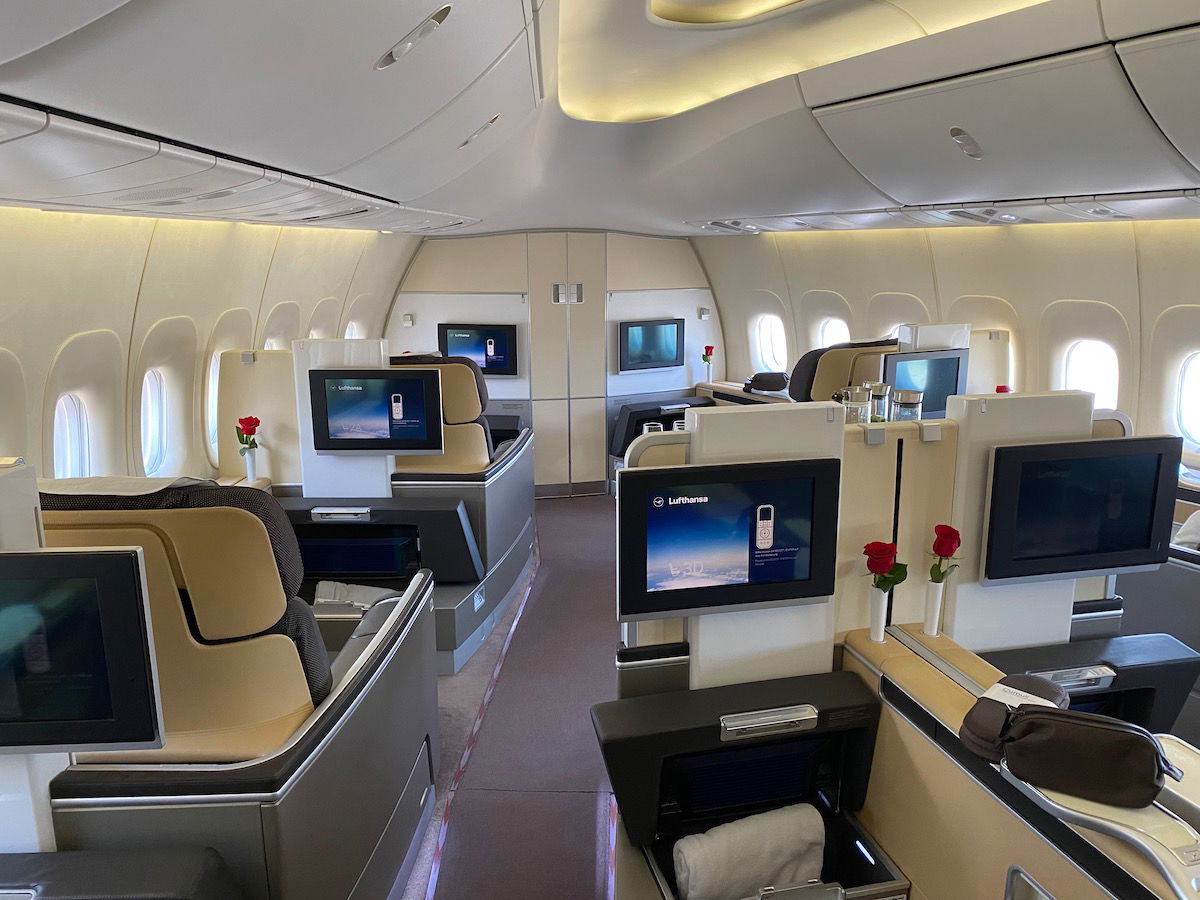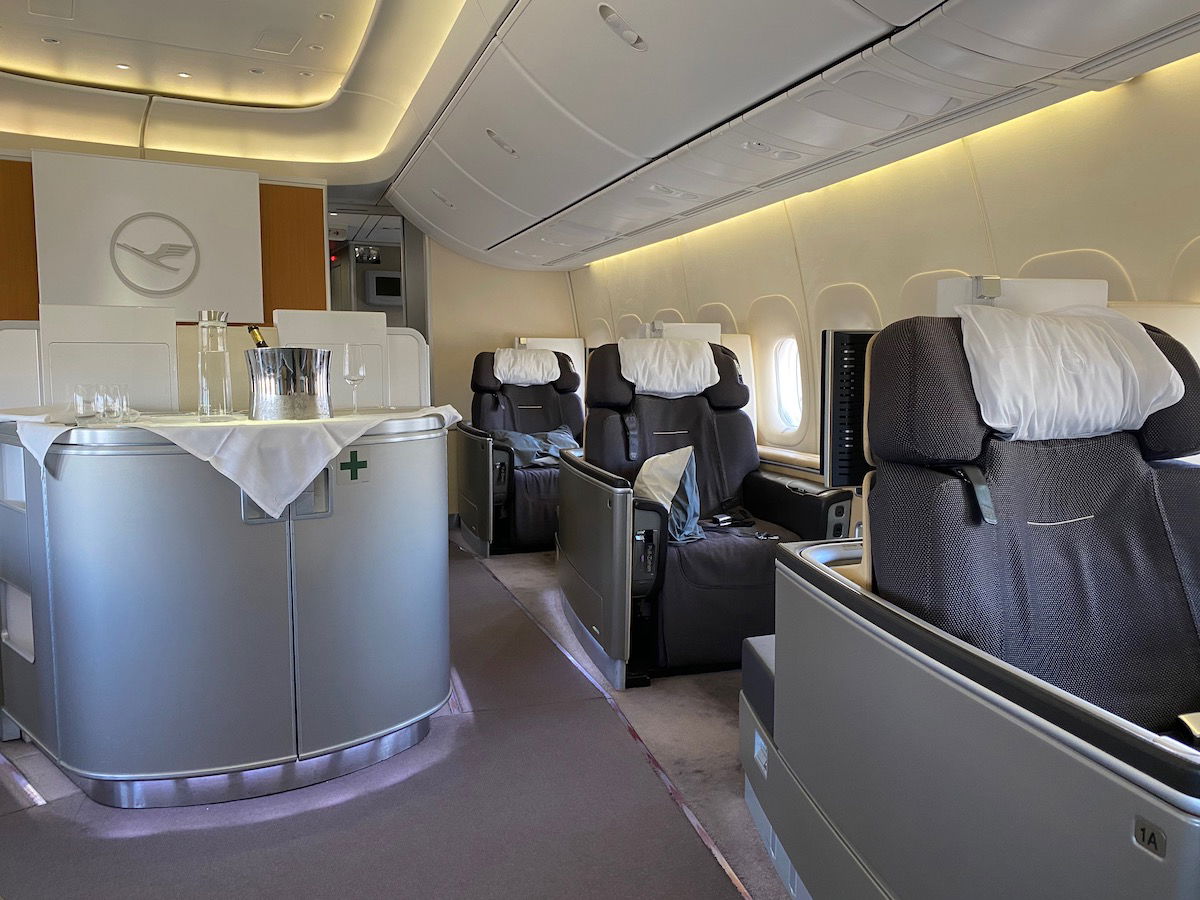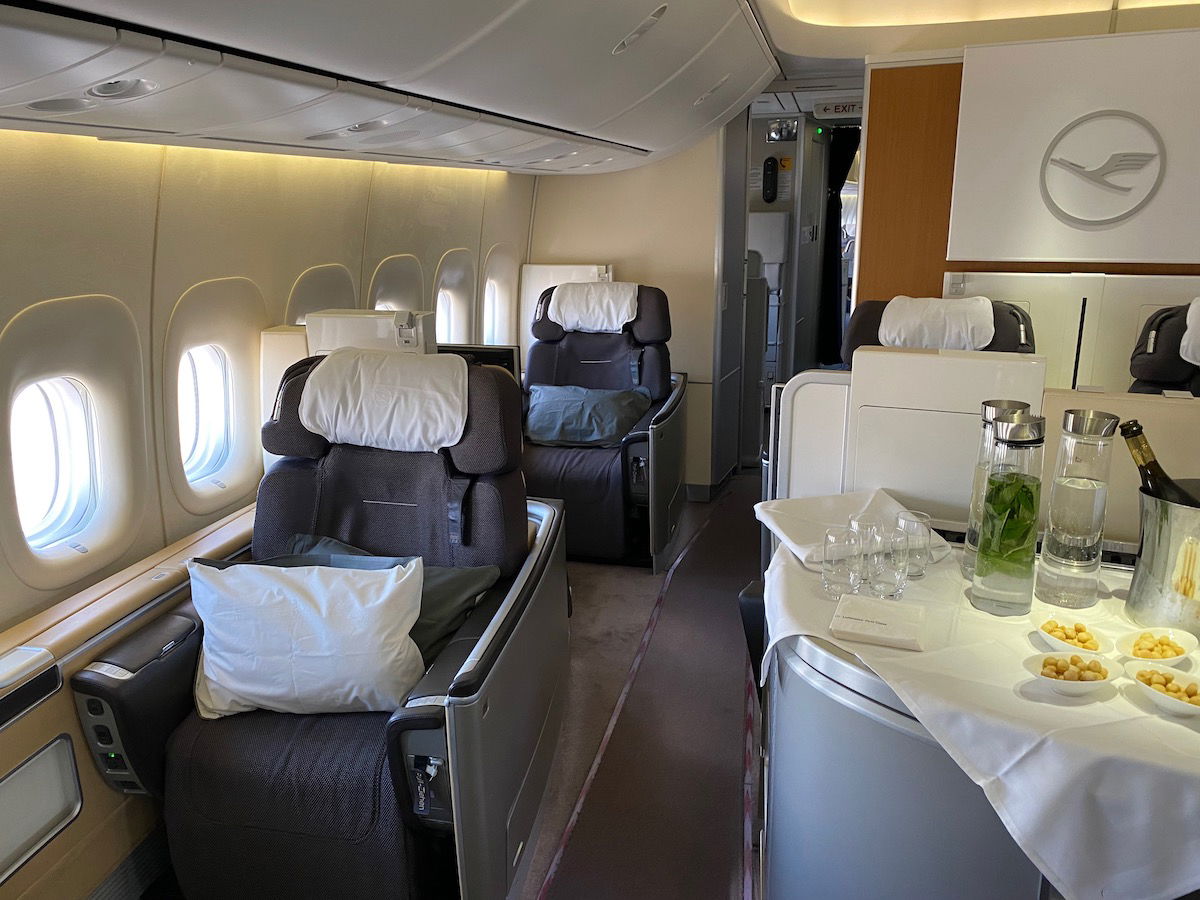 While I'd ordinarily choose to sit with my travel companion in the center section, in this case I couldn't help but select seats 1A & 1K for us, right in the nose. Why?
With so many airlines retiring 747s, who knows how many more opportunities I'll have to sit right in the nose
It's not often you get to sit both in front of the cockpit and in front of the forward gear
Lufthansa has buddy seats in first class, so you can still dine face-to-face
So I sat in 1A, while Ford sat in 1K.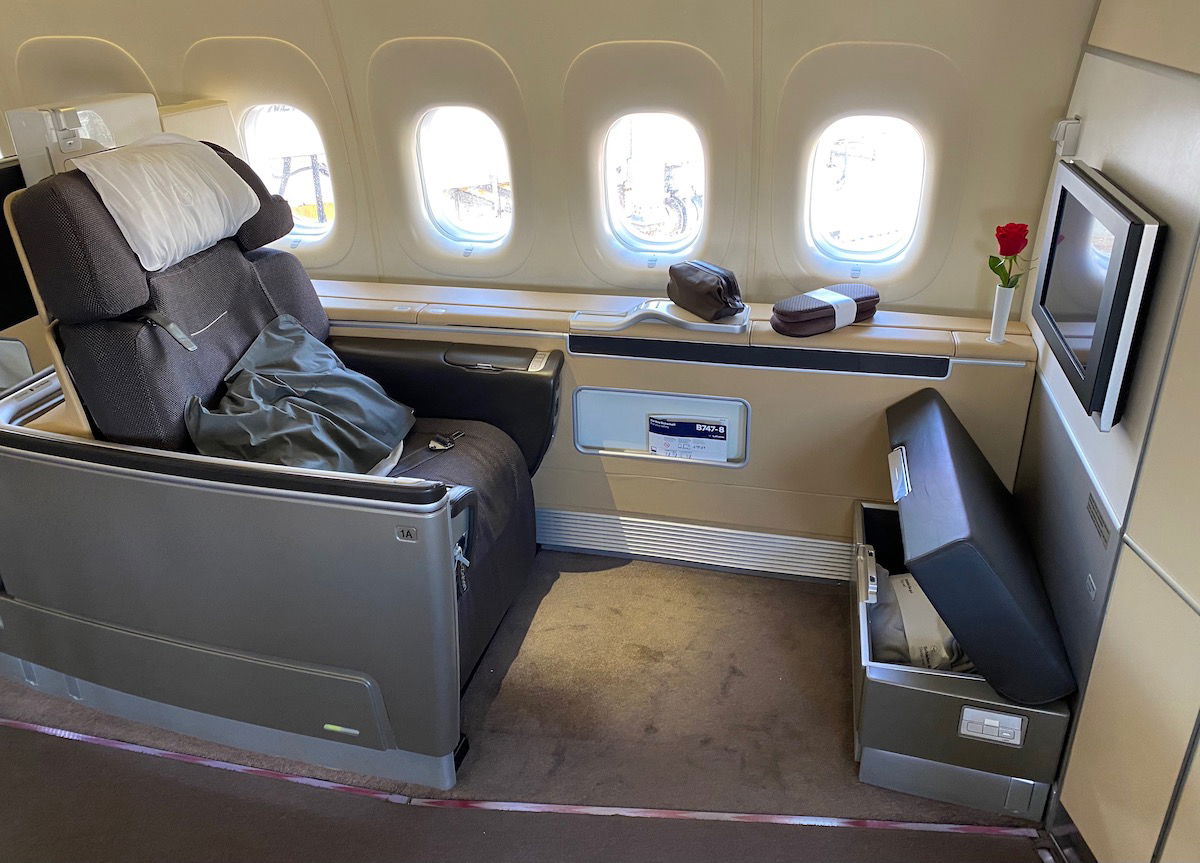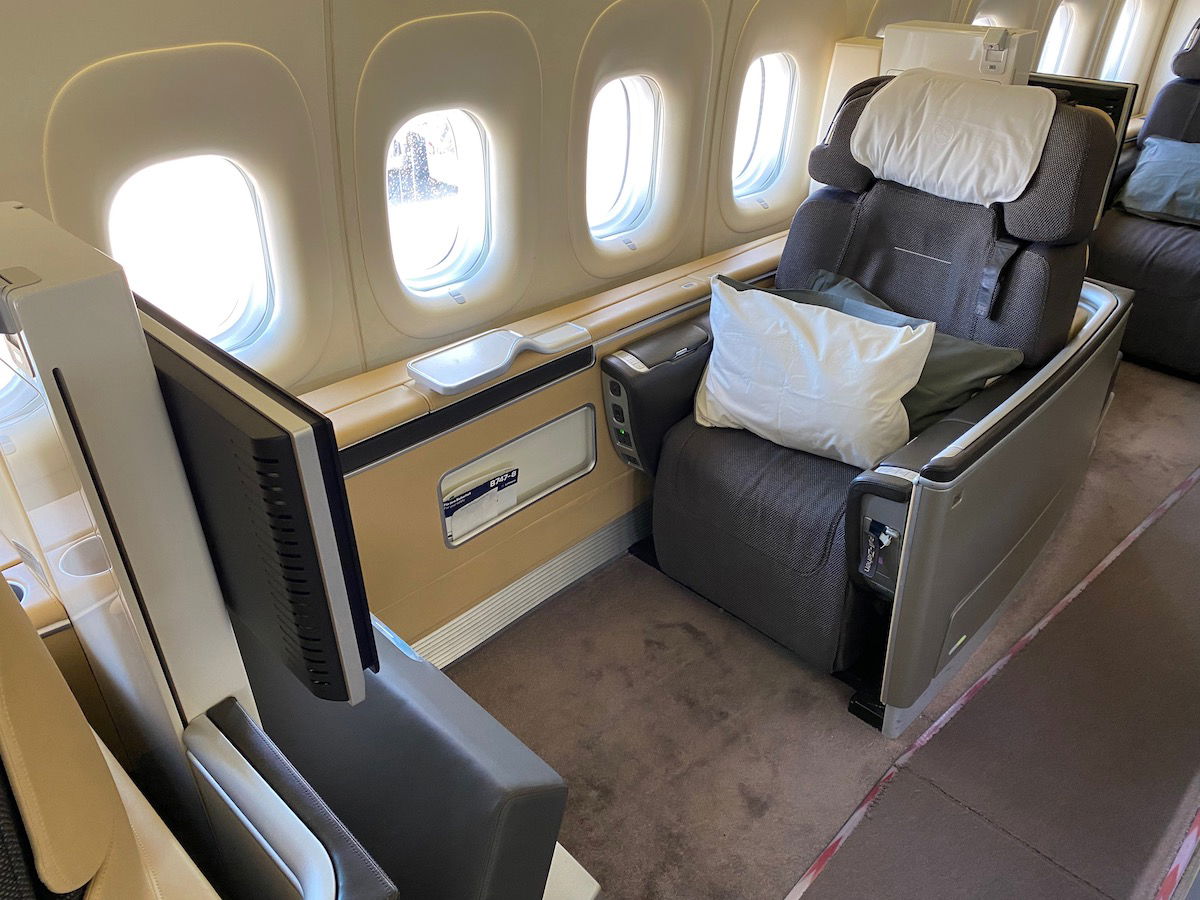 There are no doubt more private first class suites out there, but Lufthansa's product is still well designed and functional. There's a wall-mounted personal television, and then underneath that is the ottoman. The ottoman can also act as a storage compartment, and can slide closer to you, should you want to easily rest your feet on it.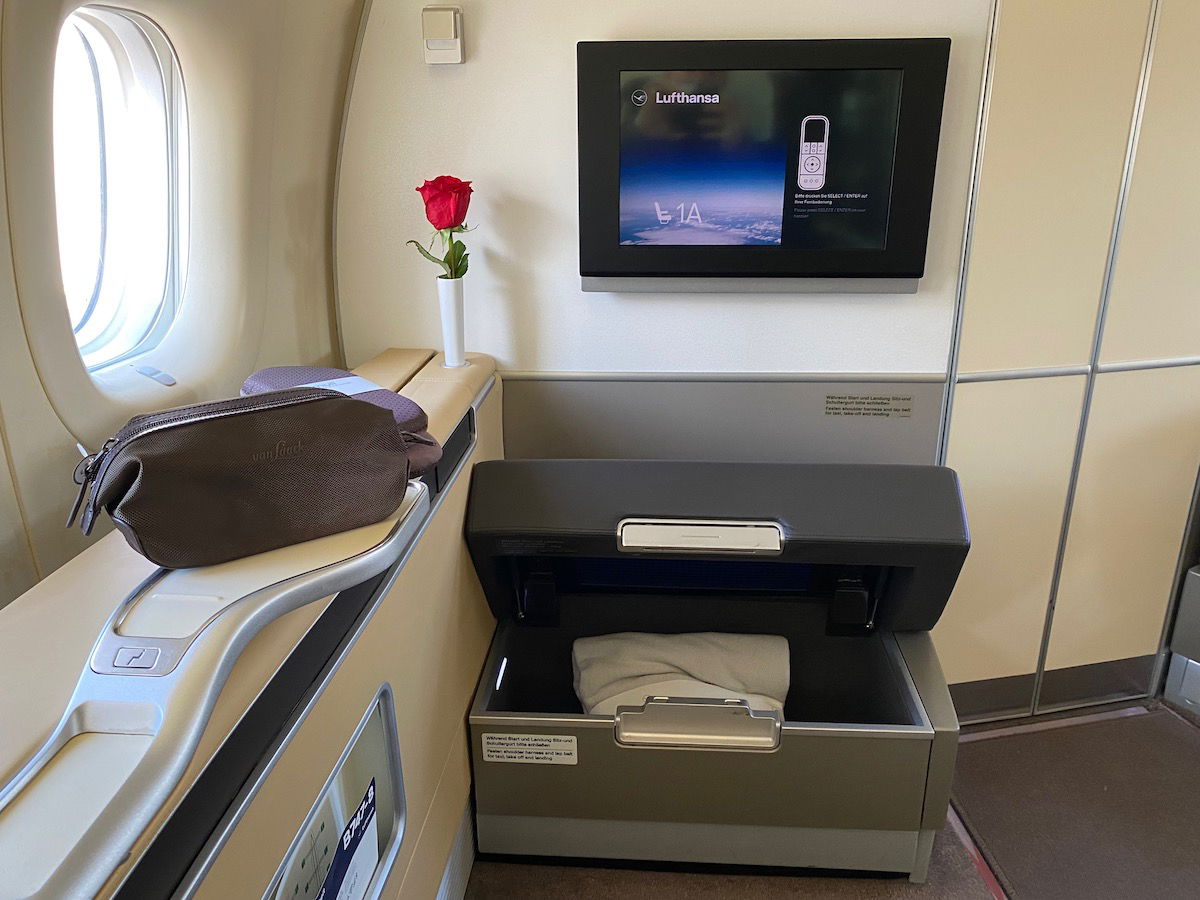 To the right of the seat are the seat controls, while to the left of the seat are the entertainment controls.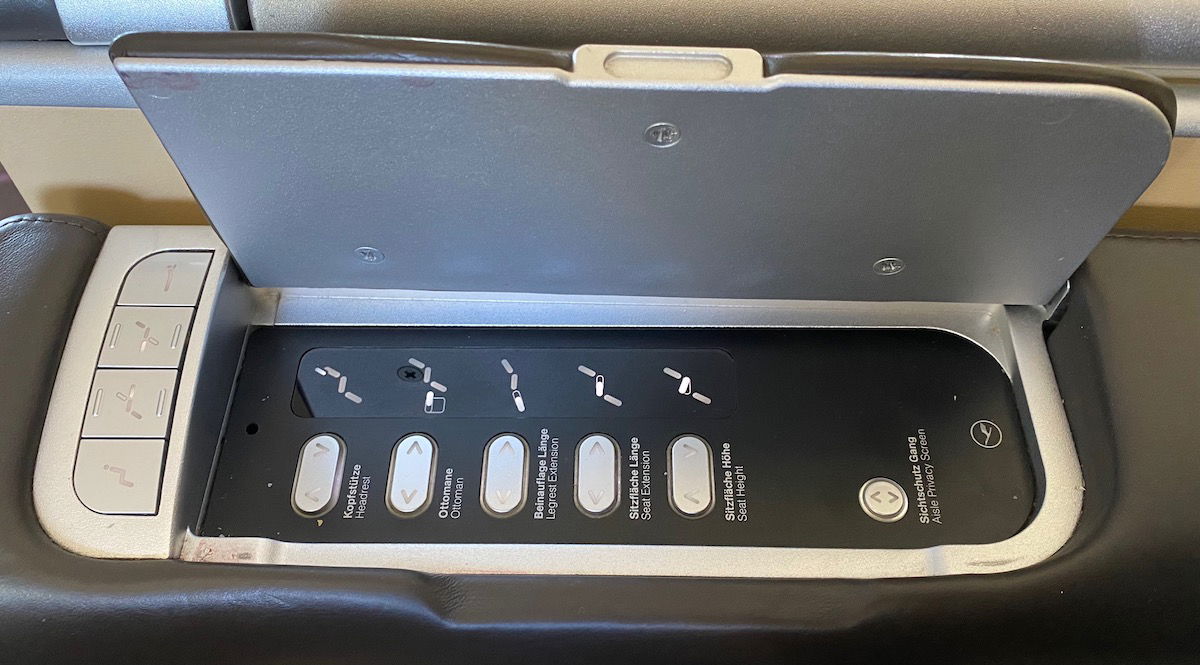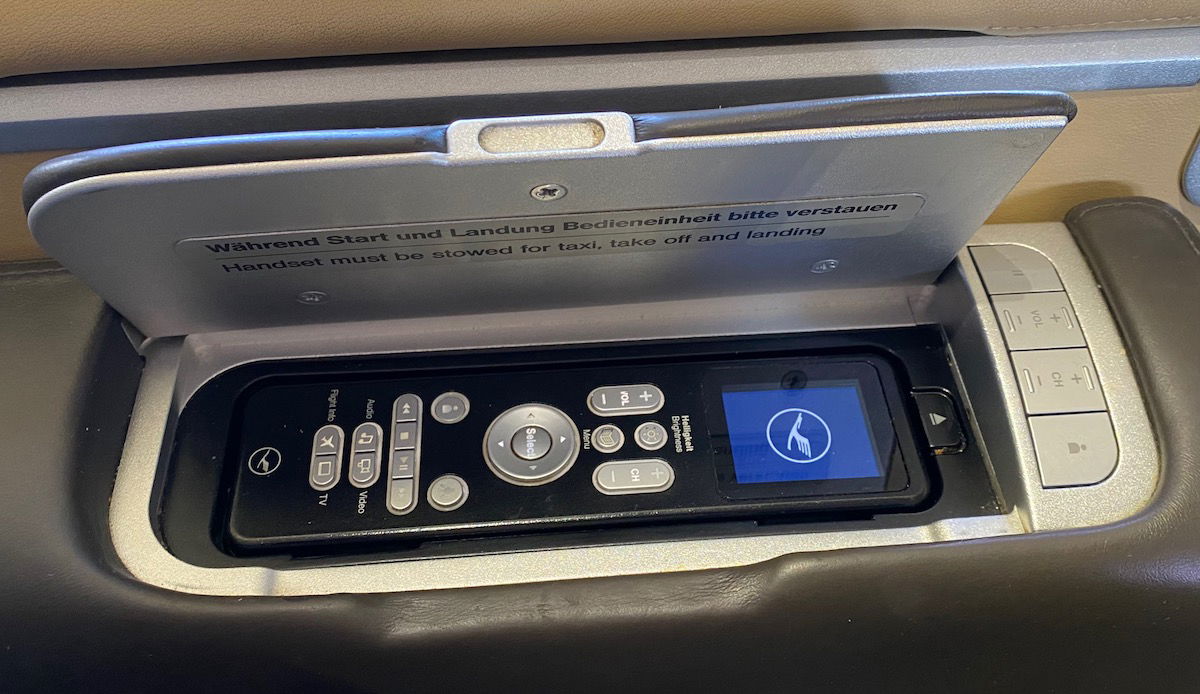 Then along the left side of the seat are two small storage compartments.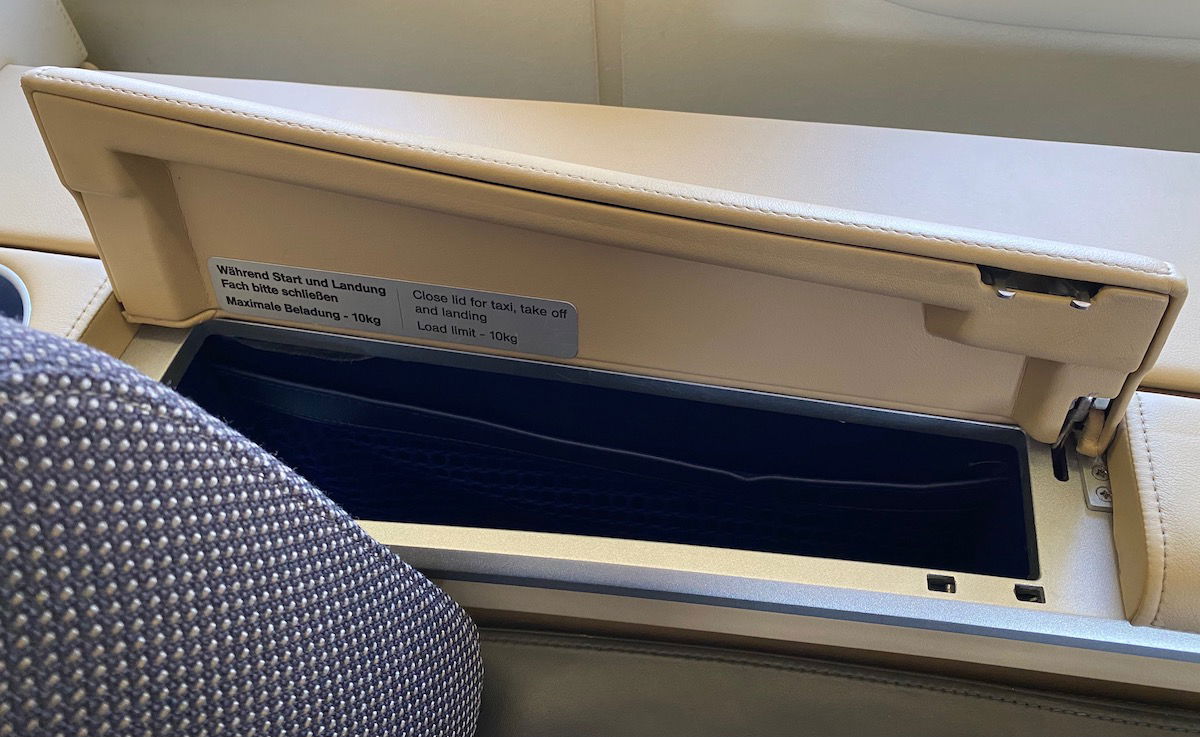 One of those storage compartments has Bose headphones, which are attached to the seat by a wire. This seems like a great solution, compared to other airlines — this way you can keep them from takeoff until touchdown, and the airline doesn't have to worry about them being stolen.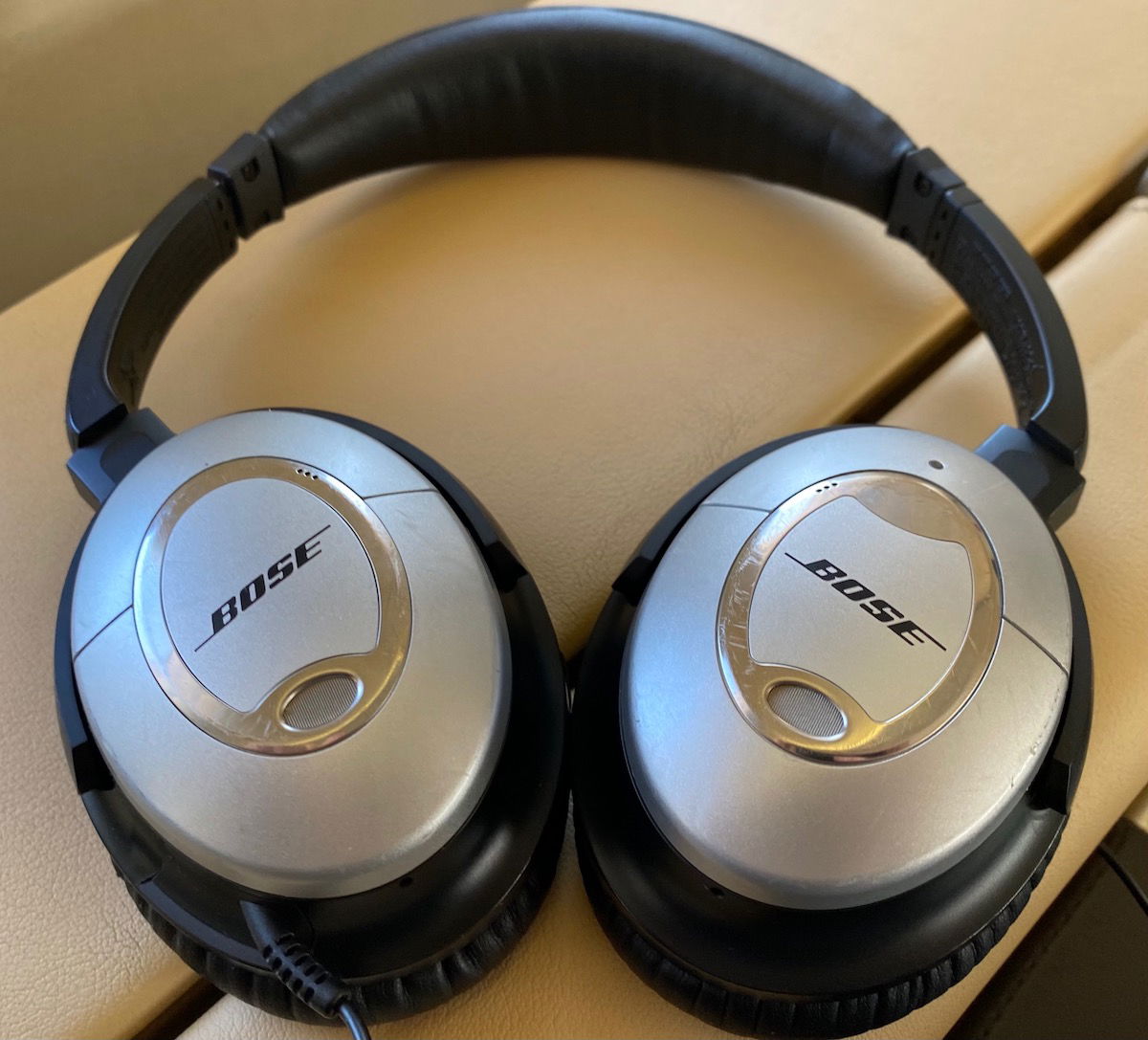 The Lufthansa first class tray table is large, and folds out from the far end of the seat.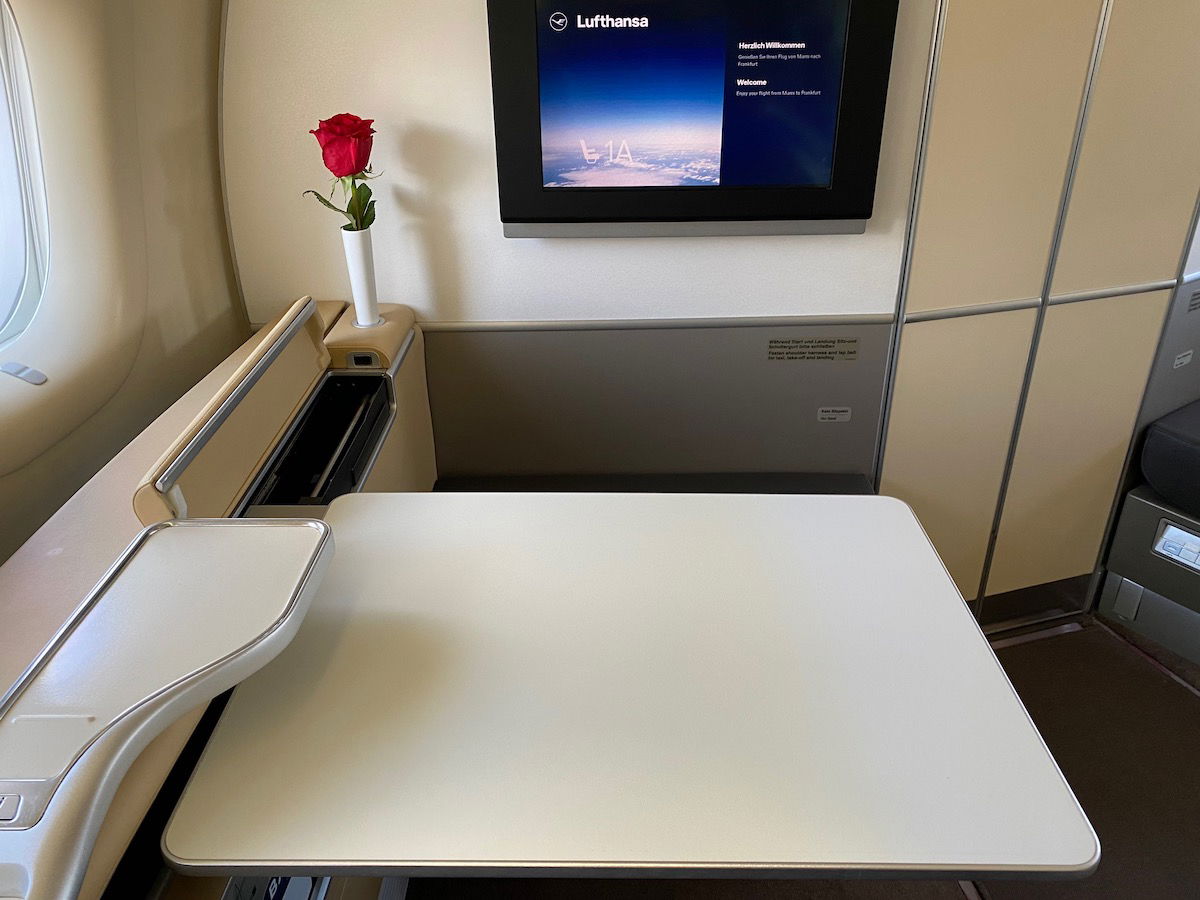 Underneath the armrest are USB and 110v power outlets, which are easy enough to access.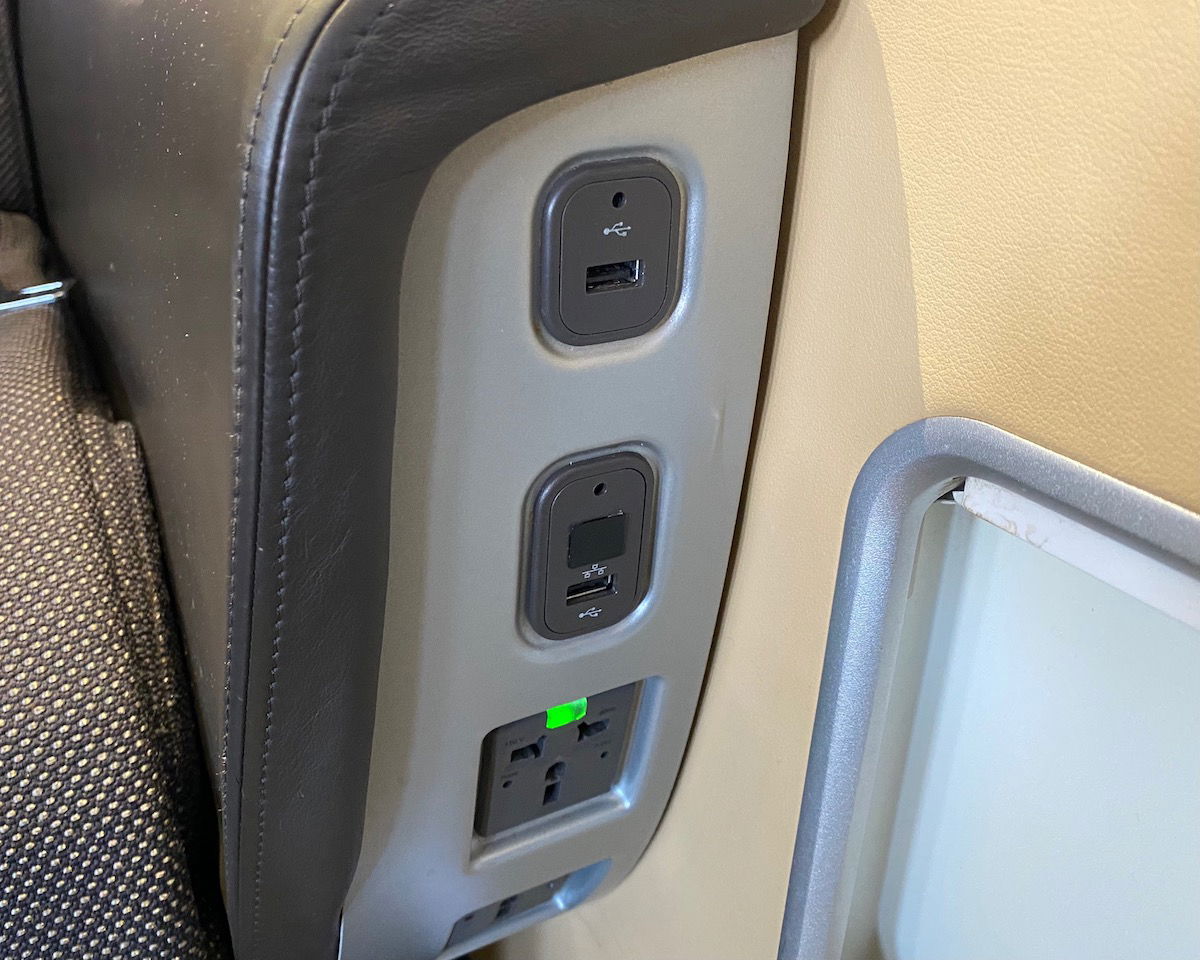 In terms of privacy, each first class seat has a partition that can be raised, which essentially gives you a cocoon, without actually having a door. When you're in the first row this gives you the most privacy, since there's no one seated in front of you who can look back at you. On this particular flight there were just a total of four passengers in first class (including us), so the cabin felt private regardless.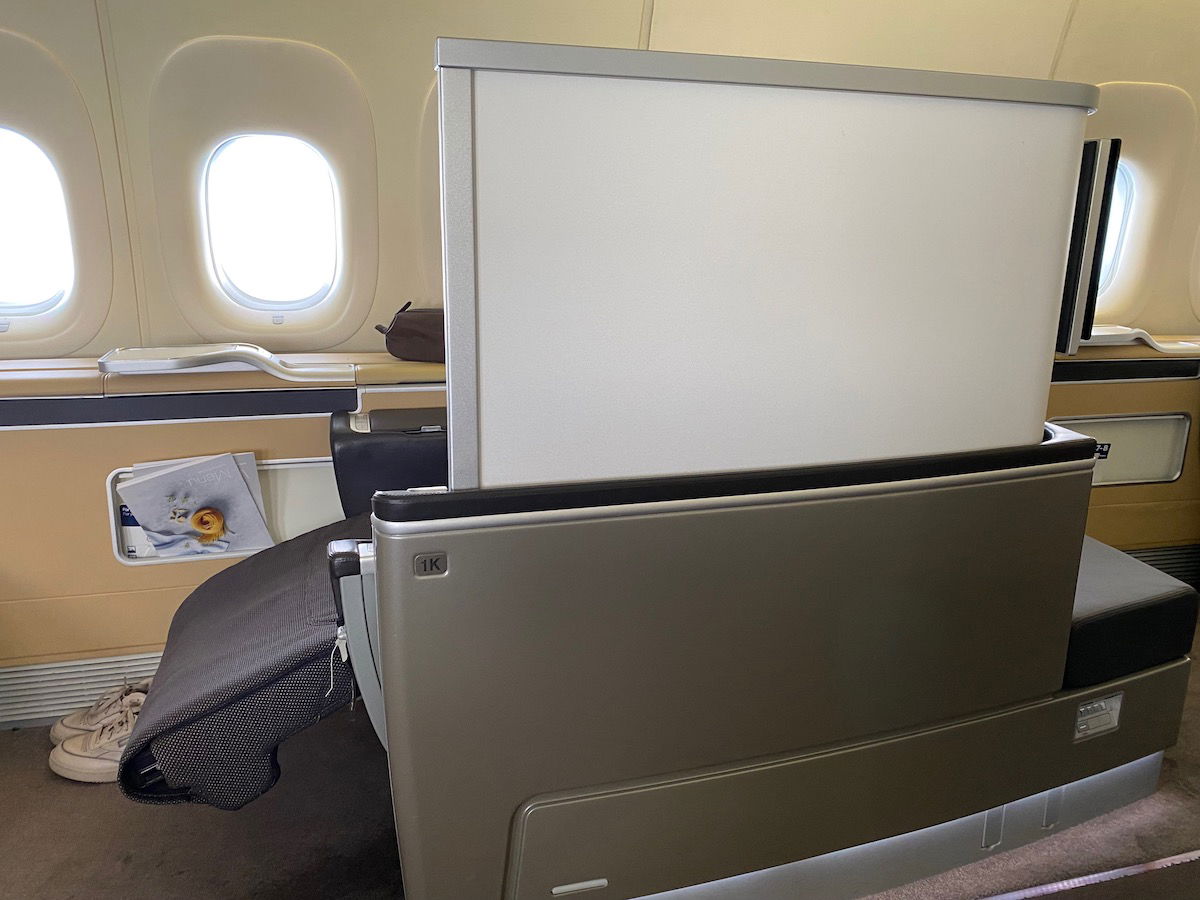 Lufthansa has electronic window shades in first class, so you can raise or lower the window shades with the touch of a button.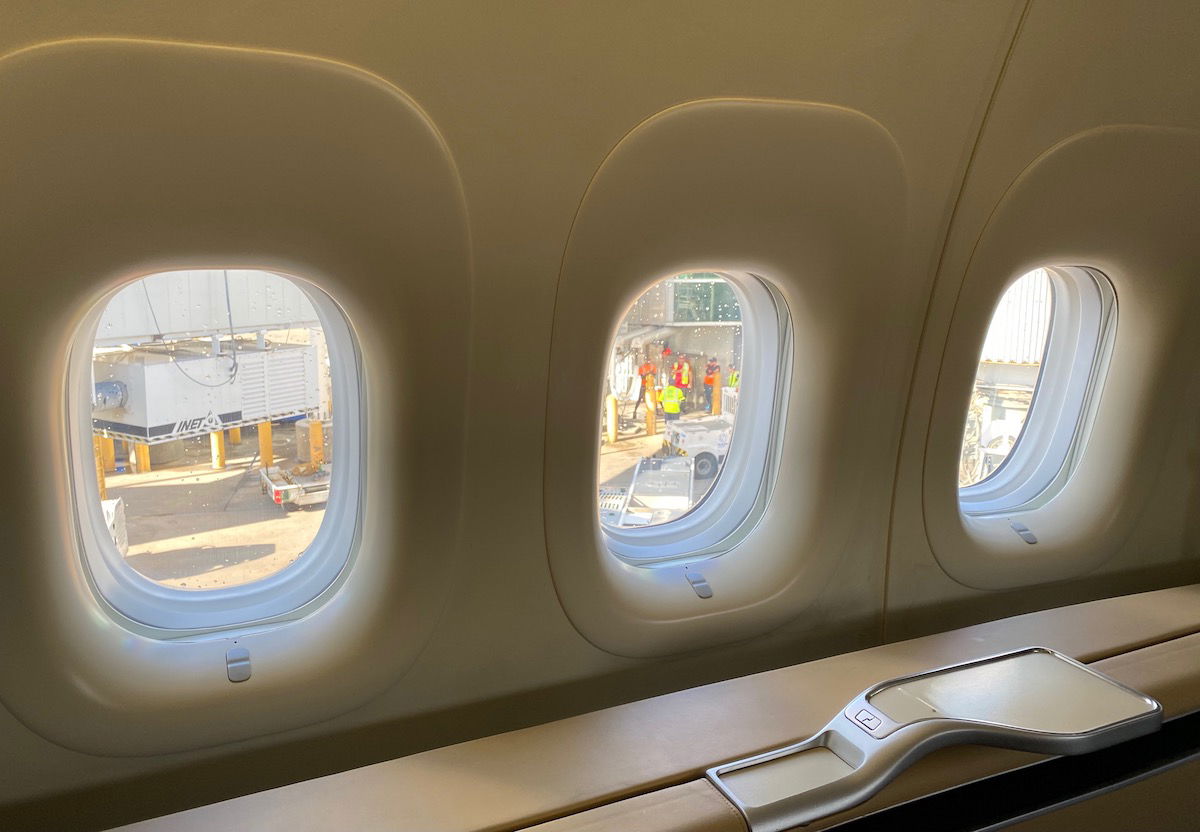 I also love how you can feel the curvature of the plane when sitting in those — there's a closet in the front, but that's it.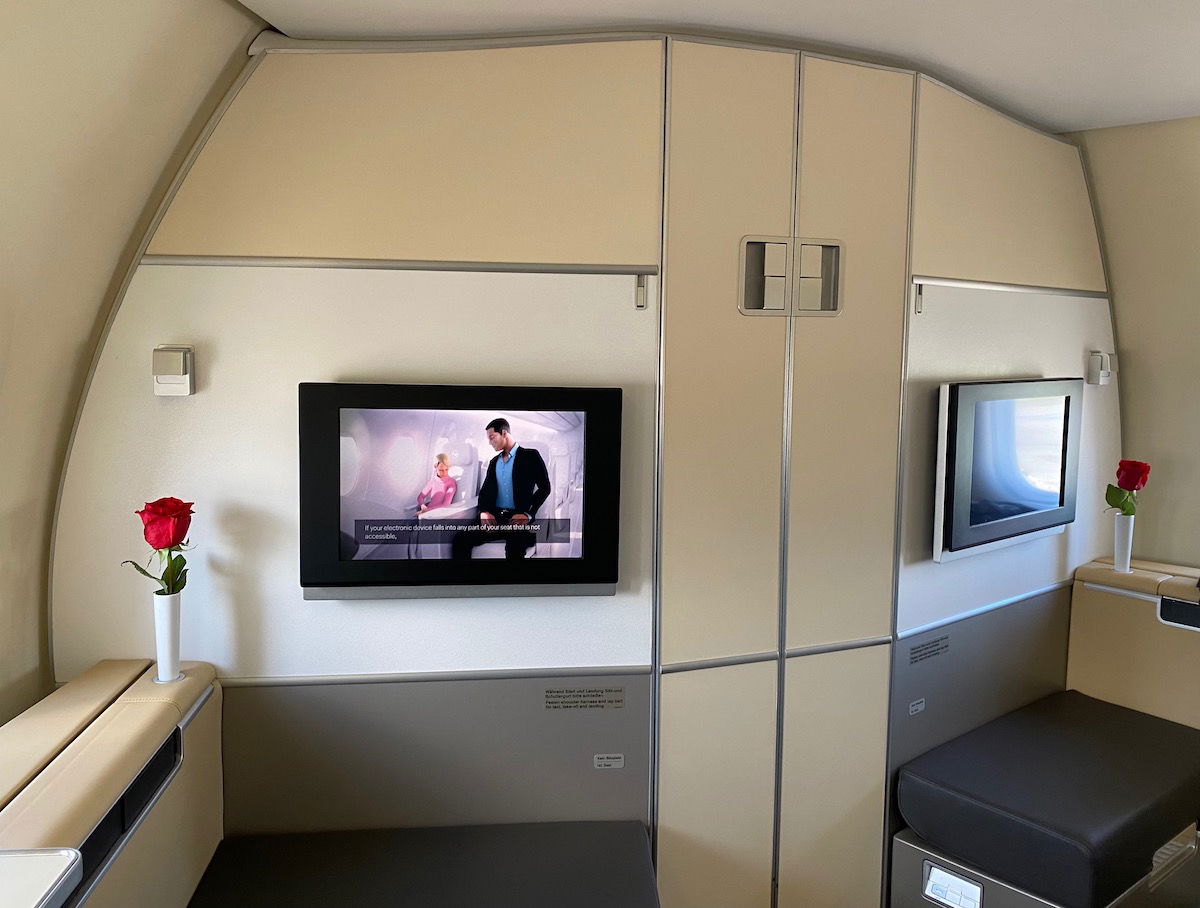 A couple of other things to note about Lufthansa's 747-8 first class cabin. While the nose of the 747 has some overhead bins, each passenger also has a dedicated storage locker behind the cabin, where they can store their bags and hang any clothes.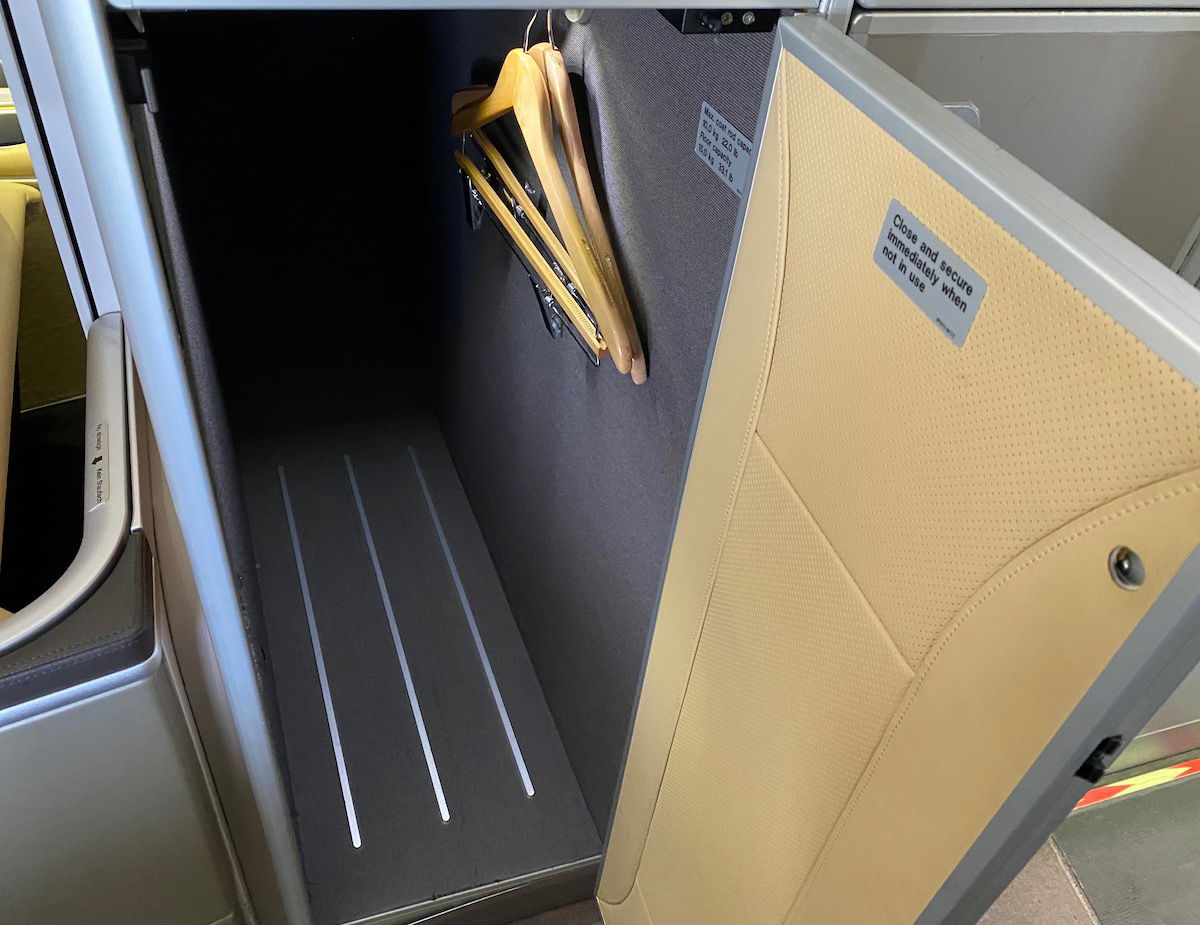 My only real frustration with the cabin (and the cabins on so many European airlines) are the lack of individual air nozzles.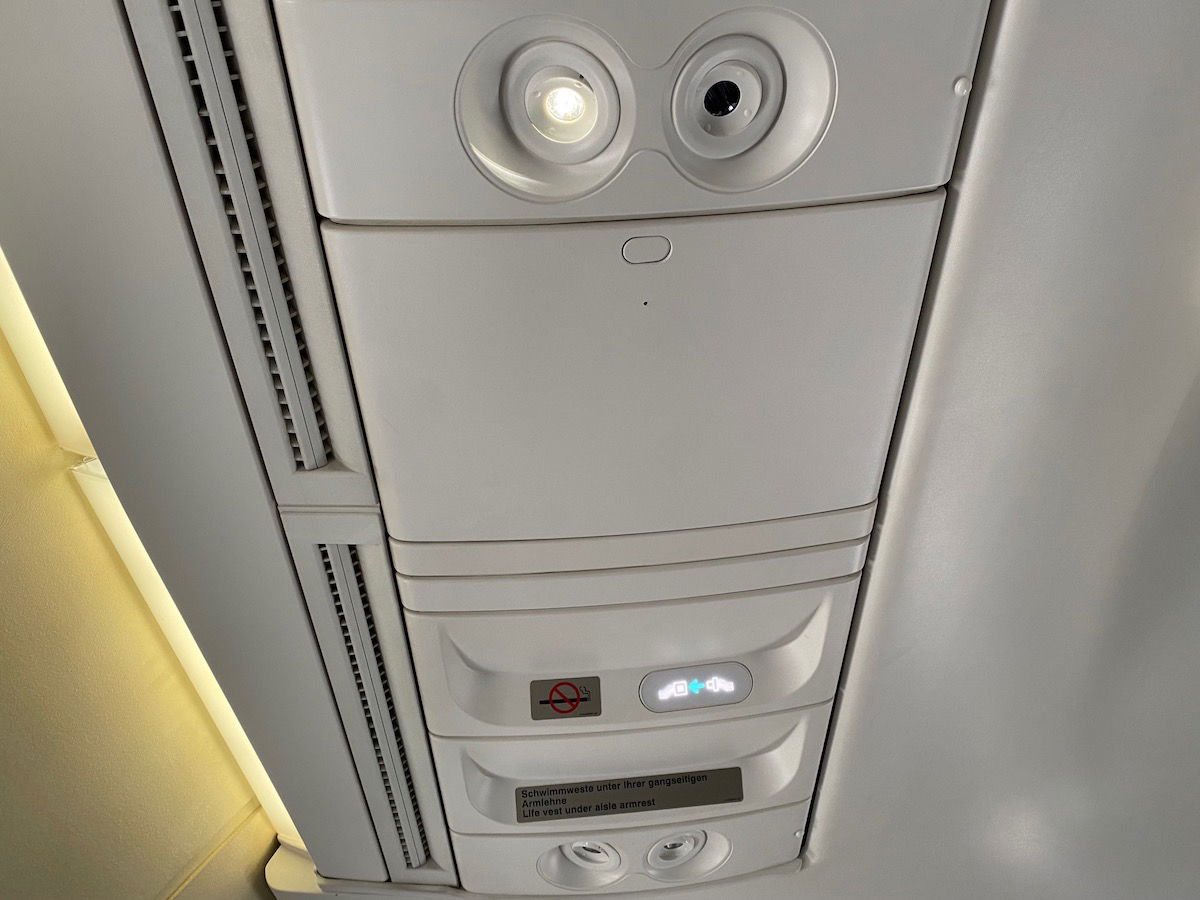 Lufthansa first class amenities
For me it's always a bit like Christmas when you board first class on a great airline, based on the amount of gifts you receive. To start, there was a pillow and blanket at my seat. This isn't the bedding that's used when it's time to sleep, but rather it's just intended for lounging around.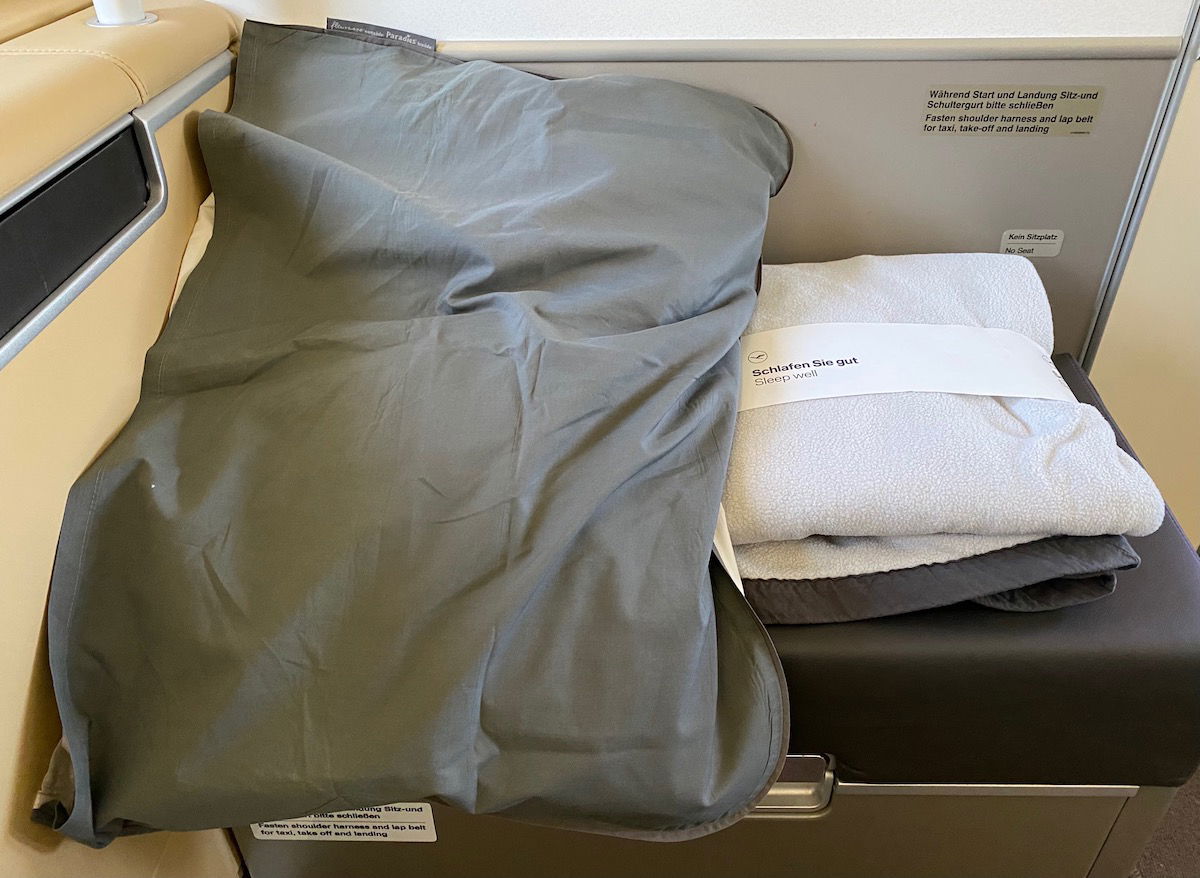 Within moments of settling in, I was offered an amenity kit, pajamas, and slippers.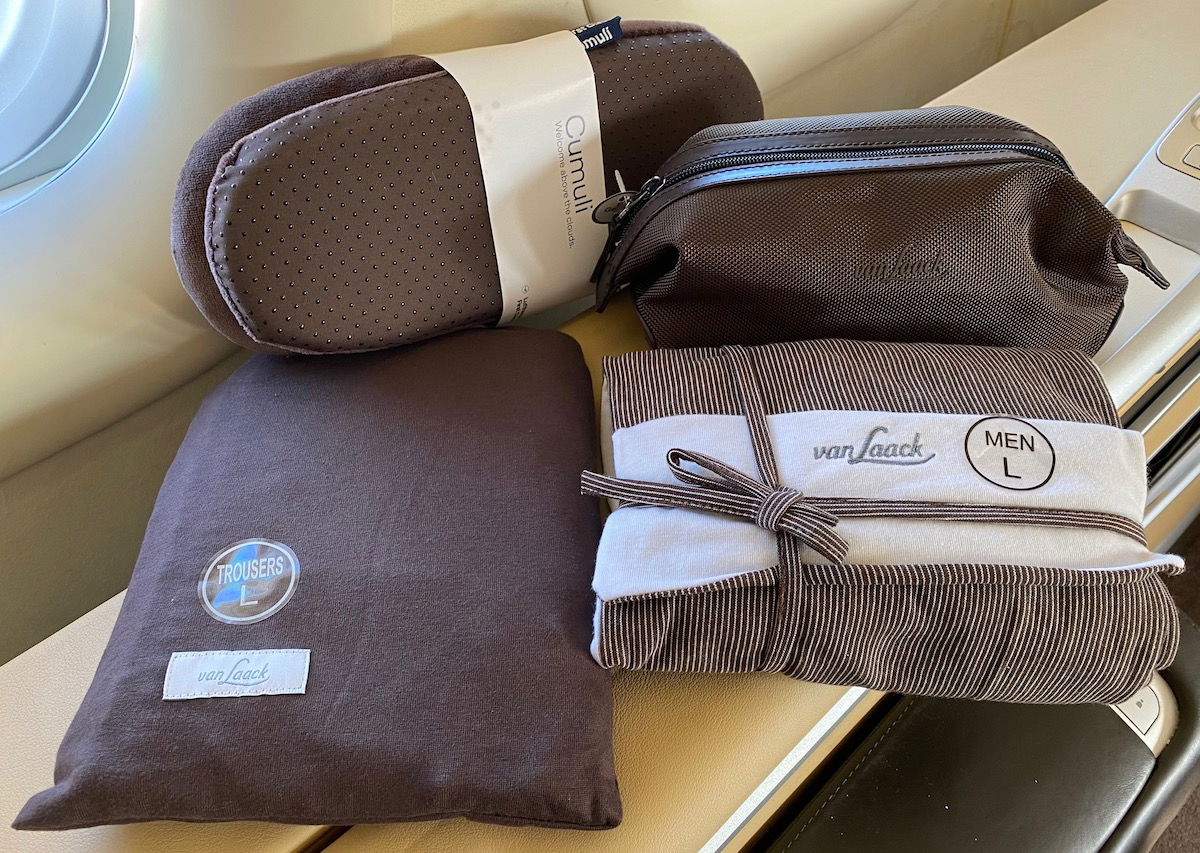 The amenity kit itself was from Van Laack, and featured socks, a shoe horn, eyeshades, a comb, earplugs, a dental kit, headphone covers, and a few samples of La Prairie products (including the "skin caviar," which I immediately packed as a small gift for my mom, as she's a fan).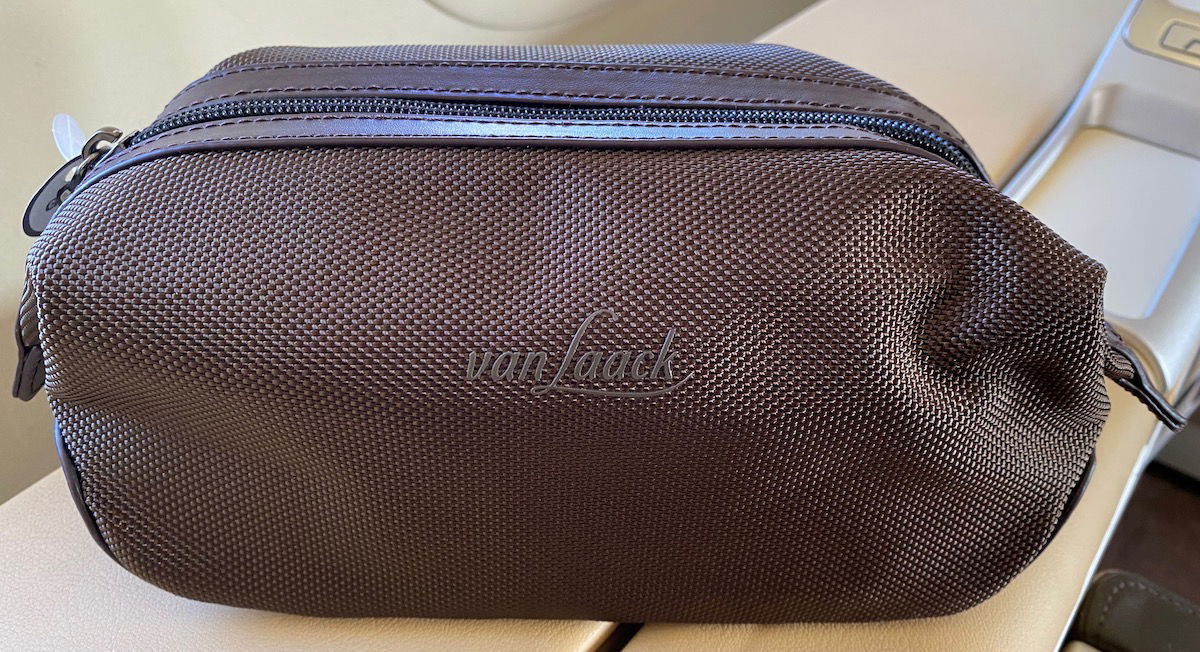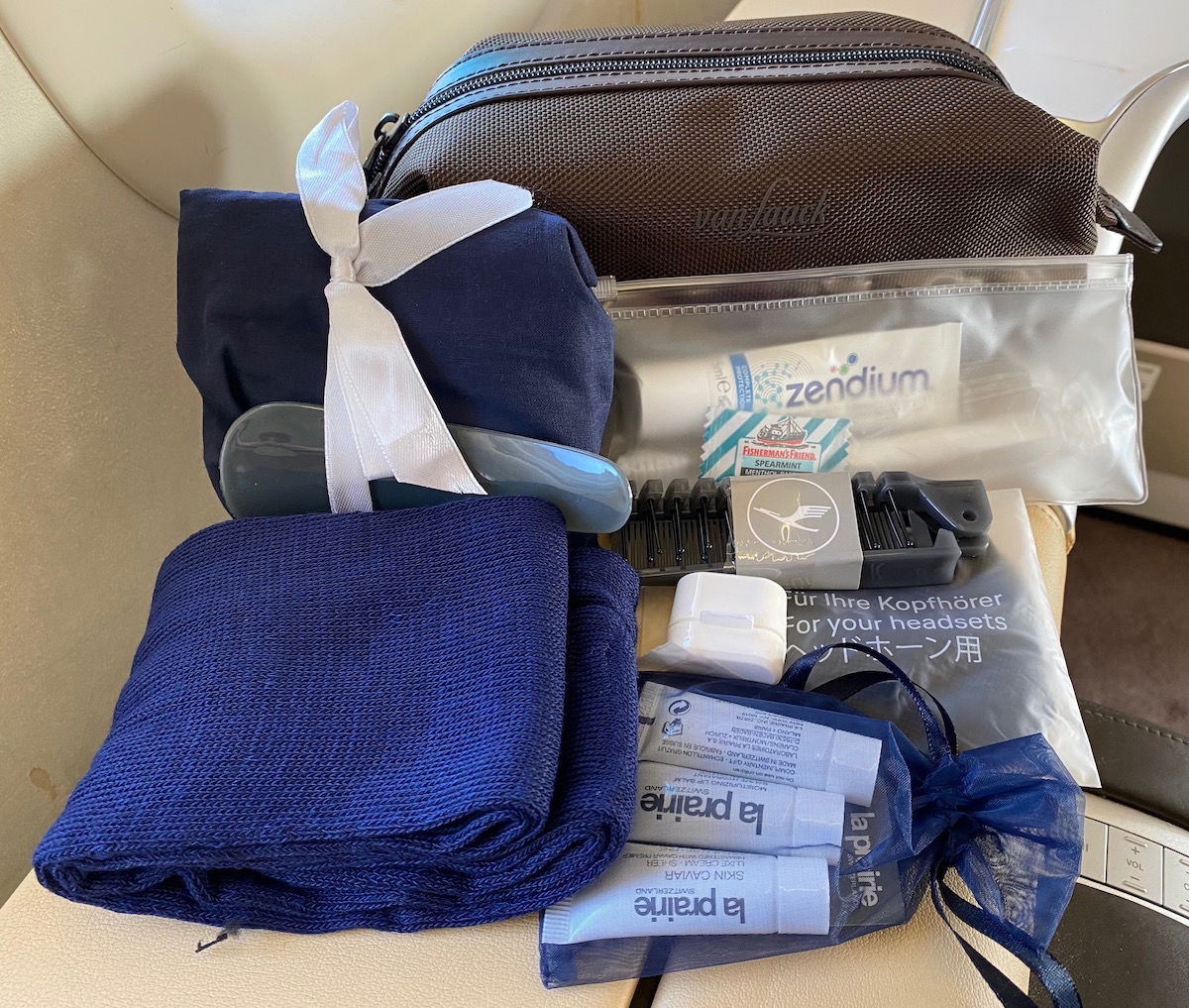 Lufthansa has probably the best padded slippers you'll find on any airline, as they're outrageously comfortable.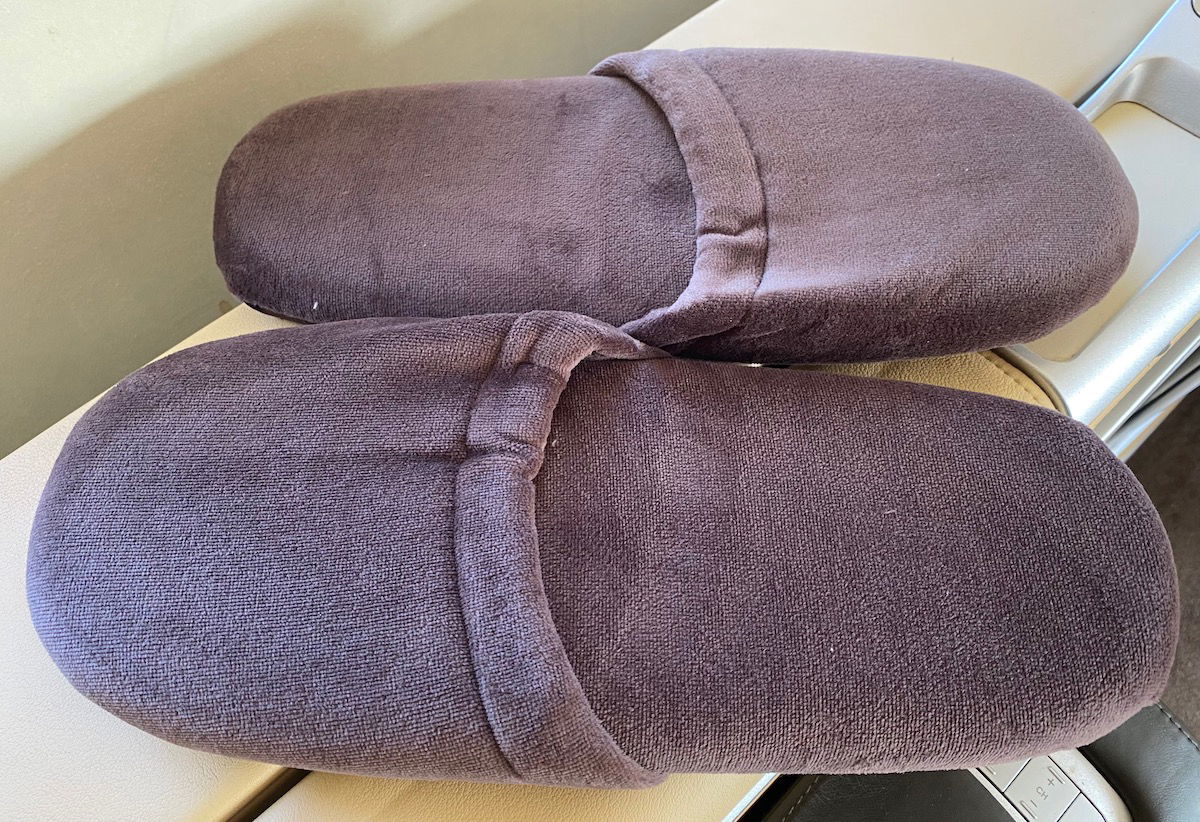 Then there were the Van Laack pajamas, which included pants and a collared shirt. Personally I find these pajamas to be mighty "formal," though my dad has started to repurpose the shirts of the Lufthansa pajamas for everyday use, so if you see someone in Tampa at a restaurant wearing Lufthansa first class pajamas, now you know who it is…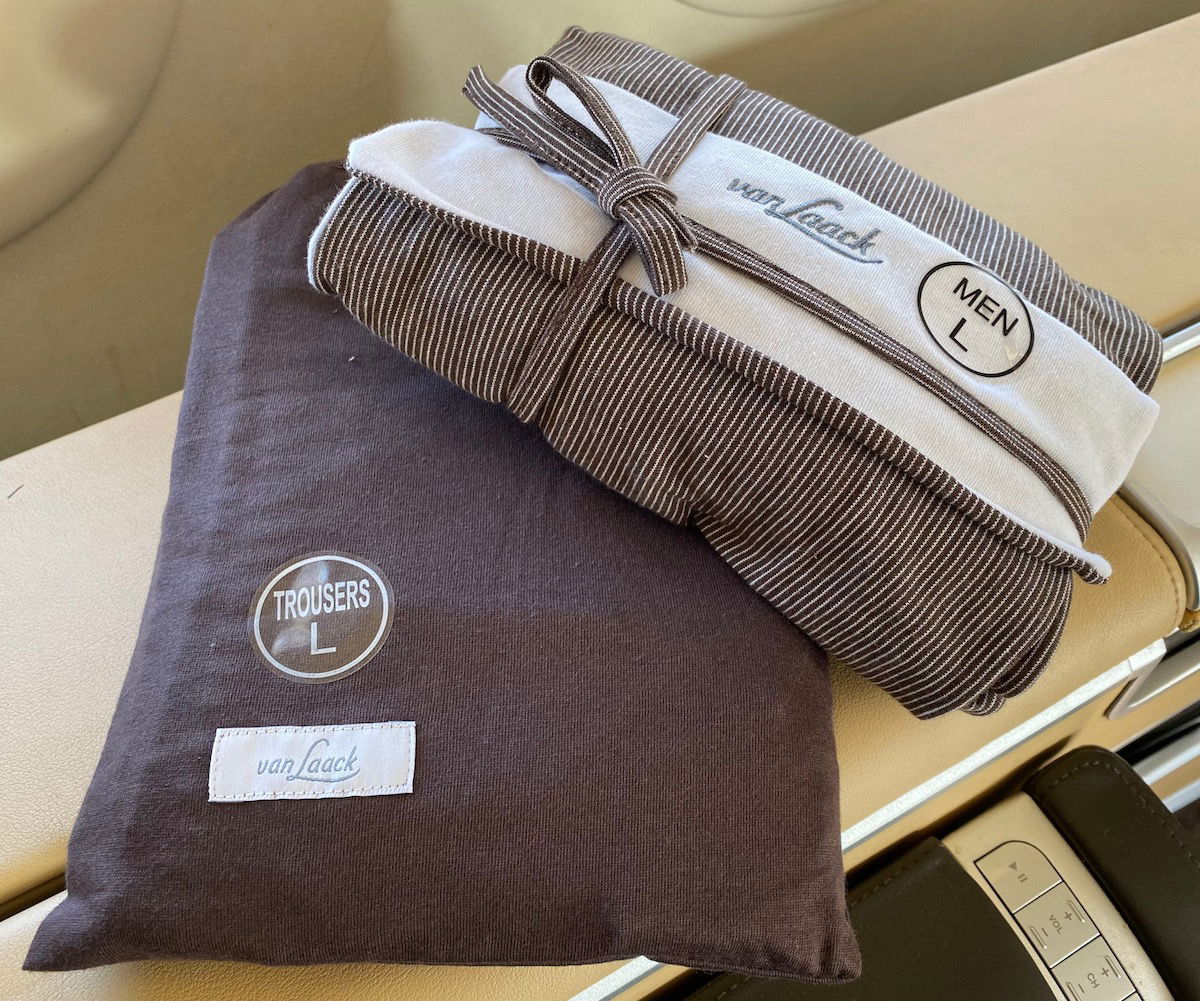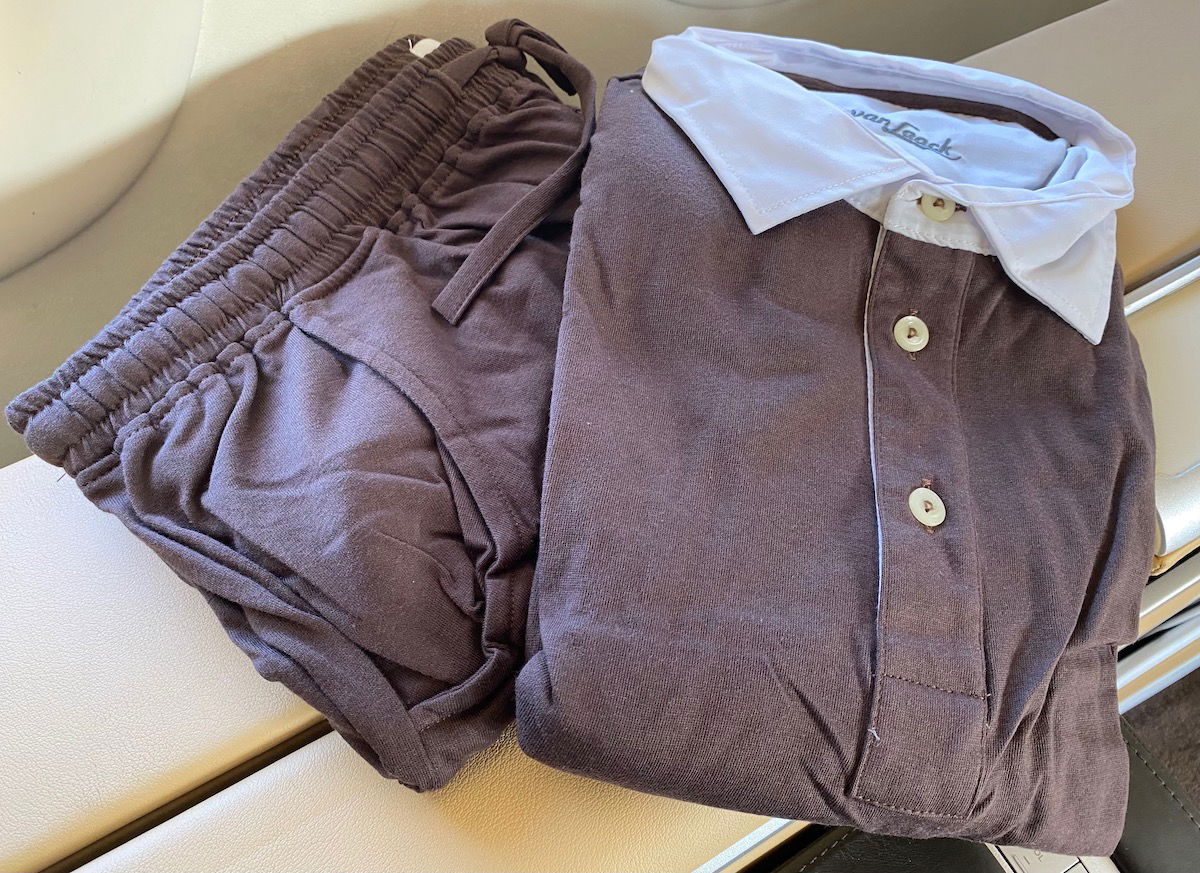 On top of that, we were offered vouchers for free Wi-Fi, which is a nice touch.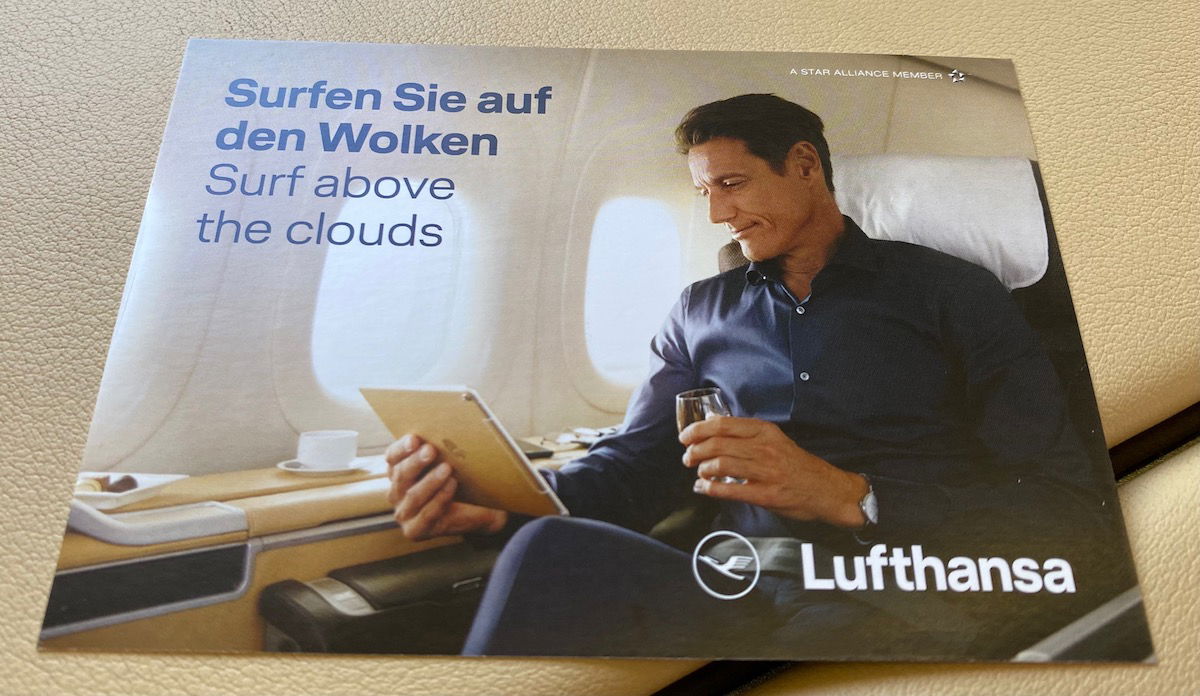 After being offered all of those gifts, we were served some pre-departure drinks, along with macadamia nuts. We ordered champagne, which in this case was the lovely 2004 Cuvee Louise. With the rose in the background, I think the below picture sums up the beautiful simplicity of the Lufthansa first class experience.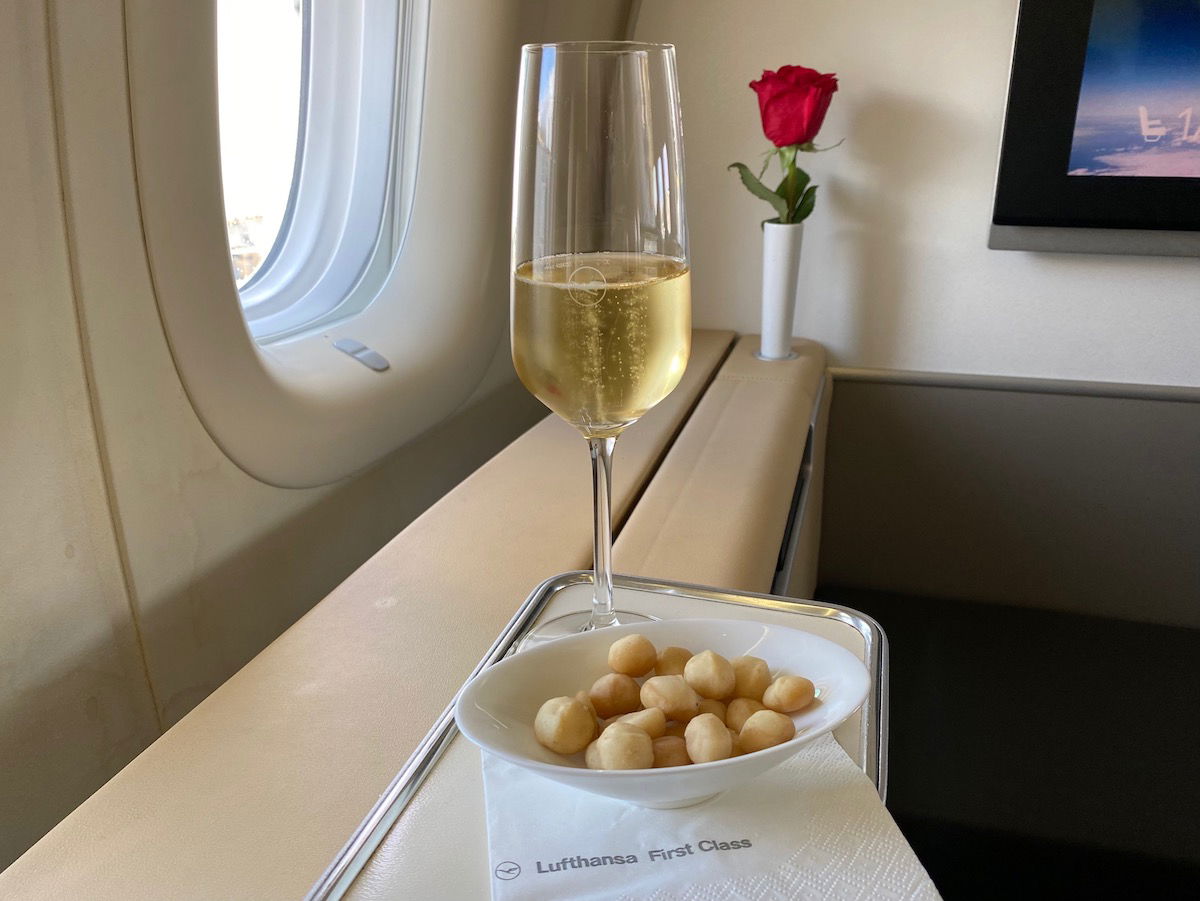 Lastly, we were also offered the menu and wine list for the flight.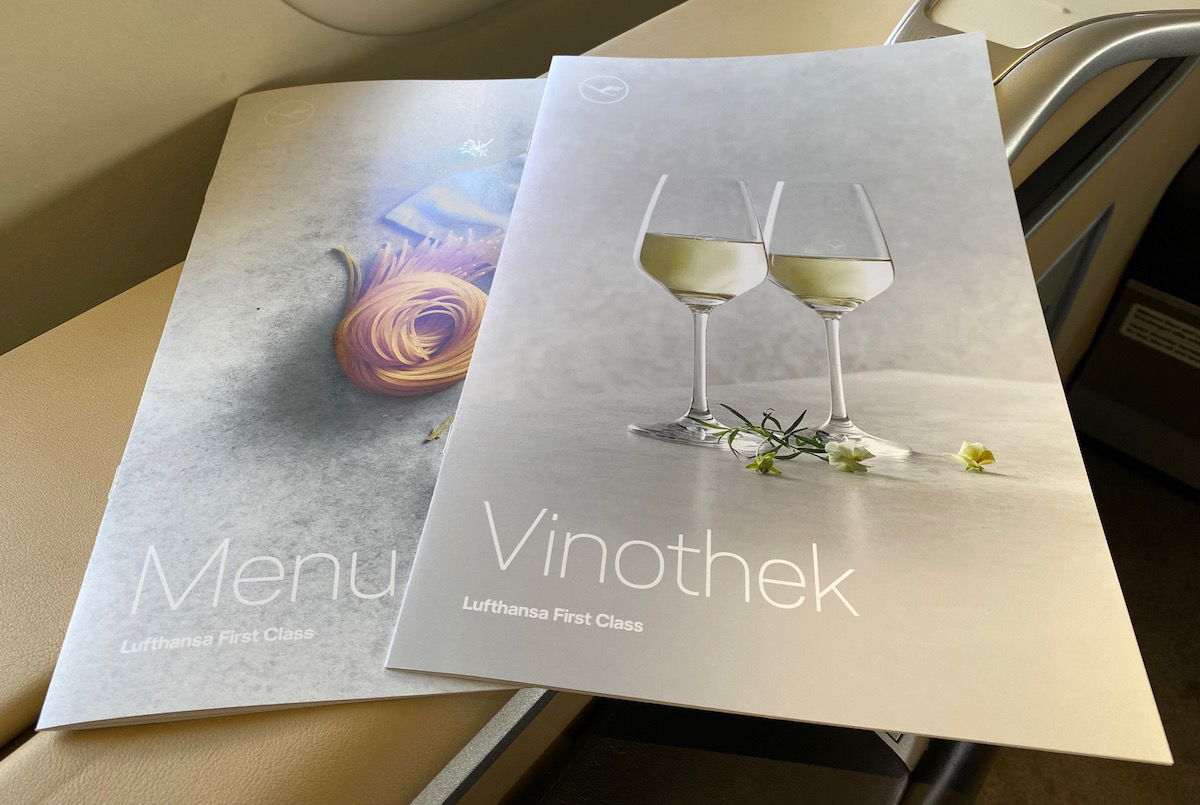 A beautiful departure from Miami
The pandemic has caused me to take flying less for granted, and I have even more of an appreciation for just looking out of the window and enjoying the views. Our boarding process was quick, and by 4:25PM the main cabin door closed, by 4:45PM we pushed back, and by 4:55PM we started our taxi.
There was a LATAM 767-300 on one side of us, and the other side of us was an Air France A350-900 that was just arriving (exactly the same flight we'd take on the way back).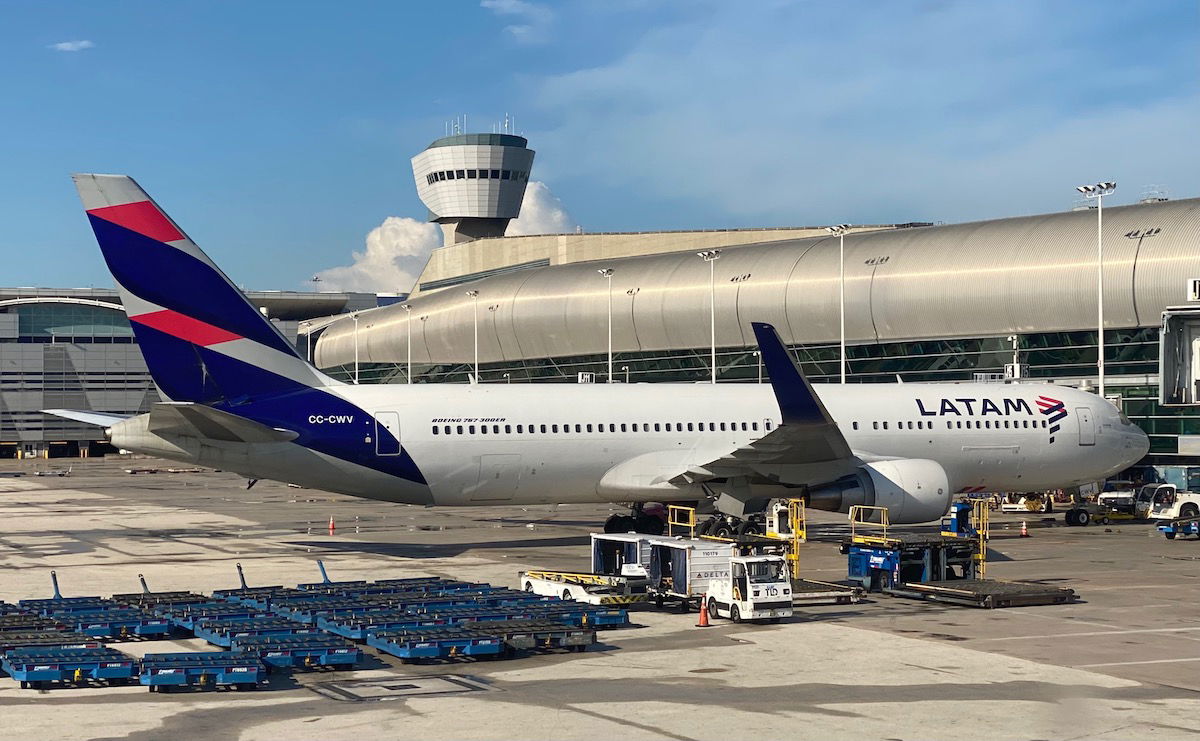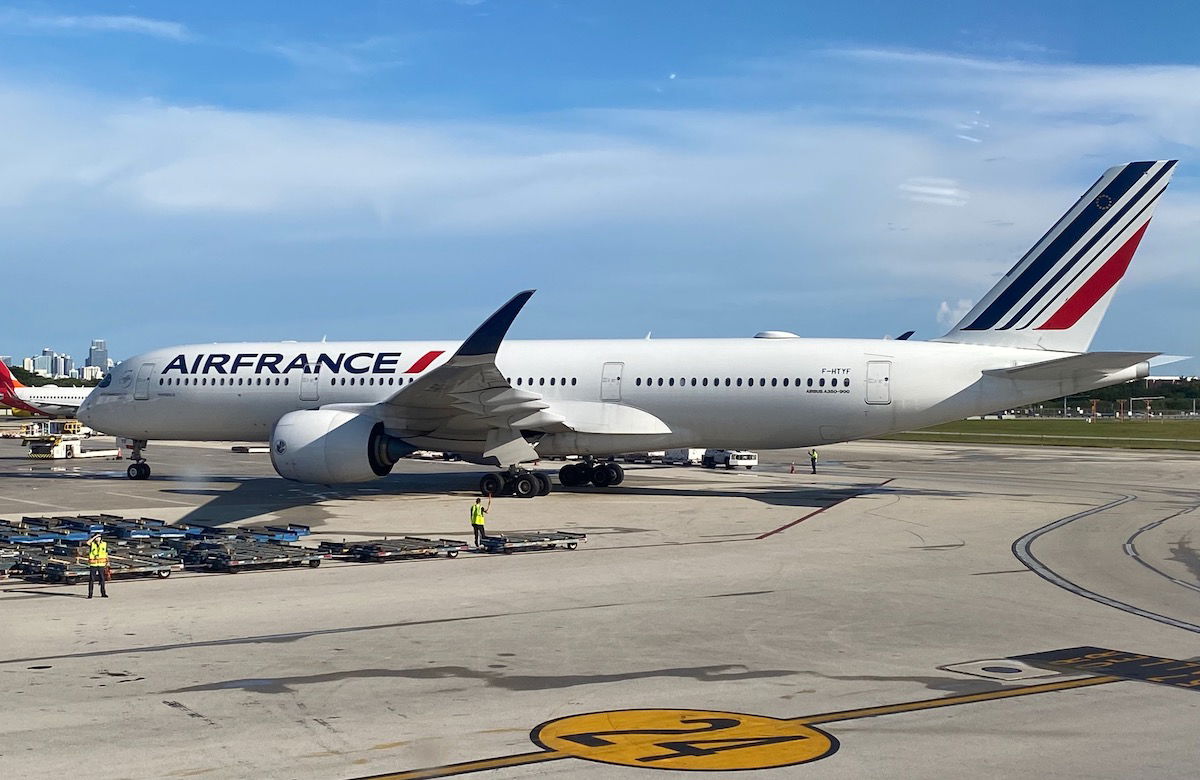 We had a roughly 15 minute taxi to runway 9. While I love runway views no matter where on the plane I'm sitting, it's extra special in the nose — just look at that beautiful "hump" shadow that I got to enjoy, thanks to how far forward I was sitting.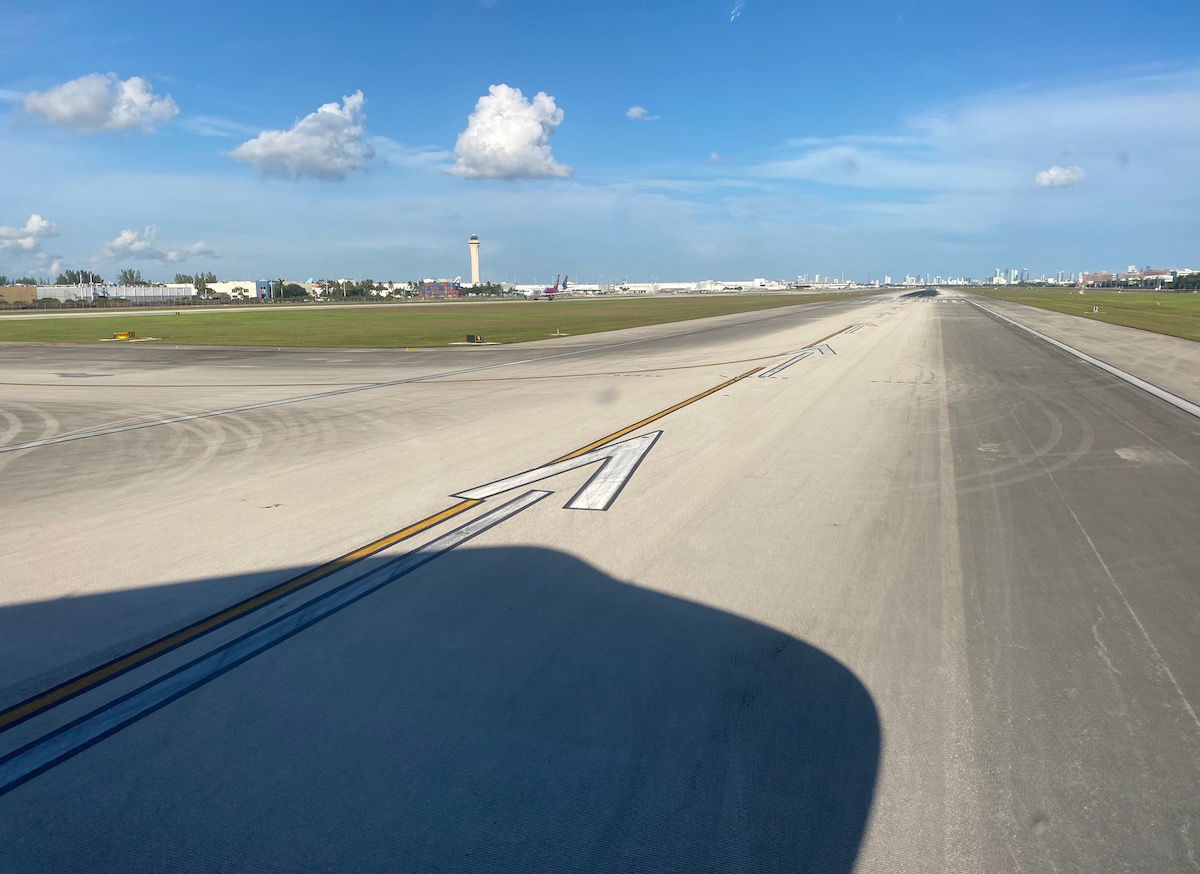 We rocketed off pretty quickly, and had the typical beautiful views on departure. As someone who usually lives in Miami, I can't count how many times I've seen the Lufthansa plane take off from Miami, so it was cool to be onboard for once.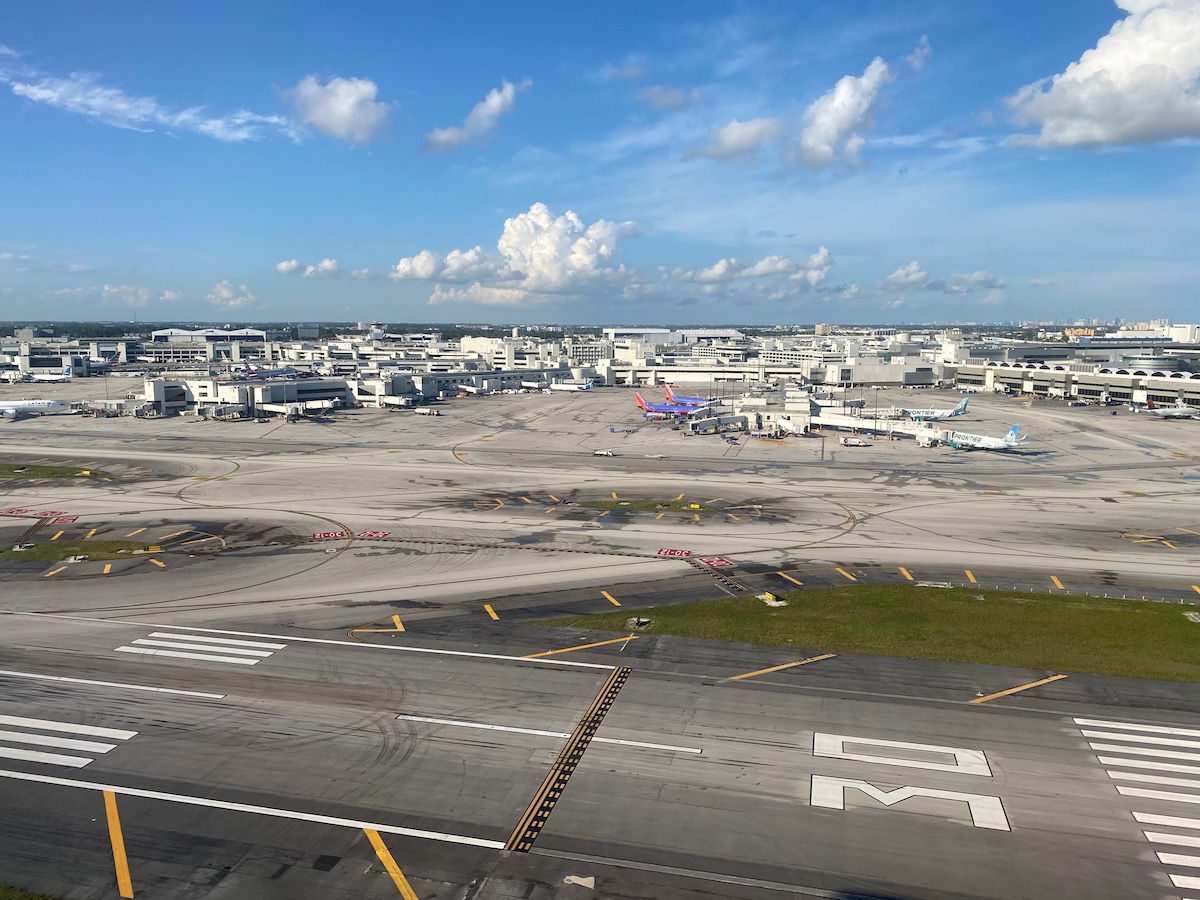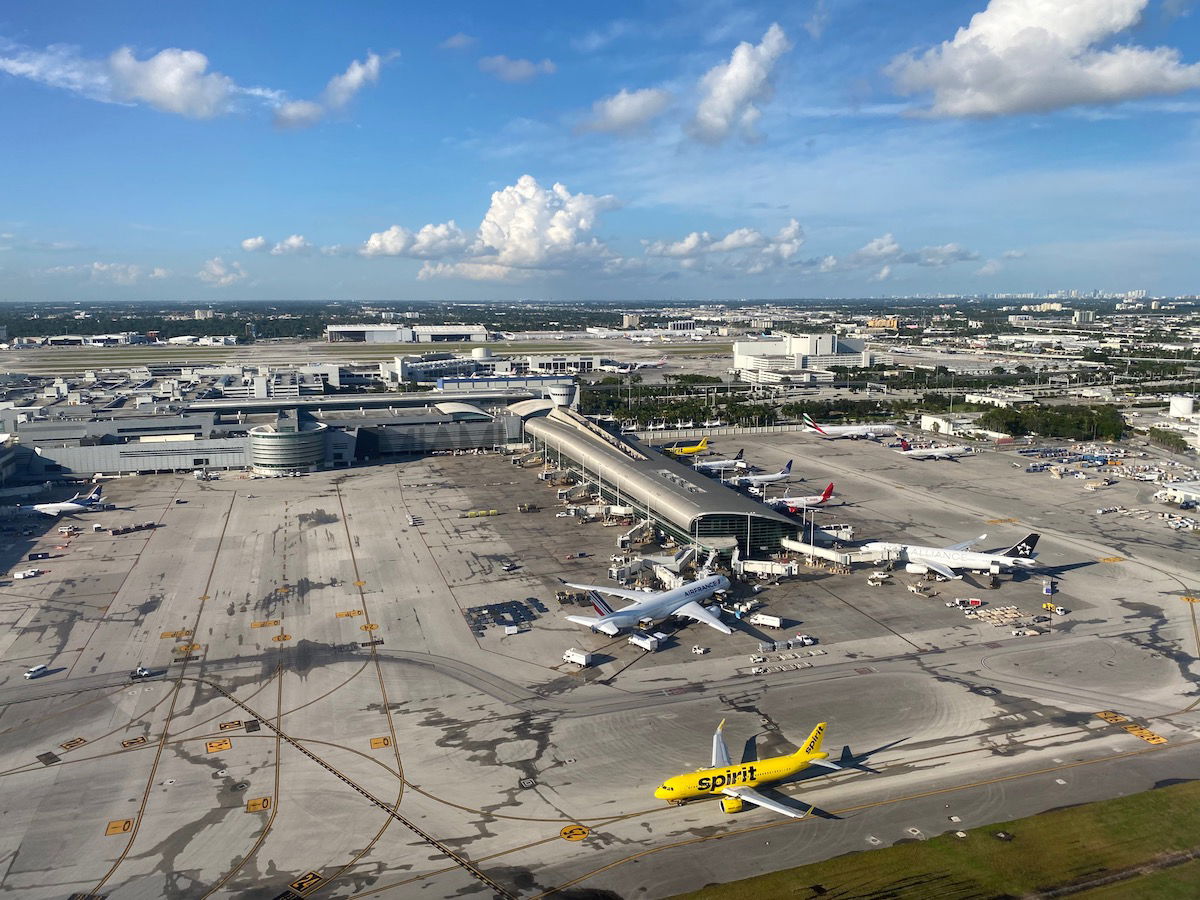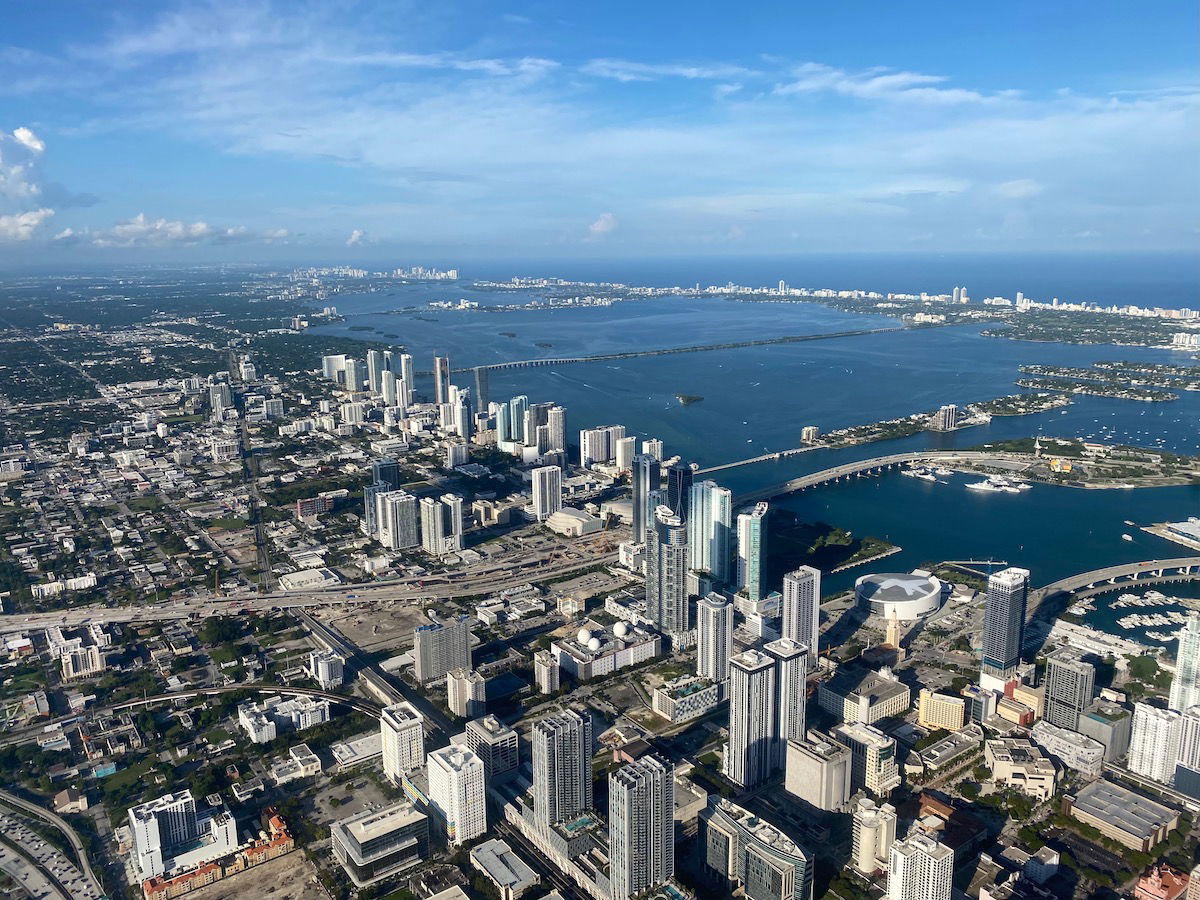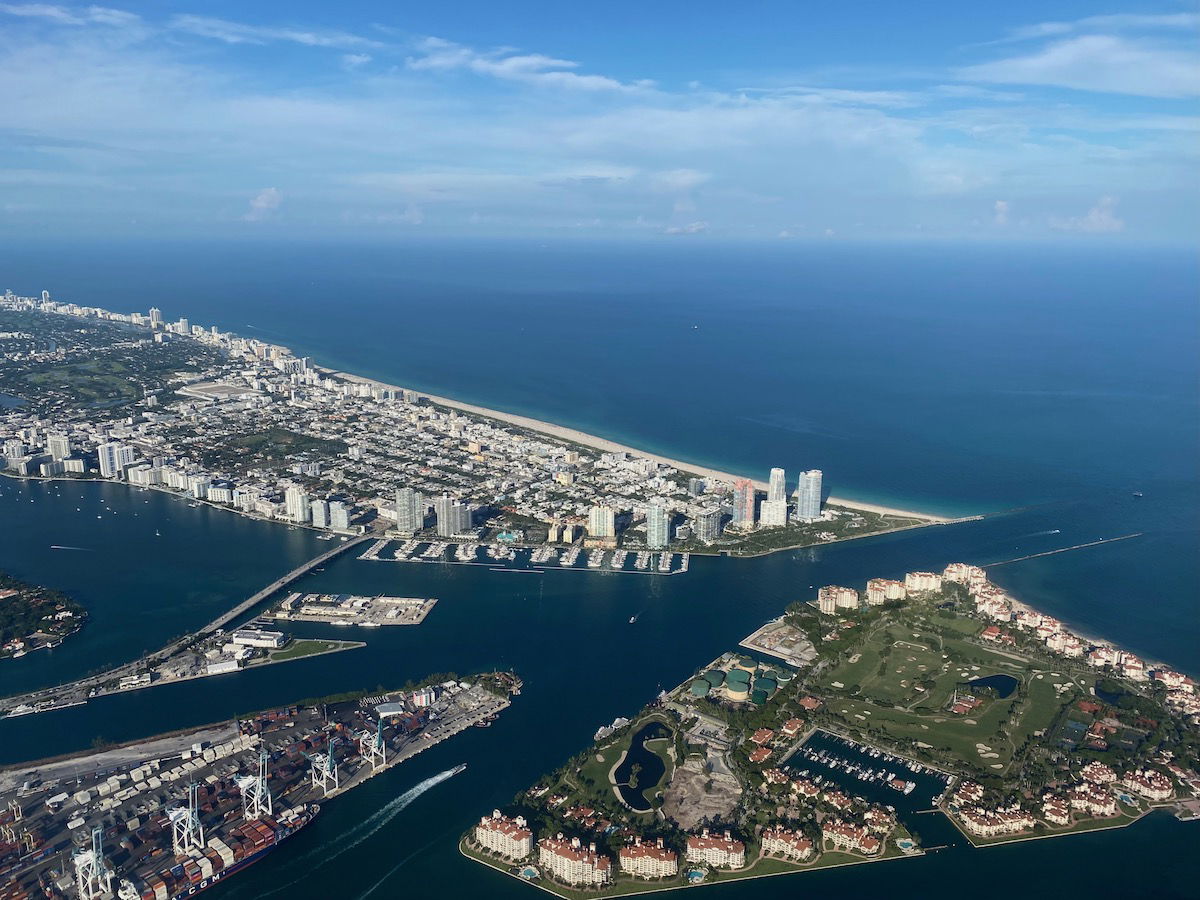 Lufthansa first class dinner service
The crew sprung into action quickly after takeoff to commence the service. The two ladies working first class simply couldn't have been lovelier. They seemed to genuinely enjoy their jobs, and they also loved Ford's enthusiasm for speaking German (he only started learning last summer, and I'd say he's nearly fluent at this point).
While Lufthansa has a dine on demand concept, most people on a redeye want to eat as quickly as possible after takeoff. The dinner menu for this flight read as follows: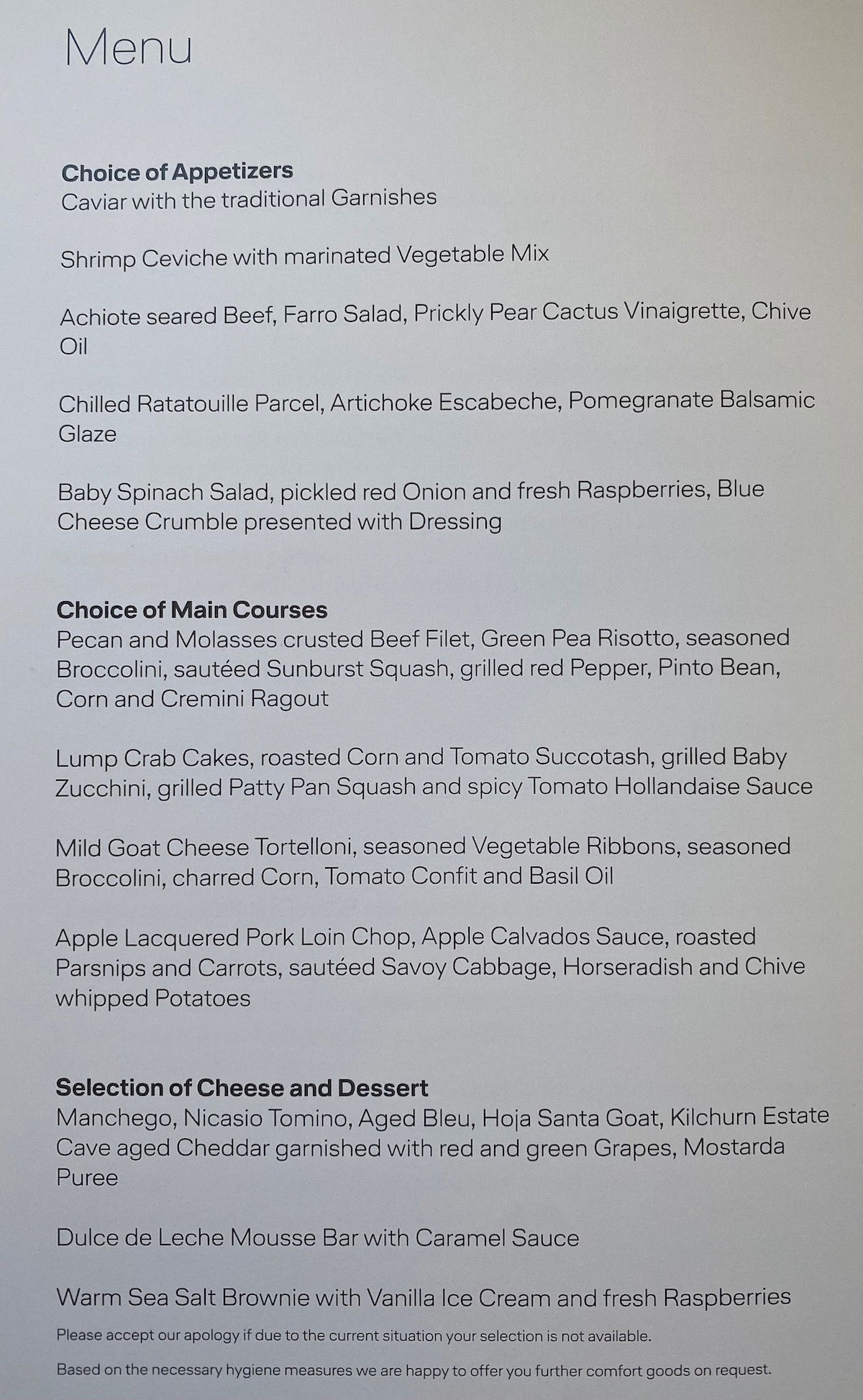 Then the Lufthansa first class drink list read as follows: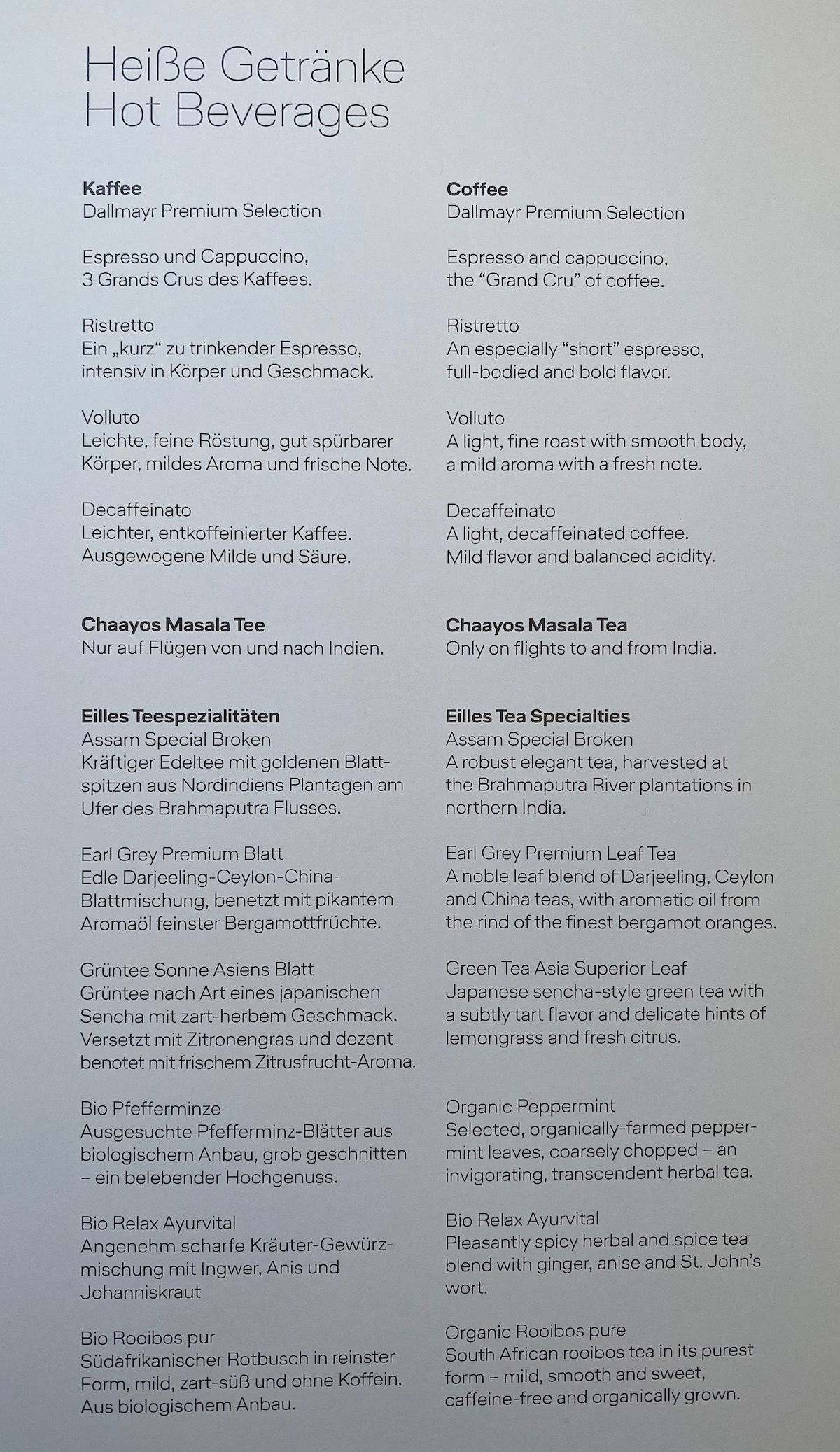 Then the Lufthansa first class wine list read as follows: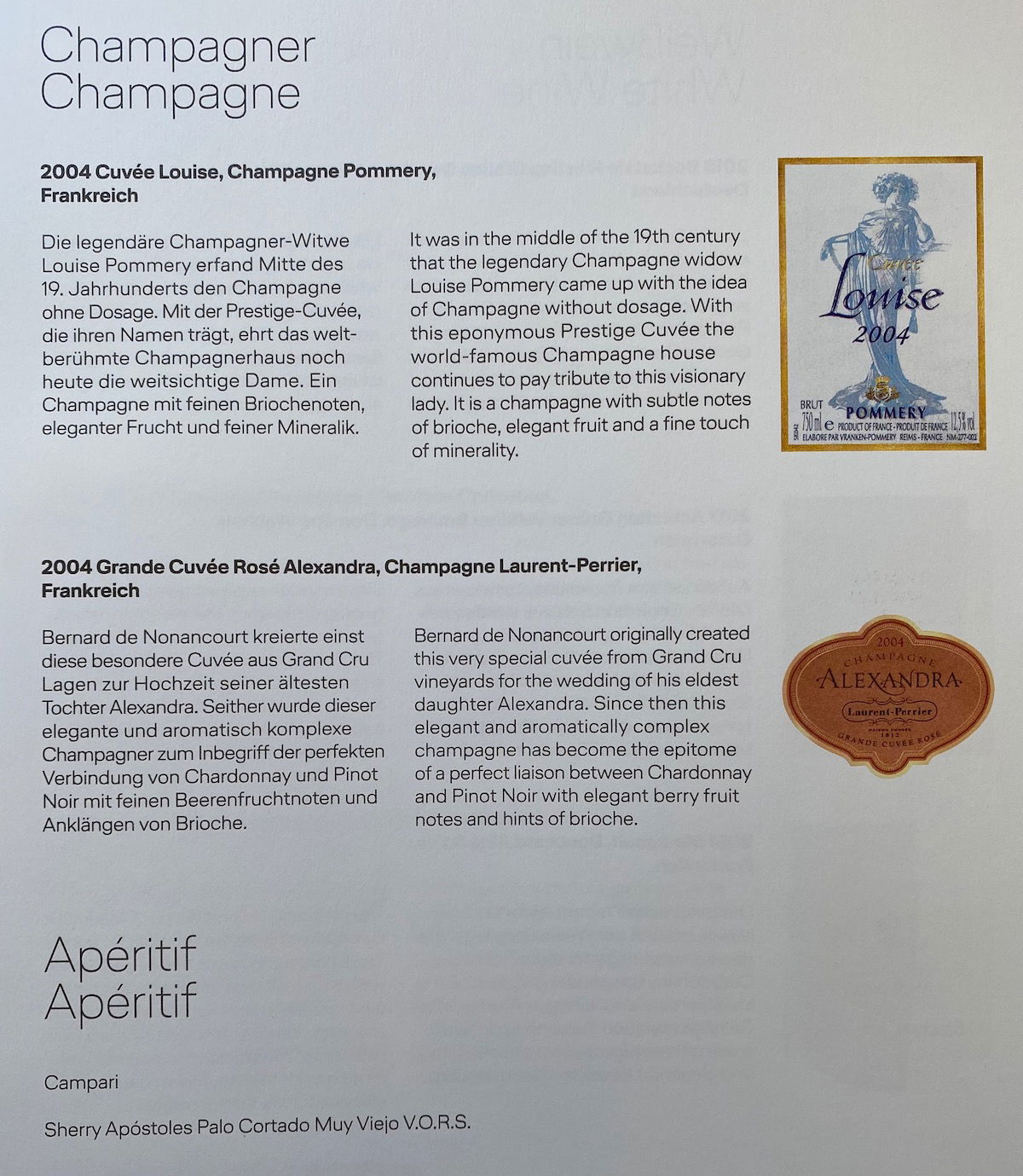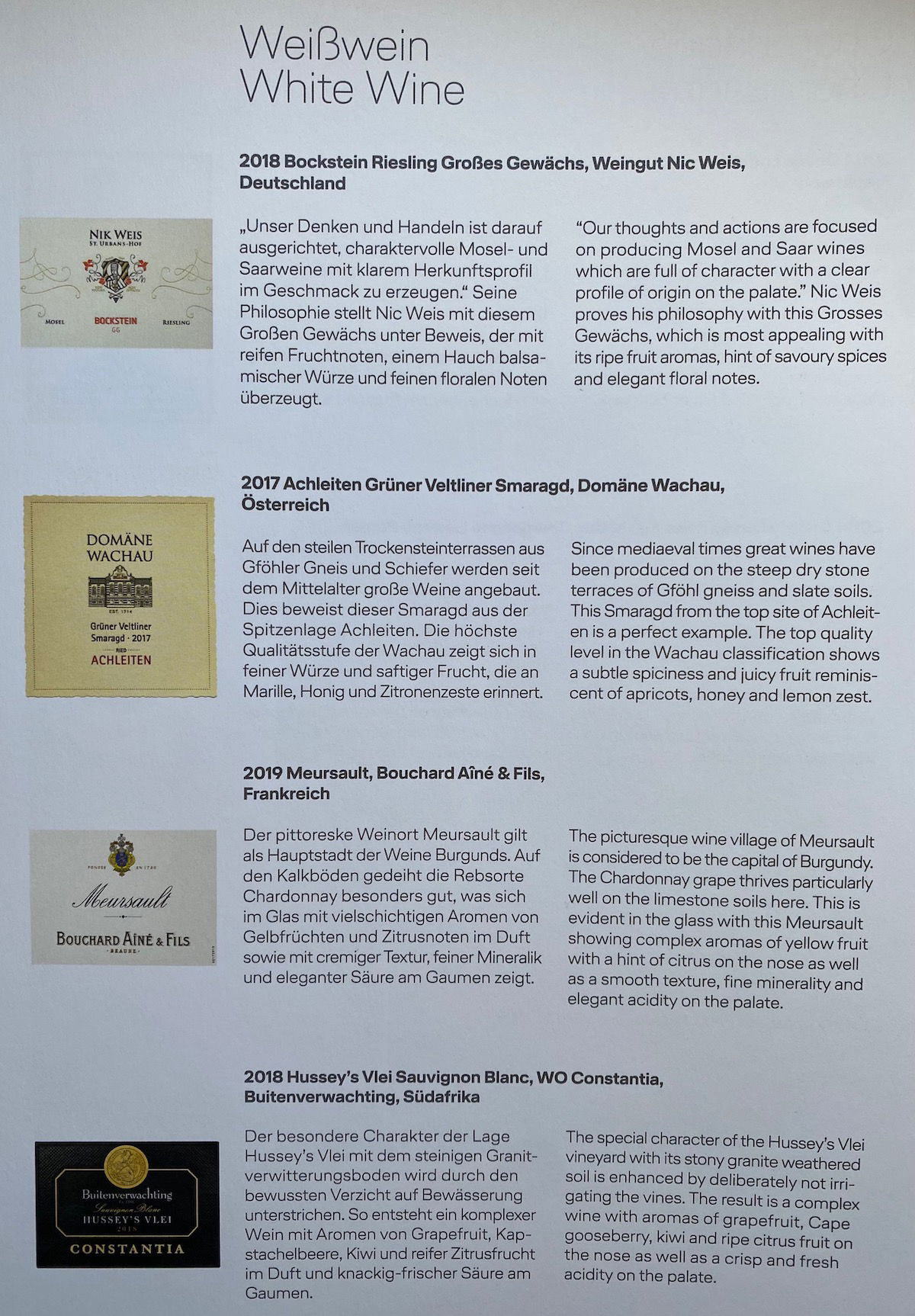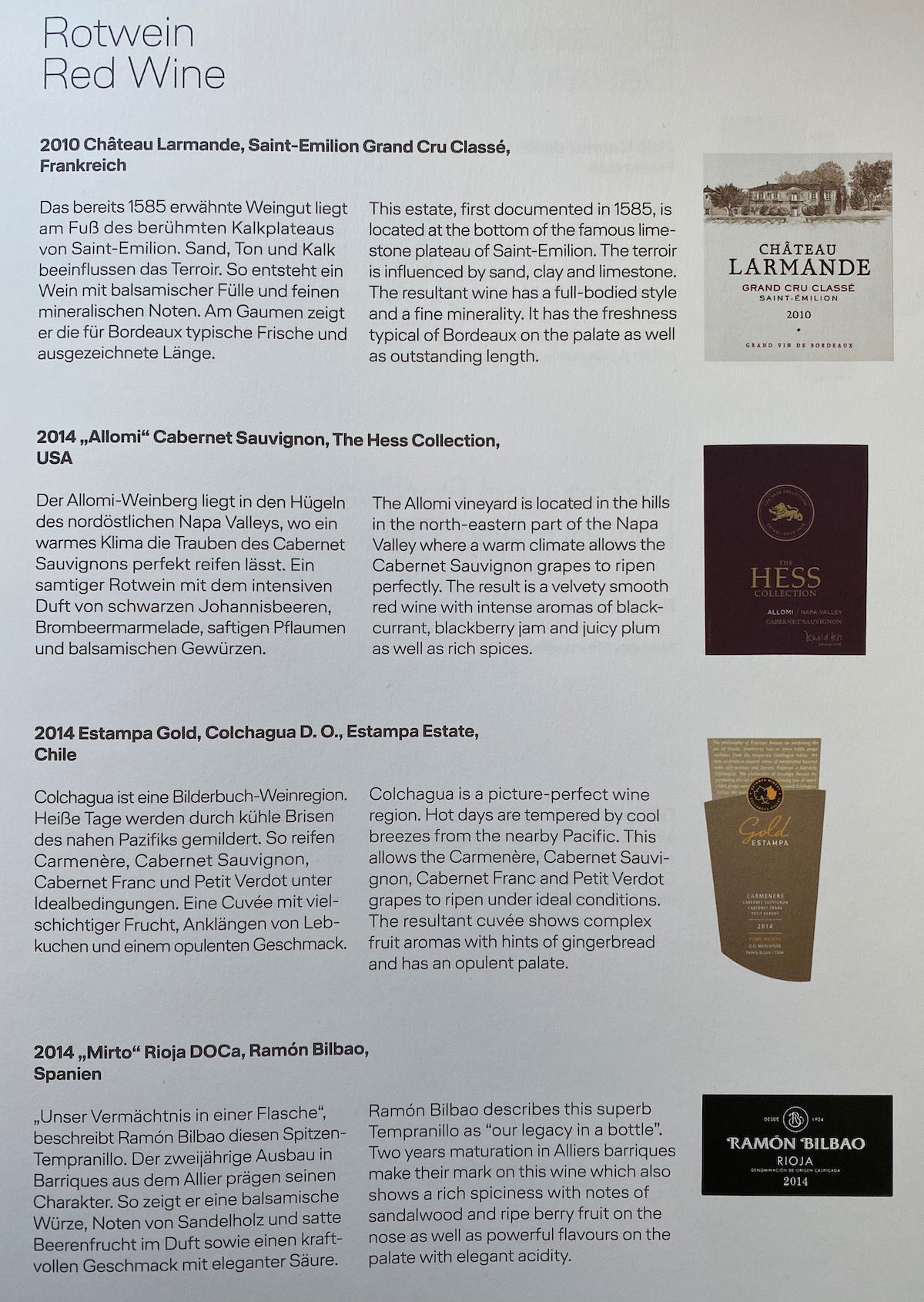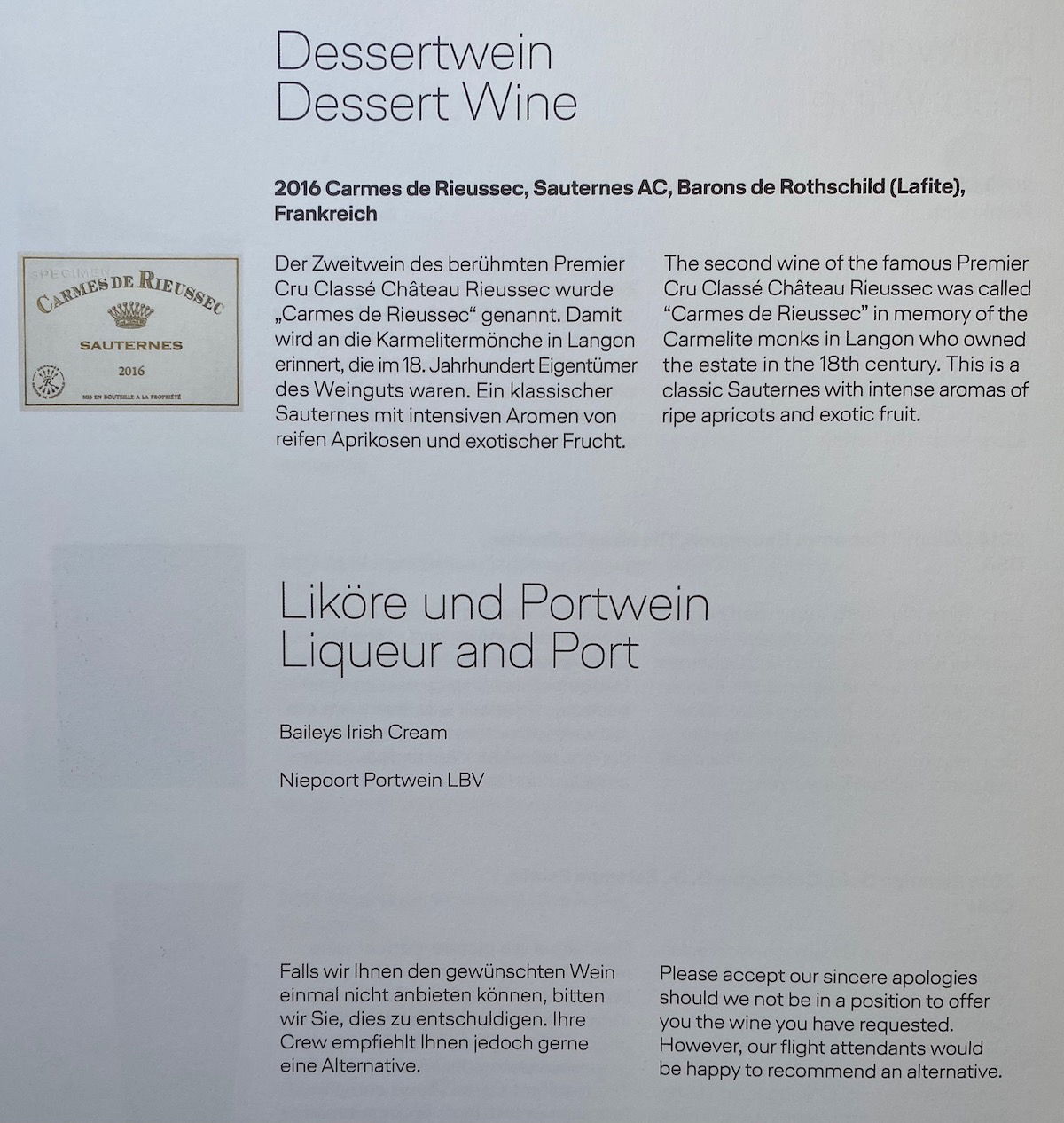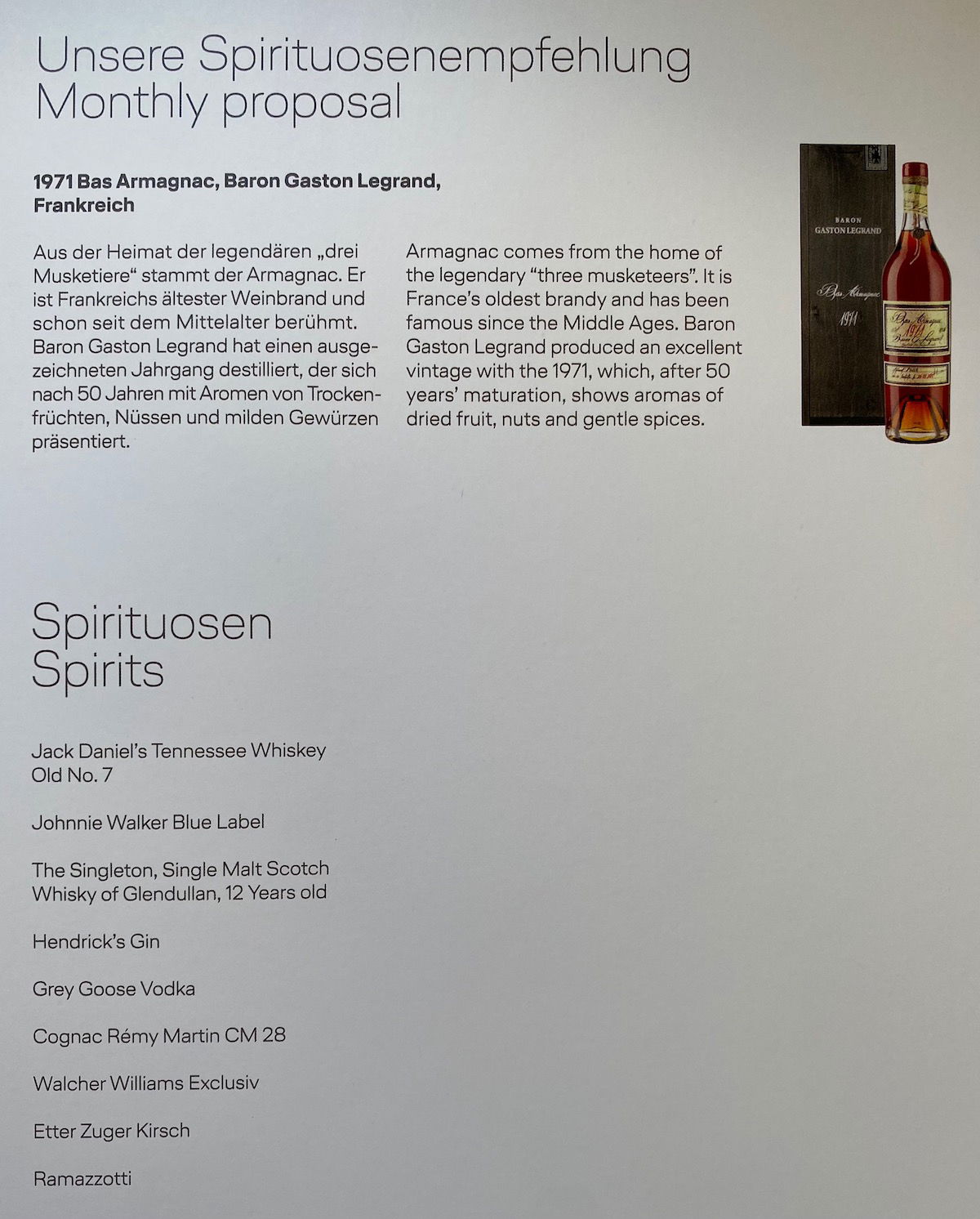 The crew generally sets up a little display in the middle of the cabin, between the two seats in row two, and in front of the pair of seats in row three.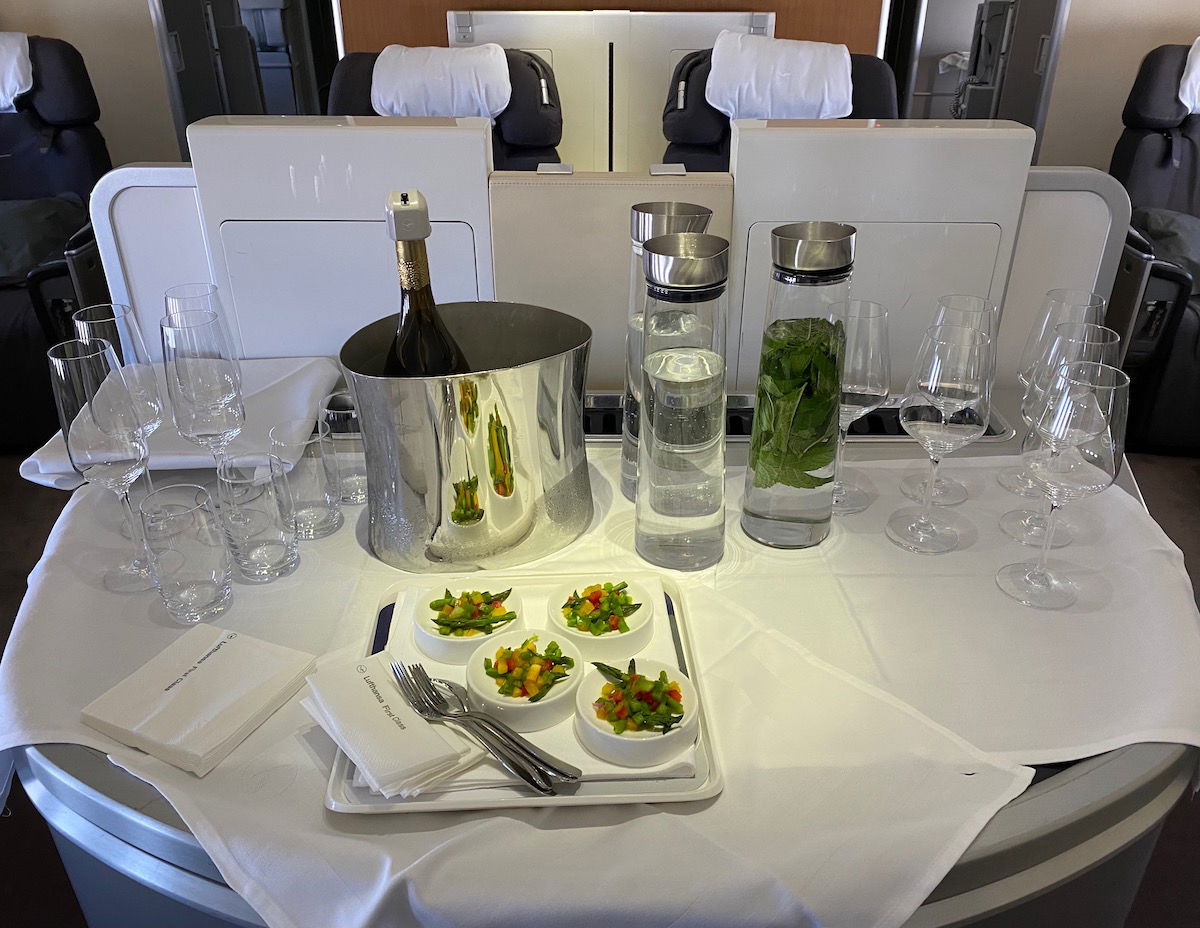 After takeoff we ordered another glass of champagne. We wanted to switch to the 2004 Grand Cuvee Rose Alexandra Laurent-Perrier that was listed on the menu, but the crew apologized that it wasn't available. Instead Laurent-Perrier Grand Siècle had been loaded, which we were also very happy with. This was served with the amuse bouche, which consisted of pepper and asparagus (which was rather bland and hard to eat).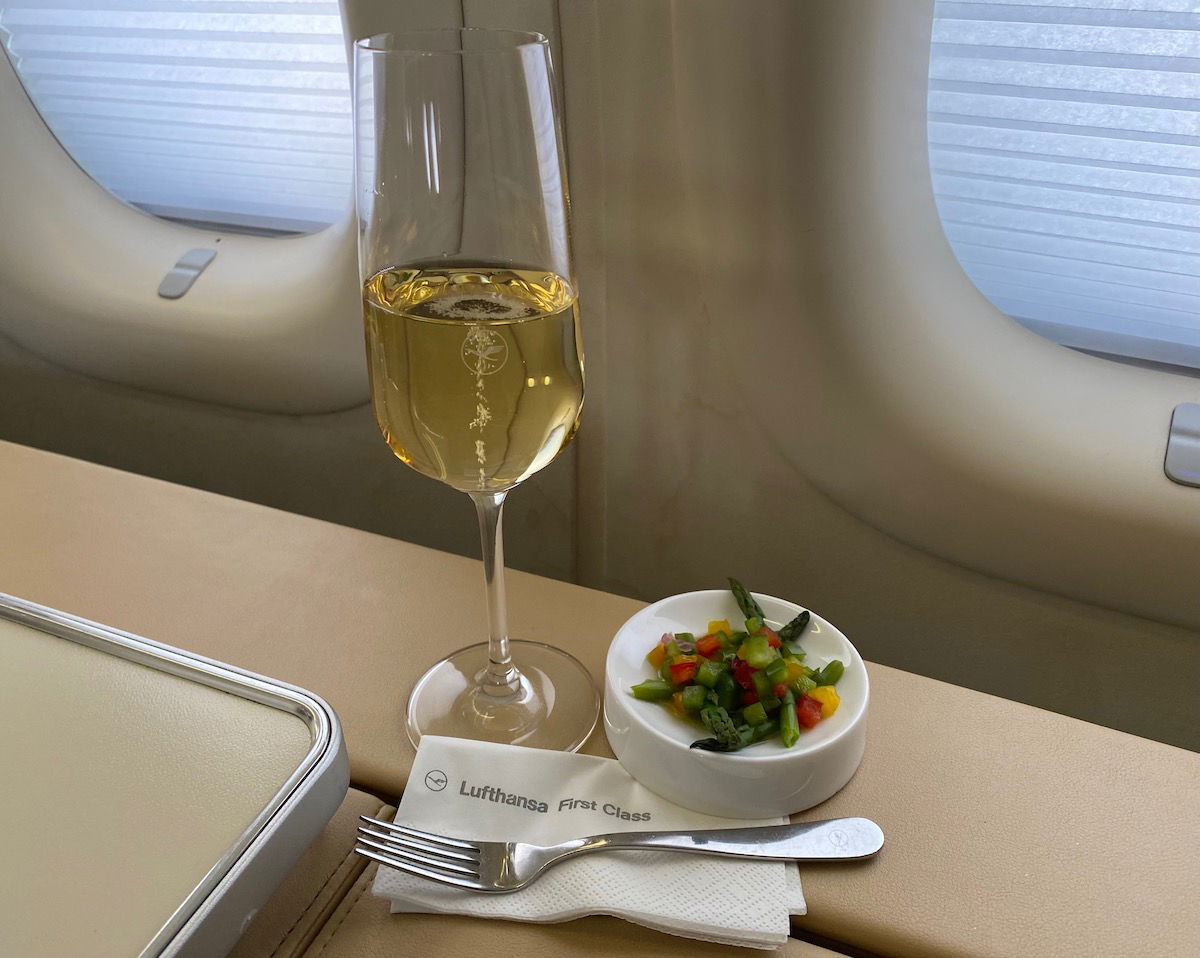 Ford and I decided to dine face-to-face, so he sat in 1A (my seat), and I took the buddy seat. The meal started off with the signature caviar course, with the traditional garnishes.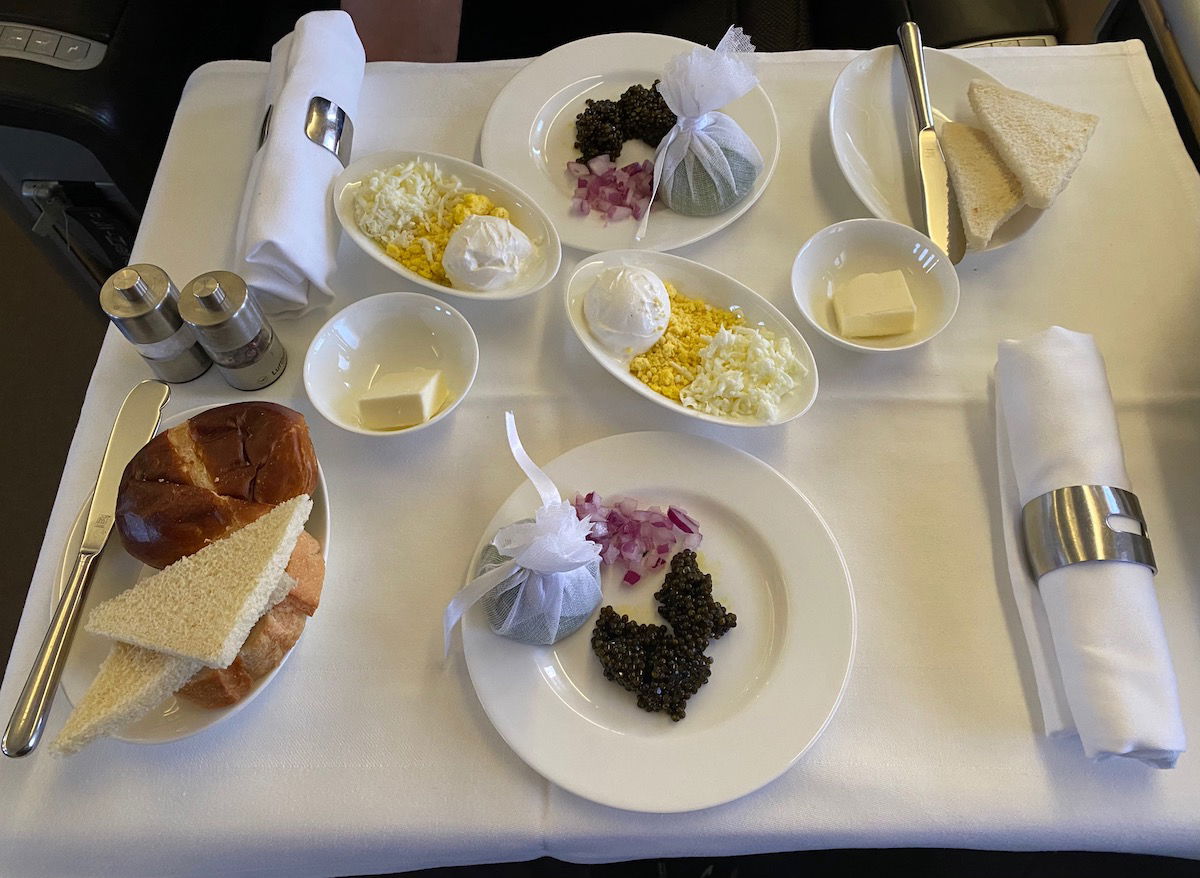 Service in Lufthansa first class is more or less back to how it was pre-pandemic, except there are no warm towels, and there are no trolleys. The flight attendant graciously offered us some more caviar (in fairness, the other passengers weren't having any, and presumably it would have otherwise gone to waste), so we couldn't say no.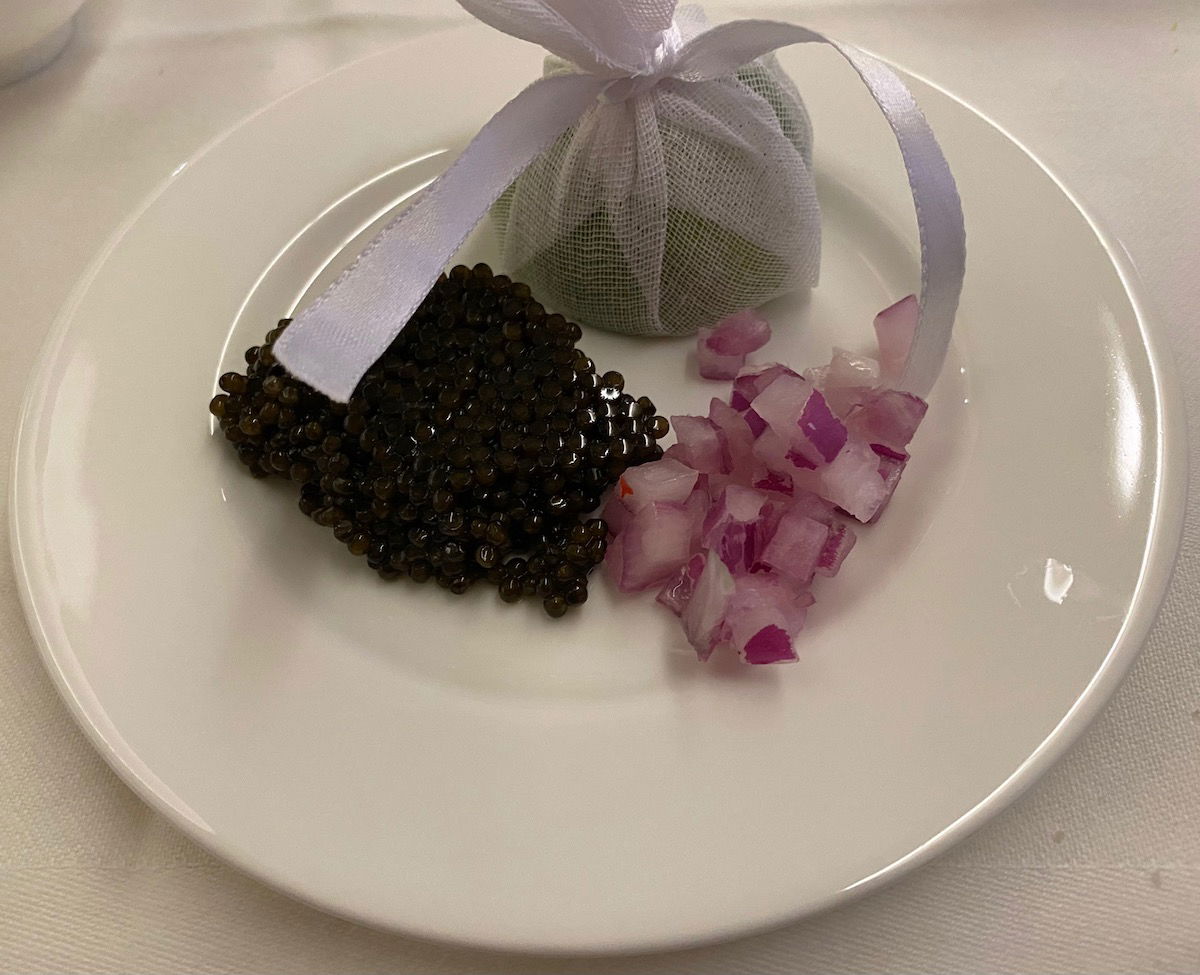 During our dinner we were treated to the most gorgeous sunset imaginable.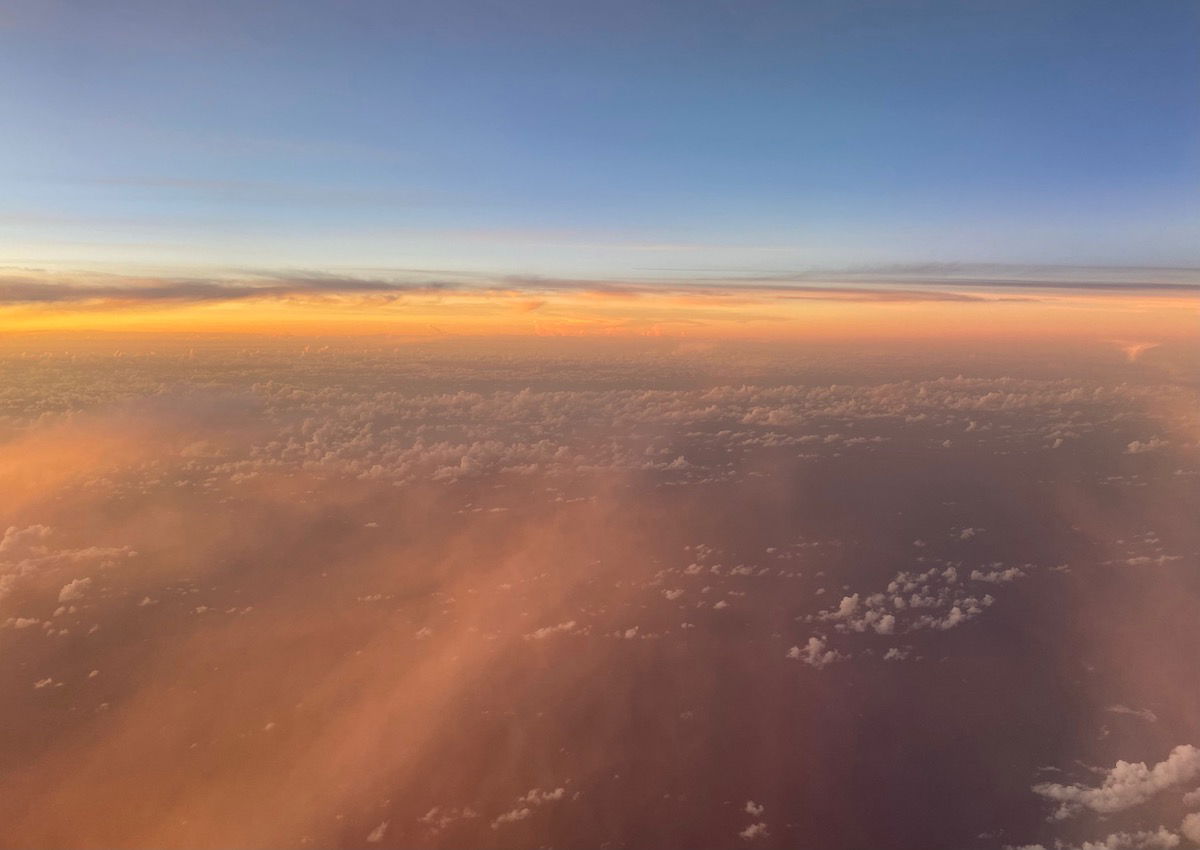 Next up was the appetizer course. These appetizers come on trays, and passengers can try everything if they'd like. We made the decision to just order one of each and share. The appetizers were quite good, and included:
Shrimp ceviche with marinated vegetable mix
Achiote seared beef, farro salad, prickly pear cactus vinaigrette, and chive oil
Chilled ratatouille parcel, artichoke escabeche, and pomegranate balsamic glaze
Baby spinach salad, pickled red onion and fresh raspberries, blue cheese crumble, and dressing
I can't say any of the dishes were particularly memorable, but we did enjoy all of them.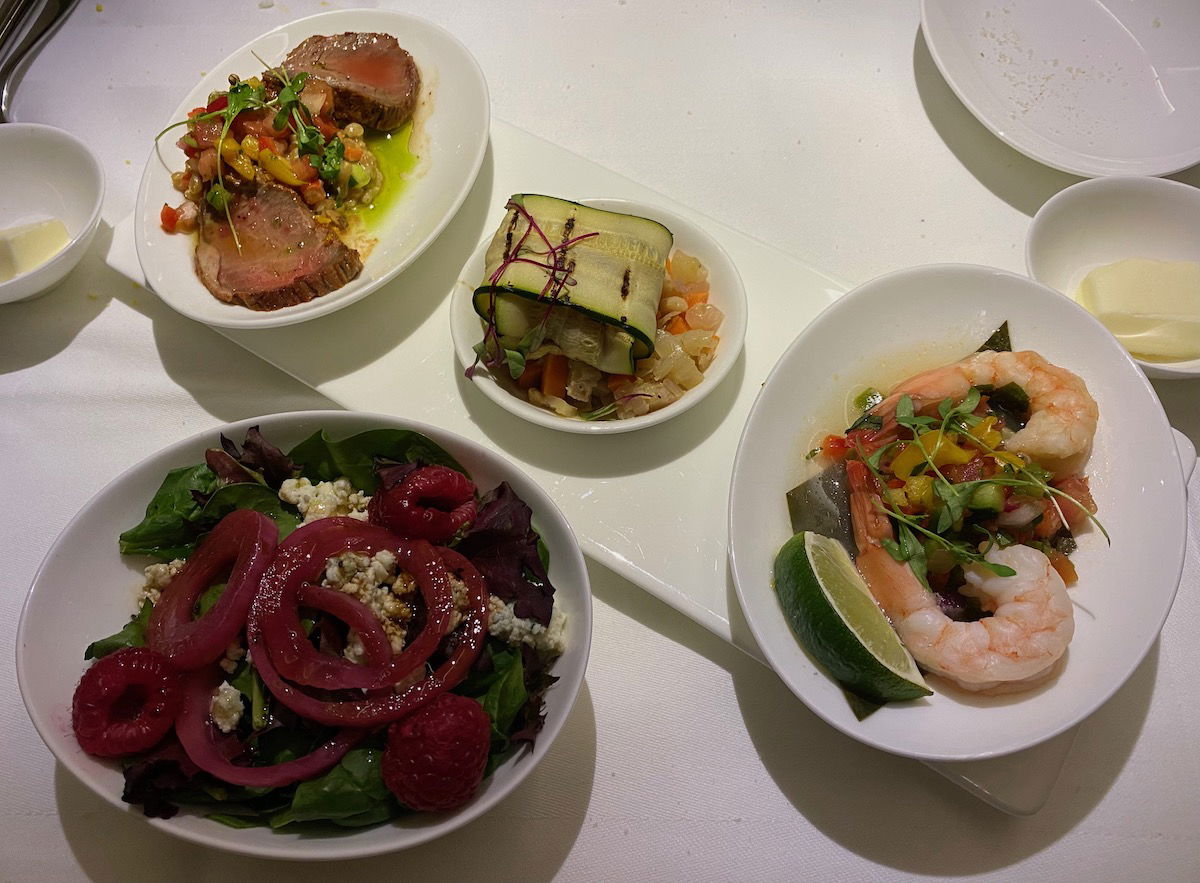 Next up were the main courses. I ordered the lump crab cakes, roasted corn and tomato succotash, grilled baby zucchini, grilled patty pan squash, and spicy tomato hollandaise sauce.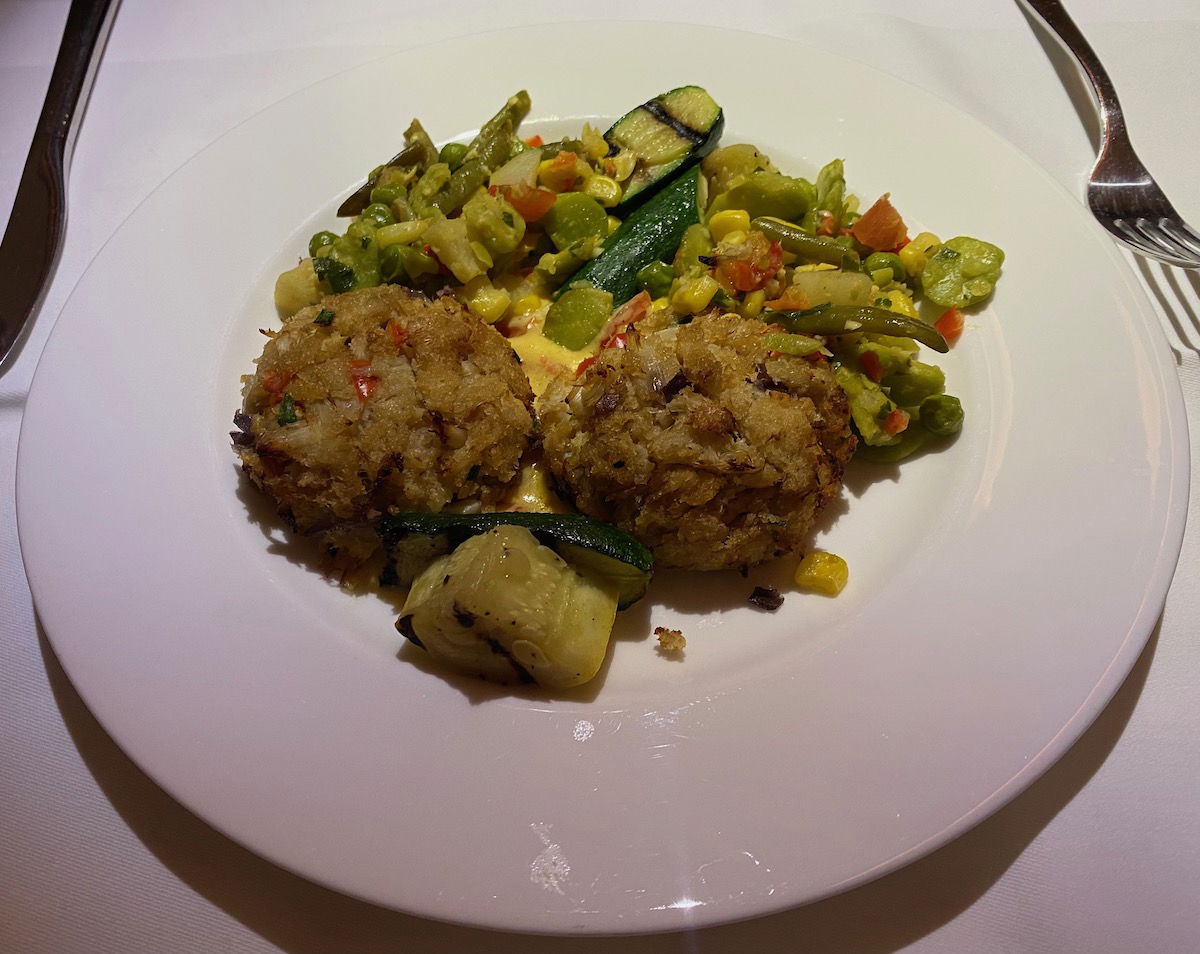 Ford had the pecan and molasses crusted beef filet, green pea risotto, seasoned broccolini, sautéed sunburst squash, grilled red pepper, pinto bean, corn, and cremini ragout.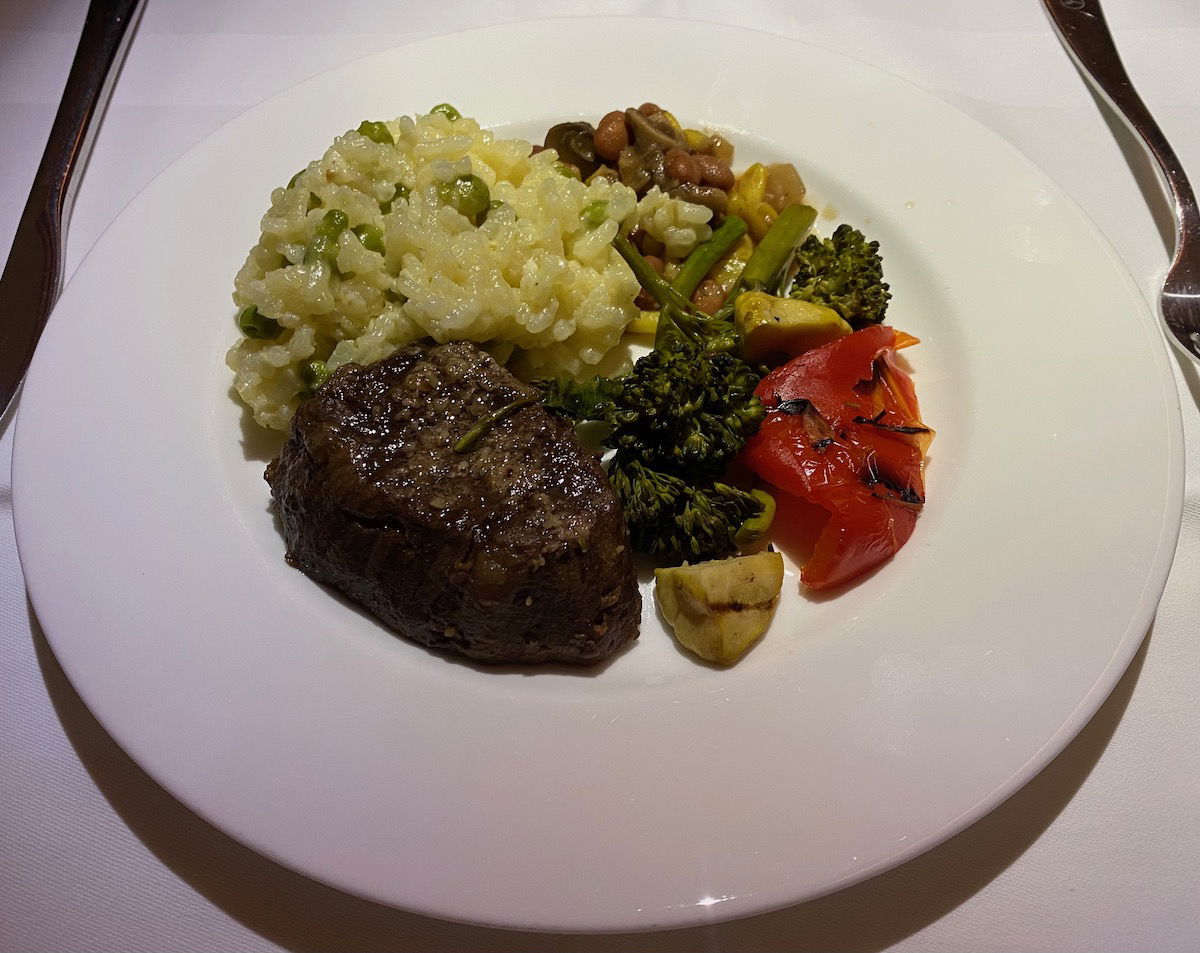 We were then offered dessert, but we couldn't eat any more. At that point the crew offered us each a small box of chocolates to conclude the meal.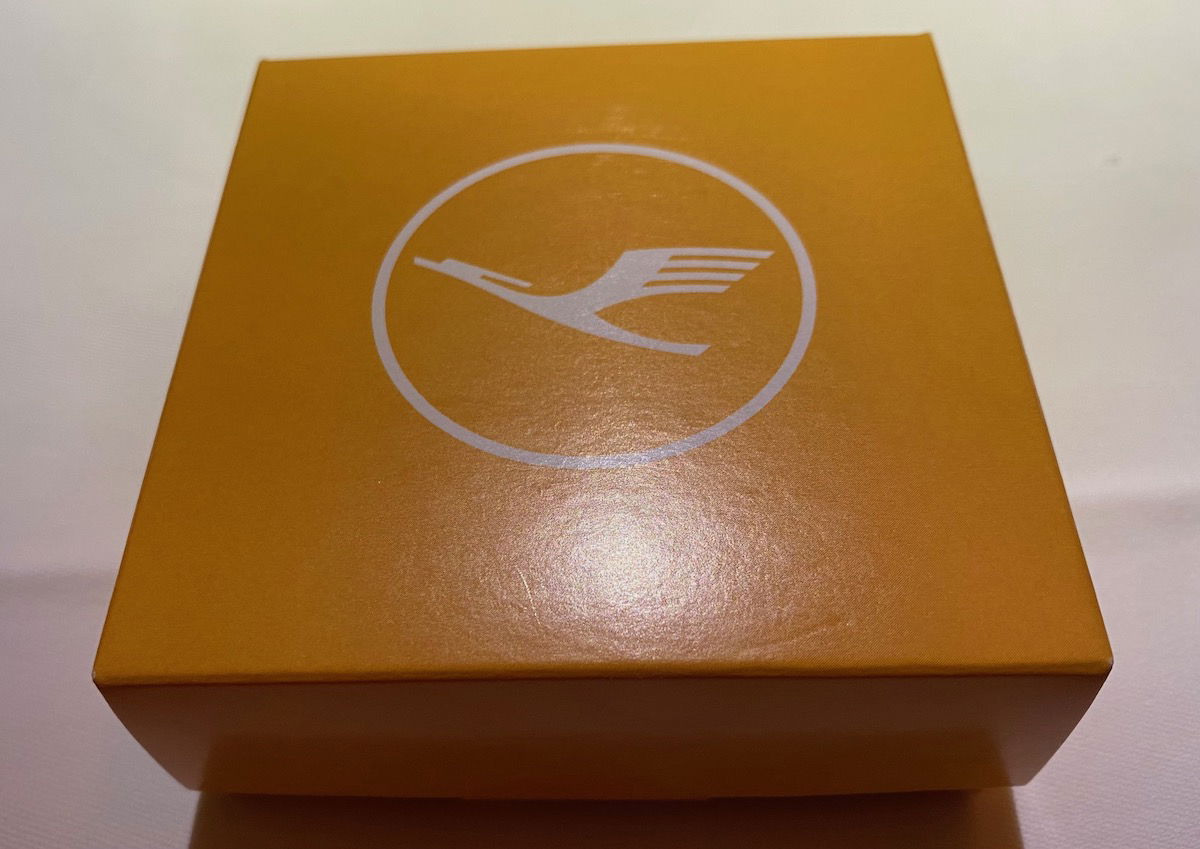 The meal took around 2.5 hours, and that was only because we wanted to eat at a leisurely pace, and have some time between courses. The crew couldn't have been more polished or genuinely friendly.
Lufthansa first class lavatories
After the meal I asked the crew to make my bed, so I checked out the lavatory. Lufthansa has two lavatories behind the first class cabin, exclusively for first class passengers. This is an excellent ratio of bathrooms to seats. The bathrooms are a great size, and each even has a window.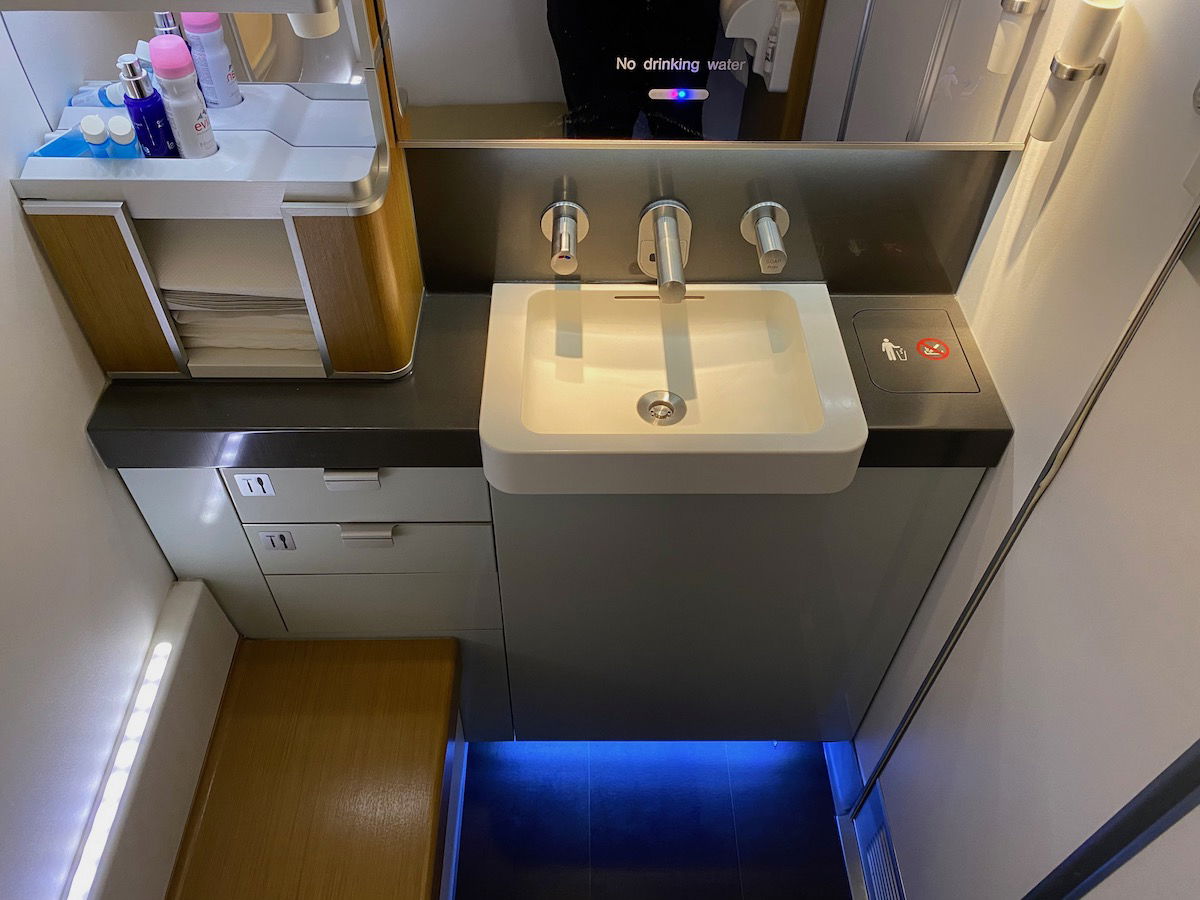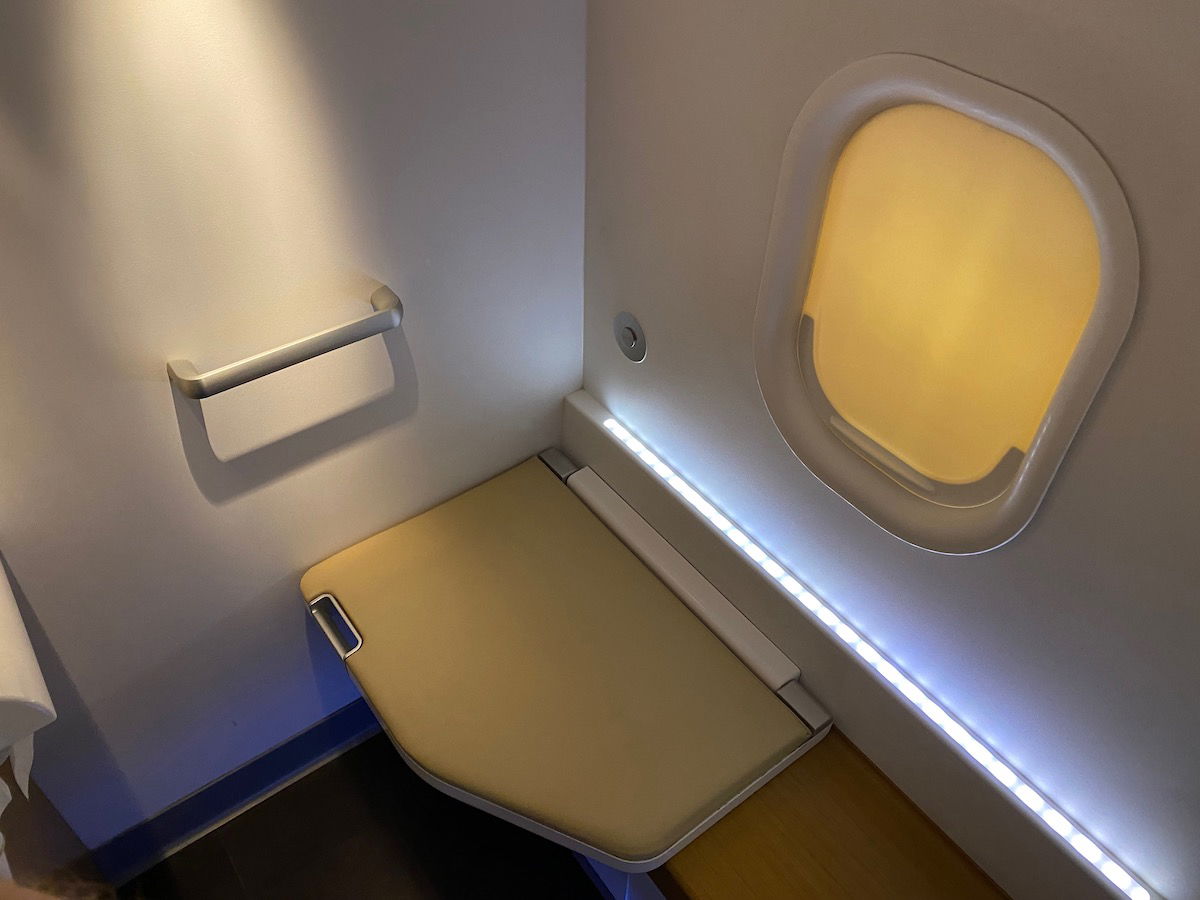 The bathroom had one bottle of cream from La Prairie, as well as a facial mist from Evian.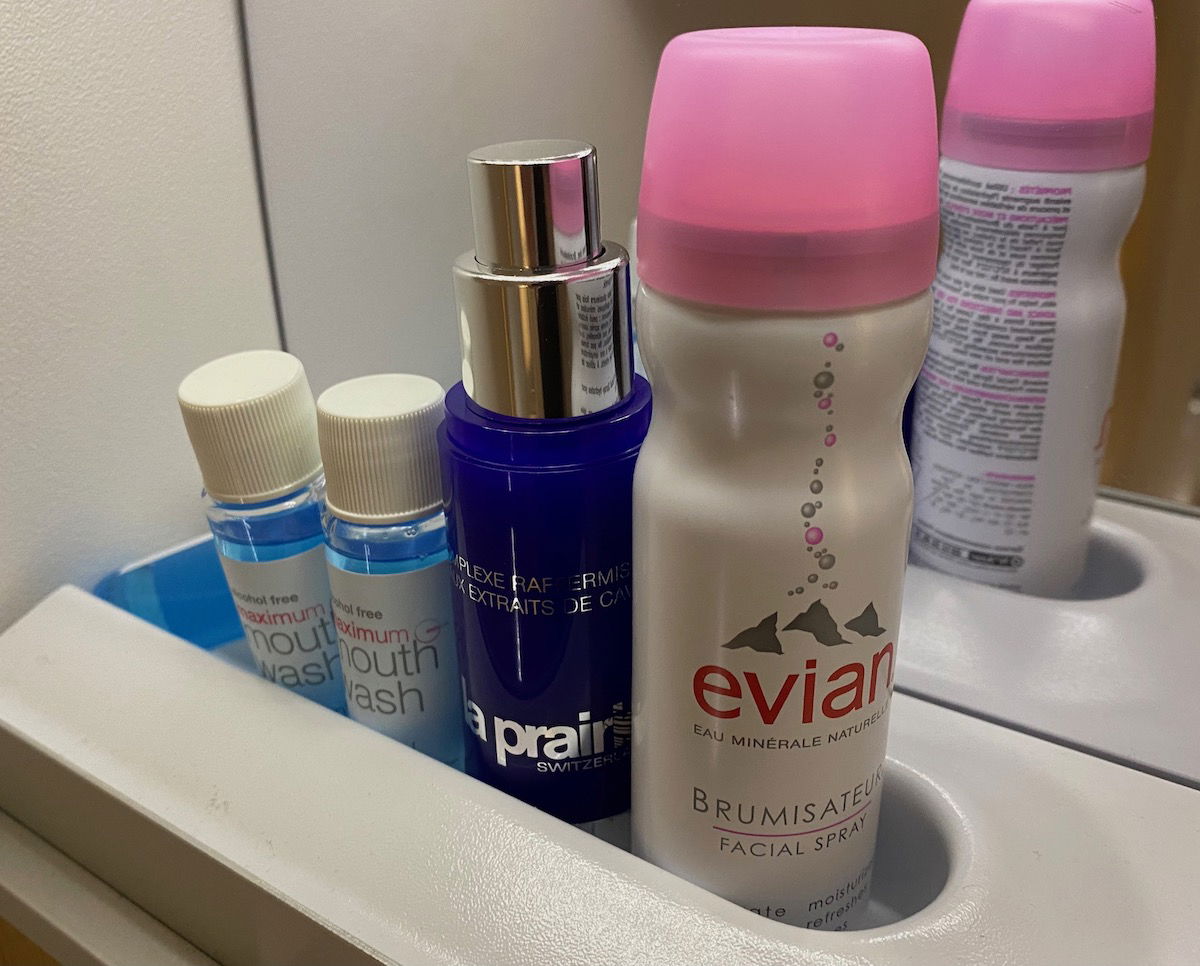 Lufthansa first class bed
Lufthansa's first class bedding is exceptionally comfortable. The pillow is well padded without being too thick, there's a legit mattress pad, and the duvet is fluffy but not too hot. Personally I consistently sleep well in Lufthansa first class, and this was no exception.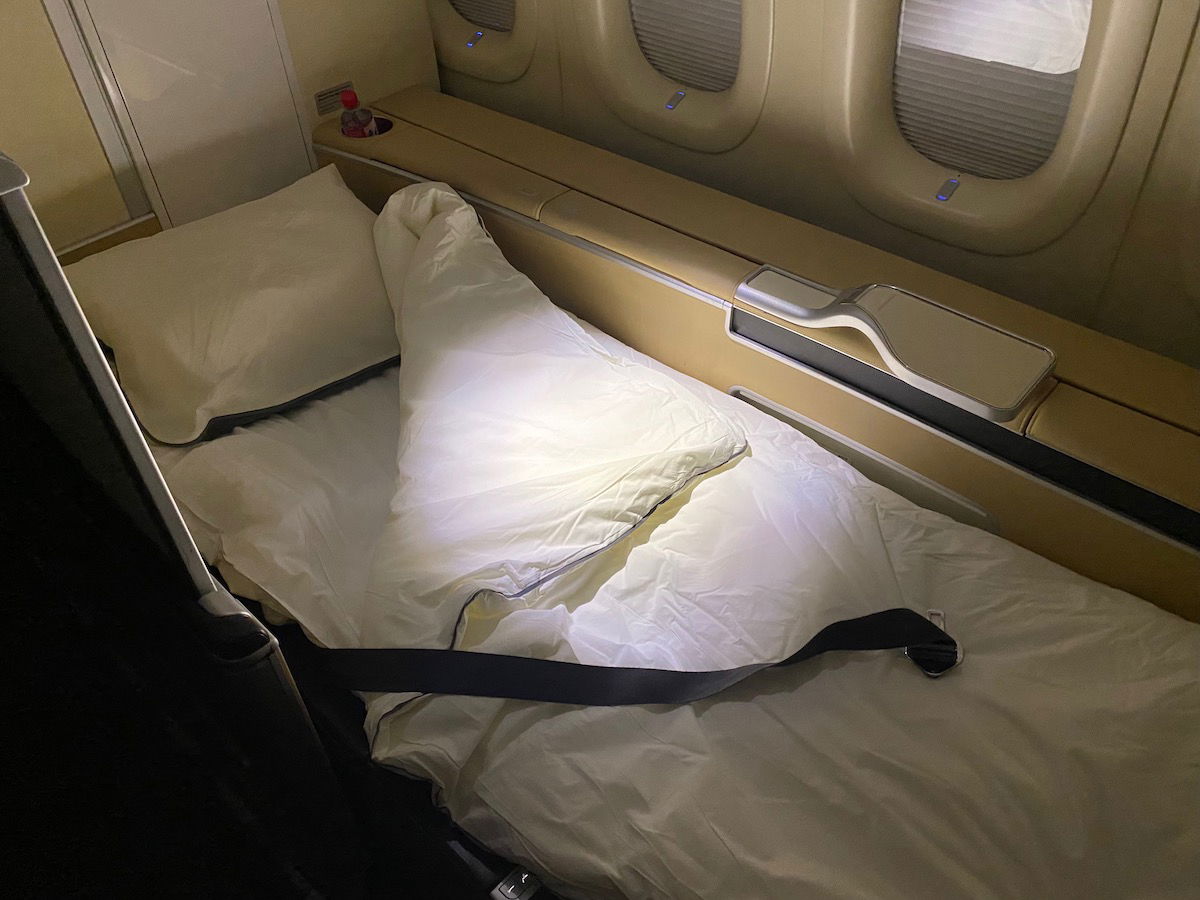 My only complaint is the lack of individual air nozzles. It can get a bit stuffy in the cabin, especially if you're right in the nose, where airflow is limited.
I ended up falling asleep with about 5.5 hours until our arrival in Frankfurt, and woke up just over two hours before landing, so I got a solid three hours of sleep.
Lufthansa first class entertainment & Wi-Fi
Before going to sleep, I checked out Lufthansa's entertainment selection. Lufthansa's entertainment system is probably the most disappointing part of the first class experience. The screen is extremely low quality, so you feel like you're watching a TV from 15 years ago.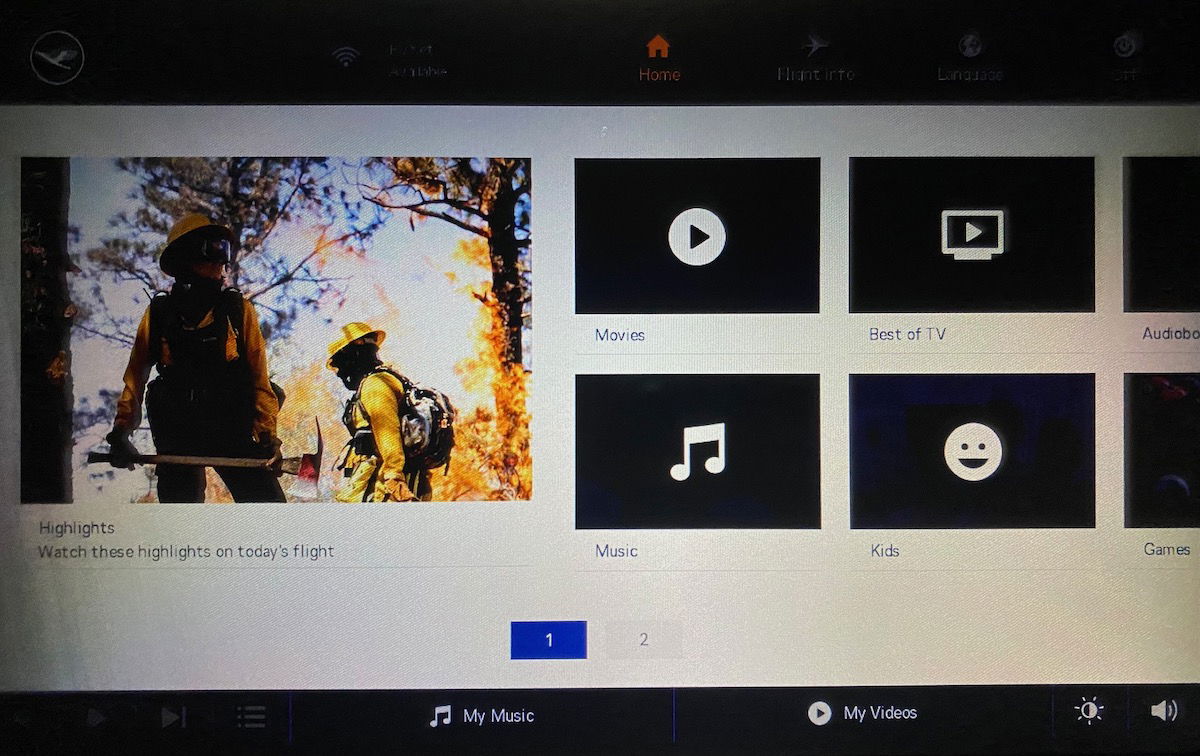 The below pictures of the airshow aren't blurry because I'm bad at pictures, but rather that's just the clarity of the screen.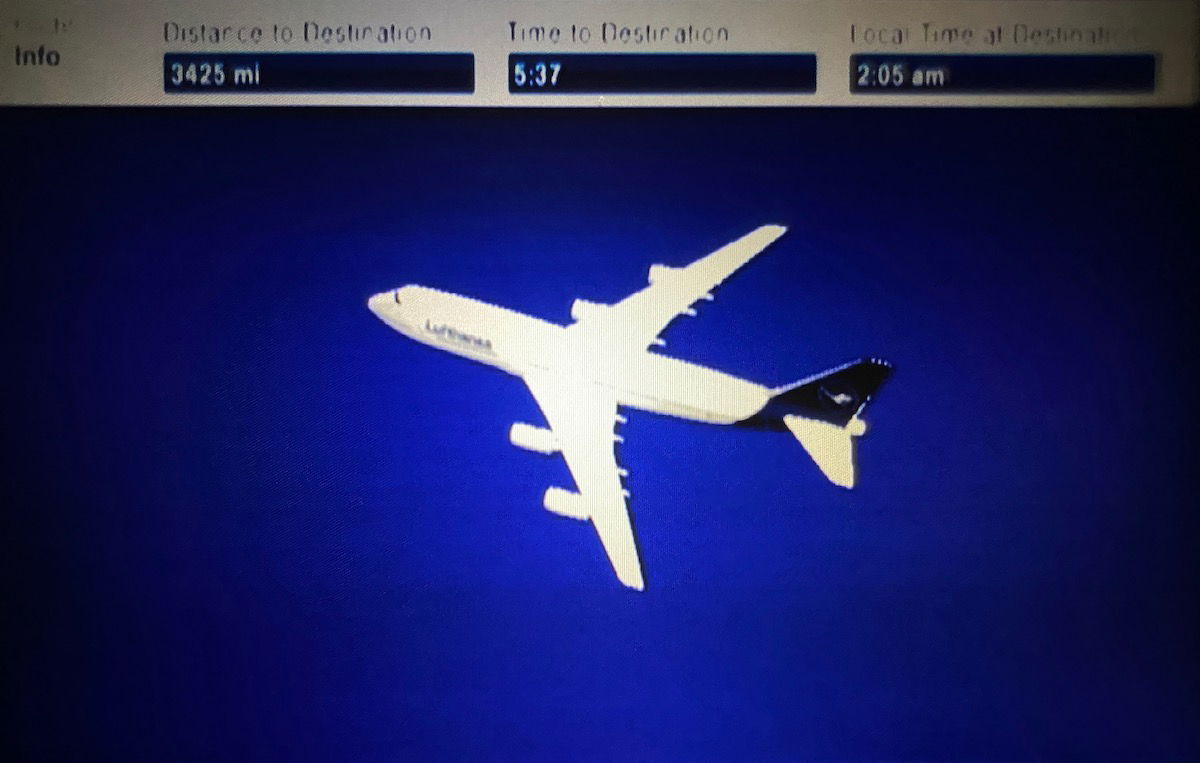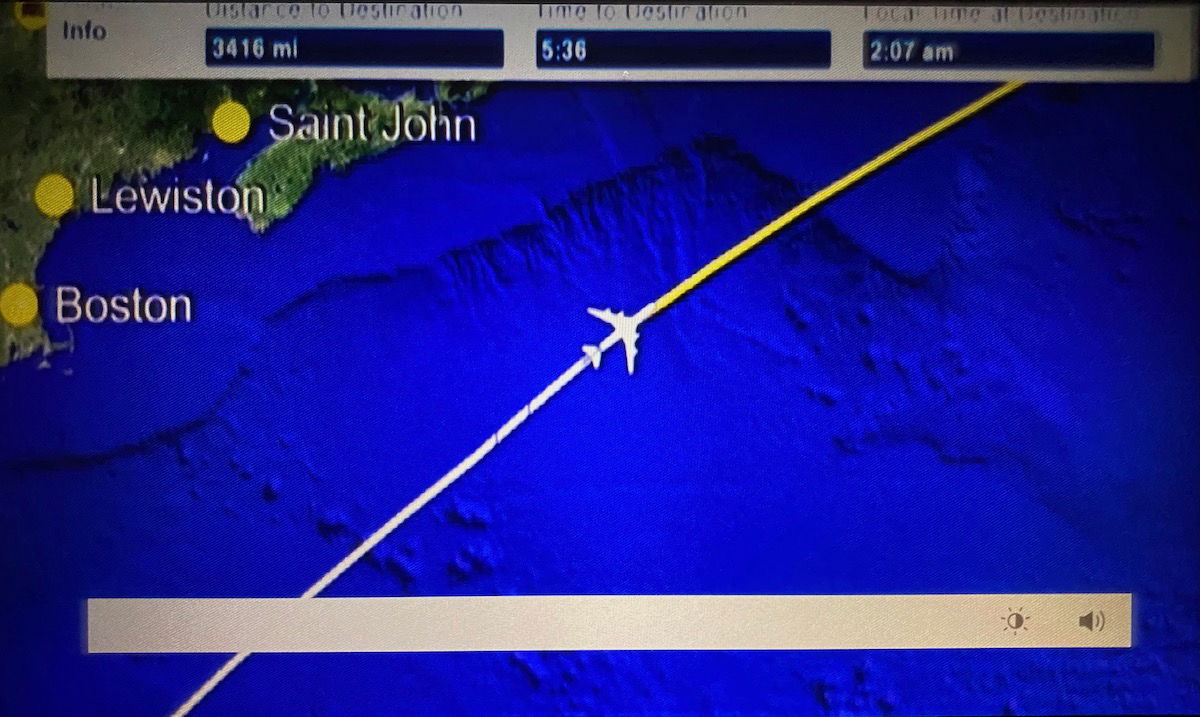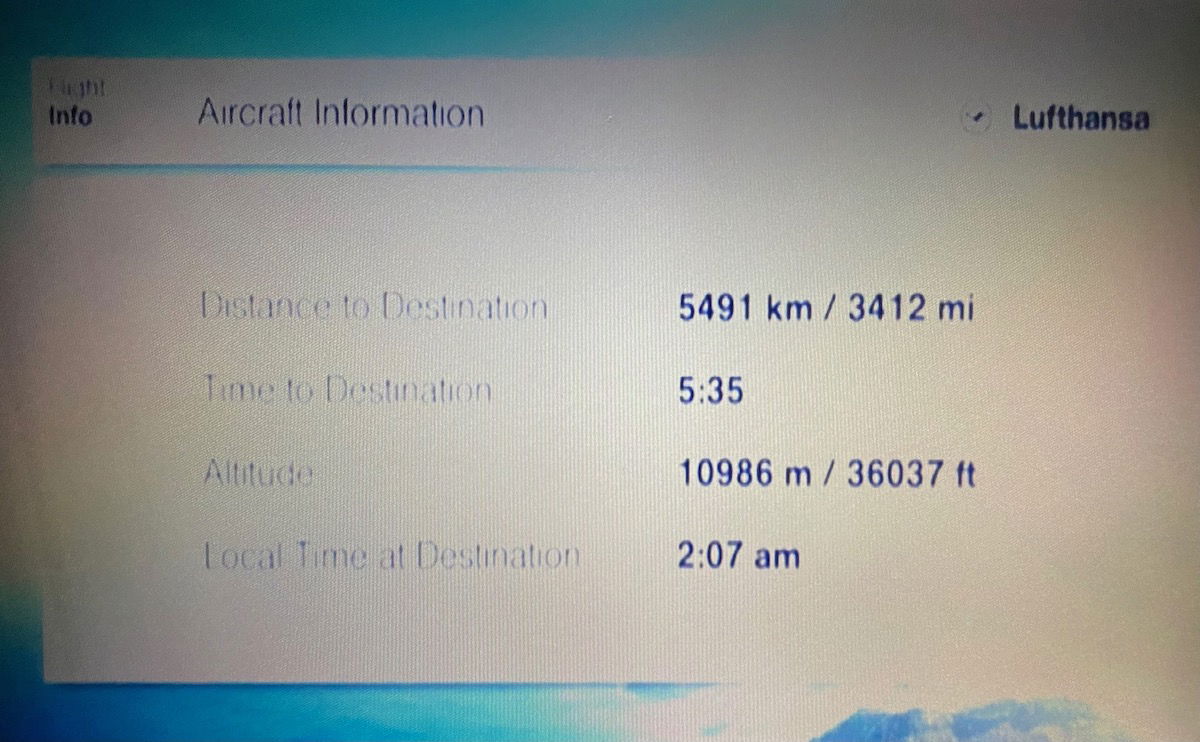 The quantity of movies and TV shows is fine but not amazing, but personally I always bring my own entertainment on Lufthansa, or choose to instead use the Wi-Fi.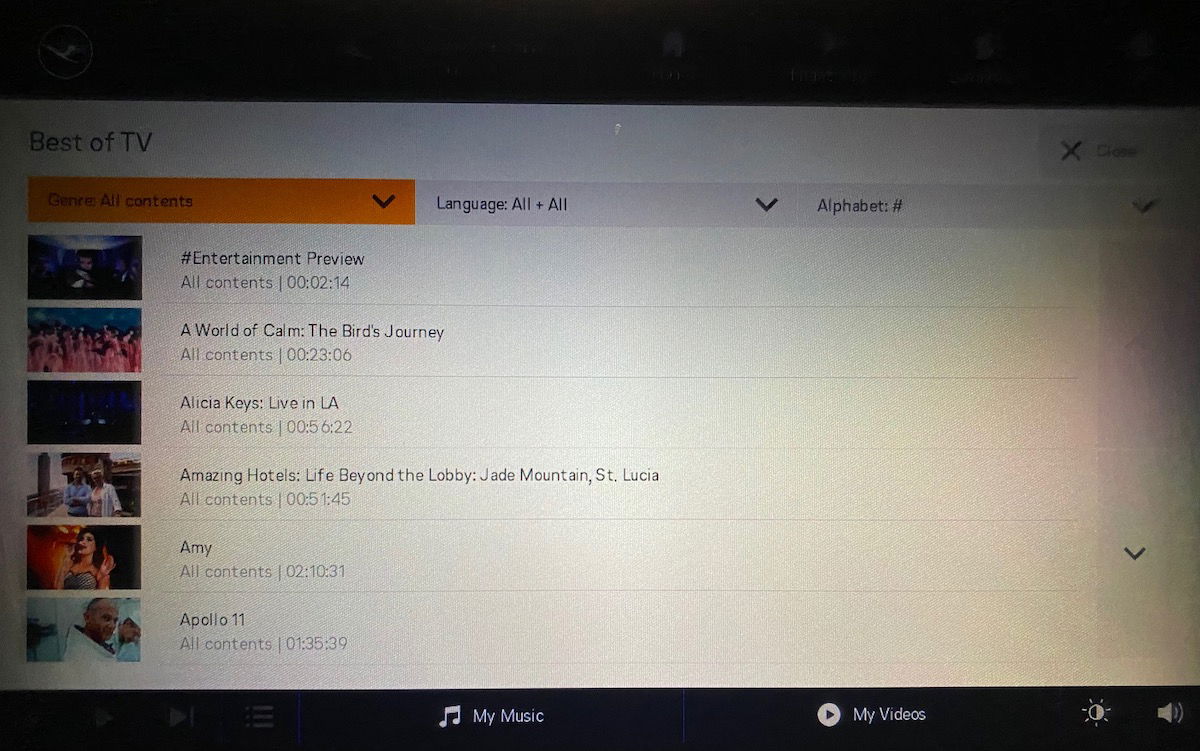 And that brings us to Lufthansa's FlyNet Wi-Fi, which is a highlight of the Lufthansa first class experience. First class passengers get a code for free Wi-Fi, which has generally good speeds, especially for a transatlantic flight.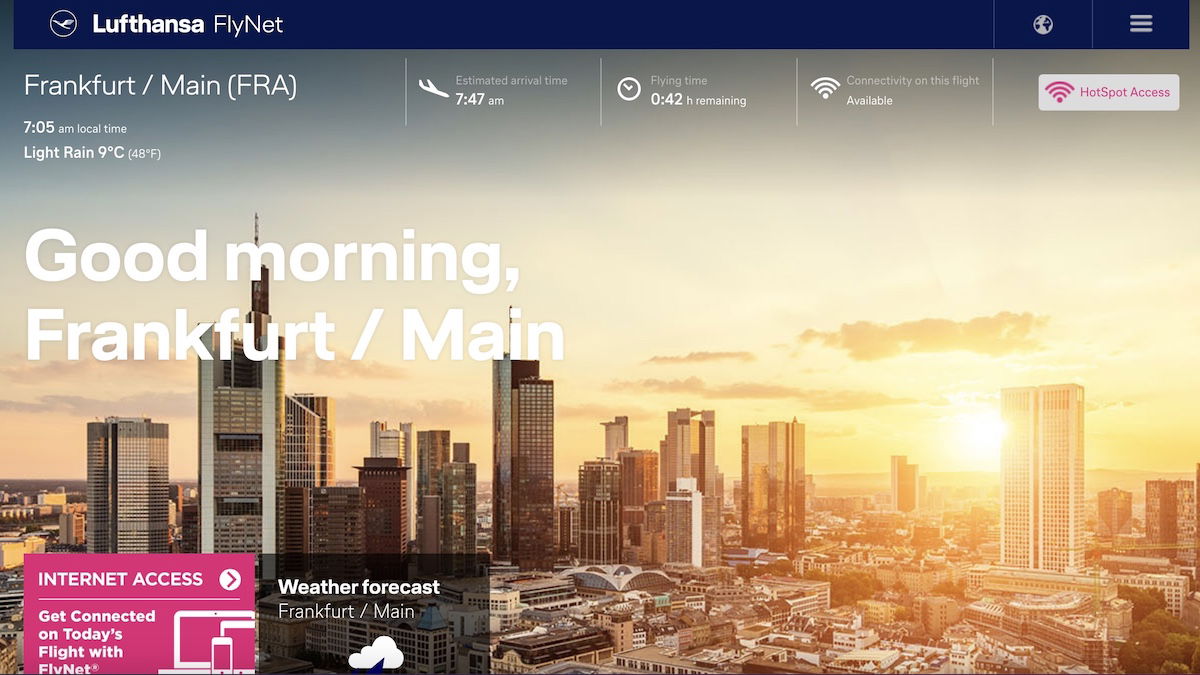 For those paying, Lufthansa's Wi-Fi offering sure is more expensive than in the past. You can get a messaging pass for $8, a lower speed pass for $20, and a high speed pass for $34.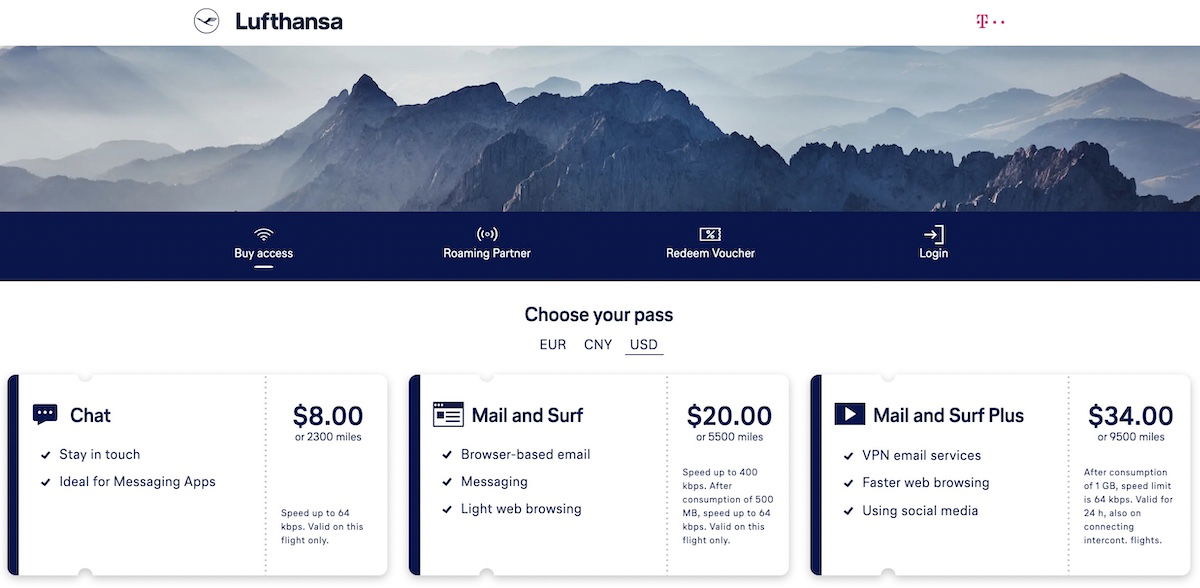 Lufthansa first class breakfast service
About 90 minutes before landing, the crew came by my seat to offer me breakfast. The menu read as follows: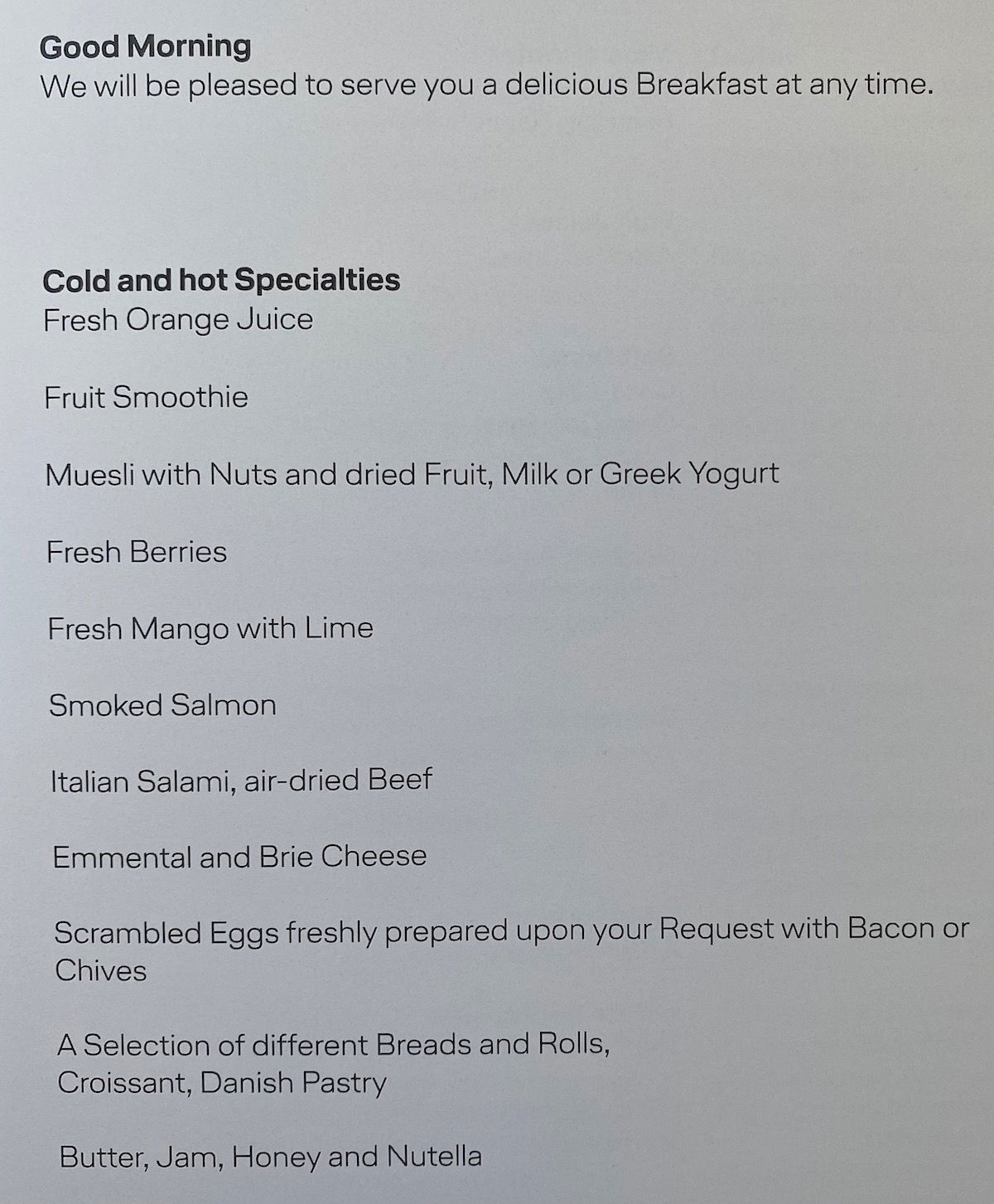 I wasn't hungry — it was the middle of the night back at home, and I had finished up a big meal just four hours prior. However, I figured I'd take one for the team, so I ordered something. I ordered a cup of coffee and an orange juice (with the latter being a mistake — I forgot that Lufthansa only loads freshly squeezed orange juice on flights out of Germany, and not on flights to Germany).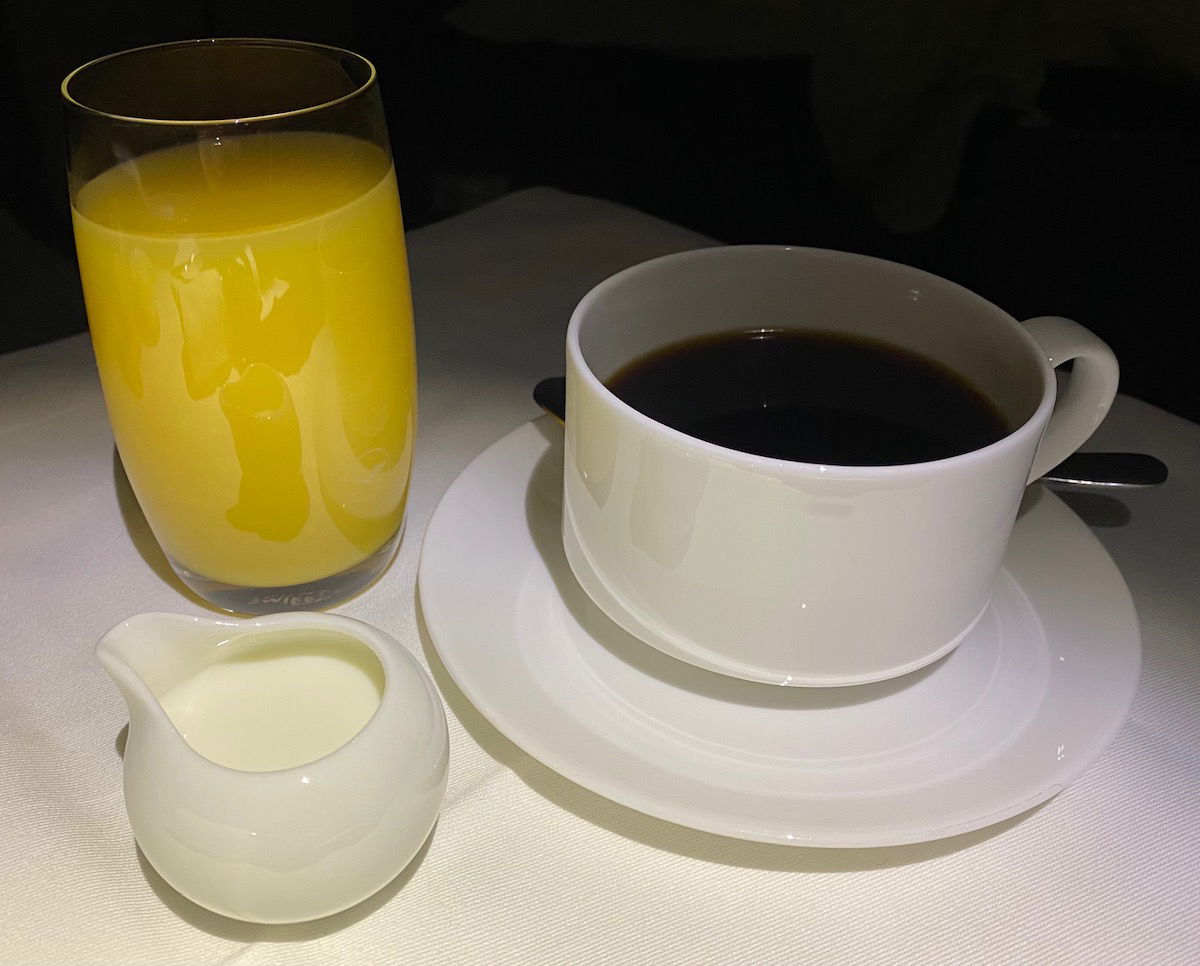 I decided to order what's consistently Lufthansa's best breakfast option, which is scrambled eggs with chives. There aren't many airlines that offer fresh eggs onboard, so that's always a treat.
An unusual arrival into Frankfurt
At around 7:15AM Frankfurt time, the captain announced that we'd be landing in about 30 minutes, and moments later we began our descent. While I tried to capture some pictures of the route on the airshow, I can't believe that the below is what it looks like in 2021. 😉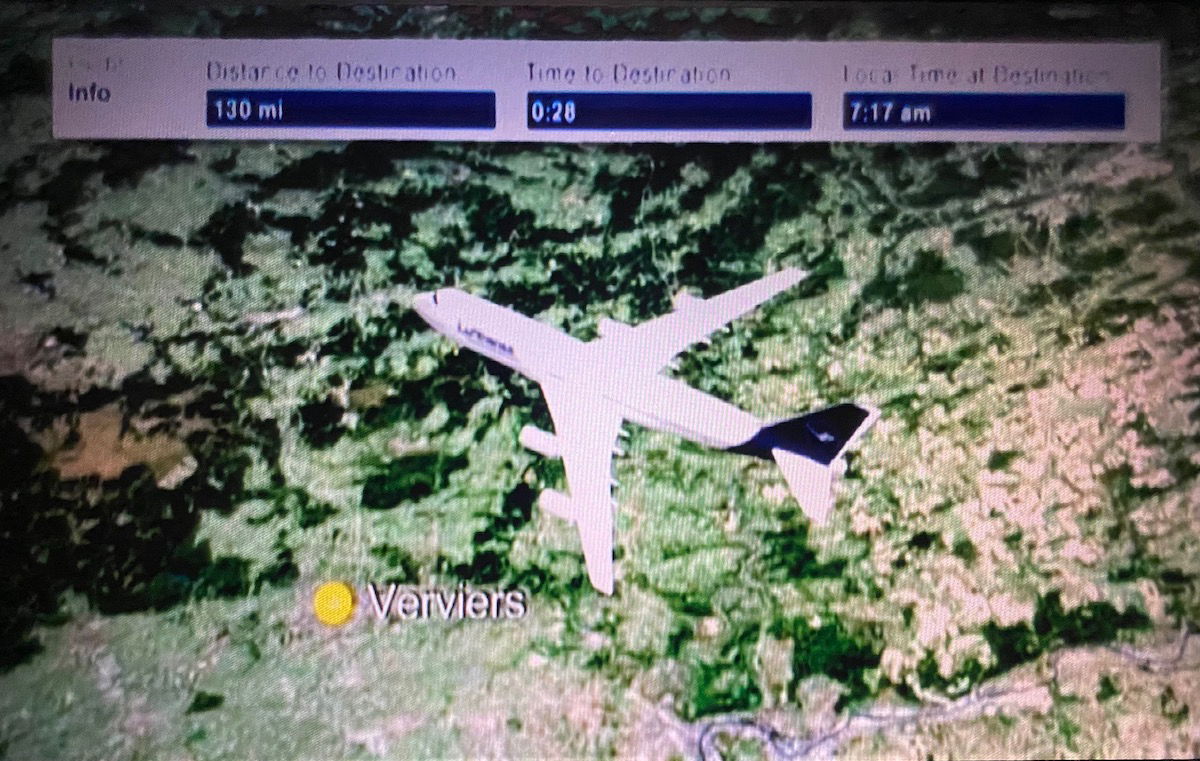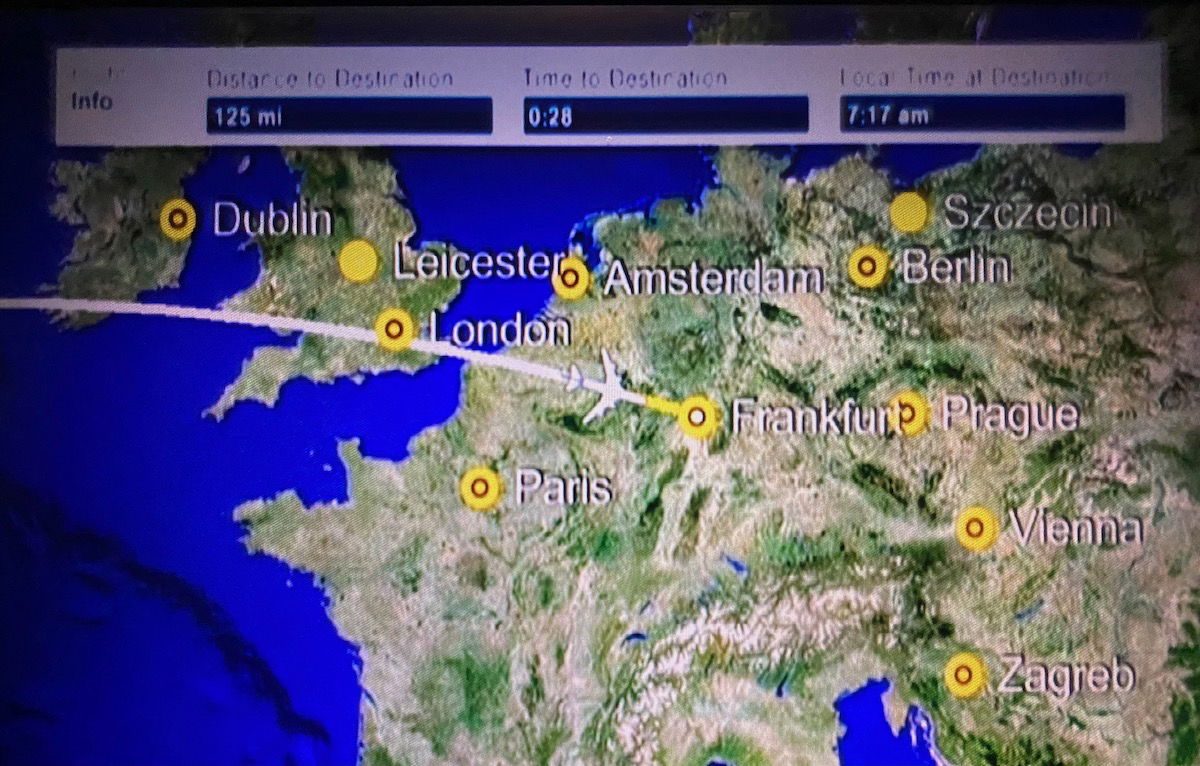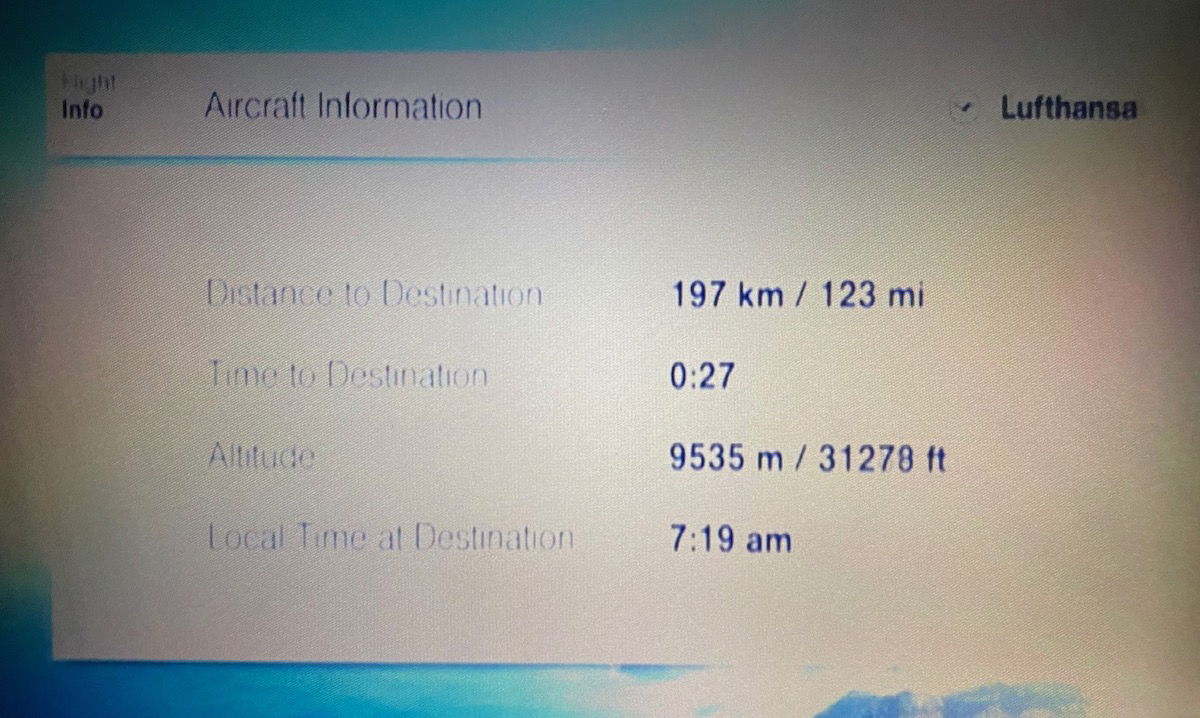 Just as we had a beautiful sunset shortly after departure, we had an equally nice sunrise on our approach.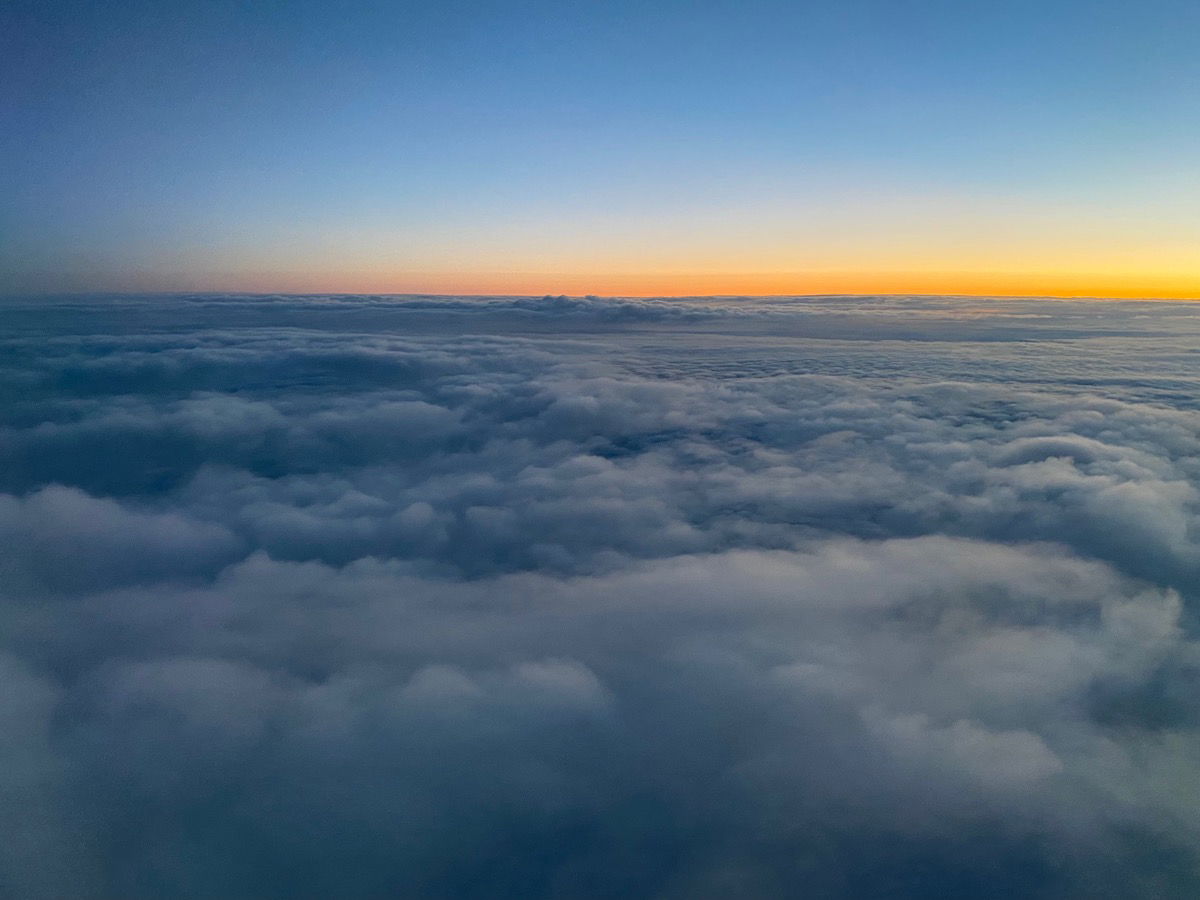 We circled around, and ended up touching down in Frankfurt at 7:50AM.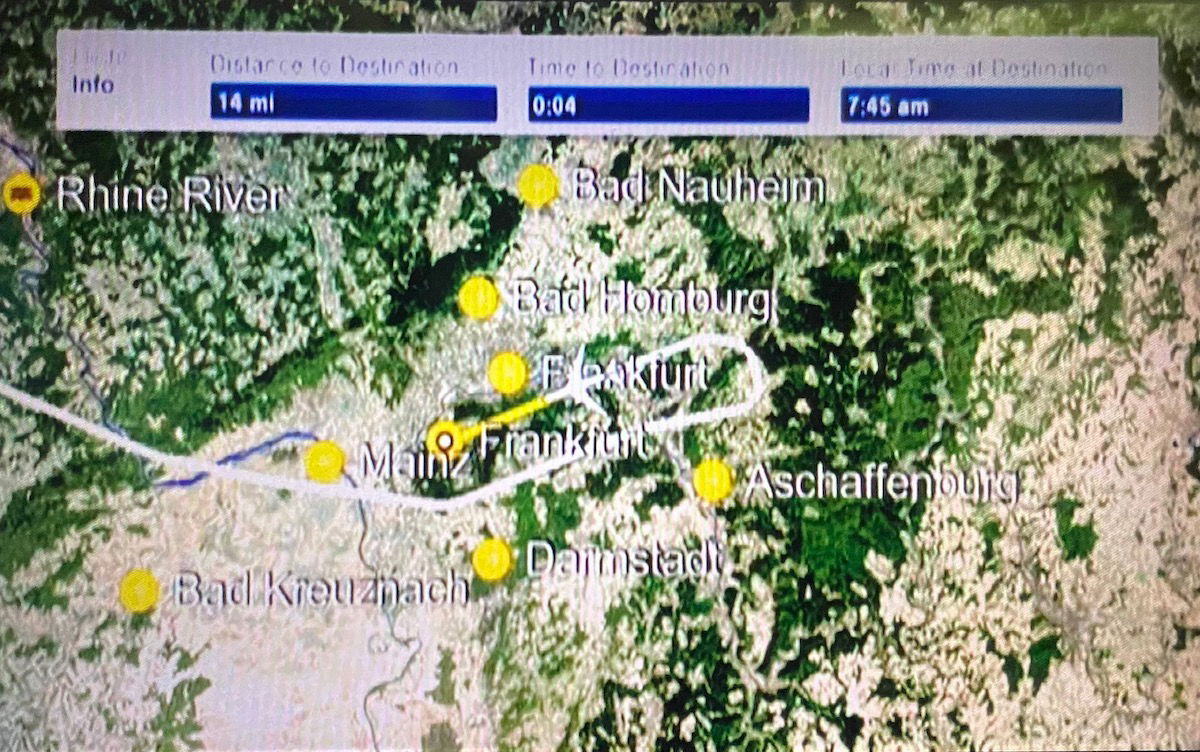 I feel so bad for the weather Germans have to put up with all too often…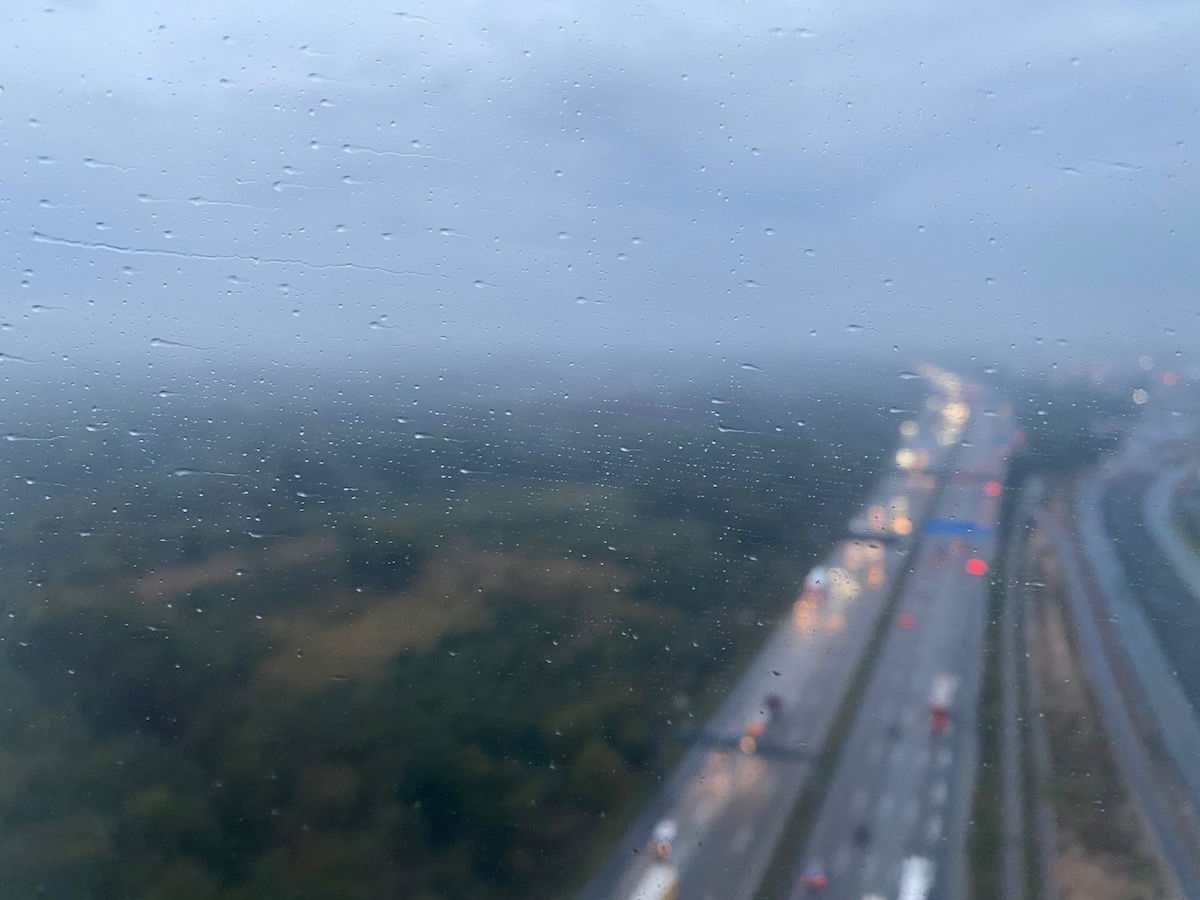 We had a roughly five minute taxi to our arrival gate, where we pulled in shortly before 8AM. We pulled up to the gate, but to my surprise, the jet bridge wasn't actually used. Instead passengers were deplaned via the second set of doors and the rear doors.
With long haul capacity being down as much as it is, I'm not sure exactly why this would happen, let alone on a rainy day where passengers have to carry their luggage down stairs. But I'm not gonna lie, I didn't mind. How often do you get an engine view like this while deplaning?! I almost fell going down the stairs because I was so distracted by the beauty of that wing and those two monsters.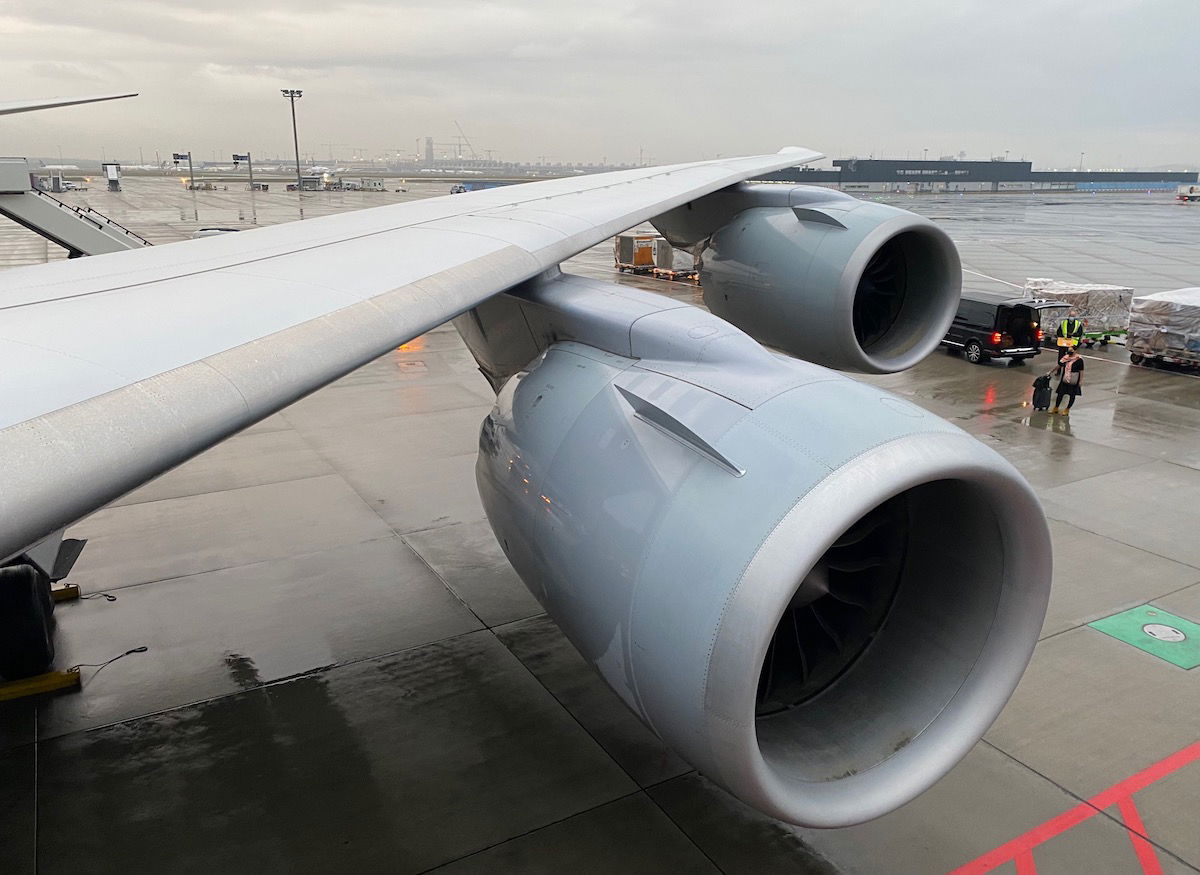 And getting to walk along the side of a 747-8 isn't half bad either.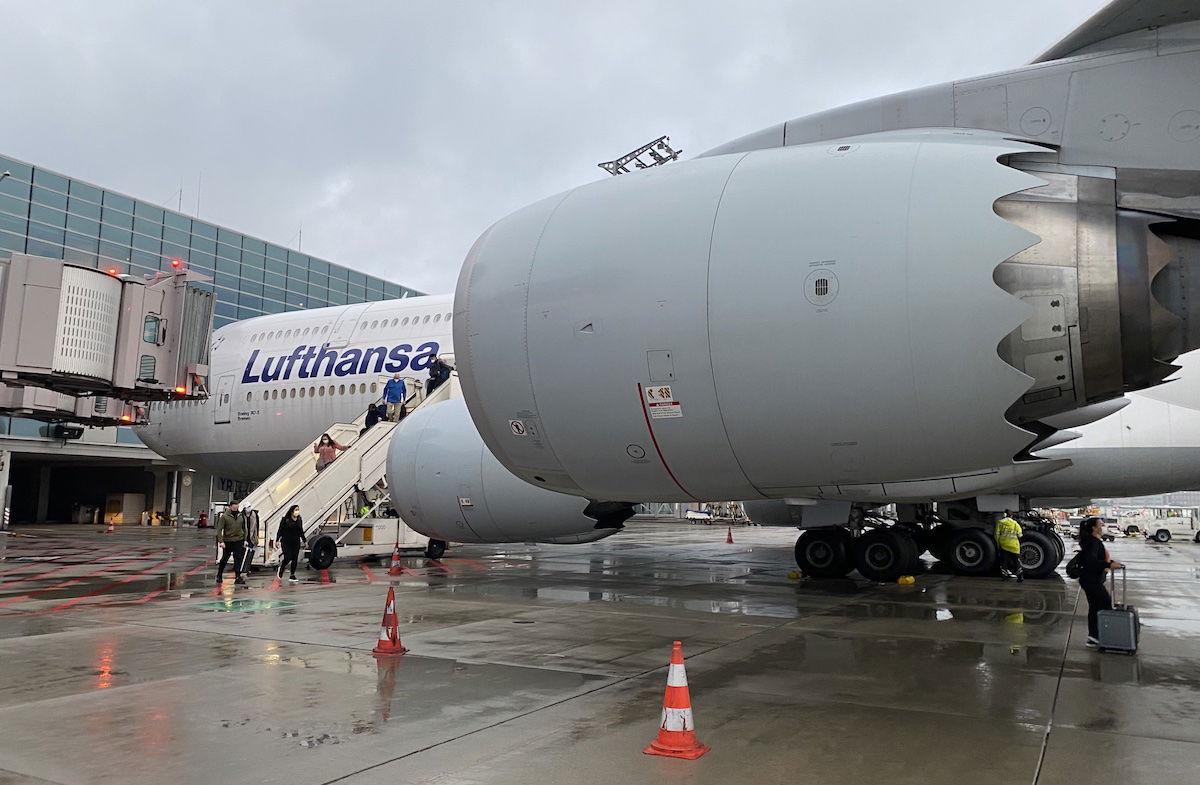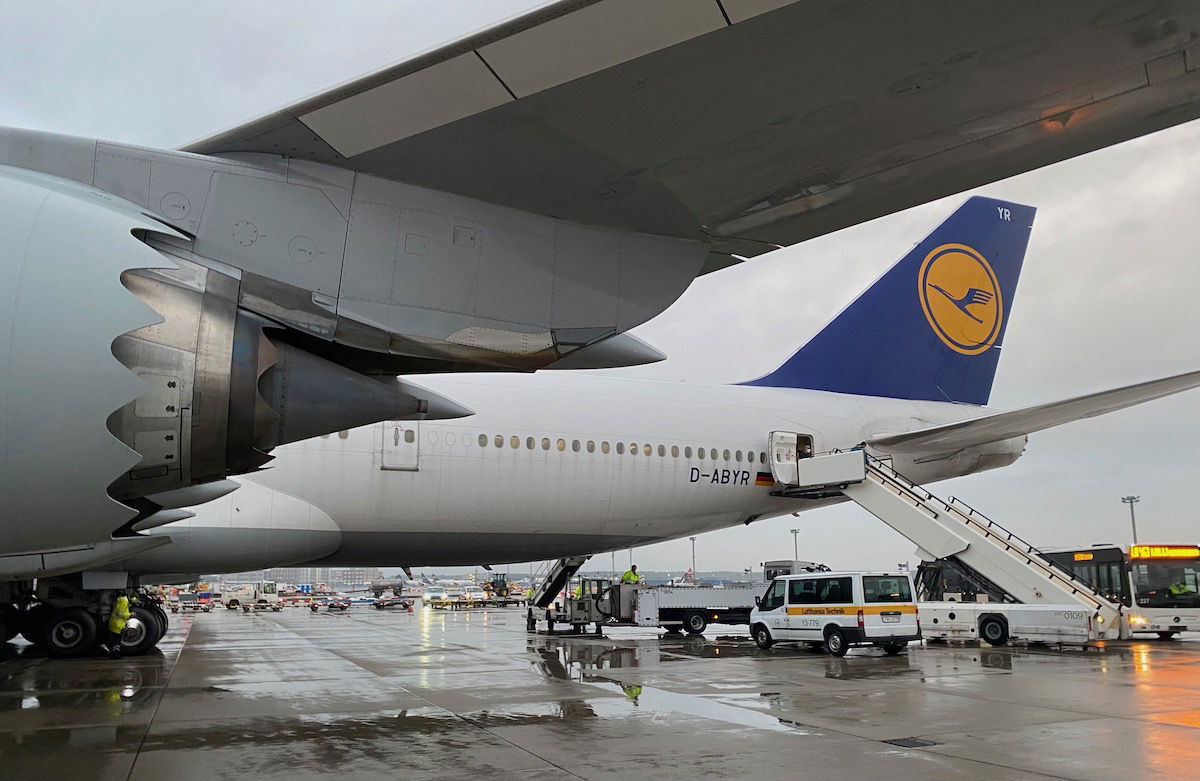 The other benefit is that if you're in Lufthansa first class and you don't arrive at a gate, you're driven to the terminal separate from other passengers.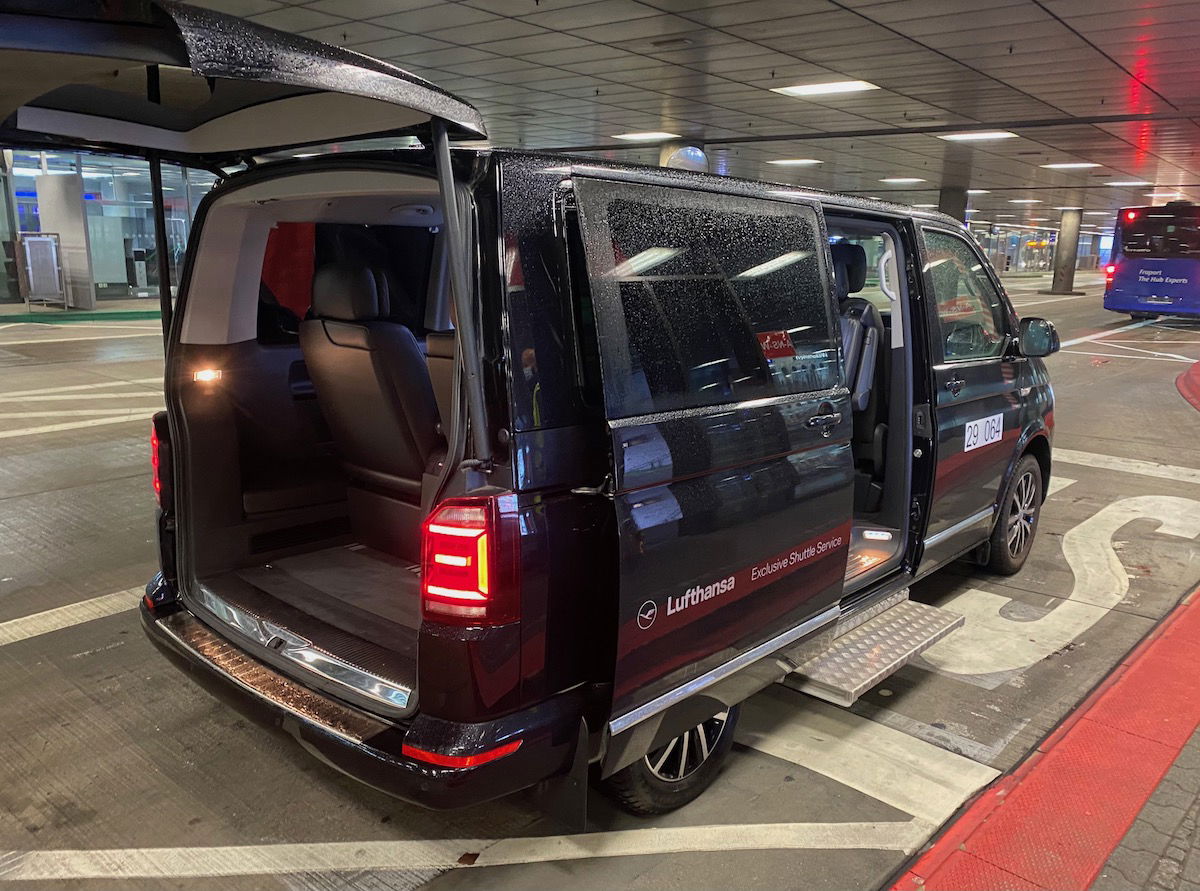 We'll pick up there in the next installment, with our very long layover at the First Class Terminal…
Bottom line
Lufthansa first class is such a fantastic way to cross the Atlantic. For one, sitting in the nose of a 747-8 is so much fun, but beyond that, the cabin elegance, amenities, service, food, drinks, and Wi-Fi, make this a phenomenal product.
Unlike some other airlines, Lufthansa has more or less maintained its typical first class service during the pandemic. Lufthansa first class continues to be my favorite way to cross the Atlantic with miles (along with Emirates first class).
What do you make of Lufthansa's first class product?