EXTRA PERKS AVAILABLE
Enjoy breakfast, upgrades, & more
Want to take advantage of Virtuoso benefits at no extra cost, including a confirmed room upgrade, confirmed early check-in and late check-out, free breakfast, and roundtrip airport transfers with VIP meet & greet? Contact Ford ([email protected]) for more details. He doesn't charge booking fees, and may even be able to help if you already have a stay booked.
On our quest to check out some of Paris' best luxury hotels, we spent the first night of our trip at the Ritz Paris, which is probably Paris' most famous hotel, and possibly one of the most famous city hotels in the world.
Let me say upfront that this is an incredible hotel, with jaw-dropping design and very good service. Just be ready to pay dearly for everything, or maybe just pretend that the Euro is in fact the Australian Dollar while on property, and you might be a little bit less shocked by the prices. The reality is that all of this hotel's outlets seem to be consistently crowded, as people are willing to pay these prices for the scene.
Why the Ritz Paris is so iconic
The 159-room Ritz Paris opened all the way back in 1898, so the hotel is one of the oldest in Paris. This hotel has endless history, so here are a few noteworthy things:
Ernest Hemingway frequently stayed at the hotel, and this was where he learned his wife wanted a divorce; he threw her photo in the toilet and then shot the photo with a pistol (as one does); to this day, the hotel has a bar named after him
In 1997, Princess Diana dined in the Imperial Suite at the Ritz Paris the night she ended up in a fatal car accident
Between 2012 and 2016 the hotel underwent its first full renovation since opening, which cost an estimated $450 million
In 2018, five men stole millions of Euros worth of jewelry from the hotel, in the highest profile hotel robbery in the city's history
So yeah, I'm not saying all of those things are necessarily positives, but they sure do add to the intrigue surrounding this property.
How to book the Ritz Paris
Entry level rooms at the Ritz Paris range from 1,100 EUR to 1,700 EUR per night, depending on when you're staying. For our one night stay, we paid 1,200 EUR.
There's one absolute best way to book the Ritz Paris, and that's through a travel advisor who is affiliated with Virtuoso. Virtuoso offers guests extra perks at luxury hotels around the world, all without it costing anything extra. Ford is more than happy to help with these requests, and can be reached at [email protected].
The Ritz Paris is one of the most generous hotels in the world when it comes to the perks offered to Virtuoso guests. For booking through a Virtuoso travel advisor, you receive the following perks:
Guaranteed upgrade at time of booking
Early check-in and late check-out, confirmed at time of booking
Daily full breakfast for two guests per bedroom (valid at the restaurant or via in-room dining)
Complimentary roundtrip airport transfers, including VIP meet & greet service at the airport on arrival
This really is quite generous. Other Virtuoso properties offer an upgrade subject to availability at check-in (here it's at the time of booking), early check-in and late check-out subject to availability (here it's confirmed at the time of booking), and a perk valued at $100 (I can assure you roundtrip airport transfers with a VIP meet & greet at the airport would cost a lot more than that).
So yeah, the Ritz Paris has really high rates, though at least the Virtuoso perks are good. I should also mention that the perks are much better through Virtuoso than through Amex Fine Hotels & Resorts for this property, so this is definitely a property where you want to book through a Virtuoso advisor.
Why we stayed at the Ritz Paris
Let me of course acknowledge that the Ritz Paris is outrageously expensive, and for that matter this is the most I've ever spent for a night at a city hotel. Many are probably understandably saying "well why did you review this, most of us could never afford to stay here?" To answer that:
I try to mix up the type of hotels I review, and sometimes that involves a "hotel porn" type of review; some reviews are of hotels useful for redeeming miles & points, while sometimes it's just cool to see what an over-the-top luxury hotel is like, even if you have no plans to actually stay there
While still far from cheap, we did this as economically as possible, booking through Virtuoso to maximize perks for one night
Ford is a luxury travel advisor, and has lots of clients who visit Paris, so there's value in being able to compare them
The miles & points world is pretty diverse — there are plenty of people who use points to book first & business class flights, so that they then have more cash to spend on luxury hotels
Like I said, 1,200 EUR per night is way more than I personally like spending on a city hotel, especially when you have the incredible Park Hyatt Paris bookable for a reasonable number of World of Hyatt points. But for a one night review on a special 30th birthday trip, it seemed like the occasion to give this a try.
Ritz Paris complimentary airport transfer
When we landed at Paris Charles de Gaulle Airport (CDG), there was a gentleman from the Ritz Paris waiting on the jet bridge for us. He assisted us with our bags, and escorted us all the way to the arrivals hall, where a Mercedes was already waiting for us.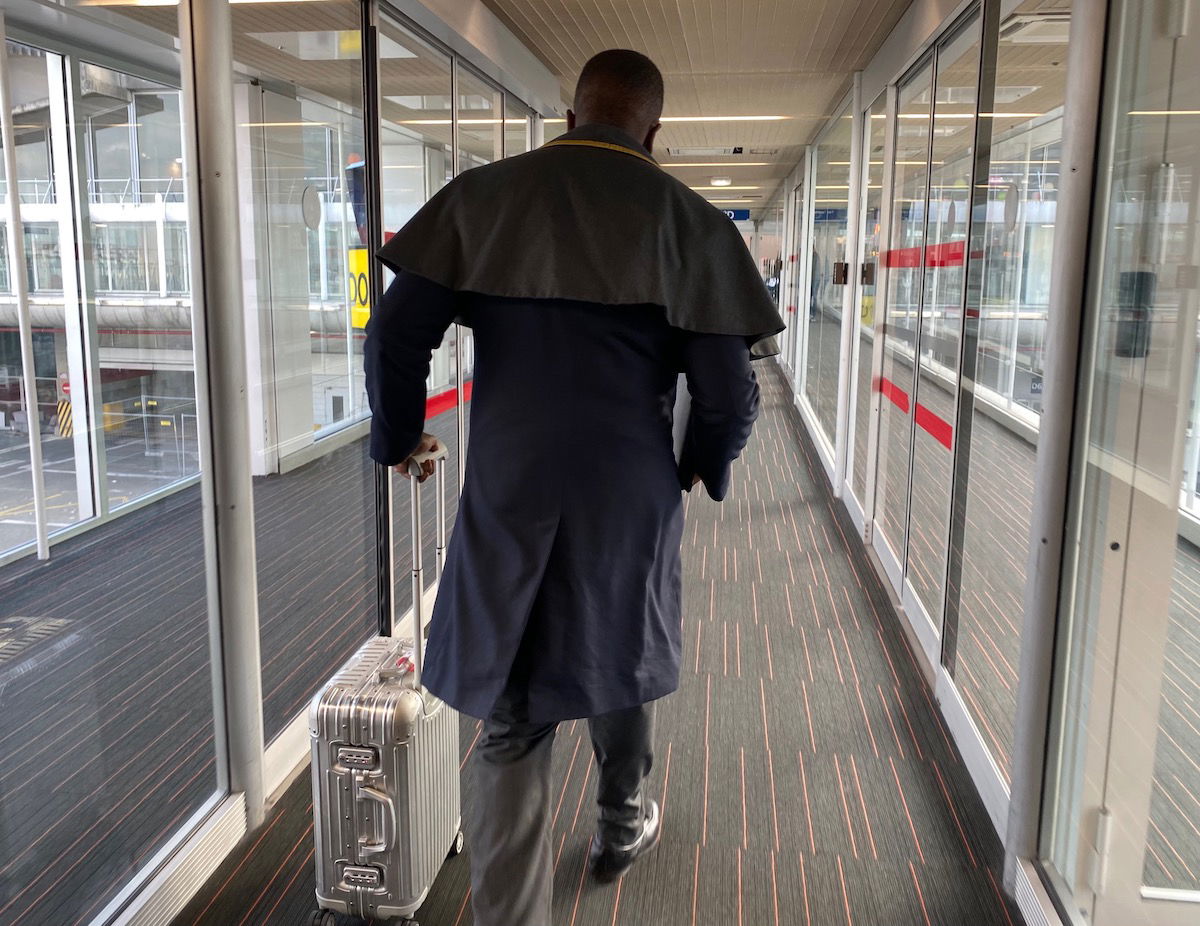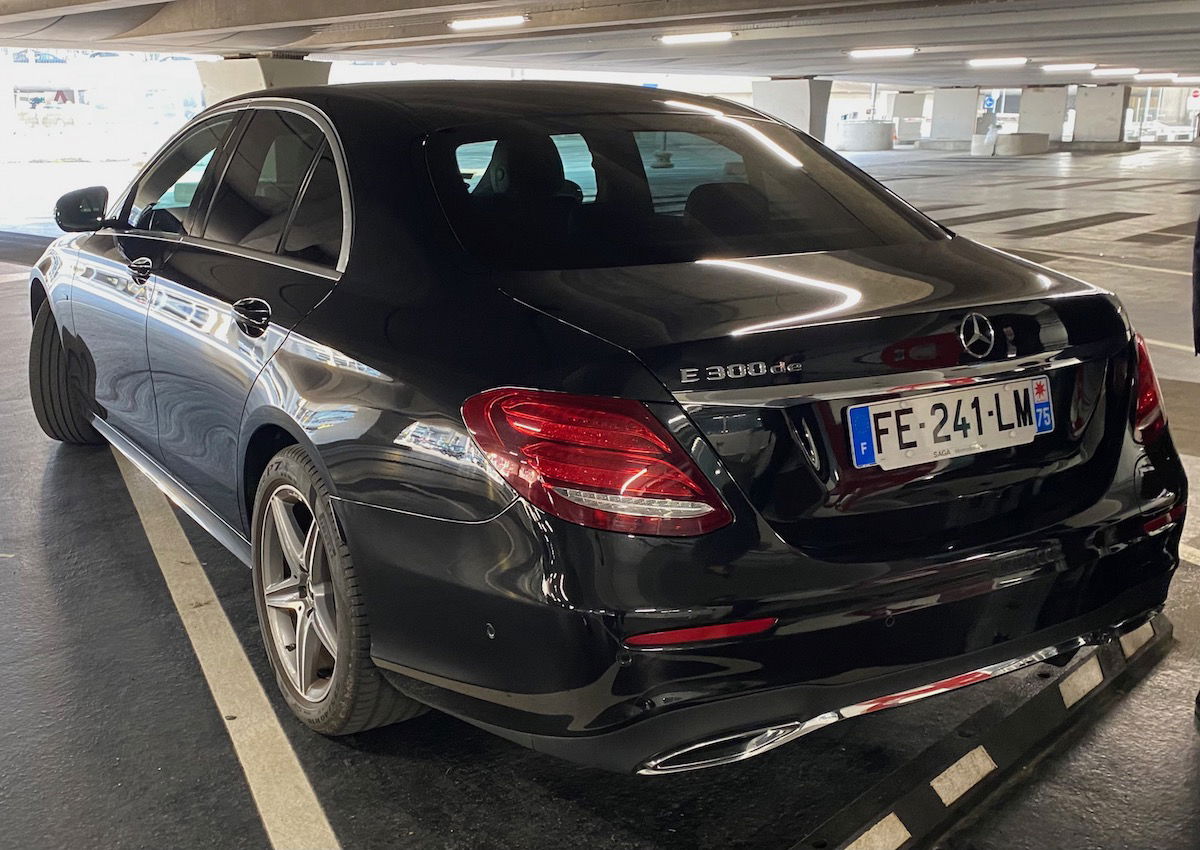 The drive to the hotel took around 45 minutes. When we arrived at the hotel, there was a front office associate already waiting for us. As we emerged from the car he addressed both of us by name (that's impressive), and escorted us to check-in, and then brought us all the way to our room.
I have to say, the experience was seamless and well executed, as we were taken care of from the second we stepped off the plane, to the second we were in our room. Given how much the Ritz Paris charges for everything else, I can't imagine what the hotel's retail cost could have been for this.
Ritz Paris location
The Ritz Paris is located at Place Vendôme, in Paris' 1st arrondissement. Personally I love this area, mainly because it's easy to walk to all kinds of neighborhoods from there. If you've stayed at the Park Hyatt Paris, odds are that you've walked by the Ritz without realizing it, as it's just a couple of blocks away.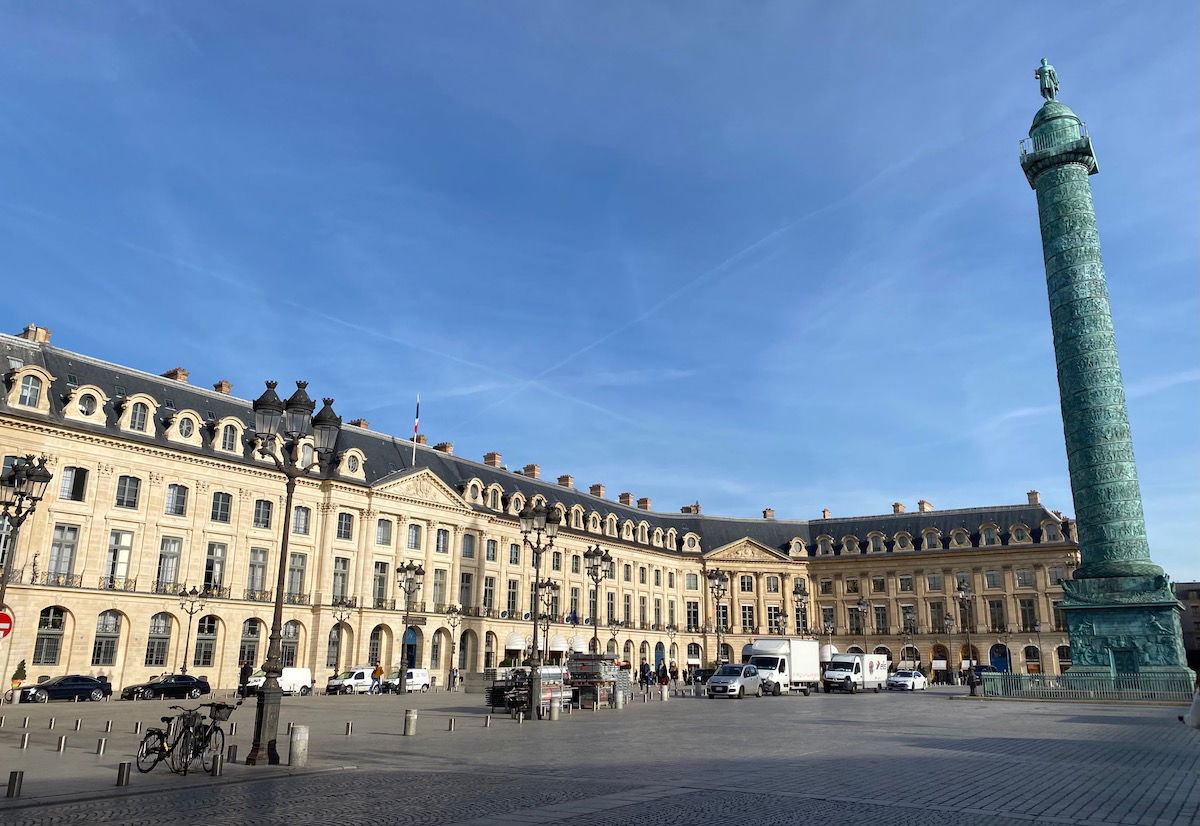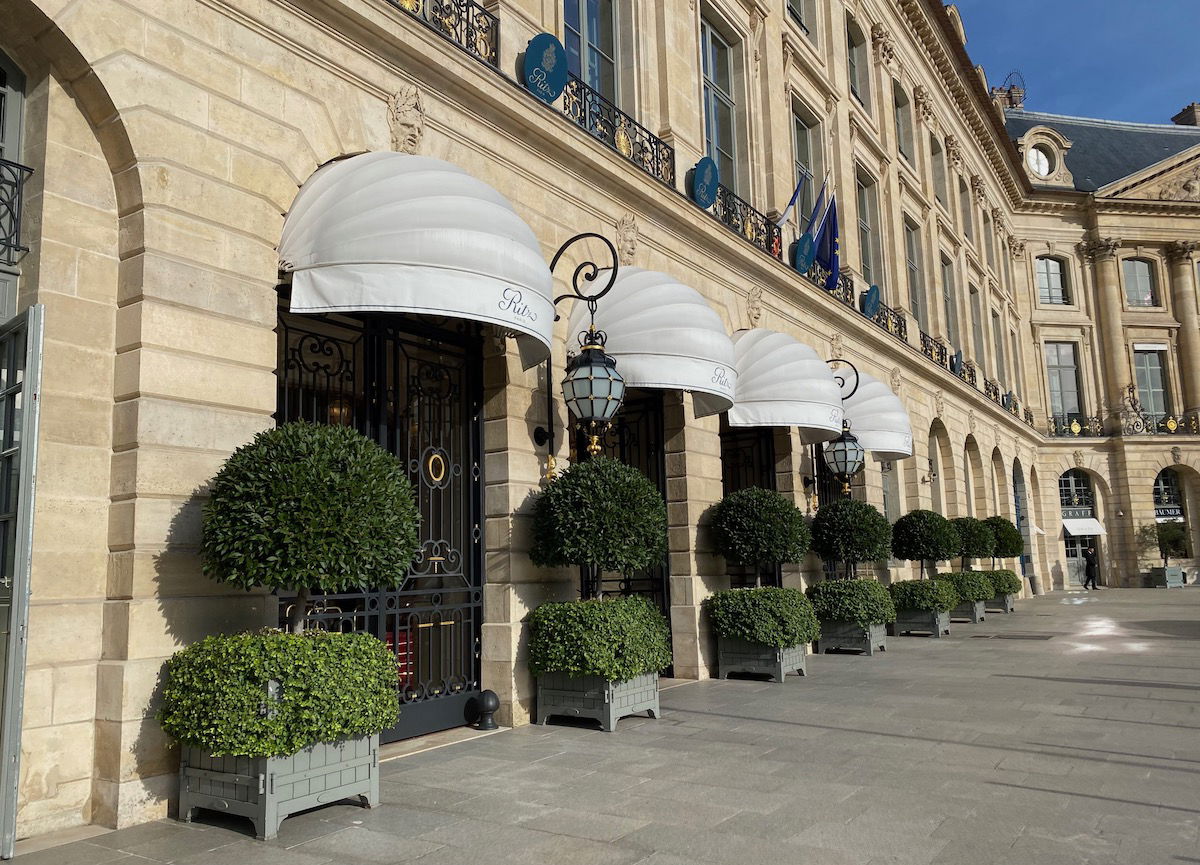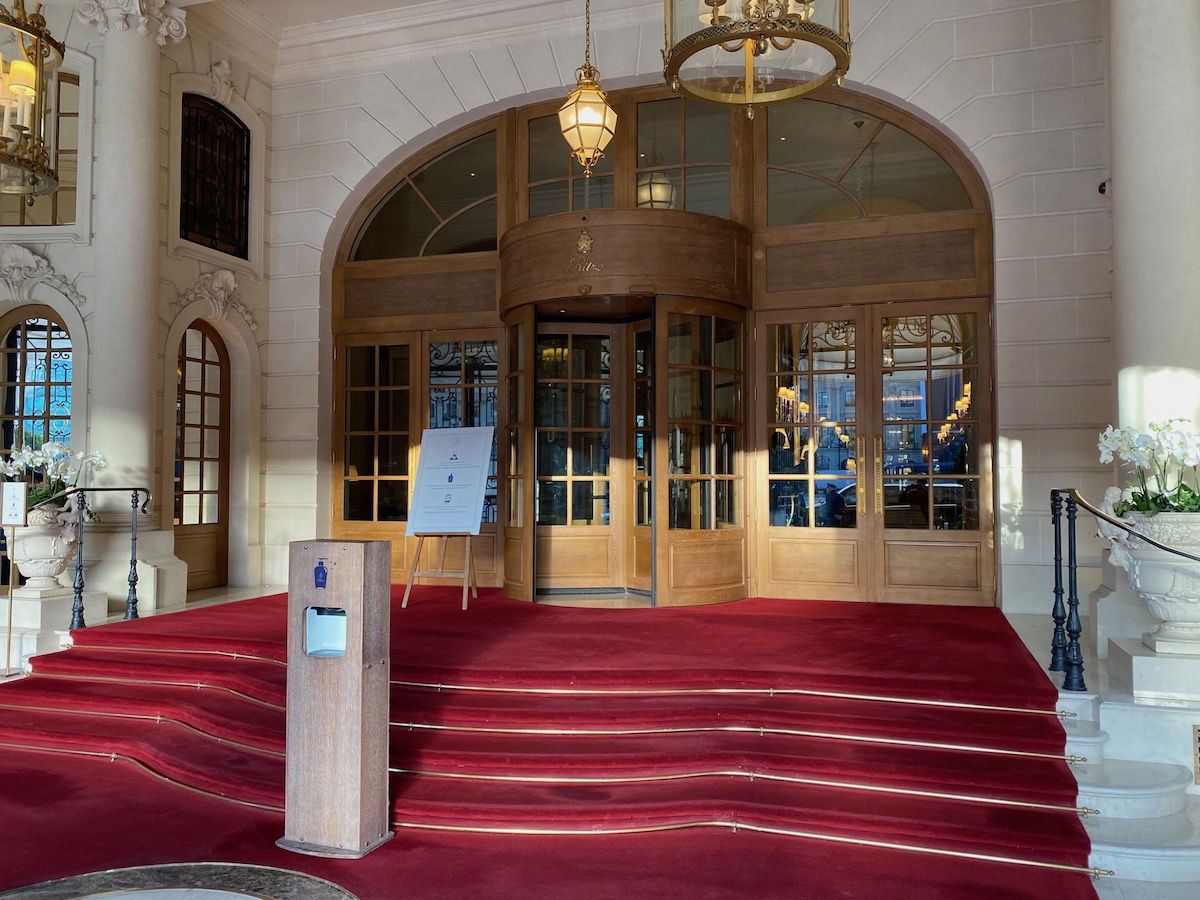 Ritz Paris lobby & public areas
The Ritz Paris' interior is so unbelievably over-the-top (as you'd hope, given that the renovation apparently cost almost half a billion dollars). You feel like you're being transported to some amazing palace in a different era, and the details in design are endless. Would I want to live in a place with decor like this? Heck no. But when staying at a property in Paris with so much history, this is perfect.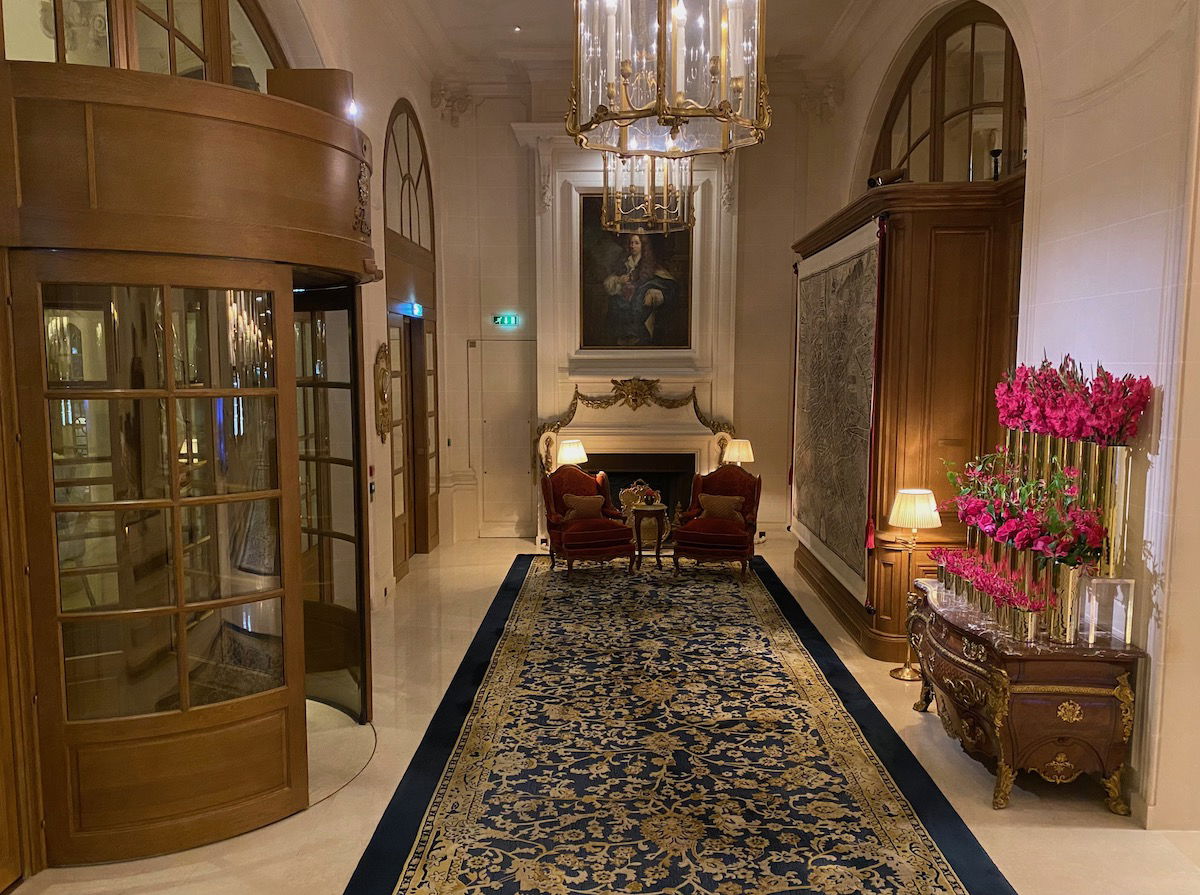 The hotel doesn't have a single "grand" lobby, but rather the public spaces mostly consist of long hallways that connect various parts of the hotel. Reception was located inside the entrance of the hotel and to the right.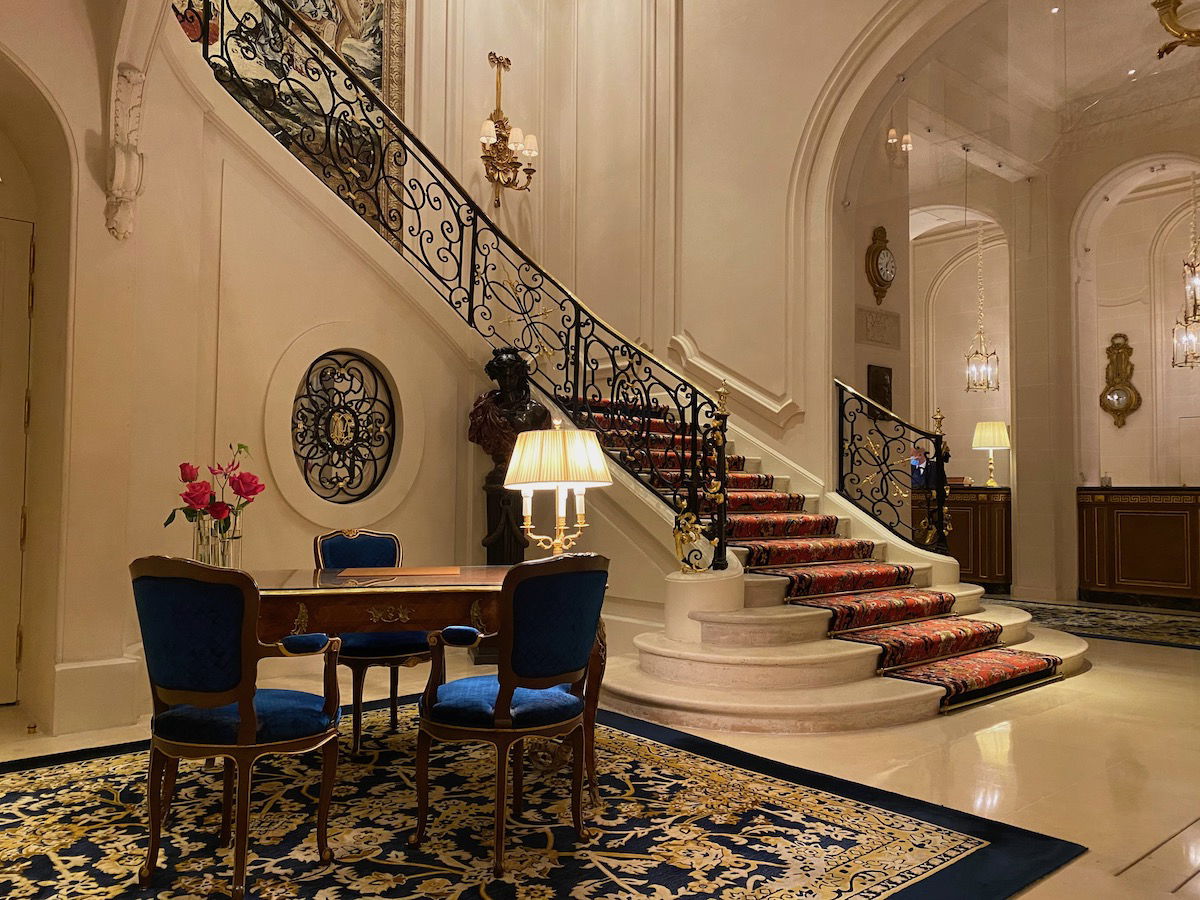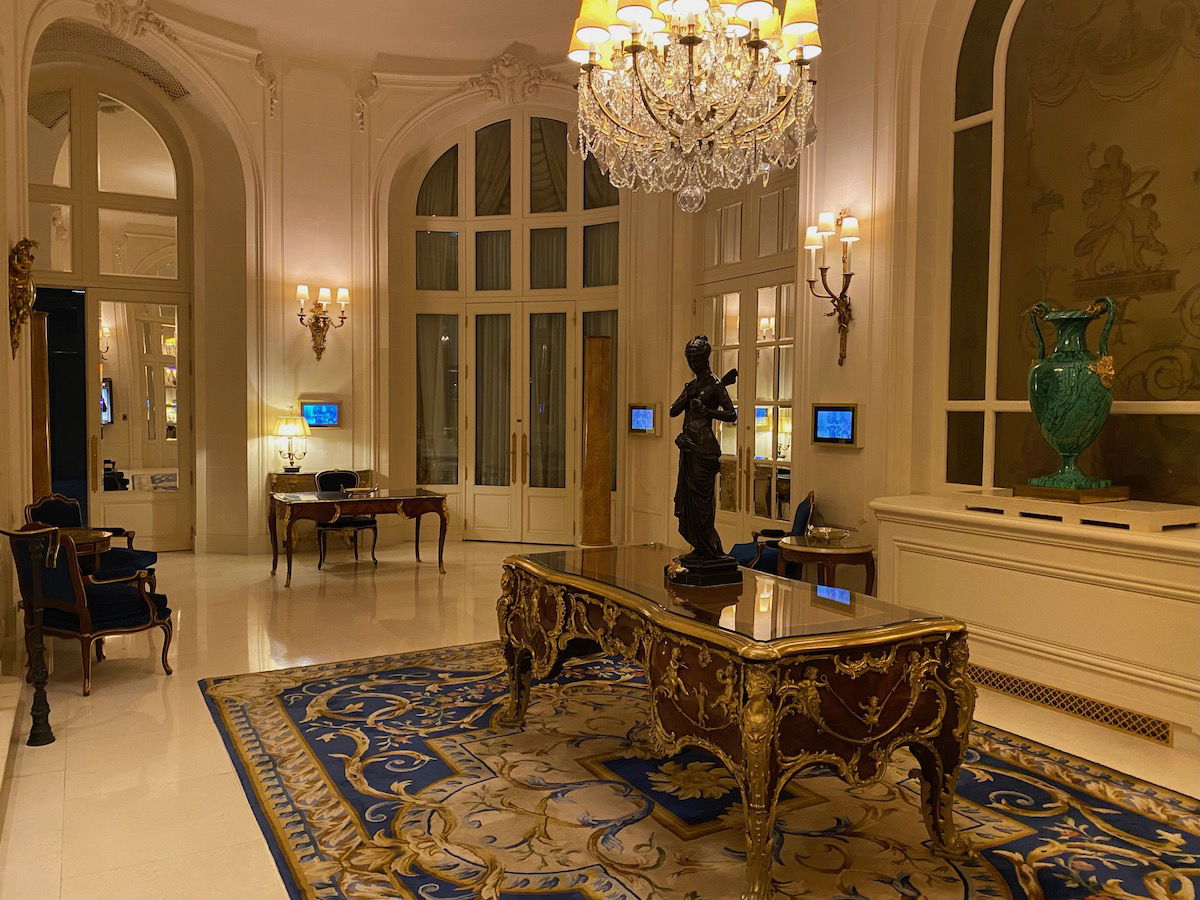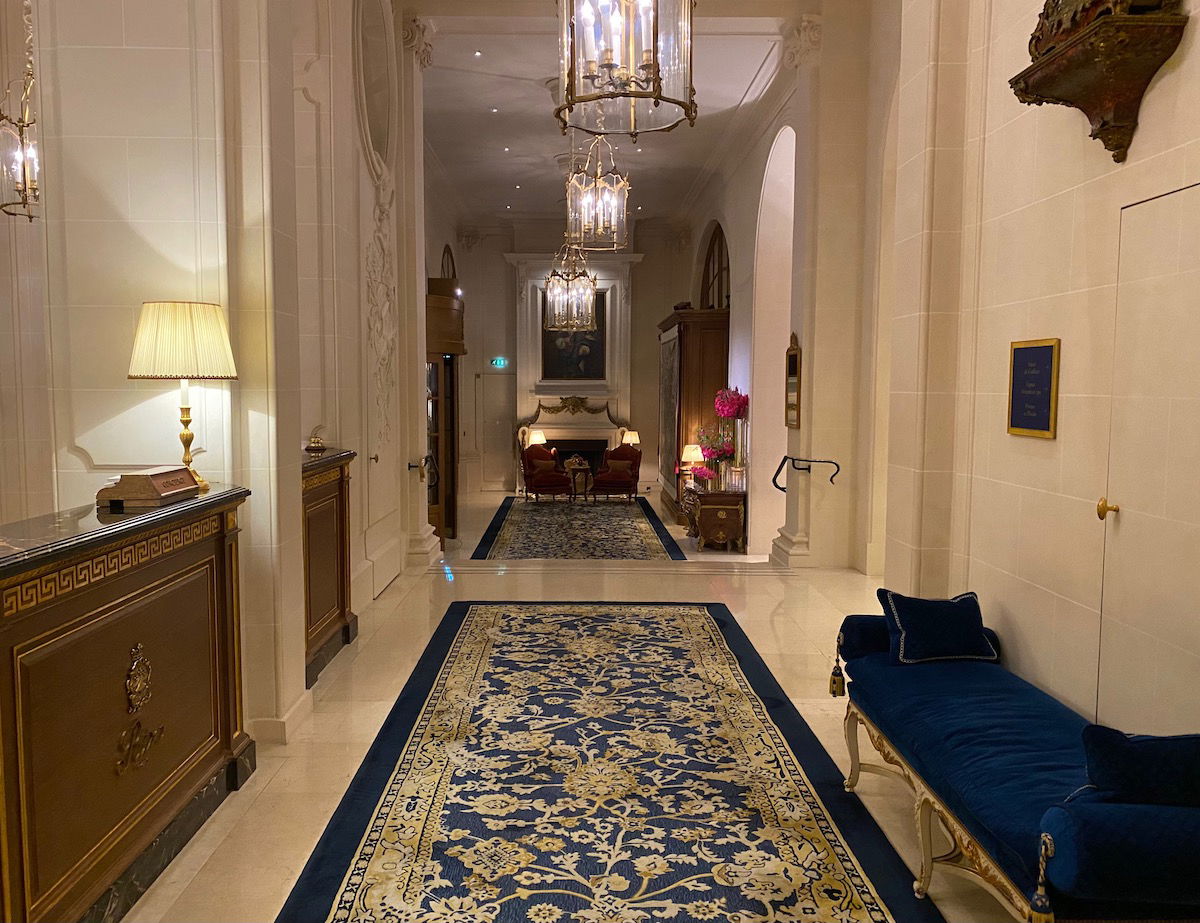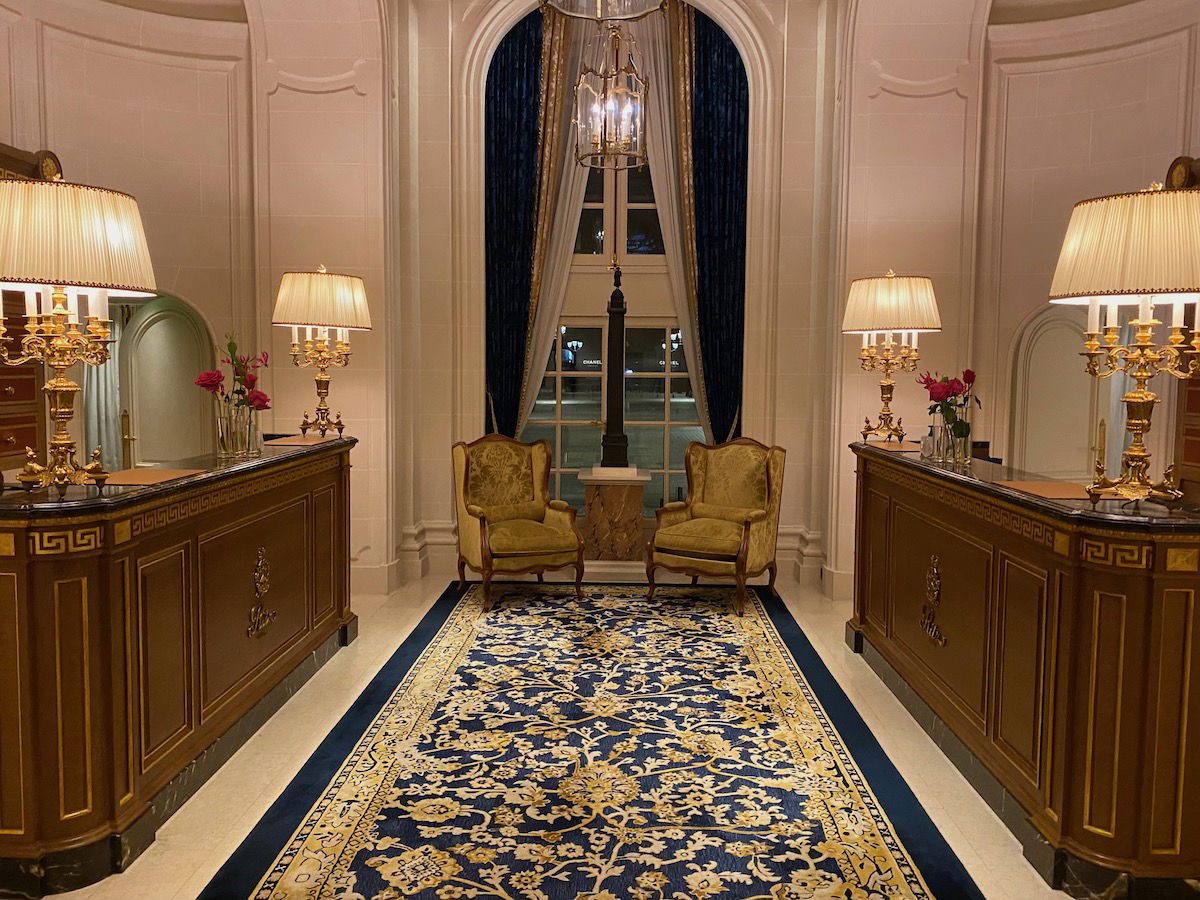 Most of the hotel's food & beverage outlets are located off the main hallway. This includes Bar Vendôme and L'Espadon Restaurant.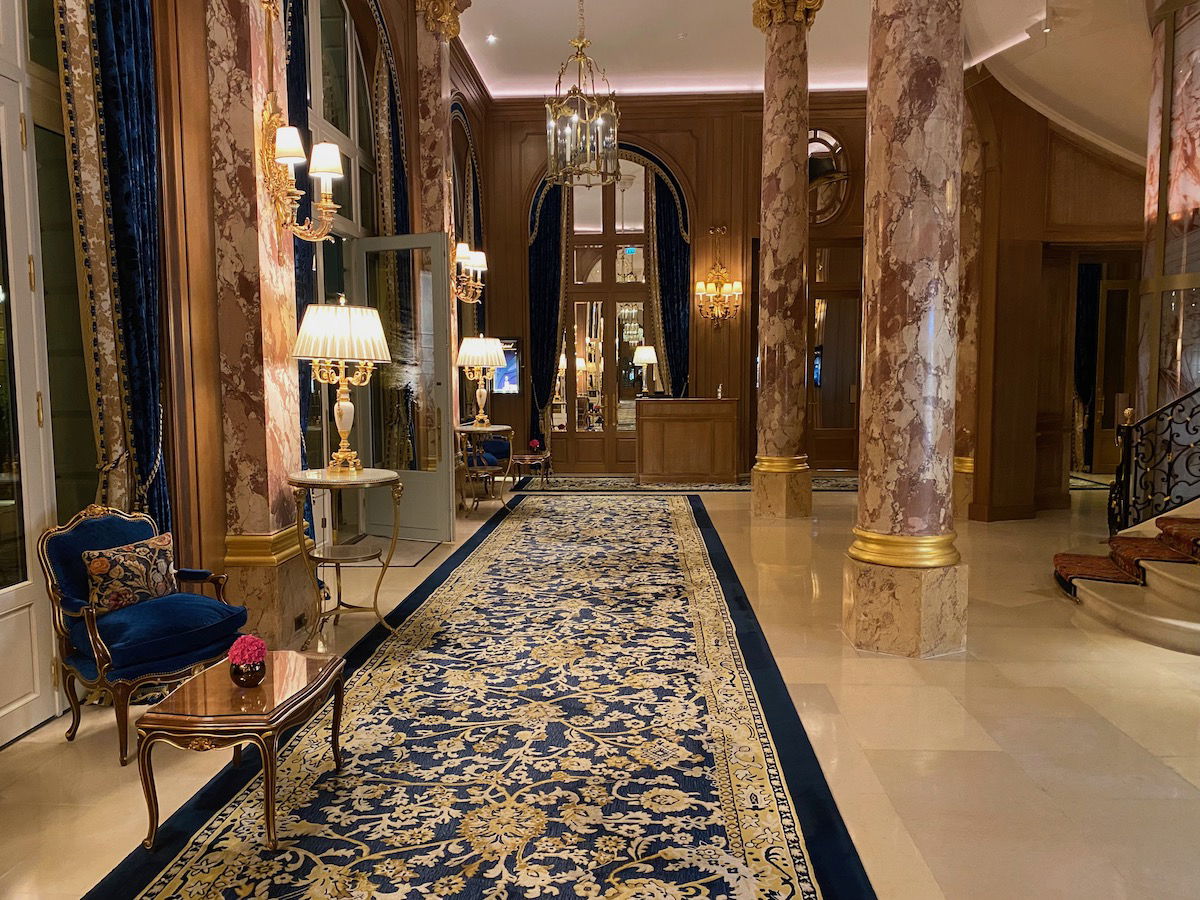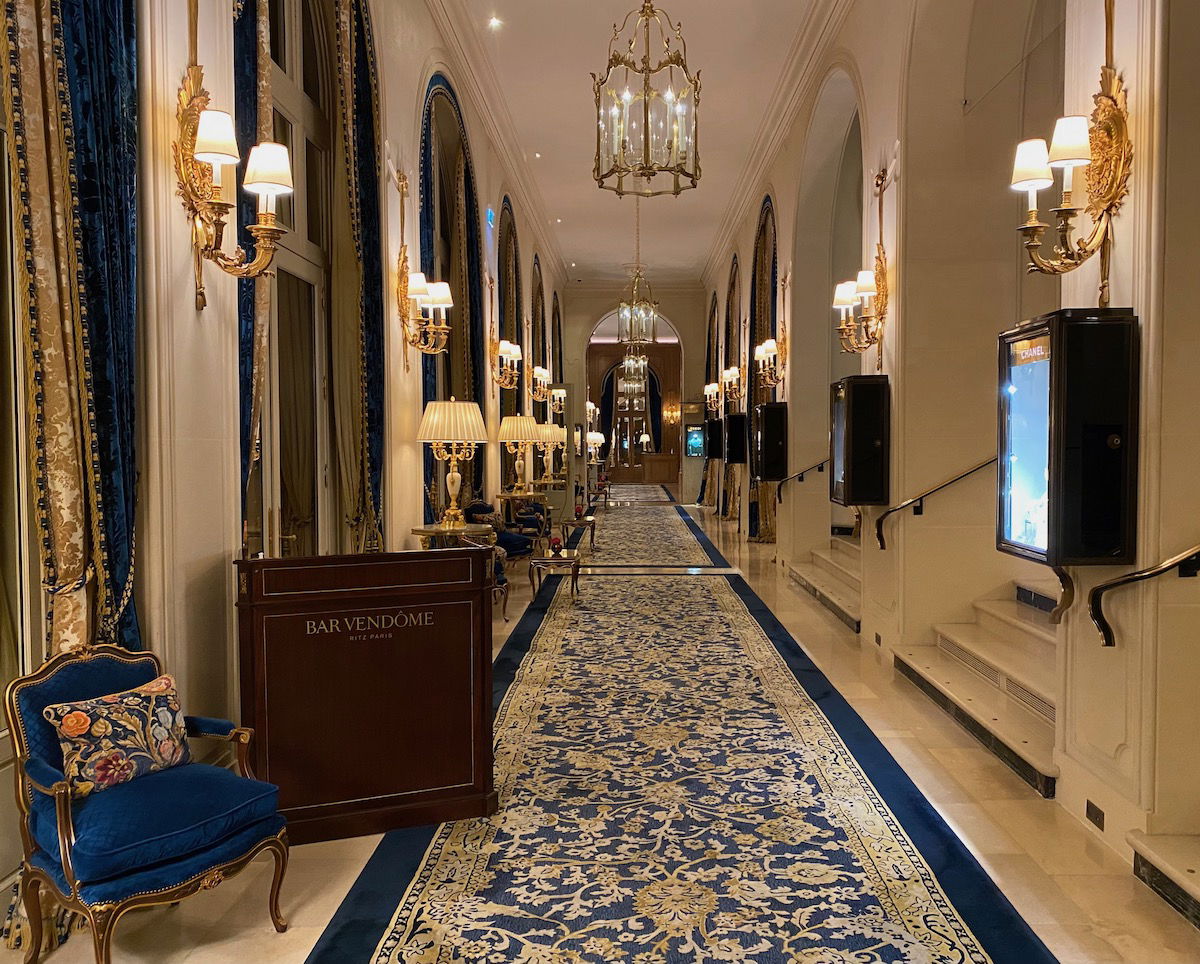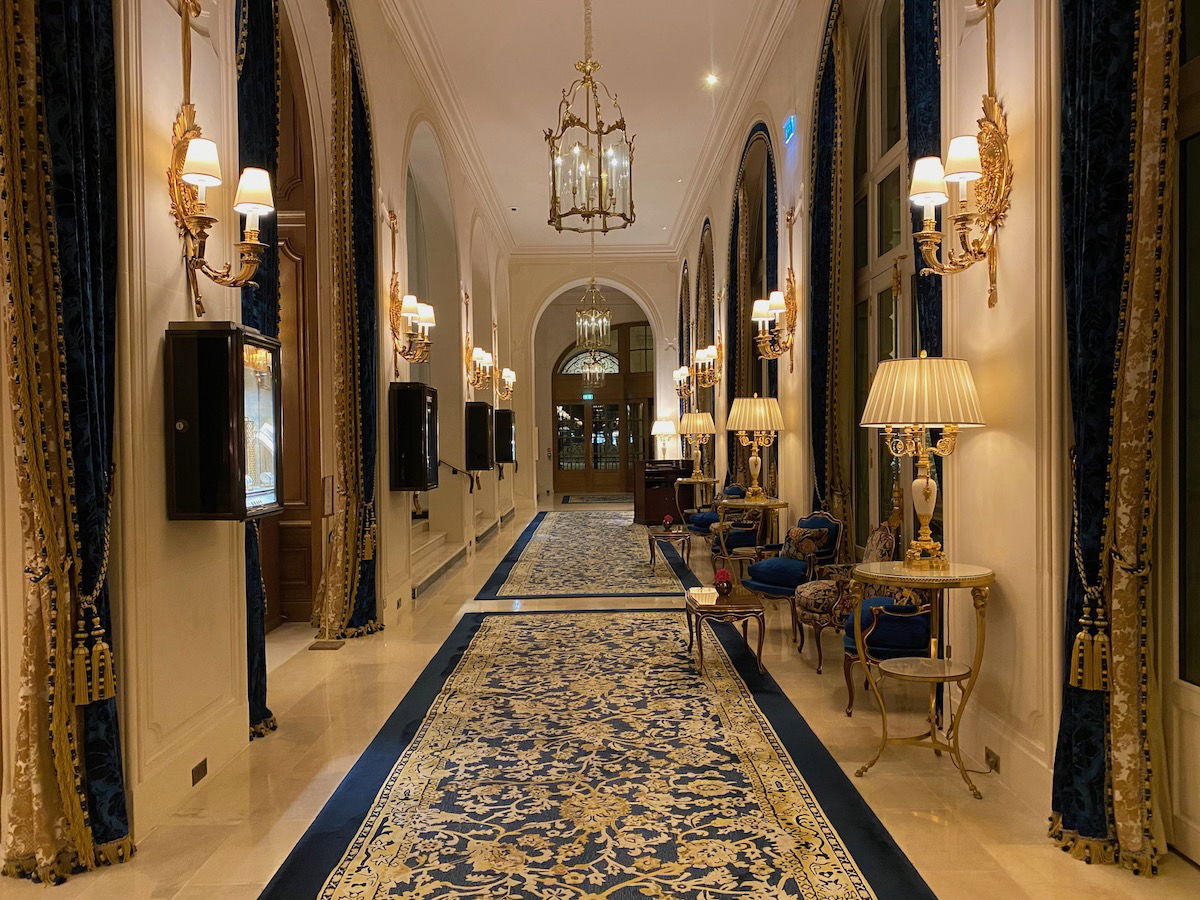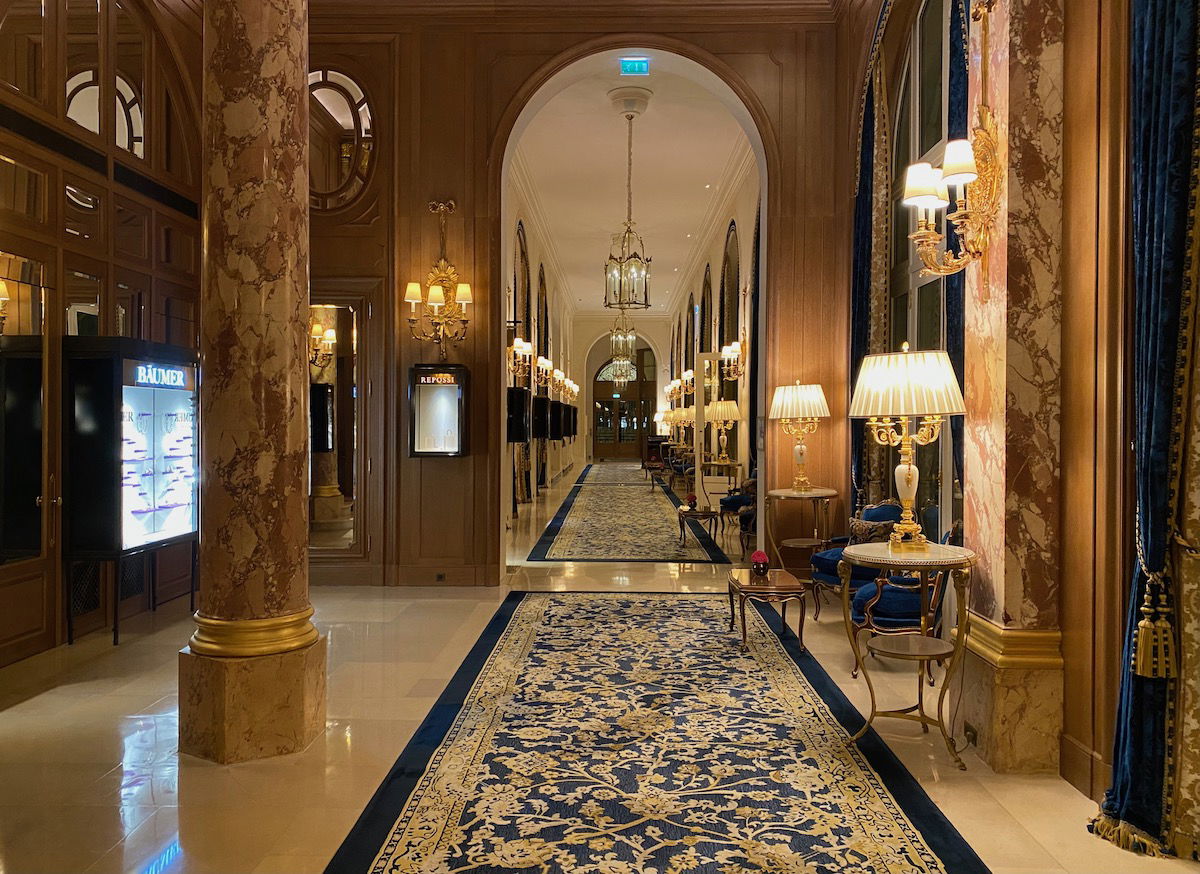 Salon Proust is also located just off the lobby. This is used for an afternoon tea service, but for the rest of the day it's an area where guests can just hang out.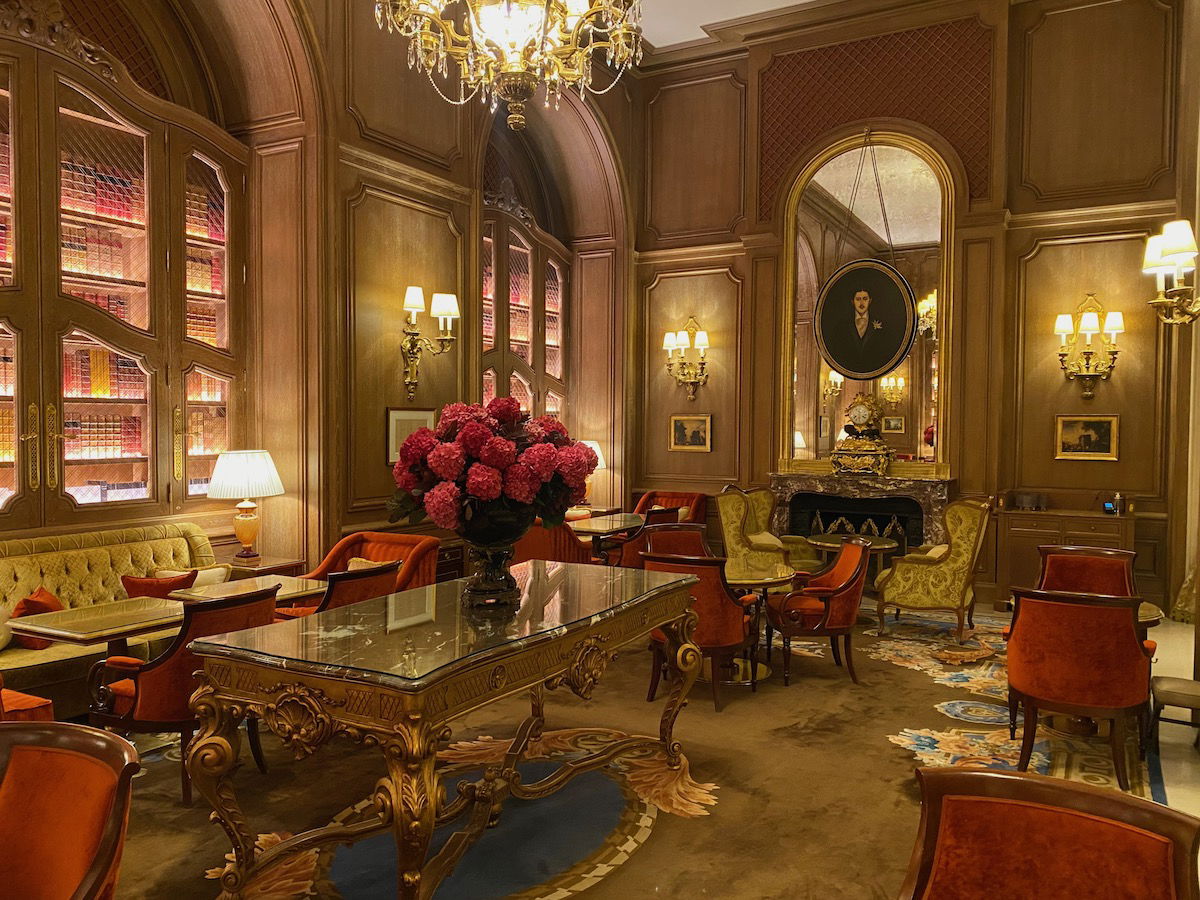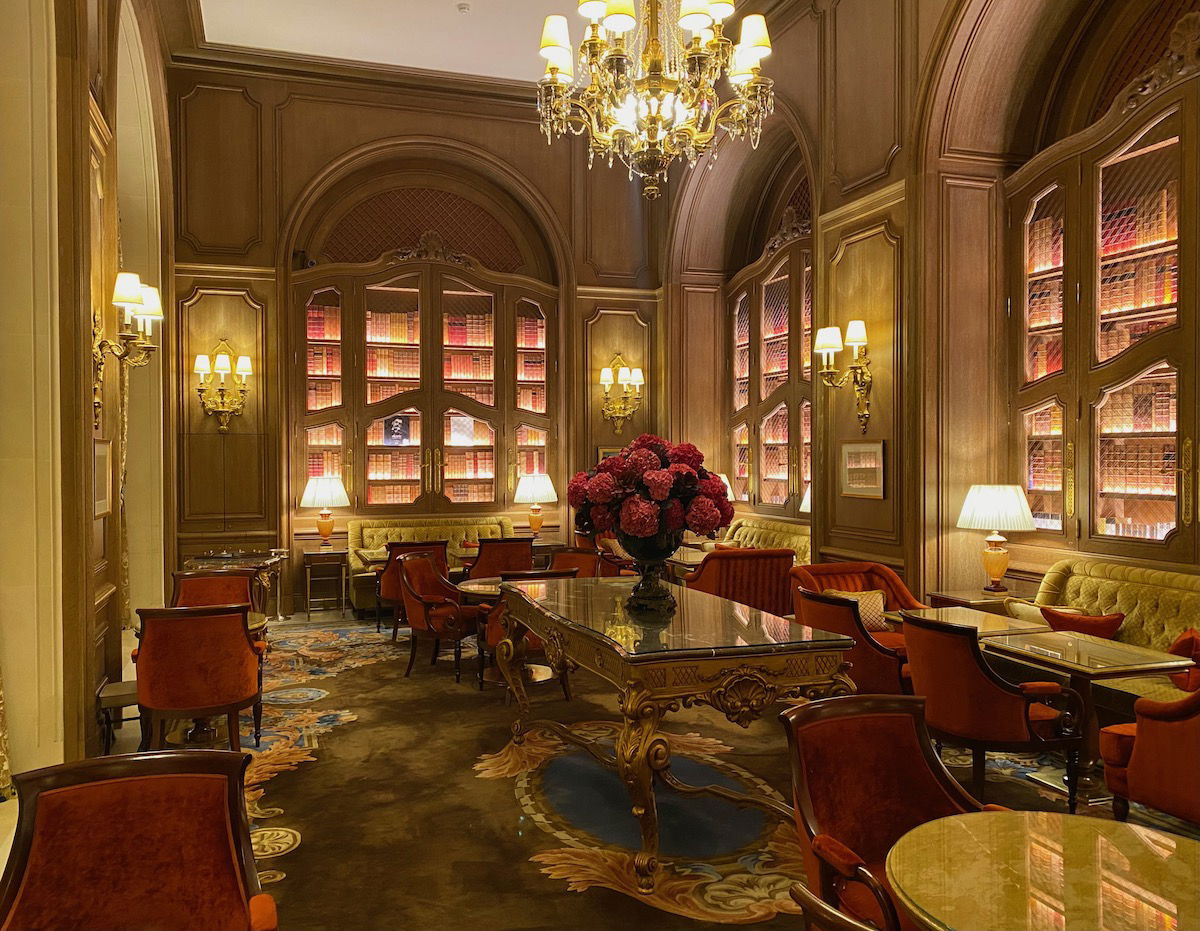 Towards the back of the lobby are some long corridors with many high-end shops, and at the far end of that are the hotel's two famous bars, including Bar Hemingway and the Ritz Bar.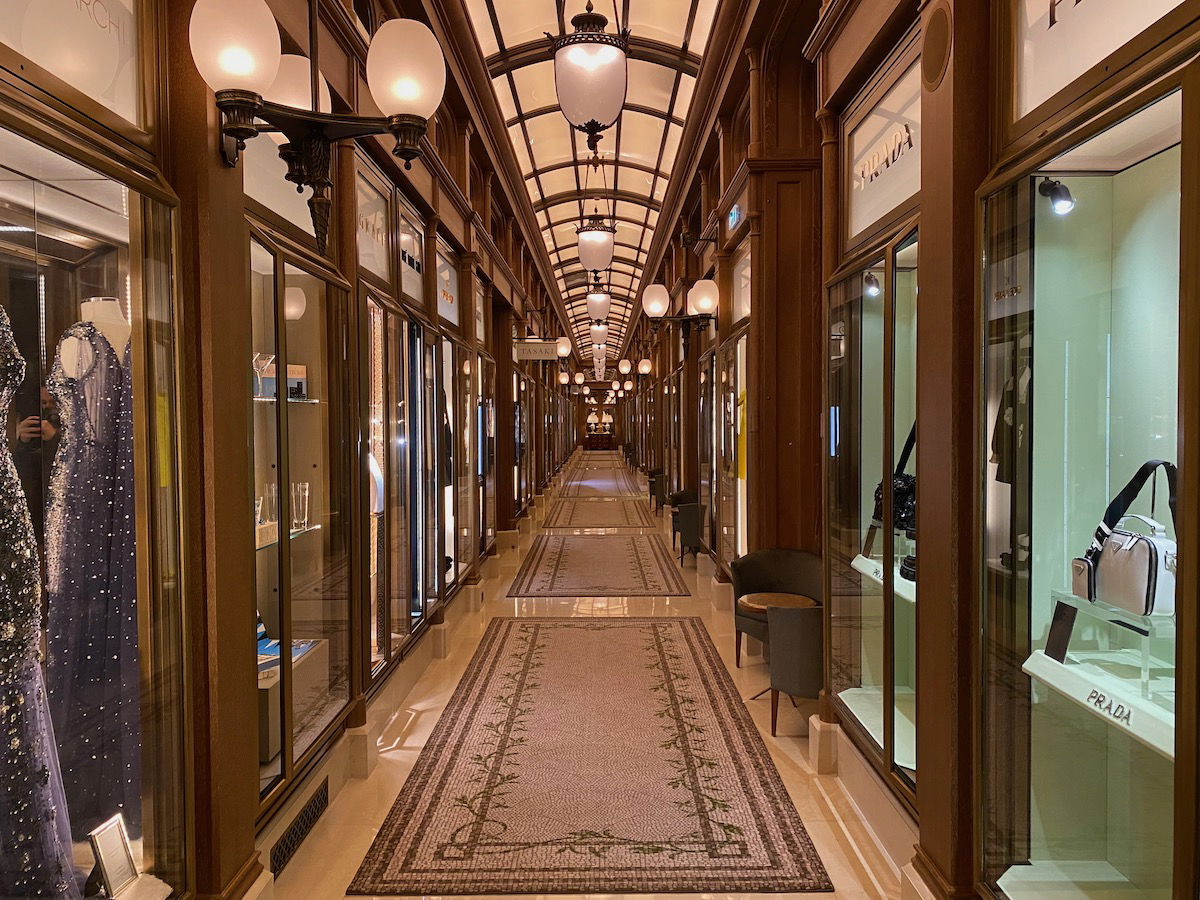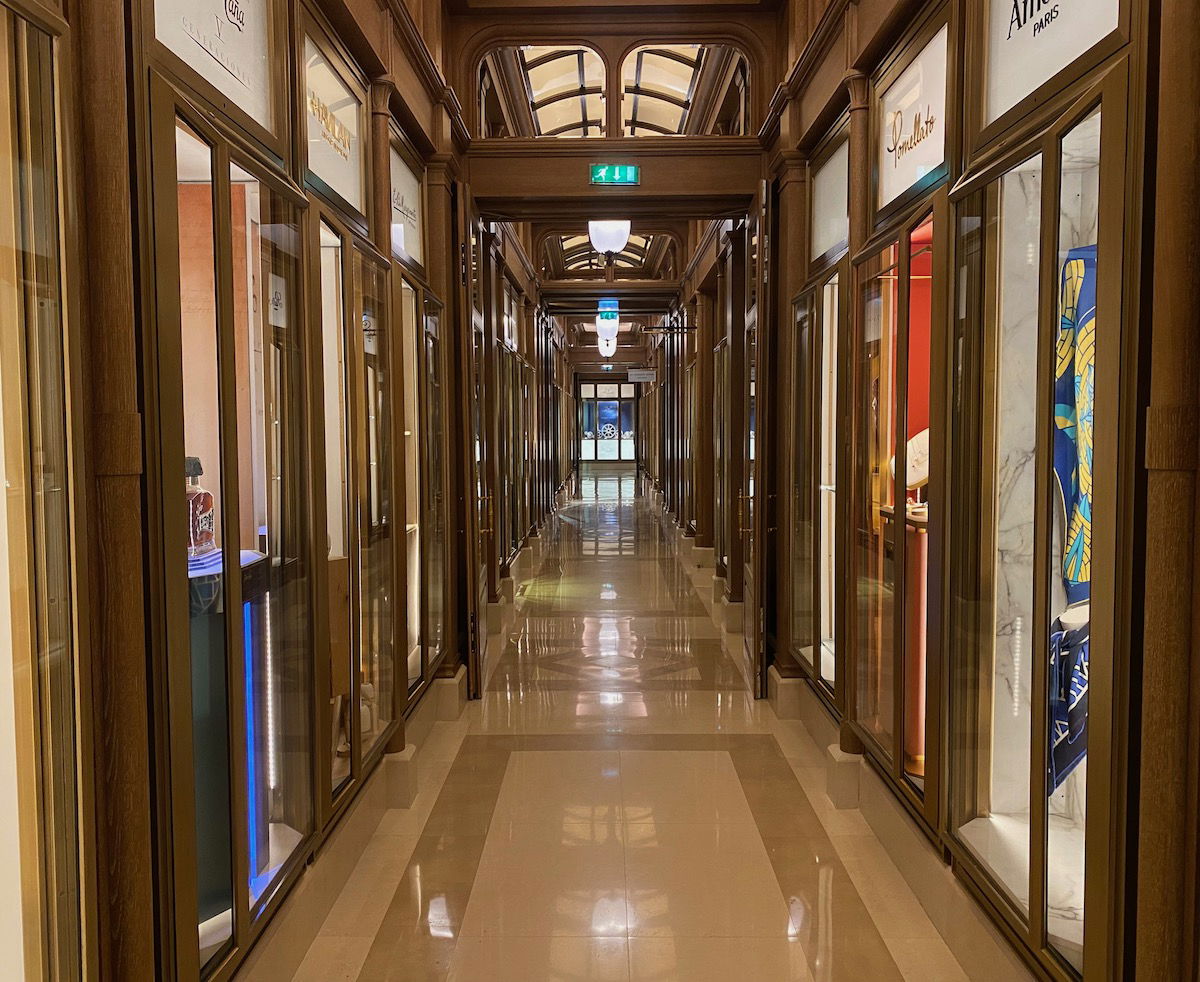 After a brief tour of the hotel, we were brought to our room.
Ritz Paris Executive Room
We had booked the entry level superior room, and at the time of booking our room was upgraded one category to an executive room. Specifically, we were assigned room 312. Given the history of the building (this wasn't all originally one hotel), there are many ways to get to rooms, including several sets of elevators and stairs.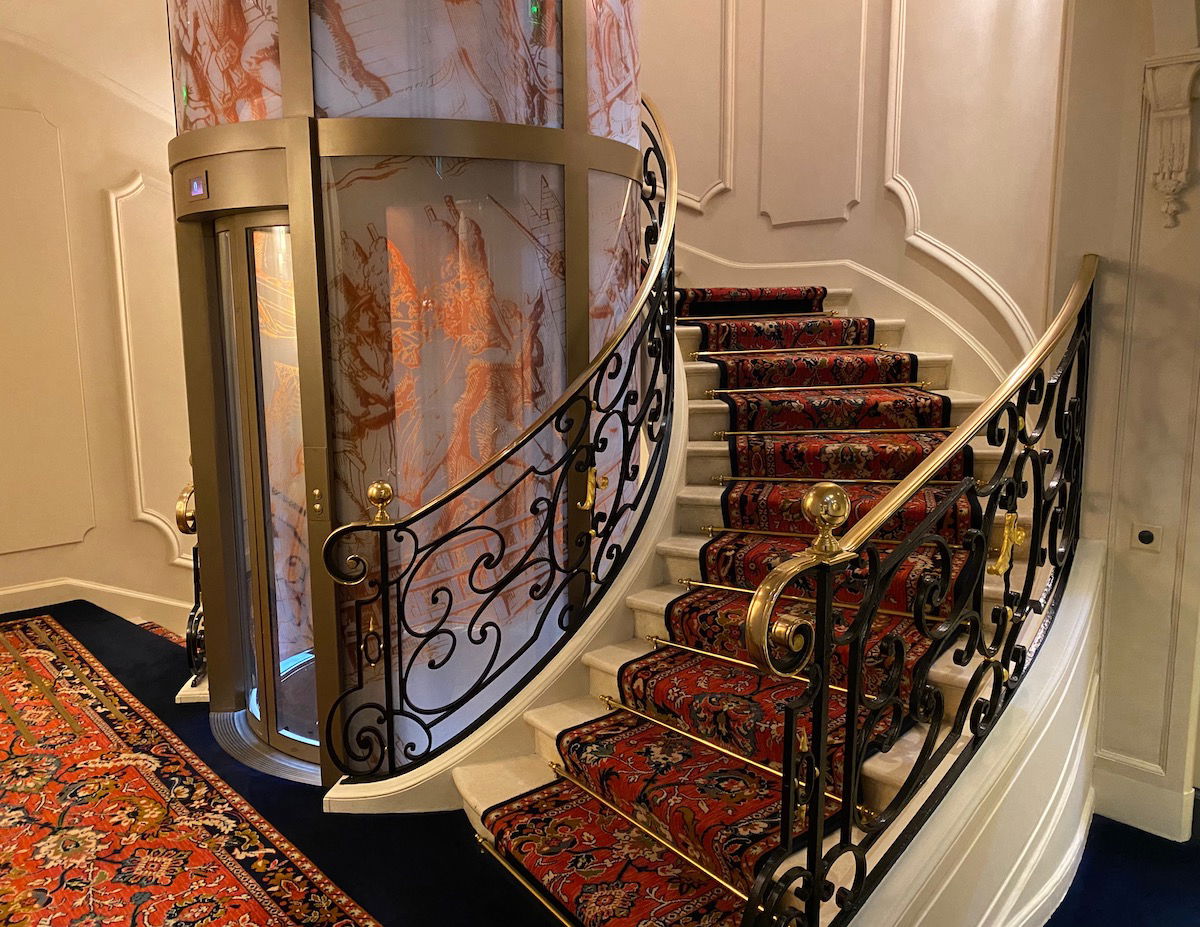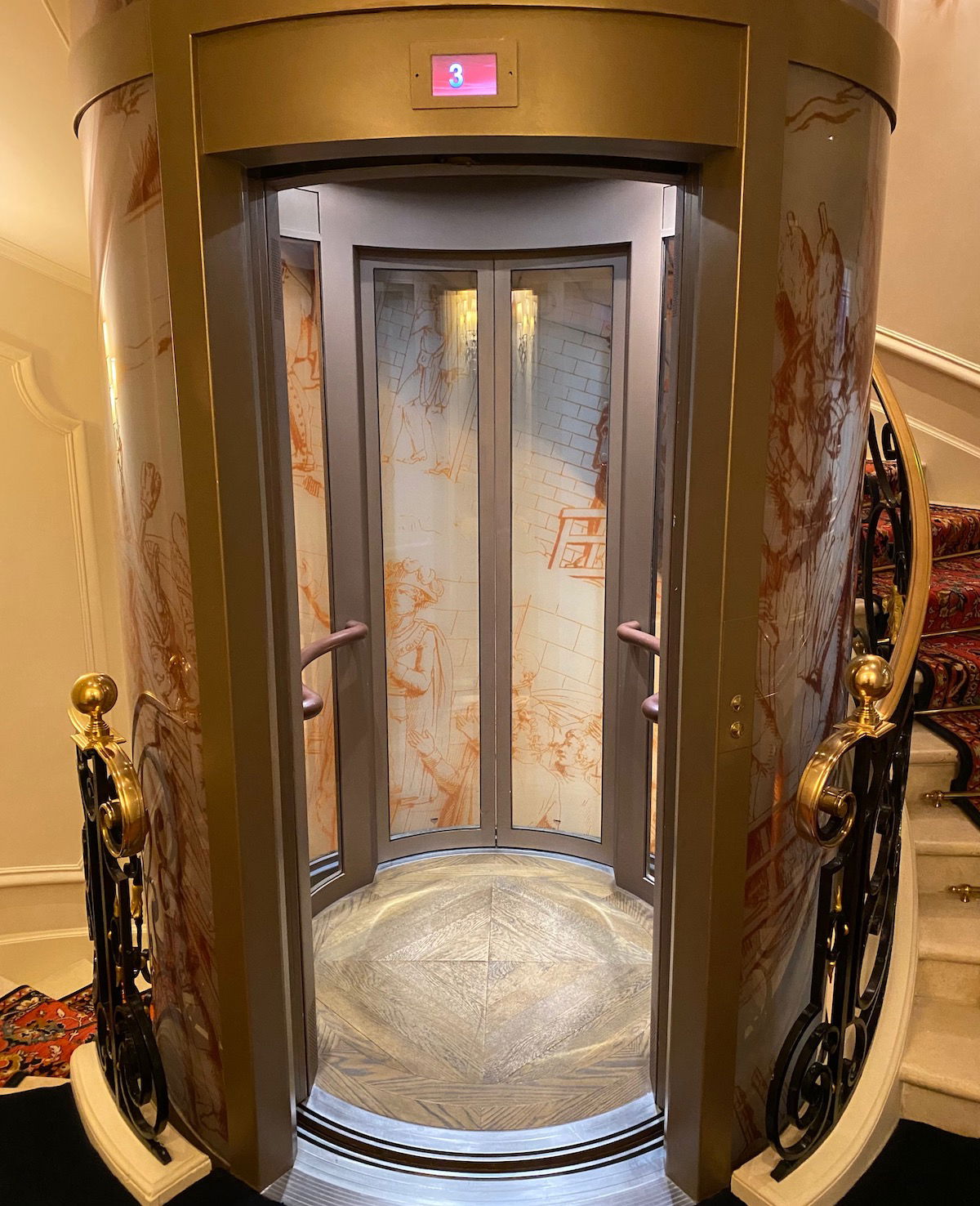 Our room was on the third floor (the hotel has six floors), the first room on the left as we exited the elevator.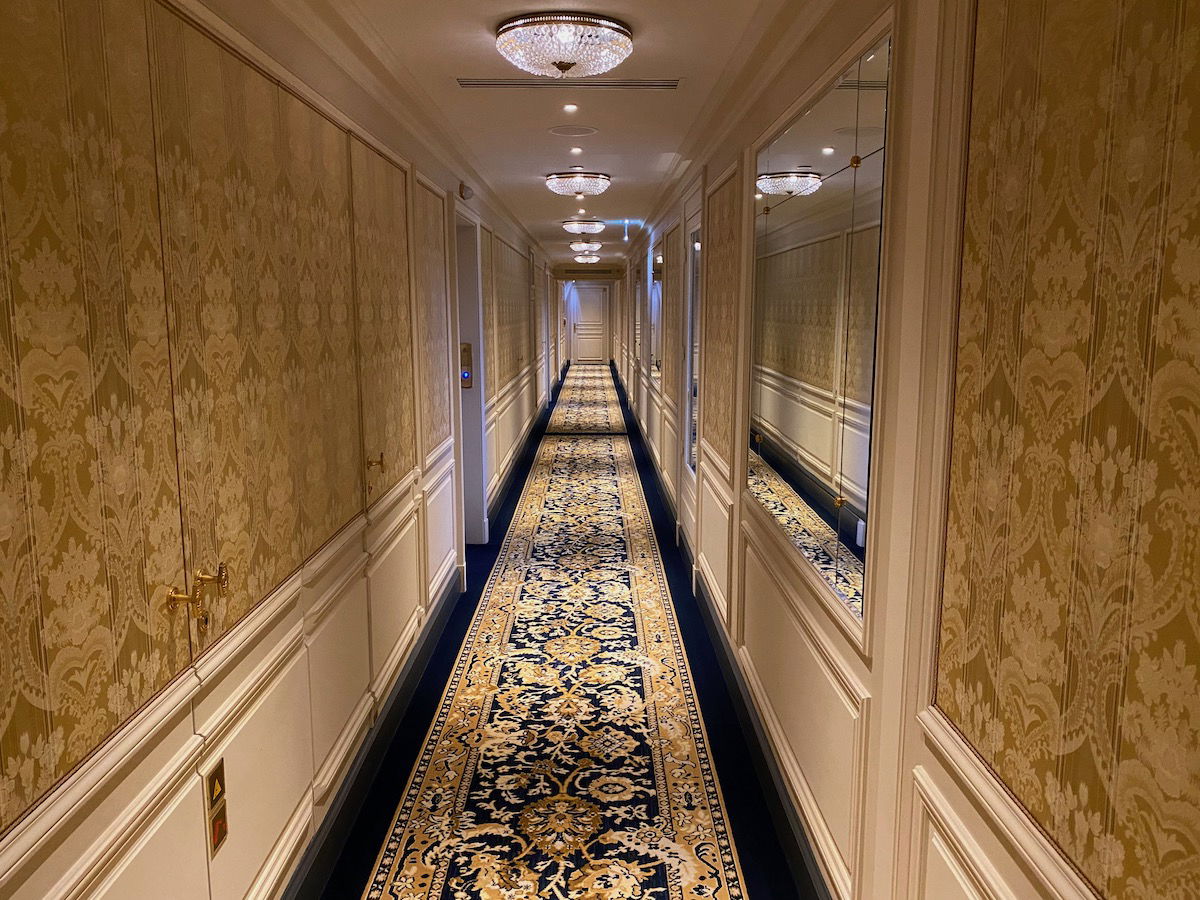 Executive rooms are the Ritz Paris are marketed as being 430 square feet. While not huge, they're a great size for a room in Paris. The room featured a long entryway, with the bathroom to the right, and several hidden doors on both sides, revealing everything from closets to minibars.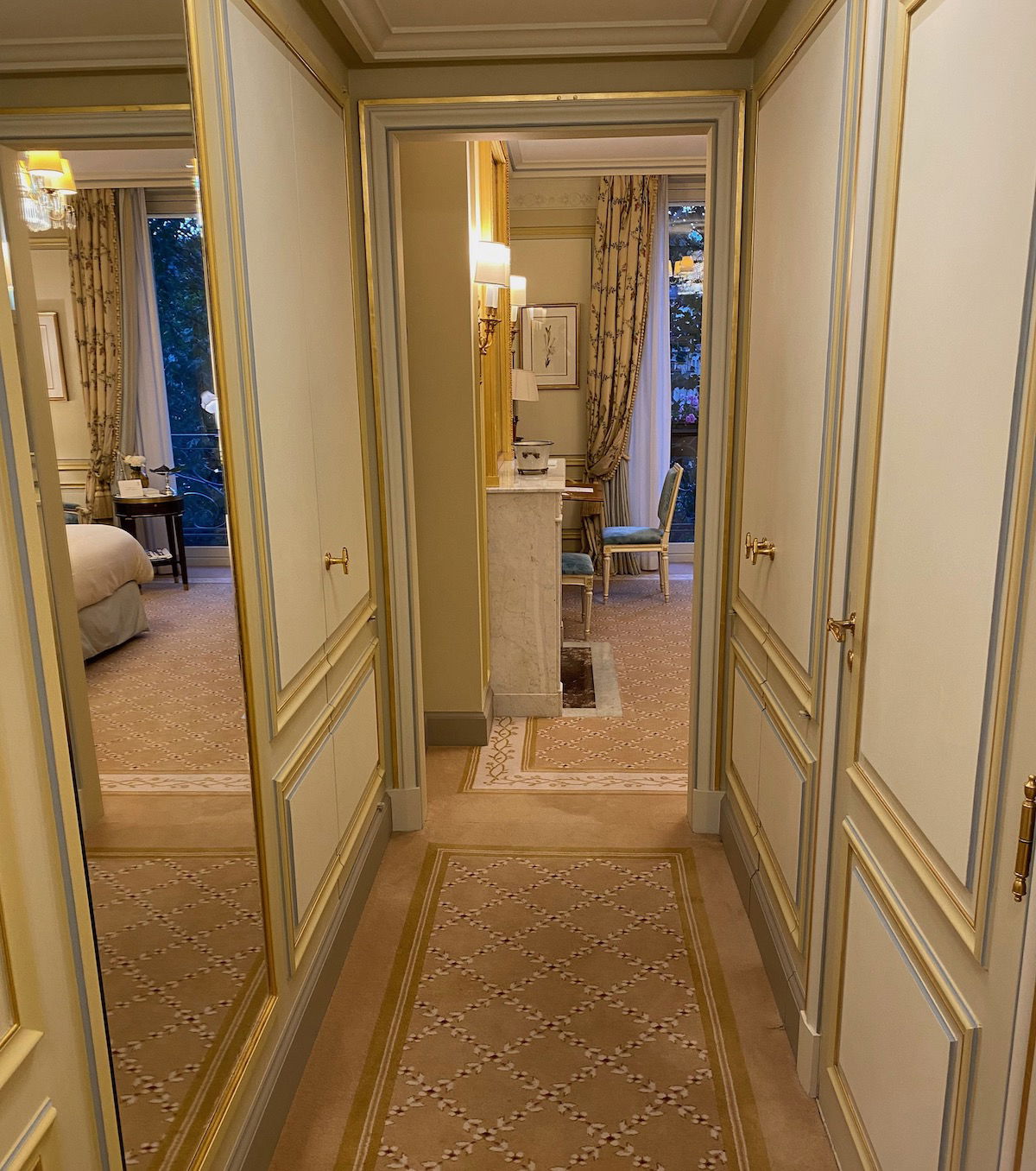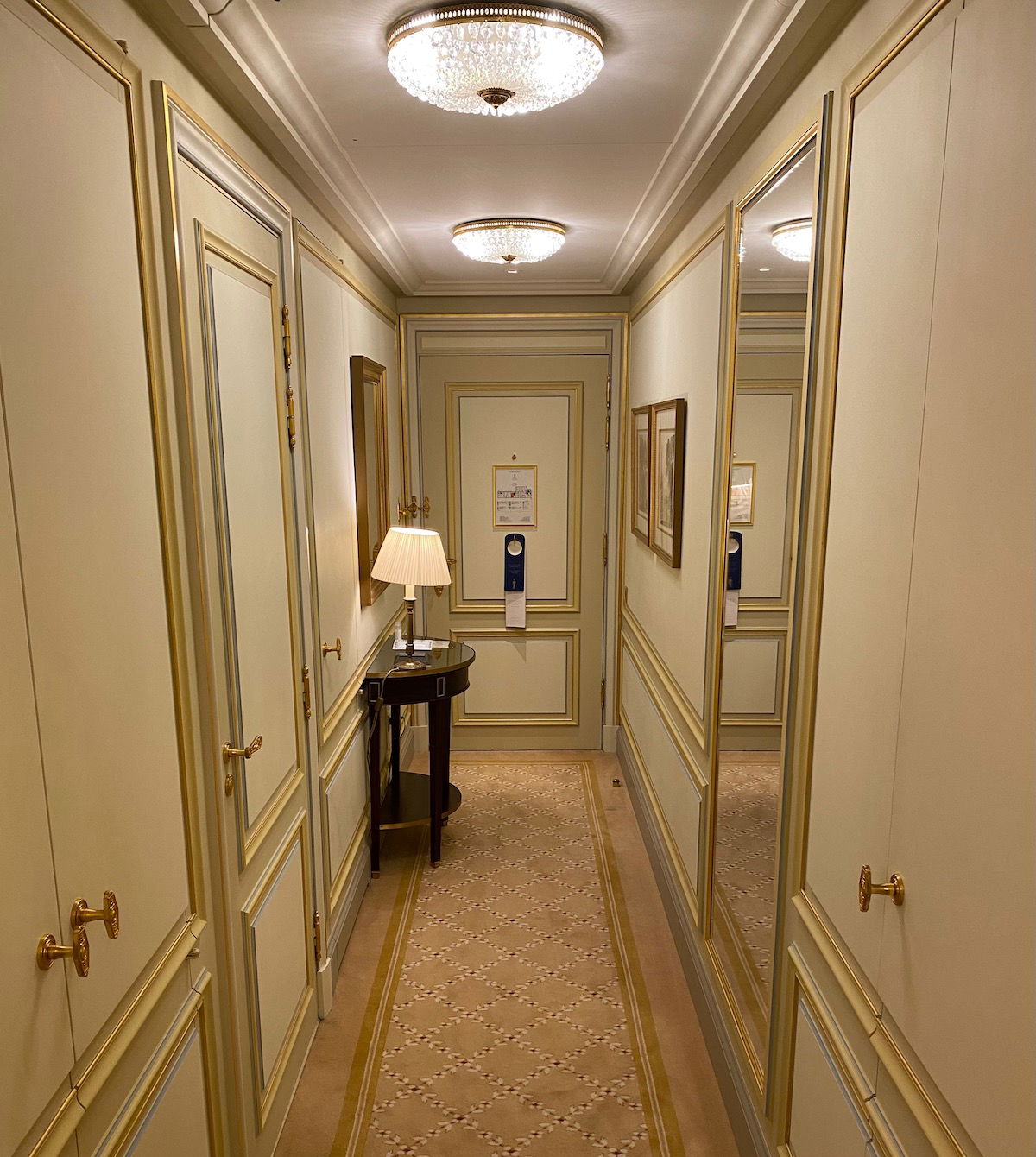 The room itself was simply opulent. It's rare you get a hotel room that looks this historic without feeling run down, but this hotel manages to accomplish that. The room featured a comfortable king size bed, a chair with a side table, and then a desk with a chair.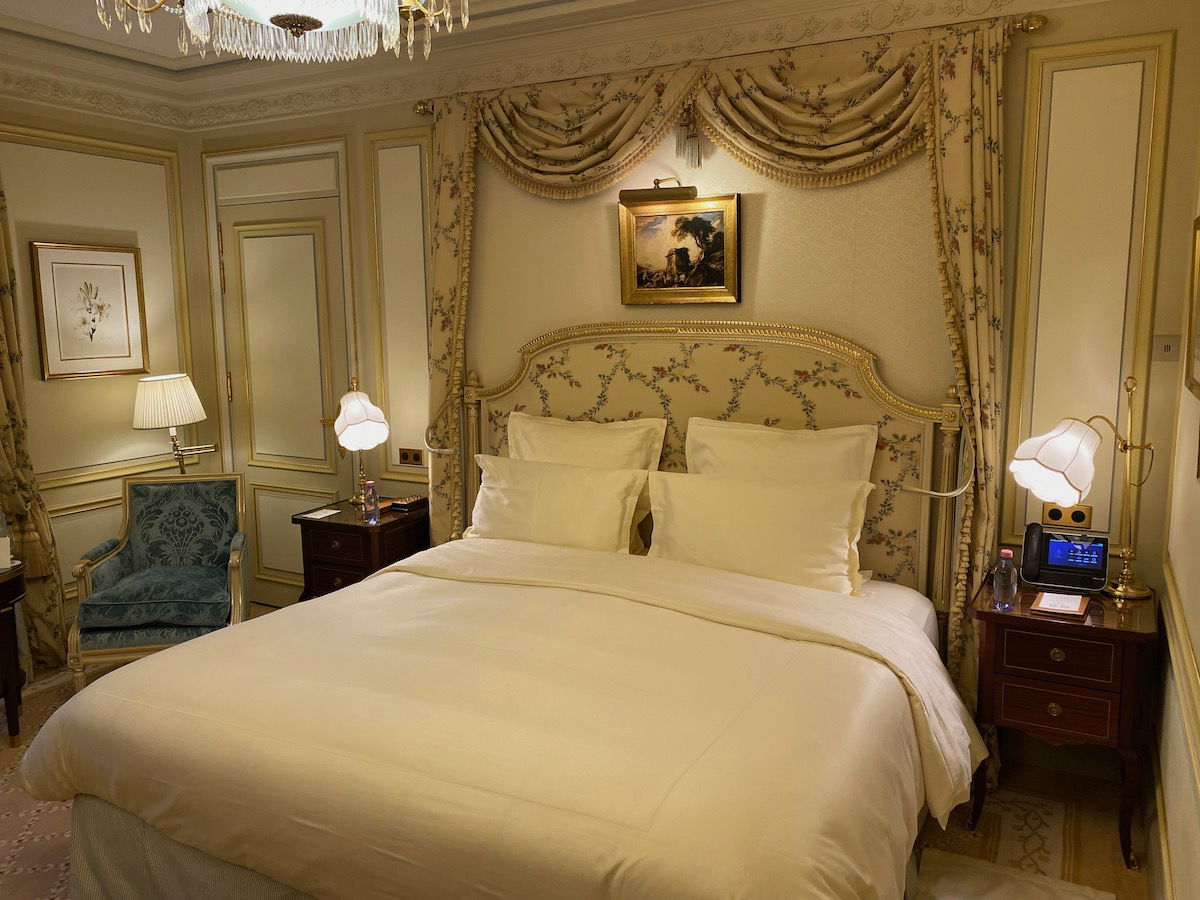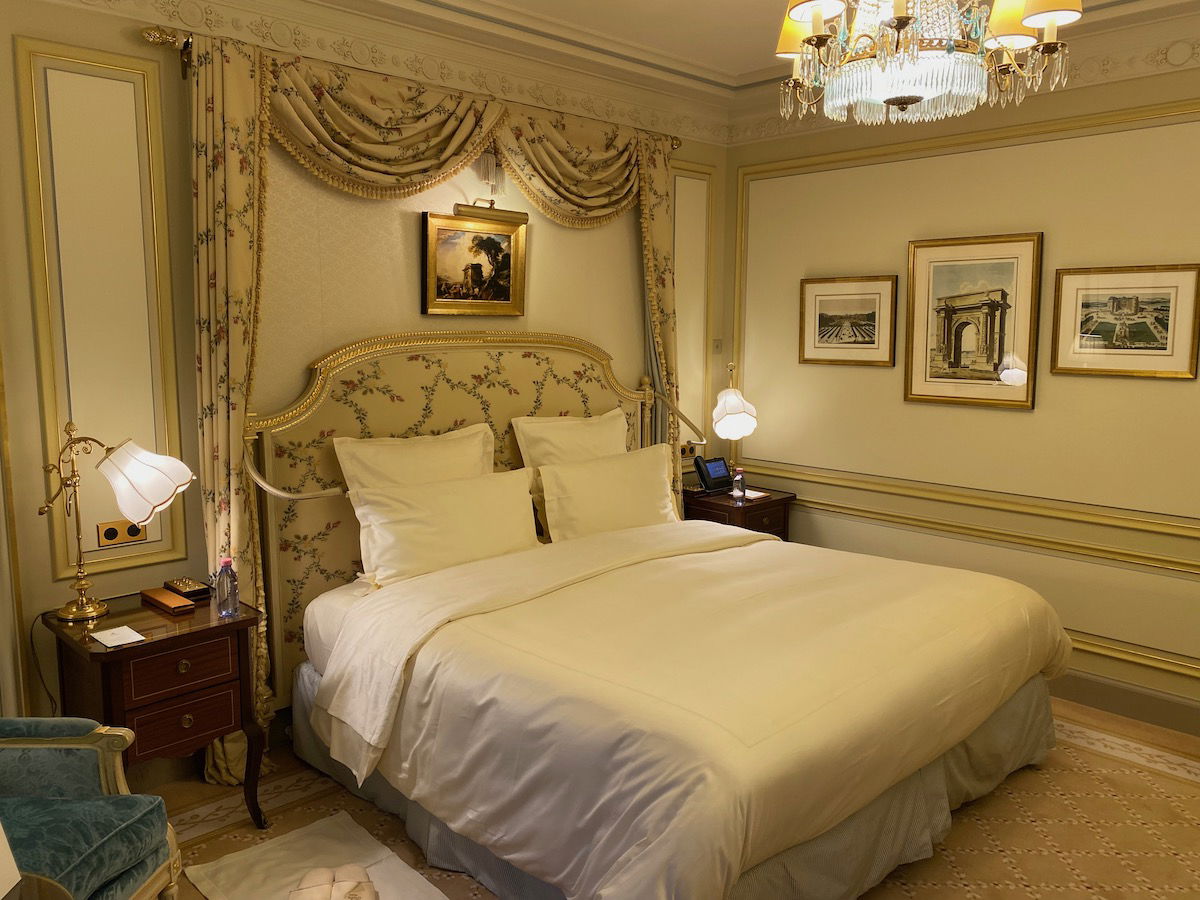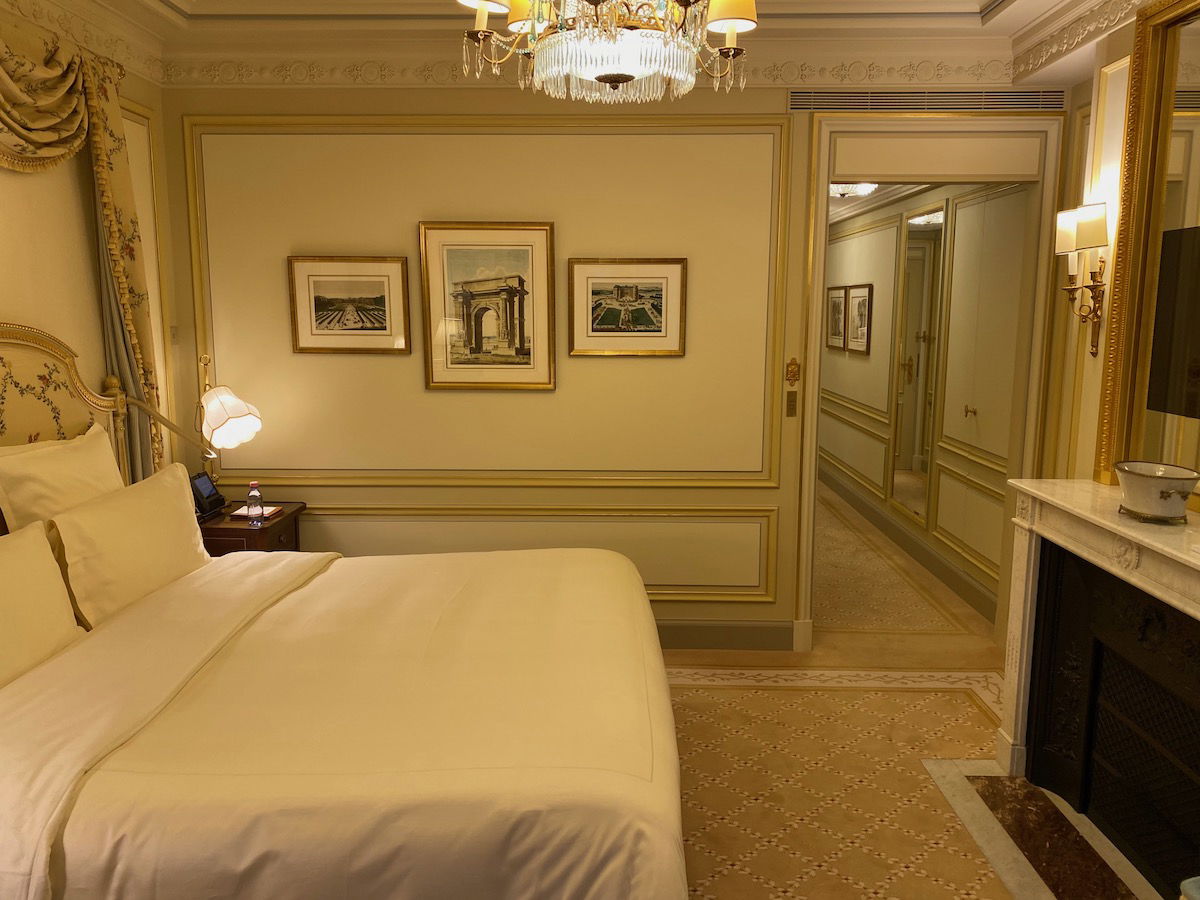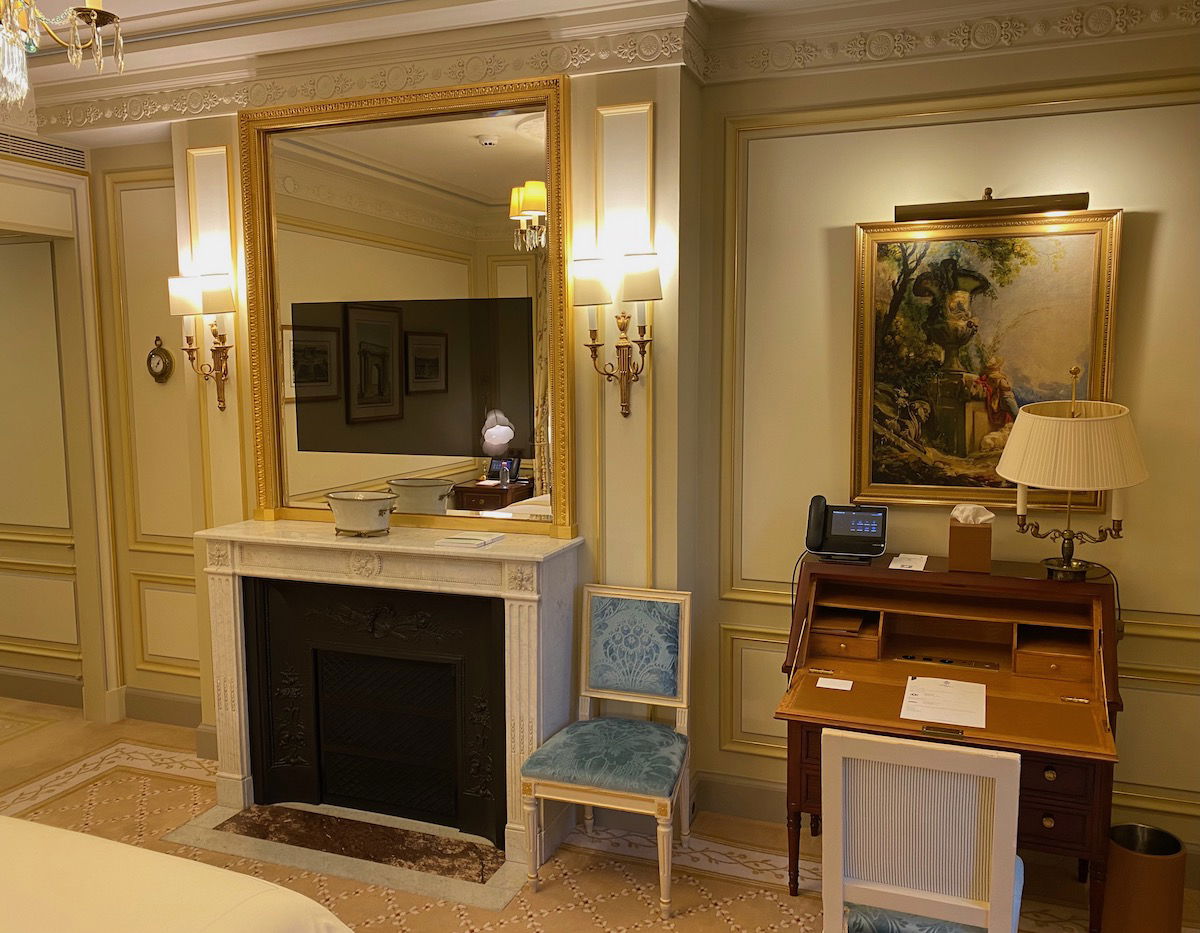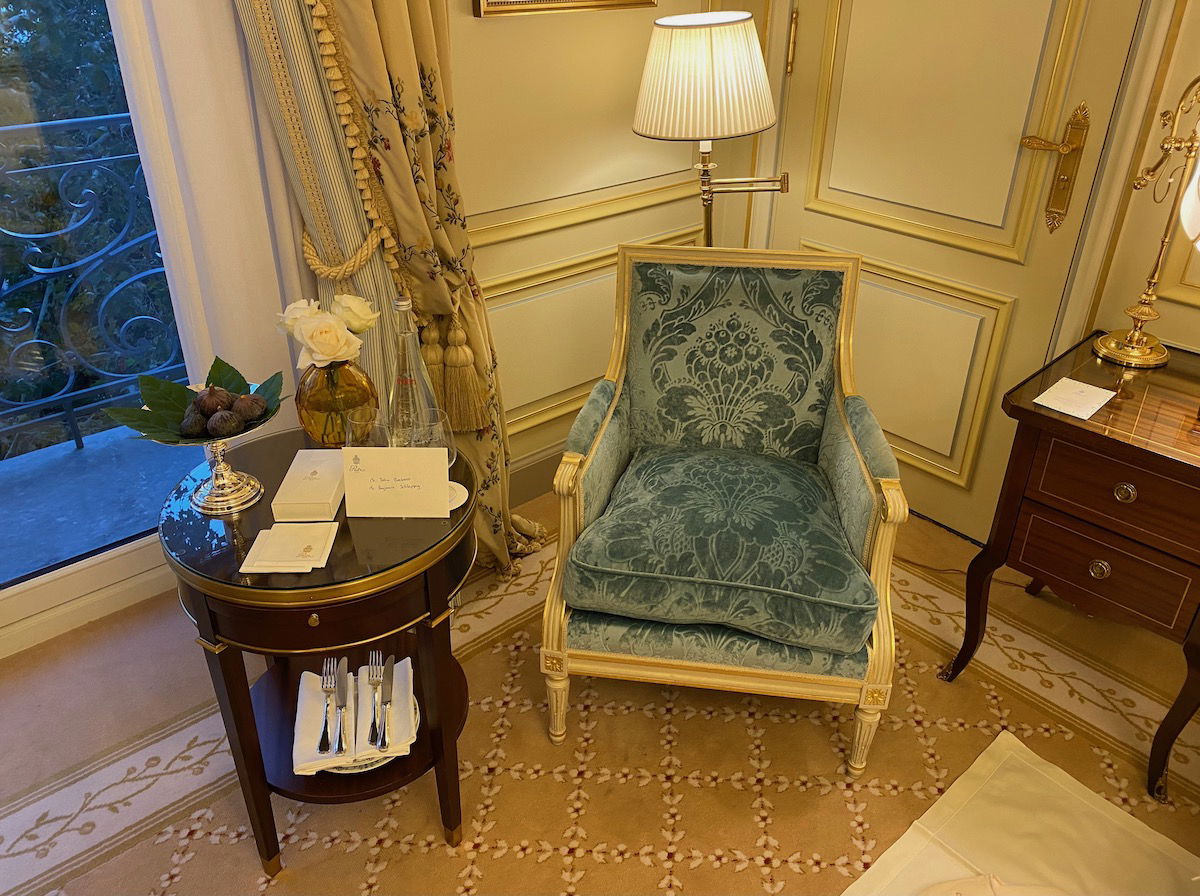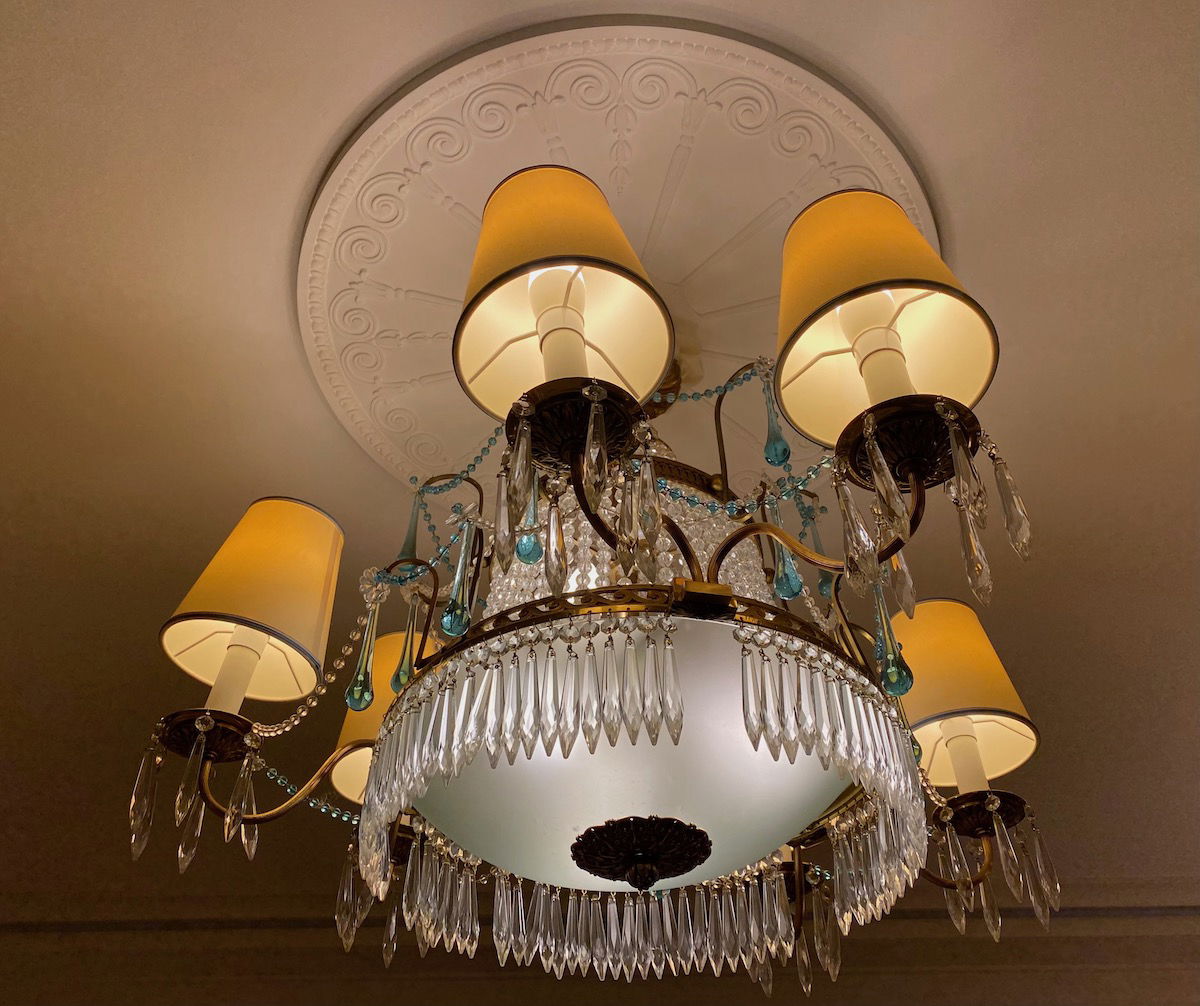 Waiting on one of the side tables was a welcome amenity, consisting of a bottle of water, fresh fruit, and some chocolate "keys."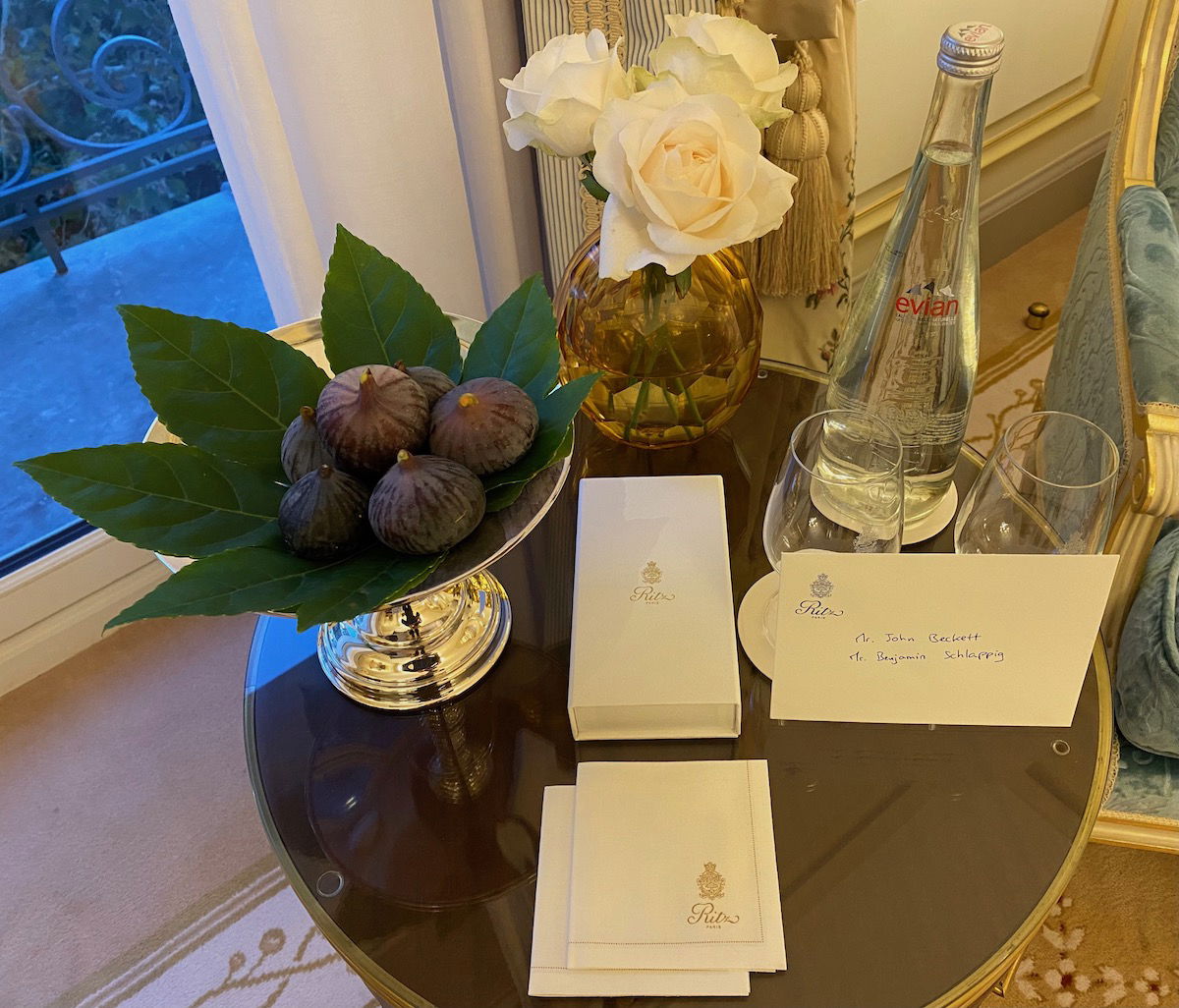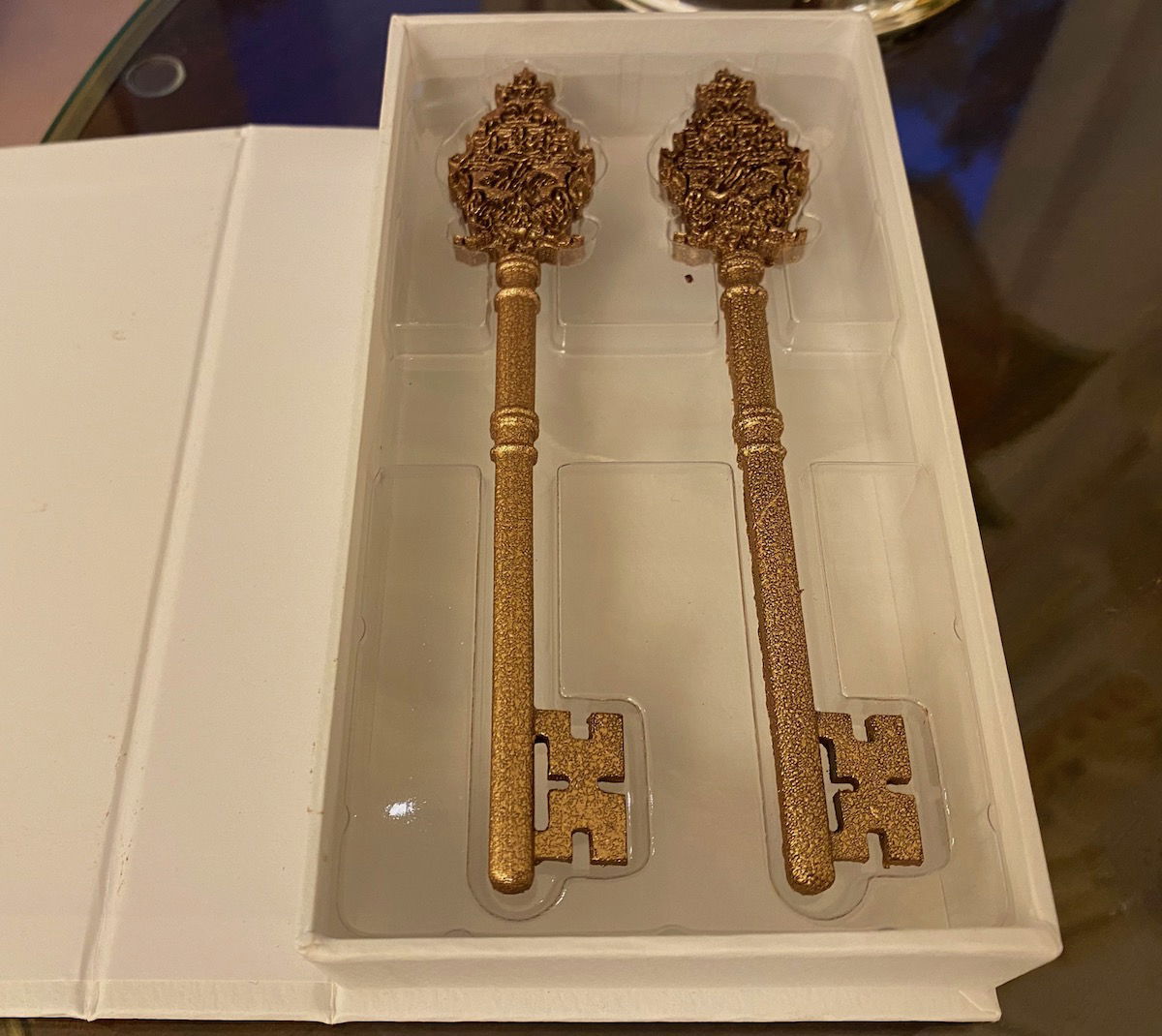 The room had a small balcony overlooking the hotel's courtyard. This meant there was almost no street noise, which was nice.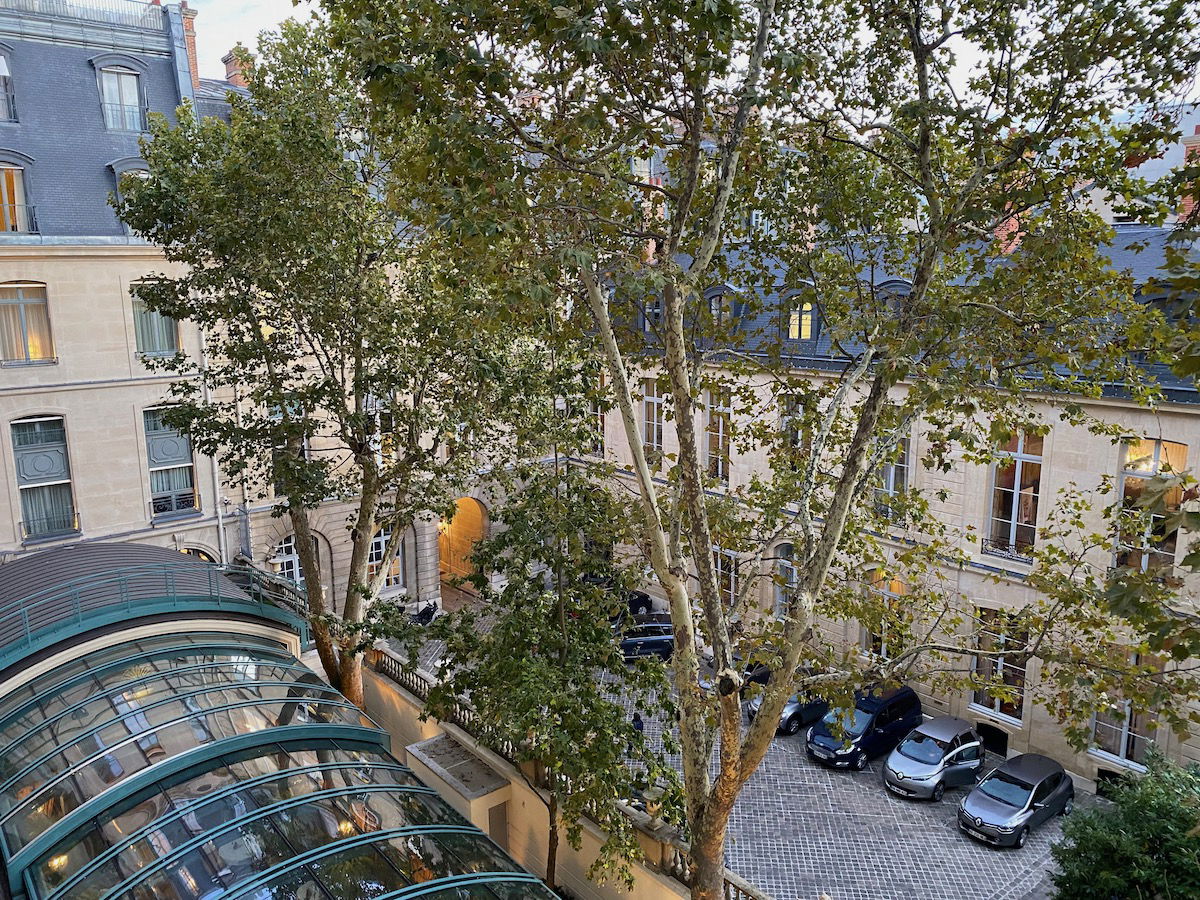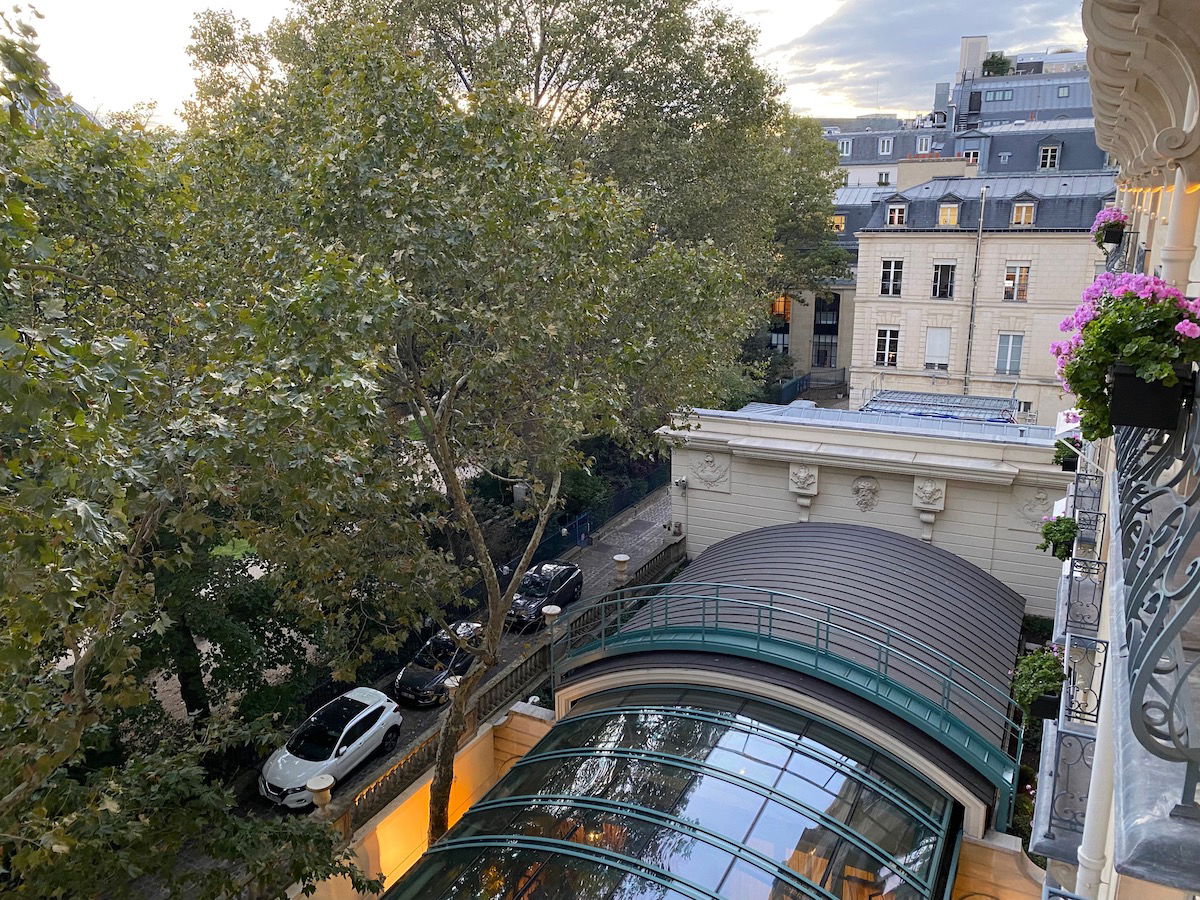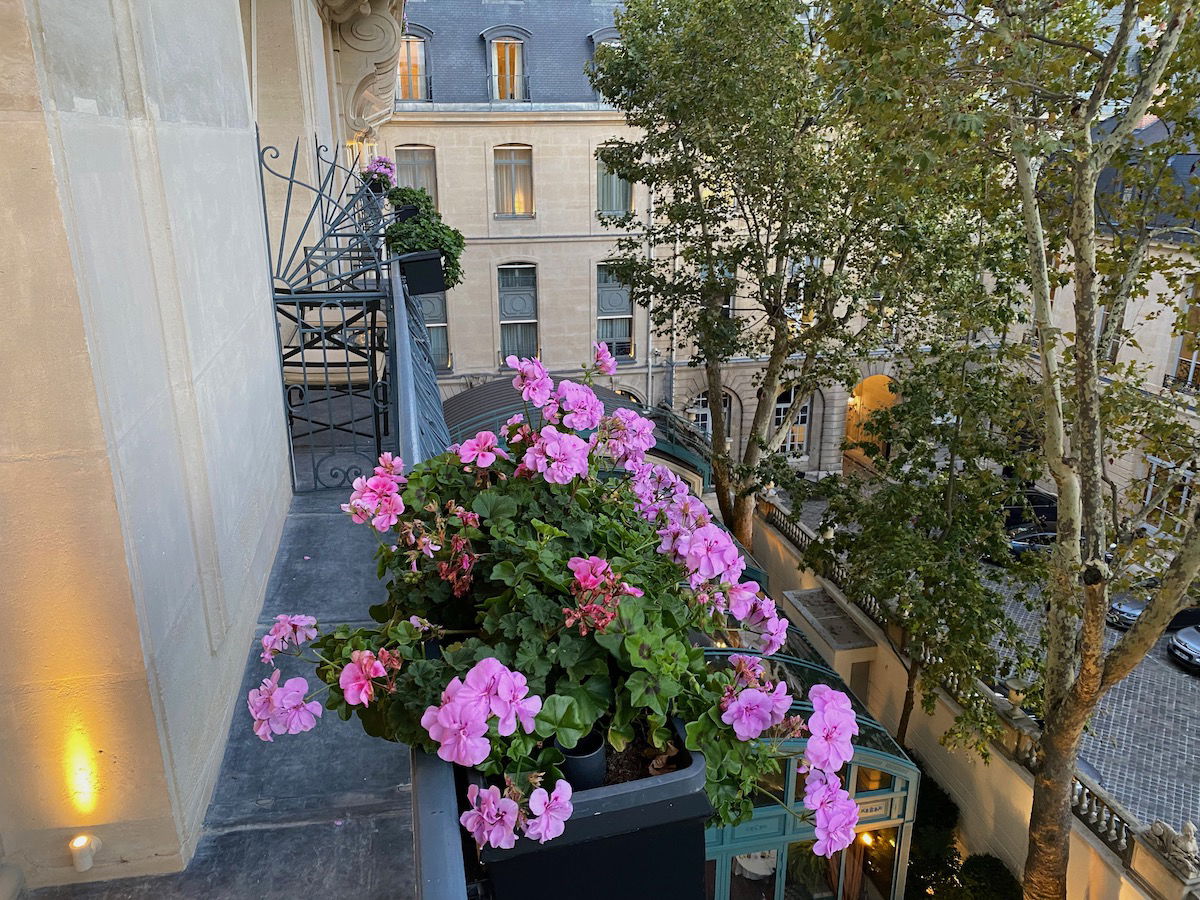 The bathroom featured double sinks, a soaking tub, a walk-in shower, and a separate toilet.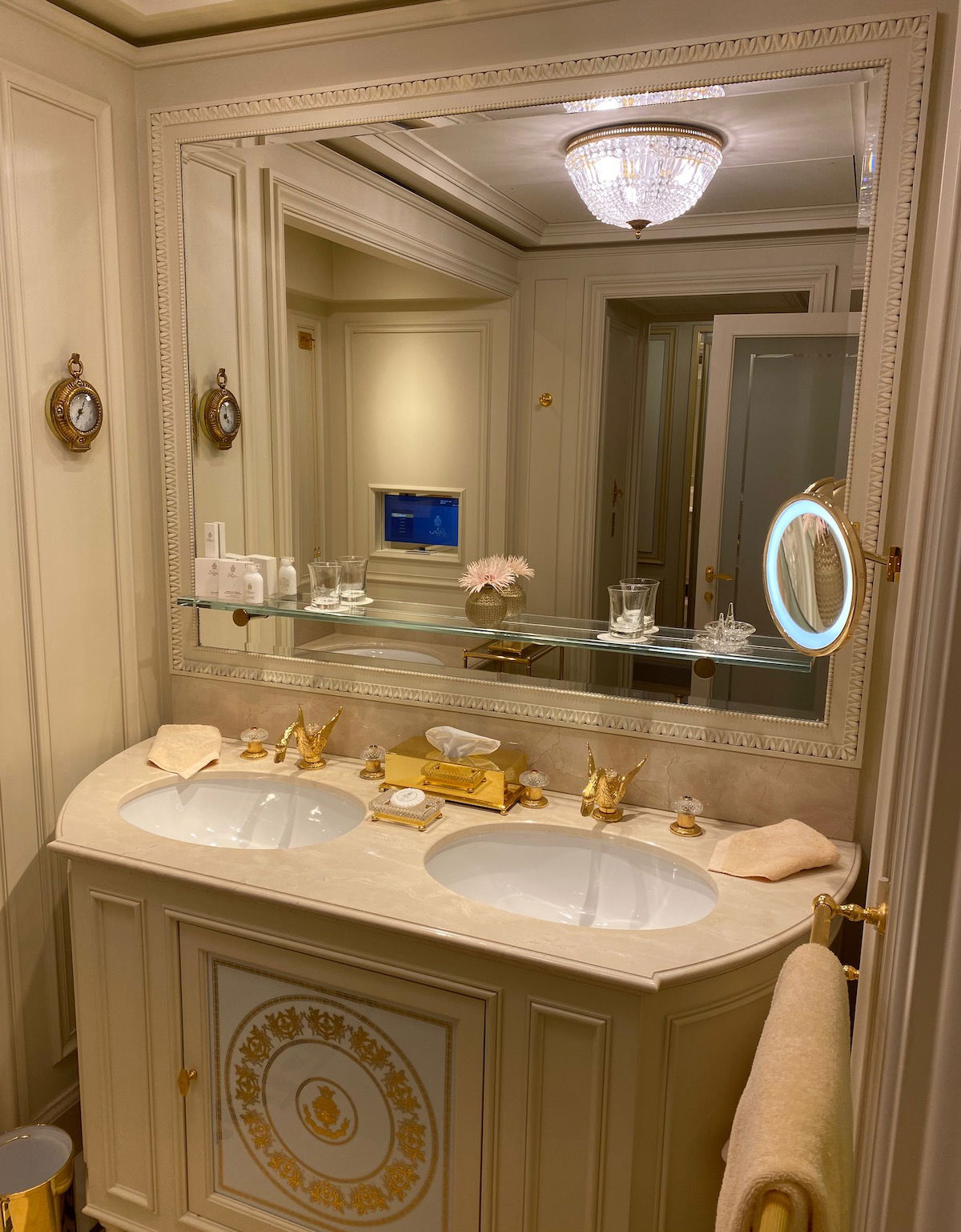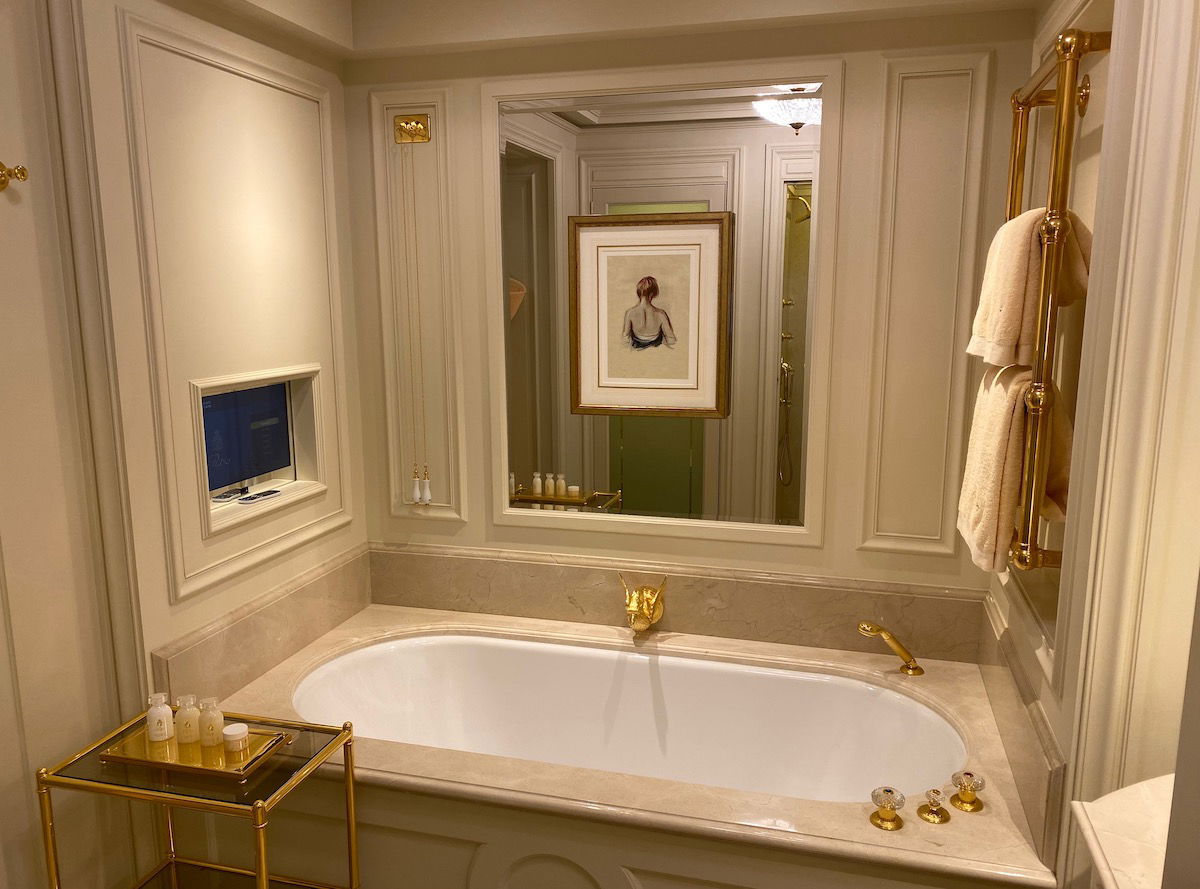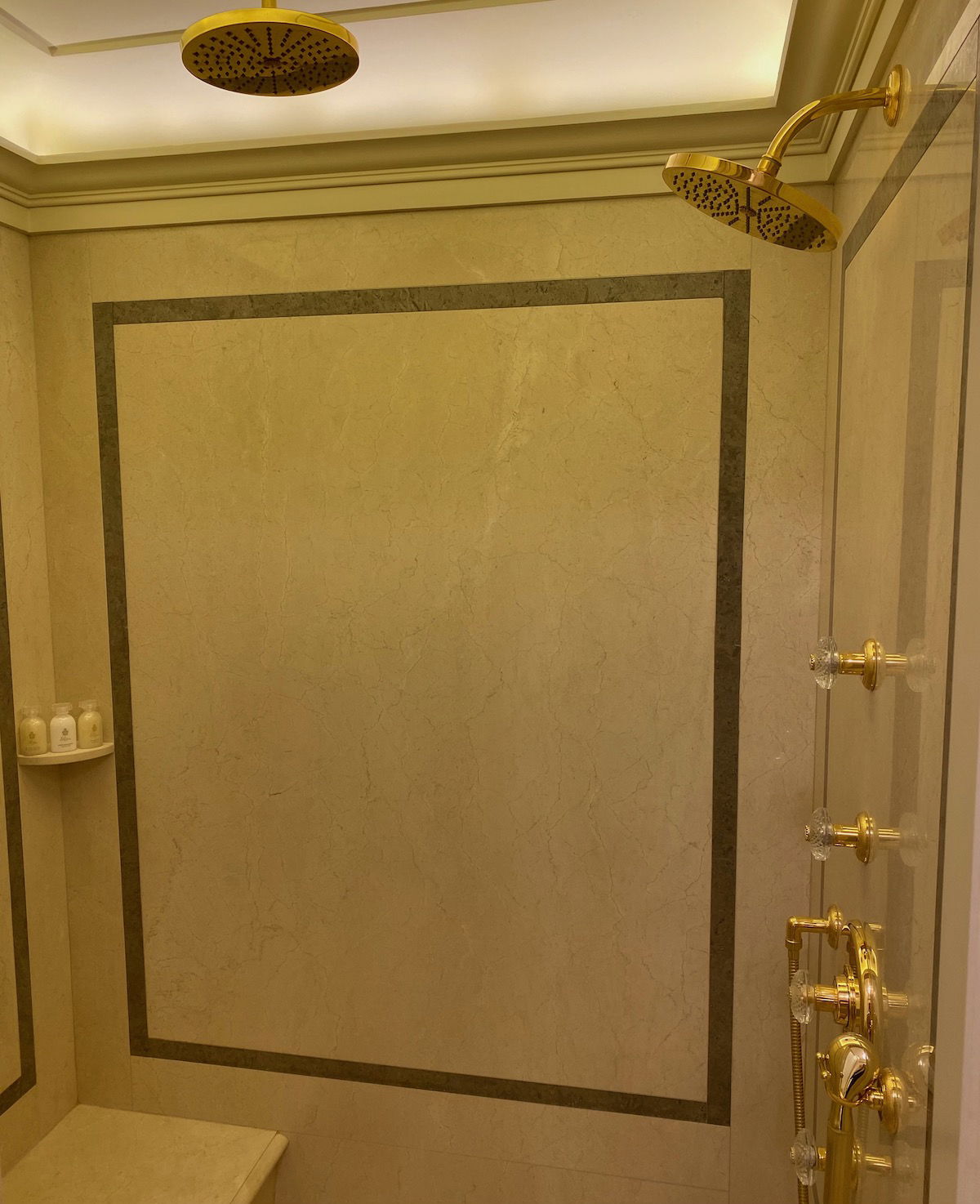 Given that seemingly no expenses were spared with the renovation of the Ritz, I was surprised that the toilets weren't proper bidets.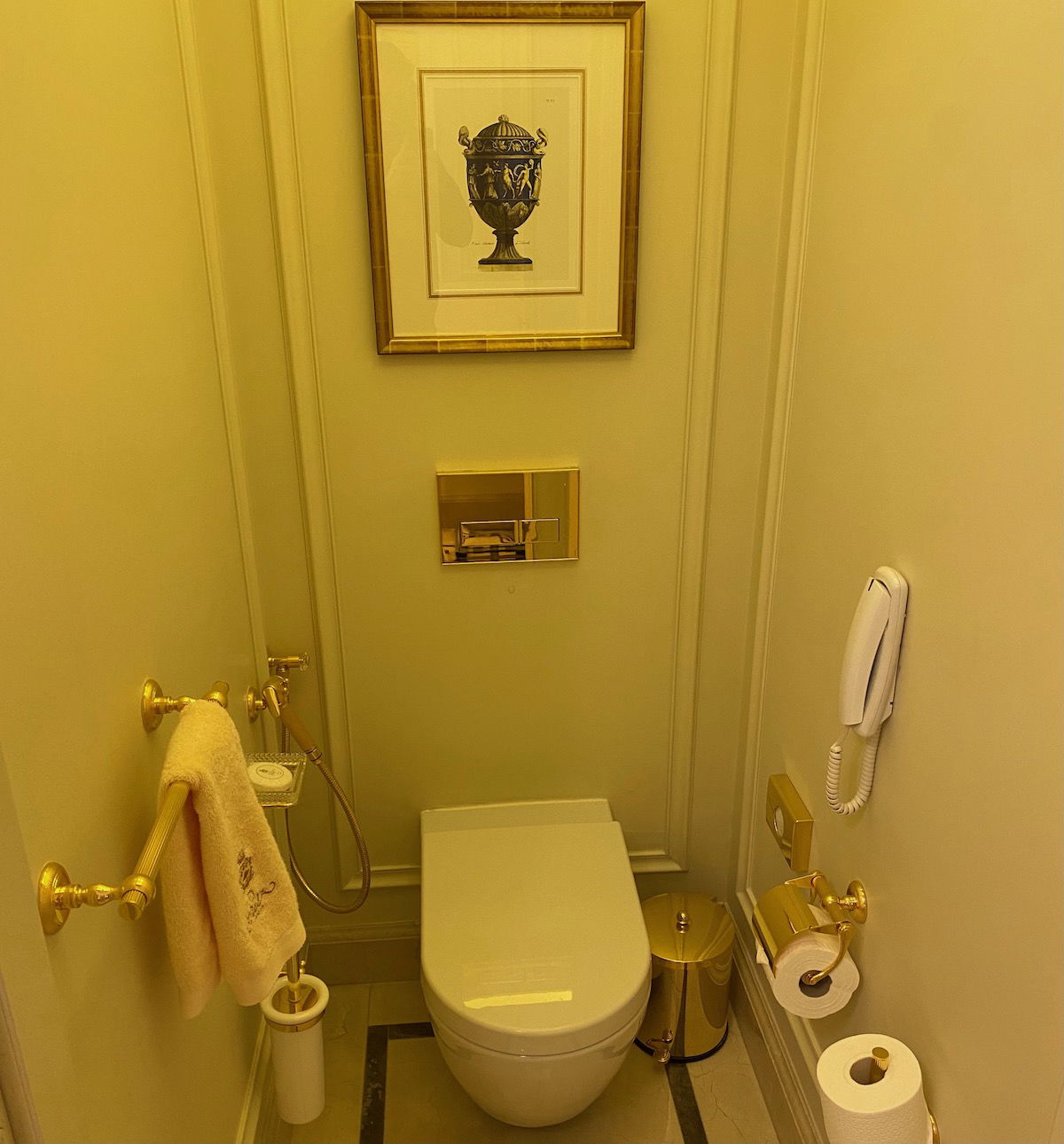 Then again, maybe the bathroom budget went towards the faucets?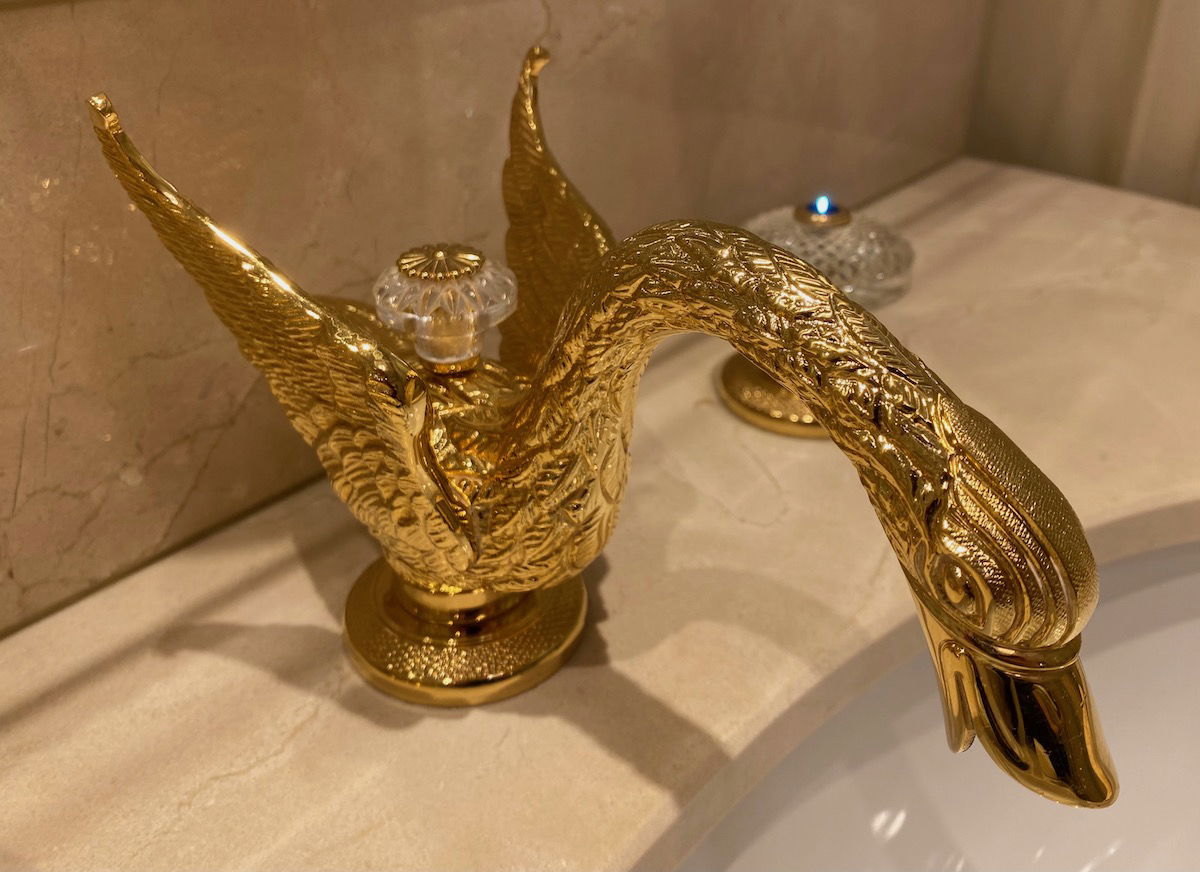 Toiletries were hotel branded, and were high quality.
The minibar was back in the hallway, and was very well stocked. Get ready to take out a second mortgage if you actually consume anything — we're talking 13 EUR for a Coke, 16 EUR for a Corona, and 26 EUR for a Grey Goose mini. 😉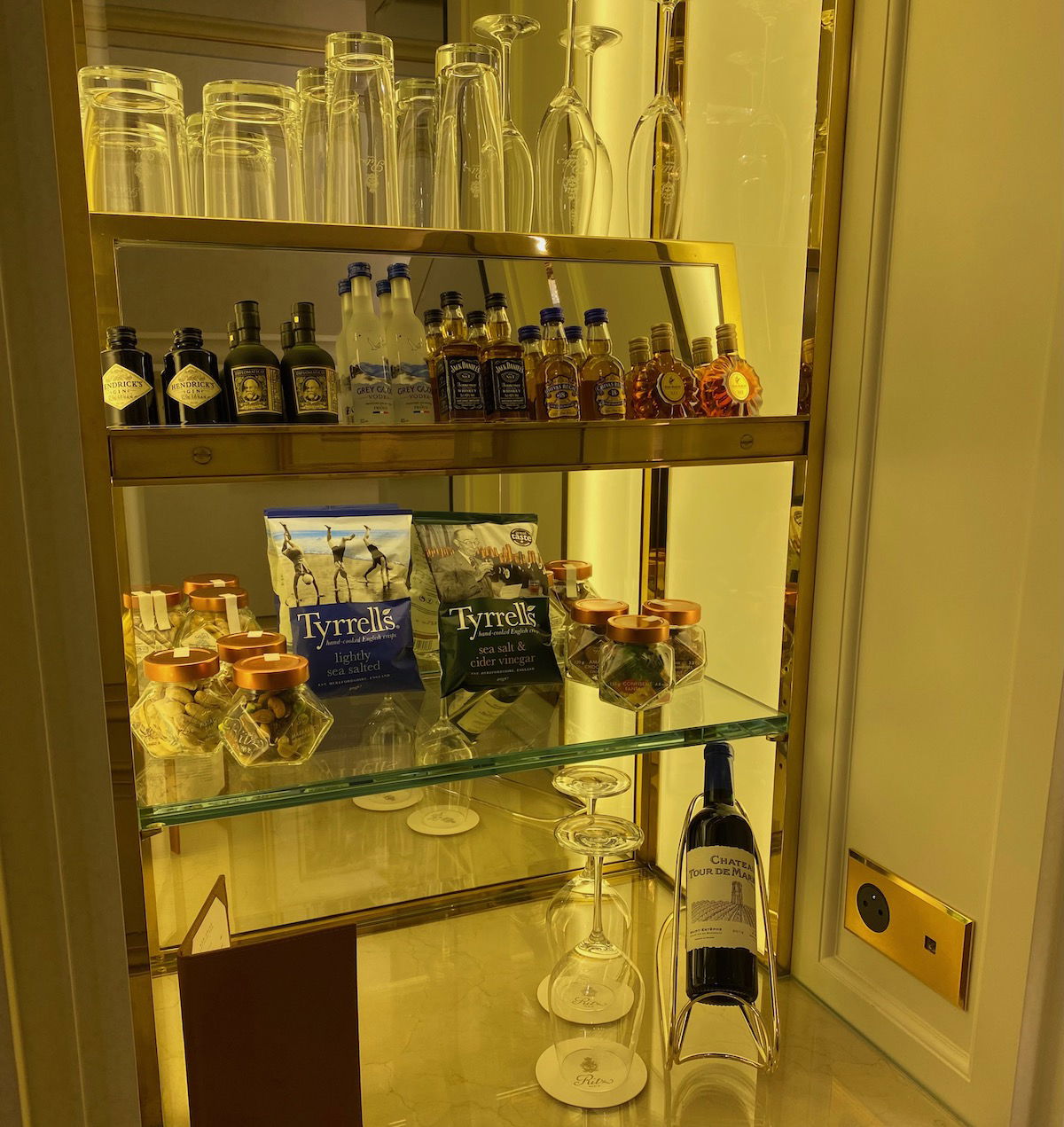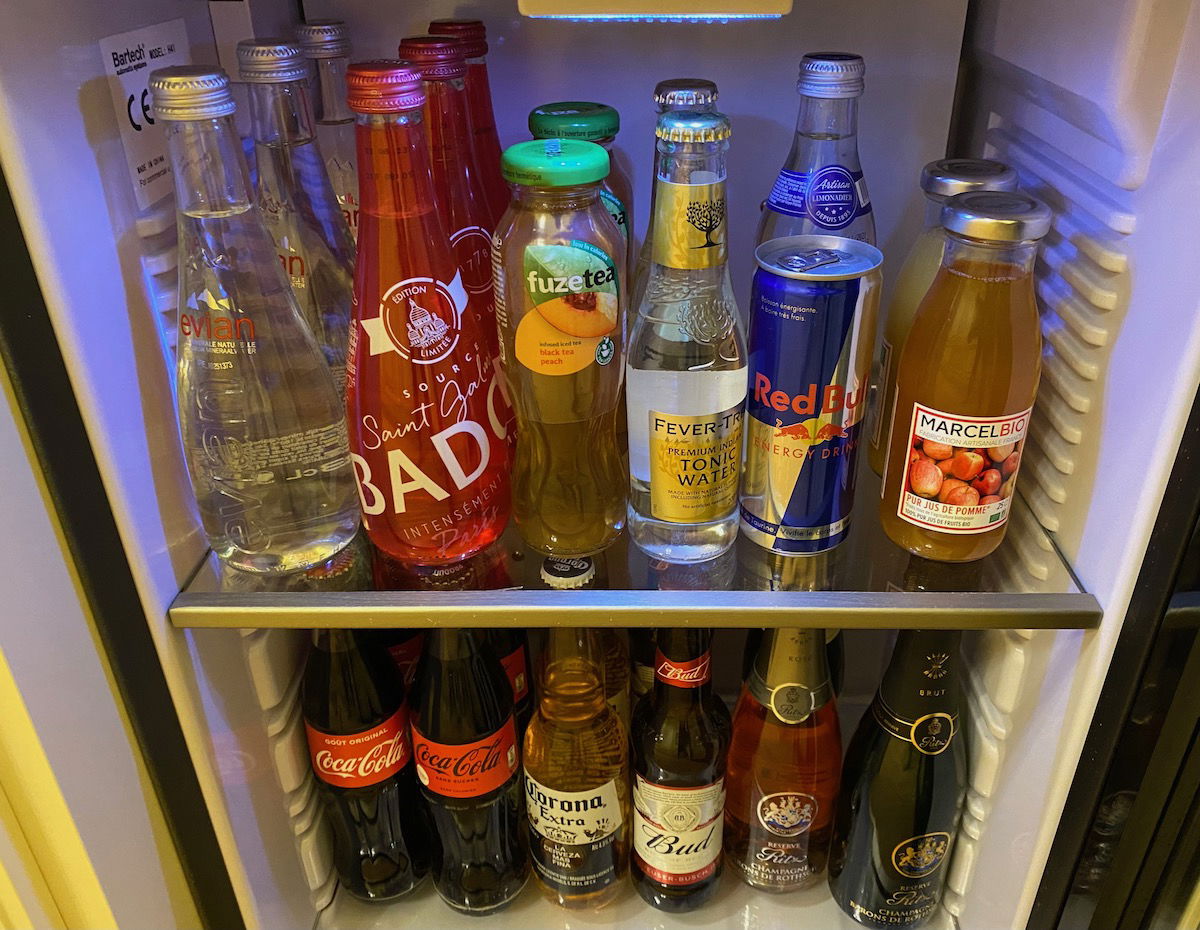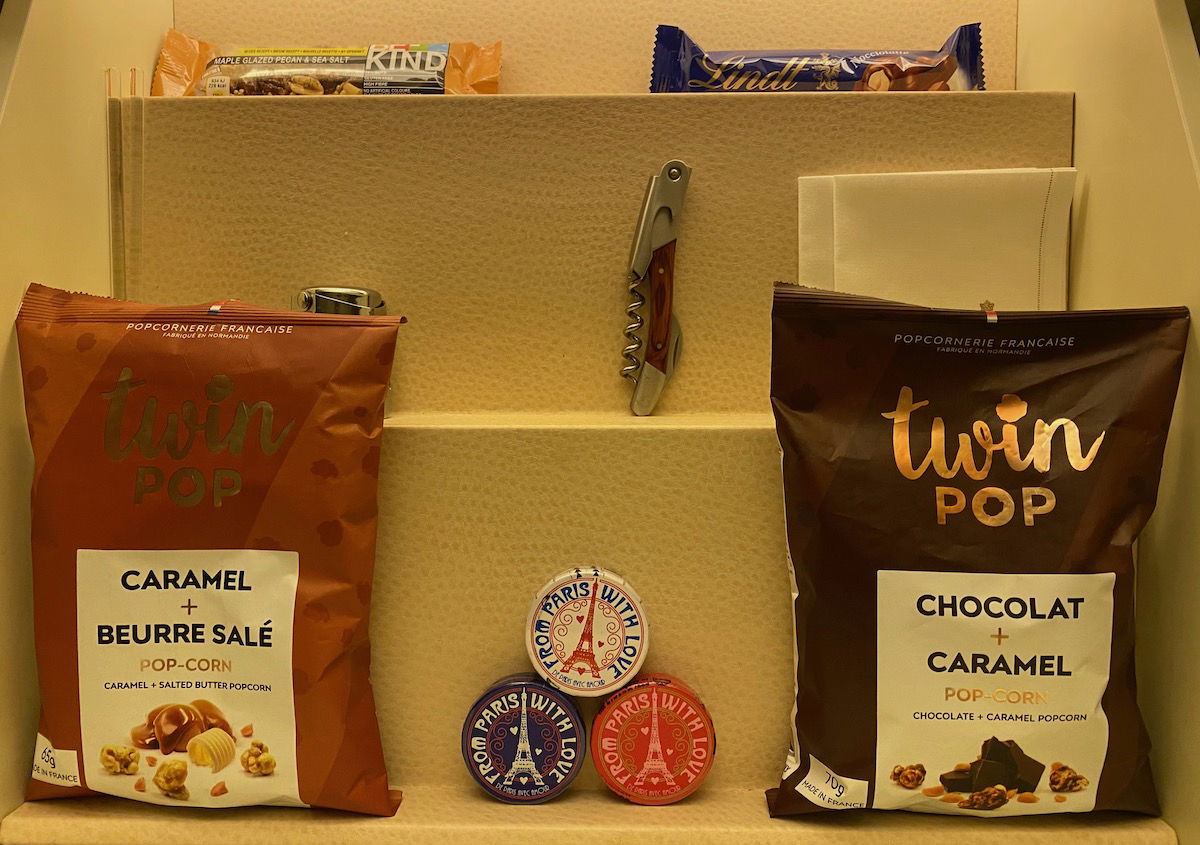 One thing I found puzzling is that the hotel doesn't have any in-room coffee or tea. That seems like a standard amenity even at a non-luxury hotel, so I'm not sure what's going on there. Wi-Fi in the room was fast and free.
By the way, I'm impressed how often rooms are serviced at the Ritz Paris. For our one night stay we had turndown service the first night, and the next morning our room was fully refreshed again, as we had guaranteed 4PM check-out. It's not often hotels service rooms on the day of departure!
Ritz Paris Ritz Bar
The Ritz Paris has two famous bars, and we decided to check them both out during our stay. These are extremely popular with hotel guests and outsiders alike, so expect you may have to wait to get a table. The first bar we checked out was the Ritz Bar, which is open daily from 5:30PM until 12:30AM.
The bar is quite intimate, and has some bar seating as well as around a dozen tables (the below picture was taken the following morning, so suffice to say that the "cover" around the bar is usually lifted).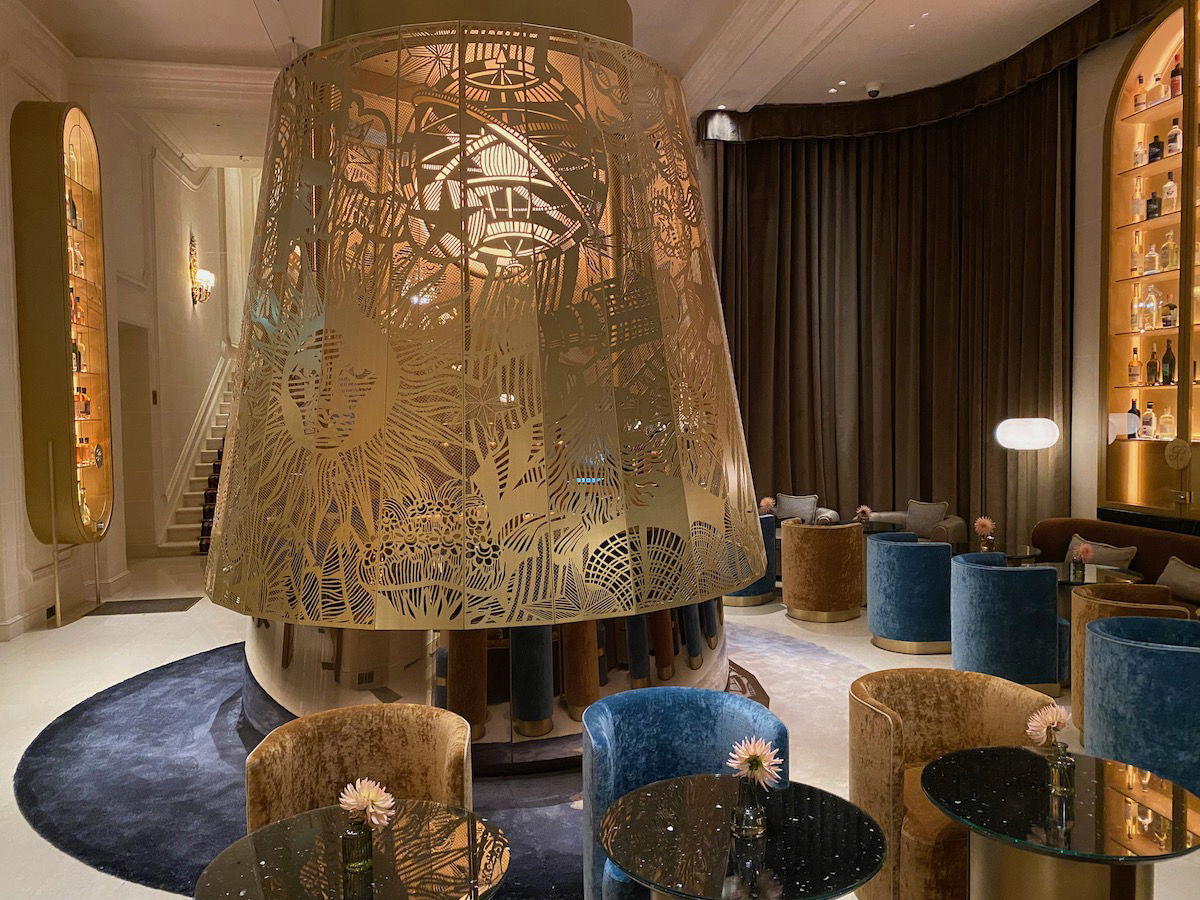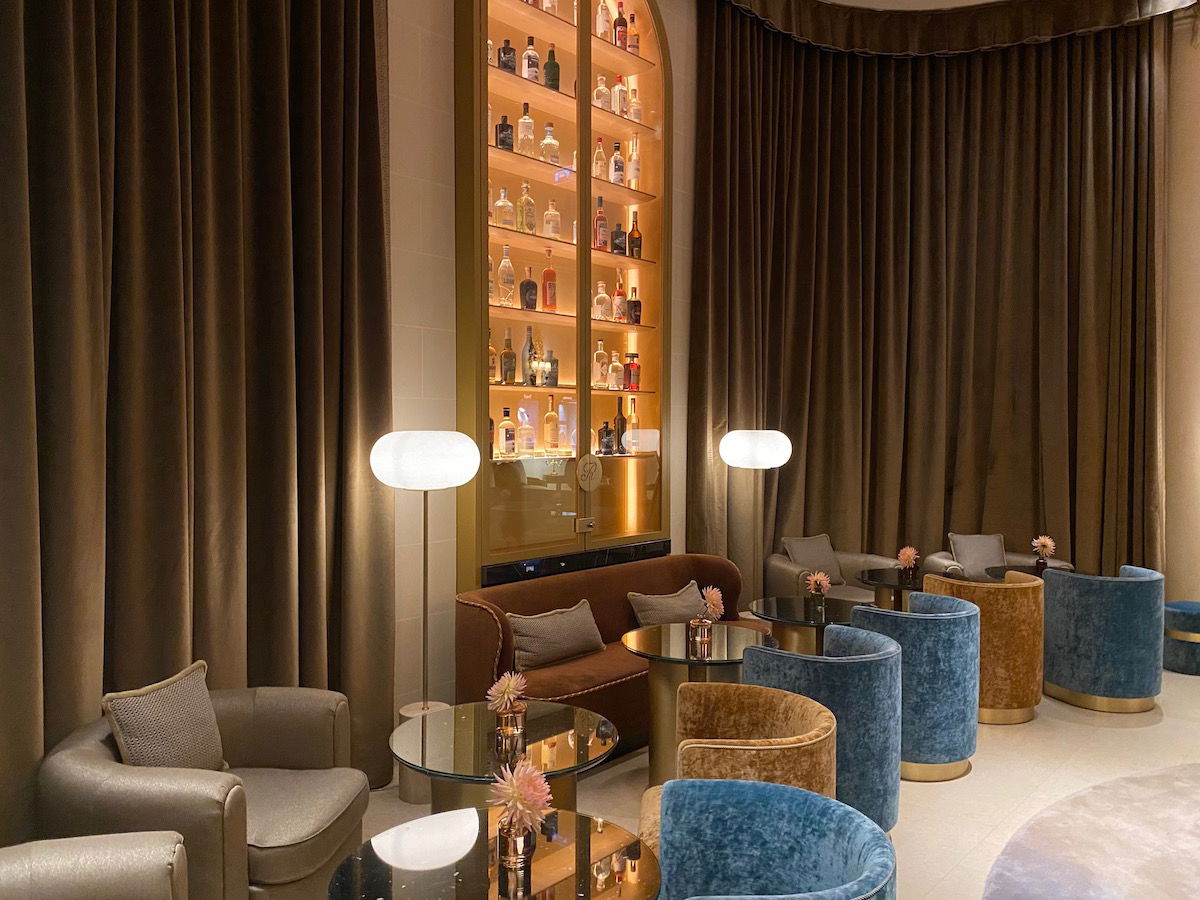 The bar has an innovative cocktail list, and cocktails retail for 32 EUR each. On the plus side, at least they serve a bunch of macadamia nuts (which aren't cheap), and there's also no opportunity to add a tip, unlike at most other hotels in Paris.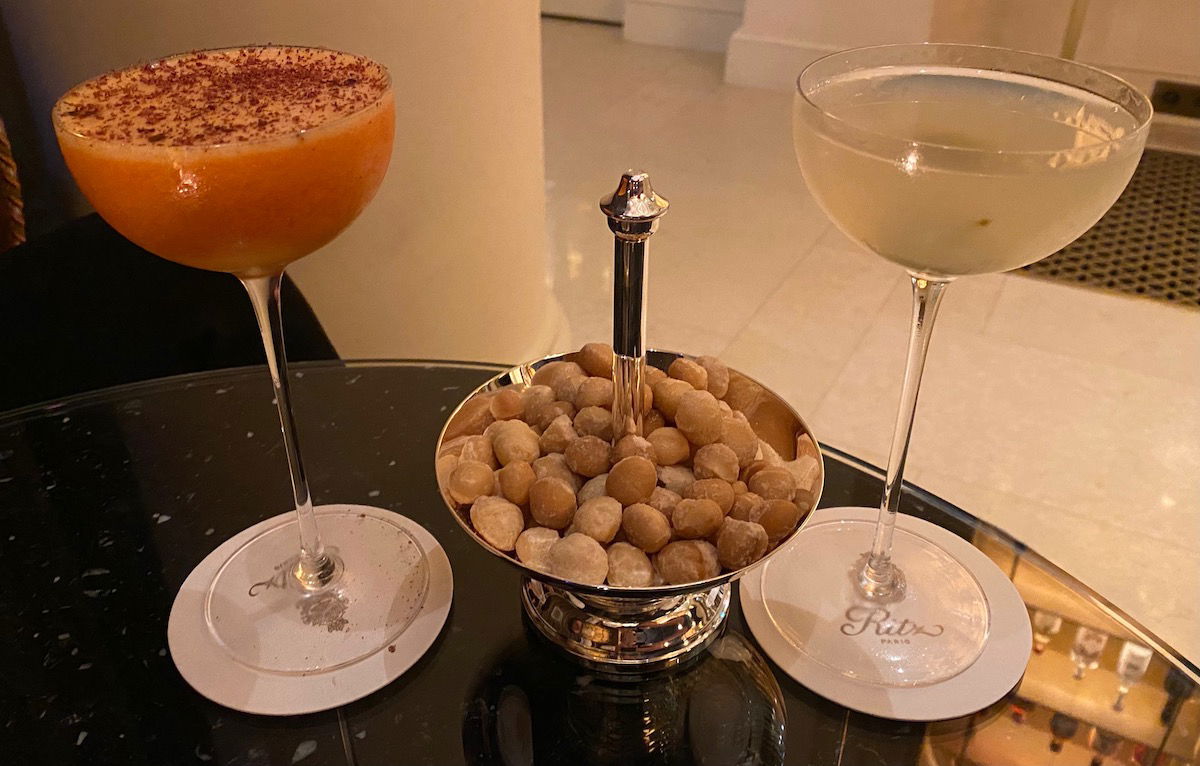 Ritz Paris Bar Hemingway
Bar Hemingway is open from 6PM until 2AM. The bar features just 25 seats, and the head barman is Colin Field, who has twice been named the "Best Head Barman in the World."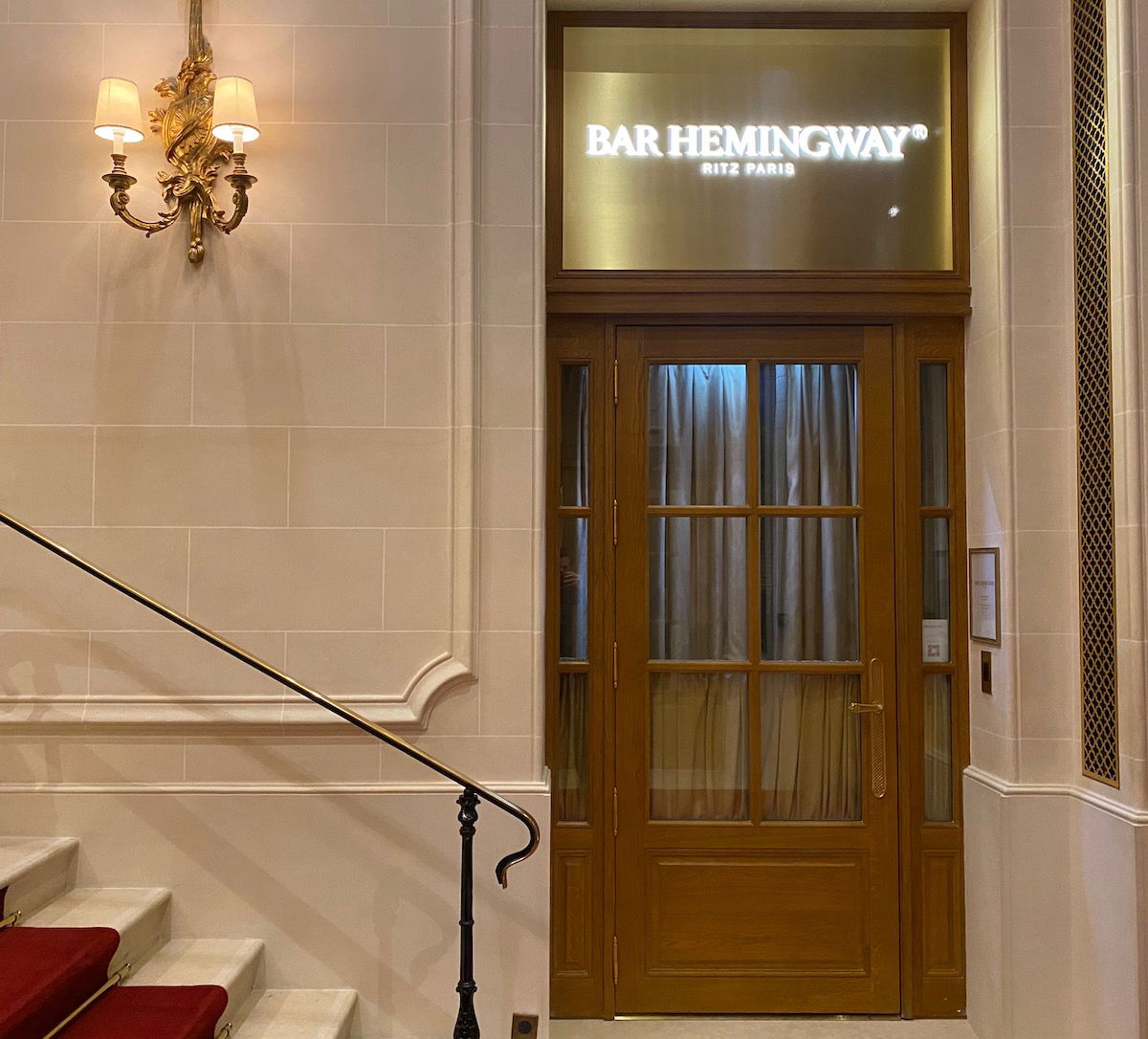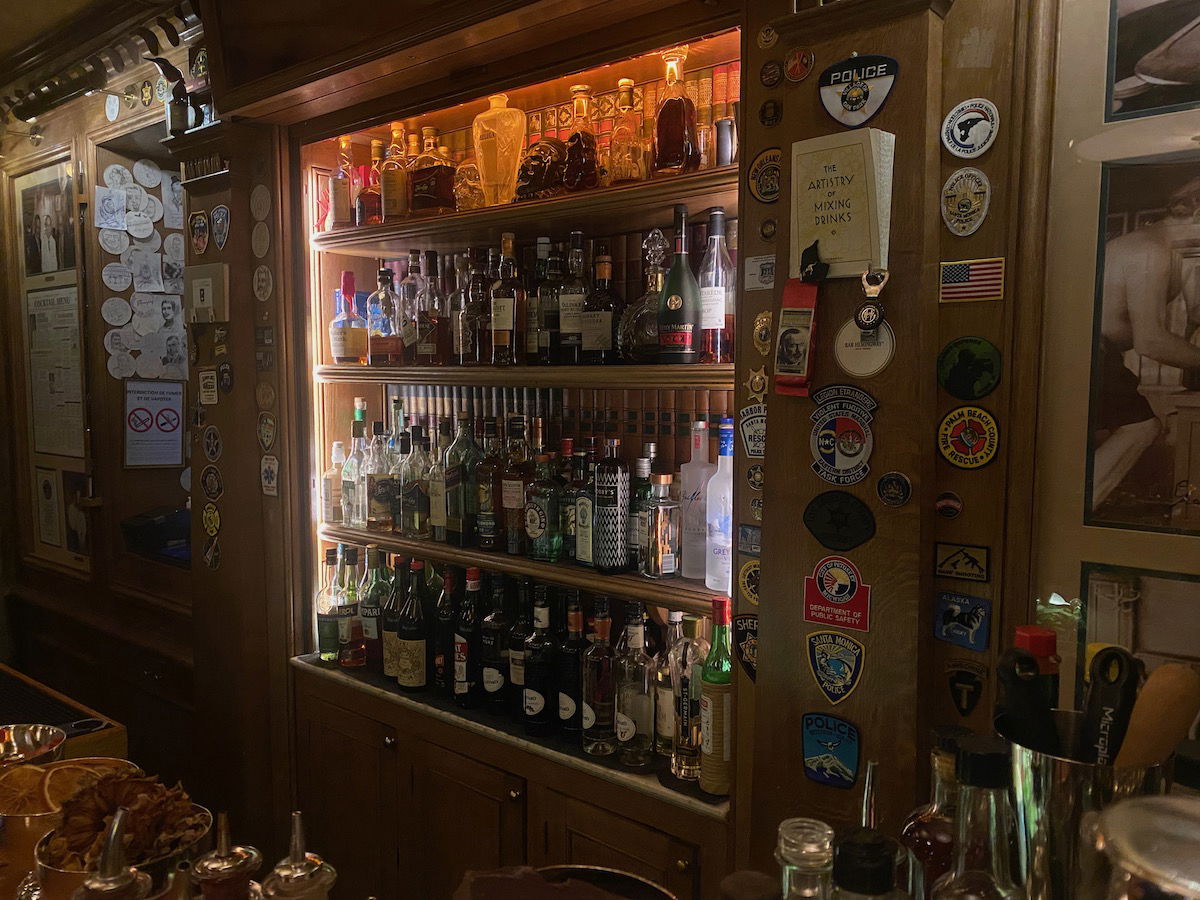 Drink menus come in the form of a newspaper titled "The Hemingway Star," which is cute.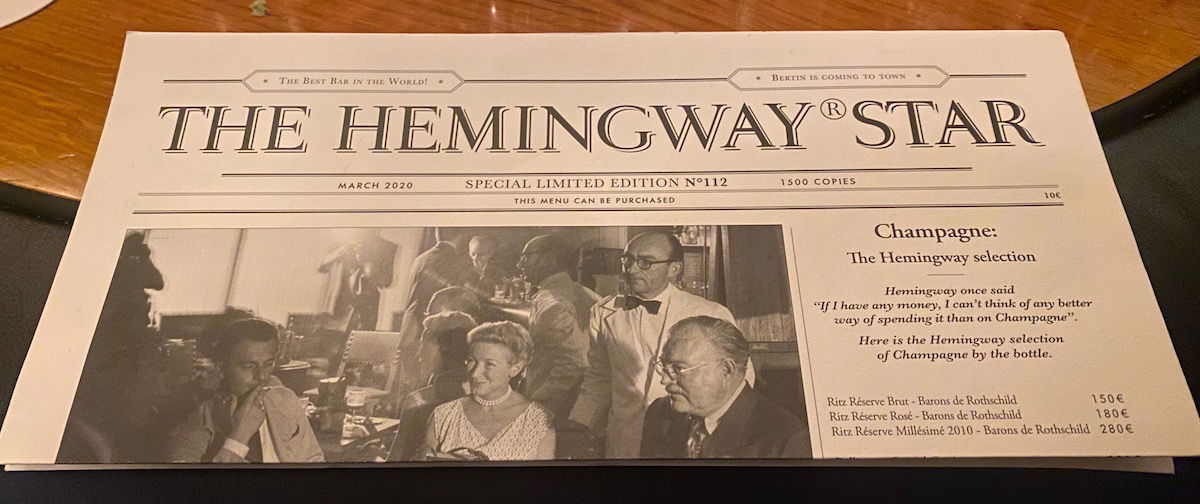 Drinks were priced in the range of 30-34 EUR each, and I decided to have "the world famous clean dirty martini," while Ford had a champagne cocktail.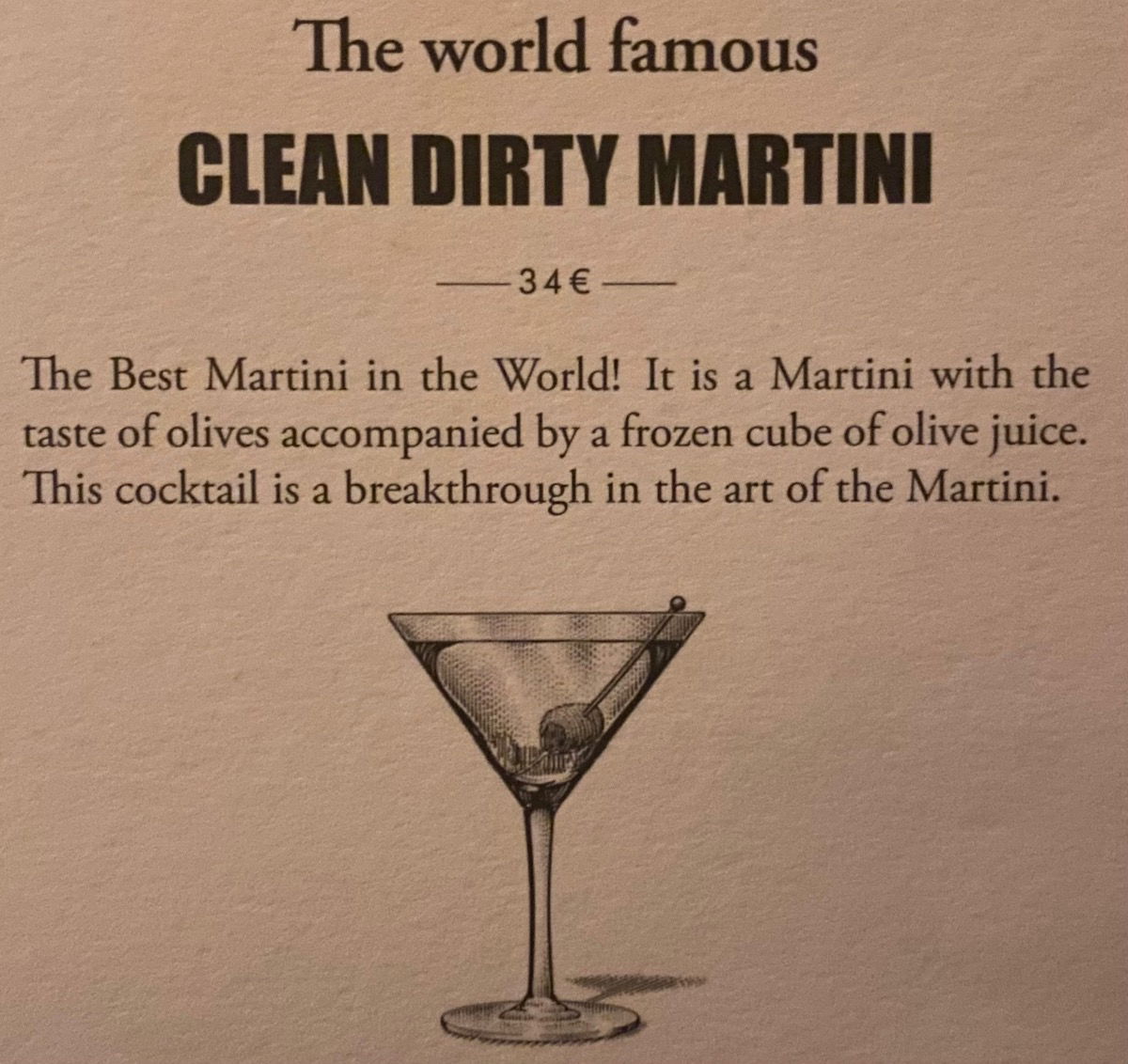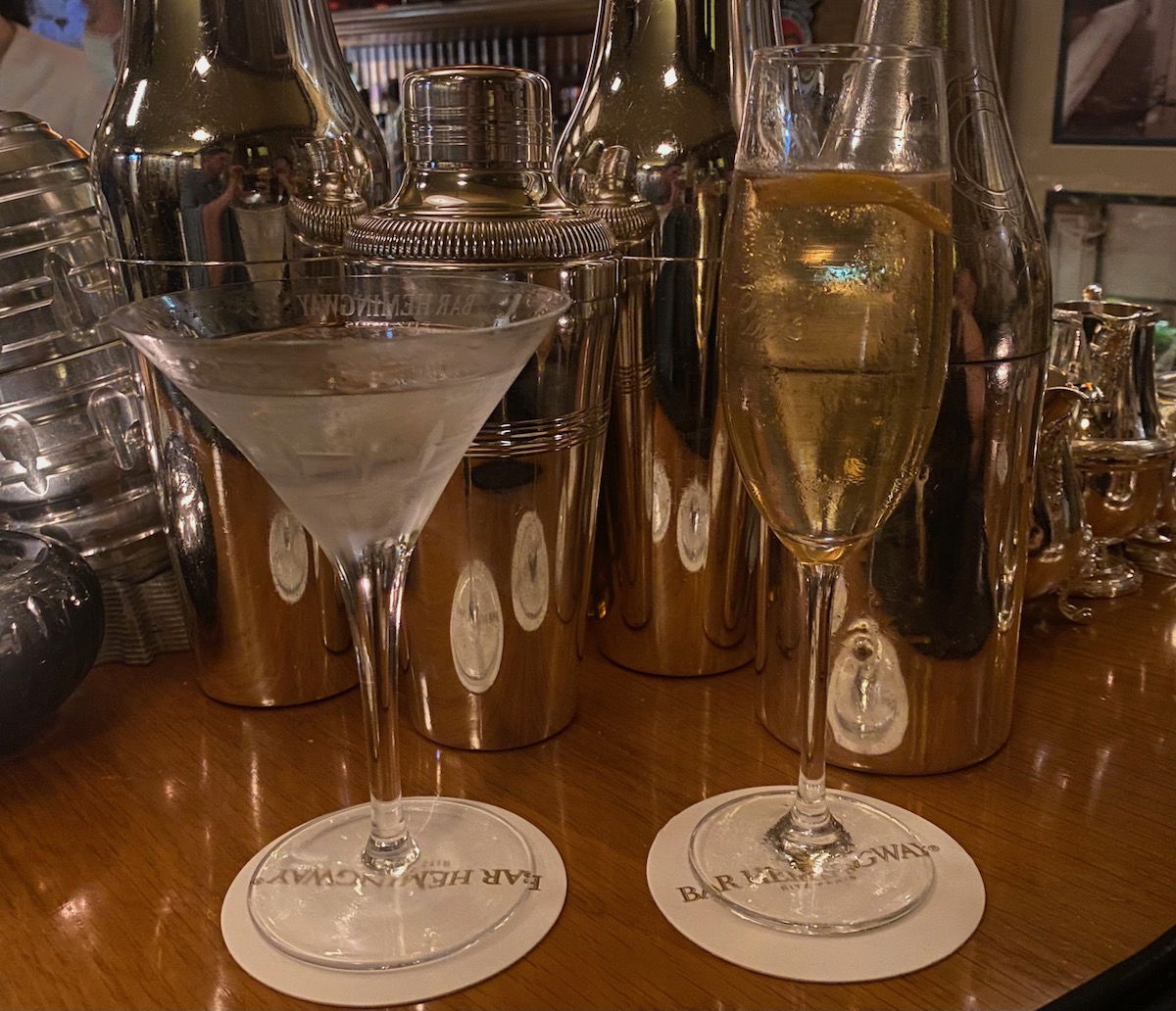 Drinks were served with mixed nuts and olives.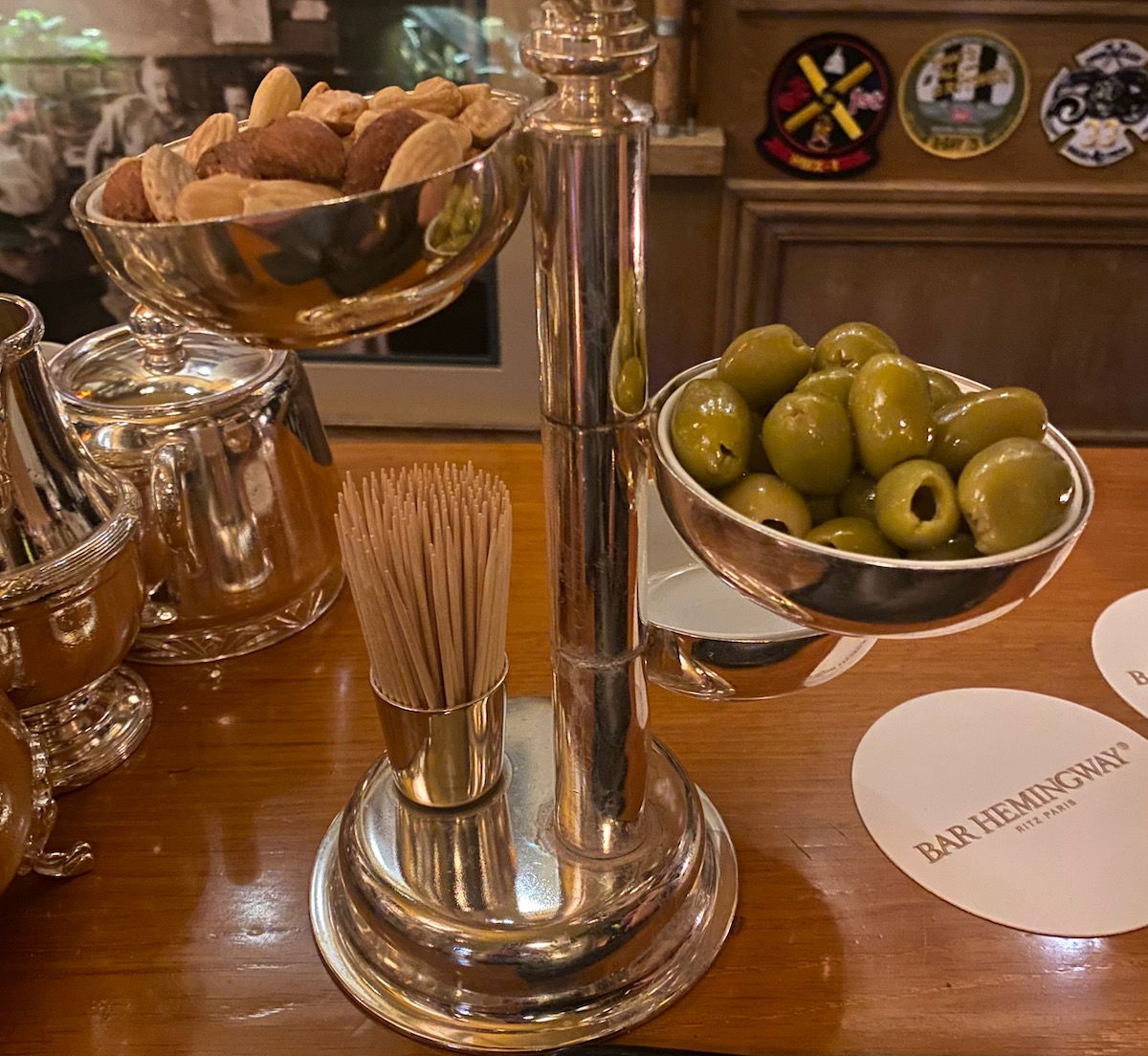 Ritz Paris Bar Vendôme
In our effort to experience as much of the hotel as possible during our one night stay, we decided to have dinner at Bar Vendôme, the hotel's all-day Parisian brasserie.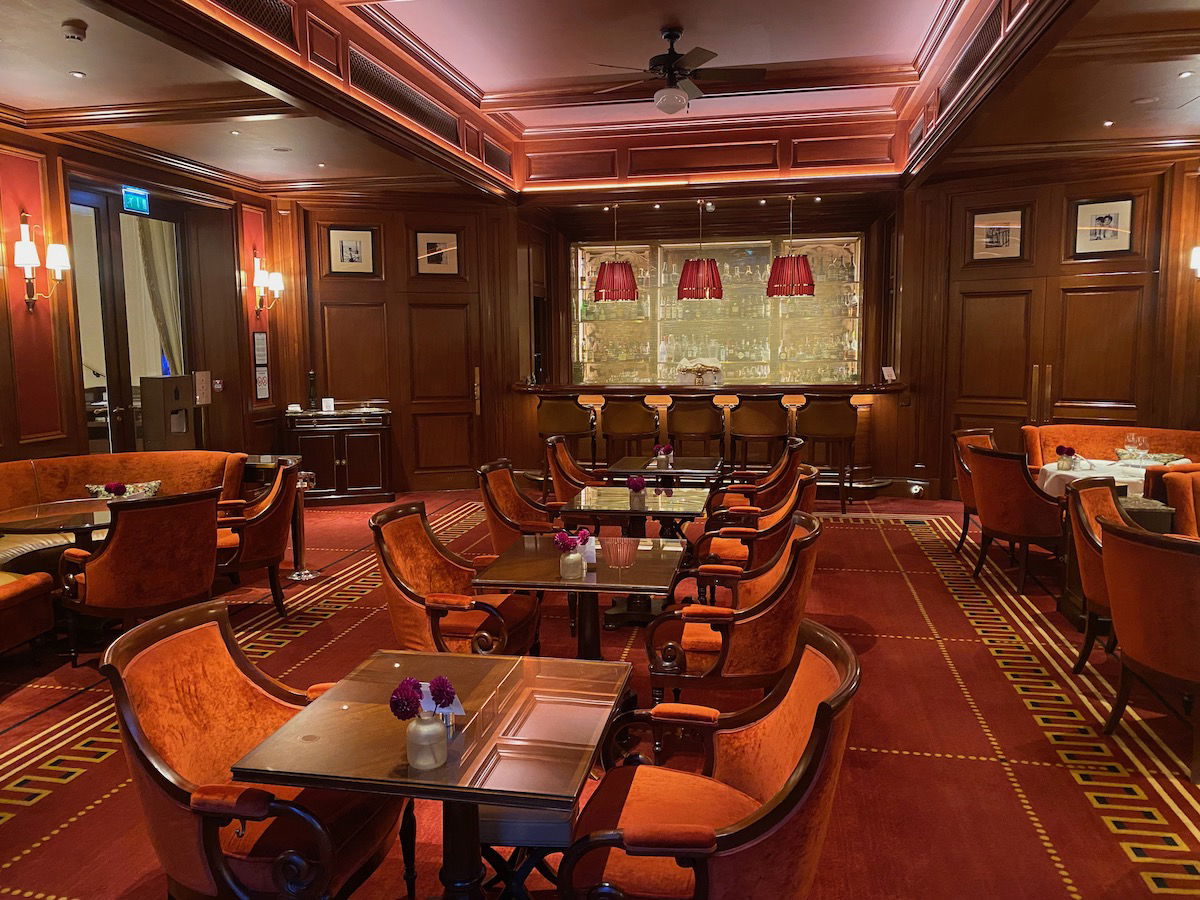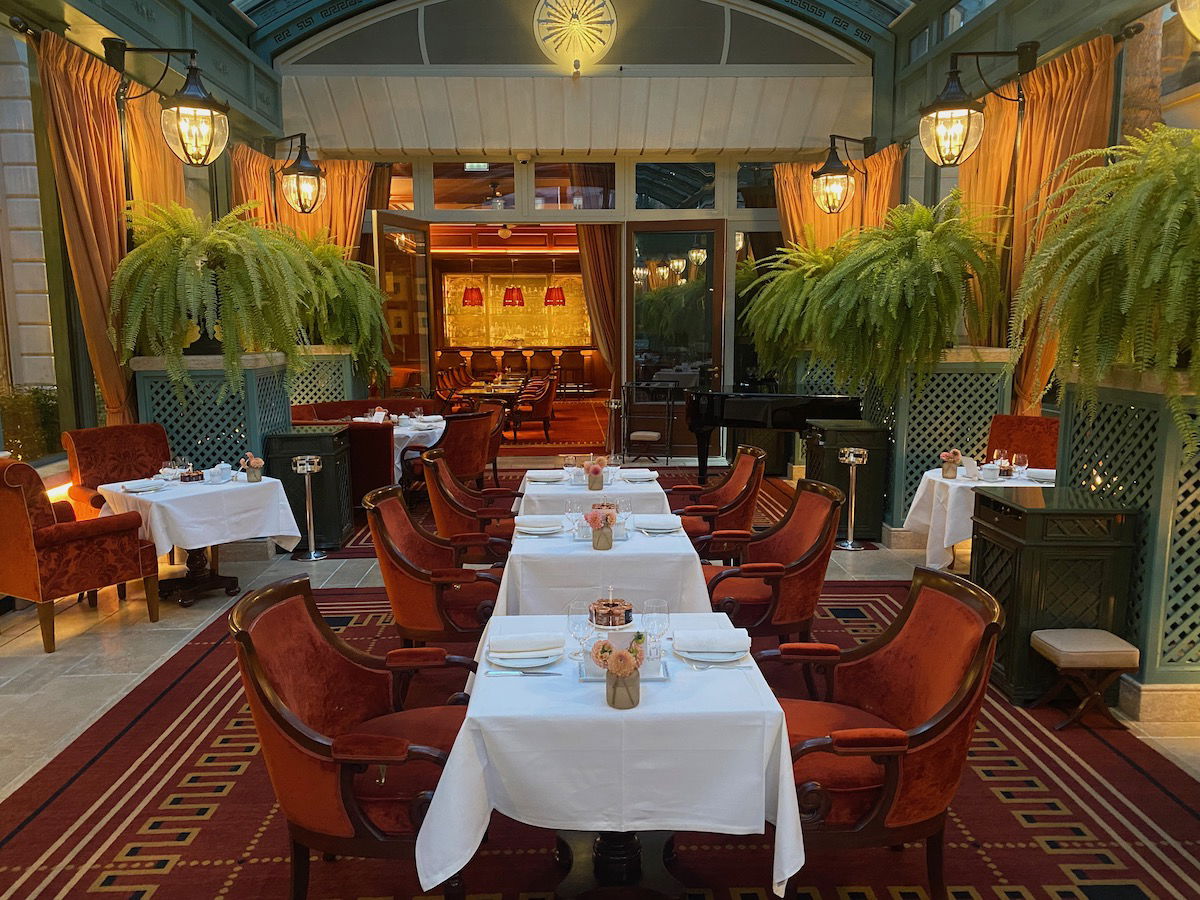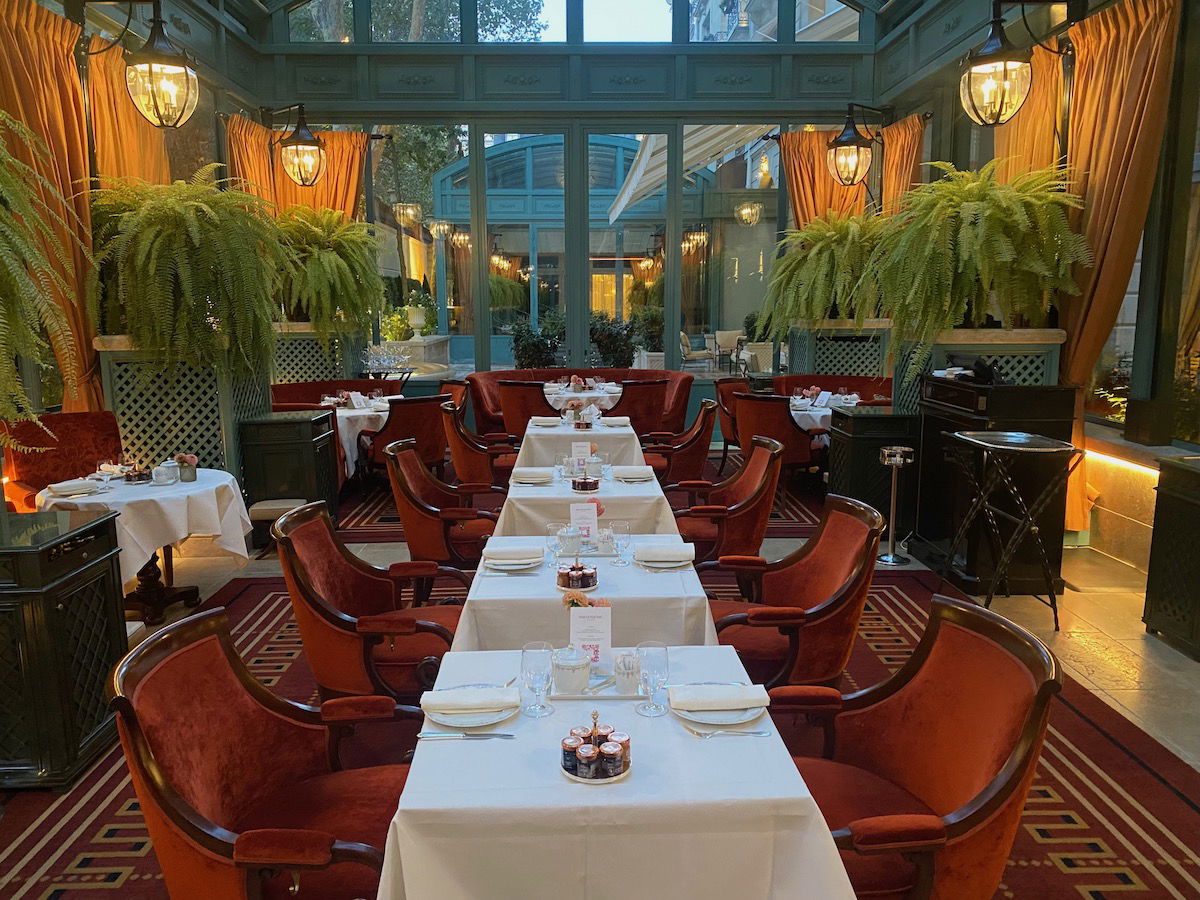 I loved the vibe here — there was a live singer and piano player, Julian, who was awesome. You can find the dinner menu for the restaurant here.
I decided to order the cod (cooked with ginger and curry, coconut, and pistachio rice), while Ford had the beef tartare. Both dishes were excellent.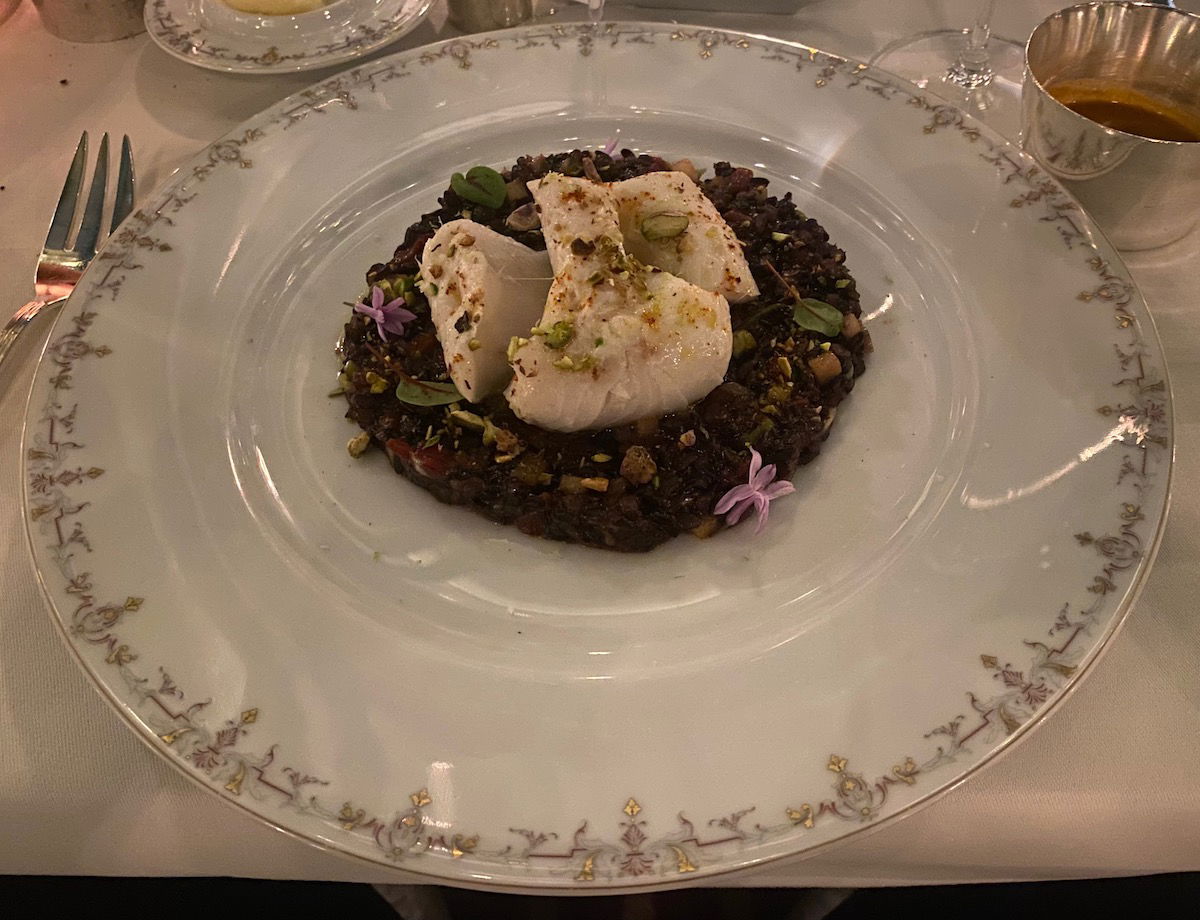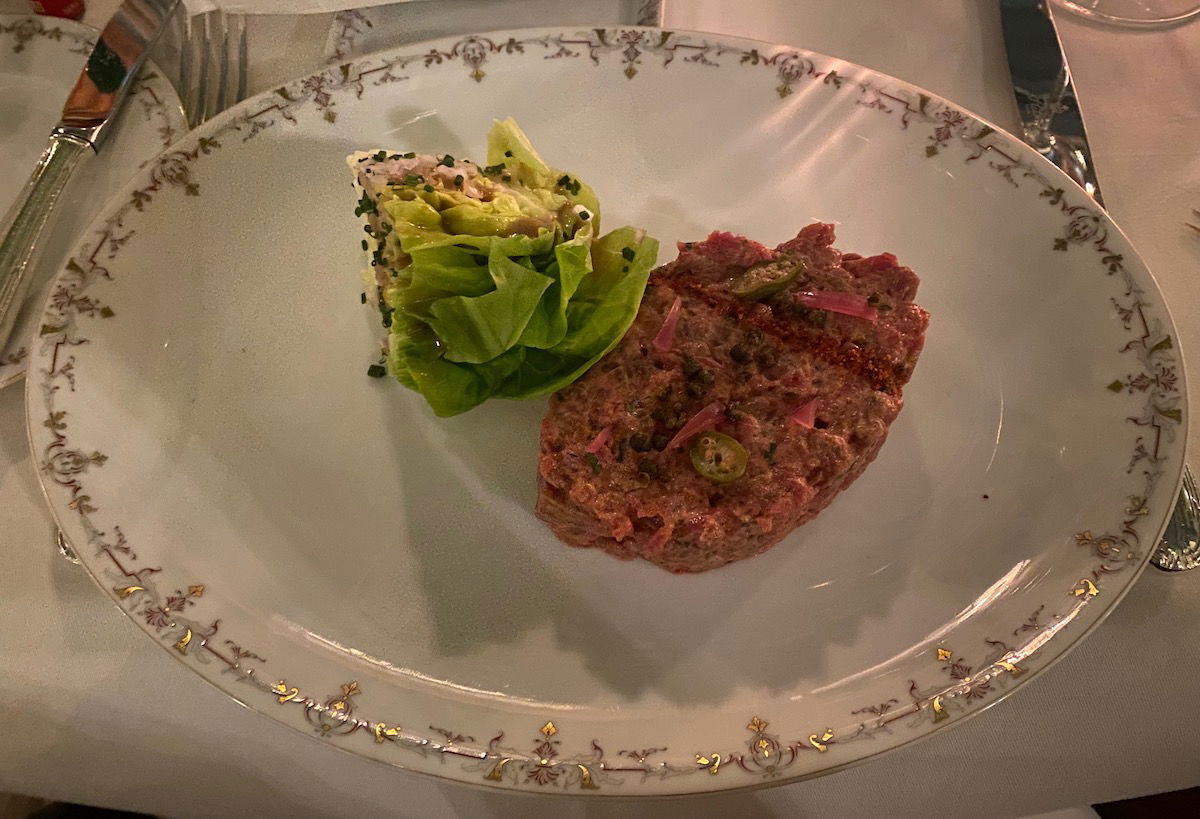 Ritz Paris L'Espadon Restaurant (breakfast)
Since we booked through Virtuoso, our rate included breakfast (most breakfast options otherwise cost 68 EUR per person). We could either have this via in-room dining or in the restaurant, and we decided to dine in the restaurant. Breakfast is served from 7AM until 11AM at L'Espadon Restaurant. Like the rest of the hotel, the breakfast room is a work of art.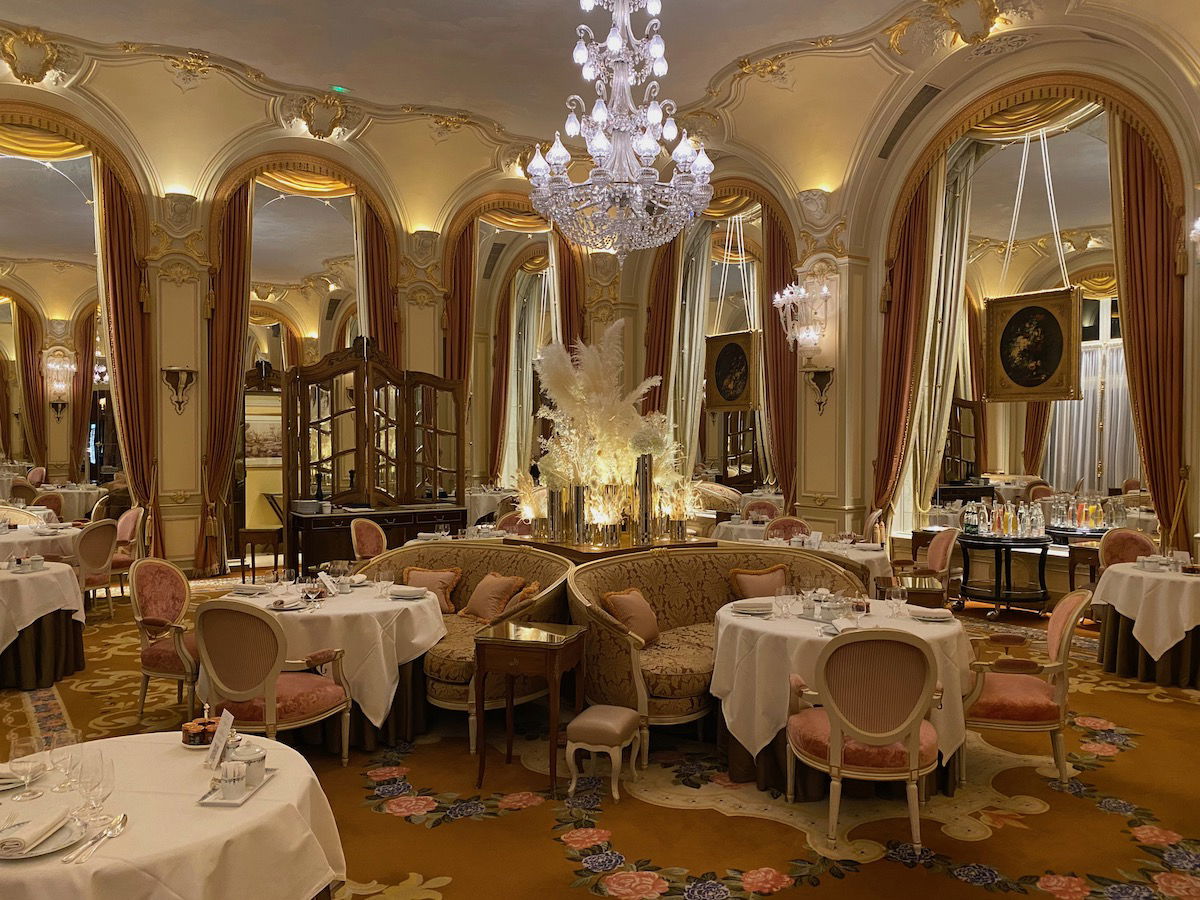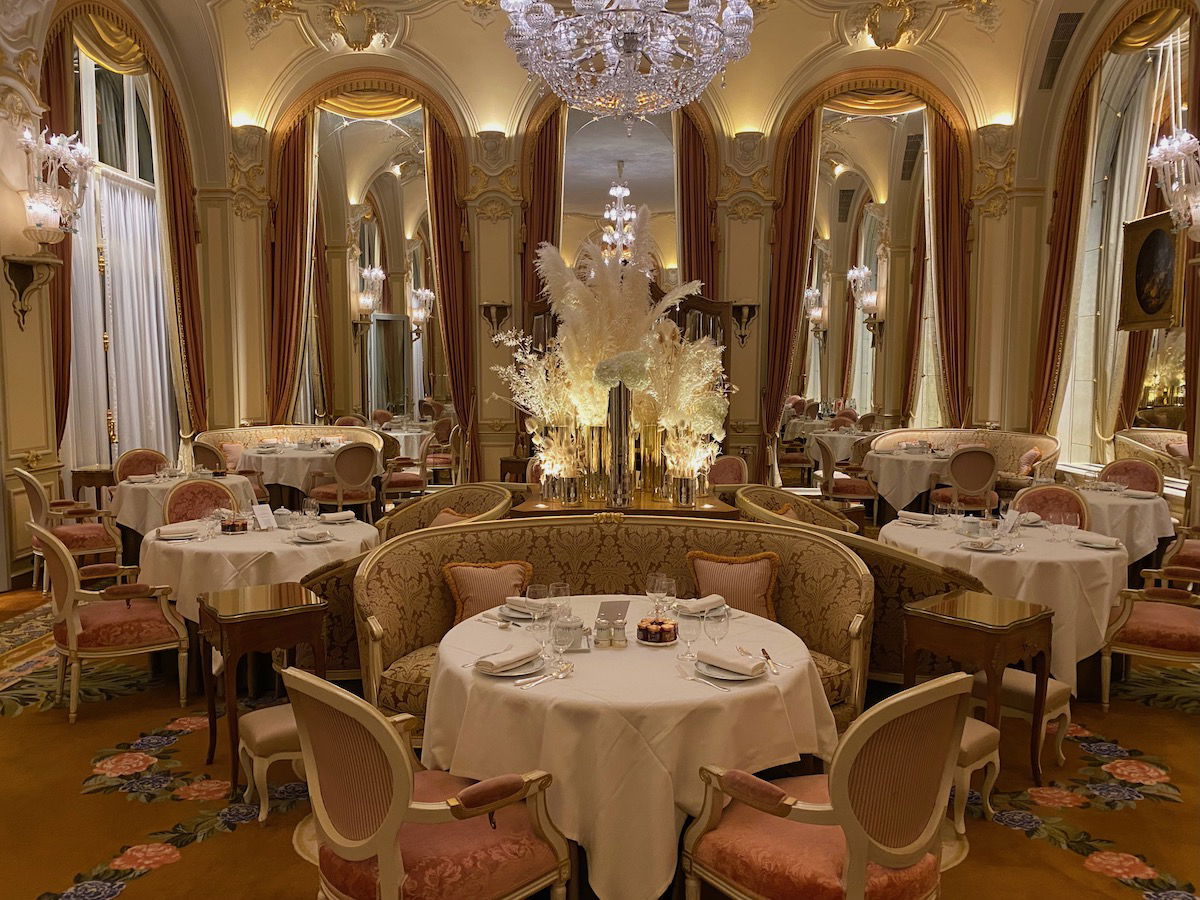 The breakfast menu read as follows: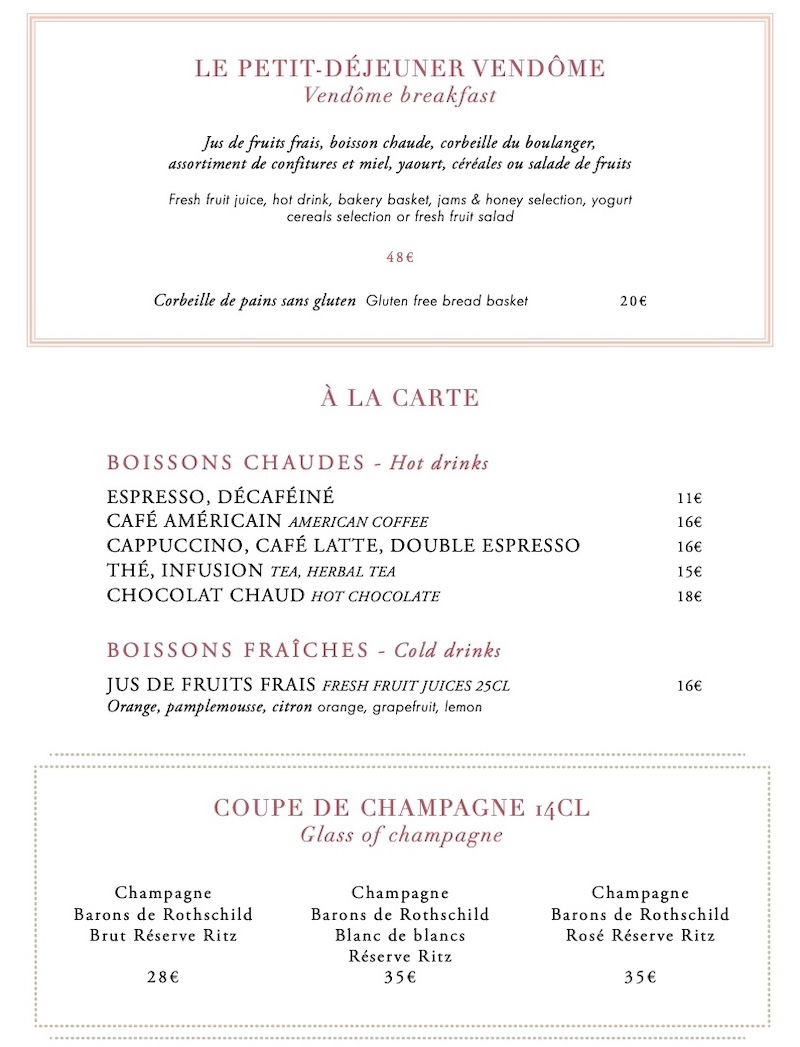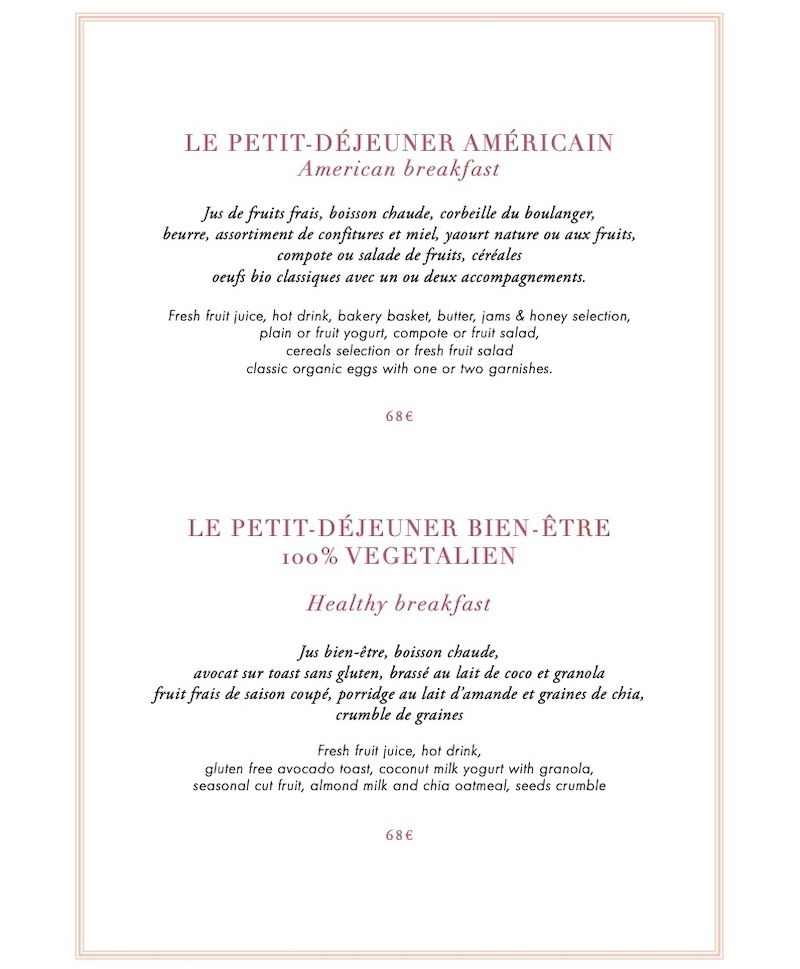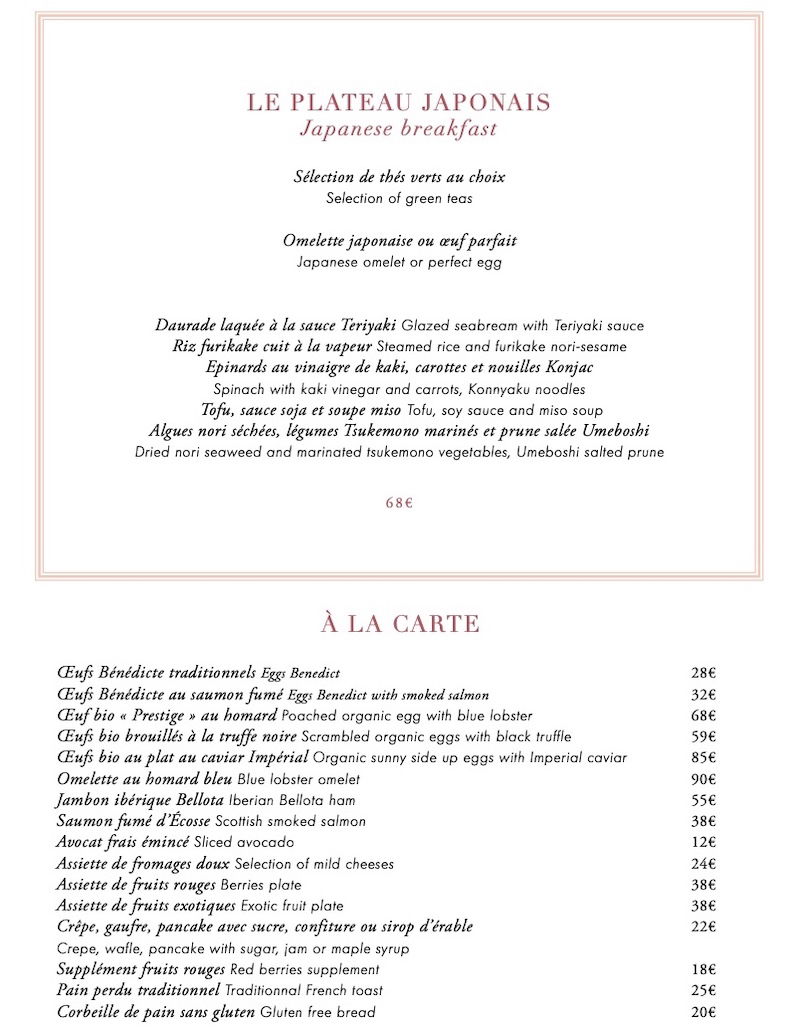 I ordered the "healthy breakfast," while Ford had the "American breakfast." My breakfast was probably the most delicious breakfast I've ever had in Paris. First a basket was brought out with freshly baked pastries, croissants, and bread.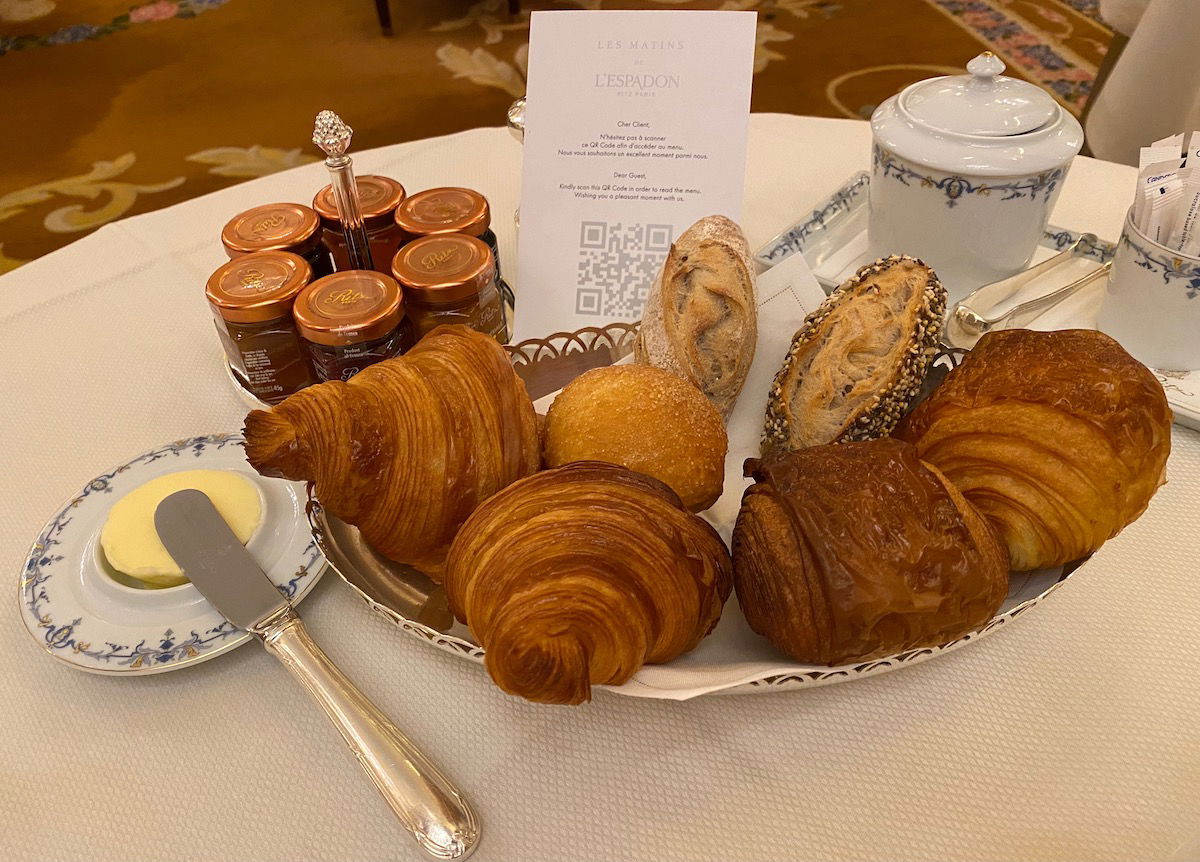 We then ordered drinks, including freshly squeezed orange juice, cappuccinos, and lattes.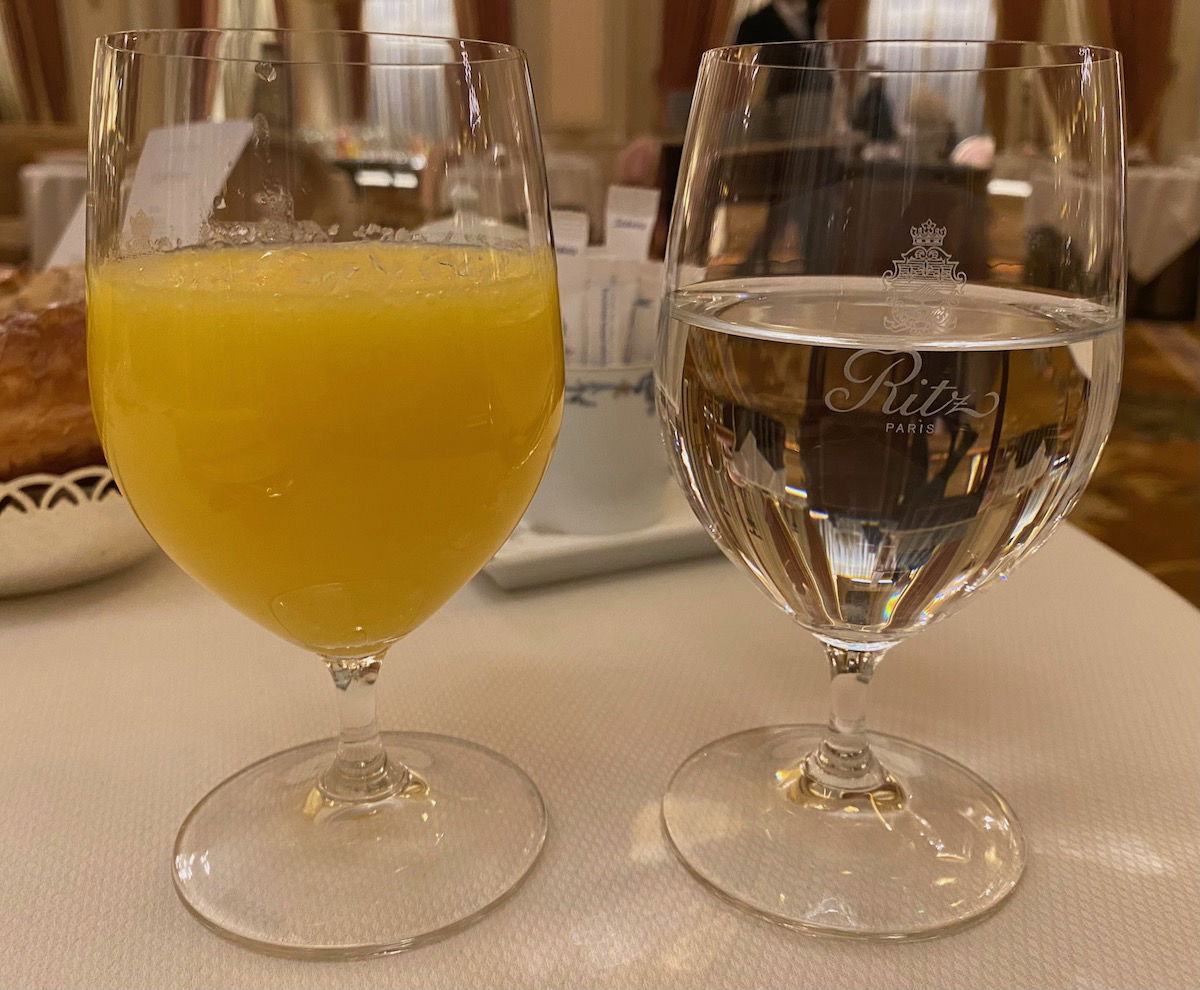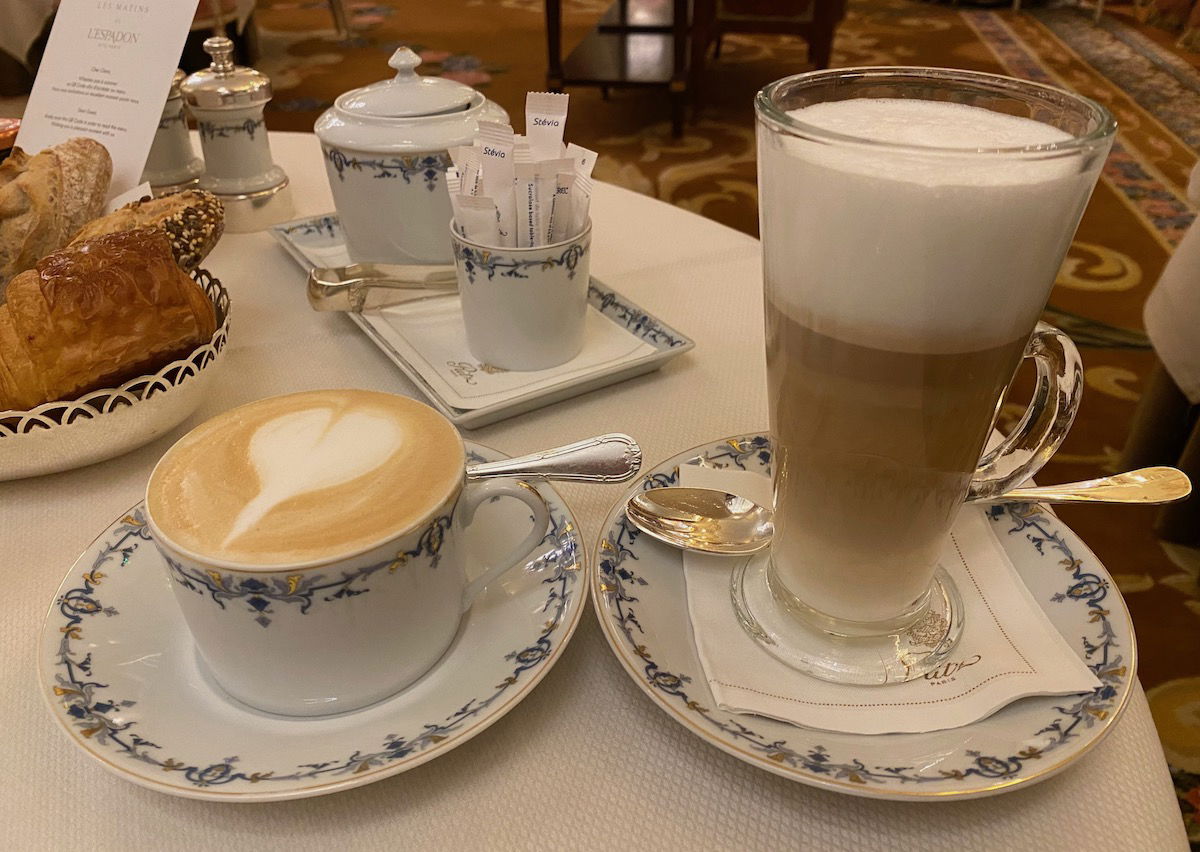 Ford had a fruit salad as well as a green juice.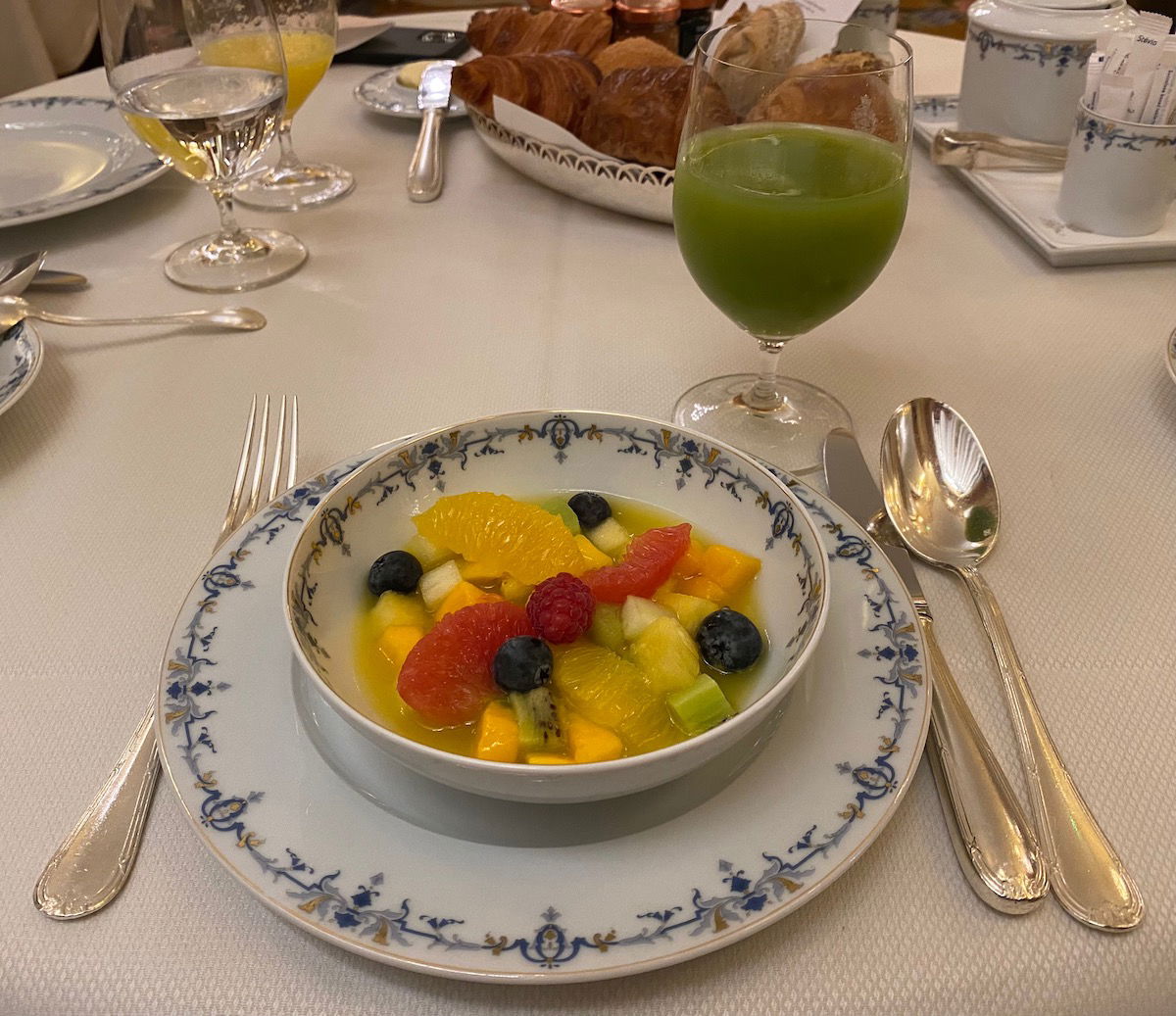 Then my breakfast included five different dishes, including gluten free avocado toast, coconut milk yogurt with granola, almond milk and chia oatmeal, and a couple of bowls of fruit.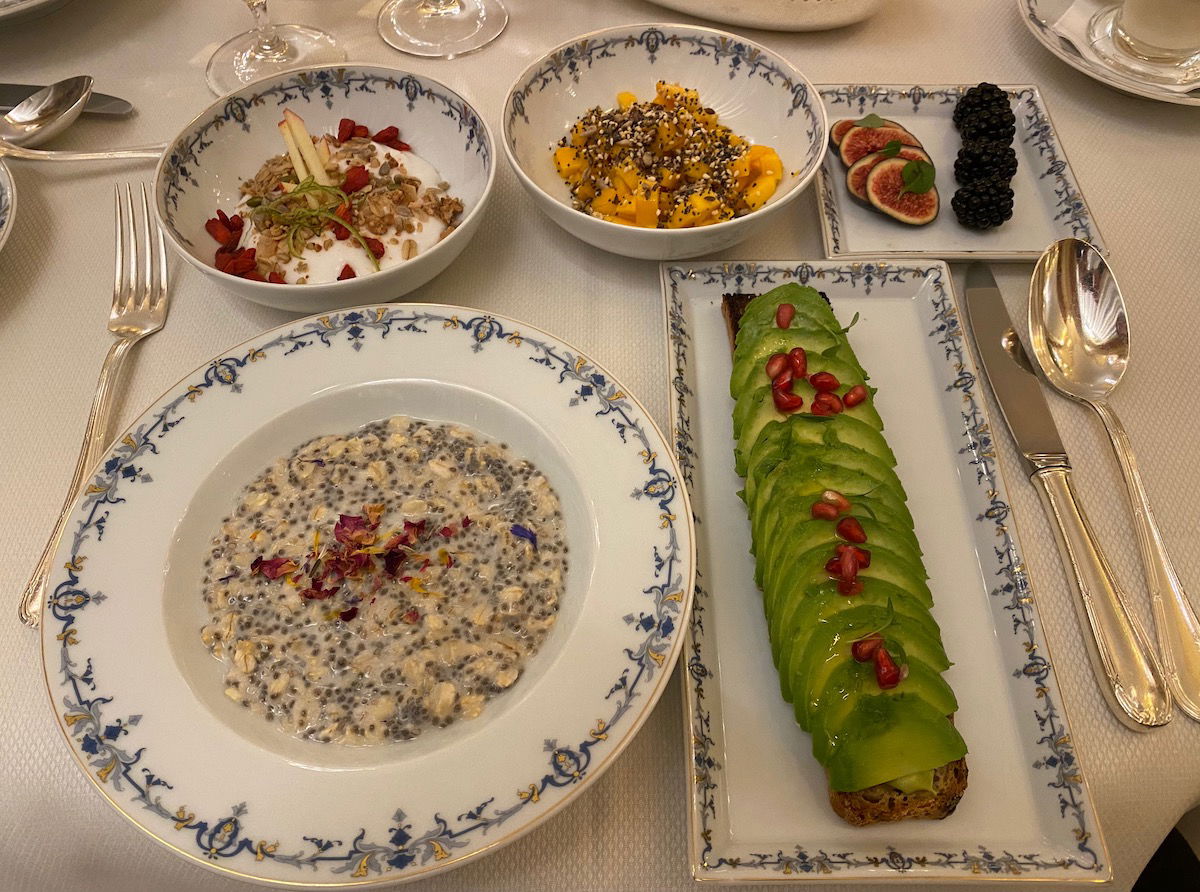 Ford had two poached eggs and some chicken sausage.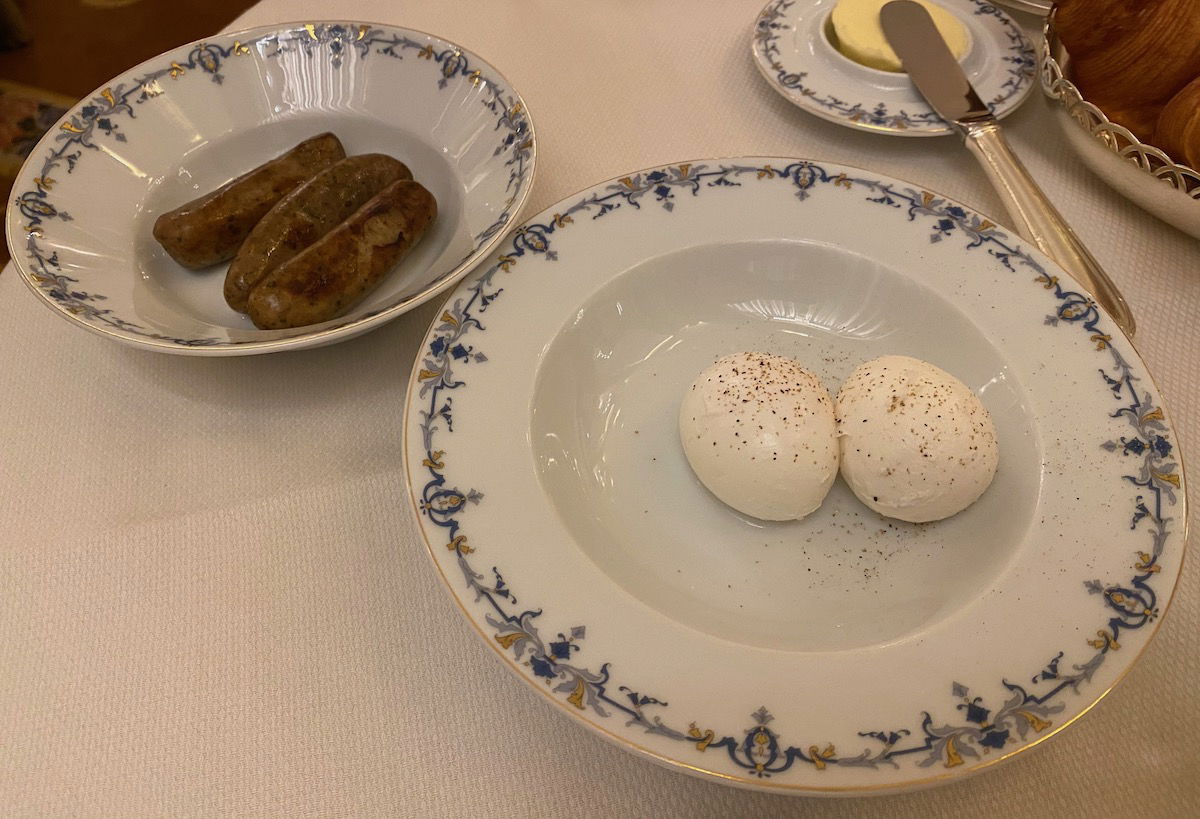 The breakfast was incredible, and the service couldn't have been friendlier. Our server seemed downright disappointed that we didn't even try the pastries, and kept pressuring us to just take them in a to-go box, because he said they were just that good. It's always nice to get that level of service and passion without even having an option to tip.
Ritz Club Paris (spa, pool, and gym)
The Ritz Club Paris is the Ritz Paris' incredible spa complex on the basement level. The spa itself offers treatments from Biologique Recherche, a very high end skincare company.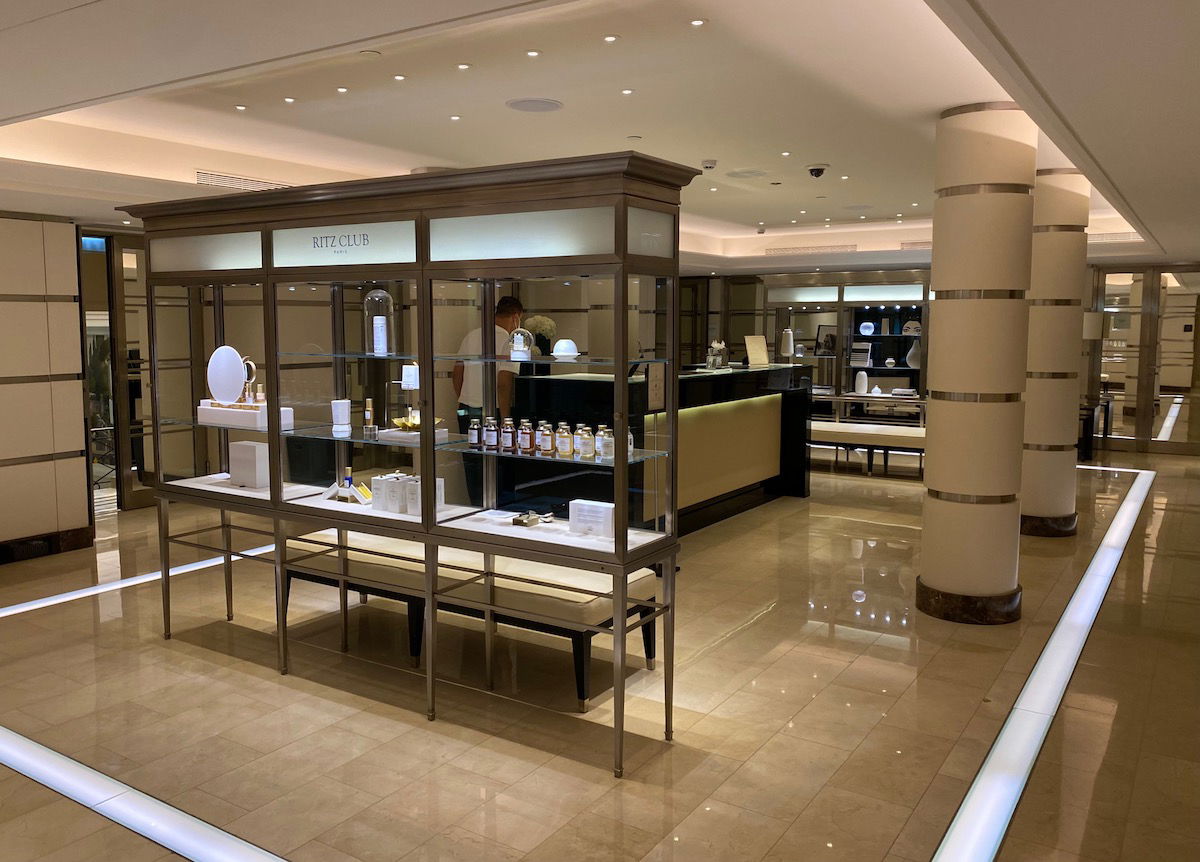 We didn't get any treatments, but rather just used the pool and gym. The Ritz Paris has a gorgeous pool — I think the pictures speak for themselves.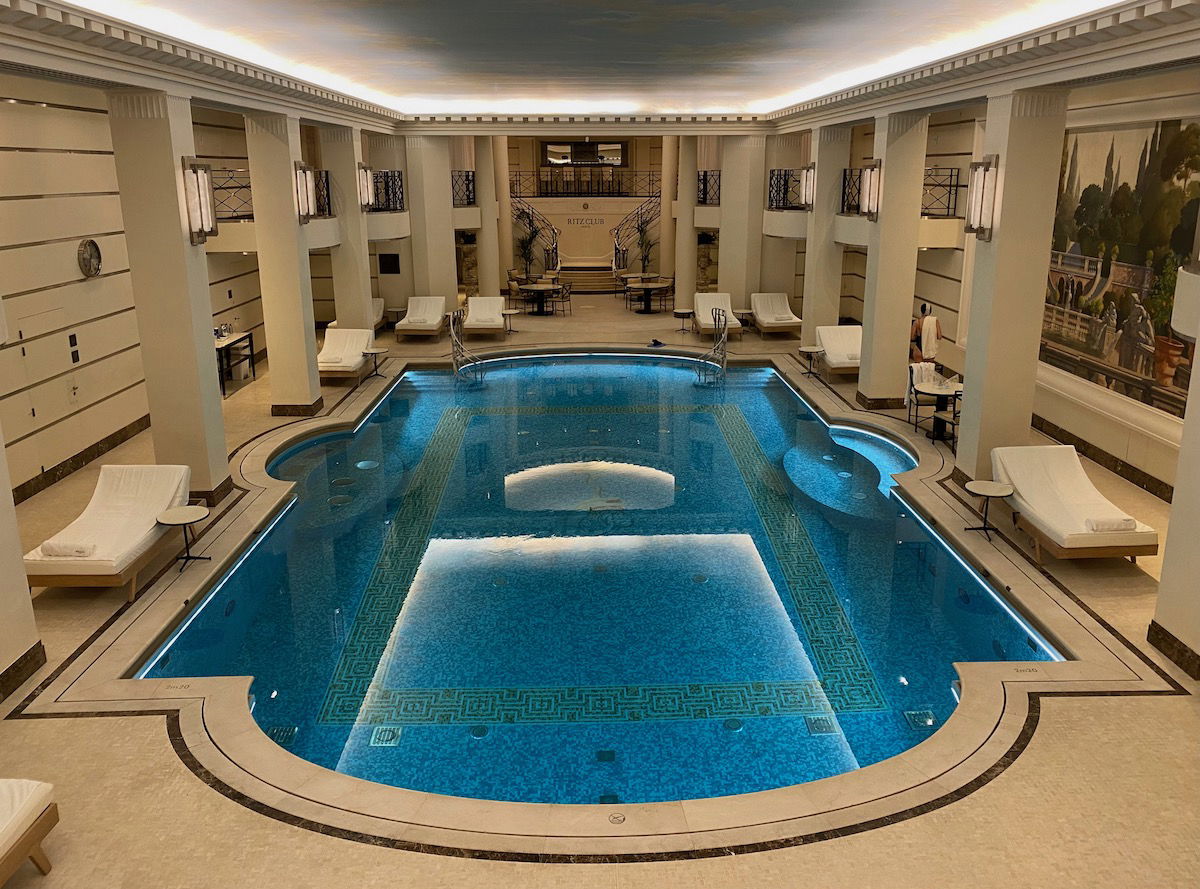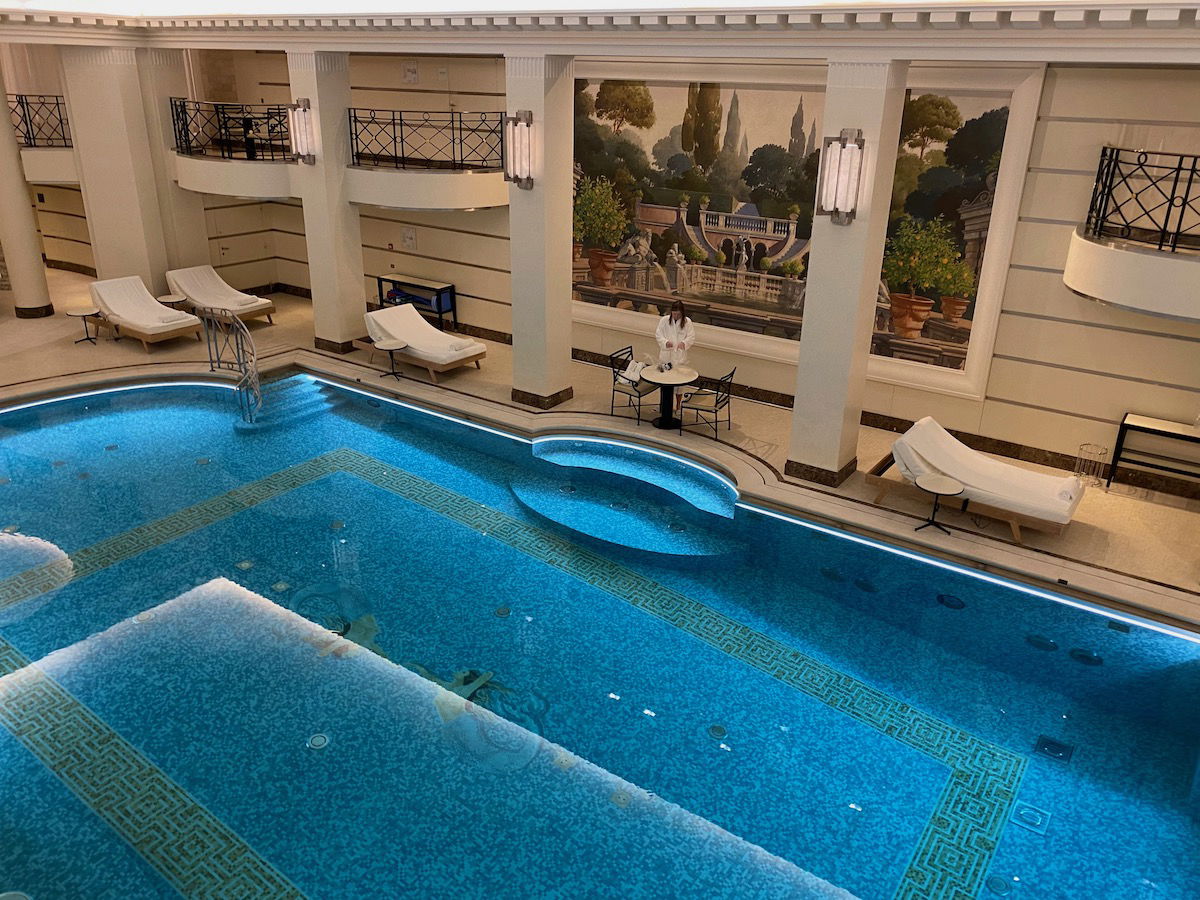 The gym was equally impressive, both in terms of the quality of the equipment, as well as the variety.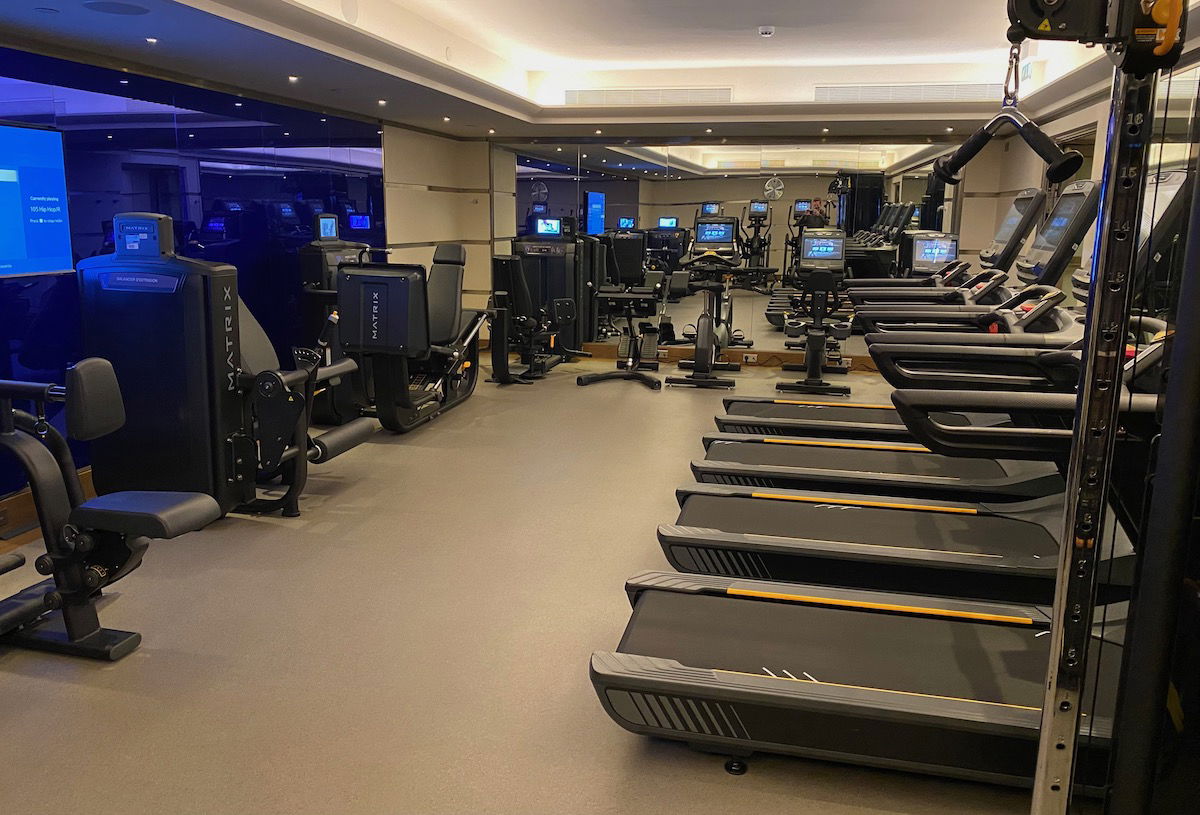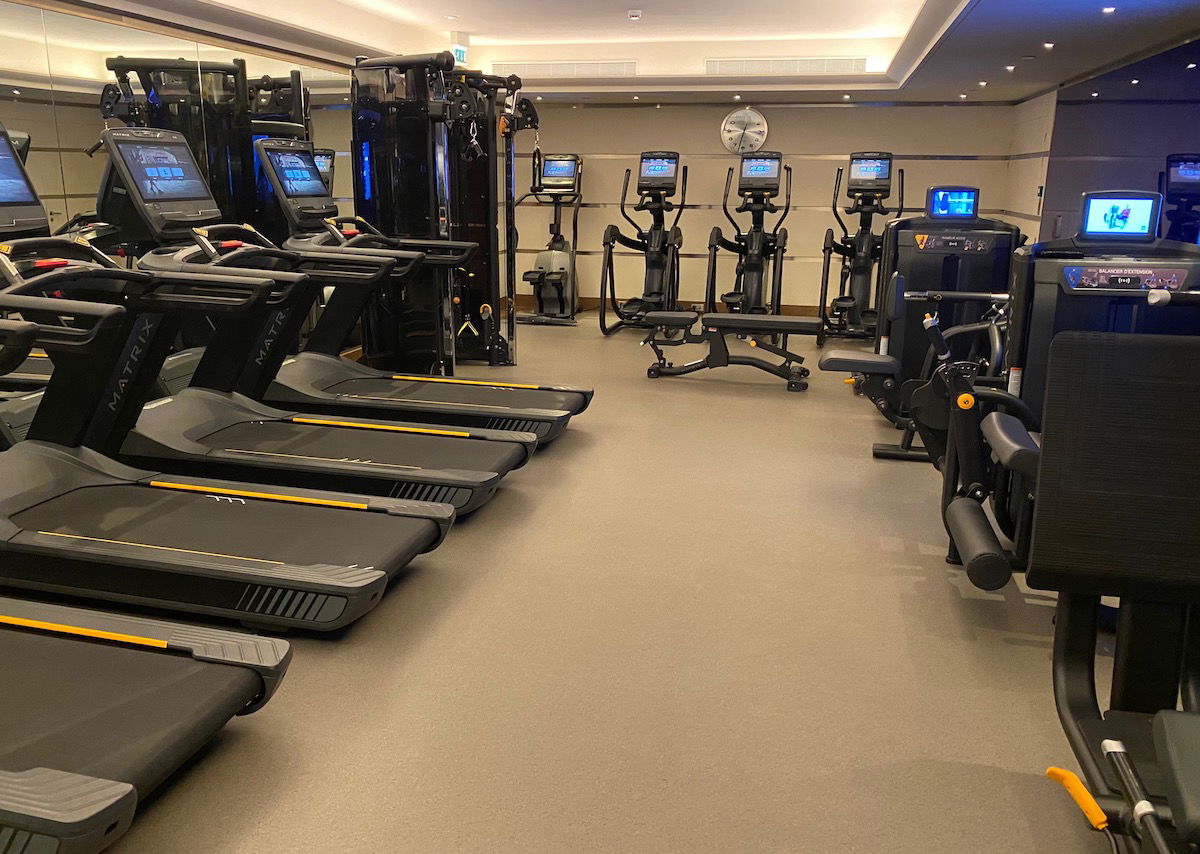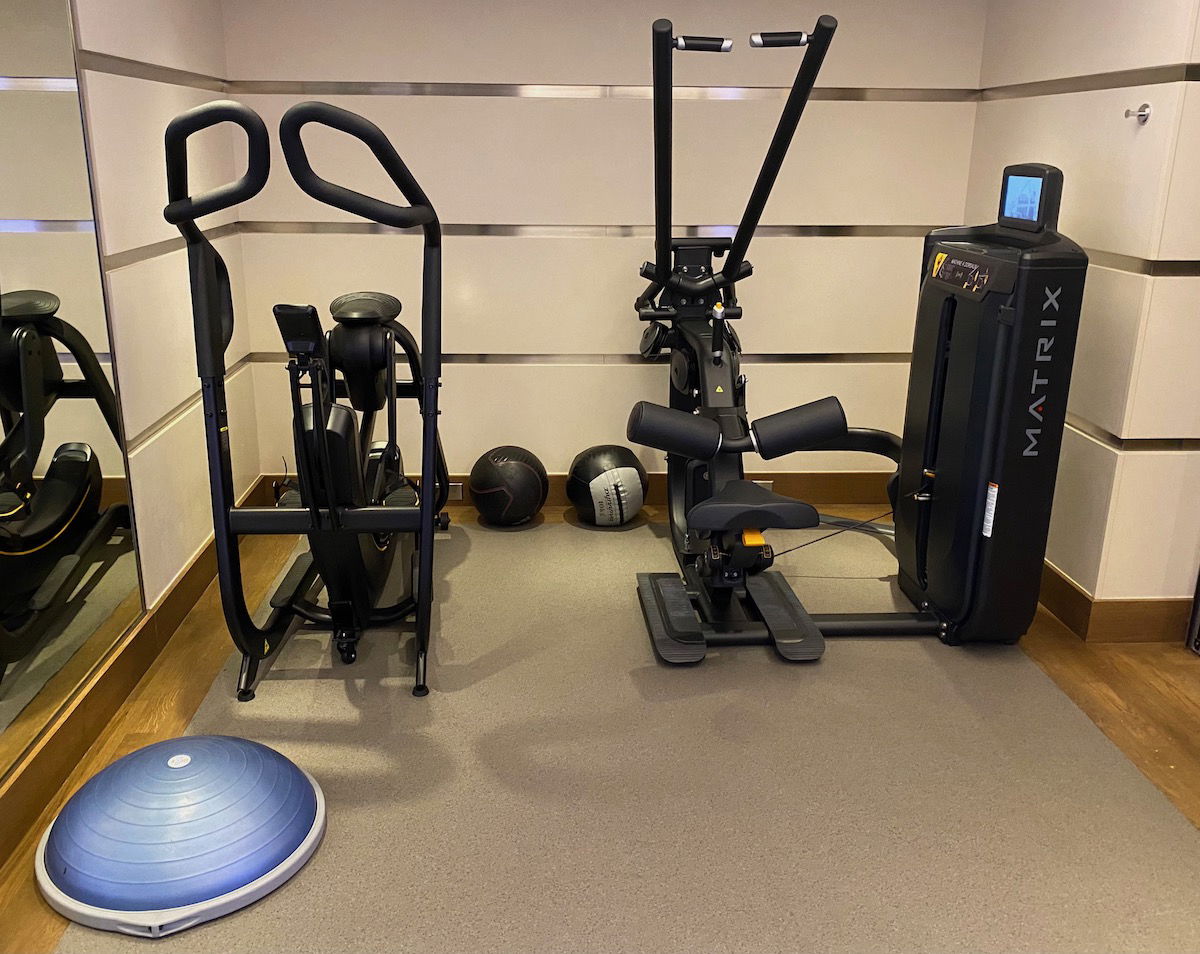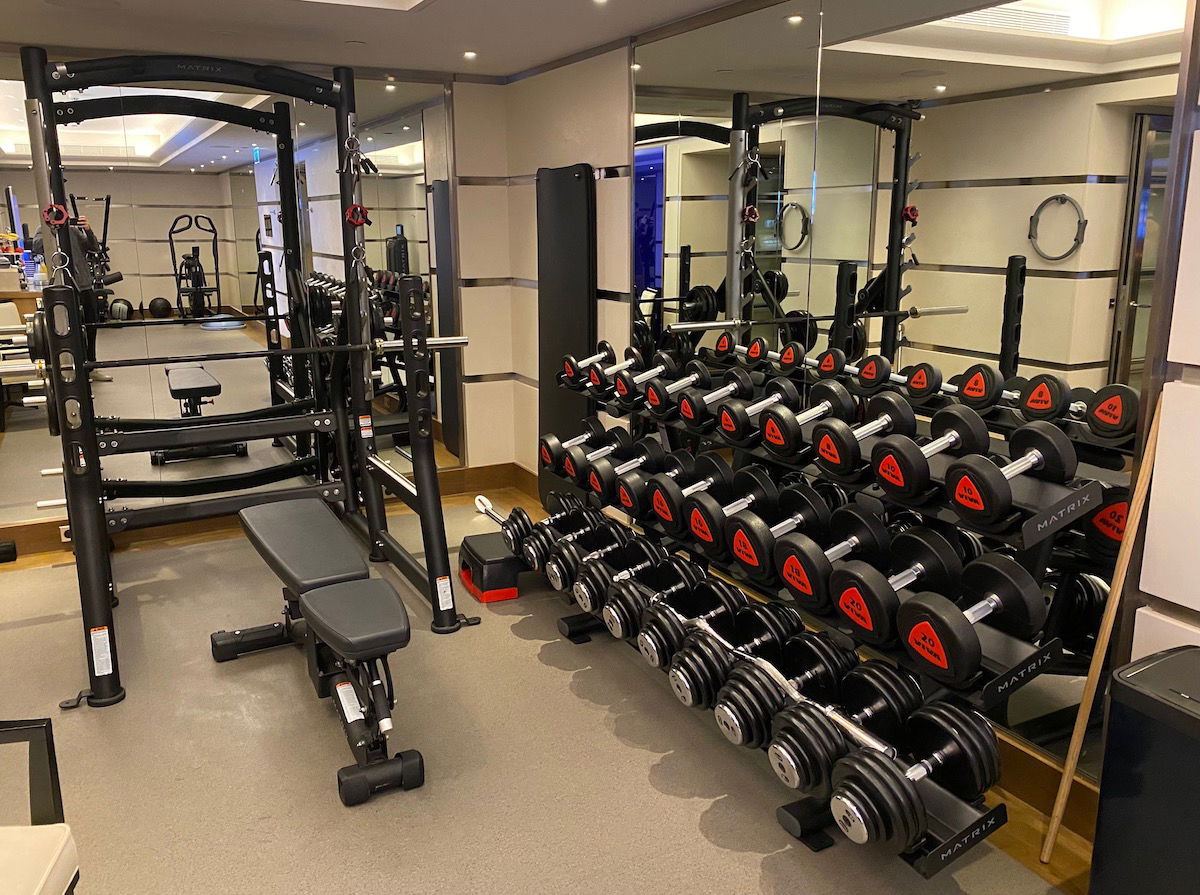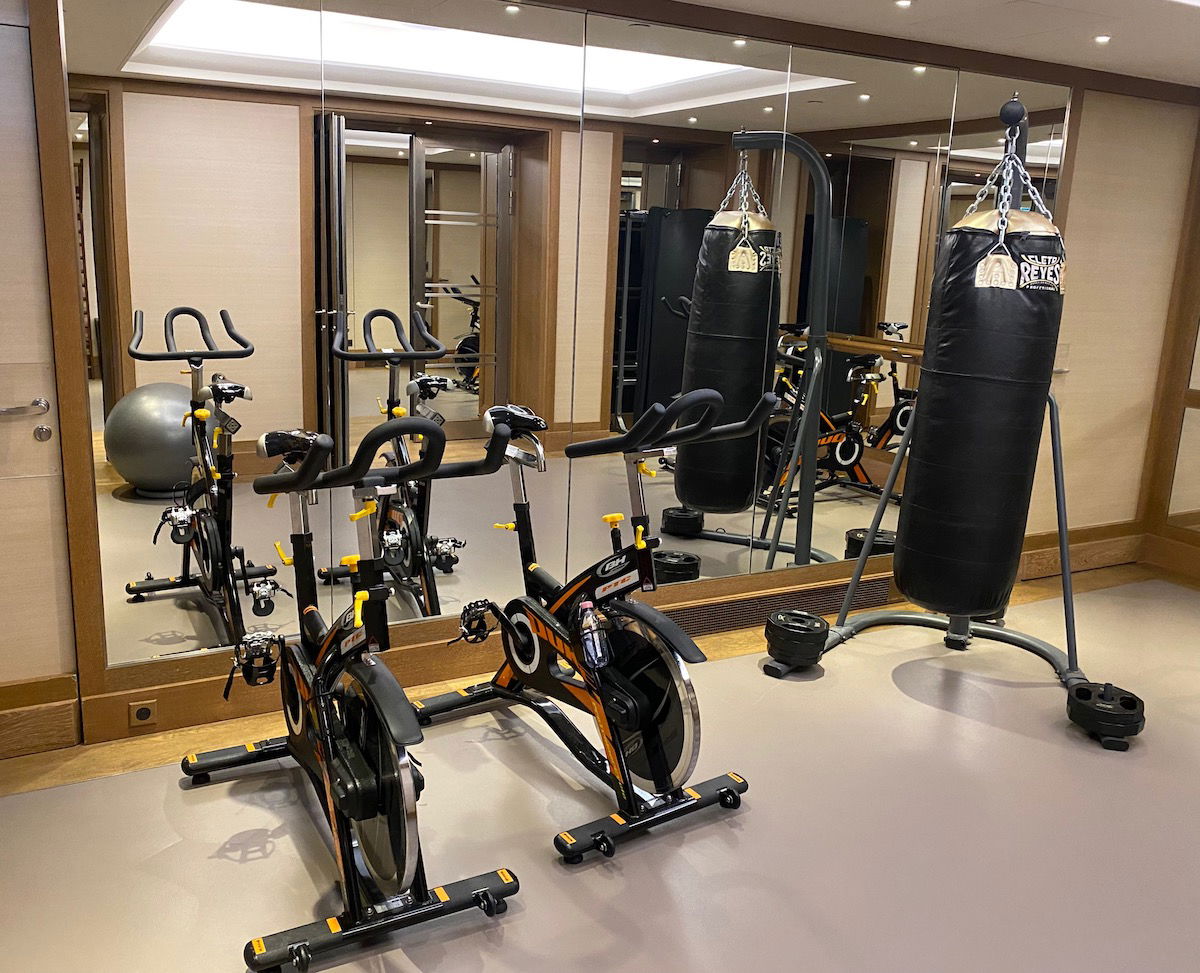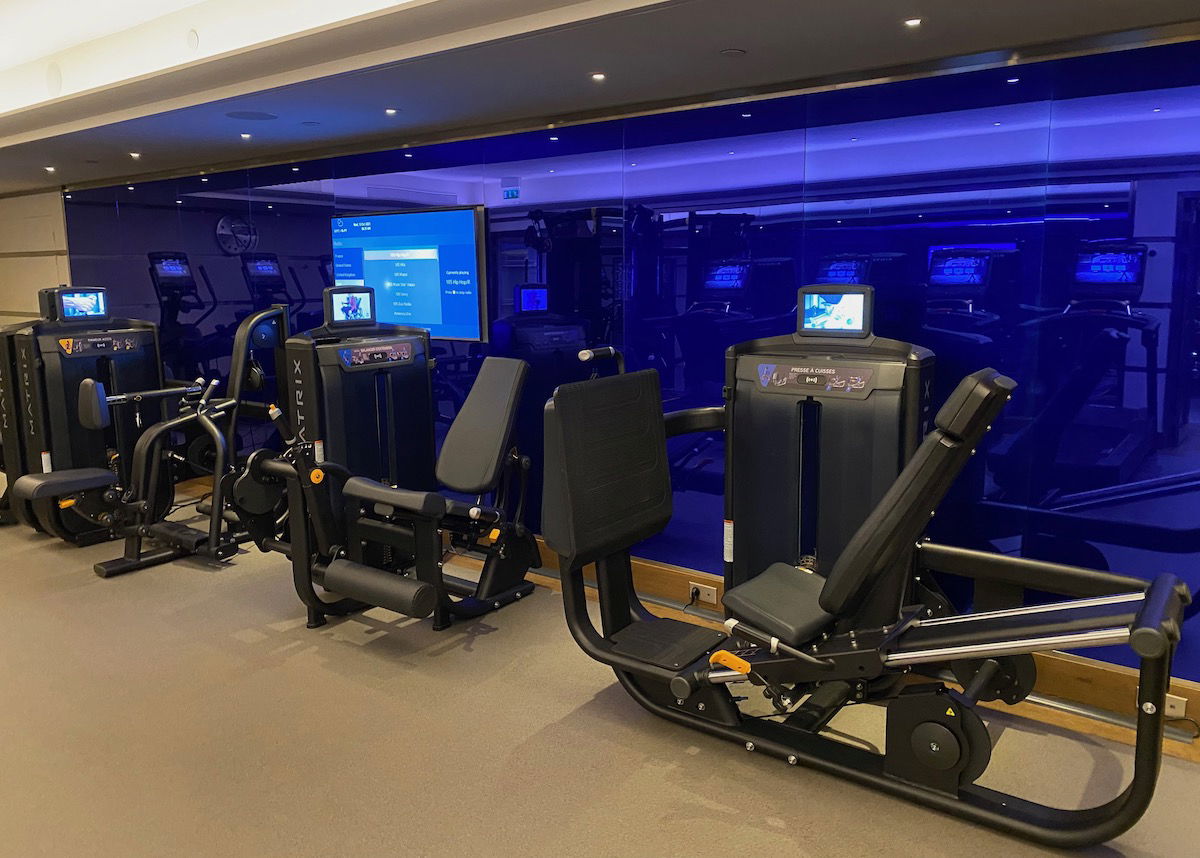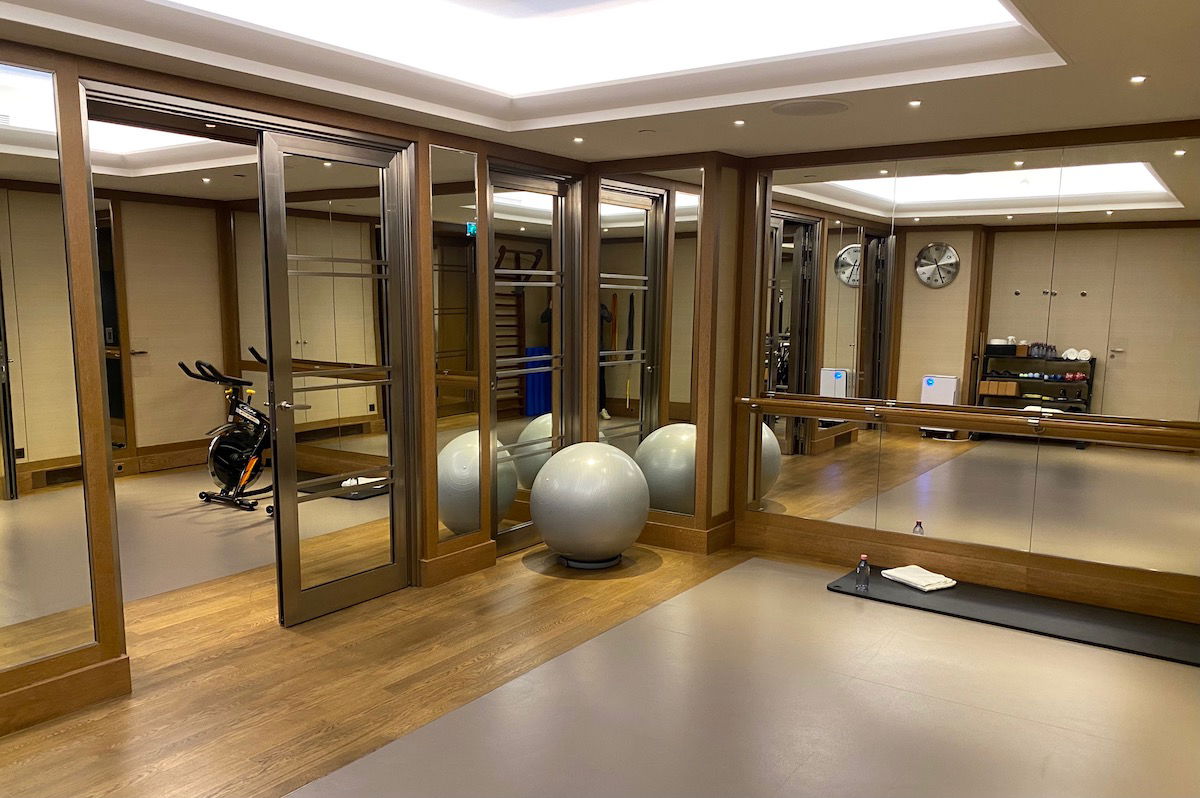 Funny enough, while there was no in-room coffee, the gym had pots of coffee, tea, and freshly squeezed orange juice. Works for us, since we usually work out first thing in the morning.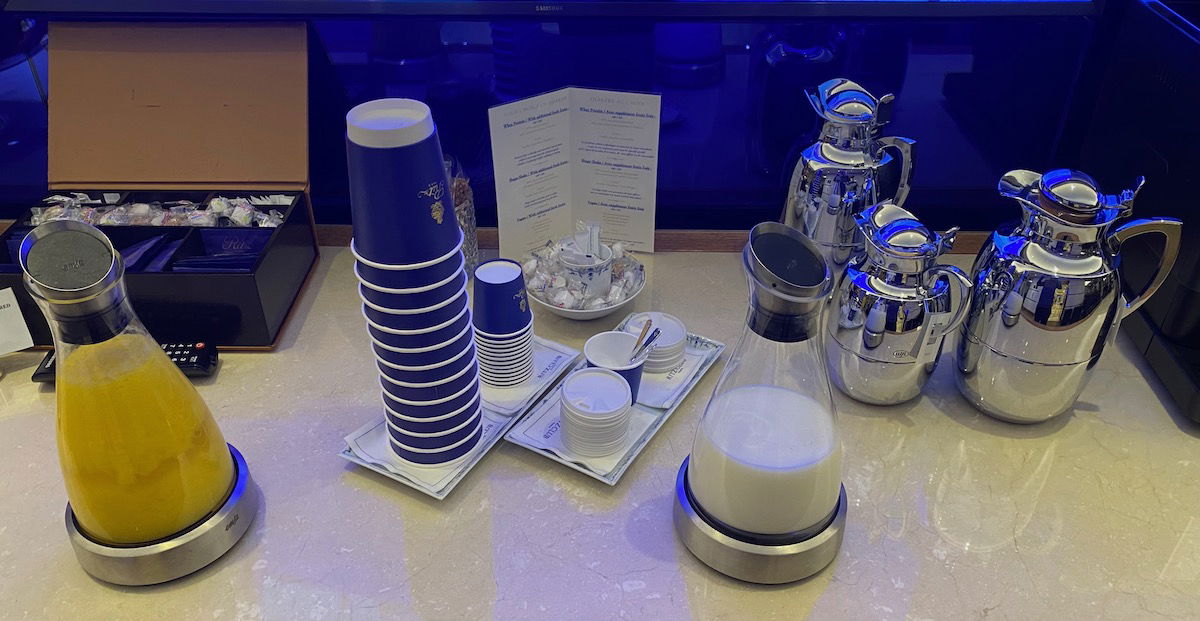 Ritz Paris outdoor space
Since it's fall, the Ritz Paris' outdoor space wasn't being used much anymore, but the hotel has a huge outdoor terrace and garden, which I imagine is lovely in summer.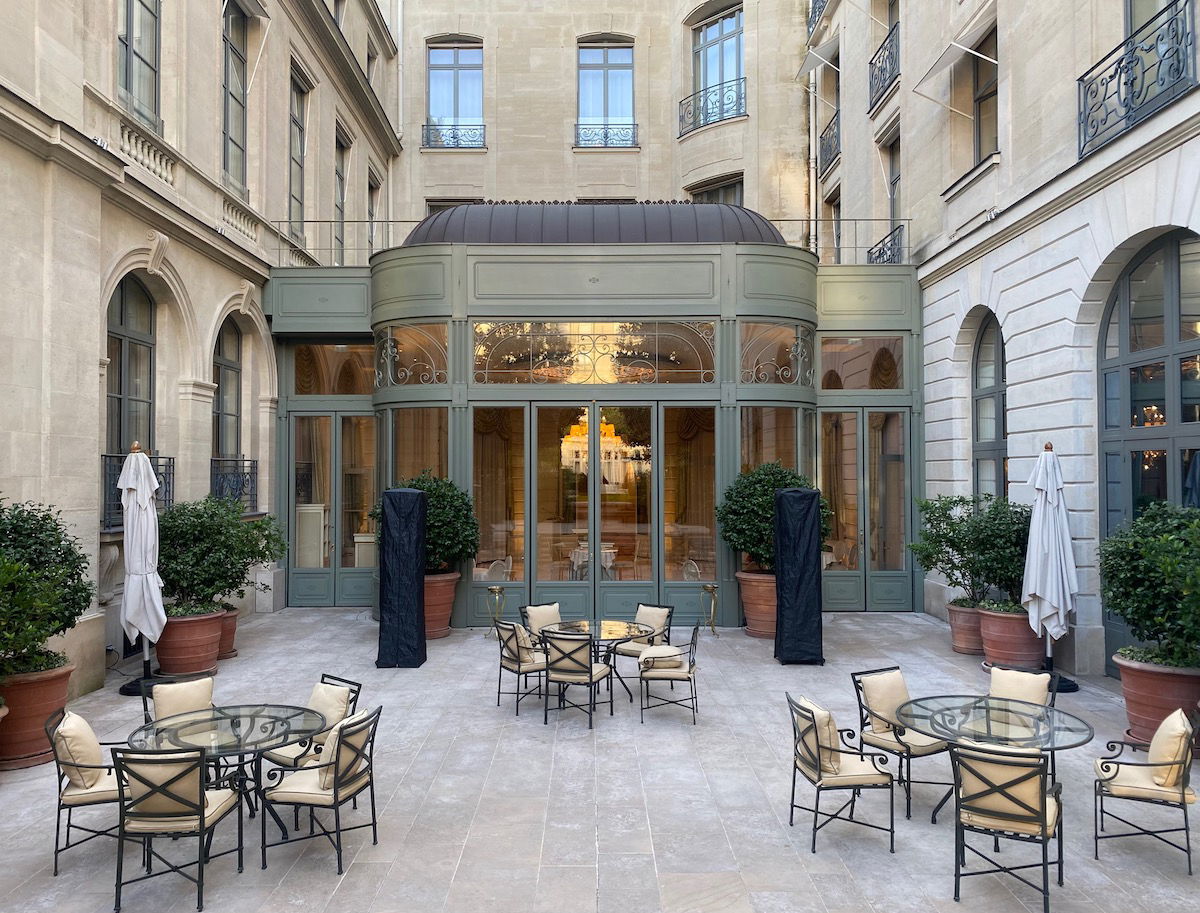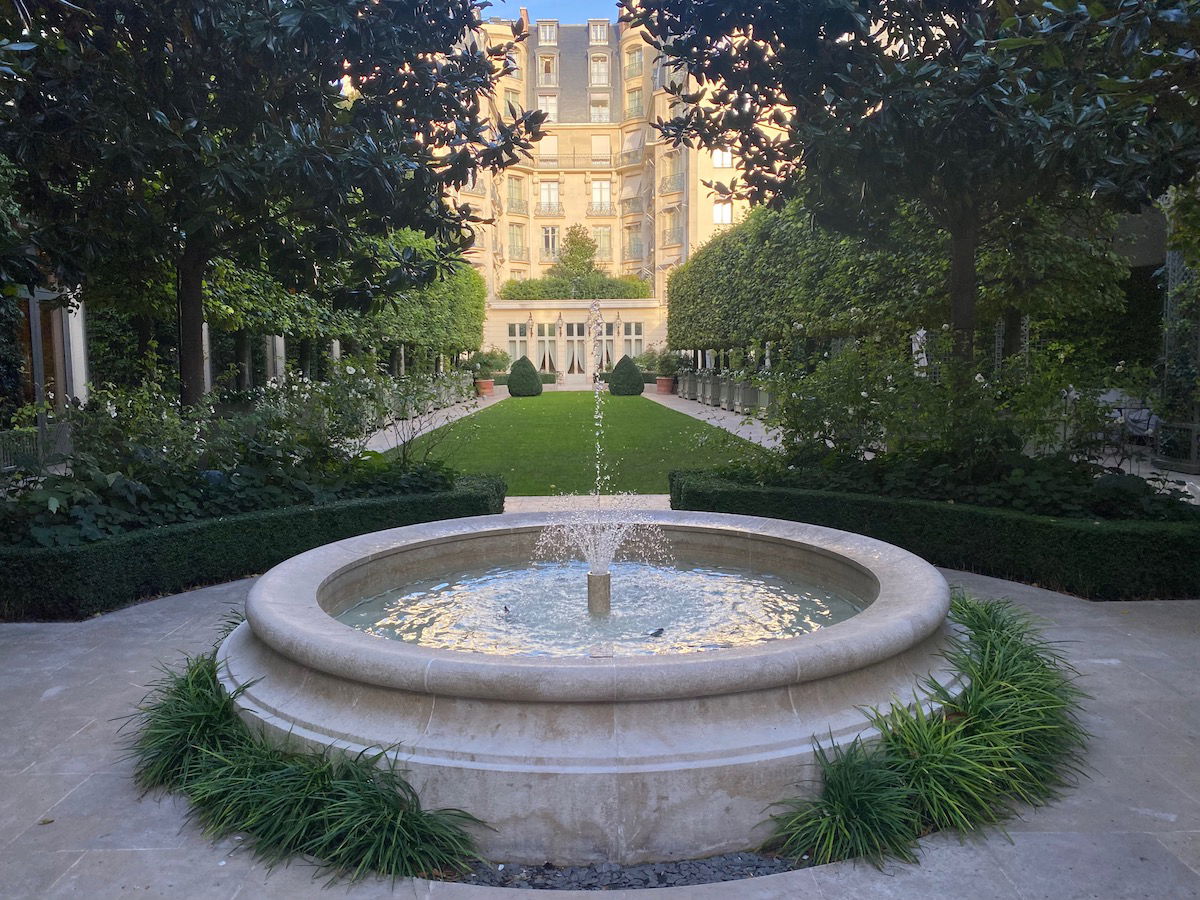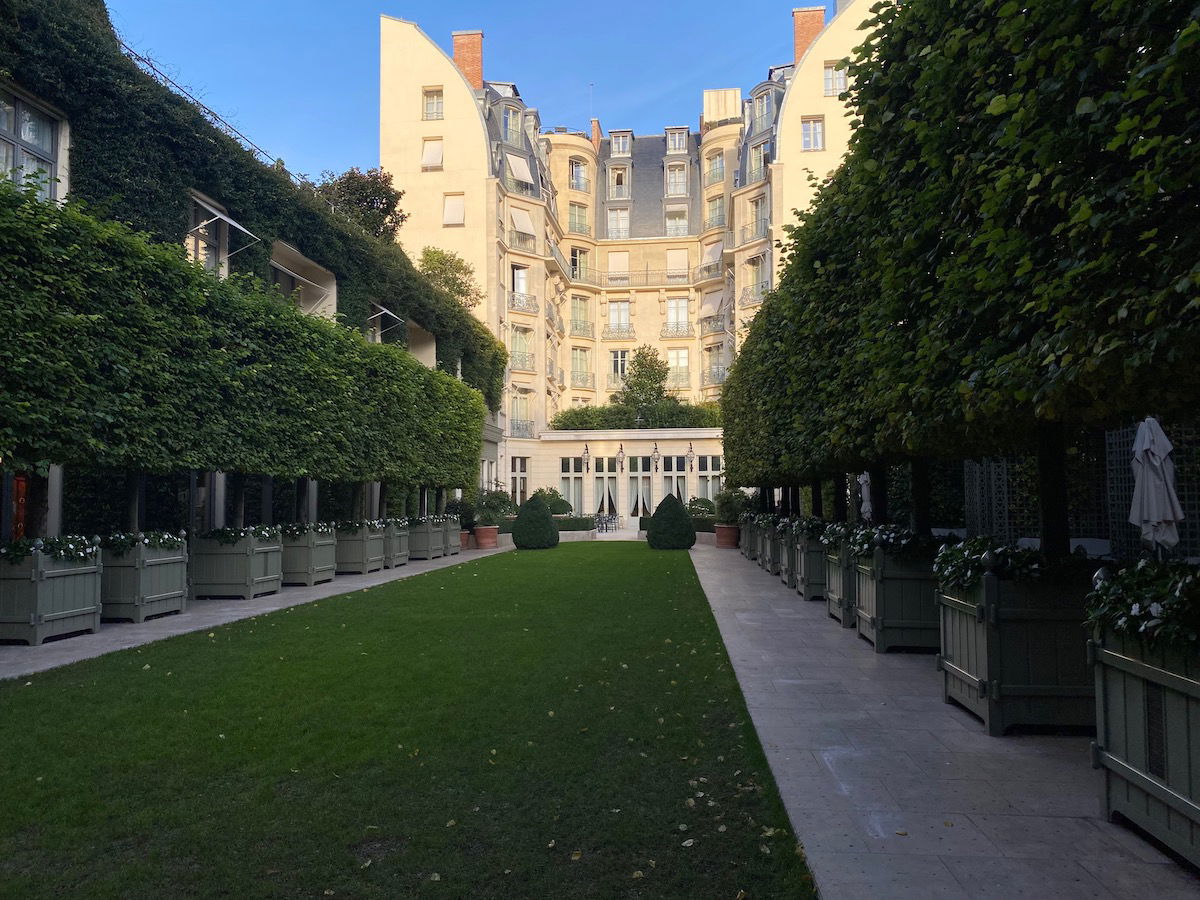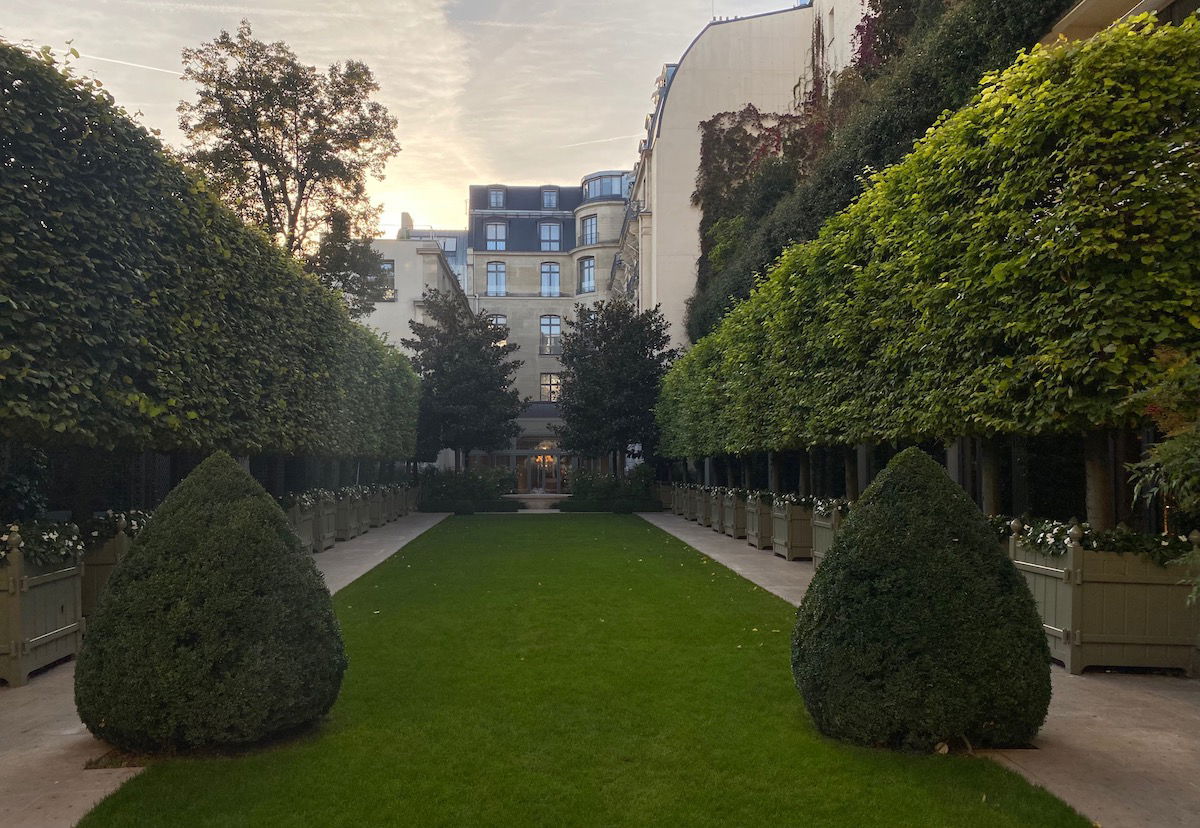 Ritz Paris service, ambiance, and scene
Service at the Ritz Paris was extremely polished across the board. From the seamless check-in experience, to all the restaurant servers, employees were perfectly trained and seemed genuinely eager to please.
That being said, in general I didn't feel like service was particularly personalized. In other words, if you're spending a lot to stay at a hotel, it's nice to walk into the hotel and be greeted with a "welcome back," or something along those lines.
I think that kind of gets at one of my potential issues with this hotel. Perhaps the Ritz Paris is a victim of its own success and popularity, because an incredible number of people walk through the hotel's doors every day, either to visit the food & beverage outlets, or the shops.
That takes away a bit from the personalization or intimate feeling you might otherwise feel as a hotel guest. For example, when we entered the hotel we were greeted with "can I help you find something?" rather than "welcome back." It's minor, but at the very high end of hospitality, I do think it's noteworthy, and I usually prefer staying at a hotel where I feel like I'm at "home."
Along similar lines, the hotel's two popular bars are open to everyone and don't accept reservations, and no priority seems to be given to hotel guests. I can appreciate that having a more mixed crowd adds to the vibe, but typically one benefit of staying at an awesome hotel is also having priority access to services, ahead of outside guests.
So yeah, service is friendly and professional, but it definitely has a bit of a "factory" feel, based on the number of people passing through this hotel daily.
Bottom line
I've long been curious about the Ritz Paris, and I'm grateful I had the chance to experience it. This is a hotel with so much history, and you feel like you're being transported to a different world when you're here. The rooms are beautiful, the food & drink outlets excellent, the gym and pool are top notch, and service here is refined.
That being said, expect to pay dearly for everything here, from the room rate, to food & drinks. The Ritz Paris is an institution, the owners know that, and they charge accordingly (and I guess they have a $450 million renovation to pay for). If cost is no object and you want this scene, then the Ritz Paris is the place to stay. Of the three hotels we stayed at (also the Four Seasons George V and Cheval Blanc), this is the one I'm least likely to return to. Why? Because it was awesome to see, but to me it was more of a "been there, done that" experience.
If you do book the Ritz Paris, make sure you book through Virtuoso, so you can get a confirmed upgrade, confirmed early check-in and late check-out, and a roundtrip airport transfer with VIP meet & greet, all at no extra cost.
What do you make of the Ritz Paris?