After an amazing Lufthansa first class flight from Miami to Frankfurt, and a fun day at the Lufthansa First Class Terminal, it was time to connect from Frankfurt to Paris in Lufthansa business class. I'm not going to fully review the flight, since I've written about Lufthansa's intra-Europe business class many times before. However, there was something different about this experience, which I wanted to highlight.
My strange Lufthansa business class meal
On the short 45 minute afternoon flight from Frankfurt to Paris, I was served a totally different meal than what I'm used to on Lufthansa. After takeoff, the crew presented all business class passengers with a wrapped sandwich on a plate. Hmmm, this looked very different than what I've been offered in the past.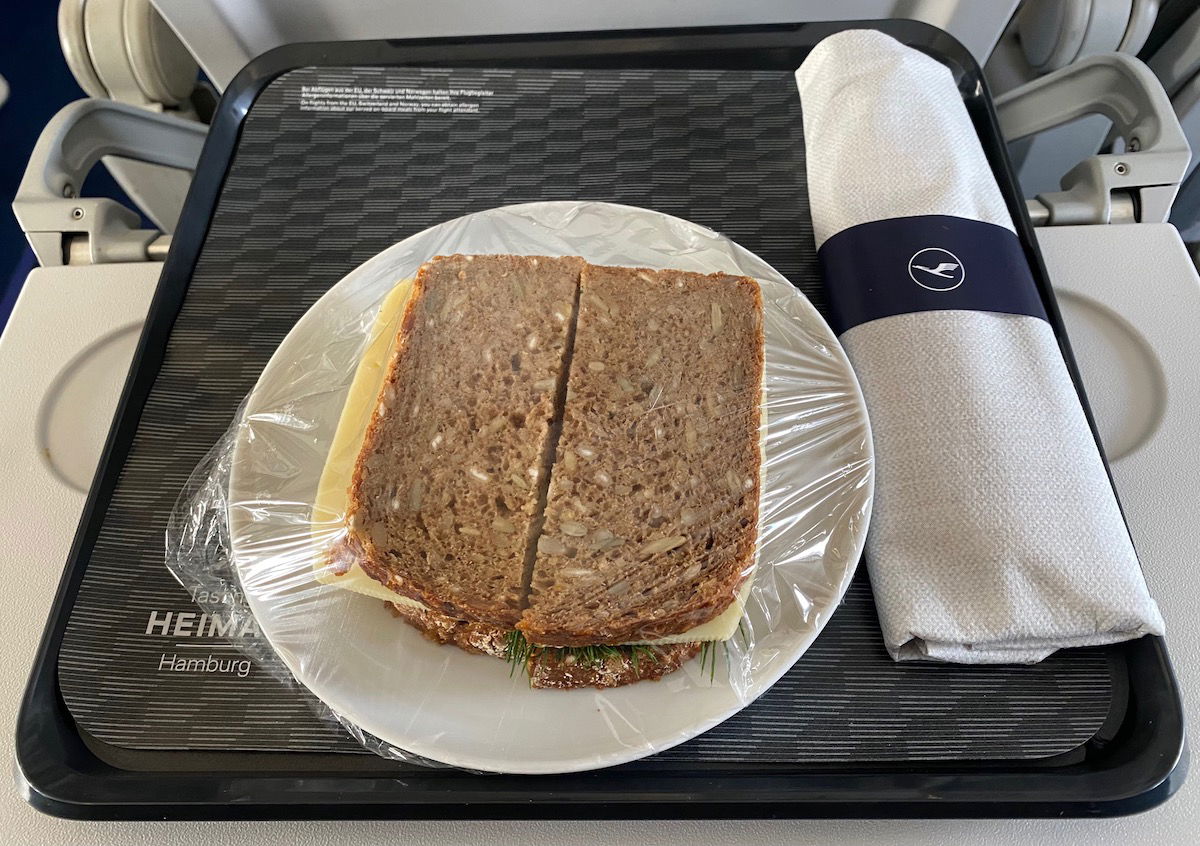 I unwrapped it, and basically found (not particularly fresh-tasting) bread, cheese, and some sort of a spread. There were no accompaniments. That's… it?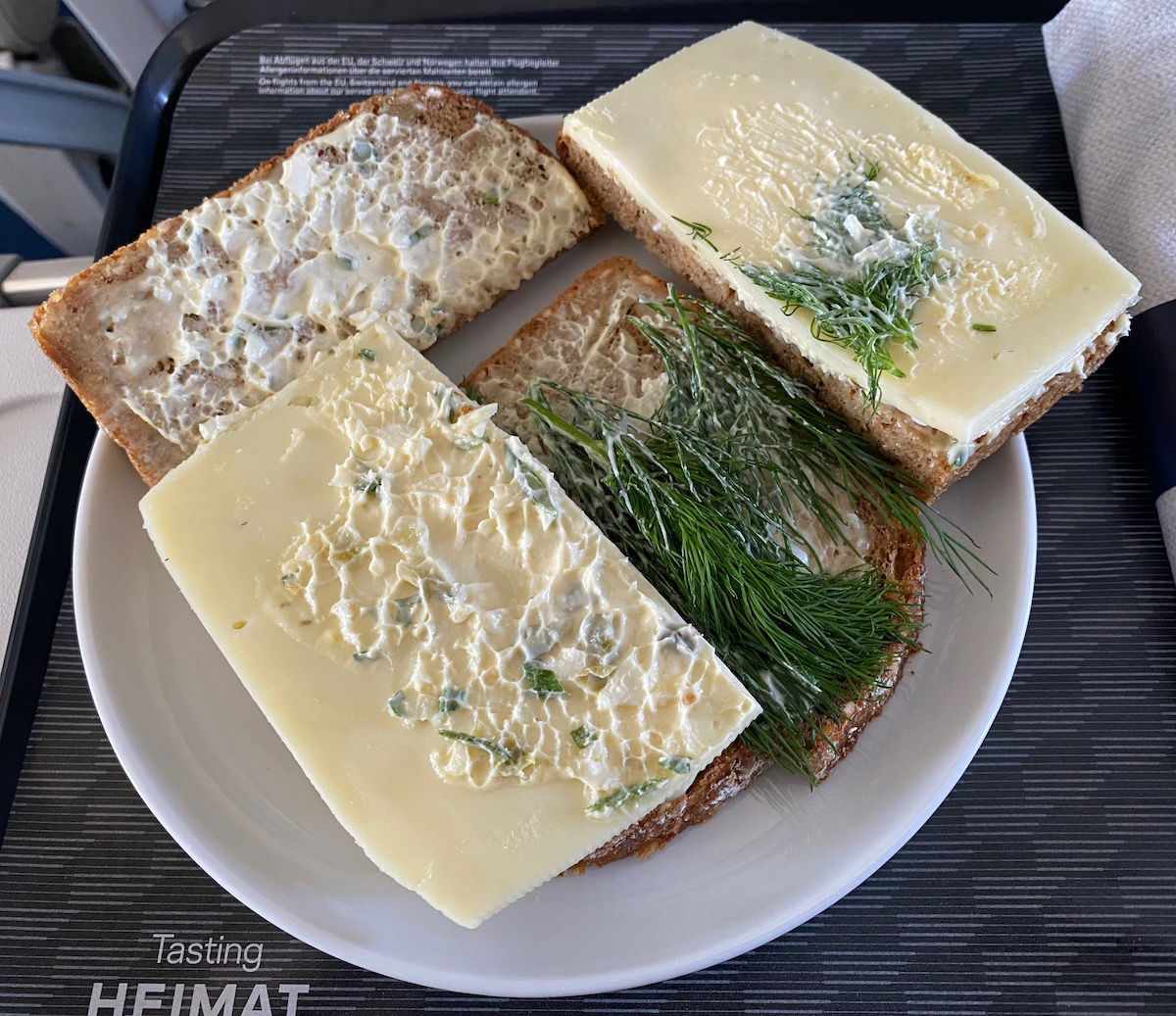 Nope, worry not, that's not it. Just before landing, after trays were cleared, a basket with apples was brought around. Maybe it's just me, but I don't particularly enjoy biting into apples when I haven't washed my hands in a while, don't have a knife, am not sure if the apple is clean, etc.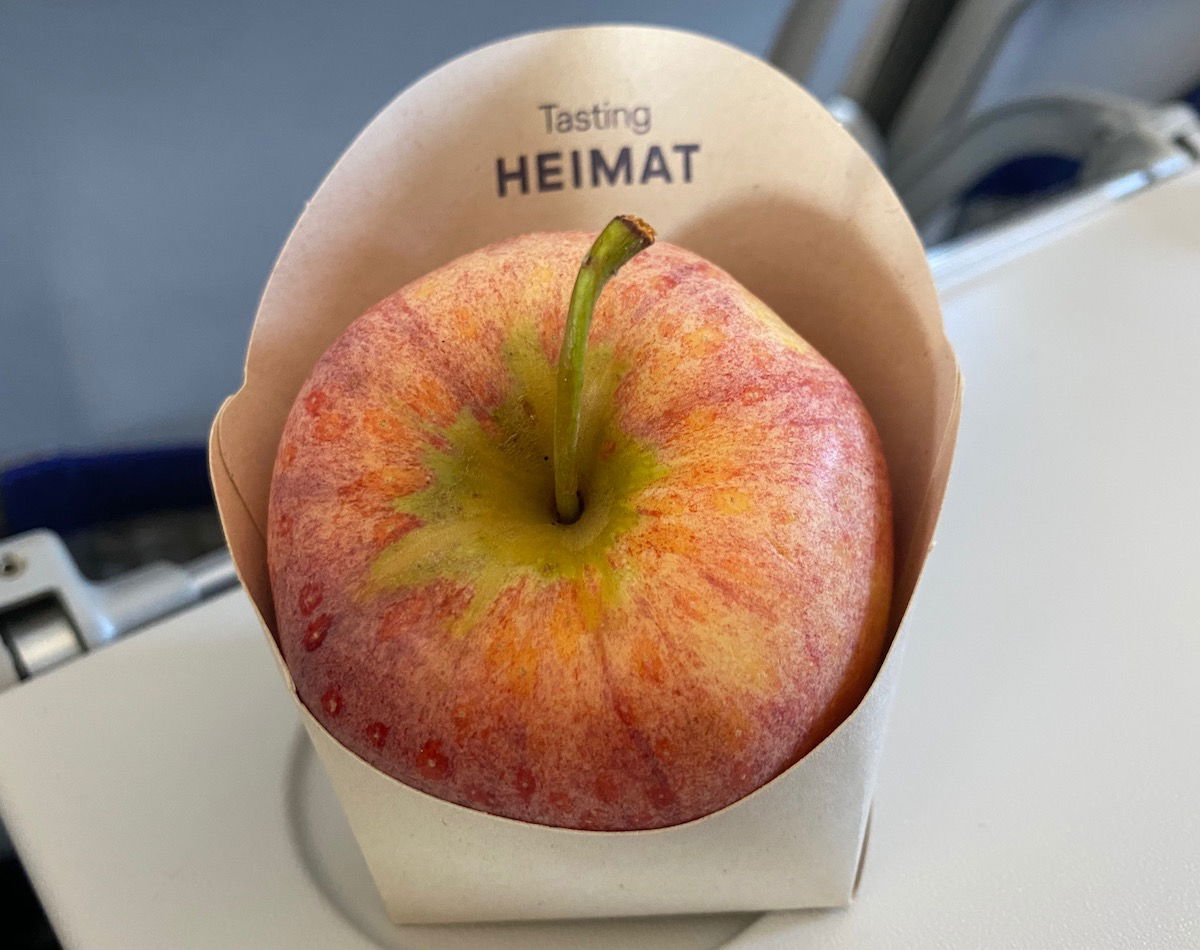 The whole meal kind of felt like that kid in elementary school who would try to trade his food with others, because it just didn't look very appealing (and I'm being polite — I think the other comparison might be to Fyre Festival).
For those not familiar with Lufthansa's typical intra-Europe catering, usually it's just a bunch of small dishes that are of varying quality. Some are decent, some aren't. But that's generally more in line with what airlines serve within Europe in business class.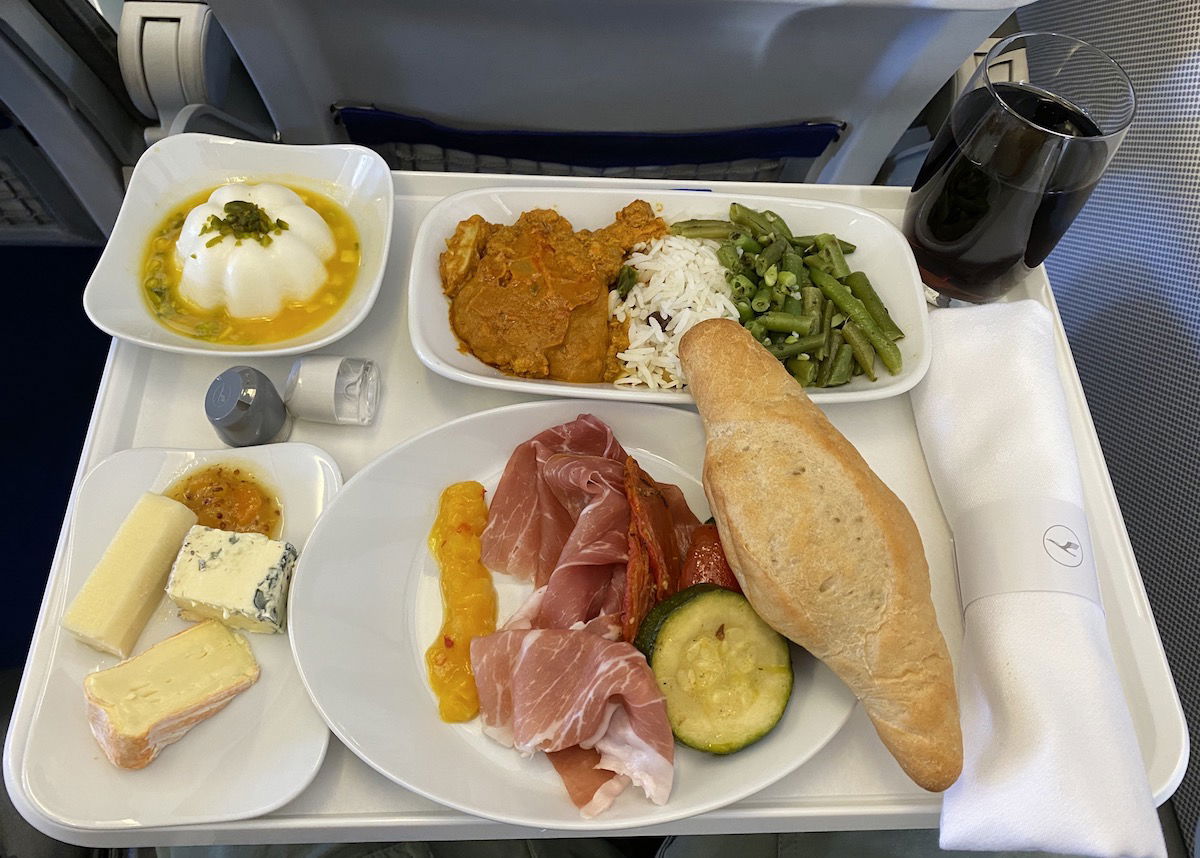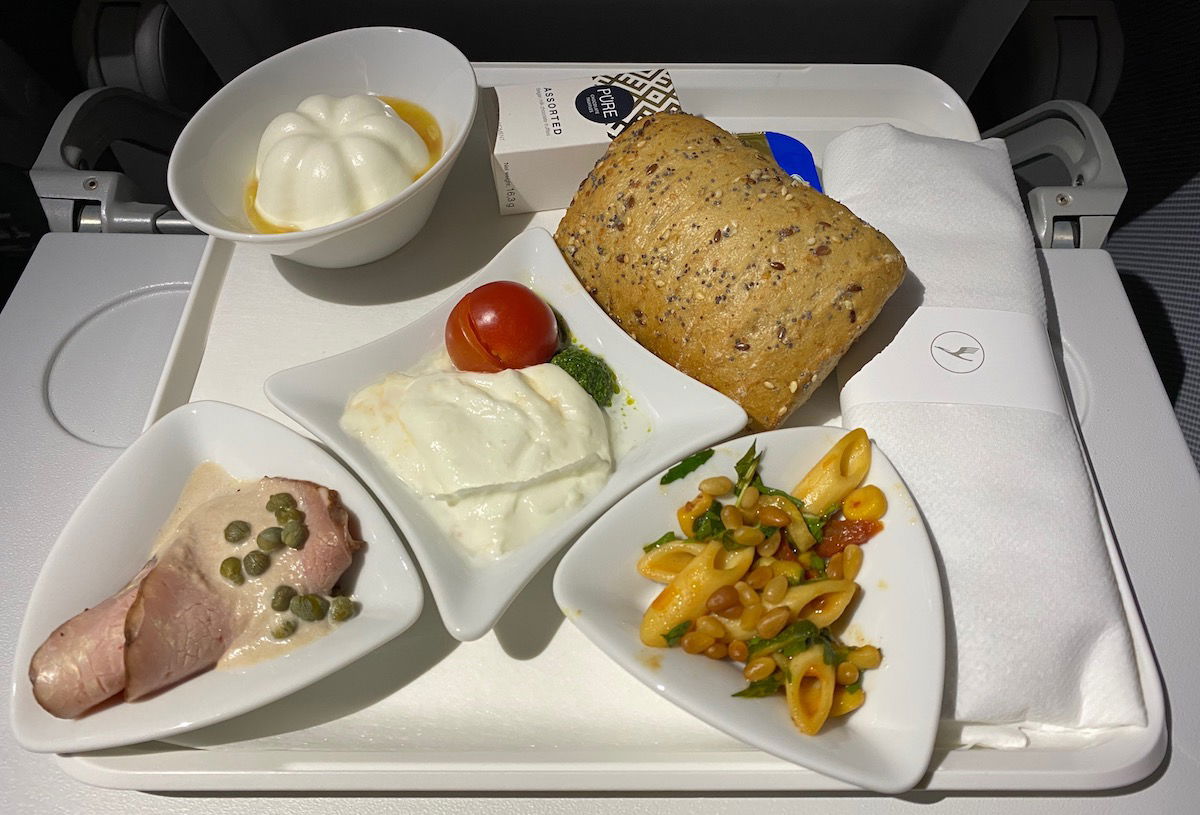 Wait, this catering was intentional?!
At first I wondered if this was some sort of a fluke. I thought that maybe the flight was catered incorrectly, and they were just serving business class passengers something from the economy buy on board menu.
But then I saw the "Tasting HEIMAT" branding on both the tray liner and the apple sleeve, and I remembered reading a press release about that from Lufthansa a while back. As it turns out, this is Lufthansa's new business class catering concept on intra-Europe flights. This is something we're supposed to be excited about?!?
For those who don't speak German, "heimat" means "home" or "homeland," so essentially the new business class catering is supposed to offer a taste of home. Let me highlight a few of the ways that Lufthansa describes its new business class catering:
"Experience culinary and sustainable diversity"
"Creative menus inspired by German metropolises"
"New concept builds on diversity and sustainability"
"What does home actually taste like? Lufthansa Business Class guests will be able to experience this on short and medium-haul flights"
"Lufthansa is responding to customers' wishes for more variety"
"Lufthansa and its catering partner gategroup invite passengers on a culinary journey through Germany"
"Traditional German cuisine meets modern culinary influences from all over the world"
"'Tasting HEIMAT' serves German classics with unusual components"
Am I the only one who thinks this description is a bit much for what I was served?
I have to give Lufthansa credit for one thing, though. The airline has an amazing ability to spin a cost-cutting initiative as a positive:
Lufthansa claimed the introduction of buy on board in economy (including eliminating free soft drinks) "was developed on the basis of feedback from our customers"
Lufthansa claimed that eliminating free liquor this winter on long haul flights is being done "to achieve greater customer satisfaction"
Bottom line
Lufthansa introduced a new regional business class catering concept in September. I experienced this for the first time last week, and it wasn't good at all. This seems like a blatant cost cutting measure, but of course Lufthansa is spinning this as a positive. Or maybe it's possible I just got a really bad version of this catering?
Perhaps the description of the new meal concept isn't that far off, though. The new catering does indeed taste like home… if I'm the one tasked with preparing meals. There you have it, Europe's only five-star airline, according to Sk*trax.
Has anyone else experienced Lufthansa's new regional business class catering concept? If so, what was your experience like?