After an amazing six nights in Paris, it was time to fly back home. While we enjoyed flying Lufthansa first class via Frankfurt on the outbound, for the return we decided to just book the most direct routing, from Paris to Miami on Air France.
How I booked our Air France business class tickets
We lucked out, because for our return journey, the Air France-KLM Flying Blue program had nonstop business class award space from Paris to Miami for just 55,000 miles on the following flight:
10/18 AF90 Paris to Miami departing 1:45PM arriving 5:15PM
Best of all, I had transferred some Amex Membership Rewards points to Flying Blue in September when there was a 25% transfer bonus, so in reality I paid just 44,000 Amex points per person for the transatlantic flight.
Taxes and fees totaled $375 per person. France has pretty high aviation taxes, so there were around $190 in carrier imposed surcharges and $185 in taxes and airport fees.
I'd say that's quite a deal! I tend to think the Flying Blue program is underrated for transatlantic business class redemptions:
Air France & KLM have significantly lower carrier imposed surcharges than British Airways
The Flying Blue program has access to so much more business class award availability than partner programs, and that doesn't even account for Delta SkyMiles' outrageous award pricing
While Lufthansa generally has good business class award availability, the business class experience leaves a bit to be desired
Air France-KLM has a higher percentage of business class award seats with direct aisle access than IAG and Lufthansa Group
When we booked, our flight was supposed to be operated by an Airbus A350-900. However, about a week before our flight the aircraft type was swapped to a Boeing 777-200. While the planes have different types of business class seats (read my Air France A350 business class review & my Air France 777 business class review), I don't have a strong preference one way or another, other than generally preferring the A350 as a plane.
With that out of the way, let's get into the review. I didn't end up reviewing the business class lounge, so we'll start off once onboard the airplane.
Air France Boeing 777-200 business class cabin & seats
Air France's Boeing 777-200s are in a three cabin layout, with business class, premium economy, and economy. Business class has 40 seats — this includes a forward cabin, consisting of 28 seats, spread across seven rows in a 1-2-1 configuration.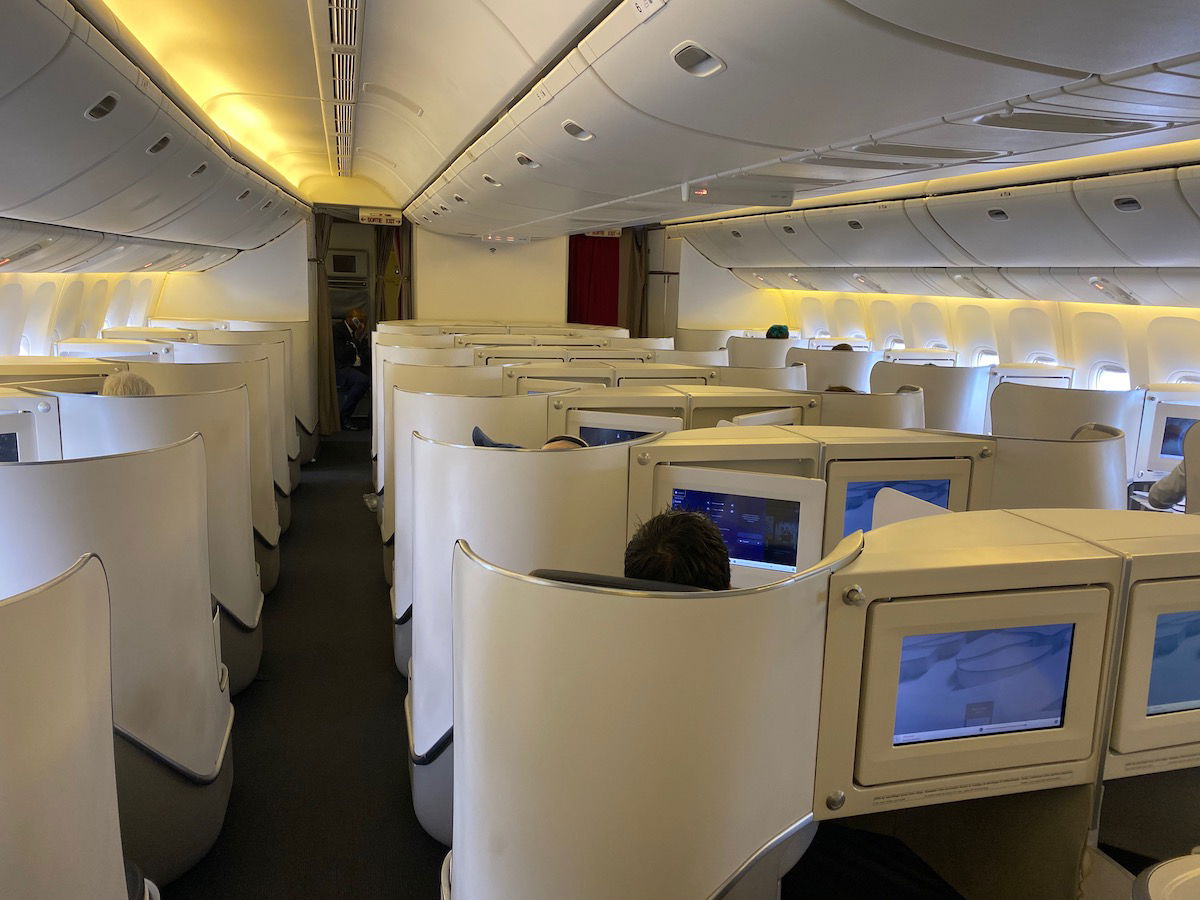 Then there's also a rear mini-cabin with just 12 seats, spread across three rows. I assigned us seats 12E & 12F, the two center seats in the last row of business class. It's interesting to note that the forward business class cabin was almost completely full (transatlantic flights are starting to fill up!), while the rear business class cabin had just five people, including us.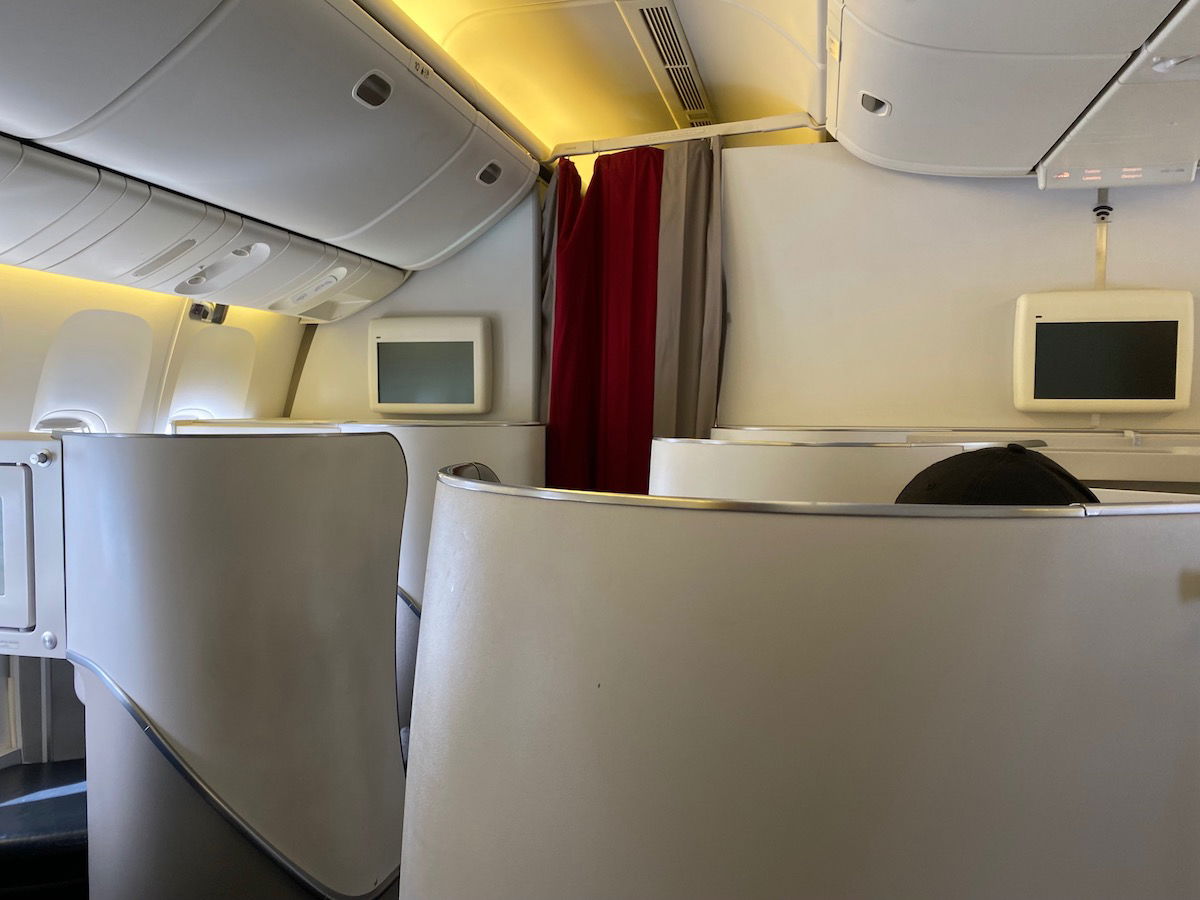 Air France's 777s feature reverse herringbone seats in business class. These aren't cutting edge anymore, but they're well maintained, and extremely comfortable.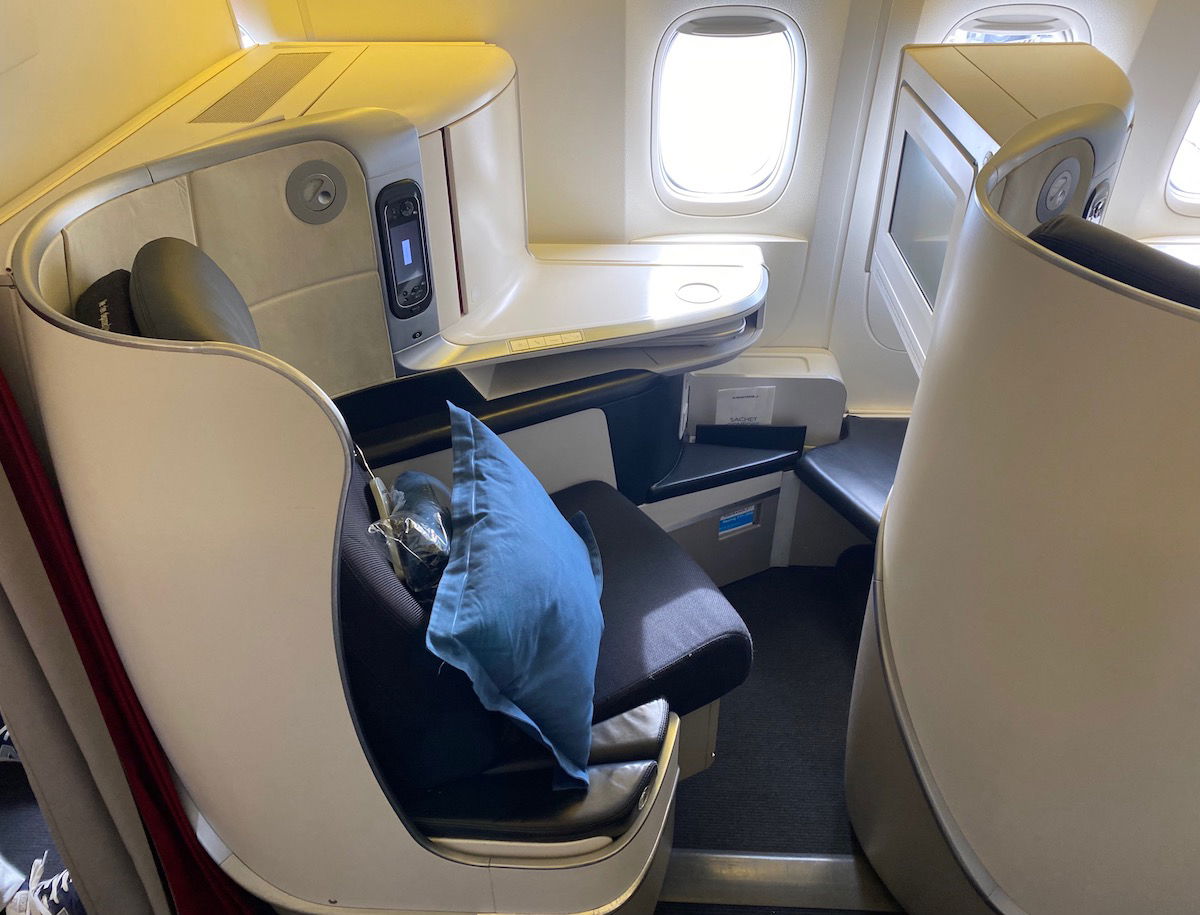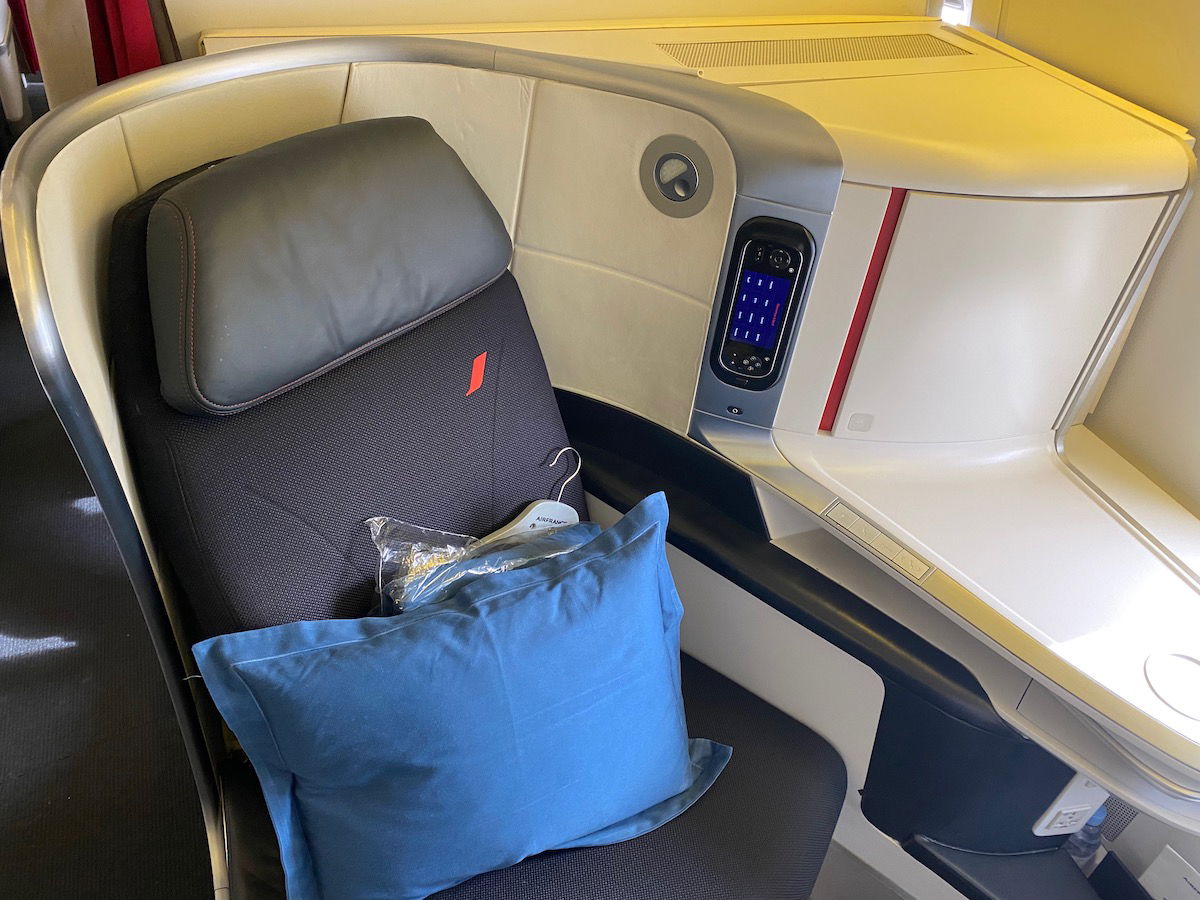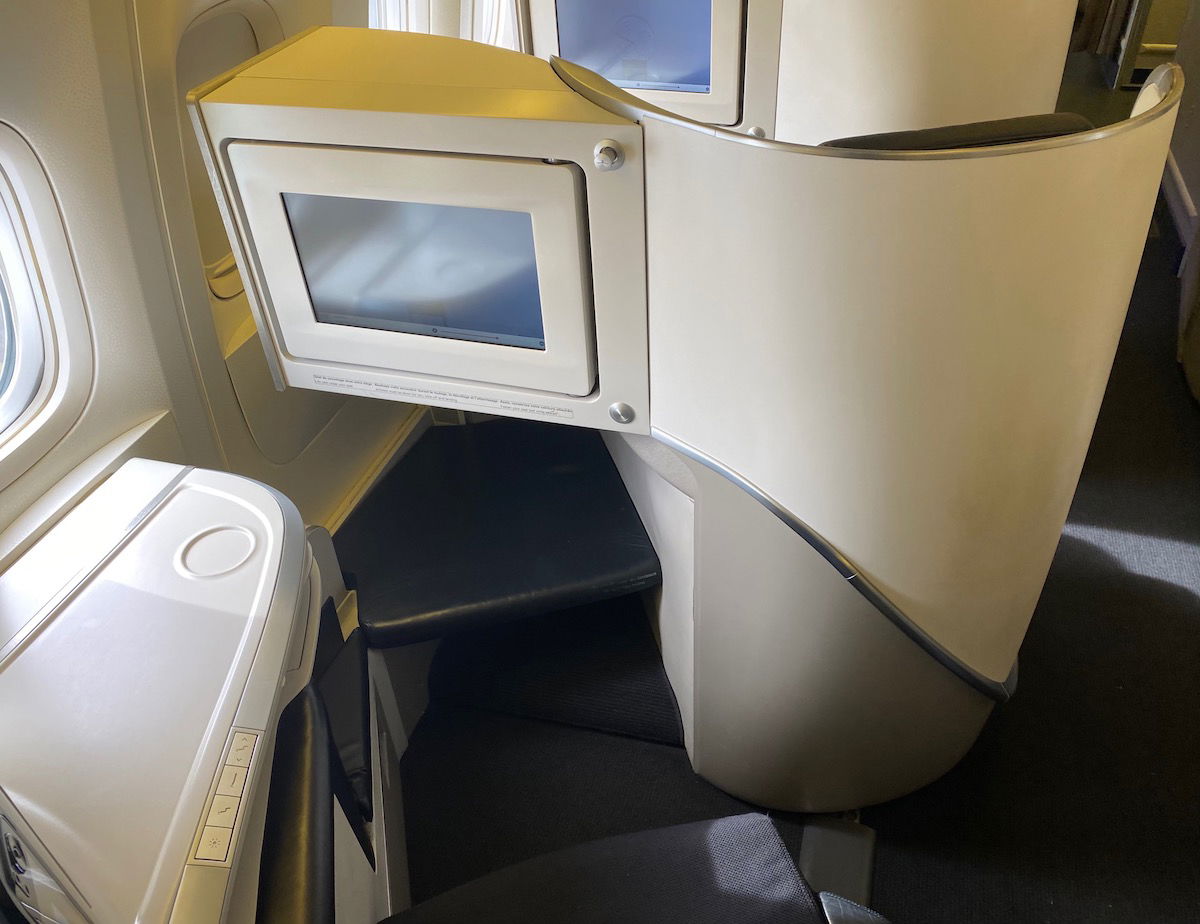 As we settled into our center seats, there was a partition between the seats. This partition couldn't just be pushed down, but rather it could be removed completely, and then the flight attendants store it in the overhead bin. I quite like this system, since it gives you about as much privacy as you can get in a center seat, should you be traveling alone.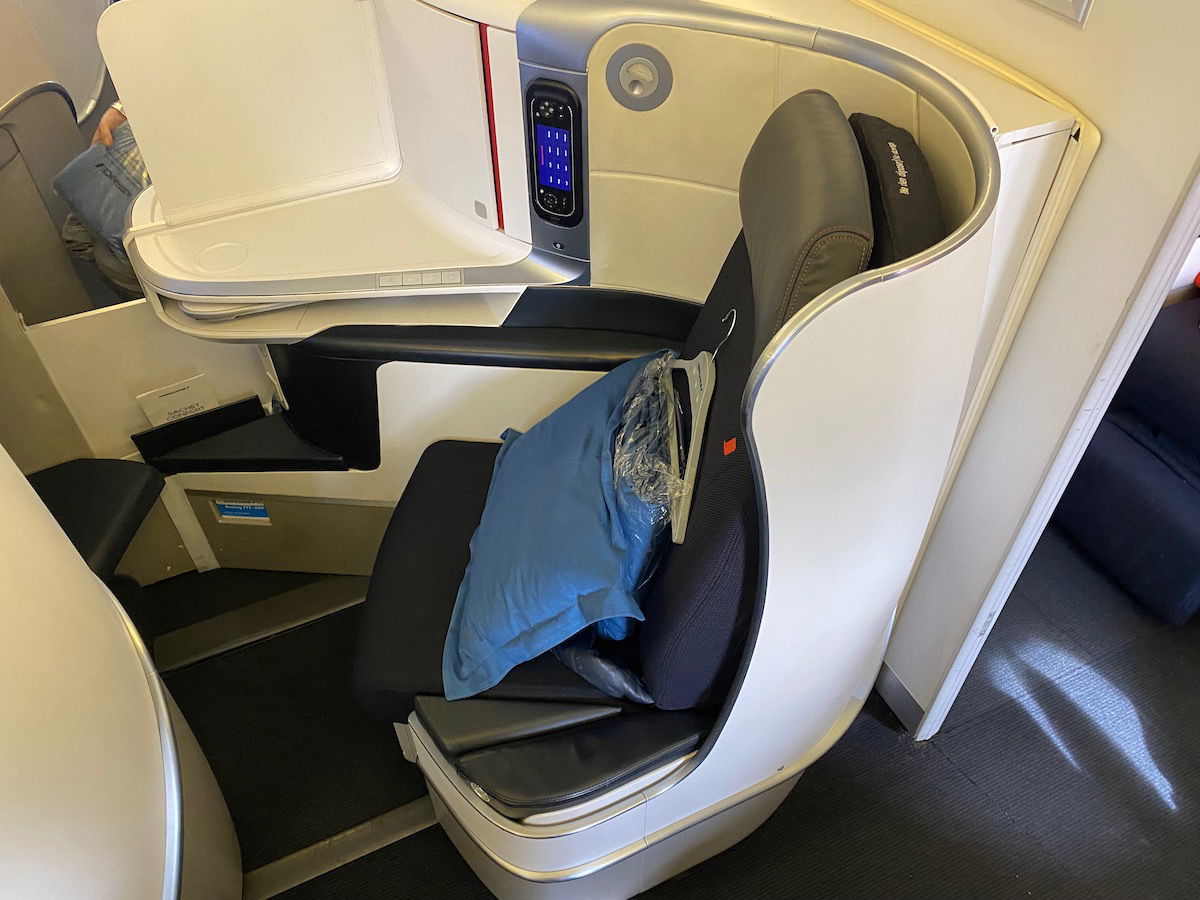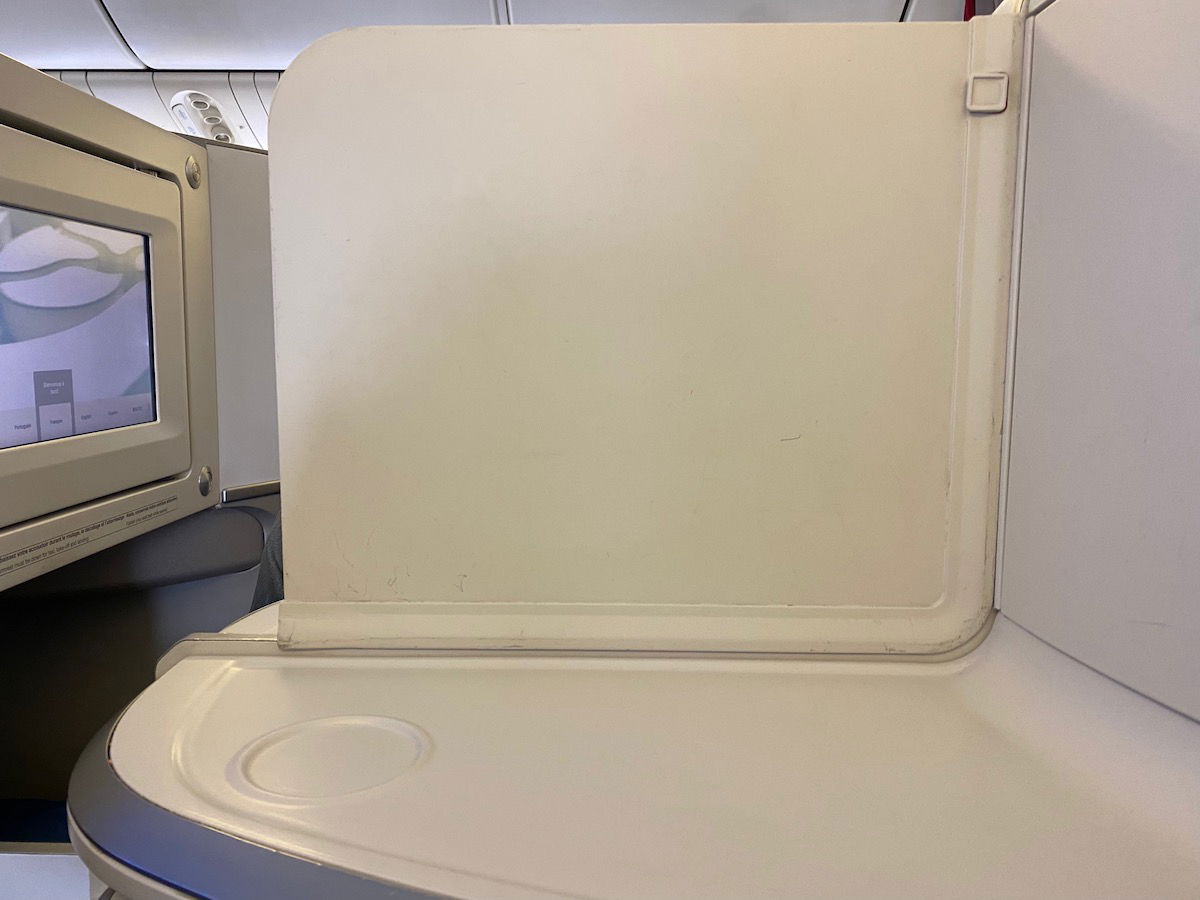 Next to the seat was a storage console with a mirror, an entertainment controller, and a reading light.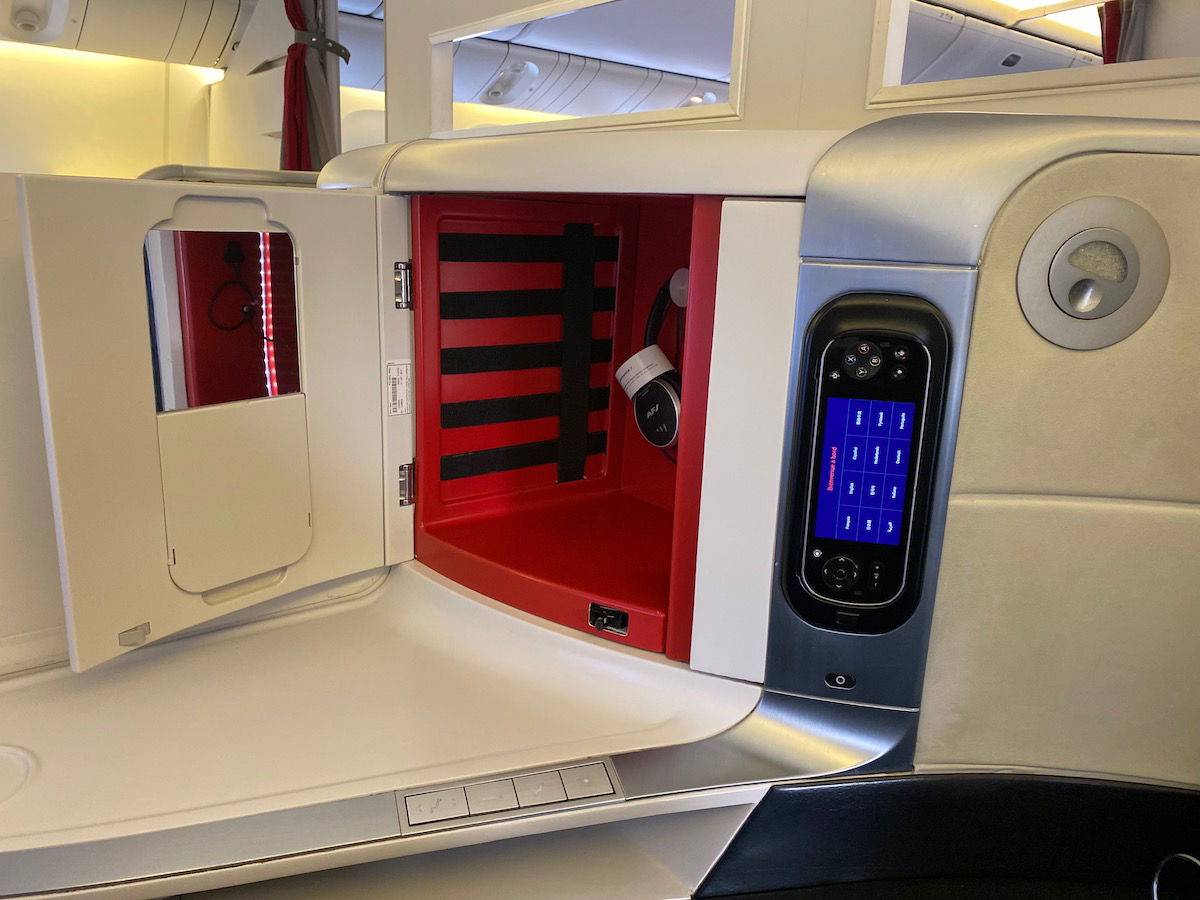 Underneath that were the easy to use seat controls.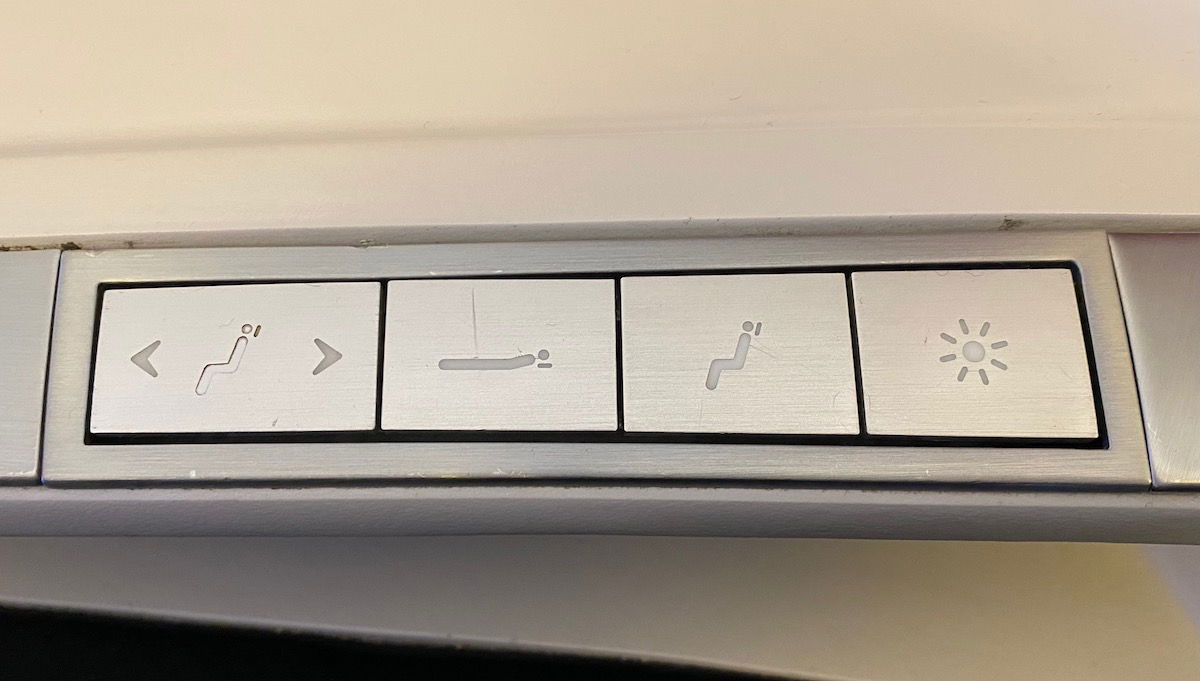 The tray table also slid out from the right side of the seat. It could be folded in half, should you not need the whole thing.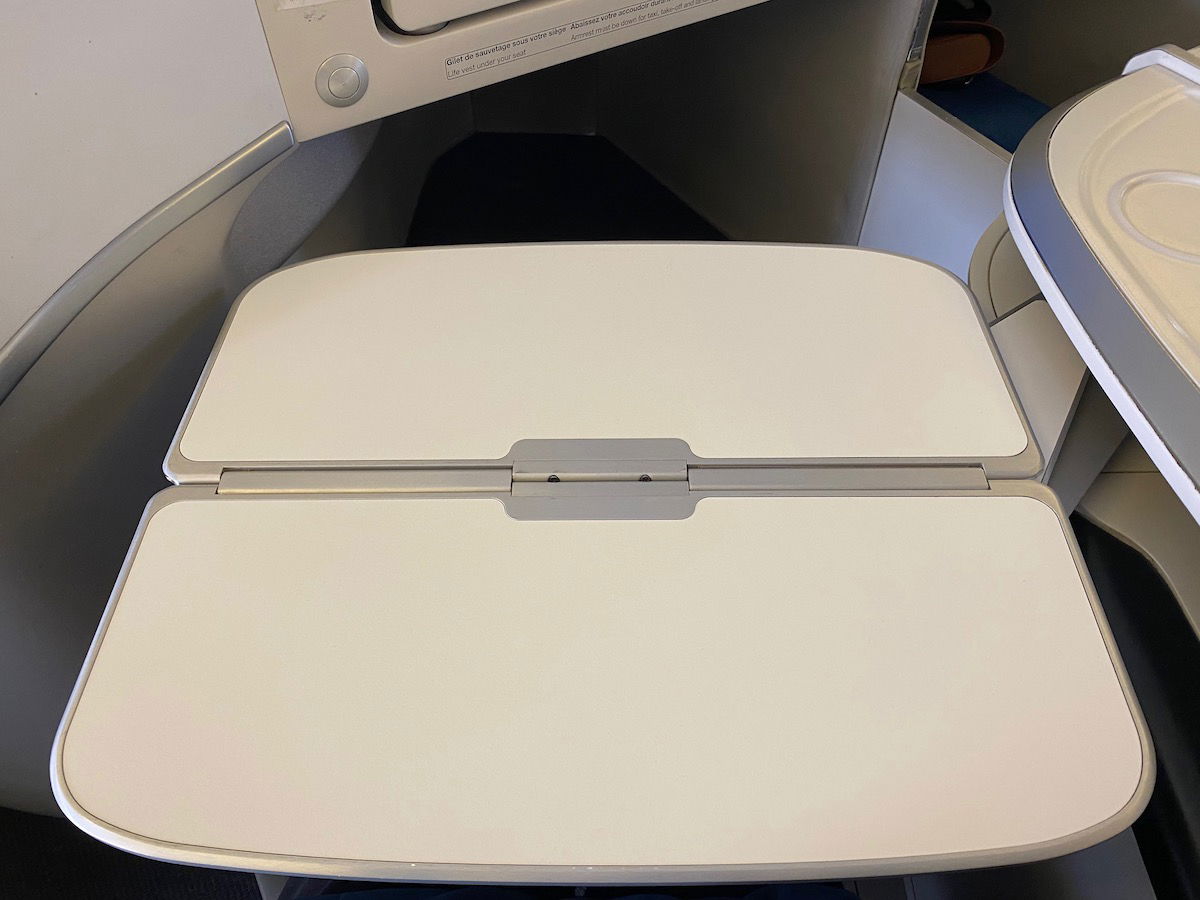 At the very bottom right of the seat were power outlets (110v and USB), a literature pocket, and a bottle of water.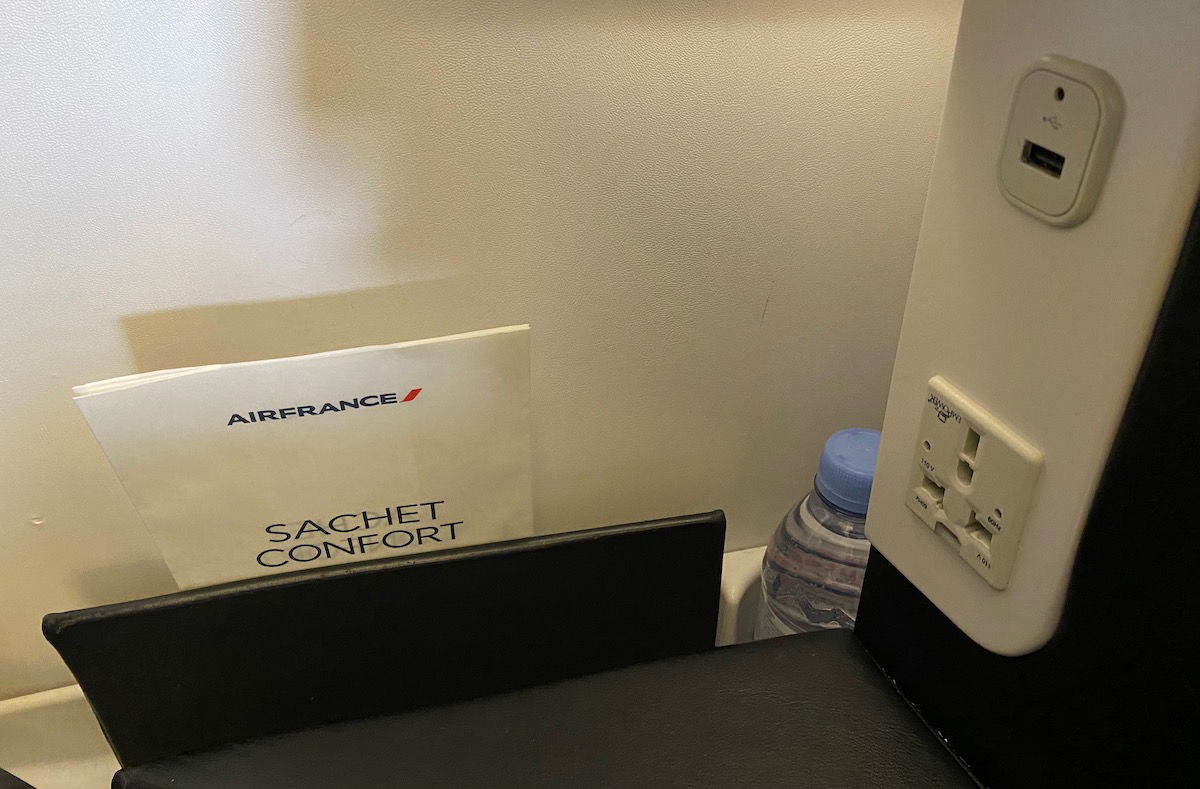 I appreciate that the footwells in these seats have a good amount of space, so you shouldn't feel too constrained when the seat is reclined.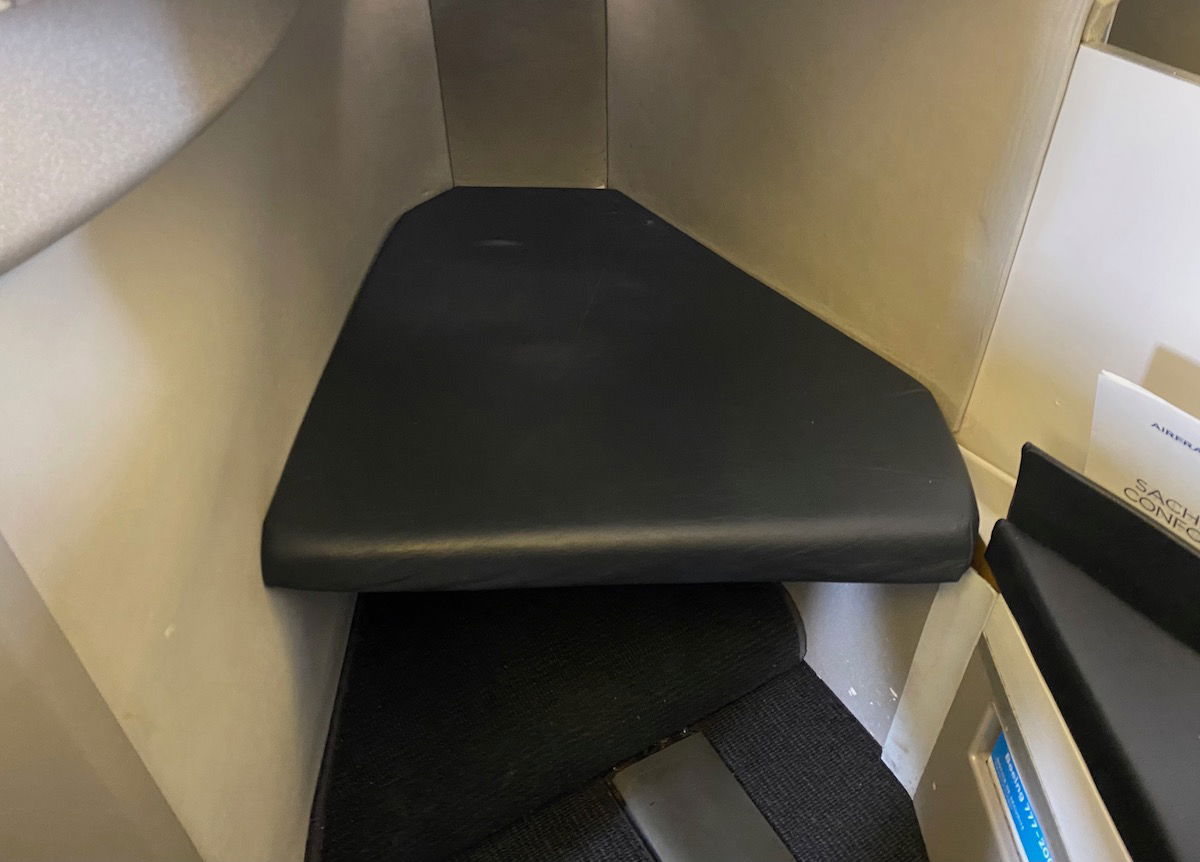 My only real frustration with the cabin layout was the lack of individual air nozzles, which is a common problem among European airlines.
Air France business class amenities
Waiting at each seat upon boarding was a coat hanger as well as a packaged blanket and pillow.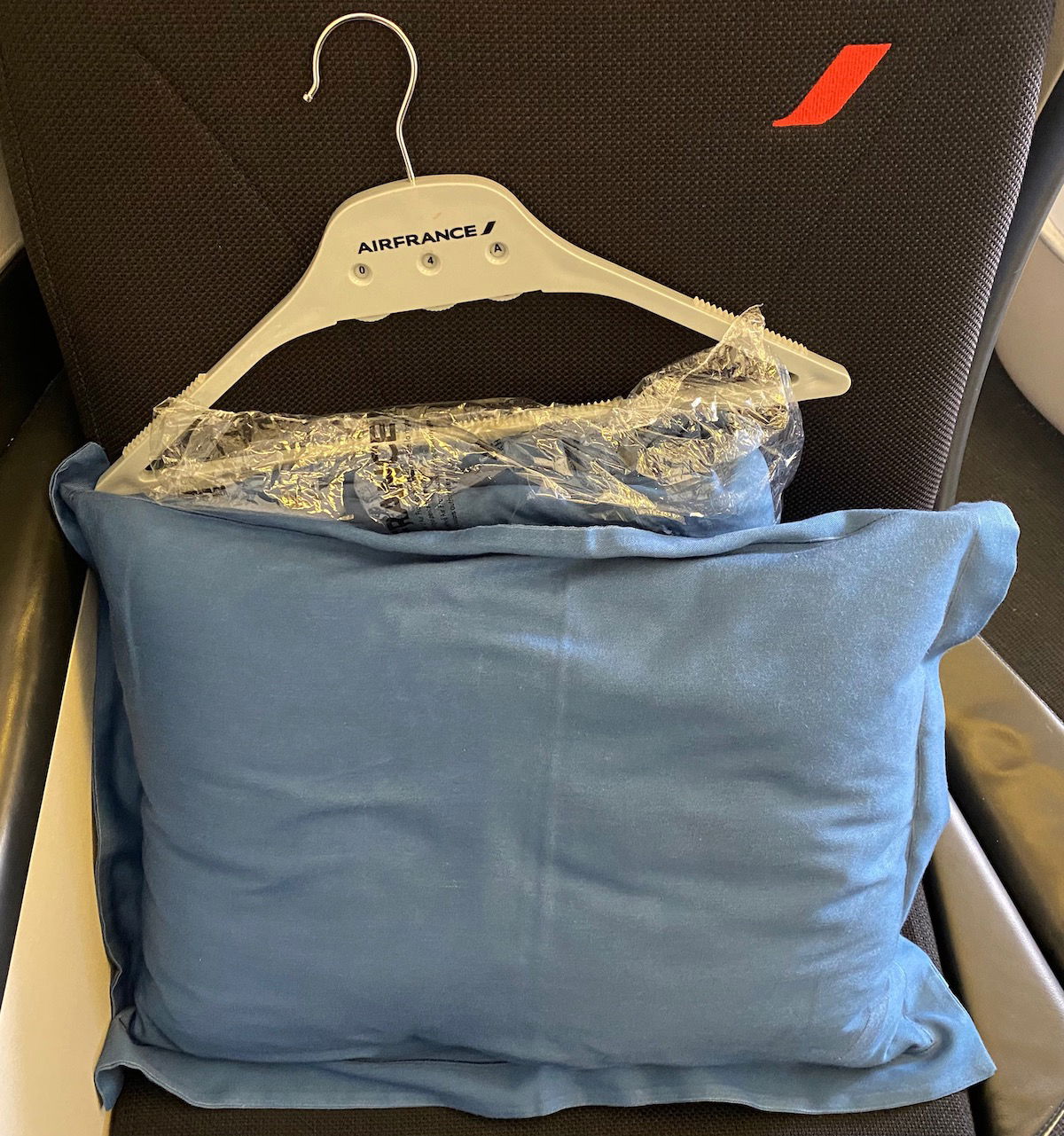 The pillow and blanket aren't cutting edge, but are solid — they're well cushioned without feeling too warm.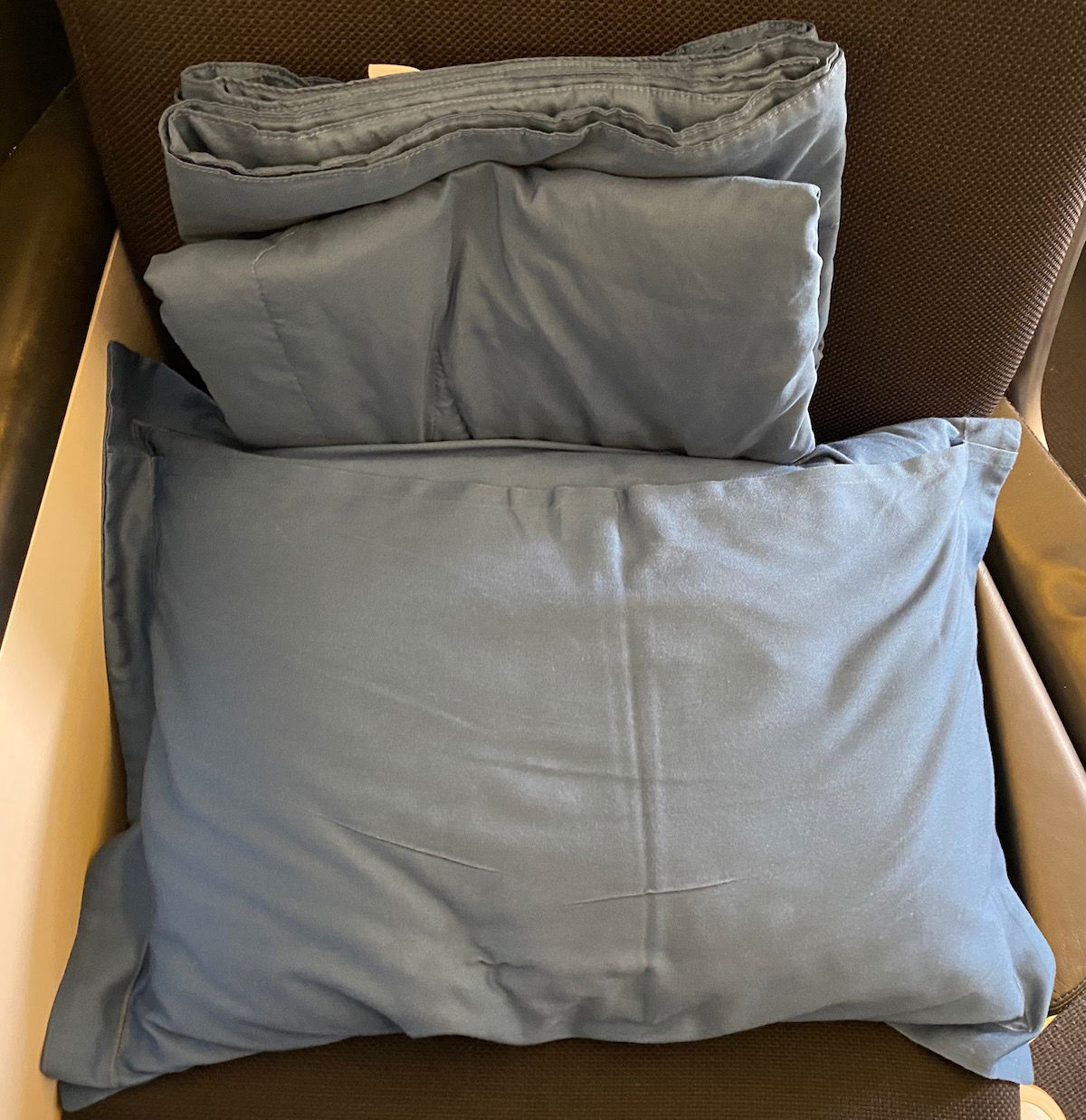 There were also noise canceling headphones at our seats.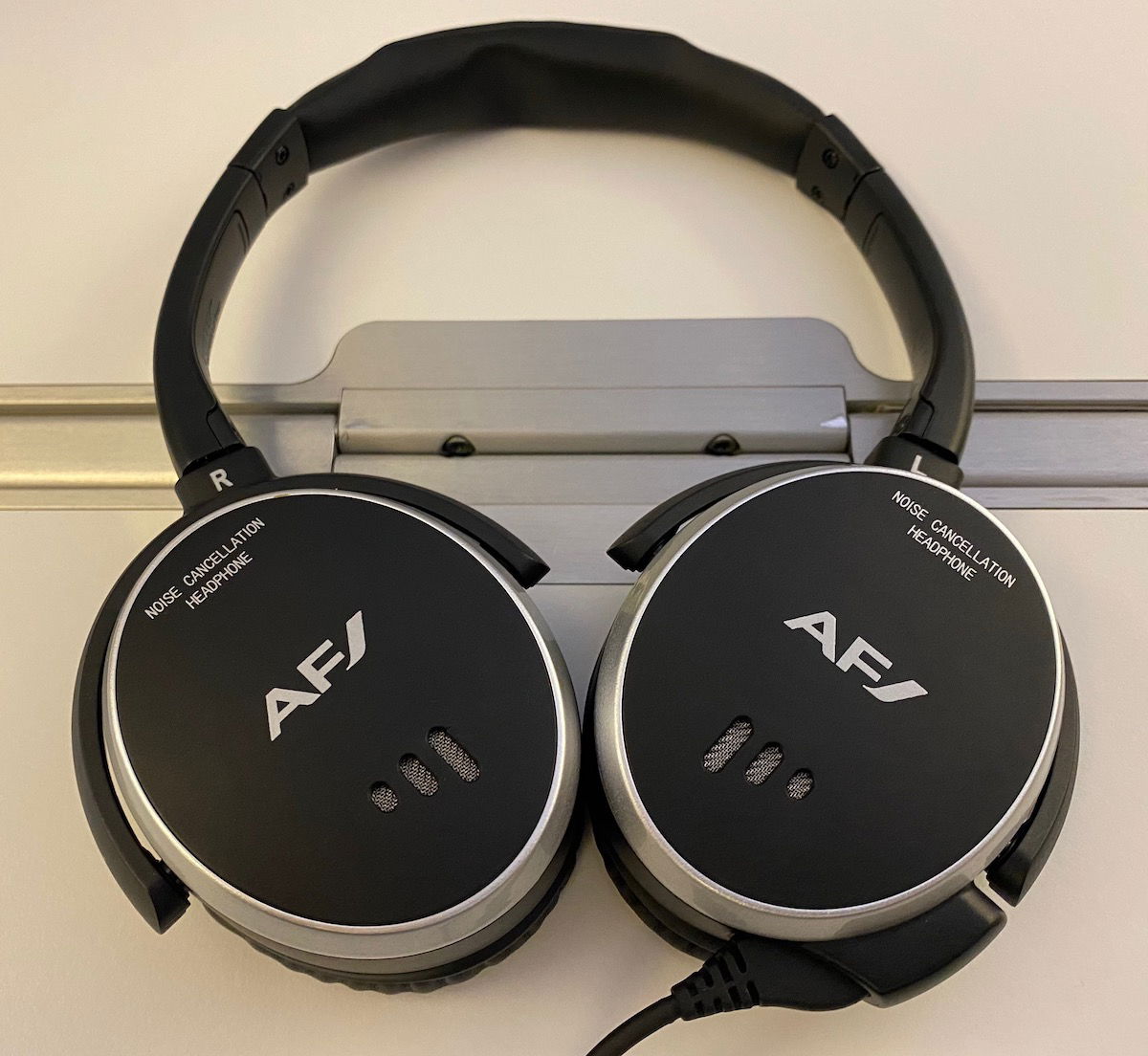 Moments after settling in, we were offered a travel safety kit, including face masks and hand sanitizer.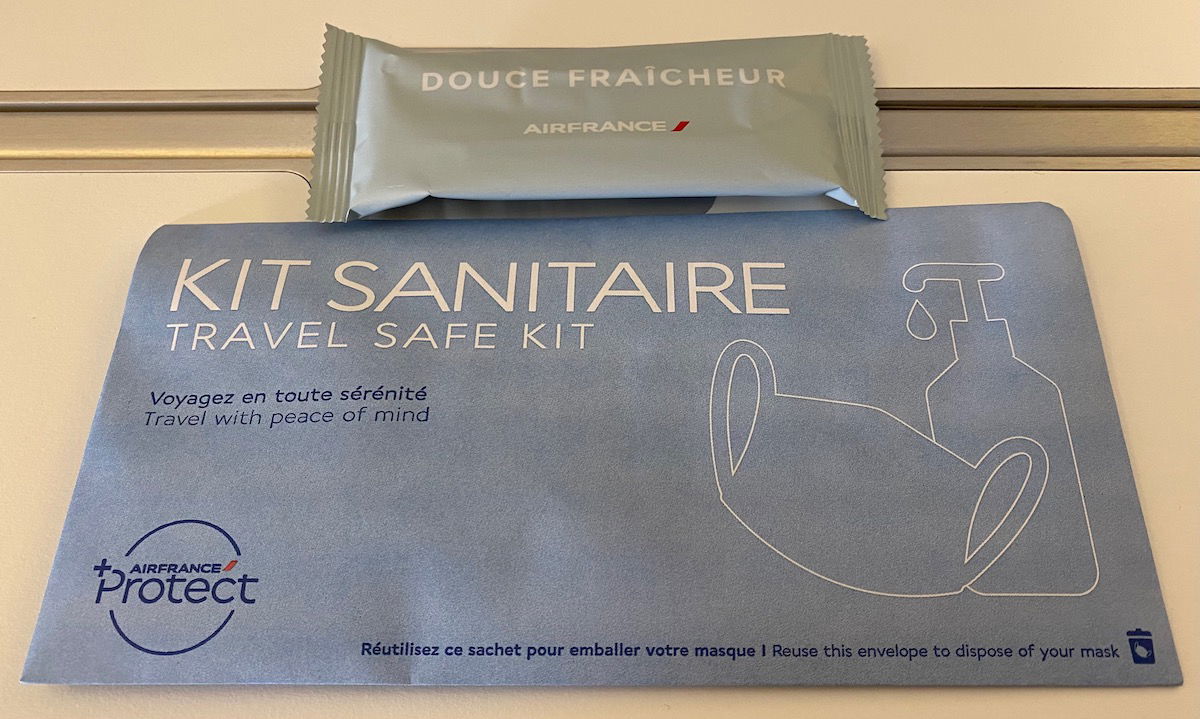 We were then offered amenity kits, with the choice of either a beige or blue kit.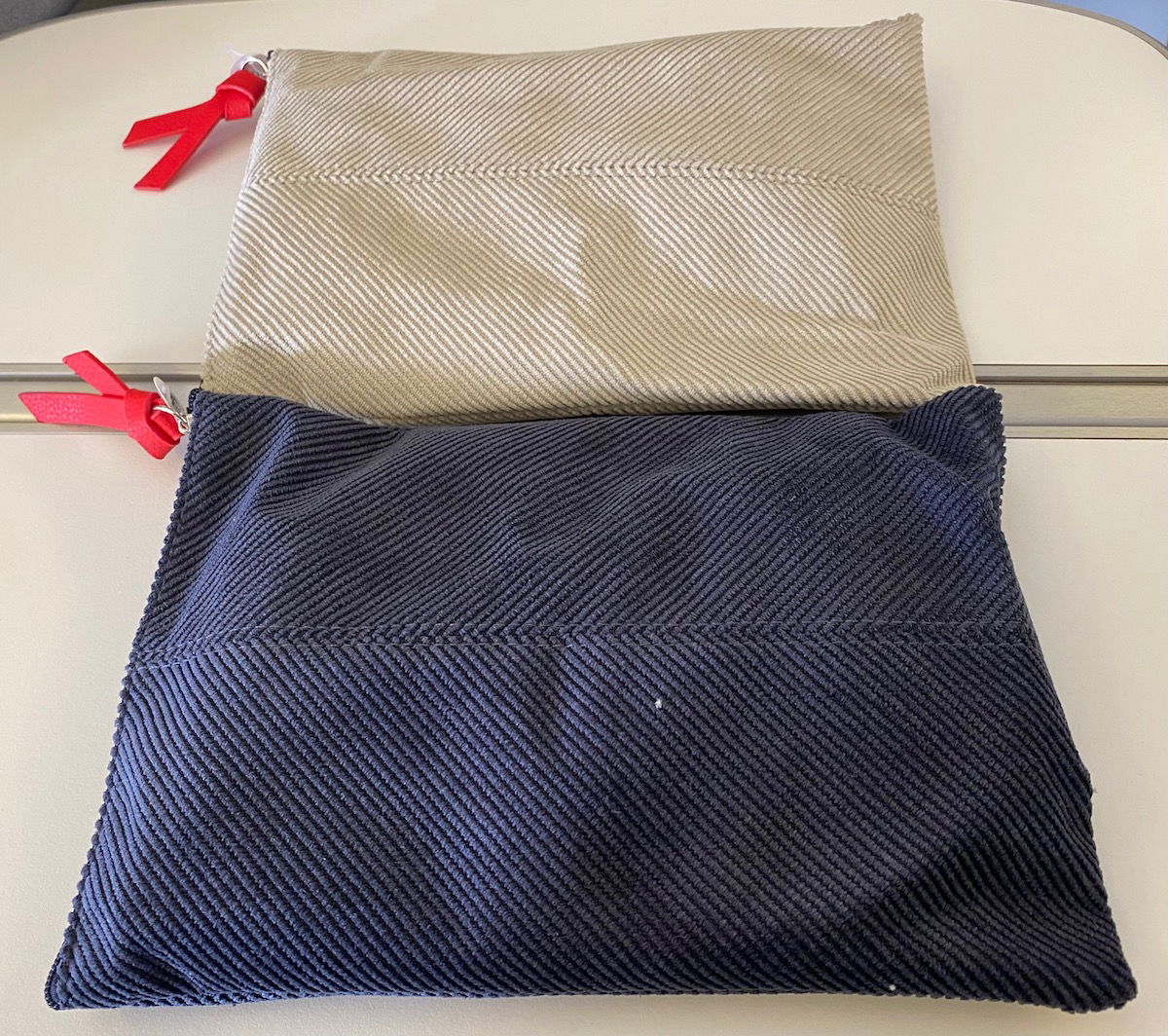 The contents of the kits are the same, and they include eyeshades, socks, earplugs, a pen, a shoehorn, a cleaning cloth, a dental kit, and two creams from Clarins.
We were also offered pre-departure drinks, and we both had champagne.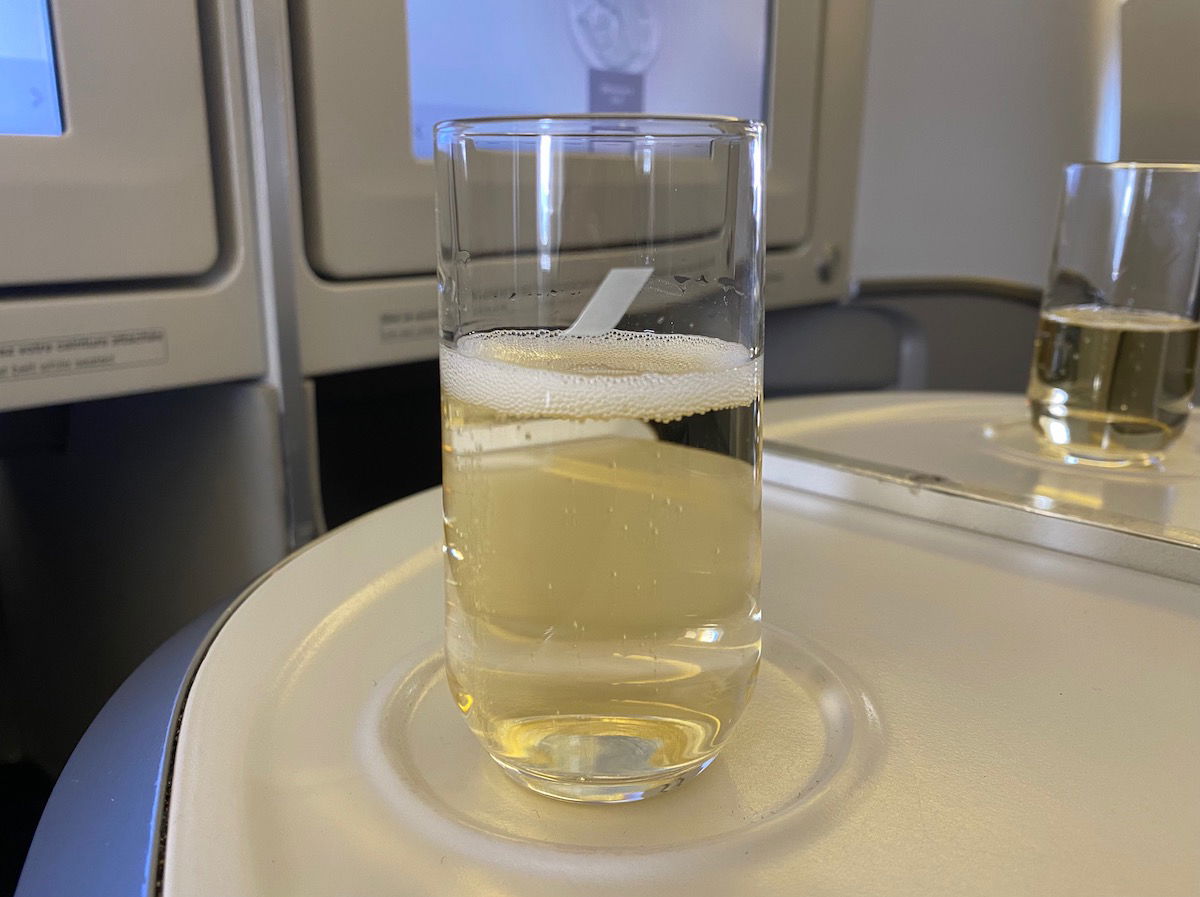 Shortly before pushback we were also presented with the menus for our 9hr15min flight, which included lunch after takeoff, and a snack prior to landing.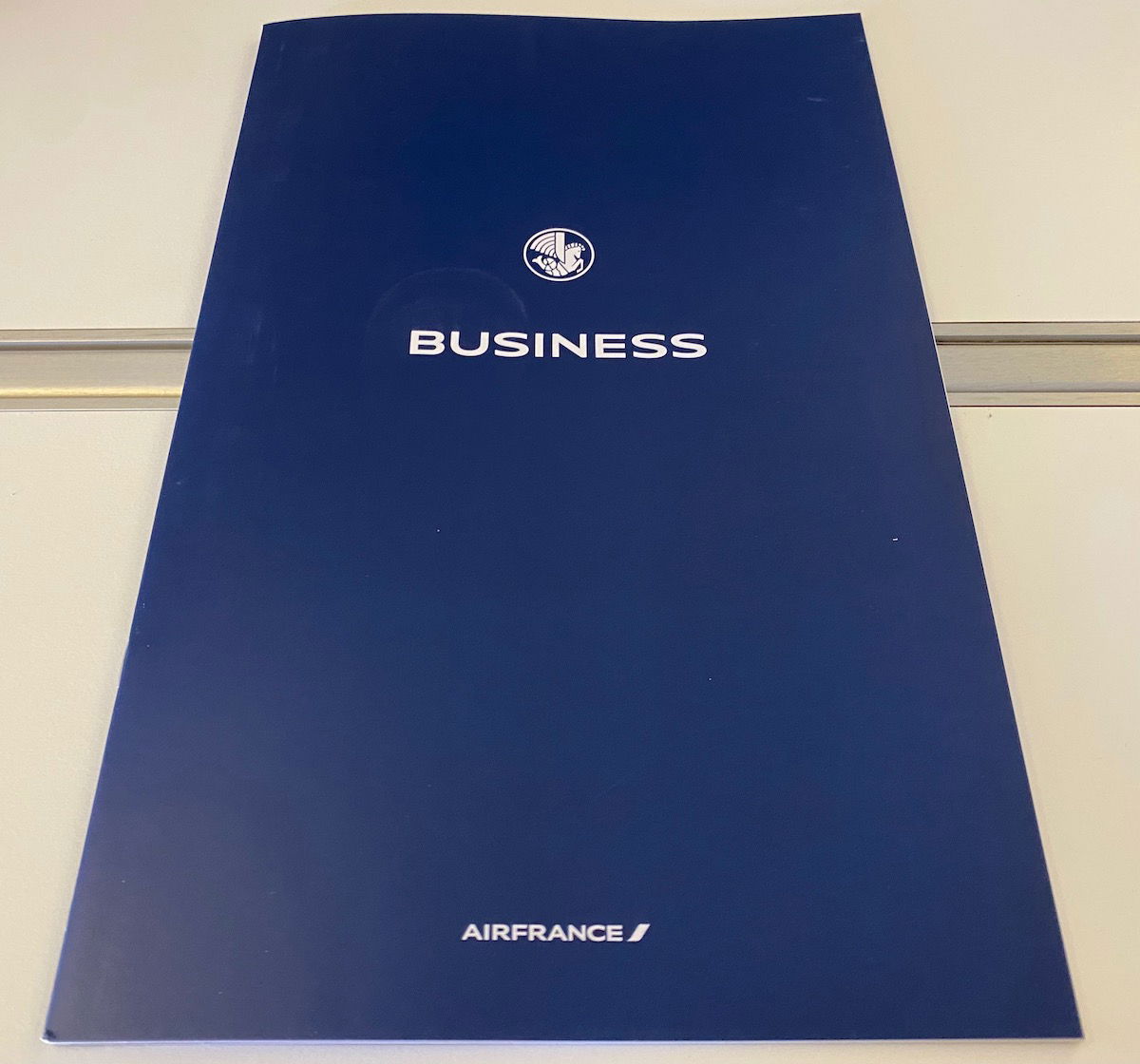 Air France business class lunch service
The crew quickly sprang into action after takeoff, and the lunch service started within 30 minutes. The lunch menu read as follows: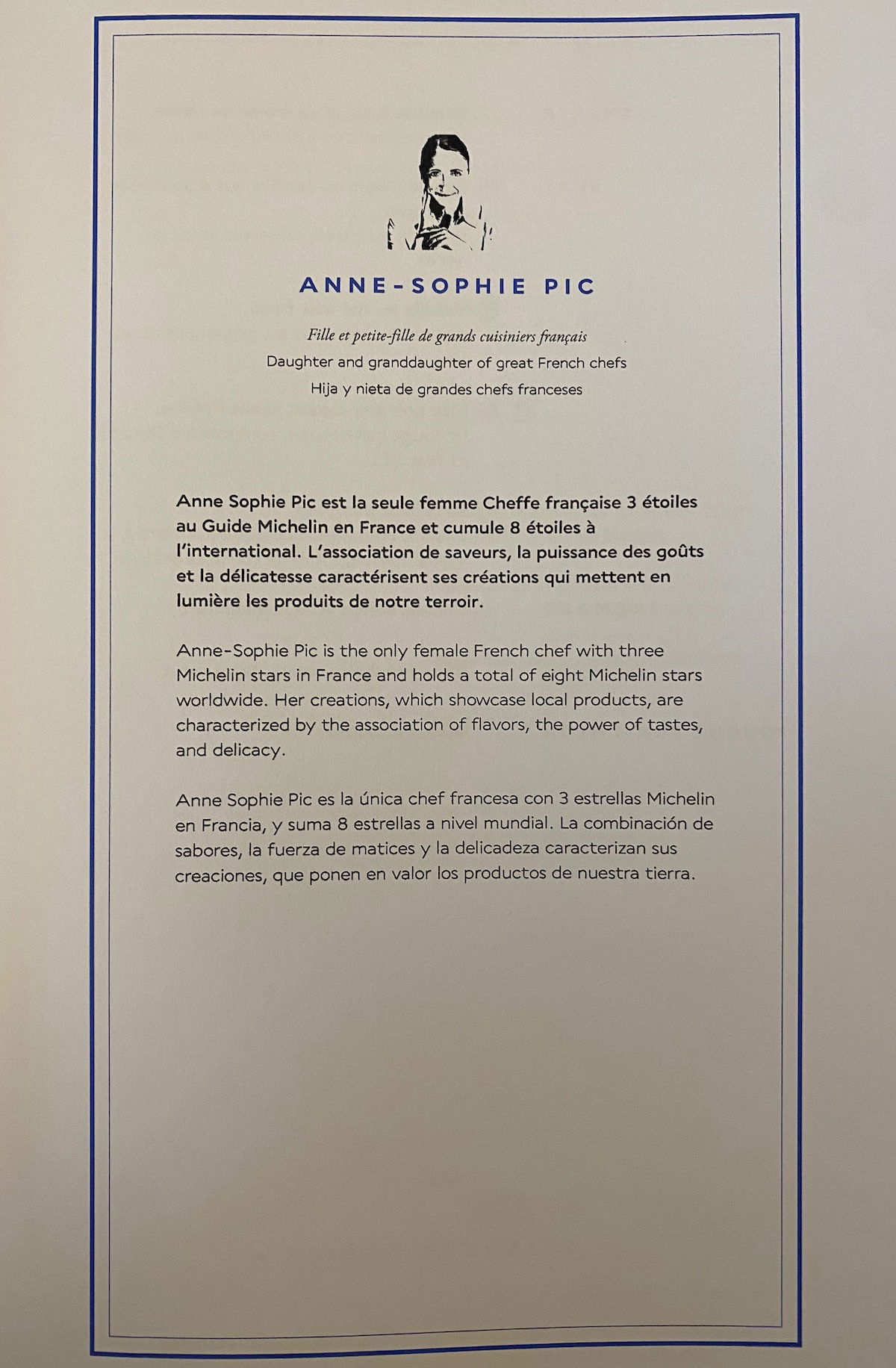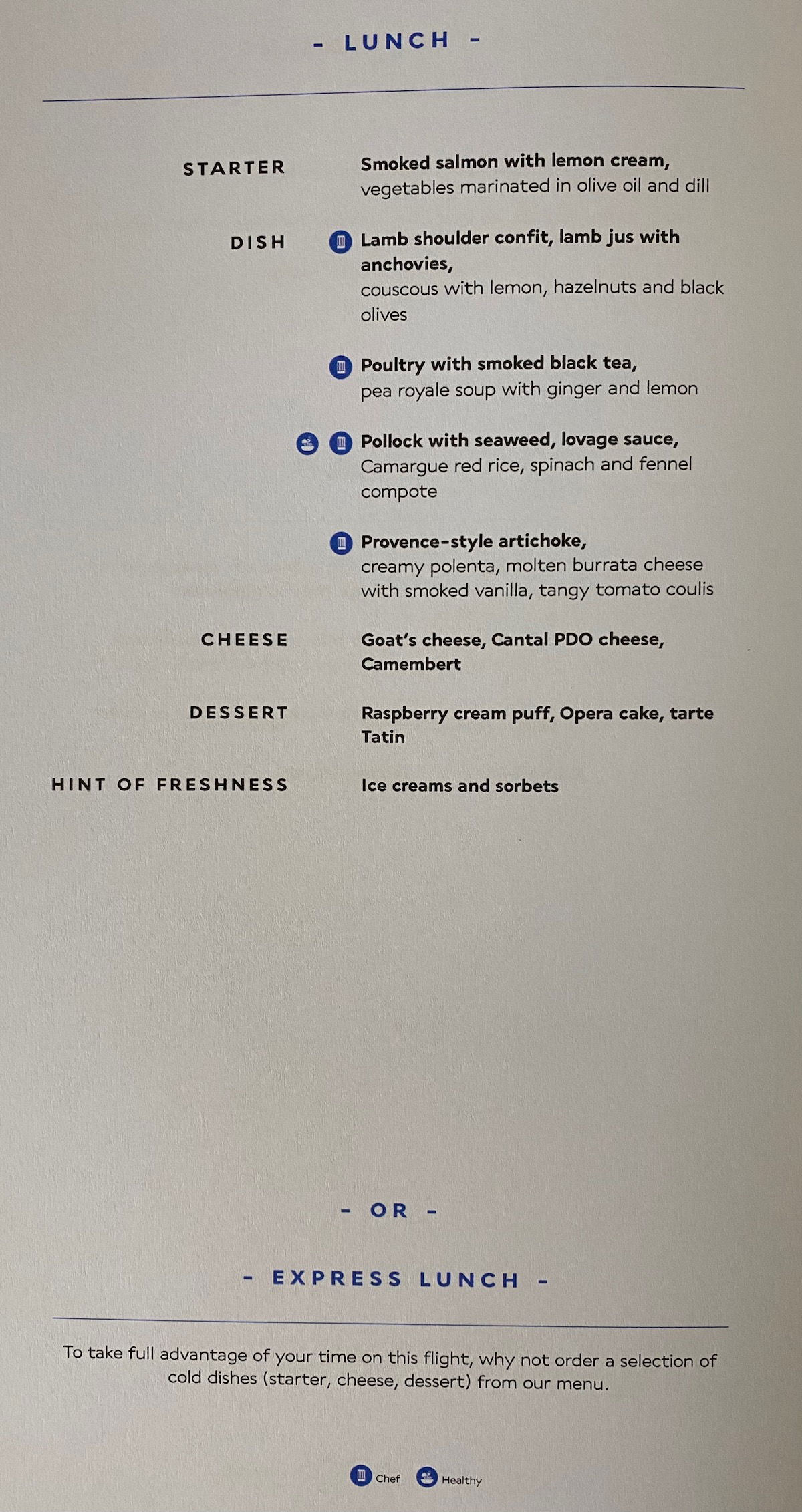 The drink list read as follows: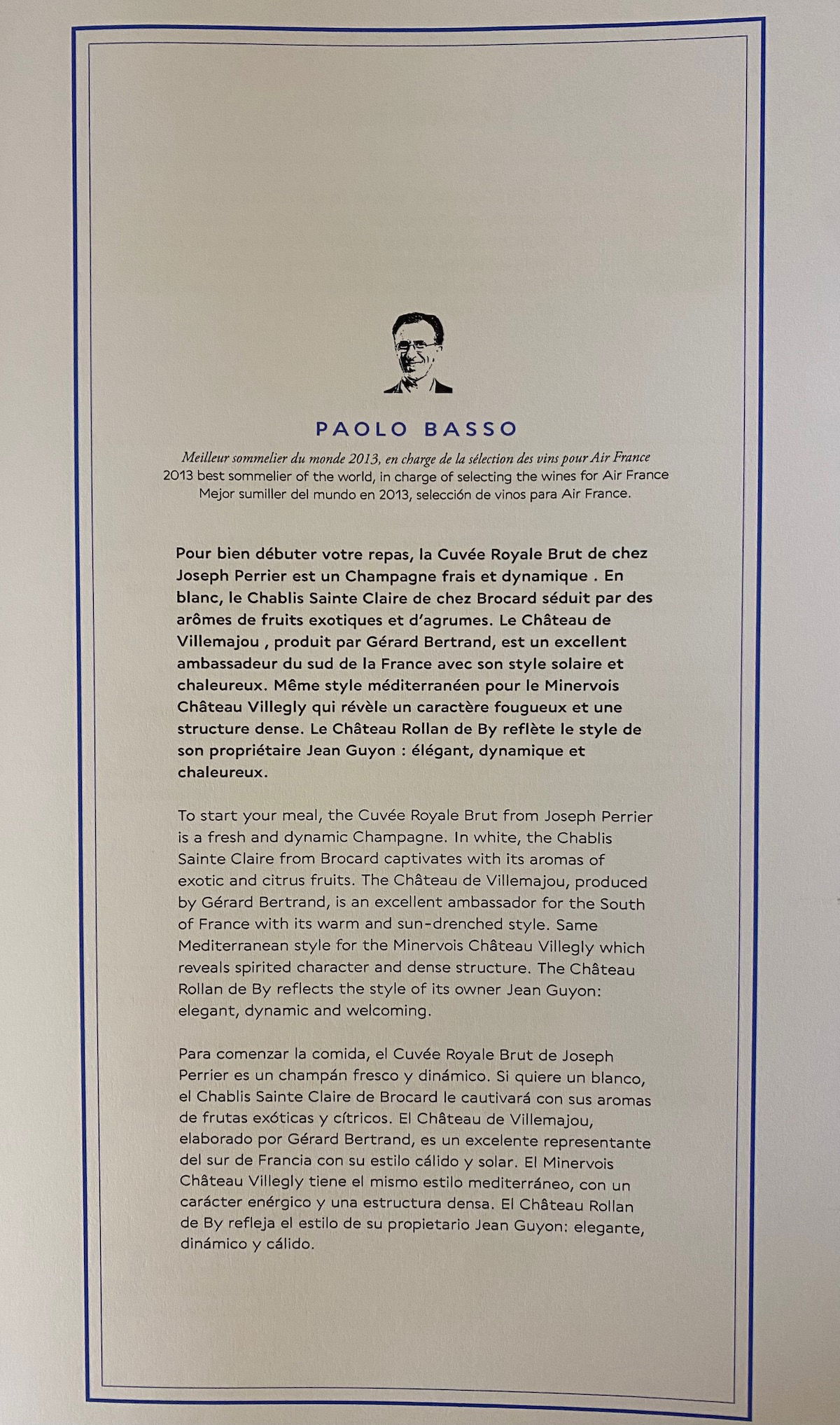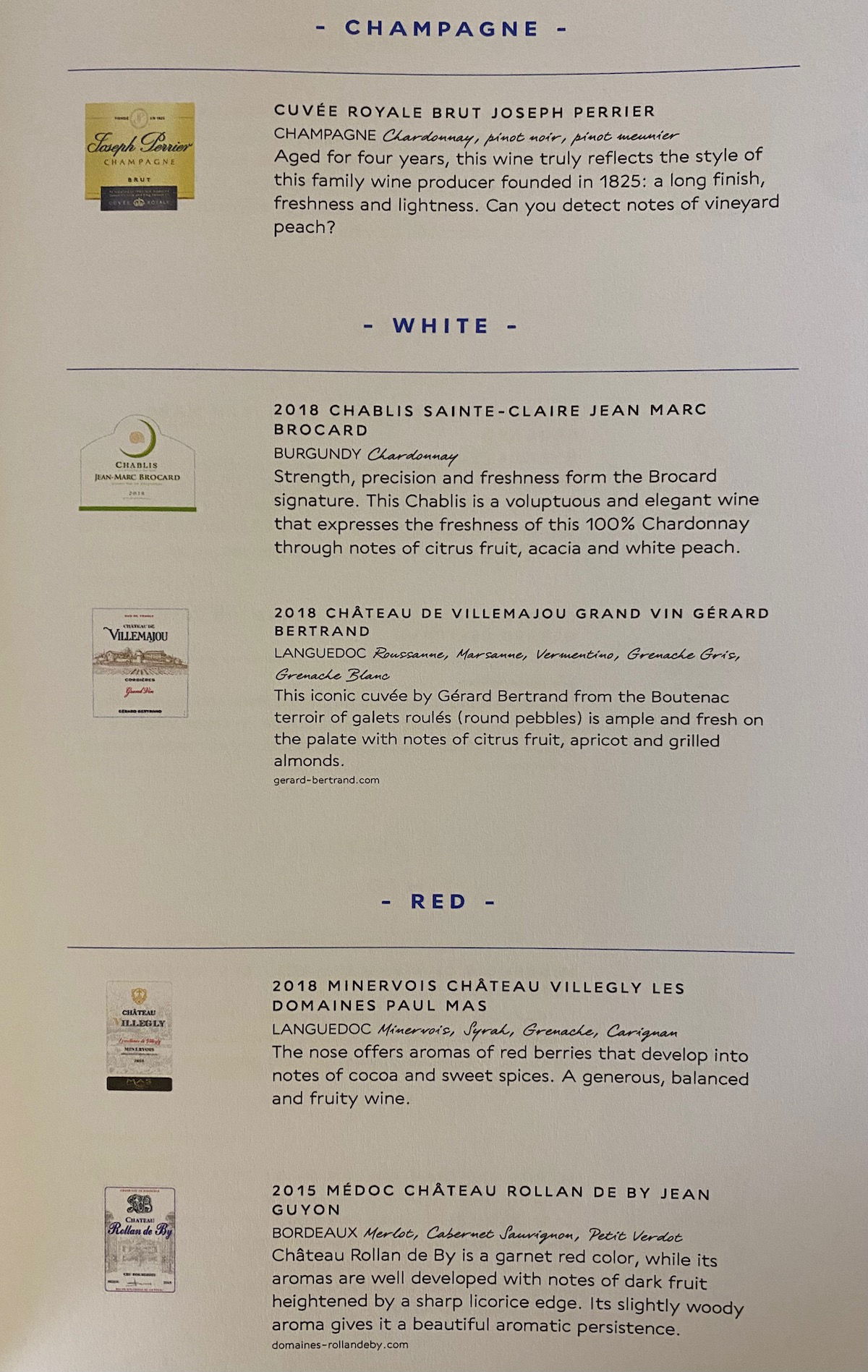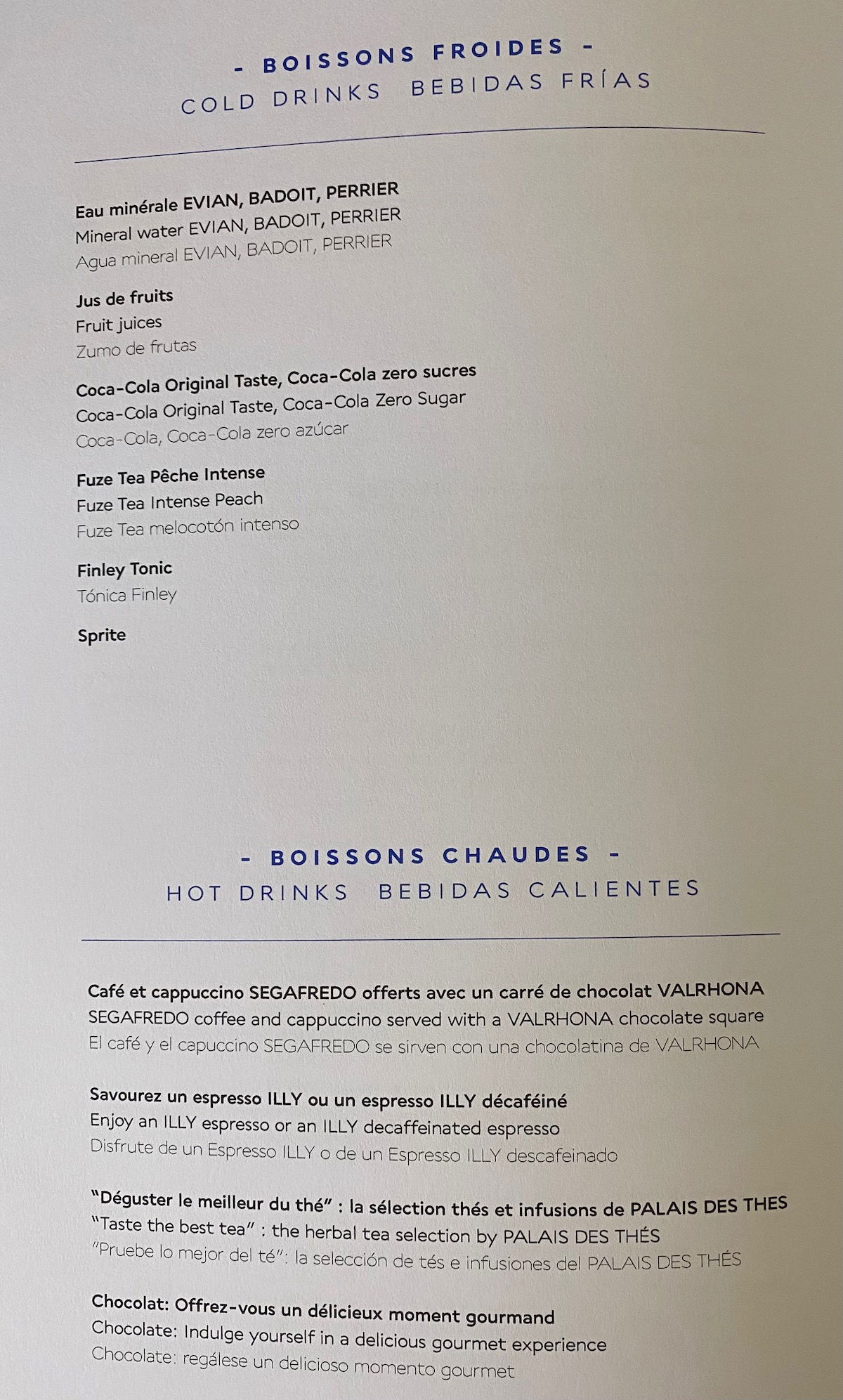 Drinks were served off a cart. I ordered a glass of champagne — Cuvee Royale Brut Joseph Perrier was on offer, and it was quite good. I also asked for some still water, and was offered a package with cashews and cranberries.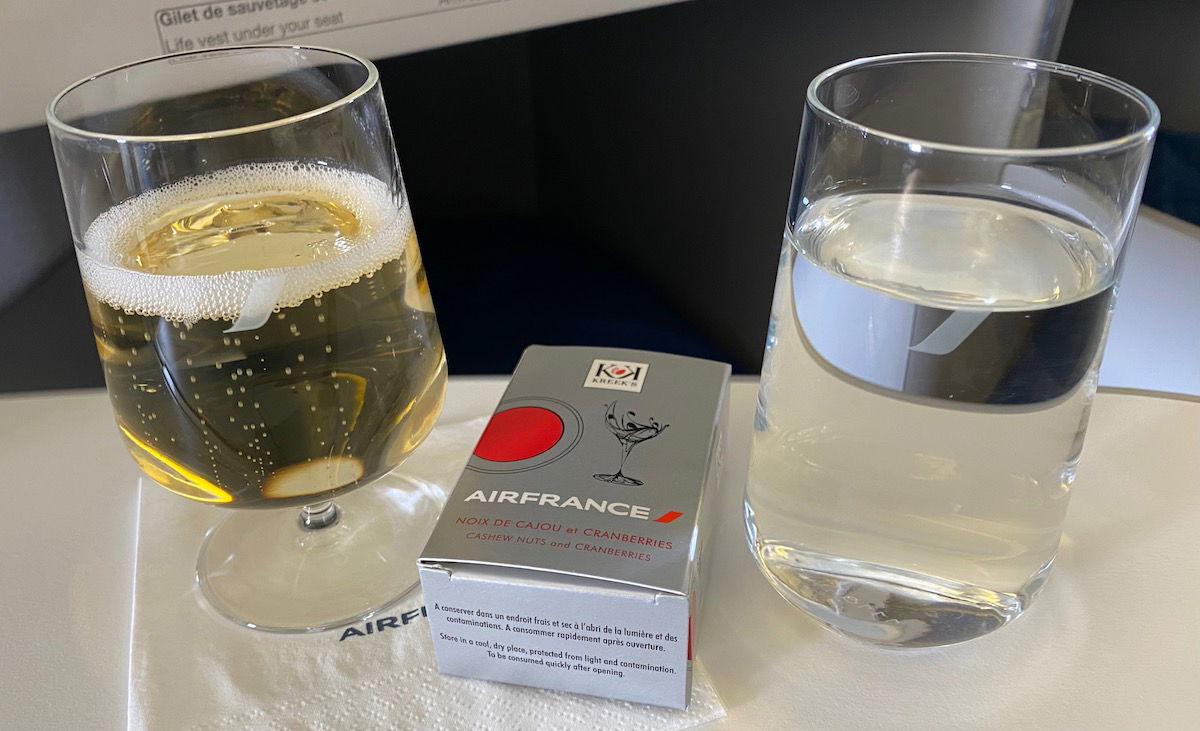 About 15 minutes later a cart was rolled down the aisle with the first course. This included vegetables marinated in olive oil and dill, smoked salmon with lemon cream, a salad, and a selection of bread.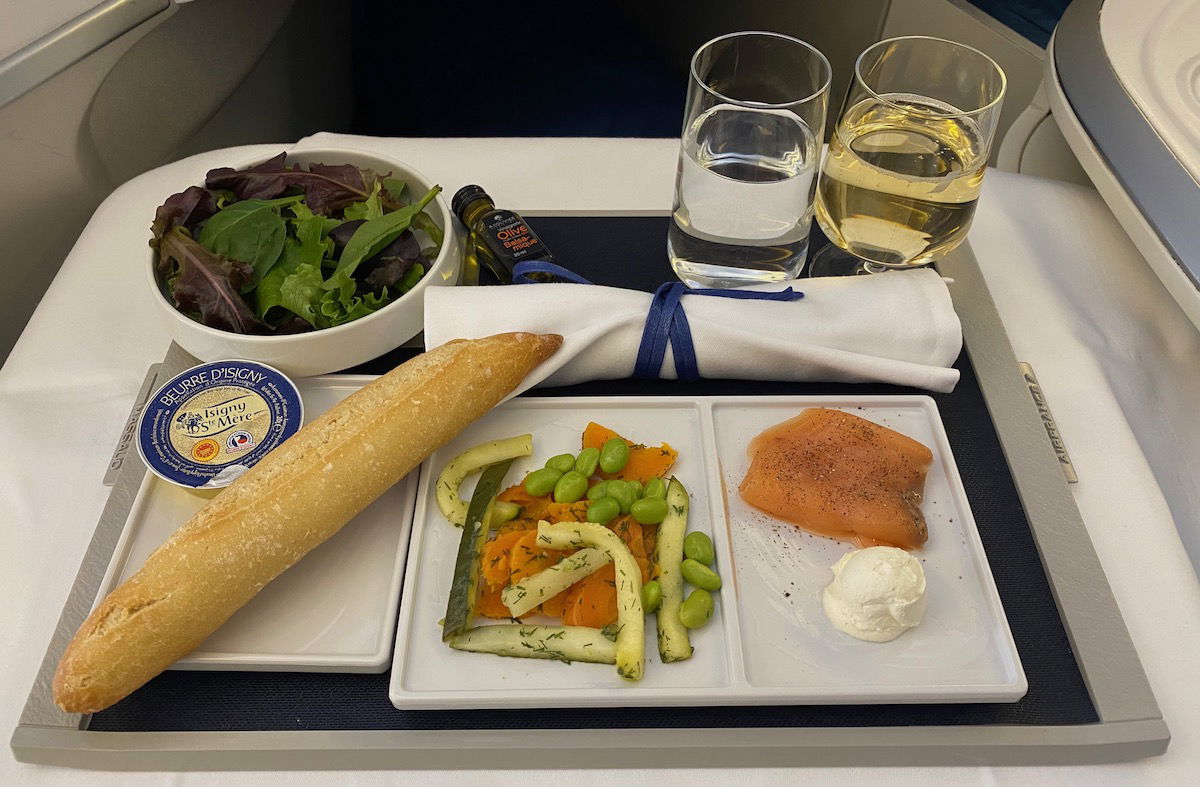 For the main course I ordered the pollock with seaweed, lovage sauce, and camargue red rice, spinach, and fennel compote. While the presentation left a bit to be desired (between the general plating and the aluminum ramekin), the dish was incredibly flavorful, and tasted excellent.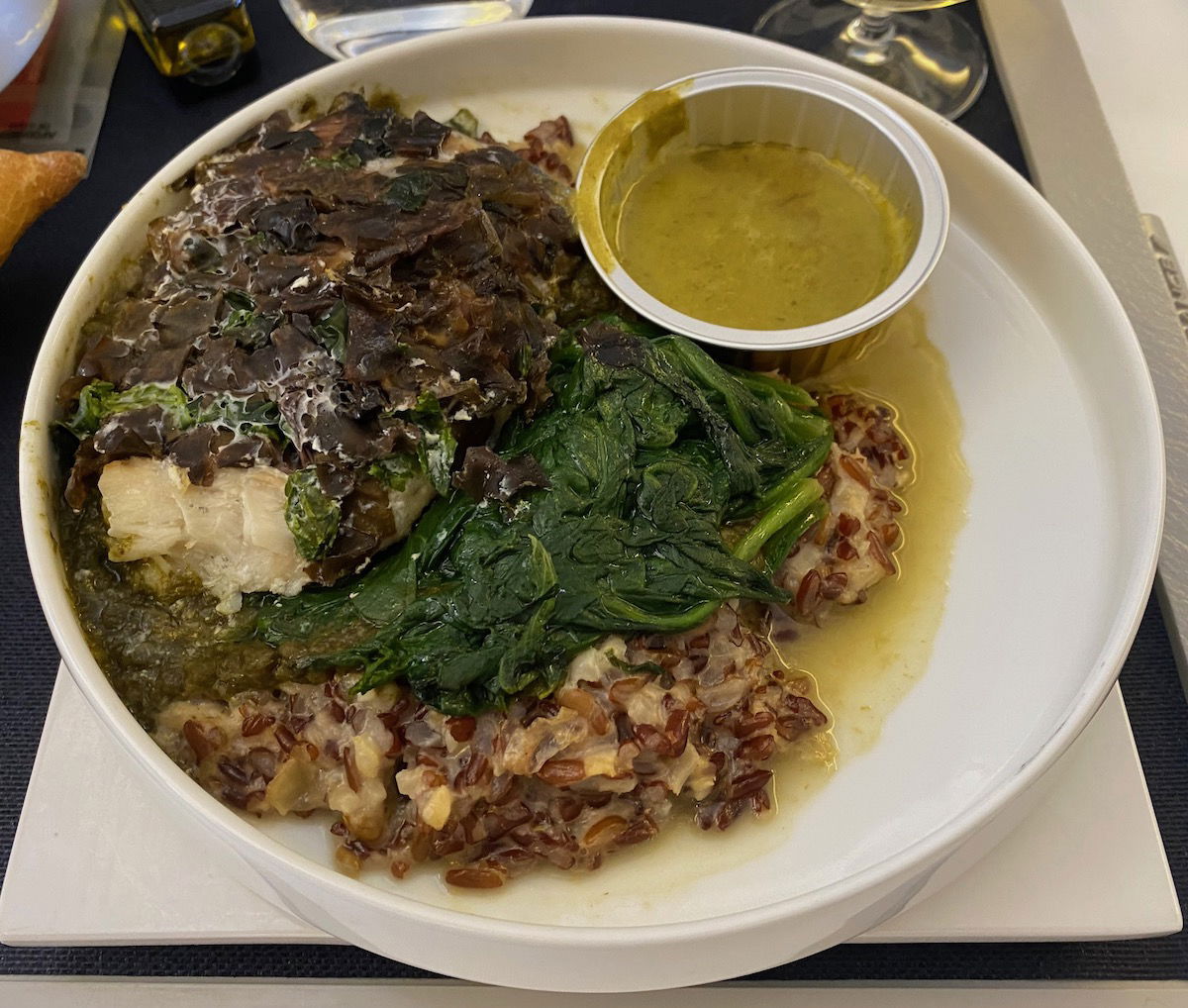 Ford ordered the poultry with smoked black tea, and pea royale soup with ginger and lemon. Ford also enjoyed this dish.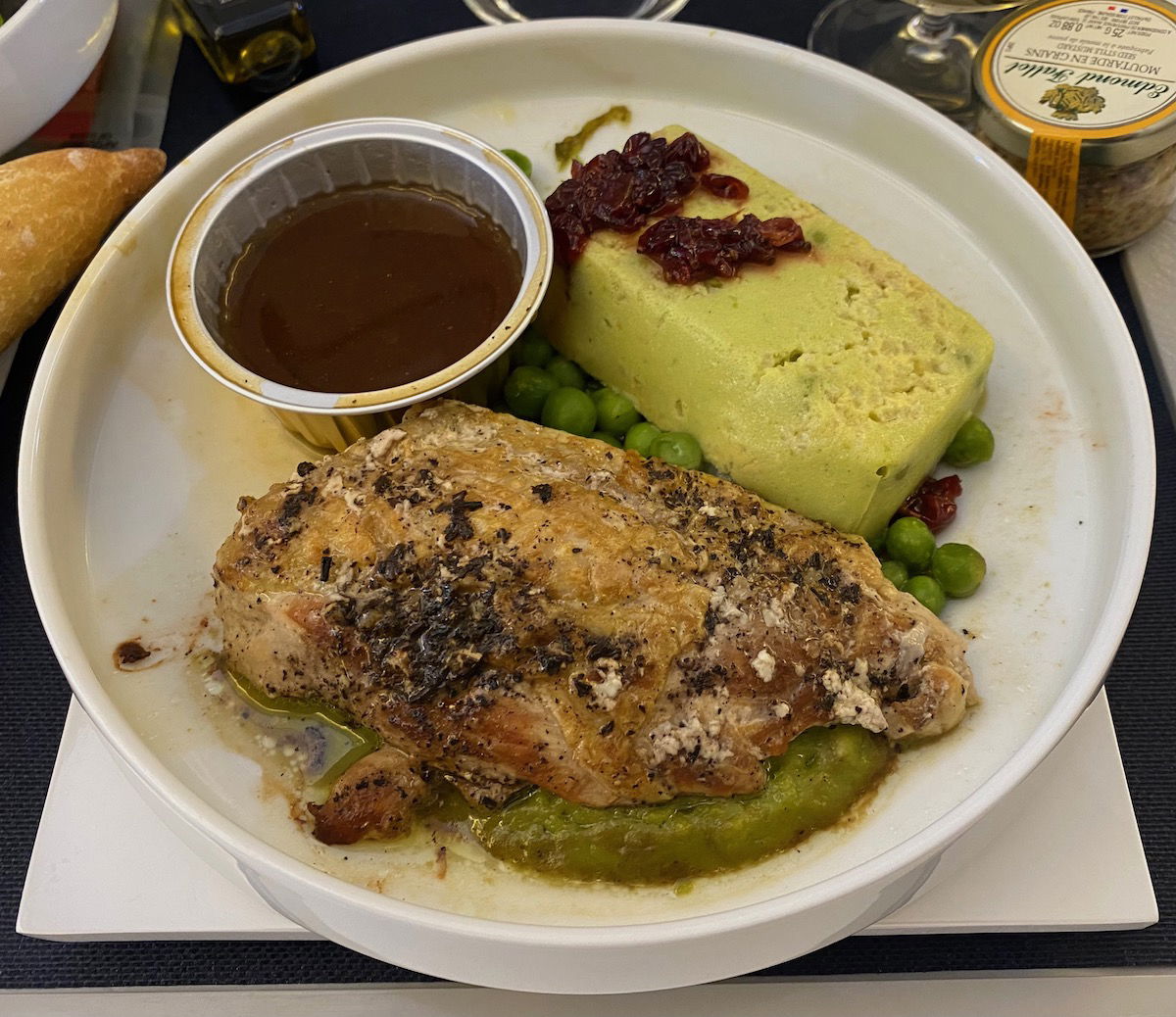 Once main courses were cleared, a dessert trolley was rolled down the aisle. Everyone was offered a cheese plate, and then there was the choice of either a raspberry cream puff, opera cake, and tarte tatin, or ice cream and sorbet. I had the former. I also ordered a cup of coffee.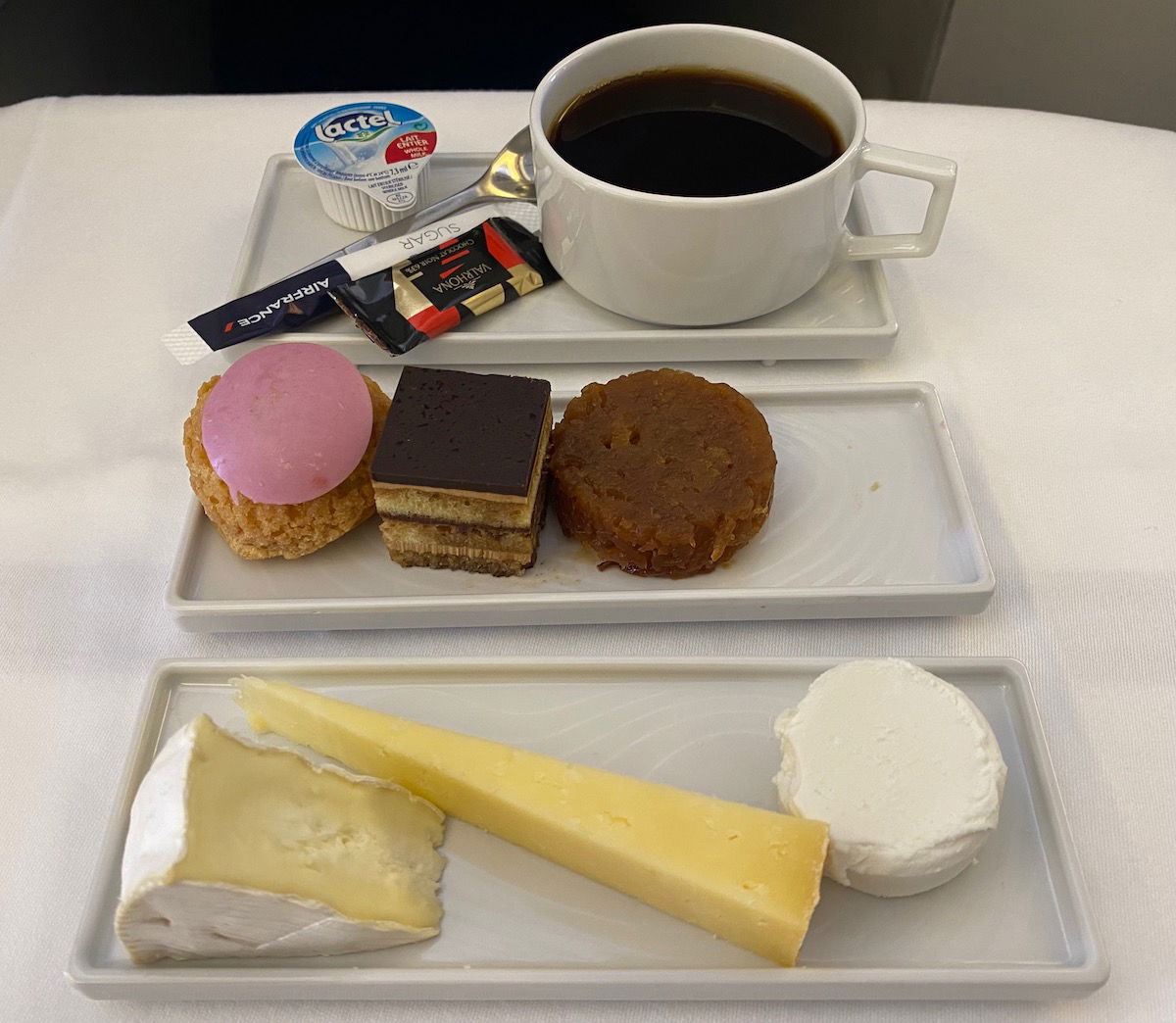 The entire meal service was completed about two hours after takeoff. A few general thoughts:
I'm happy that Air France has more or less resumed the standard pre-coronavirus business class service, unlike airlines in the United States
The actual taste of the food was very good, I thought
There's room for improvement when it comes to presentation, especially when it comes to the plating of dishes
Air France business class entertainment & Wi-Fi
We were traveling on a Monday, so for me this was a standard work day. All Air France A350s have Wi-Fi, while only some 777s do. Fortunately we lucked out, and our Air France 777 was equipped with Wi-Fi. A while back Air France eliminated data caps on Wi-Fi plans, which I very much appreciate.
Wi-Fi for the entire flight cost 30 EUR, with the "streaming" function. While that's not cheap, it's a totally reasonable price to pay in order to be productive for a flight this long. The Wi-Fi speeds were excellent, and I was more or less able to work just as efficiently as at home. There were no coverage gaps, with the exception of the last 45 minutes before landing.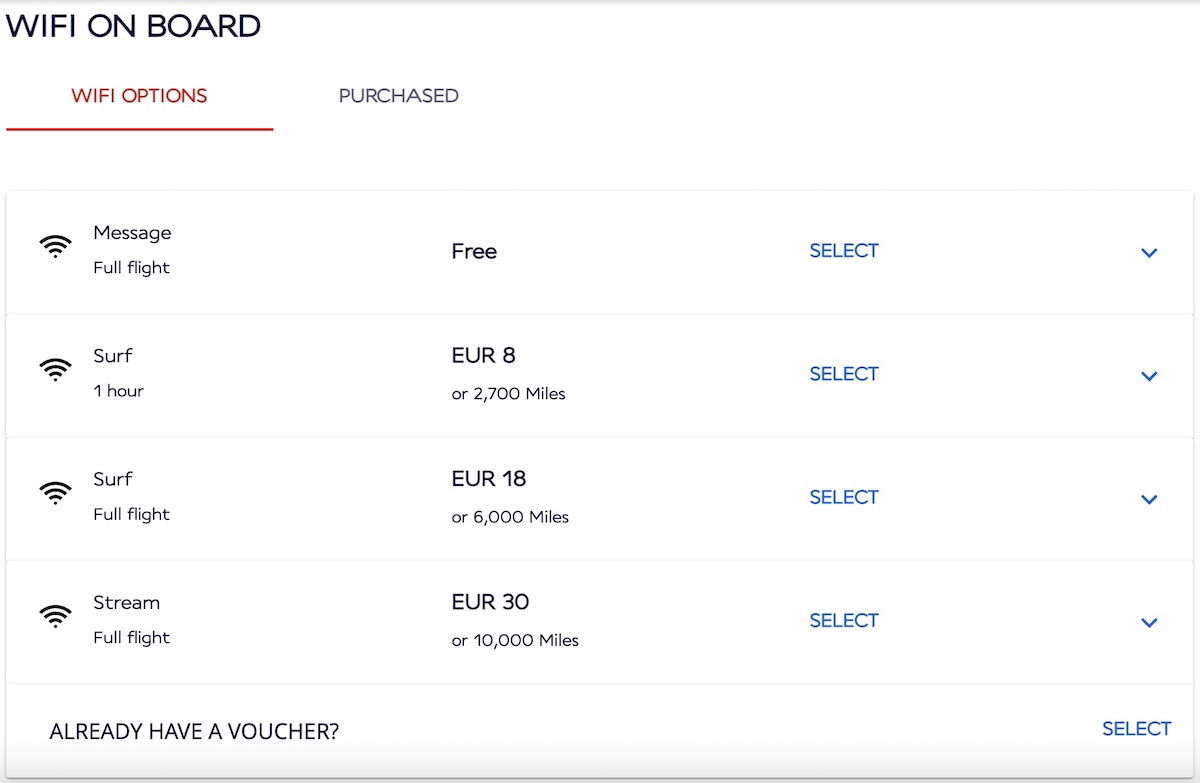 While I didn't use it a whole lot, Air France also has a solid selection of audio and video on demand, with dozens of movies and TV shows.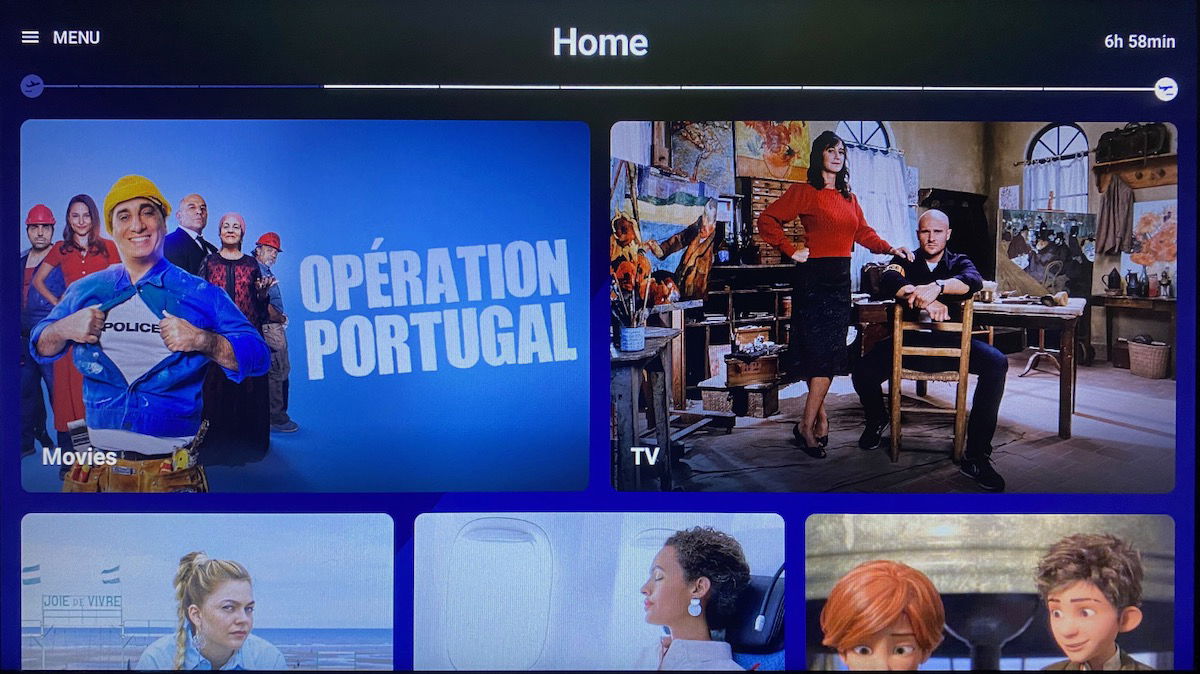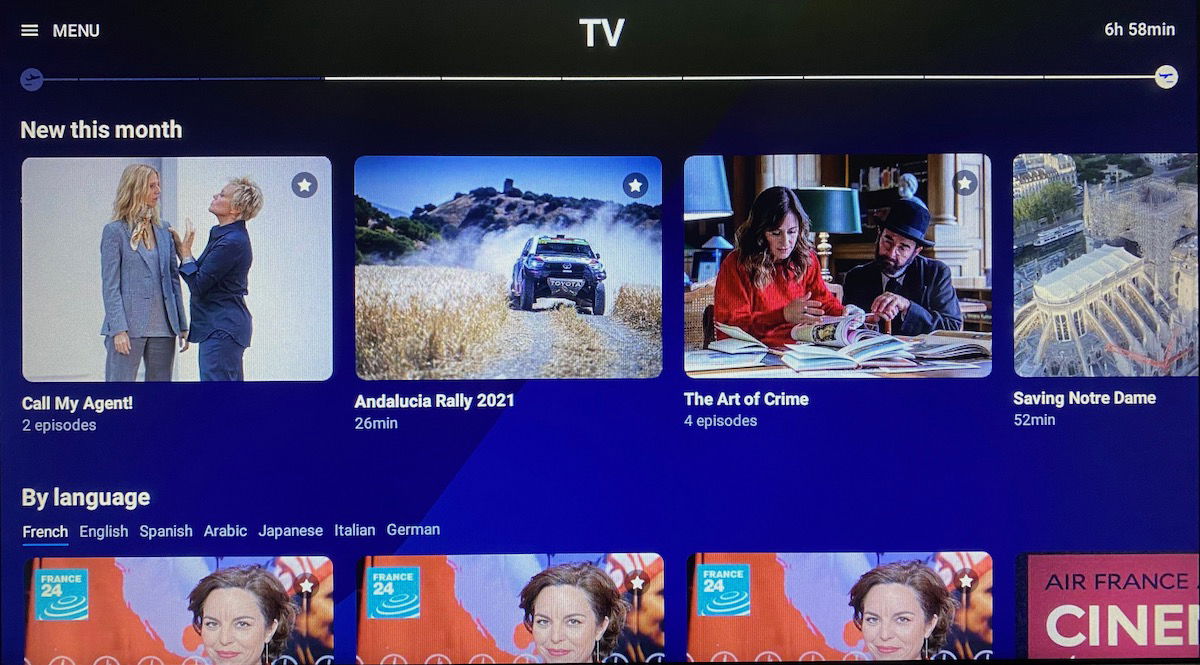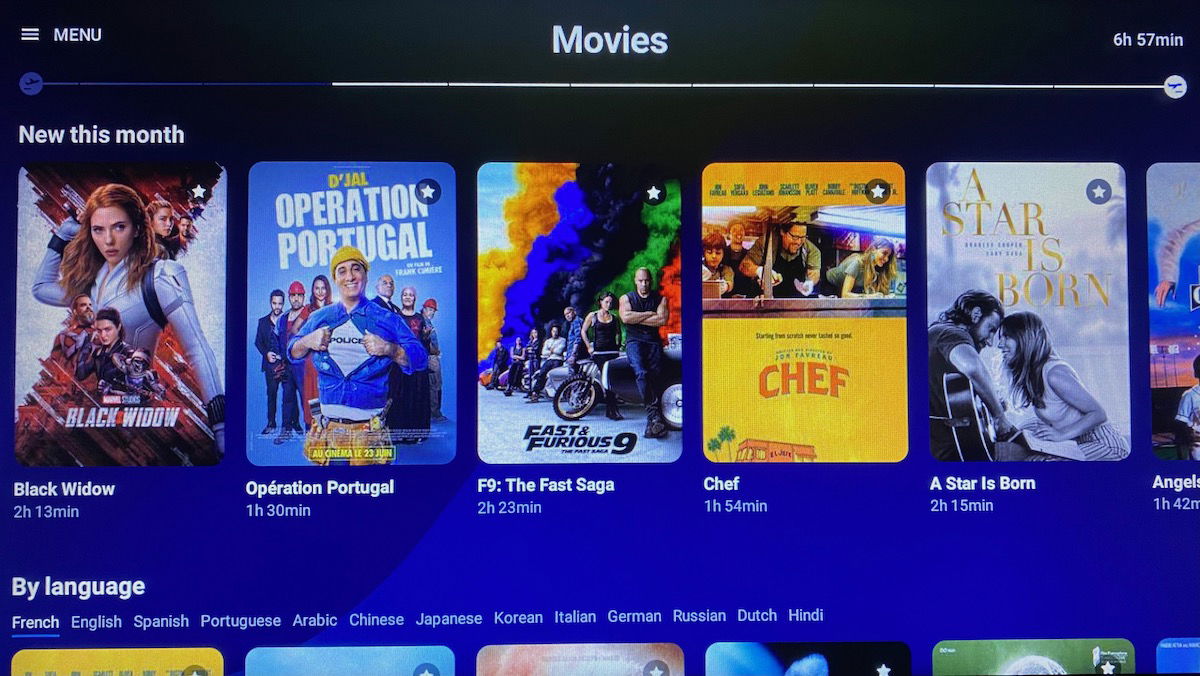 Instead I just kept the moving map on for the entire flight.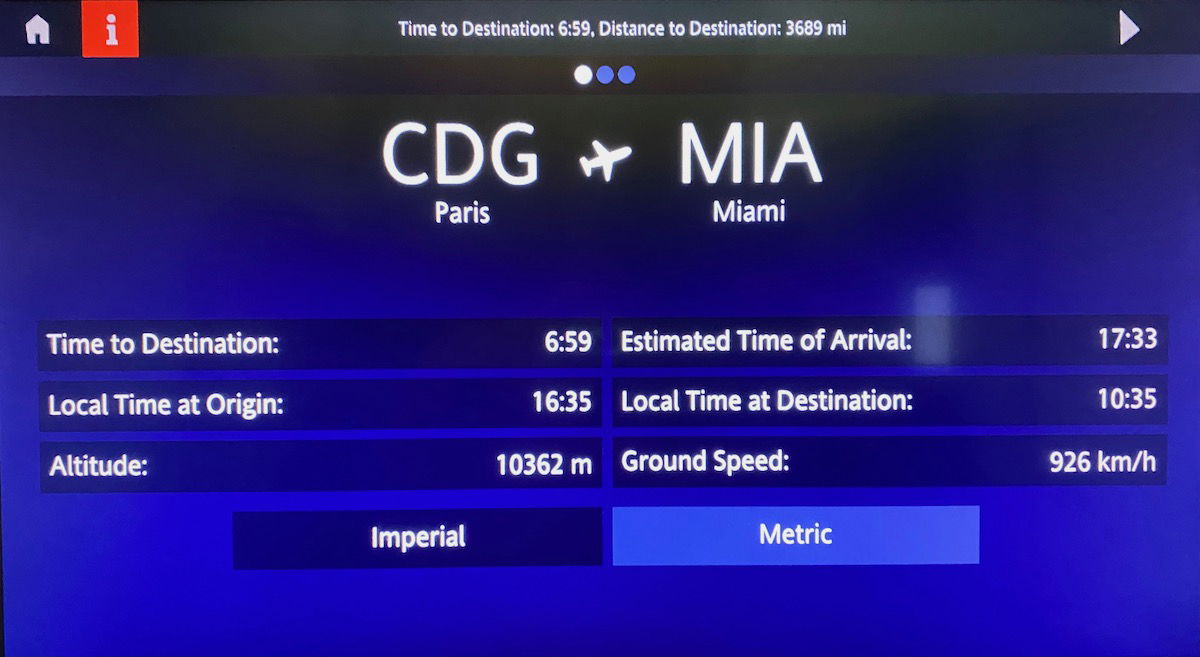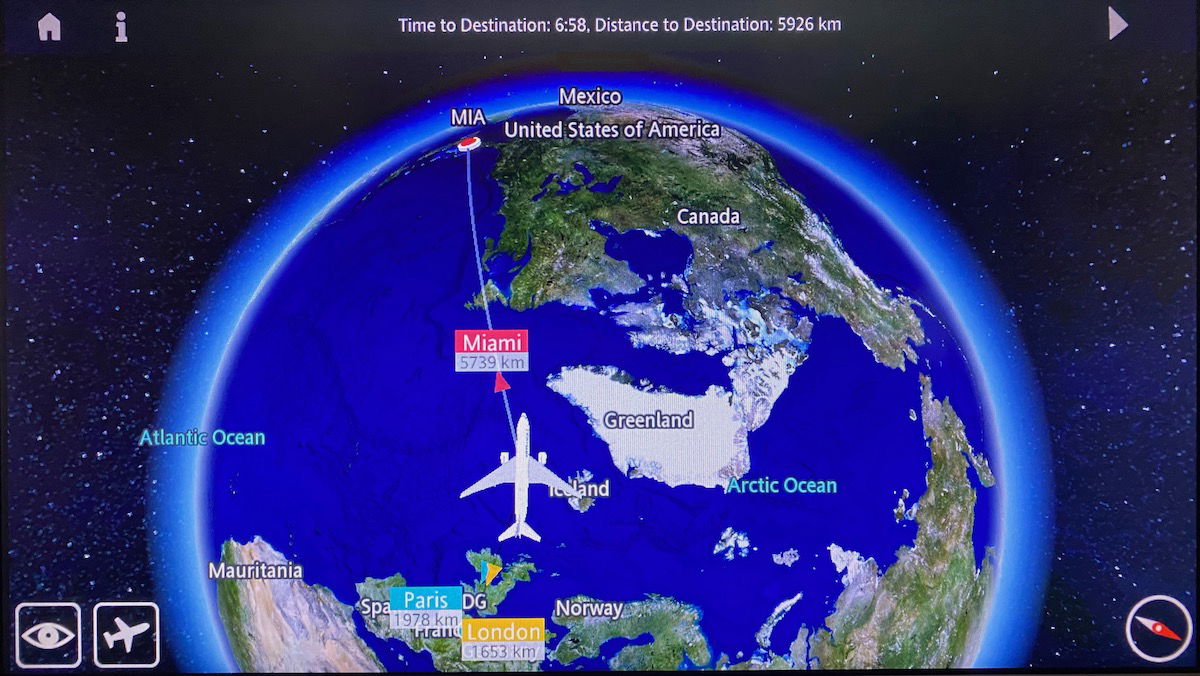 Air France business class bed
While I didn't sleep on this flight, I did recline the seat and test it out, and it was as comfortable as you'd expect for a reverse herringbone seat. I appreciated the size of the footwell, and didn't find it felt tight at all.
Ford slept almost the entire time between the two meals, so I guess that's an endorsement of the seat comfort.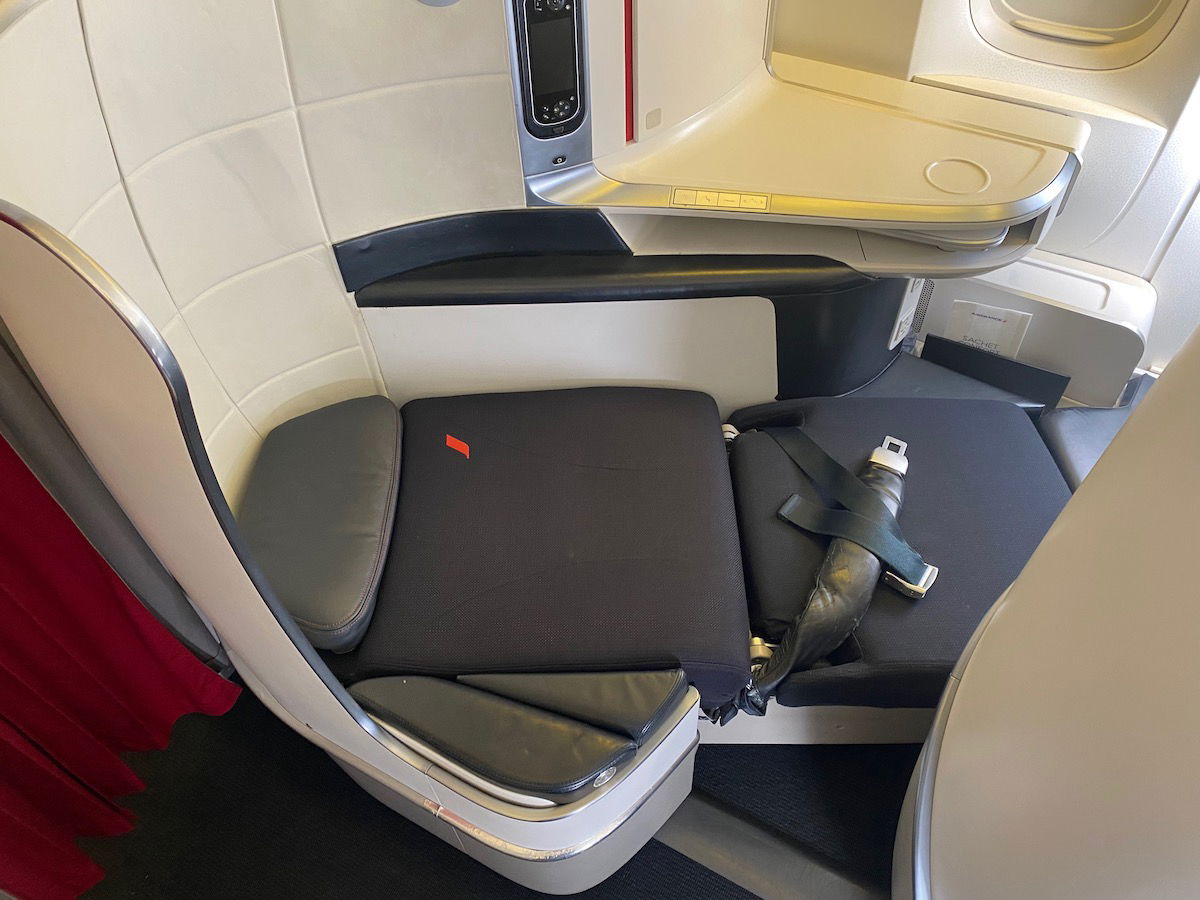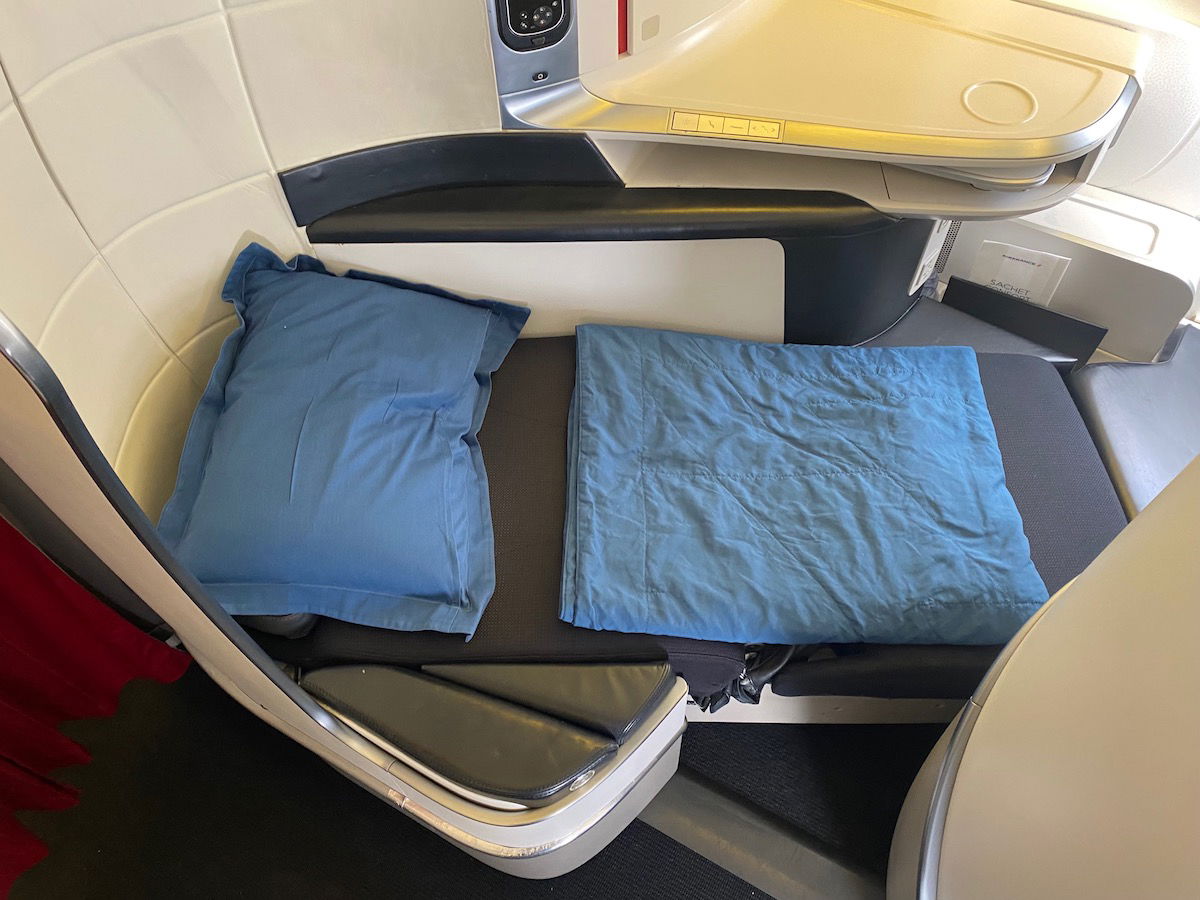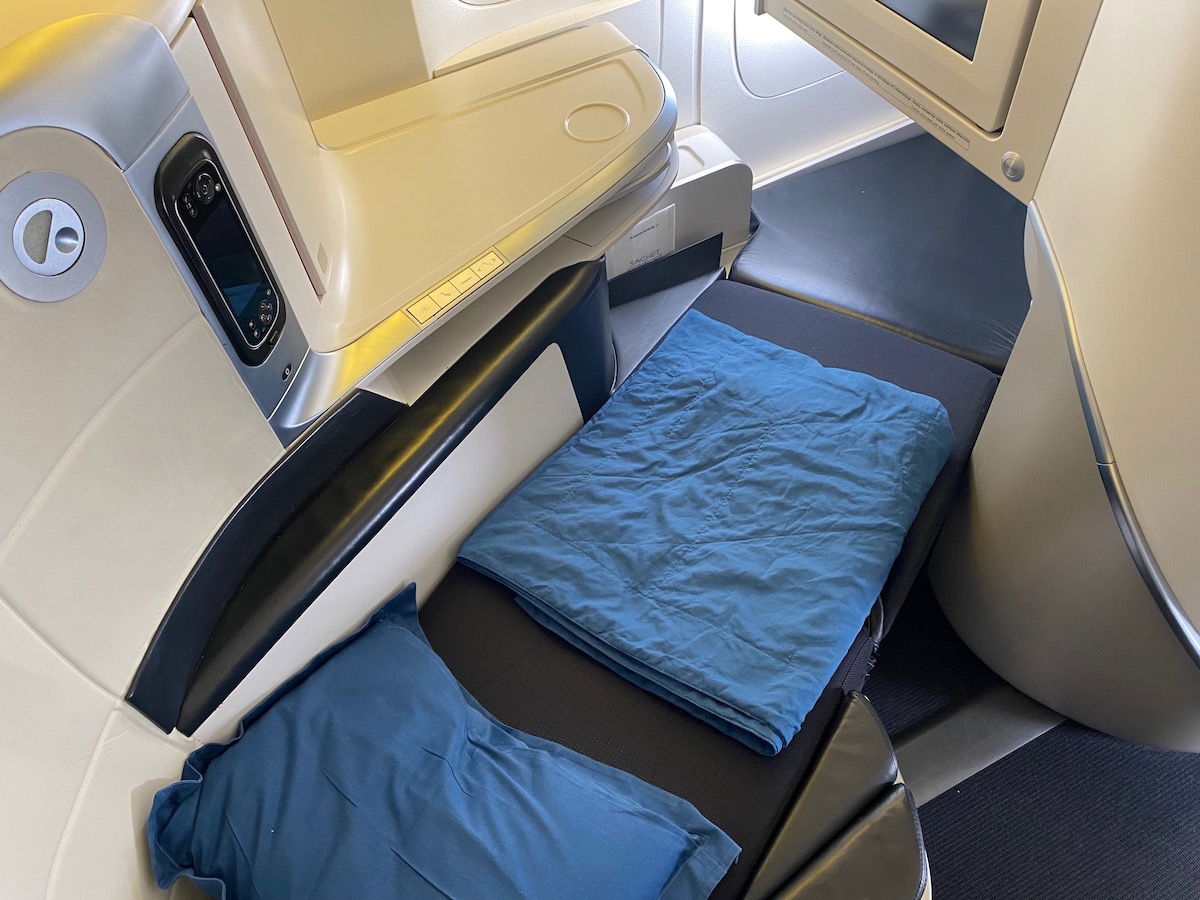 Air France business class lavatories
The Air France 777-200 has lavatories both at the very front of the cabin, as well as by the second set of doors, ahead of the mini-cabin. Using the forward lavatory is generally preferable, as it's much larger. That's because this is the same bathroom Air France used to have back when these planes had first class, so it was intentionally bigger at the time.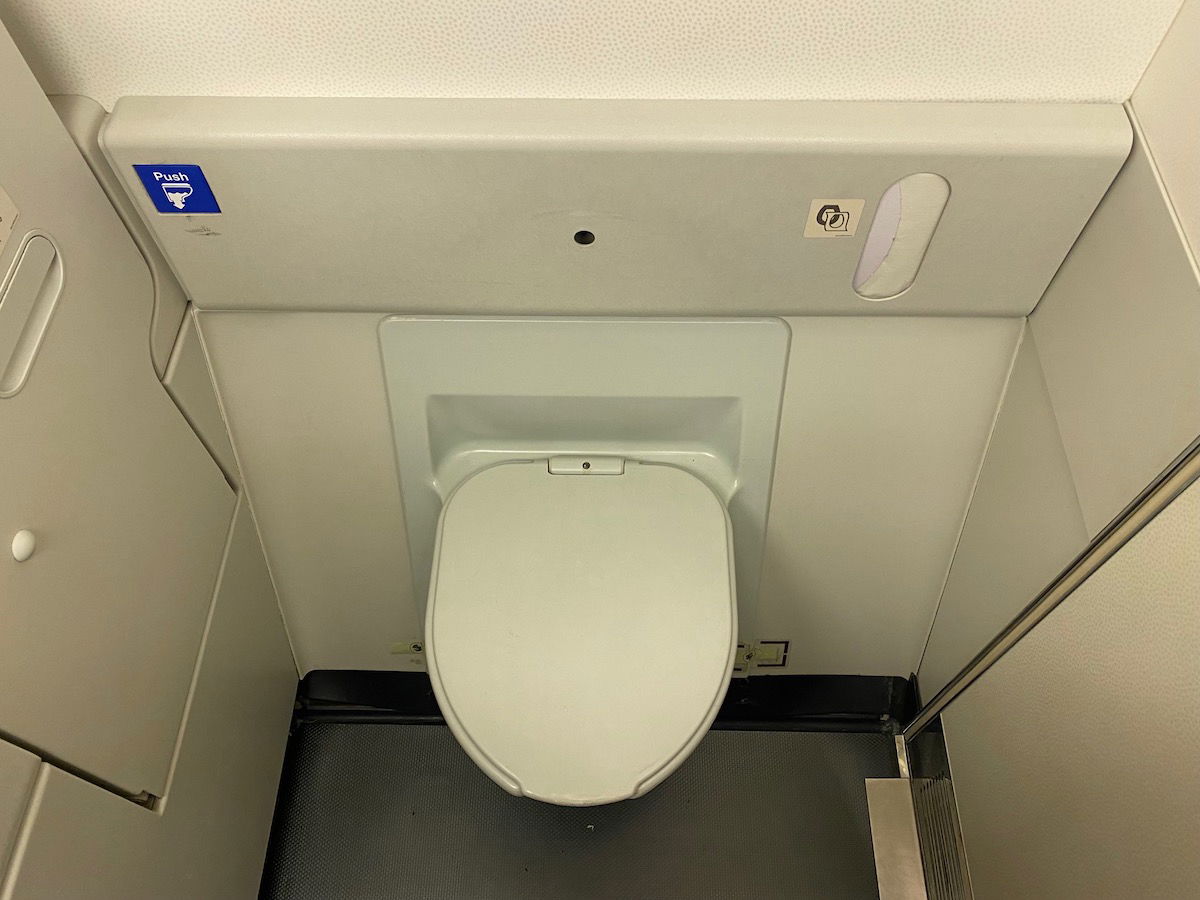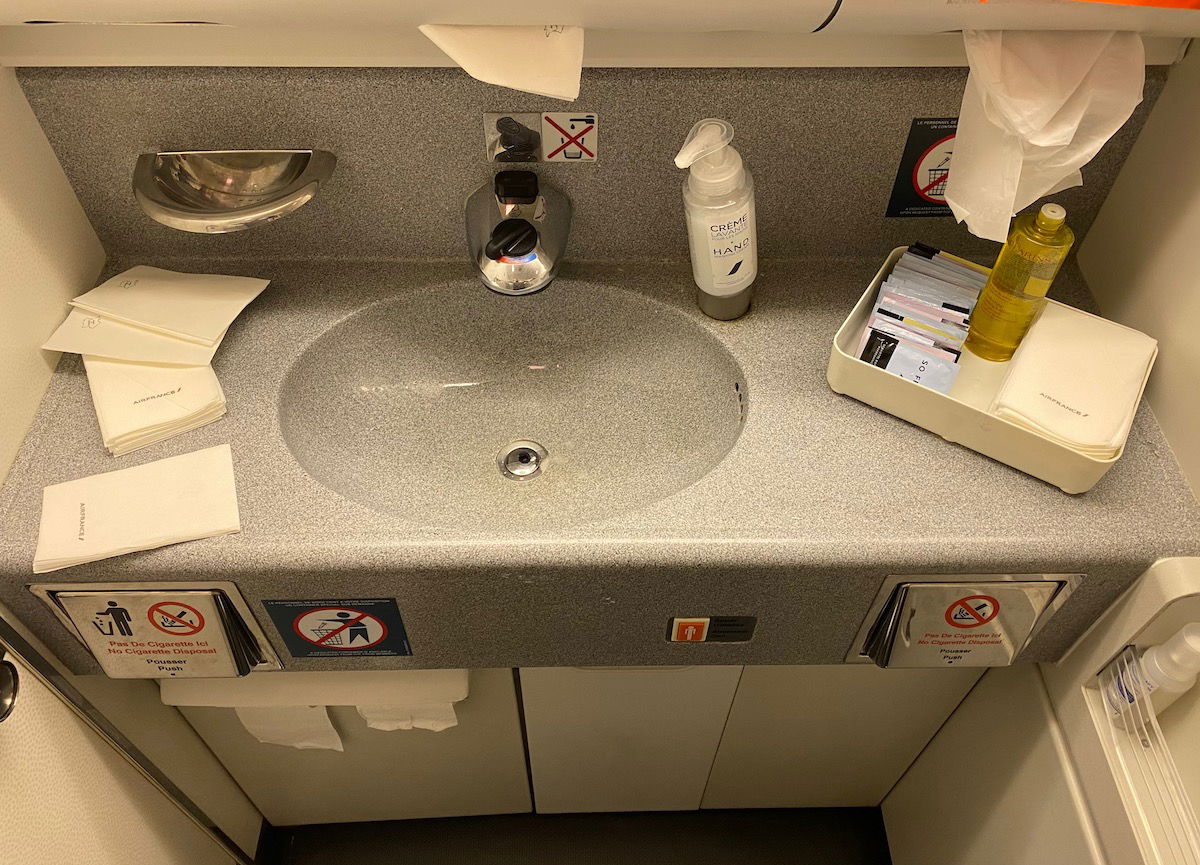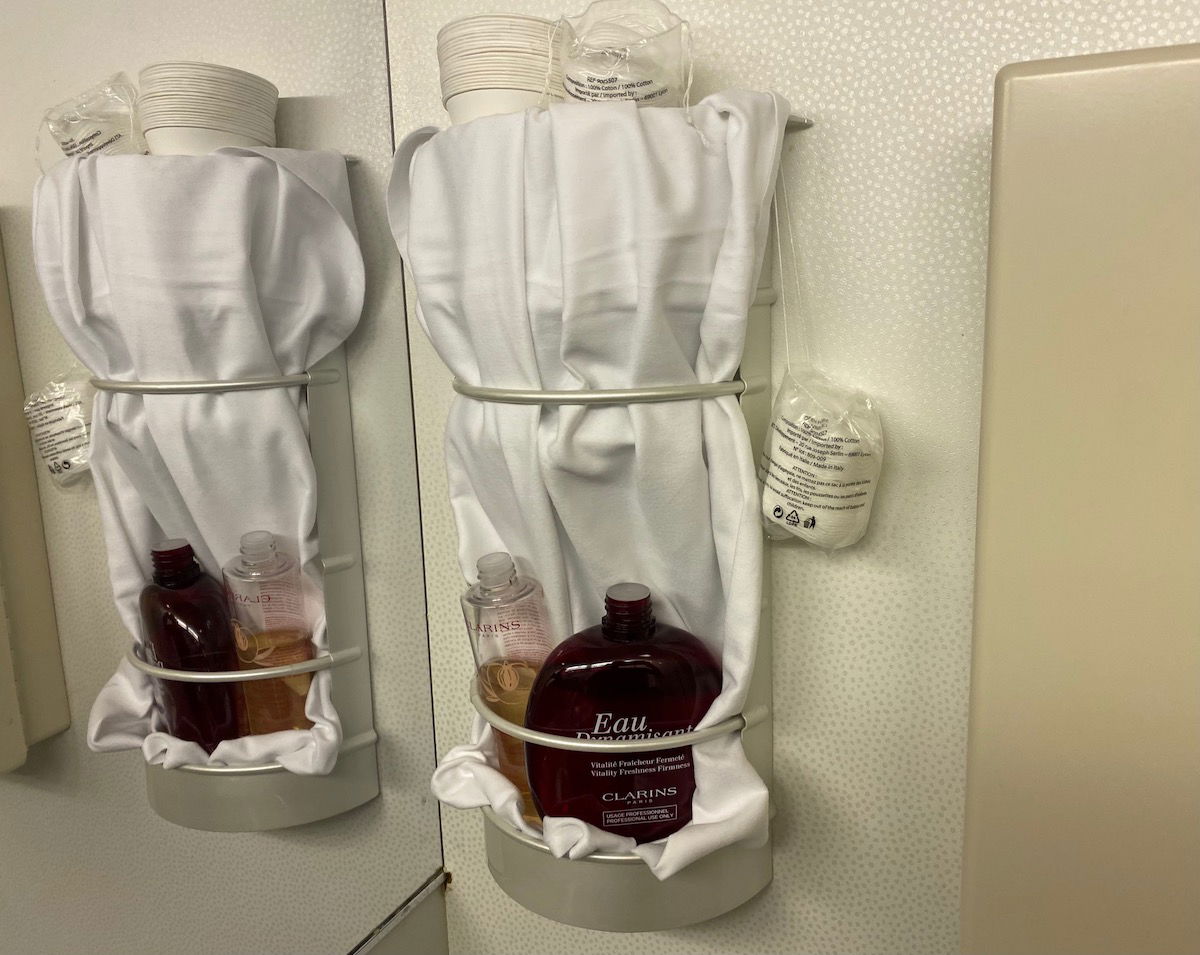 Air France business class service & snacks
The flight attendants working business class were lovely — they were friendly, attentive, and charming. They provided great service during the meals, and also passed through the cabin periodically to offer snacks & drinks.
Since I was working and all the window shades were closed, I needed some caffeine to stay awake. Around the halfway point of the flight I ordered an espresso, which was great.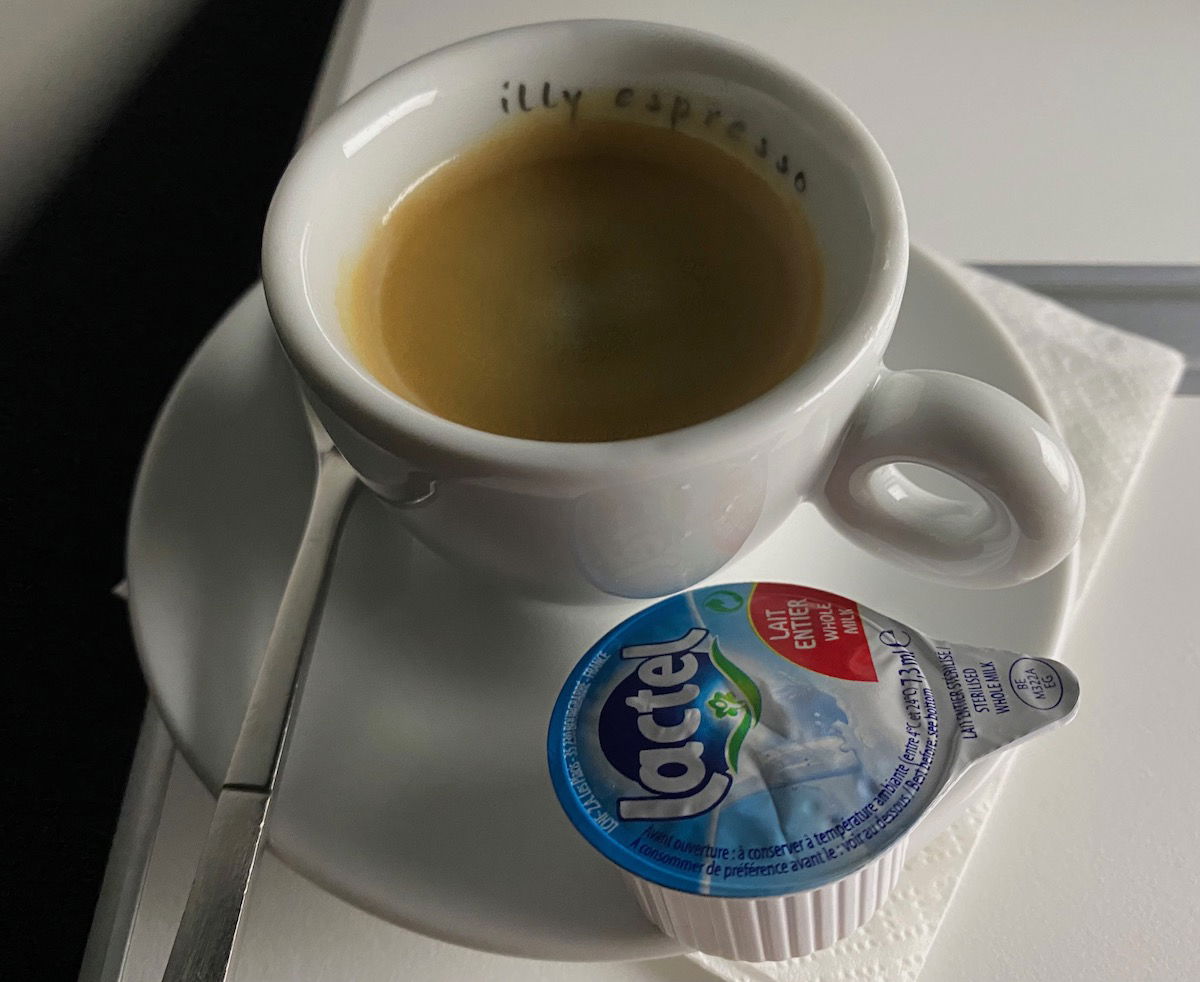 Later in the flight I made the mistake of ordering a cappuccino. I really don't learn from my mistakes, because Air France serves powdered cappuccinos, which aren't very good.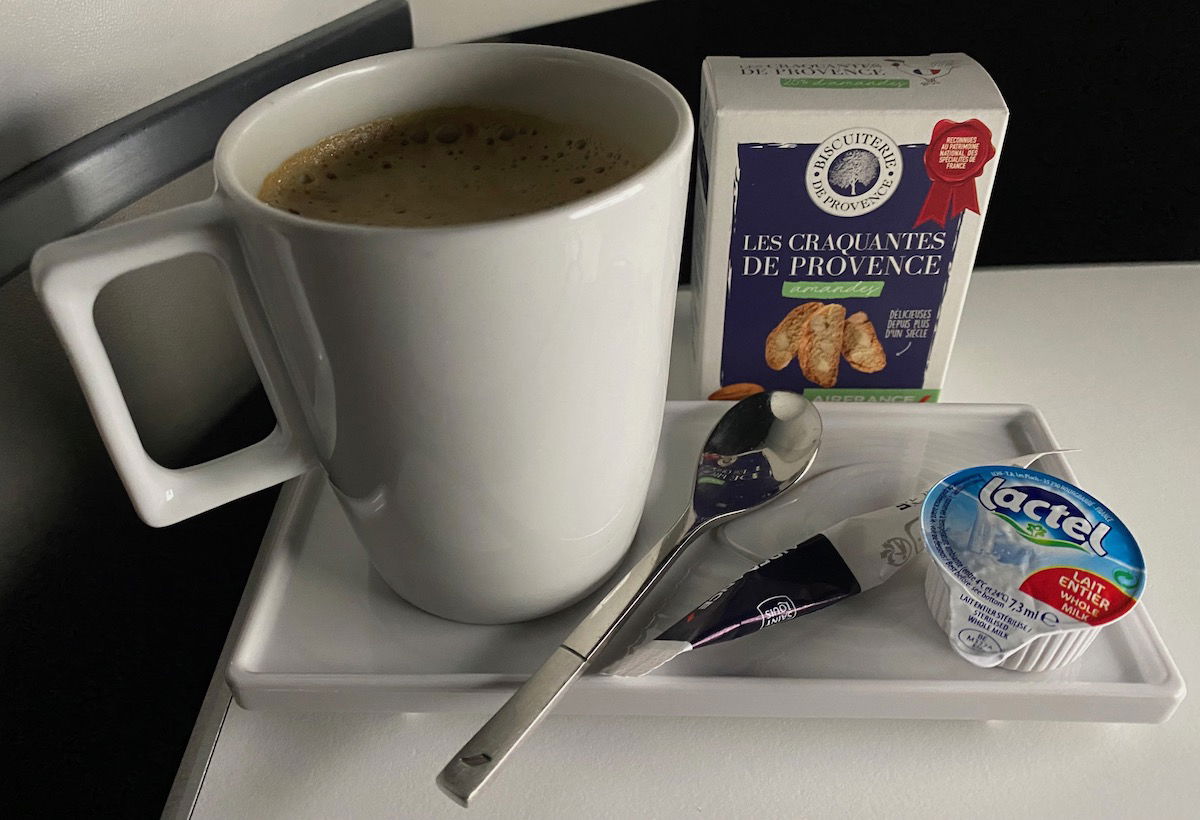 In the center galley there was also a little bar setup, with self-serve drinks and snacks.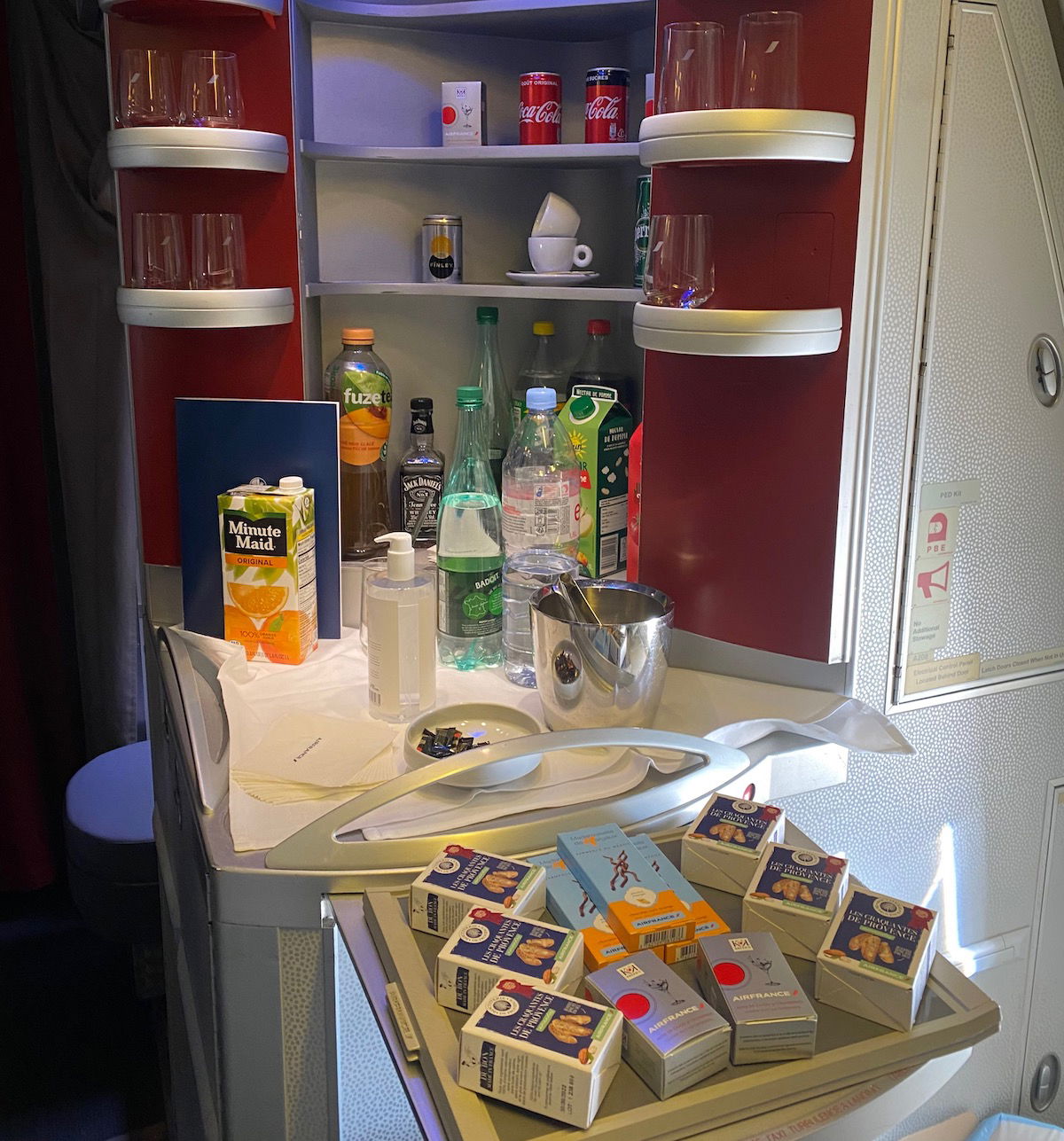 Air France business class snack service
Around 75 minutes before landing, the pre-arrival snack was served.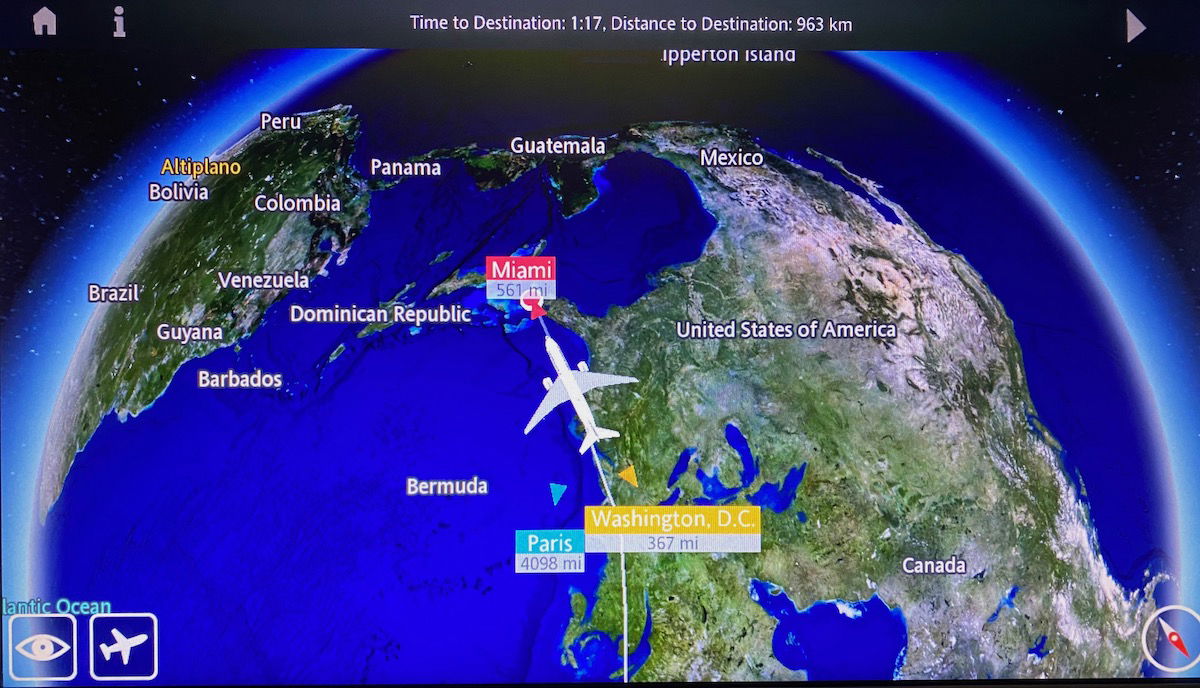 The menu read as follows: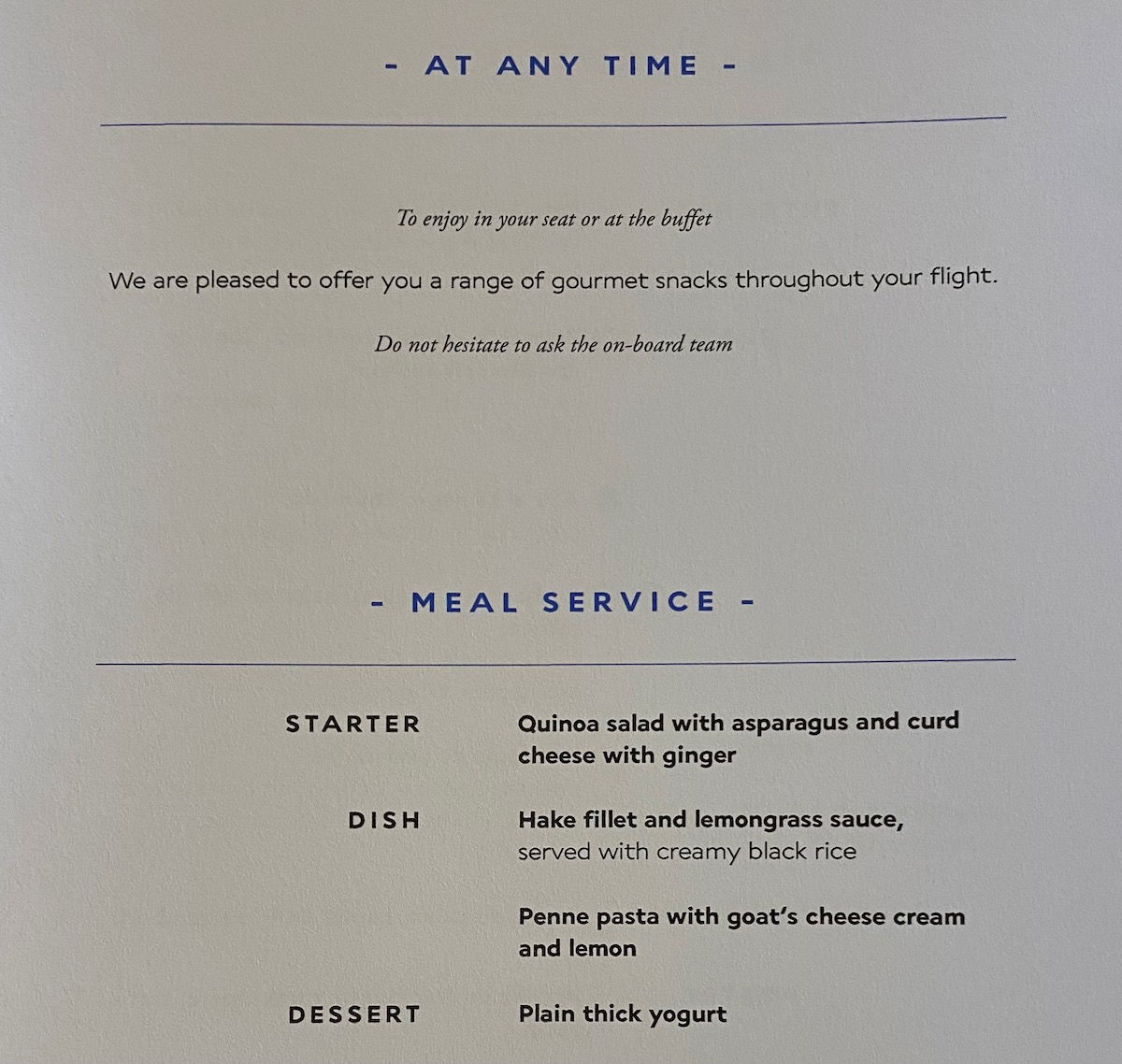 All meals included a starter of quinoa salad with asparagus and curd cheese with ginger. Then there were two main course choices. I selected the hake fillet with lemongrass sauce and creamy black rice. While the presentation wasn't amazing, it tasted good. This was served with a bread roll as well as plain yogurt.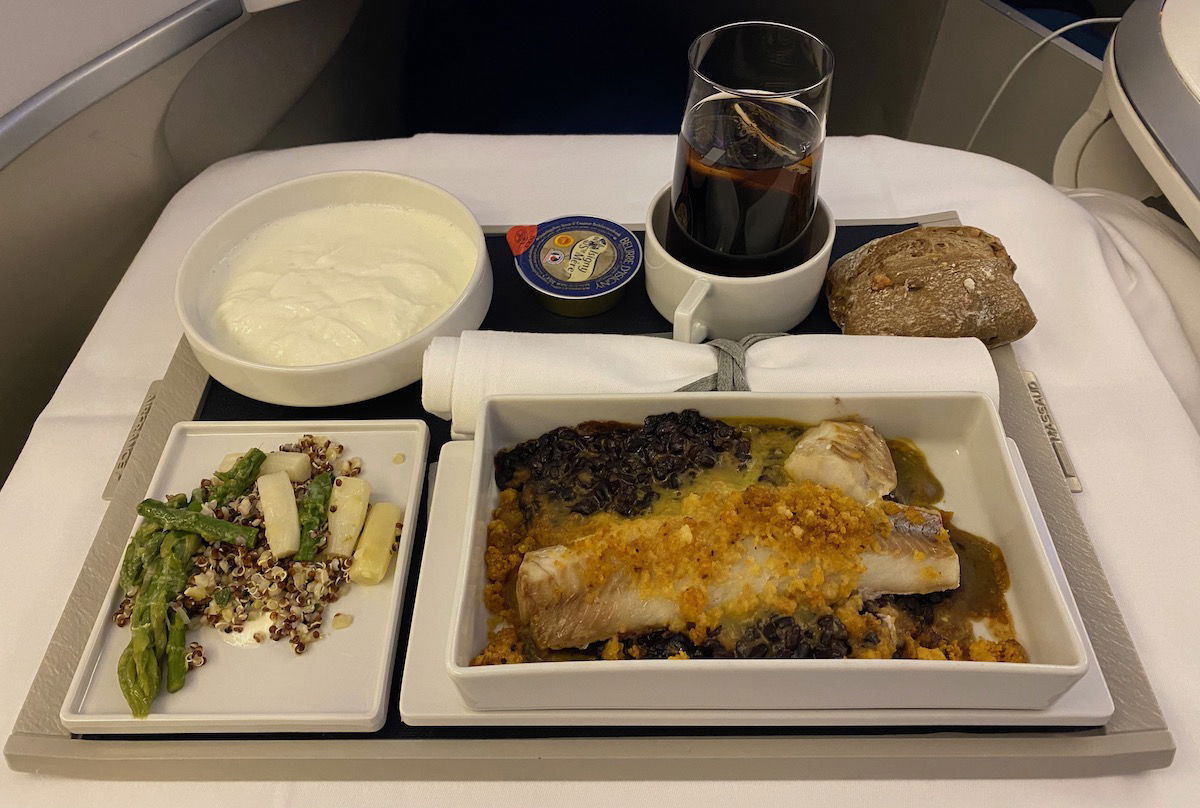 Ford had the other main course option, which was penne pasta with goat cheese and lemon.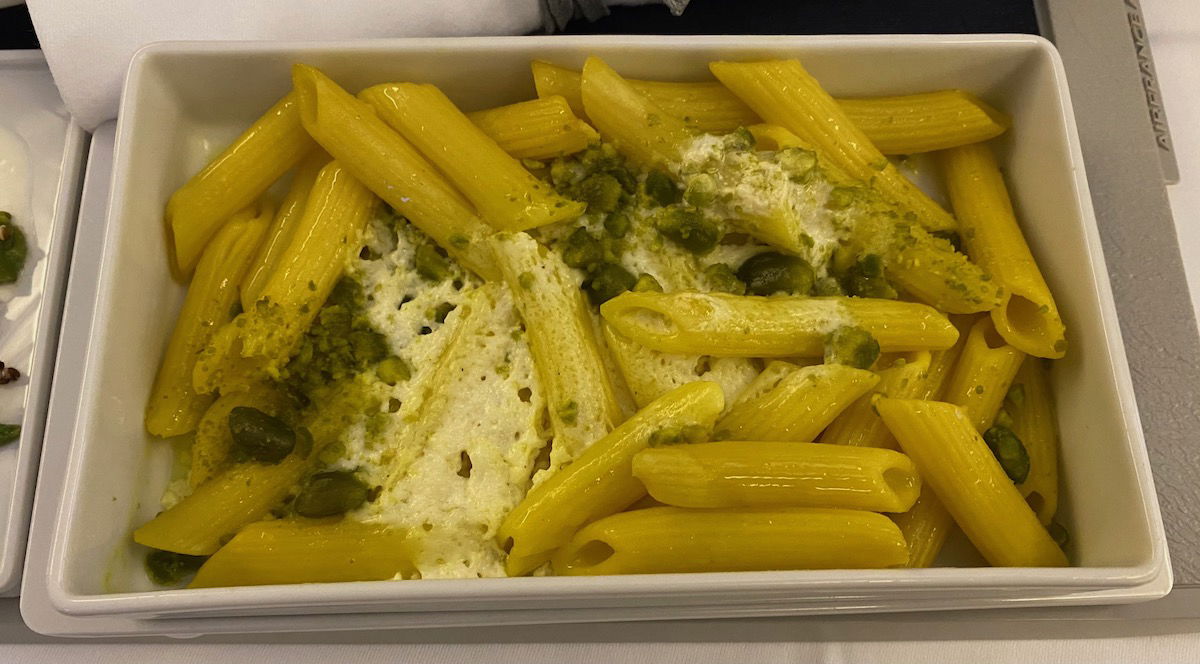 15 minutes after trays were cleared we started our descent. We ended landing at around 5:40PM, and getting to the gate about five minutes after that, roughly 30 minutes behind schedule (that was due to strong headwinds). What an easy way to cross the Atlantic!
Bottom line
It's nice to see transatlantic flights returning back to normal, both in terms of being pretty full, and also in terms of once again offering full service. Air France offers a solid transatlantic business class product, with great seats and Wi-Fi, and good amenities, food, and service.
I'll take it a step further — I think among the "big three" European global mega-airline groups, Air France-KLM offers the all around best business class experience. In the case of Lufthansa Group, Lufthansa doesn't even have a single plane with direct aisle access from every business class seat. In the case of IAG, British Airways has come a long way, but is still a long ways from having Club Suites as the standard business class product.
If you've flown Air France business class, what was your experience like?