For the next portion of our journey to Florence, we flew Emirates' Boeing 777 first class from Dubai (DXB) to Bologna (BLQ). I won't be publishing a full review of the flight, because, well, I feel like it would be kind of redundant. Emirates is remarkably consistent when it comes to what's offered onboard in first class.
I've recently reviewed the Emirates First Class Lounge Dubai, I've reviewed Emirates' 777 first class, and I've also shared thoughts on Emirates 777 first class flights from Dubai to Male and from Orlando to Dubai. This was perhaps the first Emirates flight I've ever boarded where I wasn't snapping hundreds of pictures (for the purposes of a review).
I still wanted to share a few thoughts on the experience. For what it's worth, this was a roughly six hour flight, departing around 9AM. In no particular order…
I kind of love Emirates' first class bus service
Our flight was departing from Concourse A at DXB. This is known as the airport's A380 terminal, and you're supposed to be able to board your flight directly from the lounge (since the lounge is basically the size of the terminal). This time around we didn't quite have that luck.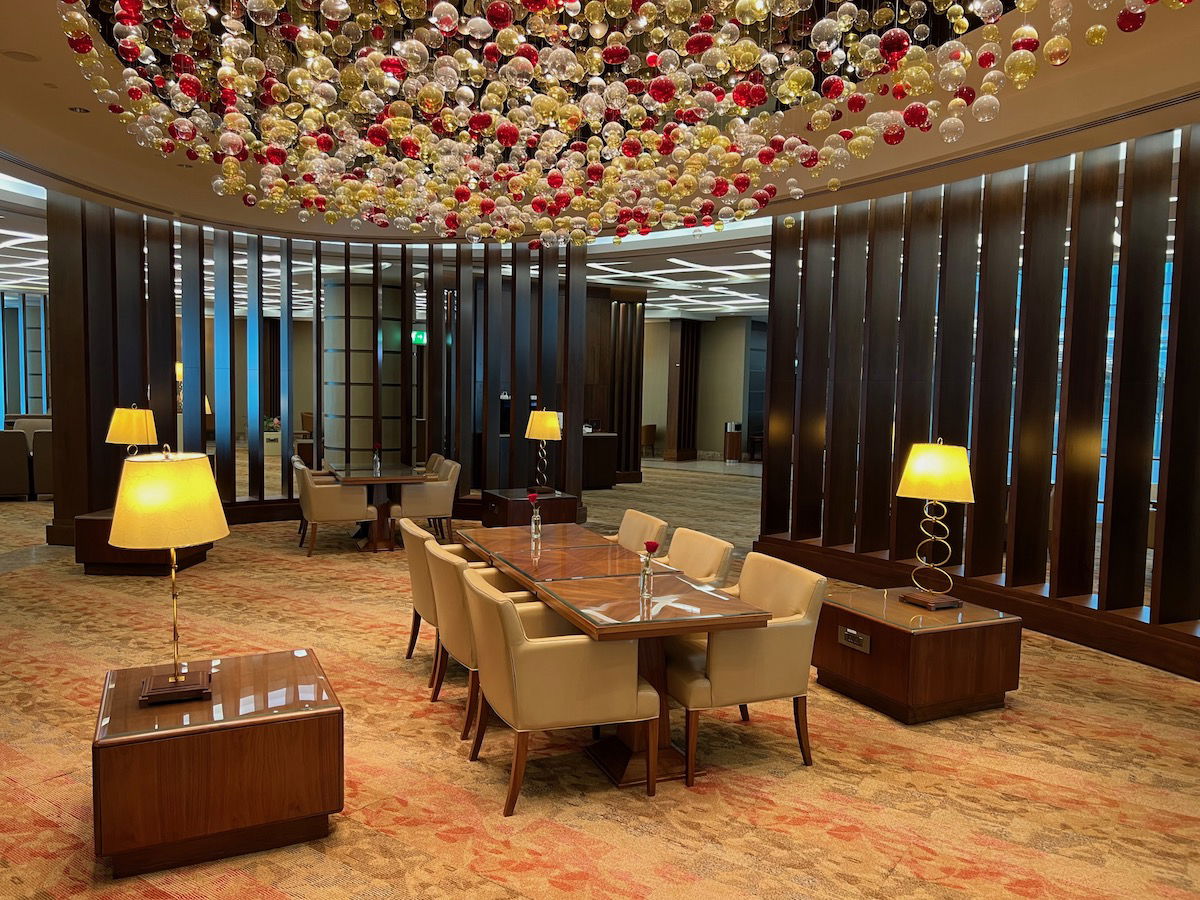 While our gate number was in Concourse A, in reality we had to take an elevator down to the terminal level, and then had to take a bus to a remote stand. At least Emirates makes leaving from a remote stand very nice for first class passengers, as the first class buses are super spacious and comfortable. They actually feature Emirates' old first class seats, which is fun for us avgeeks.
The buses have around 15 seats. I think the below pictures should give you a sense of how full our flight was in first class. 😉
Our flight was departing from a remote stand really far away, so I enjoyed the roughly 15 minutes of amazing plane views.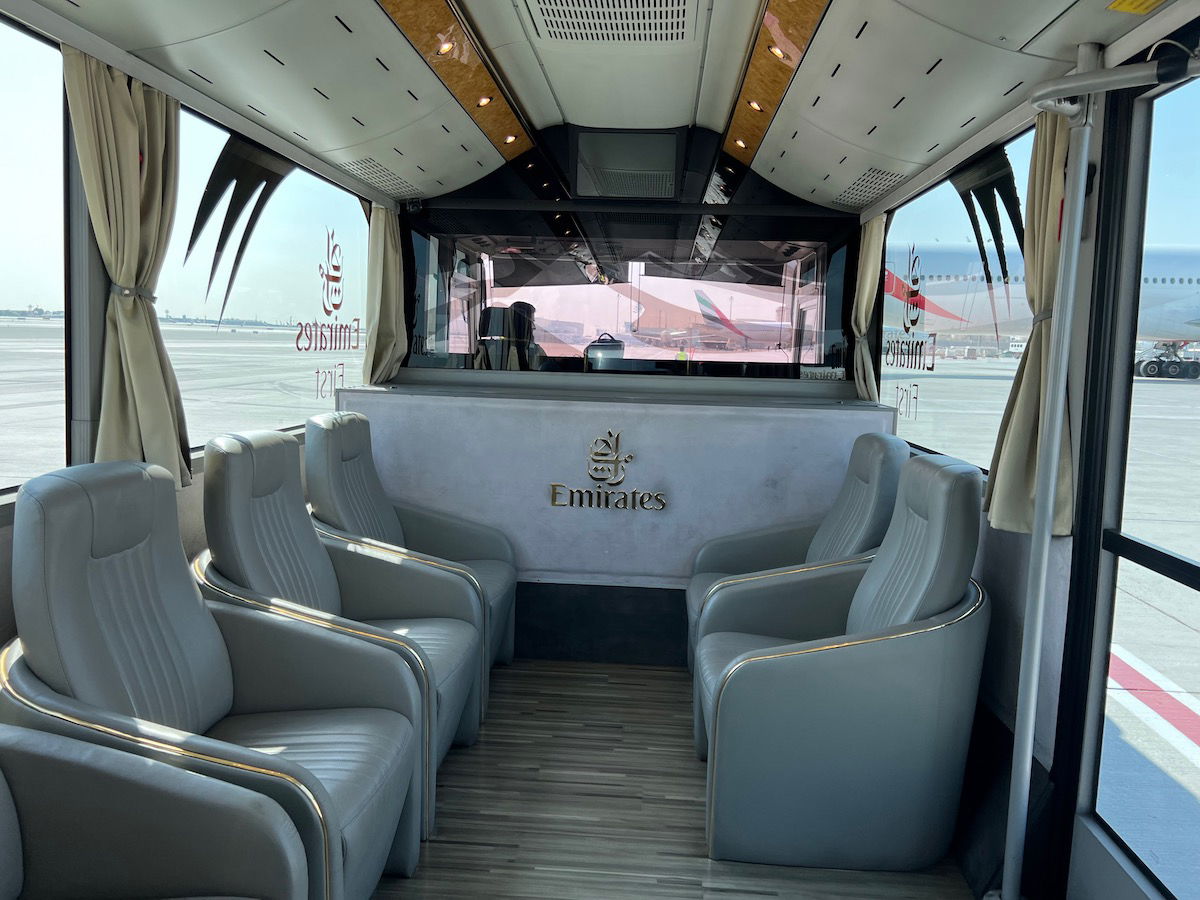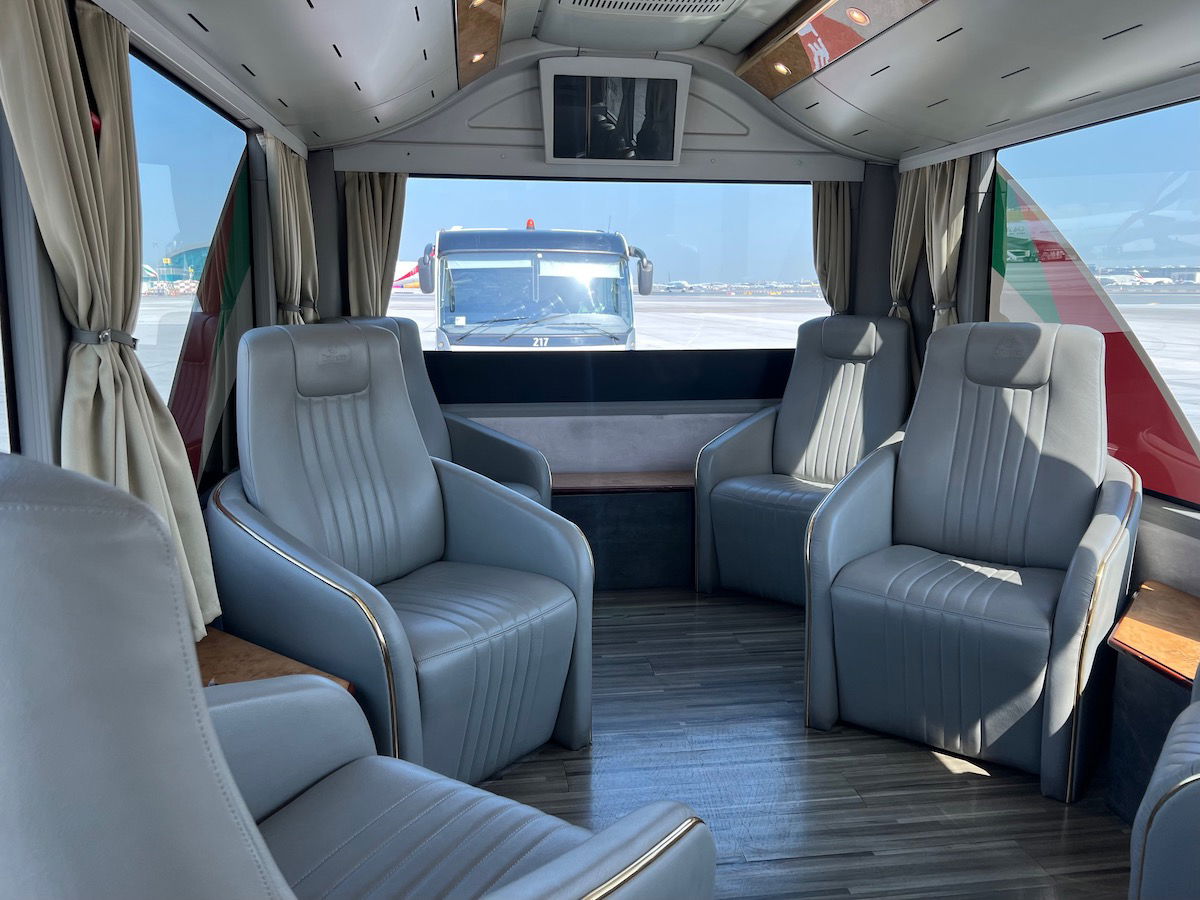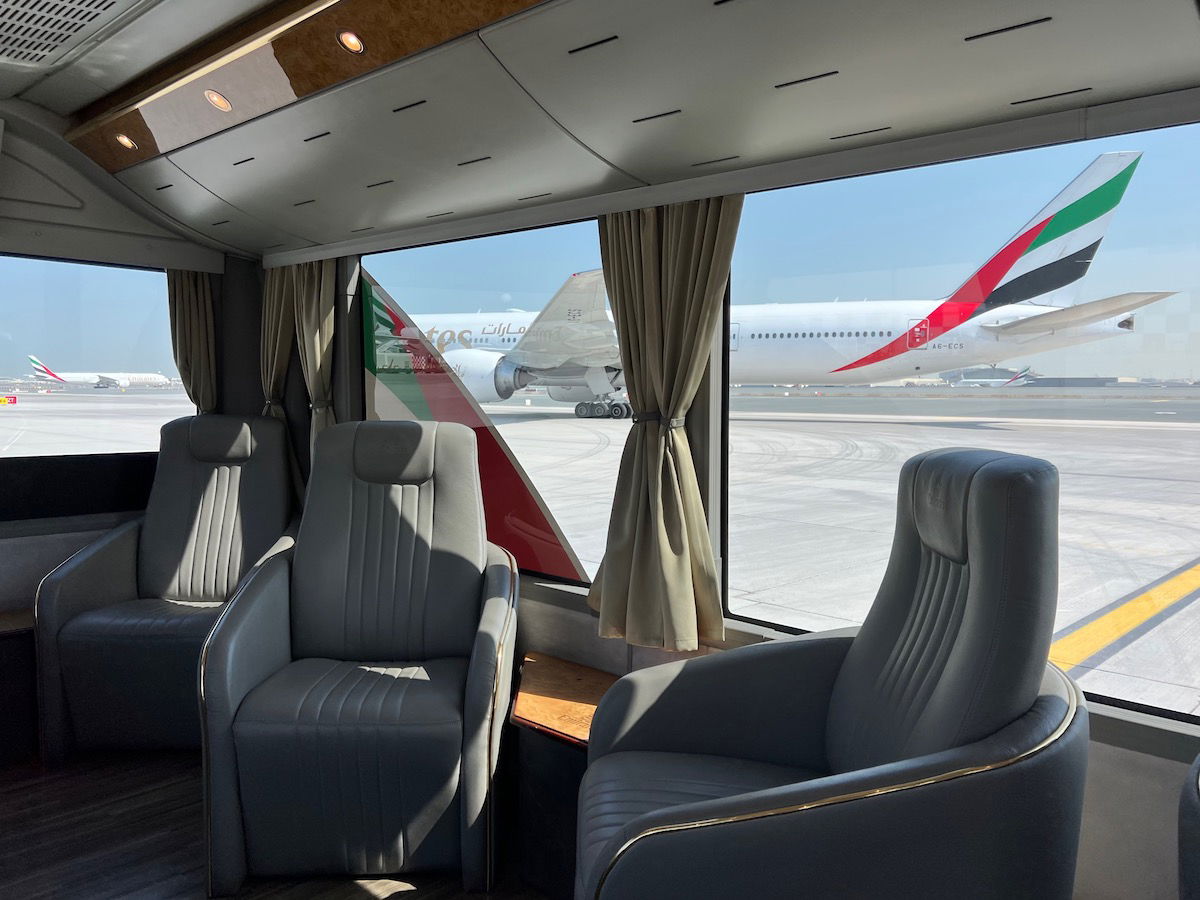 The only downside was that the first class bus was the last to leave, so we were onboard the flight just a couple of minutes before departure time. That minimizes the opportunity to enjoy pre-departure Dom Perignon. 😉
It's nice to have a private first class cabin & great crew!
Flying Emirates first class is just about always a treat. However, there are two things that can make it extra special:
Having a private cabin with no one else
Having a great crew
Well, on this flight we got both of those things. Emirates has eight first class seats on the 777, and we had the cabin all to ourselves. There's always something a bit surreal about being alone in first class…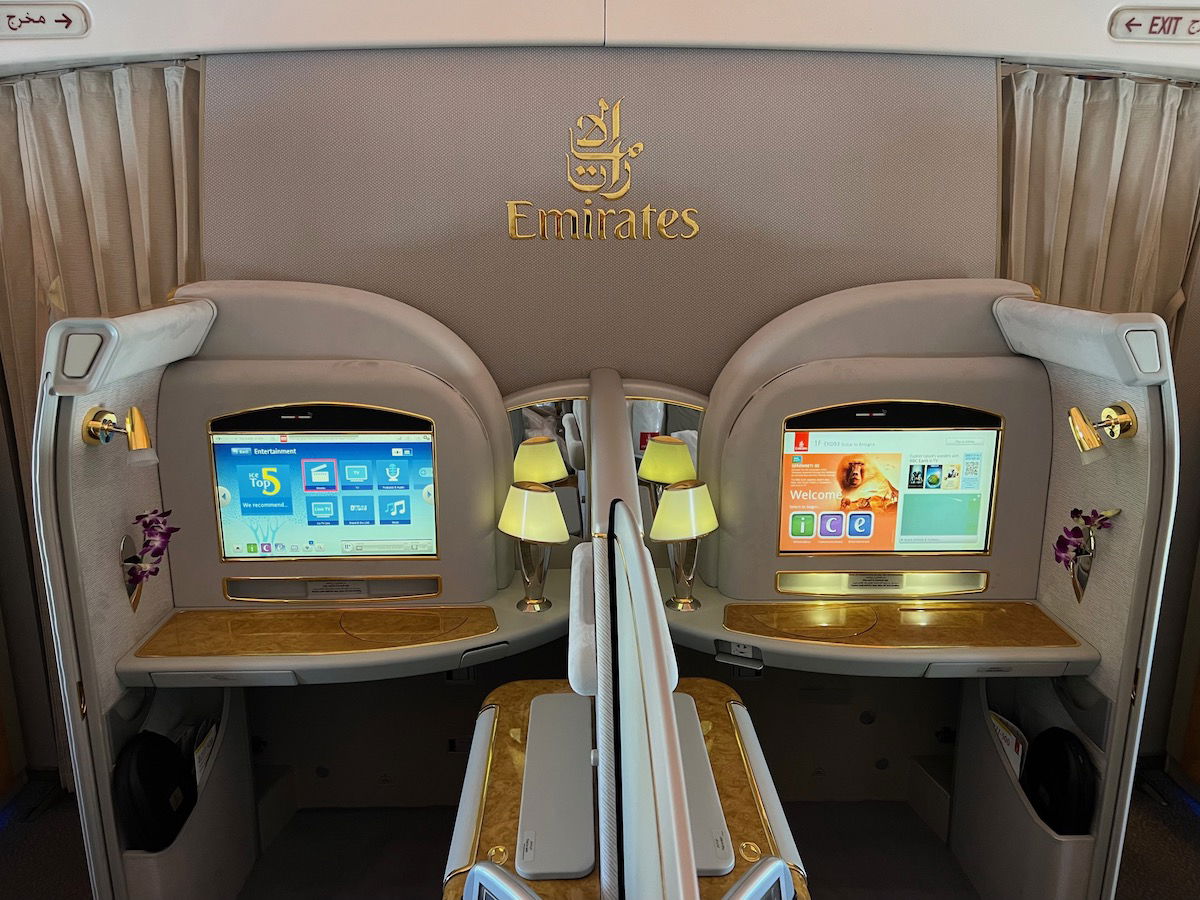 What made this even better was that the crew was excellent. There were three crew members in first class (the purser, plus two first class flight attendants), and they took amazing care of us all the way to Bologna. Crews at Gulf carriers can be hit or miss, though the lovely Brazilian flight attendant working the cabin was particularly awesome, as she was just oozing with personality, and clearly loved her job.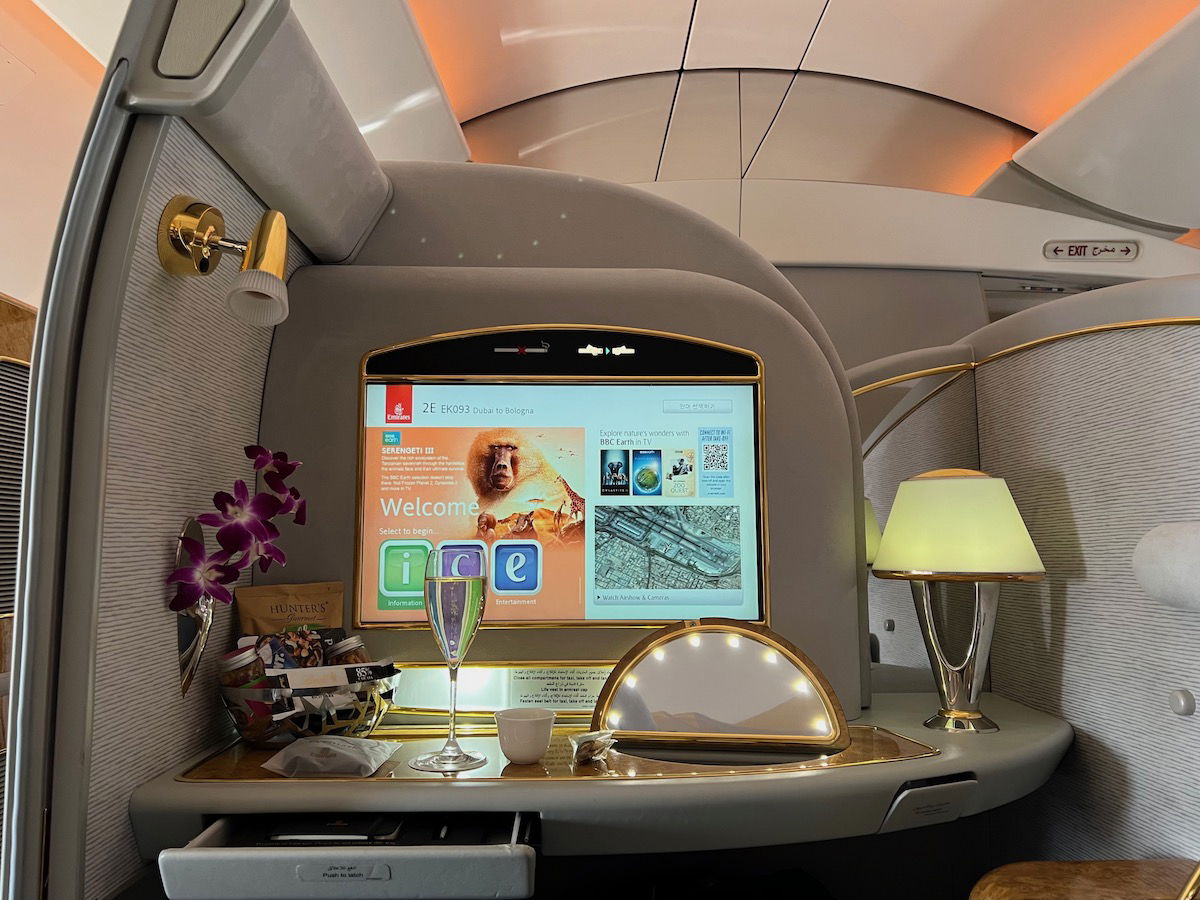 A lighter day of eating in Emirates first class
Emirates has a bank of flights departing from Dubai to Europe around the mid-morning, and it's always tricky to figure out how to "maximize" these in terms of eating:
Many people may want to enjoy a breakfast in the lounge
While Emirates has a dine on demand concept in first class, the menu has both continental breakfast options, plus full lunch options
Realistically speaking, I can't eat three full meals in seven or eight hours (one in the lounge and two onboard)
So, what was our strategy? We decided to have breakfast in the lounge, consisting of some excellent regional dishes, including shakshuka, as well as the Arabic breakfast.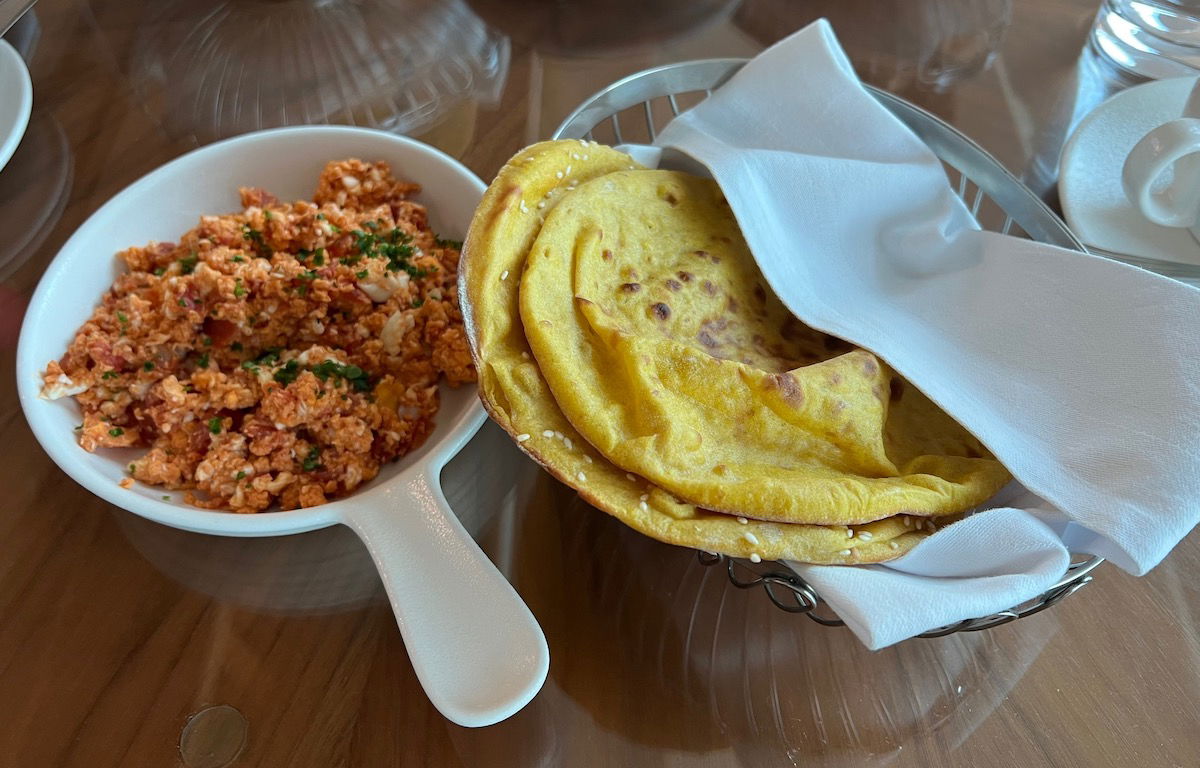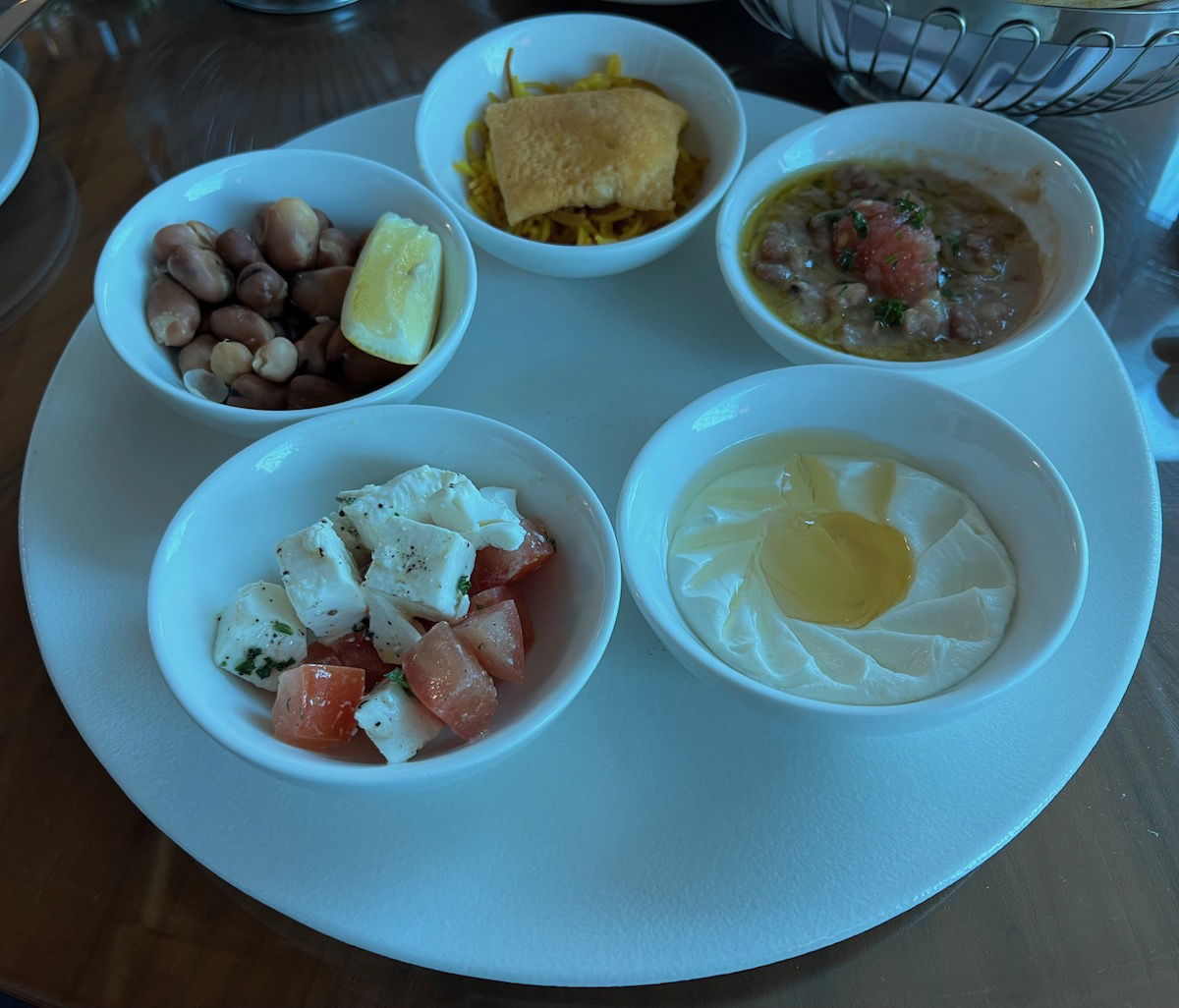 That kept us full for quite some time. Once onboard, we switched from solids to liquids, and did our best to put a dent in the galley's Dom Perignon supply (I don't think we succeeded, though!). We just snacked on some nuts and chips, and the crew kept our glasses topped off.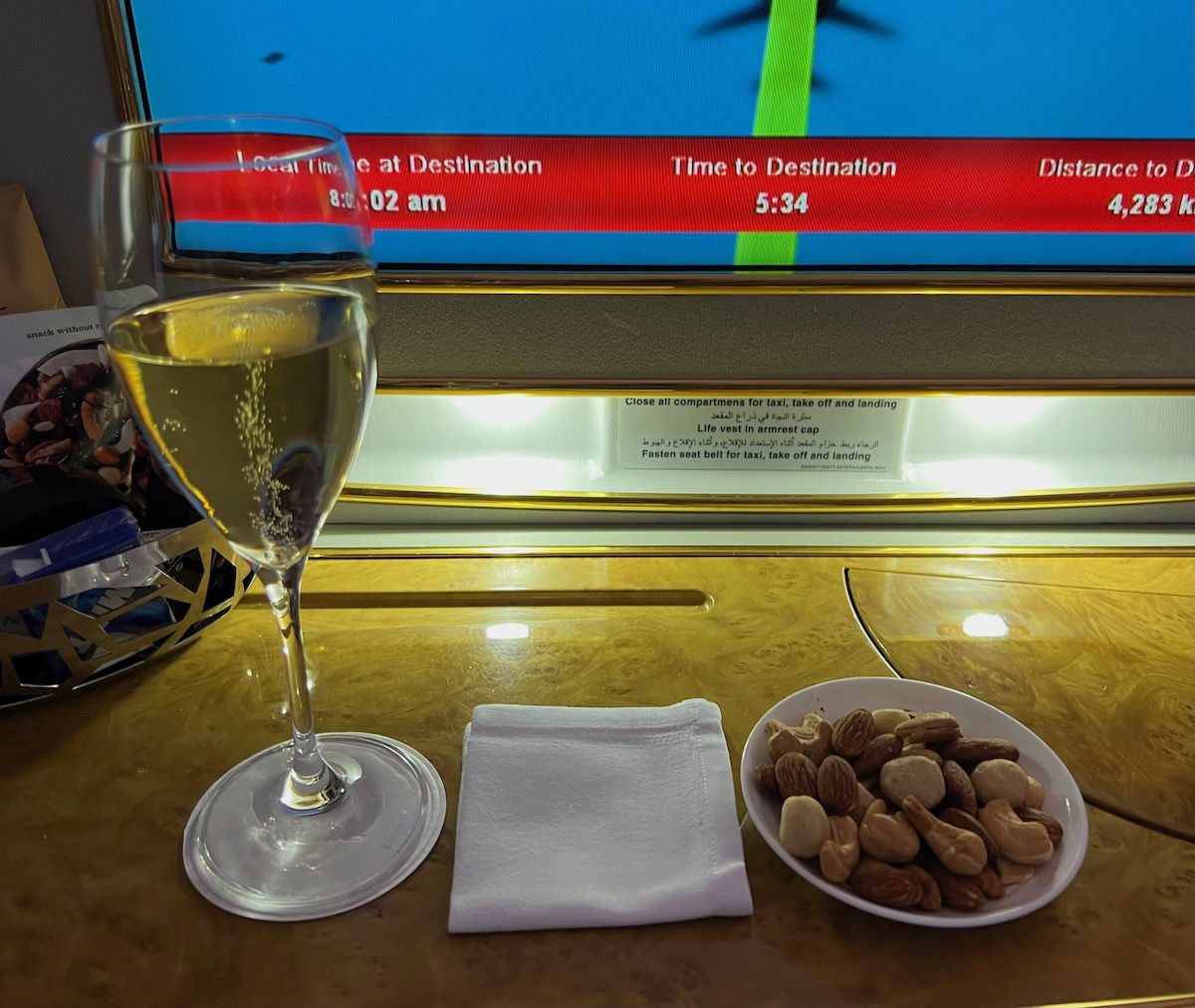 At about the halfway point of the flight, I ordered a cappuccino.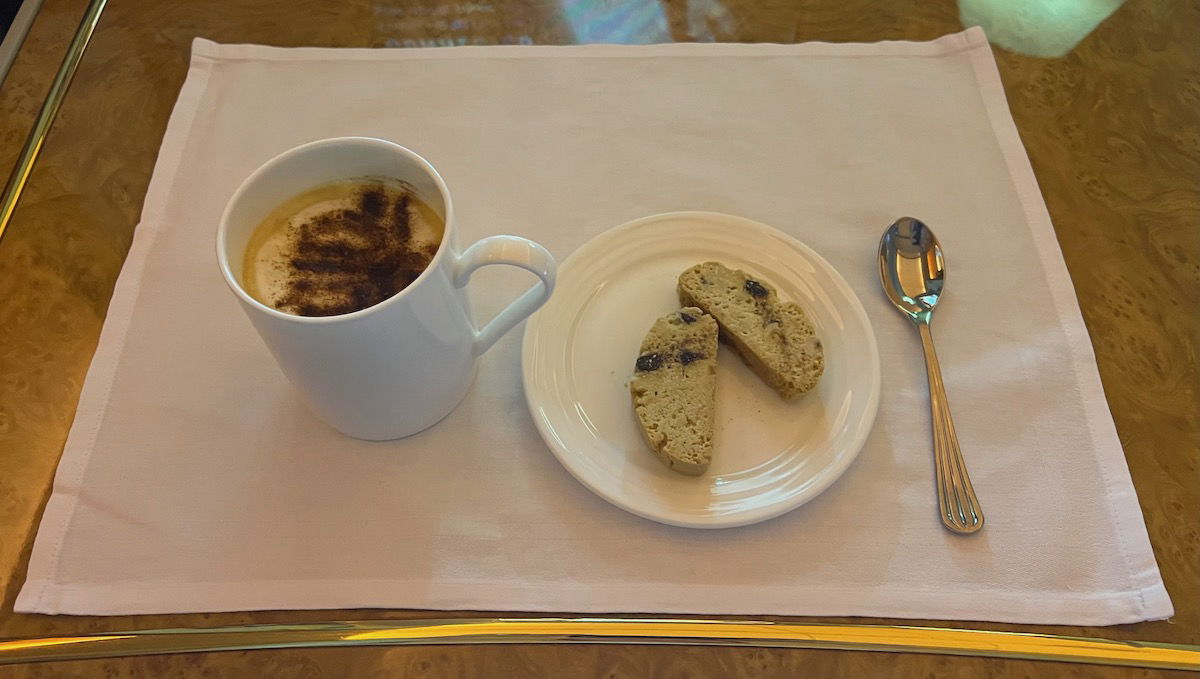 Then about 90 minutes before landing, we had lunch. We had done so much good eating on this trip that we didn't even bother ordering any mains — instead we each ordered caviar, plus mezze to share.
We were offered an amuse bouche at the start of the meal…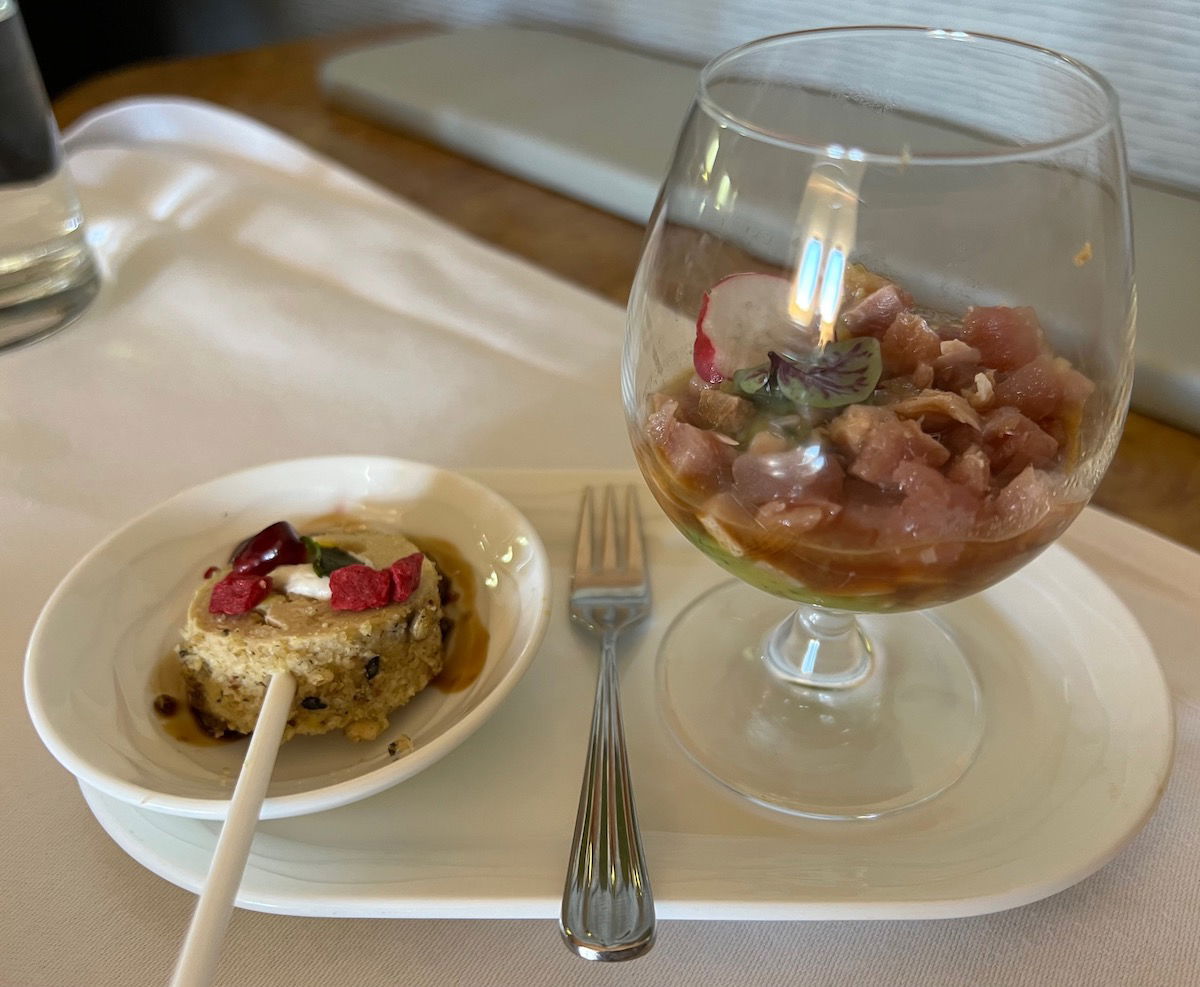 Then we had a very generous helping of caviar. Nowadays Emirates offers "unlimited" caviar in first class, so we had a double serving. We were then offered even more, though passed, as that seemed sufficient.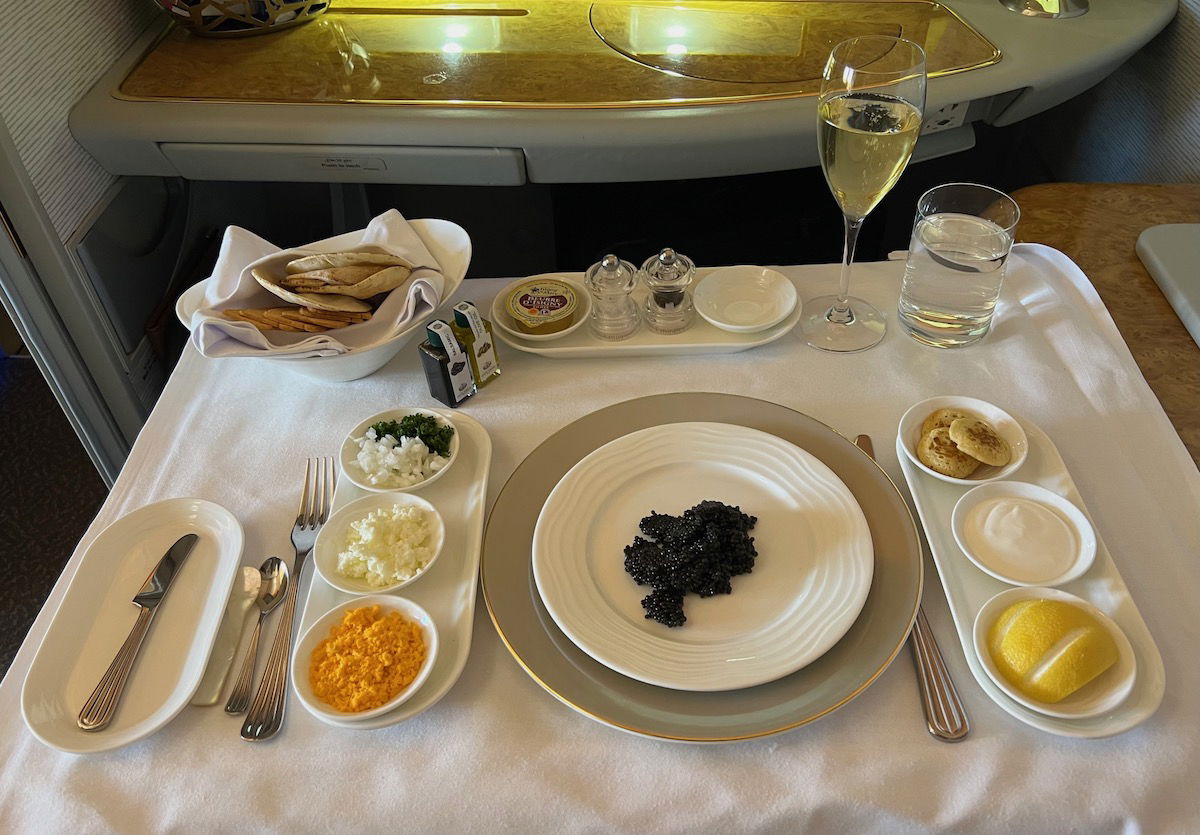 We then also ordered an Arabic mezze to share, though frankly neither of us were hungry at this point, so we just picked at it.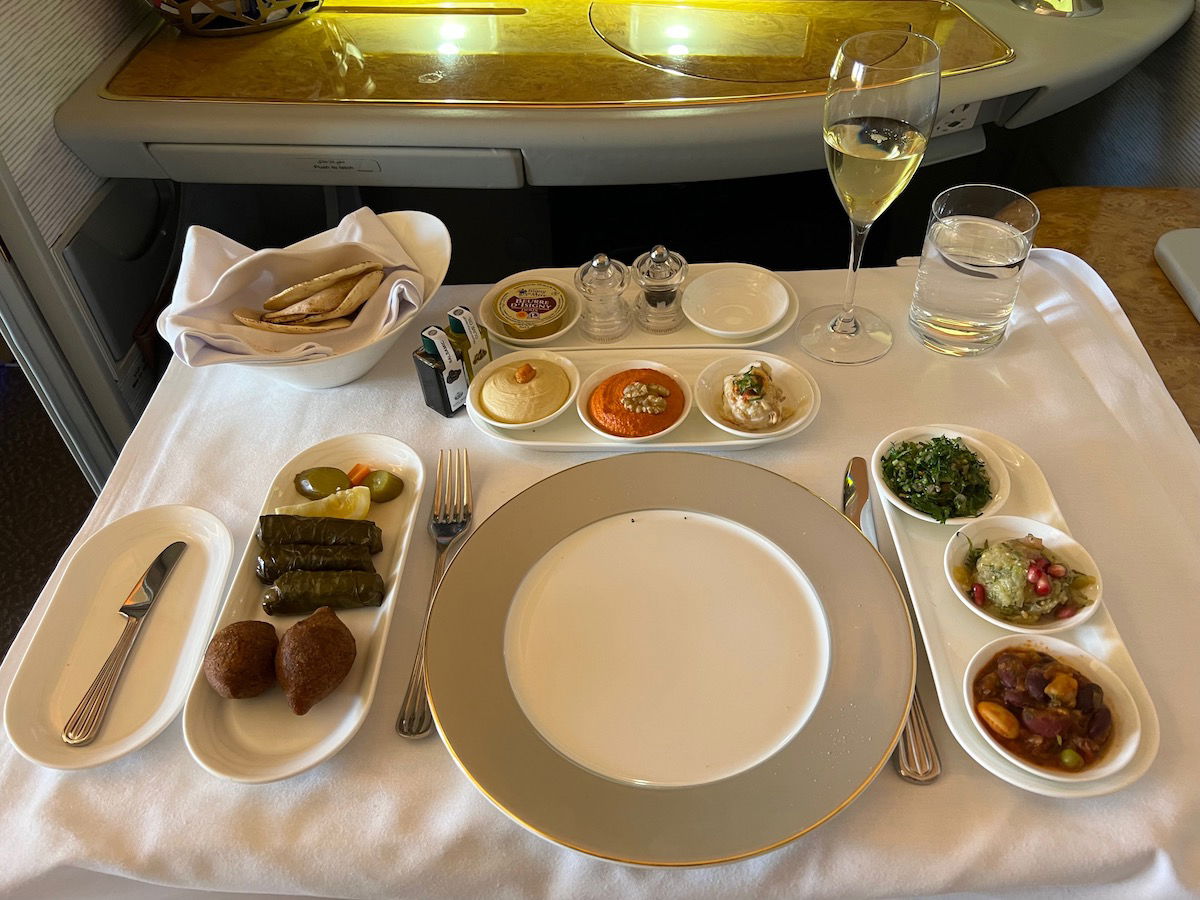 Arriving in Bologna on an Emirates 777 is exciting
I had never flown to Bologna Airport before, though it's kind of exciting to arrive on an Emirates Boeing 777. For one, the airport mostly gets regional flights, so the 777 really stands out, compared to all the Ryanair Boeing 737s.
Bologna Airport also has a partnership with Lamborghini, and the airport has some Lamborghini "follow me" cars, which lead planes to the gate. That's the coolest "follow me" car I've ever seen at an airport!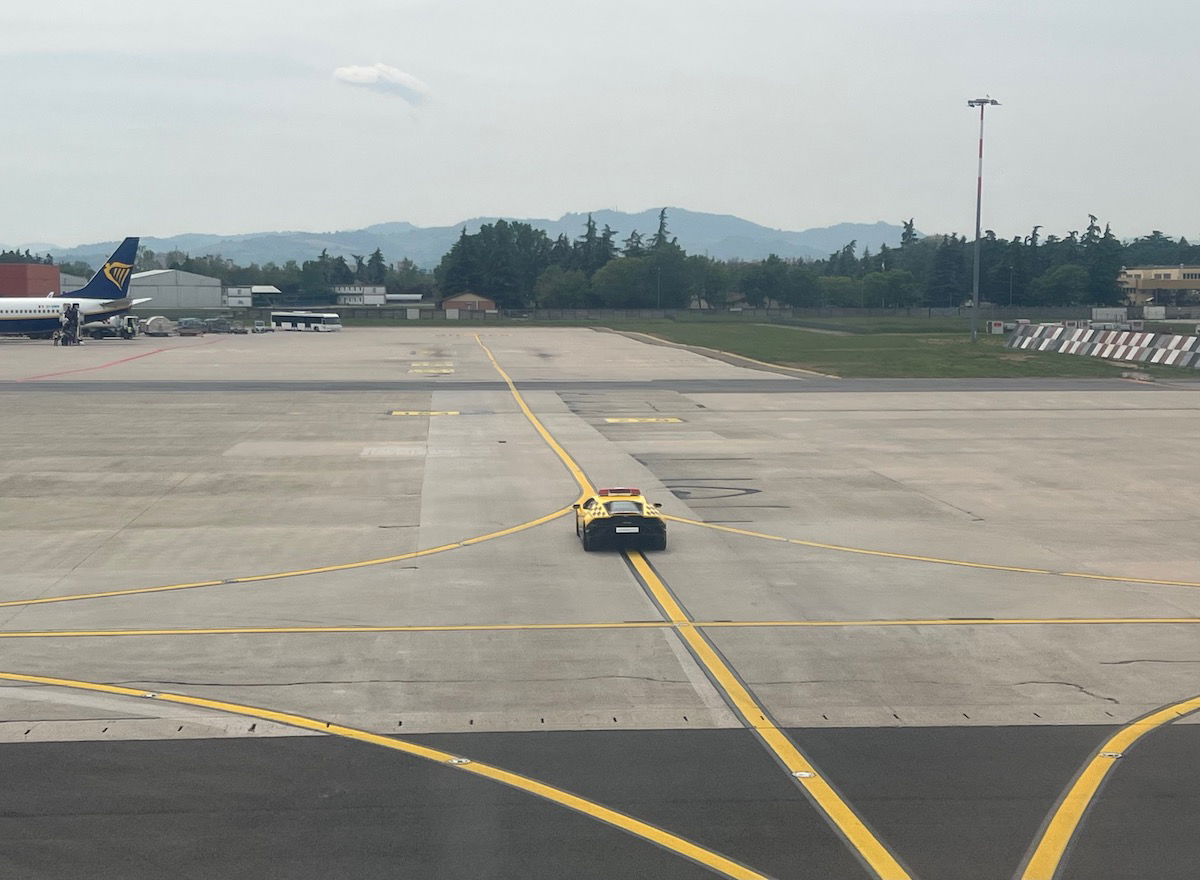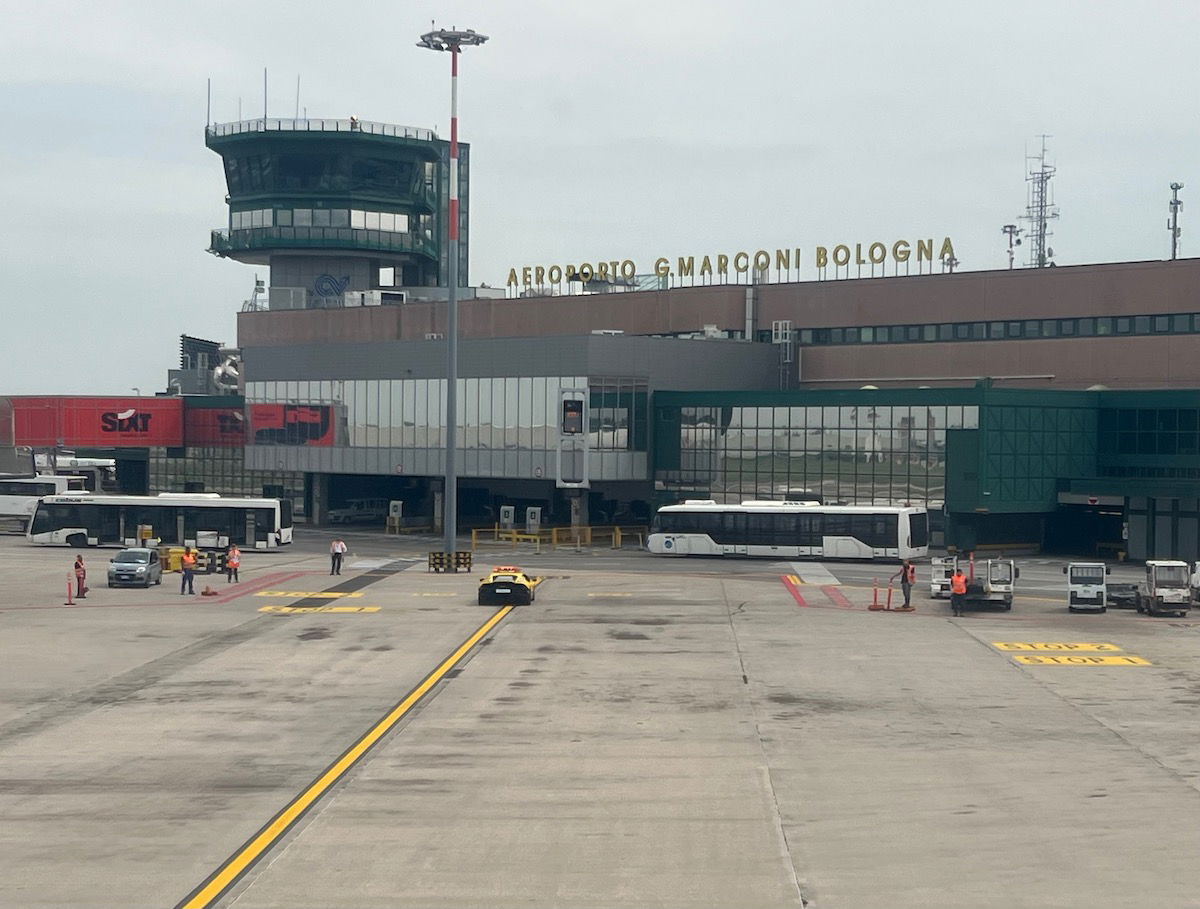 Furthermore, due to a lack of jet bridges, you deplane at the airport via stairs. While this is on the surface inconvenient, there's something I love about either boarding or deplaning a wide body jet via stairs. Look at those engines!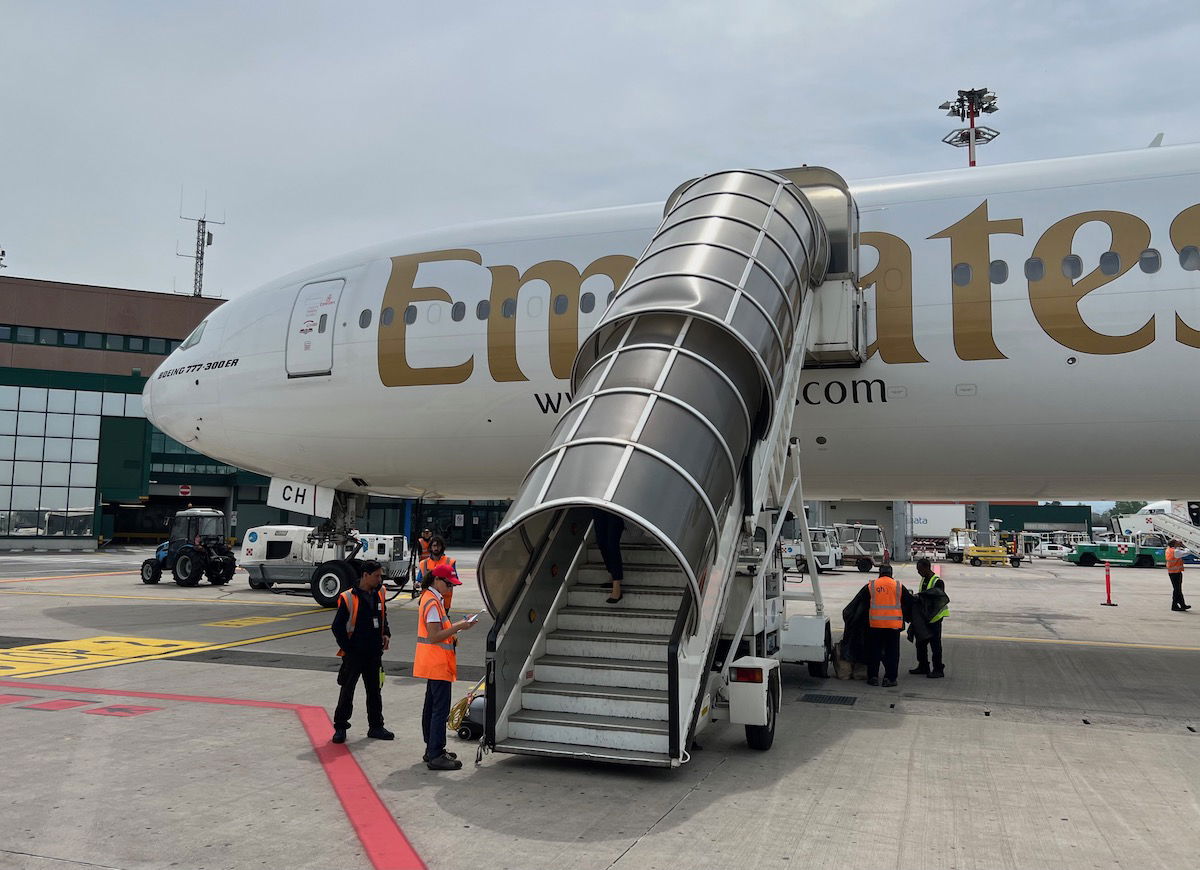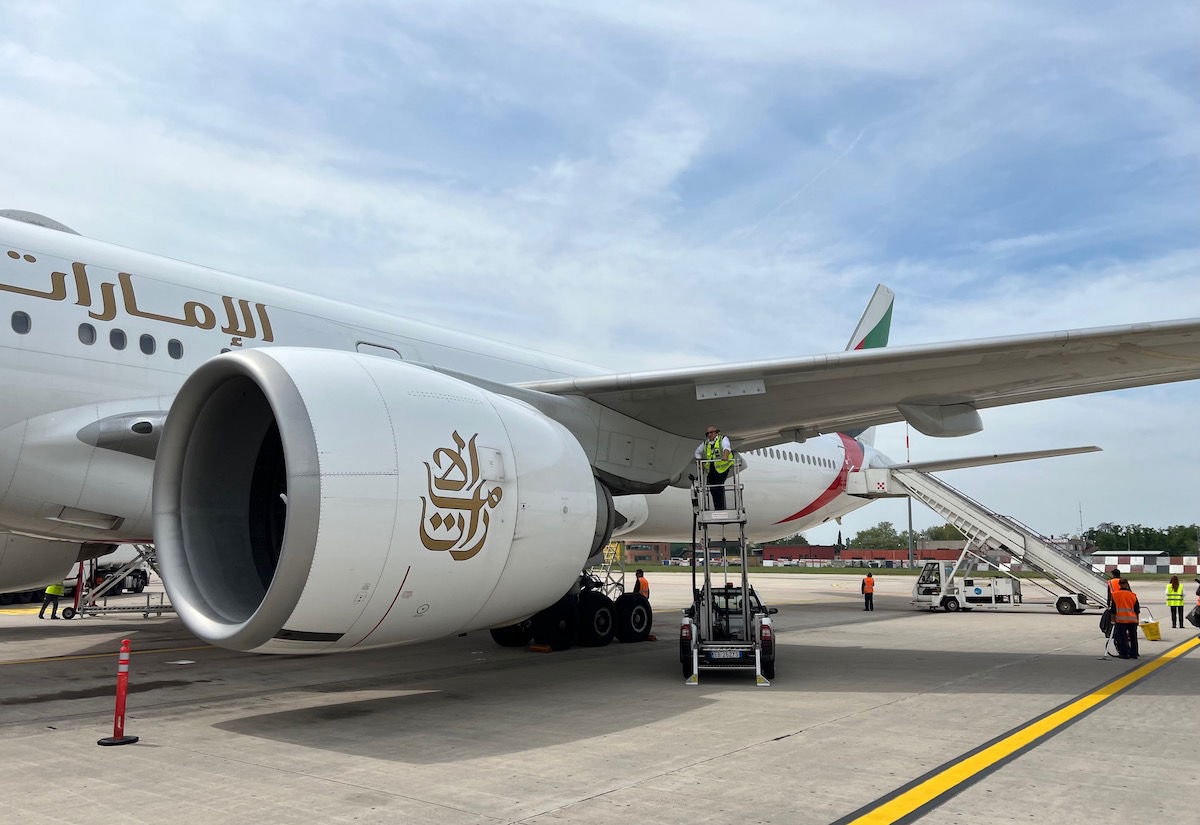 Bottom line
We recently flew Emirates first class from Dubai to Bologna. While I would have liked to review a new product, there was no first class award space for our date on any other interesting route, so this nonstop link did the trick. 😉
Goodness, I sure do love Emirates first class, especially when you have the cabin to yourself and have a great crew.