EXTRA PERKS AVAILABLE
Enjoy breakfast, upgrades, & more
Want to take advantage of Virtuoso benefits at no extra cost, including a room upgrade, free breakfast, a hotel credit, and more? Contact Ford ([email protected]) for more details. He doesn't charge booking fees, and may even be able to help if you already have a stay booked.
To kick off our trip to Dubai and Florence, we spent one night at the iconic 202-room Burj Al Arab, which belongs to Emirati state-owned hotel group Jumeirah.
The Burj Al Arab is one of the world's most iconic hotels, and it's often referred to as the world's seven star hotel. The property is so exclusive that it's on a manmade island, and it's not open to the public (you need a reservation to even visit).
Having visited Dubai dozens of times over the years, I figured it was finally time to try out this famous hotel and report back. To be honest, I was expecting that the experience would be style over substance, and that the hotel would simply rely on its reputation. I figured this would be a "one and done" stay, and that I couldn't possibly in good conscience recommend this hotel.
So, how was my stay at the Burj Al Arab? Well, I have to say, it greatly exceeded my expectations. The hotel has horribly gaudy rooms, everything on property is offensively expensive, and the guests at this hotel make it the furthest thing from bespoke.
If you can get past all of that, this is a remarkably good hotel. All the staff are top notch, the base rooms are duplex suite, the hotel includes quite a few things for guests, and it's also such a quintessential Dubai experience. Honestly, as strange as this hotel is, I can't recommend it enough. If you can swing it, it needs to be experienced at least once.
Booking the Burj Al Arab Dubai
Rates for base rooms at the Burj Al Arab vary seasonally, and are typically in the range of $1,000-2,000 per night. For our stay, we paid a rate of $1,400 for the night, which we booked through Virtuoso.
Booking through Virtuoso comes with additional benefits, including an upgrade subject to availability, daily breakfast for two, a complimentary 50-minute massage for two, and early check-in and late check-out subject to availability.
This is a much better value than booking through Amex Fine Hotels & Resorts, which offers a $100 hotel credit as the special amenity, in lieu of the two massages (which are obviously worth much more). Ford and his team are happy to help with Virtuoso bookings, and can be reached at [email protected].
It goes without saying that the Burj Al Arab is expensive, but keep in mind that this is an all-suite property. Base rooms at the Burj Al Arab are 170 square meters (over 1,800 square feet). Yes, that's the interior space. There are Sheratons in Dubai that would charge the same rate for a suite that size.
Burj Al Arab Dubai service
Usually I talk about service at the end of my hotel reviews, though in the case of the Burj Al Arab, I think it makes sense to start with that. Service at the Burj Al Arab was the best I've experienced in Dubai, and that was the case across the board.
Every single employee we interacted with genuinely seemed like they wanted to make sure that each guest had a great stay. And while the public spaces of the hotel can get crowded, each employee does a great job making you feel like you're the only guest.
Just to give a few examples:
When you'd ask a staff member for directions to something, they'd usually just walk you there, rather than telling you where it is
Everyone seemed interested in getting feedback, and on departure I was checked out by the front officer manager, who not only asked how our stay was, but also specifically asked about how the service was, and what could be done to improve
The pool attendants were engaging, introducing themselves by name, asking if there's anything they can get, and constantly passing around with free treats (from popsicles to water)
In general it seems the staff just have a sense of pride in working in this hotel, and want to deliver a great experience
The staff here are a huge asset to the property.
Burj Al Arab Dubai guest profile
If you're looking for a bespoke hospitality experience, the Burj Al Arab Dubai isn't for you. While I'd say that's usually a bad thing, in the case of the Burj Al Arab you just kind of have to lean into it. I didn't overhear any other guests with American accents, and I'd estimate that over 90% of the guests were either Chinese or Russian, two nationalities we haven't otherwise seen all that much of in the past couple of years.
I review hotels for a living, so usually I'm the guest taking the most pictures of a hotel. Well, at the Burj Al Arab, I almost felt uncomfortable with how few pictures I was taking. In particular, a vast majority of the Chinese guests seemed to be at the hotel exclusively to create social media content, from the moment they woke up until the moment they went to sleep.
That might sound annoying, but to be honest, it was kind of the most amusing thing I've seen in a long time. Like, they'd have someone choreograph the shoot, they'd take the same picture 100 times, they'd do a fashion show runway-style walk by the pool, etc. This isn't your typical luxury hotel, but if you embrace it, you'll hopefully be as entertained as we were.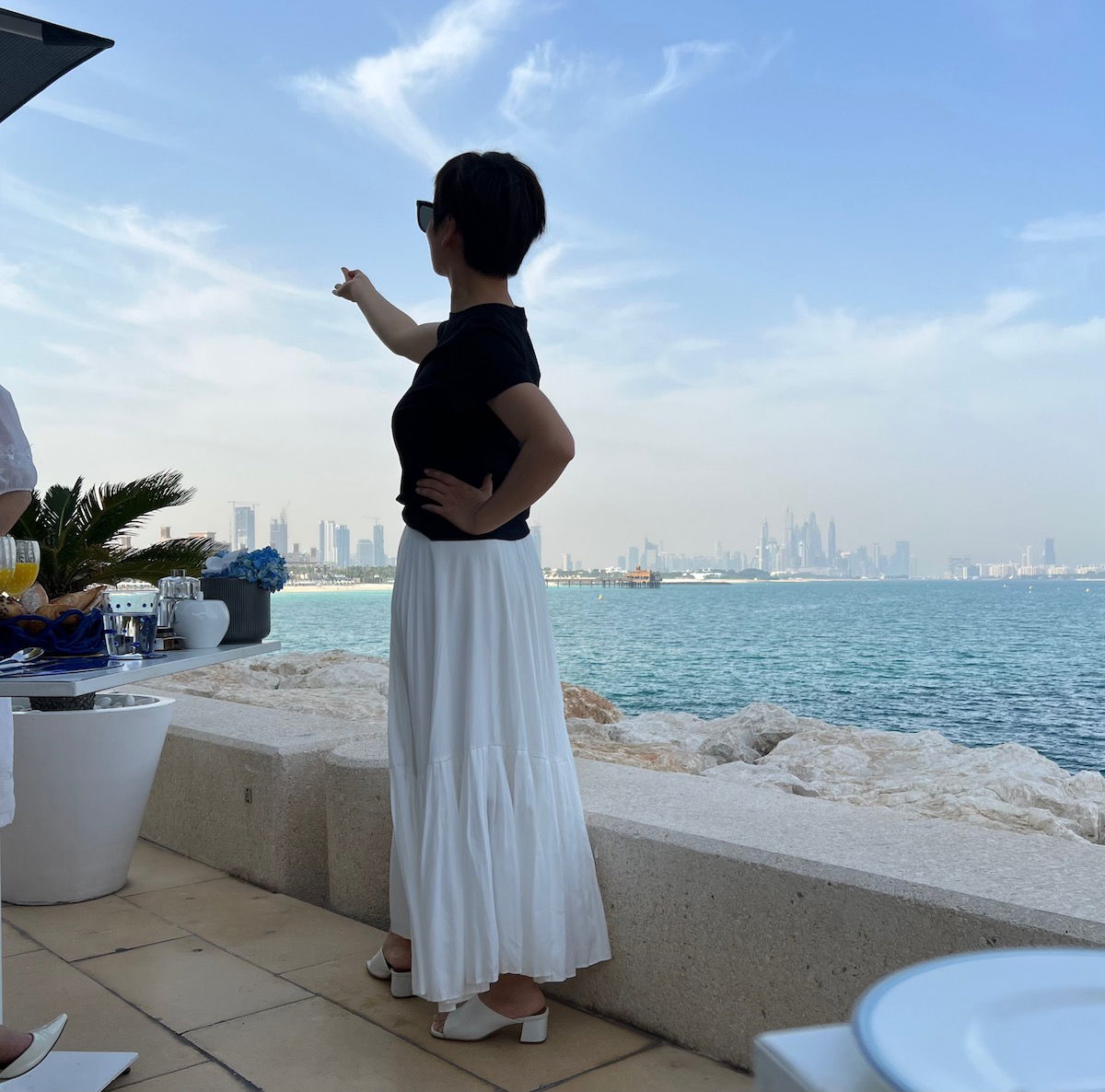 Burj Al Arab Dubai location
Burj Al Arab Dubai is located on a manmade island off Jumeirah Beach. It's just a short 10-15 minute drive from Palm Jumeirah and the Mall of the Emirates. Meanwhile it's more like 20-30 minutes from Dubai International Airport (DXB), DIFC, etc.
The experience of staying at the Burj Al Arab really starts before you even enter the lobby. There's a gate to get onto the manmade island where the Burj Al Arab is located, and only those with reservations are allowed onto the island.
It's almost like there's paparazzi at the gate, as a bunch of tourists stand just outside the gate to get pictures of the hotel.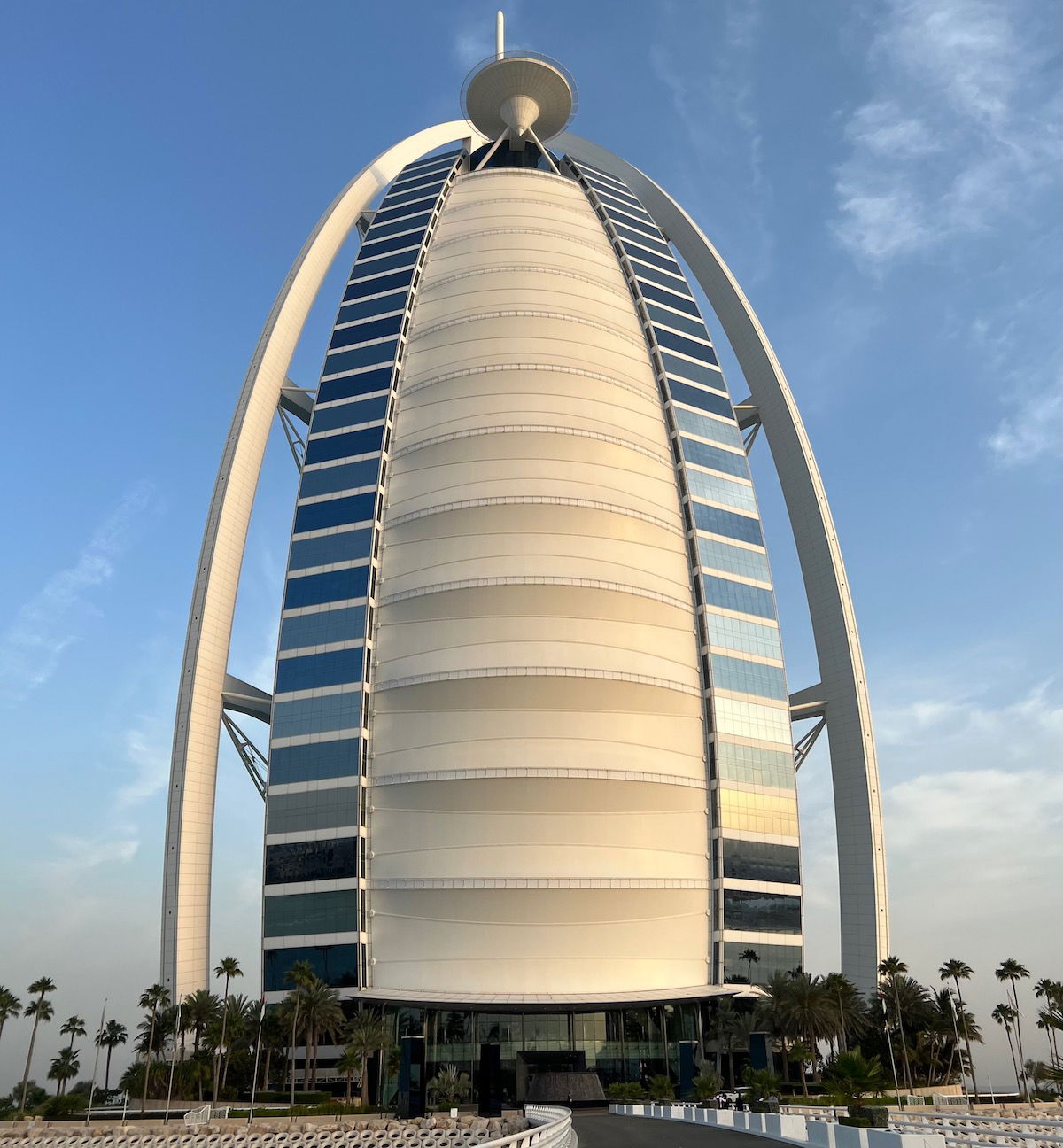 Burj Al Arab Dubai lobby & check-in
Our stay at the Burj Al Arab didn't exactly start on a great note. The hotel's driveway was packed, and we weren't immediately helped by the bellmen. Not because they weren't hustling, but rather because there were so many people arriving.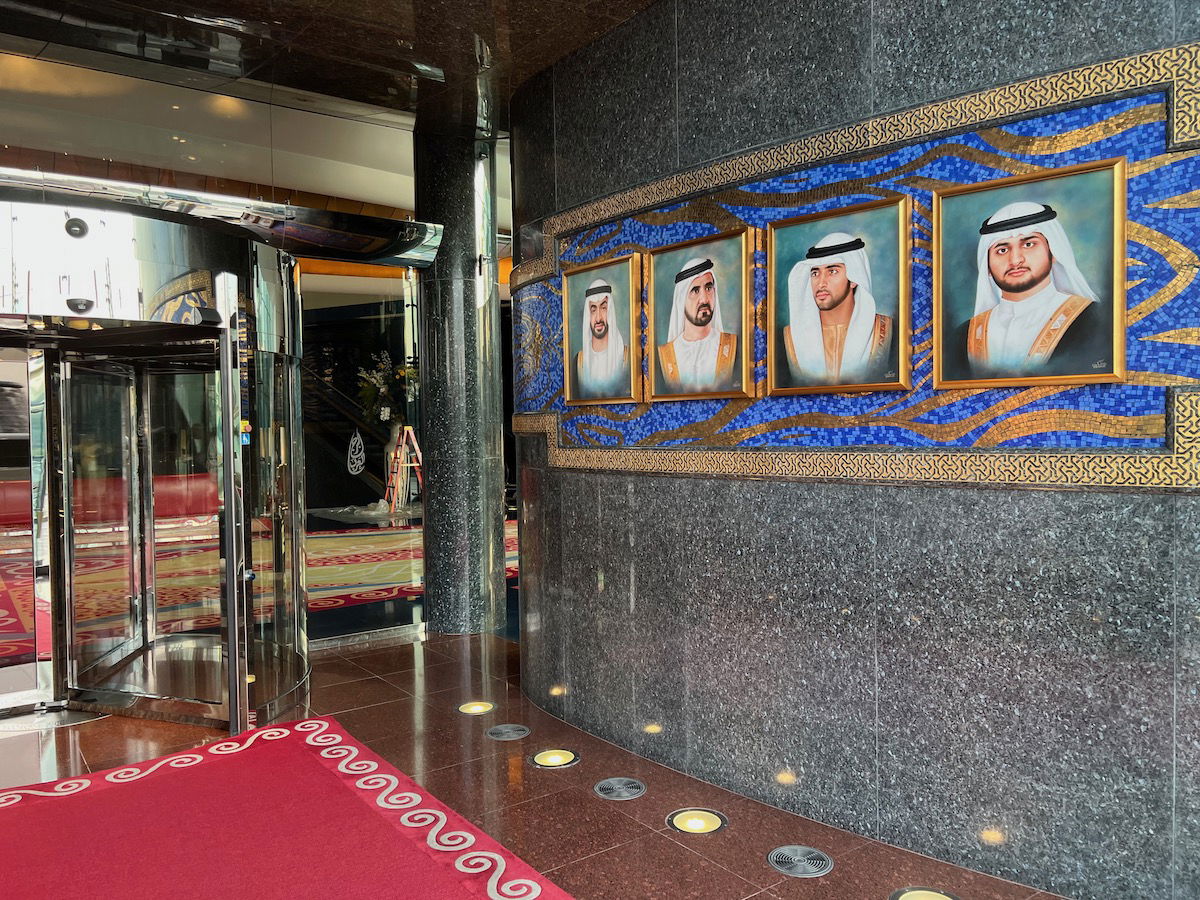 The reception area certainly leaves an impression in terms of design, as the entire hotel does. There's a desk at each end of the reception area, and then a bunch of seating. Would I want my home decorated this way? No. Do I kind of dig it for a stay in Dubai? Absolutely.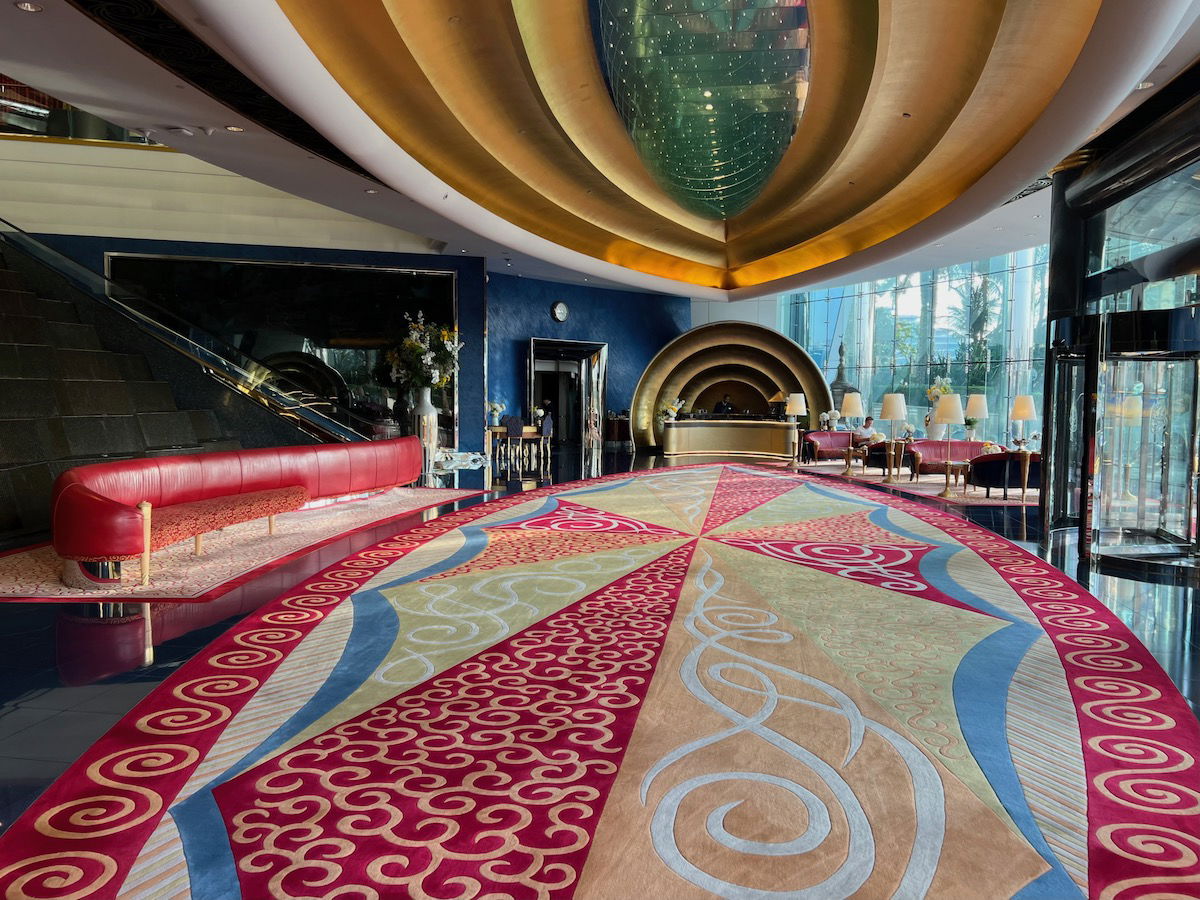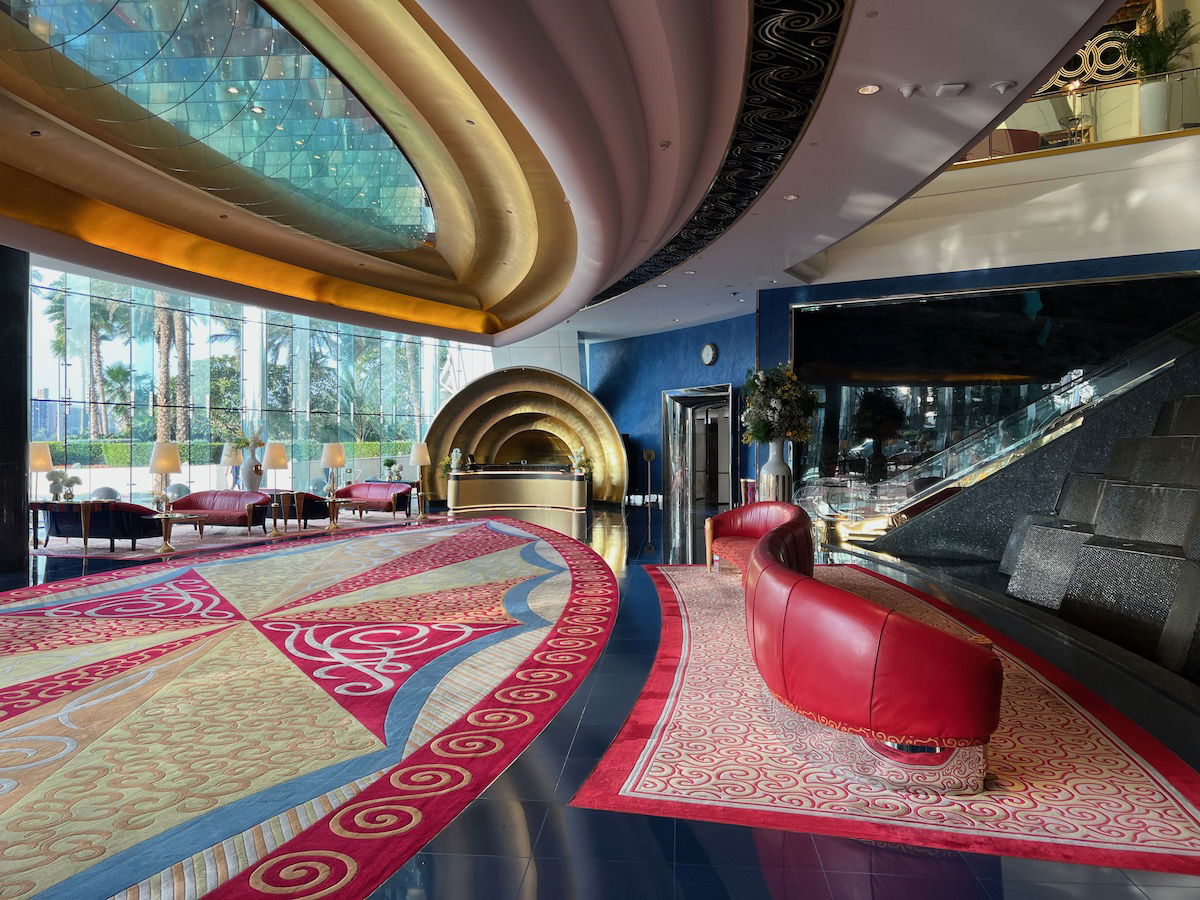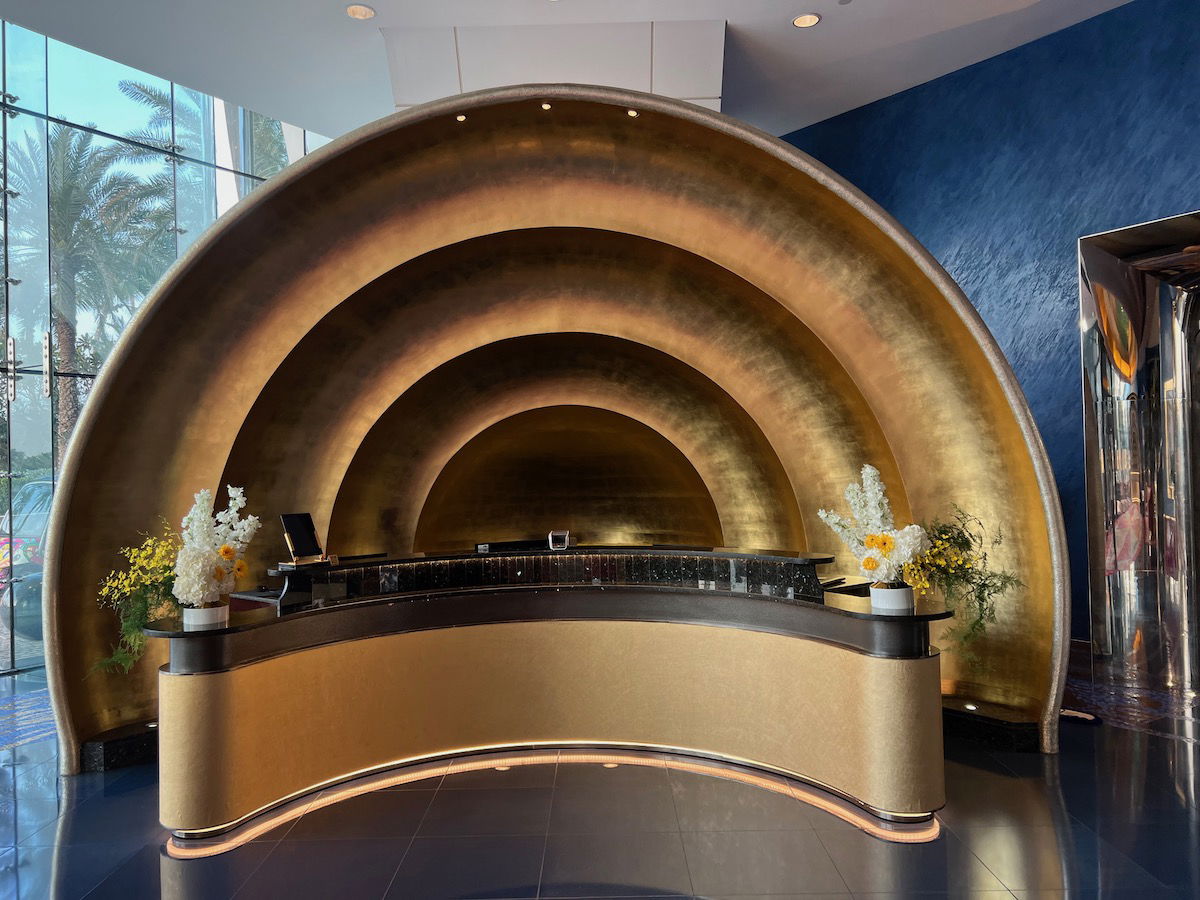 Unfortunately the above isn't what the reception area looked like when we checked in (I take most of my pictures at the crack of dawn). Rather there were dozens of people standing around, and there was barely any room to sit. The front desk associate asked us to have a seat — we had to sit pretty close together, as we had to share a couch with others.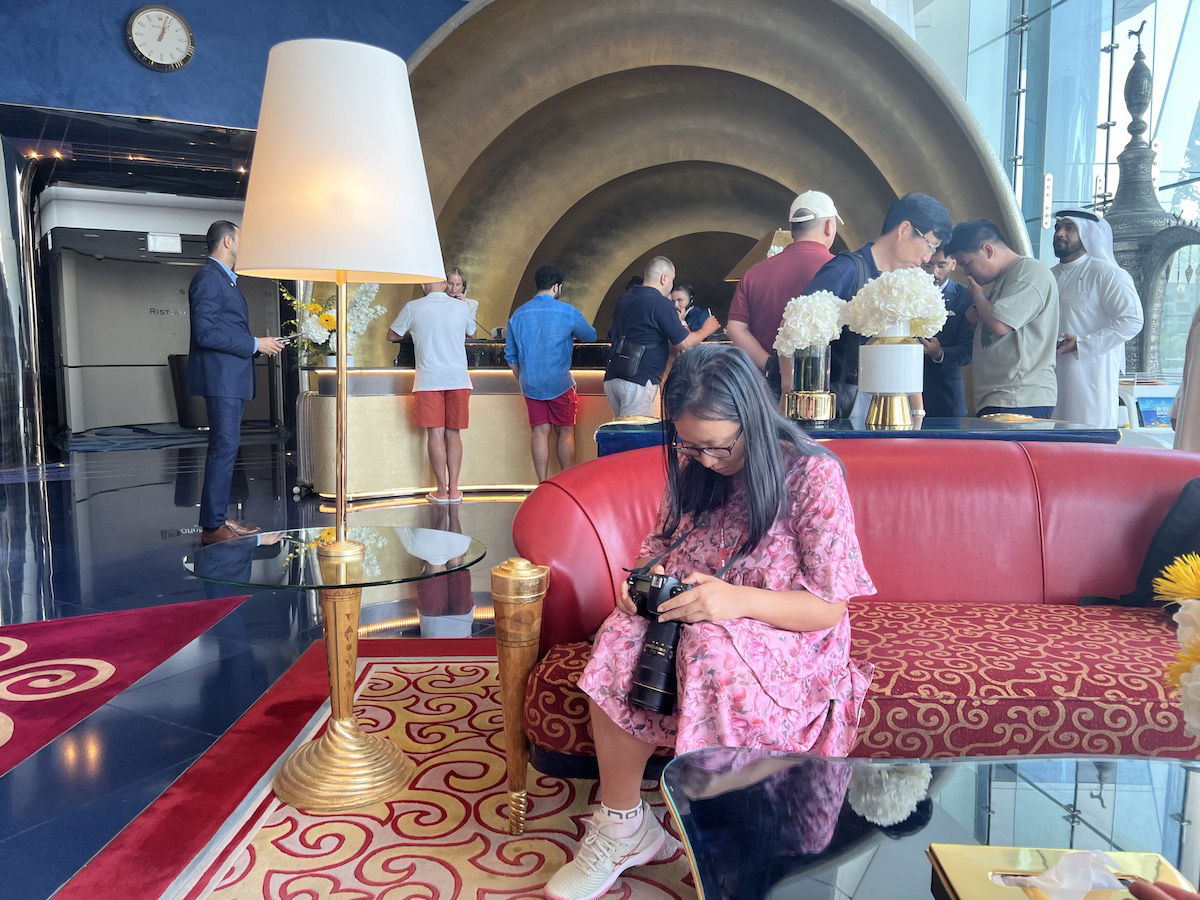 A few minutes after sitting down, we were brought a packaged refreshing towel.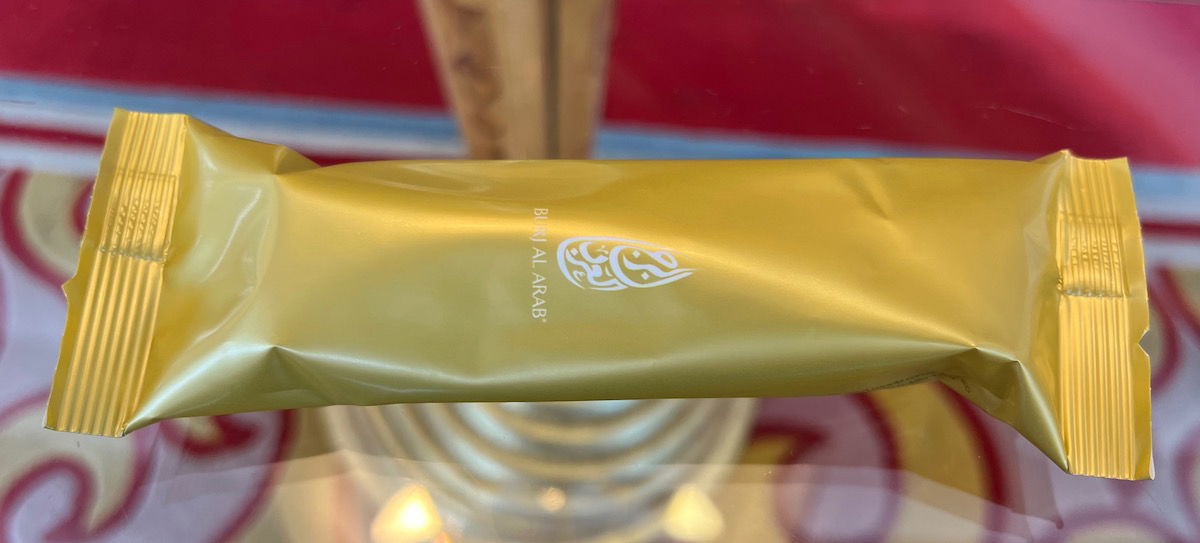 A few minutes after that we were brought massive dates, which were just kind of placed into our hands without any paper towels, or anything.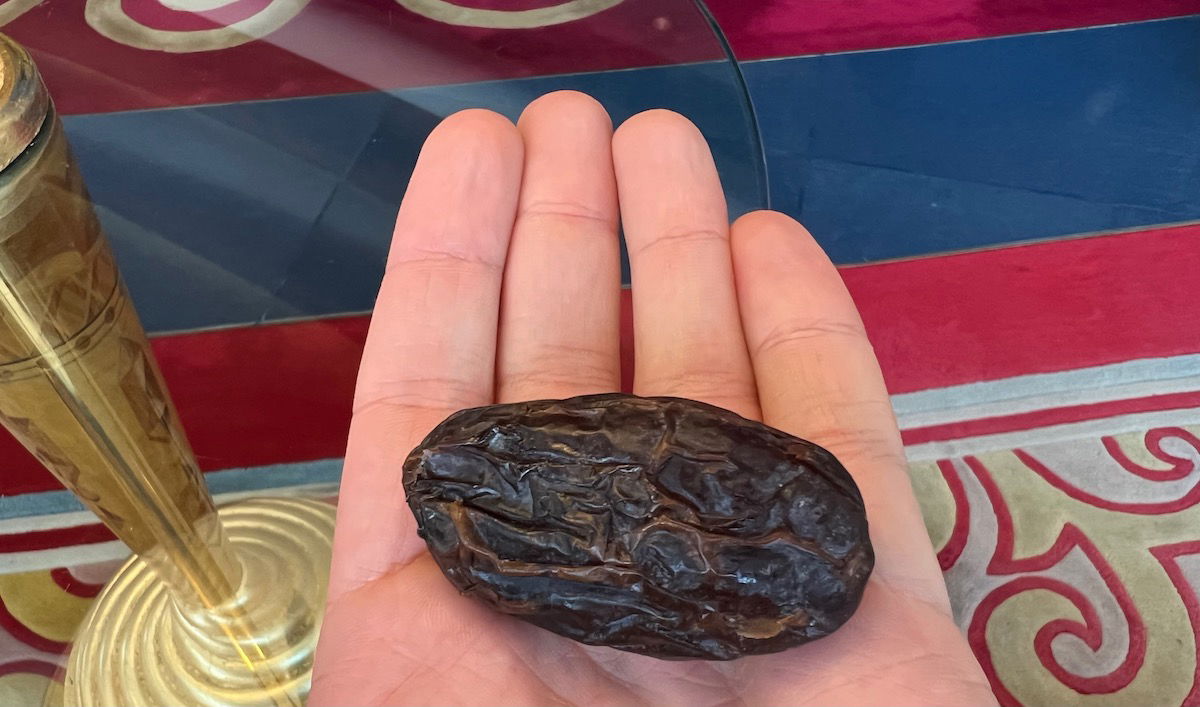 Lastly, we were given Arabic coffee.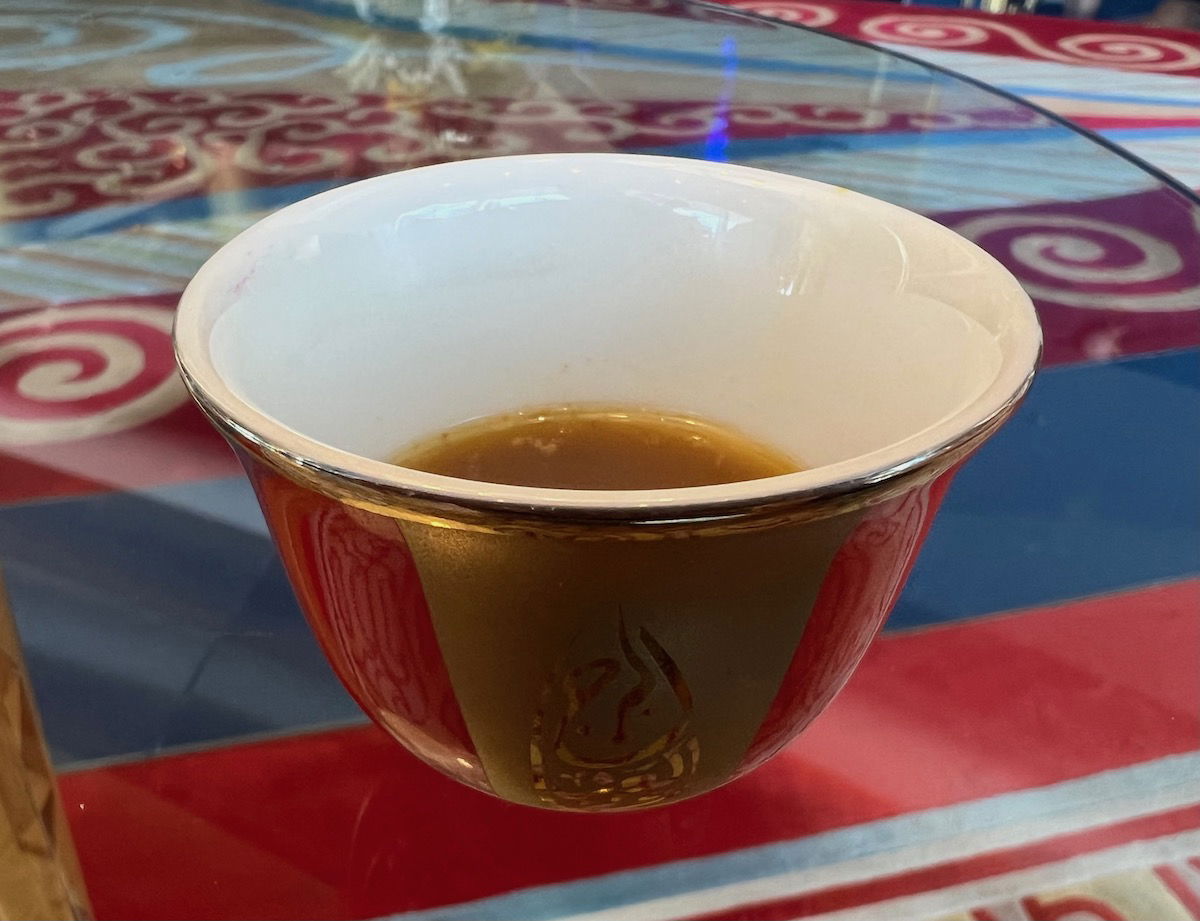 The front desk staff took our passports and credit card, and returned around 20 minutes later. They were apologetic about the delay, but we were then escorted to our room. Fortunately the service got better from there.
From reception, we were brought up the famous escalator, where you can really appreciate how mesmerising the Burj Al Arab's lobby is.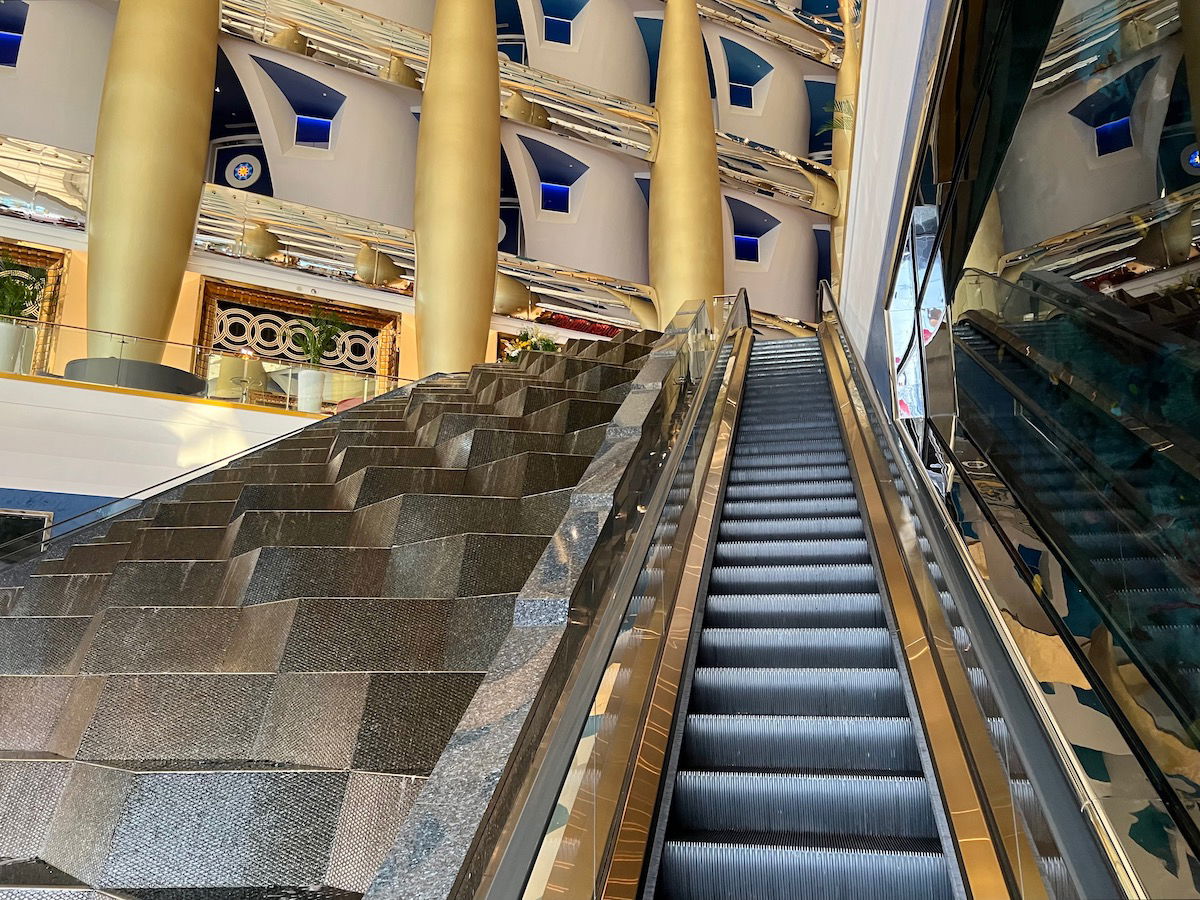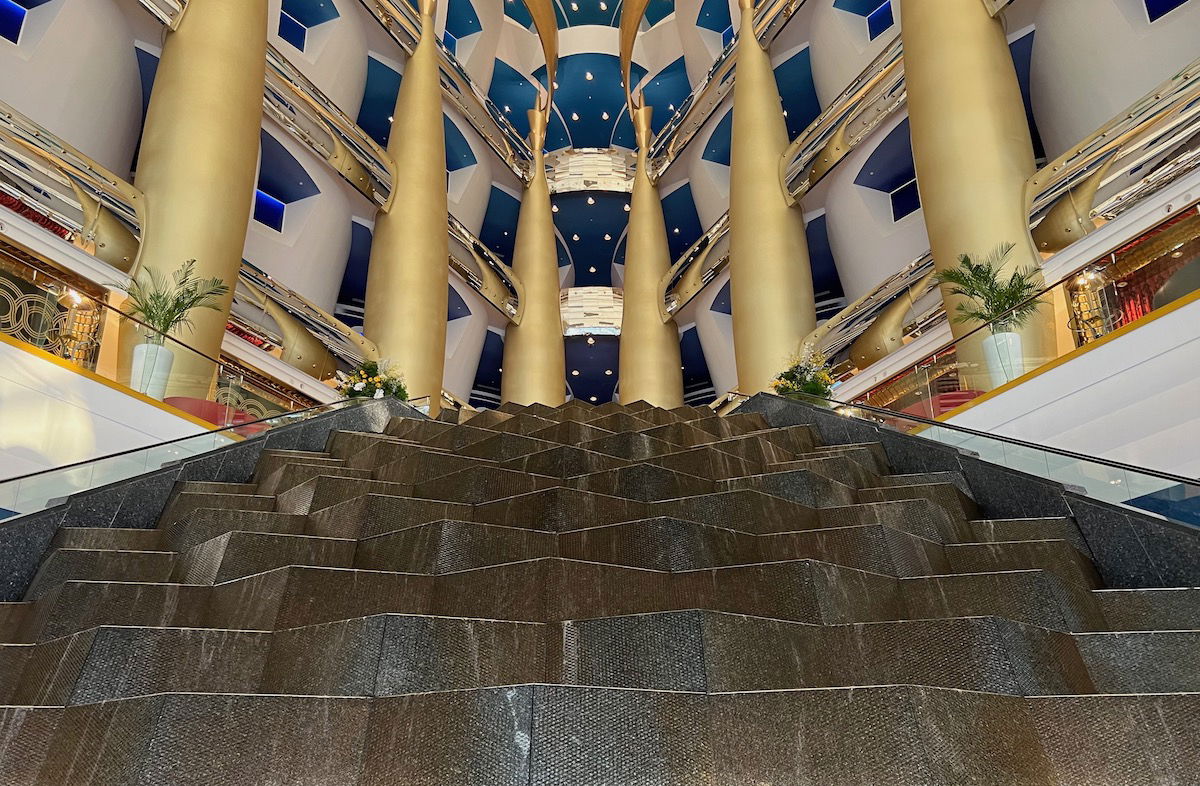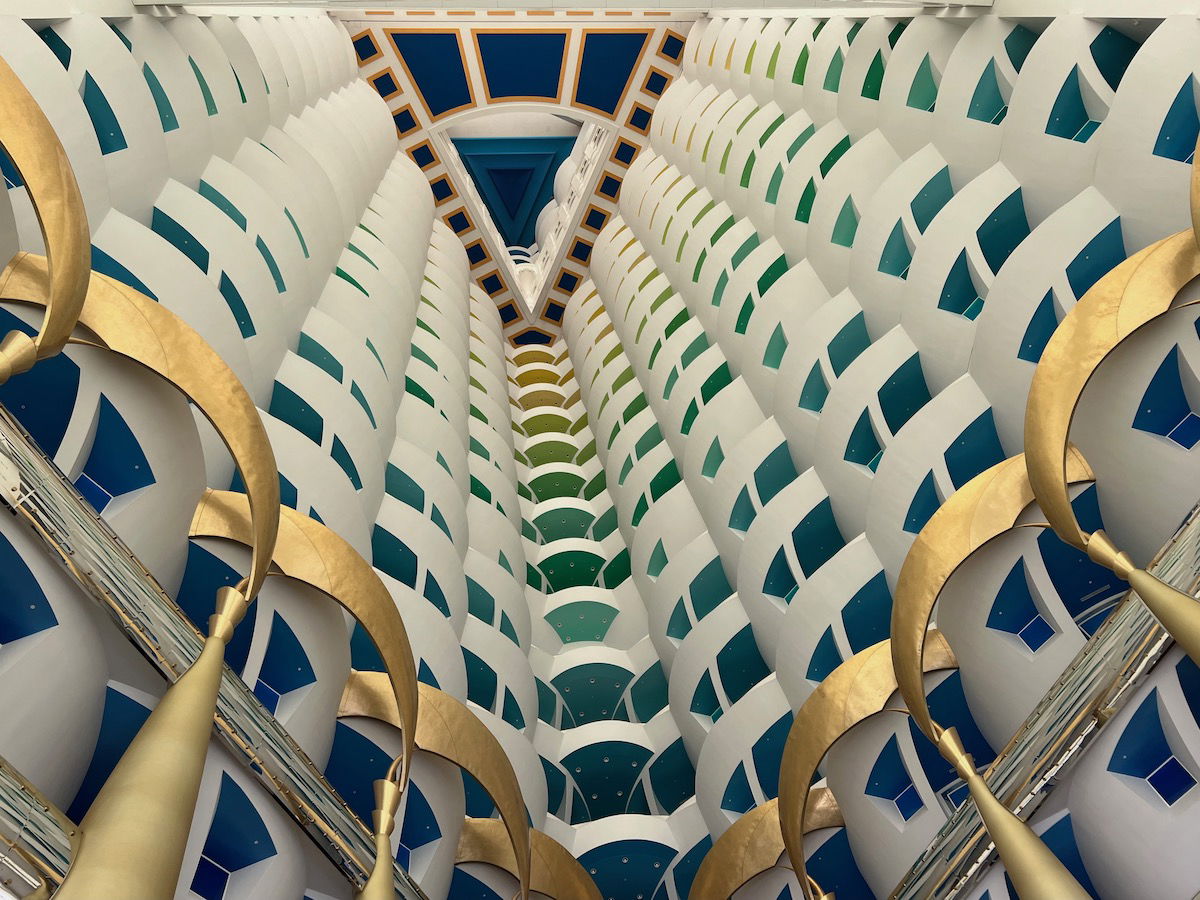 The upper lobby level has plenty of seating, quite a bit of shopping, and also a couple of the hotel's dining outlets, which I'll talk more about later.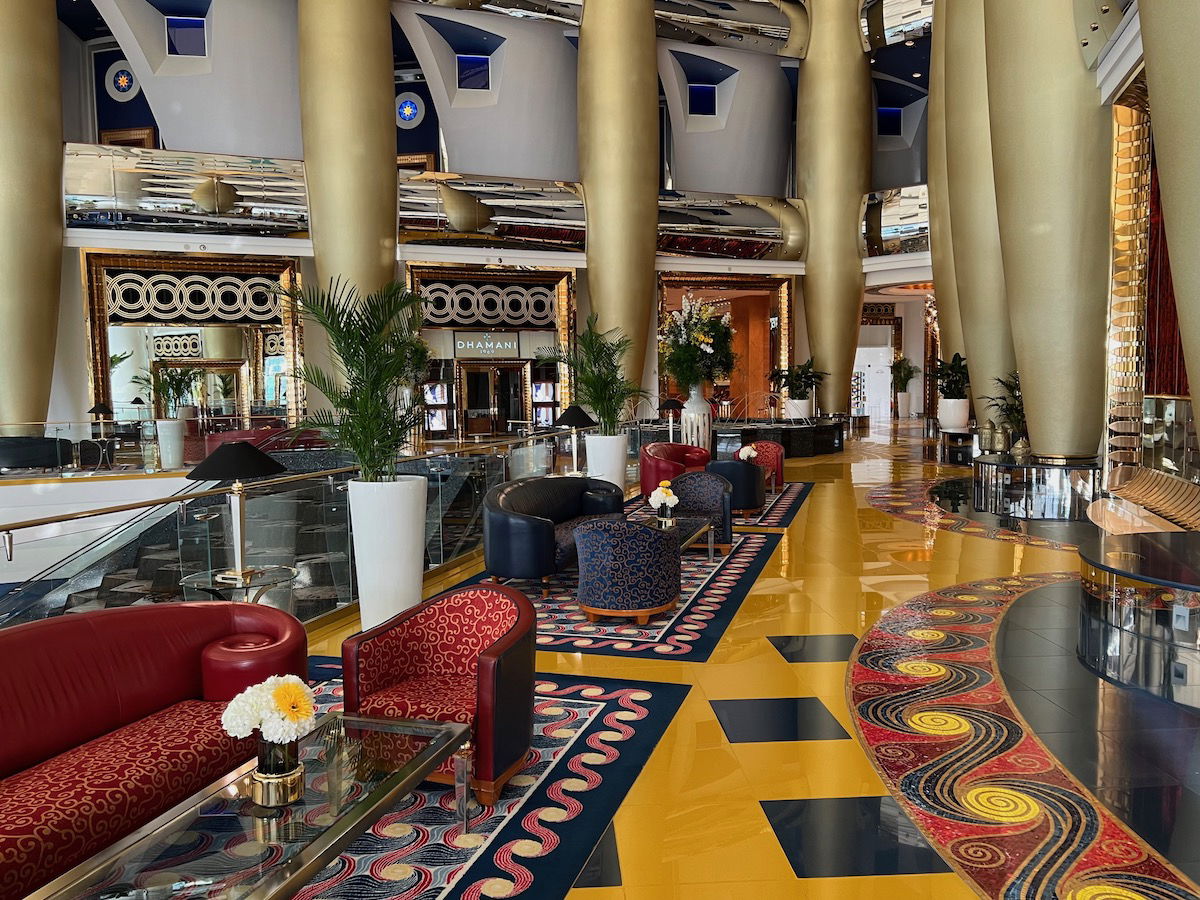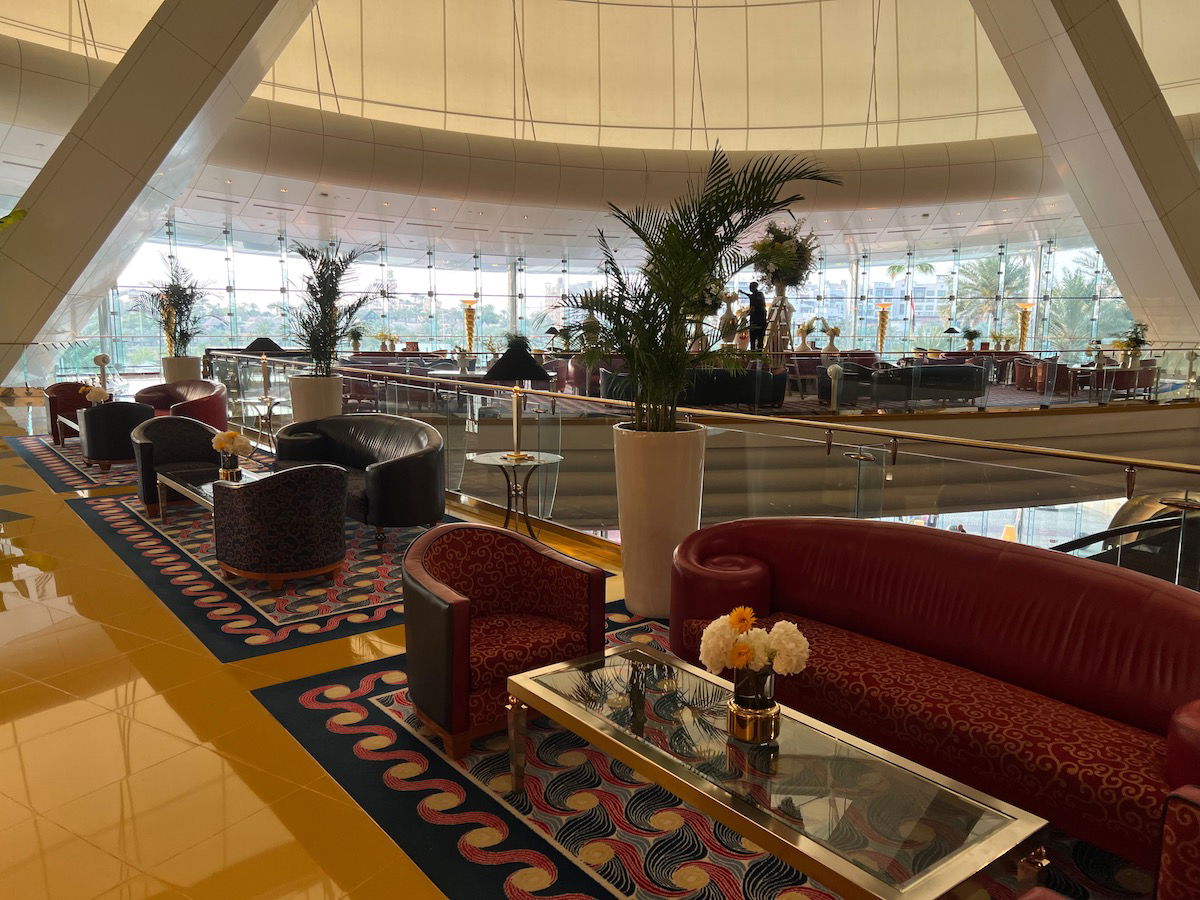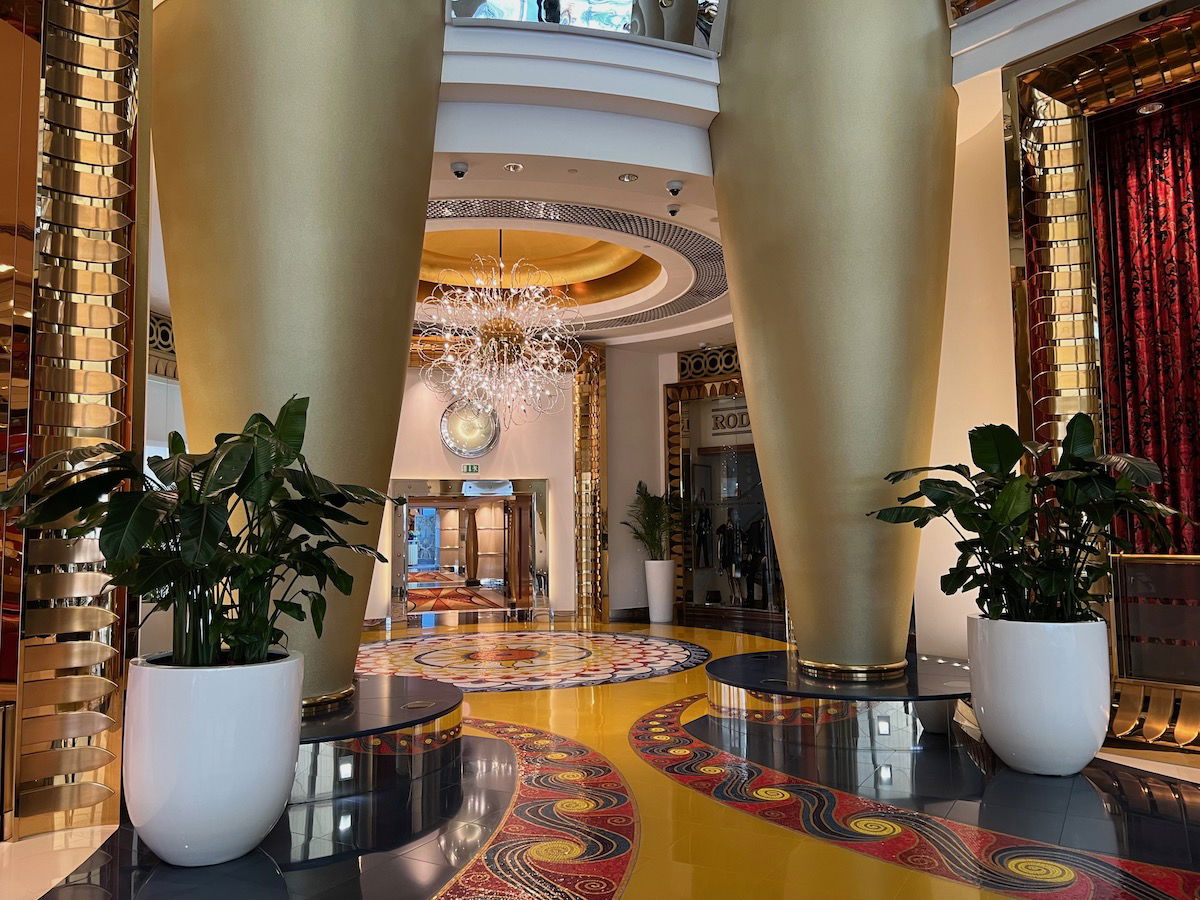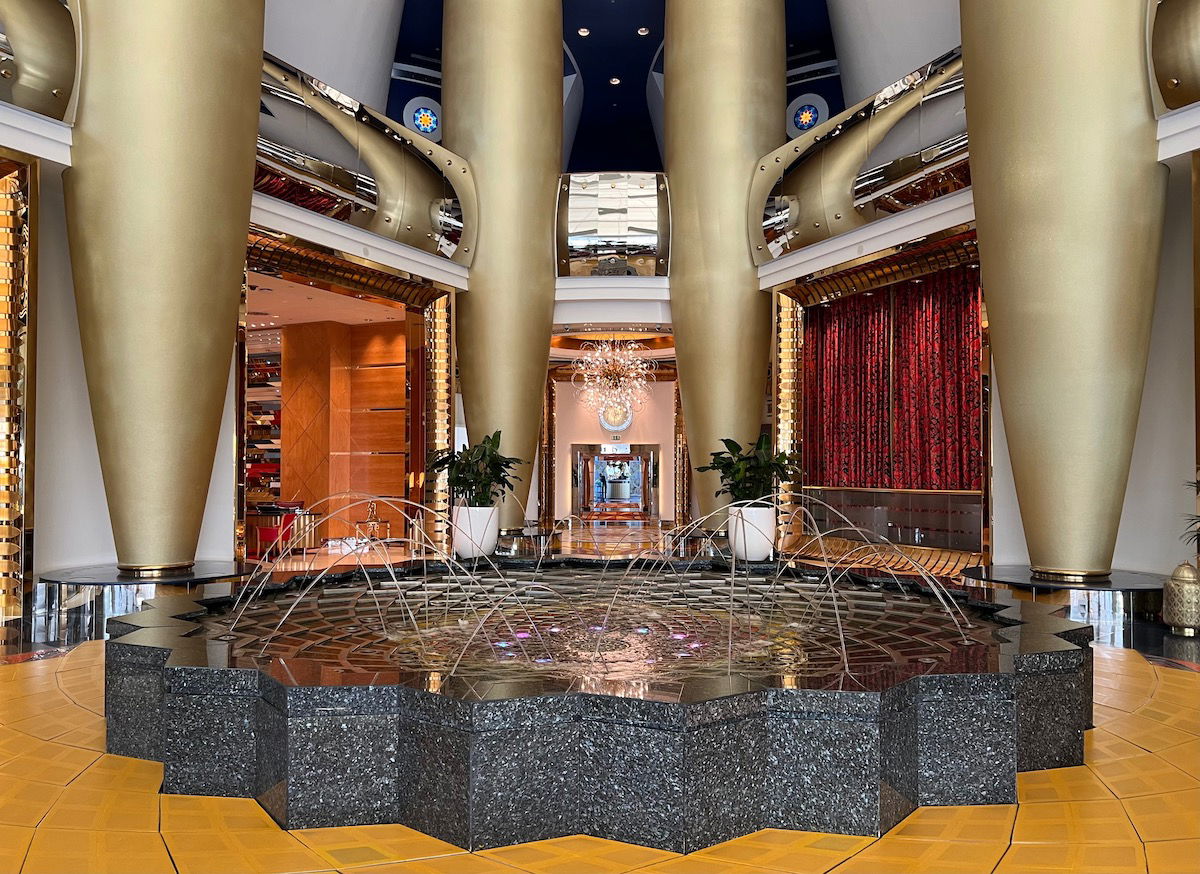 Burj Al Arab Dubai duplex suite
We were assigned room 1601, a suite on the 16th floor. The Burj Al Arab has only 28 floors, though in reality these are all double floors, since each floor has duplex suites. The Burj Al Arab is over 1,000 feet tall, so the number of floors doesn't do justice to the size of the hotel.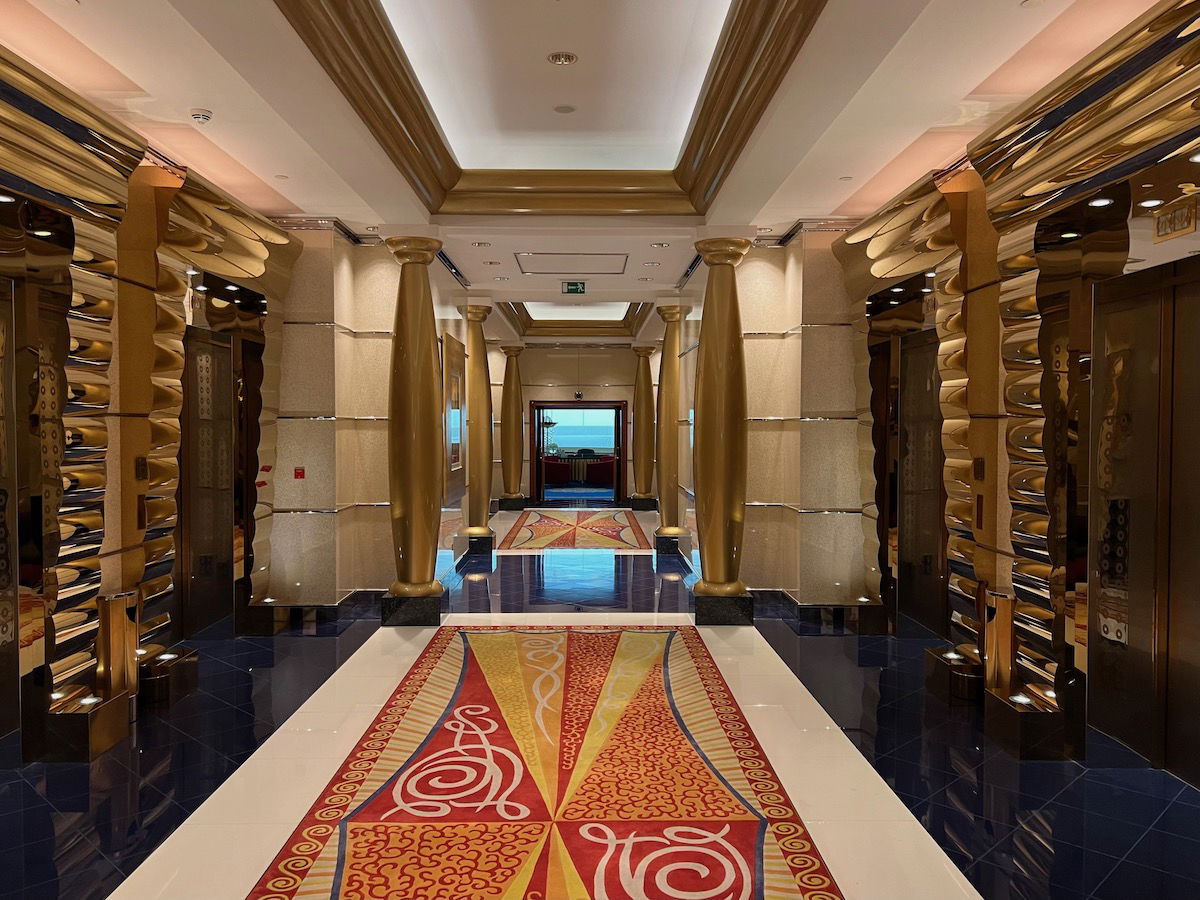 Each floor has a butler desk, as there's a dedicated butler for each floor to take care of guests. The desk typically wasn't staffed, I imagine because the butler was busy taking care of requests.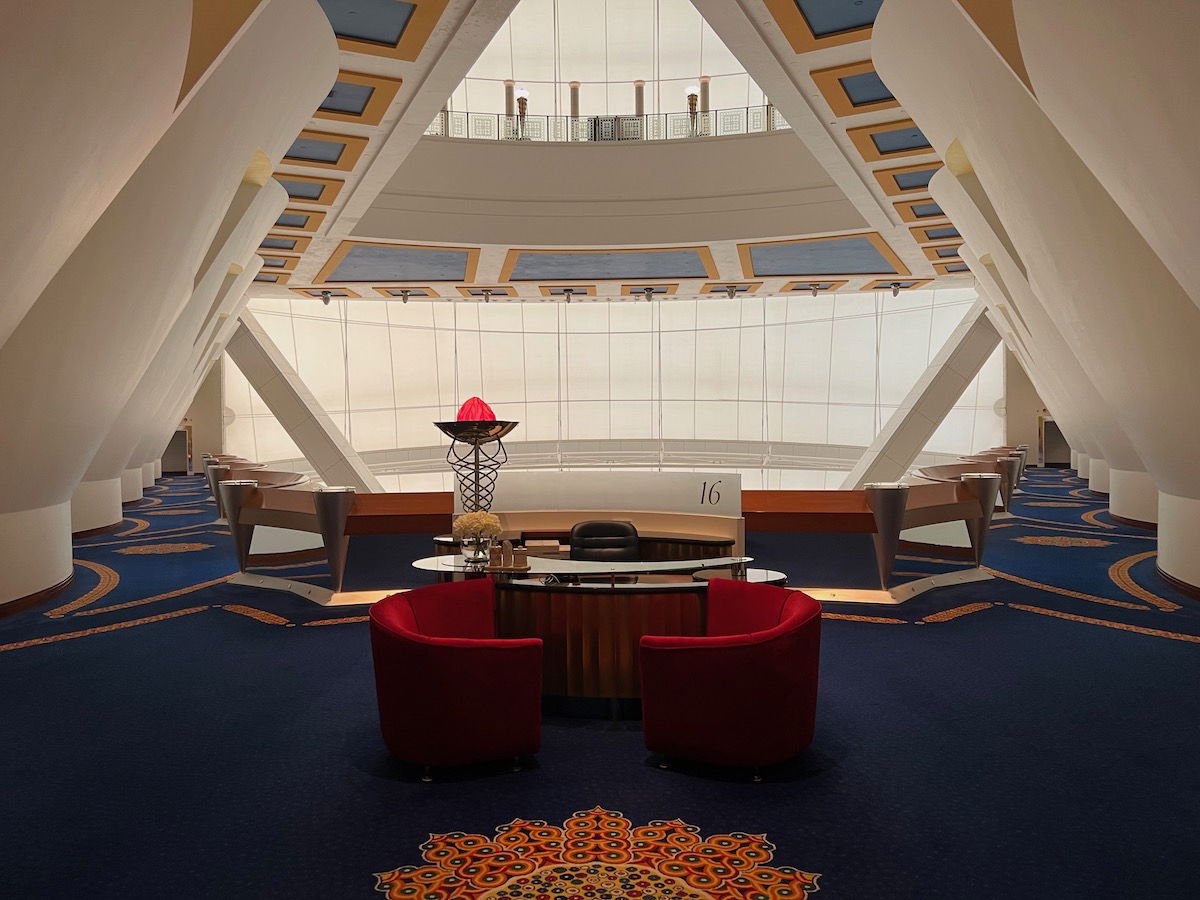 While I had seen the view looking up the atrium many times, it was cool to have a view of the atrium looking down, for once. It's equally impressive, but in a different way.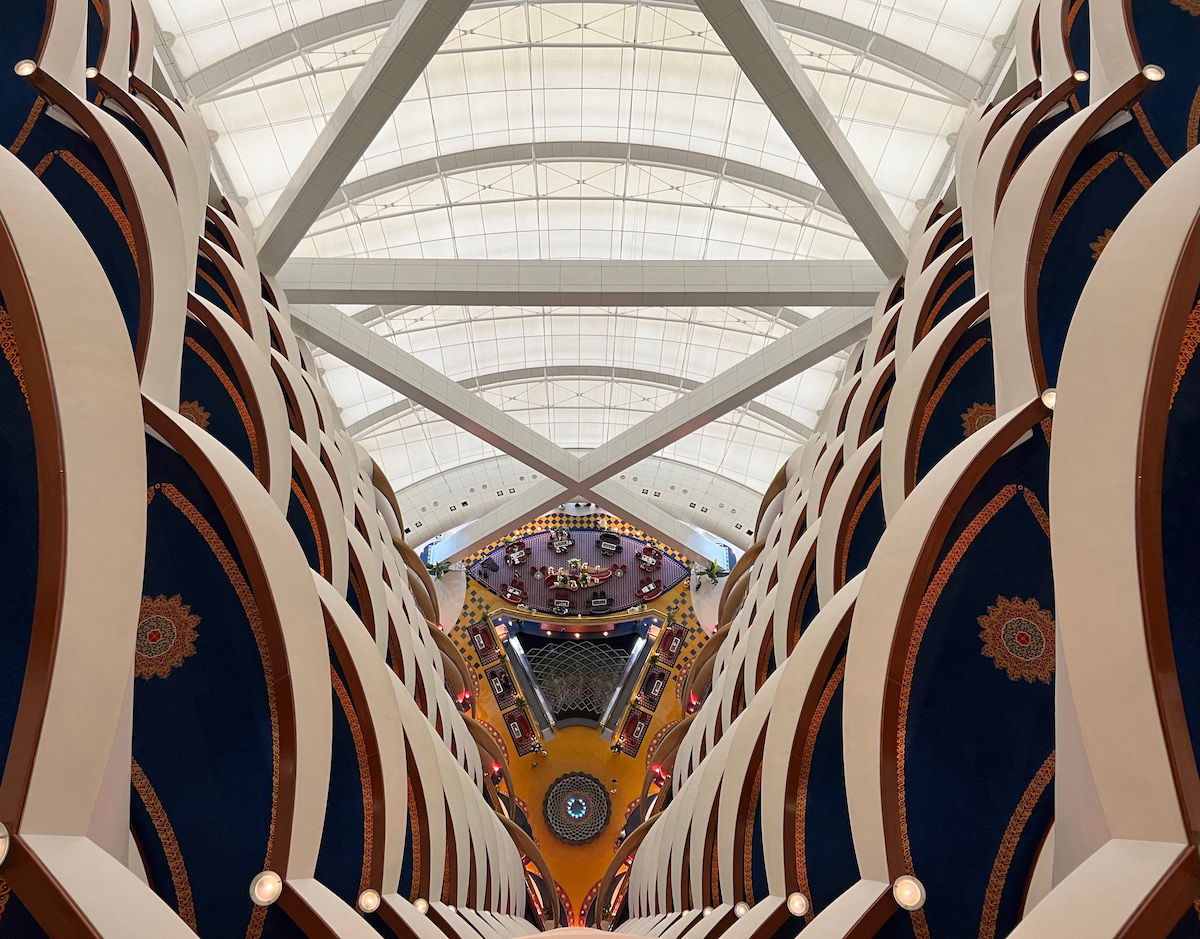 Our room was the first one on the left — talk about an entrance!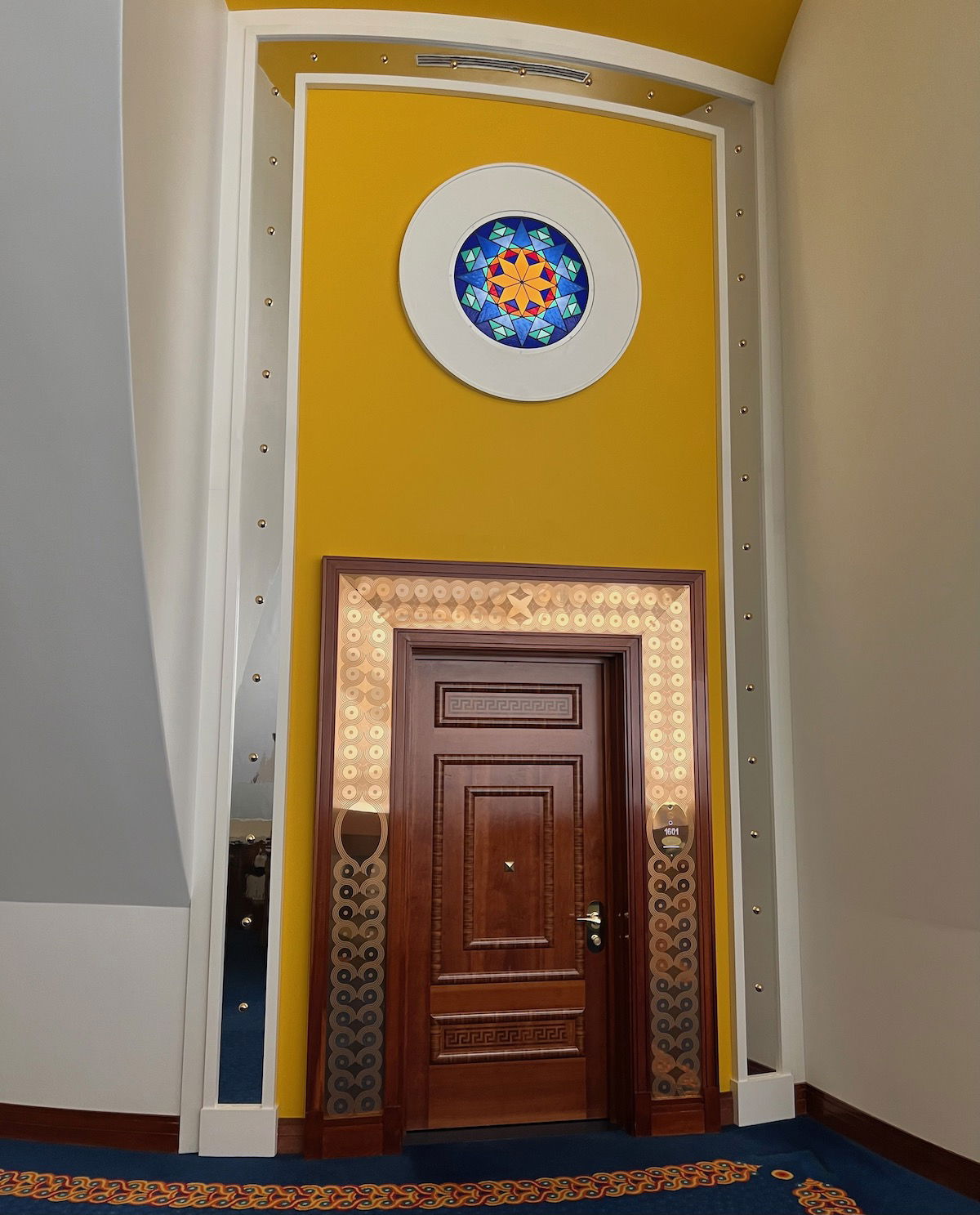 At over 1,800 square feet, the rooms at the Burj Al Arab are quite something. They're so big that you almost can't help but laugh. But then you look at the design, and you might just cry… just kidding. 😉 I'm not sure whether the rooms are just really outdated, the designer had awful taste, or both. But if you ask me, that's also part of the charm of this property.
When we entered our duplex suite, the staircase leading up a level was immediately there on the right, along with a big chandelier.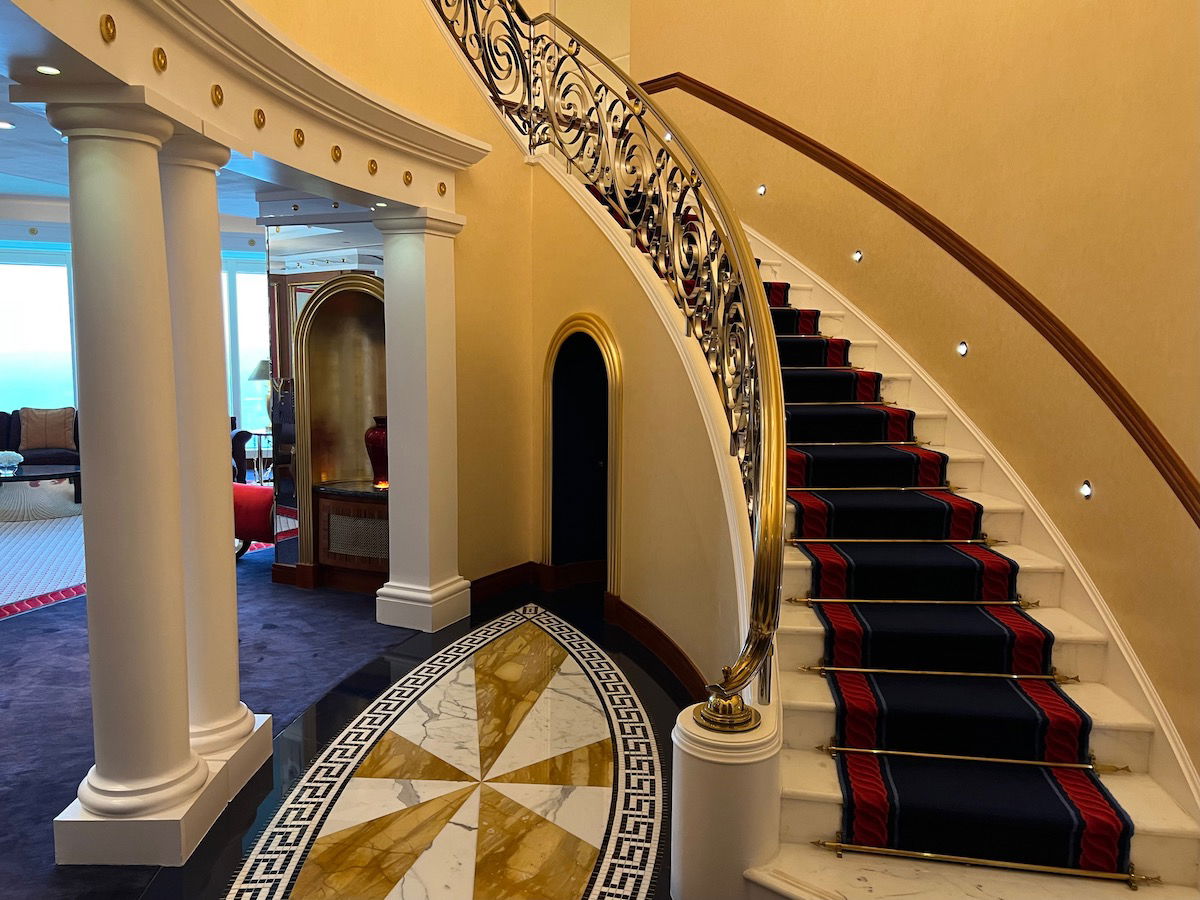 The main level of the suite had the living room. This isn't just some small living space, but rather it has a living area, a dining area, and even an office space.
There was a huge couch that could seat several people, a day bed, and two comfortable chairs for lounging.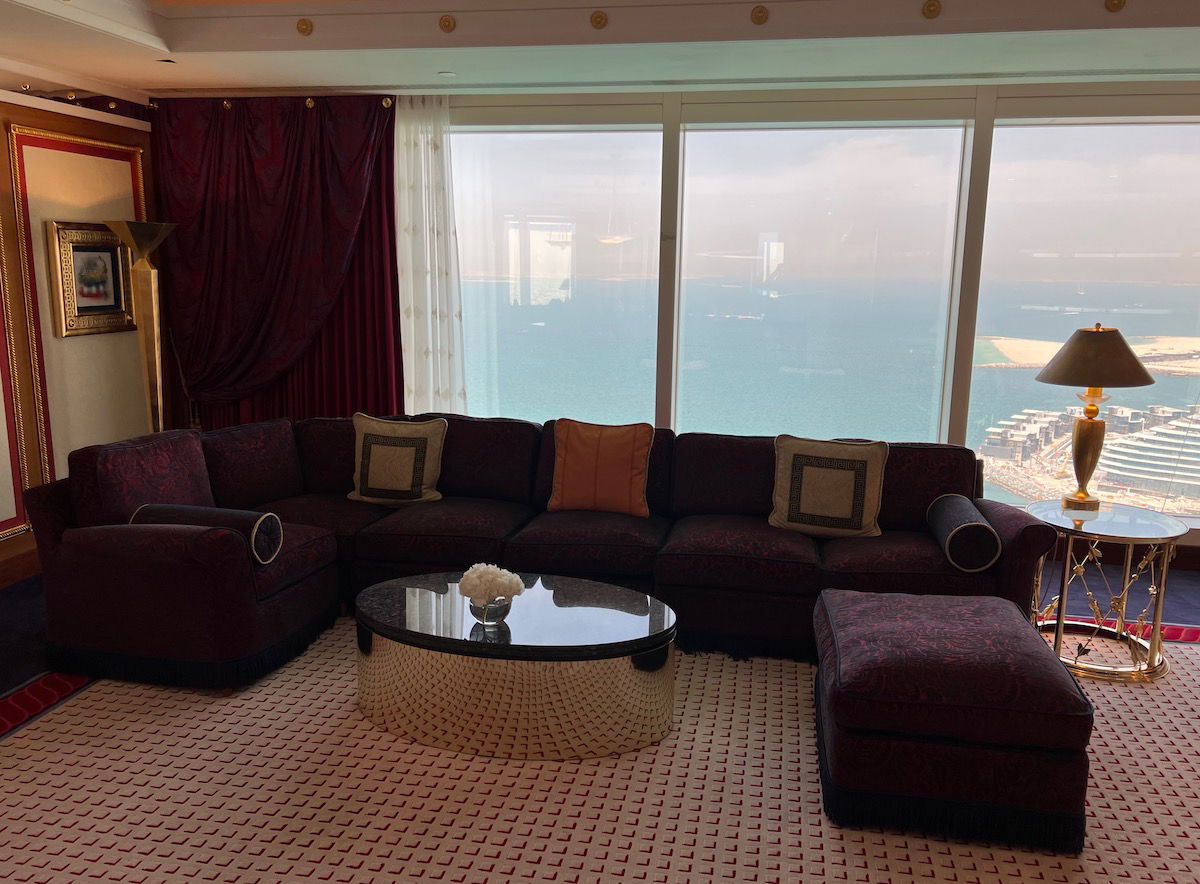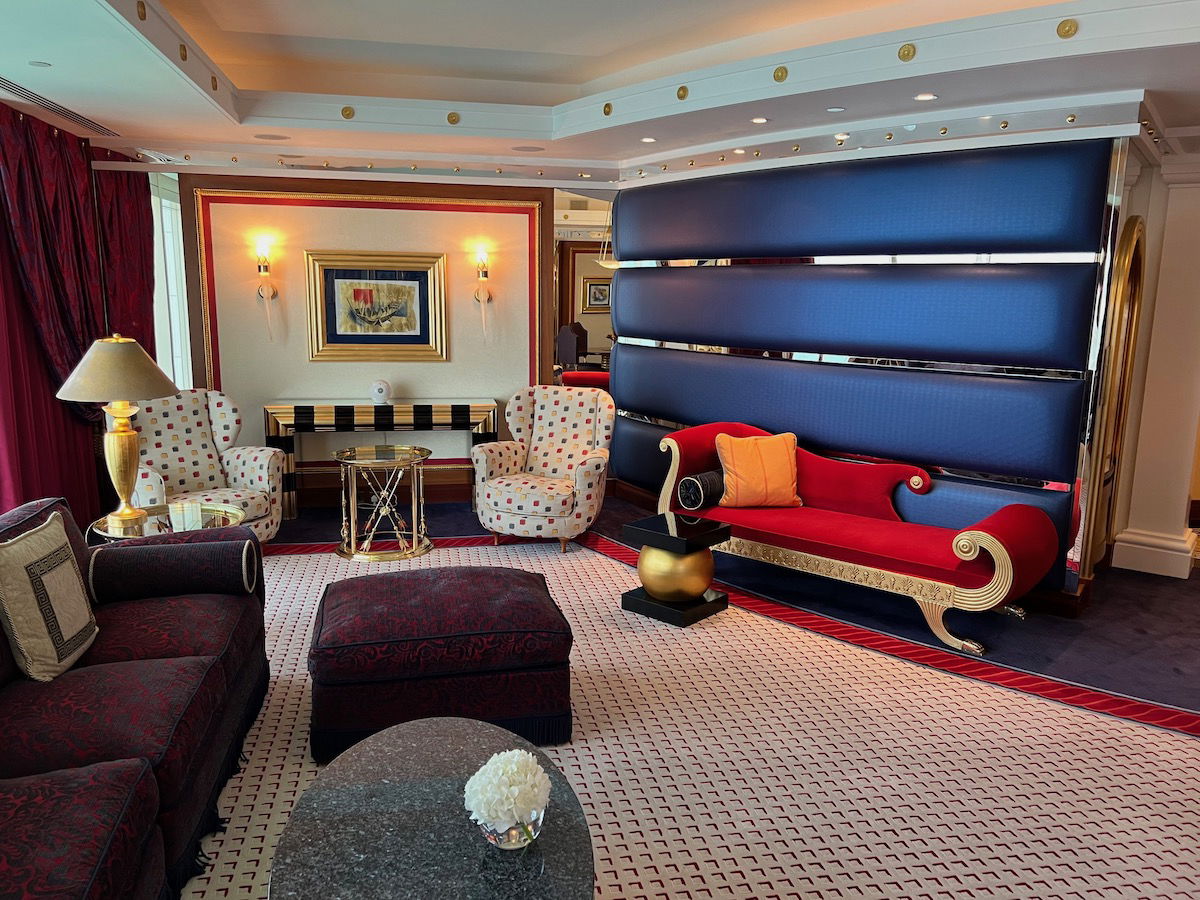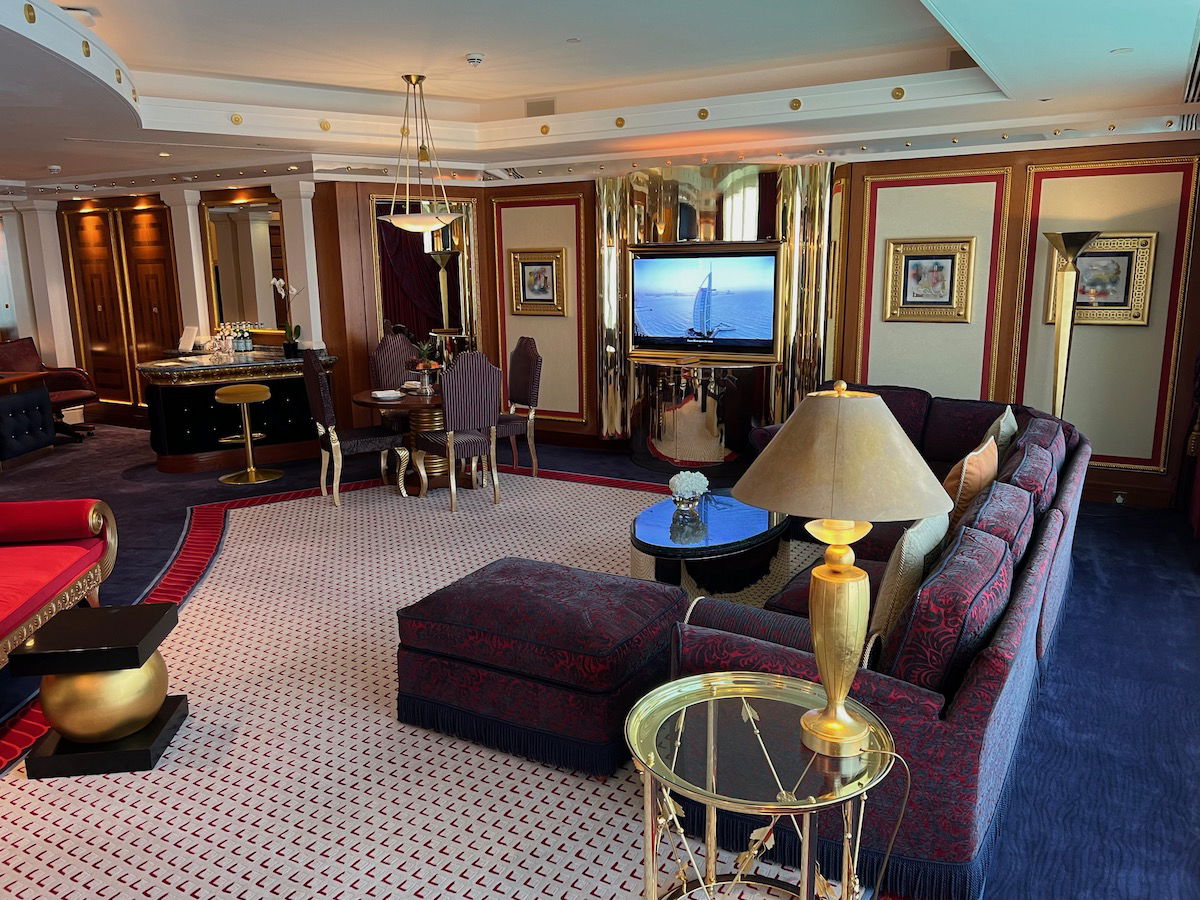 Then there was a dining area with four chairs, a bar space, and a desk area with an office chair.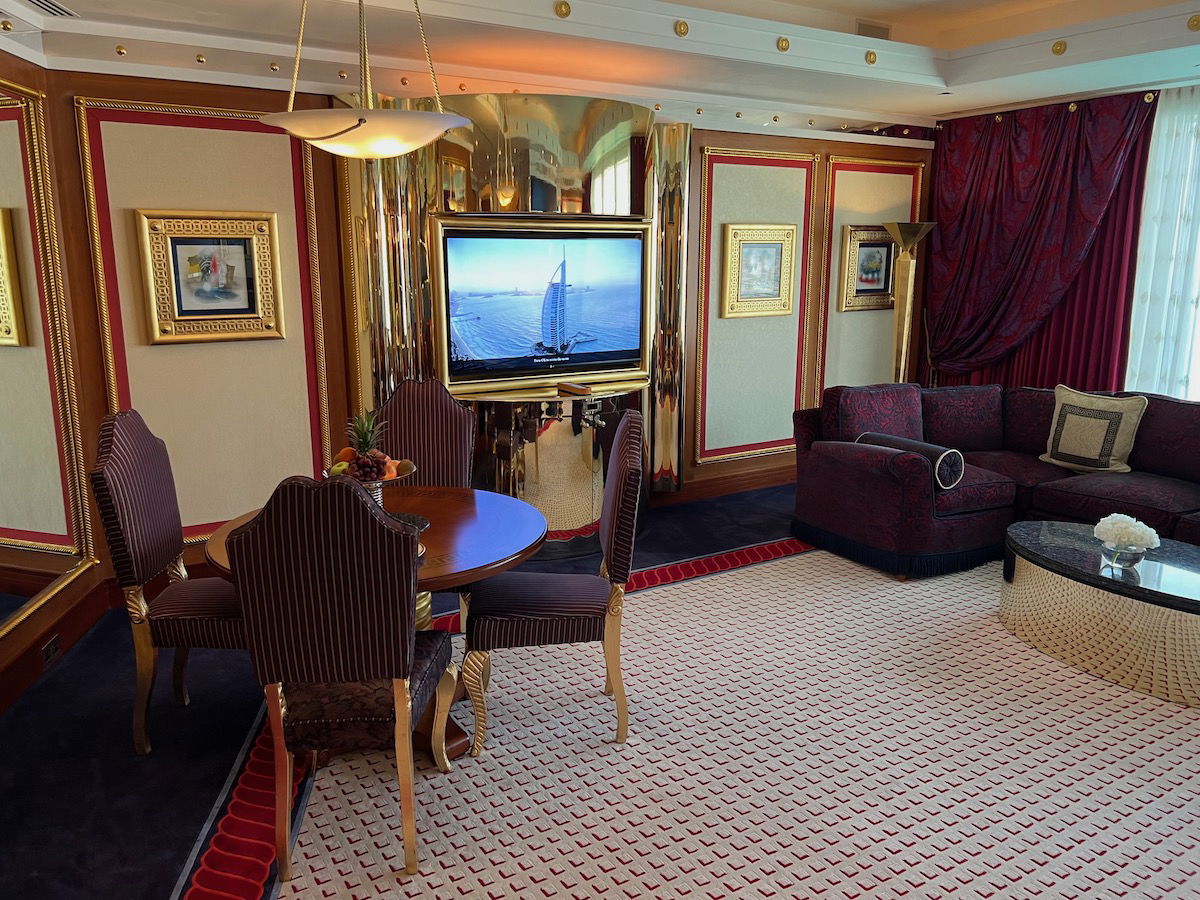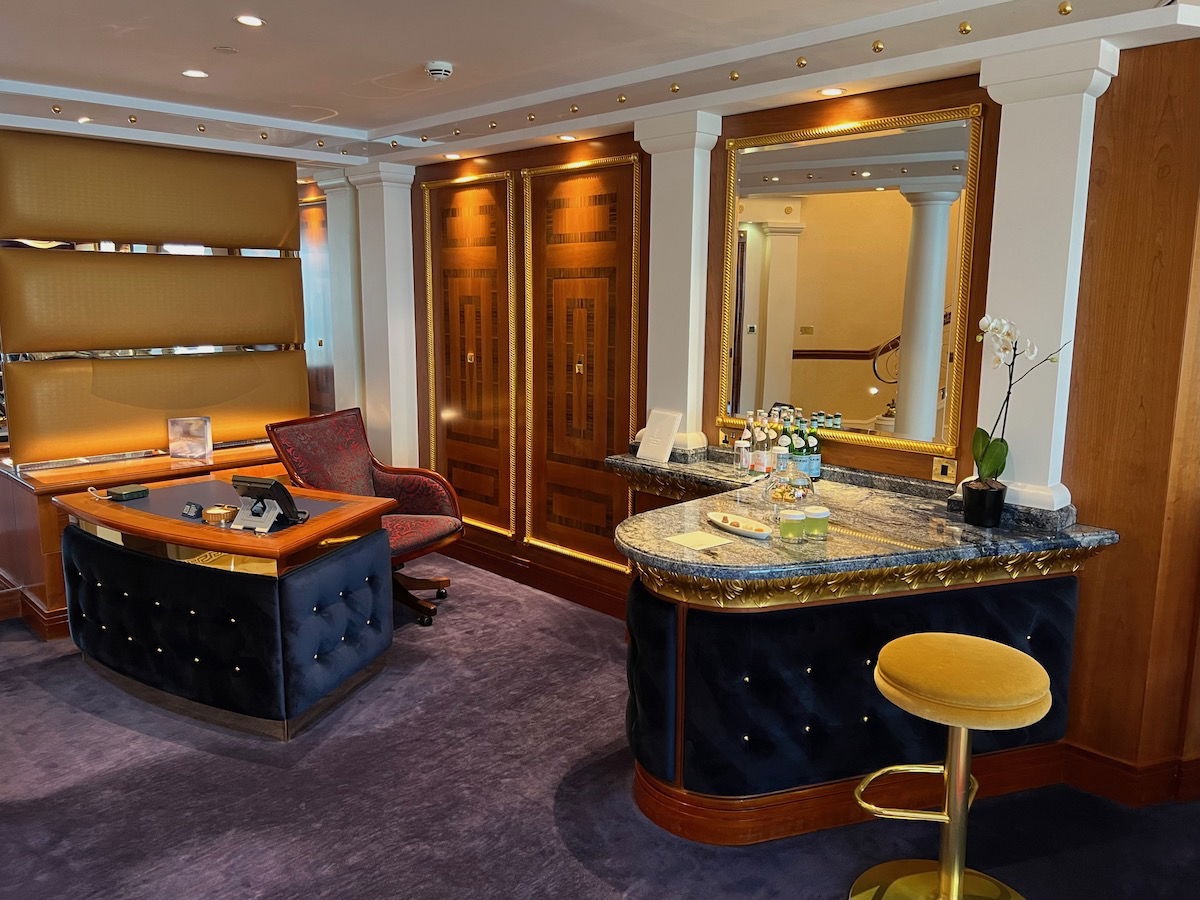 Waiting in the bar area was a welcome amenity, consisting of a lemon and mint drink, some canapés, and a handwritten card.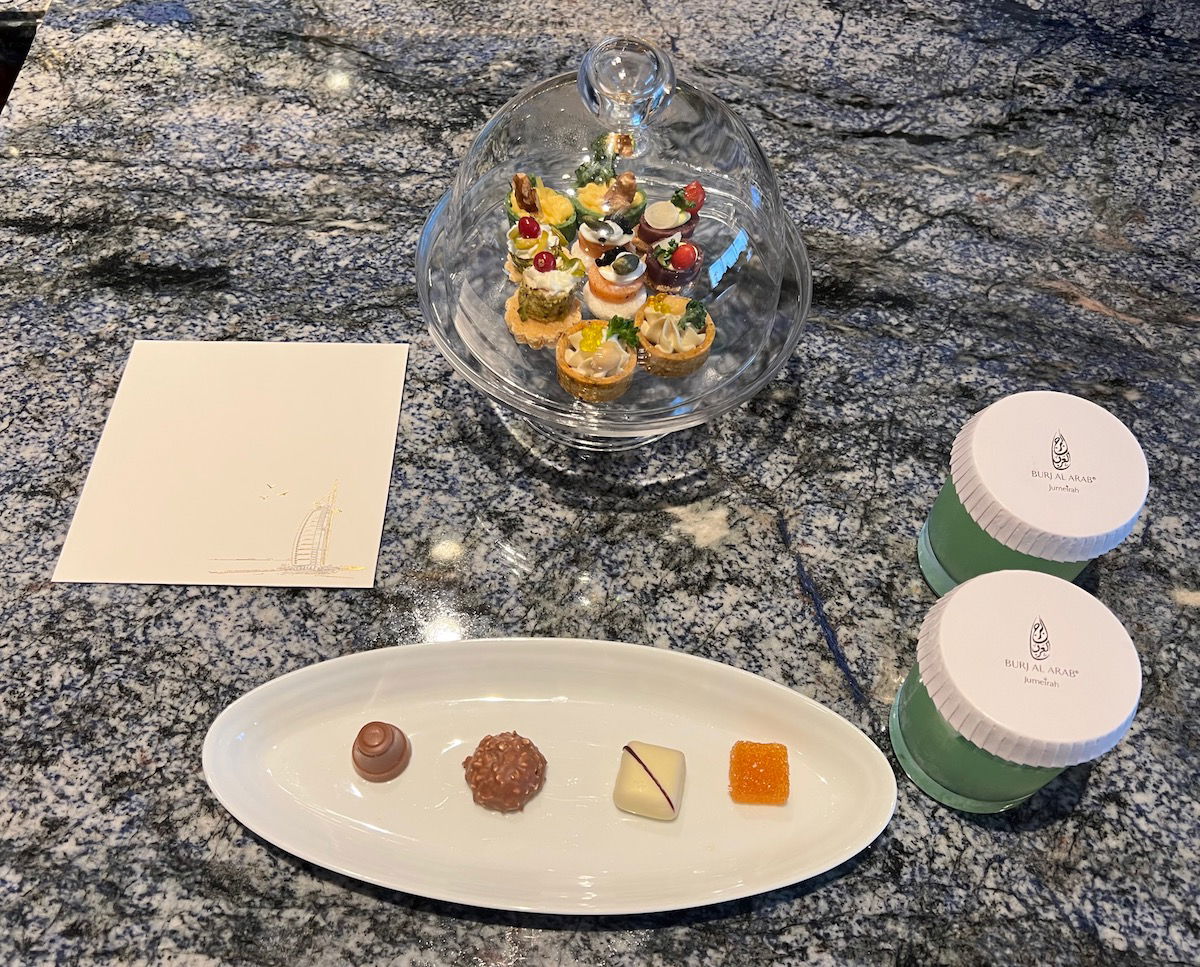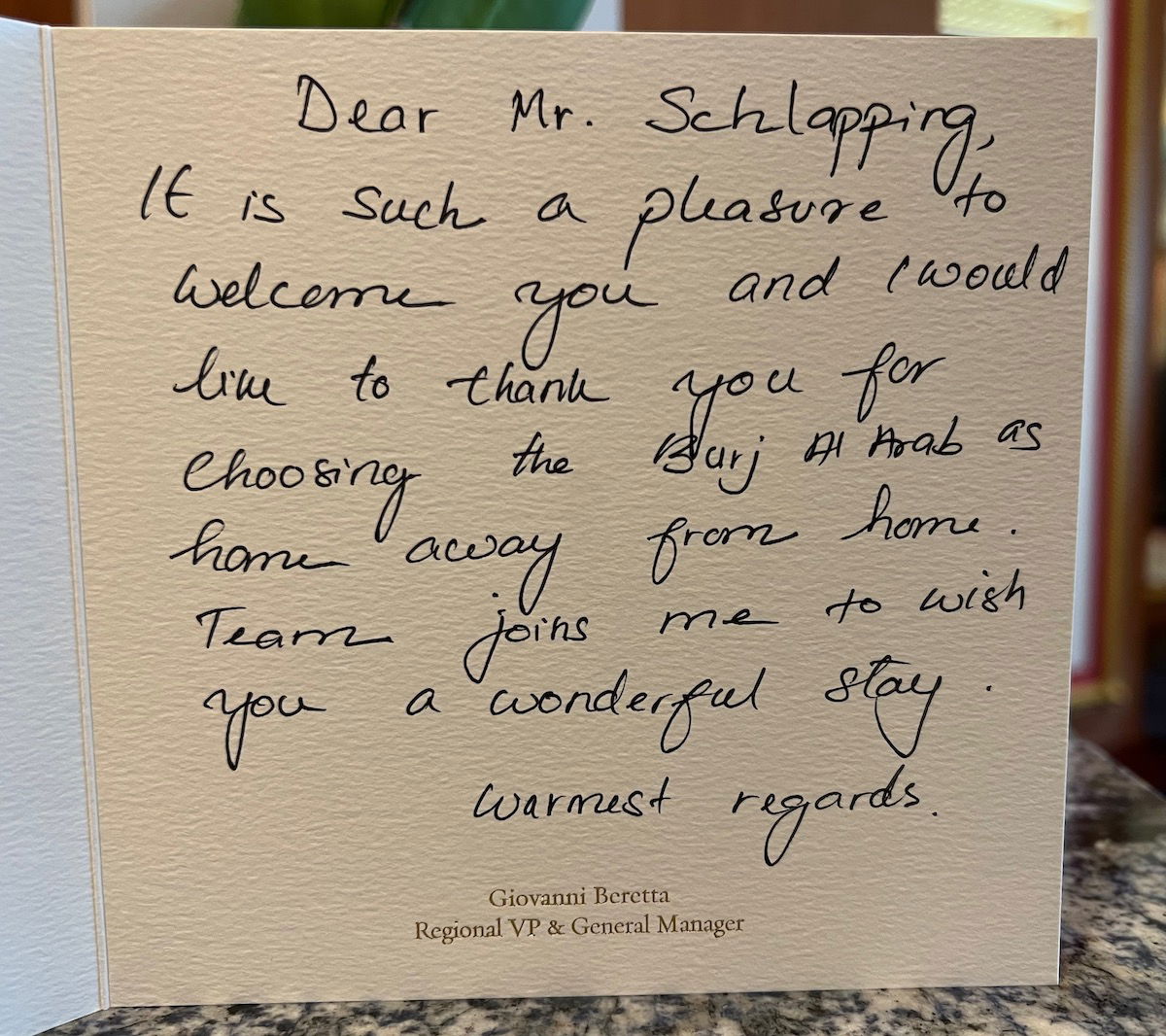 There were also eight bottles of complimentary water, including still Acqua Panna and sparkling San Pellegrino.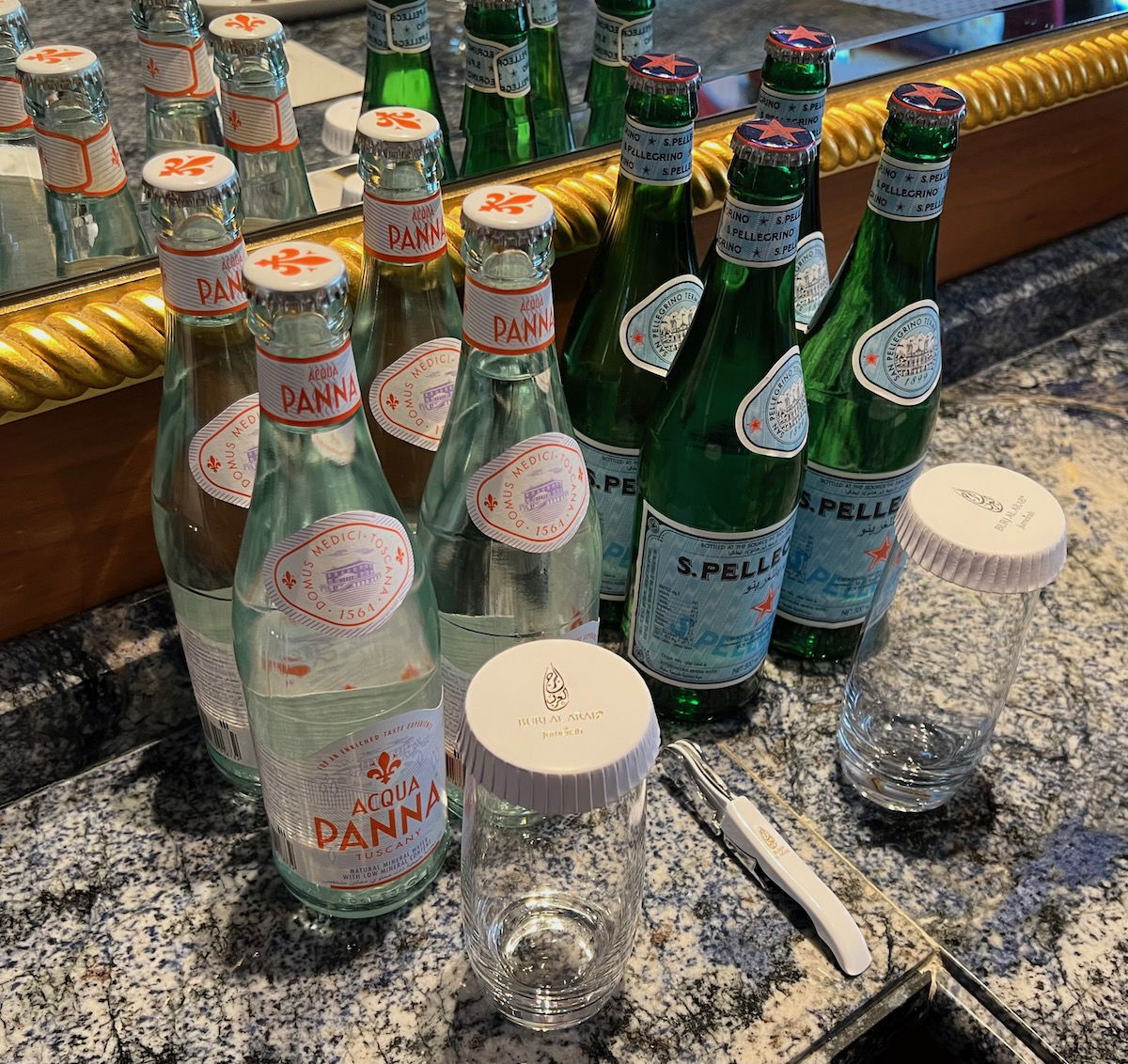 There was also a minibar with an in-room coffee machine, as well as a minibar with drinks and snacks for purchase.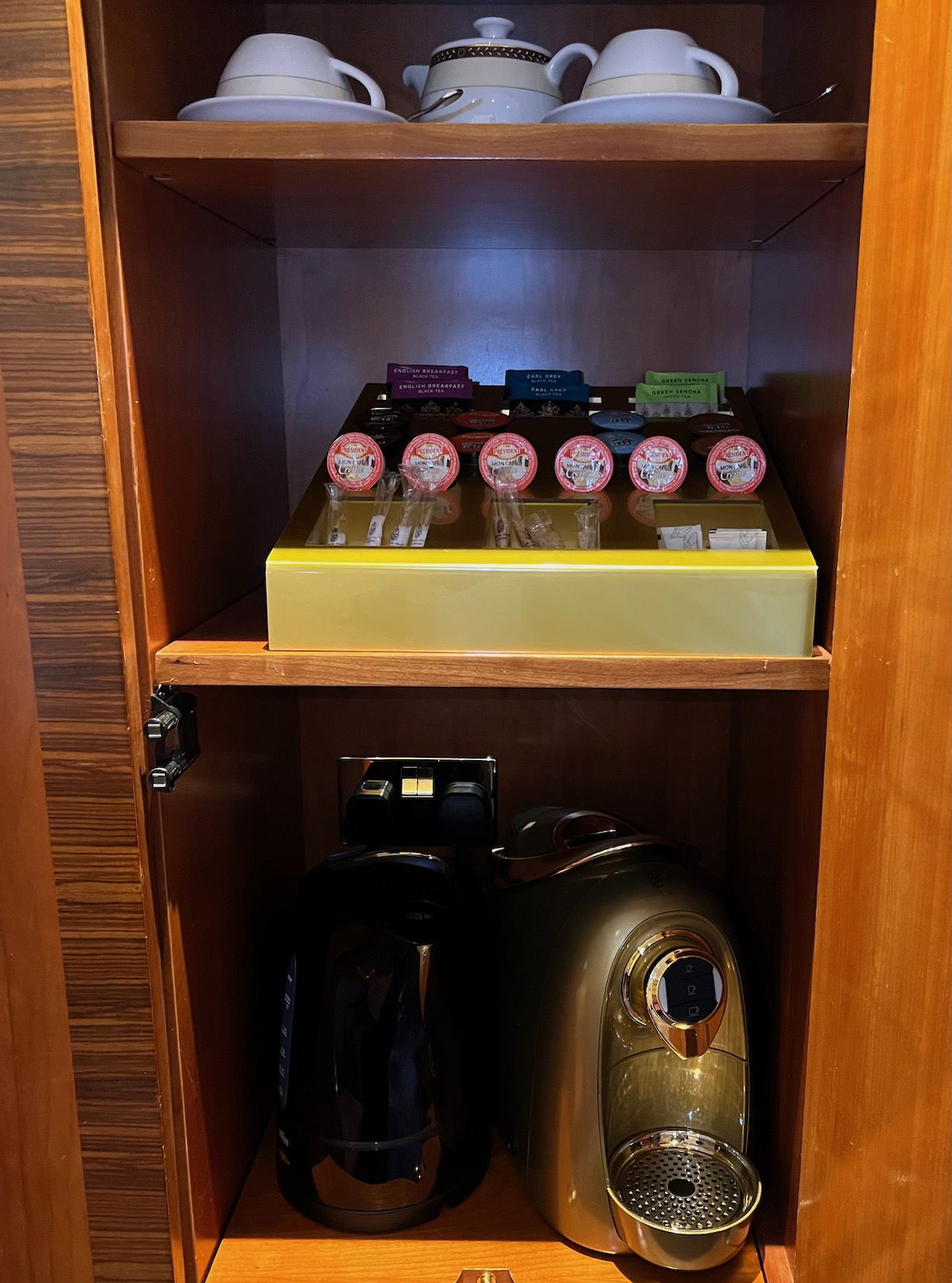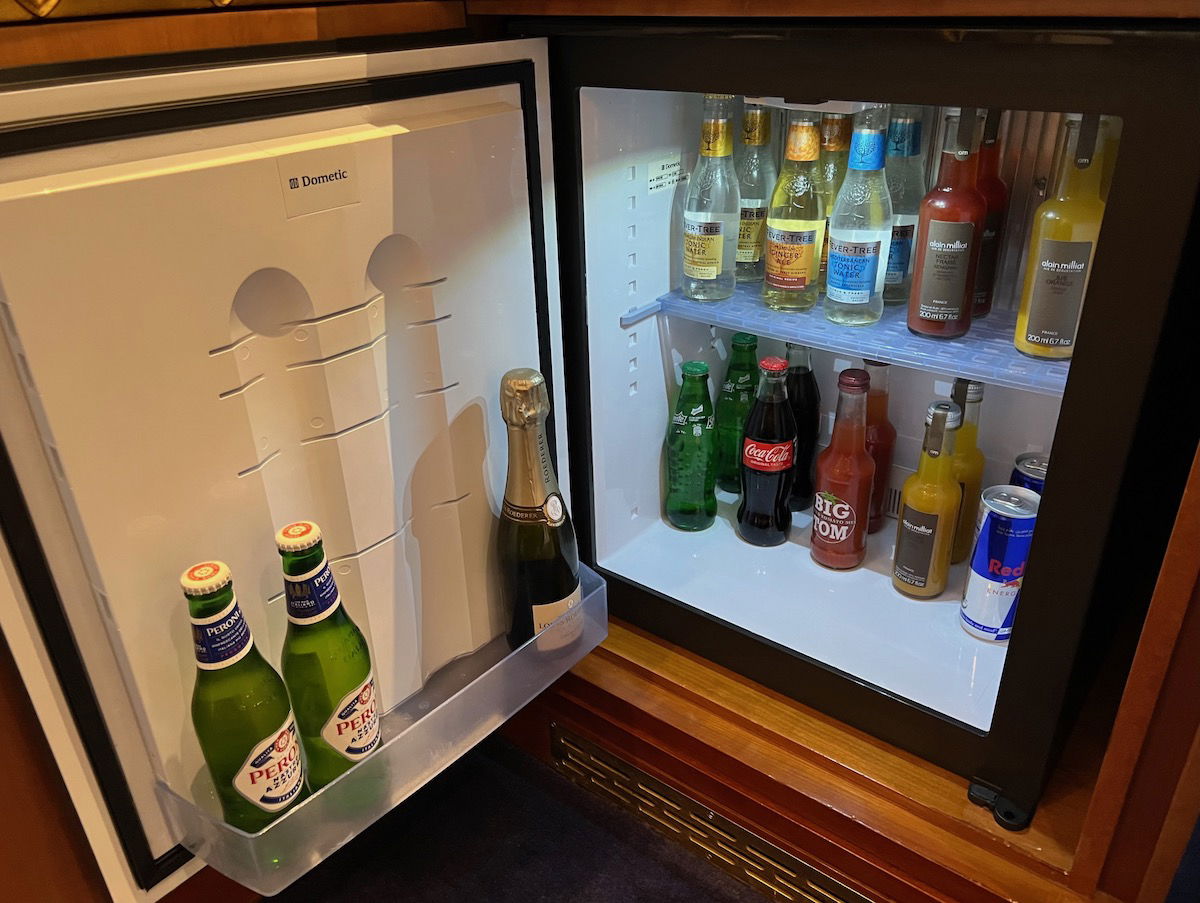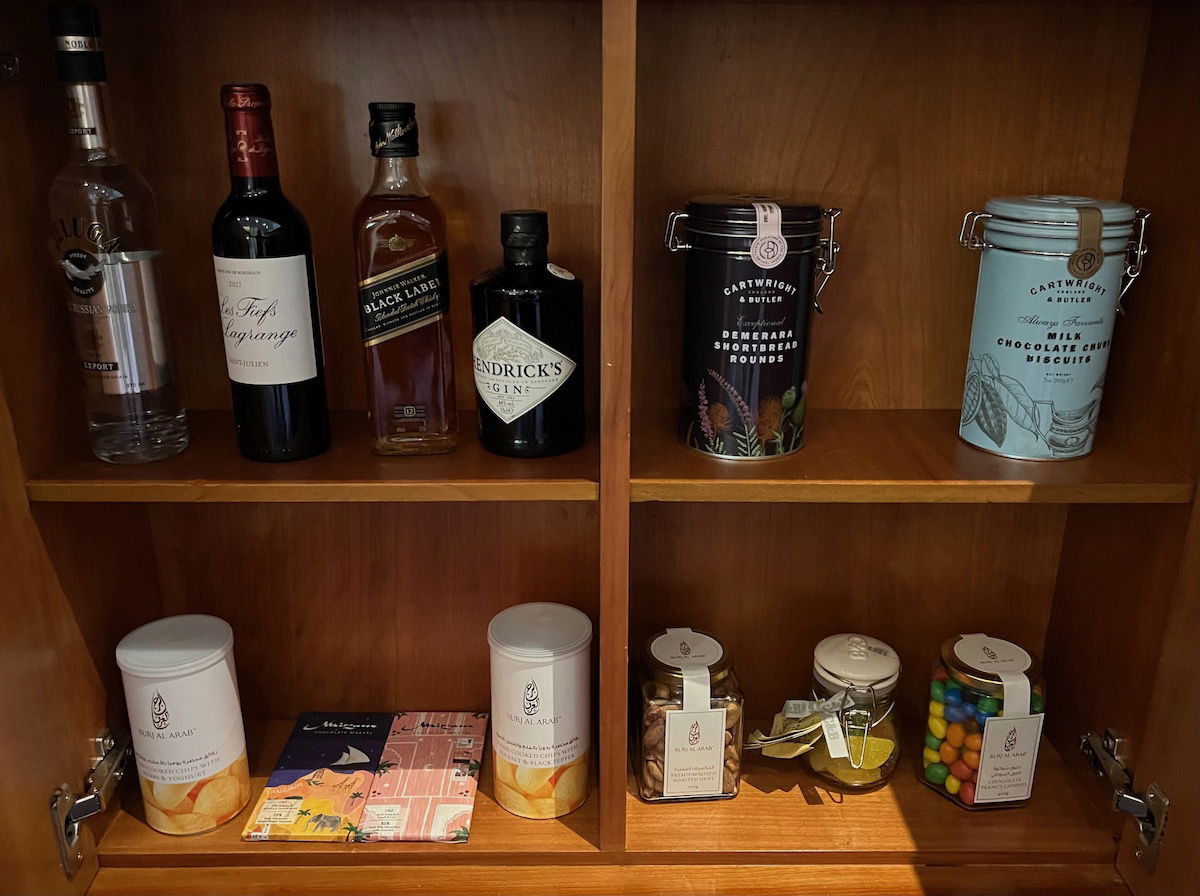 Also on the main level of the suite was a half bathroom, with a sink and toilet.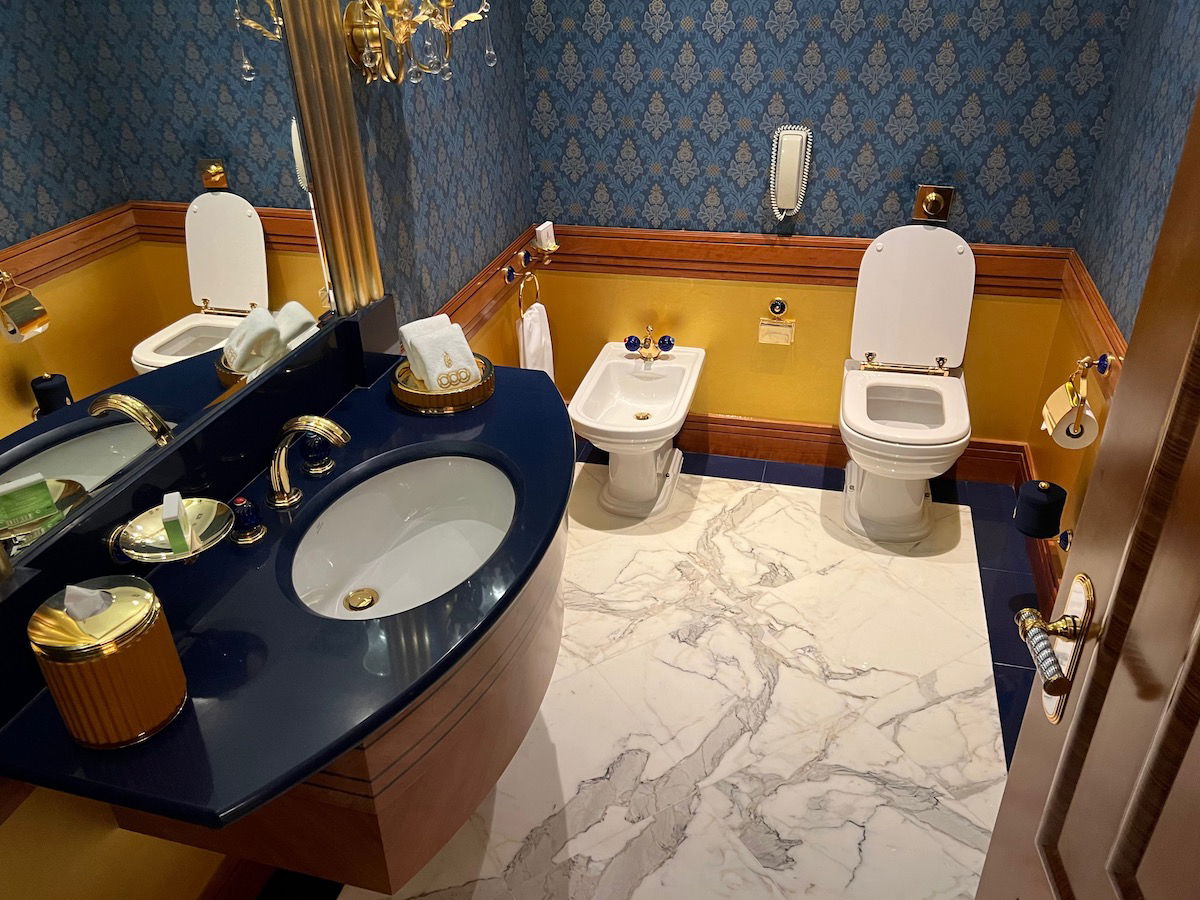 The staircase then led up to the bedroom and main bathroom.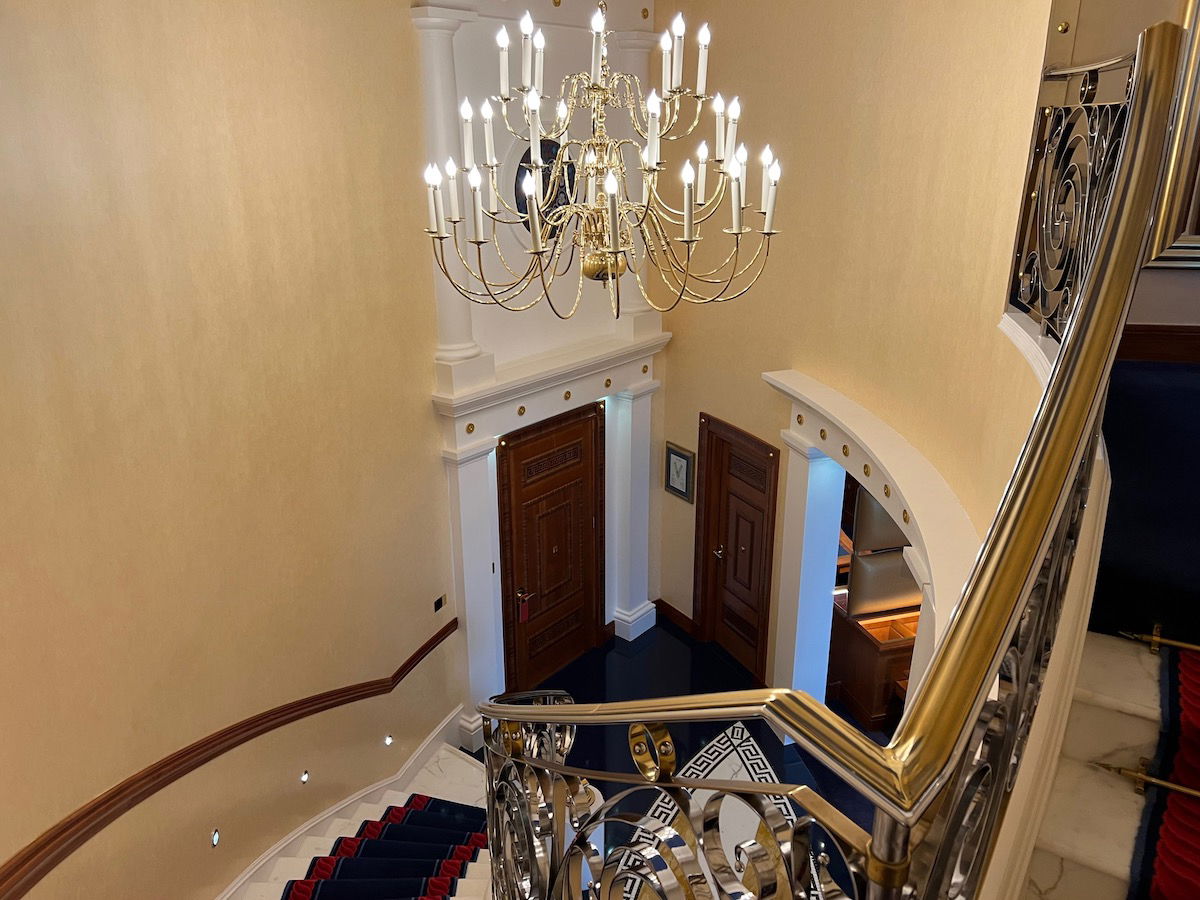 The bedroom had a plush king size bed, which was almost as comfortable as the Four Seasons bed (my favorite hotel bed). There was also a mirror on the ceiling above the bed, which is… an interesting choice.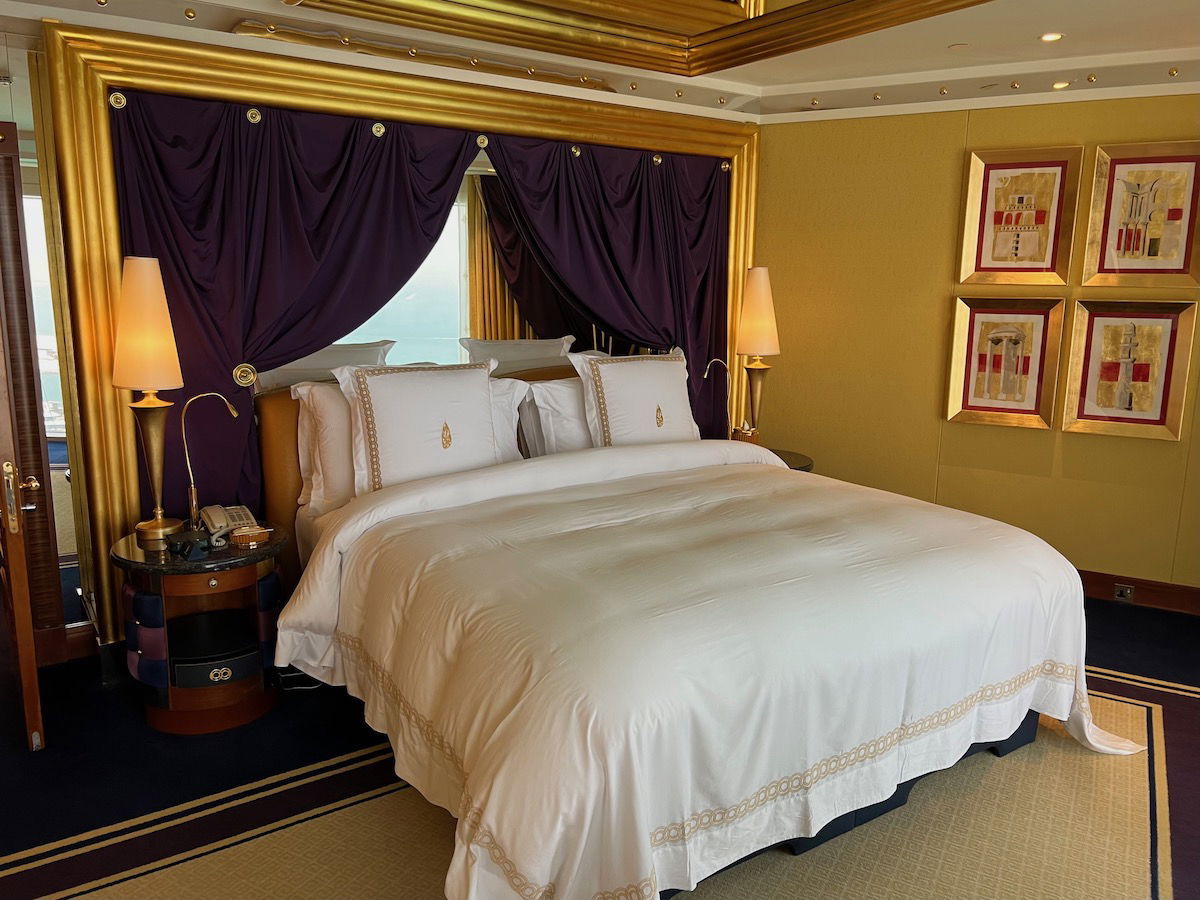 The bedroom had another large living area, with two chairs and a daybed.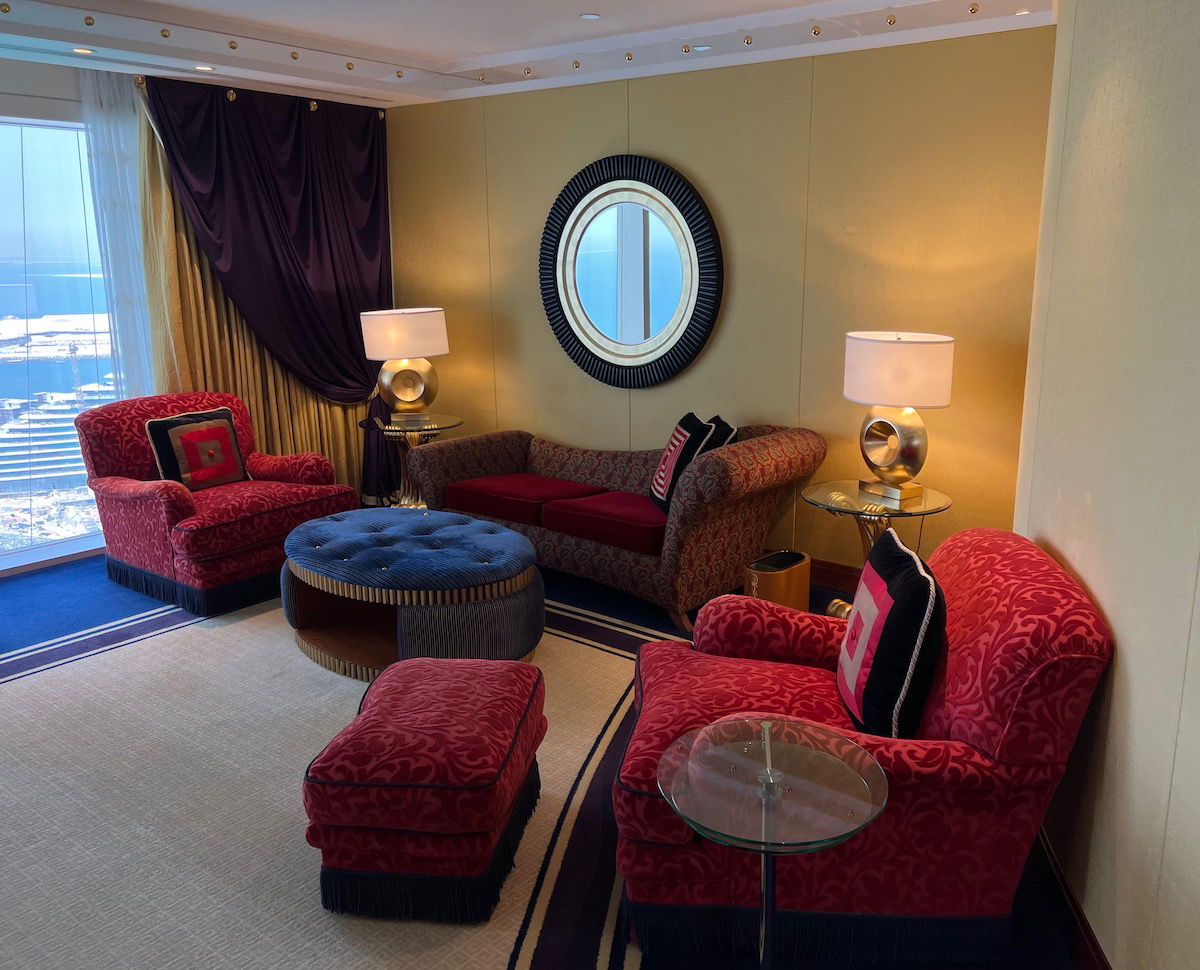 The TV in the bedroom can be raised or lowered, which is cool, so that it doesn't obstruct the view if you're not using it.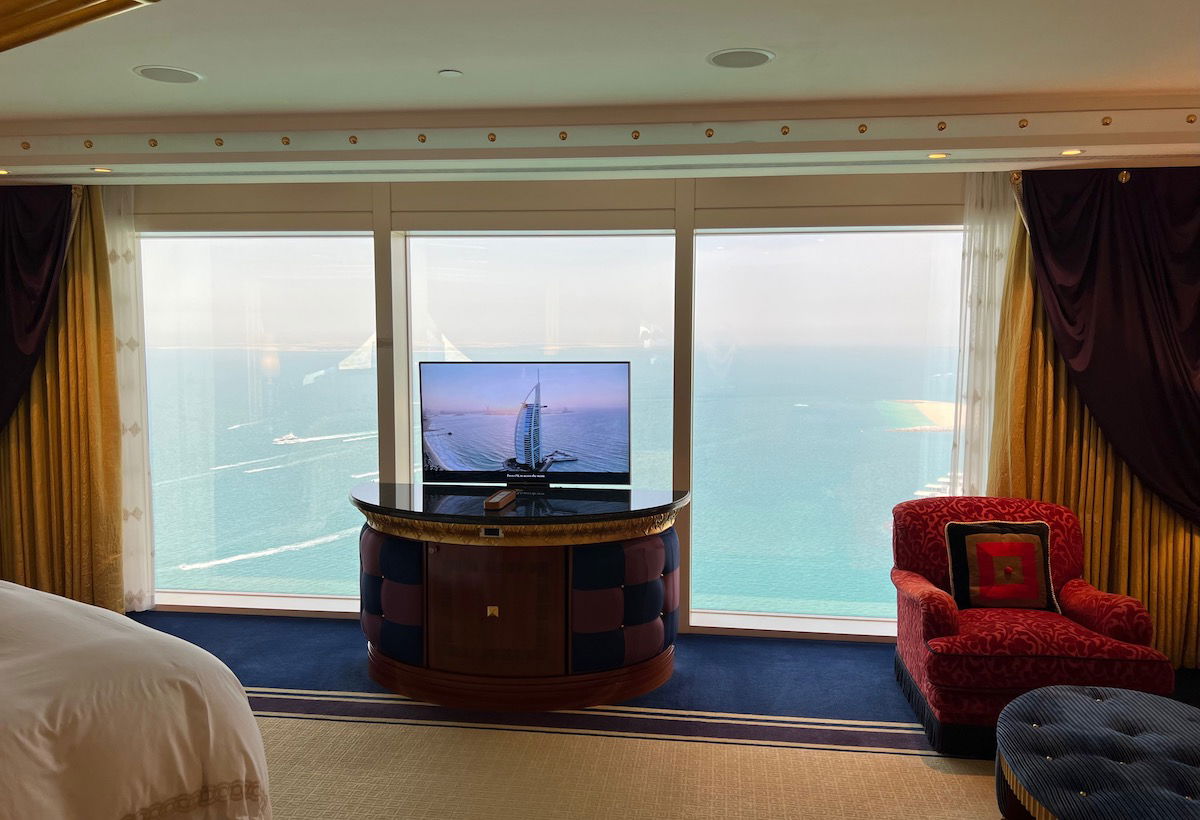 Our room faced the water, as well as the new Jumeirah Marsa Al Arab development, which is still under construction. With the exception of a few specialty suites, all suites are the same size, so the only difference is the view. Given the views from all the public areas of the hotel, I don't think it's worth paying a premium for a better view.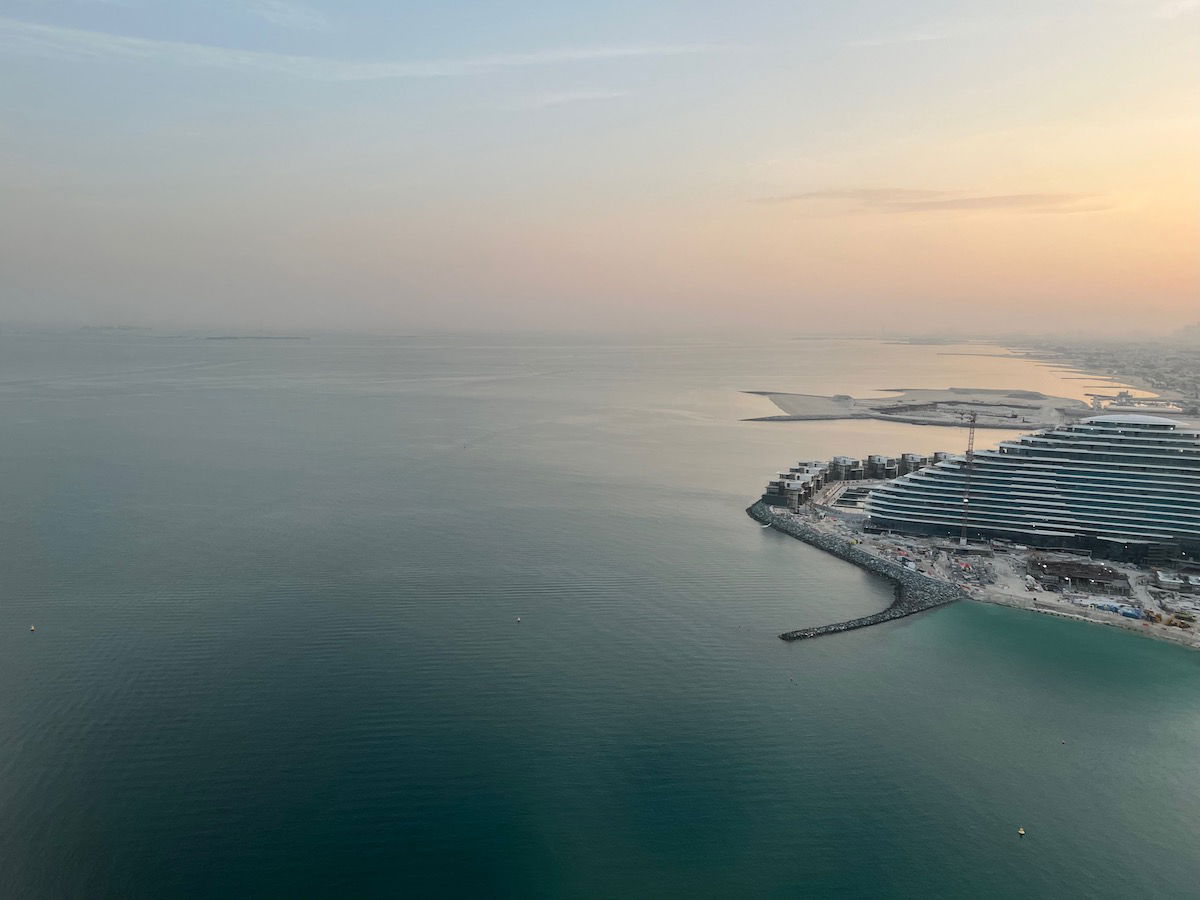 Next to the bedroom was the closet space and vanity, which in and of itself was the size of a small hotel room.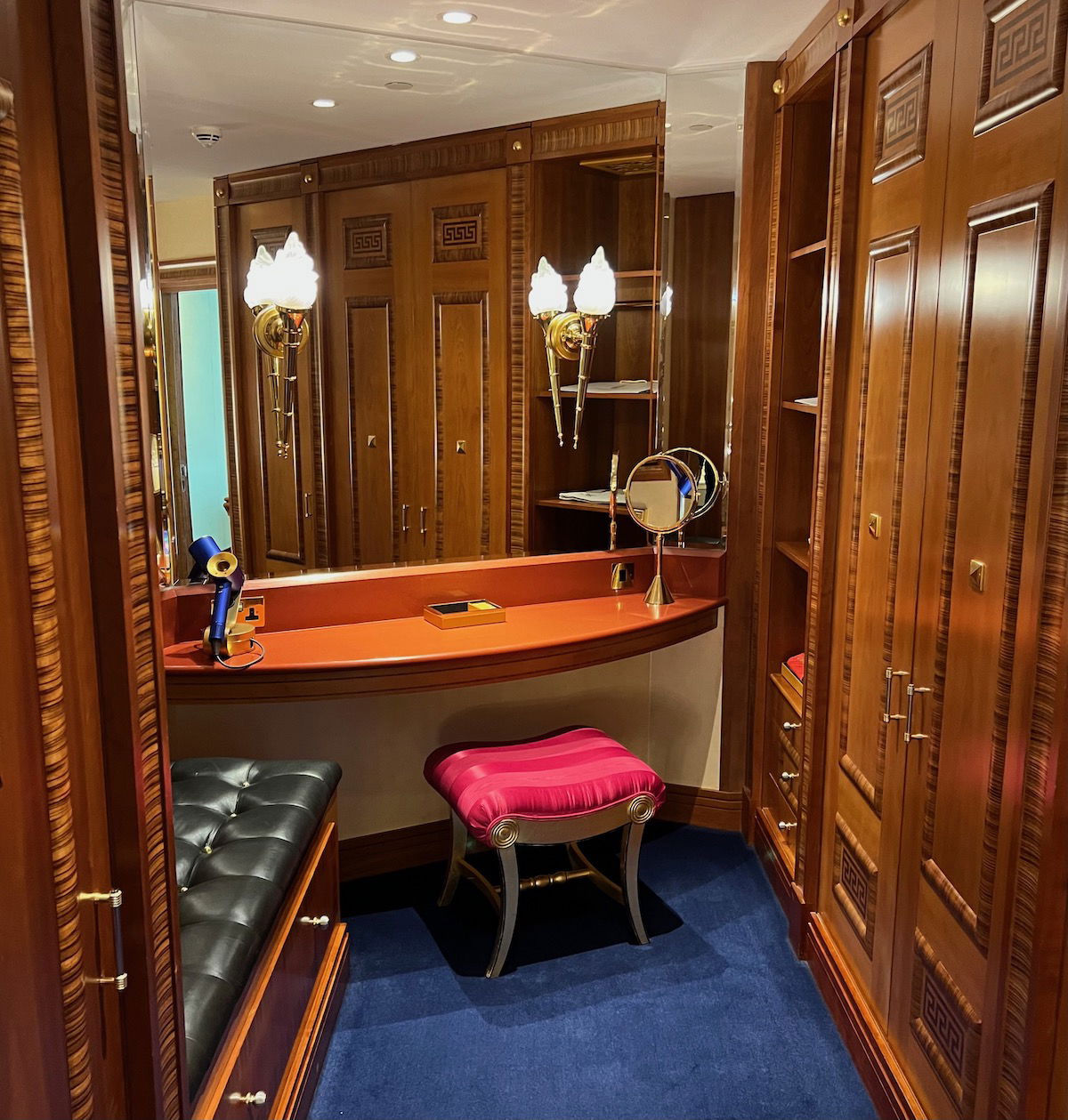 Then there was the main bathroom, which full-on made me feel like I was in Las Vegas. It had double sinks, a toilet and bidet, a huge jacuzzi tub, and a walk-in shower.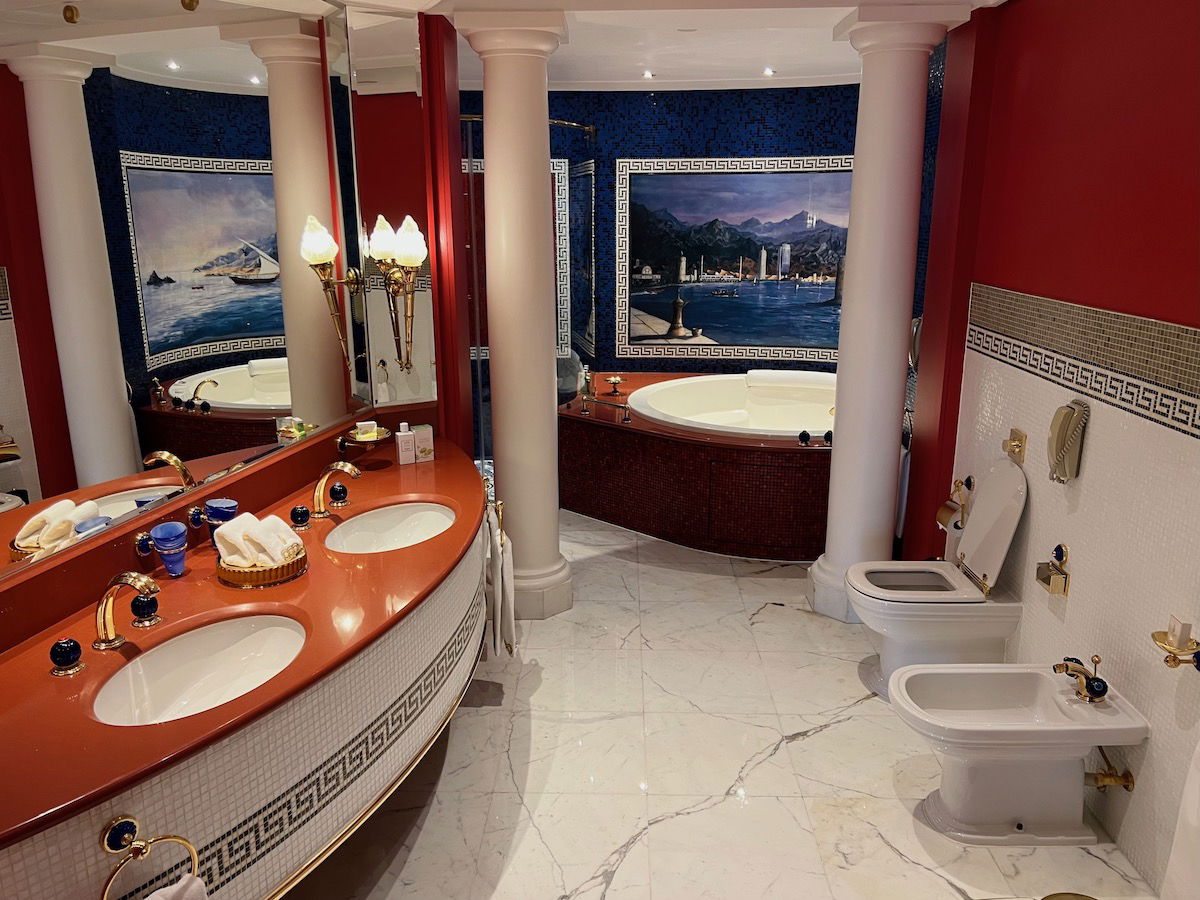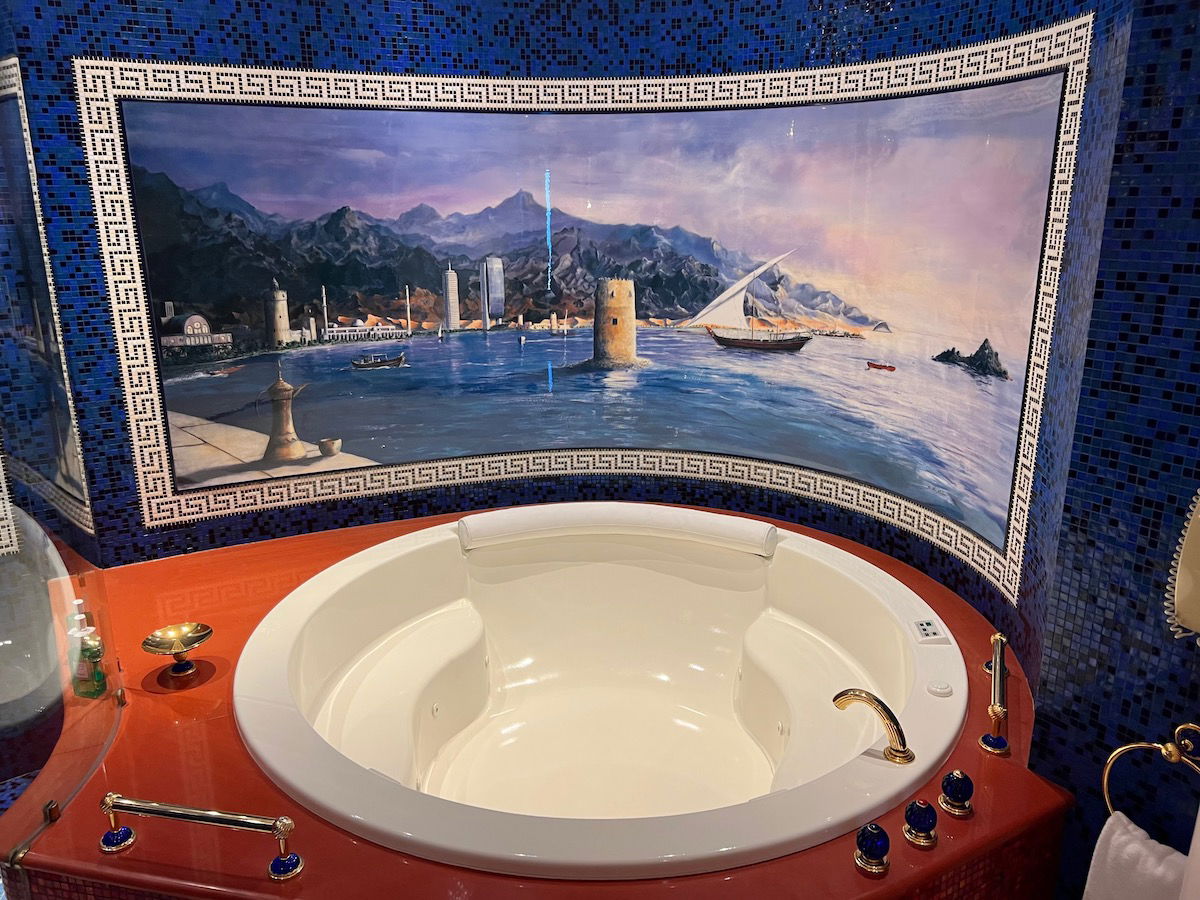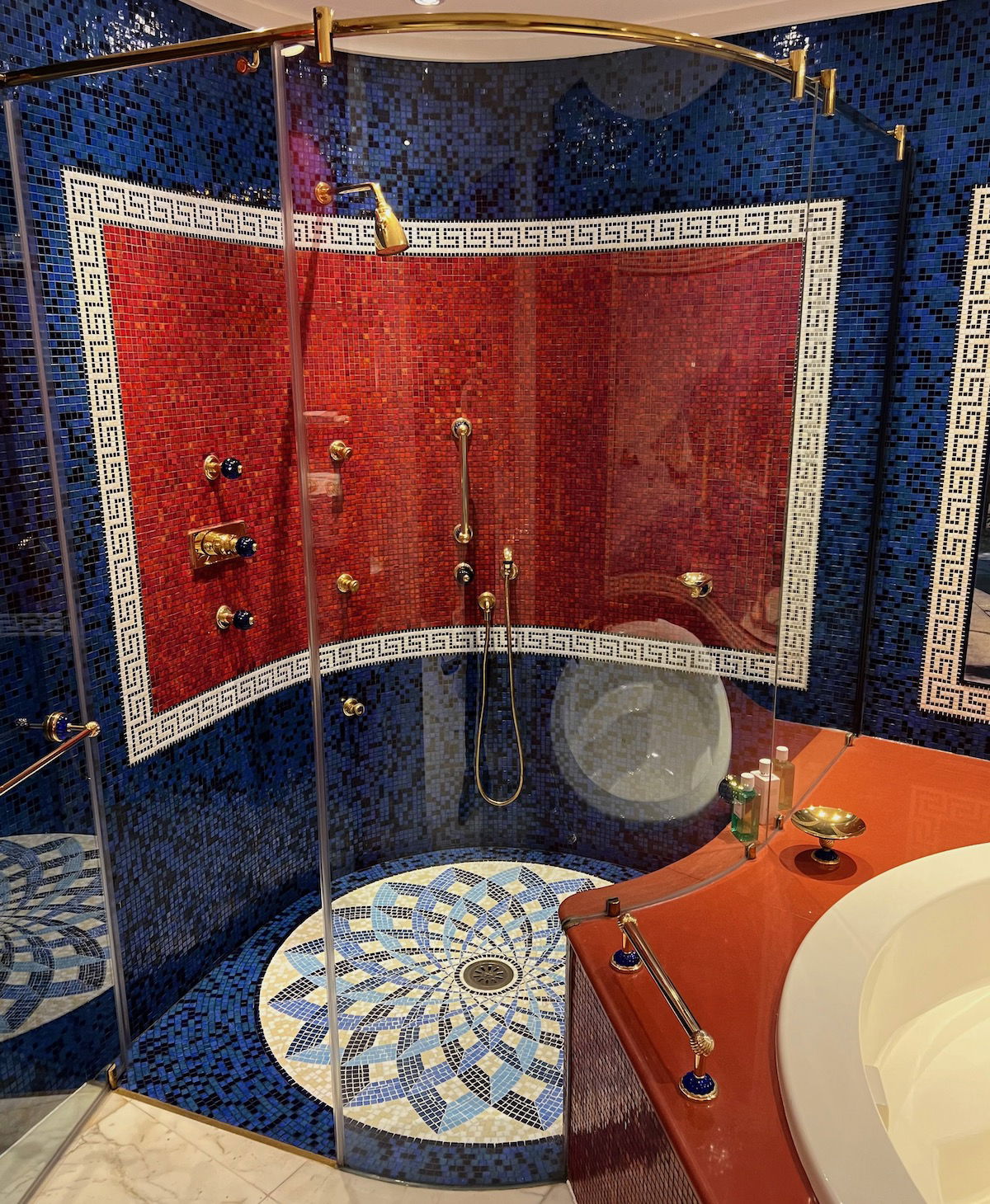 While the Burj Al Arab isn't cheap, the hotel also isn't stingy with guests. The hotel has full size Hermes toiletries, and on top of that provides Hermes gifts that guests can take home with them.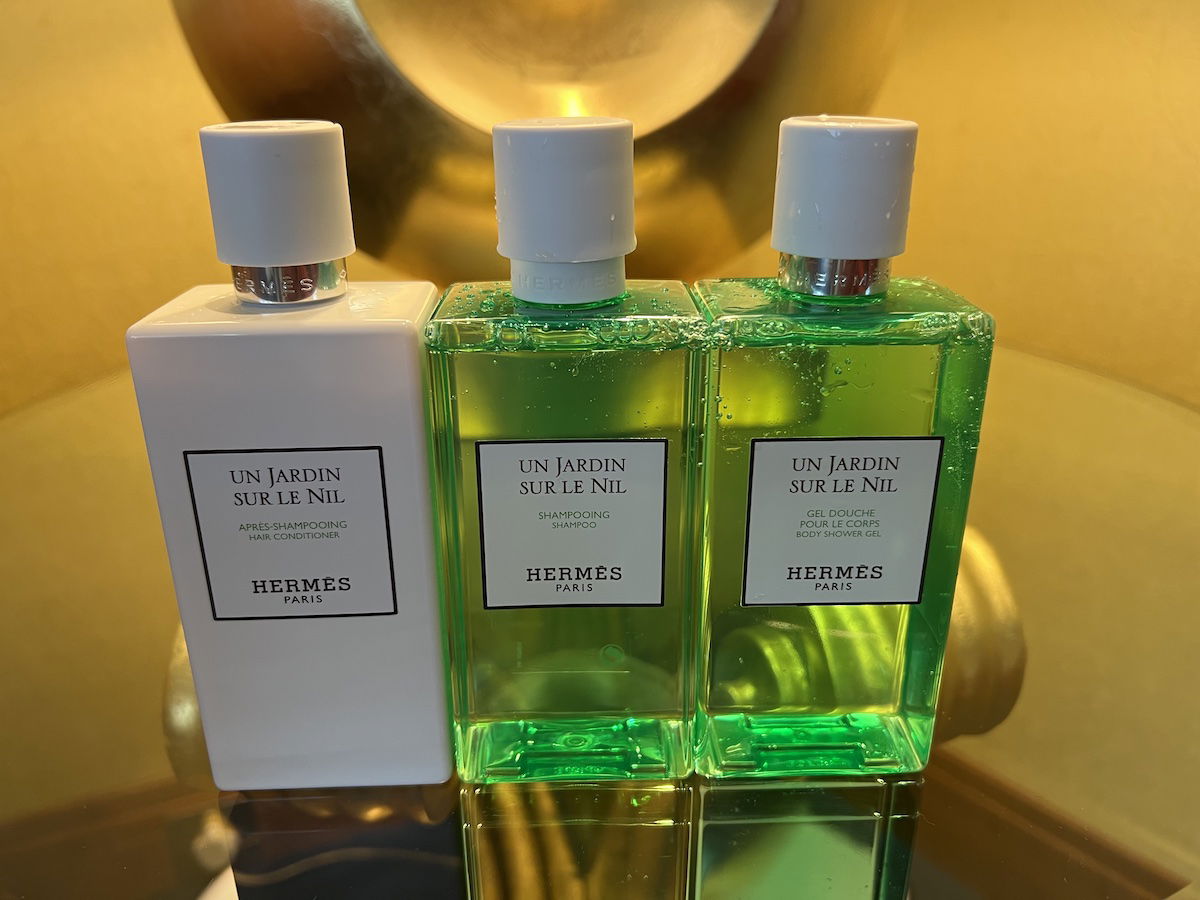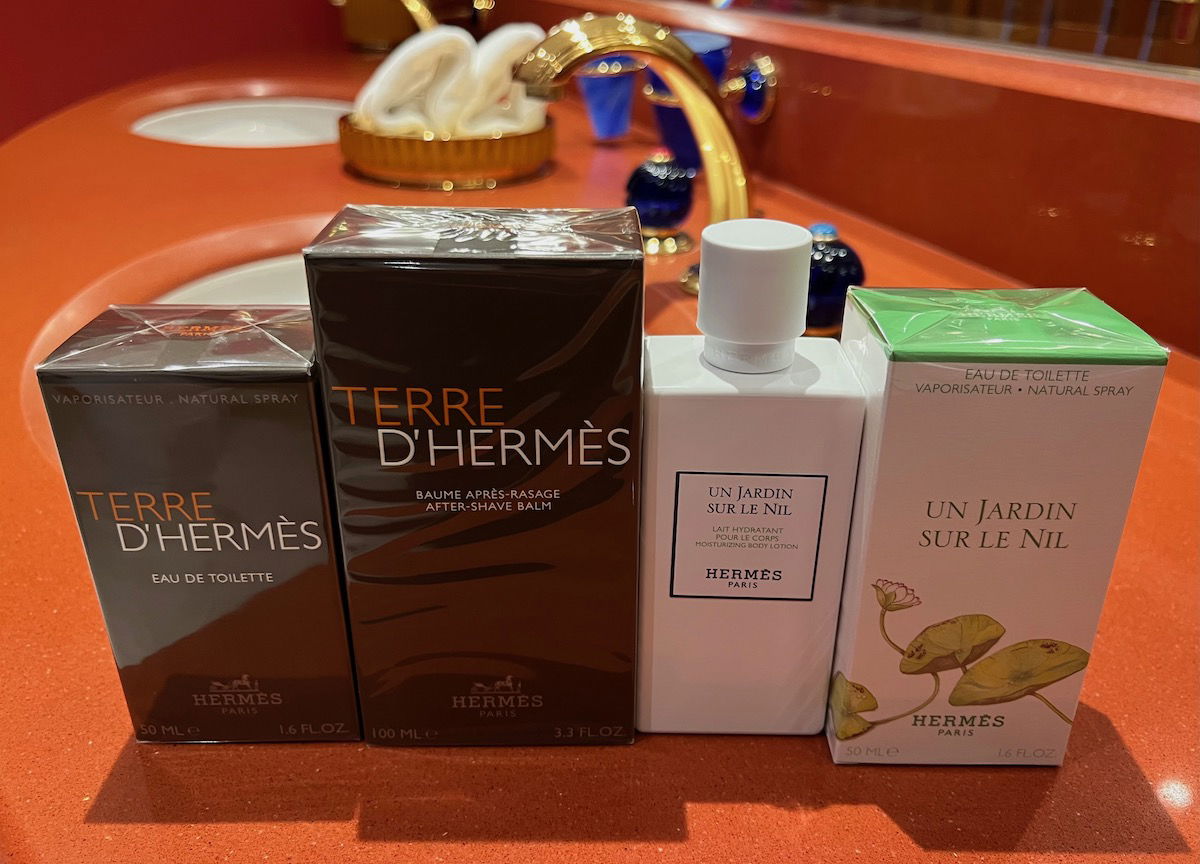 The bathrobes were pretty extravagant as well (though you can't take those with you for free).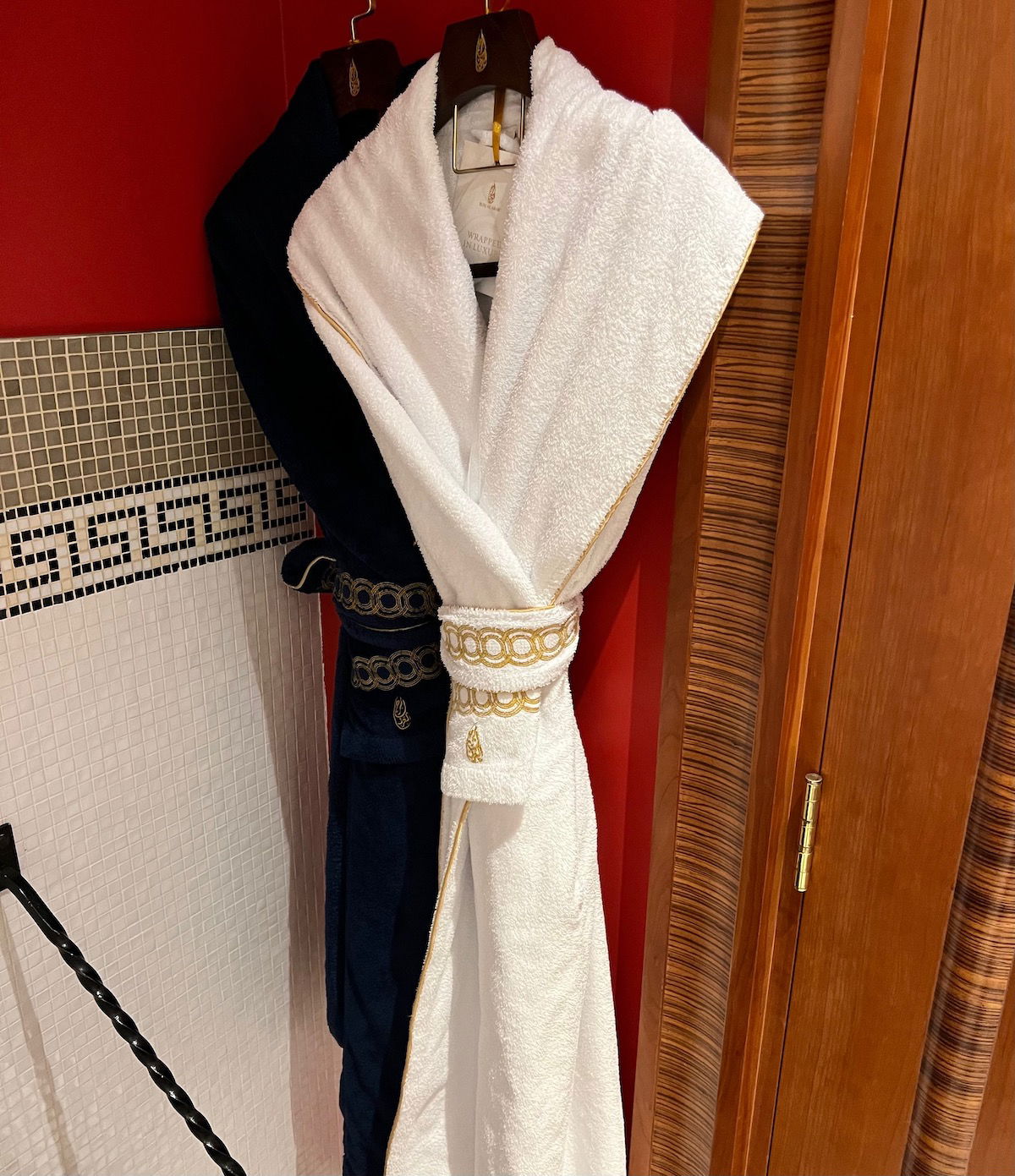 While the room's decor was outdated, it wasn't nearly as outdated as the phone and safe. It's kind of funny how everything in the room is gold plated, but then you have a $10 phone that seems like it's 20 years old.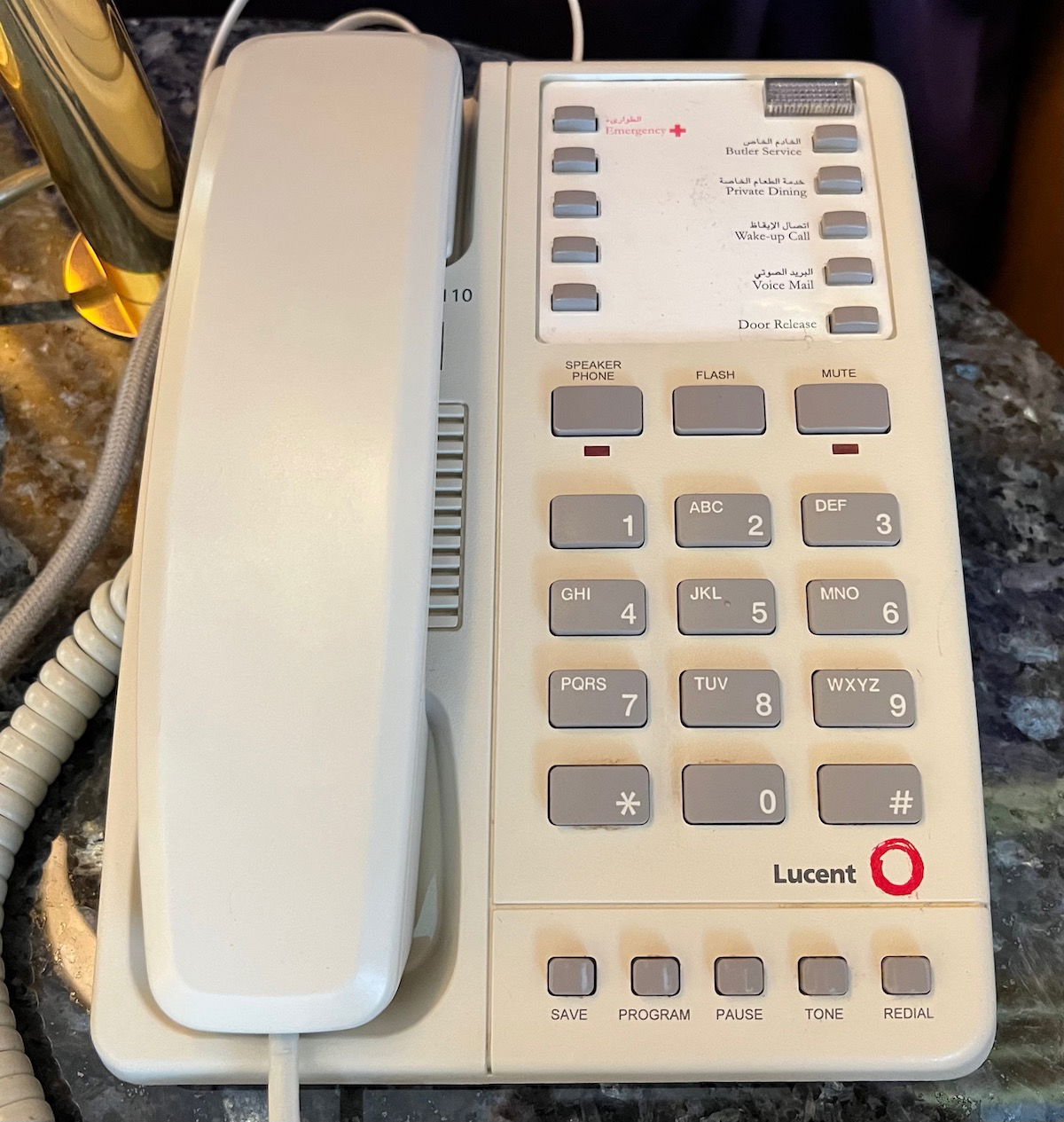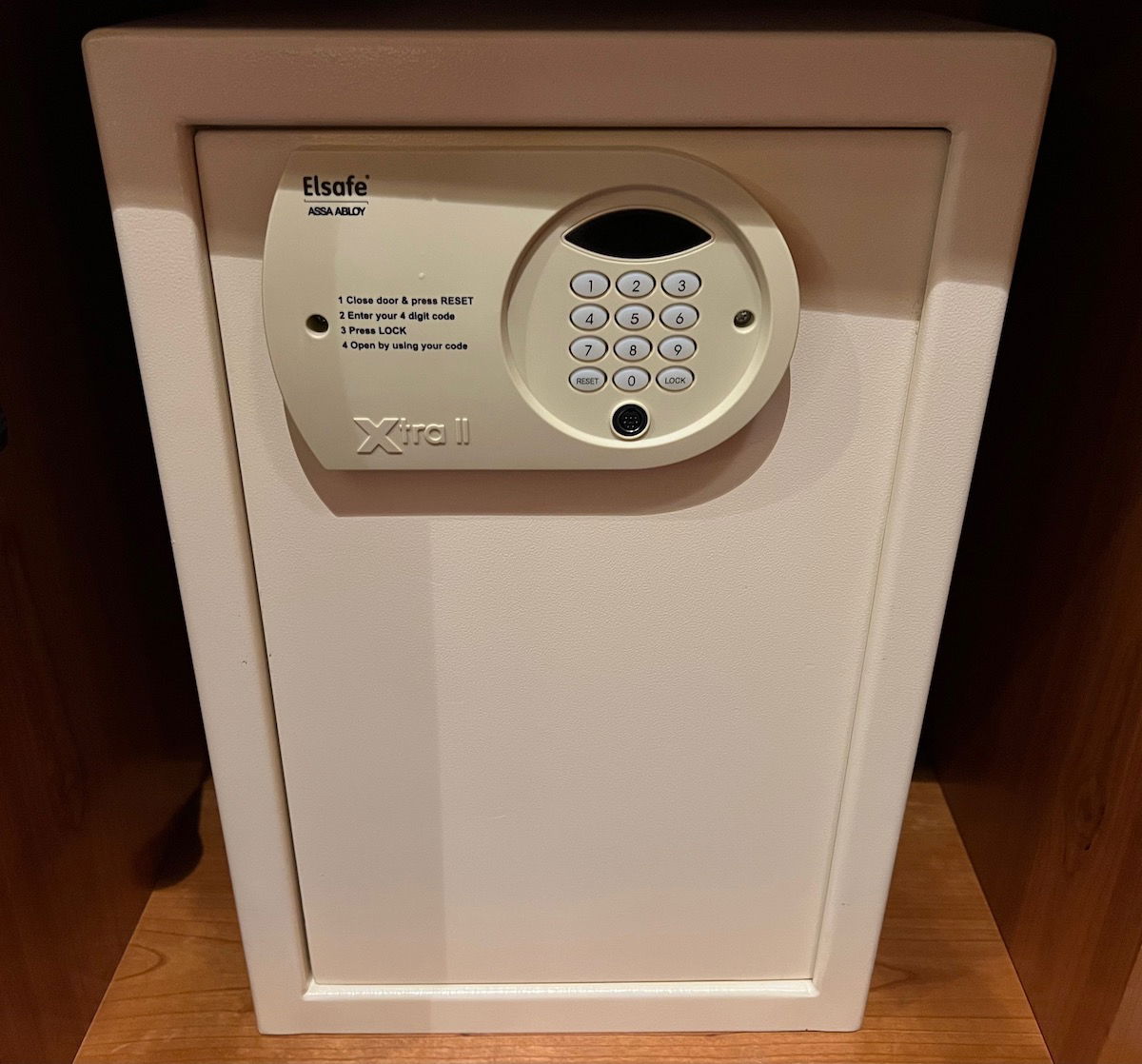 It's not just the Hermes toiletries where the Burj Al Arab is generous with guests. There's also a nightly in-room happy hour provided by the butler, from 5:30PM until 8PM. This included some canapés consisting of ricotta balls with caviar and some gold flakes… yum!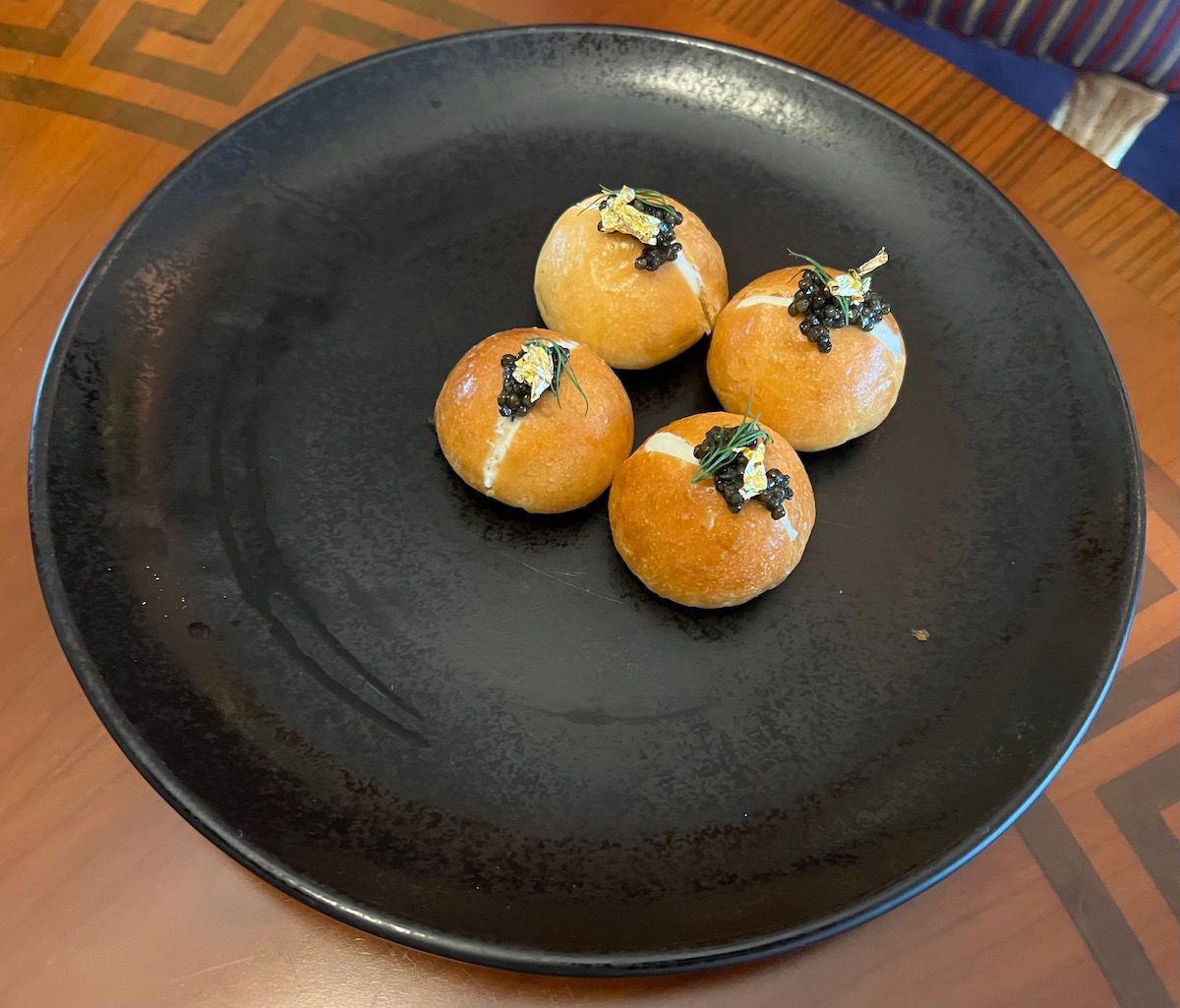 There's then a selection of alcohol to choose from, including a white wine, a red wine, whiskey, gin, vodka, or rum. There are even refills, so you can just message the butler through WhatsApp, and they'll bring you more drinks. Given the price of drinks at the hotel, this is a nice amenity that we certainly maximized.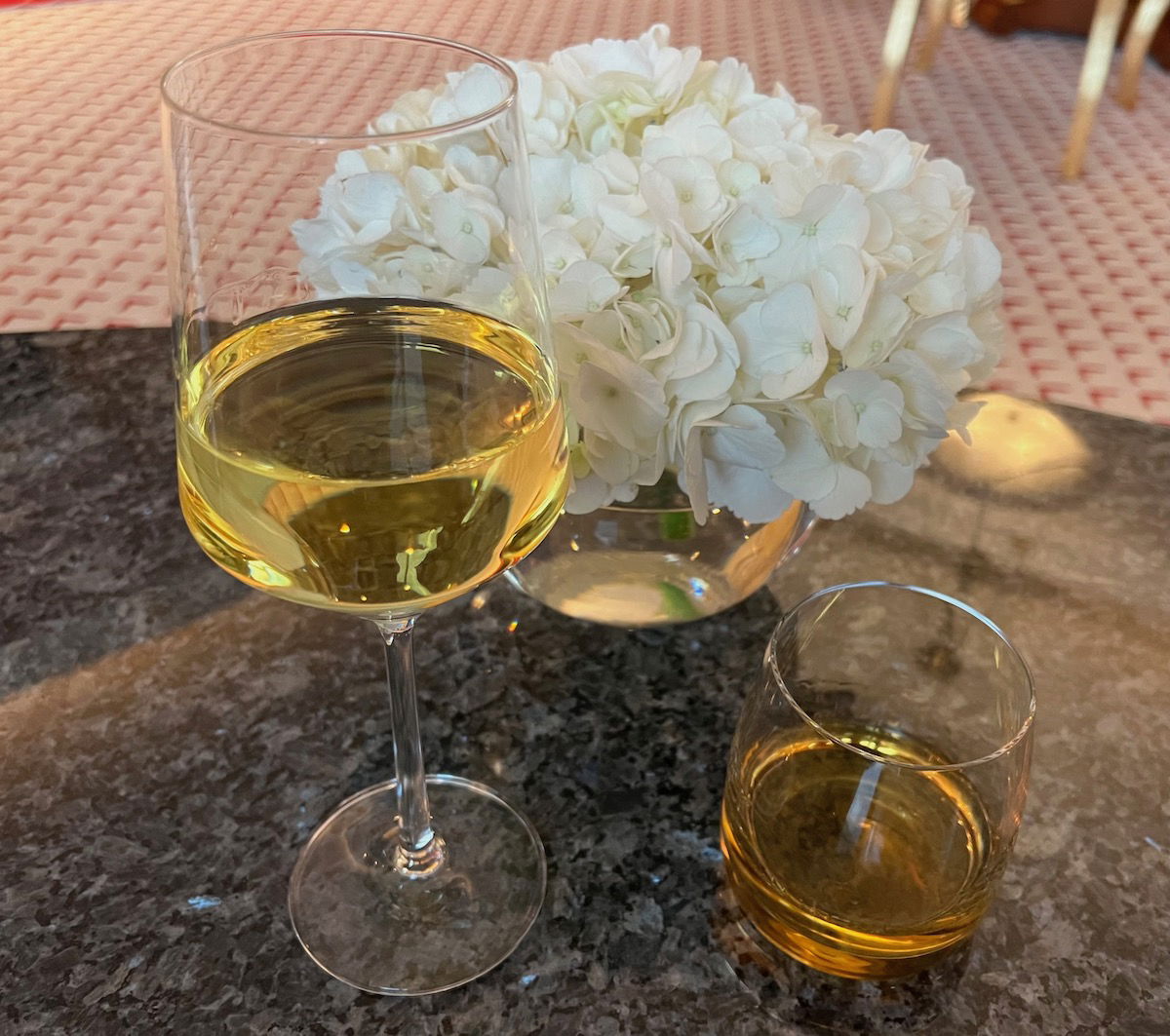 Turndown service was provided later in the evening, and included some Aigner amenities.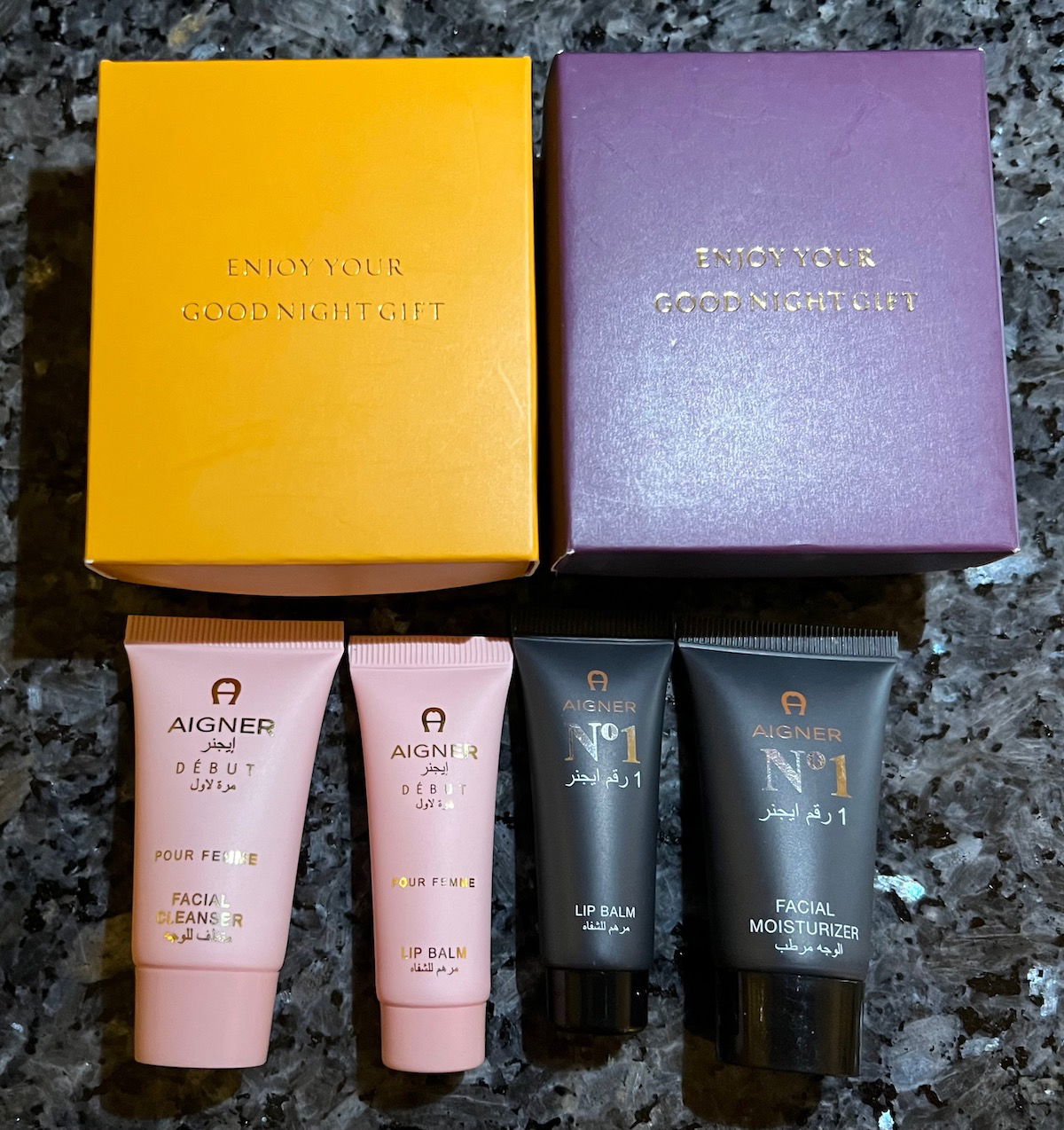 Burj Al Arab Dubai spa & indoor pool
The Burj Al Arab's spa and indoor pool are located on the 18th floor, and are open daily from 8AM until 9PM. As you'd expect, it's a rather over-the-top space.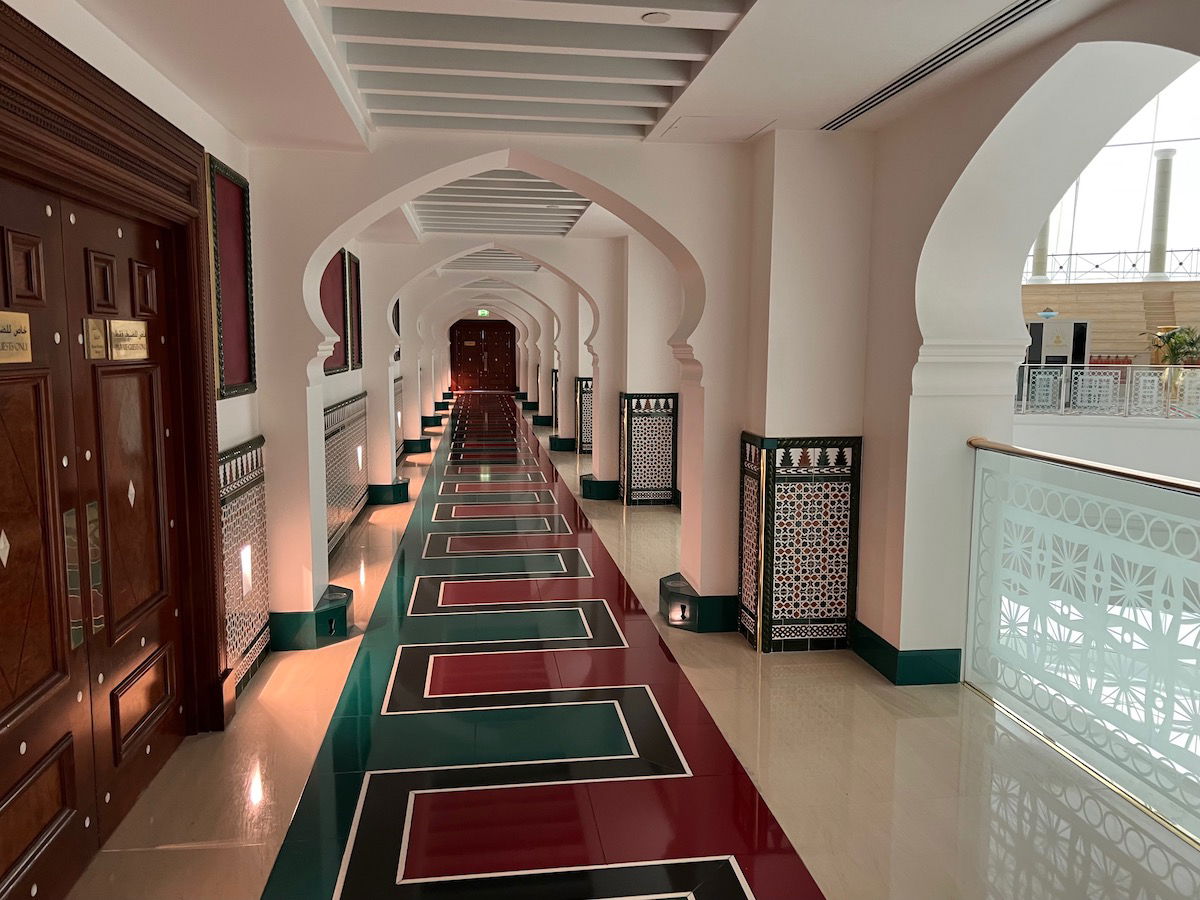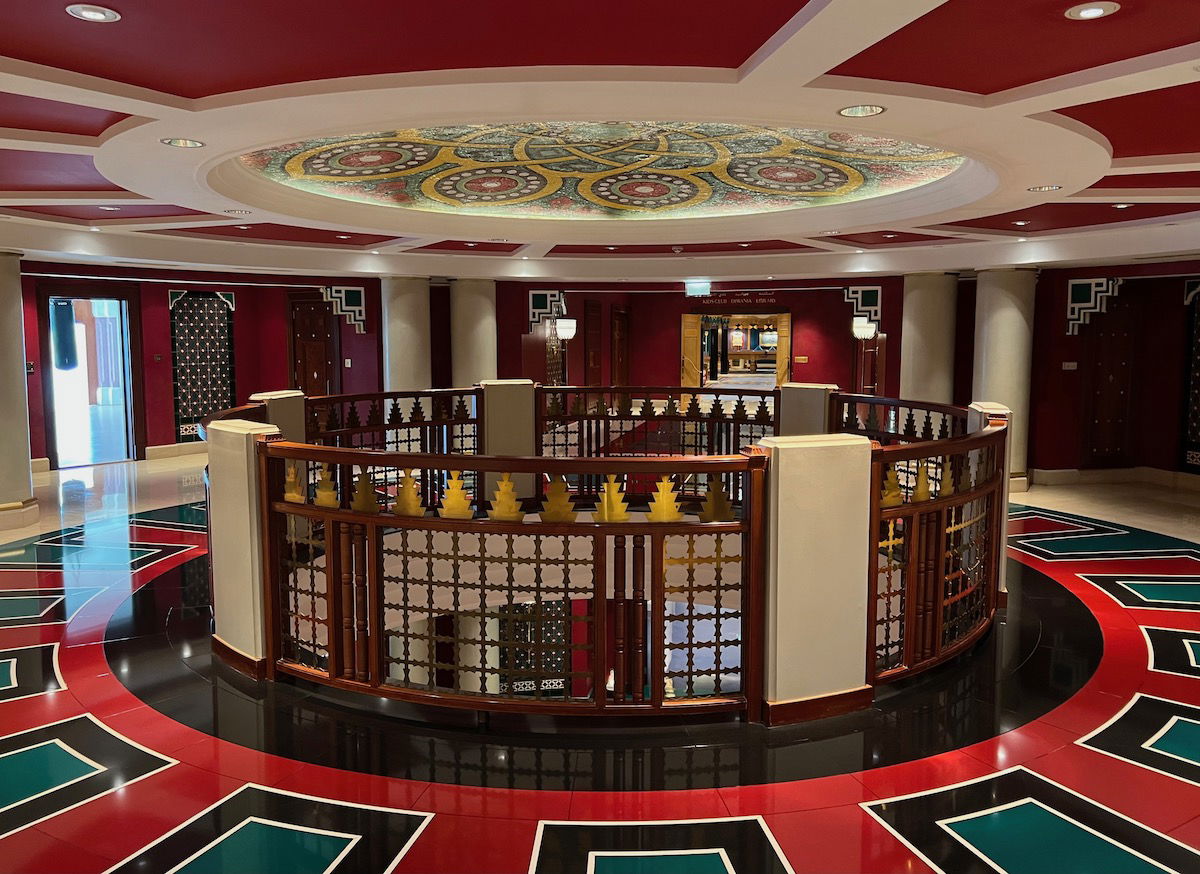 This is where the hotel's ridiculously beautiful indoor pool and jacuzzi are located. We swam here in the afternoon, and it was so cool to have the entire area to ourselves.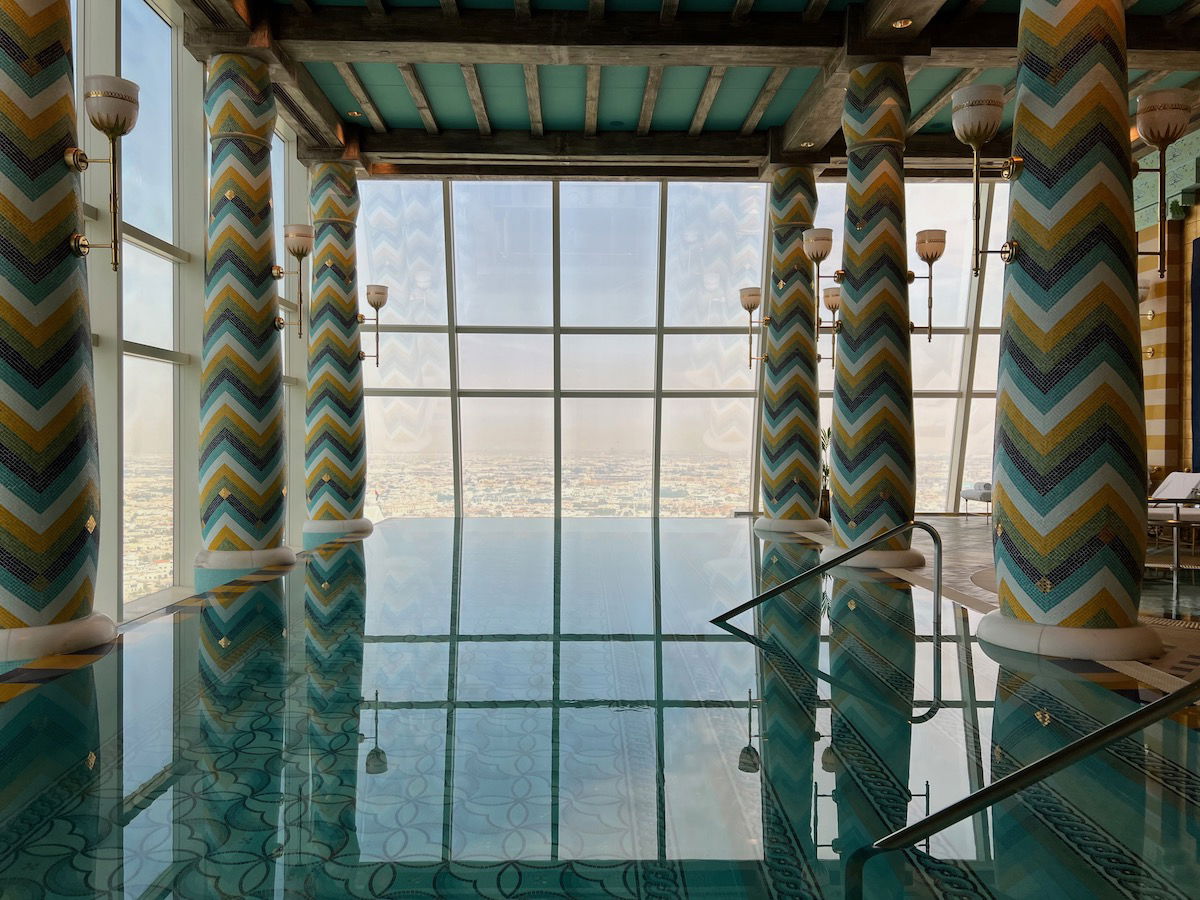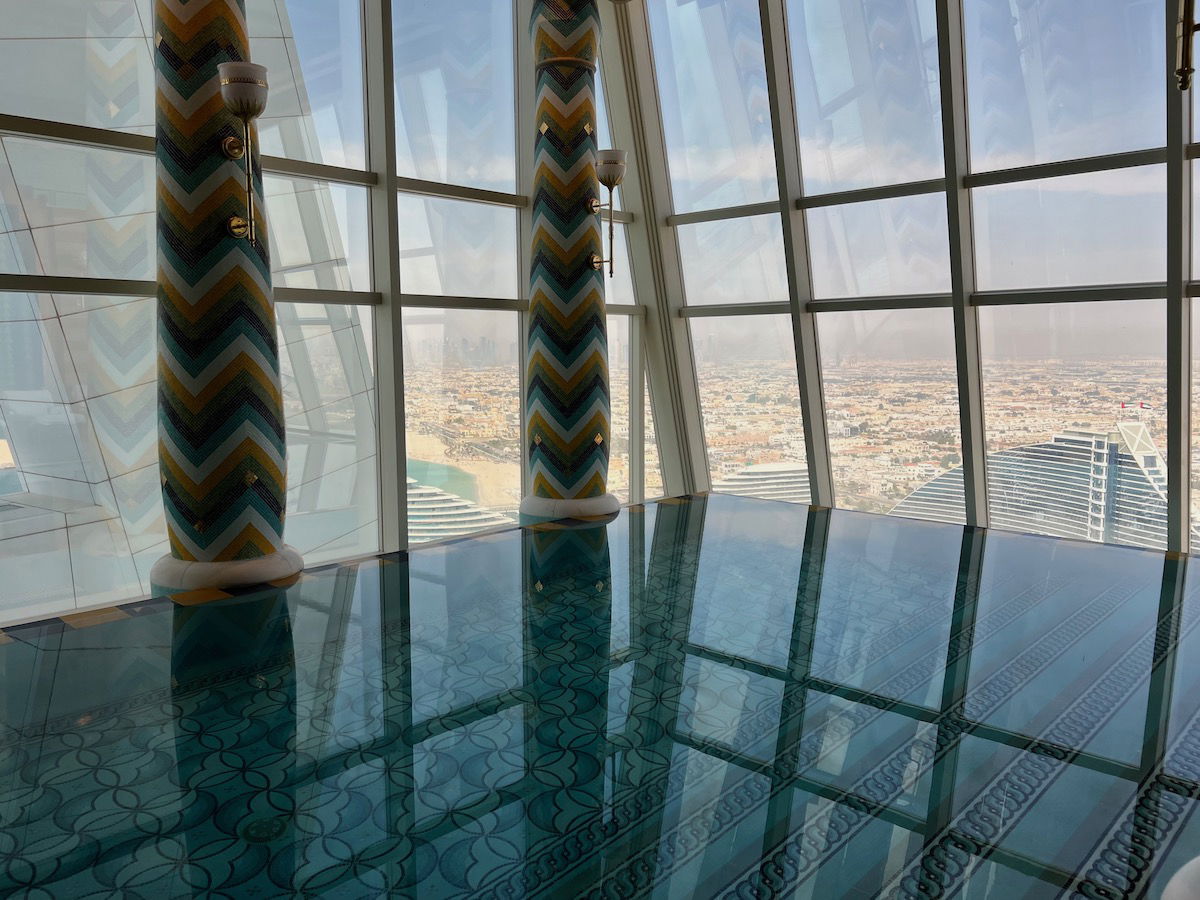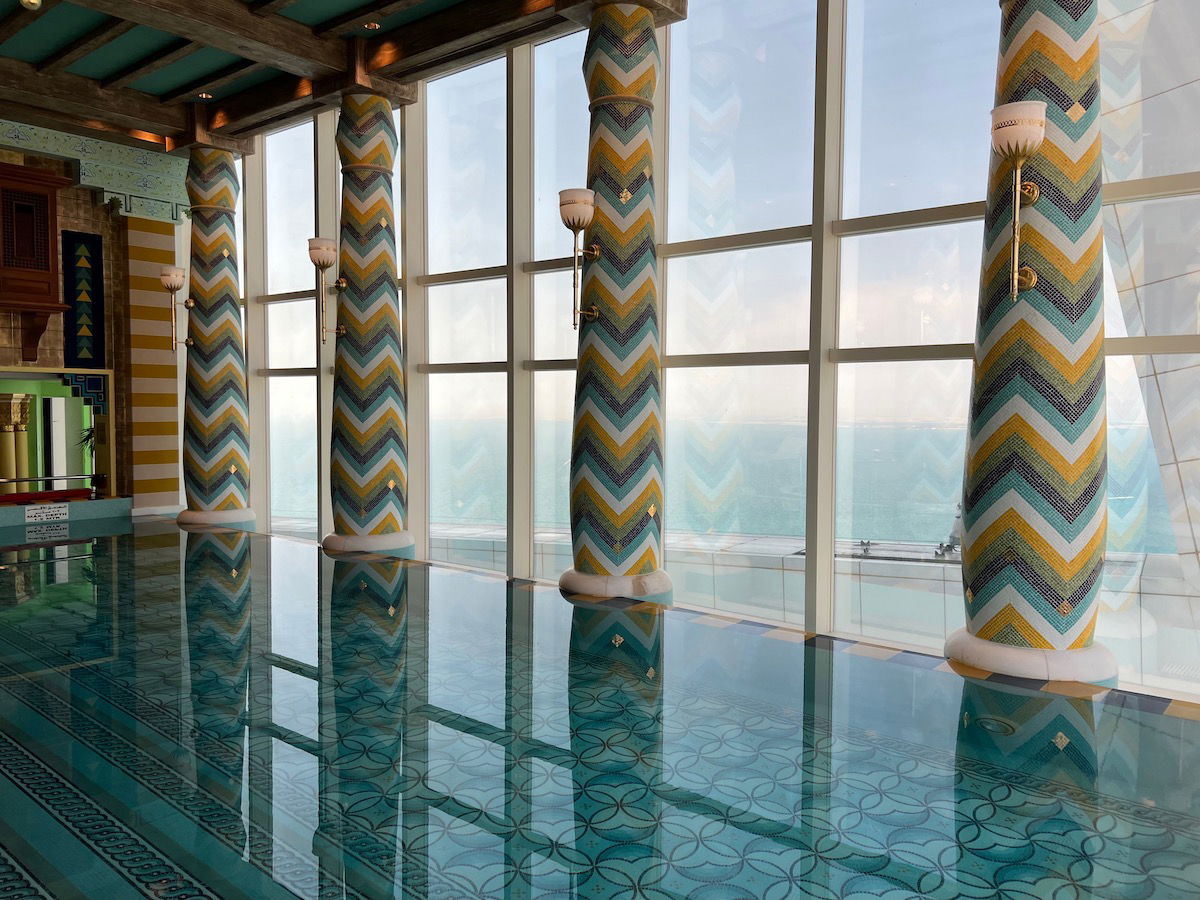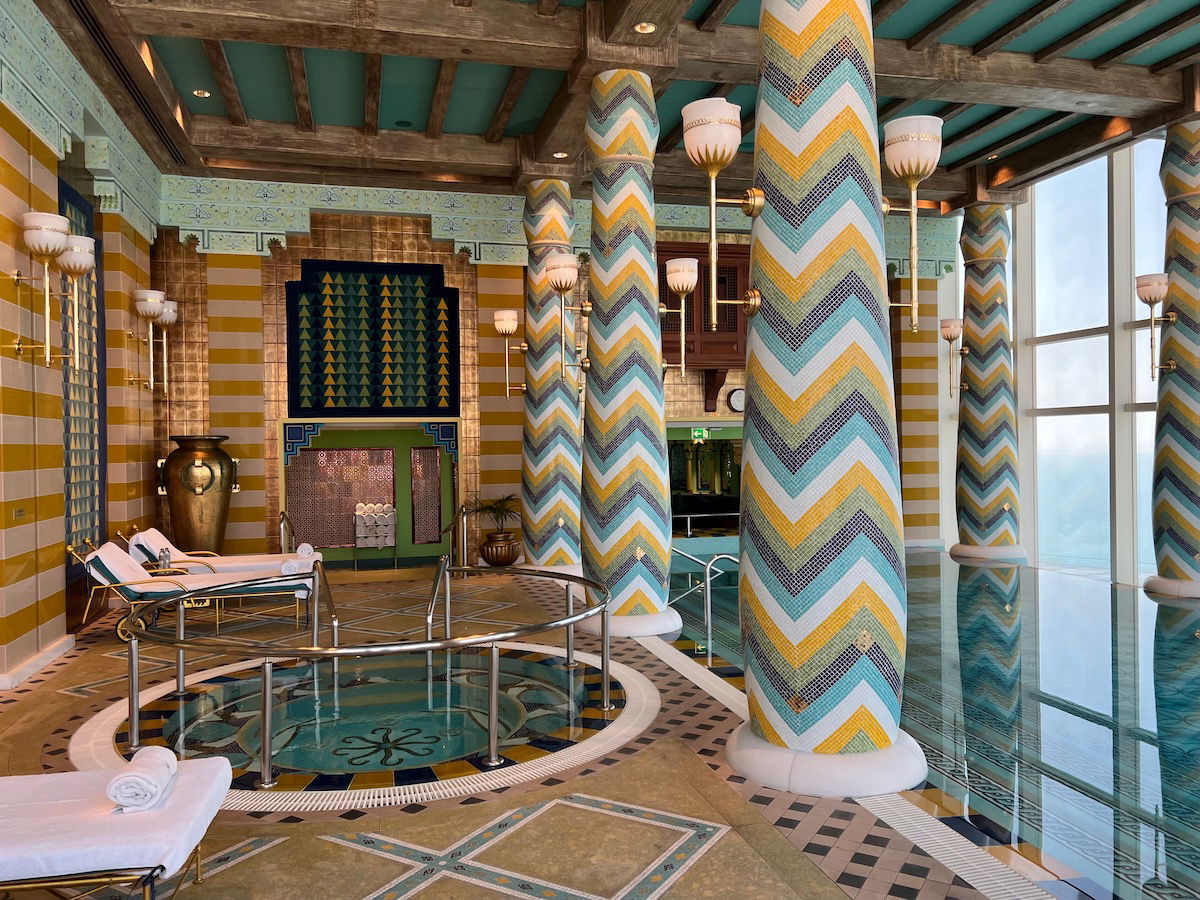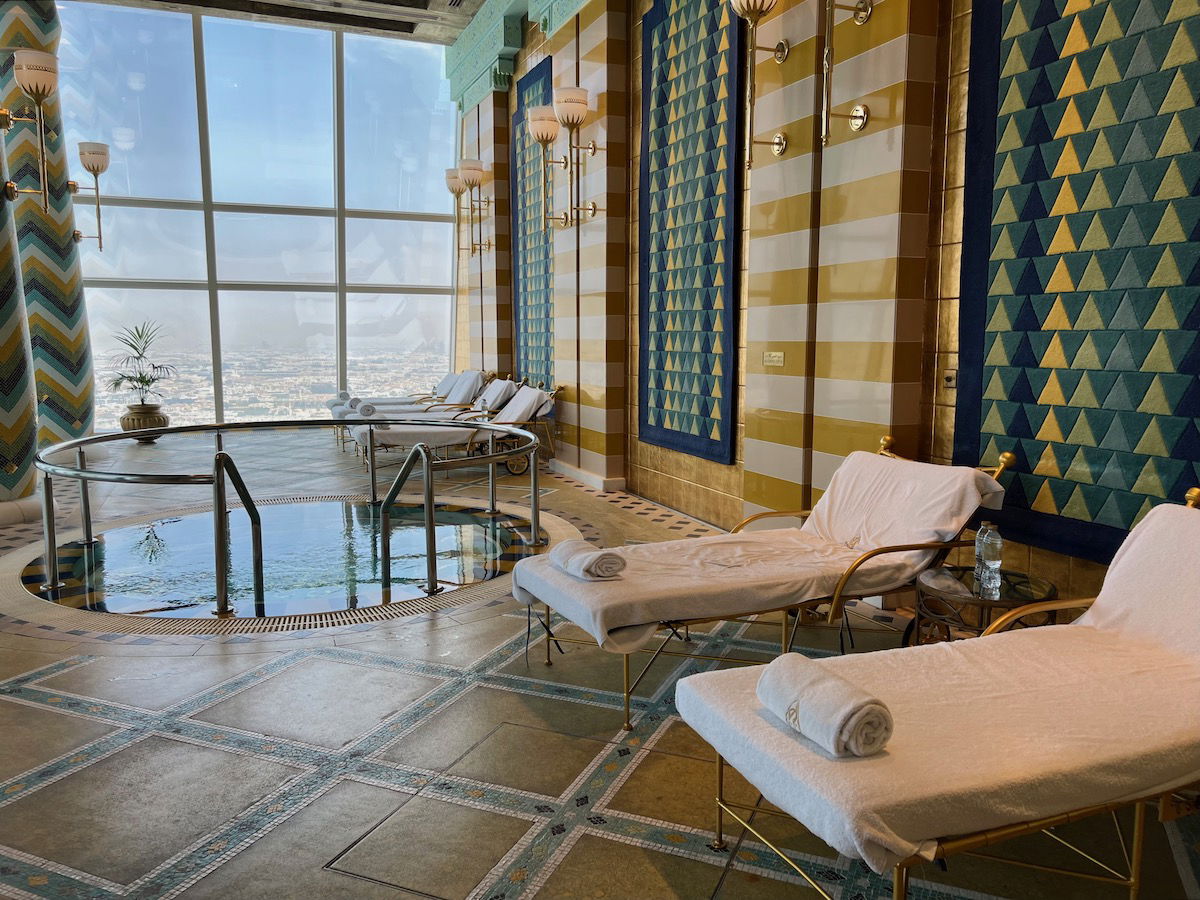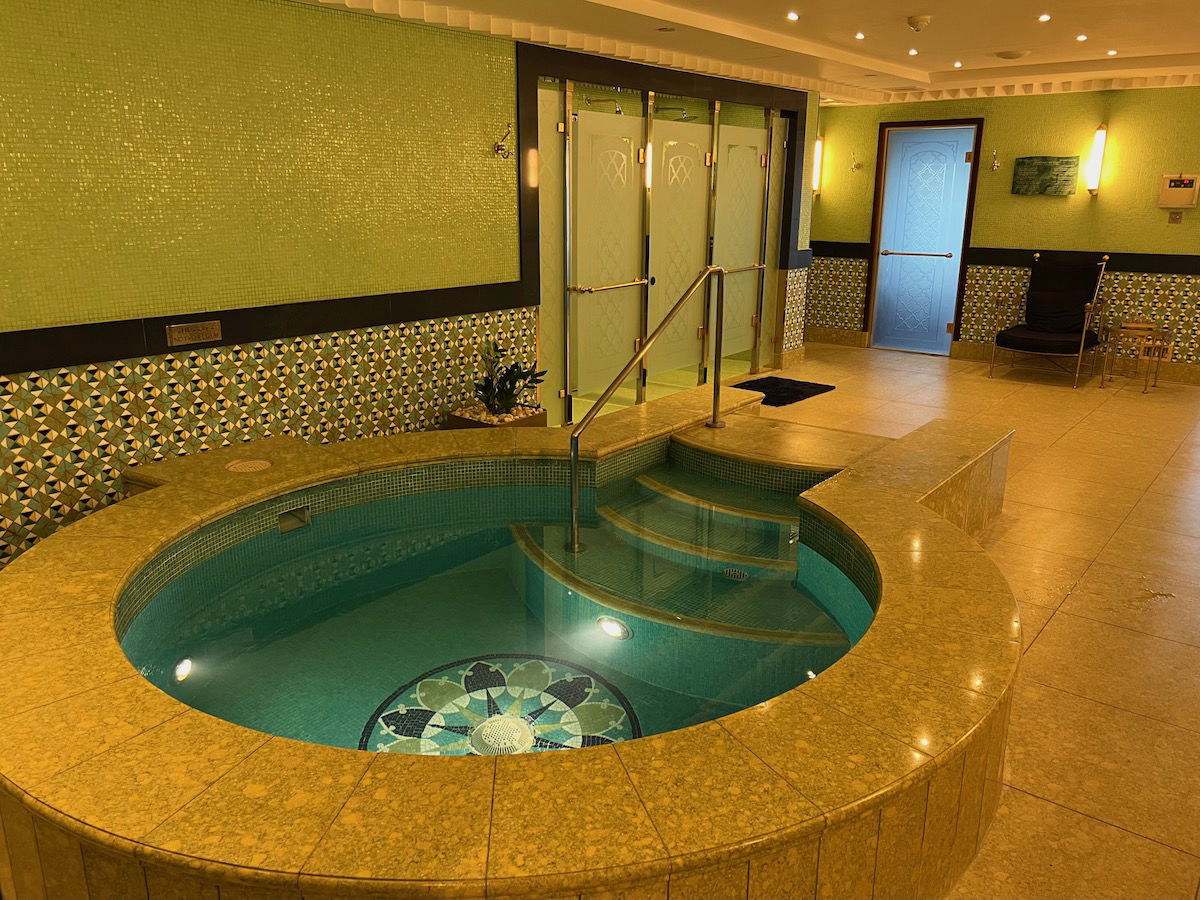 Beyond the indoor pool, there's also a larger spa complex, with a steam room, sauna, and more.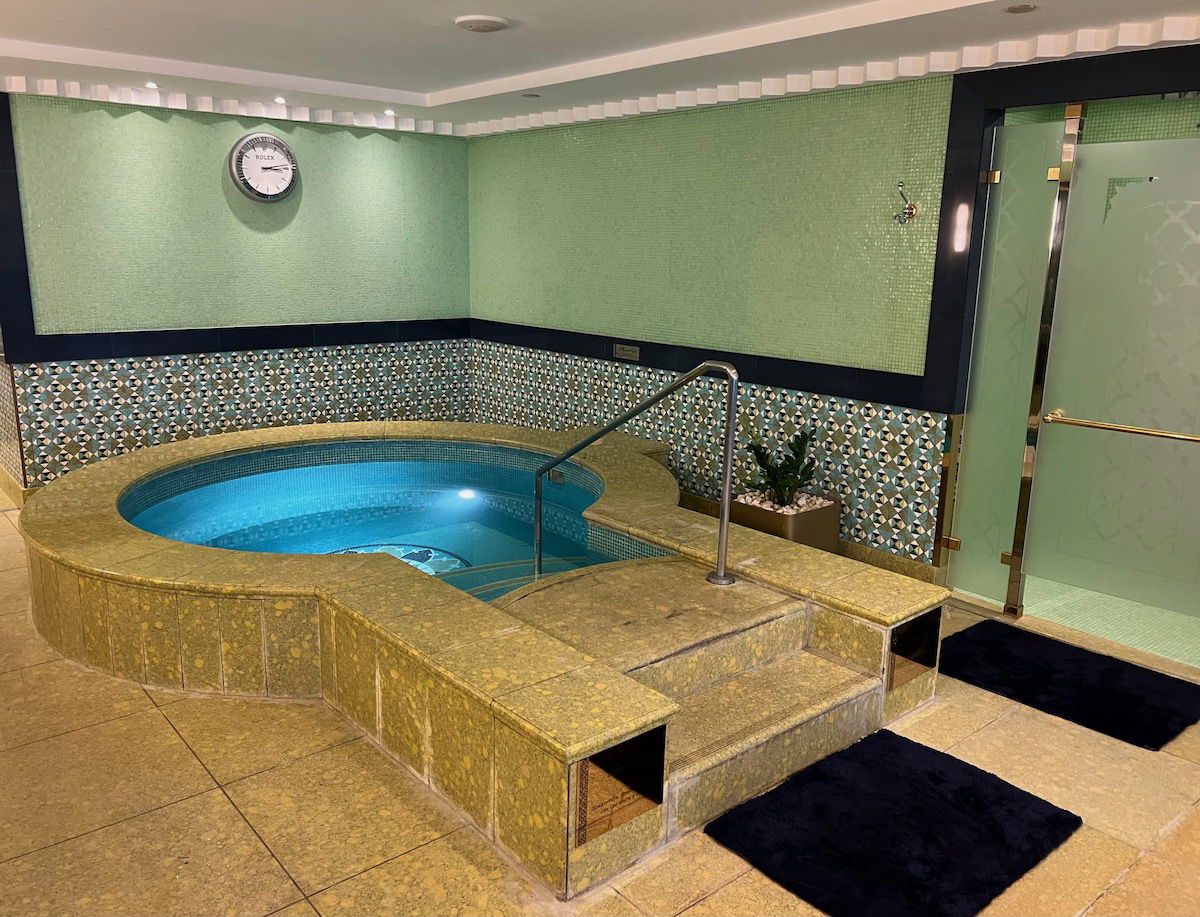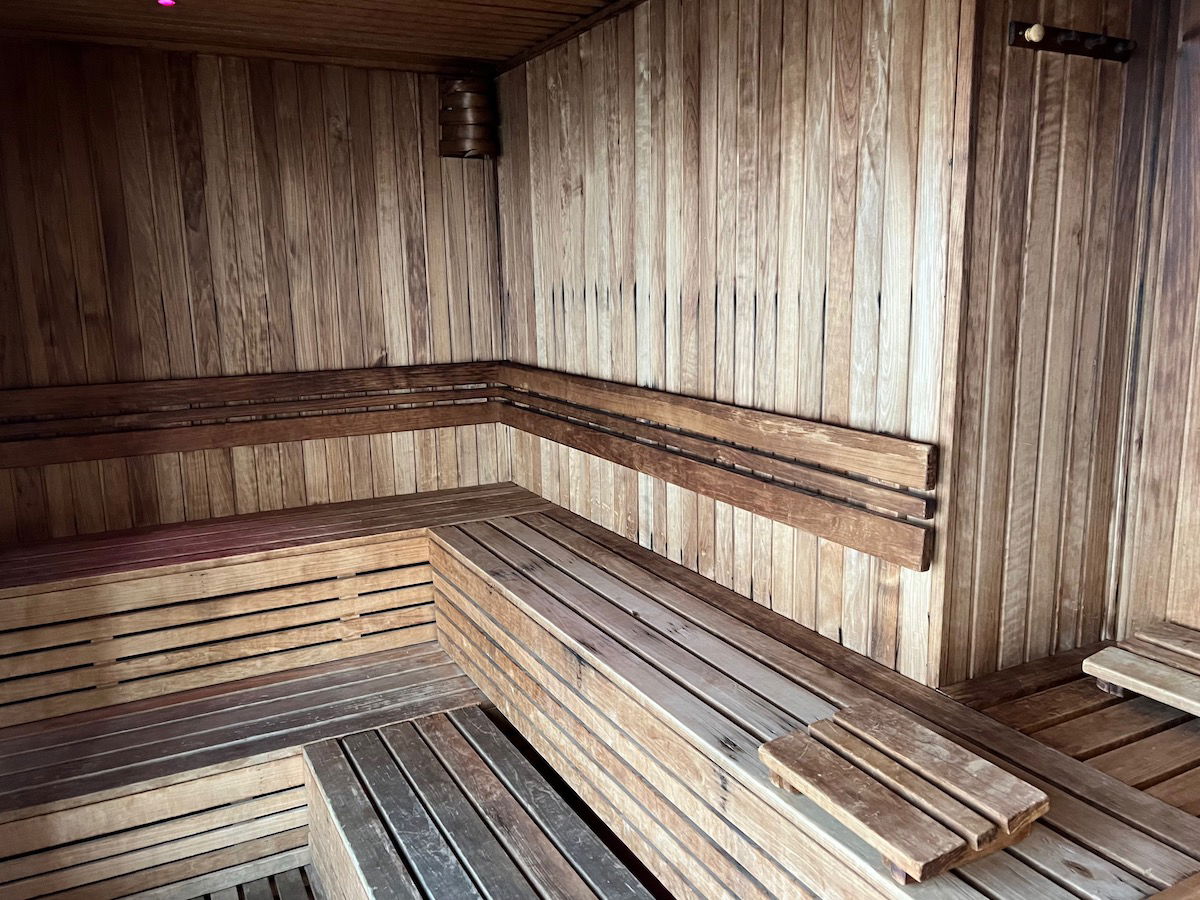 Since we booked through Virtuoso, our rate also included two complimentary massages. While the spa rooms weren't all that luxurious, the treatments were excellent. You can find all the details about the Burj Al Arab's Talise Spa here.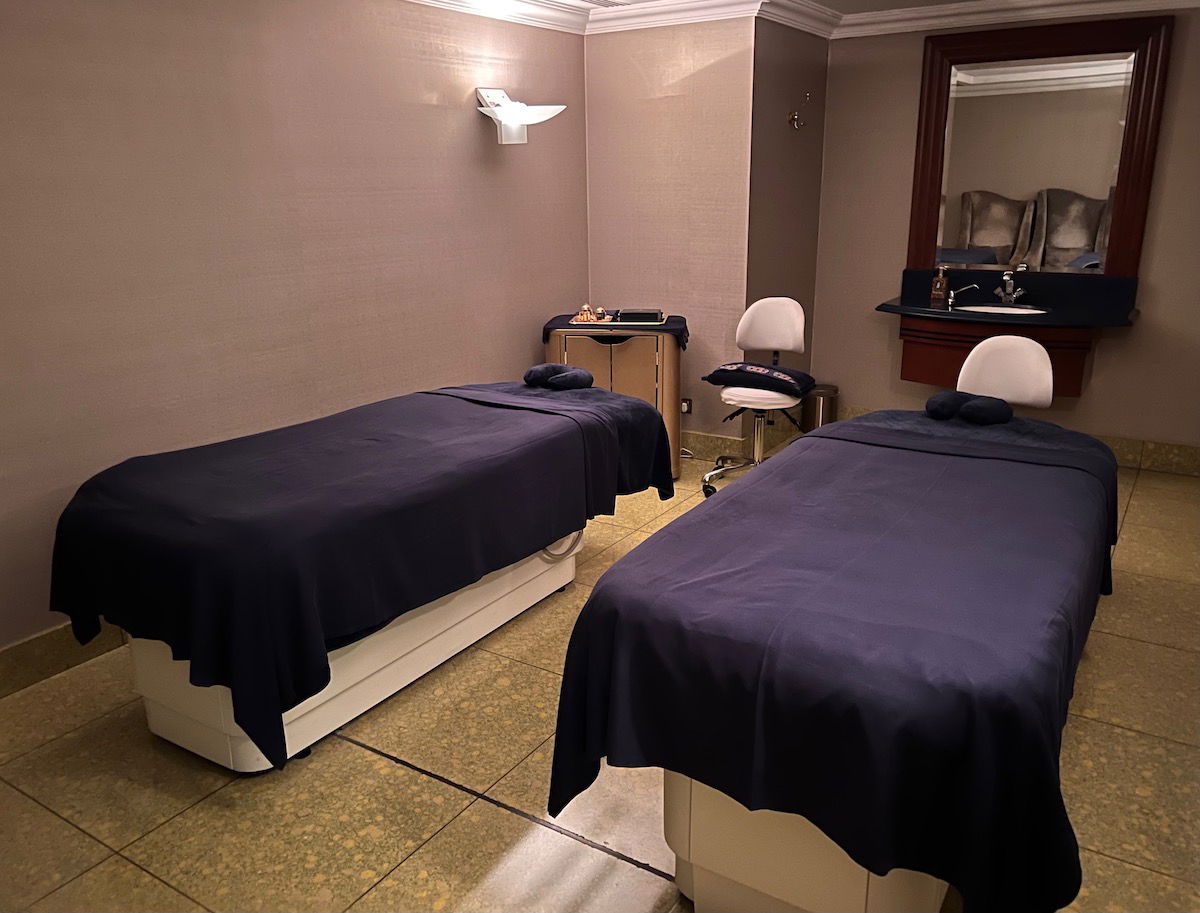 Burj Al Arab Dubai gym
The Burj Al Arab gym is also on the 18th floor, and is open daily from 6AM until 10PM. The gym is huge, there are multiple trainers on staff, and there were no other guests there when I used it.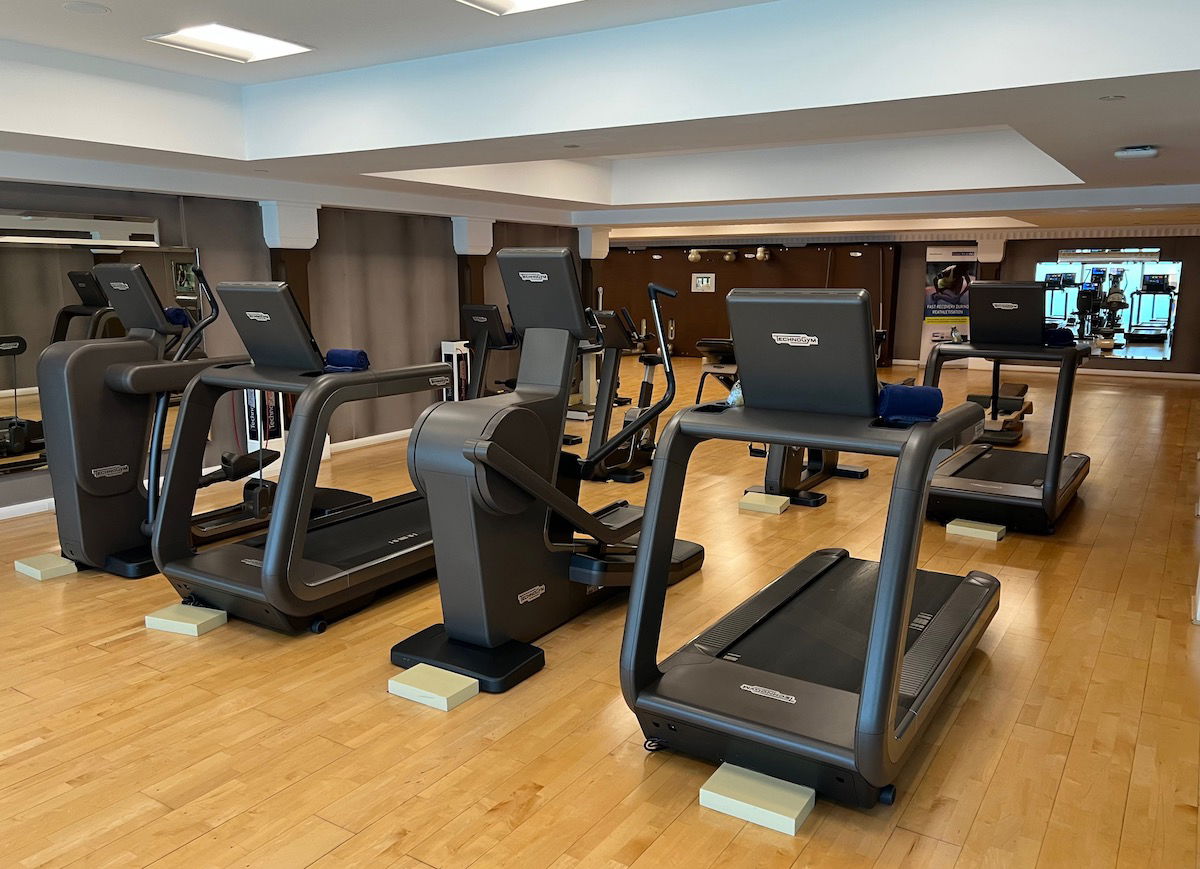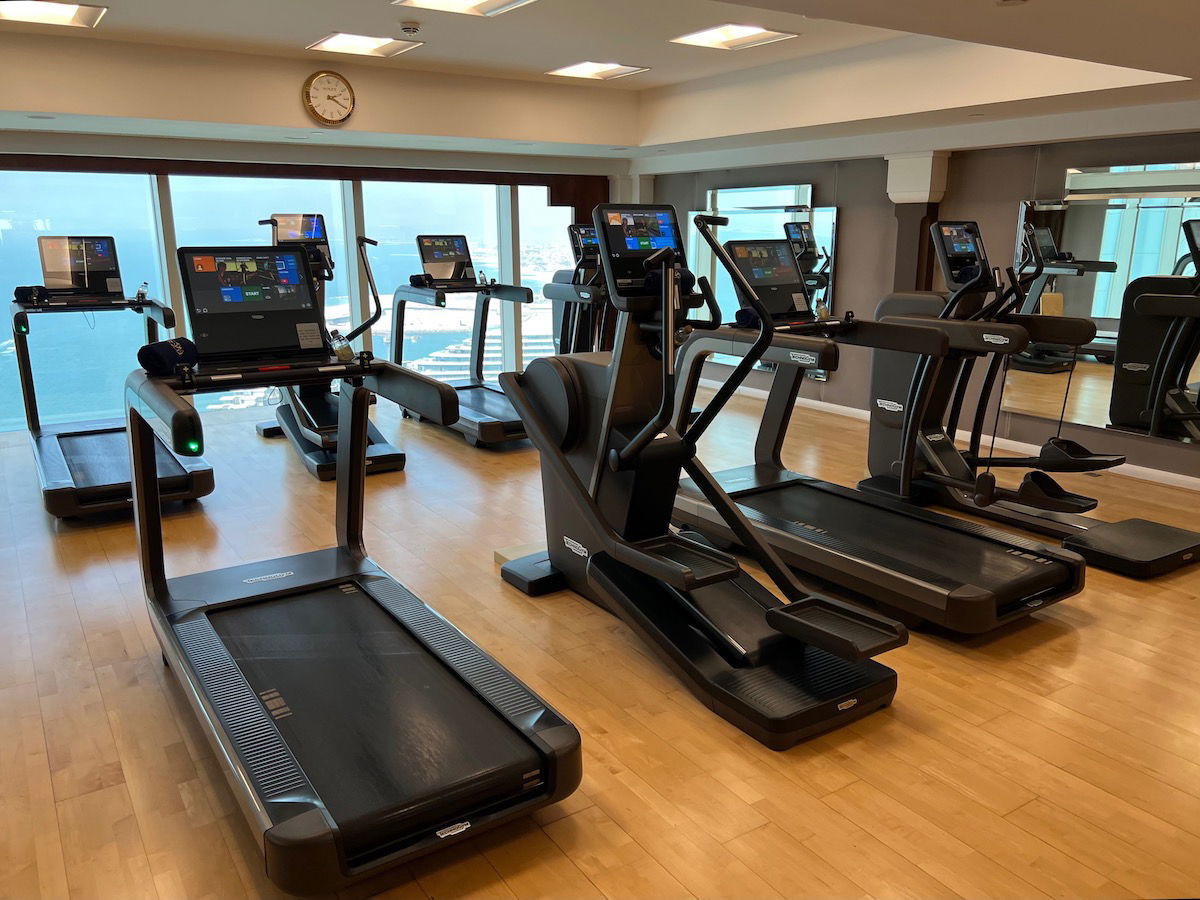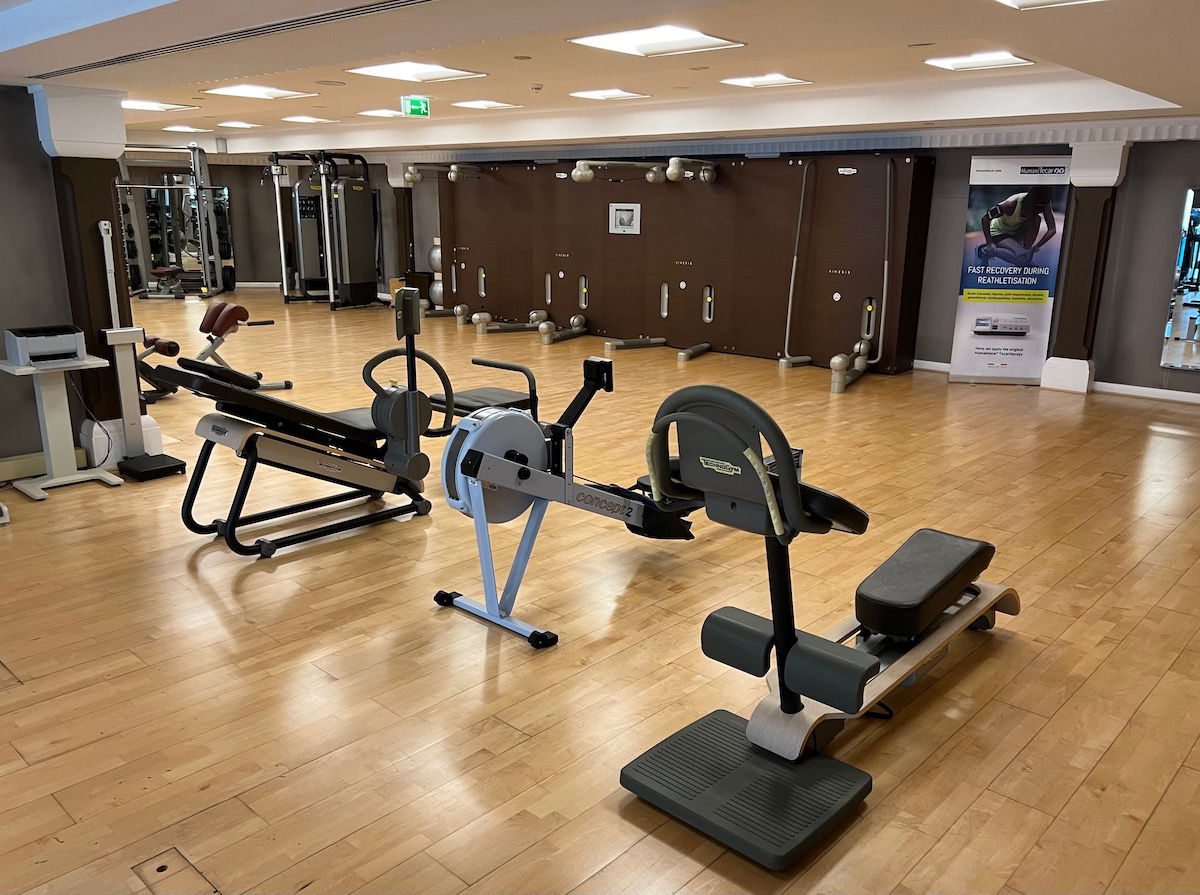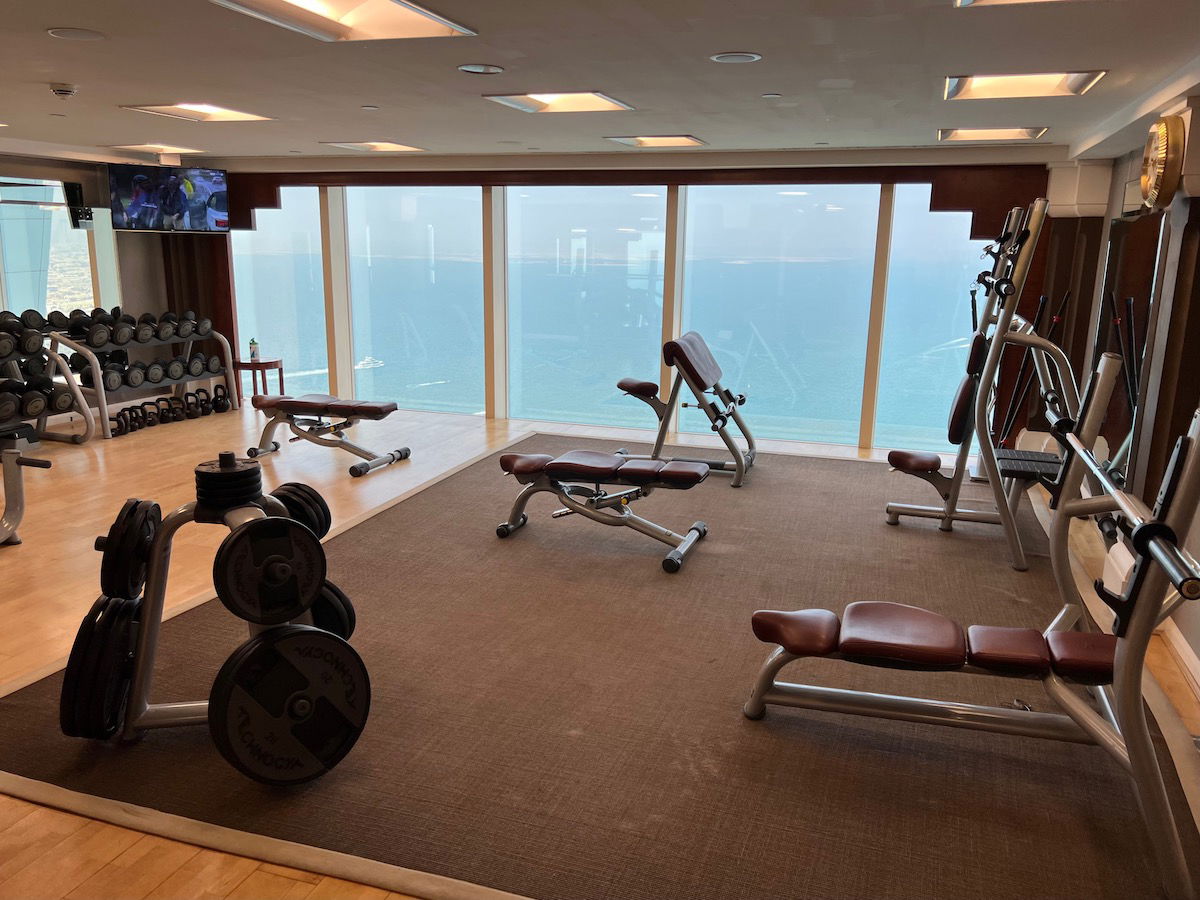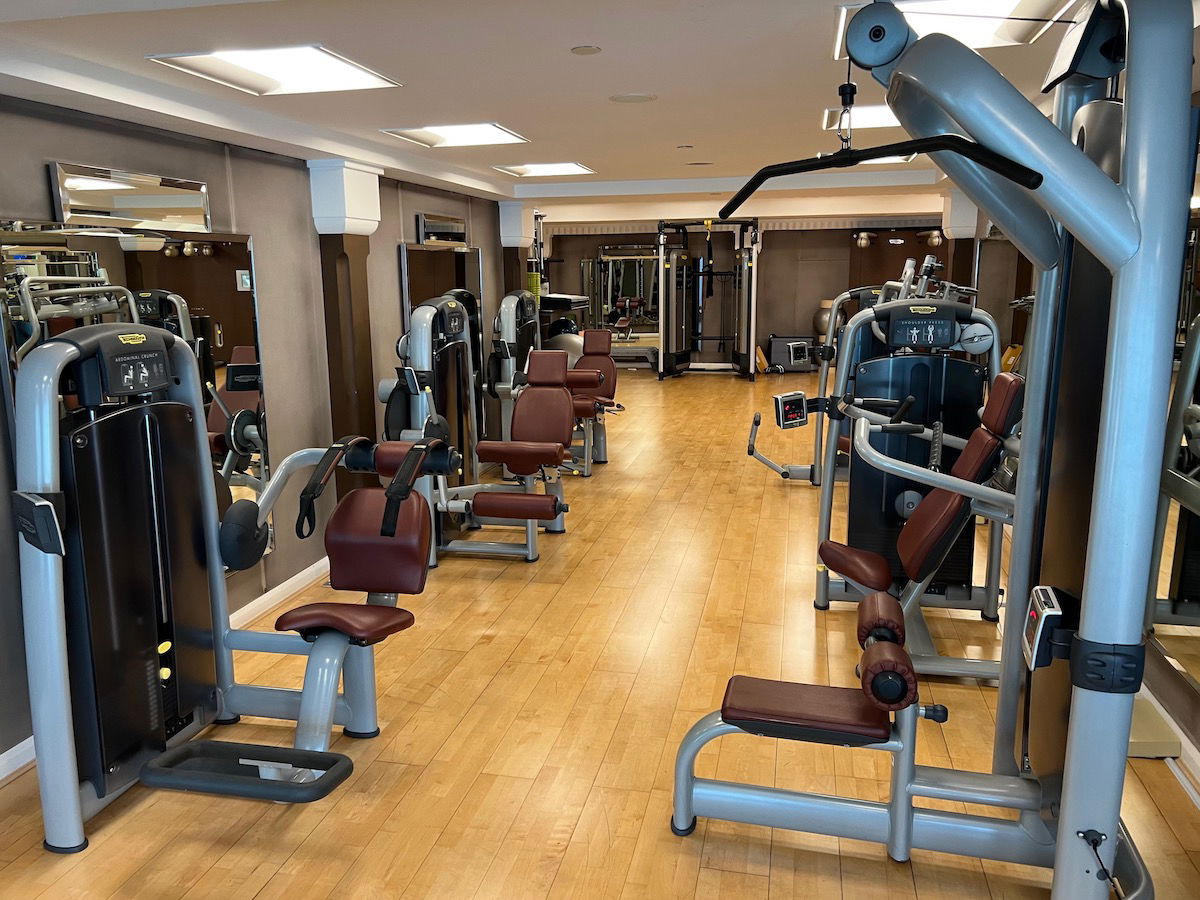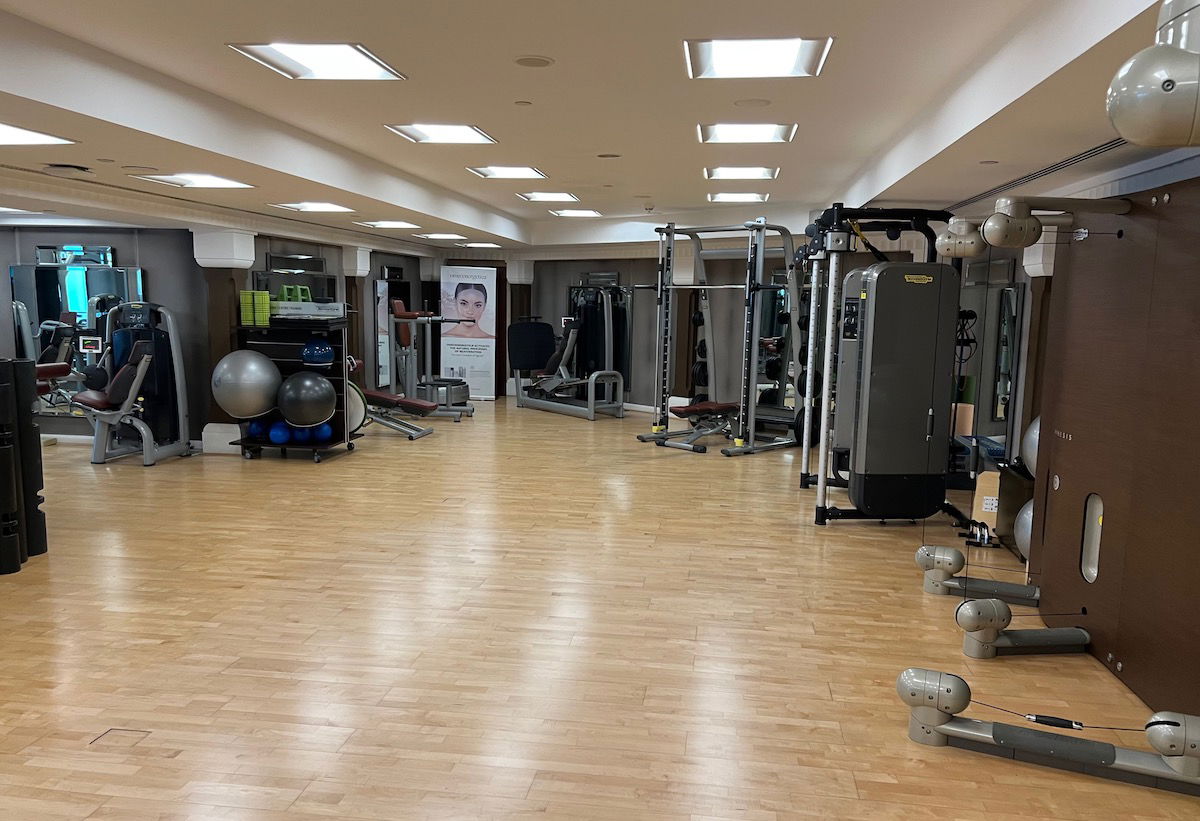 Burj Al Arab Dubai outdoor pool
The Burj Al Arab has an incredible pool space, which is modern and chic, and gives off a very different vibe than the interior of the hotel. The pool area consists of two huge pools, with one being an infinity-edge pool right on the sea. There are even some jacuzzis located inside one of the pools. These pools are not only beautiful to look at, but also nice to swim in, given how big they are.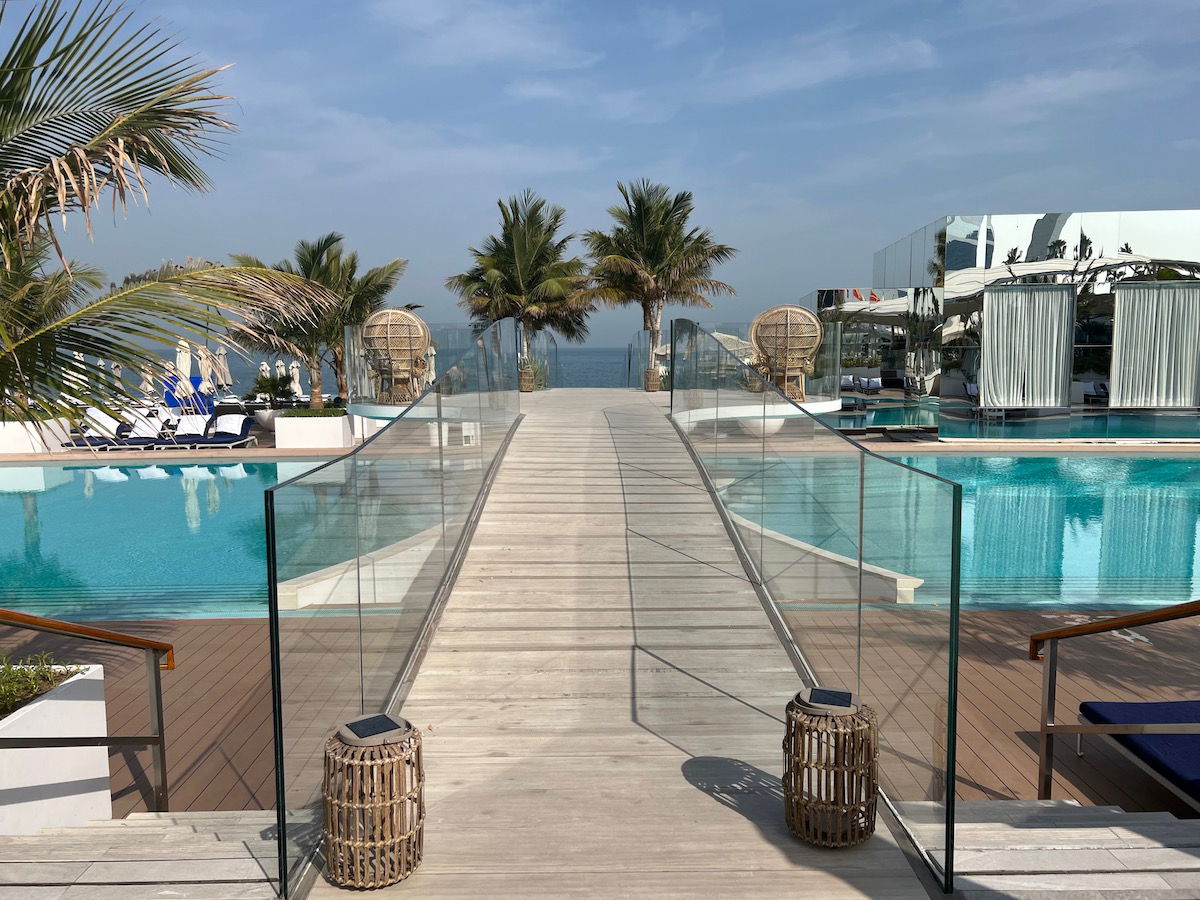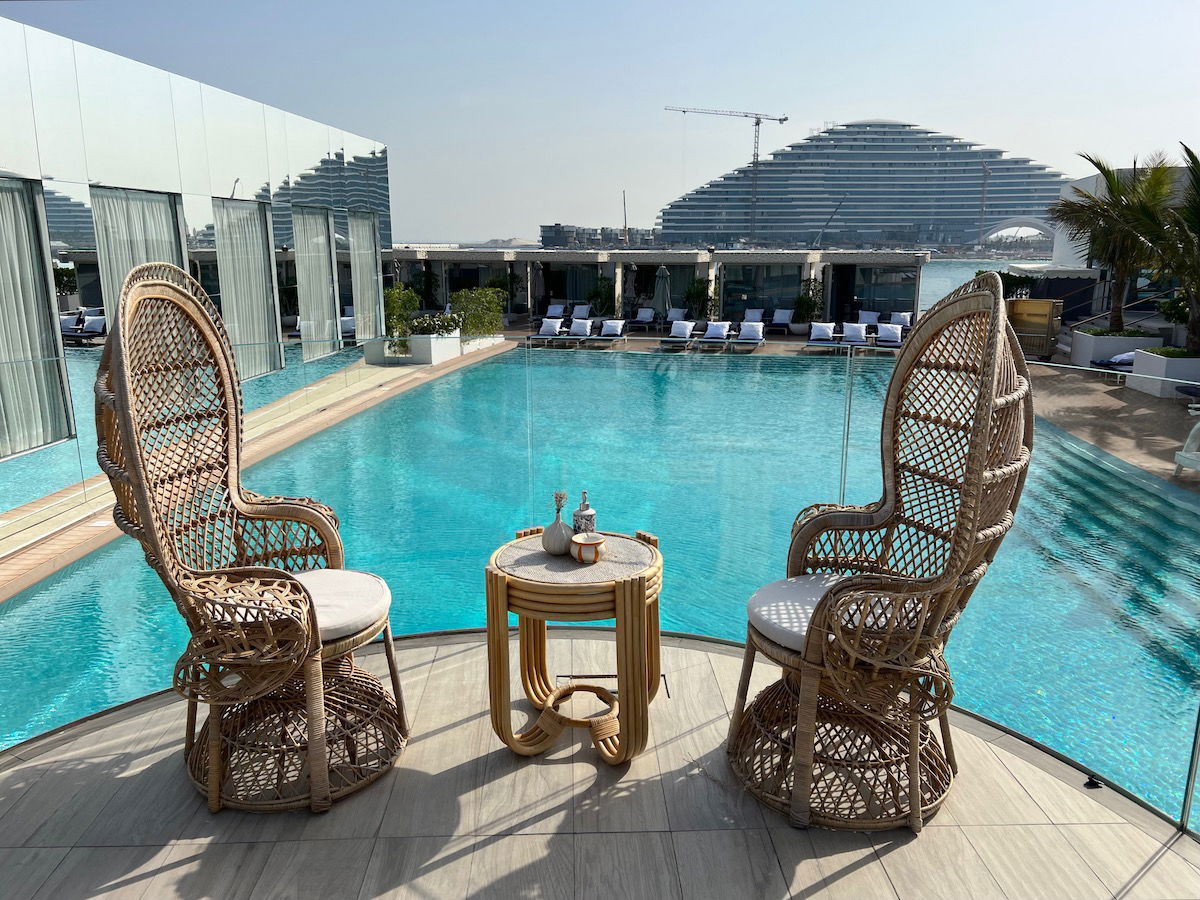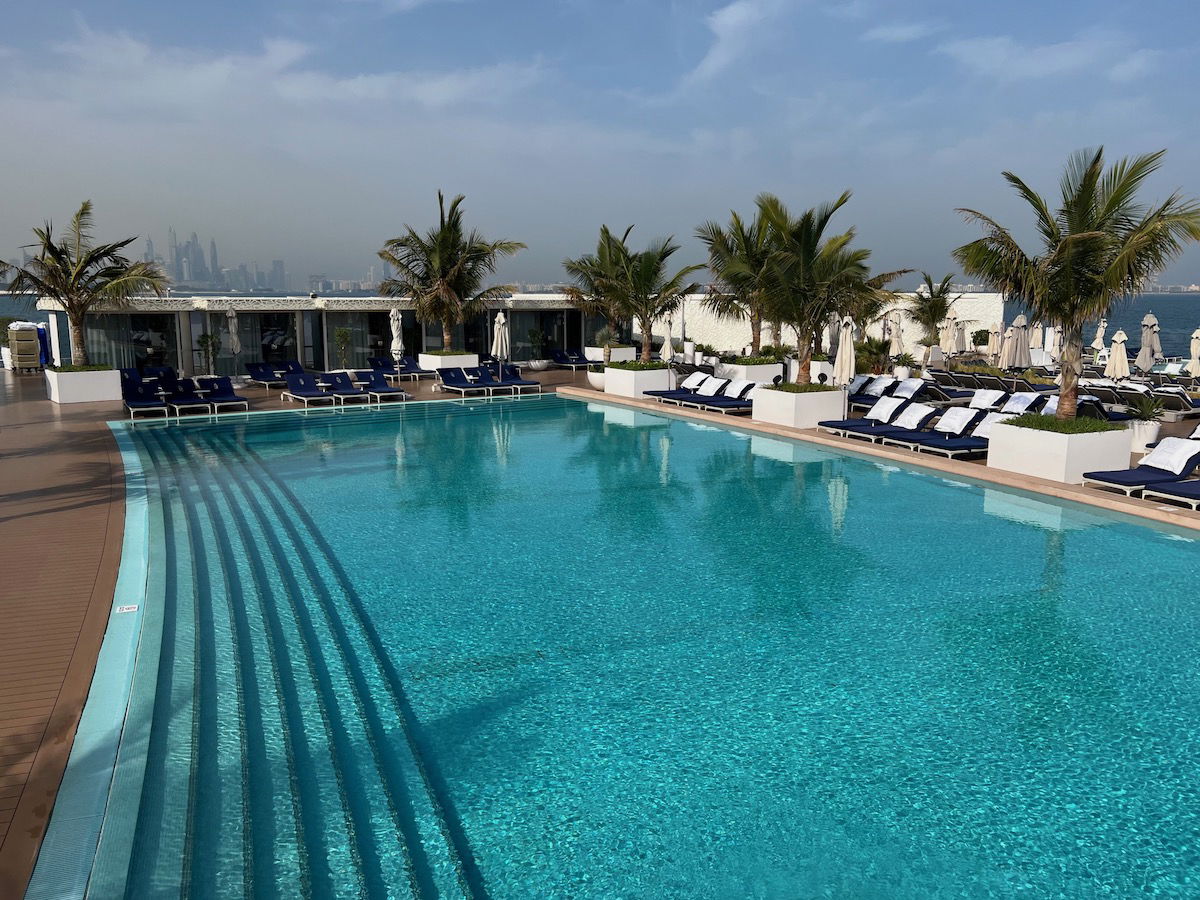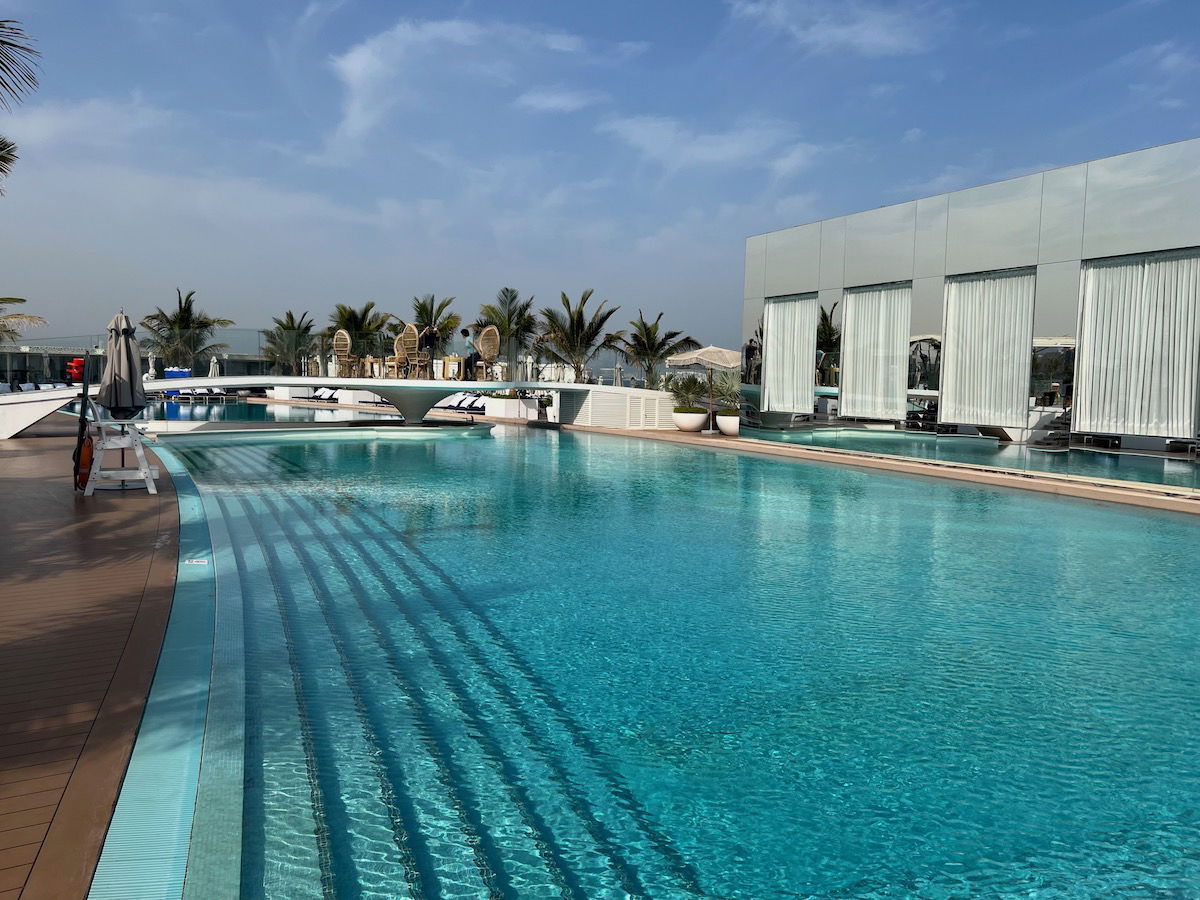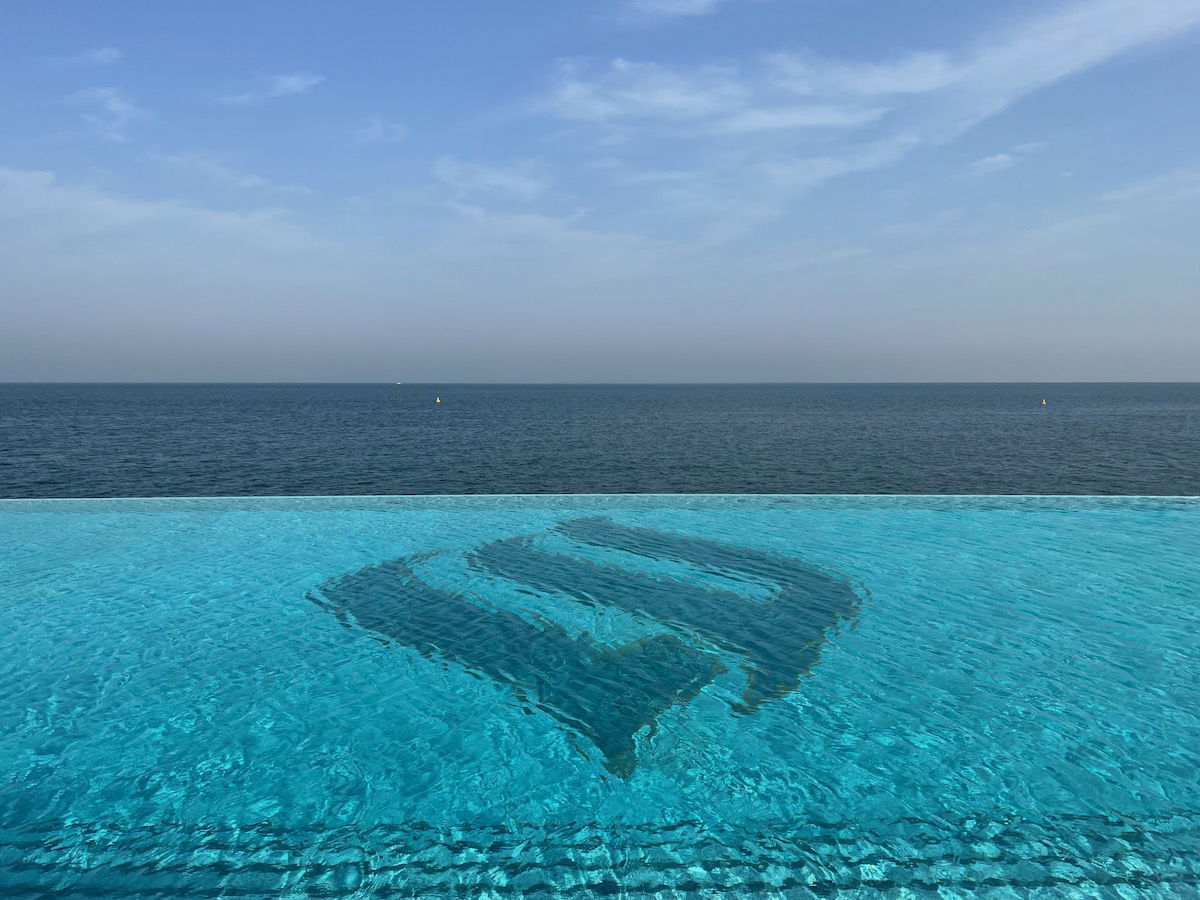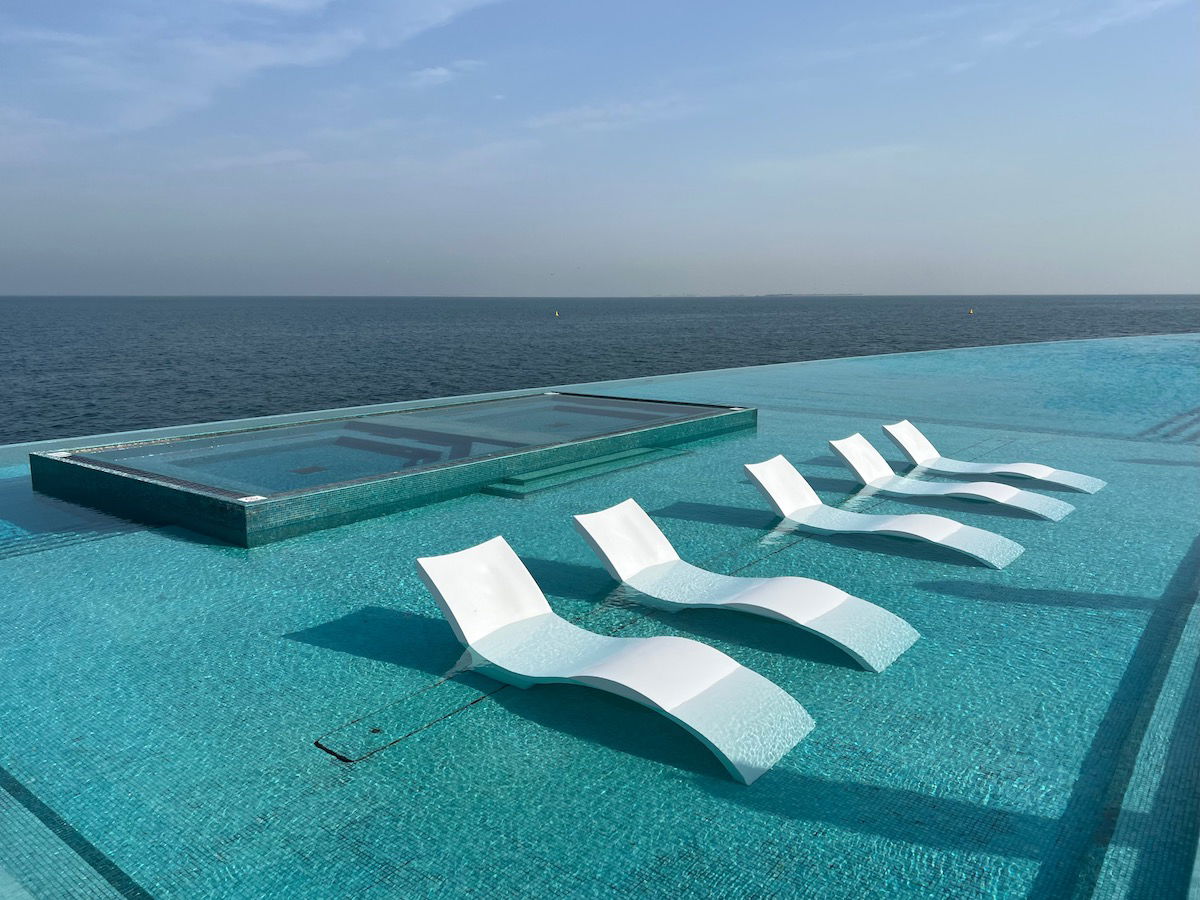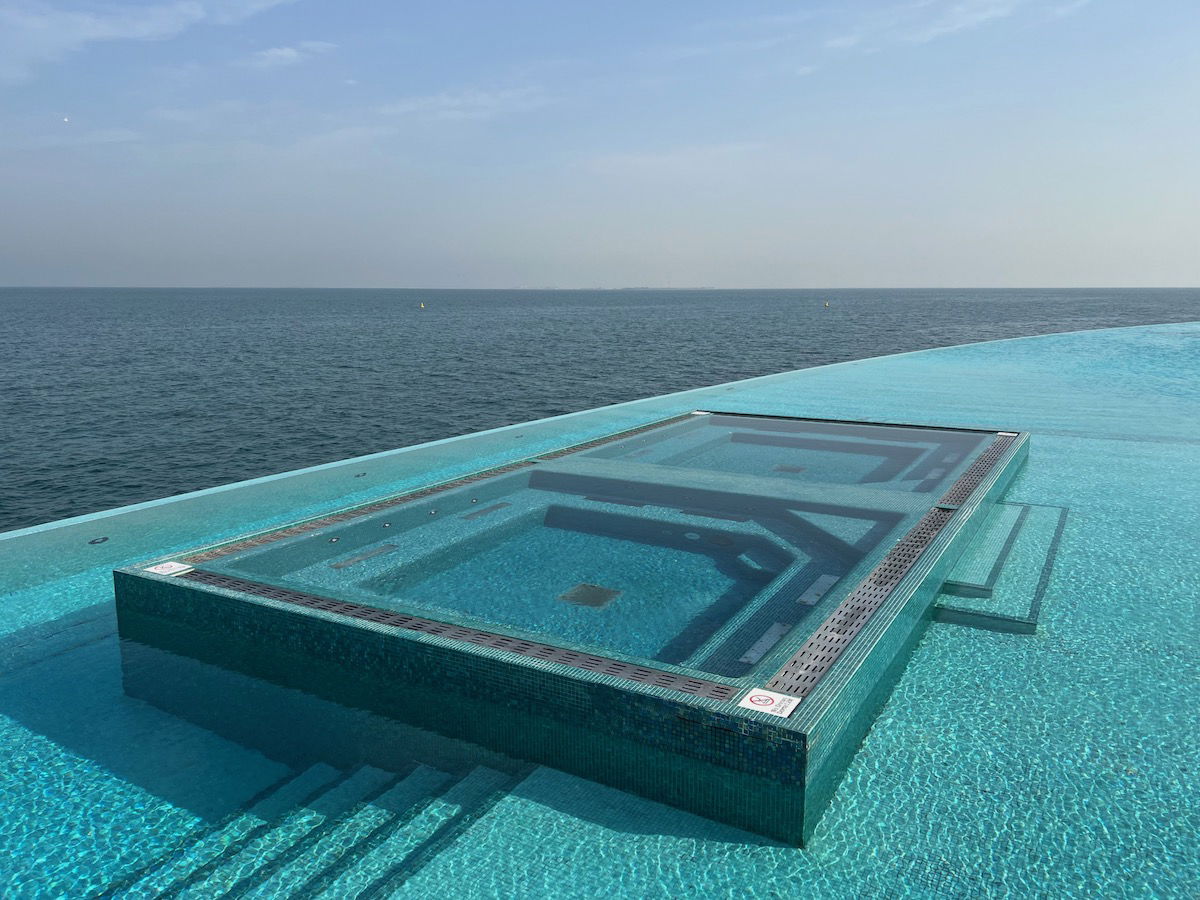 There's also endless seating around the pools, with options ranging from daybeds to couches.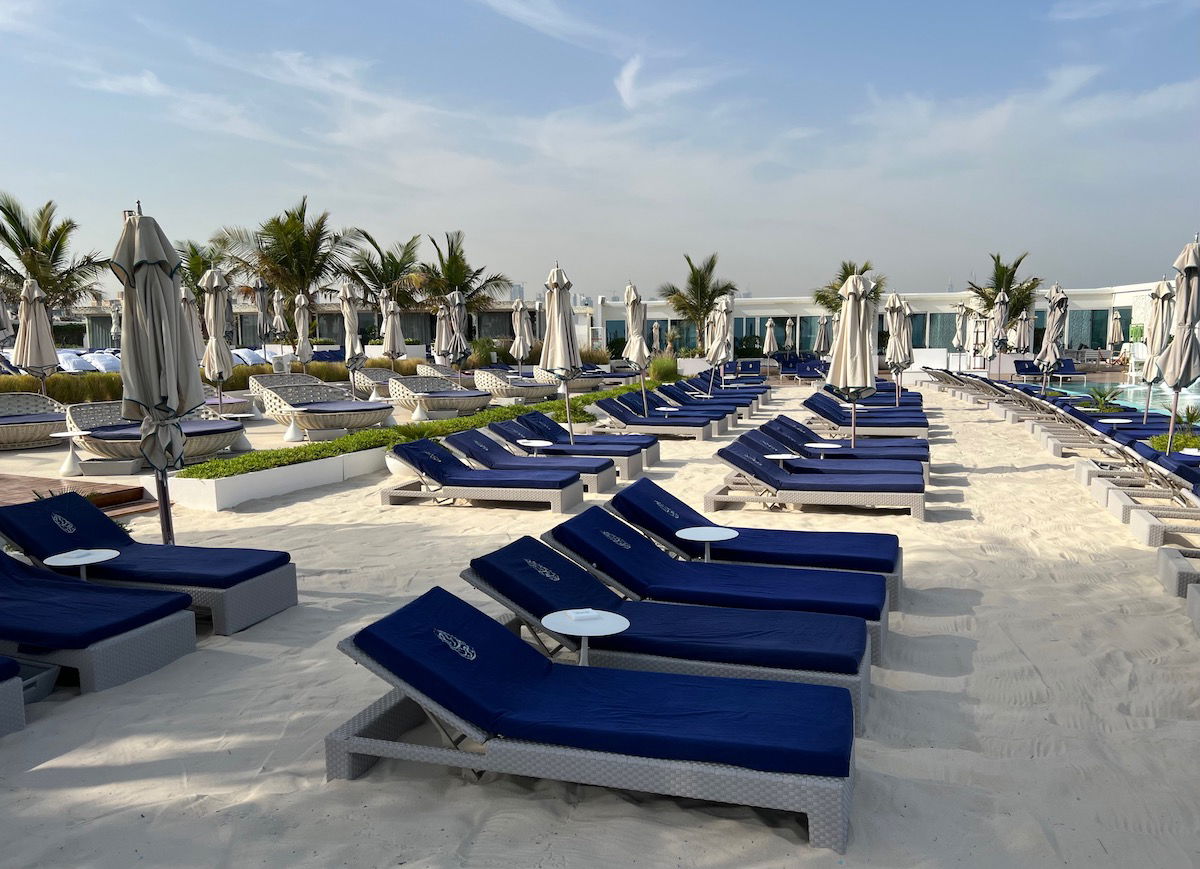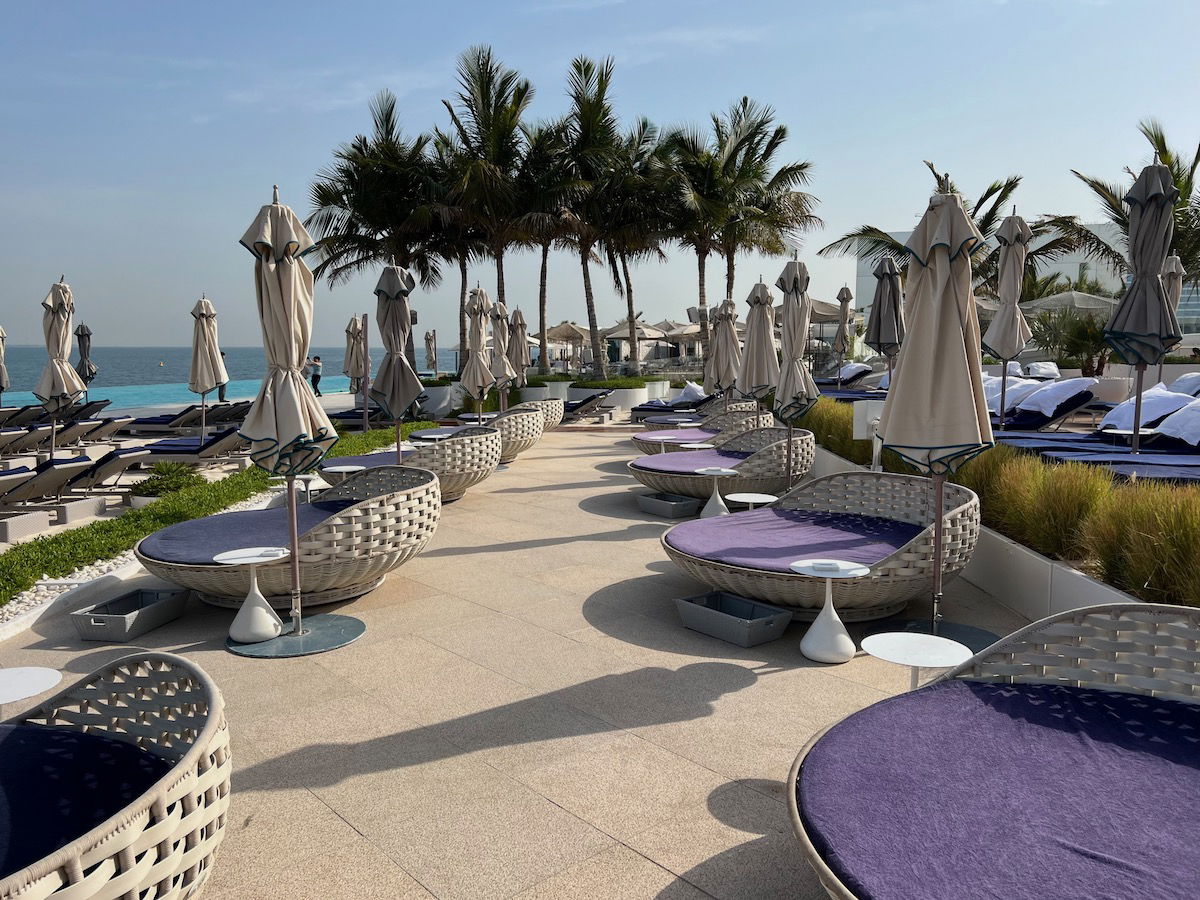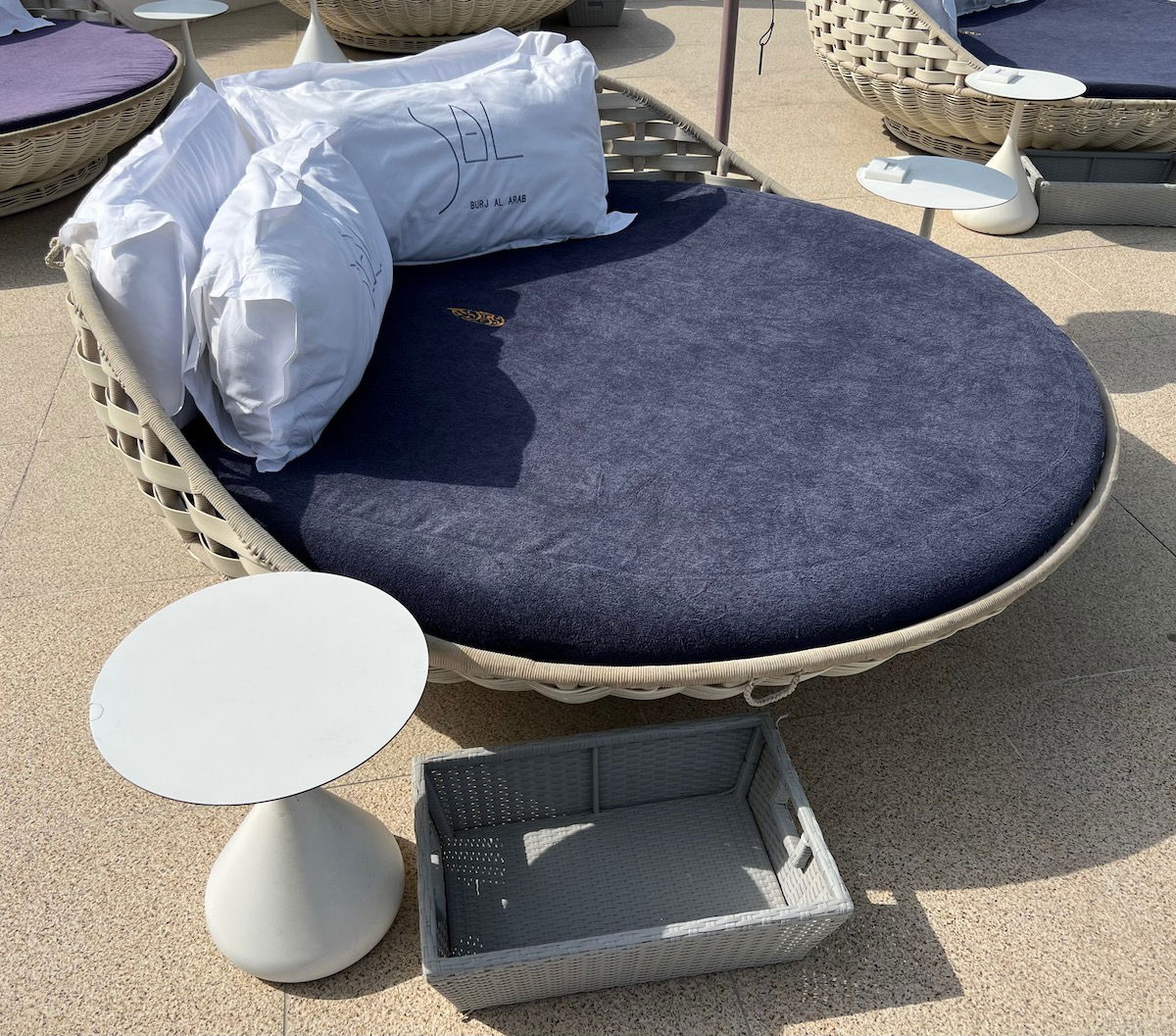 It's also fun to be at the pool, because you get a different view of the Burj Al Arab, which most people never get to see. It looks quite different from the back.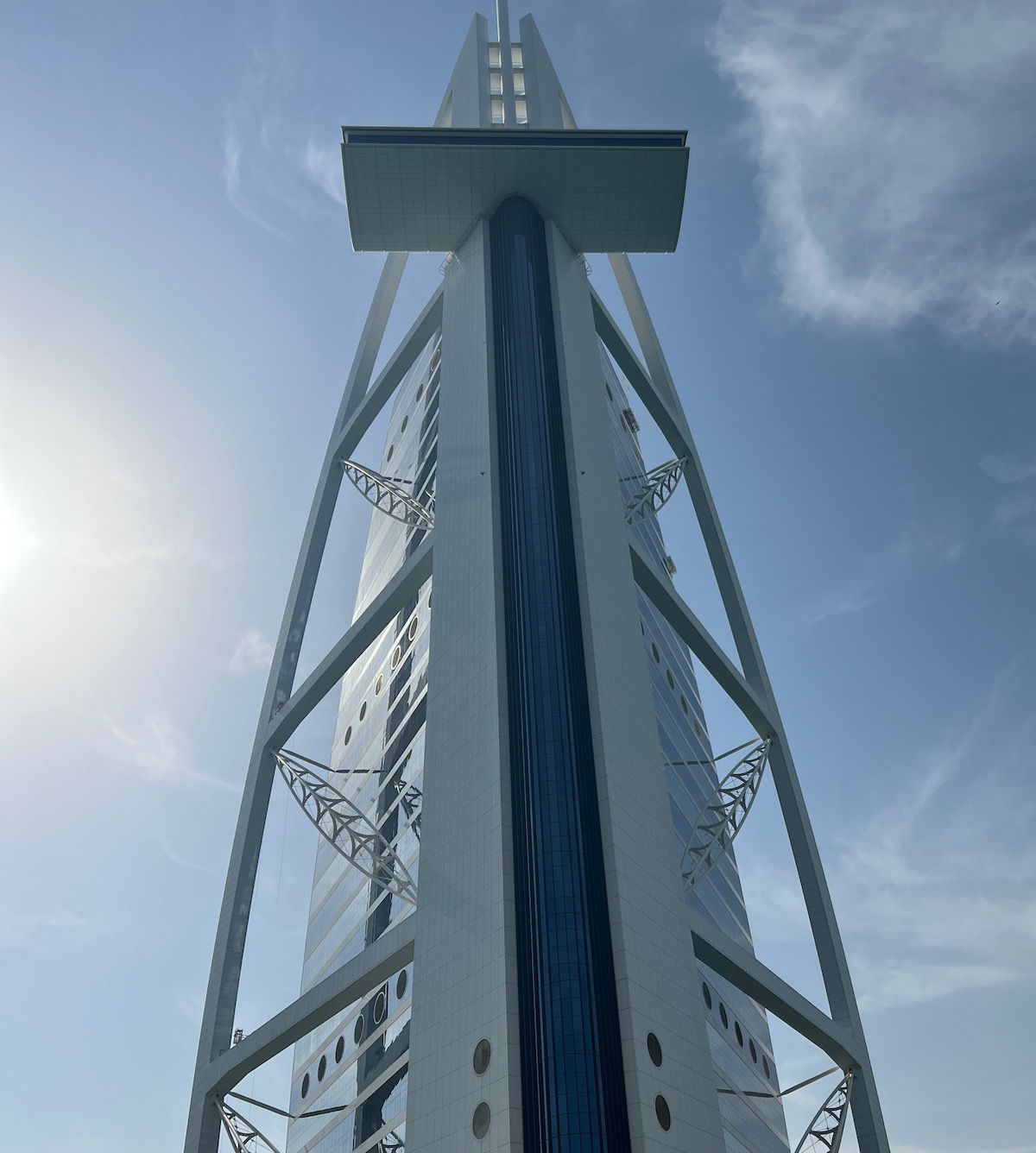 Burj Al Arab Dubai beach club
The Burj Al Arab not only has a beautiful pool area, but also has a beach club. Summersalt Beach Club is shared between the Burj Al Arab and Madinat Jumeirah, so it's located on the beach just off the manmade island. You can be driven there in a golf cart, or alternatively it's a short walk away.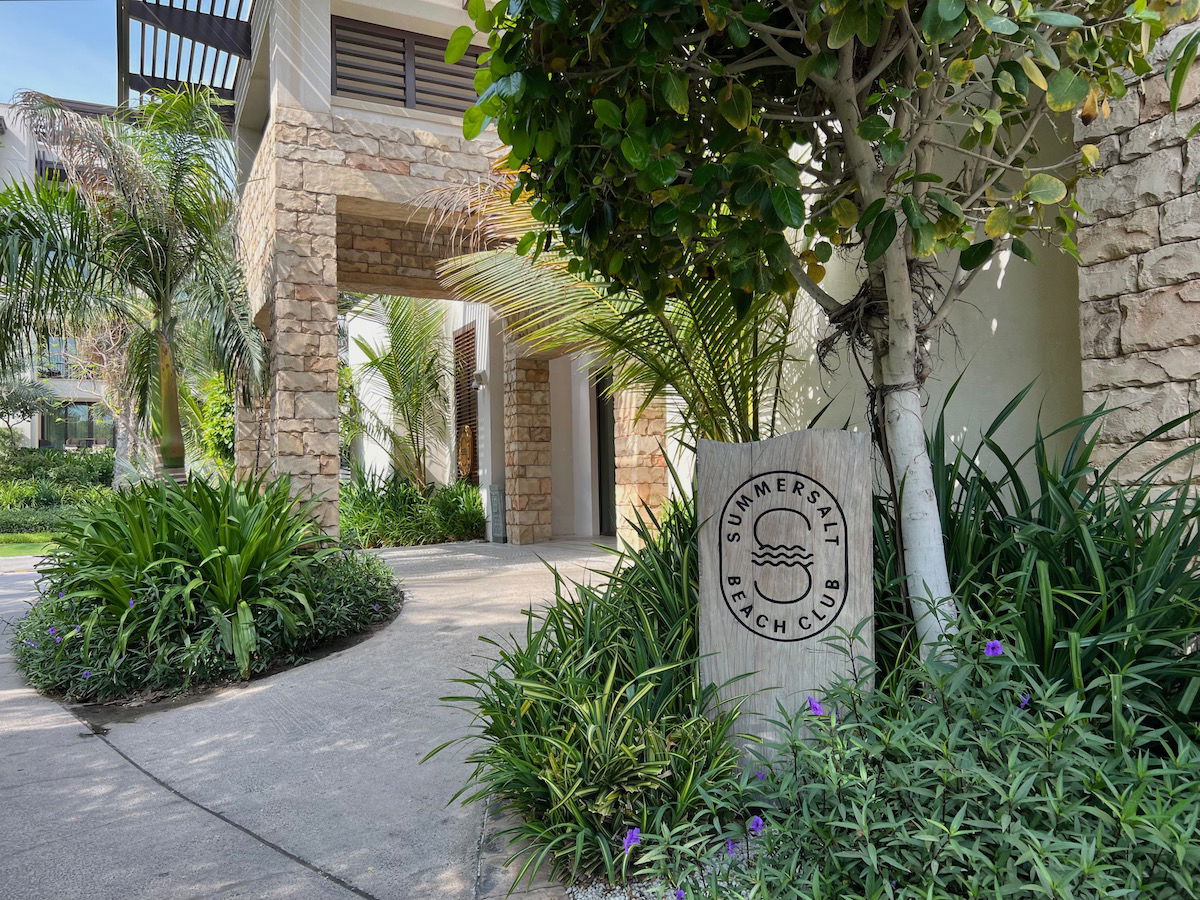 Much like the pool area, the beach club is chic, and the vibe will make you feel like you're in the Mediterranean, or something. I didn't have the chance to spend much time here (after all, we only visited for a night), but it's definitely worth checking out if you have the time.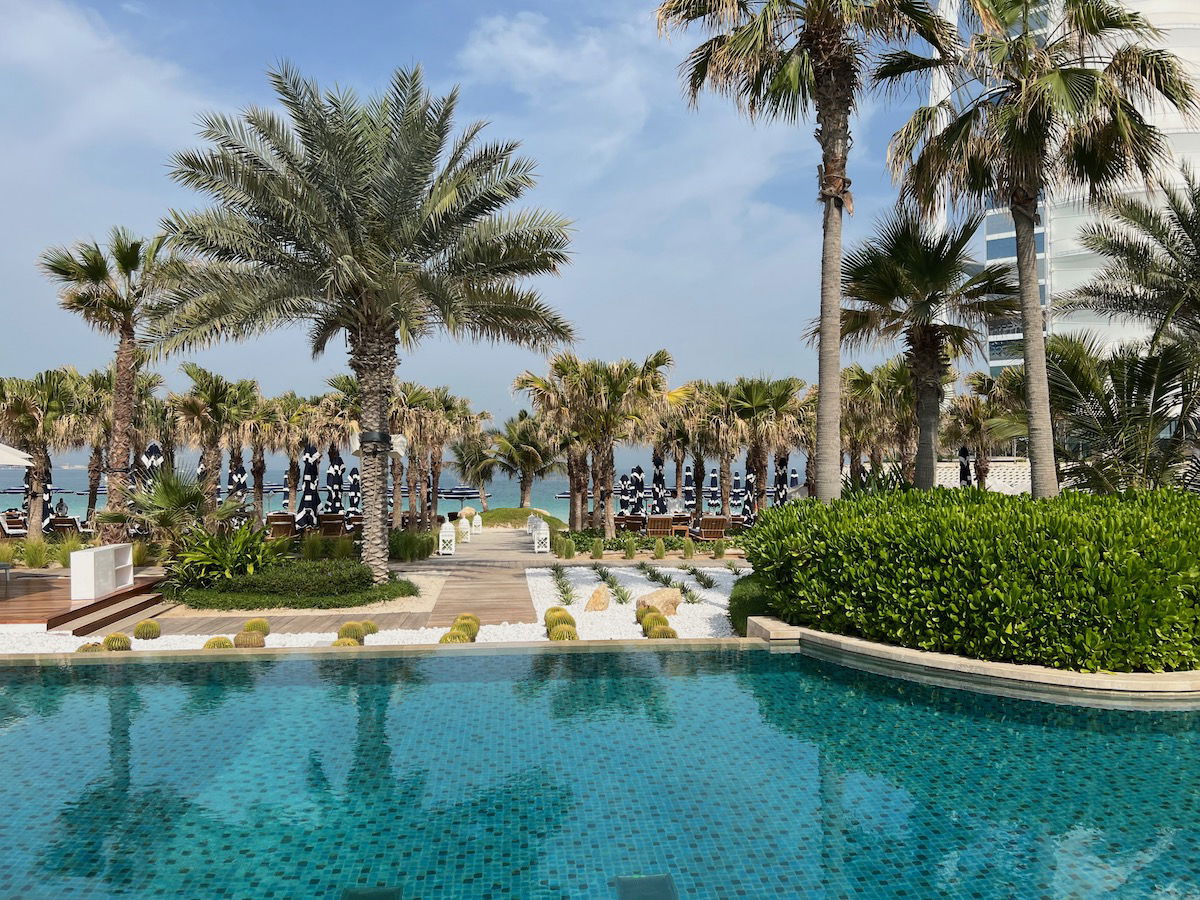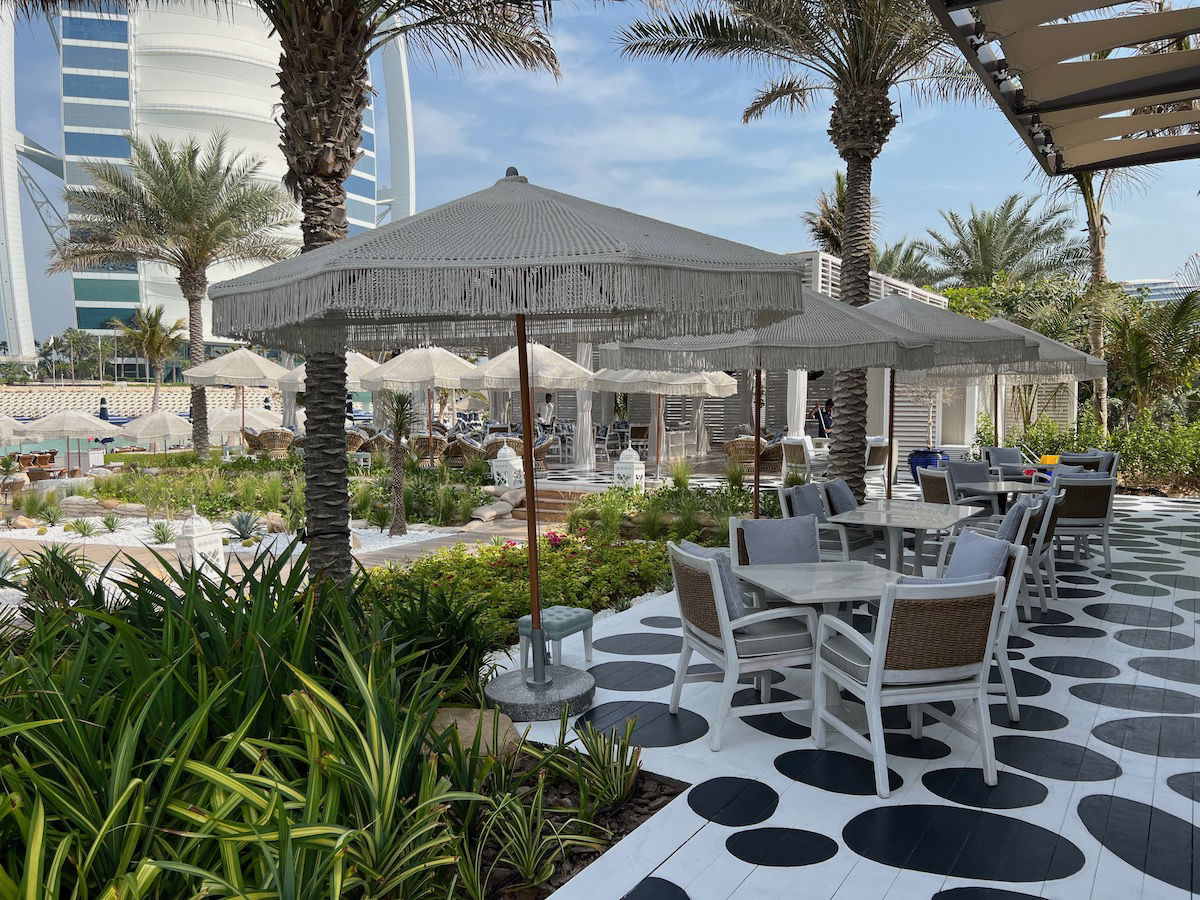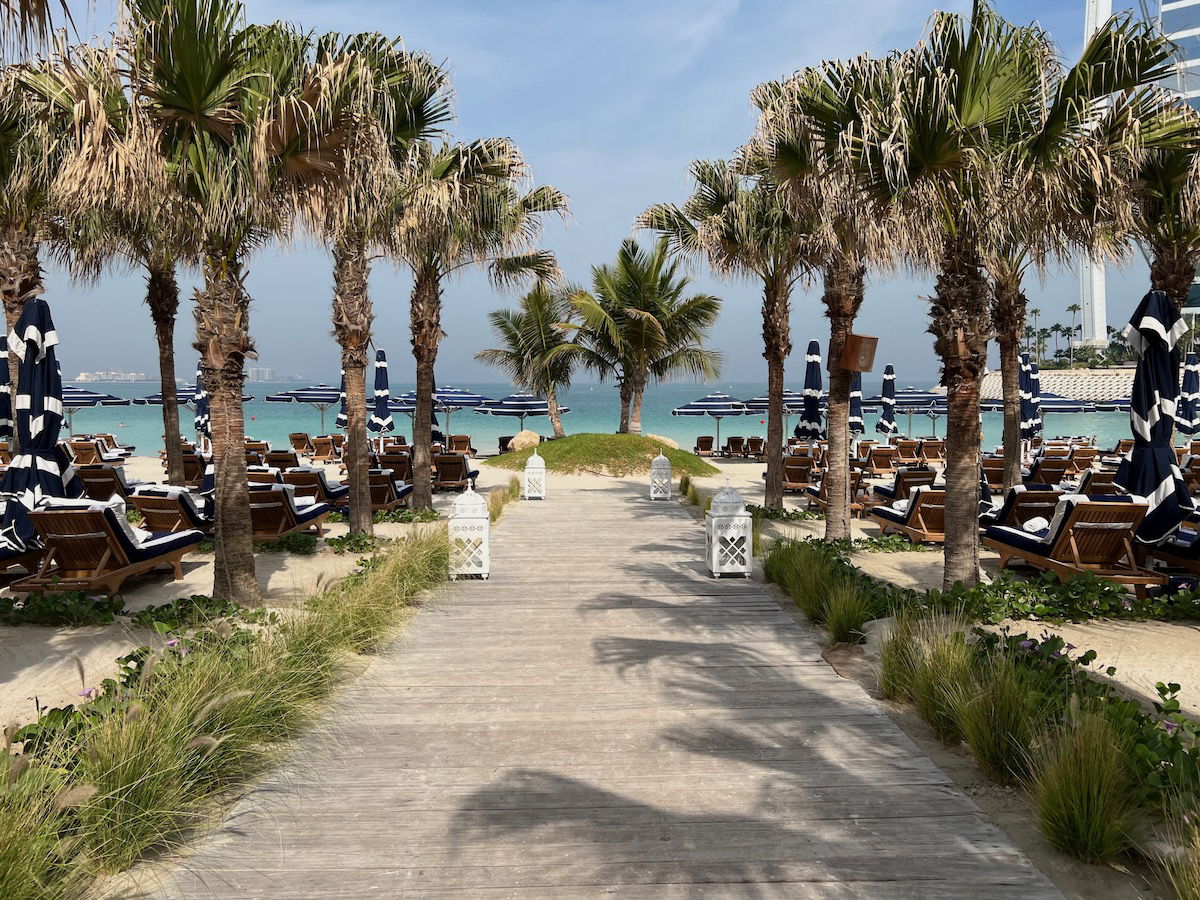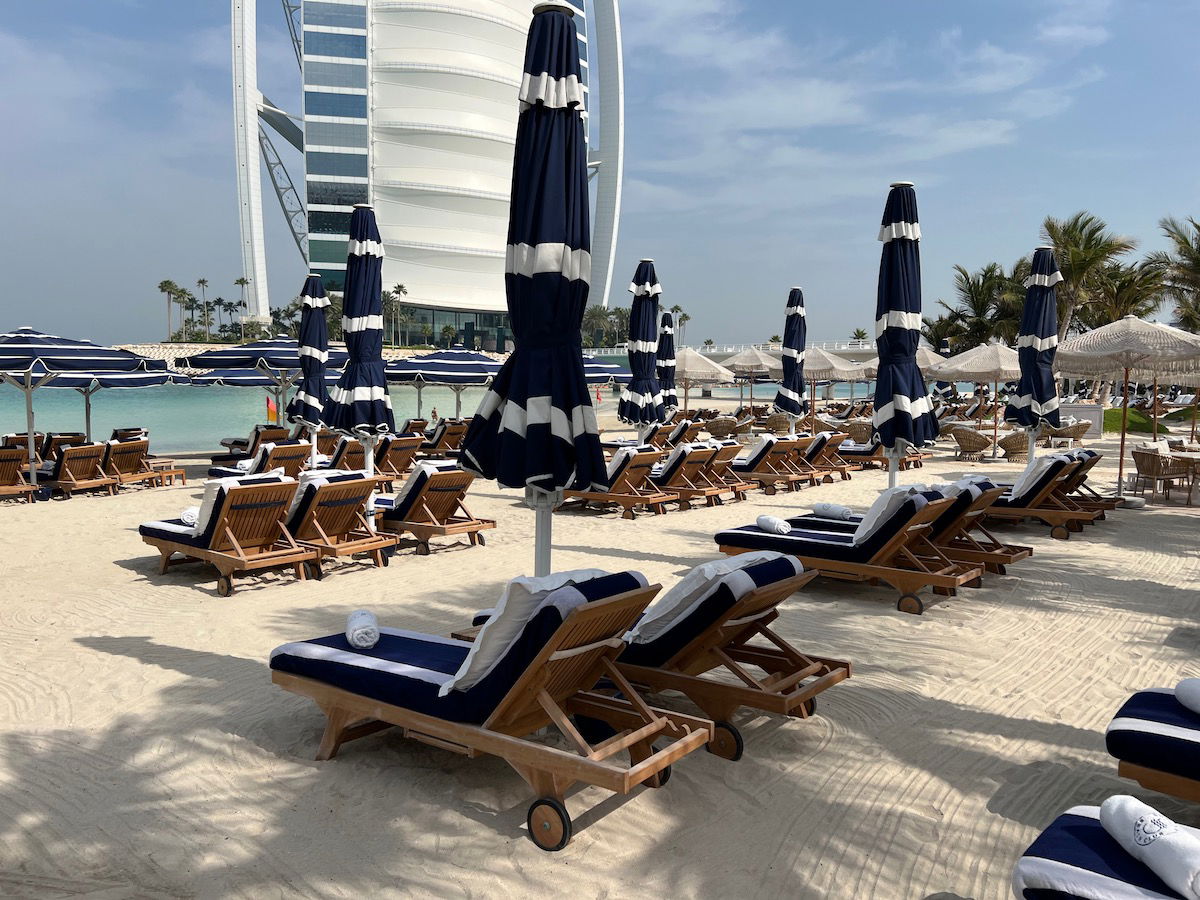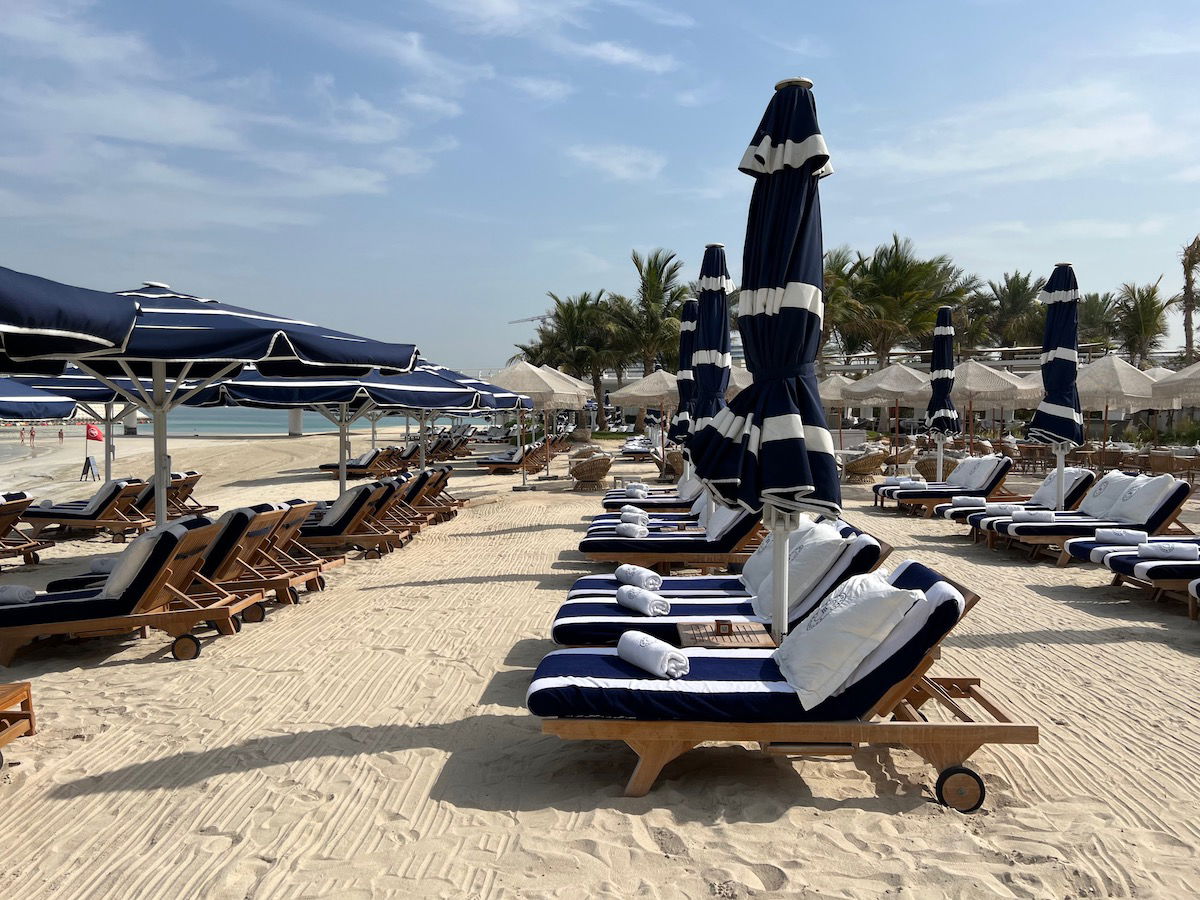 The nice thing about Dubai is that the water is warm and calm, though the sand isn't going to be as picturesque as in some other places.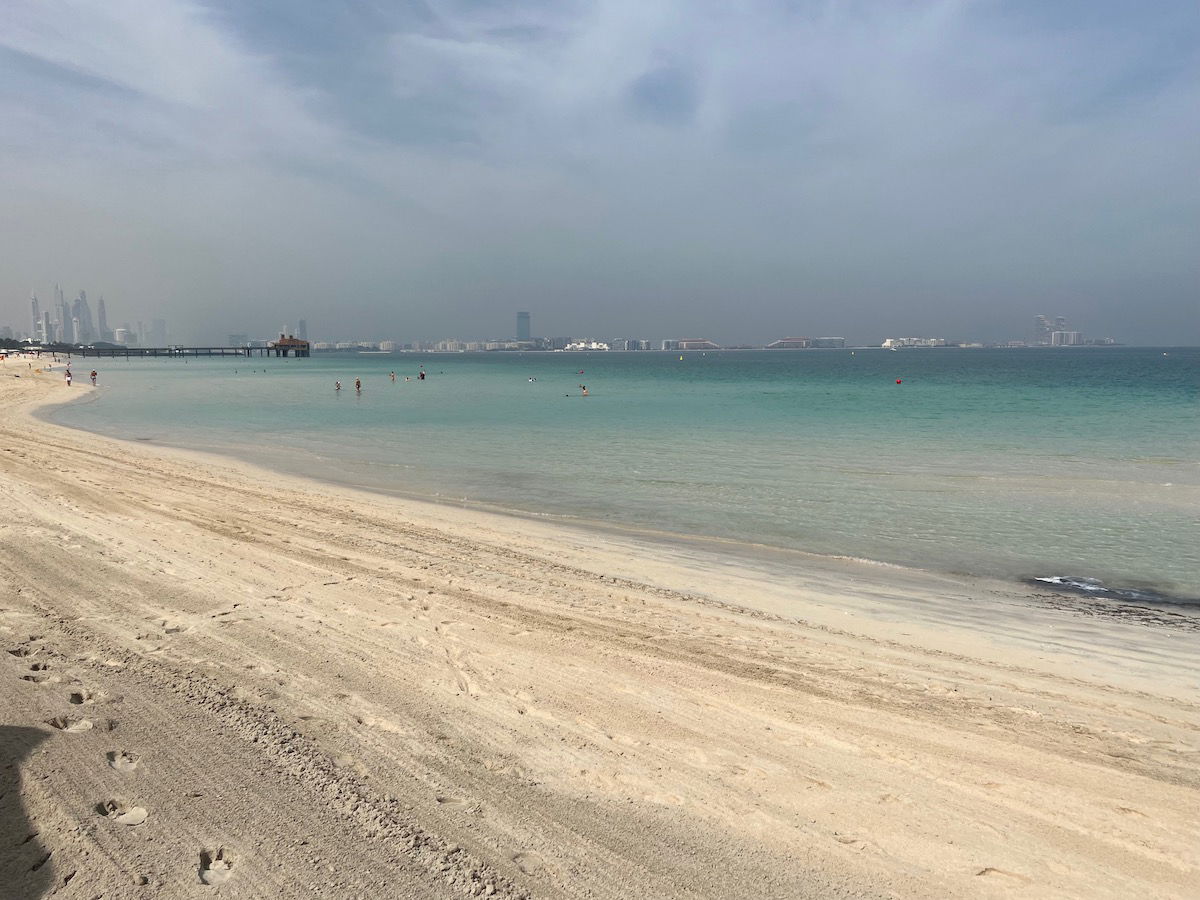 Dining at Burj Al Arab Dubai
As is the case at most hotels in Dubai, the Burj Al Arab has endless dining options (that's because alcohol is generally only allowed in hotels, so that's also where most restaurants for tourists are). The Burj Al Arab has some well regarded dining outlets, ranging from the fish tank restaurant at the very bottom of the hotel, to the bar at the very top of the hotel.
You can see all the Burj Al Arab Dining options here, though below I'll cover the ones we visited.
Let me say upfront that if you're going to eat and drink at the Burj Al Arab, I'd highly recommend just convincing yourself that the conversion rate between your home currency and the Emirati Dirham is different than it actually is. We spent our 24 hours here agreeing we wouldn't look at prices of what we ordered, because otherwise you may lose your appetite and thirst. 😉 And after all, I want to fully review the Burj Al Arab experience.
While room rates here represent a fairly good deal (given the size of the rooms), you're definitely paying a premium for dining here. A big reason for this is that outside guests can only visit the Burj Al Arab if they have a reservation at a restaurant or are staying, so almost think of outlet prices as having some sort of a built-in experience fee. Of course as a hotel guest, you're being double taxed there.
Since we only stayed for one night, let me share the outlets we visited in chronological order.
Burj Al Arab Sahn Eddar
Sahn Eddar (Arabic for "reception of the house") is the Burj Al Arab's lobby lounge, with the best views of the atrium. Nowadays it's the only place where afternoon tea is served (it used to be served at the iconic Skyview Bar, but not anymore), though you can also come here for a drink or snack. You can find the menu here.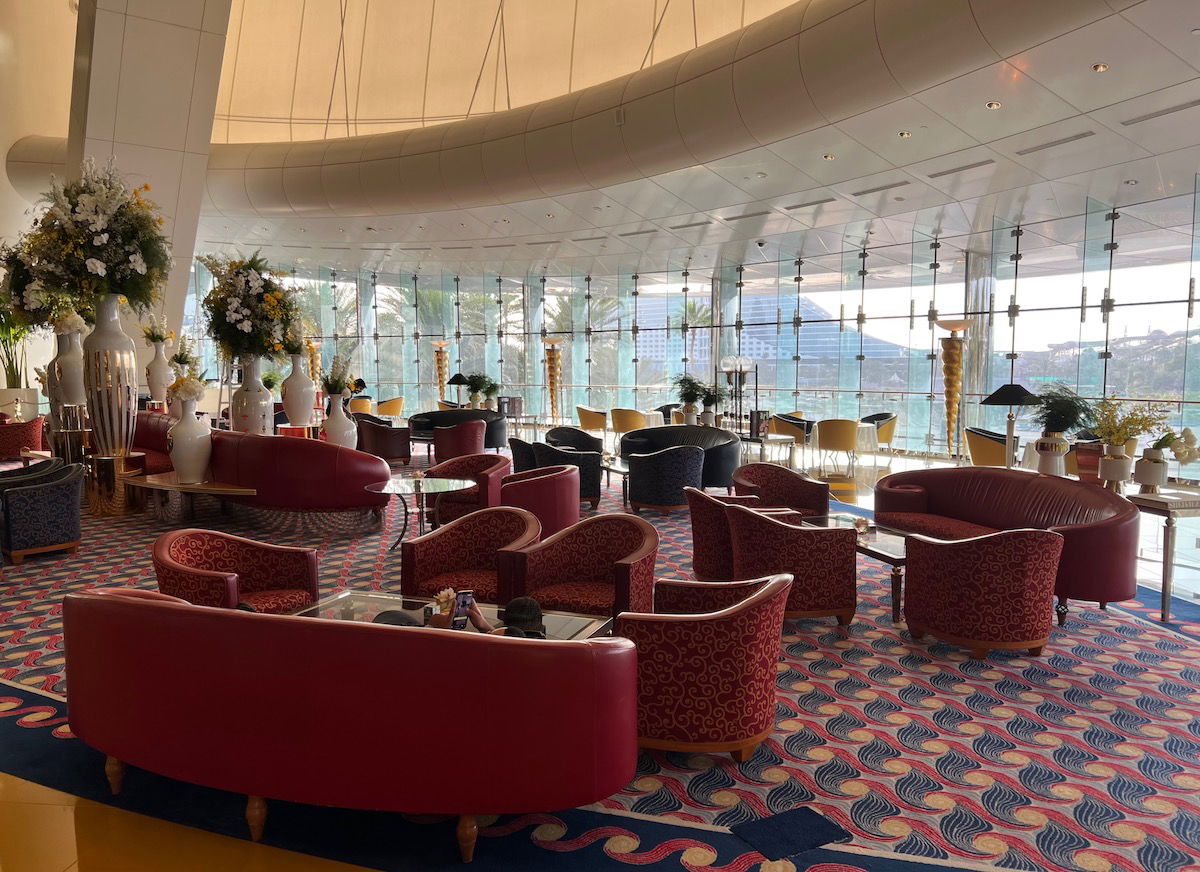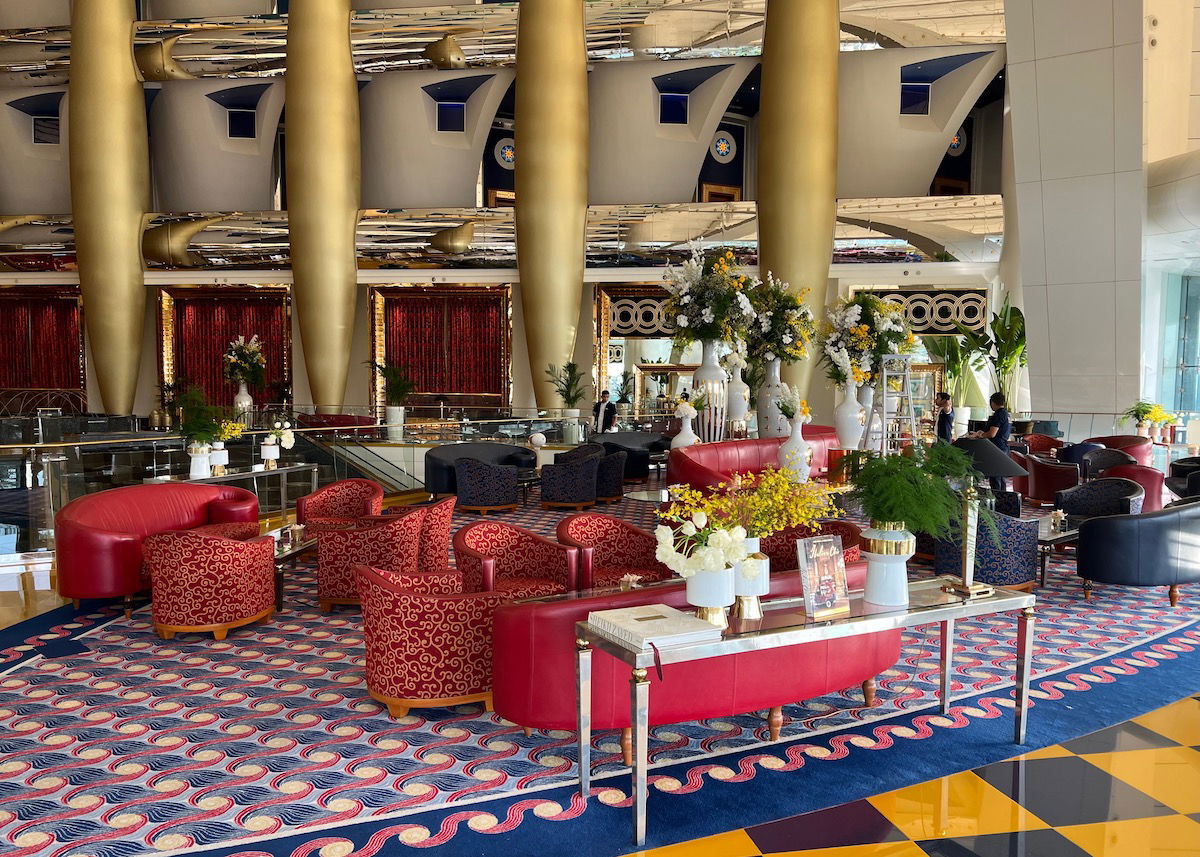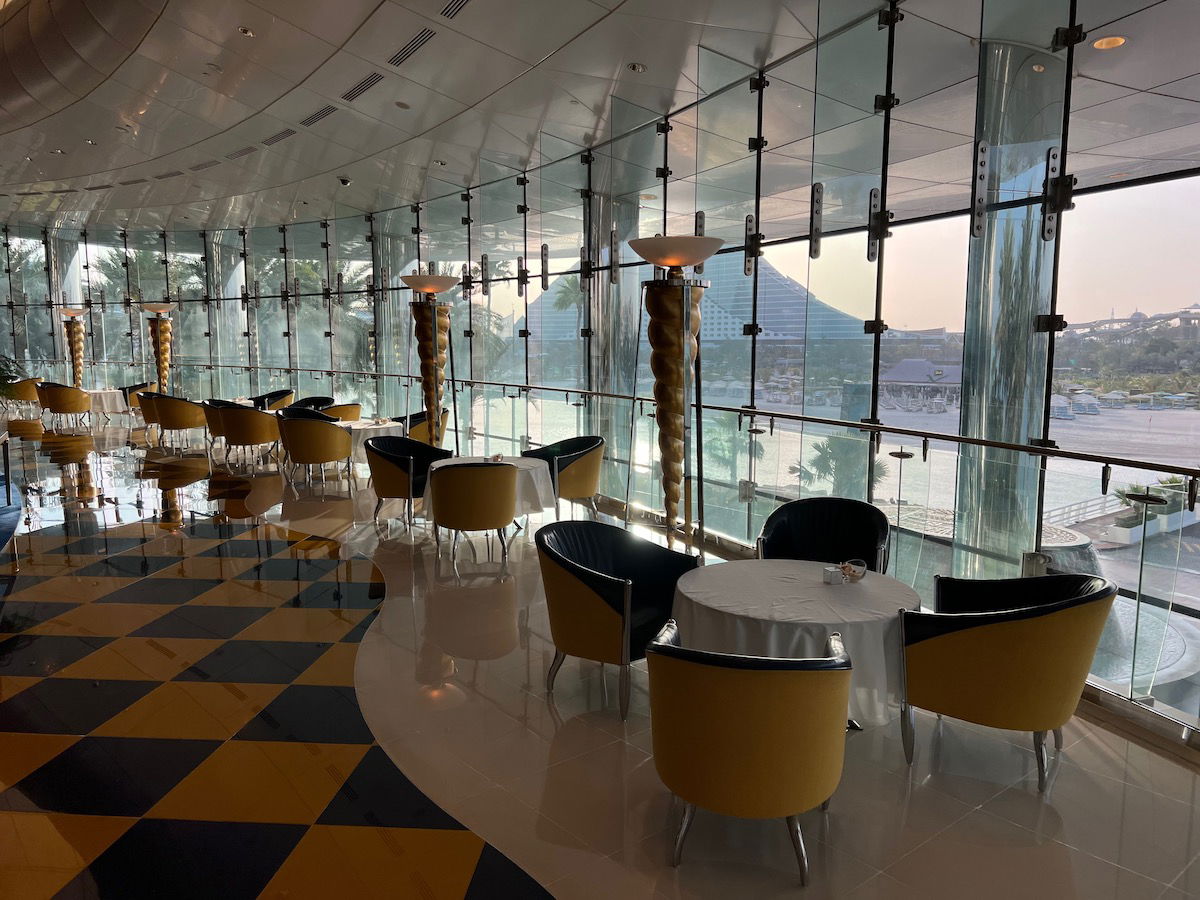 While we were being escorted to our room upon check-in, the front desk associate recommended coming here for a gold cappuccino, because "it's very popular for Instagram." And while I didn't post it on Instagram, I figured we had to check it out. Besides, we had just gotten off a long haul flight, so we needed our caffeine fix.
We ordered the Burj Al Arab 24 karat gold cappuccinos, which were pretty good, if you can forget for a moment that they cost $30+. 😉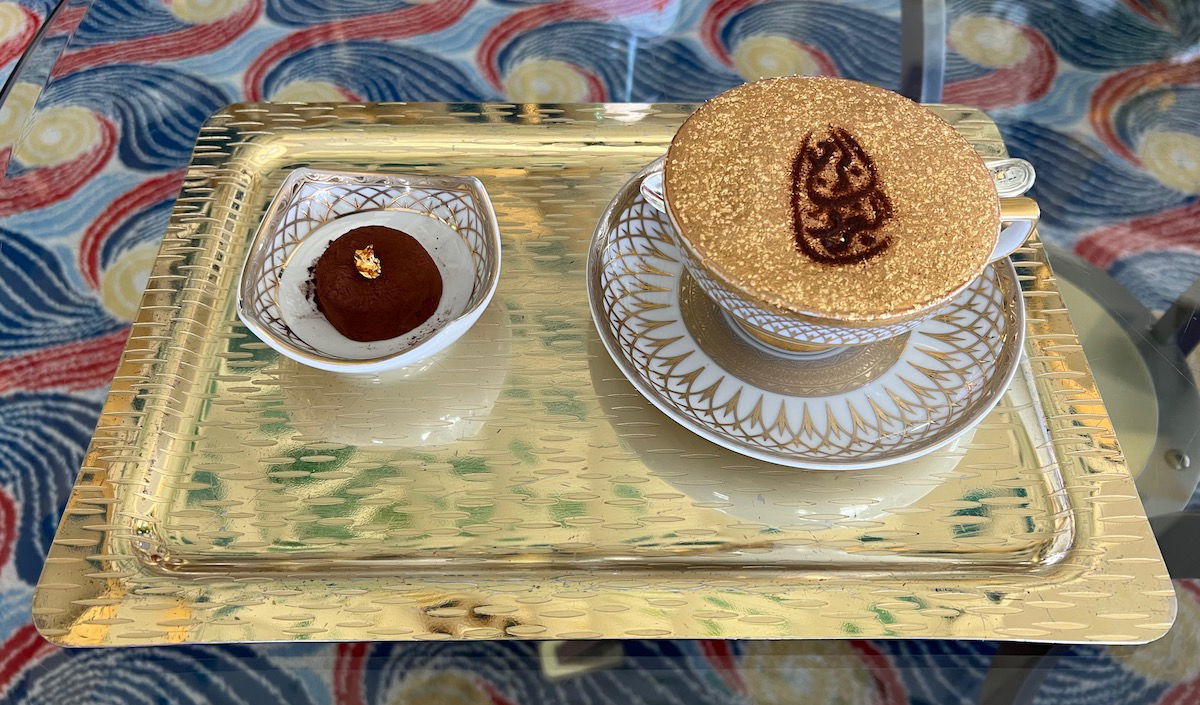 Burj Al Arab Al Muntaha & Skyview Bar
At the top of the Burj Al Arab is Skyview Bar, located on the 27th floor. This is the hotel's bar with incredible views of Dubai and the sea. You can find the menu here.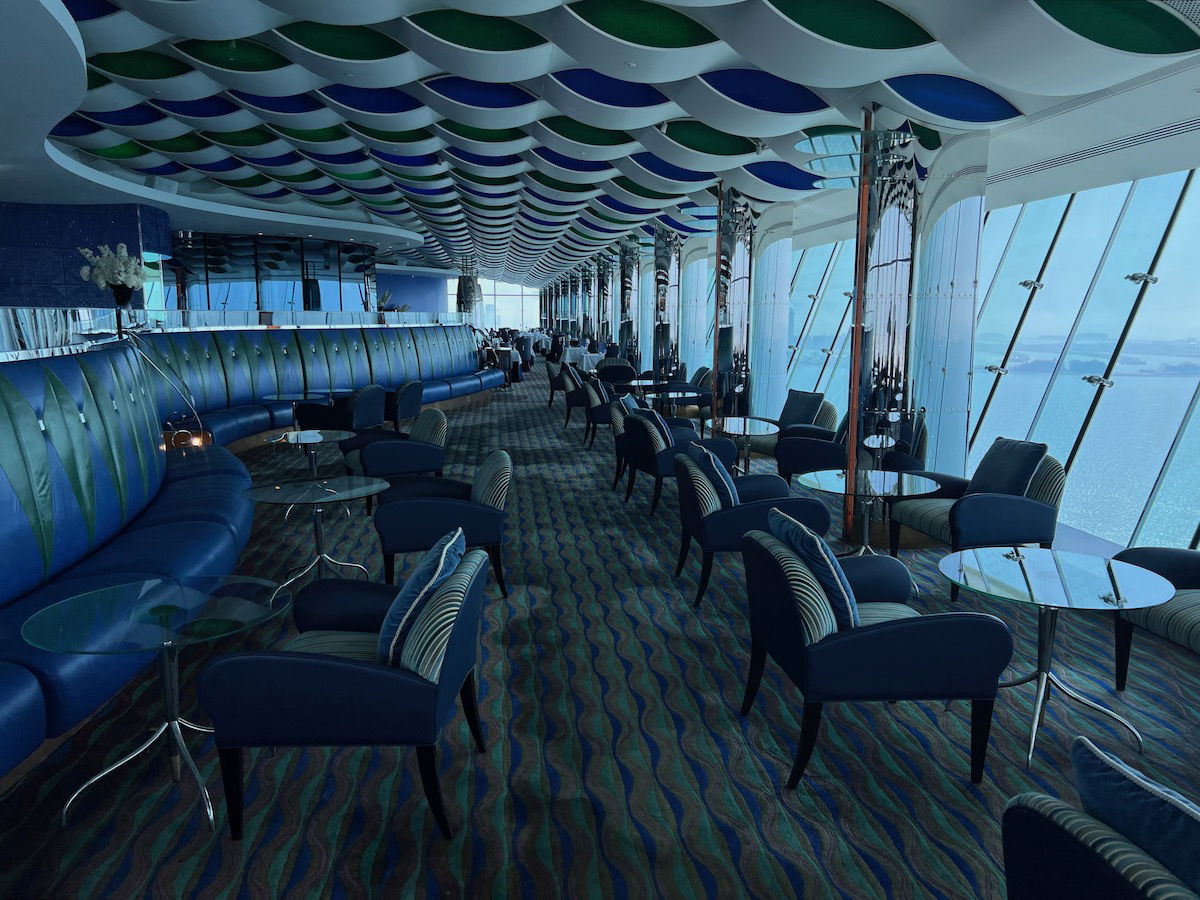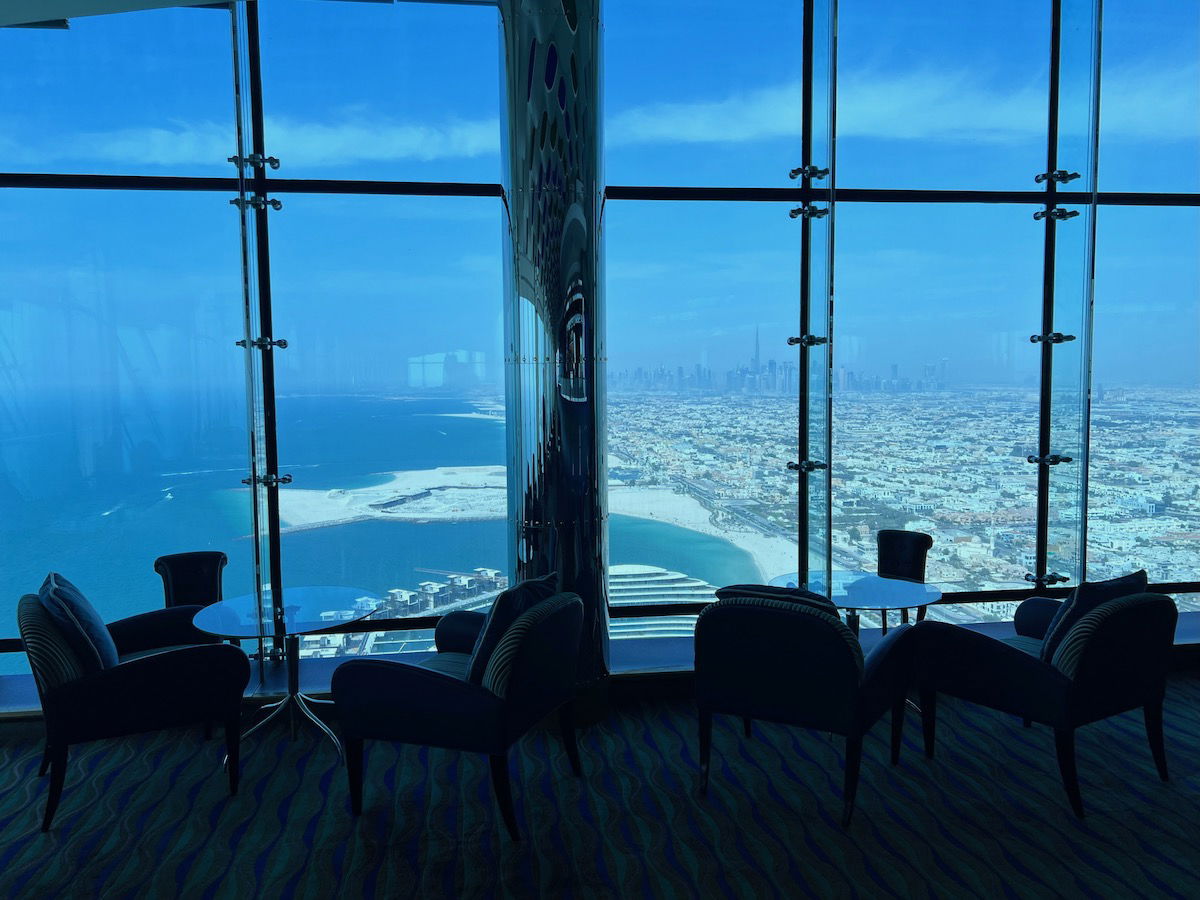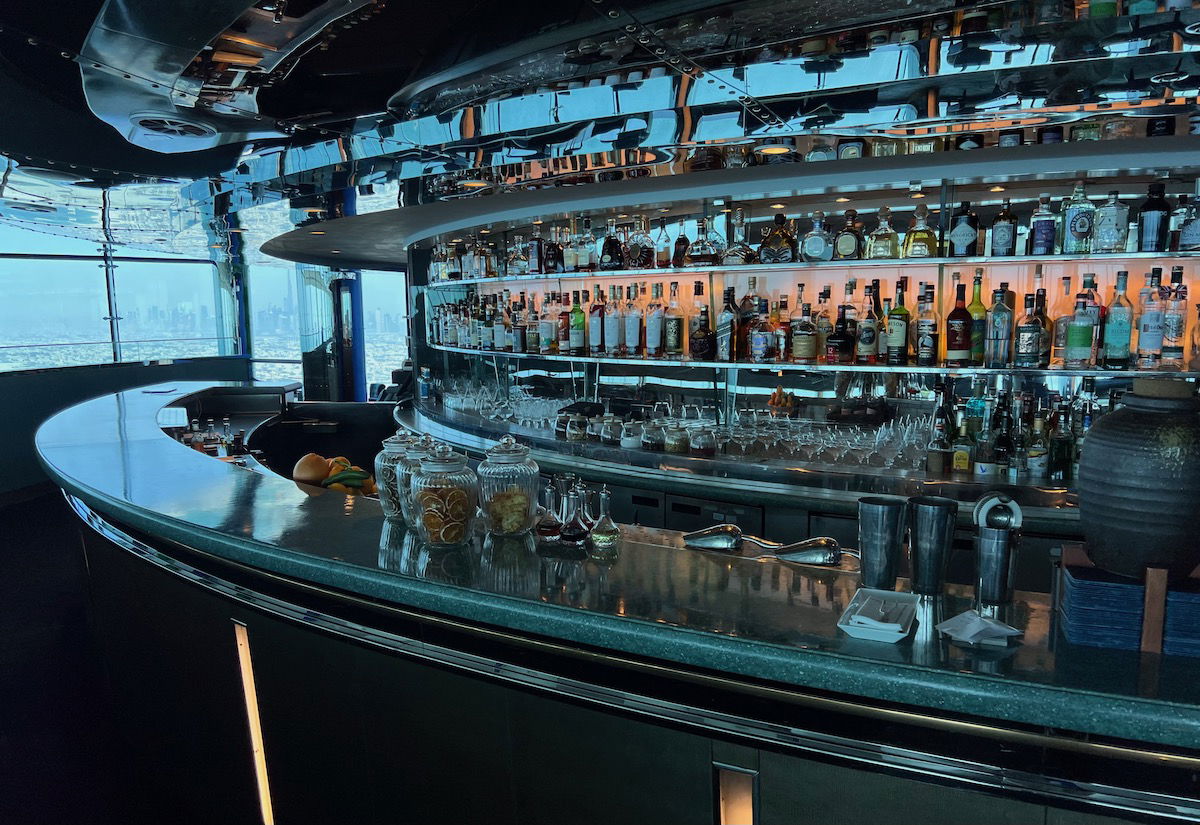 We came here for a pre-dinner drink, and both ordered different martinis. These were probably the strongest cocktails I've ever been served in Dubai, as they even came with a sidecar, so it was almost a two-for-one.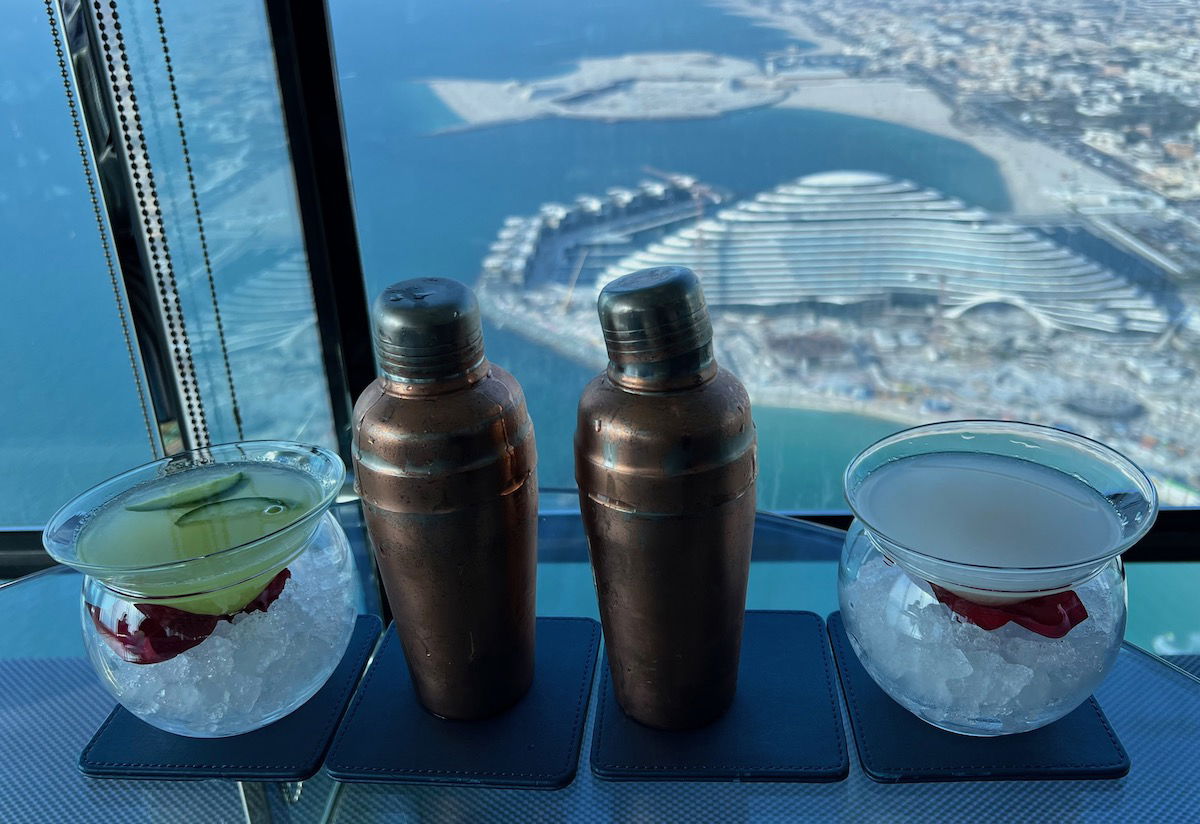 There were also bar snacks, including olives and almonds.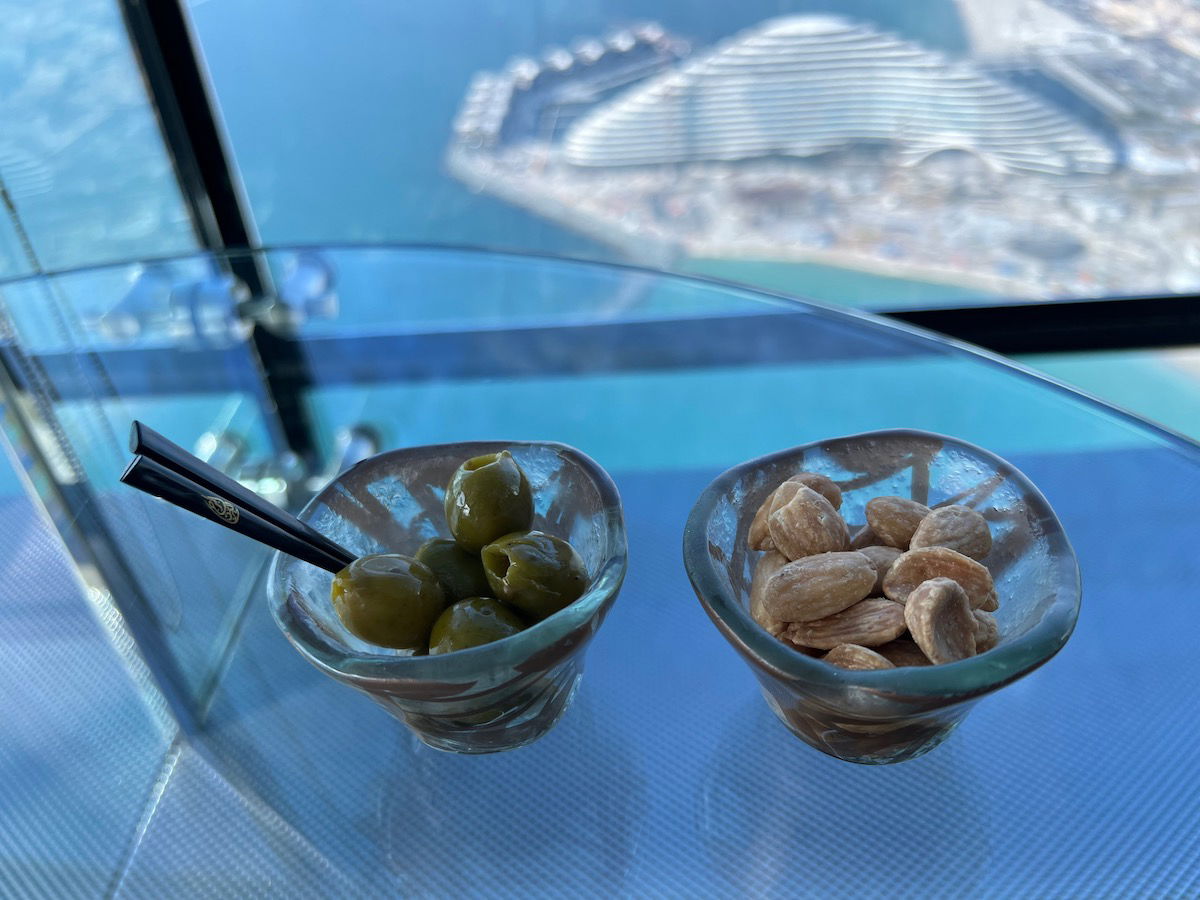 On the same level as the Skyview Bar is Al Muntaha (Arabic for "the ultimate"), the hotel's one Michelin star Italian and French restaurant. We didn't have the chance to eat here, but you can find the dinner menu here.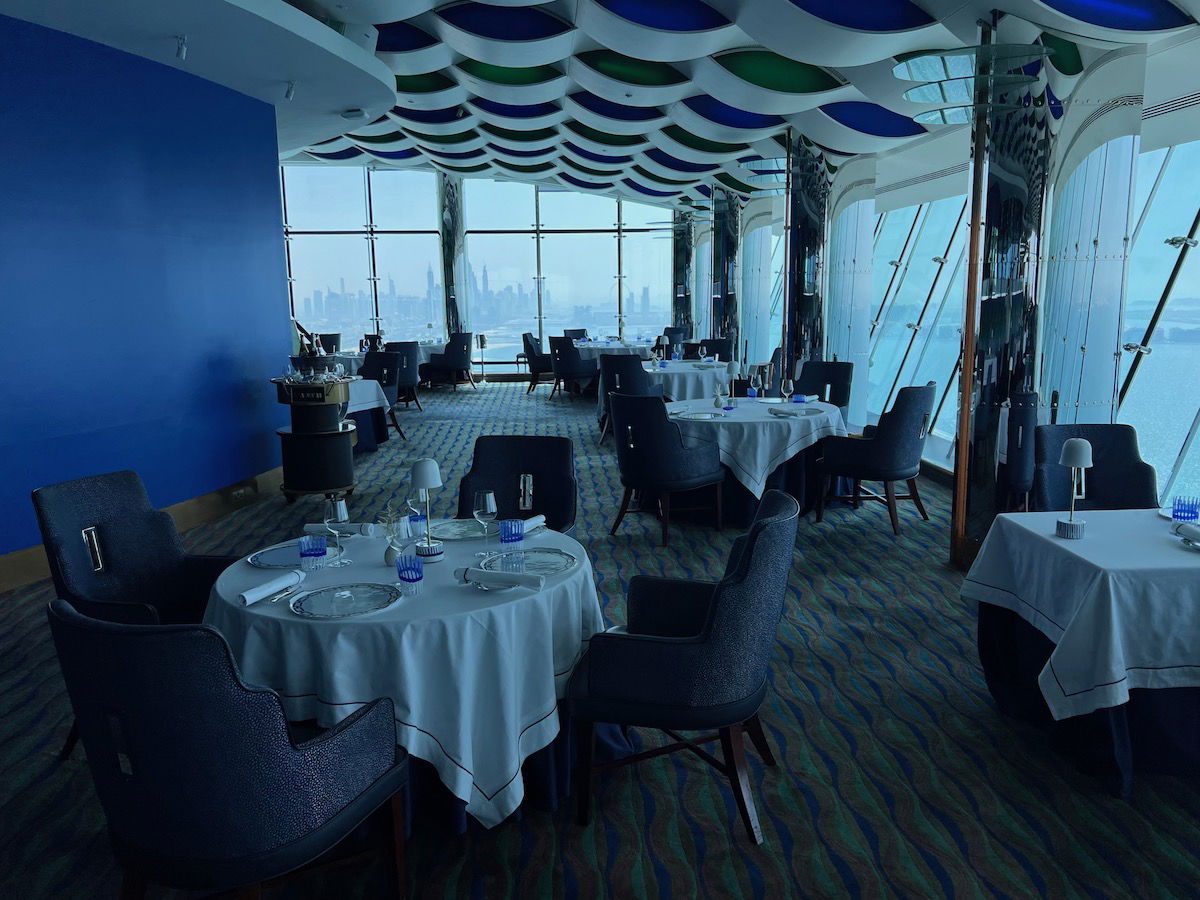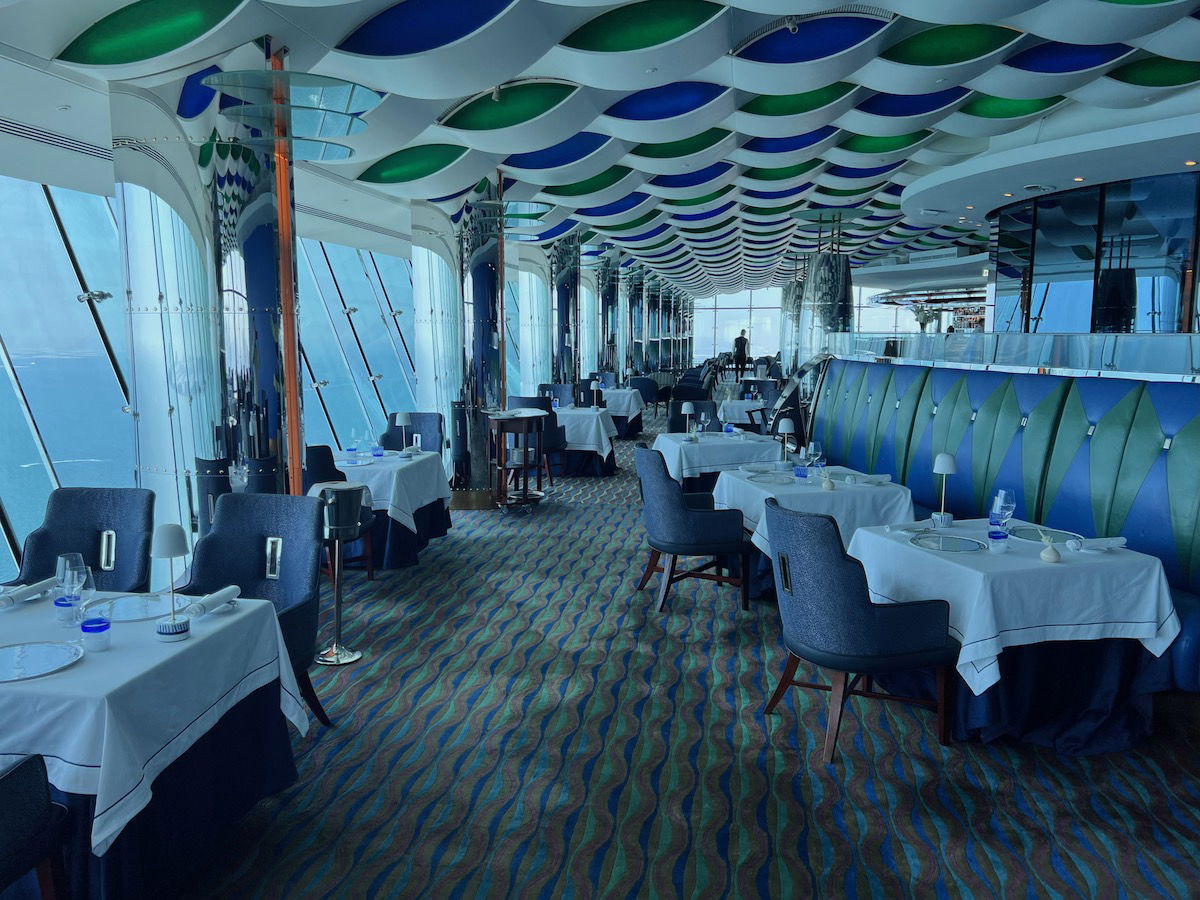 Burj Al Arab Ristorante L'Olivo at Al Mahara
We decided to have dinner at L'Olivo at Al Mahara, which is the restaurant located inside the Burj Al Arab's famous fish tank, just off the lobby. This restaurant is fairly new for the hotel, and it's based on Chef Andrea Migliaccio's two Michelin star restaurant in Capri.
Honestly, everything about this experience exceeded my expectations. For one, the aquarium is legitimately very cool… I'll let the pictures speak mostly for themselves.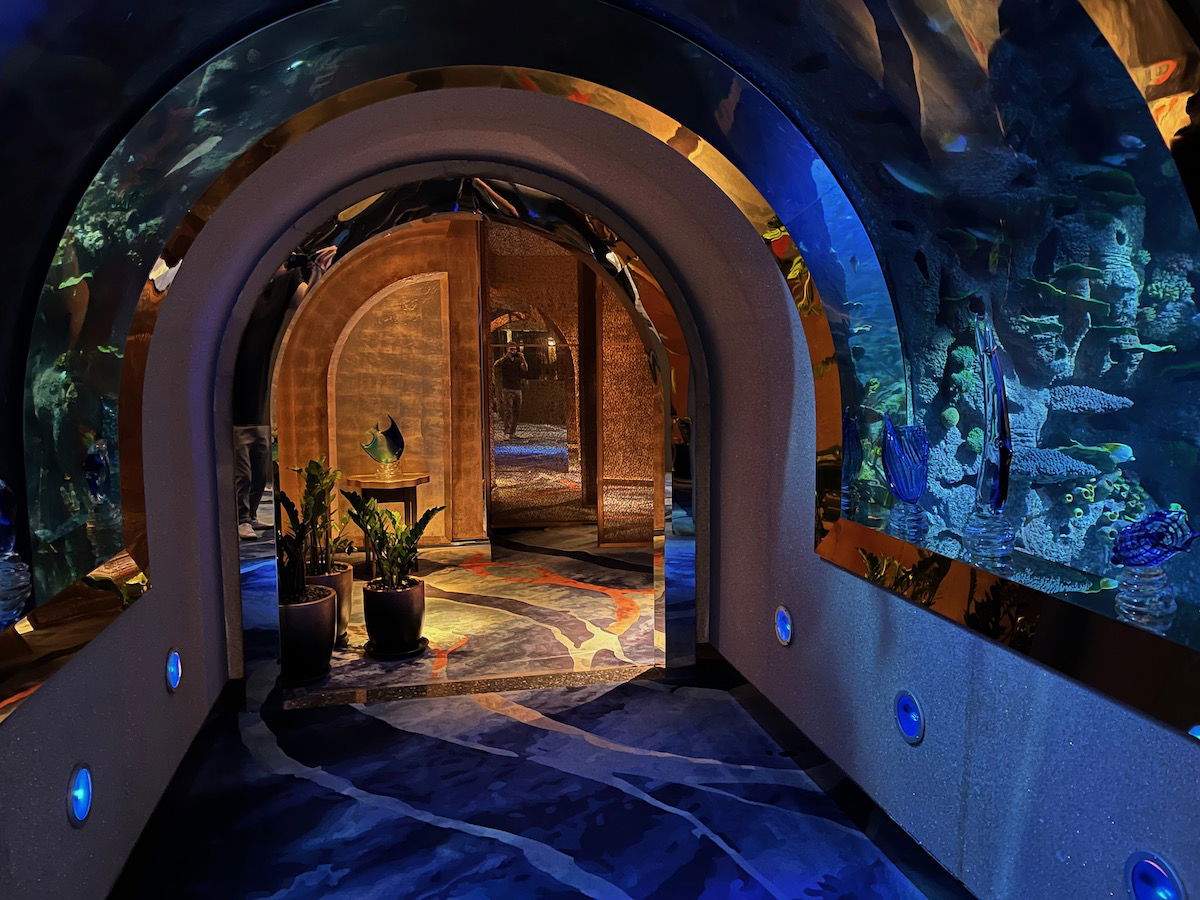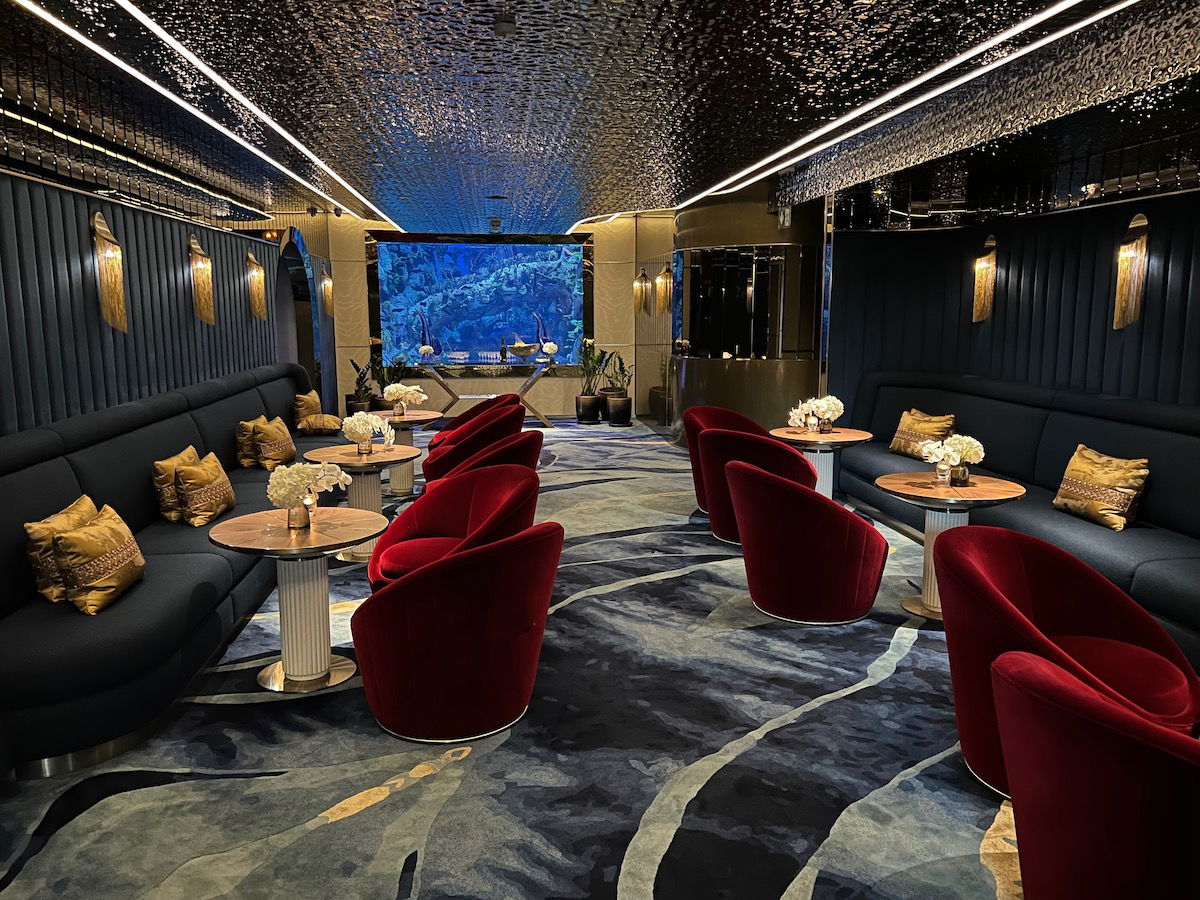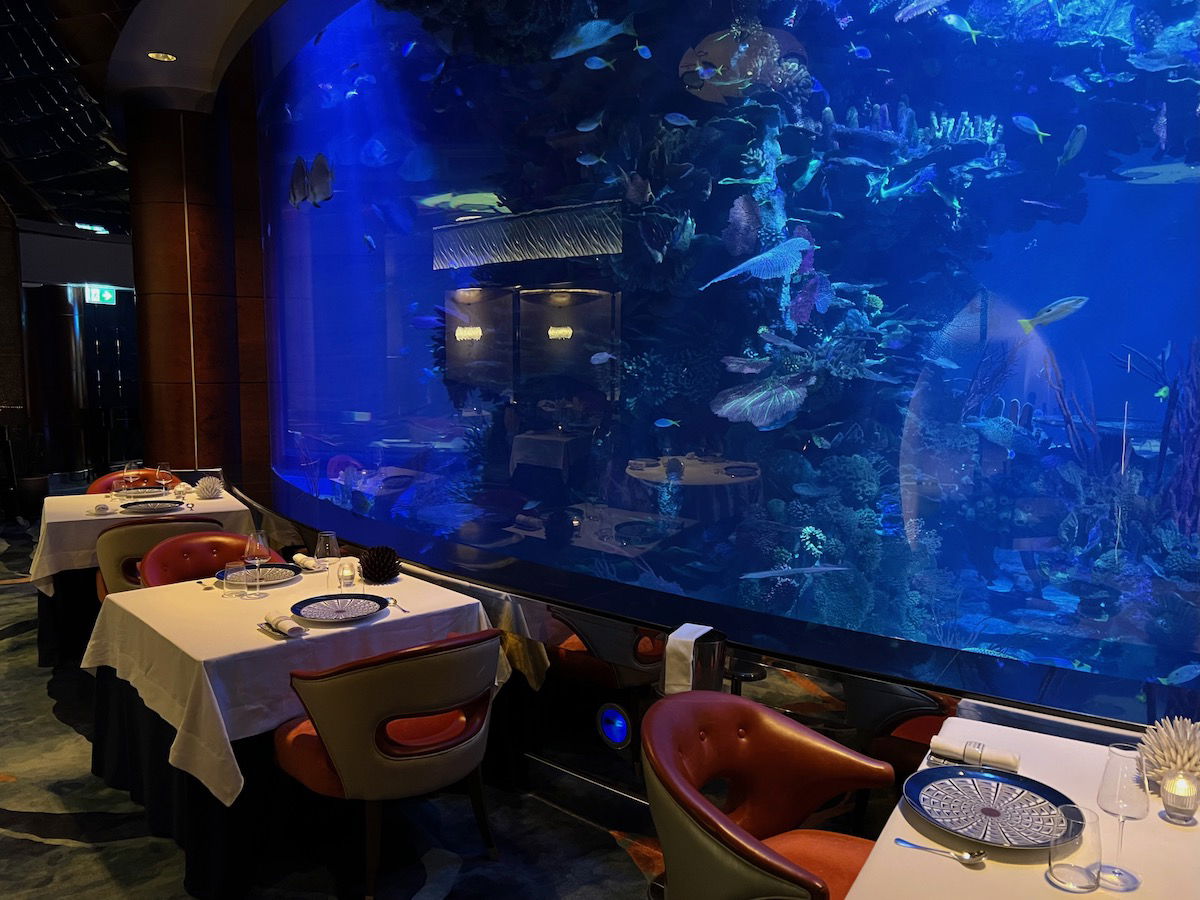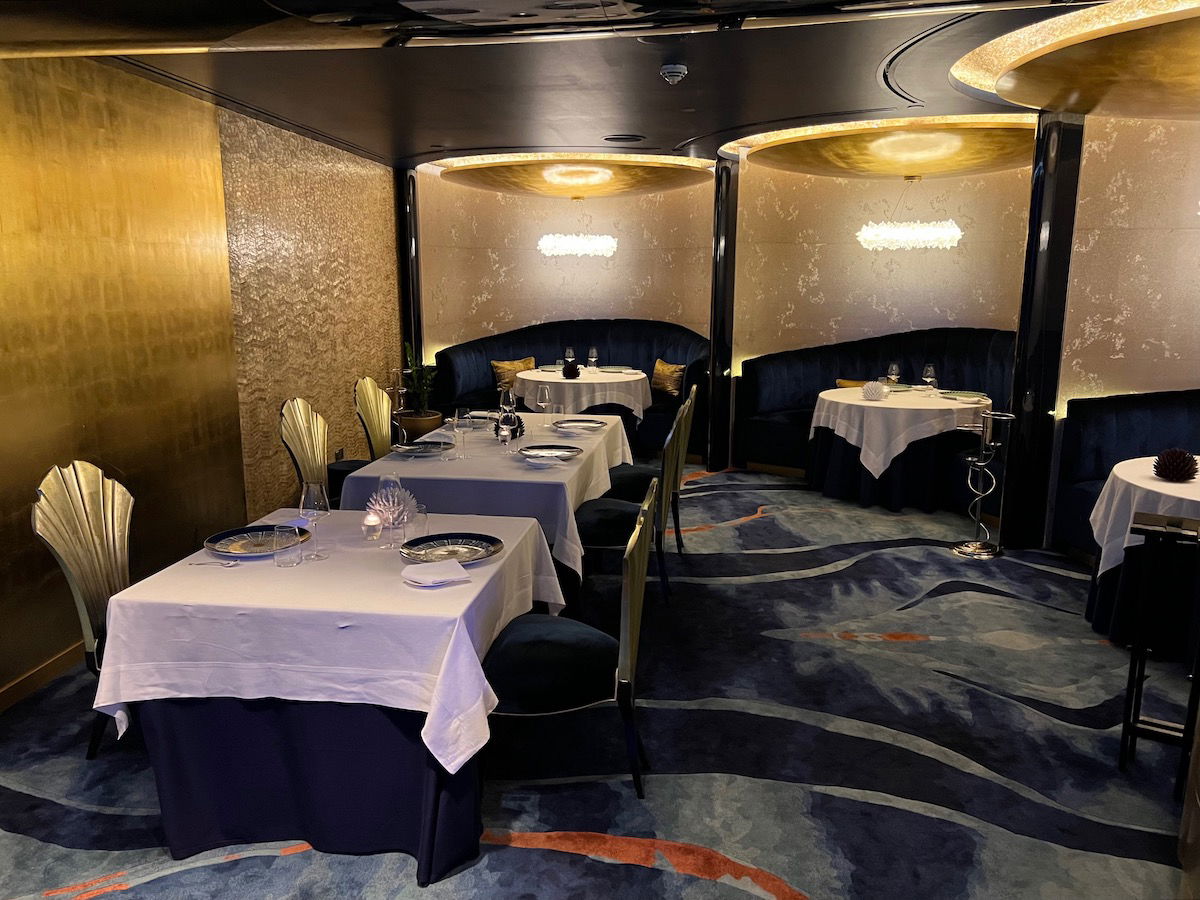 Upon arrival we were offered a complimentary welcome drink, and were then escorted to our table, right by the tank.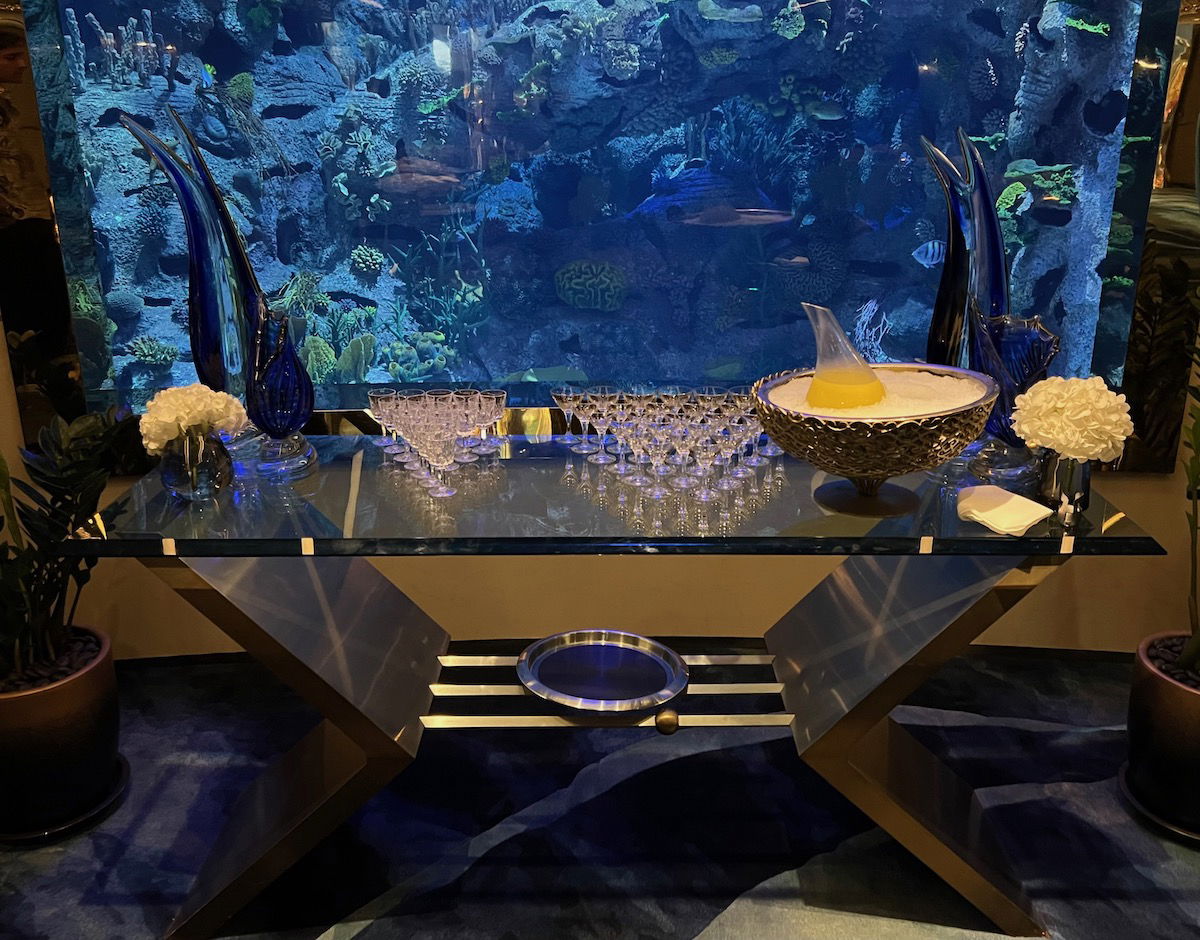 Talk about dinner with a view!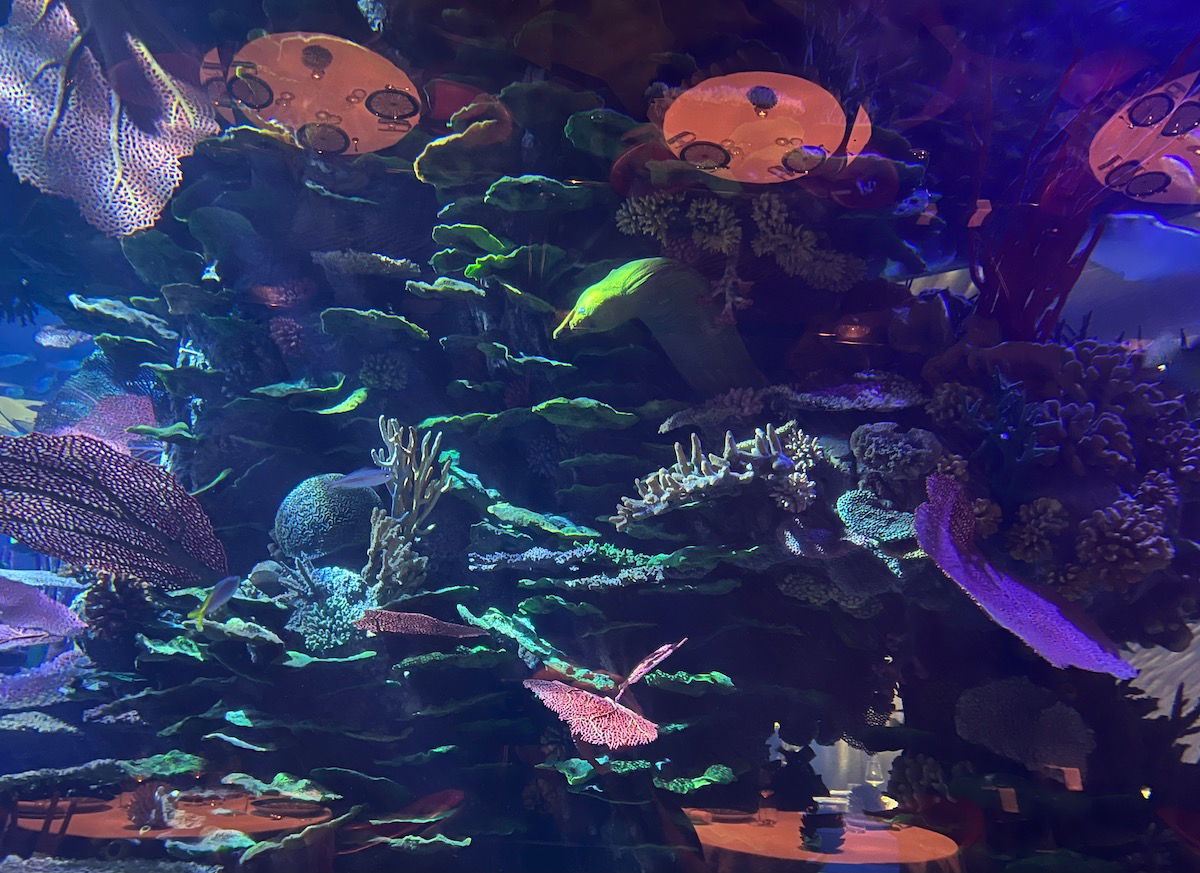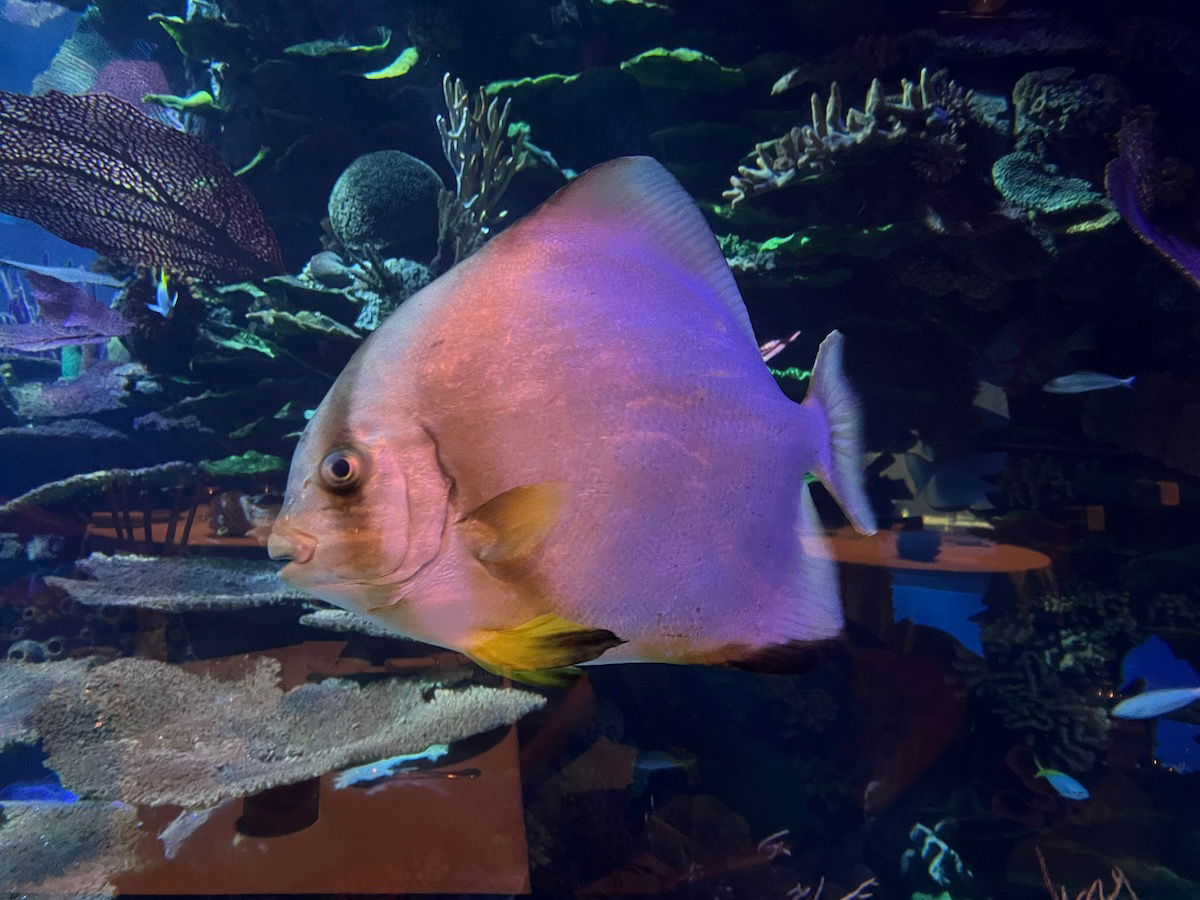 Even beyond the view, everything about the dining experience was sublime. Just about the entire staff were from Capri, and they couldn't have been more professional or charming. You can find the dinner menu here.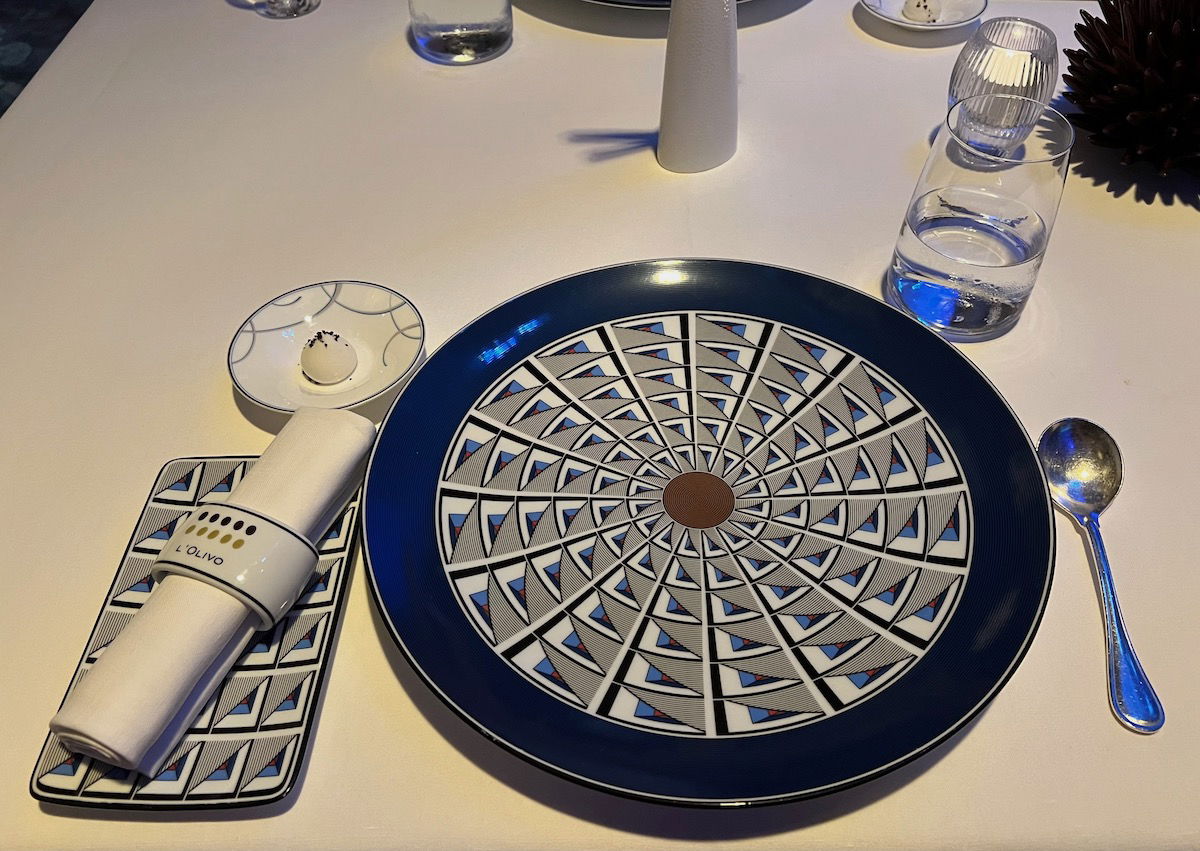 The meal started with some breadsticks and an amuse bouche.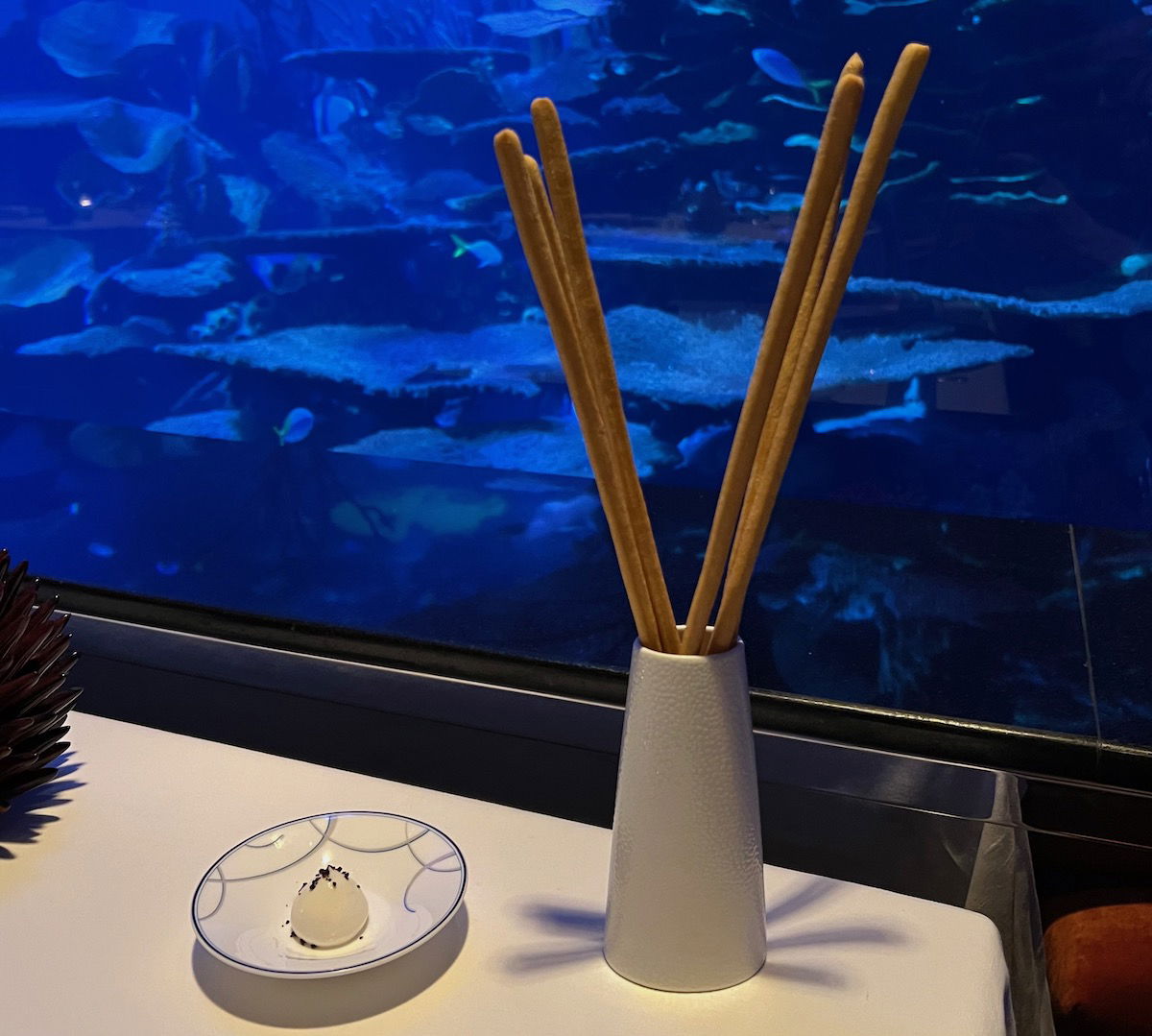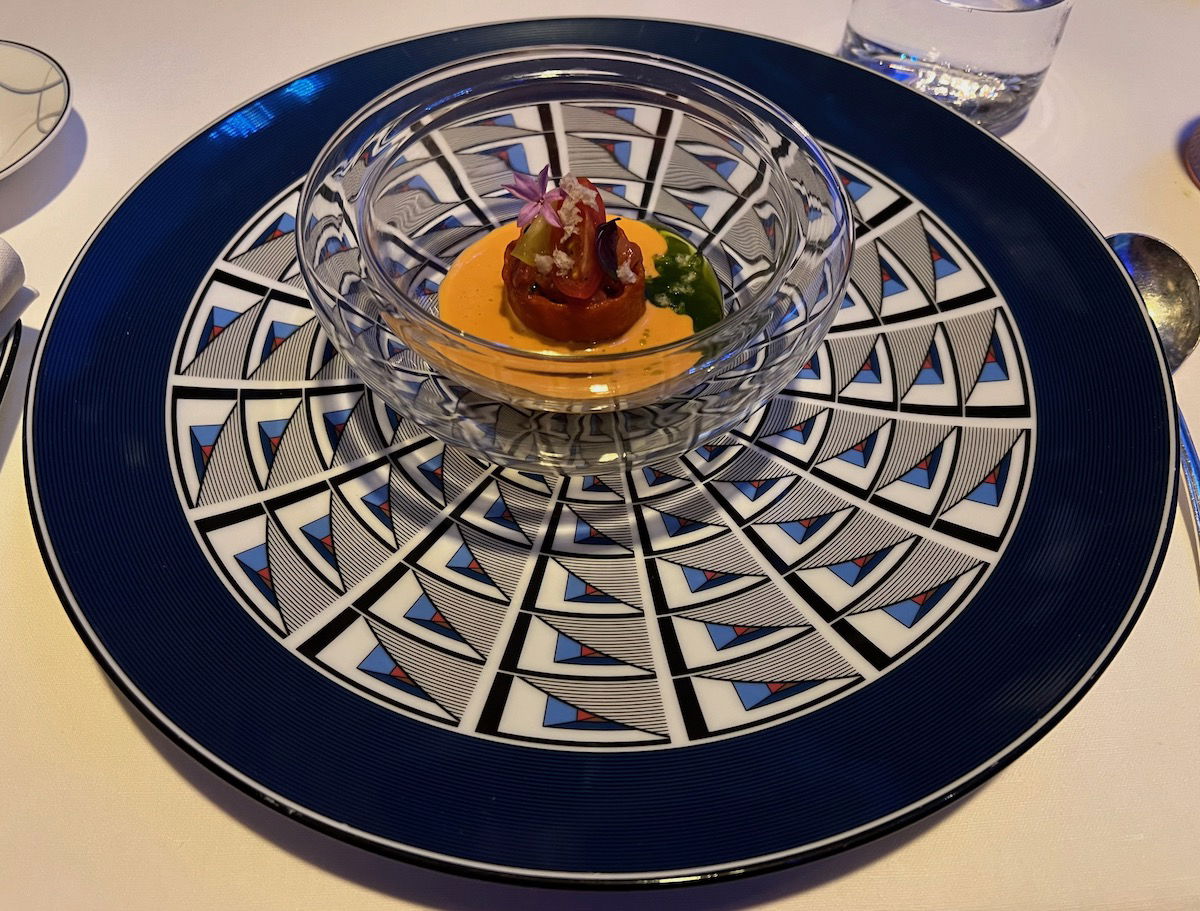 We were then offered a selection of bread, plus our choice of roughly a dozen different olive oils.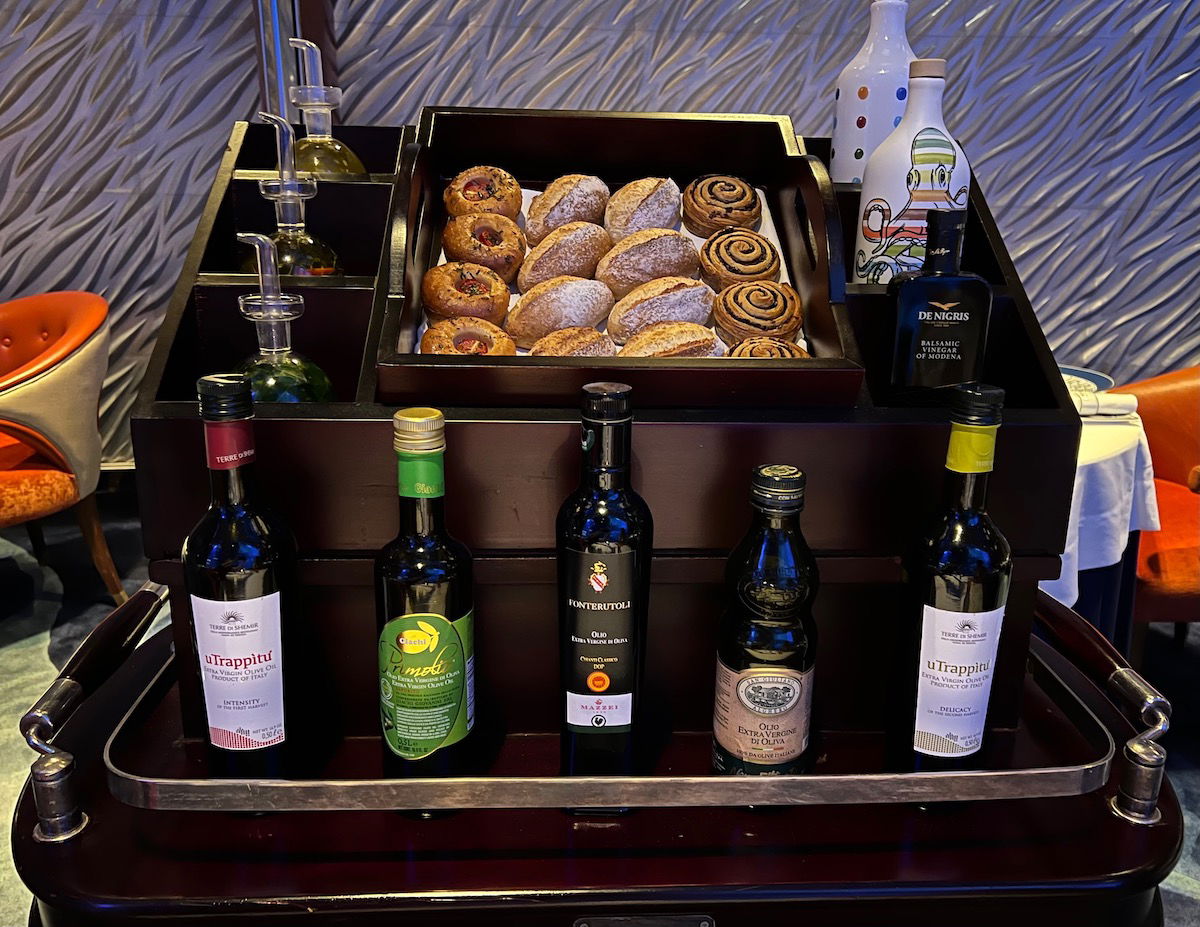 At the recommendation of the server, I started with the lemon tagliolini, with red prawns and burrata cheese.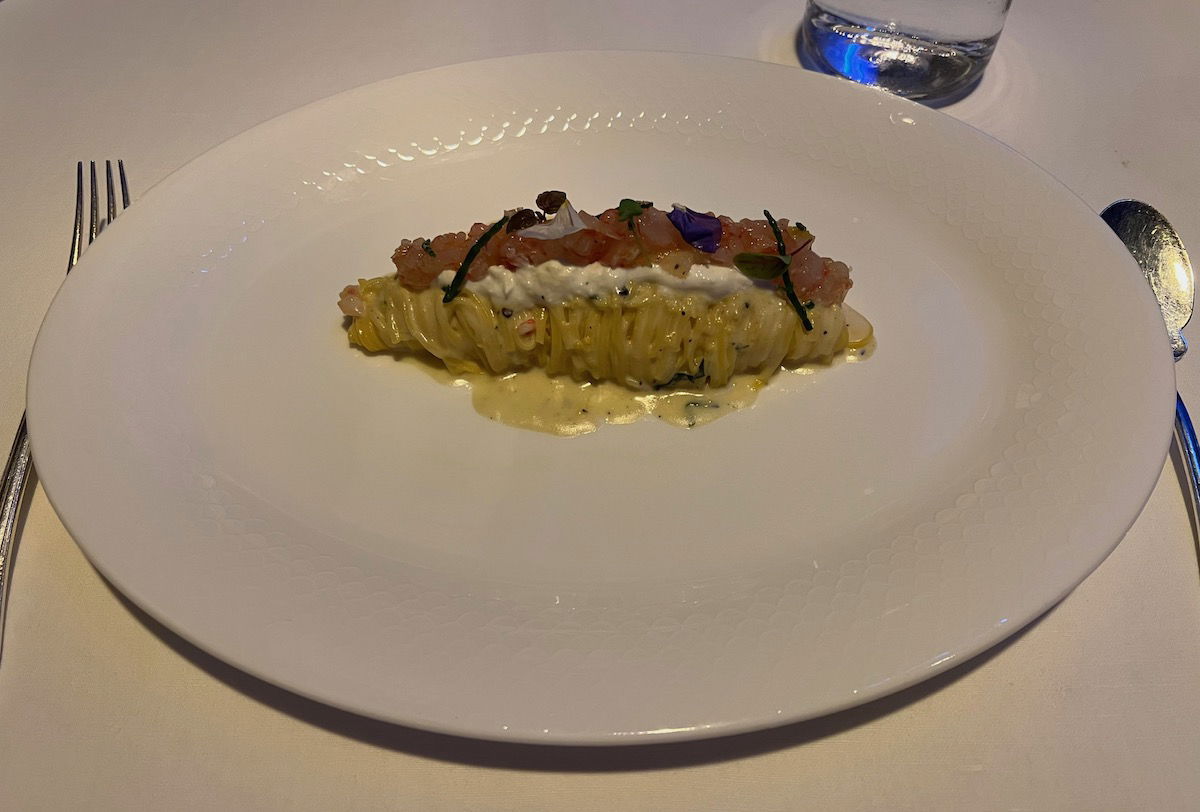 Ford had the red tuna tartare, with avocado, salmon roe, basil, and mozzarella cream.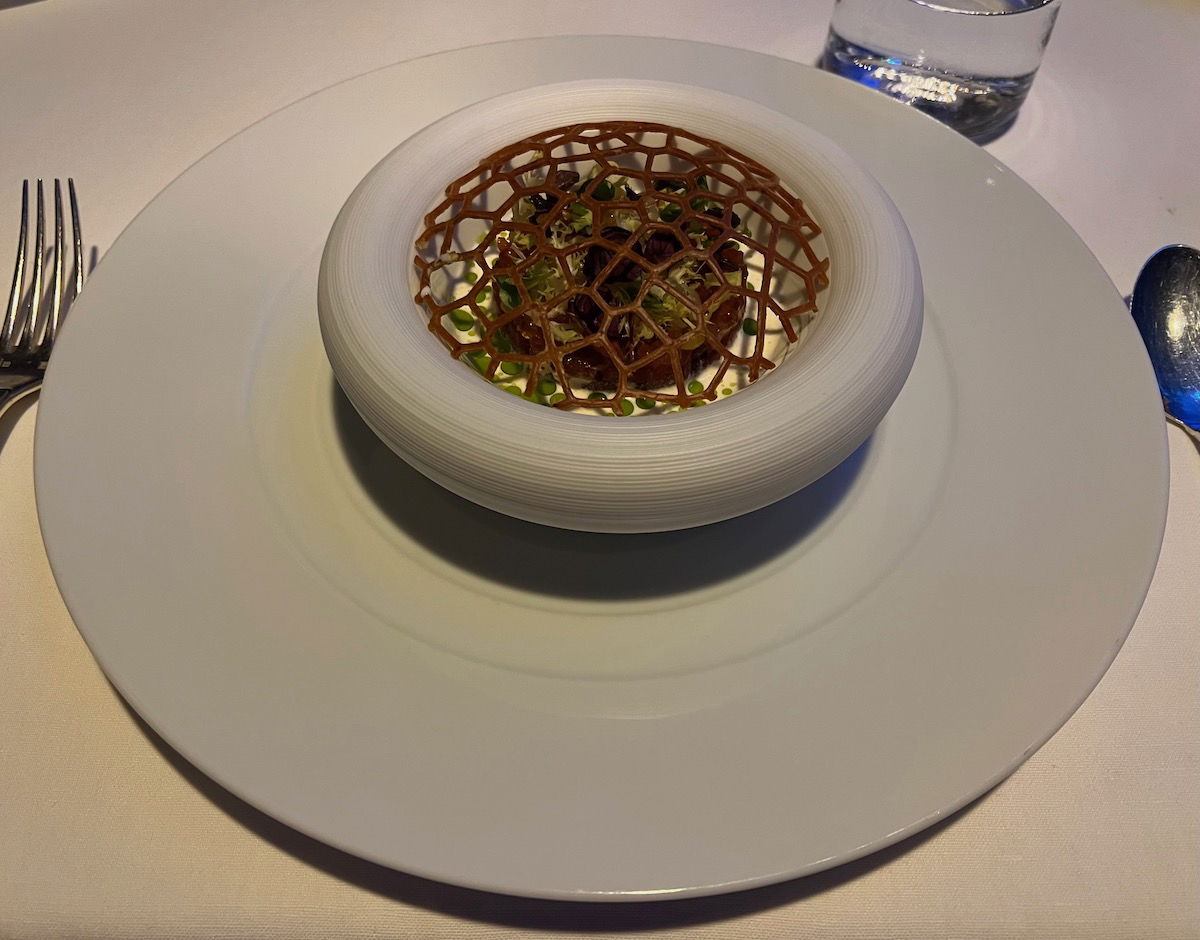 For our main courses, I had the gilthead with stewed vegetables and Mediterranean sauce.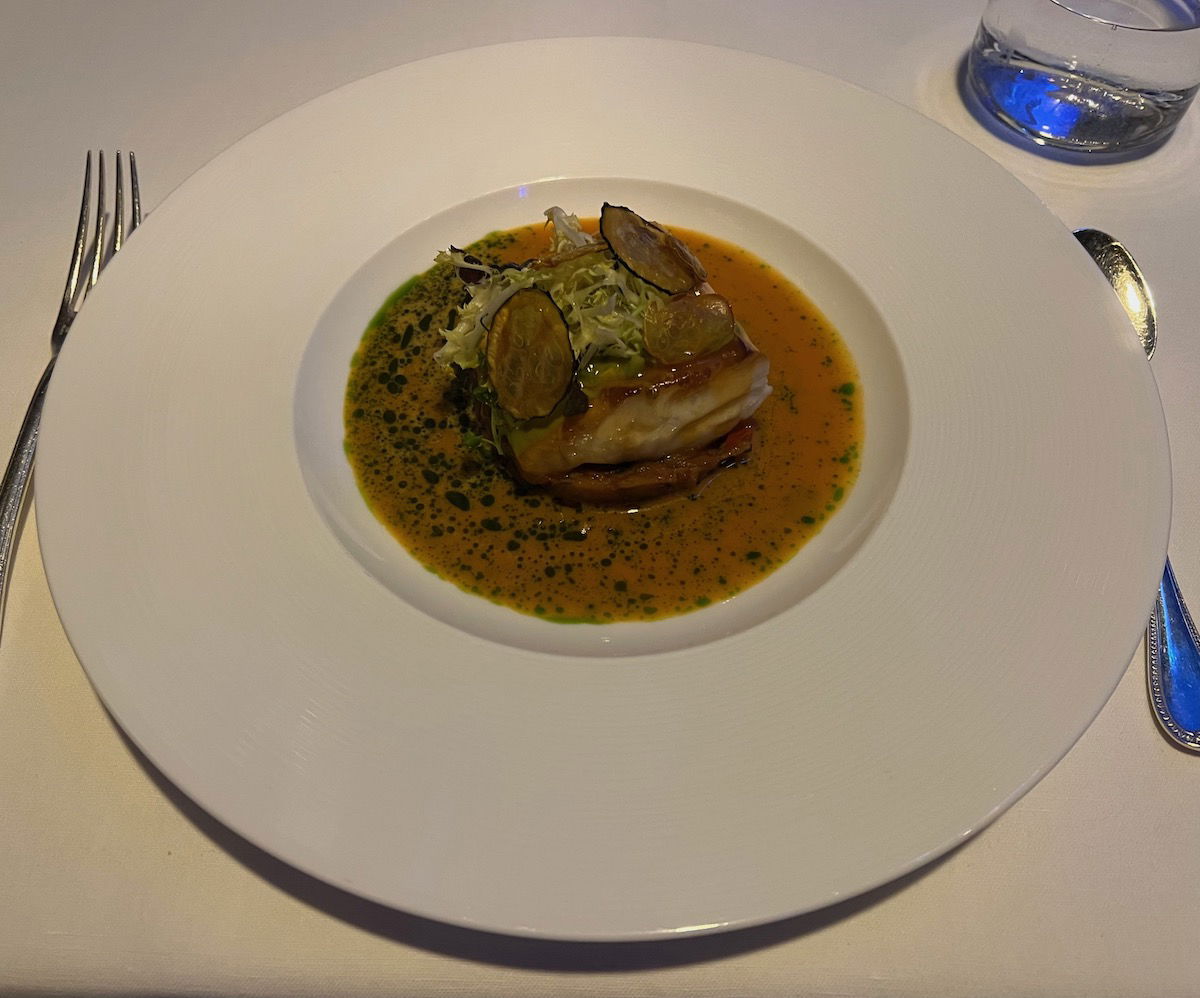 Ford had the blue crab ravioli, with ricotta cheese, thyme, broccoli, and caviar.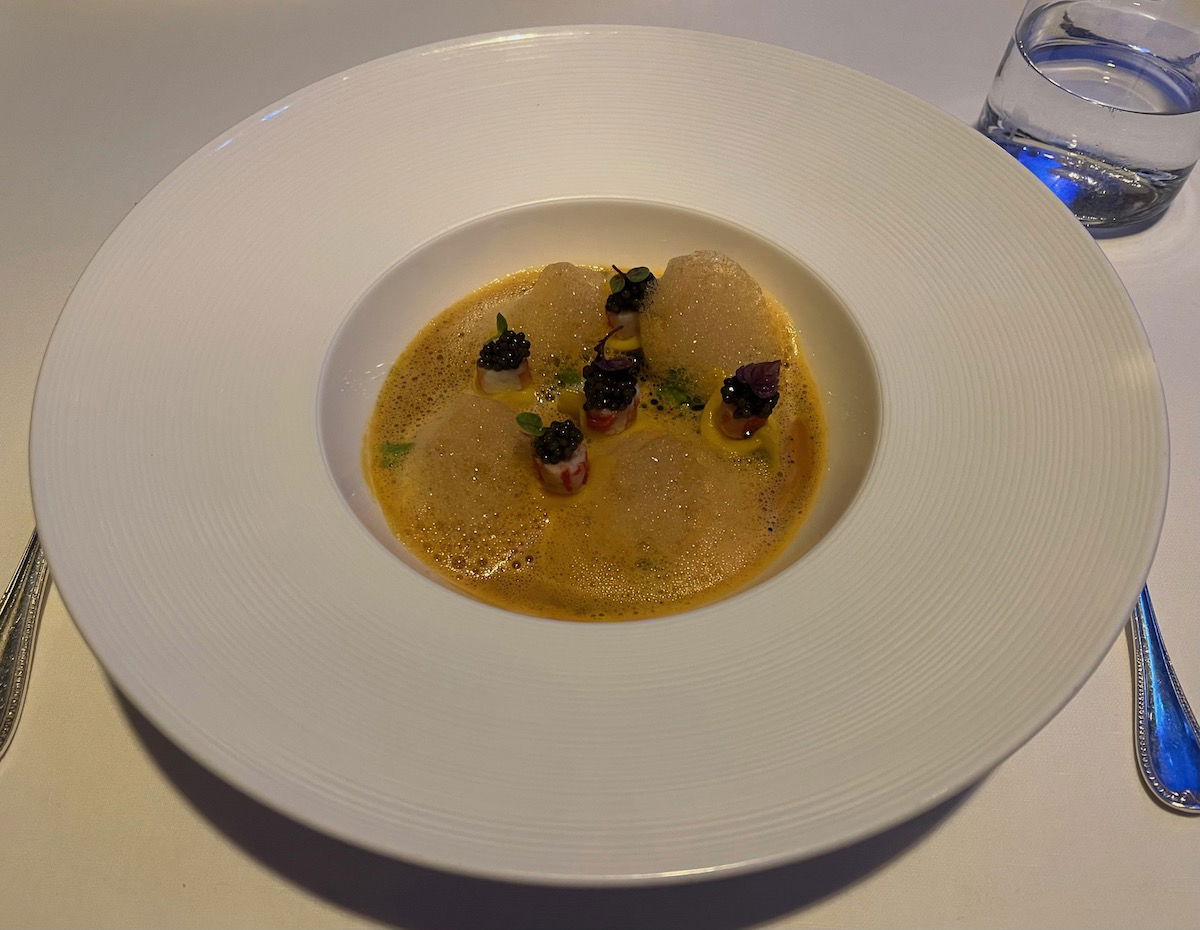 Then there was a palate cleanser.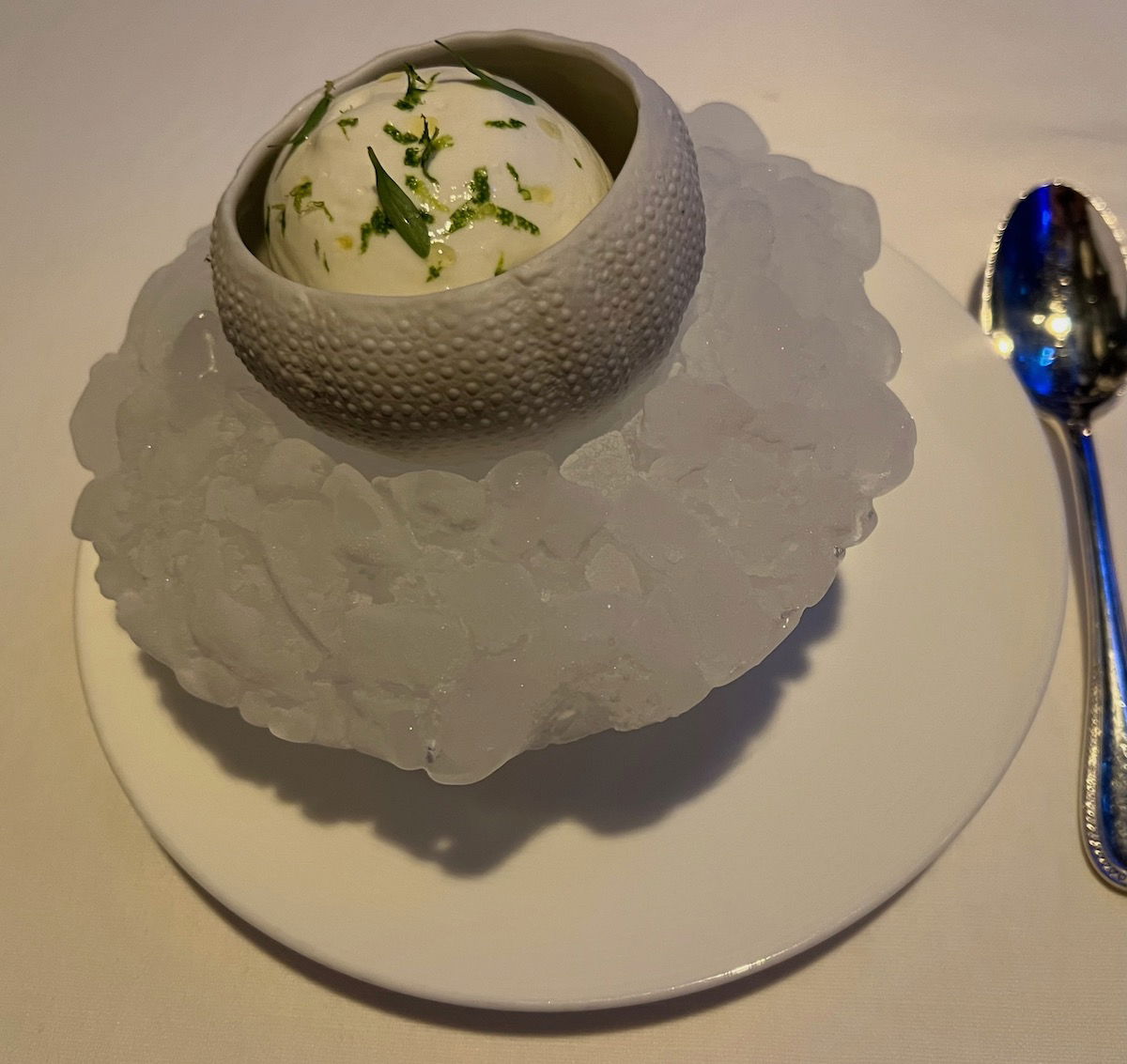 Lastly, for dessert we split the chocolate souffle, which was beyond decadent. We wouldn't have usually ordered dessert as we were already full, but we were enjoying the ambiance so much.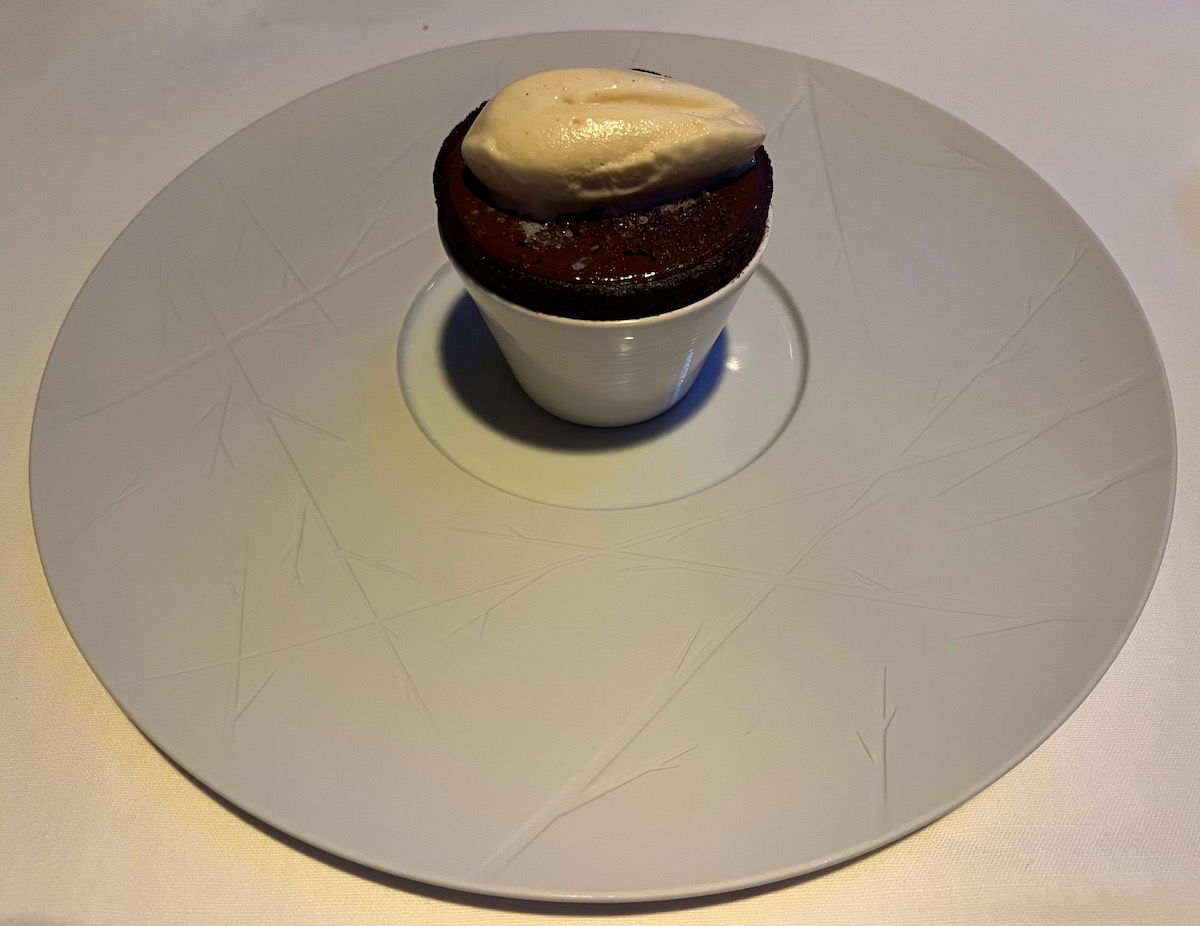 At the conclusion of the meal we were brought some petit fours.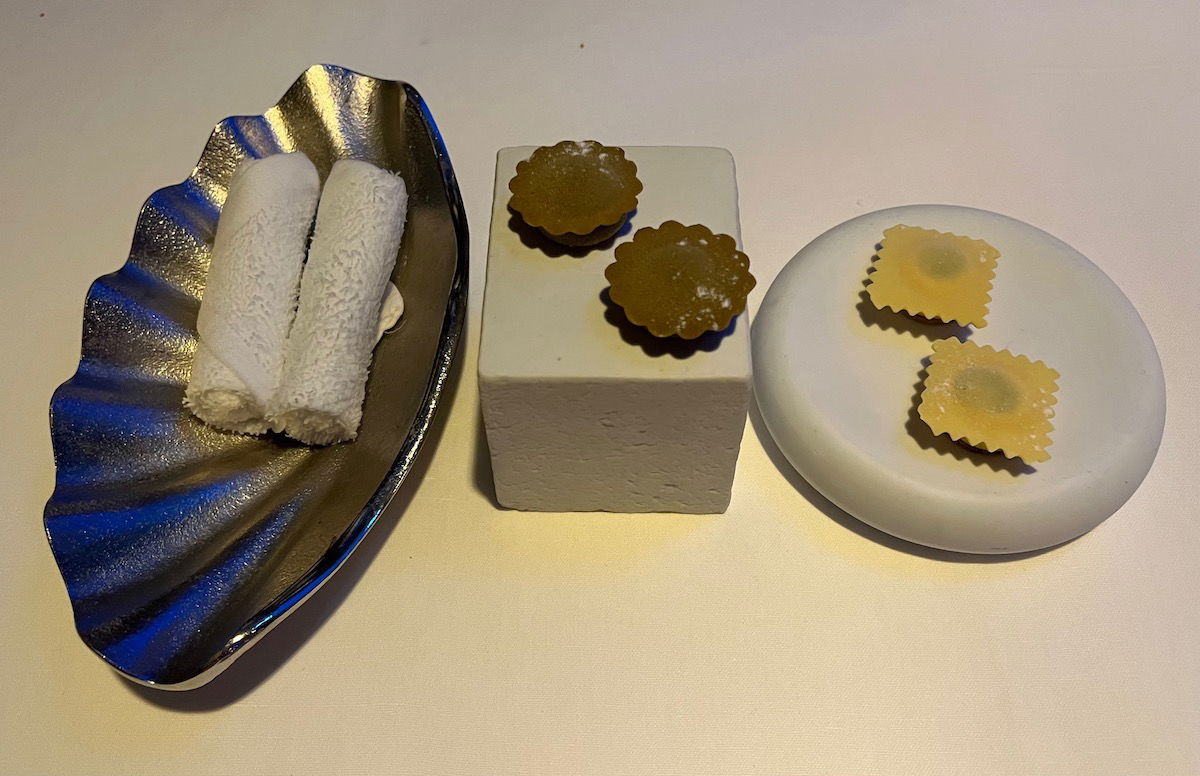 What a meal!
Burj Al Arab Bab Al Yam
Bab Al Yam is the Burj Al Arab's breakfast restaurant, located off the pool. The restaurant has both indoor and outdoor seating. Since the weather was nice in the morning, we sat outside.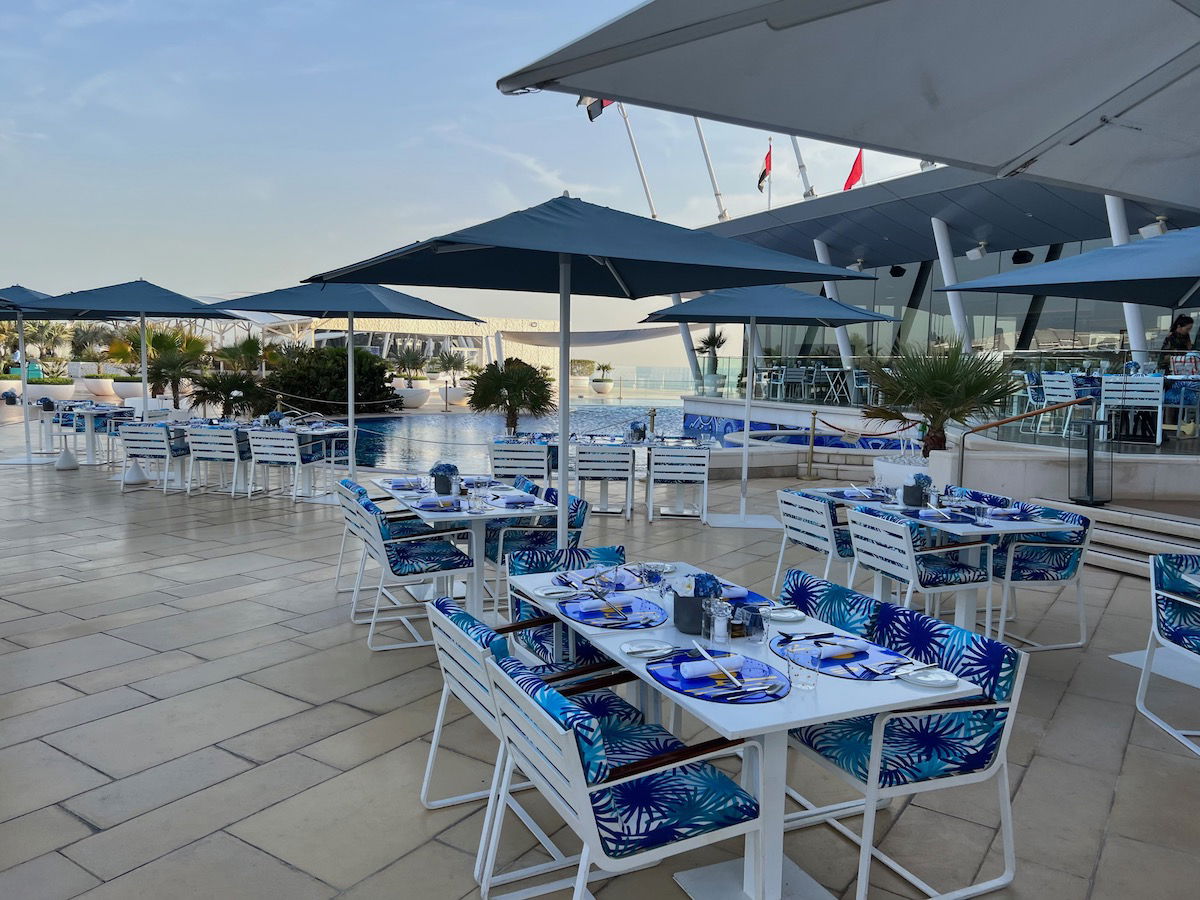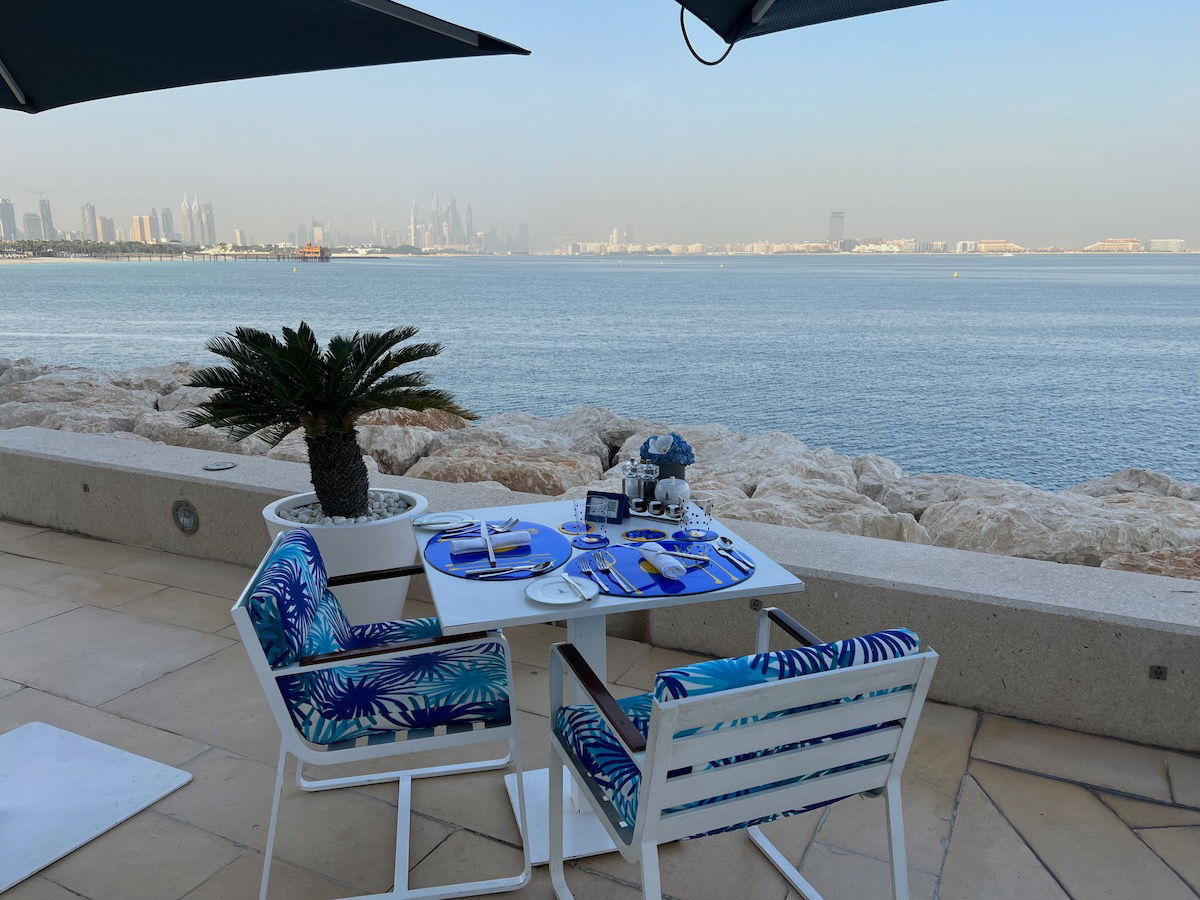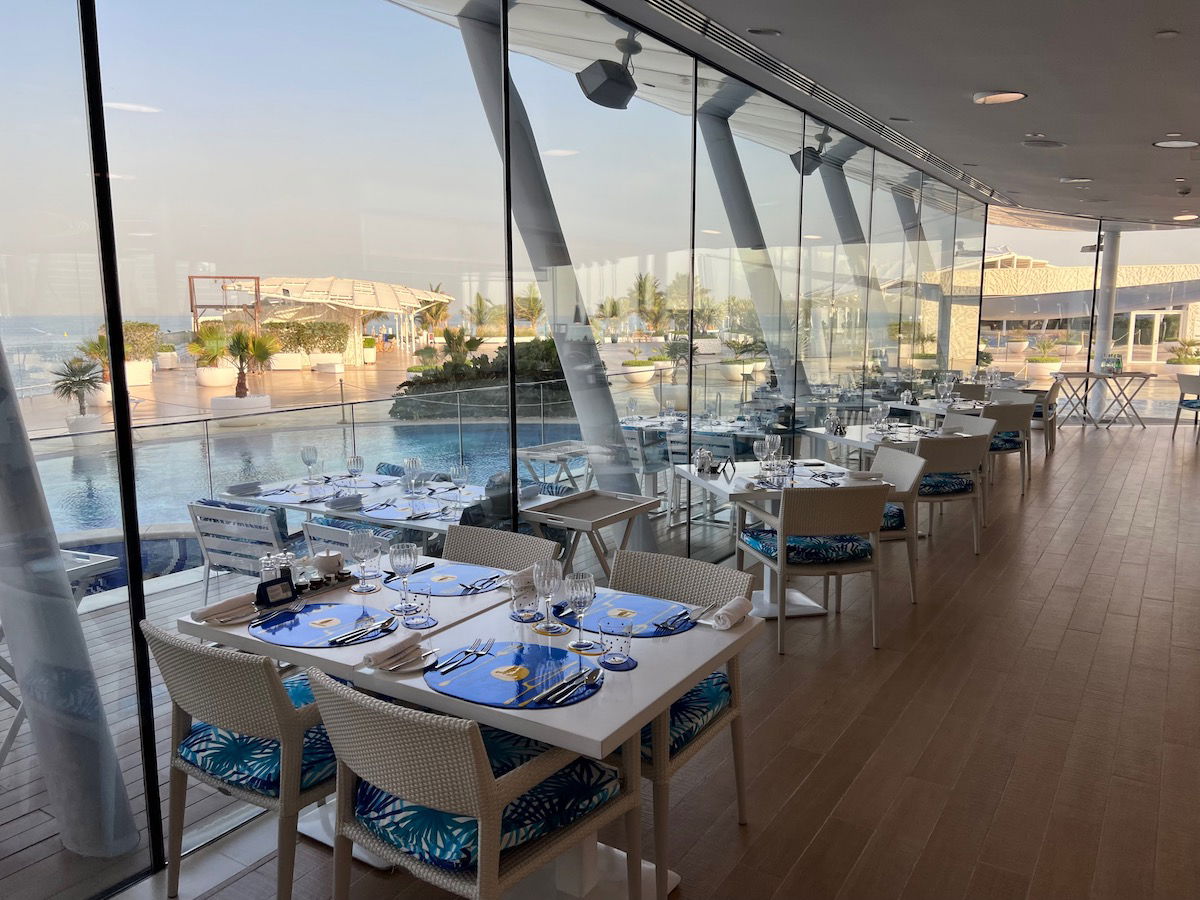 Breakfast was included in our Virtuoso rate, and consisted of both a buffet and a menu, and you could mix and match as much as you wanted. The breakfast buffet was really impressive, with everything from freshly baked sweets, to a chocolate fountain, to Middle Eastern and Indian specialties, to fresh fruit, to cereal and yogurt, and a lot more.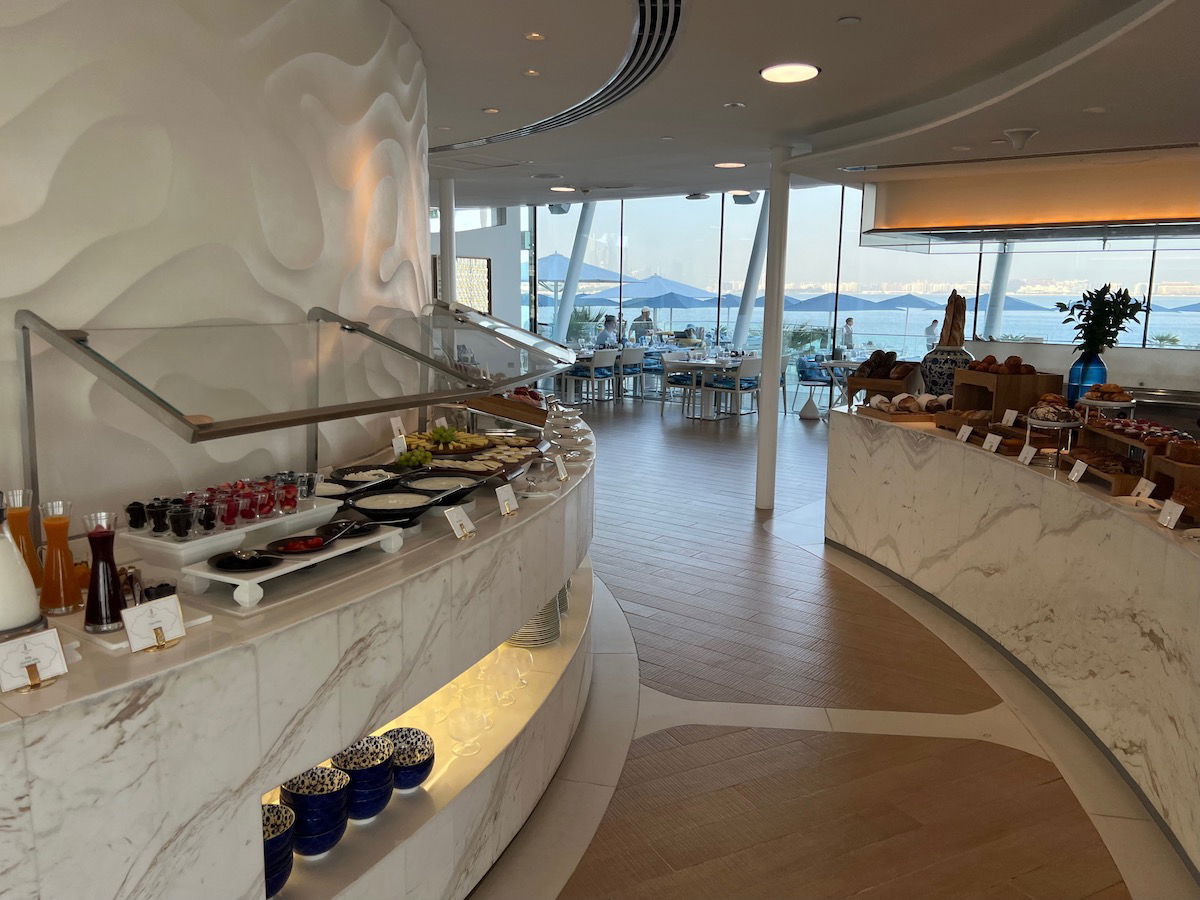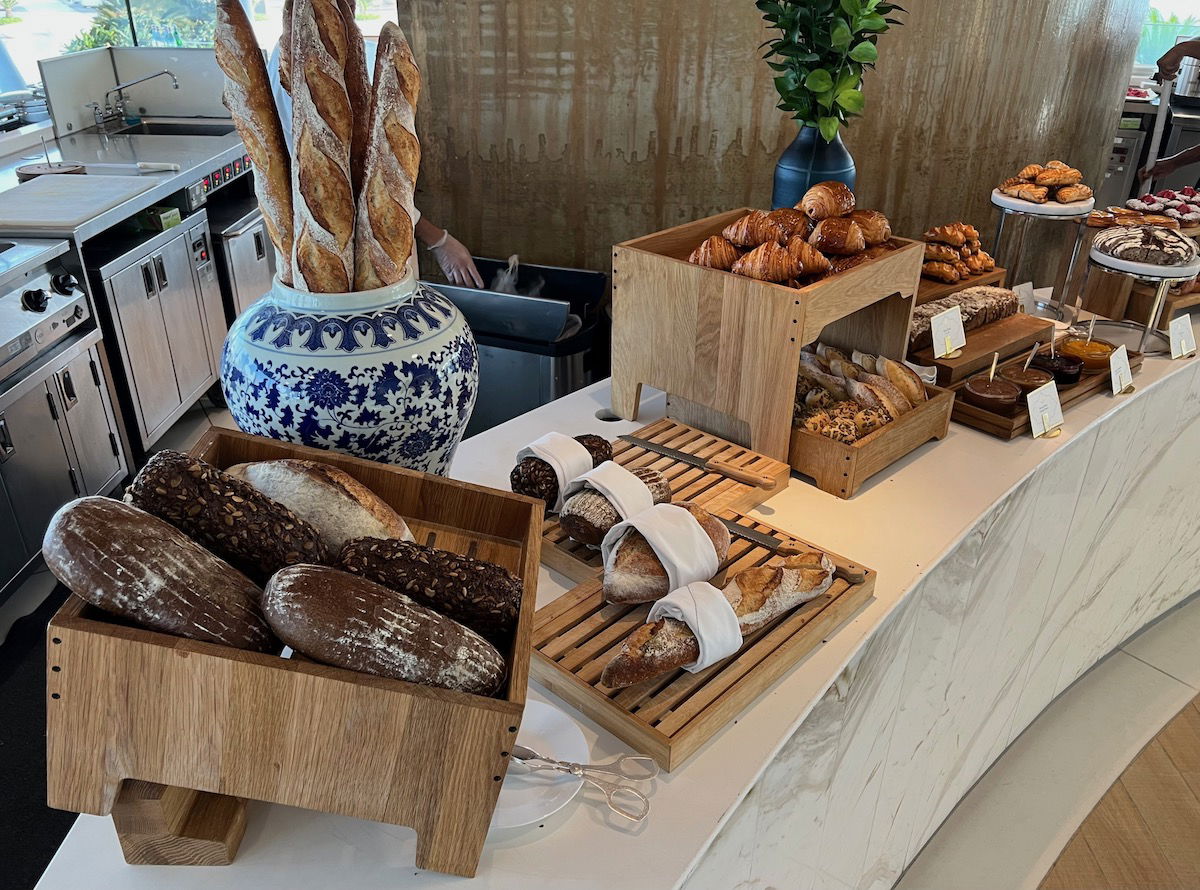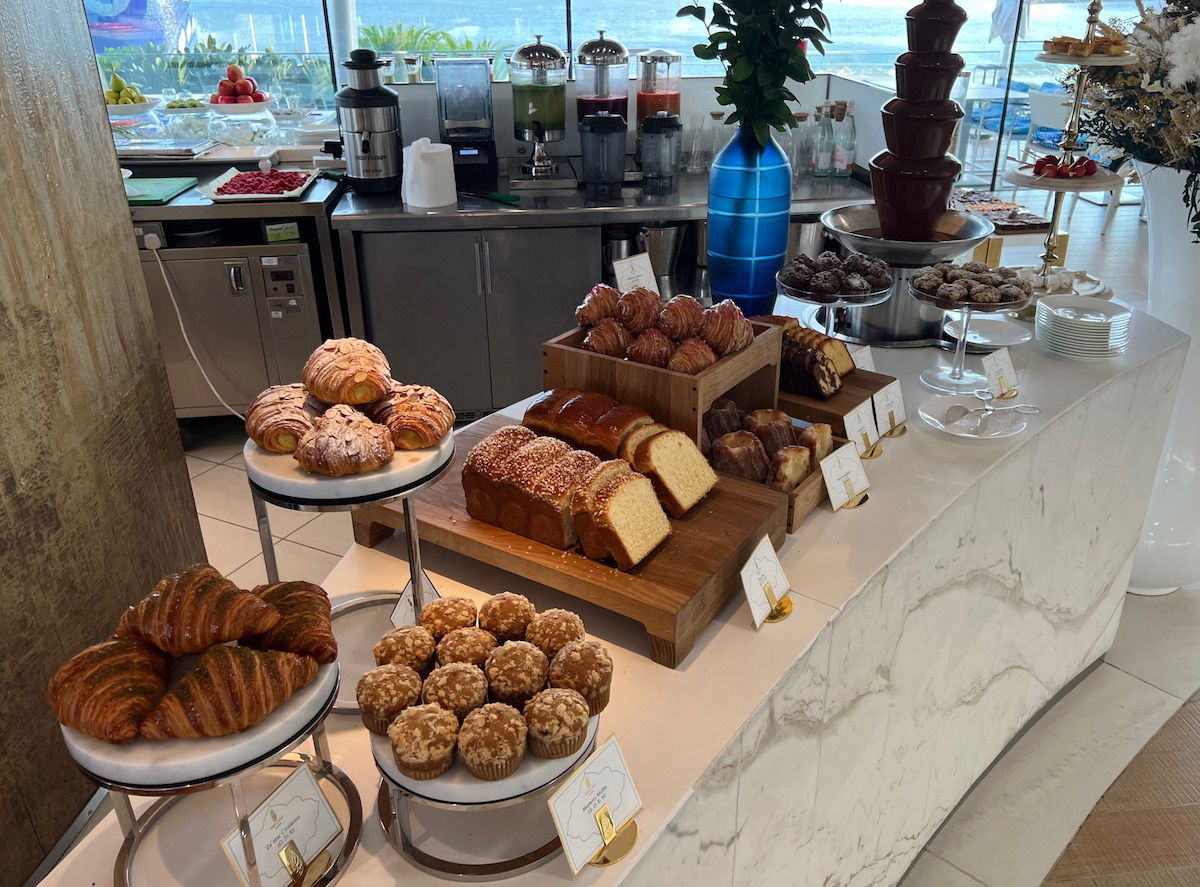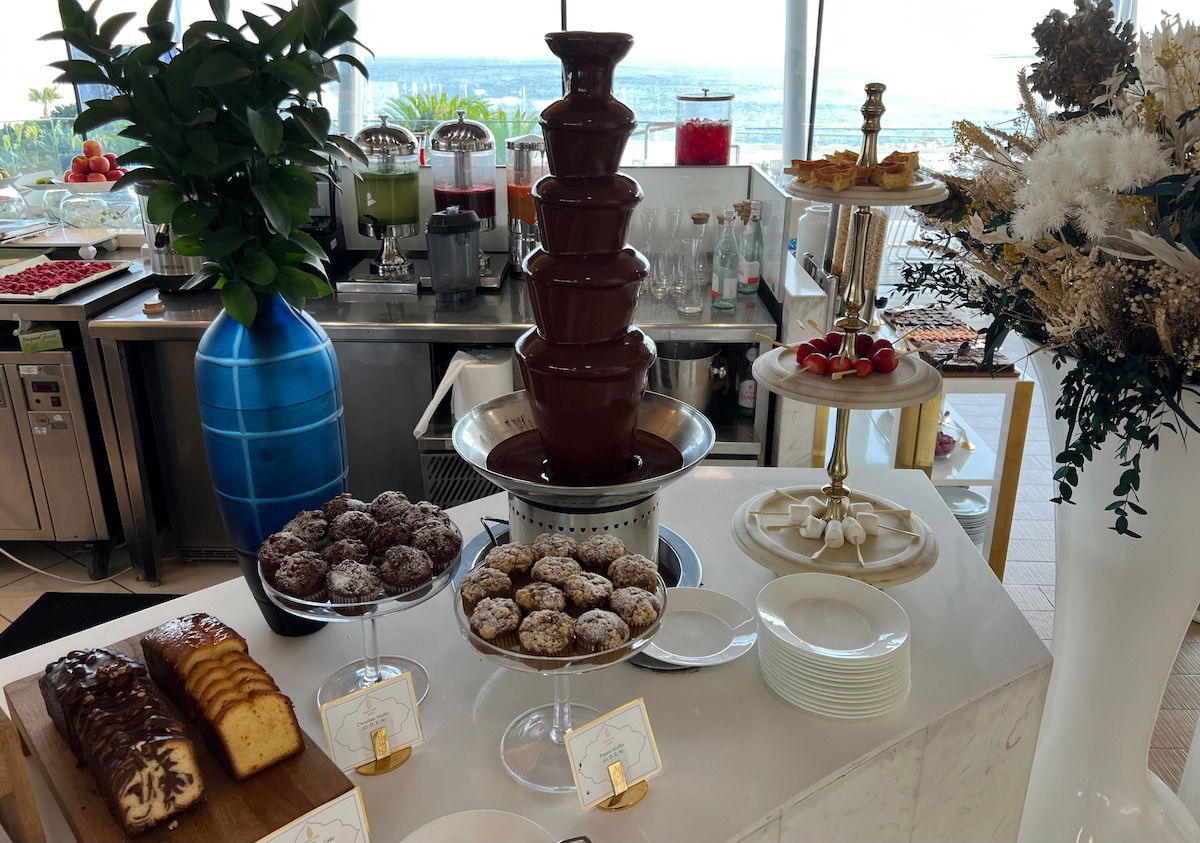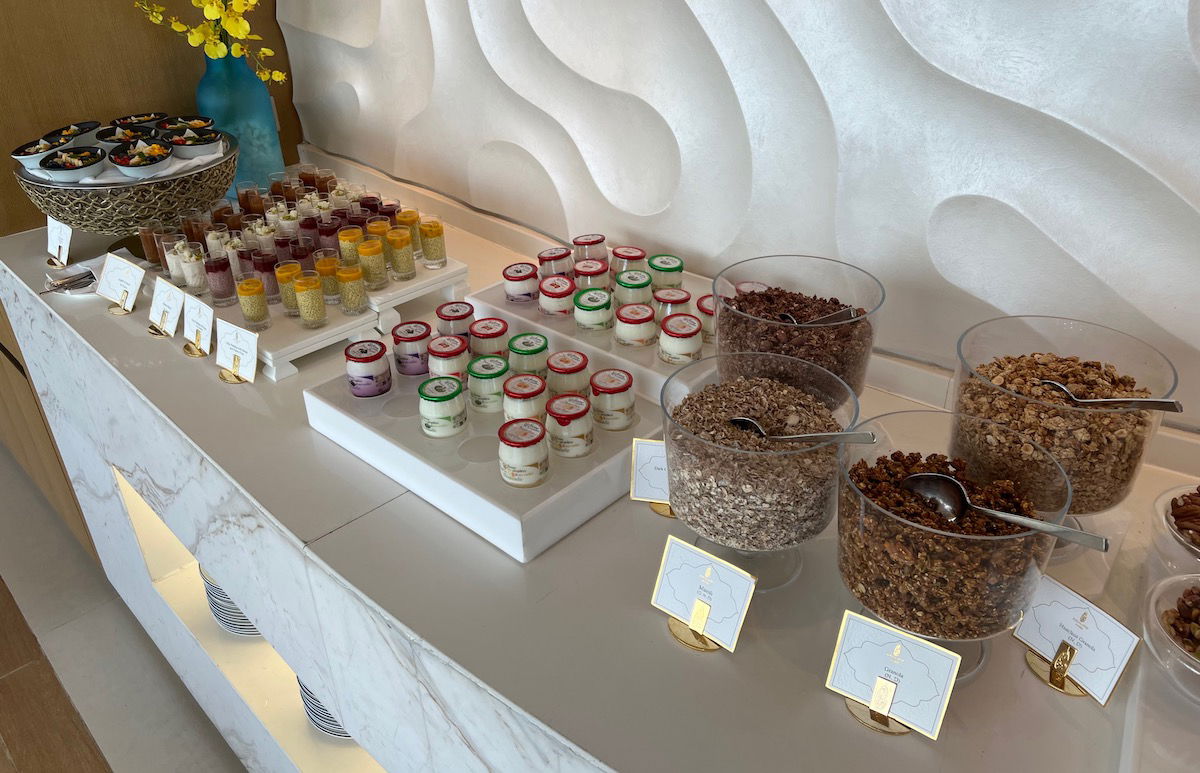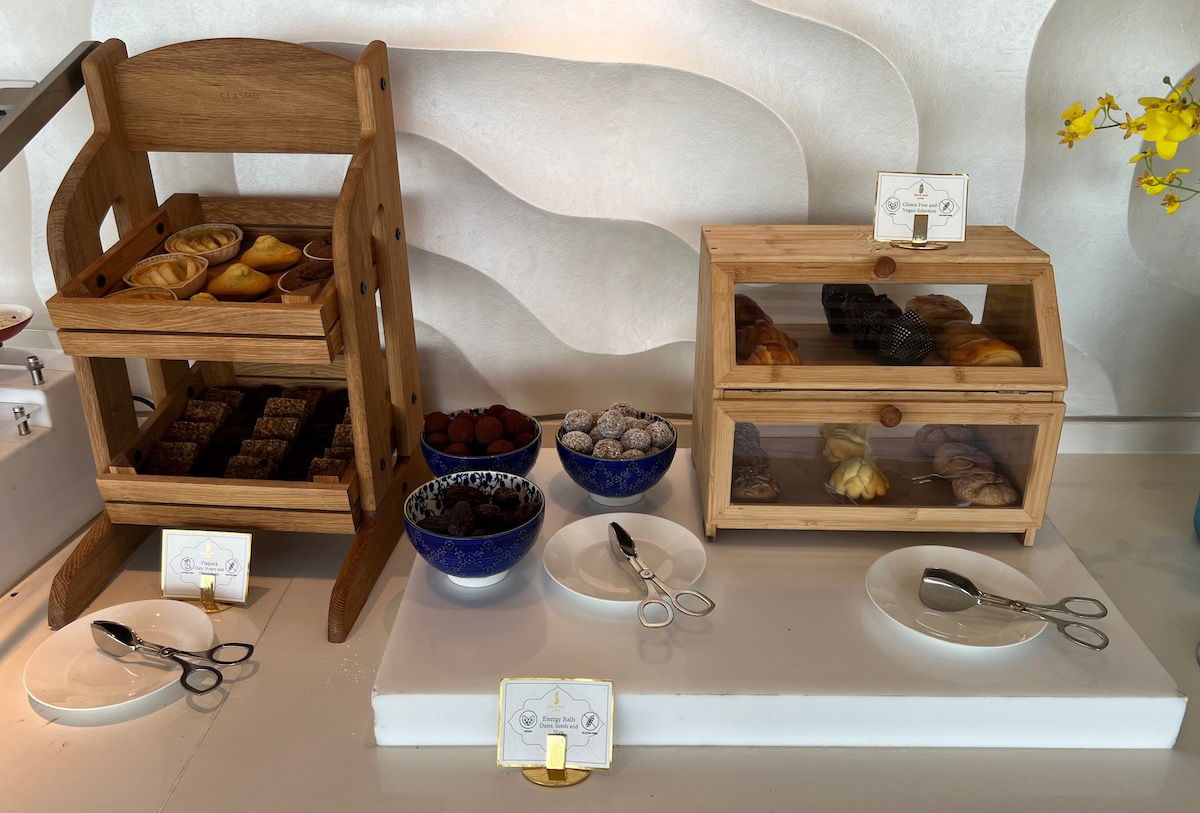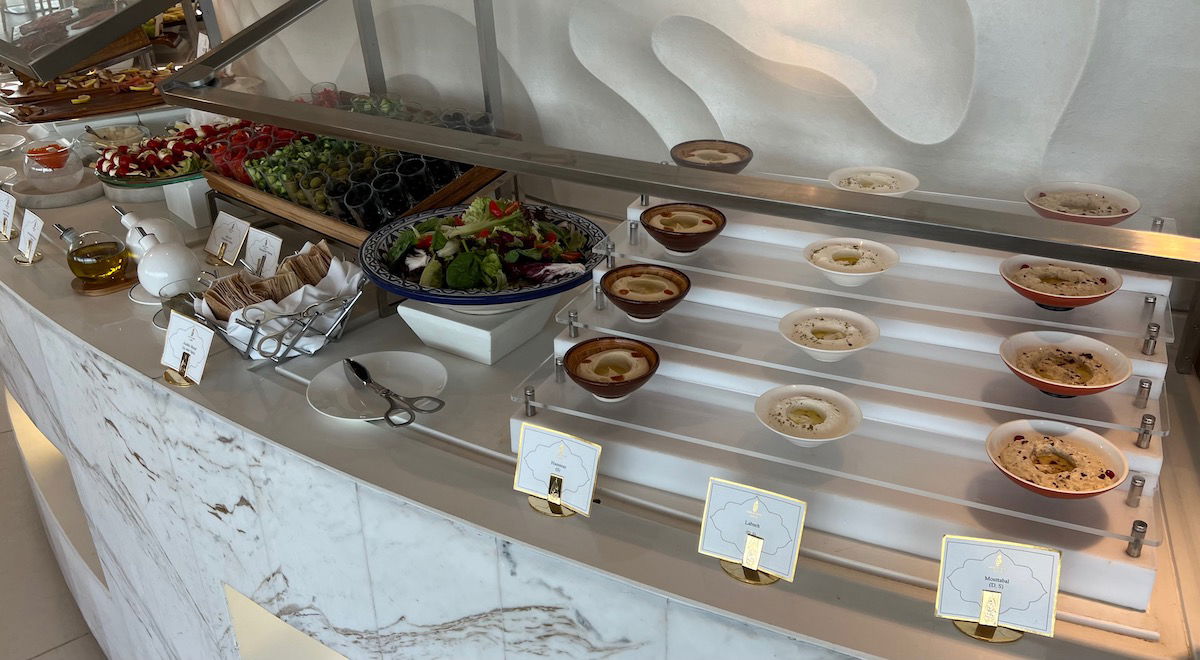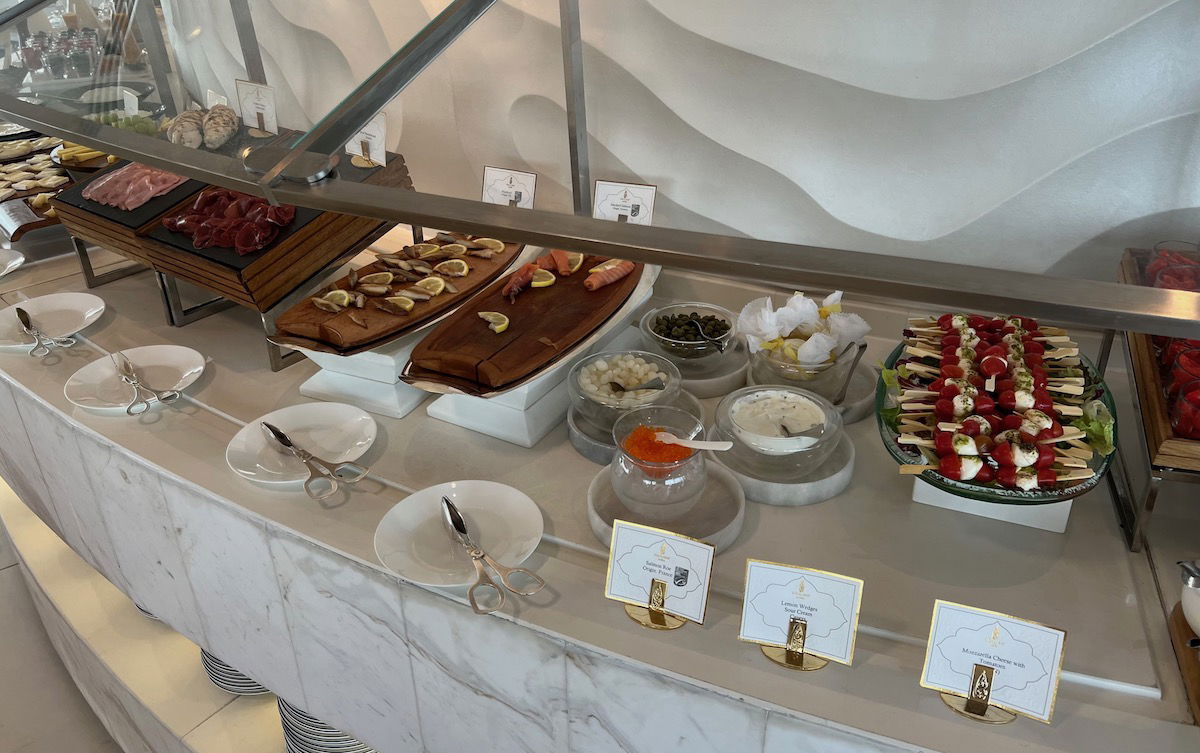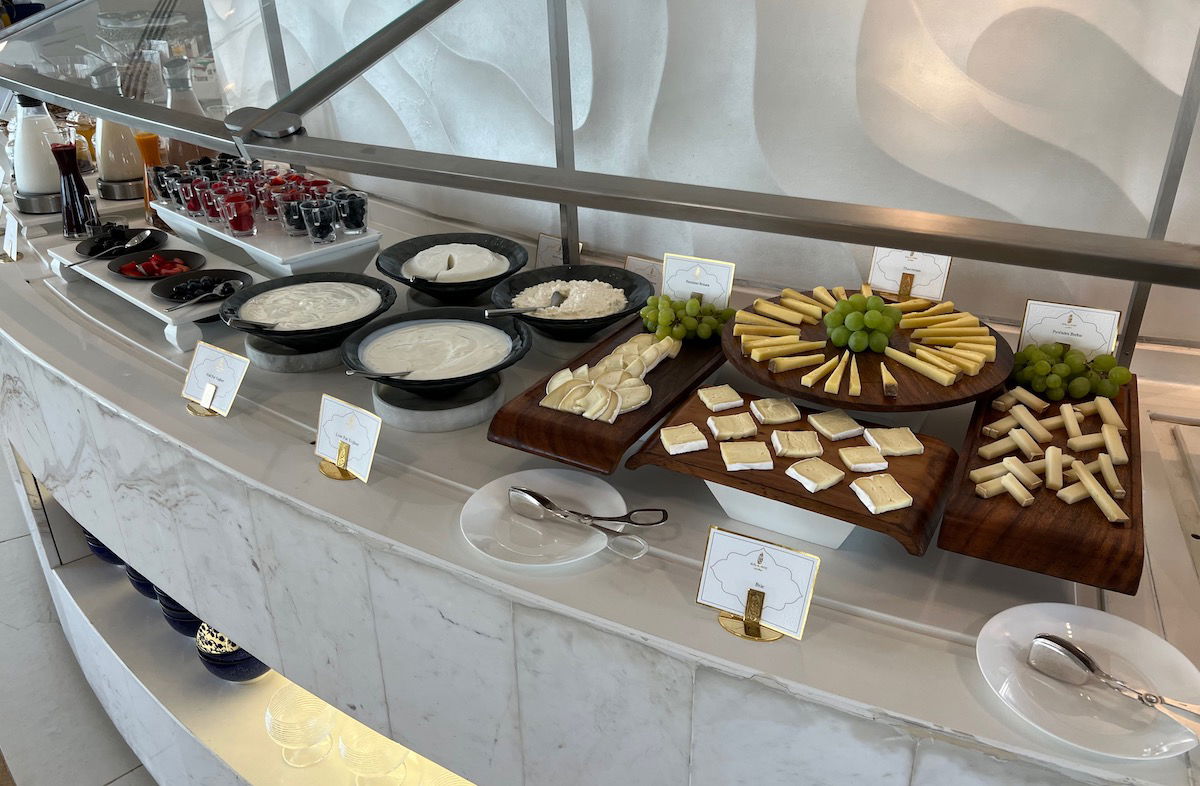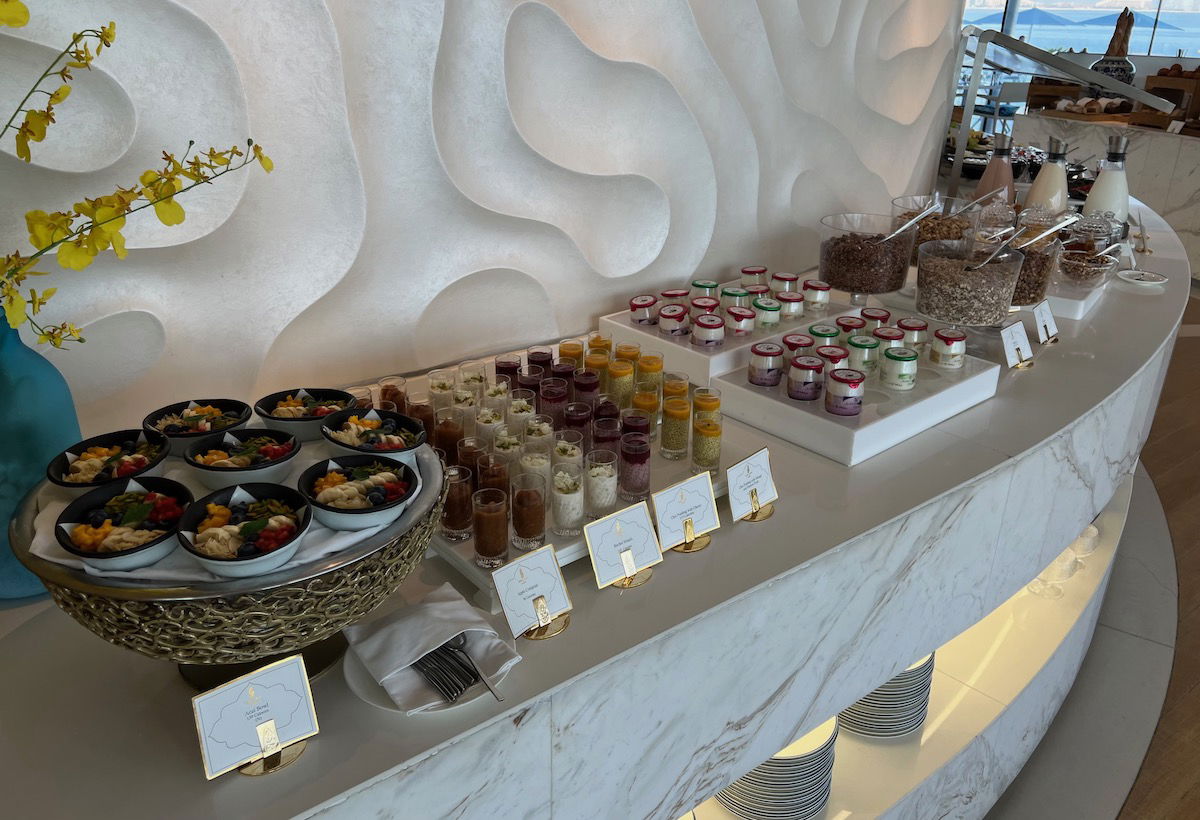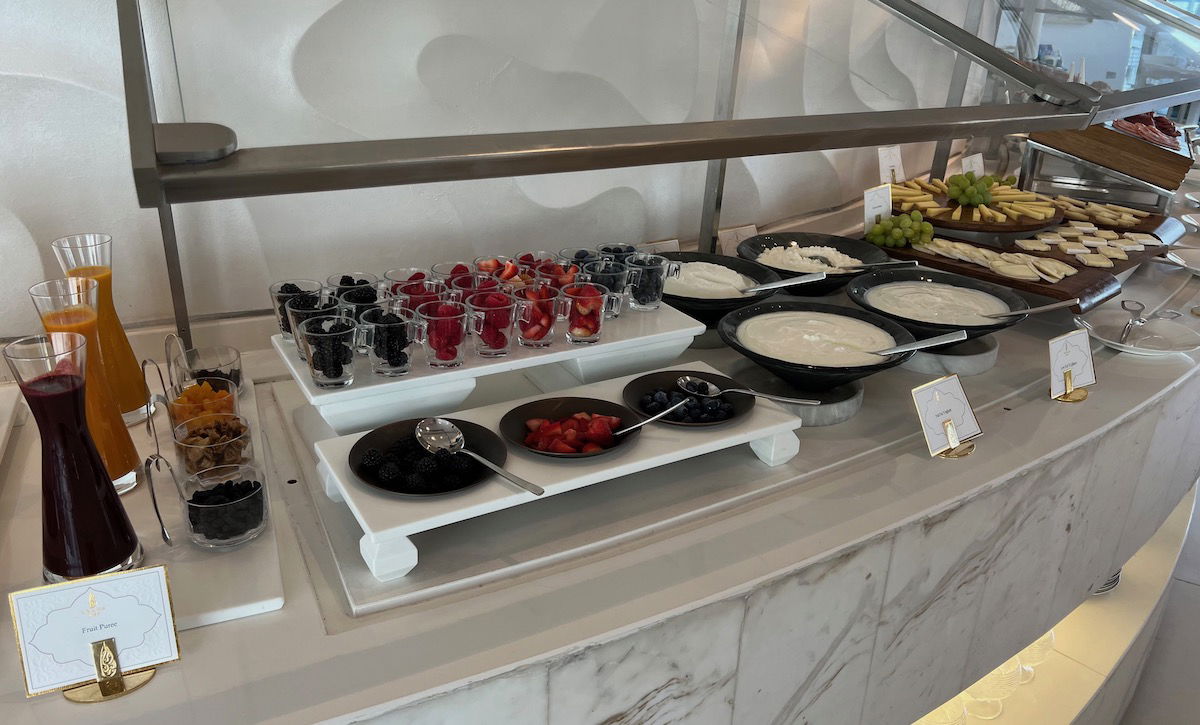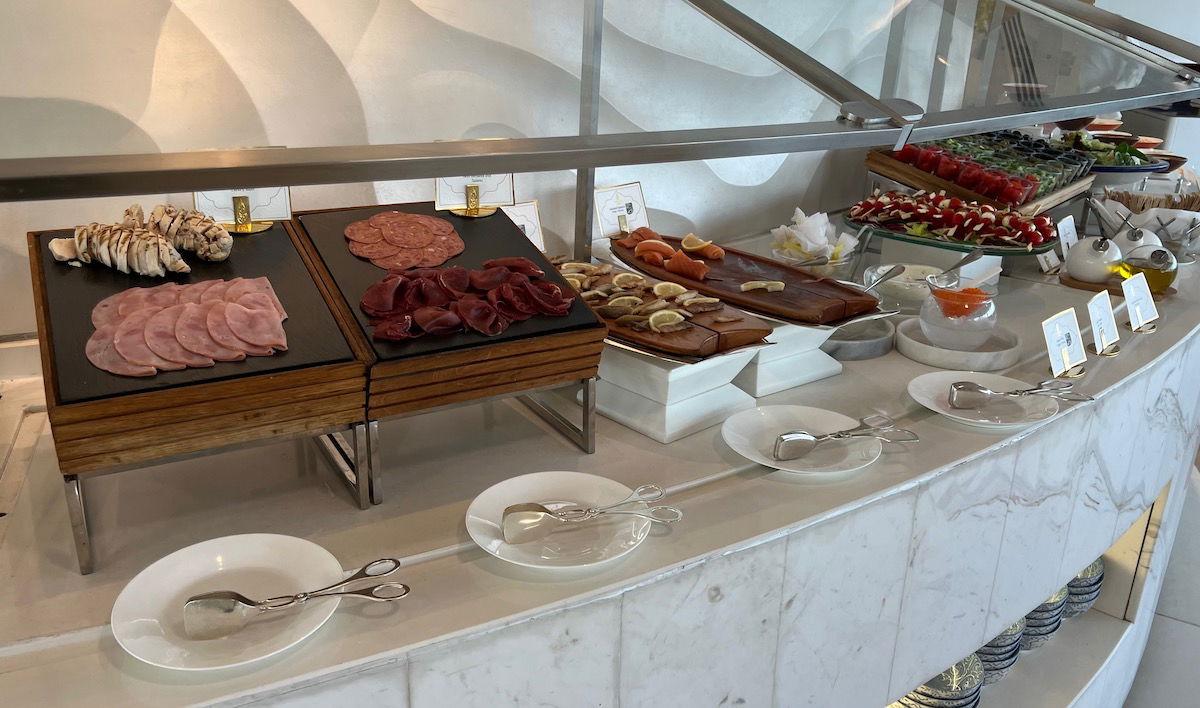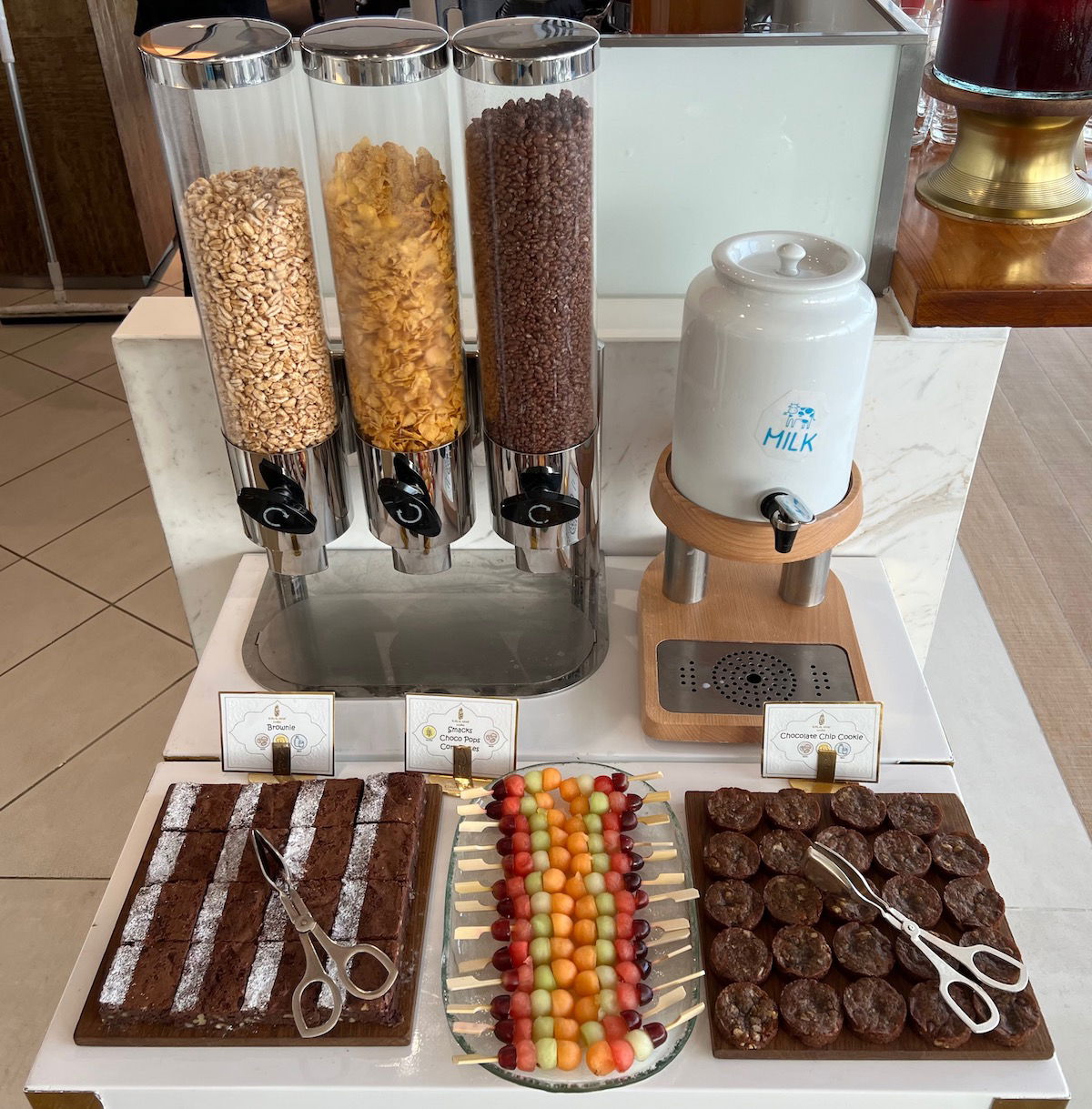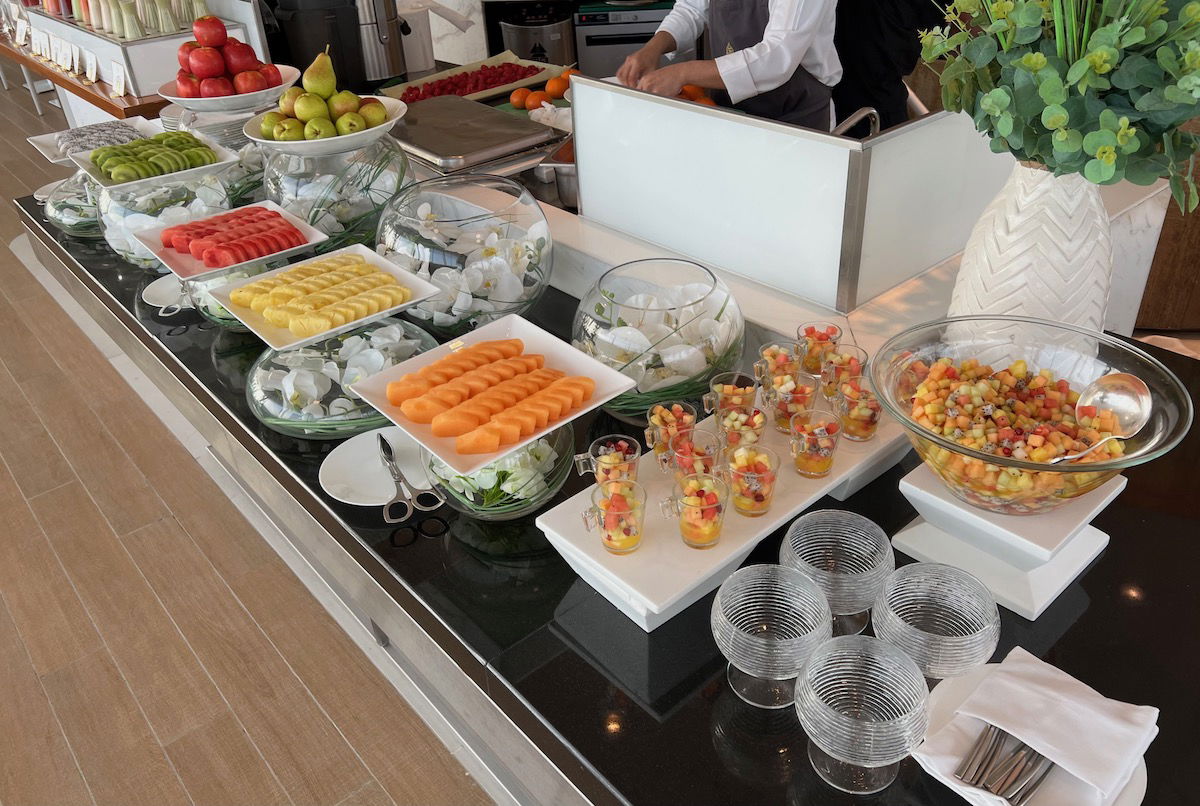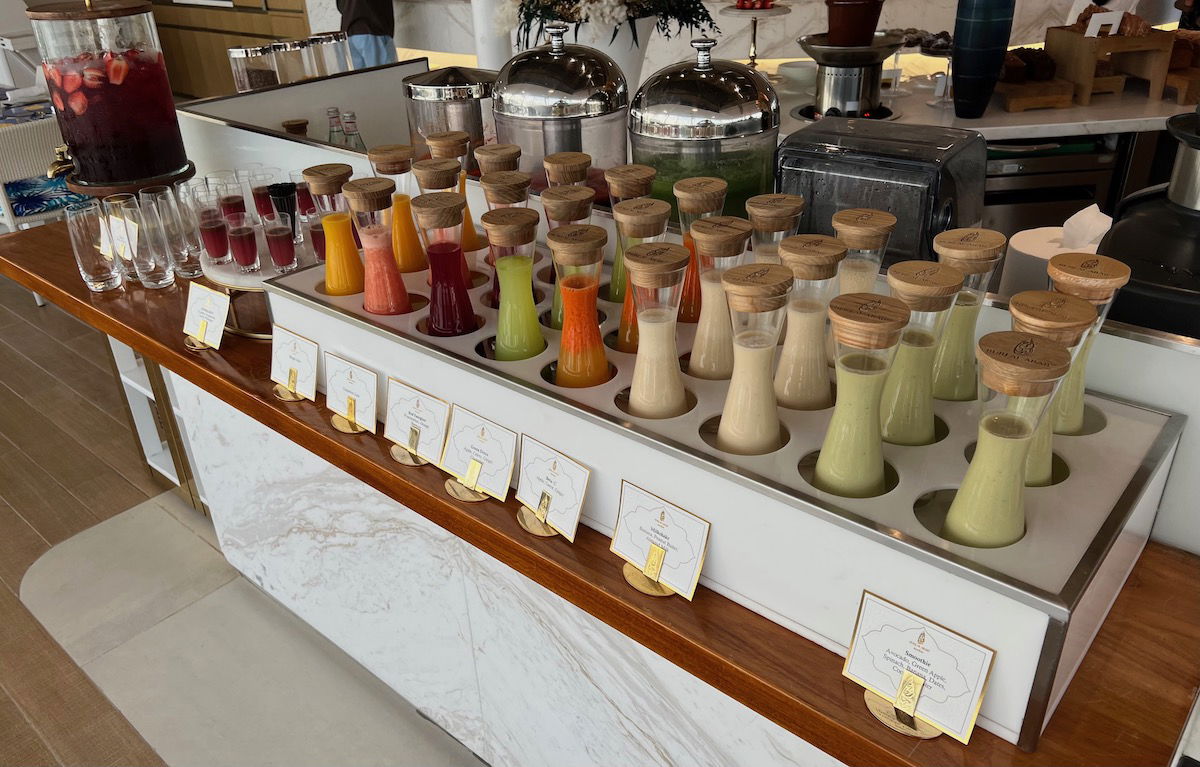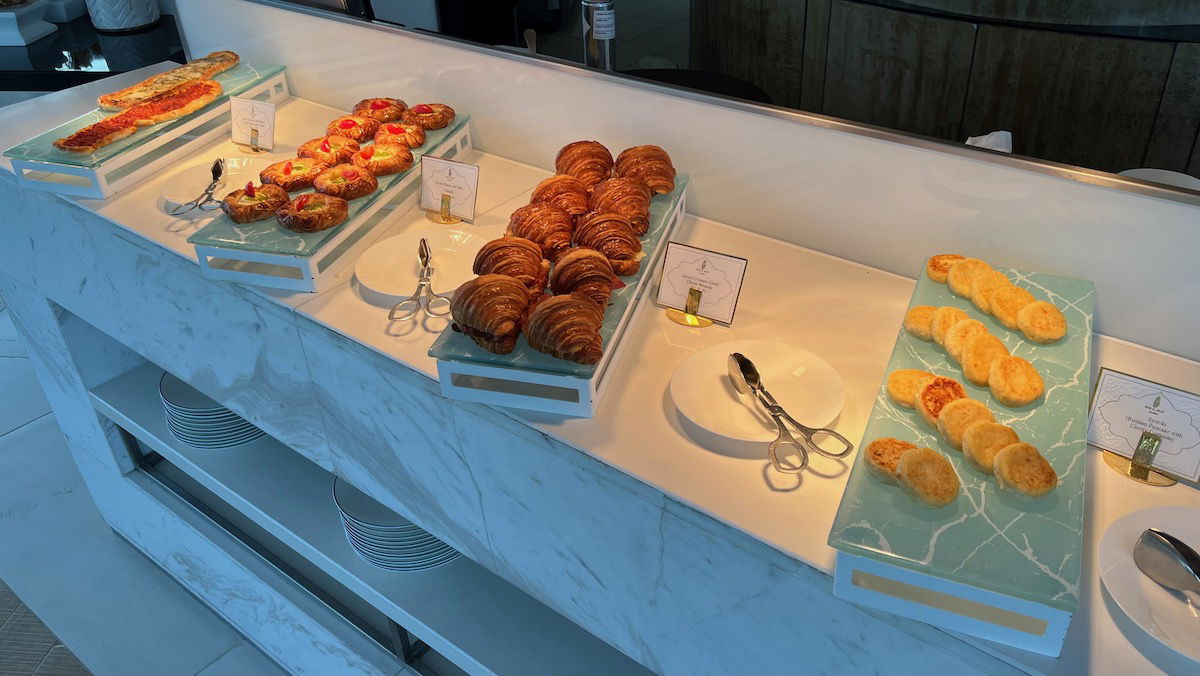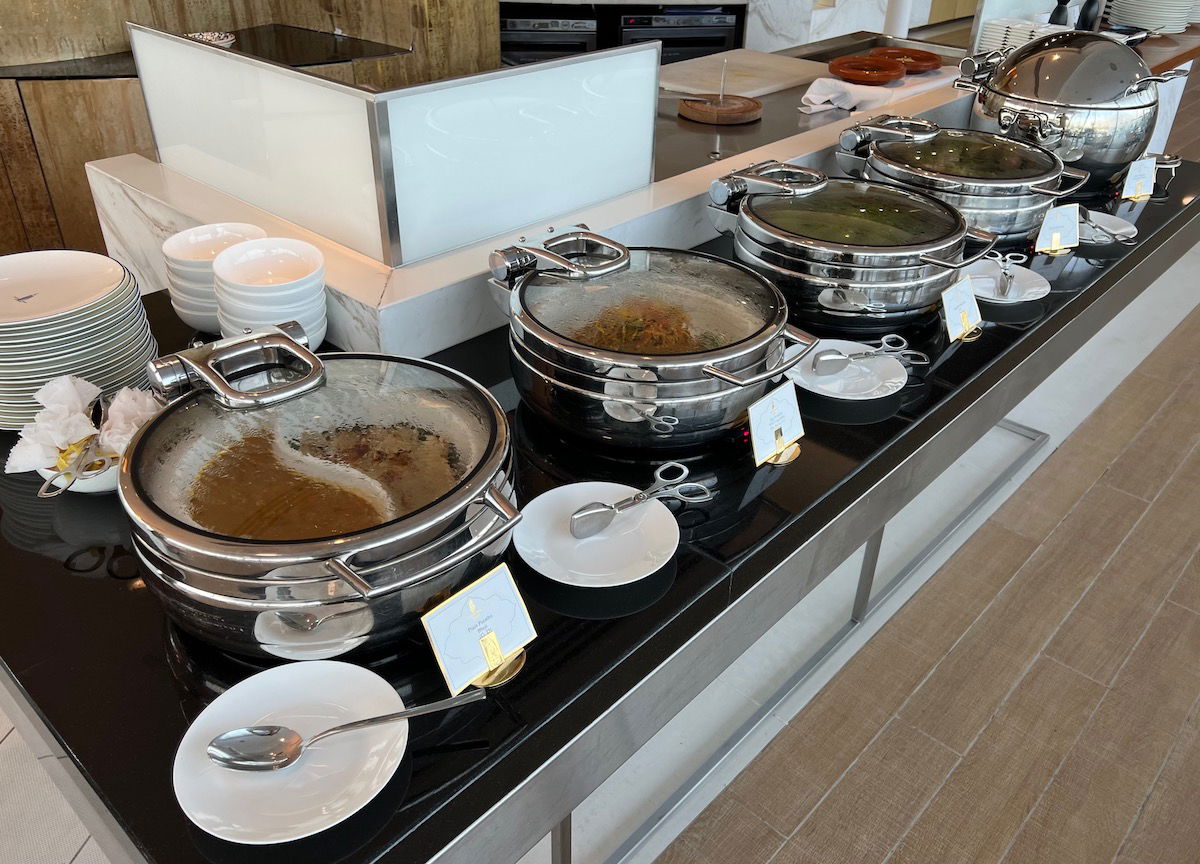 The coffee selection was also very good, with exquisite cappuccinos (ironically much better than the 24 carat gold one I had the previous afternoon).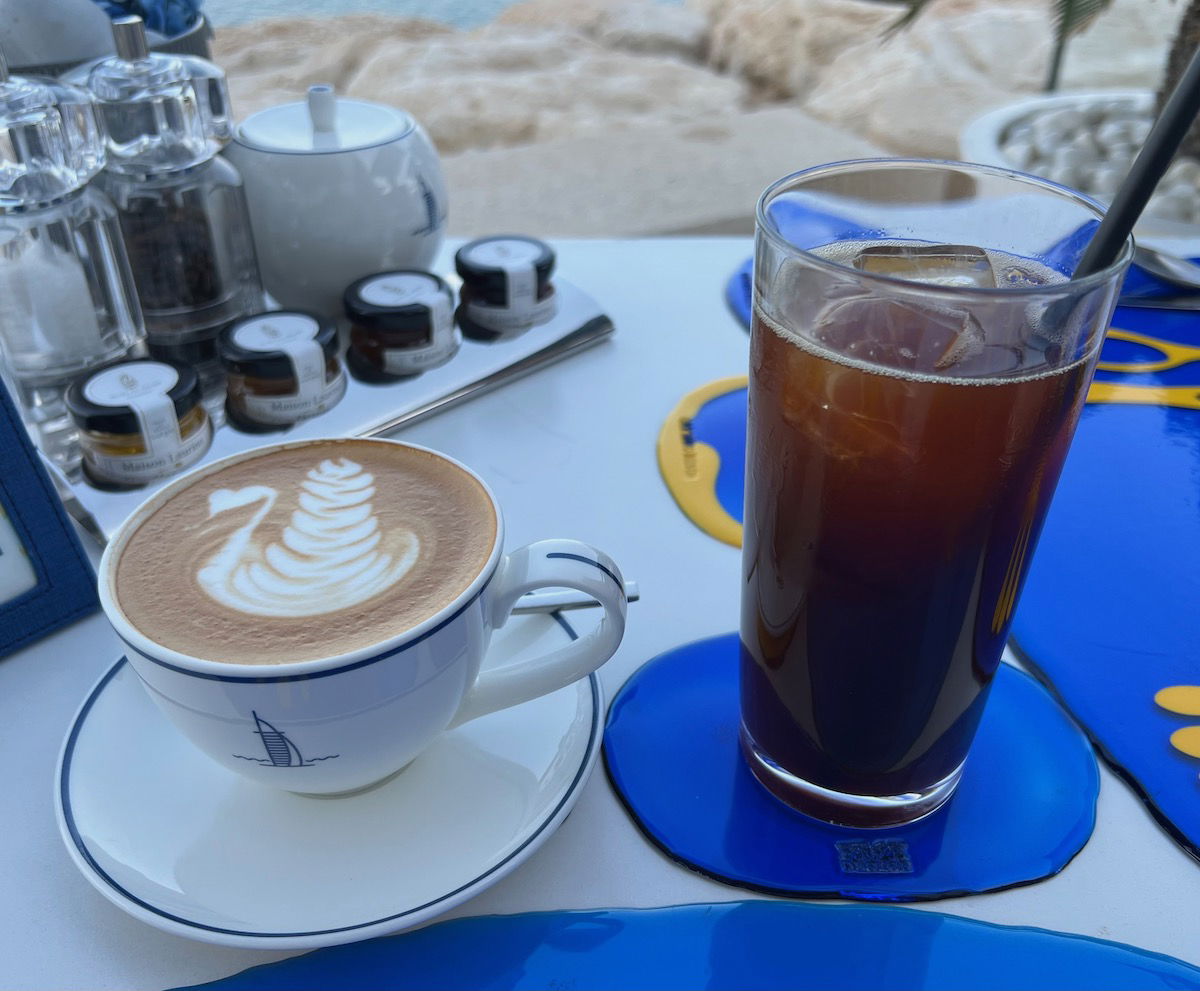 Each table was also served a breadbasket.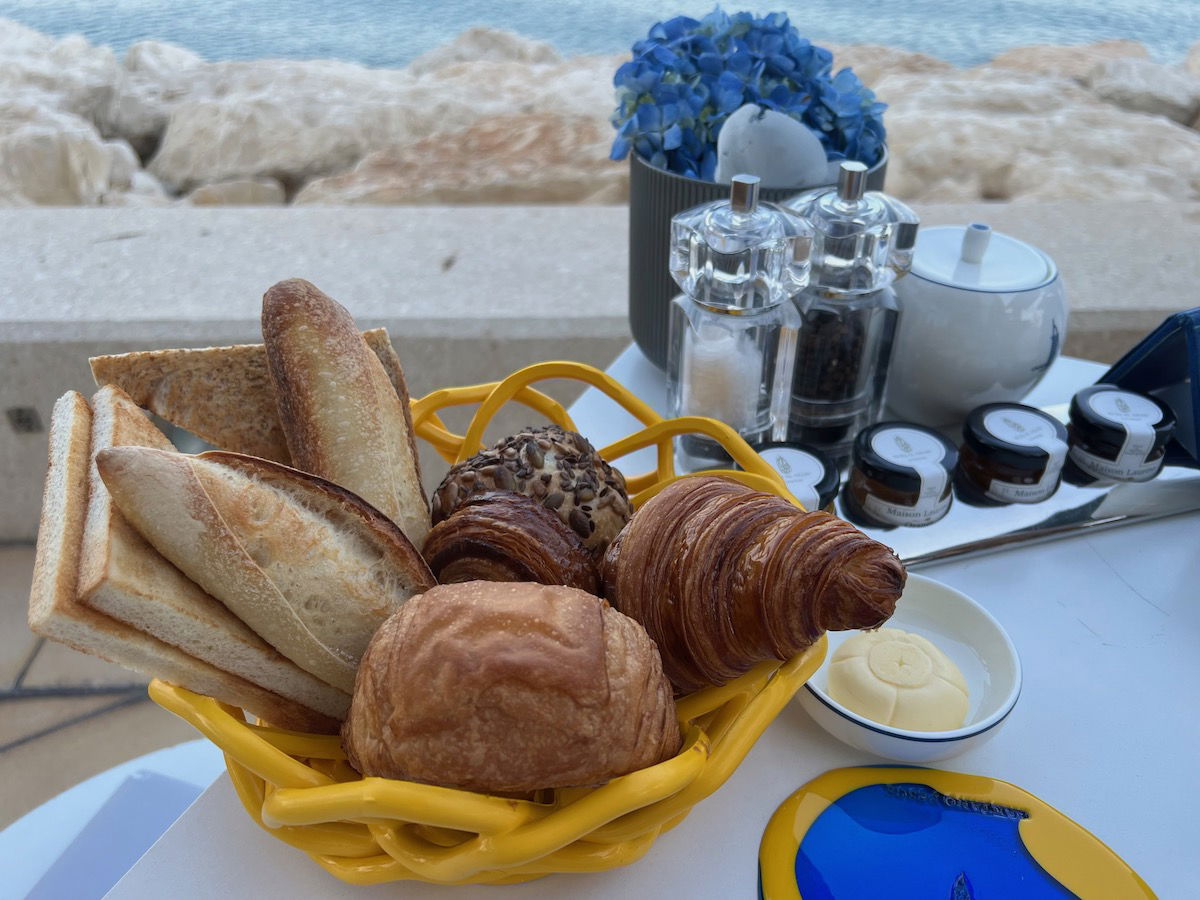 You can then find the a la carte selection here. I ordered the avocado toast with a poached egg, while Ford ordered the shakshuka.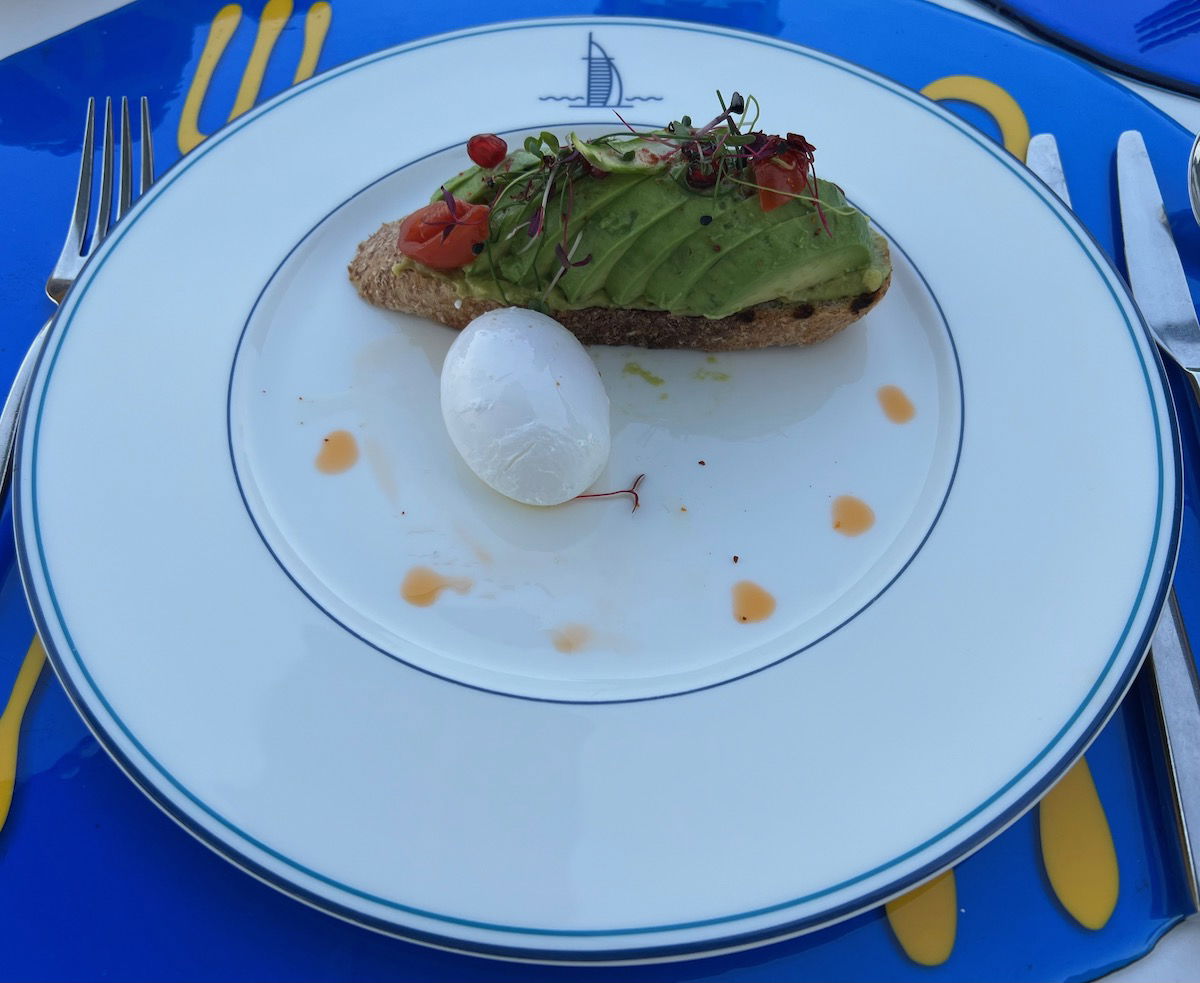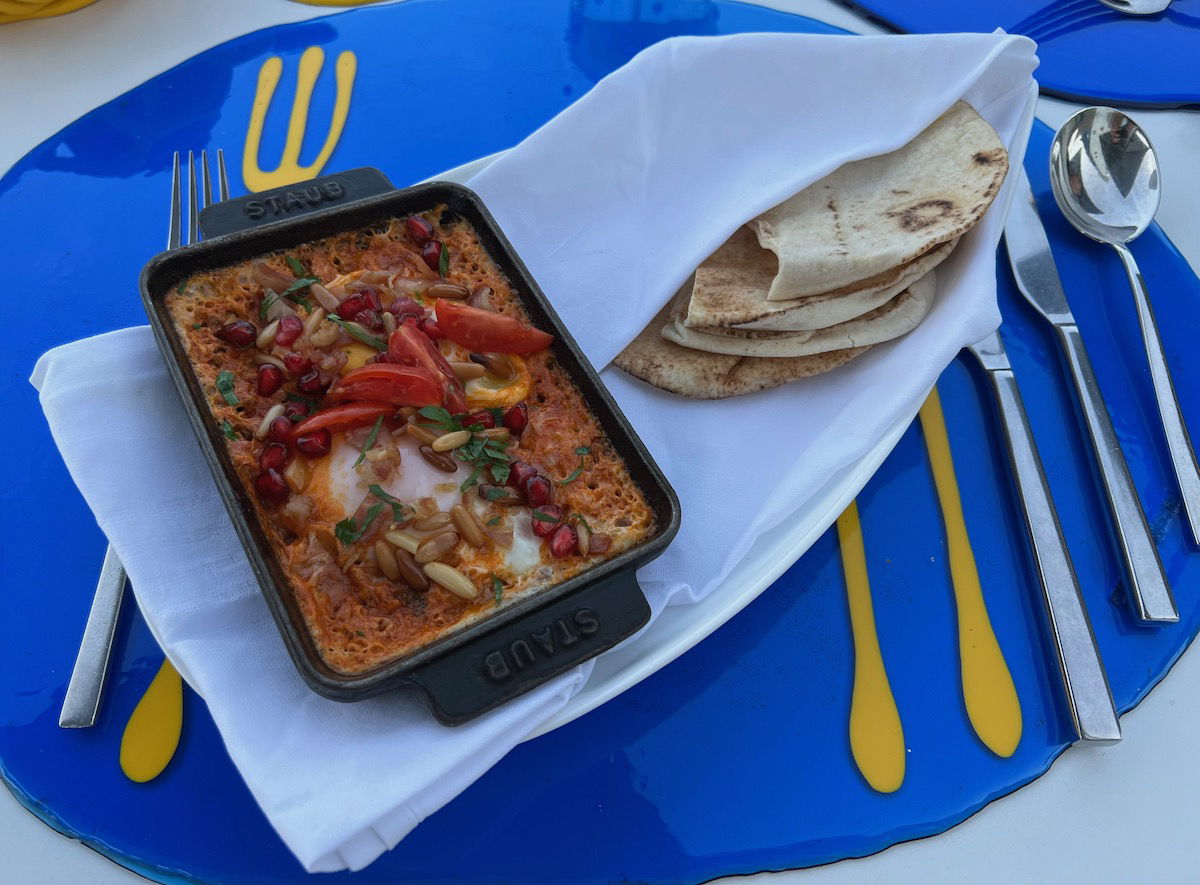 We sat at breakfast for quite some time, and the servers couldn't have been better. They offered several drink refills, and even tried to get us to order dessert (which we couldn't bring ourselves to do… sorry!).
Burj Al Arab Sal Restauant
Last but not least, we had lunch at Sal just before check-out, which is the hotel's poolside Mediterranean restaurant. There's both plenty of indoor and outdoor seating. We chose to sit inside, since it was pretty hot in the middle of the day. You can find the menu here.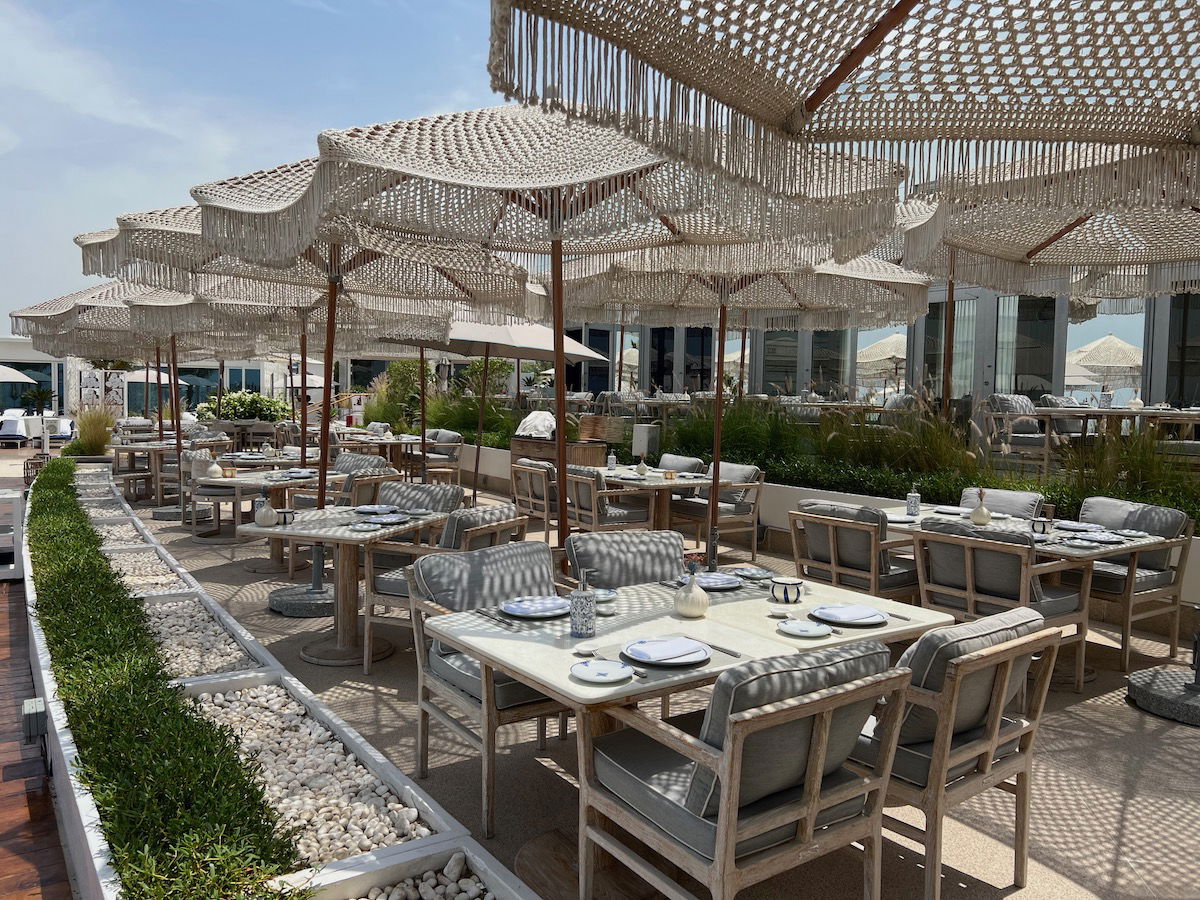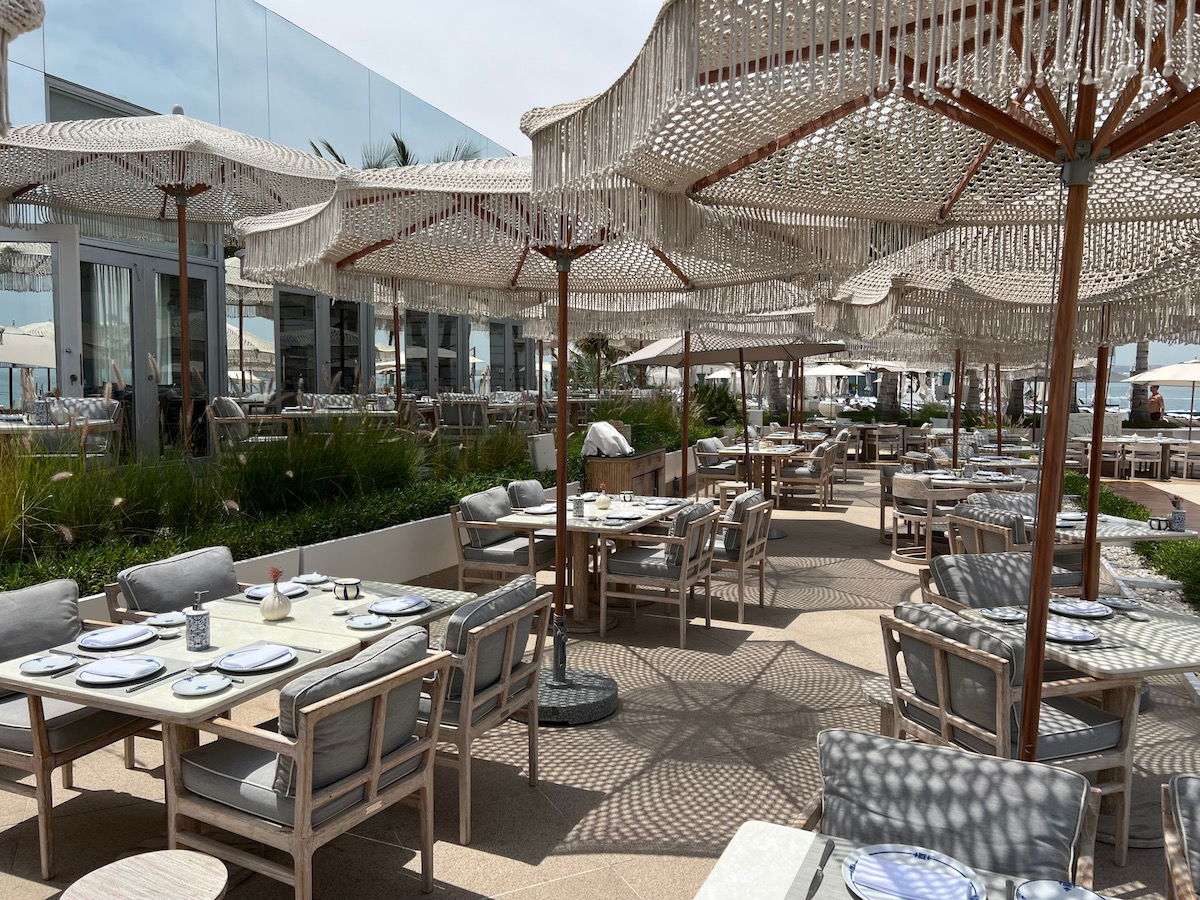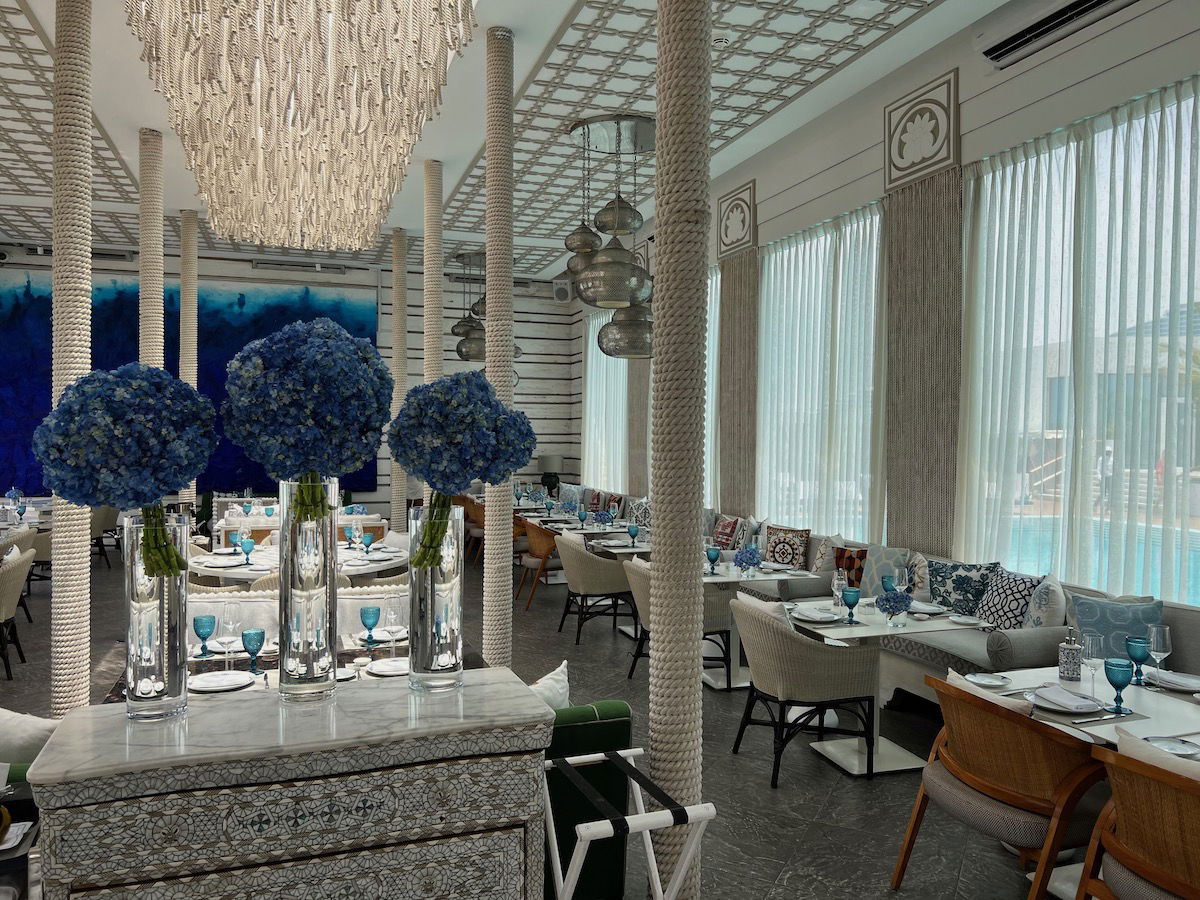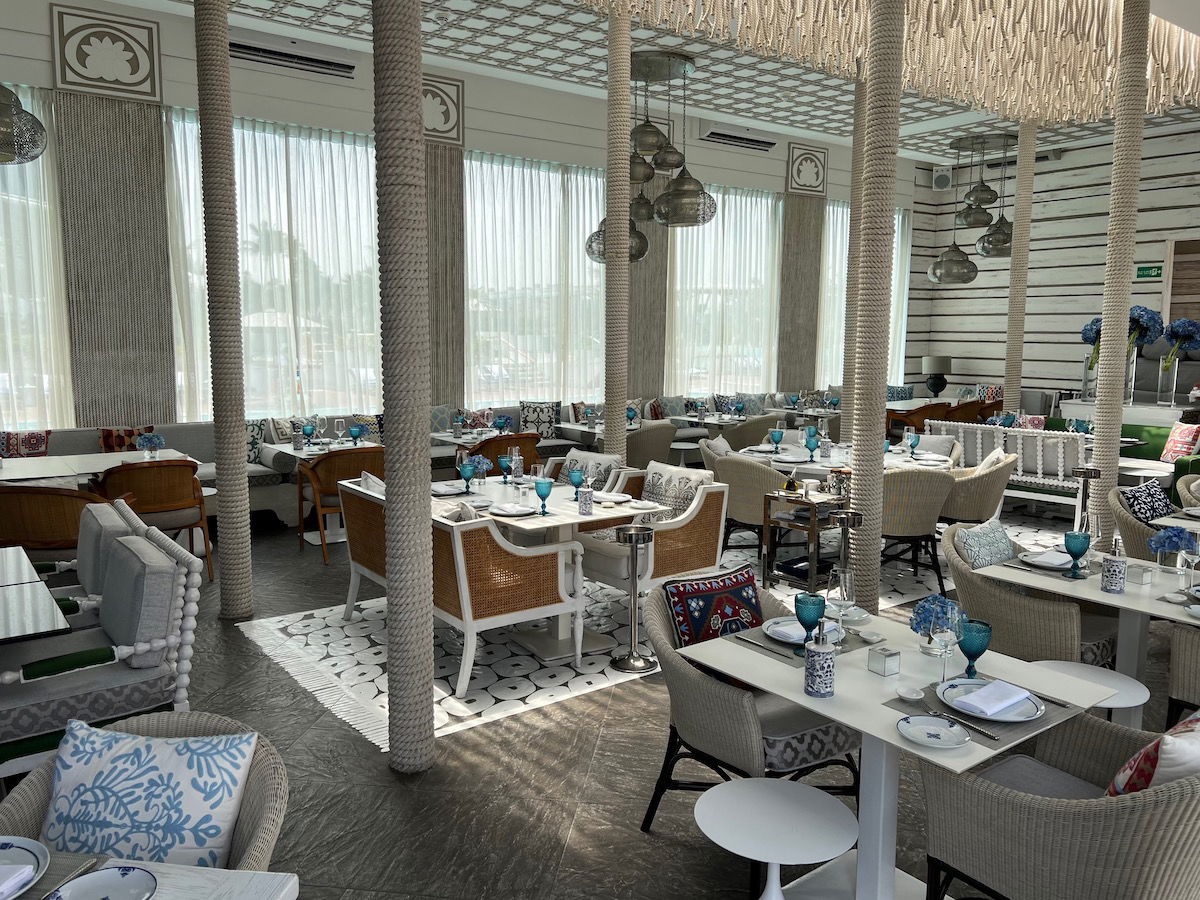 At the start of the meal, we were offered some freshly baked bread and tomato gazpacho.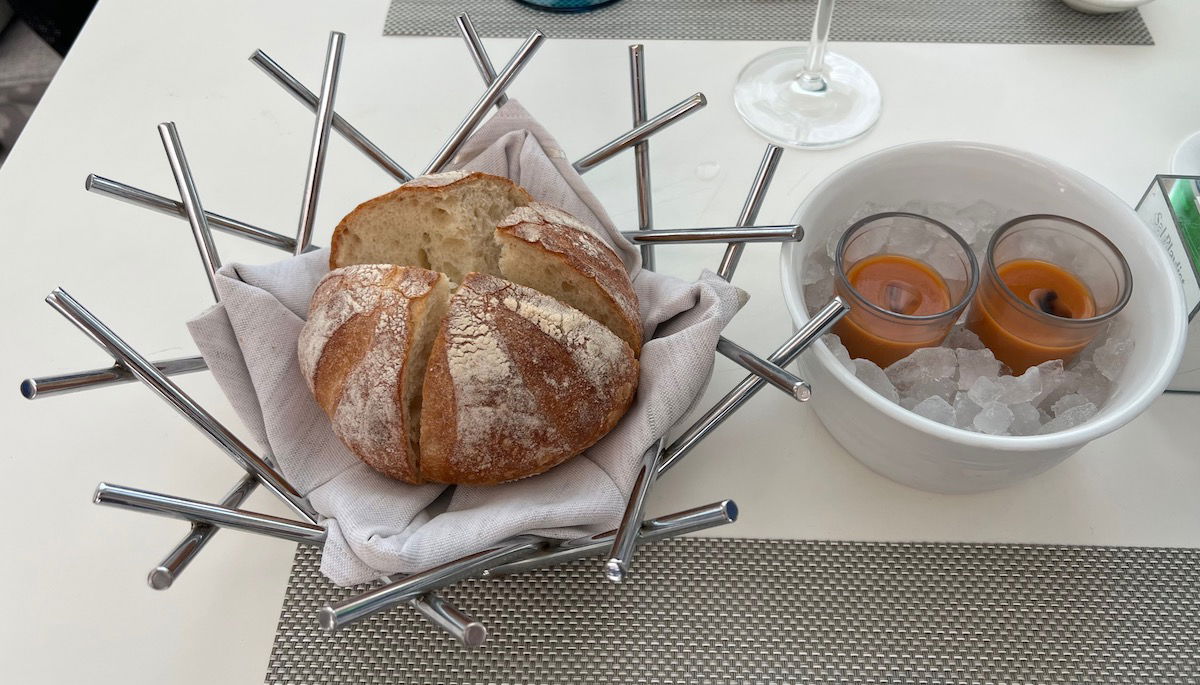 We then decided to share the Mediterranean salad and the eggplant pizza, both of which we enjoyed.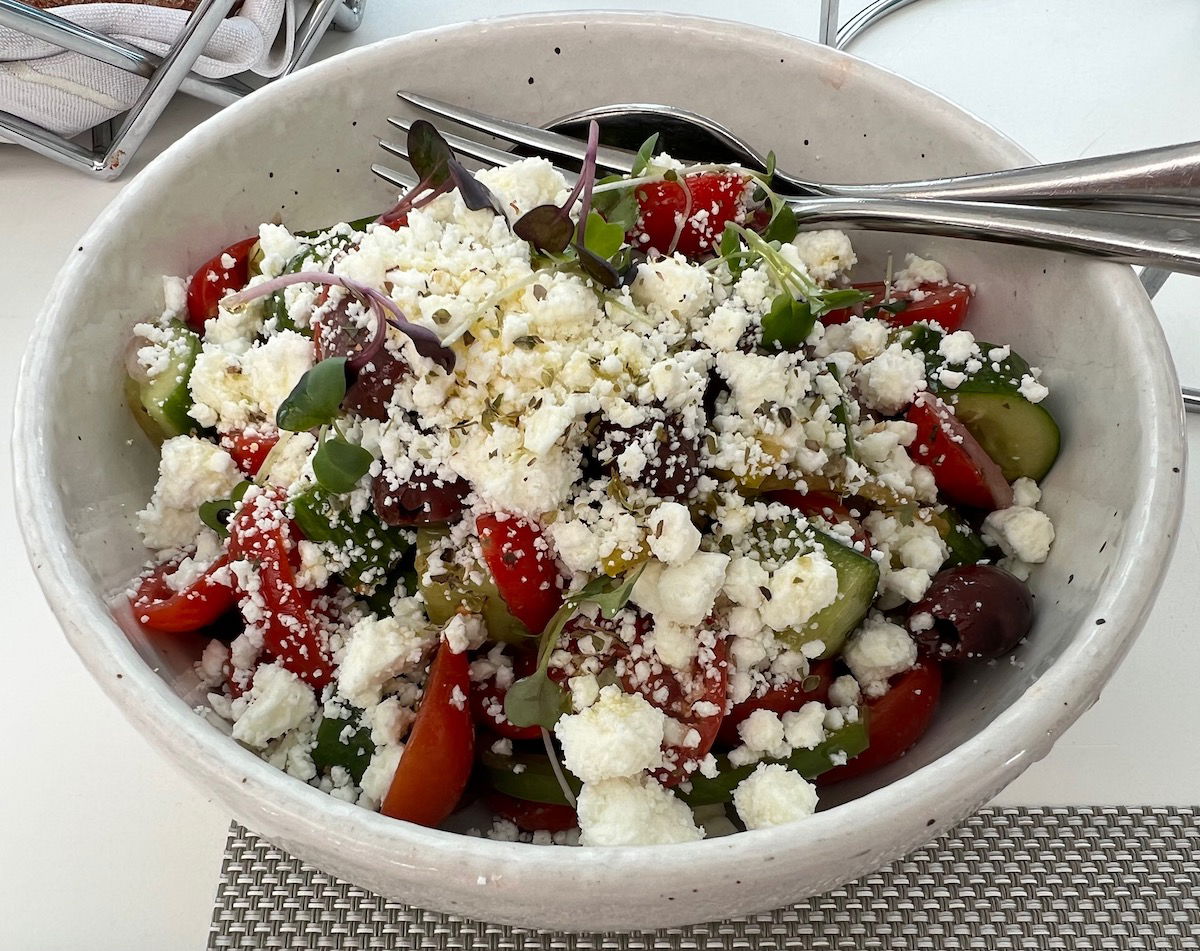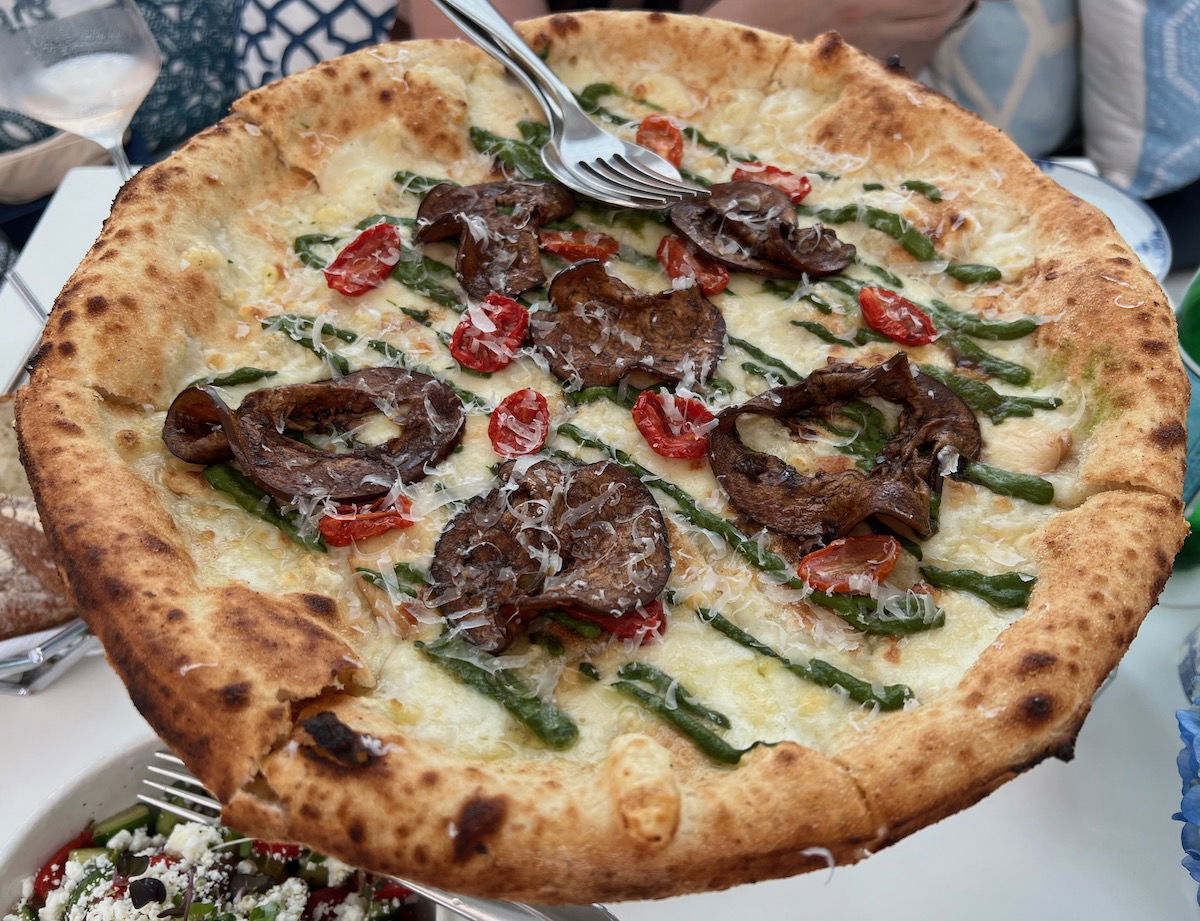 We were offered some tasty custard tarts after our meal.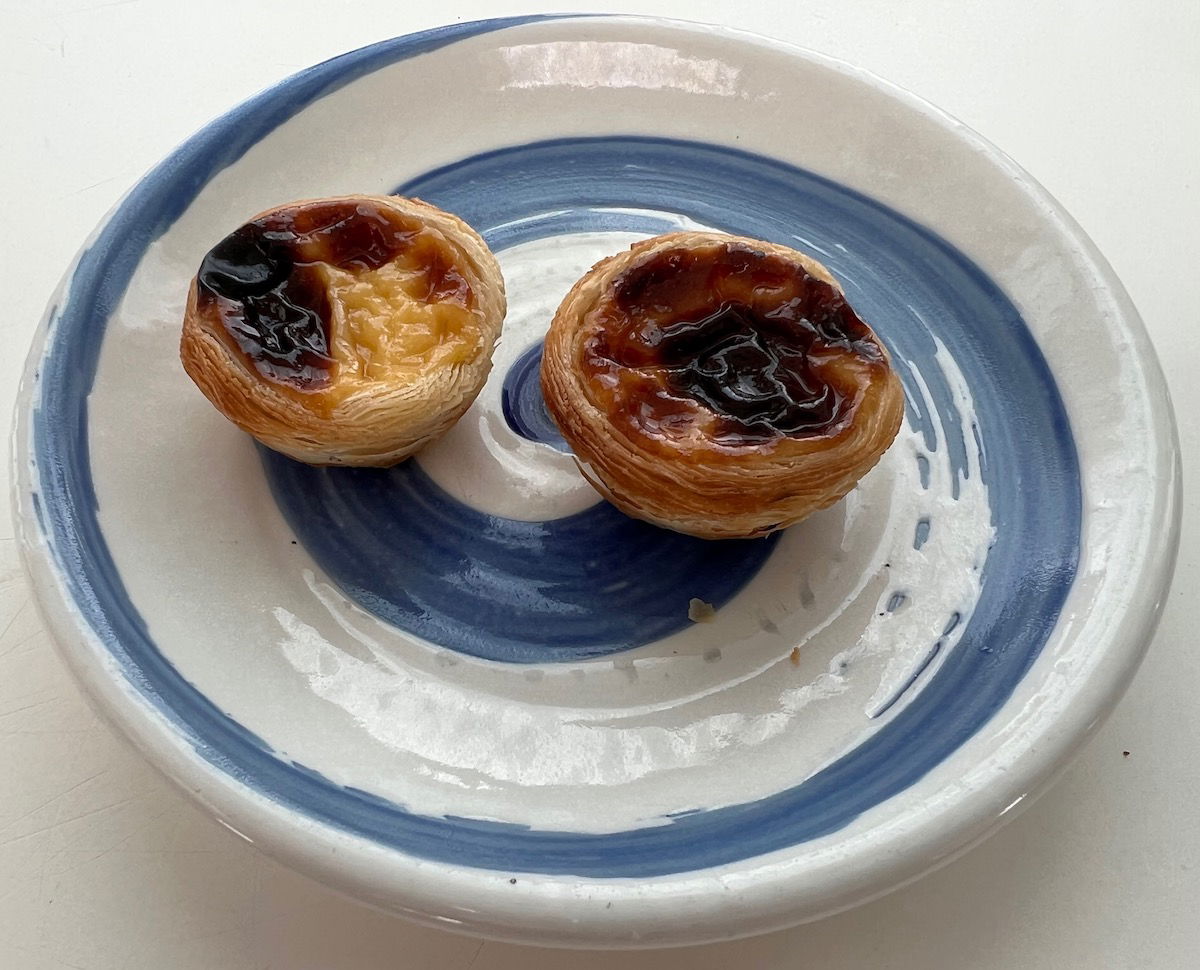 Bottom line
Staying at the Burj Al Arab is an experience, plain and simple. This has to be one of the most interesting hotels I've ever stayed at. I can't recommend this hotel enough, but not because it's my favorite hotel in the world, or because it's necessarily an experience I'd be looking to constantly repeat.
Rather staying at this hotel is such an adventure. This is one of the world's most famous hotels, and actually staying here and experiencing it firsthand was immensely enjoyable.
There are some potential downsides to this property — the guest profile is a bit different than your typical luxury hotel, the suites are (in my opinion) hideous, and the dining outlets are all really expensive.
But there's also a lot I love this hotel, beyond just the thrill of staying at such a unique property. The service was uniformly excellent, the hotel has massive standard rooms (which are duplex suites), all the dining outlets we visited were spectacularly good (even if expensive), the pool and beach club are top notch, and the hotel is quite generous (with everything from Hermes gifts to a happy hour).
If this hotel is within your price range, I definitely think it's worth experiencing. And personally I'd recommend staying at least two or three nights, because I felt like there was so much we didn't have time to experience.
What do you make of the Burj Al Arab Dubai?